A pompadour haircut is the haircut that has an elevated top with various elements and can be done on the longer as well as shorter hair length. Back in the 1940-s, the pompadour became the real hit and was sported by all the celebs who followed hair trends. Is the cut experiencing a huge comeback today? We think so.
And there is no wonder why as this style is a classy option for a woman who wishes to pull away her tresses from her face but remain fun and edgy nonetheless. But is pulling it off easy? It will take some skill but it's not super complicated.
Here is quite a simple way how to achieve this updated style. For instance, in case you are daring like Pink or Miley Cyrus, a textured option can work for you. Use mold and hair putty in order to shape this style. Or, go for a softer option that will work for the natural texture of your tresses. Janelle Monae sports this style and loves accessorizing it in a demure way.
Rockabilly Hairstyle Pompadour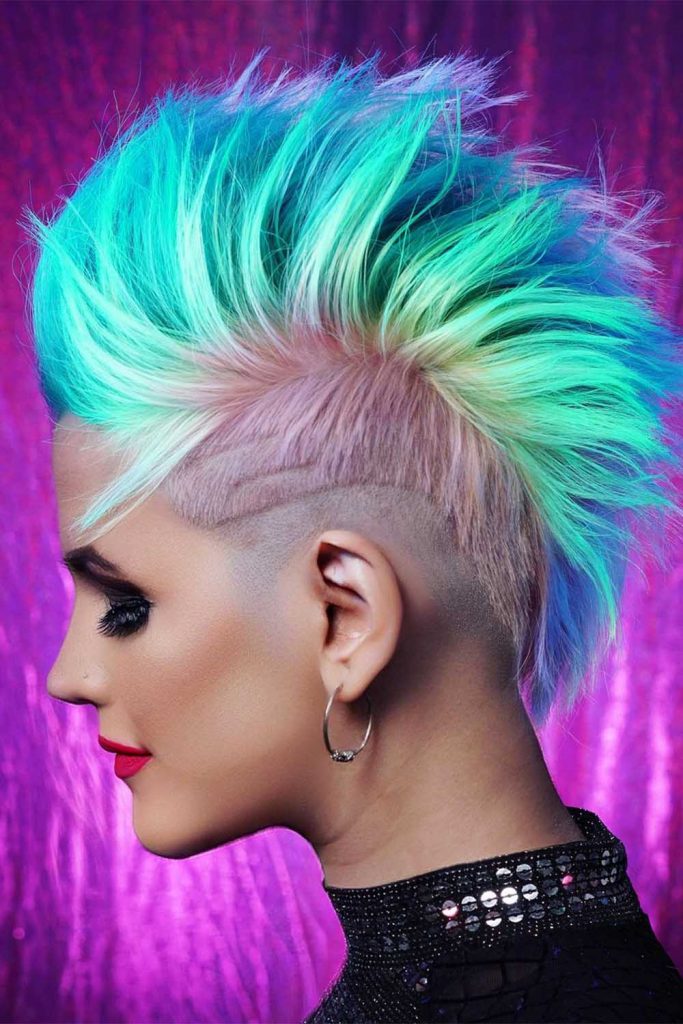 by @hairgod_zito
The hairstyle pompadour is quite popular among famous rock musicians, and Elvis Presley was the one who set this trend back in the early 1950-s. Such style is based on a short pixie with an added flair of the 50-s – much volume and the front curl. You can leave the sides shaved, long or short. And when you want to style up the pompadour, just sleek the sides back.
Pompadour Mohawk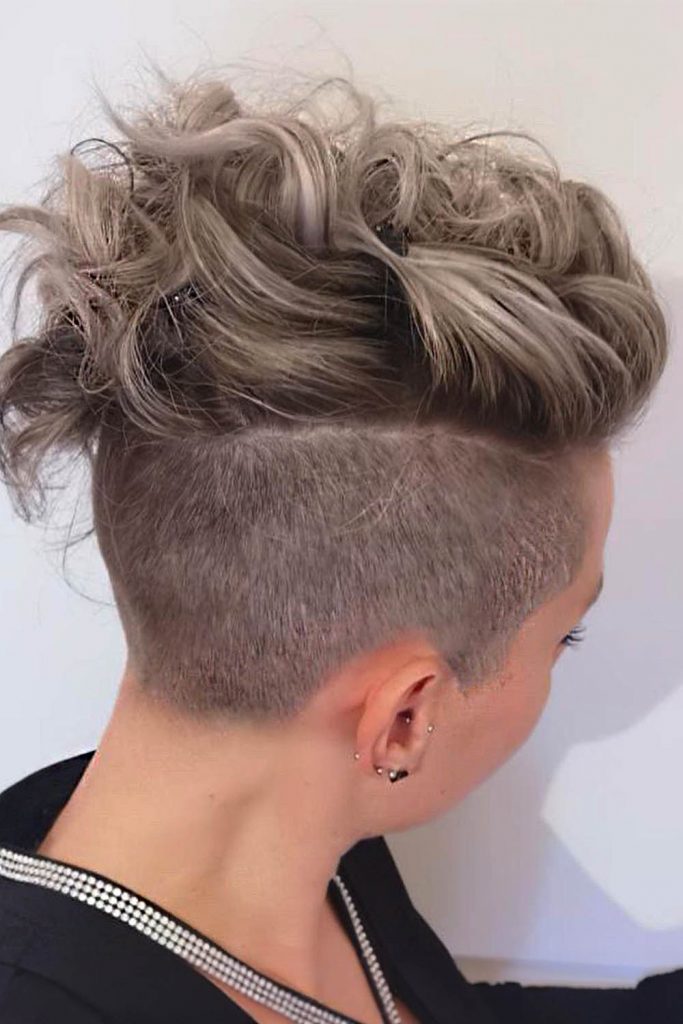 by @shorthair_love
The Mohawk hairstyle is a popular variation of the pompadour. You have probably noticed that many celebrities sport this edgy and trendy
hair cut
. A woman with any face shape can rock this style. However, she should base its height and style on her hair texture and face shape. This look will require a spiked middle and shaved sides.
Braided Pompadour Hairstyles For Women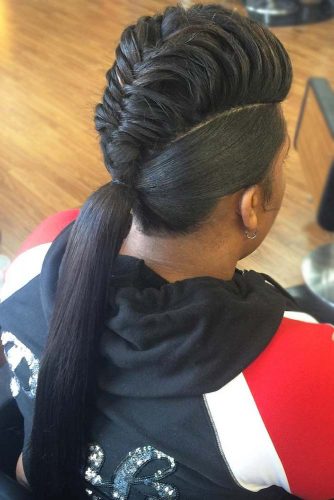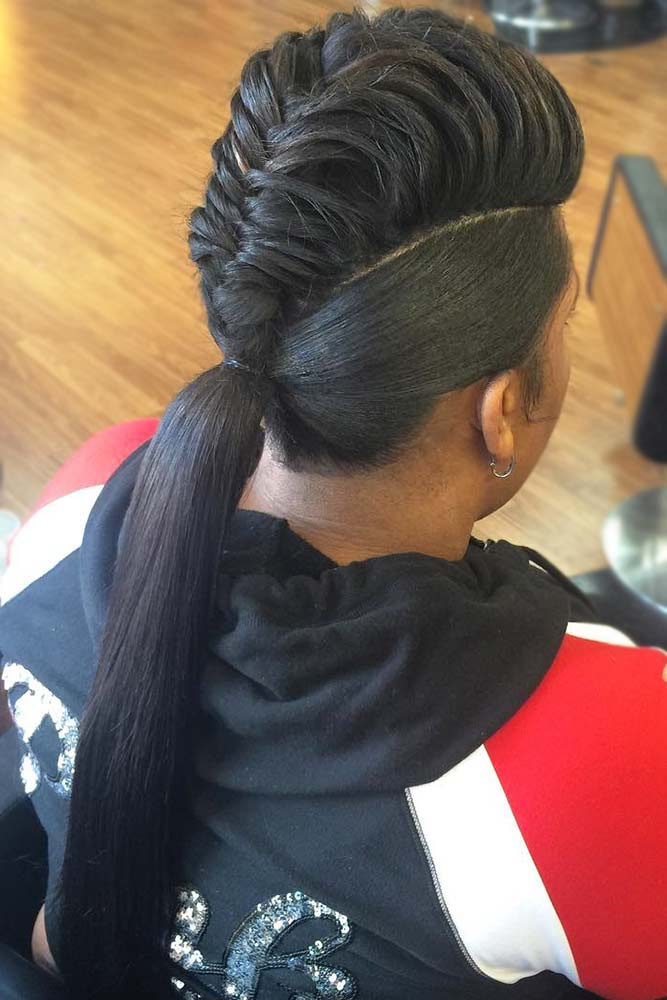 by @celebrittany_hairstyles
Braided pompadour hairstyles for women work best on longer hair as you will need to create the volume at the front with your tresses and a styling product, and teasing, of course. The style will keep the hair off your face and neck and give your image a sophisticated vibe.
Modern Pompadour Hairstyle With Long Sides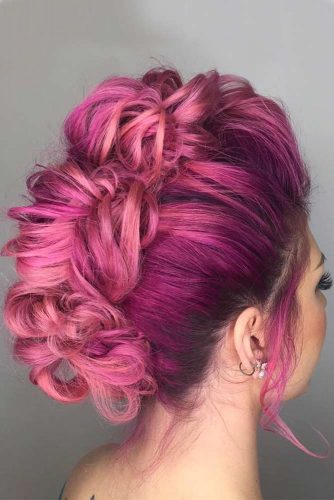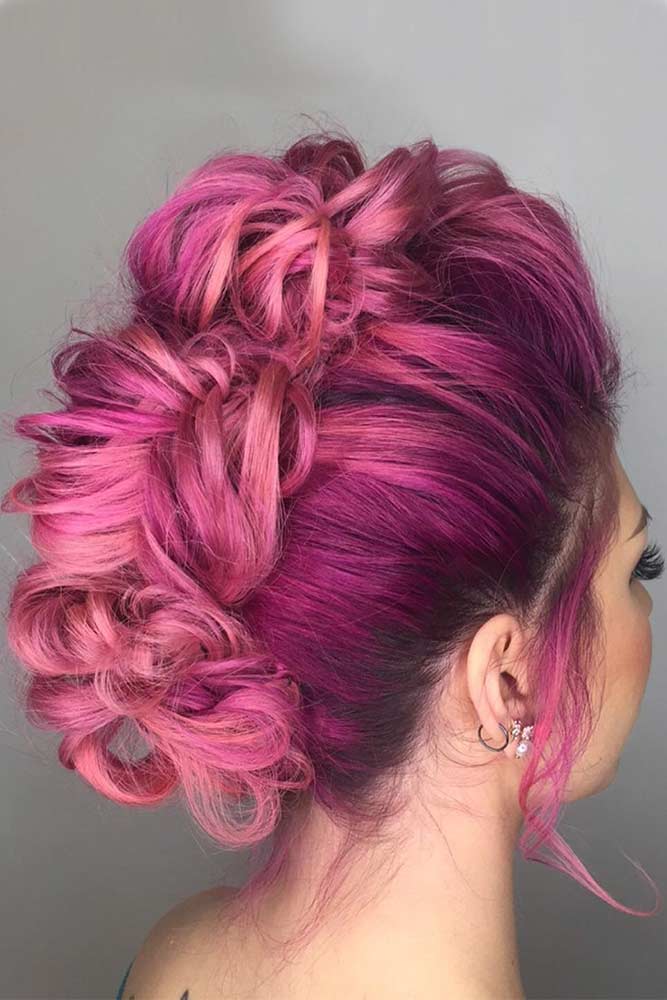 by @candicemarielv
Today the pompadour hairstyle typically has shaved sides. However, many women consider this look to be overly dramatic. Instead, you can easily opt for a less daring hairstyle than the Mohawk pompadour. For example, leave longer top and sides and that will grant you more versatility when it comes to styling. Thus, you'll be able to add curled or braided elements or leave it straight.
The Pompadour Hairstyle on Bobs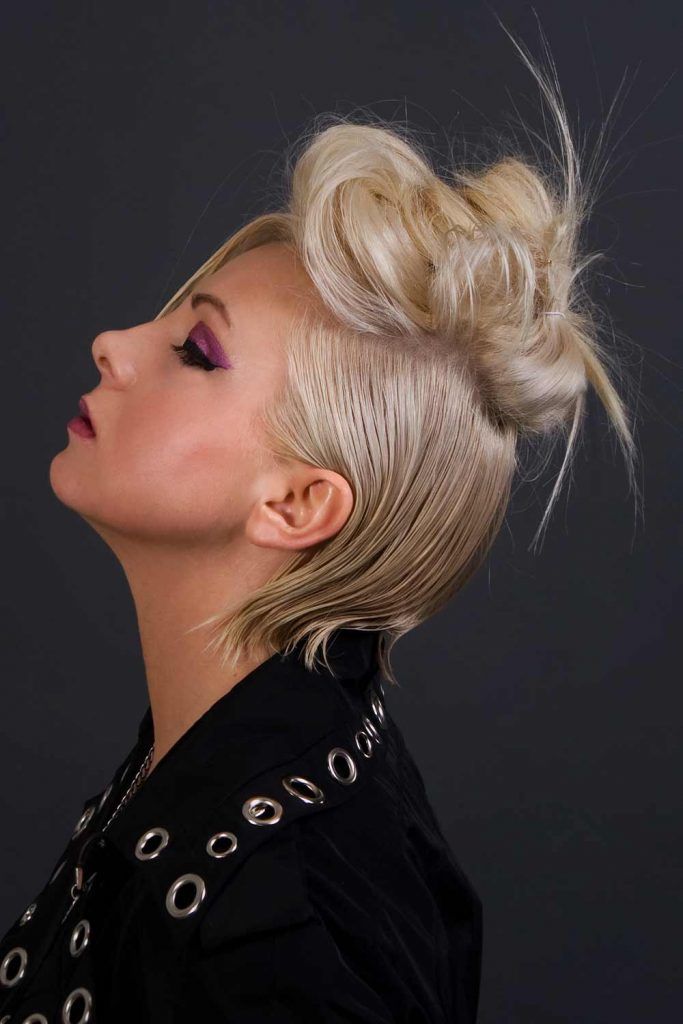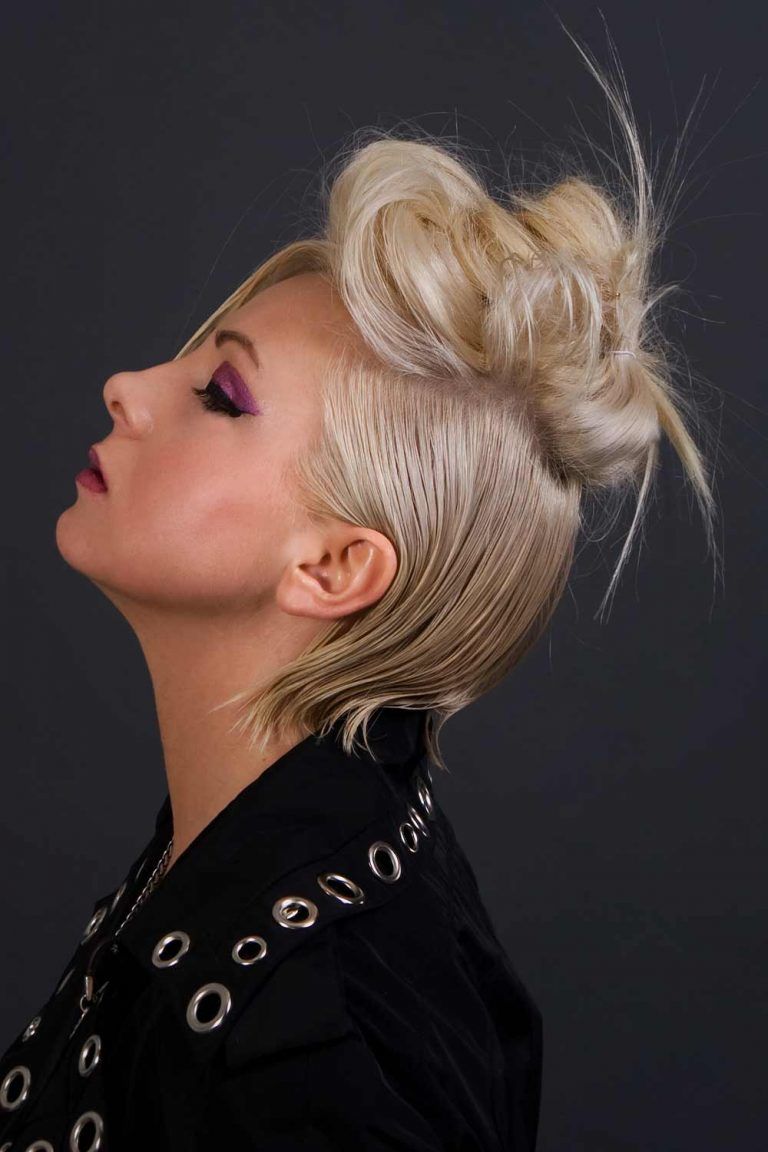 Having short hair is not a must to get the pompadour hairstyle. For example, you can rock a voluminous pompadour on a bob with the sides that are slicked back. This look will be awesome for special occasions as well as everyday wear. Plus, you can easily change the look by pulling it up in a very sleek and stylish updo.
Natural Pompadour Haircut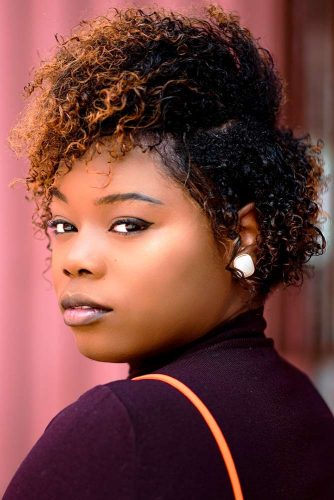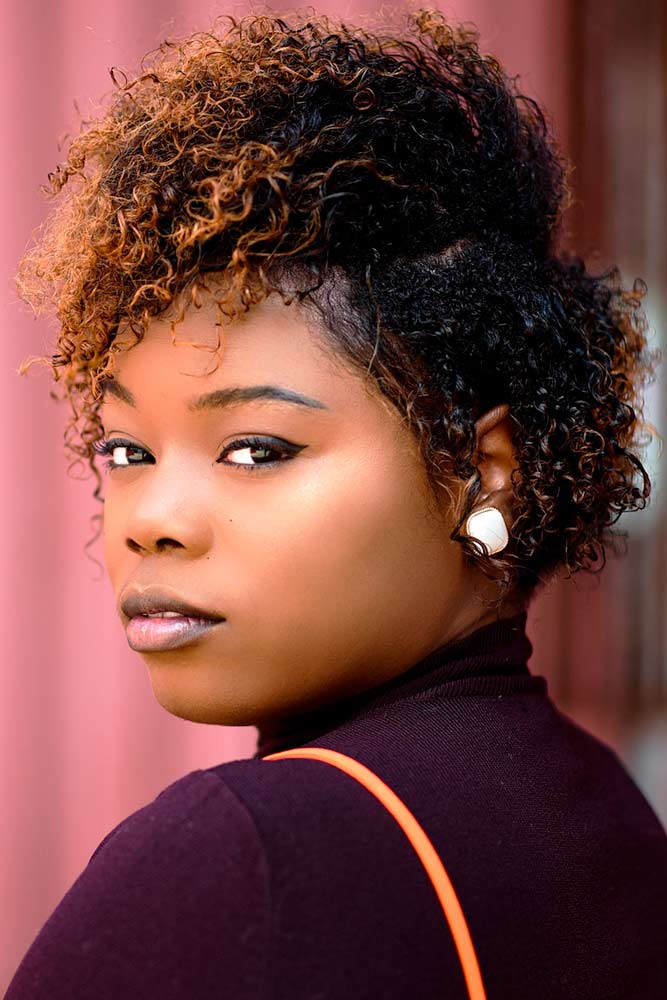 by @micaelaverrelien
How do you usually style your curly hair? Girls who have this hair type since birth know that sometimes it takes plenty of time to calm all their curls down. How about you to rock this summer with a magnificent and voluminous pompadour haircut? Once you get it, your hair won't let you down: it will be easier to style it. You will love how this trendy cut looks on naturally curly hair, and this pic is living proof. It seems that there is no better way to show off your awesome hair than getting such a stylish haircut. Just give it a shot!
Pompadour Undercut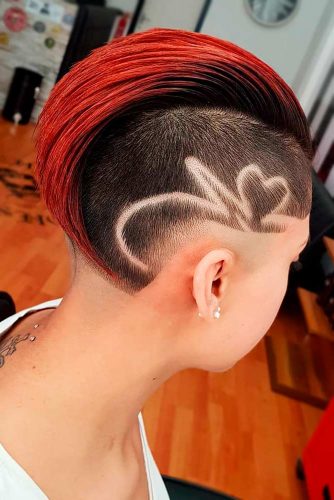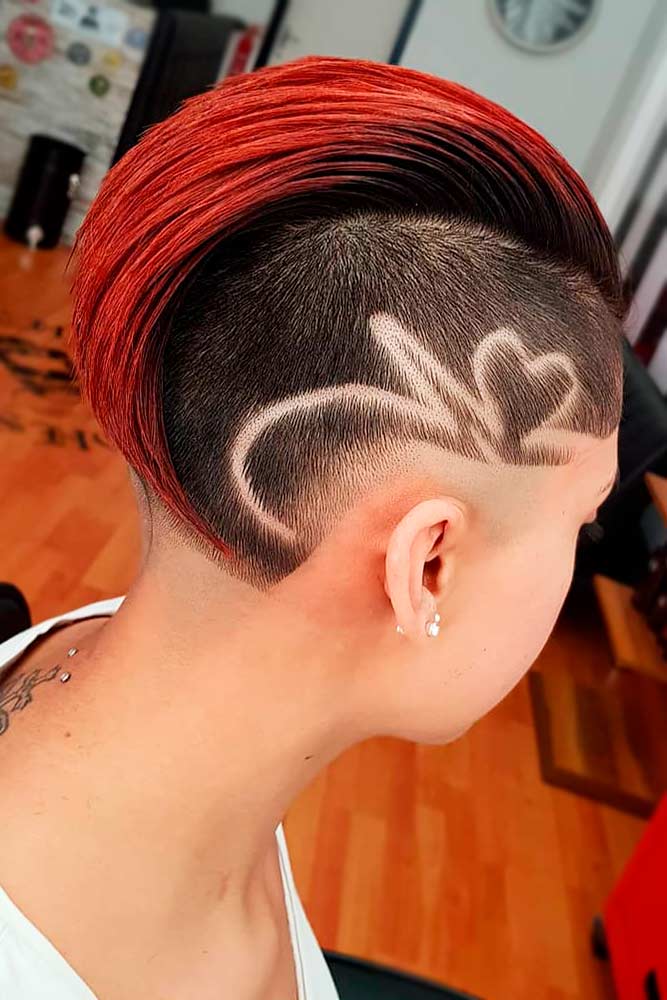 by @pachebarbershop
No wonder that so many girls try to reach neatness in their looks. It's elegant and stylish enough. Who said that a neat hairstyle is all about special occasions? You can get yourself an amazing pompadour with a fade undercut, adorned with a hair tattoo. If you've been looking for a way to diversify your casual look, don't miss this idea. You can style the hair on the top neatly on the left or the right side, and if you feel that your life needs some more colors, you can dye the crown in an eye-catching color. Those who are about to turn heads will bring this idea to life.
Pompadour Hairstyle For Long Hair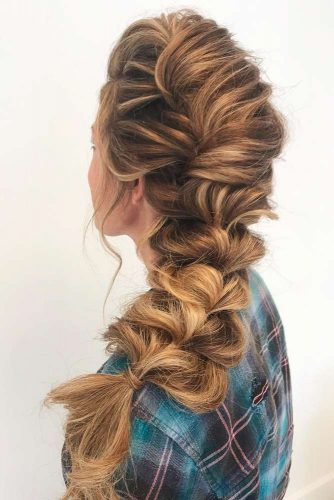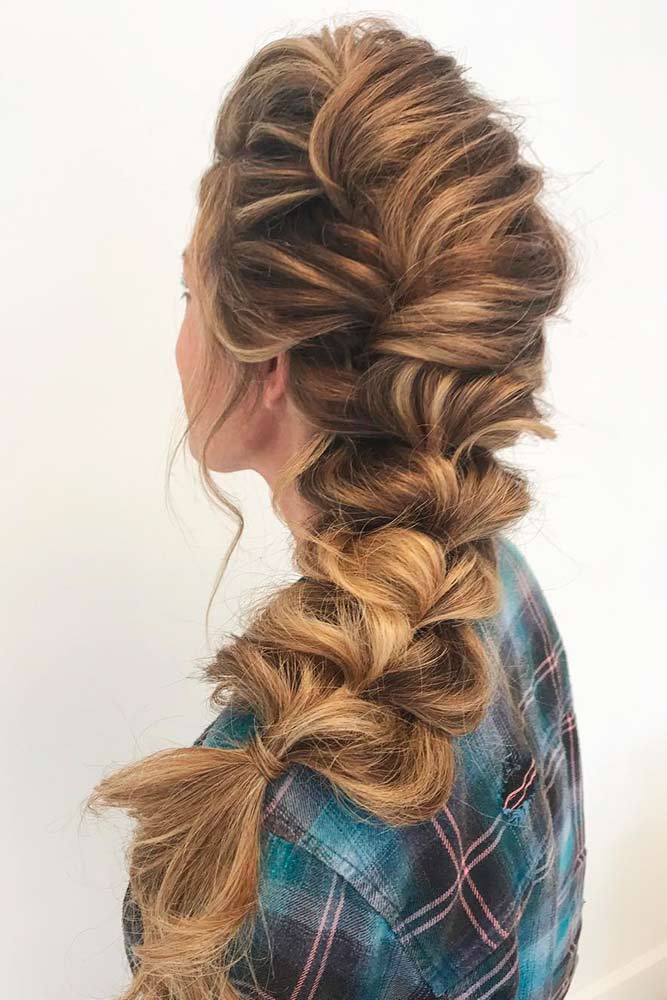 by @blushandmane
Who said that pompadour on long hair is impossible? It's a must try for any girl! If you are a lucky lady who is proud of her long hair, meet a perfect style for it. A braided pompadour with pulled edges is just so inspiring! The best thing about this hairstyle is that all your locks are gathered together, so your face is as open as possible. You can leave some tiny front locks and wave them to create a really romantic silhouette. Whether the long-awaited date is coming, or you are about to go for a walk, a voluminous braided hairdo will set your mood for any occasion.
Violet Pompadour Hairstyle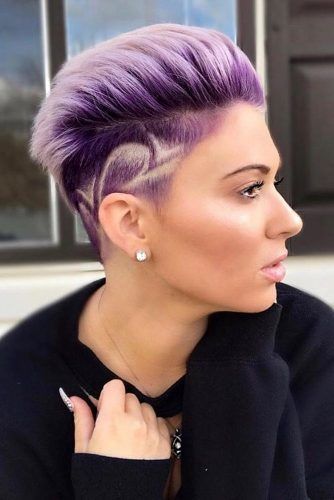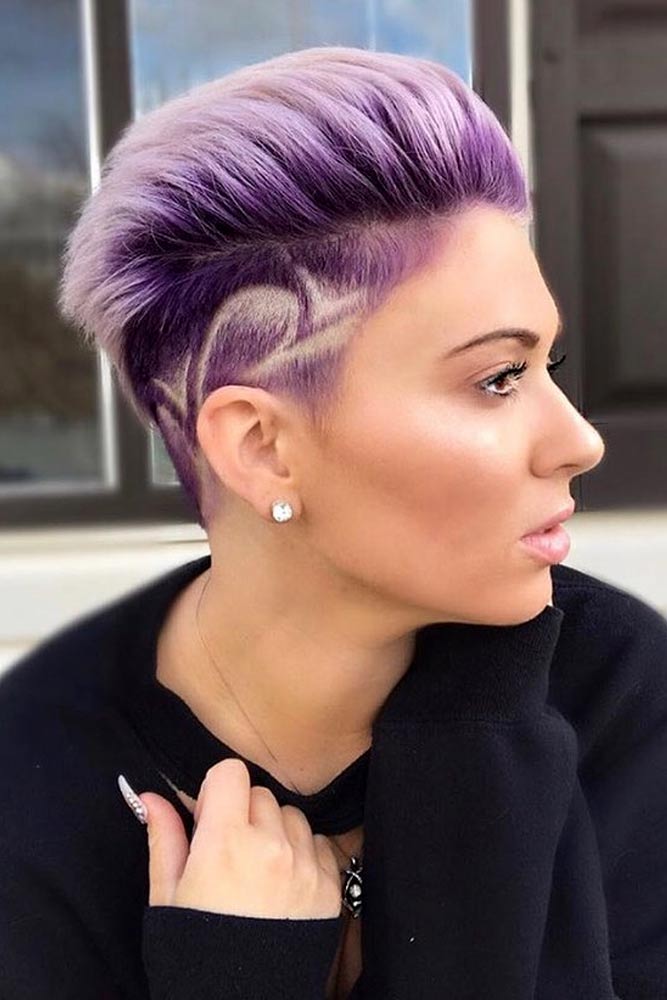 by @short_n_sweet823
While some women are still convinced that short hair puts limits on styling choices, others express their vivid personalities with a pompadour haircut, rocking various styles. Apart from styling freedom, this haircut offers a great canvas for color experiments. Want to add more character to your haircut? Dip it into a combination of the hottest shades like violet and pastel lilac, then. Feel like your look needs a signature? A shaved design on one of the sides will do the trick.
Mohawk Hairstyle With Hair Tattoo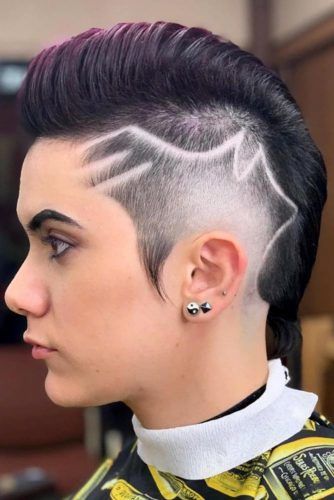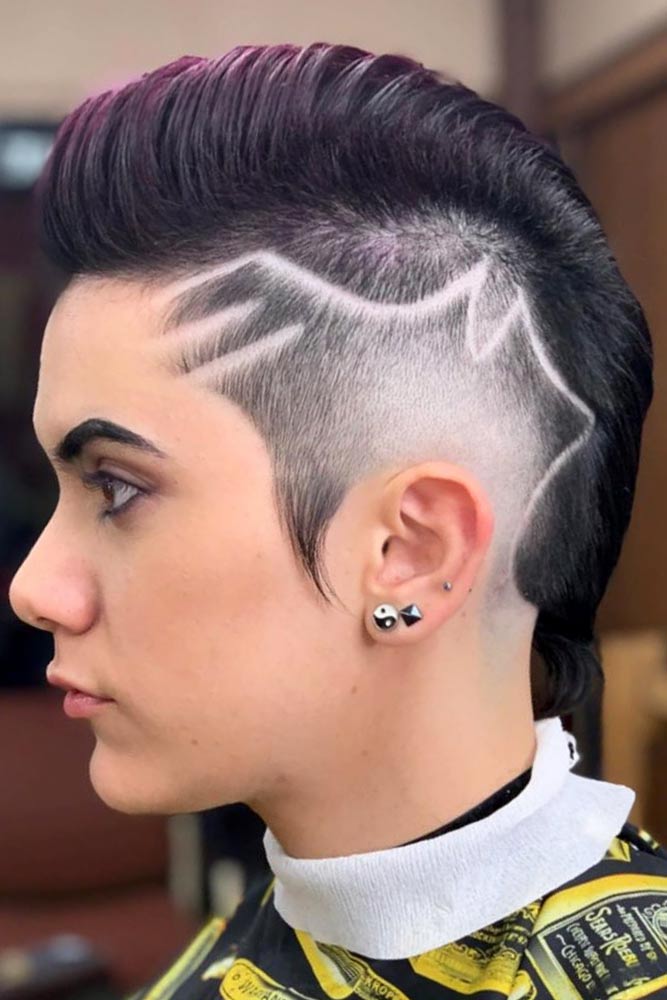 by @nelly_la_barber_
Your pompadour can be anything you want to be. While being very dramatic and restless, this haircut knows its master, so it can even turn into a Mohawk if you desire to add some rebelliousness to your look. Of course, the best Mohawks never come alone: don't forget to spice things up with a shaved tattoo. As for the style, all you need is a good quality styling product like hair wax or clay.
Braided Long Pixie With Pompadour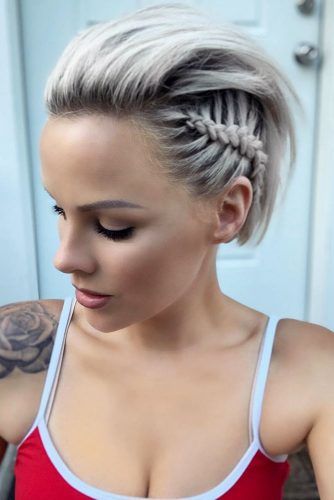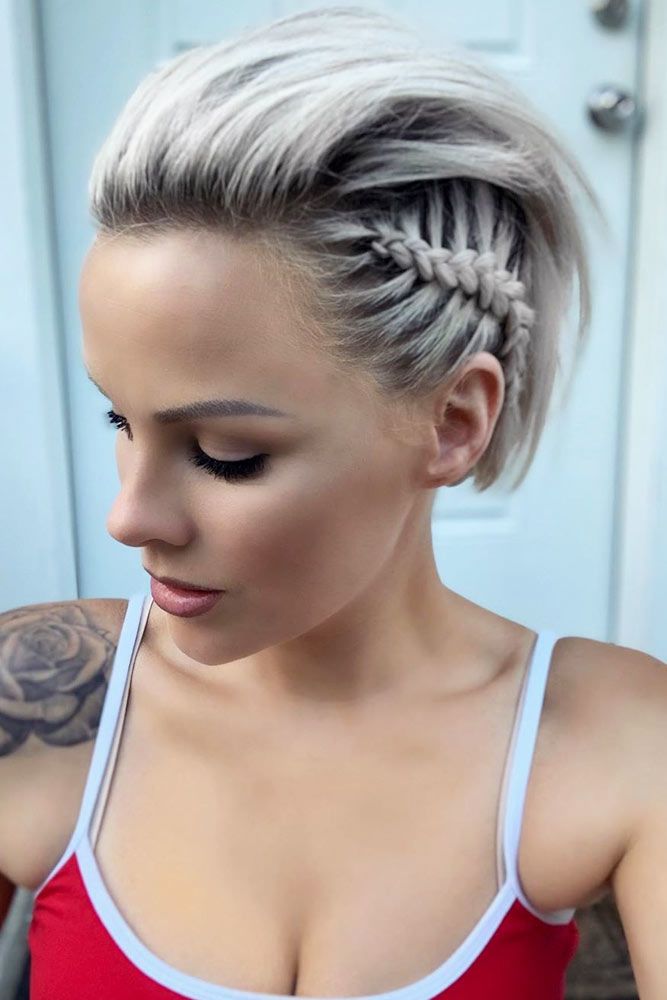 by @heatheraustrie
Want to rock the trendy pompadour but don't want to go for a commitment? Well, what if we told you that your creativity would be enough for getting the amazing hairdo? No, you don't need to shave the sides. And no, it's not about Rapunzel's hair length. Those who rock pixies and super-short bobs can simply braid the sides tightly so that they outline the top. Then, just style the top as you would do it for a pompadour and enjoy the ease!
Faded Pompadour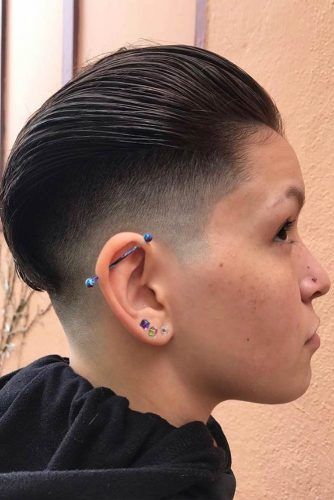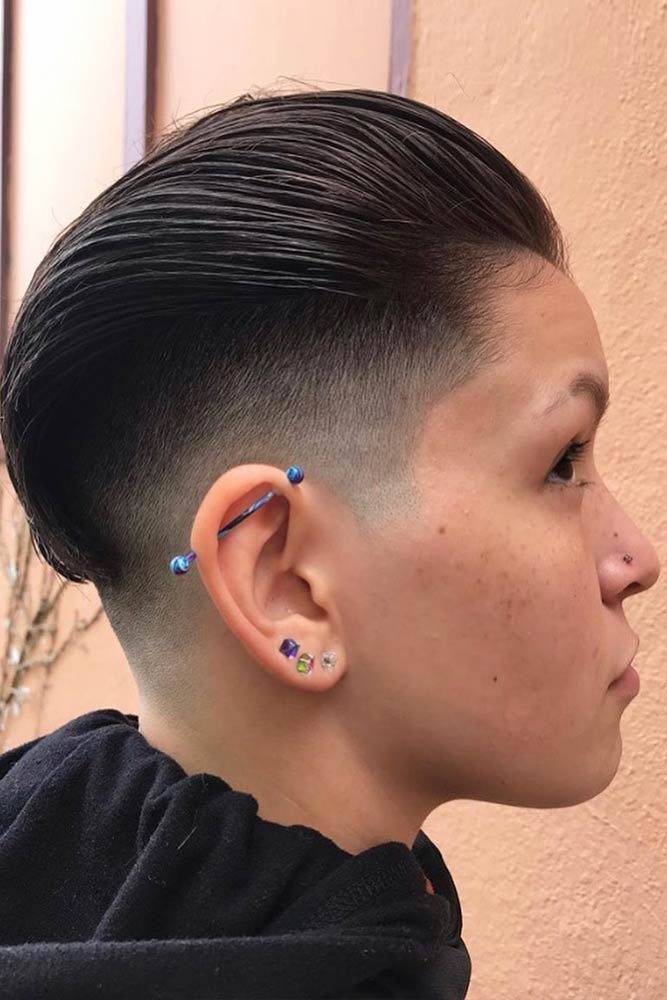 by @zoechops
Every stylish girl has her own picture of a perfect pompadour. Some like it messy and disheveled, and others like it clean and neat. If you belong to the second group, do yourself a favor and don't even dare to miss this spectacular faded pompadour! Not only does this style is perfectly graduated and textured but it also brings a breathtaking visual impact.
Pompadour Hairstyle For Short Hair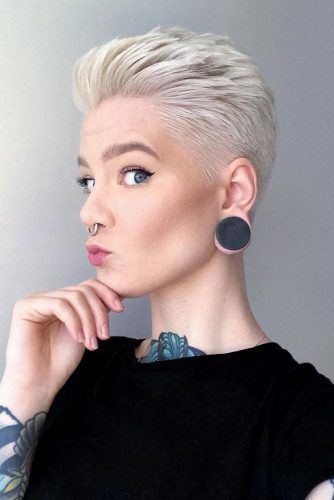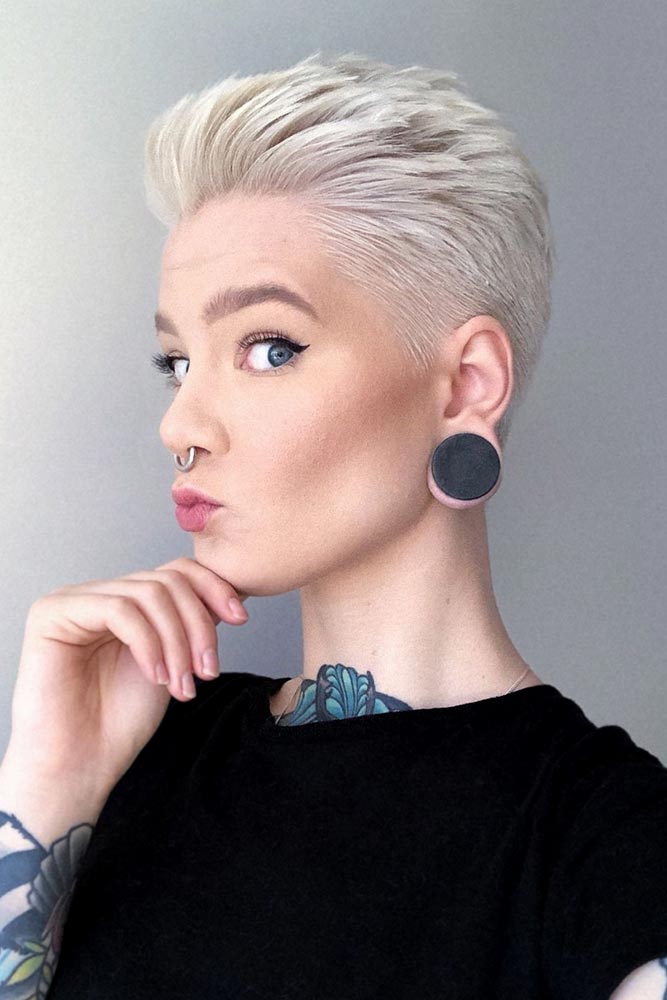 by @katrinberndt
With the right approach to your short length, you can flaunt with a unique version of the pompadour. Some lengths are so short that they cannot even be parted, but that's not a problem when you're friends with feathers and thick styling mousses. Ask your hairdresser to add some layers throughout your top and style it with an upward motion to achieve the pomp look.
Half-Shaved Head Pompadour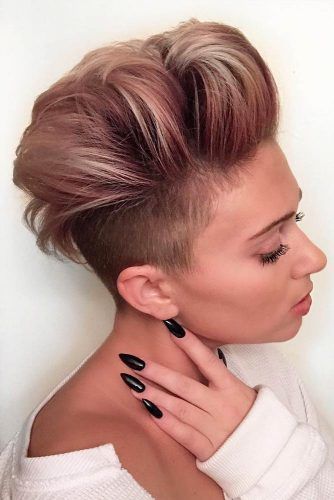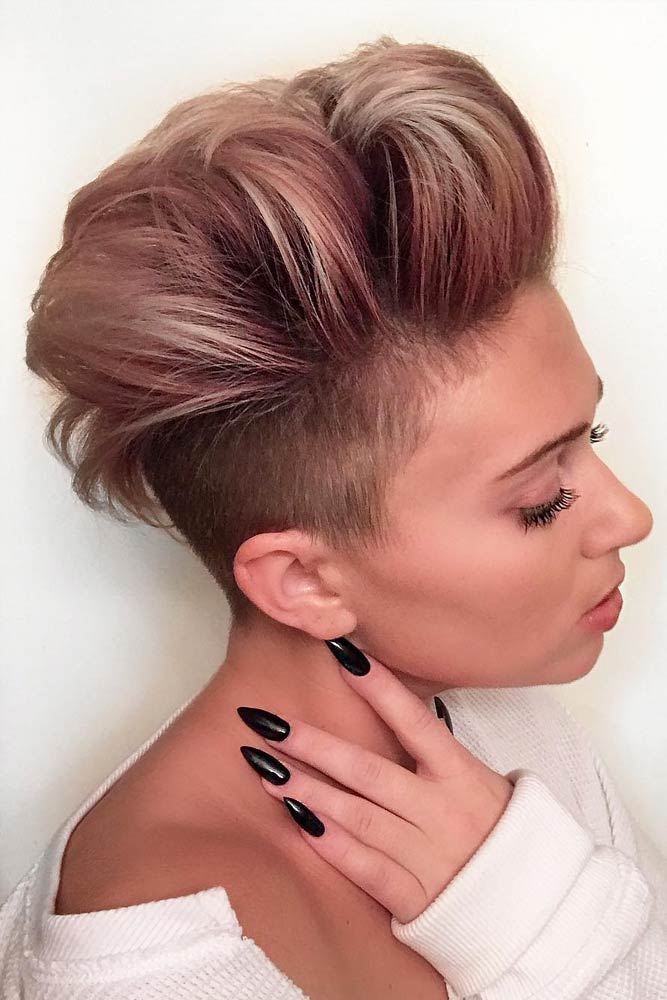 by @short_n_sweet823
When you want to put your hair in the spotlight, there's no better way than making your top the highlight of your look. Obviously, nothing can beat shaved sides when it comes to accentuating the top portion of hair. If you want to see your pompadour from a whole new perspective, you should give it a tight shave on the side.
Short Curly Hair with Pompadour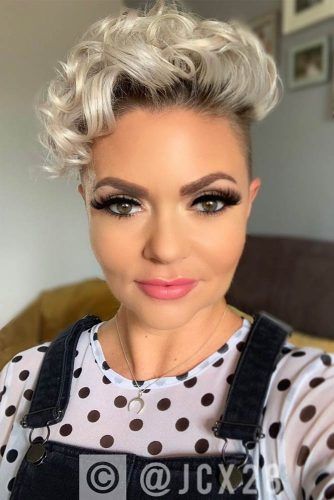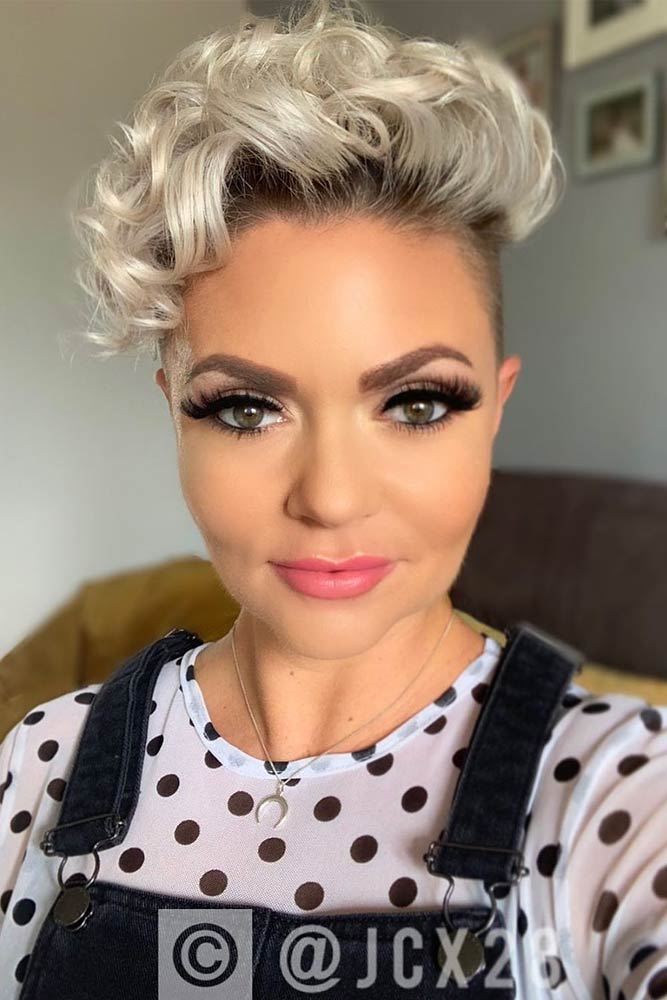 Source: jcx28 via Instagram
by @jcx28
Still think that this manly punky hairstyle kills the feminine vibe? First off, you've never been so wrong, as nothing can kill the magnifying power bursting inside of women. Second, this hairstyle has many sides, including girly ones! Just curl the top to get what we mean, girl.
FAQ: Pompadour Haircut
Are Pompadours still in style?
A short curly pompadour can yet appear full and beautiful due to the inherent volume that curls create. The best part is that it's very simple to style.
What kind of haircut should I get for a pompadour?
What exactly is a pompadour hairstyle? The top of the pompadour haircut features volume and length, while the sides are slicked back and short. Elvis Presley made the cut famous, though it has developed through time.
How long does hair need to be for a pompadour?
For a pompadour, the hair on the top of the head should be long enough to rest flat when back and be heavy enough when blown dry. For most men, this entails a minimum of four inches of length.
Was this article helpful?