Who would've thought that the rice water we get rid of while cooking dinners could turn out to be a wonder-working natural treatment? So How Does Rice Water For Hair Work? According to the latest buzz in the beauty industry, this everyday culinary ingredient is full of amazing benefits that can boost hair growth and strength. Moreover, the recently emerged beauty wisdom has spread not only all over the web. More and more popular manufacturers are launching products with rice starch extracts, promising to enhance shine and luster in hair.
In fact, rice water has been used with heath and beauty purposes for years. So how does it work exactly? Today, you're going to find out why you should start using rice water, how to do it right, and what products to consider.
Everything You Need To Know About Rice Water For Hair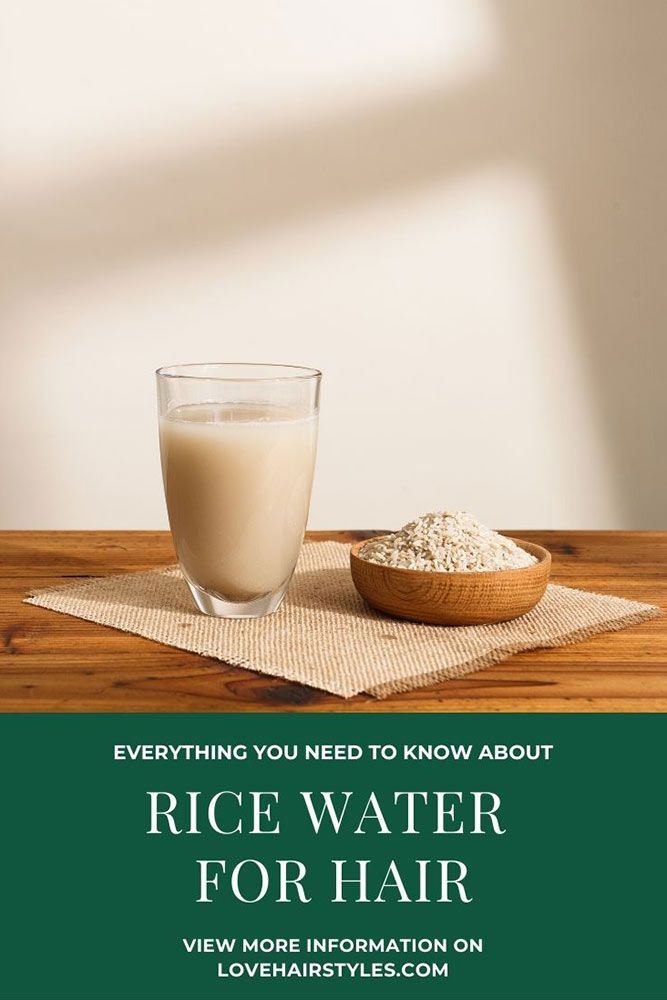 Why is rice water so special?
The buzz wouldn't happen for no reason. As it turns out, the milky liquid left from the soaking rice is rich in vitamin E, B vitamins, amino acids, antioxidants, and minerals that are beneficial for hair. If used regularly, such an organic beauty complex will promote shinier, smoother, and stronger hair. Some experts claim that most world-wide manufacturers are no strangers to the fantastic hair benefits of rice water, so they've been using it as a secret ingredient of their best-sellers.
How did we come to using rice water for hair?
Have you ever heard of the 'world's longest hair village'? The history of using rice water starts from a Chinese ethnic group of women living in a village called Huangluo, also known as the land of Rapunzels. Even in their 70's ladies have thick knee-long manes full of shine and luster. In the past few years, the secret shampoo recipe has been revealed - it's based on rice water.
The traditional method of rice water rinse for hair had been spreading by word of mouth before it came to the web. And now, when all the benefits of using rice water for hair growth are on a silver platter, it's easier to go natural than ever.
Plain rice water vs. fermented rice water - which works best?
While at first sight there's nothing complicated about making rice water, it has several variations, among which plain rice water and fermented rice water for hair are the most well-known ones. Let's have a look at them both.
The pH of plain rice water is higher than the human hair's pH. During fermentation, the pH levels of the rice water are brought down to suit the pH of the hair, thus closing the cuticles and protecting the hair. Since it's acidic, it restores your pH level.
Also, fermenting rice enhances natural nutrients and vitamins in rice water. Apart from encouraging hair growth, it can improve the condition of your locks.
On top of that, fermentation of rice water releases a substance called 'pitera'. It's rich in essential vitamins and acids, so it can promote cell regeneration for your skin and hair.
Is there any research confirming rice water benefits?
Although there wasn't a scientific trial indicating the effectiveness of rice oil, experts claim that the components contained in it can drastically improve the hair shaft and its condition. The vitamins and fatty acids found in rice water are good for making hair soft, providing thermal protection, and improving split ends.
Benefits Of Rice Water + Expert's Answers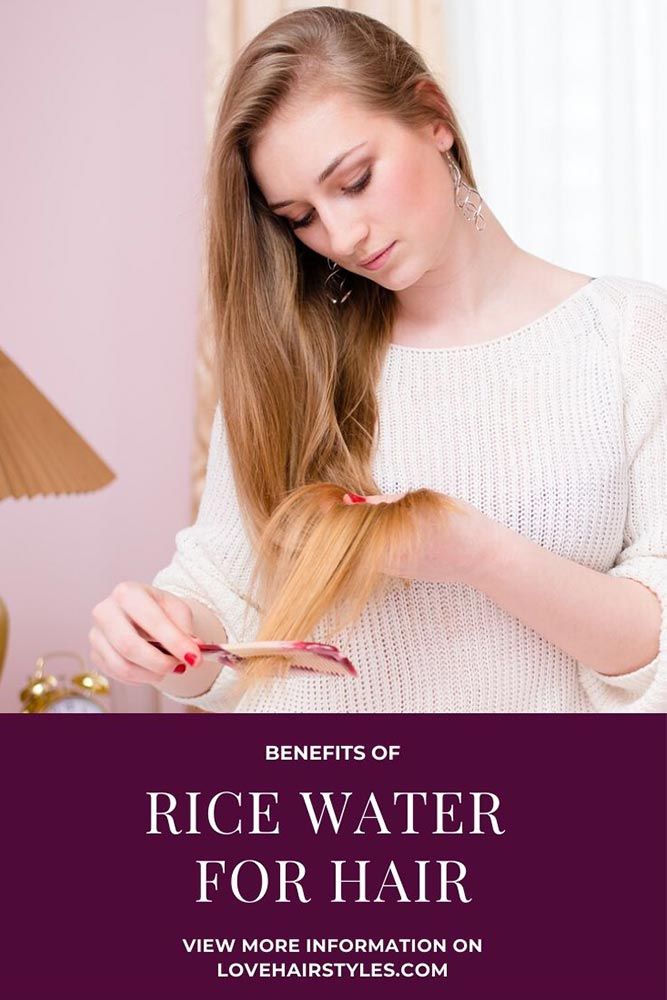 What you've just read is only the beginning. Now, let's finally cover all the benefits of using rice water for hair.
1. Encourages Hair Growth.
With the help of amino acids present in rice water that have regeneration properties, you can aid hair growth. Alongside that, rice water contains such essential hair-growth vitamins as B, C, and E, which, paired with a healthy diet, can help your hair grow longer and thicker.
Q: How long does it take for rice water to grow your hair?
A: Remember that it's an individual matter that depends on your lifestyle, as well as the state of your hair. In general, after rinsing your hair with rice water at least two times a week, you can see the first pleasant results.
2. Deals With Split Ends
Rice water has plenty of proteins and amino acids that can protect the hair cuticle and prevent breakage at the ends.
Q: How does rice water help split ends?
A: Due to big amounts of repairing proteins, rice water can both improve the state of your split ends and prevent them from occurring. Try soaking your ends in rice water for 20 minutes before washing your hair. If you do it regularly, you will see improvement.
3. Protects From Damage
Rice water is known for improving elasticity and decreasing surface friction with the help of inositol. This carbohydrate is responsible for protecting the hair and repairing damaged cuticles.
4. Rinses & Conditions
Rinsing your hair with rice water can be a nice natural alternative to conditioning. Besides being all-natural, rice water can smooth out any tangles, make hair manageable, and improve your texture. Basically, it's a must-have treatment for women with natural hair, as it can whip coarse locks into decent shape.
Q: How does rice water help natural hair?
A: It conditions as it protects. Being rich in vitamins and amino acids, rice water can soften your hair while providing extra lift and strength to the cuticle.
5. Strengthens & Smoothens
The first and foremost property of amino acids and proteins present in rice water is deep nourishing that results in silky smooth hair and strong voluminous roots.
Q: Can I leave rice water in my hair without rinsing?
A: Using rice water as a leave-in conditioner is not recommended. Even when you rinse the water off, inositol remains on your hair. Let your hair soak up all the benefits for no more than 45 minutes, and rinse it.
6. Fights Dandruff And Lice
Lice and dandruff are the biggest enemies that can ruin all our dreams about long manes. Thanks to the antioxidants and acids contained in rice water, you can keep yourself away from such problems and get rid of them with regular use.
Methods Of Preparing Rice Water
Now that you know how the magic of rice water works, it's DIY time! See the most common ways how to make rice water at home.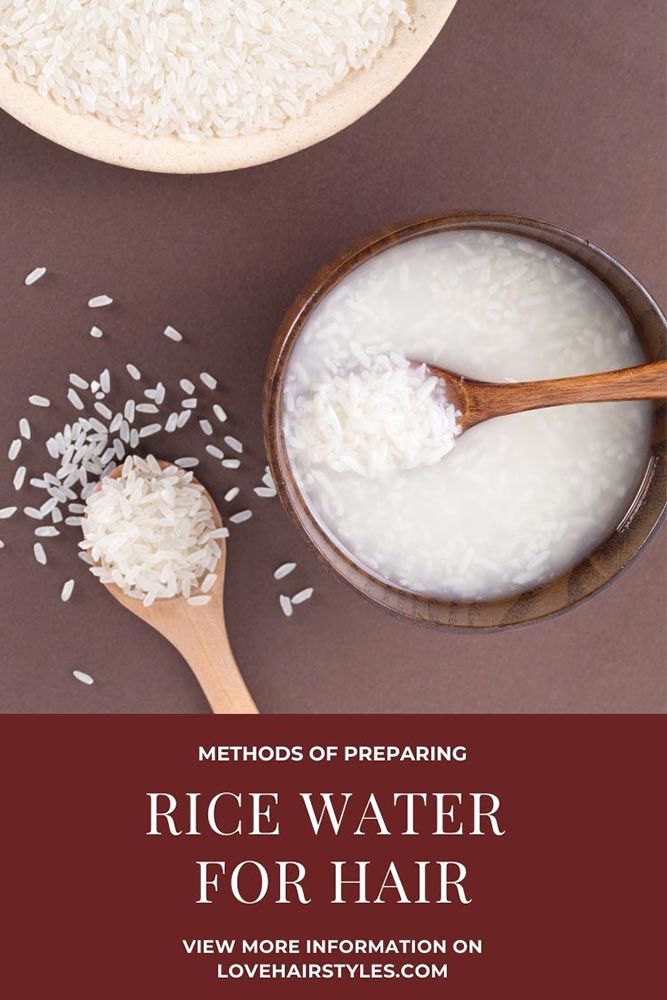 Boiled Rice Water
Boiled rice water is a dilutable concentrated liquid that you can use as a hair rinse or face wash.
How to:
Fill a tumbler with any kind of rice you have.
Then, fill it with more water than you use for cooking rice.
Let the rice boil until it's cooked and strain the excess water in the tumbler.
Use it as a conditioner or shampoo by adding essential oils to it.
Fermented Rice Water
When you leave rice water for a couple of days, it gets fermented, becoming even more beneficial.
How to:
Soak half a cup of rice in two cups of water, leaving it aside for 25 minutes.
Extract the water.
Then, transfer the obtained liquid into a clean jar and leave it for 1-2 days at room temperature.
Once you feel a sour smell, put the jar to the fridge.
Dilute the rice water with a cup of warm water before using it, as it's highly concentrated for direct use.
Use it as a conditioner or mask, mixing it with oils and mustard powder.
Tips To Wash Hair With Rice Water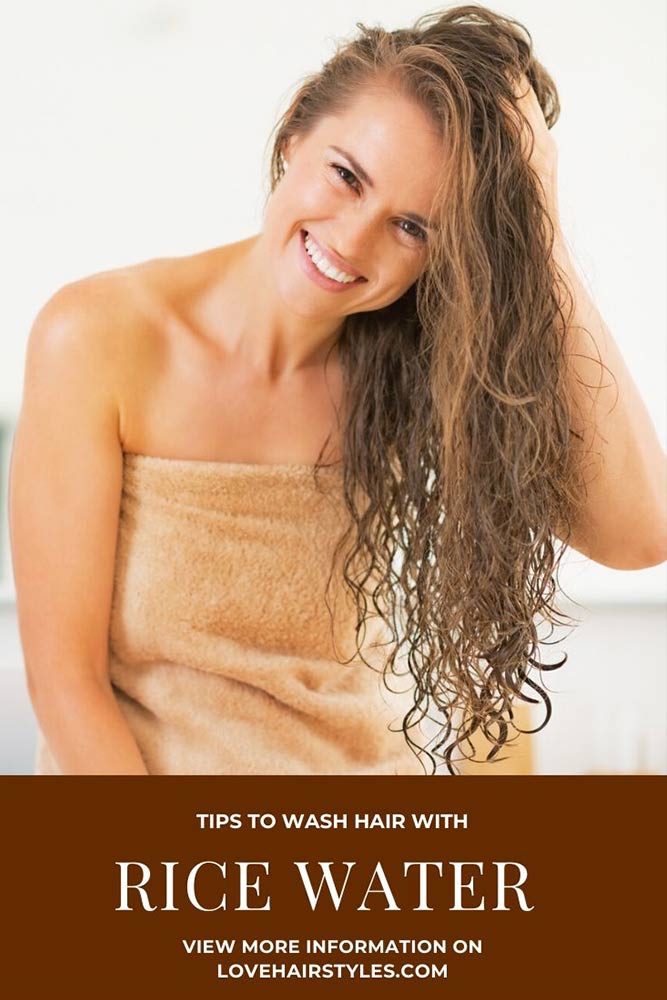 When you are about to incorporate rice water into your hair care routine, you should keep in mind some tips on how to use rice water for hair to get the most of its benefits.
Add a teaspoon of lime or any other natural clarifier to your rice water to get rid of its build-up. Though it contains cleansing agents, its concentration may leave some residue.
If you deal with hair loss, you can add a few drops of tea tree oil to your rice water.
To enhance the shine and strength of your hair, combine your rice water with green tea oil.
Top Hair Care Products That Contain Rice Water
As we told you already, many popular brands have been using rice water as the main ingredient of their game-changing products. If you wonder what products to pay attention to, here are the best examples.
Rice and Wheat Volumizing Shampoo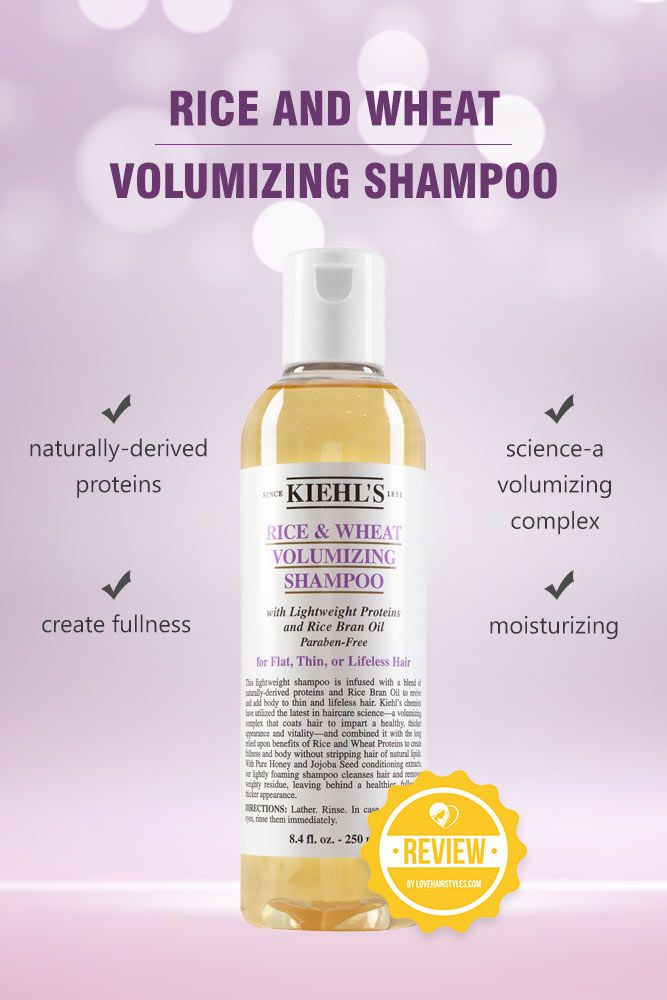 This shampoo by Kiehl's is a fantastic choice for women who'd like to boost some volume in their hair while conditioning it with the power of rice bran and wheat proteins.
Buy on Amazon
Curl Charisma Rice Amino + Avocado Hydrating Shampoo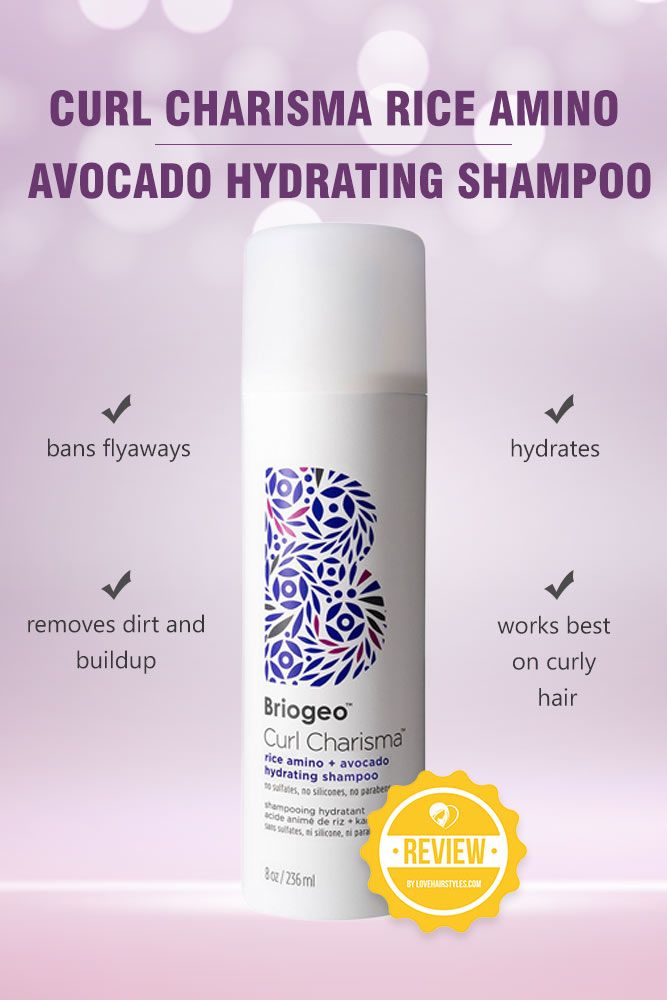 What can be better than a mix of avocado oil and rice amino acids when it comes to maintaining your curls? This shampoo will hydrate your curly hair, keeping it tangle-free and defined.
Buy on Amazon
Rice & Wheat Volumizing Conditioning Rinse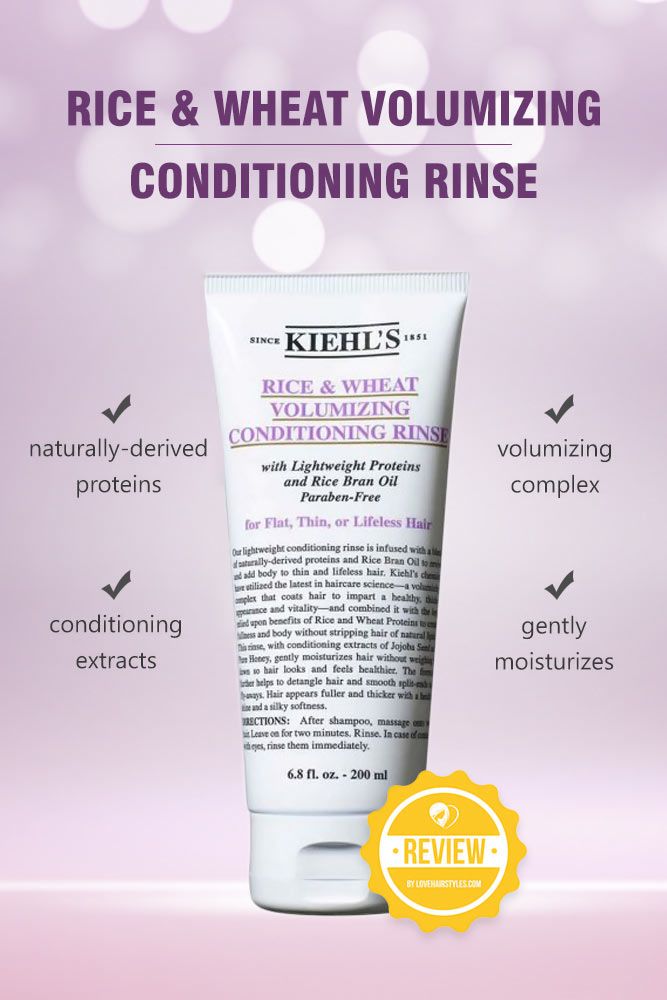 We love Kiehl's for their gentle natural approach to women's hair. By using this rinse after every wash, you will revive your damaged lifeless locks, turning them into a healthy shiny mane with no frizz and split ends.
Buy on Amazon
So, is rice water good for the hair? Absolutely. Such a simply derived product is full of hair health-improving elements that can provide you with a silky thick mane. The best thing is, rice water for hair can be used as a stand-alone treatment and be a base for DIY compositions as well.
Today, you've learned all the tips and key benefits of using rice water. We bet it's time to let this fantastic treatment into your hair life.
FAQ: Rice Water For Hair
Does rice water actually make hair grow?
Rice water is rich in carbs, minerals, and vitamins that can help maintain a healthy follicular environment in the scalp. In fact, rice water hasn't been scientifically shown to speed up hair growth, it can make your hair appear fuller and shinier.
How often should I use rice water on my hair?
Rice water is not recommended to be used more than once a week. Also, it should not be used as a leave-in spray. Using too much rice water, using it too often or leaving it in the hair for a long time can cause damage to hair.
Do you shampoo after rice water?
Yes, you do. Applying the rice water to your hair and then shampooing and completely rinsing it is the best option. Remember to wait until the rice water cools before you put it to your hair, because heat usually causes hair loss.