How to do a ponytail was one of the very first hairstyles we perfected as a child. Ponytails are probably the most popular hairstyles to date. How many of us throw our hair up in a quick ponytail on our way out the door when we don't have time to do a more complicated hairstyle. Or pull our hair back in a pony while we are cleaning or working around the home?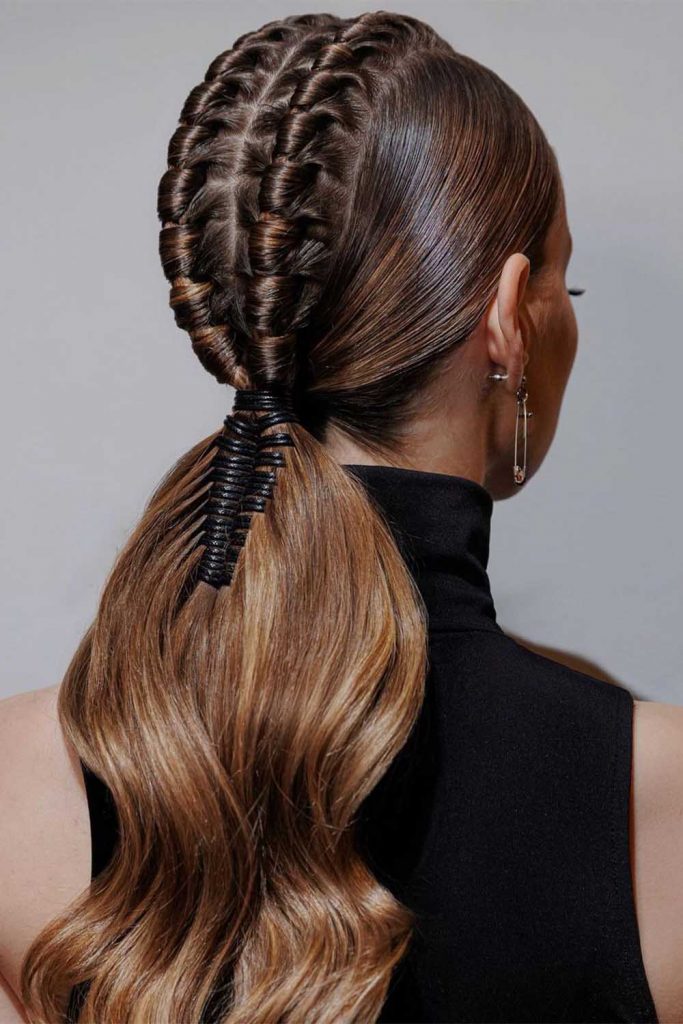 by @viola_pyak
Those with medium to long bob hairstyles can easily pull their hair back into a ponytail. But if you want a more intricate ponytail for a special occasion, you should consider something else.
So, if you are just bored with the everyday ponytail, you can take a look at the following hair tutorial. We have compiled a short tutorial of 4 different ways how to do a ponytail if you would like some variations.
Super Voluminous Ponytail

As the day progresses, your hair tends to lose volume and appear limp and lifeless. You might notice your ponytail starts to "sink" midday. As our hair can only stand to be teased so many times before it becomes sticky and frizzy, there is a simple alternative to making a ponytail that has a great deal more volume than the average slicked back pony.
For this look, you simply make two ponytails. Gather the hair from your crown and along the sides and gently raise the roots misting with a light hairspray. Then fasten this pony in the back of your crown with hair elastic. Next, take the remaining hair as well as the ponytail you just created. Gently tug at your roots until you have achieved the desired volume. Secure with strong elastic and tease it a bit with a medium holding spray and you're good to go for hours with this super volume ponytail. You can tie it with a colored ribbon or scarf to add some flair!
Topsy Turvy Ponytail

Remember the Topsy Turvy ponytail that was so popular in the late 80s/early 90's? Well, this old school ponytail has been slightly updated to look ultra trendy and chic. This style works great for a fun day out with the girls or a day at the office. And it's really simple, too!
Start by smoothing all of your hair into a ponytail at the middle of your neck, securing with an elastic hair tie. Then pull aside a ½ inch section from the ponytail and wrap that section around the ponytail to hide the elastic, securing with a hair pin. Next, lightly mist the remaining hair with hairspray or apply a small amount of pomade, then comb through till smooth.
Take small elastic and secure it halfway down the ponytail. Then section the hair within the elastic into two separate sections. Now flip the bottom of the ponytail up through the opening. Repeat this process one more time and then spray with a medium hold finishing spray. Now you're all set to rock this retro chic look!
Half Up/Half Down Ponytail

Ever have one of those days where you can't decide if you want to wear your hair up or down? Well, then this half-up/half-down style is perfect for you. And it works great for any hair style or texture.
Simply make a diagonal part from the center of your hairline going back to the right side of your crown. Then do the same, but going to the left. Next, make a horizontal part to connect the two, thus creating a triangle section. Secure this section with a hair tie and place forward. While taking a small section from the back of the pony, tease it a bit with some hairspray and brush or comb. Take a small section from the ponytail and spray it generously with hairspray and wrap it around to hide the hair tie. Spray the ends and secure. Add hair accessories to dress up this fun style if so desired!
Classy, Romantic Ponytail

This super sexy ponytail adds extra volume and texture to your hair and is great for a special event. It takes about 20 minutes to achieve, so it's not a quick go-to style. Rather it is a sophisticated ponytail for a special occasion, when you want to feel ultra chic and feminine.
Start with dry hair and backcomb the top and sides to give your hair extra lift. Using your fingers, gently pull more than half of your hair into a ponytail, smoothing as you go. Be careful not to miss your volume when securing it with elastic. Next, wrap a piece of your hair around the hair tie to conceal it from sight. Then use your thinnest curling iron to make small tight curls. Allow to cool and spritz with hairspray and tease again. Next, pull the remaining hair into a low ponytail combining it with the first. Secure it with elastic, wrapping another small section to hide it when finished. Then add some shine serum to smooth out if you think your hair is too frizzy.
Now you know how to do a ponytail to look nice. You can add some fun accessories if you wish. This style is both fun and classy and you will be sure to turn heads when you walk into a room!
FAQ: How To Do A Ponytail
How do you make a high ponytail not hurt?
Remember to take your hair down every hour or so to let your scalp's nerves recover from the persistent pulling sensation. If you do this frequently enough, your ponytail headaches may become less frequent. A good night's sleep can also help prevent headaches.
How do you cut your hair so it looks good in a ponytail?
Put your hair into a high ponytail.
Make sure there are no bumps and that all of your hair is sleek.
Grab the ponytail's end by flipping your head over.
Remember to cut straight across while cutting off the amount you want.
Was this article helpful?