Bad haircuts can come into our lives at the most unexpected times. You can enter the salon where you made an appointment with one picture of the result and leave it with a completely different reflection in the mirror. Before blaming the hairdresser, analyze whether you were clear and communicative when you explained what haircut you want. Or did you explain it?
Anyway, there's no need to be bathed in tears because your expectations of a fresh cut didn't meet the reality. Instead, you should put yourself together and try to fix the disaster left on your head. Based on countless spoiled lives and cuts, as well as celebrity hairstylist advice, we've highlighted wonder-working tips to help you revive from hair went wrong.
How To Deal With A Bad Haircut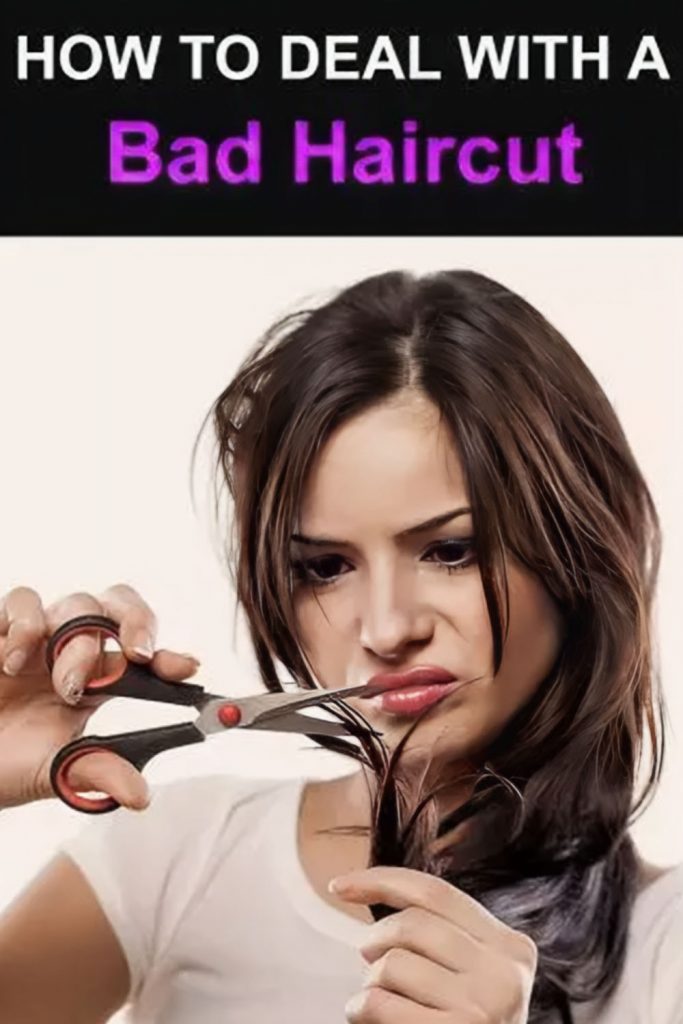 You can blame yourself for poor explanation of the desired haircut, blame your stylist for being unprofessional, or blame fate and cry a river of tears devoted to your precious locks. As much as we'd like to support you, it's just a waste of time. How about you to find out how to deal with a bad haircut and look beautiful no matter what? Below, you're going to find out the top game-changing hacks on making that grow-out phase stress-free and effortless.
Use Hair Accessories And Your Imagination
Whether you got your bad haircut from a hairdresser or you tried to experience a self haircut, there's always a way to make things look better, even if you've got a real disaster on your hair. Of course, it's hard to believe that something can cover up a huge mistake like a bald top with uneven bangs, but trust us: there are lots of accessories and headbands that fix bad haircuts. Exposed bobby pins, fake braids, and fancy scarfs are nice alternative ways to smooth everything out.
Wear Hats, Headbands
Today, women incorporate their headdresses and accessories into styling not only to add some stylish character to their looks. In fact, hats, headbands, scarves, and simple ribbons can become your saving grace for dealing with bad haircuts. You can put your hair into a bun and secure it with a headband, hide all your locks under a massive scarf, or put it all into a high messy knot finished with a classy ribbon. Just do your best to draw attention to an accessory and you won't weep over your spoiled cut.
Use Top Knots, Braids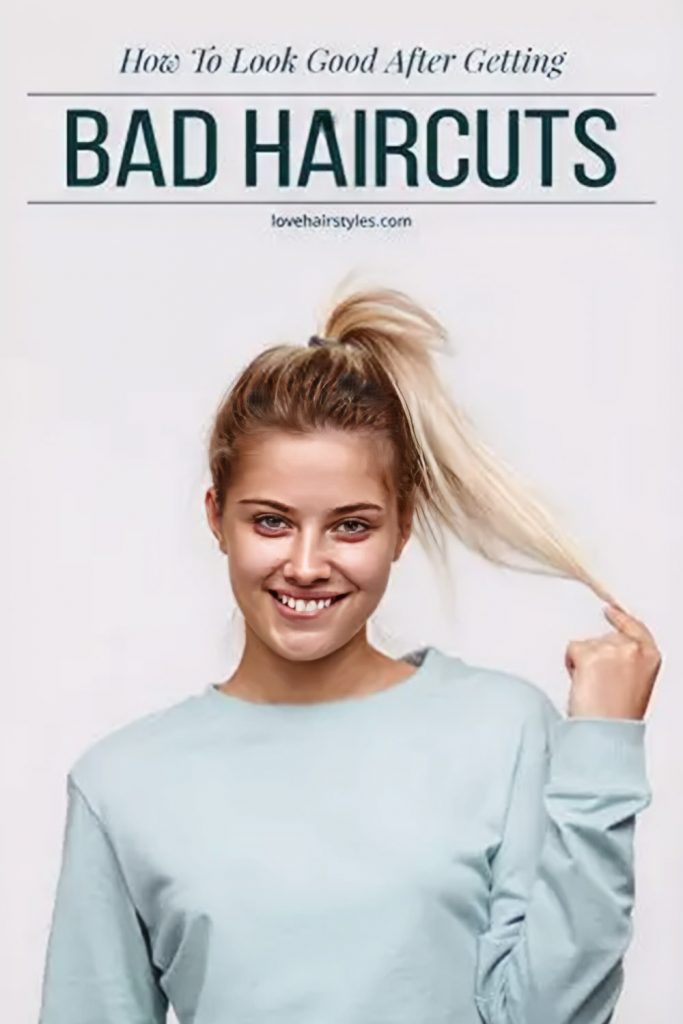 Alongside with knots, braids will also come in handy when you'd like to cover some unevenly-leveled and badly chopped haircut. You can experiment with various braiding techniques depending on the area of hair you need to conceal. For example, a classic Dutch braid keeps all the hair pretty tightly, so you can work on your texture by taming it into a thick braid. If only the top layer of your hair looks unpleasant, you can create a crown braid or simply do a half-up featuring a braid on the top.
Curl Or Straighten Your Hair
Sometimes bad haircuts aren't so bad: they just require a change of texture. Don't forget that heating tools can create decent looks even for the worst female hairstyles. You may think such a terrible fringe is helpless, but a flat iron or blow-dryer styling can sort things out. Some haircuts may look better when they're waved, curled, or straightened. Once you get your horrible cut, don't give up: play around with the texture.
Use Quality Hair Products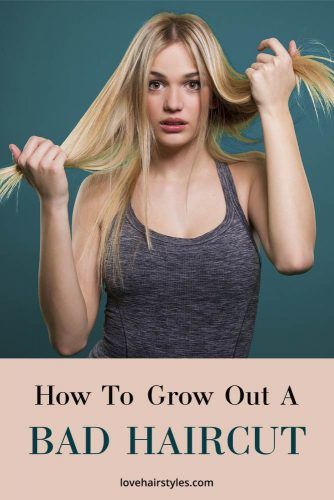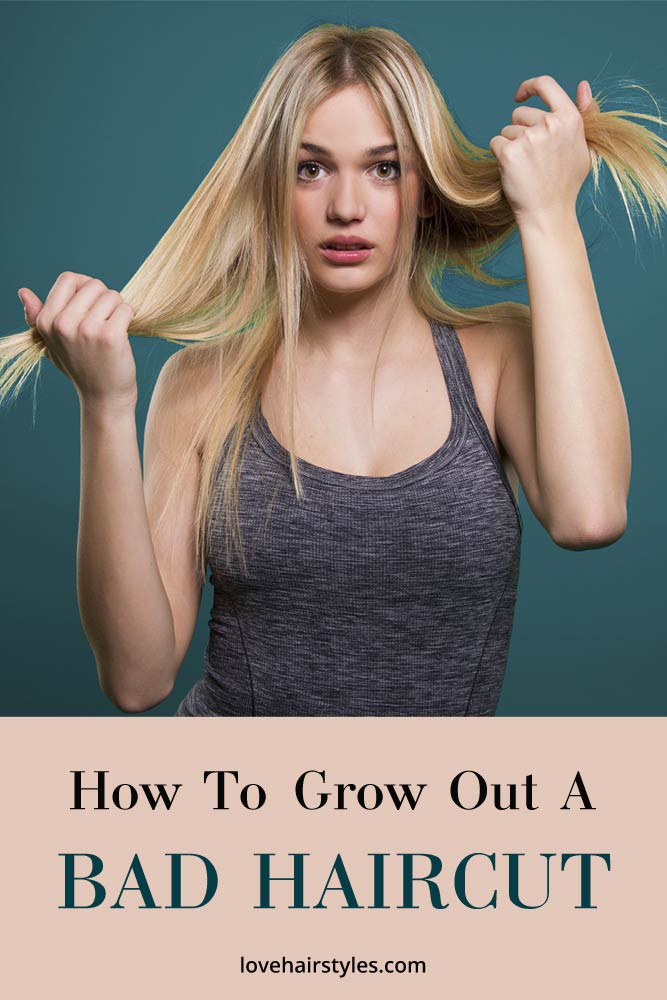 Remember how many times you left the mall with a wide grin on your face and lots of stunning clothes in your hands but got desperate when you tried them at home? The light was crucial. We're trying to tell you that the same thing might happen to your haircut: you may leave your stylist with an awesome cut, and wake up with a horrible one the next morning. And this time, the products are crucial: when styling your haircut, stylists apply many high-end products to maintain it. So there's no better way on how to fix a bad short haircut than to style it with quality care products. To avoid bad hair fix, ask your stylist some questions about the products, amounts, and styling.
Try Hair Extensions
We can imagine your temptation to give up growing out your hair and skip the phase by simply cutting it shorter. But, this extreme will only make things more complicated when you want to grow a long mane again. And this is where hair extensions should come in. Clip-in extensions are a nice idea, as they are affordable and can look pretty natural. Consult with your stylist (a good one, of course) on the color of the pieces you want to buy and ask him or her to trim them so that they seamlessly blend with your own hair.
How To Avoid Bad Haircuts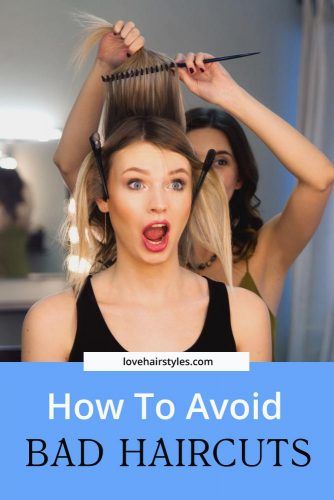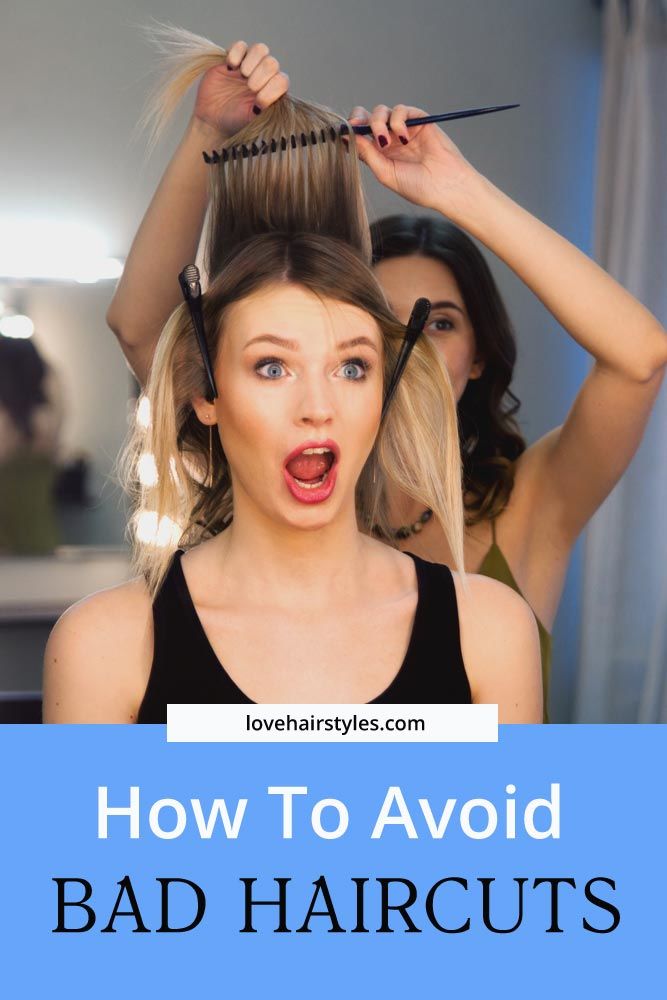 Now, you're probably thinking of how to actually keep yourself away from those seven circles of growing and hiding. Basically, there are many important moments to which women don't pay attention, and which consequently result in bad haircuts. Here is what you should know to prevent them from happening in the future!
Find The Right Hairstylist + Stalk Your Hairdresser On Social Media
One of the main mistakes that always lead to getting bad haircuts is that ladies call the first hairstylist who comes along. Besides the importance of finding a technically skilled professional, you should make sure that your stylist shares the same fashion views. In other words, you should know that there's common ground between you two. Who wants to become a lab rat of a crazy experimentator who's about to try out some weird hairstyles for short hair, after all?
If the stylists you find to be suitable for your needs have a profile on Instagram or Facebook, where they share their last and best works, check it before making the next appointment. Go through their galleries, find out if their approaches fit your taste, making sure that people don't get the worst haircuts ever when they stand up from their chairs.
Bring A Photo As An Example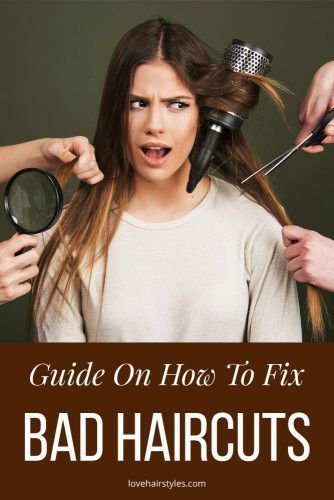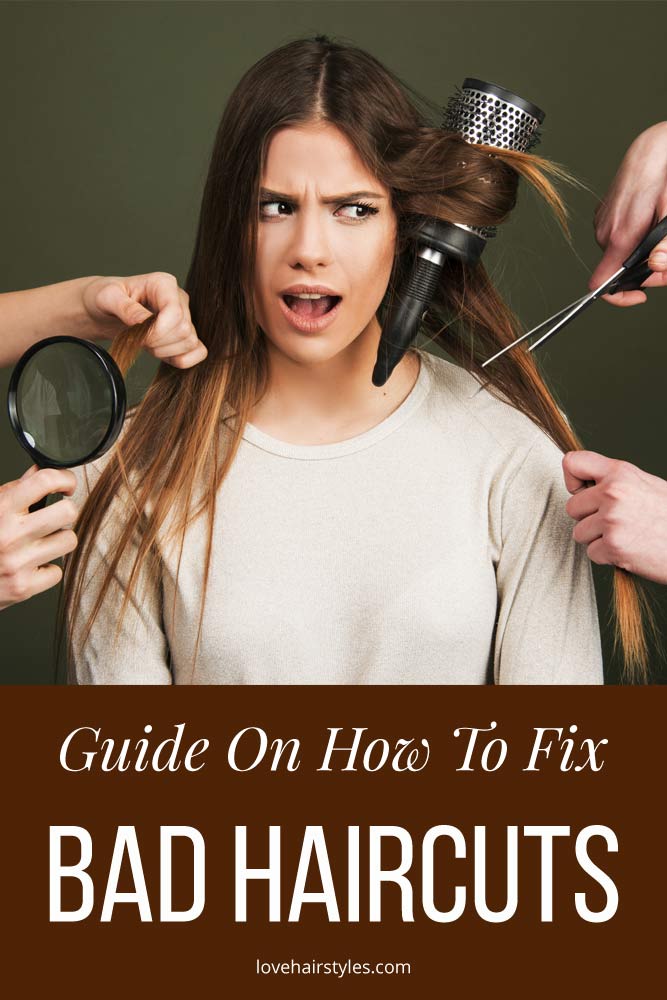 Remember that your explanations might be clear only for you. Some things are better to show before explaining what you want your new cut to be. Bangs, layers, colors, angles: even if you've mastered describing what you need, your images of short colorful cuts may differ from your hairstylist's. The best way to stay away from such miscommunication is to find a pic of the desired cut. Sometimes simple words like "I want a grassy or choppy short layered cut with multi coloring" may end up as one of those hilarious haircut fails.
Always Ask To See The Back
The truth is, another reason why we may become the owners of the worst women's hairstyles ever is that we tend not to control the process. Leaving it all up to a professional isn't always a good idea, as you can't know for sure that he or she didn't miss something. Ask your hairstylist to show you the cutting process from different sides, especially from the back. Don't be shy to suggest or ask something so as not to turn into a victim of sheers.
When Dealing With Cuts, Quantity Equals Quality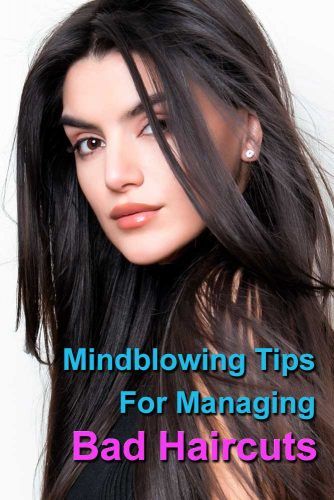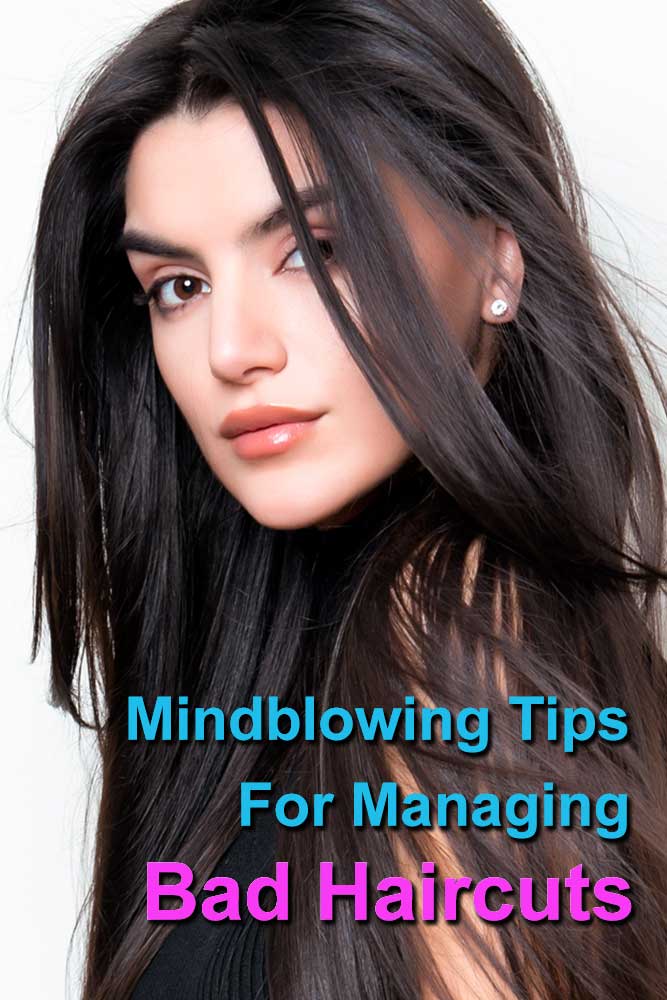 When it comes to changing something in your style, your haircut is the last thing you should save on. Believe it or not, in case of most salons, if you buy cheaply, you pay dearly. There's no way you'll get yourself ugly hair if you decide to go to a professional salon where prices are slightly above the average. But there's a strong chance that people will get bad haircuts if they enter the door of an unknown hairdresser's that offers low prices.
There's a belief that ladies who get worst haircuts of all time fall in love with them in a couple of days. We're not trying to say that you should go with a flow and accept everything you don't like as it is, but you may get used to your new reflection in the mirror in a day or two. Give your new cut a chance, let yourself adapt to the new image, and if it doesn't work after a few days, go back to the stylist for an upgrade.
We know, weird haircuts like this one seem to have no salvation. And even if it's hard to do, don't panic! Your hair can always grow out and be fixed in a couple of weeks. Don't get desperate every time you see yourself in the mirror, try to get the most out of what you have by experimenting with embellishments or extensions, and always keep in mind that your locks will grow out soon!
We hope you understand that a couple of unsaid words, poor explanation, and miscommunication can turn into a real, long-lasting hair trouble. Since you are familiar with the top mistakes that cause bad haircuts, you won't ever let them happen. Talk to your stylist, control the process, and don't panic if something goes wrong: you know how to fix it!
FAQ: Bad Haircuts
What do you do when you get a bad haircut?
Inform your hairstylist right away.
Concentrate on what you don't like.
Try a different hairstyle.
Wear headdresses.
Shave the bad haircut off.
Wait until your hair grows.
Can a bad haircut damage your hair?
There is no proof that a poor haircut or style will affect your hair's growth pattern. A poor hairstyle is exactly that…a terrible hairstyle. Your hair will surely grow back in time, and you will be able to cut and style it to appear better than it did before.
Can a bad haircut be permanent?
Thankfully, a bad haircut isn't permanent. Your hair will grow back as long as you don't have a receding hairline. For a while, you will not look the way you want, but it's not a catastrophe.
Was this article helpful?