Some girls call them bantu knots, some call them protective hairstyle, and some think that these cuties are a good way to get unbelievable curls. What about us? We call them boldness, stylishness, and attractiveness rolled into one. Yes, this eye-catching hairstyle that we usually see on African American goddesses has many names and faces: let's face all of them today!
No wonder that these small, knot-like coiled buns get your attention; all the women with a good taste and sense of style would like to pull them off. Why don't do this right now? Go on reading to follow some handy tutorials and fancy ideas on how to bring this beauty to life and sport it awesomely. Let's go!
How To Create A Wonderful Hairstyle With Bantu Knots
This tutorial will show you how to get yourself a creative and stylish hairstyle with bantu knots. Of course, you don't need to put all of your hair into knots: it's better to combine the beauty of natural hair and these cuties. Let's do that!
Before you start:
Wash your hair with shampoo for natural hair and soften it with a leave-in conditioner.
It's better to use some silky hair conditioners when your hair is almost dry so that its tamed and flexible for working with it.
Get some banana clips and hair bands.
How to:
Start from doing three bantu knots in the front, parting sections into two, twisting them, and wrapping around the base.
Then, do six two-strand twists in the back.
Secure the twists with banana clips and give them a day.
Untwist each back bantu twist and enjoy your full and voluminous chevelure with bantu knots!
How To Curl Your Hair With The Help Of Bantu Knots
As it turns out, bantu knots are even more advantageous than you think! They're actually a nice, healthy, and easy way to get bouncy curly hair. Remember always to have your hair damp when going for bantu experiments: it's easier to manipulate with slightly wet hair. Plus, it avoids limping that wet hair styling may cause. It's also a simple overnight hairstyle! So, see how you can create it.
Before you start:
Make sure you have a rattail comb, it's necessary for sectioning.
Curl cream will come in handy, as it can enhance the curling effect.
Don't forget about afro comb; it will untwist your curls without spoiling them.
How to:
With a rattail comb, section off the places for your knots and braid the hair so as not to mix the separate strands.
Before doing a bantu knot, brush the strand, straightening it a bit.
Create bantu knots all over your head and give them a day or a night and untwist them with an afro comb.
Gently run your fingers through your curls, adding body to your curly hairdo.
All Head Bantu Knots For A Bald Look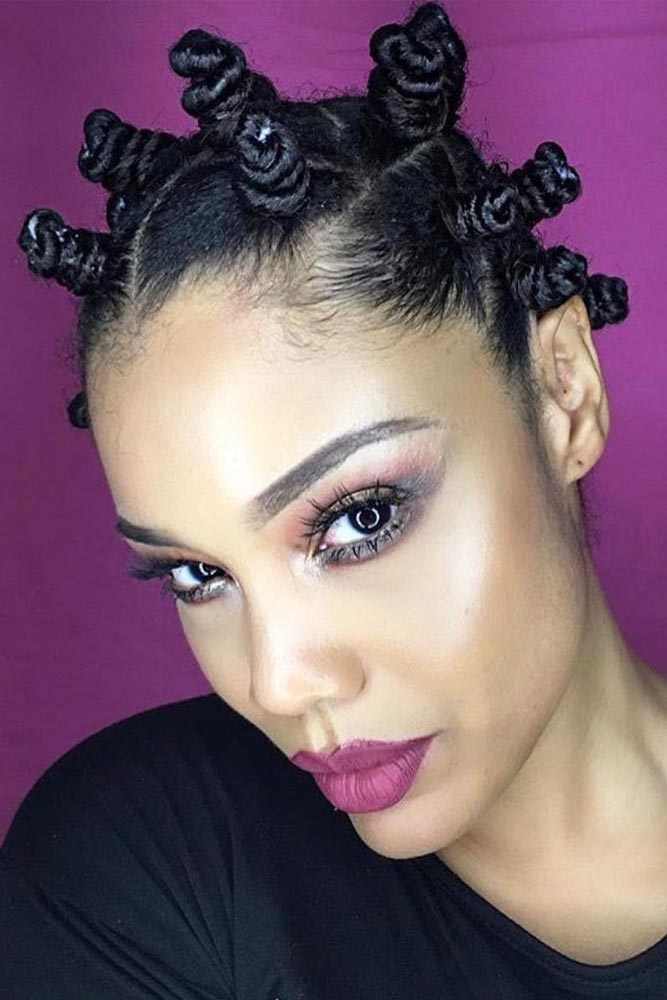 Credit photo: instagram.com/msboomboomroom
Bantu knots can come in different sizes; it's all up to you. This idea is here to let some inspiration to your heart: these neat and tiny knots are something ravishing! Needless to say, only confident girls can sport such a cute, yet sometimes weird hairdo. If you're one of them, getting this bold style is pretty easy: just pick smaller sections for twists when creating knots.
Sassy Mohawk-Like Bantu Knots Hairstyle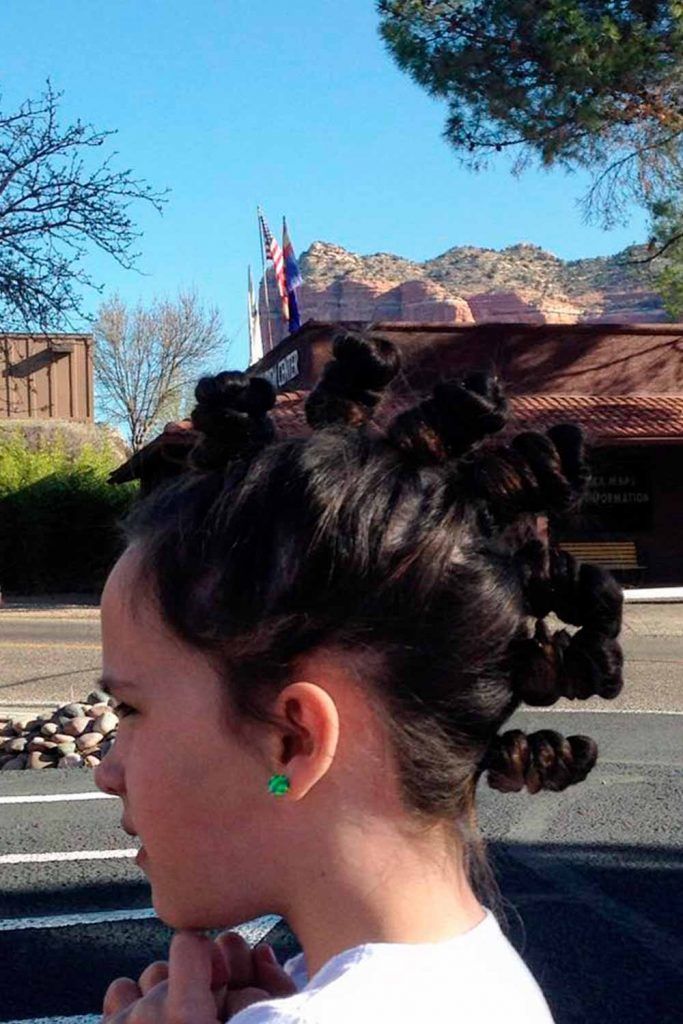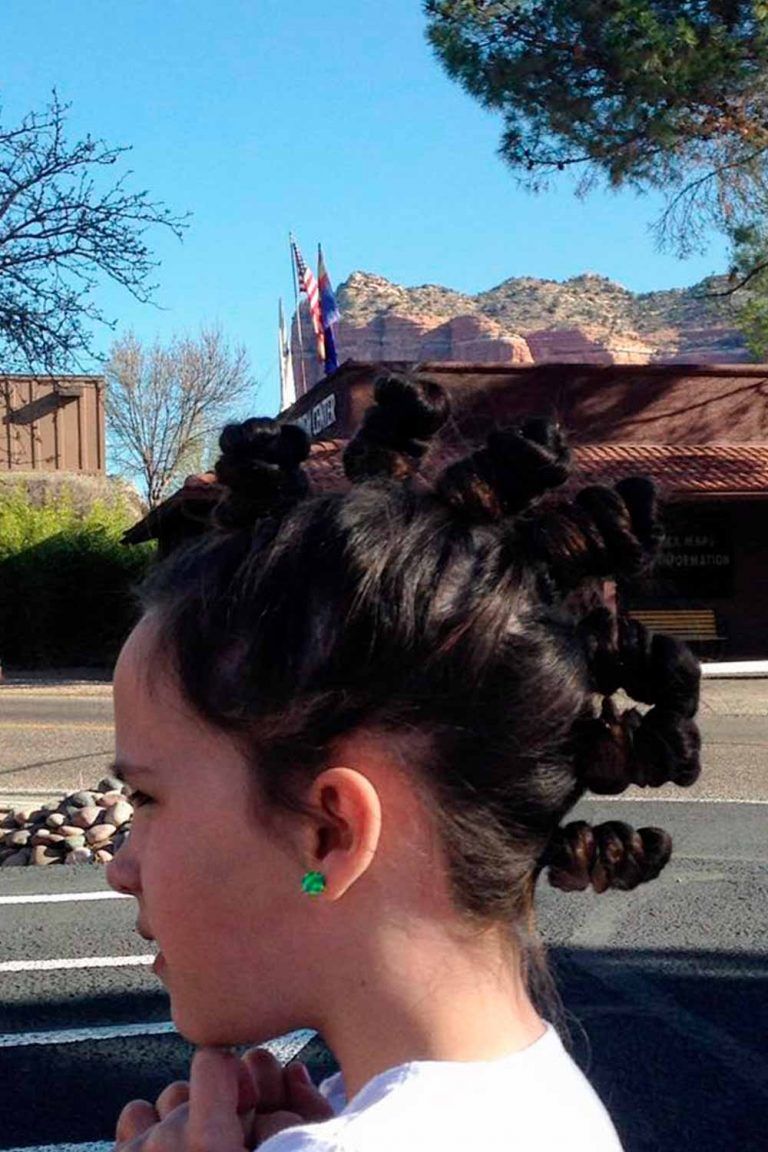 Credit photo: instagram.com/tostatrainingsystems
There are no limits for those who wear bantu knots: your hairstyle can be as creative as you please. Have you ever seen a truly girly mohawk like the one in this pic? The sides are brushed neatly, while the bantu knots, set in the center, play the role of the hawk. And that's not all yet! Your amazing curls hang on your shoulders, balancing out the whole silhouette.
Cute Bantu Knots & Hair Beads
When we want to finish an elegant updo, we accessorize it with an exquisite bobby pin. And when we want to adorn such a stand-out hairstyle as bantu knots, we can't do without hair beads. To keep your style look authentic, embellish your knots with some wooden, gold or silver beads. P.S. These knots will look amazing with two tiny braids.
Side Bantu Knots To Stand Out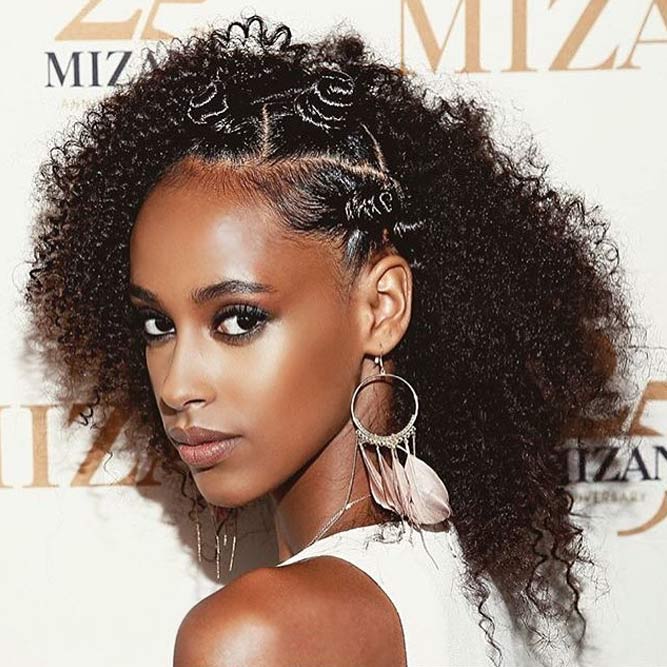 Credit photo: instagram.com/ablaao
Do you remember the second today's tutorial? Well, this hairstyle shows you how you can make it a little bit more different and fascinating. You can create bantu knots and wear them with lush curls that form the so much needed full silhouette, but this time they can be twisted on the side, giving you a stunning asymmetrical look.
Small Braids Into Bantu Knots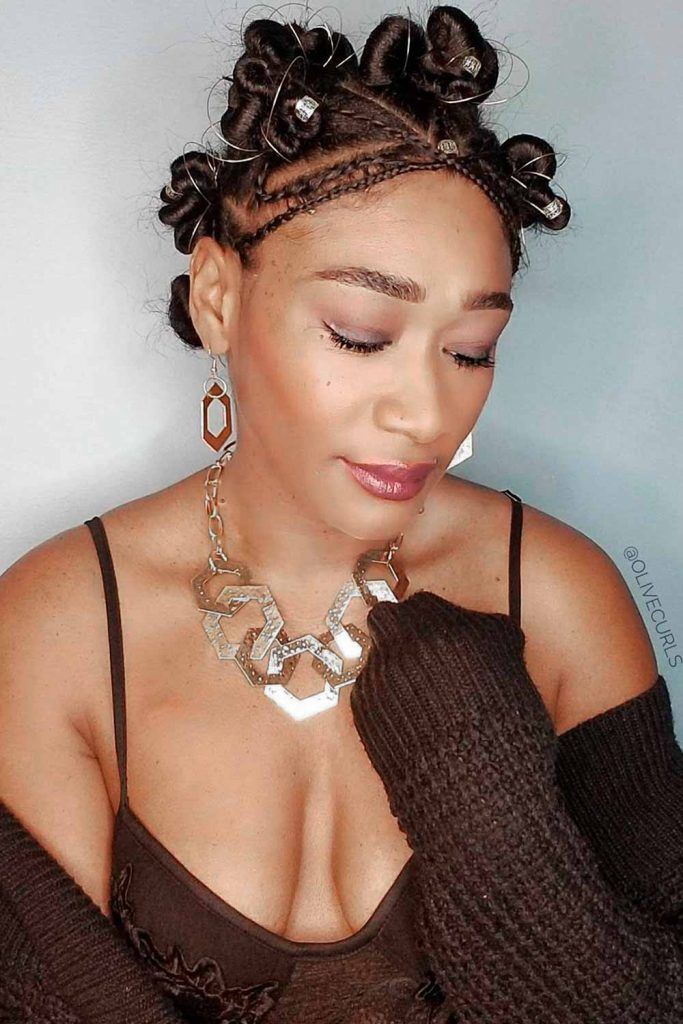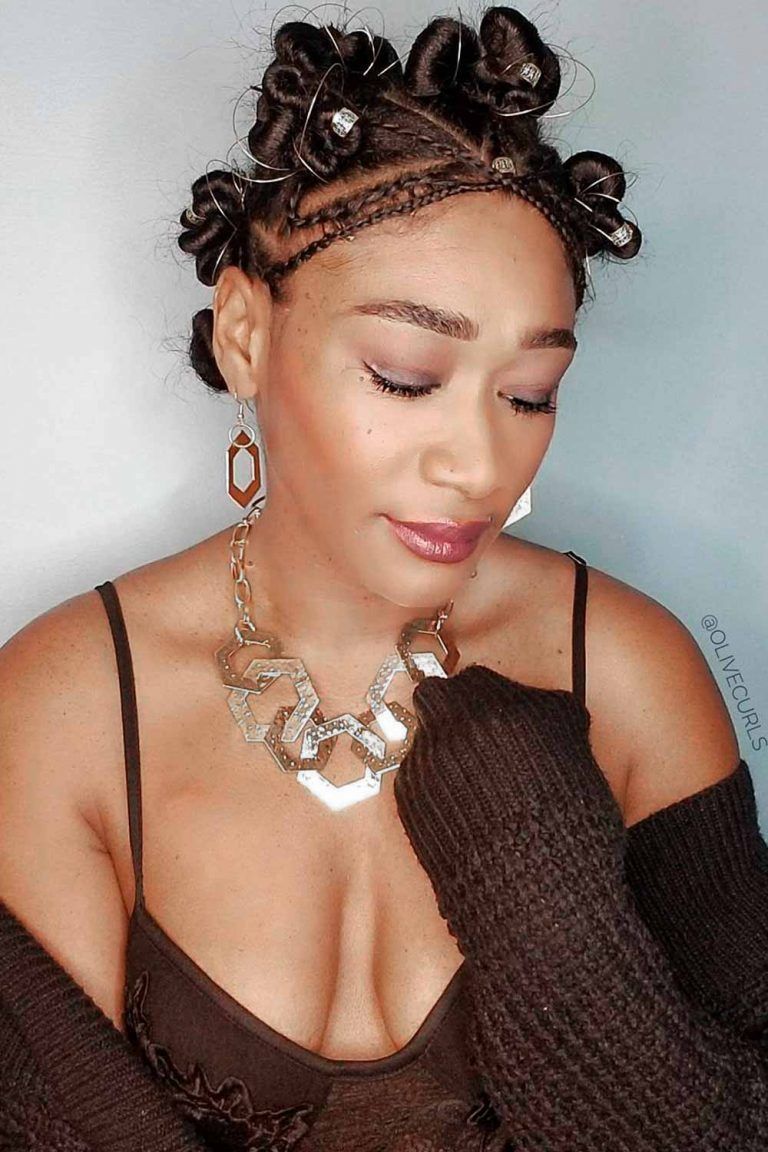 Credit photo: instagram.com/olivecurls
Braided hairstyles are like snowflakes: each one is totally unique. It's even hard to notice with a naked eye that this wonderful hair design is made out of braids! The point is to do proper, clean sectioning, create a lot of tiny braids and twist them into knots.
'KY Braids' Into Bantu Knots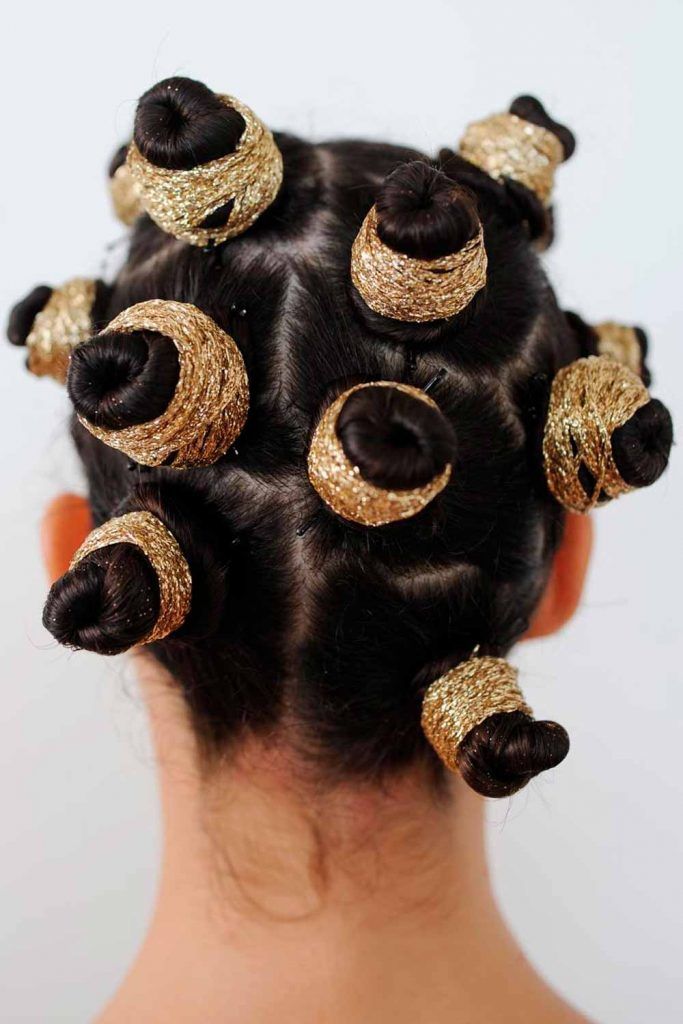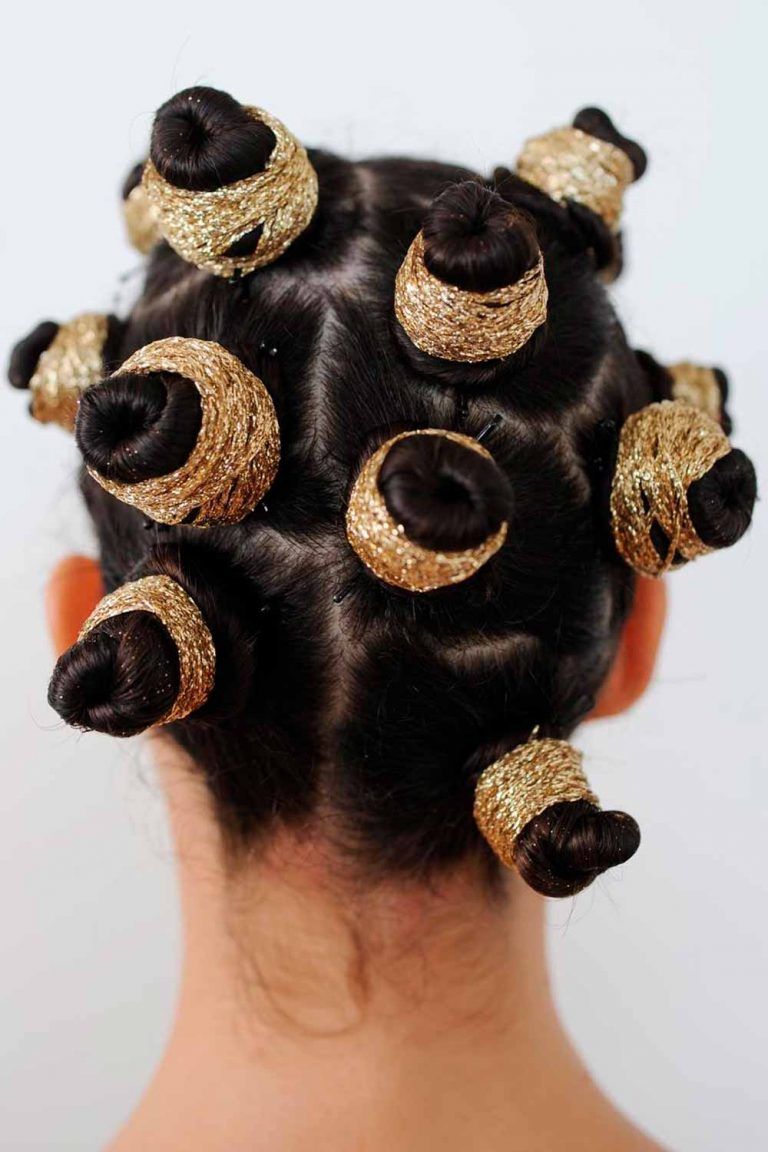 Credit photo: lovehairstyles.com/bantu-knots-ideas
KY braids that impress women with their colorful tribal patterns can be a good complement to your bantu hairstyle! Since we go for a protective style, our task is to make it as attractive as possible. And this idea is exactly what we need! You can choose any pattern that is to your mood and flaunt with a totally unbelievable style.
Big, Tight And Sexy Bantu Knots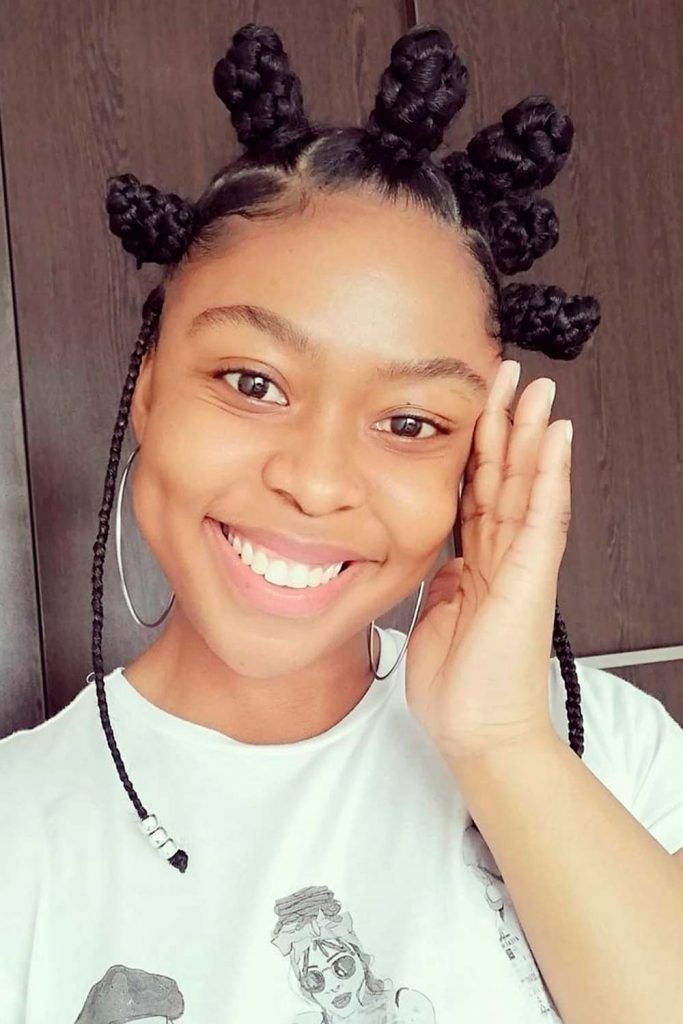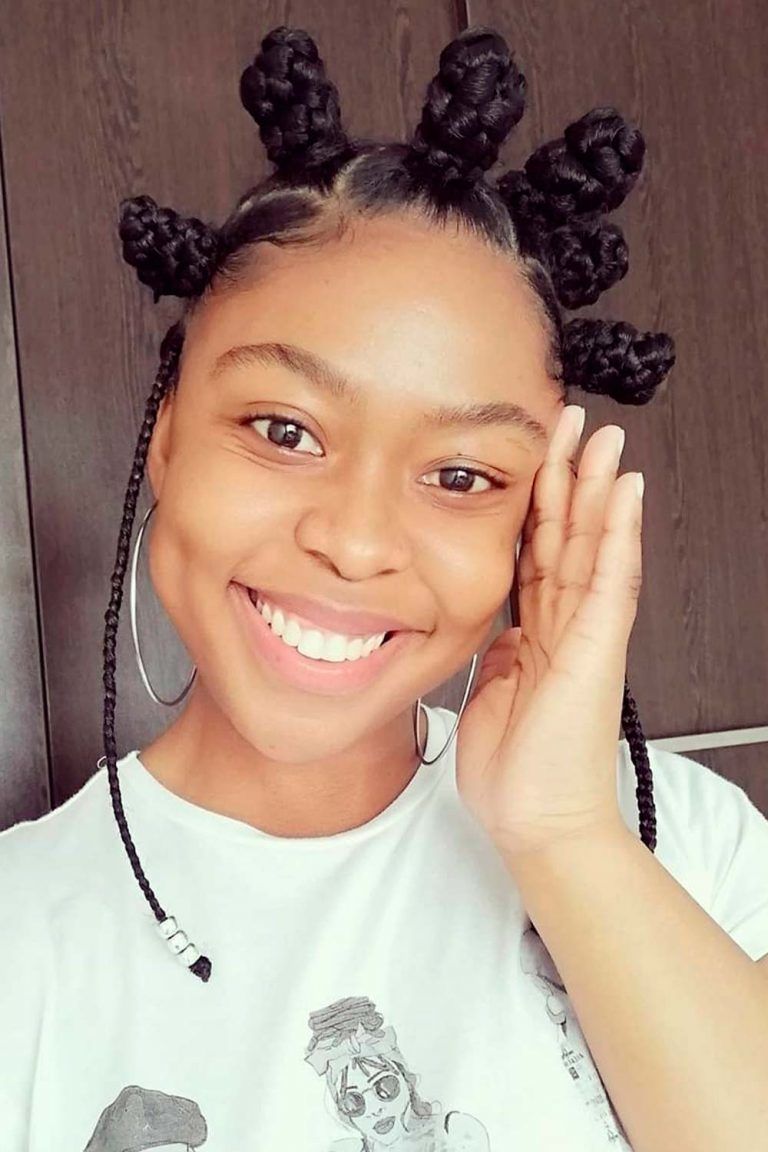 Credit photo: instagram.com/sinethembapuritymbatha
Here comes an attractive, eye-catching and absolutely independent hairstyle that doesn't need any accessories to look gorgeous. All the today's ideas keep your face open, showing that you're not afraid to show off your beauty. But this one takes hairstyles for black women to a whole new level. In other words, the bigger and tighter your knots are, the sassier and sexier your look is.
Creative Braided Bantu Knots Half-Up
Even the most flattering words in the world are not enough to describe this fabulous and colorful hairstyle! Ladies who really want to be in the spotlight, don't ever pass it by. And, oddly enough, you don't need to have long hair to get it. We would even say that it's a way to get bantu knots on very short hair. The point is to braid in some colorful faux locs and wrap them around your hair to enhance your knots. These knots will look like a crown, and you will look like a queen: isn't that awesome?
Tiny Little Bantu Knots With Blue Vibes
That's another good idea to let some colors to your life with bantu knots! It's a real masterpiece: just look at this complex hair composition. Long blue curls that become very little knots when going to the top, embellished with very thin braids are to die for. And you know what? When you untwist these knots, you will get an exceptionally full and voluminous curly crown. Just let them air dry, and once they're ready, you will steal the show.
Fancy Braided Bantu Knots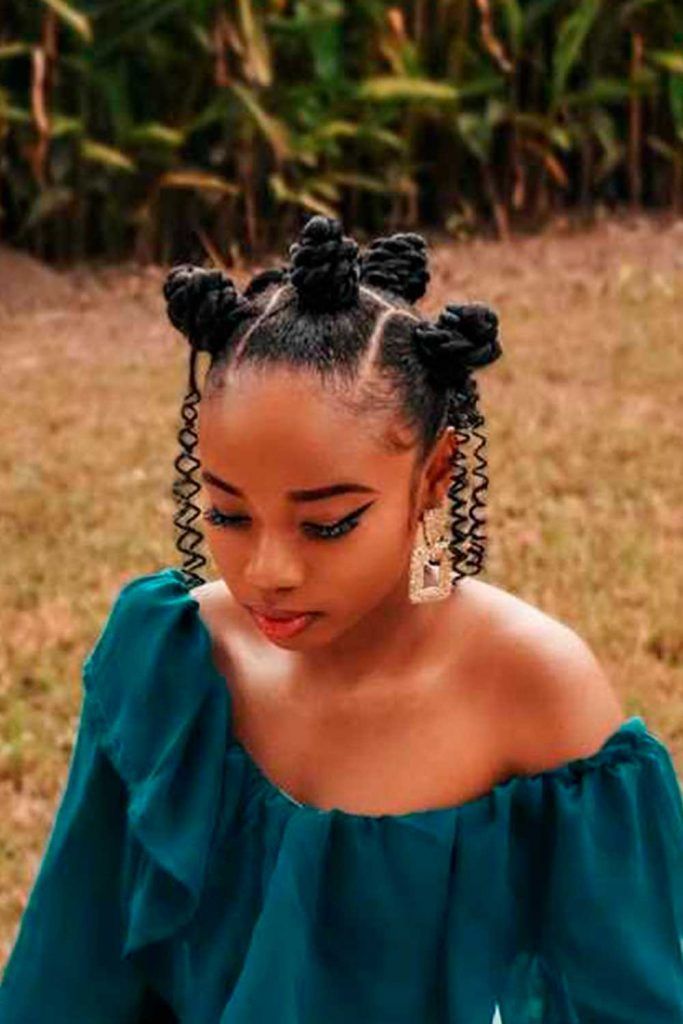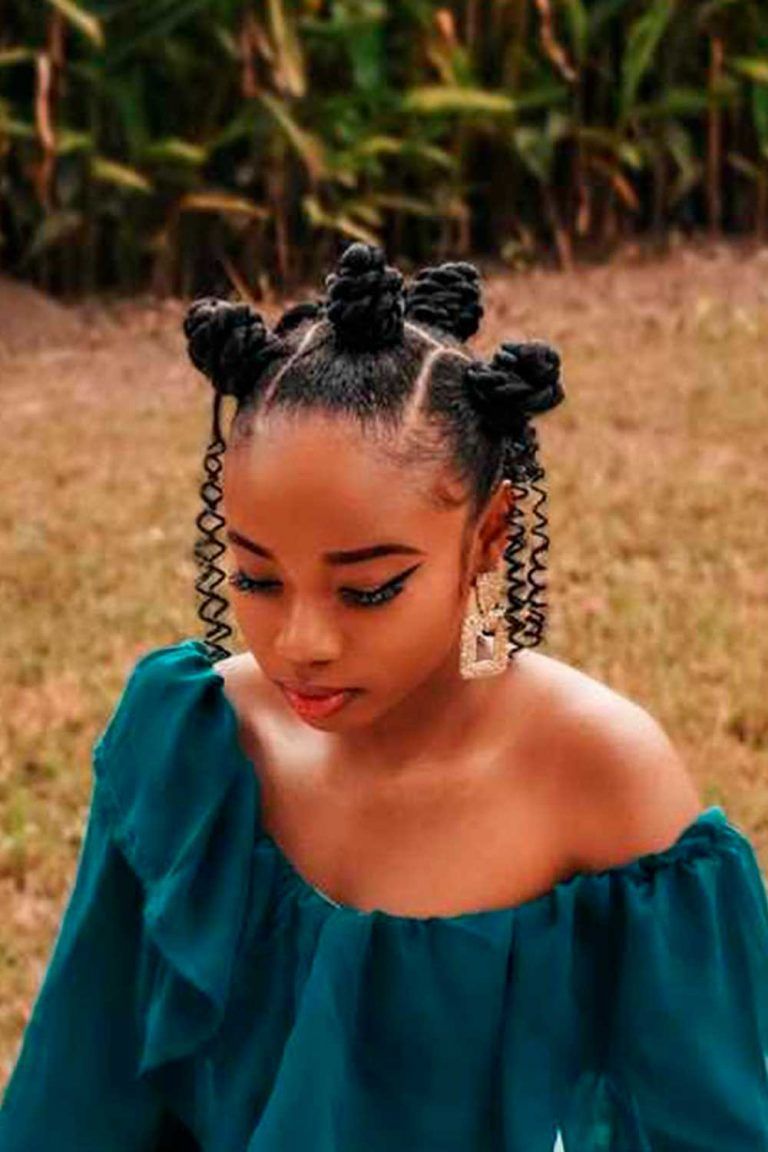 Credit photo: instagram.com/hairtalksbyray
Braids and knots, what can be better? The best thing about this hairdo is that braided hair gives an even fuller and silkier look to your hair. Keep in mind that before going for it, you should tame your hair with a conditioner to prevent knots, as they're not the knots we're looking for. Create sections that meet each other in a row, looking like a crown. To get this sumptuous look, don't forget to part your sections into two, braid each one and then wrap around the base.
Bantu Knots For Short Hair
As we've mentioned before, bantu knots for short hair can be troublesome. But not impossible! In this case, proper preparation is a key to the flawless look. Deep conditioning and oiling will help you to get relaxed hair so that it will be easy to manage. Remember that wet or dry hair won't give you such clean and tight knots: you should always work with damp hair.
Funky Colorful Bantu Knots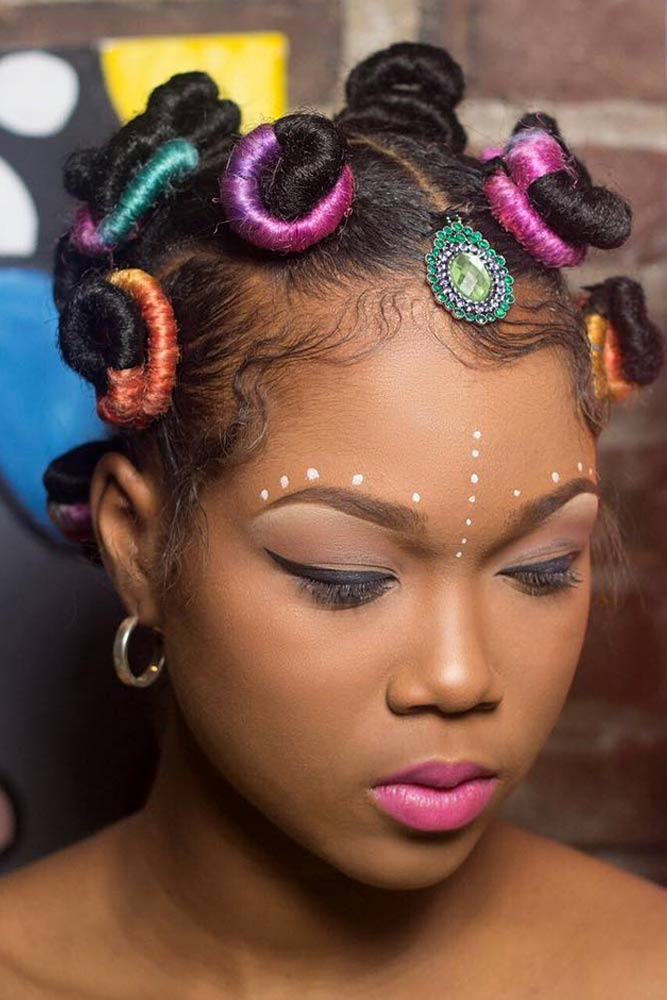 Credit photo: instagram.com/colorfulreaction
It's not necessary for you to dye your hair in bright colors to brighten up your days. Who needs damage? Dyeing hair isn't the best idea, especially when you can incorporate some colorful fake strands into your twists and get such an extraordinary look. Looking different is easy!
Accentuating Bantu Knots With Ombre Ends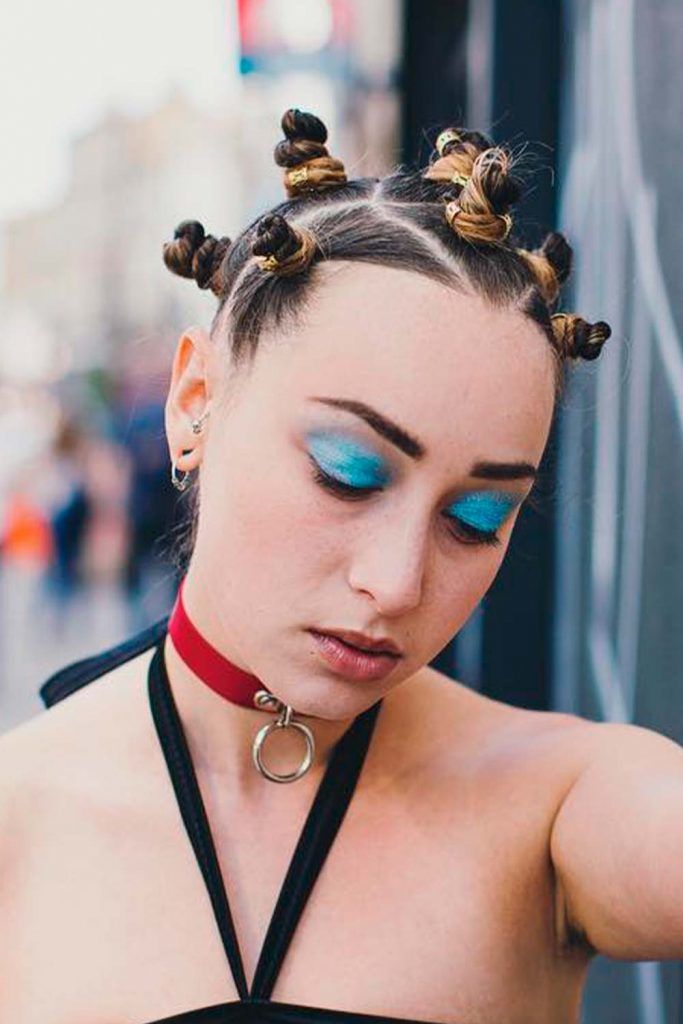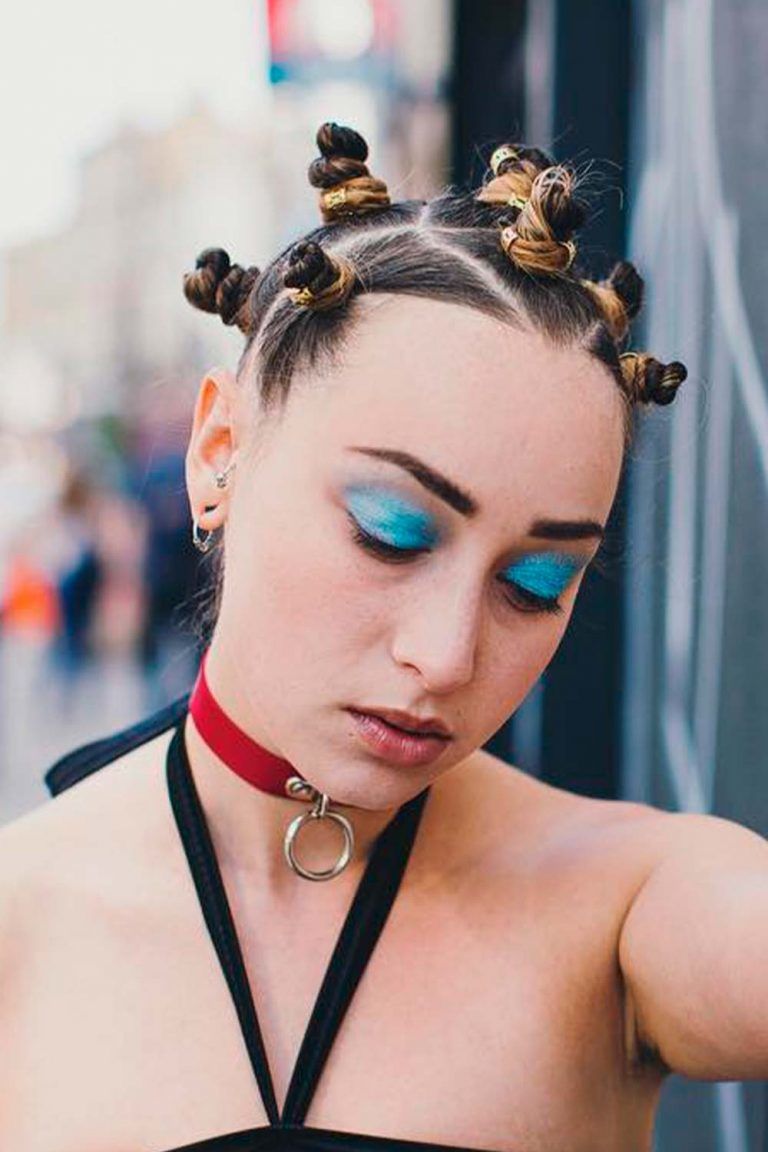 Credit photo: instagram.com/lovemeknot_
Ladies with ombre can show this contrasts of colors in a new light. If your hair is totally unprocessed, don't worry: you know how many cool things you can do with fake locs. This pic is here to show you how cute and chic your bantu knots will look with contrastive colors on the ends, just don't be shy to experiment.
Lavender Braids And Bantu Knots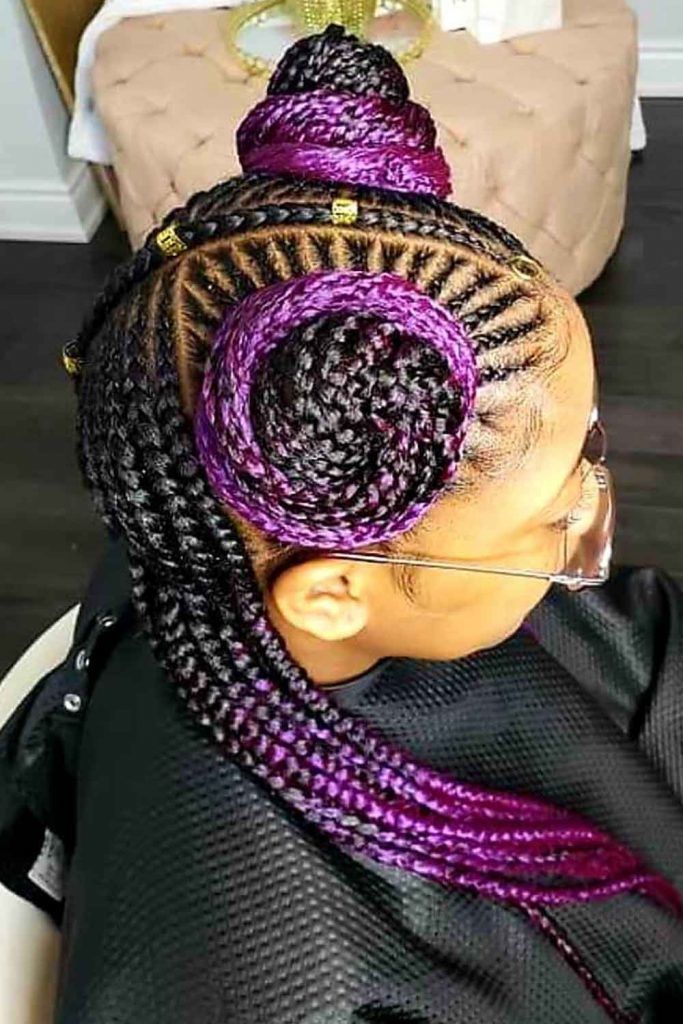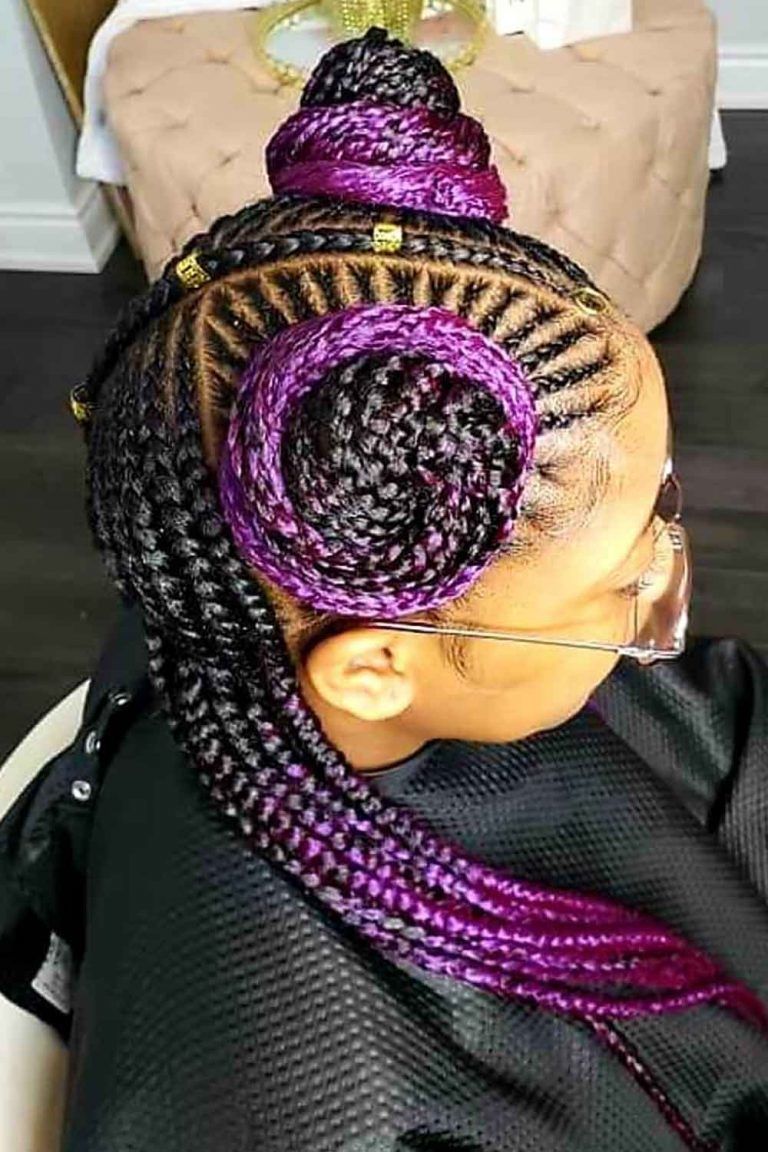 Credit photo: instagram.com/xcellentxtensions
It seems like there's no better way of sporting trendy hair color than doing that with the braids and knots duo! And this pic is living proof: the popular, a bit washed-out light purple color looks so gorgeous when it's paired with dark roots. Three top knots will catch people's eyes, and braids will set the balance for this sticking look.
Bantu Knots And Curly Ponytail
Once you get yourself some bantu knots, you high curly ponytail will never be boring! Just imagine how funky your updo will look when you embellish it with these cuties. The contrast of tight locks and loose curls will show off all your creativity. Isn't that the way you want to look?
All the ideas we've prepared for you are here to let your imagination run wild. Now you know some ways and tricks on how to go for a new bold style that will make heads turn. It's time to twist your hair and play around with it!
Violet Bantu Knots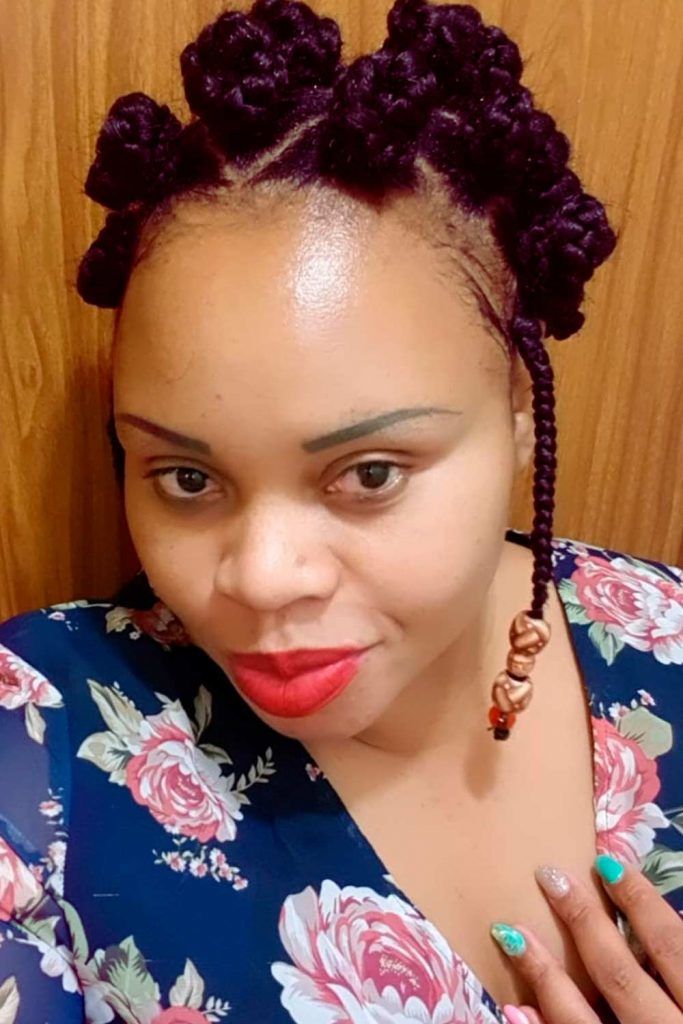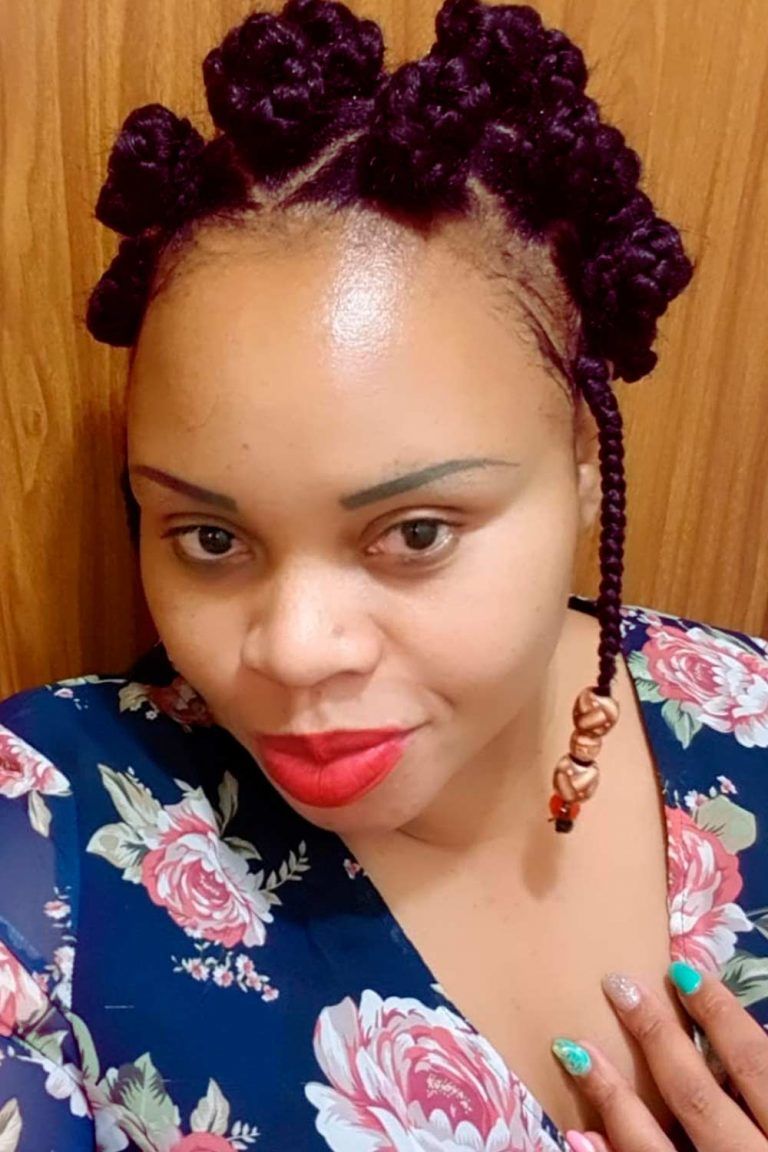 Credit photo: instagram.com/ladyboss_chiliz
Although girls wearing Bantu knots have made the spotlight their second home, it doesn't mean that that's enough for them. Sooner or later, you will want to diversify your sexy double knots, and new color would be the best weapon for making heads turn. For your dark hair, the best shade from the palette of trends would be violet - a shade that has become as popular as gray hair. It can be a temporary option, as well as a bold permanent move; whatever the choice is, you will love the impact brought by this chic color combo.
Fall Inspired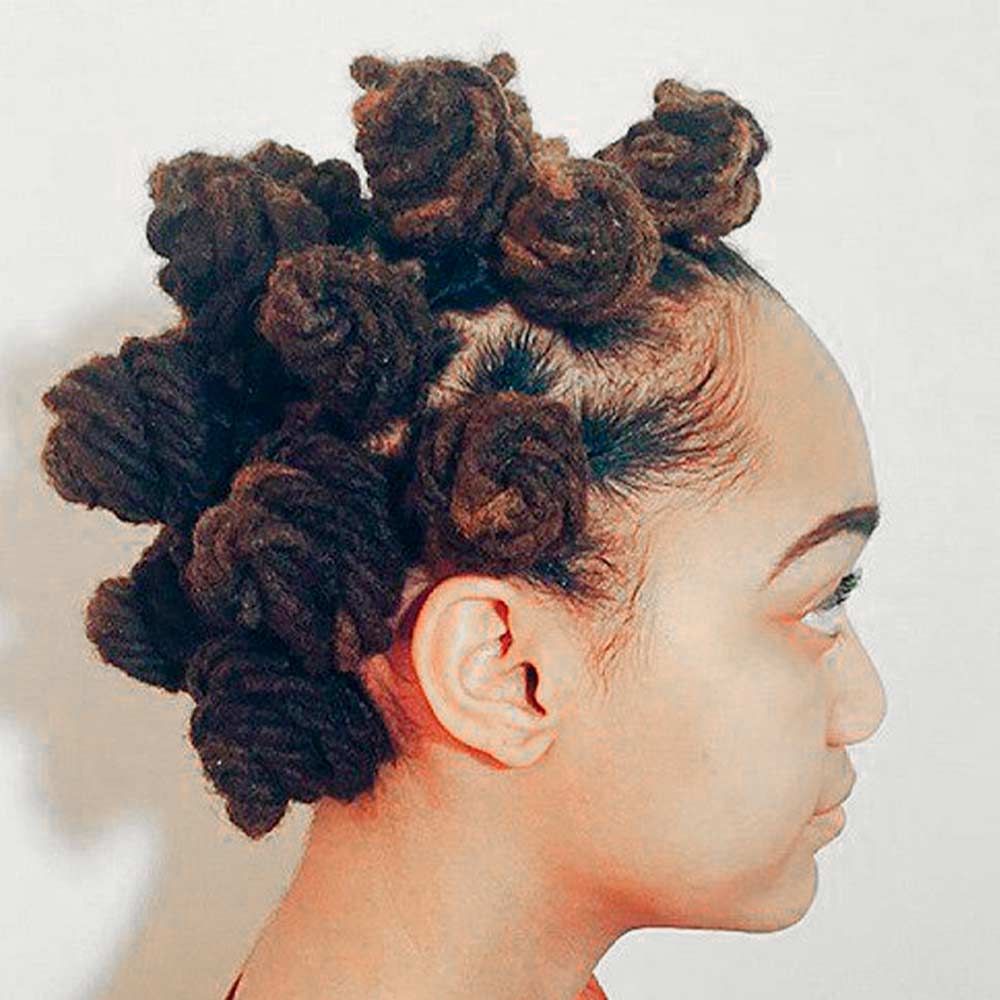 Credit photo: instagram.com/profusionhair
When leaves say goodbye to green colors and start to reflect the light with their warm, orange surfaces, we realize that fall has come. Isn't that the perfect time for some changes, though? You can make your look harmonic to feel the balance both inside and out by simply adding some warm tones to your daily hairdo. Just look how gorgeous these ombre-ish brown knots are! Just what the doctor ordered to feel bright this fall.
Half Upstyle With Bantu Knots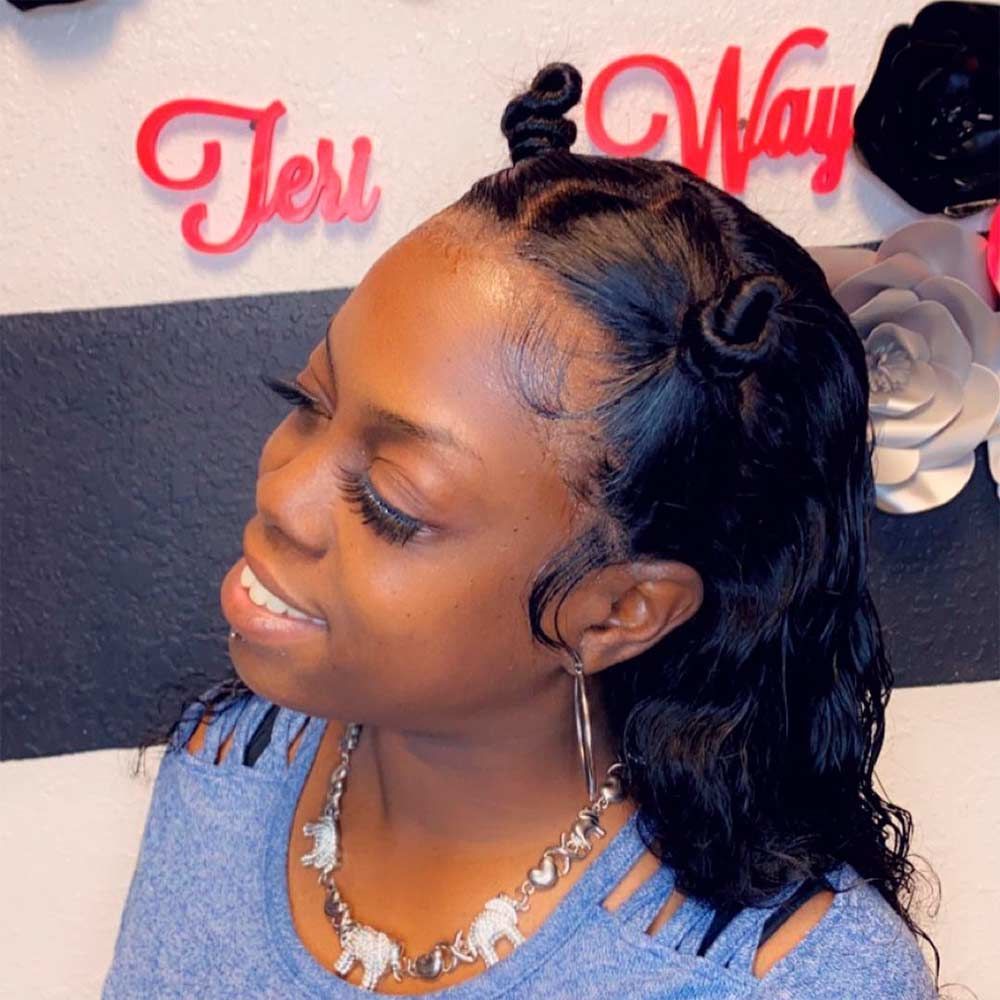 Credit photo: instagram.com/hairslayedtheteriway
Yes, Bantu knots might be pretty tight for your scalp, especially if you have a very sensitive one. But, it's by no means an obstacle for wearing this cute style. On the contrary, it's a chance to create something new and unique, like this half-up hairdo! You can twist only a couple of sections on the front, where your scalp has less tension, leaving the rest of the locks to flow down to your shoulders.
Side Little Violet Bantu Knots
And here what happens if you unravel most of your purple knots: you will contribute to the huge comeback of the good old afro style! And this time, it will show its modern side. The best thing is, you can embrace two iconic styles at once, leaving a couple of knots on both sides. In this way, you will have an afro mane styled like a faux hawk.
Braided Bantu Knots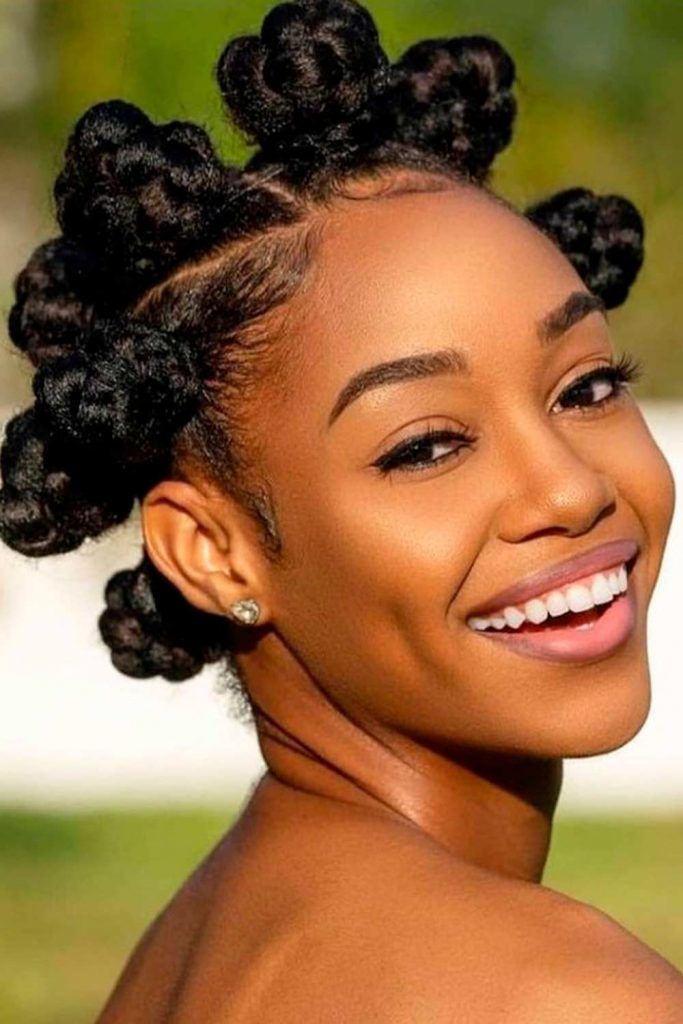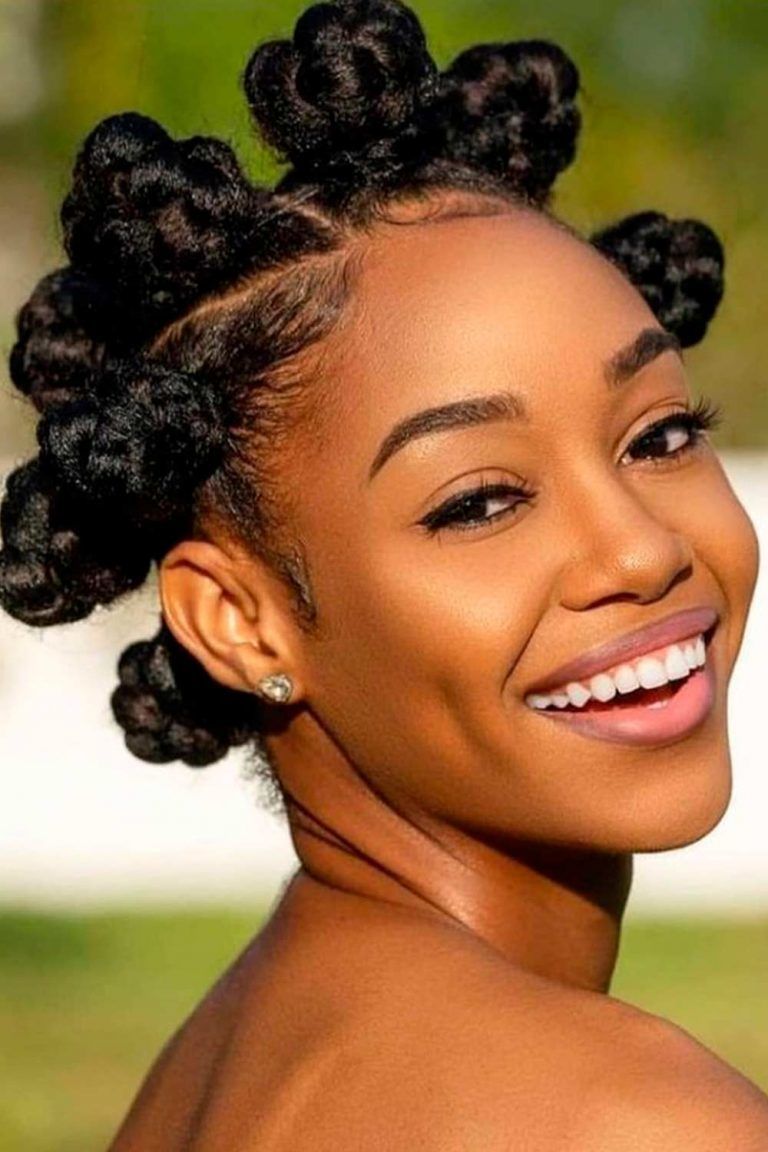 Credit photo: instagram.com/carolinab_fr
If you think that braiding Bantu knots would be a nice idea for casual wear, you underestimate the power of braided texture! First off, if you outline all the sections properly and make sure all the braids are of the same density, it will instantly look red-carpet-appropriate rather than 'a good option to have some fresh air'. Paired with posh accessories and some sophisticated dress, this look will be your pick for the most significant events.
Blonde Bantu Knots
When you really want to make your knots the highlight of your look, it's better to actually highlight them with a contrastive shade. Don't worry, you don't need to bleach your precious locks to get this look. Some blonde extensions wrapped around your knots will give you the needed finish.
Bantu Knots With Burgundy Highlights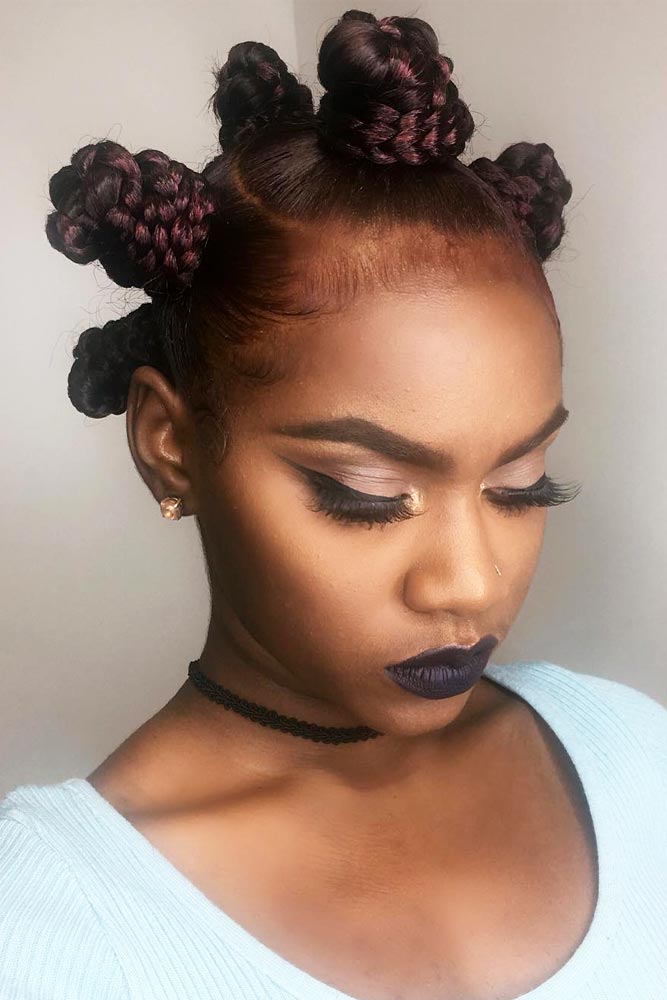 Credit photo: instagram.com/leenathea_
If you don't like drastic changes that are too attention-grabbing due to the intense contrast of colors, you can go for a more balanced and harmonic finish. As you know, the burgundy hair trend is popular for its deep and profound nature that looks amazing with dark brunette bases. The added color won't really stand out, and once the shine reaches your knots, they will illuminate like thousands of stars.
FAQ: Bantu Knots
Are Bantu knots bad for your hair?
Bobby pins are preferable to rubber bands because they are less likely to break, so, twist your hair and make knots with caution. If you want to prevent breaking the rope as much as possible, don't twist your hair too hard. Re-twisting the hair on a daily basis will only result in over-manipulation and damage.
What is the purpose of Bantu knots?
Bantu knots are created by winding your hair around itself until it forms a pile of tires-like knot. It's a protective style for natural and/or relaxed hair, and it's frequently employed in nighttime regimens to keep curly styles looking longer and more defined.
Do you need long hair for Bantu knots?
You can make a knot or tiny bun with the twisted hair by weaving it around clockwise. If your hair is long, your Bantu knots will resemble a pyramid or funnel, and they'll look more like rose-buds on shorter hair.
Was this article helpful?