Blue hair is ephemeral, otherworldly, elusive, something that embodies phantasmagorical beauty. Katy Perry, Nicole Richie, Gwen Stefani, Demi Lovato, and Sky Ferreira already know what we are talking about as these celebs love rocking this hair color.
From blue ombre hair to blue highlights to plain blue tresses, there is a huge number of cool looks, the looks that lure us into getting our tresses dyed blue.
Read on to discover trendy and unconventional light-blue, dark-blue, electric blue, blue-green, blue-purple hair color variations.
Blue With Purple Hair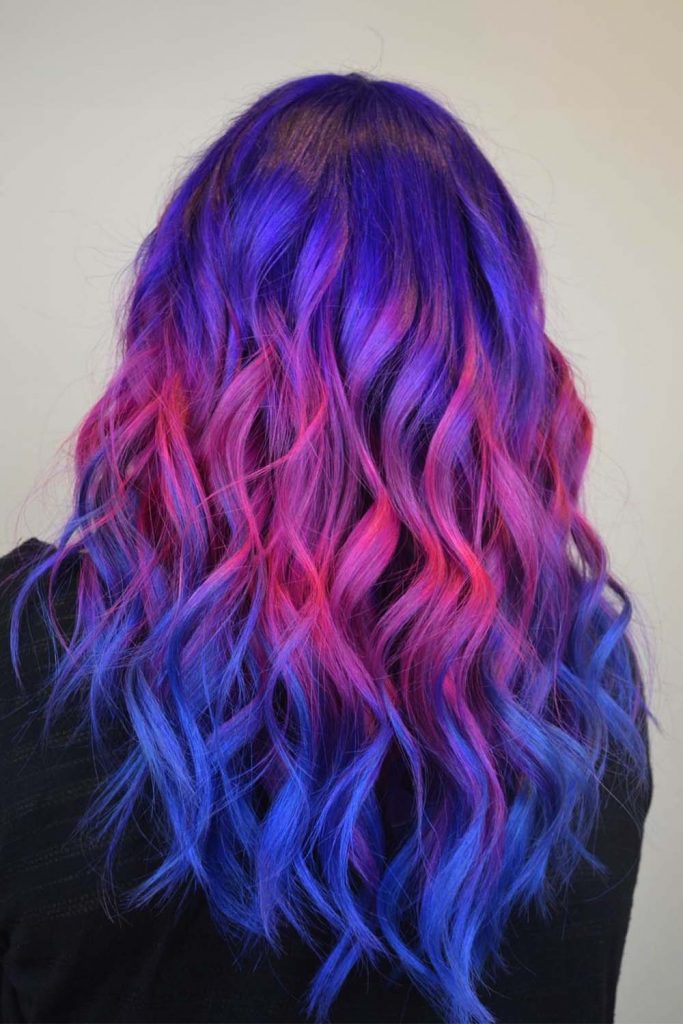 by @thehairygodmotherr
Purples and blues look stunning when combined together, and maybe that is why Katy Perry loves this combo. Add some texture for the highlights to shine through.
Blue And Green Hair Colors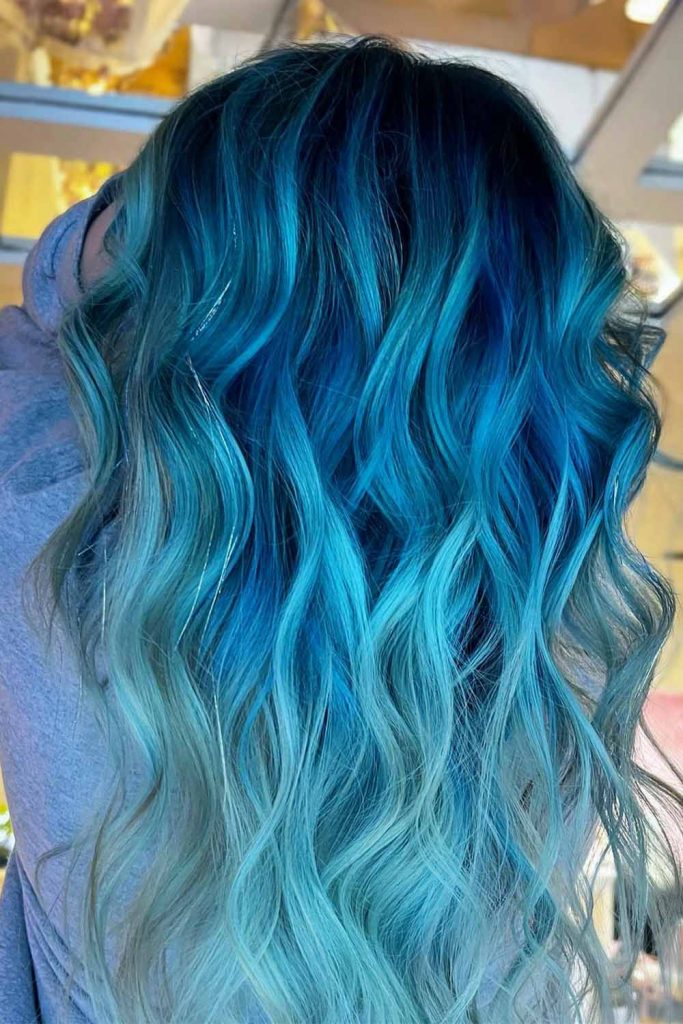 by @hairbybiancarose
In case you wonder how to make a statement with your hair color, green and blue combination is your best bet. Outrageous but interesting, with plenty space to experiment.
Blue Hair Ombre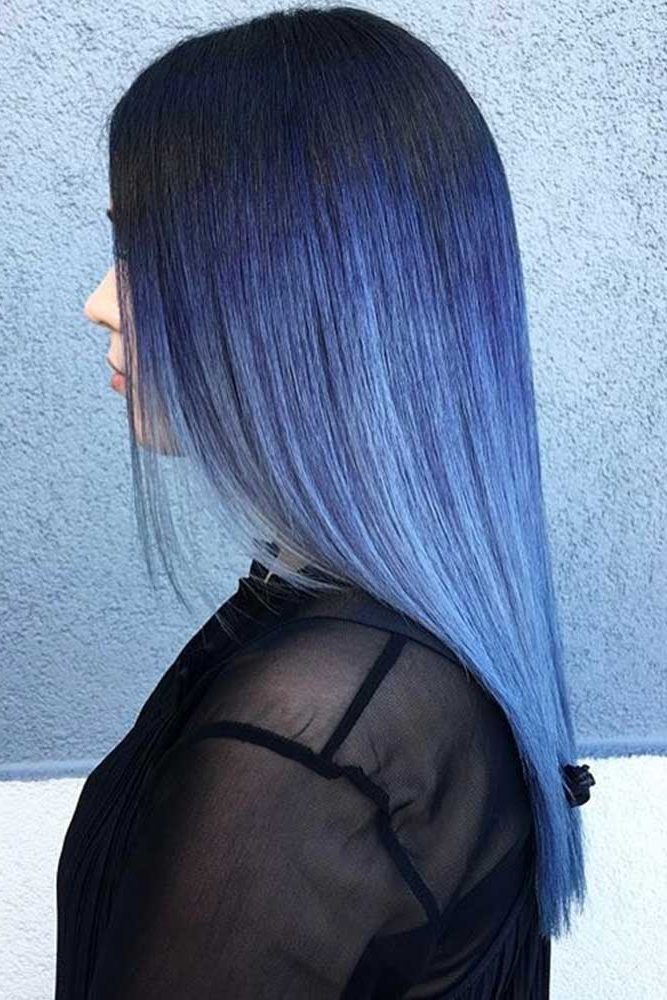 by @harriet_stokes
We notice that ombre becomes more and more daring with every season, and these blue ombre looks prove our point. Ombre will work great for babes who cannot pick just one shade of blue.
Light Blue Hair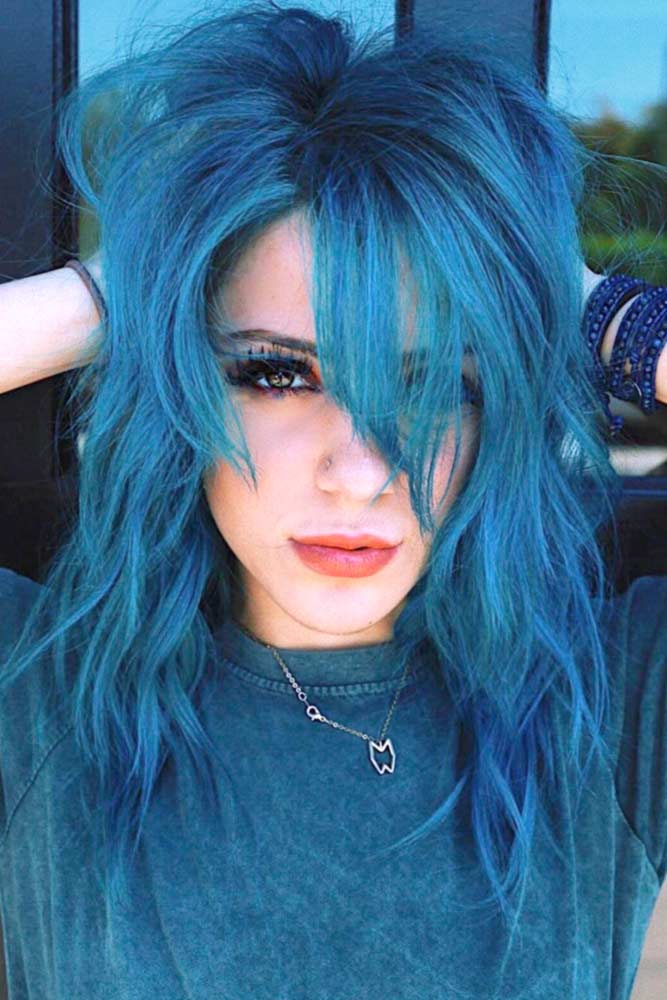 by @niki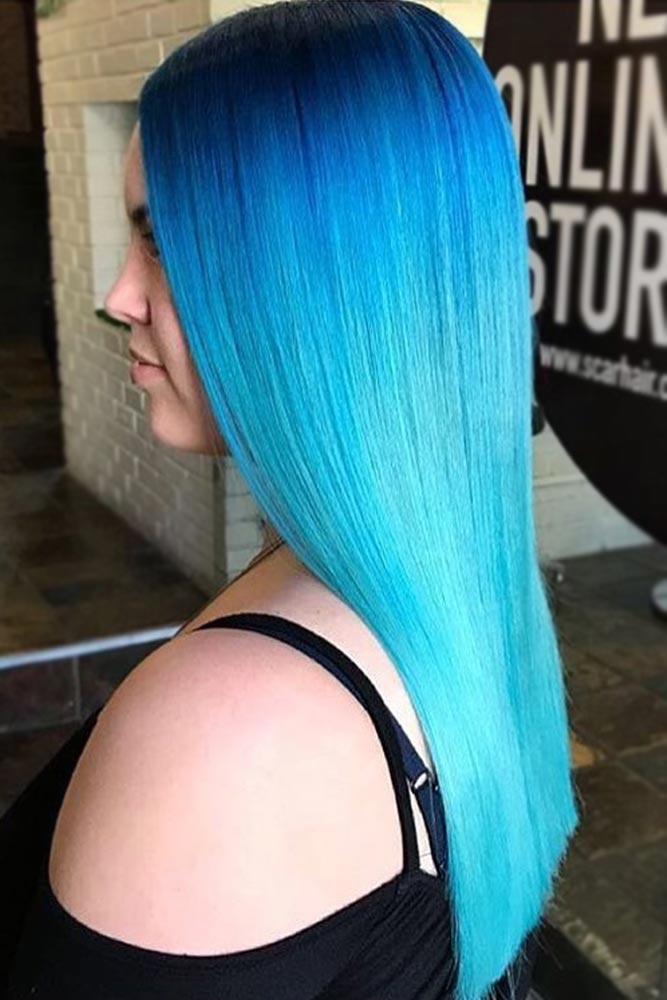 by @harriet_stokes
Light blue adds some icy touch to your tresses. And if you choose to combine several shades of icy blue, the effect will be truly mesmerizing.
Dark Blue Hair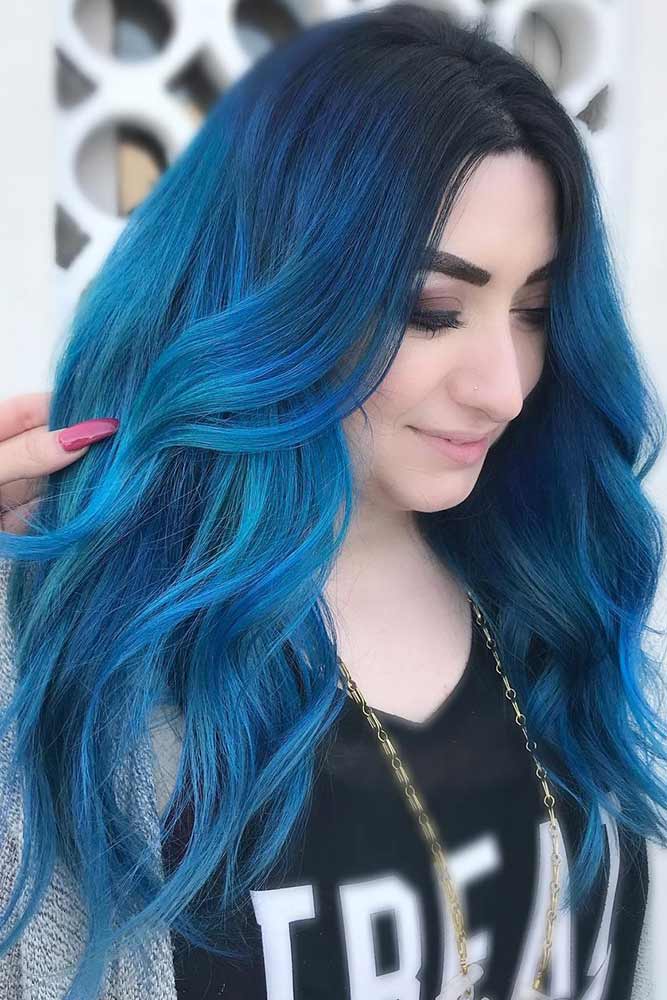 by @jaywesleyolson
Dark blue shades channel tranquility, high class, and mystery. Waves in dark blue appear quite glamorous and make us think about the storm in the sea when we see them.
Pastel Blue Hair Color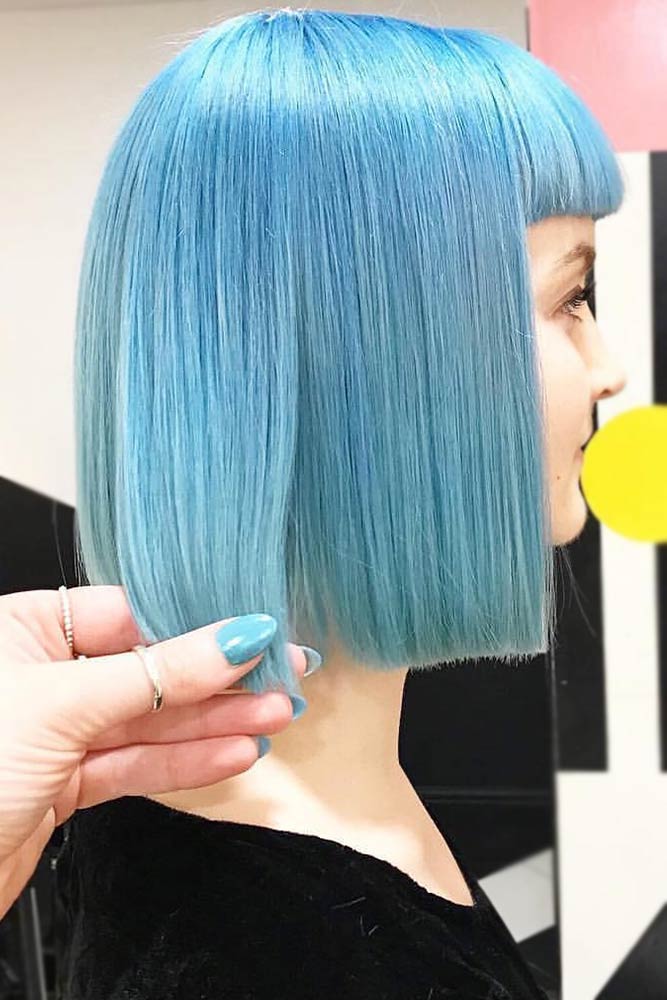 by @notanothersalon
Pastel blue hair shades are among our favorites. But you need to know that to get pastel blue your tresses must be completely stripped off color beforehand.
Electric Blue Shade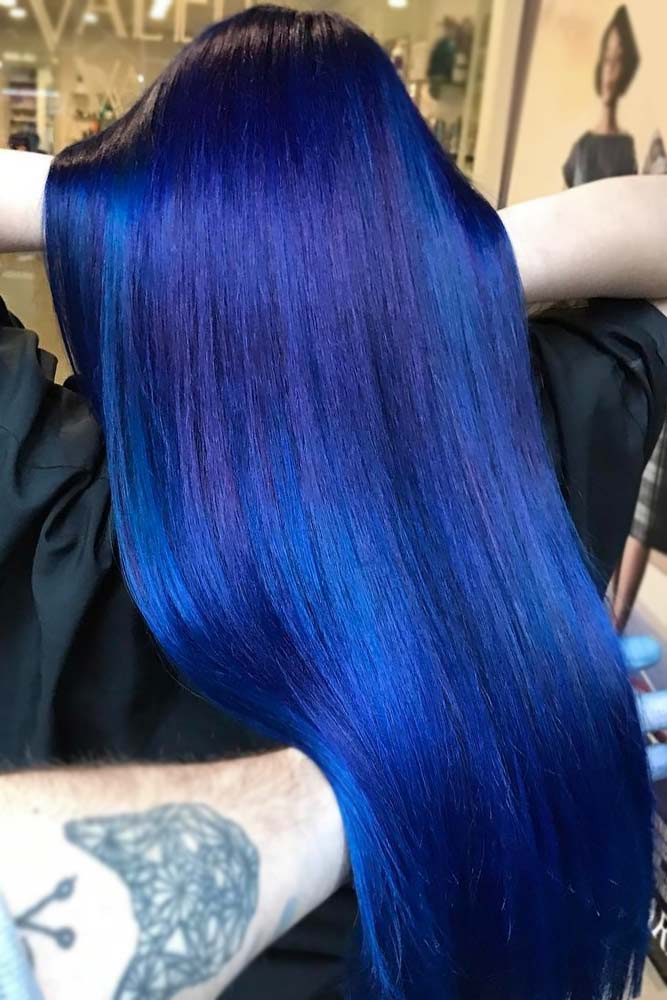 by @asilsmsk
Electric blue is also called cyan. This shade is super vivid, and it appears practically neon in the sunlight. We think these hair colors are gorgeous.
Blue With Violet Shades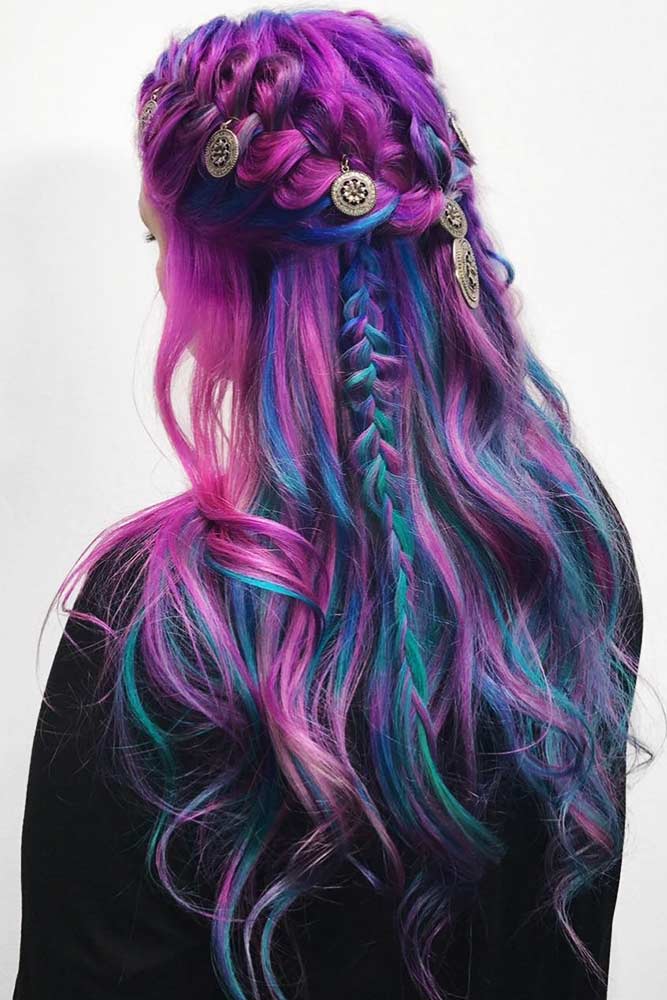 by @xostylistxo
When a bluish base melts with the charm of purple hair color, a magnificent play of colors fills the space around. It can be a vibrant purple-to-violet ombre or soft blue-to-purple balayage: the point is to mix these two!
Mermaid Hair With Blue Accents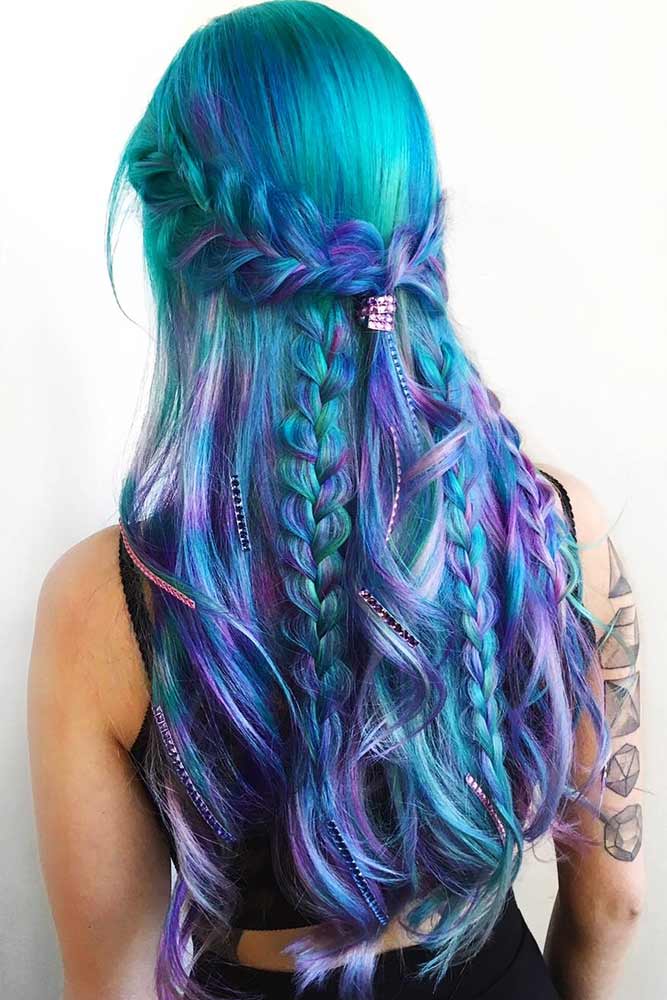 by @xostylistxo
We can't spend our days in the beautiful ocean, swimming with dolphins and dreaming about a price, but who says that we can't look like a mermaid? Once you mix aquamarine colors, where the blue base blends with white and purple hues, you'll get what we mean.
Electric Indigo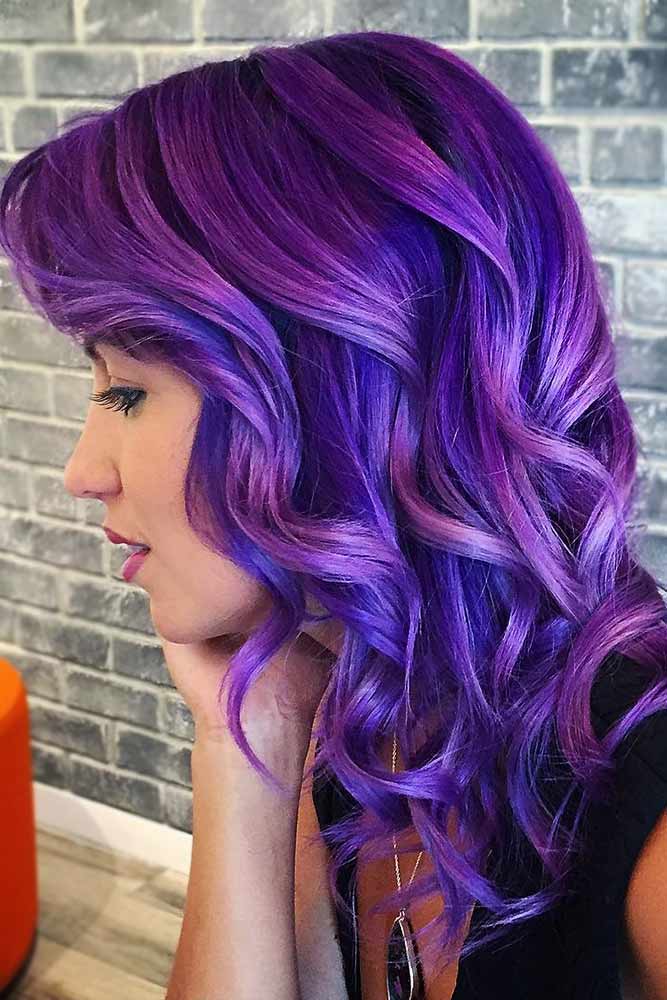 by @hairgod_zito
Blue hair is one of the perfect ways of making a statement to the world. But when sheer blue is not enough – it is time to experiment. Natural blue flowers are so vibrant and unbelievably gorgeous in their beauty that it is difficult to resist and not to copy at least some of their magical colorings. Iris is one of those flowers that has a lot more than is noticed from the first glance that is why the mysterious ladies among you should at least consider opting for the mesmerizing charm of indigo shades that irises are overfilled with!
Byzantine Blue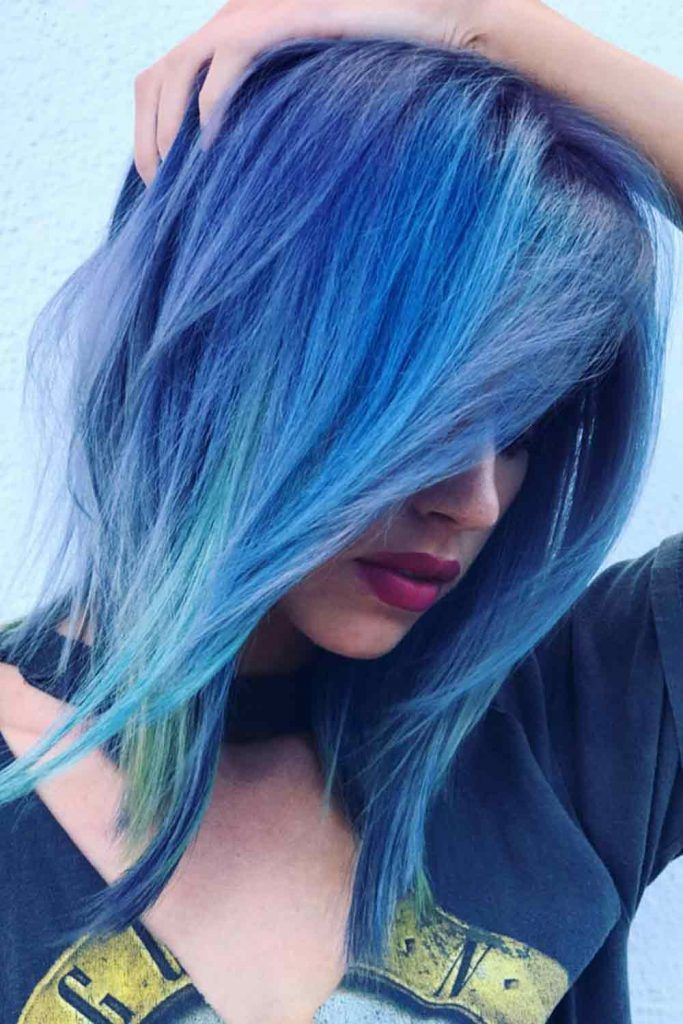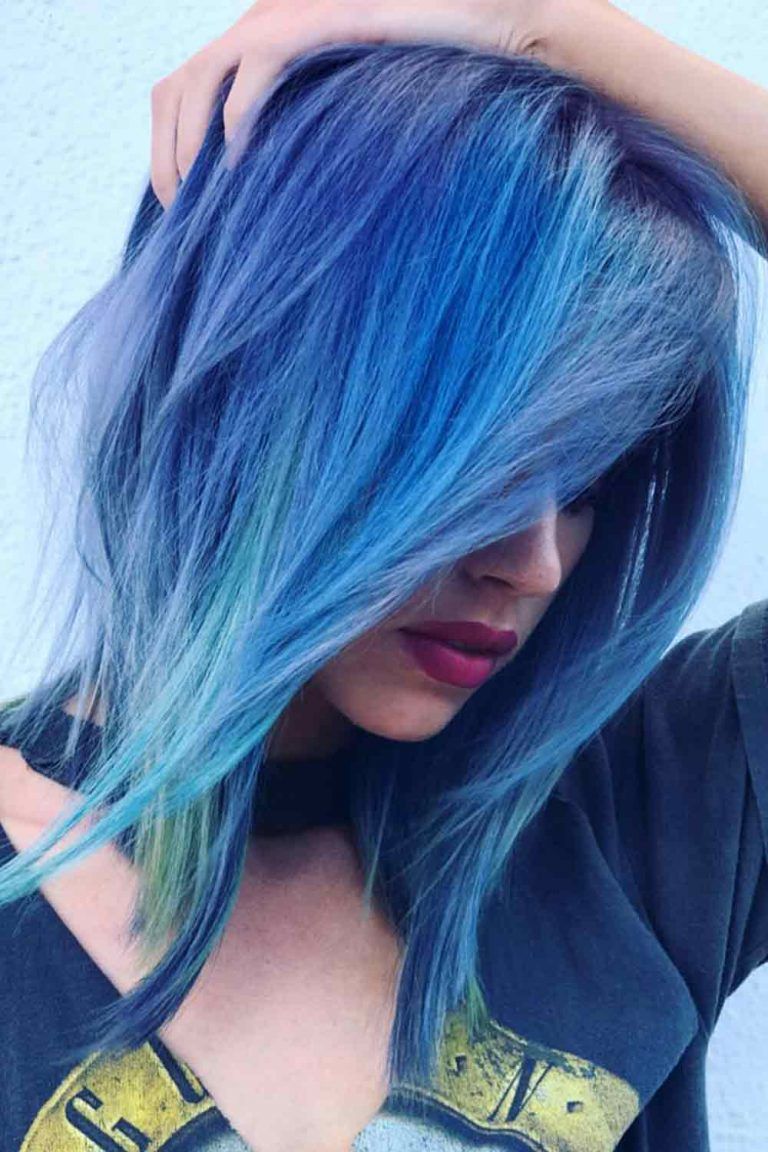 by @hairgod_zito
When it comes to blue perennial flowers, Geranium Byzantine is the one that comes to mind. It seems that there is nothing special about this simple flower, but that is the beauty of it. If you do not wish to fall the victim of the experimentation, it is best to pull off something that is both easy but a little different from the blue we are used to. Of course, blue ombre hair may seem like a bit too predictable but what about the combo of deep blue and rose pink highlights? It is peaceful to look at and to admire, we can tell you that much.
Palatinate Blue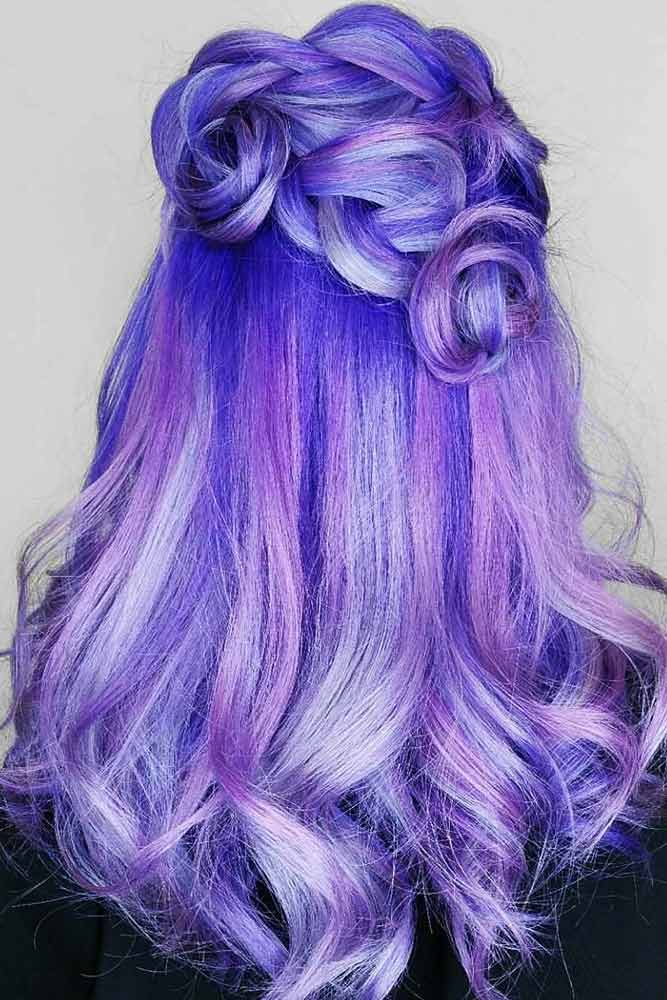 by @taylorrae_hair
There are many types of blue flowers, and all are beautiful on their own but your task is to pick the one that will conquer your heart, and you will be proud to intertwine its hues with your own locks. Those of you who like blue shades with a touch of purple but without taking the purple over the edge will definitely appreciate what Hyacinth Palatinate has to offer. Taking this fabulous flower as the source of inspiration will grant you that extraordinary and intricate touch of color that many haven't even dreamt of. What is more, it is so easy to experiment with a fade if this is the shade of blue you decide to revive. One look at this terrific combo of shades melting into one another won't leave any of you indifferent.
Powder Blue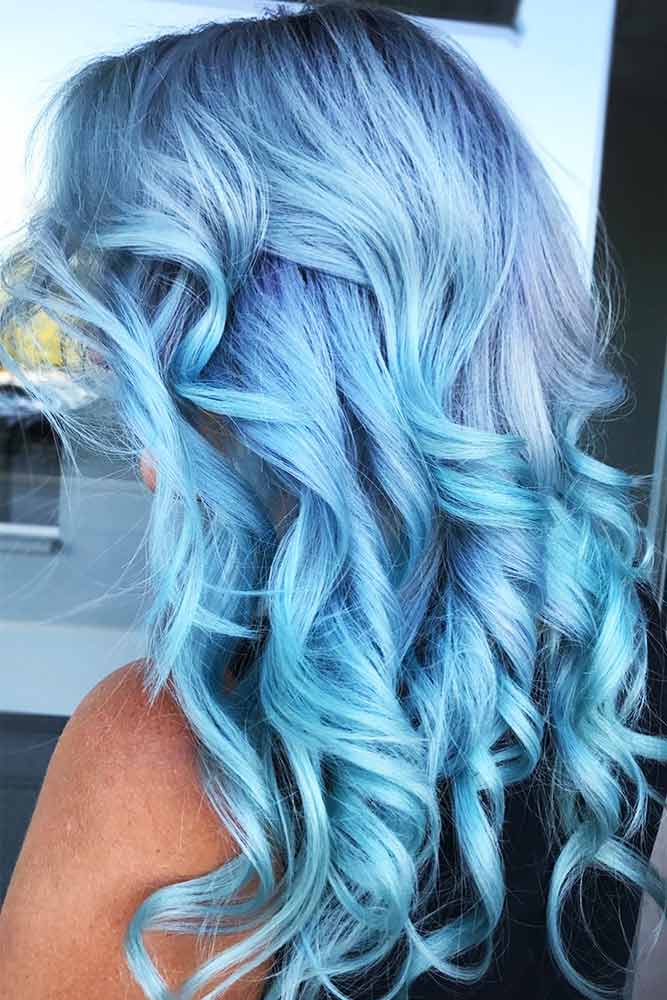 Sometimes blue flowers names correspond to your intentions. If you wish to become the star everywhere you go, then there is no doubt that Bluestar flowers will become your inspiration source. These tiny flowers are so gentle in their nature and shade that it is difficult to take the eyes off once you set them on these gorgeous recreations of nature. When the solid baby blue shade is not enough that is time for you to involve some lilac highlights in. Wouldn't you agree that if there is anything perfect in this life, it looks like Bluestar-inspired hair?
Dodger Blue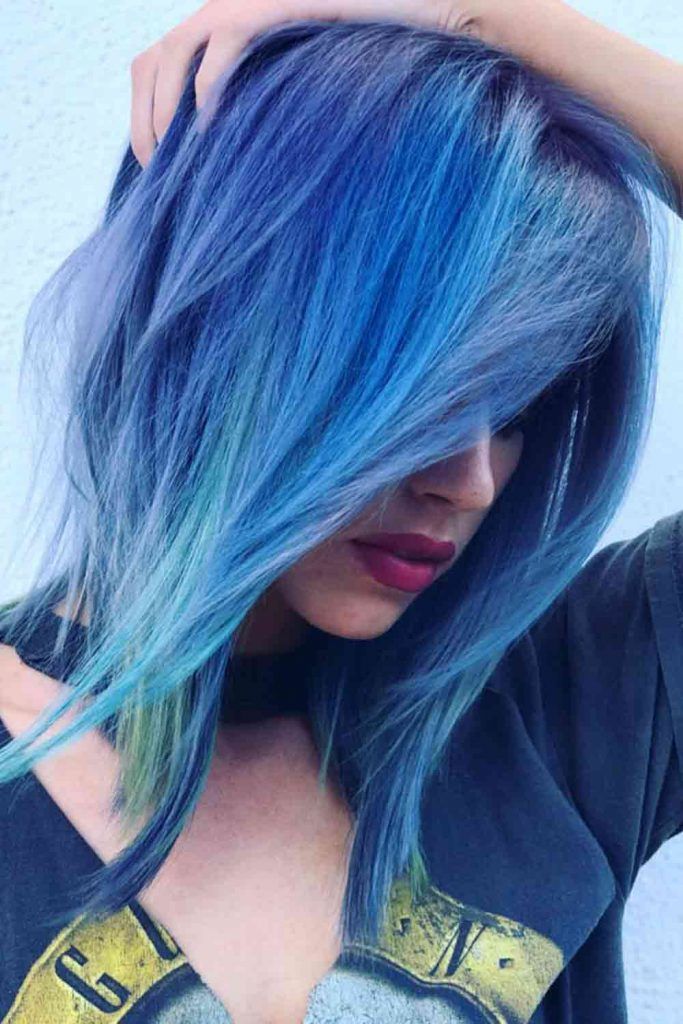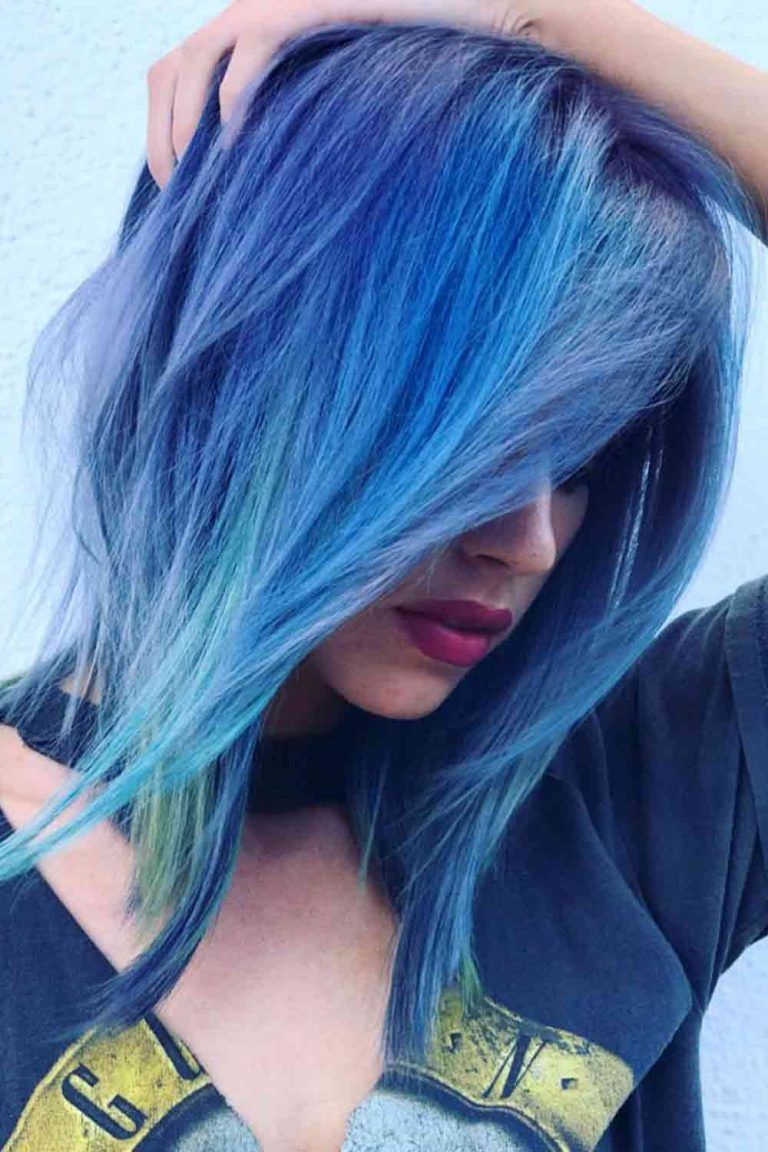 by @hairgod_zito
Dark blue flowers are majestic and mysterious, so will be your hair if you decide to give in to the beauty of Gentians. The depth and the definition of these deep blue shades are intricate and mesmerizing not to mention unique. If you are the one who is not afraid of attention and admiring looks, then this is what will suit your perfectly.
Periwinkle Blue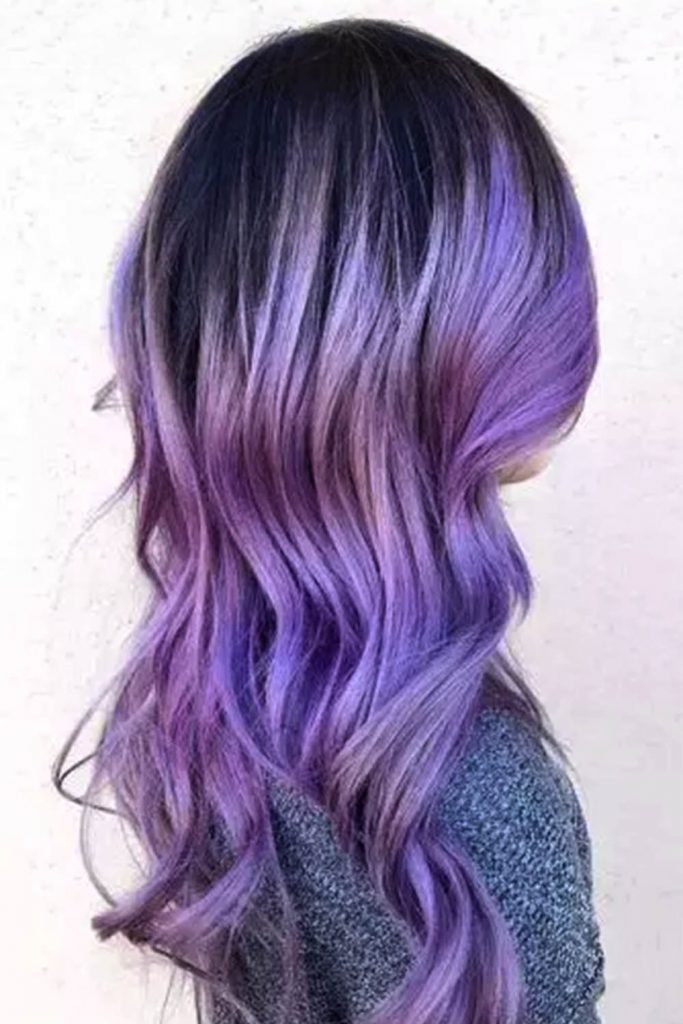 by @xostylistxo
Light blue flowers deserve particular attention too. The thing is that pastel shades are trendier more than ever right now, and if you are tired of pastel pinks it is time to take your obsession to the next level. Luckily for you, we know what the trendiest pastel shades are right now – and to be more precise we have a perfect blue tone in mind. As it turns out there are some flower shades that have been underestimated over the course of years and the time has come to turn the former recognition back. One of these long forgotten but not least beautiful flowers is Bellflower Periwinkle. Just look at the magical innocent of its hues! Doesn't it make you crave introduction of its shades you're your locks straight away?
Majorelle Blue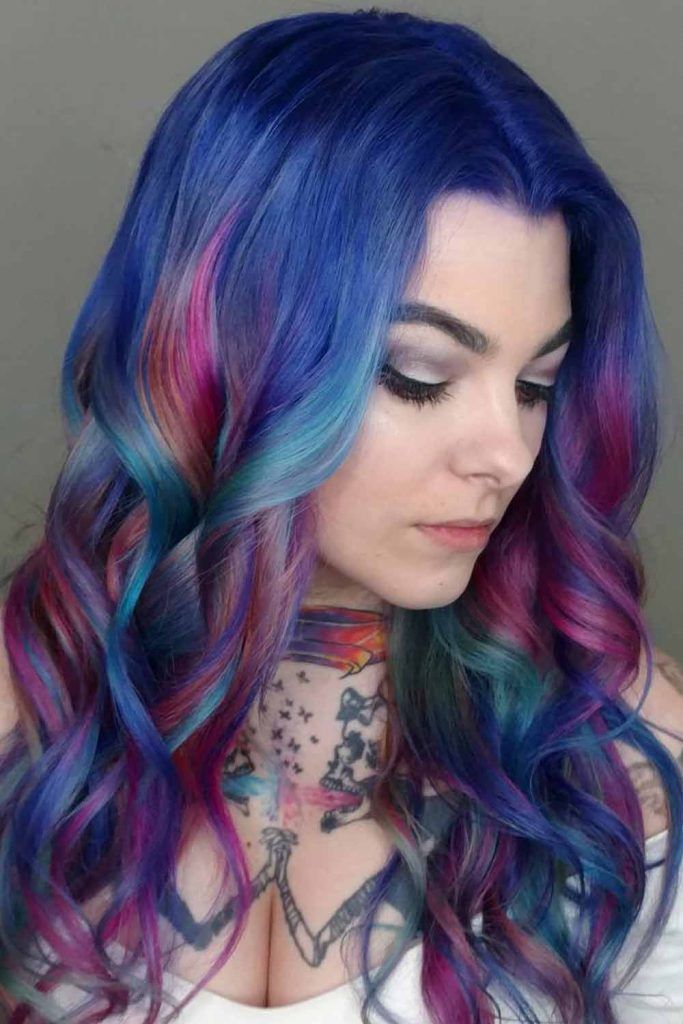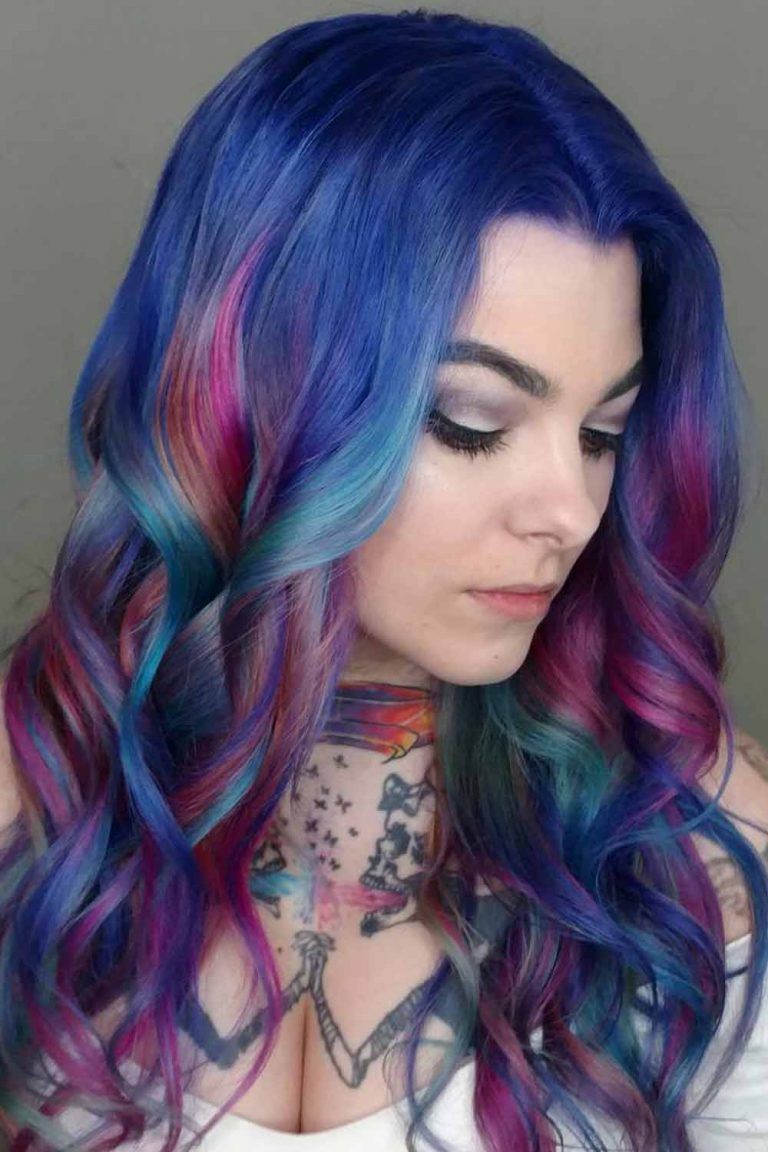 by @adlydesign
Ipomoea is a very fragile but fantastic-looking flower. The thing is that unlike all the other flowers it is not bound but the rules of just one shade. What is more, the shades of Ipomoea are quite contrasting and standing out, and that is what makes it even more beautiful, in case you are looking for a look that will be both trendy and pretty controversial than Ipomoea must be your flower of inspiration. Just look at that combination of purple and blue shades! If you bring those hues into your hair, your look will be both radical and charming at the same time. Those of you who are looking for something of the same effect should not waste a single minute on doubt and run straight to your best hair professional.
Denim Blue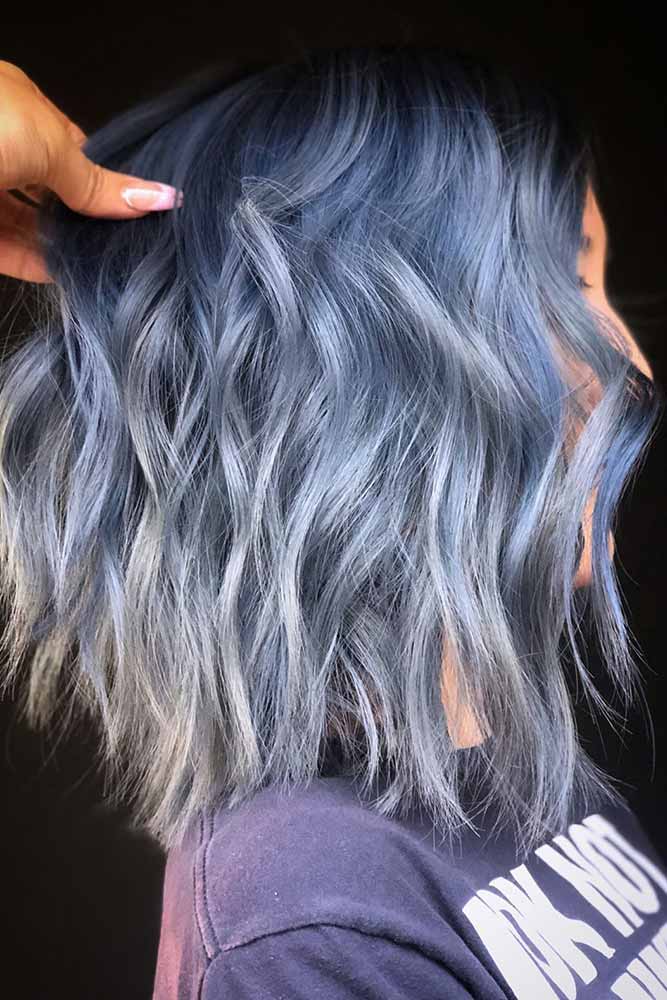 by @hairbyapes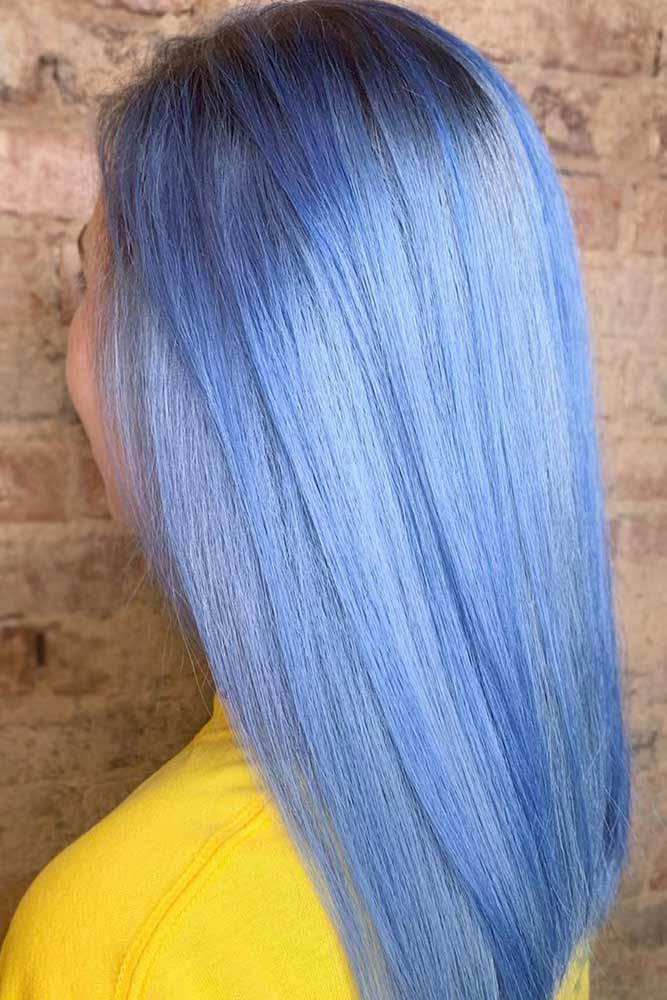 by @jessthehairstylist
If you wonder how subtle blue hair can be, it's time for you to meet the most delicate shade of blue you could ever see. To achieve this shade, you need to start with a whitish
blonde color
on pre-bleached hair. You colorist will apply a soft tint of blue over your light base to give it a muted bluish vibe. For the best results, as well as to keep your hair healthy, keep the roots as they are and ask your colorist for a blurred transition.
FAQ: Blue Hair
What color does blue hair fade to?
Hair that is blue will gradually turn green. It's difficult to avoid, but it's quite simple to solve. A usual purple shampoo will remove the green shade. When your blue hair starts "greening", simply wash it with purple shampoo.
Can you get blue hair without bleaching?
If your hair is dark, you will only achieve a dark blue color without bleach. If your hair is dry or colored, go to a hair salon to get a professional look. You won't be able to attain a good finish with this type of dye because it won't lighten damaged or colored hair uniformly.
Does blue hair fade quickly?
Although black and brunette hair are more resistant to fading, they nevertheless also fade over time. You'll need to refresh the blue color every 1,5-2 months to keep it looking good. Using a color-safe shampoo with a toner will facilitate the task. A color-depositing conditioner is also an option.
Was this article helpful?