Braided mohawk is about to take the world's trend to a whole new level! Remember the times when only pierced and tattooed punks sported mohawks? Everything has changed, and now, there are no limitations for those who want to pull it off. As for ladies, today you're going to discover the new side of this punky hairstyle.
Want to create a sassy, daring style to show off your badass nature? Well, your stunning ideas are here. And let's don't forget that women's mohawks aren't all about huge messy spiky tops and extremely short, almost bald sides: explore how girly they can be!
Braided Mohawk For Long Hair
Braided Mohawk Hairstyle With Weave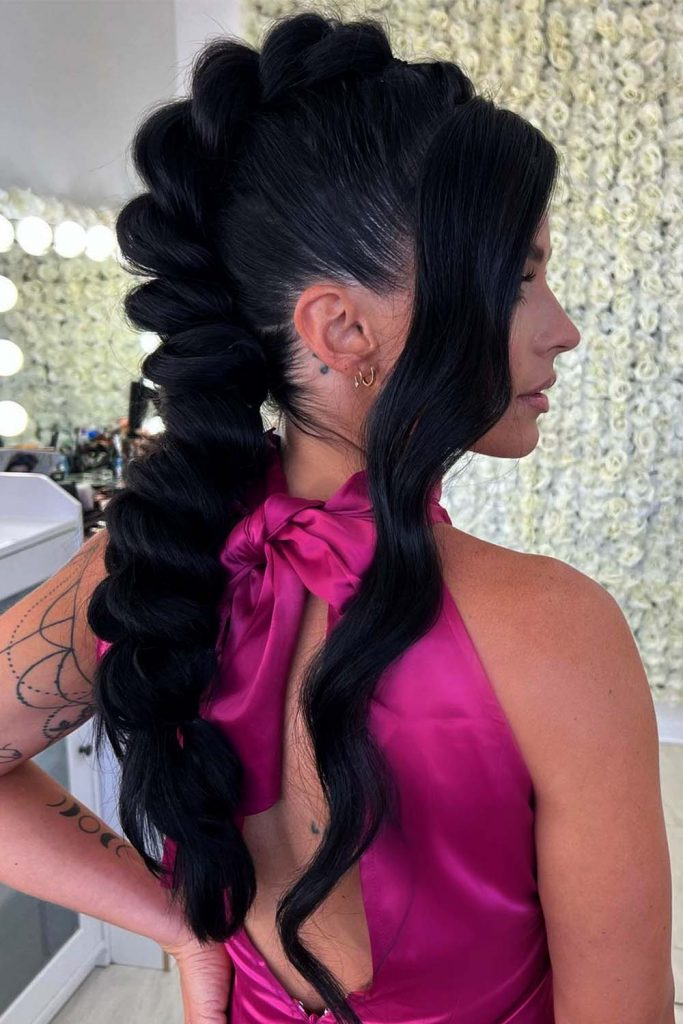 by @samirasjewelry
3 Strand Pull Through Mohawk Braid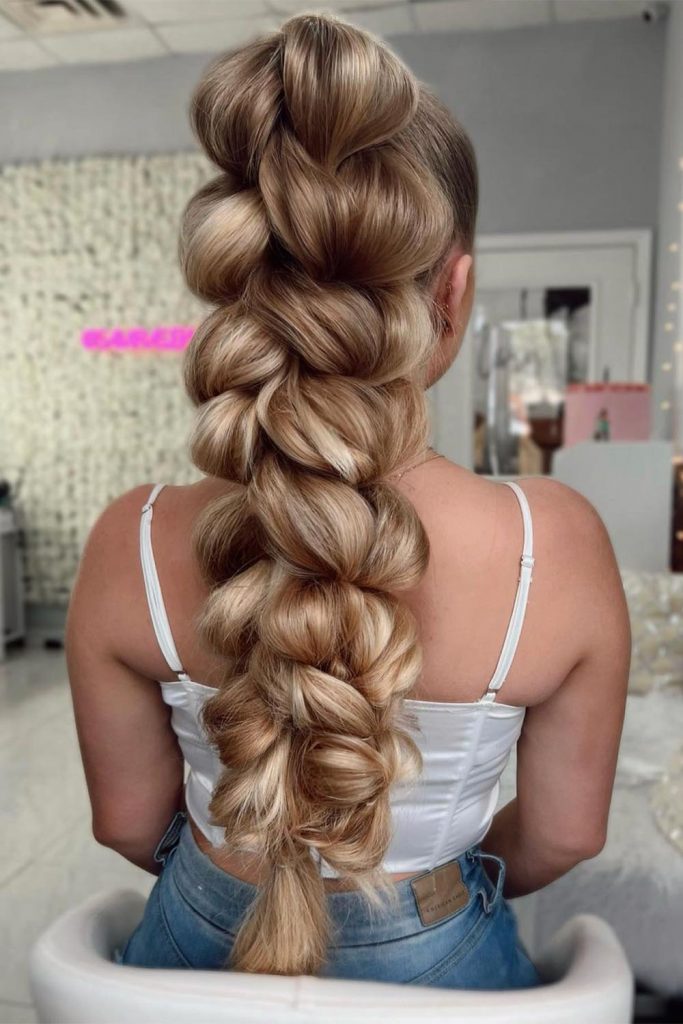 by @samirasjewelry
Tight Fishtail Mohawk Braid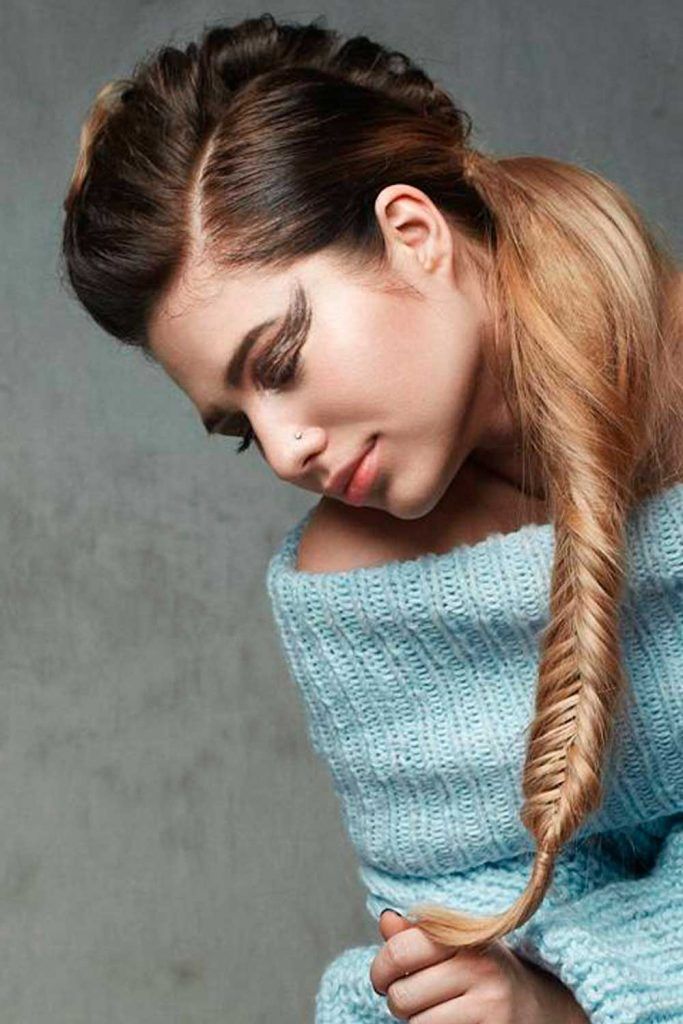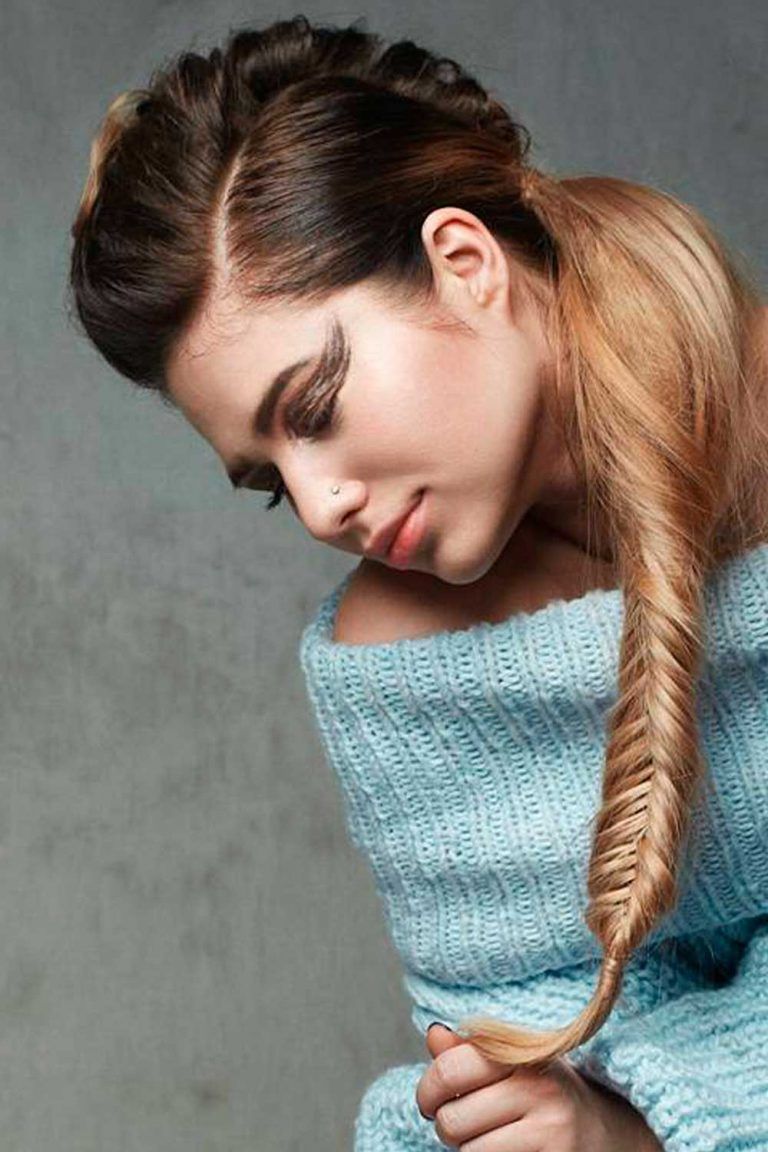 by @mariya_lazutina
Want to keep it simple and tight, yet very dramatic? Add some mohawk vibes to the familiar fishtail braid and see the difference. To get the fuller effect, start braiding your top with bigger strands, gradually incorporating smaller ones so that the braid seems bigger on the top.
Tight Dutch Braid Mohawk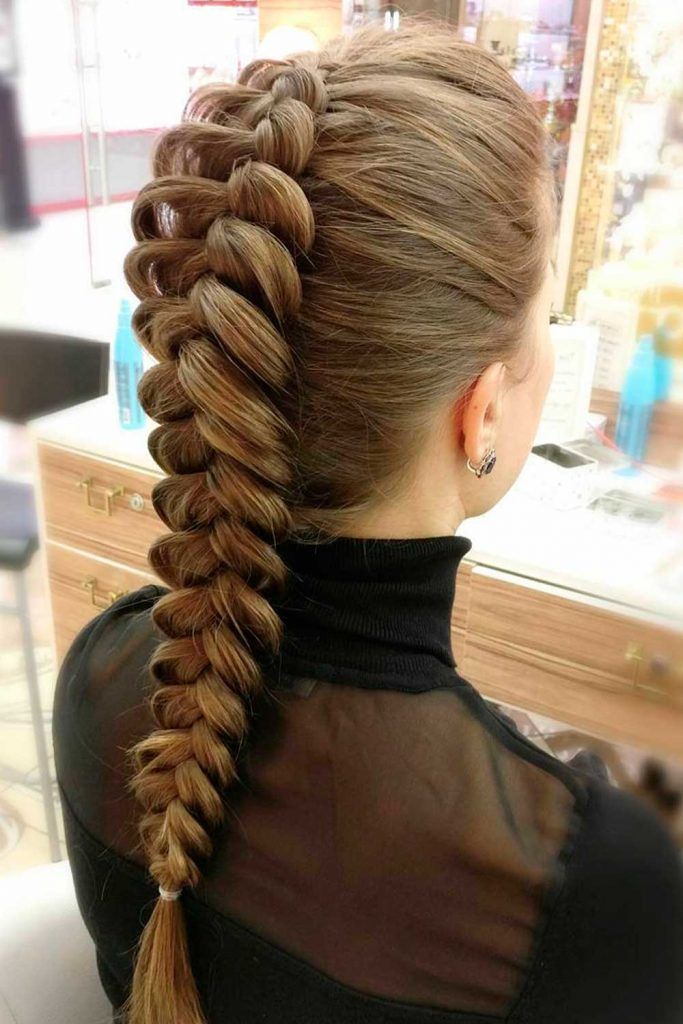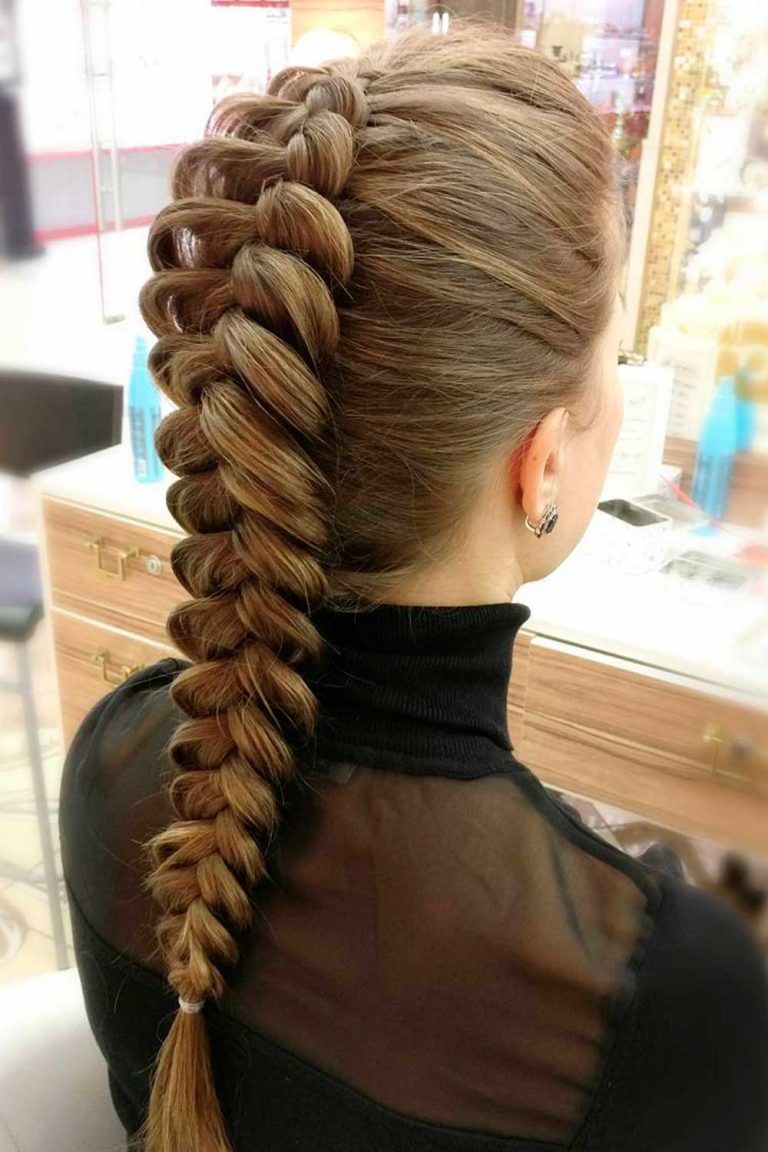 Credit photo: instagram.com/kelllena
by @kelllena
Side Dutch Hawk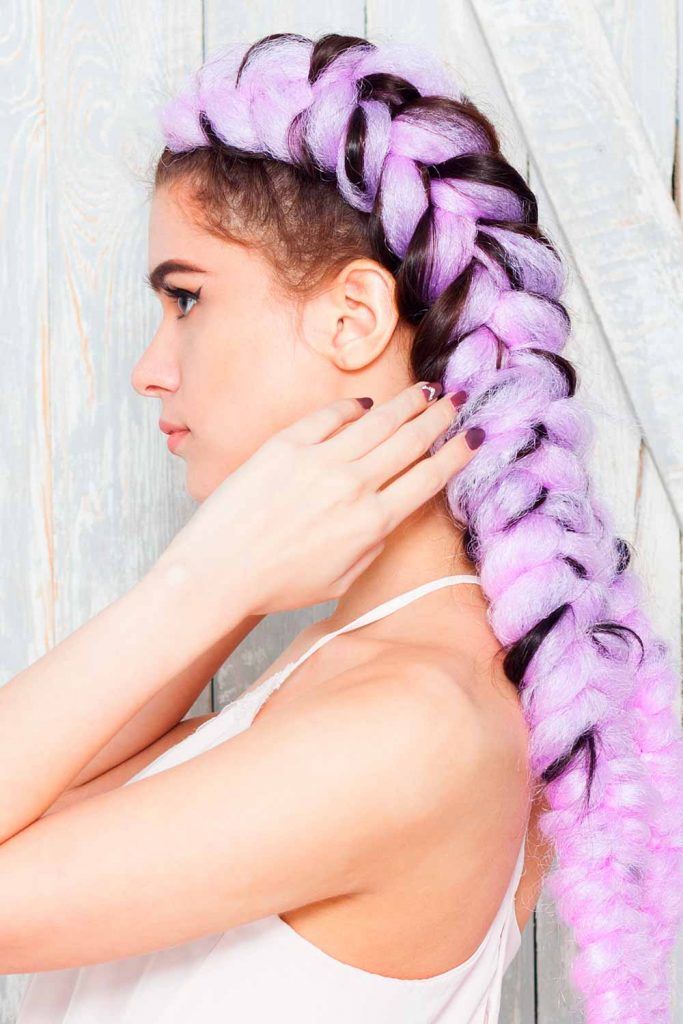 Let's make a gorgeous mohawk out of a side braid! This hairstyle may seem quite complicated, especially for newbies, but everything comes with experience, right? The side pull through dutch braid creates a sort of voluminous hawk on the crown, giving you a very full and lively silhouette.
Braided mohawk hairstyles with weave are meant for those who want to have even more volume in hairdos! Plus, once you braid in a weave, you'll have more hair and more space for creativity. This dramatic crown that changes into a full pull-through braid and then becomes a fishtail. Have you seen something more fascinating?
Cool Triple Braided Mohawk Style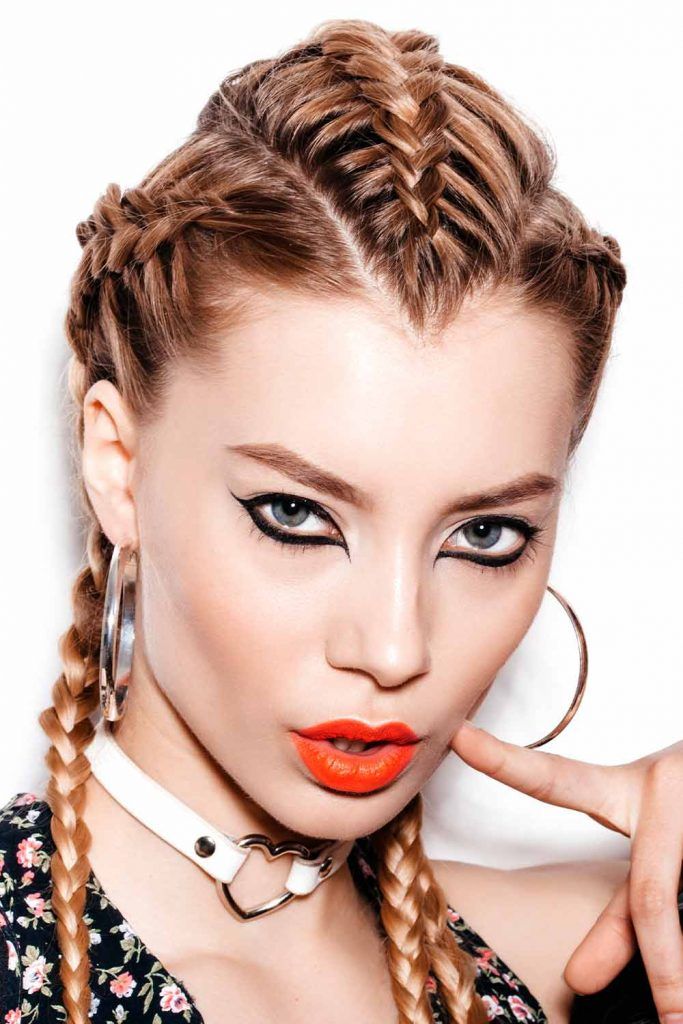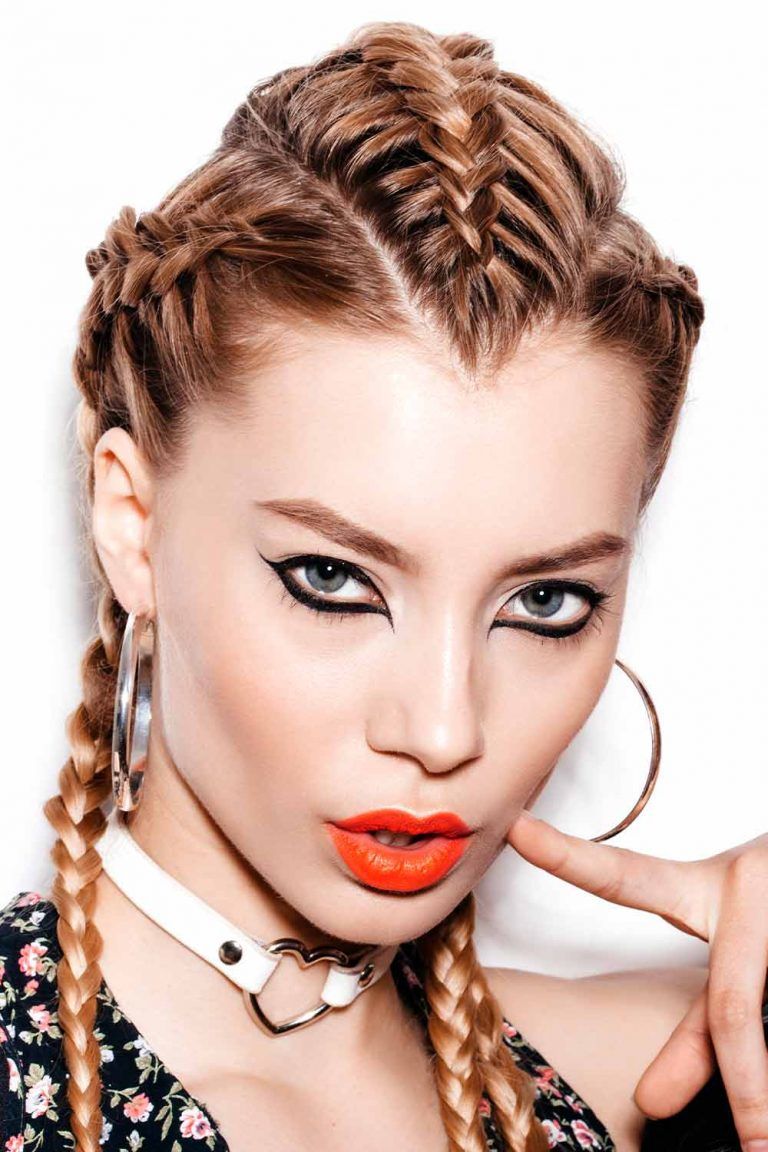 "Wow' is the only word that can describe this unbelievably stylish and diverse mohawk. Feel like you can't have too much of braids? The twisted top that goes to a fishtail braid with two regular braids on the sides is a look to steal! A little tip: the more colors, the better.
Four Strand Braid Mohawk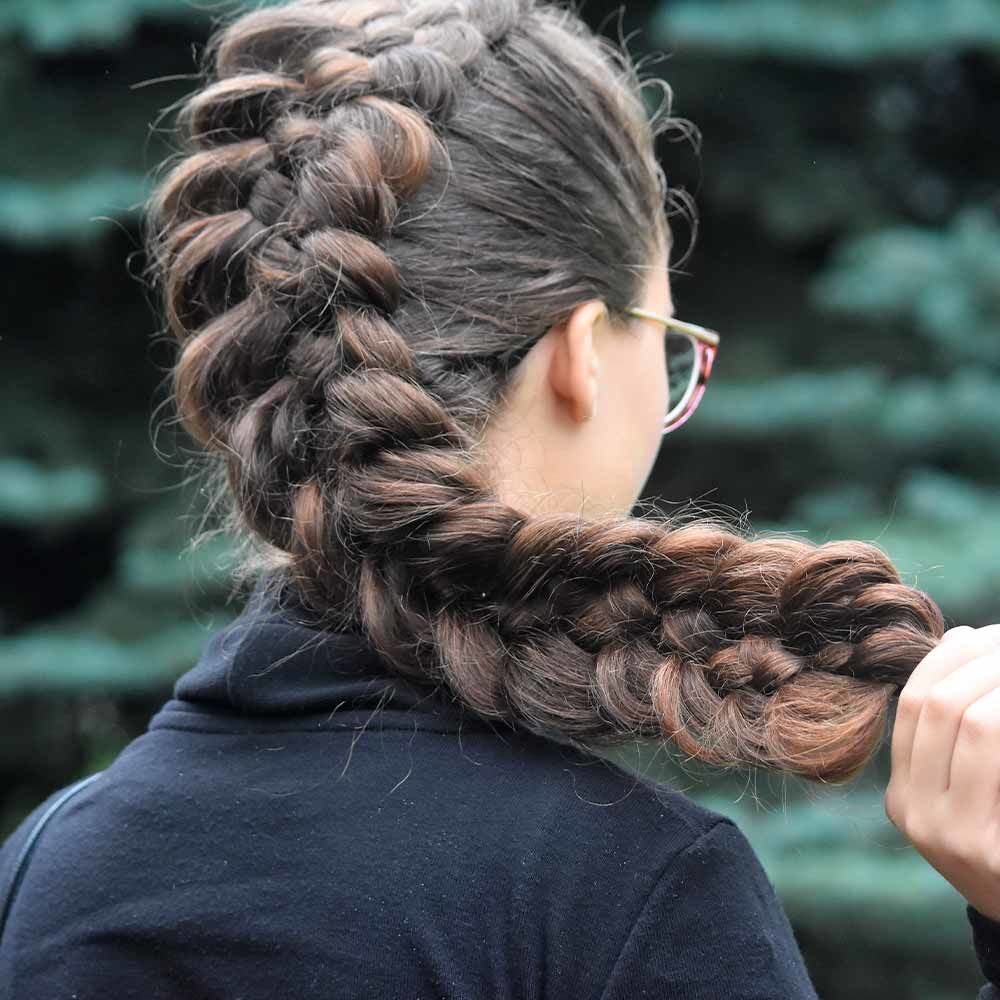 This idea is officially the easiest way to get the desired mohawk effect. It's a good choice for those who want to calm down their full, uncontrollable hair or to add some volume to thin locks. Four strand braid that begins right at your forehead is the best mohawk ever!
Unbelievable Twisted Edge Fishtail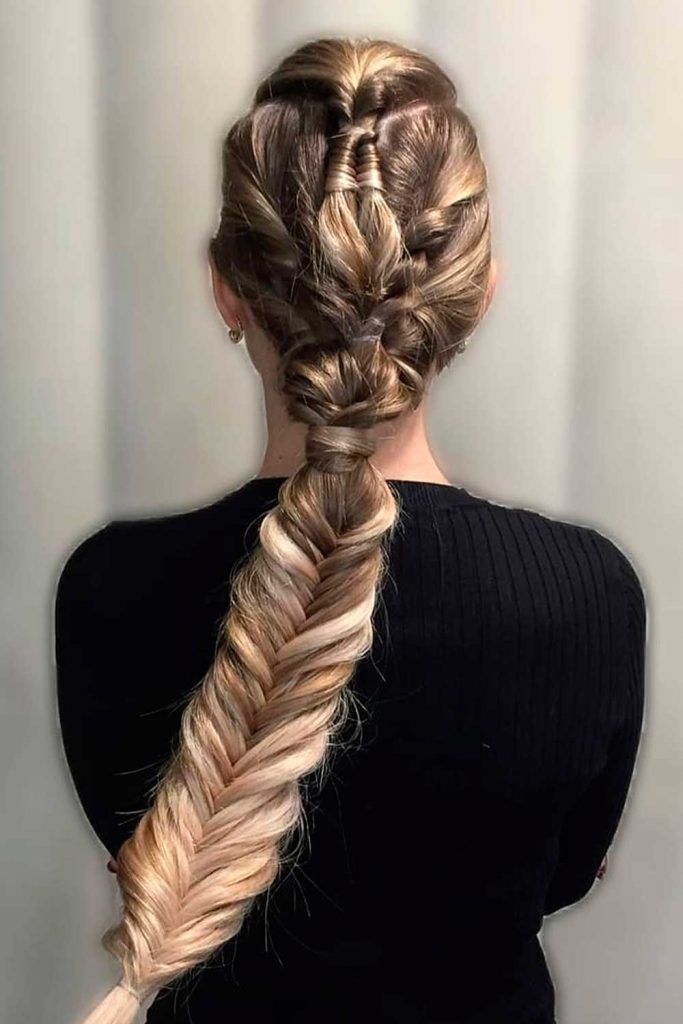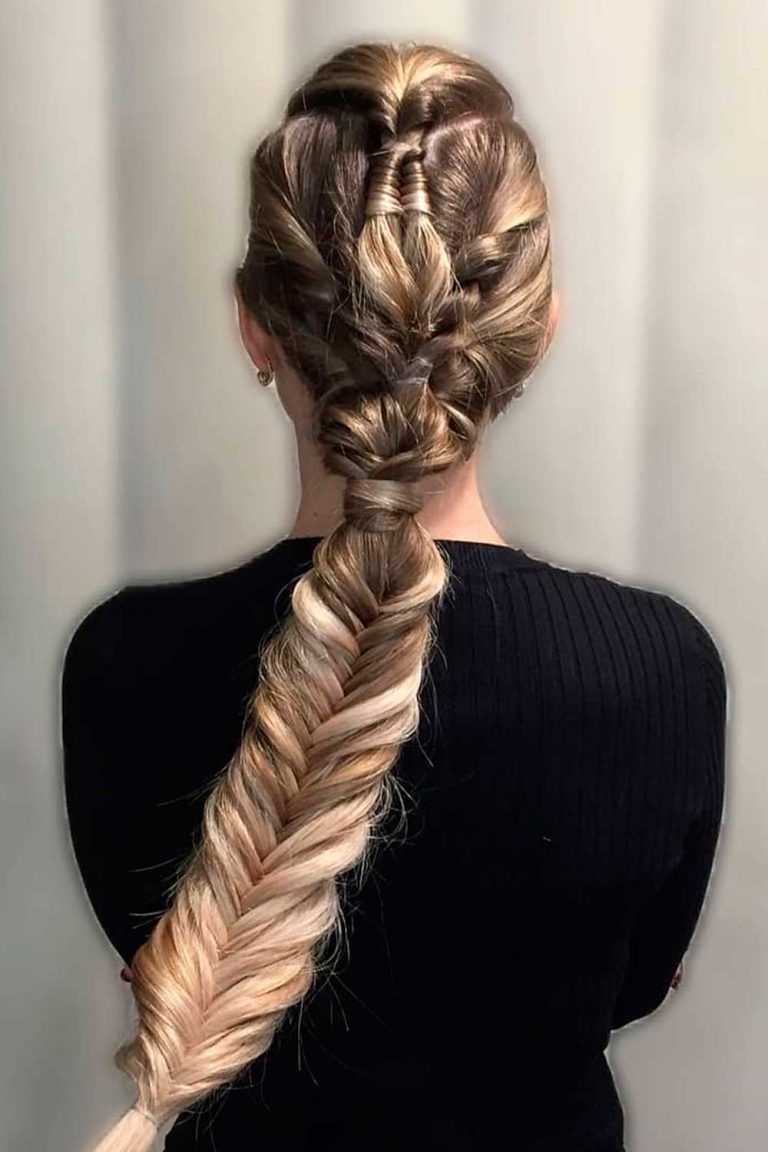 by @mariya_hairstyle_kh
This twisted edge fishtail is another good way to add some mohawk vibes to your style. Though it's not the easiest braided hairdo, once you look at it, you'll realize that it's worth your time. The braid is done in the center, playing the mohawk role, while pulled strands make it even more attractive.
Dutch Mohawk Braid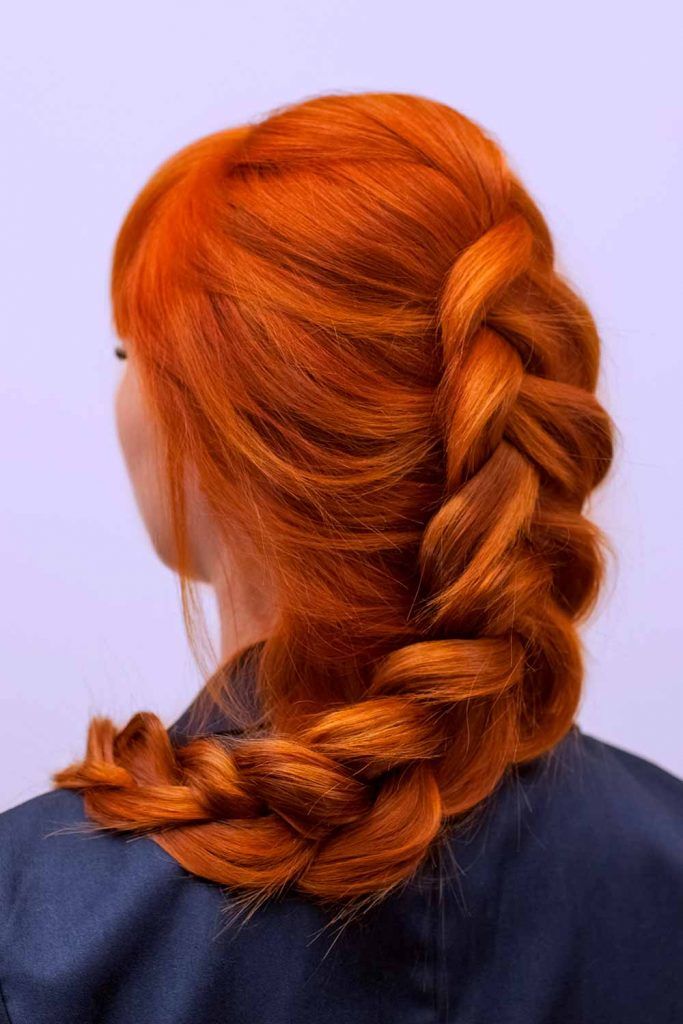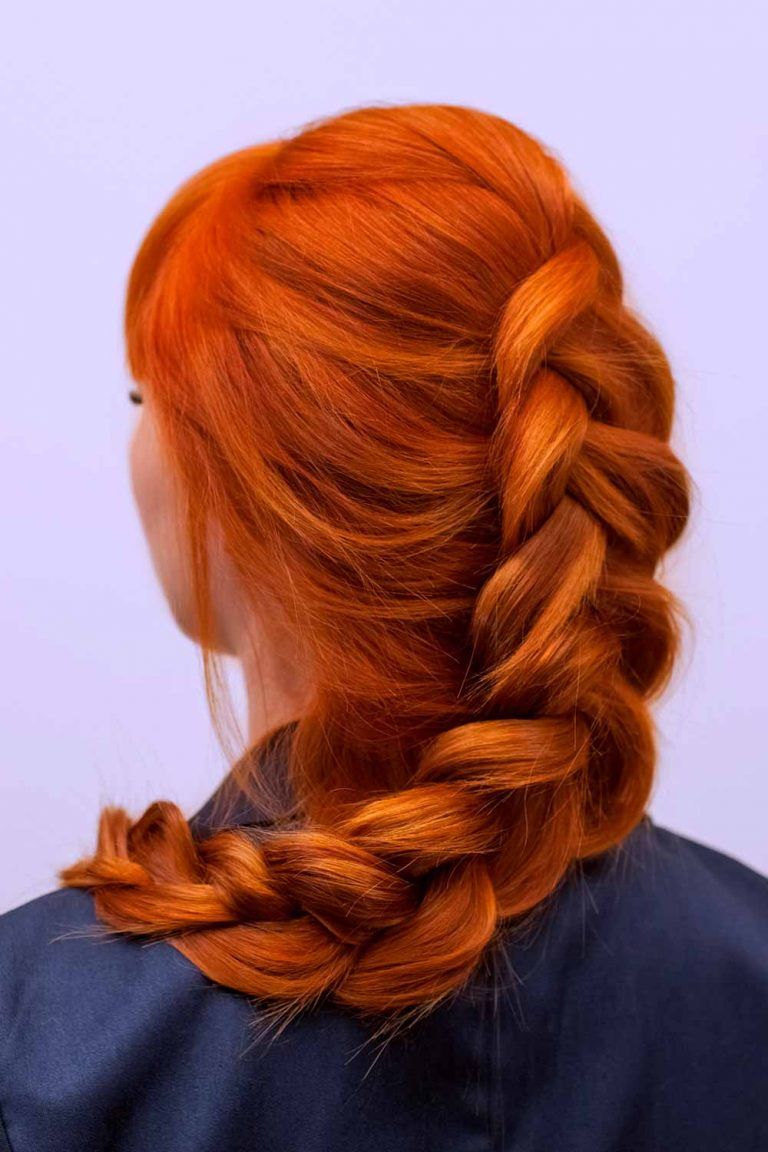 This creative Dutch Mohawk braid is the hairstyle every woman with long hair should try at least once. Beautiful and stylish it will enhance the beauty and stylishness of any look you try on. Volume and looseness will make the updo appear effortless and relaxing. Are you up for it?
Fancy Mohawk Hairstyle For Long Hair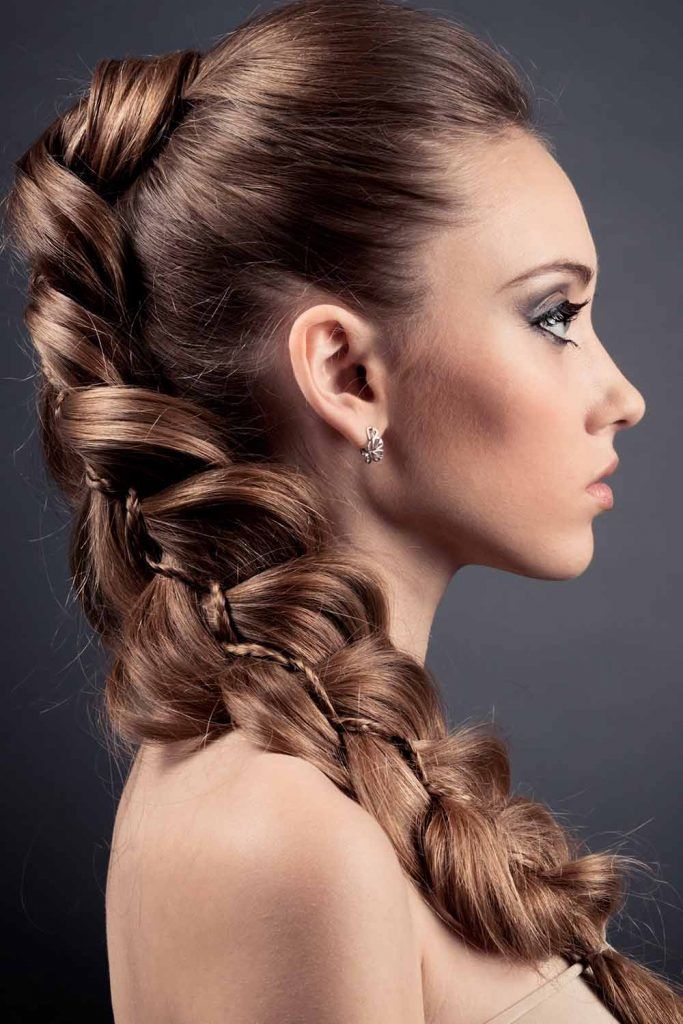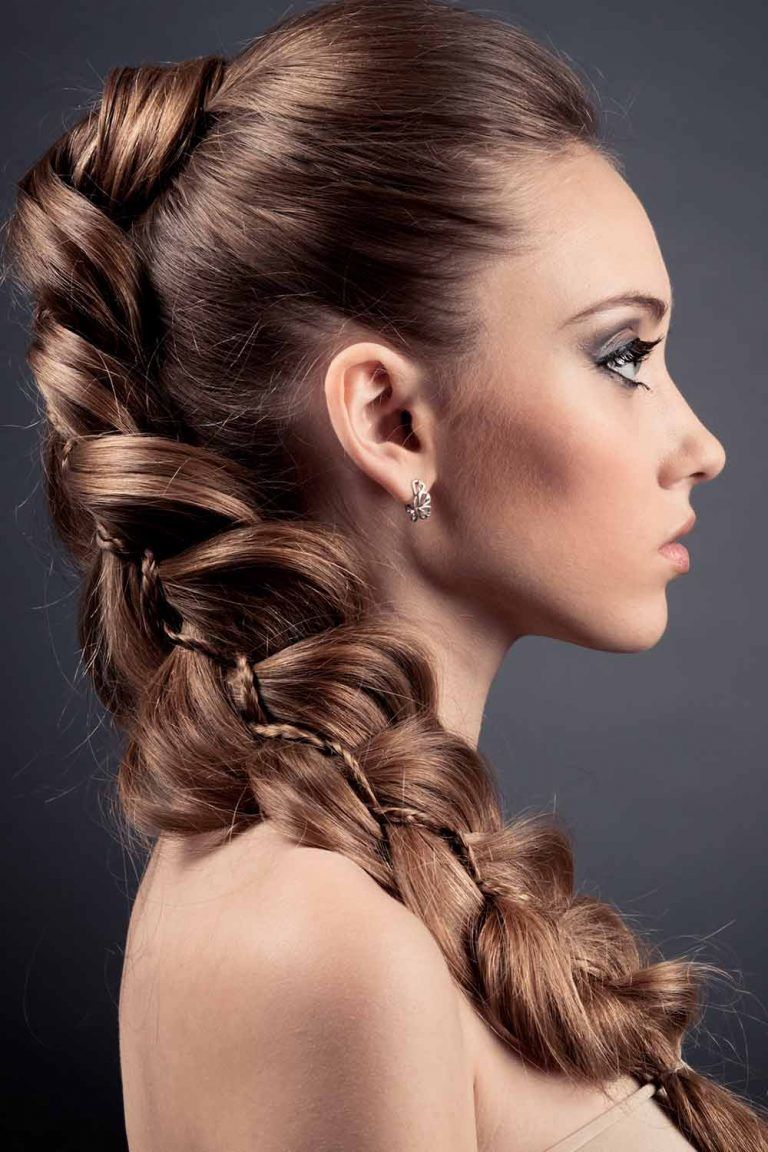 It's time to reveal a secret about women's mohawks: it's not necessary to brush all your hair up and look as if you've just left a rock party. A simple mohawk effect with slightly lifted top of your hairstyle is the feminine side of this trend. Braid your long hair in the most unusual ways: start with an upside-down braid that will create the needed lift, and continue braiding your hair into a fishtail braid.
Four Mohawks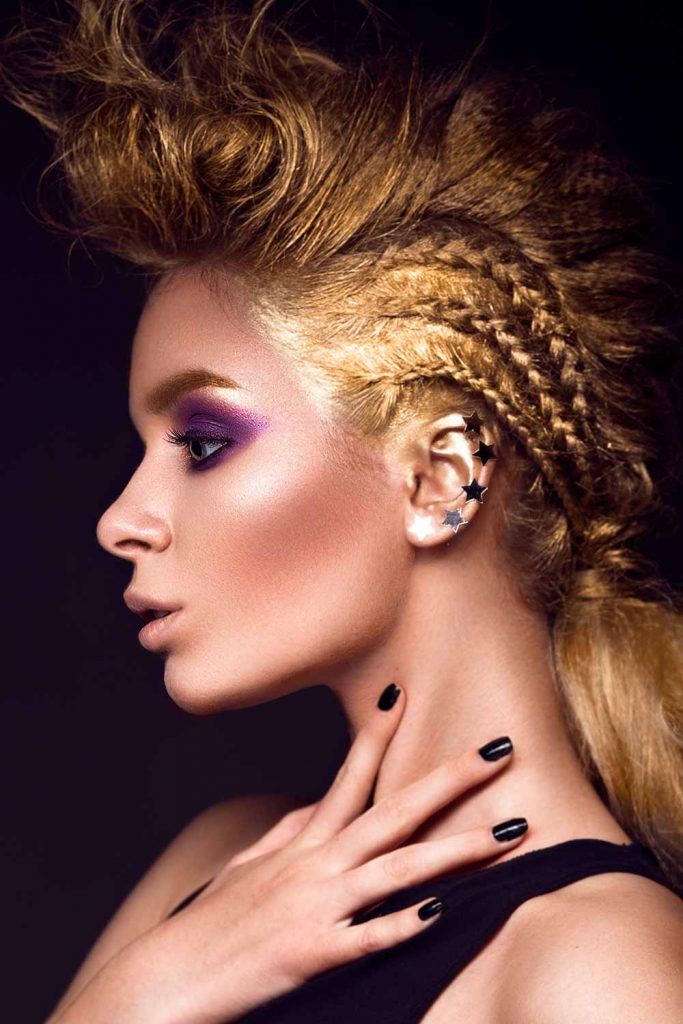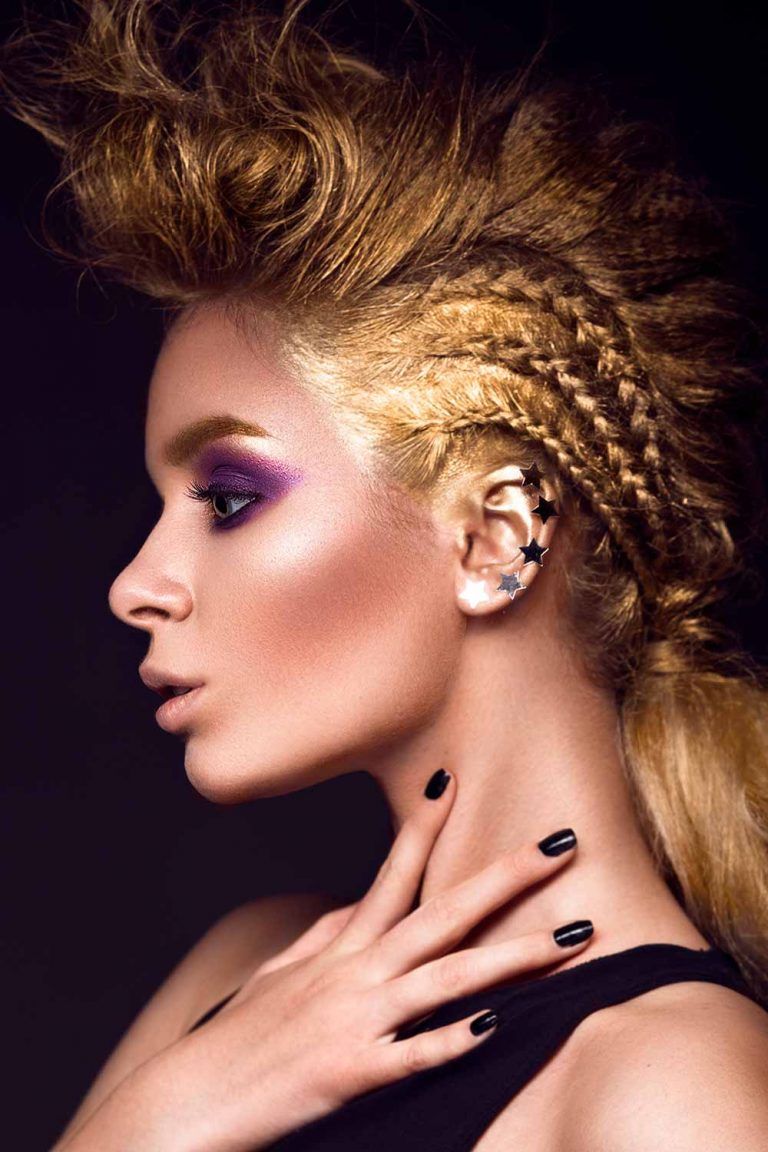 You've just explored the feminine side of the bold mohawk hairstyle, so it's time to let it in your life. Don't be afraid of hair experiments: all these ideas will show you that being creative is a key to being on point!
Braided Mohawk With Ponytails
Dutch Mohawk Braided Ponytail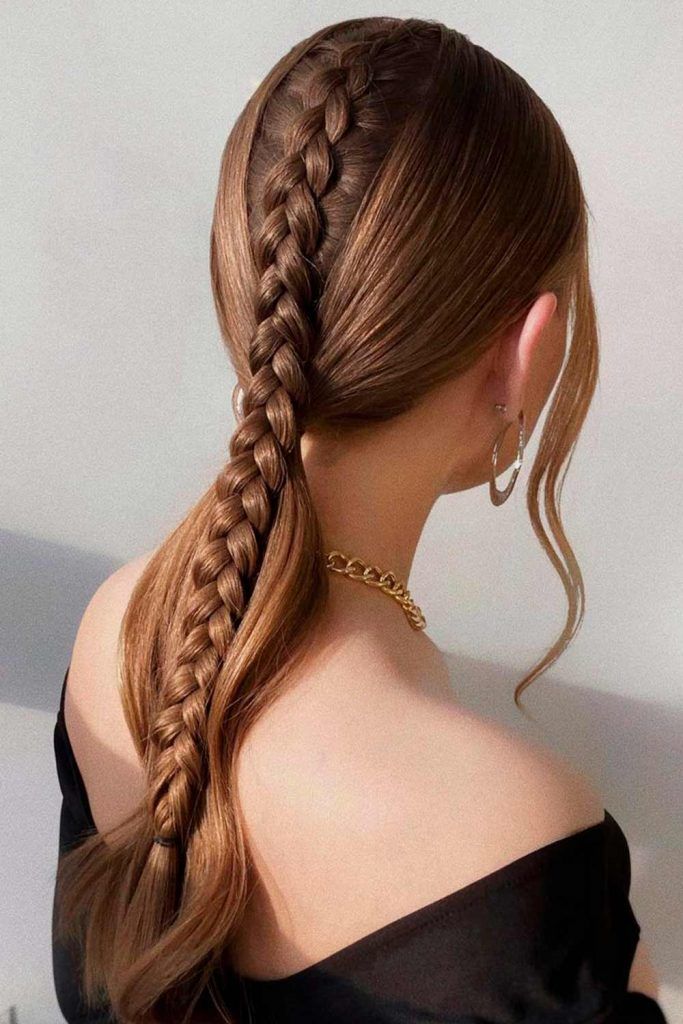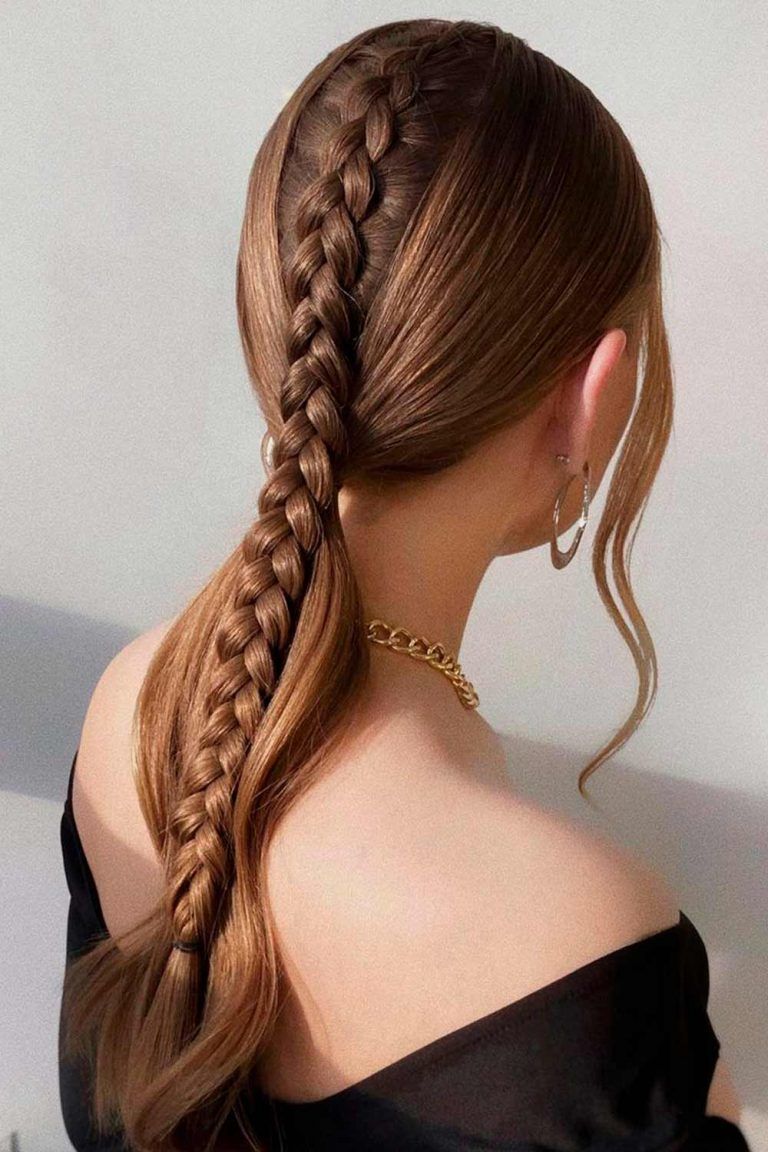 by @ksenia_klimenchuk
How do you like this amazing dutch braid that changes into a low, puffy ponytail? Even though your sides are not buzzed, and your top doesn't stick up in the air, but this style follows the mohawk's rules: the sides are neat, the strip of longer hair is present!
Elegant Zipper Braid Mohawk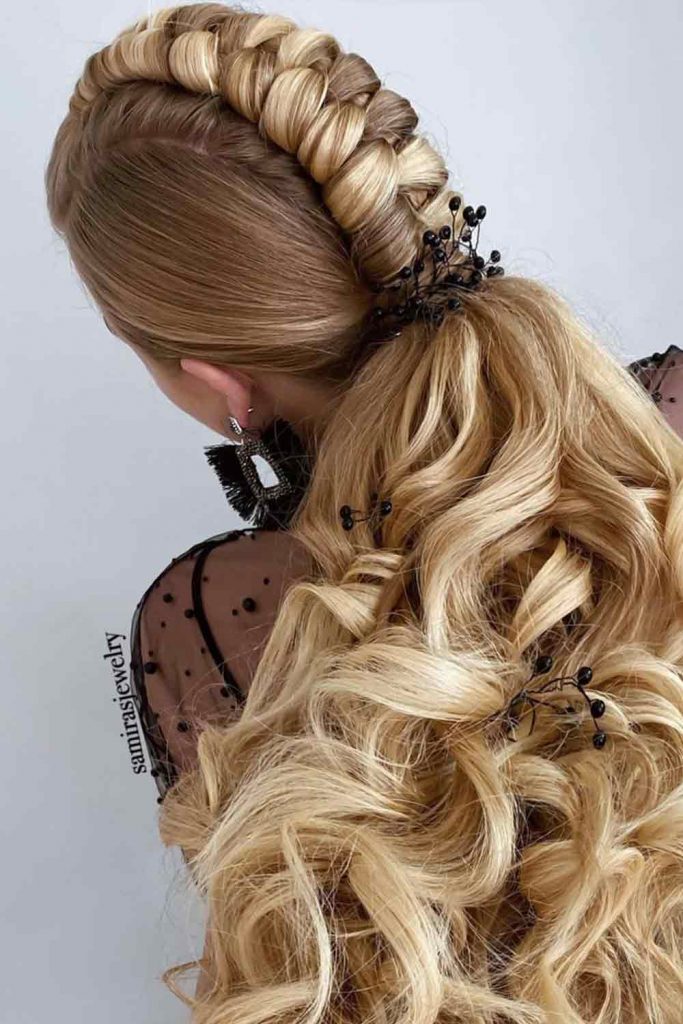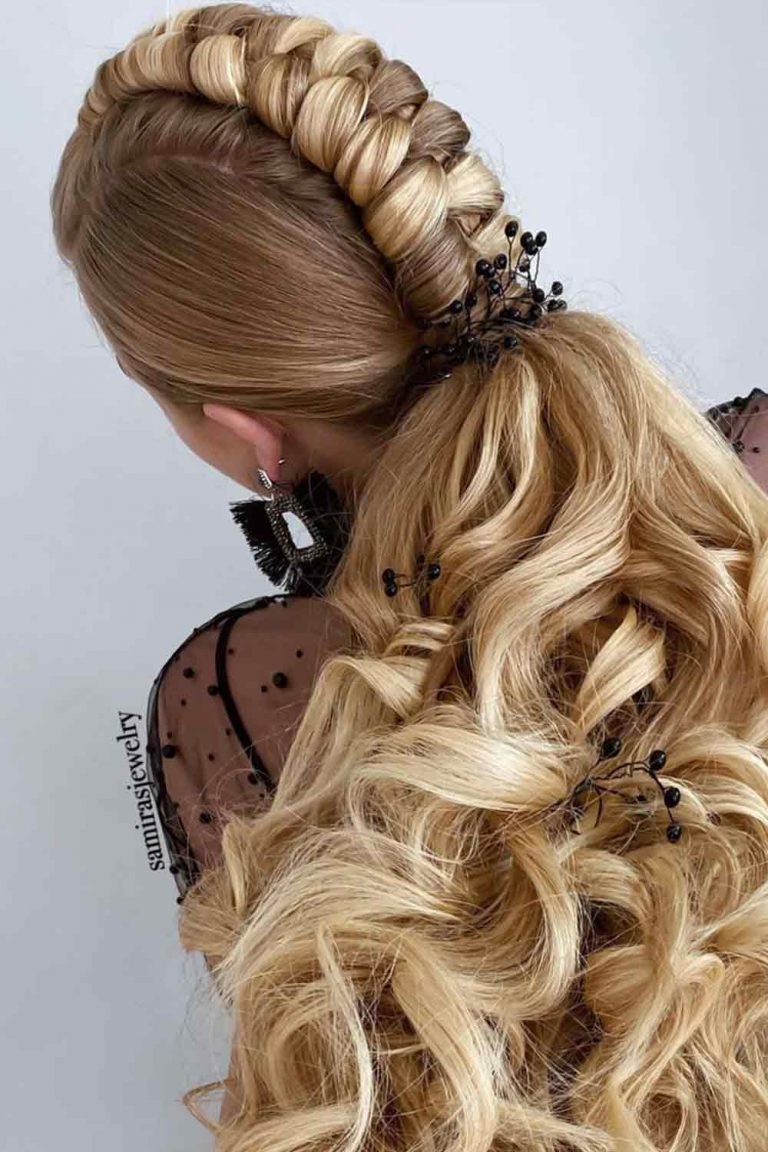 by @samirasjewelry
If you are about to create a truly unique hairdo, zipper braid is crucial! Yes, there are no braids that can't create a mohawk style. To make it more minimalistic, consider doing a ponytail on the midway.
Braided Ponytail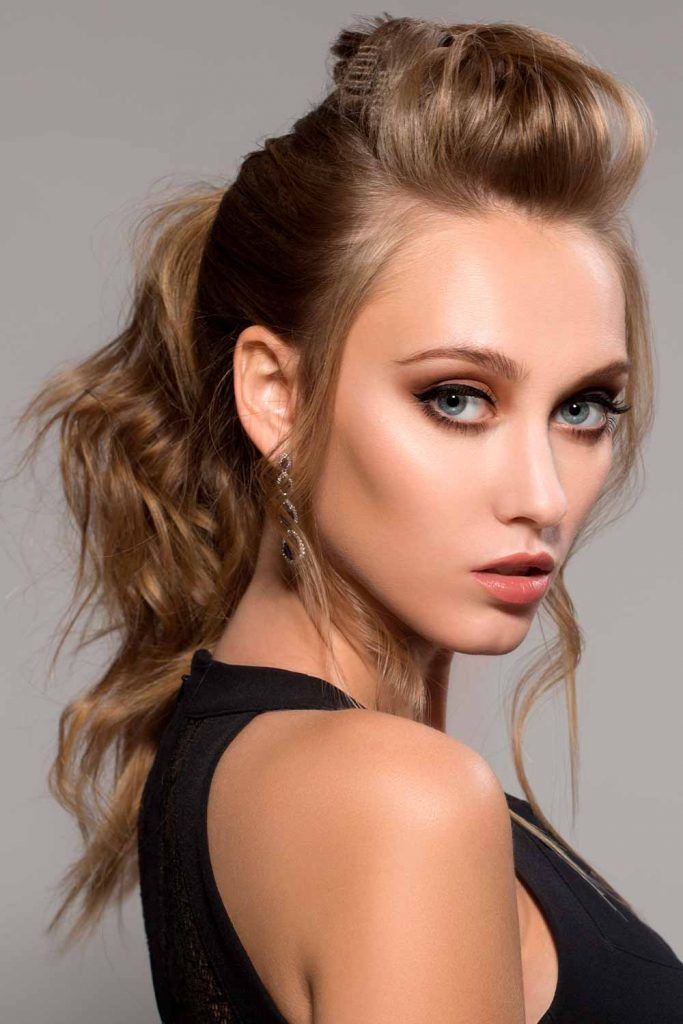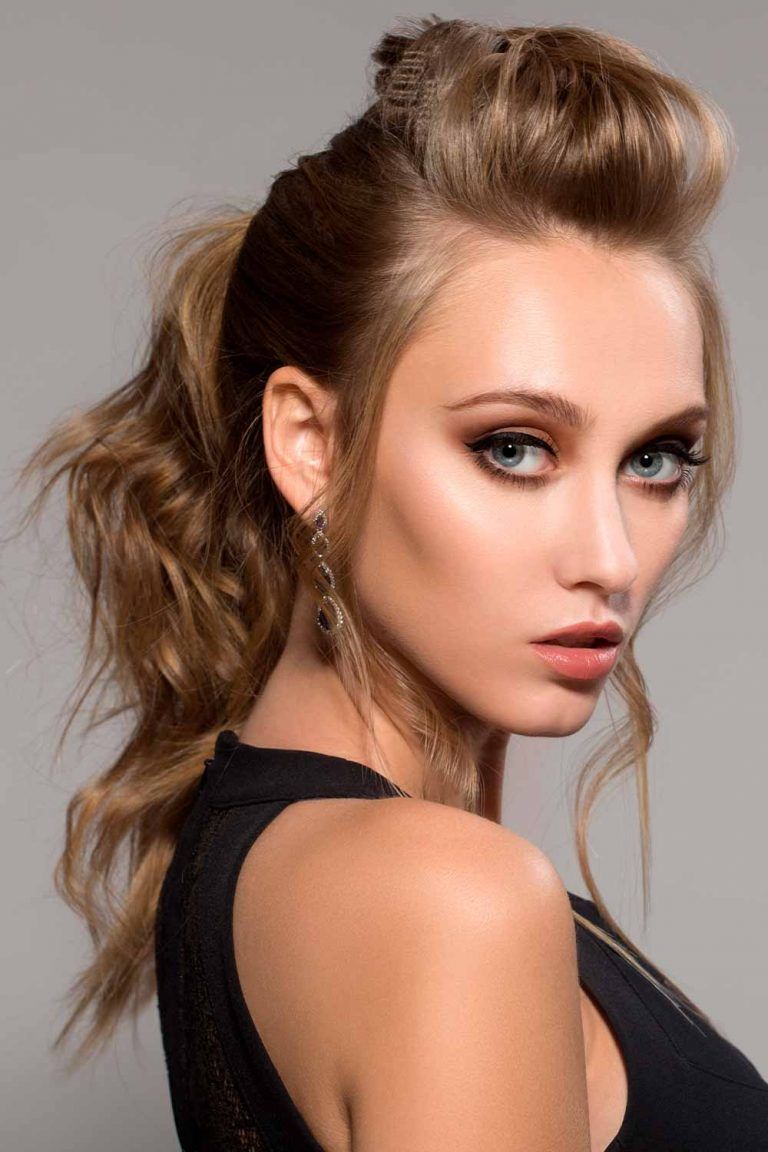 Looking for a mohawk that can save your time? Congratulations! You can braid only the top of your head, putting the rest of your hair into a ponytail. P.S. Hide your elastics, it will make the transition from braid to ponytail smoother.
Bright And Colorful Tuxedo Braid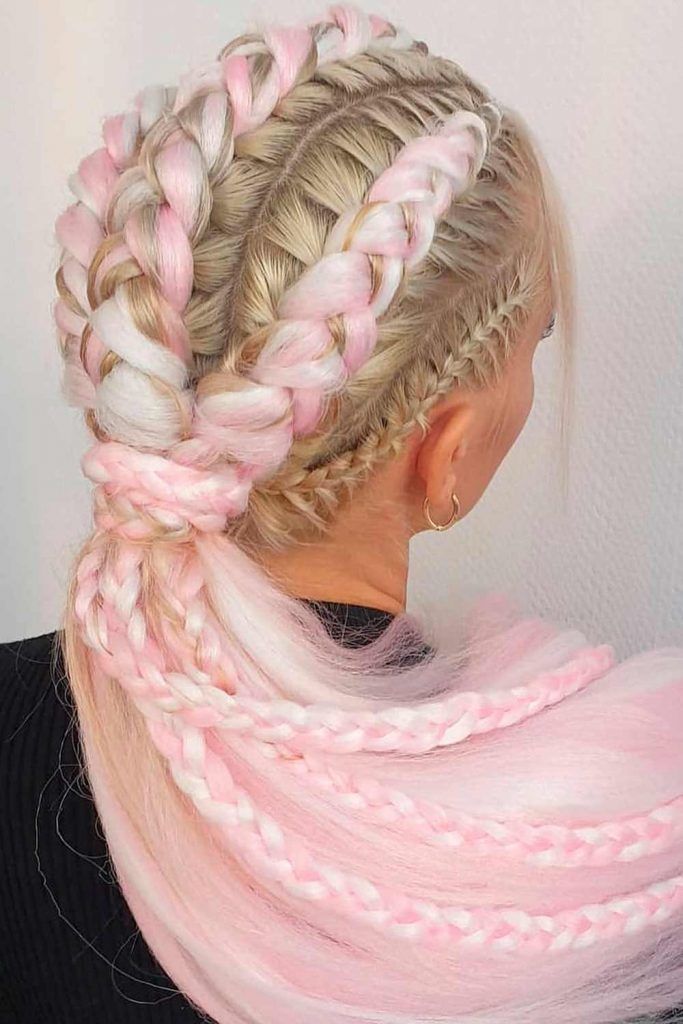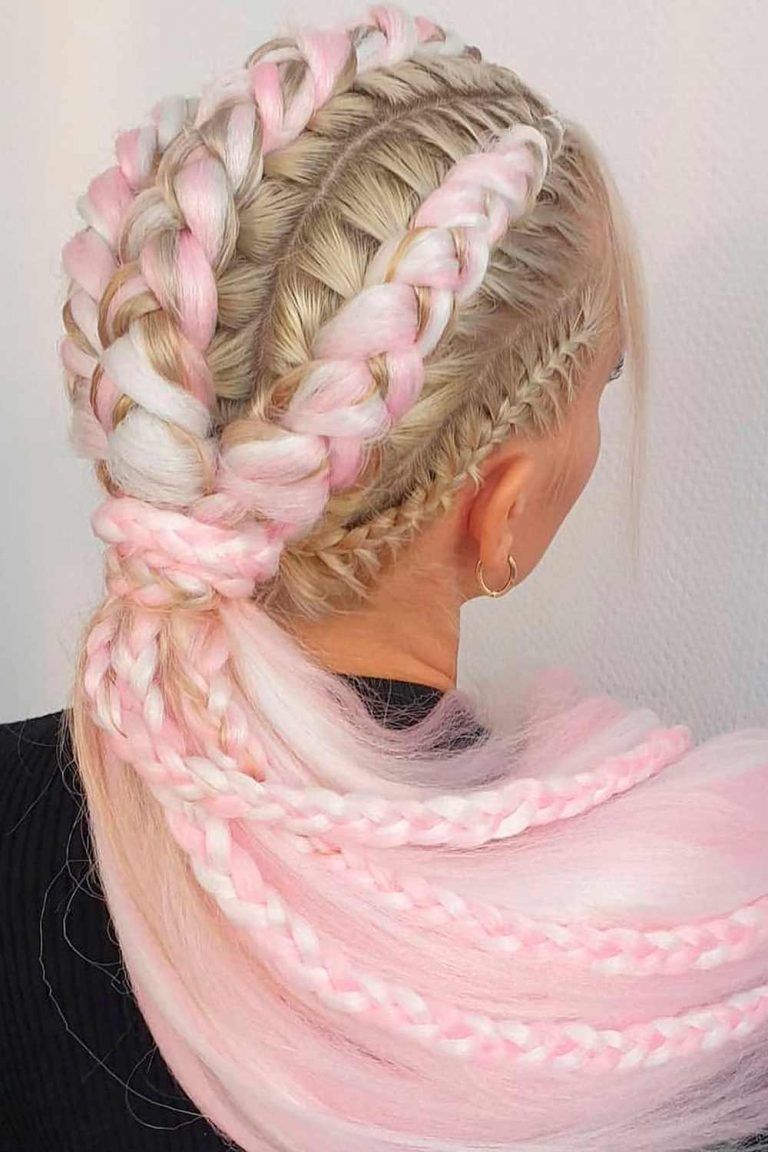 by @kanekalooon
Do you know how dutch braids look inside? This magical tuxedo braid will show you. People won't believe their eyes once they see this tasteful hairstyle with a lovely twist. If you want to have all eyes on you, ask your colorist to mix all the pastel mermaid colors.
Inverted Fishtail Hawk Into Split Fishtail Braid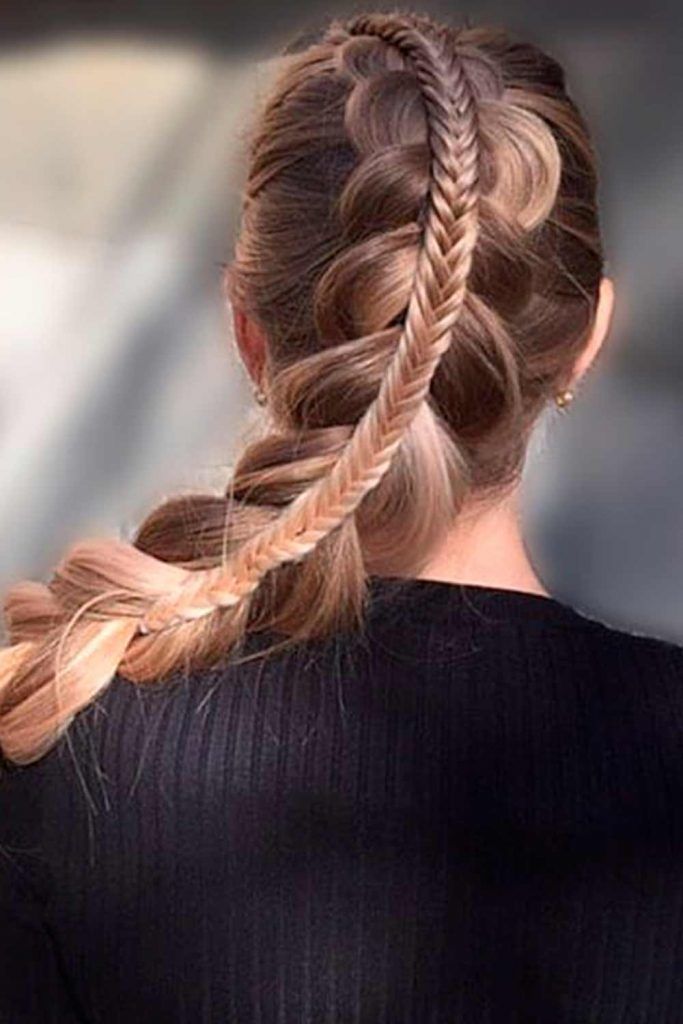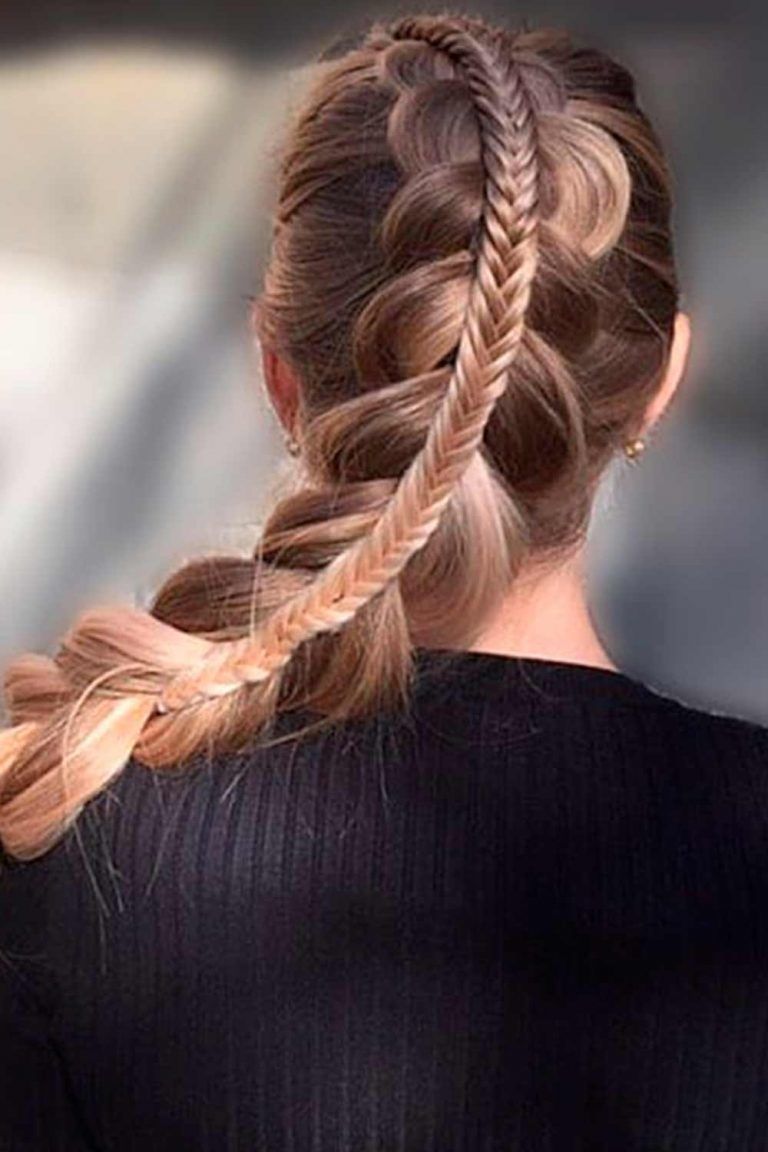 by @mariya_hairstyle_kh
Ladies who like mixing different types of braids in their hairdos will fall in love with this duo. The voluminous fishtail hawk, tied on the midway, becomes a lovely split fishtail braid. Let your creativity run wild and bring this idea to life.
Dutch Fishtail Mohawk Braid
Have no idea how to show off the beauty of your long locks? Meet the greatest mohawk braid that can take a fresh look at your hair. The gorgeous fishtail braid with not fully pulled strands shows that women's imagination has no limits!
Four Strand Braid Into Ponytail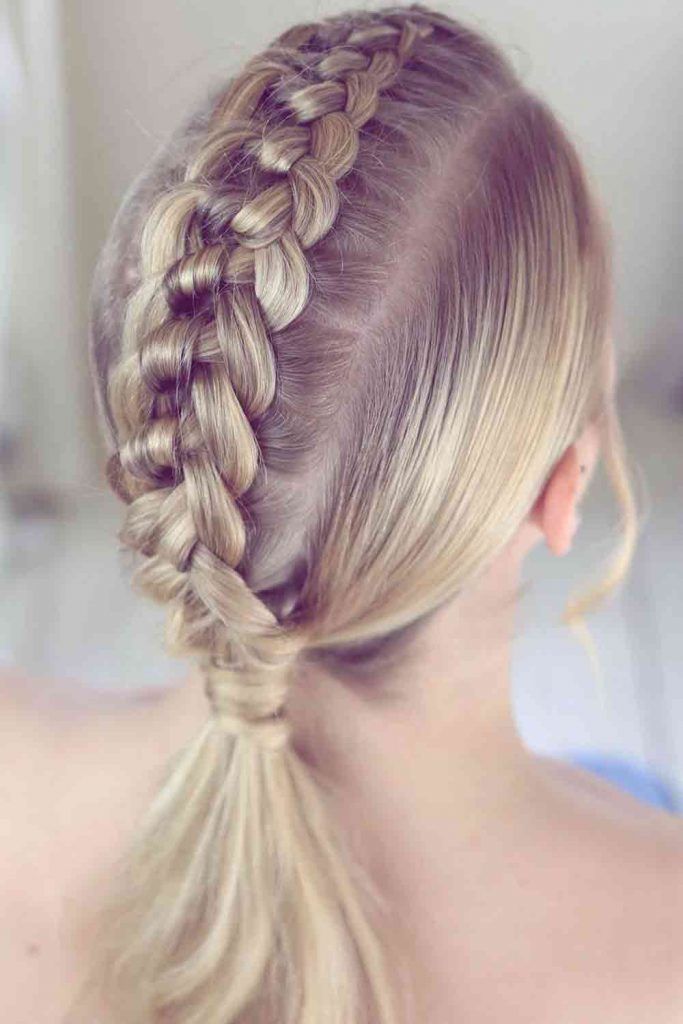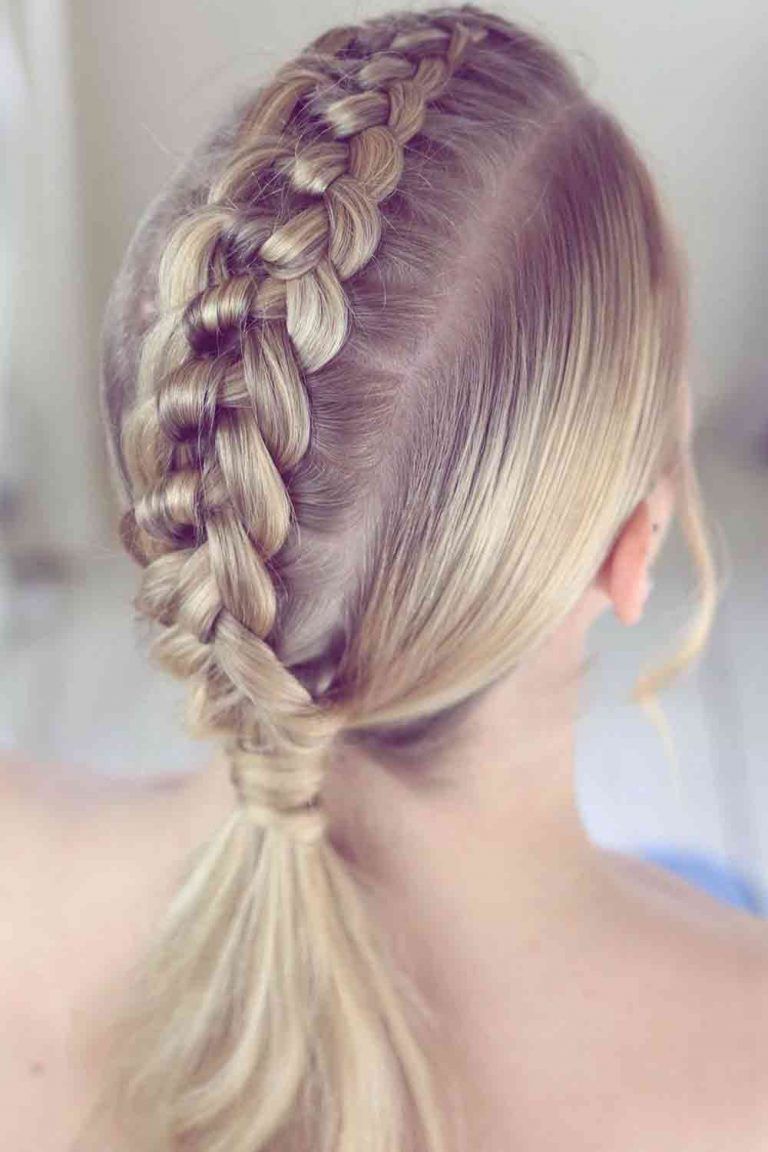 by @sweethearts_hair
Love neatness and simplicity? A braided mohawk-ponytail is all you need, then! Start with a tight four-strand braid, secure it with an elastic on the halfway to create a ponytail, and enjoy the easy and fascinating braided hairdo.
Infinity Stacked French Mohawk Braid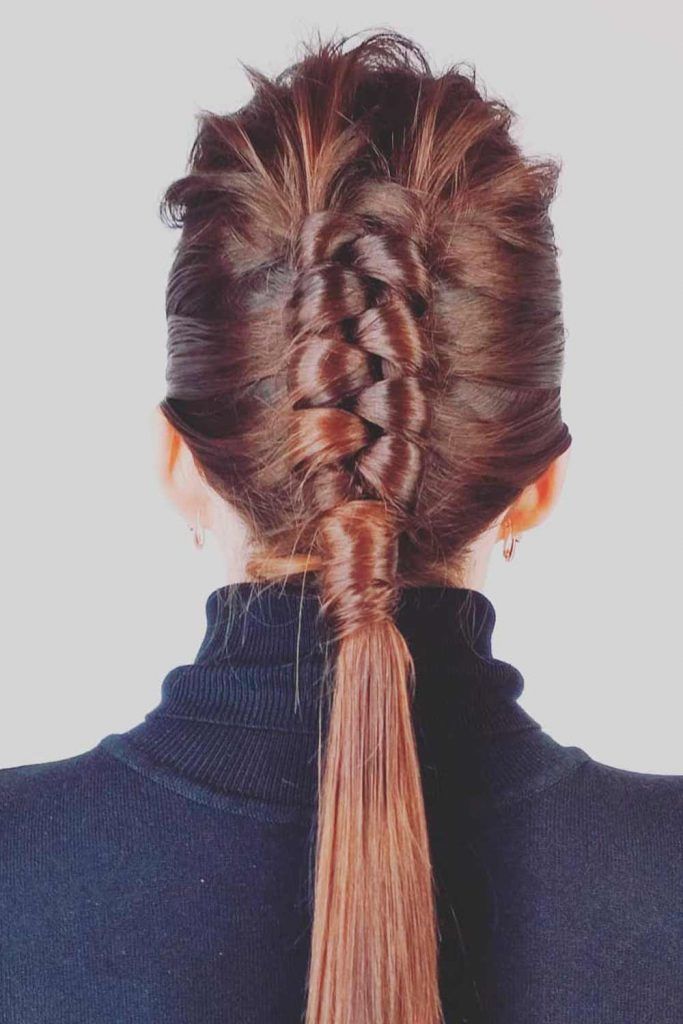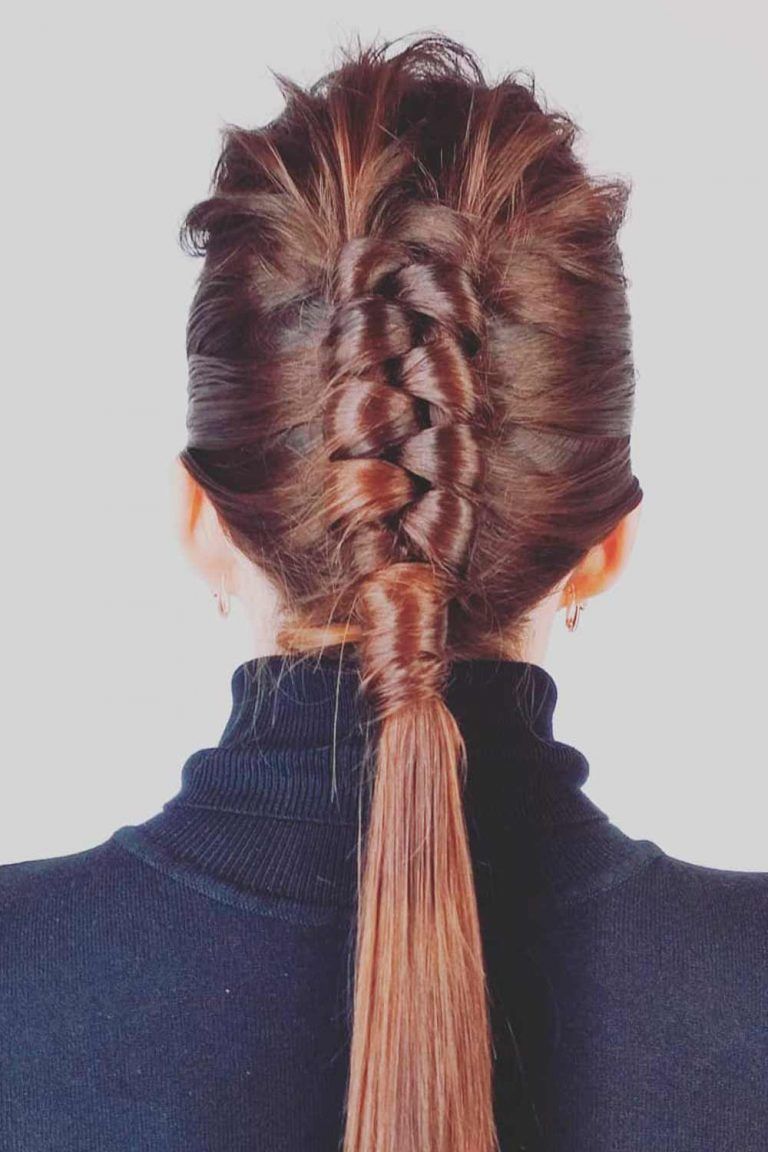 by @lilissssa
Do you prefer experimenting with different braiding techniques to get an impressive looking result in the end? We love that! Then your number one choice should be this infinity stacked French Mohawk braid that will bring your braiding game to a whole new level. We love how creative it looks and would love to see hairstyles like this more on the streets. What do you think? Let`s start with you.
Triple Mohawk Dutch Braid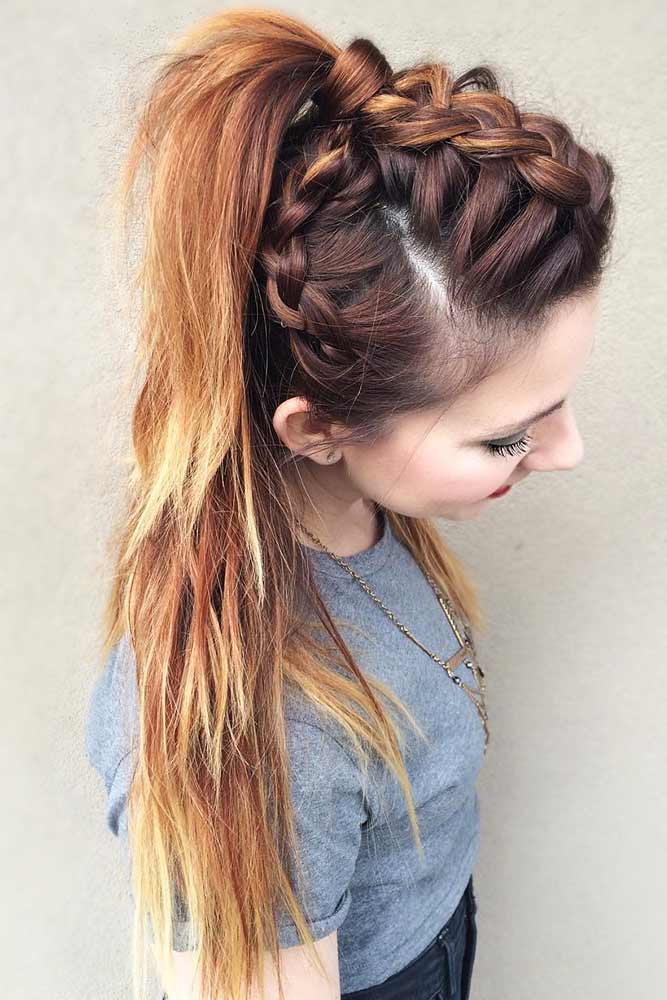 by @deadswanky
Did you like our ponytail Mohawk ideas? We have another one that is for sure an outstanding one. Look how gorgeous these triple Mohawk Dutch braids are in the duo with a high ponytail. Sleek braids will go so well with freely falling from a ponytail hair. A rocking idea!
5-Strand Braided Ponytail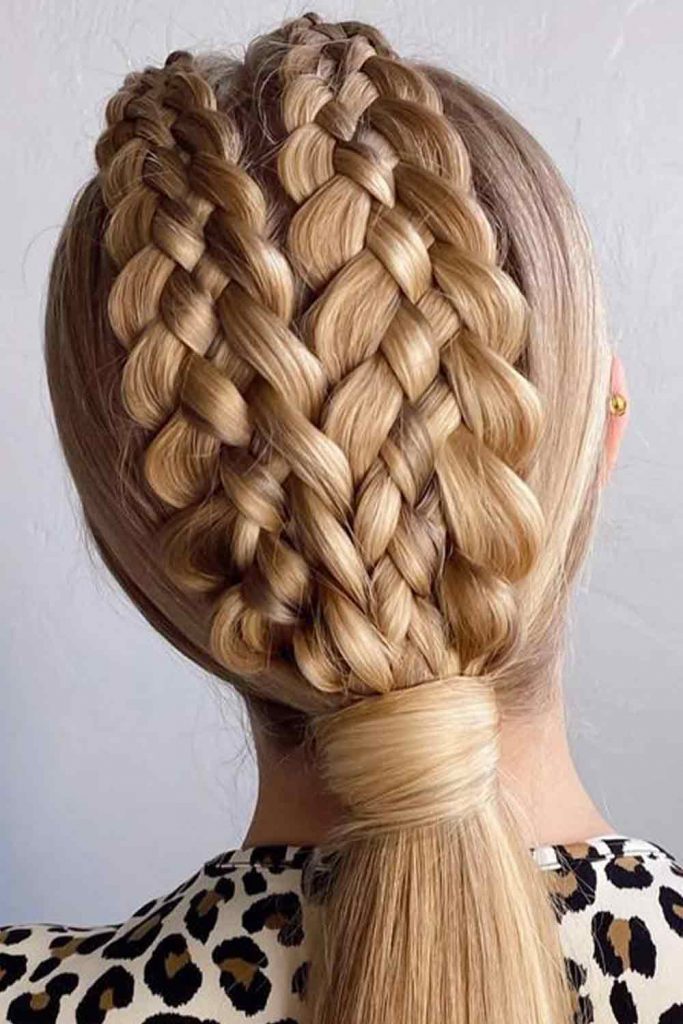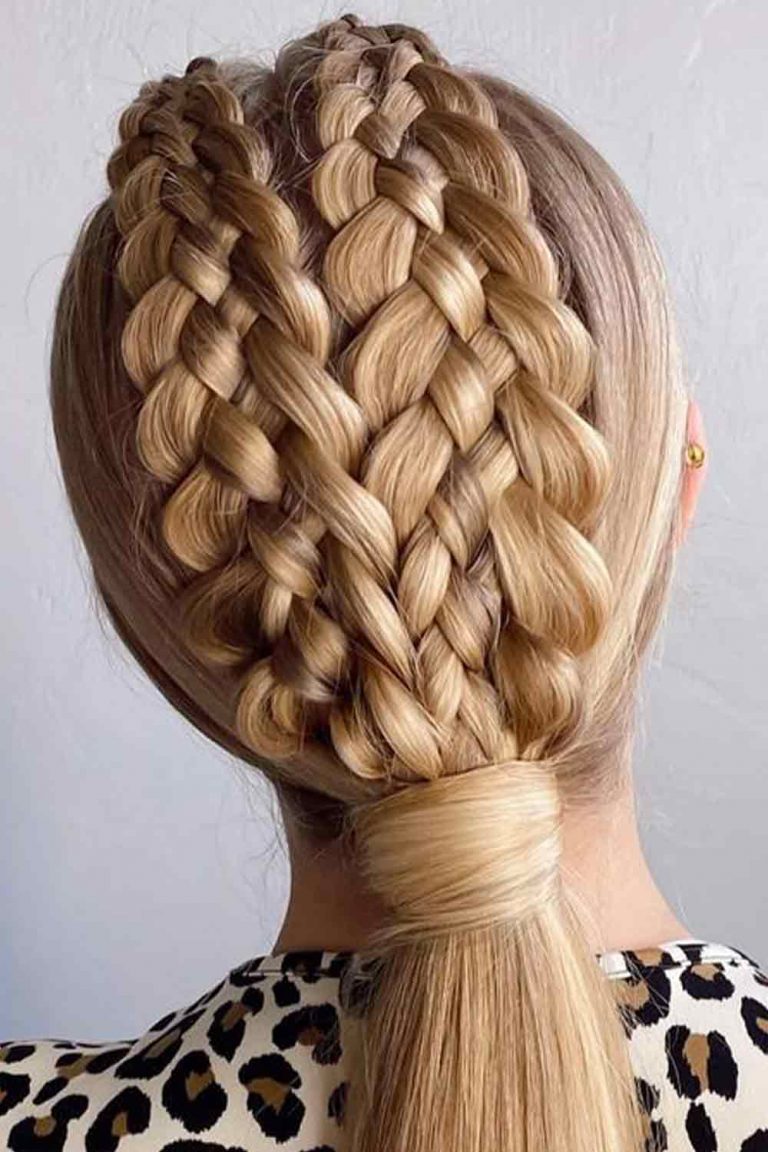 by @samirasjewelry
A ponytail is one of the most popular hairstyles among women. We get why. It is so comfortable to wear and looks so good, especially if you try different creative ways of styling. Look at this 5-strand braided ponytail. The definition of style and creativity it will bring a breath of freshness to your whole appearance.
Braided Updo Hairstyles With Mohawk
Magnificent Braided Mohawk Bun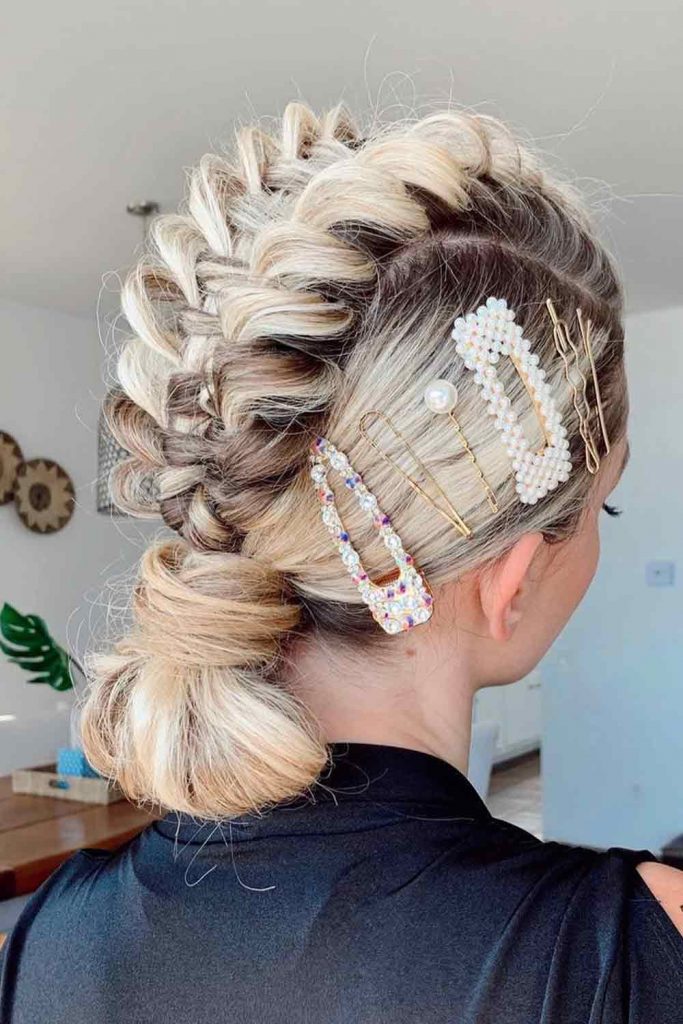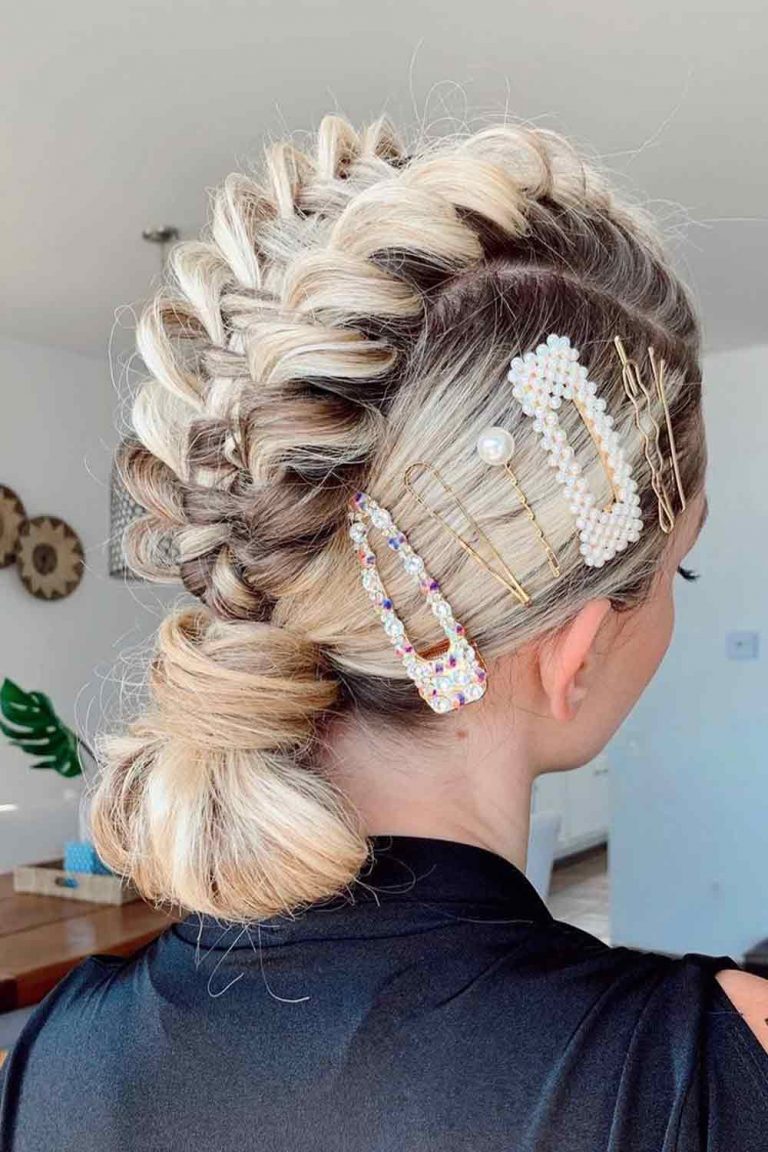 by @samirasjewelry
Your hair color is responsible for the mood of your hairstyle. The braided mohawk updo you see is very delicate and neat, but when it's paired with such an unusual pastel blue color, it gets more dramatic. Some people sport spiky top, and some people braid it: the braid that goes along the crown and twists into a low bun is one of the loveliest mohawk's variations.
Chic Curly Mohawk Updo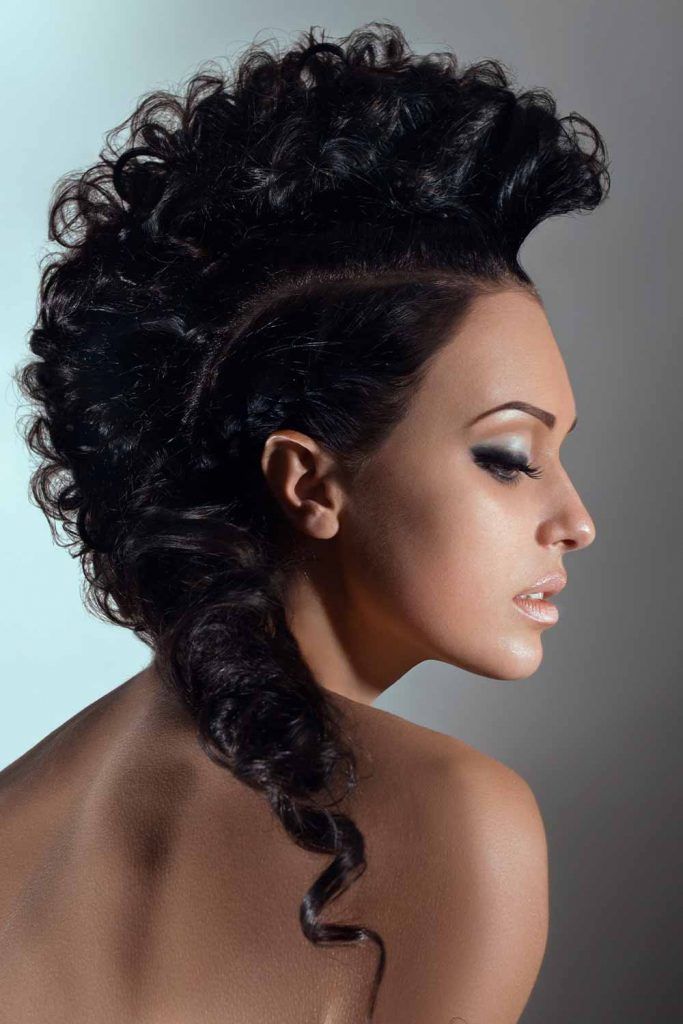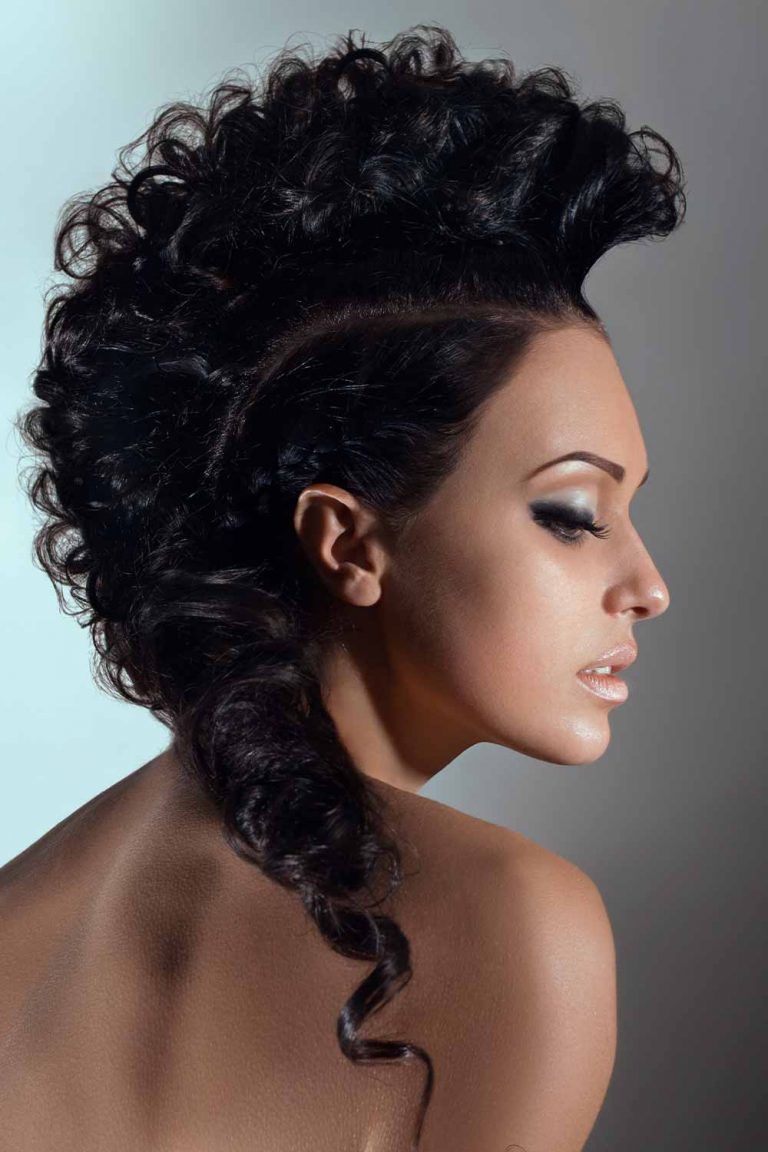 All girls are different: some prefer lovely girly looks, while others sport tomboy-like ones. But the truth is, it's all temporary. We tend to change our minds, experiment with our style, combine contrastive things. So how about you get a daring, yet absolutely feminine mohawk updo with braided elements at your hairline? Your curly hair will look so exceptional, resembling a daring frohawk hairstyle.
Braided Mohawk With Accessories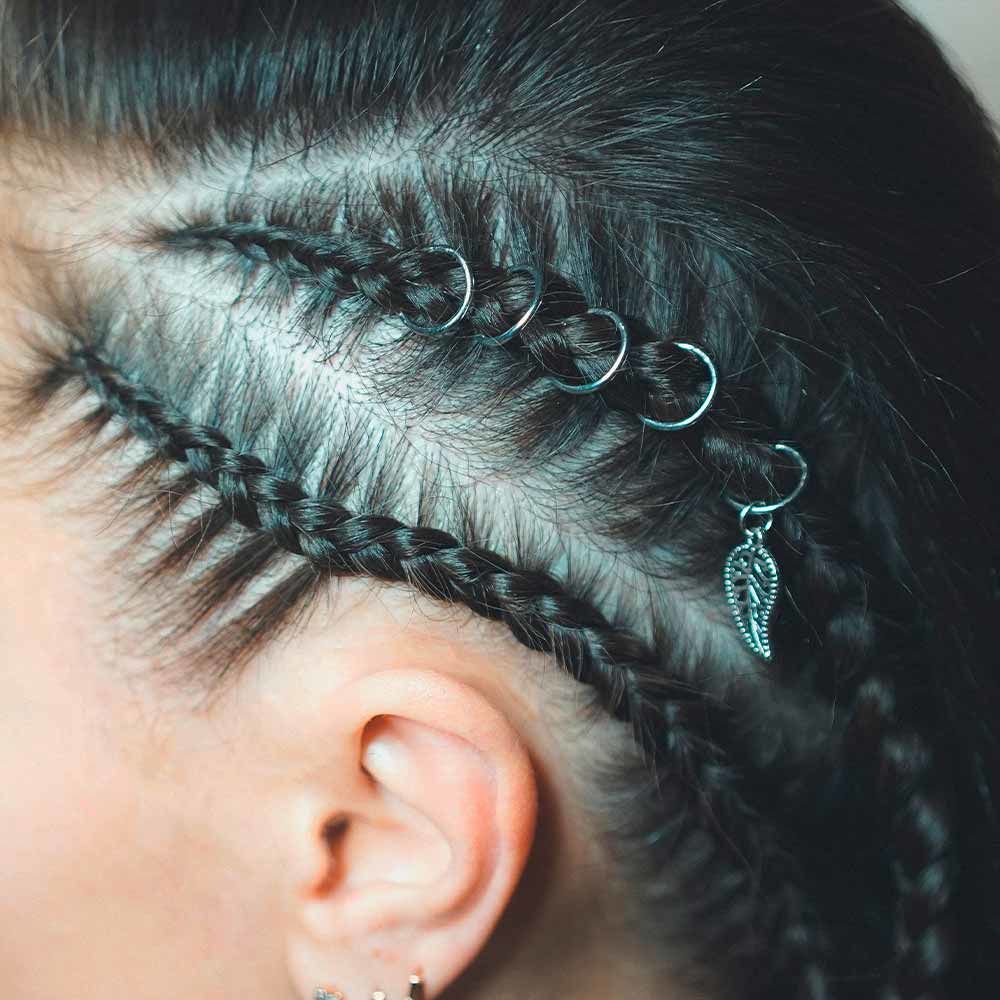 When it comes to some special occasion, no matter what it is, we want our look to be as unique as never before. Want to wear a hairdo that no one has ever seen? This braided mohawk accessorized with big braid rings seem to take over the fashion world.
Mohawk Hairstyle With Side Dutch Braid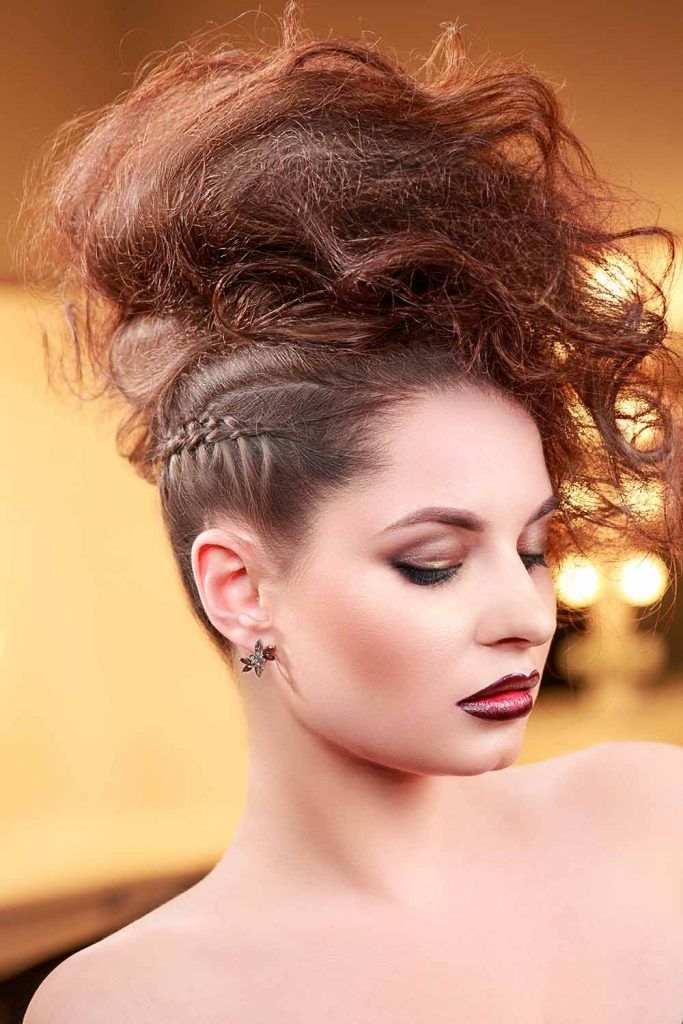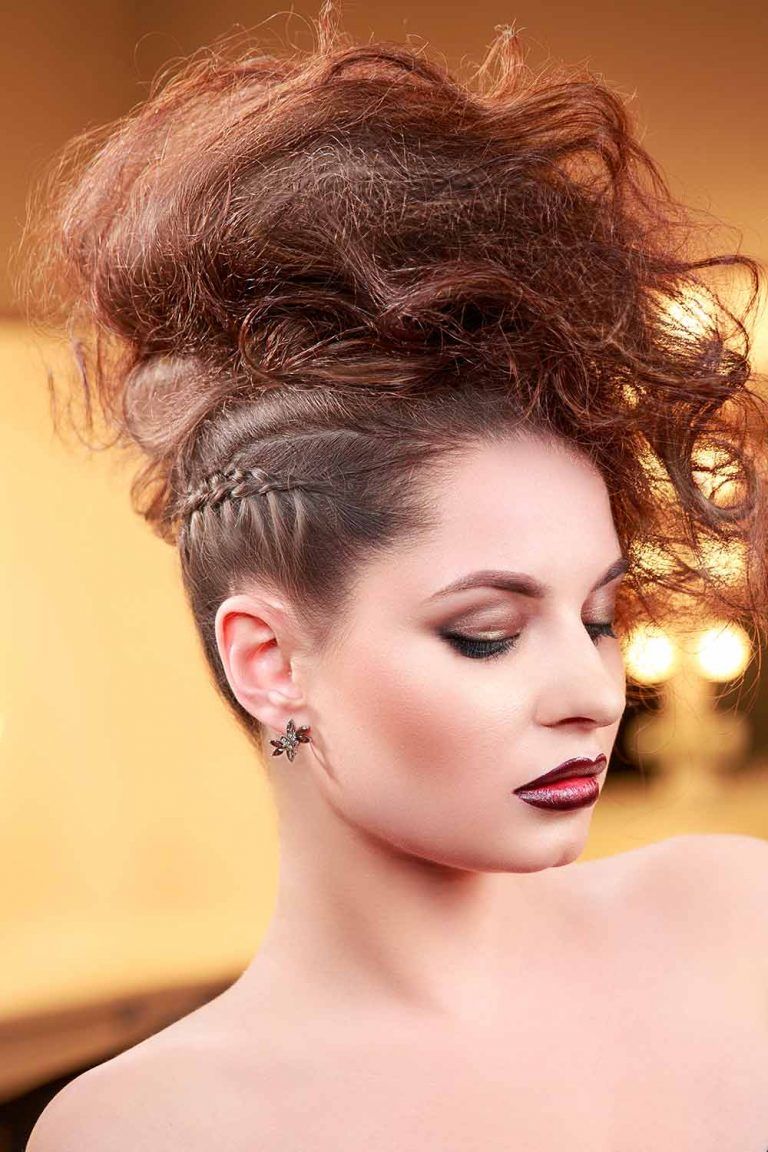 Once you go for a braided mohawk, nothing will have the power to stop you from experimenting! You may want to spice up your sassy style with a side braid, creatively embellished with bows and bobby pins.
Three Braided Mohawk Buns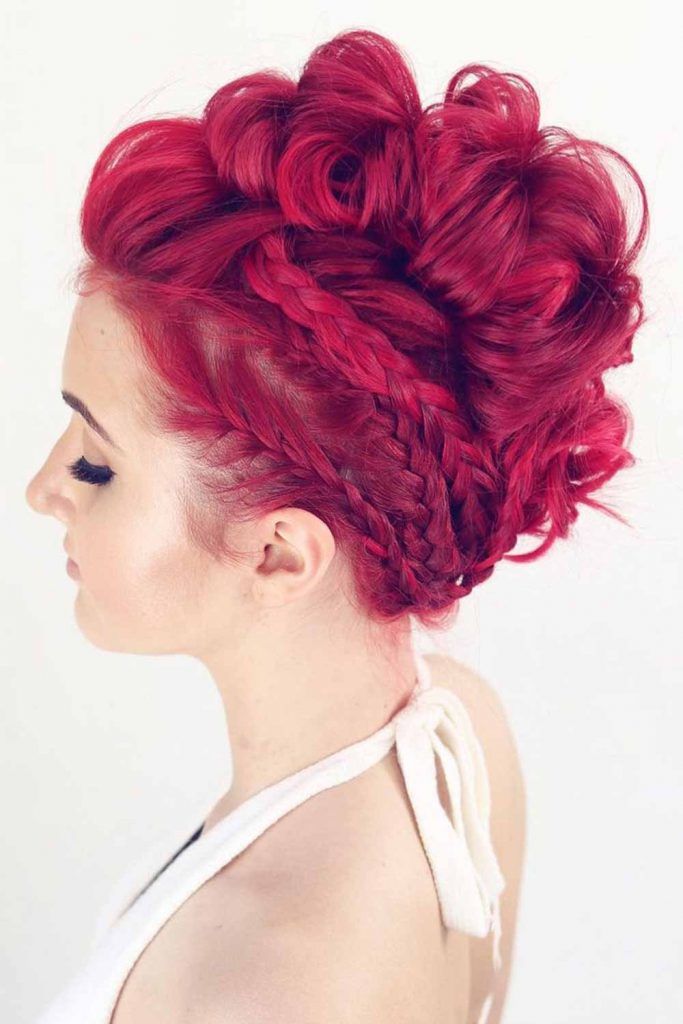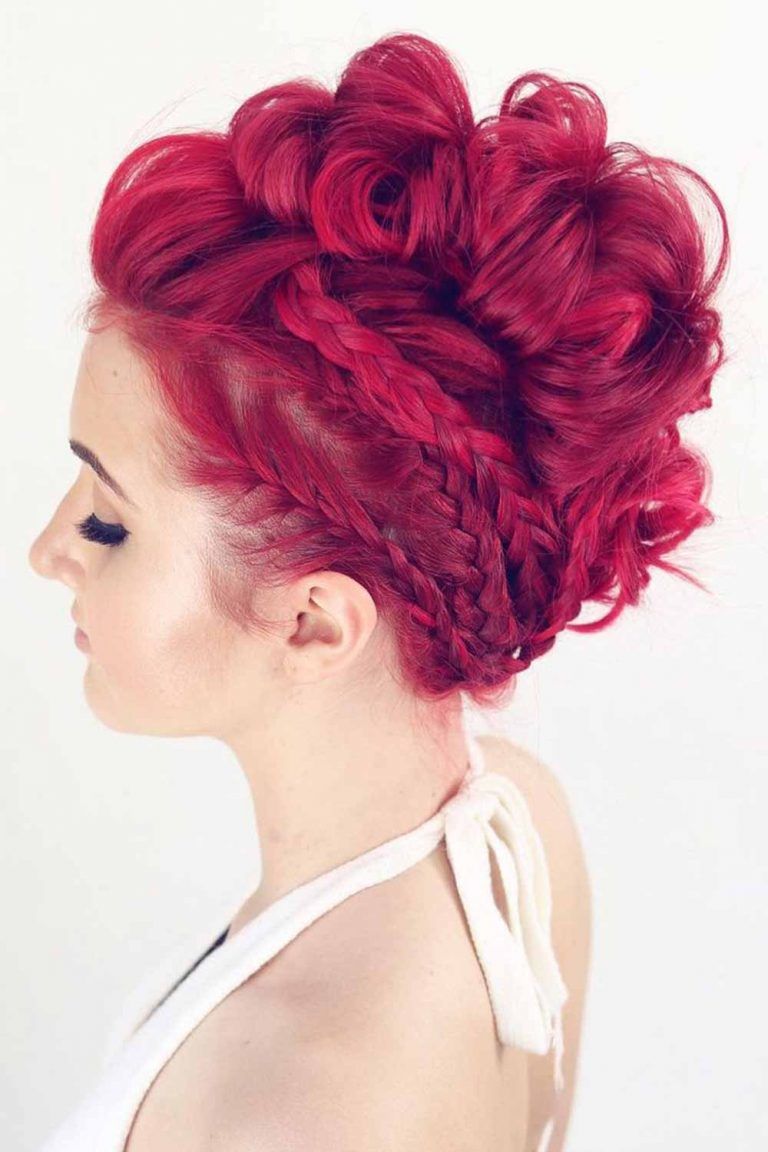 by @sweethearts_hair
Three braids that turn into a bun: isn't that the girliest idea ever? We all need to express our femininity from time to time, and mohawk hairstyles won't leave you without suitable options.
Wrapped Braid Mohawk Updo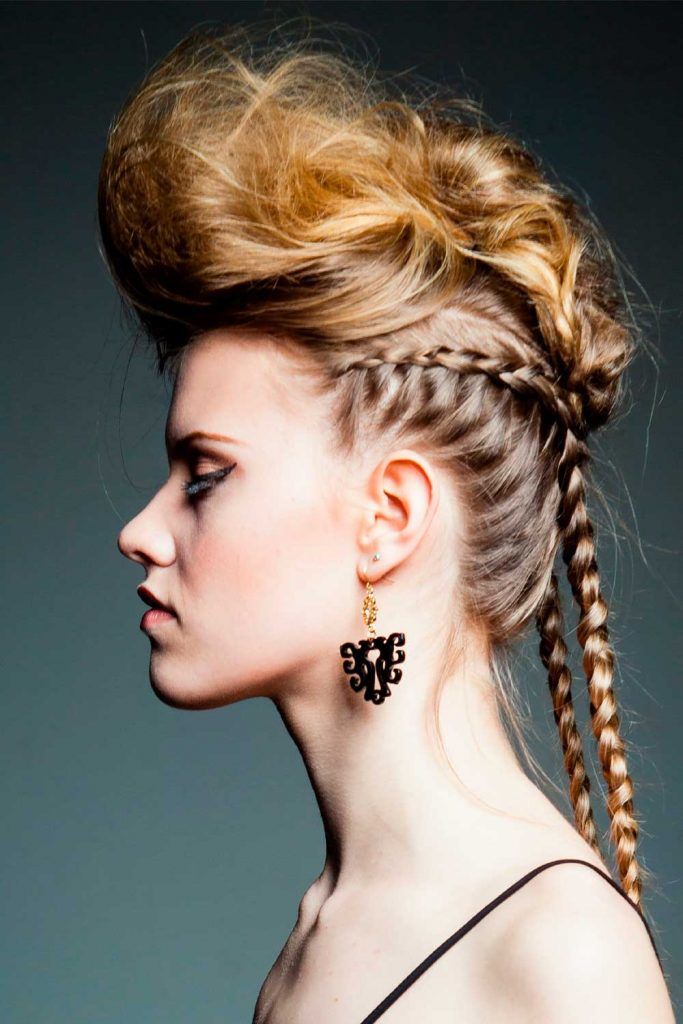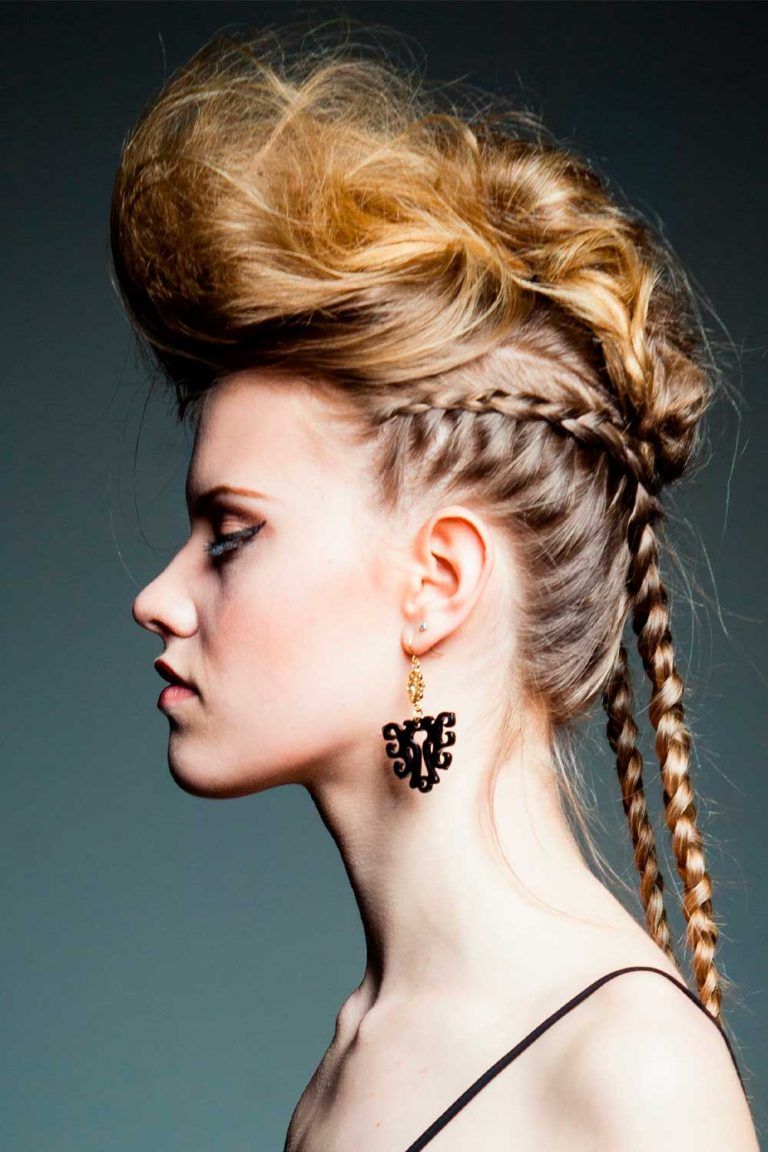 This idea is living proof of the fact that the most adorable updos are made of braids! If you can't do without a mohawk and some special occasion is just around the corner, why don't you wrap your hair into a glorious updo?
Braided Mohawk Updo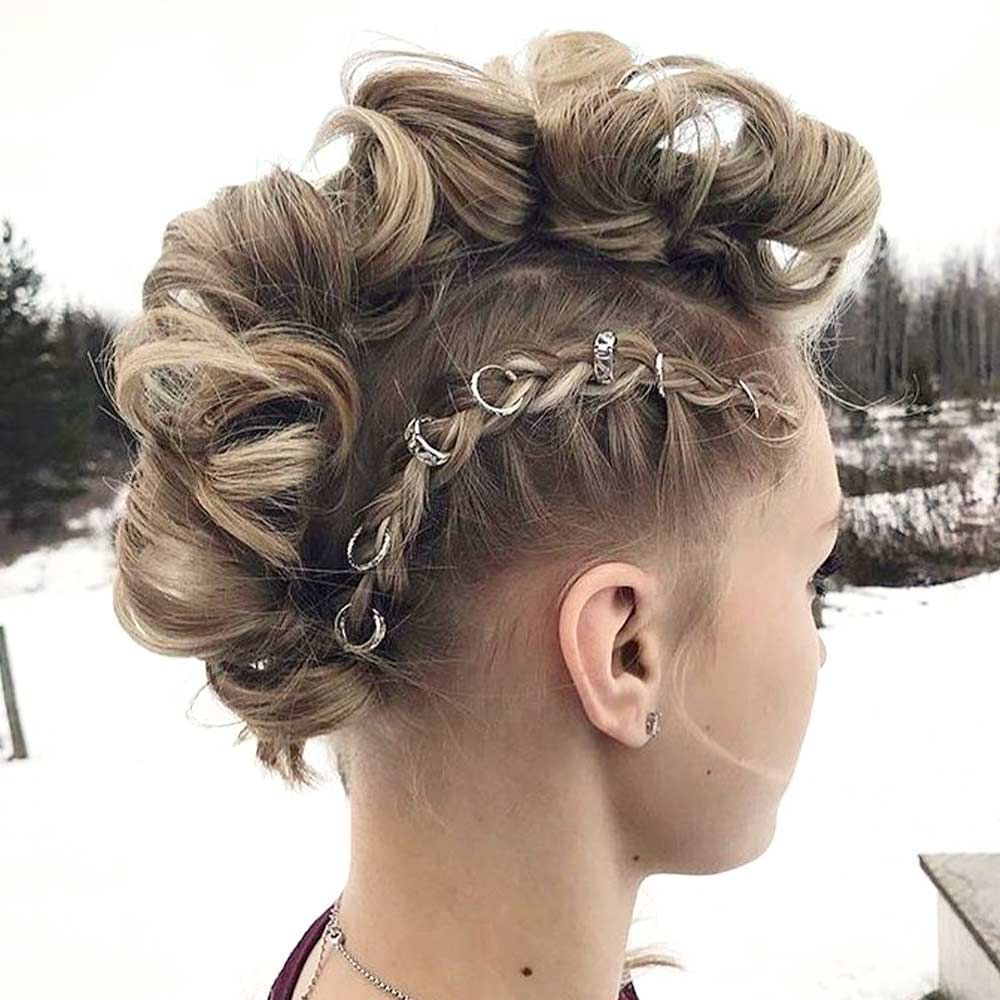 by @_theparlour_
Here's another creative idea that combines two best women's beauty favorites: updos and braids. You can create a mohawk hairstyle with your loose hair and secure the voluminous twists with little braids.
Tight Mohawk With Low Knot
Mohawk Braid Into Low Bun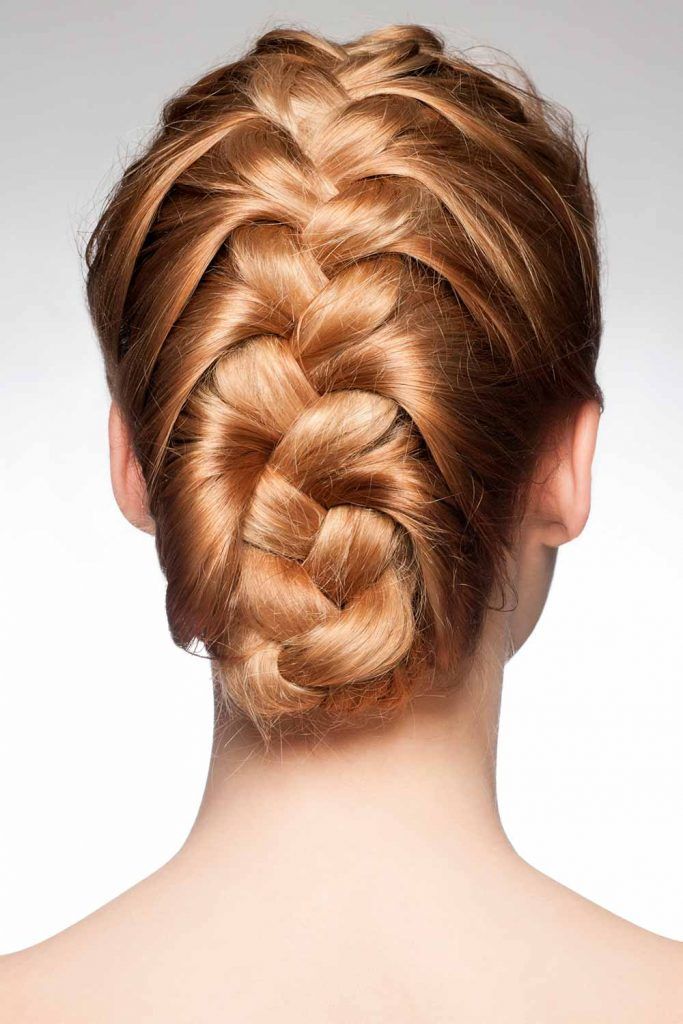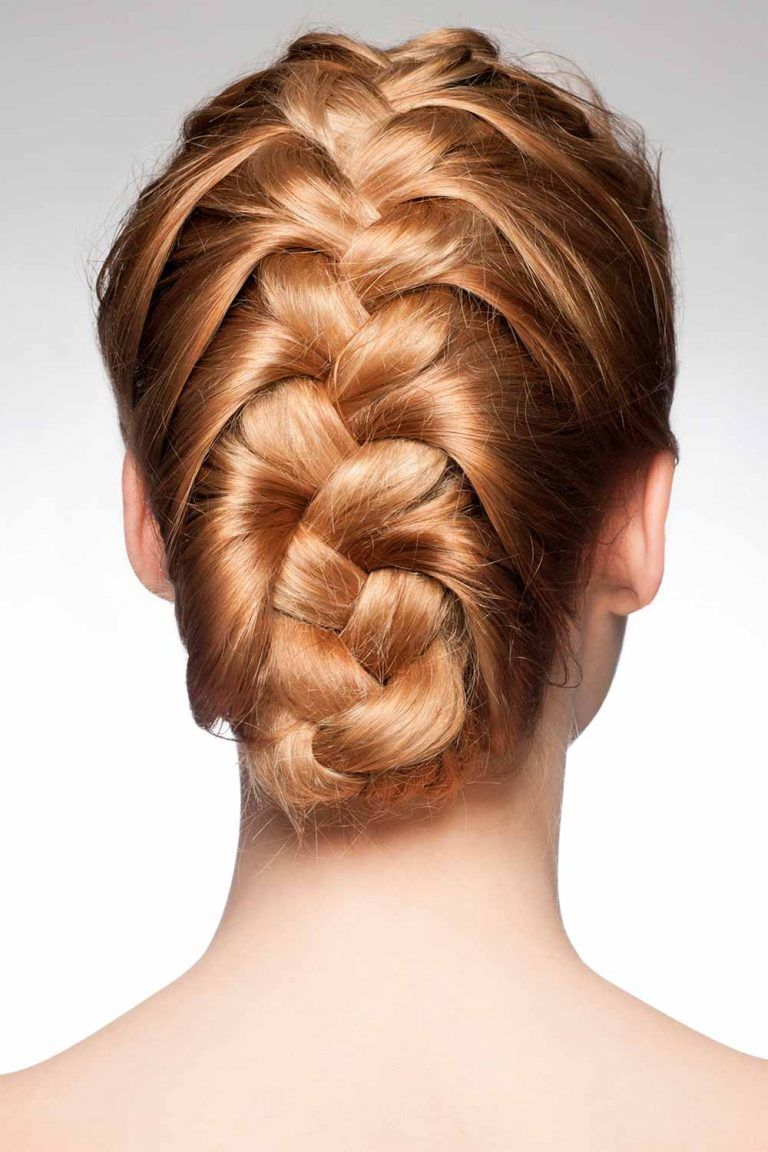 Half-Up Mohawk Braid Styles
Tuxedo Braid Mohawk Style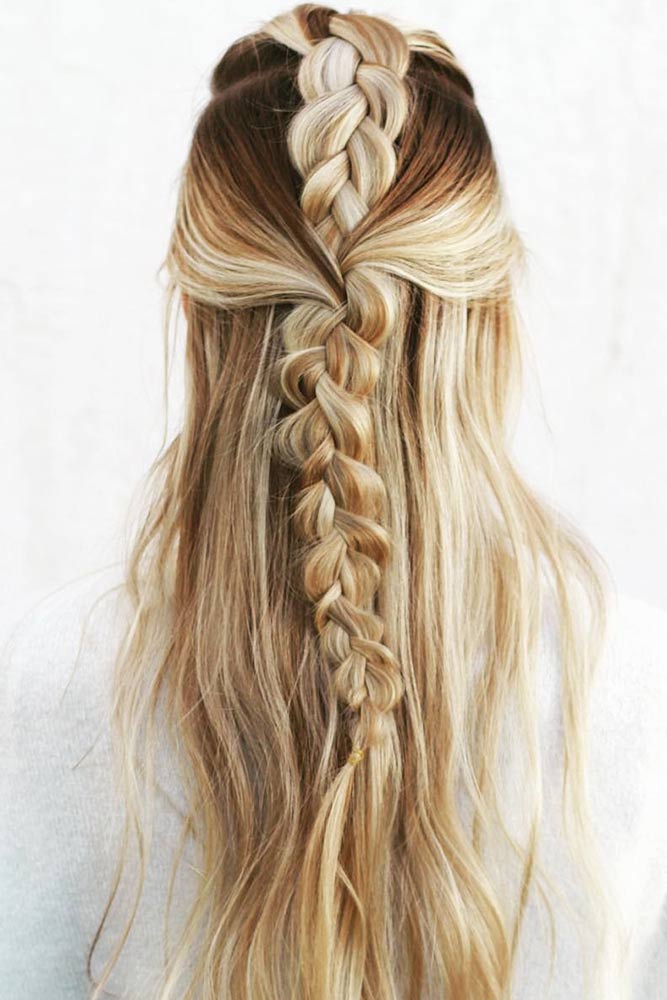 by @karinaupdo
This Tuxedo Braid Mohawk Style is the hairstyle that brings an illusion of difficulty. However, it is one of the easiest Mohawk braids we have prepared for you. Connect pieces of hair on a different level, and you will get such a beautiful result. Inspired to try, aren`t you?
Dutch Braid With Twists Half-Up
Sometimes we get bored of same usual things with do on our hair every morning. So why don`t we start experimenting more even on a daily basis? Try this dutch braid with twists half-up hairstyle, and you will see how easy and beautiful these hair updos are. Start with braiding and add interesting twisting details. A wow effect from your coworkers or friends is guaranteed!
Half Up Dutch Fishtail Braid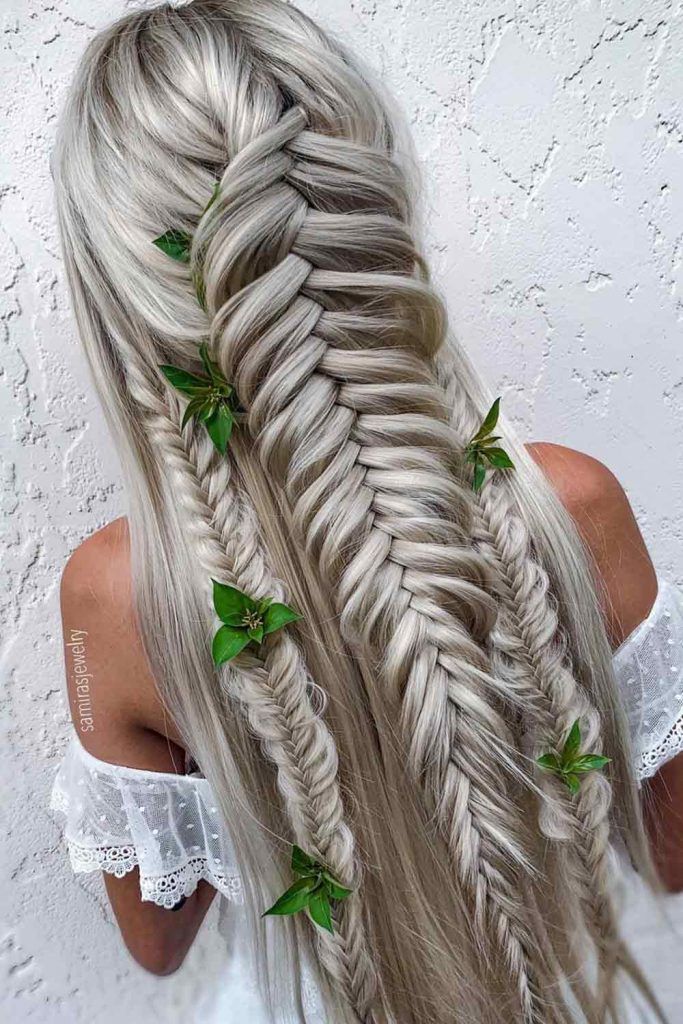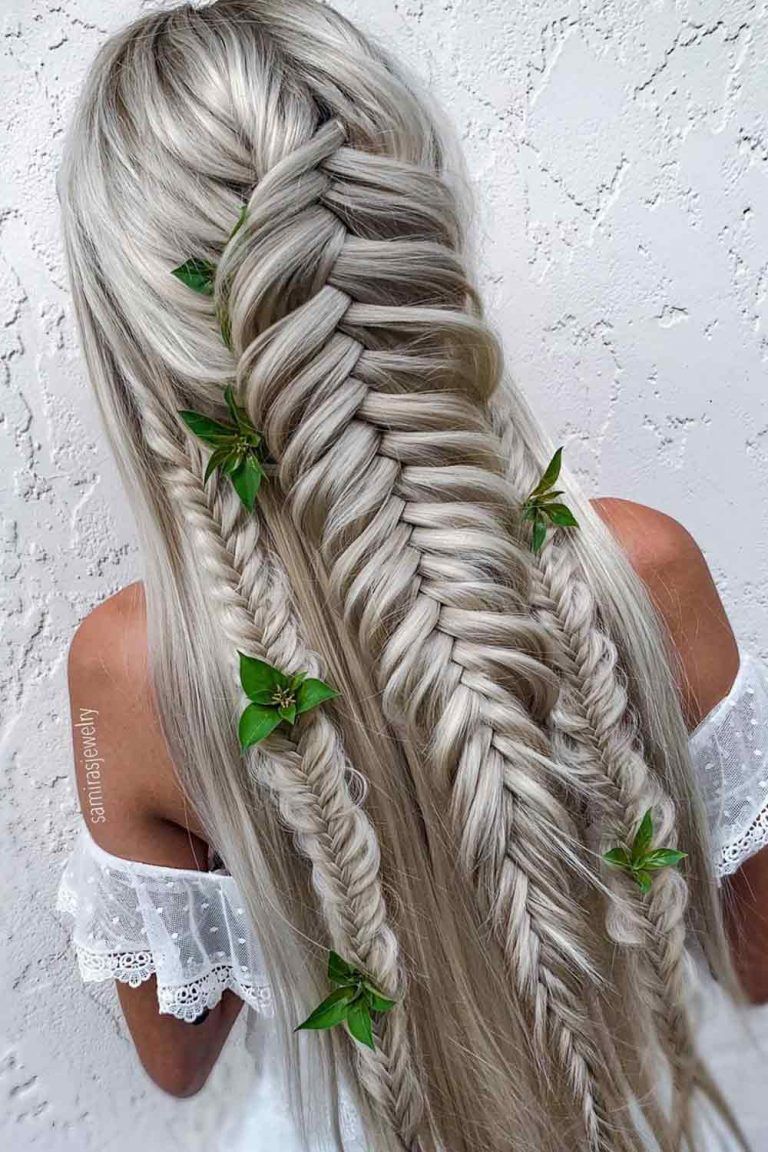 by @samirasjewelry
Sleek on the sides, wavy on the ends, and braided in the middle: this is how you can call a modern hair masterpiece. This hairstyle looks both unique and versatile, which means that you can individualize your daily hairstyle with any hair type and length!
Half-Up Pull Through
Credit photo: instagram.com/hair.by.halle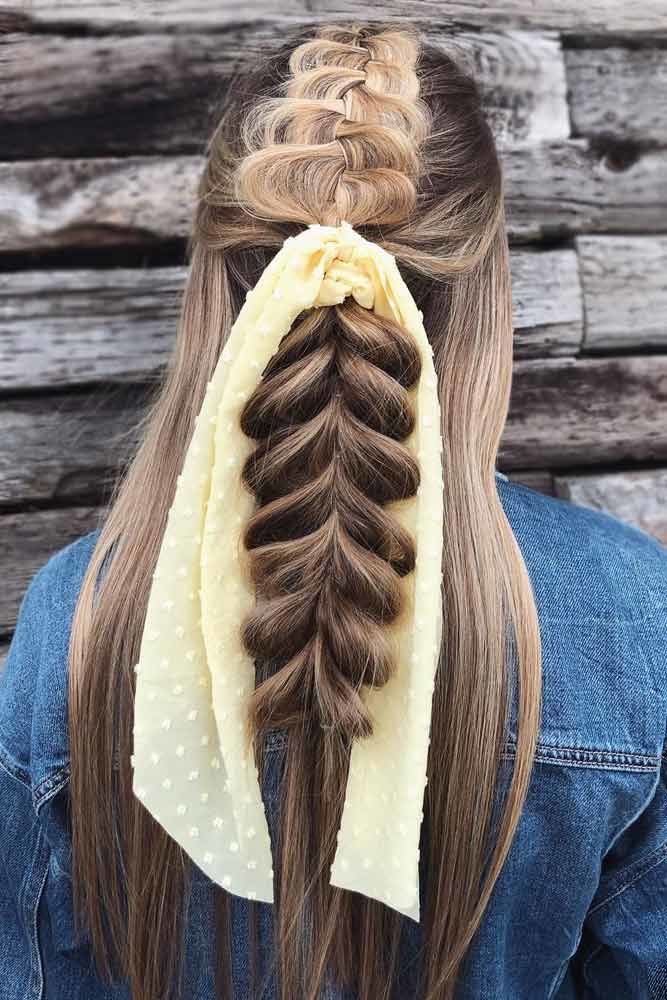 Half-Up Four Strand Infinity Braid
FAQ: Braided Mohawk
How do I put my hair in a mohawk?
Use a hair spray with words like "concrete" or "solid" in the tagline, or a description of extreme styles with height in the description. For the tips of your spikes or mohawk, use a gel. It will also come in handy to make the tips of your spikes sharper and less frazzled. Choose "freezing" or "max hold" gels.
What qualifies as a mohawk?
A mohawk is most commonly characterized as a narrow, upright strip of hair extending from the forehead to the nape of the neck with bald sides. However, the term is also used to refer to a variety of similar haircuts, some of which have slang names.
Are Mohawks high-maintenance?
A mohawk is an edgy, entertaining hairstyle that can help you stand out from the crowd. The need to cut the sides so often makes it's a little high-maintenance, however, you may have a genuinely amazing mohawk with the appropriate care and styling.
REFERENCES:
How to Do a Mohawk Braid. Source
Stasha Harris creates a braided mohawk for a super edgy hairstyle that will make people do a double take. Source
Was this article helpful?