Not everybody knows that curly hair men with natural texture have made a worldwide trend can be a real struggle when it comes to styling it. And even though it might be a great deal, with such a hair texture every man can create his own, unique look.
Whether you have naturally kinky and thick curls or you'd like to try something more textured than your regular style, we've got lots of ideas for every taste and length. It's time for you to meet the latest ideas of wearing and styling curly hair for men. Of course, we won't leave you without the basic tips and tricks!
How To Style Curly Hair: Tips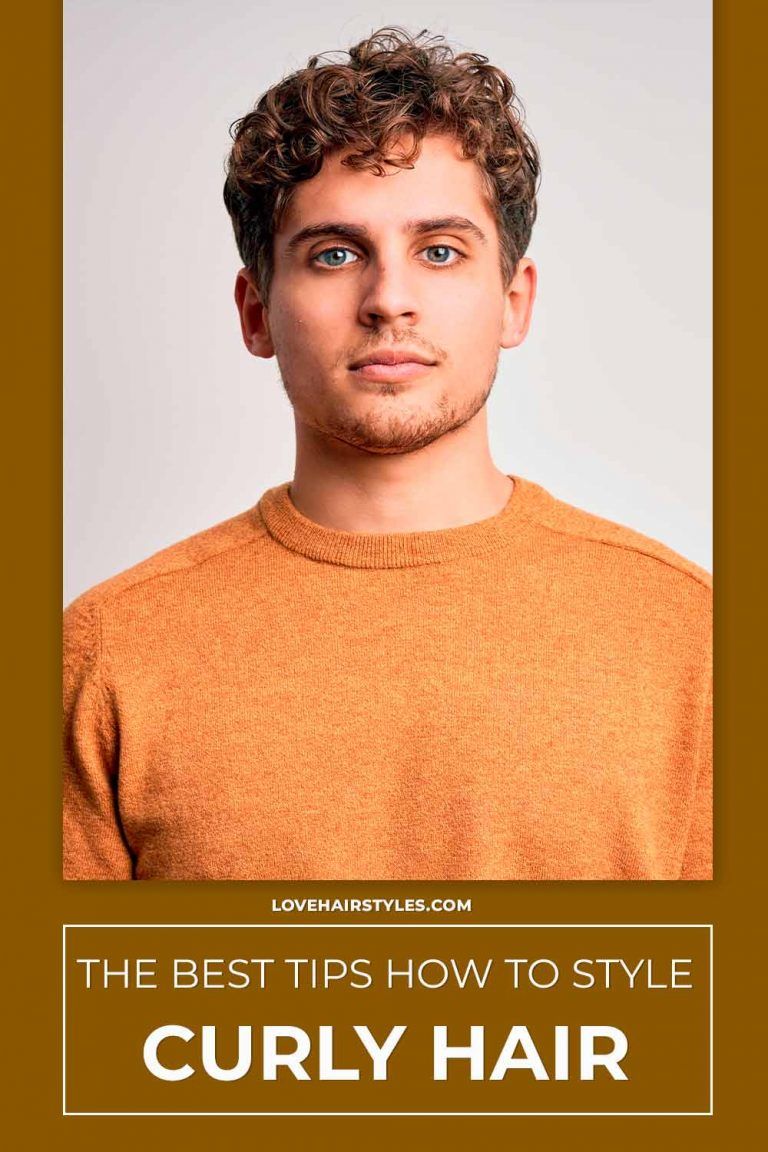 The first thing you should bear in mind is that there are no haircuts and styles for men curly hair can't complement. But it always needs a proper approach, regardless of what hairstyles for men with curly hair you're interested in. With these basics, you'll get closer to the right styling routine.
Use The Right Styling Tools
Your hair tends to be unruly, remember? The fine comb that most guys go for is useless, and, sometimes harmful for your hair. Consider working with either your hands or wide-toothed combs which won't tease out your hair and apply men's curly hair products such as gels, pomades, and waxes evenly.
Shampoo And Condition Your Hair Properly
In case of your hair type, it's crucial to avoid much shampooing in order to stay away from dehydration. As for conditioners, make sure they're meant to control frizz and moisturize curls.
How To Get Curly Hair?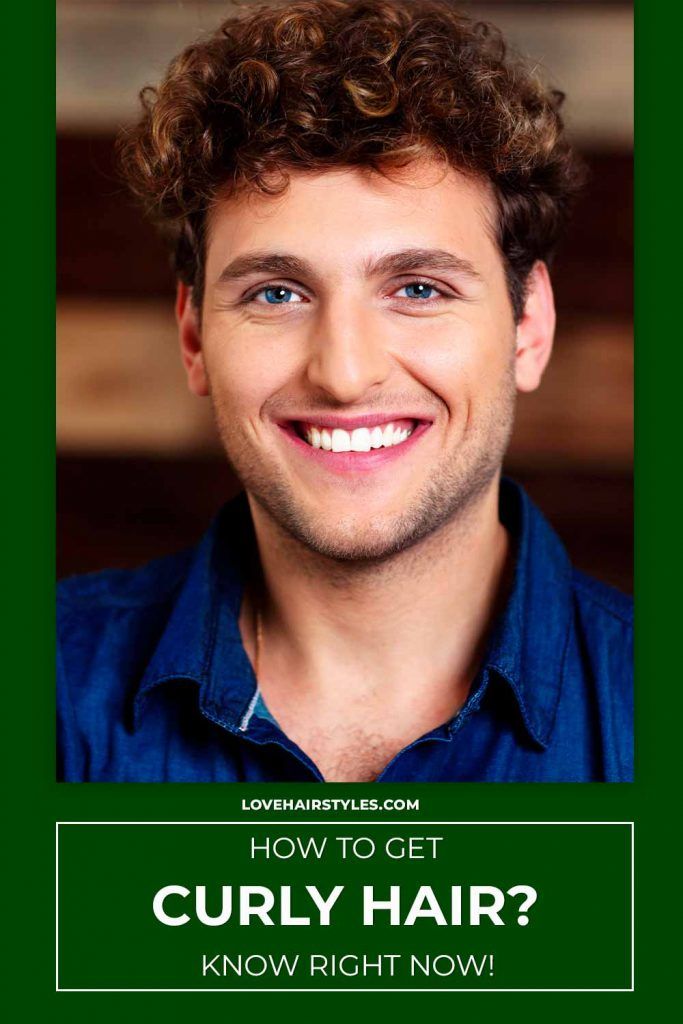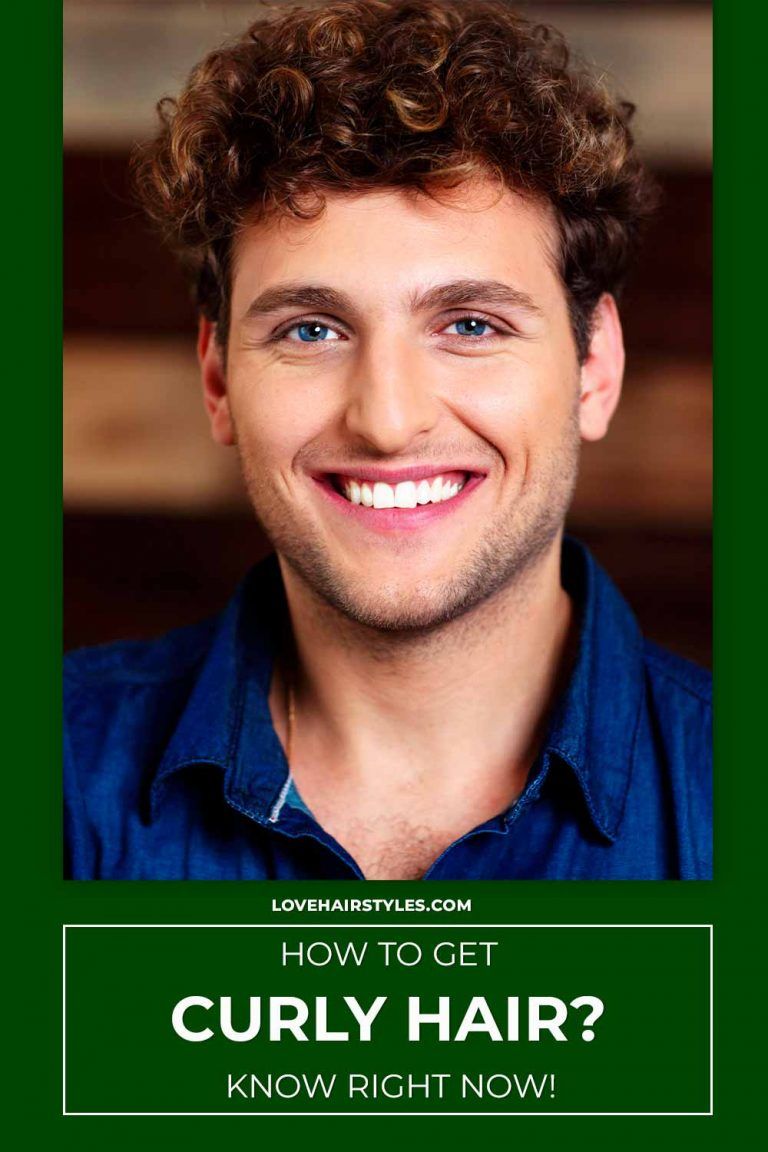 While guys with straight hair are trying to find out how to make hair curly men with curly hair are straightening their manes. In this part, we're going to help the first ones! Here are some simple tips on how to get curly hair men with straight chevelures will find helpful.
Getting curly hair for men whose hair behaves when styling products are applied is pretty easy. Such guys can opt for salt sprays or curling gels and oils, applying them on semi-wet hair and blow drying it with a nozzle.
Don't forget to use heat protectants; damage is not desired.
If your hair can't be tamed with salt sprays, you can try heat curlers.
How To Style Short Curly Hair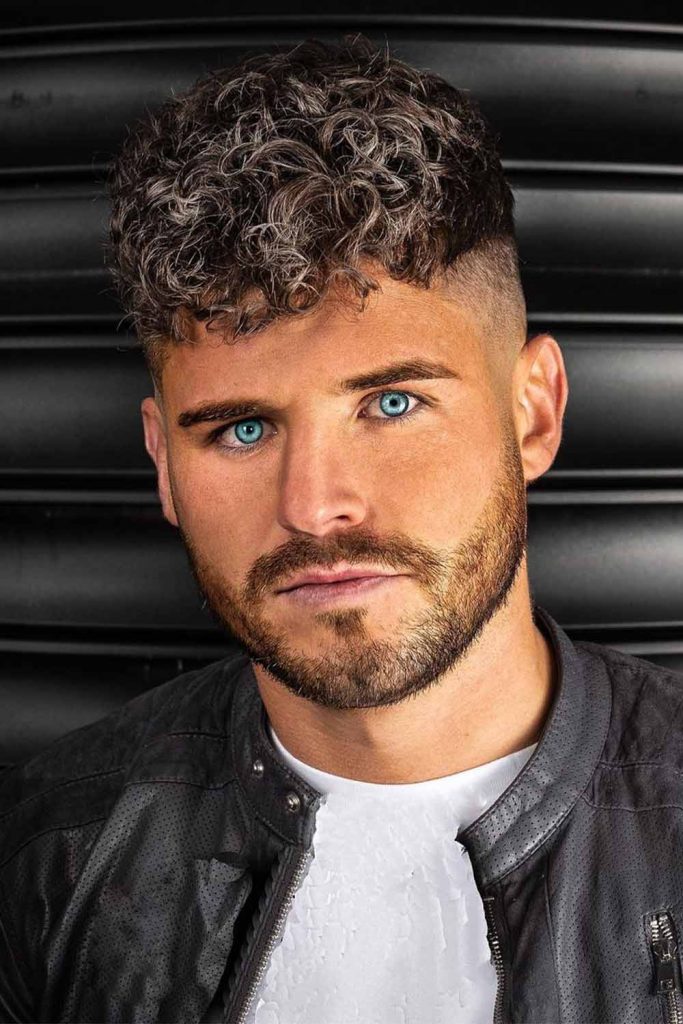 by @tombaxter_hair
Let's move to the inspo part! We'd like to start with some ideas of popular short curly hair men prefer to choose these days. Such a length not only keeps a wearer comfortable with his hair but also looks refined and stylish. Here come the hairstyles for curly hair men with good taste will appreciate!
Curly Fringe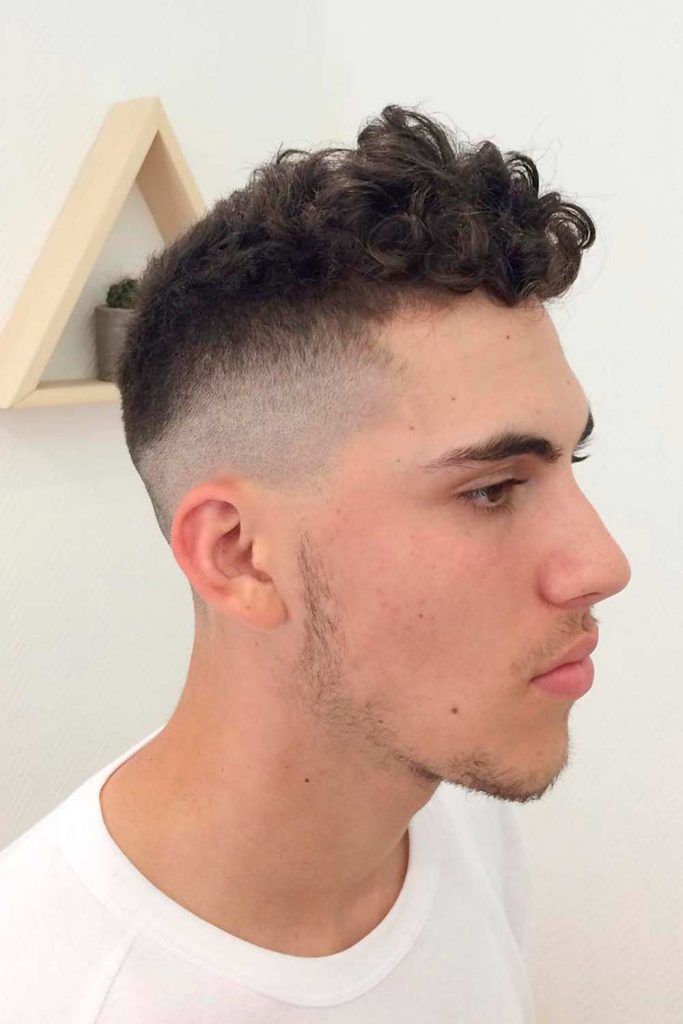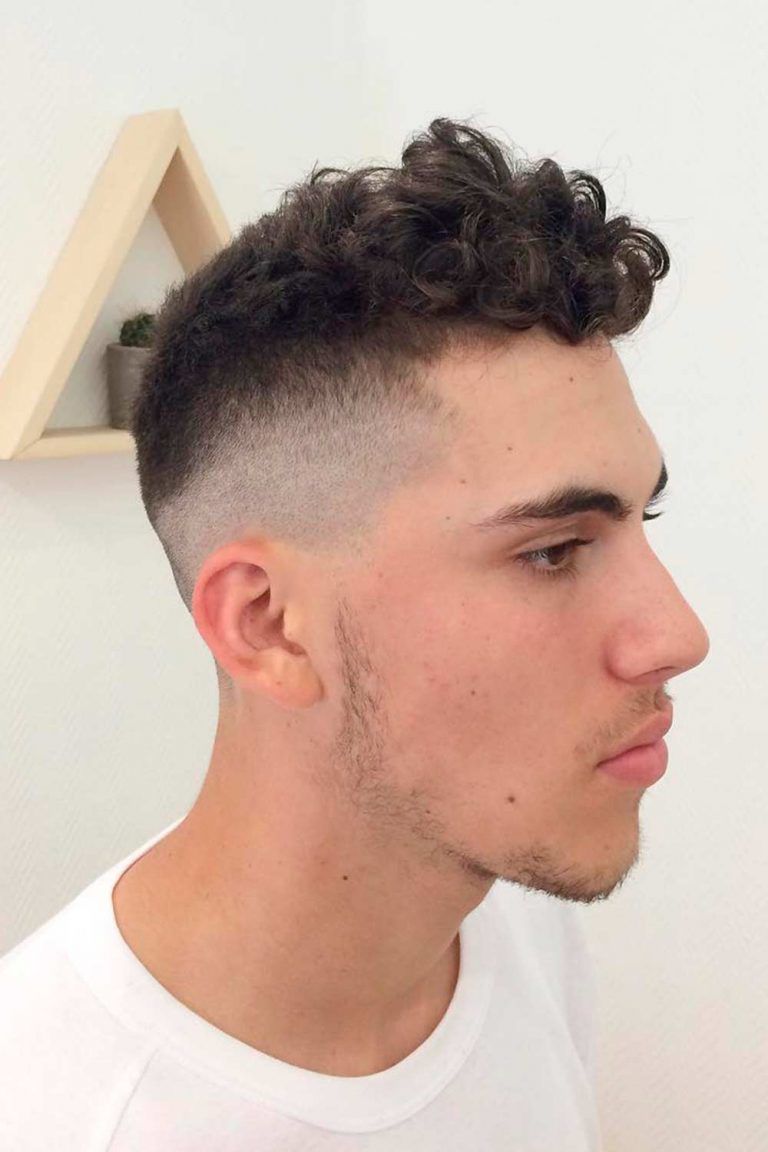 by @donatczinege
Short curly hairstyles that feature a fringe are all about the super distinctive texture of wavy or curly hair on the top. The fringe usually doesn't overlap forehead; it comes as a longer piece on the top. To enhance the texture of such short curly hairstyles, a medium-hold wax will come in handy.
Quiff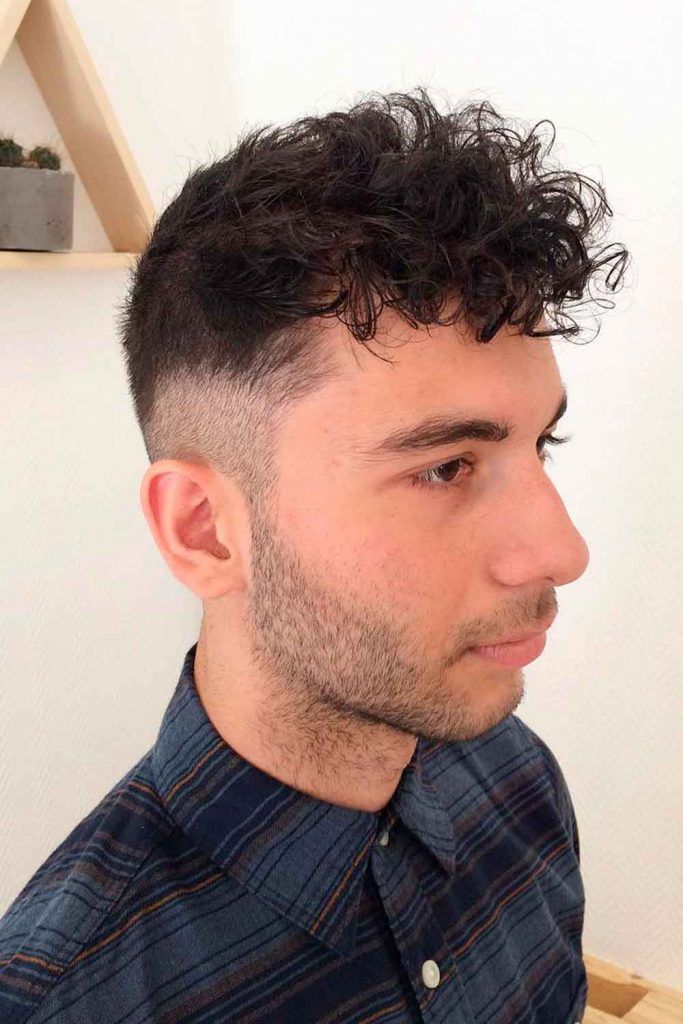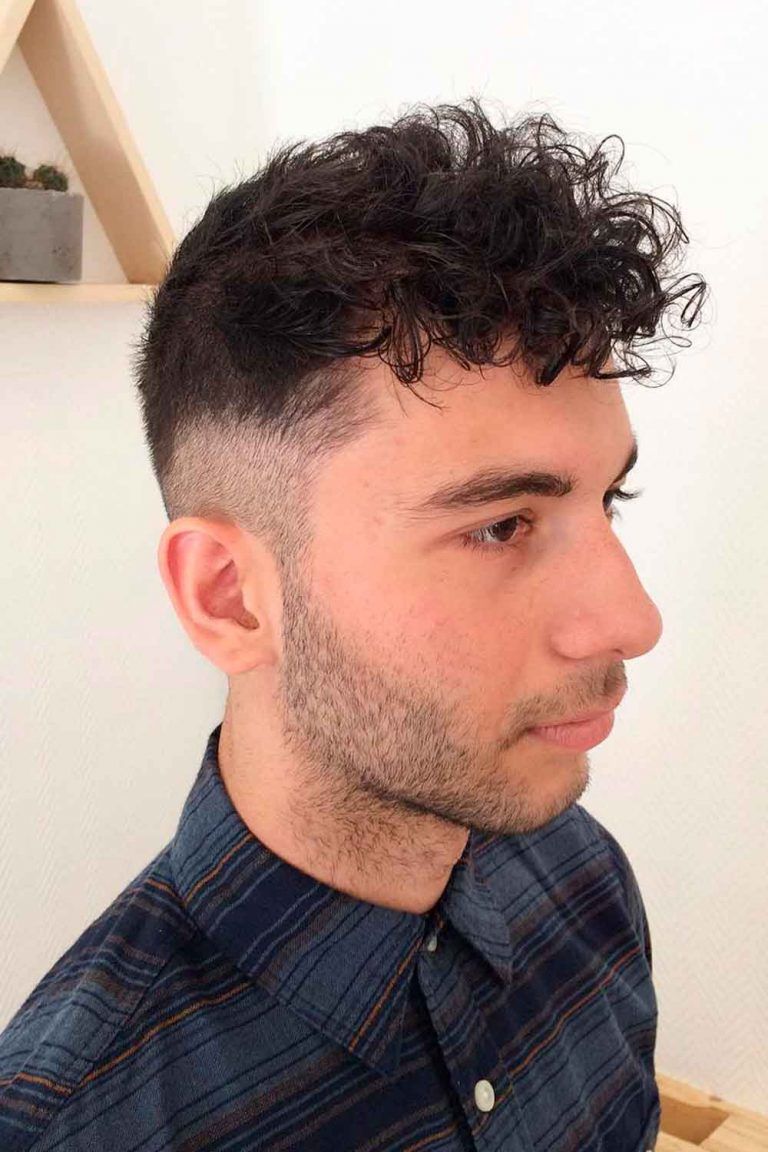 by @donatczinege
Having left the iconic vintage days, the modern quiff hairstyle can offer you the needed styling flexibility. Your quiff hair can be neatly textured and brushed or tousled and volumized; it's all up to you. As for customizing, a quiff hairstyle can be perfectly emphasized with shaved sides.
Curly Slicked Back Style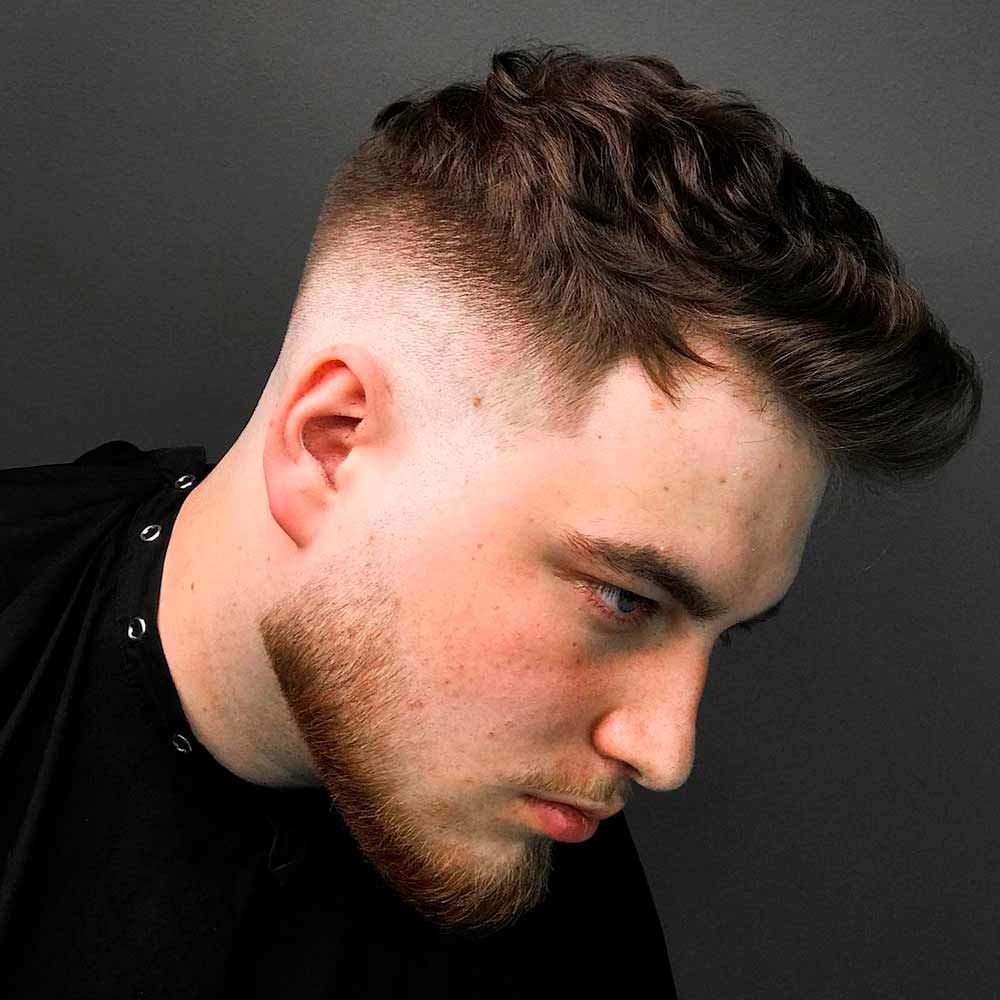 by @tonyheloo8
Slicked back hair is probably the most effective way to get your curly hair a well-groomed, clean look. This sleek and tidy option can fit any occasion, and, most importantly, it only needs a water-based gel to tame the top. Also, slick back fade cut looks awesome on natural hair: it gives a sense of immaculacy and makes up a perfect hipster haircut.
Side Part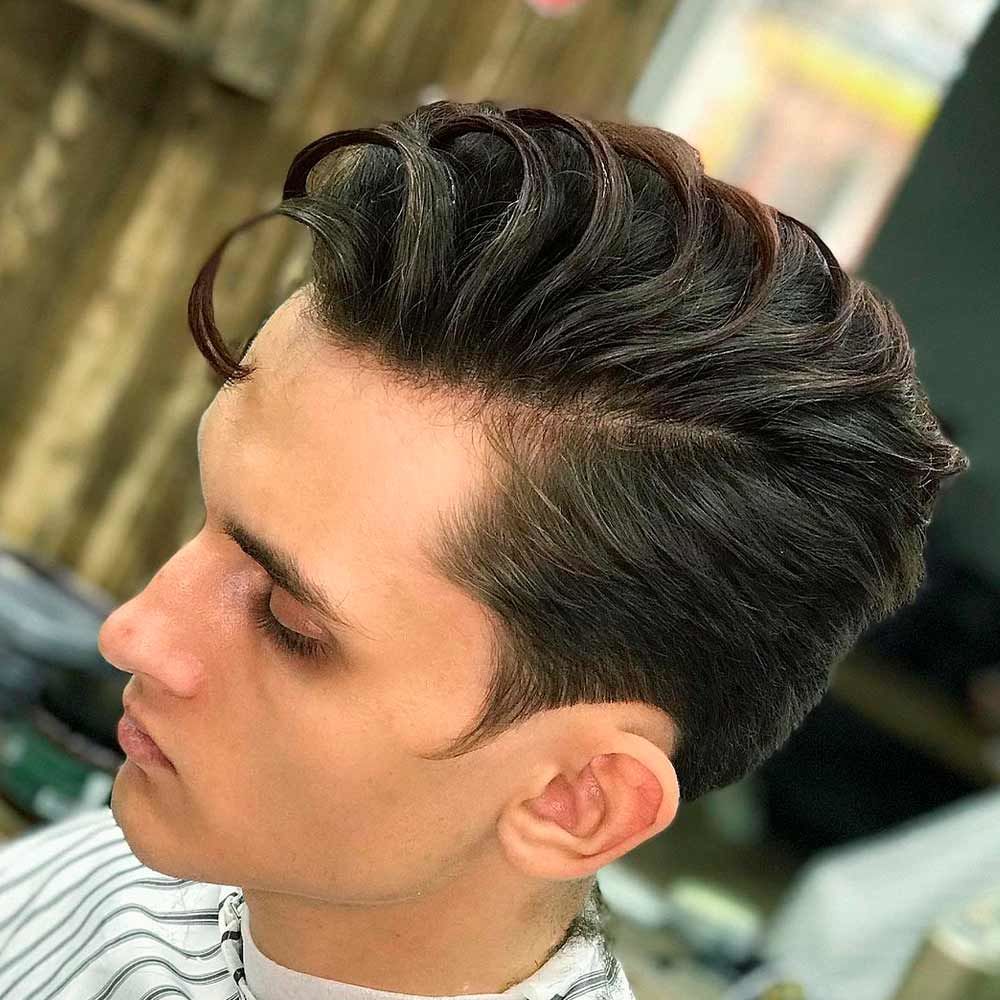 by @usatybarber
Based on the thickness of your texture, you can whip your curls into shape with just two things: side parting and a strong-hold product. Side part hairstyles often involve a sharp hairline and short sides which makes it easier to part your hair with a comb. To create one of the side part hairstyles men sport every day, apply a generous amount of a product on a comb before parting.
Curly Hair With Hard Part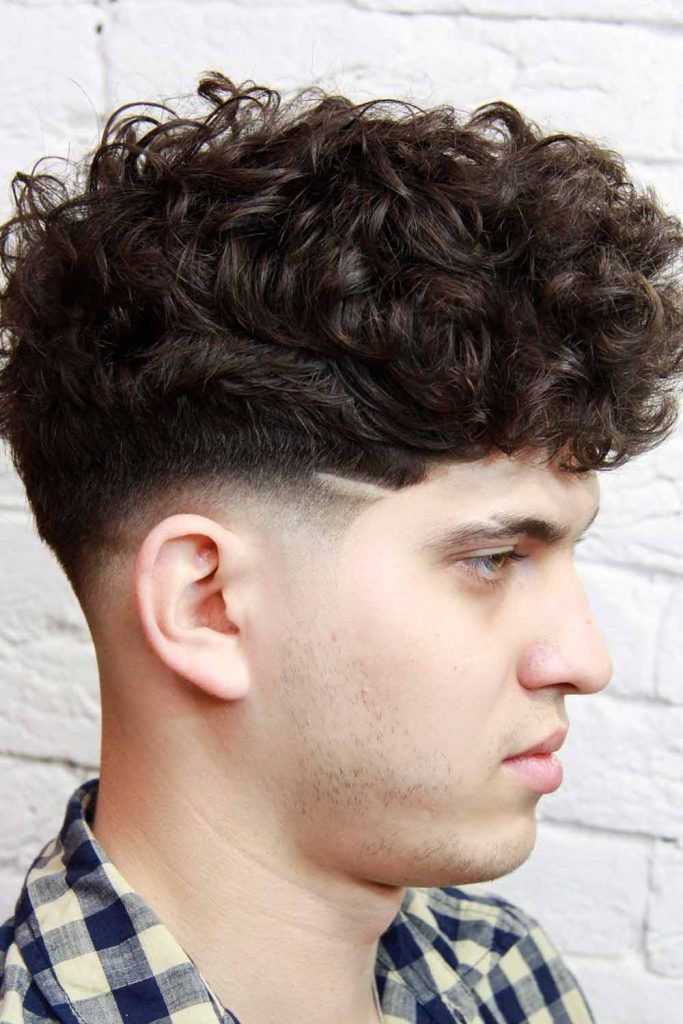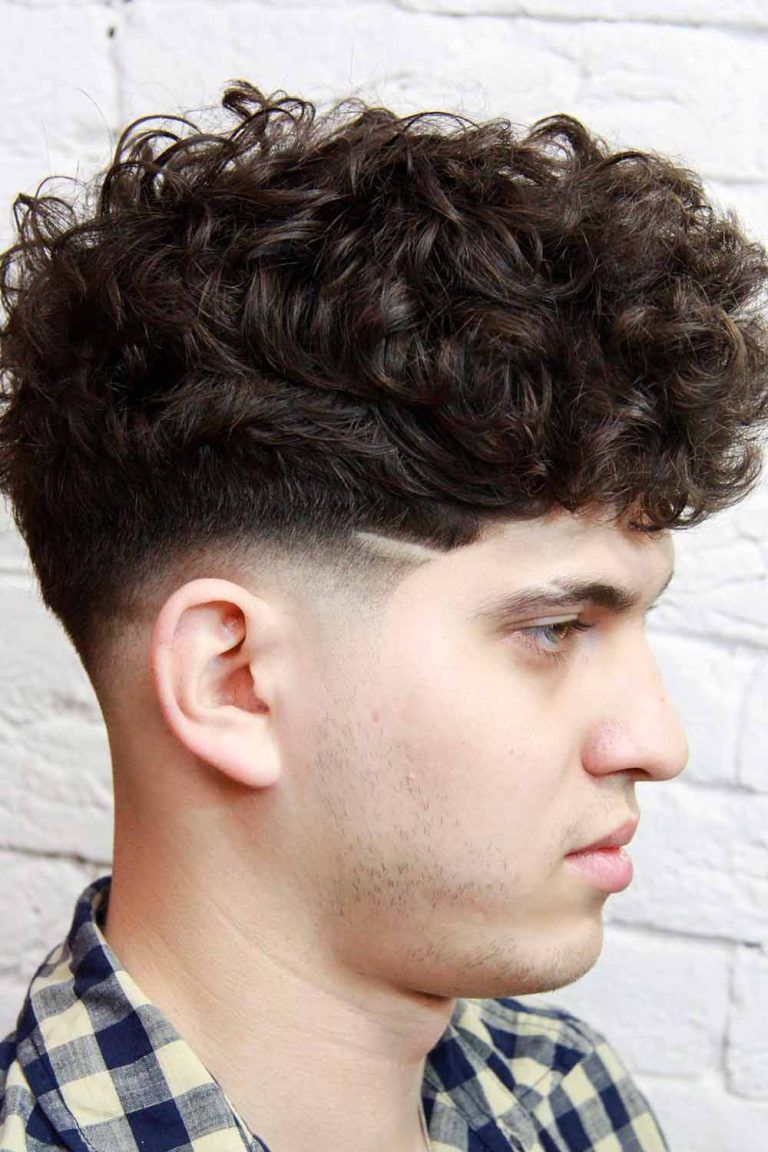 by @meha_barber
Haircuts for curly hair men spice up with a distinguishing hard part are simply iconic. Those who want to provide their styles with an edge and definition should try a hard part, which is a shaved stripe that separates the top and the sides. Styling such haircuts for men with curly hair is easy: just moisturize your top!
Medium And Long Curly Hair Men Styles
Medium Length Curly Hair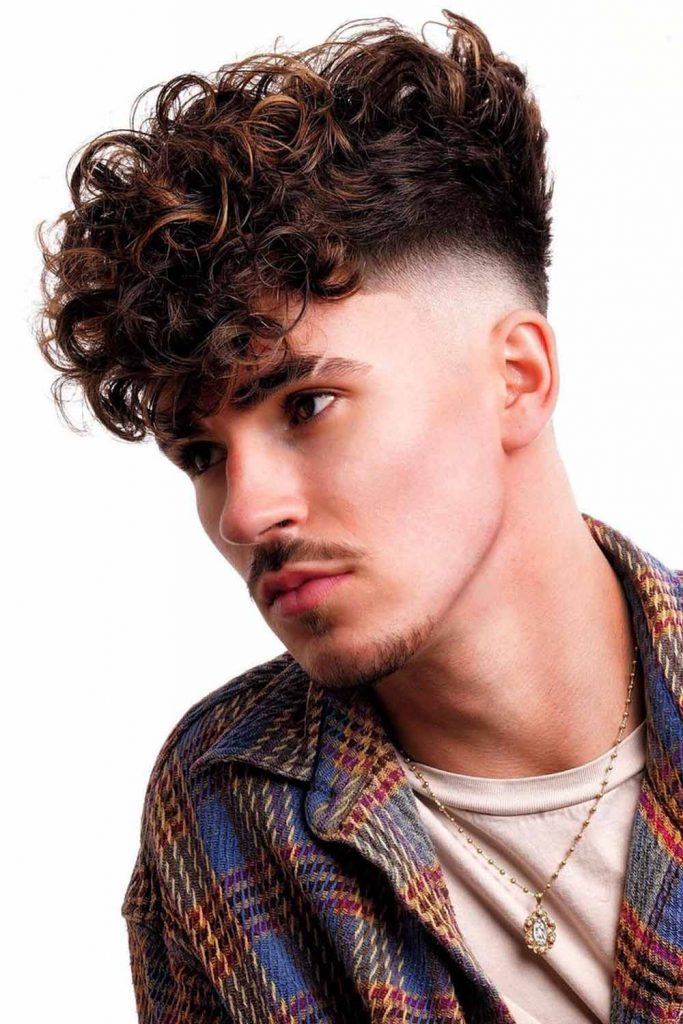 by @z_ramsey
You may wonder how to style curly hair men with medium length find to be super unmanageable. Of course, medium curly hair requires more attention, but its styling isn't a disaster. And our medium length hairstyles for men with curly mane will prove that!
Surfer Hair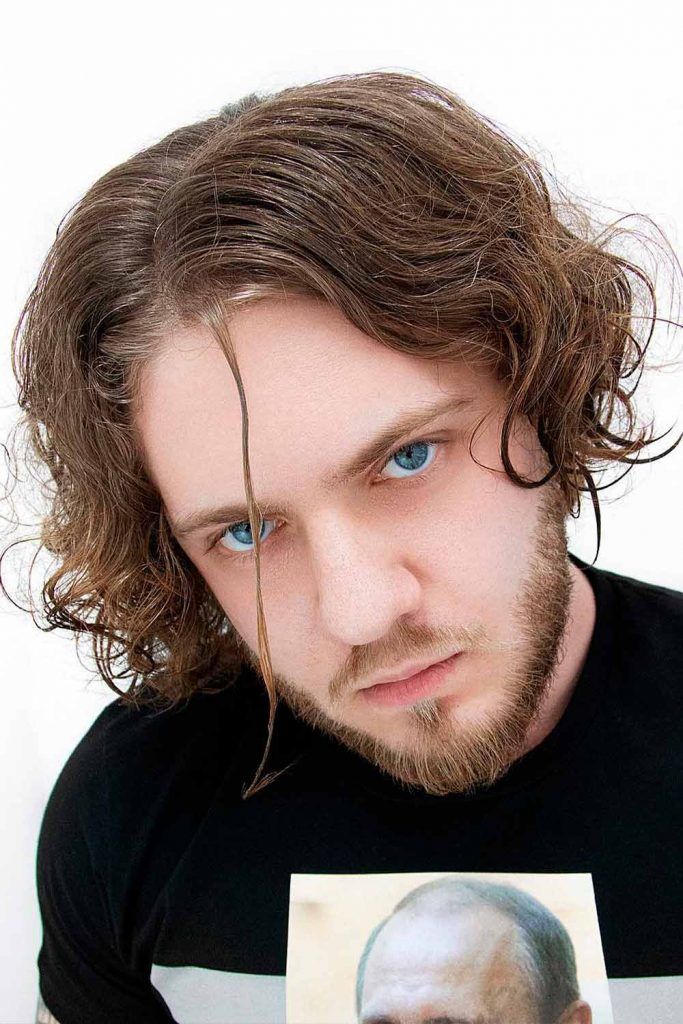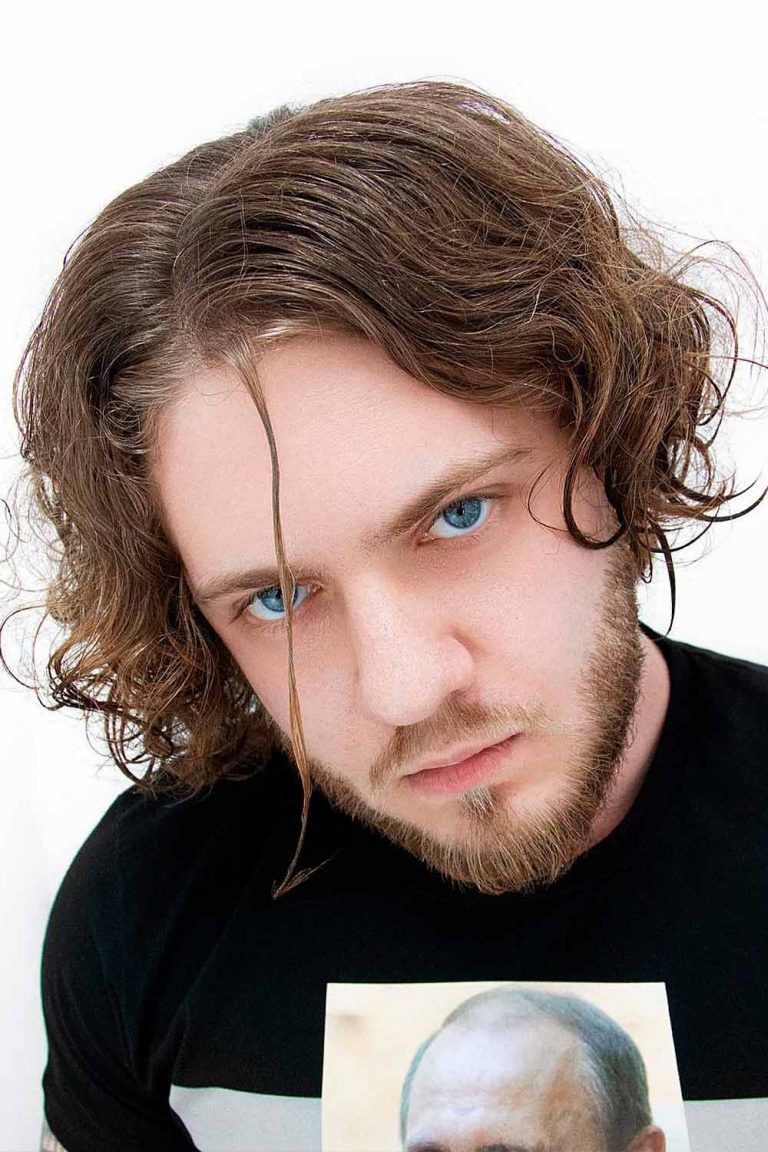 by @meha_barber
Beach hairstyles with messy silhouettes and bouncy texture are designed for lads that opt for a relaxed lifestyle. The point is to make them as tousled as possible, and this effect can be easily achieved with salt sprays and carefree air-drying.
Curly Fringe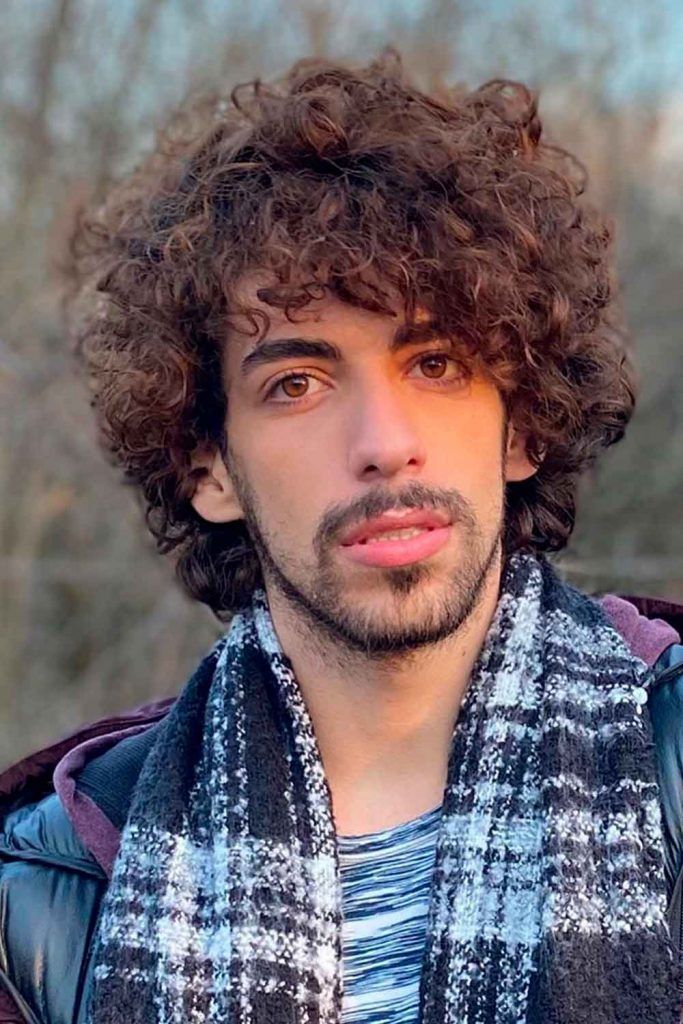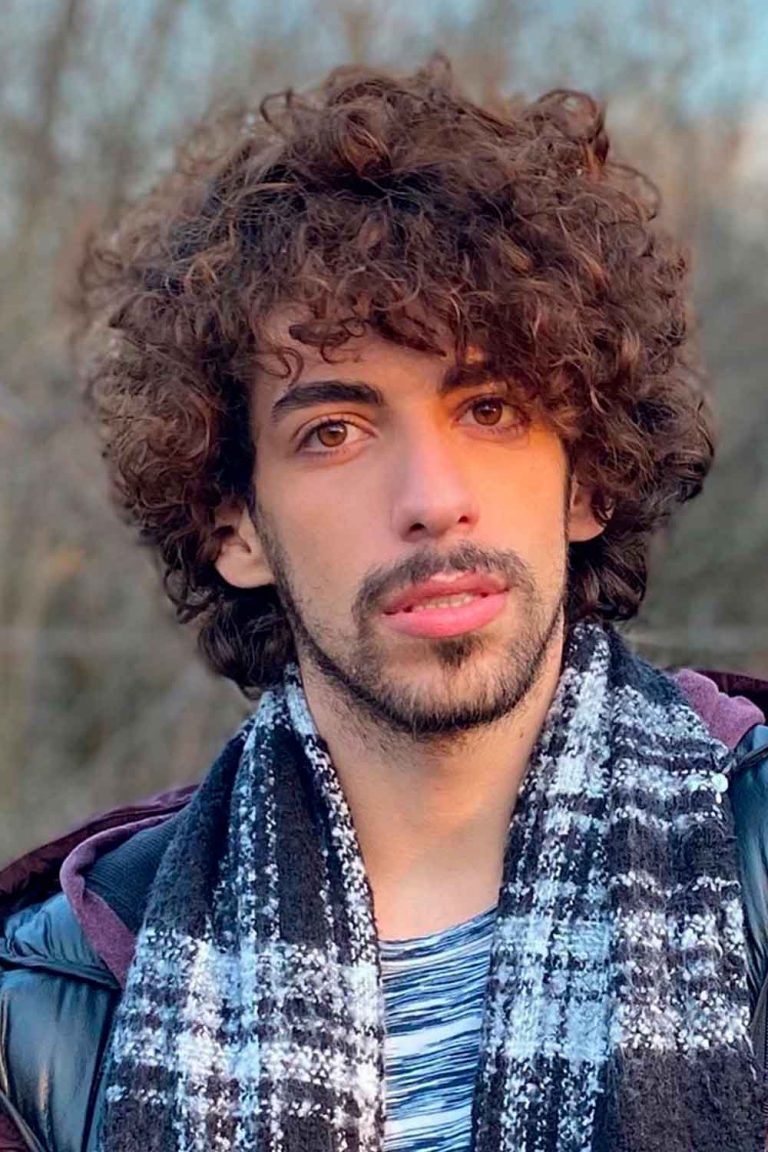 Credit photo: instagram.com/najeebatallah
On medium lengths, a hair fringe isn't too noticeable. On the contrary, it gives a lot of additional volume and texture so that you can play around with styling. When working with fringe hair styles, it's better to apply a shiny pomade and secure everything with a hairspray.
Wavy Side Part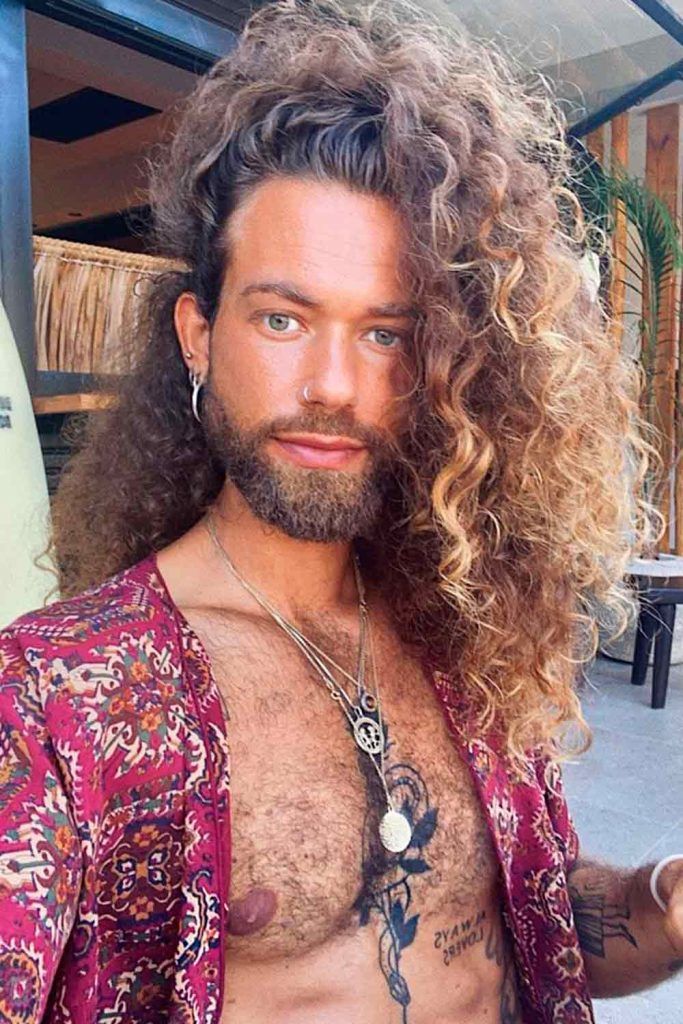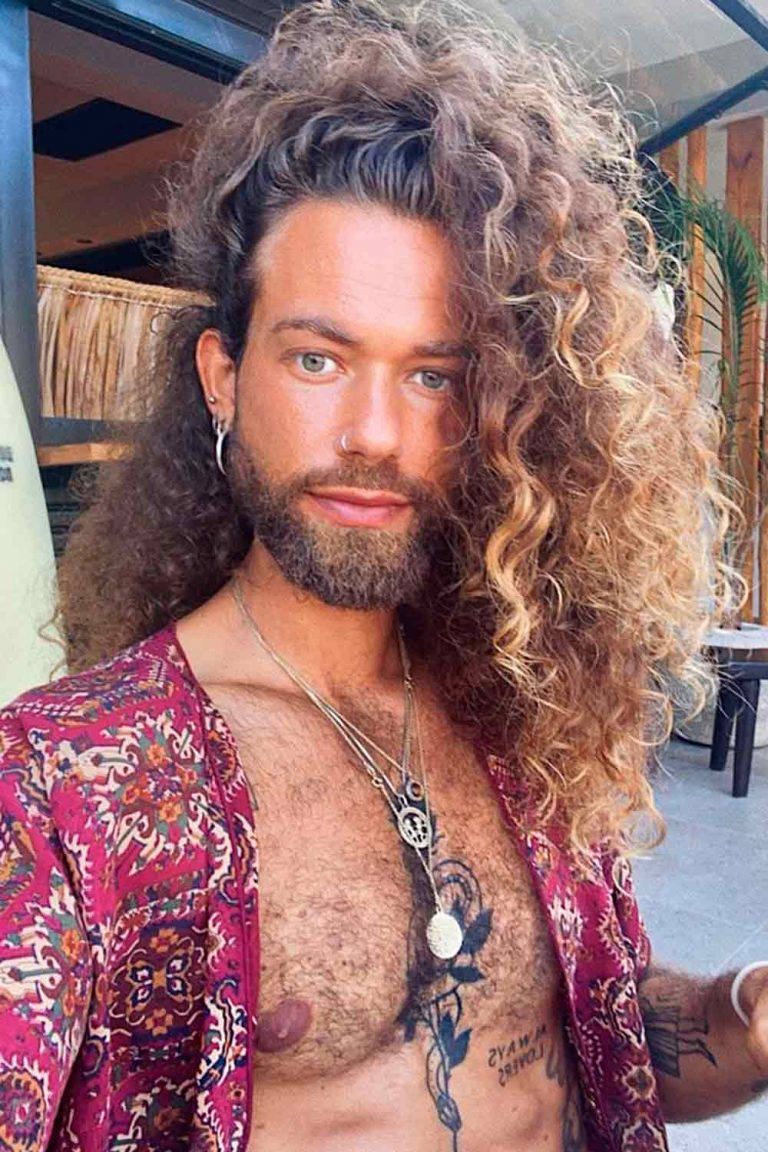 Credit photo: instagram.com/hank_ge
Every man is familiar with the timeless side-parted hairstyle. Yet, there are no common ways on how to part your hair men can follow as one. To get a perfect, individual style, you should part your hair in the way it lays naturally, making sure your curls maximize the volume by the outweighing.
Curly Bob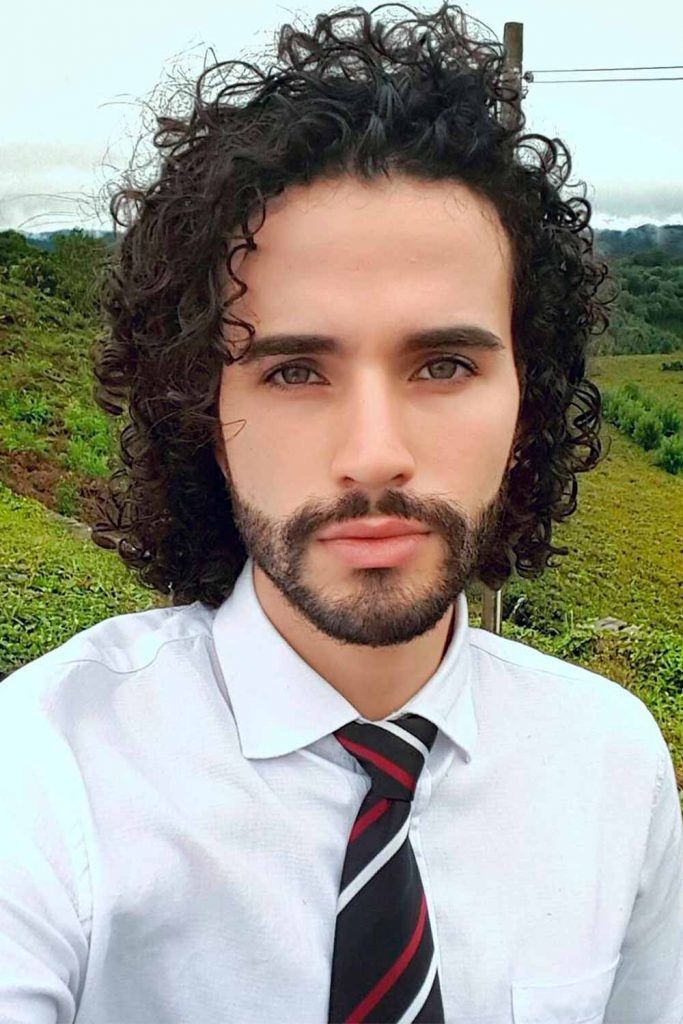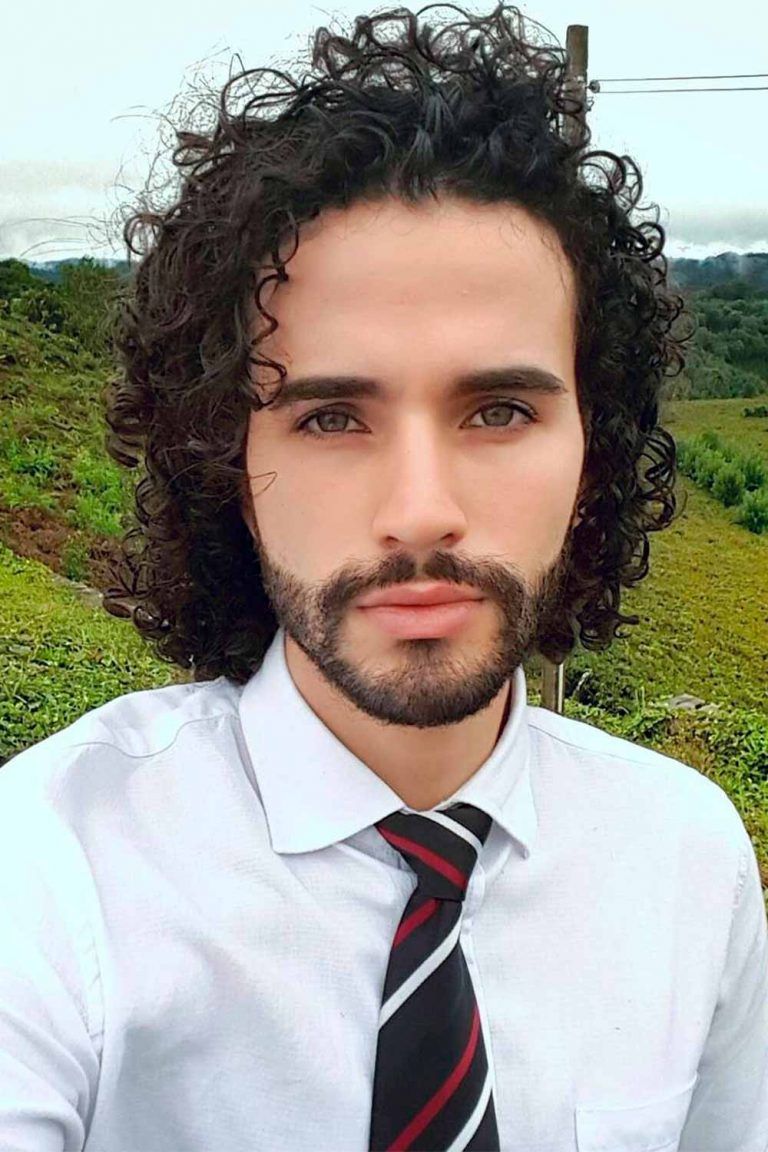 Credit photo: instagram.com/pedrovalduga
Men bob hairstyles refer to relatively long, curly men's medium hairstyles, where a one-length cut have grown out, yet it doesn't hit below shoulders. This type of medium hairstyles for men works awesome for gents who want to add a framing hint and can be easily styled with soft pomades.
Curly Afro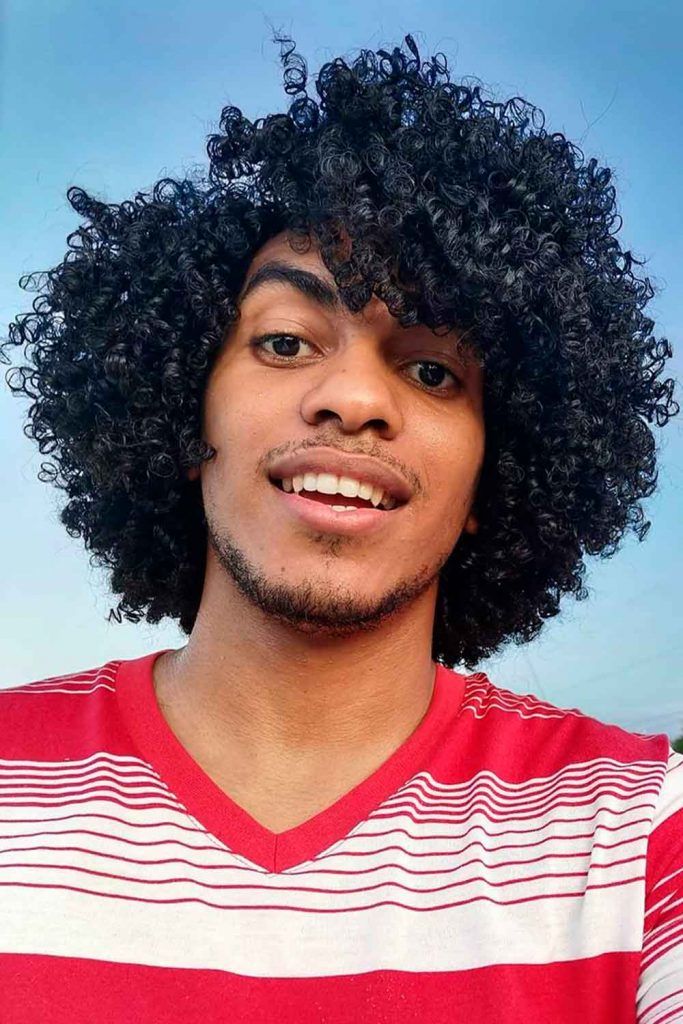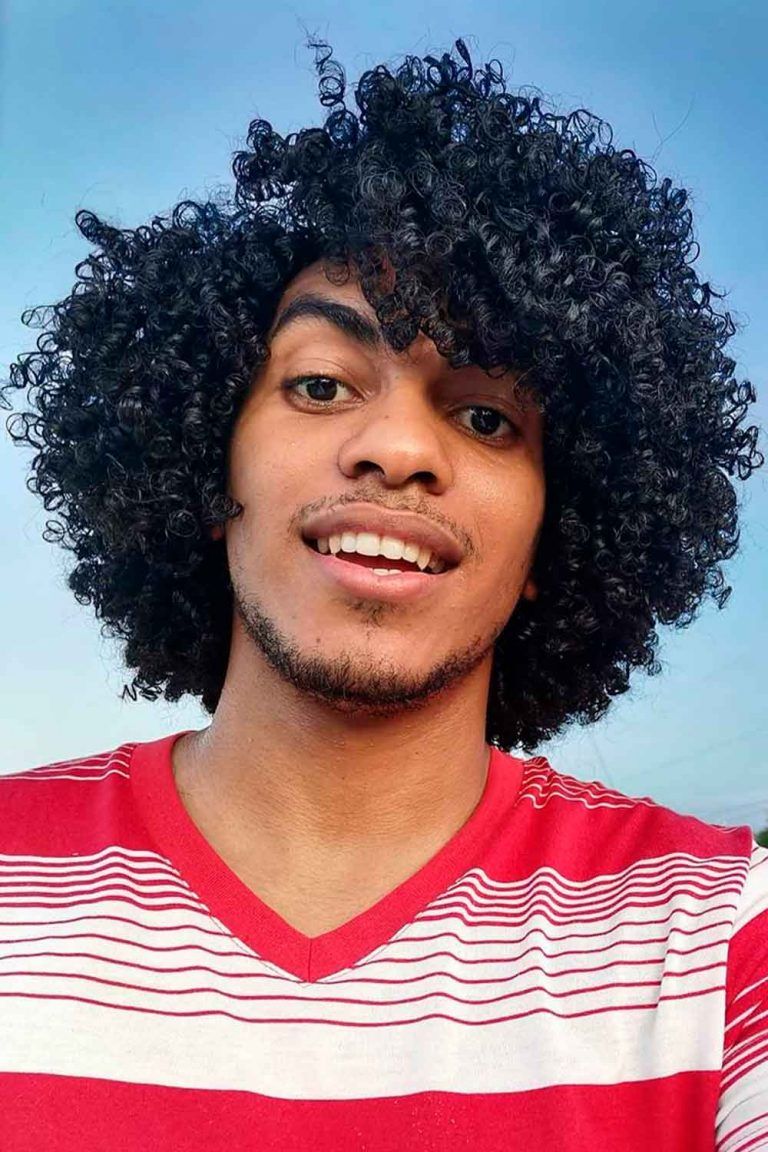 Credit photo: instagram.com/pcosssanz
Medium natural hairstyles should be all about convenience as this type of texture is the most irritating and demanding. Curly afro is a simple and pretty practical style that should be well-structured by a skilled barber. As for guys who don't have curls, deep conditioning and hair rollers are the best way on how to get curly hair for black men.
Long Curly Hair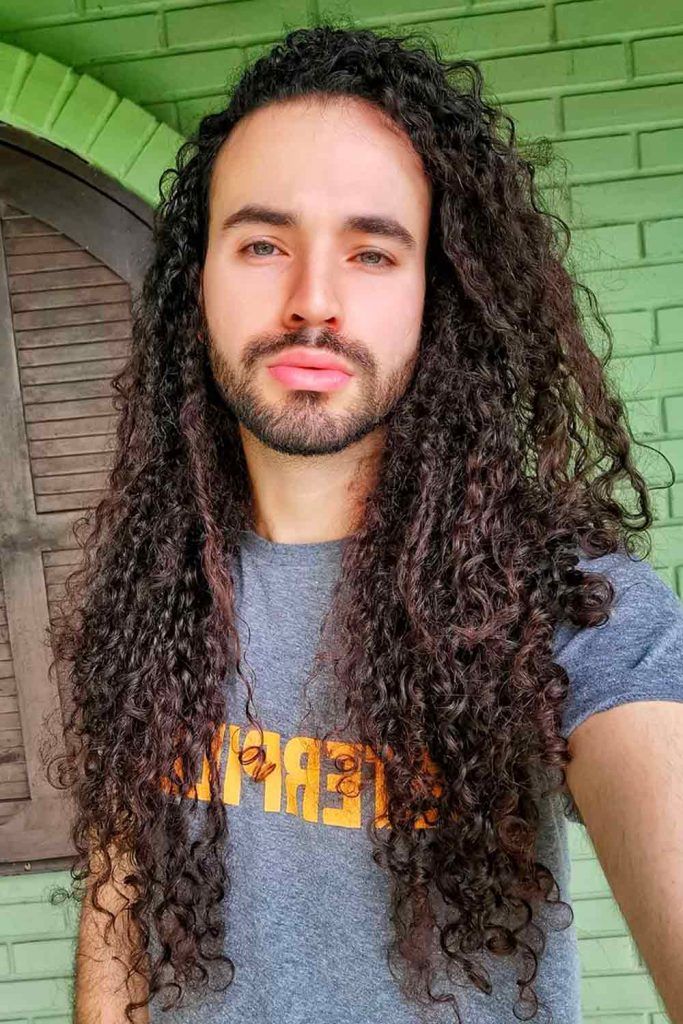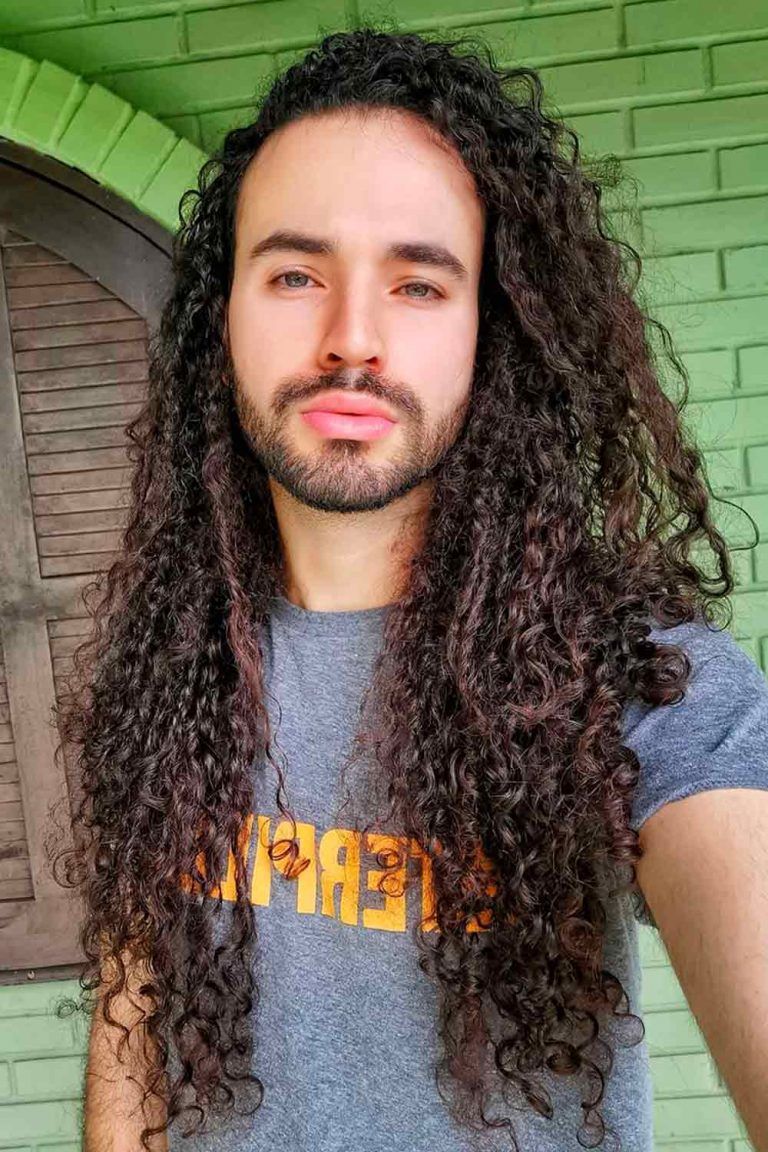 Credit photo: instagram.com/pedrovalduga
Long hair men spend years to grow out has a lot of advantages for those who managed to have it. The best thing is, most hairstyles for men with long hair take minutes to get them done while looking absolutely masculine. How about getting inspired by the ideas of sporting long hair men like to rock their days with!
Man Bun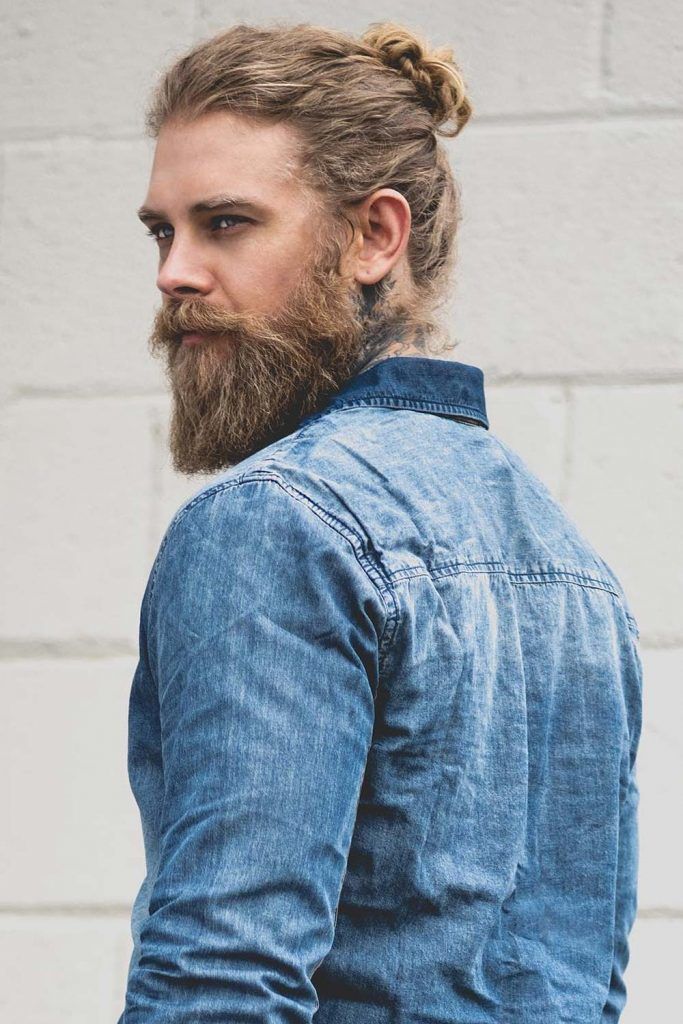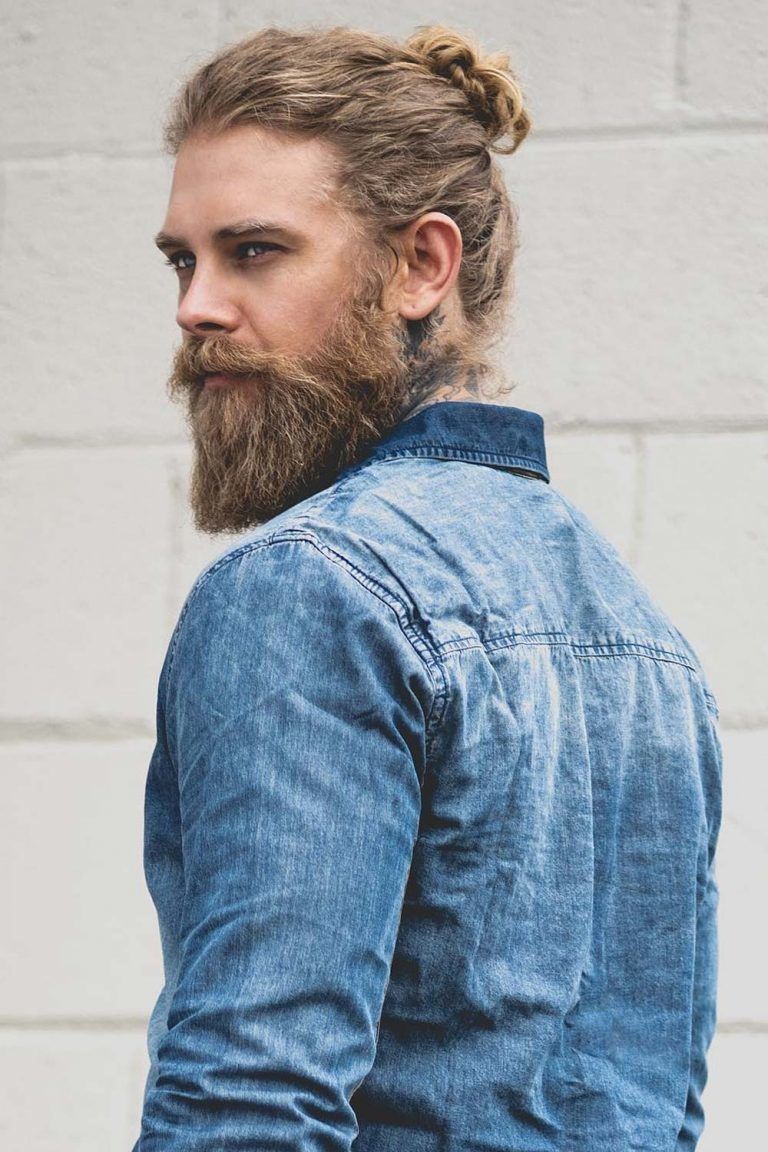 Credit photo: instagram.com/spizoiky
What can be easier than putting all of your curls or waves into a high hair bun? Men buns are a stylish and sophisticated way to add a sense of modernity to your style and to keep your hair away from your face.
Long Curls With Texture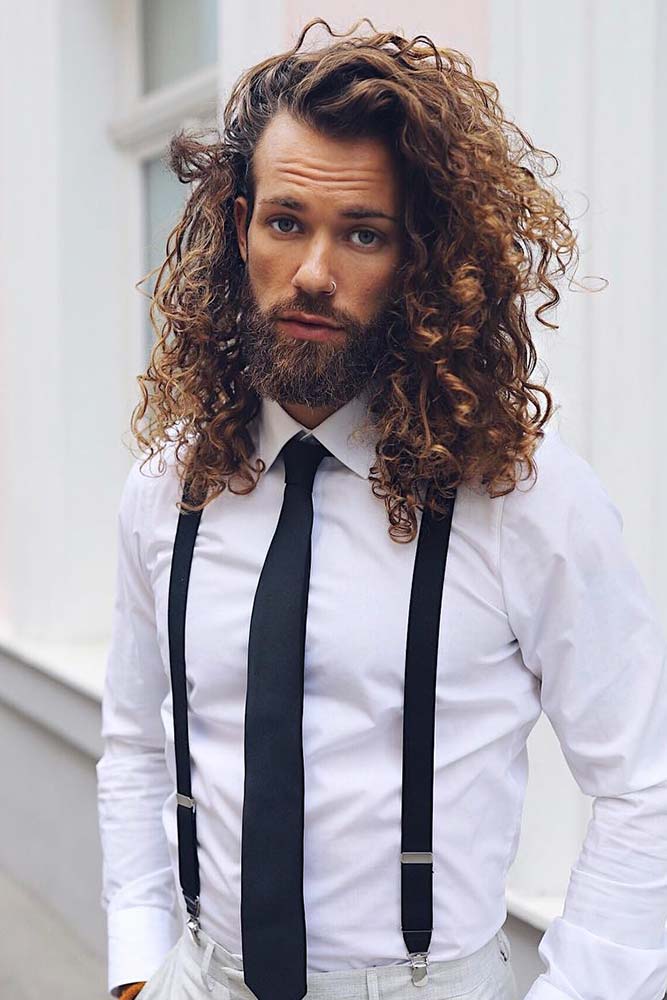 Credit photo: instagram.com/hank_ge
When looking for ideas on how to make your hair curly men tend to forget about regular softening and moisturizing, which is also essential for this style, especially if you want to turn natural waves into curly hairstyles. Men with long curly hair can do nothing for styling it, yet such a look requires the right care.
Long Messy Curls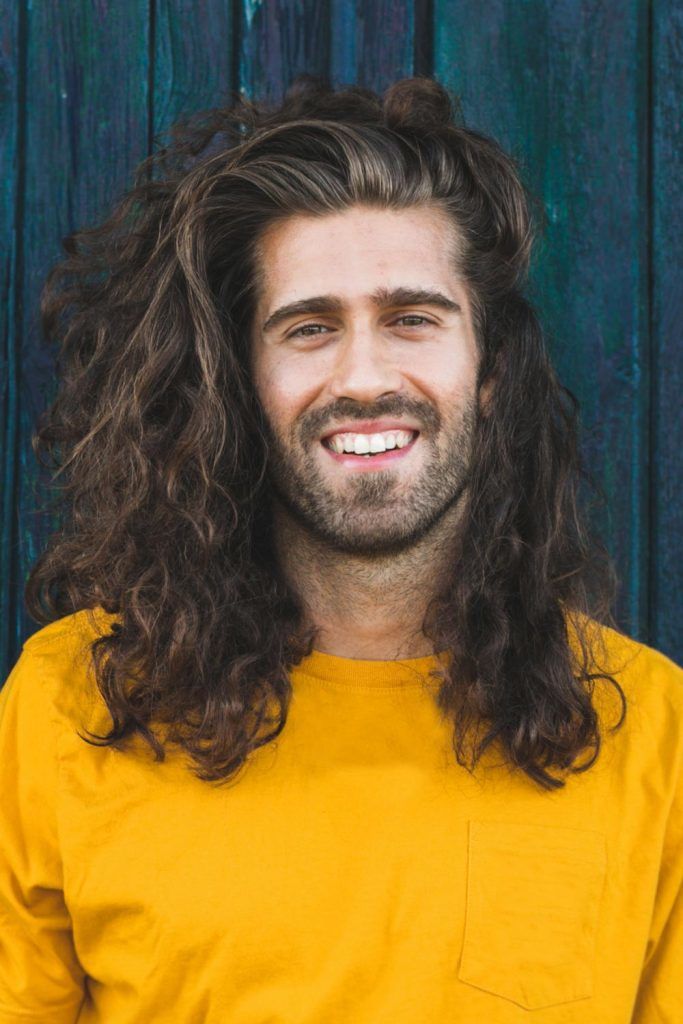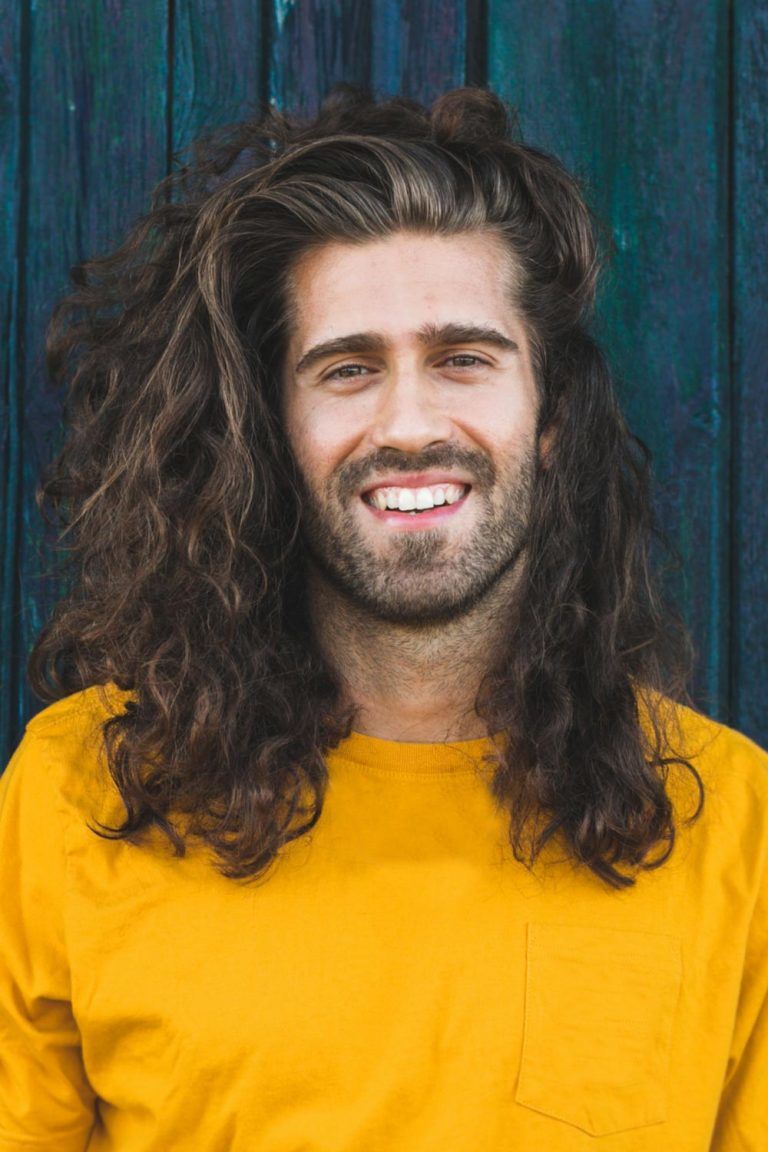 Men with long hair who prefer carefree, casual looks to clean and gentle ones will love the idea of effortlessly-looking messiness. Though it's all about freedom, a slight styling such as sweeping hair to the side is important for a stylish everyday look. Undoubtedly, there are no men long hair idea like this won't impress!
You've just discovered everything you should know about curly hair. And now, since you know how to get and style it, it's time to recreate one of these looks!
FAQ: Curly Hair Men
What is the best haircut for curly hair?
The undercut, bangs, as well as natural short, medium and long haircuts are among the nest options for curly hair.
Is curly hair on guys attractive?
Curly haired people are generally thought to be more attractive than straight haired ones, according to various researches backed by statistics. Several studies held in California revealed that most people favored curly or wavy haired people to straight haired people, particularly men.
How do men manage curly hair?
When your hair is damp, use high-hold styling products and work them in from the roots. Dry hair styling can damage hair and make the curling worse. Styling products will keep your curls in form by blocking out humidity and keeping them close to your scalp once your hair is dry.
Was this article helpful?