Homecoming hairstyles are the perfect example of the elegance and charm your hair can have once in a while. Whether it's your wedding, b-day or prom, one of the main things that all the occasions have in common is that women want to rock them with perfect looks.
And we are here to share some with you! Even those who prefer casual and messy ways of styling their hair will admit that homecoming hair is fabulous. Are you still having any doubts? Dive in! We promise that you will not regret it!
Simple Low Messy Ponytail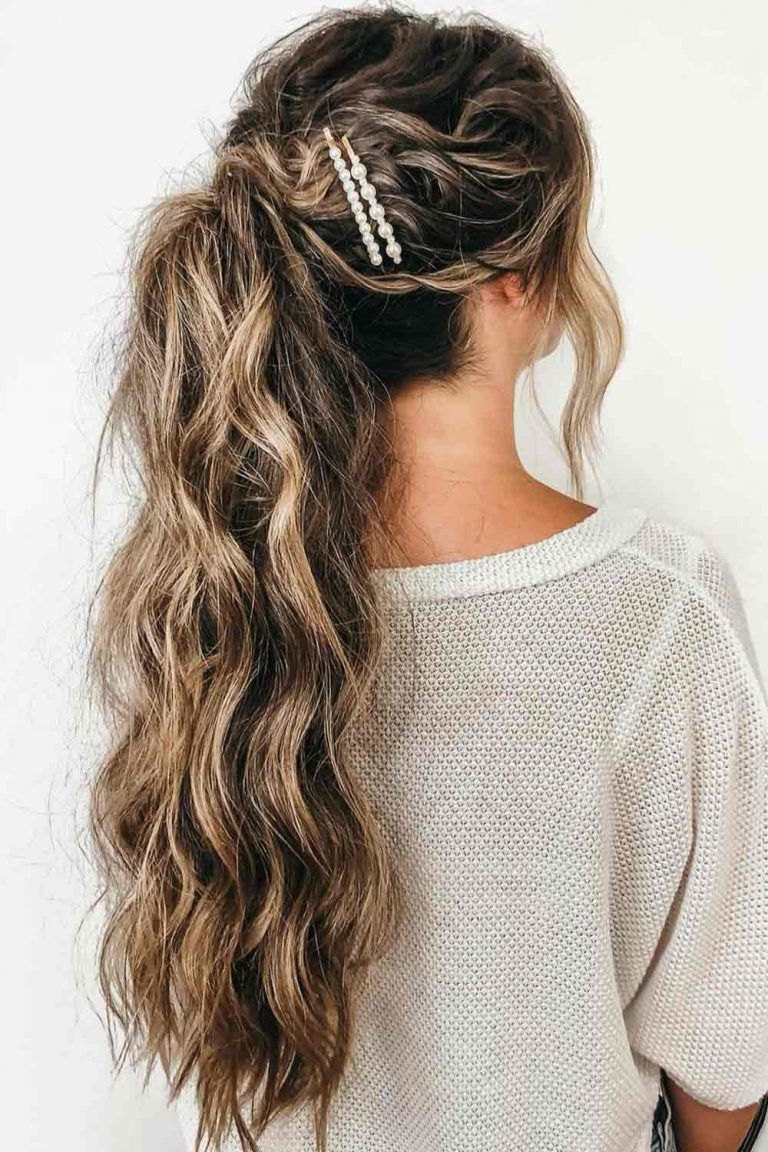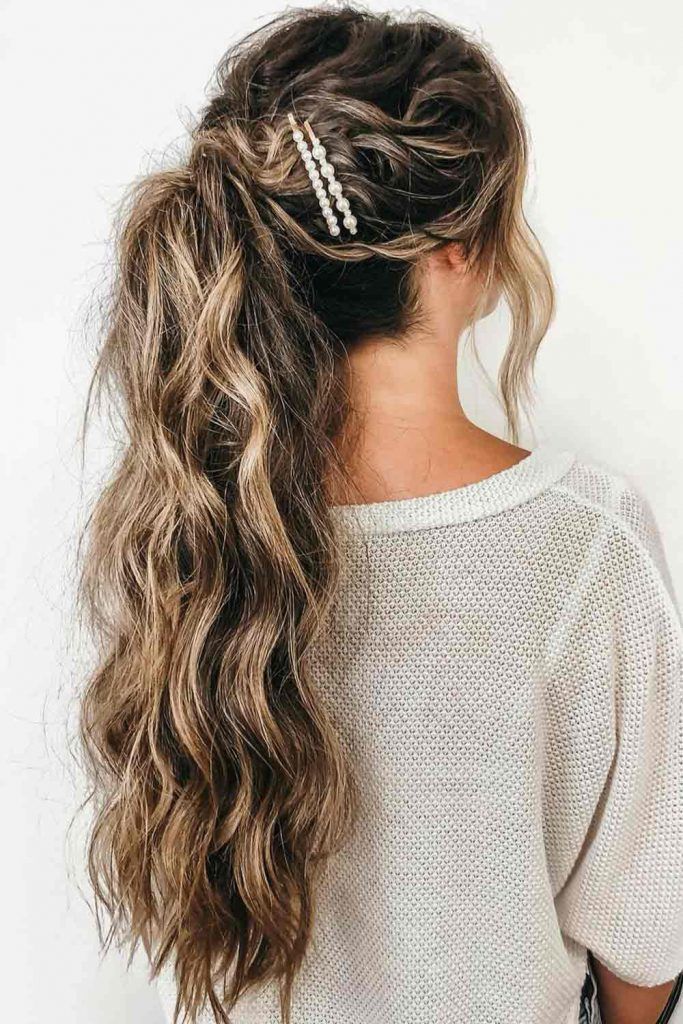 Source: ashleyglazerhair via Instagram
It doesn't really matter if it's your prom or homecoming day. The only thing that matters is that every girl wants to look special wherever she is. And a simple low ponytail with a messy touch and some wavy front locks is a good start.
Textured And Voluminous High Updo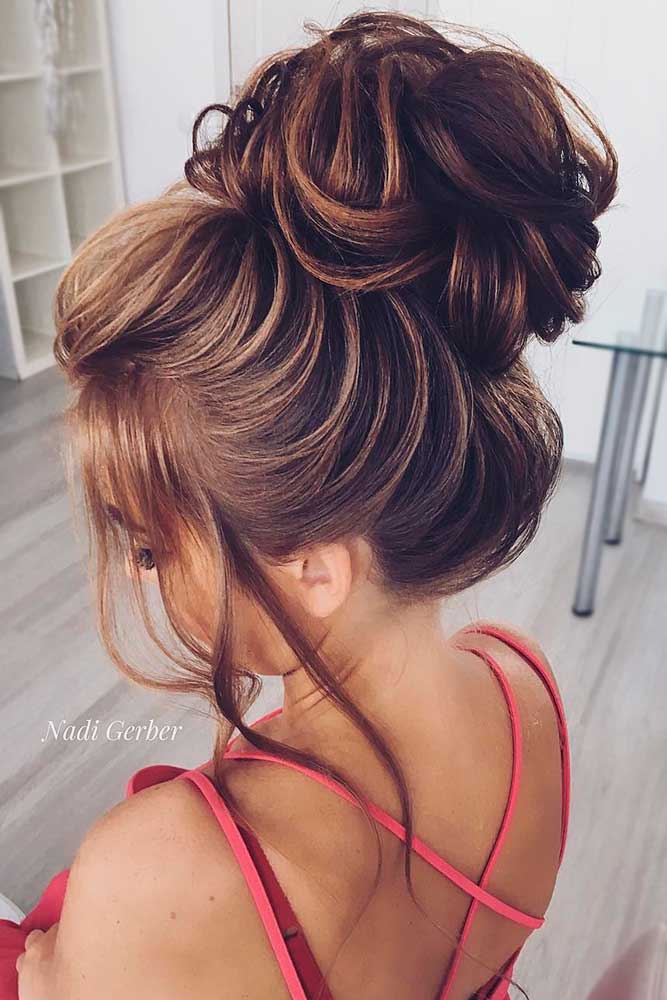 Source: nadigerber via Instagram
Wearing high updos are one of the cutest and handiest way to get the most out of your hair type. Massive twists on the top with lots of pulled strands can create a very textured and lifted look, which is a win-win for ladies whose hair types tend to let them down.
Chic High Bun For Curly Hair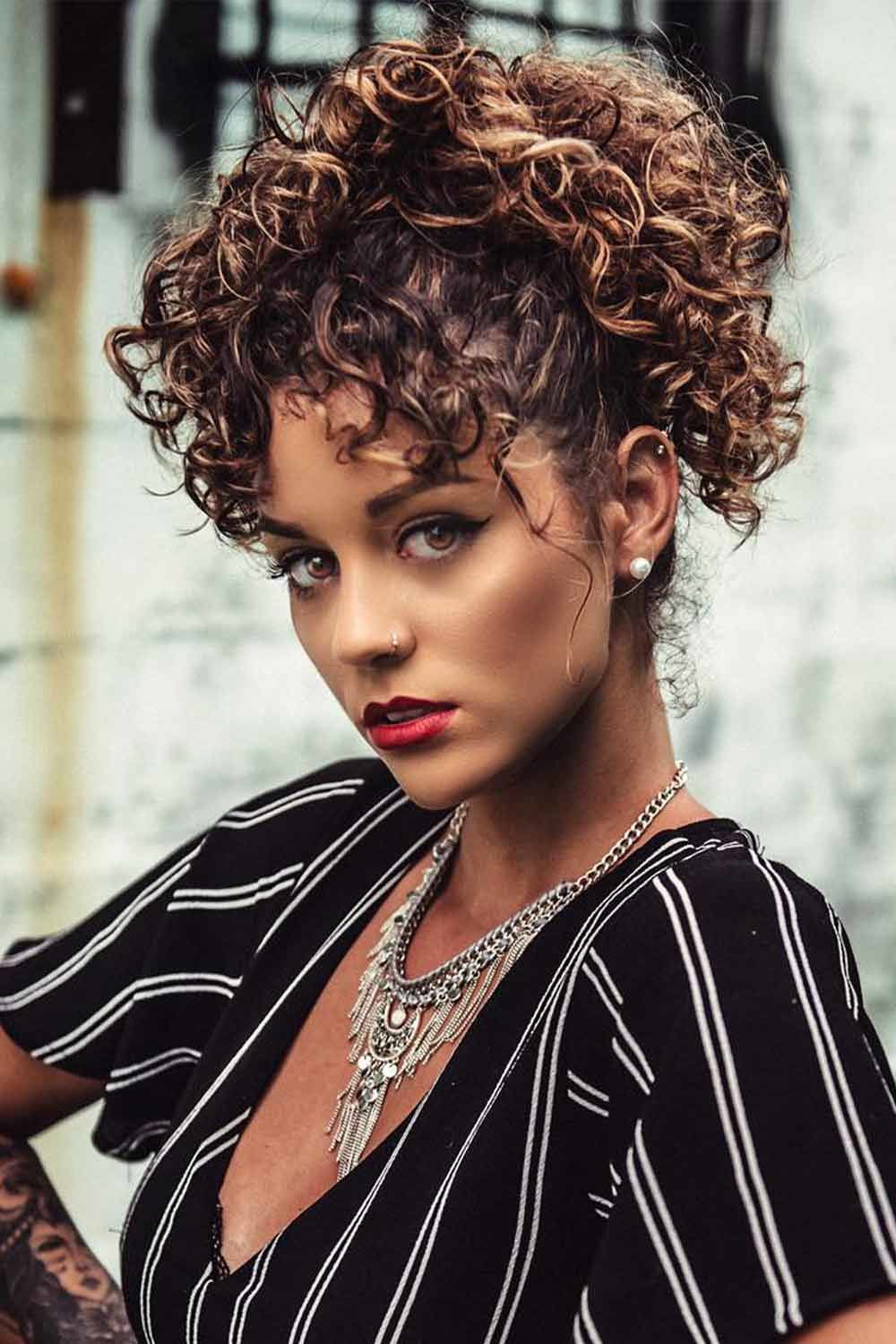 Source: _simplynicki via Instagram
When it comes to homecoming hairstyles for curly hair, even the most familiar styles show up in a fresh light. The beauty of curls makes everything look more attractive, so an effortless bun with curly fringe will make you look as exceptional as never before.
Subtle Low Updo With Fishtail Braid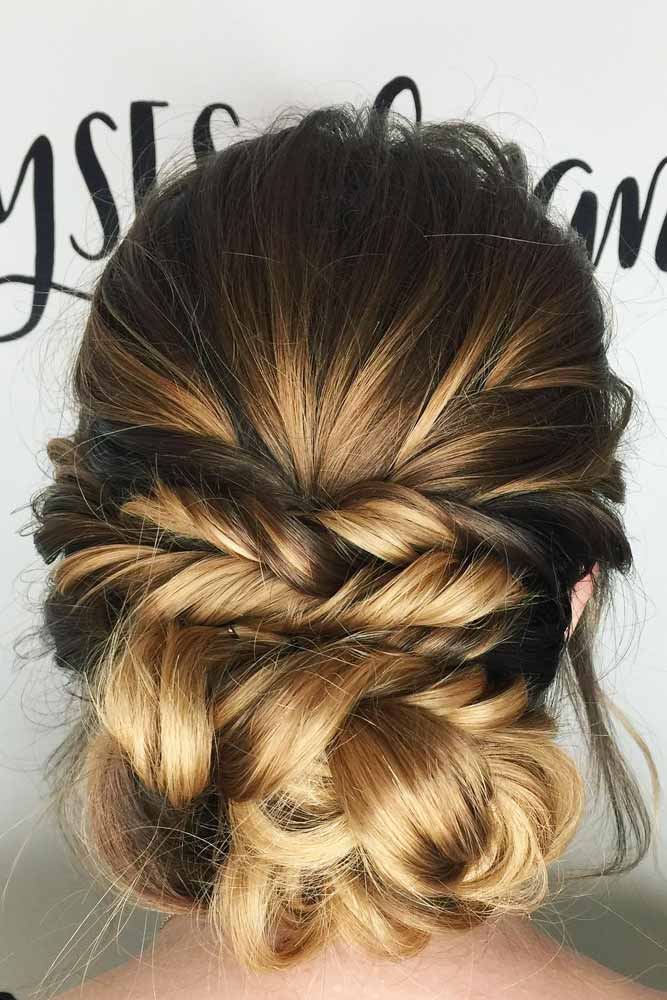 Source: jessicaannhair via Instagram
Simplicity will save the world, don't you agree? The everybody's favorite fishtail braid can turn into one of the top cute hair styles. Everything is absolutely neat and straightforward, yet it's hard to take eyes off this style.
Effortless Low Messy Bun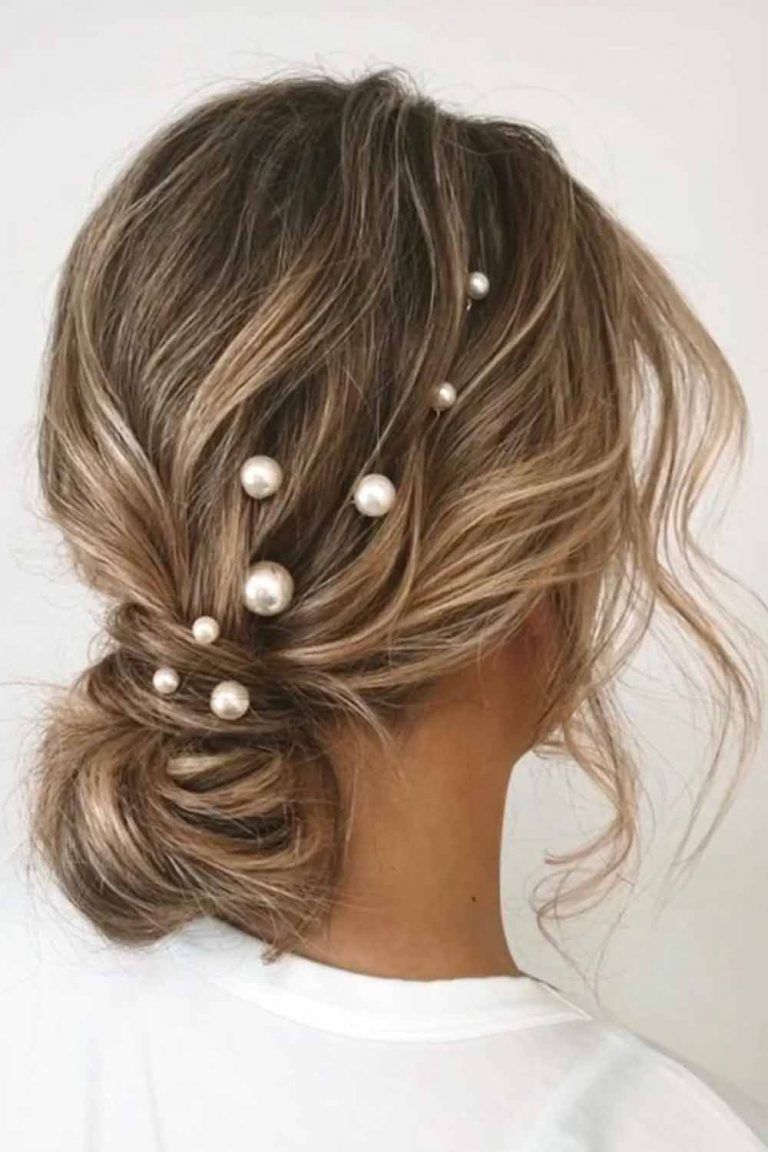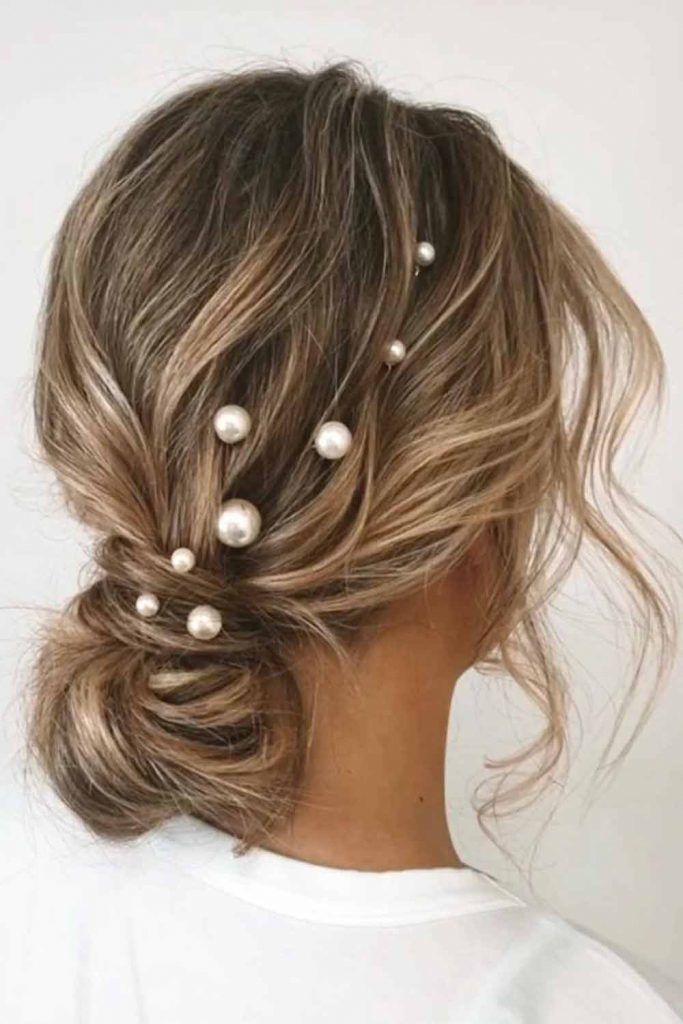 Source: ashleyglazerhair via Instagram
A couple of bobby pins and some swings of your fingers that run through your hair are enough to create an adorable messy bun. It not only gives a lot of natural volume to your hair but also will serve as a minimalistic detail to your special look.
Elegant Chignon Bun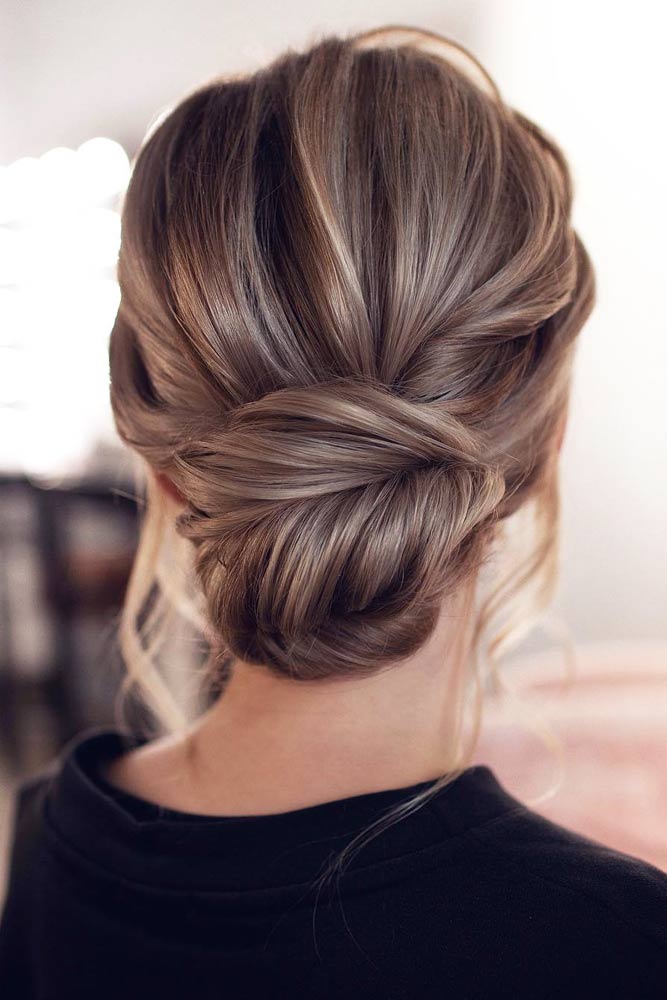 Source: tonyastylist via Instagram
Chignon bun hairstyles are all about the beauty of details in women's looks. It's always an excellent choice for a big night look as it's absolutely versatile and comfortable to wear, which means it can suit any outfits and occasion.
Graceful Fishtail Crown Braid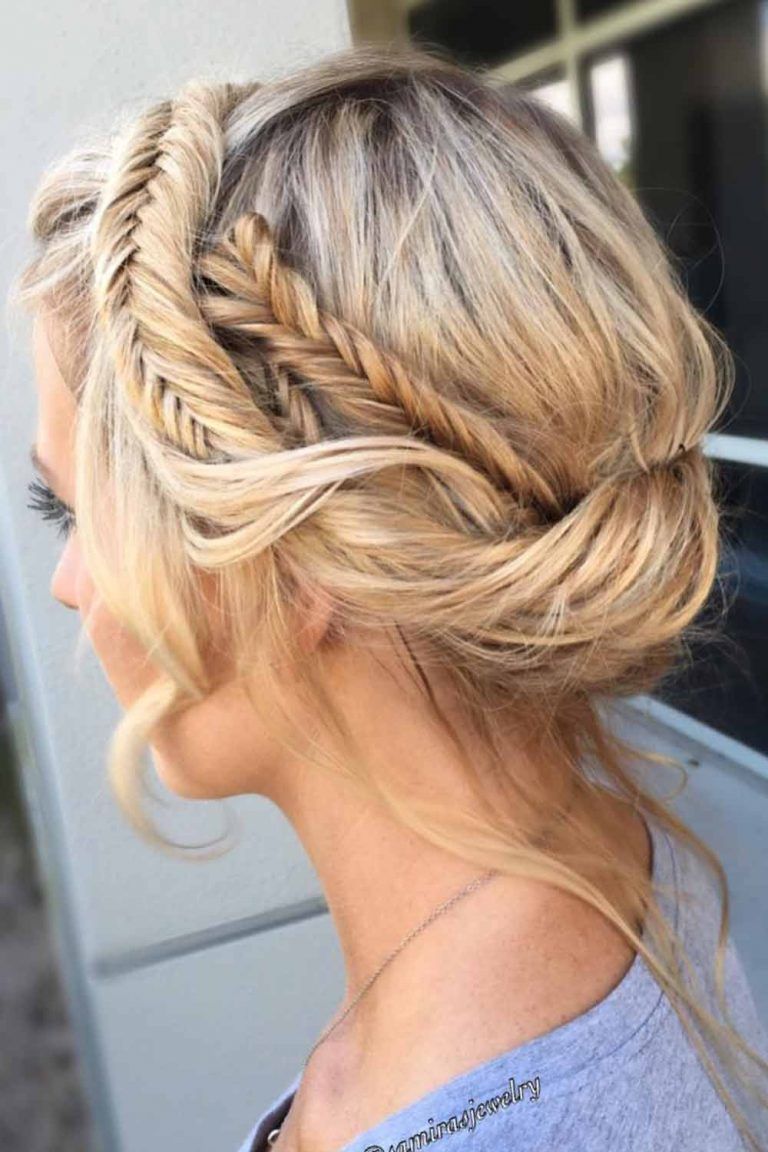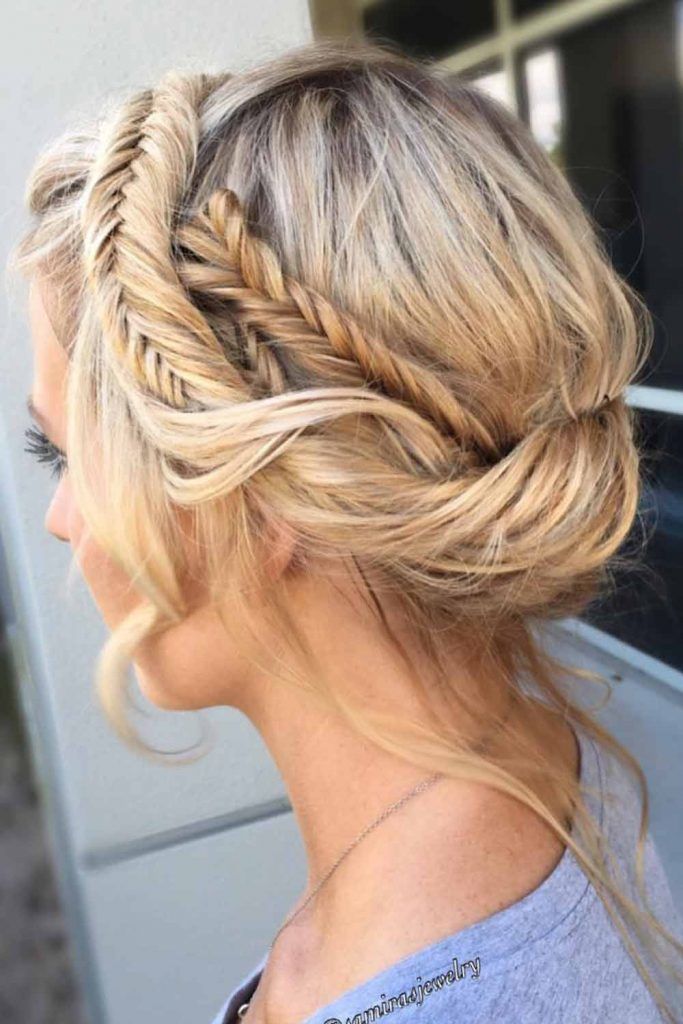 Source: samirasjewelry via Instagram
It's never too late to show everyone who's the queen. And it's never been complicated! Once you braid the top of your head, creating a gorgeous crown braid, and pull its edges to add fullness, you will realize that reaching perfection is easy.
Fascinating Dutch Braid Updo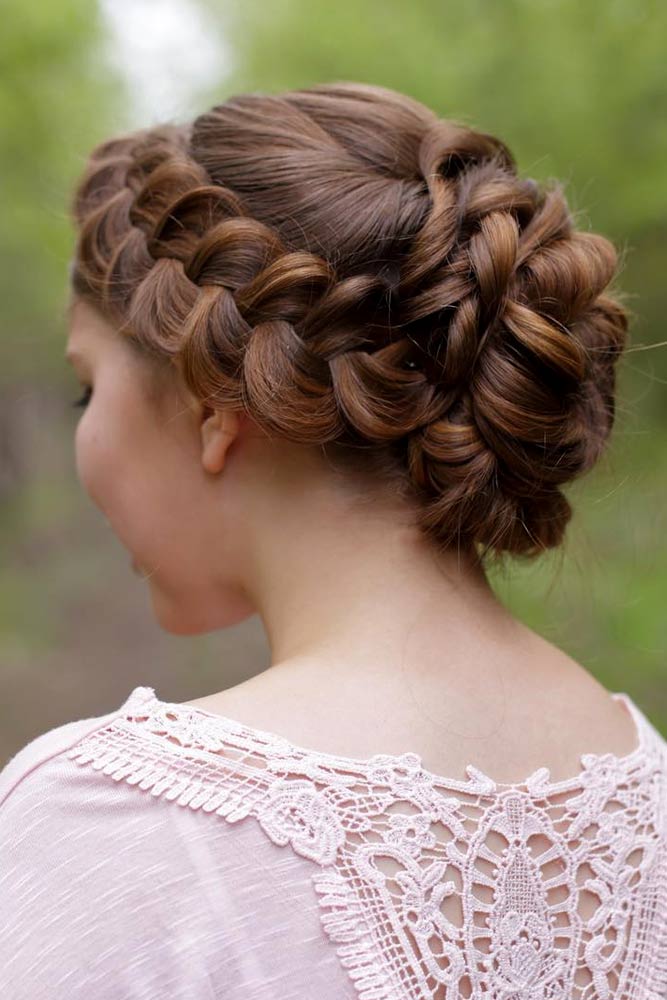 Source: aurorabraids via Instagram
How about you to impress everyone with the variety of texture on your homecoming hairstyles? The most breathtaking updo hairstyles for long hair usually feature braids. So why don't you twist a Dutch braid into a fascinating, full 'do?
Gorgeous Double French Braids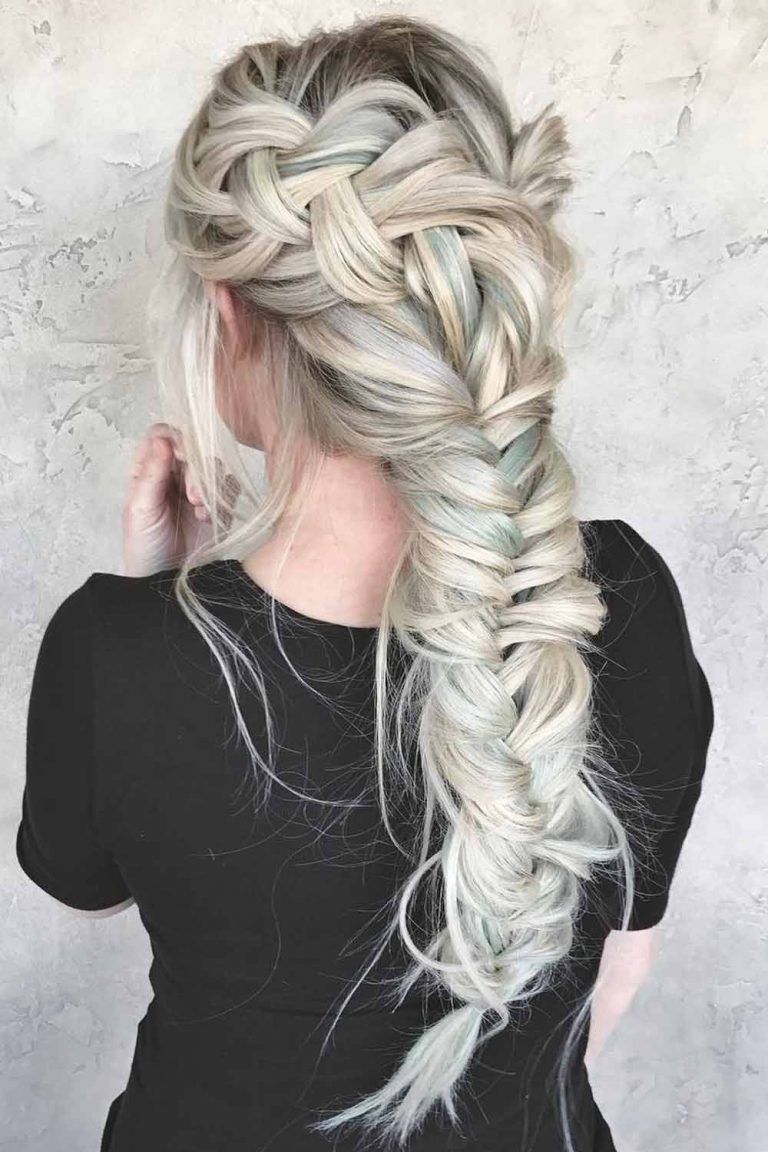 Source: taylor_lamb_hair via Instagram
Two is always better than one, and the same goes for French braid homecoming hairstyles. Braids know how to reveal our femininity, and when this beauty is doubled, there's no way people won't notice how delicate you are.
Side Fishtail Braid With Accessories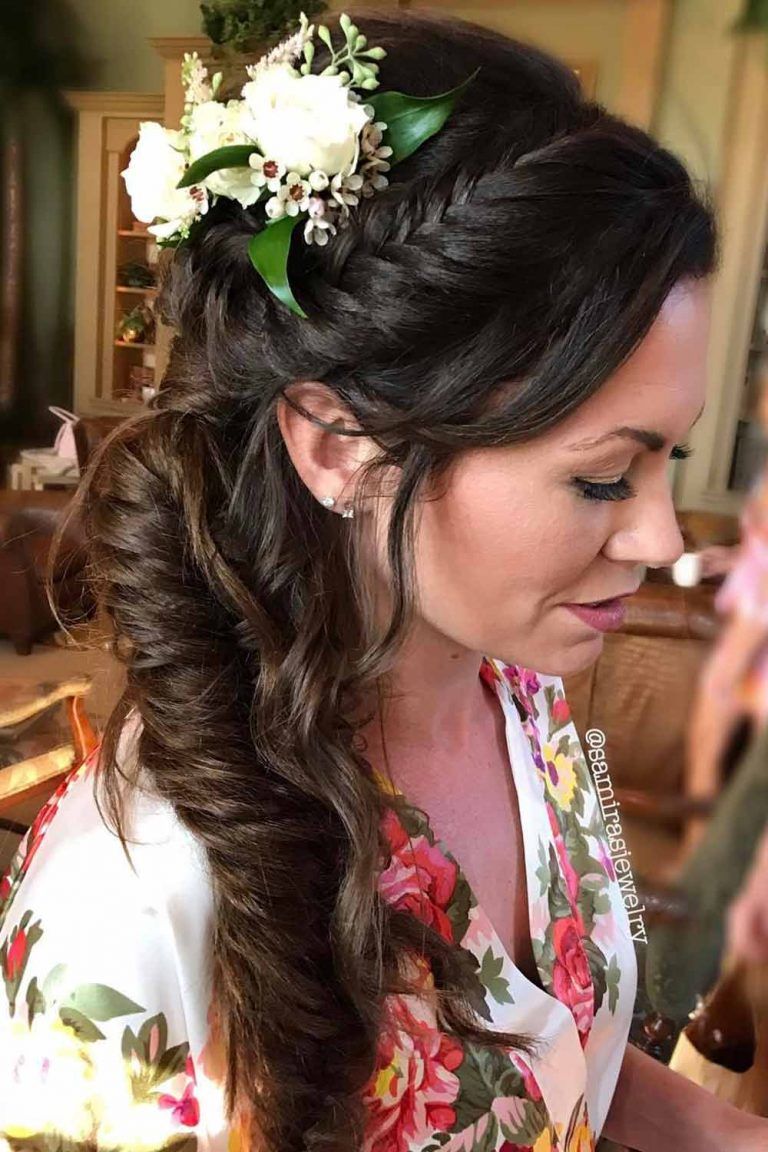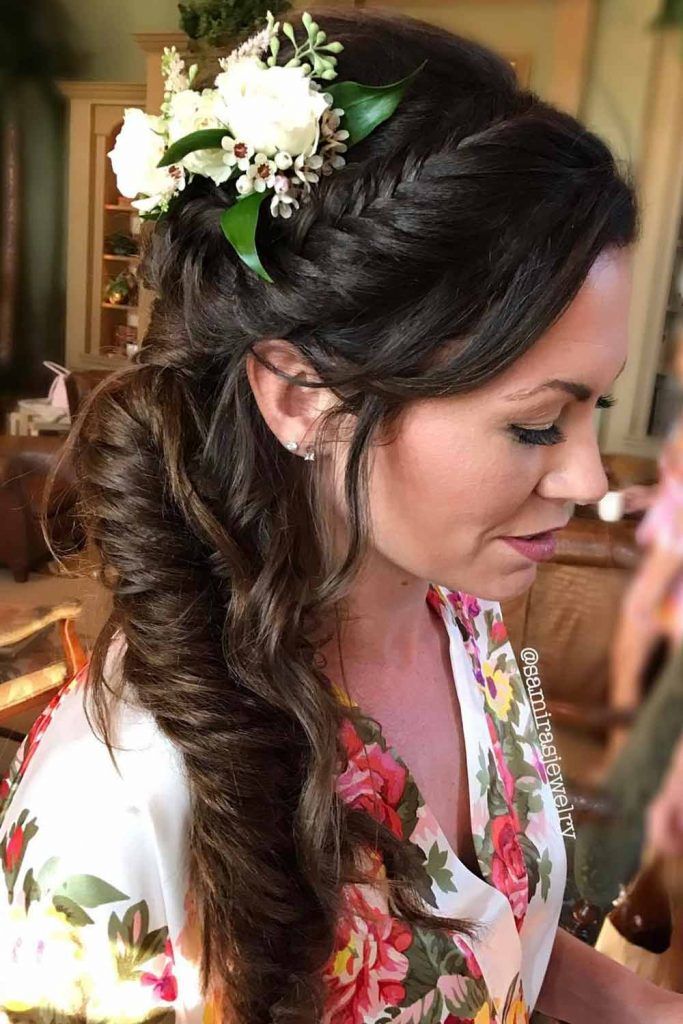 Source: samirasjewelry via Instagram
Minimalistic accessories as a finishing detail for your special braided hairstyle can create a very sophisticated look for your homecoming celebration. Braid your long hair to the side, wave some strands with a curling wand, finish everything with an accessory, and be ready to captivate!
Feminine Waterfall Braid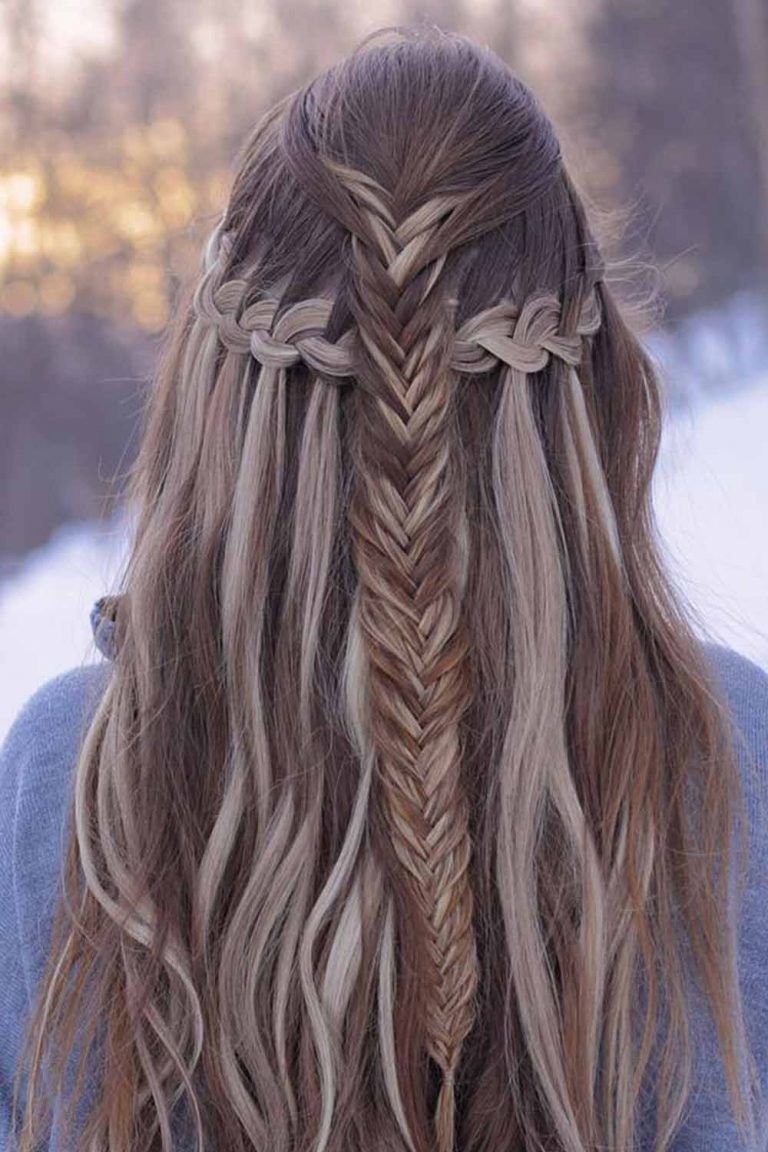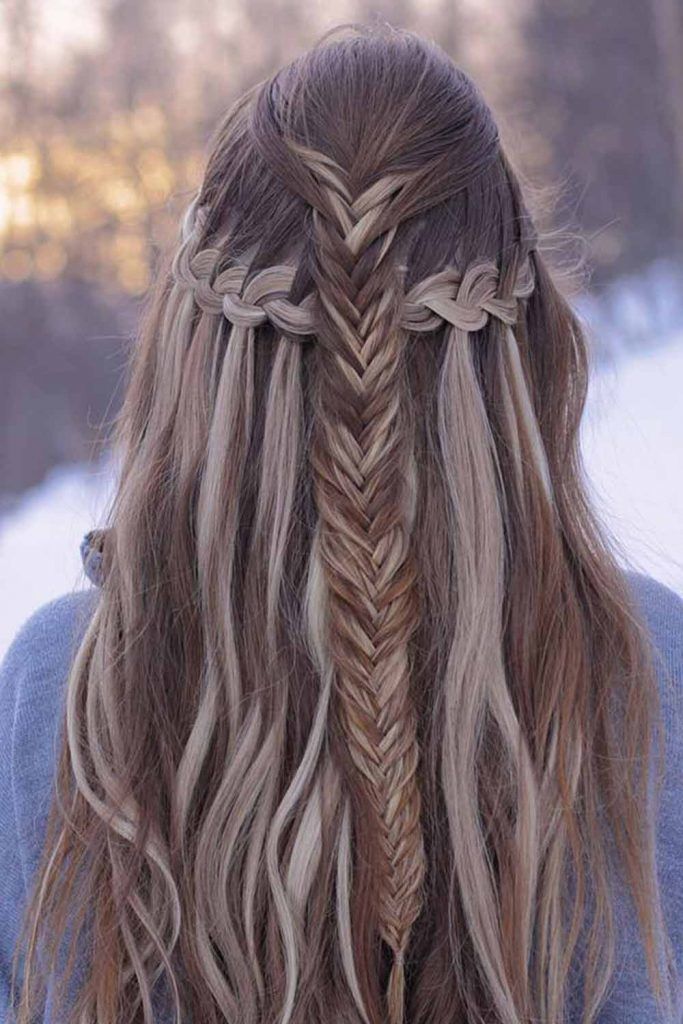 Source: aurorabraids via Instagram
Waterfall braid seems to be one of the cutest homecoming hairstyles for straight hair. If it's done on perfectly straight locks, their unbelievable texture and movement are revealed at their finest. Those who don't like too drastic hairstyles will love how elegantly this braid adorns their hair.
Double Braids For Long Hair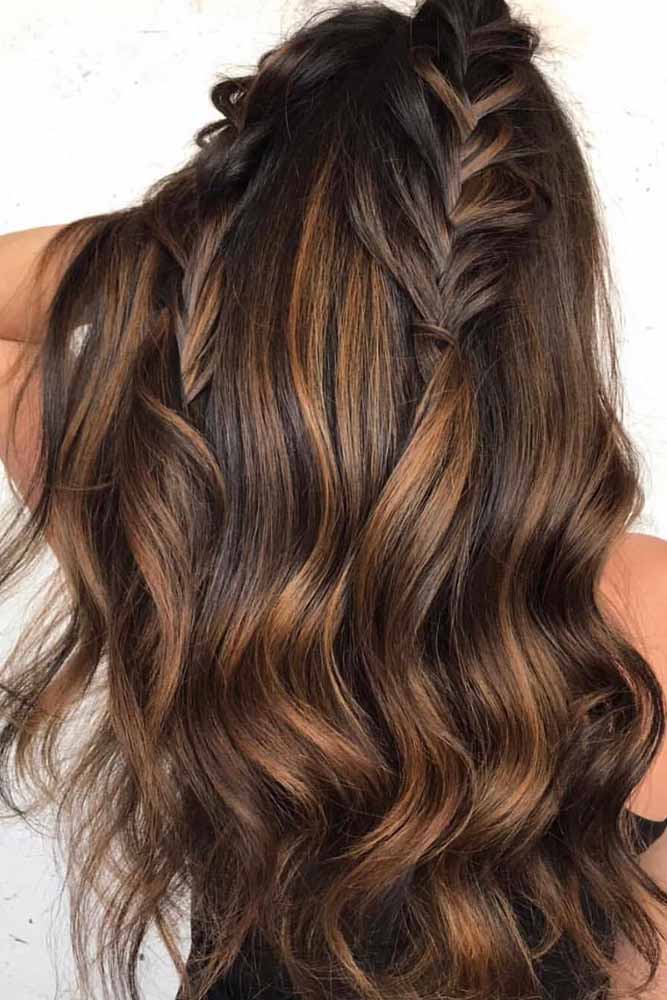 Source: jenghair via Instagram
Let's don't forget about the beautifying power of waves. With the help of a flat iron and your imagination, you can show up with a creative half-up hairstyle with lots of full waves and some braided elements. Just leave it all up to the beauty of your long hair!
Half-Up Half-Down Homecoming Hairstyle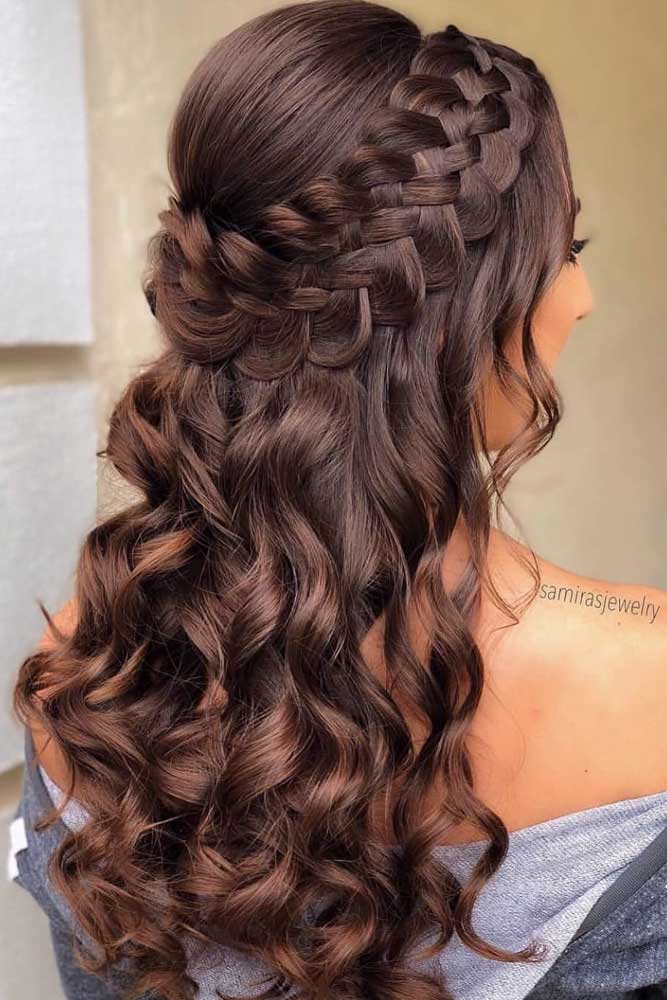 Source: samirasjewelry via Instagram
Sometimes thick hair can be so unmanageable to style! But there's nothing impossible for braids and waves, so if you have very unruly fine hair, you can breathe a sigh of relief: side braid that falls on your thick waves will calm your locks down, giving a stylish look to them.
Little Side Braid For Long Bob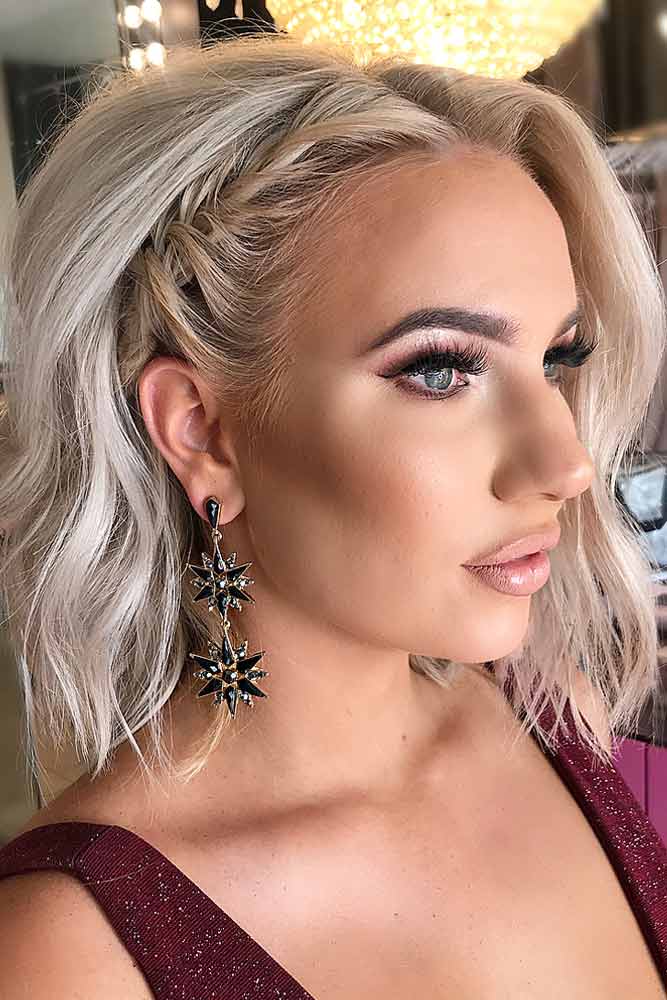 Source: kykhair via Instagram
There's no better way to diversify your bob hairstyle than to change its hair texture a bit. A tiny side braid can change the whole silhouette of your regular style, mixing an adorable straight body with the slight braided design that looks like a deep side part.
Delicate Half-Up Hairstyle With A Bow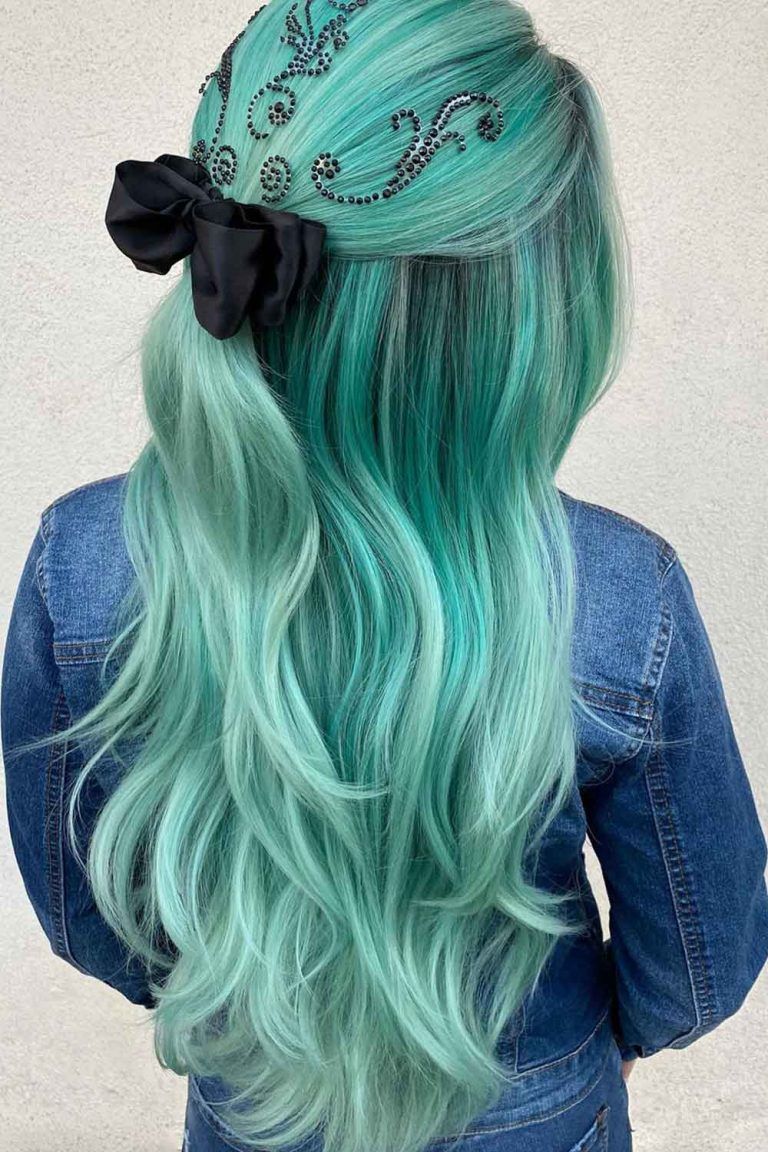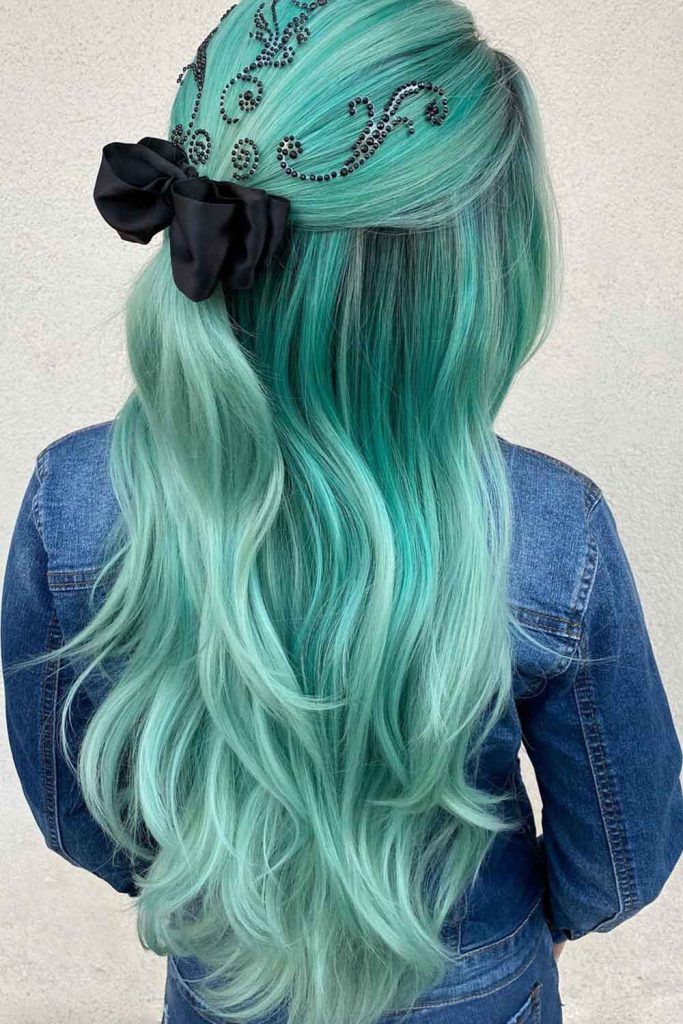 Source: stephhstyles via Instagram
Since your hair is your natural accessory, you don't need any other embellishments. The longer your hair is, the more awesome things you can do with it, including bow homecoming hairstyles. You can create a tiny bow out of your crown and wave the rest of your hair or coat it with a sea salt spray to add more dimension and movement. Voila!
Four Strand Ribbon Braided Flower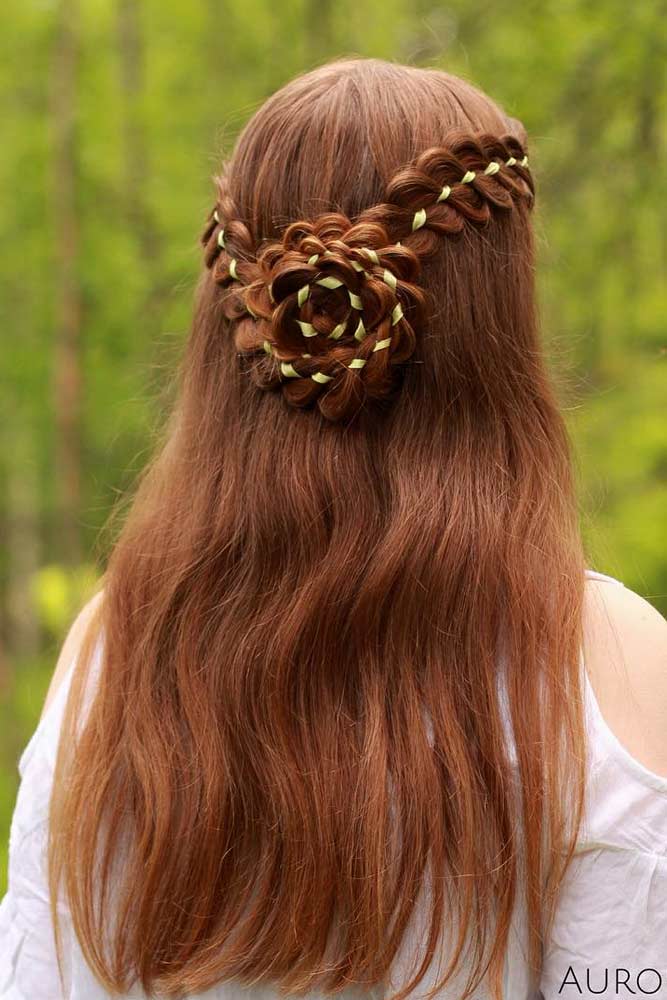 Source: aurorabraids via Instagram
We can't have too many flowers, so wearing one on your head is definitely a stunning idea! If your hair length lets you experiment, a four-strand braid with a cute braided flower is something you should try in your life as it's an epitome of the eternal women's beauty.
Twisted Half Updo With Braids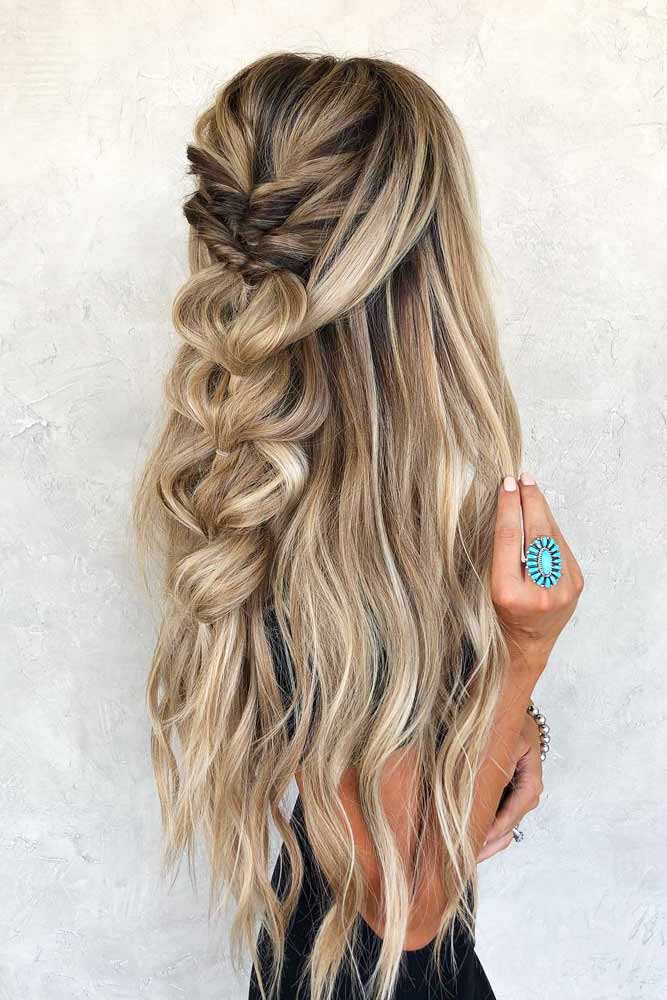 Source: taylor_lamb_hair via Instagram
Believe it or not, some half-up homecoming hairstyles are worth a walk down the red carpet. Another thing that you may not believe first is that they take minutes to get them done. Wave your hair, put one layer up and braid it, pulling some strands, and you will get what we mean.
Colorful Halo Updo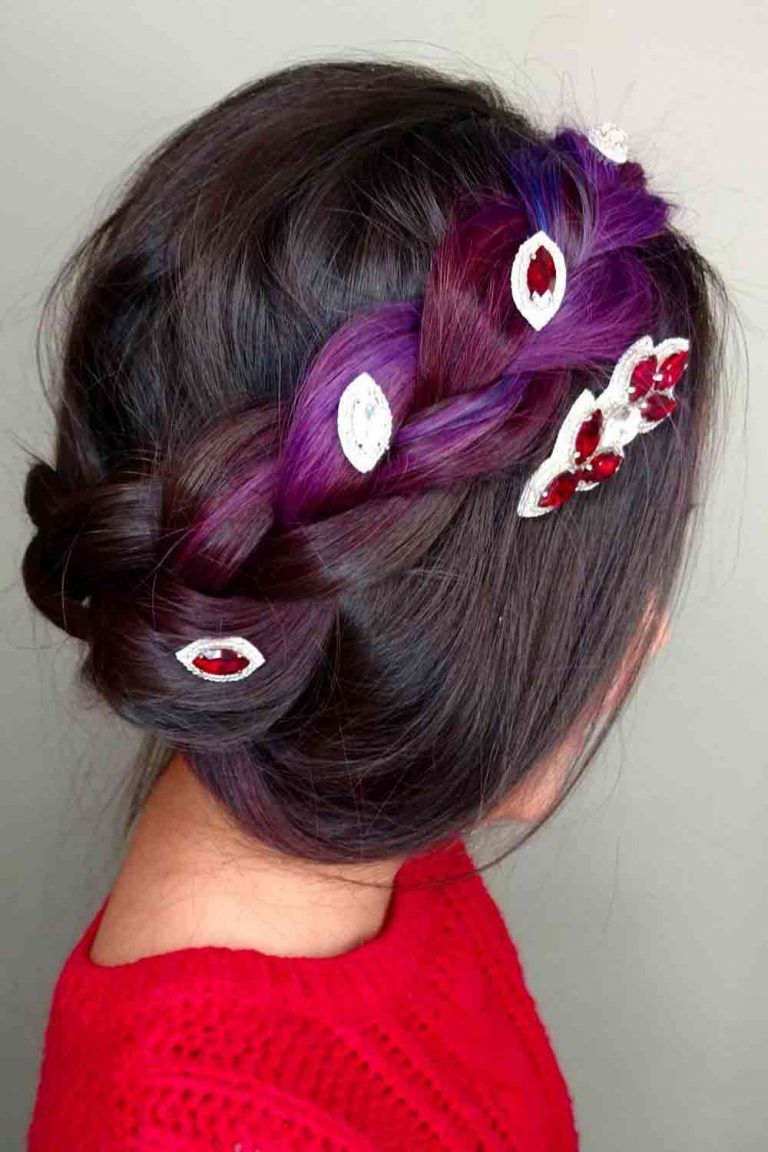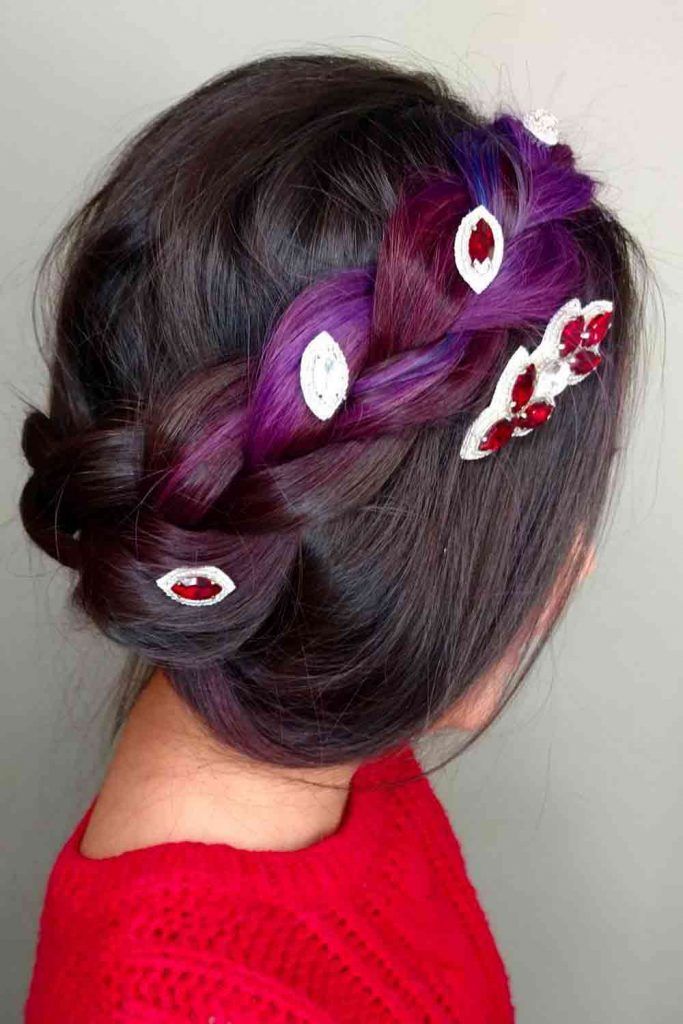 Source: adlydesign via Instagram
Let's be honest; when you're about to show up with a big look, you want every single detail to attract attention. Well, nothing will work better than a magical palette of marine shades resembling a mermaid's hair. As for your hairstyle, a halo braid that rocks around your head, forming a crown of hair is nothing but the best way to emphasize the beauty of colors. Needless to say, braids are irreplaceable styles for those flaunting with colorful hair.
Low Bun With Free Locks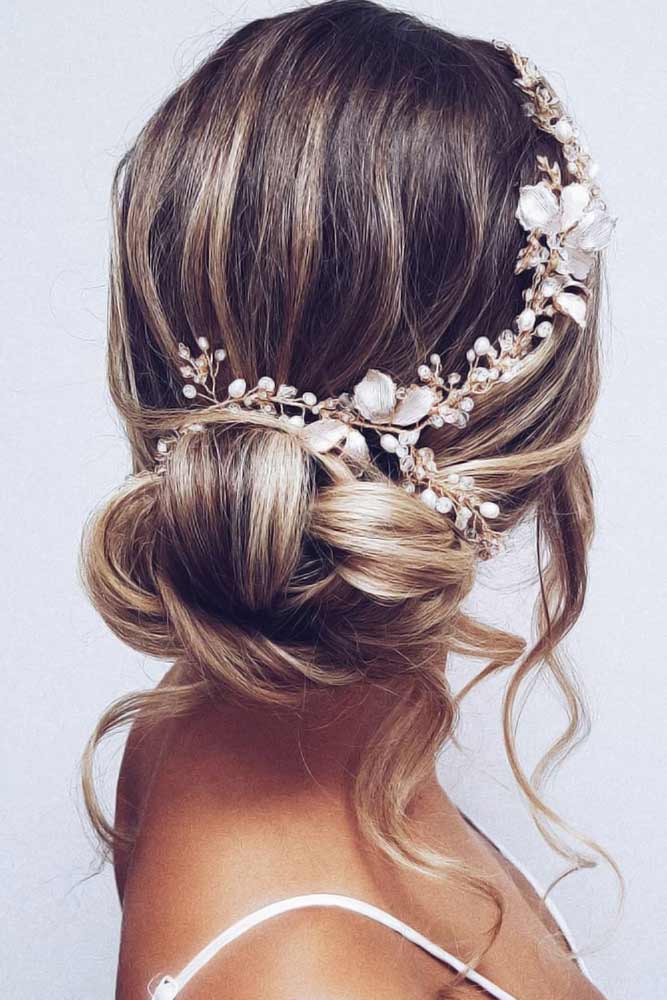 Source: hairbyhannahtaylor via Instagram
Simplicity is the best weapon for truly romantic, delicate looks. There's no need in going for time-consuming, complicated hairstyles. Instead, you can choose something easy, yet classic, finishing it with a stylish accessory. It also should be noted that hair embellishments are what can add individuality to a simple hairdo, making it look significant. To make the look airy, leave some front locks to fall on your face freely.
Bright Waterfall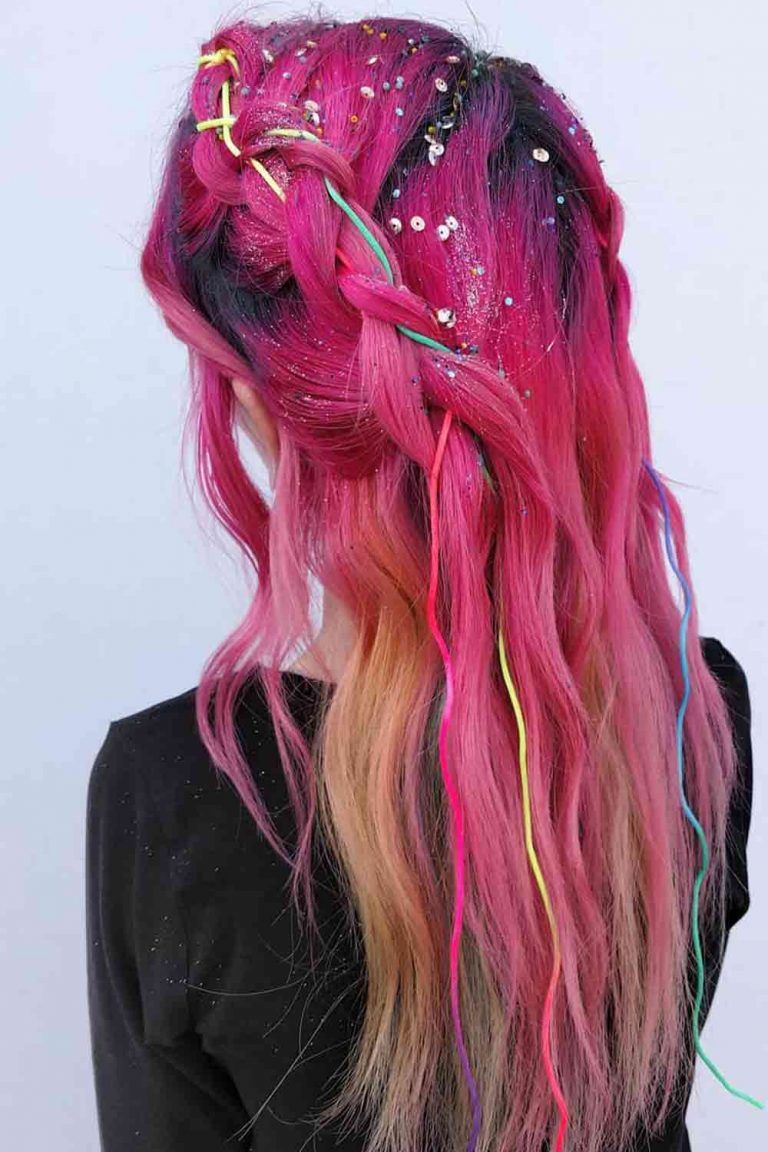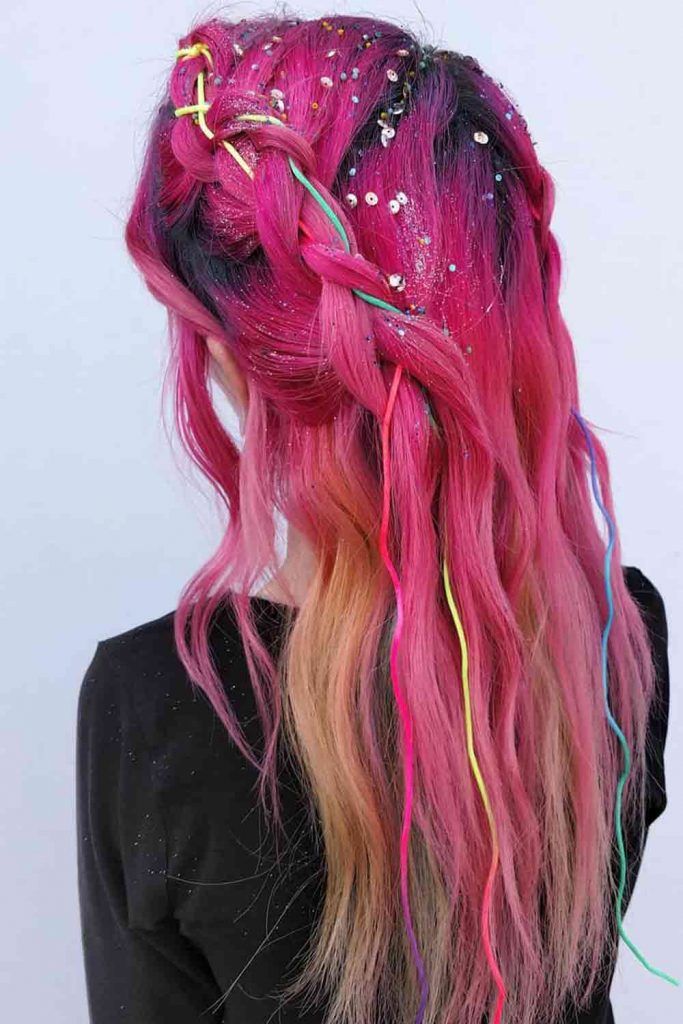 Source: adlydesign via Instagram
Here comes another braided masterpiece that enhances the beauty of colorful experiments. Since braids involve various strands lying on one another, they break the natural flow of hair, giving it more movement visually. In this way, your big-day braided hairstyle will be doomed to steal the show. This waterfall braid accentuates the fairy-like shades, taking the color job to a new level!
Low Donut Bun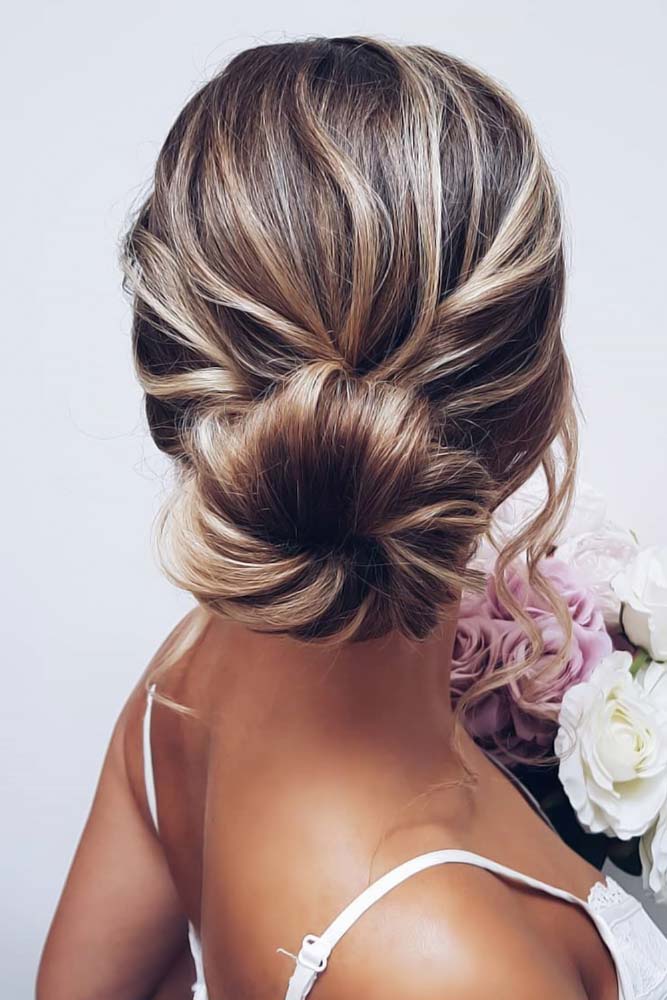 Source: hairbyhannahtaylor via Instagram
Some ideas seem never to fade away. And a low donut bun is one of such styling choices! As you know, classics will never leave fashion, so there's no way you will go wrong picking this hairstyle. First of all, it's amazingly easy to do. Second, it gives the needed delicate touch to a romantic look, making it complete.
Low Twisted Pony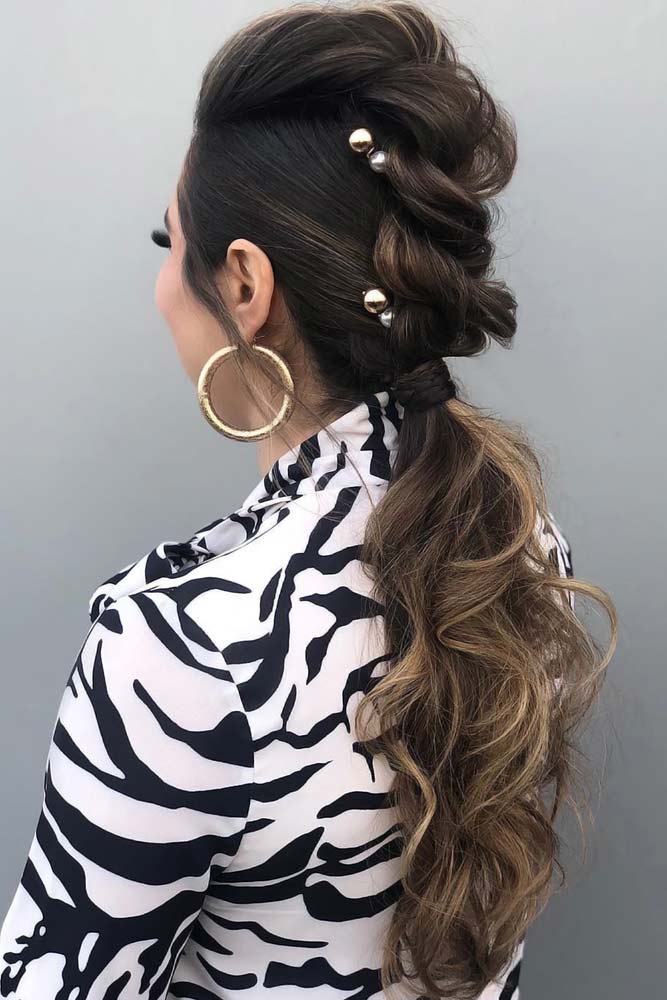 Source: annette_updo_artist via Instagram
If you think that ponytails are simple and boring, think again. Well, this idea has come to our world to show a brand new side of the familiar hairstyle. Starting as a voluminous graceful twist, the hairstyle gradually turns to a wavy pony. Apart from the creative structure, the style is beautified with breathtaking accessories which make the look super detailed and thus festive.
Low Rosette
Source: nadigerber via Instagram
With the right approach to wedding, prom, and homecoming hairstyles, your hair can be the best embellishment for your celebratory look. In fact, this style is just a couple of twisted strands covered with hairspray. At the same time, the shape is so detailed, gentle, and feminine that it's hard to take eyes off. All in all, you don't need to buy floral accessories to add a sense of girliness to your look; your hair is enough to do it!
Headband Of Roses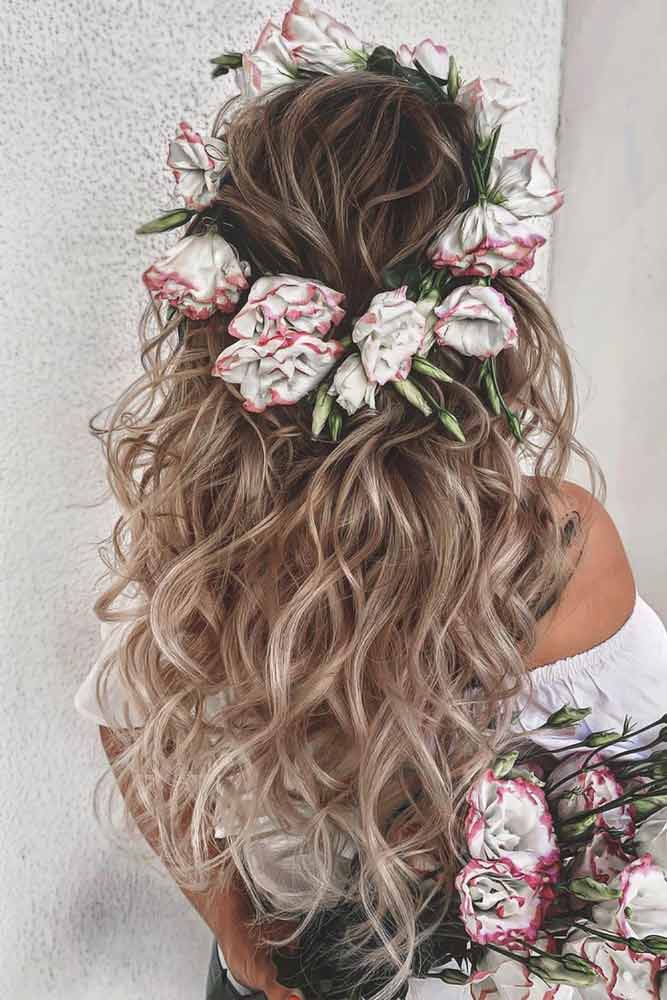 Source: nadigerber via Instagram
Naturalness is something that will never go out of style. So why don't you make it the highlight of your look? Besides, it will take little time and give you a head-turning look at the same time. Wave your hair and run your fingers through the waves: it will make them effortless and airy. Then, finish everything with a floral headband and be ready for compliments!
Stars Accessories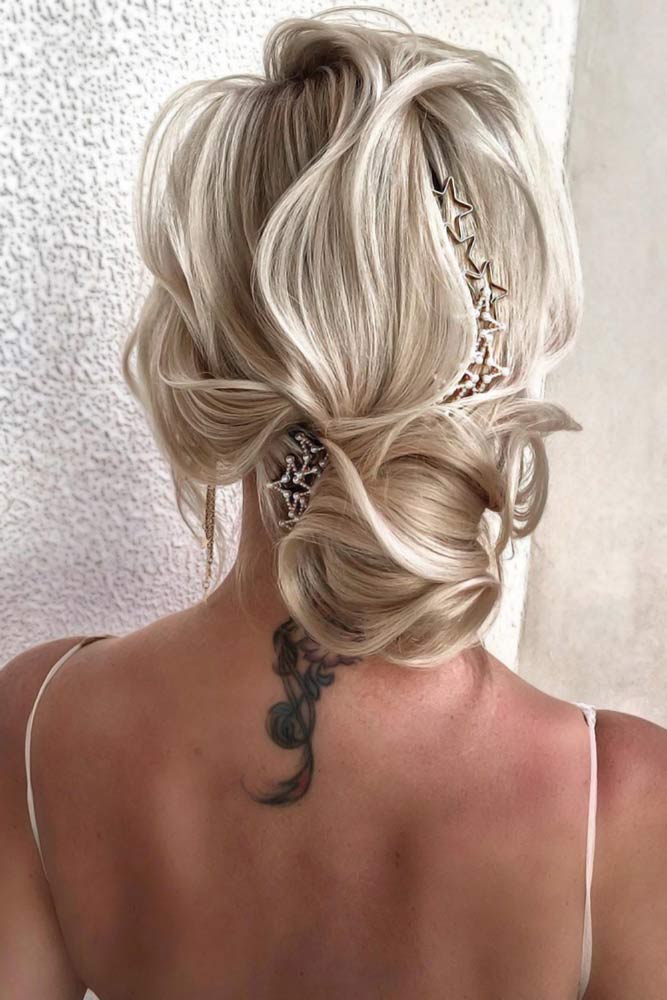 Source: nadigerber via Instagram
While updos are mostly easy to get, they offer an endless variety of styling options. Once you set your creativity into motion, you can give life to the most unique and enviable hairstyle people could ever see. Play around with twists, let your looks be a bit messy, and don't forget to add more character to it by securing it with a cute accessory.
Low Messy Twisted Bun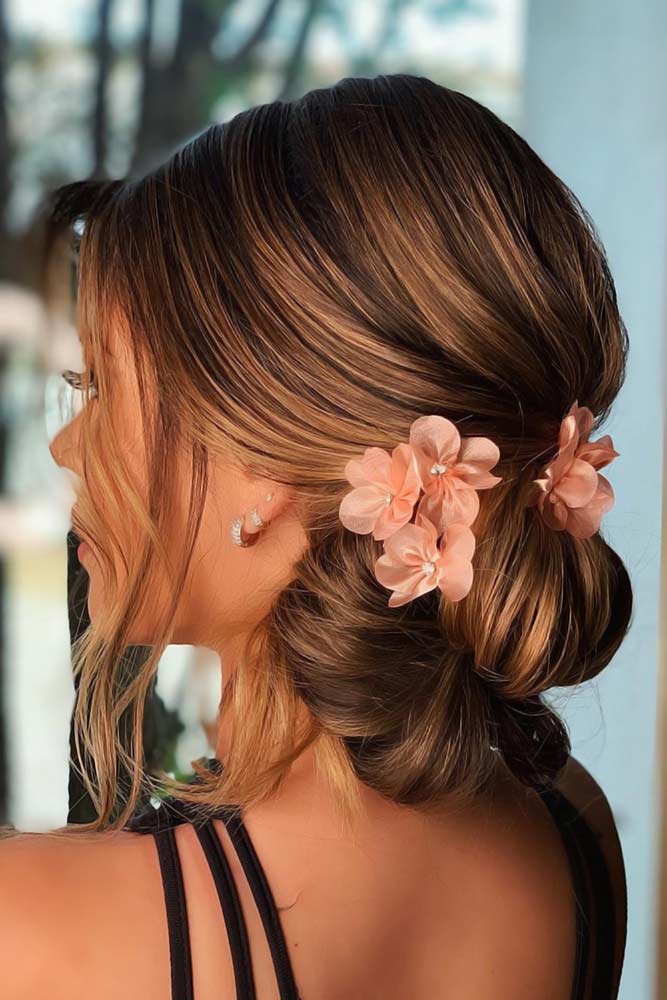 Source: ojoaquim via Instagram
When sleekness meets messiness, a perfectly harmonic hairstyle is born. As you can see, the texture of this twisted bun is absolutely even and the style is well-shaped. At the same time, the lower portion of the 'do is tousled and styled with a carefree feel. As for the front strands, they enhance the disheveled look, finishing the distinctive look with a face-framing touch.
High Twist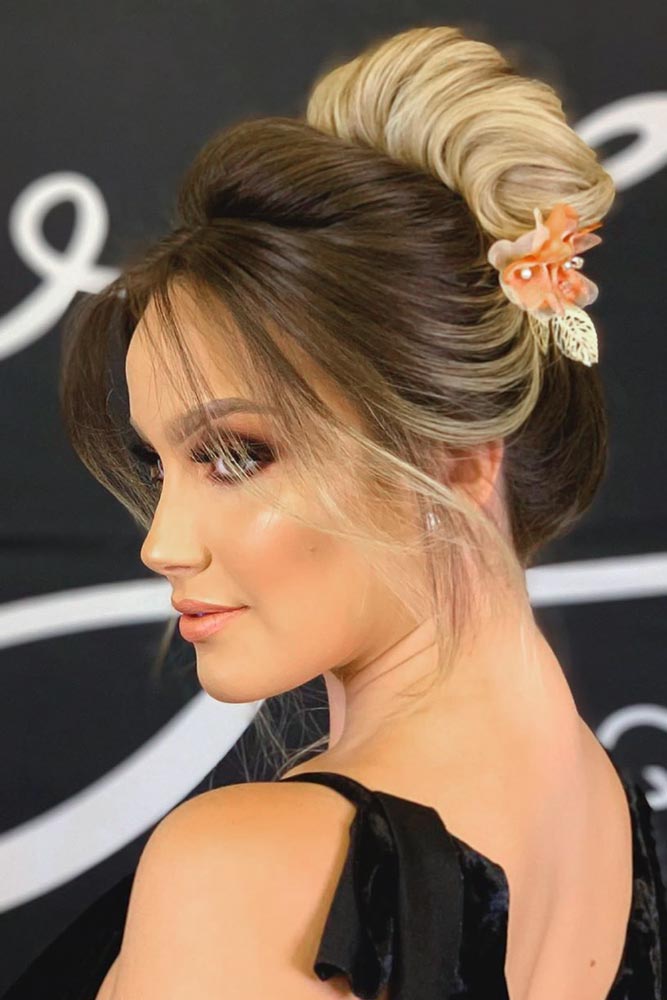 Source: ojoaquim via Instagram
How about you to show up with a high twist? It's no secret that most girls go for high bun updos, as they're the most popular options for special occasions. But why don't you go a different way and flaunt with a one of a kind hairdo? Apart from a totally chic appearance, this hairstyle has one more advantage: it can provide tons of volume to the thinnest mane.
Tender High Bun With Flowers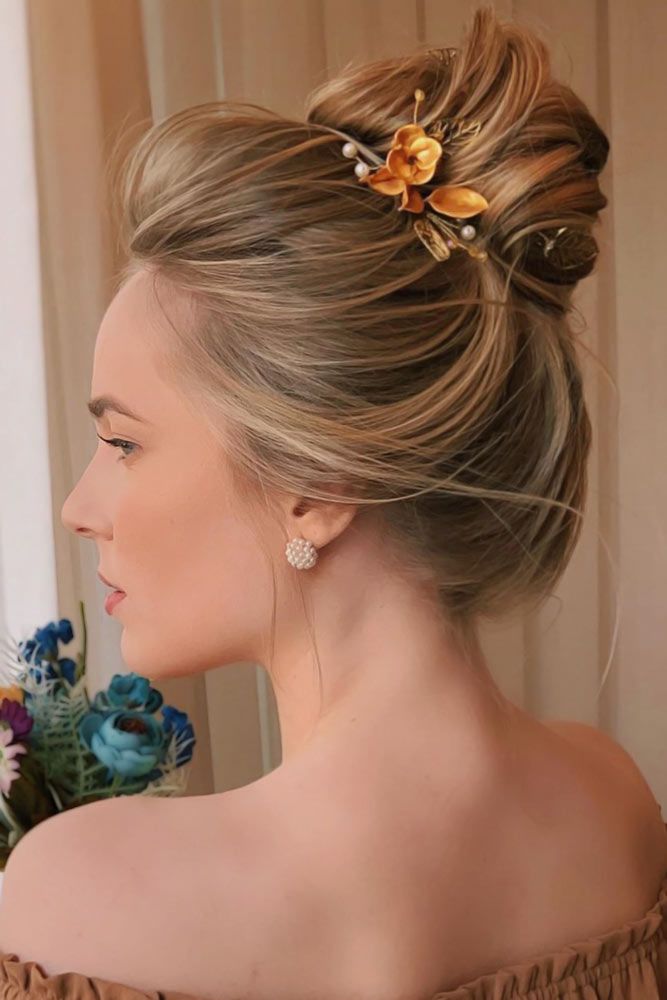 Source: ojoaquim via Instagram
Sometimes a hairstyle that takes less than five minutes can catch people's eyes and turn their heads 24/7. As we told you already, the right approach is key. Modern stylists recommend ladies to focus on the texture rather than making their looks complicated. Apply texturizing products to make your hair detailed and then put it into a high bun. What about the icing on the cake? A tender accessory that will hold the look is the answer.
Fishtail Braids Into Low Messy Bun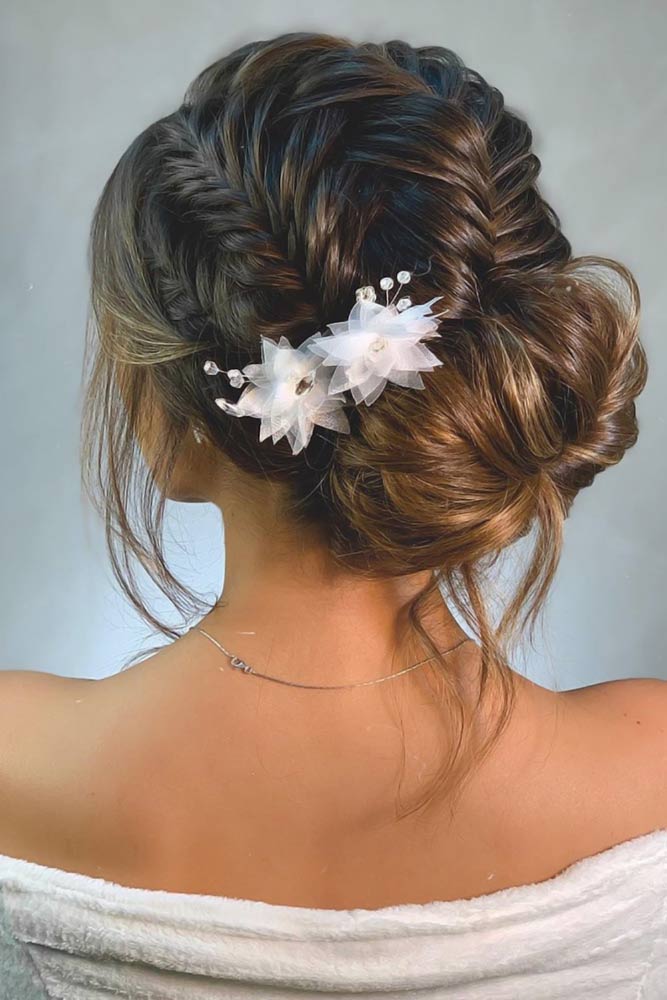 Source: ojoaquim via Instagram
Braids will always be there for you. Whether you're going to live another hard day in school, preparing for the first date or looking for the perfect wedding look, braids always know how to make it right. And this hairstyle is living proof! The good-old fishtail braids turn into a low messy bun, forming a super textured and extraordinary hairstyle. Have no idea how to stand out with an updo? Ask braids for help.
How do you like our homecoming hair ideas? Each hairstyle you've seen today is a proof that you don't need to spend hours to turn heads at your big day. It's time to make your homecoming celebration special: just try out one of our updos!
FAQ: Homecoming Hairstyles
How should I do my hair for homecoming?
Put your hair into a ponytail that hangs down your back or to the side, or wear it smooth and straight. Make a high or low bun with your prom hair. Hot or foam rollers, curling irons or flat irons can be used to curl or wave straight hair.
What are some back to school hairstyles?
Double Side Buns.
Half-Up Topknot.
Braided Pigtail.
Braided Ponytail.
High Ponytail.
Low-Key Loose Braid.
Is layered hair good for thin hair?
The density of hair follicles determines the hair fineness. The golden rule of faultless appearance is that the shorter your hair is, the fuller it appears! Adding layers can help you get the desired volume, and messy updos, as well as other medium-length hairstyles for thin hair are a great option.