How to choose Halloween hairstyles for long hair so that you definitely look different from everyone else? First things first – you should dedicate at least some time to the research and pay attention to the details. Rest assured details do matter. And if you think that no one will notice, we are here to argue with you. What is more, we are even ready to help you. And we hope you enjoy the looks gathered here.
Evil Queen Halloween Hairstyle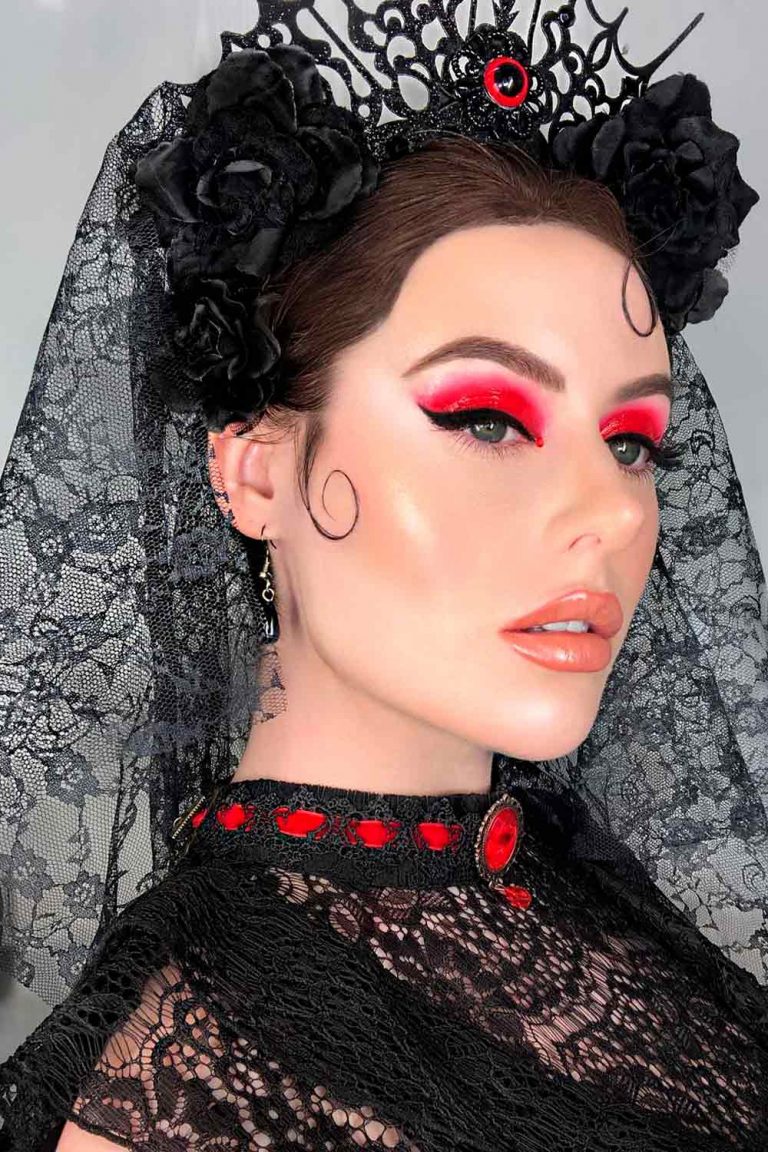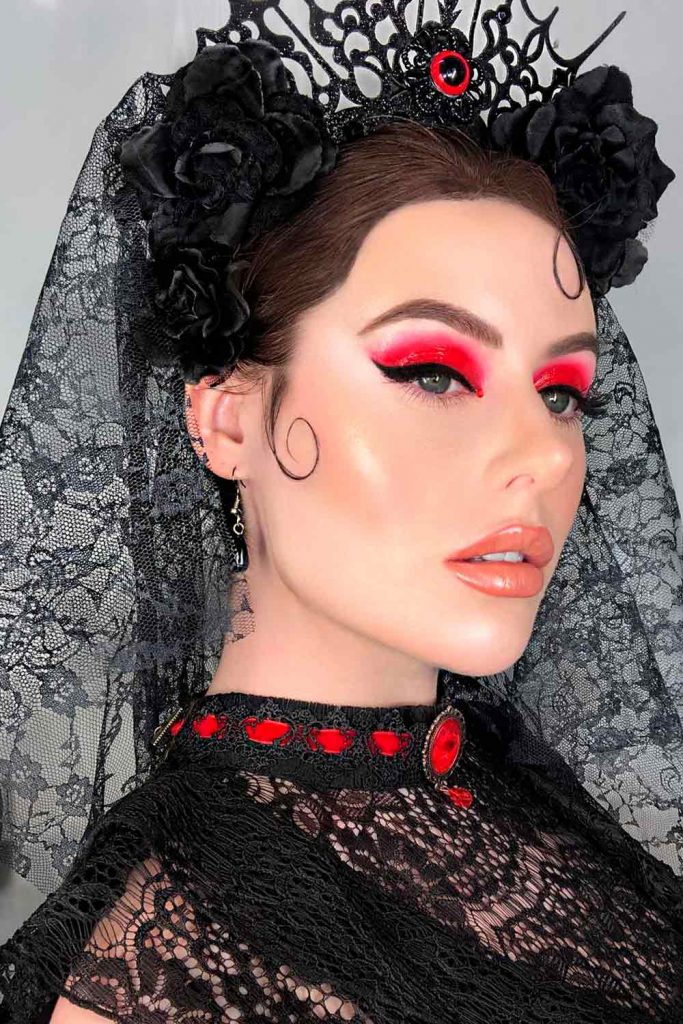 Source: kerri54 via Instagram
Those who say that it's impossible to become a queen just don't know that wearing a gothic queen spider crown inlaid with flowers is enough! With an authentic black veil on the voluminous crown of your hairdo and the charm of bold red eye makeup, you will open up a whole new world of the best Halloween looks.
Halloween Skull Look With Bold Hair
Source: kerri54 via Instagram
Source: kerri54 via Instagram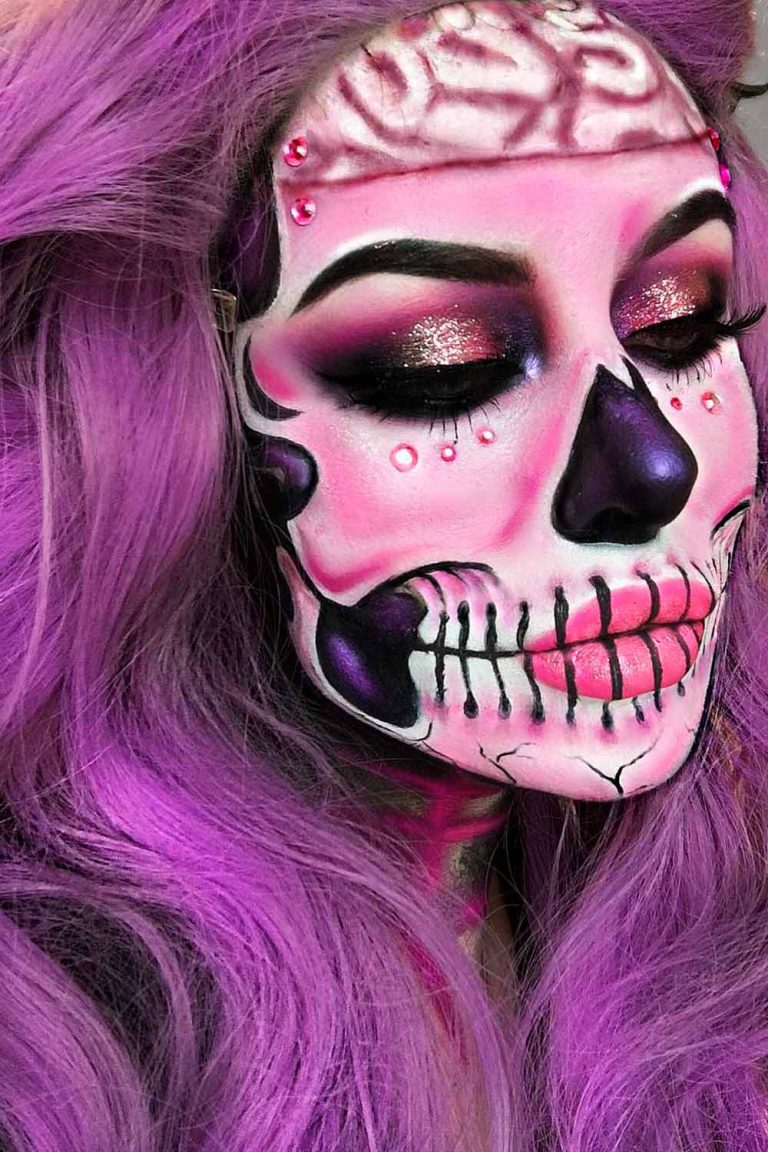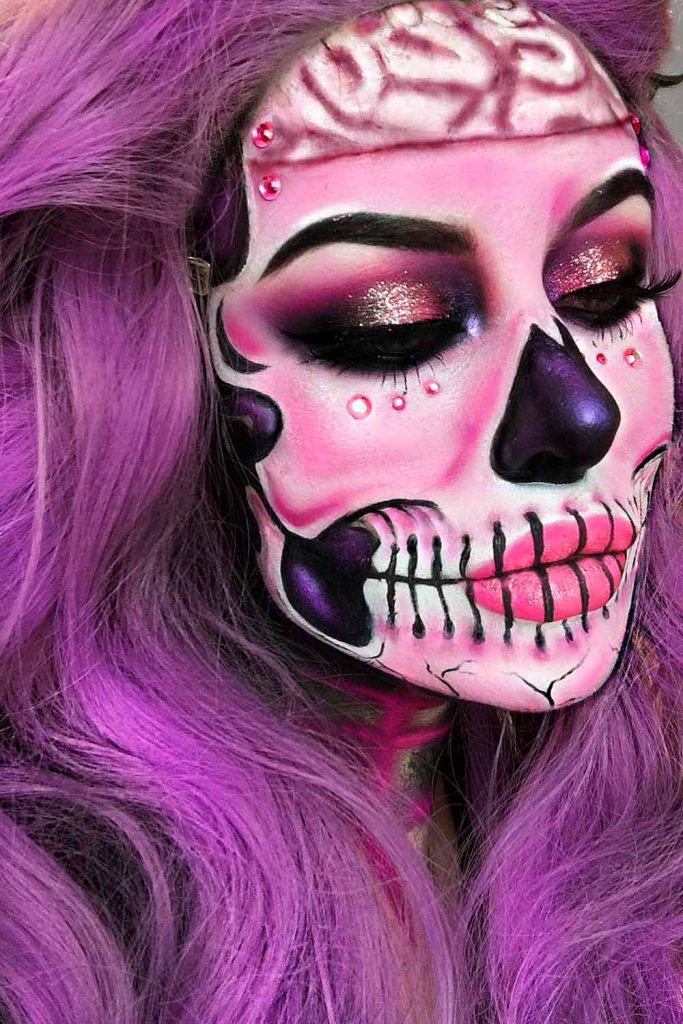 Source: kerri54 via Instagram
If you're one of the daring ladies who find sugar skull looks to be inspiring, you can customize it in the most creative way possible. And when you need to set your creativity into motion, nothing works better than bold, eye-catching hair colors! For example, the look may be finished with a floral accessory.
Sexy Spider Lady With Low Messy Ponytail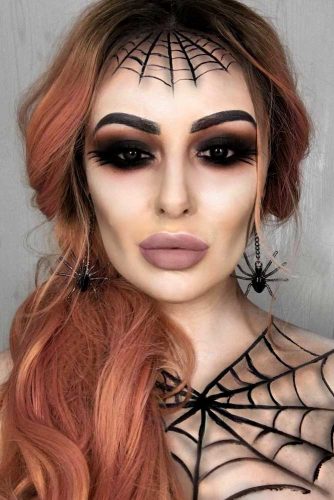 Source: kerri54 via Instagram
Sometimes the simplest Halloween hairstyles for long hair are the most suitable ideas, as you don't need your hair to draw attention from your unbelievable sexy look. A low messy ponytail, where the crown is slightly pulled and tousled, is a nice way to complement an eye-catching look.
Perfect Gray Violet Haired Halloween Witch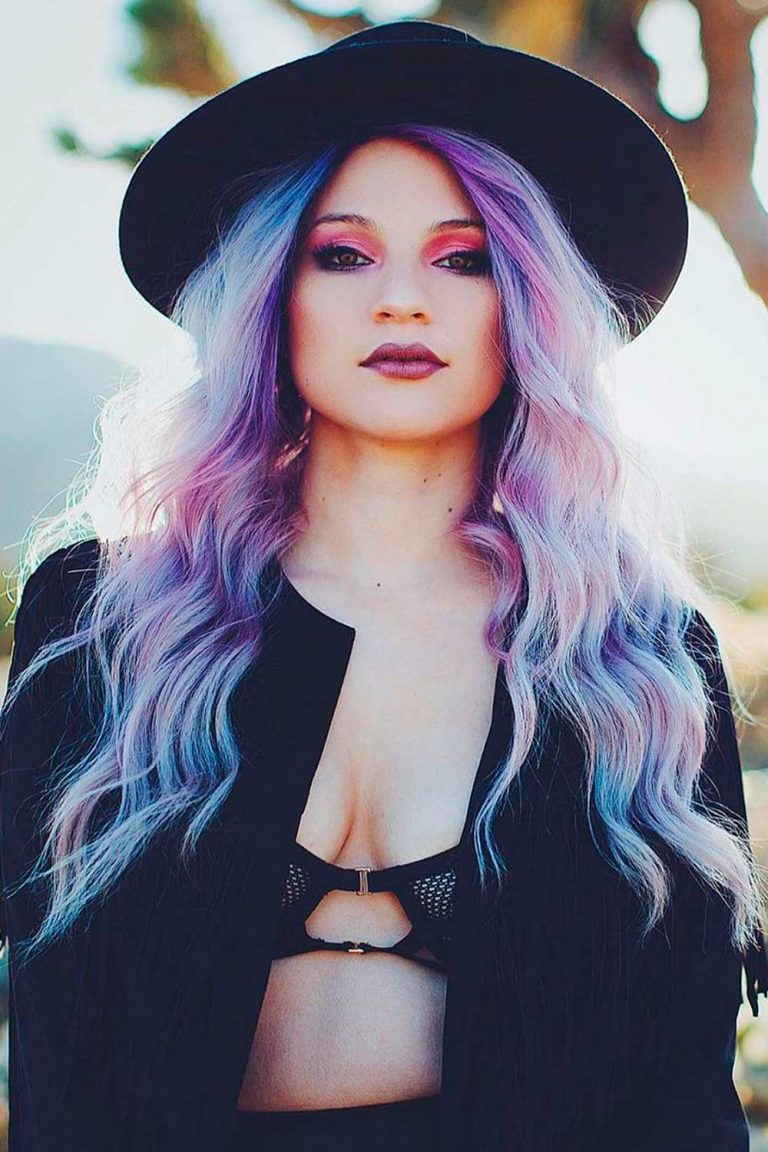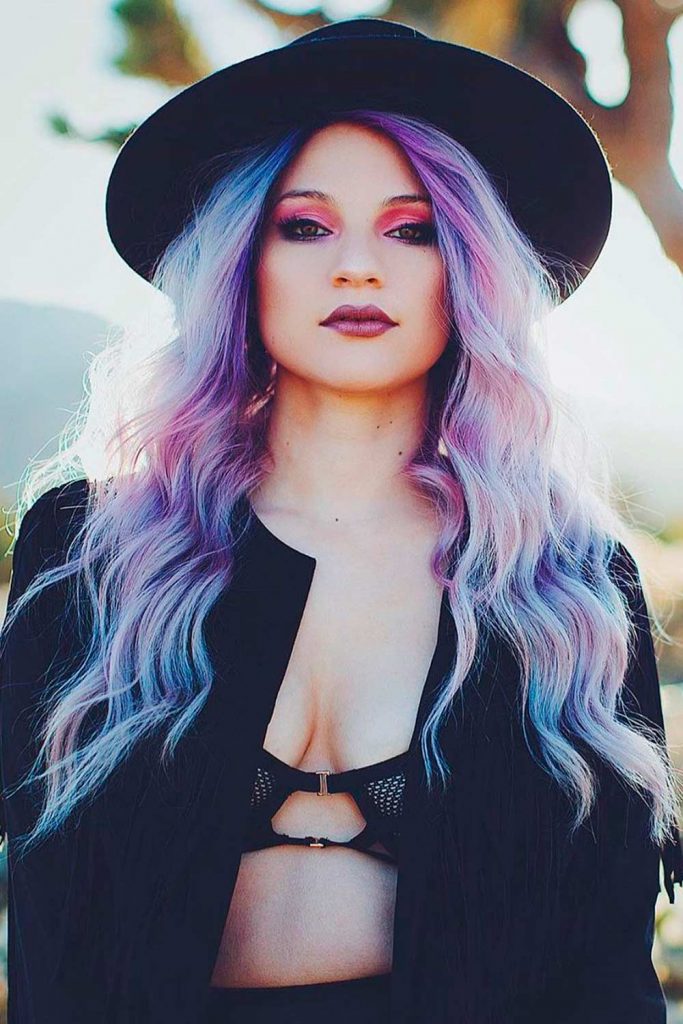 Source: hairgod_zito via Instagram
Blue-Violet-Copper Haired Halloween Witch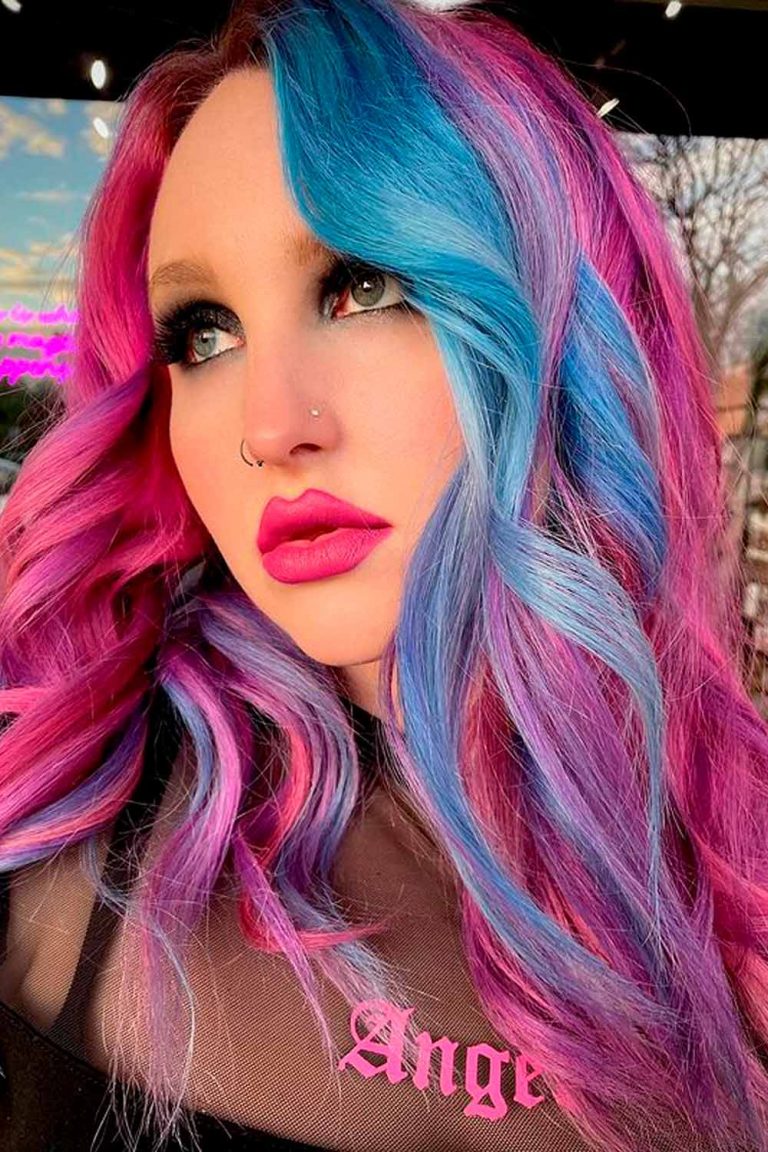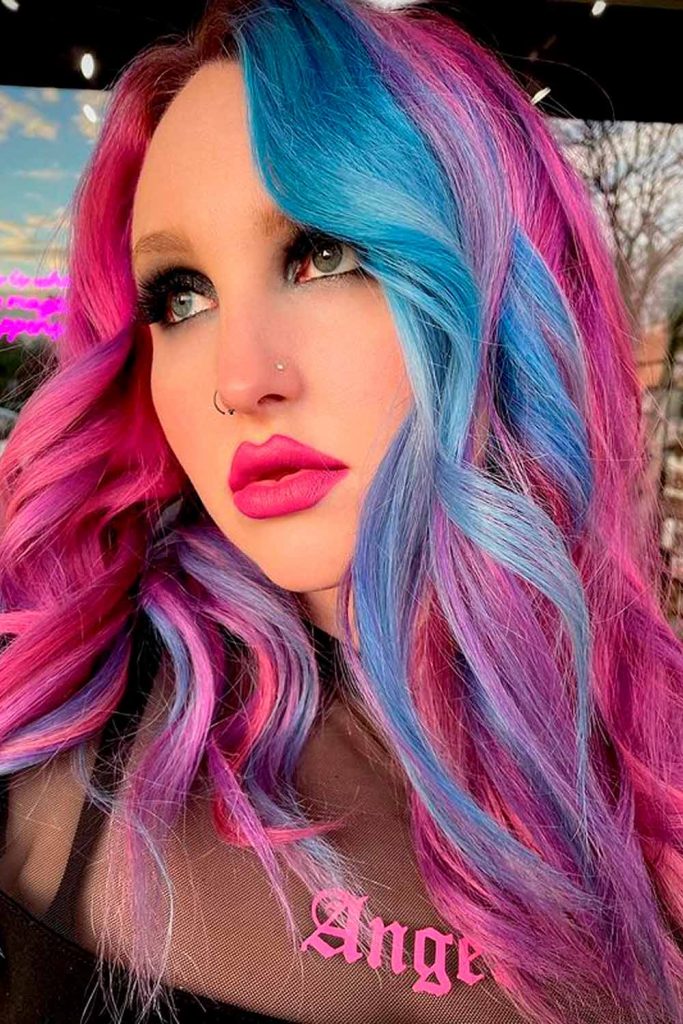 Source: xostylistxo via Instagram
Want your look to be all about sweet and girly, yet mysterious angel charm? Don't forget to get some temporary hair chalks, then. All Halloween hairstyles for long hair aim to stand out, and the burst of space colors is crucial for such a look. Mix your favorite pink and blue galactic shades and leave your hair fall freely on your shoulders.
Blue Ombre Twisted Ponytail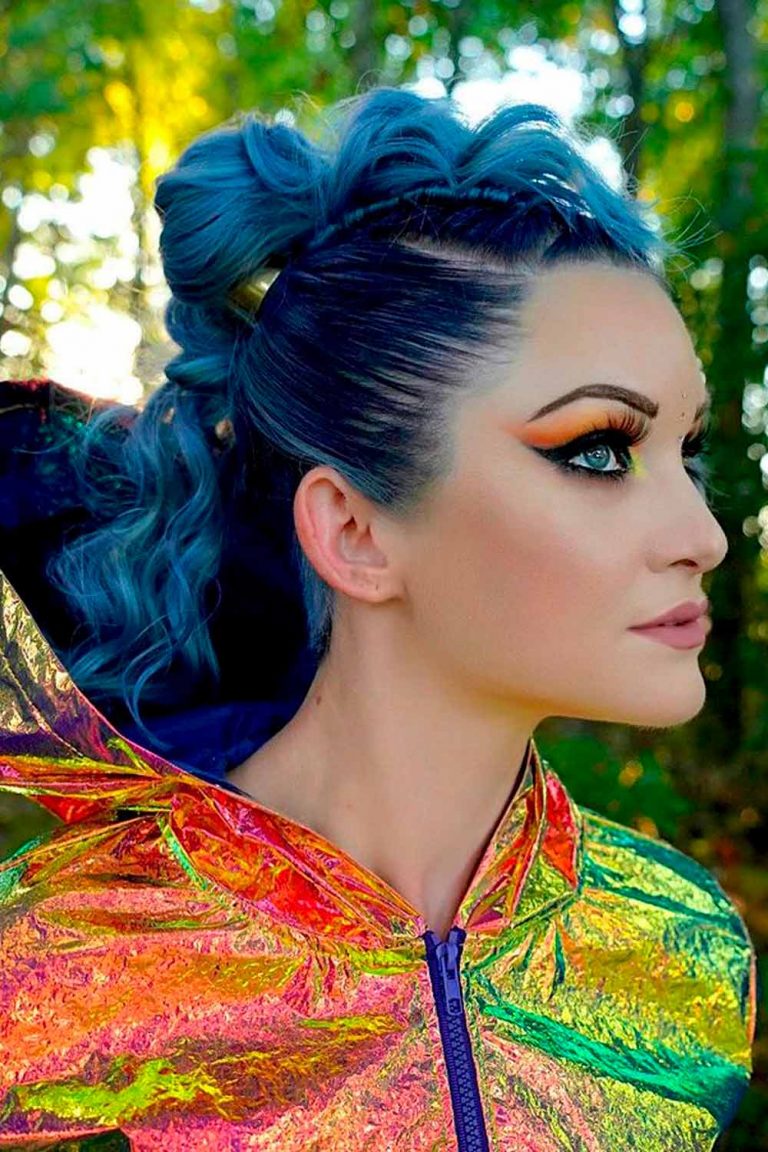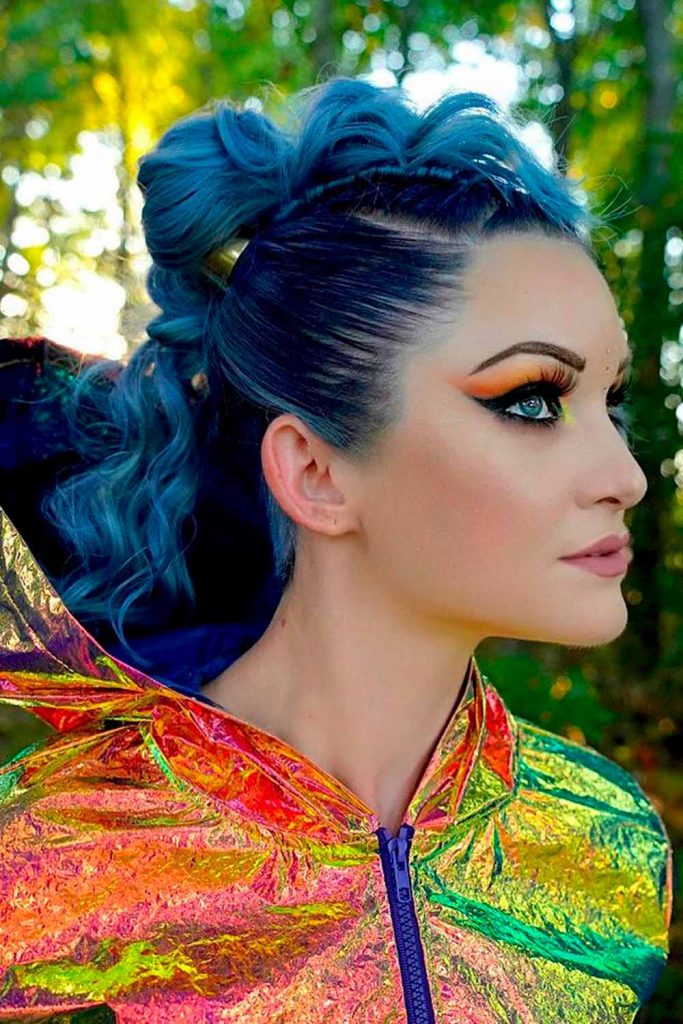 Source: xostylistxo via Instagram
Toothy & Pinned Halloween Edgy Braids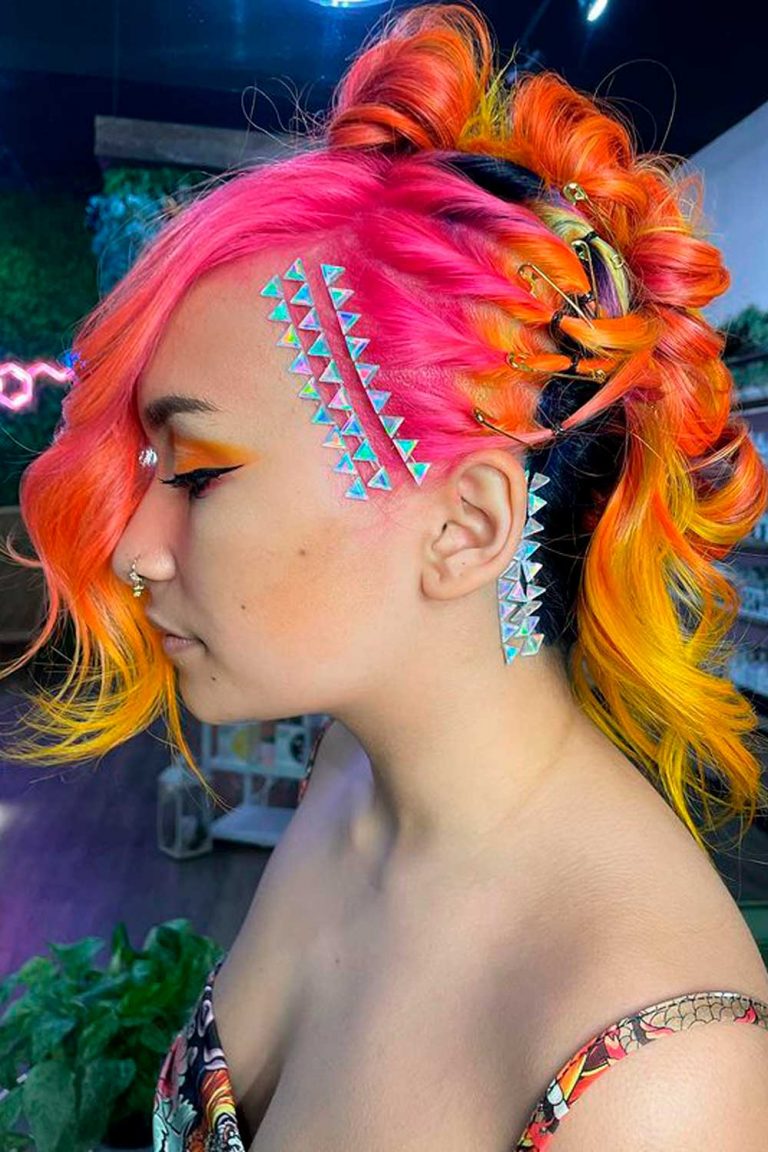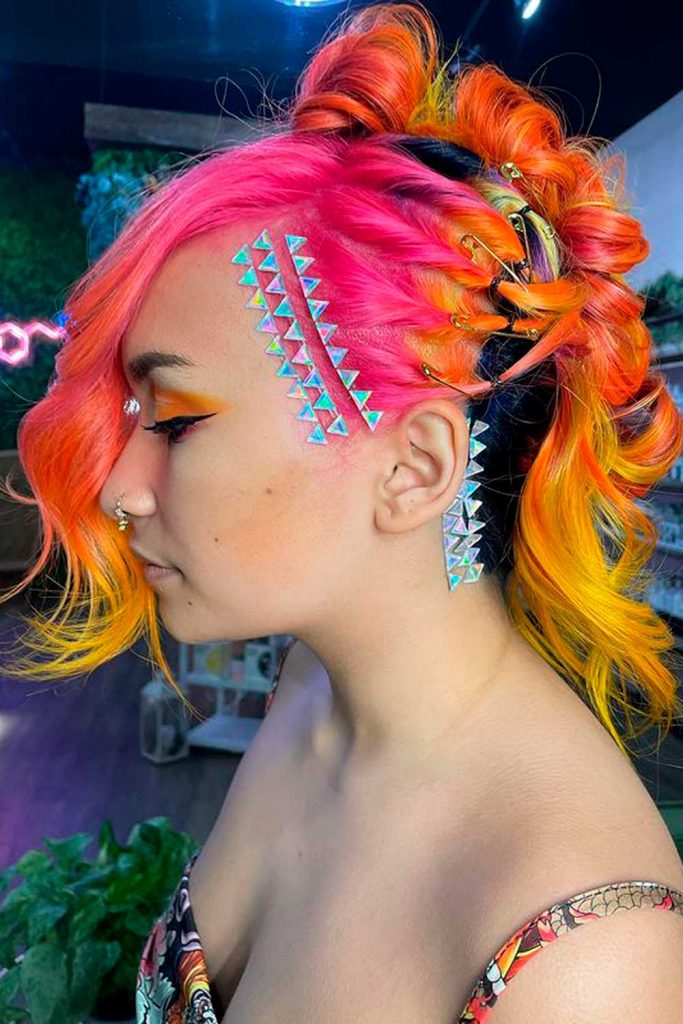 Source: xostylistxo via Instagram
Half-Up Braided Naughty Halloween Ponytails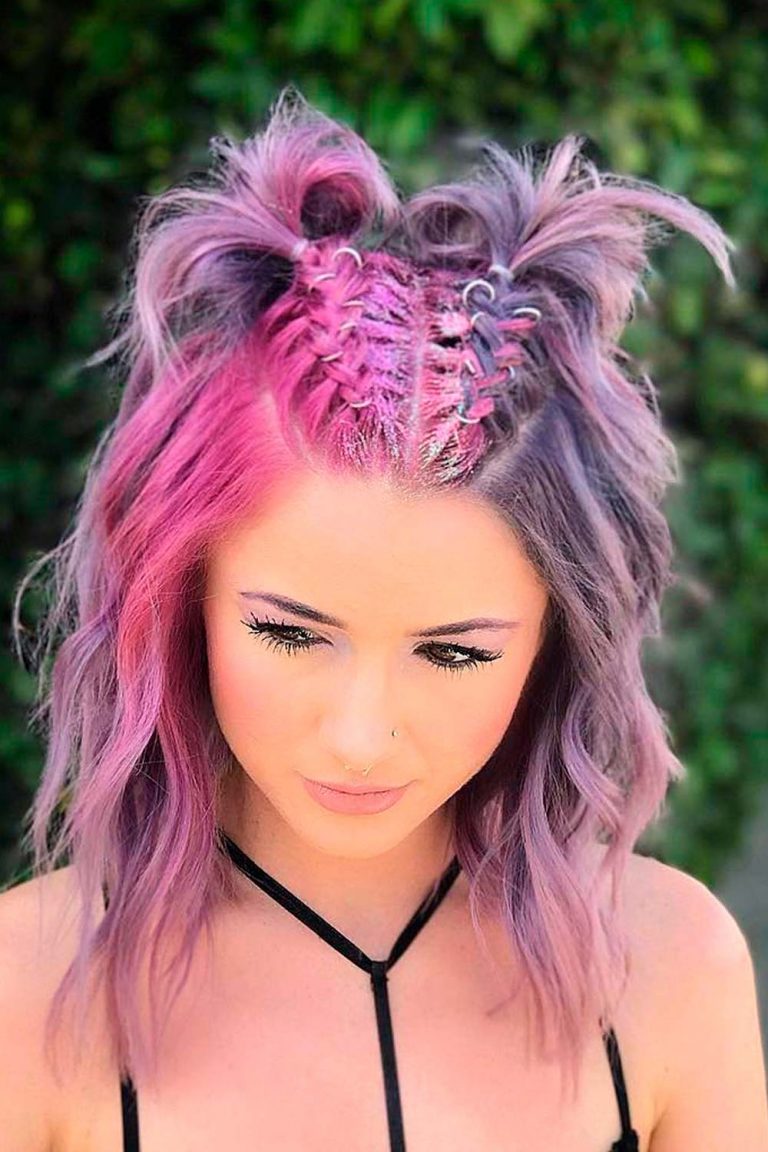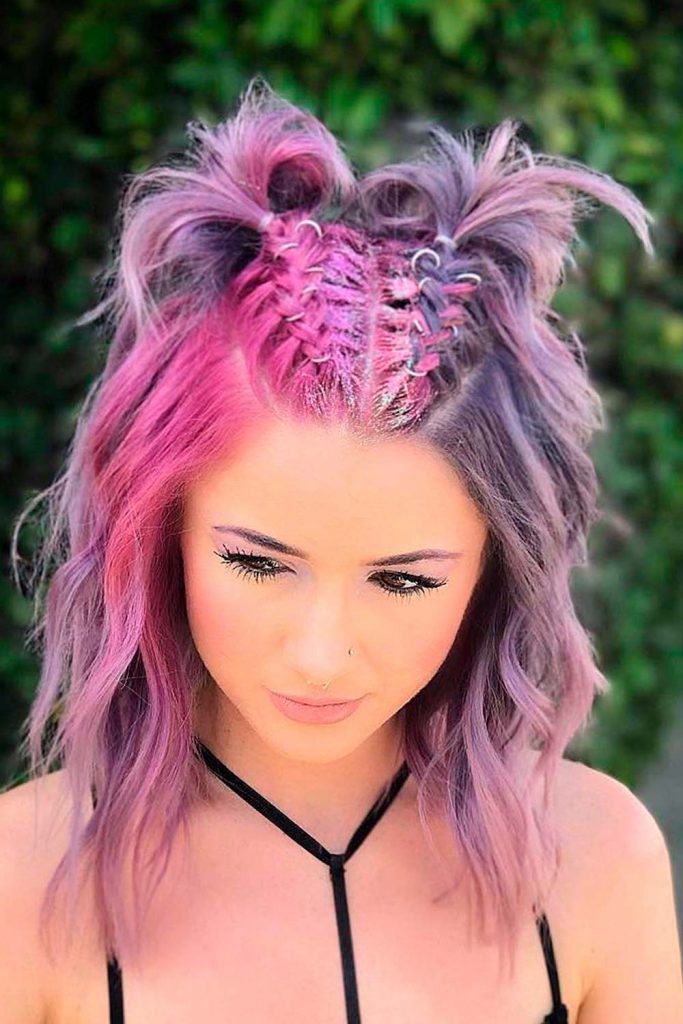 Source: hairgod_zito via Instagram
Skull Makeup With Messy Space Buns
Source: cheyniem via Instagram
Double space buns can be different, as well as they can fit many looks and makeup ideas. Most girls pair their skull makeups with loose long hair and heavy accessories, while you can differ from them by making your own hair be an embellishment. Aren't these big messy twists worth a try?
Half-Up Half-Down Braided Hairstyle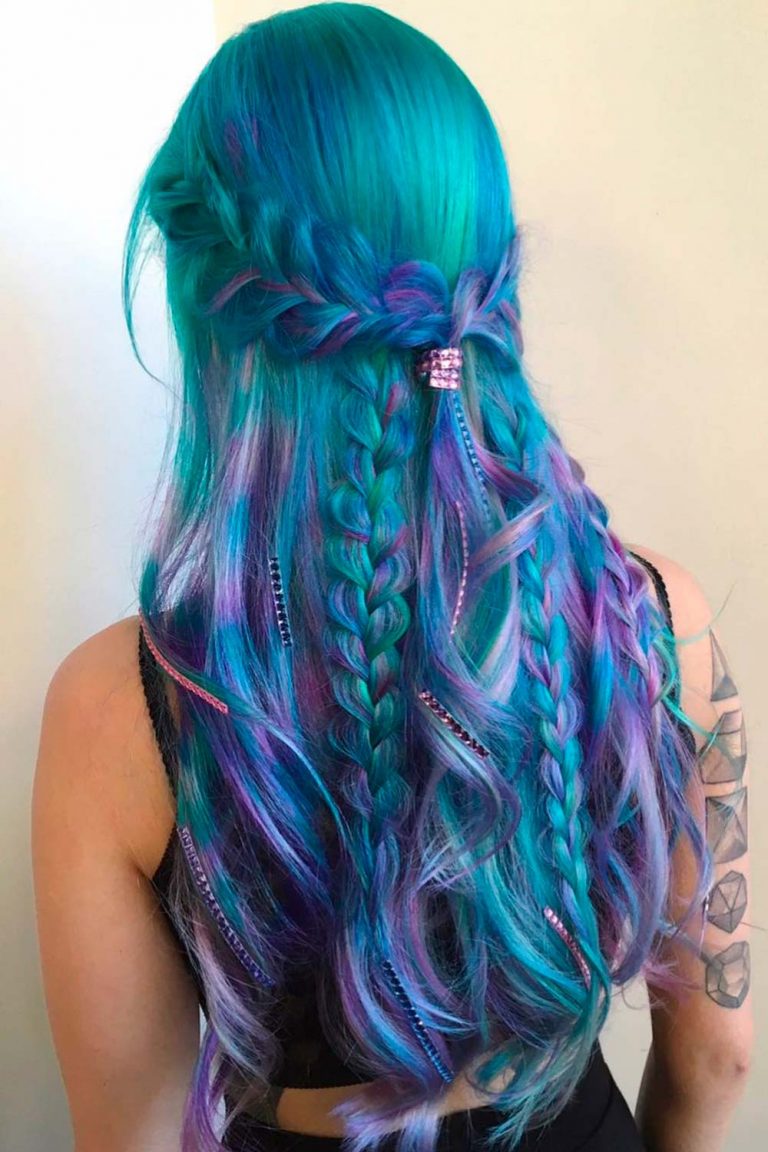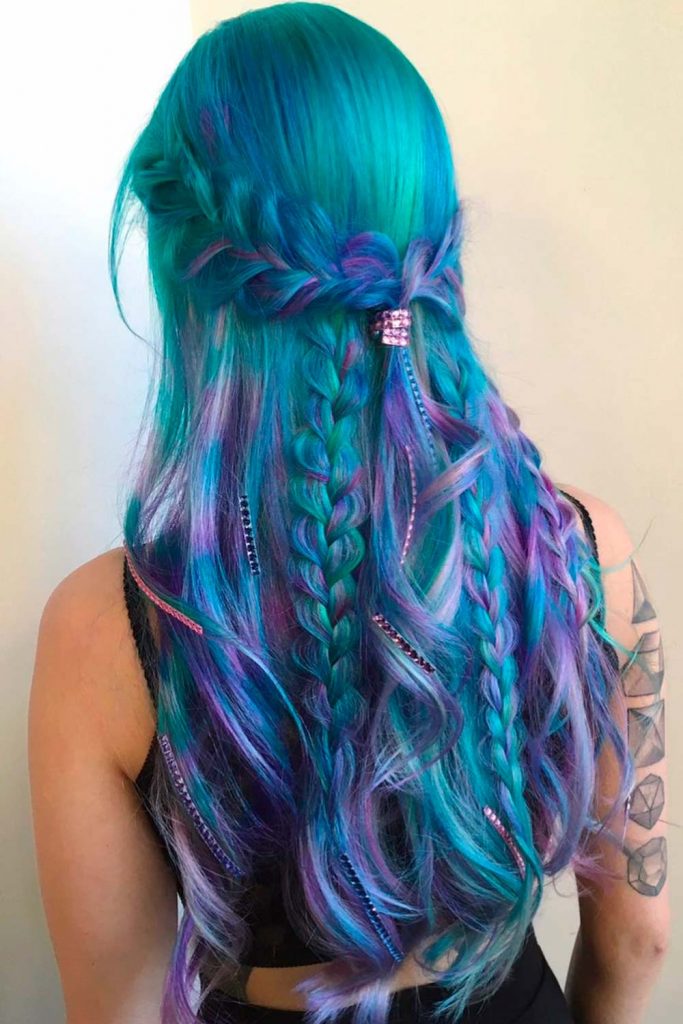 Source: xostylistxo via Instagram
Love this ultra feminine half-up half-down hairstyle made with thick and tiny braids nicely attracting public attention? It's also the mesmerizing and enigmitac combination of bold blue, violet lilac and greenish hues that makes it so lovely. To emphasize the sexuality of the look, finish it with tiny "snakeskinned" ribbons embedded in braids. Yes, simple Halloween hairstyles for long hair don't stop impressing up.
Blueish Violet Halloween Dutch Braid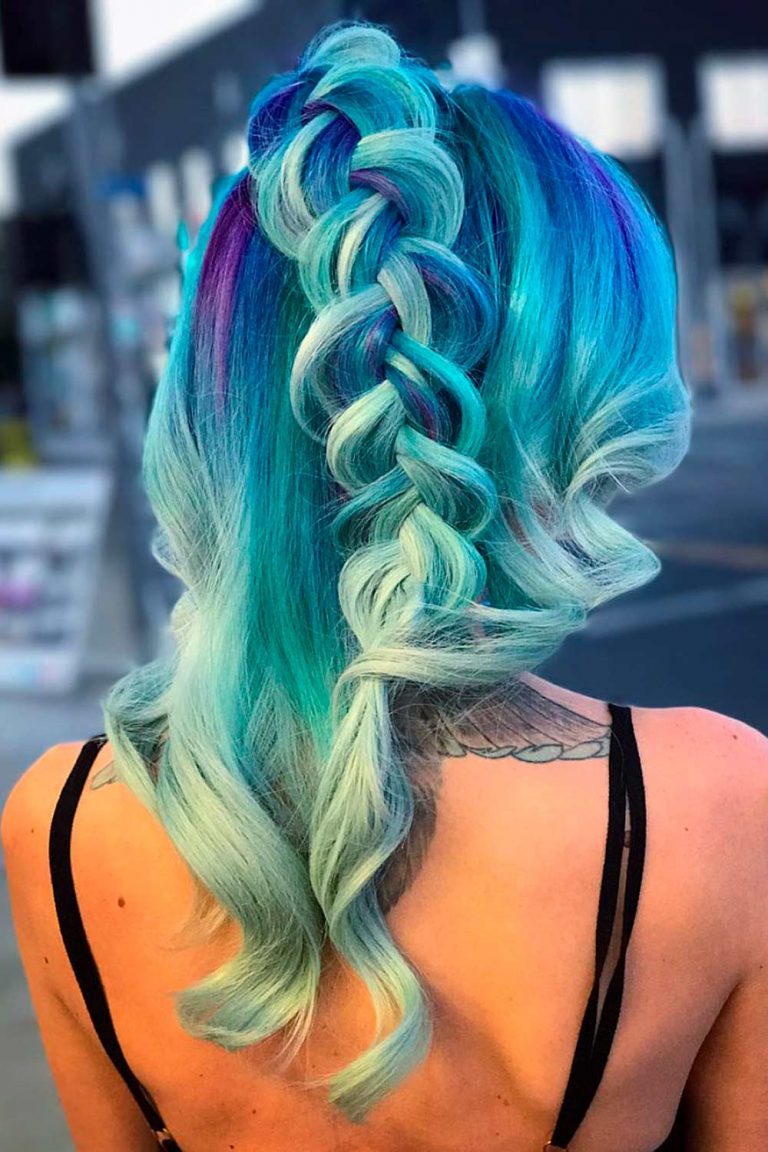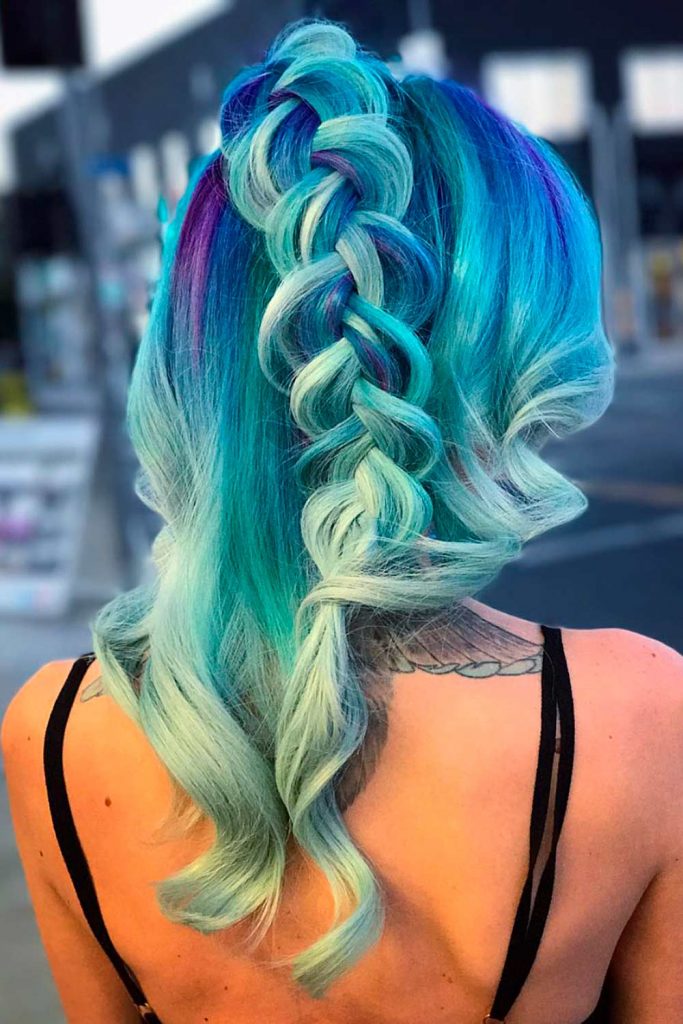 Source: hairgod_zito via Instagram
When your Halloween makeup and outfit are complete, don't forget about the finishing hairstyle: this simple, yet super authentic dutch braid made with smoky blue hair will perfectly complete your Halloween look.
Blueish Green Forest Princess Braid
Source: hairgod_zito via Instagram
Halloween Bow With Rose Hair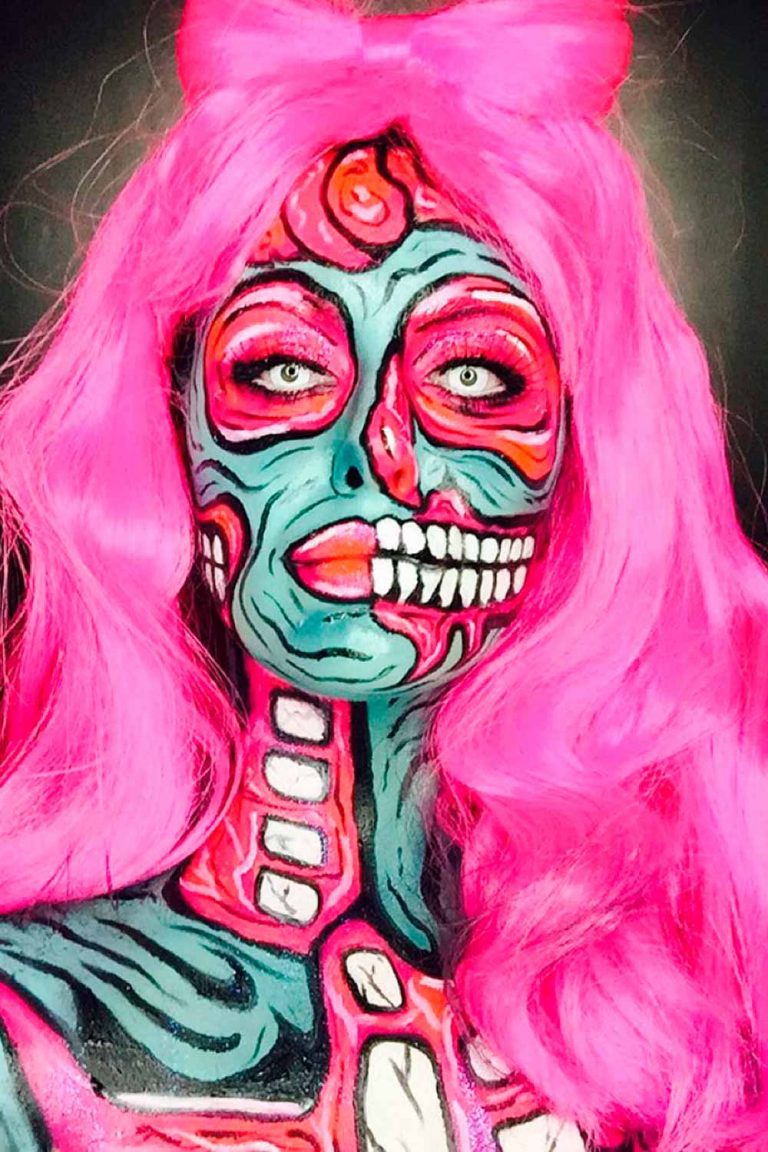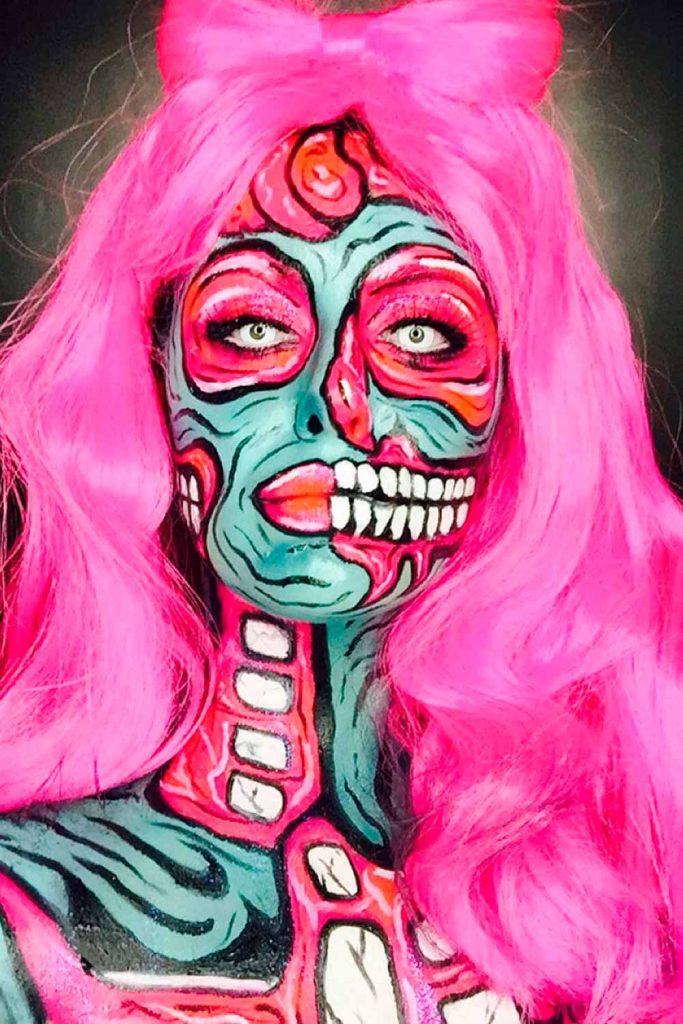 Source: kerri54 via Instagram
Halloween looks are mostly about blood, so no wonder that some ladies would like to devote them to the color of fear and passion. Add more bold pinkish colors to your makeup, spicing it up with some drops of fake blood. Also, you can accessorize your long bold pink hair with bows and/or flowers: it will look creepy and charming at once.
Superblond Pastel Halloween Locks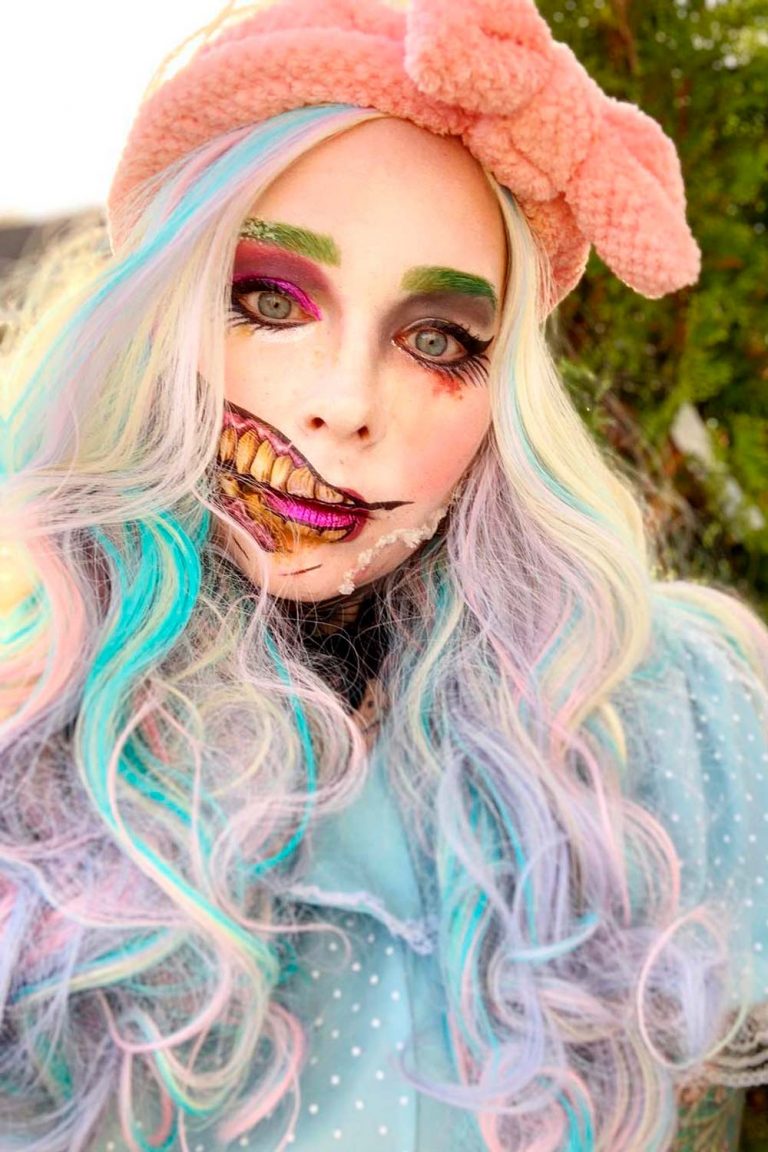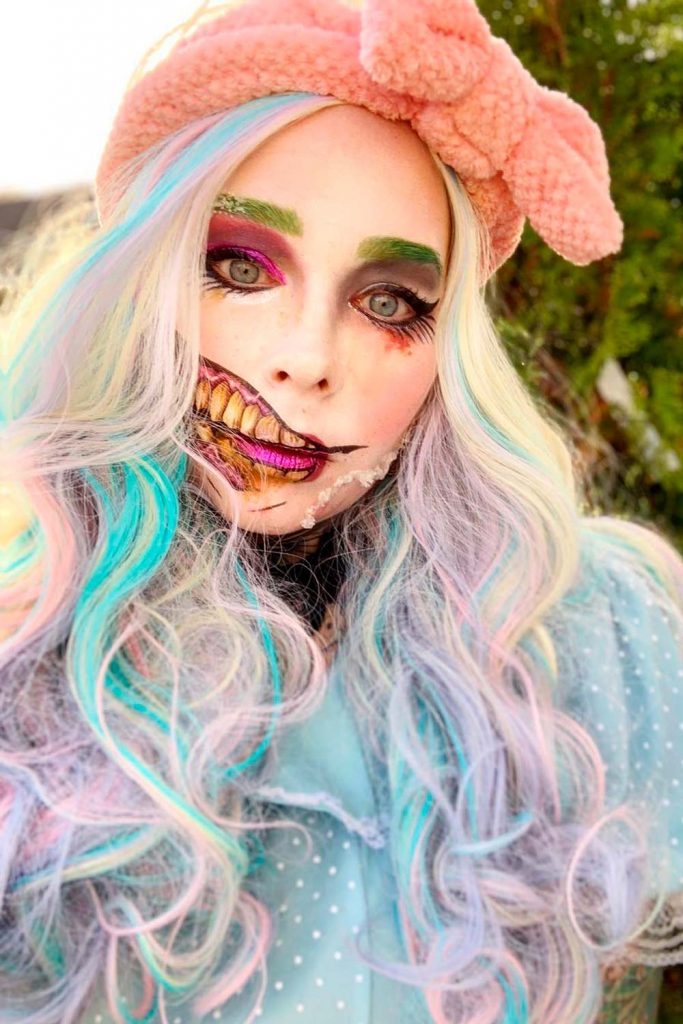 Source: xostylistxo via Instagram
How do you like the idea of becoming a mythical creature for just one day? There's only one rule for creating your own Halloween looks: there are no rules. It also can be a fantastic combo of a real and mythical character; it's all up to you. As for your hairstyle, keep it easy, yet significant: voluminous white hair with neon blue and pink highlights is a nice example.
Queen Of Horror With Long Fire Crow Feathers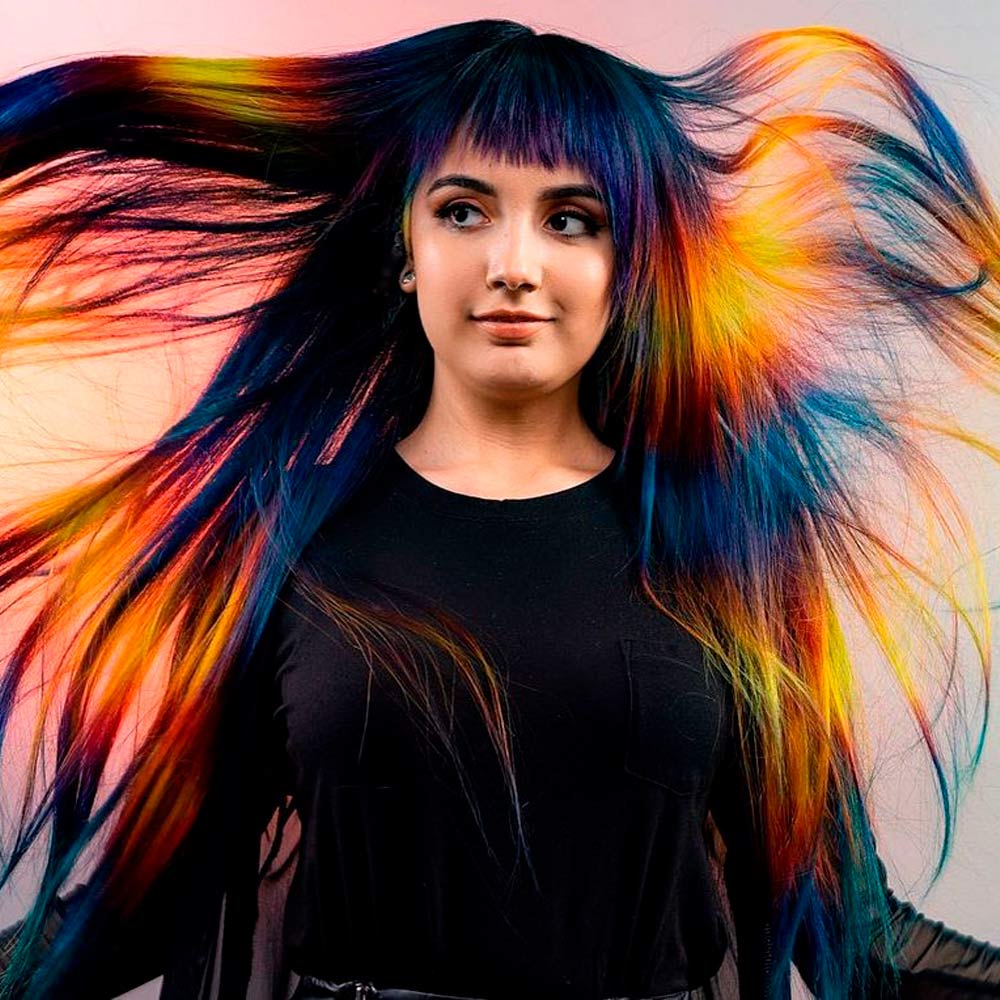 Source: hairgod_zito via Instagram
Nothing works better for truly scary looks than Halloween hairstyles for long raven black hair with fiery red and navy blue highlights. If the cute side of this evening doesn't appeal to you, you can go for something more dramatic than cat, unicorn, and clown ideas. This look is the best way to challenge all those pretty girls!
Creepy Witch With Long Blueish Gray Hair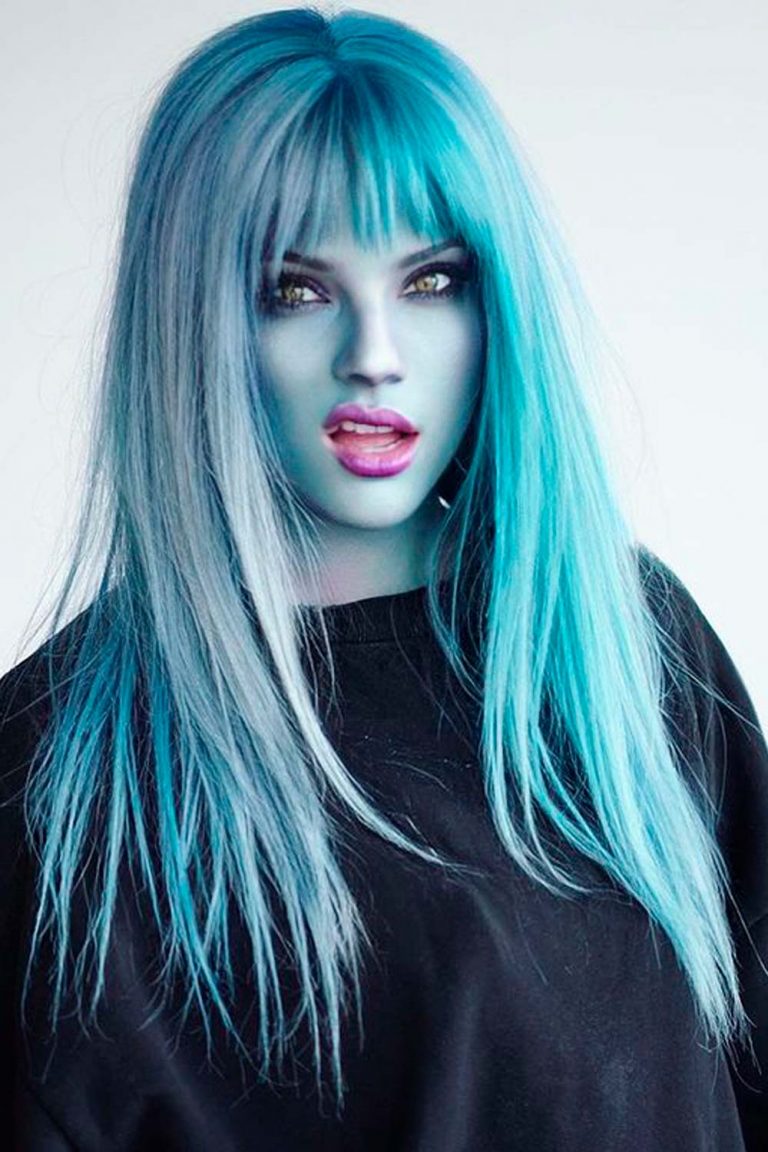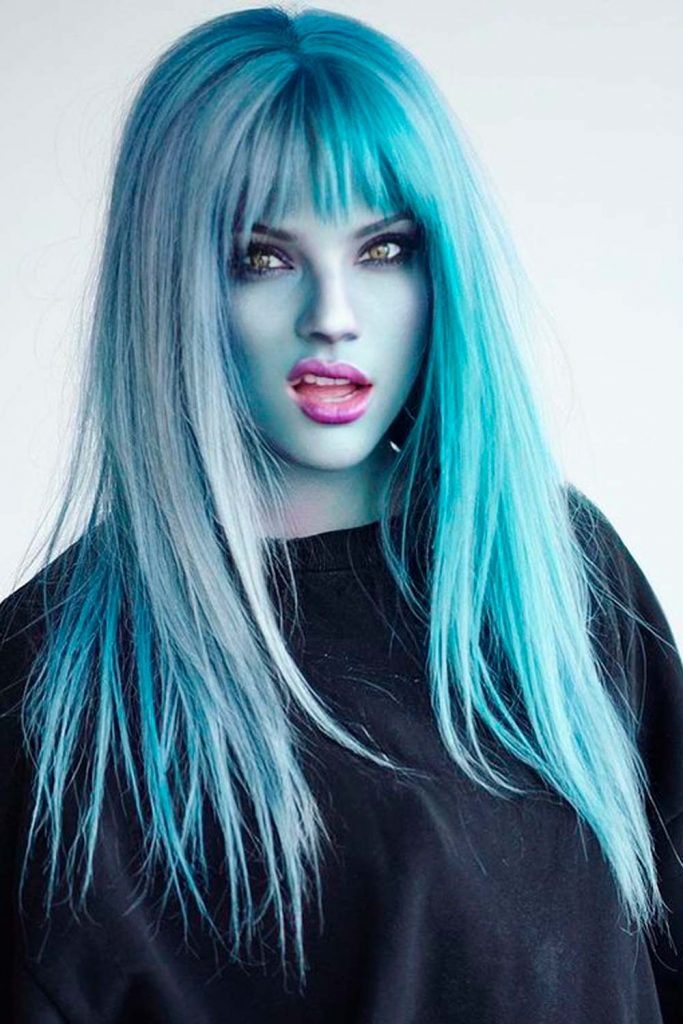 Source: hairgod_zito via Instagram
Not all the witches wear torn clothes and ride on the bloom; some witches can put a spell on you with just one fascinating, stylish glance. Those who go for creepy looks with lots of dark colors in their eye makeups should give blueish silver hair a shot: it will nicely accentuate your cold witchy mood.
Violet Blue Red Mystification With Wreath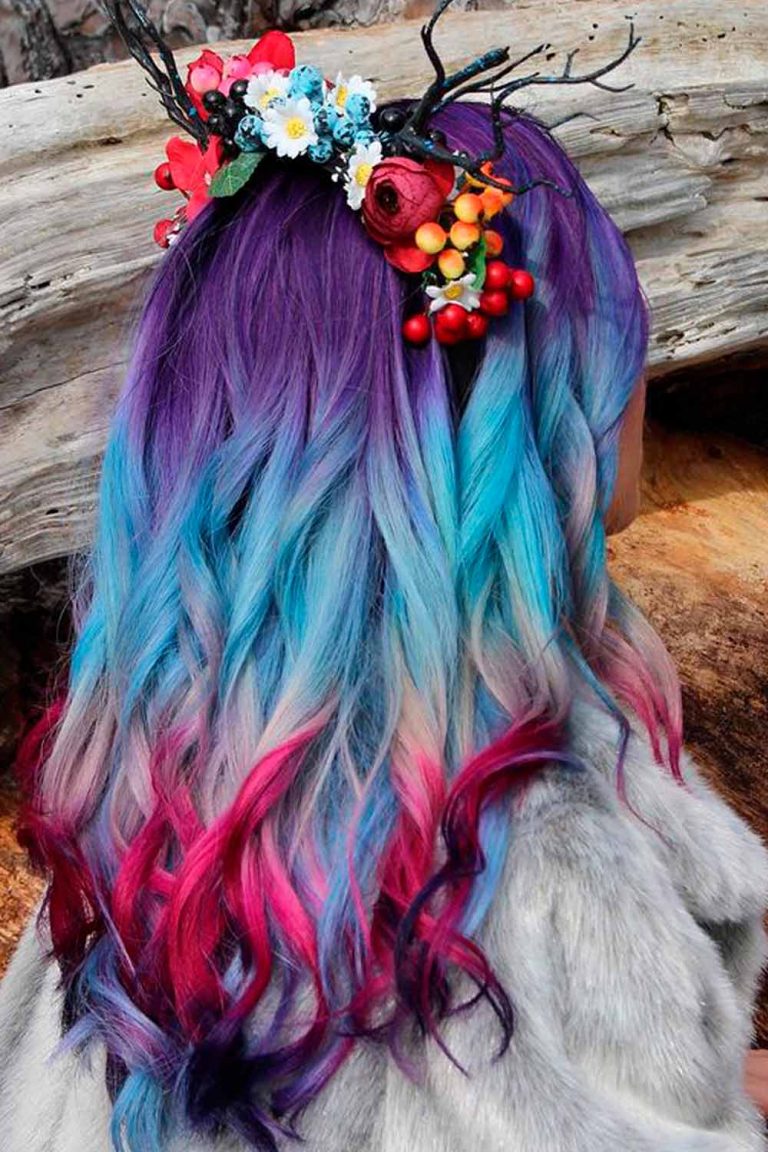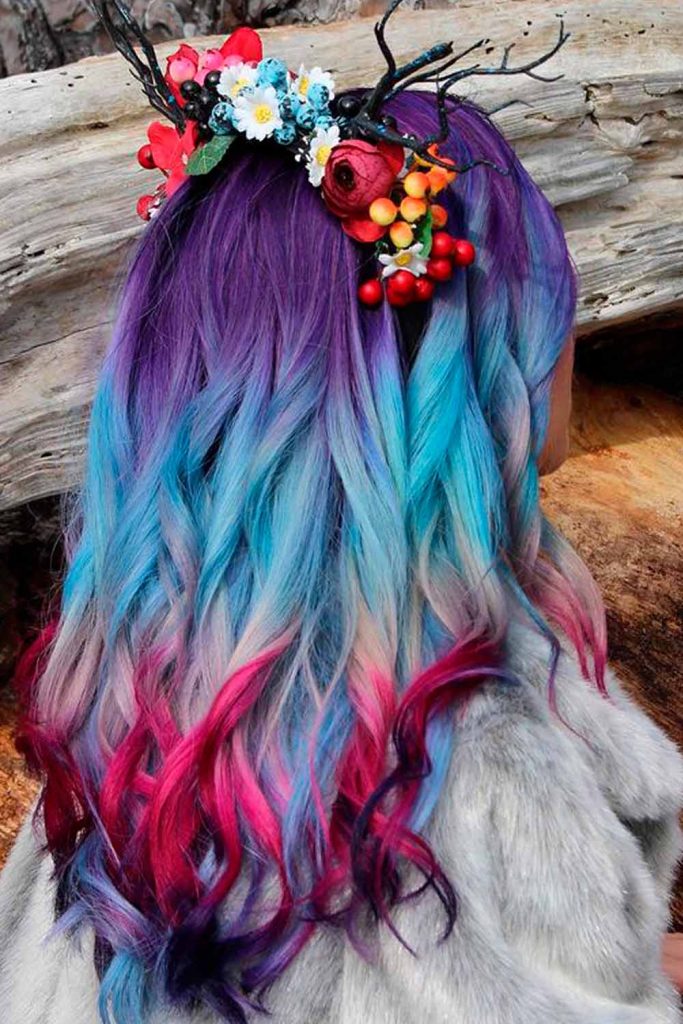 Source: themanemichael via Instagram
Nobody has a clear picture of how the goddess of autumn, forests, and dryads look like, so why don't you let your inner goddess run the party and show her real face to everyone? Seriously, no one has ever seen a divine woman with a blue red updo with wreath, so no one can prove it's not an authentic look. Besides, the way blue and violet hair accentuates the wreath made with forest flowers, branches and berries is indeed something sent from above.
Black & Green Dreamy Halloween Mullet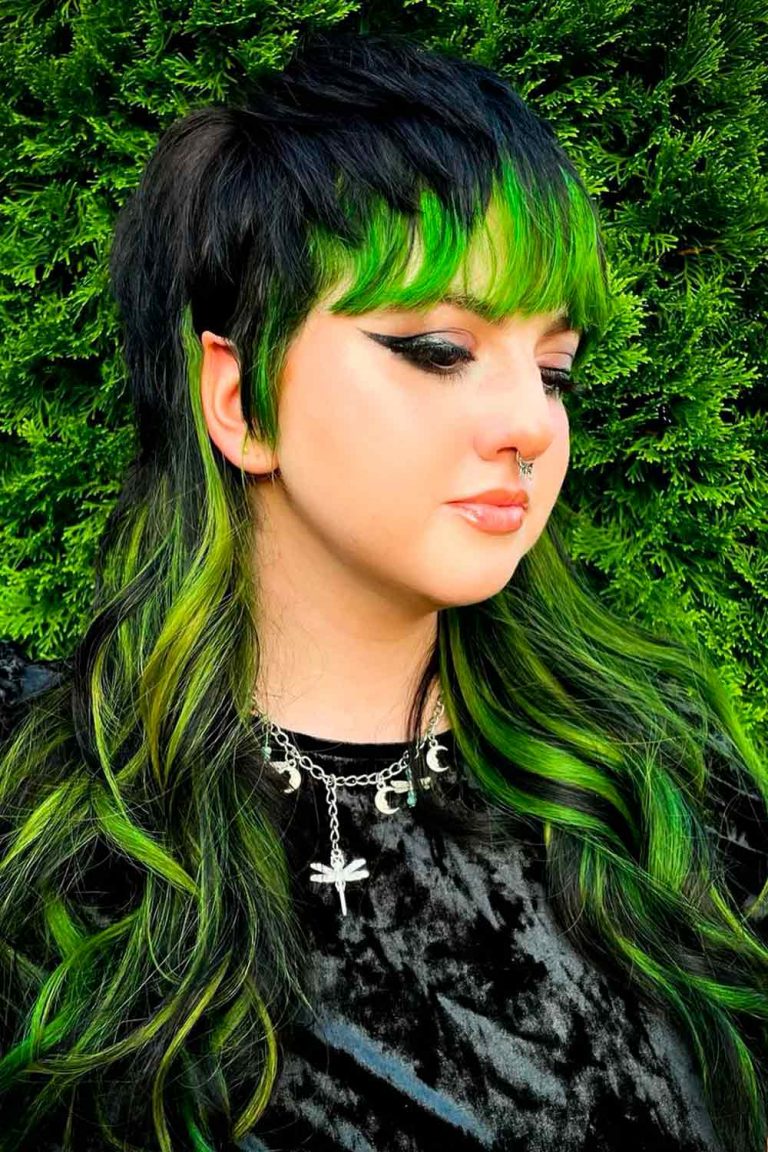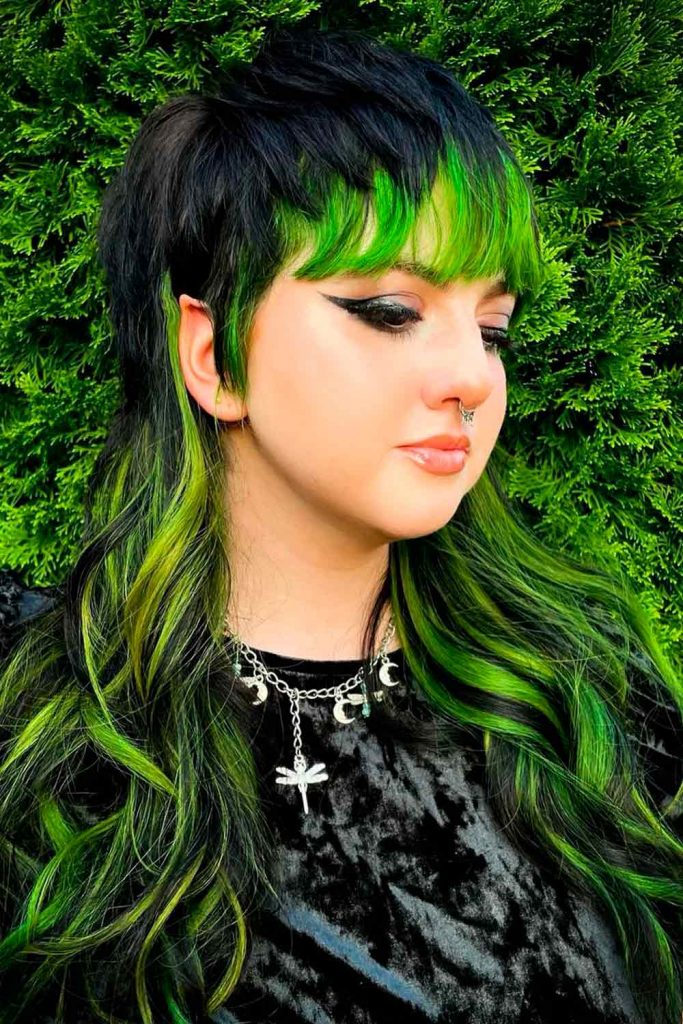 Source: xostylistxo via Instagram
This creative and daring mullet hairstyle made with long black wavy hair and bold green highlights will definitely show all the Halloween witches who's boss, changing the common image of a helpless girl to a strikingly stylish and bold lady. Pay attention to how the green tips of the bangs make you look a bit like an alien creature (the very thing for Halloween!).
Golden Girl With Updo Headband Braid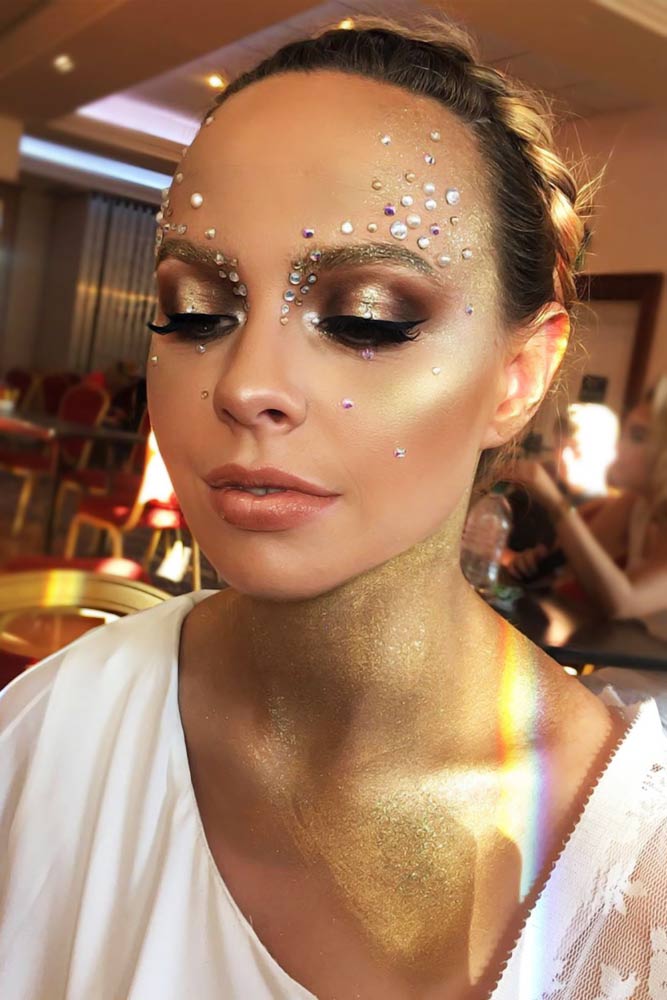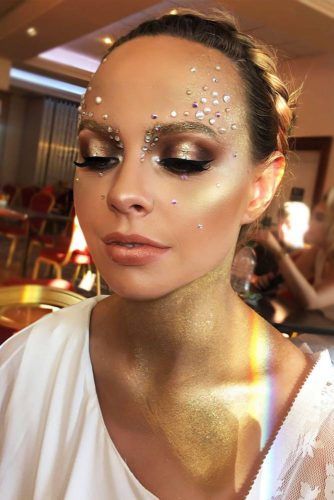 Source: kerri54 via Instagram
Some girls leave people speechless with their scary Halloween looks; others let their beauty do the talking. What can compare to a feminine character with lots of glitters and highlights enhancing her beauty? Finish the shiny makeup with a headband braid so that everyone can see the magical vibe of your Halloween look.
Blueish Green Fanged Fringe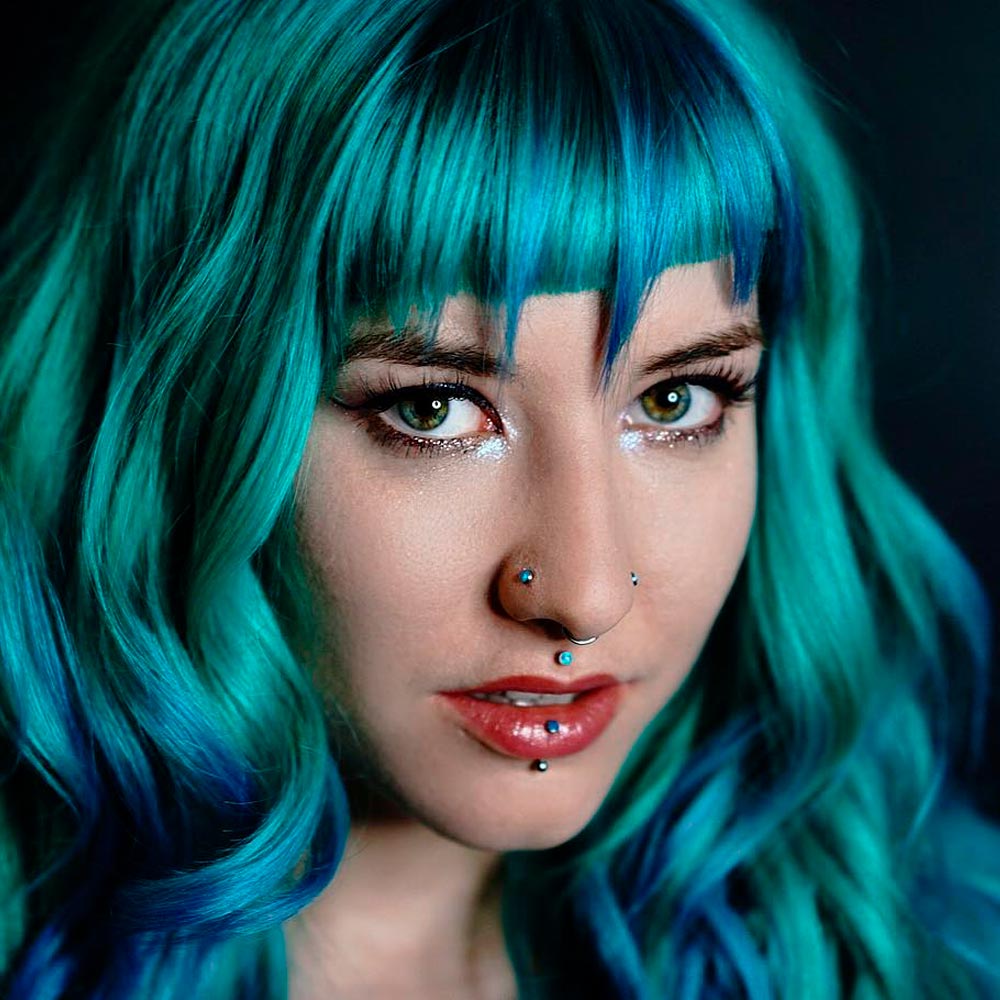 Source: hairgod_zito via Instagram
Blue Violet Inky Messy Halloween Feathers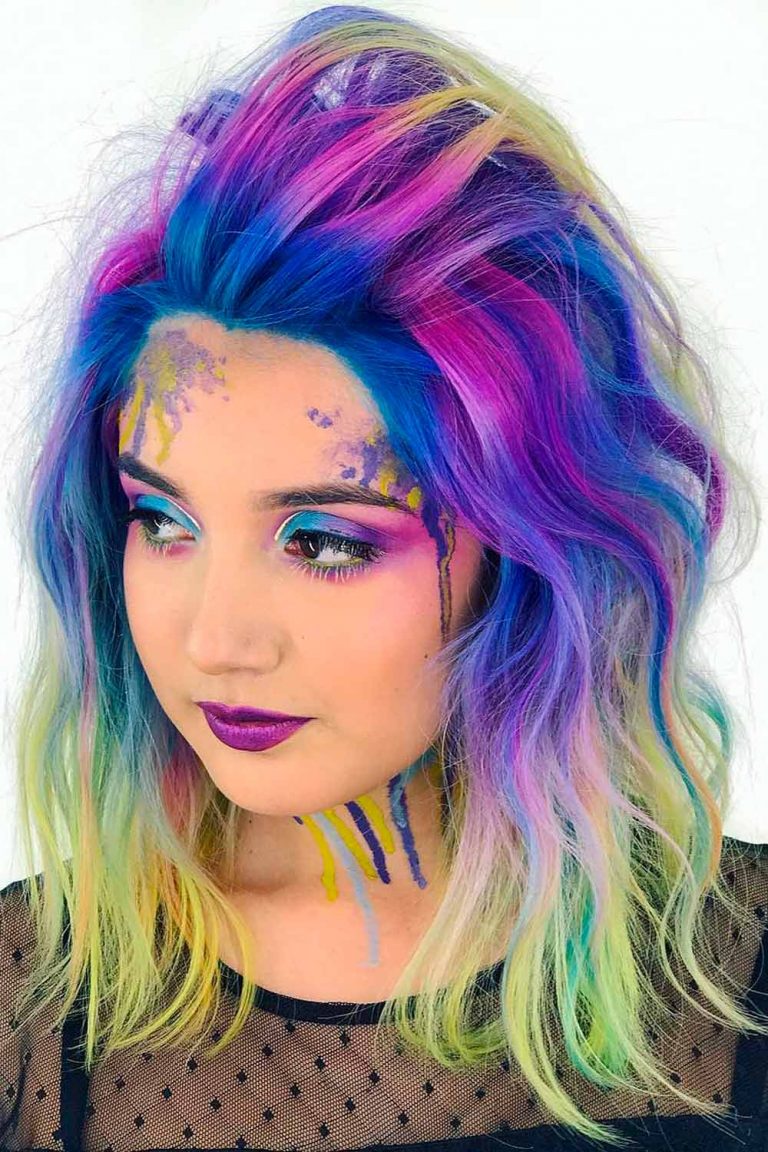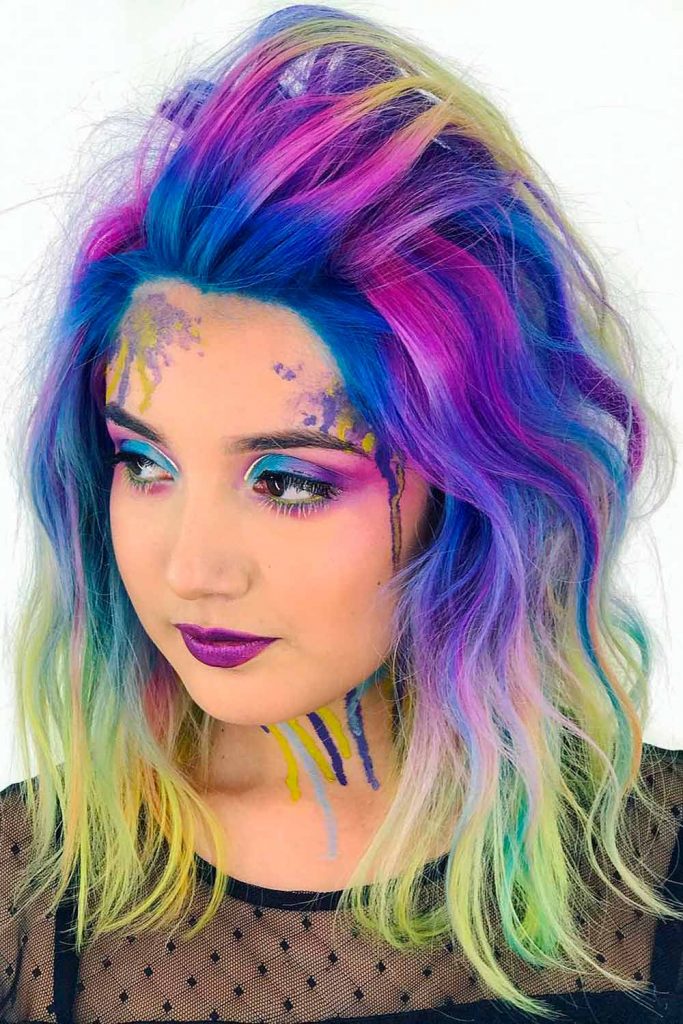 Source: hairgod_zito via Instagram
Every Halloween party needs a hero, and it seems like no one but you can handle it! The ideal Wonder Woman can't do without the right hairstyle. Speaking of which: a faux-hawk styled messy hair with bold blue & lilac "ink blot" ombre is exactly what you need to recreate the Halloween hero-look.
Devil Look With Greenish Halloween Locks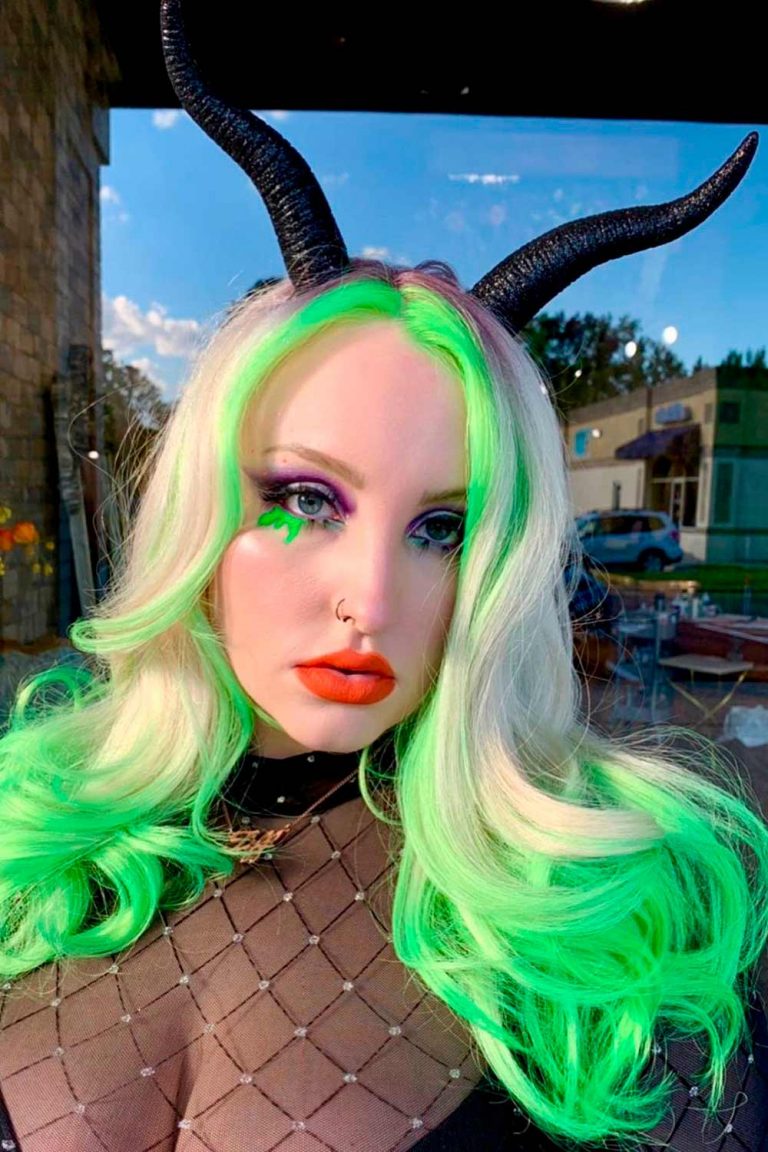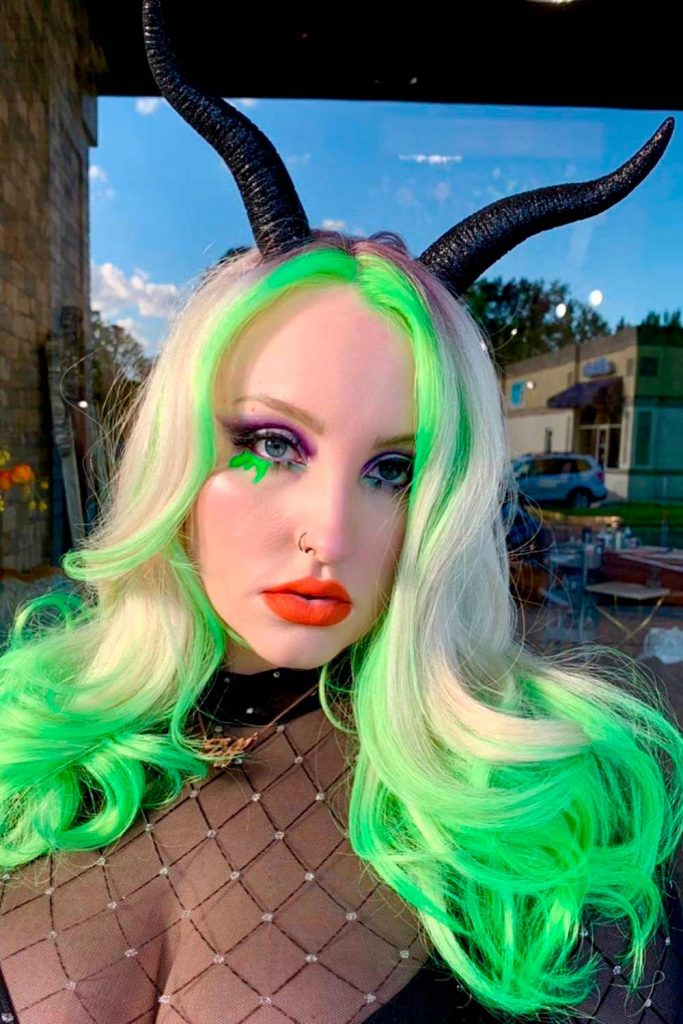 Source: xostylistxo via Instagram
Source: themanemichael Instagram
Vamp Look With Yellow-Orange-Black Locks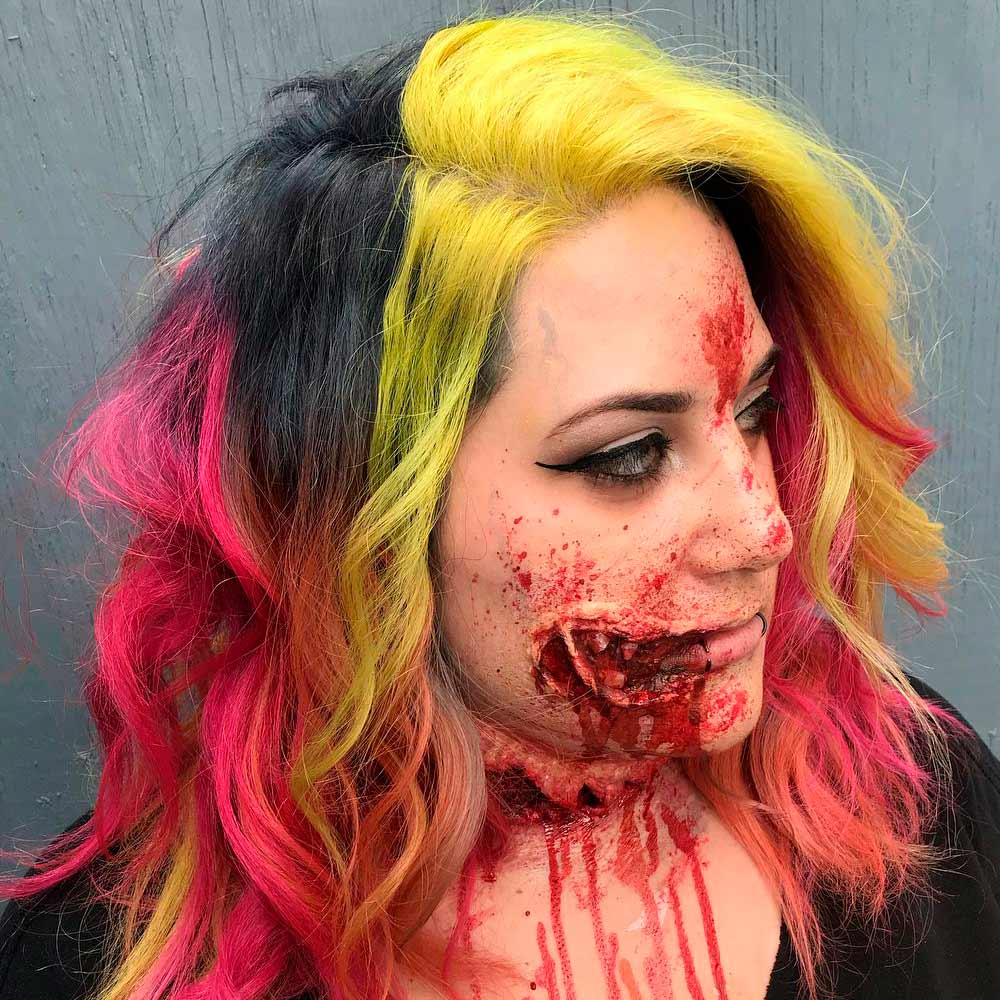 Source: xostylistxo via Instagram
Before drinking their blood out, let their eyes behold the latest trends. How do you like this combination of bold yellow and crimson red hues from the 50s' and the latest color of now for a lady vamp look?
Pixie Elf Style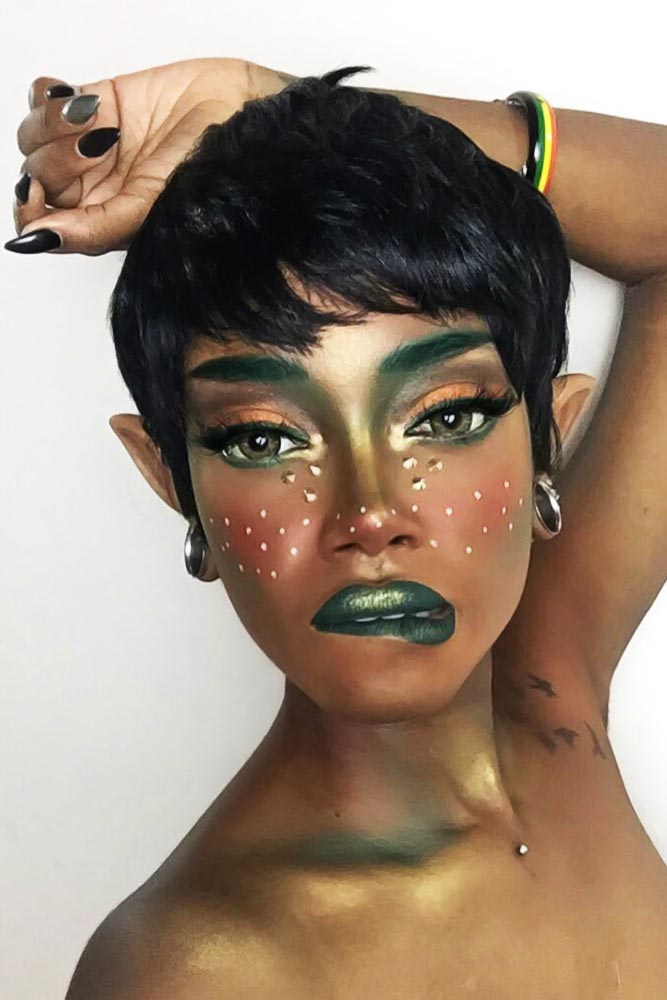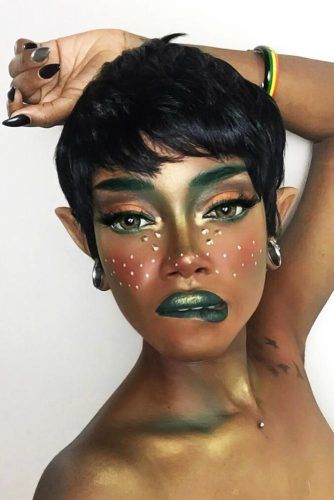 Source: bambiix2 via Instagram
A true Pixie character without a pixie cut is a look wasted! No wonder that the most popular haircut in the women's fashion is called this way: the cut does bring magical vibes. Bright, colorful makeup and a slightly tousled pixie hairstyle are all you need to turn yourself into a Peter Pan's best friend. And if you'd like to look more like an elf, pointed ears are the musts.
Lion Princess Halloween Look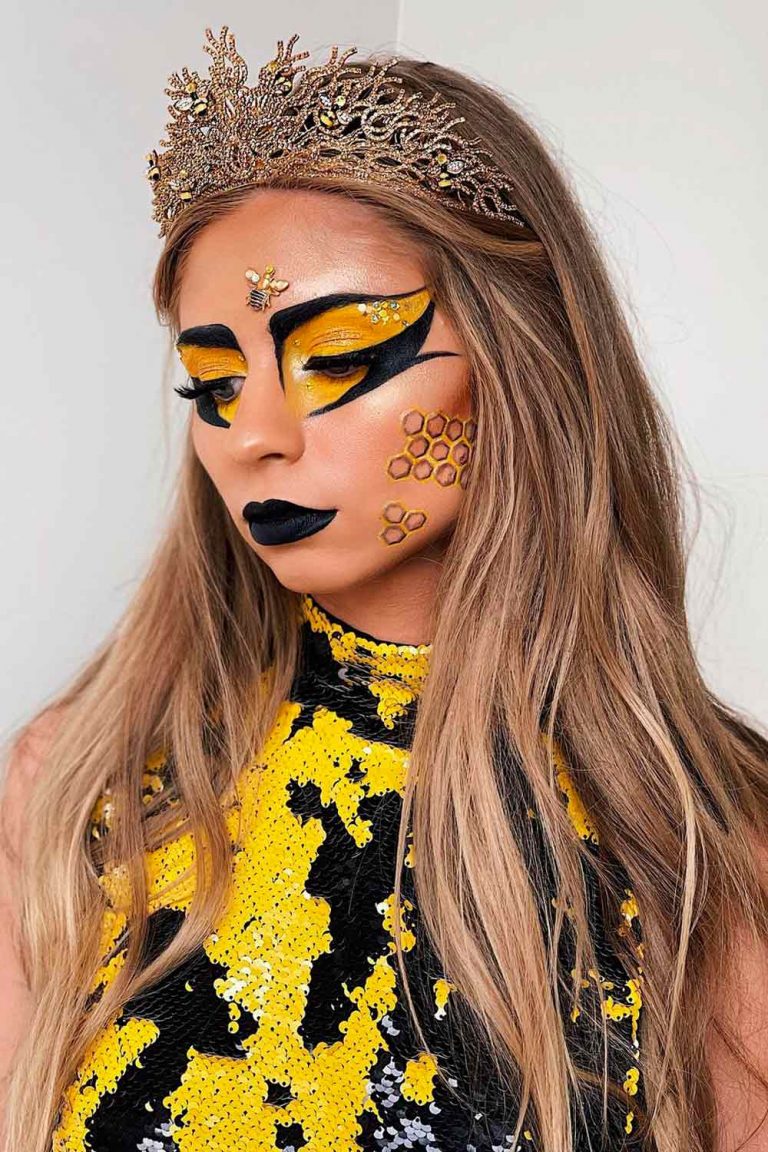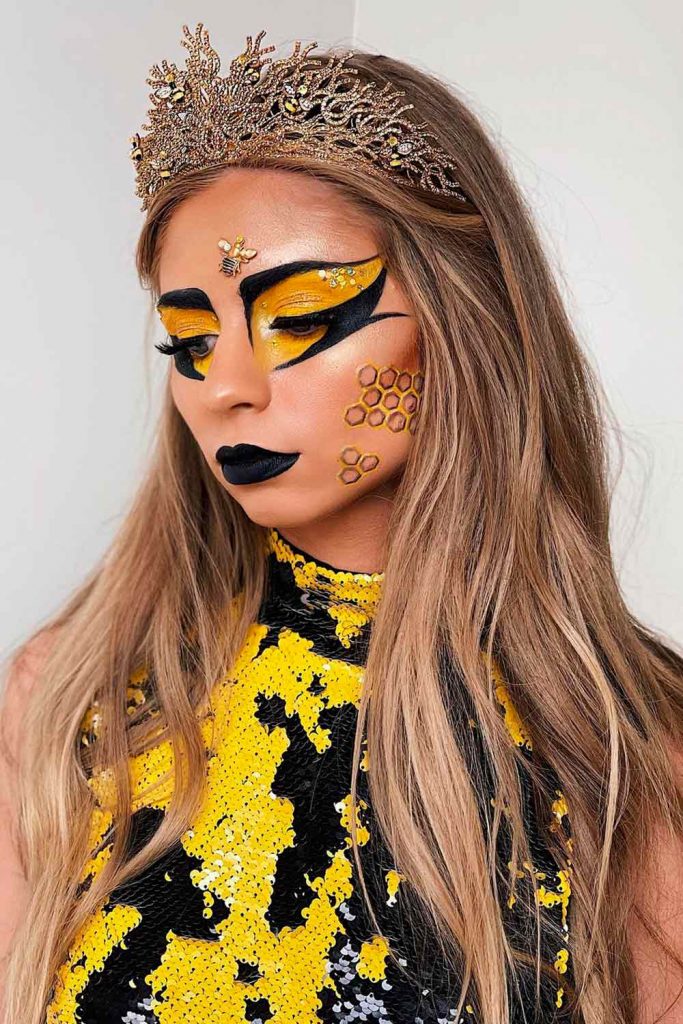 Source: vivianmakeupartist via Instagram
Source: vivianmakeupartist via Instagram
The Lion, The Witch, and The Wardrobe show us the beauty of a parallel world where a wise, ageless Lion guides good to fight evil. Isn't that an amazing character to recreate? Dry your long hair with a nozzle and make the look complete with a golden snowflake crown to show your might.
Halloween Braided Hairstyle Green Yellow Locks & Rose Wreath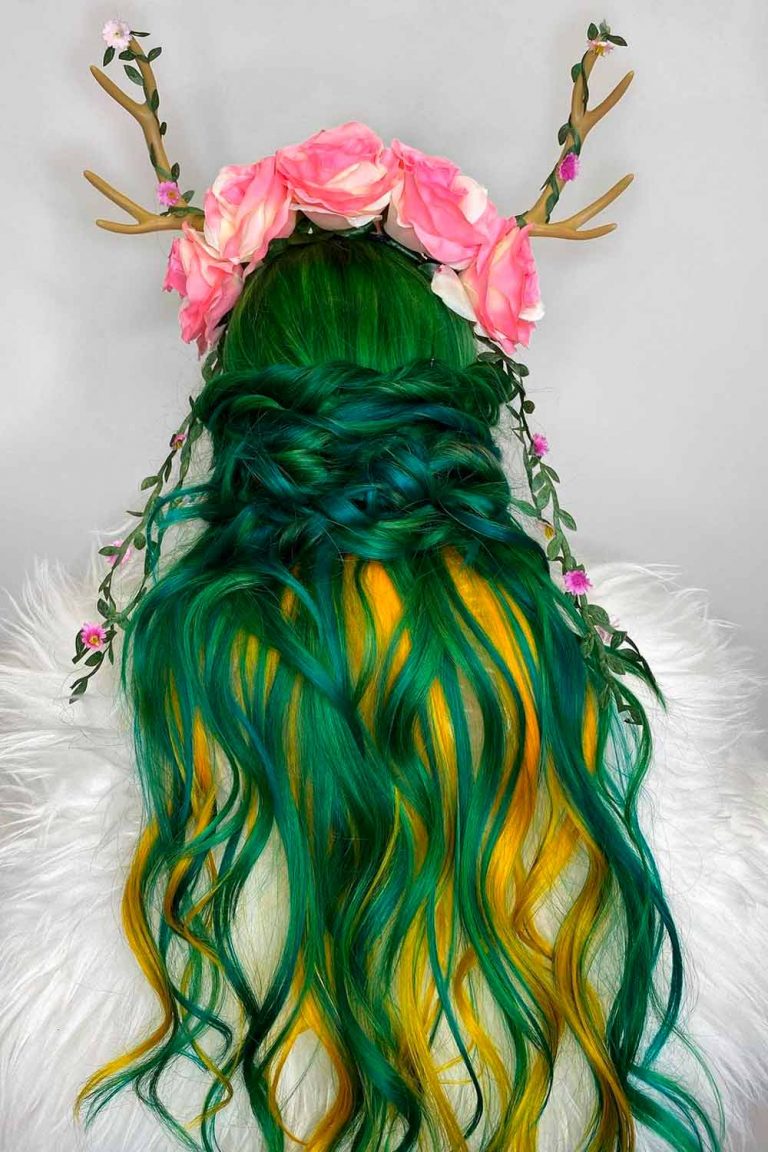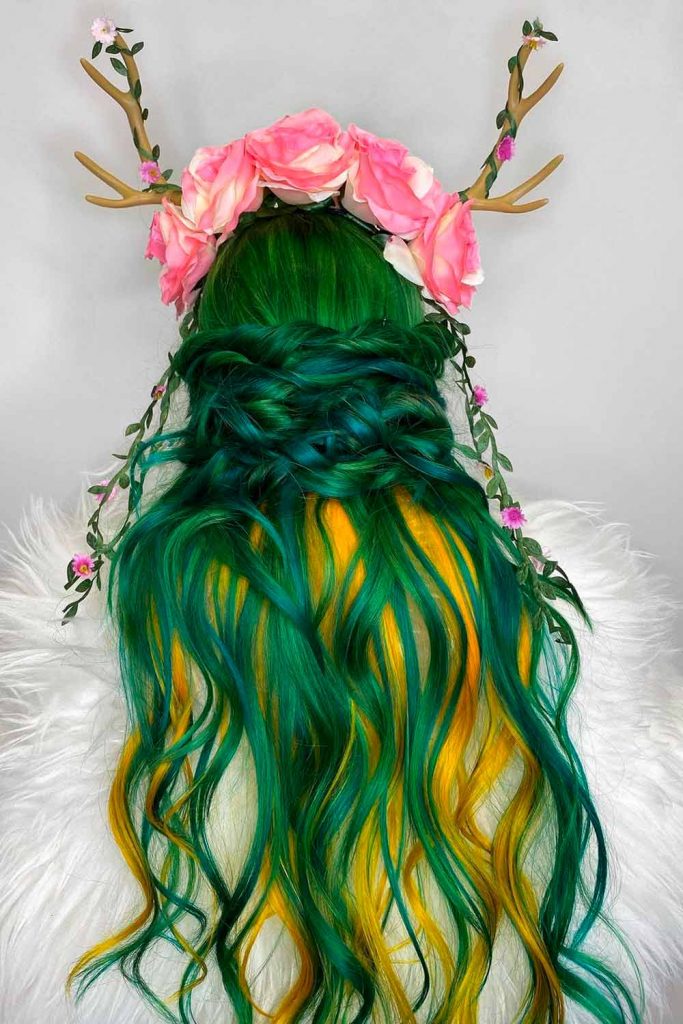 Source: themanemichael Instagram
Easy Halloween Mermaid Look With Hair Accessories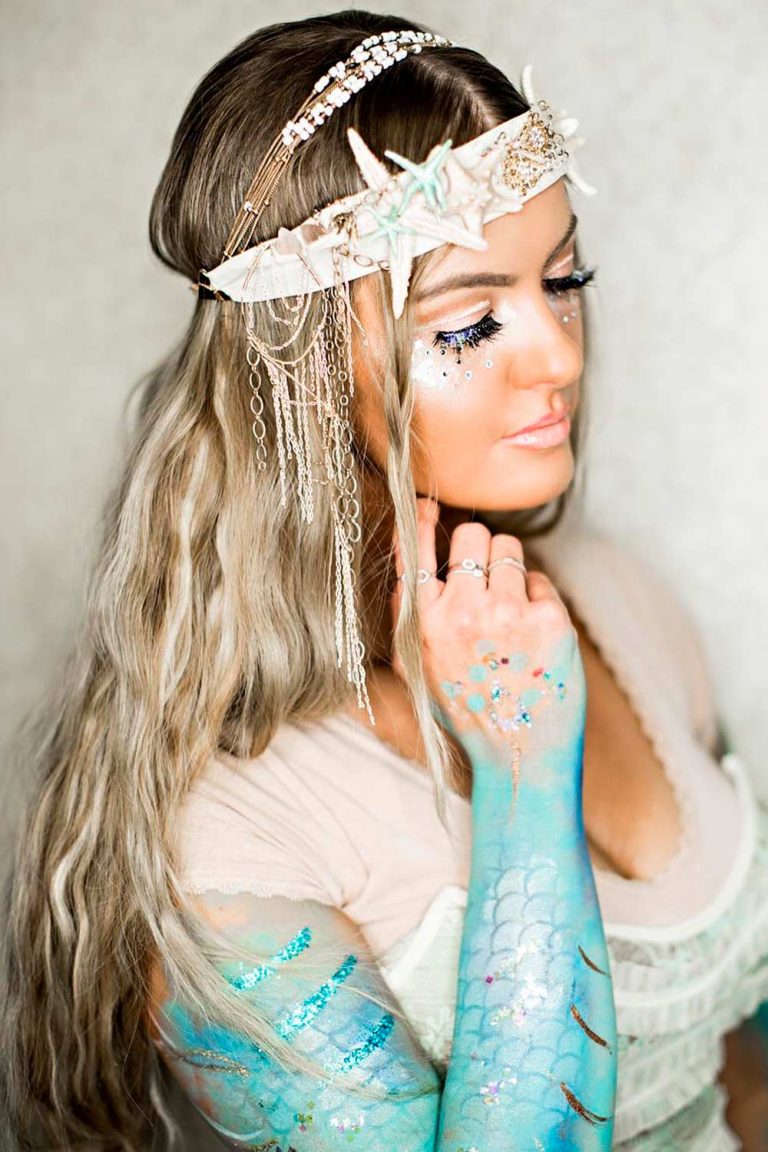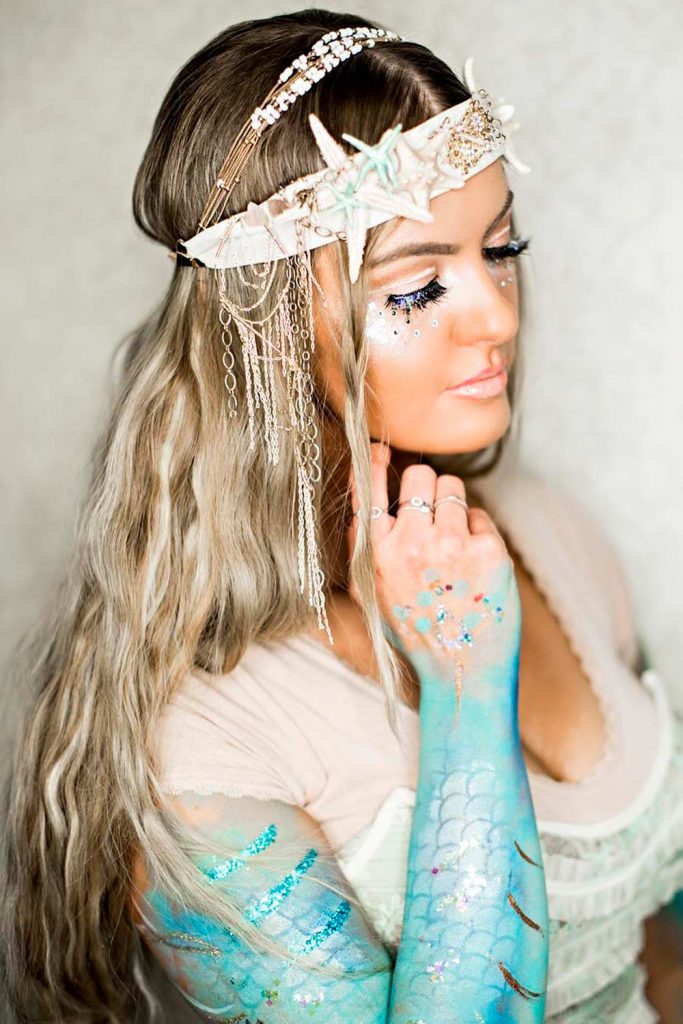 Source: vivianmakeupartist via Instagram
Green & Violet Hair Halloween Mystification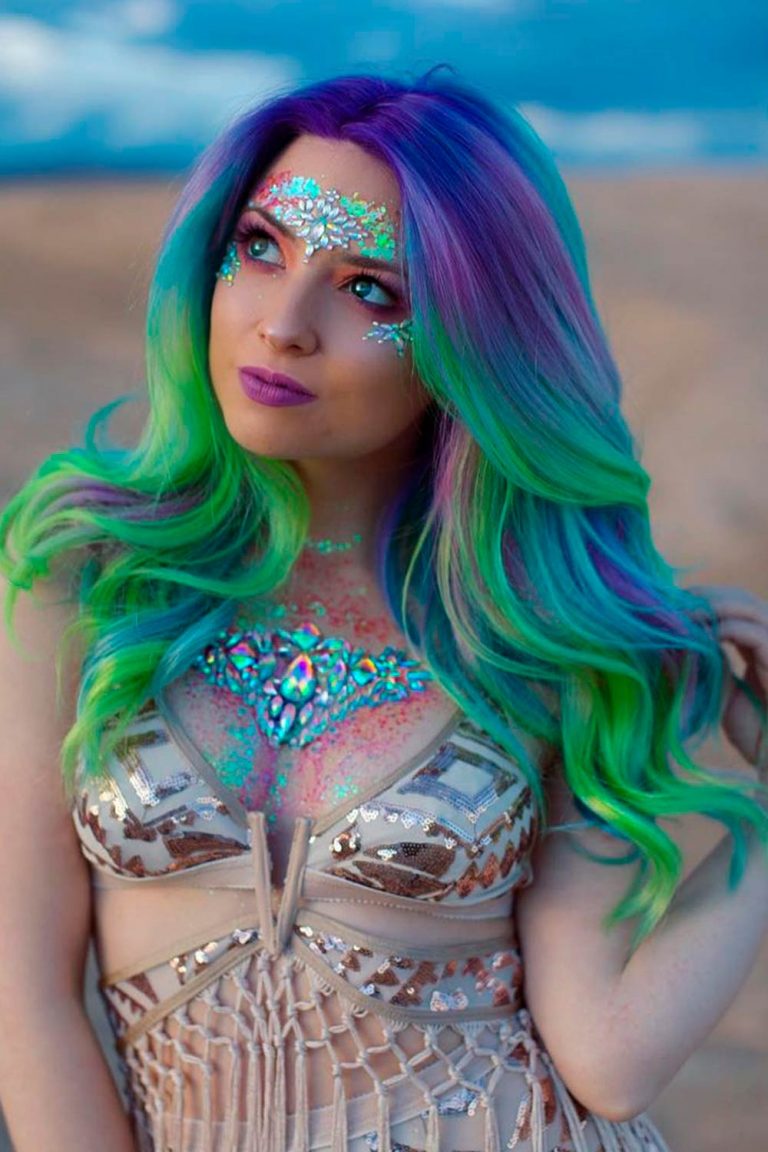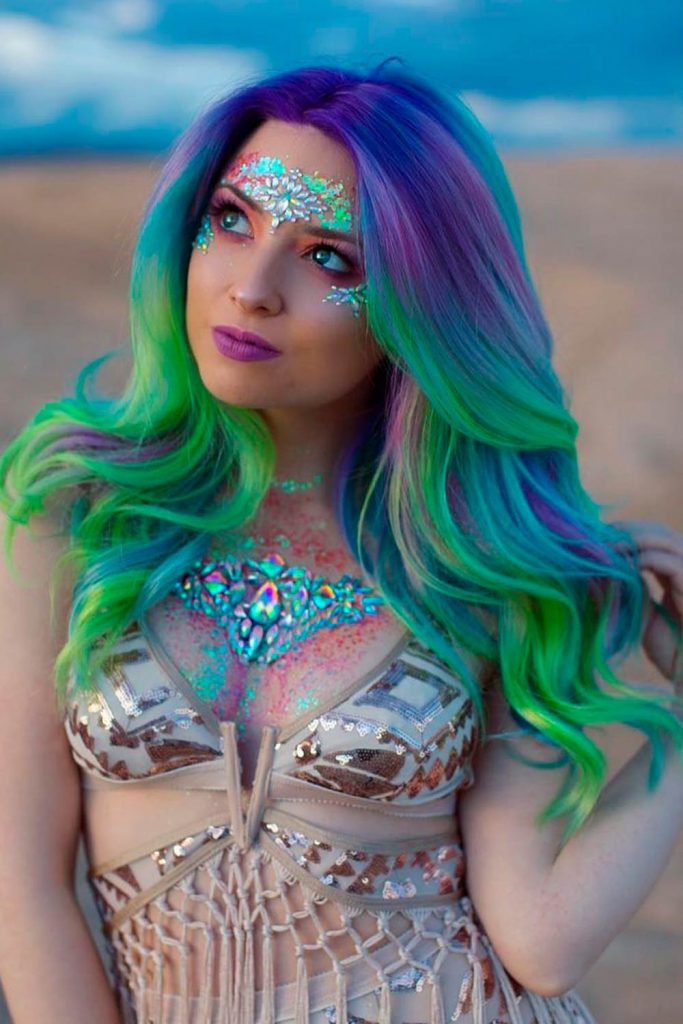 Source: hairgod_zito via Instagram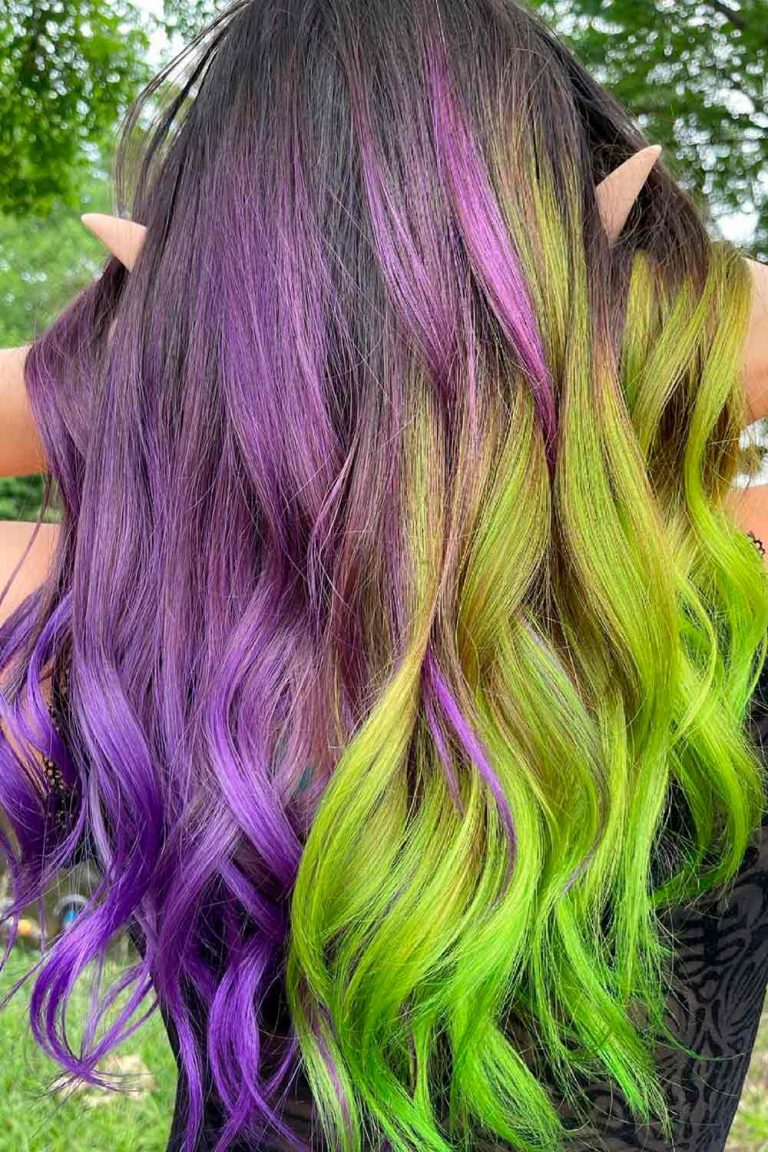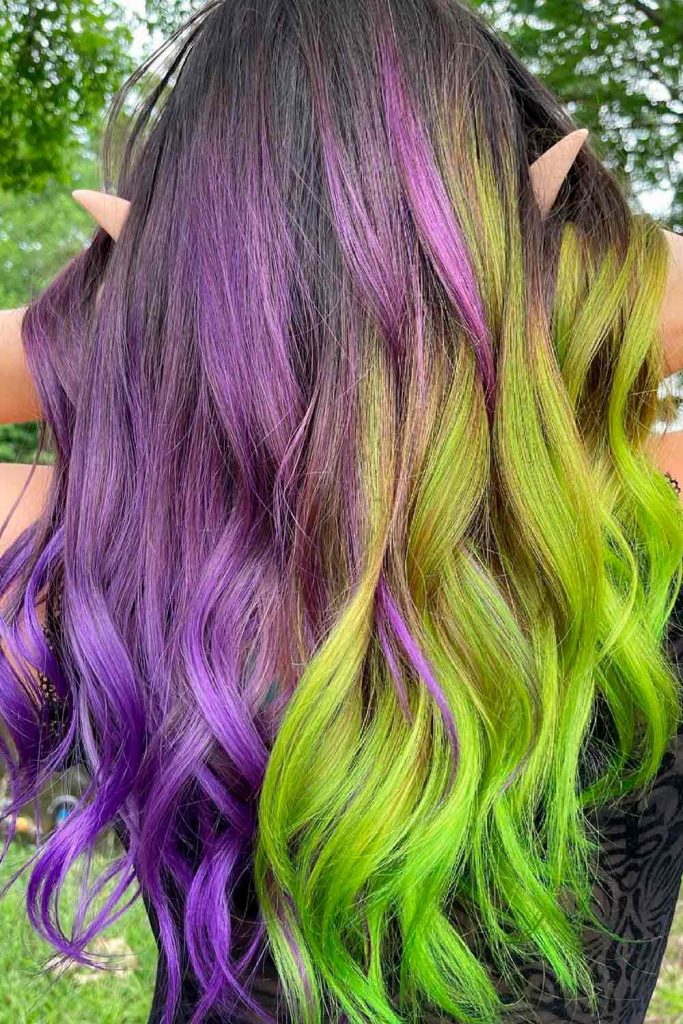 Source: themanemichael Instagram
Spooky Yellow-Orange-White-Black Layers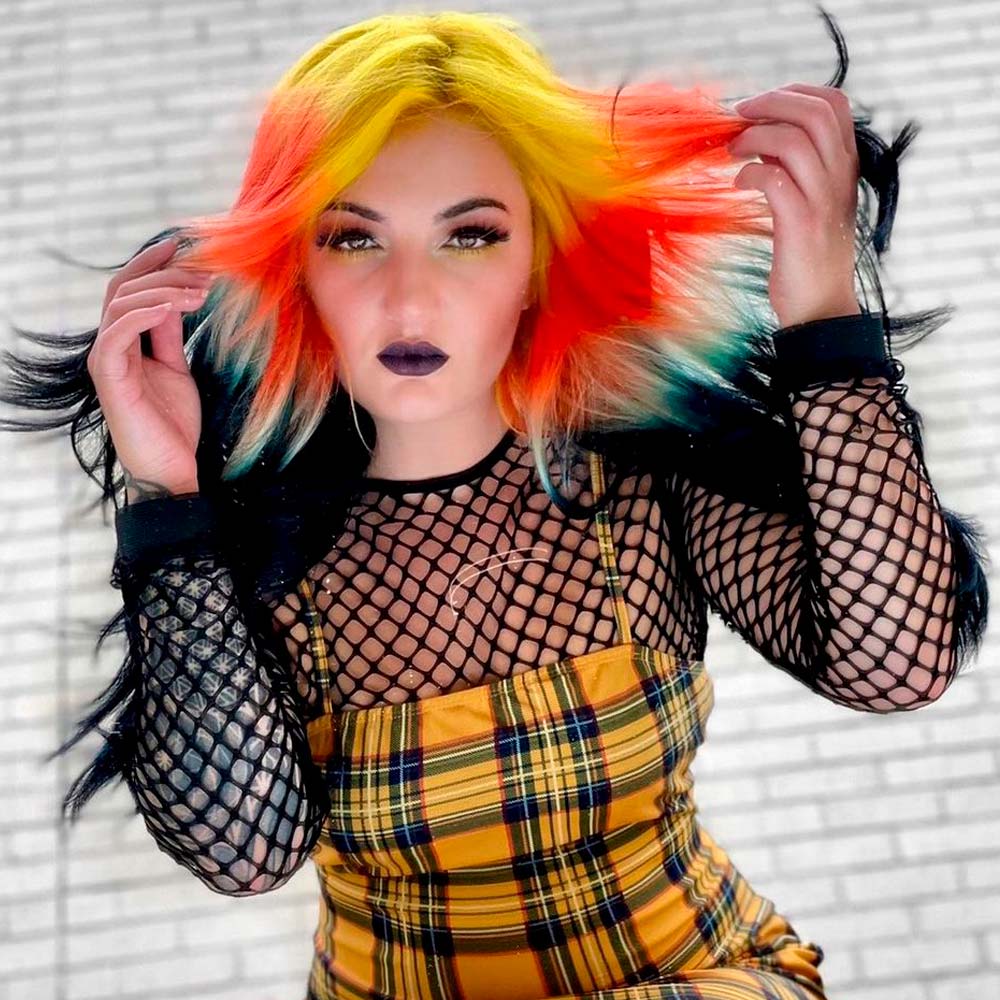 Source: xostylistxo via Instagram
Black & White Halloween Magic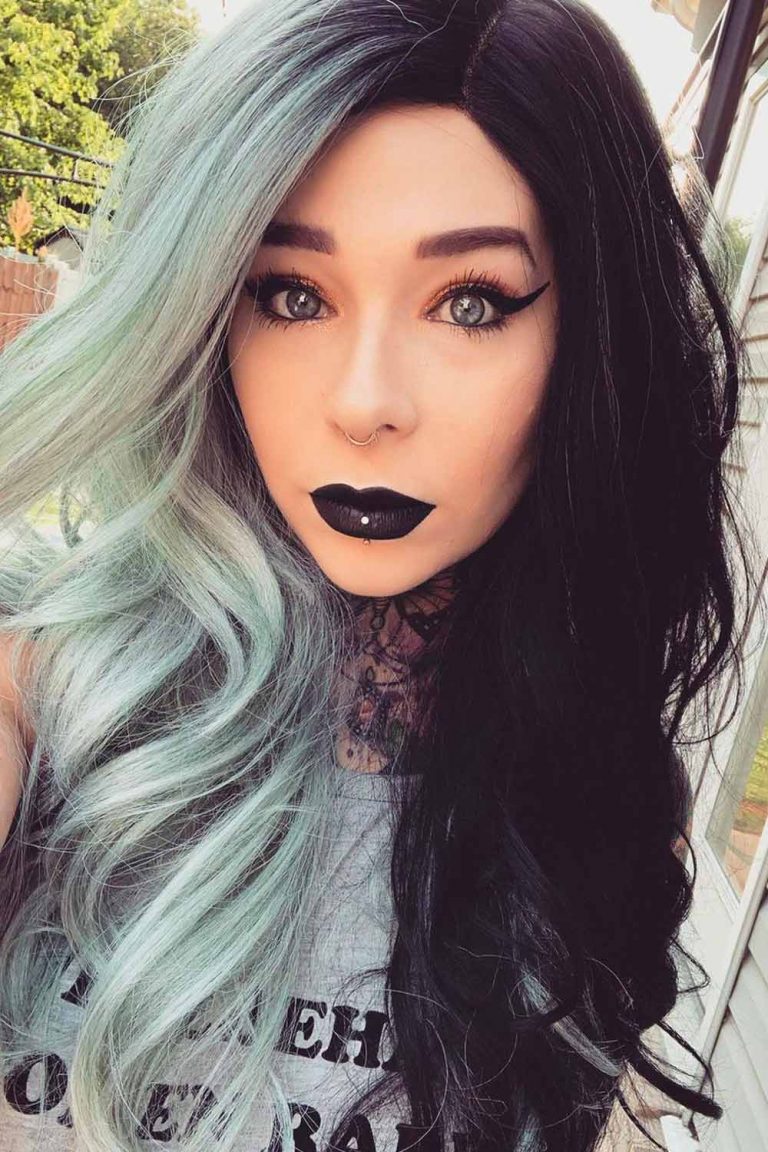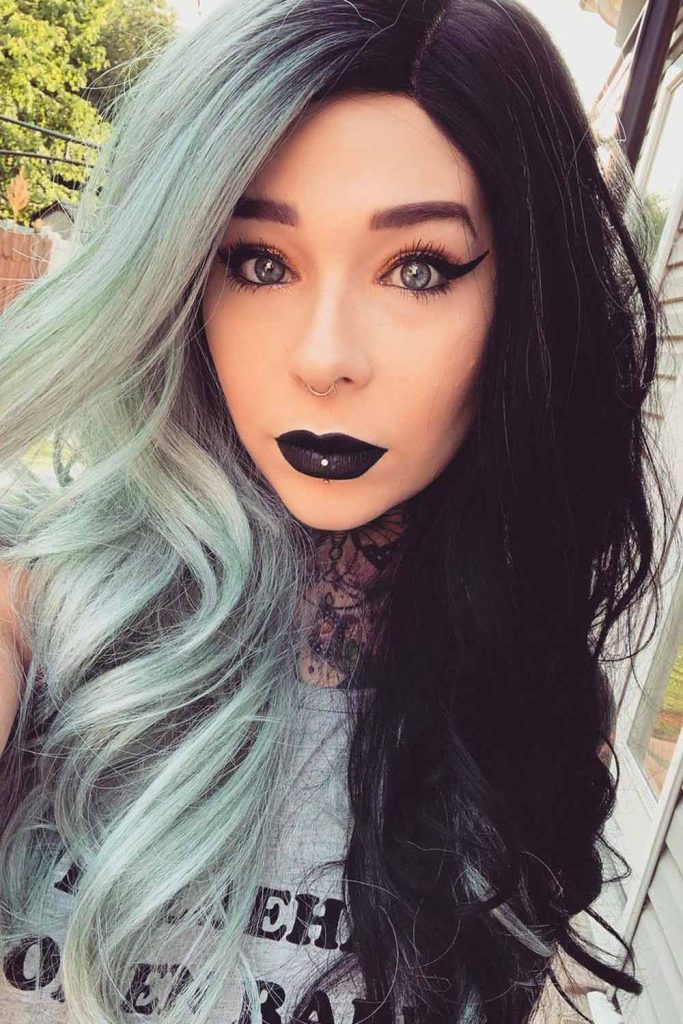 Source: xostylistxo via Instagram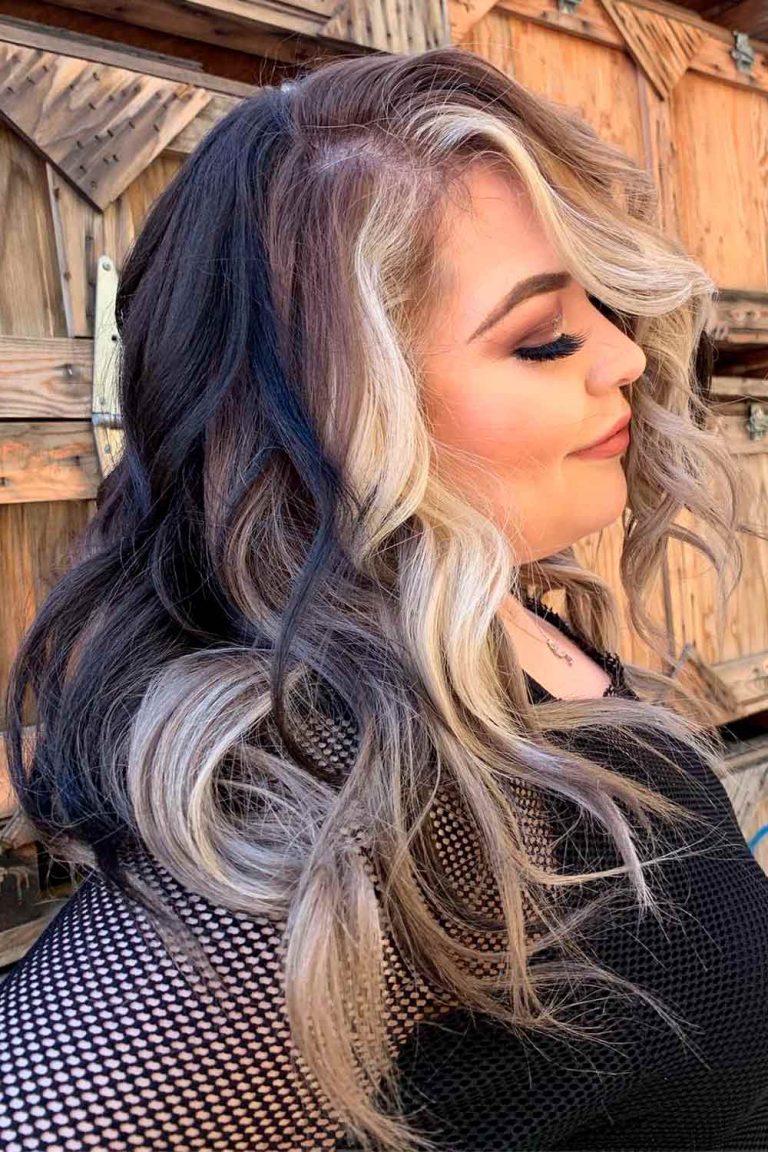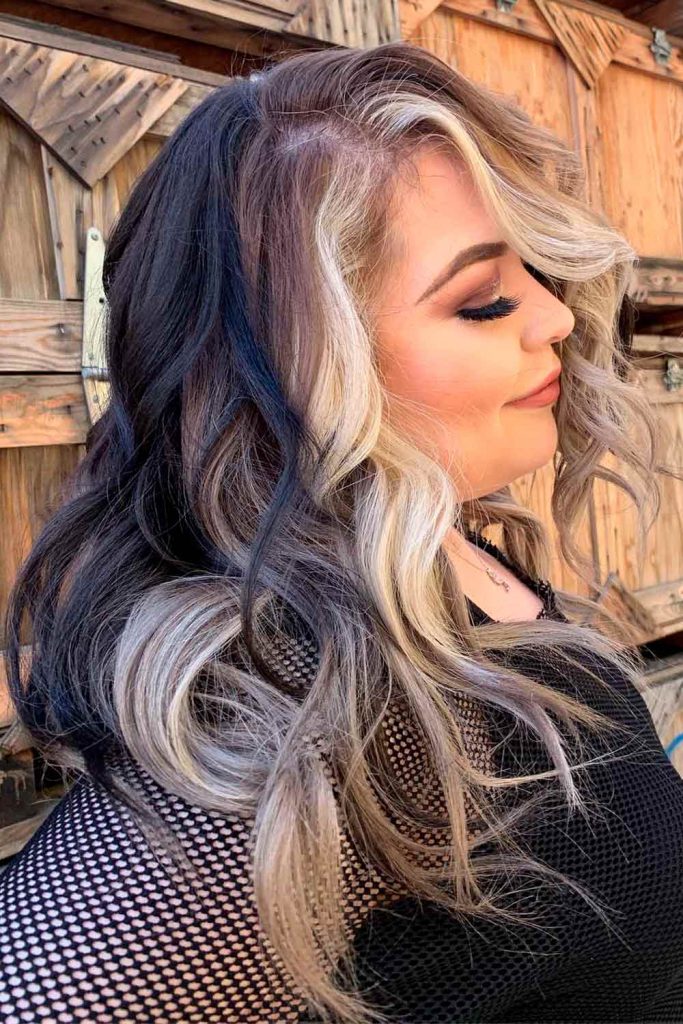 Source: xostylistxo via Instagram
Source: kerri54 via Instagram
Easy Cinderella Updo For Halloween 2022

Source: Kayley Melissa
No wonder that you'd like to walk in Cinderella's shoes this Halloween: this cartoon meant the world to us, little girls. And now, here's an easy way to look like your favorite Disney princess.
First of all, make sure that you've got a hair donut and a puffy hair tube.
If you don't have bangs, consider wearing a bang-wig.
Then, brush your hair back into a low ponytail and create a twist pit of it. Keep in mind that the twist should move towards the ceiling.
Once the twist reaches the front, hold it with one hand and secure it with the other, using some bobby pins.
Now, take the donut and place it right over the twist to add more volume.
Brush the rest of your hair, take the tube, pin the ends to it, and wrap it towards the donut.
To create a round shape, bend the ends of the tube backward, pinning it in place and hiding it outside.
Finish the look with a blue headband and say hi to your prince!
Cat Ears Hairstyle Tutorial


Source: Bebexo
Ideas that feature cat ears seem to be the most popular and ageless Halloween hairstyles for long hair. See how easily you can create it!
For the ears, pick up some hair at the back of your head and backcomb it.
Bring this strands behind your head to create the ear shape and bobby pin it at the back.
Repeat the same steps for the second ear and make sure that everything is neat on the back.
Bambi With Double Knots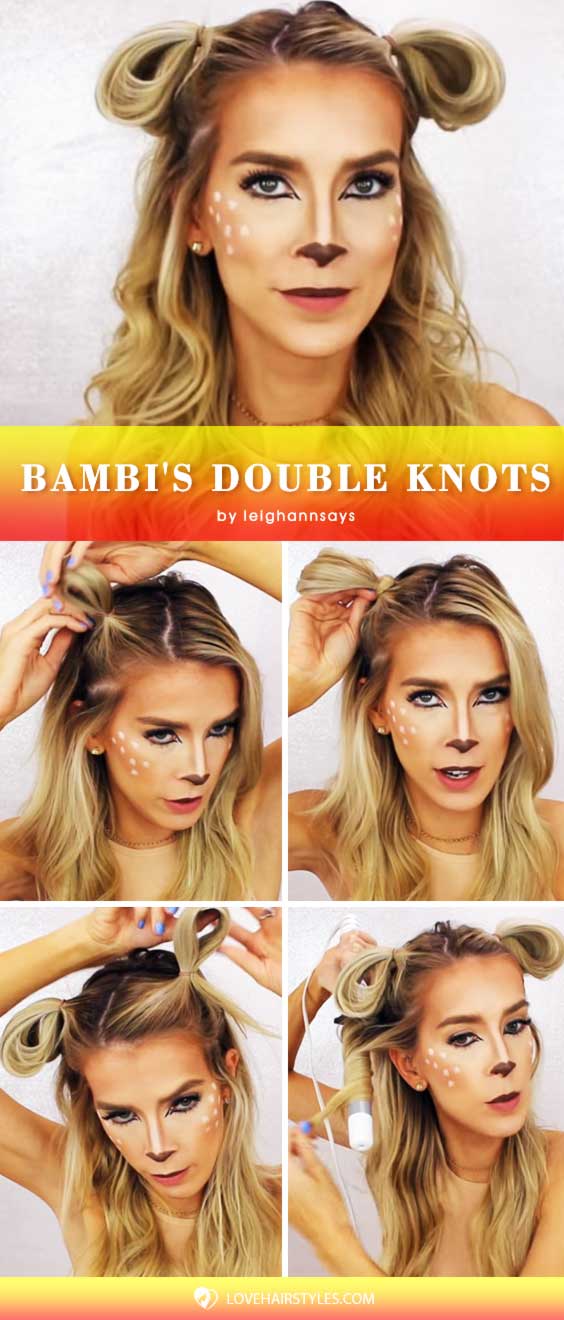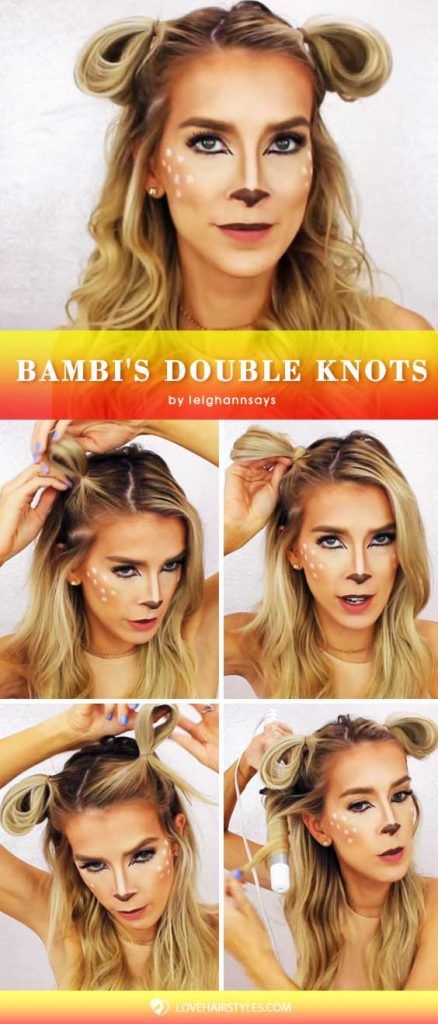 Source: leighannsays
Instead of showing up with a look stolen from a Disney princess, you can go a more unique and cuter way to impress people this Halloween. Remember the most touching cartoon called Bambi? With this tutorial, you will not only look unbearably sweet but also make everyone super nostalgic.
Starting with any type of parting you prefer, separate off a little section at the front.
Then, create a loop with this section, following the ponytail principle but without going all the way through.
Repeat the same step with the hair on the other side.
Pull the ears so that they look floppy.
For a more interesting, fuller look, create some waves with the rest on your hair, tousling them with your fingers or a brush.
Coat the look with some hairspray.
Queen Victoria's Updo


Source: Kayley Melissa
This Halloween is the perfect time to let the queen inside you over your look. The noble and gorgeous hairstyles from everyone's favorite series will undoubtedly complement regal characters, so make sure to recreate it.
Start off by creating a middle part.
Then, separate off the front portion, parting it from the center to the middle of your ear on either side of the head.
Secure the rest of the hair by doing a ponytail.
Create regular braids with the sections, securing the edges with bobby pins and pulling them gently once they're done.
After that, split the ponytail in half and braid the top half of it.
Secure the braid, pull it a little, and then wrap it into a bun.
With the rest of the ponytail, create another braid and wrap it around the base of the first bun.
Pull back the front braids so that each one forms an arch under your ear and follows the line of the hairdo up to the bun.
To make sure that the style will hold well, put a hairnet around the bun.
Floral Diva


Source: Jasmine Brown
Although natural hair is hard to tame, this hair textures can be a stunning base for lots of creative Halloween hairstyles! And this new take on the good-old Frida-inspired look is something that all natural-haired women shouldn't pass by. Coupled with bright summer makeup, there's no way you won't steal the show this night.
First off, prep your hair with a conditioning gel to make it manageable for styling.
Then, do a perfect middle part and create a ponytail on one side.
Spray some milk or oil spray to moisturize and soften your curls and create a high ponytail on this side.
Repeat the same steps with the other side.
Grab a ponytail loosely at the tip and wrap it around the base.
Tame your baby hairs with soft curl cream.
Embellish your buns with fake flowers to your liking, securing them with bobby pins.
FAQ: Halloween Hairstyles For Long Hair
What color is witches hair?
Witch's Hair, though classed as a fungus here, is actually a lichen, a symbiotic relationship between a green alga and a fungus. The alga gives it its greenish hue and, like a higher plant, produces carbohydrates through photosynthesis.
What witches beard?
While they both look very similar on the surface, Methuselah's beard has a center cord that is visible when chopped, whereas typical witch's hair does not. A 20-30 cm long dangling hair lichen is known as common witch's hair.This is a common lichen species. In open woodlands, it grows on coniferous trees.
What hairstyles do witches have?
Witchy Curls.
Old-Time Braids.
Midnight Purple Tones.
Witchy Cat.
Vampy Curls.
Crimped Texture.