How to choose Halloween hairstyles for long hair so that you definitely look different from everyone else? First things first – you should dedicate at least some time to the research and pay attention to the details. Rest assured details do matter. And if you think that no one will notice, we are here to argue with you. What is more, we are even ready to help you. And we hope you enjoy the looks gathered here.
Wednesday Addams Halloween Hairstyle
Credit photo: Shutterstock
i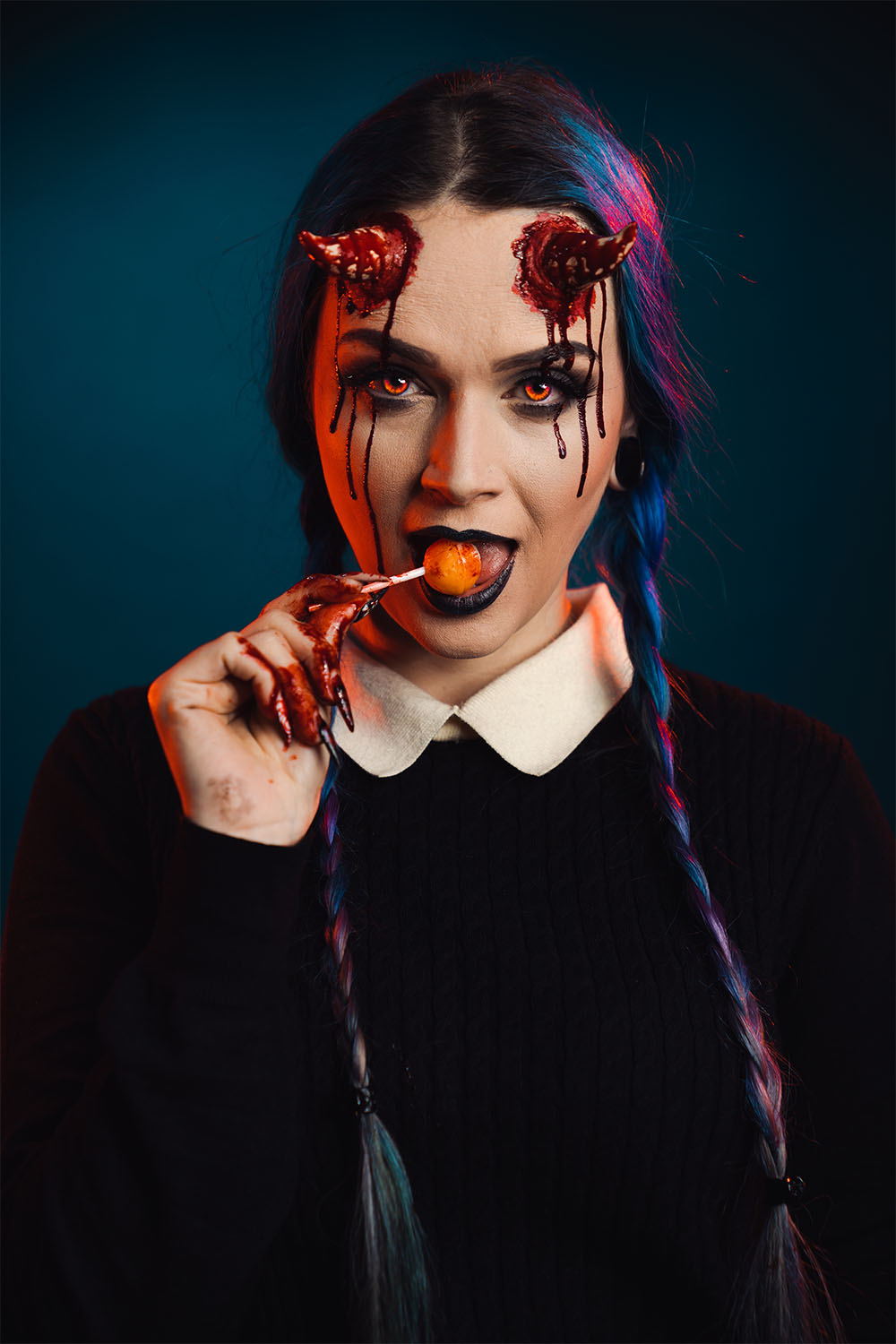 Source: dana.pixie via Instagram
i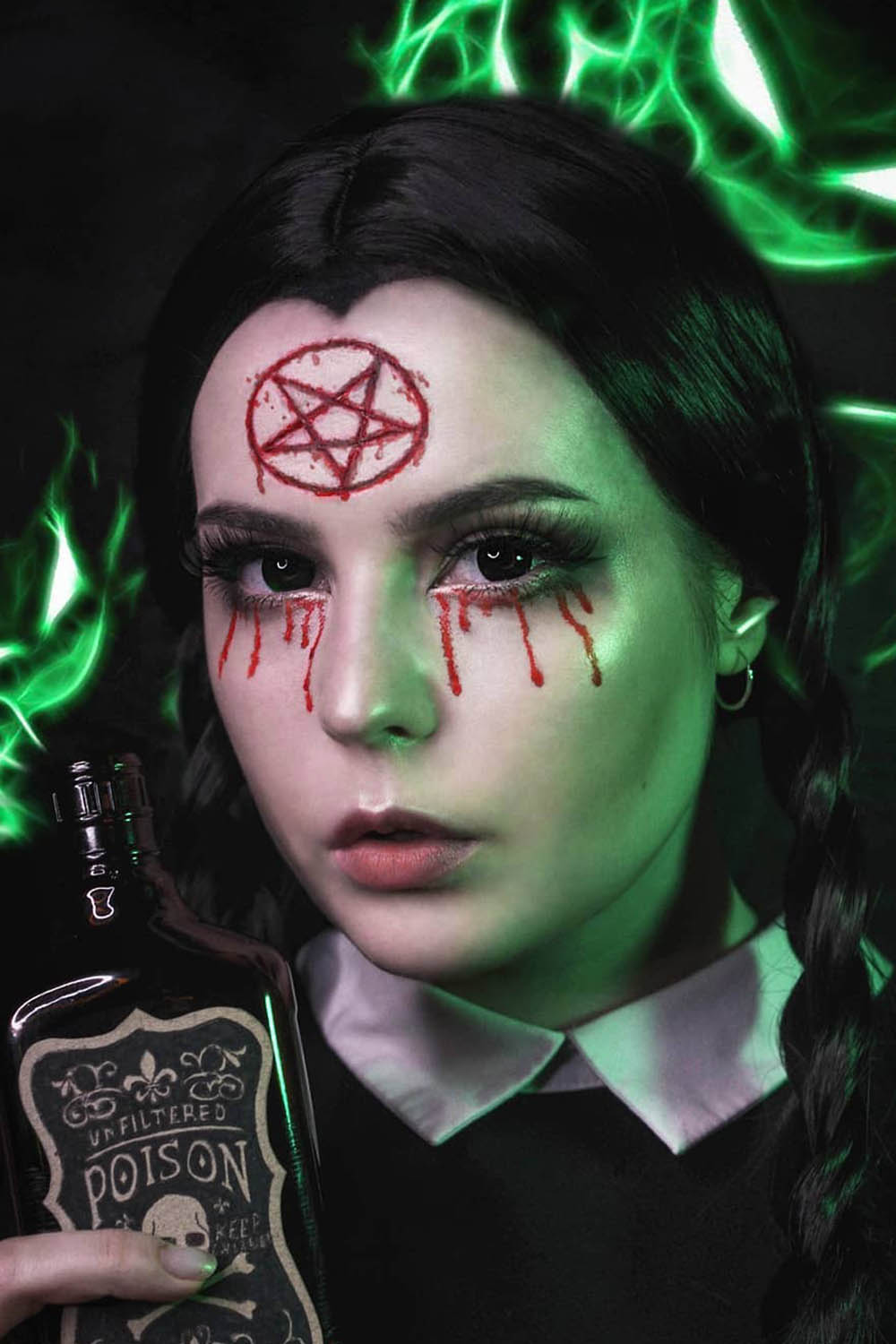 /
The chances are that Wednesday Addams' hair will be one of the most requested Halloween hairstyles for long hair this season. Well, there's no wonder why. Aside from the fact that the style is exceptionally trendy, it is mythically eerie and surprisingly elegant. Channel Wednesday's dark charm through a neat black dress with a white collar and carry a bottle of fake poison as a creepy accessory to send those unprepared running!
The Snow Queen Halloween Hair
Source: dana.pixie via Instagram
i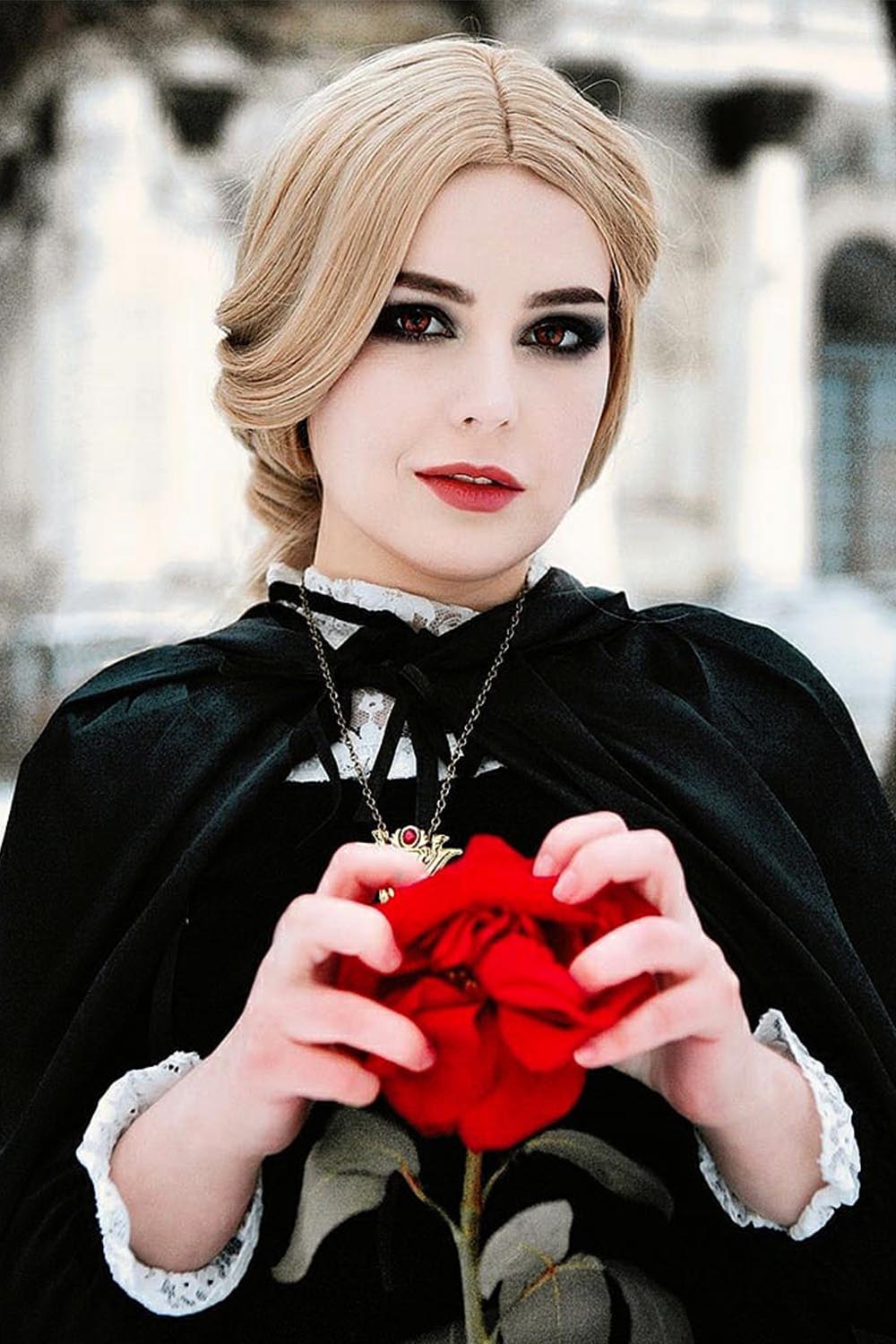 Source: dana.pixie via Instagram
i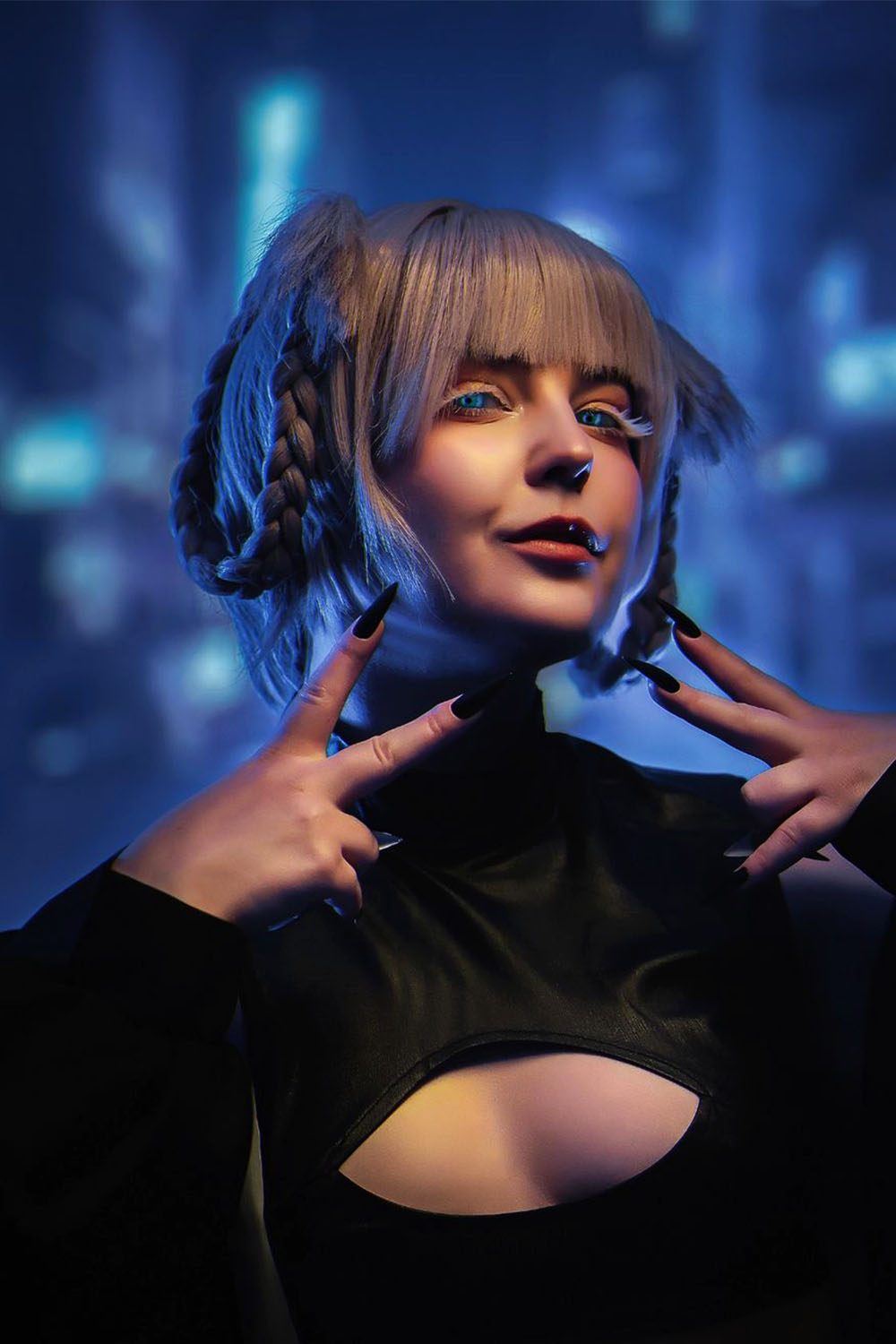 /
Most of you will have your personal vision of how the Snow Queen should look like. Yet, we dare to suggest that the best way to channel the icy power of the enchantress would be through frosty, flowing locks, occasionally adorned with simple accessories such as braids and lovely waves.
As you step into the shoes of the Snow Queen, you must be ready to project the winter vibe from head to toe. Thus, a long cape and rosy cheeks on a pale face are a must. You can carry a red rose around to accentuate the contrast. Pockets full of fake snow will serve you right, too.
Sexy Witch Hairstyle for Halloween Party
Source: dana.pixie via Instagram
i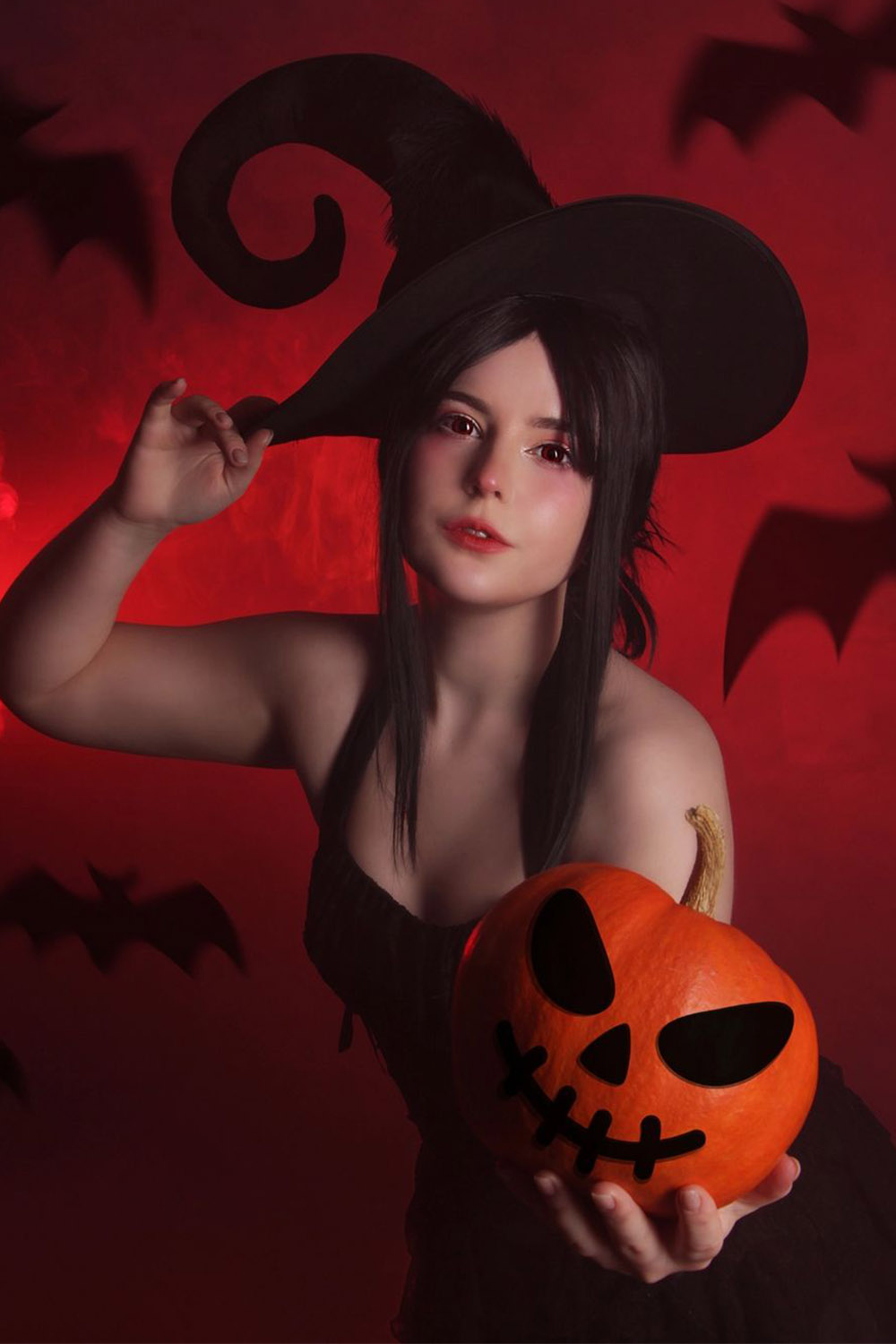 Source: dana.pixie via Instagram
i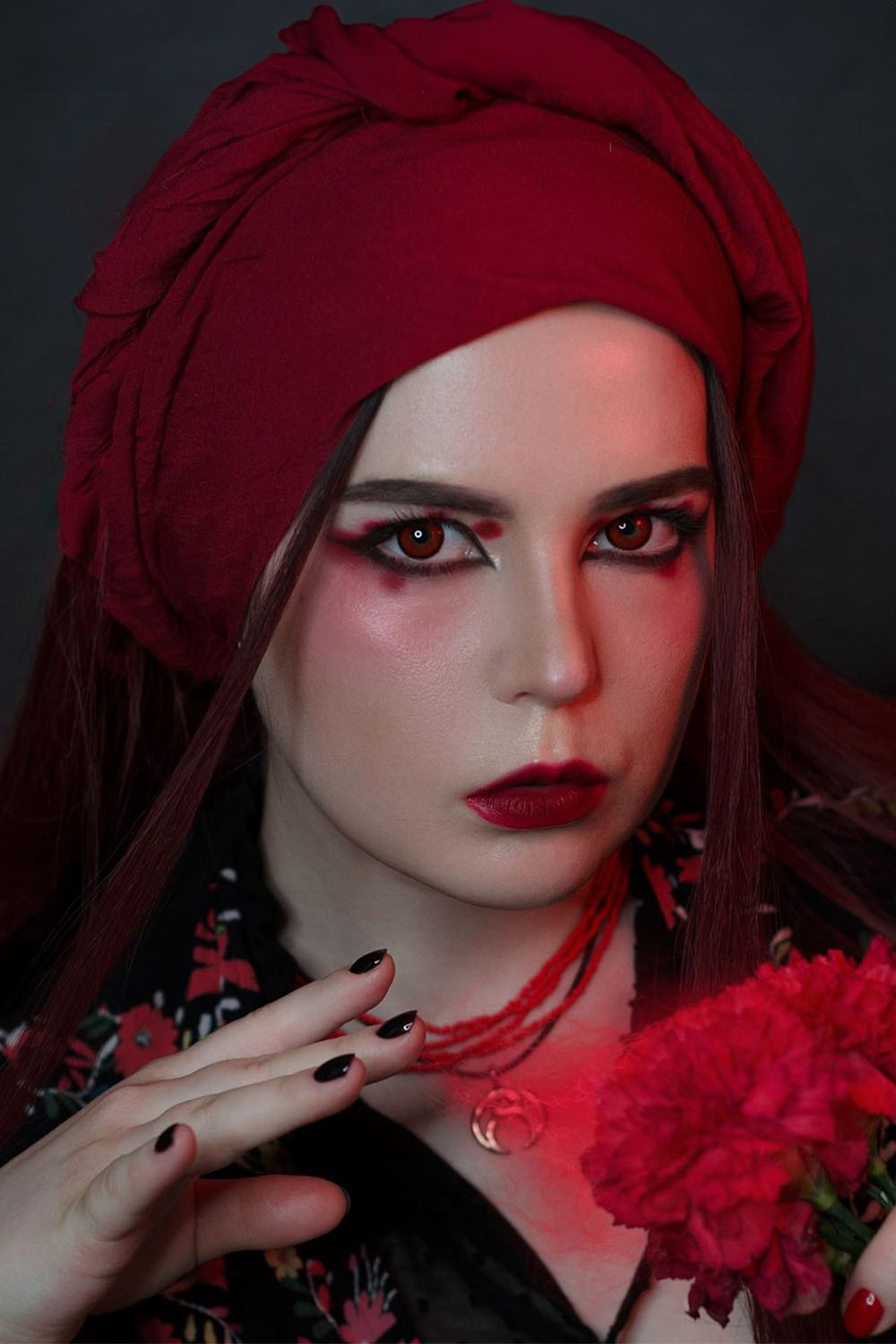 /
There's rarely a Halloween party without a sexy witch present. You should be ready to mesmerize and seduce once you set your mind on this alluring character. Letting your locks flow loosely and coat your mysterious figure in a gentle veil can be an idea to stick to.
However, you can also wrap your head in a blood-red scarf and let the neat tresses frame your face, making sure that the enchanting glare in your eyes is noticeable.
Pretty Devil's Hair
Source: dana.pixie via Instagram
i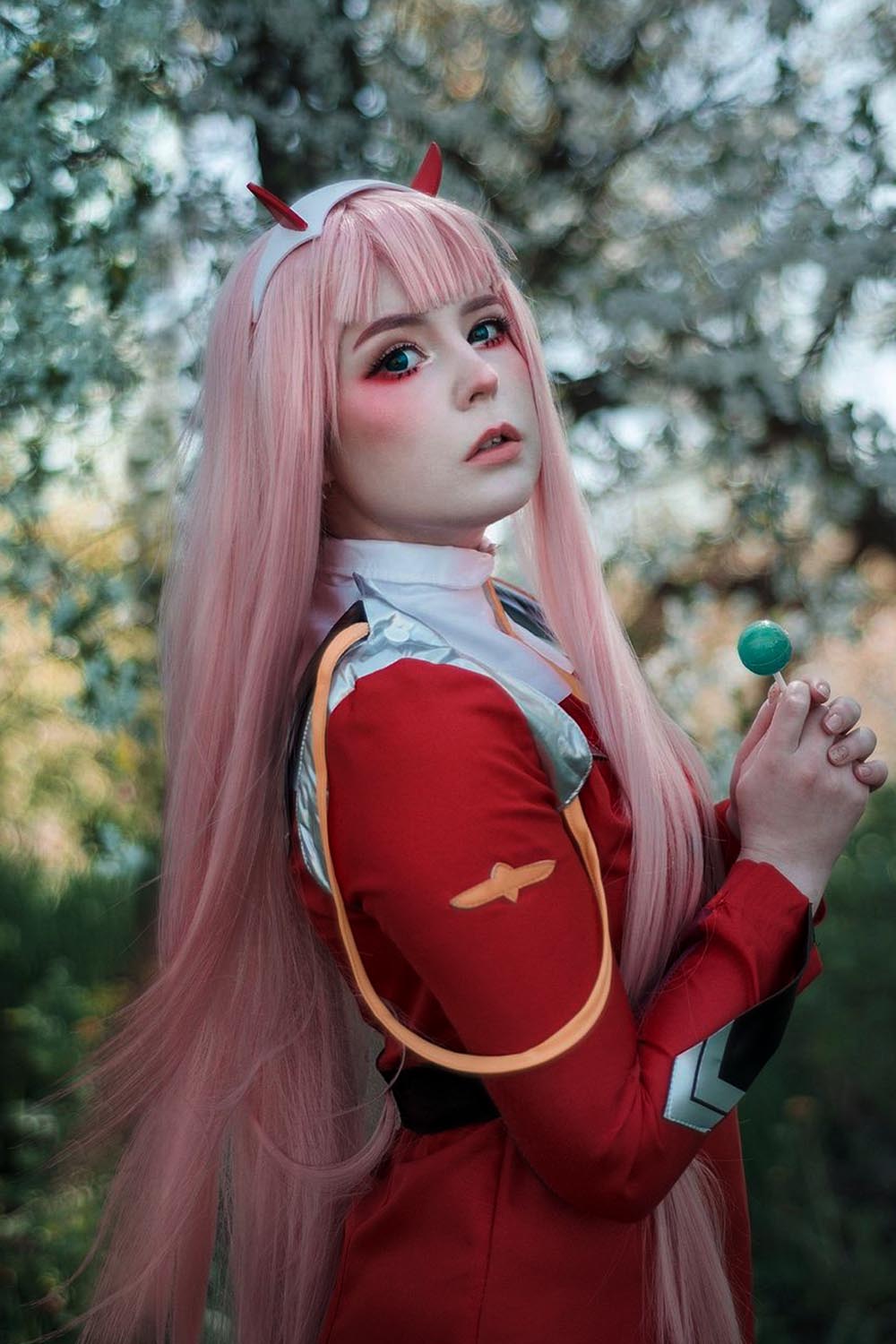 Source: cheyniem via Instagram
i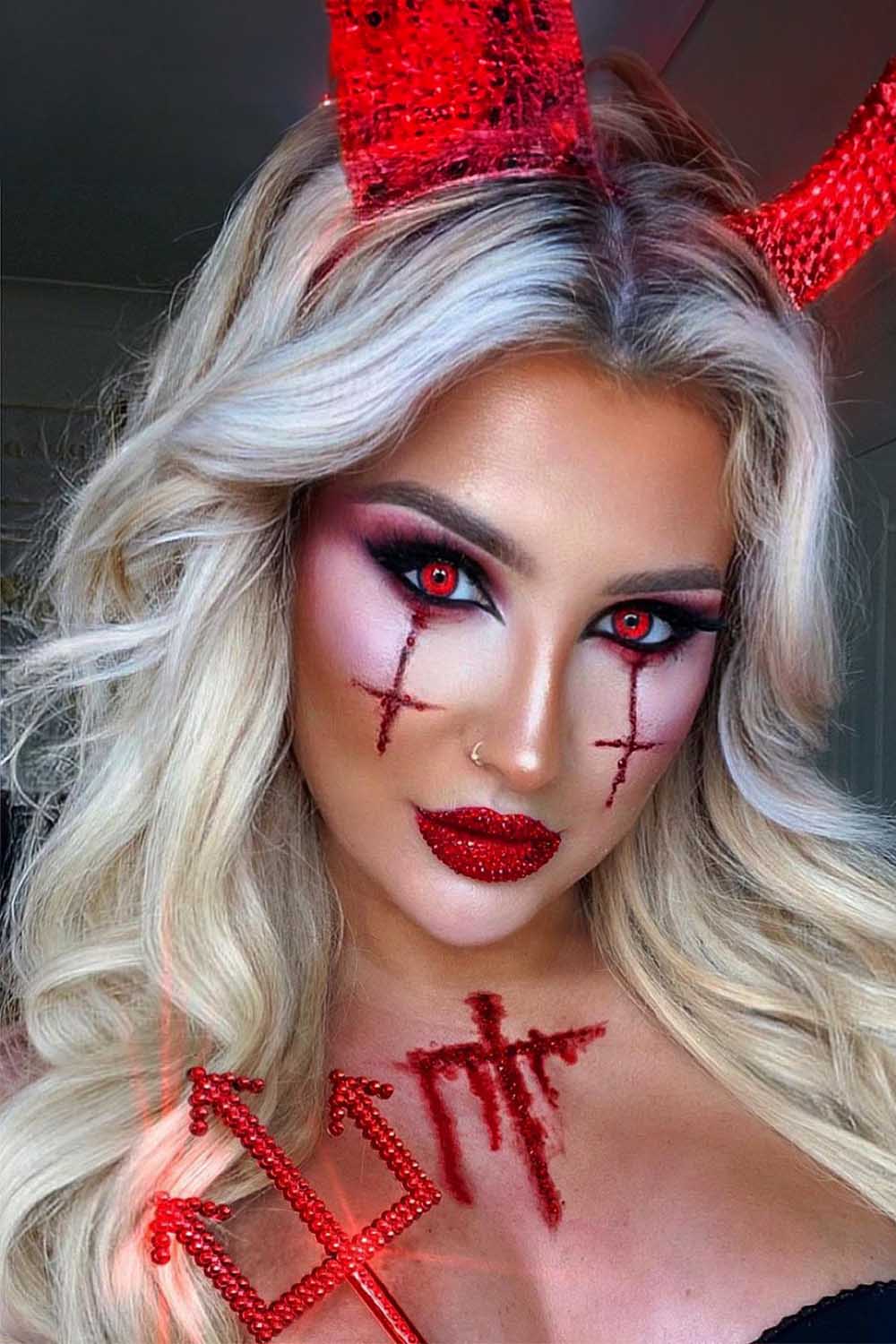 /
Halloween hairstyles for long hair rely heavily on bright colors and suitable accessories. The devil's hair you want to wear during the holiday will reflect your hidden traits and dangerous potential. You can replicate your favorite anime character with a knee-length cotton candy wig spiked with tiny horns, or you can go full-scale devil and wear the horned crown with bloody makeup and a bold attitude.
Evil Queen Halloween Hairstyle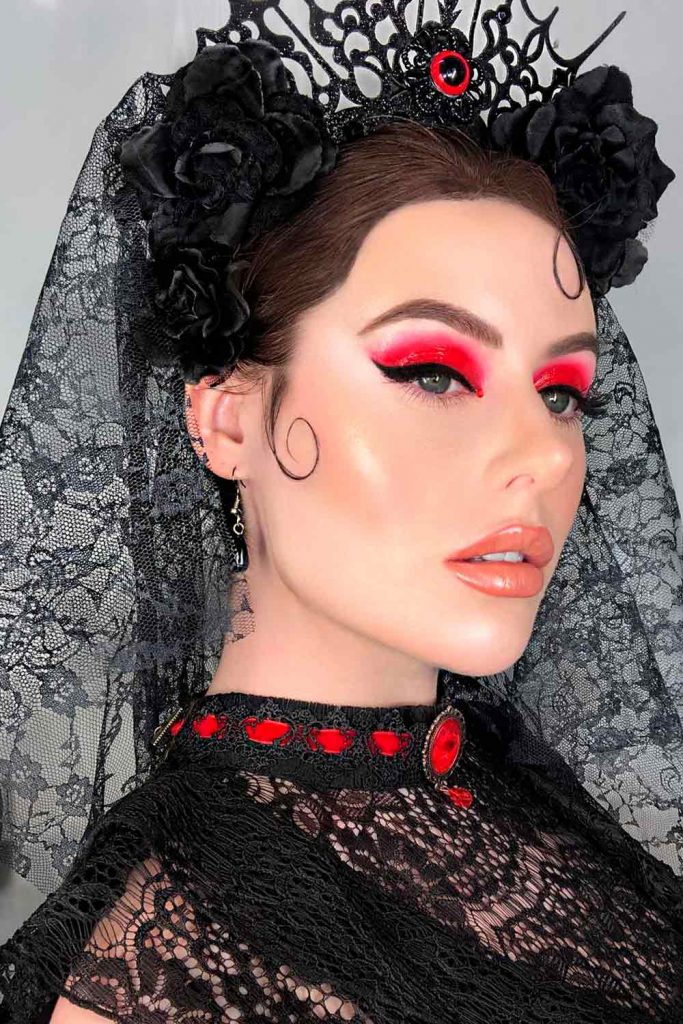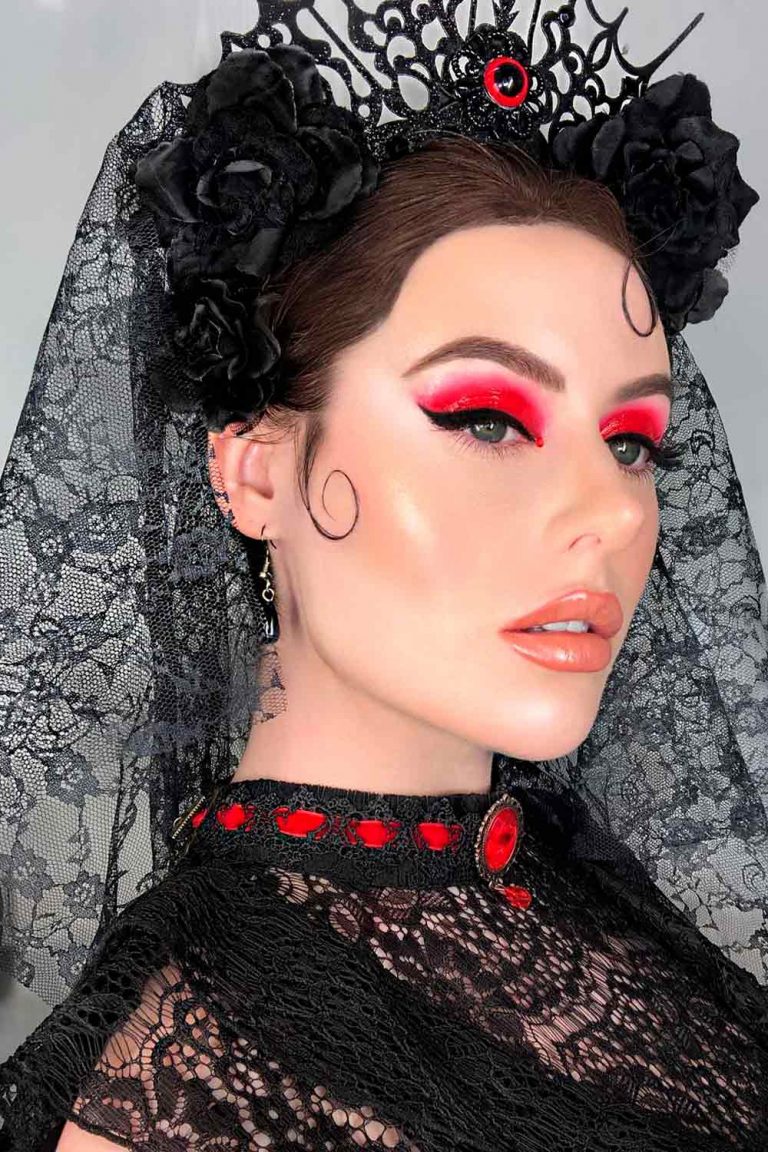 Source: kerri54 via Instagram
Those who say that it's impossible to become a queen just don't know that wearing a gothic queen spider crown inlaid with flowers is enough! With an authentic black veil on the voluminous crown of your hairdo and the charm of bold red eye makeup, you will open up a whole new world of the best Halloween looks.
Halloween Skull Look With Bold Hair
Source: kerri54 via Instagram
i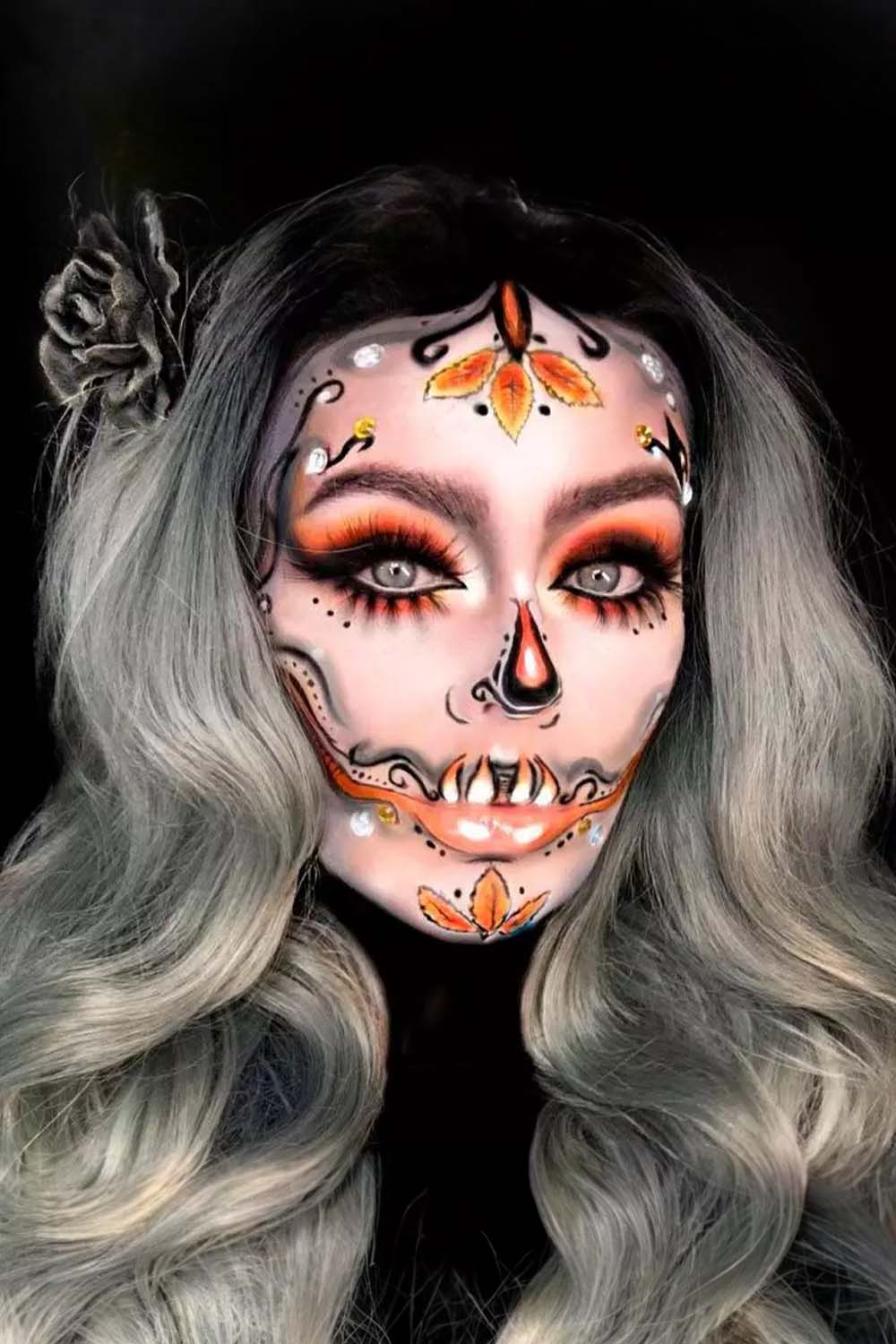 Source: kerri54 via Instagram
i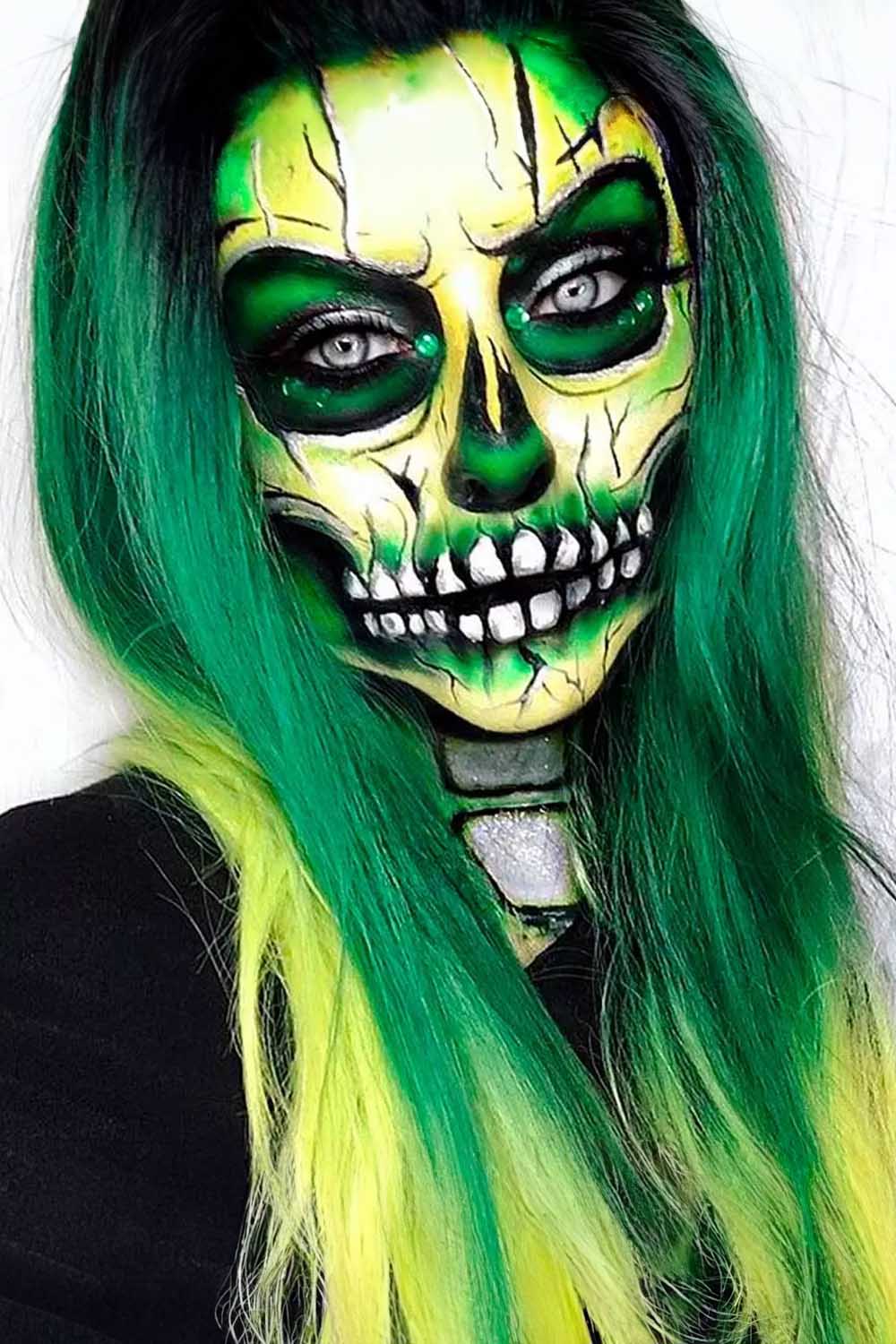 Source: kerri54 via Instagram
i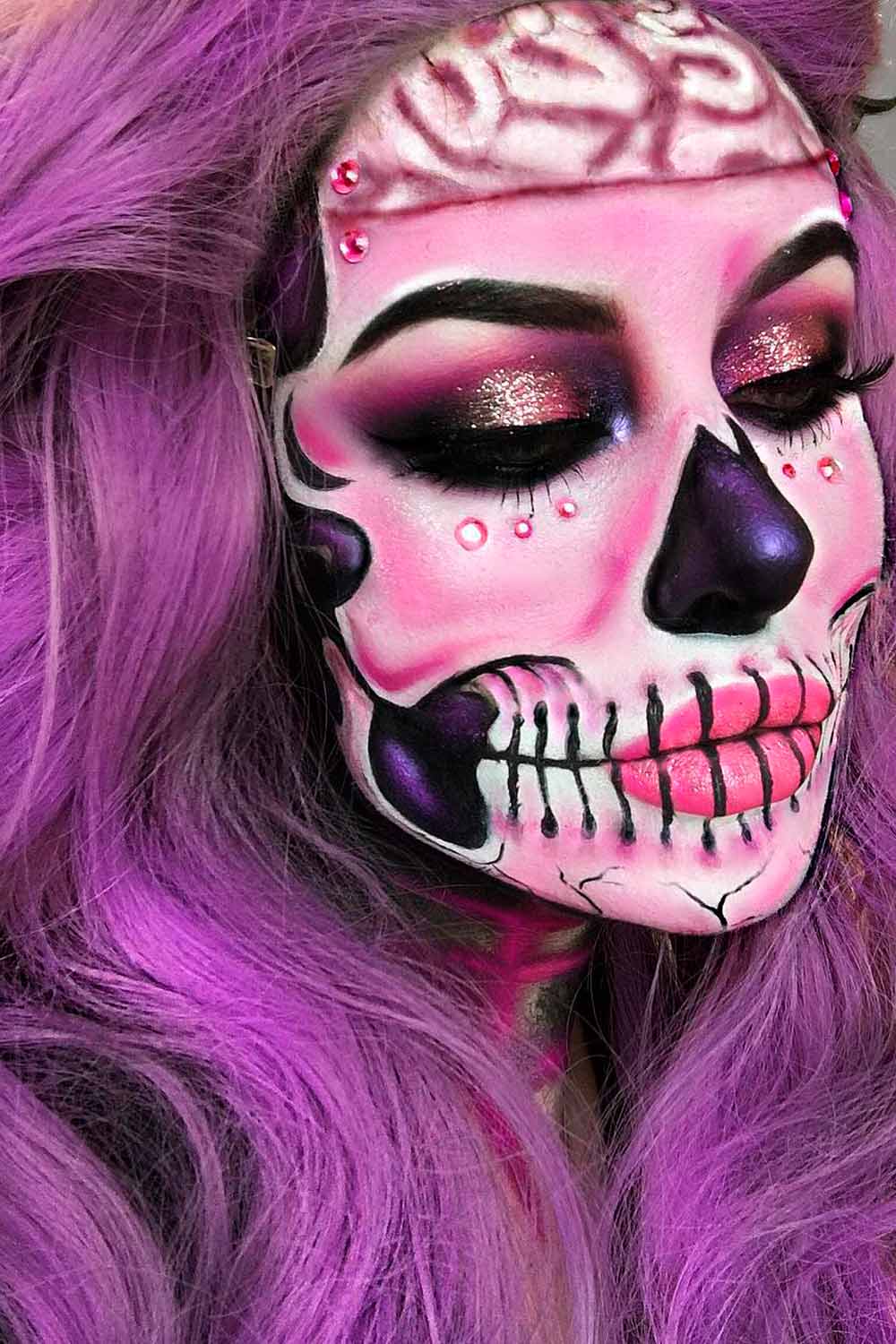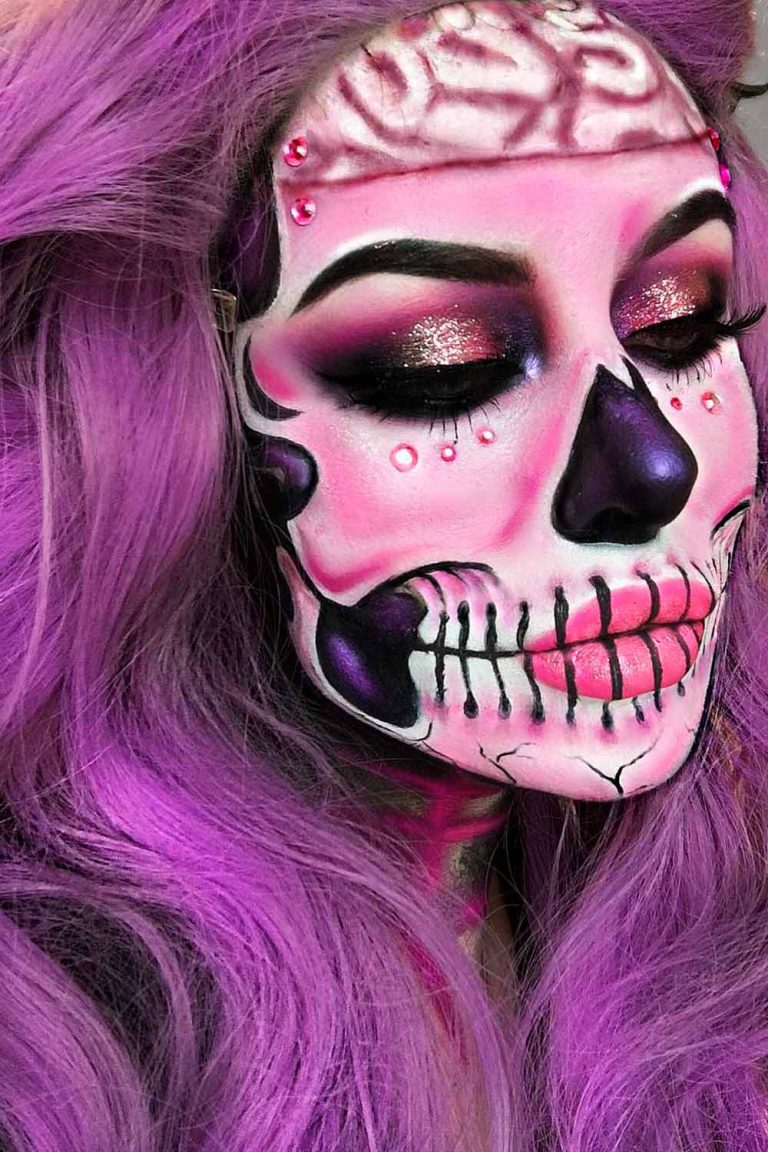 /
If you're one of the daring ladies who find sugar skull looks to be inspiring, you can customize it in the most creative way possible. And when you need to set your creativity into motion, nothing works better than bold, eye-catching hair colors! For example, the look may be finished with a floral accessory.
Sexy Spider Lady With Low Messy Ponytail
Credit photo: Shutterstock
i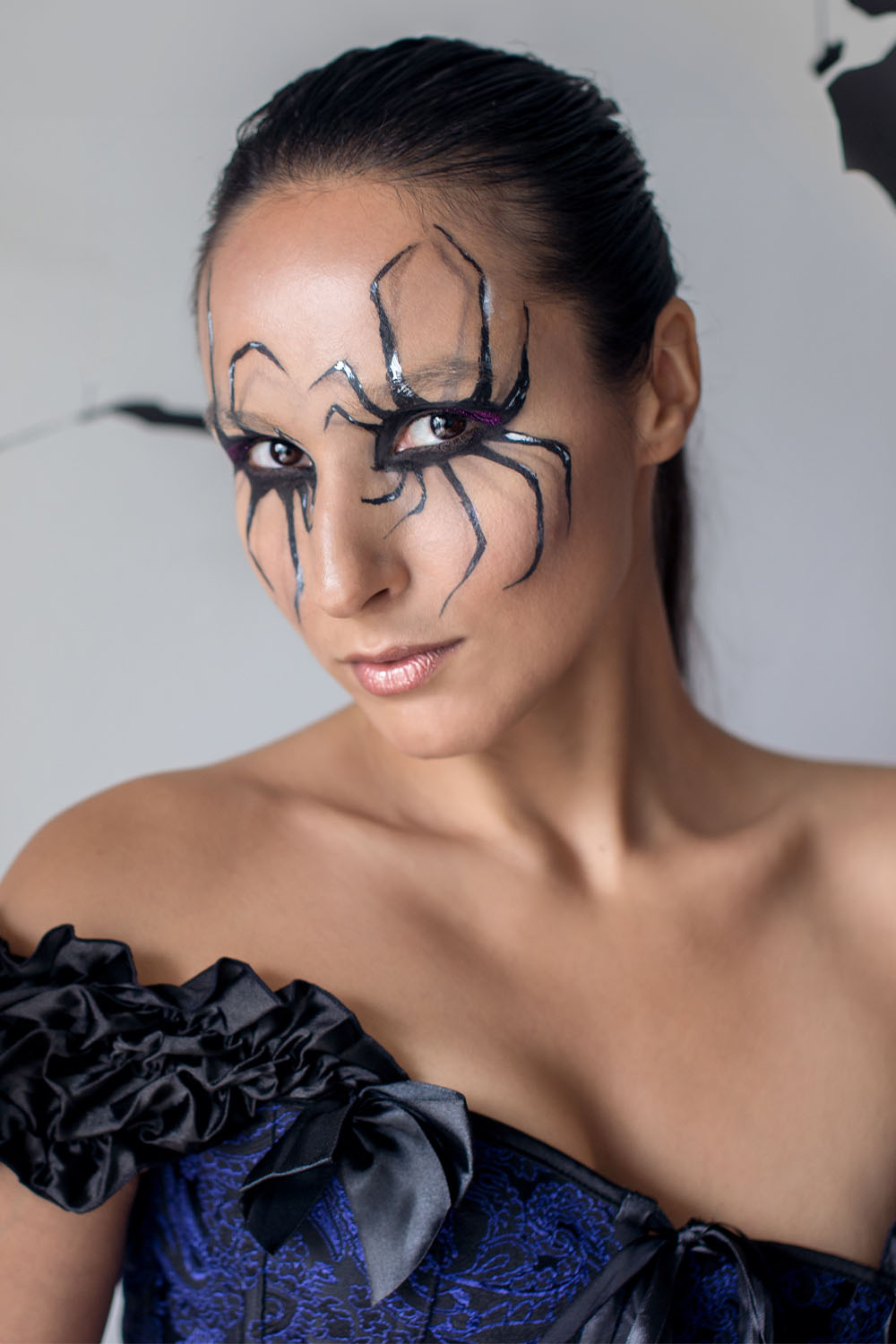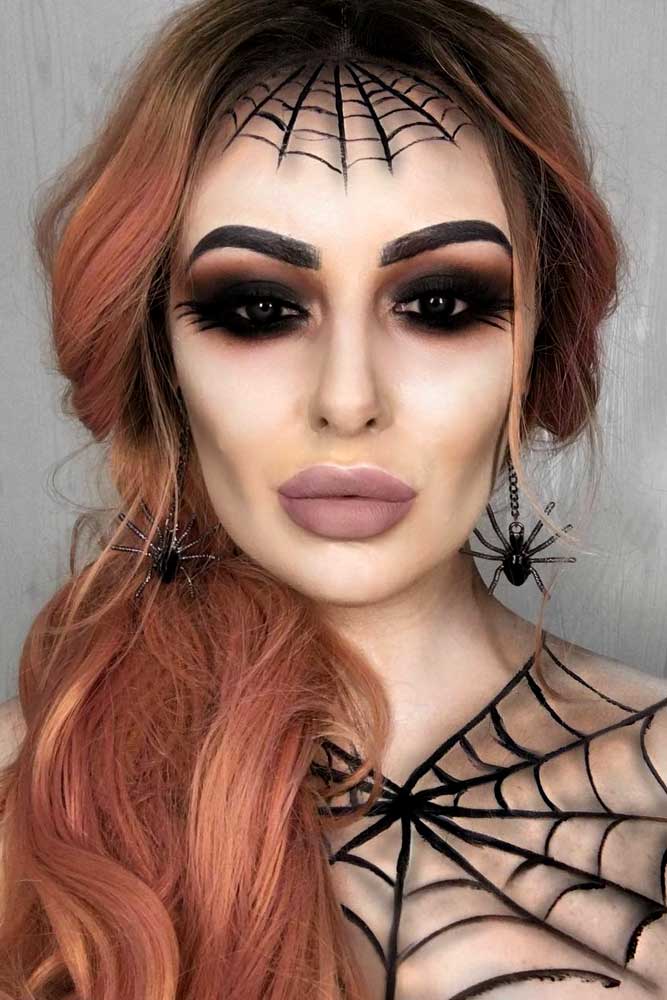 /
Sometimes the simplest Halloween hairstyles for long hair are the most suitable ideas, as you don't need your hair to draw attention from your unbelievable sexy look. A low messy ponytail, where the crown is slightly pulled and tousled, is a nice way to complement an eye-catching look.
Blue-Violet-Copper Haired Halloween Witch
Source: xostylistxo via Instagram
i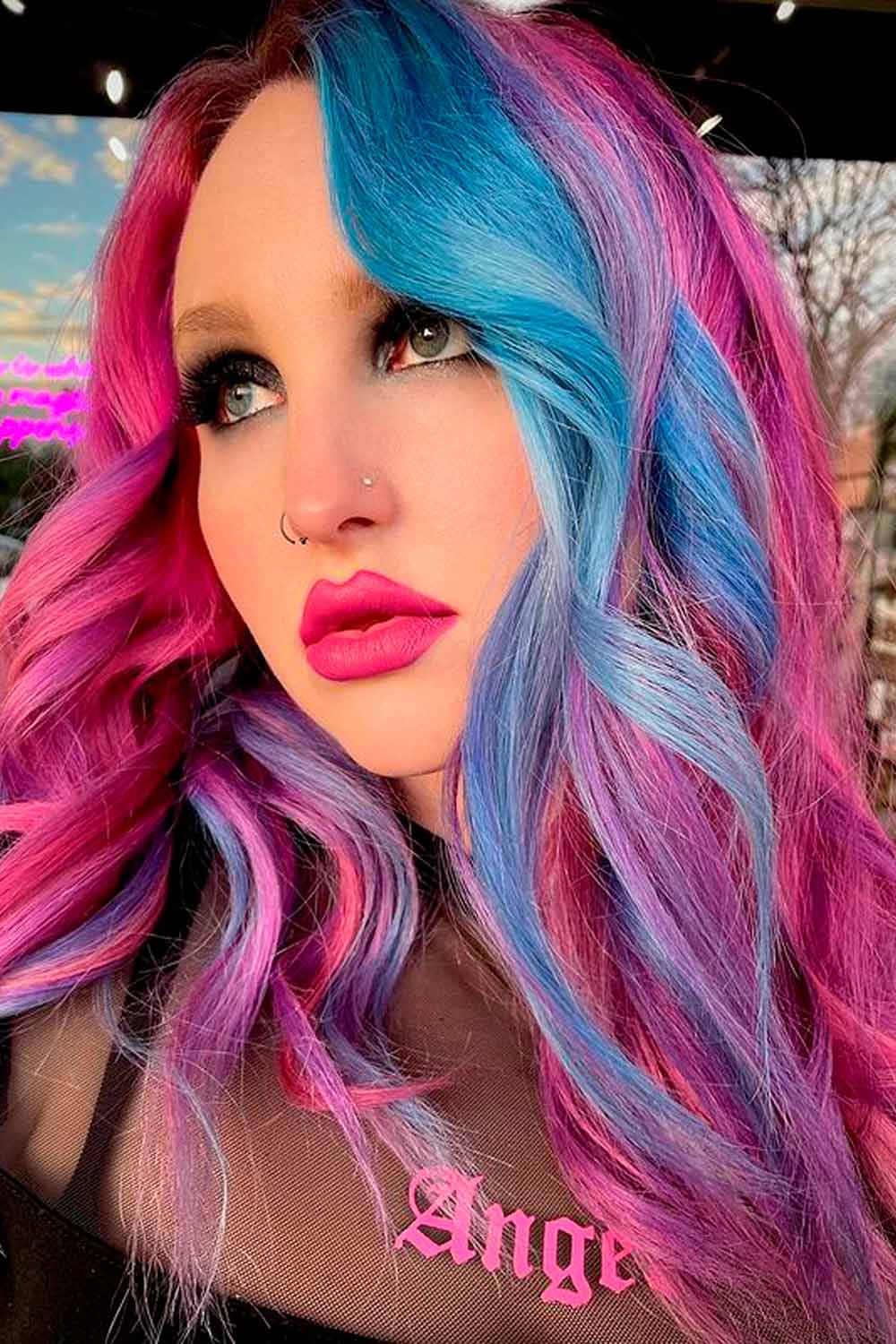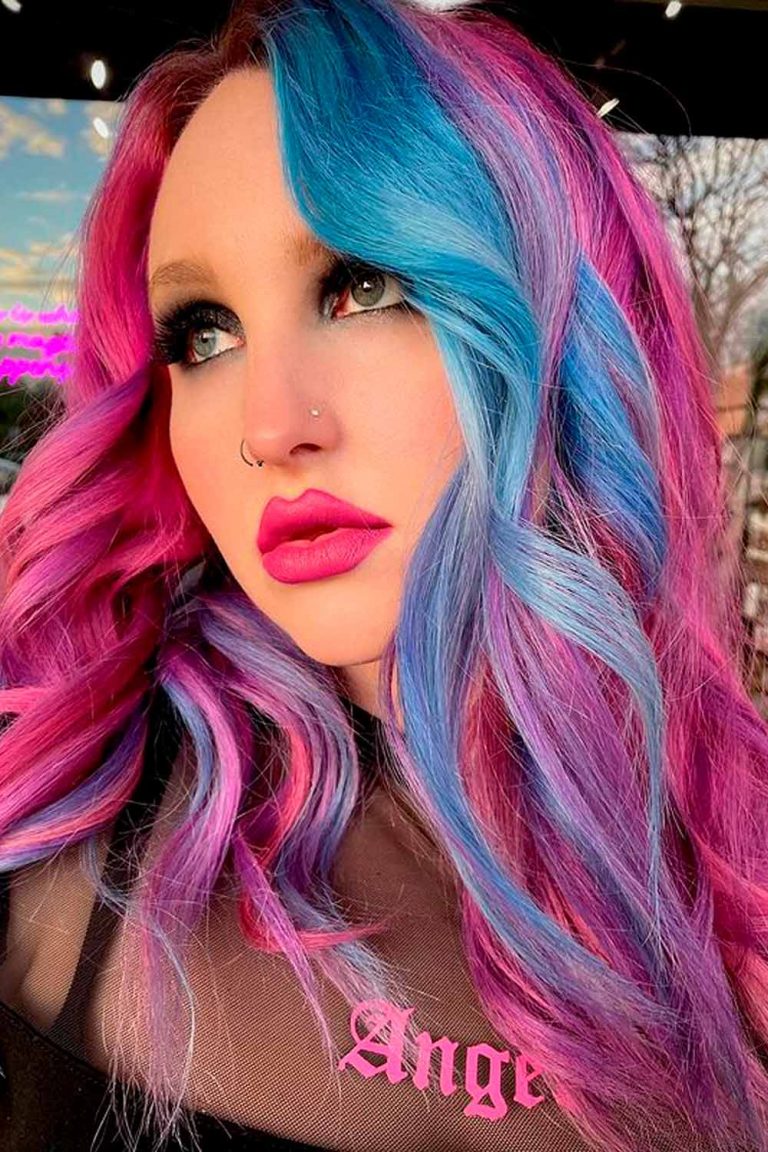 Source: hairgod_zito via Instagram
i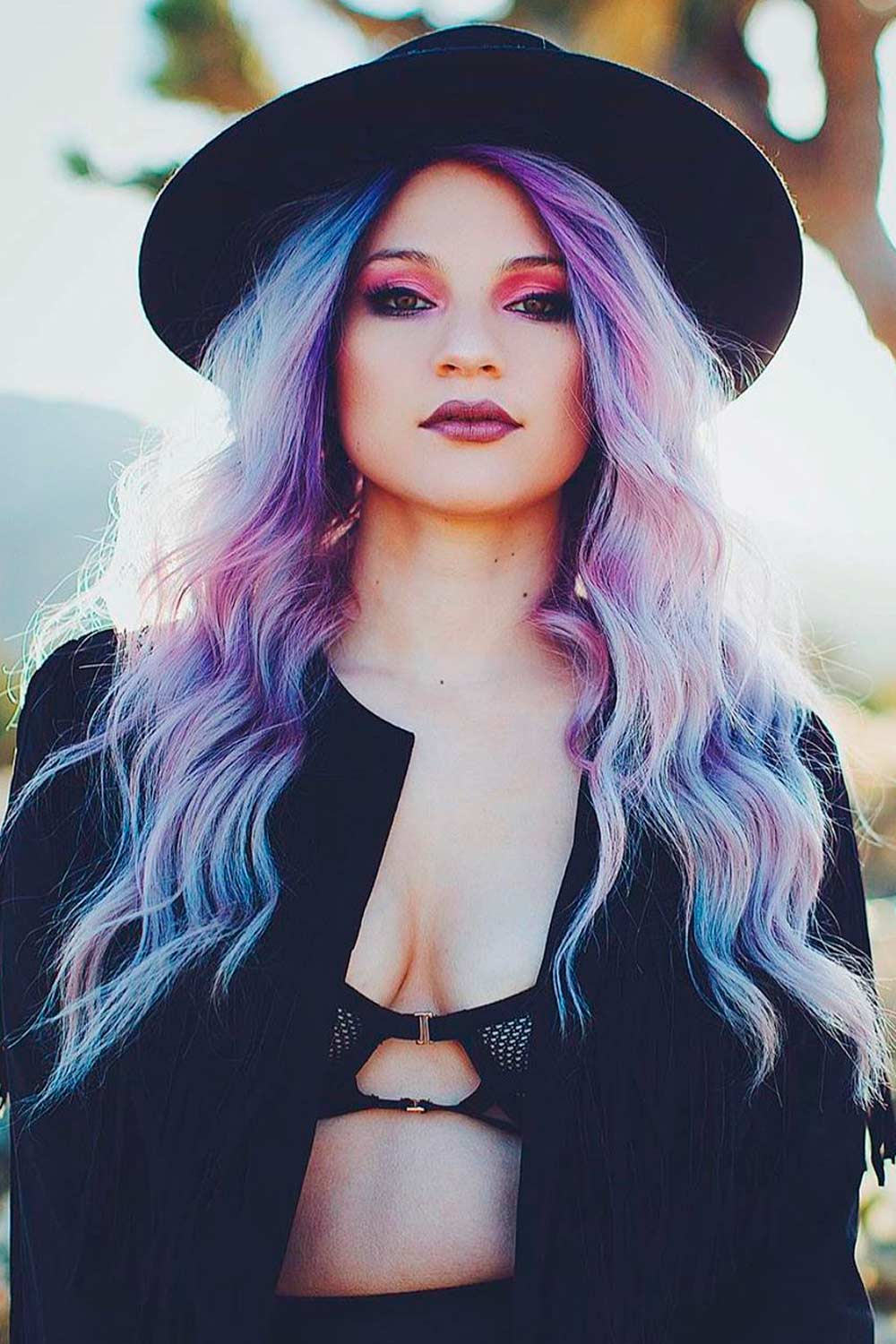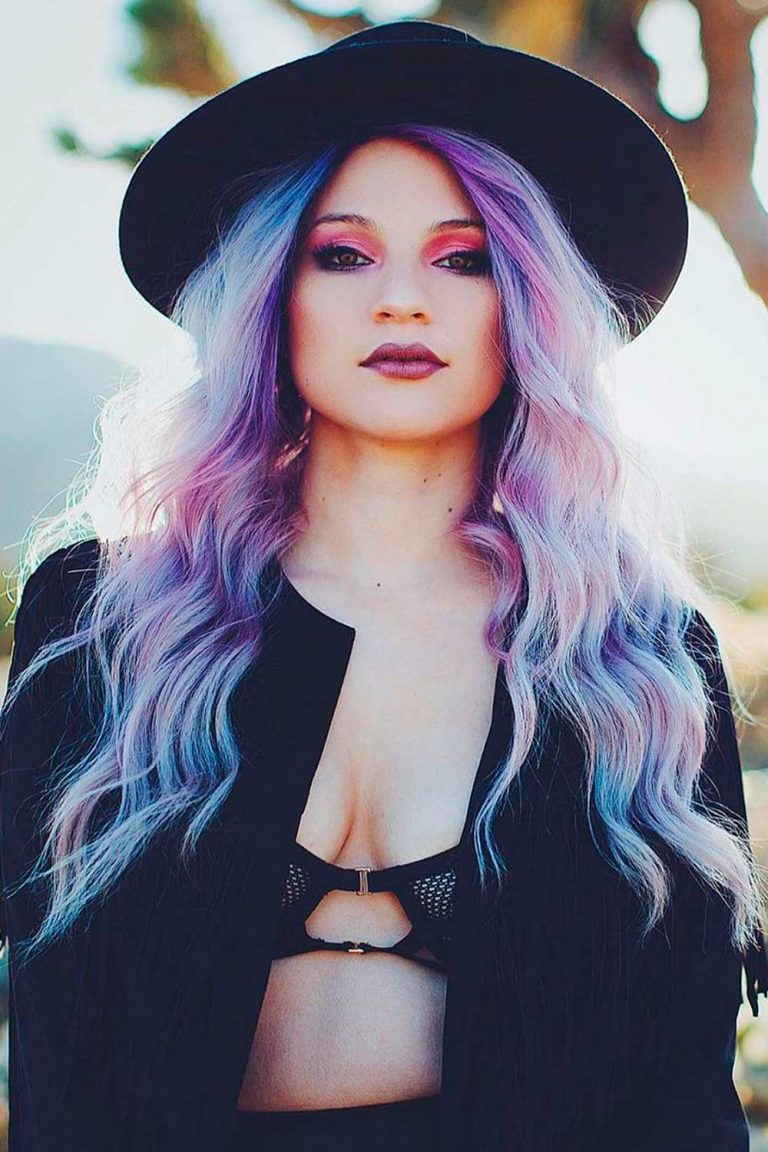 /
Want your look to be all about sweet and girly, yet mysterious angel charm? Don't forget to get some temporary hair chalks, then. All Halloween hairstyles for long hair aim to stand out, and the burst of space colors is crucial for such a look. Mix your favorite pink and blue galactic shades and leave your hair fall freely on your shoulders.
Blue Ombre Twisted Ponytail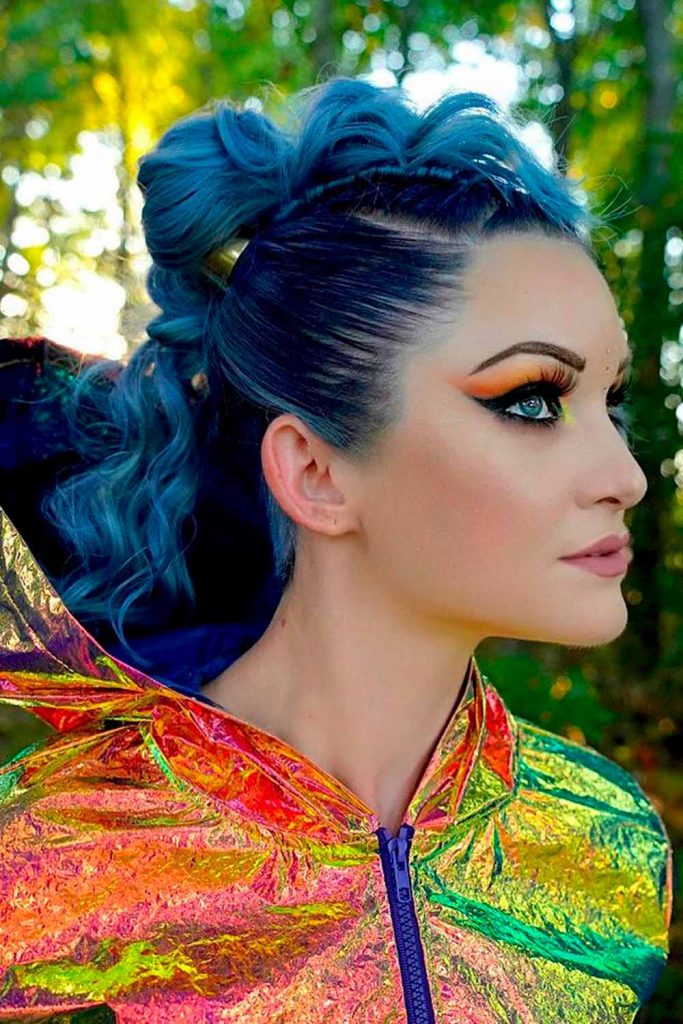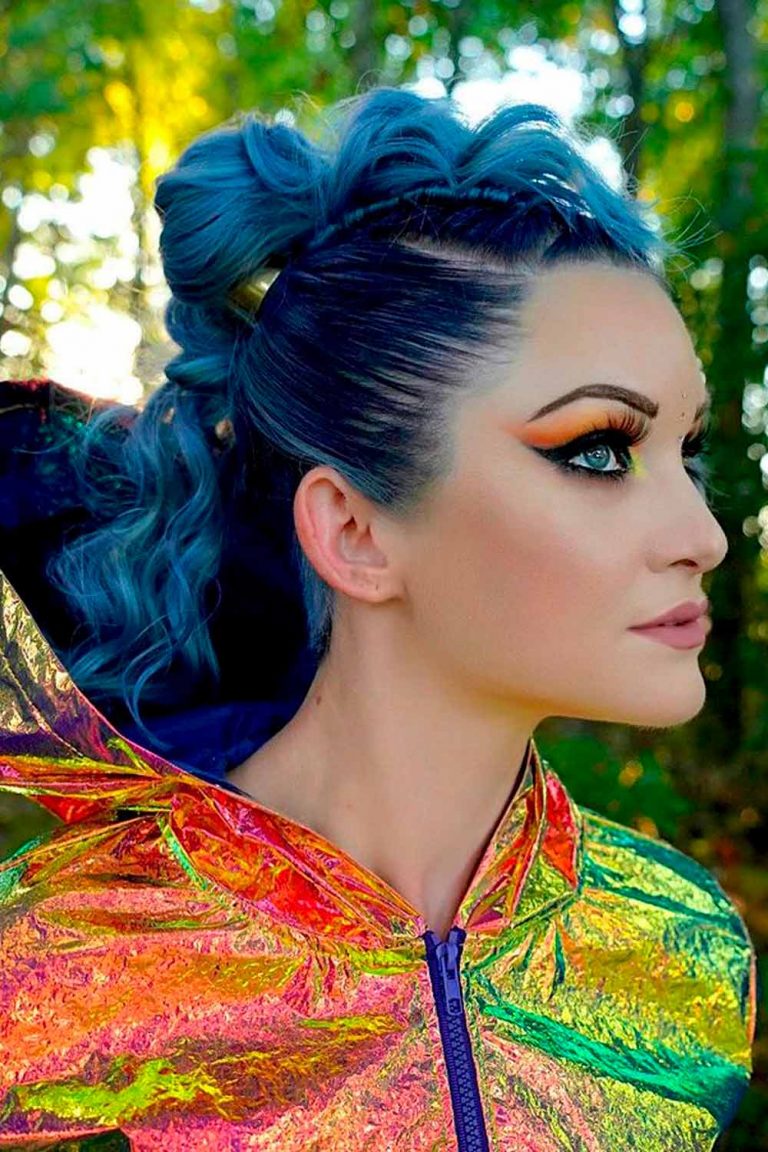 Source: xostylistxo via Instagram
One important thing about Halloween that is often understated is that you can become your unique self without embodying any hero or mythical character. A twisted pony is an eye-catching hairstyle in its essence, but it will acquire a fresh taste once paired with a magnificent blue ombre.
To intensify the festive aura, you can accentuate the look with subtle or well-noticeable hairpins and sparkles. Set your imagination free and enjoy this magical time of the year!
Toothy & Pinned Halloween Edgy Braids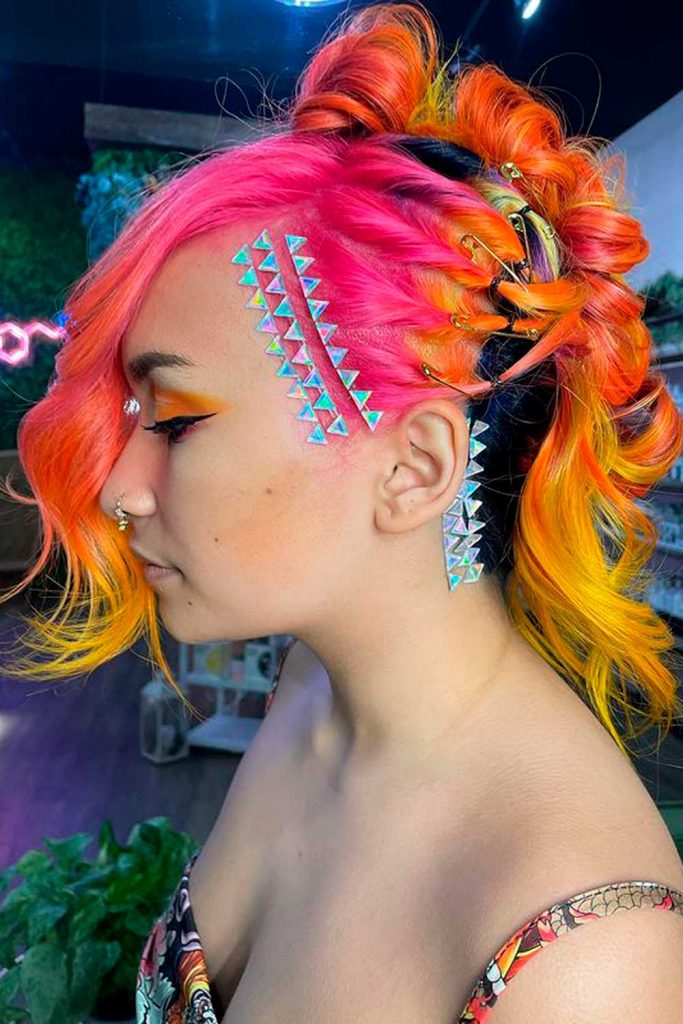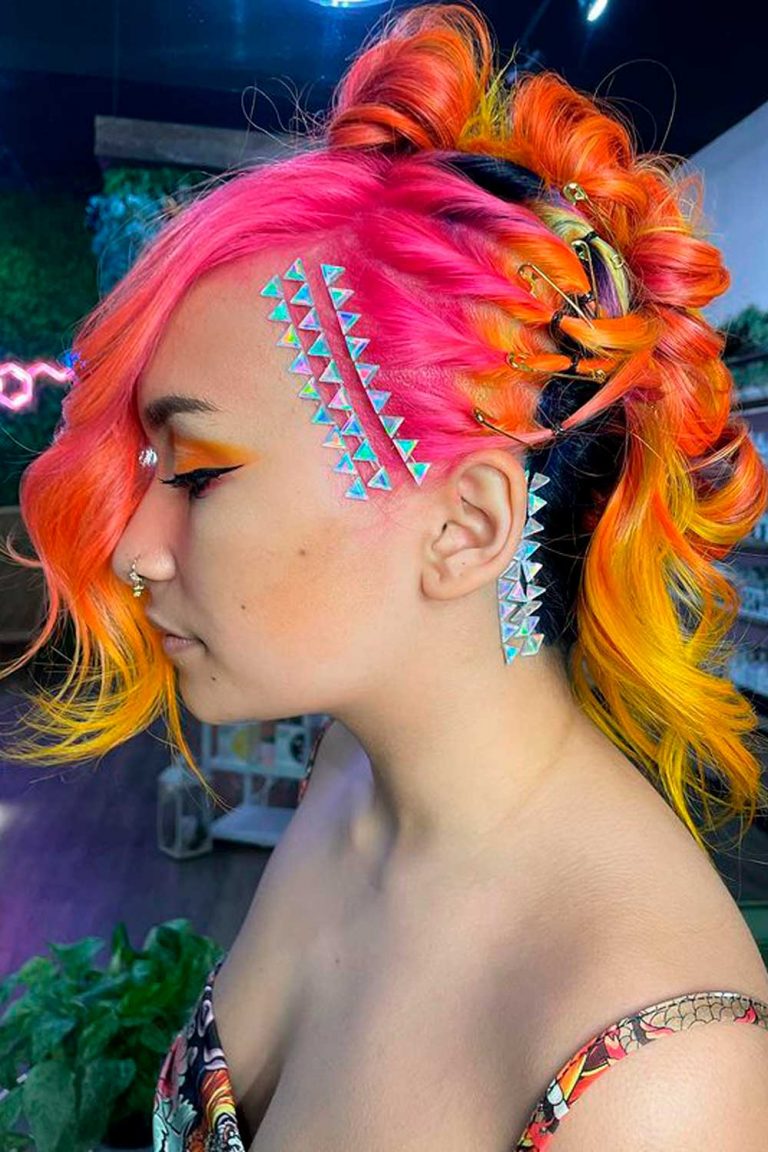 Source: xostylistxo via Instagram
It takes a creative personality to succeed with a striking and edgy Halloween look without trying to look like someone else. Yet, it's utterly possible. All you have to do is adorn your hair with seasonal shades: black, orange, and pink. Gather the lock into a messy half updo and let yourself loose regarding decorative elements. Add pins and zig-zags to the scene to make your hair look like a lovely but deadly monster, and embrace all the adoring glances and compliments that the day will bring.
Half-Up Braided Naughty Halloween Ponytails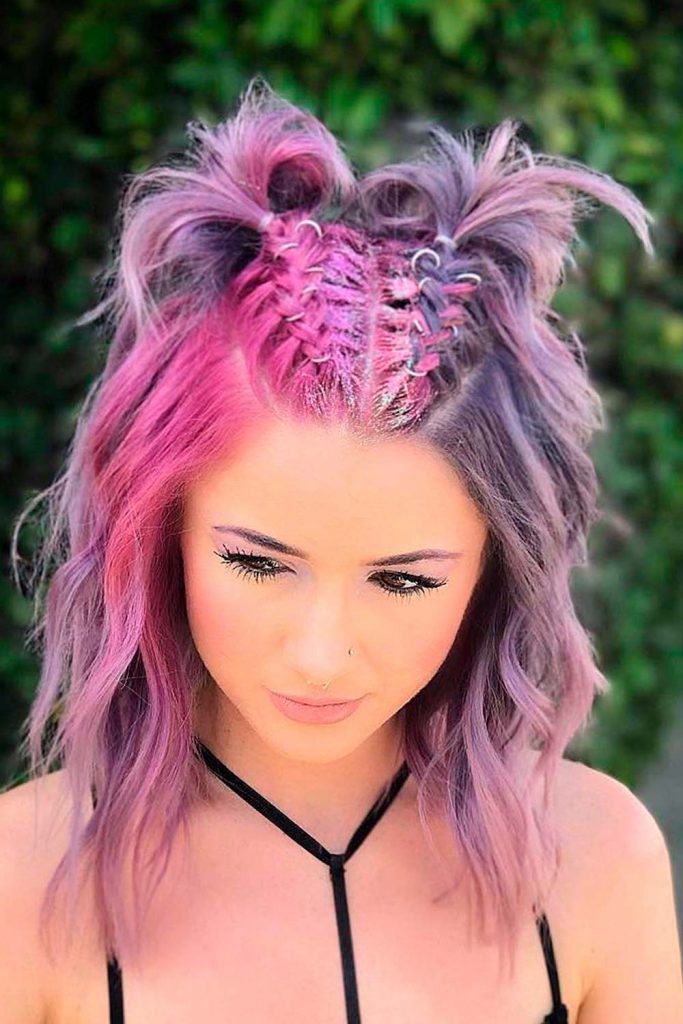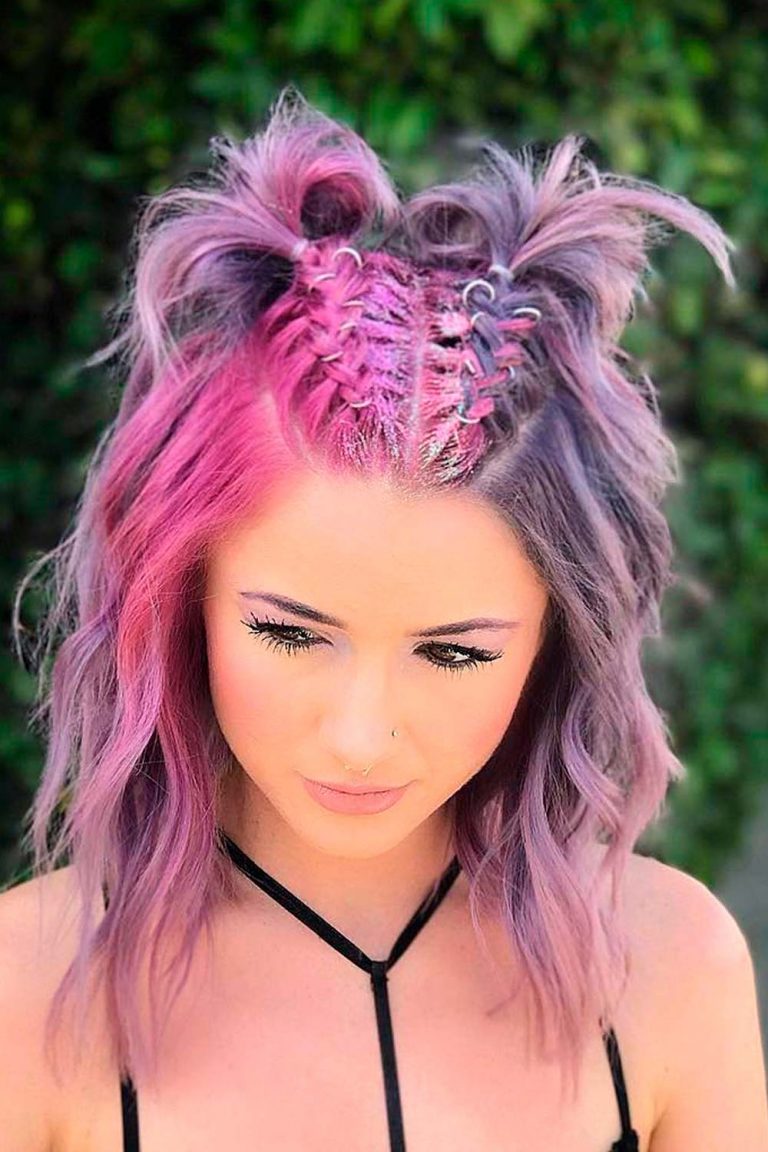 Source: hairgod_zito via Instagram
Halloween hairstyles for long hair are a possibility to showcase and embrace your sassiness and allure. Trust us, it is easier than easy to succeed with a fitting hairstyle. For instance, two half-up French ponies are the length to go to capture the naughty vibe of Halloween. You can style the braids with tiny metal rings to add spice and edge to the design. A tad of sparkle will serve right, too.
Skull Makeup With Messy Space Buns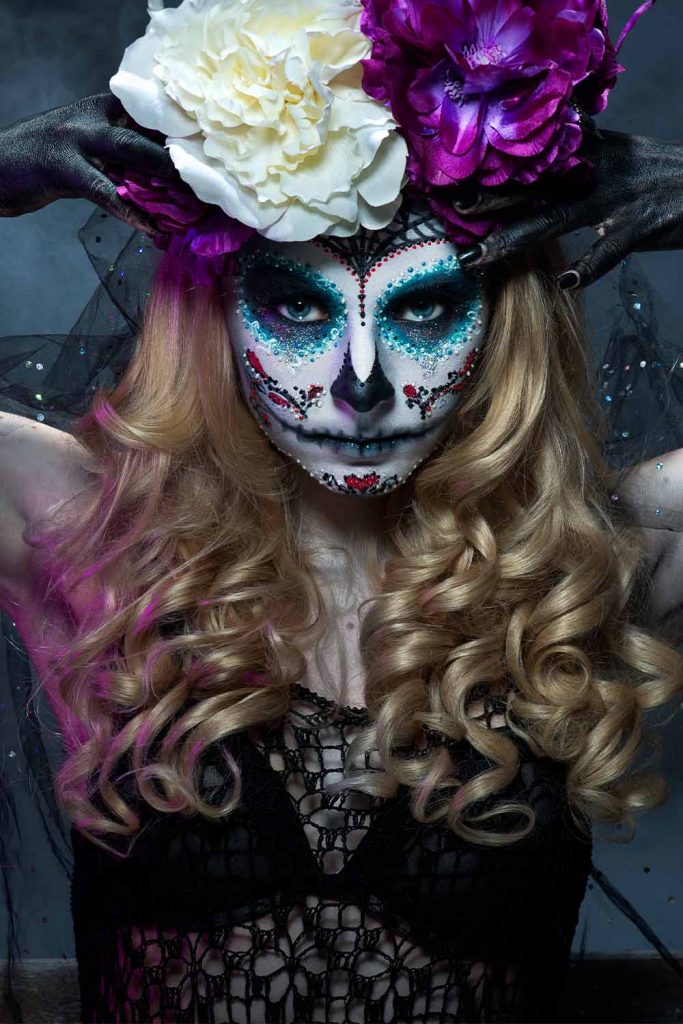 Source: Shutterstock
Double space buns can be different, as well as they can fit many looks and makeup ideas. Most girls pair their skull makeups with loose long hair and heavy accessories, while you can differ from them by making your own hair be an embellishment. Aren't these big messy twists worth a try?
Half-Up Half-Down Braided Hairstyle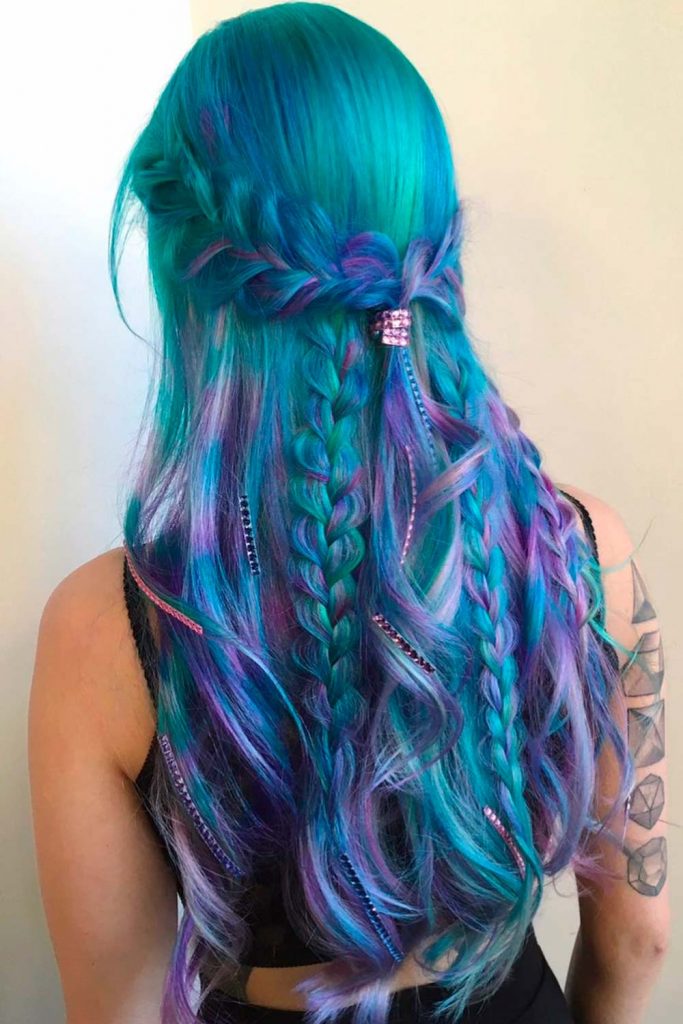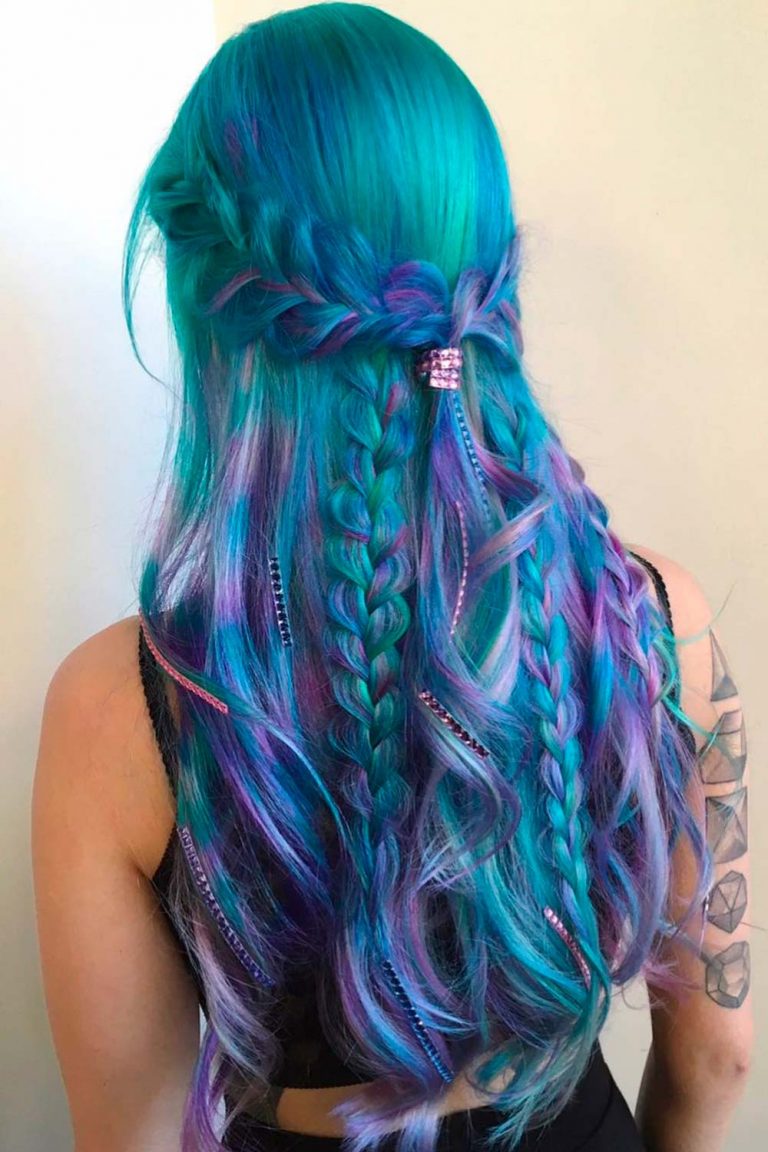 Source: xostylistxo via Instagram
Love this ultra feminine half-up half-down hairstyle made with thick and tiny braids nicely attracting public attention? It's also the mesmerizing and enigmitac combination of bold blue, violet lilac and greenish hues that makes it so lovely. To emphasize the sexuality of the look, finish it with tiny "snakeskinned" ribbons embedded in braids. Yes, simple Halloween hairstyles for long hair don't stop impressing up.
Blueish Violet Halloween Dutch Braid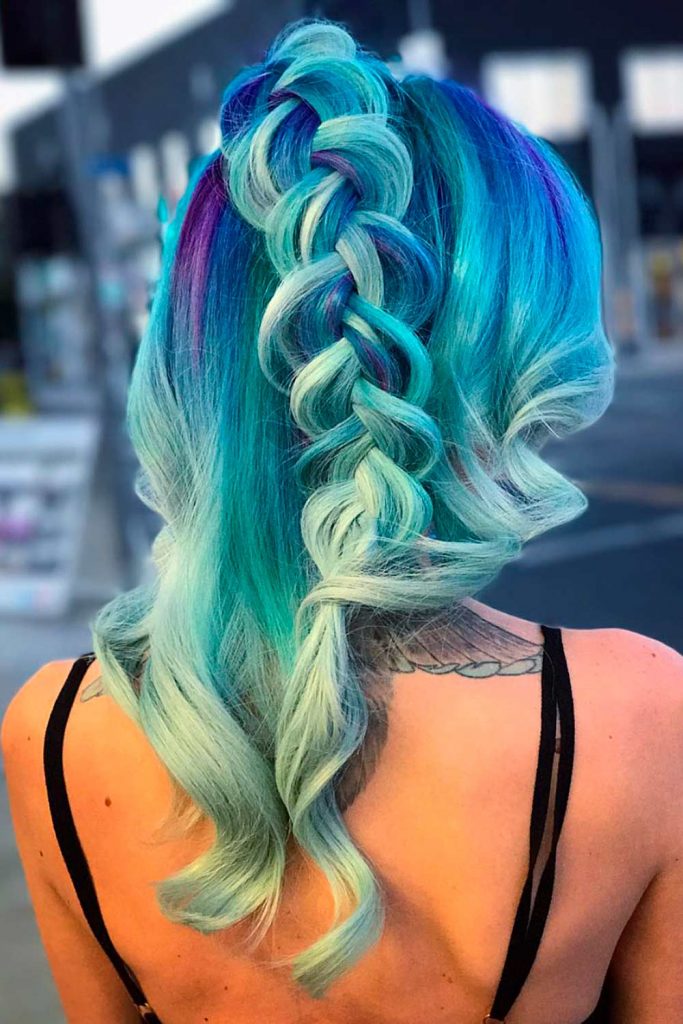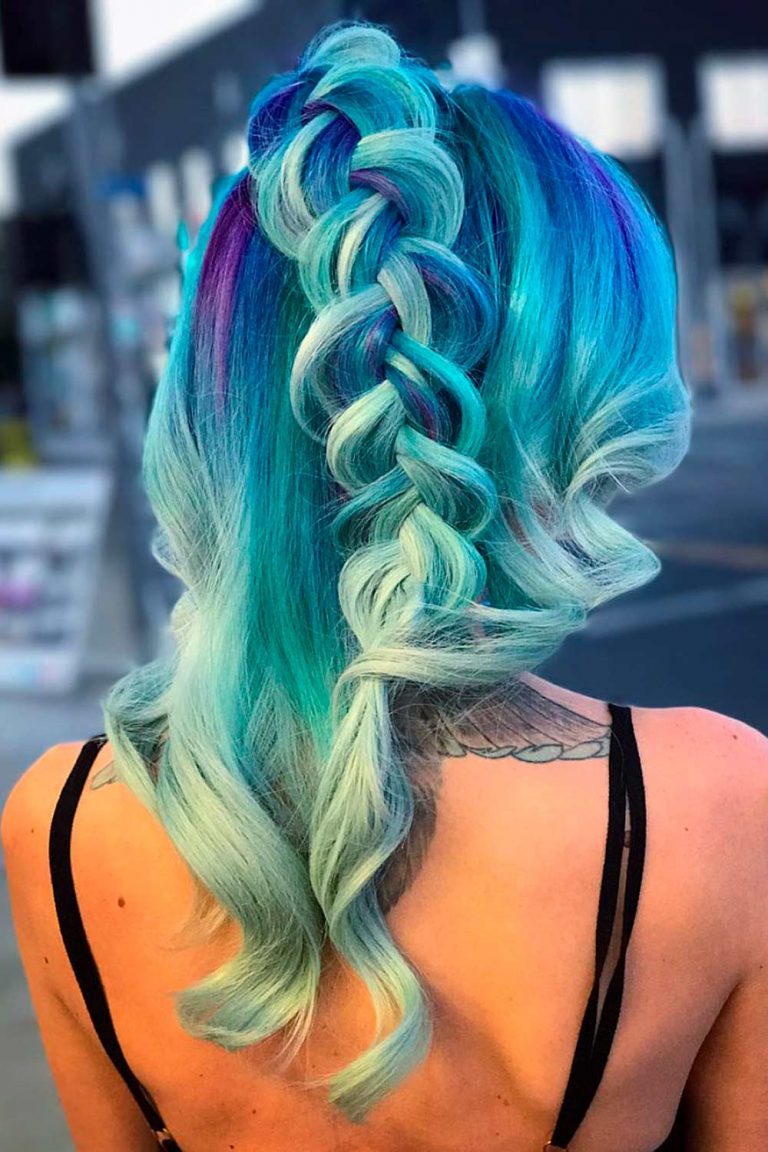 Source: hairgod_zito via Instagram
When your Halloween makeup and outfit are complete, don't forget about the finishing hairstyle: this simple, yet super authentic dutch braid made with smoky blue hair will perfectly complete your Halloween look.
Blueish Green Forest Princess Braid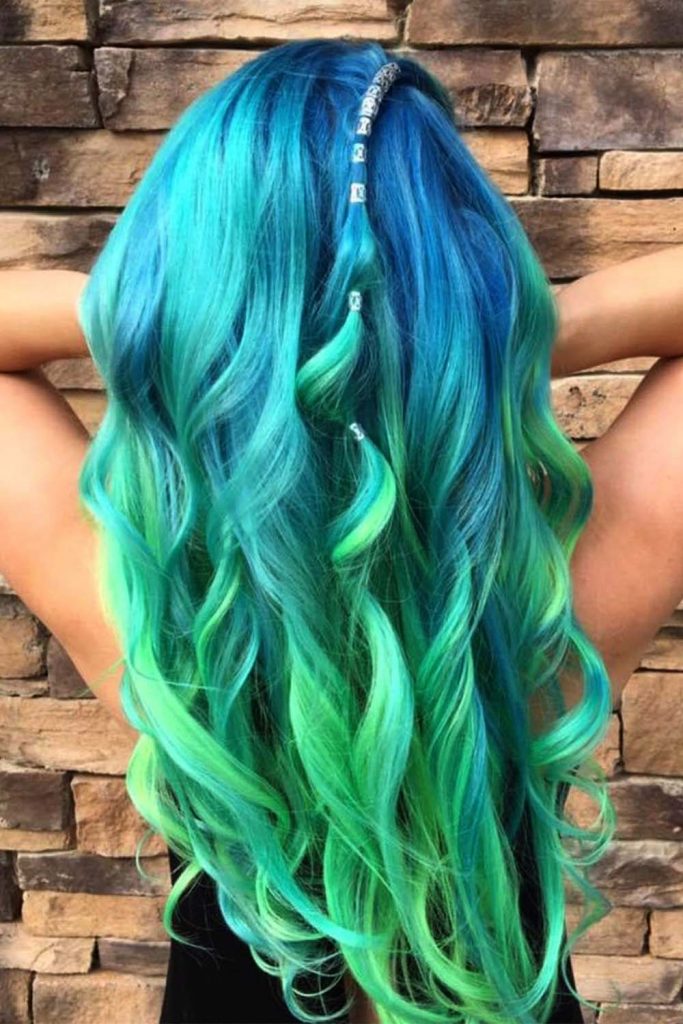 Source: xostylistxo via Instagram
The minute you imagine a forest Princess, you think about a waist-long flowing mane in gentle but vibrant hues. Did we capture the mood correctly? Should that be the case, we suggest you evoke the mystique of the dark and secretive woods. Coat your regal mane with light waves and a gorgeous hair accessory that projects the greenery vibe. Wear a tight-fit dress in earthy tones to intensify the enchantment of a mythical woodland kingdom.
Halloween Bow With Rose Hair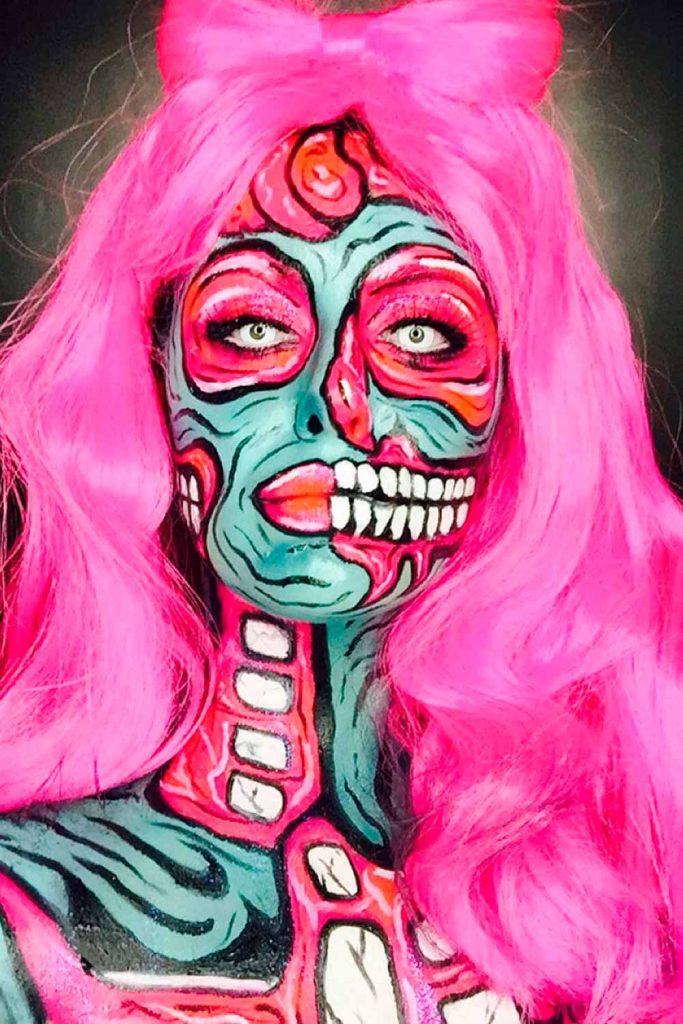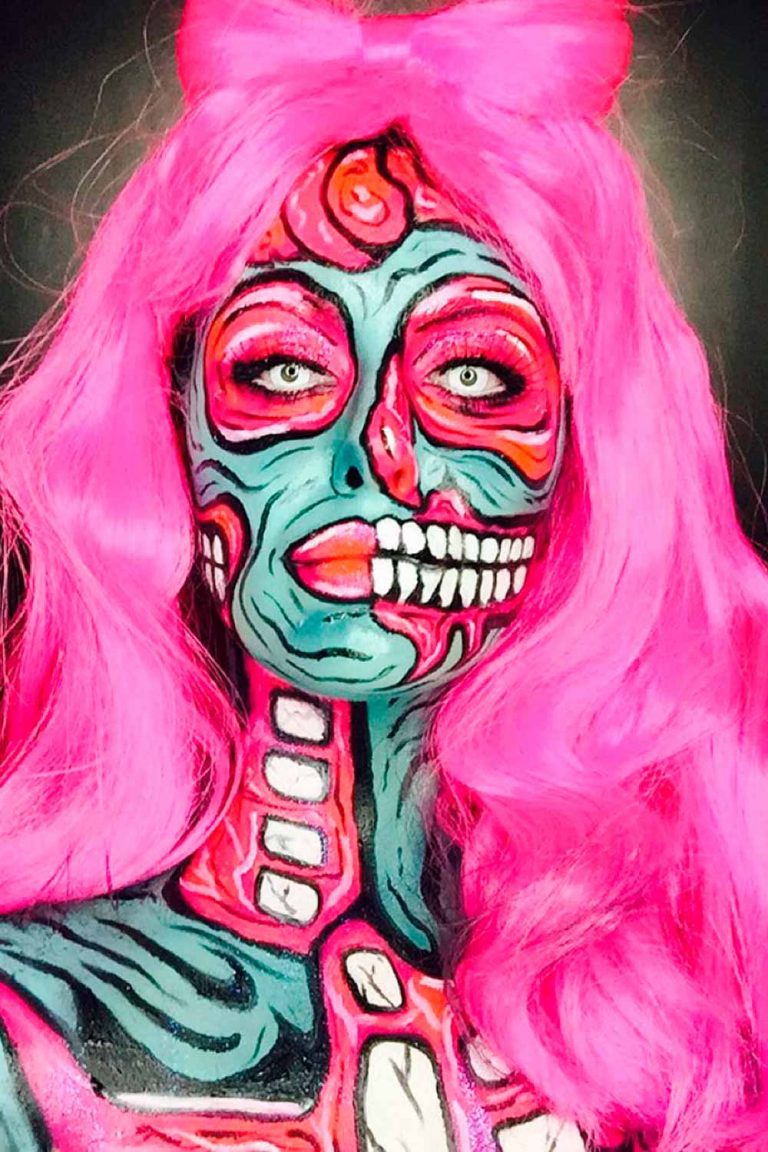 Source: kerri54 via Instagram
Halloween looks are mostly about blood, so no wonder that some ladies would like to devote them to the color of fear and passion. Add more bold pinkish colors to your makeup, spicing it up with some drops of fake blood. Also, you can accessorize your long bold pink hair with bows and/or flowers: it will look creepy and charming at once.
Superblond Pastel Halloween Locks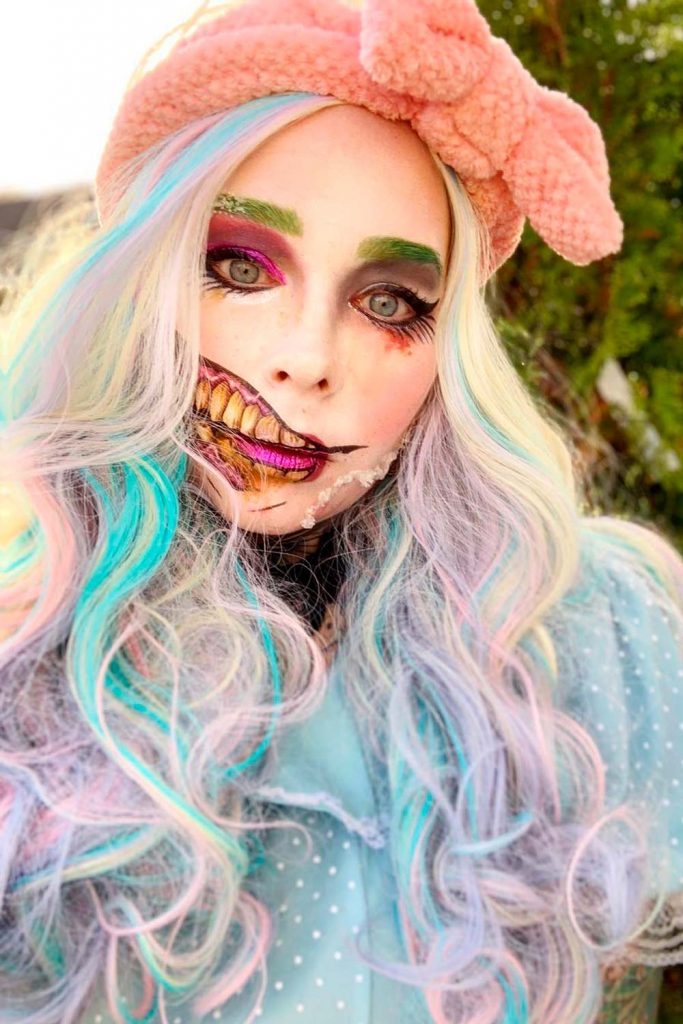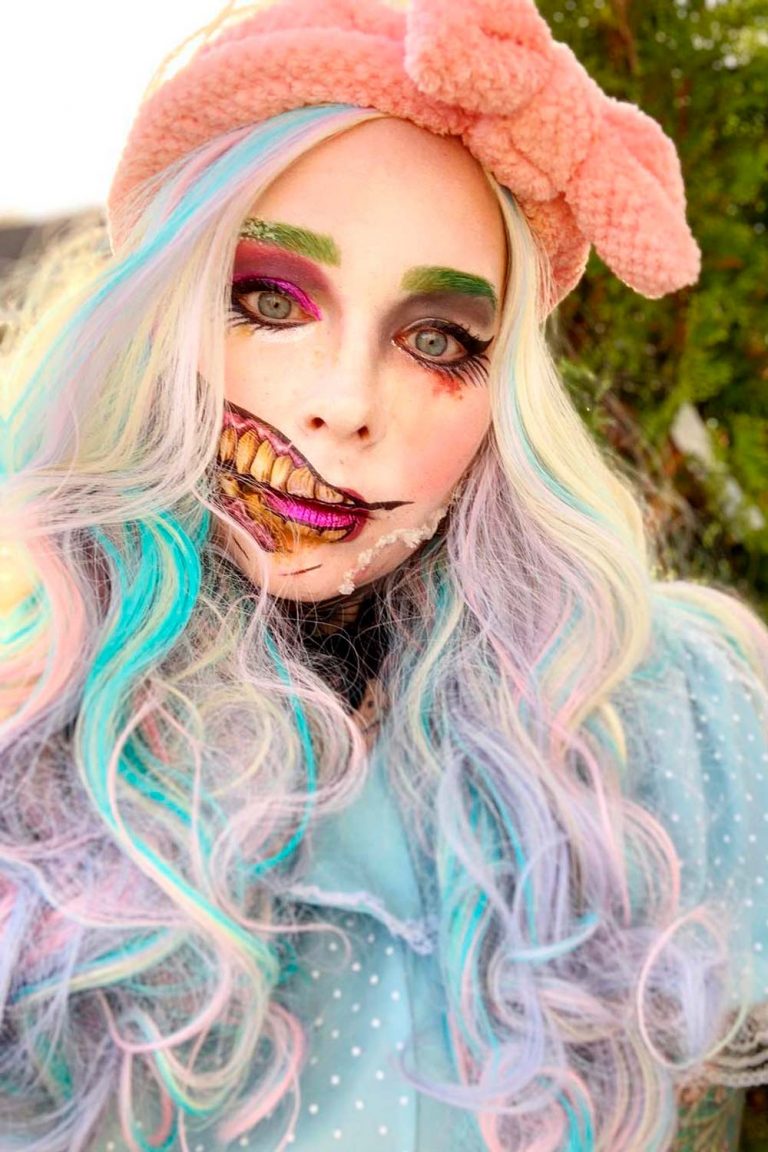 Source: xostylistxo via Instagram
How do you like the idea of becoming a mythical creature for just one day? There's only one rule for creating your own Halloween looks: there are no rules. It also can be a fantastic combo of a real and mythical character; it's all up to you. As for your hairstyle, keep it easy, yet significant: voluminous white hair with neon blue and pink highlights is a nice example.
Queen Of Horror With Long Fire Crow Feathers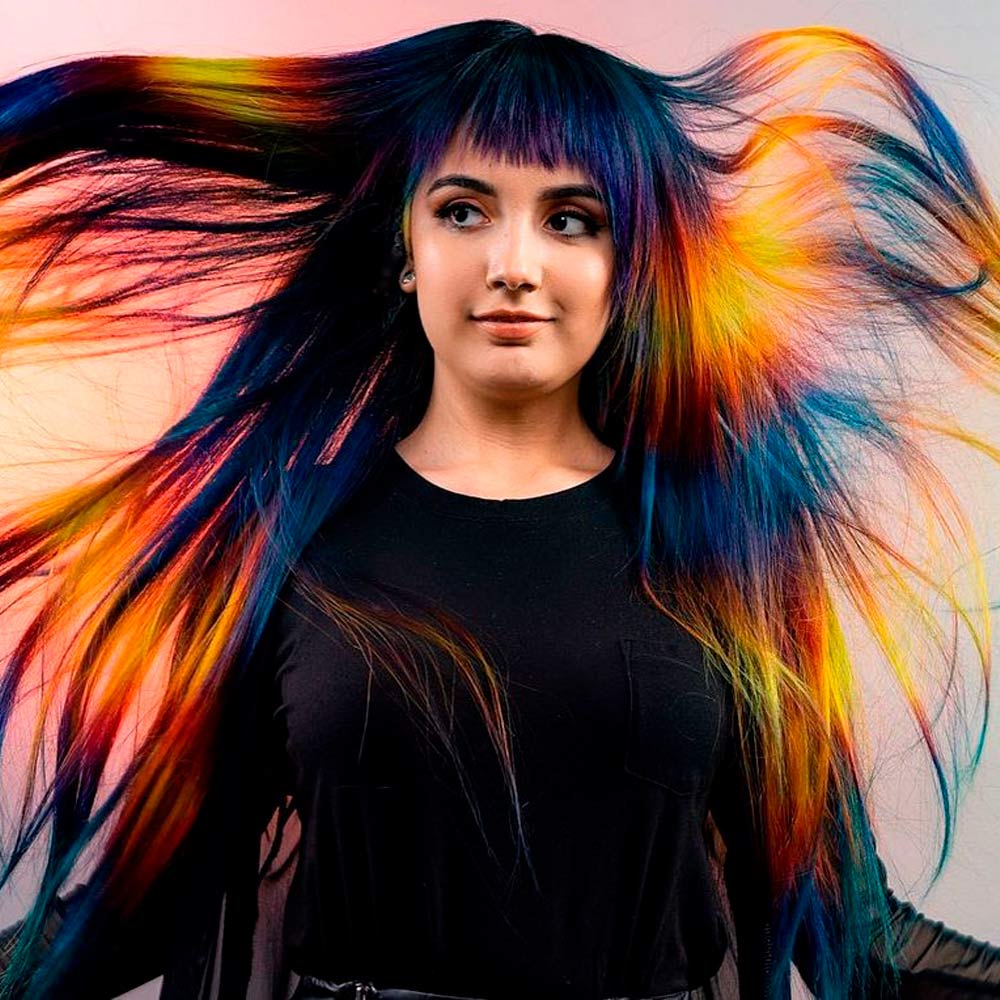 Source: hairgod_zito via Instagram
Nothing works better for truly scary looks than Halloween hairstyles for long raven black hair with fiery red and navy blue highlights. If the cute side of this evening doesn't appeal to you, you can go for something more dramatic than cat, unicorn, and clown ideas. This look is the best way to challenge all those pretty girls!
Creepy Witch With Long Blueish Gray Hair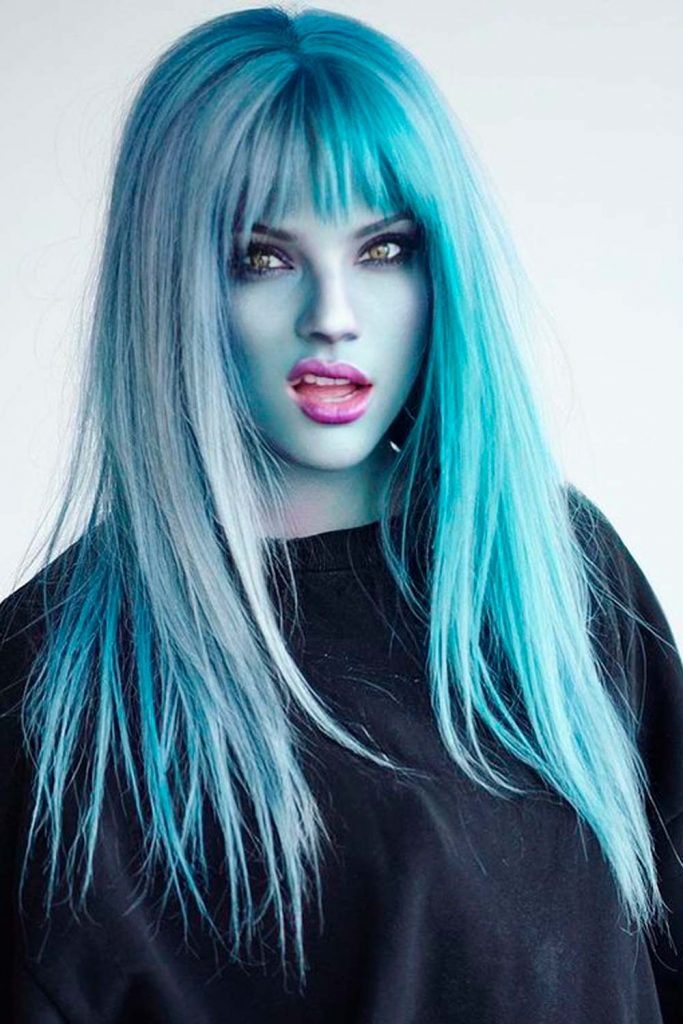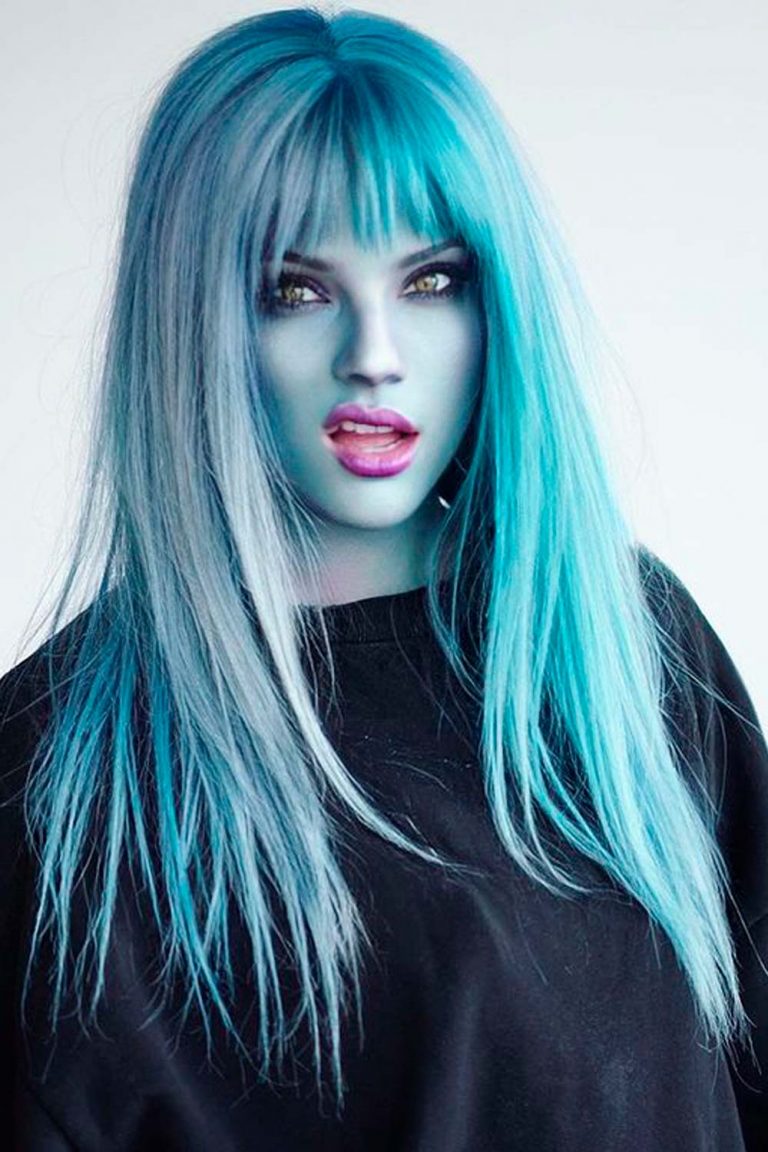 Source: hairgod_zito via Instagram
Not all the witches wear torn clothes and ride on the bloom; some witches can put a spell on you with just one fascinating, stylish glance. Those who go for creepy looks with lots of dark colors in their eye makeups should give blueish silver hair a shot: it will nicely accentuate your cold witchy mood.
Violet Blue Red Mystification With Wreath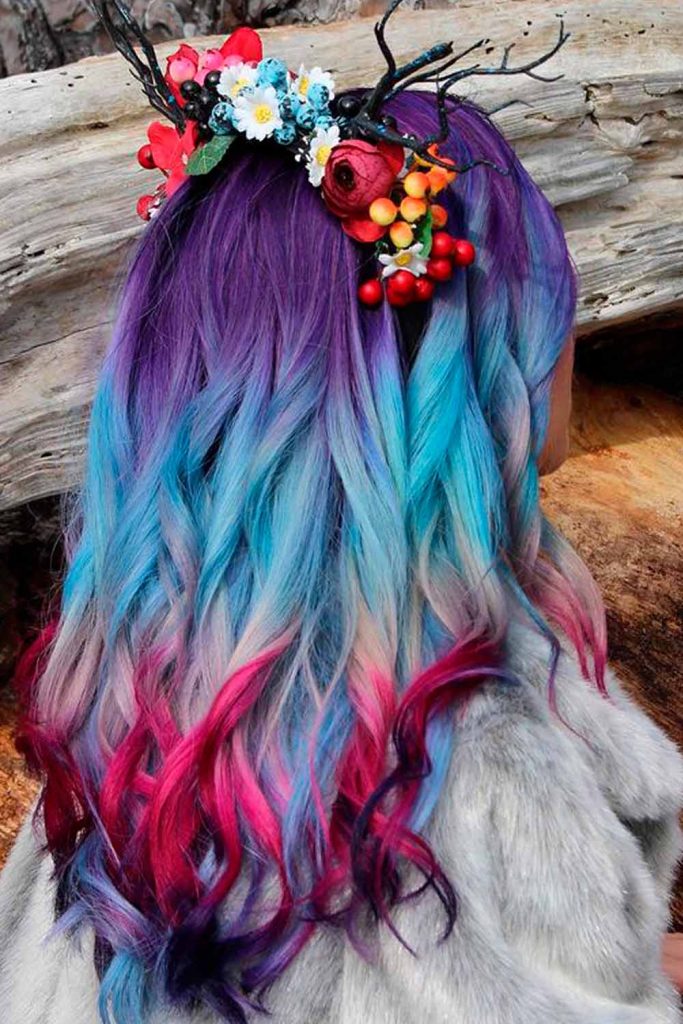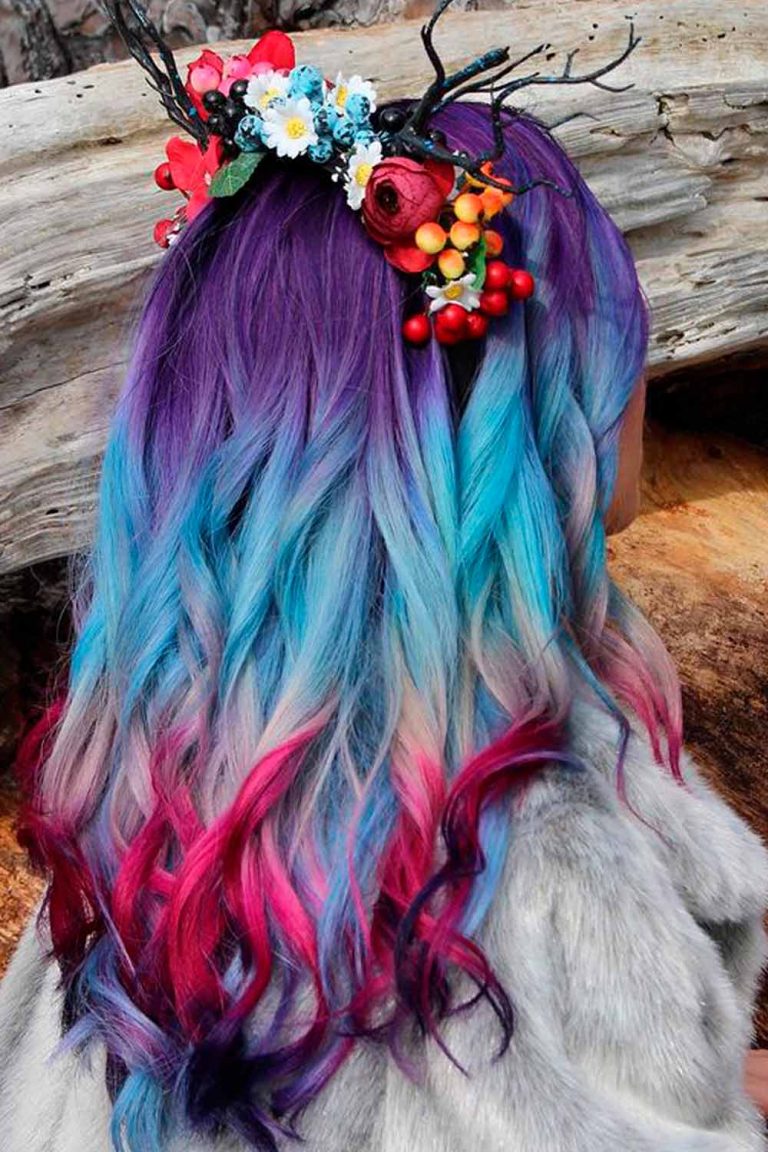 Source: themanemichael via Instagram
Nobody has a clear picture of how the goddess of autumn, forests, and dryads look like, so why don't you let your inner goddess run the party and show her real face to everyone? Seriously, no one has ever seen a divine woman with a blue red updo with wreath, so no one can prove it's not an authentic look. Besides, the way blue and violet hair accentuates the wreath made with forest flowers, branches and berries is indeed something sent from above.
Black & Green Dreamy Halloween Mullet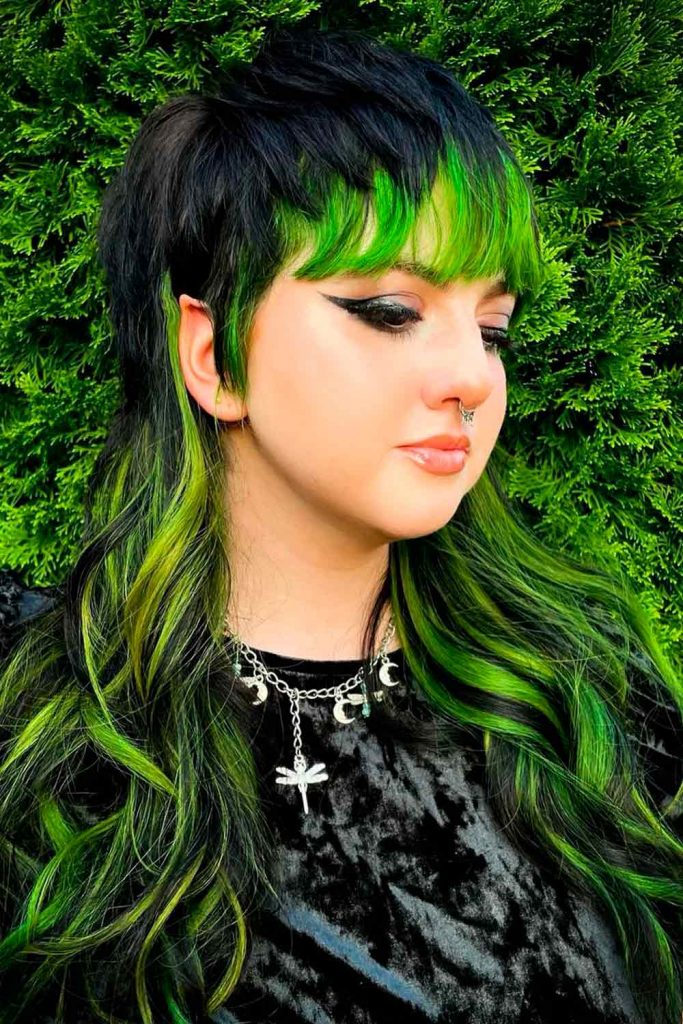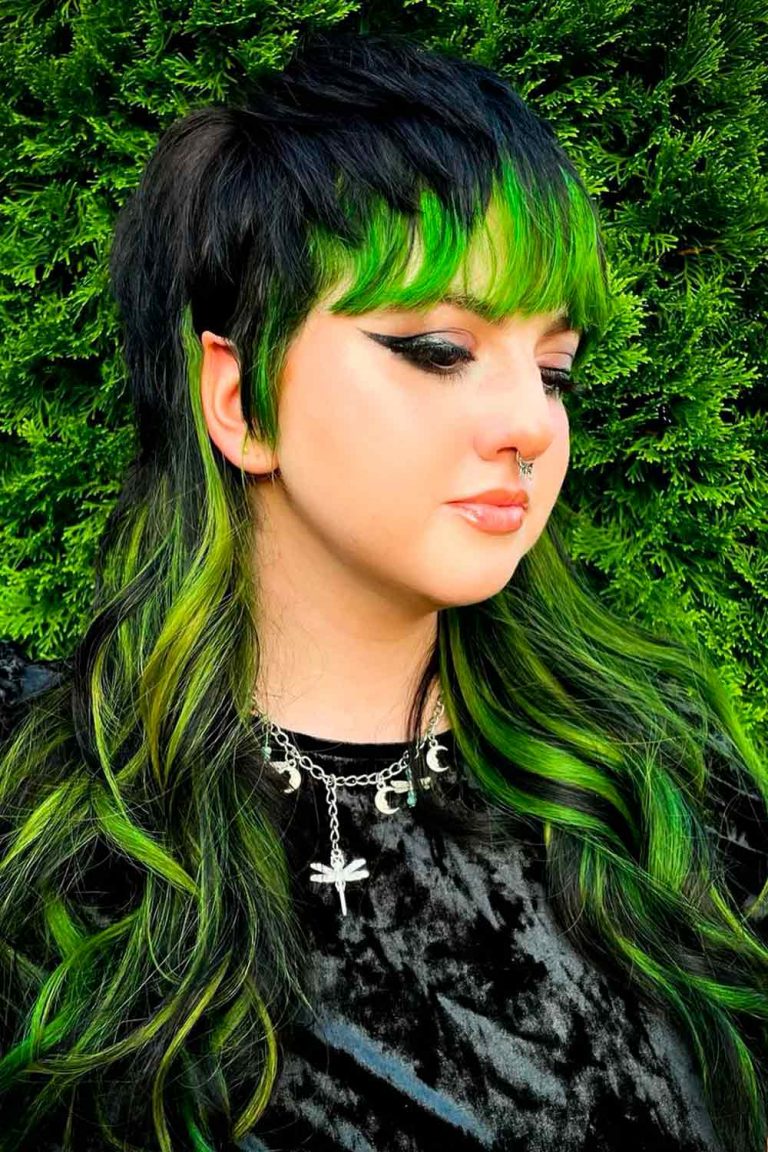 Source: xostylistxo via Instagram
This creative and daring mullet hairstyle made with long black wavy hair and bold green highlights will definitely show all the Halloween witches who's boss, changing the common image of a helpless girl to a strikingly stylish and bold lady. Pay attention to how the green tips of the bangs make you look a bit like an alien creature (the very thing for Halloween!).
Golden Girl With Updo Headband Braid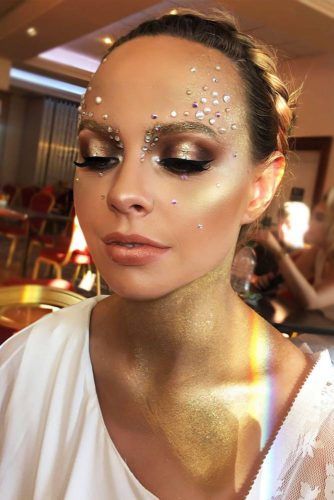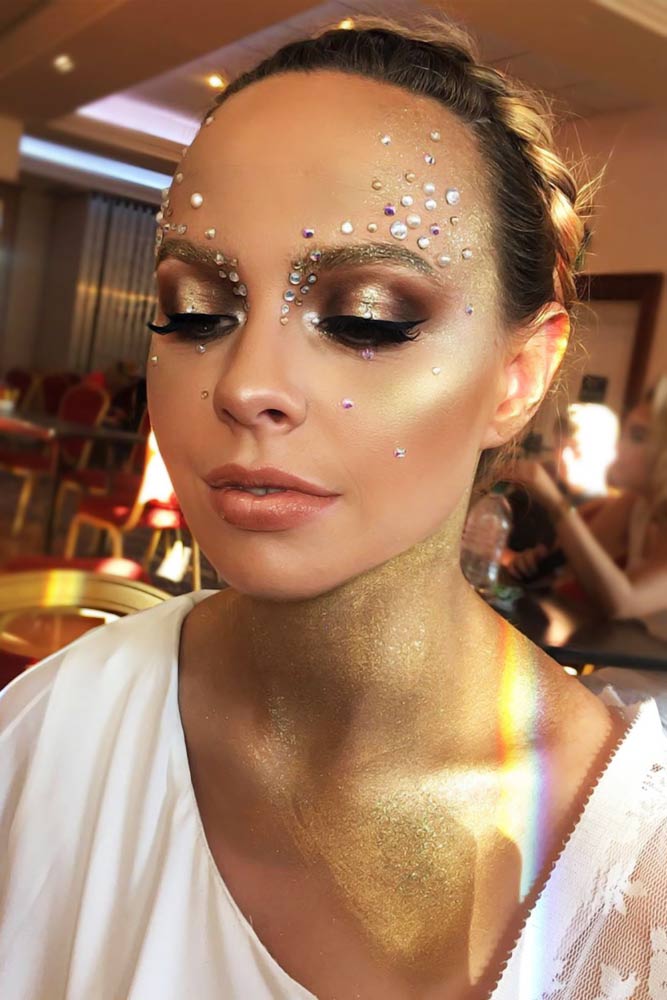 Source: kerri54 via Instagram
Some girls leave people speechless with their scary Halloween looks; others let their beauty do the talking. What can compare to a feminine character with lots of glitters and highlights enhancing her beauty? Finish the shiny makeup with a headband braid so that everyone can see the magical vibe of your Halloween look.
Blueish Green Fanged Fringe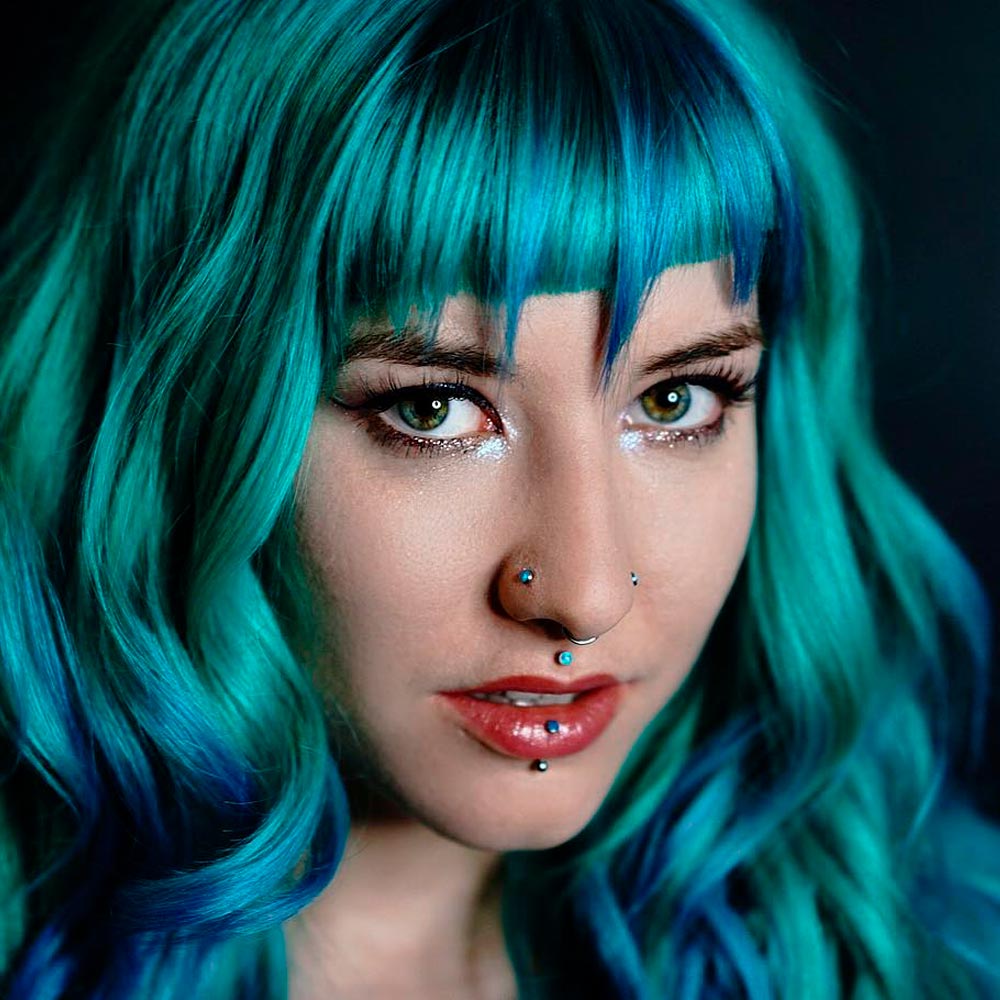 Source: hairgod_zito via Instagram
How dedicated to the holiday, do you think you are? If you are willing to go to the lengths and dye your locks into a fancy blueish-green tone – that's just half of the task. We dare you to style your lovely fringe with cutesy fangs and make your hair look unique without much decoration. In case this feels too much to ask, you can get a colorful wig and just replicate the idea. The outcome will be as lovely and stunning. We can promise you that!
Blue Violet Inky Messy Halloween Feathers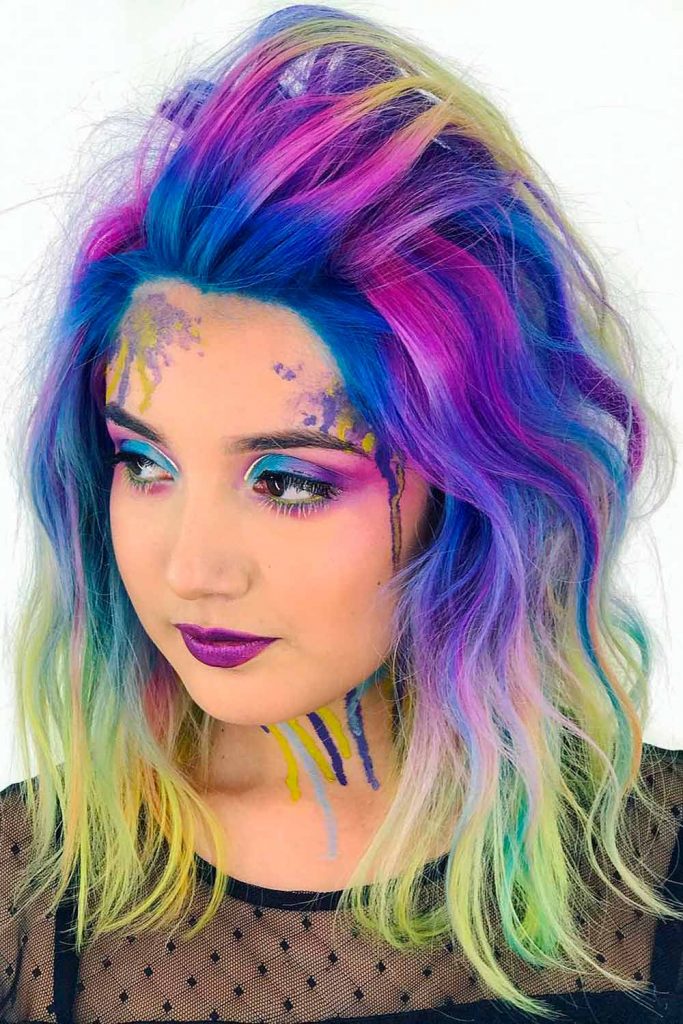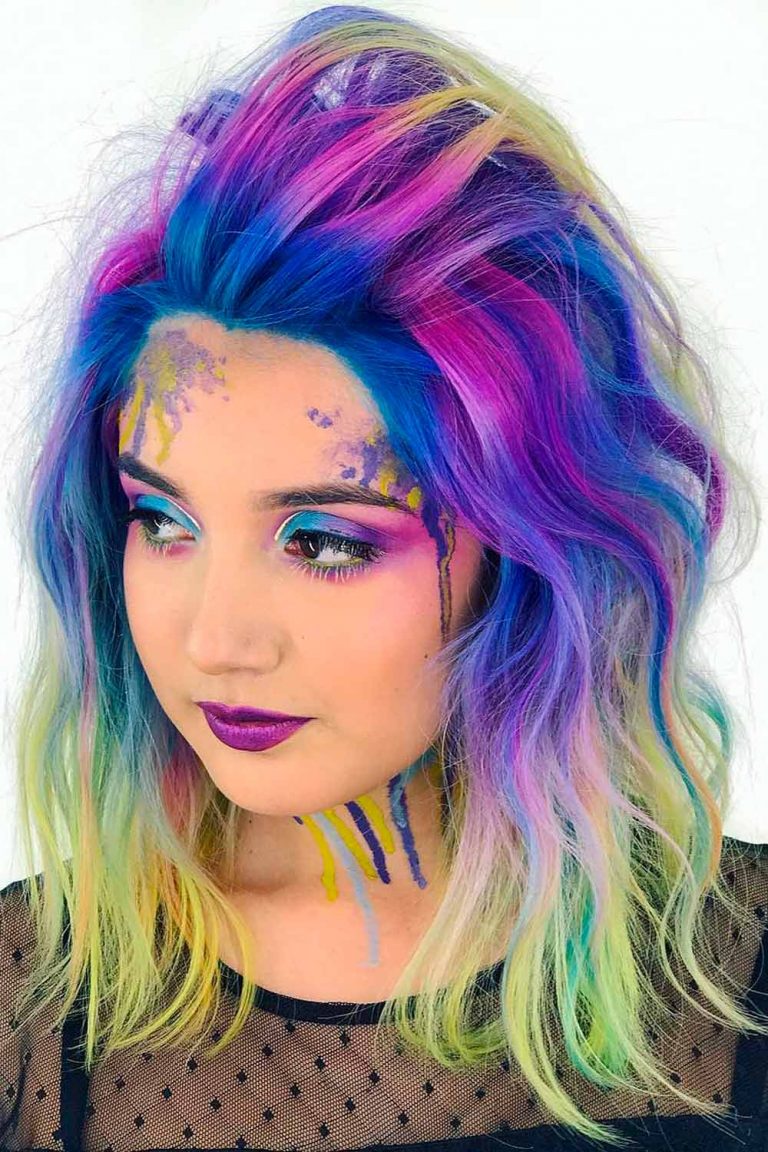 Source: hairgod_zito via Instagram
Every Halloween party needs a hero, and it seems like no one but you can handle it! The ideal Wonder Woman can't do without the right hairstyle. Speaking of which: a faux-hawk styled messy hair with bold blue & lilac "ink blot" ombre is exactly what you need to recreate the Halloween hero-look.
Devil Look With Greenish Halloween Locks
Source: xostylistxo via Instagram
i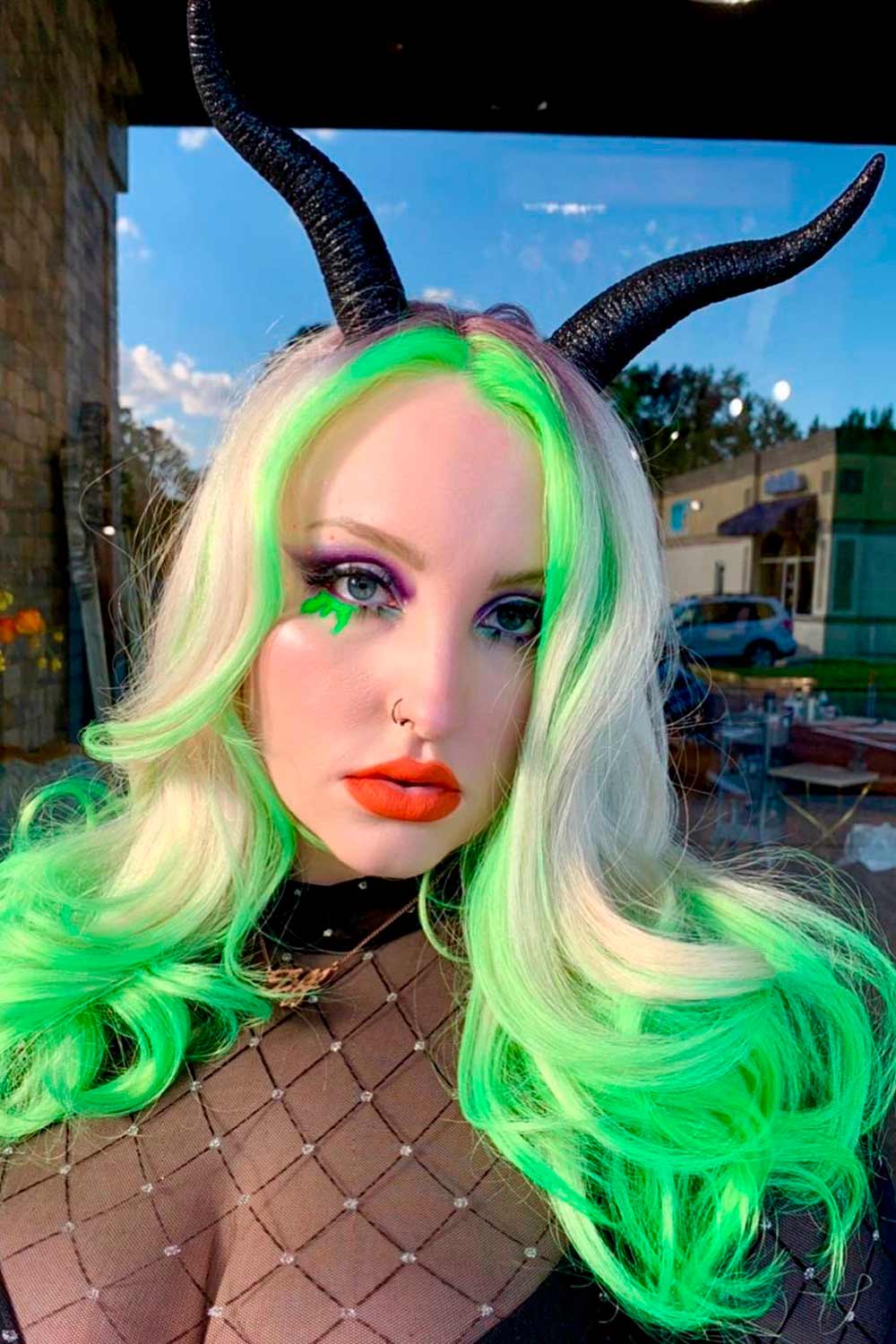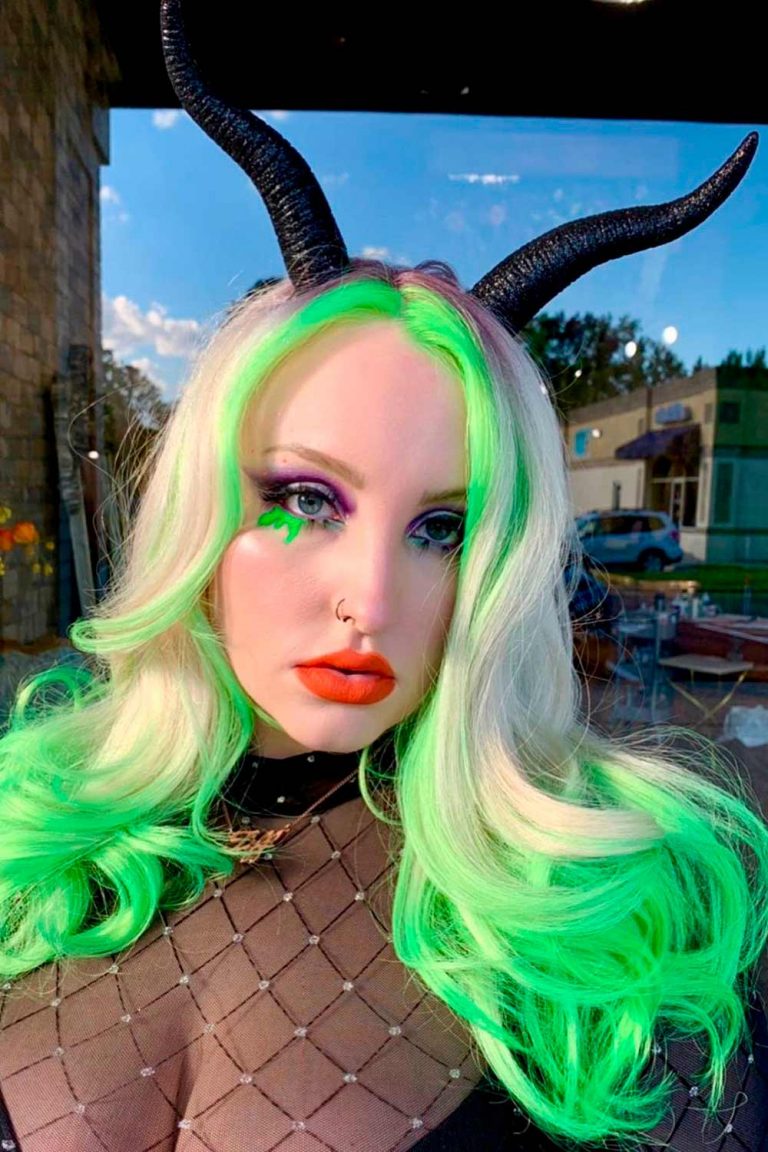 Source: themanemichael via Instagram
i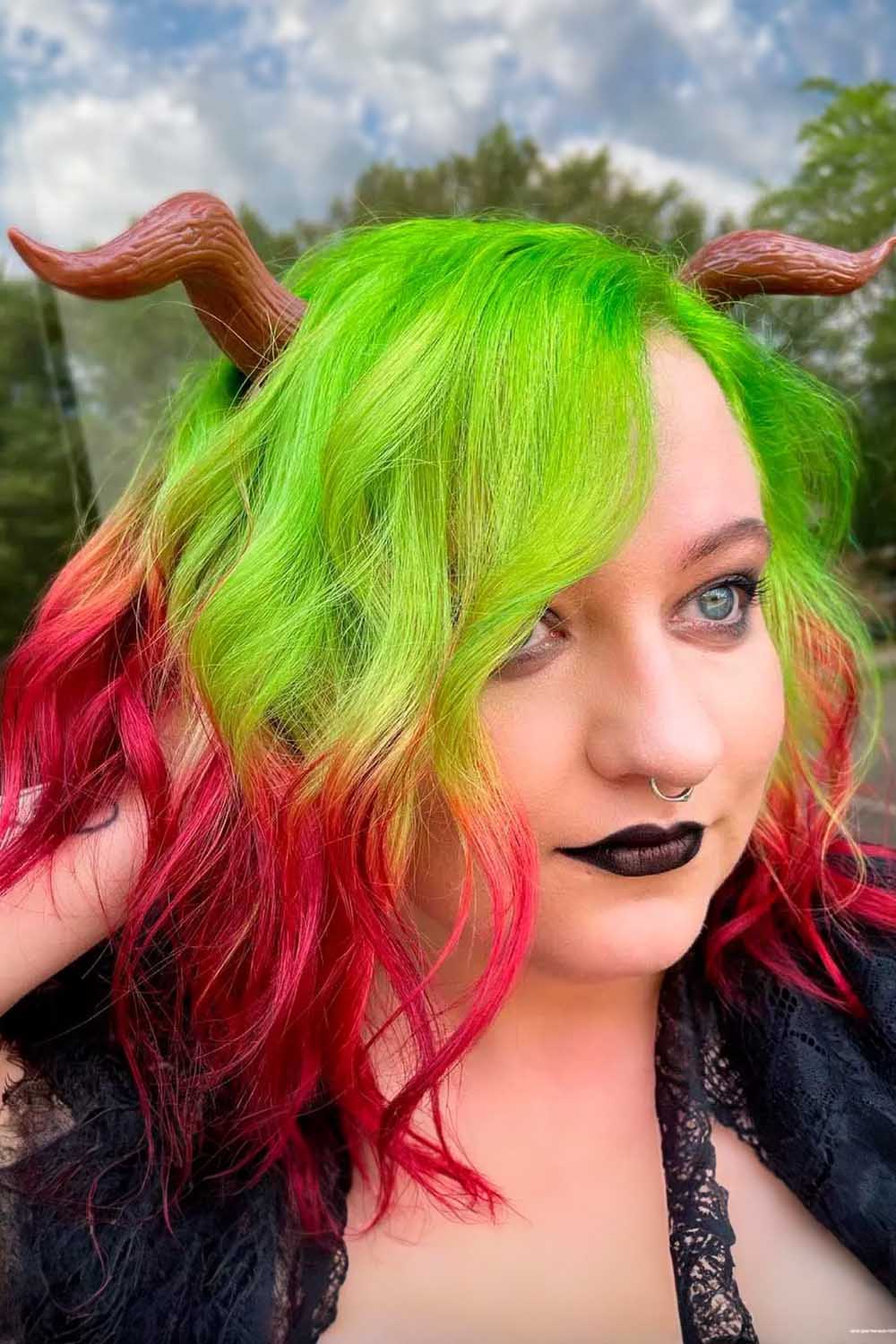 /
Devil wears…horns. That's a statement no one can argue with. However, you can decide on the scale of your devilishness and choose the size and shape of your horns. The longer – the more unpredictable, right? But you know what? Horns pair impressively well with loose locks and vibrant colors. Make use of those colorful chalks and let the holiday season begin with a new – more mysterious – you!
Vamp Look With Yellow-Orange-Black Locks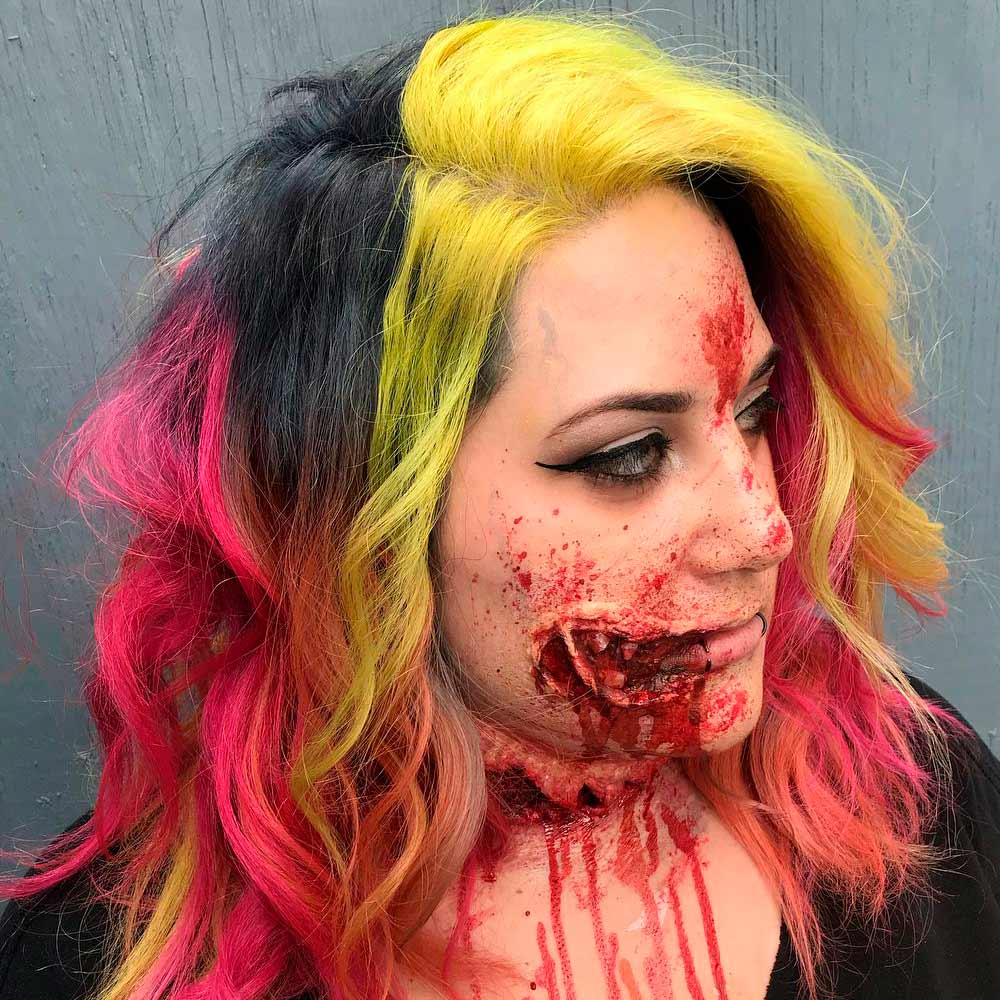 Source: xostylistxo via Instagram
Before drinking their blood out, let their eyes behold the latest trends. How do you like this combination of bold yellow and crimson red hues from the 50s' and the latest color of now for a lady vamp look?
Pixie Elf Style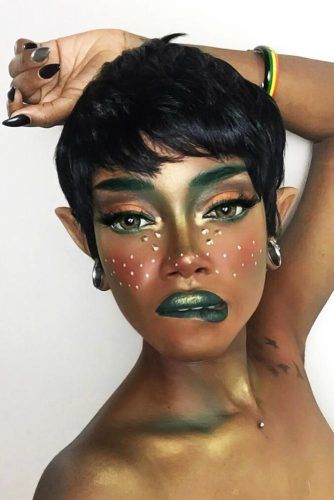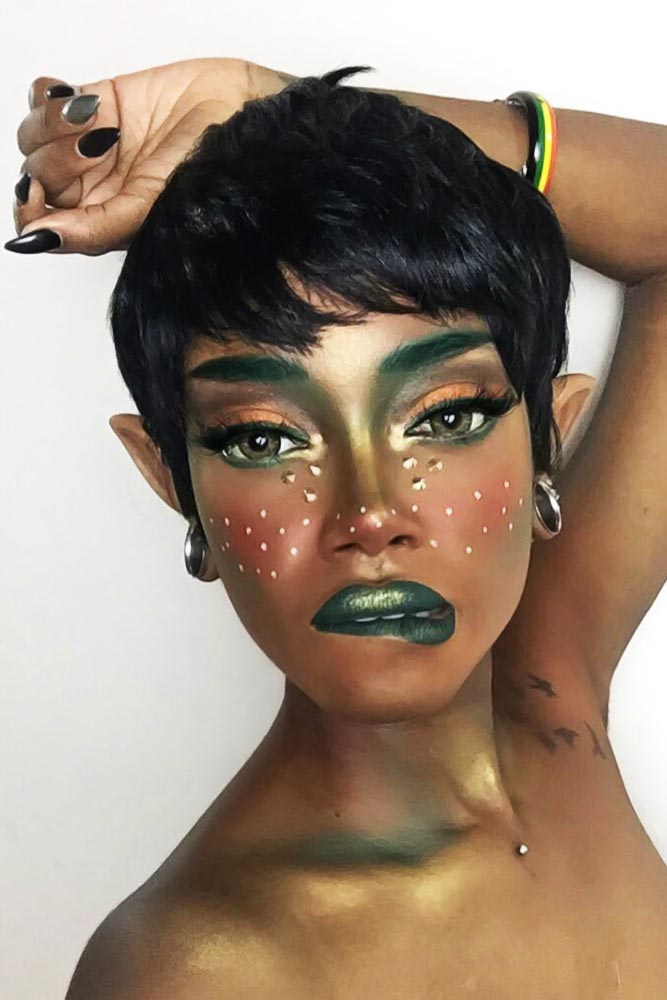 Source: bambiix2 via Instagram
A true Pixie character without a pixie cut is a look wasted! No wonder that the most popular haircut in the women's fashion is called this way: the cut does bring magical vibes. Bright, colorful makeup and a slightly tousled pixie hairstyle are all you need to turn yourself into a Peter Pan's best friend. And if you'd like to look more like an elf, pointed ears are the musts.
Lion Princess Halloween Look
Source: vivianmakeupartist via Instagram
i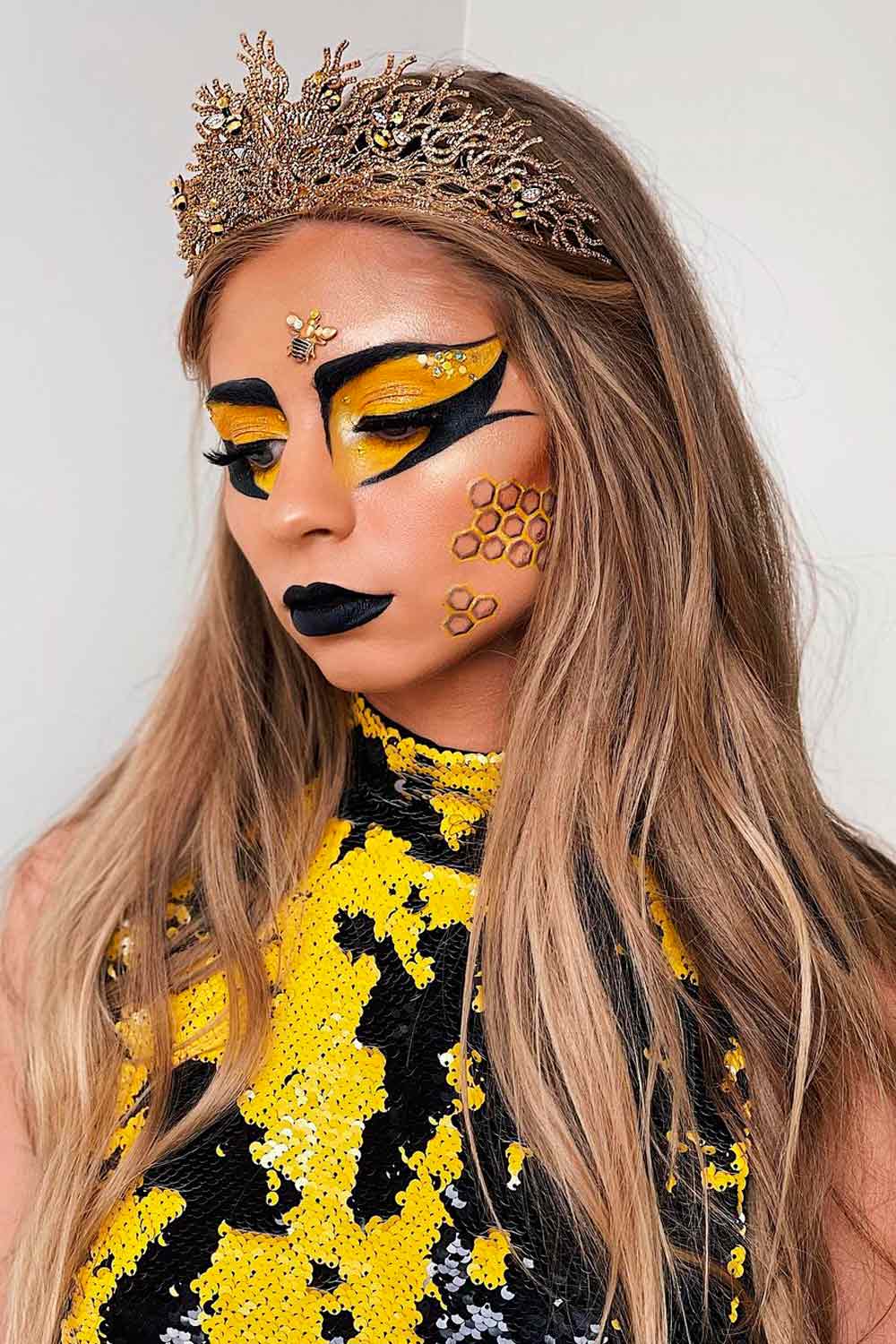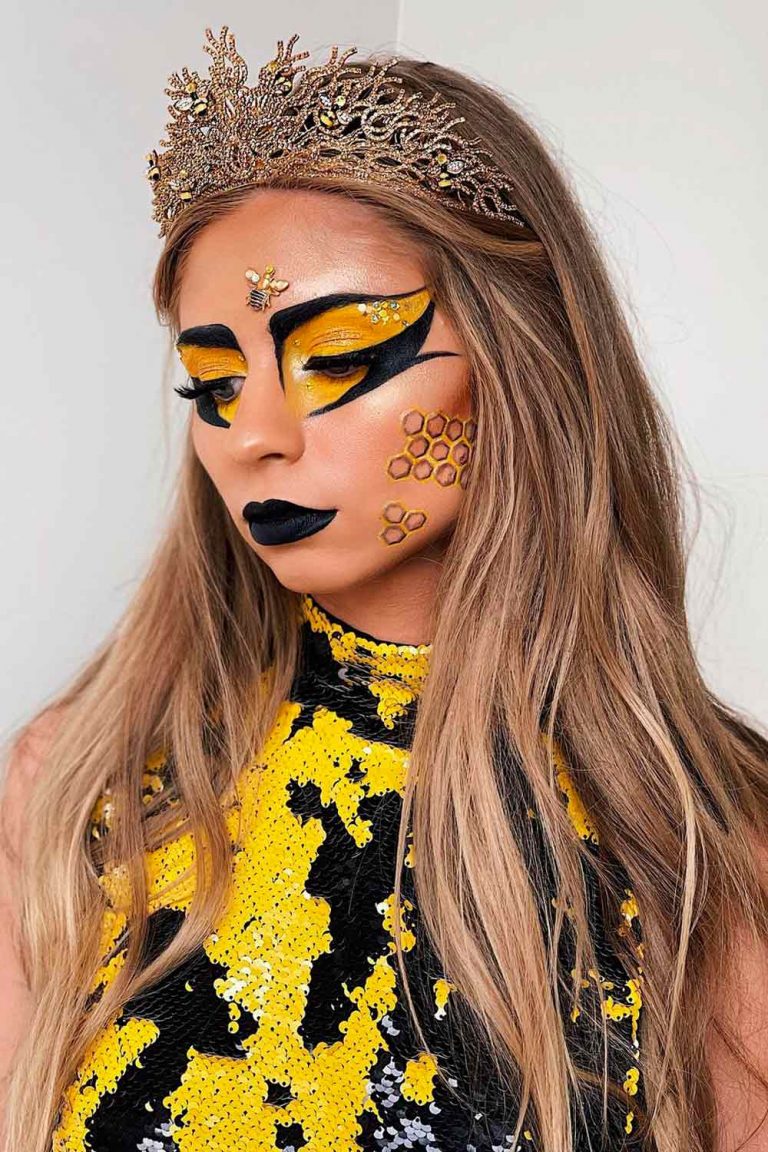 Source: vivianmakeupartist via Instagram
i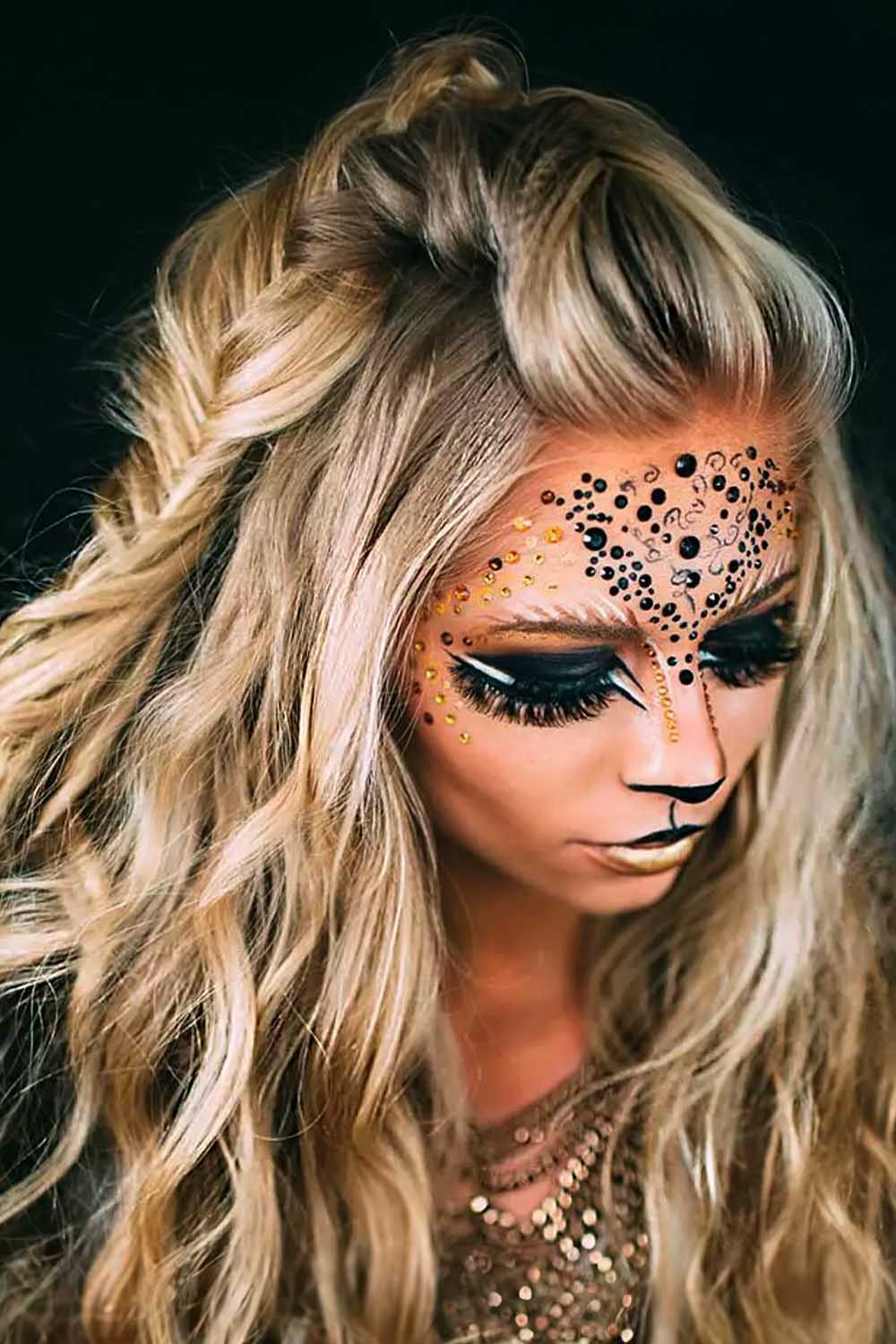 /
The Lion, The Witch, and The Wardrobe show us the beauty of a parallel world where a wise, ageless Lion guides good to fight evil. Isn't that an amazing character to recreate? Dry your long hair with a nozzle and make the look complete with a golden snowflake crown to show your might.
Halloween Braided Hairstyle Green Yellow Locks & Rose Wreath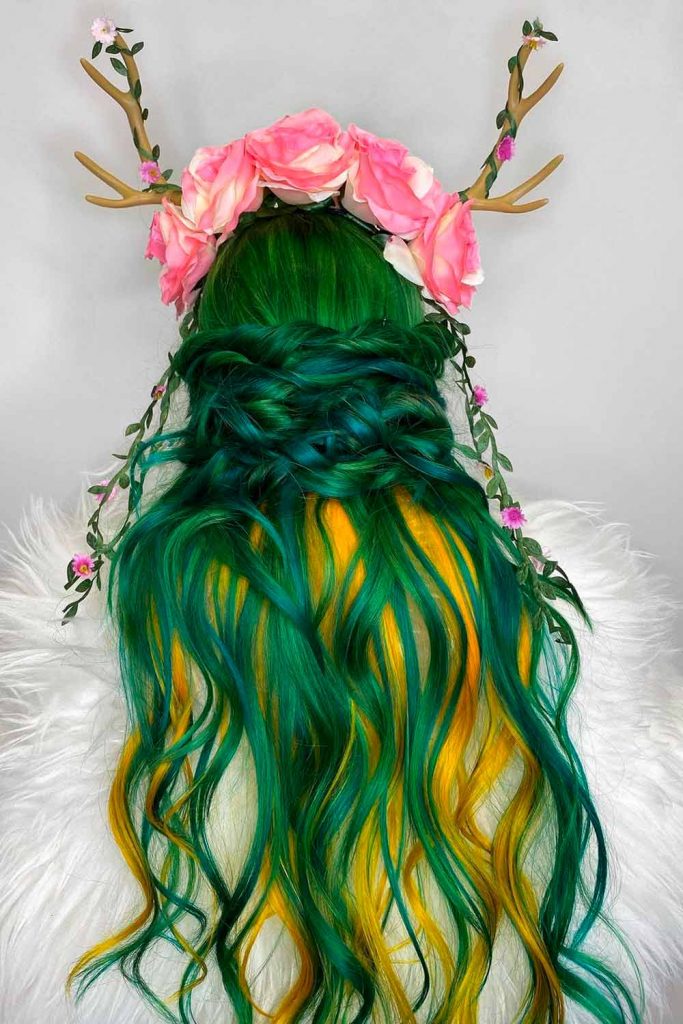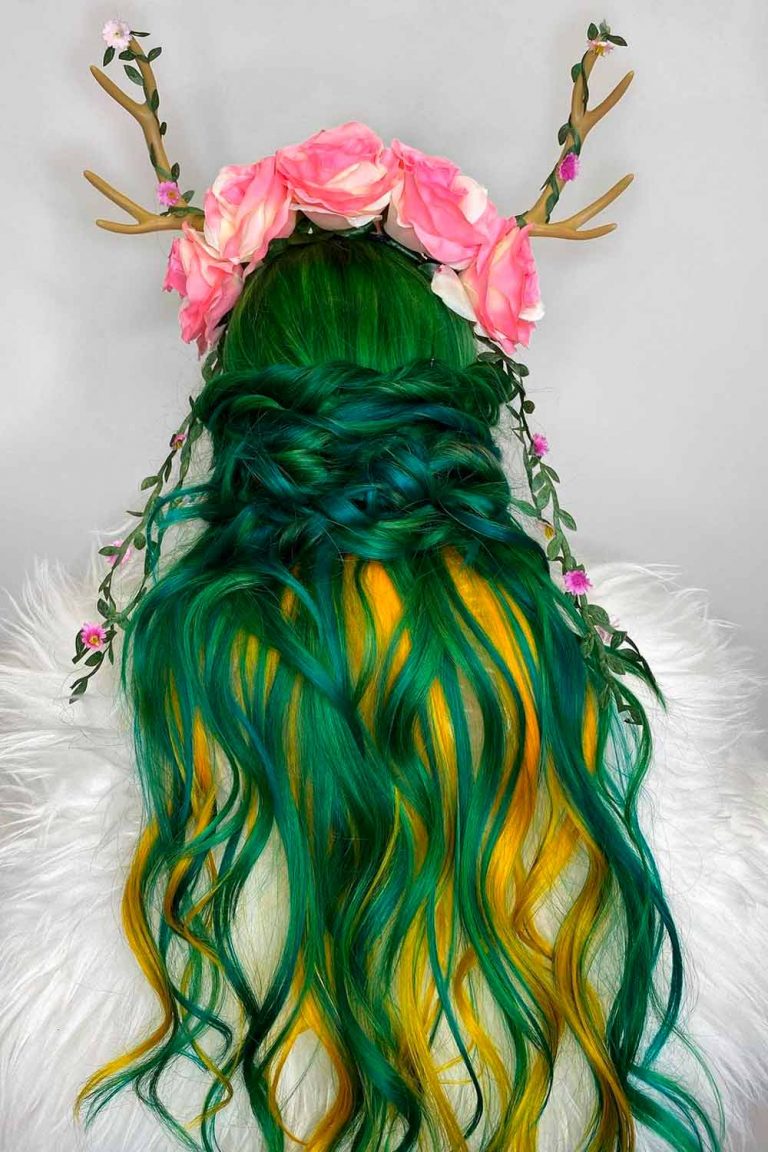 Source: themanemichael Instagram
Halloween hairstyles for long hair rely heavily on braids, and there's nothing wrong with it. The impressive versatility of braided hairstyles usually ensures that you look unique no matter the party you head for. Should it happen so that you wear a green mane with bright yellow peek-a-boos, you can slay the look twice as easily. However, investing in a nice rose headpiece may be wise to emphasize your relation to insanely beautiful yet dangerous wood elves.
Easy Halloween Mermaid Look With Hair Accessories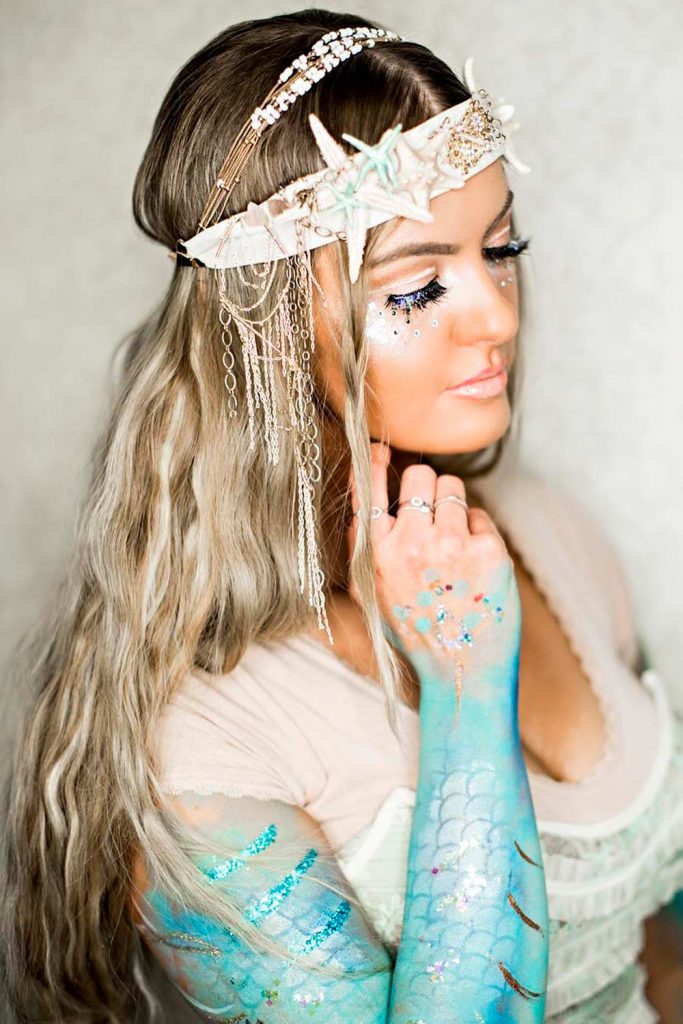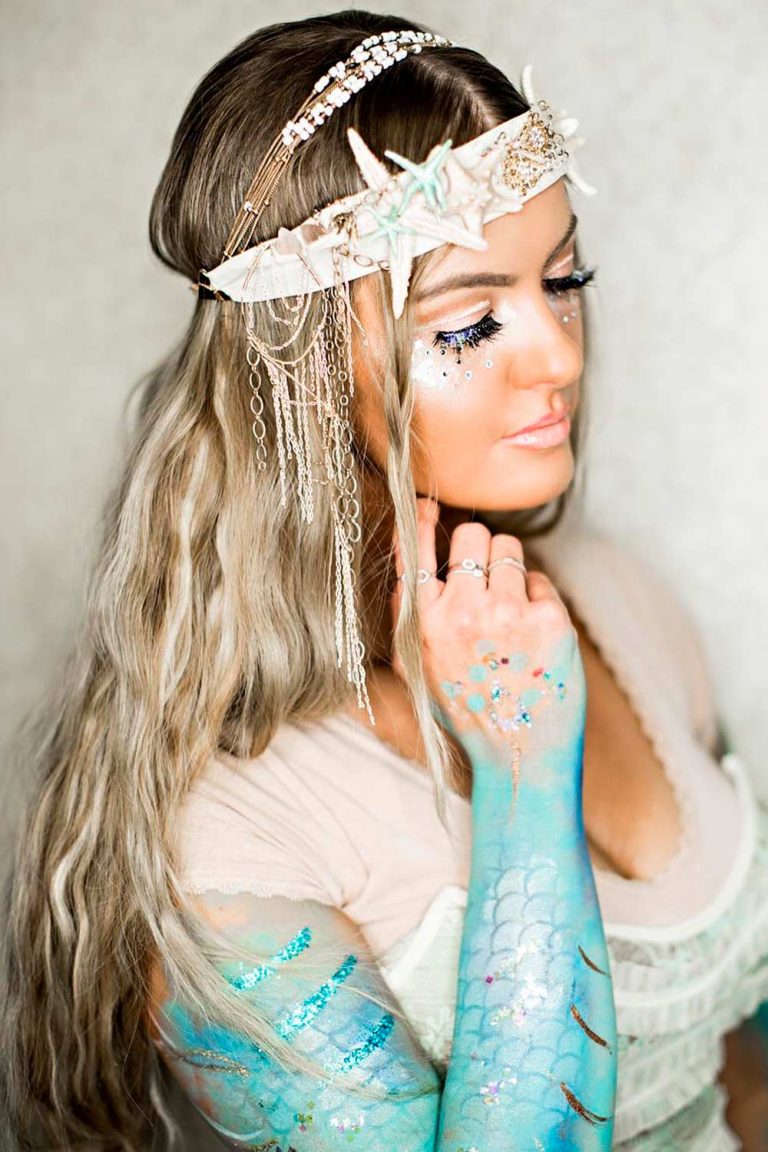 Source: vivianmakeupartist via Instagram
Leave the depths of the mighty ocean for just a night and walk among the living in your true mermaid form. Sounds fun, doesn't it? Well, all it takes is to dishevel your long tresses a bit and adorn them with a marine-themed headpiece. No need to hide your translucent scales on Halloween. Let those around you absorb the enigmatic allure of the sea!
Green & Violet Hair Halloween Mystification
Source: hairgod_zito via Instagram
i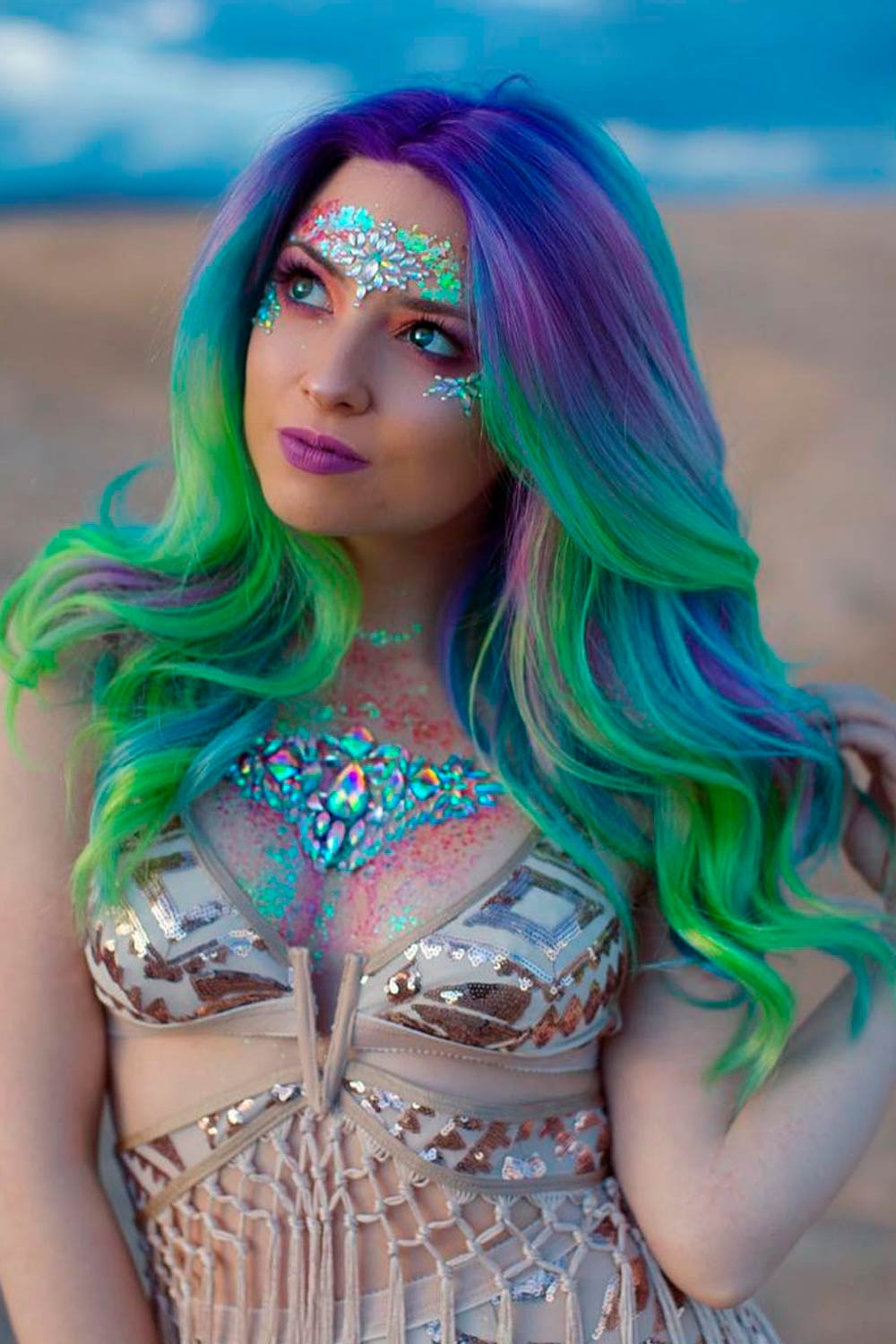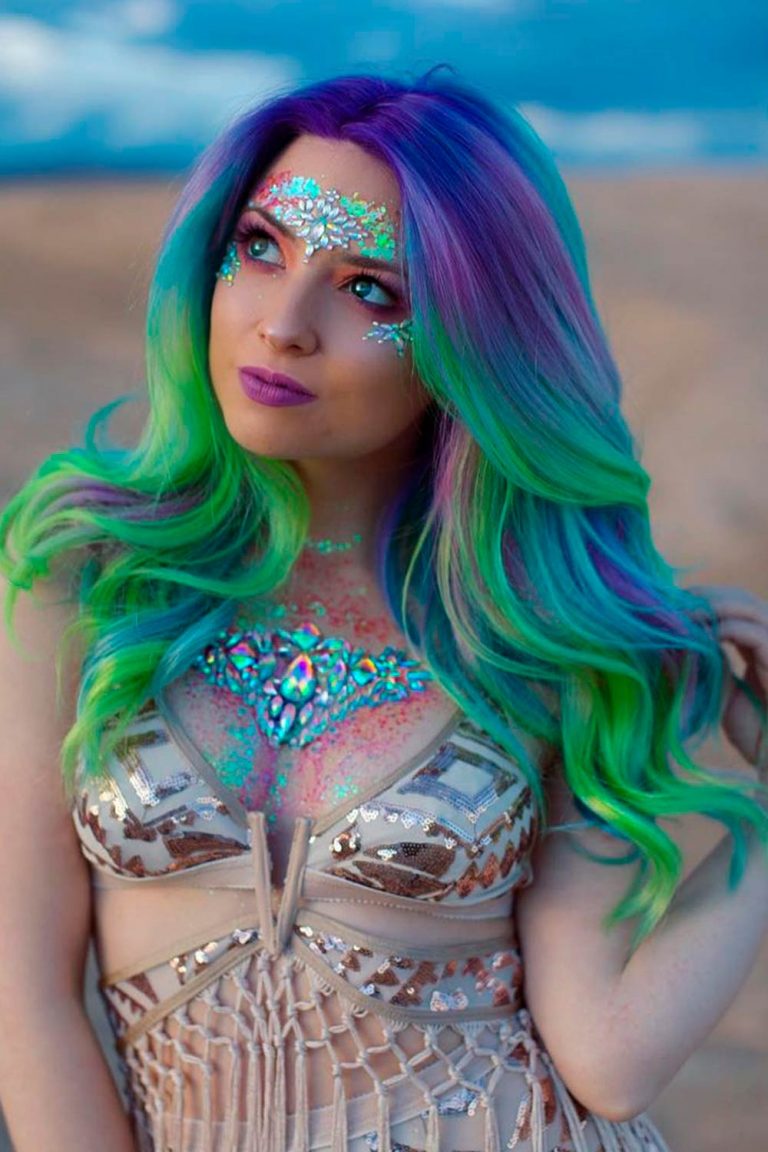 Source: themanemichael via Instagram
i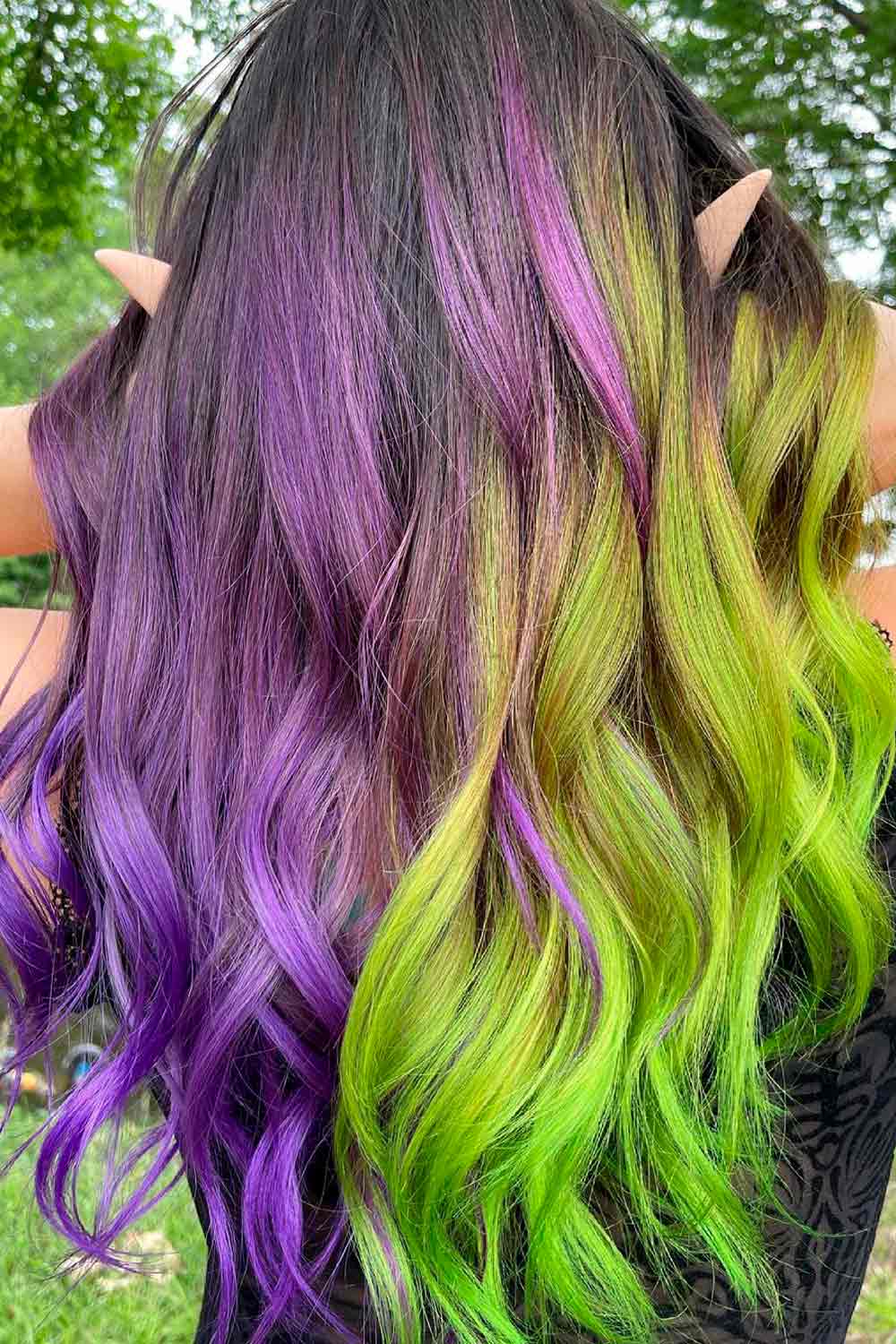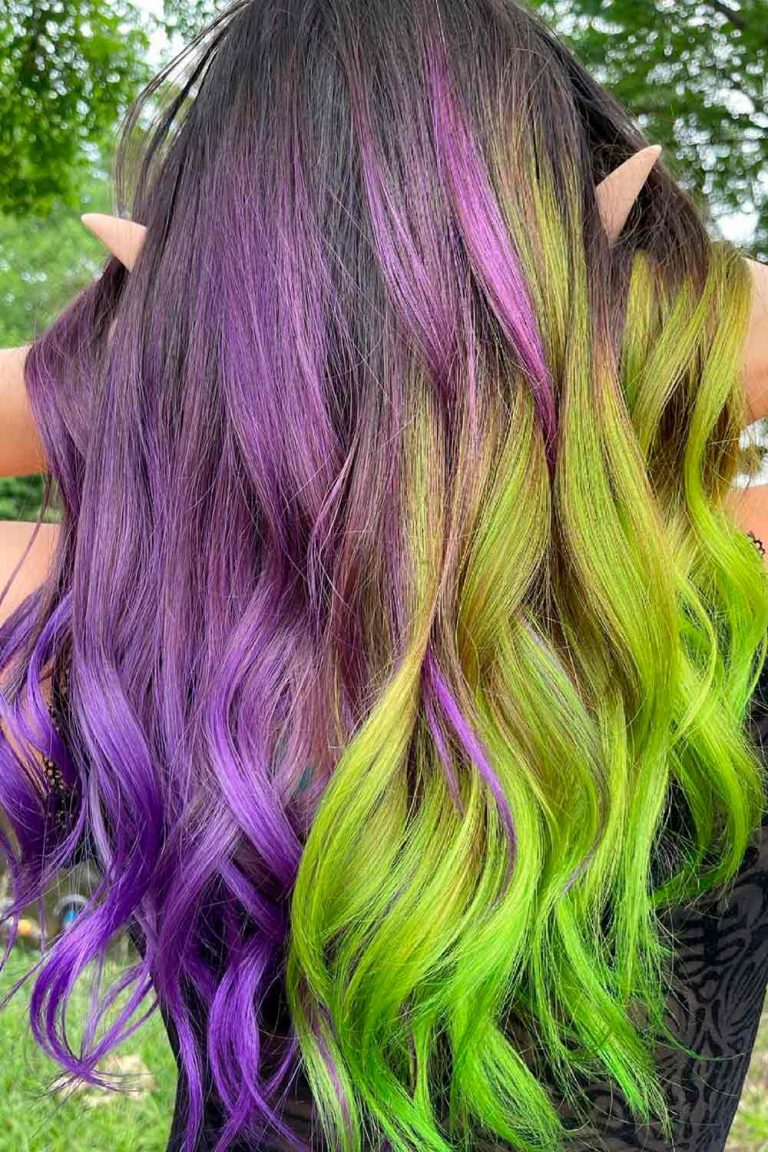 /
The notion of mermaid hair isn't new, but it is as trendy and required as it's been since day 1. Thus, if you give in to the oceanic call and dye your tresses into mystic green and violet hues, you must try the mermaid costume on when the holiday knocks on your doors. Holographic scales and sparkly makeup will help you capture the aquatic essence of mermaids like nothing else. Don't forget to compliment your sass and feminine allure with a perfect dress.
Spooky Yellow-Orange-White-Black Layers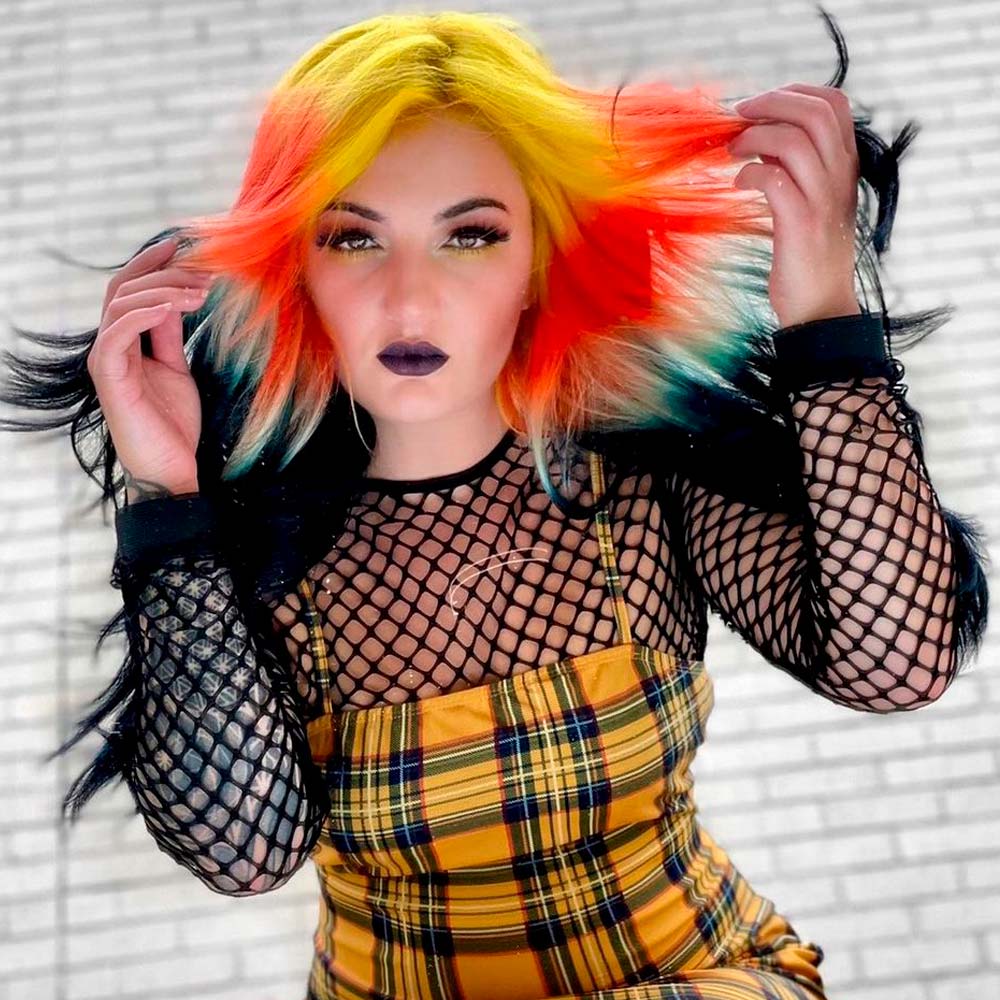 Source: xostylistxo via Instagram
What is one of the most loved Halloween sweets? Opinions may differ, but we say – candy corn. If you feel the same and ready to commit to your festive look, capturing the candy colors in your tresses is an idea to brood upon. Those seeking a vibrant and edgy costume for Halloween will feel immensely inspired by just looking at the image below! Channel your creativity into something that brings joy into your life, and you'll be on the right path!
Black and White Halloween Magic
Source: xostylistxo via Instagram
i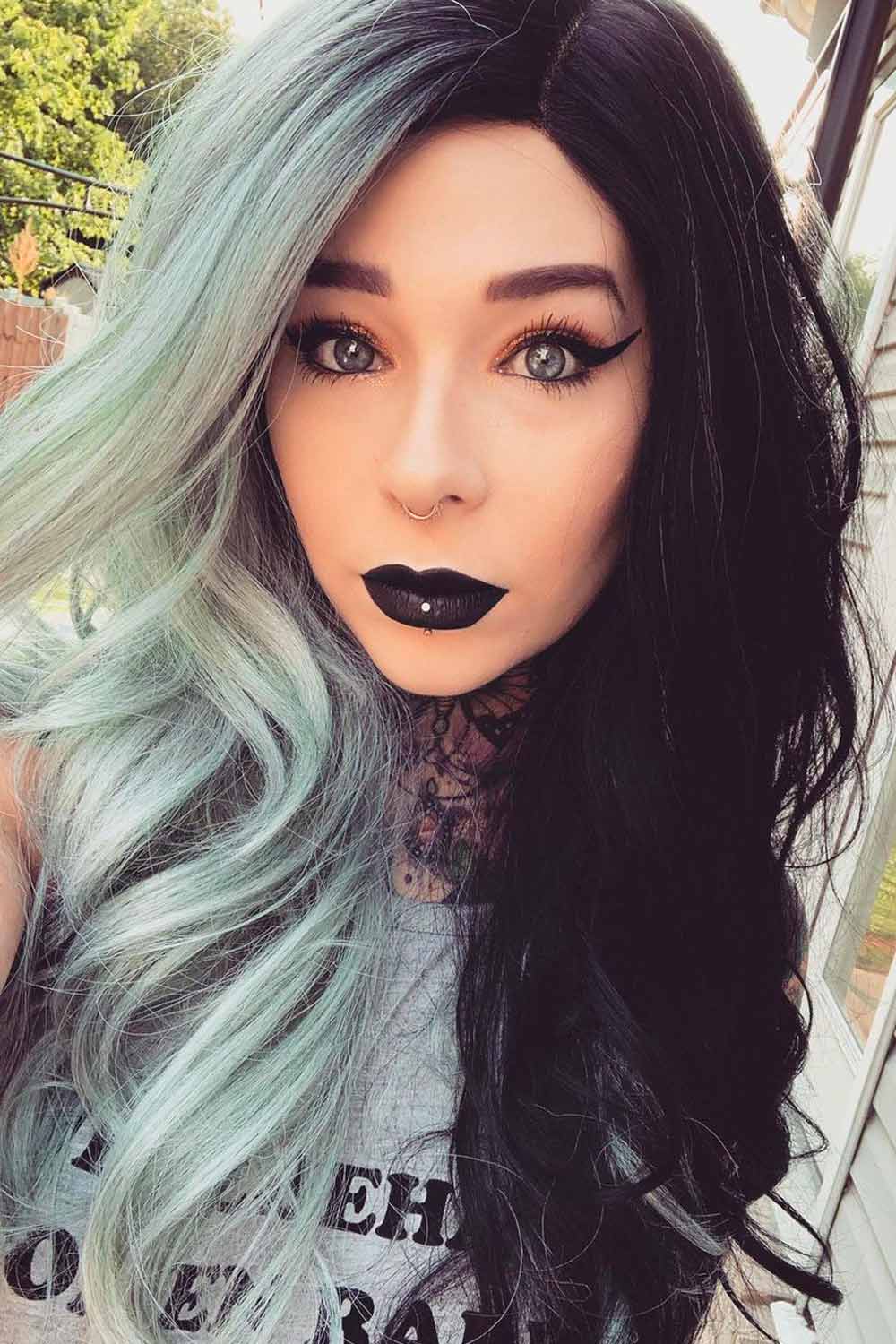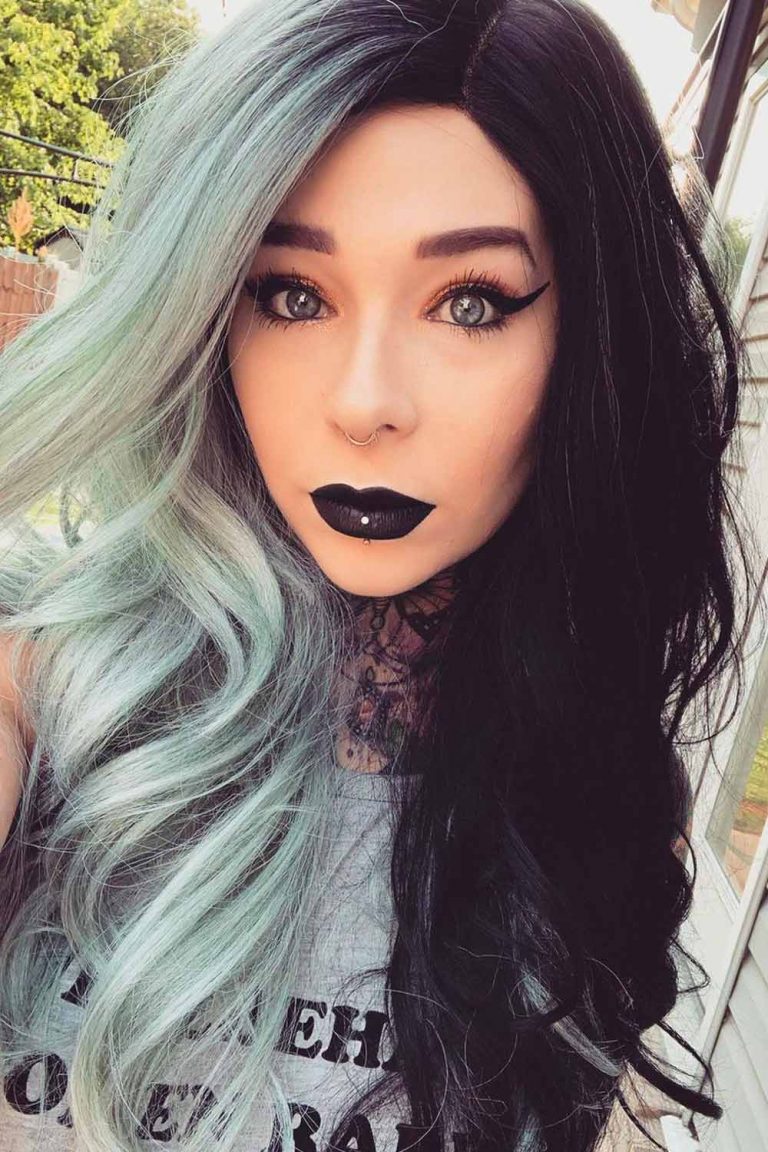 Source: xostylistxo via Instagram
i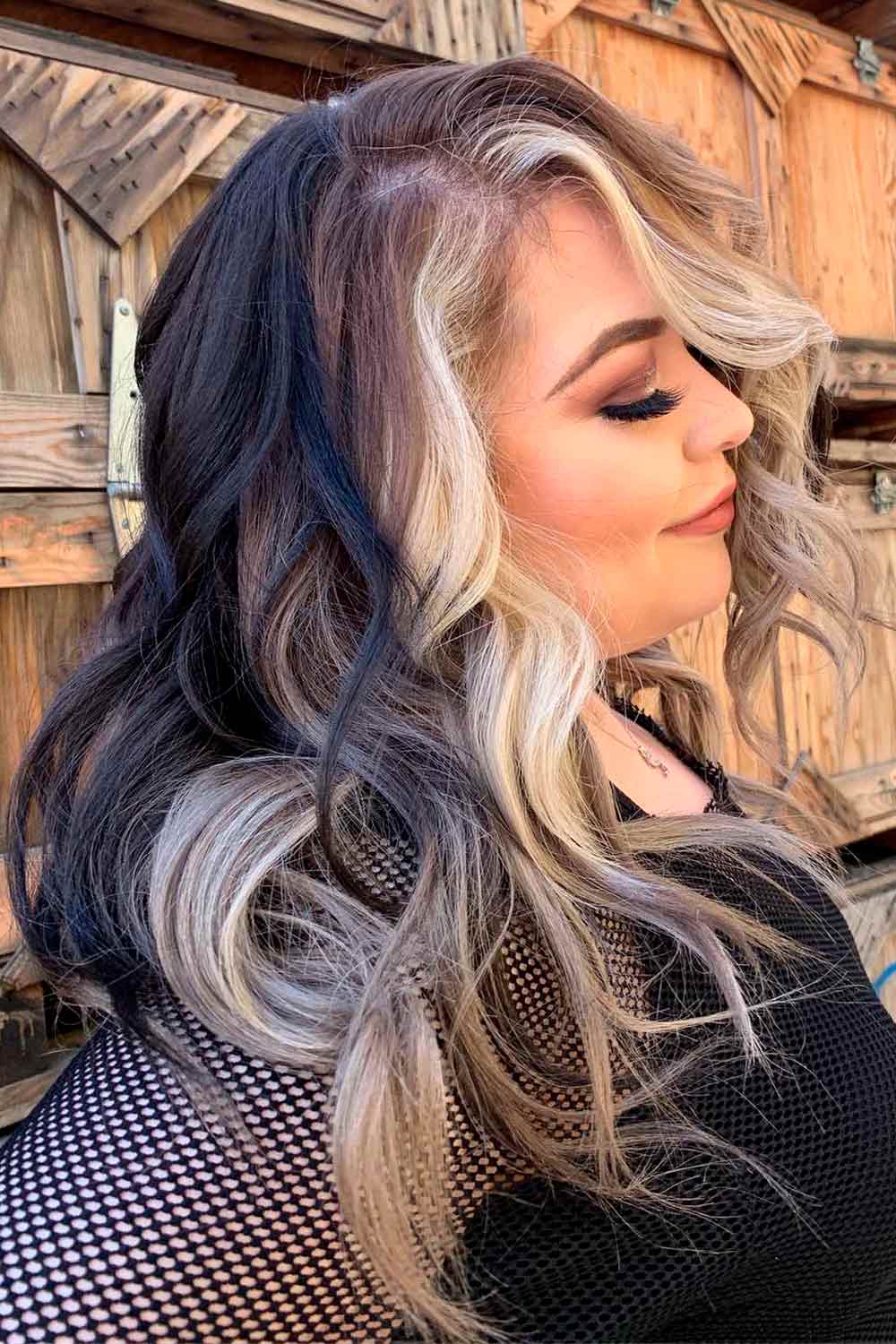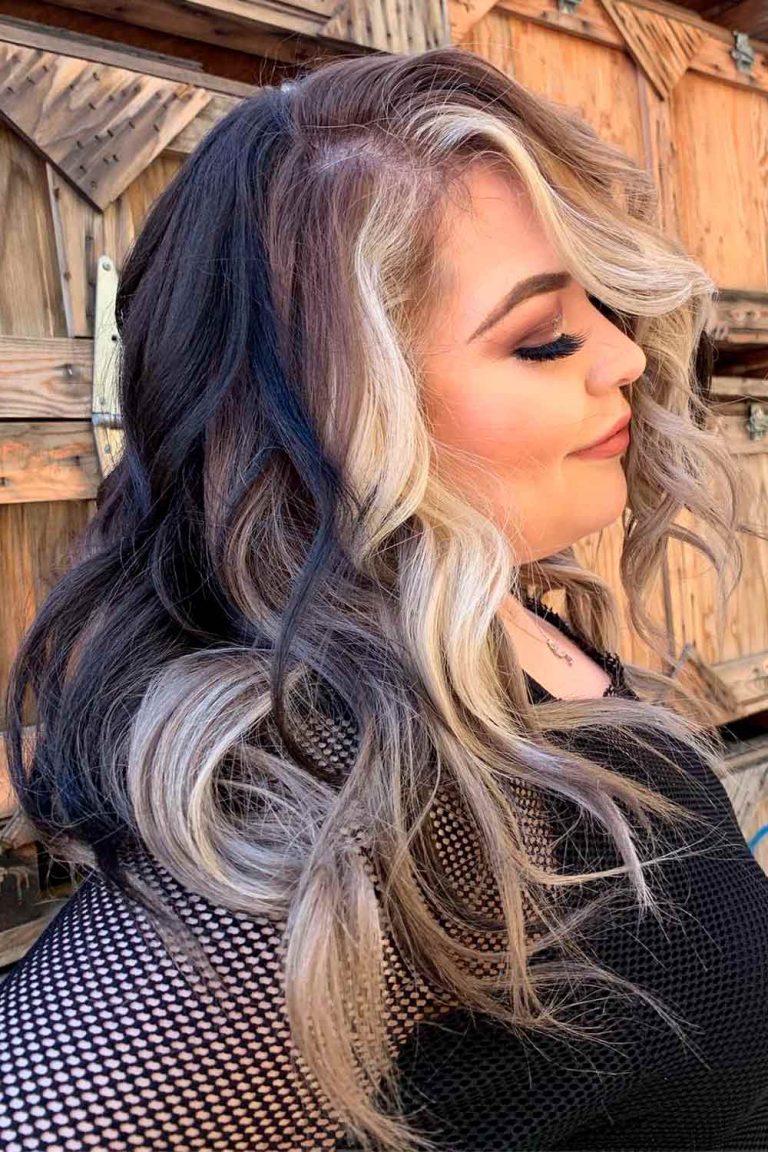 Source: kerri54 via Instagram
i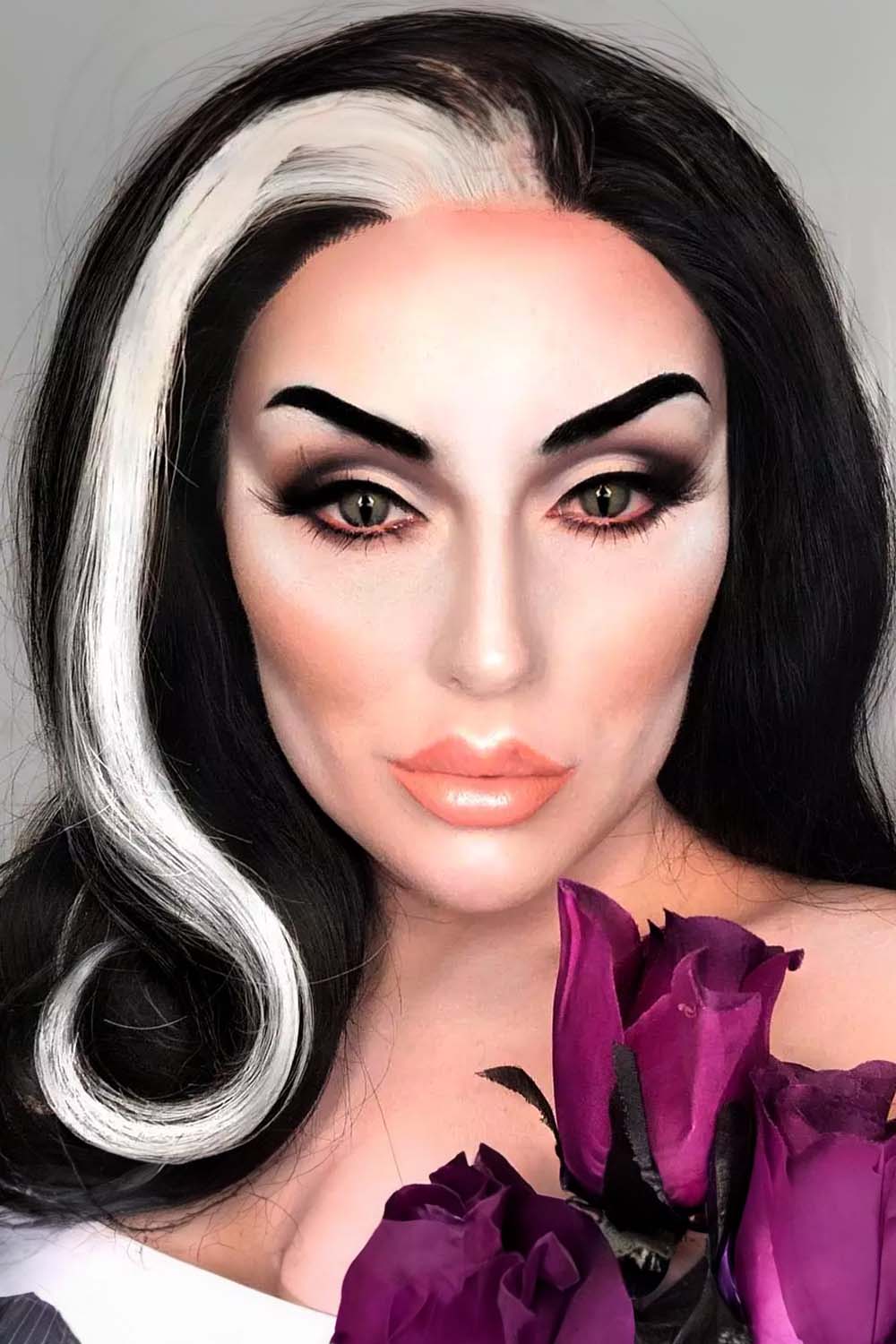 /
Have you noticed that many female villains prefer the black-and-white palette, even when it comes to their hair? Cruella De Vil, Frankenstein's bride, dark elves and witches – you can pick the character that speaks out to you, but the fact remains. Black-and-white hair bottles up the pure essence of Halloween magic, and you can be the one to uncork it. Leave those around you speechless with as much as the outstanding contrast captured in your locks! Don't shy away from thematic accessories in any case.
FAQ: Halloween Hairstyles For Long Hair
What color is witches hair?
Witch's Hair, though classed as a fungus here, is actually a lichen, a symbiotic relationship between a green alga and a fungus. The alga gives it its greenish hue and, like a higher plant, produces carbohydrates through photosynthesis.
What witches beard?
While they both look very similar on the surface, Methuselah's beard has a center cord that is visible when chopped, whereas typical witch's hair does not. A 20-30 cm long dangling hair lichen is known as common witch's hair.This is a common lichen species. In open woodlands, it grows on coniferous trees.
What hairstyles do witches have?
Witchy Curls.
Old-Time Braids.
Midnight Purple Tones.
Witchy Cat.
Vampy Curls.
Crimped Texture.
Was this article helpful?