Twist hairstyles are a funky new alternative to traditional natural African curls, ideal for those who are bored with their curls and looking for a new and fun way to flaunt those waves. Twists are easier and quicker than traditional braids, which is good news for the novice. Twists also offer the same benefits such as retention of length, variety, and protection. They can differ from loose, hanging twists to flat twists similar to cornrows, plaited close to the scalp. There is a wide variety of fun, sophisticated and kinky twists. And since they are so easy and versatile, you can experiment with more than one style and mix it up.
Contrary to popular belief, you are able to twist a long, layered haircut into many different styles.
Twists can provide extra protection for natural hair. They help prevent breakage and promote healthy and natural hair growth.
Flat, Asymmetrical Updo Twist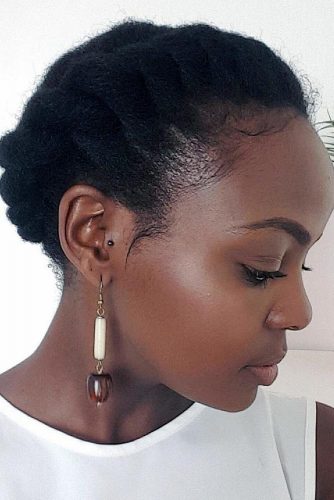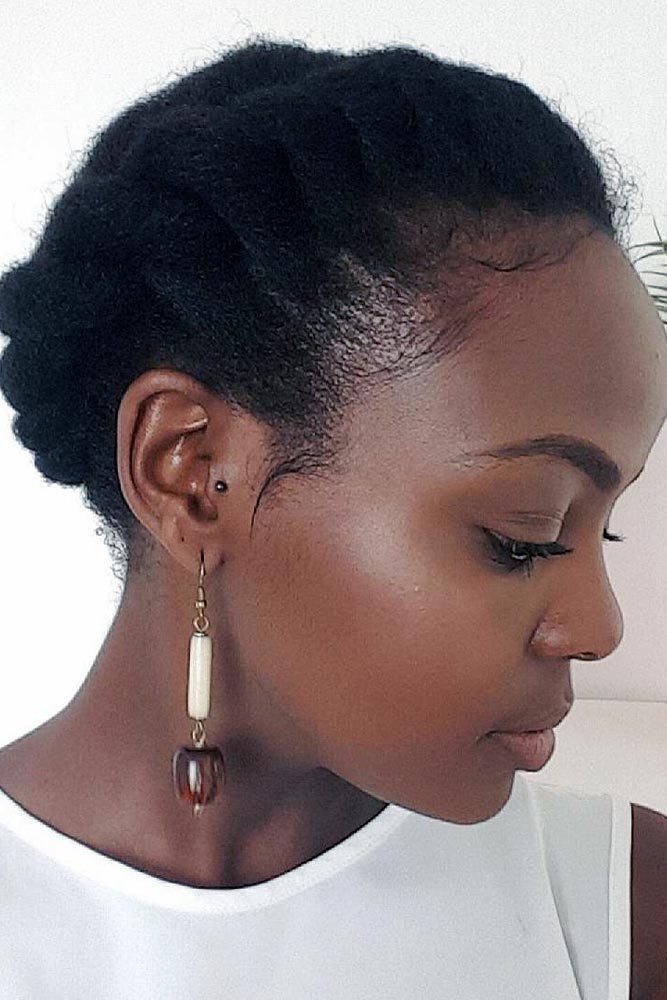 Credit photo: instagram.com/sheilandinda
When you think of twist hairstyles, you most likely think about a lot of tiny, thin twists. However, large twists are just as popular. This twist, also known as the Flat Twist, is an elegant yet simple hairstyle that you can easily pull off in just a few moments.
Micro Twists with Kinky Tips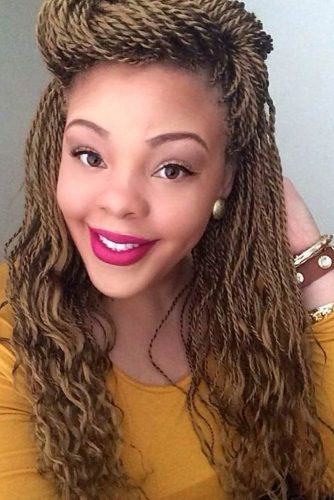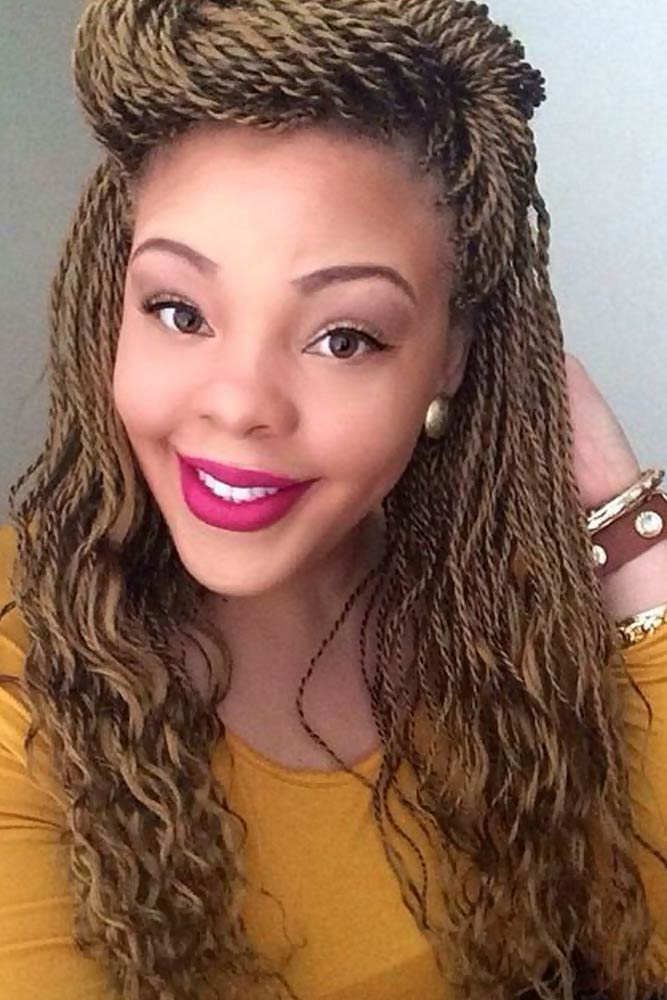 Credit photo: instagram.com/sinavirginhair
This look shows a slight variation on the traditional twist style. Thin, blonde 2-stranded twists are swept back of the face and tied in a loose half updo. The tips of the braids are curled to add texture and style.
High Twist Bun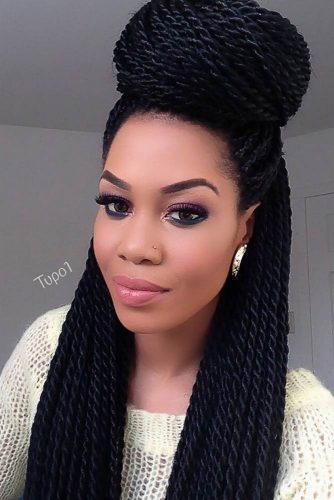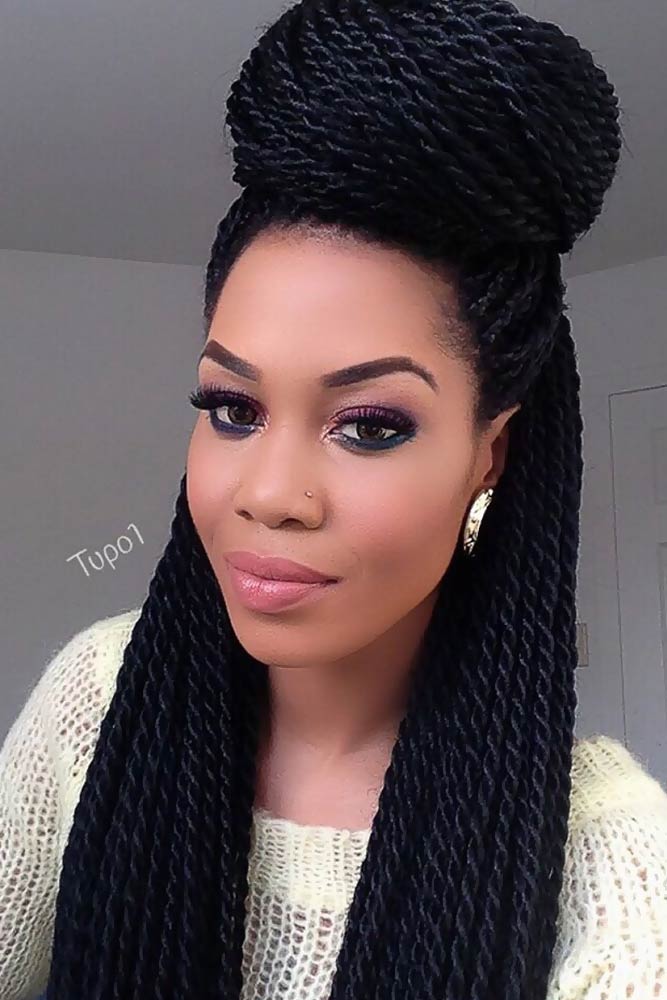 Credit photo: instagram.com/tupo1
No matter which way you rope your twists, up or down, they will look great. If you prefer longer twists, use the extra hair length to your advantage by wrapping your hair to create a huge bun. Let the bottom strands hang loosely and untied for a half updo effect.
Chunky Marley Twists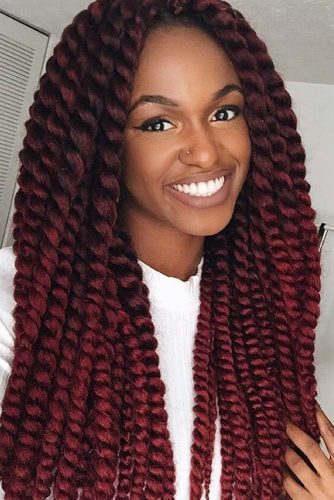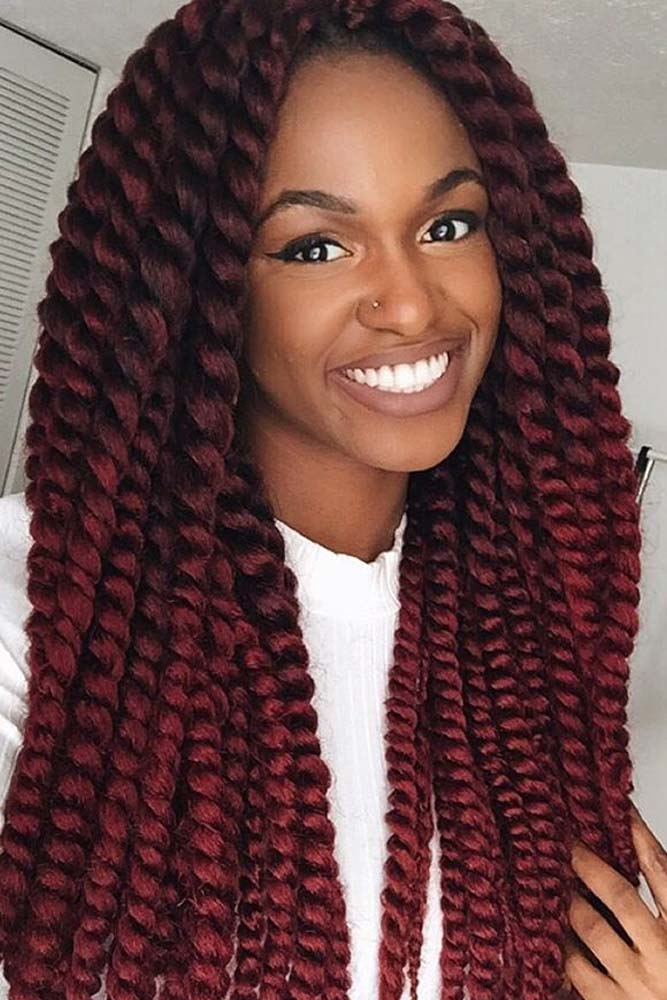 Credit photo: instagram.com/kiitana
As an alternative to the poetic justice braids inspired by the 90's, why not consider Marley Twists? This natural style is fun and much lighter and airier than the braided style but with the same throwback effect!
Medium Twisted Side Ponytail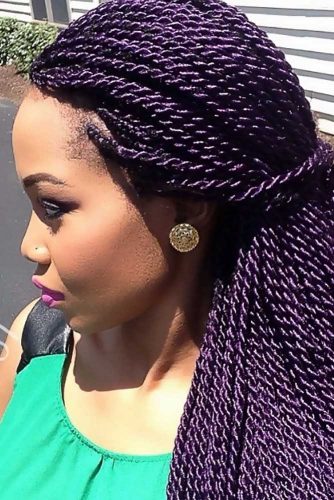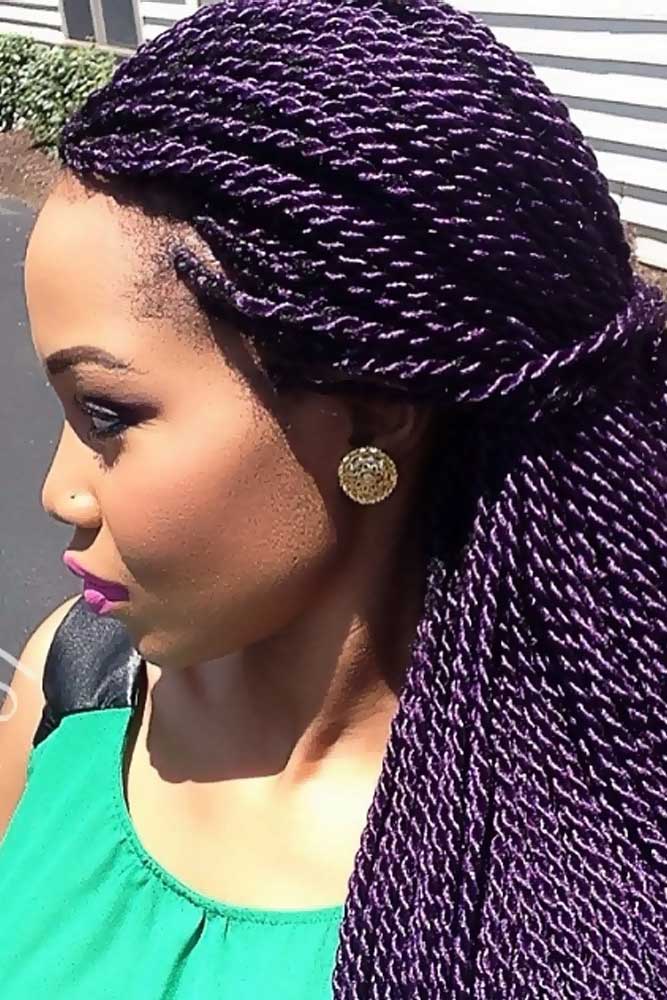 Credit photo: instagram.com/tupo1
High ponytails and braids are always a great idea, but a low side ponytail gives a more formal and elegant impression. If you want to elevate your style, add a rolled detail for more visual effects and texture.
Simple Natural Twist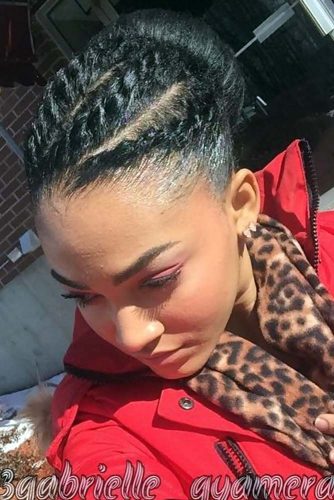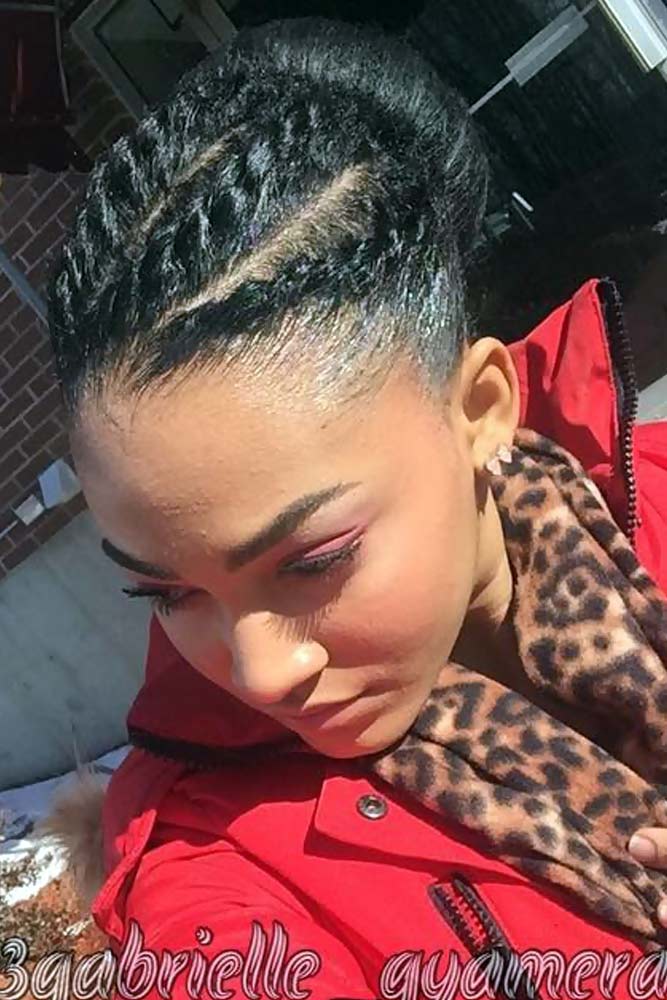 Credit photo: instagram.com/93gabrielle_gyamerah
A quick and easy simple flat twist is the perfect way to pull off a sophisticated look with little to no effort. Twist hairstyles with extensions can take up to 8 hours, but this high-bun twist can be put together in less than an hour.
Loose Twist with Curls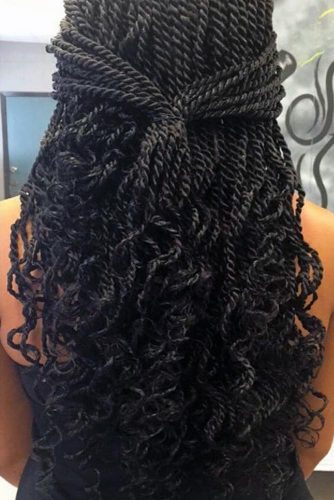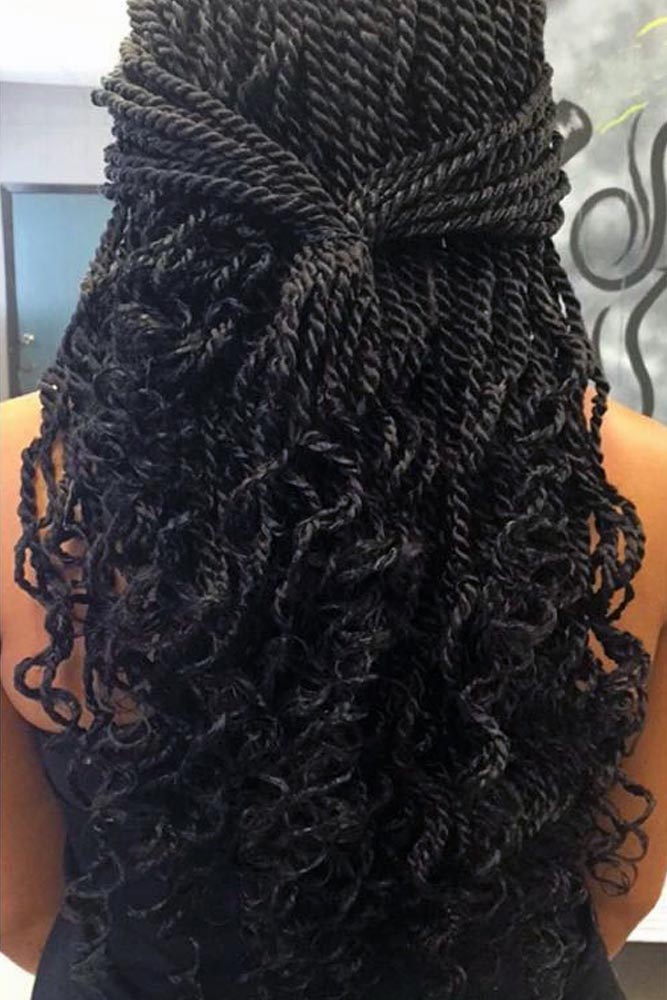 Credit photo: instagram.com/stylesyoulove_st
If you want to add a touch of romance, you can sport glamorous and soft ringlets at the ends of your tickets. All you need to do is place your twists in roller rods and dip the ends into hot water. The effect will be two-strand curly twists. And the best part is...no frizz!
Flat, Silky Twist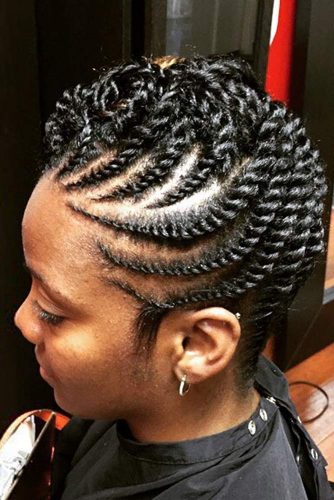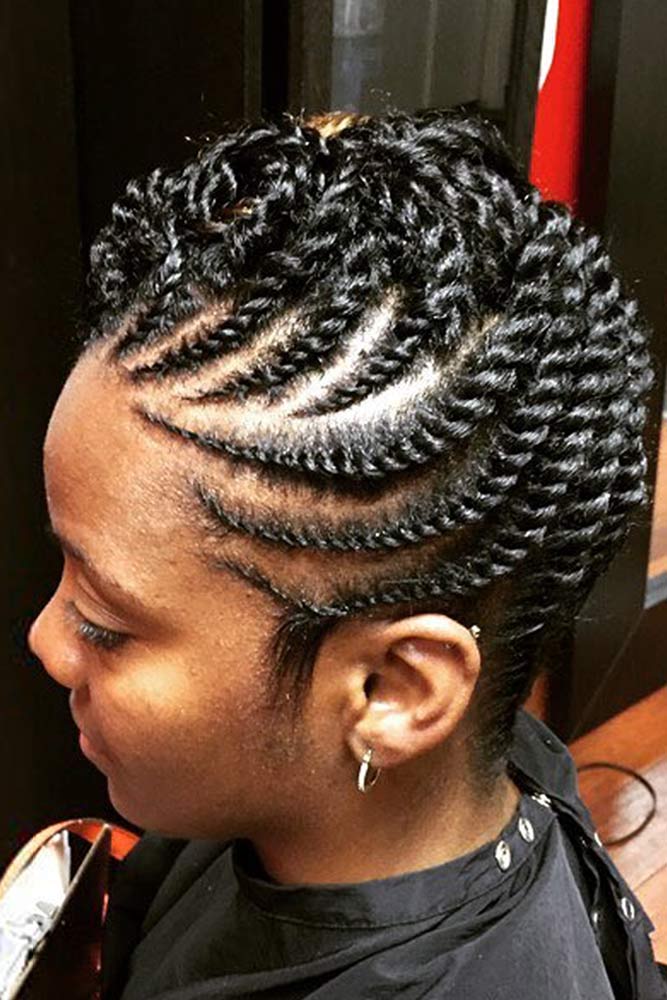 Credit photo: instagram.com/rareessenceacademy
If you are up to low maintenance, try this twisted Mohawk updo. It requires hardly any upkeep and is ideal for a busy mom or working professional who has little time to spend on her hair but still wants to look put together.
Medium Rope Twists Tied Up in a Half Ponytail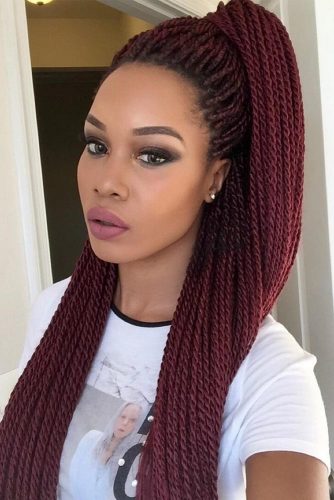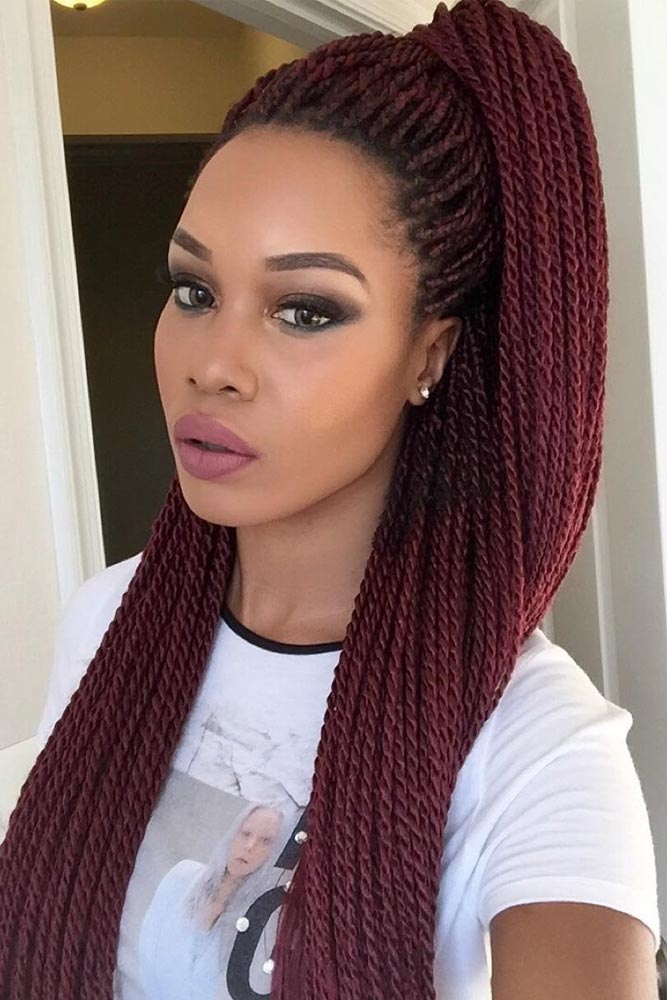 Credit photo: instagram.com/tupo1
For a stunning look that will show off your gorgeous facial features, style your hair in silky twists and then pull the pieces into a high ponytail. Add a fun scarf or flower for some extra elegance.
Half Updo with Shoulder-Length Twists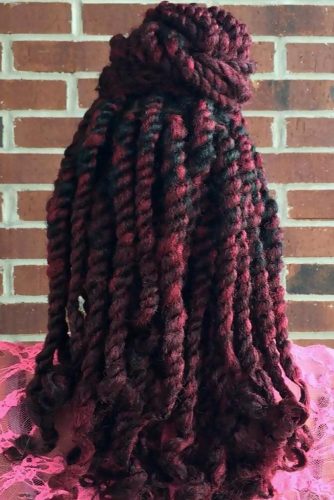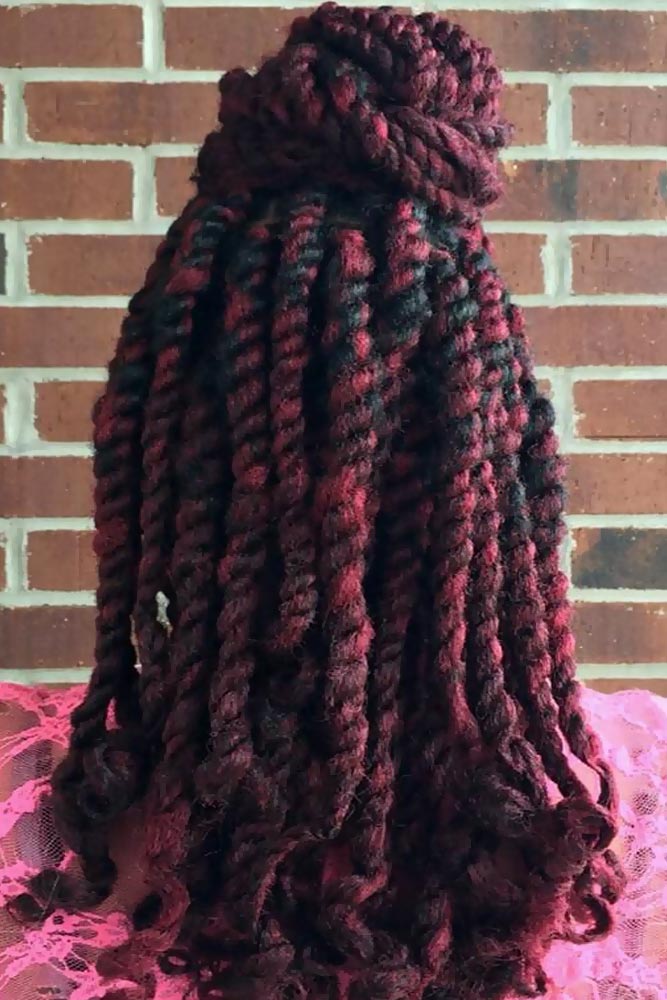 Credit photo: instagram.com/nissi777
The half up/half down bun will never go out of style. If you wish to make a bold statement, work a few beads into random twists, this will help accentuate your features.
Twist and Braid Combo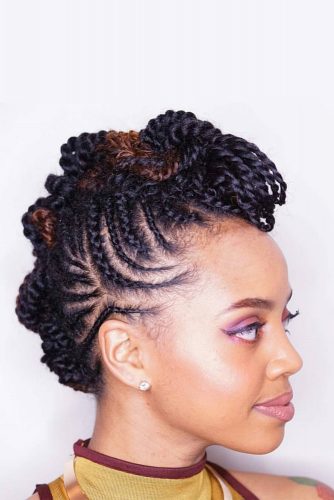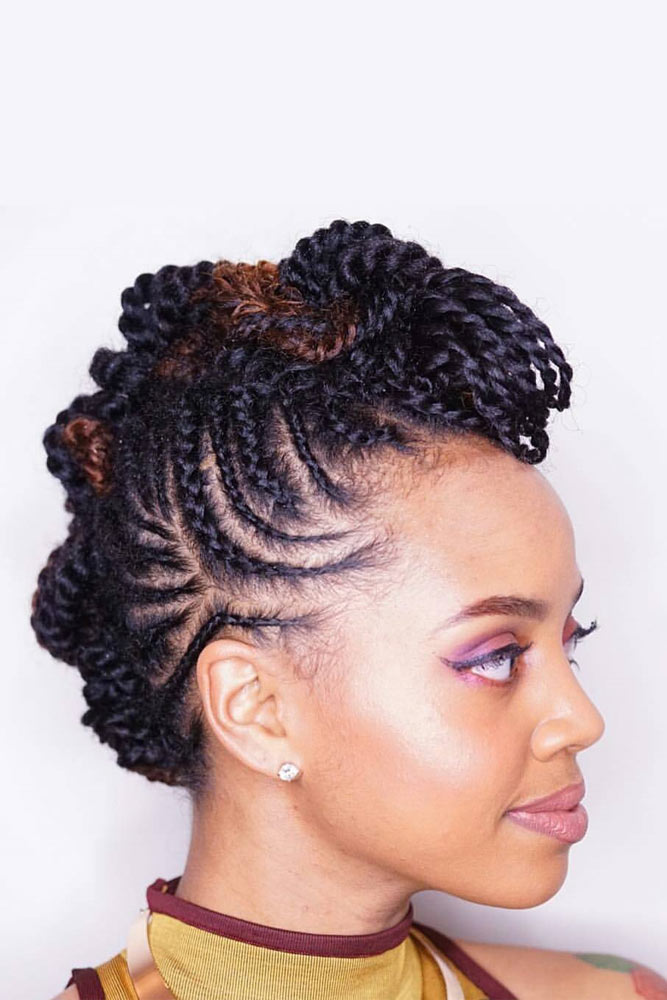 Credit photo: instagram.com/luvyourmane
For a fun and creative twist hairstyle, you can incorporate braids and twists. If you want it to last longer, opt for cornrows. Longer twists will provide flexibility for updos such as a bun, ponytail or Mohawk.
Over One Shoulder, Burgundy Senegalese Twists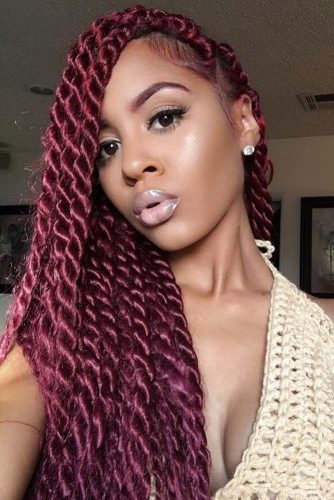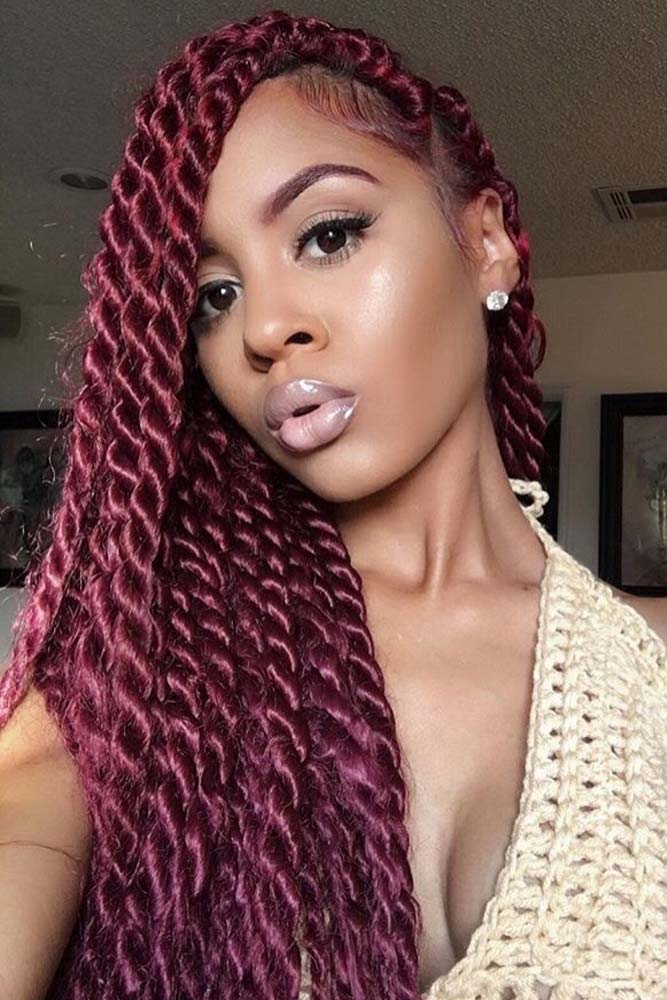 Credit photo: instagram.com/emanize
For a stunning look, rake your hair over one shoulder. This bold burgundy color is gorgeous and will catch everyone's eyes. Twist a few locks around each other to form a loose twist on the side. This is an easy alternative as opposed to using an elastic hair tie, which can damage your hair.
Flat Twists with Bangs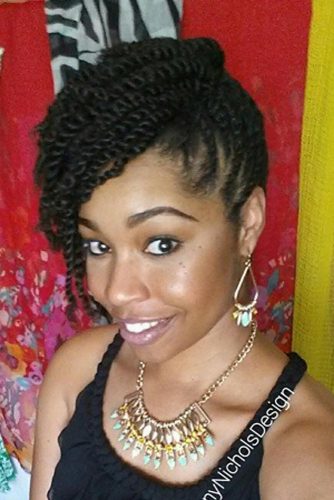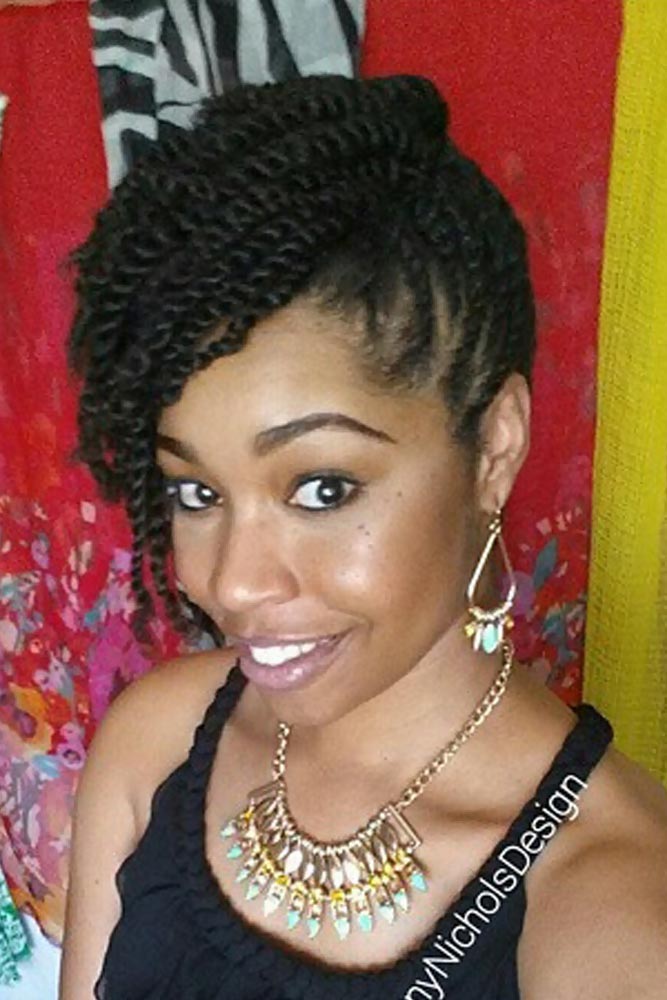 Credit photo: instagram.com/tiffanynicholsdesign
A lot of women use braids and twists to protect their natural hair. This is why it is critical that twist hairstyles have a lot of variety without causing any damage to the hair. In protective hairdos, one rarely has bangs. However, if you want to add thinner braids or twists above your forehead, they can add a rather seductive flair.
Long and Thick Twist Style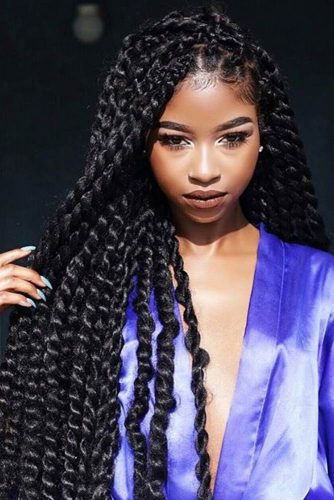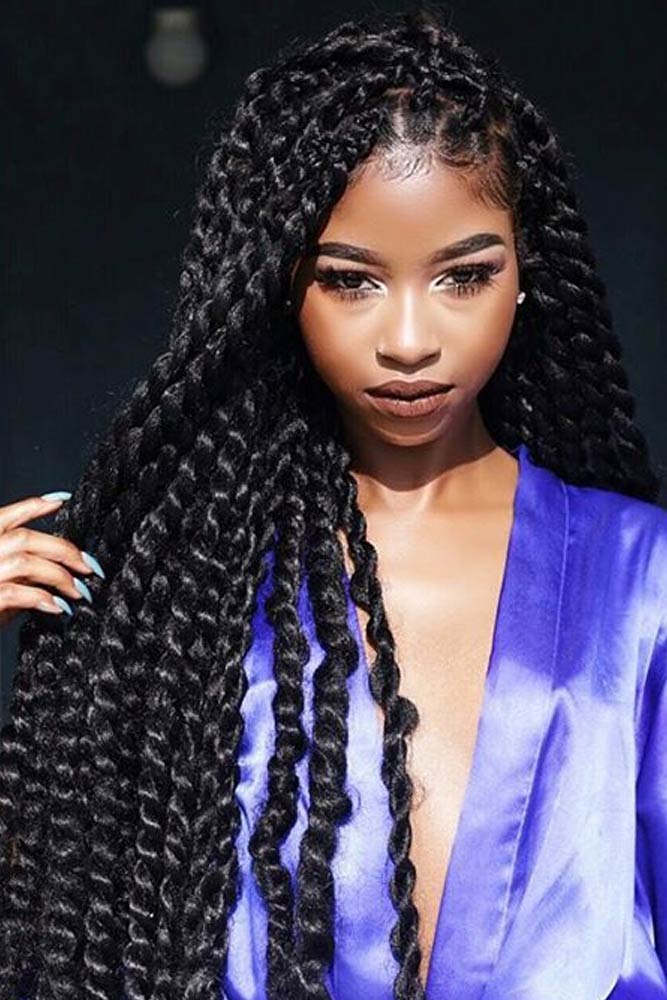 Credit photo: instagram.com/ashliavenue
Twist hairstyles offer a lot of variety, but at times, you might prefer a simple hairstyle. This longer hair style really shows off how the twists coil around themselves and then cascade gracefully down the shoulders for a more glamorous look and feel.
Pompadour Twists with Beads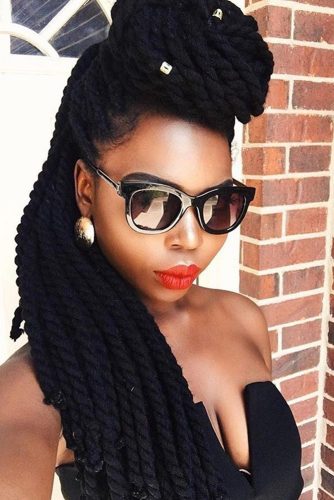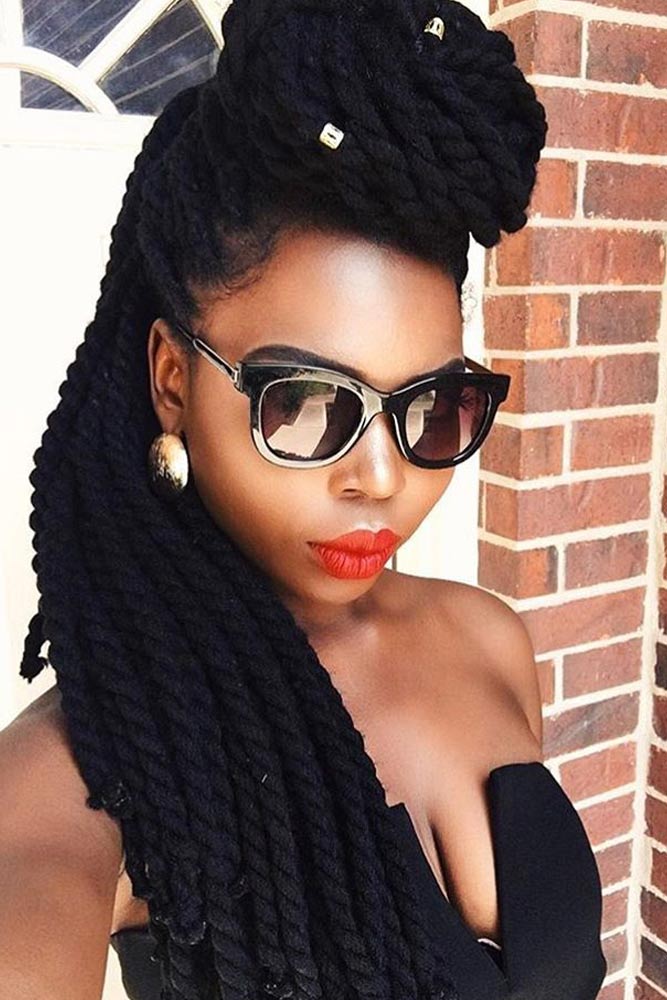 Credit photo: instagram.com/voiceofhair
Updos are timeless and this asymmetrical pompadour is no exception. The combination of maroon and black twists all for fabulous shape and texture. Shiny gold beads add an air of sophistication. You will be sure to turn heads with this stunningly gorgeous sculpted updo.
Faux Hawk with Sweeping Twists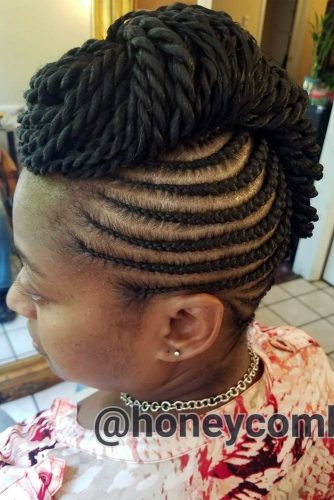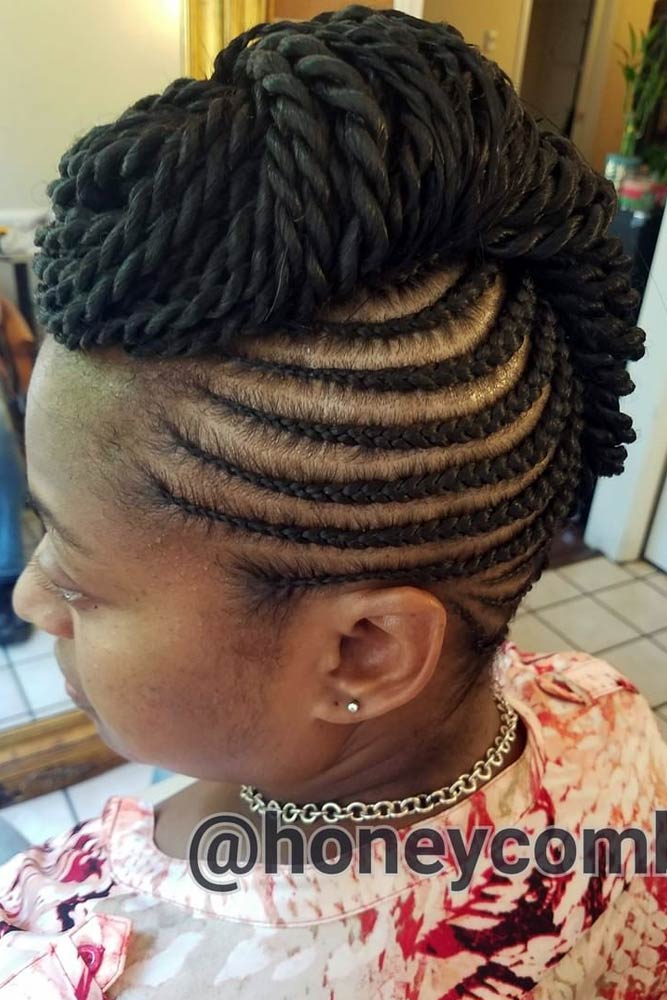 Credit photo: instagram.com/honeycombncoil
If you are a fan of faux hawks, this style is perfect. Medium cornrows that blend into twists form a funky braided mohawk. This bold and edgy look is ultra chic and classy in comparison with some of the bolder and punk rock versions.
Low Bun with Twists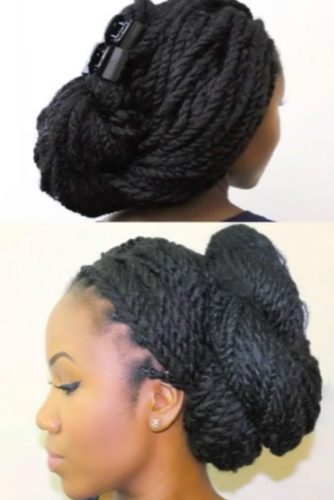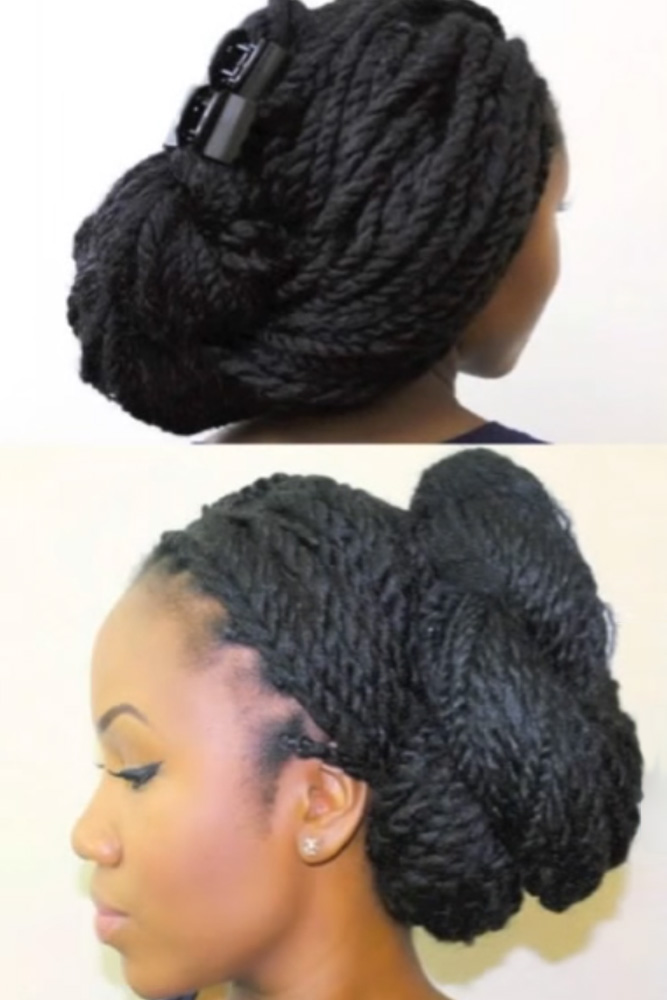 Credit photo: youtube.com/Brittany Kyss
Small twists allow for a great deal of versatility. This oversized bun with braids is stunning and can work for any occasion from a formal affair to a backyard picnic.
Kinky Twist Updo with Looped Bangs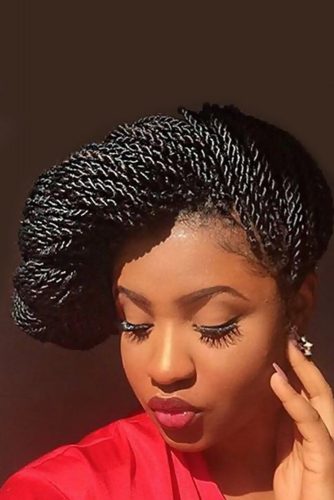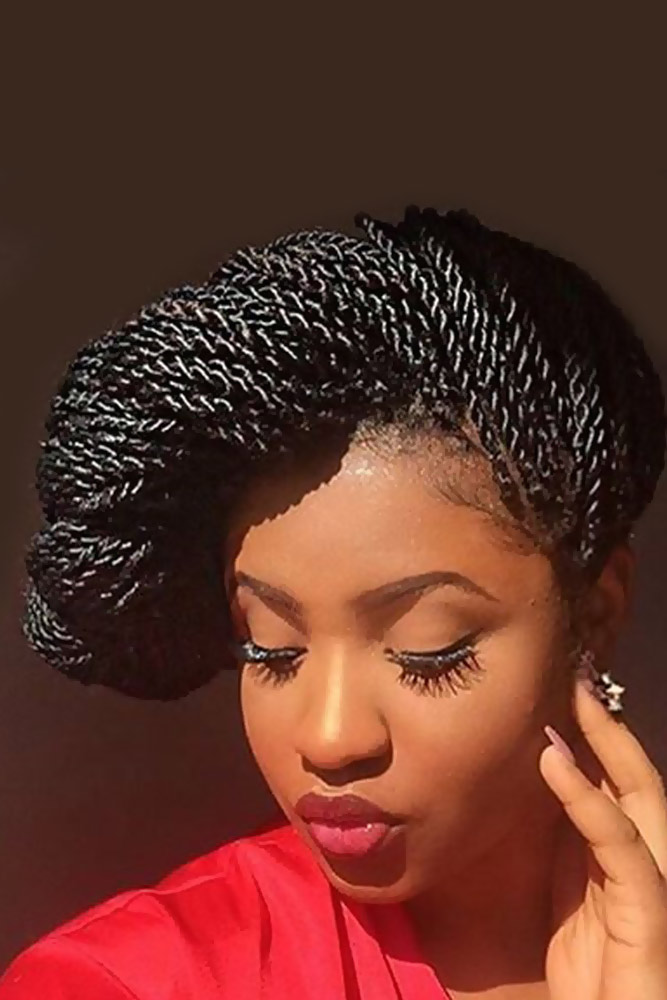 Credit photo: instagram.com/voiceofhair
If you want to sport a natural look without the extra bulk and length of Marley twists, this medium length style allows for a variety of quick updos with simple two-stranded twists variations. Bangs add a sultry effect for an air of seduction.
Kinky Curly Twists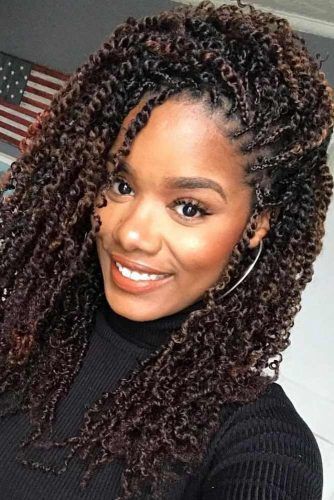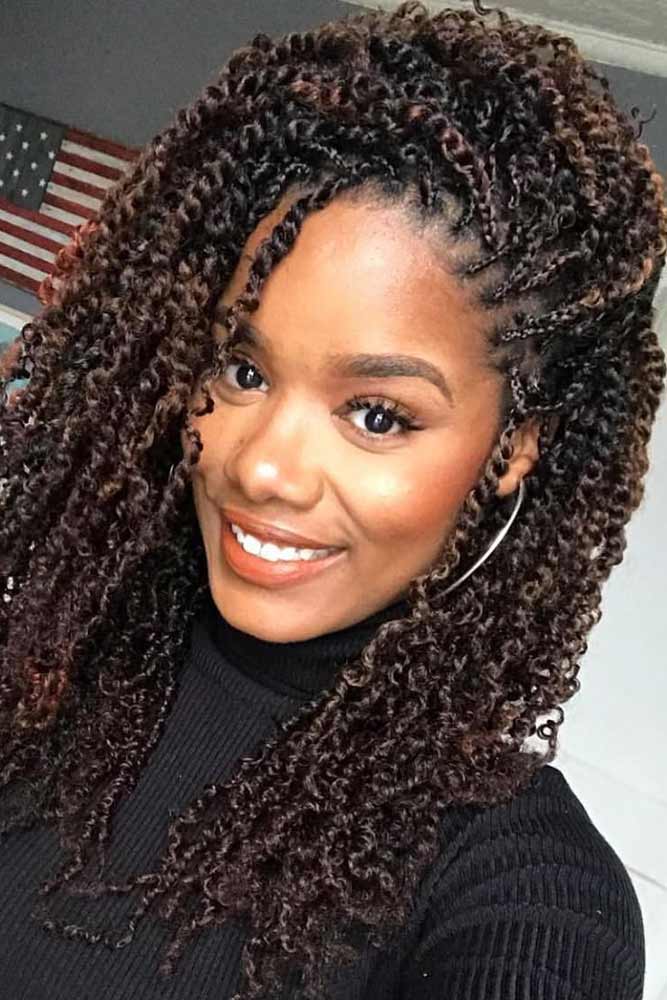 Credit photo: instagram.com/jeanneep
Twists that give a fresh take at afro texture, how do you like that? Unlike the real African hair texture, this variation is more defined, manageable, and shiny. Apart from wearing a stunning twisted mane, you can always set your creativity into motion and experiment with various hairstyles. With such a texture, anything from regular half-ups to complicated braided 'dos will look unbearably gorgeous.
Twists With Accessories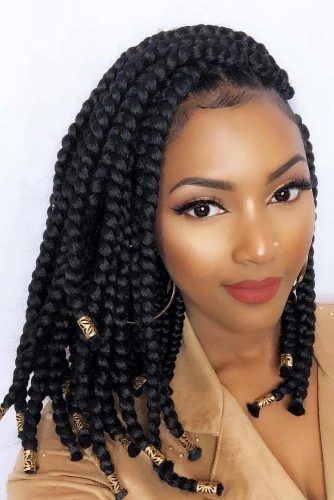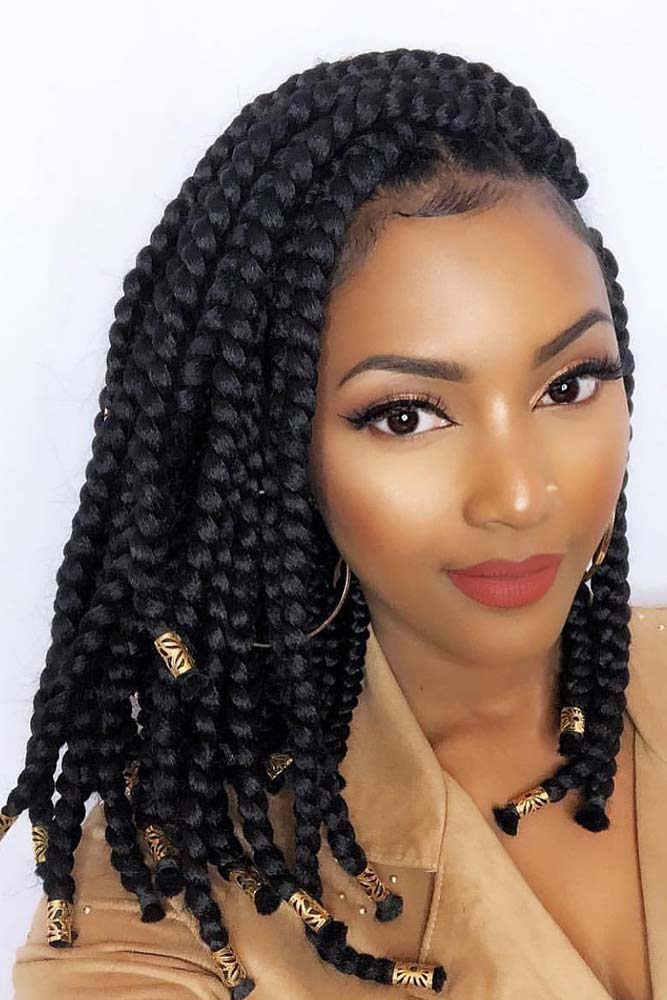 Credit photo: instagram.com/jessbeautydesigner
Besides regulating the thickness and shape of your twists, there's one more way for you to customize your twisted hairstyles. Of course, we're talking about accessories. Since your look has an ethnic-inspired background, you won't go wrong with colorful beads. At the same time, you can embellish your twists with ribbons, hair scarves, and simple clips to add more character to them.
There you have it...20 fun and sexy twist hairstyles! The great thing about twisted styles is that there are no norms or rules. Let yourself go wild and find the looks that best suit your personality.
FAQ: Twist Hairstyles
Is Twisting good for natural hair?
While flat twists are suitable for a variety of textures, twists work best on entirely natural hair since the ends are more likely to keep together without the use of bands or scrunchies. Afros, flat twists and braids are all styles that can be blended with twists.
Do twists make your hair grow?
Twists that are looser and more protective enhance healthy hair and allow for more hair development. What is more, twists with two strands are extremely versatile. They can be as fine as micro-twists or as thick as chunky-twists, and they can be done on any hair length longer than 2 inches.
Should you twist your hair wet or dry?
Start with wet hair and twist it out. Although a twist out on your dry hair will make it look longer, you will have a better effect if you twist your hair damp.
Was this article helpful?