A high ponytail is trendy this season once again, which is an awesome piece of news, as this hairstyle is so pretty and also very practical. Well, we all love to wear it when working out, but now we can sport it for any occasion. Let's see how to update your ponytail and make it more enduring.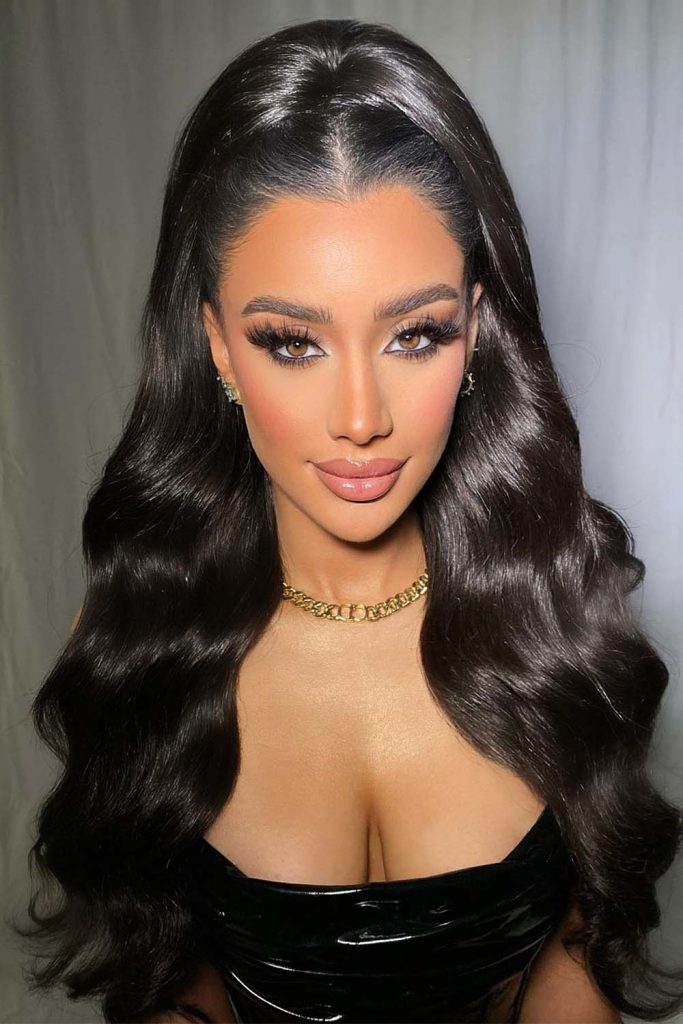 by @kykhair
The typical retro pony, where the crown is lifted, the hair is waved, and the elastic is hidden seems never to become outdated. And if you sport colored hair, you can give a nice fresh take at it.
Ponytail For Wavy Hair
Messy Waves Style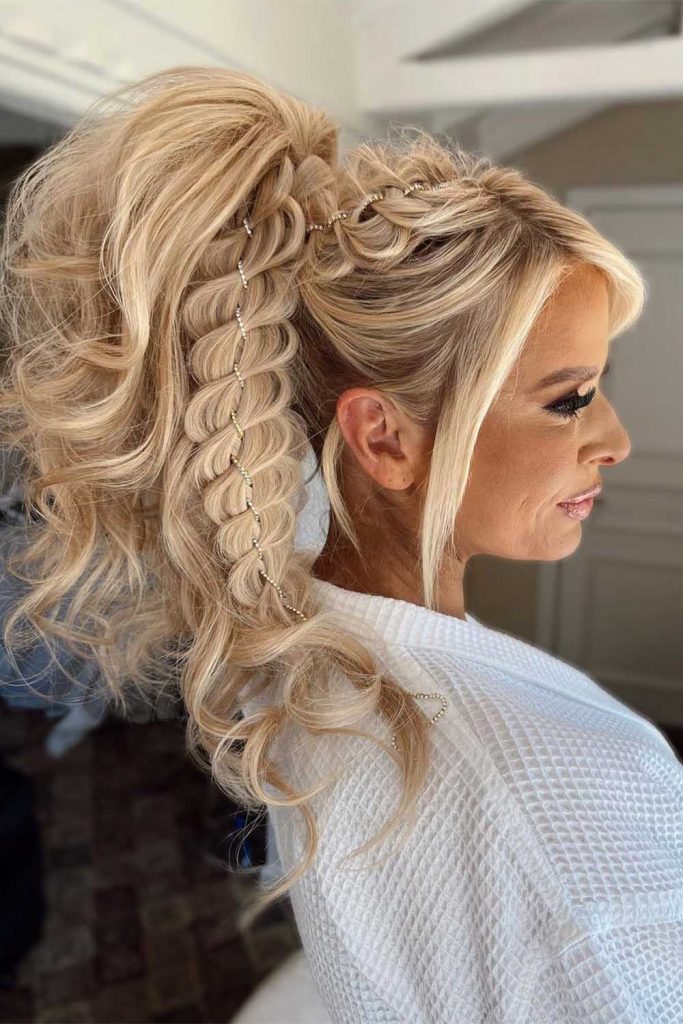 by @samirasjewelry
Next, work on that loose hair: tease it using a brush and hairspray. Teasing is a very important process here. If the shape of your head is flat, teasing will create structure and base for the hairstyle.
High Blonde Pony With Bows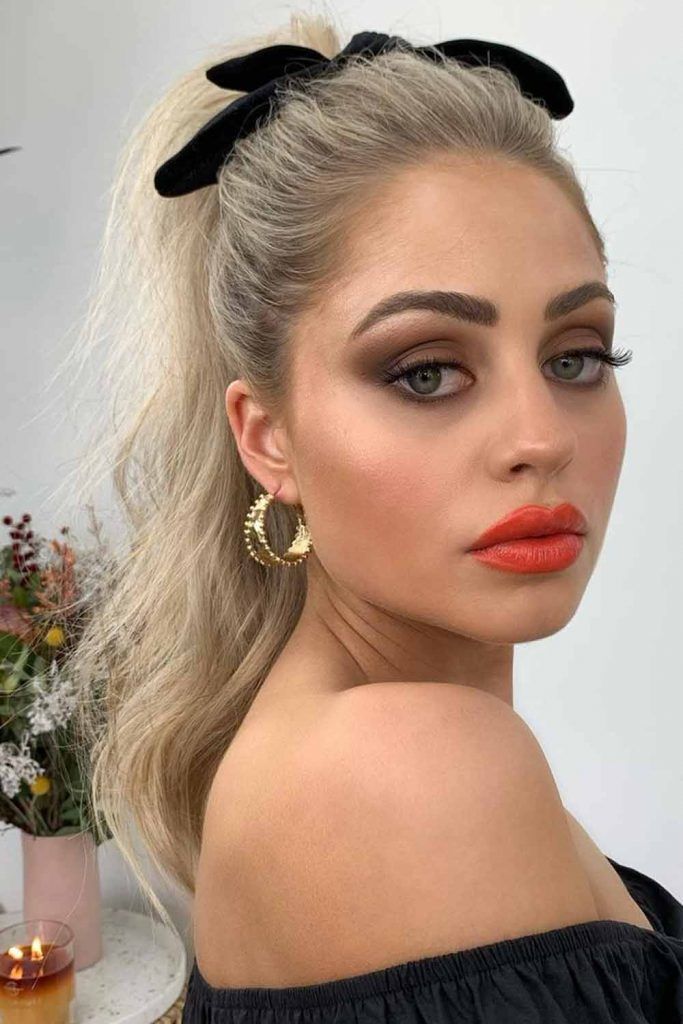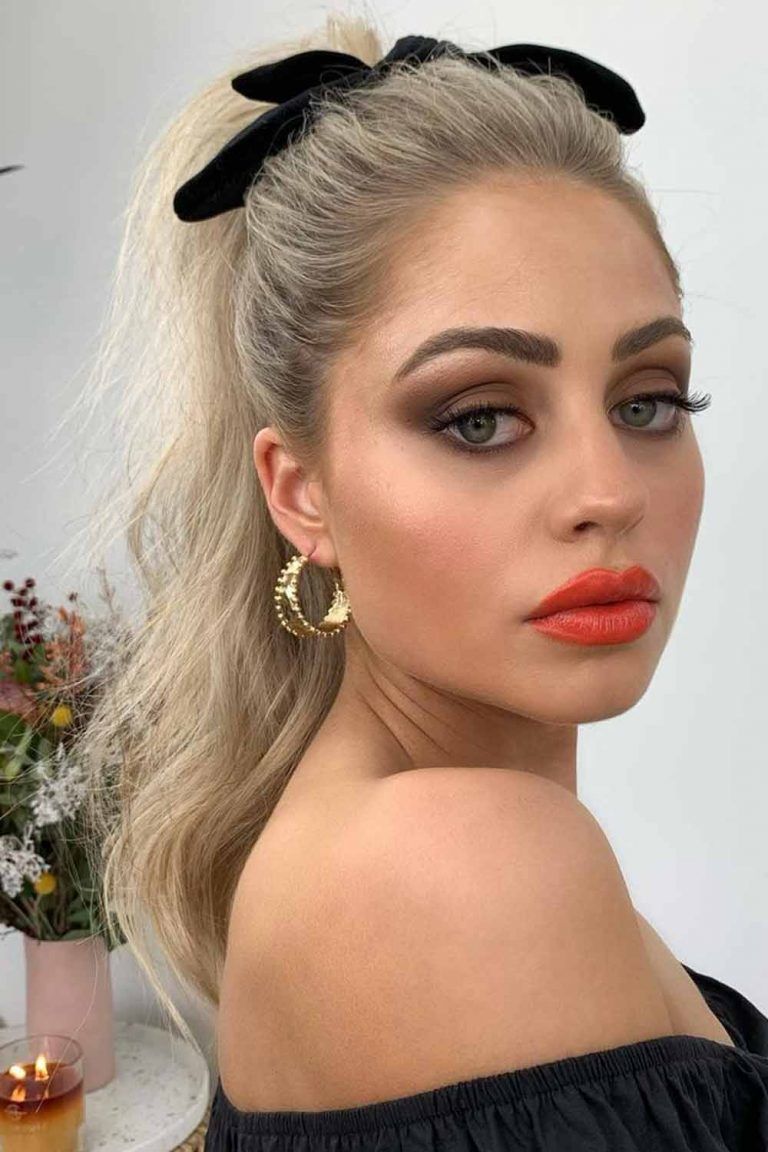 by @kykhair
Now, meet refinery and sophistication in their purest form. Basically, it's all about details and balance. Neatly brushed and styled hair, as well as a properly chosen colors for your bows, will turn a fun bubble pony into a mesmerizing elegant hairstyle.
Ponytail For Fine Hair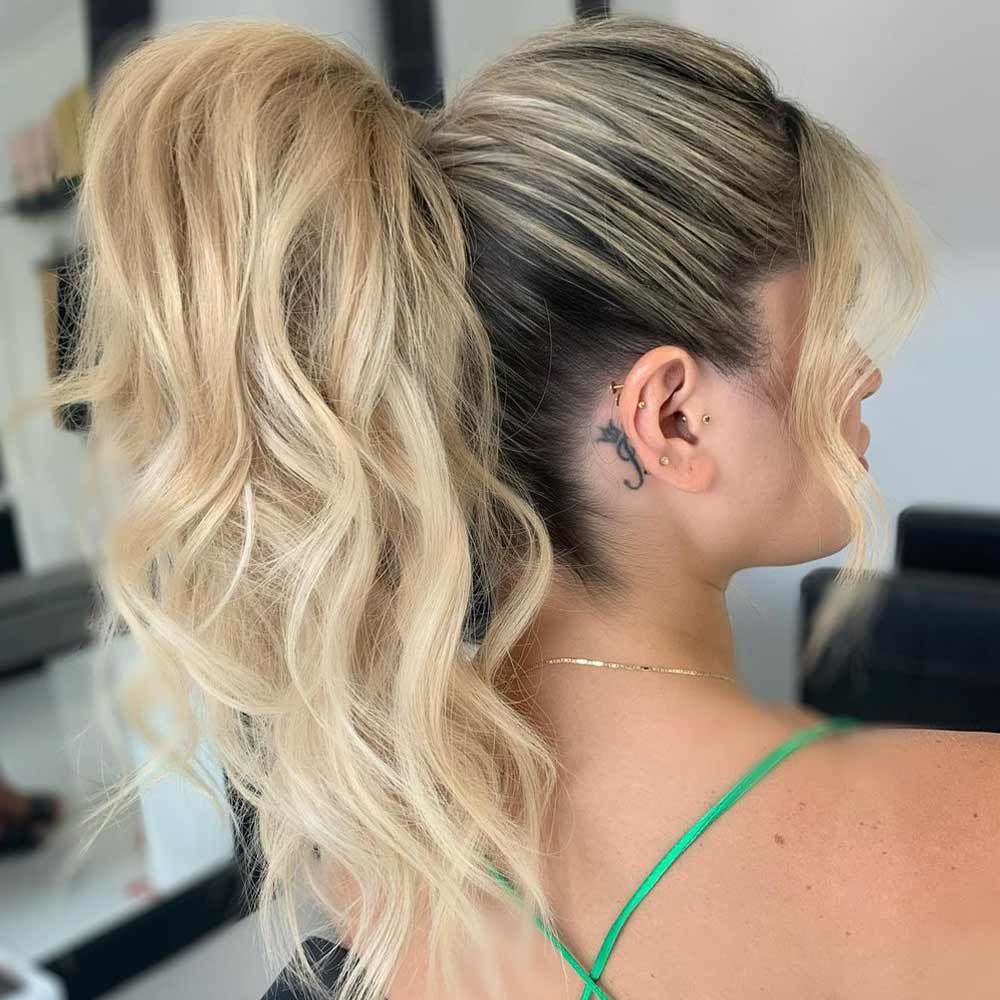 by @kykhair
For the flawless ponytail styles, always part the hair before you start. Next, divide it in halves, bottom and top. Flip the latter over the face and spray the hair with a hairspray for a tighter effect. Thus, your ponytail will last longer.
Wavy Half Up Half Down High Pony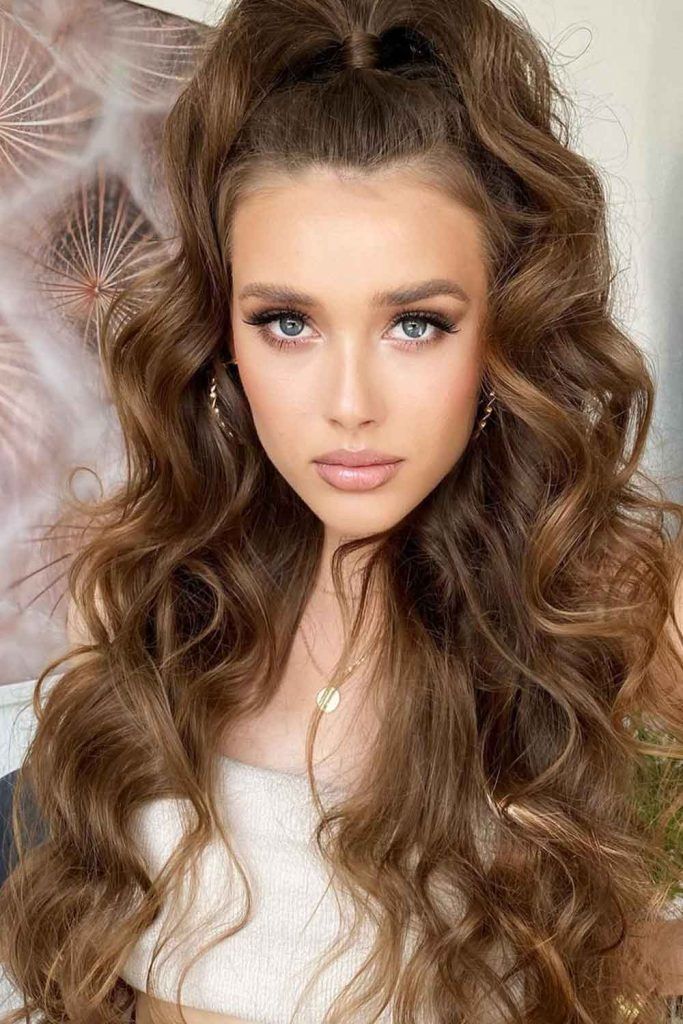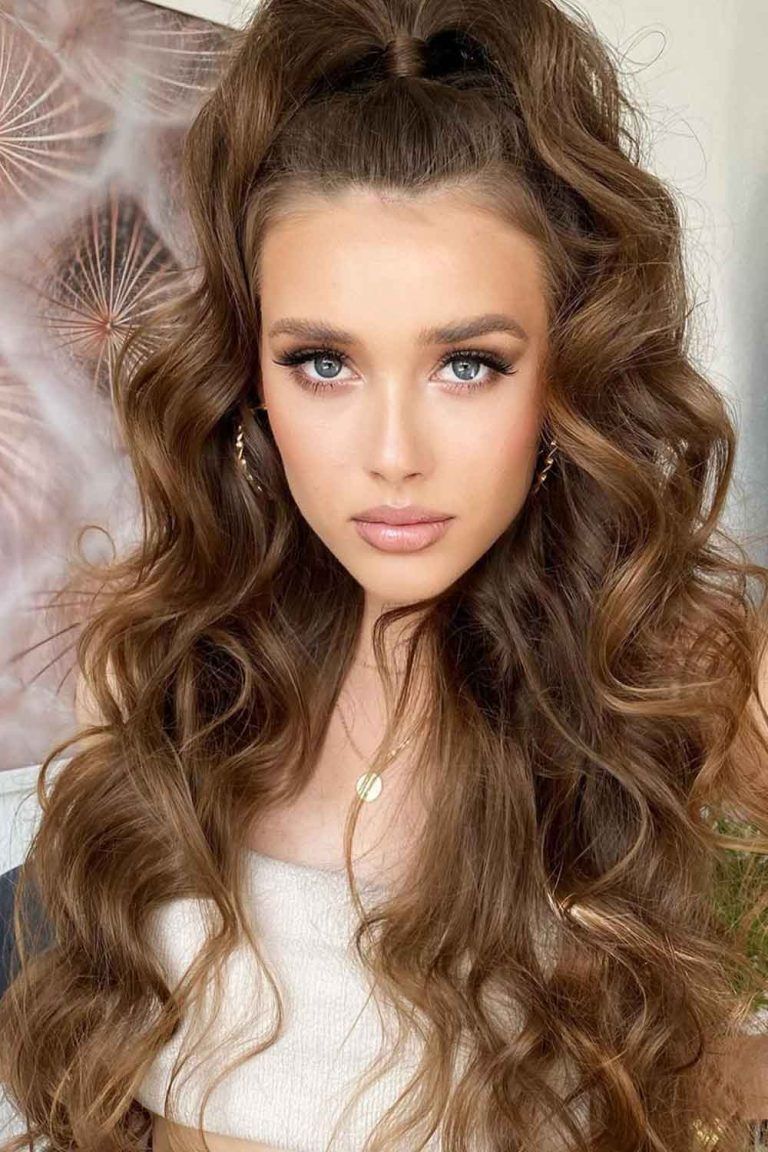 by @lenabogucharskaya
Not all your hair should be tied in a pony; you can create a simple updo that will not only keep you comfy with your hair but also show off the texture of your hair. Wave your locks to make it more charming!
Ponytail With Bump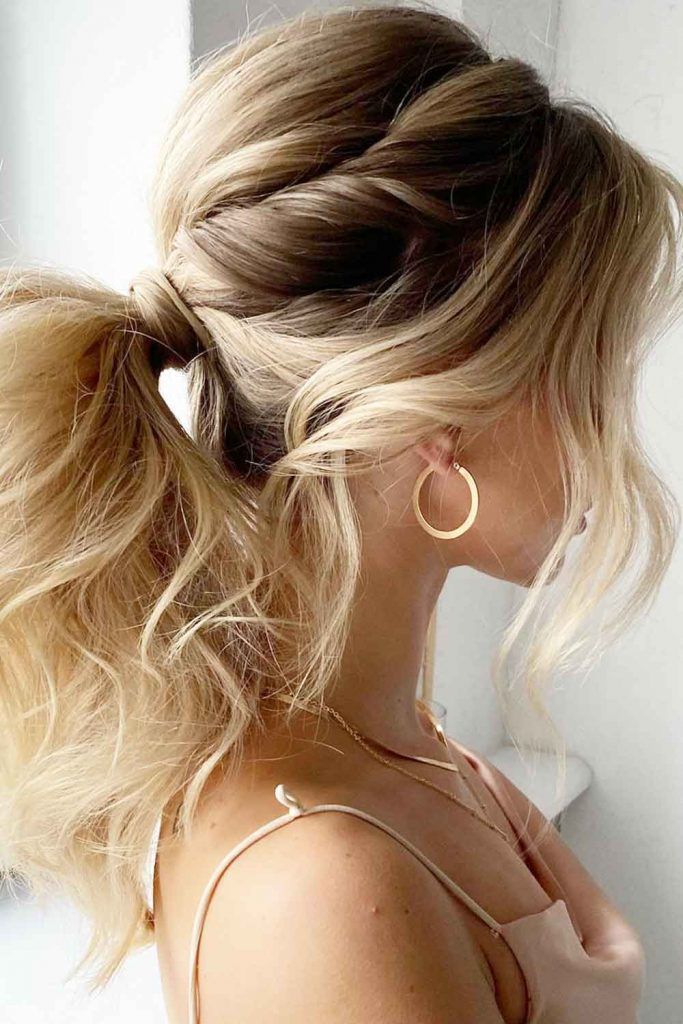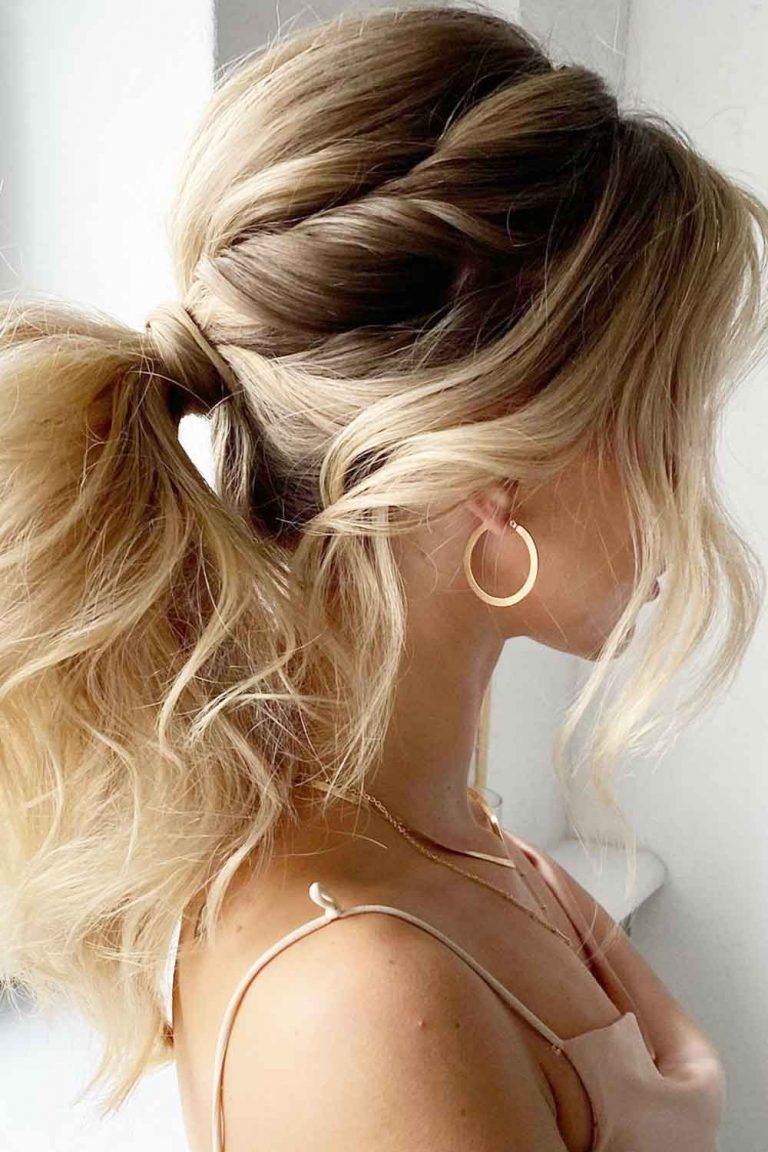 by @lenabogucharskaya
There's no better way to make your hair look voluminous than to wear a ponytail with a bump. A little tousling trick at the crown is enough to change your look for the better.
Big And Bouncy Half Ponytail Style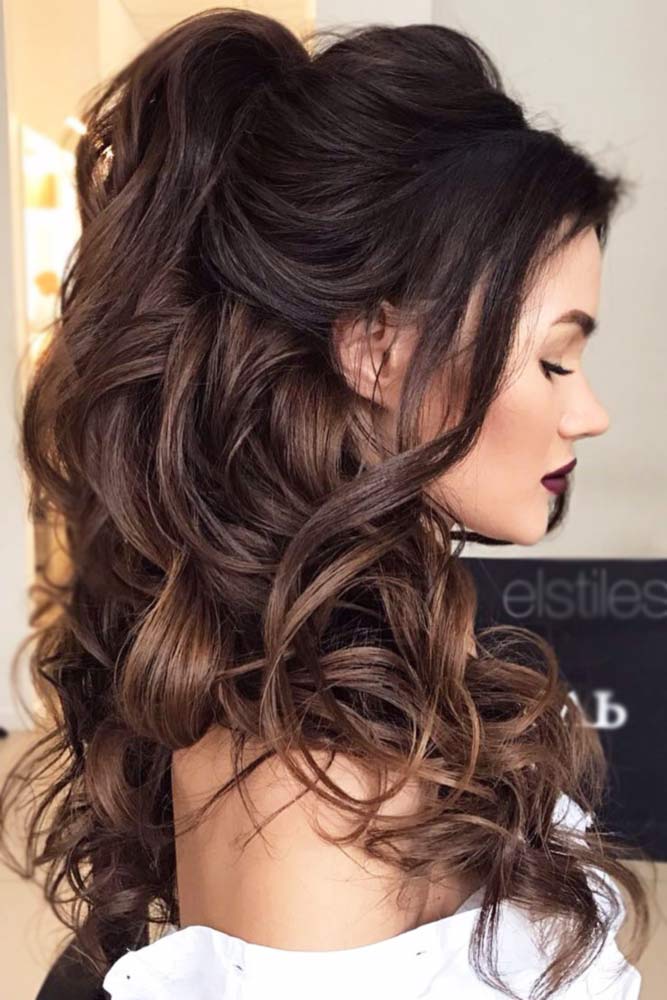 by @elstilespb
It's hard to recognize a pony in this majestic, voluminous masterpiece, yet it serves as a base for the 'do. If you don't believe that a ponytail can give you an unforgettable hairstyle, this half-up is ready to prove otherwise.
High Voluminous Ponytail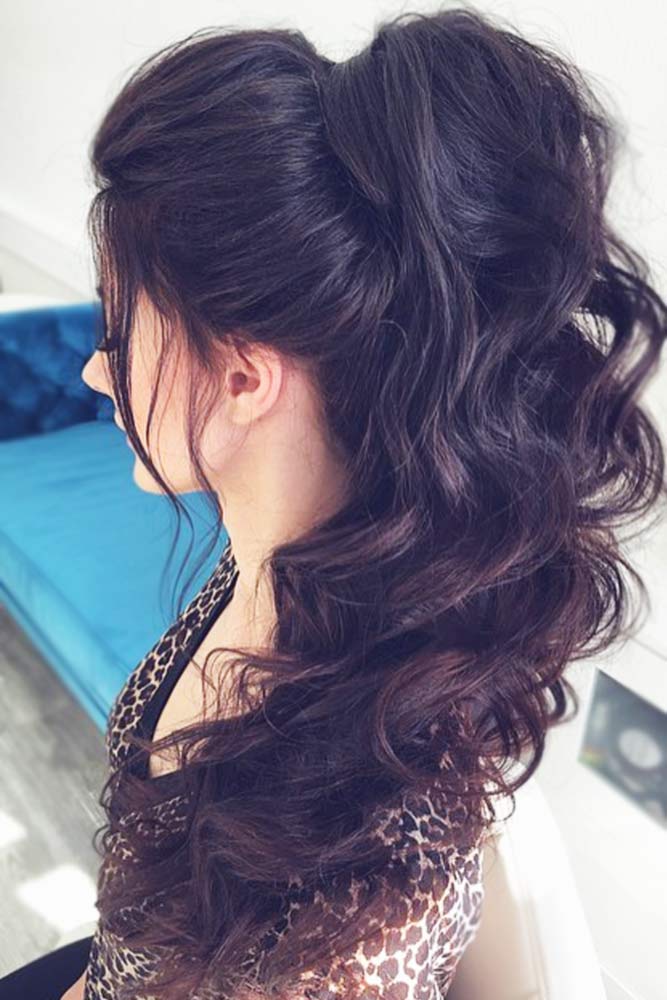 by @oksana_sergeeva_stilist
The unbelievably gorgeous and full hair gathered into a ponytail: is there something easier and prettier? There's no a girl who can't do such a style, and there's no a girl who won't love it as well.
Tight And Sleek Wavy Tail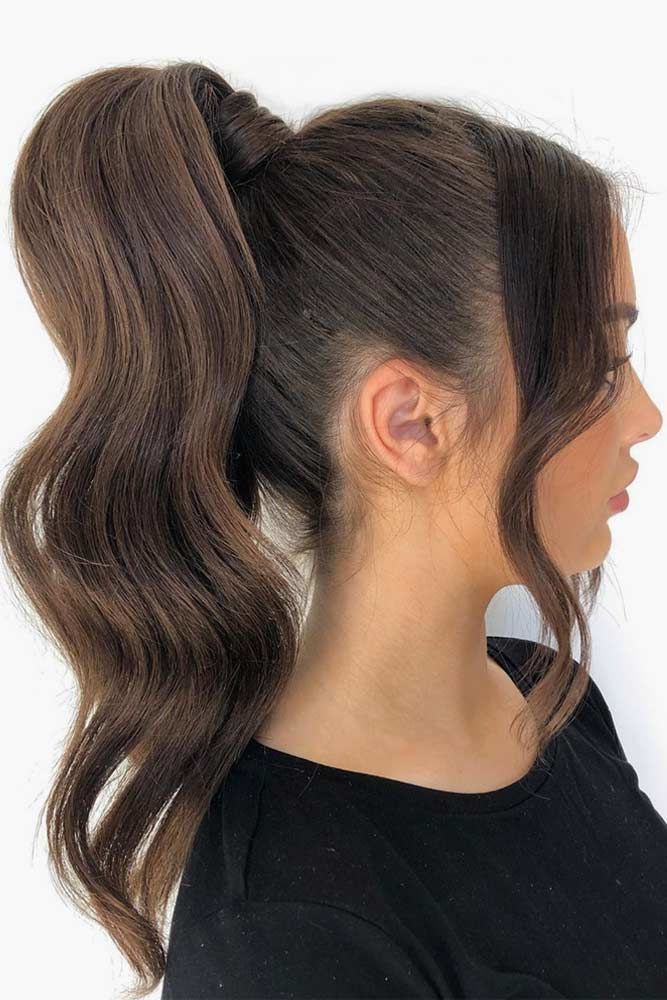 by @hairbytashalouisec
Sleek on top and wavy at the ends, how do you like this play of textures? This creative and easy idea will work awesomely for thin and medium length hair, as its silhouette builds the needed balance.
High Ponytail With Braids
Ponytail With Side Dutch Braid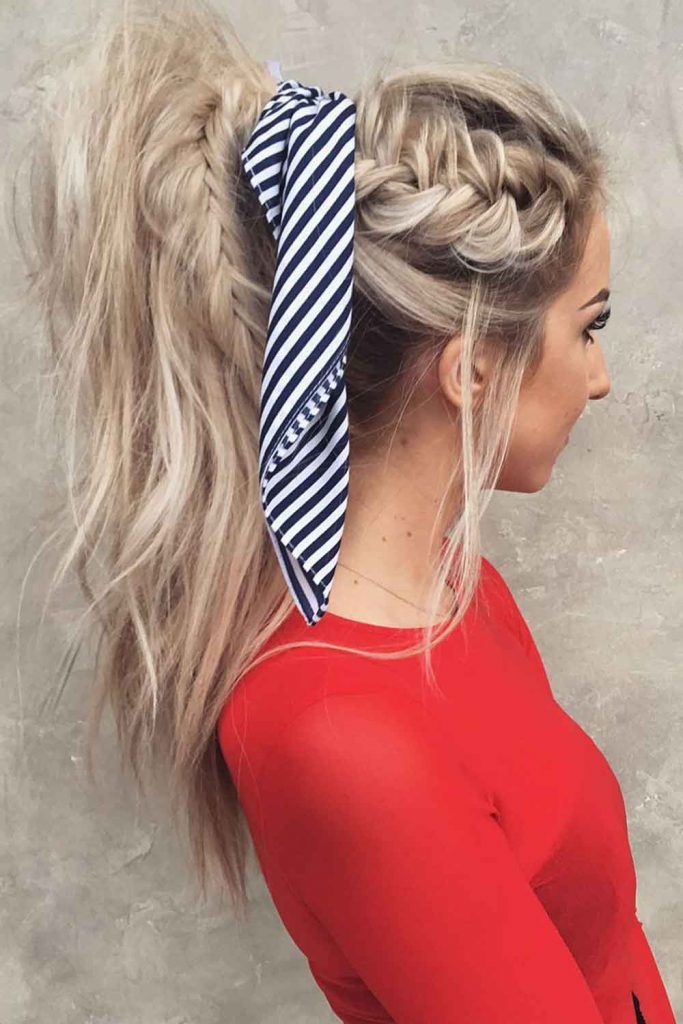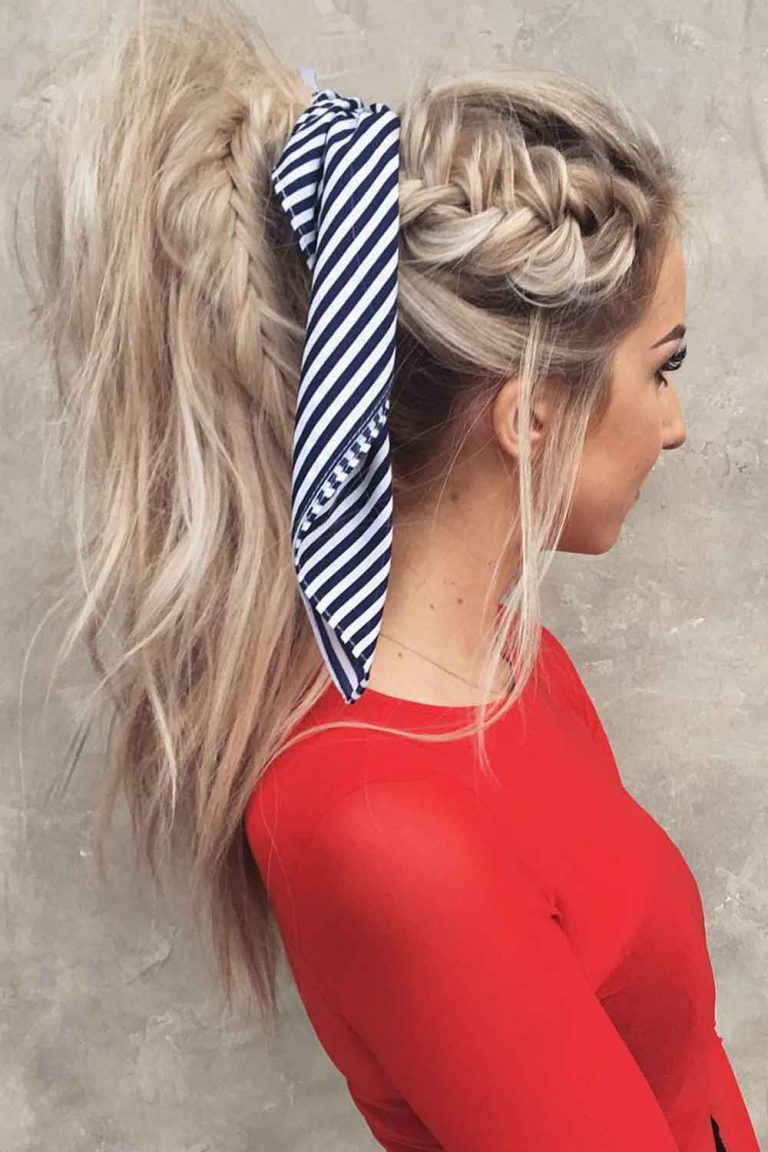 by @taylor_lamb_hair
Ponytail hairstyles seem to be so simple. But in reality, it is not easy to achieve a sleek look without any bumps. Besides, how to keep your ponytail in place during the whole day? Believe it or not, it is possible.
Braids Into High Pony With Bobby Pins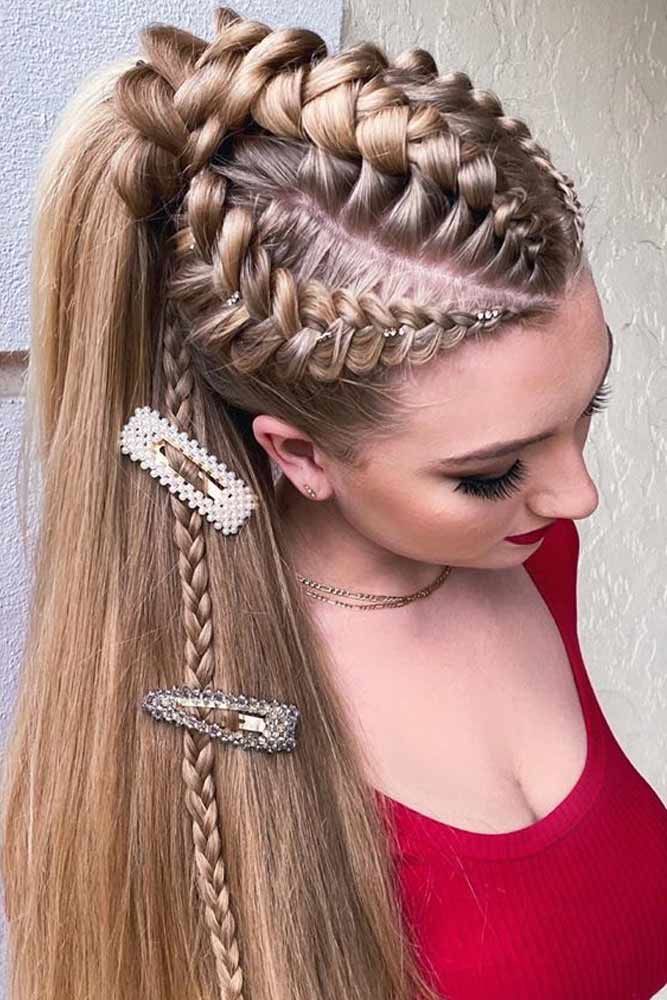 by @samirasjewelry
You can't even imagine how variously you can individualize your ponytail hairdo! As it turns out, bobby pins and clips are no longer tools to secure hairstyles; they're a new way to breathe individuality into your look.
High Bubble Ponytail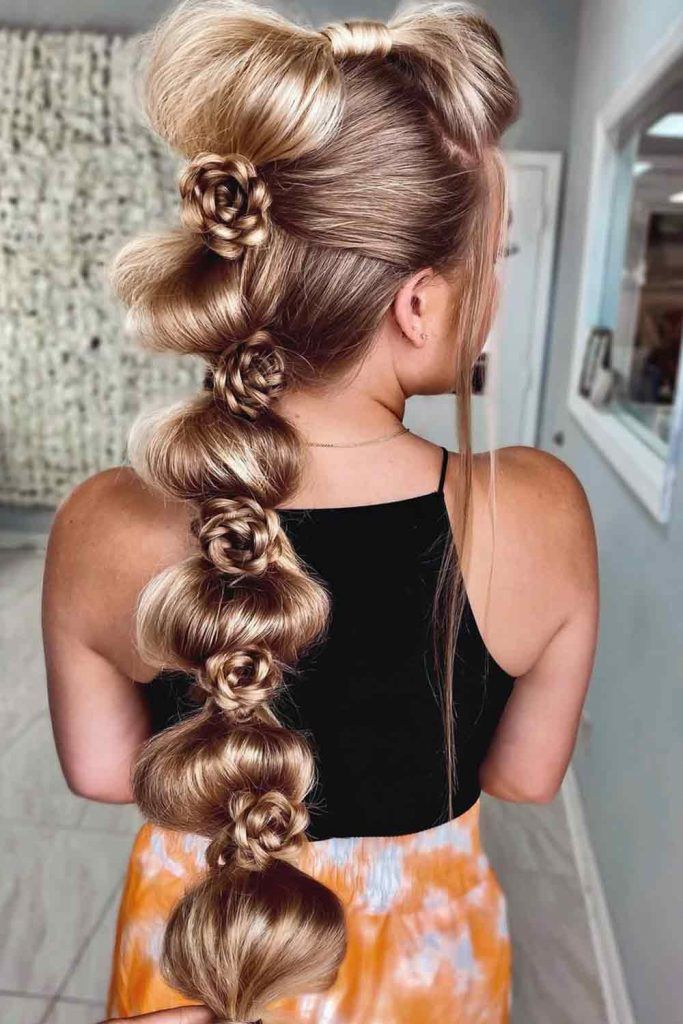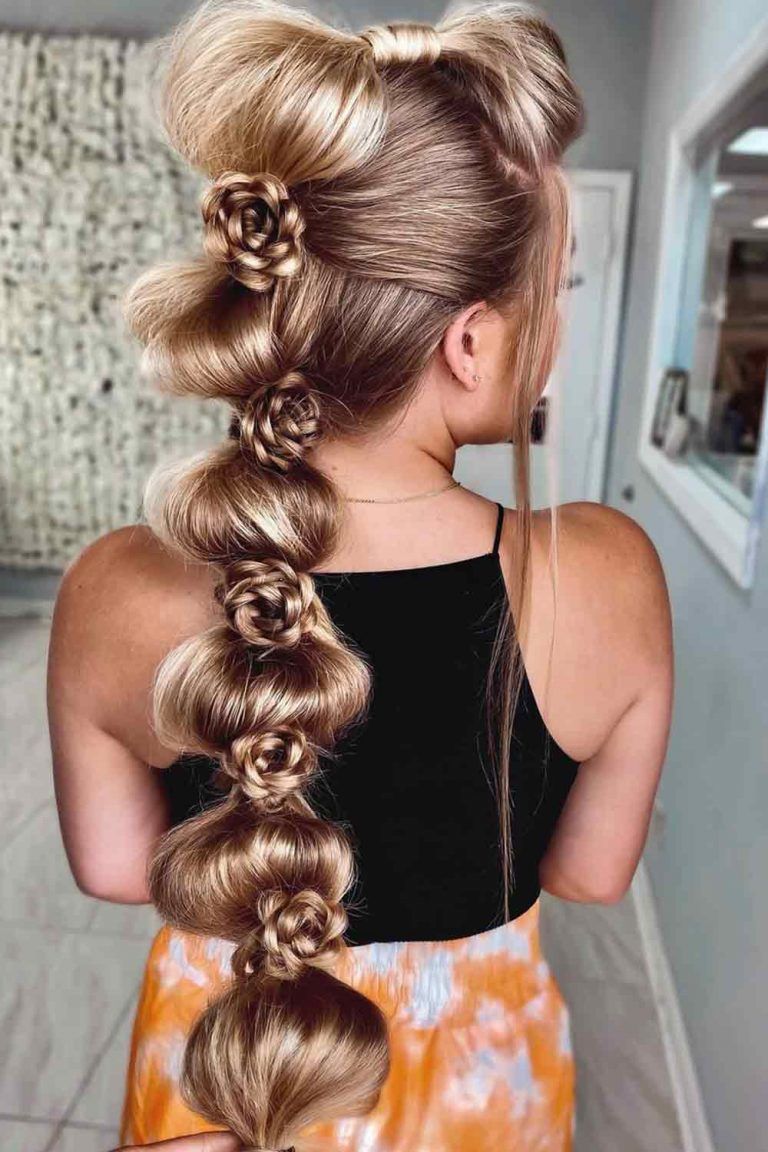 by @samirasjewelry
Is there something easier than a bubble ponytail? Well, despite its simplicity, the look you can achieve with the style is worth thousands of compliments.
Side Twists Into Curly Pony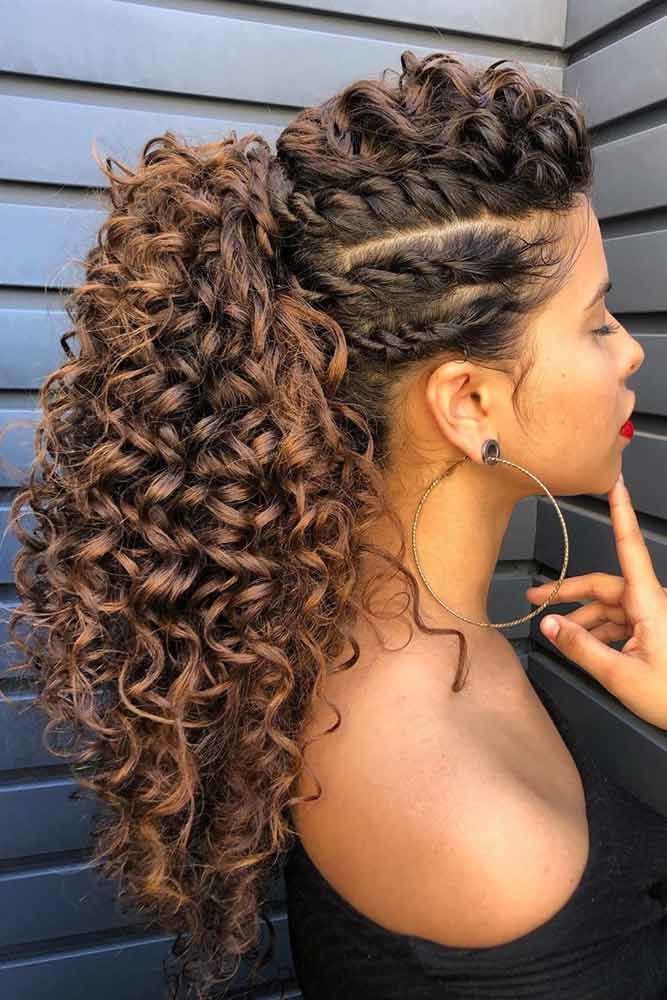 by @fragoso_rosy
While ponytails provide a shine-reflecting finish for sleek and straight hair, they can enhance your curly texture as well. Define your curls with curl mousse, braid the sides in any way you like, and make sure to pull the crown in the end. That's the recipe for a perfect curly pony!
High Black Pony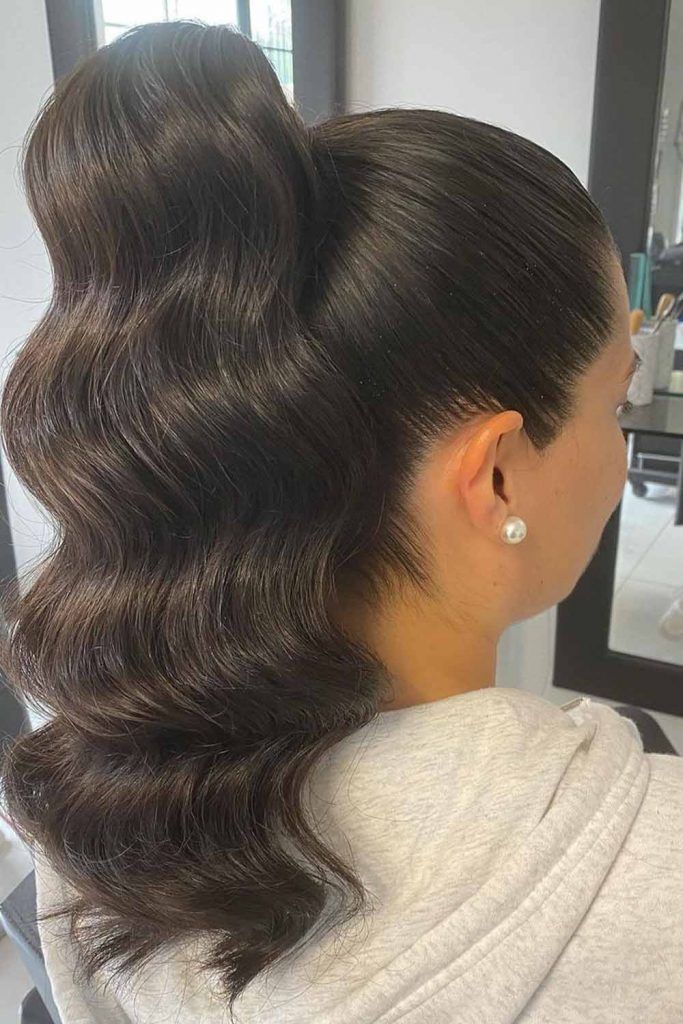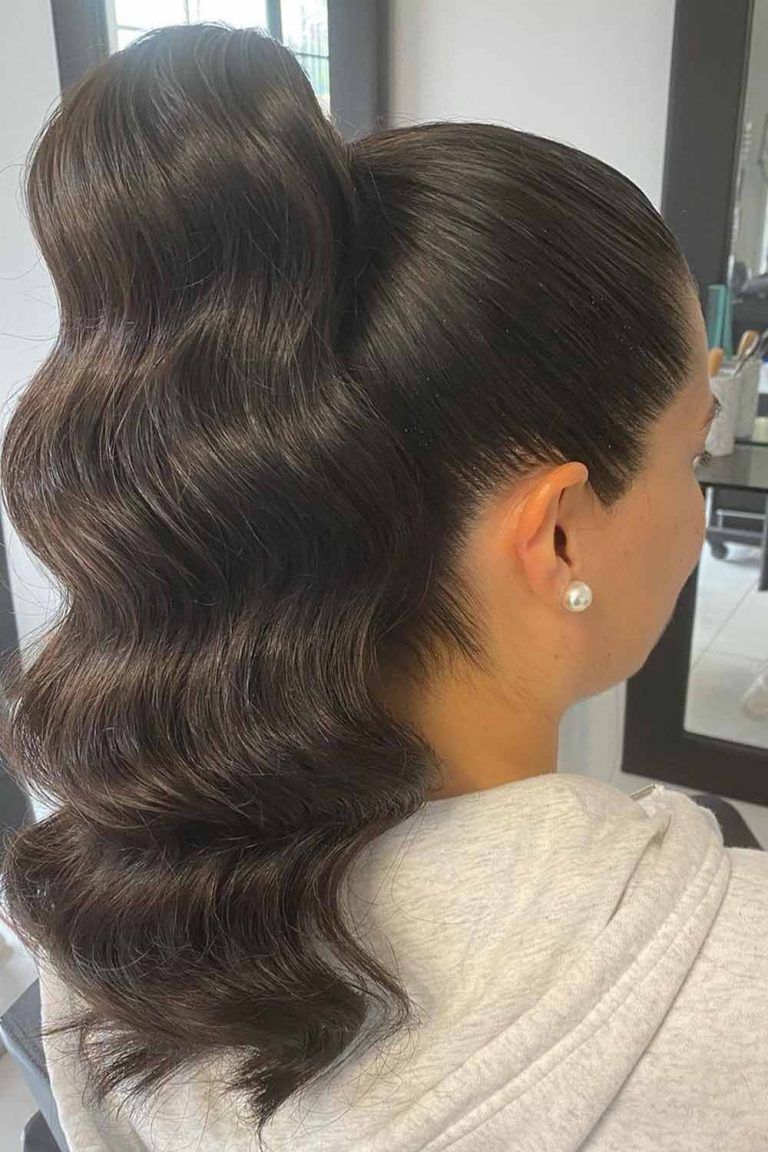 by @kykhair
Now, taking the hair from the bottom, gather it into a pony and brush it properly. Take a small rubber band to secure the pony. The top of your hair remains loose, remember?
Ponytail For Straight Hair Type
Cascading Pony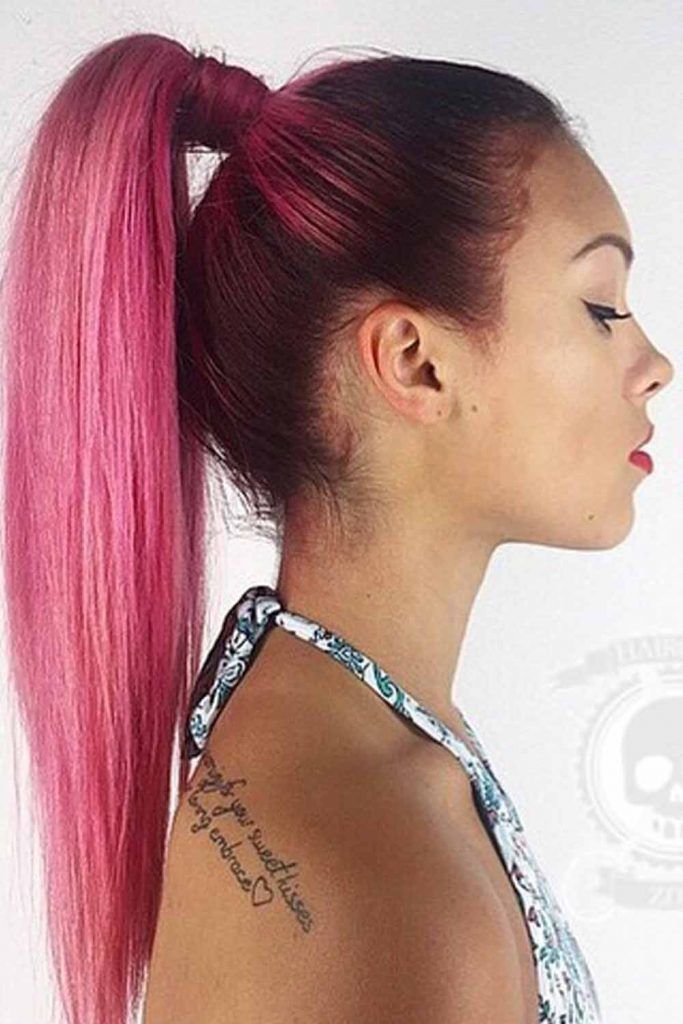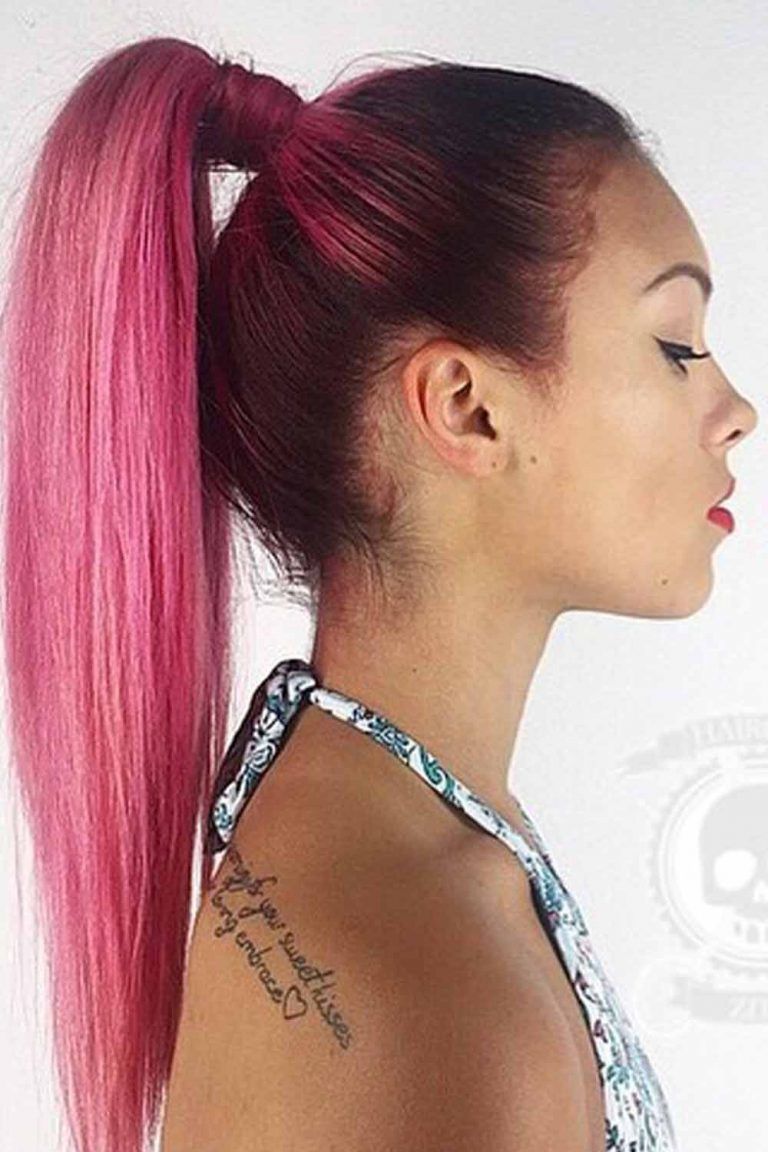 by @hairgod_zito
Once you get a cascading cut, you will change the image of the high ponytail hairstyle once and for all: its perfectly balanced silhouette is to die for.
Super Sleek Ponytail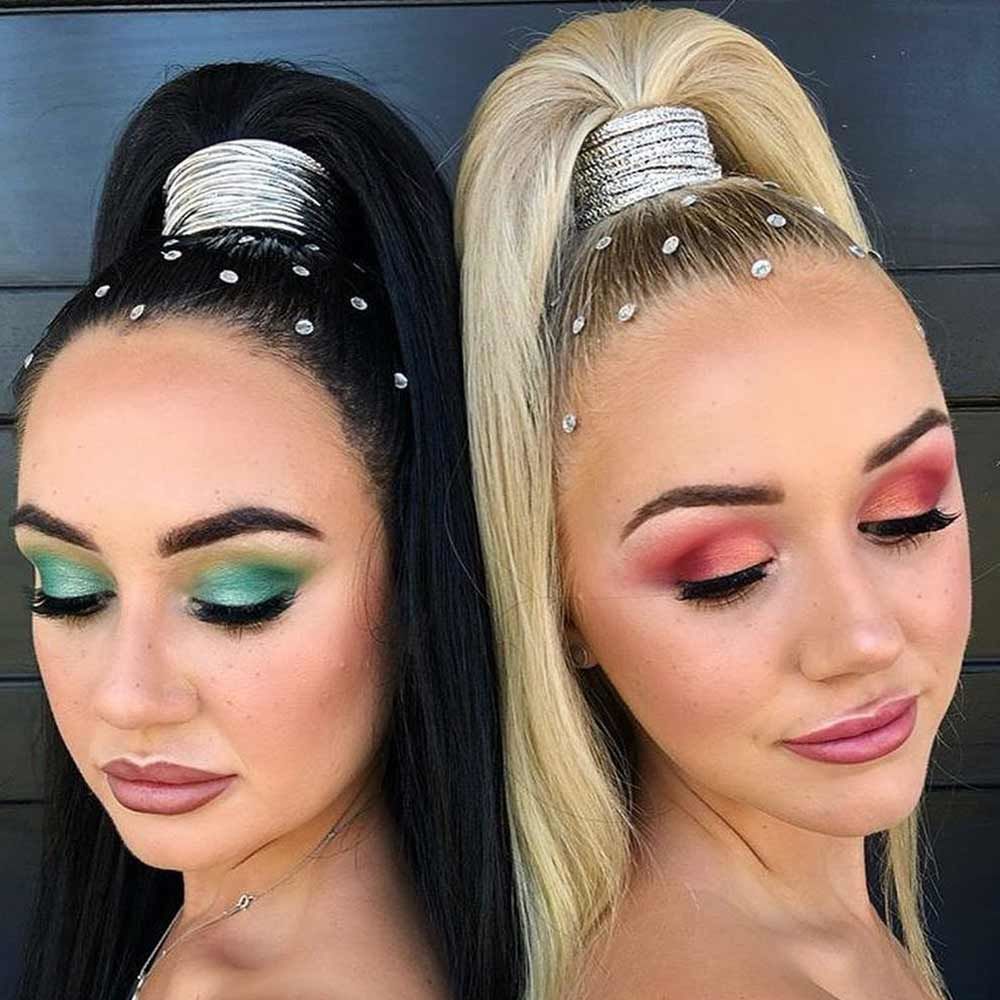 by @kykhair
While some ladies wear a ponytail just to do something with their hair at home, some choose it as an elegant finish for their big-day look. Yes, a bit of styling gel can turn your hair into a breathtaking pony.
Medium Straight High Pony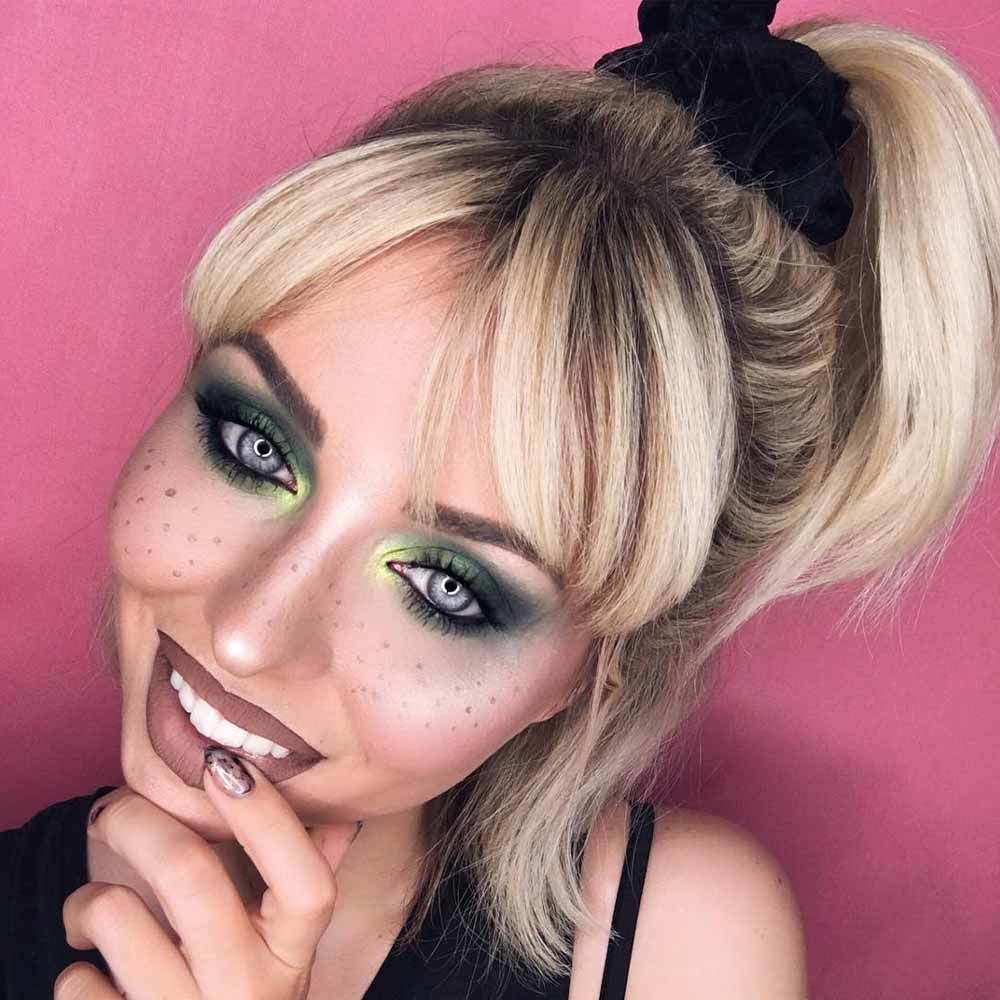 by @alicia_wunderbar
At first sight, you may take this pony as a perfectly cut angled bob. And once you look up, you will see that it's all about the magic of the familiar straight hairdo.
High Pony With Accessories
Glam High Pony With Rhinestones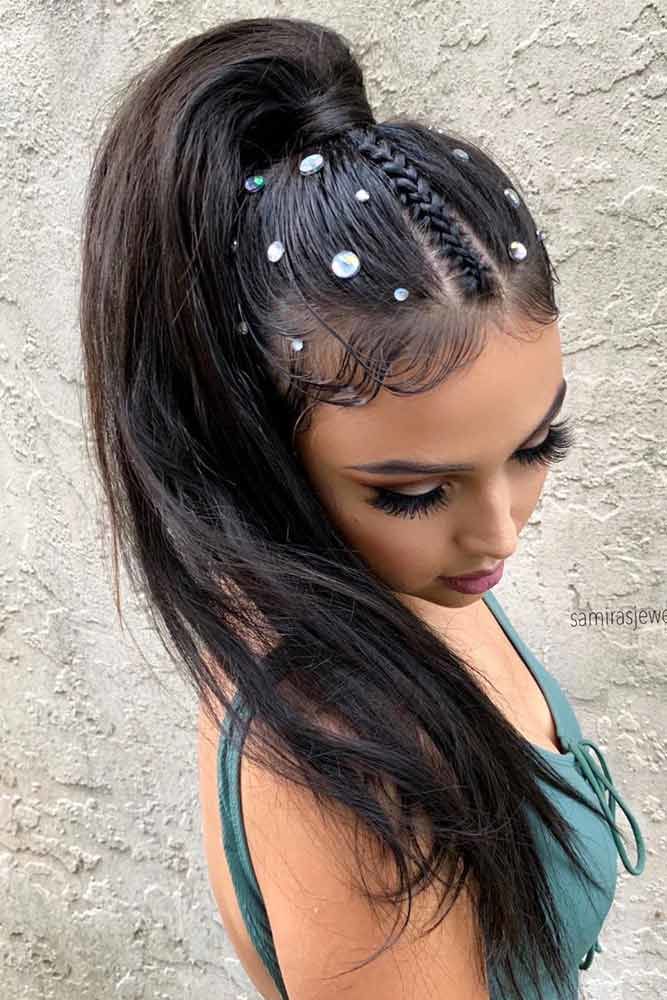 by @samirasjewelry
This is what we call a signature ponytail. At first sight, it's pretty simple. But the embellished braided crown with sparkling rhinestones makes this high pony stand out in the crowd of creative ideas. Also, we can't skip those nicely tamed baby hairs.
Double Ponytails With Bobby Pins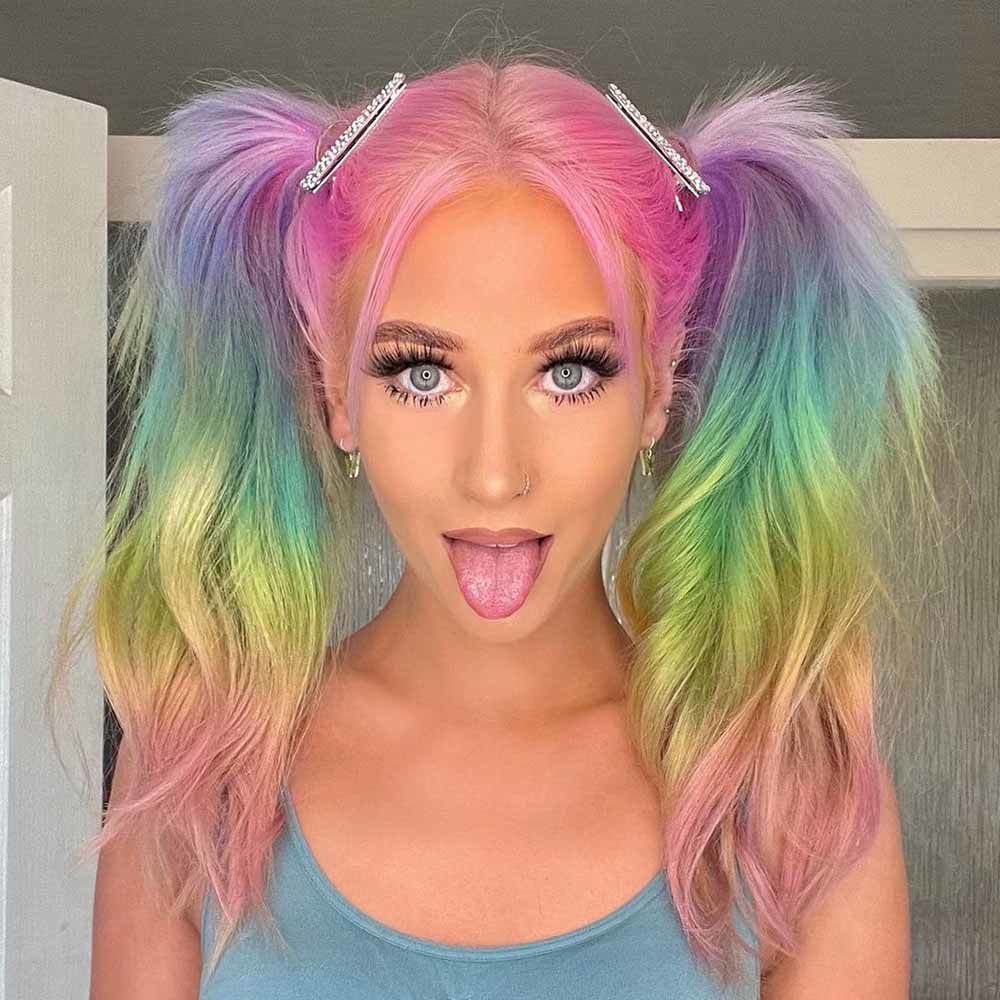 by @amythemermaidx
Credit photo: instagram.com/amythemermaidx
This lovely hairstyle looks just as fun as it sounds! We are glad that modern manufacturers of hair accessories allow girls to show off their bright personalities through details. And look at how it works: double ponies have just reached a new level.
FAQ: High Ponytail
Is it bad to wear a high ponytail?
High ponytails, especially when pulled tightly, are the worst culprits for hair breakage and exhaustion. If you really can't do without your hair up on a frequent basis and can't afford a few 'down days,' alternate between high ponytails and low styles.
How do you make a high ponytail look good?
Wear a ponytail style on day-old hair.
Gently tease the hair on your crown.
Make sure you brush your hair out carefully.
Put your hair into a ponytail.
Use an elastic band to fix your ponytail in place.
Fix the hairstyle with hairspray.
The final few flyaways should be smoothed out.
Is it better to sleep with hair up or down?
If you have short hair, sleeping with it down is the best option. If you have long hair, however, it is recommended that you tie your hair to avoid knots and. Frizziness can also be caused by leaving your hair loose in bed.
REFERENCES:
A ponytail is a hairstyle in which hair on the head is pulled away from the face, gathered and secured with a hair tie, clip, or other similar device. Source
How to Make a High Ponytail Source
Was this article helpful?