While some ladies daydream about silky and straight manes, others can stop thinking about those voluminous curls that aren't granted them naturally. Surely, it is no longer a challenge to go either way and achieve the look you desire most with a bit of professional assistance. Yet, if you wonder how to curl hair with a straightener in the safety of your own house, there are some easy and practical ways to get there too. Would you like to learn more on the matter? Keep on reading!
How to Curl Hair with Straightener in 6 Easy Step:
Would you like to learn how do you curl your hair with a straightener step by step? There is a wide variety of ways that you can use the device to get the wavy outcome you are craving. However, you need to stick with a precise order to achieve the most fantastic result.
Start with The Tool
One of the main things to make sure of when you consider the straightener as a curling tool would be the type of device you are willing to invest in. However, almost any option can be fit for the purpose as long as you use it correctly.
Few things can speed up the process, though. For instance, ceramic plates are known to be the best for easy and gentle curling. Nano titanium plates are also great, but they will cost you a little extra. Of course, your hair length plays a major part in the process too. The thing is that bog plates are best fit for long hair, while small ones can curl the shorter locks better.
Lastly, you need to ensure that the heat that your device uses is adjustable. Besides, a good handle will help you work with the tool safely.
Use a Heat Protectant at All Times
One of the main things that most ladies leave out when it comes to heat styling is proper protection. There is a variety of products that fit the described purpose and can save your locks from unwanted heat damage. So, every time you are about to start the curling process, you need to apply the heat protectant all over your tresses.
Pre-Heat The Device
When you are about to curl hair with a flat iron, you need to make sure that it is well-heated. Modern straighteners are known to heat up quickly up to 60 seconds. However, it is advised to plug the device in and let it heat while you start to section your hair. Then, once your locks are ready, the tool will be of the right temperature to use too.
Curl The Hair by Section
One of the safest ways to come up with a properly curled mane is to section it well. The experts recommend securing the top part of your hair while working with the bottom. Depending upon how thick your tresses are, you may want to split all the hair into three layers and curl them one by one, leaving the top part for the last.
The Curling Technique
Only a few simple steps now stand between you and a perfect curl. Here is what you should do:
Spray the section of hair with a heat protectant.
Hold your straightener diagonally.
Clamp the upper part of the section close to your head.
Start rotating the straightener away from the head, down the length of your hair.
Repeat the process until all the hair is covered.
Set The Curls with Hair Spray
After you have all the head covered in lovely, stylish curls, you should use some hair spray to secure the pattern and let you sport it throughout the day. If you see that some curls are losing their tightness, you can do some touch-ups to fix that.
3 Different Techniques to Curl Hair with Straightener
Whether you want to discover how to curl your short hair with a flat iron or what are options that you can experiment with, the following sections will lead you in the right direction.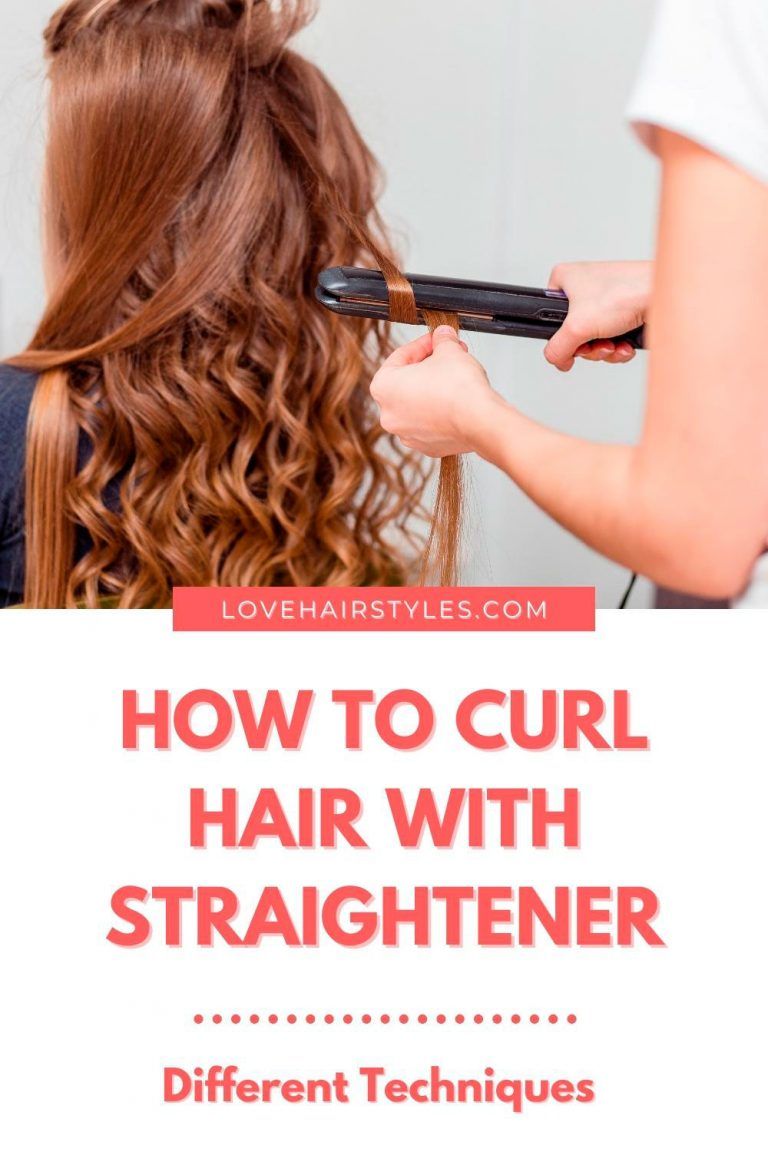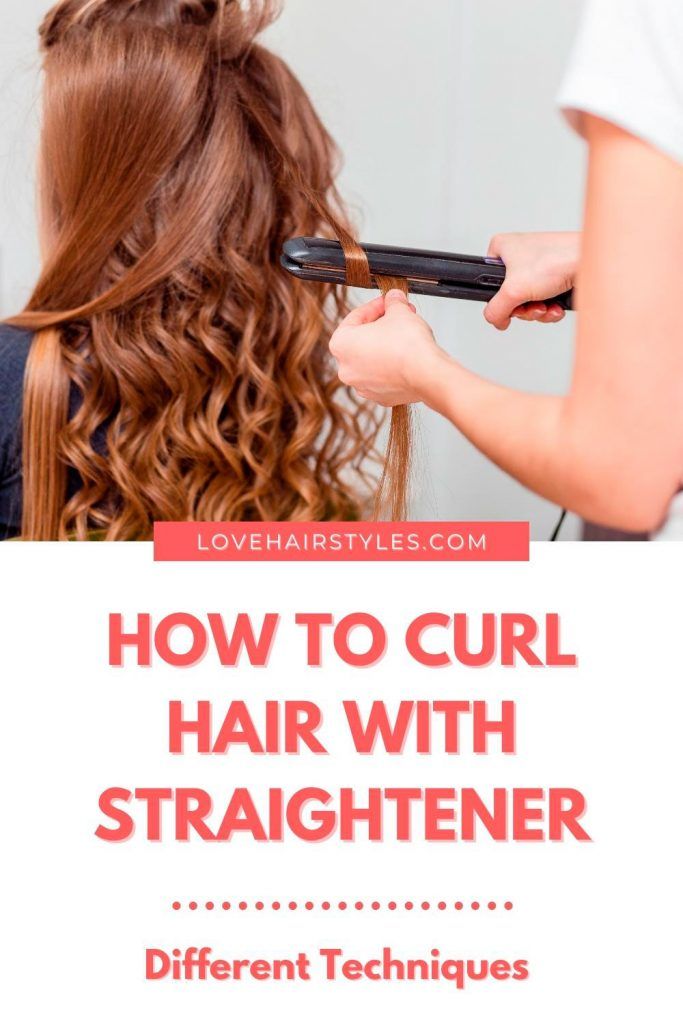 Slide Waves
Those of you interested in a casual look should give a try to slide waves in the first place. This is how you can achieve the look:
Take a 1-inch section and clamp it a little away from your head.
Start rotating the wrist up and forth until you reach the end of the strand.
Smooth significant dips with the flat iron.
Curl the ends of your strands under.
Smooth the flyaways with a comb.
Add some enhancing spray to your locks.
"S" Waves
Another popular curling technique is S waves. Again, the process is quite simple and effortless.
Take a section of your hair and bend it, so it makes a C shape.
Flat iron the shape.
Keep bending the strand in the same shape so that you see a clear S pattern.
Keep running the straightener over the locks to secure the flawless curls.
Wrap Waves
This technique may seem a little too intricate, but that's only the first impression.
Take a section of your mane and run it through the open straightener.
Clamp the plates together and wrap a remaining length once or twice around the stem of the straightener.
Keep sliding the iron down.
Let the section out.
Enjoy a perfect pattern.
Essential Pieces of Advice to Keep in Mind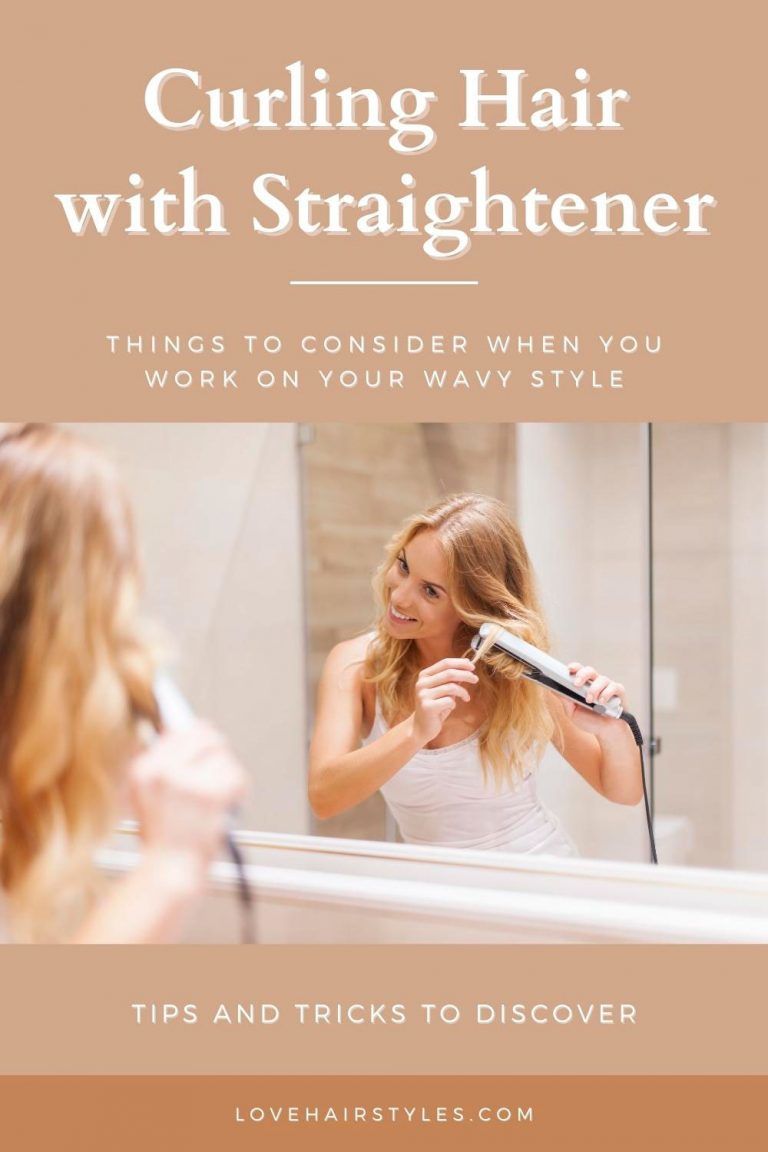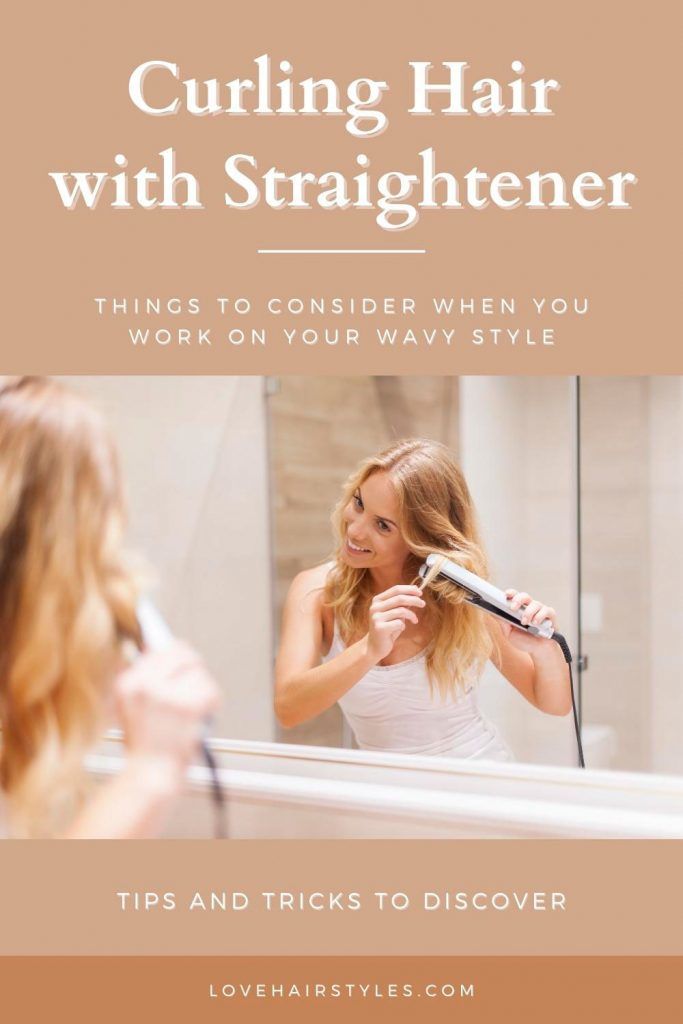 Now, when you know how to curl your hair with a flat iron, you are probably amazed at how easy the process is. While that is true, there are some essential things to consider when you work on your wavy style. They are the following:
Should you decide to blow, dry your tresses before the procedure, make sure that you keep the blow-dryer at least 5 inches away from your locks.
If you want the curls to remain intact as long as possible, use a silk pillowcase.
Try to use heat styling devices as many as 1-2 times a week.
Your waves will look softer if you use loose-hold hair spray.
With these many ways of how to curl hair with a straightener and useful advice as to how to achieve the best results, you will look your absolute best 24/7. But, keep in mind that frequent styling may damage your strands severely.
FAQ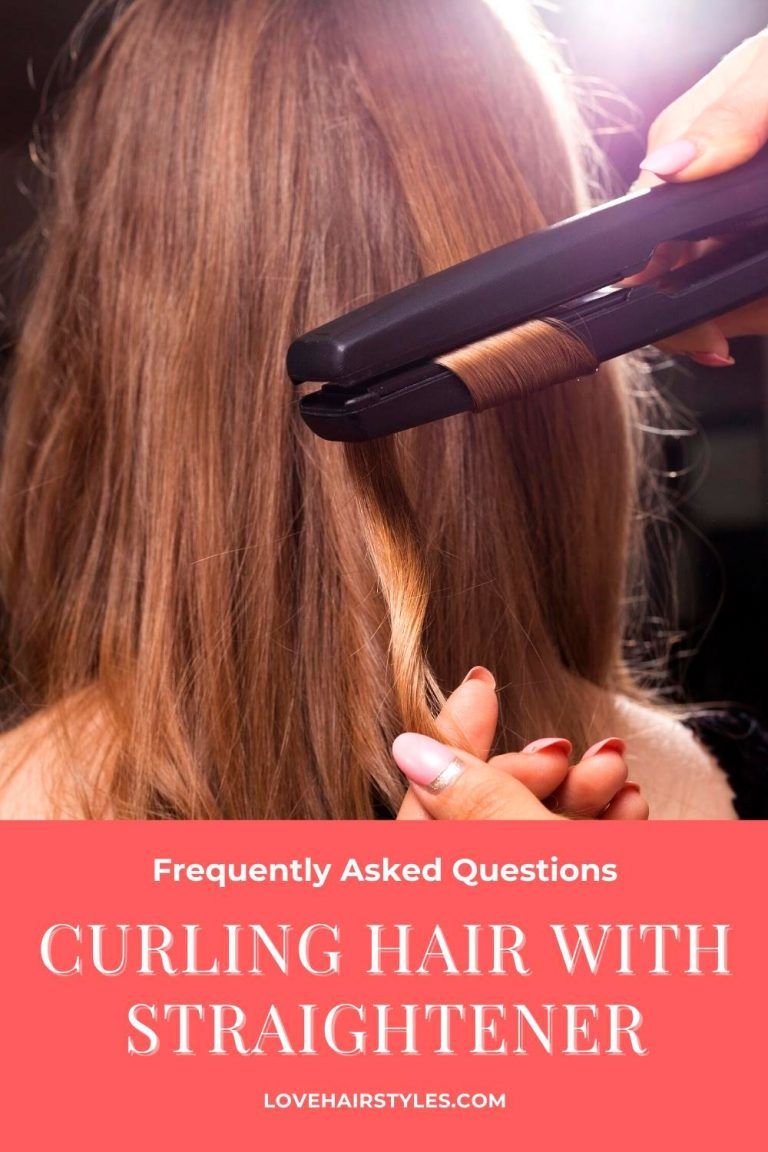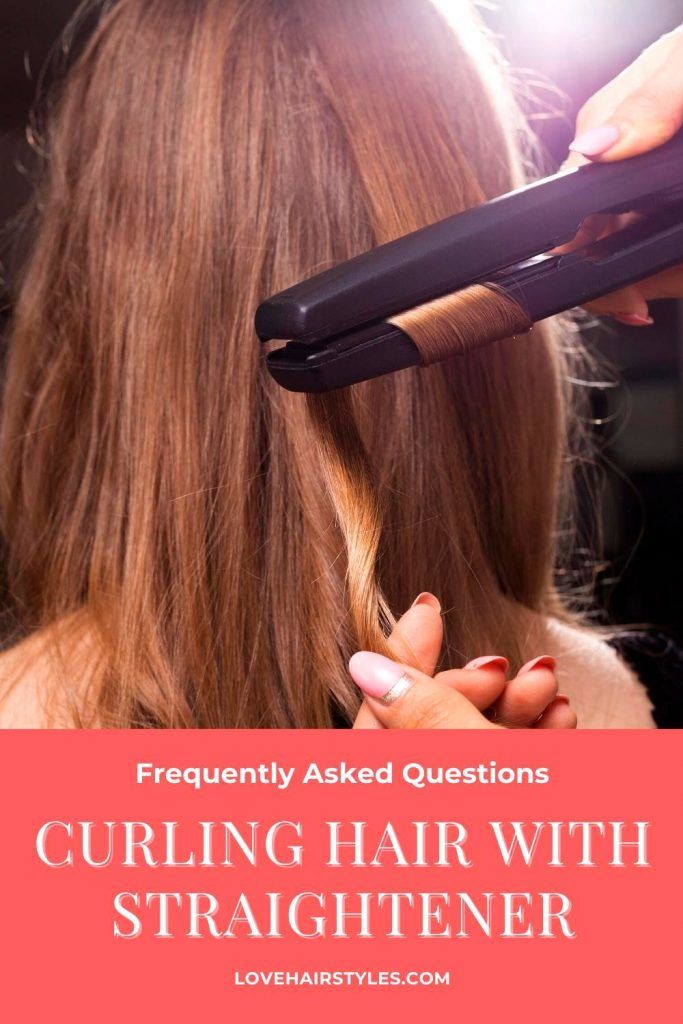 Why can't I curl my hair with a straightener?
In case your hair doesn't hold the pattern well, the best way out would be to add some hair spray to the process. Use the product before you start the curling procedure.
Is it bad to curl your hair with a straightener?
Heat styling has its negative toll on the state of your hair. That is why the experts try to limit the use of styling tools to once or twice a week.
How hot should my flat iron be to curl?
If you have fine hair, you shouldn't go over 200 Fahrenheit. Coarse and thick locks can easily withstand temperatures that go up to 300 Fahrenheit.
Is it OK to curl your hair every day?
If you curl your hair on a daily basis, your locks may become too dull and brittle looking due to the damage that heating brings upon it.
Why does my hair smoke when I curl it?
There are two reasons for your hair to smoke when you curl it – it is either too damp from washing, or you have used too much of the styling product on it.
How many seconds should you curl your hair?
The area professionals advise holding the section with the flat iron not longer than 5-8 seconds. Then, when you take the curl out of the iron, keep it in your hands for another 5 seconds for it to cool off and keep the pattern well.
REFERENCES: