Tomboy haircuts have become incredibly popular lately and no wonder. They are stylish, practical, and versatile. Three main qualities that a modern woman usually looks for in a perfect haircut. What is more, you can match the look not only to your preferences but also to your hair type. If you are still hesitant about whether to go for a tomboy cut and what style to choose, then our guide will help you to make the right decision quickly.
Where Do Tomboy Haircut and Style Come From?
The word "tomboy", which is a synonym for a "hooligan", is referred to a girl who likes to behave in a manner that is usually attributed to boys. She plays the same games and does the same activities as them. So, it comes as no surprise that a tomboy haircut is a variation of androgynous haircuts.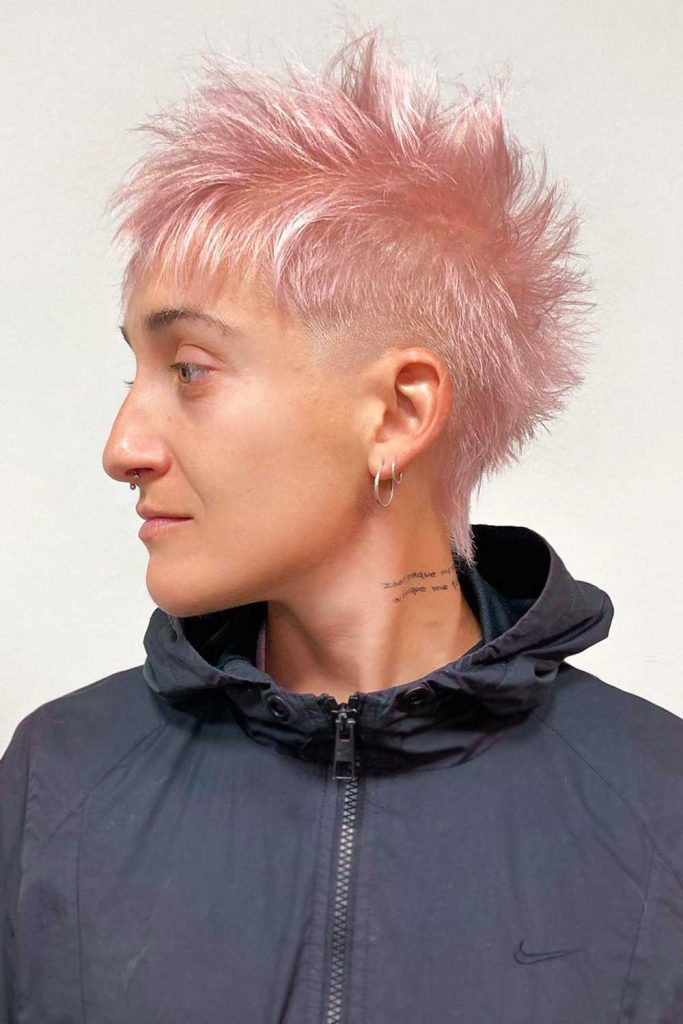 by @instagram_exotismos
The tomboy style origins date back to the 1920s. The fashion icon Coco Chanel made a stir in the world of beauty when she encouraged women to opt for male attire, including pants. Short-cut hair was also adopted by women even though it used to be more of a man's haircut. Such famous fashion houses as Giorgio Armani, Yves Saint Laurent, Ray Kawakubo and Helmut Lang liked the idea and incorporated men items of clothing into their women's wardrobes. Hollywood celebs, especially Katharine Hepburn and Marlene Dietrich, contributed greatly to the popularization of the tomboy style.
Over the years, male fashion has only become more popular among women. In the early 2000s, models who had androgynous features channeled the style, helping in this way the tom boy style to form. It was not only about outfits though. Boy-like haircuts were also a major part of it.
Will The Tomboy Haircut Suit Me?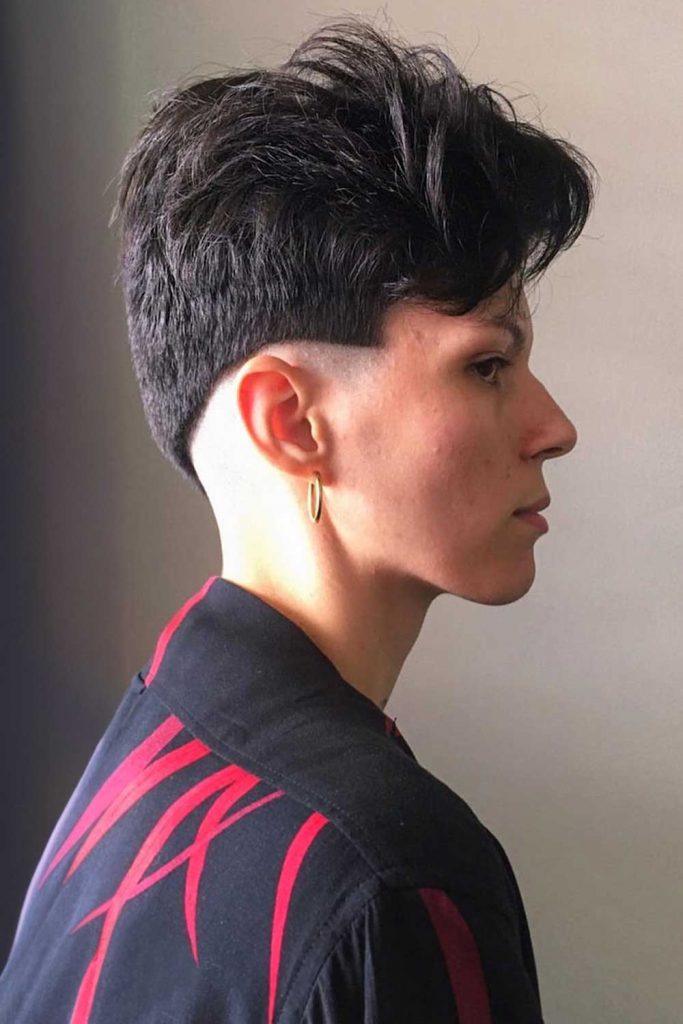 by @instagram_exotismos
Because a tomboy cut is so daring, with buzzed sides and back accompanied by long asymmetrical bangs, you may be wondering whether it is going to work for you. The good news is everyone will be able to pull off haircuts for tomboys no matter their age, hair texture or bone structure. Although androgynous tomboy haircuts look best on chiseled faces, if you have rounded features you will still be able to wear the look. The secret to nailing the haircut is in the right attitude and outfit. So, make sure you radiate with confidence and know your value.
Benefits and Drawbacks Of A Tomboy Haircut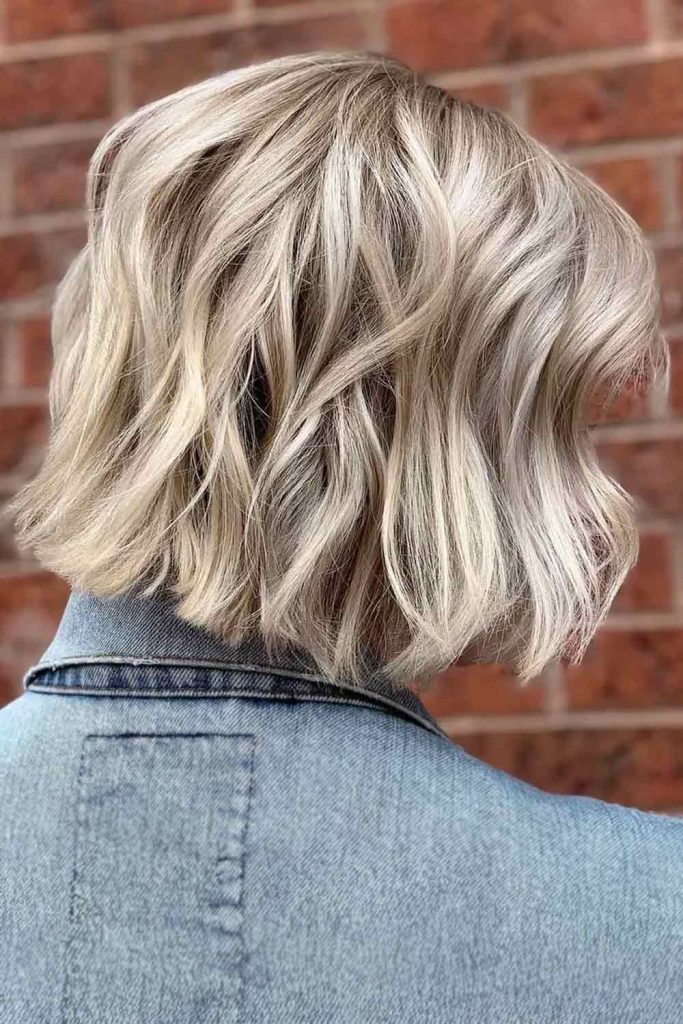 by @instagram_minhwaleehair
All haircuts have their pros and cons and a tomboy cut is no exception. To help you make an informed decision on whether to venture out for this impactful haircut, we have put together its main pros and cons.
Pros:
It is unlimited in terms of styling ways. There is an option for every taste and occasion. So, you will be able to leave your hairstylist's chair with a unique hair look.

It is versatile. You can adjust your tomboy haircut to suit any ambiance.

It is practical and easy to maintain. Styling a tomboy haircut does not take much effort or time. The same applies to maintenance.

It makes your facial features stand out. Because it takes most of your hair away from your face, it allows you to show off your beautiful traits.

It gives your appearance a youthful feel.

It makes thin and limp hair more voluminous and textured.
Cons:
You need to style your hair every day.

Your face becomes the center of attention, making any potential imperfections more noticeable.

You will have to visit the hair salon quite often, as your hair will need regular upkeep.
The Most Popular Ideas For The Tomboy Haircut
To back up our words, we have put together the trendiest tomboy hairstyles so you could easily choose the look that resonates with you most.
Tomboy Pixie Haircut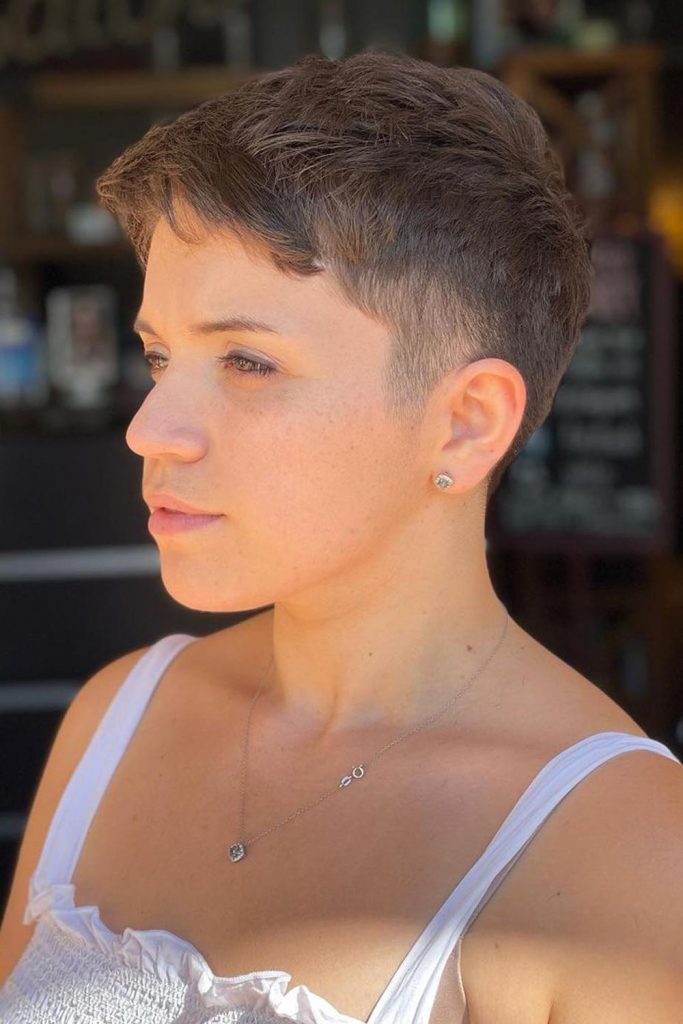 by @instagram_sm_lawless
If you prefer short tomboy haircuts, why not mix them with a pixie? The temples and nape should be buzzed short while the front of the head needs to feature a pixie bang. For added emphasis, get a textured cut on top. Styling such a hair look is as easy as pie since you can simply tousle your locks with a tad of a texturizing product.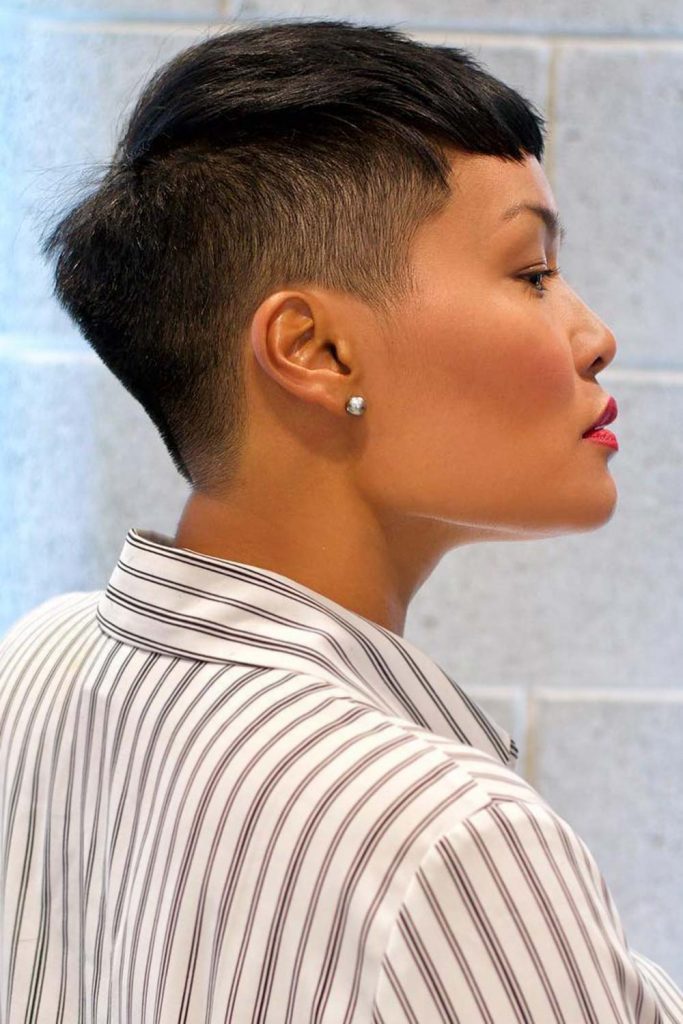 by @instagram_caleb.a.watkins
Bowl Tomboy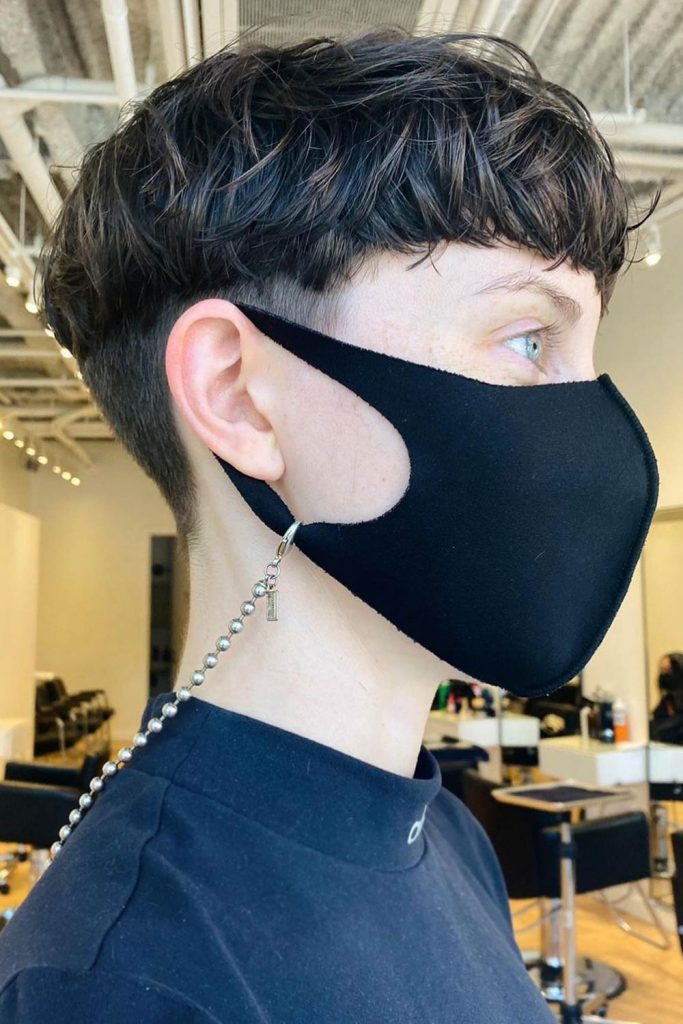 by @instagram_kinlochsalon
Although in a traditional tomboy cut, you leave the hair only in the front of the head to style a bang, you are free to experiment with different haircut combinations. For instance, go for a bowl cut on top and get the rest of the hair trimmed with clippers.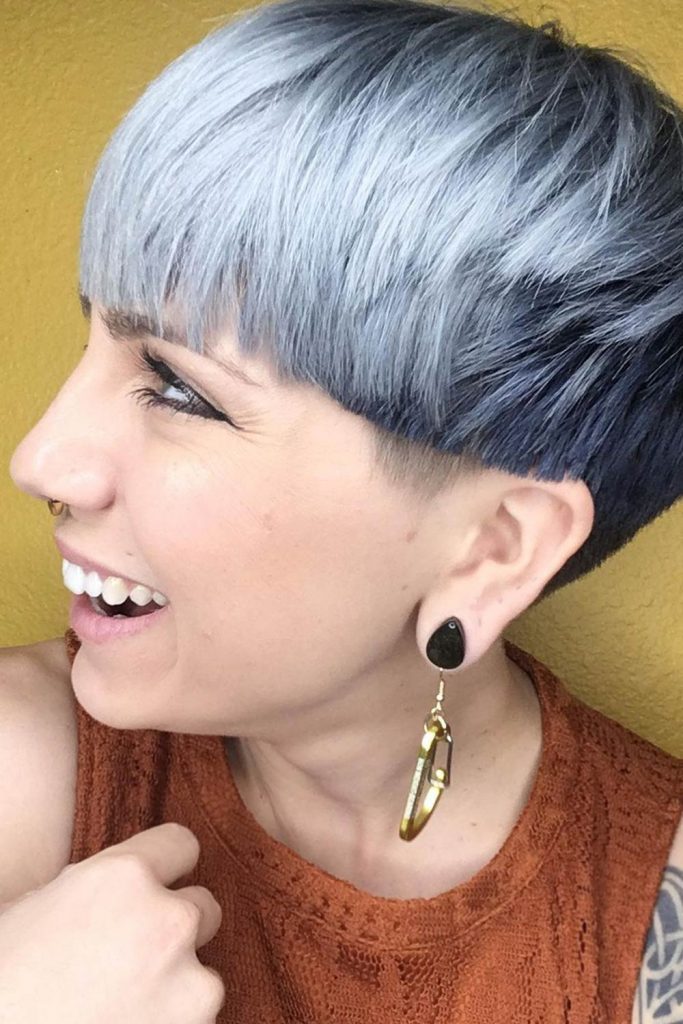 by @instagram_minhwaleehair
Elongated Side Swept Bang with Pixie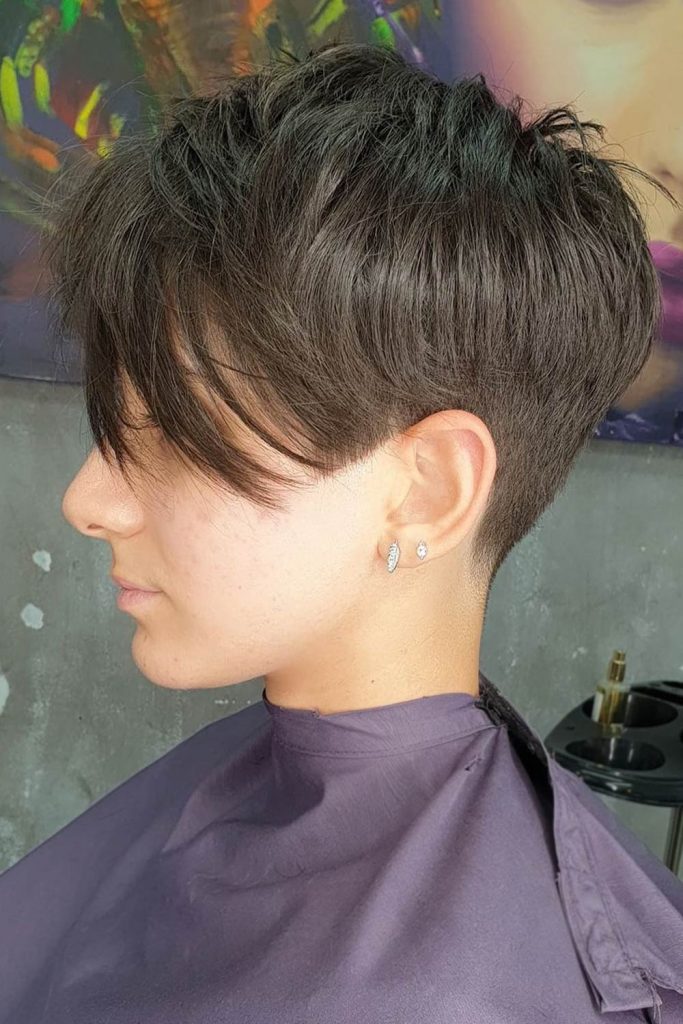 by @instagram_apostoldiana
There are no strict rules when it comes to how to be a tomboy, including a haircut. You just need to follow the general idea of short sides and a slightly longer top. As such, in case you want to achieve more contrast, pair a pixie cut with an extended bang, which you can style swept to the side.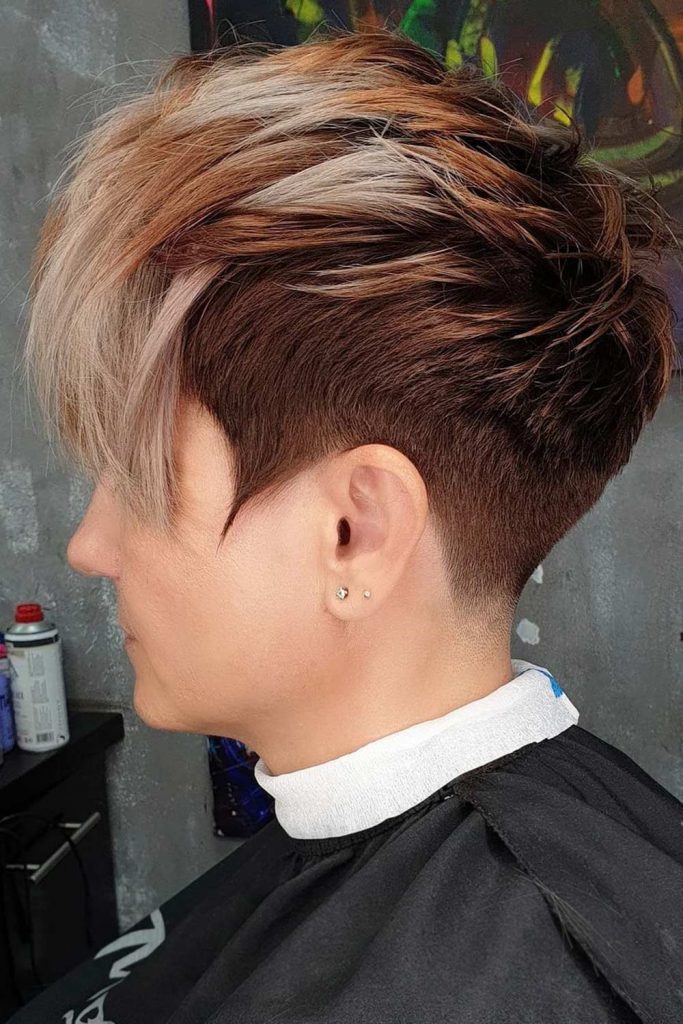 by @instagram_apostoldiana
Wedge Bob for Thick Hair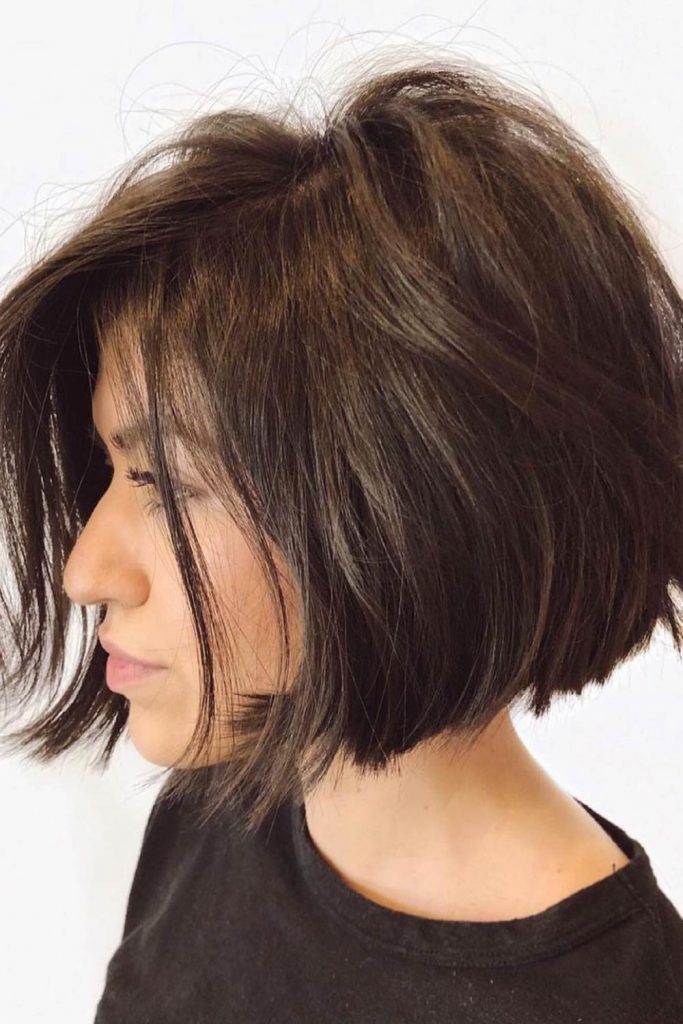 by @instagram_chrisjones_hair
A bob is a staple of medium tomboy haircuts, especially when it is a wedge haircut. While it works equally well for any hair type, girls with particularly thick locks will appreciate it most. Not only do stacked layers help you to remove bulk from your strands but they also give your hairstyle structure and definition.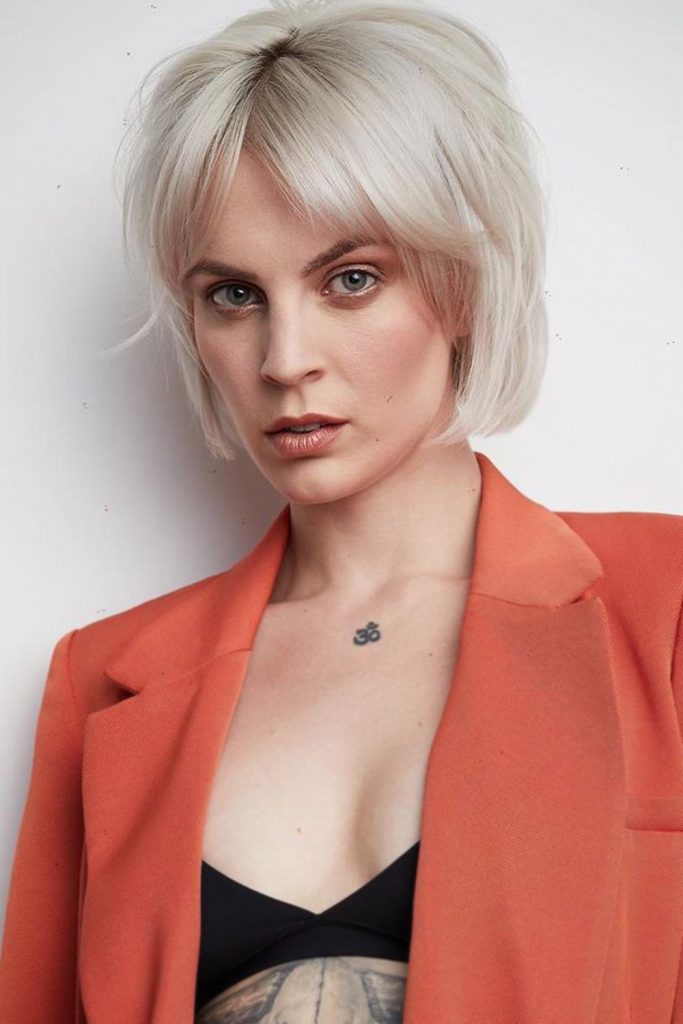 by @instagram_edouardclipperhand
Tomboy Mullet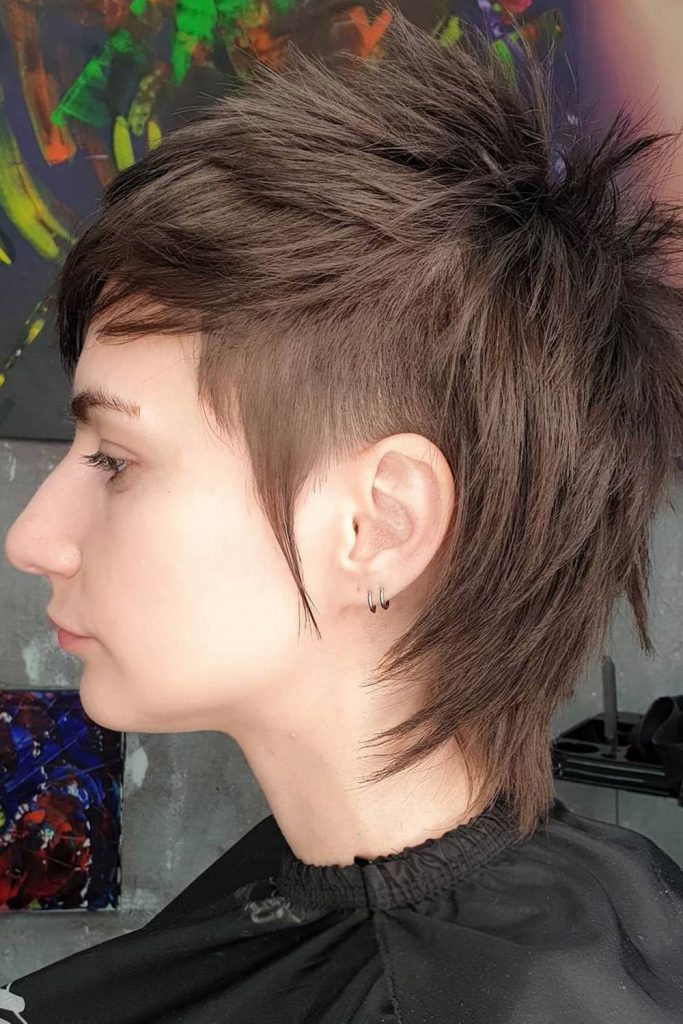 by @instagram_apostoldiana
A mullet is one of those androgynous hairstyles that always cause a lot of debate. Some people love it, others hate it, but no one is ever left indifferent. To give it a modern touch, do not leave too much hair in the back, whereas the front, on the contrary, should be cut a bit longer.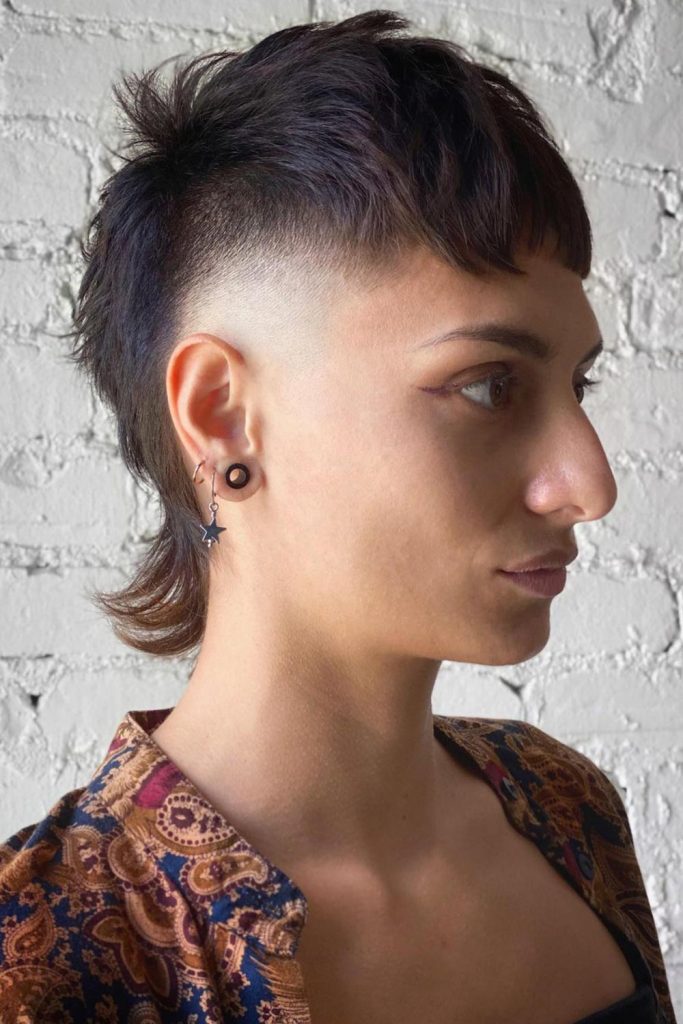 by @instagram_edouardclipperhand
Tomboy Bob with Straight Ends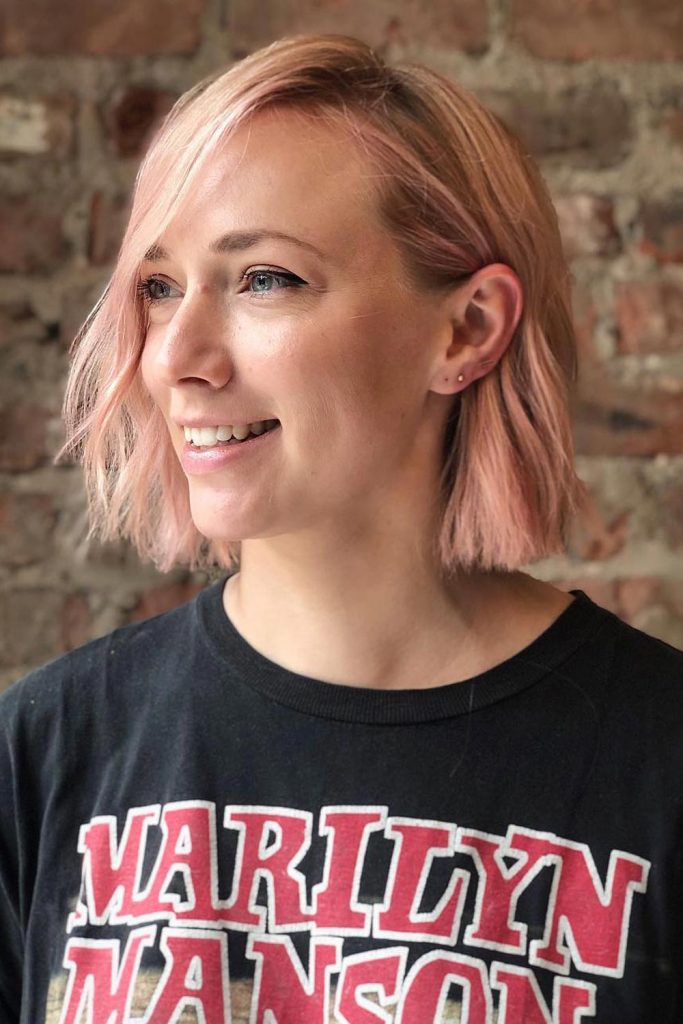 by @instagram_kinlochsalon
If you are not a fan of tomboy short fluffy haircuts, you can always opt for a medium length androgynous haircut, such as a bob. Those who prefer to keep it simple can never go wrong with a blunt bob. Sharp straight ends draw attention to your facial features, making them look more defined.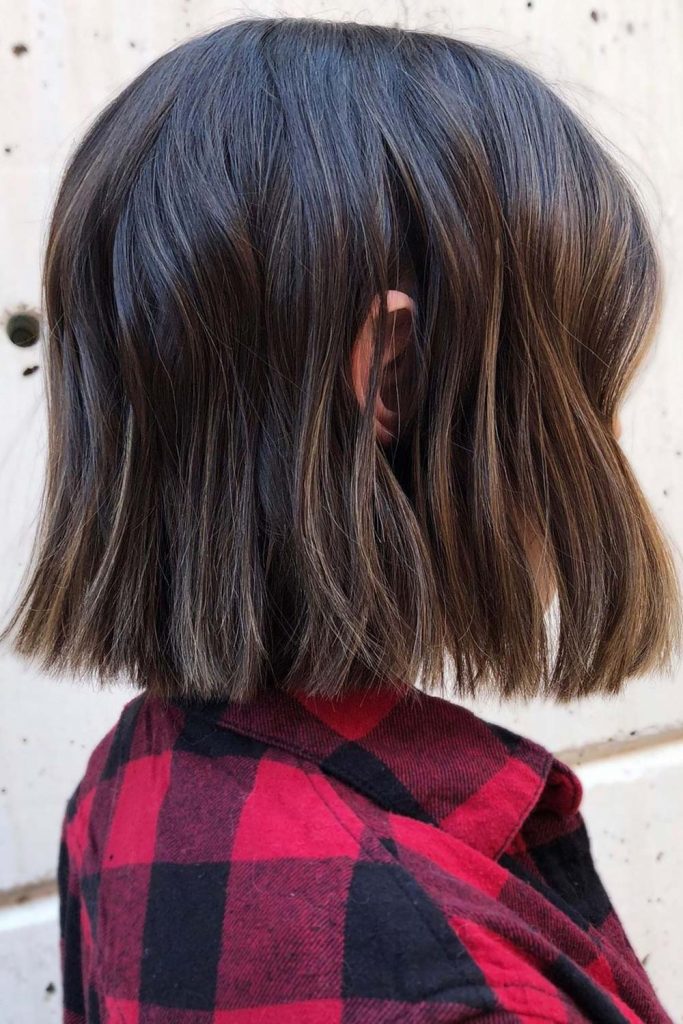 by @instagram_yeghairbyalex
Tomboy Cut and Skin Fade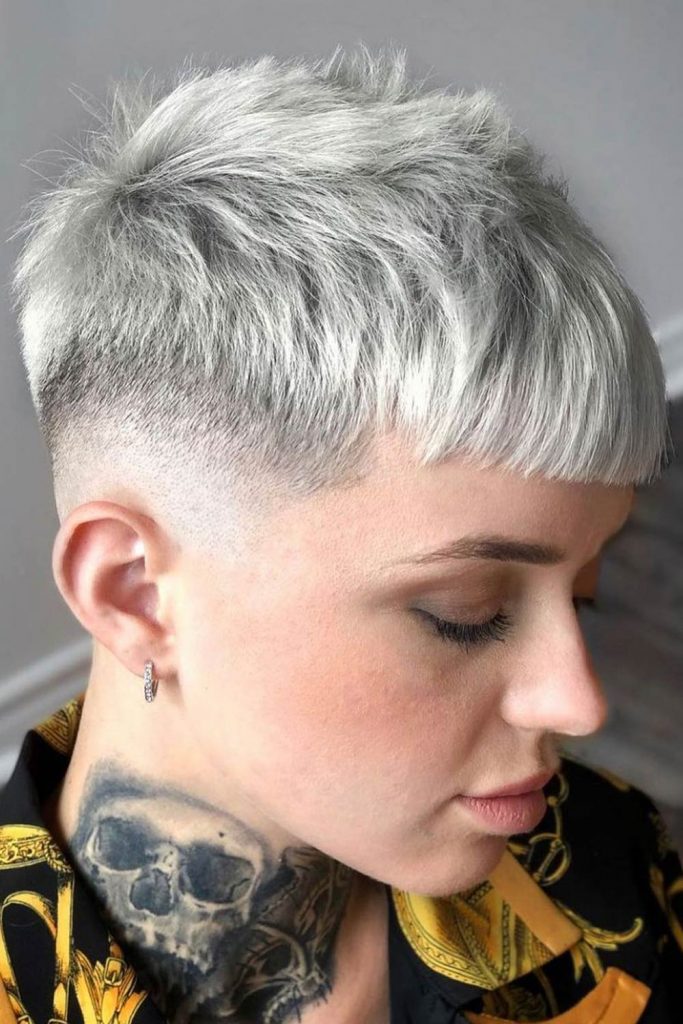 by @instagram_edouardclipperhand
There is hardly a better way to create a high contrast and edgy hair look than by complementing it with a skin fade. It does need frequent corrections though, as your hair will look outgrown pretty soon. So, make sure to book appointments with your hairstylist beforehand.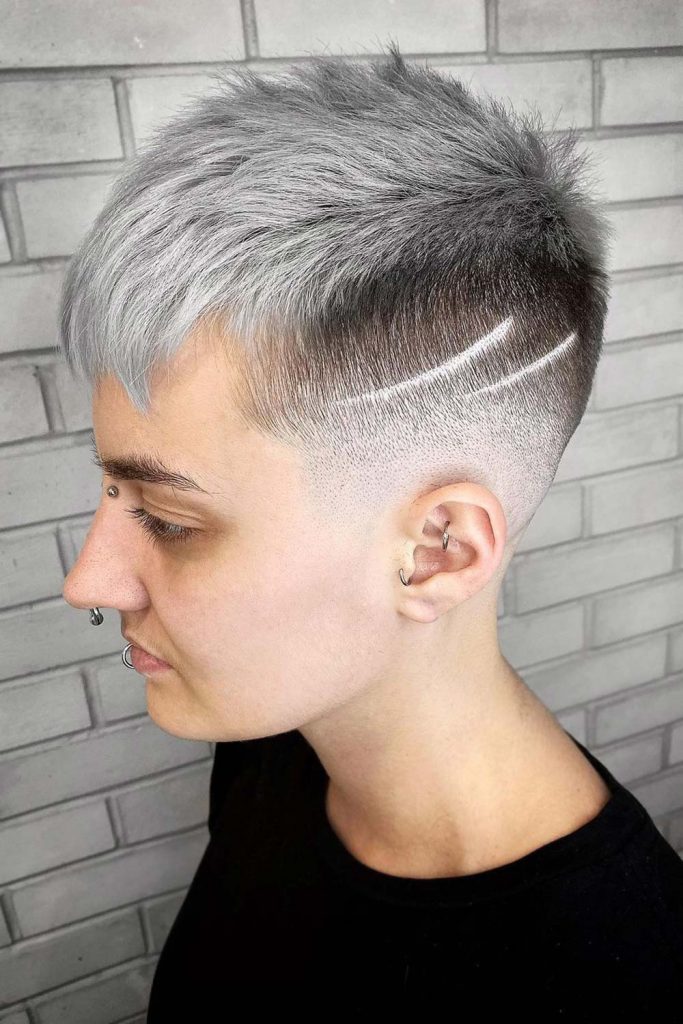 by @instagram_edouardclipperhand
Pixie with Tousled Layers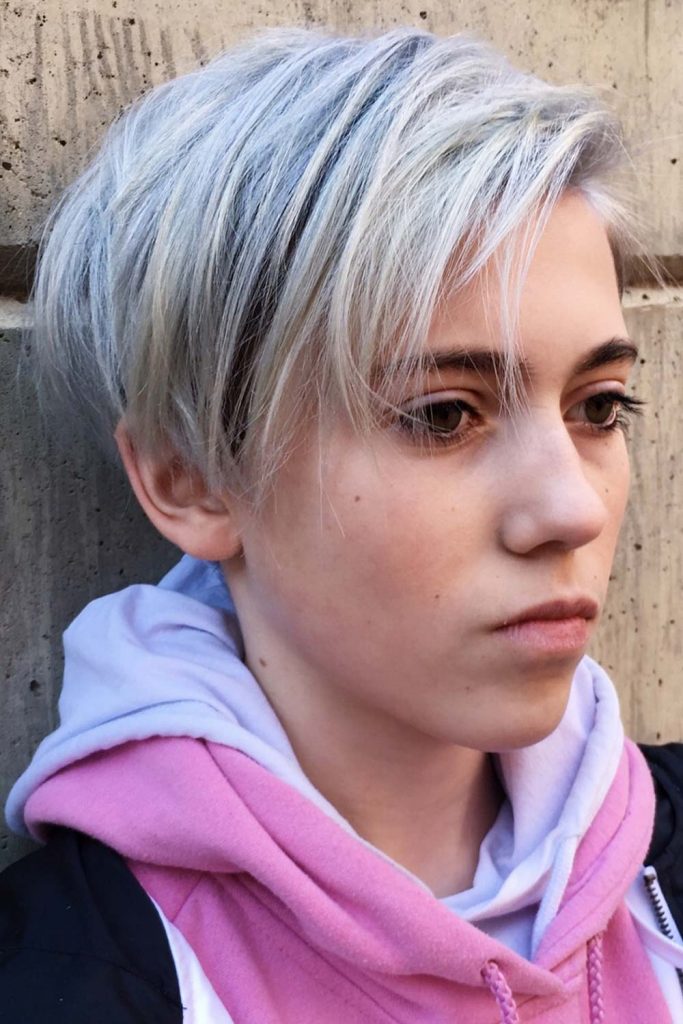 by @instagram_yeghairbyalex
A layered haircut gives you a plethora of benefits no matter whether you have thick or thin locks. If your hair lacks volume, layering will help you to create an impression of a full head of hair. In case your tresses are too heavy, you can lighten them up by cutting layers on different levels. Style your textured pixie messy and you will end up with a stylish and cool look.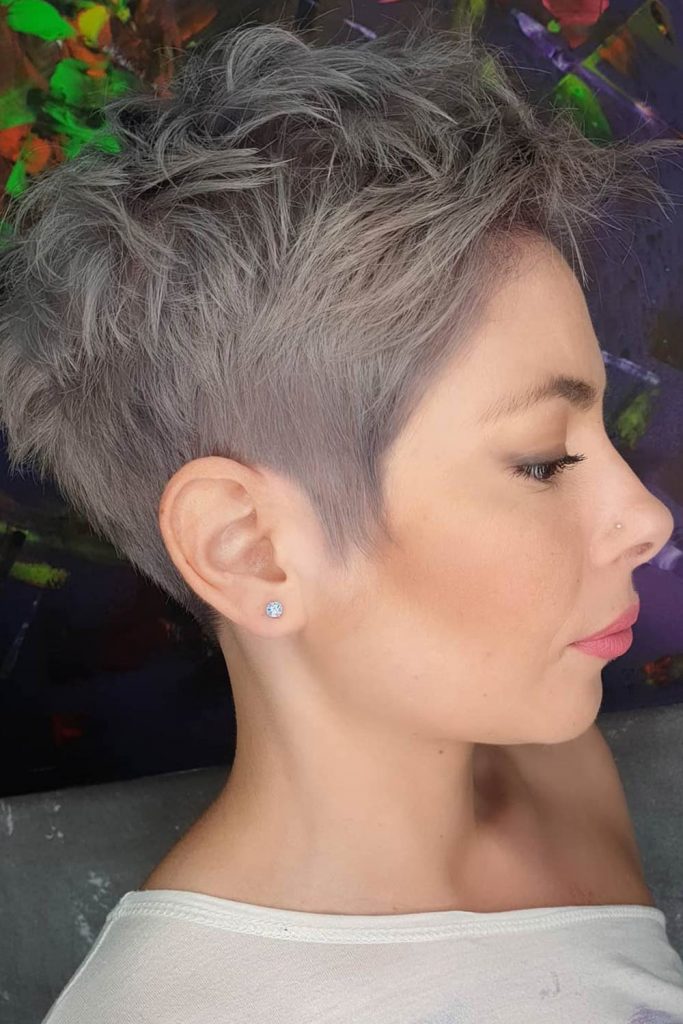 by @instagram_apostoldiana
Pixie Bob with Low Parting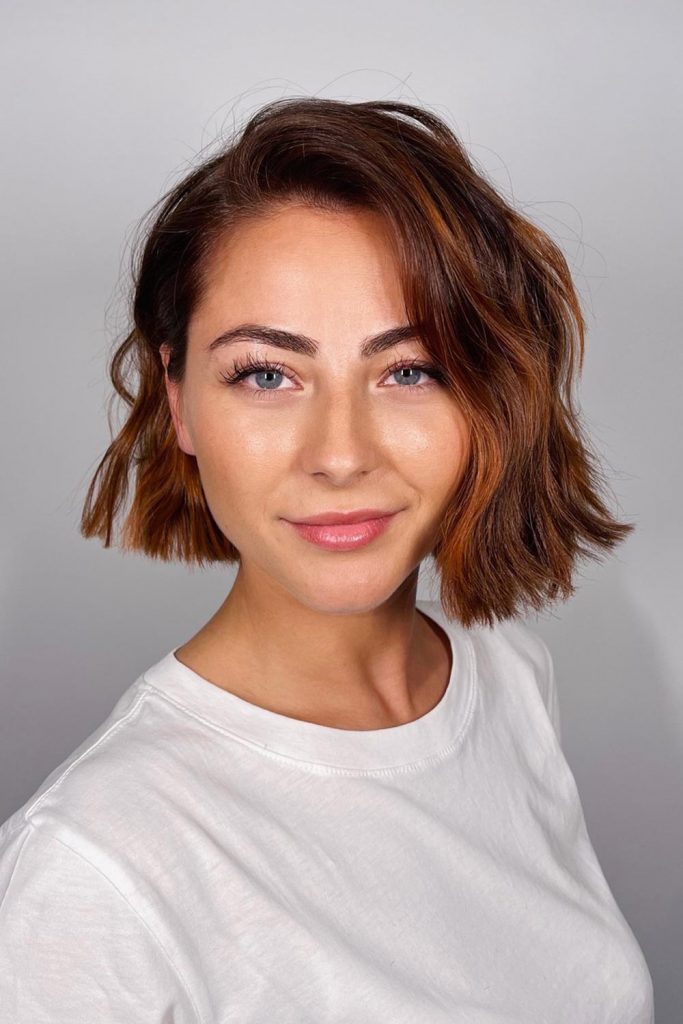 by @instagram_tomsmithhd
It is always a good idea to put a spin on your short bob with the help of a parting. If intricate patterns are not your cup of tea, then play around with the placement. Go very low on the side and flip the hair over so it creates an ample pomp on top.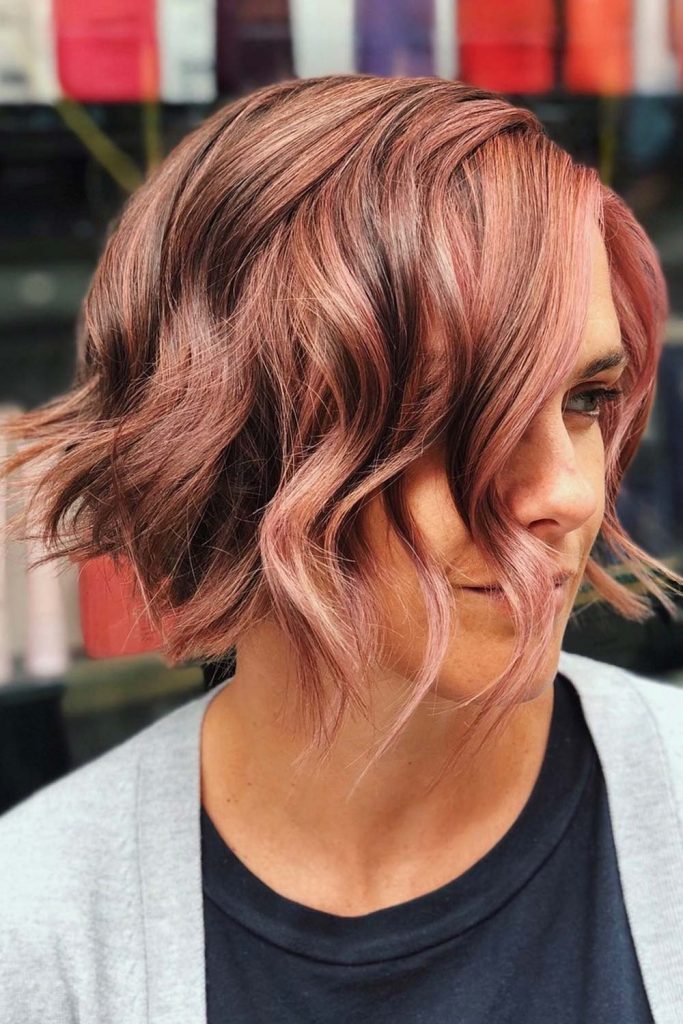 by @instagram_tomsmithhd
Tomboy Hawk with Bright Accent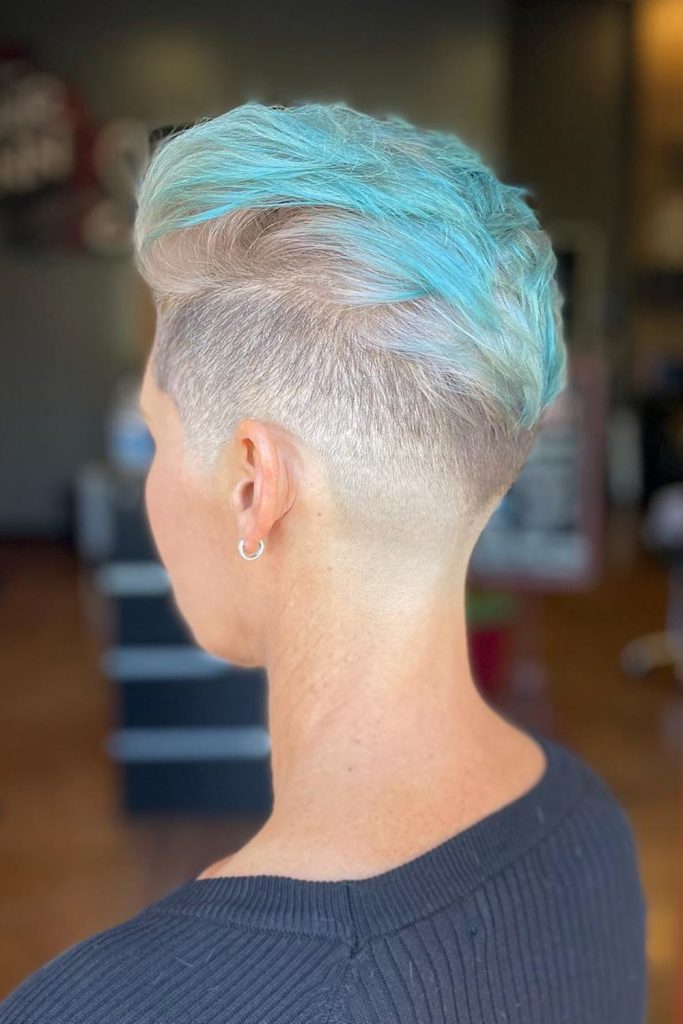 by @instagram_sm_lawless
A mohawk does not seem bold enough for you? You can always play it up by dyeing your hair in a flamboyant color. It does require some preparation though if naturally your hair is dark or even medium dark. To allow the color to show up fully, your strands should be bleached beforehand.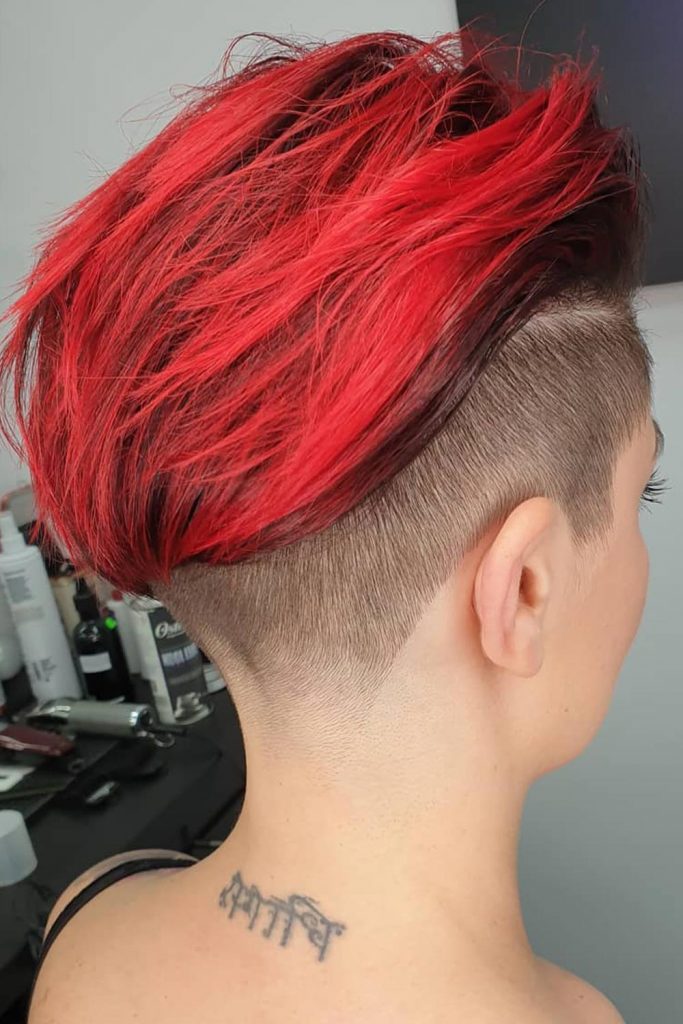 by @instagram_apostoldiana
Mullet Shag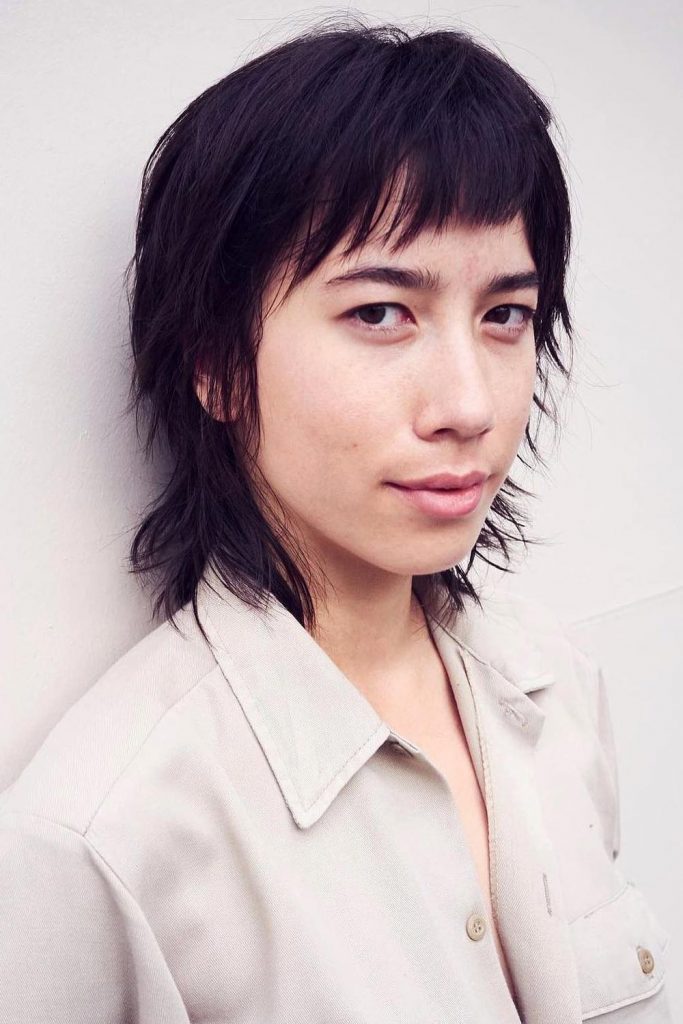 by @instagram_kinlochsalon
A mullet is among the most popular tomboy haircuts for girls. Though, its modern version is often combined with another trendy hairstyle – a shag, resulting in a muller shag or a shaglet, in short. Because of a textured silhouette, the styling of such a cut is absolutely effortless.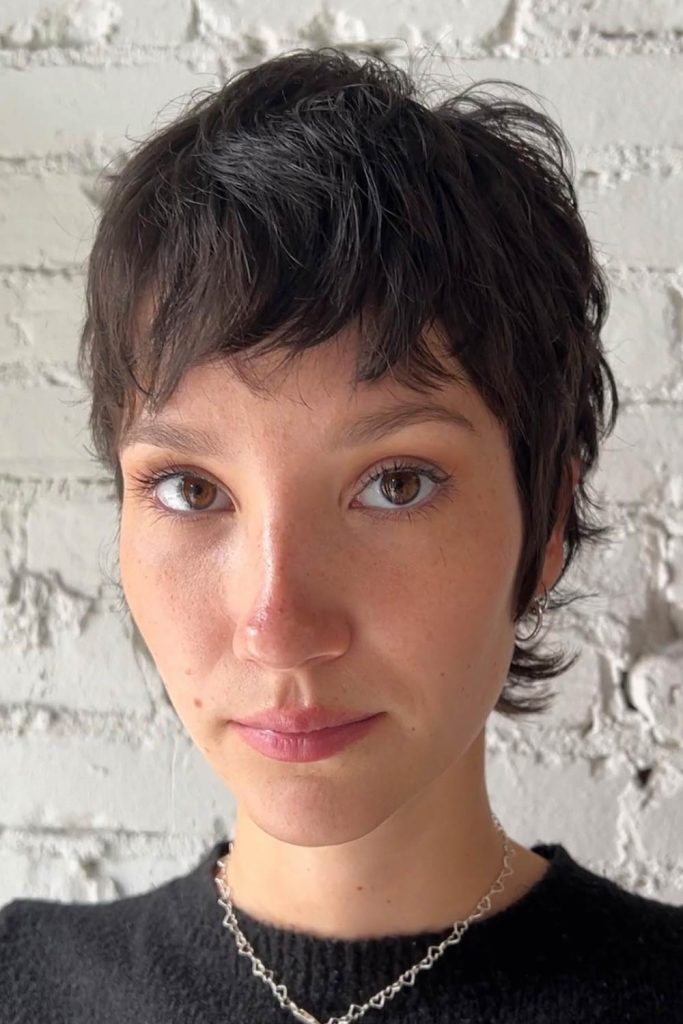 by @instagram_edouardclipperhand
Vivid Pixie Bob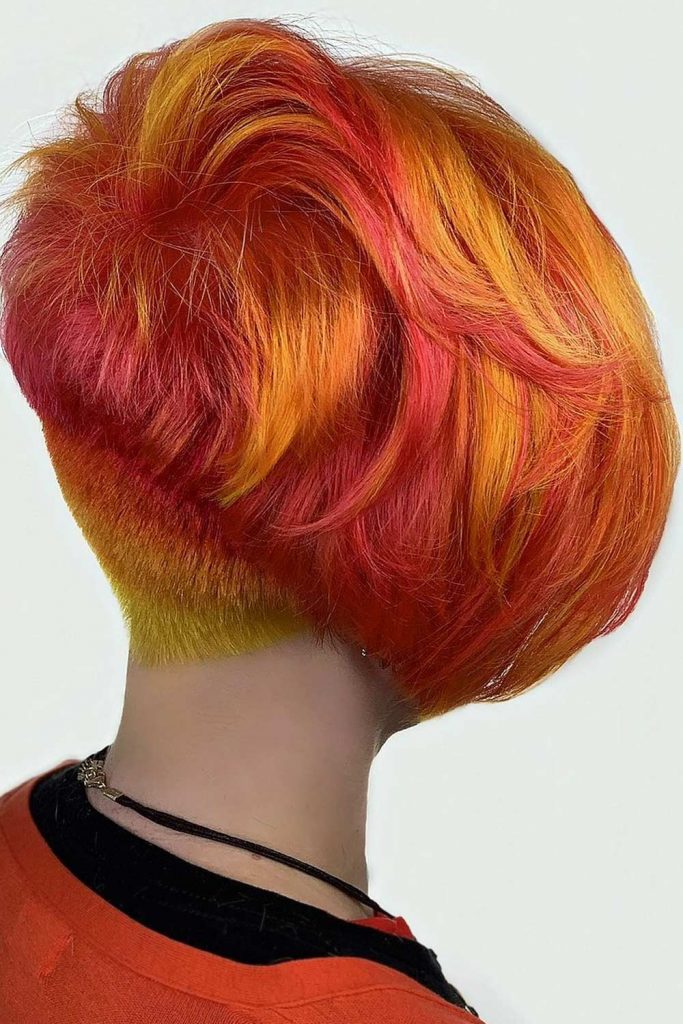 by @instagram_pinupjordan
Even though a pixie bob already looks quite catchy and sharp, you may take it to another level by opting for a bright hair color. Think of some unusual shades, such as neon orange, lime green or mint blue. Do not forget to protect the color from fading with the help of special hair care products.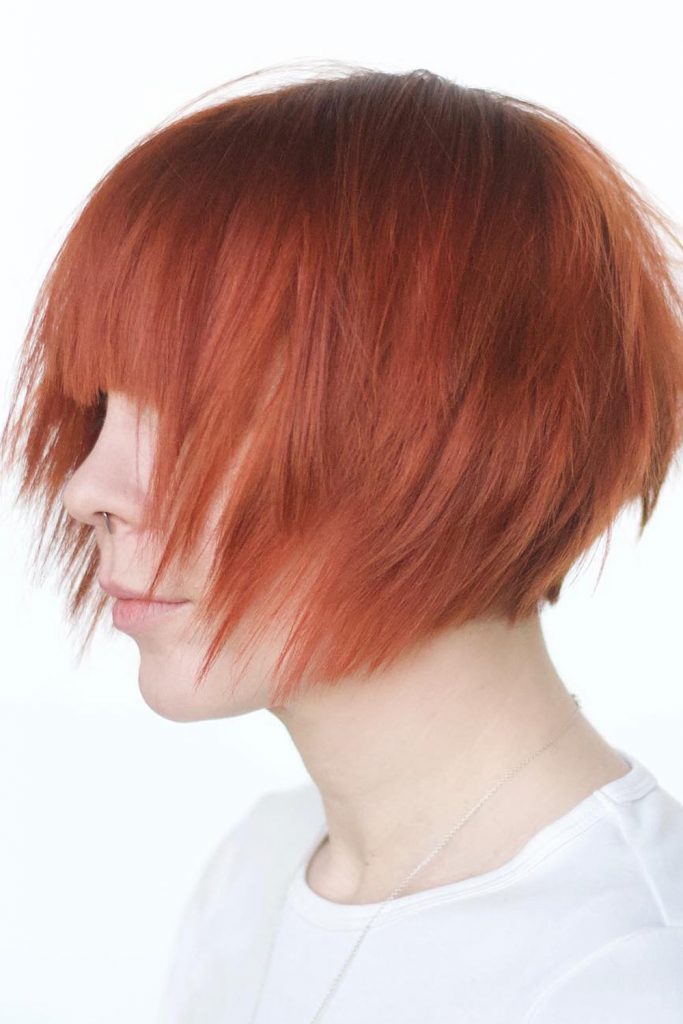 by @instagram_caleb.a.watkins
Colorful Long Top Short Sides Haircut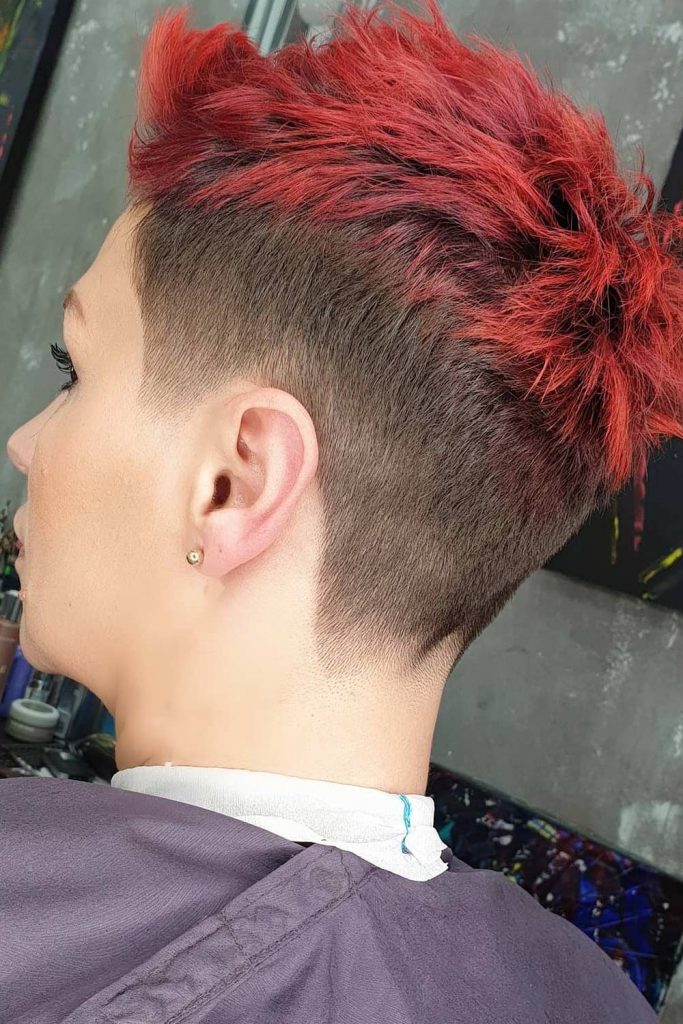 by @instagram_apostoldiana
A long top short sides haircut is a classic that will never go out of fashion. Though, if you want to give it a twist, consider a brightly colored accent. For example, you can dye your hair on top in a shade that would look striking against your natural hair color. As simple as that.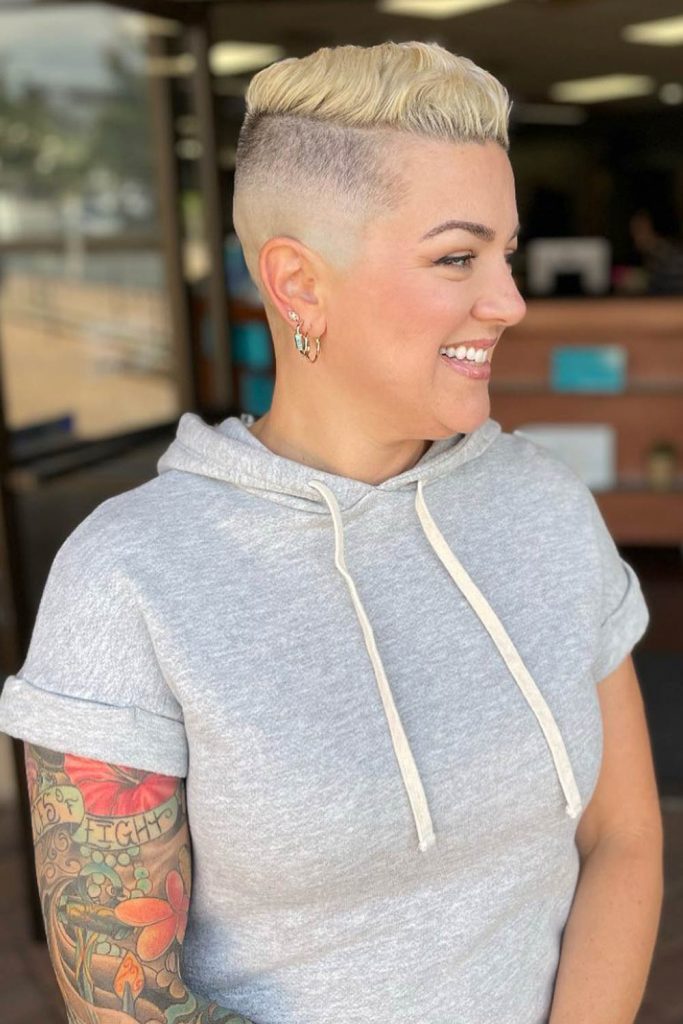 by @instagram_sm_lawless
Top Knot цith Hair Design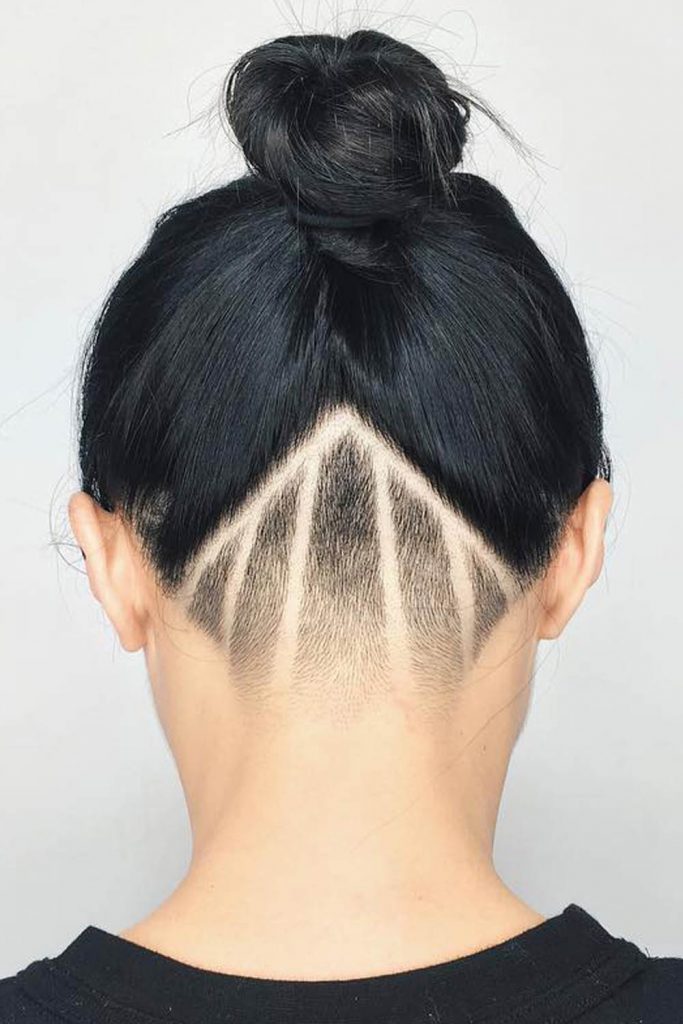 by @instagram_Lishrawrs
To upgrade a top knot, you have multiple options. A fail safe one is to get a half shaved head and adorn it with a hair design. The pattern is up to you. Yet, keep in mind that you will need to refresh the design every other day or so, depending on the speed at which your hair grows.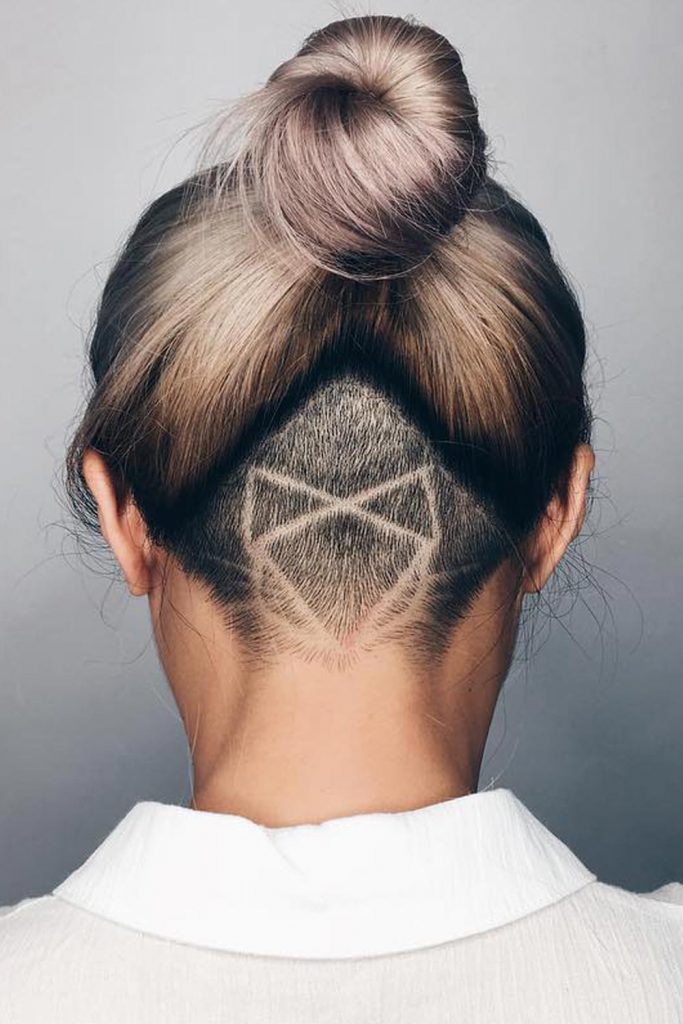 by @instagram_Lishrawrs
Slicked Back Long Pixie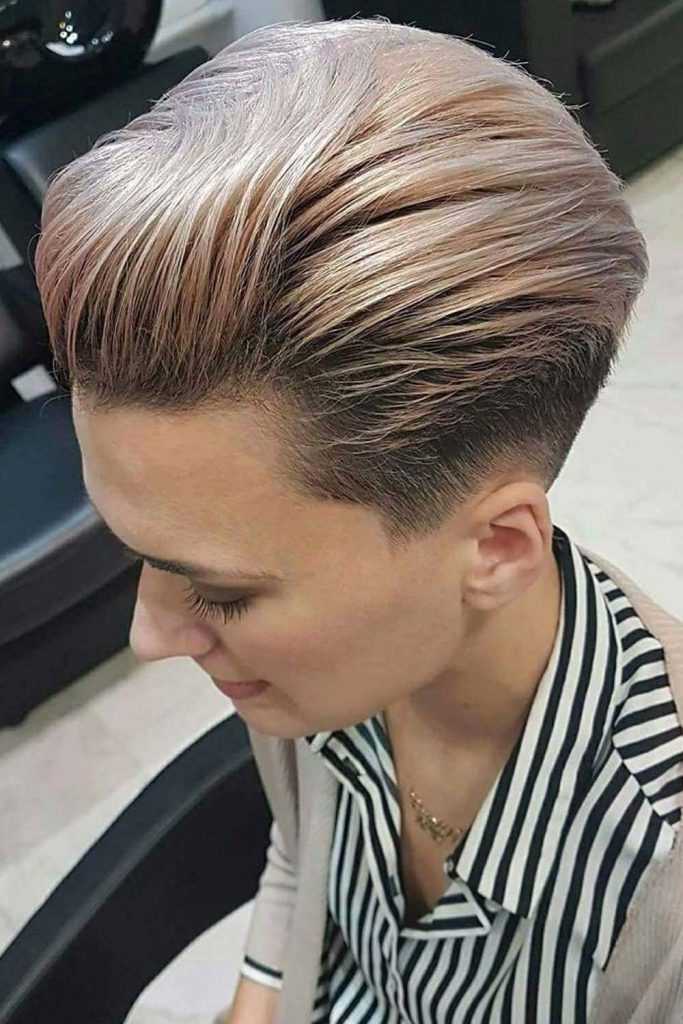 by @instagram_apostoldiana
Whenever you need to look elegant and sophisticated, you can style your long pixie slicked back and you are good to go. This hairstyle suits any occasion and looks good with any outfit. So, if you cannot decide on your next hairstyle, this is your way to go.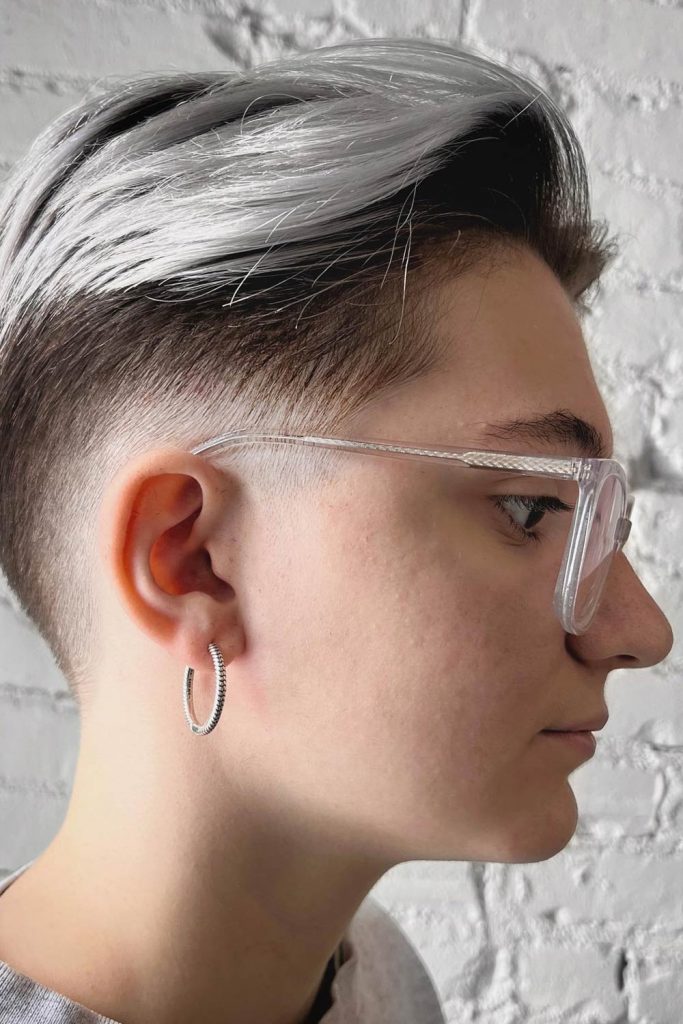 by @instagram_edouardclipperhand
How To Pull Off The Tomboy Style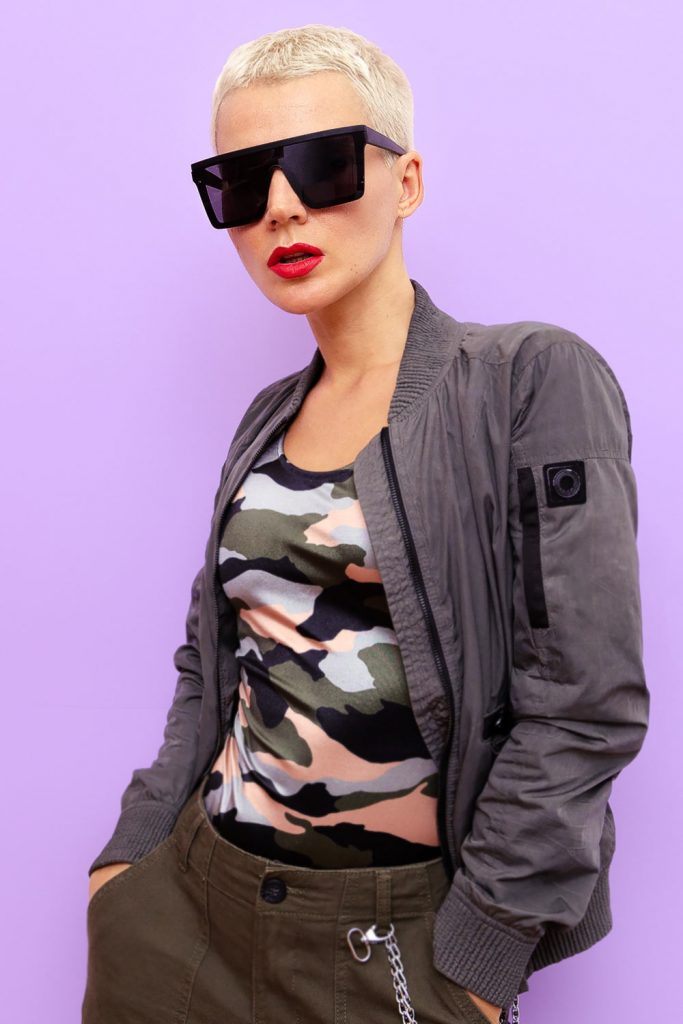 Credit photo: shutterstock.com
If you want to learn how to be a tomboy but are not sure where to start, we have prepared a step by step guide for you. Just follow these tips and you will be able to channel the style:
Love those layers. If you do not wear layered outfits, then we do not know what you are waiting for. A perfect tomboy outfit features several layers of clothes, such as jeans with a shirt, a sweater and a jacket or a tank top and a plaid shirt for warmer weather.

Opt for distressed denim. Jeans are an essential item in the tomboy wardrobe. Yet, to look modern, they should be ripped and torn.

Get overalls. Overalls are back and you cannot imagine the tomboy style without them. You can wear them with T shirts or even sweaters for a layered look.

Keep it plaid. A flannel shirt or dress is something that you are going to wear quite often. Yet, you should always choose the plaid print. Luckily, it comes in many colors and patterns.

Hats up. The trend of wearing a hat is timeless. And without one your tomboy outfit will look incomplete.

Suit yourself. In case you have not added a suit to your wardrobe yet, this is a sign that the time has come. However, it is better to lean toward suits with pants and style them with a classic shirt.

Size up. Your clothes should never be too tight or even well fitted. The tomboy fashion calls for oversized outfits.

Shoes matter. Perfect tomboy shoes are converse, Oxford loafers and Chelsea boots. Comfy and stylish.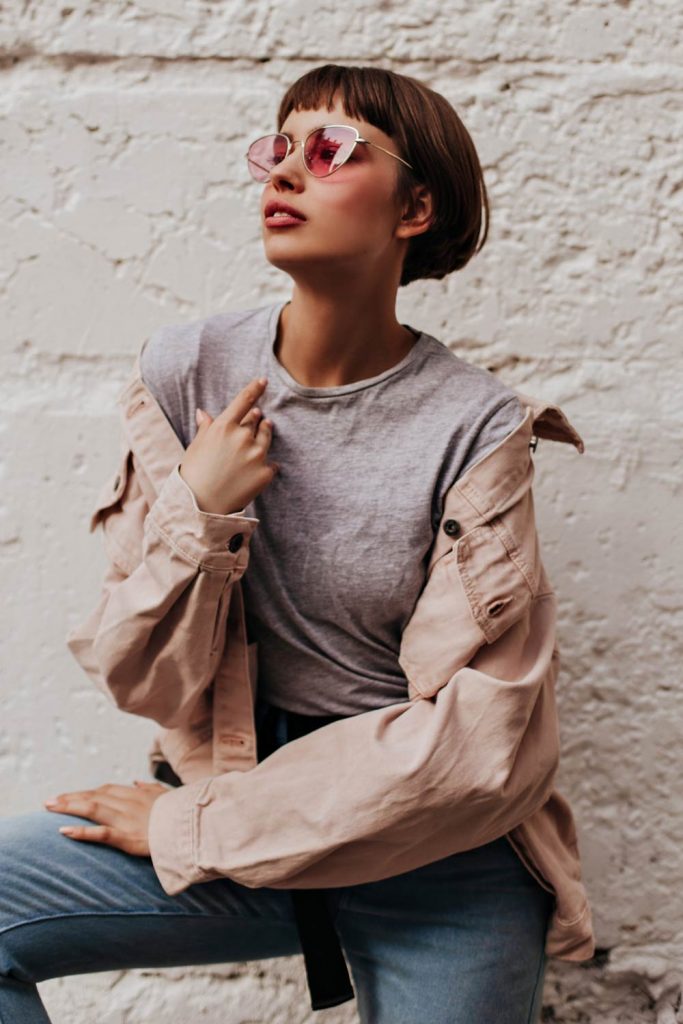 Credit photo: shutterstock.com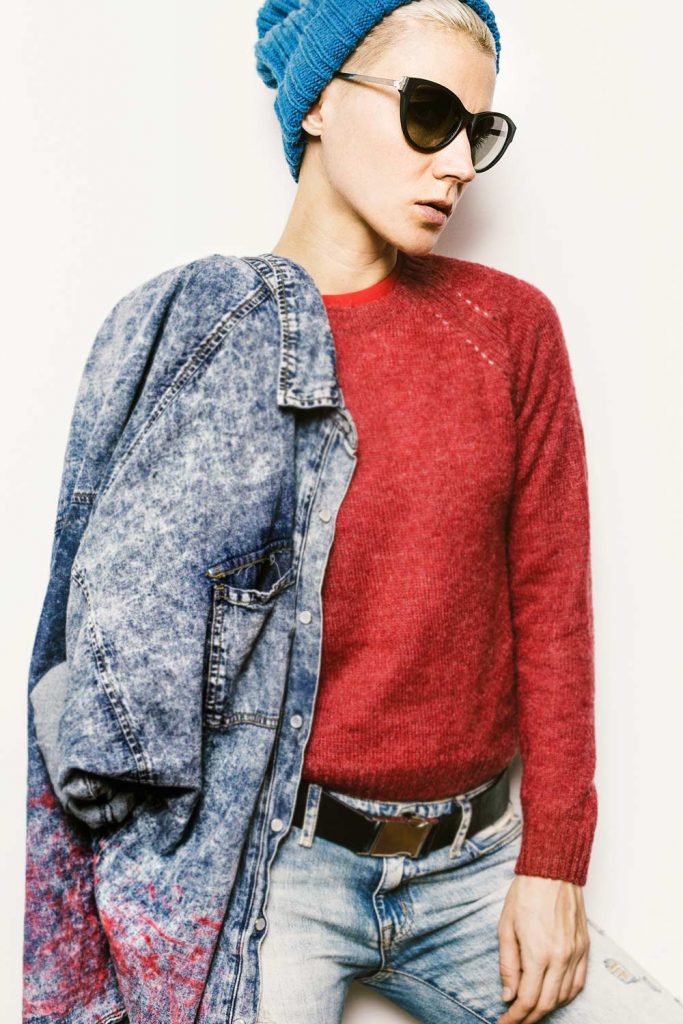 Credit photo: shutterstock.com
With these tomboy haircuts and hairstyles, you are bound to look your absolute best. Besides, you are always guaranteed a place in the spotlight, as with such a sharp hair look, you can never go unnoticed. Hopefully, you have managed to choose a haircut that appeals to you most.
FAQ
Do tomboys wear crop tops?
You can wear a cropped shirt if you don't want to show too much skin. Wear it with white sneakers, no make-up or jewelry is required.
Are tomboys attractive?
Guys, it turns out, adore tomboys as well. That isn't to say that more feminine ladies aren't appealing. Tomboys are also attractive and amazing in their own way. Like any other girly lady, tomboys need for love and acceptance, so just accept that you're attractive as a tomboy, and that guys are interested in you.
Can tomboys wear makeup?
Makeup is a personal preference for how a person wishes to portray their own personality. Thus, tomboys are not barred from using cosmetics. You can wear makeup that suits your tomboy look. You are also free to improve your appearance by avoiding the use of eye makeup and lipstick.
REFERENCES:
Tomboy haircuts for girls. Source
Was this article helpful?