Let's be honest, every time you wear your tomboy outfits, you just have no idea how to style your hair so that everything matches perfectly. Yes, it doesn't matter what lifestyle you have, every girl wants everything to look stylish and authentically. The desire to be on point is something that unites girls from all over the world, disregarding their age, appearance, and preferences. Now, it's time to talk about tomboy style. Though some people still have those weird stereotypes towards girls who prefer non-girly clothes, we know that it's just the way you express your bright personality. And the truth is, this is the most stylish way of reflecting your inner self! There are no limitations for truly creative people, right? Not every girl wants to look girly, but there's no girl who doesn't want to look beautiful! We are here to share with you some cool ideas: awesome haircuts and outfits are waiting for you to try. Looking beautiful is something that all people want to achieve in their lives! See how you can do that.
Boyfriend Jeans For Stylish Girlfriends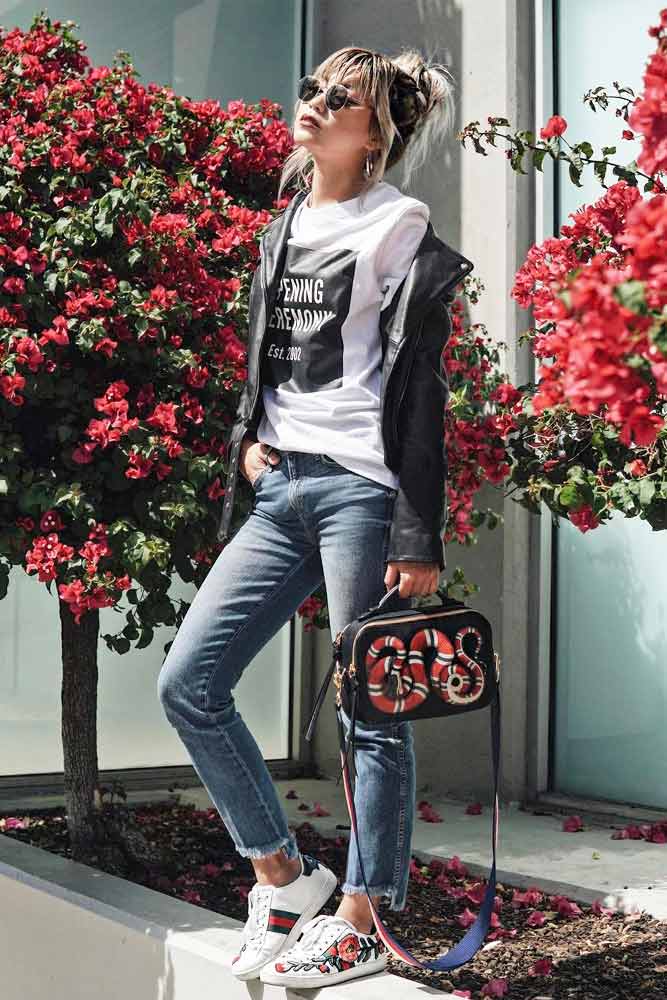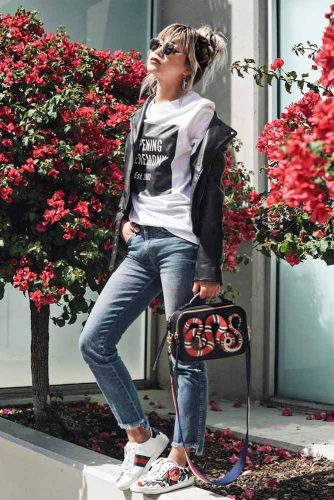 Source: flamcis via Instagram
Some girls find boyfriend jeans to be just "too much" for their style. Well, that means that they will never discover what a real stylishness is. A pair of cute boyfriend jeans is an essential for every closet. It's relaxed, it's comfortable, it's absolutely chick. And you know that they won't ever hide your beautiful curves! Tough they give you quite a loose fit, they also emphasize the most attractive parts of your body. Don't stay away from this amazing touch of boyish charm.
Sexy Tank Top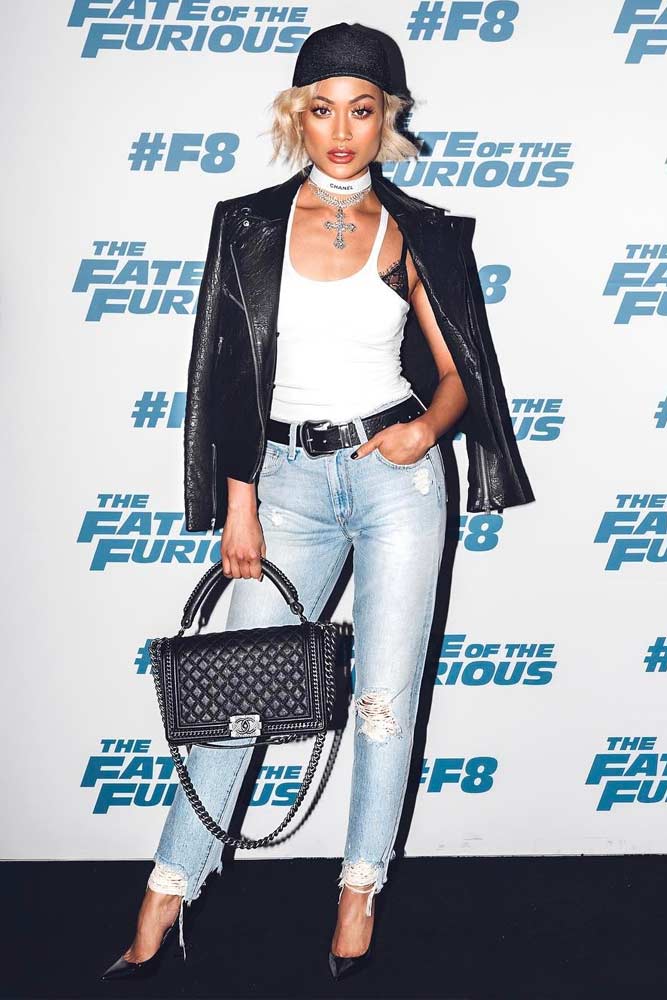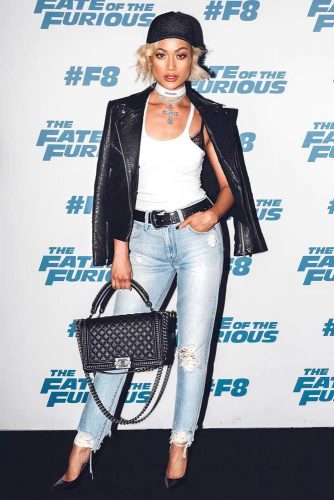 Source: micahgianneli via Instagram
This picture is here to prove that a plain tank top that men usually wear can look beautiful. Yes, everything a girl touches turns to gold, and this top is not an exception. Look how gorgeous she is: this girl combines basic clothes so nicely that it's hard to take our eyes off her look. Such a fashionable cap, leather jacket, black bag and high heels will make you feel as attractive as never before!
Button Down Shirt For Bold Girls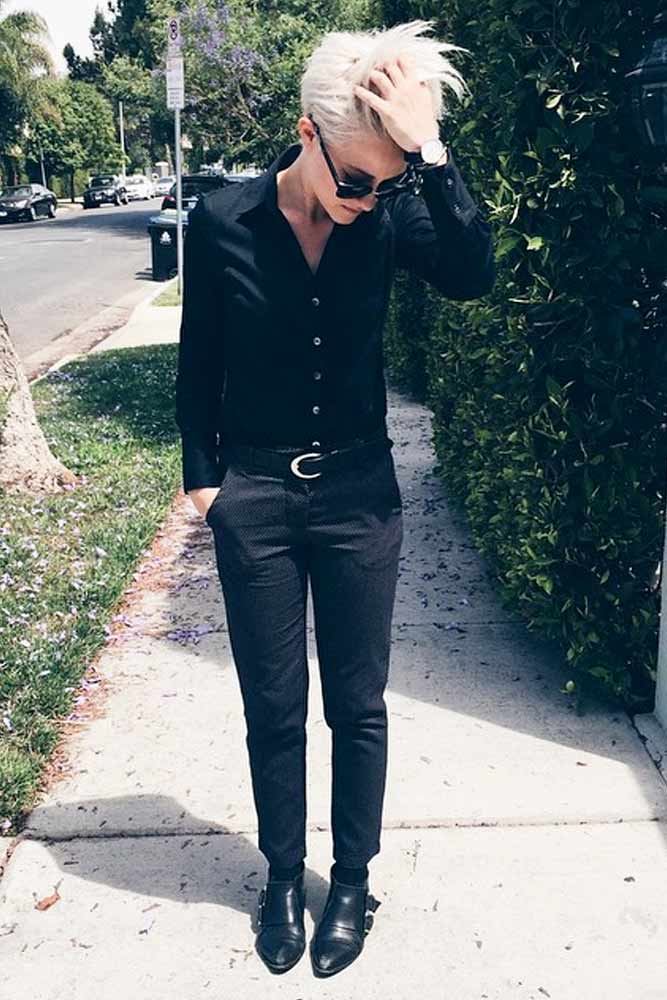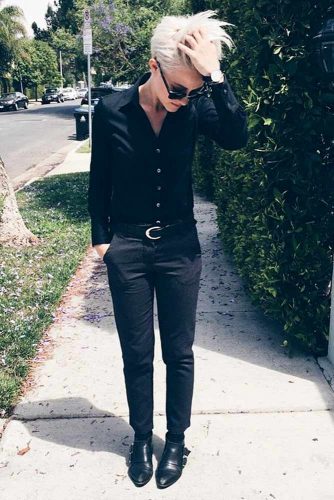 Source: brittenelle via Instagram
Who says that only girly dresses can reveal your beauty? That's a myth, girl, and this outfit is here to dispel it. It seems that there is no better black outfit than this adorable set. A button-down shirt isn't meant only for men. It's meant to impress everyone around you. You got your chelsea boots, got your cool
sunglasses
, got your shirt. That's enough to turn heads!
Street Style Look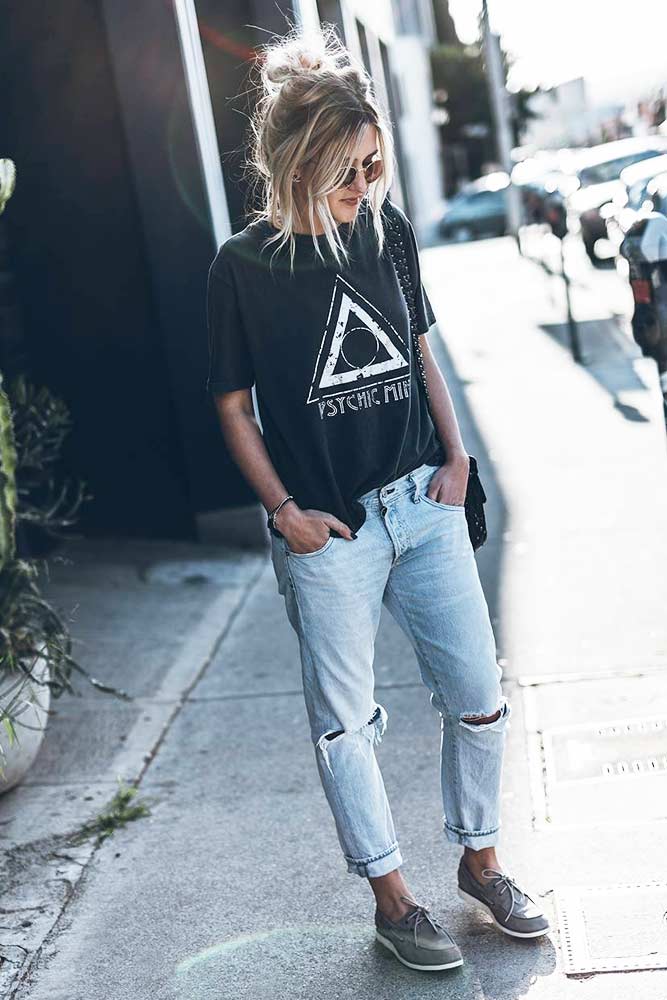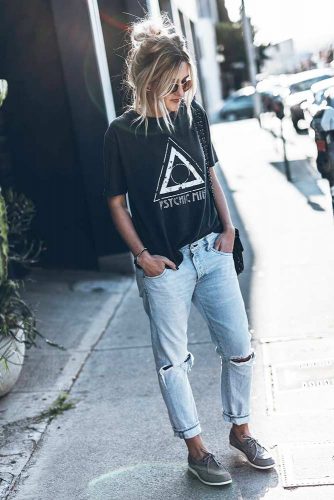 Source: mikutas via Instagram
You know that casual outfits are all about making you feel comfortable. If you're one of those girls who love freedom, it's time to make your clothes scream about that! A messy high bun with a stylish oversized t-shirt and ripped jeans will teach you what freedom is. Don't forget about aviator sunglasses: they are a perfect finish for your street style.
Glamorous Tomboy Outfits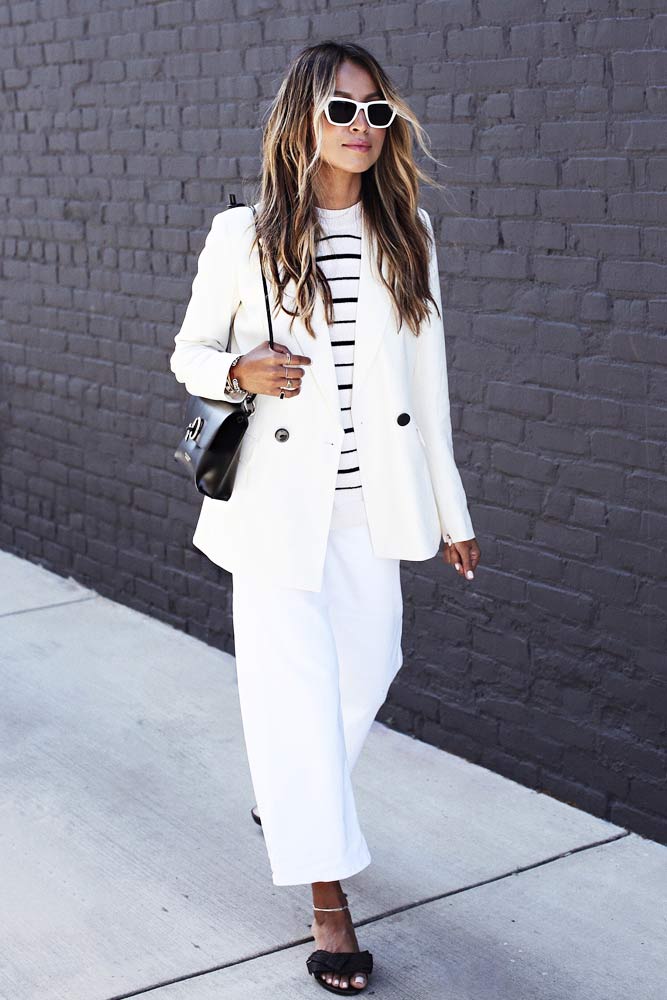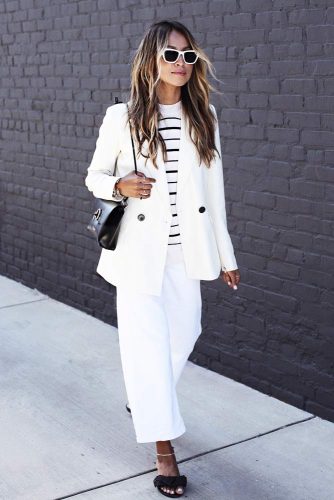 Source: sincerelyjules via Instagram
Even though you didn't expect such a tomboy twist, glamorous tomboy outfits DO exist. It's not a glamour that we're used to seeing, it's something more sophisticated, more modern. Tomboys are not all about ripped jeans and messy hairdos, they know how to look elegant in their own way. White culottes are will always be in the spotlight: don't ever pass them by. Cute tomboy outfits usually look like this!
Black And White Casual Outfits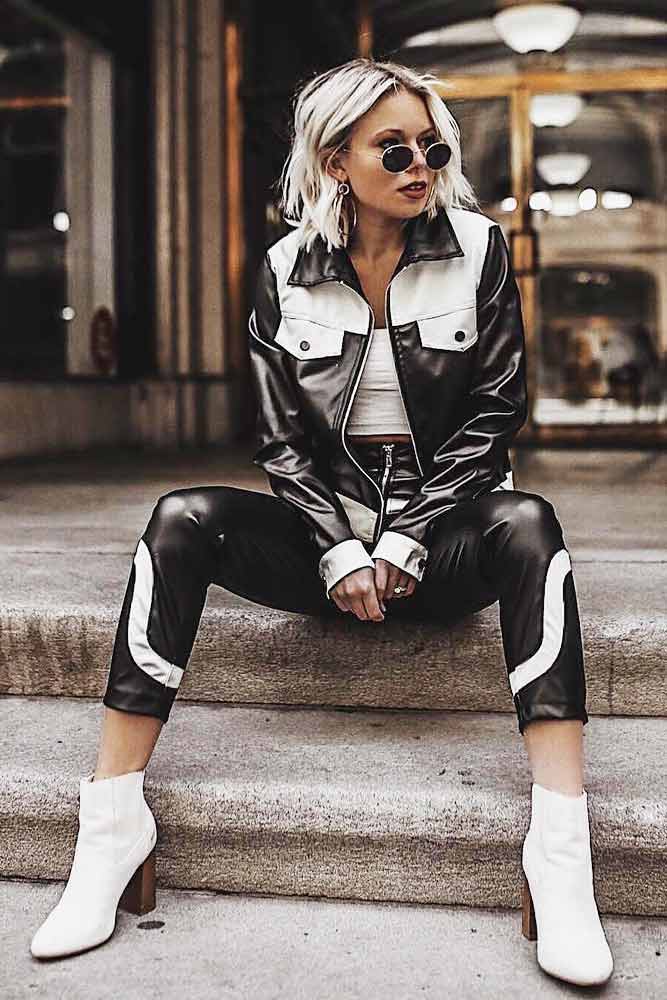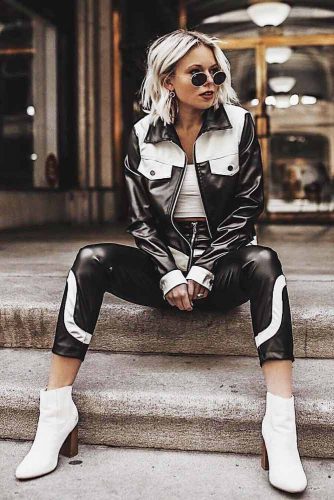 Source: candidlychan via Instagram
Here comes the most magnificent style-fashion trend. It seems that this outfit can take over the world, don't you agree? After looking at this idea, we can't imagine these unbelievable leather pants without such a stunning leather coat. Now you know how a perfect contrast looks like: white hair with dark roots is a look to steal.
Military Tomboy Style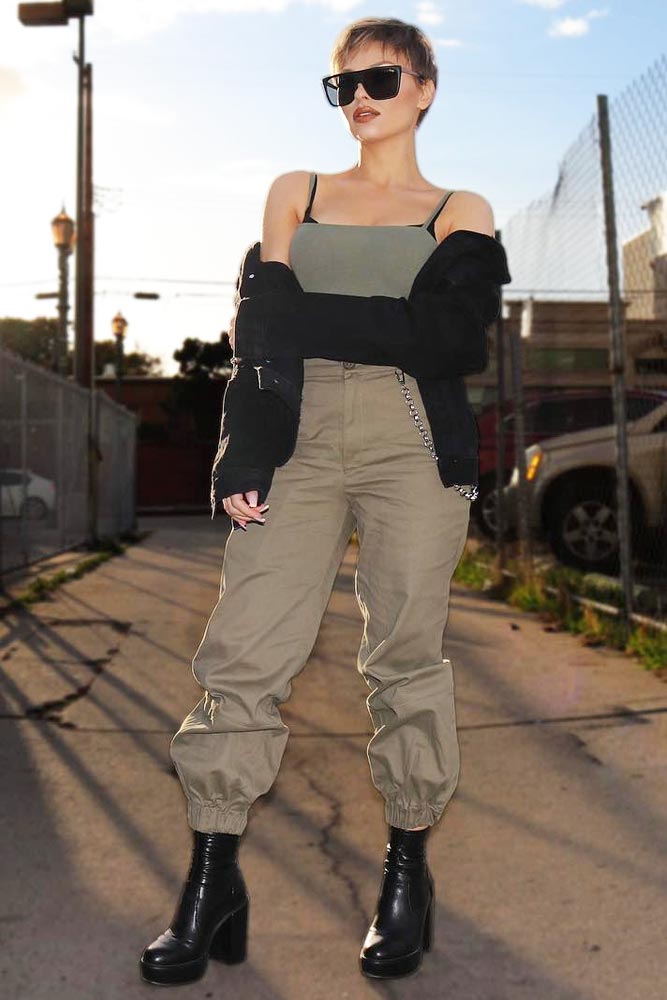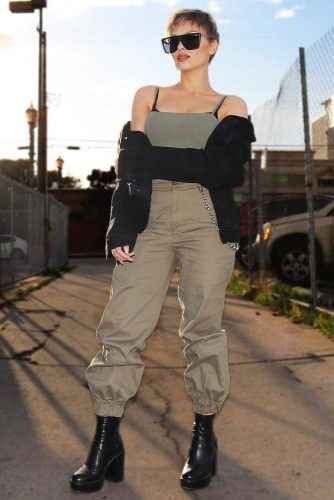 Source: alexandra_anele via Instagram
This look will make you remember once and for all: neutral doesn't mean plain-looking. If you are about to make a real statement, cargo pants will do that for you. When such greyish colors are combined with some black elements, they become more and more attractive. Tomboy style clothing aways feature fancy boots, and these ones are perfection in its purest form. A classic pixie is an exclamation mark!
Make Your Days Bright!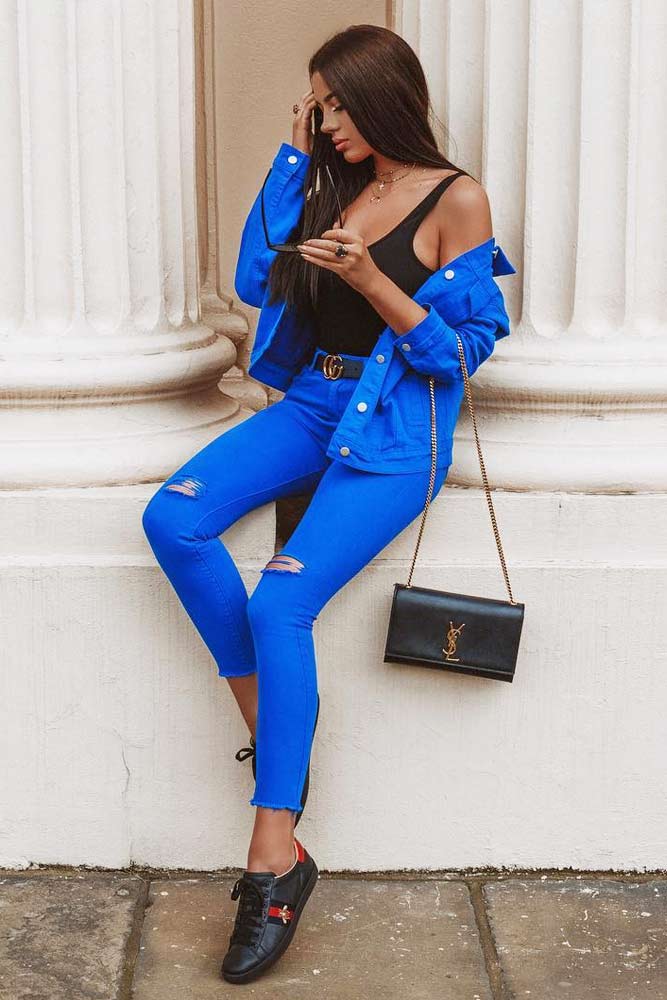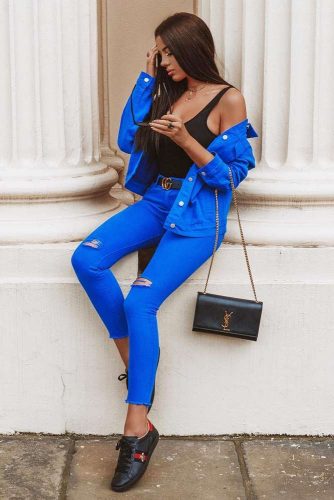 Source: laurabadura via Instagram
Some bright colors won't hurt, right? Don't focus only on classic and neutral colors, as tomboys are not afraid to be noticed! How do you like this awesome blue set? All the colors harmonize in a lovely way, while the bright blue color attracts people's attention. If you want to keep up with tomboy outfits 2018, this idea is a must try for you.
Tomboy Outfits For Summer Days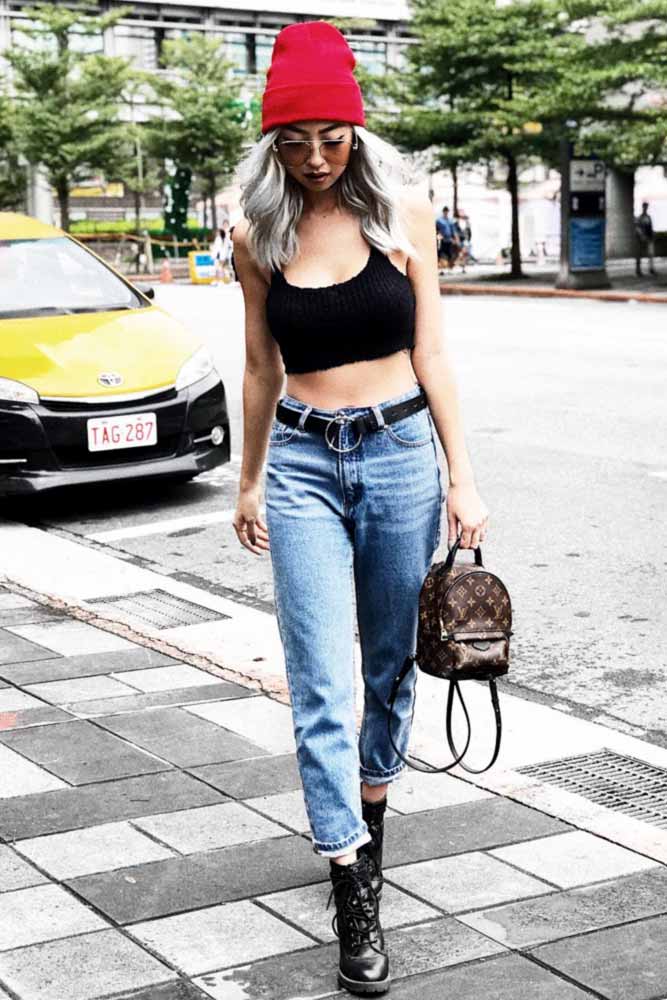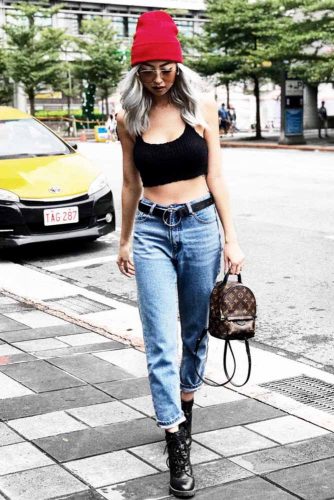 Source: hilisaa via Instagram
We can let summer in our hearts only when we know what to wear these hot days. So here comes one of the most popular tomboy outfits for summer. It's pretty easy, yet absolutely stunning: a black top and boyfriend jeans are all you need to have! You can complement your look with a bright casual hat or a tiny backpack. It's all up to your imagination, but don't disregard the basic things!
Tomboys Can Be Elegant Too!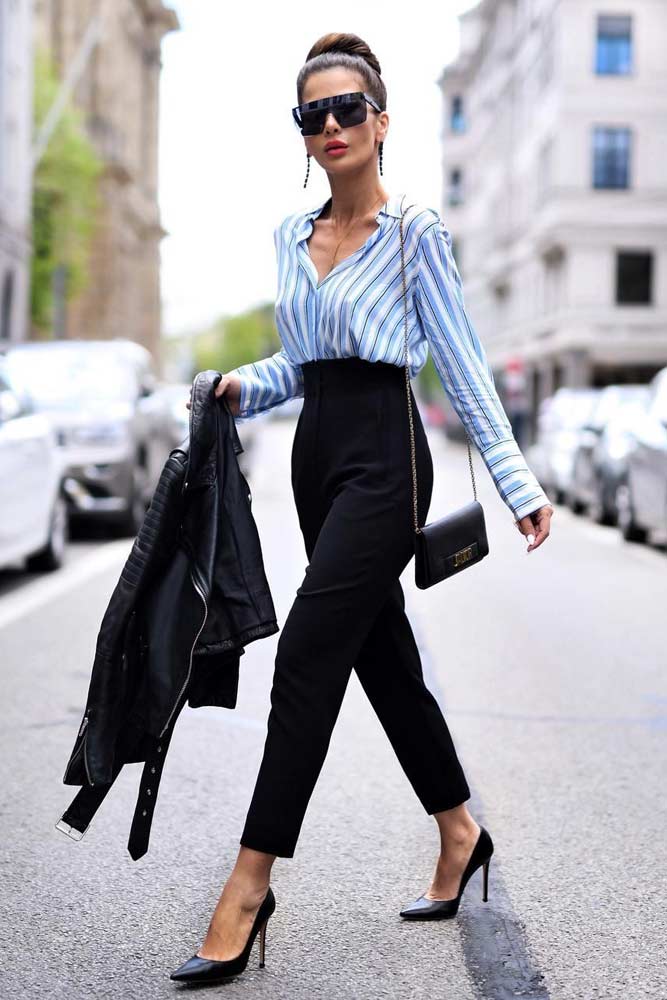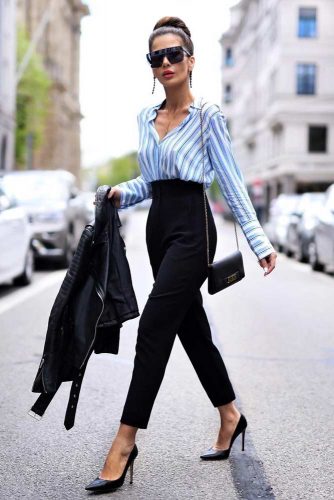 Source: shortstoriesandskirts via Instagram
Tomboys have another definition of elegance. And you know what? They know how to sport their outfits gracefully! When it comes to a formal look, these girls prefer to wear high waist formal pants with a chick shirt. To show off their personality, they finish their formal looks with a black leather jacket and big shield glasses. Those who need a formal updo immediately, here is a little secret: a dry shampoo will freshen up your locks and save your time.
Add Some Waves To Spice It Up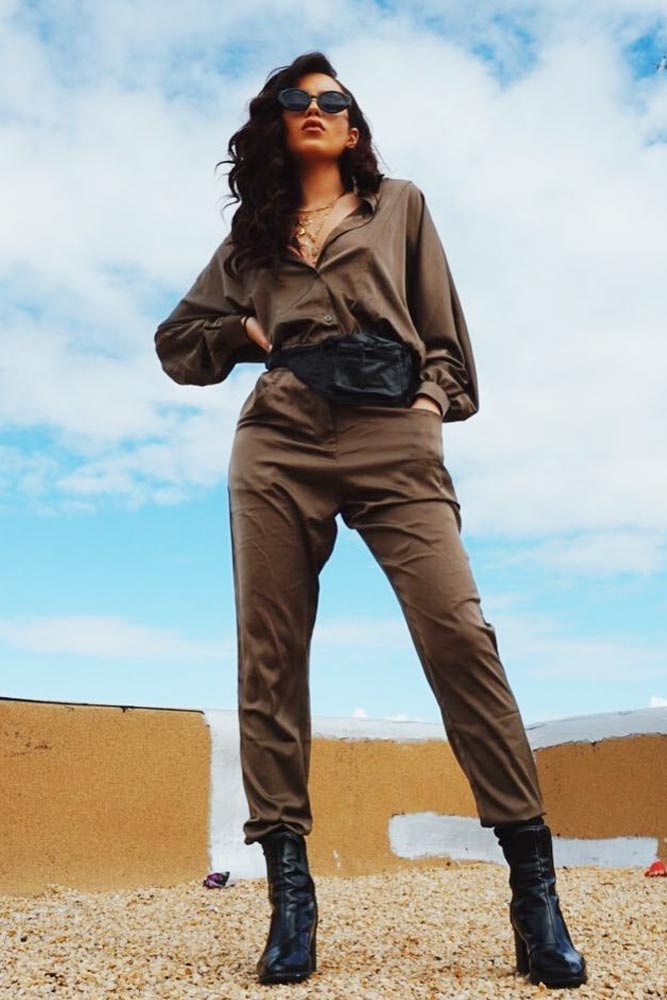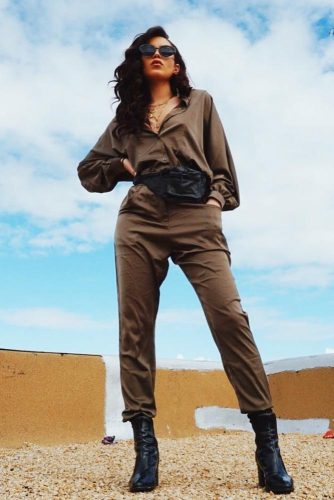 Source: val.mercado via Instagram
Girls love waves not for nothing. It's the best way to show off the beauty of your long hair. It doesn't really matter how full it is, waves can embellish any hair type and any hair color. How about you to steal this look? A sandy outfit with daring boots wouldn't look so sweet without wavy hair. Such a hairdo will take minutes, just make sure you know where is your curling iron.
Long Hair Is The Best Accessory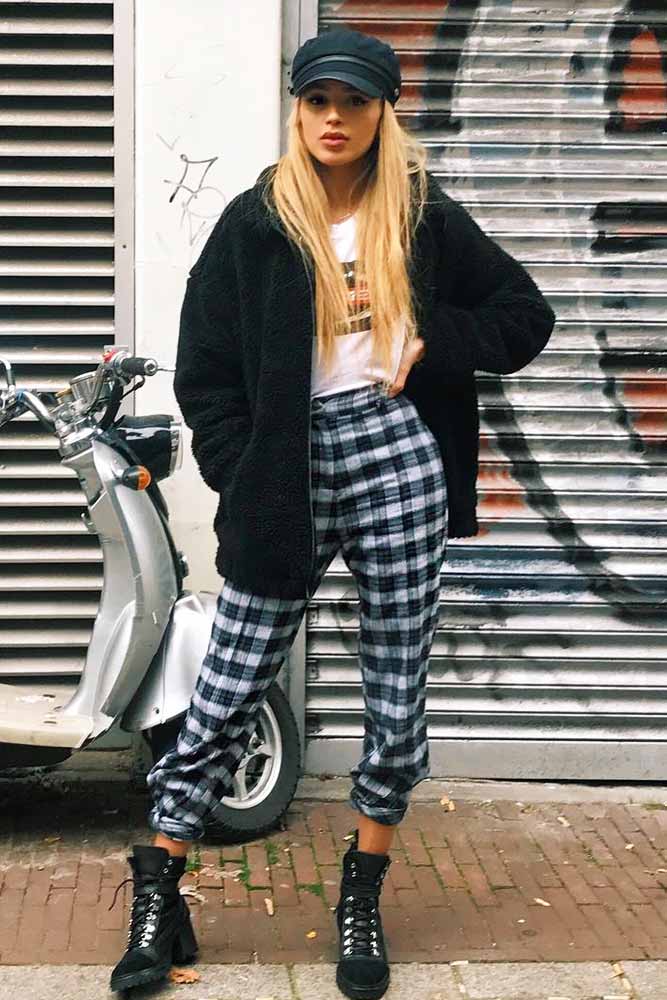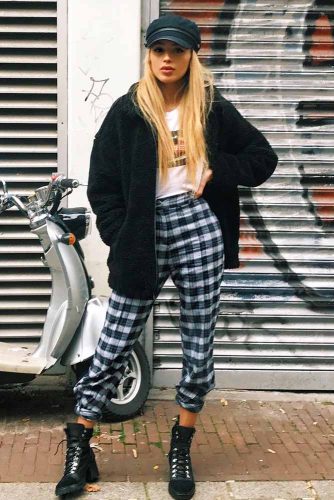 Source: val.mercado via Instagram
Your long hair is something that you should be proud of. It doesn't matter what clothes you wear, if you let your long hair down, nothing will hide your beauty. Tomboys know that the best way to style long locks is to leave them as they are. Still, there are plenty of long
party hairstyles
should you decide to opt for one. Simplicity is genius, these girls know that like nobody else. Checkered pants and oversized jumper form such a cool duo, do you get what we mean? To complement your
fall hairstyles
, you can also add a trendy hat.
Awesome Updos For Tomboys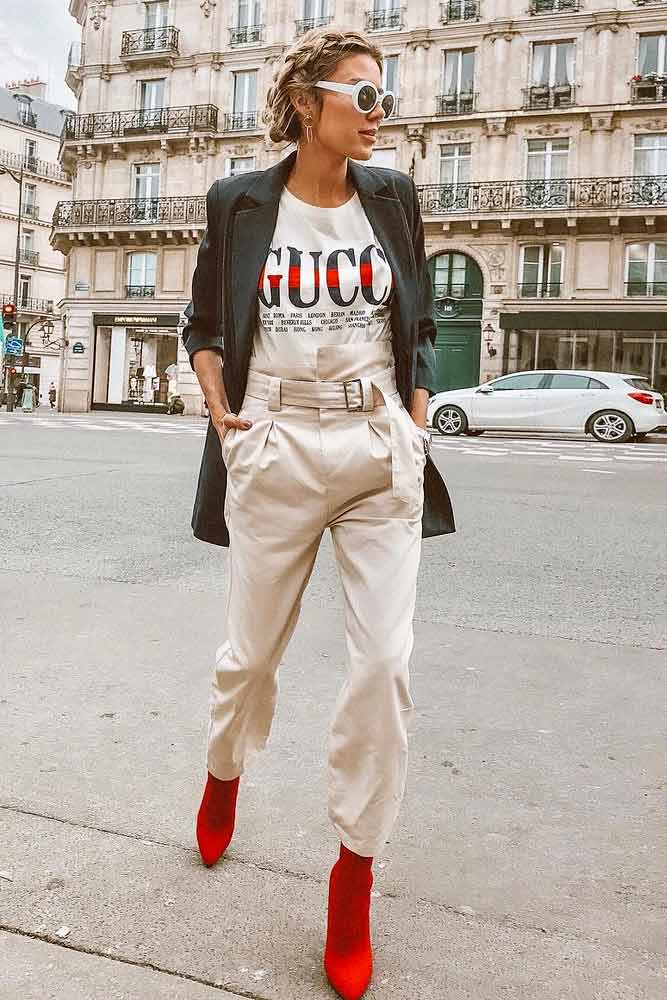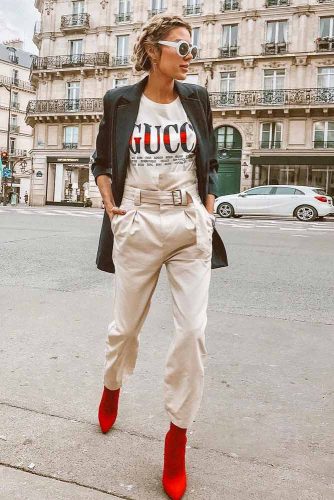 Source: hellofashionblog via Instagram
Since your hair plays a very important role in your look, it should be on point too. Tomboys don't feel like spending a lot of time on their hair, they know how to look awesome without complicated hairdos. A stylish updo can be a nice complement to your look. Updos keep your face open, giving you a chance to show everyone your fancy round glasses. Several bobby pins are enough to get a stylish look!
Show Off Your Straight Hair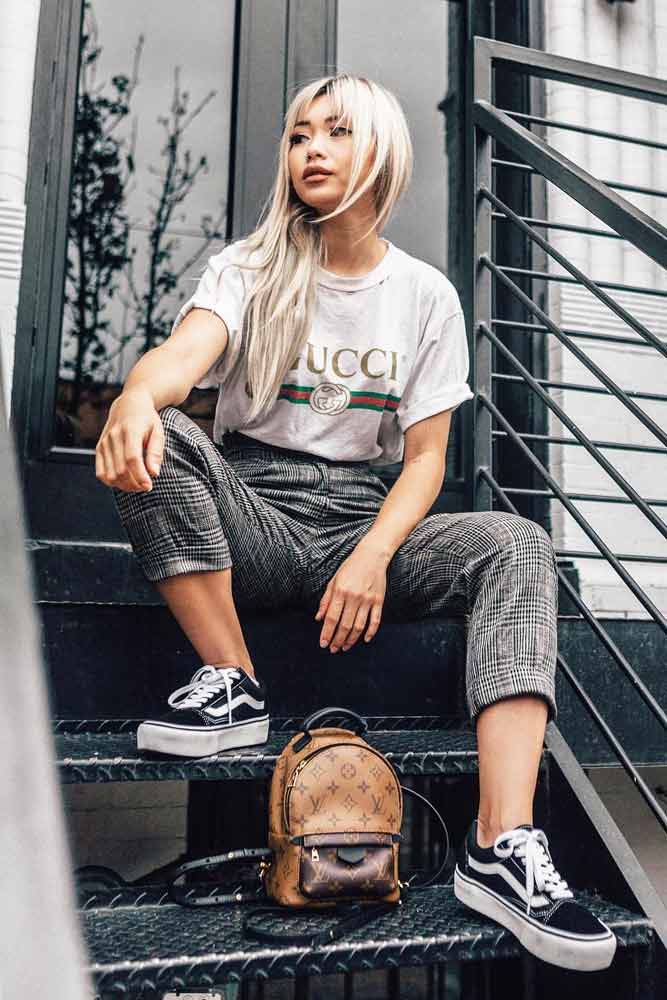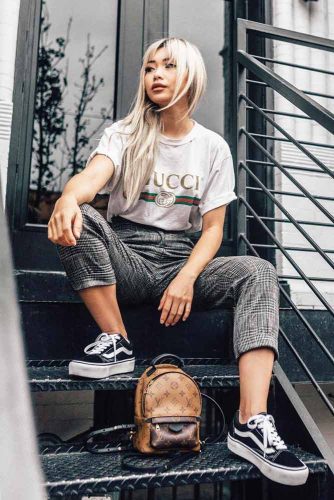 Source: flamcis via Instagram
This idea will never go out of style. It looks natural and sexy, that's why all girls love it. Needless to say, men find girls with such hair to be very attractive. If you think that there's nothing extraordinary about this idea, you've never seen a tomboy sporting
straight hair
. Blonde balayage highlights with choppy curtain bangs give a fresh look at this usual hairstyle. Still think that it's too plain?
Wavy Hair Will Do The Talking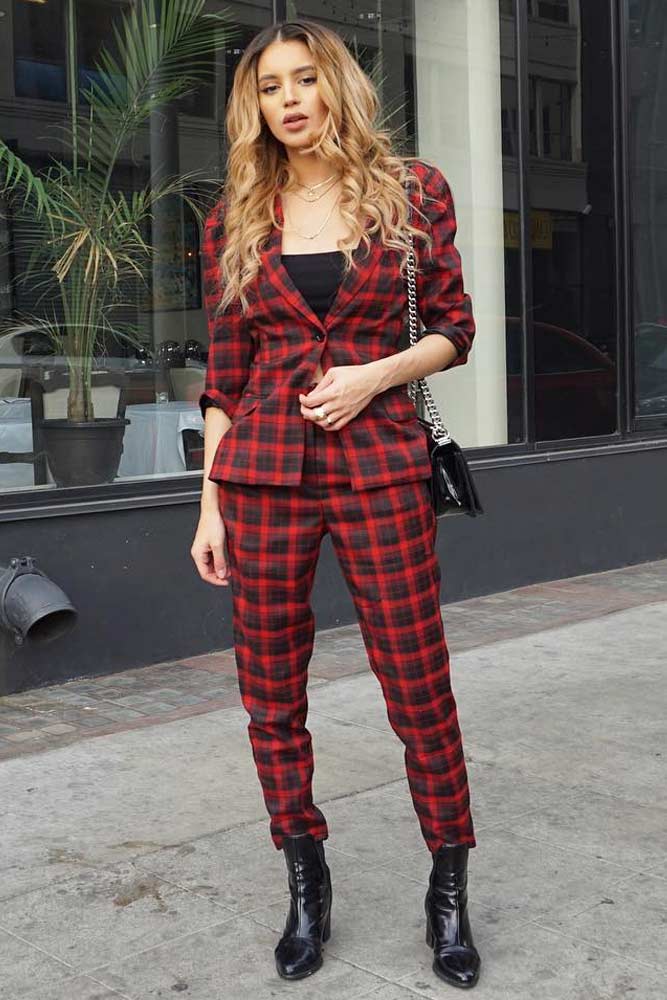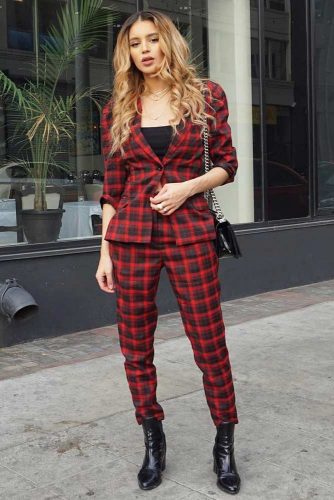 Source: val.mercado via Instagram
When you set your mood for a checkered outfit, it's time to think about a hairstyle that will complement your casual set. Well, you should know that only wavy hairstyles will be suitable for such looks. They're voluminous, a bit messy, and very lively. Natural waves will add some movement to your look, creating a really breathtaking silhouette.
Short Haircut To Make It Hot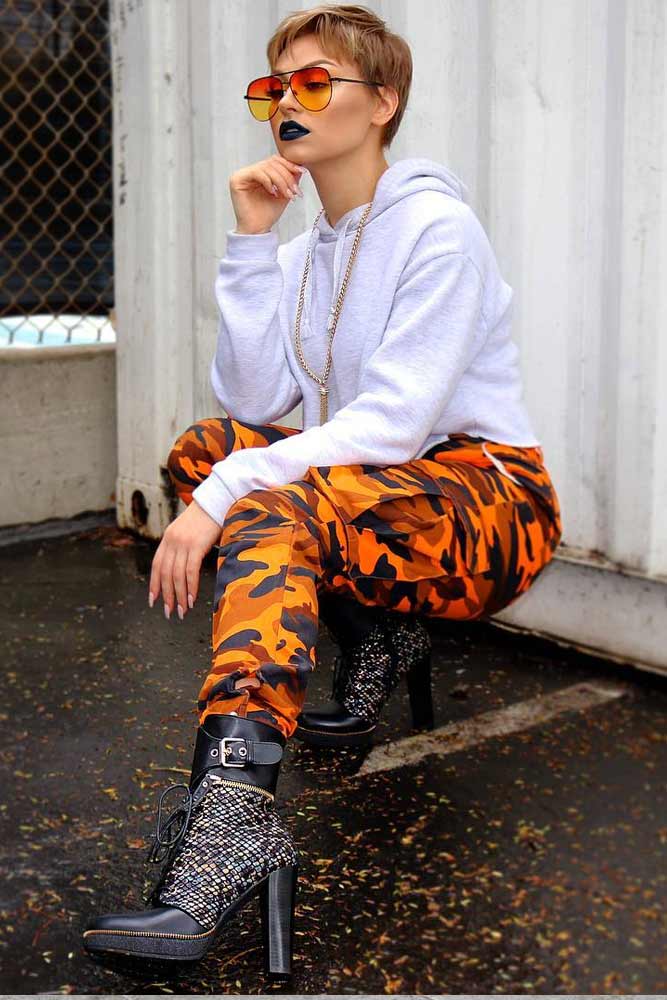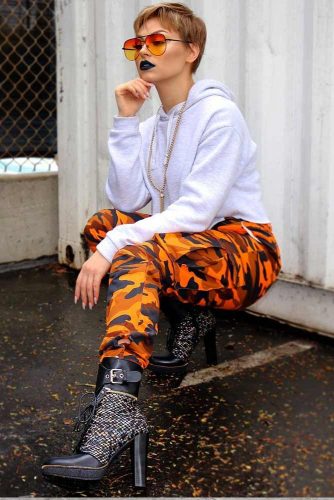 Source: alexandra_anele via Instagram
Have no idea how to style your short hair? Our advice is to keep it simple, but significant. If you want to create an extremely sexy look that will make heads turn, a pixie hairstyle embellished with baby bangs is about to make it hot! Just look at this pic: this tomboy outfit perfectly matches with a blonde pixie. Don't be shy to add some fire.
Your Short Hair Needs Some Waves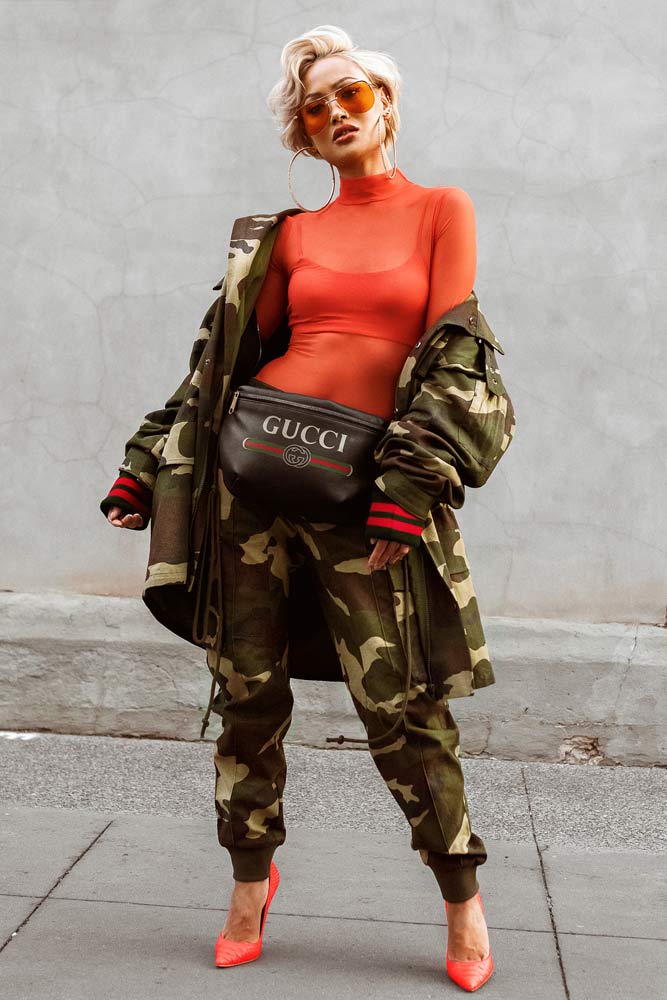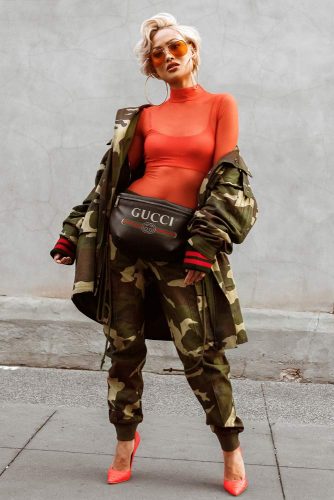 Source: micahgianneli via Instagram
There's nothing impossible about waves: if you want to wave your short hair, you are free to do that. The shorter your hair, the more voluminously it looks when it's waved. So, what are you waiting for? Your short bob needs some waves right now! Those who are into military style will fall in love with this classy idea.
Chick Sportive Style For Girls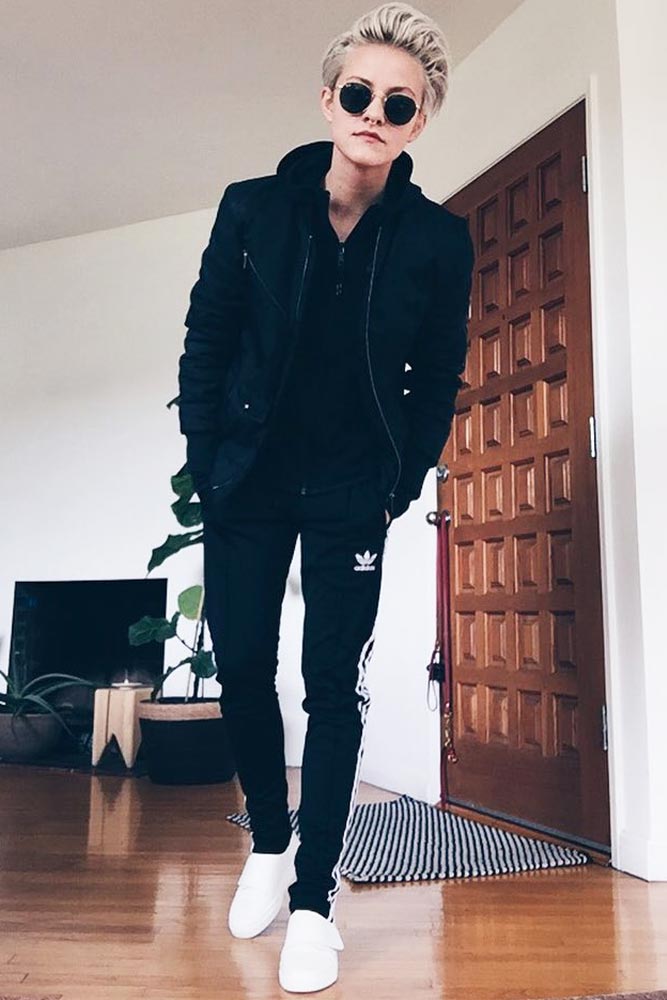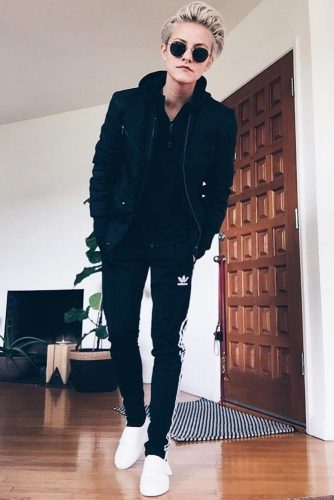 Source: brittenelle via Instagram
It's not a secret that girls adore wearing sports clothes as a casual style. And there's nothing bad about it: nowadays sportswear is even more stylish than clothes for daily wear. Got some cool sport ideas? Nothing can stop you from bringing your fashion ideas to life! Put on your favorite white sneakers, combine them with sports pants and finish this awesome look with a pair of sunglasses. P.S. Brushed up hairstyle gets on well with sports outfits.
High Bun Hairstyle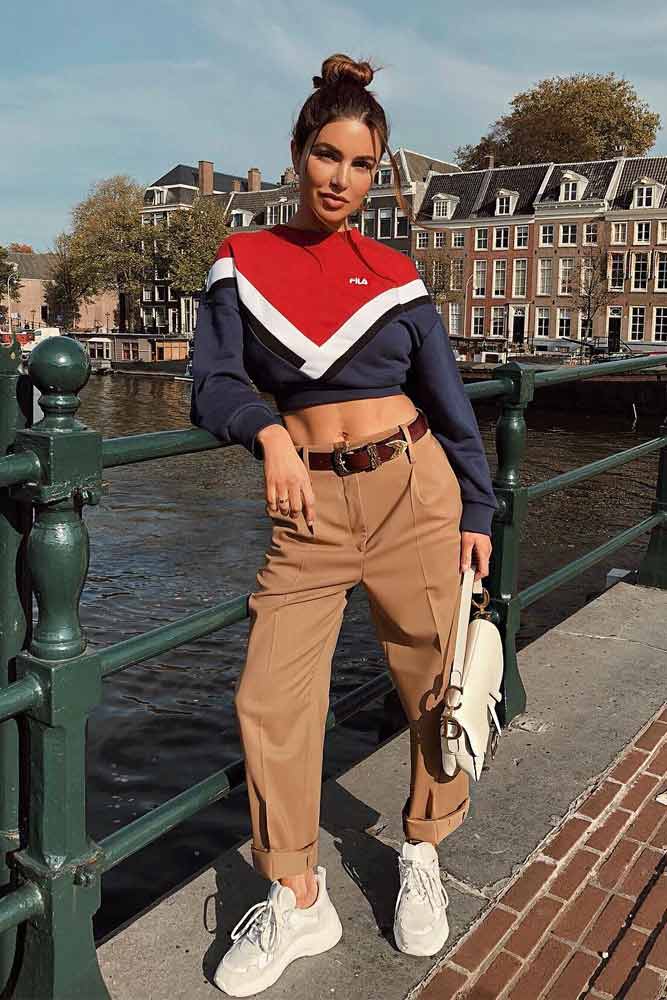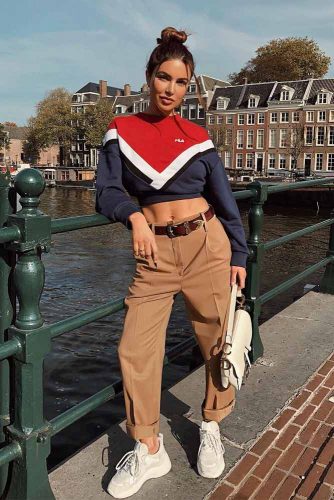 Source: negin_mirsalehi via Instagram
What is more effortless looking than a high bun hairstyle? Doing your hair this way will enhance the vibe you bring with the tomboy outfit you have picked for that day. Easy, stylish and looking so well with everything. Isn't that the most universal hairdo?
Half Up Pony For Long Hair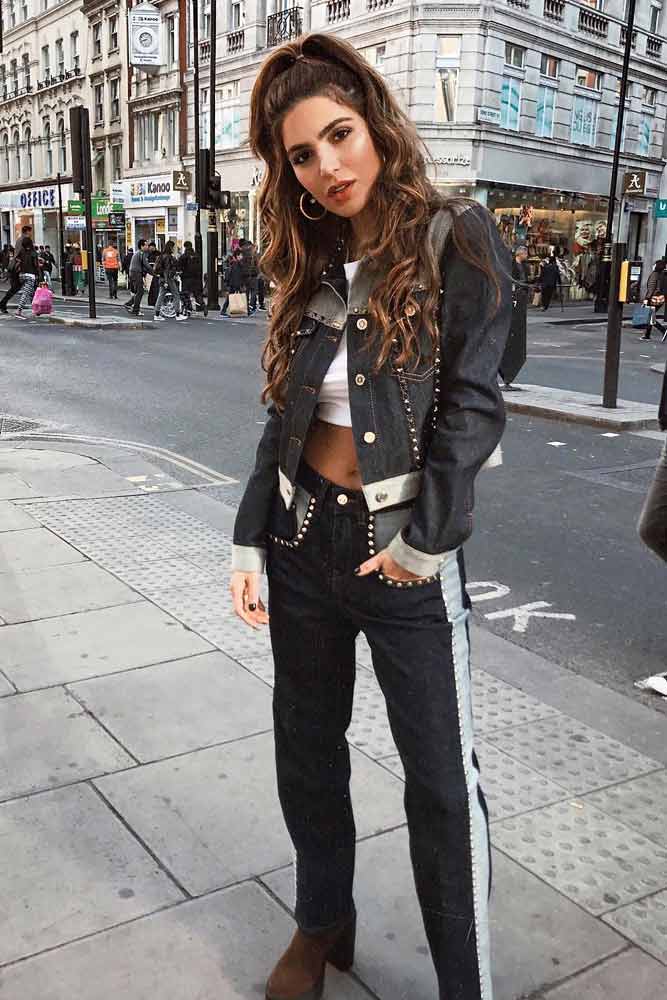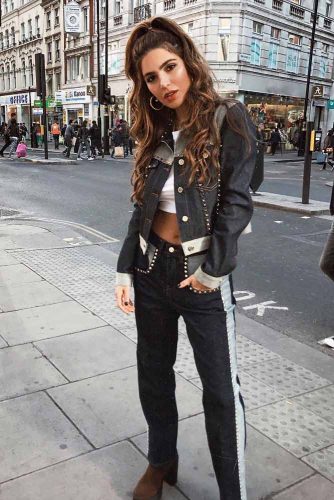 Source: negin_mirsalehi via Instagram
Those girls who rock long hair we feel you and your desire to try something new on it. A
half up ponytail
is perfect for any occasion coming. Whether your hair is curly or straight, this hairstyle will bring so much volume, making your hair look super bouncy. This effect will only add up to your outfit, and you won't regret trying it.
Side Parted Messy Short Bob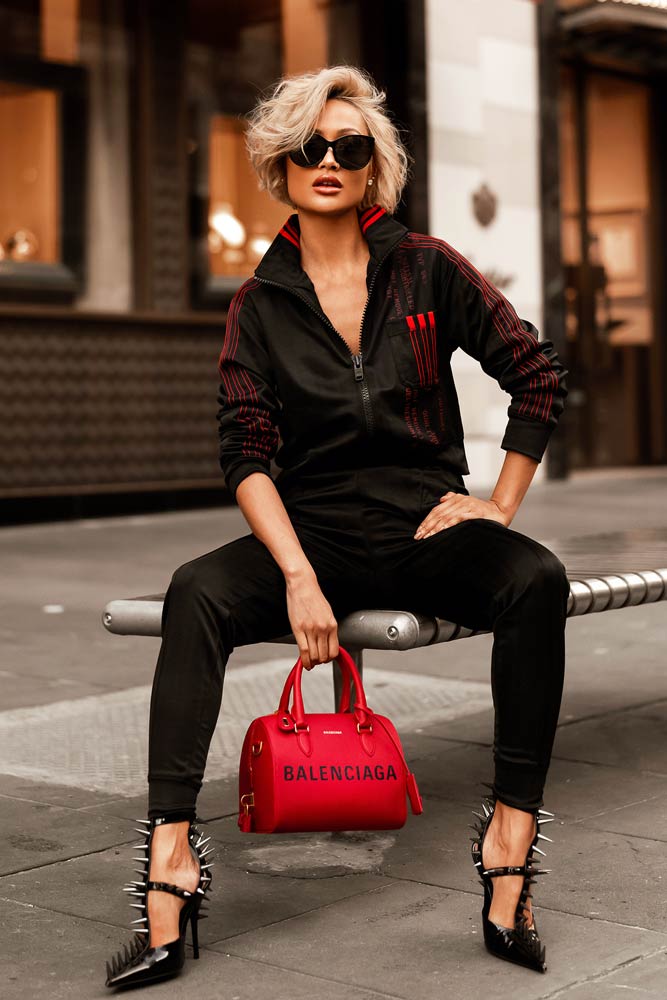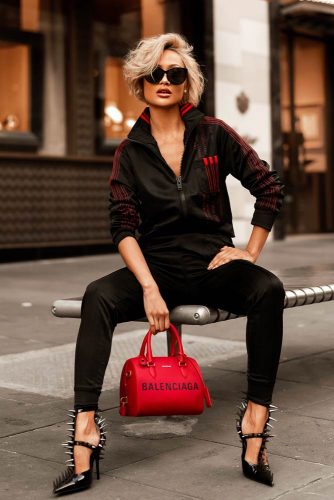 Source: micahgianneli via Instagram
Nowadays
messy hair
is such a trend in the industry that more and more stylists are making your hair look like that on purpose. Isn't that a dream for girls with bob hairstyles who usually spend so much time on styling and taming their locks? If you are one of them, then it is your turn to leave out all of the products and stylers you have been using before. Do a side part and flip your hair, bringing volume to that messy, grungy effect.
Low Sleek Updo Hairstyle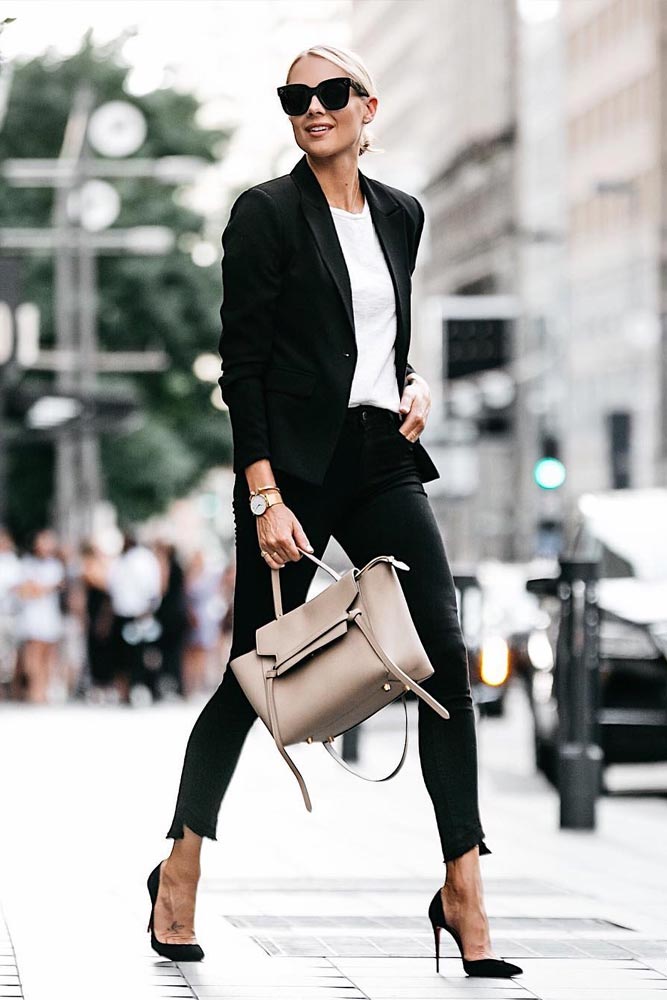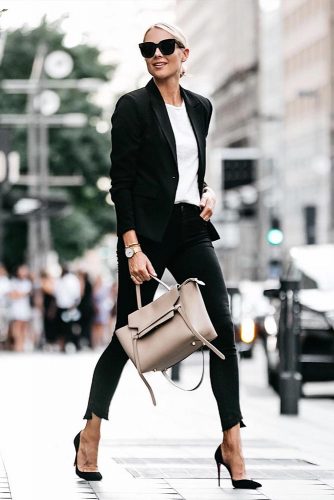 Source: fashion_jackson via Instagram
Messiness and effortless are in trend with sleekness at the same time. Such a neat hairstyle is perfect for those ladies who don't have any desire to think of their hair and the way it looks during the day. Secure, stylish and comfortable it will be your favorite hairstyle on the run that brings even more style out of your look.
Middle Parted Long Straight Hair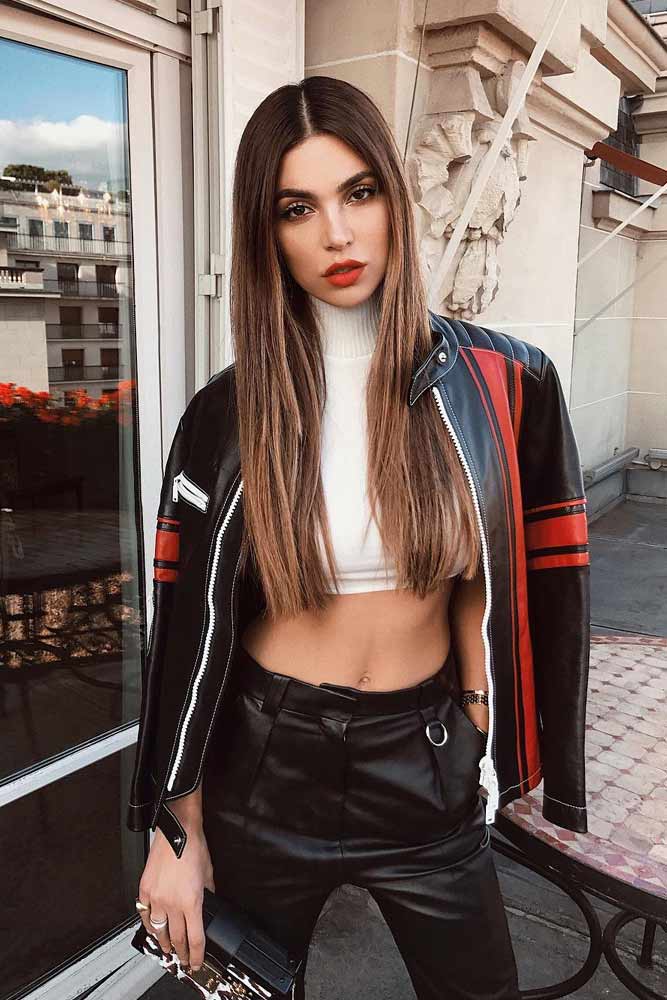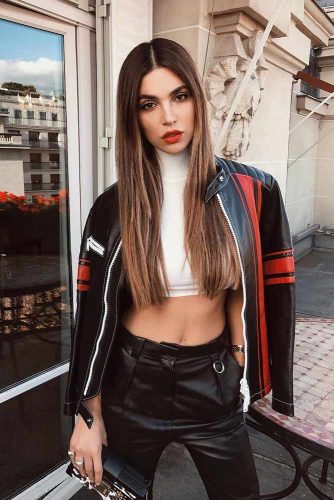 Source: negin_mirsalehi via Instagram
Long straight hair has so much charm and can be worn so differently. Even changing a parting can become a new way to rock your hair. Such small details bring stylish accents to your tomboy outfits so don't doubt even for a second about experimenting with it.
Natural Curly Updo
What is better than enhancing the natural beauty of your curly hair? Get rid of your styling products and let your hair be the way it is. Leave it untamed once, and you will love the natural effect that is brought to your style. Let it down or just make a high ponytail with a lot of volume and you will love the way it looks with your tomboy style.
FAQ: Tomboy Outfits
Do tomboys wear crop tops?
You can wear a cropped shirt if you don't want to show too much skin. Wear it with white sneakers, no make-up or jewelry is required.
Are tomboys attractive?
Guys, it turns out, adore tomboys as well. That isn't to say that more feminine ladies aren't appealing. Tomboys are also attractive and amazing in their own way. Like any other girly lady, tomboys need for love and acceptance, so just accept that you're attractive as a tomboy, and that guys are interested in you.
Can tomboys wear makeup?
Makeup is a personal preference for how a person wishes to portray their own personality. Thus, tomboys are not barred from using cosmetics. You can wear makeup that suits your tomboy look. You are also free to improve your appearance by avoiding the use of eye makeup and lipstick.