Medium length hairstyles with bangs are the true salvation for ladies who wish to have a trendy and flattering hairstyle at the same time. Besides, this length offers a big number of advantages. For example, easy styling especially compared to long and short haircuts. Also, you are free to experiment with this haircut any way you wish, changing its color and/or texture while still remaining pretty.
How To Style Medium Length Hairstyles With Bangs
Styling such hair cut styles for medium length hair is by no means difficult. After shampooing, towel-dry your hair. Next, apply a volume booster to the roots and lotion for blow-drying.
Now, divide your hair into 5 sections: back bottom, back top, top, and both sides. With the help of a paddle brush in a flat shape, blow dry your bangs. Then take a round brush in a medium size.
Blow-dry all 5 sections, beginning with the sides. While drying, flip the ends out. When the hair is dry, the ends should be misted with some argan oil. Finally, spritz your hair with a special flexible hold hair spray to finish styling.
Medium Hairstyles With Long Bangs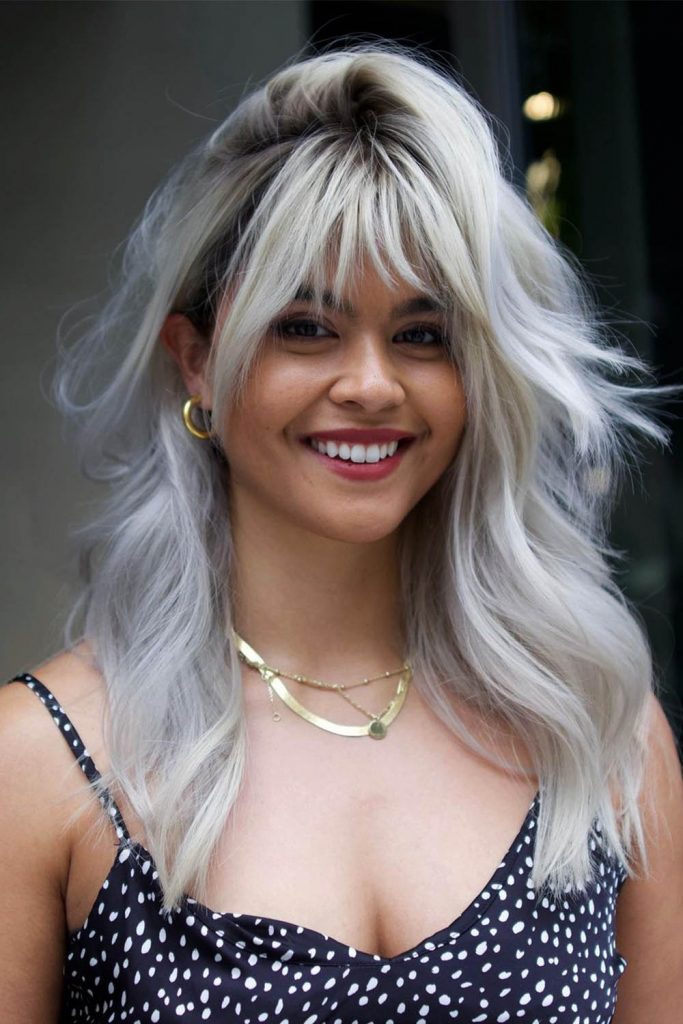 Source: salsalhair via Instagram
Let's start our discussion about medium hair styles with bangs with their very basics. For instance, let's assume that your hairstyle is classic. In this case, layered face-framing shoulder-length hair and long bangs are the best picks (1).
Q: Do bangs make you look younger?
A: As a matter of fact, bangs have always been the best weapon to create a youthful look. They can visually frame up your forehead and add a soft curve to your angled features, as well as draw attention from the lines you want to conceal. In order to get the best results, it's better to choose a fringe based on your face shape.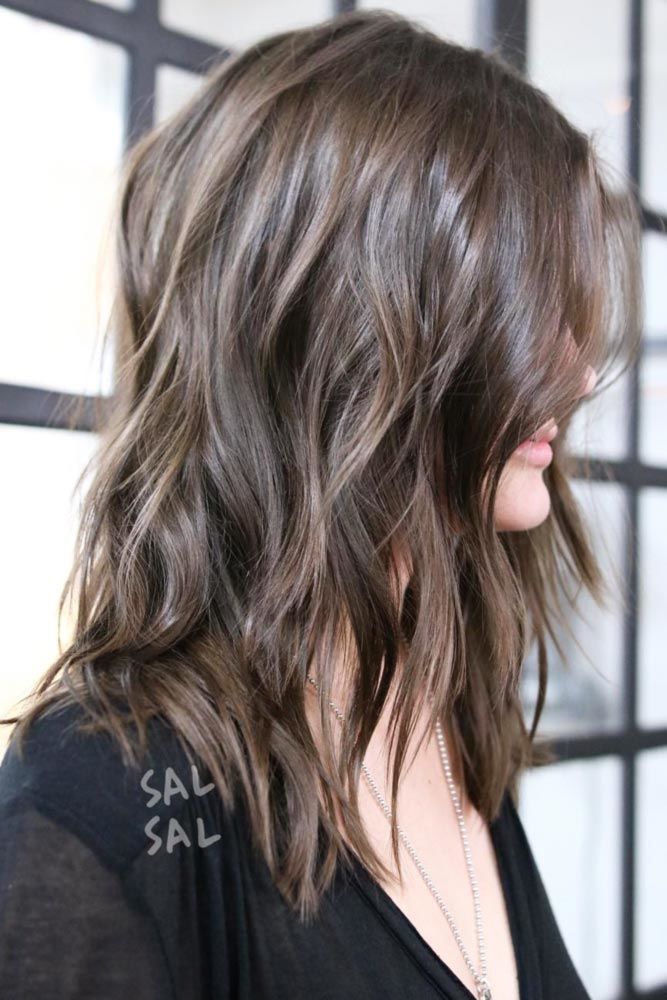 Source: salsalhair via Instagram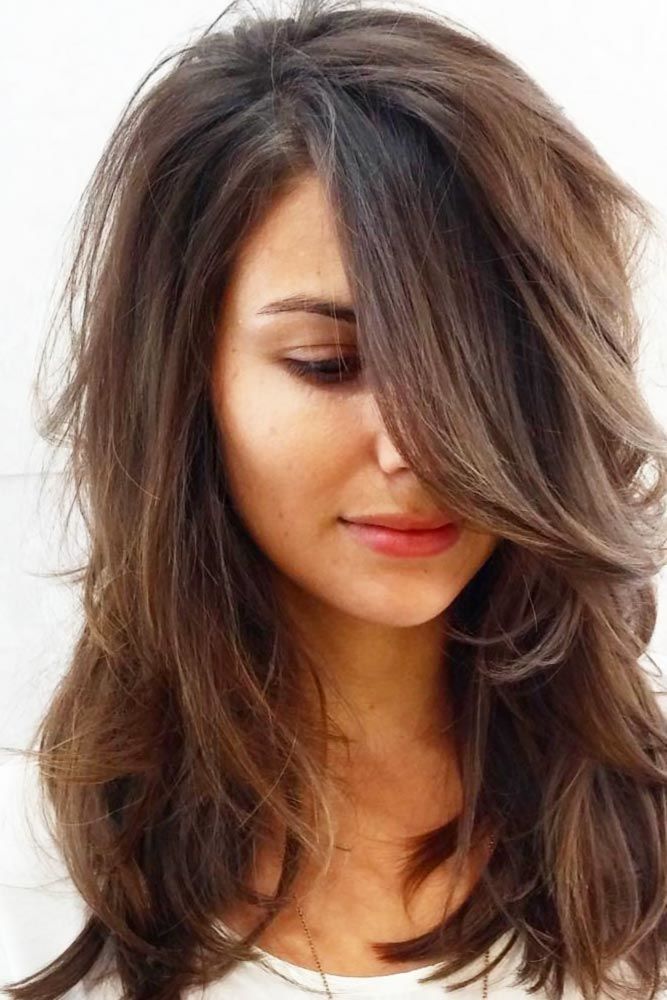 Source: Haircraftandmagic via Instagram
Long bangs to one side are the perfect idea for those girls who have little time to style their hair in the morning. Therefore, you should pick something from our collection of easy haircuts with bangs if you really want to cut down on styling time.
Q: What's the difference between feathering and layering?
A: There's a slight yet important difference between feathers and layers. Whereas feathering is the process of shaping and texturizing the ends, layering creates various lengths throughout the hair.
Medium Length Hairstyles With Short Bangs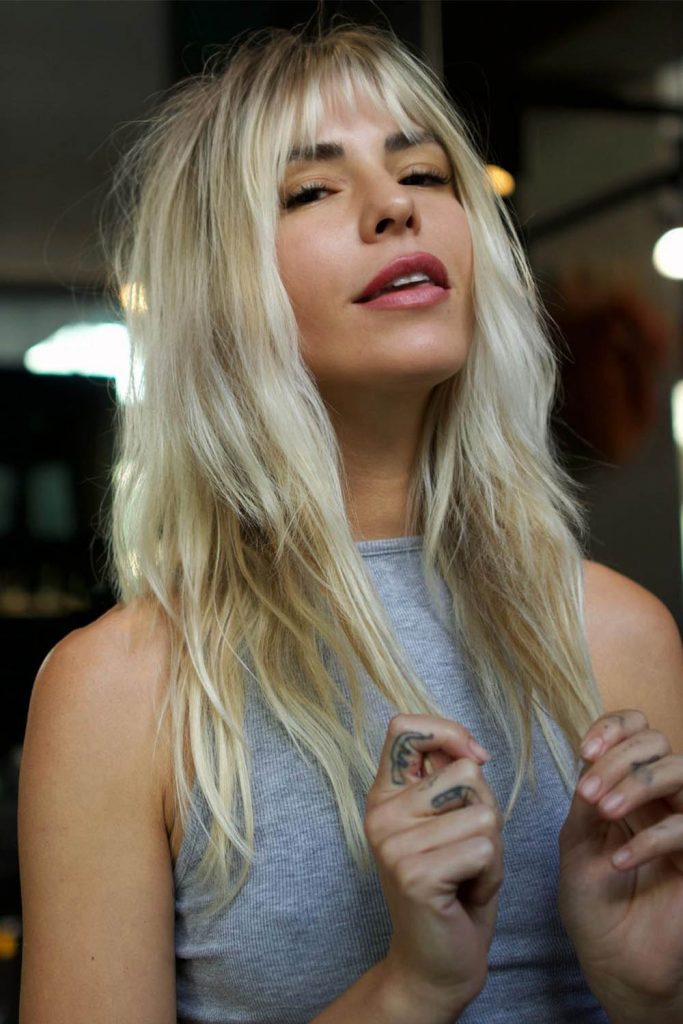 Source: salsalhair via Instagram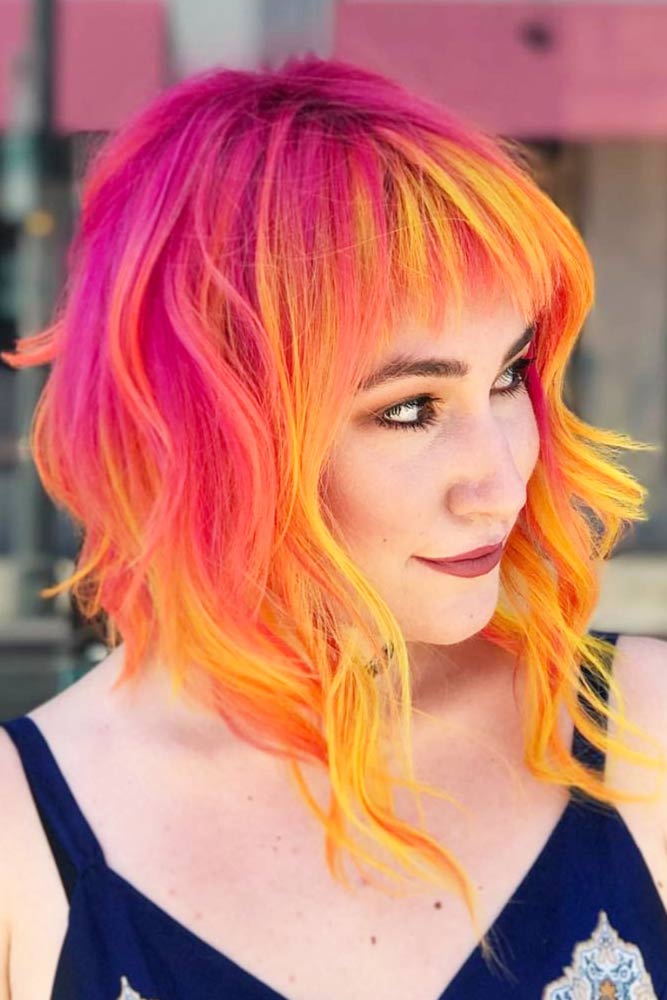 Source: philipwolffhair via Instagram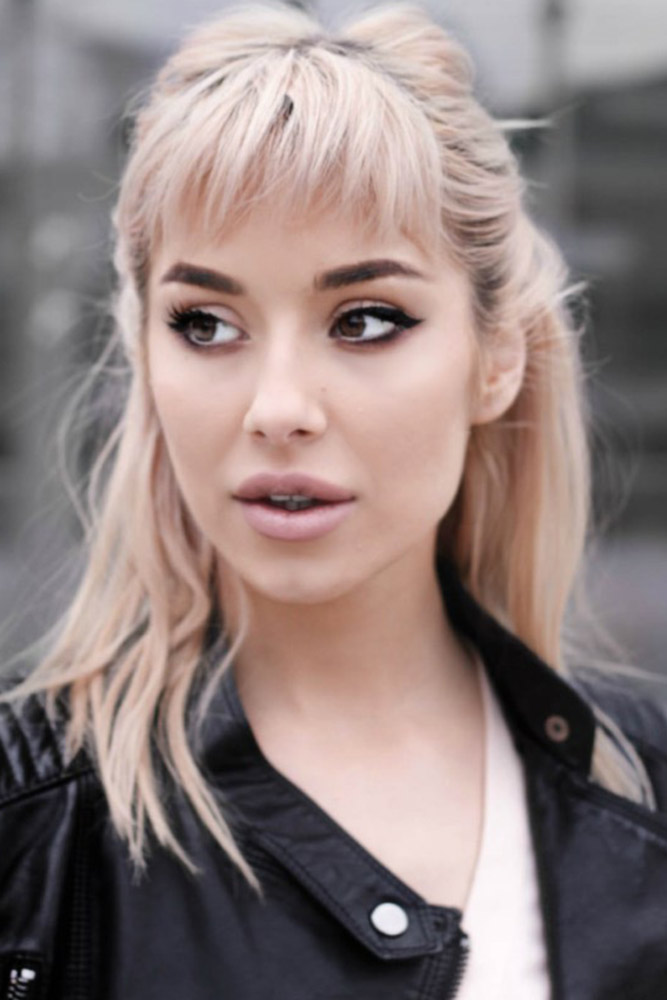 Credit photo: alinaceusan.net
Short bangs are indeed considered the new classic among modern trendsetters. Not only do they work on broad facial features but they also provide some more oomph to a hairstyle. This fringe will nicely finish your look, regardless of what color and haircut you rock.
Flirty Side Swept Bangs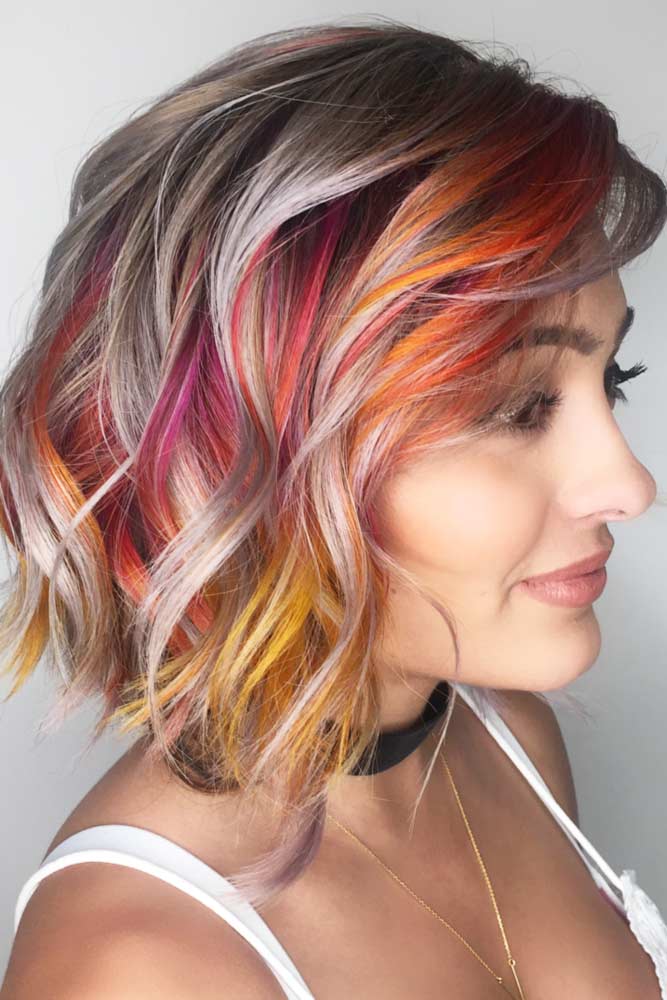 Source: andieveronica via Instagram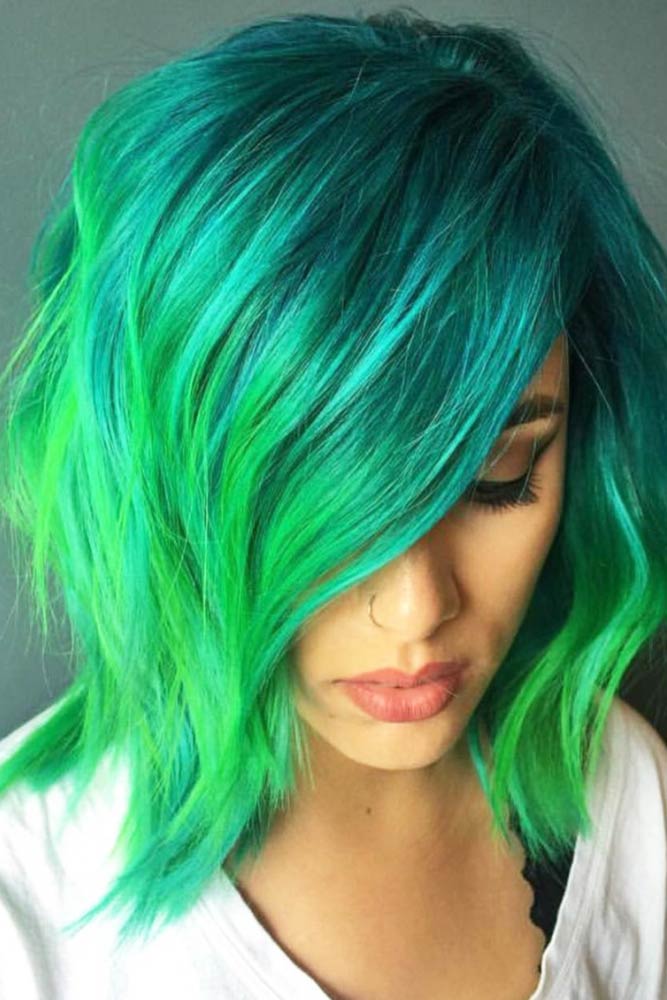 Source: brenadope via Instagram
As a matter of fact, the options for medium length hair styles know no boundaries. However, if you're in search of something versatile, side-swept bangs will be a fantastic choice to bring some flirty touch into your everyday look.
Q: Is it better to cut bangs wet or dry?
A: In general, if you want to cut bang yourself, you should keep in mind this golden rule: it's always better to cut hair dry. Hair gets longer when it's wet, and since you don't want to end up with super short and uneven bangs, consider working with dry or slightly damp hair.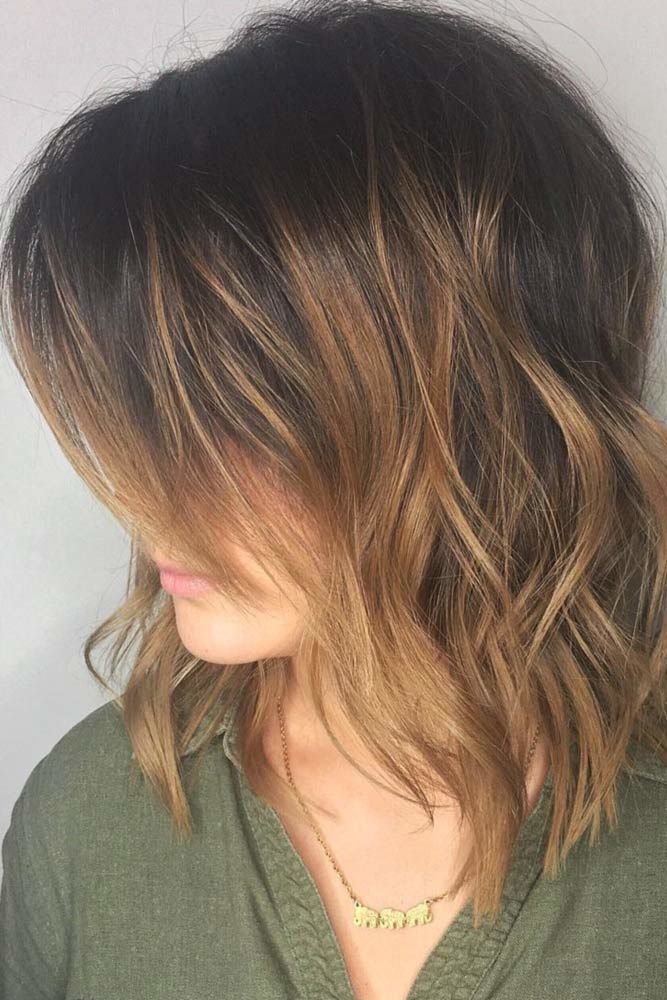 Source: Cutyourhair via Instagram
In order to create a dynamic hairstyle, divide your hair into 5 sections: back bottom, back top, top, and both sides. Then, blow-dry your bangs with the help of a flat paddle brush. Once you've finished, take a medium round brush to add some curve to your tresses.
To get the hottest look, you can also side-sweep your bangs. As a result, this hairstyle for medium length hair will be your magnet to compliments (2)!
Medium Length Hairstyles With Center Parted Bangs
Source: ssssamanthaa via Instagram
Since you know that here are bangs for every face shape, here are center-parted cuties meant to flatter oval and round faces. To get the most of them, keep them long enough so that they stand out while you style the rest of your hair in a high updo. Simple and gorgeous, who could ask for more?
Q: What type of face do bangs look best on?
A: In fact, there are lots of bangs ideas to choose from based on your unique facial features. Oval faces, for example, look their best with soft blunt bangs cut straight across. As for round and square faces, side-swept bangs work wonders adding more weight to one side and thus concealing heavy features. Rectangular and diamond faces, in their turn, go well with baby, curtain, and wispy bangs.
Medium Length Hairstyles With Thick Straight Bangs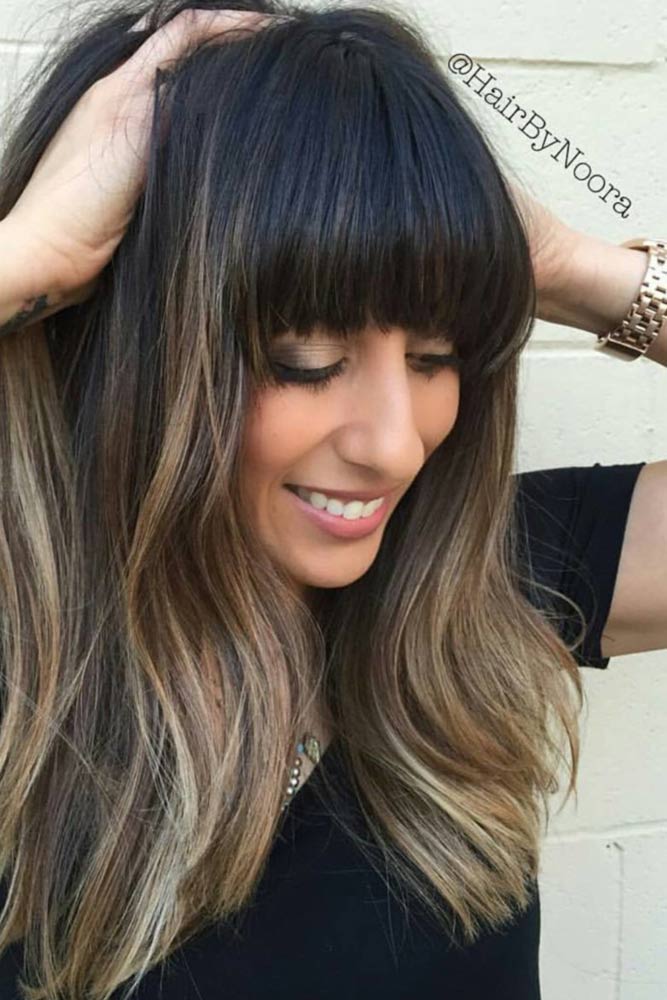 Source: hairbynoora via Instagram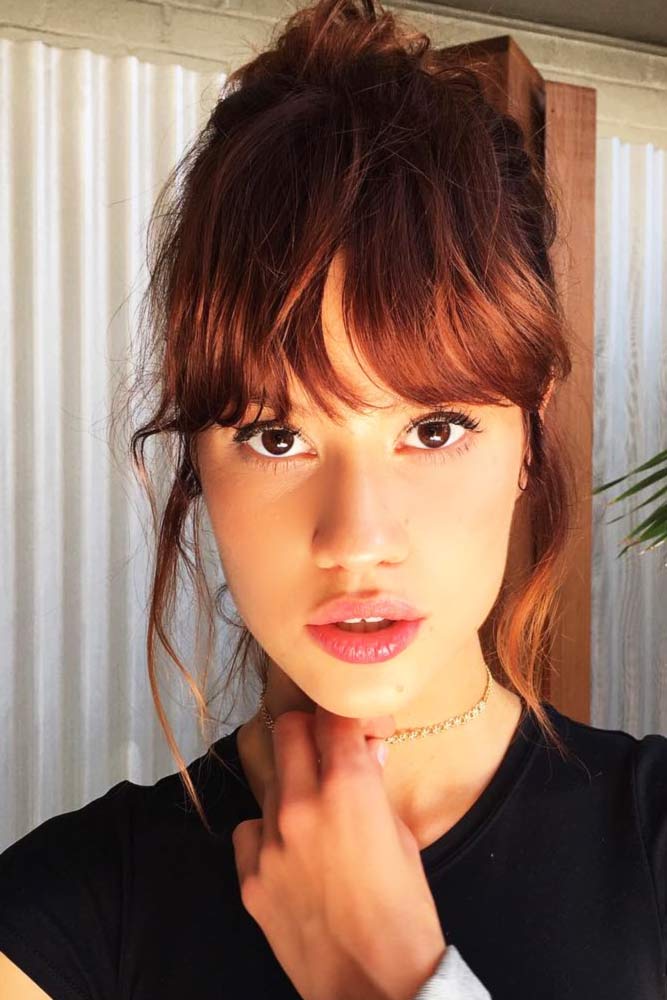 Source: ellamaiweisskamp via Instagram
If you want to show off your full hair and work on their broad forehead at once, you will love the beautifying effect of the thick bangs (3). Besides hiding up your prominent forehead, such bangs can add some fullness to the crown, which is a win-win for any medium-length style.
Q: Do bangs make you look fatter?
A: Just like a wrong picked haircut that can mess up the whole look, bangs may also add some pounds visually if not chosen properly. When going for wispy or blunt bangs, ask your stylist to make your fringe longer at the sides and shorter in the middle so that it gives a flattering framing touch.
Medium Length Hairstyles With Wispy Bangs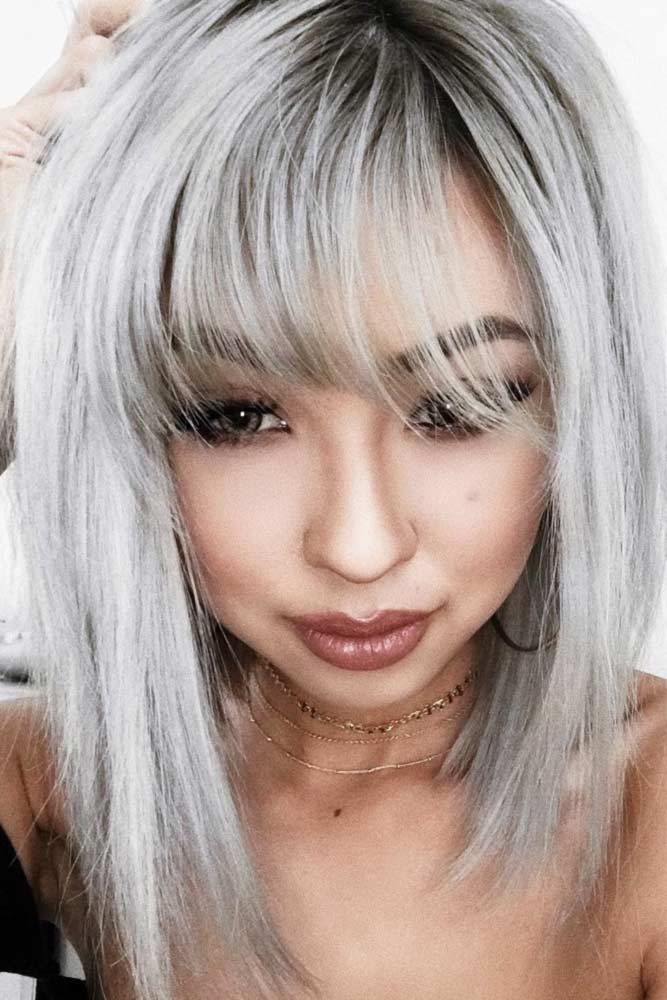 Source: hilisaa via Instagram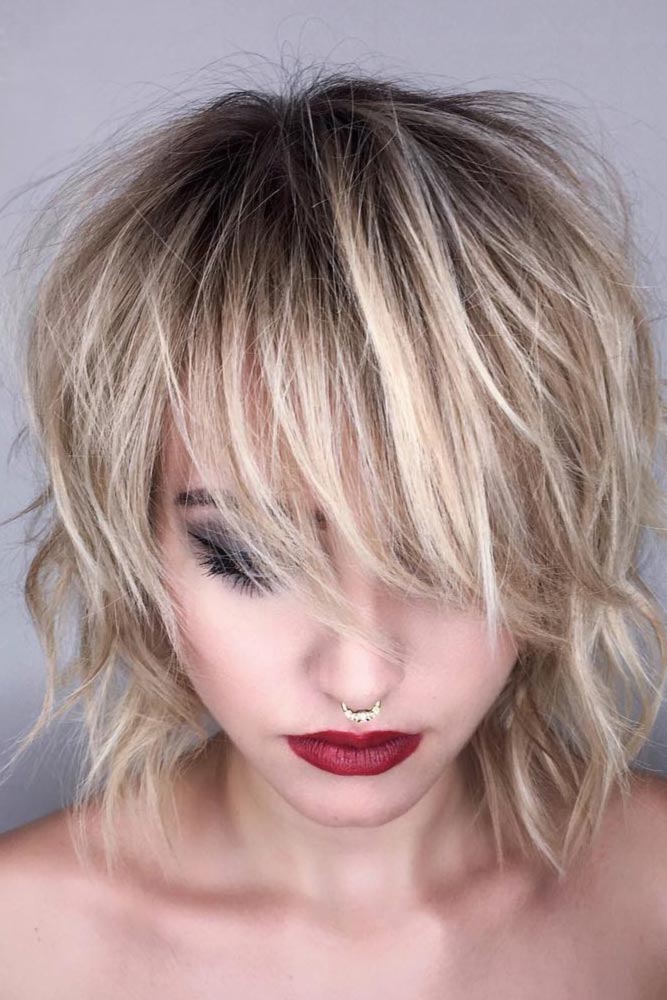 Source: cutyourhair via Instagram
How about a slight framing touch that won't outweigh the body of your style and overlap your brows as well? Do you know that wispy bangs are a nice airy finish to both straight and wavy textures, by the way? Due to their impressive versatility, they can give a well-balanced and most importantly flirty look to any 'do.
Medium Length Hairstyles With Blunt Bangs
Source: kateloveshair via Instagram
Blunt bangs are usually chosen by ladies who want to add some playful and youthful vibes to their looks. First off, they fully hide your forehead, so it's a nice option for diamond and square faces. Secondly, their slightly above-brow body makes a face appear younger, in case you want your medium style to take years off.
Medium Length Hairstyles With Arched Bangs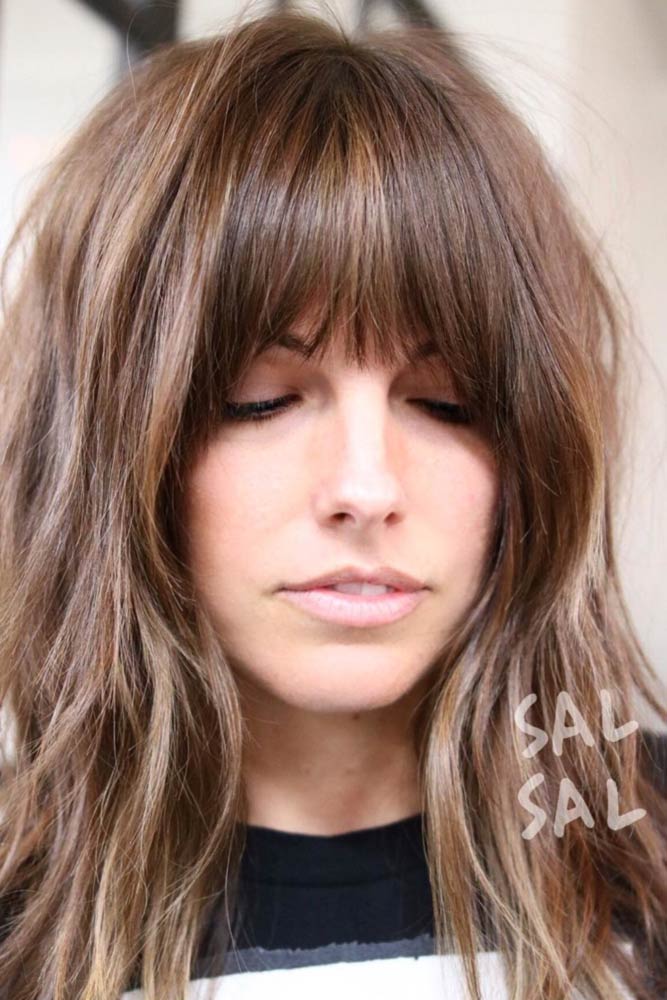 Source: salsalhair via Instagram
Ladies who want to spice up their medium shags or bobs with some special details should look no further than arched bangs. Besides, such fringe bangs will help them disguise any flaws while enhancing beautiful facial features. Basically, this type of fringe is something in between wispy and blunt bangs. Consequently, they can enliven any face shape, according to your unique features.
Medium Length Hairstyles With Curtain Bangs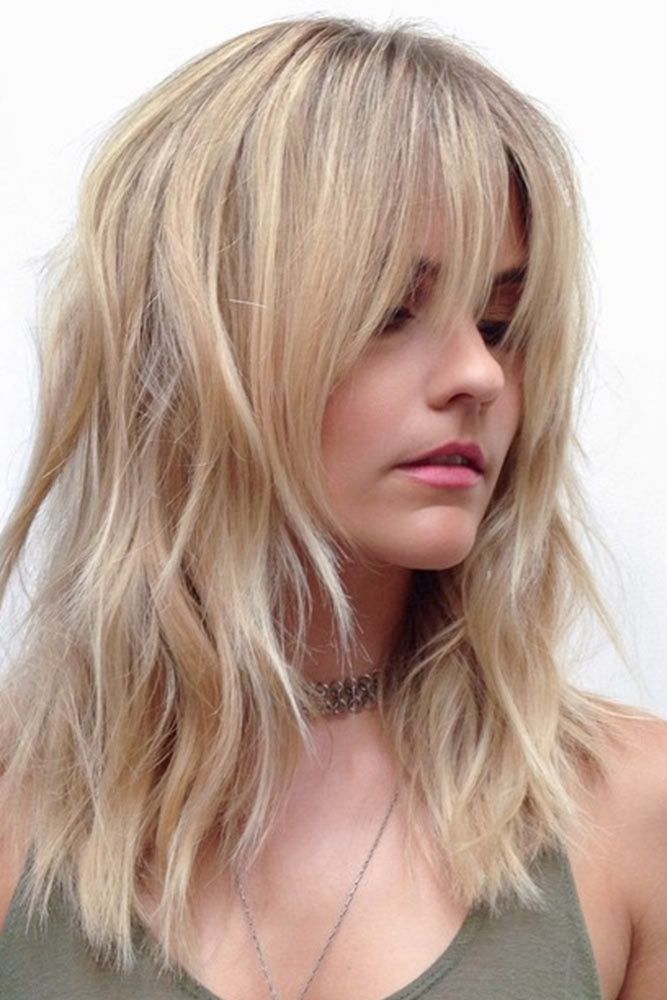 Source: salsalhair via Instagram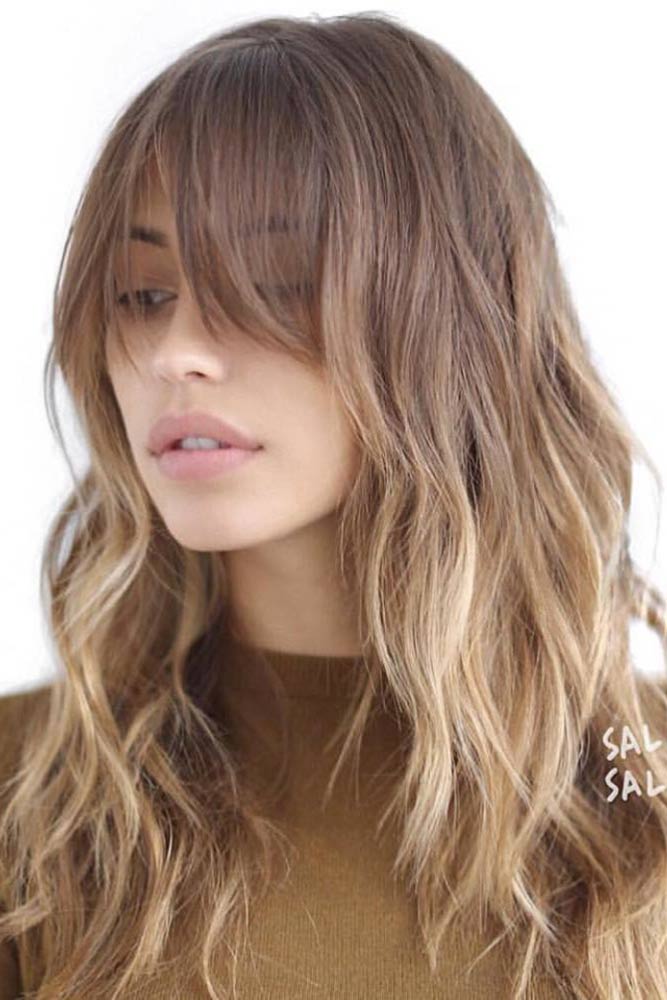 Source: salsalhair via Instagram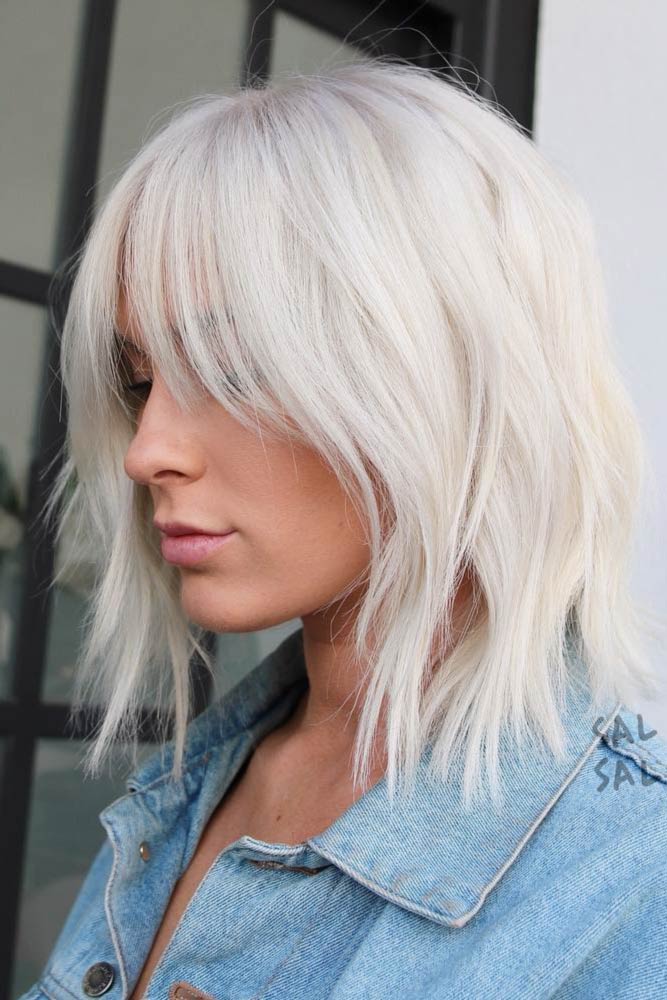 When you struggle with fine hairstyling routine, bangs come in. Instead of applying tons of styling products, you can simply add some boost at the sides. Whatever medium cut you sport will show up in a new light once you pair it with soft curtain bangs. Besides giving a chic modern look, they will add more volume to the crown. A little tip: get some layers to enhance the effect.
Center Parted Medium Length Hairstyles With Wispy Bangs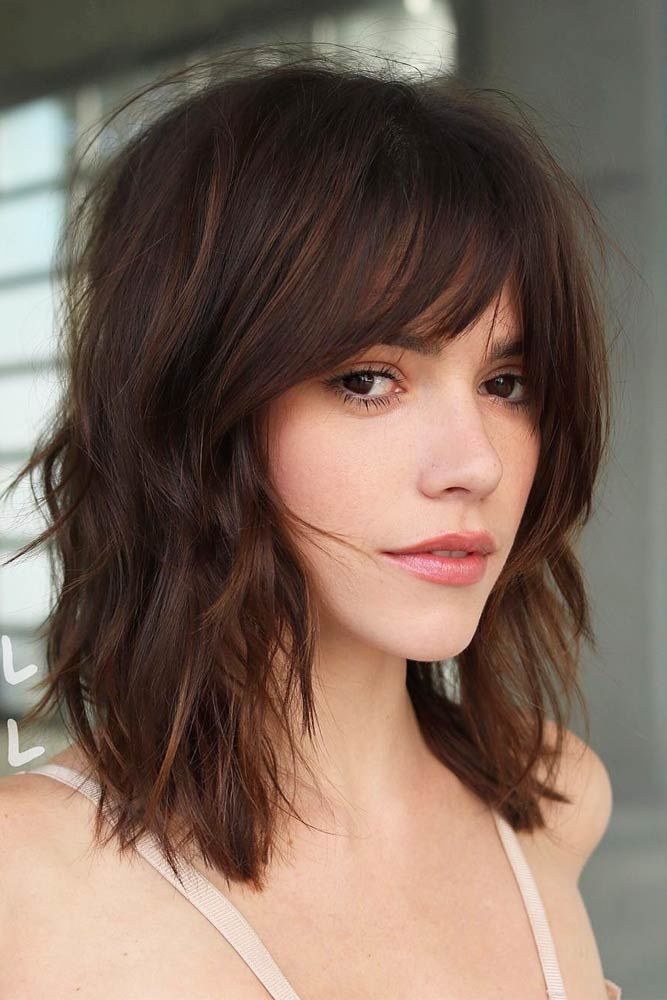 Source: salsalhair via Instagram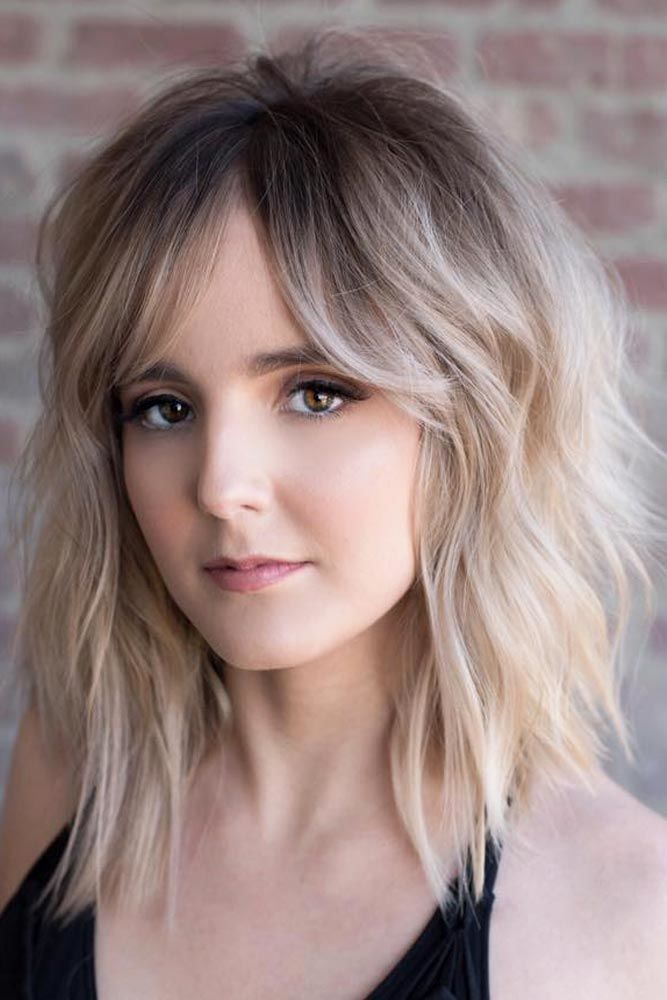 Source: ashleenormanhair via Instagram
Source: Mollyhaugh901 via Instagram
Apparently, whispy bangs have come to this world to change your picture of a fringe once and for all! With this cute detail, you can give your forehead a soft frame from both sides while keeping the eyebrows in the spotlight at the same time. Also, it goes well with anything from a shaggy to straight bob.
SOURCES: * (1)
Medium length hair is more popular than ever. Let these 50 celebrity looks inspire your medium length hairstyle.
* (2)
These are the coolest fringe hairstyles on the internet.
* (3)
These celebrities prove that getting bangs is like a mini makeover anyone can totally rock yes, that means you!
* (4)
If you need inspo for your medium length, shoulder length, or somewhat longer hair lookin at you, curls and waves , we rounded up the very best hairstyles.
FAQ: Medium Length Hairstyles With Bangs
What is the best haircut for medium length hair?
Textured Beach Hair.
Medium Brunette.
Hair with Sliced Ends.
Mid-Back Shag with Feathered Layers.
Medium Swoopy Layers Hair.
Medium Shag with Bangs.
Inverted Wavy Layered Lob.
Wavy Cut with Bangs.
Two-Layers Medium Cut.
Should I have bangs or no bangs?
For round faces, most hairstylists do not recommend bangs that cut directly across the forehead. Bangs that soothe the face angles, especially at the forehead, are necessary for square-shaped faces, so try side-swept fringes or even frontal bangs with a center part for a shorter look and avoid bangs that are uniformly cut and create a line across your forehead.
Do bangs make you look fat?
The thing is, blunt bangs don't "swamp" your entire face because your face is longer, so, basically, any kind of bangs should look good on you. Take a look at the size of your forehead. If it is not big, side-swept bangs might help to make it appear larger.
Was this article helpful?