The eye-catching orange hair colors make all the fashion forecasts predict only one thing: by the end of this year, their shades will take over the world, proclaiming themselves the most requested trends. Those who have never seen the rich hues of this seductive palette may get surprised by such a color obsession. As for us, we're ready to yield to this bright temptation. See our gallery to get what we mean! They're not colors you see every day, but once you come across their beauty, you will never be able to forget it. We want to share with you the latest inspiring ideas of pulling off orange shades: see what colors will suit them best, which complexion will reveal their charm at its best, and meet some little tips that every girl should know before going orange. Adding new colors to life won't hurt!
Warmish Burnt Orange Hair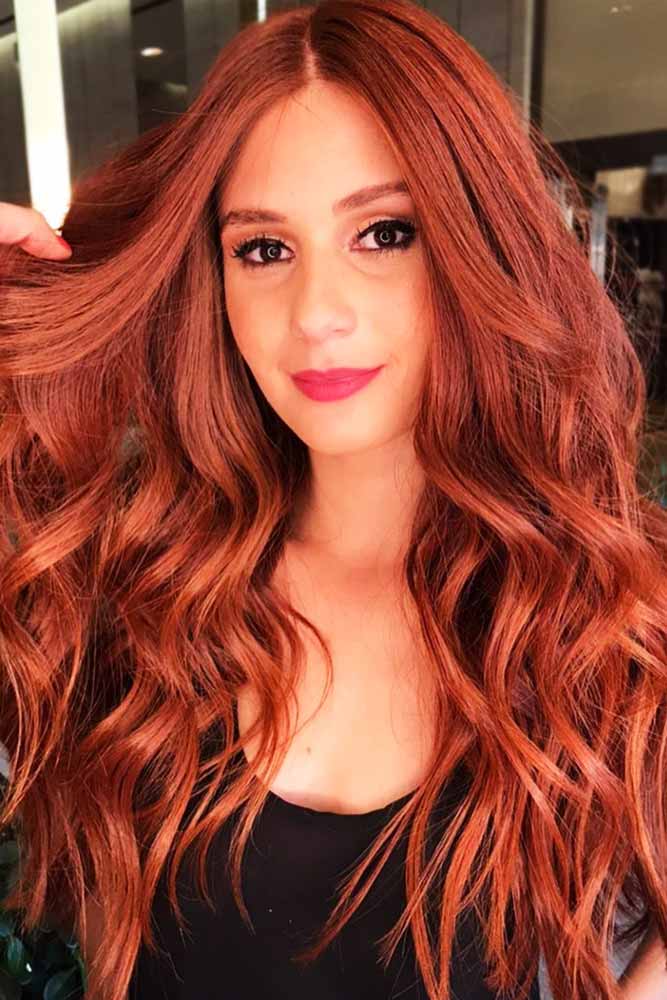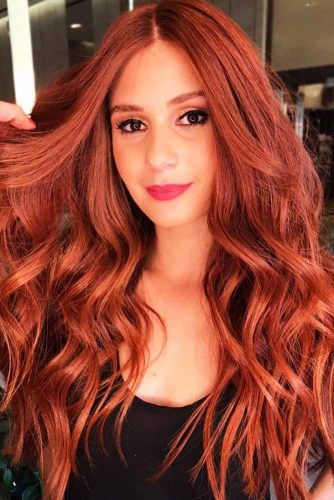 Before inspiring you with adorable orange hair shades, let's make some things clear about getting such bright and drastic colors. Keep in mind these pitfalls of orange coloring:
Orange colors, no matter what they are, always require bleaching. Just prepare for some damage!
Care products for bleached hair are the must-haves! If you want to keep your color in good condition, make sure you've got the right shampoo and conditioner for it.
Your brand new hair color requires regular maintenance, which includes an upgrade every two weeks. Otherwise, it will start to fade.
Now you know that without the proper preparation, the glorious warmish burnt orange color above won't come out! Also, now you see that it's totally worth it: the warm reddish hue with some shiny orange tint perfectly matches light skin tones.
Source: rodrigocintra via Instagram
Fuchsia, Orange & Yellow Combination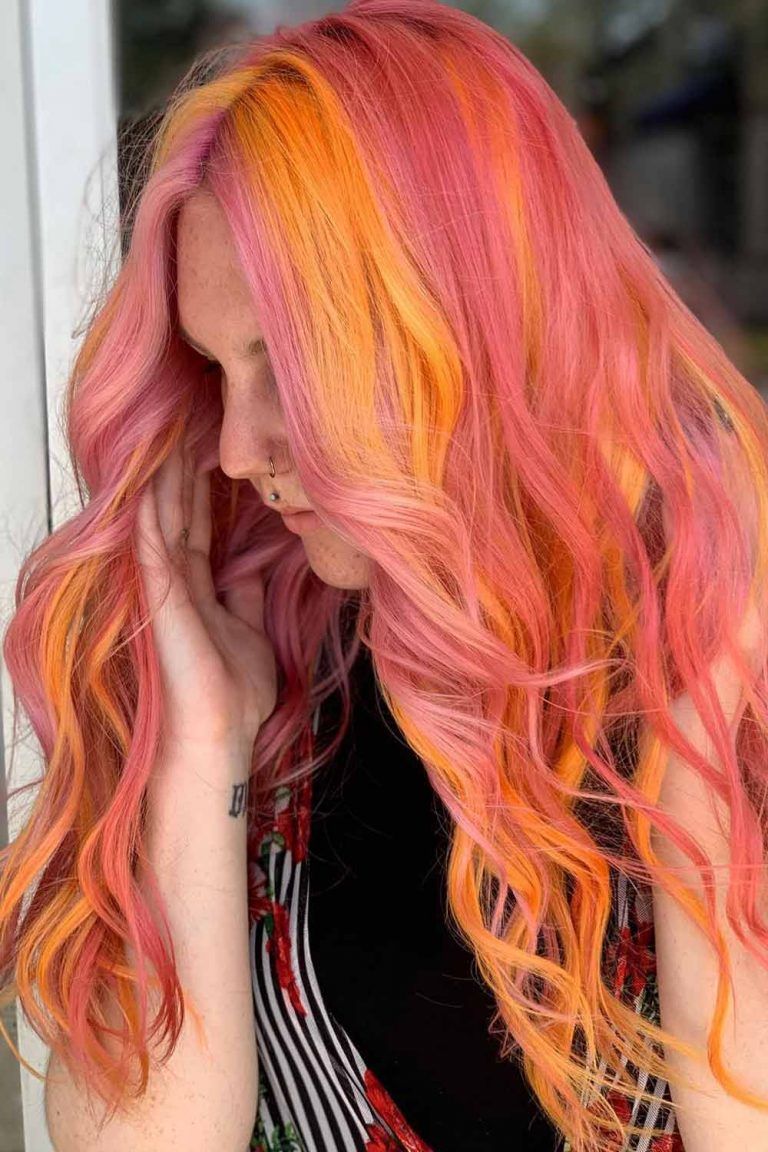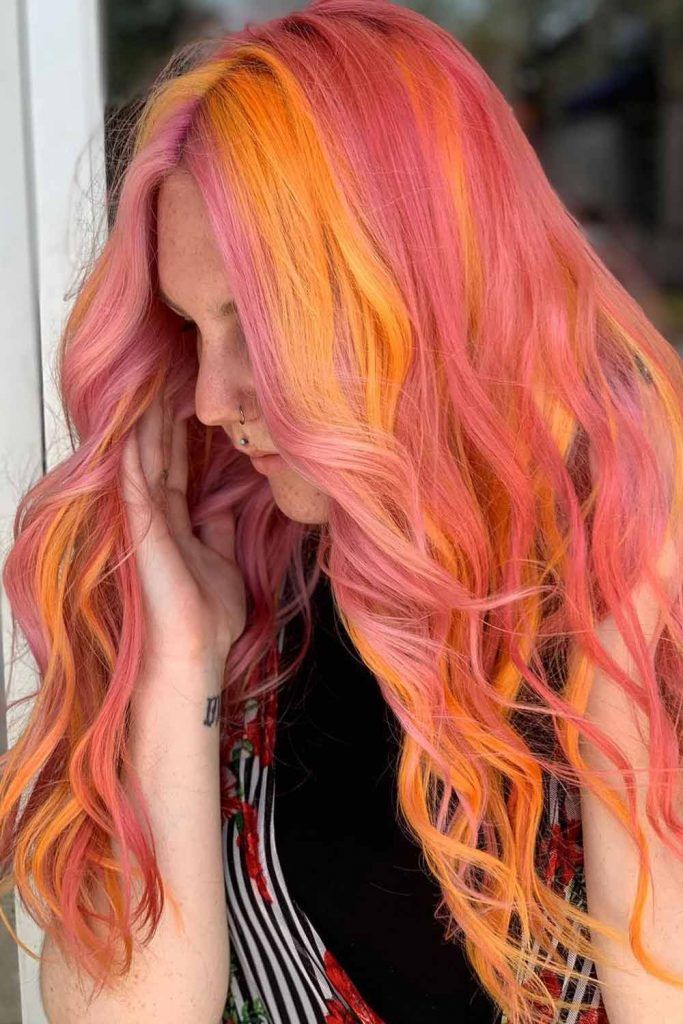 This burst of the brightest colors that people could ever see is, undoubtedly, something that can't be described by simple words. Hot, passionate, fiery: this is the least we can say about it! Ladies who want to express their creativity know that sexy hair color combination is the key. Fuchsia colors that meet vivid orange with yellowish hues aren't something that regular girls would go with. Are you extraordinary enough to pull it off?
Source: xostylistxo via Instagram
Light Orange Color With Reddish Tint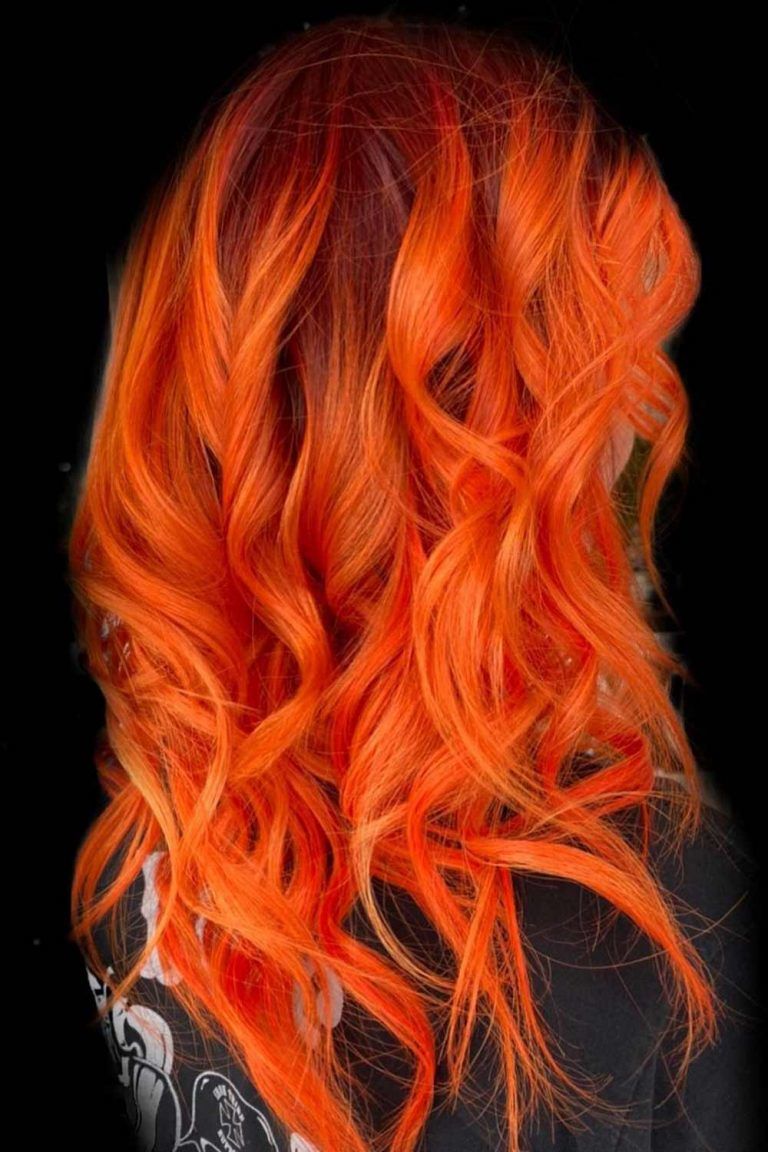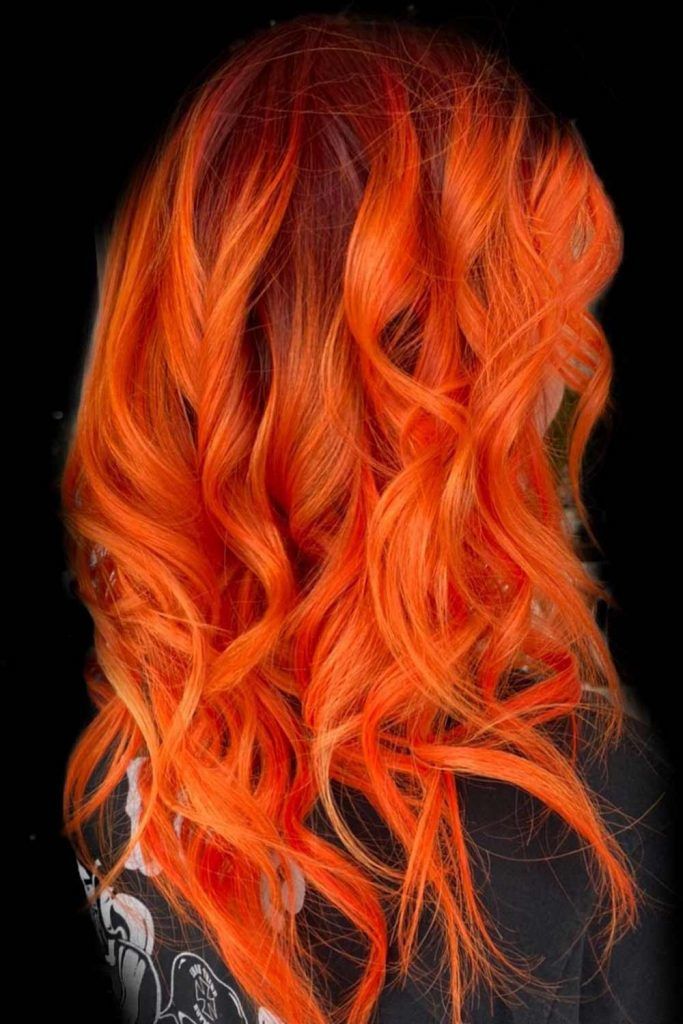 Those who are waiting for something ginger-like are going to love the light, yet quite drastic shade of orange hair color with a little touch or reddish strands. Besides its unbelievable combination, it has one more advantage that won't leave you any choice but to give it a try: it will get a noble, a bit washed out blorange color when it starts to fade.
Source: xostylistxo via Instagram
Fiery Orange With Yellow Ends
Now, it's all about fairy-like ombre! There are three things people can watch forever, and this fiery orange hair color seems to be one of them. When we're talking about fiery ombre, we don't mean the rough transition of two contrastive colors. In this case, the colors are matching, and, most importantly, they don't just transit: they form a whole display of magnificent fire shades. And yes, the magic of this color will suit any complexion.
Source: xostylistxo via Instagram
Dark Phoenix Hair Color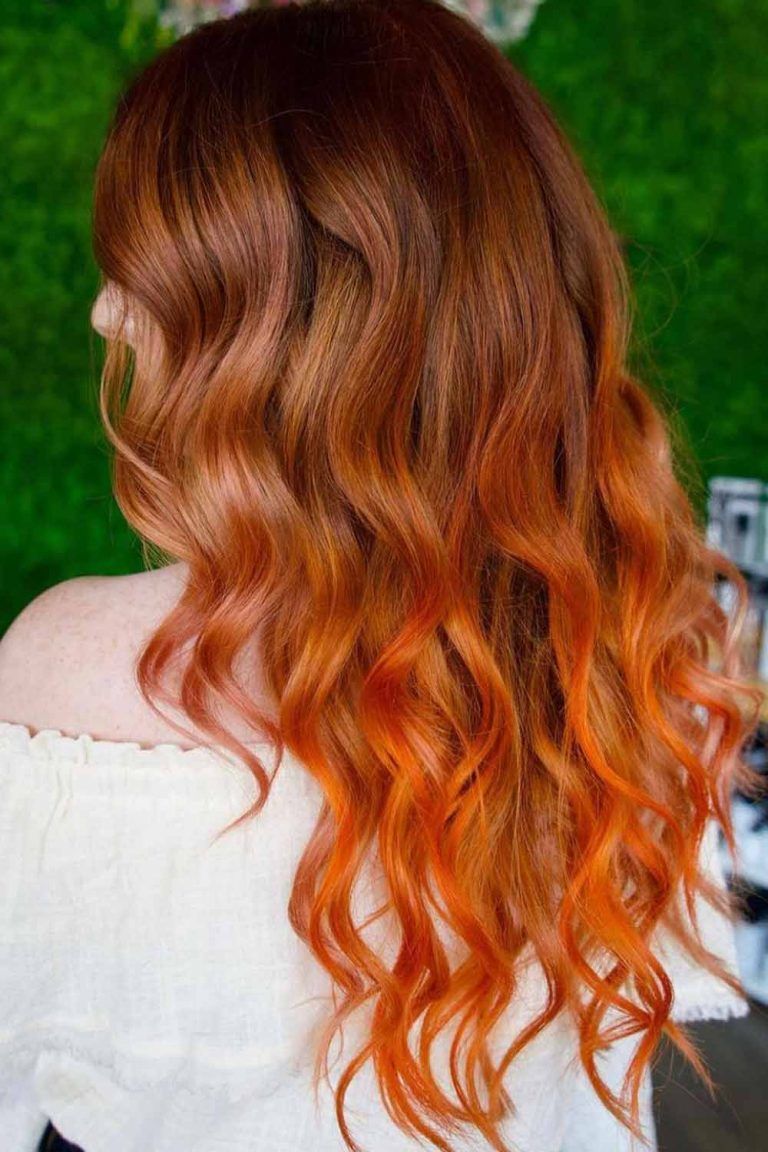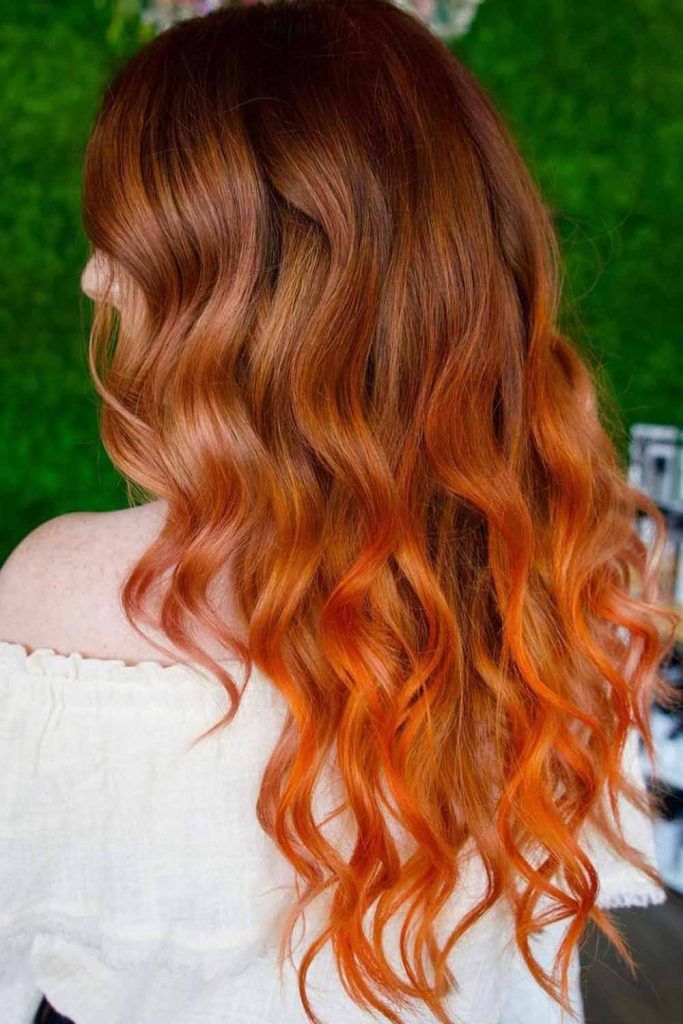 Dark Phoenix hair color is called so not only because it embraces all the fire-like shades that we can see on the colorful phoenix feathers. The truth is, this color is as long-living as the mythical bird: there's just no way it will ever go out of style. You can mix any vivid colors you want, but don't forget that such color combinations can't do without the variety of orange hues.
Source: xostylistxo via Instagram
Subtle Alloy Orange Hair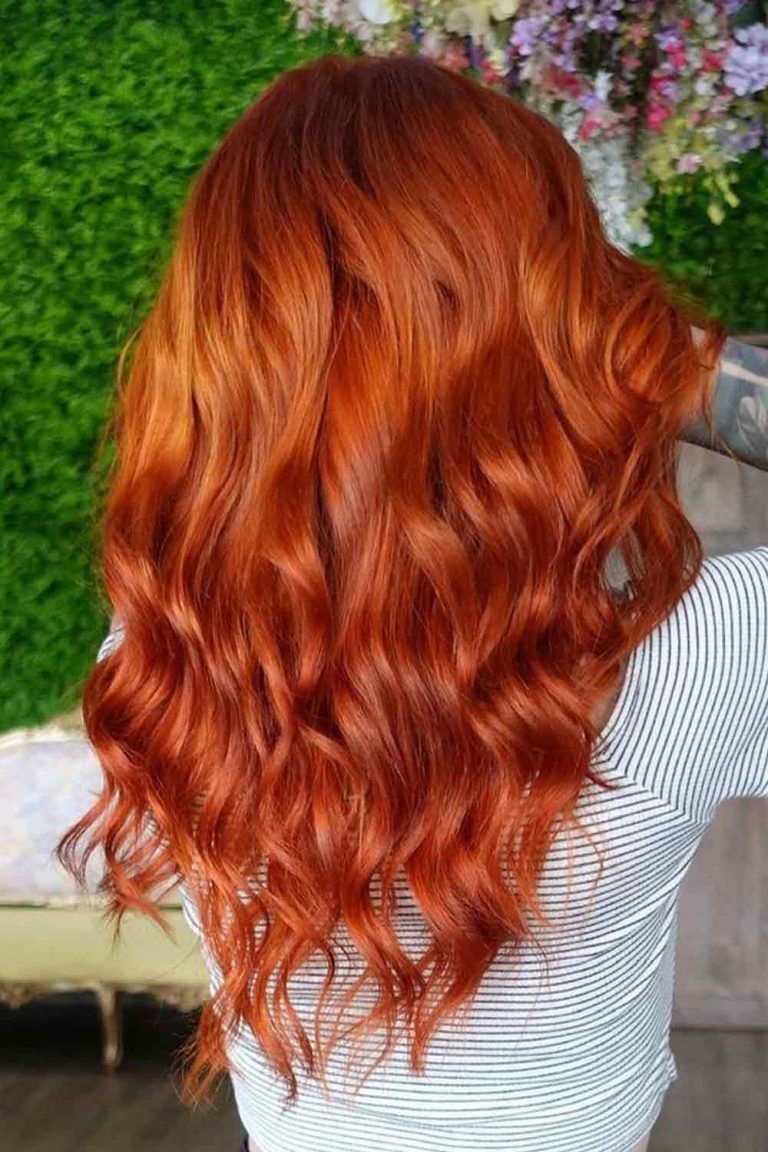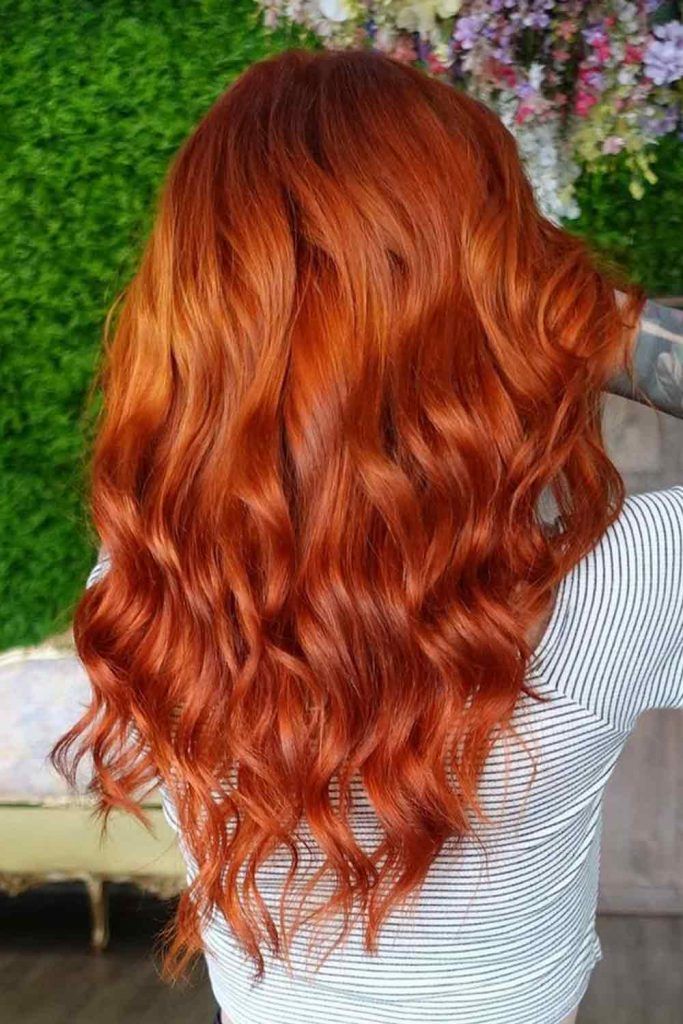 Naturalness is another thing that will always catch people's eyes. Looking extraordinary is crucial when we want to reveal our inner brightness, but it's also essential to emphasize our natural beauty. Brunettes can go some shades lighter, adding a subtle orange tint to accentuate their locks. Just look at this pic: the color is effortless and head-turning at the same time.
Source: xostylistxo via Instagram
Neon Peach Shades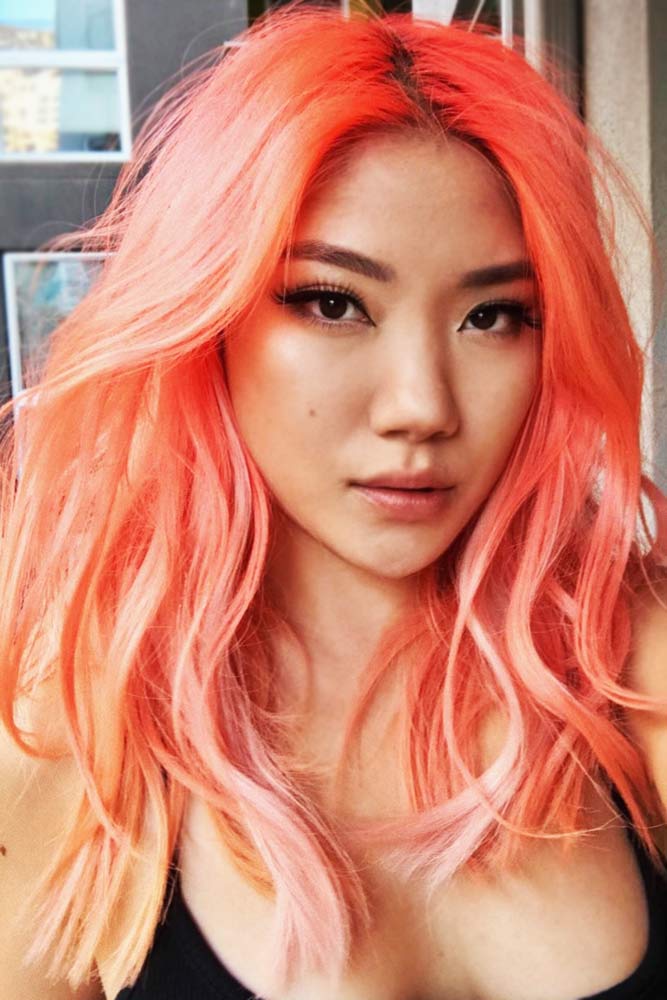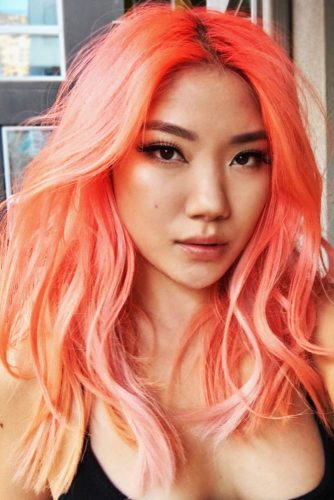 So many girls can't help themselves when they see peachy hair colors that it seems like it will officially become as common as natural blonde and brunette colors; it's just everywhere. It looks very bright and a bit pastel. And this feature makes it suitable for any skin tone: on light complexions, it will enhance the beauty of noble skin tones, and on medium ones, it will create a cute balance between two contrastive colors.
Source: marycake via Instagram
Warm Spanish Orange Tint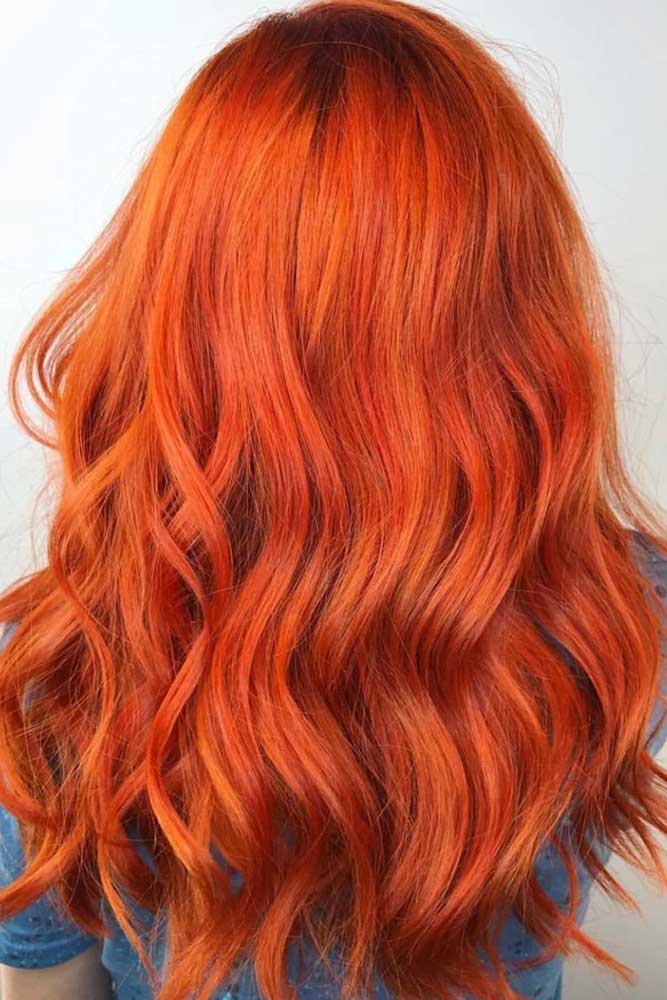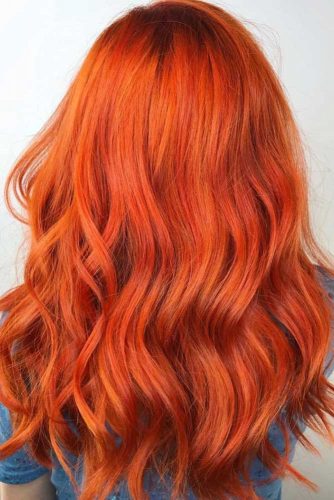 Can you imagine a color that is hot like Spanish sun and tasteful like juicy oranges? This picture will help you: such a saturated orange hair color with a bit darker ends is so tempting that we ourselves can't take our eyes off it. Once you get yourself this cutie, even natural gingers will feel envy!
Source: joicointensity via Instagram
Pastel Coppery And Orange Tints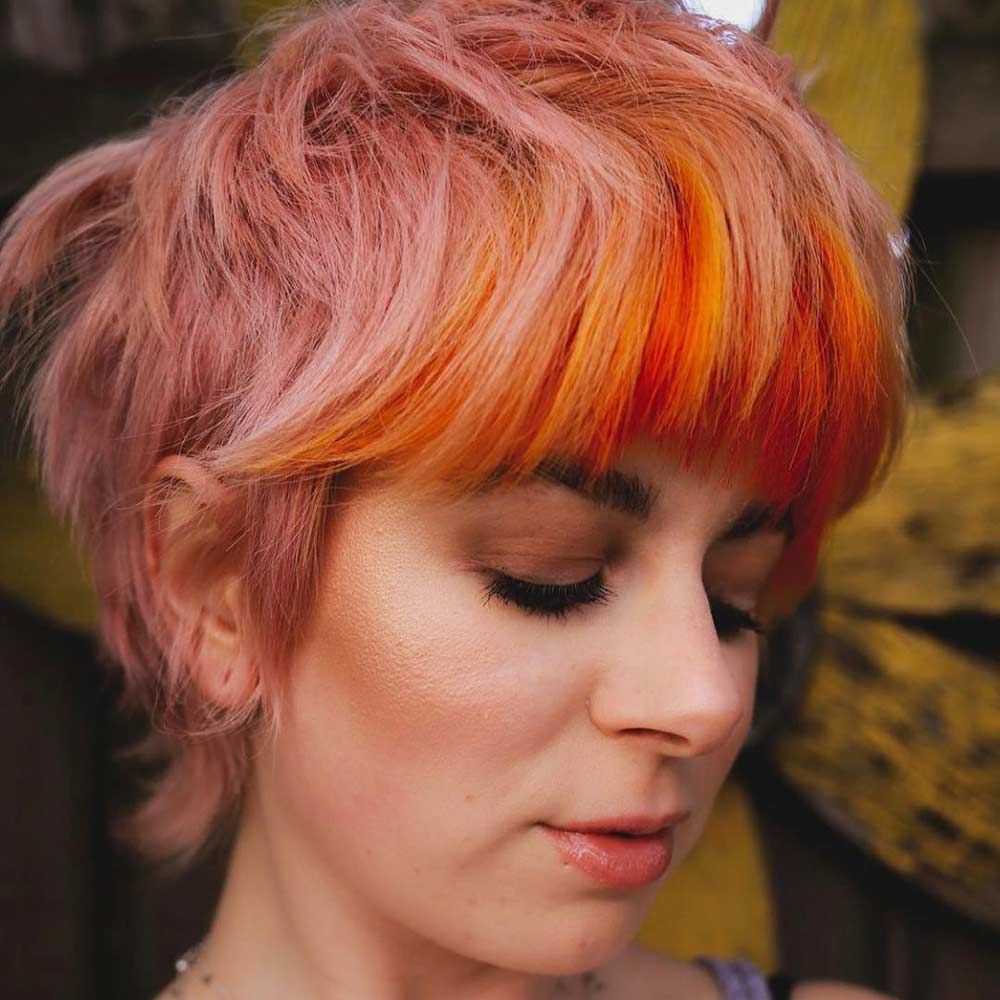 Pastel colors have approaches for everyone: they don't really care about your initial hair color and skin tone, as their versatility will always be there for you to freshen up your style. Though they may seem washed-out or even faded, their smooth texture sets the color balance. Just look what a stunning play of colors these coppery and orange tints create on waves. Isn't that a look to copy?
Source: xostylistxo via Instagram
Atomic Orange Hair Color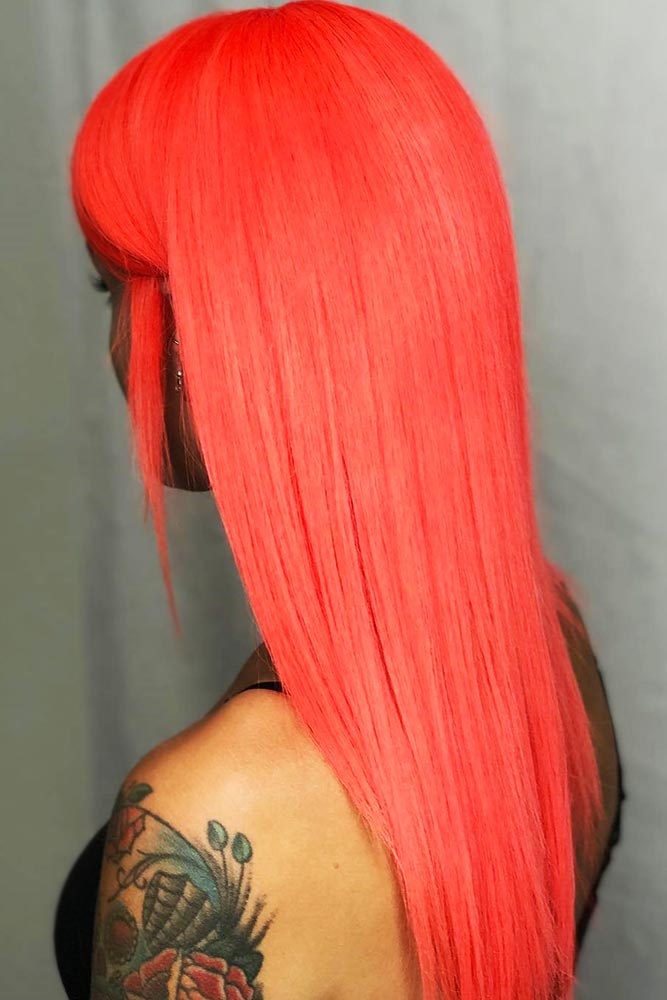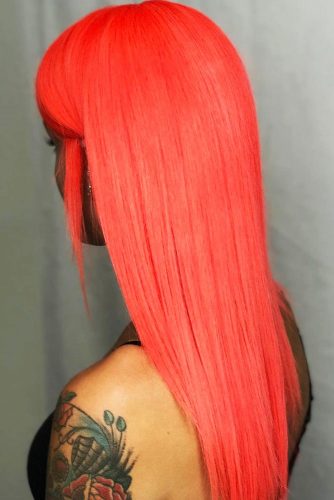 With atomic orange hair color, there's no way you won't be noticed. Not because it's too unusual and pop; because it combines many different shades of orange, pink, and red, creating an absolutely unique hair color. Carrot-like hues and grapefruit vibes won't be seen at first sight, but once the sun shines down on it, the diversity of shades will be revealed.
Source: kimberlytayhair via Instagram
Sunny Orange With Black Roots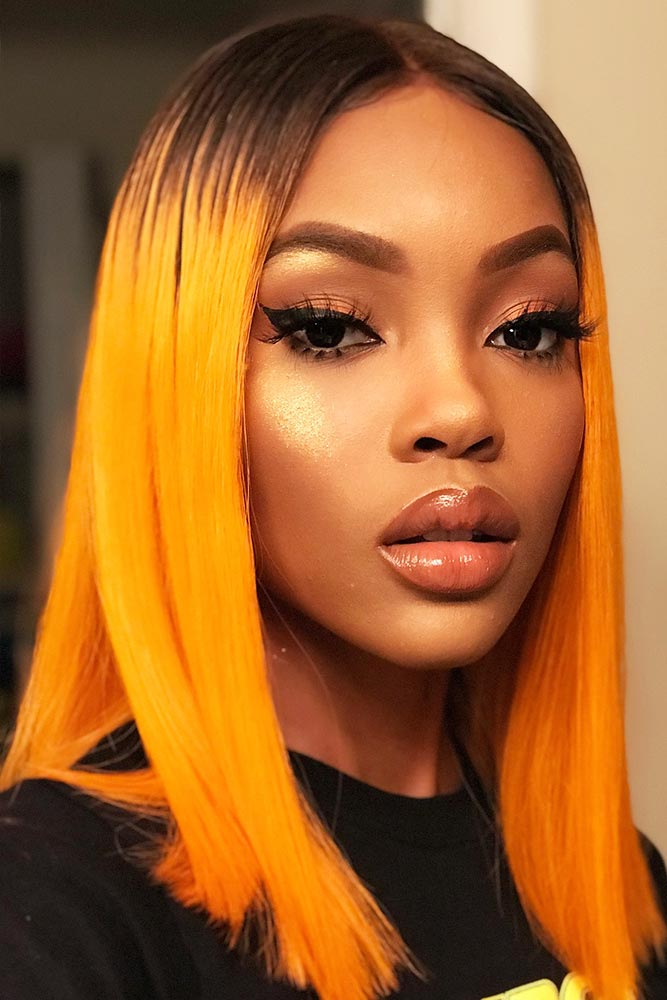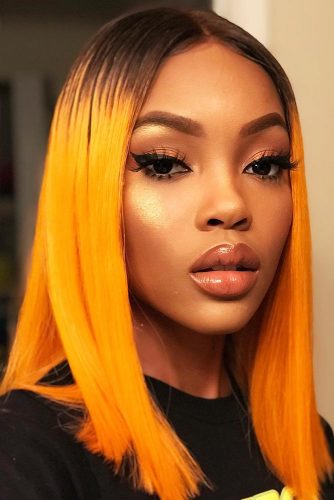 Here comes a perfect idea for girls with dark hair! There's no need to tell you that sometimes we need something different; something that will show us in a new light. And some lighter shades of orange will come in handy for those who want to not only accentuate but also take a fresh look at their hair color. Dark roots always get on well with bright ends, especially when they're dyed in soft orange.
Source: aaija_ via Instagram
Rainbow Hair With Orange Insert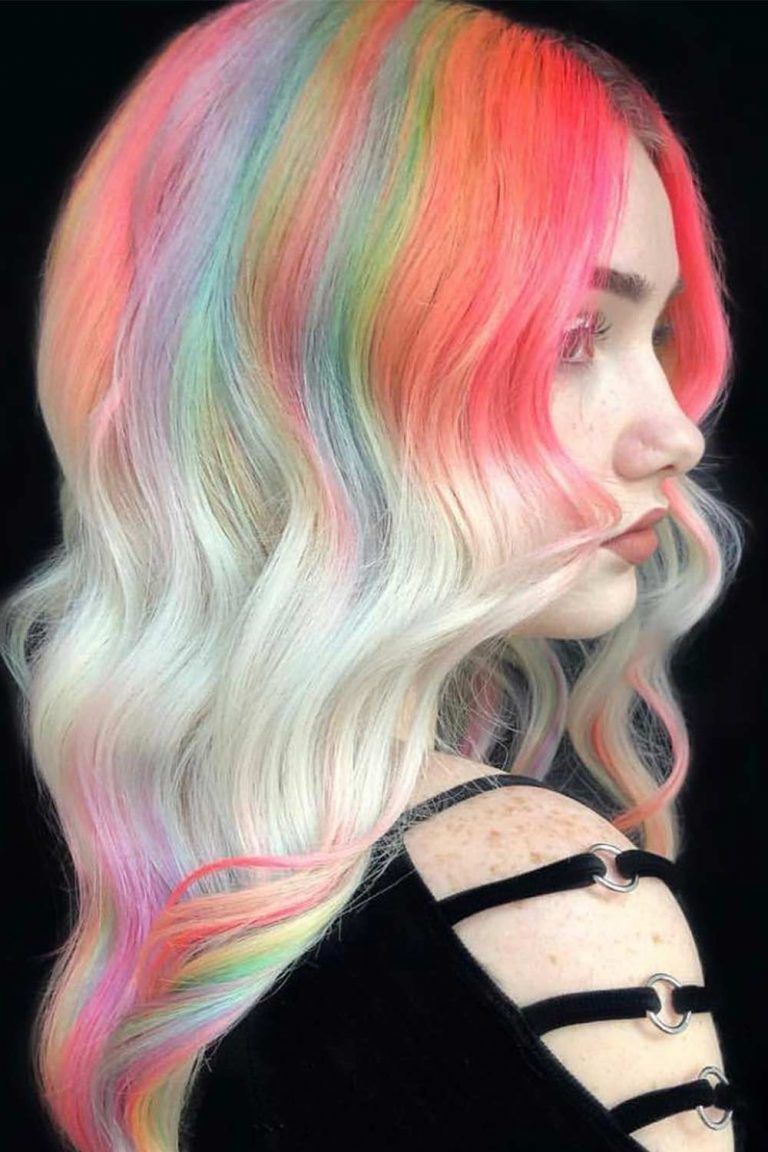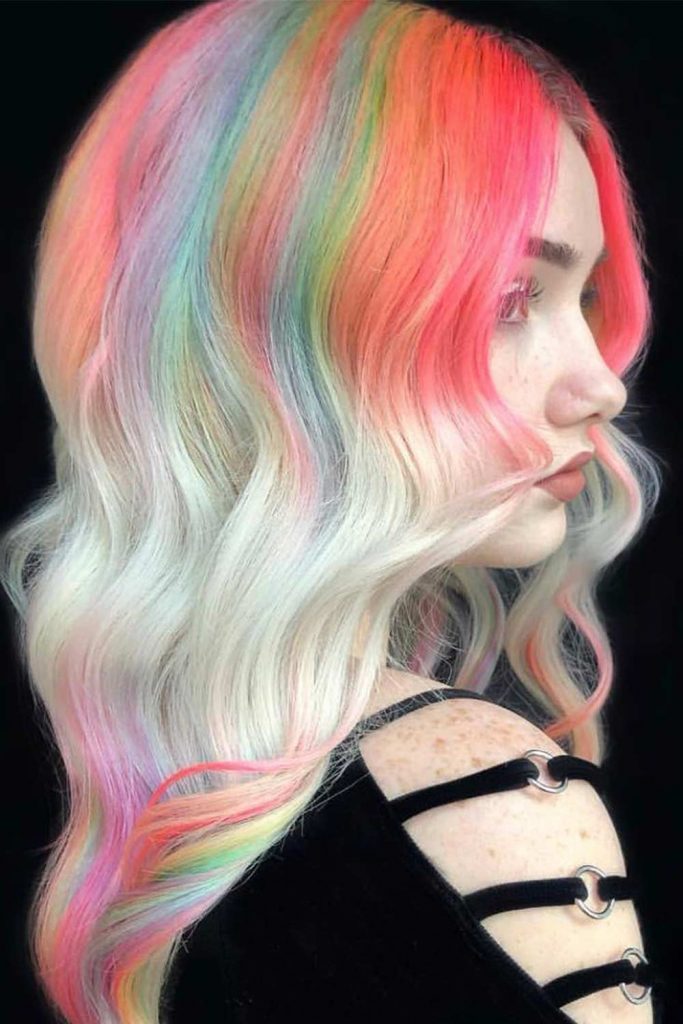 When we look at this pic, it's hard to realize that it's real hair. Yes, experiments can make you not believe your eyes, and that's the point! Why don't you make up your own rainbow, mixing the most pleasant orange hair shades with some bluish ends that will stand out on the warm orange pattern? Of course, it requires some courage, that's why it's so unique.
Source: xostylistxo via Instagram
Magnificent Black-To-Orange Transition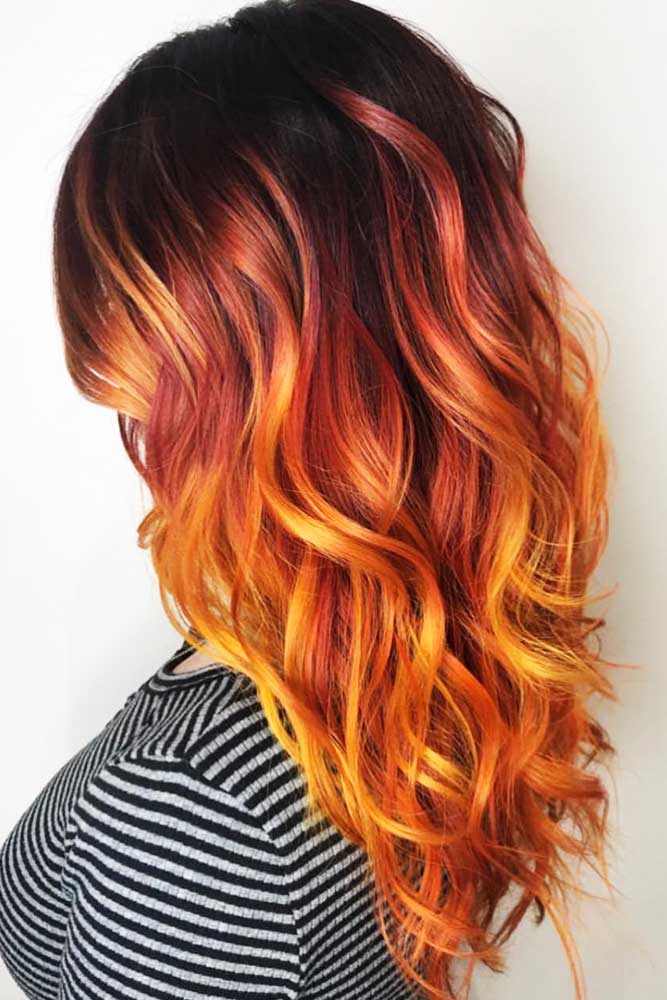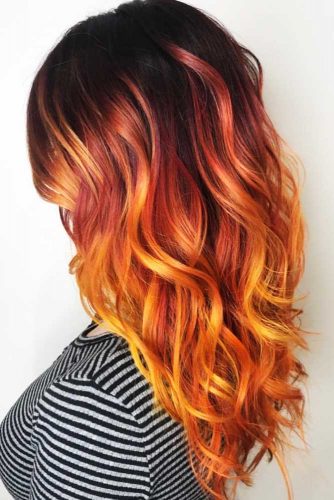 There's one thing about coloring your hair you should always remember: contrasts never fail. If you have no idea what colors will suit you best, you can go for ombre and play around with many colors on the ends, leaving your natural roots as they are. And this idea is an excellent start that will turn out a masterpiece: the dark roots that smoothly transit to soft and rich orange shades will never make brunettes regret coloring their hair.
Source: joicointensity via Instagram
Glamorous Orange Balayage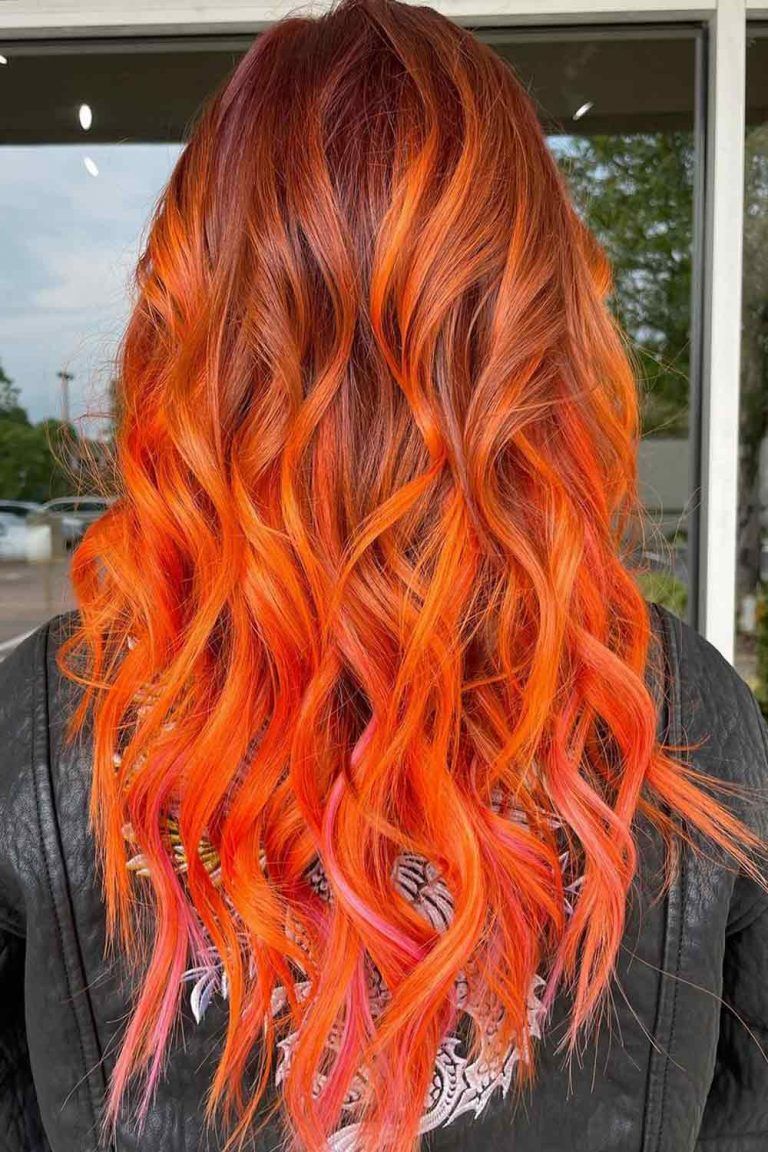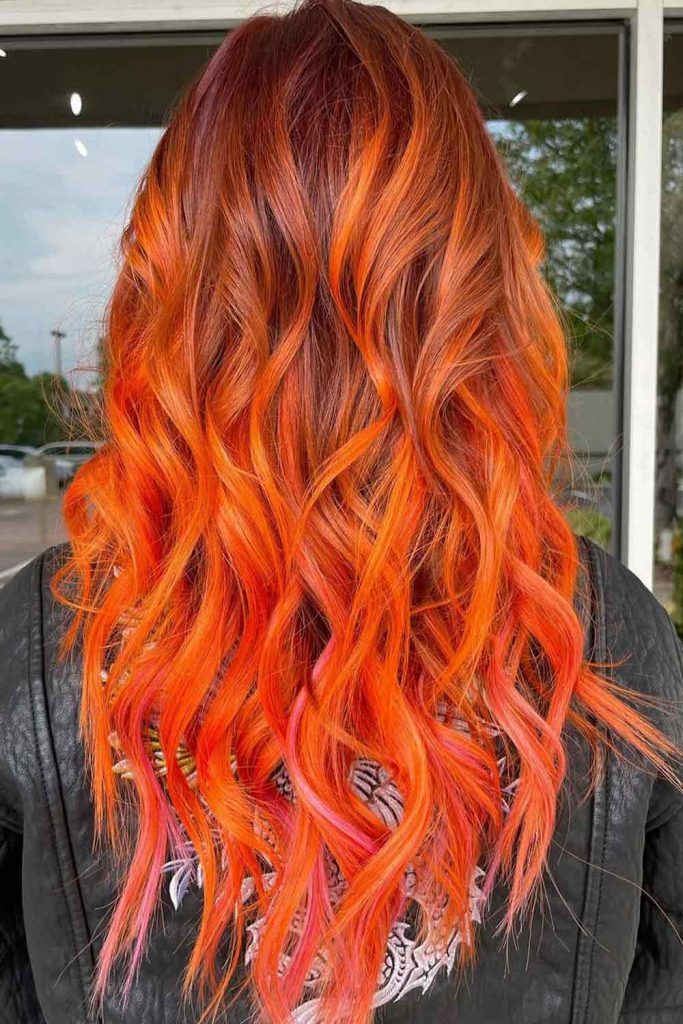 When it comes to hair colors, balayage is always the first thing to consider. Its magical variety of colors creates an illusion of volume and beautiful texture, so ladies never stay away from this coloring technique. This pic is here to show what a seamless graduation from cool toned red to lucid orange the good old balayage can give to you.
Source: xostylistxo via Instagram
Pumpkin Orange Hair Ombre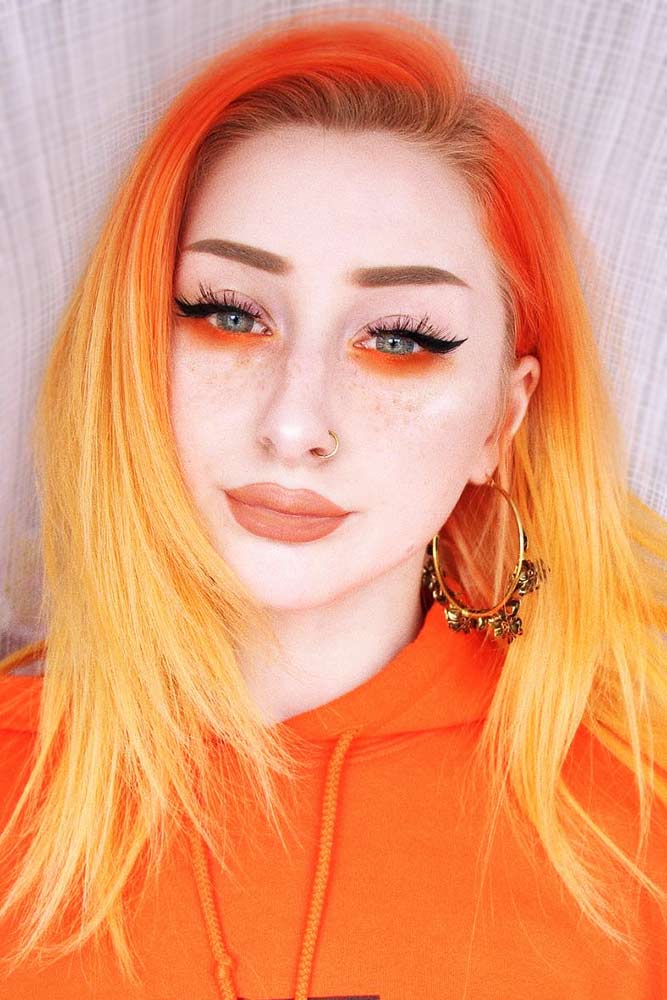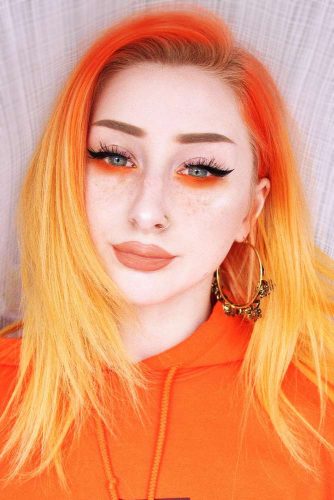 Don't you think that this look is the appreciation of fall in its purest? Soft pumpkin orange ombre that becomes faded to the ends are exactly what we need for rainy autumn days. The whole look screams that it's never too late for vivid colors! If you feel the same and want to keep your bright mood even in the coldest time, don't pass by this idea.
Source: karolinekato via Instagram
Pink-To-Peachy Orange Balayage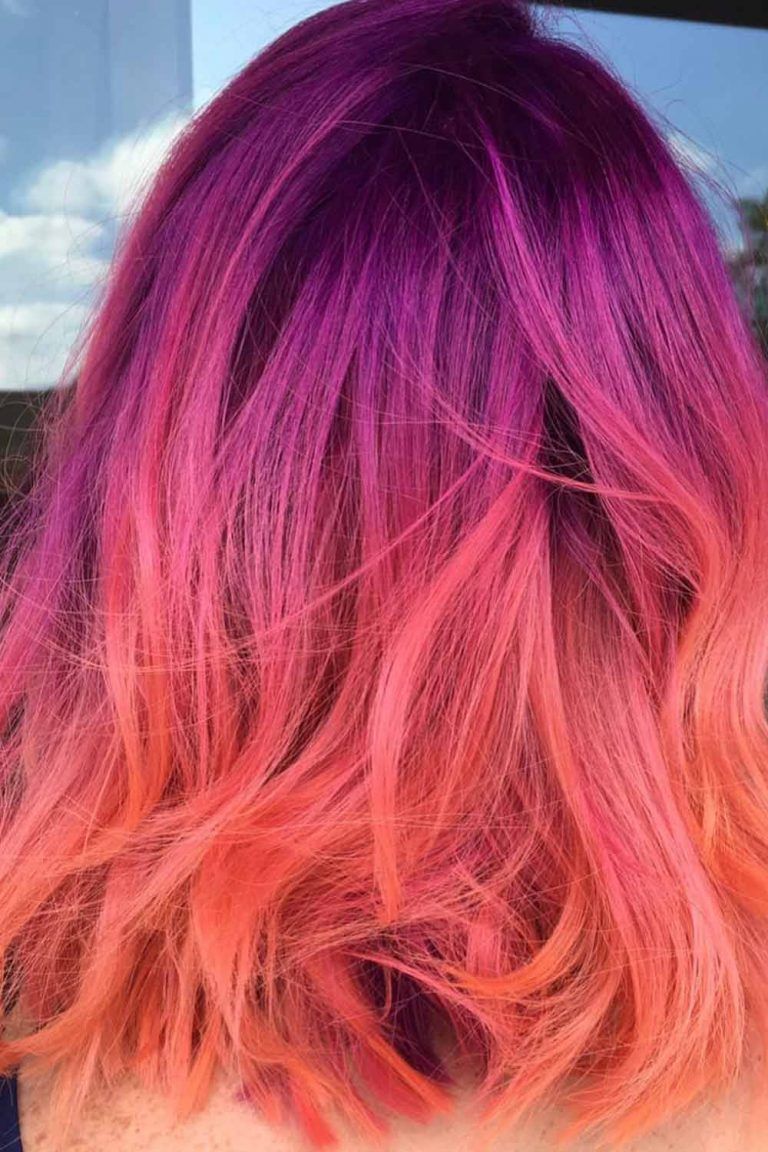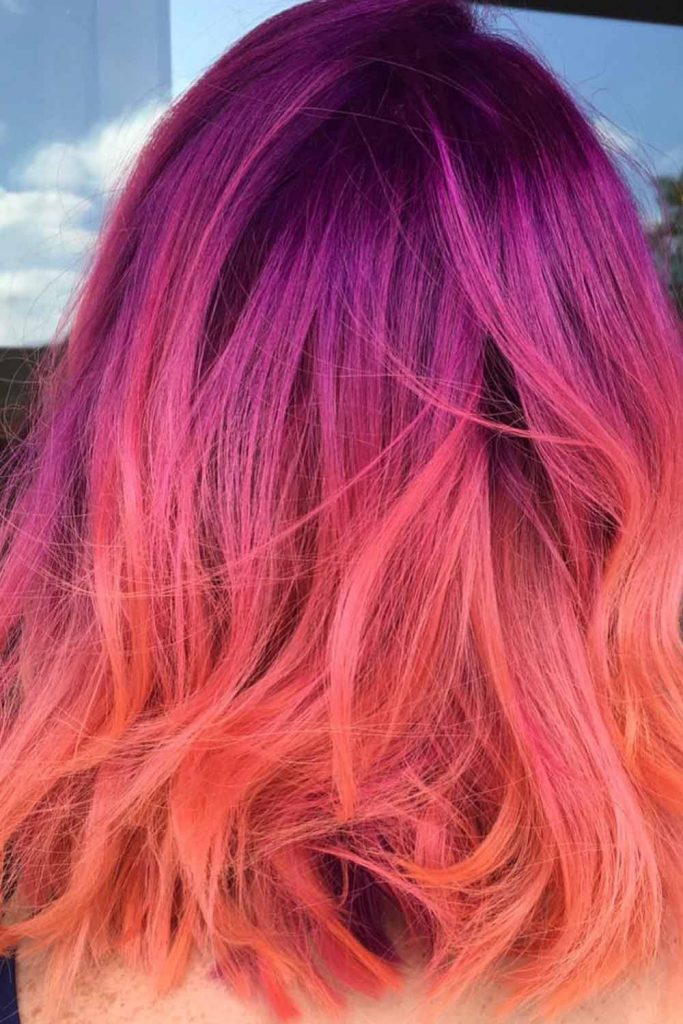 It's almost impossible to notice where these deep pink roots melt with the orange base that transit to peachy ends. This orange balayage looks like a whole new color, but it's still a wonderful mixture of at least three shades. Do you want your hair to grab attention? Such a color transition won't leave you without it.
Source: xostylistxo via Instagram
Tangerine Orange Ombre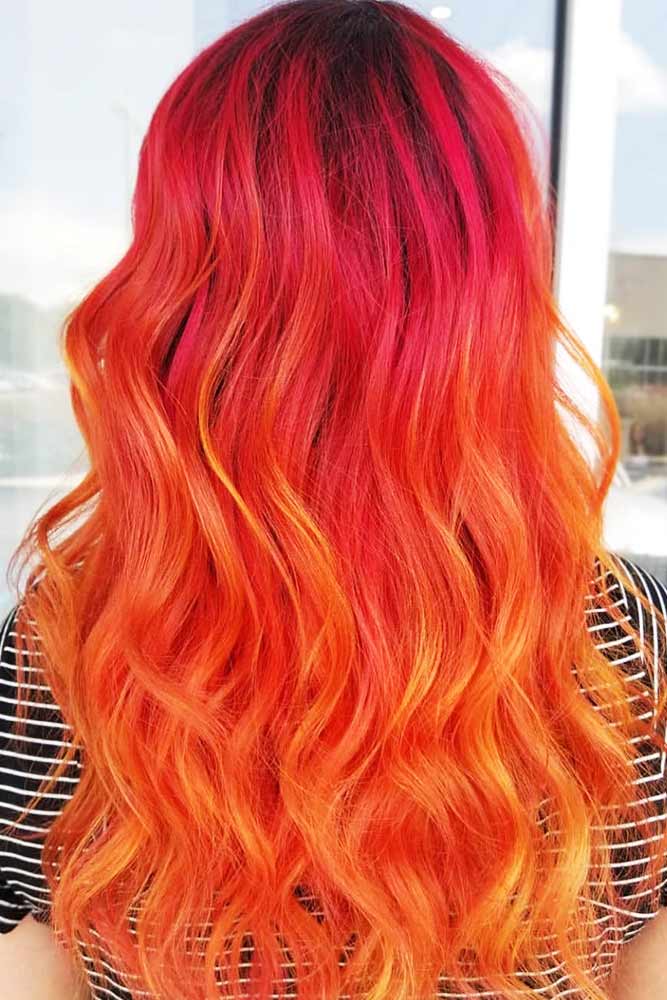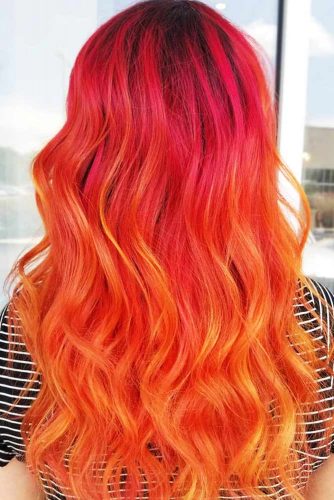 How about some citrus vibes in your hair? We want you to look a bit more attentive at this ombre: the color combination doesn't show off the beauty of each color by contrasts. Each color reveals its charm with the help of the other; they're a single whole thing with a smooth melting line. Those who want something special shouldn't look any further!
Source: joicointensity via Instagram
Bronze Orange Balayage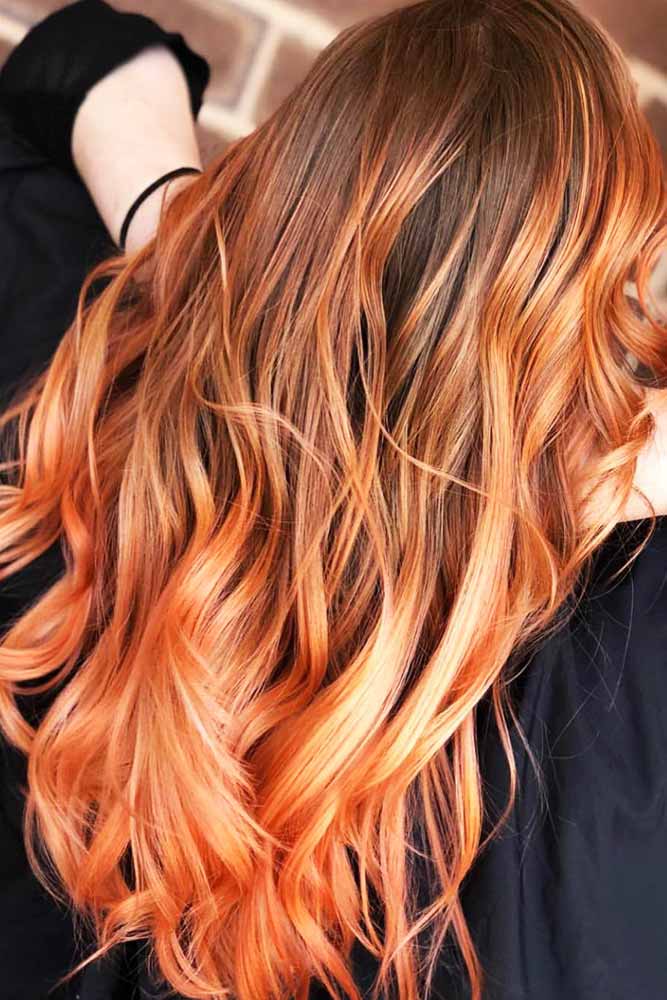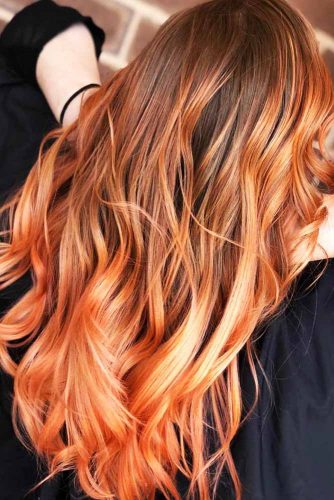 Bronze orange touch on light brunette hair is definitely the trendiest idea to spice up your natural hair color. The added color isn't too drastic, yet it's quite silky and shiny, which can make your natural base look as beautiful as never before. Don't be afraid to bleach your hair and you will fall in love with the result.
Source: joicointensity via Instagram
All Over Coral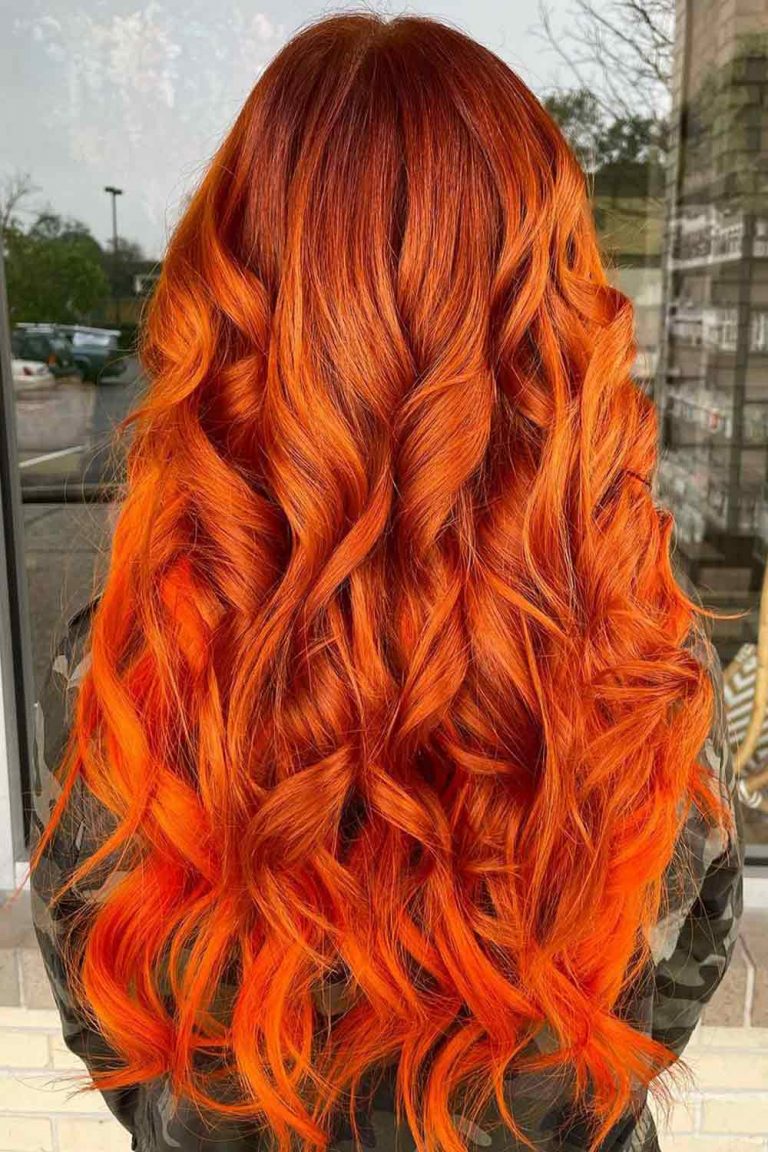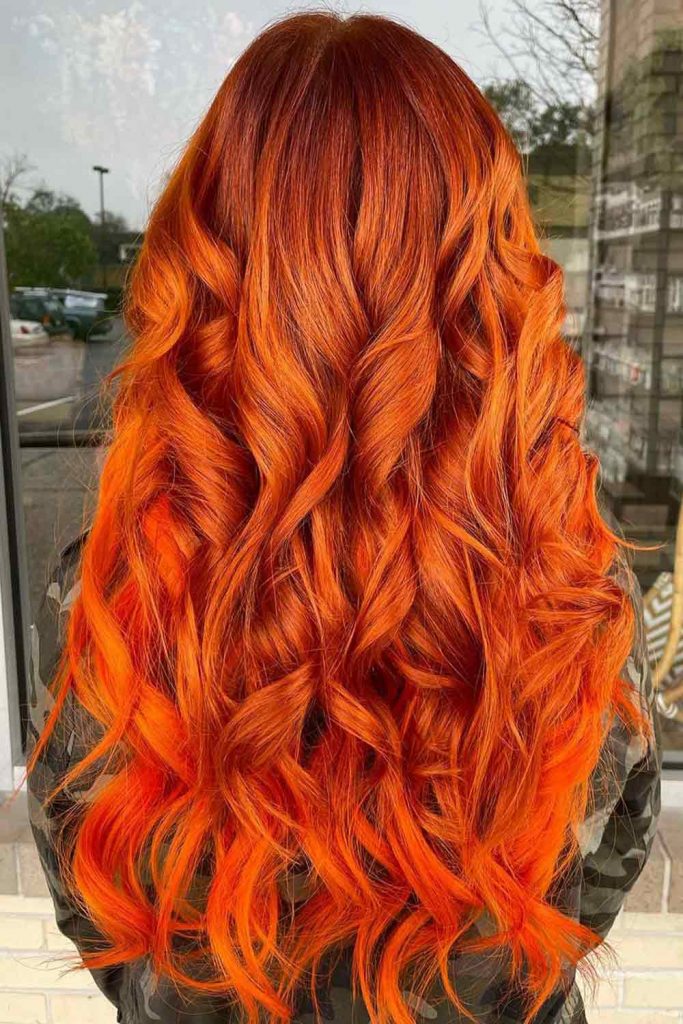 All-over coloring is meant for bold girls, no doubts. Such girls aren't afraid of commitment that involves regular upkeep and thorough maintenance. They are ready to see their stylists more often than any other people. In other words, they know that beauty knows no pain. Can you describe yourself as a bold girl? If so, you can go on impressing people with fascinating hair colors. And this time it can be a noble, coral shade that can take your fair complexion to the next level.
Source: xostylistxo via Instagram
Orange Rose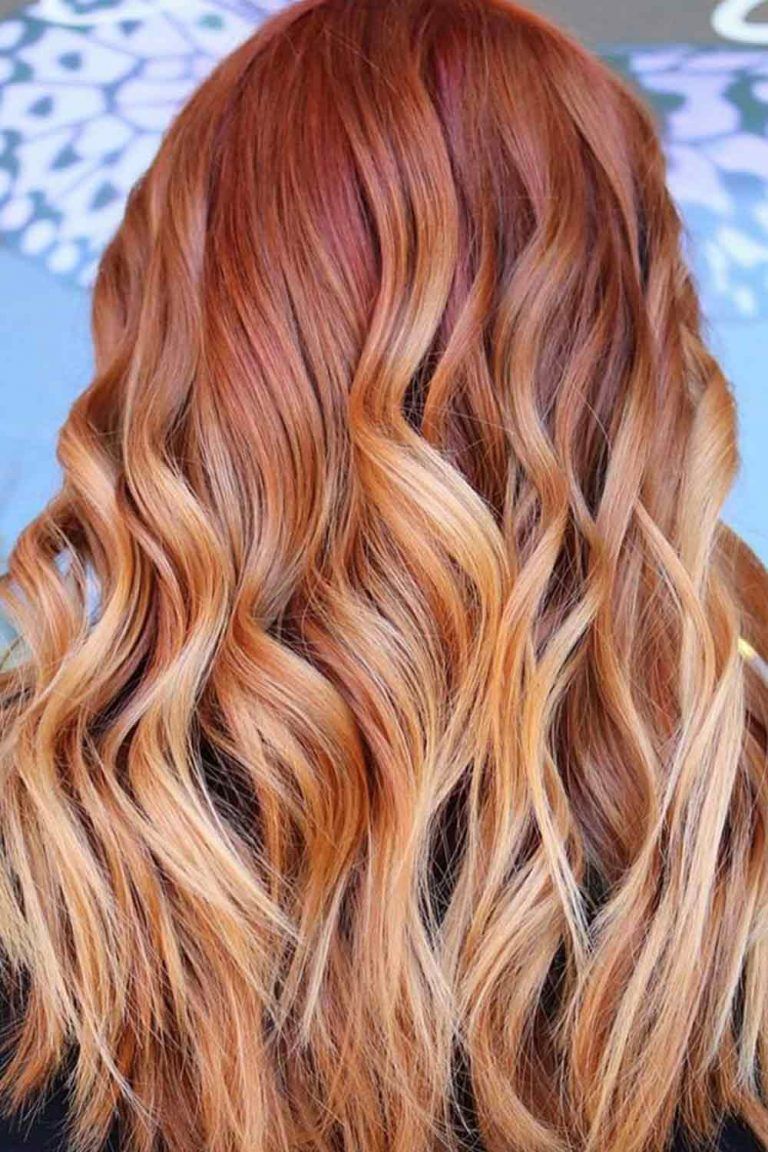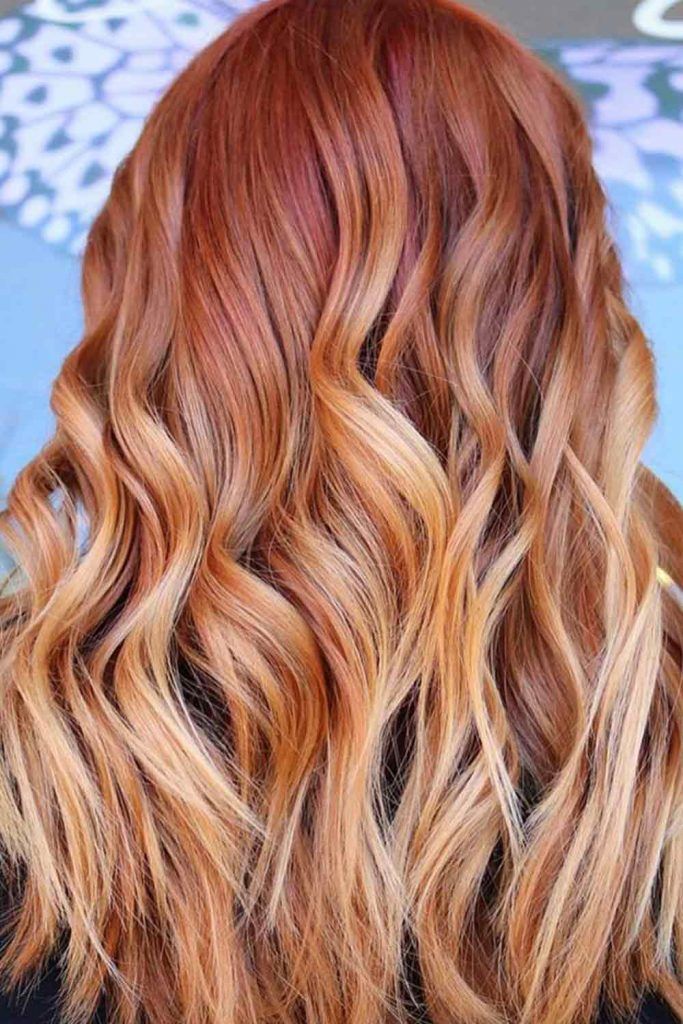 Although orange itself may look pretty drastic, it reveals its real potential when accompanied by similar colors. Pastel rose or muted pink shades would be a stunning match to subtle versions of orange. So as not to lose the sense of orange, make it the highlight of the look by putting it on the front strands. In this way, you will not only put it in the spotlight but also get yourself some framing.
Source: lena_piccininni via Instagram
Apricot Orange
Apricot hair color looks even tastier than it sounds. And while you always have to wait for summer to eat those sweet and juicy fruits, your hair can look like one in any season. The only thing you should be aware of is your complexion, as such colors do their best only on light and fair skin tones. Of course, dark roots will make the look complete.
Source: xostylistxo via Instagram
Burnt Copper Ombre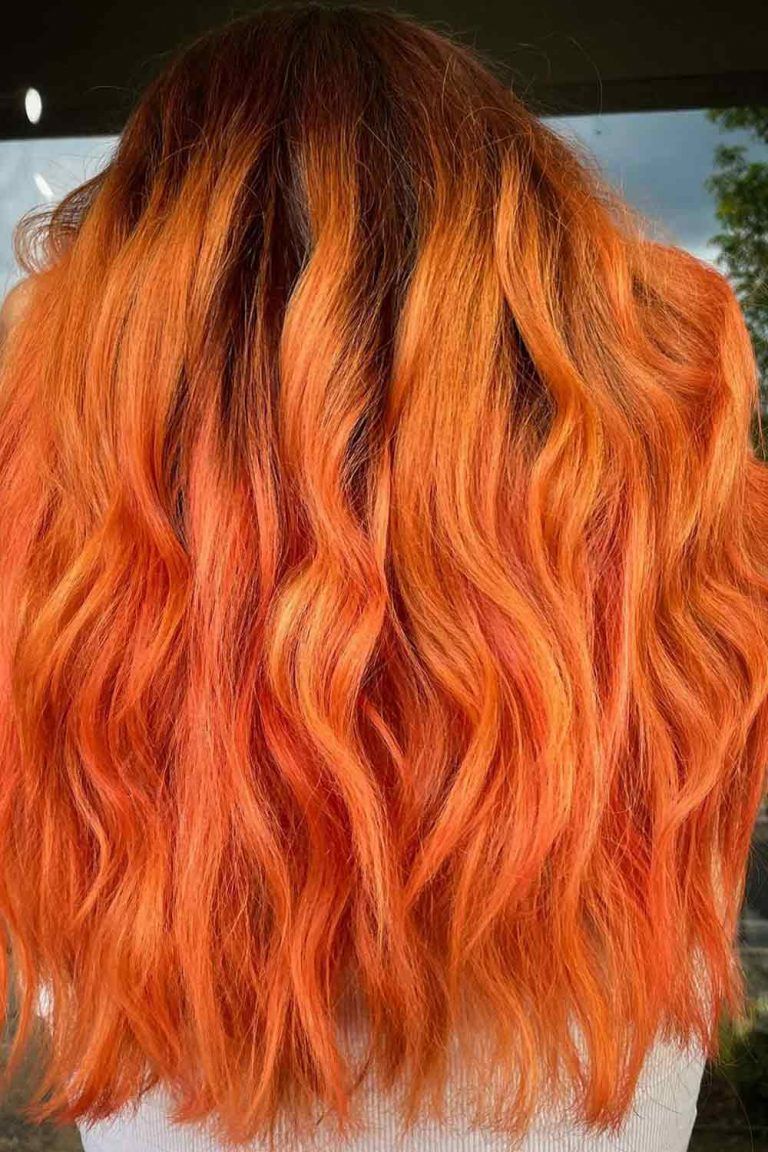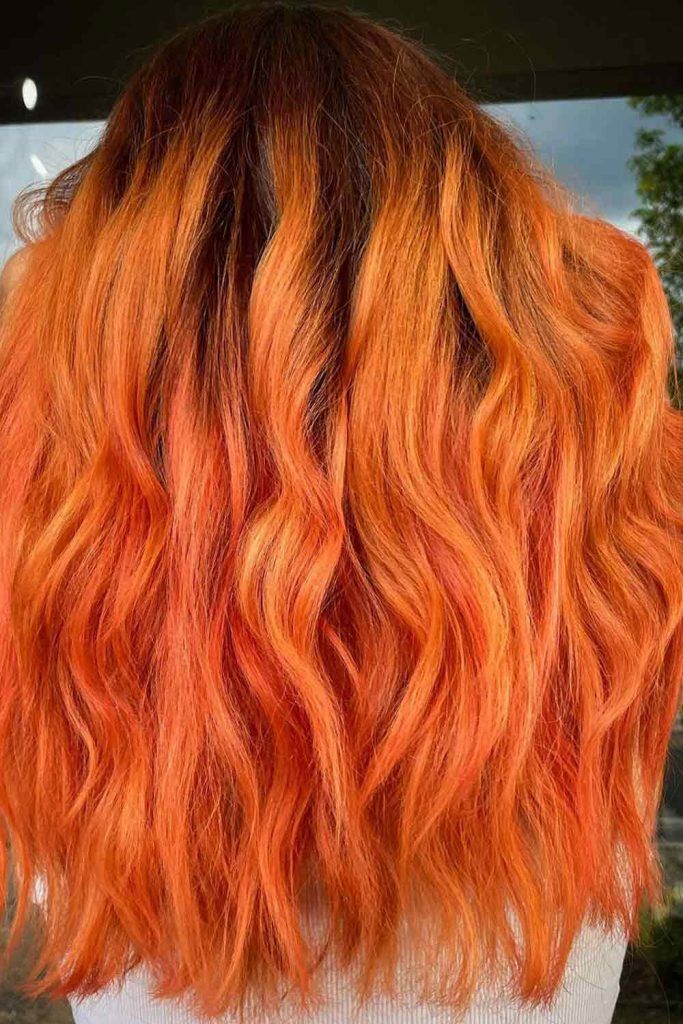 The diversity of copper shades is tempting, and you should be careful with it: you can literally get lost in the variety of options. Here, you can see how a dark red base gets blessed with a saturated copper light. Isn't that an orange perfection?
Source: xostylistxo via Instagram
Strawberry Blonde + Pumpkin Smoothie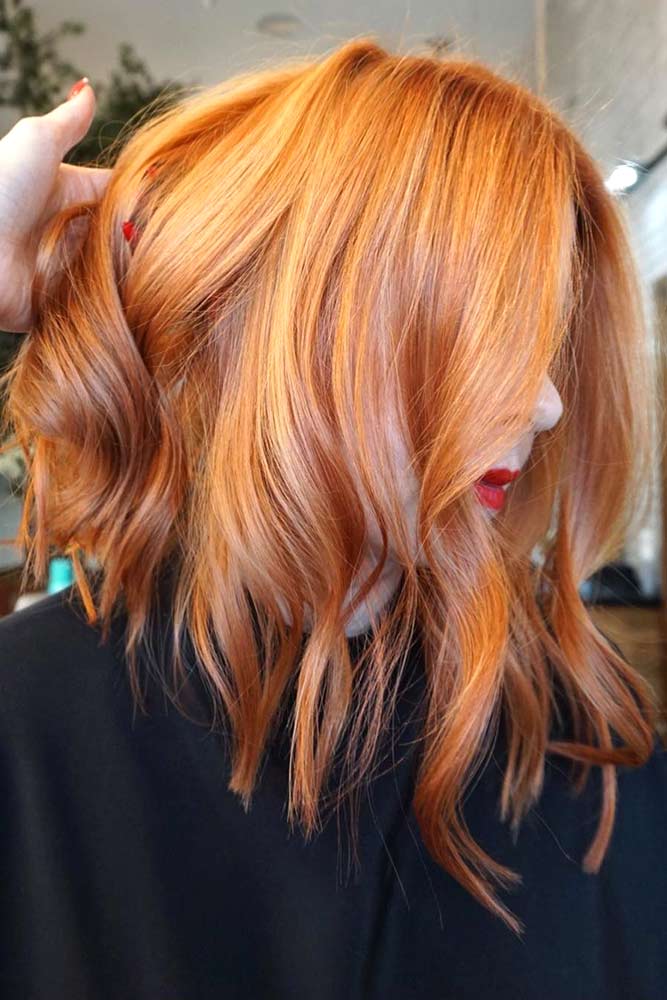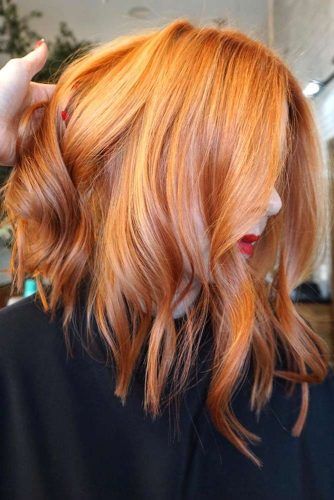 The popularity of
strawberry blonde
speaks for itself; it's simply everywhere. For that reason, we want you to rock it differently. Since it has a reddish undertone, you can switch it to an orange mode and thus give a new take at it. Check out this pic! Who would've thought that blonde and orange colors would go so fantastically together?
Source: larisadoll via Instagram
Warm Red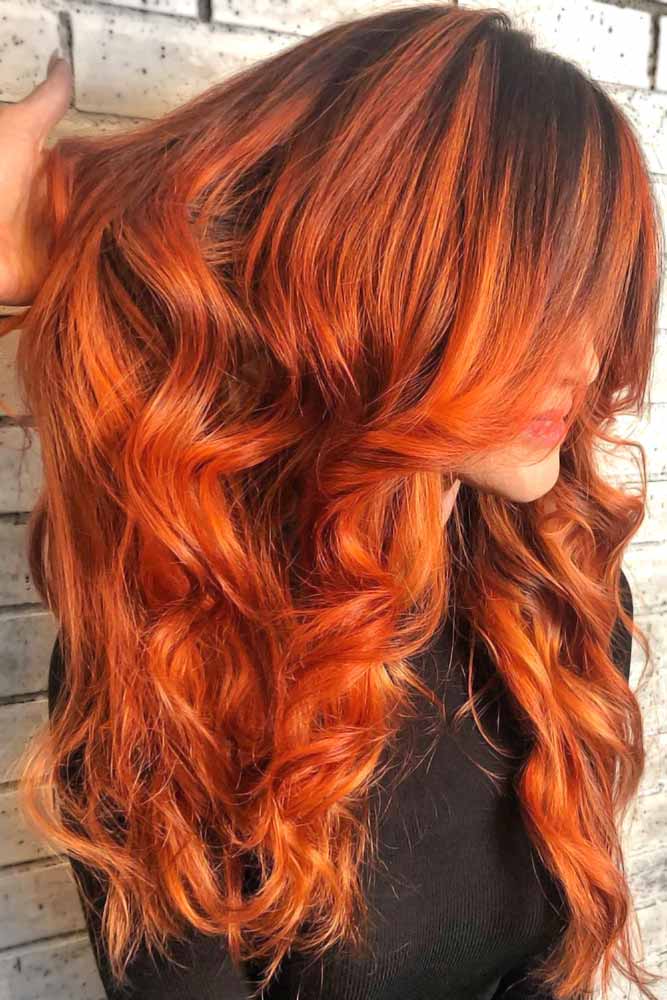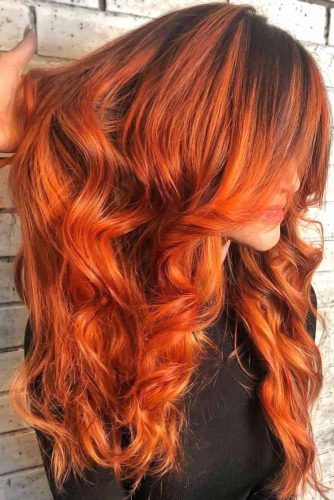 Another captivating and dimensional mix of fiery shades is here to control you. Though it's not the first time for hair color to take over humanity, this particular idea seems to have the most serious visual impact. In fact, it's a real arson attack on the fashion world and there's only one way out: you should yield to this beauty with your hair but not with the roots.
Source: larisadoll via Instagram
Fiery Phoenix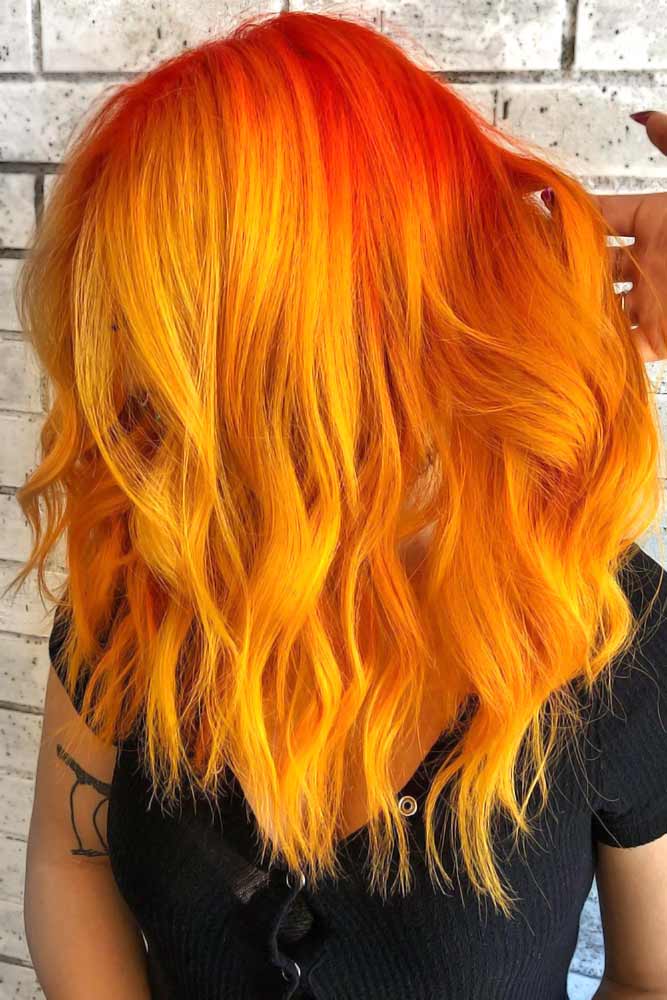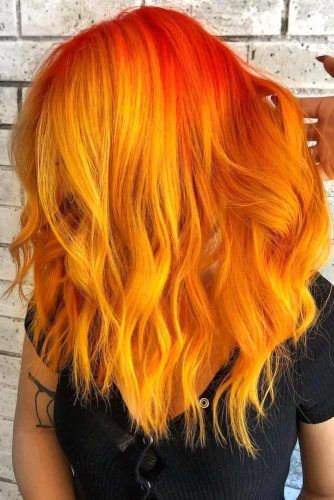 If we lived in a world where myths are real, we would rock phoenix hair color as long as we wanted to rock it. But, in our world, our hair can only look like a phoenix; not act like it. Still, the way this hair color illuminates is worth the commitment! Make sure to find a skilled colorist, prepare your locks for experiments, and go for a proper maintenance routine. If you follow these steps, you will avoid the damage while flaunting with a head-turning mane.
Source: larisadoll via Instagram
With the flight of your imagination, you can find out even more ways of pulling off the unbelievable orange hair colors! We hope that our ideas have inspired you for your own experiments. Keep in mind our tips and let your creativity run wild! P.S. Life is too short not to play around with attractive colors!
FAQ: Orange Hair
Is orange a natural hair color?
Natural hair can be auburn or red. Bright copper to deep burgundy, auburn, reddish or burned orange and strawberry blond are some of the colors available.
What skin tones look good with orange hair?
One can obtain a variety of orange and copper tones ranging from cool or ash to hot or red. Copper-gold tints are great for olive complexion tones, while copper-red shades are best for deeper tones with warm undertones. And of course, it's all a matter of personal preference.
What color gets orange out of hair?
Figuring out the color toner to use is the tricky part. Use a purple toner if your lousy bleach job has turned yellow. Purple shampoo can also be used to counteract the yellow tone. You'll need a blue toner if your hair is deeply orange.