Pink And Brown Angled Asymmetrical Short Bob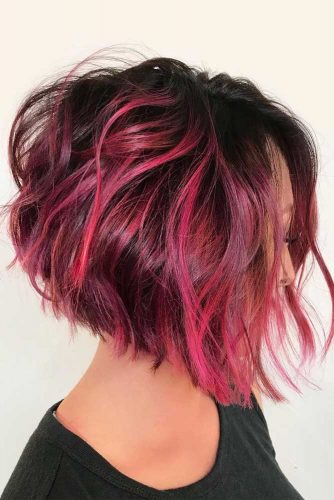 Looking for very short bob hairstyles? This short asymmetrical bob is perfect if you are looking for something with an edge to it. And what makes it even more daring is the fuchsia tones blended in with the chocolate brown base to give it a punk rock vibe.
A curly short bob is a great solution for curly locks as it will add more life to your curls due to the removal of extra weight that may make your curls seem dull and lifeless.
To style it, add a curling product and allow it to dry out, scrunching it to give it a carefree, bedhead look. This short messy bob is very hip and youthful in case you are looking for a fresh look that will set you apart from the crowd.
Source: styled_by_carolynn via Instagram

Fiery Red Stacked Short Layered Bob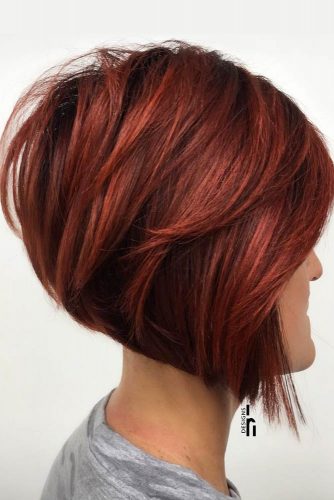 Those who prefer a short textured bob will love this short stacked bob. Stacked bobs add a ton of volume and texture with their short stacked layers in the back and longer layers toward the front.
A short layered bob is a perfect way to add fullness to your hair, especially if you have fine hair. Introduce some dark and light auburn hues in to add even more texture and body to this totally trendy and sassy short bob cut.
Source: headrushdesigns via Instagram

Sleek Blunt Bob With Middle Part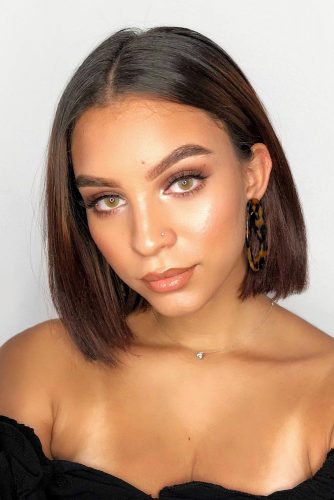 If you prefer a look that is more sleek and polished, this short, blunt bob is the one. It is perfect if you need a more refined look for work. Short bob cuts are very elegant and chic. Ask for a short bob with blunt ends to give it glamours and slick look that can easily go from work to play. This look is both sophisticated and sexy.
To style such a cut, all you need to do is to part your hair in the middle and blow dry it straight with a round brush. To give it that polished look, run your flat iron through your hair. Don't forget the shine serum!
Source: gemsanchezz via Instagram