What sunglasses types suit my hairstyle? This question is something that has been on everyone's lips since the moment when hot summer days knocked on the door. And now, all we want is to enjoy every single moment of this long-awaited time of year. But we all know that it won't happen without a perfect look!
To enjoy her life, a woman needs to know that she's on point. So today we will show you how perfect your new summer style can be. Properly chosen sunglasses and the right hairstyle are the keys to the flattering look. Let's find out what stylish hairstyles you can wear today and what sunglasses can complement them! P.S. Knowing your face shape is crucial.
Long Ash Brown Sleek Hair With Oval Cat-Eye Polarized Lenses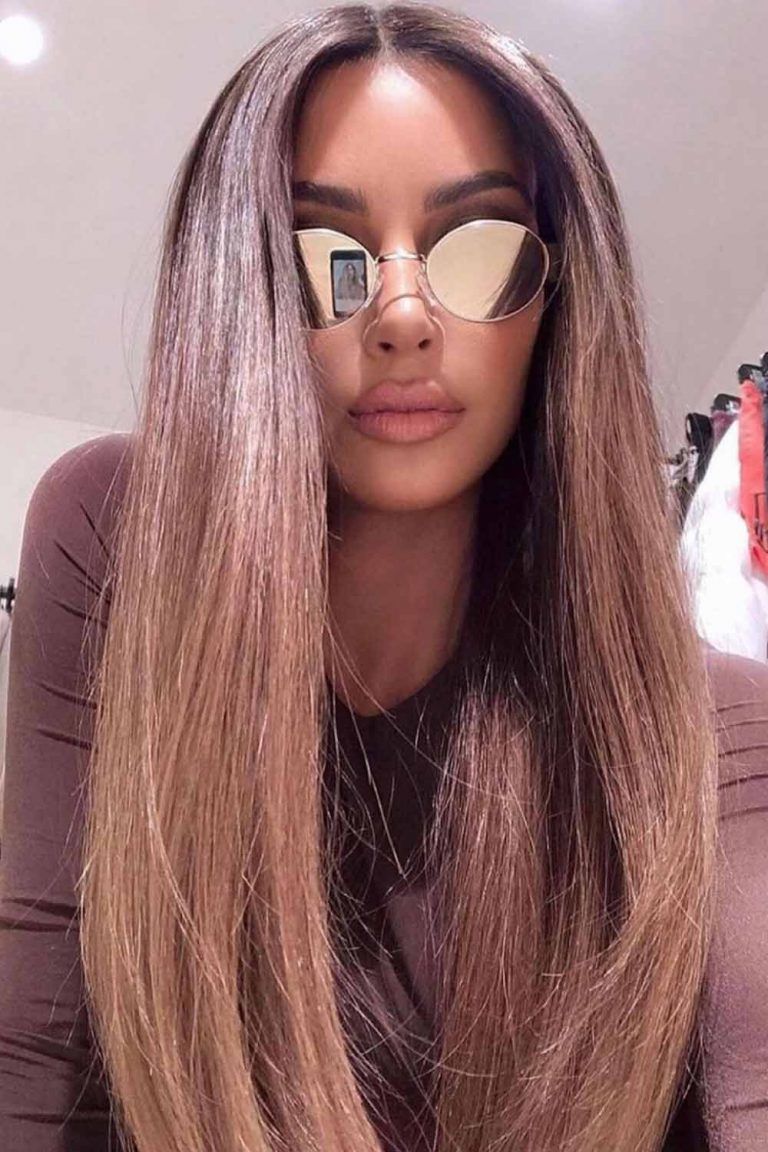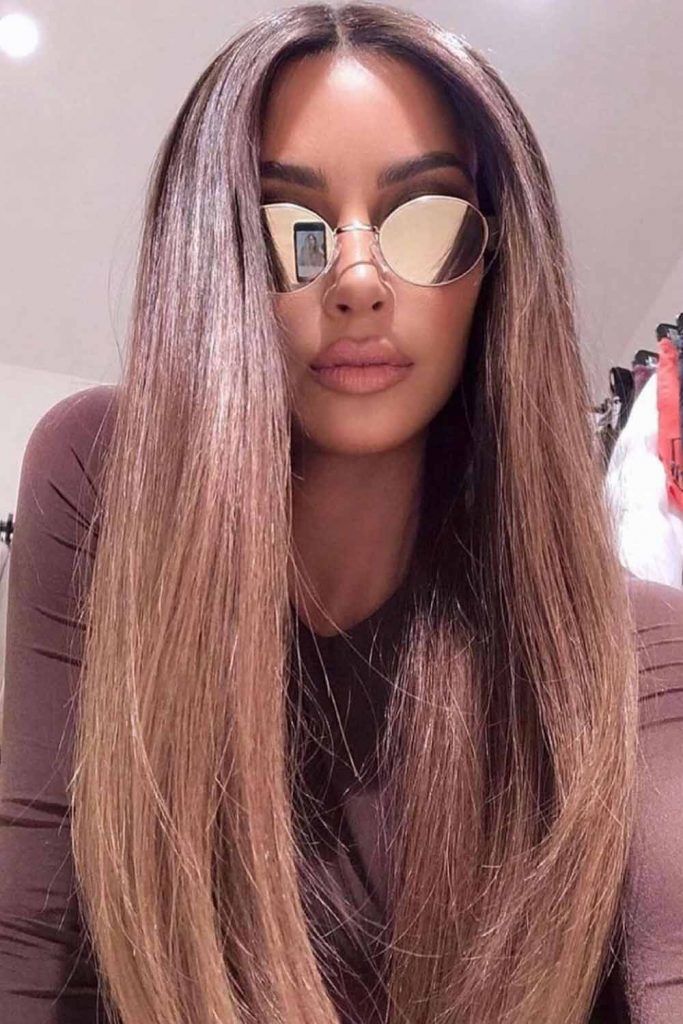 We all know that we can't choose a haircut or hairstyle that doesn't match our face shape. The same goes for sunglasses types! If you want to create a balanced, sophisticated look, everything you wear should emphasize your best features and hide your flaws. These cat-eye glasses with yellowish polarized lenses will work awesome for girls with square faces and broad foreheads. Plus, it looks unbelievable with ash brown hair color! To flatter your square jawline, tuck your hair behind the ears.
Source: sheffpavelstylist via Instagram
Straight Brunette Hair With Vintage Half-Frame Cat-Eye Sunglasses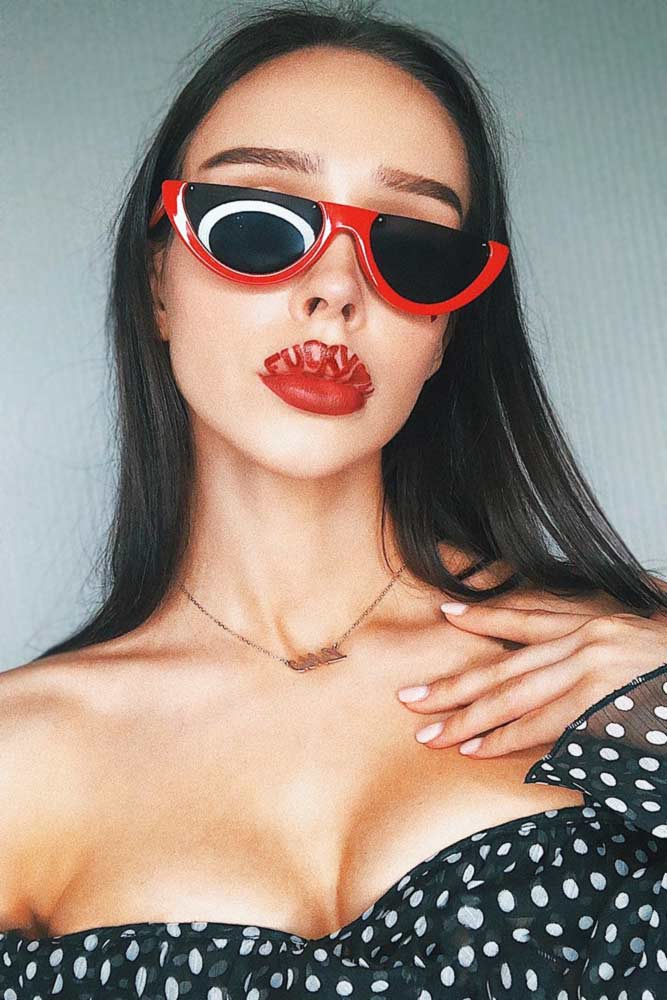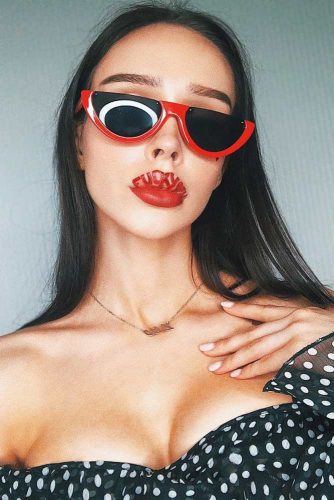 Cat-eye sunglasses styles can be different. The half-frame cat eyes you see above is a good idea to show off your beautiful brows. Women with heart-shaped faces will love how this design beautifies their narrow chin and wide cheekbones. Loose long hair is probably the best hairstyle for this look: it looks simple, yet well-balanced and stylish.
Source: _lizamarvel_ via Instagram
Side Swept Sleek Brown Hair With Round Sunglasses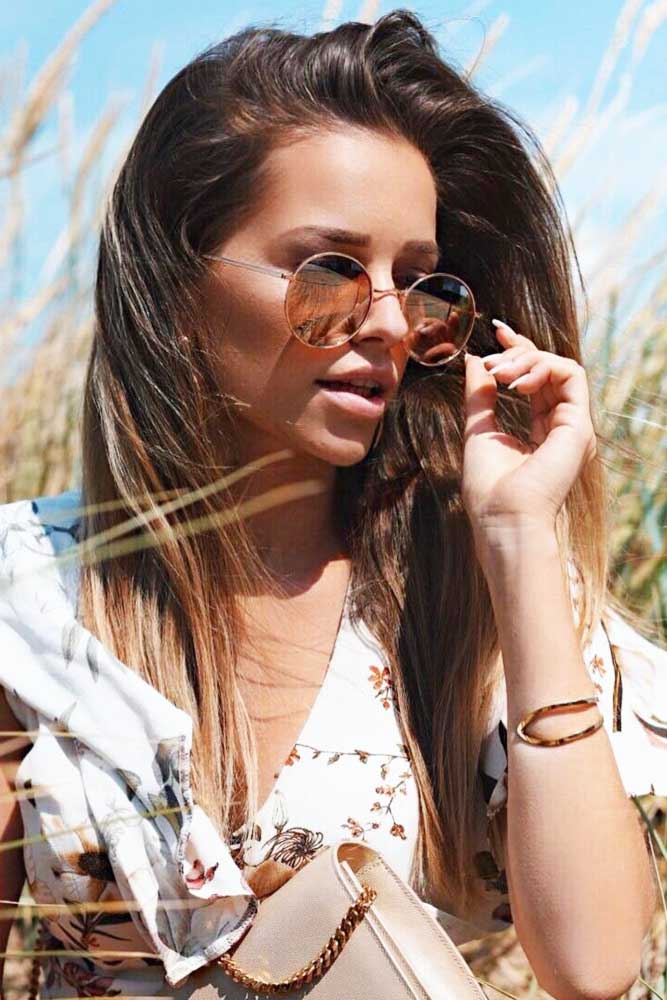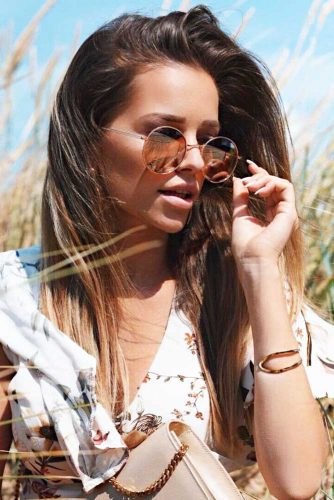 When hot summer weather changes into fresh summer breeze and your long hair flutters in the wind is a moment to remember. One of the best ways to draw attention from your face shape flaws is to add some asymmetry and sweep your hair to the side. Round sunglasses types will perfectly finish this effortless look, creating sort of John Lennon style. Remember that they will work for every face shape, except round one; you don't want this roundness to be too obvious, right?
Source: luanasilva via Instagram
Long Dirty Blonde Hair With Oval Sunglasses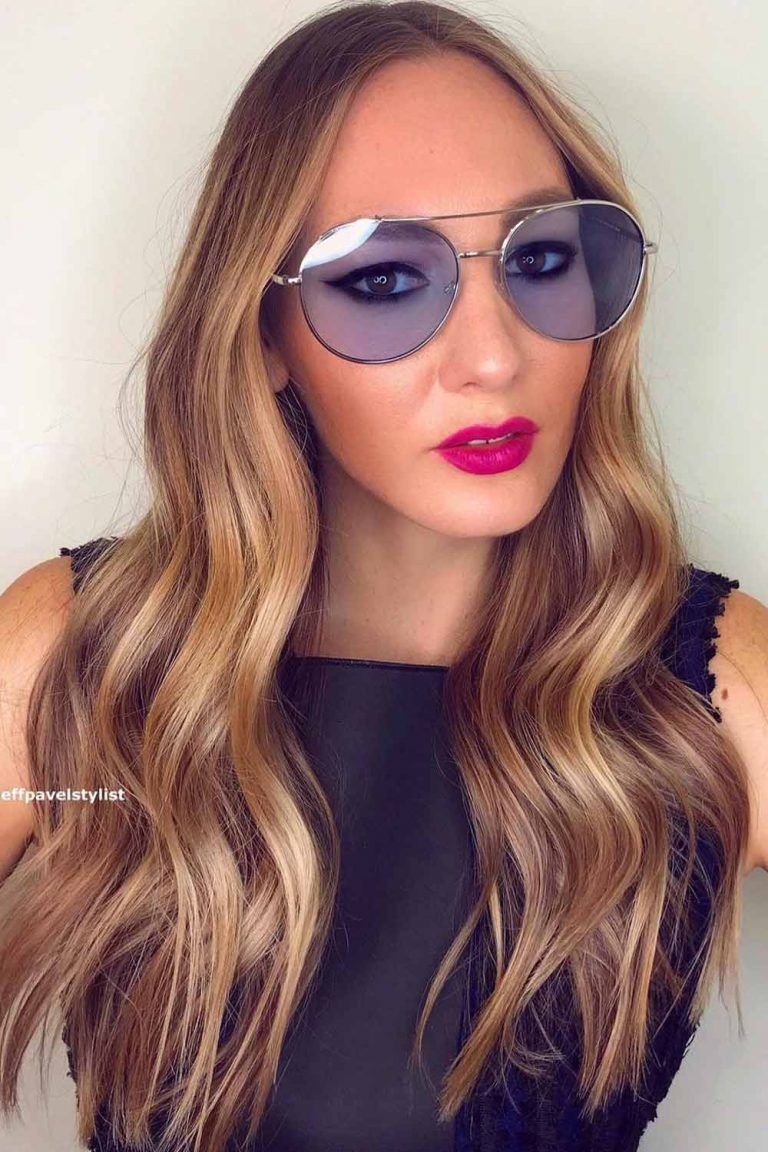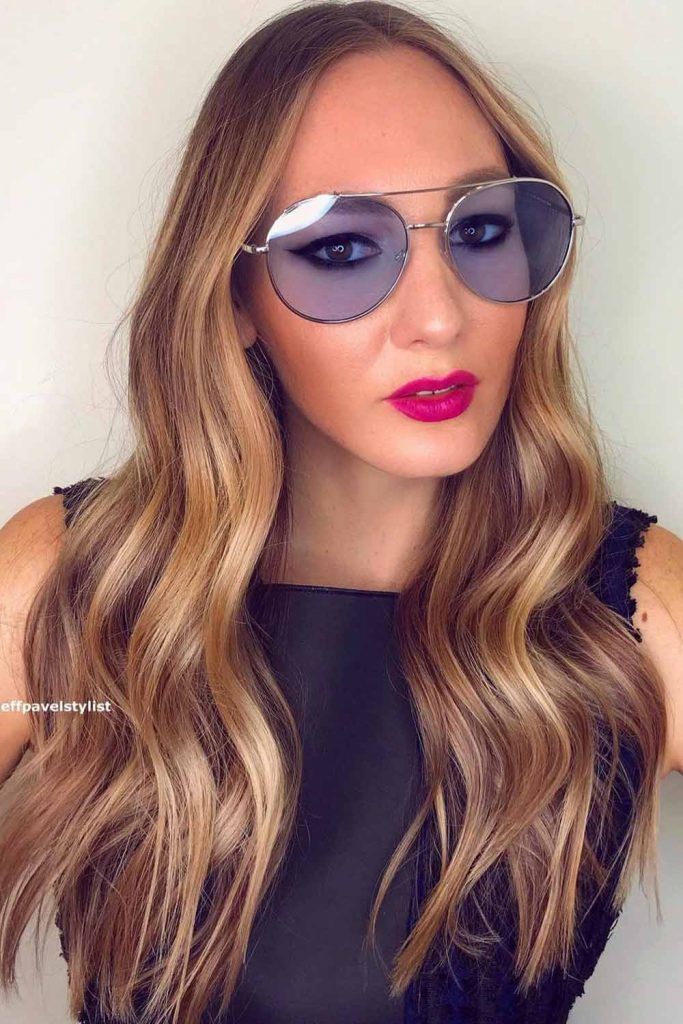 Oval sunglasses types are a good choice for women with prominent jawline: they're not too big and drastic, so their nice size creates a smooth, pleasant silhouette. Let's focus on your long hair, how about you to make it be in the spotlight? Just imagine what a nice contrast dirty blonde hair and your tan will create together.
Source: sheffpavelstylist via Instagram
Wavy Blonde Hair With Square Sunglasses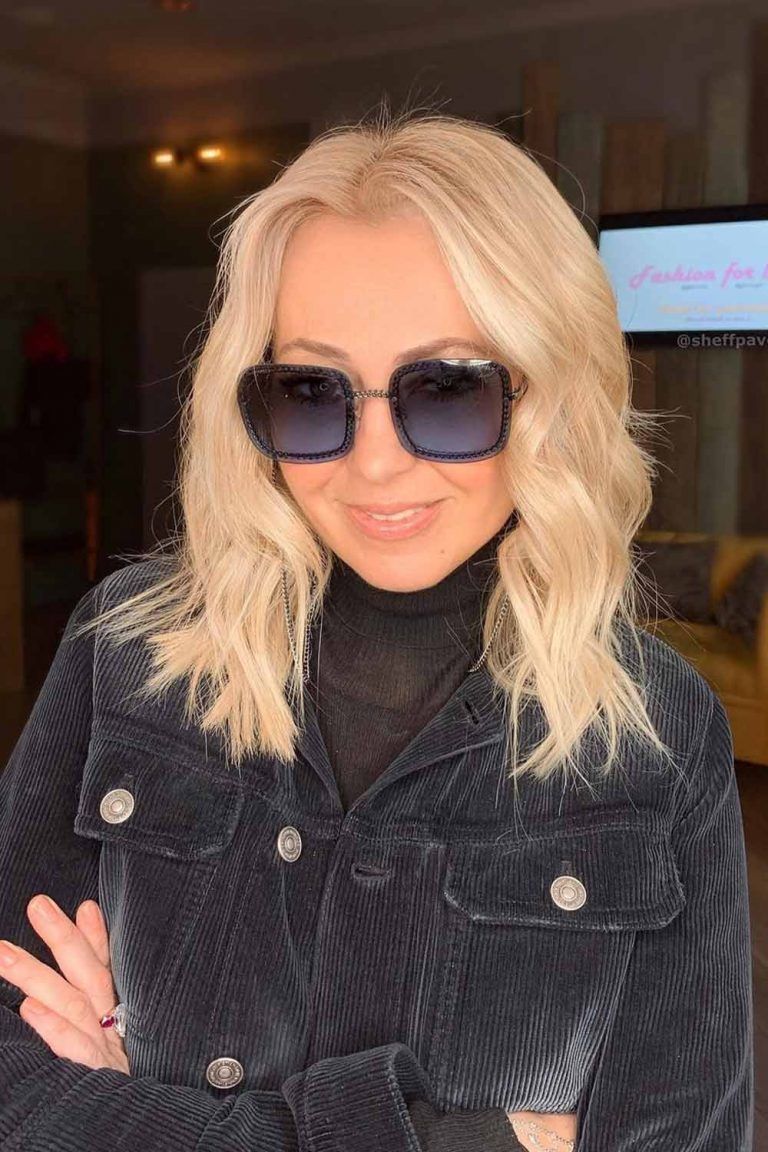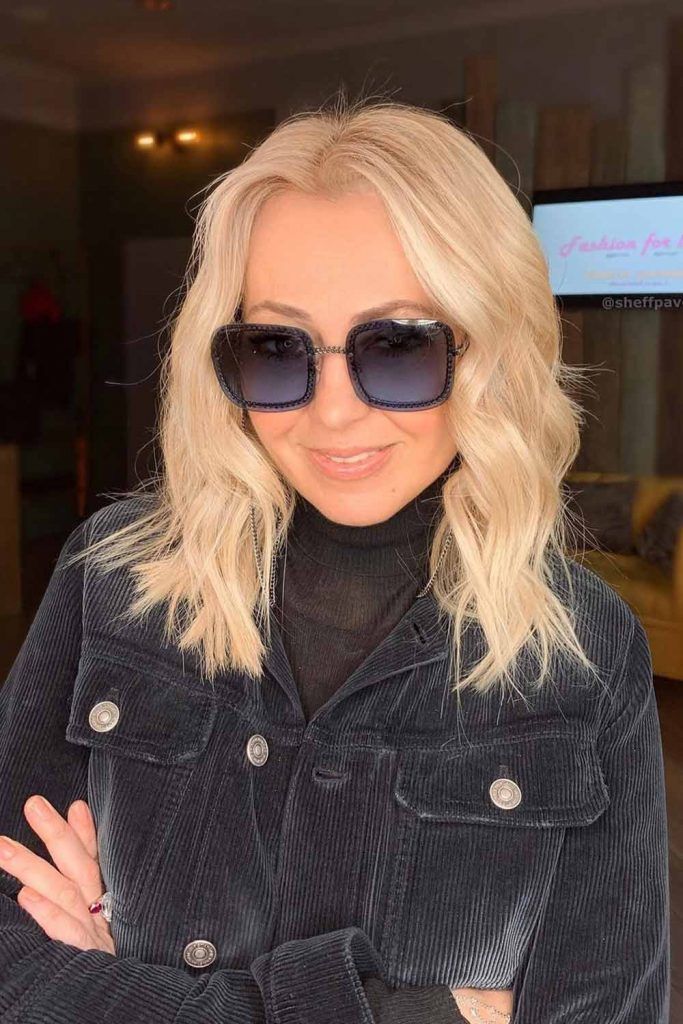 Square sunglasses with slightly rounded edges will visually add length to your square jawline. Women with oval, square, heart-shaped, and rectangular faces can easily sport these cuties. If you're a girl with round face, opt for square sunglasses types with very rough, squared edges. Don't forget about your hair! To make your summer photos adorable, ask your colorist for tasteful pink highlights.
Source: sheffpavelstylist via Instagram
Messy Layered Caramel Brown Hairstyle With Round Brow Bar Sunglasses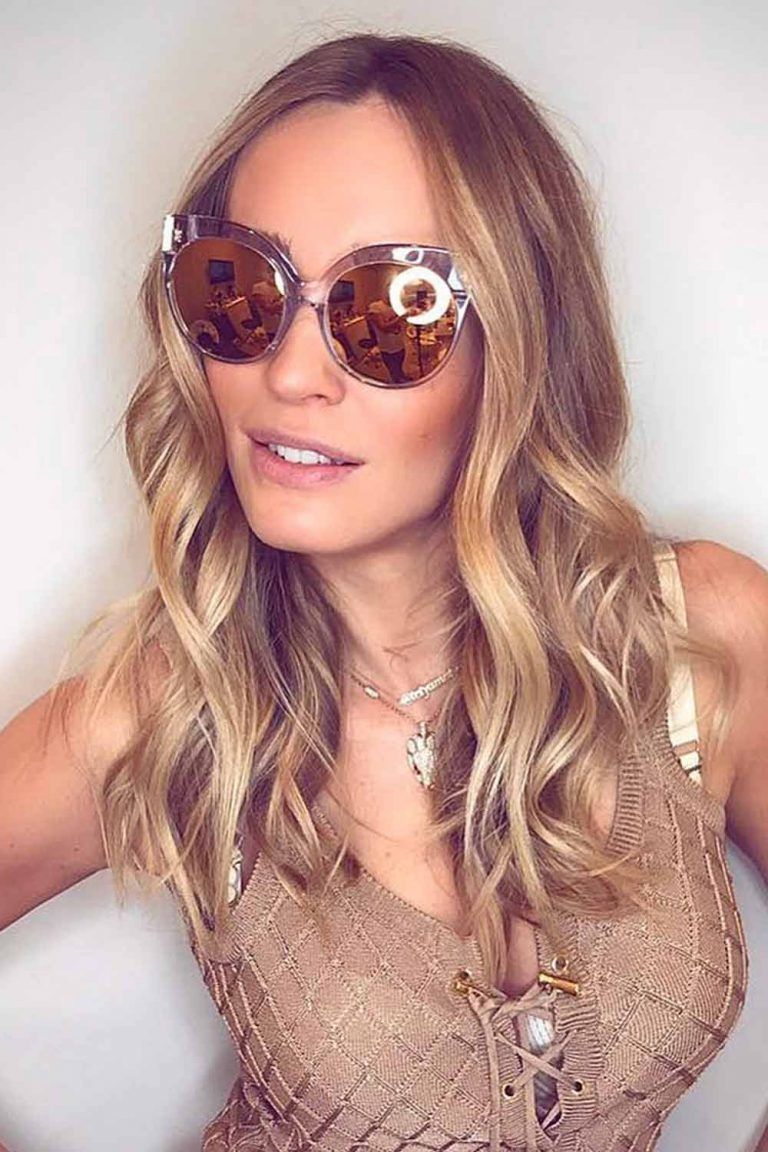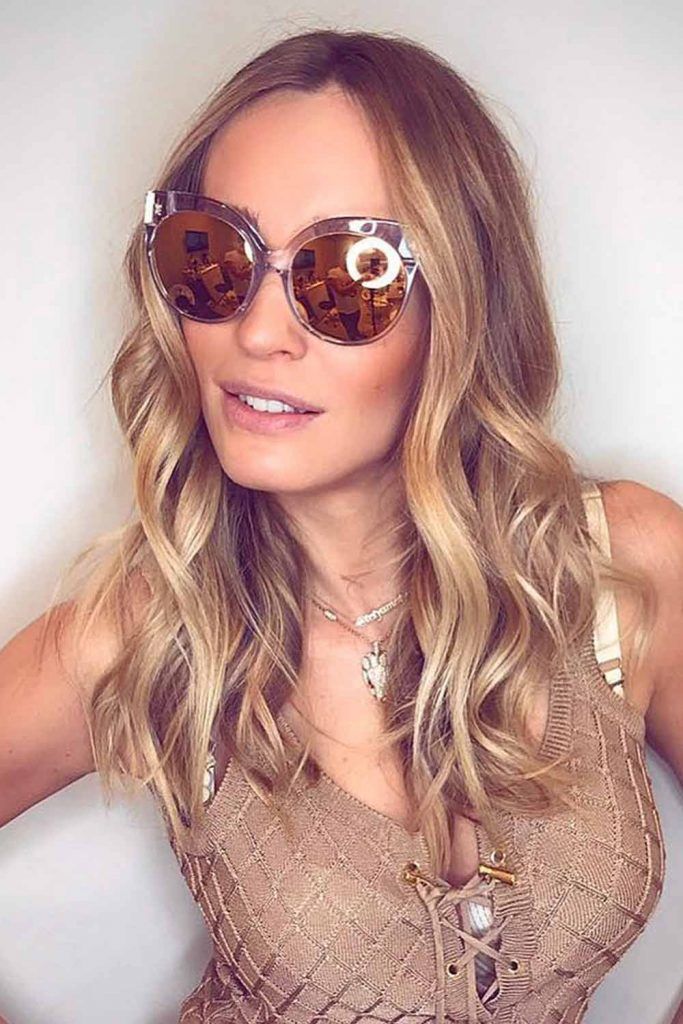 Layered hairstyles can frame and enlarge our faces in the most flattering way. But we can't have too much of a good thing, right? So let's just make everything even more beautiful. Messily styled ash brown highlights will add some movement to your layers, while trendy brow bar sunglasses types glasses will draw attention from your big jawline.
Source: sheffpavelstylist via Instagram
Curly Brunette Hairstyle With Round Sunglasses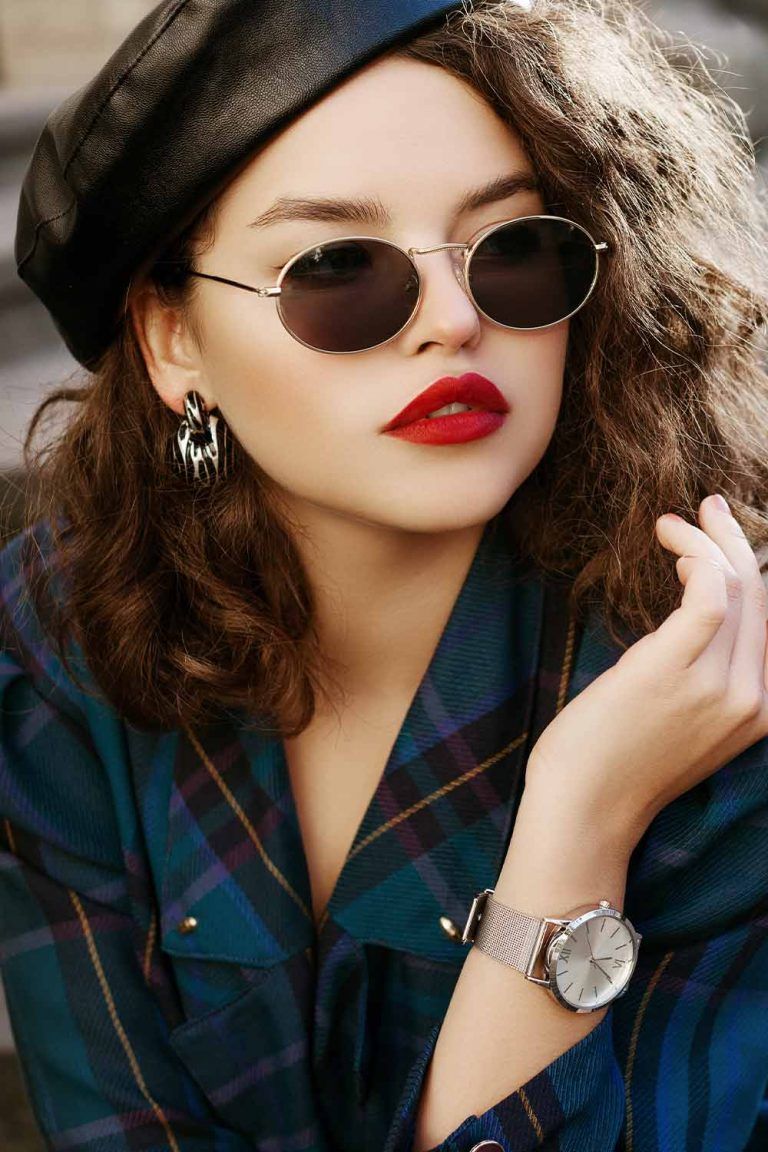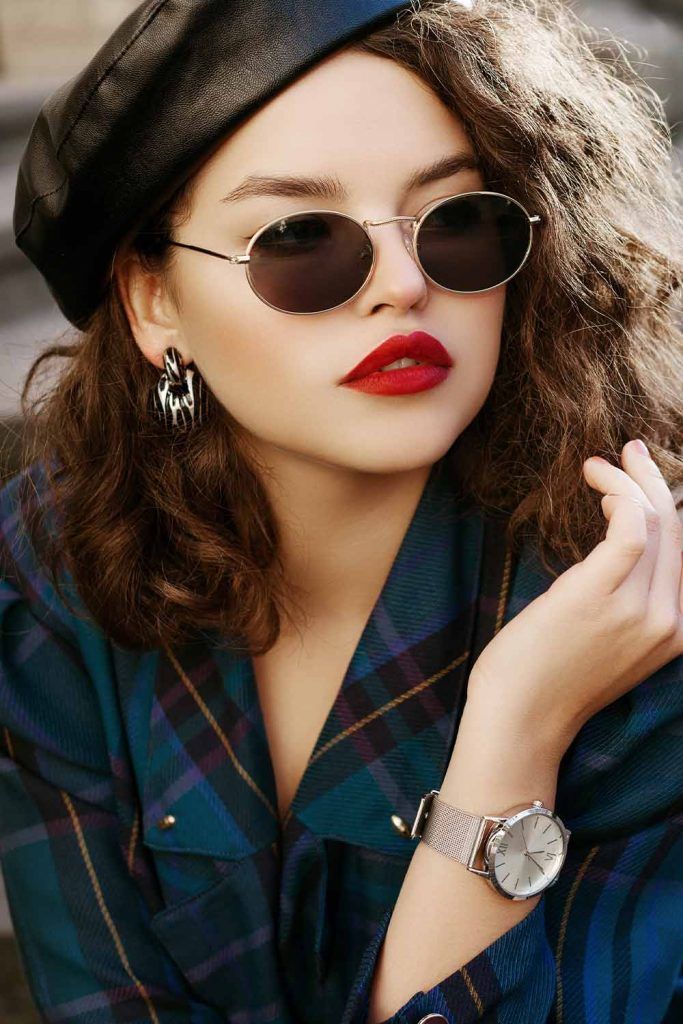 Heart-shaped faces tend to make us look like aliens if we sport wrong hairstyles. Girls with this face shape should avoid sleek long hairstyles styled to the back. Curls are something special! They're voluminous and framing, and when they're paired with round sunglasses your face shape becomes gorgeous.
Wavy Double Braids Style With Cat-Eye Sunglasses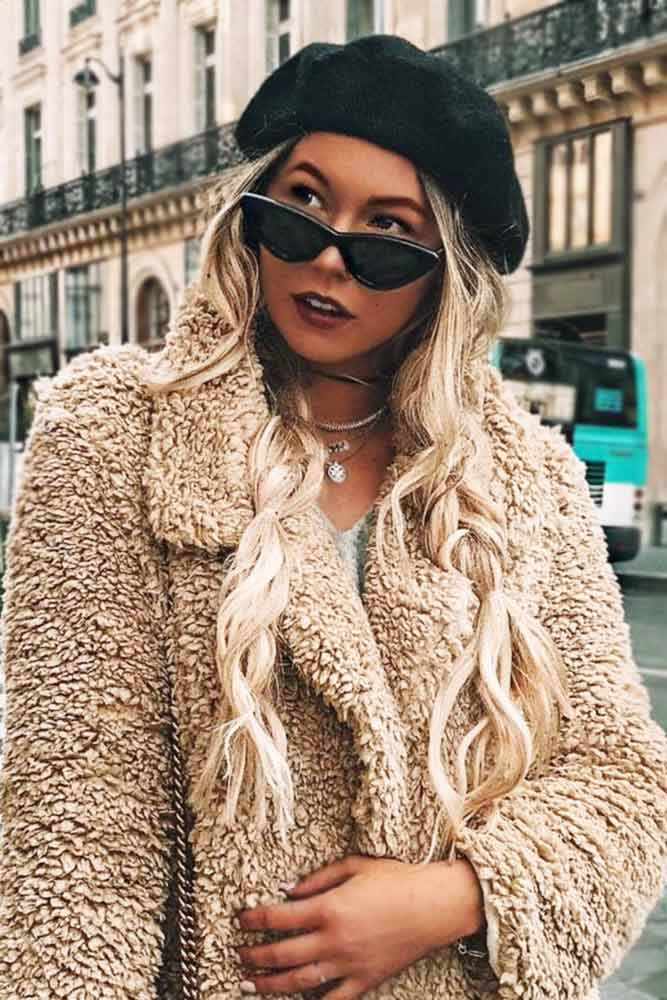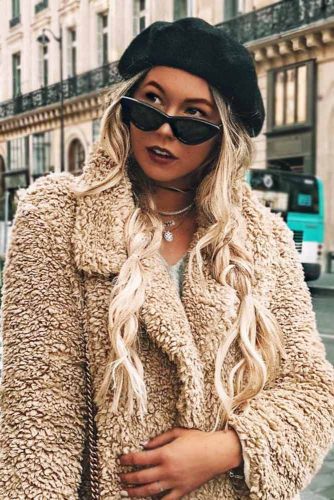 Cat-eye sunglasses types look as amazing as they sound. The seductive look that will take over the world isn't their only advantage: girls who feel insecure about their slim faces won't ever feel so once they give them a shot. For a more dramatic style, pair your widening glasses with long messy braids. Voila, all eyes on you!
Source: alexcentomo via Instagram
Space Buns Style With Butterfly Shaped Sunglasses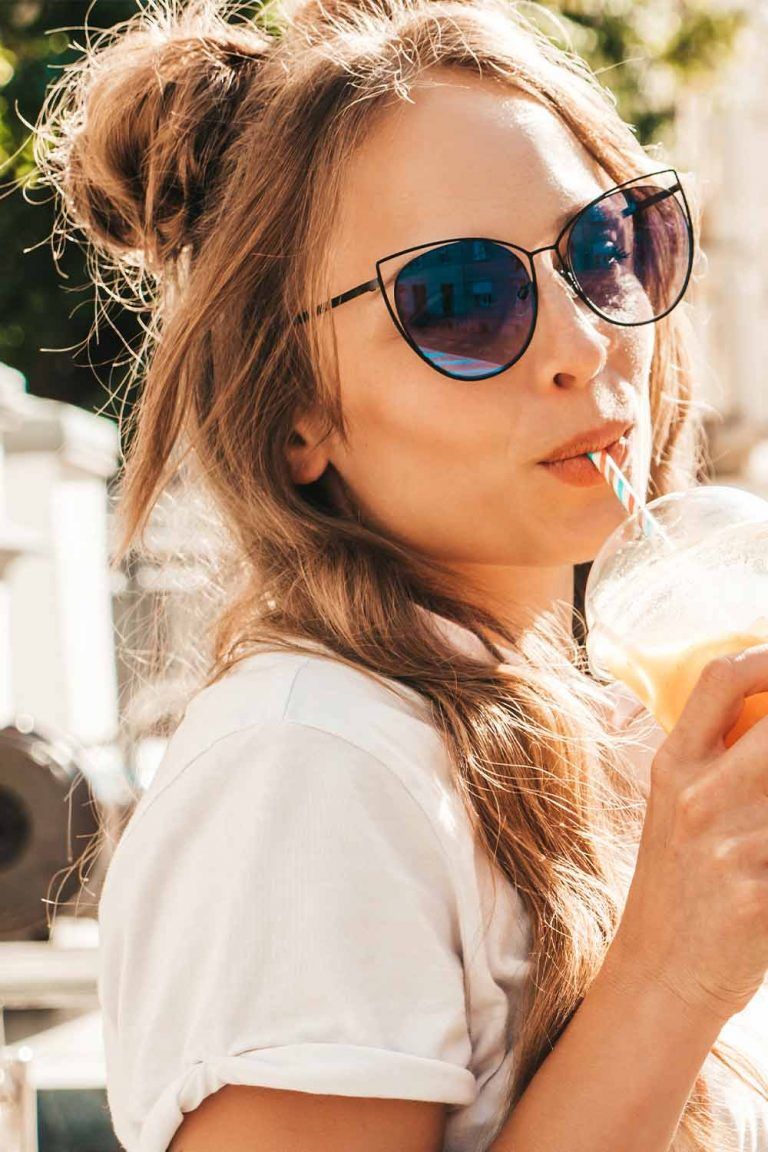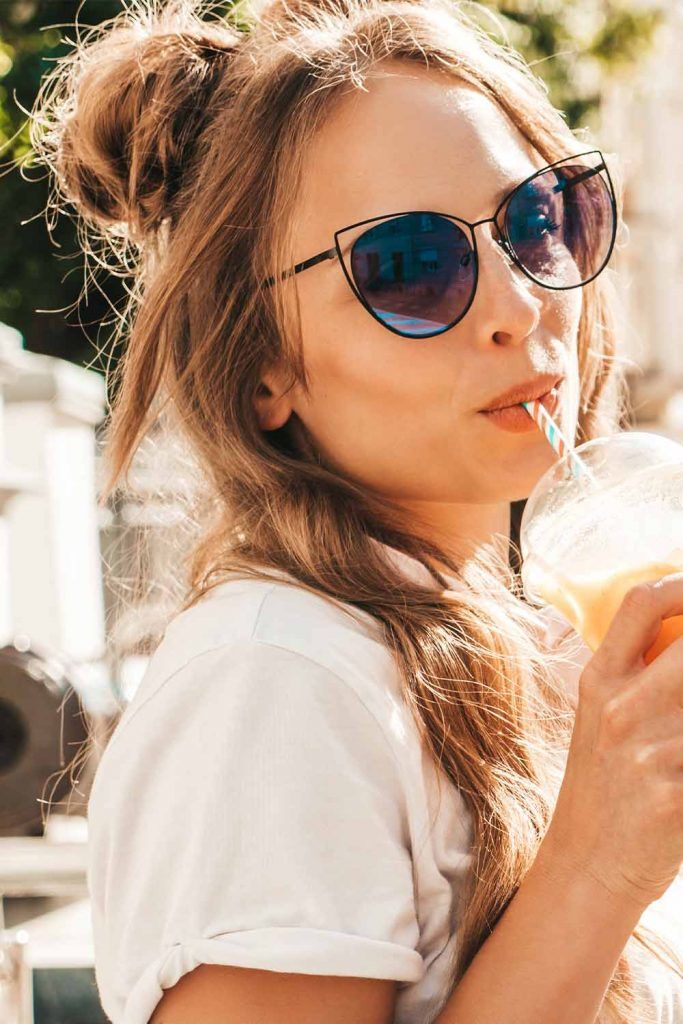 To soften the angles of your square face, opt for lovely butterfly shaped sunglasses like these. They can also suit women with heart-shaped face and balance everything. Since these glasses are quite big, it's better to put them in the center of attention, putting your hair in an updo. As you can see, these glasses accentuate the wonderful space buns awesomely.
Temporary Dreadlocks With Round Vintage Sunglasses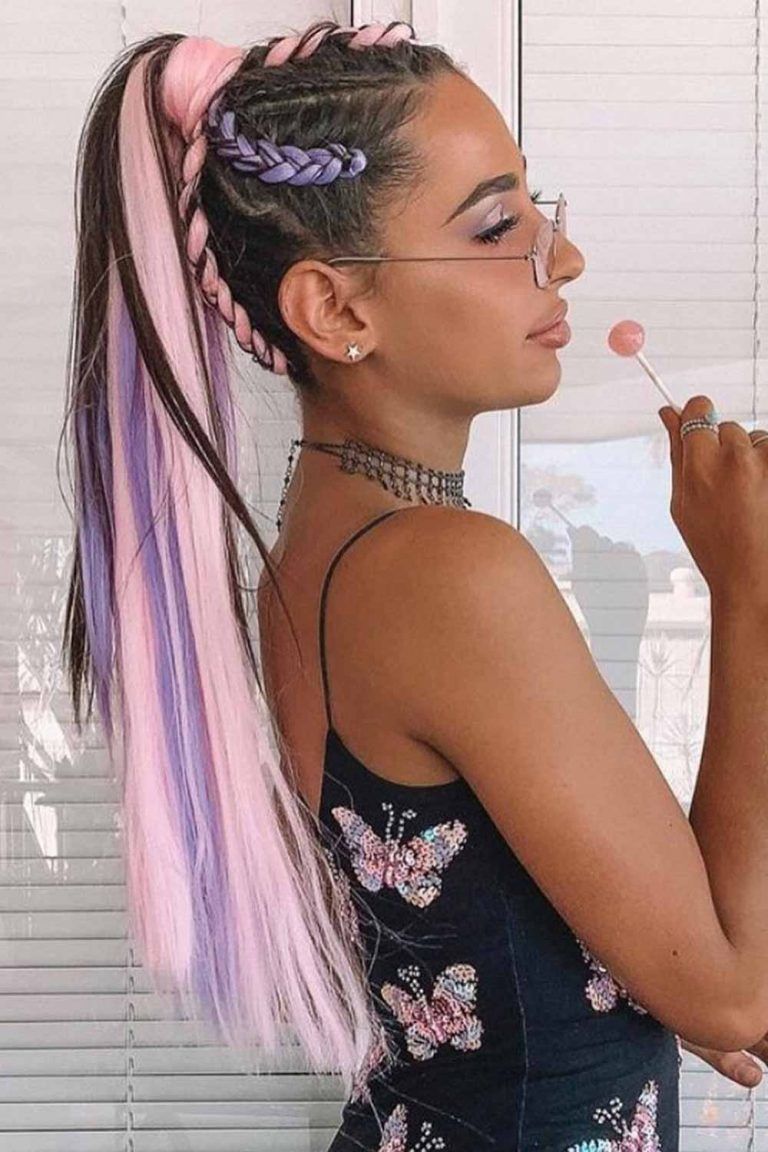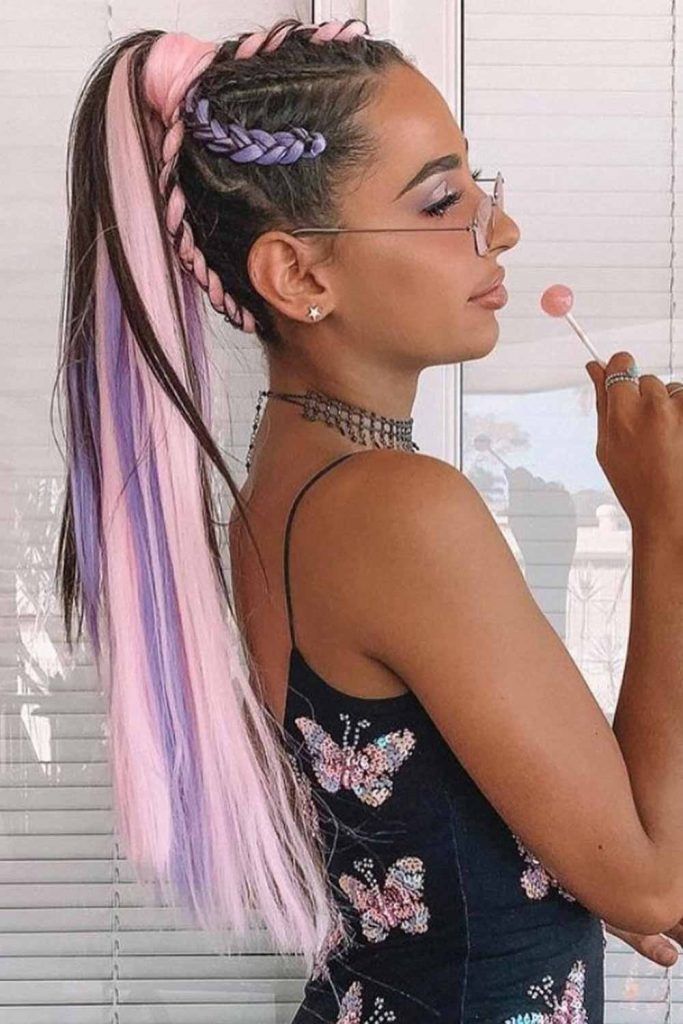 Want to make your look as bright as possible? How about you to turn back time to the hippie days? Dreadlocks are so tempting, but you're not sure you want to see them every day? You can simply get yourself hair extensions or do temporary dreads by brushing braided hair. Keep in mind that a hippie look without vintage sunglasses is a look wasted!
Source: sass.and.braids via Instagram
Side Fishtail Braid With Browline Sunglasses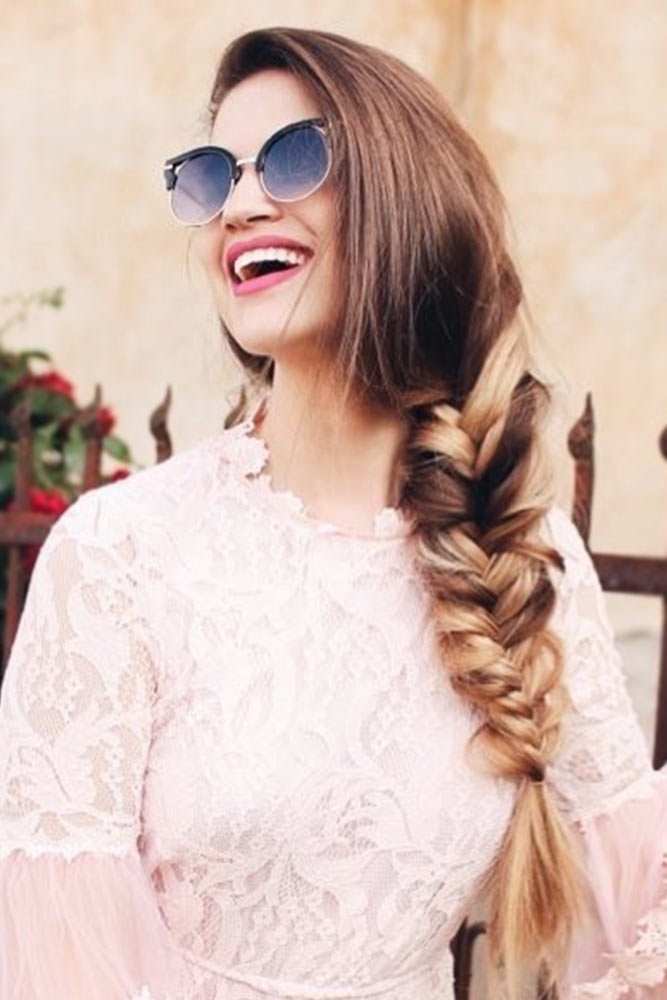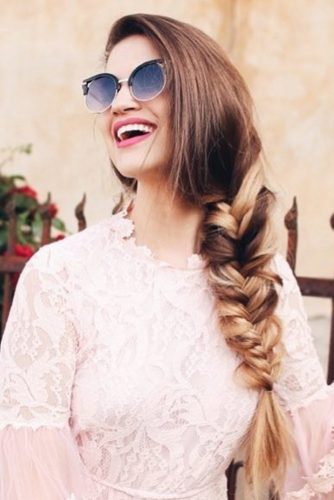 Nothing looks more elegant and girly than this full fishtail braid with highlighted ends. This hairstyle not only creates a very delicate look, but it's also very comfortable to wear in any season. Obviously, the best way to embellish this stunning look is to wear browline sunglasses, which, by the way, work well for any face shape.
Source: karindragos via Instagram
Medium Layered Bang With Square Sunglasses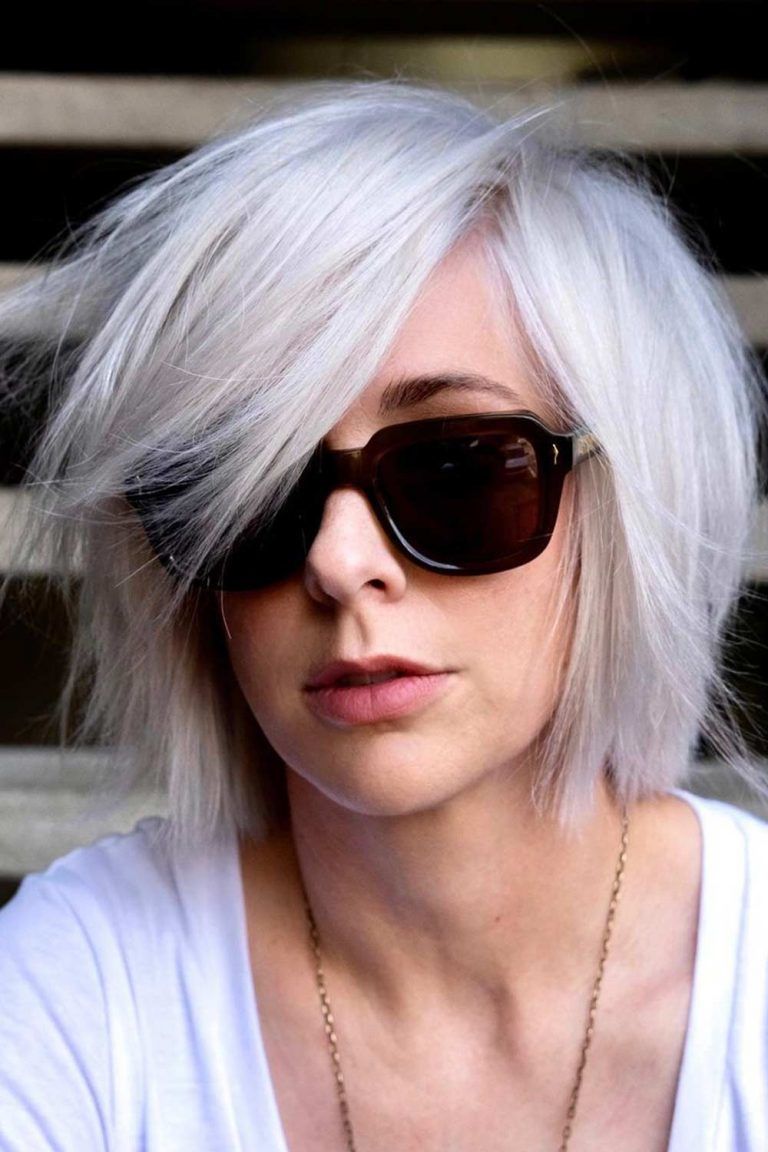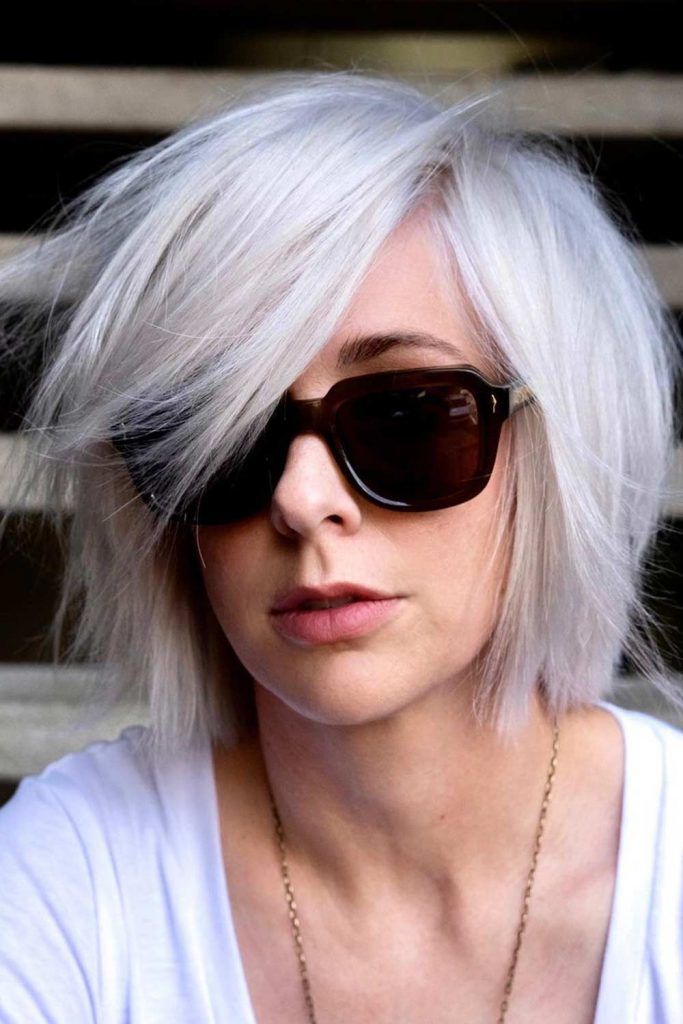 This idea is literally the best solution for triangle face shapes! Square sunglasses with minimalistic, thin frame, full layered mid-length hairstyle, and awesome curtain bangs are the things that can help you to take the most out of your face shape. All these details frame your face, creating a fuller silhouette so that your face doesn't look too slim or asymmetric.
Source: chrisjones_hair via Instagram
Side Wavy Sleek Styling With Keyhole Bridge Sunglasses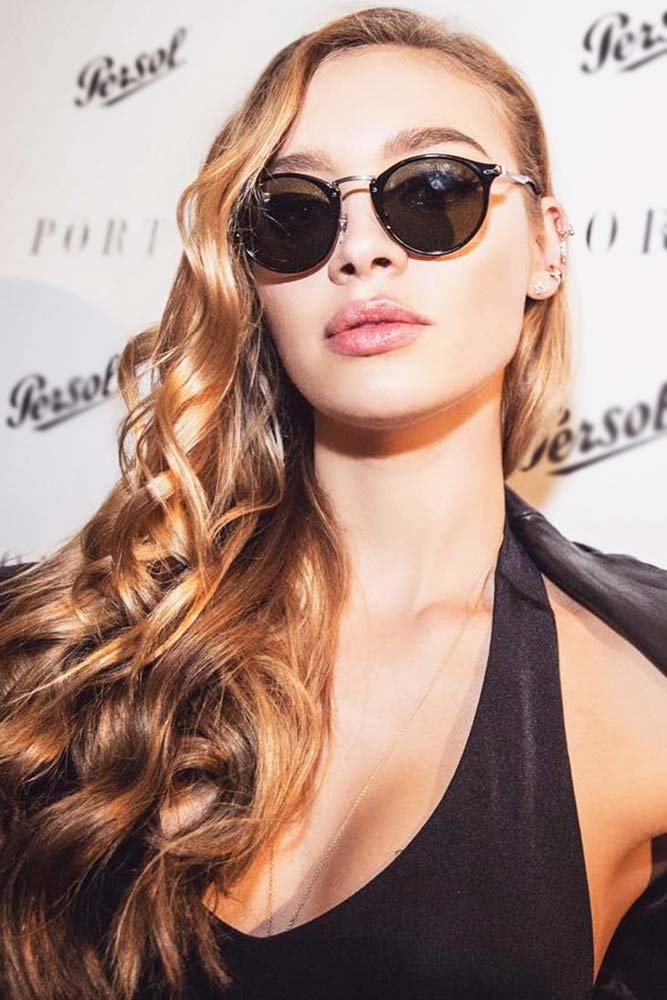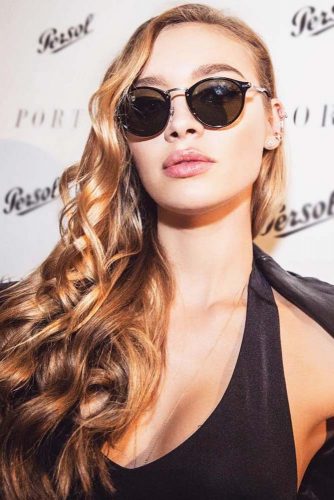 Keyhole bridge sunglasses are versatile; if you like them, you are free to wear them 24/7. But if you want everything to be more perfect than just perfect, you can pay close attention to the right frame. Women with round faces should opt for big and massive frames, while girls with square, heart-shaped, and oblong faces need something less drastic. Combine these stylish glasses with a sleek, curly hairdo and be ready to steal the show!
Source: roxyhorner via Instagram
High Messy Ponytail With Round Sunglasses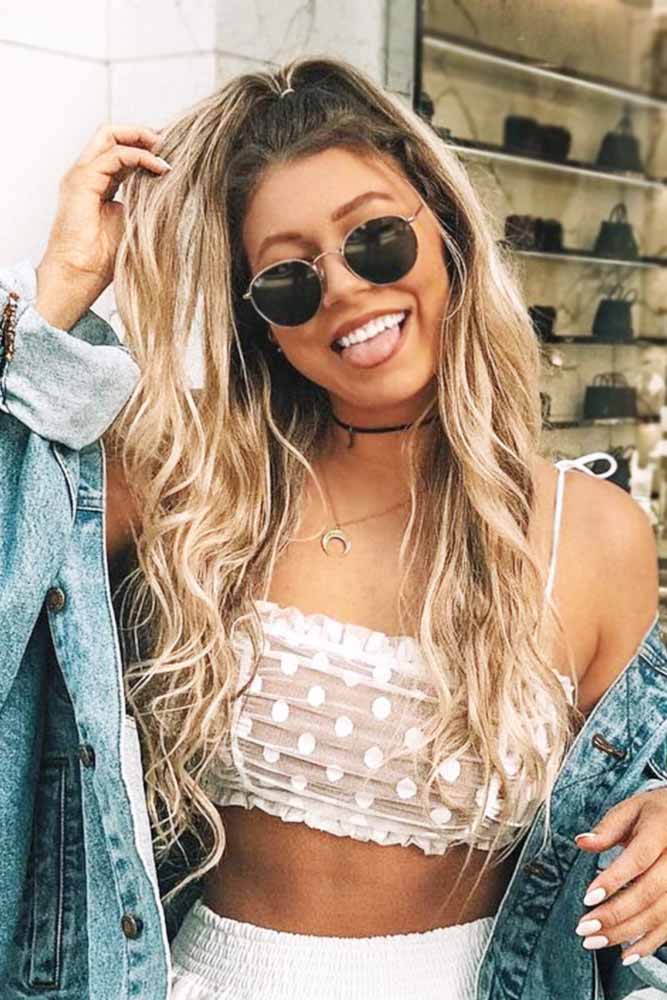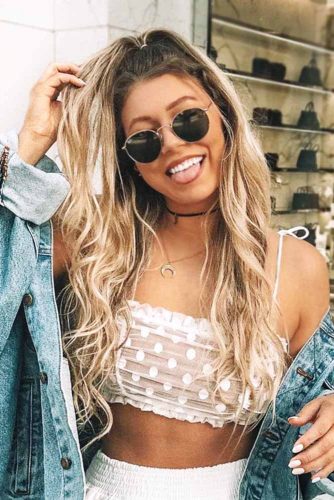 Believe it or not, the easiest hairstyles are the best ones! Just look how wonderful this high, a bit wavy ponytail hangs on her shoulders. The best thing is, this beauty takes minutes to get it done! Put on your fancy summer clothes, do this awesome hairdo, wear your glasses and get the most flattering compliments!
Source: alexcentomo via Instagram
Long Wavy Hairstyle With Aviators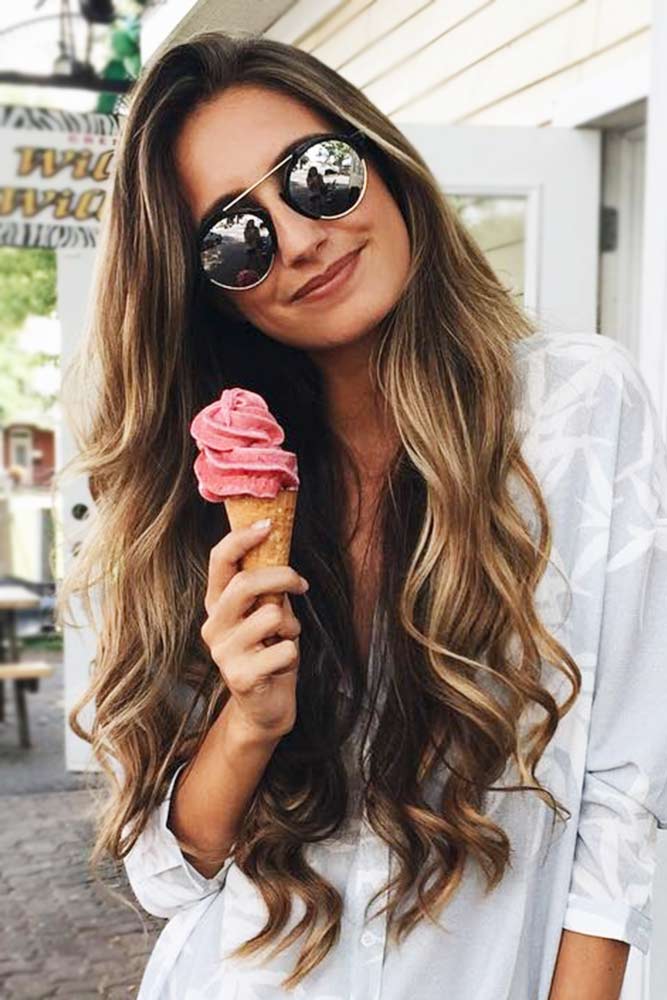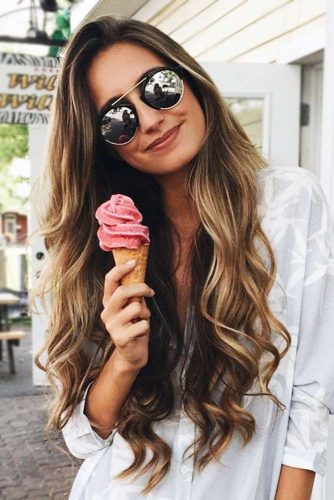 Aviators are the timeless classic, but they don't fit all the face shapes. For example, it can make round face appear even bigger, which is a disaster. They look gorgeous on girls with very prominent jaws, as their "drop-like" lenses balance everything out. Long wavy hair is a good idea to show off the beauty of your long locks. Together, they form a stunning duo!
Source: cath_belle via Instagram
Double Knots Style With Oversized Sunglasses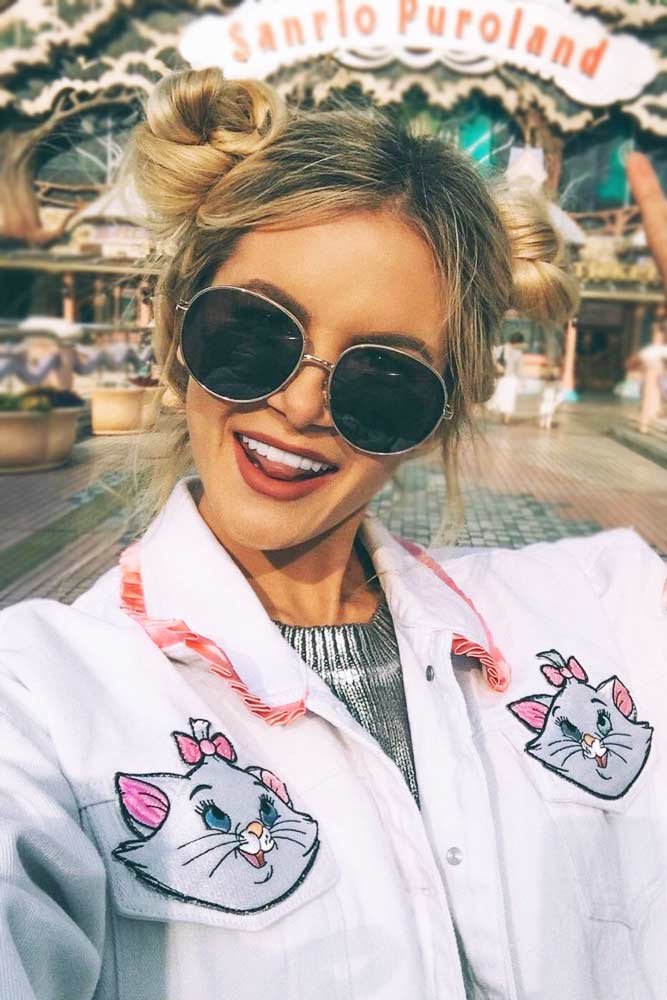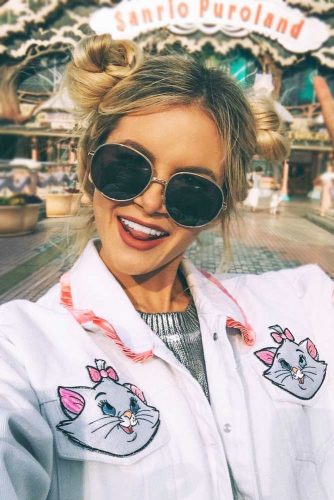 Oversized glasses are magnets for people's eyes; if some feature of your face bothers you, don't worry, people won't even notice it. These glasses steal all the attention, so you won't ever get disappointed by your face shape. And this hairdo looks so sweet with them! To flatter your round face, opt for rectangular frames and leave some front locks for framing.
Source: amberfillerup via Instagram
Dreadlocks Into A Bun With Black Round Sunglasses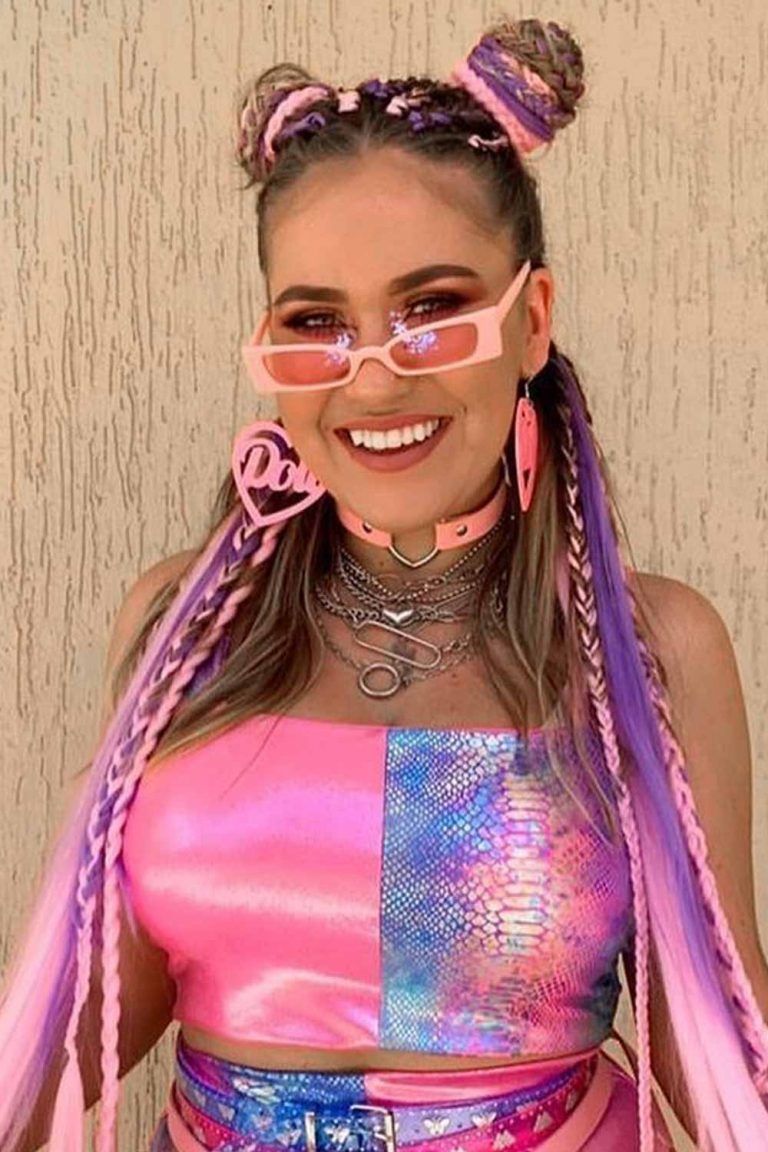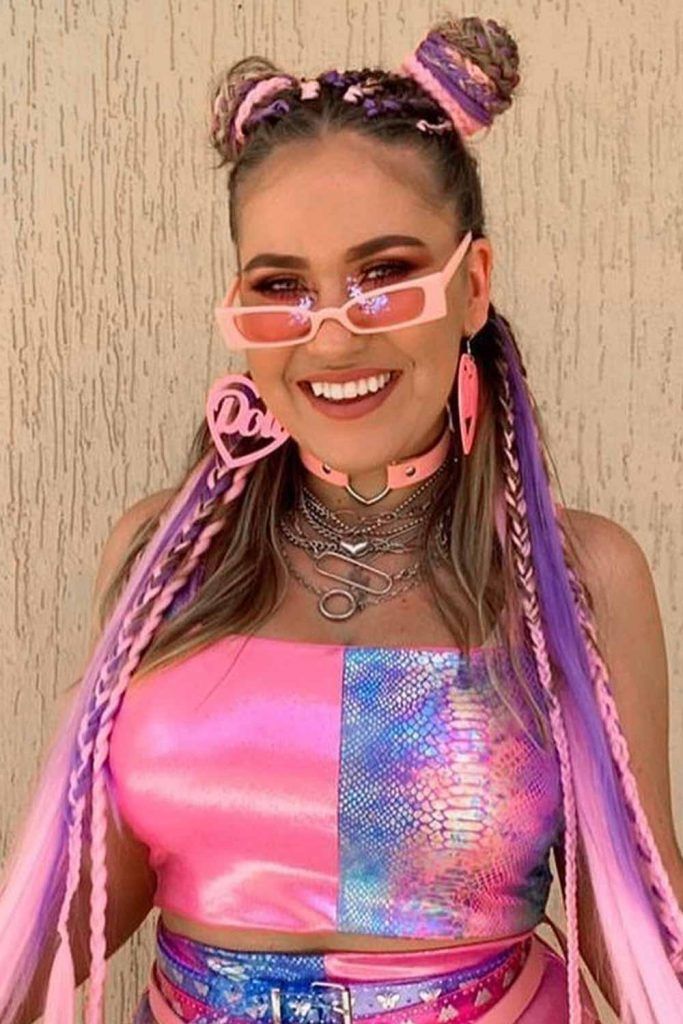 Bold girls who are about to get dreadlocks, here comes an unbelievable styling idea for you! If your dreads are colored in many different colors, it will look even more enviable. Just put some of your dreads in a high bun, and you'll see that simplicity is genius. The round Lennon's glasses is the finishing detail to the brightest look ever!
Source: sass.and.braids via Instagram
Messy Braided Style With Aviator Sunglasses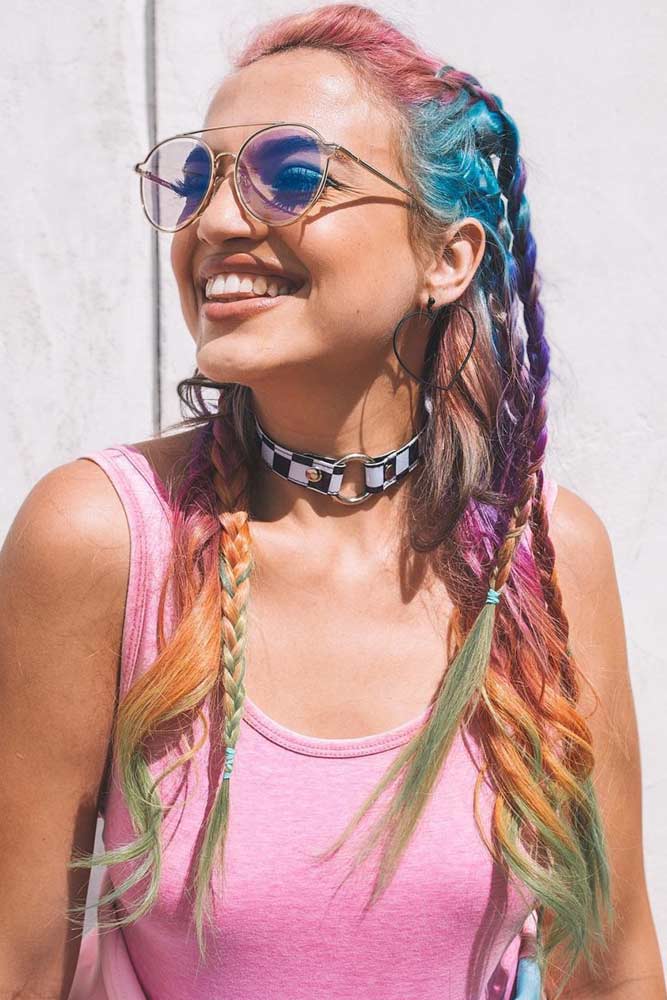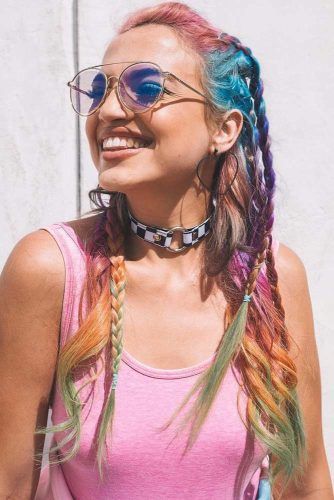 Two carefree loose braids falling on your shoulders and classy, timeless aviators that finish the look: who could ask for more? This duo seems to be an epitome of the long-awaited summer. Moreover, you won't go wrong with such sunglasses types as aviators: they're suitable for all face shapes and occasions.
Source: annalayza via Instagram
Long Layers With Round Sunglasses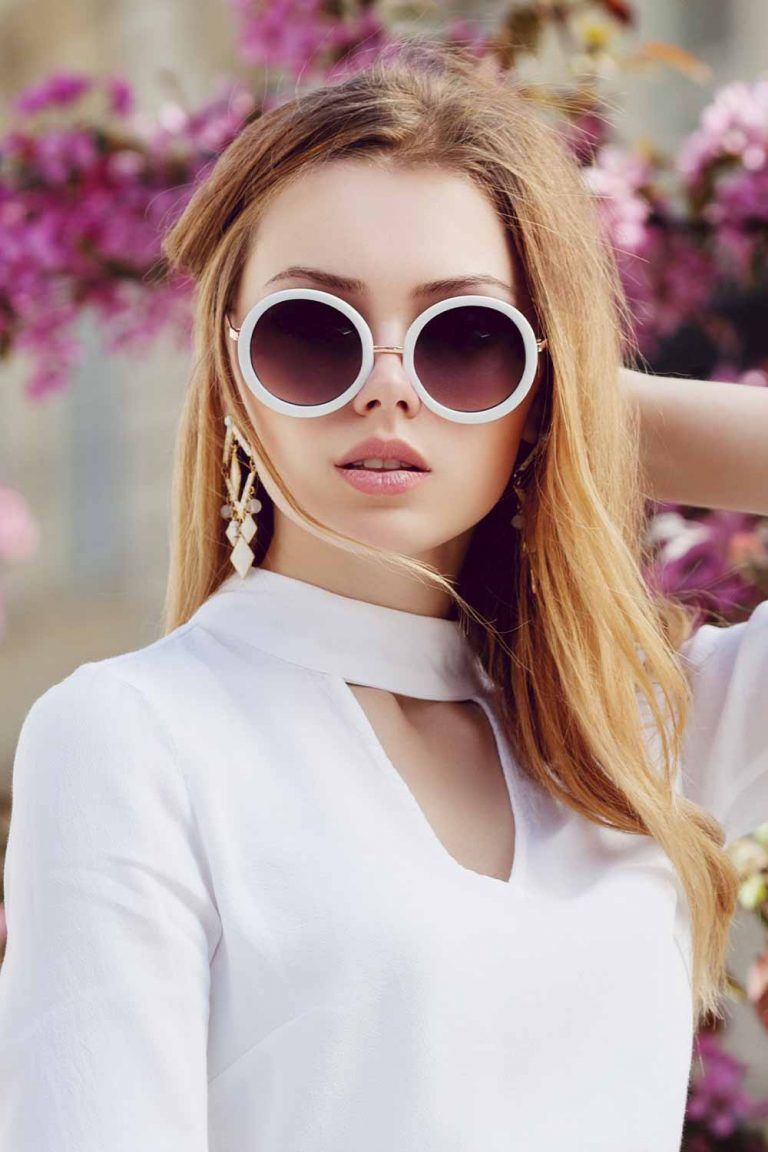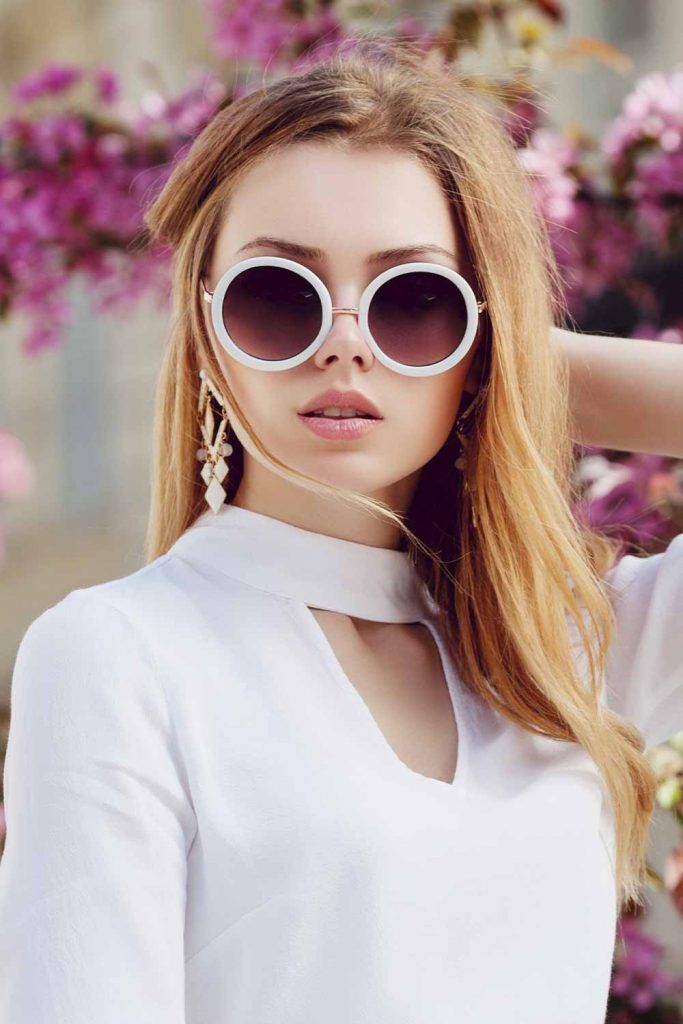 For slim and oval faces, nothing works better than layers that build the desired fullness and balance to the silhouette. And round glasses, be they extremely big or John Lennon-inspired, will nicely complement the look, adding some curves to your prominent facial features.
Braided Half-Up Space Buns Red Round Lenses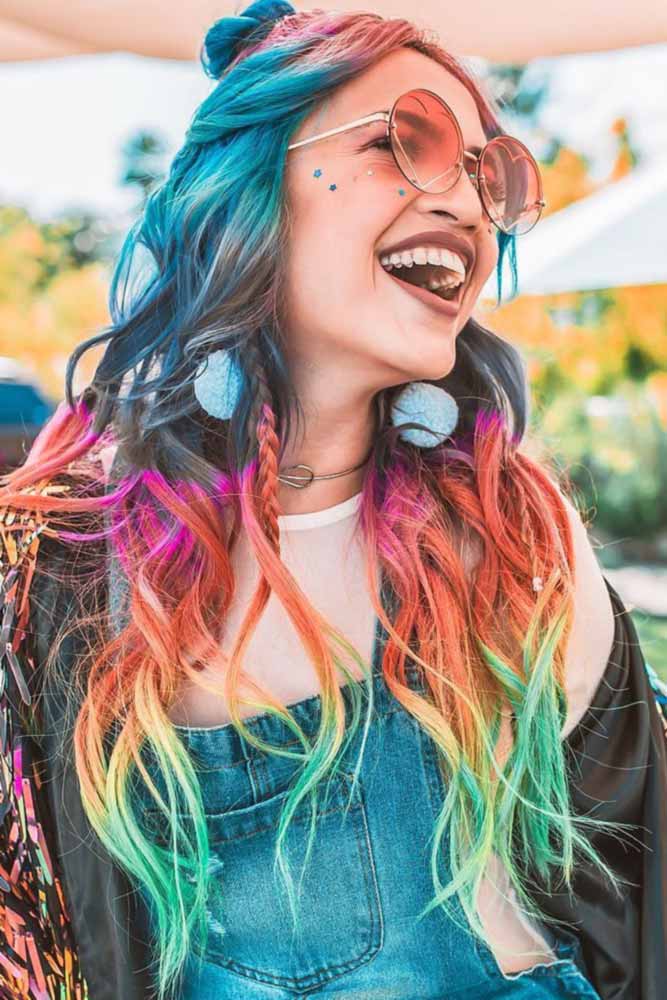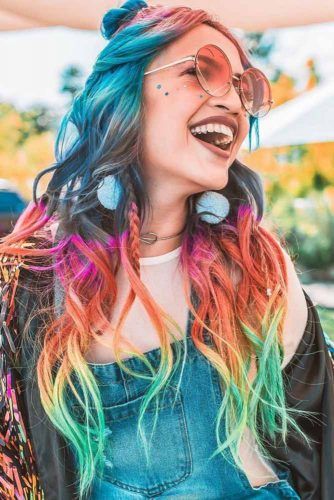 Here's another fun way to benefit from wearing round glasses. Apart from giving an unbelievably youthful and modern touch to that Coachella look, they go harmonically with the style. A couple of braided colorful buns + a pair of awesome round glasses = the perfect festival look.
Source: annalayza via Instagram
Sleek Medium Bob With Oval Sunglasses
Just like sleek styling ideas, aviators stand among the most popular, and, most importantly, classic choices of now. With the head-turning sleek texture, you will get a refined and elegant finish to your style, while aviator sunglasses will emphasize your sense of style.
Messy Bun With Free Locks Triangular Cat Eye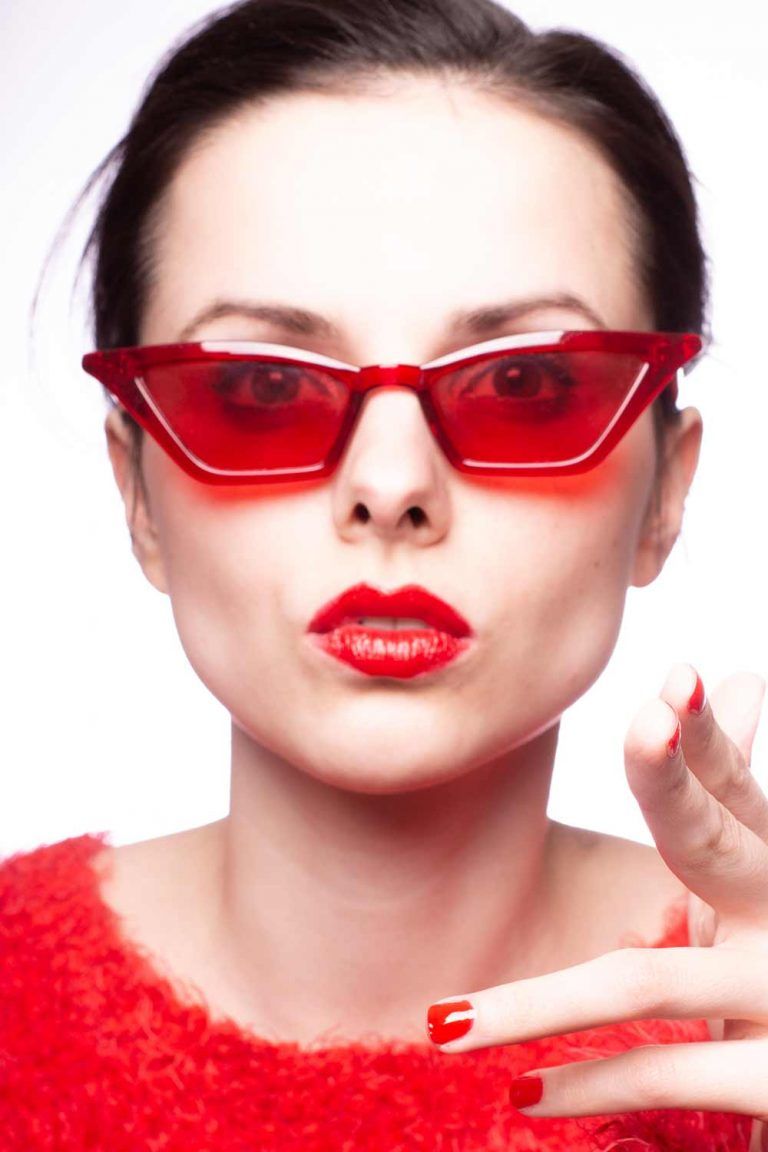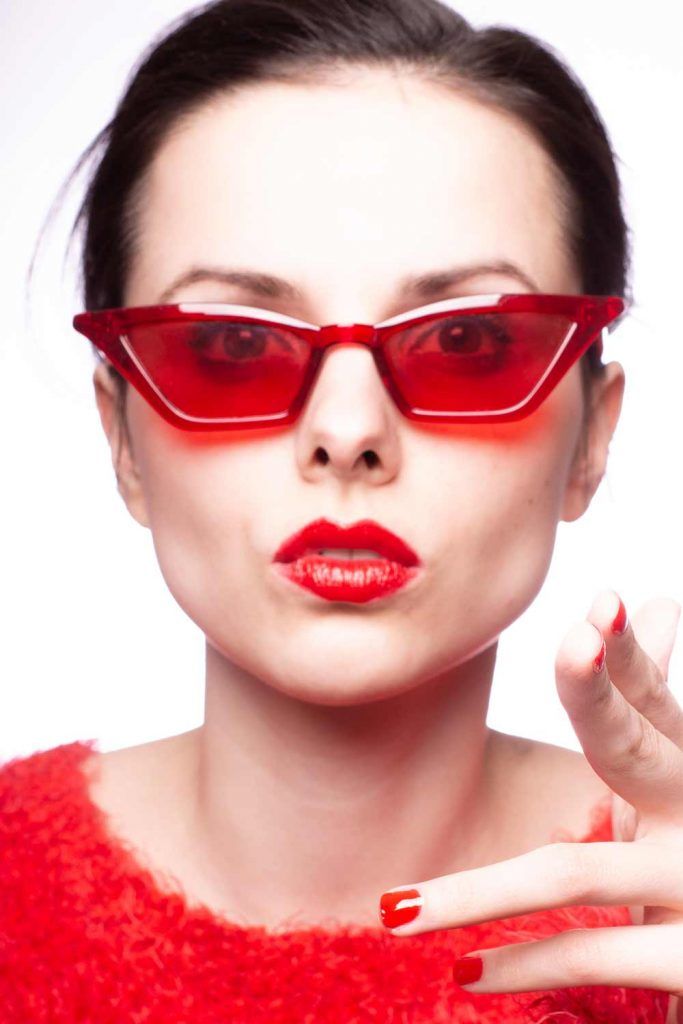 Triangular cat eye sunglasses cross the line between retro and modern designs, which is why they always look so unique. The best thing is, due to lots of pointed features, they go brightly with all face shapes. But still, make sure that your hairstyle and outfit match that contemporary mood. A messy bun on your colorful mane will do just great!
Dutch Side Messy Braid With Green Round Lenses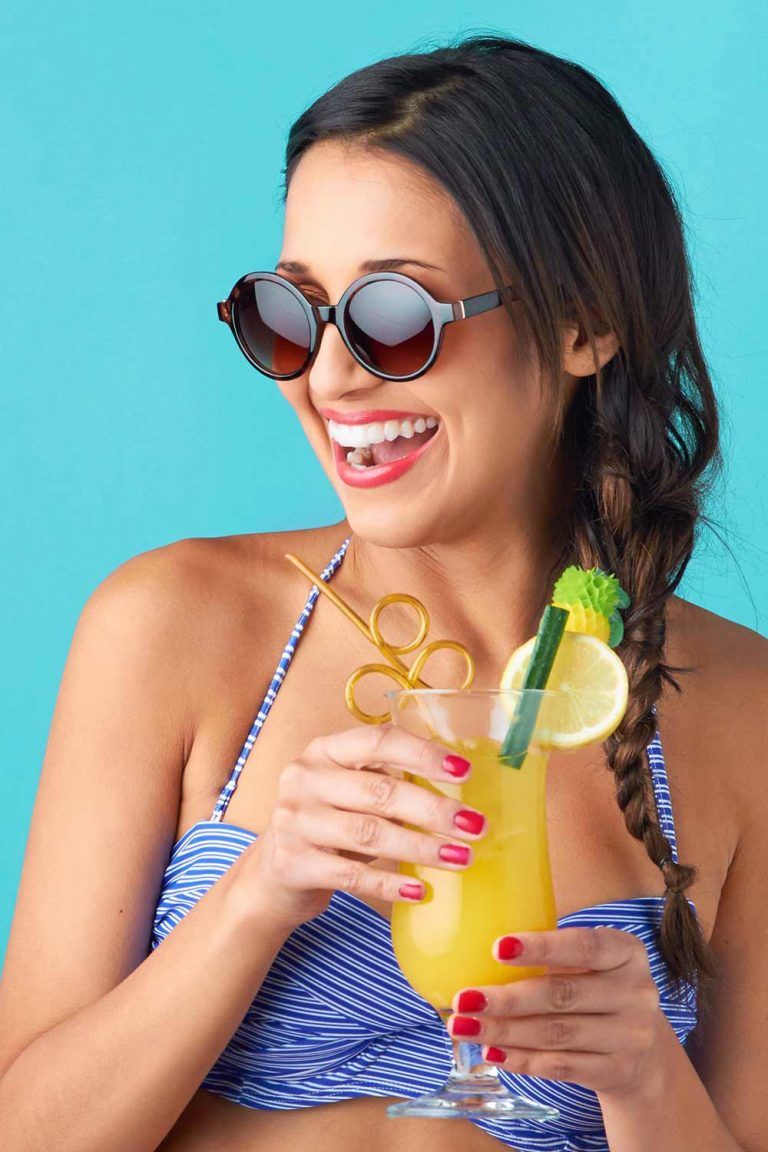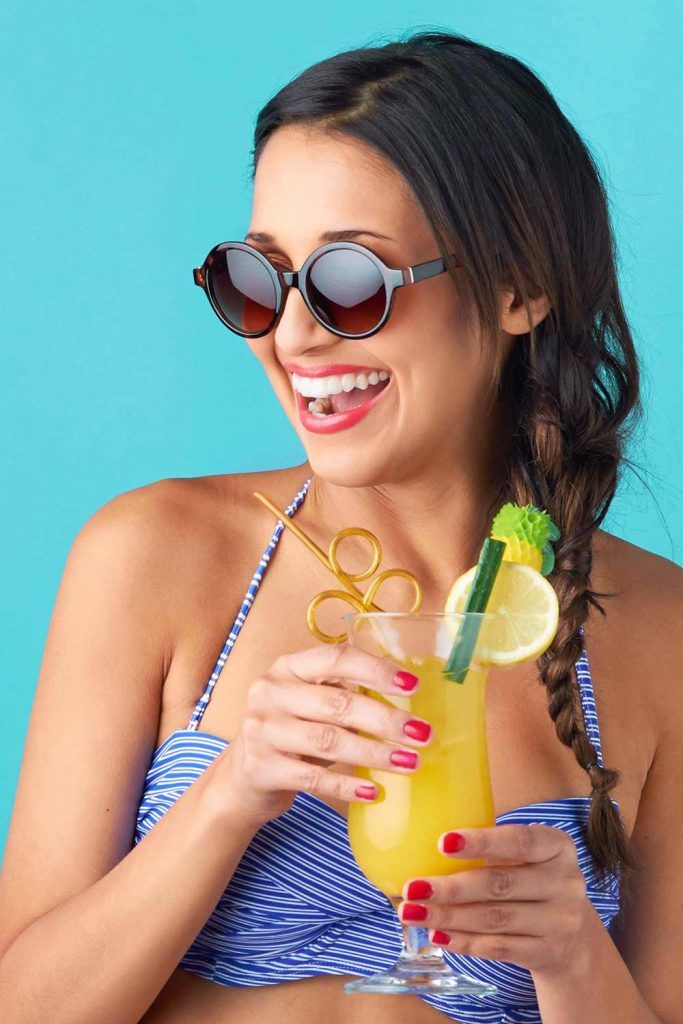 There's nothing easier, more feminine, and universally beautiful than braided hairstyles. It can be any type of braids you want as they're always a win-win idea. As for glasses, anything from cat eyes to round ones would be a nice finish. Yet, we want you to check out how nicely these round green cuties complement the look.
High Pony With Simple Cat Eye Form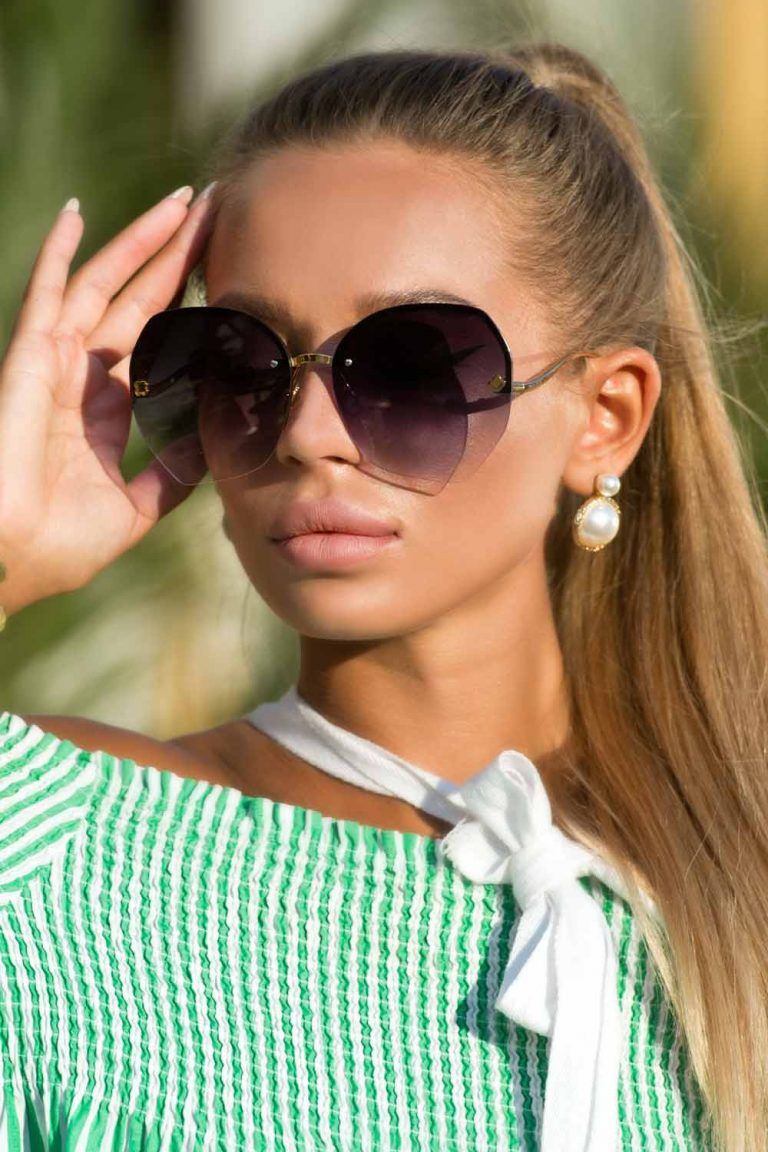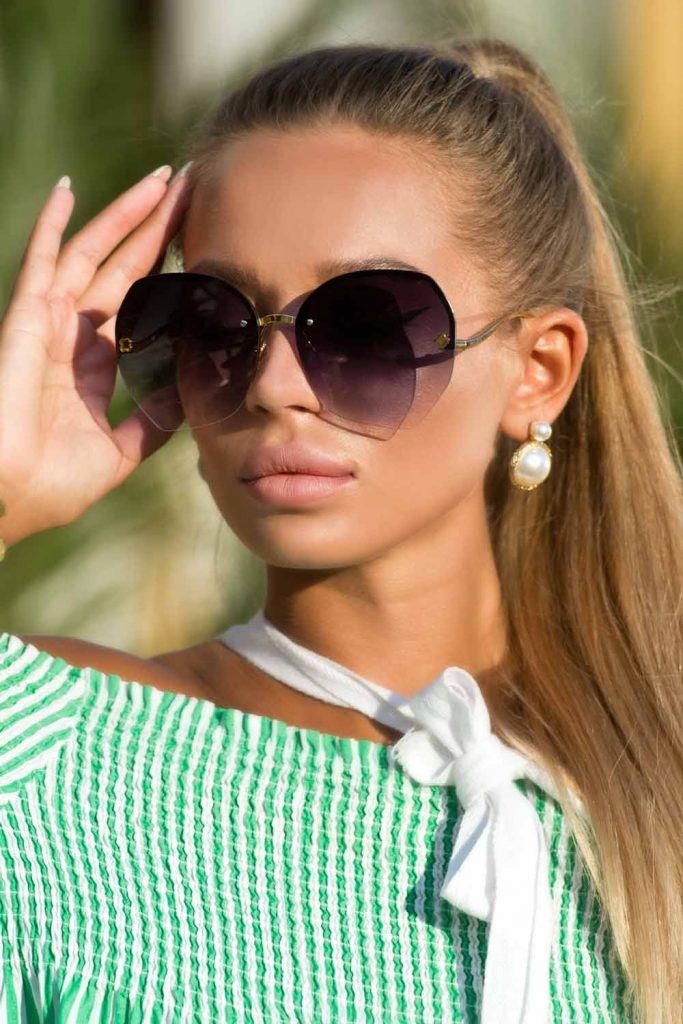 The classic shape of cat eye sunglasses is known to be the sexiest and most versatile sunglasses types ever. Whatever face shape you have, they will take it to the next level, as well as accompany any hairdo perfectly. Just look at this halo braid! The color of sunglasses matches the hair shade, how do you like that?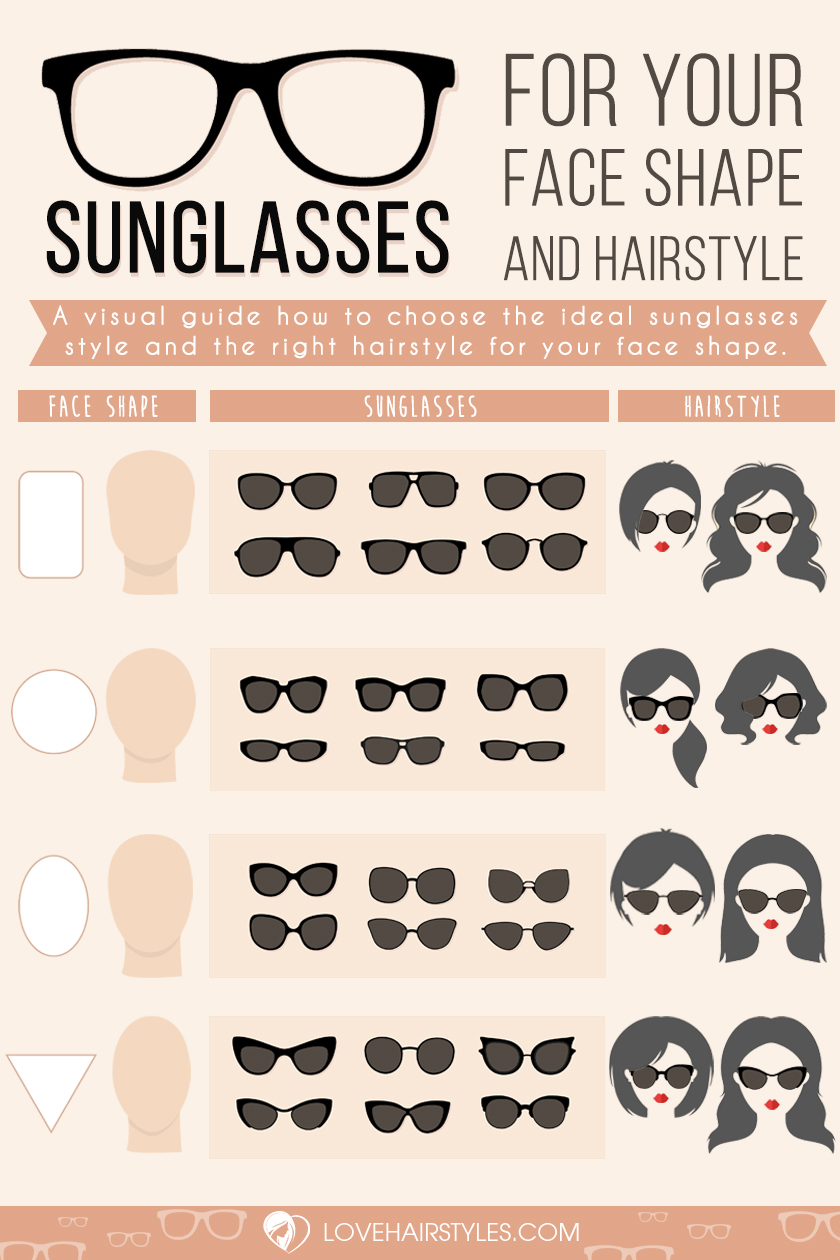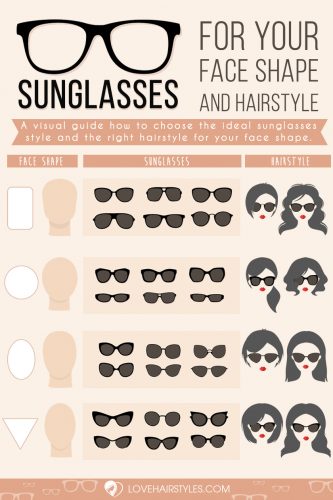 Knowing your face shape has always been the key to success, we're sure that today we've made you fully convinced! Since you know what glasses are the best for you, nothing can stop you from being the most beautiful girl around!
FAQ: Sunglasses Types
What are Category 4 sunglasses?
Under ISO standards, category 4 sunglasses have the darkest lenses available. They are great for persons with light-sensitive eyes and are ideal for usage in harsh sun conditions.
What are Category 0 sunglasses?
Fashion spectacles (0 and 1 lens categories) are not sunglasses and do not offer sufficient UV protection.
What UV is best for sunglasses?
The answer is found in the numerical rating, with UV 400 being the greatest level of UV protection available. Sunglasses that block 99 to 100 percent of UVA and UVB rays are recommended by the American Academy of Ophthalmology, and UV 400-protected sunglasses meet this requirement.
What sunglasses look good with short hair?
People with shorter hair and gentle curls will appreciate their spectacles because they provide a lovely and subtle change. Rectangular as well as round frames are recommended in this case.
What sunglasses suit long hair?
People with long hair are advised to stick with fashionable, neutral colors. Avoid too dark colors, as they might harsh your features. Also avoid flat designs if you have long hair and wear spectacles, because you'll end up looking like a stern and serious secretary.