Choosing two french braids for everyday basis is your best choice, trust us. Wondering why? Super stylish and gorgeous looking it will be suitable for both day to night looks if you are keen on trying new updos for every day. French braids have become a new trend in the hair industry, so be one of the first to try it out on yourself. Comfortable and beautiful at the same time it will make any of your look more interesting and stylish. Intrigued? Then try it out with us. There are so many ways to bring two french braids to life, so let's figure them out together.
How To Make A Double Braided Ponytail?

by @Missy Sue
Follow our step to step tutorial:
Section your hair into two parts down from your ears.
Fix the hair from the back with a hair band.
Take a piece of hair from the first hair part along your hairline and take it away with a tie or a bobby pin.
The remaining hair from the front section divide into two parts.
Take away the front section with a clip to have a clean access to the back part of the hair.
To start a waterfall braid, divide the first section of your hair which is next to your part into 3 sections.
Take the side strands over the middle one in a crossing motion taking the back piece of hair in the beginning.
Then take the back piece of hair and put in a part of her that is beneath it bringing it to the strand of hair that has been crossed before.
Leave out the front piece of hair and put in a piece of hair which is beneath it, taking it over the part in the middle for replacing the strand.
Go on braiding the part of the hair, leaving the strand at the front and bringing a new strand in order to start a gorgeous waterfall braid that goes vertically.
When you braid to your ear, go on braiding a regular kind of braid, fixing the end with a hair tie.
Take down the pin from the forward hair section, the one that you fixed before and start making a French braid taking in waterfall strands into the back part of your braid.
Go on braiding till the braid reaches your ear, and then continue braiding in a regular way, tying everything with a hair band.
Unpin the back section and make a low kind of ponytail out of it.
Take the braids as well as the first section that goes along your hairline into the ponytail, fixing it all with a hair tie.
Carefully let the hairstyle get a bit loose by pulling the strands. This will help to create more volume.
Wrap a strand of hair around the elastic band of your ponytail and curl the ends of hair to get more of a flirty look.
Voila, you're done!
An Easy Tutorial On How To Get A Waterfall French Braid Messy Bun

by @Missy Sue
Take a piece of hair out of the section to your left ear. Then take away the back section with a clip.
Take into two sections the front part and pin up the part of hair from the front.
Make a waterfall braid and fix it up with the help of a hair band.
Take the front part and make a French braid out if it. Also, to get a combined braid add into the waterfall pieces.
Get the rest of the hair to the low hanging ponytail.
Put a hair band and when wrapping the last time pull your hair halfway through the band.
Take the top of the band up to the head, fixing it with bobby pins.
Grab the left out hair and get it around the bun to the left side of the made bun with pinning it up.
If there are any left pieces of hair, then fix them up with bobby pins.
Add hairspray to make sure your hairstyle stays in place for a long time and put on a beautiful accessory.
A Stylish Hairstyle With Fishtail Braid Technique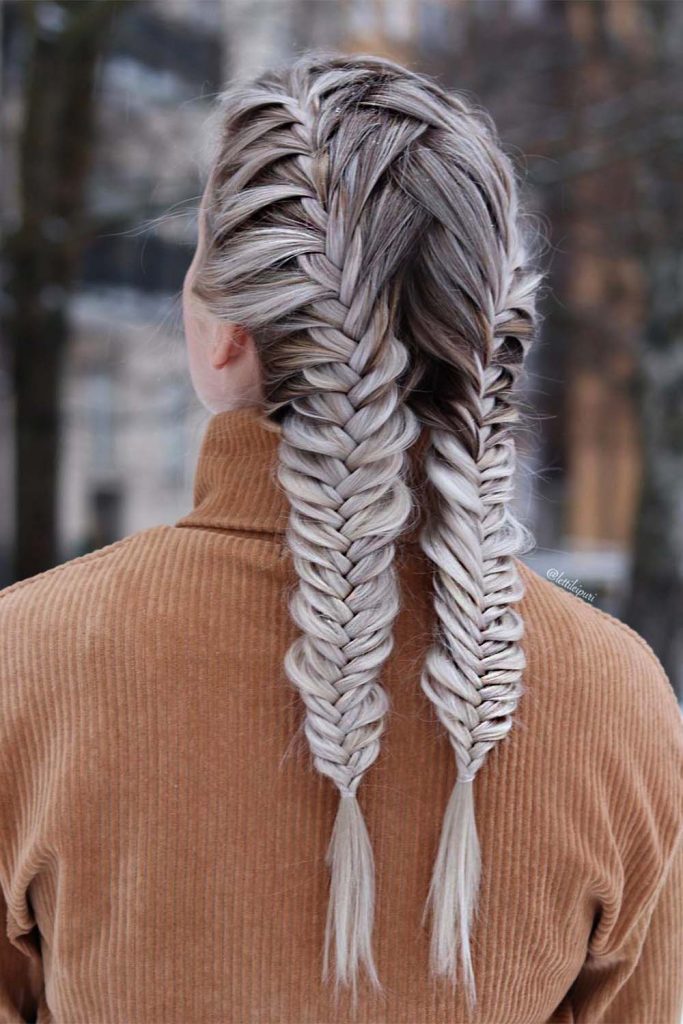 by @lettileipuri
The first option of making two french braids is super stylish and will be suitable for those who are not ready to leave their hair fully done. What we love the most about this fishtail braid hairstyle is that the technique seems to be really difficult, when in reality it's the easiest out of all. Just braid to parts of your hair in a fishtail technique at both sides and tie them both at the beginning of one another. And you're done with your quick, cute good hairstyle!
A Playful Two Braids Hairstyle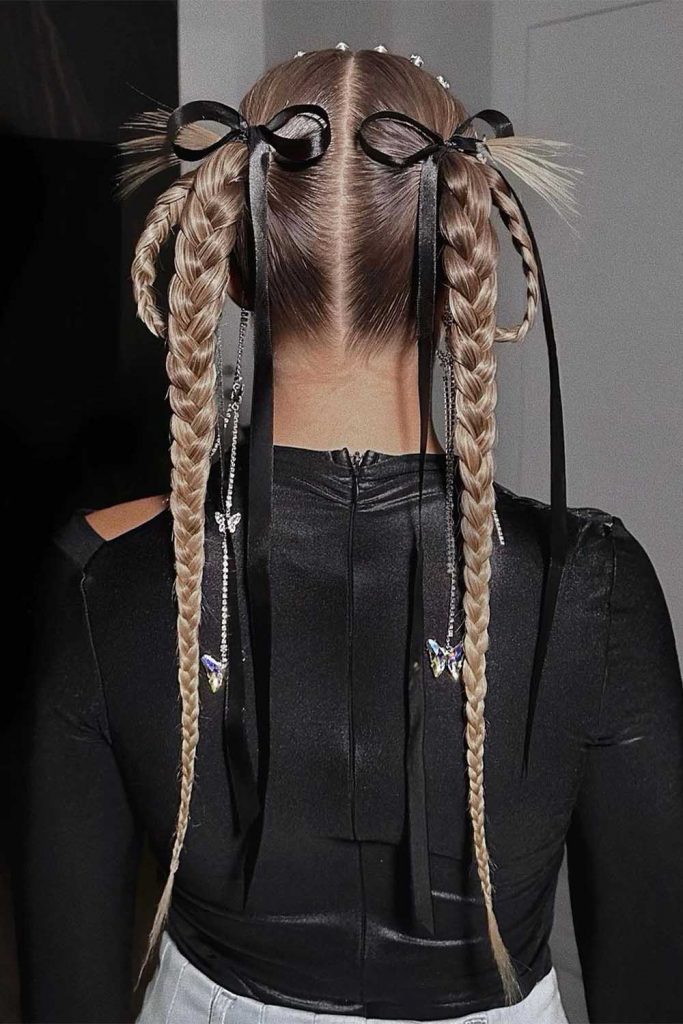 by @viola_pyak
High braids with colorful hair ties that will make you look flirty and playful. Are you a fan of creative hair updos? This one is one of it! Remind yourself of old childhood memories with this one ad a good mood and comfort is guaranteed.
A Perfect Option With Braids For Long Hair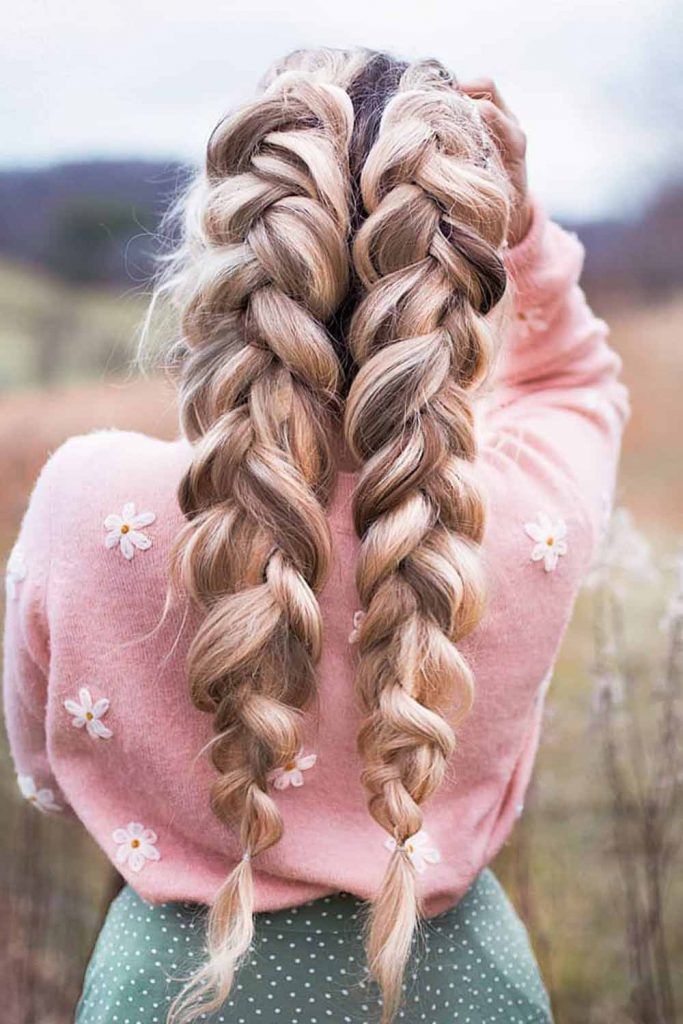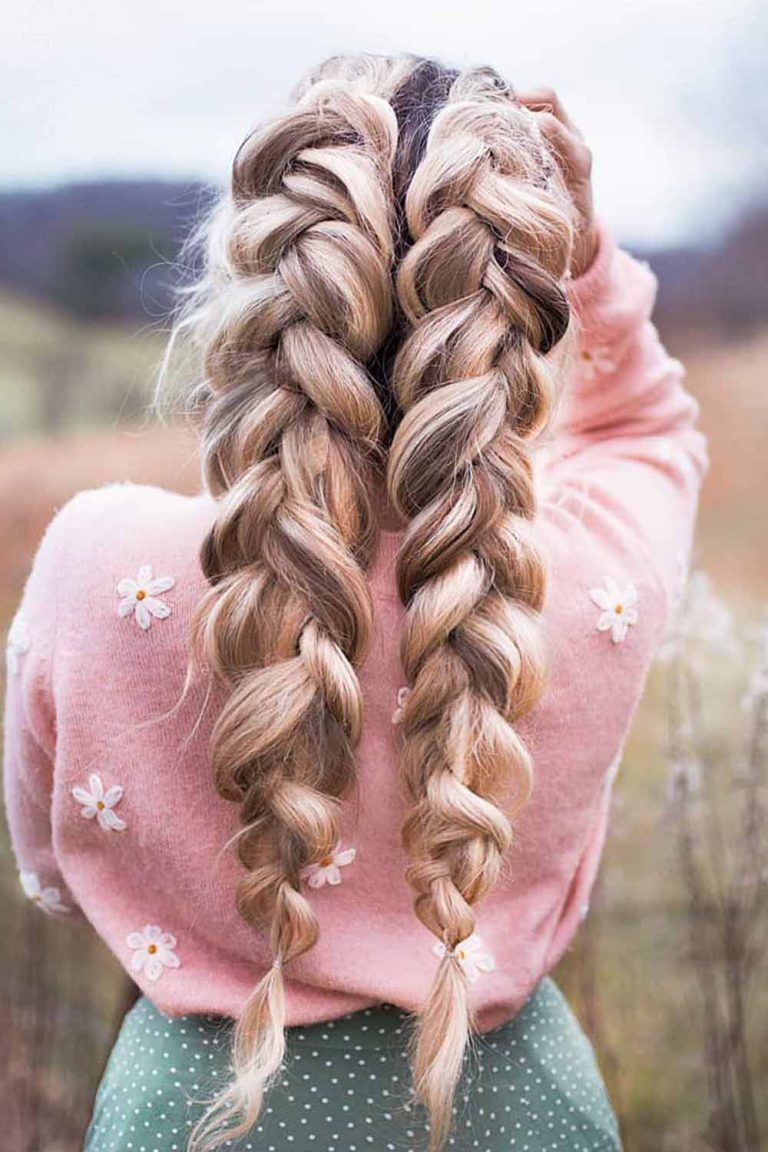 by @angelroseturner
For those girls who have super long hair, we have an option too! Part your hair into two sections and carefully braid them loosely. Looking " at ease" they will perfectly complete any daily look making you look flirty and romantic, but most importantly taking your hair out of your face.
A Both Informal And Formal Braided Hairstyle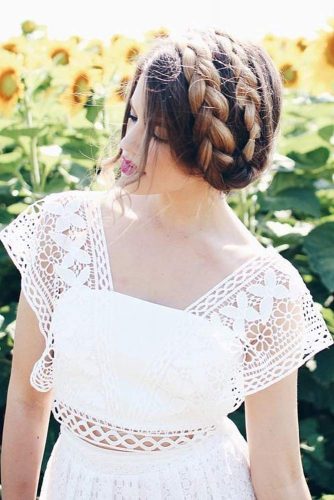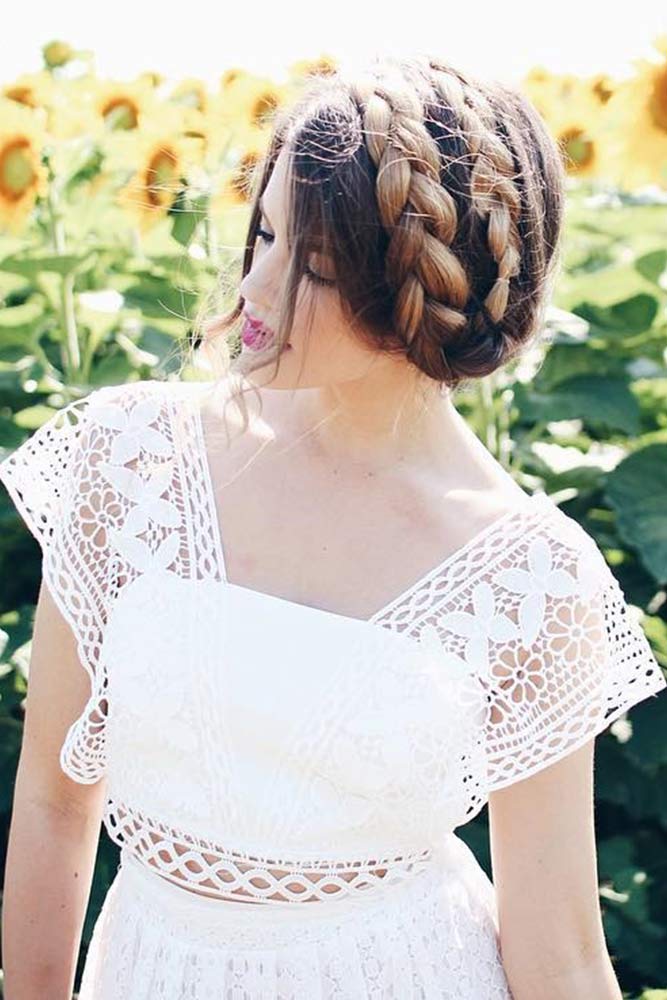 by @karindragos
If you are looking for an option that is suitable for both informal and formal styles then this one is for you! Section your hair into two parts and braid it loosely. Then with the help of bobby pins fix it at both sides of your head. Leave a few strands of hair to get more of the "relaxed" look and voila, a perfect hairstyle is done!
A Beautiful Double French Braid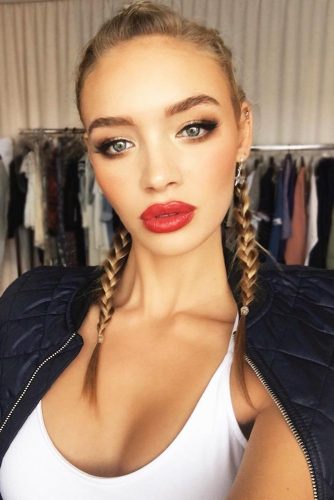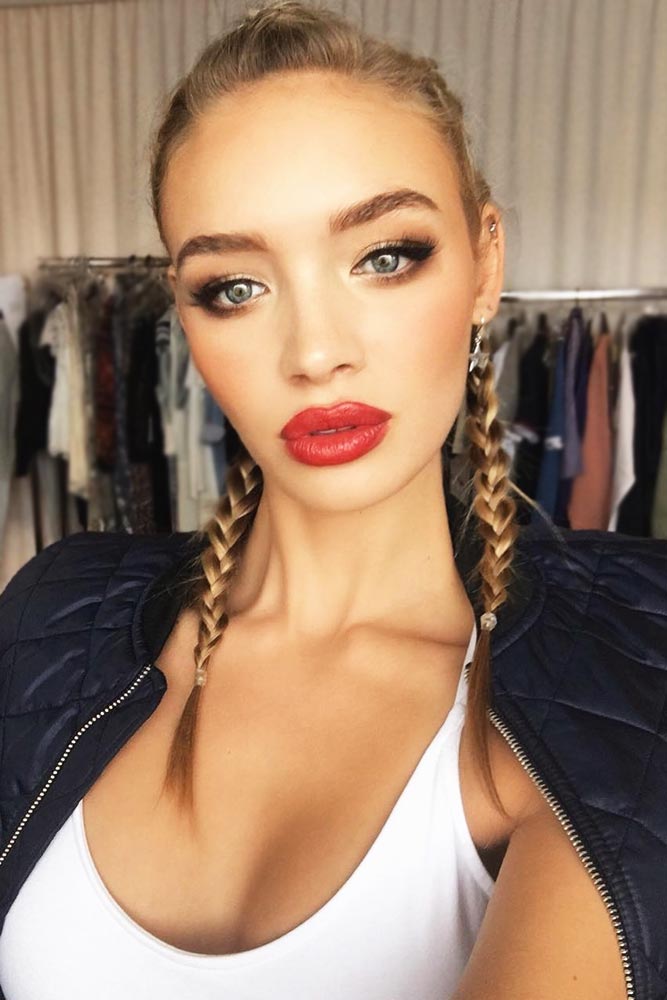 by @roxyhorner
What is so special about French braids? They make you look stylish without making you look childish. Such a line that can be crossed easily. Do your double French braid carefully and you will get a great result that will make your hair routine much easier that day. Suitable for hair of any length, it's a dream hairstyle!
French Braids With Long Hair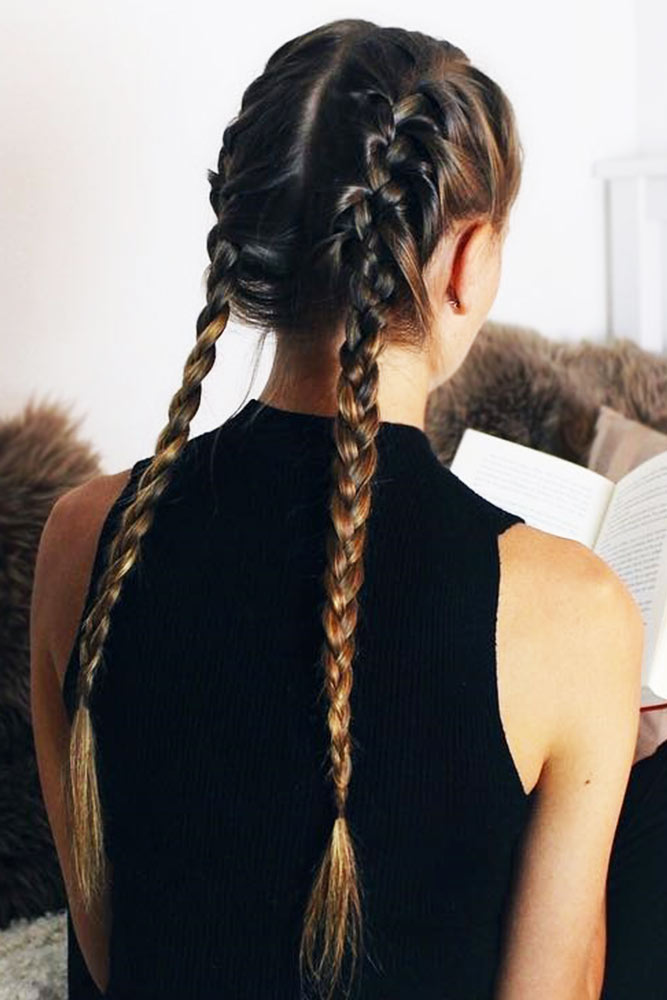 by @sarahowever
If you have long hair, two french braids will be looking really good on you too! Do them really neatly and the result will impress you. French braids black hair are looking super stylish too, so if you have long hair and dark hair - it's a killing combo!
French Braids With Blonde Balayage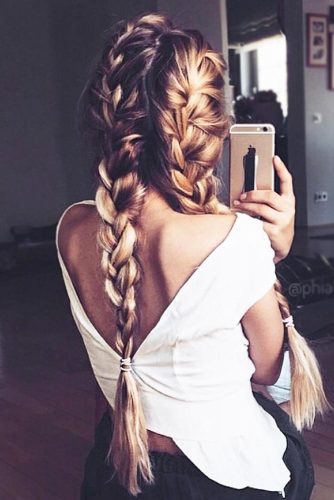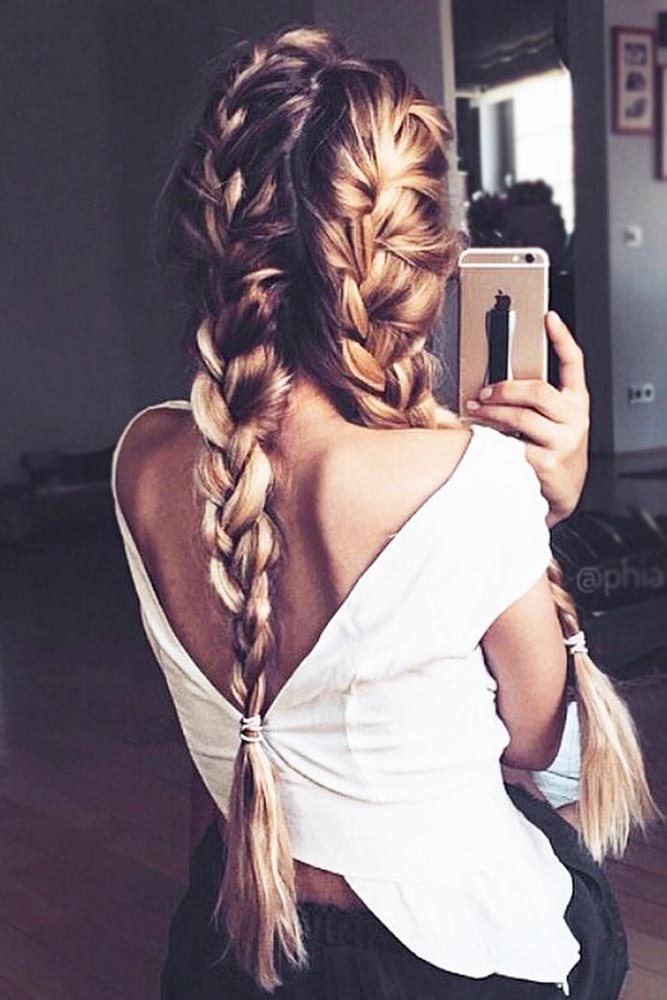 by @phiaka
For those girls who have dyed, hair we have some great news! Especially if it is highlighted with blonde balayage technique! A great combination of two french braids with balayage will do its magic to make you look romantic. Make them loose and enjoy the results.
Half up Knot With Double Side French Braids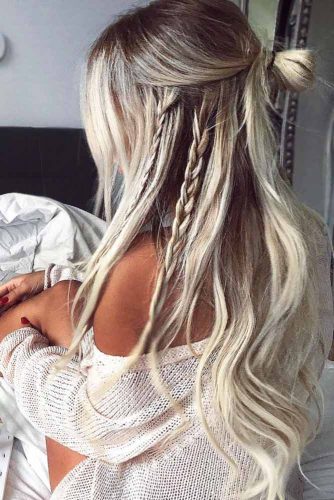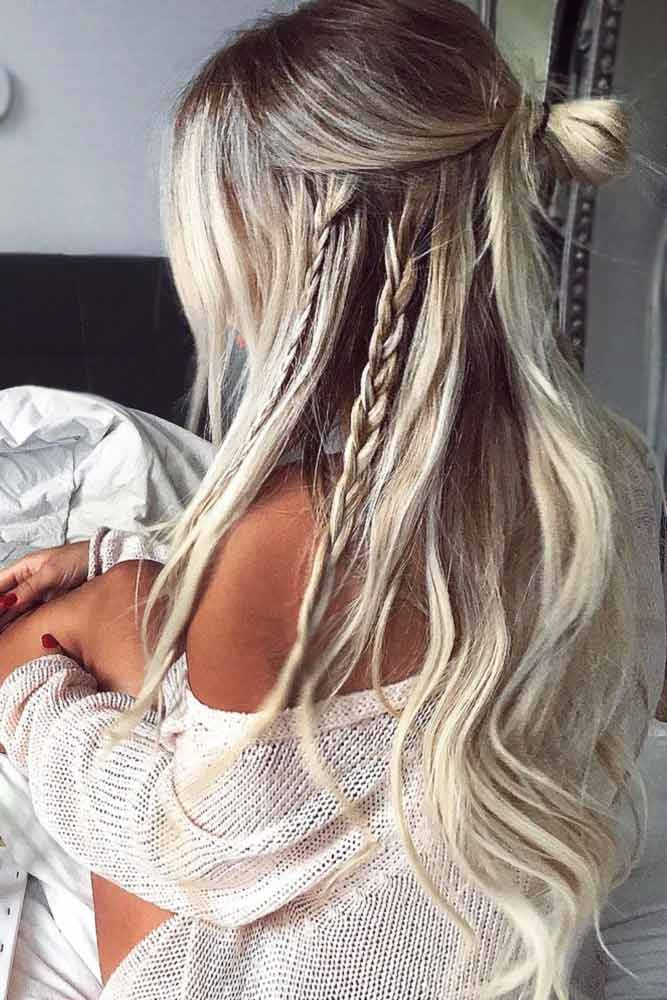 by @larinabeauty
Don't you want to experiment too much but still want to try something different and new? Then this hairstyle is just for you! Take the upper section of your hair to a half up knot and add double side french braids to stand out among your long beautiful hair. Such a small detail with such a great effect.
With Extensions For Your Braids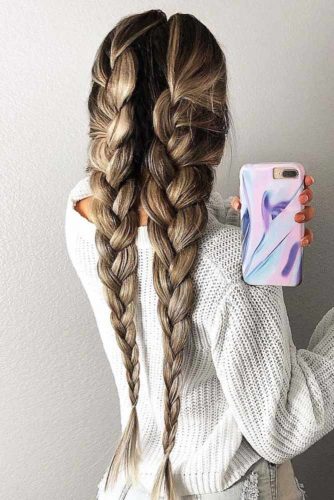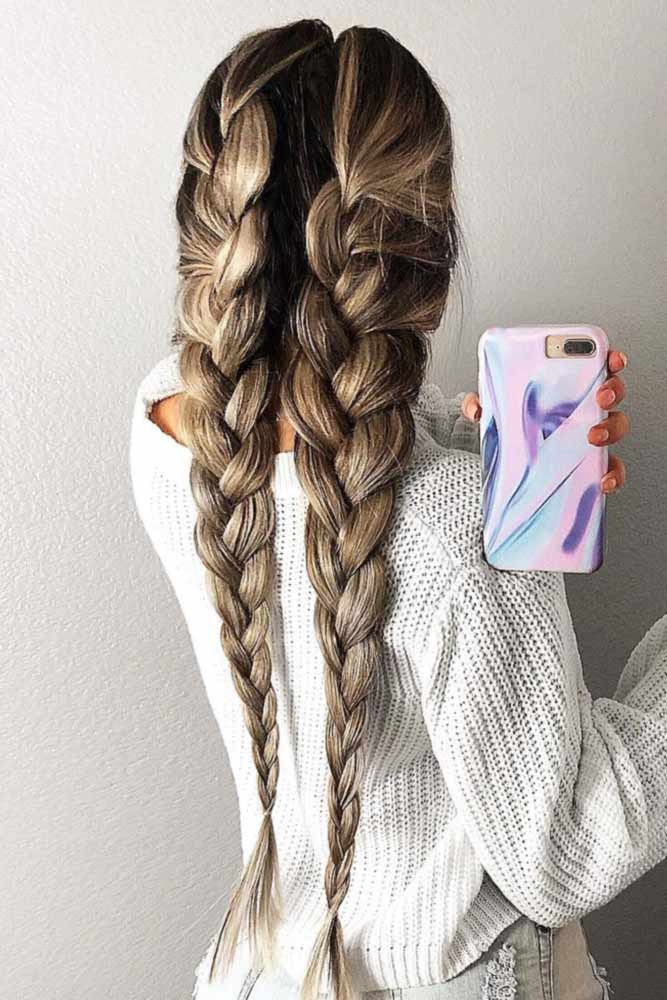 by @okevaaa
Don't you have long hair? Don't be upset then! We have a solution for you! Pick some hair extensions of the desired length and create anything you want. Braids should be the first hairstyle on your trying out list.
Blue Hair In Your French Braids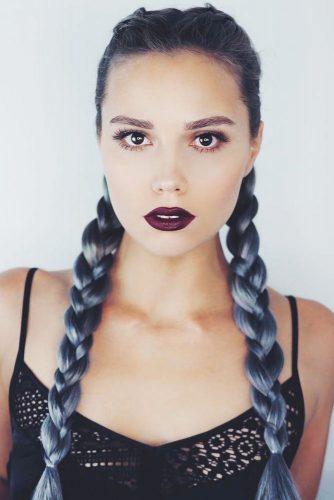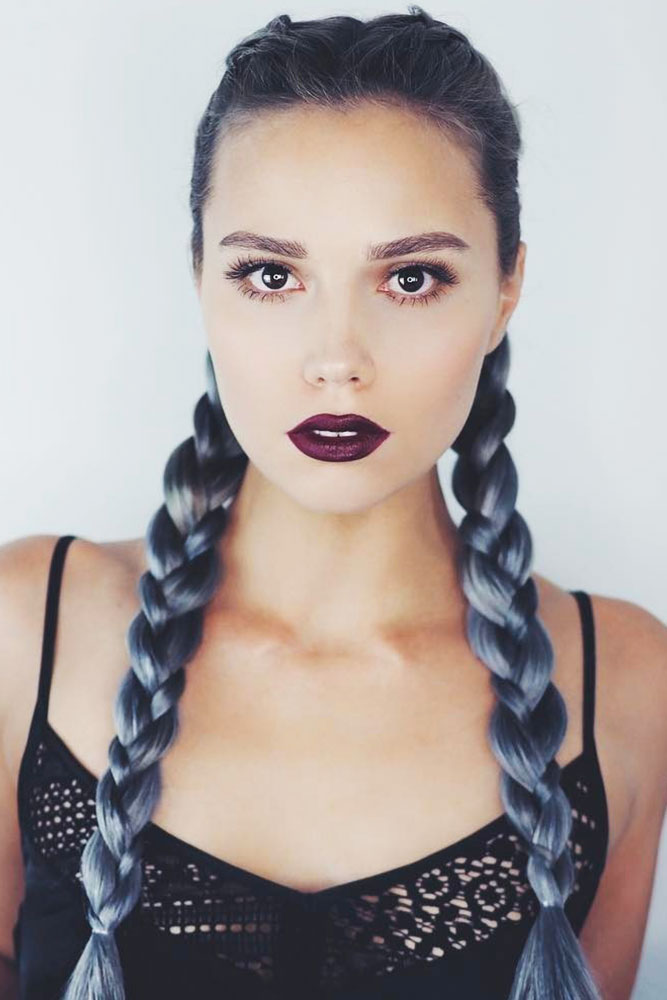 by @kirstenzellers
A new tendency is to add a bit of color to your hair. So why don't you try adding some blue? Dyed hair or just extensions in blue will make your French braid hairstyle look super colorful and creative!
French Braids With Hair Bands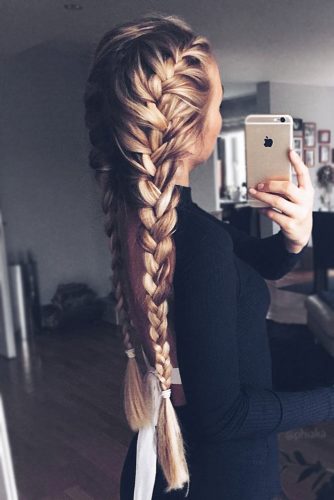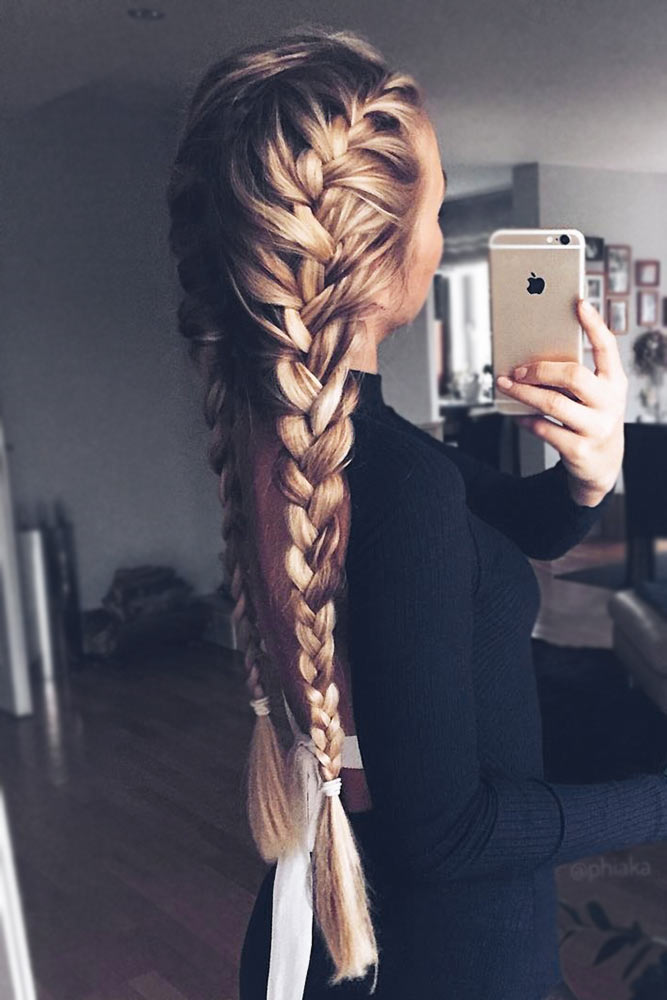 by @phiaka
If you don't like the idea of fixing your hair with bobby pins, then try out this one with hair bands. Making you braids look super neat and stylish, it will for sure be of your liking, especially if you choose colorful ones.
Tight Long French Braids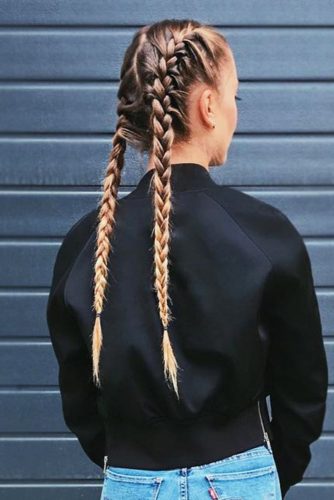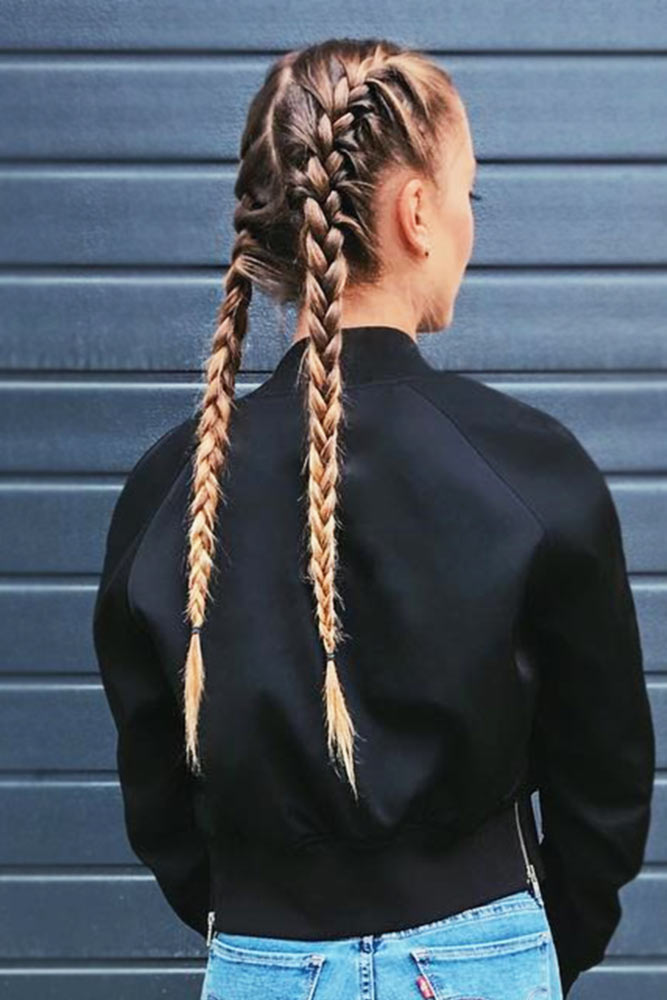 by @sarahowever
As you have understood loose French braids are getting their popularity, but don't forget about the tight ones too. Looking neat it will add style to any look you choose especially if you are the owner of long hair.
Holiday Braids Styles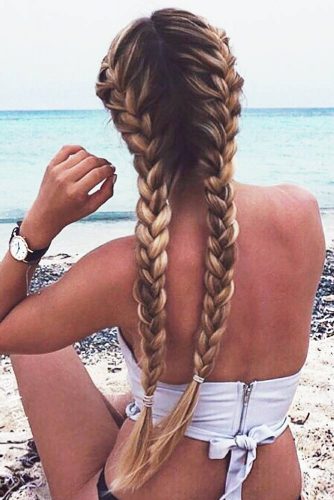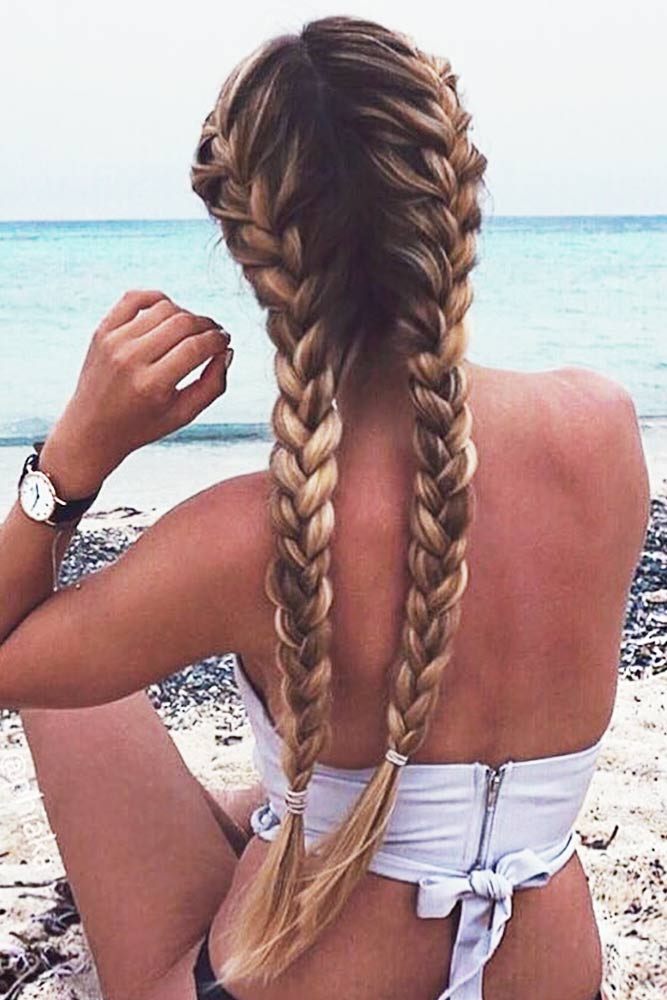 by @phiaka
Are you looking for a holiday hairstyle that will be super convenient for swimming and all the activities you may choose? This one with two braids is perfect them comfortable for sunbathing, playing sports and swimming, it will get hair out of your face, letting you enjoy any activity you choose for yourself.
Loose French Braids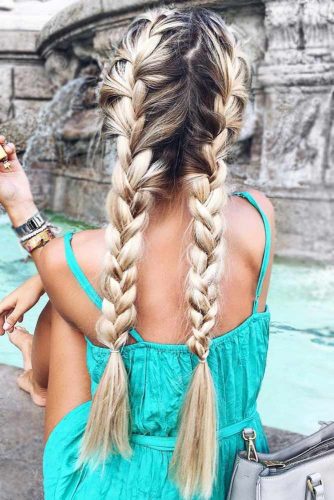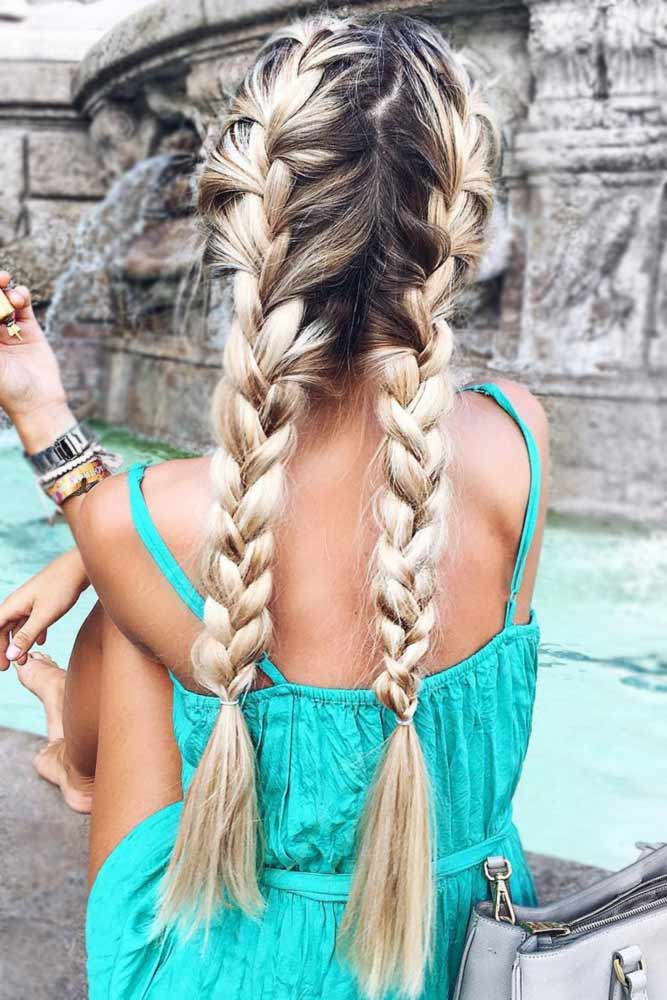 by @phiaka
In our opinion, loose French braids are super comfortable for active girls. Comfortable and good-looking, they will create a great appearance with both comfort and convenience for you.
Double French Boxer Braids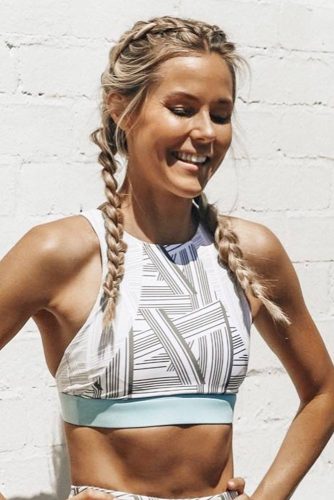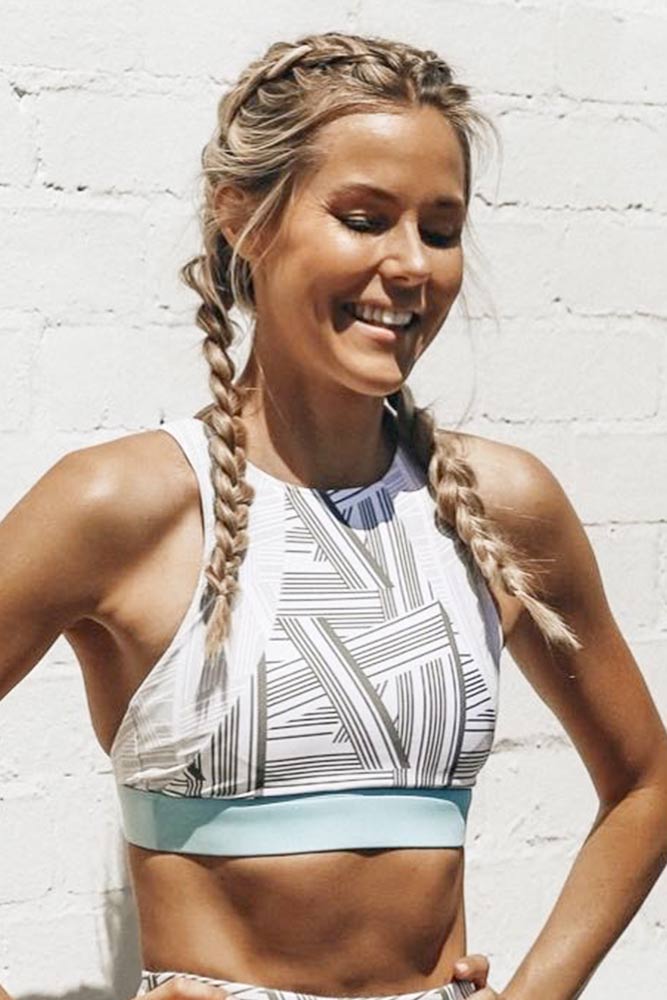 by @fakander
They are called boxer braids not by accident. As boxer girls prefer these hairstyles for their training, we believe it is a great proof for the comfort of it. Two french braids are super convenient for training and active lifestyle, try it out!
Messy Double Braids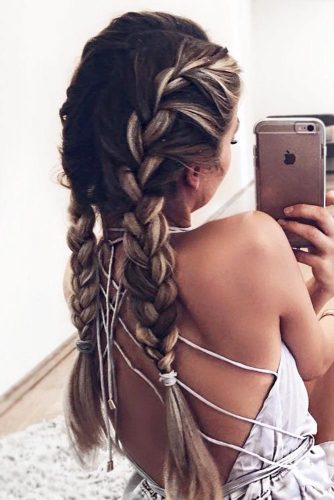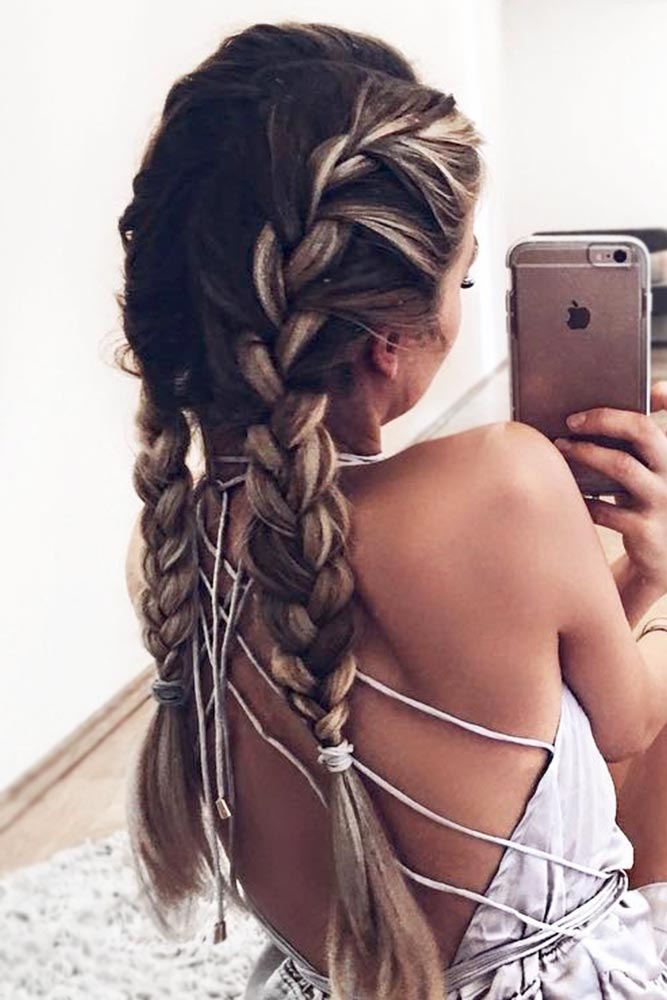 by @phiaka
Perfection is a lie - that's the motto of everything being trendy this year, don't you agree? Messy hairstyles are the proof. Try these messy two french braids and feel as stylish as possible on a daily basis. Be careful for not turning your hairstyle into a full mess on your head; neatly make them loose to make an arranged mess.
French With Three Strand Braid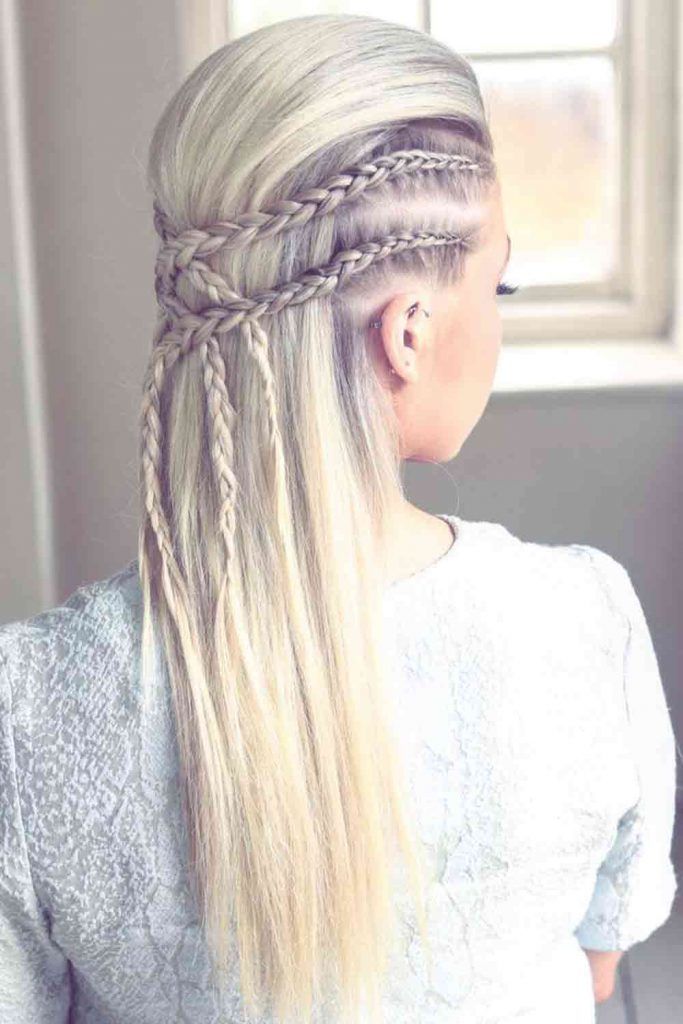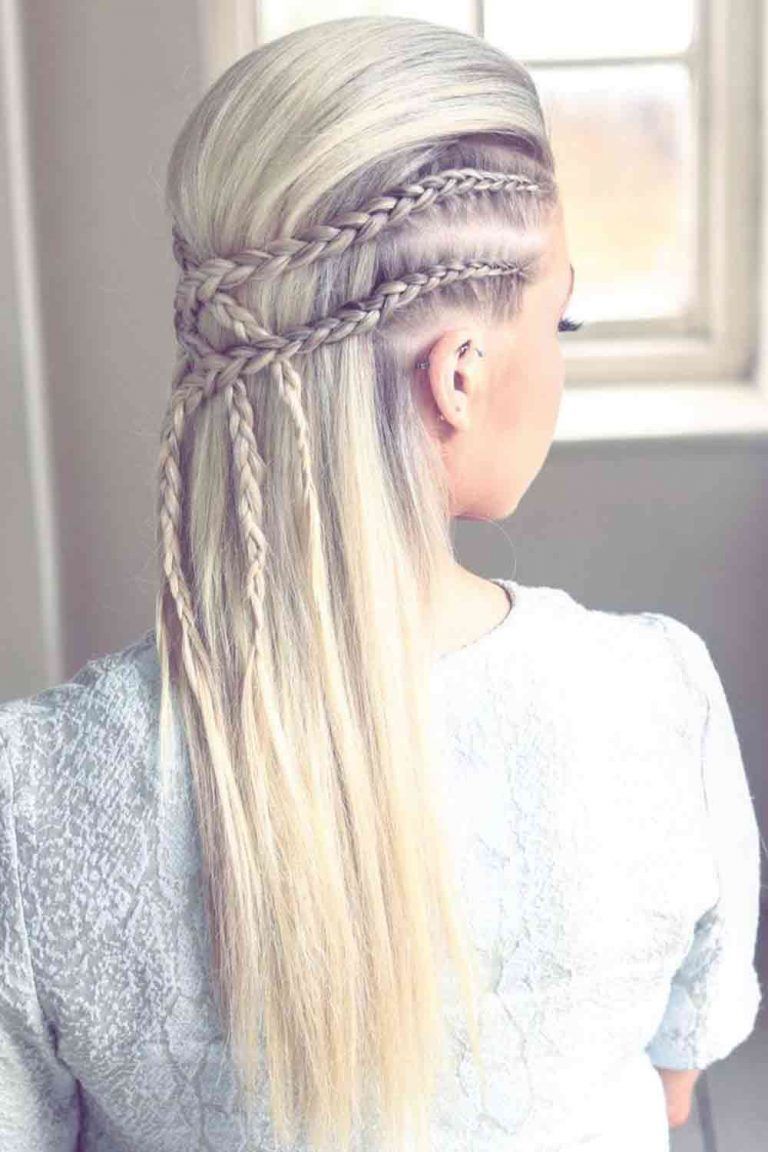 by @sweethearts_hair
How do you like the idea of combining several braiding techniques? The more texture, the better! You can volume up the crown with your double French braids and braid the rest of your hair into a three-strand or regular braid.
Double Halo Braids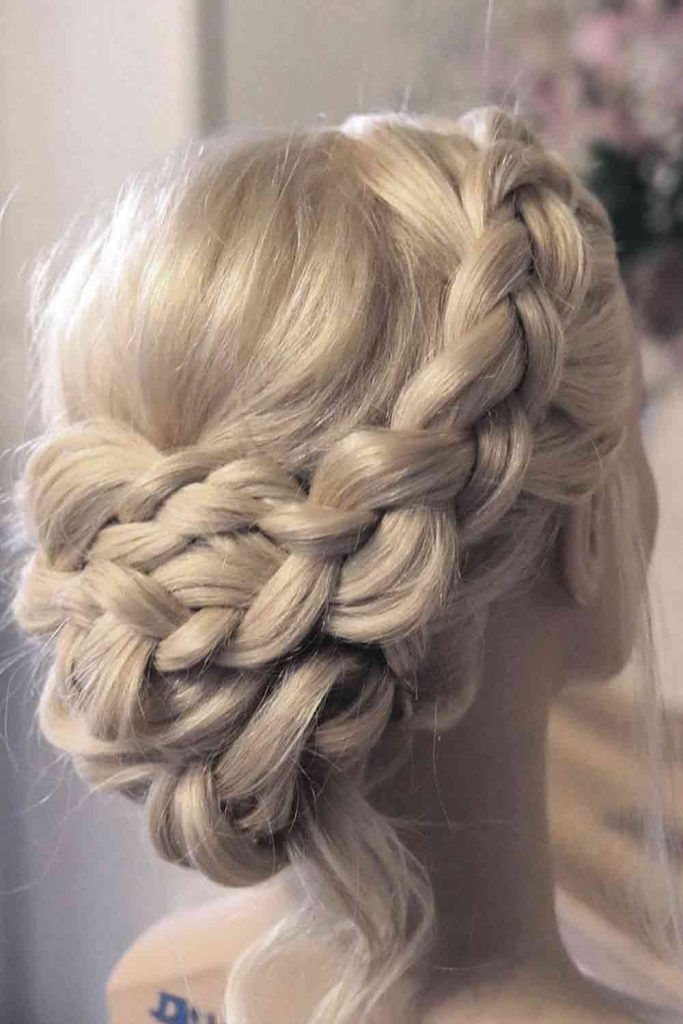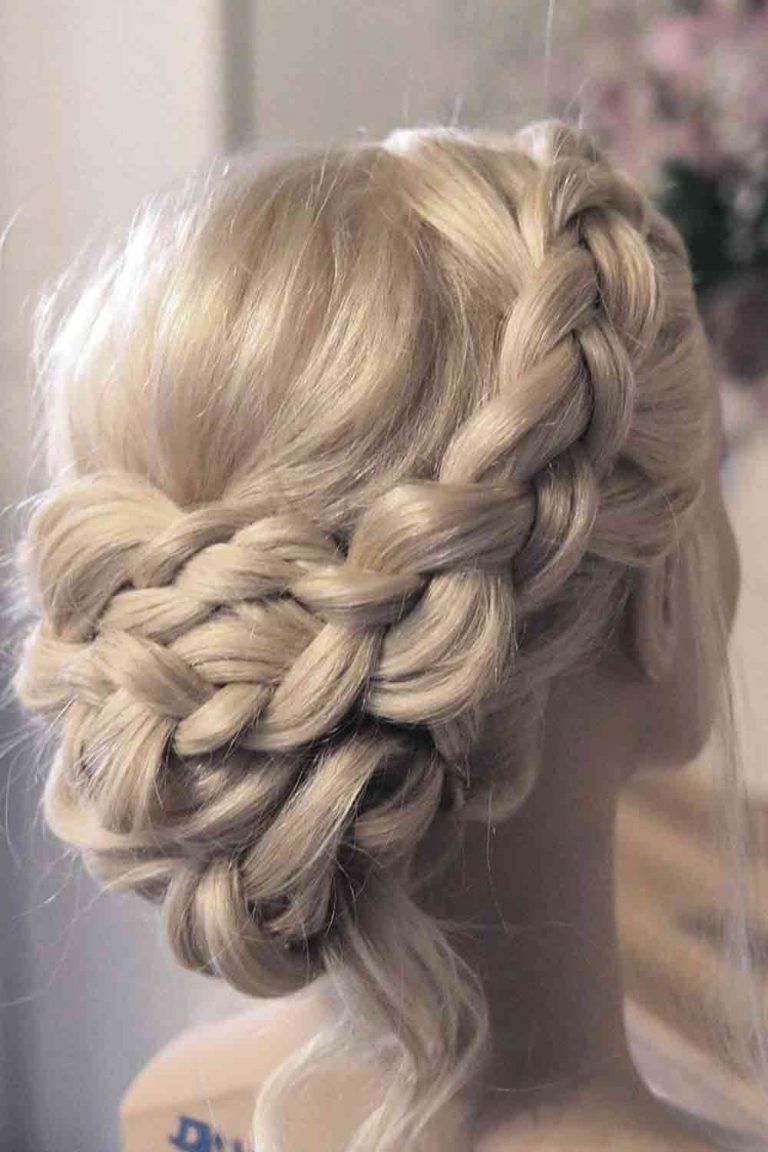 by @sweethearts_hair
Halo braids have always been the most feminine hairstyle ever: they keep our hair immaculate and open up our beautiful face. And the best thing is that such a hairstyle can fit in any occasion: from a simple walk with a friend to an evening party.
Half-Up Messy French Braids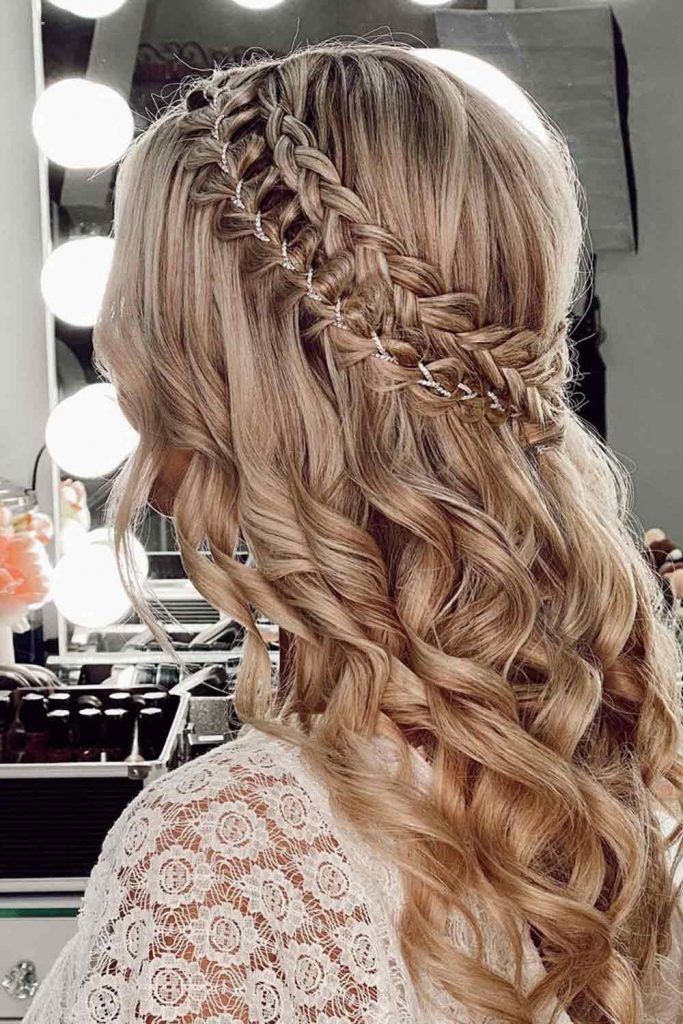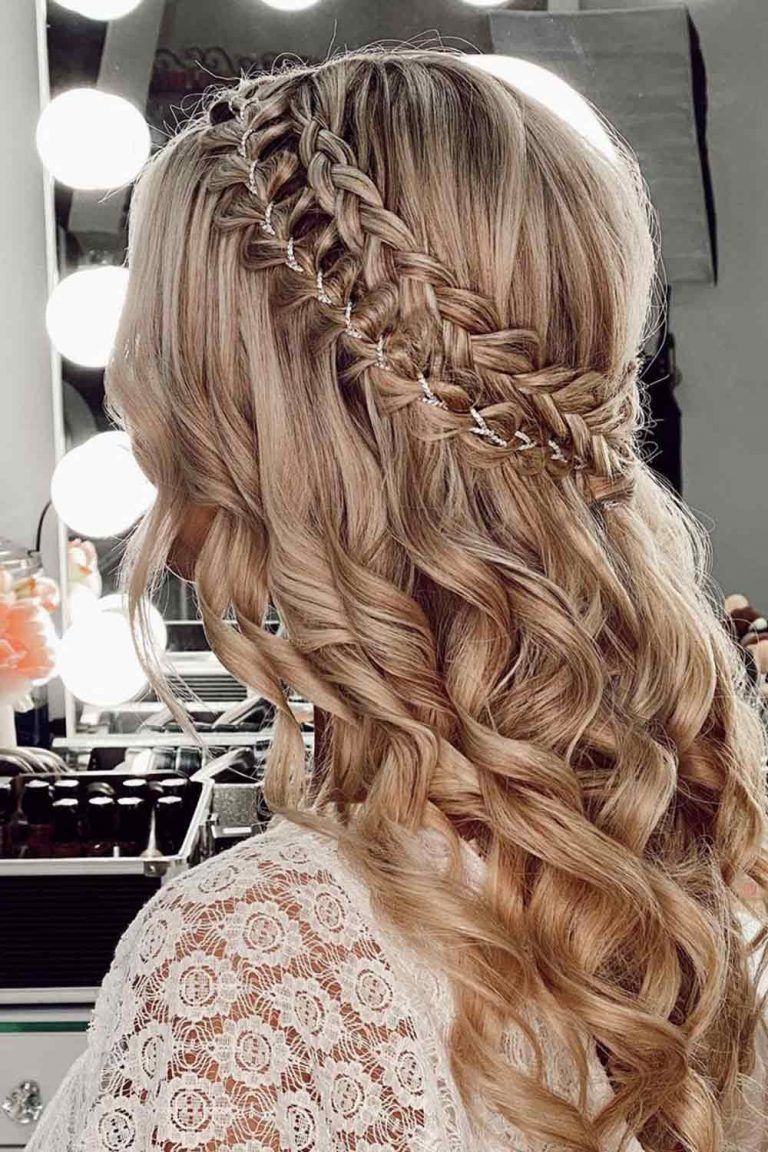 by @samirasjewelry
When you have no idea how to diversify your French braids, just get yourself a half-up hairdo! Leaving your long locks loose is a stunning way to show off the beauty of messy braids that embellish your crown.
Tight Boxer Style Braids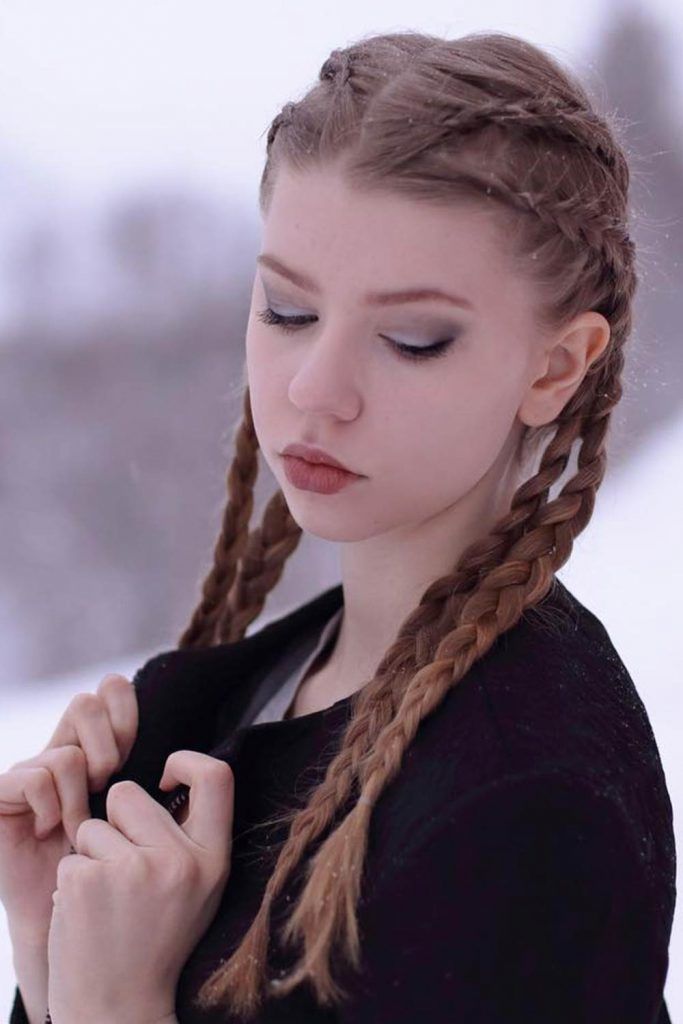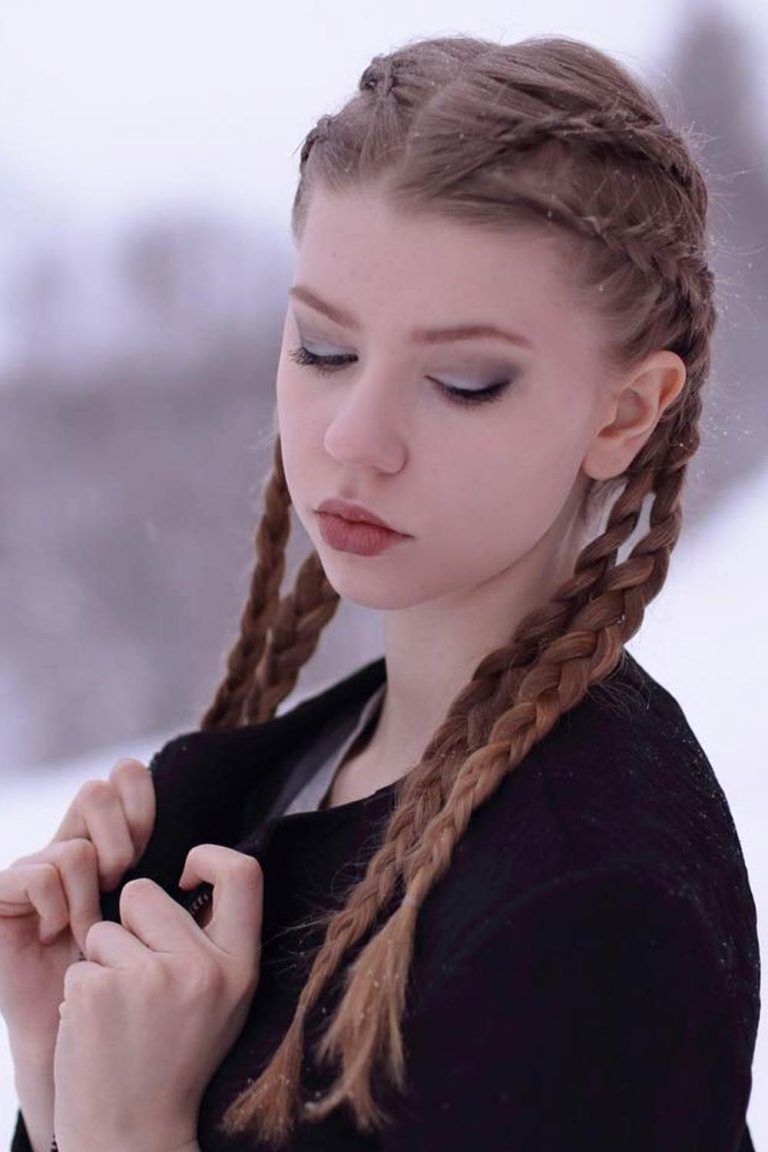 by @aurorabraids
You may know boxer braids as a protective hairstyle for natural hair. But there are no limitations in the fashion world, and now every lady can sport them, regardless of her hair texture! These braids are super neat and tight, which is a trendy option for those who are tired with regular braids.
Double Side French Braids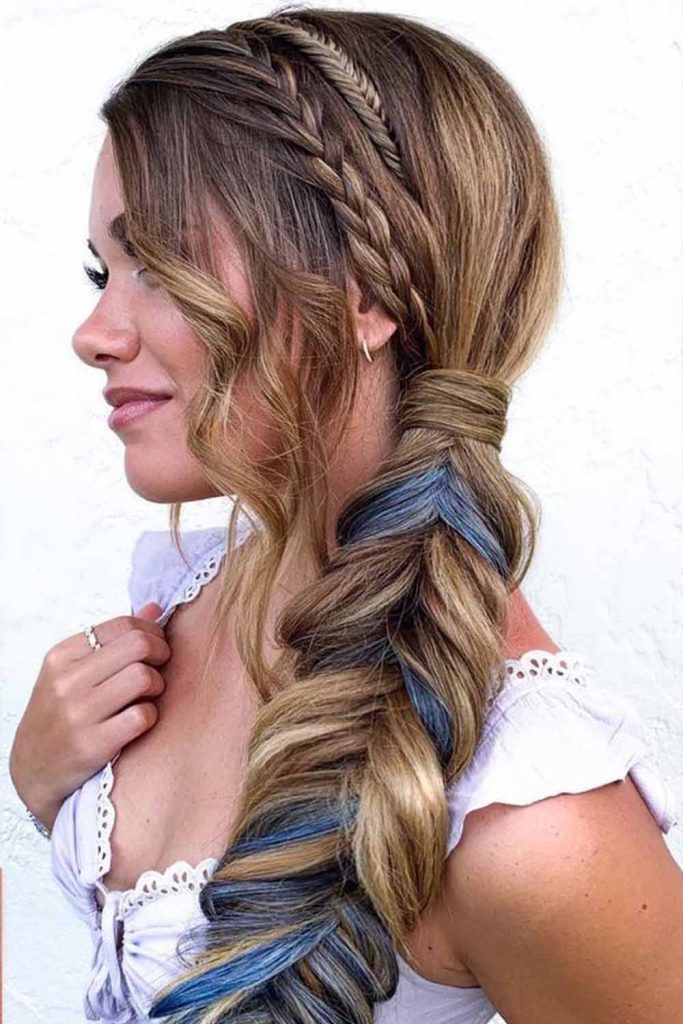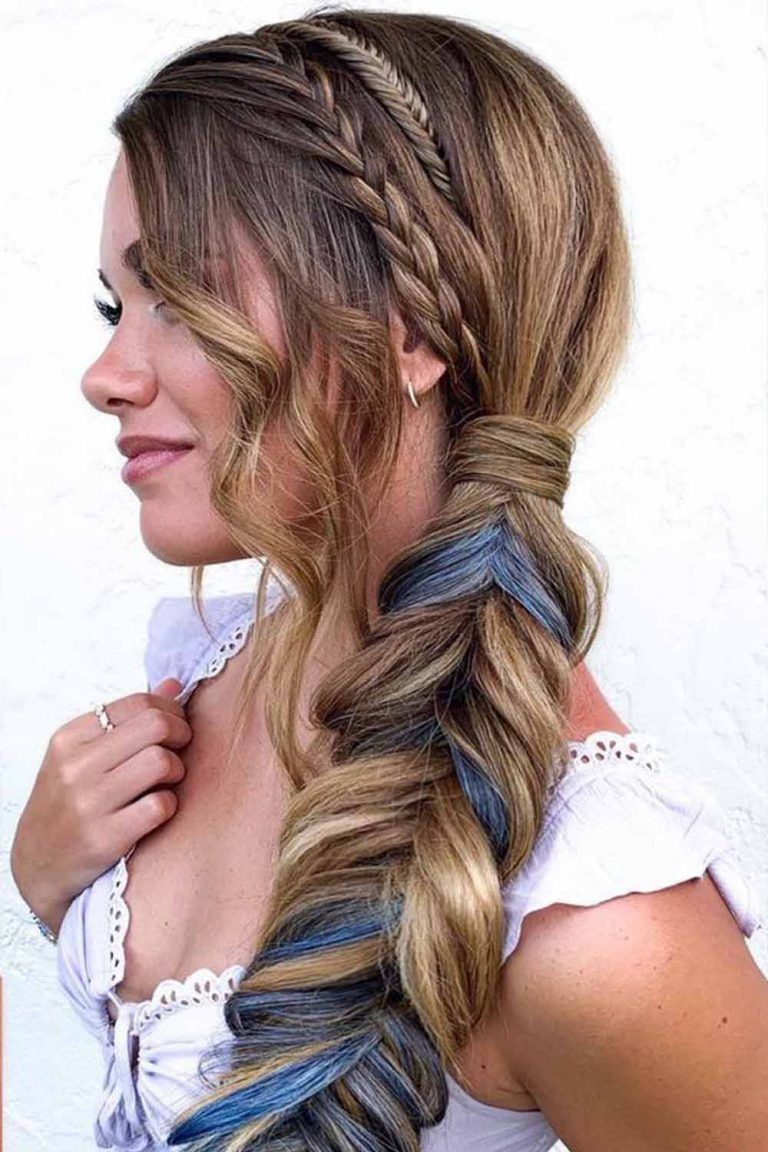 by @samirasjewelry
One of the easiest and the most beautiful idea to wear two French braids is to braid them on the sides and pull the edges. This simple trick can change the way your braids look, making them appear more voluminous and textured.
Double Waterfall French Braids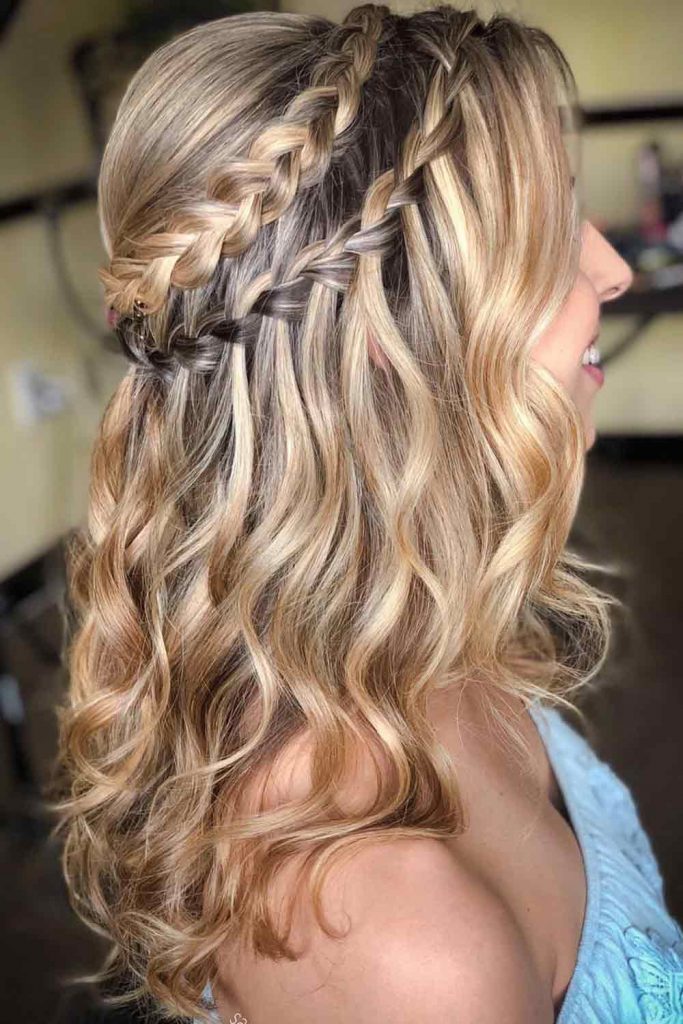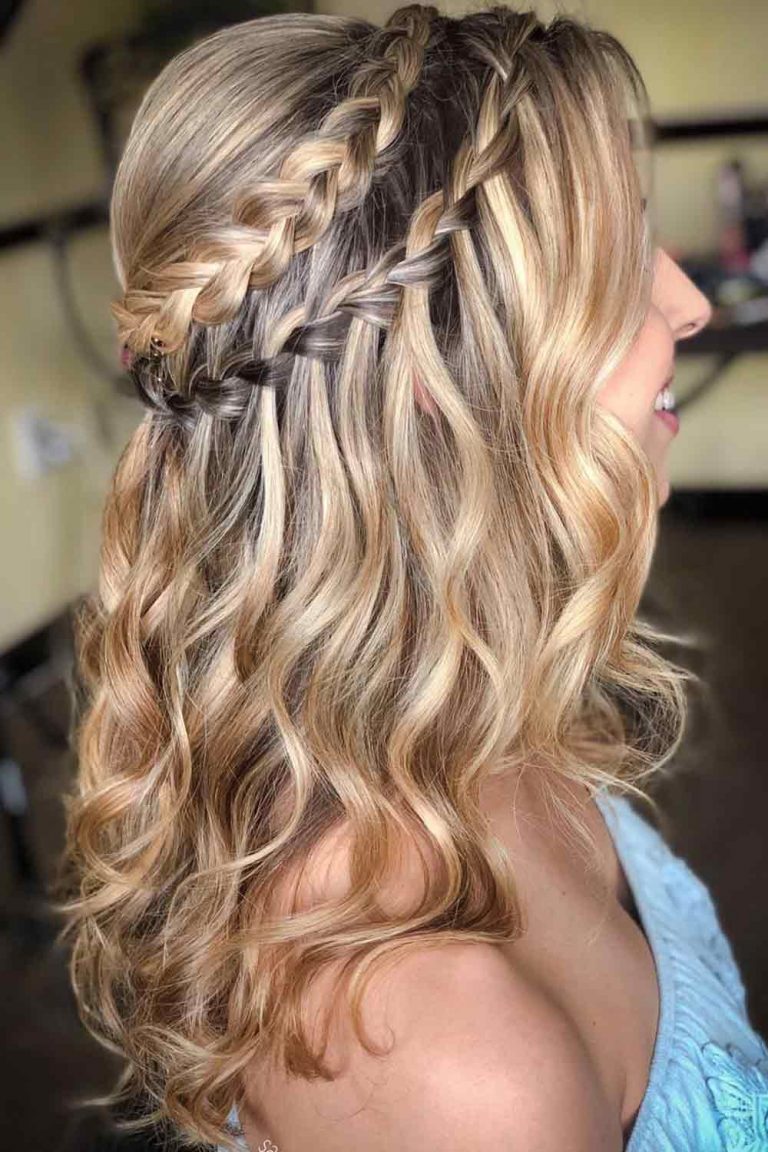 by @samirasjewelry
We all can't take our eyes off waterfall braid when we see one, right? Let's double this beauty to create a truly breathtaking braided hairdo: just do a waterfall braid with two layers and be careful as you're going to fall in love with your hair.
FAQ: Two French Braids
What are French braids called?
The French braid, often known as the French plait, is a braided hairstyle. Three pieces of hair are braided together from the top of the head to the back in the three-strand collected plait.
Who wore braids first?
Braids date back 5000 years in African civilization, to 3500 BC. They were extremely popular among women. Braids are more than just a hair wearing mode. They're a kind of art…Braiding was first used by the Himba people of Namibia in Africa.
How long should you keep French braids in?
Braids should never be worn for more than 7 weeks. If you wait any longer, your newly grown hair will stretch and harm, eventually breaking. Hair loss is likely to happen if you keep your braids on for more than 8 weeks.
Was this article helpful?