The newly emerged undercut designs seem to have displaced tattoos as a way to express oneself. A couple of years ago, the only idea that would come to your mind when you thought of hair designs was nothing but a shaved stripe on the sides. Gone are the days when your hair wasn't canvas for your creativity: the on-trend undercut is going to prove that.
Nowadays, there are no restrictions for wearing the popular short-on-sides-long-on-top haircuts, and bold ladies who like tomboy style have made it a thing. Are you ready to make the common cut stand out in the crowd? The modern shaved designs are there for you.
We've selected the most spectacular, iconic, and unusual designs that can change your undercut look once and for all. See how to make a statement with a shaved masterpiece and new colors!
Head-Turning Star Undercut Design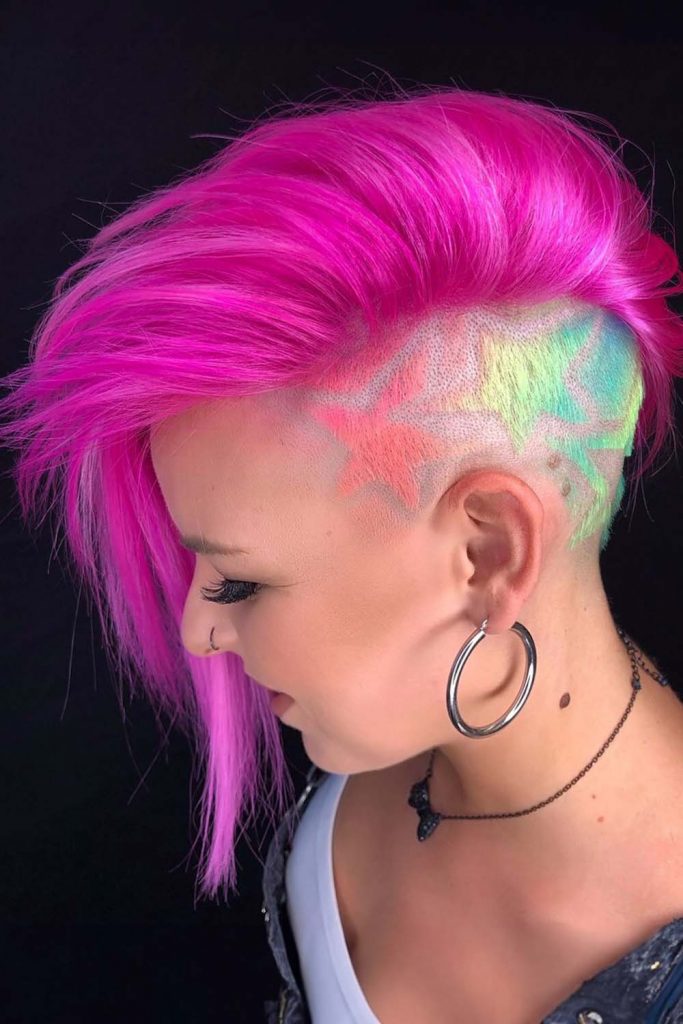 by @isaac4mayor
With the help of high fade, your undercut design can look as dimensional as a real head tattoo. To get a look like this, you will need to find a handy stylist who doesn't panic about meticulous work. And even though this awesomeness needs regular trimming, the effect is definitely worth trying.
Bird Undercut Design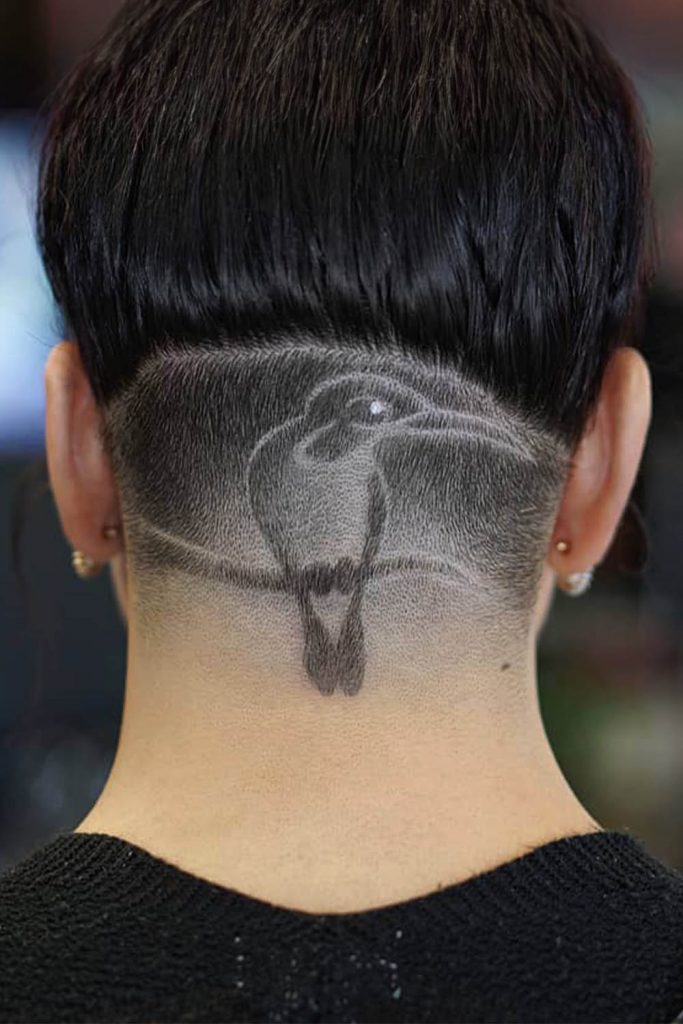 by @jubei_ma
If you are up for more romantic and simple designs, think of getting a bird undercut shave. Look how amazing the lines make the whole picture look. It will be suitable for any occasion you have, amazing people around you.
Simple, Yet Glam Line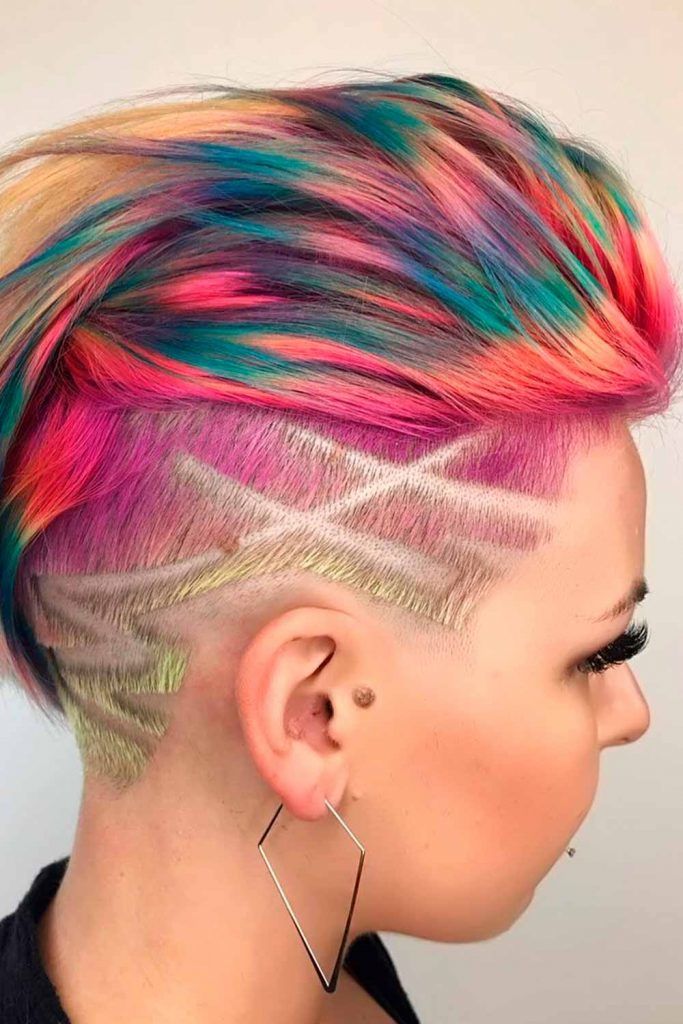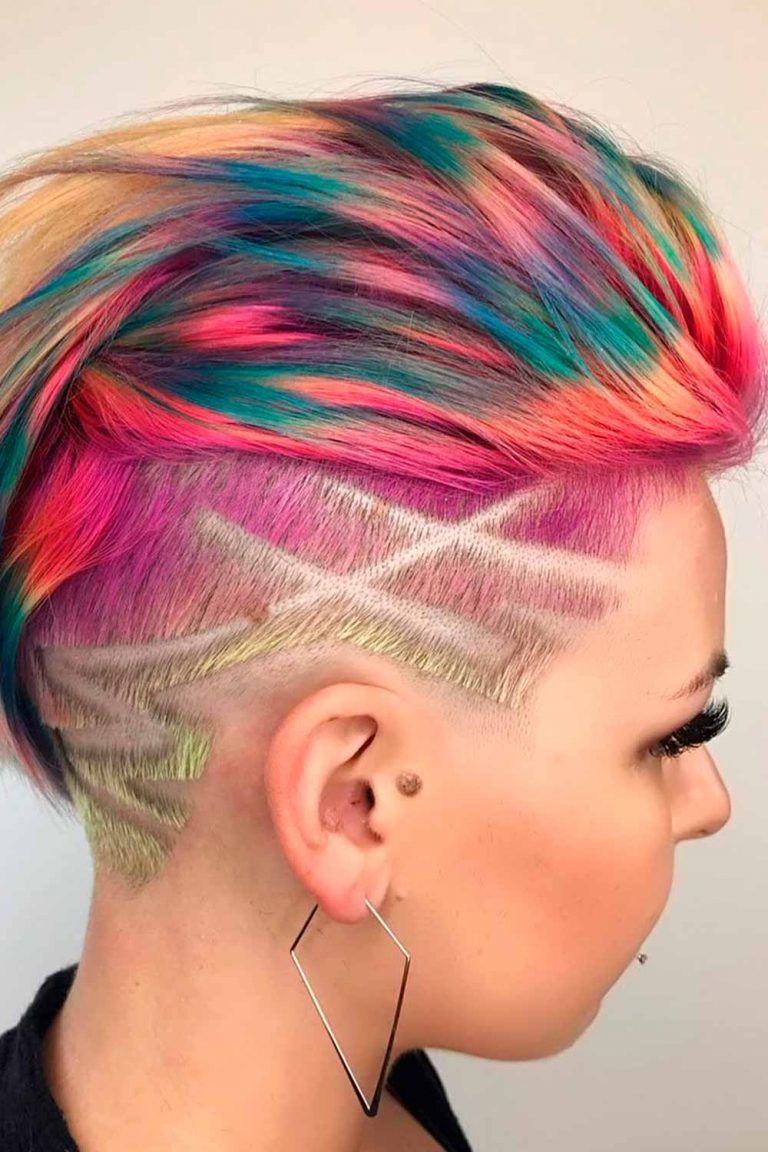 by @isaac4mayor
Technically, this idea is one of the simplest undercut hair designs: it involves just one diagonal line. Yet, the colors and length graduation make it be worth everyone's attention! The low fade layer roughly becomes thicker and pinker, turning into an outline for the eye-catching pinky milkshake top!
Side Undercut With Triangles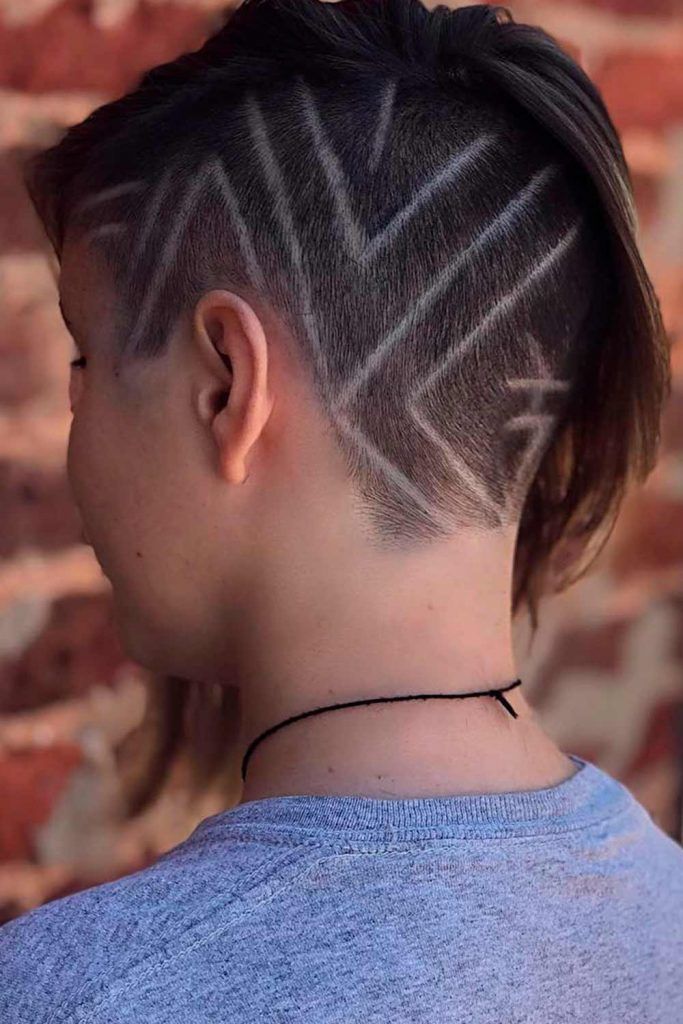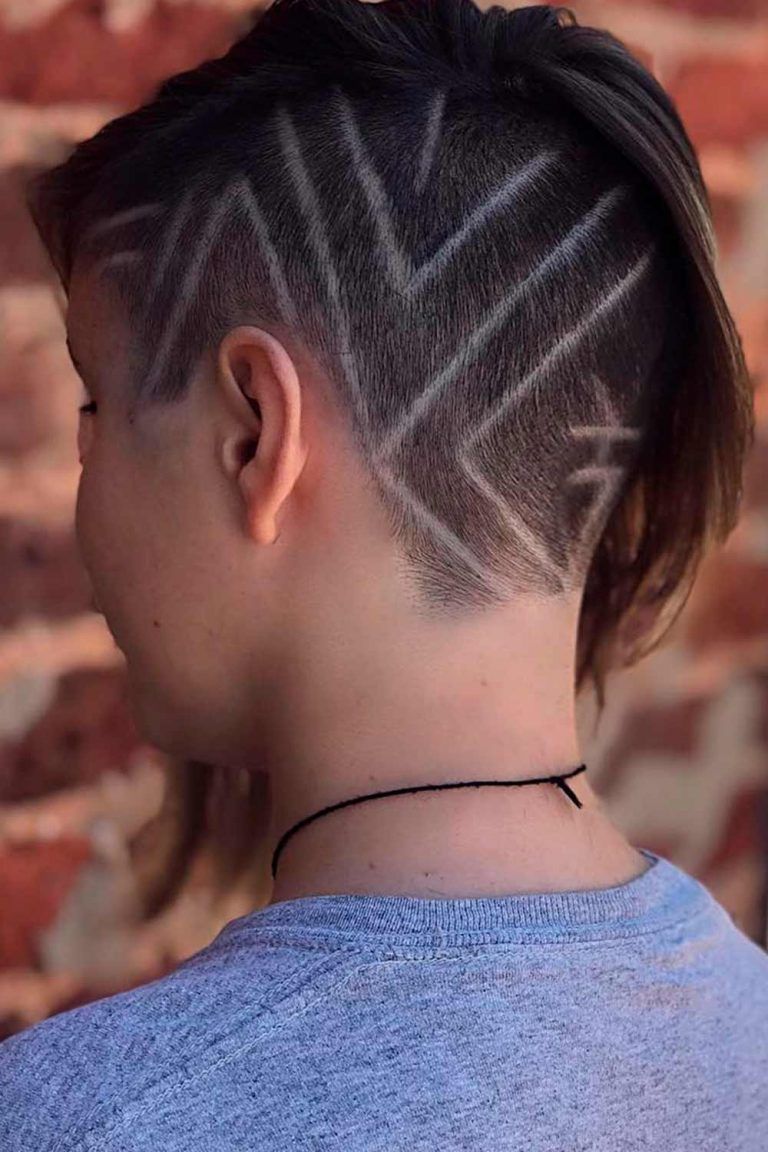 by @becki_w_the_good_hair
Some shaved undercut designs are the real embodiment of modern art appreciation. Just imagine how contemporary and swanky your cleanly shaved undercut will appear once you spice it up with the mystery of triangles. The more angles, the better!
Edgy Triangular Nape Design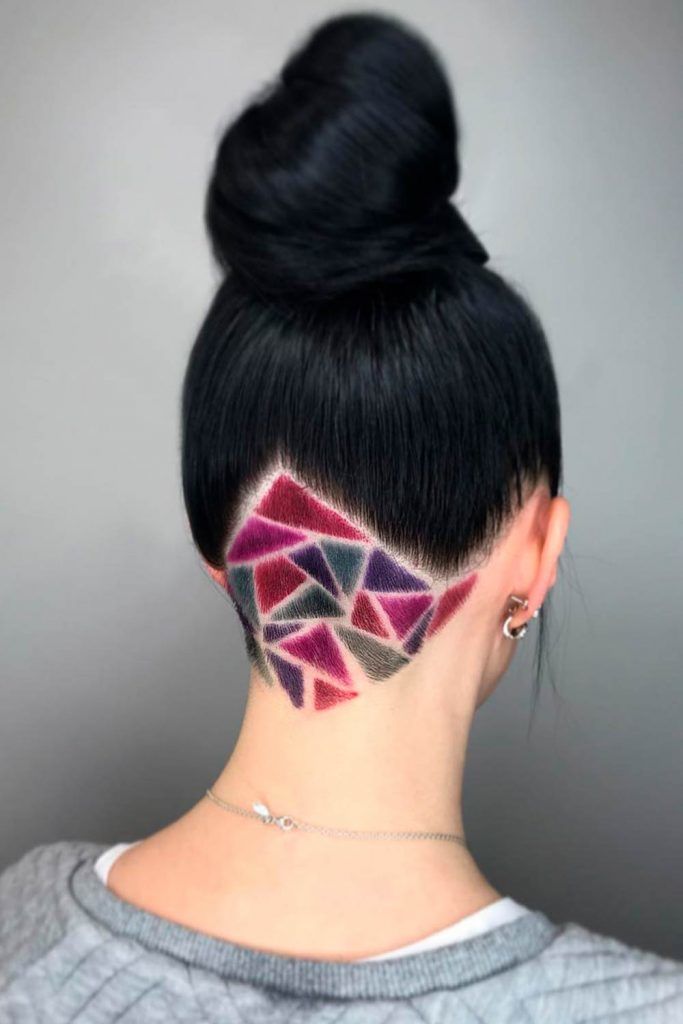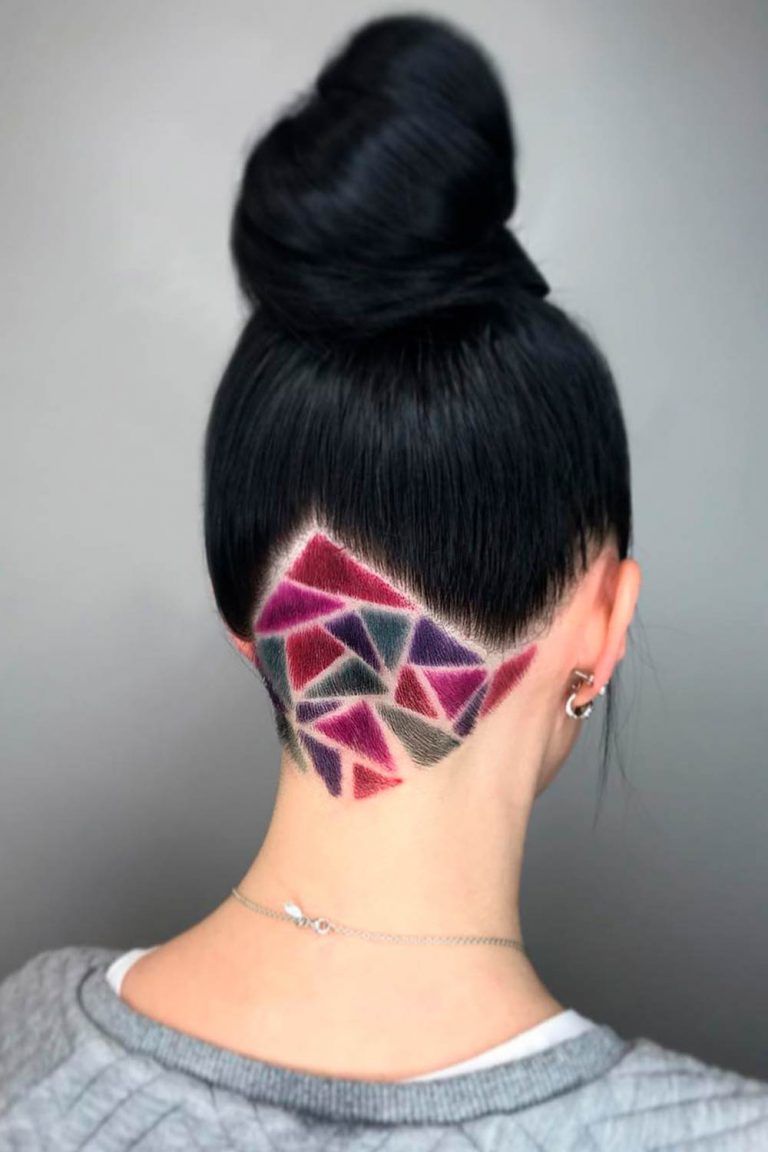 by @katerina_polinkova
Want to add a bit of an edge? Look no further than triangular nape undercut designs, then! On the front side, you will look like a creative, daring lady who's not afraid of color experiments. And when someone sees your back, your inner creative genius will be revealed through the ethnic or geometric shaved embellishments.
Tribal-Inspired Nape Design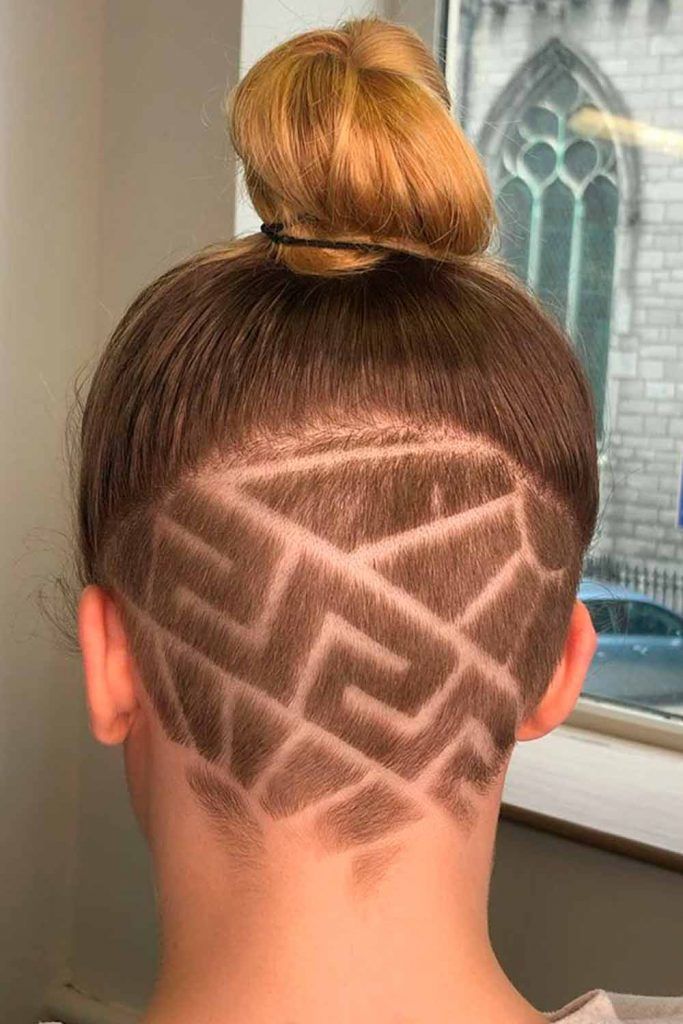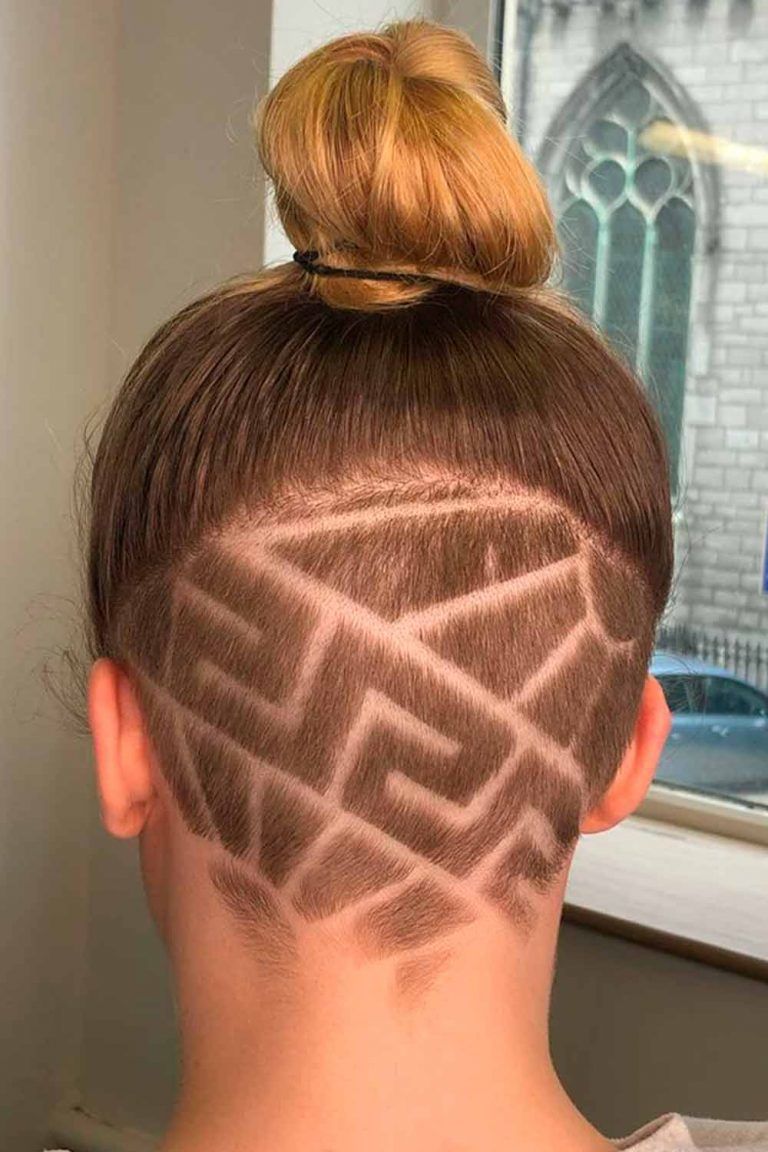 by @laura_majorfader
It may be hard for you to believe that a long undercut with shiny green hue over the black base and a zigzag parting can be even more attractive. So here come tribal undercut designs; the designs that can add more individuality to your cut, literally taking it to the next level.
Spiderweb Undercut Design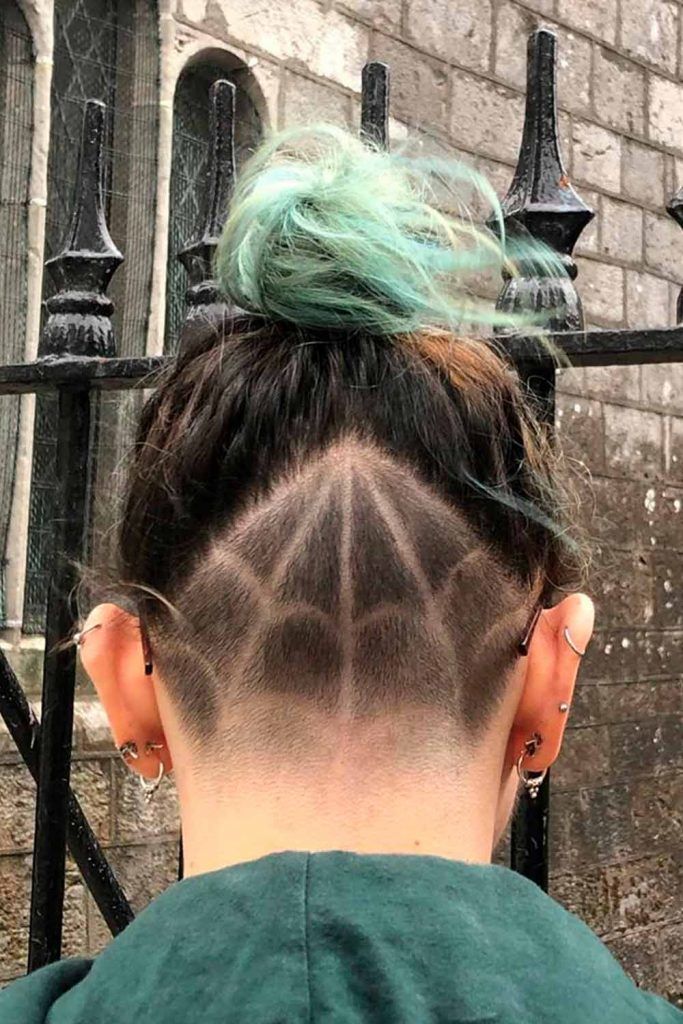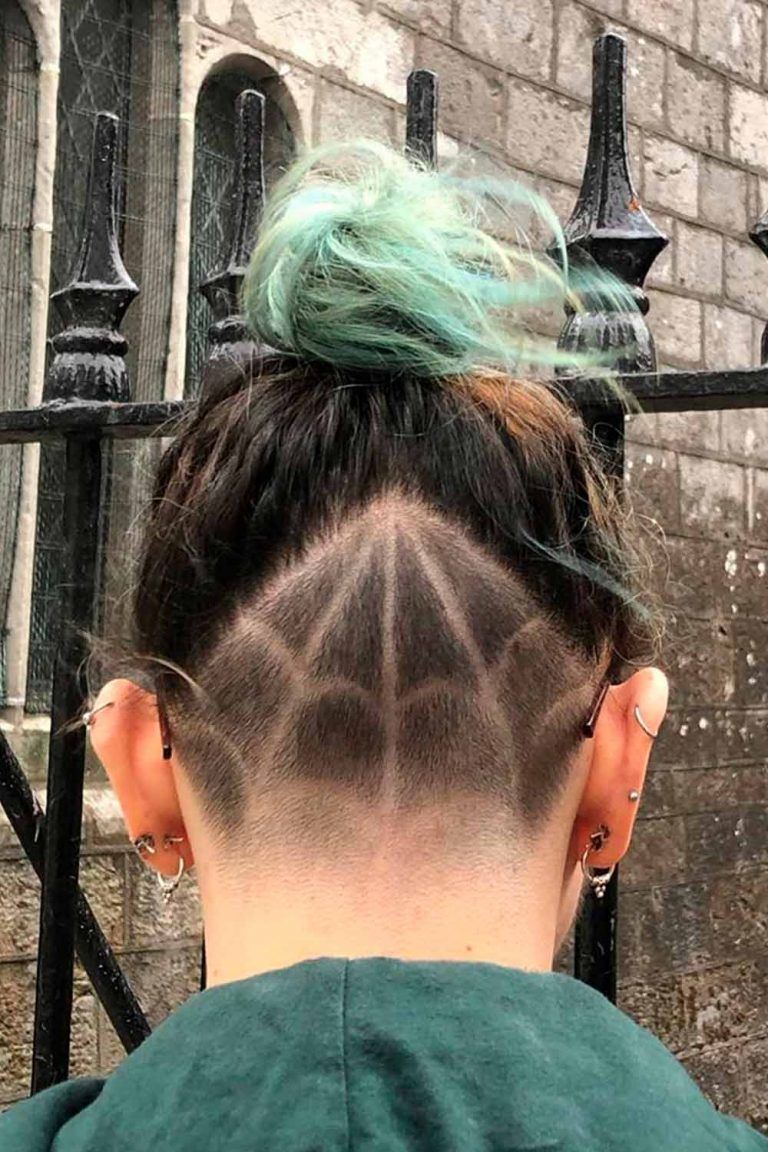 by @laura_majorfader
You don't need to get bitten by the radioactive spider to look like the real Spider Woman. Setting your creativity into motion will be enough, though! Meet one of the punky, well-groomed undercut designs male will get envious once they see its perfect web-like shape.
Scorpio Mandala Undercut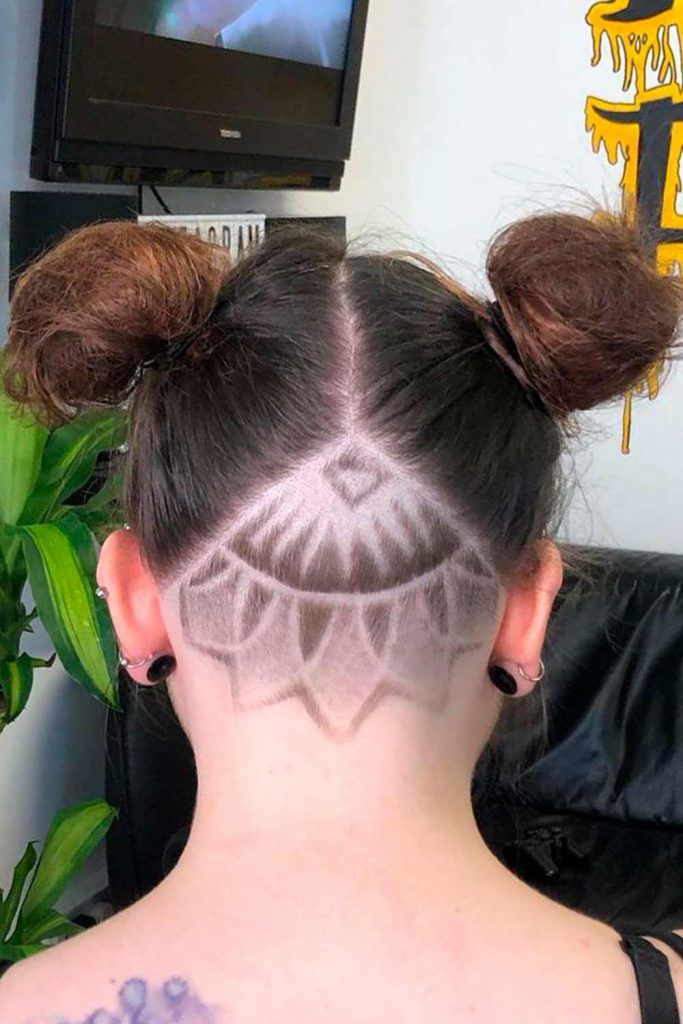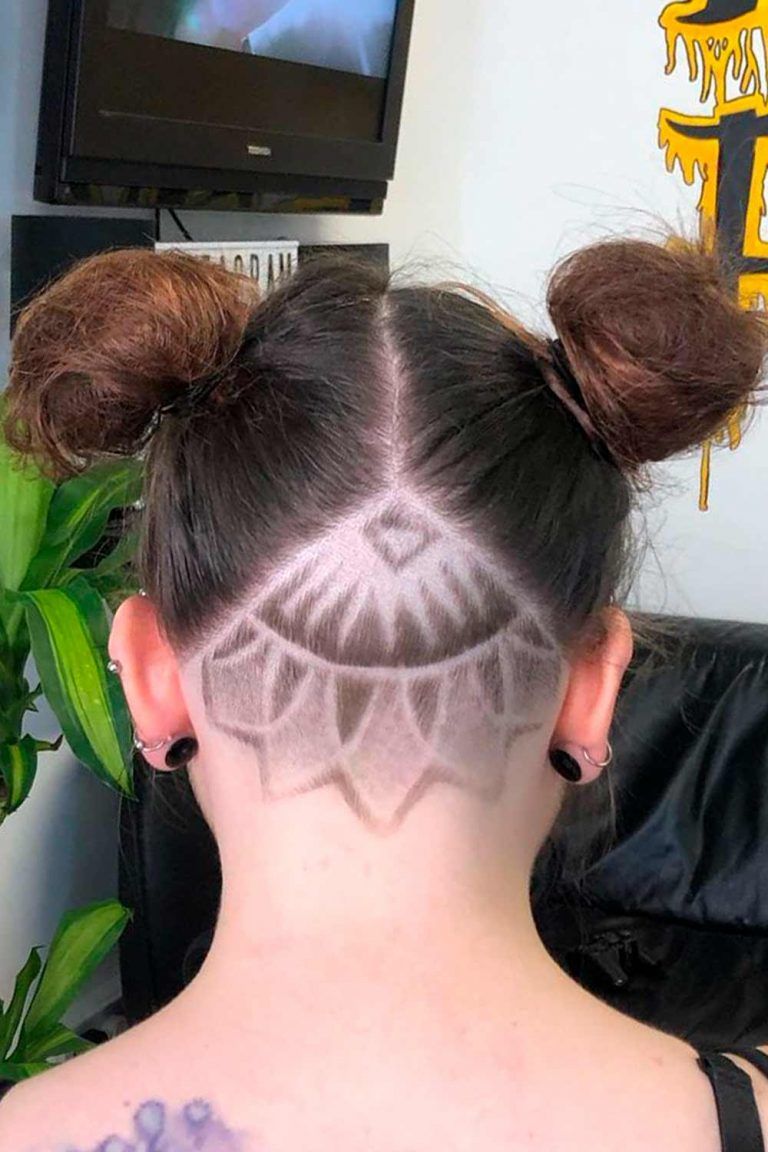 by @laura_majorfader
Girls who want their unique undercut designs to convey a remarkable message will love this idea. This design features the Buddhist geometric symbol of the universe and the eighth sign of the zodiac that form a beautiful harmony together. Plus, it looks amazingly fashionable!
Simple But Significant Mandala Undercut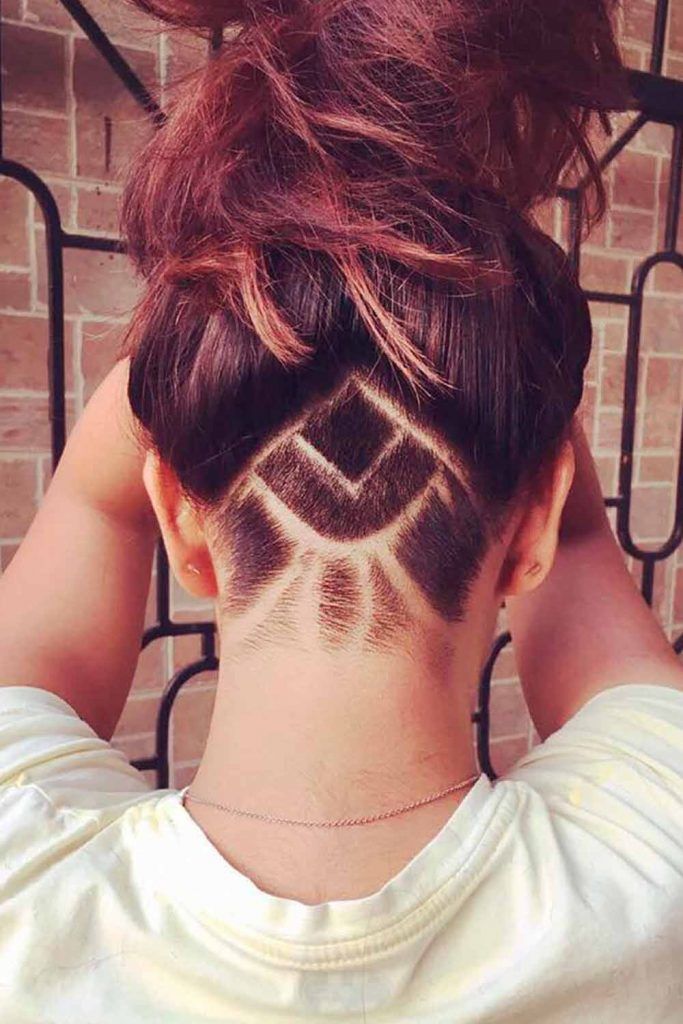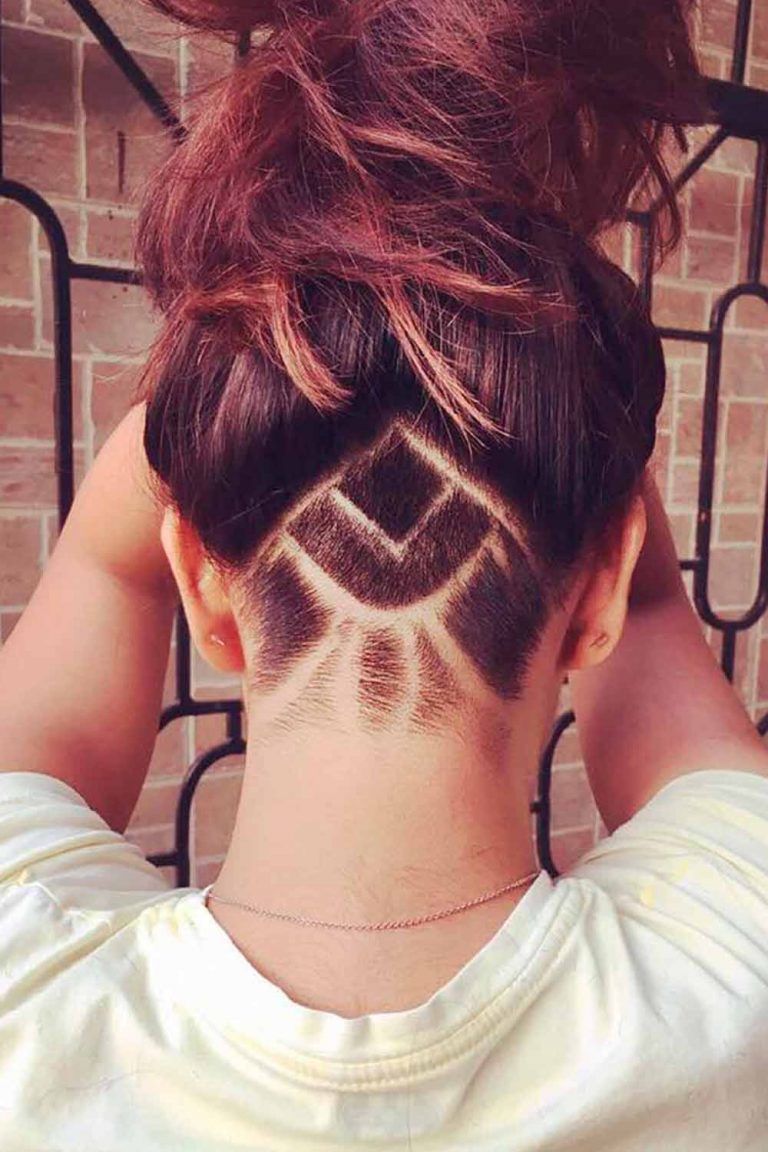 by @sohailsalmani
There are lots of mandala symbols that stand as a base for many simple undercut designs. Not only they can express something meaningful but also look very feminine and sophisticated, just like in the pic above, where the significance hides below the simplicity.
Fiery Honeycomb Undercut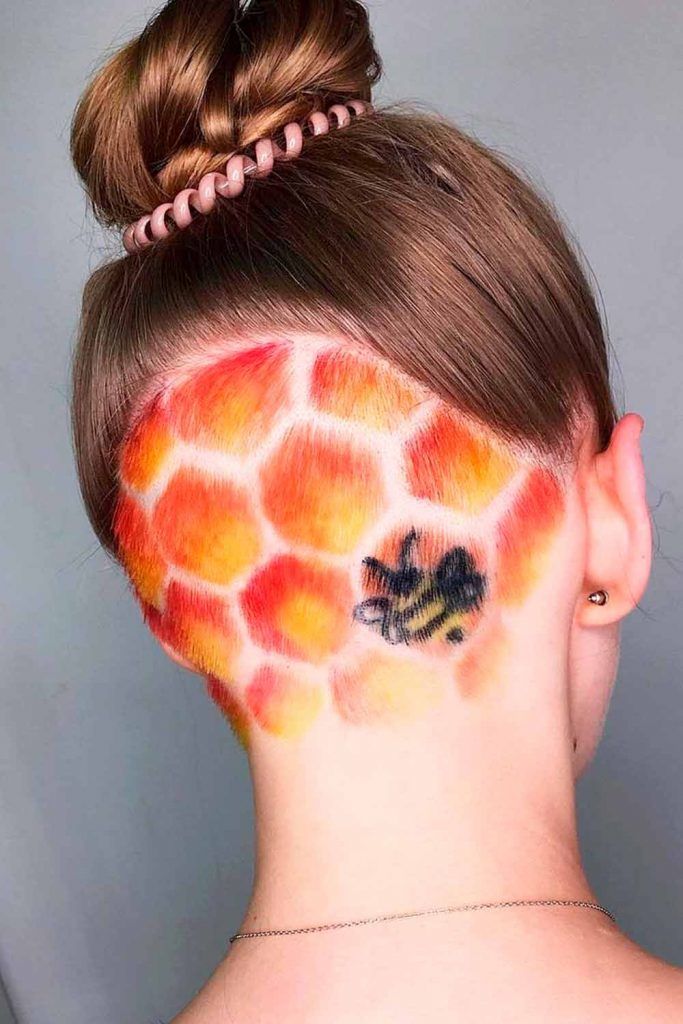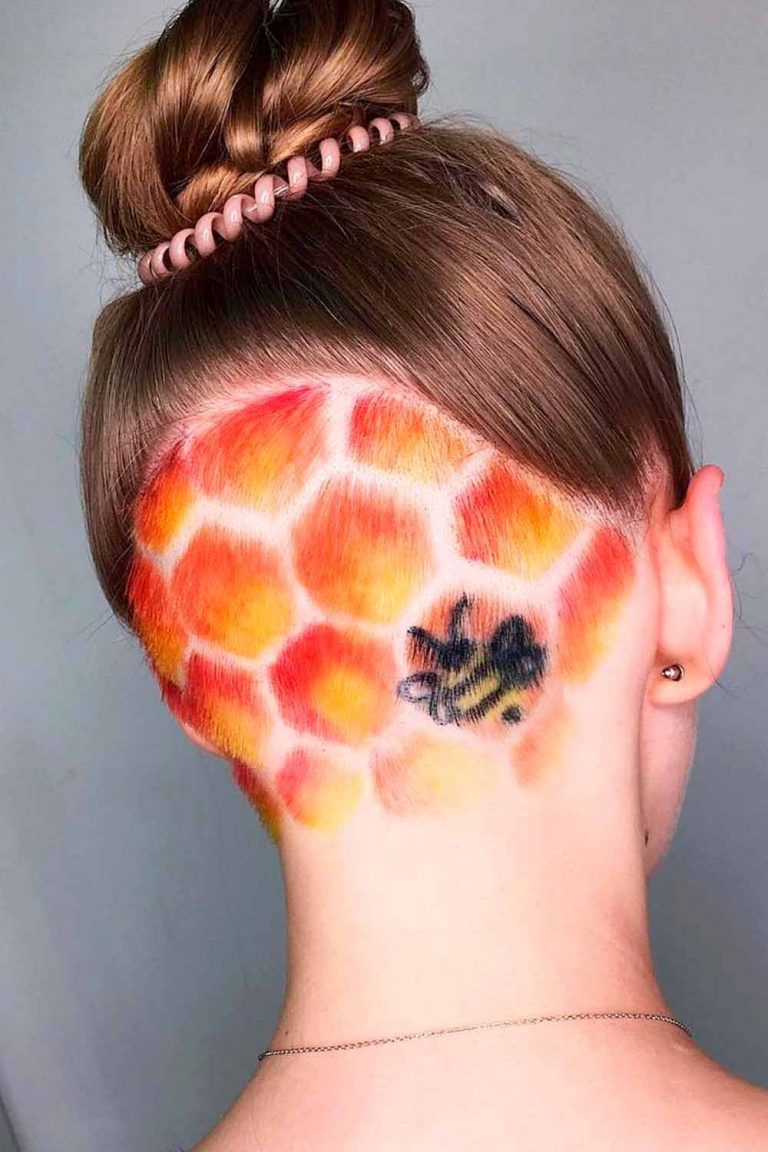 by @nastiamatiiashik
Well, now it's time for something that goes out of restrained, minimalistic, and refined styles. Everything about this design is meant to make heads turn: from the color to the shaved details. Will you dare to be the standout in such a fascinating, uncommon way?
Chic Side Stripes
Though side undercut designs can be as different and complex as one desires, nothing works better than chic minimalist approaches. This soft, stripped geometry that stretches from the sides to the nape area looks ravishing on the straight, tousled chevelure.
Lunar Fade Design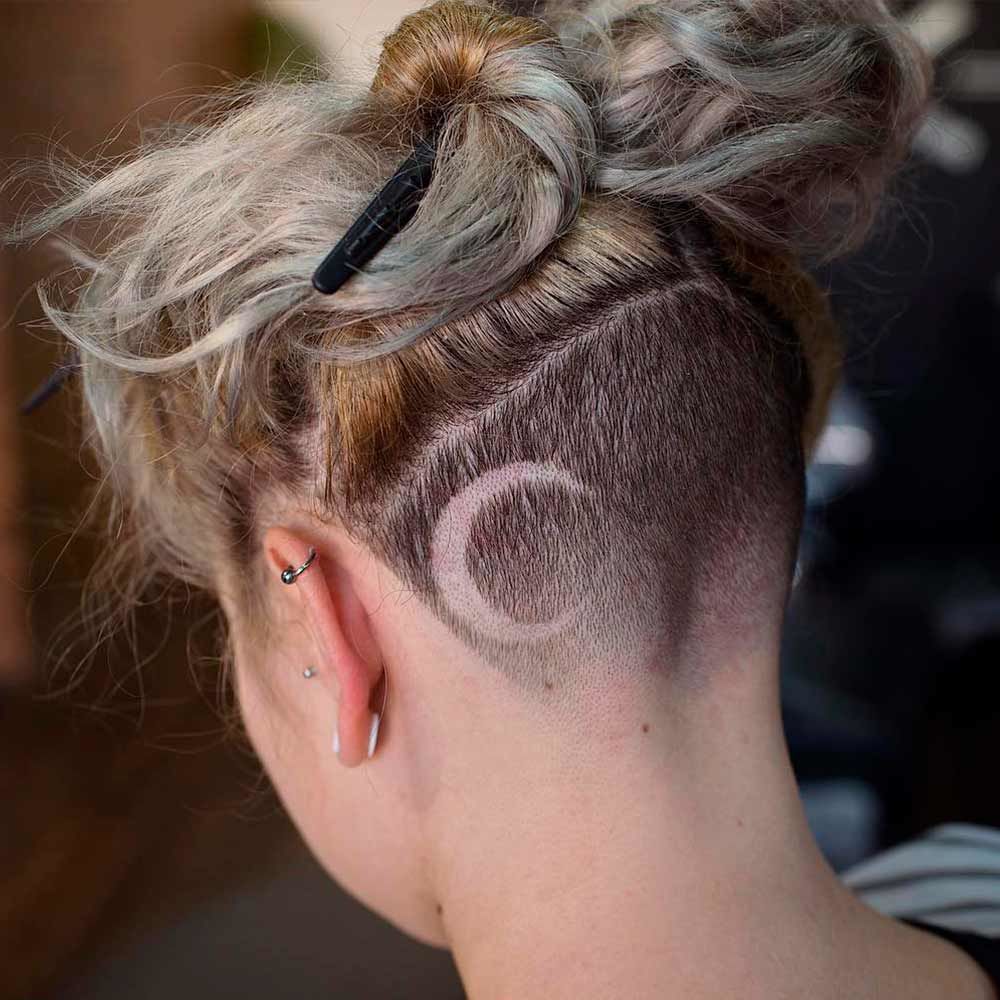 by @by.myke
When we look at such ideas, we realize that undercut designs for females are the new form of art. Some ladies rely on the lunar cycle, so why don't you create your own? These shaved moon phases go unbelievably well with these aquamarine colors. If you're bold enough, you ought to steal this idea.
Snowflake Winter Design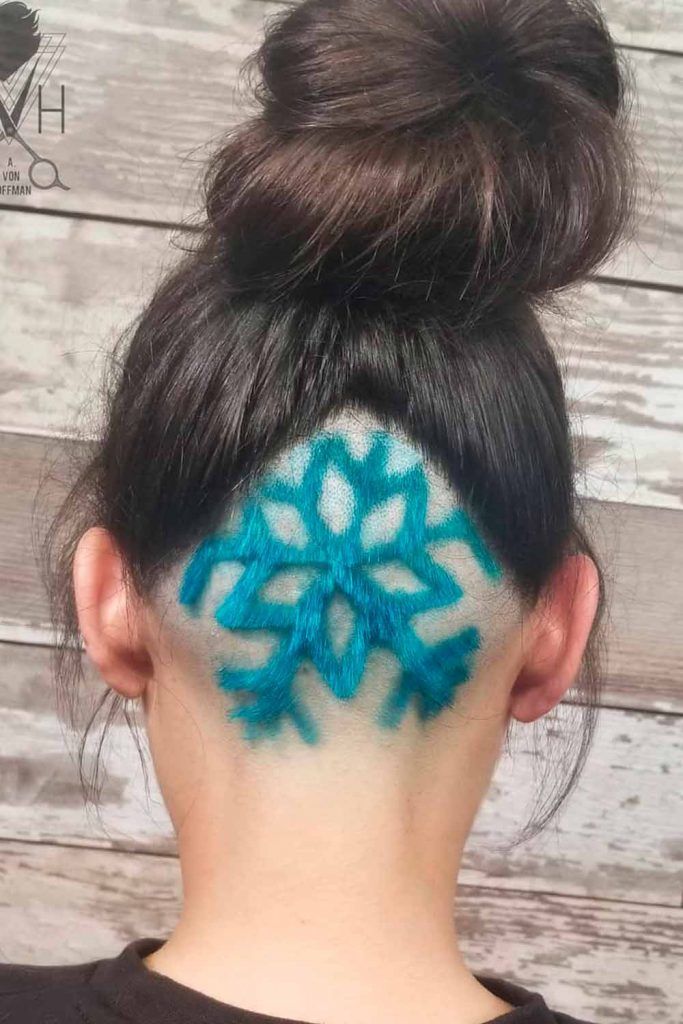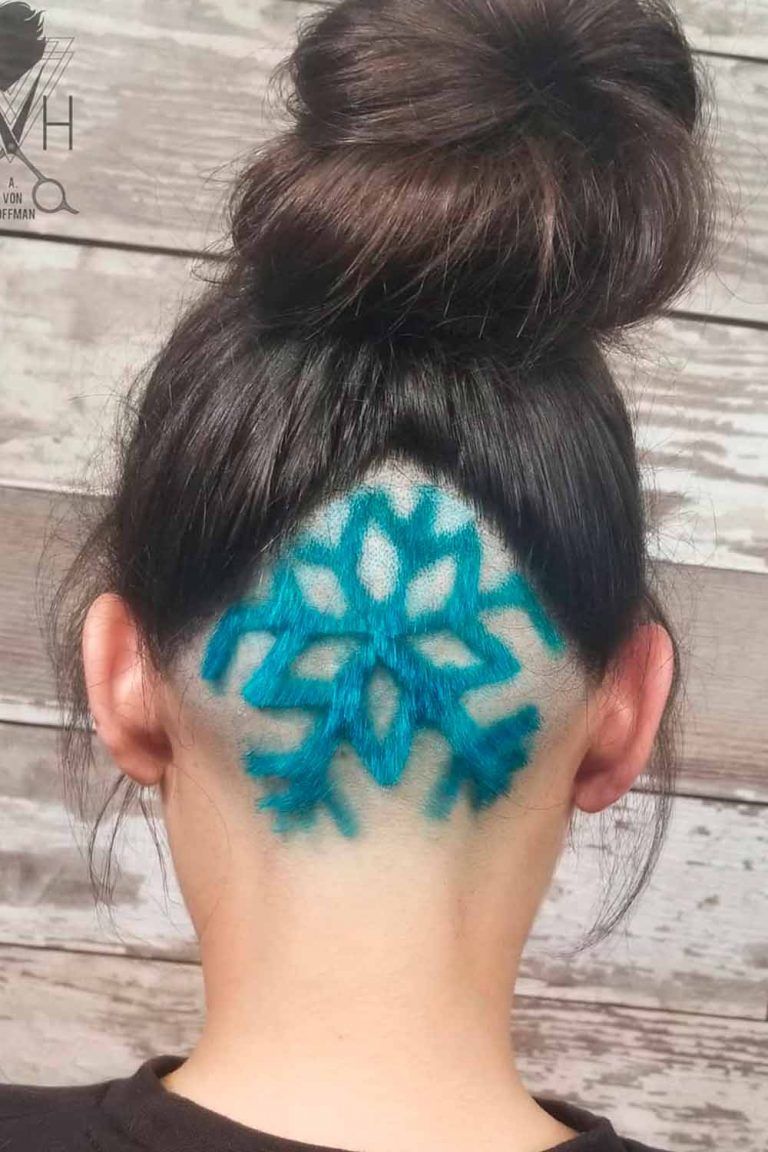 by @a_vonhoffman
Sometimes the right hair color and undercut shaved designs are enough to prepare for cool winter days. Ladies who are about to challenge the cold season can become another unique snowflake and meet the wintertime face to face. Isn't this cool-toned undercut mohawk with the cleanly shaved flake the best way to do so?
Heart Undercut Design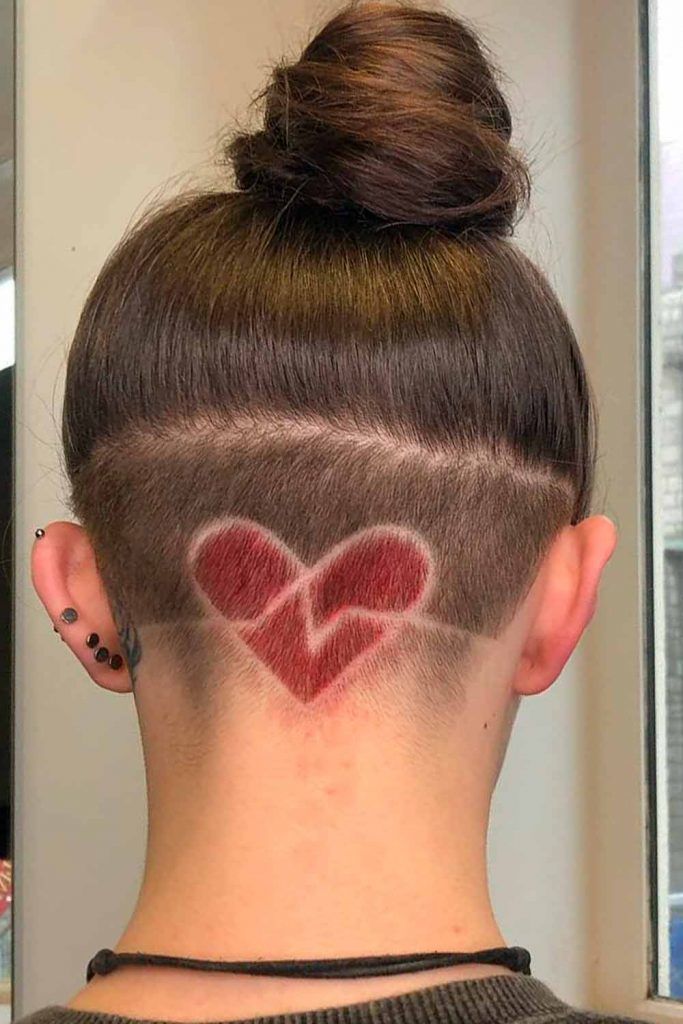 by @laura_majorfader
Listen to your heart: do undercut heart designs appeal to your taste? Well, if you feel that your badass style lacks some girliness, there's no better way to bring it back than to ask your stylist to shave a cute heart on one side.
Flower Undercut Design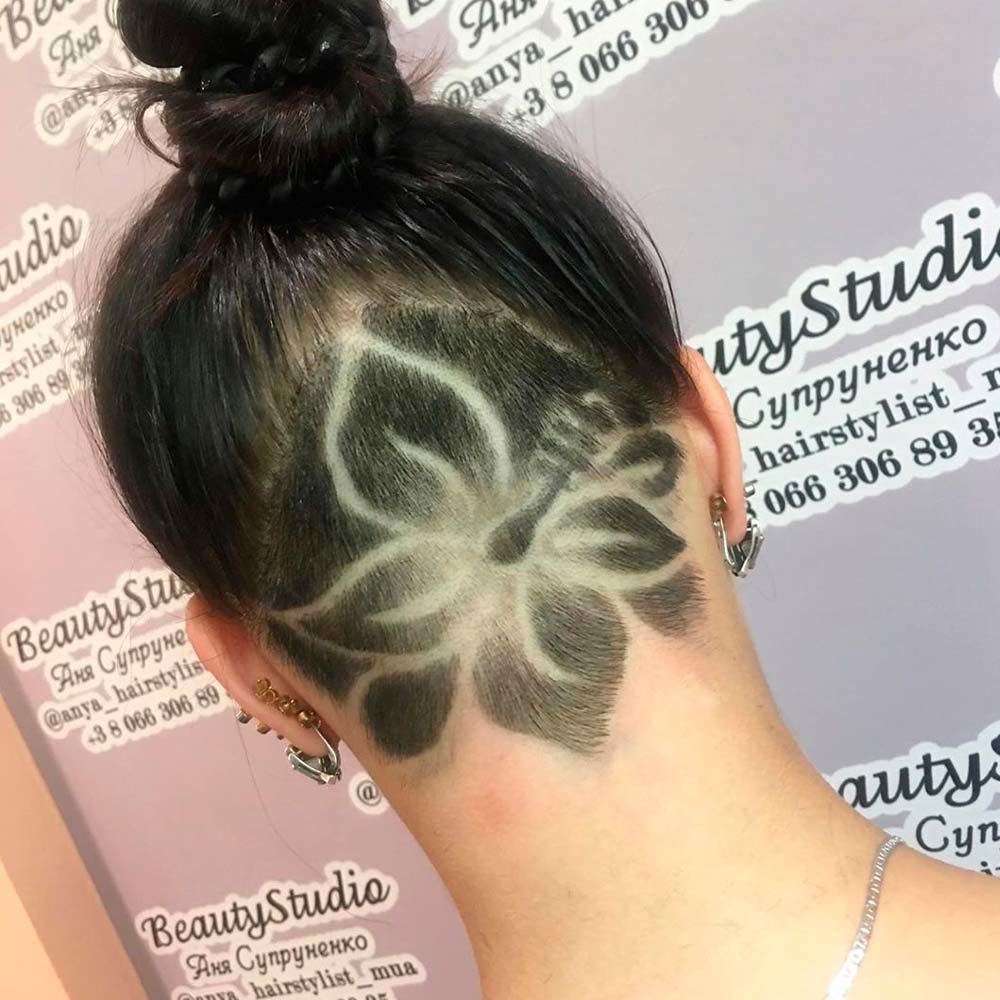 by @anya_hairstylist_mua
Flower undercut designs hide some kind of metaphorical sense. Just like you change water for your favorite flowers, you will need to update the cut a couple of times a week to maintain the shaved design. And, let's be honest, it's so fun to make this girly detail stay with you longer.
Unicorn Undercut Design
Those who say that unicorns don't exist have never seen this idea! Everything is easy: once you create one on your nape, you will give it life, making it as real as never before. And since we all know that one can't meet a unicorn by chance, you can go for hidden undercut designs for women and cover yours with rainbow-kissed hair.
Butterfly With Glitter Design
Can't help yourself when you see something shiny and glittery? That's life, girl. And you know what? You don't need to hide your need for gloss. On the contrary, you can let one of the female undercut designs show it off: let your imagination fly like a butterfly, create length graduations, play around with colors, and finish the style with awesome hair accessories.
Multicolored Cat Hair Tattoo
Переглянути цей допис в Instagram
No words in the world can describe how much we love our little pets. Well, hair designs can! How do you like this multi-colored, unbearably cute shaved cat that's warming under the charm of rainbow locks?
Red Roses Nape Design
Looking for a design that will reveal your fiery soul? These wild roses that blossom on the green nape and hide their enchantment under the lava of long waves are something that can leave people speechless. Roses are red, and girls know how to nail this color.
Geometric Flower Design
Love mixing trends? The combo of colorful geometric pieces that transform into flowers is a must for you. The play of shades looks superb, yet keep in mind that such a stunning idea will look wonderful even with your natural shade: it can pop regardless of your hair color!
Fall Design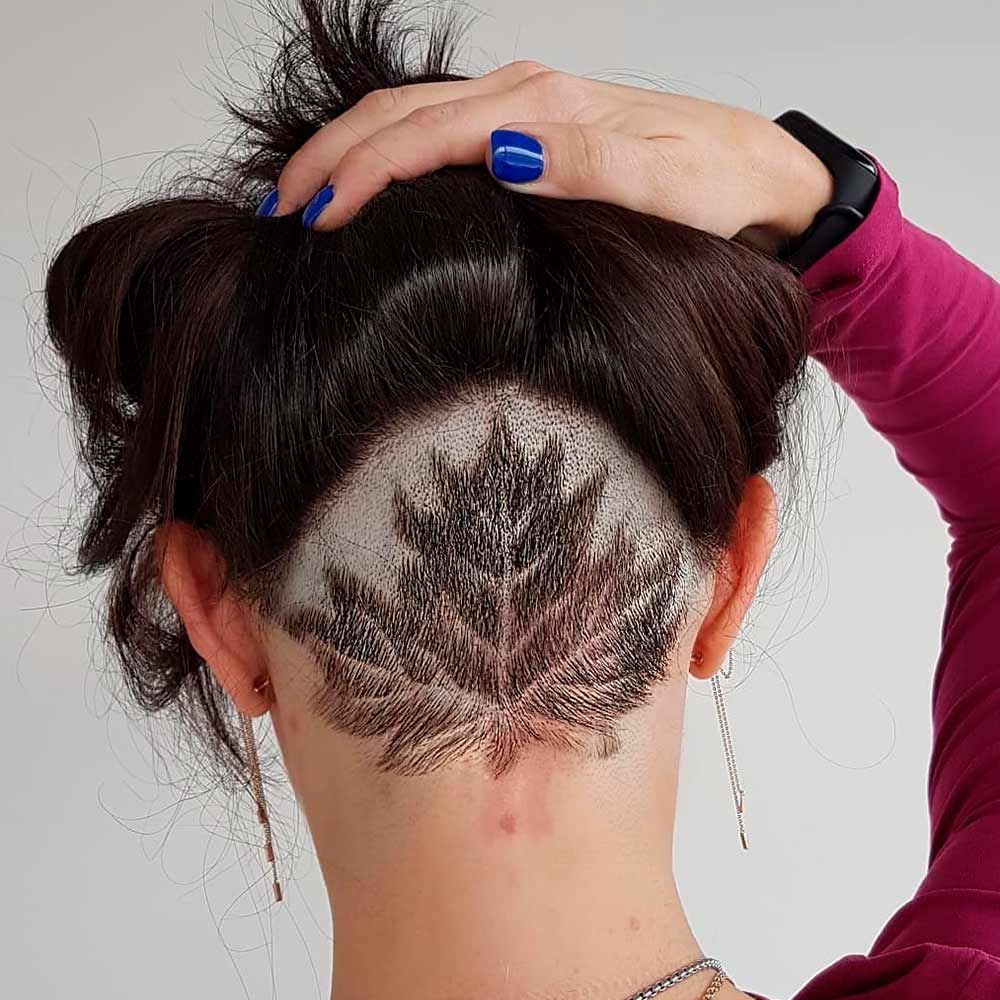 by @hairtattookrasnoyarsk
Extraordinary designs are what everyone should look for this fall! We love how the most creative ideas can be used on the undercut haircuts. Just look at this one. A few leaves shaved on the faded part of the hairstyle. Doesn`t that look exciting and unbelievably beautiful?
Sun Undercut Design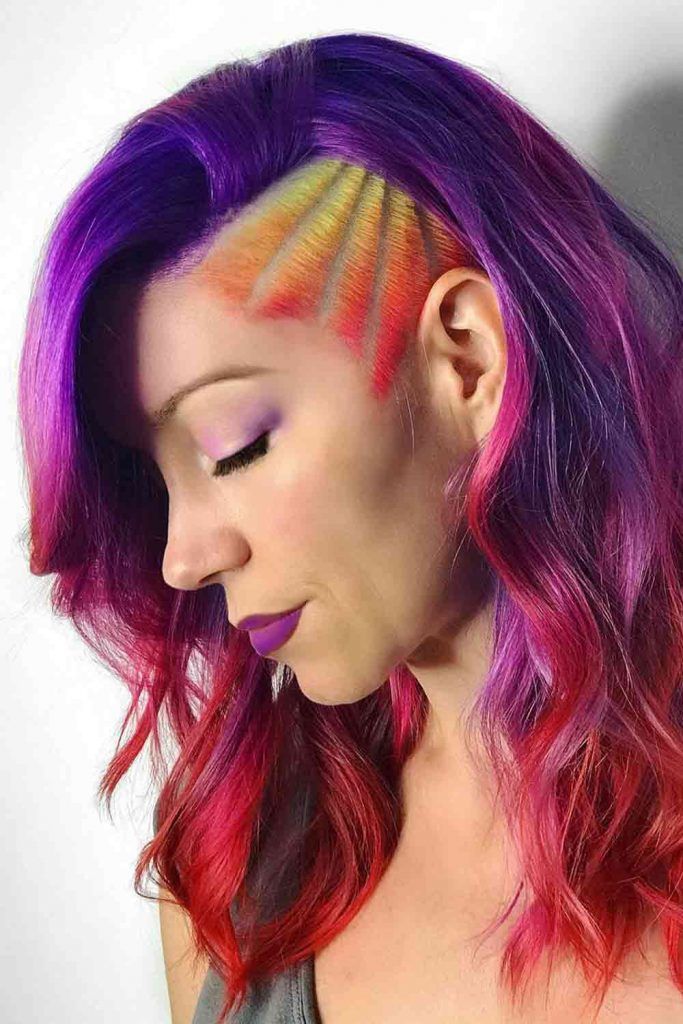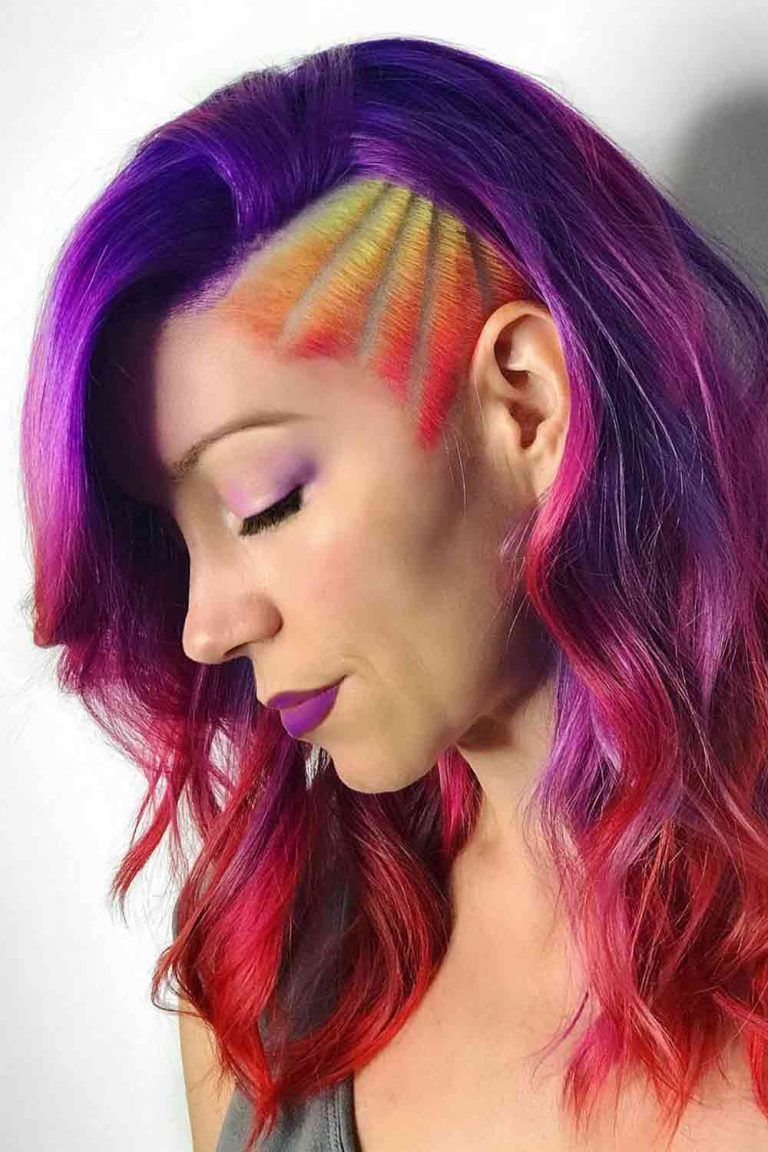 Sun has always been a special symbol in every culture. Does it have a lot of meaning to you? Then why don`t you choose it as an idea for an undercut design? Ask your hairdresser for such creativity and he will turn your undercut shave into the most beautiful hairstyle you have ever seen on yourself.
Diamonds Undercut Design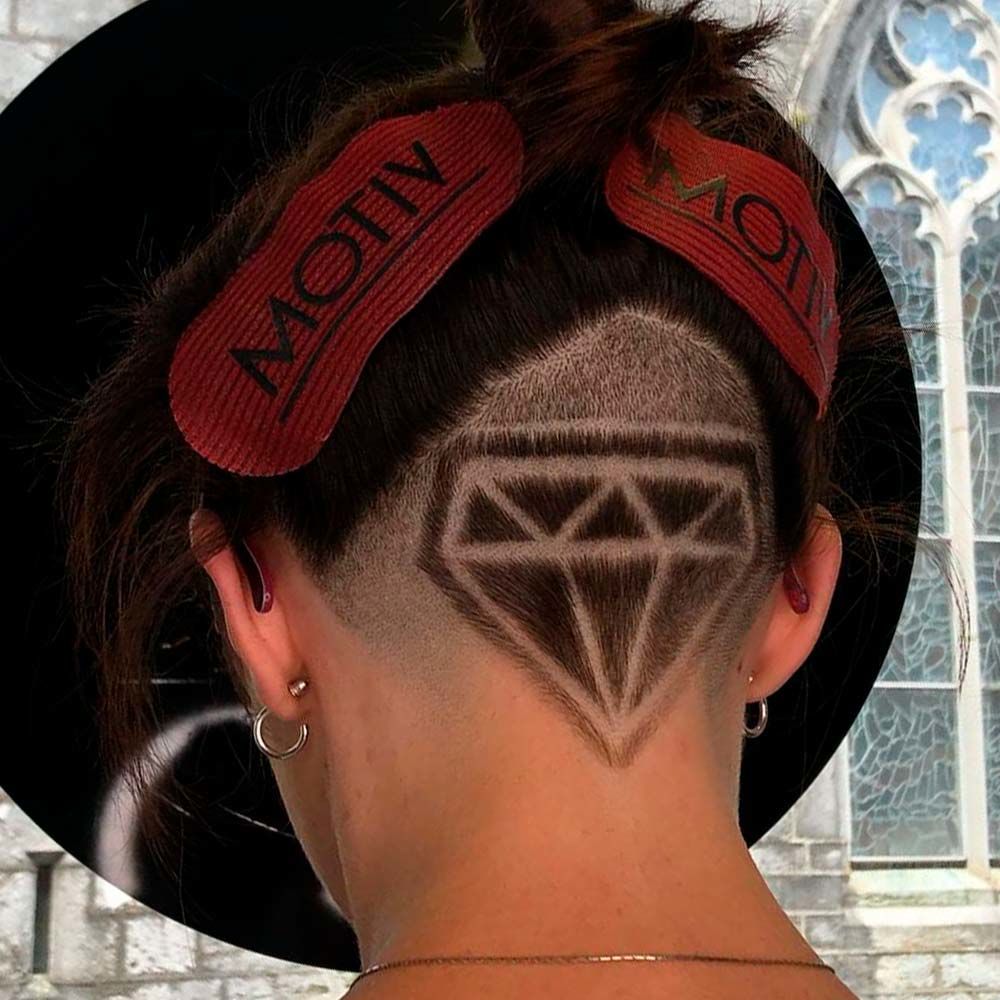 by @laura_majorfader
People love choosing designs that will make them look different from everybody else. A diamond undercut design is truly one of the most extraordinary ones. Place a few diamond shave outs on your undercut and you will love the way it will enhance the beauty of your hairstyle.
Shaved Stripes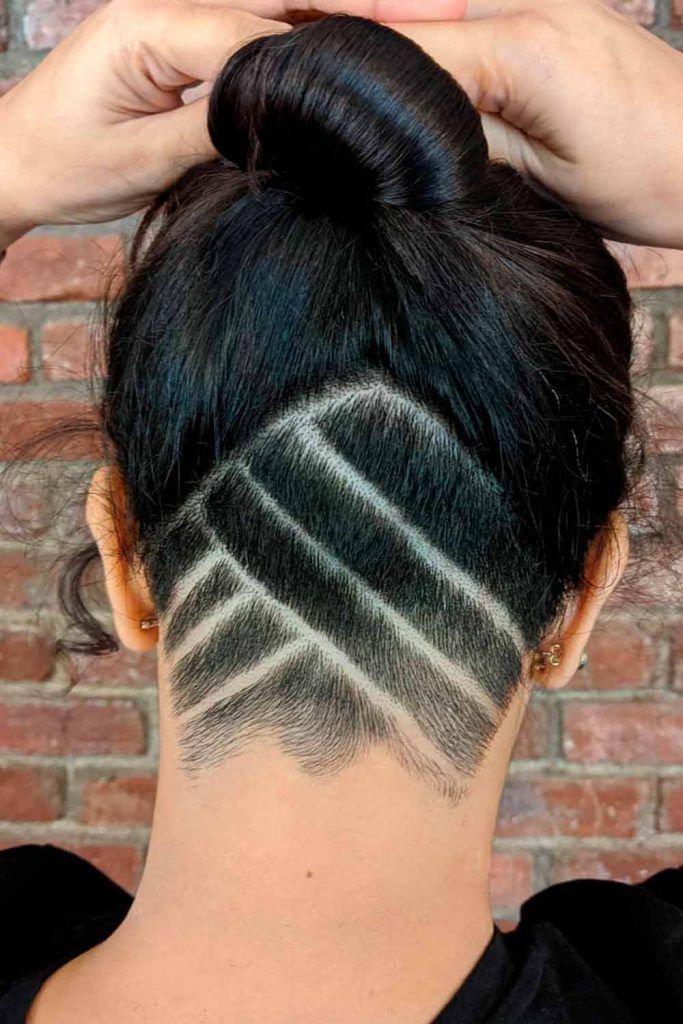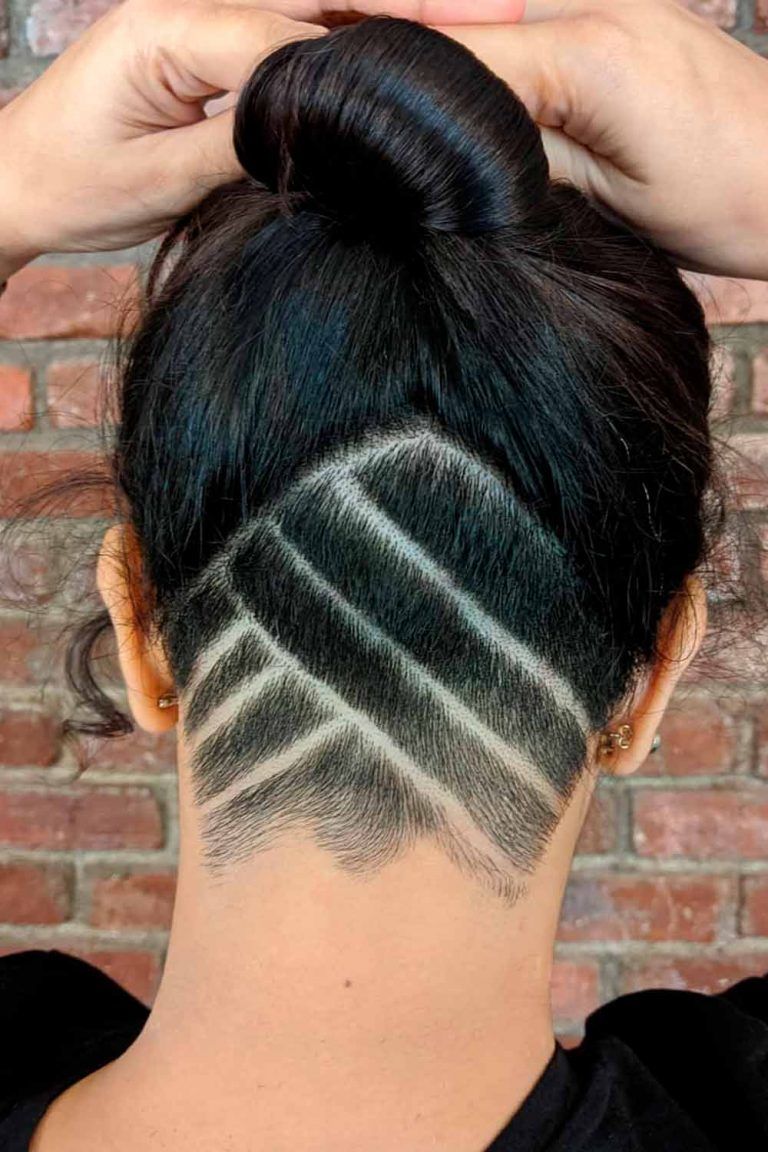 by @khaatapeetaita
Stripes can be different, and you are not obliged to follow common patterns. It can be several stripes forming a spider net or a single line that gives a minimalist touch to the whole look. Apart from creating a one of a kind style, you also balance out your haircut by tapering one of the sides.
Crown Undercut Design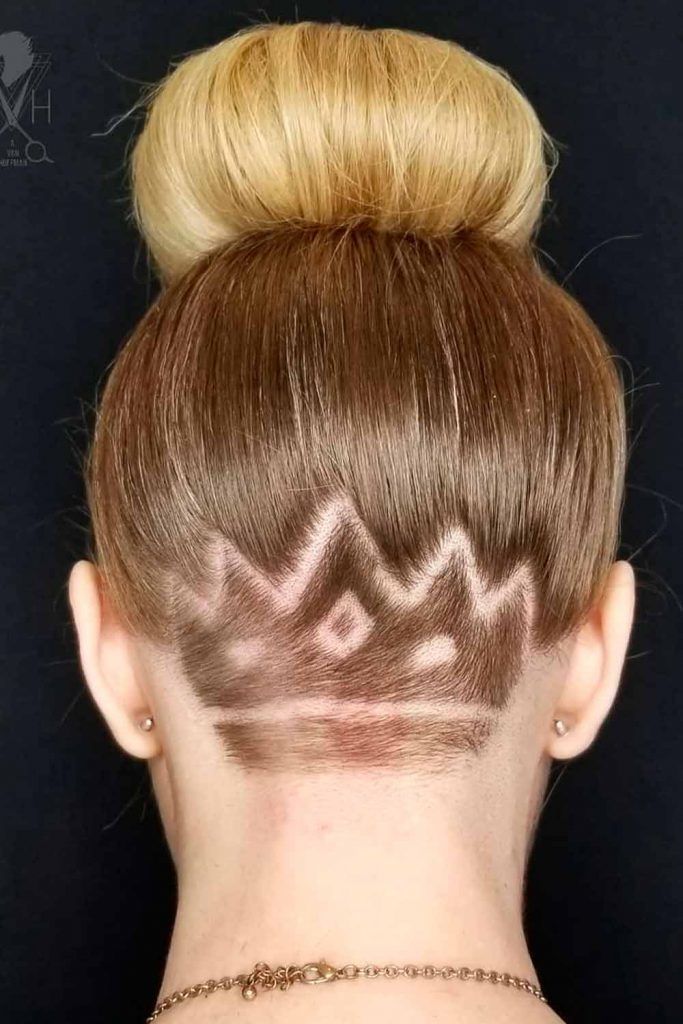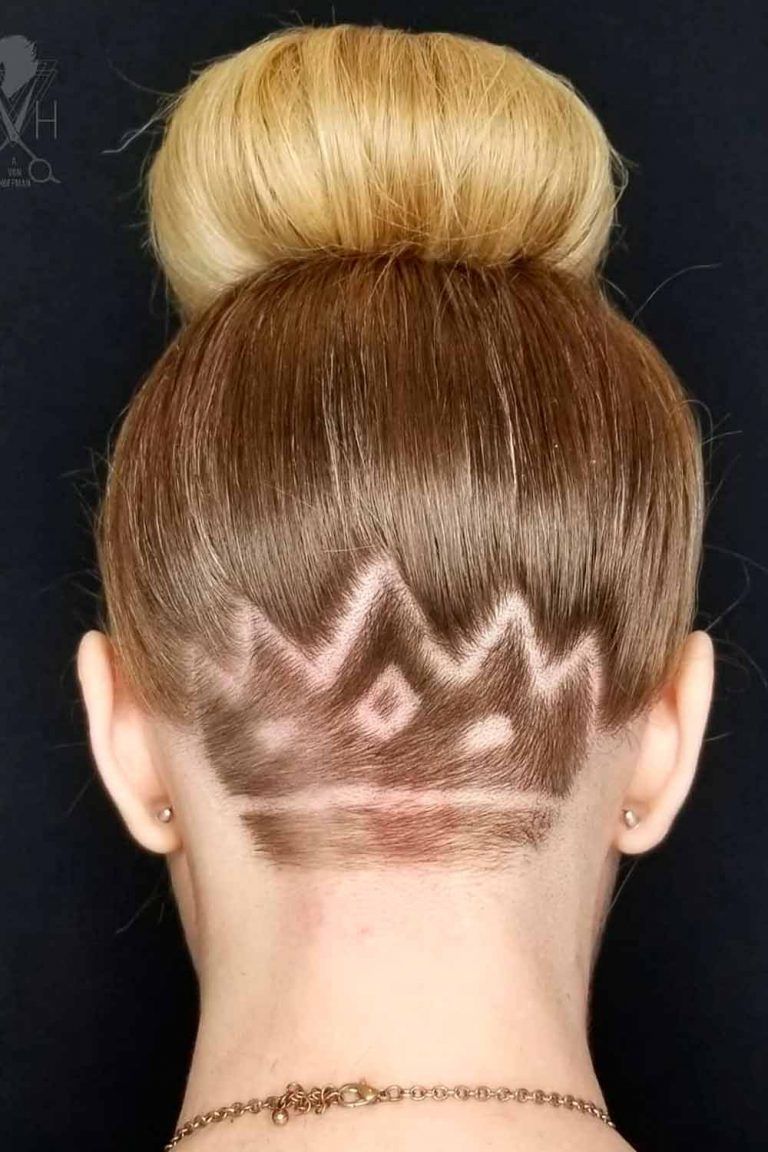 by @a_vonhoffman
Why don't show who's the queen there? Whatever mood is occupying your mind can be expressed in your undercut design. A stylish crown that hides under your hair is another good way to show how creative you are. Oh, God save the stylish Queen!
Acorn With A Leaf
Is there something that brings luck to you? Some people get tattoos of such things, and you can go in an extraordinary way and get a hair tattoo. This acorn with a leaf is a good example of looking different.
Mermaid Undercut Design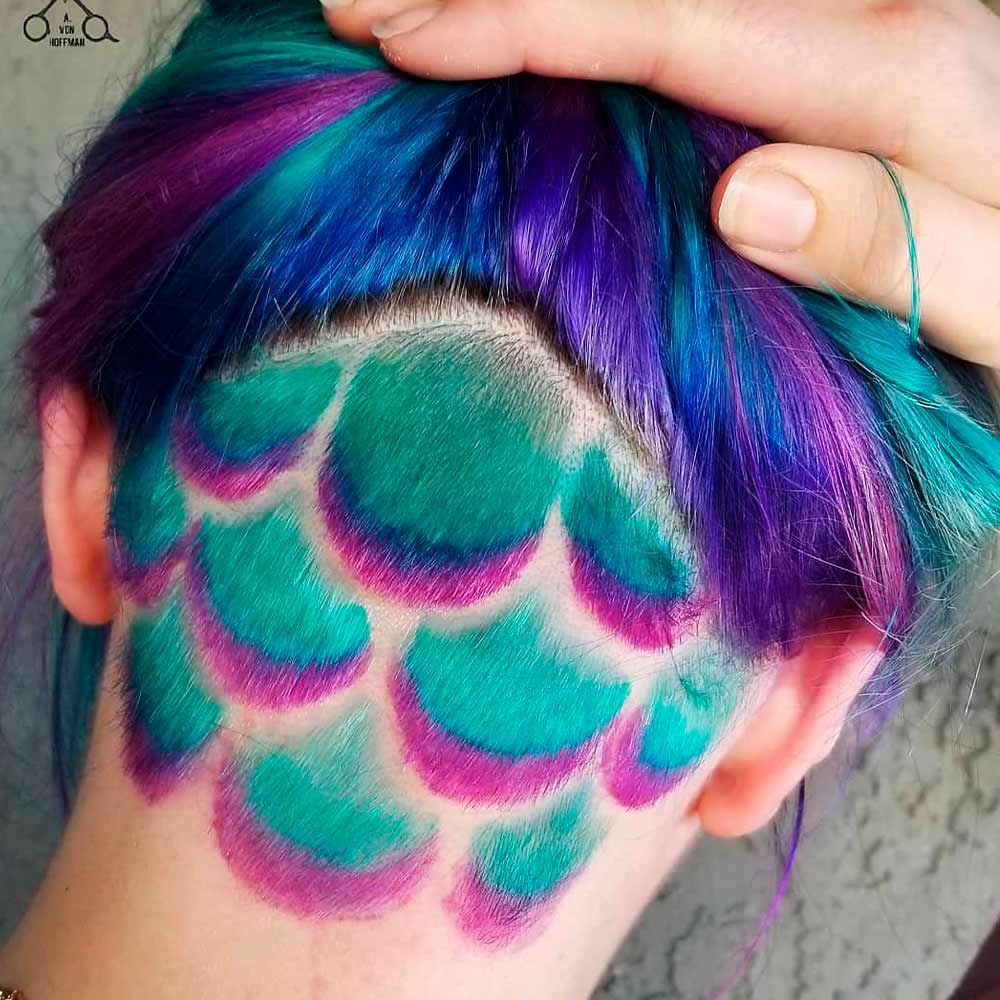 by @a_vonhoffman
If you're one of those ladies who can't have too much of mermaid things, we've got some good news for you! Soft pastel colors can look even more authentic if you finish your mermaid play of shades with fish scale design. Chic and unique, huh?
Panda Undercut Design
Of course, some cuteness won't hurt. Your hair can tell how daring and bold you can be sometimes, and once you put your colorful mane up, you will reveal who you really are. Love pandas? You know what to do, cutie.
Rabbit Undercut Design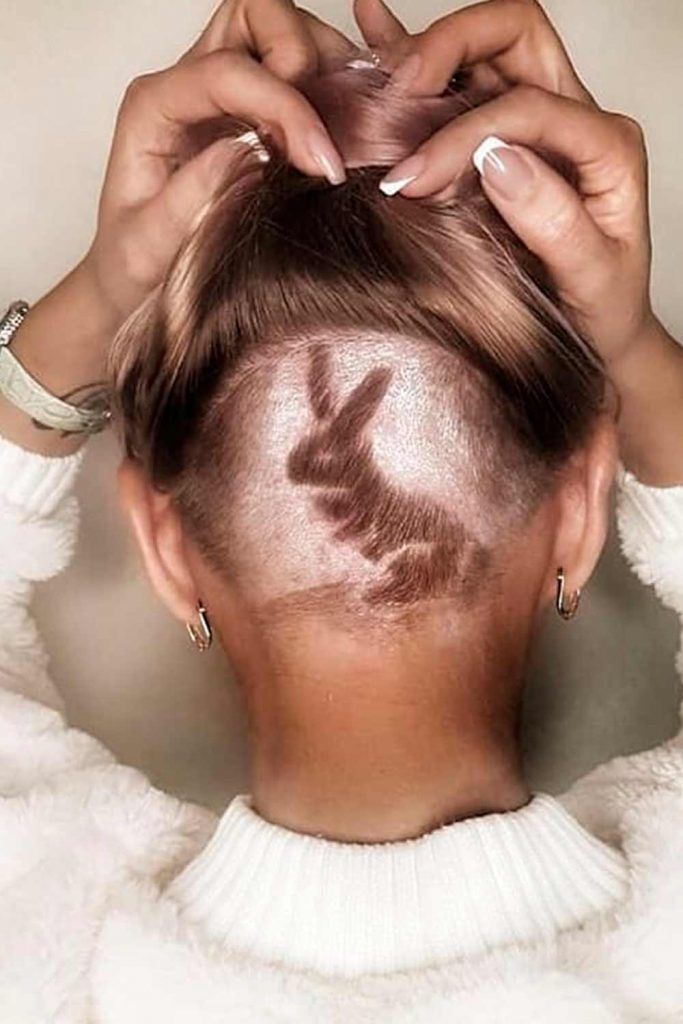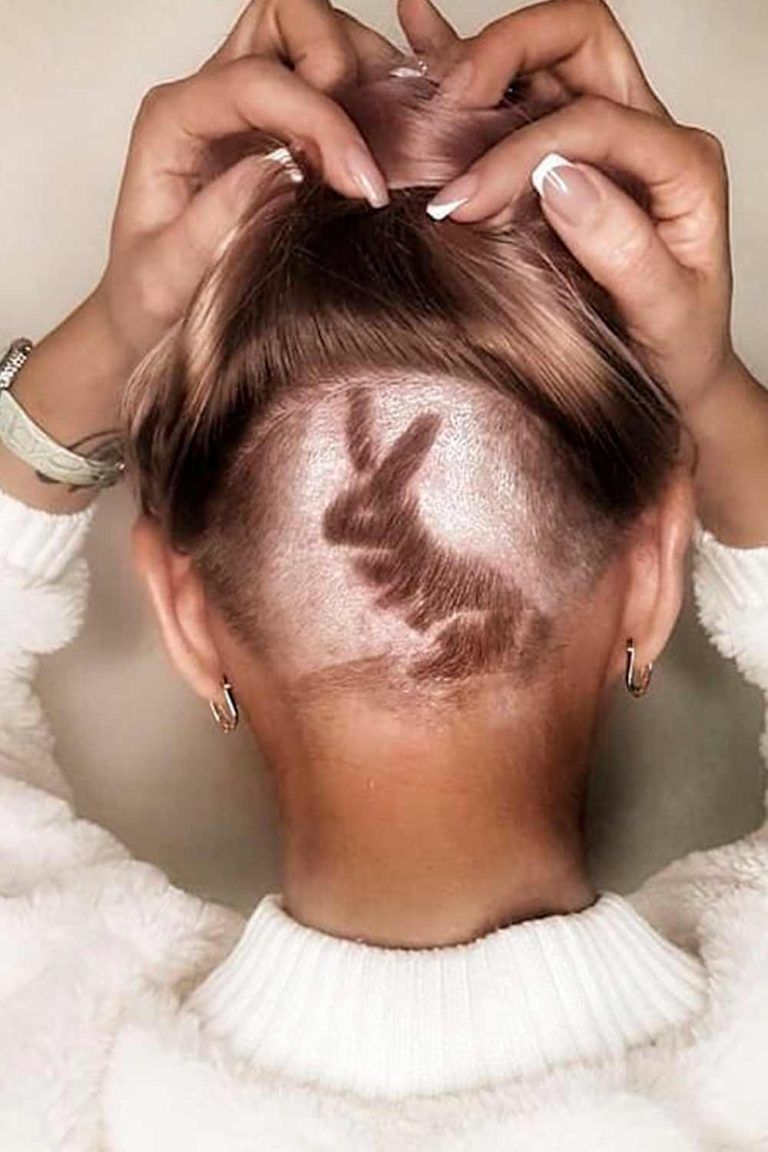 by @hairtattookrasnoyarsk
Or maybe you've got a secret passion for rabbits? We're just trying to tell that there's no better way to experiment with undercut designs than to work with something that appeals to you deeply. Just let your hair tell how different you can be.
You've just traveled through the bright and colorful world of the best undercut designs ever. How does it feel? Don't you think that it's time to give the green light to your inner experimenter and get yourself a unique cut?
FAQ: Undercut Designs
What is a shaved undercut?
If you don't know what does the term undercut mean, it's a hairstyle in which the sides or back of your hair are shaved beneath the longer hair section on top.
Can you cut your own undercut?
The current undercut is far from rocket science, so, cutting a men's undercut at home is rather simple. The current trend is to wear your hair in a pompadour style on top. This haircut is great if you have a lot of length on top (3-5 inches is perfect).
Was this article helpful?