Many girls have seen a low fade haircut for women, but not all of them feel that they can steal this look. Needless to say, this cut is absolutely attractive, and you know that only brave women can go this radical.
The way your hair is styled reflects your personality, so if you are bold enough to face such beautiful hair changes, nothing can stop you! Our hair is something that always makes us proud of ourselves, it's time to let your new haircut make you as proud as never before.
*We may earn money from affiliate links on this page. Please check out our disclosure policy for more details.
Classy Graduated Bob With The Low Fade
The low fade can be added to any haircut you want. It's a neat element that will make your hairstyle look well-groomed and absolutely clean. Everyone knows that medium length is not an obstacle for the bob, so you can be creative: embellish your graduated bob with an exquisite low fade haircut on the back. A bit messy hair on the top and a neat silhouette on the back, isn't that a contrast to die for?
Choppy Pixie With Taper Fade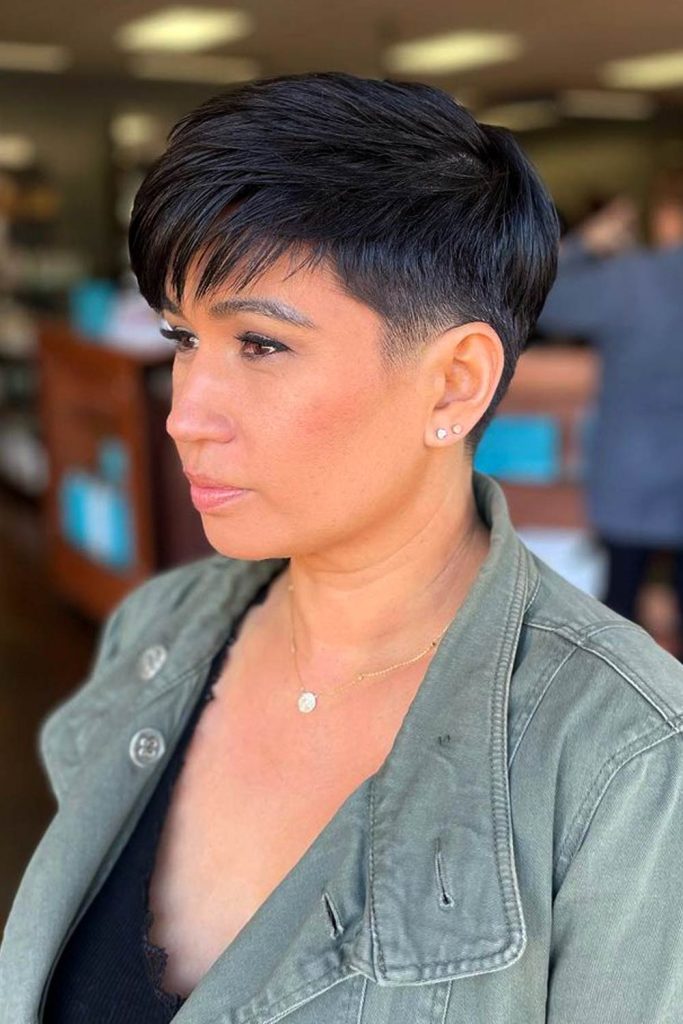 @sm_lawless
We all love the transition of the fade: the hair length gradually melts with our skin, going all way down to it. Even if you can't imagine a cut better, there is something that you'd like to go for, too. Here comes the taper fade, a fade that is meant to steal the show. The hair is faded only around the neckline, so you can easily emphasize the beauty of your choppy pixie.
Side Part Pixie With Low Fade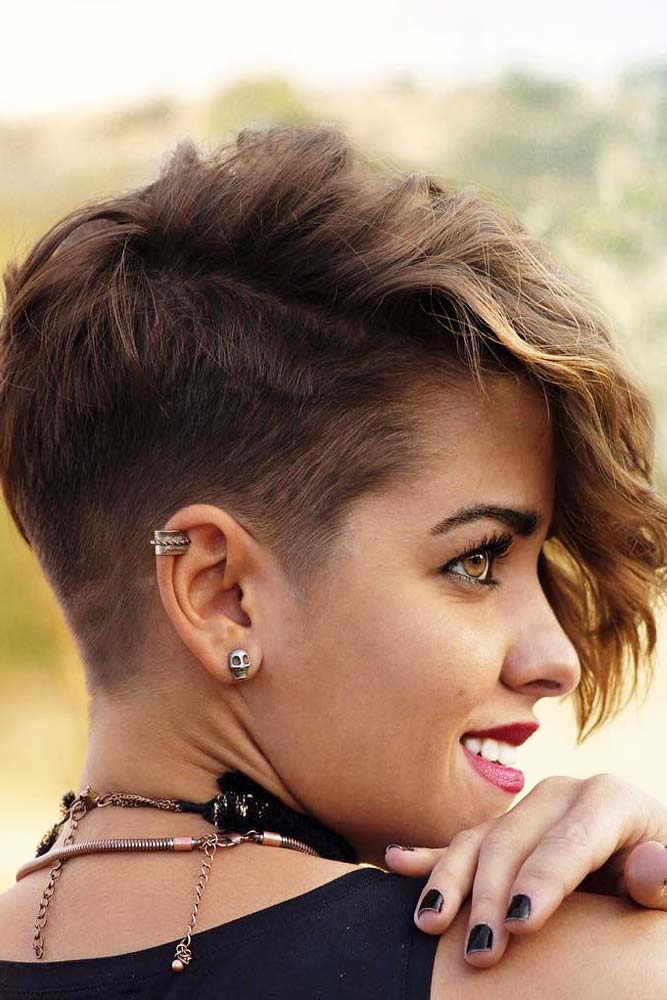 @snchezrebeca
We will never get tired of pixies. And the best thing that we can do is to embellish them with a low fade. You can style your pixie on the side you want and wave the hair on top to create a bit dramatic look. Low fade will accentuate the silhouette of your hairstyle, showing off your sense of style.
Long Faded Pixie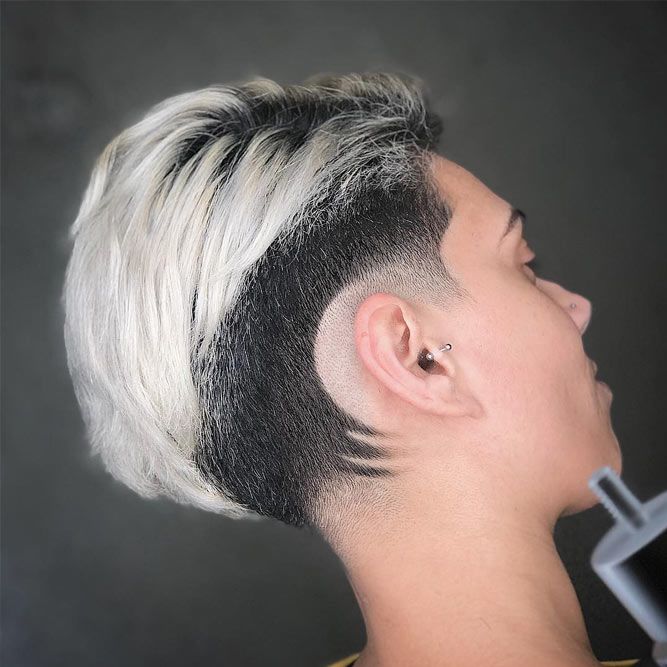 @catchafade__
Yes, nothing looks more adorable than long pixies. Oops, we've missed something! The taper fade can take a fresh look at any haircut, so this is officially the most adorable duo ever. If you are looking for a neat girly hairstyle to rock this summer, this dapper look is a must-steal for you! Don't know how to cut and style it? The answer is "easy"! You can style your long hair in any way you want, as well as regulate your low fade haircut.
Chick Pompadour With Low Fade Haircut for Women
How do you like the idea of long hair on top? Girls who are about to turn heads know that only stylish pompadour can help them to do that. And the best way to make your unbelievable hairstyle be noticed is to fade the back and sides. Just look at this pic: the neatness in its purest form is here to create a truly breathtaking look.
Low Taper Fade For Thick Hair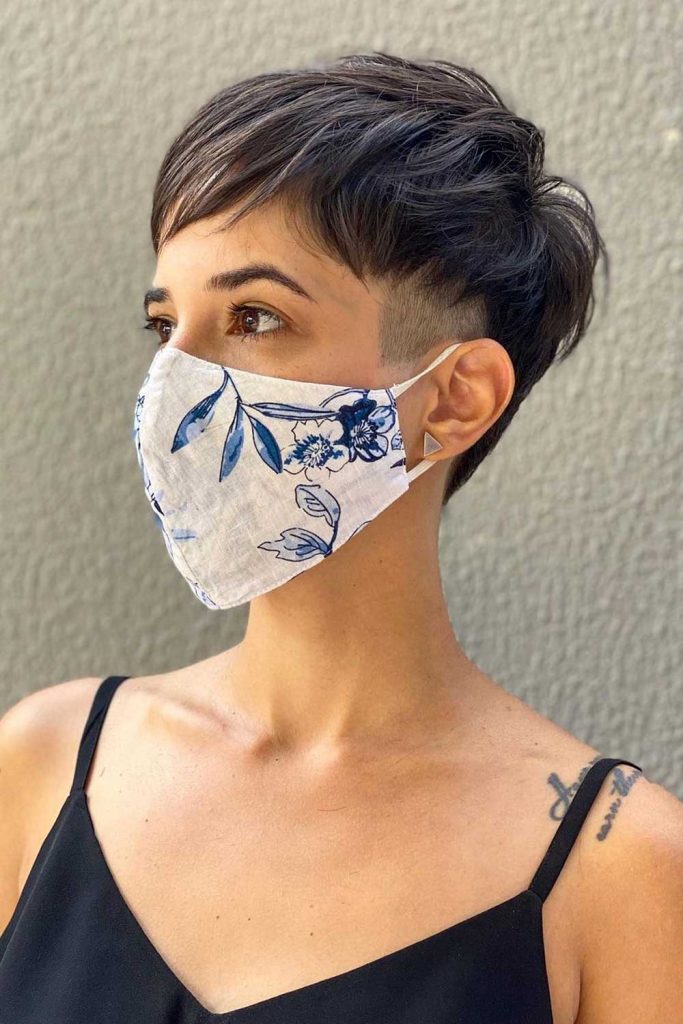 @exotismos
Even though it seems that thick hair has no drawbacks, girls who have it know that it can be troublesome sometimes. It's so hard to calm down your full hair in windy weather, so here is a cut for you: a long pixie with your hair brushed on the back is about to sort things out. Don't forget about low taper fade! It's trendy, it's clean, it's easy to style.
Medium Pixie With Razor Fade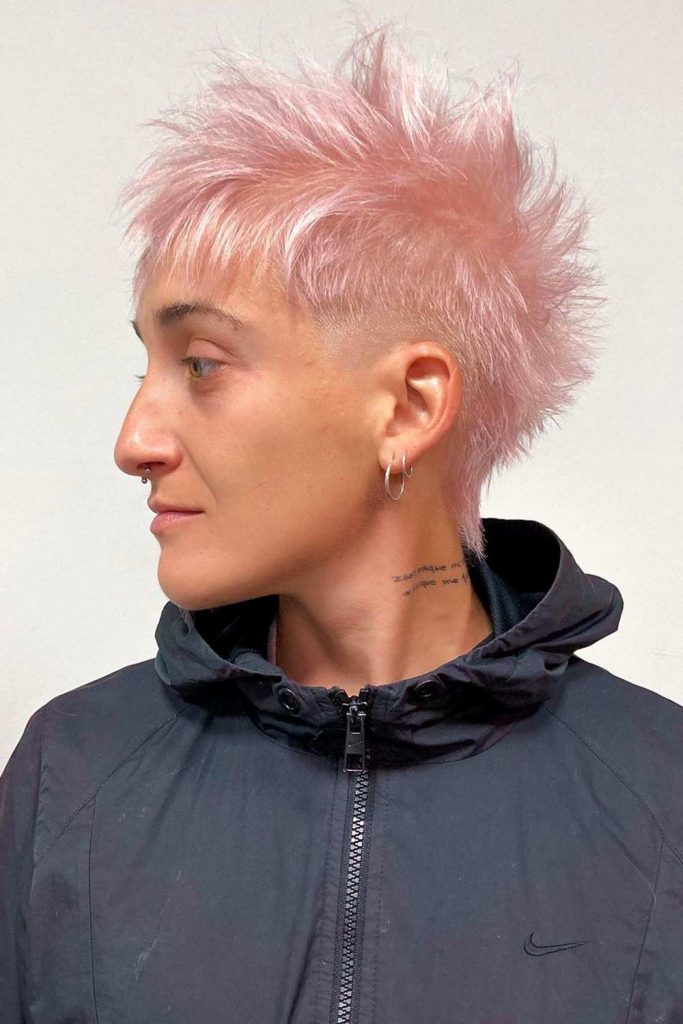 @exotismos
Who said that the razor fade looks good only on men? That's a stereotype we should get rid of. Look at this funky pixie: faded sides and back make this hairstyle look even hotter. Those who want to get a unique hairstyle should not pass by this idea: no more clippers, only a razor knows how a perfect skin fade looks like.
Stylish Crew Cut With Drop Fade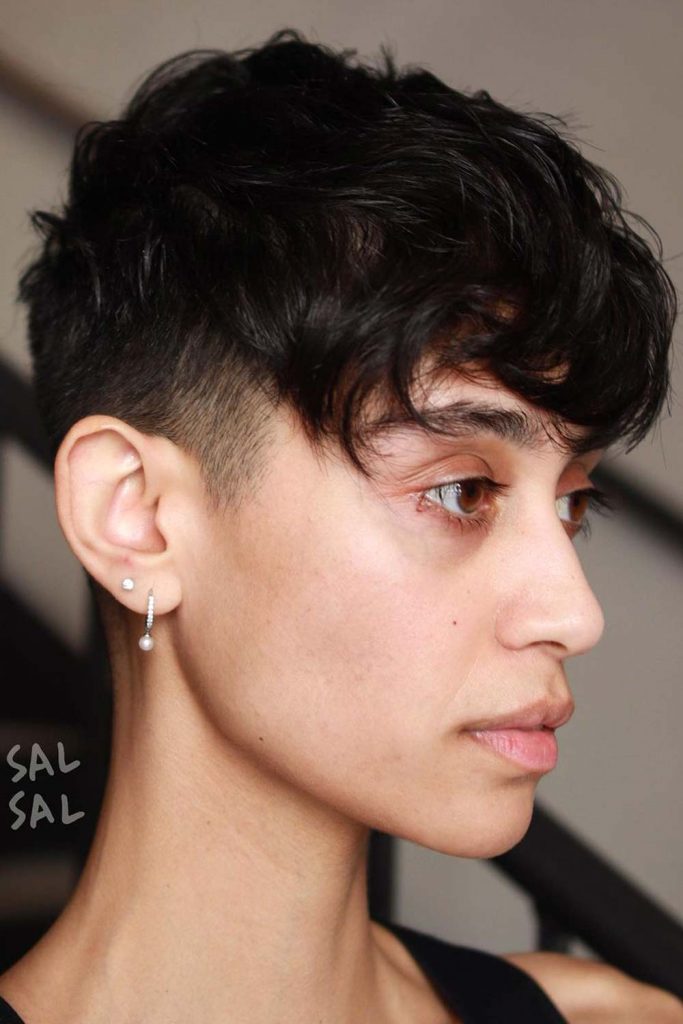 @salsalhair
Do you want to fall in love with a shadow play on your own hair? It's time to discover the magic of the drop fade: the fade starts extremely low, and gradually blends up the hair length from short to long. It looks as fantastic as it sounds. A crew cut has never been so distinguished, don't you think so?
Layered Medium Pixie With Low Fade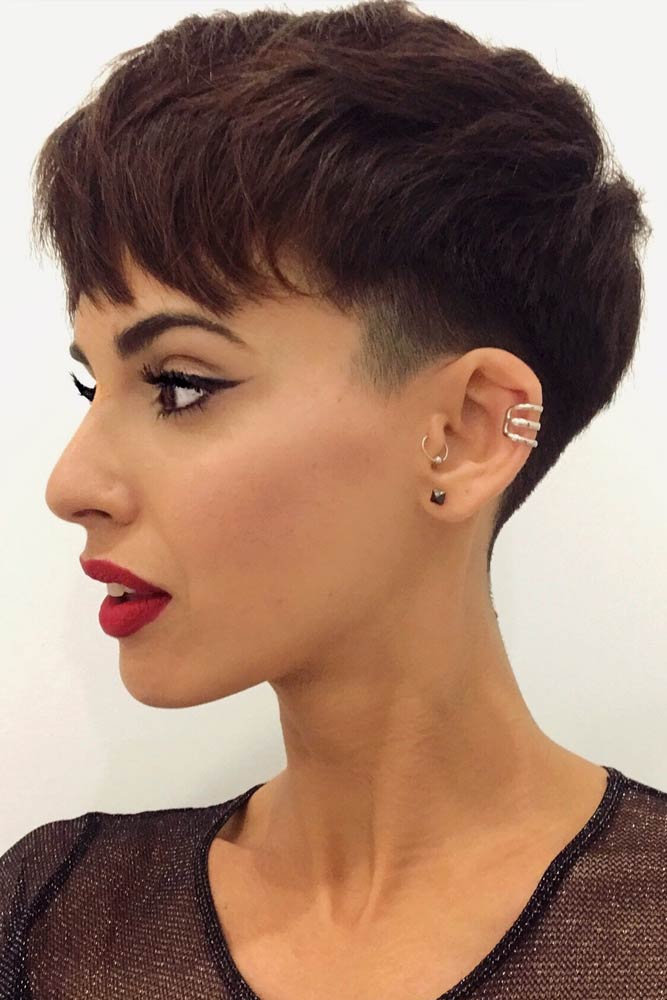 @inmadelope
If you feel that all those fades are too drastic, don't panic! You can actually get yourself a fade that will give you a smooth graduation of hair length. Some faded hairstyles don't feature a visible contrast between the hair on the sides and top, they just form a smooth dramatic faded. How about this layered pixie with a soft, low fade haircut?
Cute Temple Fade For Curly Hair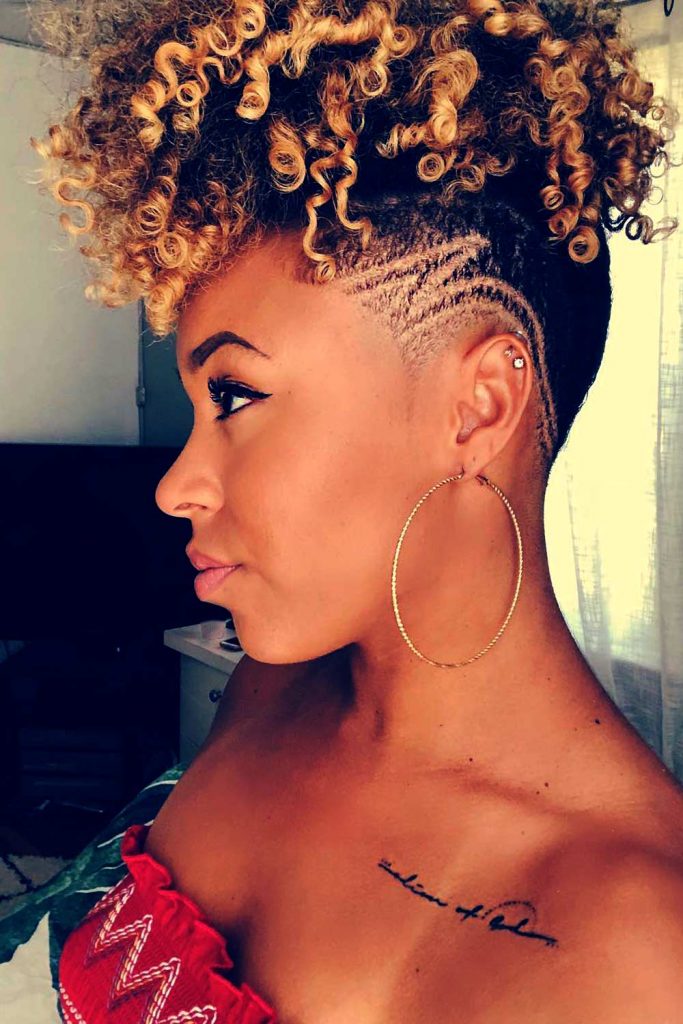 @arispella
It's not a secret that curly hair creates the most enviable looks ever. Do you want to have all eyes on you? A temple fade will be in handy then. Imagine that your voluminous curls flutter in the wind, revealing the beauty of your faded sides. This variation of the low fade gives a very sharp transition of hair lengths, which gets on well with your awesome curls.
There's A Fade For Any Hair Type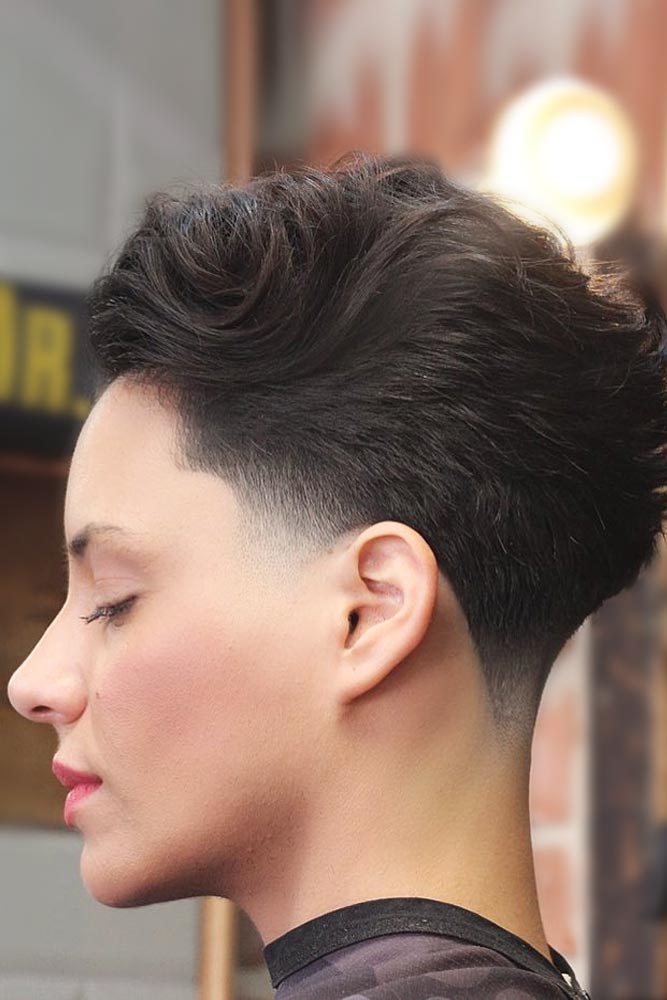 @theniksters
It really doesn't matter what hair type you have. There's nothing impossible about fades, you can get it whenever you want. Whether it's a messy pixie for thin hair or a short layered bob for fine hair, there is always a place for a fade. How do you like this temple fade on fine hair? Yes, it suits everyone. Just find a fade that is to your taste!
Mid Fade Pixie With Faded Sides
Some girls would like to find the happy medium between the low and high fades. Fortunately, it won't take a lot of time. Meet the mid fade cut, a taper cutie that goes below the temples and above the ears. If you want to rock your days with long colorful pixie, fade the sides and be ready for the most flattering compliments!
Low Fade Mohawk With Hair Tattoo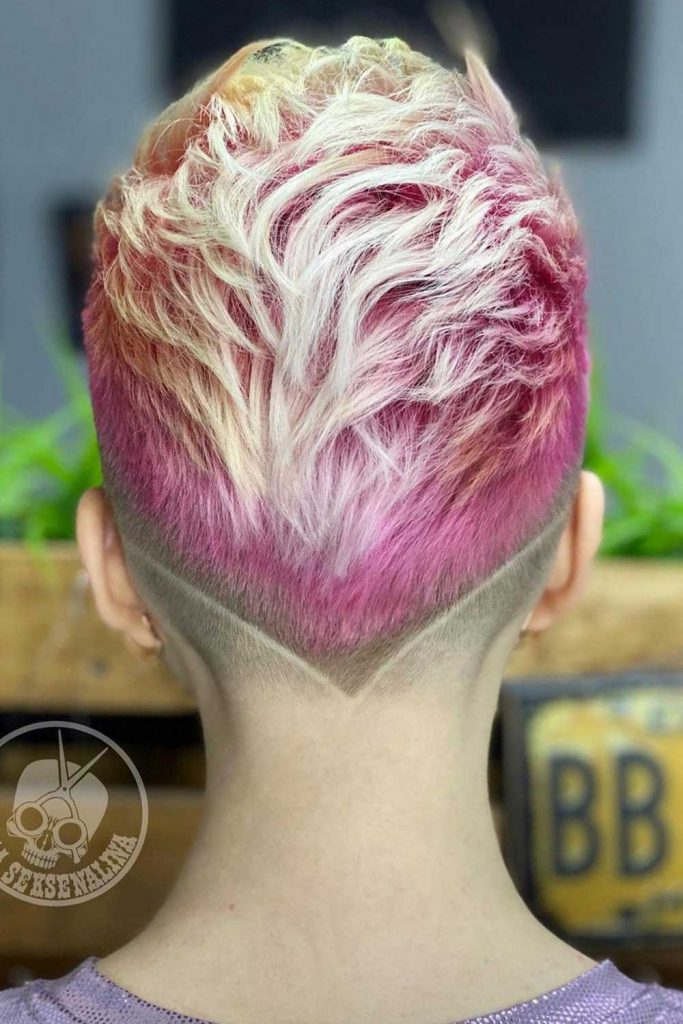 @kamila.seksenalina
Believe it or not, your hair can let your dreams come true. It lets you experiment, and that's the only thing you need. Once you opt for a faded cut, you can't even imagine how it can diversify your daily look. How do you like this bold mohawk with tapered sides of a low fade haircut for women? A tattoo makes this haircut unique, while the messy silhouette creates a really unusual look.
Spiky Mohawk With Low Fade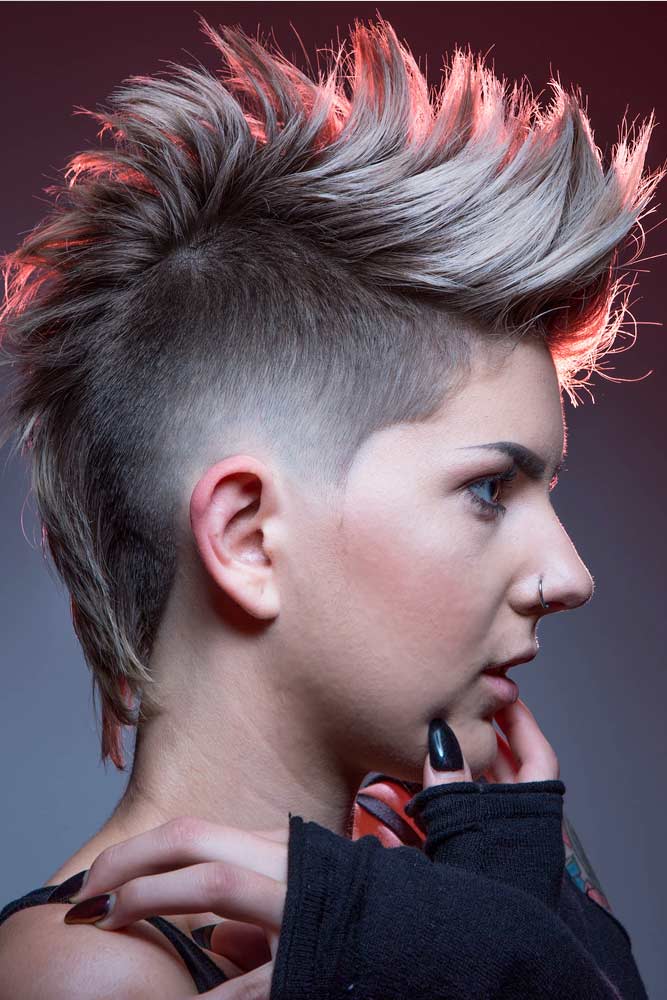 @andrewdoeshair
If you are a woman who is not afraid to show everyone how daring your style is, call your hairstylist and ask for a spiky mohawk. Shaved sides with longer hair on top are for brave ones! People are not used to seeing such a cool cut on women, but who cares? Some may call it outrageous, and those who have a sense of style will call it awesome. Remember: a mohawk without a low fade is a mohawk wasted.
Blonde Faded Pixie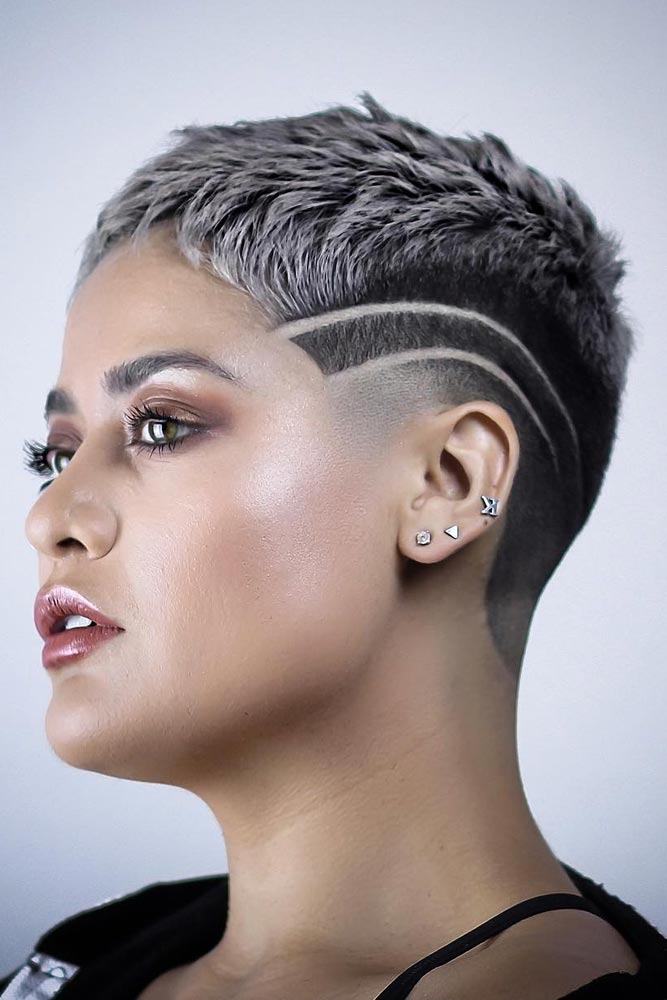 @diego_djdgaf
Girls with blonde hair are in luck, as they can bring this fancy idea to life right now! Have you ever seen that amazing short hair? It's hard to find the words to describe the soft low fade on the sides and back. No wonder if you'd like to dye your hair blonde: this look is just stunning.
Voluminous Pink Mohawk With Faded Sides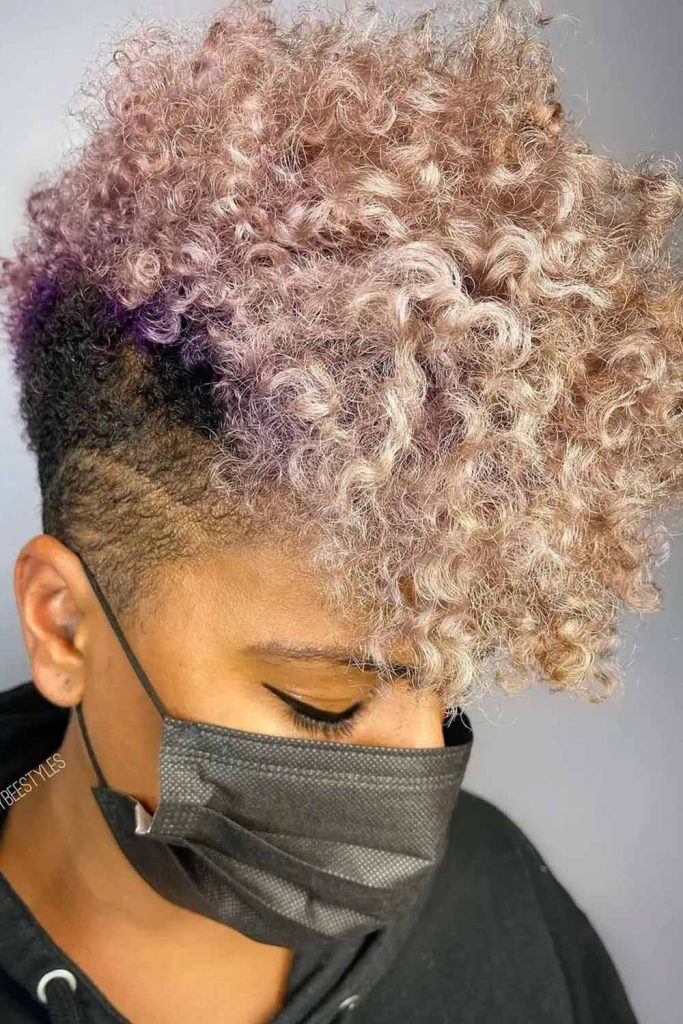 @klouiseboutiquesalon
There is no better way of sporting bright colors than sport in with mohawk. If you get yourself this low fade haircut for women, even the coolest guy will feel envious. The tapered sides emphasize the volume of your mohawk, giving you a nicely balanced look. Add some pink colors to show that this style looks good on girls too!
Temple Fade For Attractive Afro Hair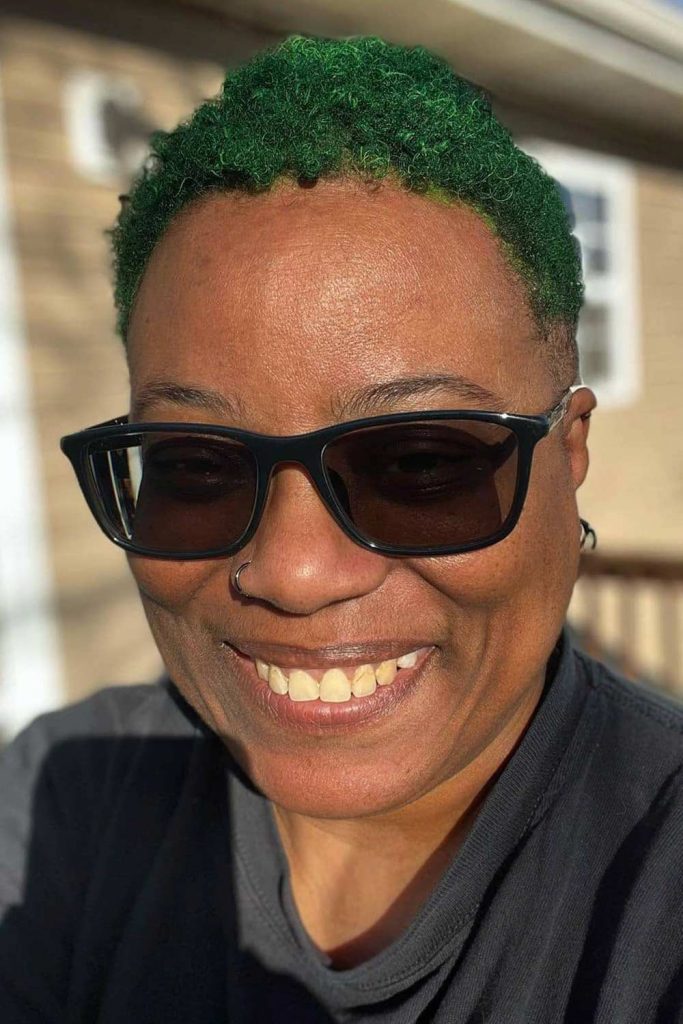 @crownpaint_colors
The temple fade is a common element that all low fade black women haircuts feature. Women with afro hair know that only this variation of the low fade can deal with their hair type perfectly. What do you think about this afro crew cut with a shaved line? Fades will never stop impressing us, this pic is living proof.
Straight Pixie With Side Bang
A straight pixie with side bang is the low fade haircut women love so much. No matter how old you are, this haircut is ageless, especially when it's complemented with cleanly faded sides. Those who say that this cut is not feminine don't know what feminity is! Cut your hair short, get your sides faded, style your bang and opt for a soft balayage. Voila! You are a woman to remember.
Edgy Short Pixie With Low Fade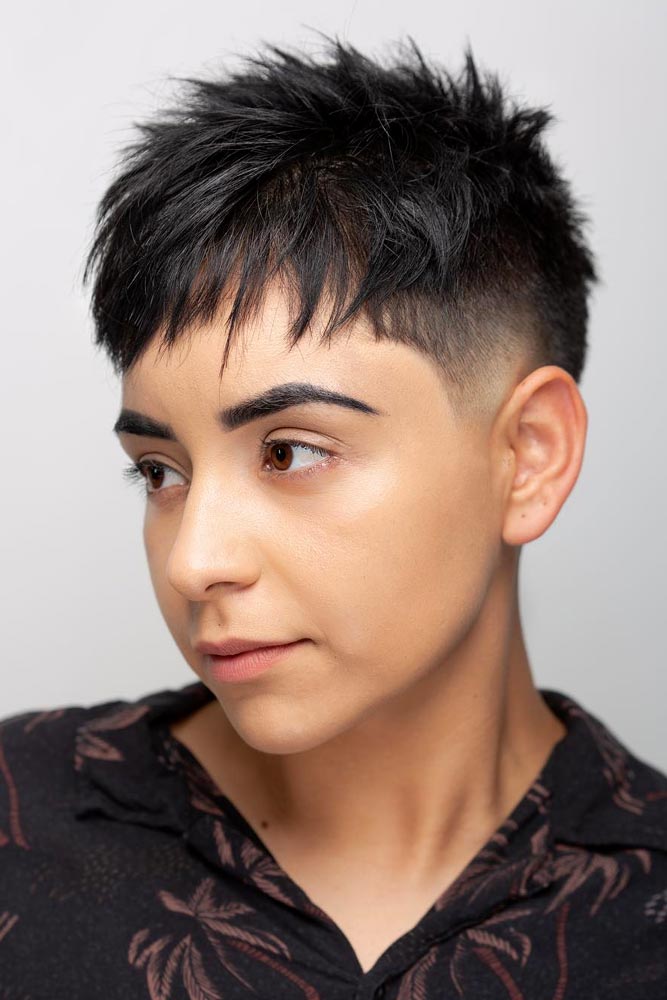 @andrewdoeshair
Who says that short haircuts can't be distinctive? With the right approach to styling and a low fade haircut for women as the main weapon, your short haircut will be seen from a mile away. Go for a simple low fade, style your pixie with lightweight gel in an edgy manner, and enjoy your sexy tomboy look!
Spiky Mohawk With Low Fade Haircut for Women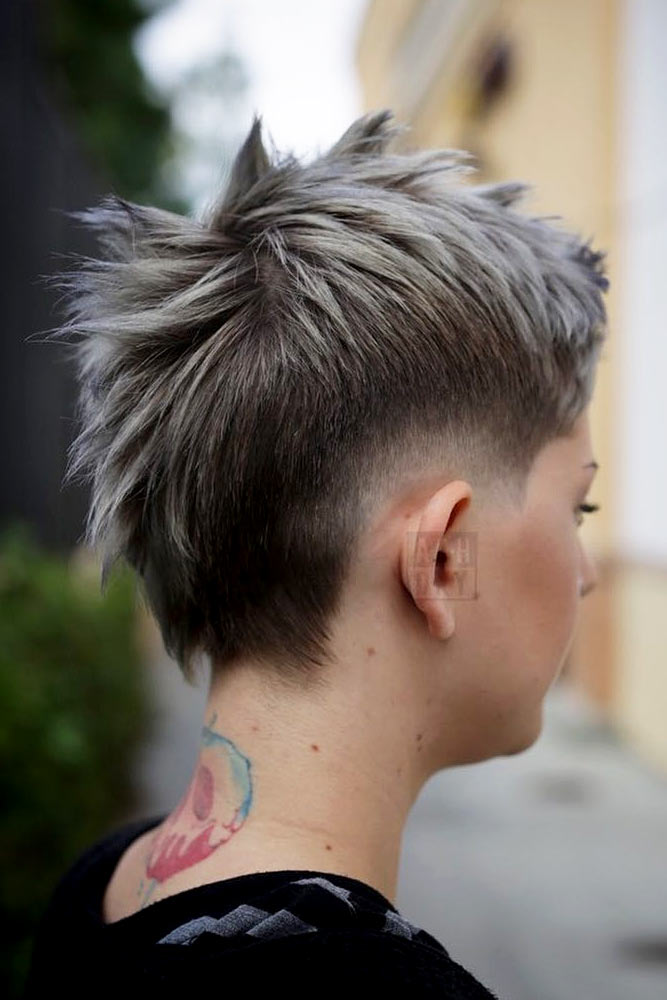 @andrewdoeshair
Roses have thorns, they say. And girls have spikes, from time to time! If your mood is all about sassy looks with daring styles, let your haircut reveal your spiky soul: a short mohawk with low fade, where the sides are neat, and the top is dramatic, is a nice start.
Wavy Crop & Fade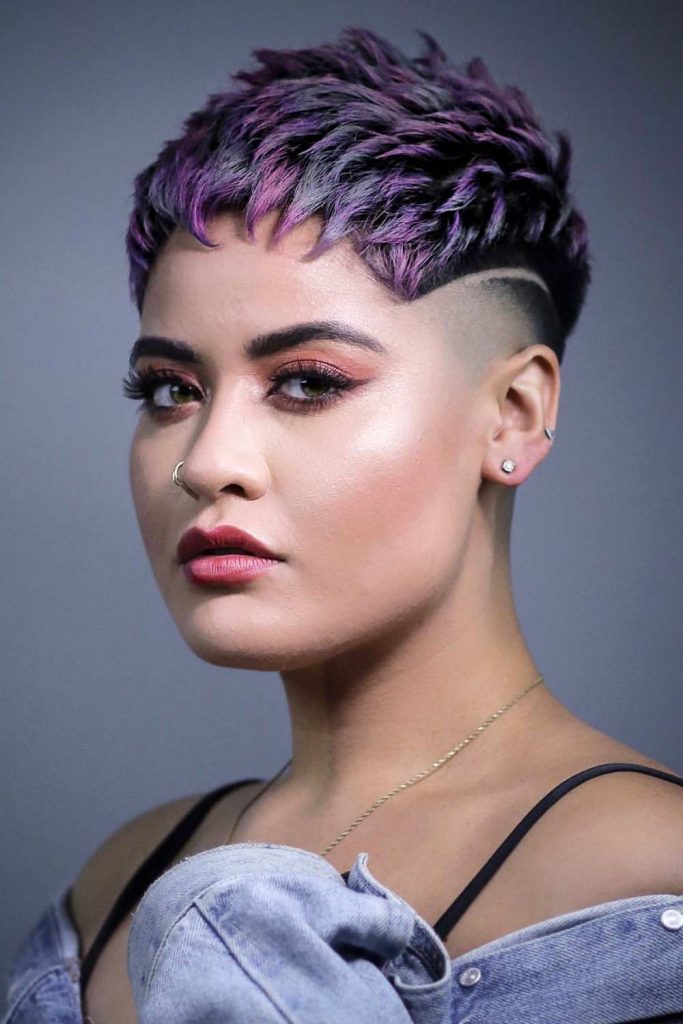 @diego_djdgaf
Ladies who like haircuts that focus on the texture will fall in love with the idea of the wavy crop. When creating such a cut, your hairdresser changes the thickness of your ends slightly, thus giving you lovely movement and taming your thick hairs. This outstanding texture looks ravishing with a low fade haircut and some bright colors on top.
Side Parted Curly Pixie With Low Fade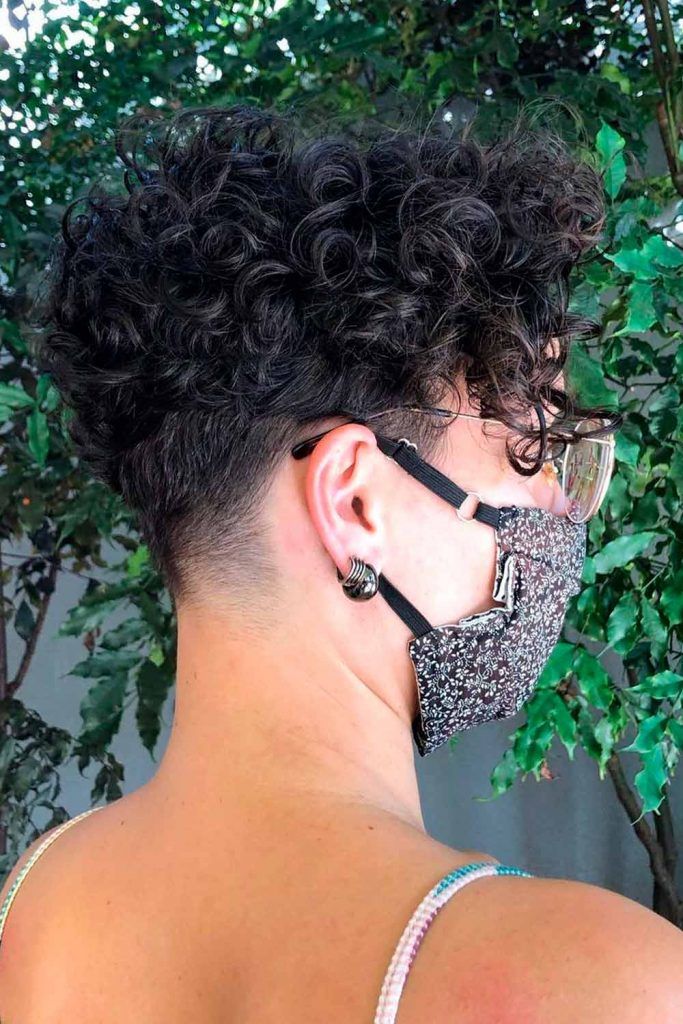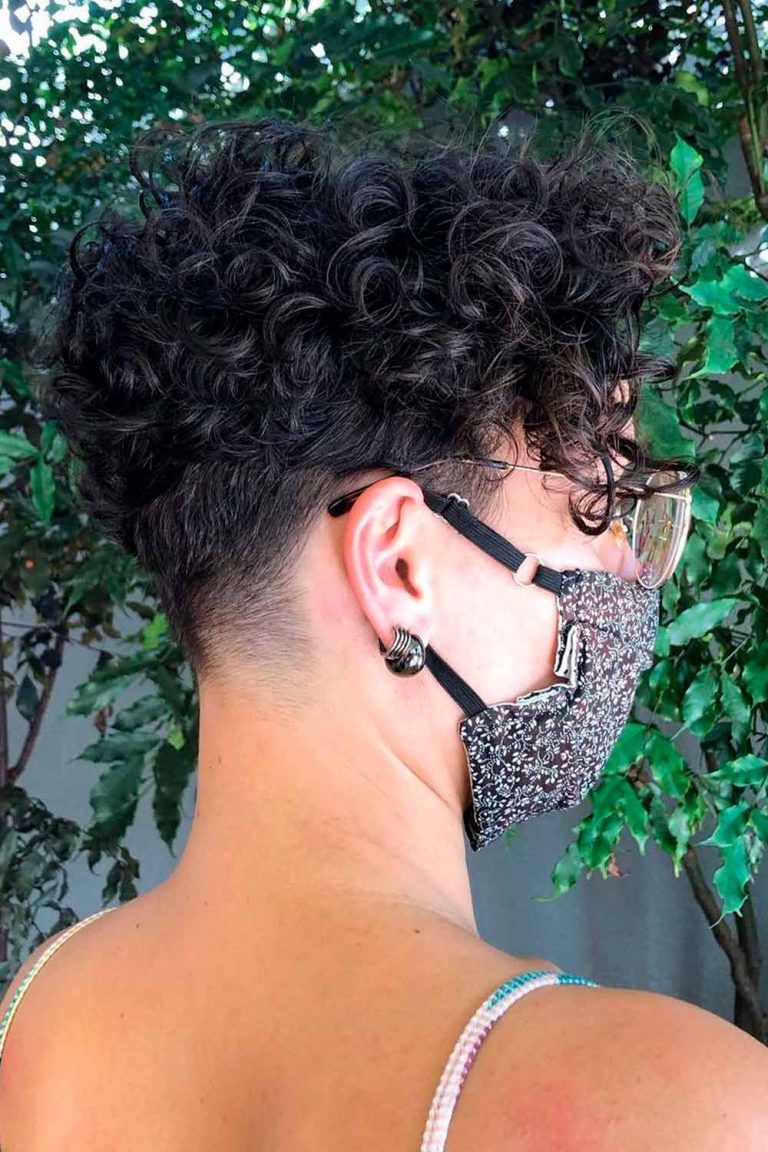 @exotismos
Wearing curls is a huge commitment only when you flaunt with a chevelure full of them. Yet, if your curls are whipped into shape with a side-parted pixie, it's not only a cool hipster-like way to pull them off; it's salvation for your styling mornings. How do you like the seamless transition from the pixie's sides to a low fade? It's just gorgeous.
Bowl Cut With Low Fade And Shaved Stripes
A bowl cut that you may remember as a pageboy haircut from your brother's school days has changed a lot. First off, nowadays it's a stylish, versatile one-length cut that features soft straight bangs. Secondly, it works well with the iconic low-fade haircut that you can customize with your own shaved design.
Messy Faded Mohawk With Shaved Stripes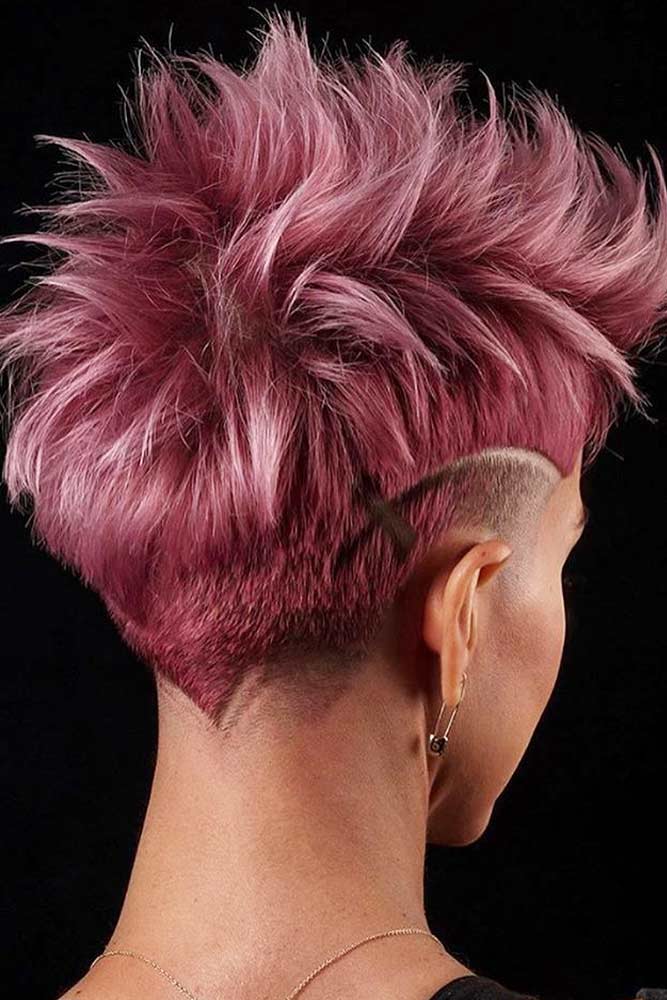 @alineh_a
If you want a truly dramatic, wild mohawk, don't look any further than this mind-blowing idea. First, it was a long pixie. Then, the daring soul took it over and turned it into a crazy spiky masterpiece, coloring it pink and shaving edgy stripes over the low fade cut. Does it appeal to you? Try to steal the look!
FAQ: Low Fade Haircut
What is the lowest fade?
The low fade is a basic method that may be utilized to give any style a touch of refinement. The hair on the sides of head narrows down in a low fade, and the taper comes lower on the head. That's why it is often called low fade.
What is a 0.5 fade?
A 0.5 fade means that the hair on one side of the head is shaved down to the skin. The skin fade, on the other hand, is the most visible, because hair goes from bald to perhaps a 0.5 into a 2 on the sides, at the top.
Was this article helpful?