Pick A Taper Haircut Style To Look Cool And Edgy
A taper haircut is so cool and trendy, but do not confuse it with a fade haircut. Oftentimes, people refer to a taper and a fade as the same haircut. This is far from being the truth. The two cuts, while similar, have distinct differences that set one apart from the other. There are variations of each cut and even blended versions of the two. There are faint tapers with a long crown, both short tapers, as well as long tapers. As for the fades, they are
short haircuts
with practically bald back and sides and the gradual transition to short and then longer length towards the top. Basically, a fade is a type of a taper cut, but here the length is drastically shorter. However, bald back and sides allow the longer top. So, as you can see, the difference is mostly in the length. And if you feel like going bold but not bald, a taper cut might work for you. Below, we have included some taper haircut pictures to give you a visual example of the differences. This way you can compare the taper haircut vs. fade haircut and decide which direction you choose to go in.
Taper Vs Fade
A taper fade haircut is what one used to think of
men's haircuts
. However, they are becoming quite popular with women as they are a great style for the woman who wants a trendy short style. A tapered cut is one in which the hair is longer on the top and then gradually shorter on the sides and back. A fade haircut basically has no hair on the back or sides. Fades can either be a high or short fade. A high fade usually "fades" away about 2 inches for the top which a low fade, or a taper fade, fades gradually down the back and sides and then completely fades at the nape and above the ears.
Tapers:
ADVERTISEMENT ‧ CONTINUE READING BELOW
faint
long crown
short tapers
long tapers
Fades:
Taper Fades:
temp fade
side part taper fade
undercut fade
ADVERTISEMENT ‧ CONTINUE READING BELOW
Faint Tapers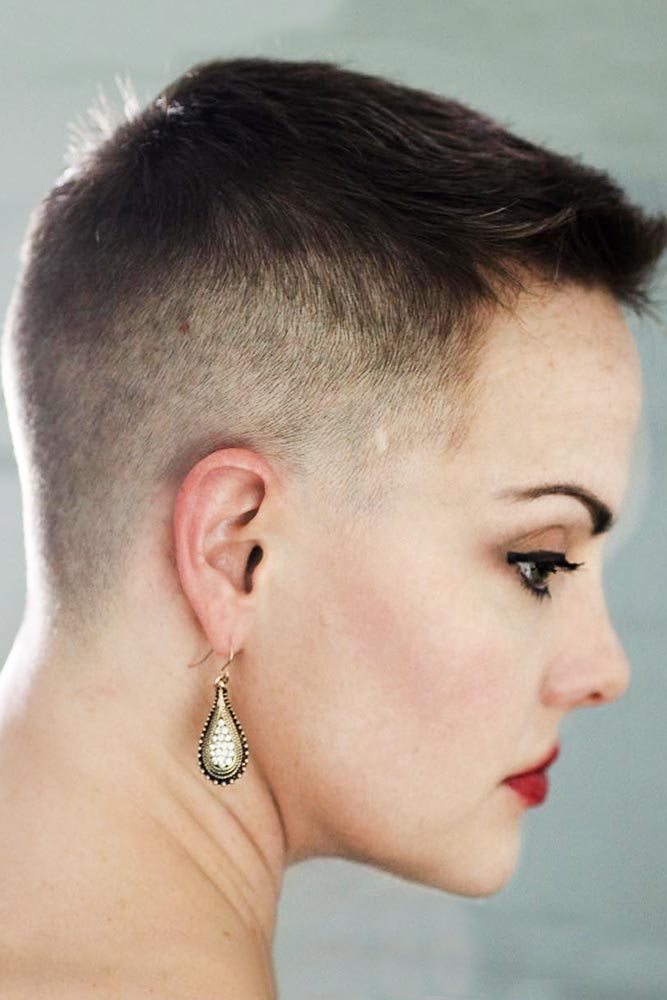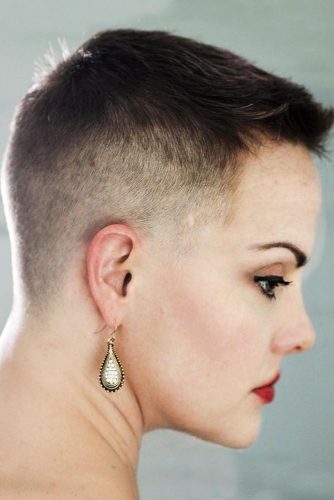 Source: shorthair.losangeles via Instagram
There are several versions of a taper
fade haircut
that have varying lengths. This photo is an example of a short taper haircut. It is classified as this due to the extremely short length in the rear and sides of the cut. A fade, while also short, isn't cut as close to the scalp as a taper.
ADVERTISEMENT ‧ CONTINUE READING BELOW
Long Crown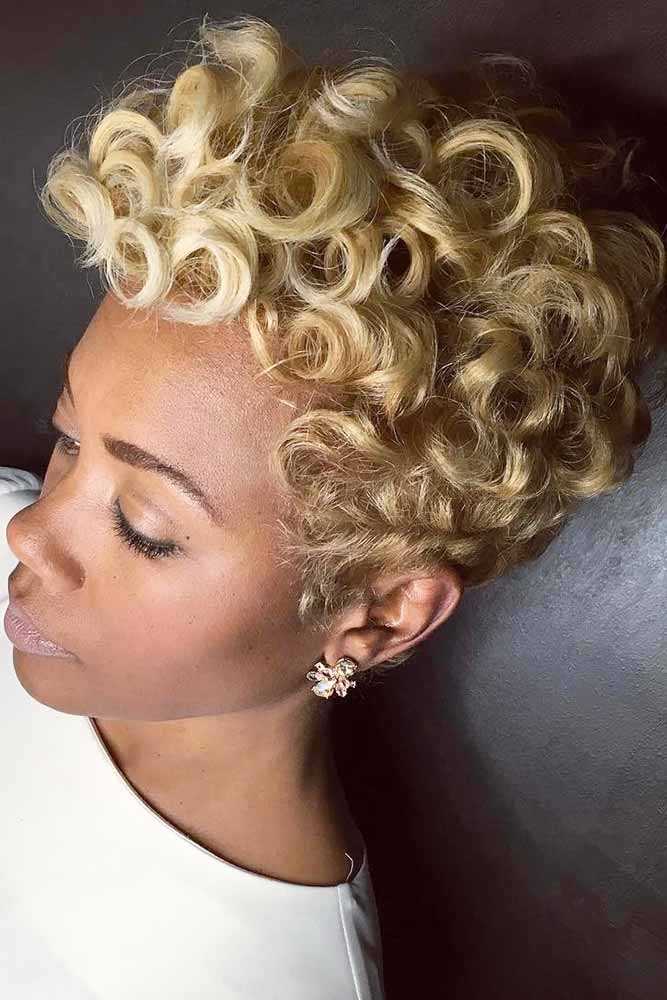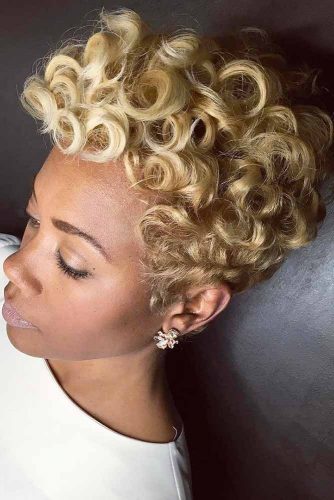 Source: khimandi via Instagram
Some people think that due to their curly hair they can't obtain a taper haircut. This is simply not true. If you hire a stylist who has been properly trained they can guide you in the right direction to help you achieve a look that works for you and your hair type. This photo is a prime example of a taper hairstyle on a woman with curly hair.
ADVERTISEMENT ‧ CONTINUE READING BELOW
Short Tapers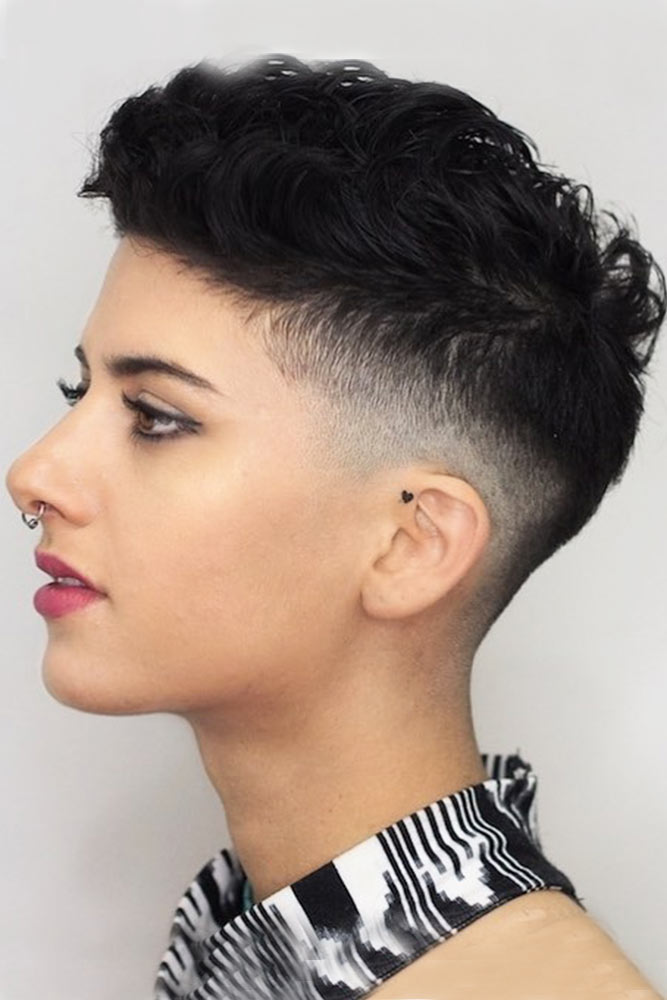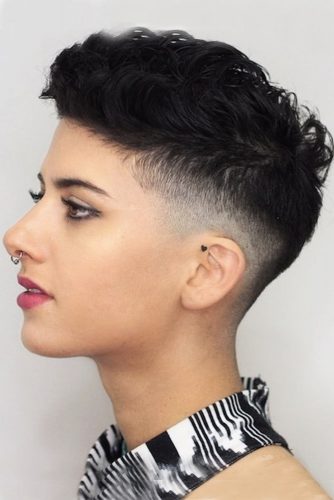 Source: shorthair.losangeles via Instagram
As before mentioned, there are short taper cuts such as this faded taper haircut. The hair around the sides and back of the head is cropped extremely close and fades slightly to the model's length on top. This cut is also known as an undercut fade and has recently become increasingly popular among women.
ADVERTISEMENT ‧ CONTINUE READING BELOW
Long Tapers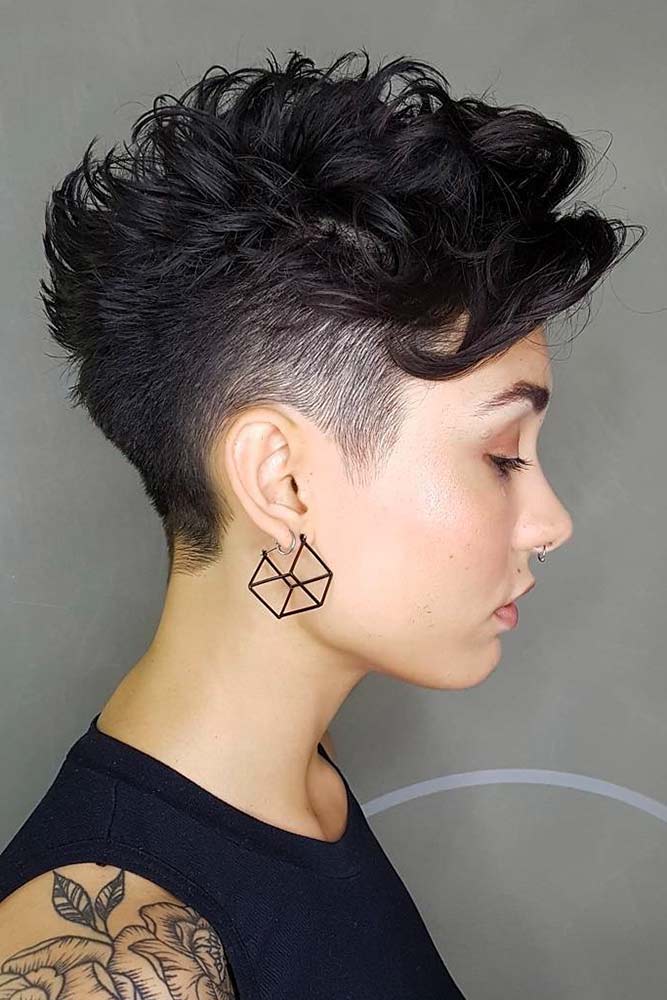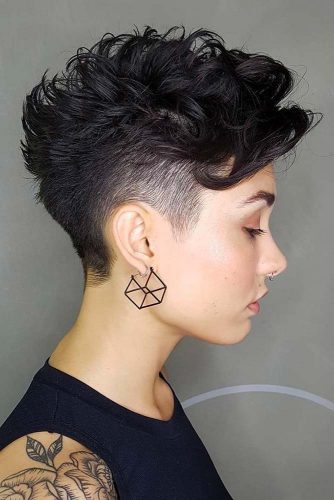 Source: denyvir via Instagram
This photo is a beautiful representation of a taper cut and falls into the long tapers category due to its slightly longer sides and back. The fade is not as dramatic as in the previous photo, and this look has been around for men and women for some time. This tapered fade has been popular among women since the late 80's and early 90's and has recently resurged with
short hairstyles
becoming increasingly popular.
Fades
The fade haircut: the hair decreases in length from top to bottom, and we are going to explain to you how to fade hair yourself. Typically, the hair is wet prior to cutting, and the proper guard is selected to obtain the desired length. Before cutting begins, the hair is parted as it would be when styled and the cut begins. Using the longest guard, start at the top of the cut and go all the way around. Next, attach the next guard to the clippers in descending order and stop this cut about an inch below your last pass. Finally, add the shortest guard and blend the passes and, voila, you have successfully completed your own haircut.
Faux Hawk Fade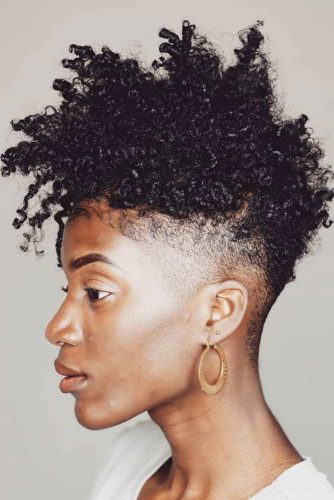 Source: theabigailmartina via Instagram
This model is sporting a faux hawk fade. With this cut, the hair is cropped super close to the sides and back, and the length is styled upward to create a mohawk effect. There are varying styles of faux hawks you can achieve without making the leap into a full-blown mohawk.
ADVERTISEMENT ‧ CONTINUE READING BELOW
High Top Fade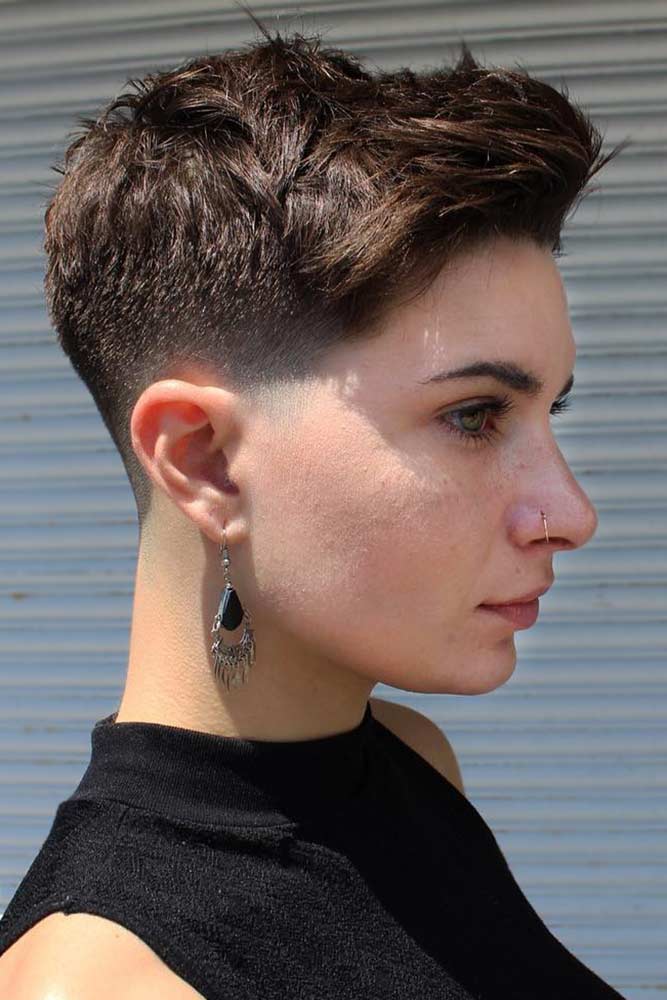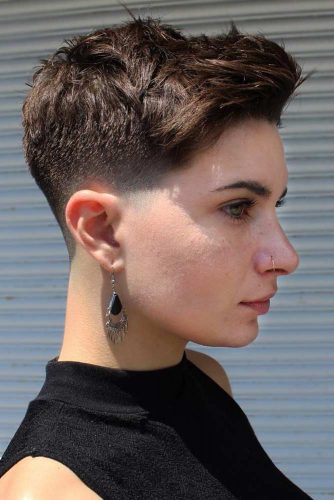 Source: dillahajhair via Instagram
This high-top fade is becoming extremely popular among women. What was once considered strictly a man's cut, this cut has crossed the gender lines. The fade is progressive but doesn't go to bald. The hair is blended well with the length on top allowing for styling and easy maintenance.
Taper Fades
Now we are crossing over to the love child of the taper and fade – a blended style taper fades. There are several versions of this cut as well, and each has its own specific style and benefit. The temp fade, or temple fade, is exactly what the title indicates. The fade begins at the temple area. There are additional versions of this cut such as the side part taper fade and the disconnected undercut fade. It is important that you know the distinction between what is a taper fade and what a simple fade or taper is. One of the most popular cuts in this category is the low taper fade haircut.
Temp Fade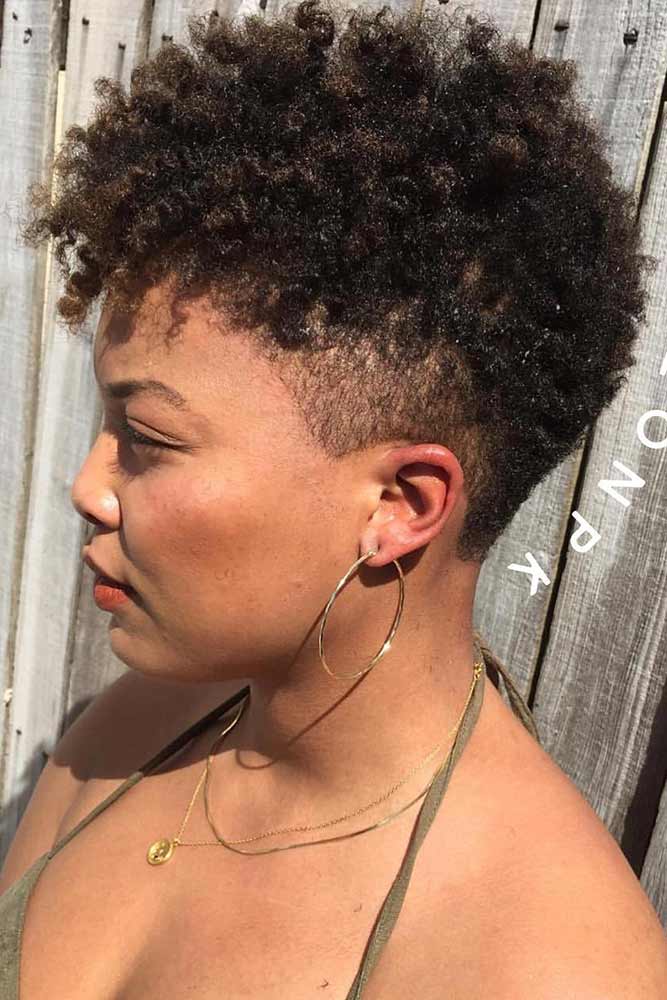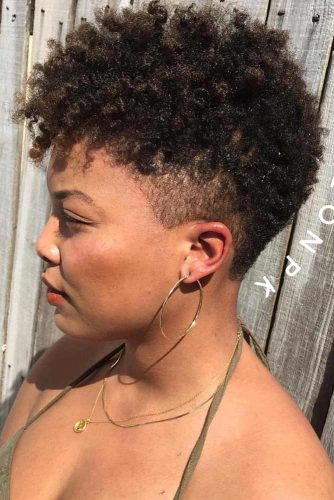 Source: salonpk via Instagram
The photo above is an example of a popular taper
haircut for curly hair
black women prefer. It is sometimes referred to as a temple fade due to the hair length fading at the area of the temple. This style is both low-maintenance and easy to style. No long hours in the styling chair or bathroom are necessary for obtaining this chic look!
ADVERTISEMENT ‧ CONTINUE READING BELOW
Side Part Taper Fade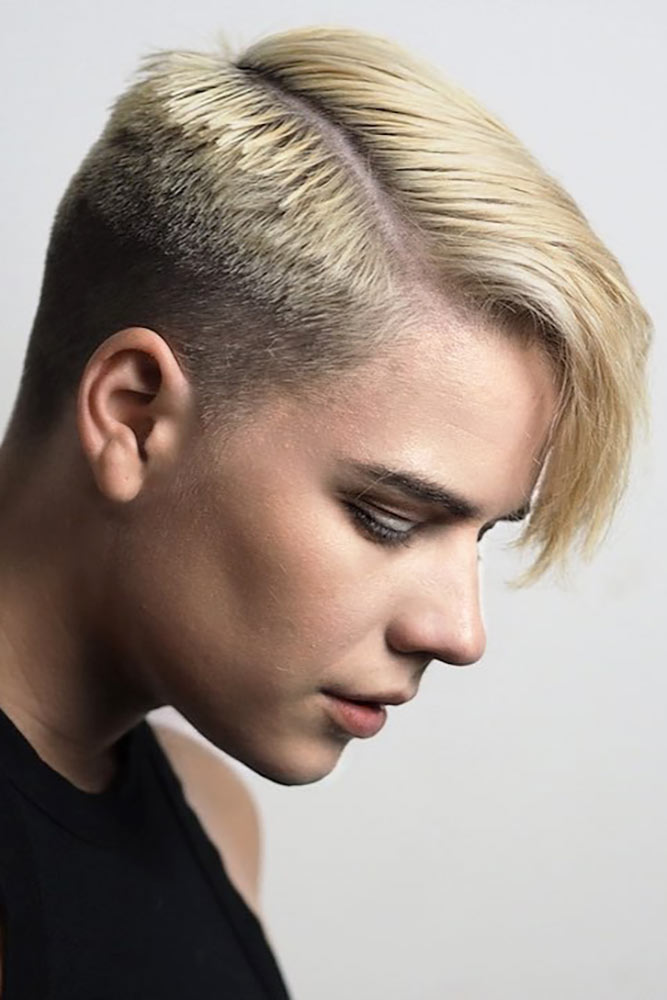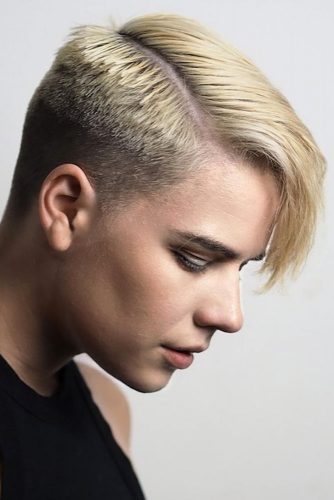 Source: shorthair.losangeles via Instagram
Next, we have the side part fade which has also leaned heavily toward the category of being a man's cut. However, in today's modern era, lines that were once distinctly drawn to segregate genders have been blended. The end result is a cut such as the one in this photo that has a deep side part that is now even shaved into the cut.
Disconnected Undercut Fade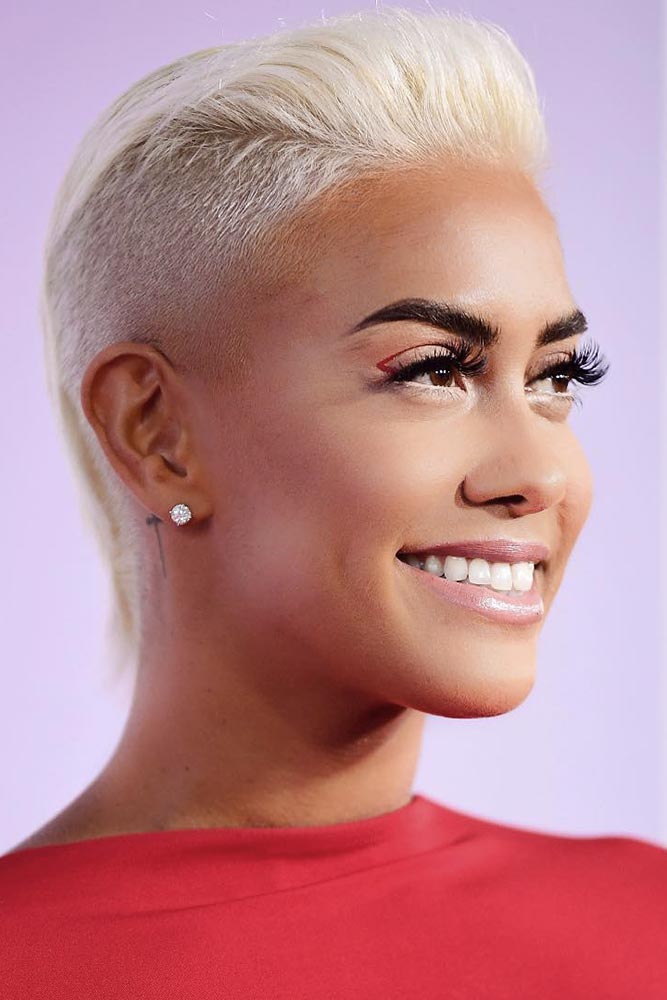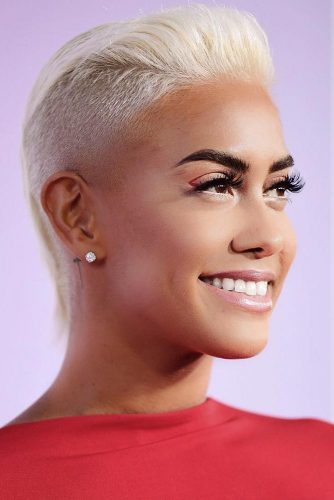 Source: sib_vicious via Instagram
Our next example is this gorgeous pompadour look made possible by the disconnected undercut fade style. This look is as the title states, not connected or blended. The hair length changes dramatically and quickly from a short length to the long length at the top. This cut is styling the skin fade undercut that is further set off by the light blonde hair color. This hairstyle is also easy to maintain and style, so it is perfect for someone who doesn't want to spend a tremendous amount of time styling their hair.
Taper Fade Haircuts For Your Inspiration
ADVERTISEMENT ‧ CONTINUE READING BELOW
Buzz Cut With Surgical Hairline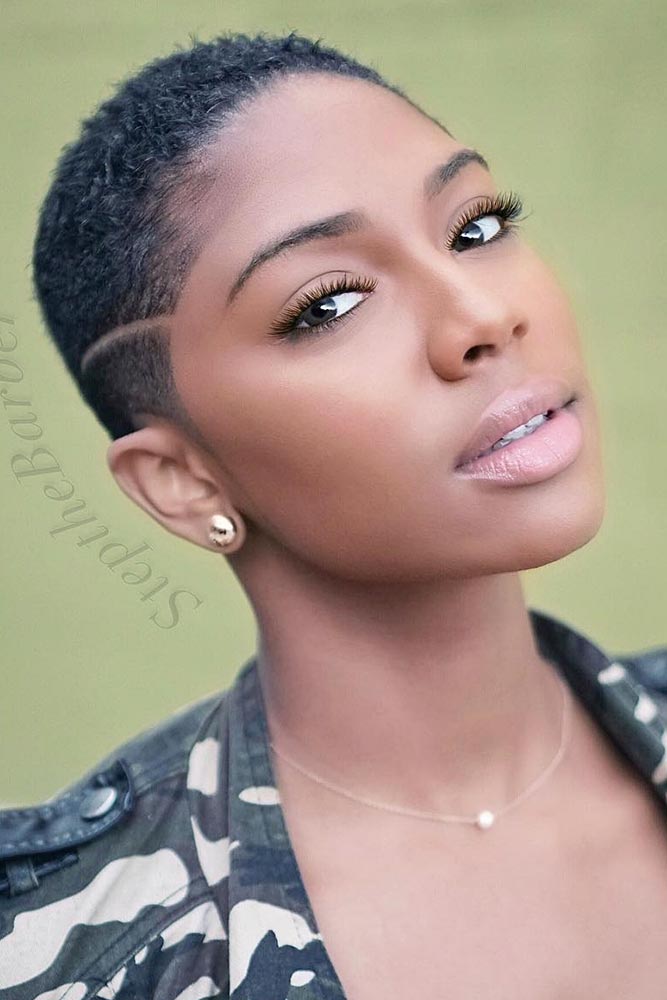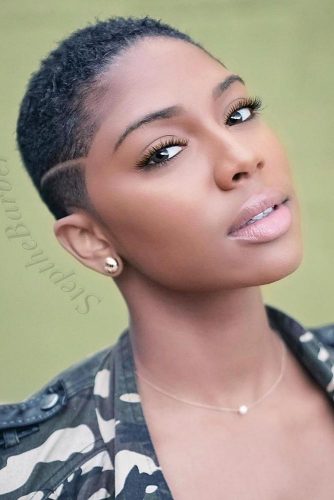 Source: stepthebarber via Instagram
This short buzz cut with surgical hairline is the perfect disconnected cut for those who want a super short style that's great for summer or even just a drastic change!
Platinum Blonde Taper With Faded Sides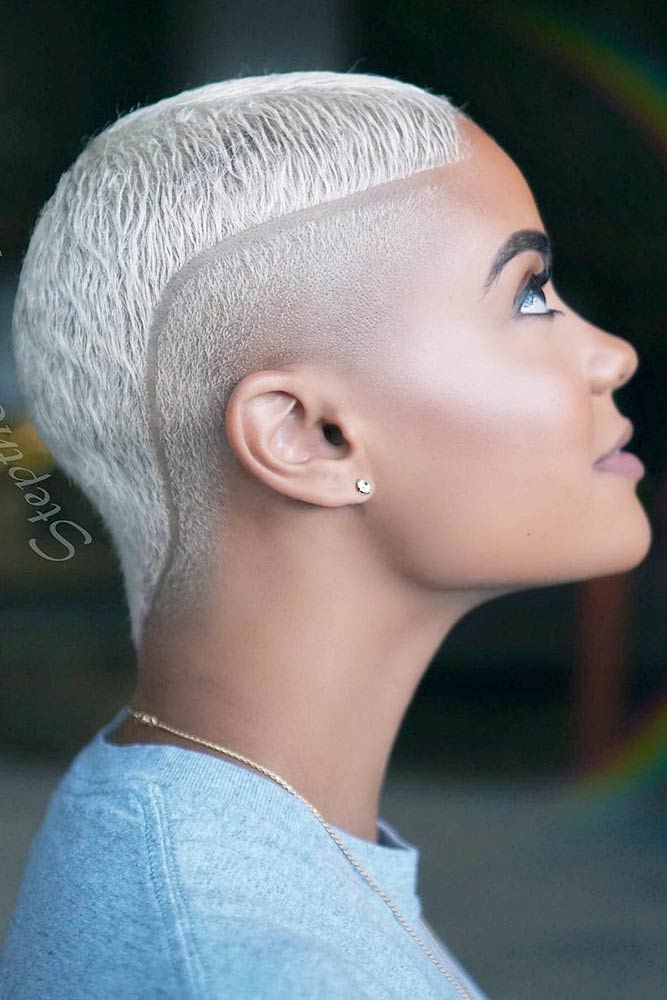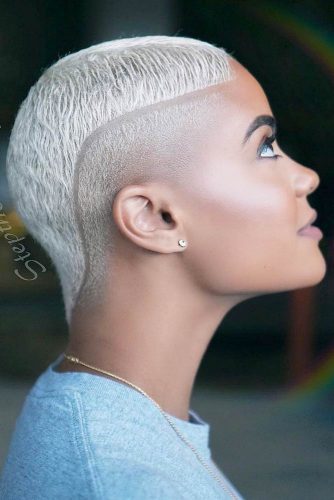 Source: stepthebarber via Instagram
This look is very striking and dramatic with the short cut that tapers neatly at the nape of the neck. The closely faded sides and pale blonde color give it a icy cool look if you want to show that blondes can totally rock a tapered haircut!
Curly Buzz Cut With Shorter Sides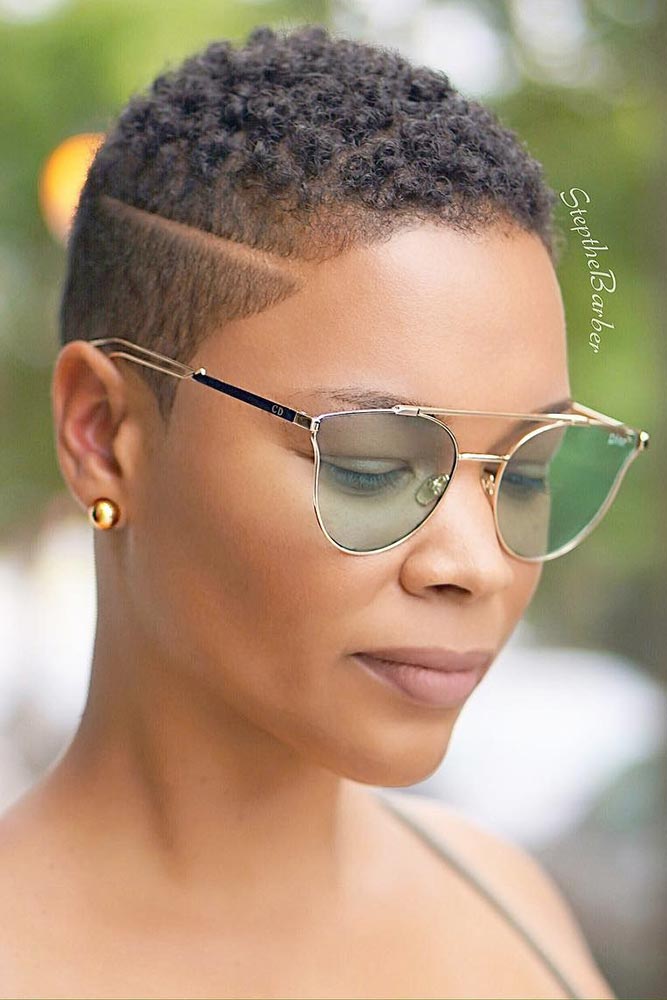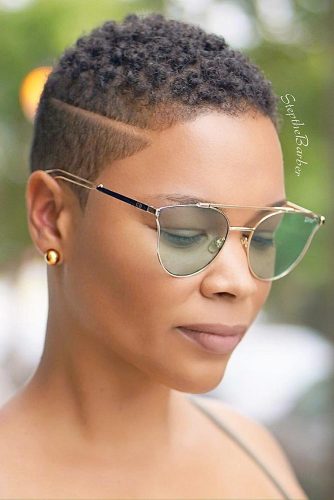 Source: stepthebarber via Instagram
If you have naturally curly hair, you can still rock a longer top! The super short curls are very cool and chic and the shaved sides give this hip haircut even more of an edgy vibe!
ADVERTISEMENT ‧ CONTINUE READING BELOW
Thick Straight Tapered Hair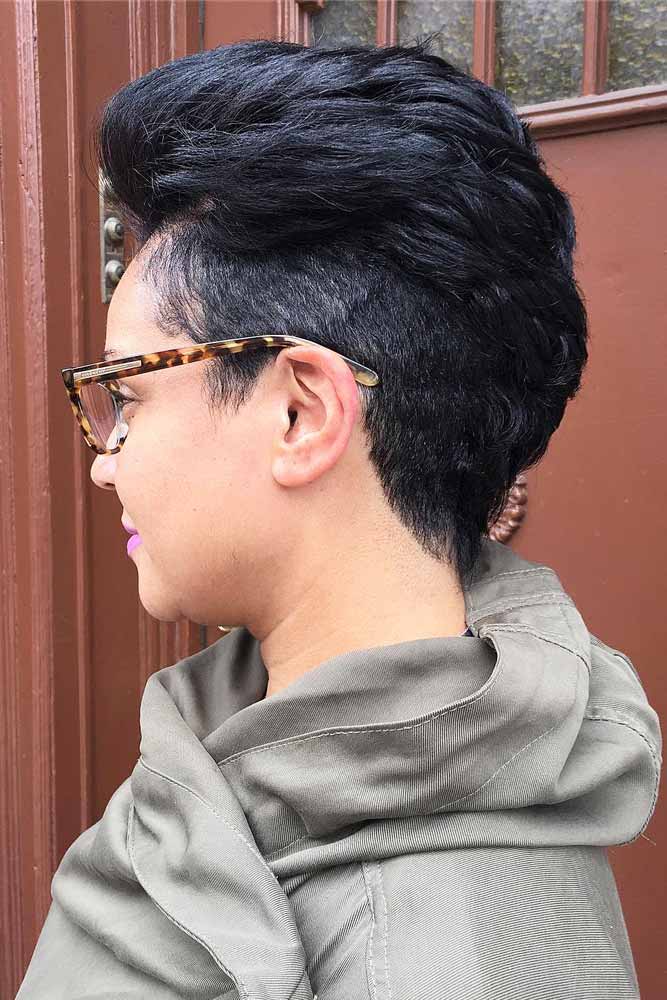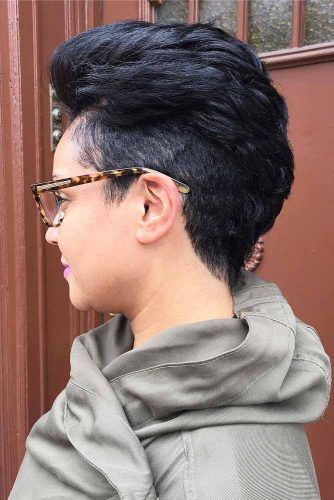 Source: sorayahstyles via Instagram
Got tired trying to tame your unmanageable thick hair but still love this stubborn texture? A taper is your key to reaching the balance and harmony with your demanding hair type. Ask your hairstylist for slight layers running through your locks so that they could stand out and behave at the same time. As for the sides, that's the job for a taper: let scissors put a spell on your hair and give it a totally unique look.
Natural Gold Curls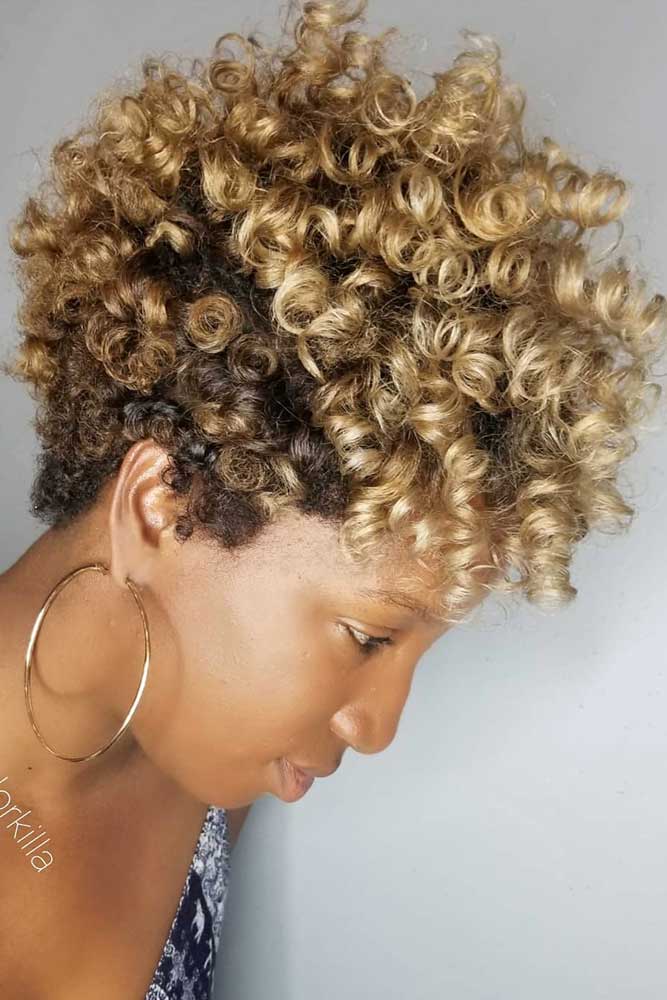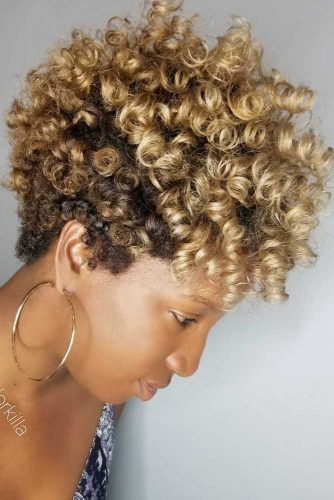 Source: haircolorkilla via Instagram
While some women with natural hair dedicate years of their lives for extensions, protective styles, and expensive braiding, wise ones go for a taper haircut. With this simple yet striking idea, you can not only put yourself in the spotlight but also embrace your natural texture. Besides, no words in the world can describe how comfortable you will feel with your hair.
Kinky Tapered Hair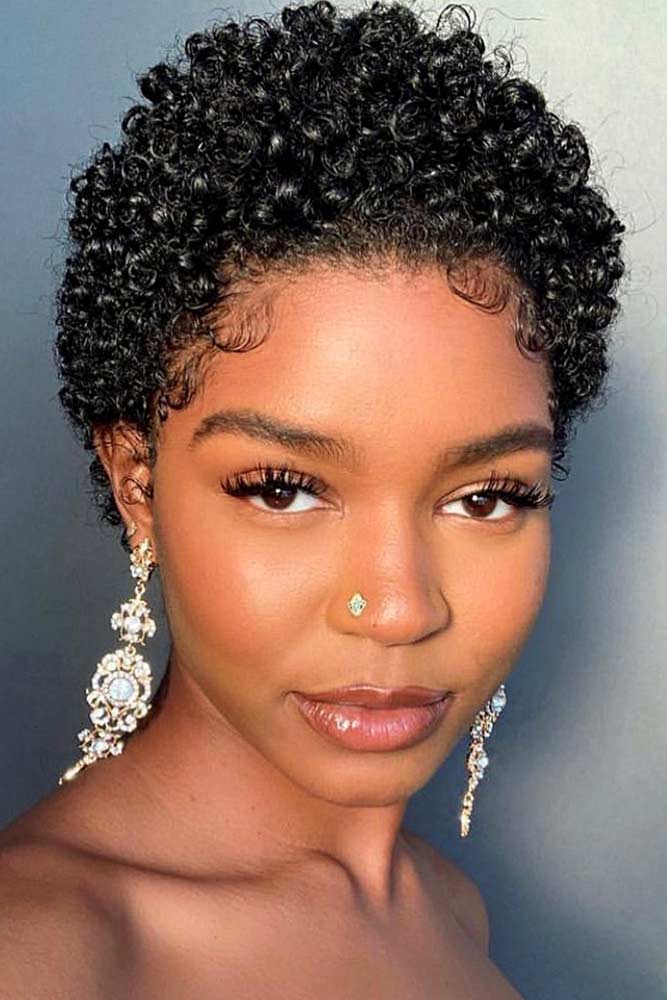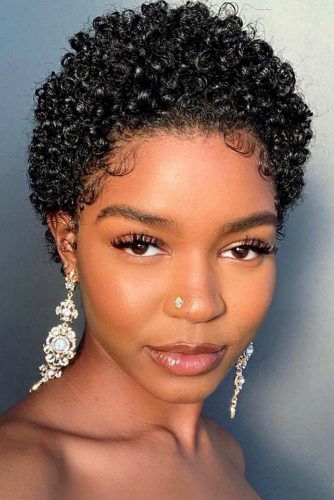 Source: nymcfly via Instagram
Kinks require a special approach in terms of the hair care routine. And there's no need to tell you that the right haircut is the 90% of perfect care for your afro locks. As you might have guessed already, the capricious natural kinks are another challenge that a taper can handle! This cut will shape every single kink, making it well-groomed and defined. Of course, it will also protect your hair from breakage, thus giving it a healthy look.
ADVERTISEMENT ‧ CONTINUE READING BELOW
Violet Taper Haircut With Hair Tattoo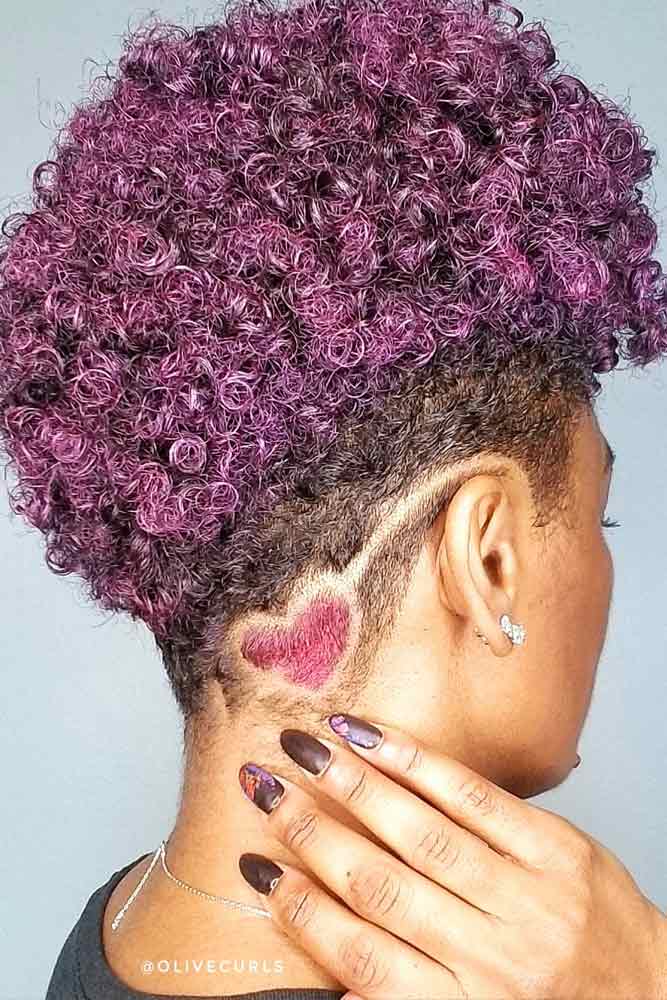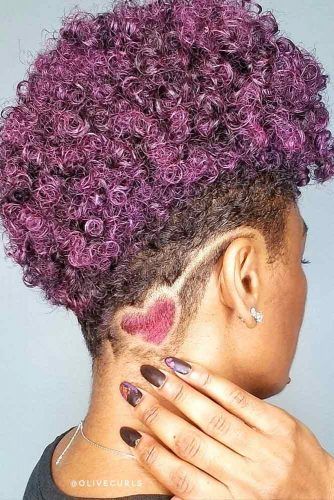 Source: olivecurls via Instagram
Do you know how far you can go with your tapered curls? As far as your imagination lets you! Shaved tattoos embellishing the sides and vibrant hair colors stealing the show are actually only the beginning of what you can create with a taper. Having seen this idea, you have no choice but to call your stylist and ask for bright changes!
Side Part Taper Haircut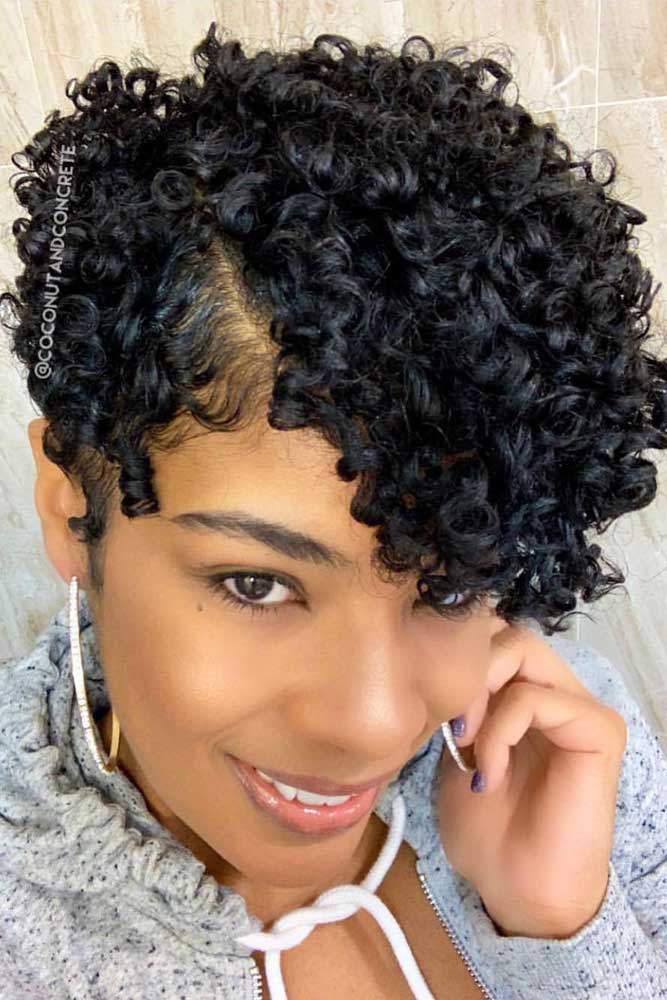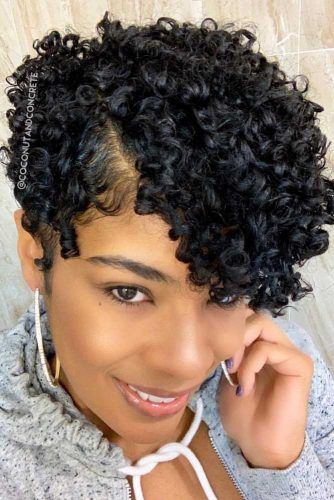 Source: coconutandconcrete via Instagram
As for styling options, there's an easy way to change the mood of your tapered curls from casual to refined formal. Whether you're going to a date or some evening party is knocking at the door, all you need to make your hair fit the occasion is to create a side part. Finish the look with shiny styling product, look in the mirror and say hi to the sexy goddess with a sophisticated hairstyle.
Spiky Tapered Cut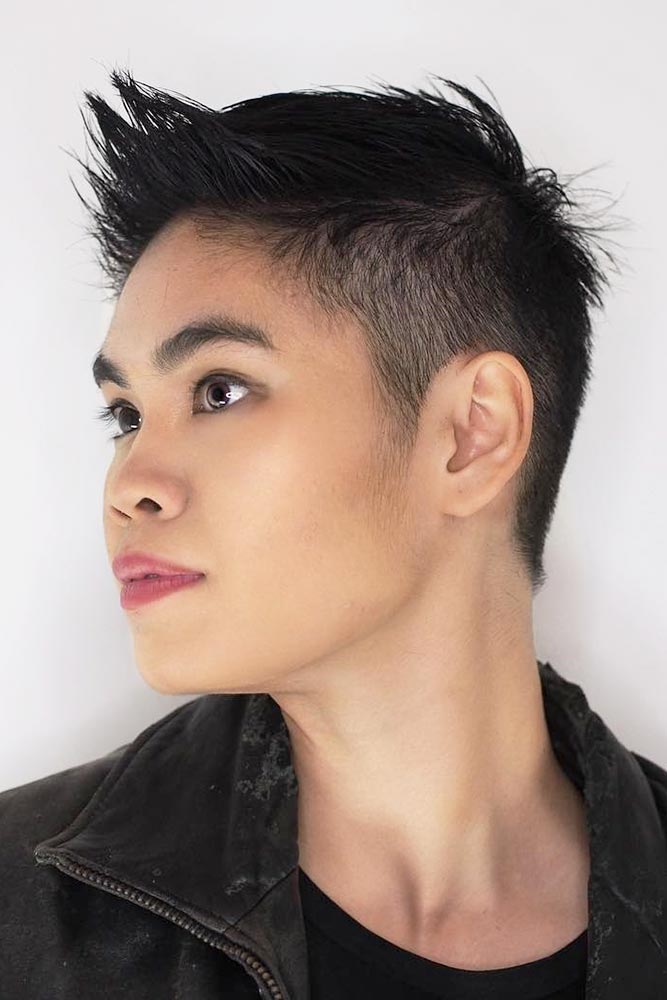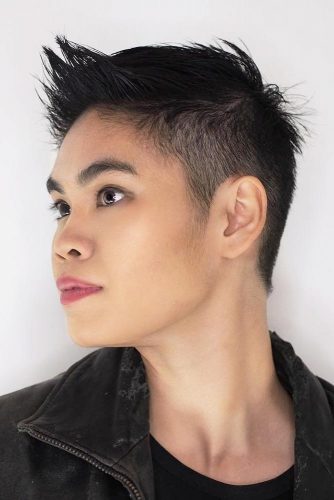 Source: shorthair.losangeles via Instagram
This spiky tapered cut is very edgy and shows that you aren't afraid to show you're rougher side. Ask for more length in the front so you can tease it back to create spikes like the ones shown here.
ADVERTISEMENT ‧ CONTINUE READING BELOW
Sunset Tousled Tapered Pixie Cut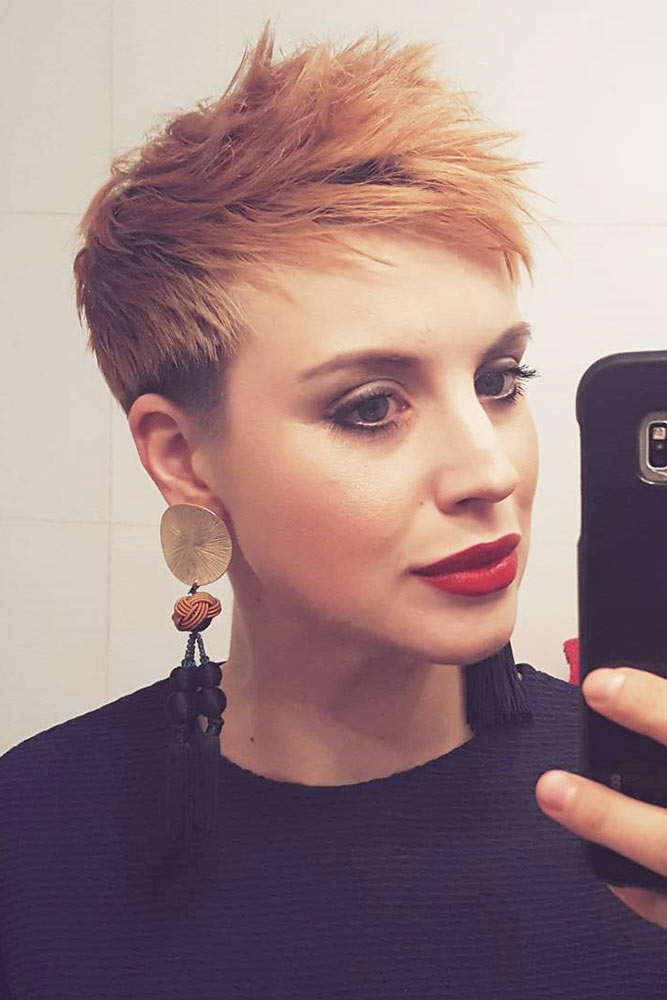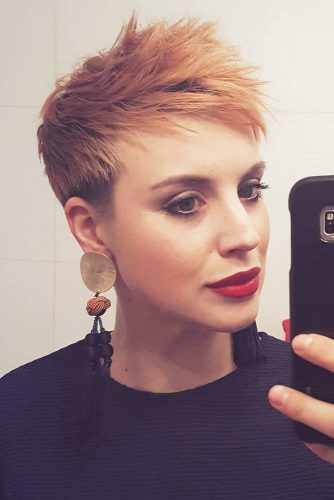 Source: nadine.saam via Instagram
This light auburn shade is reminiscent of a summer sunset. The front is fuller so you can brush it over to one side for a messy bedhead look that says you have a fun and carefree side and aren't afraid to show it.
Pumped Up Pompadour Tapered Pixie
Source: laisdelagnese_via Instagram
If you really want to pump up the volume, this pompadour style tapered cut is chock-full of volume! Ask for longer layers up front and slick it up and back to resemble a pompadour for a look that's totally far out!
Fiery Red and Orange Long Tapered Cut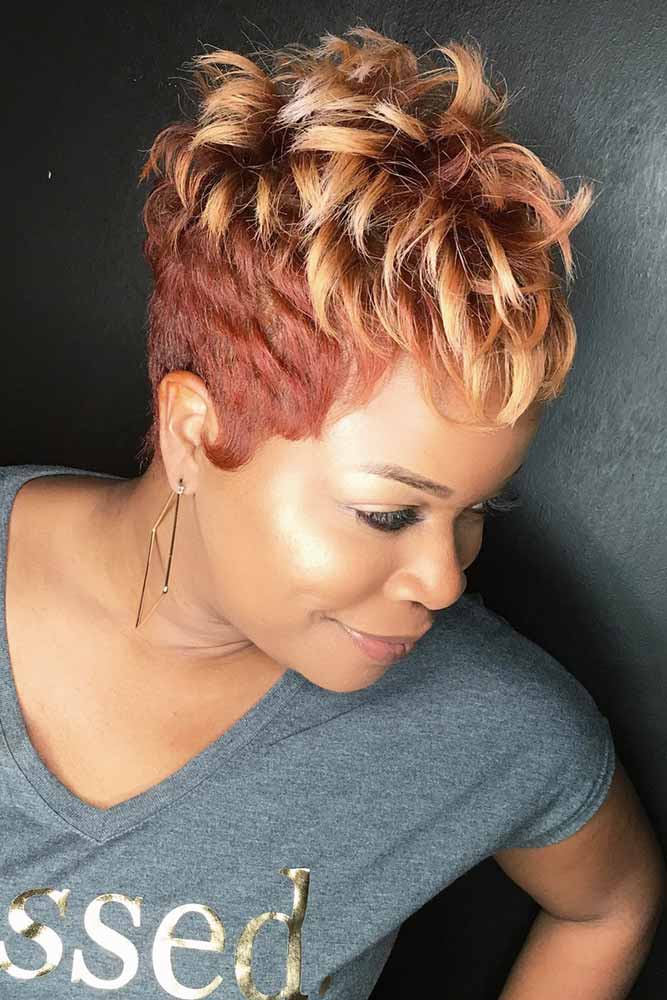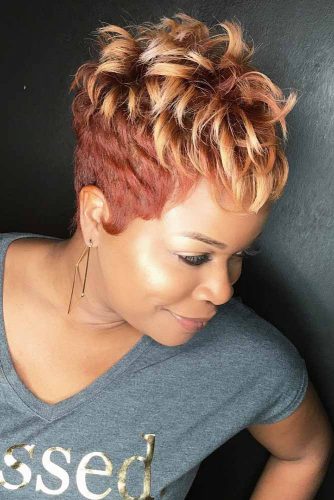 Source: khimandi via Instagram
This red and orange taped cup with choppy layers on top is on fire! The bright red sides are a bit longer than a traditional tapered cut and the added length on top is perfect for a bold bust of color!
ADVERTISEMENT ‧ CONTINUE READING BELOW
Punky Pompadour Taper Fade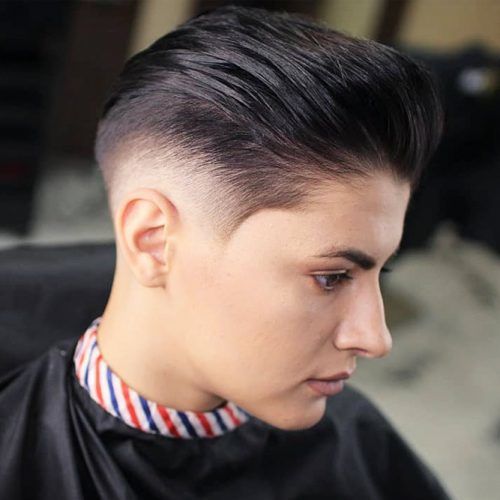 Source: razorake via Instagram
Want to combine both rock and roll with punk rock? This short and sassy punky pompadour is perfect with its shaved sides and volume front and top for a look that's totally retro chic!
Blonde Balayage Sassy Taper Fade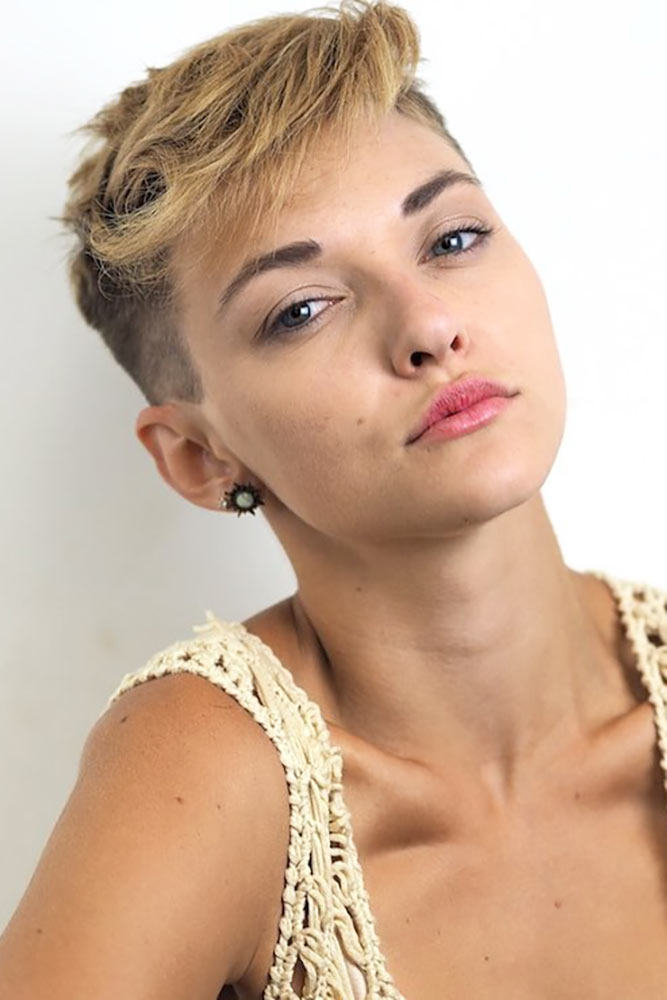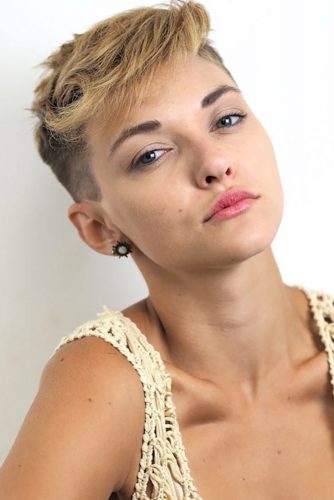 Source: shorthair.losangeles via Instagram
You can combine your sassy taper fade with a pretty blonde
balyage
to give it a modern flair. Ask your stylist for choppy layers on top to give your hair added volume and texture.
Platinum Blonde and Cotton Candy Tapered Bob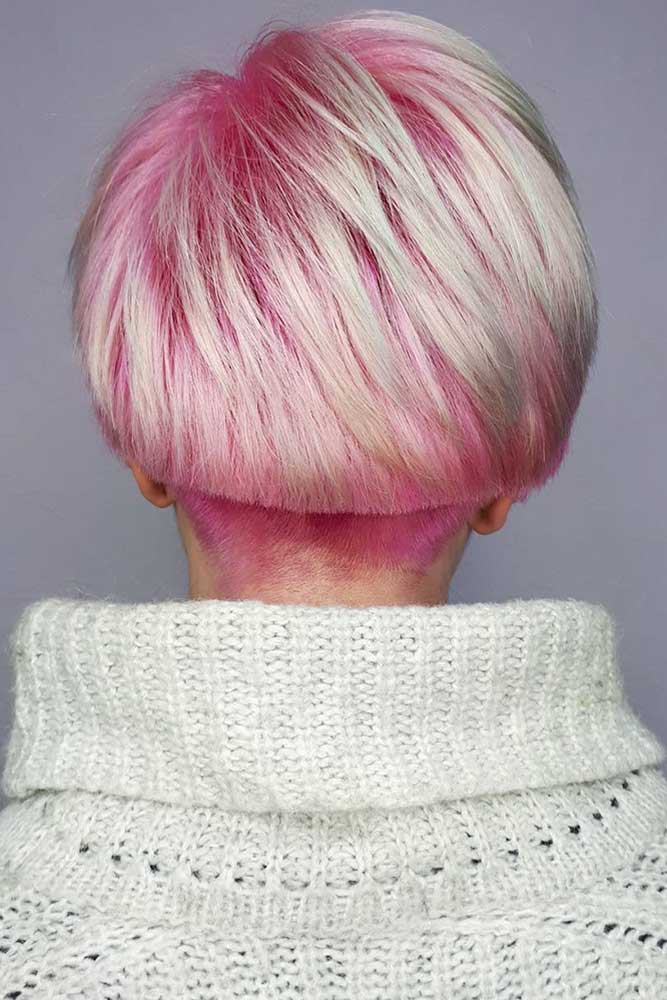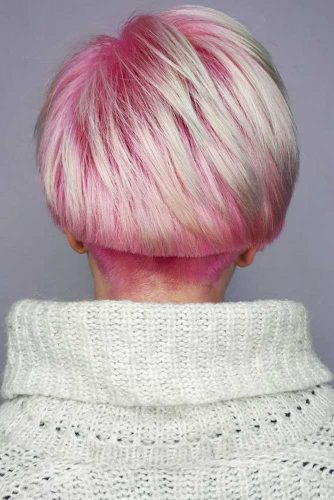 Source: fedorinaanna via Instagram
This short sleek bob is so pretty with the pale blonde and soft pink steaks. The undercut gives it a nice lift and the colors add a ton of texture to this chic and spunky tapered cut!
ADVERTISEMENT ‧ CONTINUE READING BELOW
Asymmetrical Sleek Tapered Bob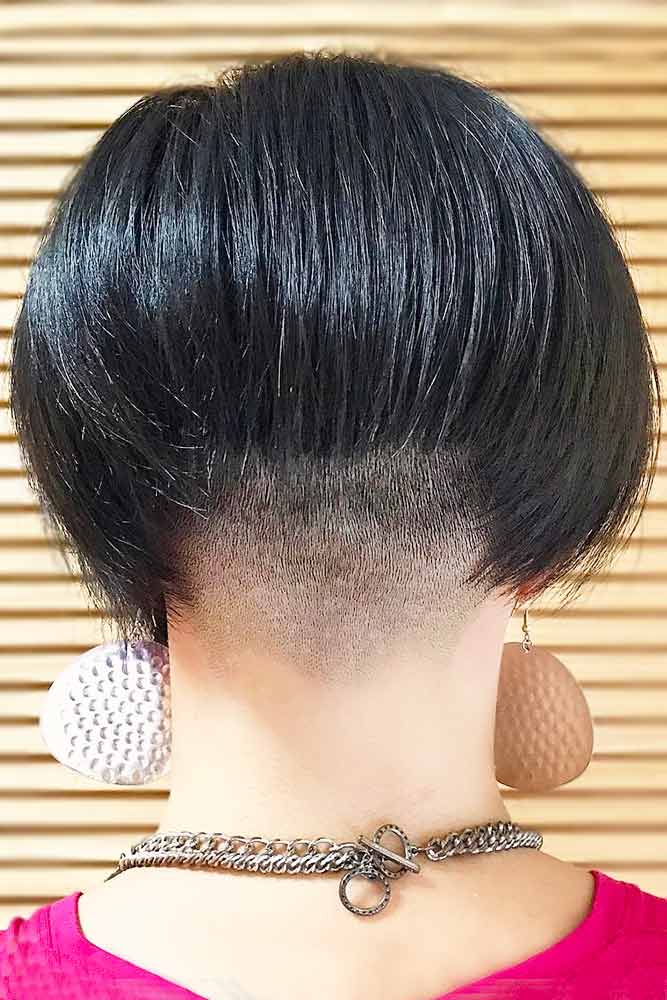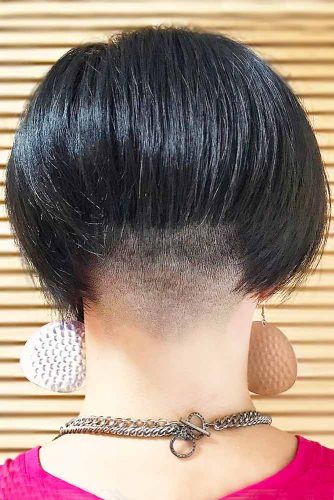 Source: nextreme.you via Instagram
Asymmetrical bobs like the one pictured here are very much in demand right now. This cut in particular has a bit more ass with its shaved back and longer sides.
Icy Blonde Platinum Tapered Bob Haircut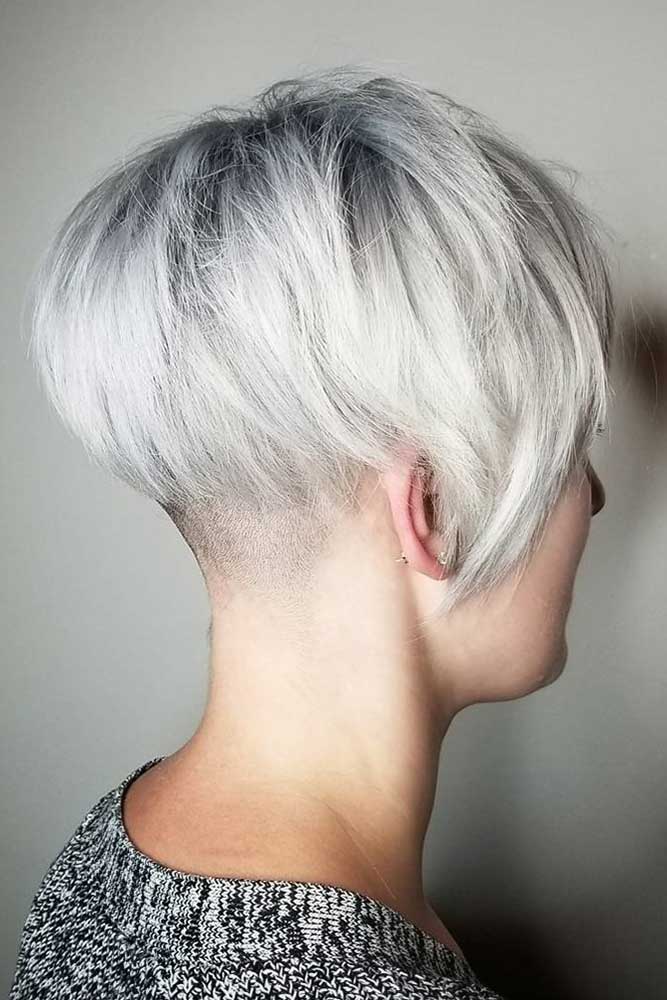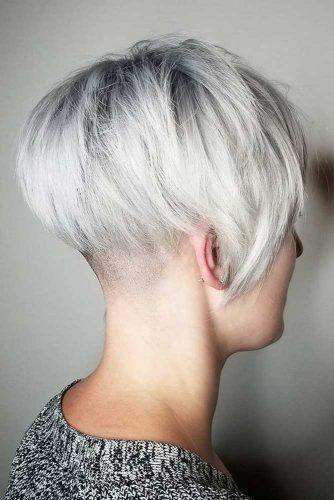 Source: hair_by_marlo via Instagram
This icy blonde color is so sleek and stylish and the tapered bob with longer side fringe adds a feminine flair to this trendy cut. Have you fallen in love with any of these tapered haircuts for women? Think you've got enough spunk to pull off an edgy tapered haircut? We think you can totally rock this ultra trendy style and should totally go for it!
ADVERTISEMENT ‧ CONTINUE READING BELOW