Hairstyles for curly hair can vary depending mainly on the hair length, and, thus, curls might be styled in various ways. Depending on the curl hair types, there are some slight differences between styling curly pixie hairstyles, curly bob hairstyles, shoulder-length curly hair, curly medium hairstyles, and long curly hair, yet all hairstyles for naturally curly hair look cute and are easy to achieve and maintain. You simply need to choose the hair length and hairstyle that fits you the best. But you shouldn't confuse these with hairstyles for wavy hair. Unlike waves, which are soft and loose, curls are tight and bouncy.
If you have naturally curly hair, then you are very lucky, and you can find lots of variants of easy hairstyles for naturally curly hair. Natural curls look gorgeous every time, even under the hat and attract lots of attention, and who wouldn't like that?
But if your hair is straight or wavy and you wish to get curls, don't worry, as it is not that difficult to do it. You can either get permanent curls that will stick around for a while or simply curl your hair every time you wish, using special appliances and styling store bought or homemade products for curly hair. The easiest way to get curls is to apply curl activator or heat protectant, or hairspray on your clean dry hair and curl your hair with a curling iron. Fix again with hairspray when the curls are done. And now let's see how you can style your curls to look cute and sassy.
Short Hairstyles For Curly Hair
There's nothing like short hair when you want to let the so much desirable effortless styling routine to your life. Even though the length is short, the way such haircuts enhance your curls and make them even more distinctive is totally worth it! Besides, there's whole lotta options for modern ladies: from Frohawks and undercuts to lovely pixies!
Curly Pixie Hairstyles
Credit photo: instagram.com/lucyramos_
If you suddenly wake up in the morning and tell yourself: I have curly hair, I want a pixie haircut, then you should definitely go for it. Natural curly short hairstyles always look cute. Long hair can stretch out the curls while curly hairstyles for short hair are eye-catching as the curls will pop up and become more distinctive. But when you decide to go for a pixie cut, you should know that the hair can shrink and appear shorter, so take this into account when you determine how short you want your hair to become. A good stylist can also advise you on the short haircut that will look good on you and will emphasize your curls. If you've made a decision to go for a pixie haircut, you might need to have your hair trimmed every 5-6 weeks so that the hairstyle always looks fresh.
Curly Pixies with Bangs
Credit photo: instagram.com/esterlymelo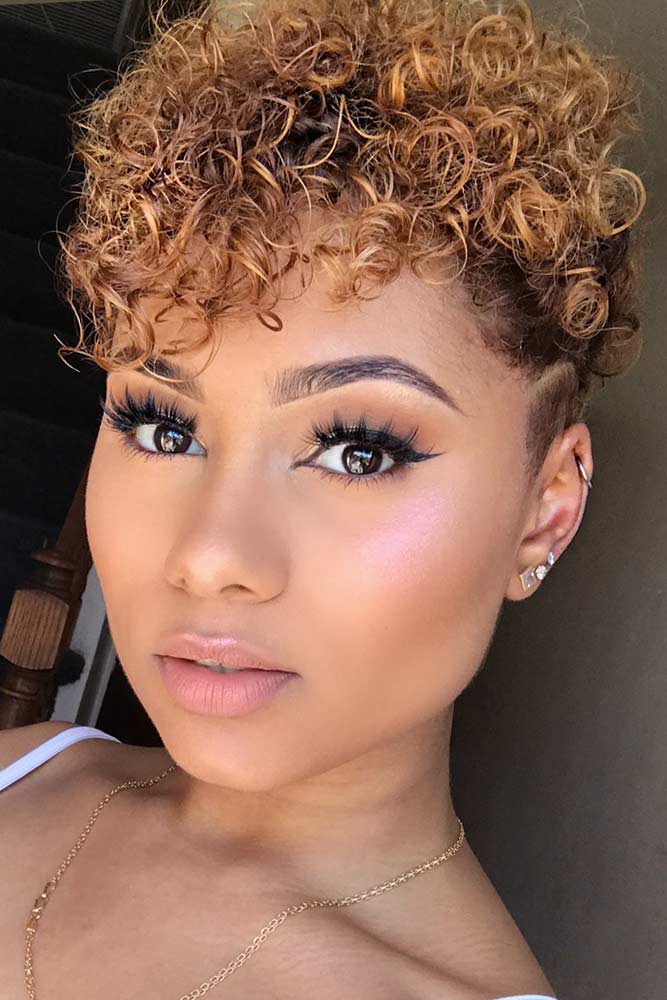 A short hairstyle can look good no matter what face shape you have. You can go for a curly pixie cut with bangs or without bangs depending on your preferences. Curly bangs give more femininity to the overall look while, for example, with the undercut or some shaved parts added, you can have a more edgy look. The curly pixie cut is especially good for round face as the small cute curls falling down the face can make it look more prolonged and will emphasize your beautiful eyes. A pixie cut is also great for thick curly hair as it's easy to style (which will save you tons of time) and can be worn with various modifications.
Styling A Curly Pixie
Credit photo: instagram.com/esterlymelo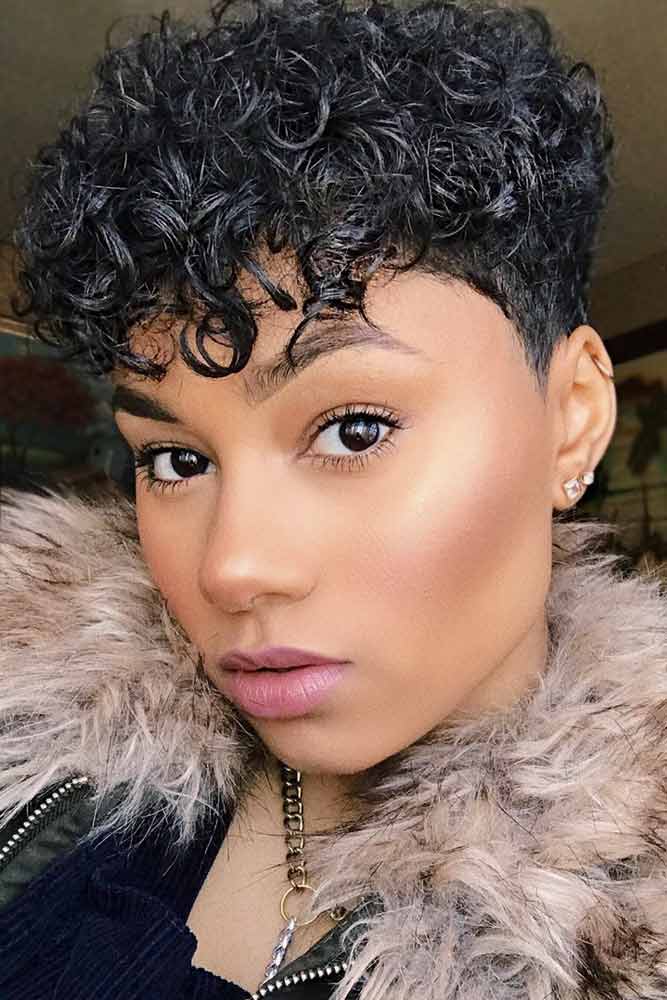 And if you wonder how to style a curly pixie haircut, you can follow these tips to achieve the most wonderful look:
use the products that add texture to the curls, in such a way they will stand out even more.
Don't overdo it. Just a small amount of some waxes and pomades will be enough to get the necessary look. If you overdo it, your hair might look greasy.
Style your short curly hair in various ways. For example, you could wear the bangs straight or side-swept. Just get experimental and have fun with your hair!
Curly hair always attracts attention as it looks flirty, feminine, bold, and, of course, gorgeous. You can wear it very short or very long, just remember to follow some tips to make it look shiny, healthy and even more attractive.
Messy Pixie Haircut
Credit photo: instagram.com/_gorgeousash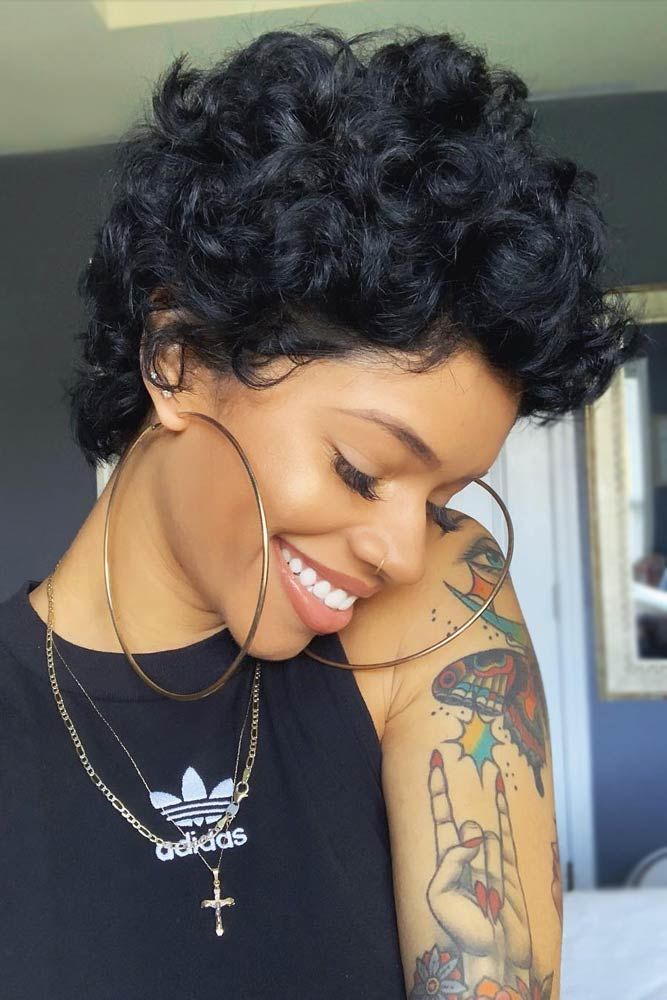 Credit photo: instagram.com/kristinakatsabina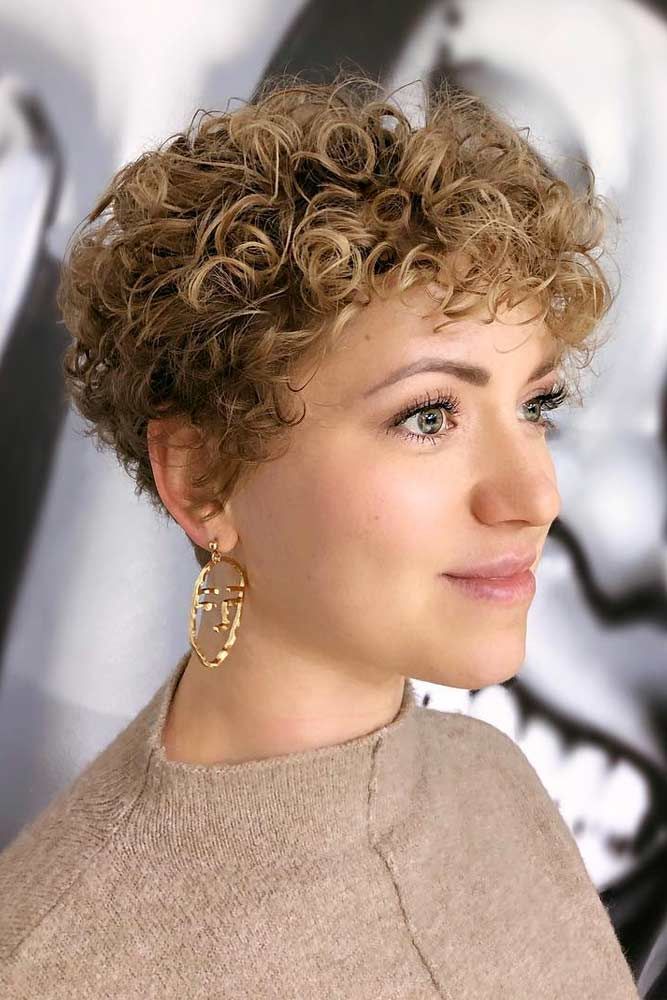 There's nothing as dramatic, bold, and feminine as pixie haircuts. Indeed, this short and sharp haircut stands out in the world of fashion. Wait a minute! Is it a curly pixie? Oh my, it seems like we've just dropped dead and risen alive looking at this curly masterpiece full of life and stunning flirty coils. In simple words, curl your pixie or cut your curls short if you want to slay.
Bob Haircut With Bangs
Credit photo: instagram.com/nubiarezo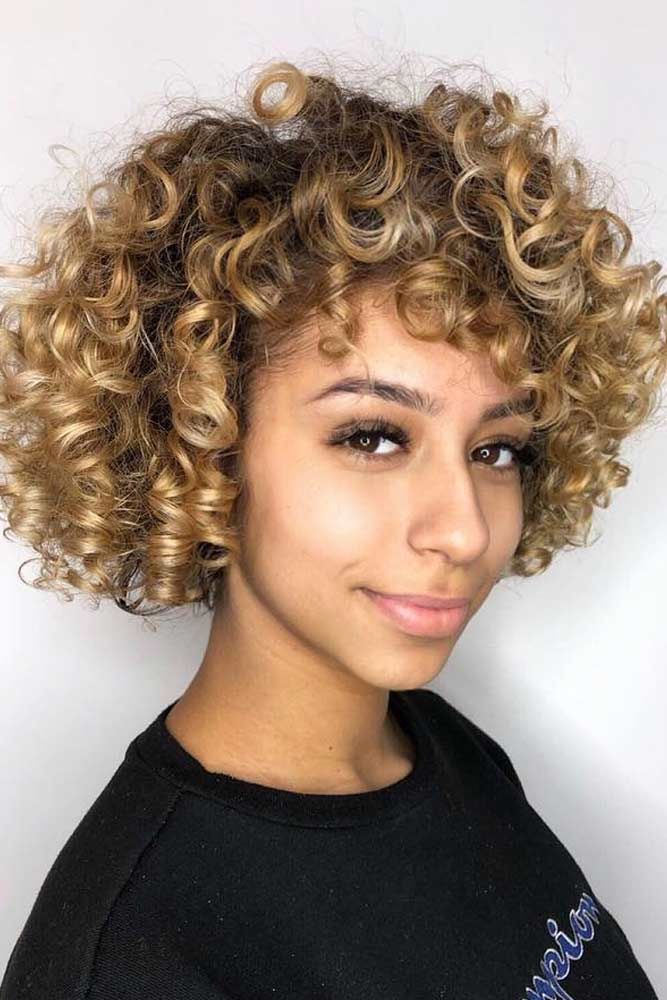 Short curly hair is the easiest to style. Depending on your hair texture, choose the curling method. When your hair is clean and wet, apply the curling product of your preference and curl your hair. Finish with hair spray.
Curly Bob Hairstyles
Short curly bob hairstyles look very cute and feminine. They might not look as bold as pixie haircut, yet what can be nicer than having a naturally curly bob? No matter whether you choose curly bob with bangs or curly long bob, you will always have this feminine playful look that can get lots of attention. You can play a lot with this type of hairstyle and wear either straight or asymmetrical bob, with or without undercut, - no matter what kind of bob hairstyle you choose, your curls will make it look very special.
Credit photo: instagram.com/salsalhair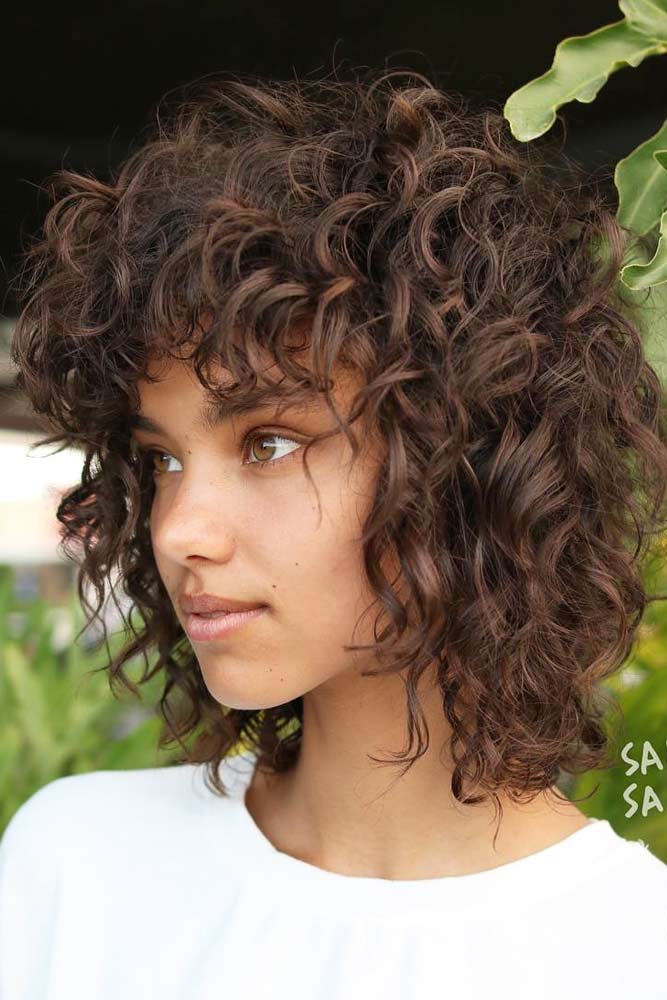 Credit photo: instagram.com/eversonfernandes_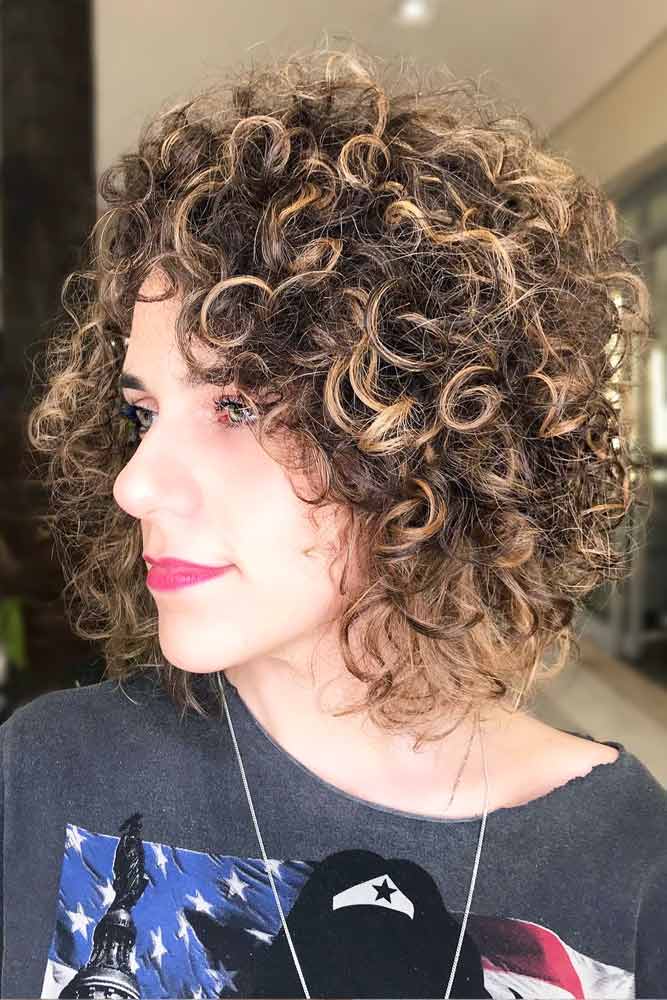 And if you wonder how to do a curly bob and make it look gorgeous, simply follow some of the tips. First, you should decide whether you want shorter or longer bob. Then use some styling product to make your curls look more textured. It's always better to apply the product to wet hair. Also, for better styling, always twist sections of hair according to the direction it naturally wants to curl.
Shoulder Length Curly Hair
Credit photo: instagram.com/jiordyn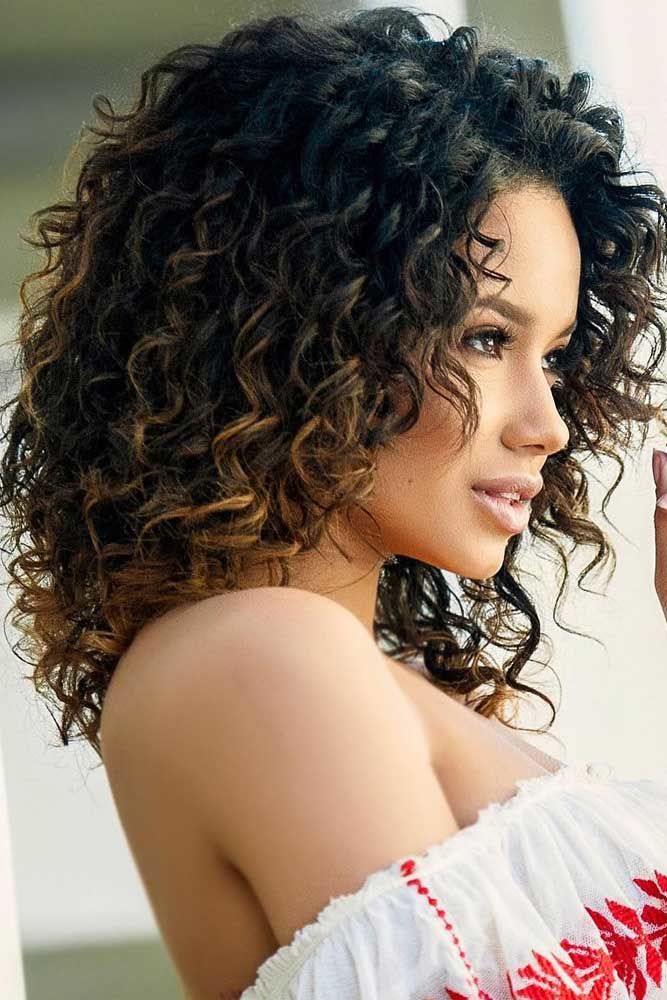 Credit photo: instagram.com/jujubamakeup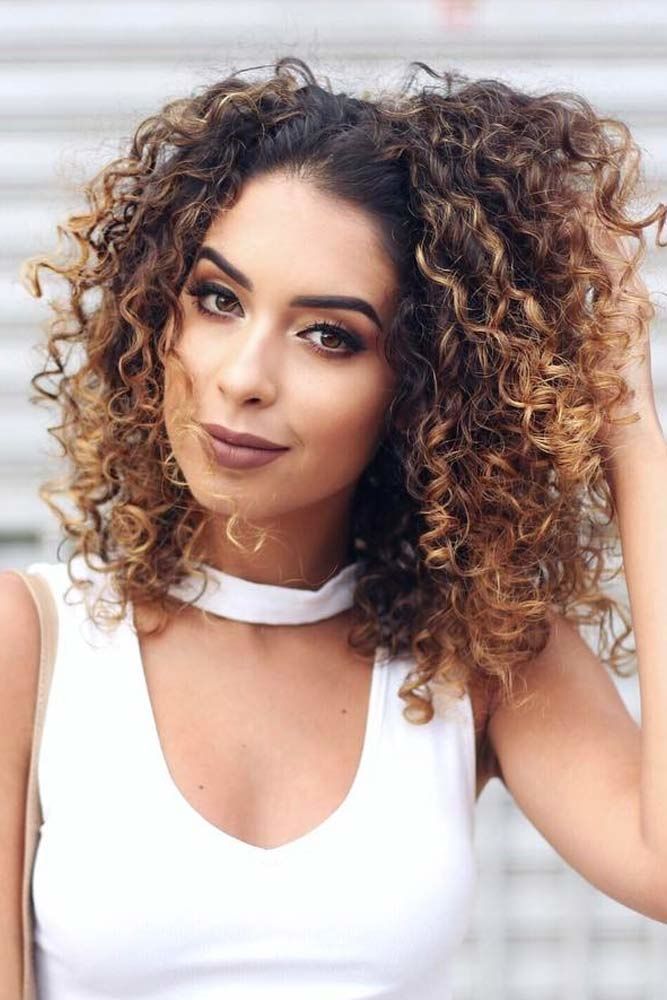 Unlike short and revolting, shoulder length curly hair appears quite gorgeous, which makes it appropriate for multiple occasions. Plus, you won't have any difficulty in styling it or make it long-lasting. Yet, it is better to opt for the Deva Cut technique to be sure to achieve the desired result.
Sometimes it is more than fun to play around with styles that were trendy in the past; voluminous messy curs combine with spice red hair are what you need to succeed with an old-new look.
Thick Curly Hair Ideas
Credit photo: instagram.com/annettaprimadonna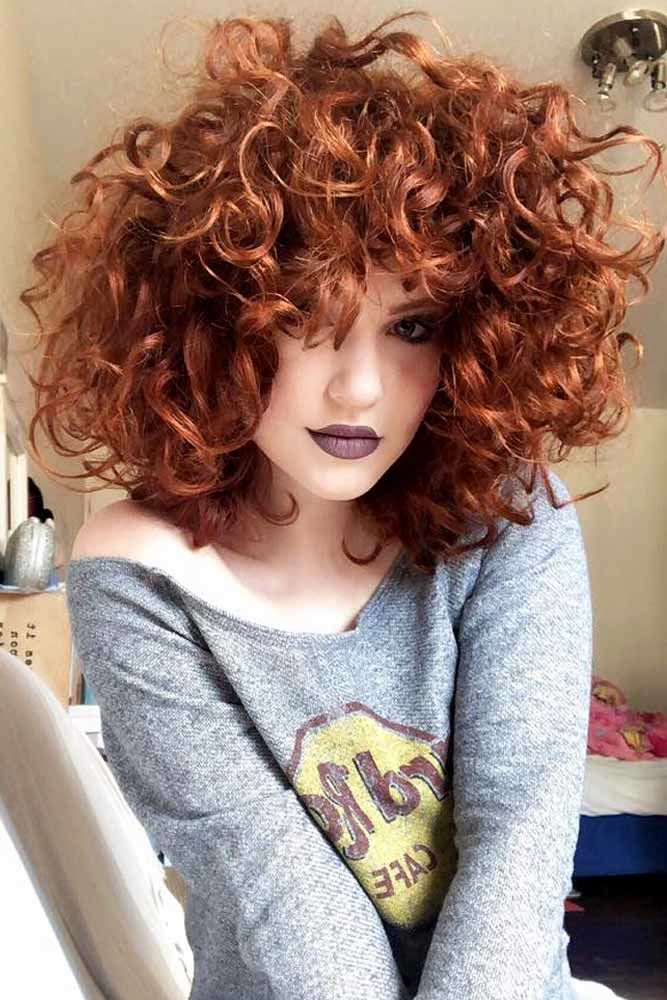 When it comes to curly hair, hairstylists differentiate short curly hair, medium curly hair, shoulder length curly hair (don't confuse these two), and long curly hair. But besides the obvious difference in length, these types of curled hair have different styling tricks and involve different types of curls.
Shoulder Length Side Part Hairstyles For Curly Hair
Even though short length curly hairstyles look super cute, at some point, you might want to have slightly longer hair in order to have more options for styling it. You can wear shoulder length curly hair with bangs and experiment a lot to create various hairdos. You can have cute curly short bangs or long ones, and no matter what you choose, you'll look fashionable and stylish with those wonderful curls falling down.
Credit photo: instagram.com/saraholiveirab612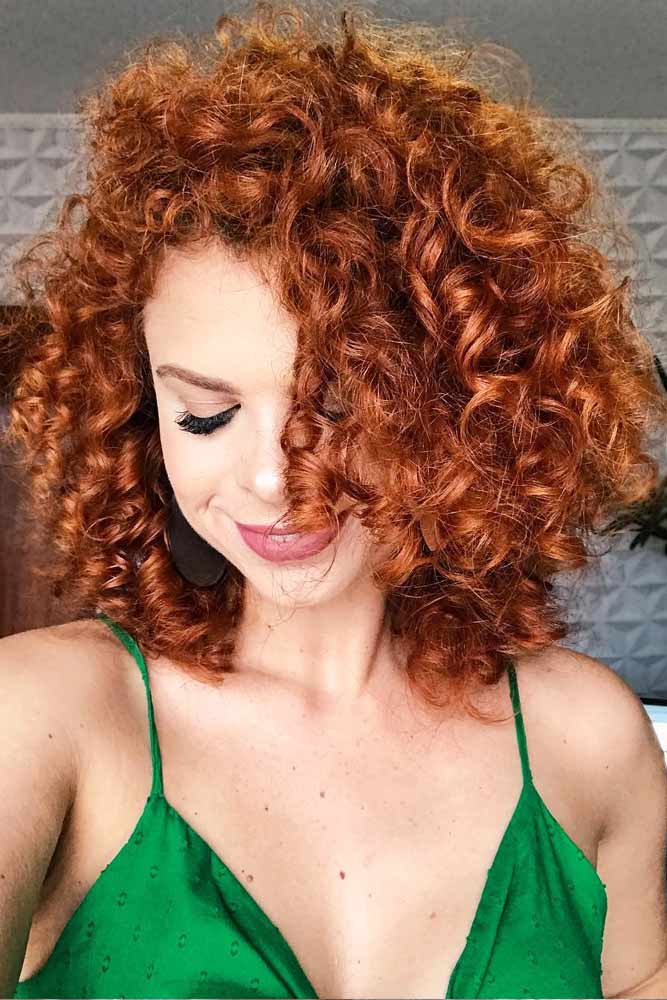 Credit photo: instagram.com/jujubamakeup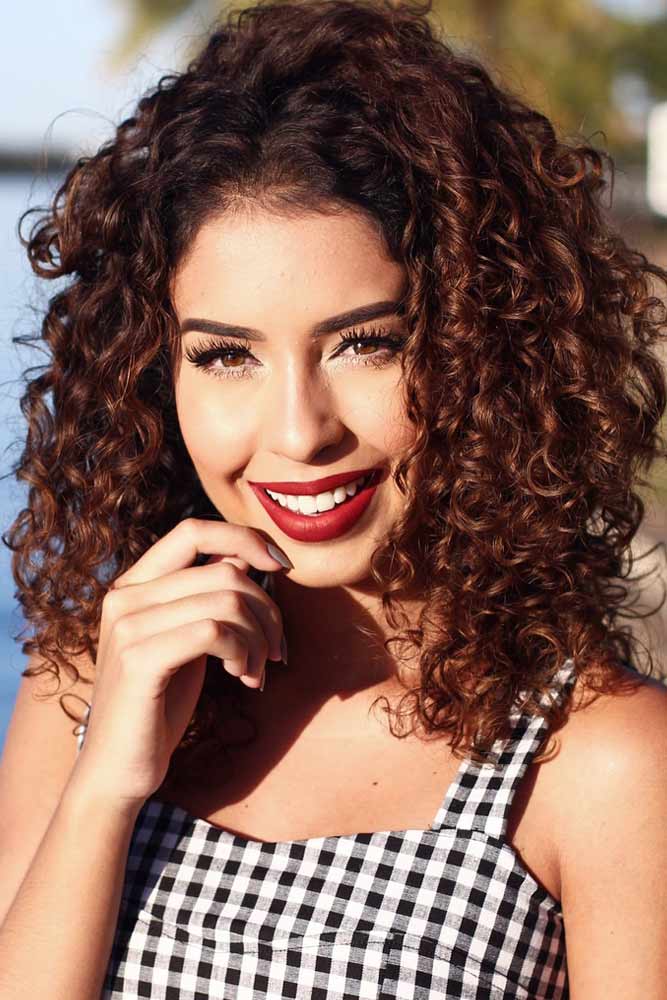 Credit photo: instagram.com/golden_barbie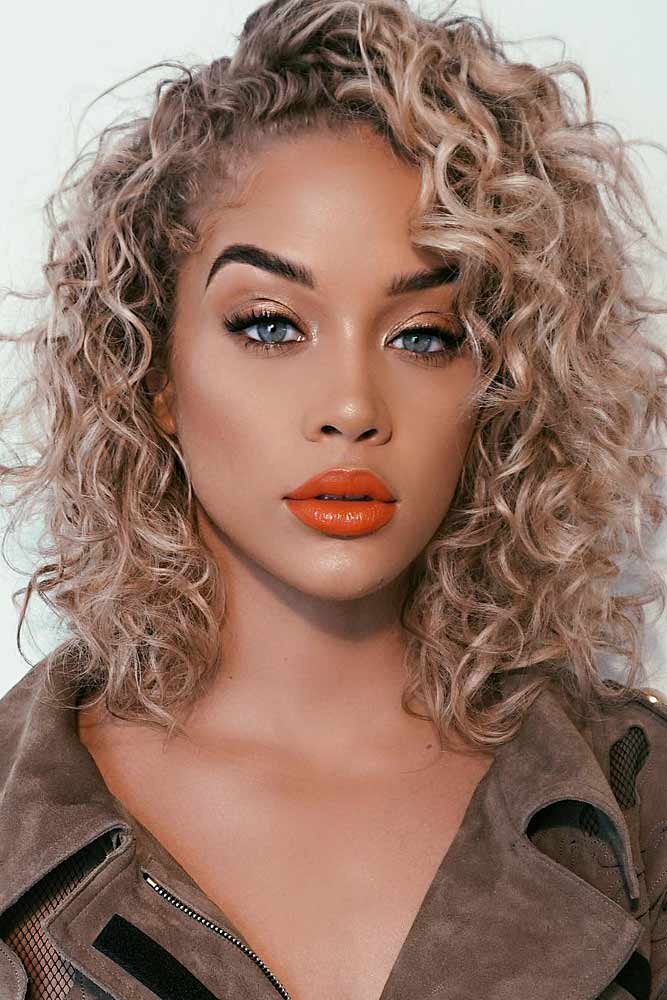 For shoulder length curly hair, it's preferable to comb it regularly to avoid split ends. It's also better to use a wide-tooth comb rather than a brush. Also, always comb the hair from the bottom up, which will help you to gently detangle each knot. For achieving a special look, you could mix several hair products, for example, with the help of coconut oil and styling gel, you can achieve a great look without leaving your hair too dry.
Medium Hairstyles For Curly Hair
Keeping your curls at medium length is the best way to embrace your natural texture and preserve the perfect balance in your look at the same time. Besides lots of layered haircuts that can amp up your curl pattern, there are also a bunch of ways to customize the shape of your cut. And last but not least, this length allows for various creative hairstyles!
Curly Medium Hairstyles
Medium length naturally curly hairstyles look very feminine and provide lots of room for experiments. There are so many options for hairstyles for naturally curly hair medium length, and so you can definitely choose the one for you. No matter whether you prefer a romantic or a more official look, with these curly hairstyles for medium hair, you can feel confident at the office as well as at the evening party.
Credit photo: instagram.com/annettaprimadonna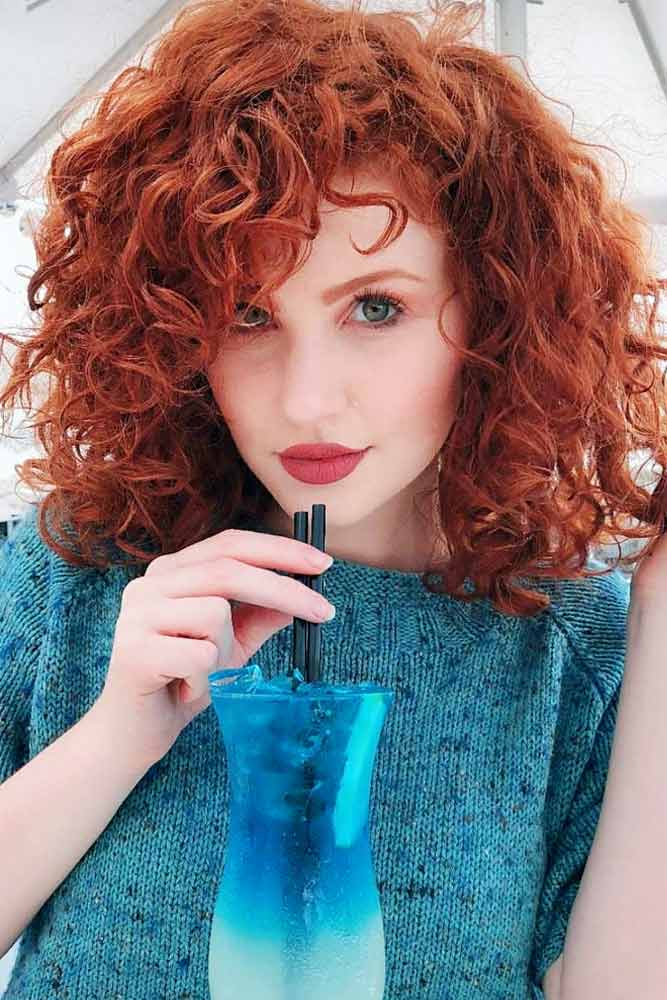 You can choose to wear your curly hair with bangs and layers or without them, you could also experiment with highlights and lowlights, just follow your imagination! And with some simple styling products like gel or mousse, all the hairstyles for medium curly hair would look magnificent. To make your curls stand out even more, you could try using a serum, which can help to smooth your curls while giving them some definition. Also, don't forget to use a wide-tooth comb and comb the hair from the bottom up. Also, from time to time, apply some oil to the hair ends, which will give your hair extra moisture.
Top Knot Hairstyles For Curly Hair
Credit photo: instagram.com/ayeciara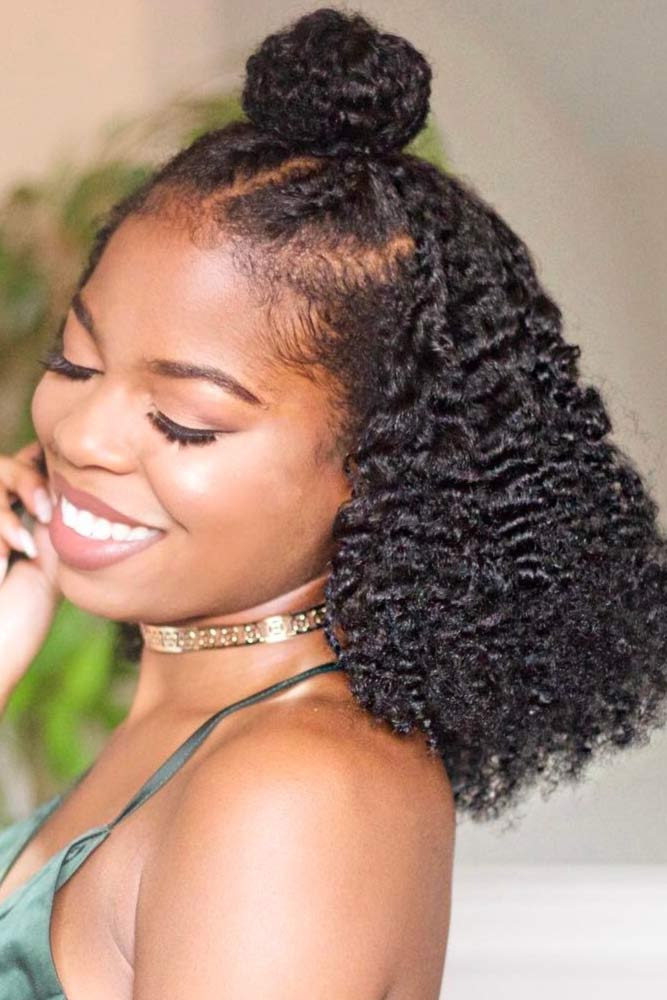 Credit photo: instagram.com/ayeciara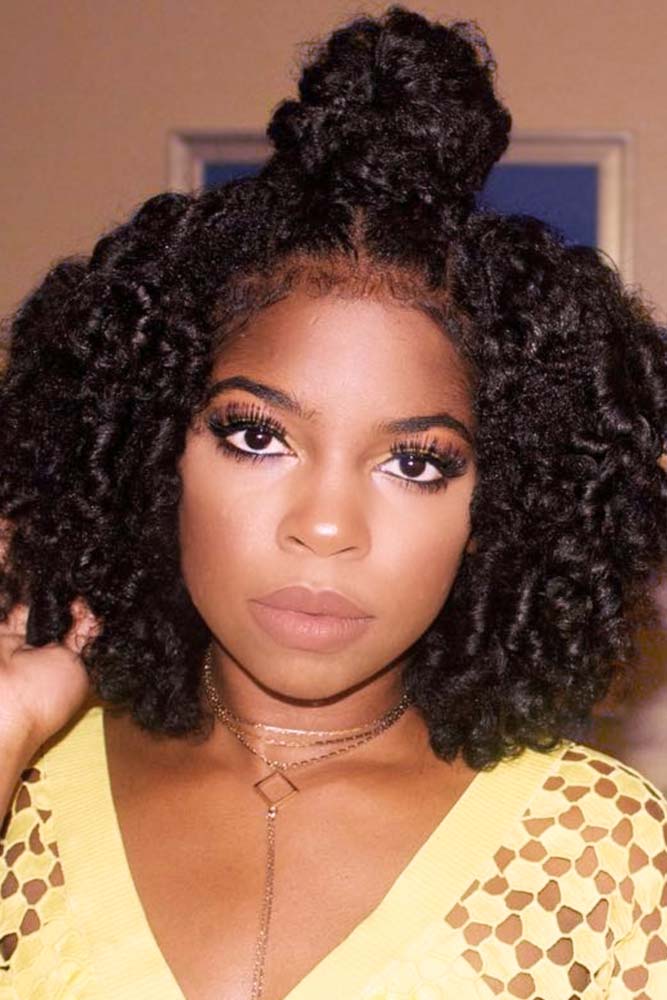 There are thousands of different hairstyles that look different depending on a hair type. So girls with naturally curly hair are the winners in any hairstyle competition, as curls make any hairstyle look absolutely unique and unforgettable. That's why hairstylists love when they have to deal with curly hair: even a usual, ordinary hairstyle can look like a brand new trend people won't take their eyes off. So, let's talk about top knots. Obviously, all the girls do that, as it is both a good and convenient variant for a walk. But did you know that your curls will add some more exquisiteness to this common hairstyle? Believe it or not, you will look flawless: your curly hair holds great volume while your curly top knot looks like a crown. Who said that real queens have to spend a lot of time to look great?
Medium Messy Curly Hair
Credit photo: instagram.com/sarahangius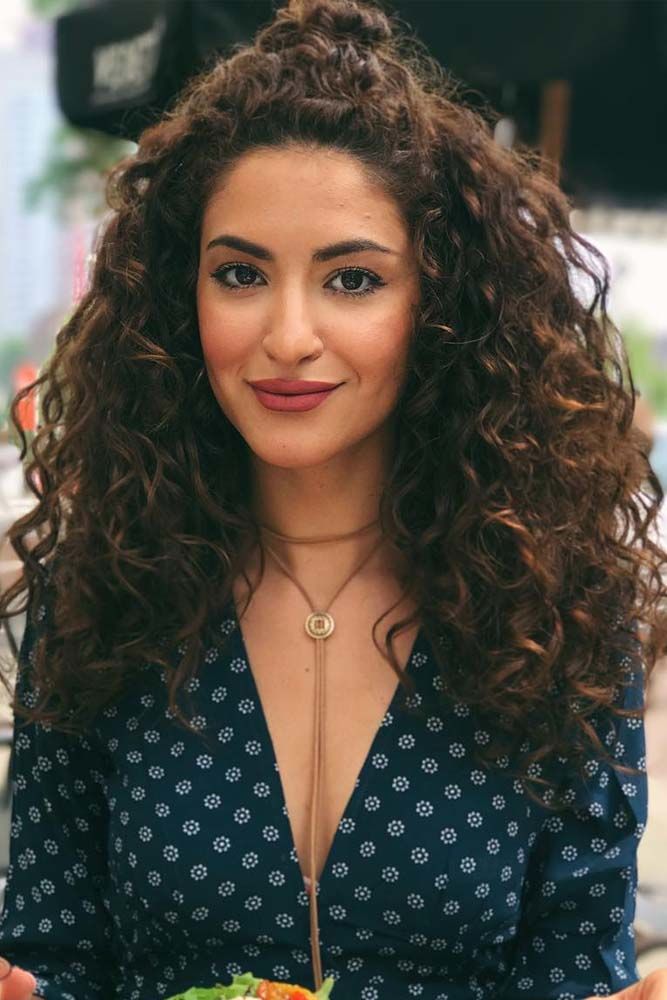 Credit photo: instagram.com/julissa_prado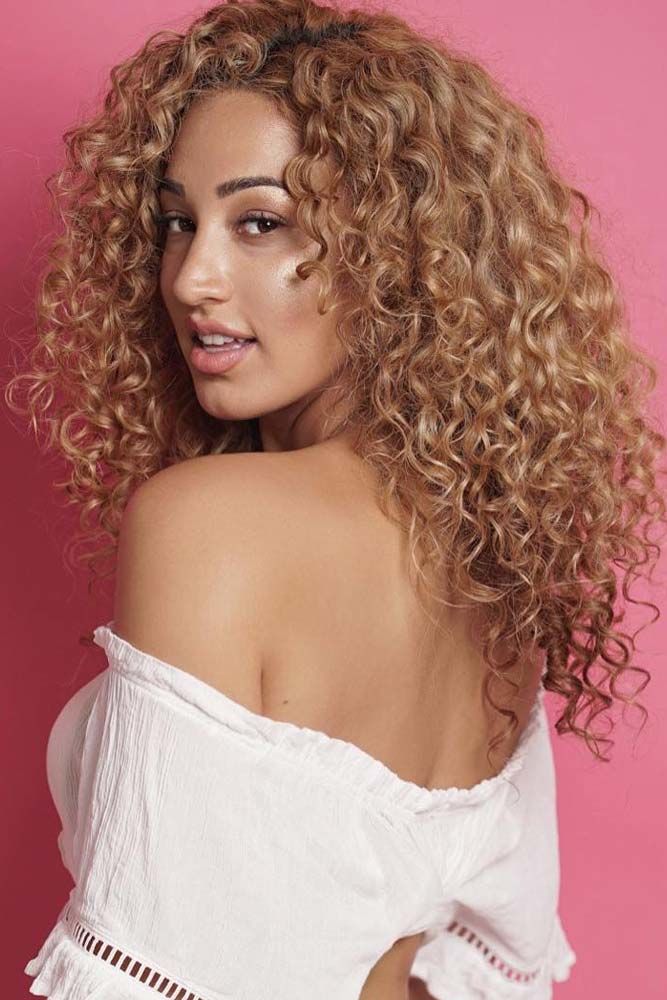 Credit photo: instagram.com/brunaramosfe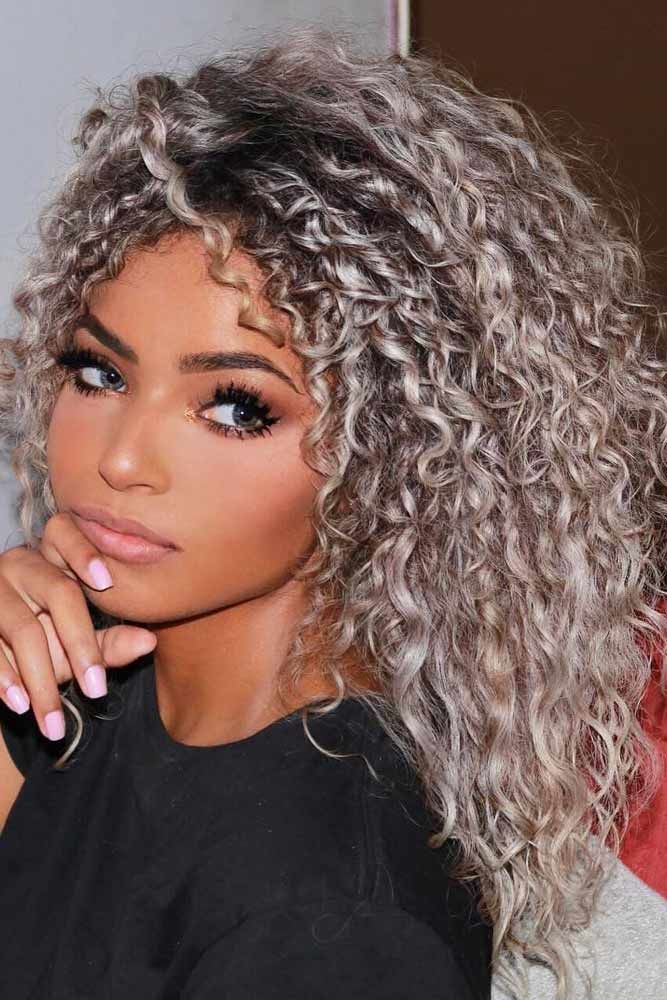 As for medium curly hair, it's quite tricky to maintain and style. And to tell the truth, if your hair is thick, the curls will start falling apart soon, even if you apply a ton of hair spray. Besides, this length won't allow for super-tight curls.
Curly hair does not mean that color experimentation is out of the picture. Update your sweet curly locks with trendy silver-blonde shades and every man will be at your feet!
Lovely Curls
Credit photo: instagram.com/nathaliebarros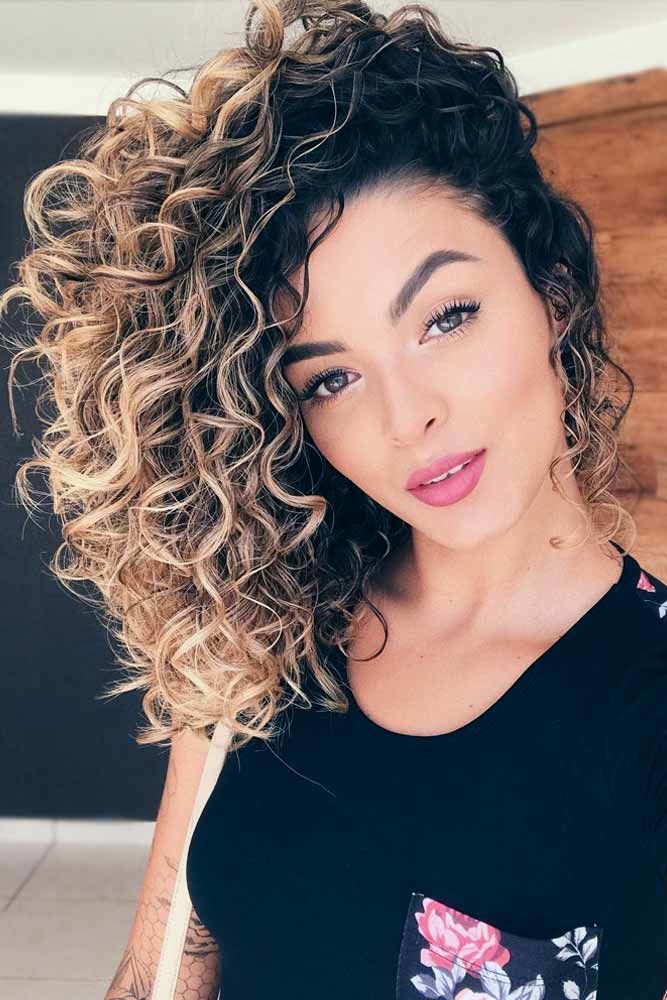 If you have problems with the hold, celebrity hairstylists advise you to prep your wet hair with a mousse or gel. Try this trick, and it will totally change your curling hairstyle game.
Long Hairstyles For Curly Hair
When you have long curly hair and know how to style it right, you literally have the world at your feet. Dealing with long curls can be tough, indeed. But, a trick or two and some styling inspo will help you get the most of your texture. Below, apart from amazing styling ideas for long curly hair, you will also see styling tips to see your curls at their best.
Long Curly Hair
What can be more beautiful than having long curly hair? Long curly hairstyles with bangs or without them look super amazing, feminine, and indescribably beautiful. Even wearing such hairstyle loose looks very attractive. But long naturally curly hairstyles do require some more care than short curly hairstyles.
Never underestimate your curly hair and remember that these curls give you lots of charm. And don't let your hair get trimmed if you don't feel like it, - with some proper care, your long natural curls would look breathtaking.
Credit photo: instagram.com/daanielasantos_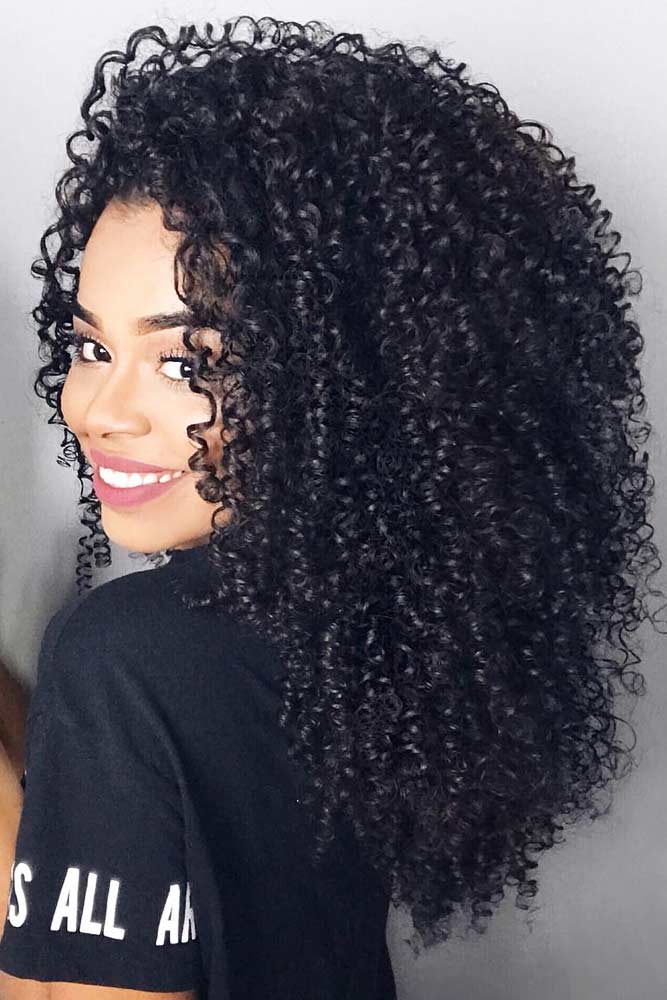 So, first of all, choose a proper shampoo and conditioner for your hair. Remember that curly hair differs from straight hair, and so don't be afraid of asking the hair professional to recommend some special shampoo for your special hair. While washing your hair, focus mainly on your scalp, as the shampoo might dry out your ends.
If you want your long hair to have this shiny healthy look, you might want to leave the conditioner on your hair ends overnight. As another option, you could moisturize your hair ends with some special cream or the hair oils.
Since the curls tend to tangle, make sure that the conditioner you are using has a thick consistency, which is helpful in detangling the hair.
If your hair is long, it's especially important to have your hair trimmed regularly to avoid split ends. Make it a rule to visit the hairstylist at least once in two months.
Take advantage of the 'pineapple trick.' It's a technique in which you gather the hair at the highest point of the head before going to bed. Such trick will help your hair maintain natural volume, and so you can wear it down the next morning and look super attractive.
Be careful while drying out your hair. If your hair gets too fluffy, you can only blow-dry the ends of the hair and then let it air-dry, in such a way the curls might look more polished.
Long Side Swept Hair
Credit photo: instagram.com/caroline_spirandelli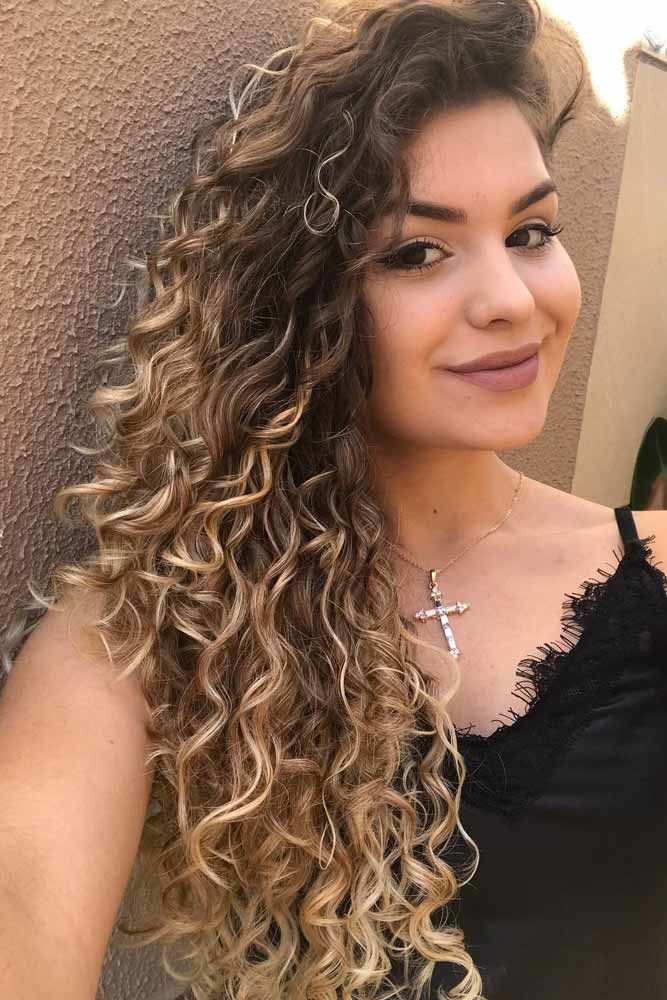 Credit photo: instagram.com/emblu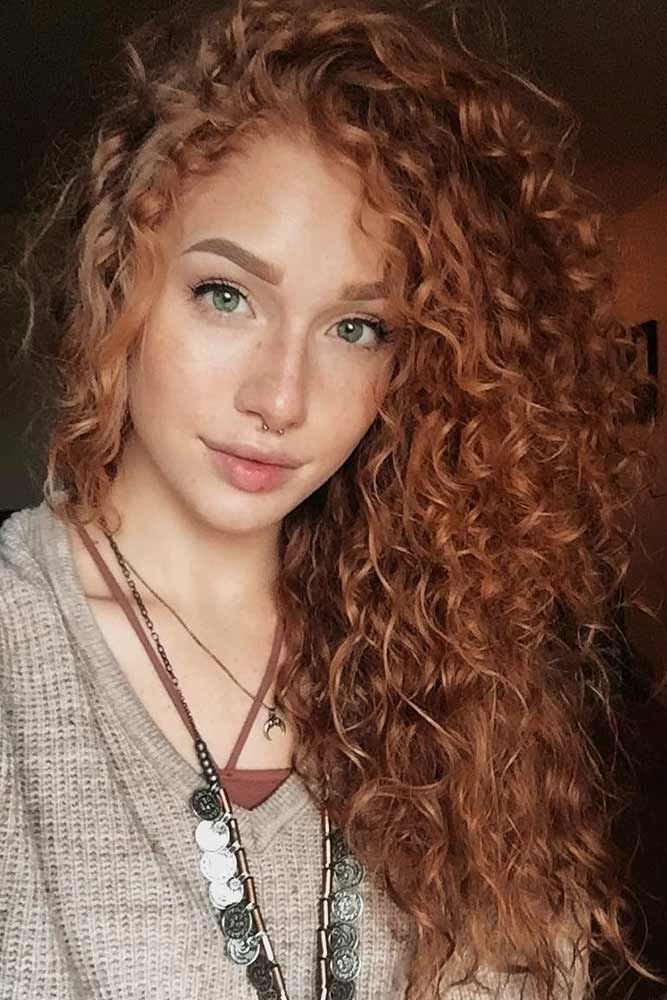 Credit photo: instagram.com/alyssarxs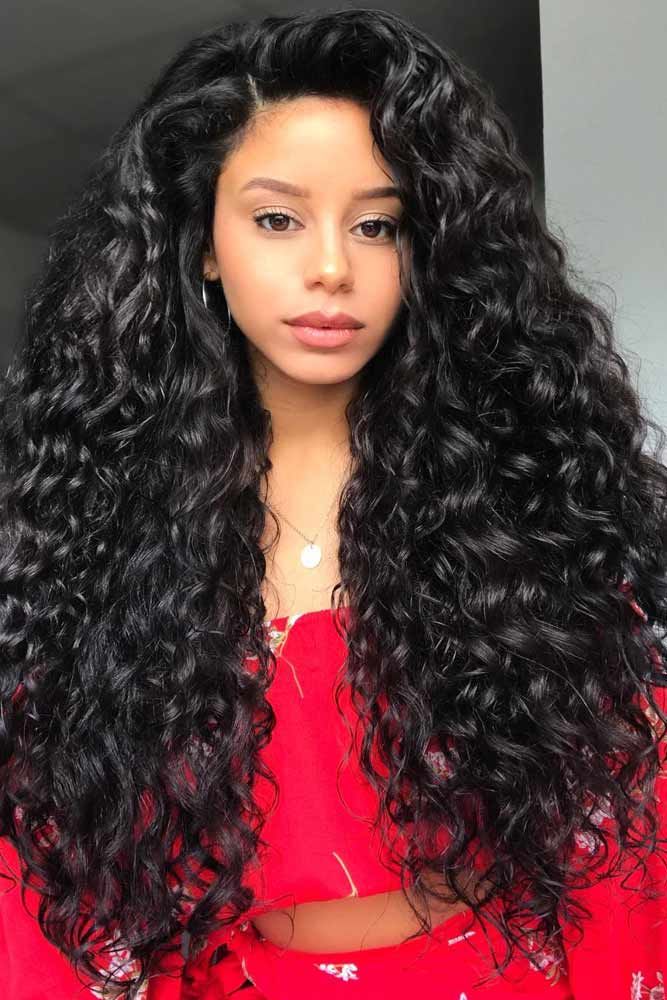 Long curly hair appears especially feminine and oozes romantic vibes. You will easily achieve tight and bounce curls if your hair is naturally wavy and fine. But unfortunately, owners of thick hair are unlikely to sport a long curled hairstyle for a long time. However, the right, generous amount of a holding product will help make it through a single event like a date or a birthday party.
Hollywood Curls
Credit photo: instagram.com/mustafaavci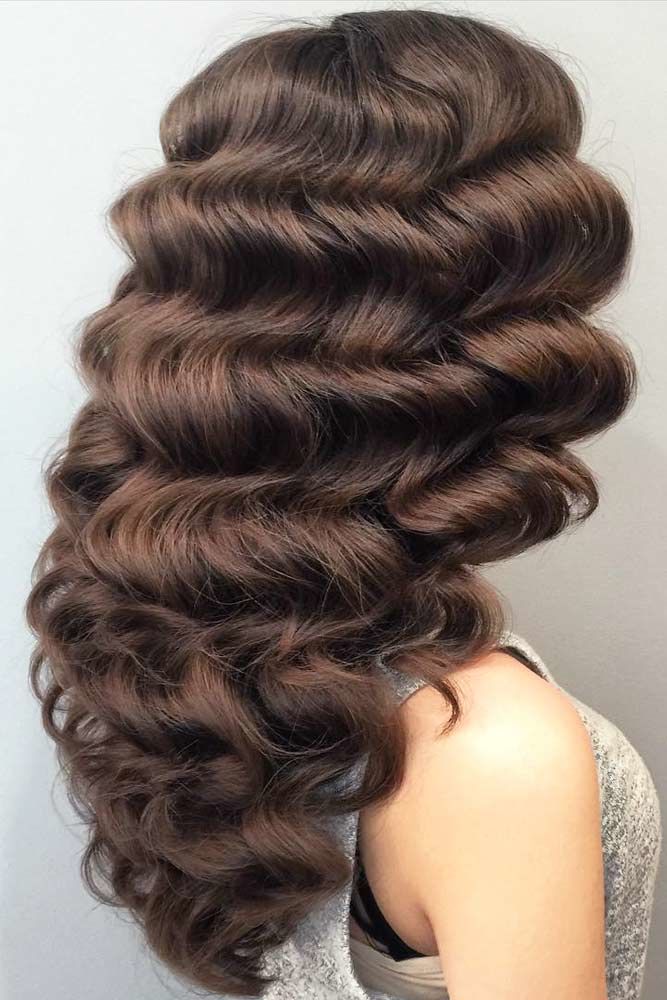 When you go for tight curls with a curling iron, try using hair spray for every lock before you curl it. All Hollywood hair stylists do it because it makes your curls stay much longer.
Hairstyle With Natural Volume
Double prong clips are a great way to create curls without heat damage. Just curl your hair while it's still wet and clip it with double prong clips. This will provide natural volume.
Gorgeous Waves
Credit photo: instagram.com/dodiejayhair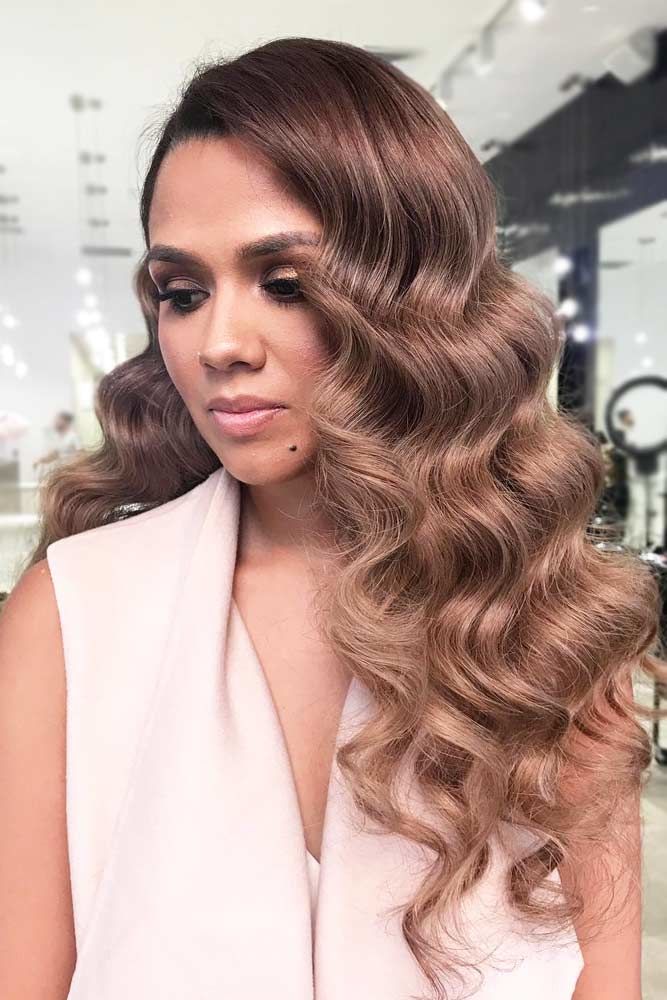 A diffuser is another great way for a gorgeous Hollywood 'do. It is easy to pull off. But you need to remember to flip your head down to make the most of it. This trick keeps the frizz away.
Shiny Curly Hairstyle
Credit photo: instagram.com/hnutts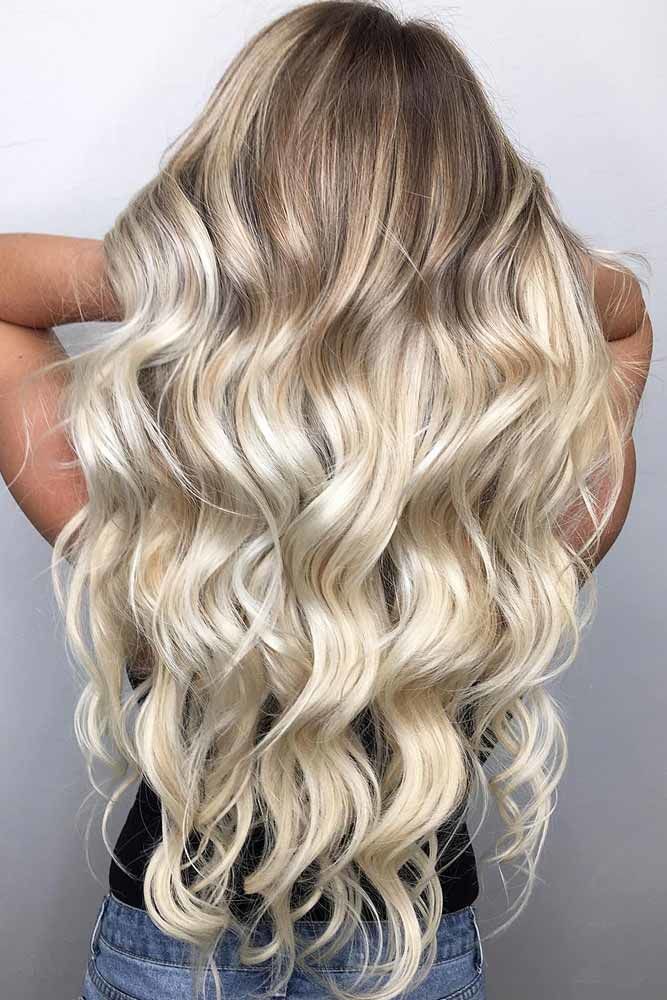 Always get rid of split ends. They are an obstacle on your way to perfect curls. This bottom part of your hair is so to say 'dead' and can't hold the curl properly.
Nice Loose Curls
Credit photo: instagram.com/cutyourhair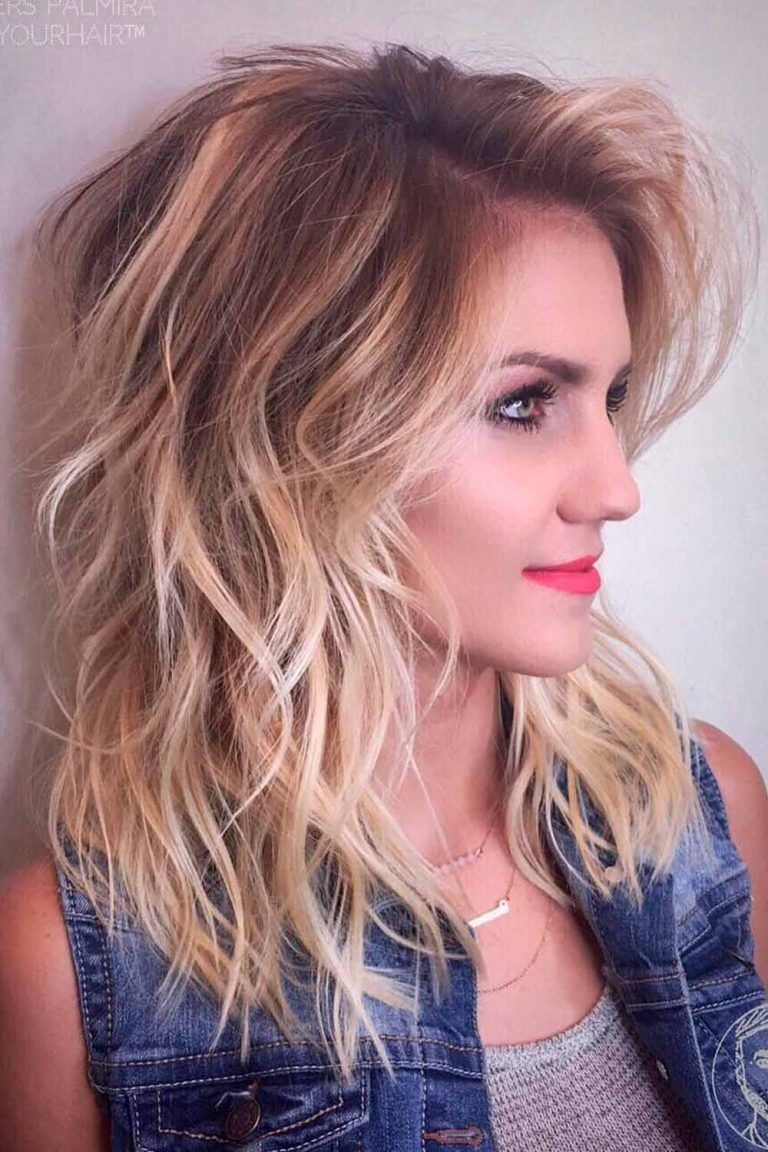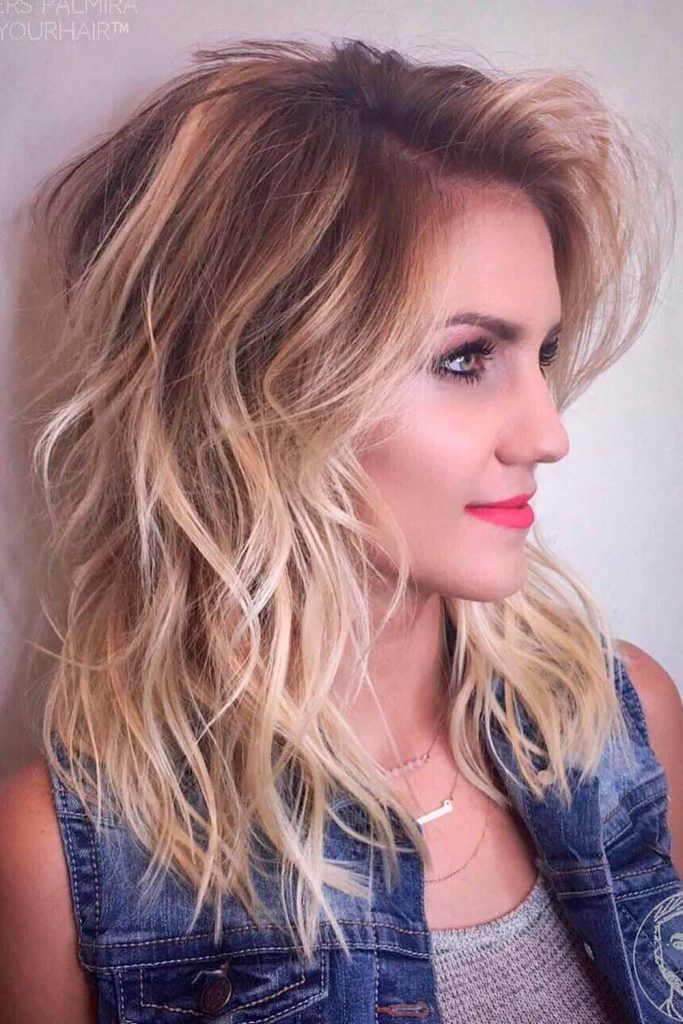 A great hack to get natural loose curls is to make a top knot for the night. Make sure you secure it nicely. When you take your elastic off, you will be amazed at the effect. You may add some hair spray for better hold.
Popular Beach Waves
Credit photo: instagram.com/camouflageandbalayage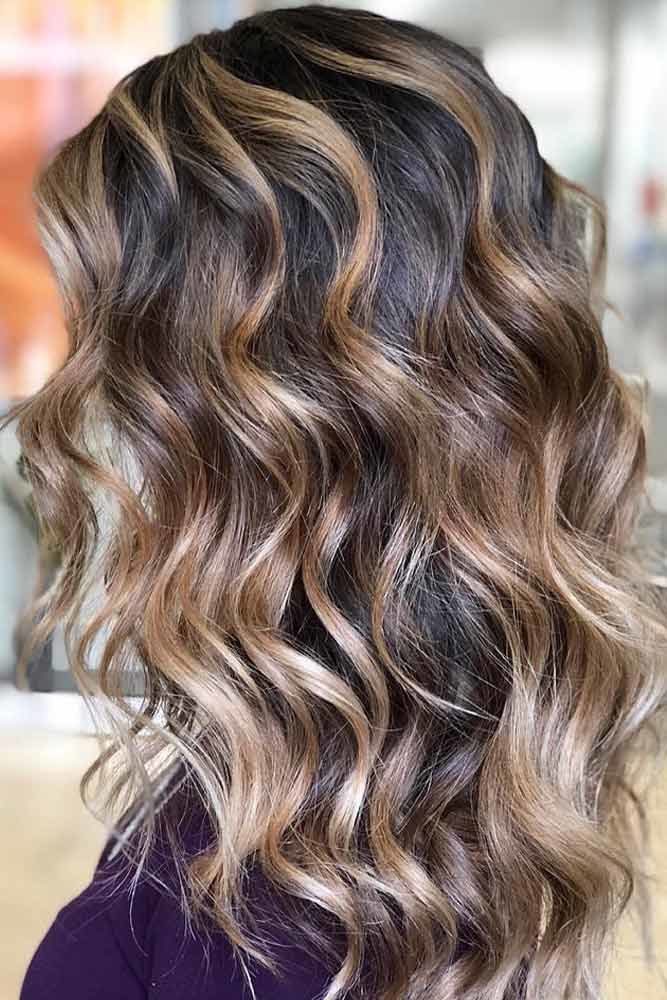 Loose beach waves are pretty popular among celebrities. They look extremely cute with short hair. You can do them easily with a straightening or curling iron. Never forget about hairspray to minimize the damage.
Celebrity Hairstyle
Credit photo: instagram.com/ashley_moore_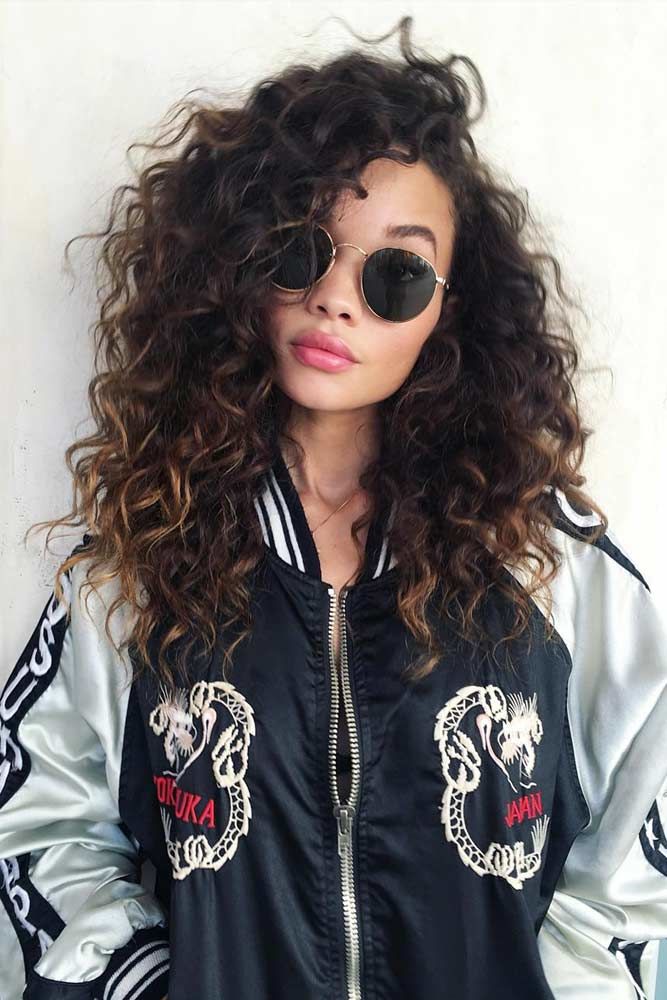 One more no heat hack is to twist the bottom part of your hair. Separate your hair in two sections and twist the ends while it is damp in the same direction. Let it air dry over night and, in the morning, you will wake up with a celebrity hairstyle.
Braided Hairstyles For Curly Hair
Credit photo: instagram.com/africancreature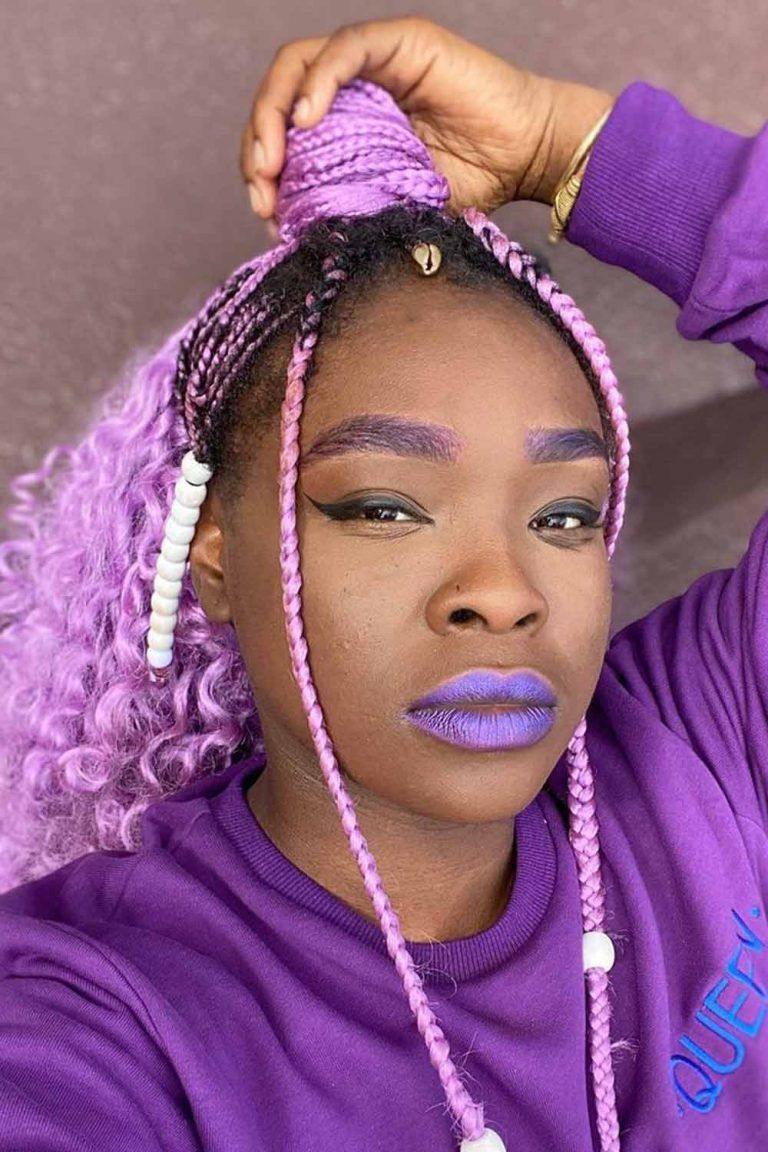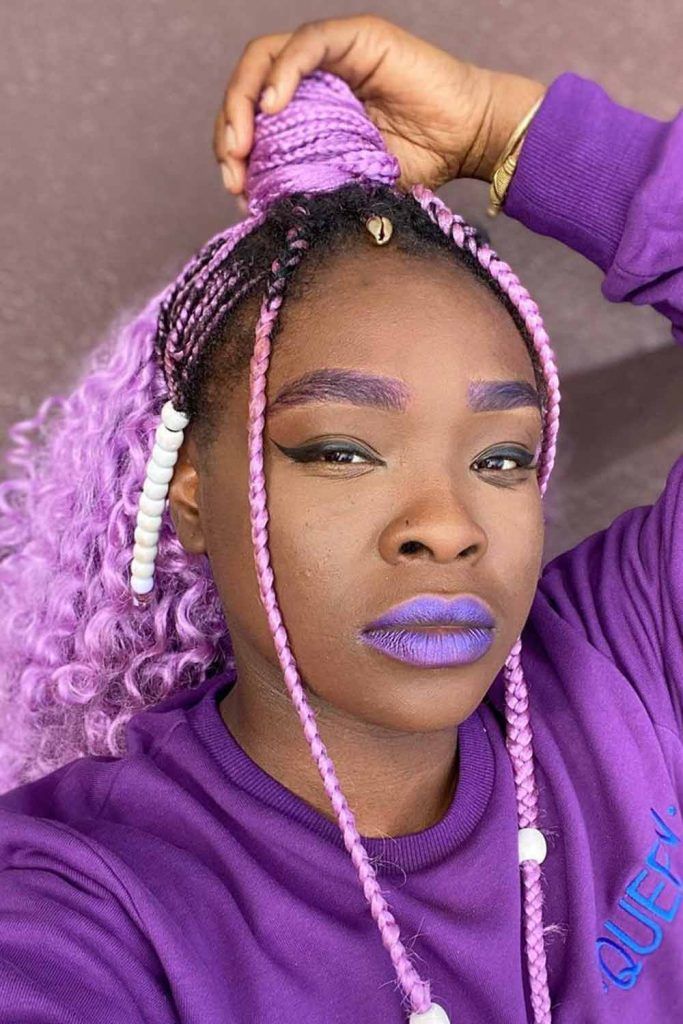 Very often curly-haired beauties are pretty afraid of the experimentation due to the fear that something may go wrong. When it comes to braided hairstyles, there is literary nothing to go wrong even if your hair is super curly. Take your hair out of your face to enhance your beauty with the help of braided crown styles, and there is no way you will regret it!
Half Up Ponytail
Credit photo: instagram.com/clatodd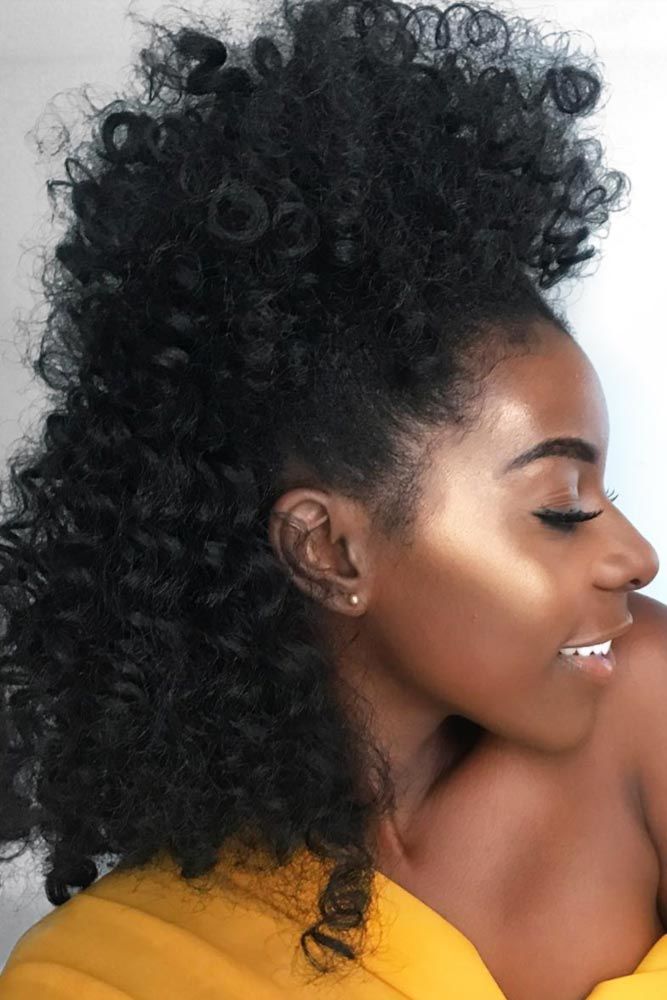 Credit photo: instagram.com/chloejaylois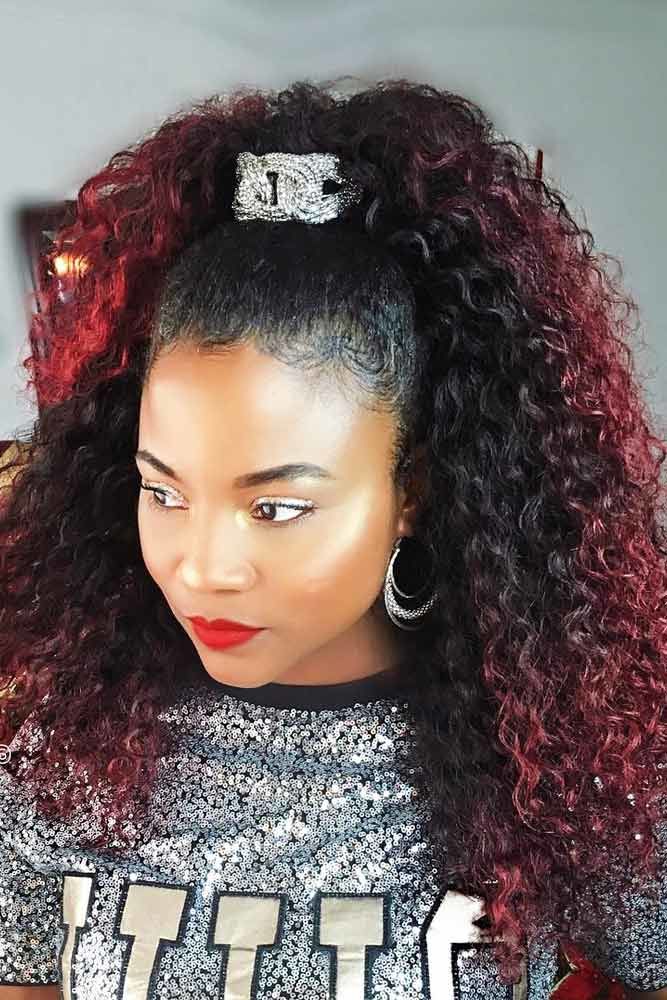 There is nothing better to add that chic and fun vibe to your look than a fancy, curly ponytail. Pull your curly mane up so that the front is all sleek and the back has all the party. Introducing fancy accessories are surely not out of the question!
Wear Curly Updo To Look Like Diva
Credit photo: instagram.com/mustafaavci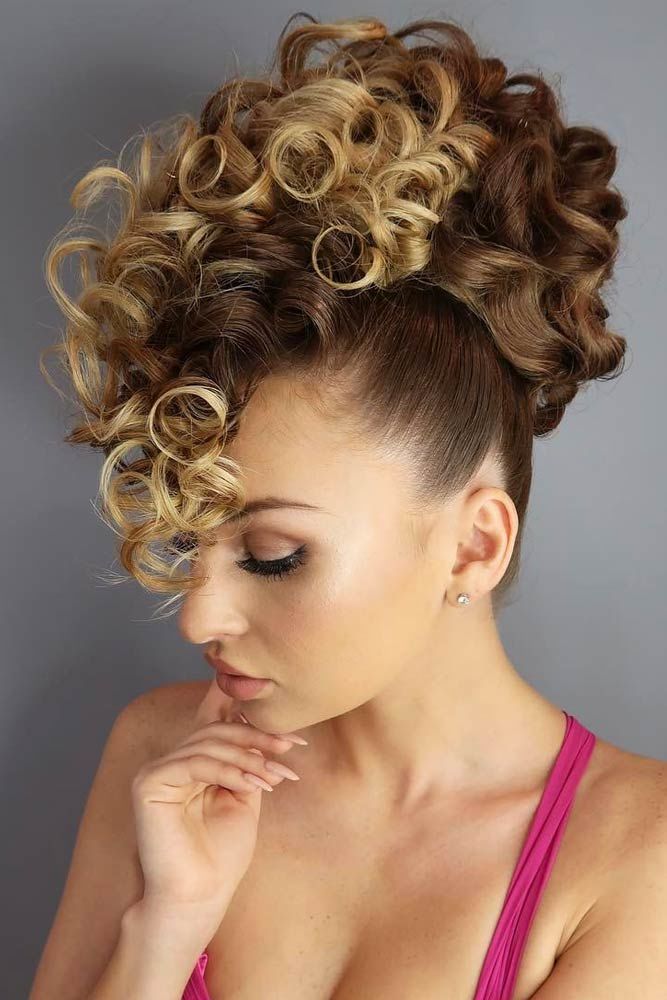 You have probably noticed that a lot of curly hairstyles on celebrities are a bit tousled. Messy texture is a huge hit right now. You can reach this effect with the help of texturizing spray.
High Ponytail
Credit photo: instagram.com/curly_casey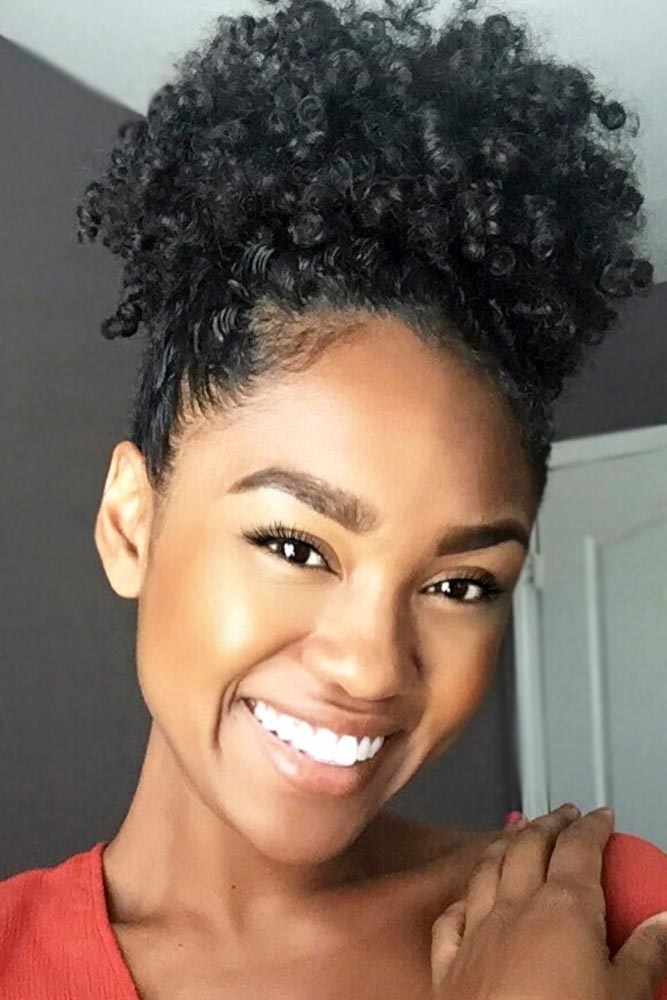 Do you know why ponytails are so good? Well, they show off your beauty in the most charming way: it keeps your face open, so you can be sure that everyone can see your awesome makeup. And, most importantly, everyone can see how gorgeous your hair is! Also, ponytails are very versatile; they can adorn any occasion. Want to go for a ride with your friends? Or you get lost trying to choose the best hairstyle for your date? A high ponytail will be there for you. You can rely on this hairstyle wherever you are, but first, you should make sure that it's done properly. The higher the better, this is how it works! Make sure to get yourself a good elastic band so that the ponytail won't weigh down the front hair. That's all you need to flaunt your enviable curls all day long!
FAQ: Hairstyles for Curly Hair
Which is the best haircut for curly hair?
These haircuts are the best option for curly hair:
Bob Cut.
Piled Curls.
Shoulder Cut.
Center Parted Curls.
Side Parted Curls.
Layered Curls.
Long Curls with Bangs.
Should naturally curly hair be layered?
Layers are necessary for curly hair to move. It's best to cut vertical layers first, then go back in and cut curls one-by-one to break it up and give it some movement.
Does hair get less curly with age?
Human curls tend to drop and loosen as we age. The reason for that is gravity. Curls will retain their bounce and elasticity as you get older if you maintain them moisturized and cut them on a regular basis. One more alternative is to cut your hair shorter. This will bring your curls back to life.
REFERENCES:
Looking for chic and easy hairstyles for curly hair? We`ve rounded up nine of our favorites. Source
So many styling cues for shaping and maintaining curly hair. Source