While you might think a bowl cut is childish or out-of-date, you couldn't be farther from the truth. With the right make-up, accessories, and bold hair colors, bowl haircuts are actually quite trendy!
Not only are they one of the most low maintenance haircuts around, they are also making a huge comeback. Thanks to superstars like Rihanna and Miley Cyrus, bowl cuts are all the rage.
Bob haircuts are still trendy, but a super-cute bowl haircut can set you apart from the crowd! Apparently, bowl cuts originated at a time when people didn't have the time or money to go to professional stylist. It's a simple cut that almost anyone can manage. It's all the same length from the fringe to the back of your head. It gets its name from the fact that it basically looks like someone put a bowl on your head in order to achieve the perfect symmetry. And yes, it was quite hideous back in the day. However, with color and modern styling techniques, bowl haircuts are making a tremendous comeback.
What Is A Bowl Cut Hairstyle?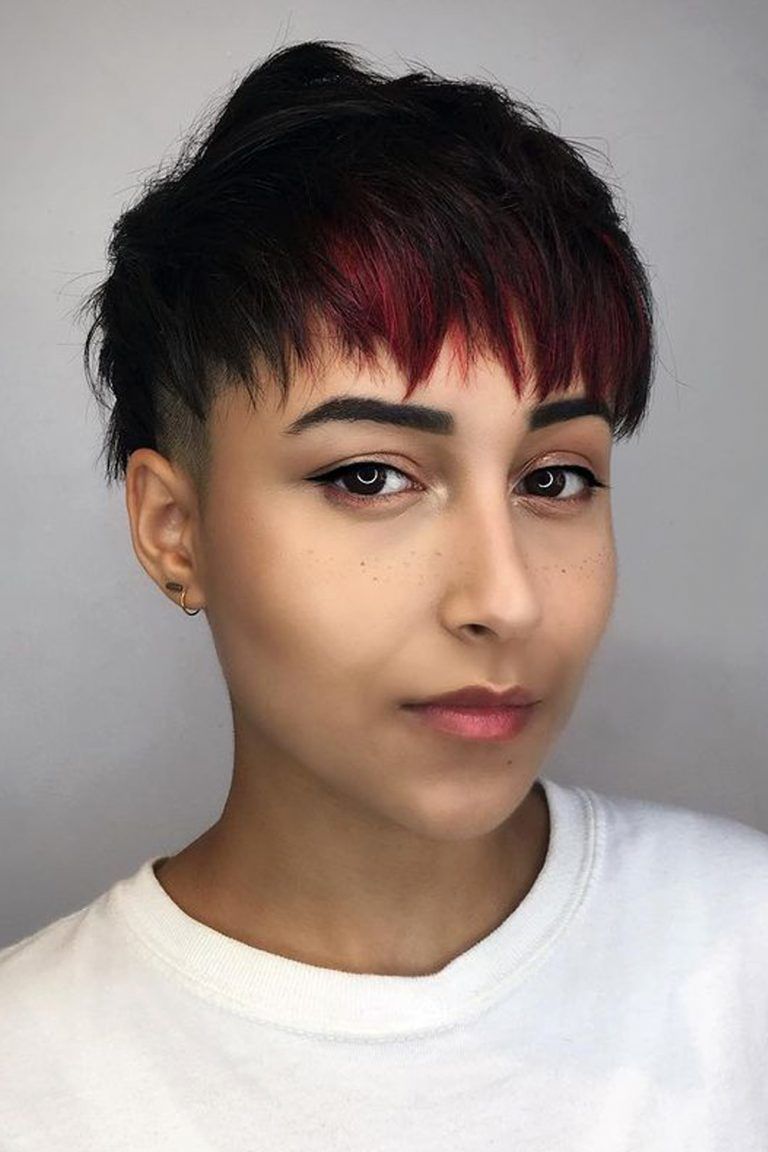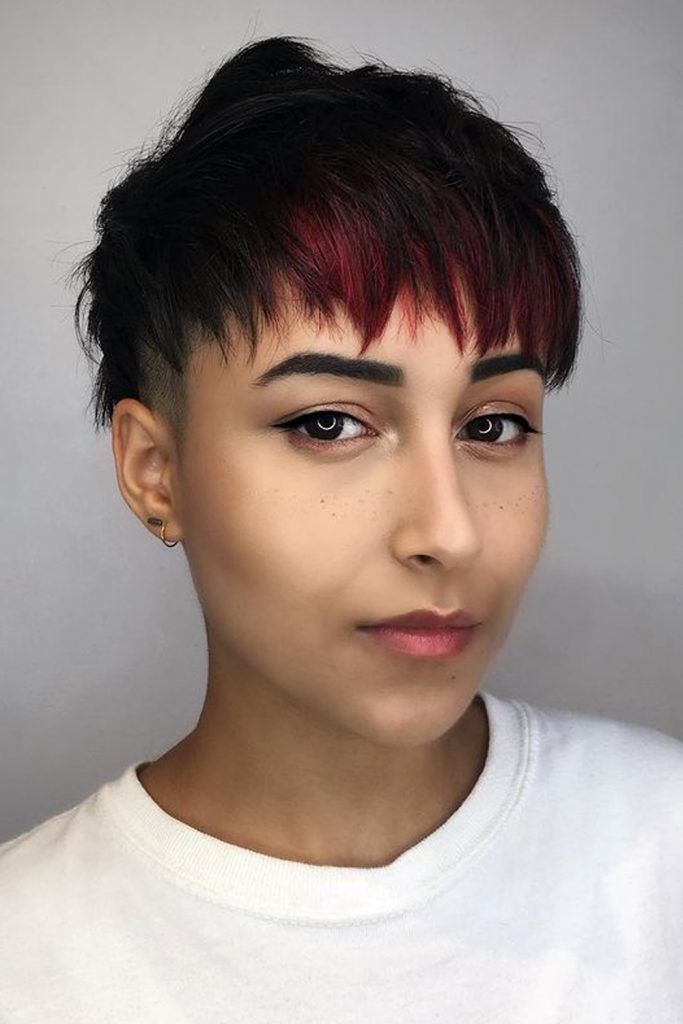 Credit photo: instagram.com/adrianocattide
So, how has the haircut we all remember since the very childhood changed to fit our inner fashionistas? The line of rules and restrictions has vanished, so the all-over fringe haircut now can allow for endless customizations in terms of texture and structure. The only thing you should preserve is that rounded body and fringed finish which, however, can be angled and edgy.
When was the bowl cut popular exactly? Besides those times when some people would get their hair done with a bowl on their heads, the bowl cut actually had its rise in the 1980s. This haircut was a very popular pick at salons among American teenagers, but its popularity faded at the beginning of the 1990s. Now, the cut is reaching new heights, and your style can also reach a new level. Let's see how!
Pixie Bowl Cut Ideas
Daring And Edgy Bowl Cut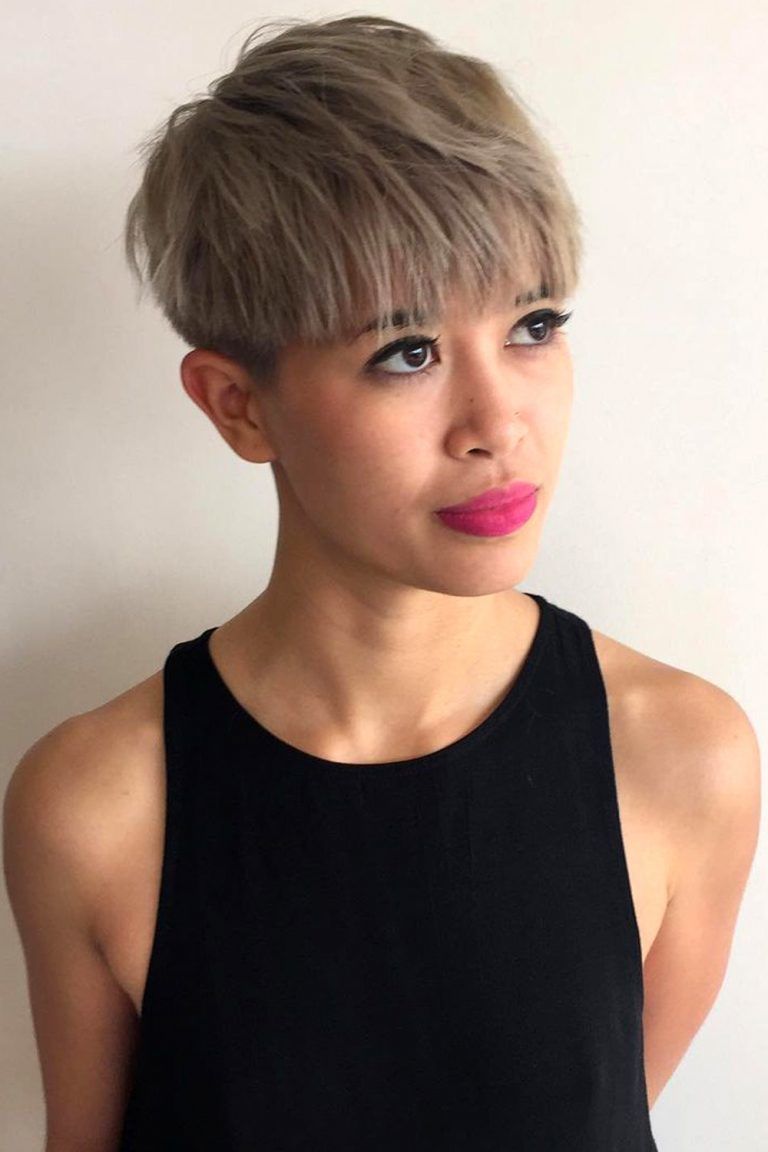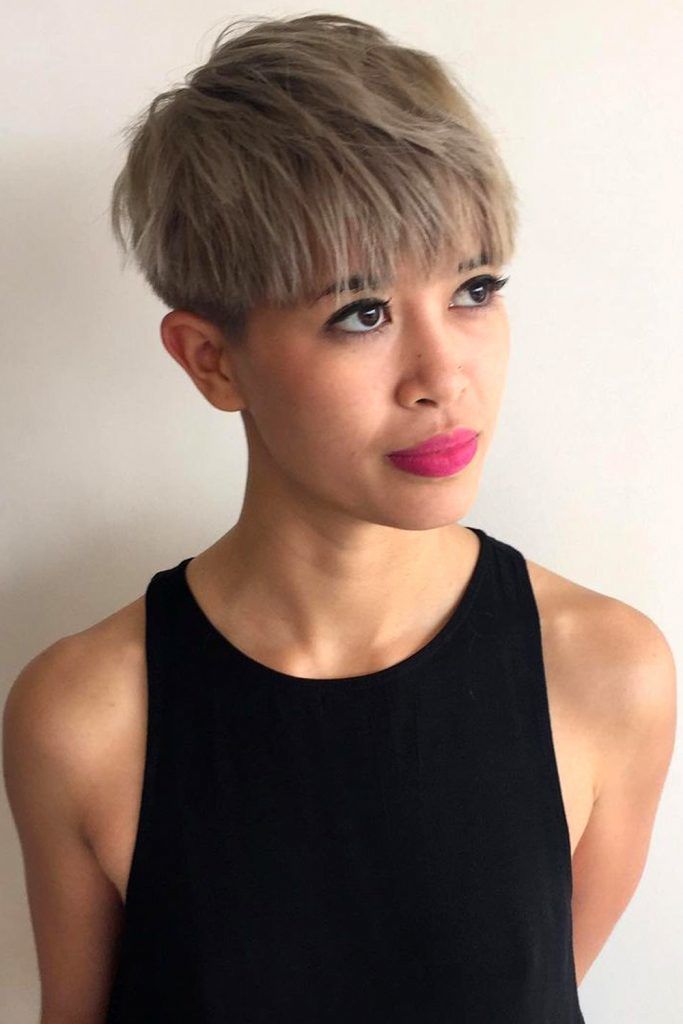 Credit photo: instagram.com/brianhickman1
This look, with its shaved sideburns, is sure to turn heads. Just like all tomboy haircuts, it is bold and daring. Add some bright colors to show your inner daredevil.
Bowl Cut With Volume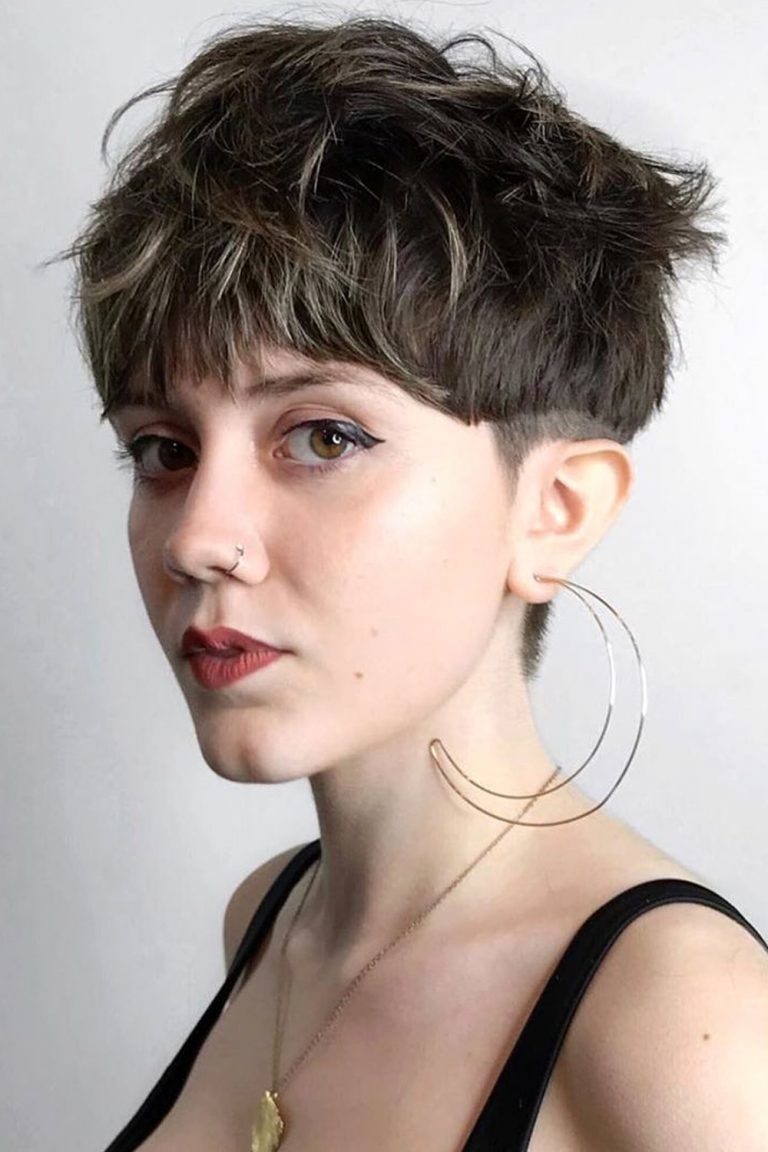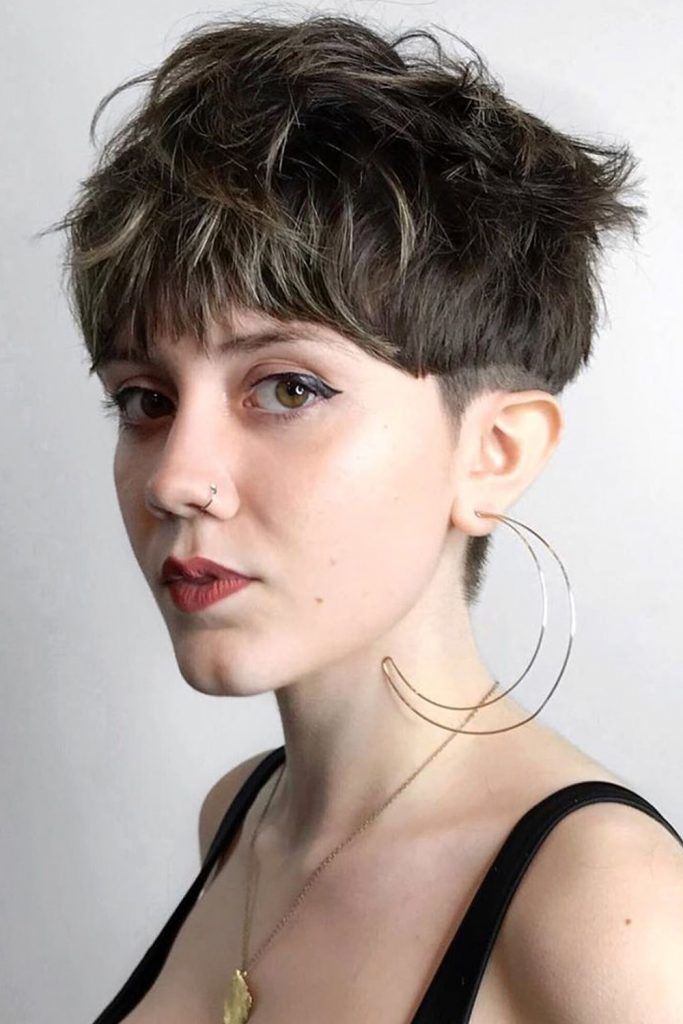 Credit photo: instagram.com/brianhickman1
This bowl haircut stands out for its funky colors and fun volume! You will definitely be a trendsetter with this cool look!
Tousled Tresses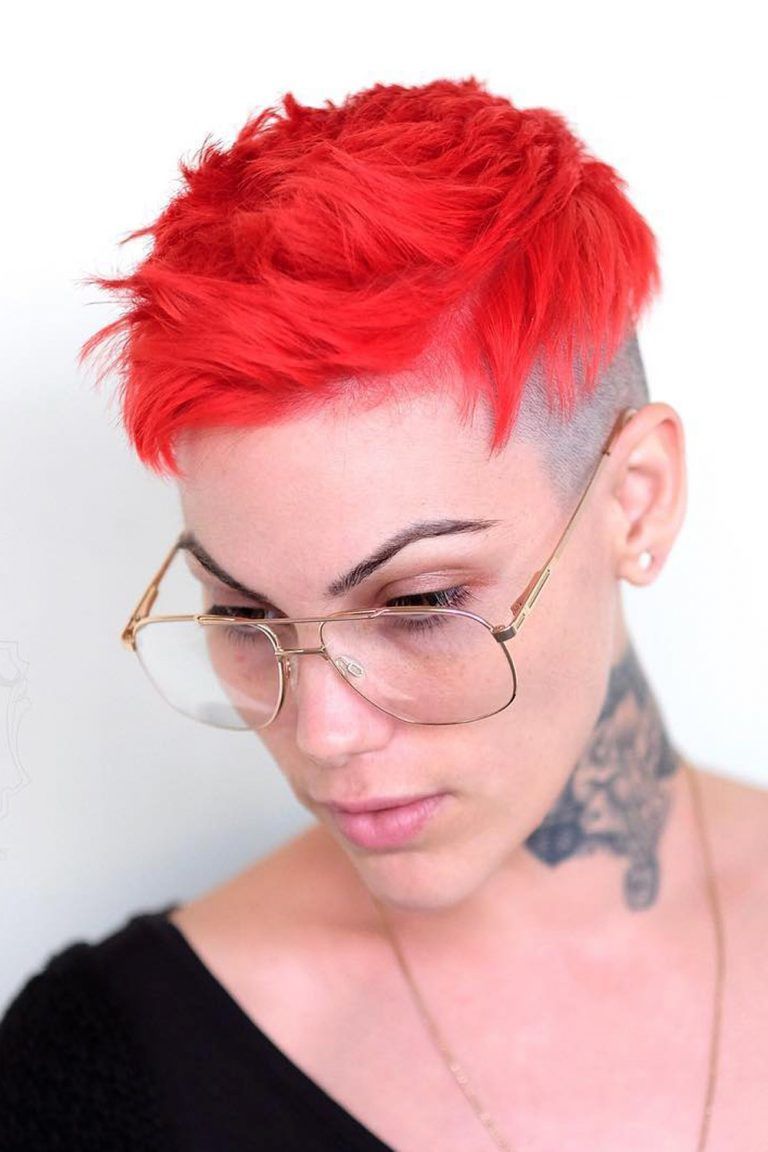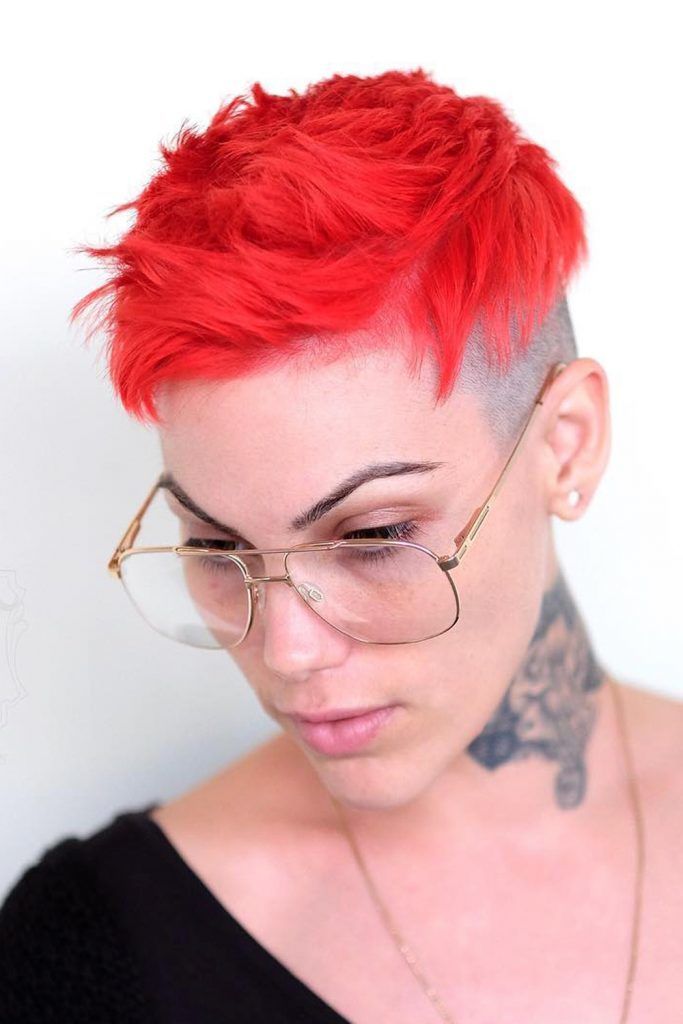 Credit photo: instagram.com/fernthebarber
This sassy look, with its textured and tousled back, is youthful and carefree.
Pixie Bowl Cut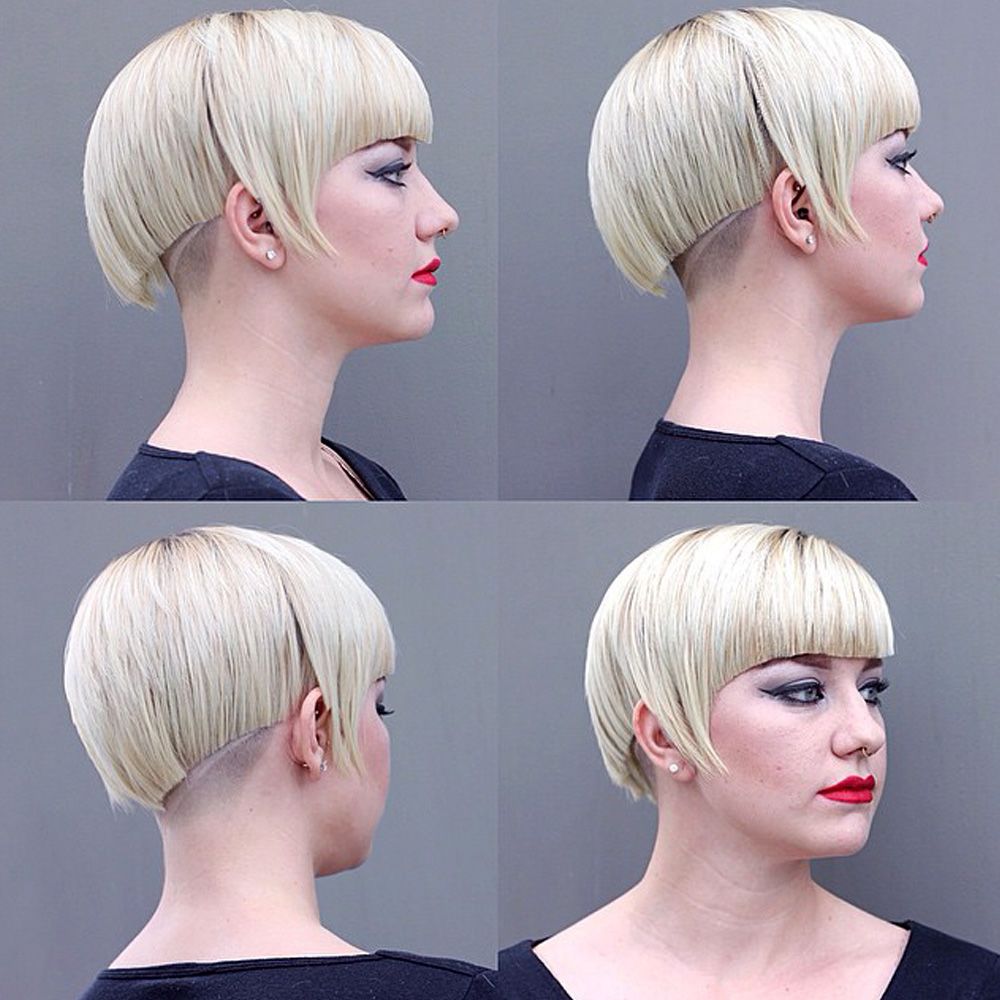 Credit photo: instagram.com/fernthebarber
This fiercely feminine look is totally adorable with its slightly longer layers and short undercut.
Edgy Bangs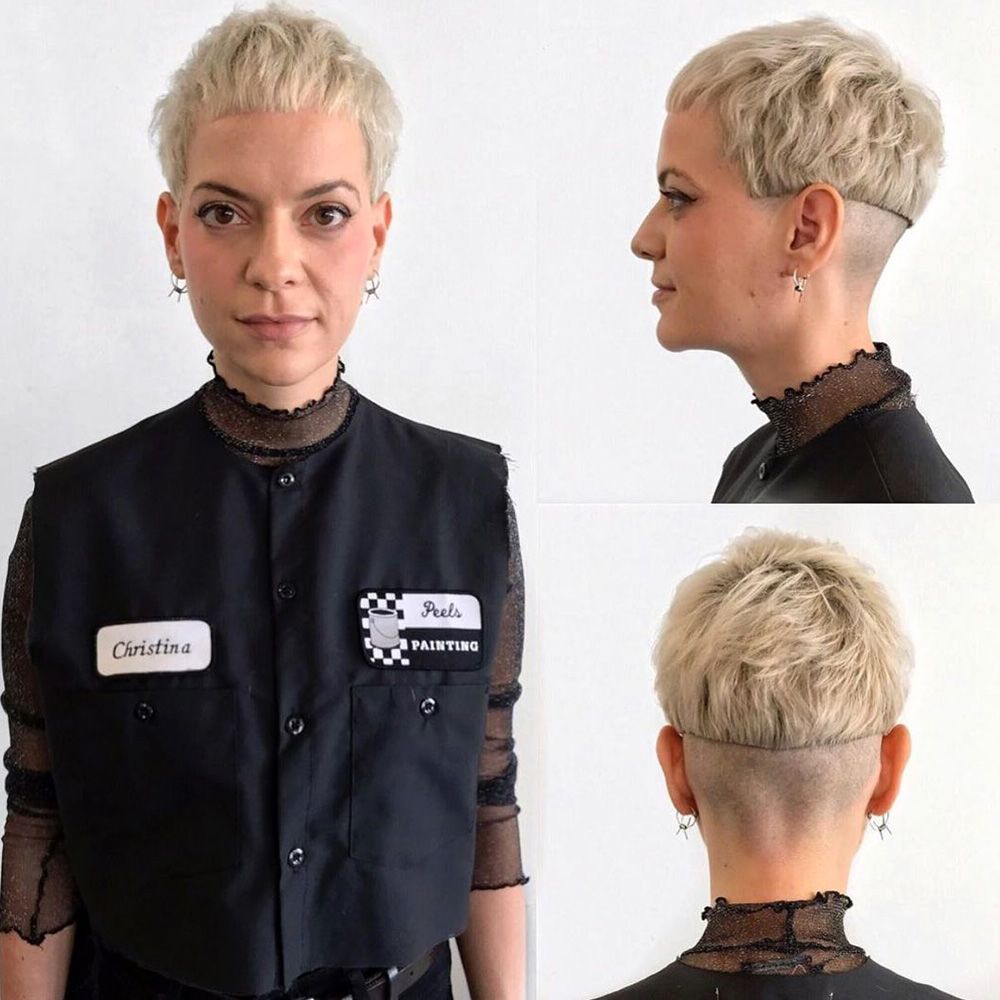 Credit photo: instagram.com/brianhickman1
If you are feeling adventurous, try this fun bowl style with long blonde layers on the top, cropped, darker under layers and piecey bangs for added texture.
Curvy And Classy Bowl Cut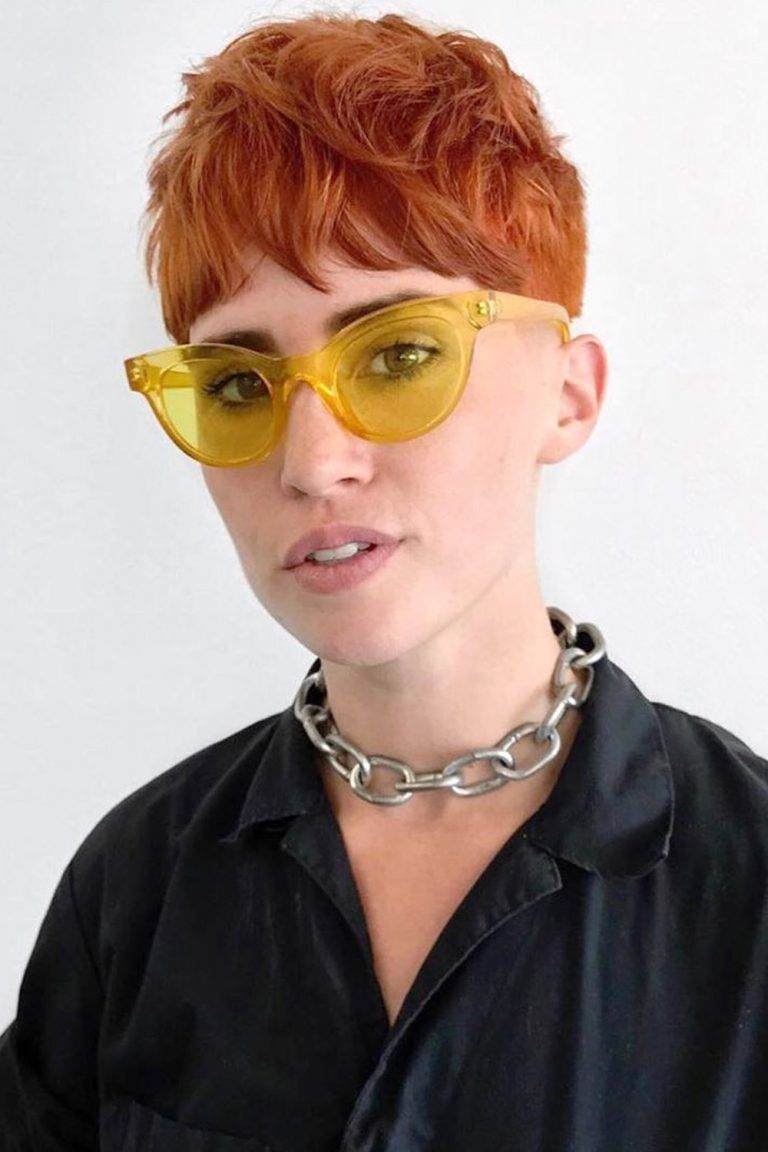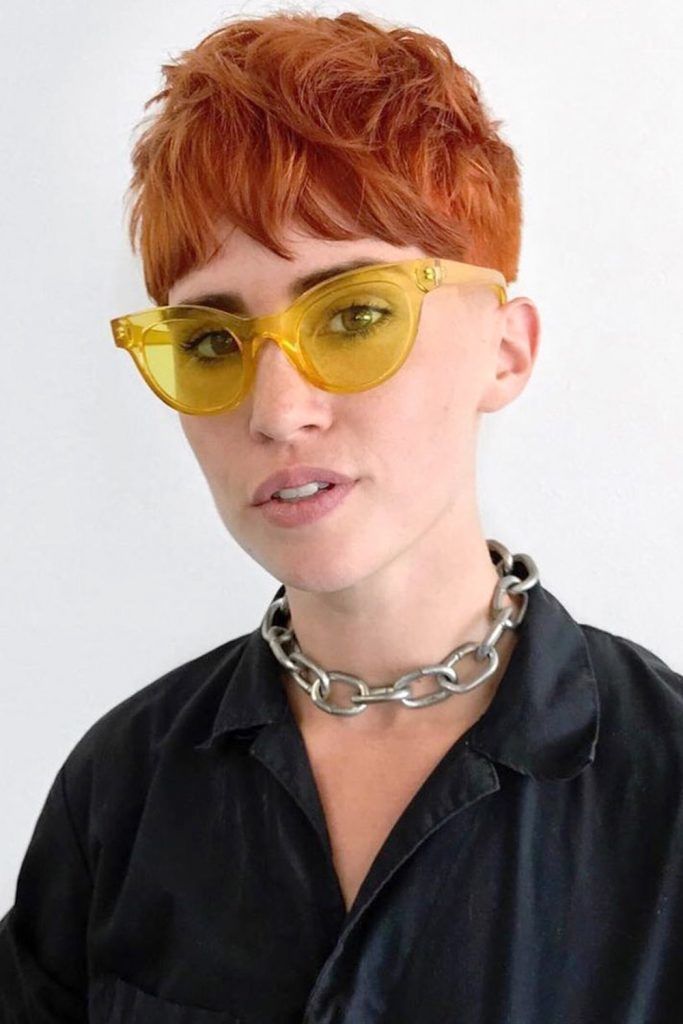 Credit photo: instagram.com/brianhickman1
With its perfect details and soft layers with additional length on the top that allows for fun styling and color options, this simple cut is totally understated.
Colorful Layers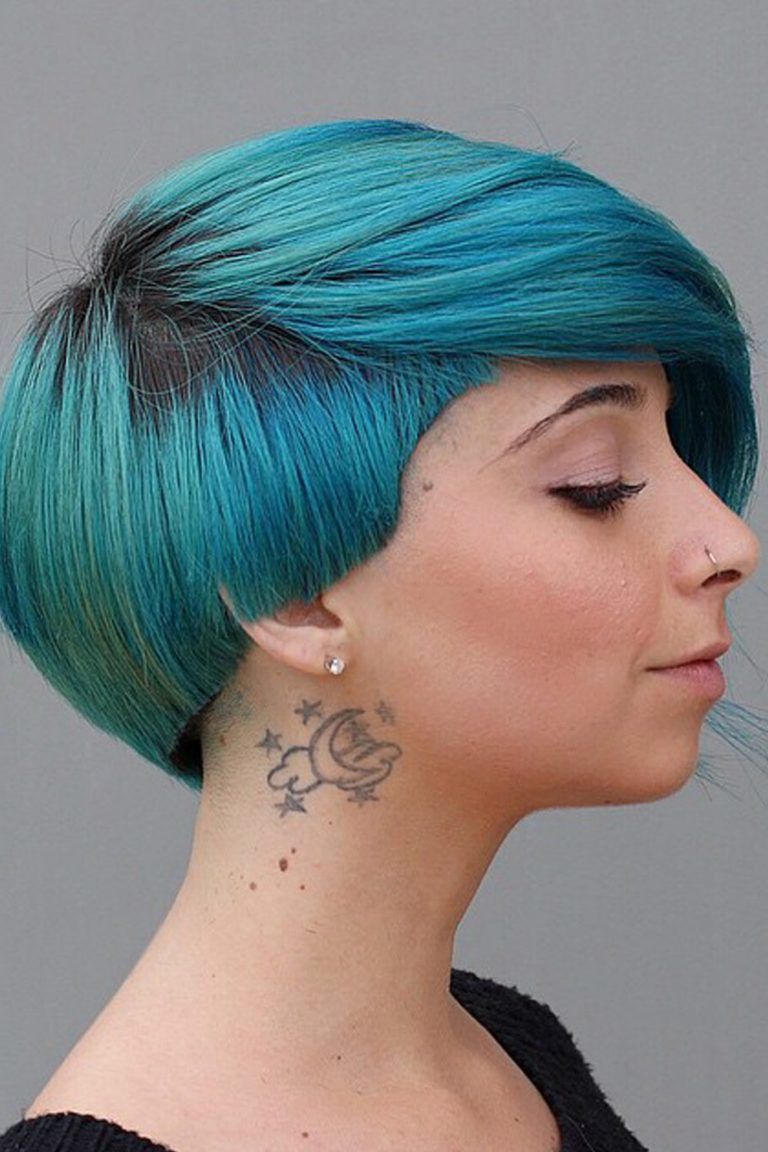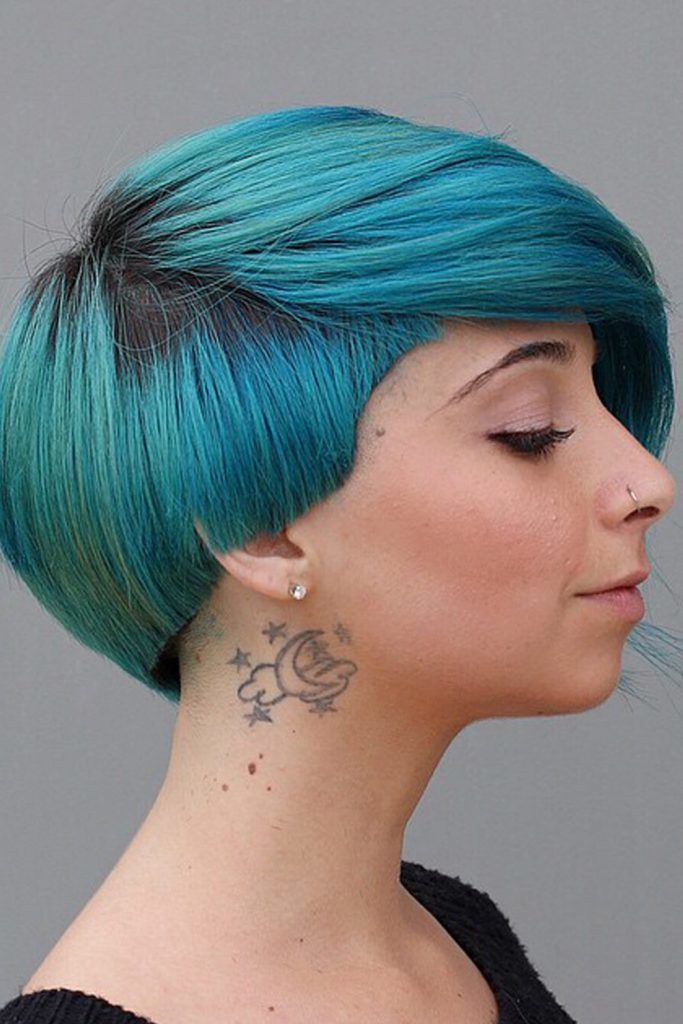 Credit photo: instagram.com/fernthebarber
This 60s throwback look takes on new life with its deep blue layers.
Textured Under Shave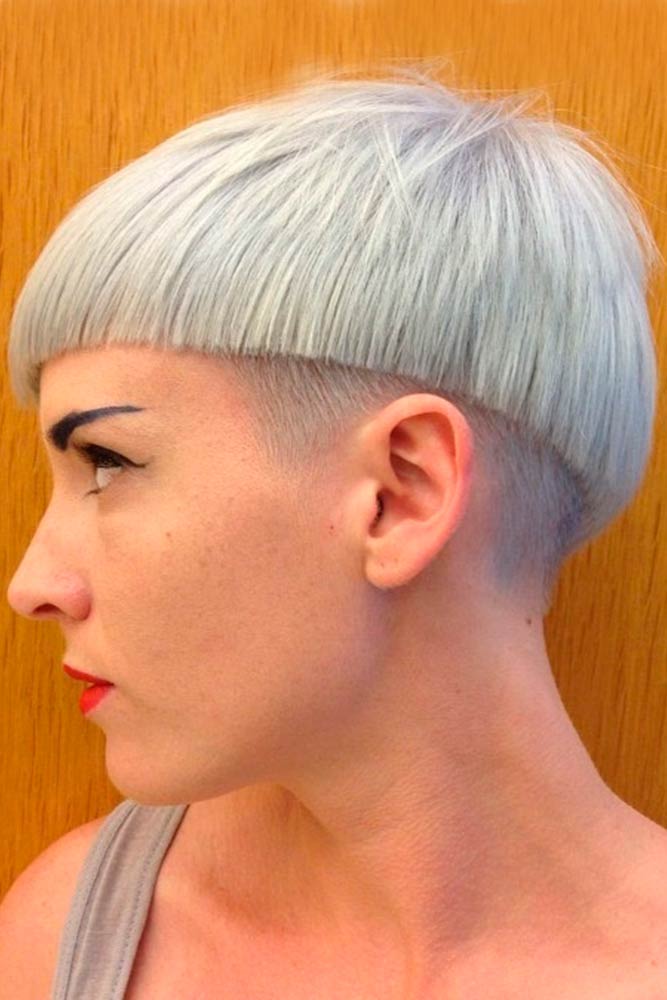 Credit photo: instagram.com/hairbysofie
If you are going for both class and sass, this super-cute cut with a ton of texture, long bangs, soft highlights, deep part and under shave is just the look for you!
Choppy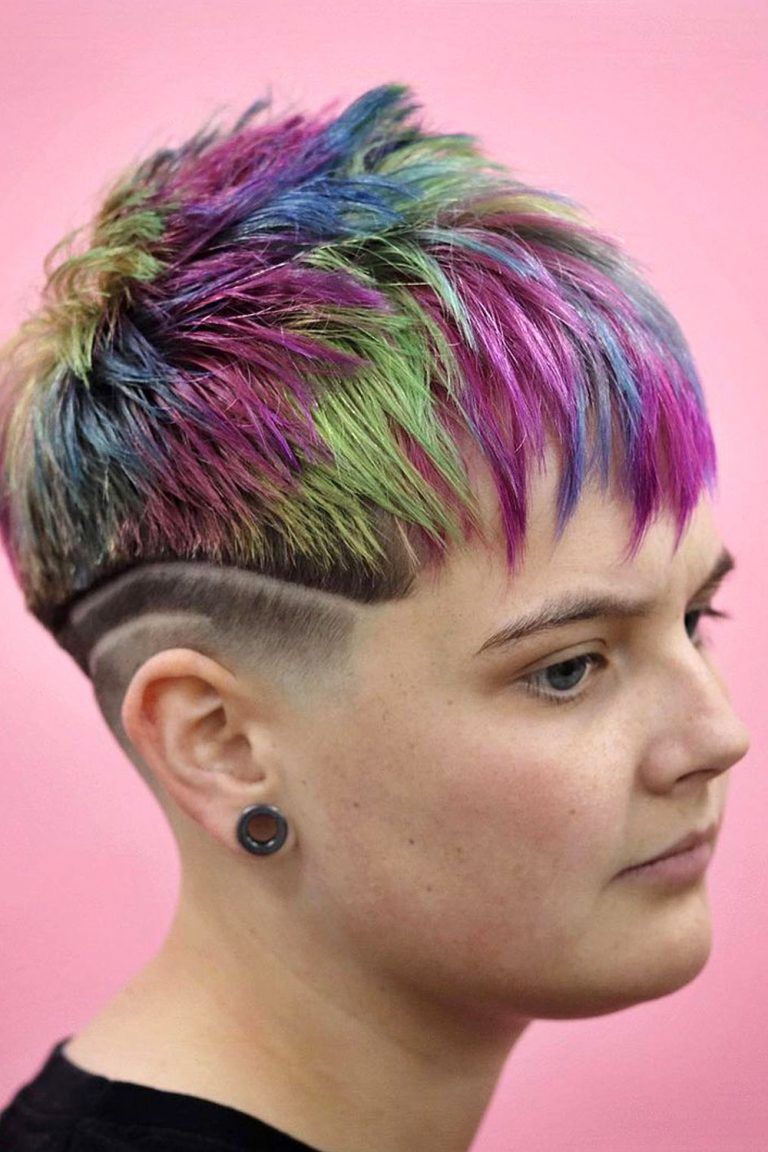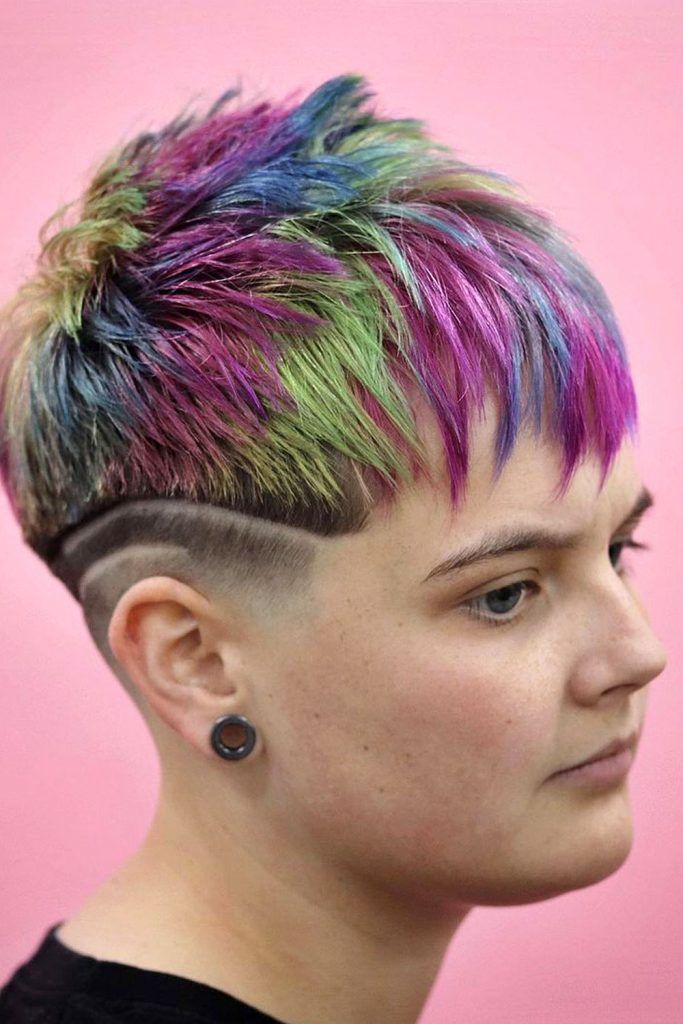 Credit photo: instagram.com/joshconnollybarber
This cut is cropped closely at the nape of the neck but longer at the temples. Factor in this gorgeous rainbow base and you have a winner!
Layered Volume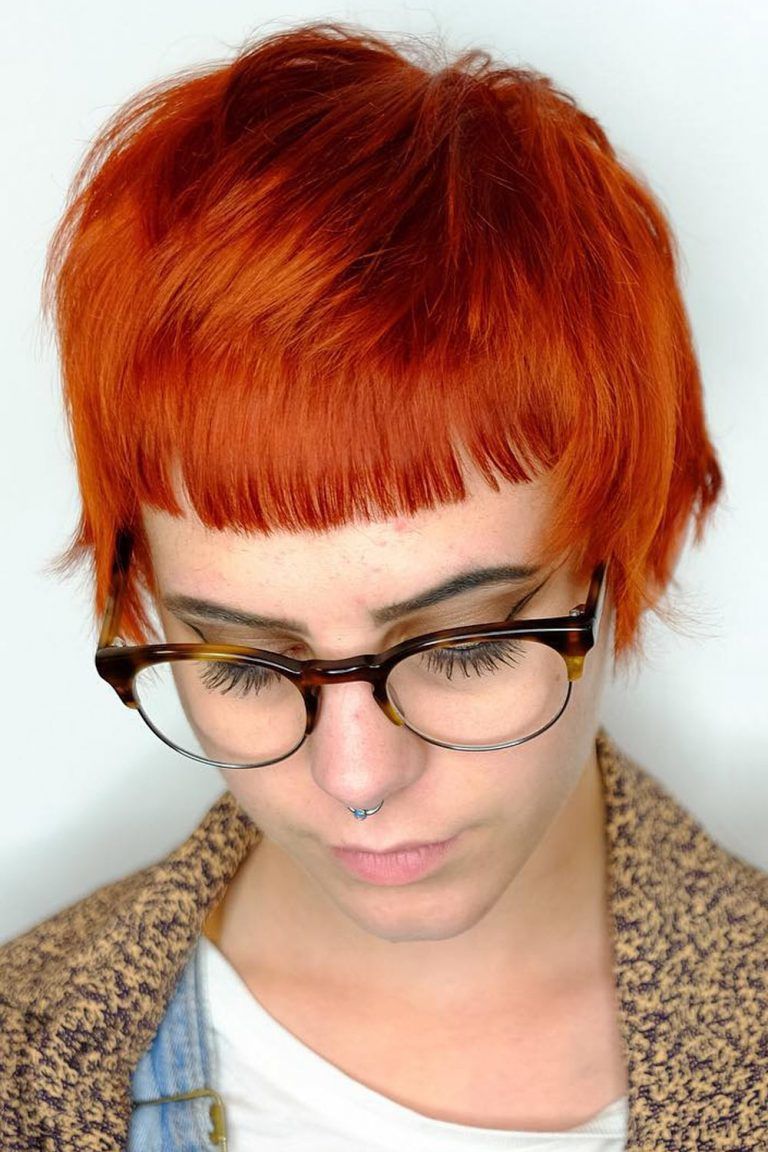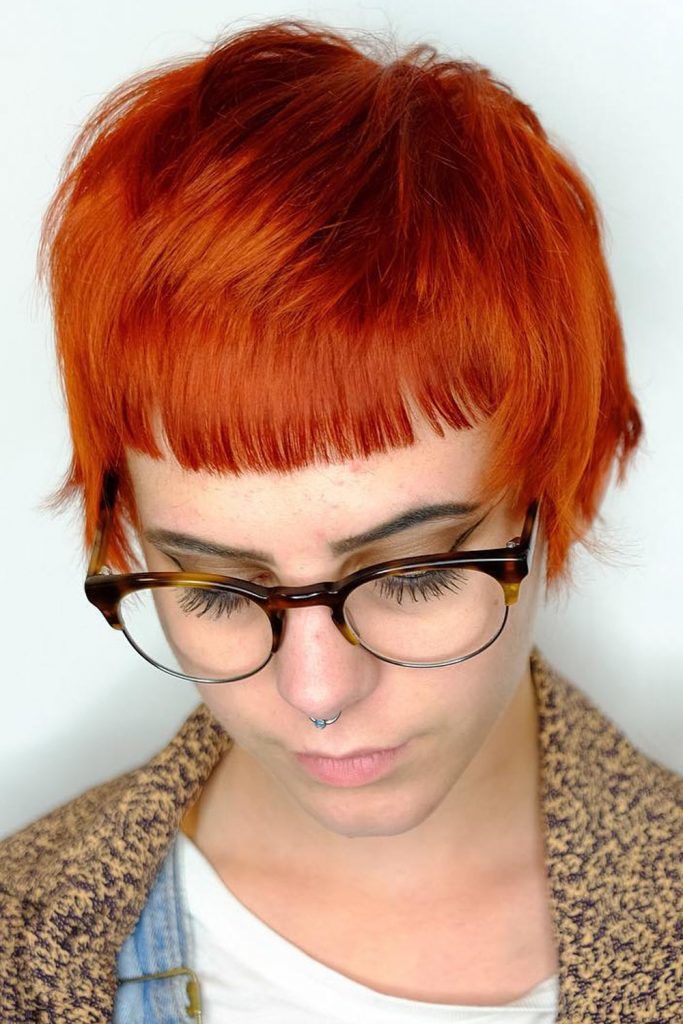 Credit photo: instagram.com/fernthebarber
It is one of those cases when the cut speaks for itself. Mixed with bright red, it will grant you endless options for styling.
Short Shaved Bowl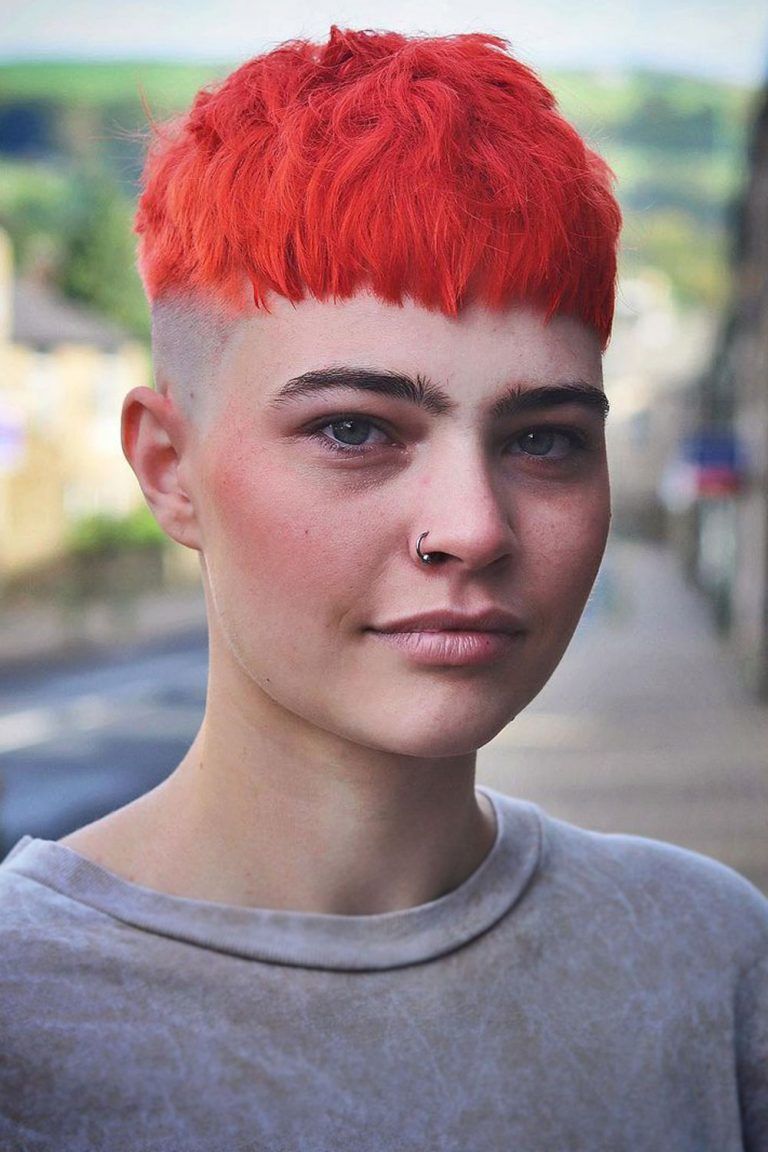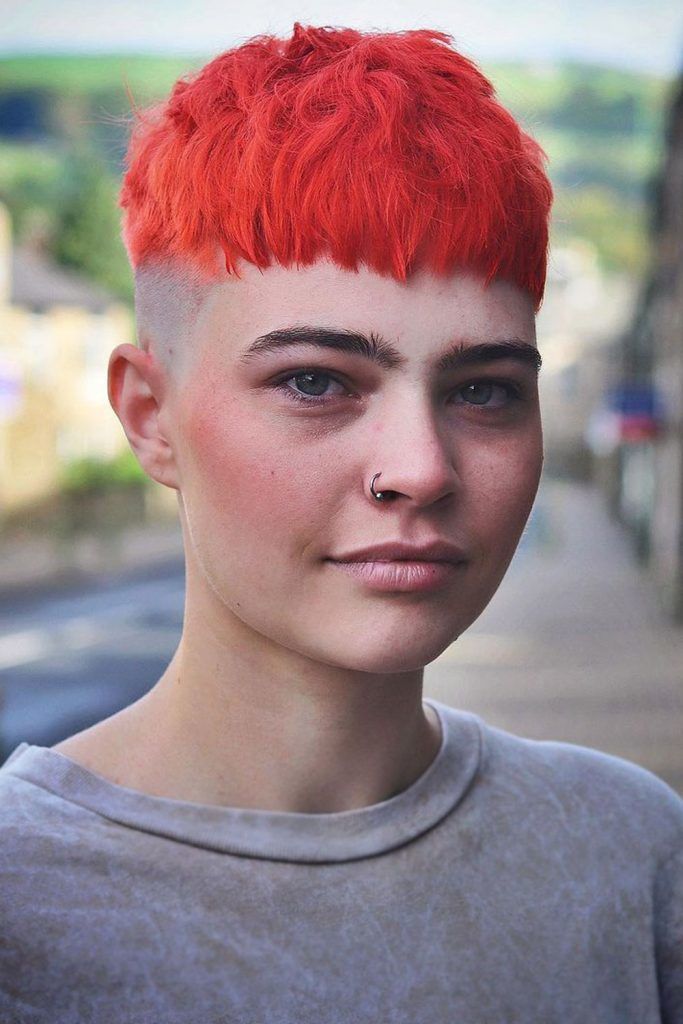 Credit photo: instagram.com/joshconnollybarber
If you think that there's nothing sassier and more carefree than a layered pixie, then you need to check out this short shaved bowl cut. Unlike modern pixies, this haircut features no parting, falling as an endless fringe of lively locks that give a sense of freedom to the whole look. Once you shave the sides, you will put the top in the spotlight, taking the cut to the next level. Well, we bet that's a nice look to try for those in love with pixies, as they can easily switch to the bowl.
Blonde Layered Colors
Credit photo: instagram.com/alessandropinna_viavespucci3
Women who have naturally blonde hair can turn their bowls into endless palettes for color experiments. Today, this haircut never comes alone: it either has a dramatic and head-turning shape or fascinates with its pop and vivid color. In this pic, you can see how ravishingly you can beautify your layered bowl by coloring its layers various pastel hues, mixing any colors you want.
Edgy Bowl With Undercut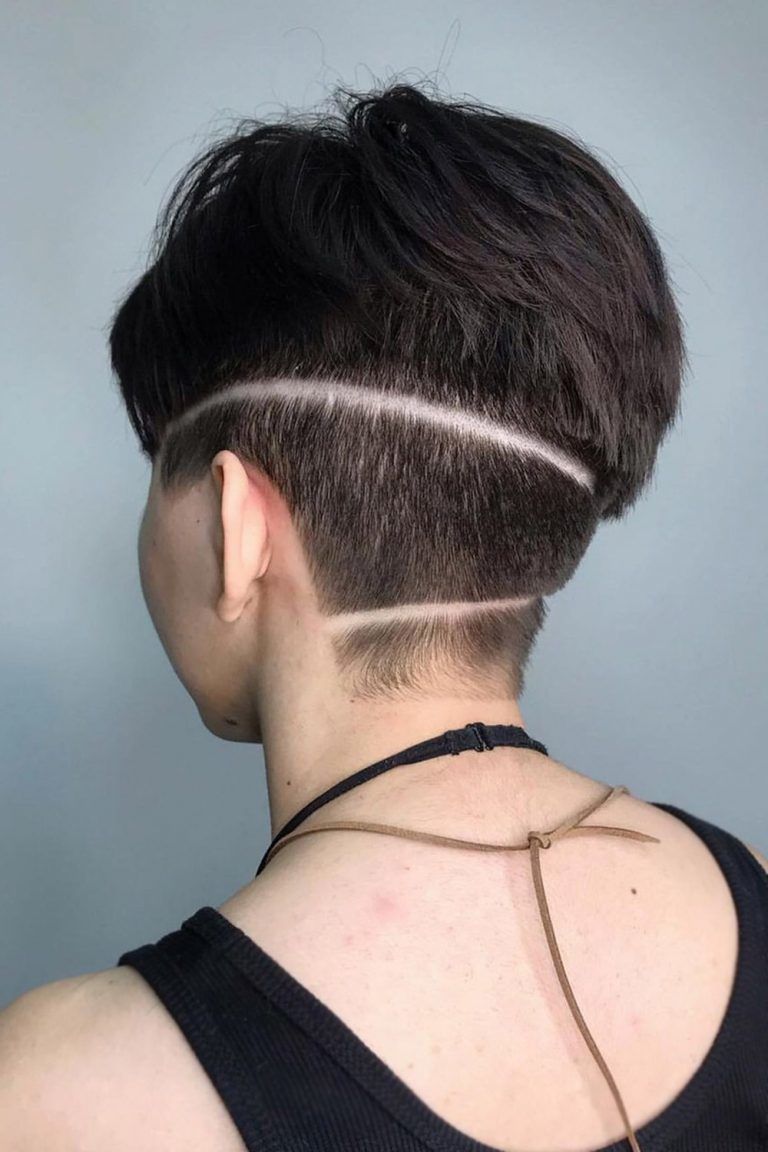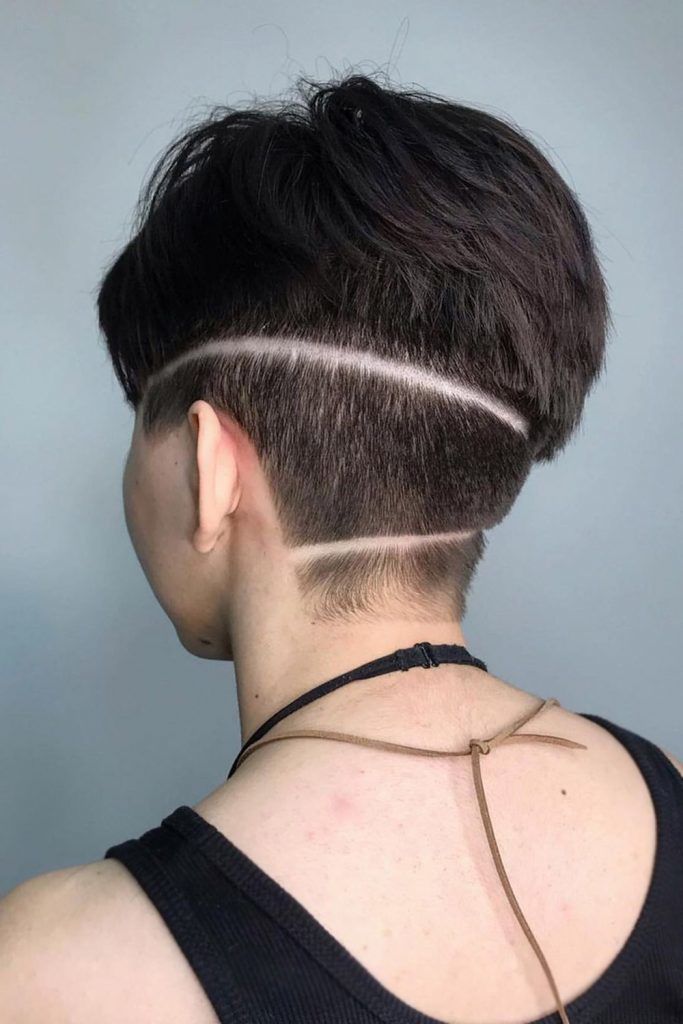 Credit photo: instagram.com/exotismos
Although the bowl is a pretty short haircut, it still allows for endless customization. For example, apart from being a nice stand-alone look, it can also be a fantastic complement to everyone's favorite undercut. Ask your stylist to work on your texture so that it looks sharp and edgy, and get yourself an undercut to create a slaying duo.
Messy Red Bowl Cut
Credit photo: instagram.com/katrinaklingerhair
A shade of red that makes jaws drop with its seductive vibe, a tousled mane that adds character to the whole look, and shaved sides that accentuate the cut: who could ask for more? Needless to say, this mind-blowing idea is the best way to show how daring and different you can be. What makes this look so special is that it still looks feminine despite its rebellious character.
Silver Bowl Haircut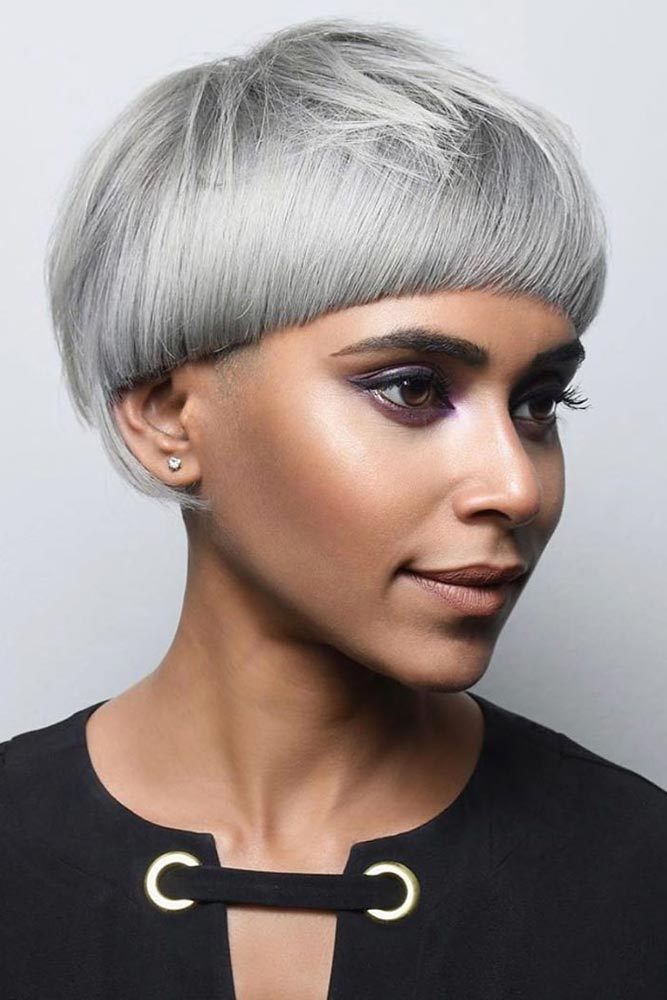 Credit photo: instagram.com/amandacaskiehair
Just look at this perfectly leveled and immaculately shaped bowl! It seems like this cut has come to our world from the future to let creative ladies of now stand out in the crowd. Besides the contemporary look, the haircut steals the show with its mesmerizing silvery shade. As you can see, this color suits all complexions, so don't hesitate to take a step towards color trends.
Nude Bowl Cut
Credit photo: instagram.com/elizavetazaprudina
Nude colors are extremely popular these days, be it outfits, makeup, or nails. So why don't you get a totally authentic nude look by coloring your bowl a nude shade? Make sure that the beige or rose hue you choose matches the undertone of your skin to achieve a harmonic look. As for your bowl, add some movement to it to enhance the beauty of your color.
Ice Blonde Classic Bowl
Credit photo: instagram.com/andre_does_hurrr
This icy blonde is full of movement and dynamics running through the length, which means you've just found your weapon to fight thin locks once and for all. To get the look, get your bowl layered, asking your hairdresser for as many thin layers as she or he can do. Get yourself some texturizing product to get the most of the cut and be ready to make heads turn with tons of volume in your hair.
Short Fringed Bowl Cut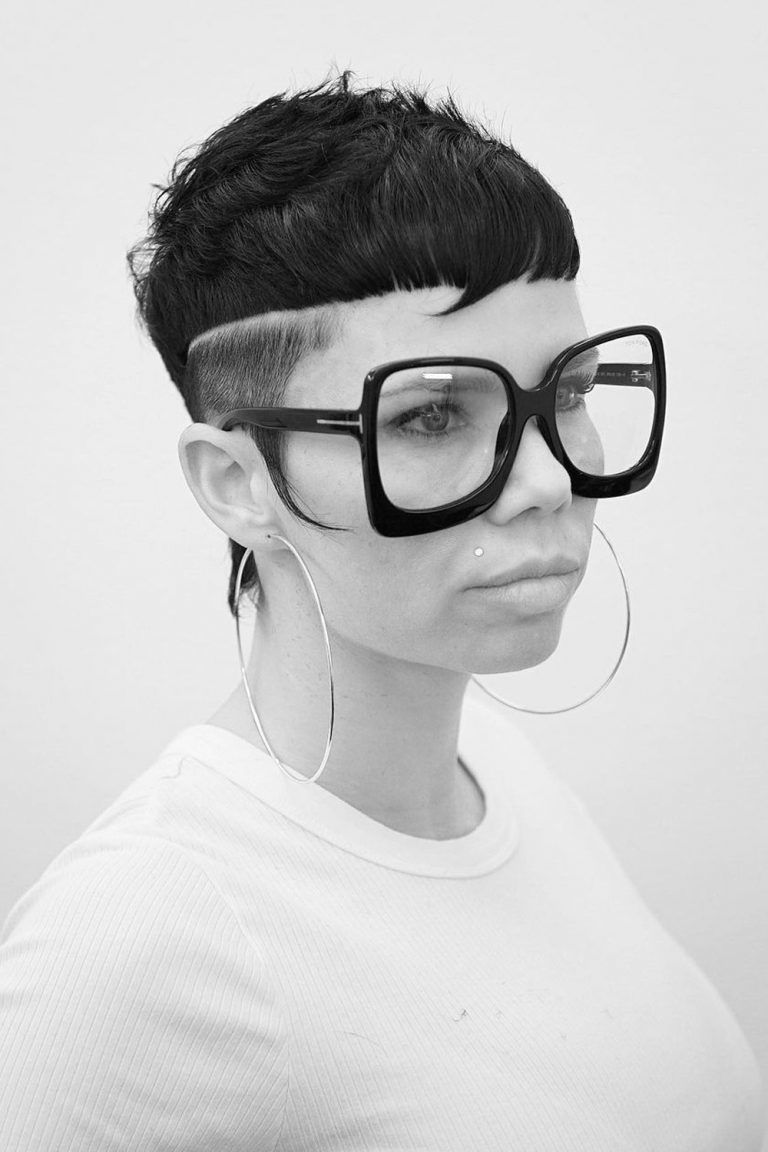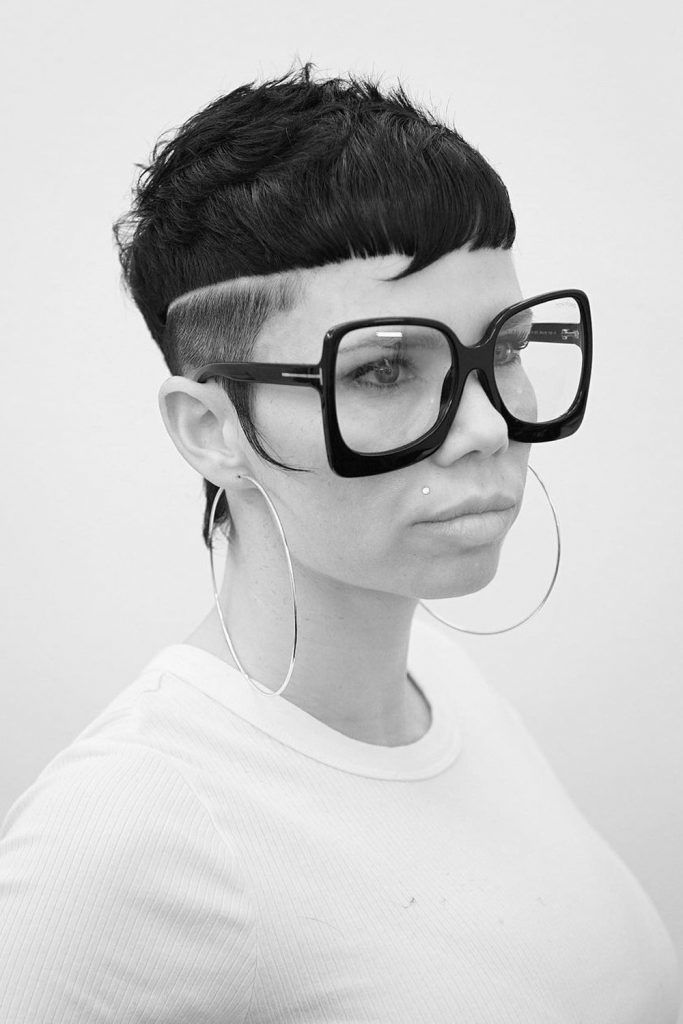 Credit photo: instagram.com/fernthebarber
This idea is certainly not for the faint of heart but for those who want to make a statement. Combining a slightly disheveled layered finish with a precise blunt bang, this bowl steps out of its classic version to let the minimalistic modernity into your life. We also love the way the sideburns and the cut connected with a sharp-angled line.
Stylish Bowl
Credit photo: instagram.com/kitsadasha
If you want to complement your eyes and lips, then it is the perfect option for you. What is more, you will get the advantages of a short haircut together with the accent on your best features!
Pink Layers
Credit photo: instagram.com/jimis_barbershop
With an artistic approach to your bowl, you can leave the salon with a masterpiece on your head. The best thing about this cut lies in its versatility in terms of hair type. For thin hair, it can give the needed lift and spice it up with dynamic movement. When dealing with thick hair, it can whip those heavy tresses into decent shape. Here, it works wonders for a thick mane, giving it a perfectly balanced body with its layers and an unforgettable touch of modernity with its color.
Textured Cut With Undershave
Credit photo: alessandropinna_viavespucci3
Here's another beautiful fusion where a bowl serves as a fantastic face-framing base for a pixie. Besides giving a pretty unique accent to a pixie, a bowl also provides the hair with a more balanced body, which is good news for girls with super thick hair that needs something extra. Of course, layers would be the must for such textures.
Bob Bowl Cut Ideas
Bowl Hairstyle With A Deep Part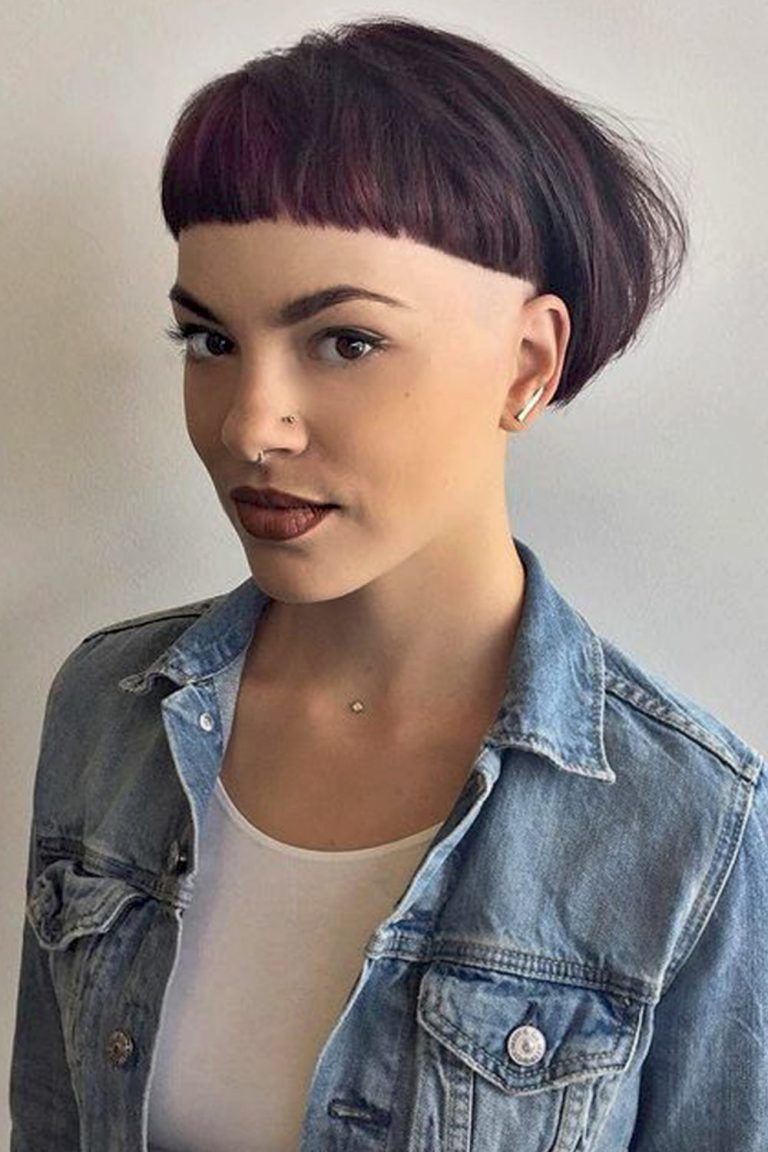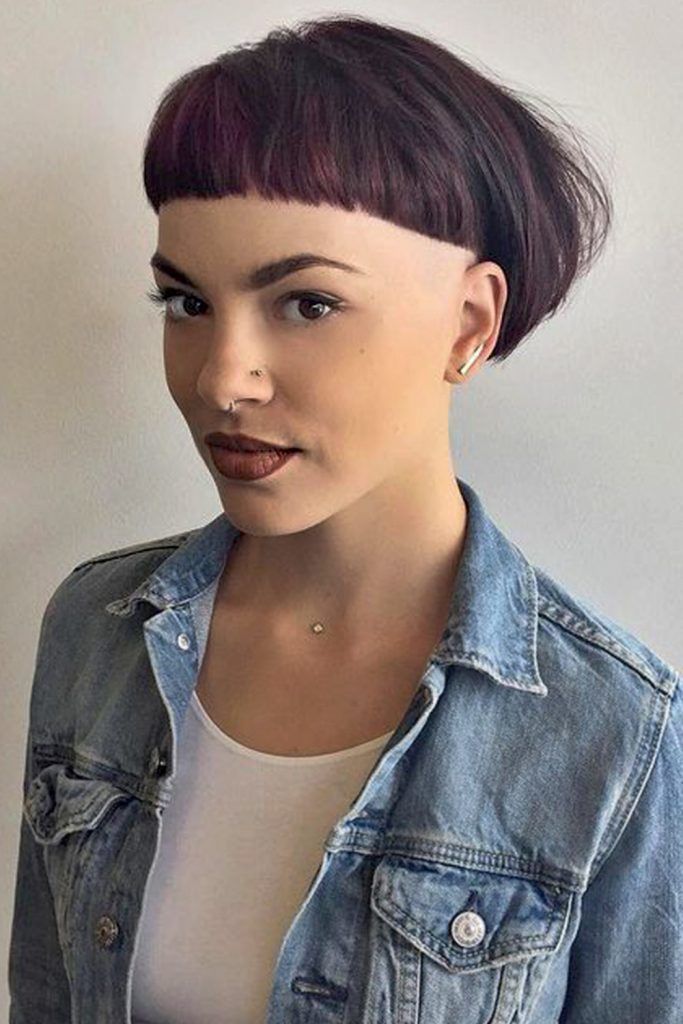 Credit photo: instagram.com/brianhickman1
This classic style is so daring. With bold color, the deep side part is absolutely striking. You will look chic and polished with this trendy bowl cut.
Heavy Bangs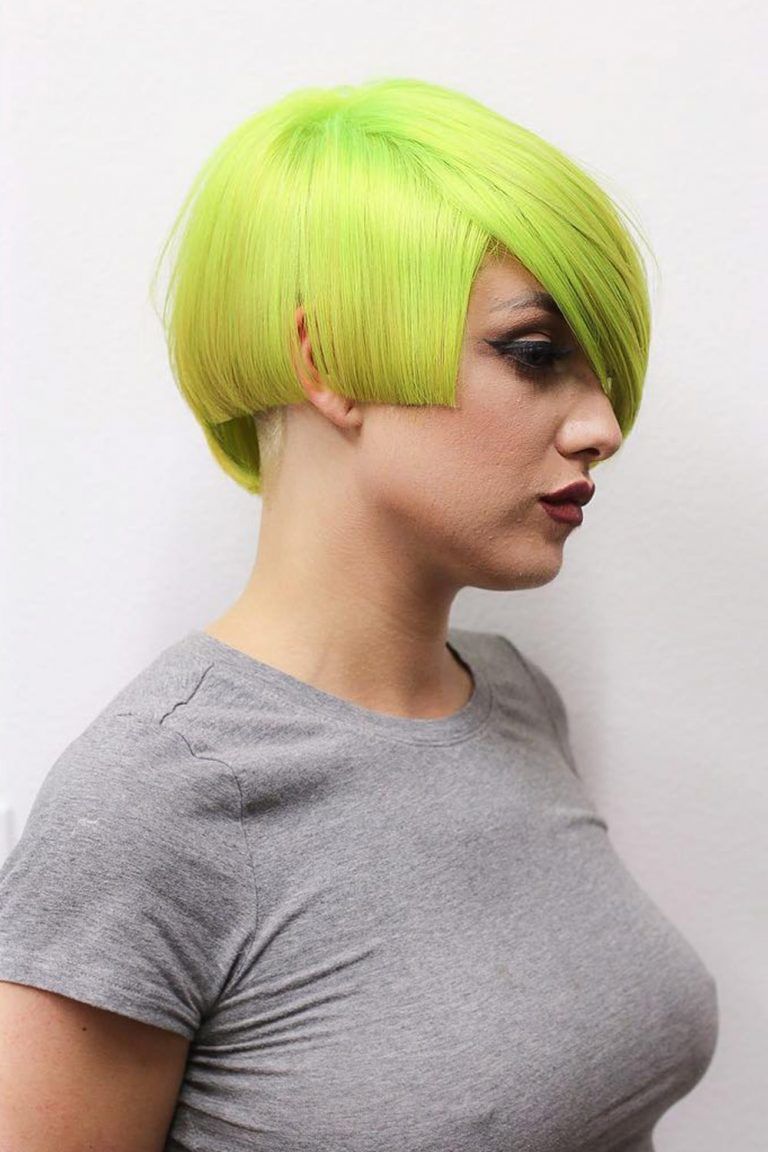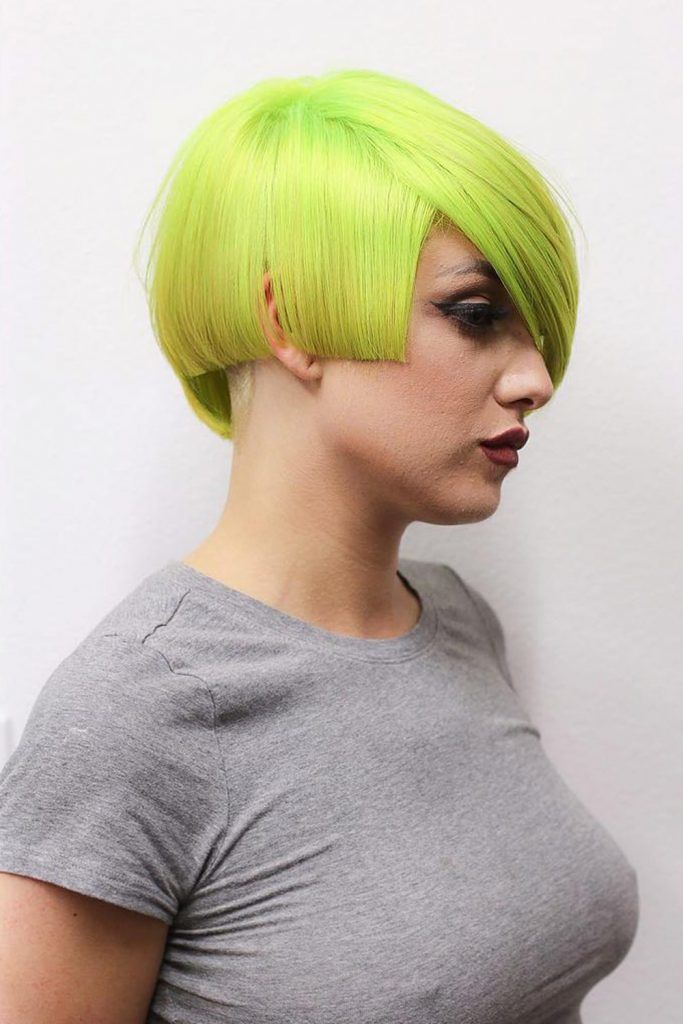 Credit photo: instagram.com/fernthebarber
This look will enhance your gorgeous facial features. The longer bangs with layers pulled forward from the crown will nicely accentuate your eyes, lips, and cheekbones.
Bowl Cut With Lots Of Layers
Credit photo: instagram.com/katrinaklingerhair
This layered cut has a ton of volume and texture thanks to the myriad of layers. It's adorable and low maintenance!
Bowl And Bob Combo Cut
Переглянути цей допис в Instagram
This fun look combines a classic longer bob cut with a bowl fringe for a unique look.
Grazing Bangs
Переглянути цей допис в Instagram
The long, wispy fringe on this ash blonde bowl haircut is totally trendy. Add in some purple and pink streaks to make this look even more stunning.
Jade Green Tones
Переглянути цей допис в Instagram
Shorter hair means low maintenance. This stunning jade green will turn heads wherever you go.
Long Bright Bowl Cut
Переглянути цей допис в Instagram
The combination of a long bowl cut with bright red looks edgy and powerful. If you are courageous enough, you should go for it!
Bowl Brown Bob
Переглянути цей допис в Instagram
They say that desperate times require desperate measures, but not in our case. When you decide to go different with your hairstyle, there is no need for an undercut or some bold hair color. The sweet chocolate bowl bob will do just perfectly!
Short Bowl Bang
Переглянути цей допис в Instagram
A bowl haircut is not something terrible and out of date. And if you still think so, just have a look at this awesome haircut! The trendy peach color together with a classy bowl and edgy undercut look sweet and spicy.
Blonde Curly Bowl
Переглянути цей допис в Instagram
Short haircuts can be romantic, as well. Just look at these sweet blonde curls! Simply adorable! Plus, a light pink shade added creates a super feminine look.
Blunt Bowl And Bob
Переглянути цей допис в Instagram
If you look at this idea from the front, you will see the good old bowl. And once you see those sides, you will see how women can reveal their creativity with their haircuts. Not quite a bowl and certainly not a bob - this is the unique mixture that you can create with a creative approach to your fringe haircut.
Fashionista's Bowl Cut
Переглянути цей допис в Instagram
That's the bowl that directors of catwalk shows and modern fashion designers trust their looks with. Not only is this cut simple and minimalistic but it's also pretty bold and extraordinary. As it turns out, adding a bit of an angle and spicing up the cut with a perfectly straight and sleek texture is enough to see it from another perspective.
See what we mean? These trendy takes on the traditional bowl haircut are totally hip! Are you brave enough to take the plunge?
FAQ: Bowl Cut
Are bowl cuts in style?
The awful, mushroom-like bowl cuts of the past should better be avoided, whereas the modern bowl cuts that have replaced them could be embraced wholeheartedly. The revised collection of trendy bowl cuts could be just what you've been hoping for in your new hairstyle: they are now messier and unquestionably cooler than its predecessors.
Is a two block haircut a bowl cut?
Two block is a modernized variation of the disconnected undercut. It's also devolved into its own set of wearing and styling possibilities. A two block haircut can also be defined as a mix of a bowl and an undercut because it frequently contains bangs that are as long as the top.
How do you cut a bowl haircut?
A bowl cut, also known as a mushroom style, is a simple hairstyle in which the hair in front is cut with straight bangs while the rest of the hair is left long, or the sides and back are cut equally short.
REFERENCES: