Searching for new updo hairstyles for medium length hair? You might think that medium hair would be more difficult to maneuver into a fancy updo, but you will be surprised. Medium length hair is perfect hair updos.
Updos for long hair are everywhere you look these days. Updos are for more than just formal occasions such as proms or weddings, but they are also perfect for summer days when you want your hair away from your face.
In fact, there are even some cute updos for short hair, as well. However, in this article, we are going to highlight some popular updos for medium length hairstyles.
From buns to knots to braids and twists and even ponytails, there is no limit to the number of updo hairstyles for medium length hair. Curls and waves will add more volume, while straight hair will slick back without a hitch. Highlights and streaks make for a fun, playful edge in a classic updo. Whether you are looking for a fancy chignon for a formal occasion or a sleek ponytail for every day, you will be sure to find the perfect updo here!
Ballerina Buns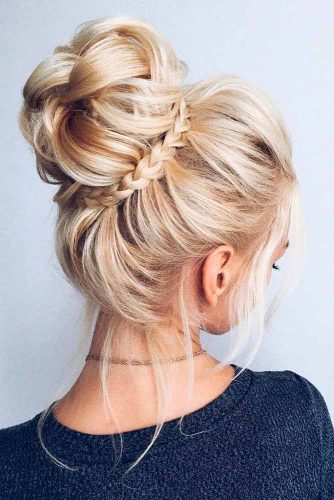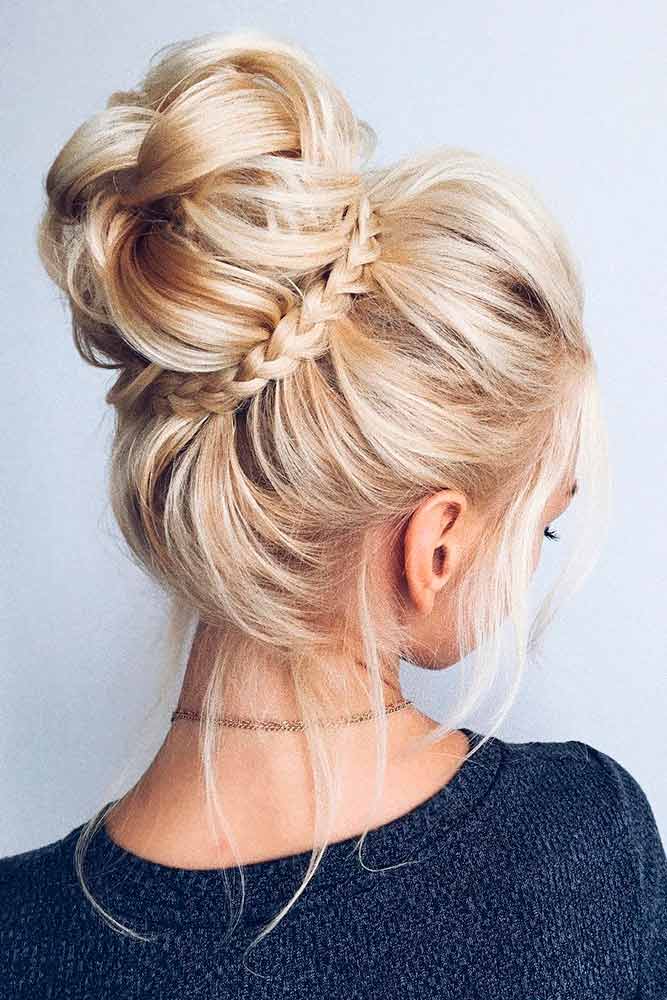 Source: xenia_stylist via Instagram
They aren't just for ballerinas. And yes, they may seem childish if they are pulled up tightly. But a modern style ballerina bun at the nape of the neck with soft wispy waves is quite elegant and chic.
Chic Chignon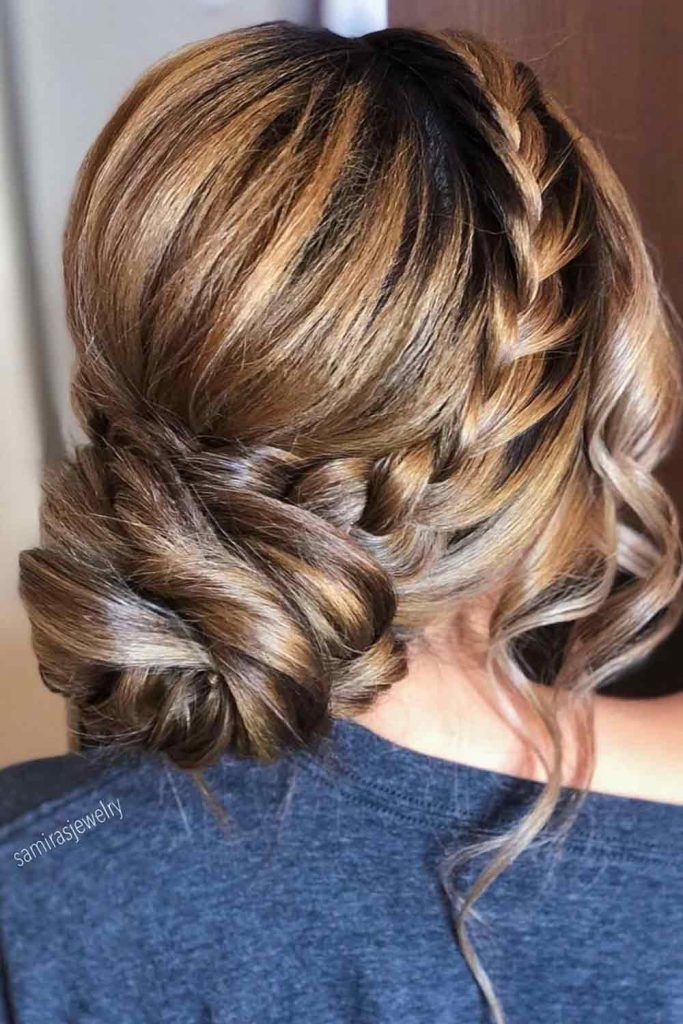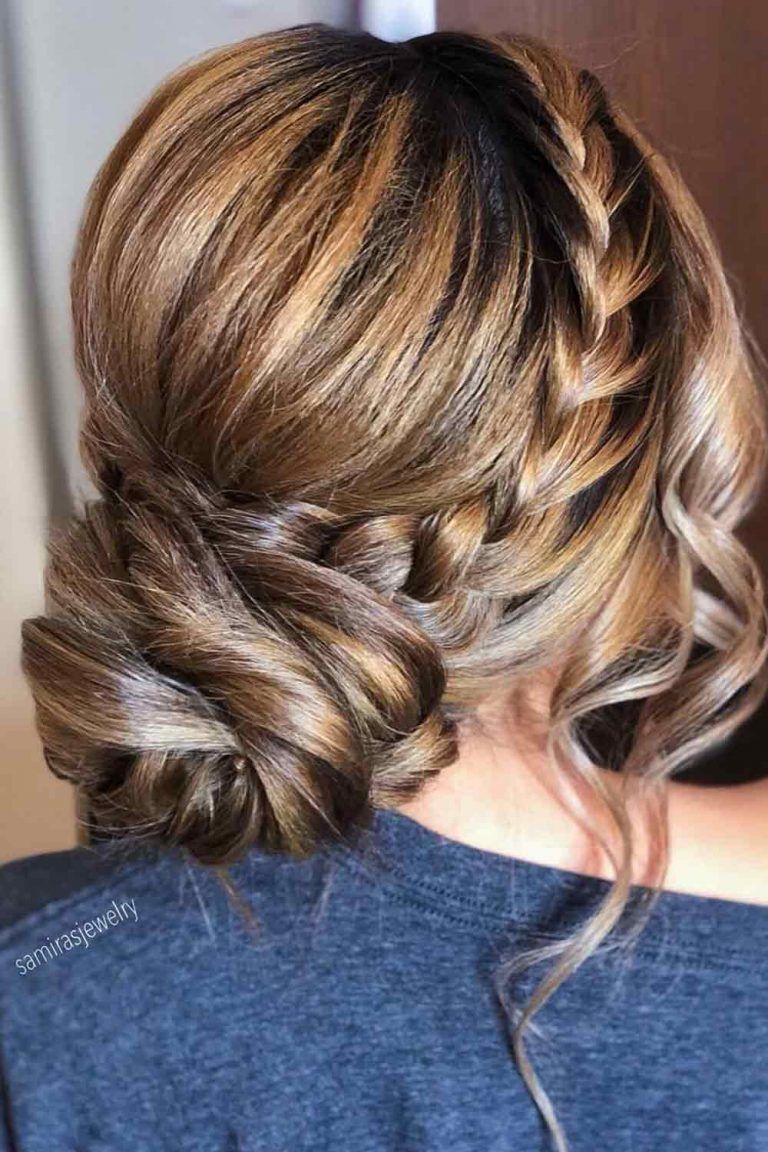 Source: samirasjewelry via Instagram
This style is perfect for mid-length hair as it adds a great deal of volume. And a chignon roll is so easy to do if you are short of time. Besides, it always looks sophisticated no matter what the occasion.
Updo With Loose Curls
Source: tonyastylist via Instagram
If you love romantic hairdos from classic Hollywood or Jane Austen films, you will adore this dreamy look. If you wish, you can adorn it with flowers or ribbons to make it appear even more elegant.
Updo With Fringe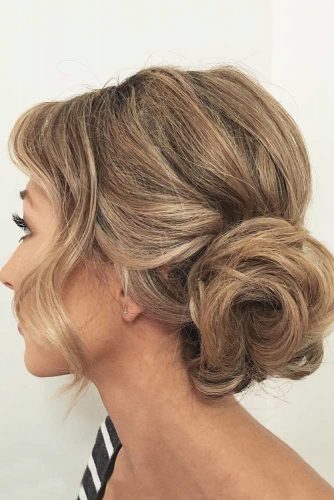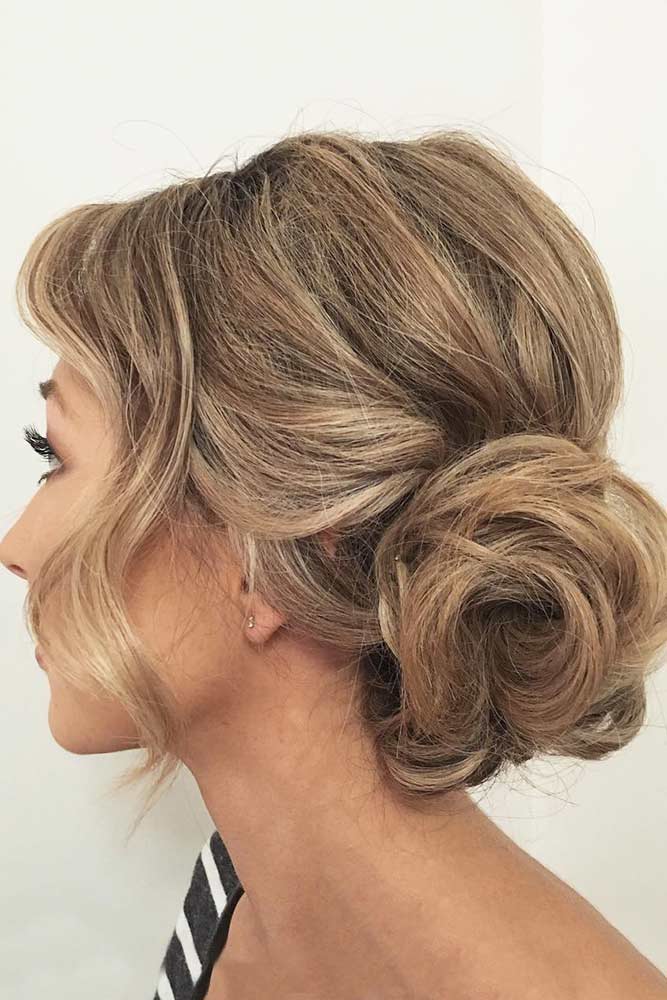 Source: luckycozz via Instagram
Bangs are totally in right now and they will nicely complement a low bun if you leave a few wispy tendrils loose to frame your face.
Messy Updo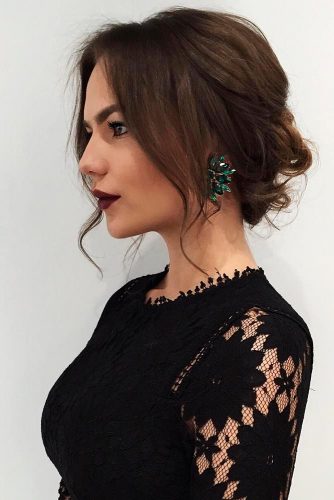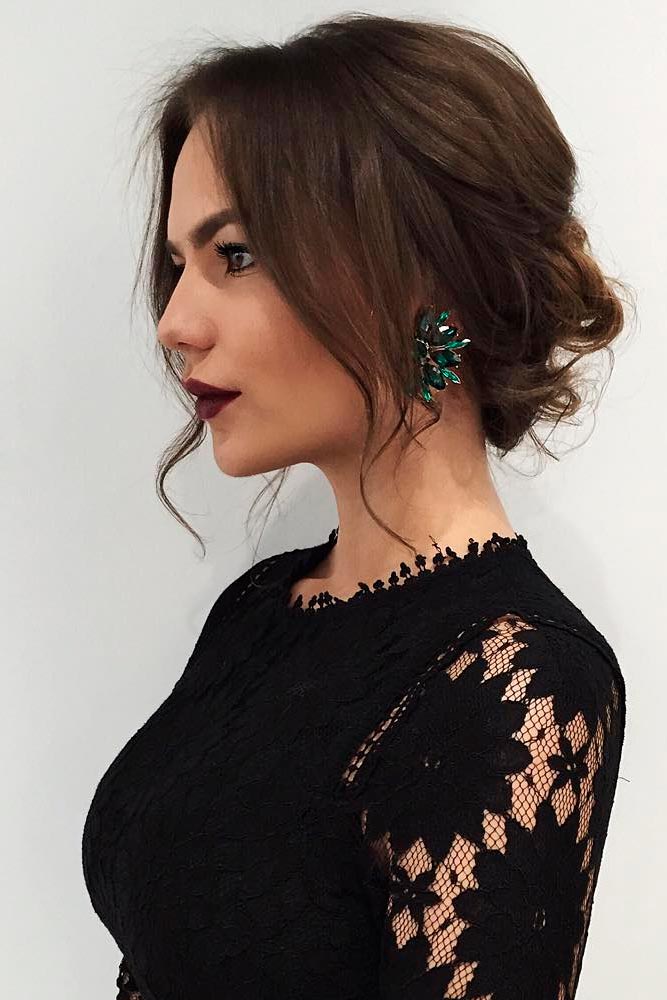 Source: Mysecretavenue via Instagram
Updos do not always need to be sleek and perfectly polished. Loose, low-key updos are quite trendy and acceptable for everyday wear.
Pin Curl Updo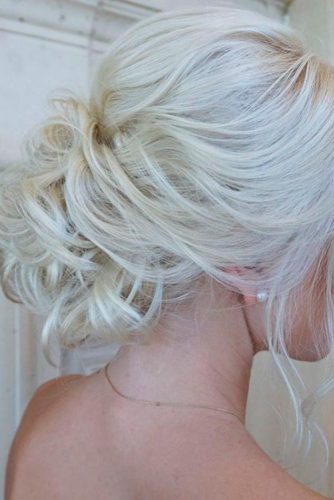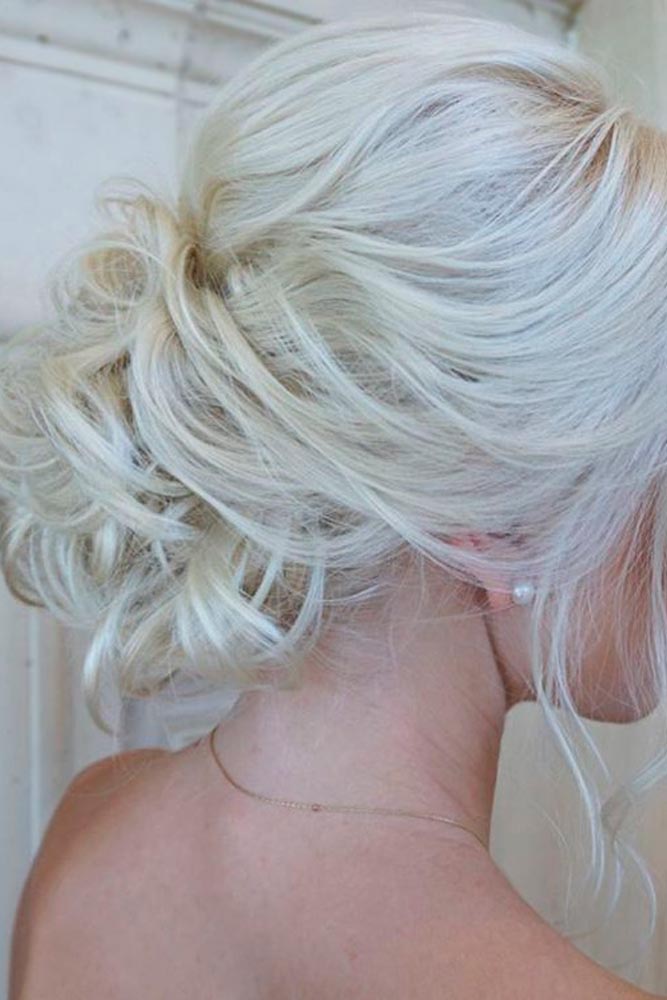 Source: Heidimariegarrett via Instagram
Flat pin curls are a great way to dress up an updo. If you feel the need to make it more intricate, why not weave in a few tiny braids, as well?
Twisted Half Updo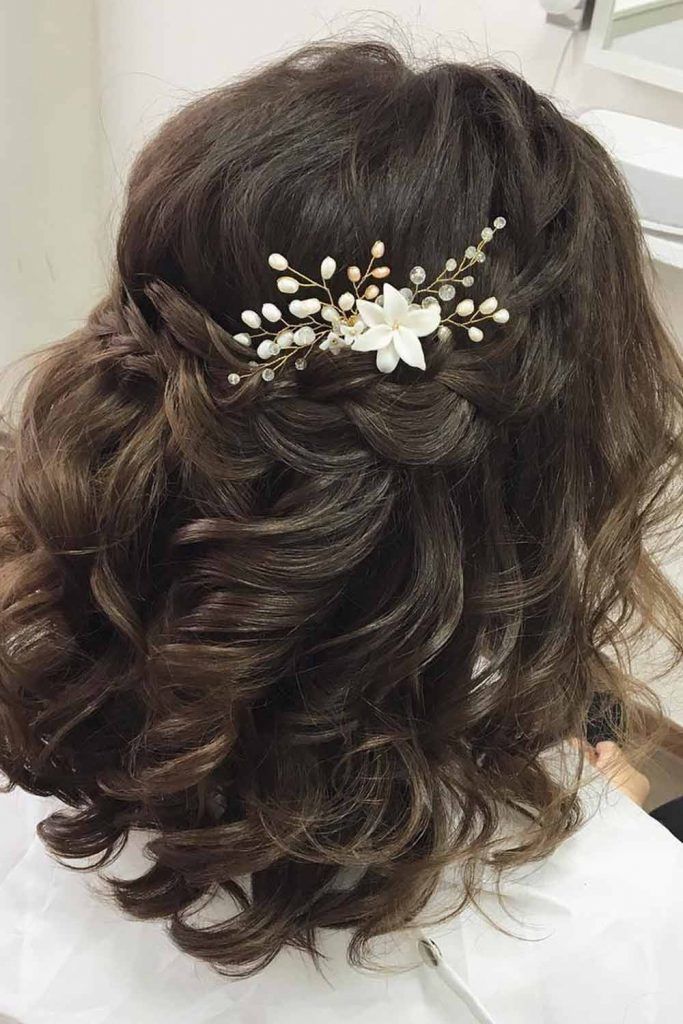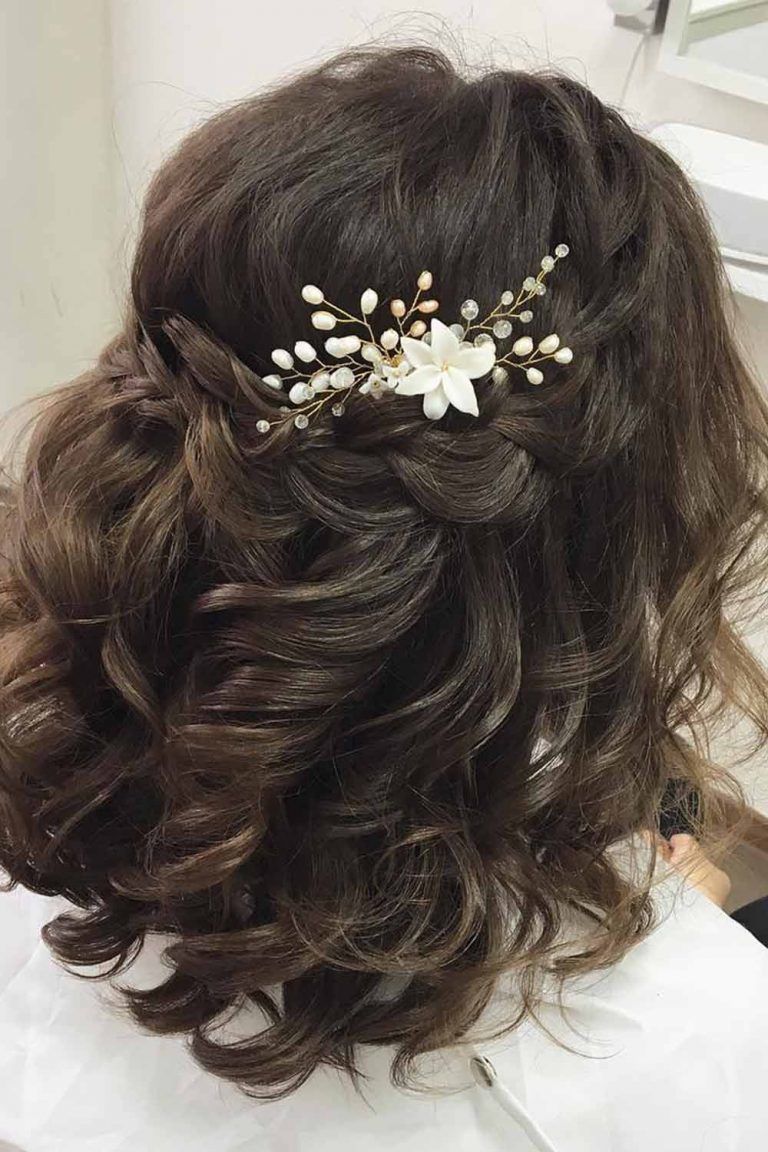 Source: xenia_stylist via Instagram
Half updos are great as they pull your hair away from your face but still leave some length. Twists and braids take a half updo to the next level and look even better with a two-toned balayage, colorful steaks, or even some fancy accessories.
Twisted Updo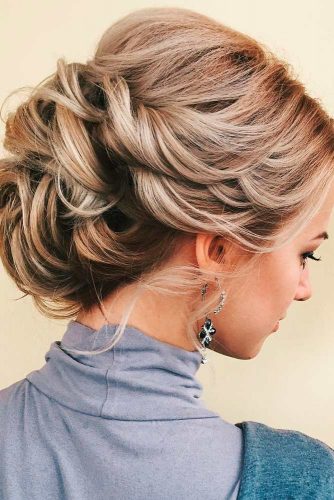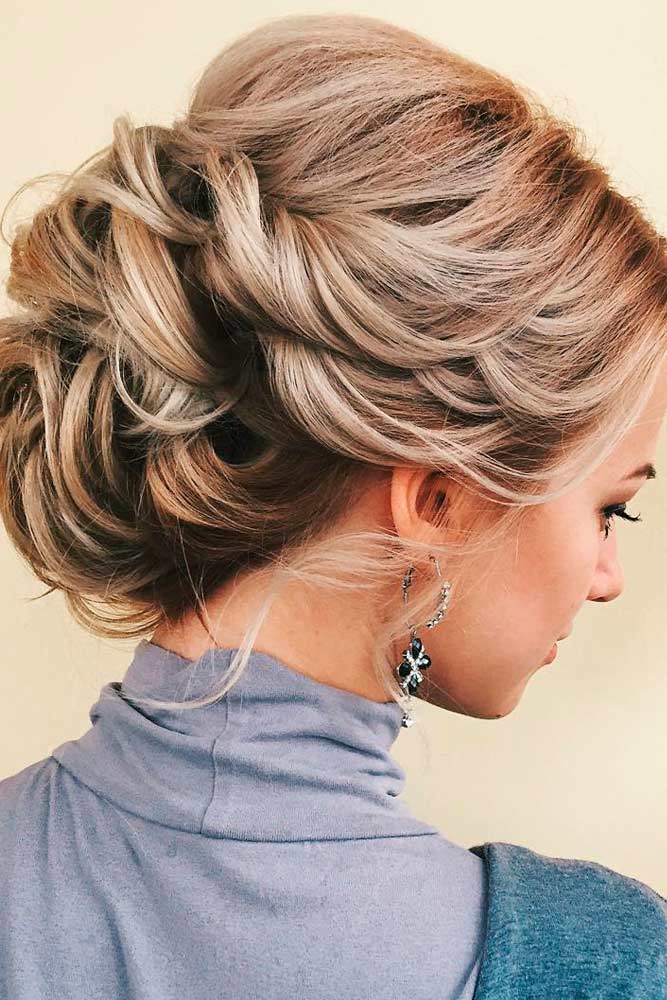 Source: larougeartistry via Instagram
It is one of the easiest updos for medium length hair: simply twist your hair and pin it back. You can be totally creative and experiment with different twists and turns to create the perfect imperfect updo style.
Loose Waves with Floral Headband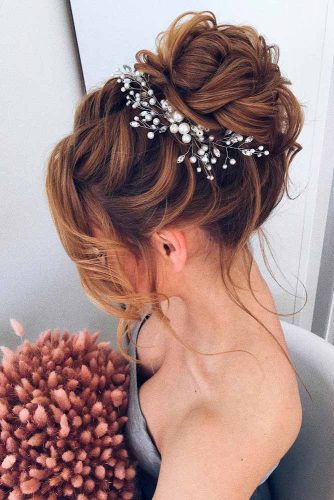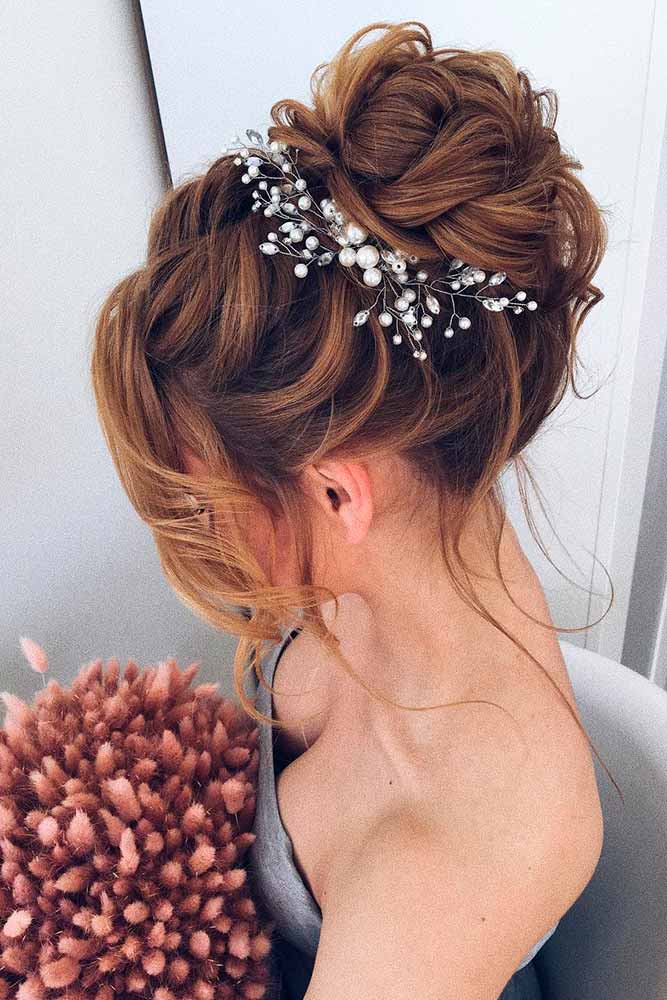 Source: xenia_stylist via Instagram
A pretty jeweled or floral headband can totally dress up a messy, wavy updo. Simply add a fancy headband to elevate a casual look in just seconds.
French Roll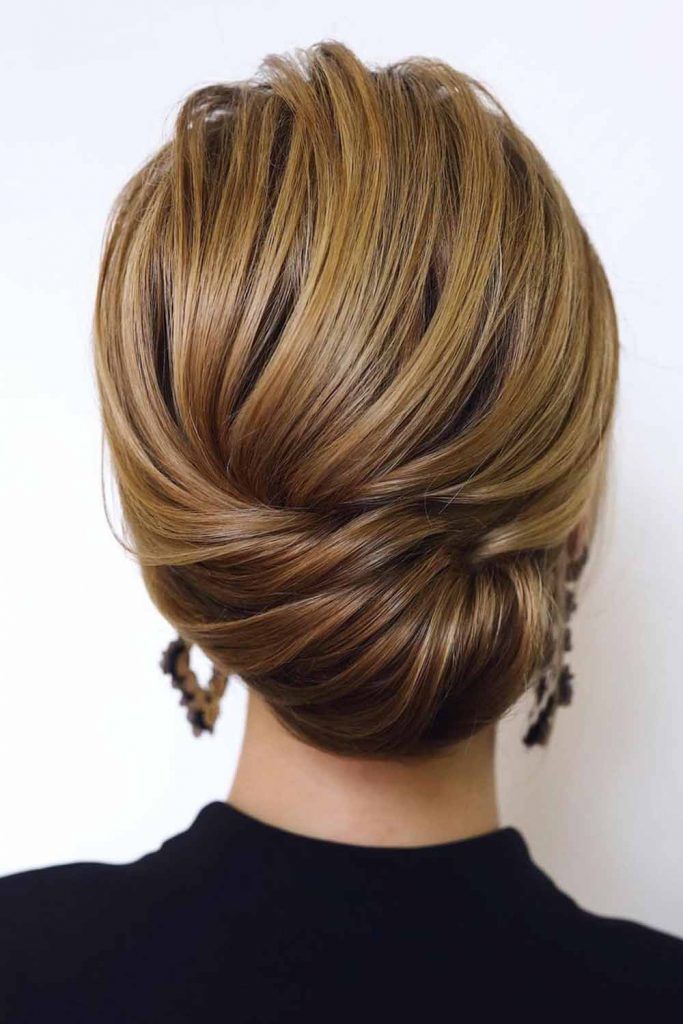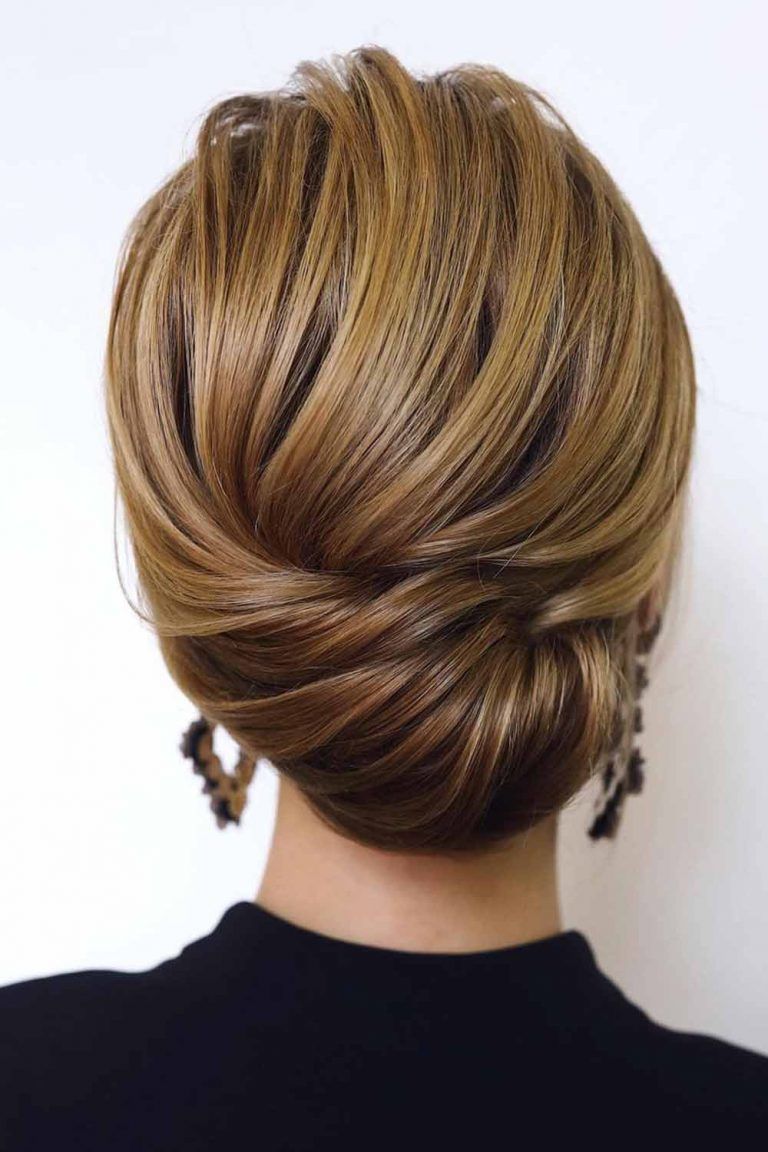 Source: tonyastylist via Instagram
You can't go wrong with the classic French roll. It only takes 5 minutes and a few hairpins. This look will never go out and it works for a myriad of occasions from a day at the office to a more formal event.
Updo With Ribbons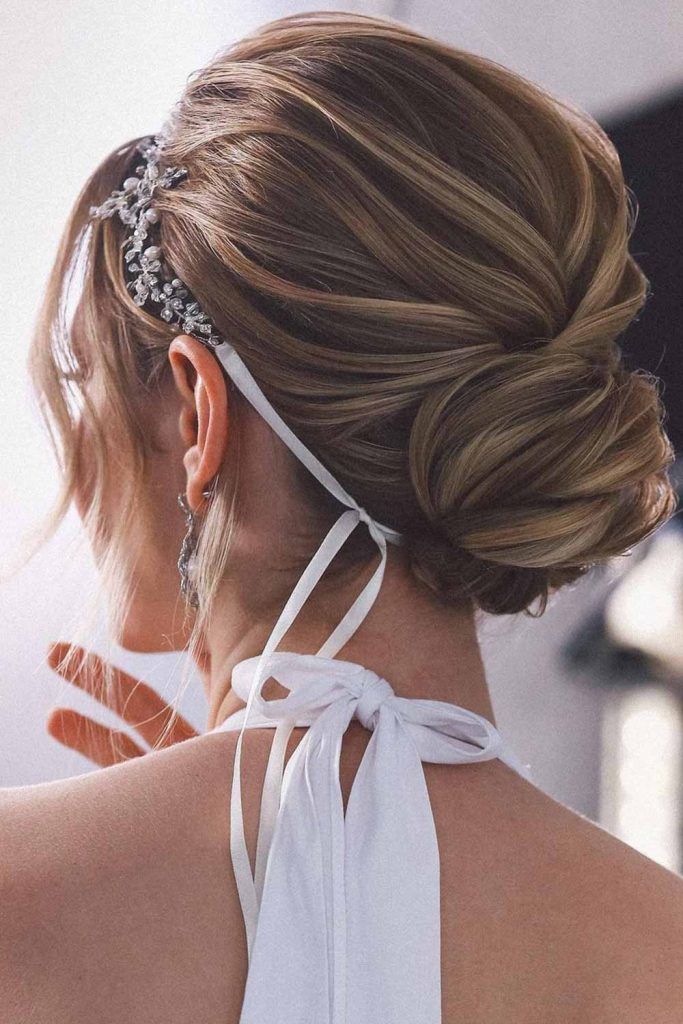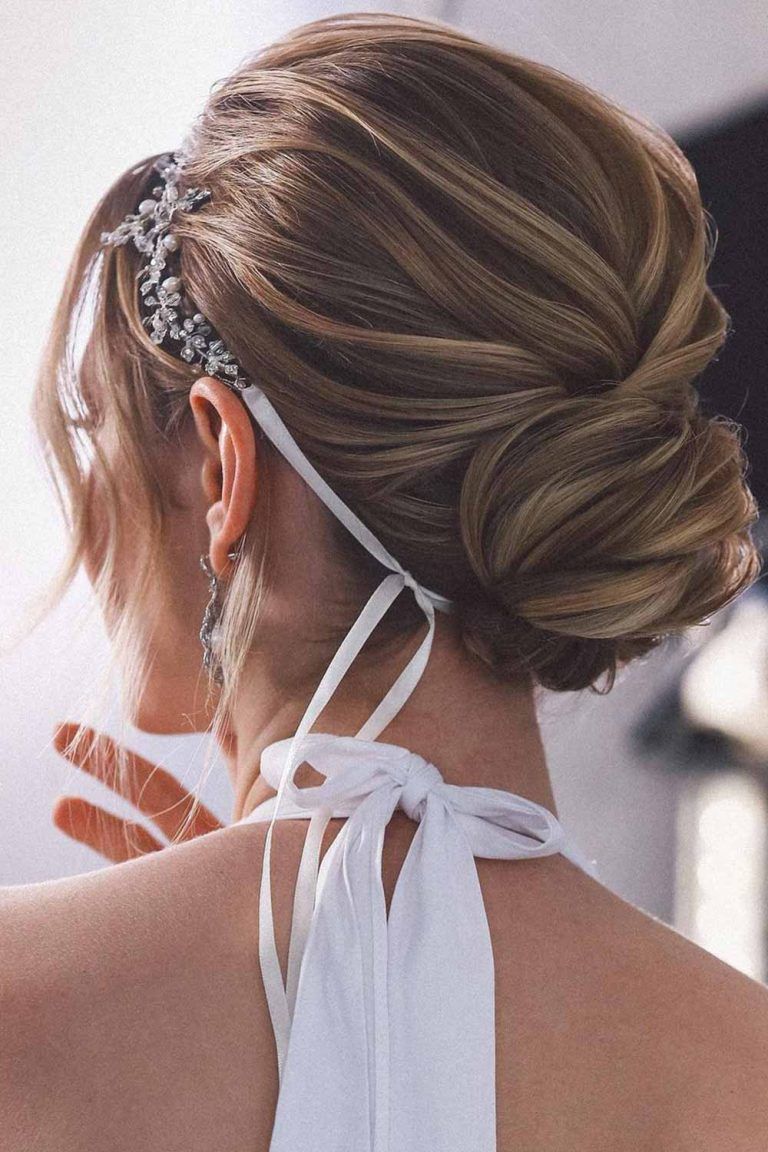 Source: tonyastylist via Instagram
A winding ribbon delicately woven through a braided updo will add a touch of class. If the occasion is formal, add a few sprigs of a baby's breath or a flower to kick it up a notch.
Ponytails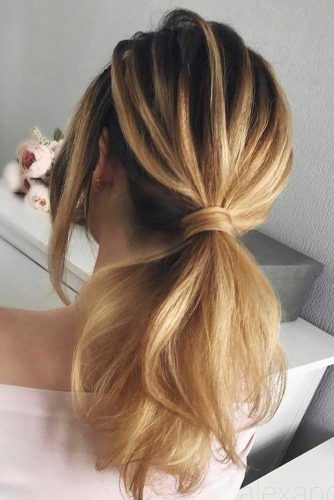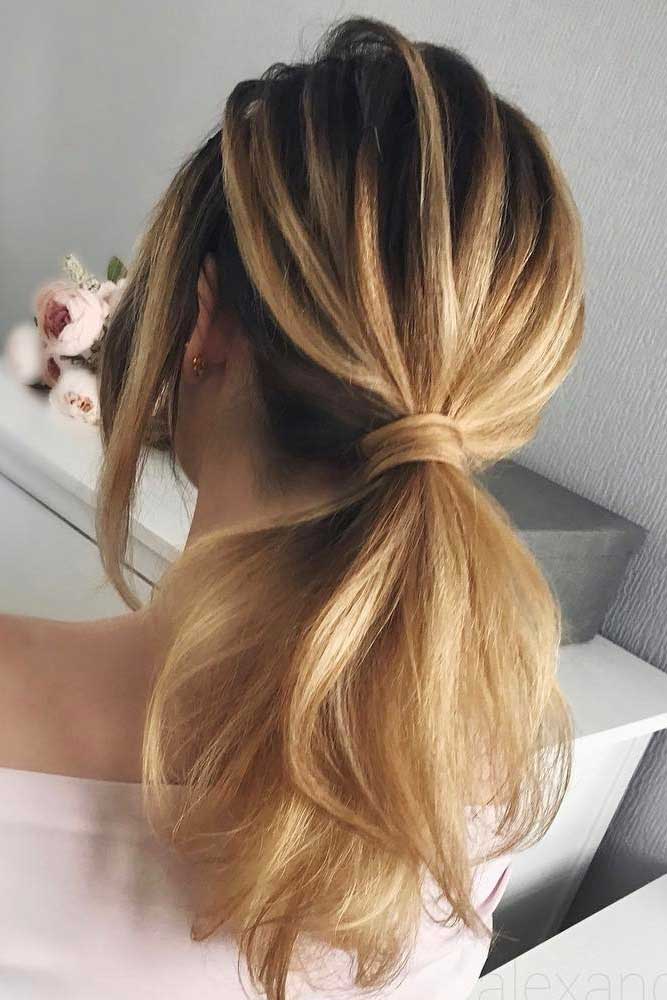 Source: Alexandra_poslavskaya via Instagram
We can't neglect the ponytail. A pony is one of the most versatile hairstyles. From high, sleek ponytails to elegant twisted ponytails to edgy ponies with braids, the possibilities are limitless!
Twisted Updo with Jeweled Barrette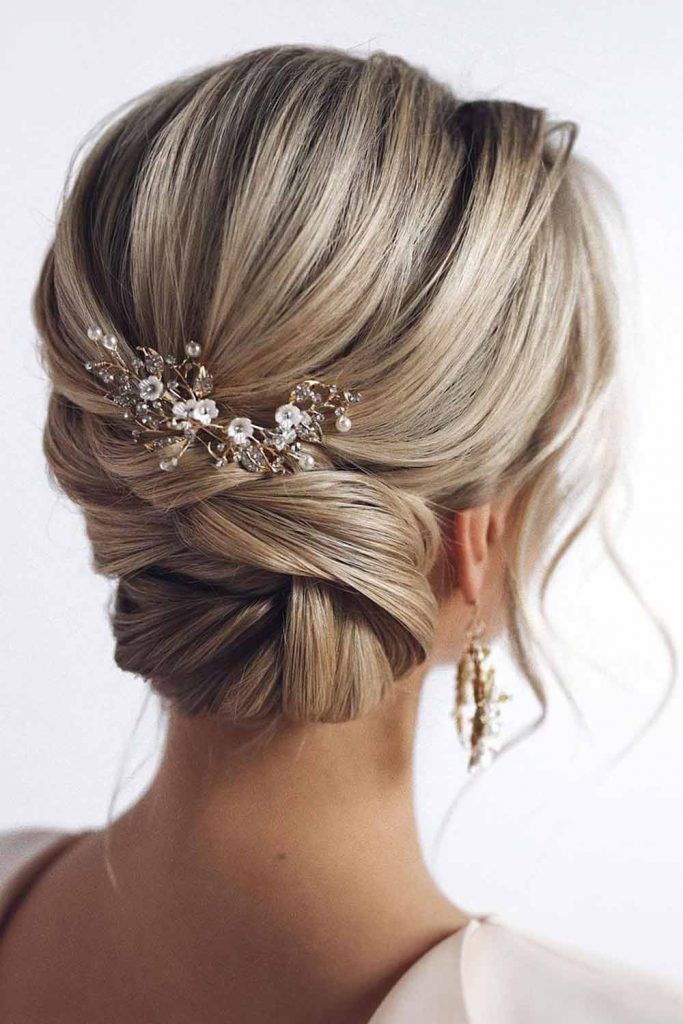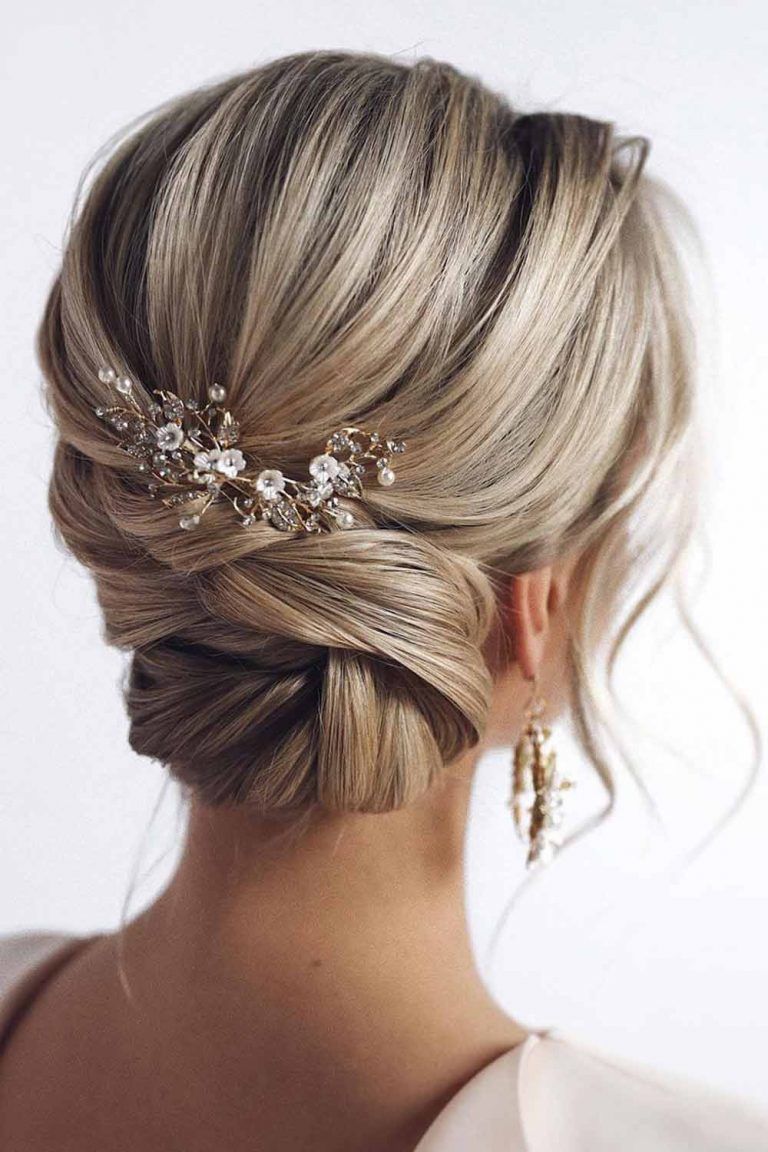 Source: tonyastylist via Instagram
This glamorous look with tightly pinned curls at the nape of the neck is even more exquisite with a fancy jeweled barrette that holds it in place.
Accessorized French Roll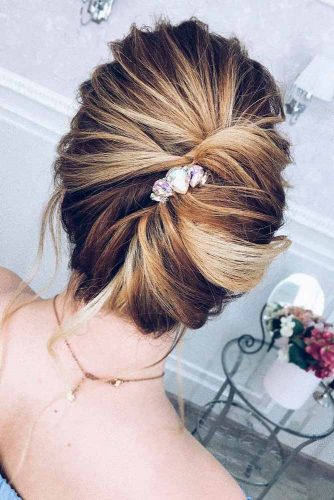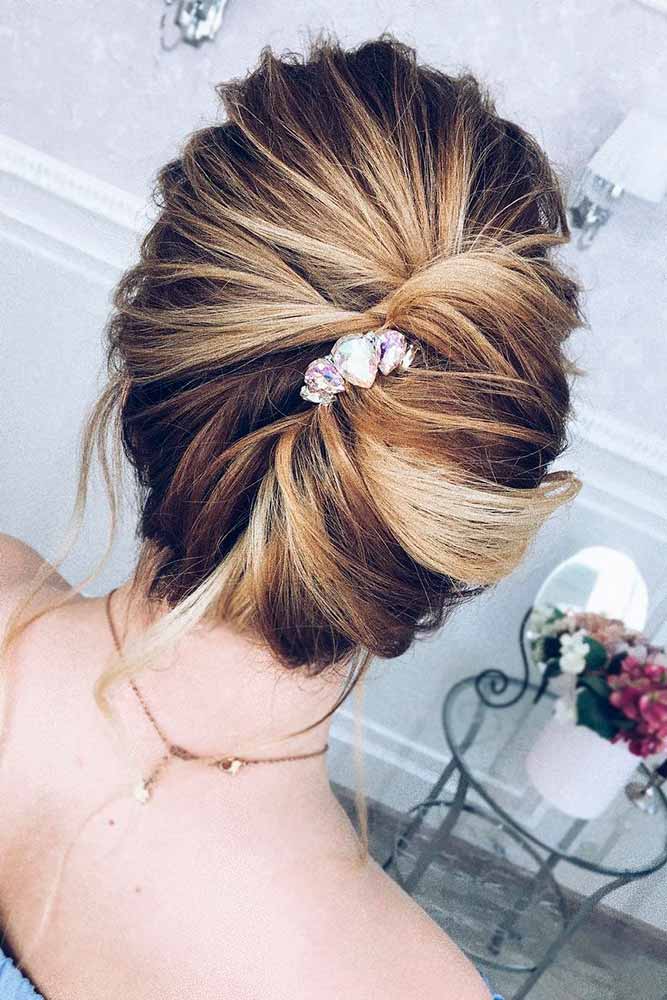 Source: xenia_stylist via Instagram
Messy updo hairstyles seem to never go out. And if you wish it to appear messy yet sophisticated, the easiest way to achieve this effect is by adding an accessory.
Space Buns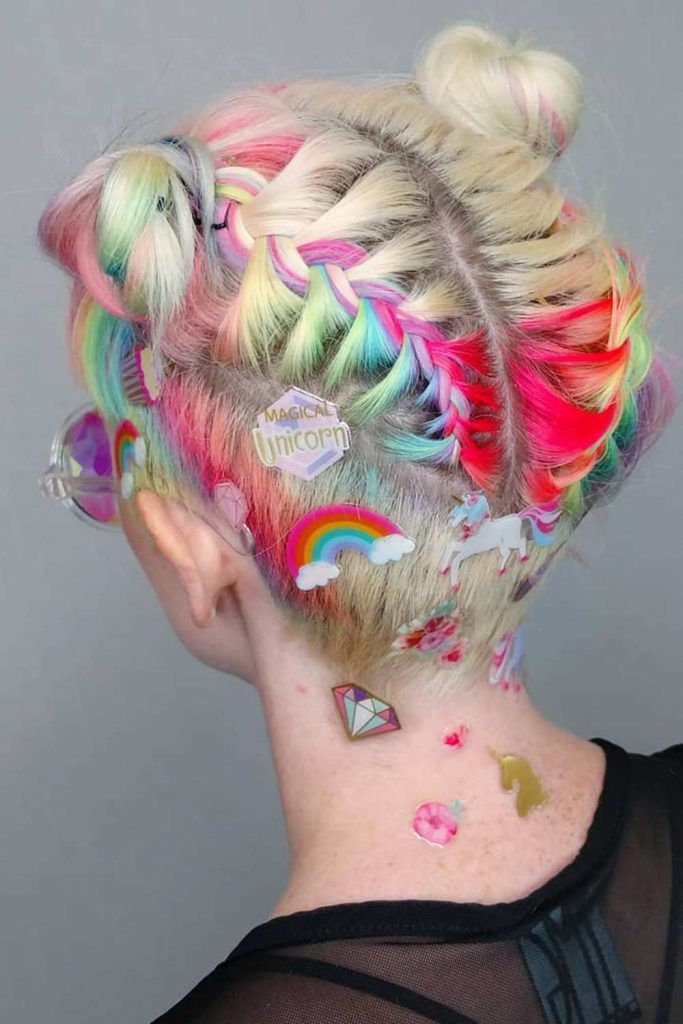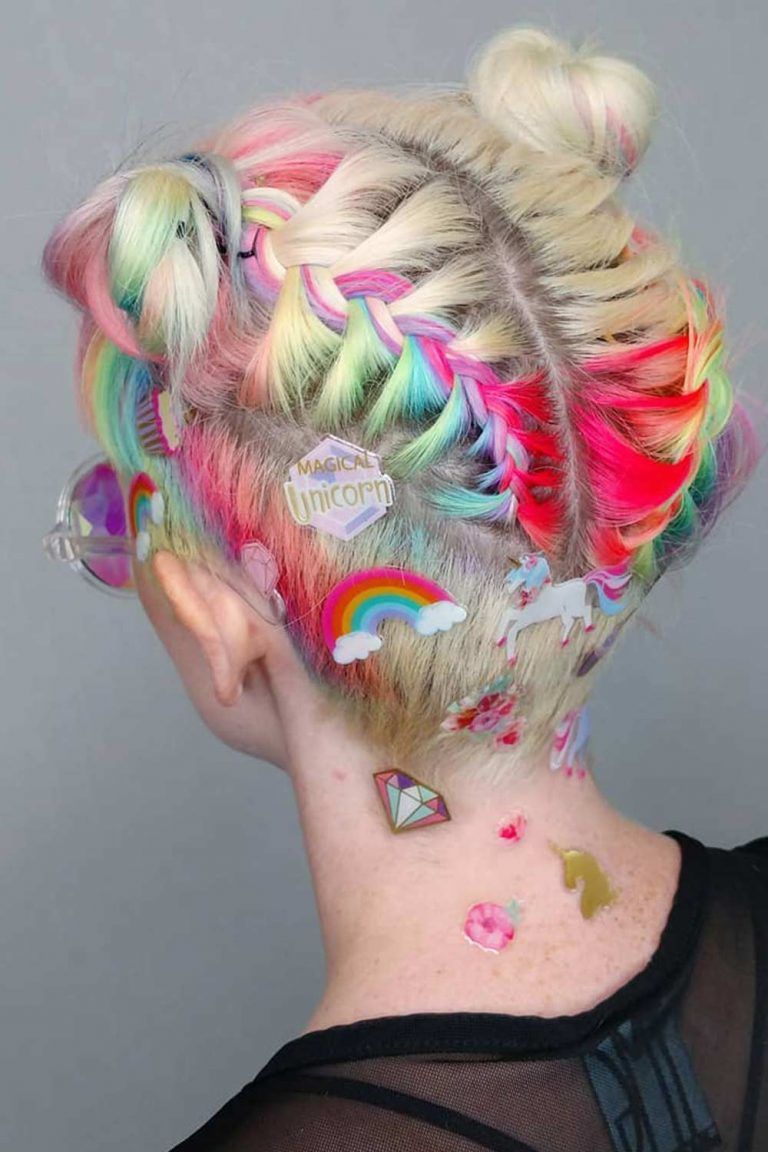 Source: adlydesign via Instagram
Do you know that the space bun trend dates back to the 90s? The look became popular after Star Wars won the hearts of millions of people with Princess Leia wearing a similar updo.
Triple Stacked Bun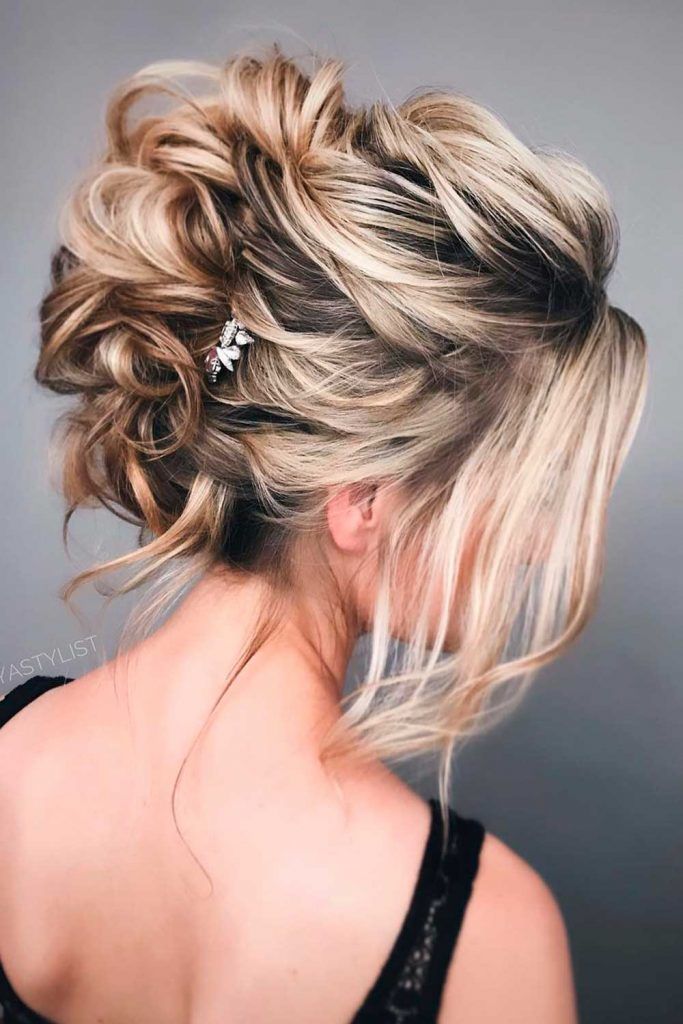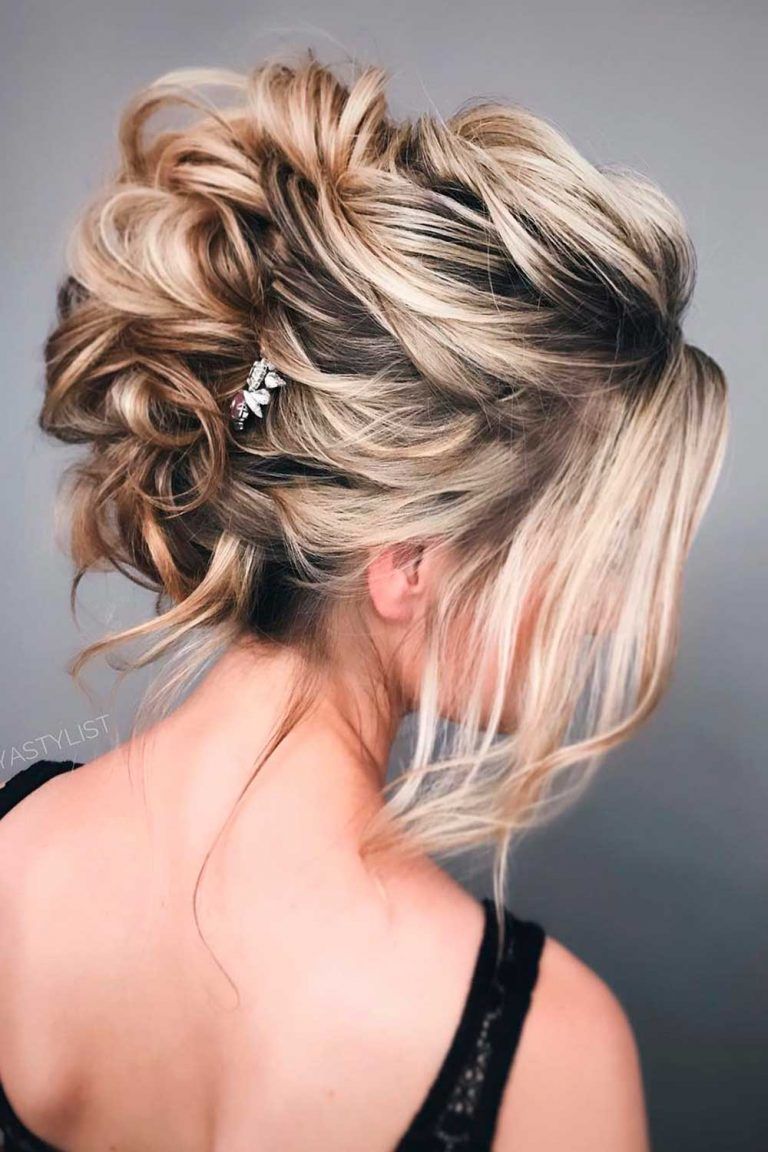 Source: Tonyastylist
What can be prettier and more convenient than a bun? Only a triple stacked bun hairstyle. It's also a popular look among women who have white collar jobs.
Halo Braid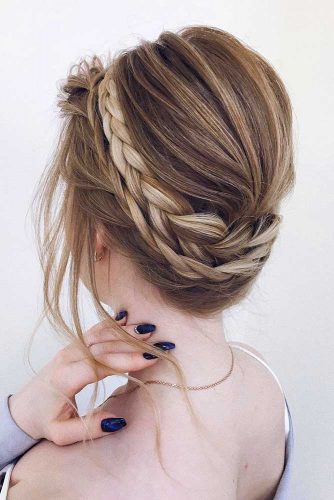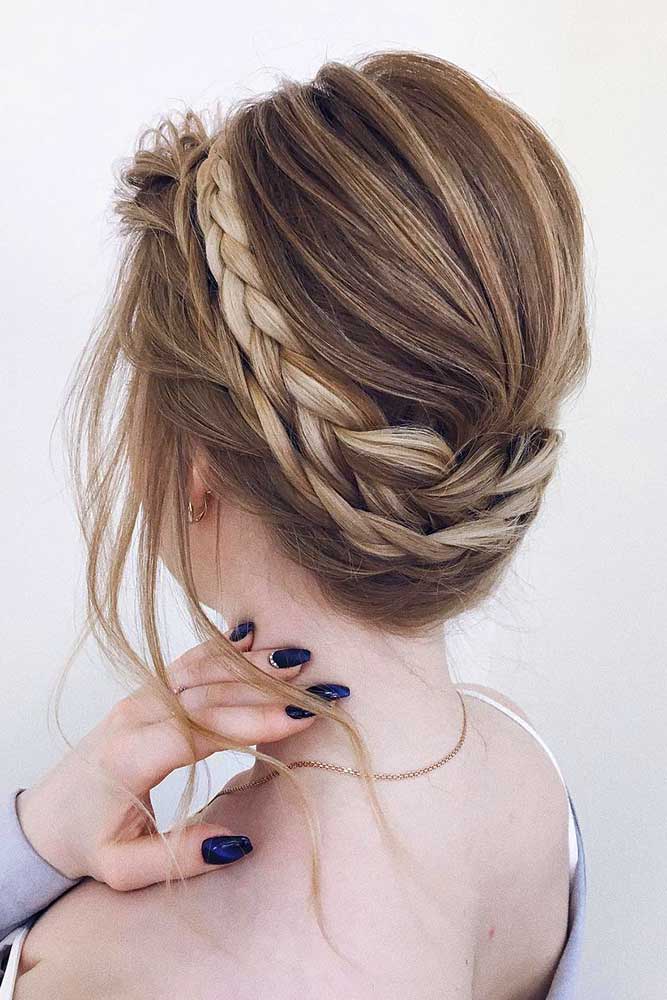 Source: xenia_stylist via Instagram
A halo braid helps to create a carefree, somewhat relaxed image. If that's the effect you are looking for, go for it. Leave out several face framing strands for the hairstyle to be more romantic.
Soft Low Bun With Accessories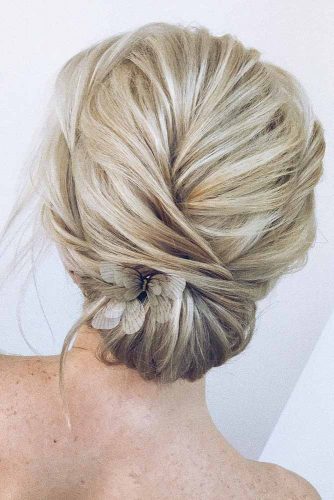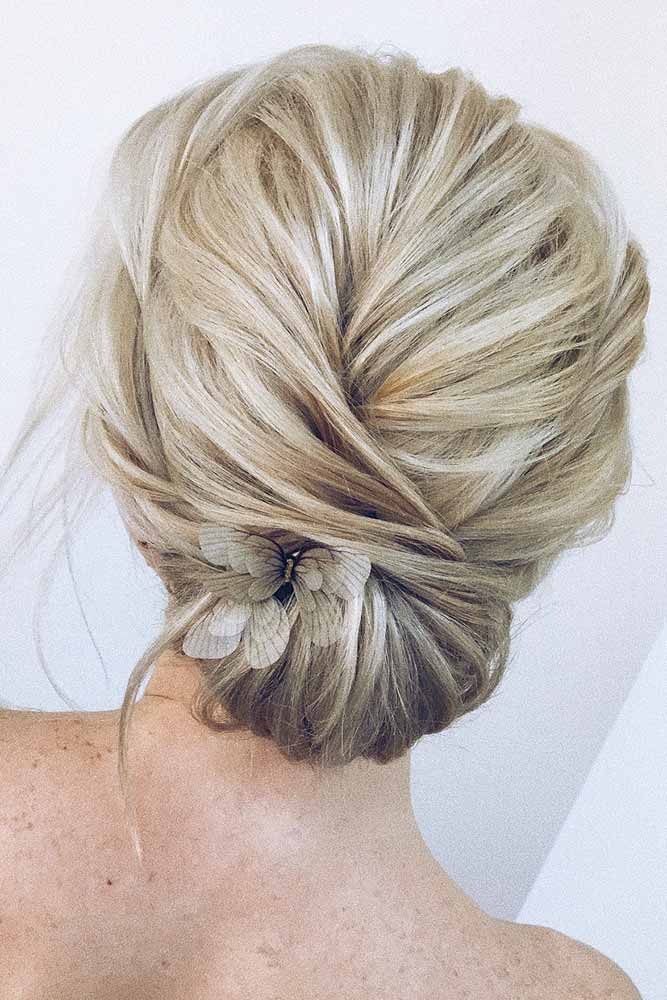 Source: xenia_stylist via Instagram
This soft low bun with barely visible accessories will work great for you in case you have a strict dress code at work but you are a rebellious soul by nature. It's a formal hairstyle with a spicy detail.
Colorful Braided Bun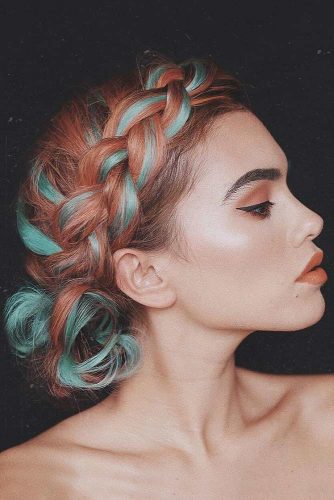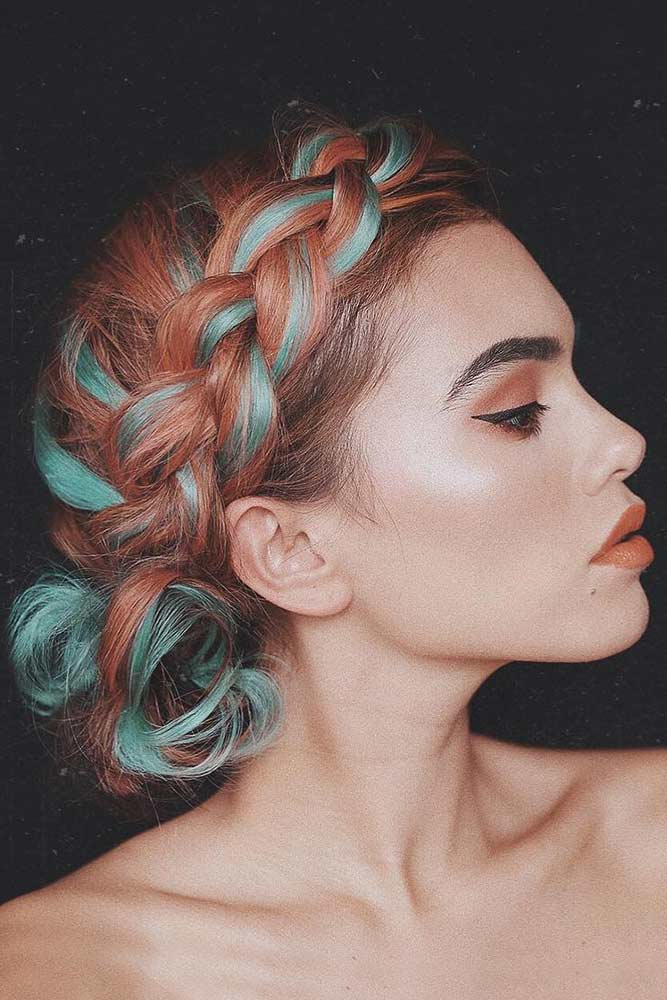 Source: xandervintage via Instagram
This braided bun is so bright that all eyes will be on you wherever you go. Soft red hair with light blue highlights stands out even more when the highlights pop through the braid.
Vintage Victory Rolls Updo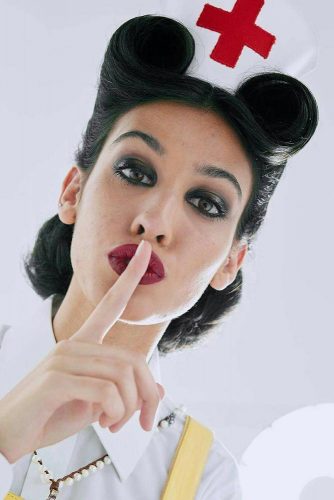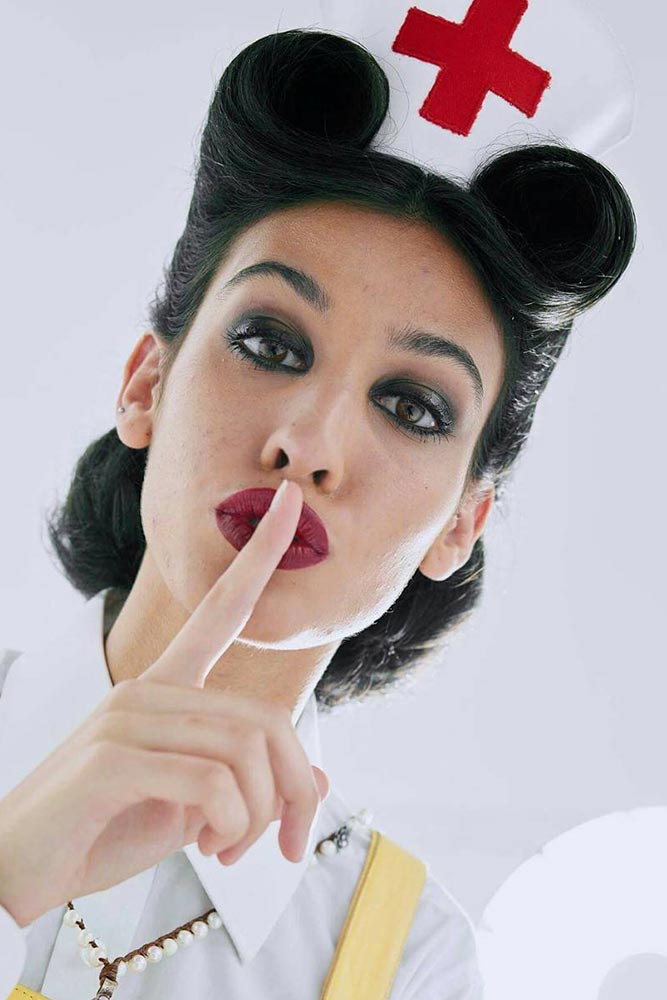 Source: madmoisellehairstylist via Instagram
Victory rolls are the basis of the pinup style. Take sections from the front of the head and hold it back in a ponytail. Split it in half and you have the two parts you'll be work with. Using a back-combing and hairspray along the entire length of the hair then starts to curl around, using your fingers to help guide the strands in right place. When you have done, fix hair with bobby pins.
Double Braided Updo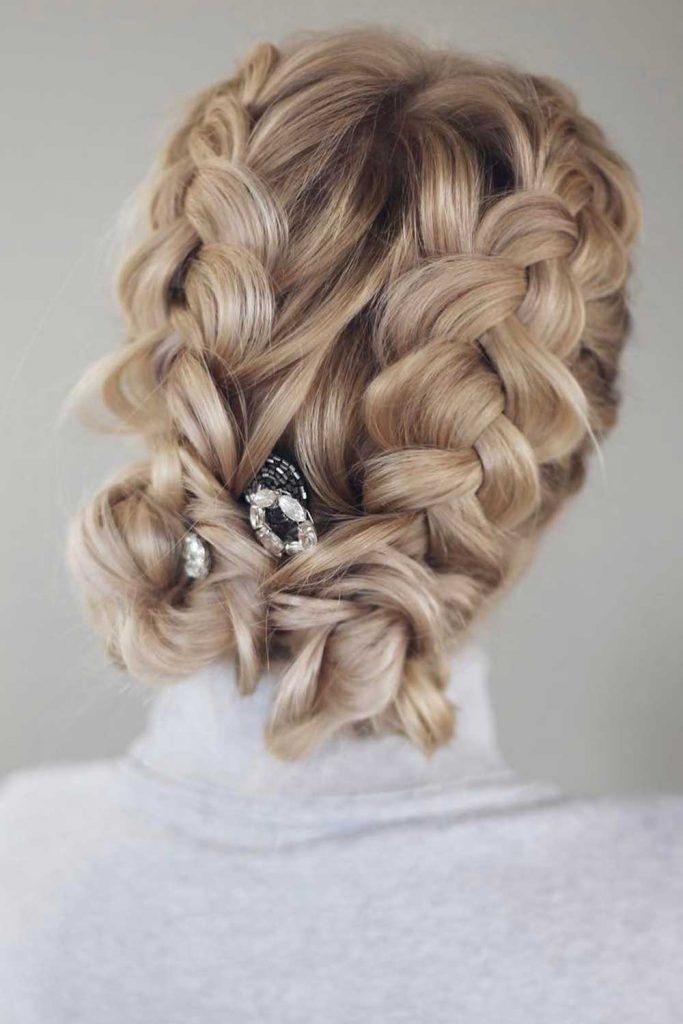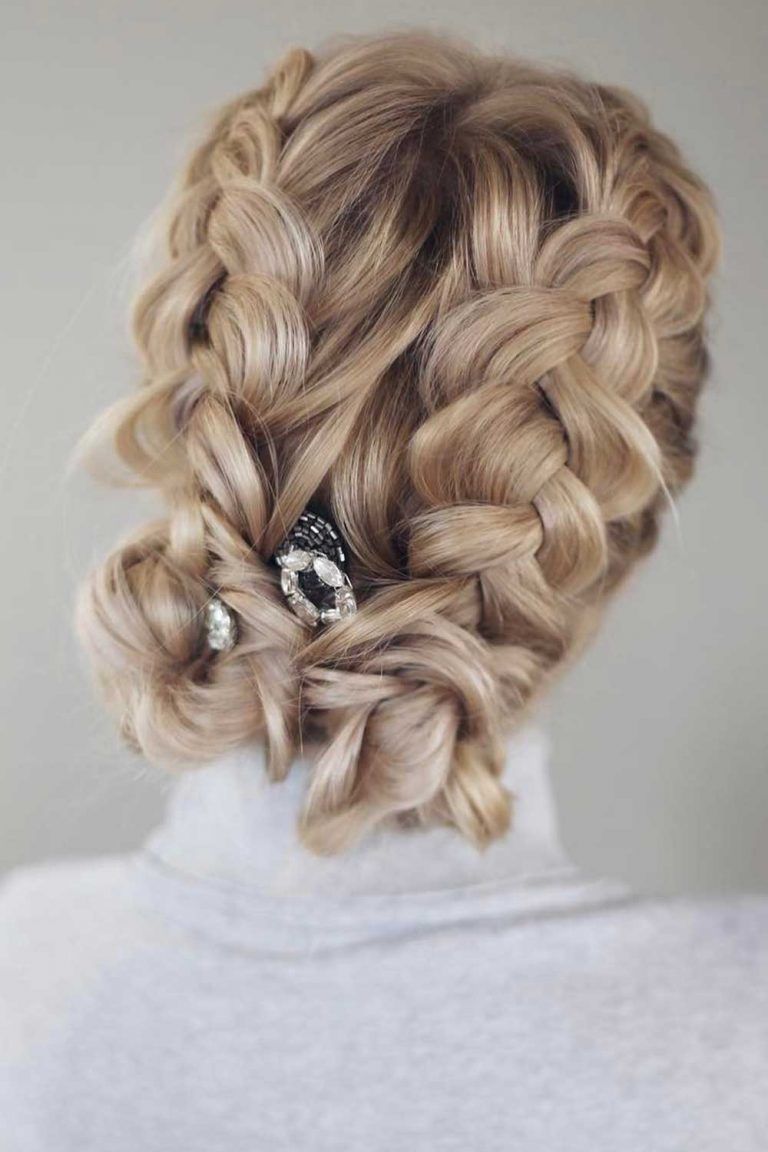 Source: tonyastylist via Instagram
Featuring two elegant braids, the French braid, and the Dutch Braid, the style is great for a formal event such as wedding or prom. To start, section out the bangs and a few pieces of finer hair in the front, then apply a good texture product through your entire head. Next, take a horizontal section above the occipital bone from temple to temple.
Then start on one side and make a French braid that goes to the other side. But only use hair from that same side for the braid. Do the same in the opposite direction but make a Dutch braid instead. Then hide the ends of both braids by tucking and securing them with a hairpin. Curl any remaining tresses with a curling iron into sexy loose curls.
Soft, Curly Updo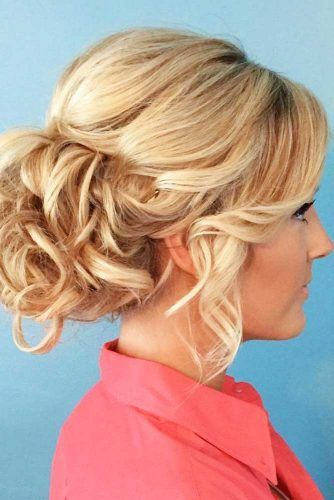 Source: Hairbymelb via Instagram
With soft, loose tendrils framing your face, this stylish updo is both unique and requires little time and effort. Start with a good curl defining product and scrunch your hair to create as many curls as you can. Then, using a diffuser, dry your curls into luscious, thick curls. Leave enough curls to gently frame your face and twist the remaining hair delicately into the back. Secure it with bobby pins or a clip.
Cascading Curls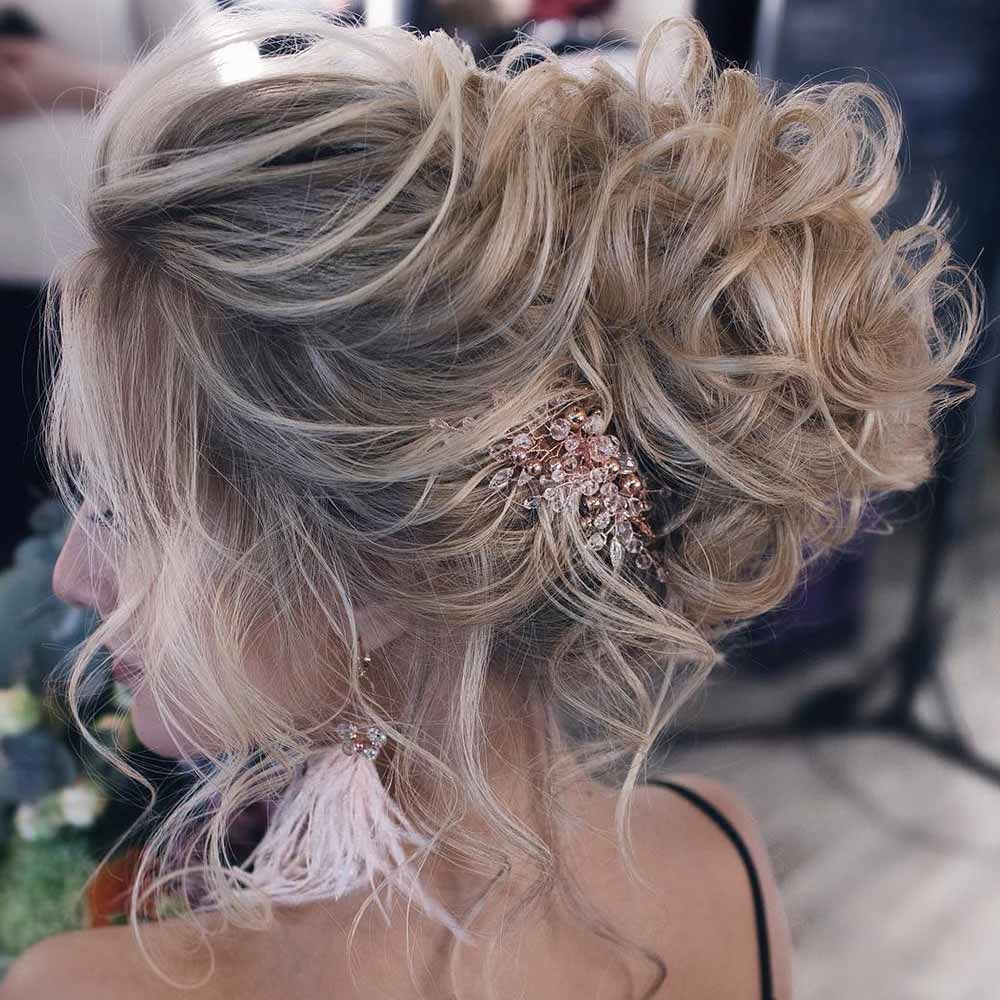 Source: tonyastylist via Instagram
If you are looking for classy updos for medium length hair sporting your luscious locks, try cascading curls. This style works great for formal occasions. The straight and sleek style of the back is a great contrast for the gorgeous cascading curls on the top of your head.
This style works best for those with naturally curly hair. To achieve this look, blow dry your curls with a diffuser, after applying a curling and styling mousse or gel. Then section out the topmost portion of your curls, gently, and pin them out of the way temporarily.
Next, brush your hair up and over to one side, above the ear, brushing as tightly and flatly as you can. Twist into a tight bun and secure with pins and a hair tie. Use pins to create any style you wish with the curls in the bun, allowing a few strands to fall out if desired. Next, remove the section you secured previously and let those curls fall gracefully on top of your head creating a flirty, sexy look.
Elegant Twisted Bun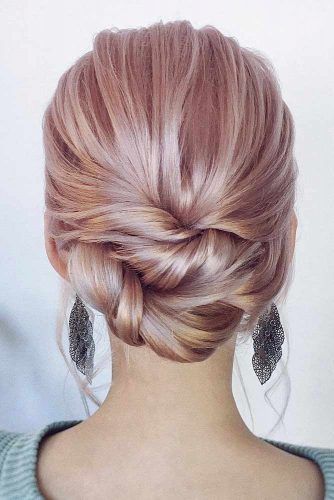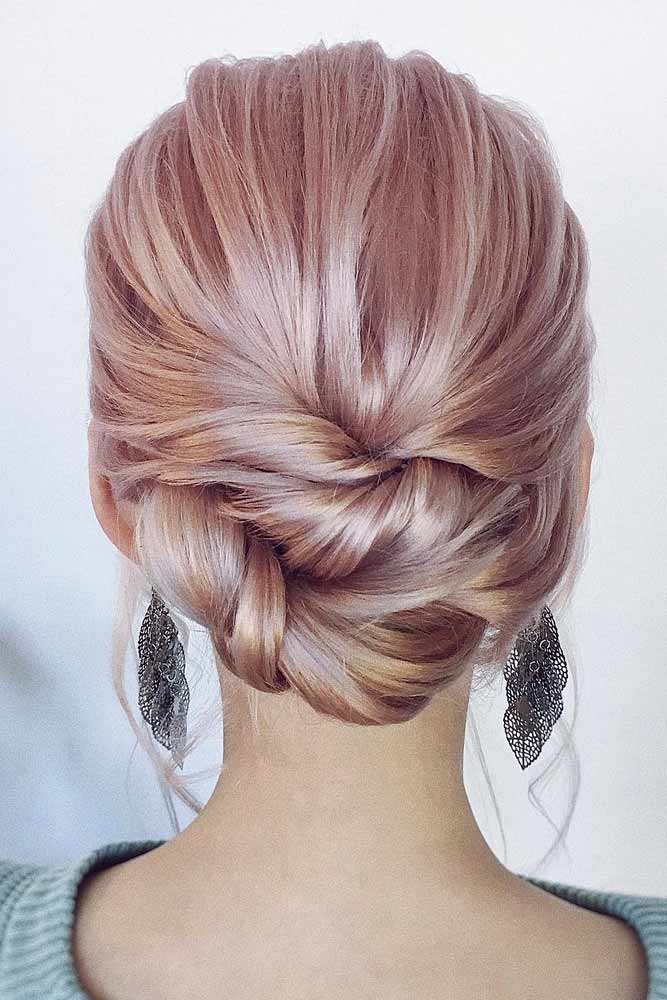 Source: dusya_leytman via Instagram
This sleek bun works great for an evening out or special event as it is extremely stylish and sophisticated. First, apply a texture product to your hair, and make a side part. From both sides, take a section of hair from near the temple and secure with a hair clip. Then, where it is parted, twist a section of hair.
Then pick up another section from the same spot, near your hairline and twist it once with the first. Do the same with the remaining hair working toward the back, leaving the hair on the temple out. Once all of your hair is twisted back (with the exception of the section remaining near the temple), secure it tightly with elastic.
Repeat with the other side until the two sections meet. Then remove the twist from the first, secure both twists together and then tie with the hair tie, rolling the twists into a bun and securing with bobby pins. Curl any remaining sections with a medium-barreled curling iron and spray the entire head with a good finishing spray.
Braid Into High Bun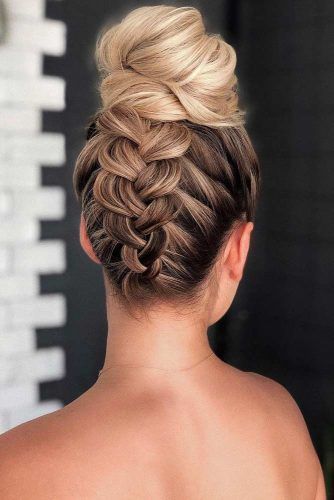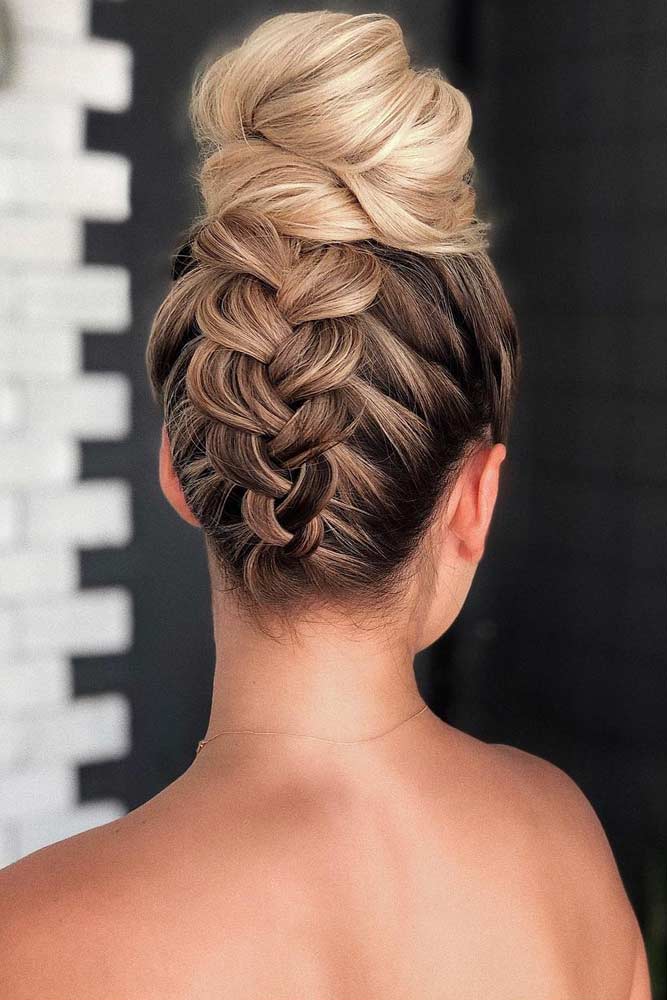 Source: michellmarcalhair via Instagram
Braided updos for medium length hair look super cool and feminine. For example, a braided crown that involves French braids is quite trendy this season. However, if you do not like French braids, you can pull it off with any braids you wish, even with regular ones. Divide your hair into 2 pigtails, and let them be low.
Braid both tresses and then secure them with hair elastics. Pull the braids up in different directions over the head and secure them with bobby pins – that is what they call a boho chic.
Voluminous Low Bun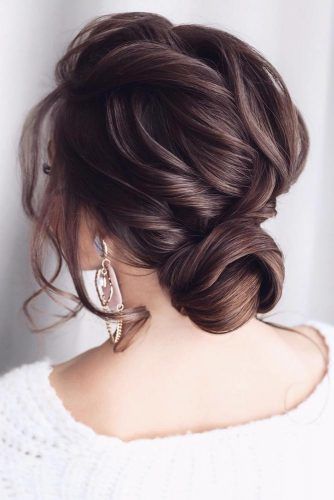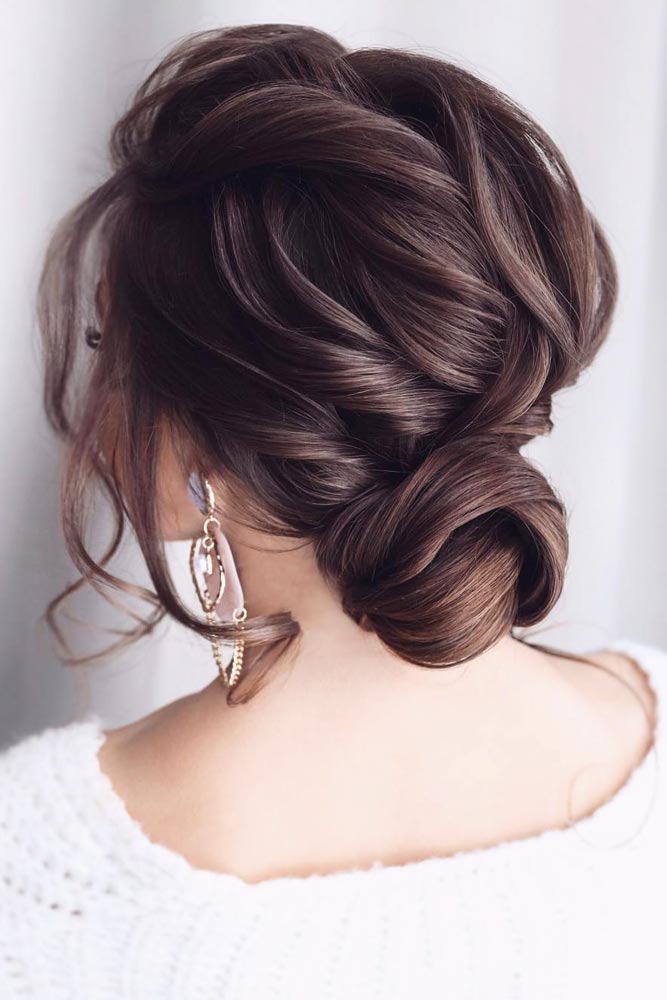 Source: tonyastylist via Instagram
Updos are ideal hairstyles for special occasions. An updo allows you to show off your gorgeous hair as well as open your shoulders for a sexy effect.
Blonde Buns For Your Medium Length Hair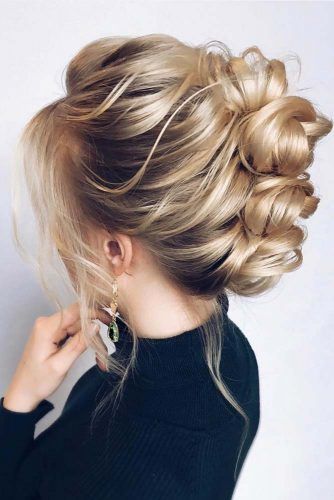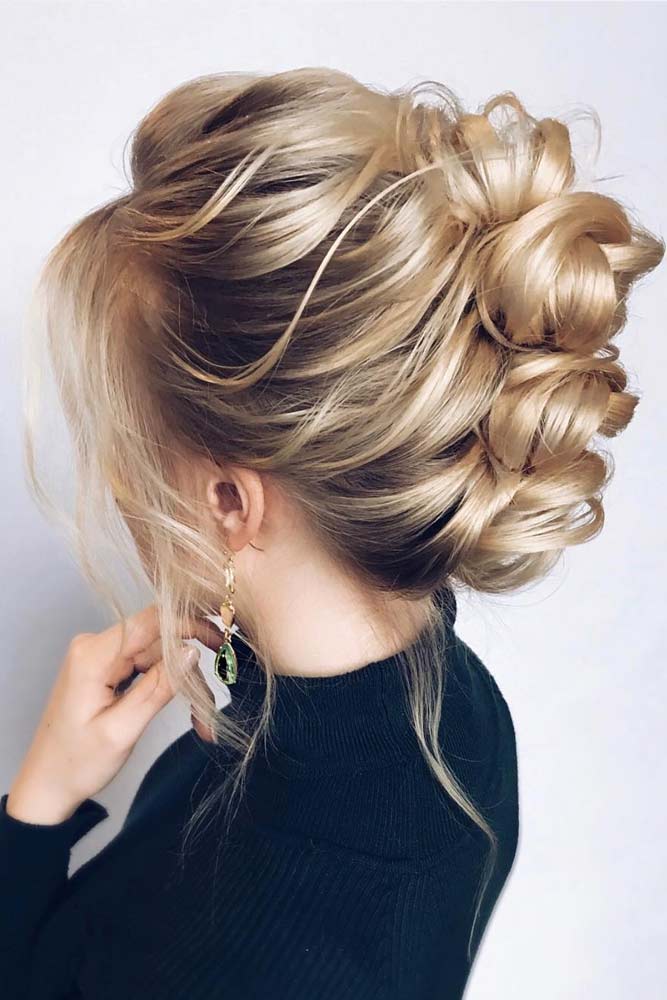 Source: hair_vera via Instagram
And more intricate long, medium, and short hair updos would be great for special events. These hairstyles involve more elements and look really gorgeous. Braided messy buns are among them.
Try French Braids For That Special Day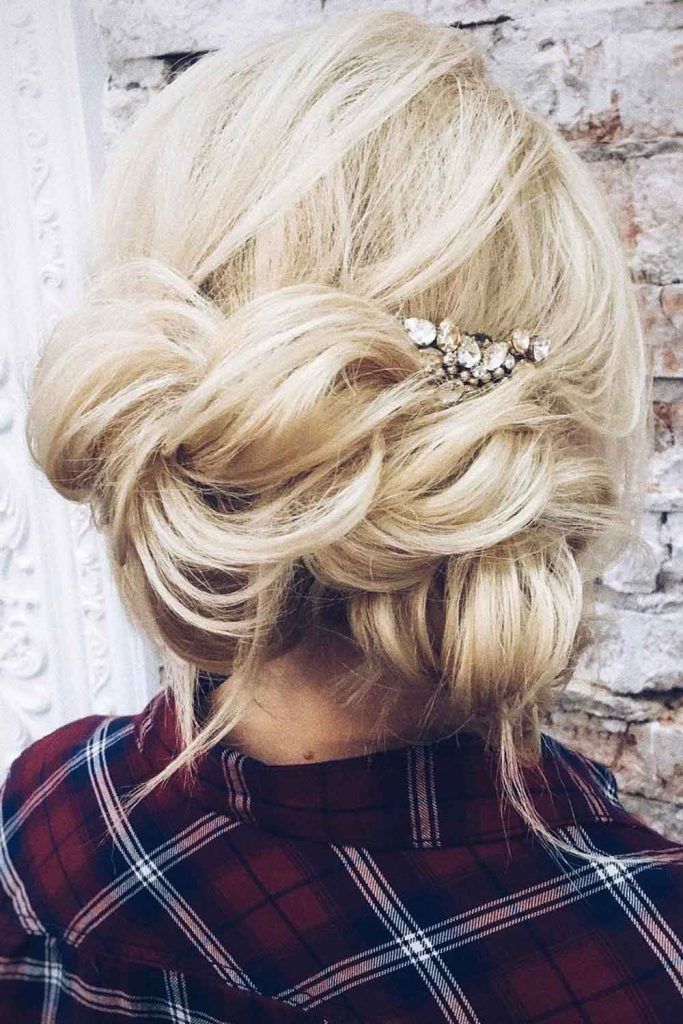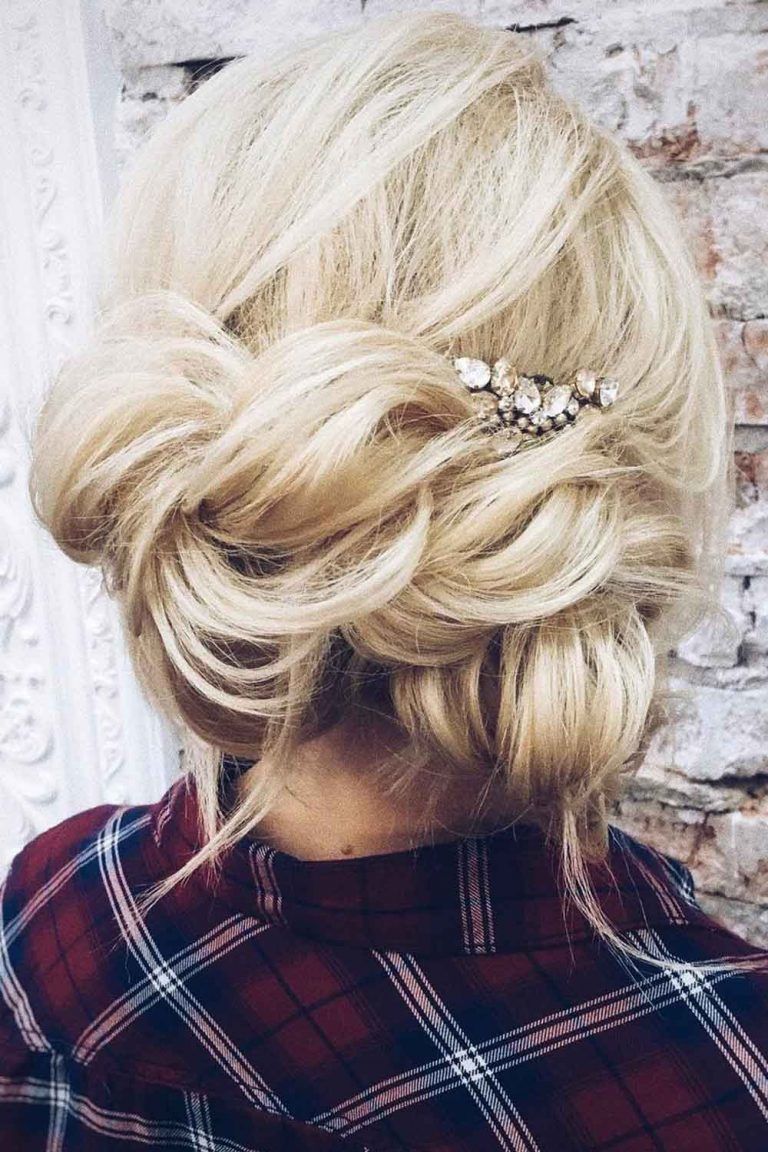 Source: tonyastylist via Instagram
To create one, part your hair to the side of your preference. Let the part be a beginning point and continue on with creating a French braid. Braid until two to three inches are left to reach the upper part of your ear.
Accessorized Curly Hair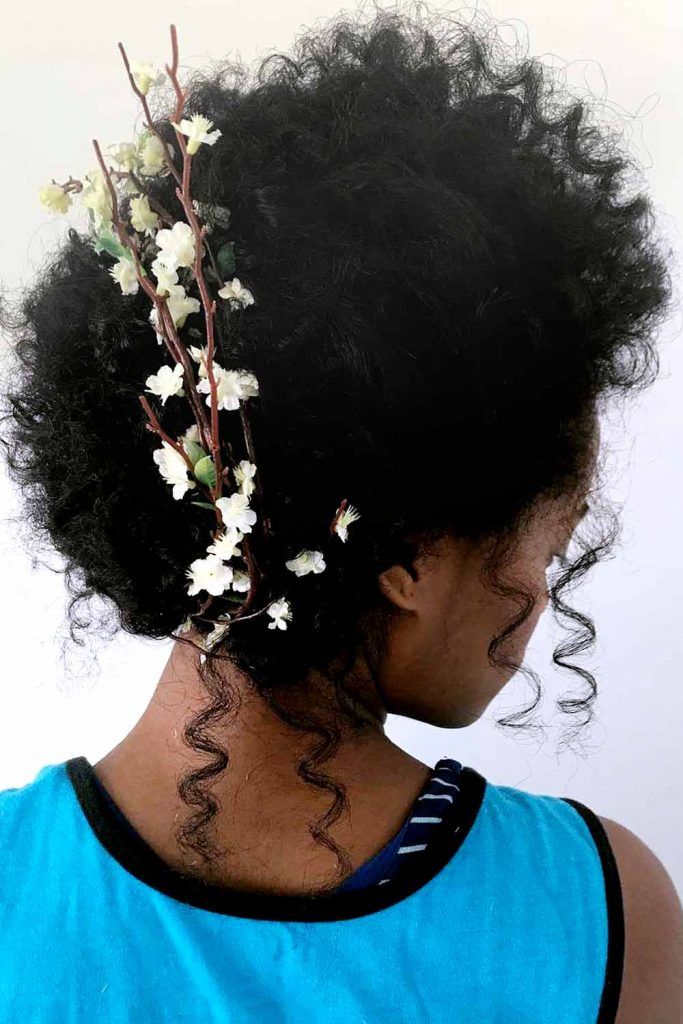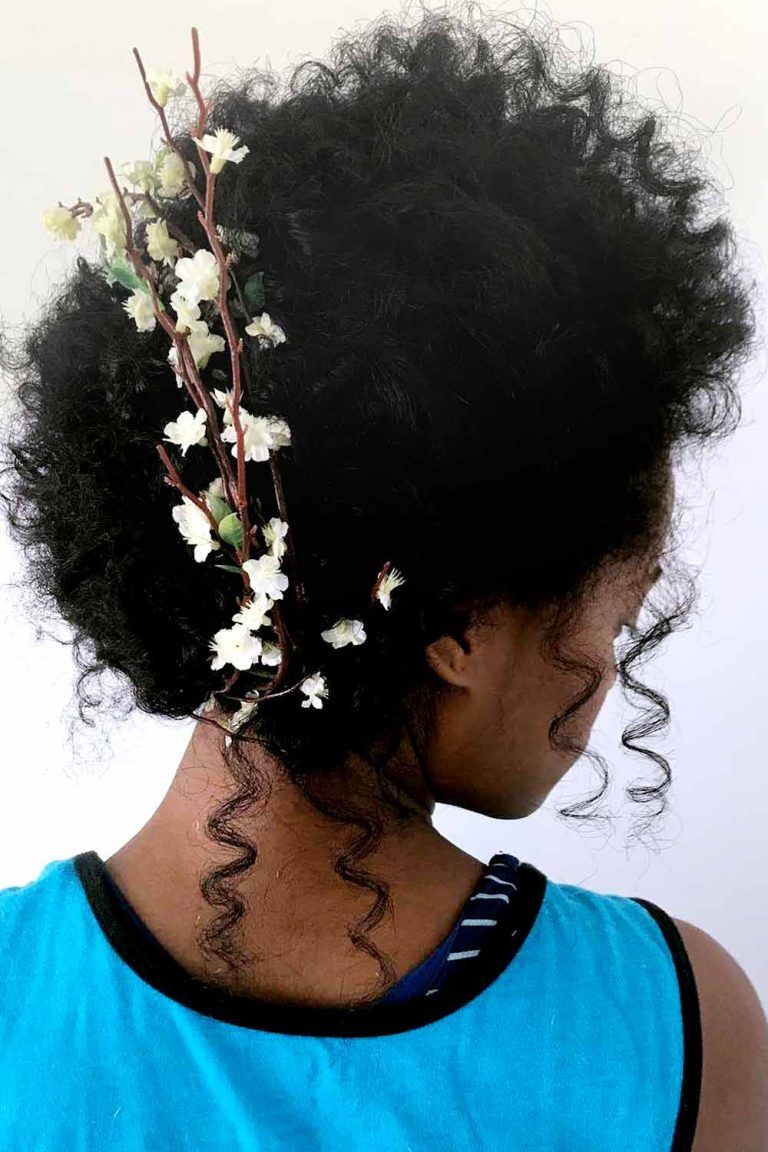 Source: blushandmane via Instagram
Next, gather your hair into a high ponytail and make it a bit loose. Take its length and encircle the base with it. An elastic will help you to secure this pretty bun, and you'll be ready to go.
Easy Updos For Special Events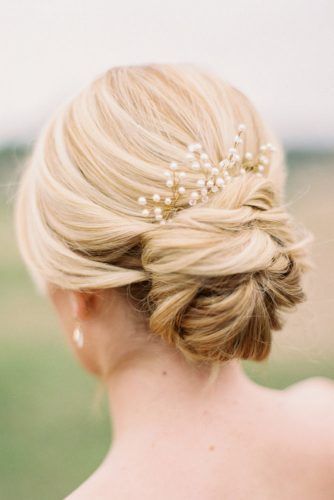 Source: Style Me Pretty
If you want to wear a more voluminous hairstyle, try a volumized wavy twist updo with a fringe. Besides being really cute, this hairstyle seems so easy-going. It would be ideal for a romantic date.
Side Trendy Updos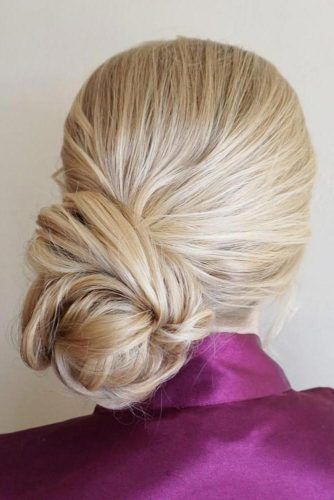 Source: heidimariegarrett via Instagram
Loose messy braids look extremely gorgeous, no matter what type of hair is involved. But those ladies with straight medium hair will totally appreciate this hairstyle.
Lovely Frech Twist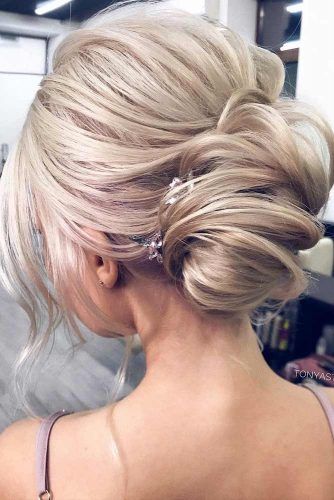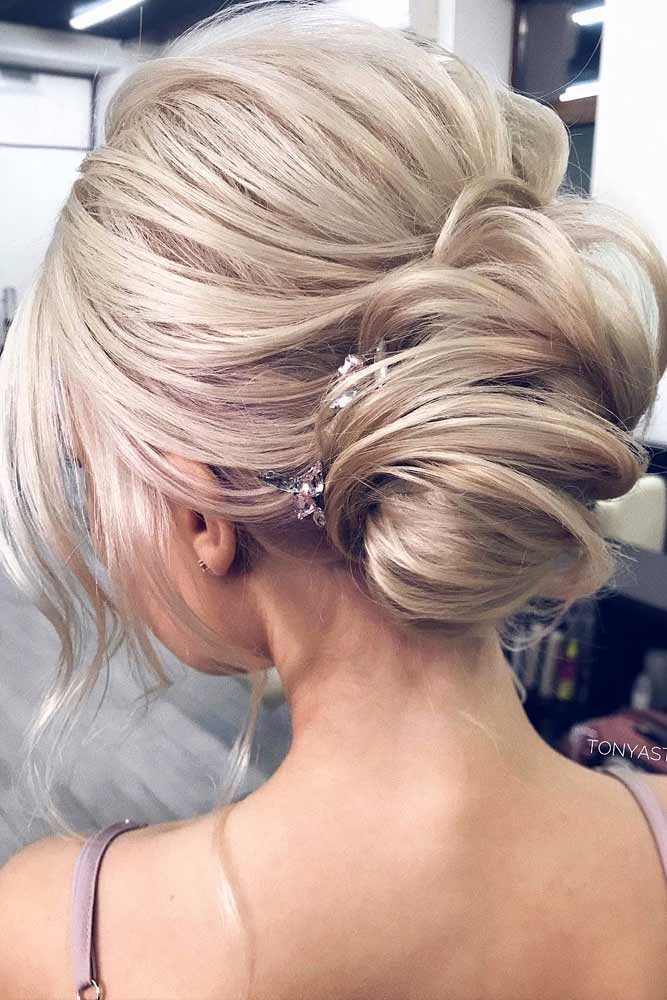 Source: tonyastylist via Instagram
French twists are extremely versatile. But the key point is that they look perfect no matter sleek or messy. What is more, a slightly messy twist with the decoration looks super sleek!
Beautiful Messy Updos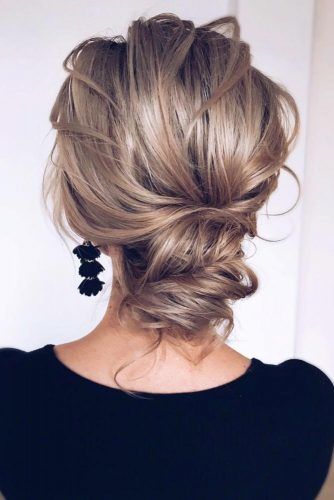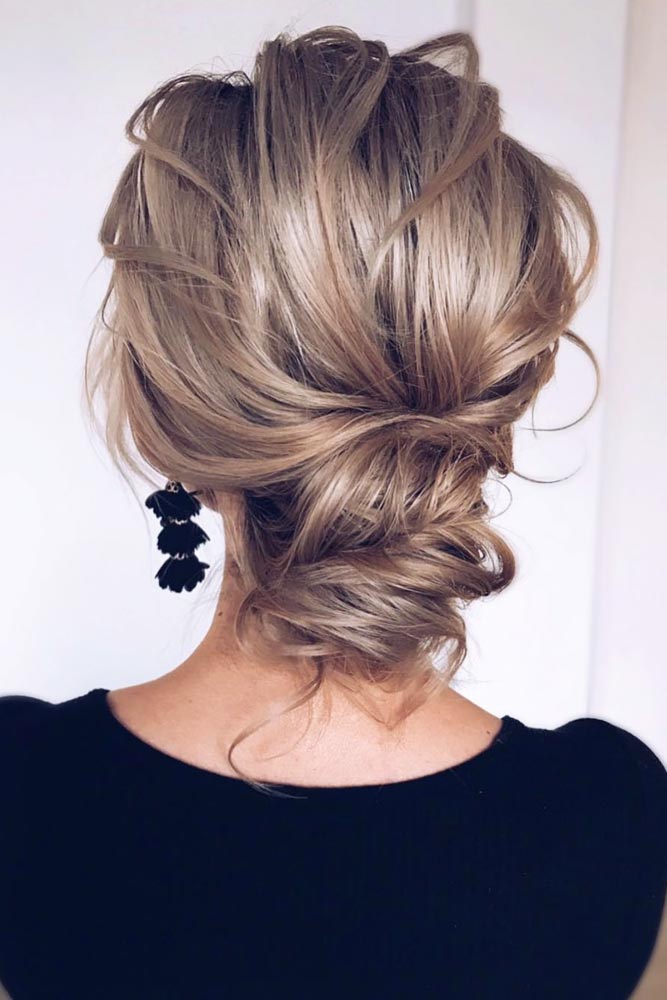 Source: hair_vera via Instagram
When you mix messy side braids with a messy low bun, something extraordinary will come out. But add up an icy blonde hair color, and it will look ethereal and fabulous!
Low Updos With Accessories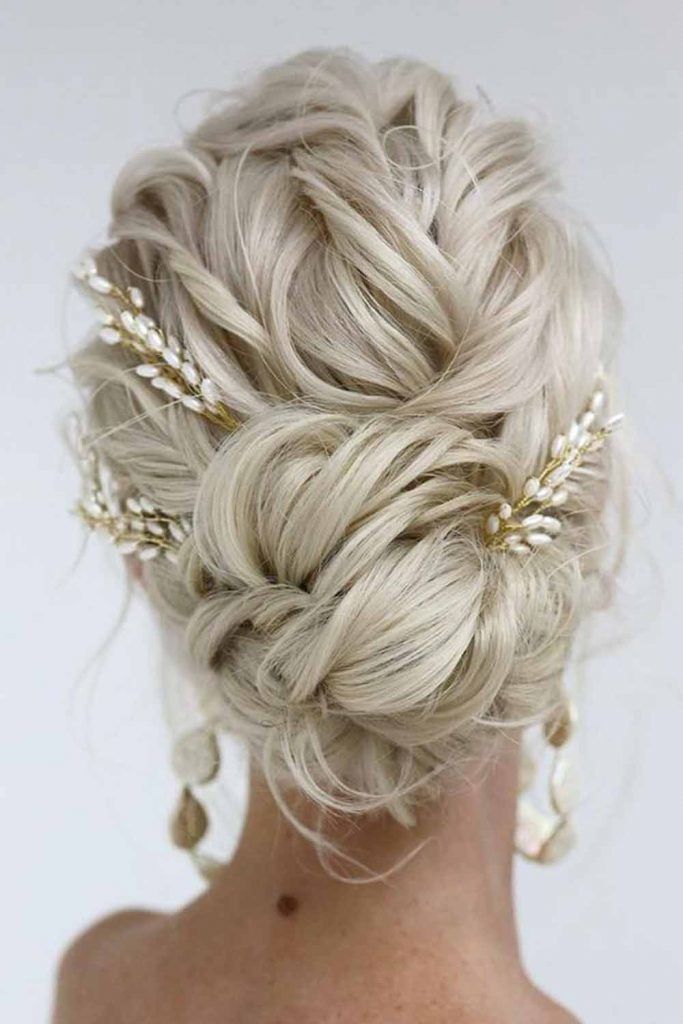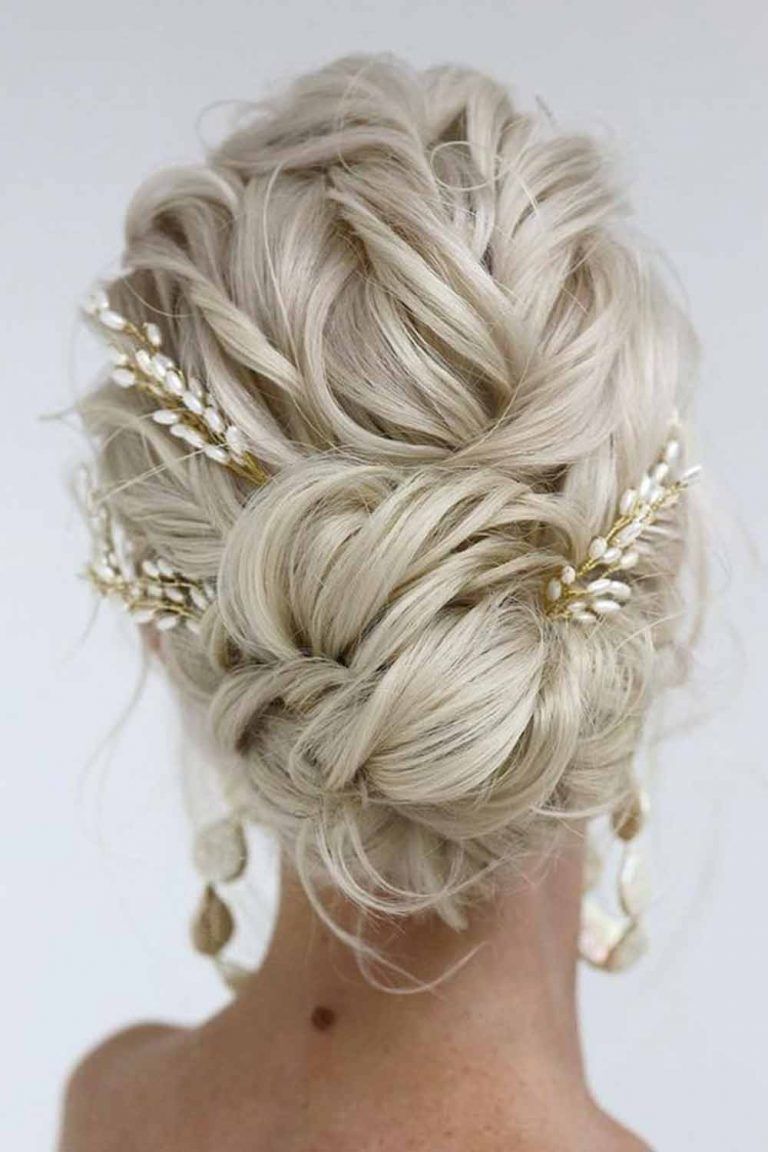 Source: tonyastylist via Instagram
Embellish your low updo with some elegant accessories for an image that is romantic and sophisticated.
Elegant Braided Updos For Medium Hair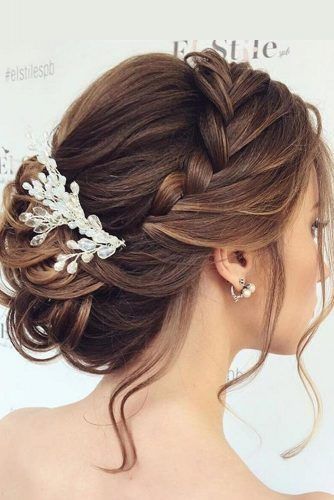 Source: Elstilela via Instagram
There are easier hair updos that can be done in less than ten minutes, and more intricate styles that require more time, skills, and accessories. The former are great for every day.
Elegant Updo With Headband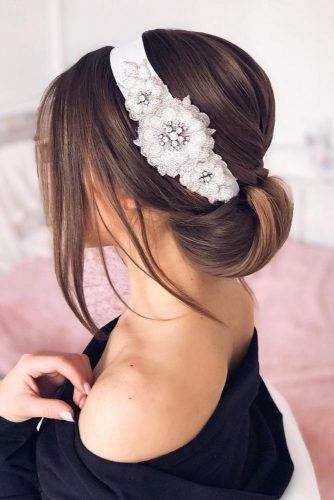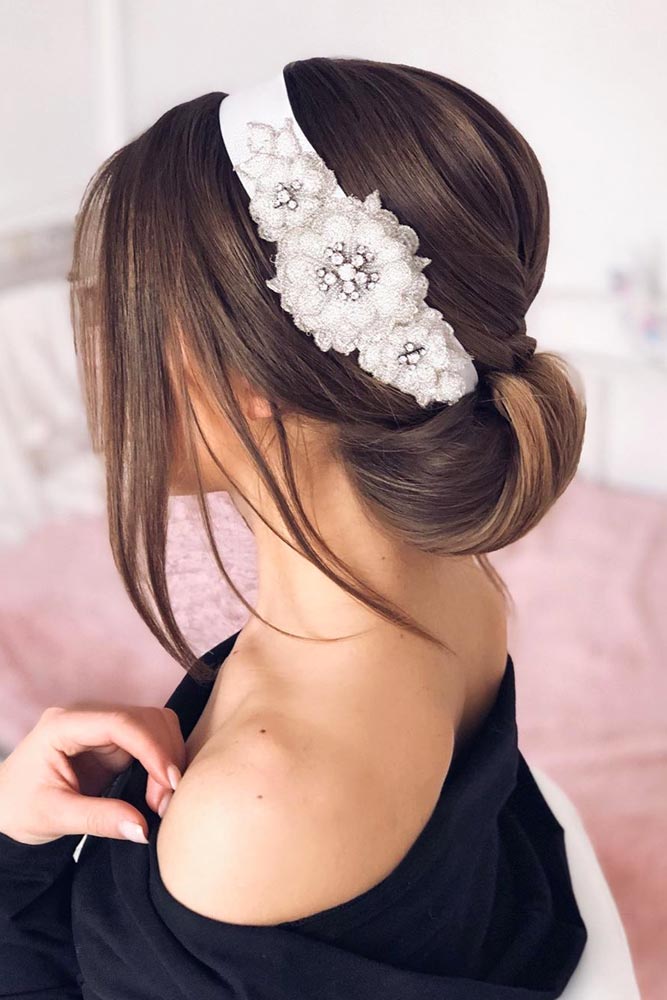 Source: shiyan_marina via Instagram
Elegance lies in minimalist details that complement a woman's look with their ravishing simplicity. And when you want your updo hairstyles to reflect the elegance bursting inside you, the right approach and proper accessories are key. Make sure that your 'do is unpretentious and simple, just like this sleek polished twist folding inside. Then, add character to your hairstyle, finishing it with a refined headband. Voila!
Luxury Updo With Little Braids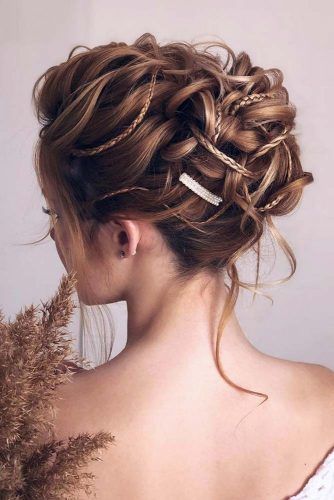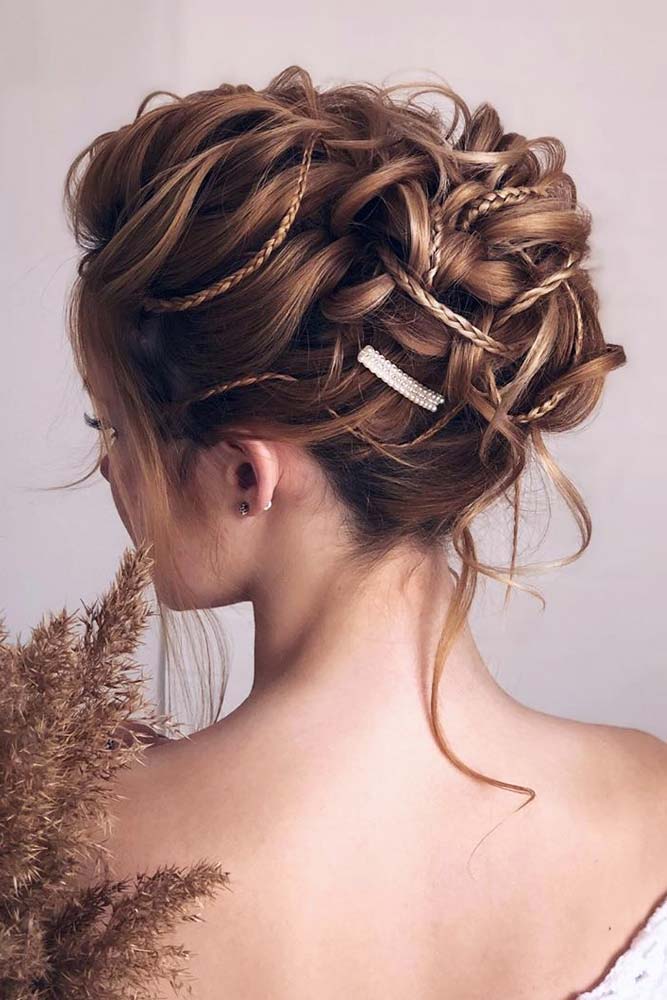 Source: shiyan_marina via Instagram
Your hair and creativity are all you need to create a unique festive look. It's your natural accessory, remember? Now, imagine how many amazing embellishments your hair can turn into once you set your creativity into motion. Little braids on a twisted updo: sounds pretty easy. But look how gorgeous and luxurious they look together!
Voluminous Side Braided Updo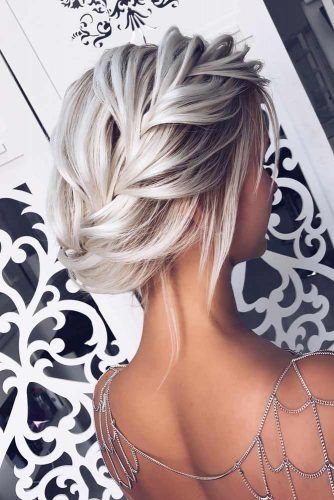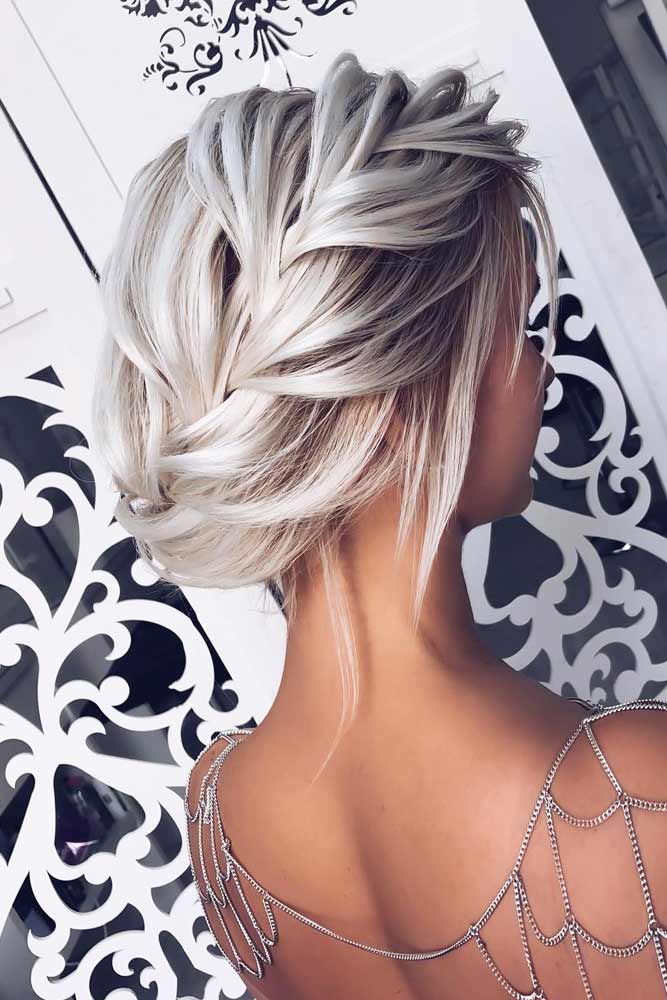 Source: shiyan_marina via Instagram
Some updos can drastically change the texture of a woman's hair, making it appear fuller and more voluminous. As you might have guessed, this braided updo is just what the doctor ordered for girls with thin hair. A loose yet well-secured braid that gradually turns into an updo works wonders amping up the whole silhouette, and that's enough to fight your flat looks!
Twisted Halo Upstyle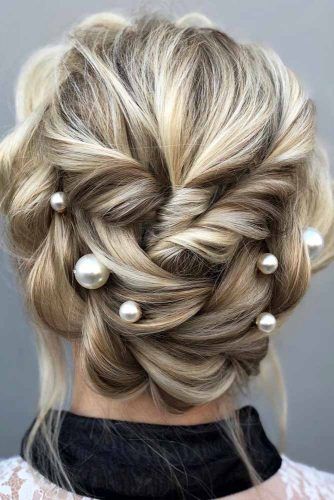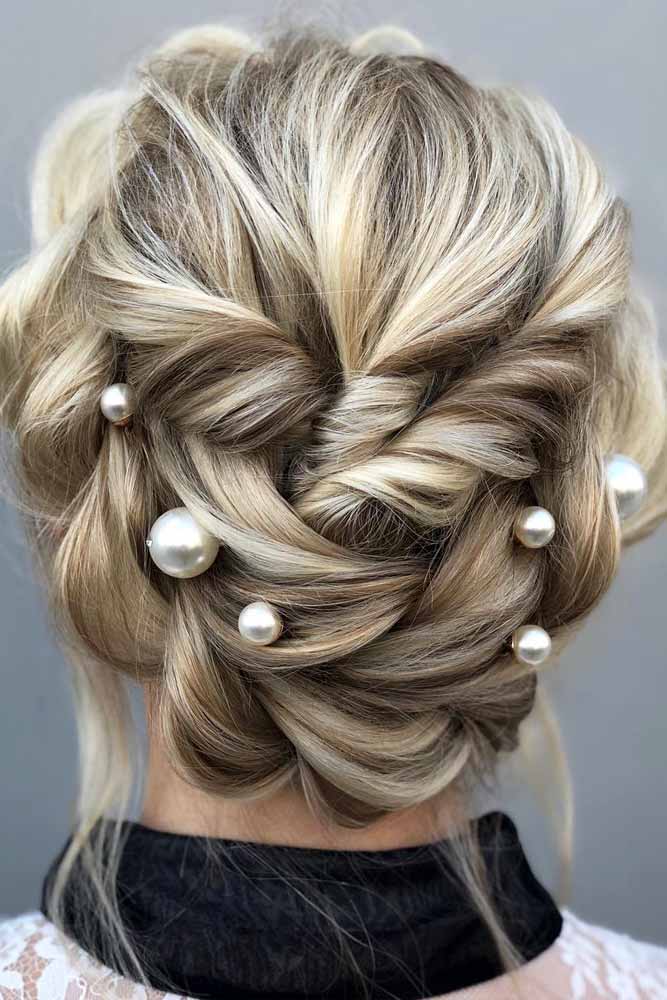 Source: annette_updo_artist via Instagram
A continuous twist with a super voluminous crown and gently embellished back portion. Isn't that too good to be true? On top of that, this idea can become a part of your look whether you rock a medium bob or a long mane; it's totally versatile in terms of length. And if you'd like it to be formal, some refined accessories will do the trick.
Effortless Bow-Tie Updo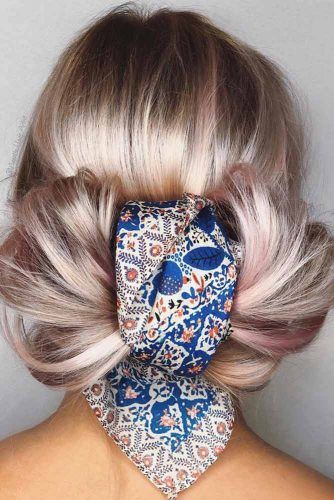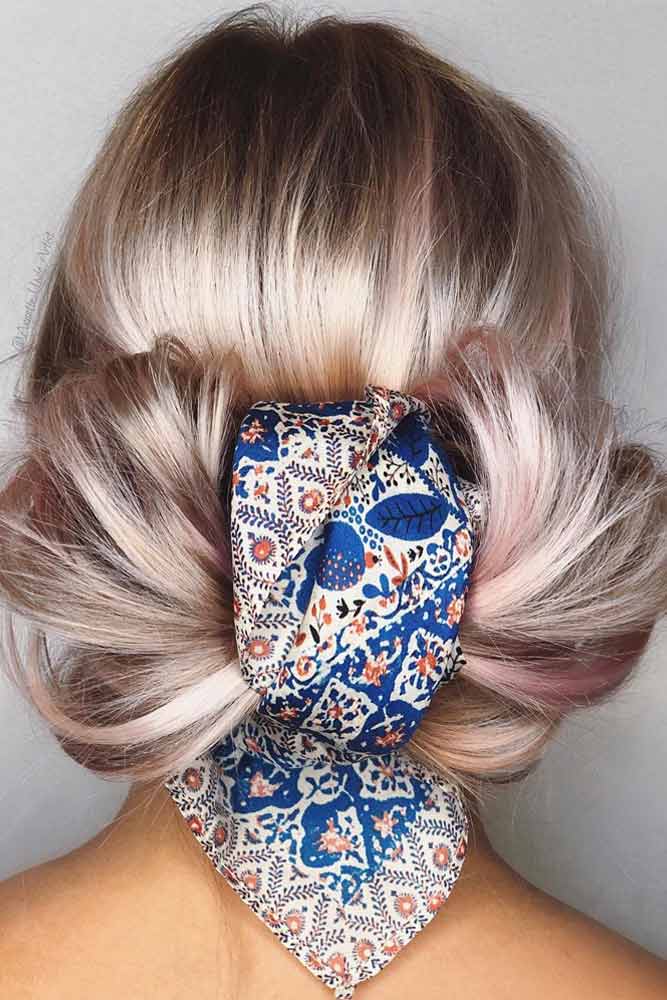 Source: annette_updo_artist via Instagram
When creativity meets simplicity, the most beautiful hairstyles are born! In fact, a fancy hair scarf and an anti-static hair spray are all you need to make this cutie real. Prep your hair with the product to avoid frizz and be able to shape it in any way you please. Then, incorporate a scarf to form a bow-shaped updo.
Braided Updo With Pearls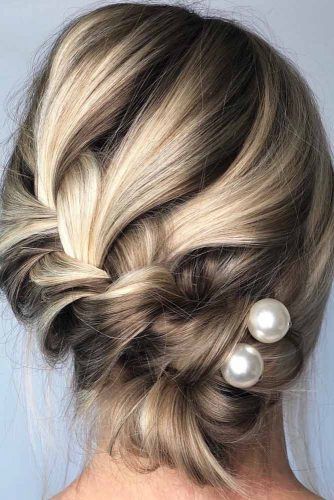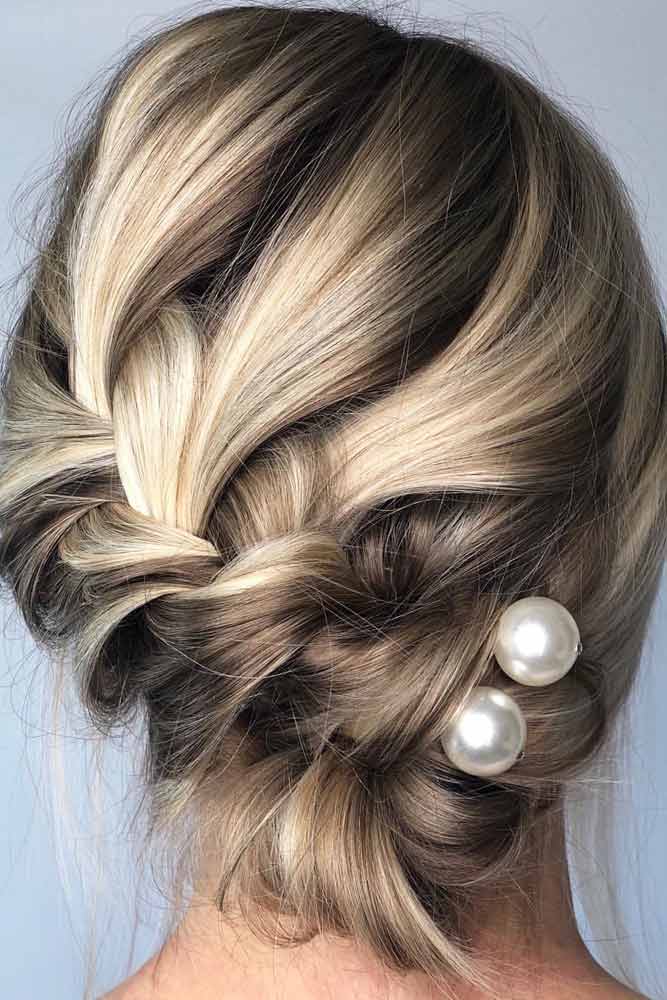 Source: annette_updo_artist via Instagram
Pearls and braided updos are like cheese and wine: when combined, they create a noble mood. You don't need to spend hours on your hair to make your look big; the right combination of a braiding technique and accessories will help you be on point. Here, minimalist pearl clips not only hold the braided 'do in place but also make it really complete.
Silver Low Updo With Accessories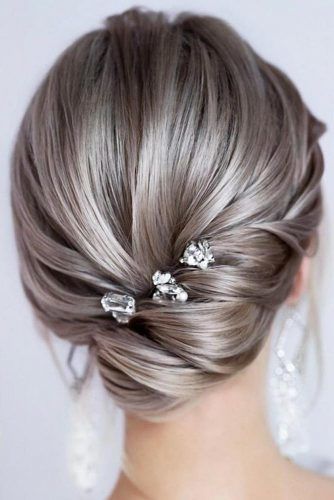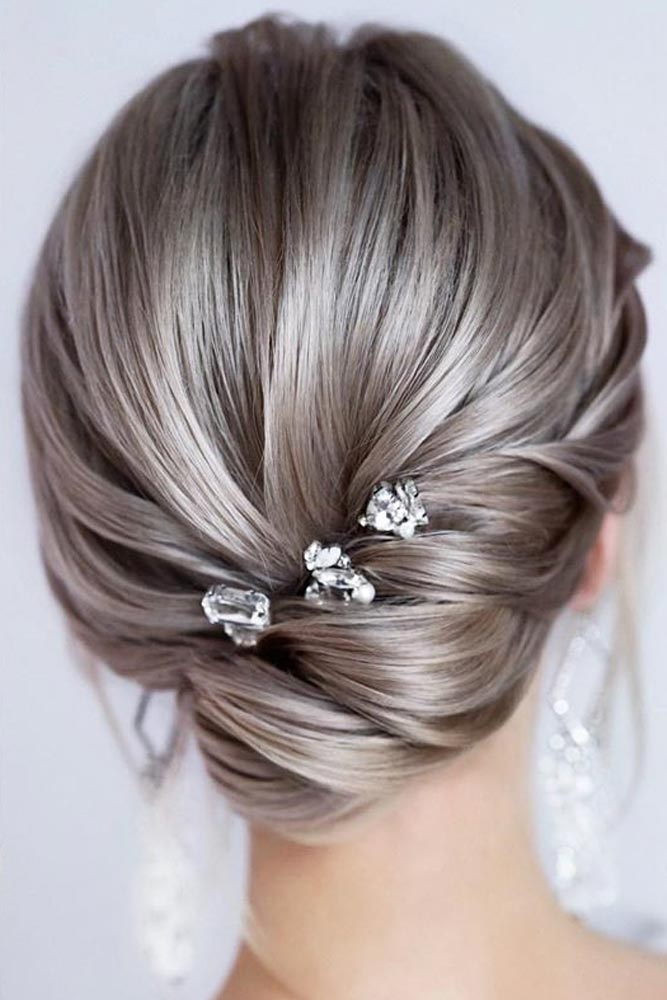 Source: tonyastylist via Instagram
If you rock trendy hair color like silvery blonde, grey or even purple, the best thing you can do with it is to accessorize it with a matching embellishment. Just look how striking this hairstyle is: the braided texture enhances the silver shade while silvery accessories make the look totally authentic.
Bright Violet Low Bun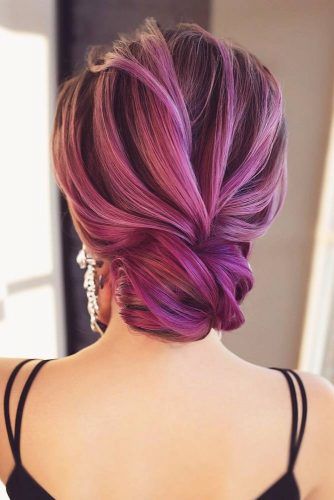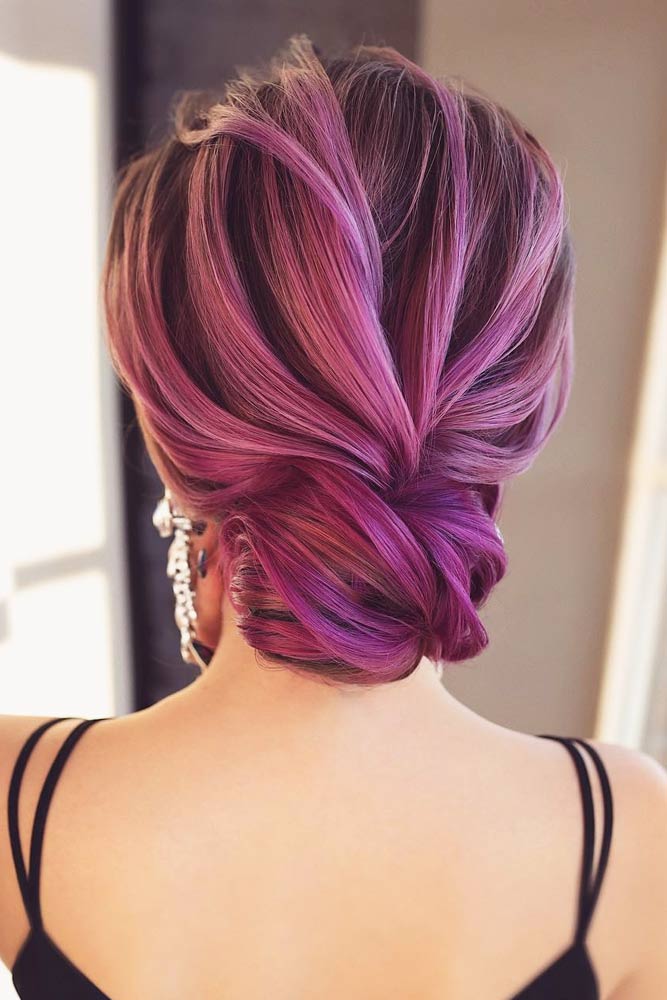 Source: tonyastylist via Instagram
Another stunning combination of head-turning hair color and super defined medium updo! Coupled with the dark roots and brightly colored top layer, such styling idea gets even more accentuated and thus more distinctive. Want to add some dimension? A loose twisted bun and color job like this will be the best choice.
Textured Upstyle With Flowers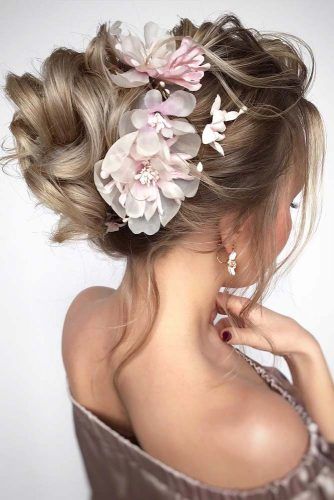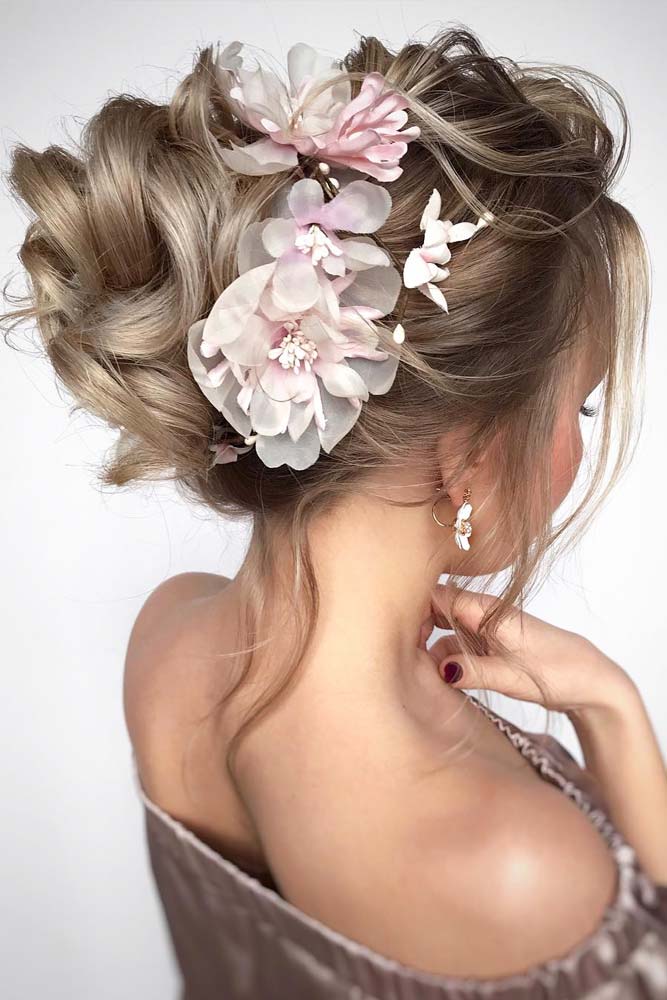 Source: hair_vera via Instagram
Nothing can compare to updo hairstyles embellished with big floral accessories or real flowers. Such looks are nothing but the purest embodiment of femininity which we all want to emphasize from time to time. Just put some flowers into your textured updo with various loose wavy twists and see your inner woman blossom.
There you have it, trending updo hairstyles for your lovely shoulder-length tresses. Pick one to look gorgeous.
FAQ: Updo Hairstyles
What updos are in fashion?
Here are 7 most beautiful updo hairstyles you should try:
Updo with a messy bun.
"Disentangled" bridal curly bun.
Relaxed waves for medium-length hair.
Inverted low bun.
Simple curly hair updo.
Low updo with braids.
Chignon updo for long hair.
Is a ponytail considered an updo?
In fact, ponytail hairstyles are no longer just for sporty looks. This basic updo is set for a fashion-forward makeover into a trendy hairdo that can be worn for everything, from elegant casual occasions to forest parties with old buddies.
Was this article helpful?