Wet Hair Looks Are As Easy As They're Sought After!
Wet hair, wet makeup: the fashion world seems to have a serious plan to make modern mods sweat. We never know what to expect from the most unpredictable industry, but there's one thing we can know for sure. The wet style trend that has been turning heads for years will never go out of style for one simple reason: it shows off sexuality. There's also one myth about the desired hair look: it requires a squad of stylists for just one mane. And if it's the only thing that stops you from sporting the so much famous look, this post will sort things out. Alongside iconic wet hairdos rocked by celebrities, we've prepared a tutorial that will prove that the trend born on runway scenes are no-brainers. Now, how about some inspiration? We've selected some gorgeous hairstyles for wet hair rocked by gorgeous women. Don't worry, those faces are more than just familiar.
Long, Wet & Side-Parted
As the most googled hairstyle, Kim Kardashian wet hair look has its own fan base. But who would've thought that such a sleek hairdo would turn out to be that easy-to-do? Besides, the side part brings a ton of sophistication.
Source: Featureflash Photo Agency/Shutterstock
ADVERTISEMENT ‧ CONTINUE READING BELOW
Sleek Low Pony With Free Locks
This Vanessa Kirby's half-wet, half-messy hairstyle gives a stunning fresh take at the classic wet look.
Source: Kathy Hutchins/Shutterstock
ADVERTISEMENT ‧ CONTINUE READING BELOW
Wet Side-Swept Lob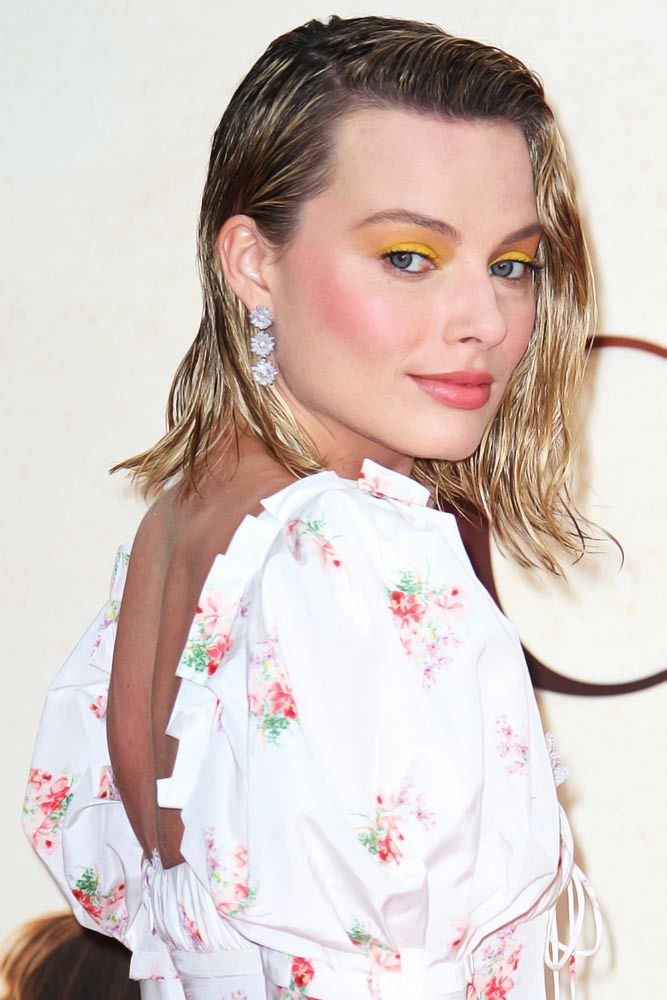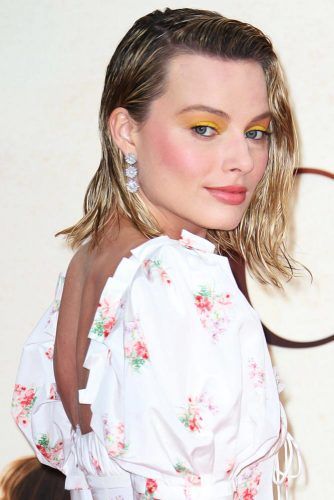 Margot Robbie decided to apply a smaller amount of wet hair product to create a more manageable, flexible wet hairdo. As a result, she gave a new definition to effortlessness.
Source: Twocoms/Shutterstock
ADVERTISEMENT ‧ CONTINUE READING BELOW
Slicked Back Top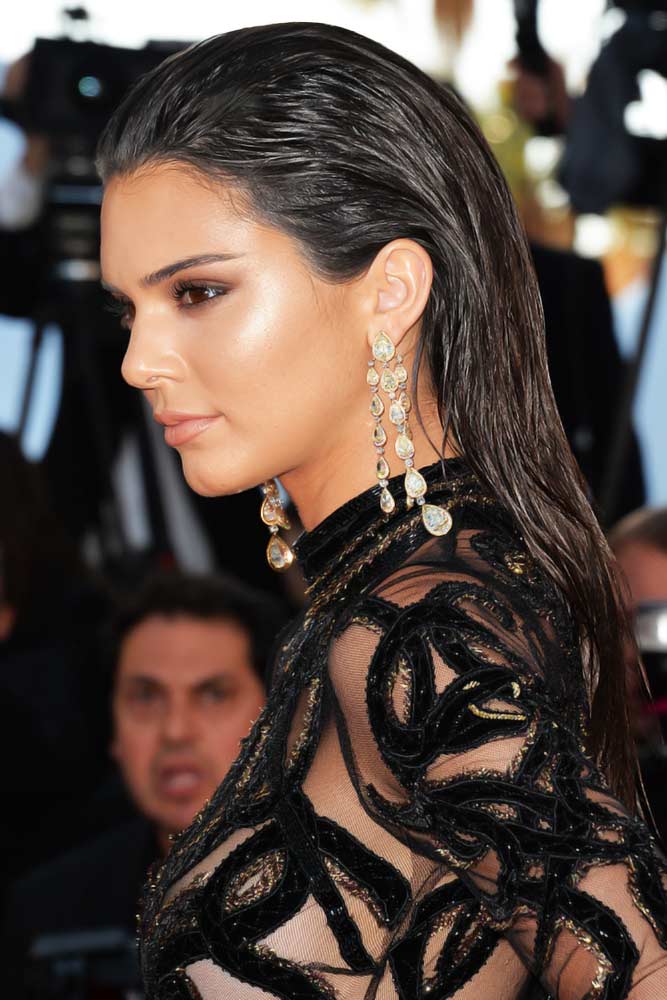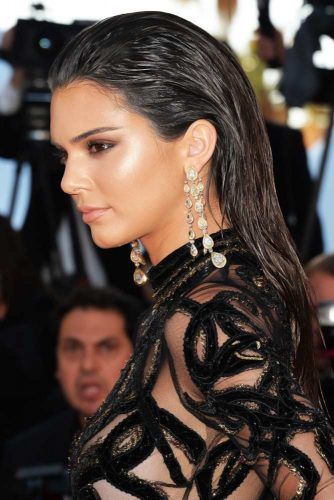 Kendall Jenner knows how to make simplicity work for her sexuality, so she got the top teased, making it shinier than the rest of the hair. In this way, she got herself a carefree yet refined look.
Source: Featureflash Photo Agency/Shutterstock
ADVERTISEMENT ‧ CONTINUE READING BELOW
Slick & Smooth Style For Short Hair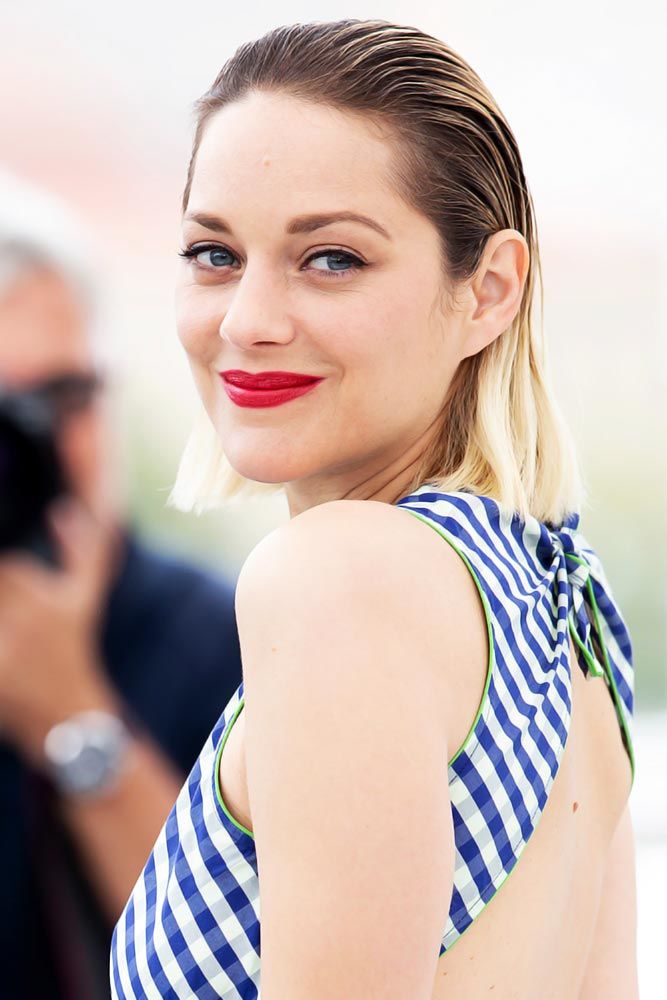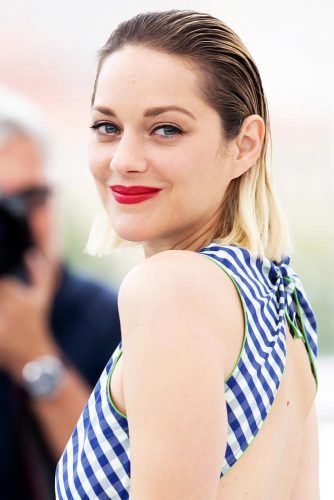 Here, Marion Cotillard shows that you can't have too much of gel when you're about to create a wet hair look. Not only does this idea look universally pretty on all lengths but also serves as a perfect match to any occasions.
Source: BAKOUNINE/Shutterstock
Long, Wet & Side-Swept Pixie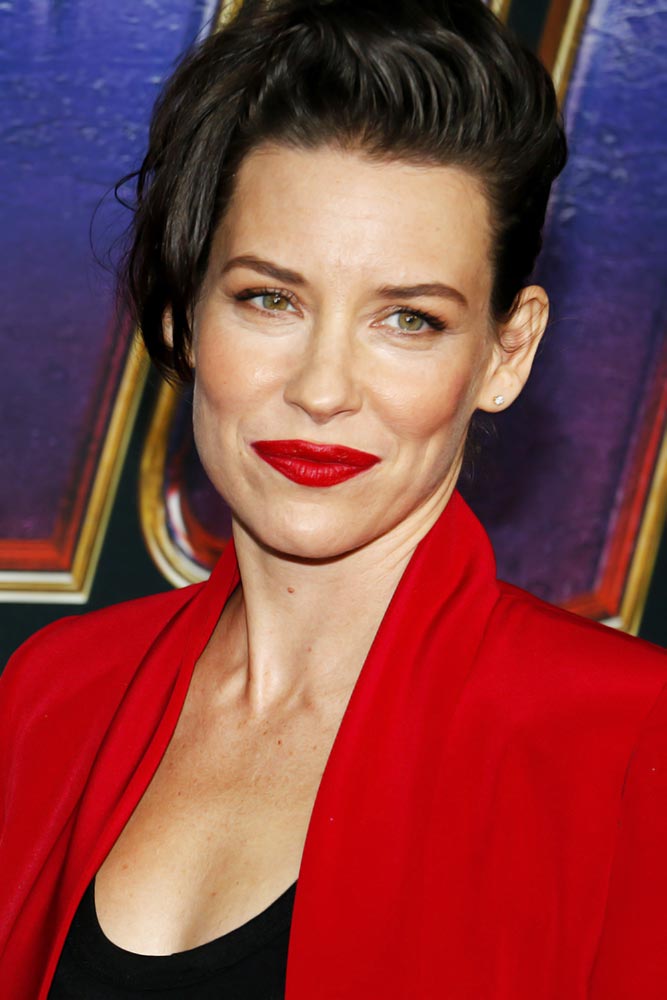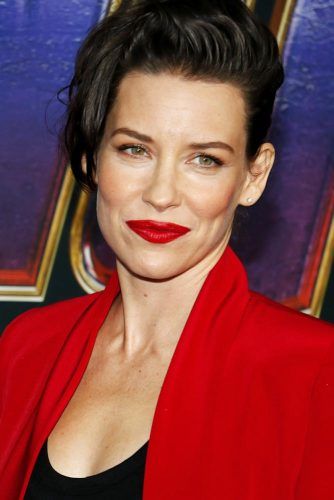 Pixies are a great canvas to wet looks: they can be super sleek and shiny or defined and relaxed. Evangeline Lilly took her chances with the second option and showed up with a totally smart and attractive hair look.
Source: Tinseltown/Shutterstock
Center-Parted Wavy Hair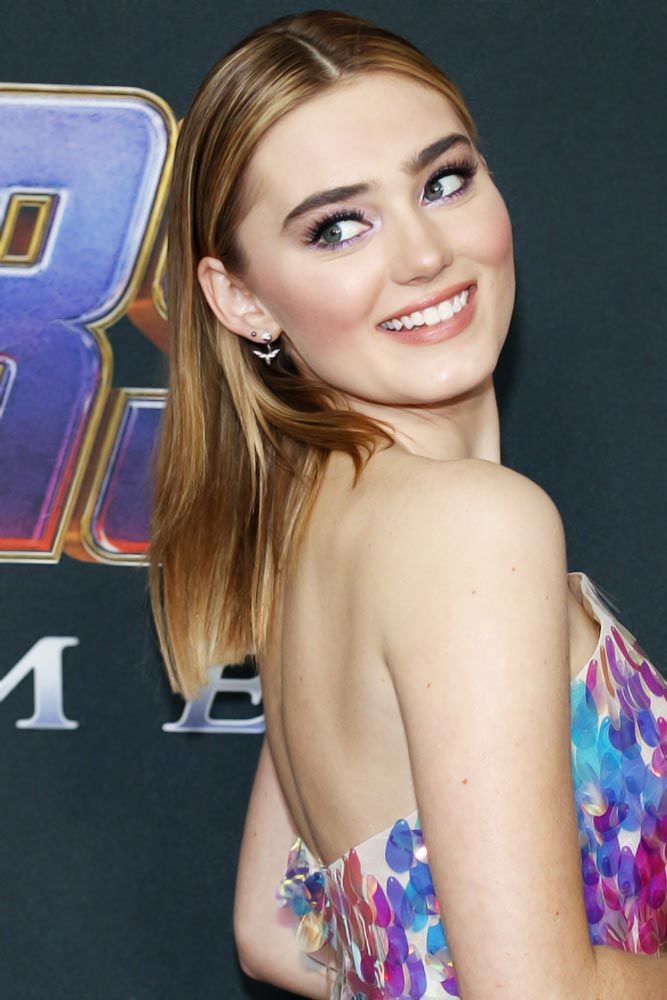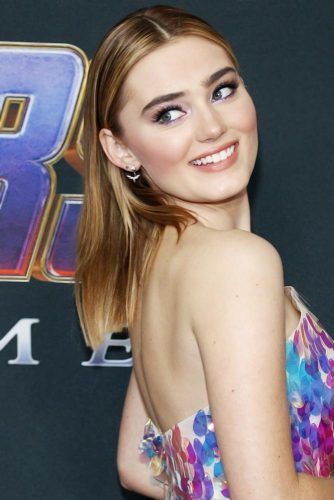 When going for wet looks, you shouldn't stick only to straight hair texture. On the contrary, you can go a different way and copy this wet and wavy hair look by Meg Donnelly. A slight wave and soft shine add tons of femininity to her premiere style.
Source: Tinseltown/Shutterstock
ADVERTISEMENT ‧ CONTINUE READING BELOW
Side-Slicked Pixie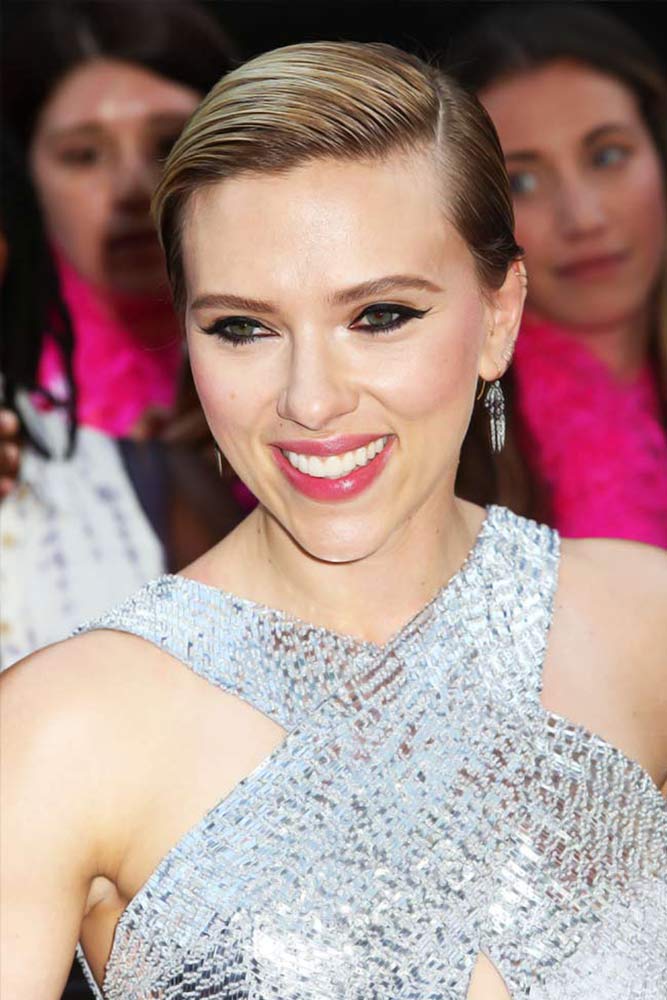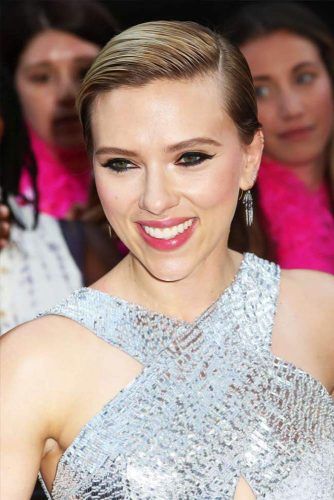 Scarlett Johansson seems to have tried all the pixie hairstyles possible. But this perfectly parted, extra sleek masterpiece deserves special mention here.
Source: JStone/Shutterstock
Barely Wet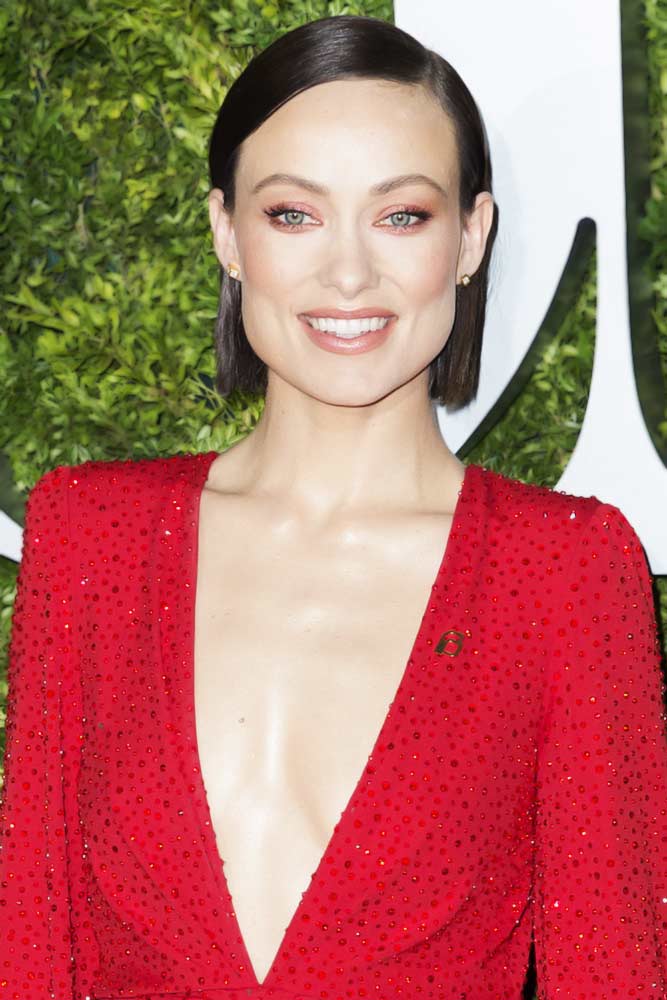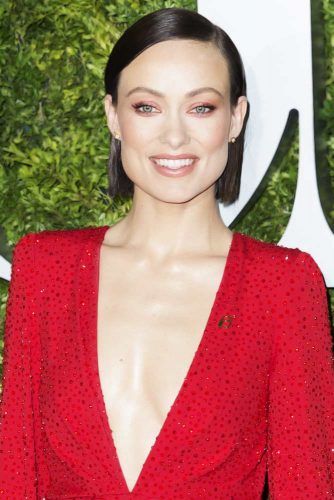 Olivia Wilde's hair looks unbelievably gorgeous even without loads of styling products applied. She used the wet product to enhance the natural volume and add a sense of lift to her mane, thus achieving an effortless shiny look.
Source: lev radin/Shutterstock
Volumetric Wet Look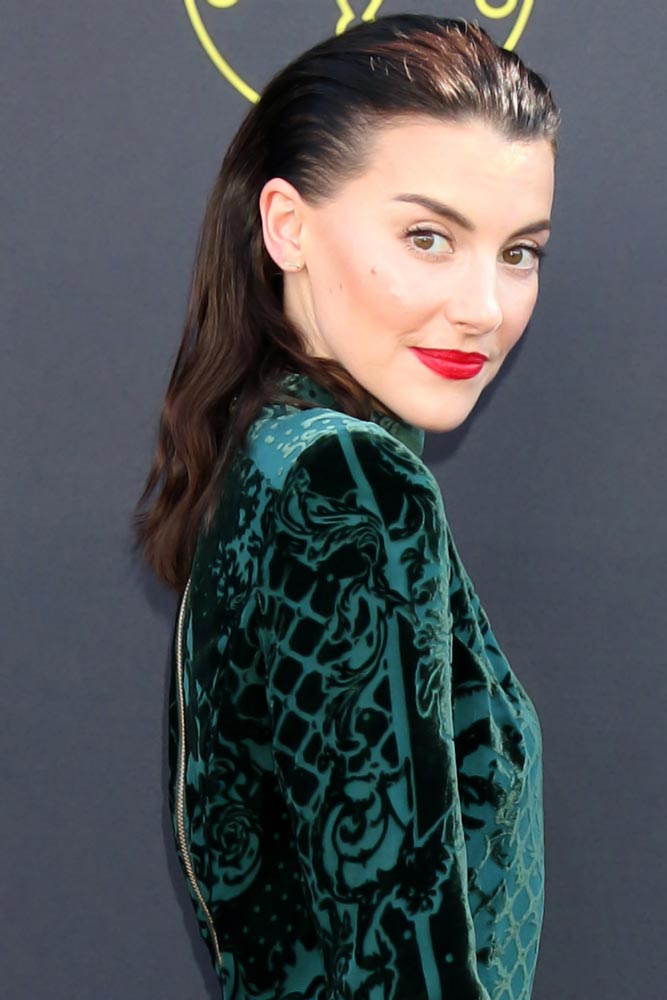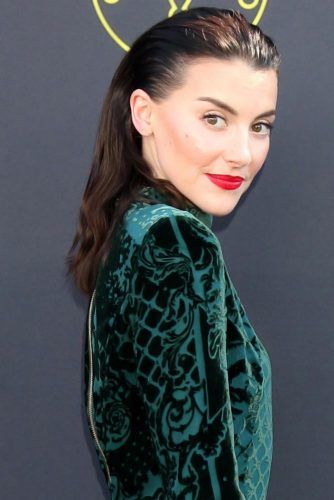 For Emma Lahana, keeping up with volume in hair is a crucial style goal. Even with the amazing wet look, she managed to make it amazingly lifted. Believe it or not, some teasing and a couple of pins are keys.
Source: Kathy Hutchins/Shutterstock
ADVERTISEMENT ‧ CONTINUE READING BELOW
Wet Hair Tutorial
There's a great universal way on how to get the wet hair look easily and, most importantly, professionally. The only things you need are to be equipped with the right styling arsenal and follow the steps below.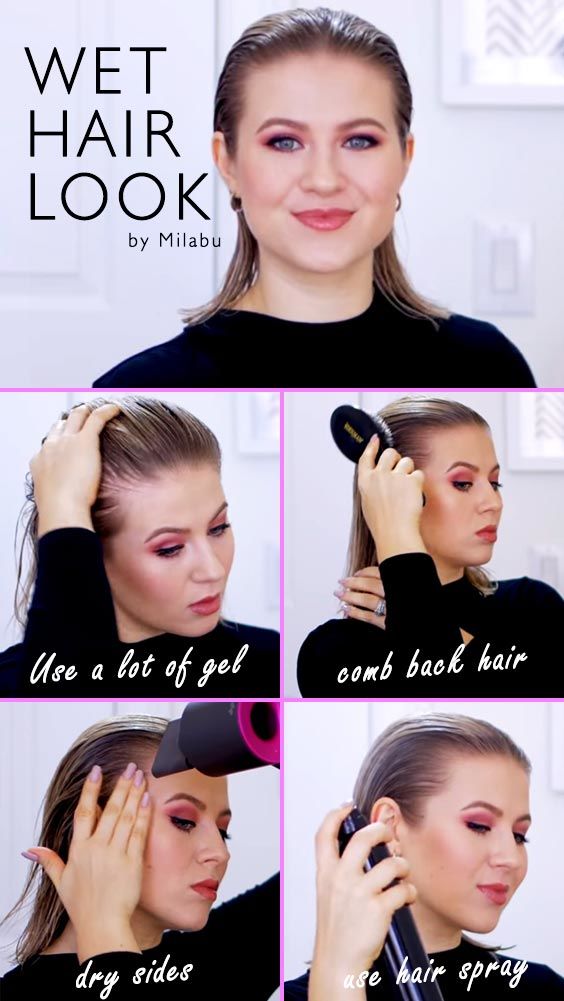 What you will need:
non-sticky, shiny wet look hair gels
glossing spray
hair spray
a hair brush
How to:
Damp hair. No, it shouldn't be wet, even though it goes against the common image of the style. It must be dump so that wet look hair gels could be distributed evenly, without getting sticky. So, remember to always start with damp hair.
Use a lot of gel. When it comes to applying wet hair look product, you should be pretty generous not only to your roots but also to the rest of the hair. That's actually the case when the more gel you apply, the wetter your look is. In fact, it depends on how intense you want the look to be. Still, you should work a big amount of the product throughout your hair, starting from the very roots.
Comb it back. For the classic wet look hair, a fine tooth comb is a must. As for bristles, they affect the way your hair looks. Boar bristle brushes, for example, work well for sculpted looks, while soft bristles are meant for an even, polished finish. Brush your hair back, distributing the generous amount of gel through your hair evenly and avoiding any bumps.
Spritz it with glossing spray. It just so happens that roots are often shinier and more gelled than the rest of the locks. And this is where glossing sprays come in. Spray a glossing product to your locks but not to the roots to create a smooth blend with them.
Coat it with a long-lasting finish. Just like with any other hairstyle, wet hairstyles can't do without hair sprays. But, this time, it should be a strong-hold, shine-enhancing product. This step is not only the easiest but also the most important, as it will control and keep your hairstyle in place all day or night long. Coat your hair with shiny hair spray before the gel dries to forget about countless touch-ups.
Source: Milabu via YouTube
When we look at those long-legged models with smokey makeups and shiny wet hairstyles, we think that those ideas are meant only for runway shows. What a shame, though! Today, you've seen with your own eyes that even a newbie in the hairstyles world can copy one of such ideas. Now that you've learned the pro-steps on how to make your hair look wet, nothing stops you from stealing a look from your favorite celebrity!
ADVERTISEMENT ‧ CONTINUE READING BELOW
ADVERTISEMENT ‧ CONTINUE READING BELOW