Medium bob haircuts have become so popular in 2020 that they even have their own name now – we call them mobs. This statement haircut has a shape that is universally flattering. Shoulder-length bobs have many pros and offer a variety of styling options. Therefore, it is not surprising that many ladies fancy such headline-making cuts.
Asymmetrical Wavy Bob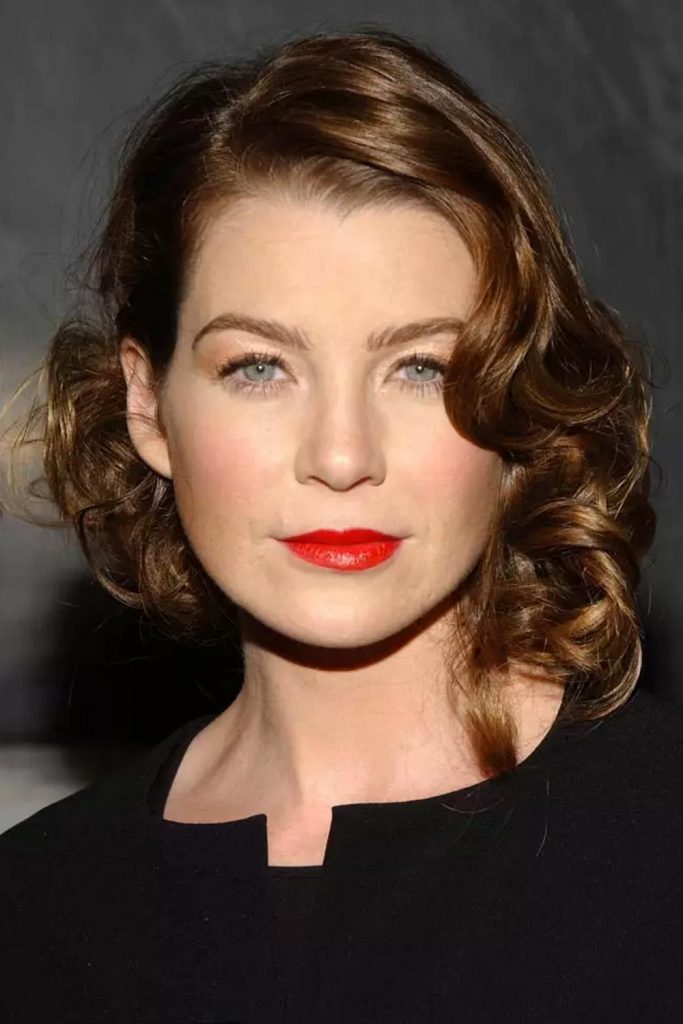 Credit photo: s_bukley/Shutterstock
Medium bob haircuts don't need any publicity; their reputation speaks for itself. Needless to say, most famous women wouldn't stay loyal to such hair ideas for no reason. Let's face it: bobs are super beneficial.
Ellen Pompeo, for example, rocks a mid-length asymmetrical bob today. Since she has fine hair type, her locks always need a boost. And instead of hours of volumetric styling, she went for a simple but gorgeous haircut. In this way, the outweighed silhouettes make the natural volume stay with her all day long.
Straight Bob With Blunt Bangs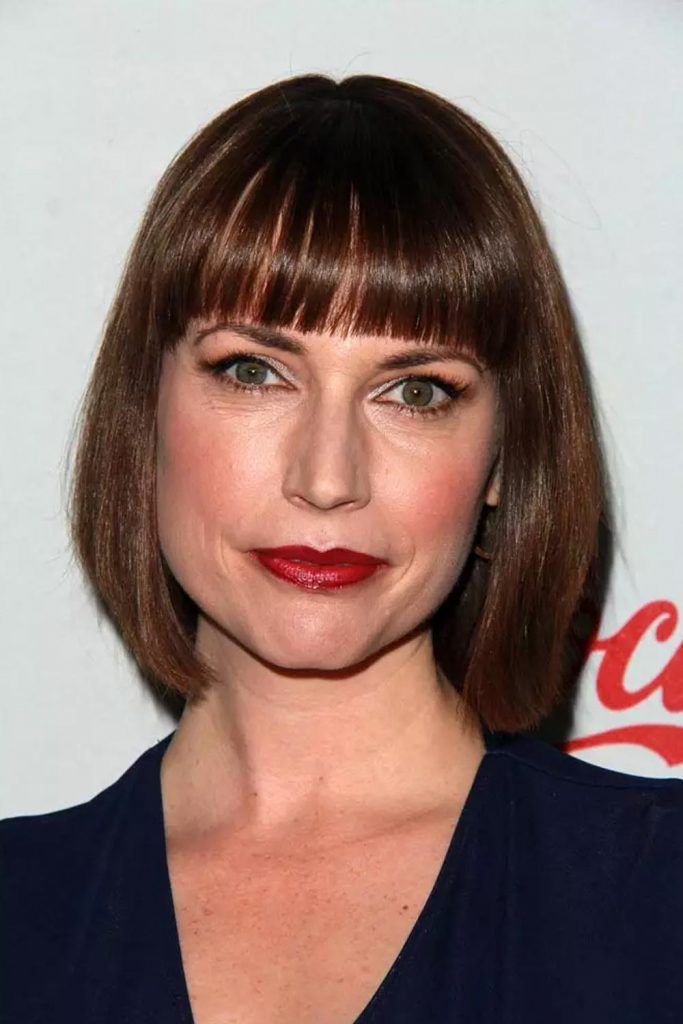 Credit photo: Kathy Hutchins/Shutterstock
To give her face a slight framing touch, Julie Ann Emery cut her hair to a bob length and finished the look with blunt bangs. Everything may seem to be simple at first sight. But, in fact, this simplicity is what makes the actress look so fresh and young. It's no secret that bangs have the power to take years off. As for the straight bob, what can be better than pure classics?
Straight Bob With Long Center Parted Bangs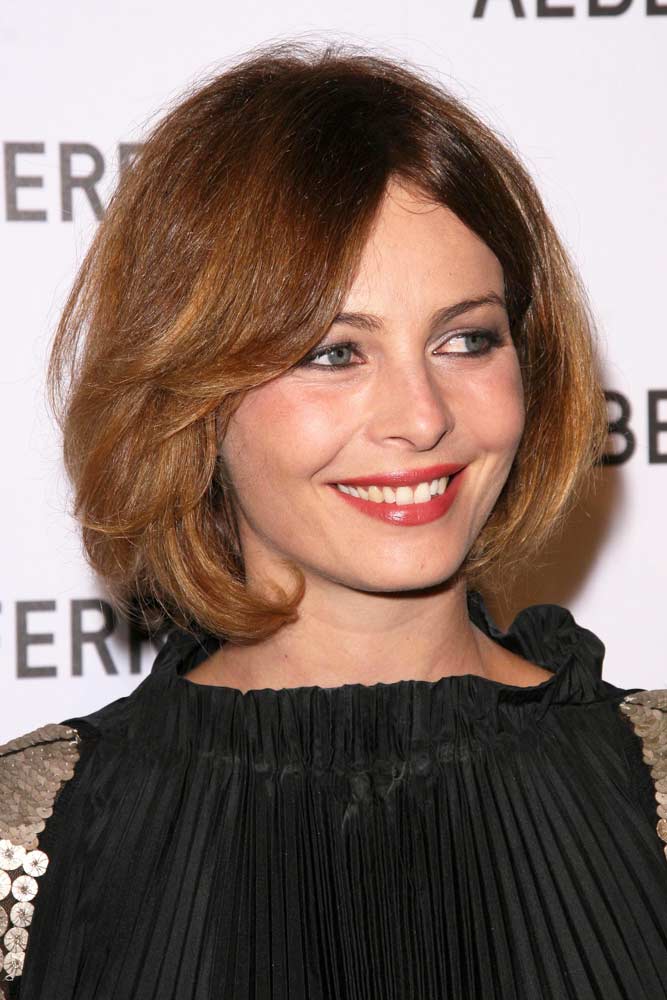 Credit photo: s_bukley/Shutterstock
This look of Violante Placido is here to show you another way to benefit from pairing your bob with bangs. This time, they're long and layered, which allows the fringe to seamlessly blend with the rest of the hair.
As a result, a classic straight bob gets a pleasant volumetric twist at the front that changes the common image of the cut. Plus, this look gives some framing!
Middle-Parted Wavy Bob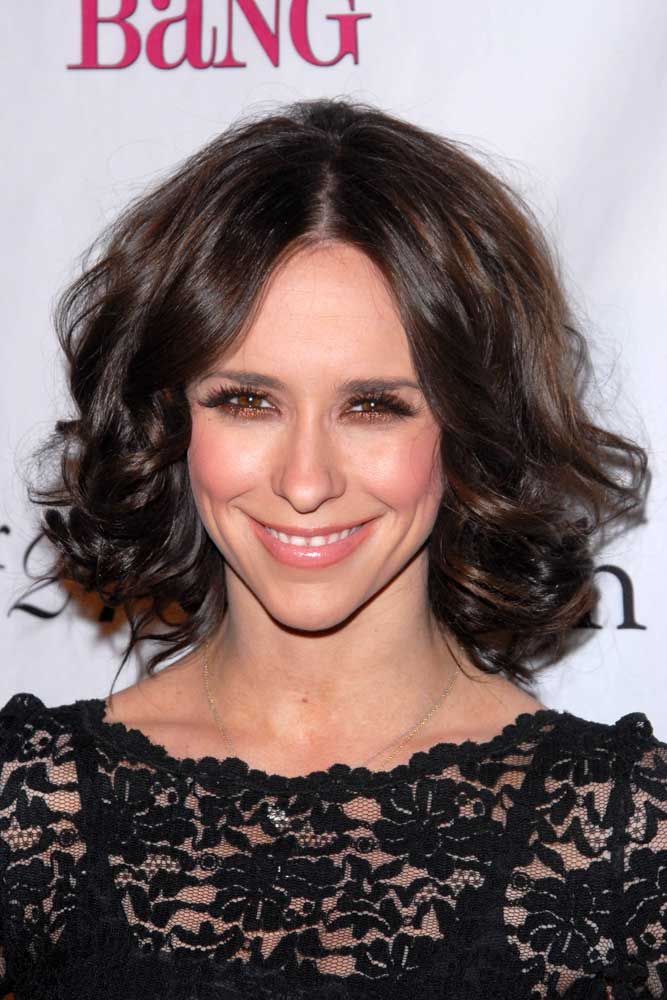 Credit photo: s_bukley/Shutterstock
Everyone remembers Jennifer Love Hewitt not only for her ravishing acting talent but also for the stunning way she styles her hair. This woman has an absolutely sexy face shape, which, in its turn, requires a special hair approach to show up at its best.
Layers and middle parts have always been the number-one weapons of the actress, and now, she uses heavy artillery - a medium bob. And when it's wavy, it leaves people speechless.
Side Parted Wavy Bob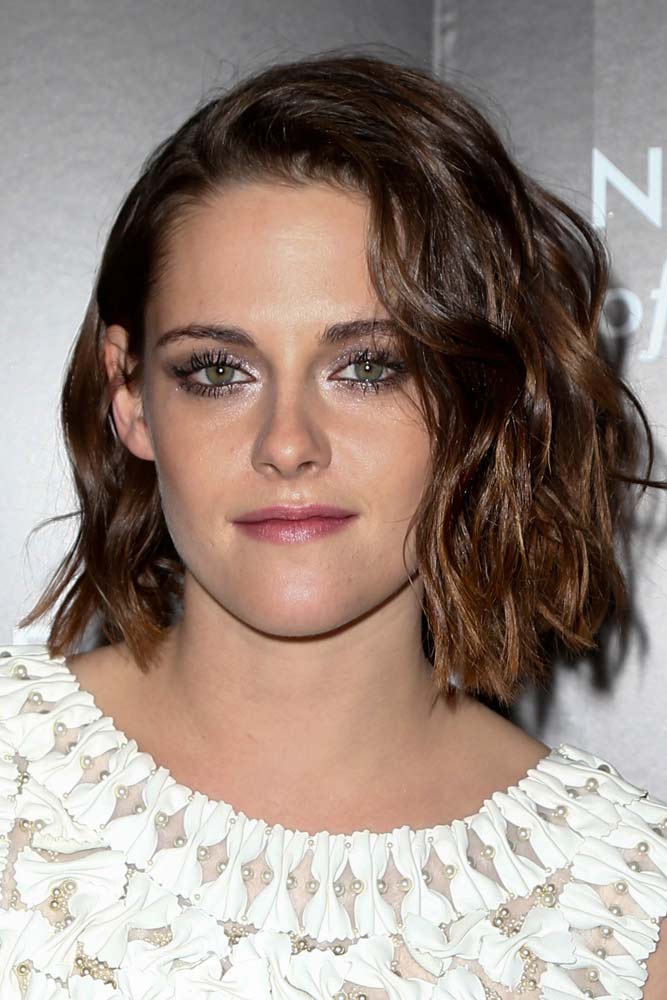 Credit photo: Debby Wong/Shutterstock
Kristen Stewart is one of the few young actresses who prefers rocking extra short lengths to anything else. But, there's something she can't resist. Of course, we're talking about the bob.
The celeb loves the way this comfortable length allows her to play with textures and partings. Here, she gives a nice fresh take at medium bob haircuts, showing up with wet waves parted to the side.
Slicked Back Straight Bob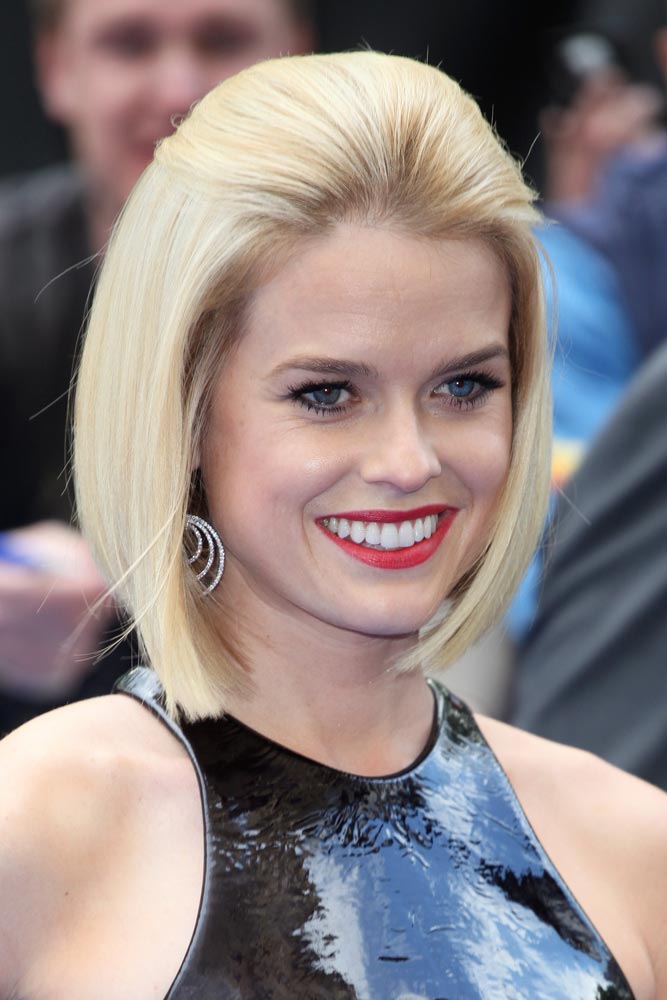 Credit photo: Featureflash Photo Agency/Shutterstock
Alice Eve's hair changes like the weather; today she can rock a long mane full of waves and tomorrow the slays cameras with a straight bob. Such experiments can help a woman to discover her new angles.
And here's what we have discovered about her after seeing this straight bob: the actress has a diamond face shape that goes perfectly with slicked bob curving at the ends. As for the top, it adds more volume to the front, balancing out all facial features.
Bob With Hollywood Waves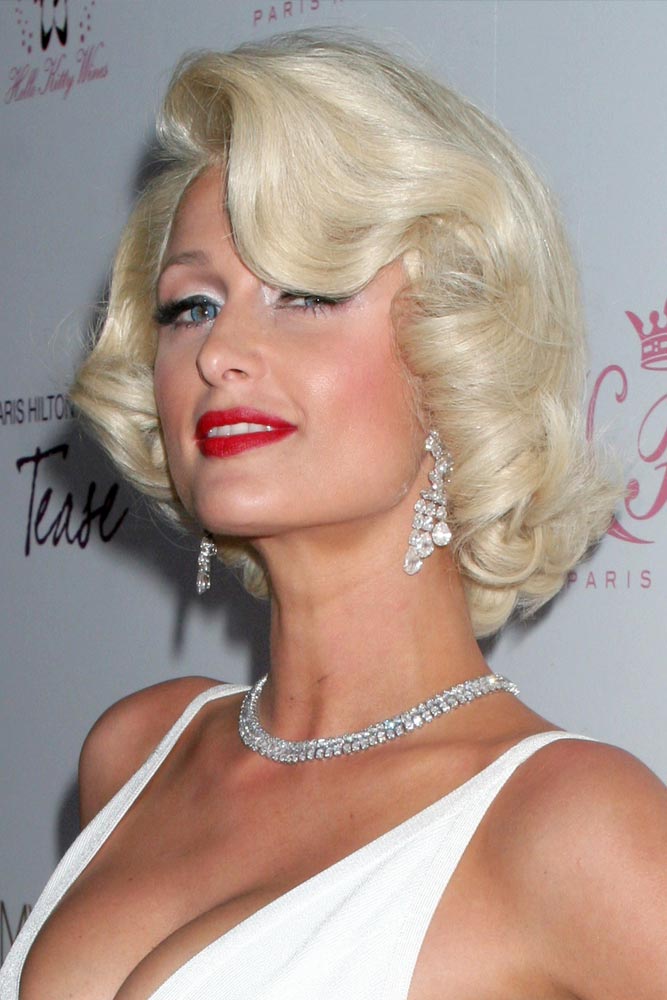 Credit photo: Kathy Hutchins/Shutterstock
If you like to always be in the spotlight as much as Paris Hilton does, don't forget to save this bob to favorites. Though the classic idea of Hollywood waves features long hair, nothing could stop the famous girl to add some Merilyn-inspired vibes. Besides, the shorter waves are more distinctive and thus more flattering to square faces, and this look is the best example.
Faux Bob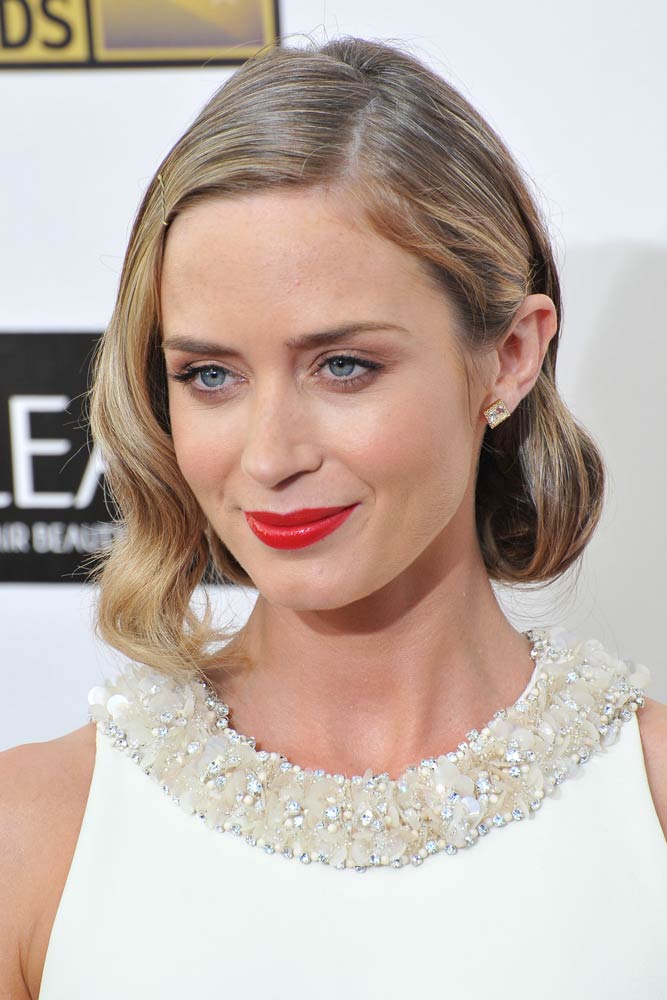 Credit photo: Jaguar PS/Shutterstock
Don't worry; female celebrities can also be indecisive about their hair. When Emily Blunt wasn't sure if she's ready to cut her hair to medium length but still wanted to appear with a bob, she didn't give up this idea.
With the help of some pins, you can fold your hair inwards and thus create a faux bob. The look was so gentle and feminine that no wonder if she went to her stylist the next day.
Messy Layered Bob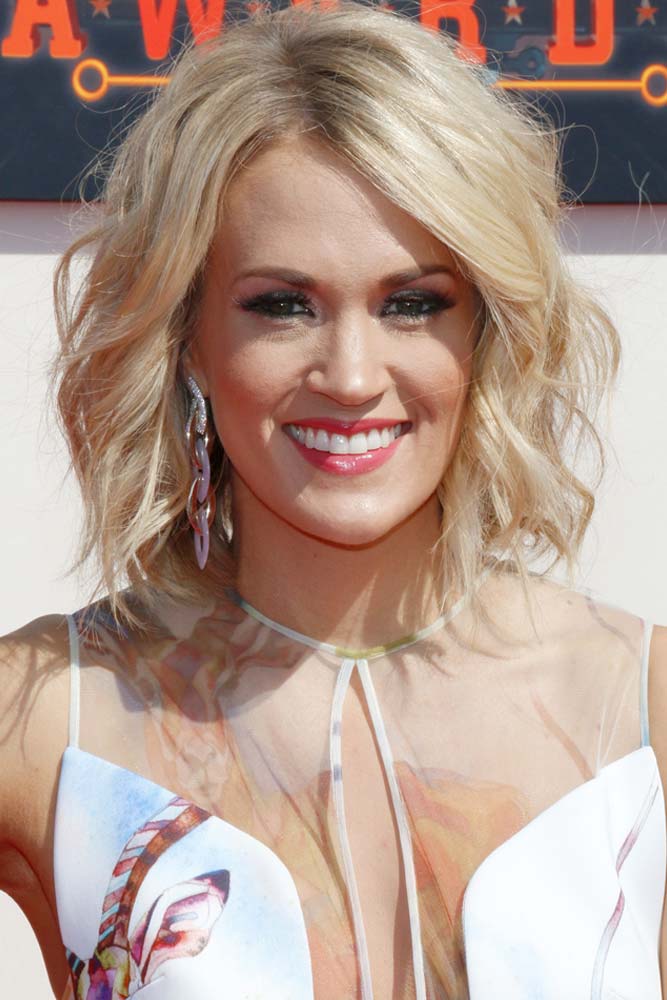 Credit photo: Tinseltown/Shutterstock
Carrie Underwood with medium length hair. What a great surprise! Although the popular singer loves to flaunt with amazingly voluminous, long mane, she doesn't restrict herself to playing around.
And it goes without saying that this layered messy bob is a success. The little layers provide tons of volume and movement while the messy style enhances the effect.
Middle Parted Straight Bob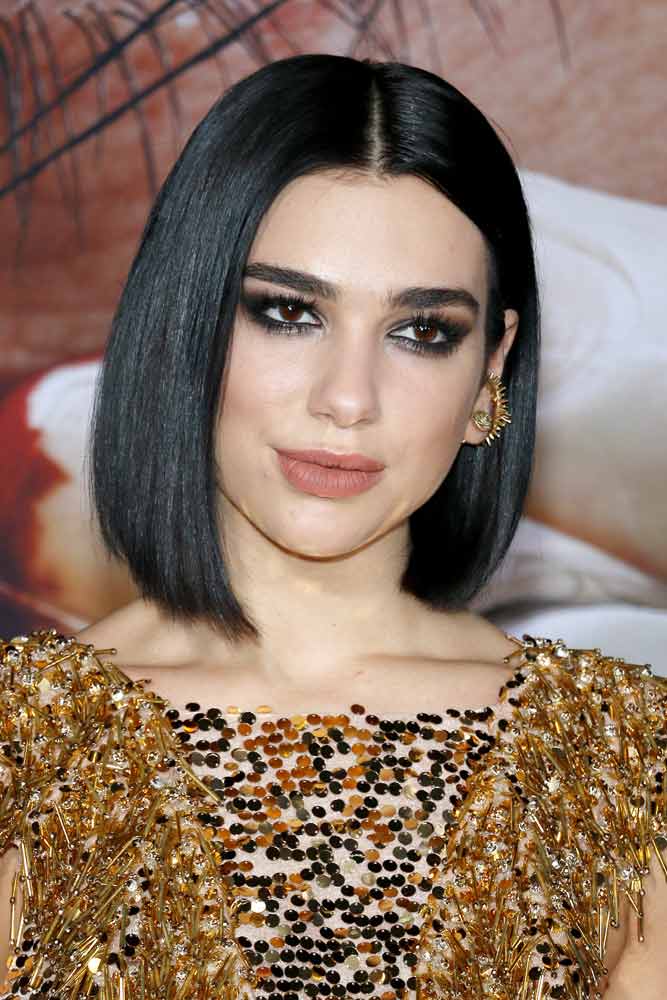 Credit photo: Tinseltown/Shutterstock
The luscious locks of Dua Lipa seem to be a piece of art. Whatever length, color or style she goes for always looks unforgettable. And when it comes to classics, this girl simply nails it.
There's nothing easier than rocking a straight bob and part it to the center. Still, there's nothing more beautiful than the charm of simplicity brought by the look. By the way, this way of parting can actually frame round faces.
Wavy Layered Medium Bob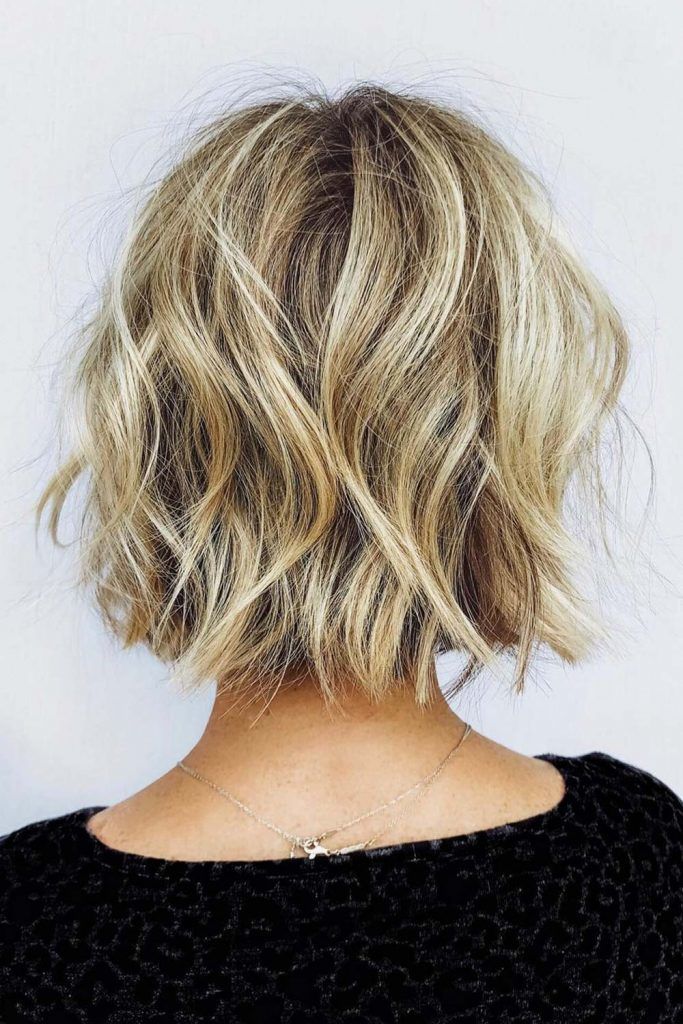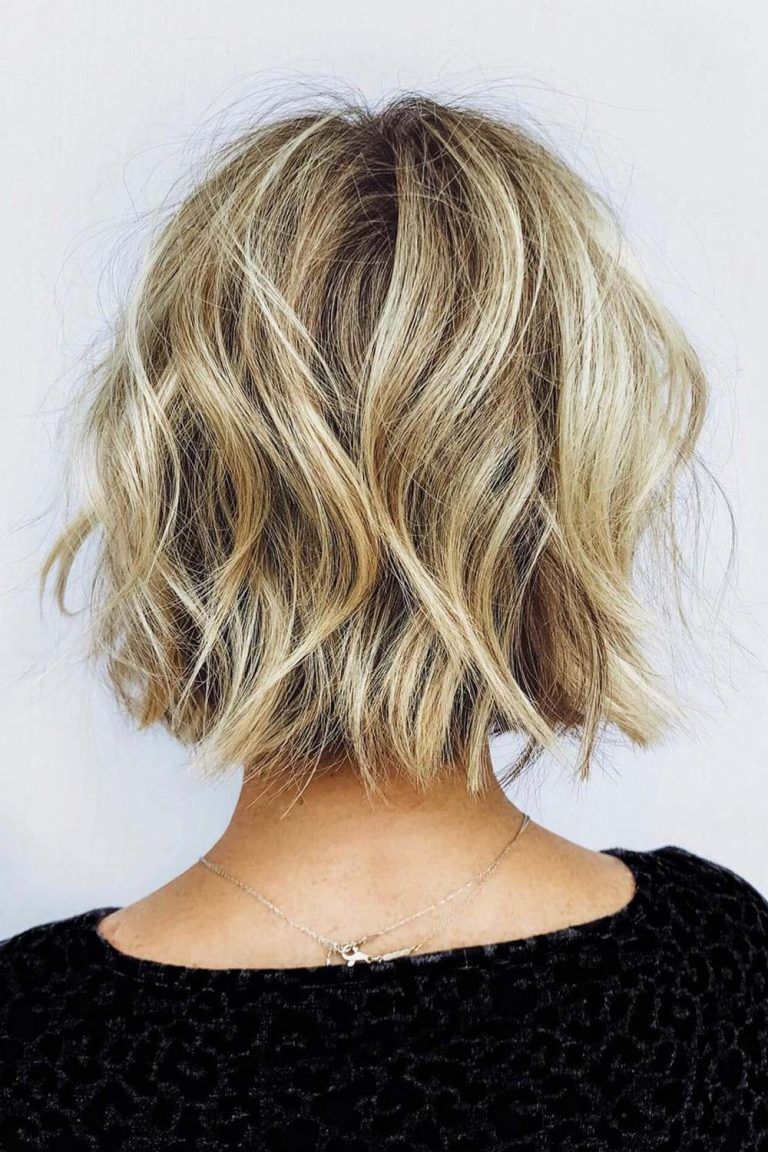 by @instagram_chrisjones_hair
Medium layered bob haircuts are known for their versatility. No matter your hair type or face shape, you can definitely adopt one for yourself. With such a length of the haircut, you will be able to accentuate your long graceful neck or make it seem like that.
Because it's cut in layers, this bob type will appear extremely flattering to girls with thin and flat hair. For added texture, apply a sea salt spray to your hair and curl it with a curling wand. To give the waves a natural and tousled appearance, rake the fingers through your locks. Additionally, you can highlight your layered haircut with skillful bronding.
Side Parted Straight Bob Haircut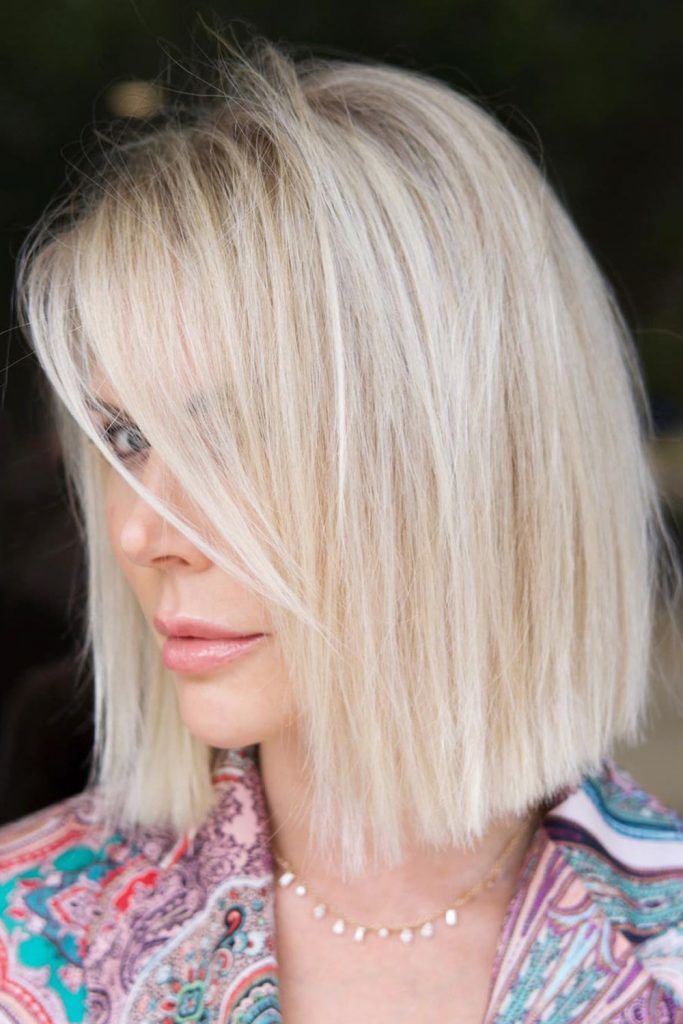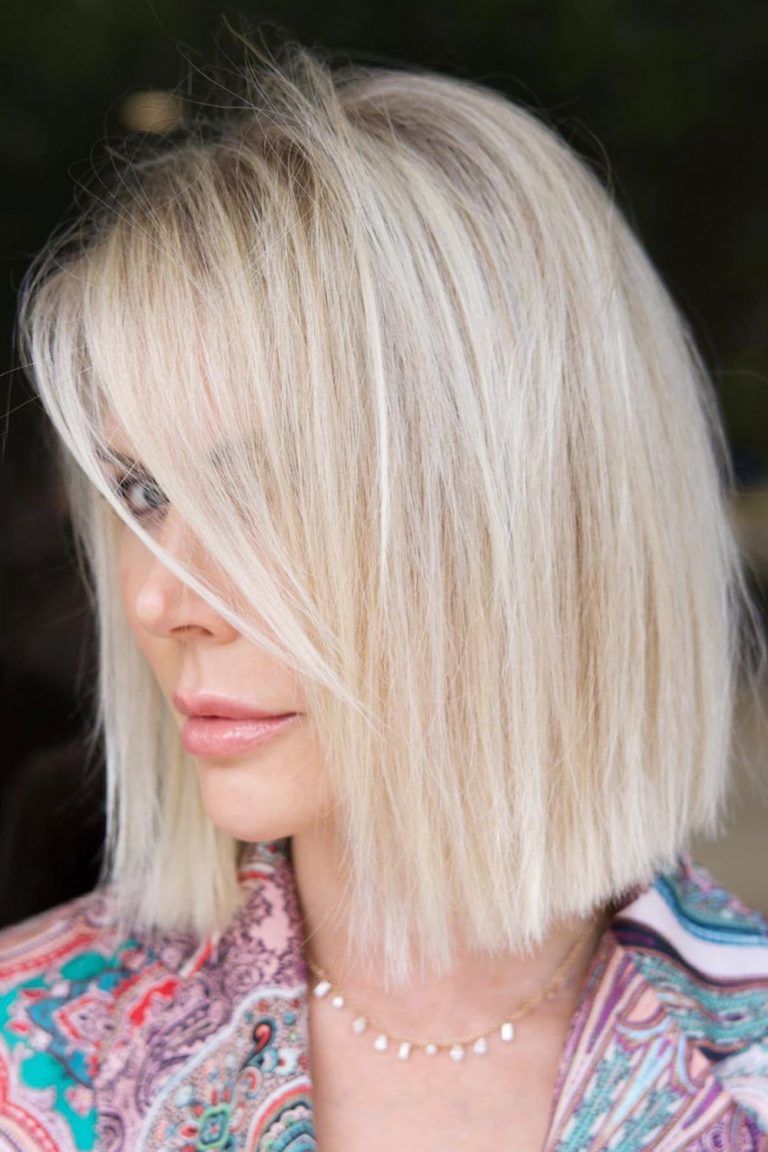 by @instagram_chrisjones_hair
Among all of the women haircuts in 2023 medium bob is probably one of the most varied. If you've just got a fresh blonde balayage on medium hair, you have a great opportunity to showcase its clearly displayed colors through straight sleek strands. What else makes this medium bob haircut stand out is the angled front, which gives more definition to the sharpness of the jawline. If you want to emphasize the edginess of the cut, harness it with a side part.
However, to keep your bob smooth and sleek, you'll need to make a little effort. Always wash your hair with straightening shampoo and conditioner. Before styling, don't forget to use a frizz-fighting product. To achieve the desired slickness, use either a straightener or a blow dryer with a round brush.
Messy Bob With Bangs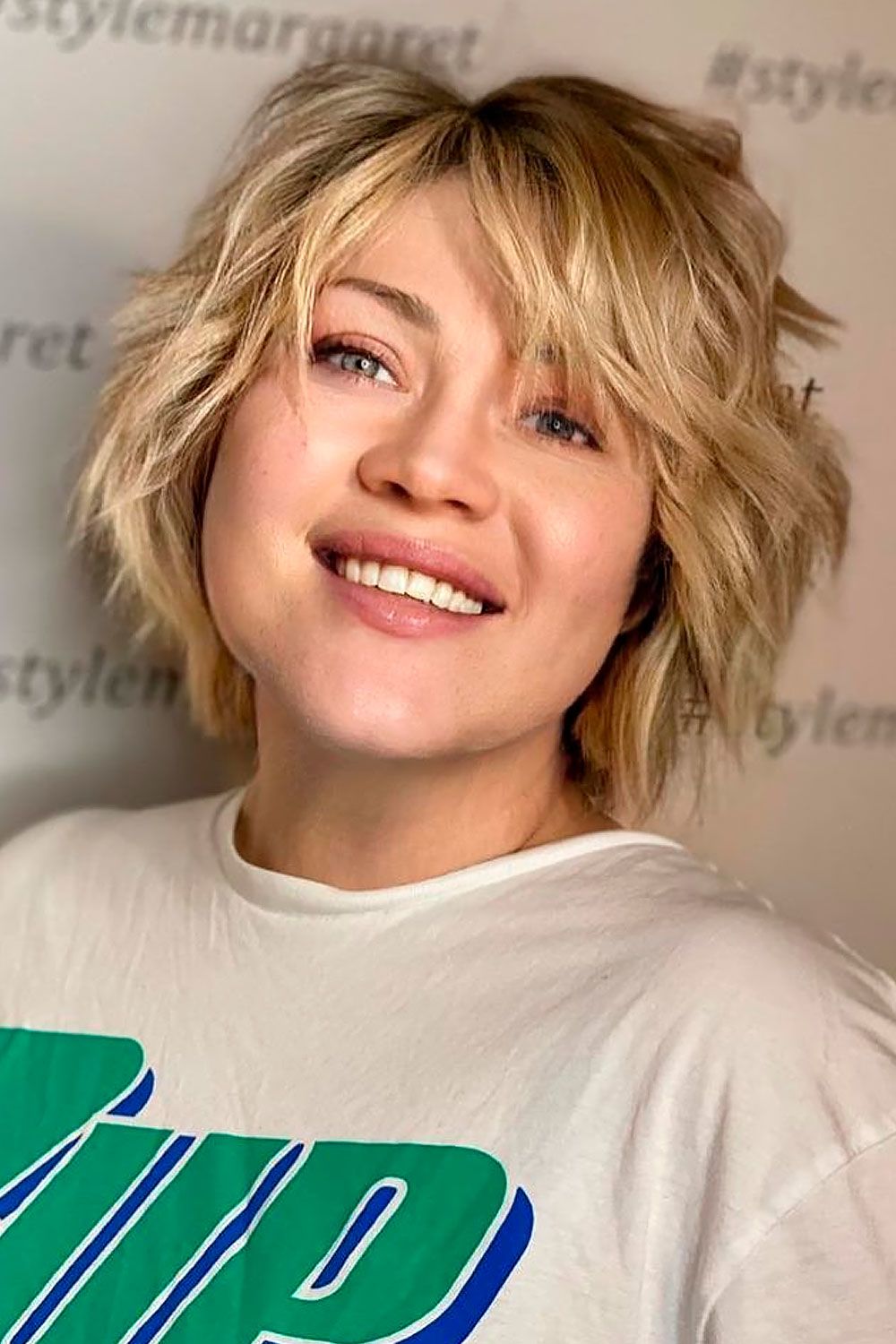 by @instagram_stylemargaret
If you want to make your face appear more proportionate, opt for medium bob haircuts with bangs. Bangs are a great way to frame your face and disguise an expansive forehead. A medium length blunt bob can be paired with any type of bangs, from wispy to pixie. Not to make it seem stiff, keep the movement intact by giving your hair a textured and disheveled look.
This messy bob has an effortless and relaxed breeze. To achieve this look, go for a soft blonde balayage and beachy waves. Cut your bangs so that they would skim your eyebrows for a sexy and soulful glance.
A-line Bob Haircut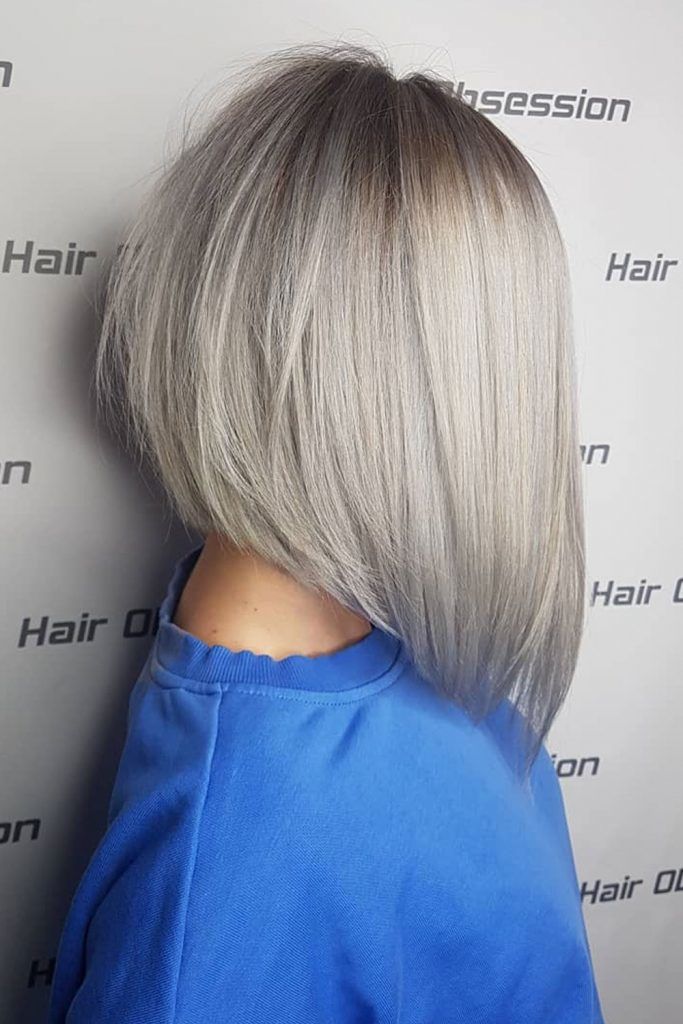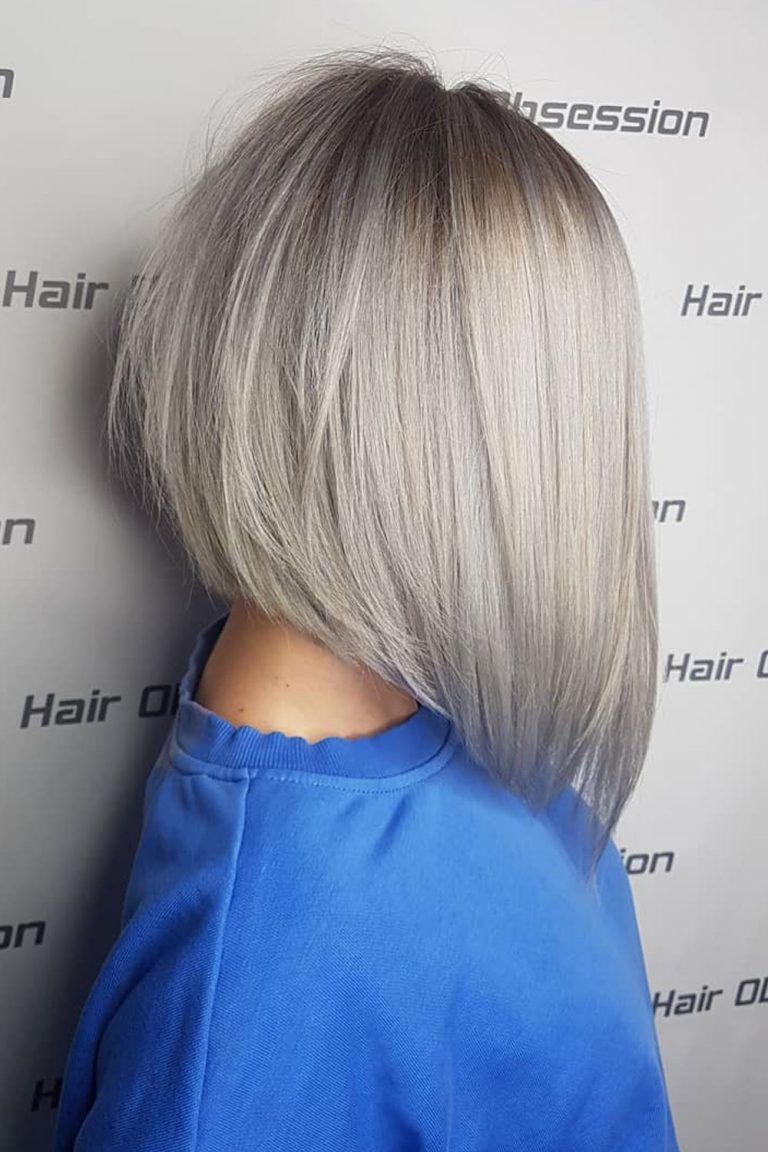 by @instagram_apostoldiana
To get an A-line bob, you need to have your hair gradually cut so that it would be the shortest in the back and the longest in the front. Ideally, the angle should start from the nape and finish at the sternal notch. The best thing about this cut is its sheer versatility. It flatters most shapes of faces and types of hair. Oftentimes, an A-line bob haircut helps to frame the face highlighting its most prominent features.
There's another variation of a short back long front haircut, which is an inverted or graduated bob. However, the back in medium inverted bob haircuts is tapered and has stacked layers, which gives it a more curved appearance.
Curly Bob With Bangs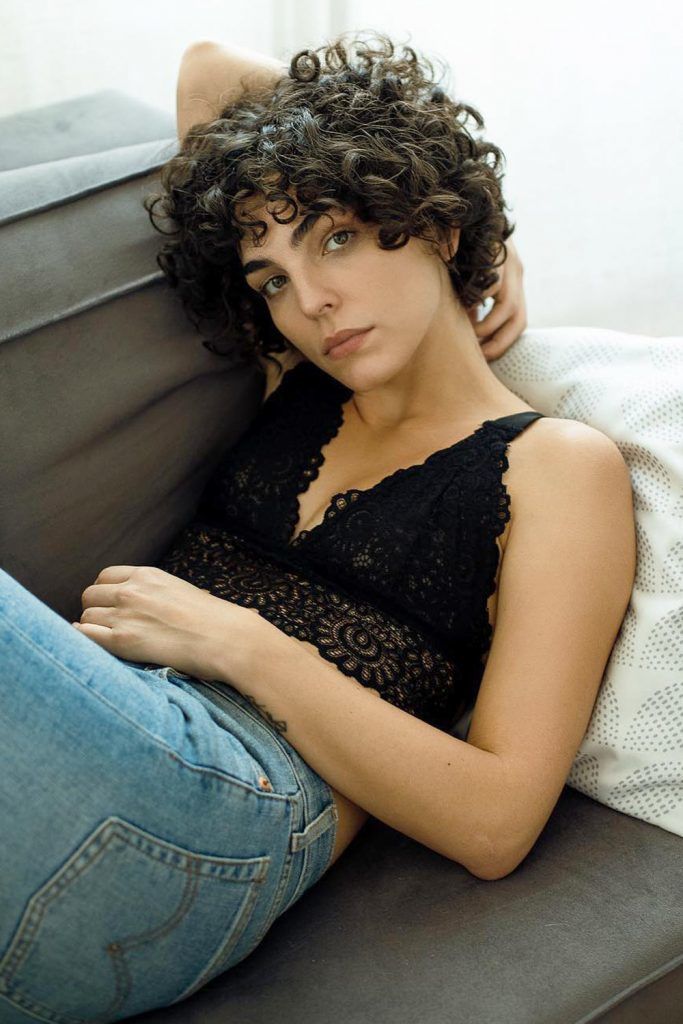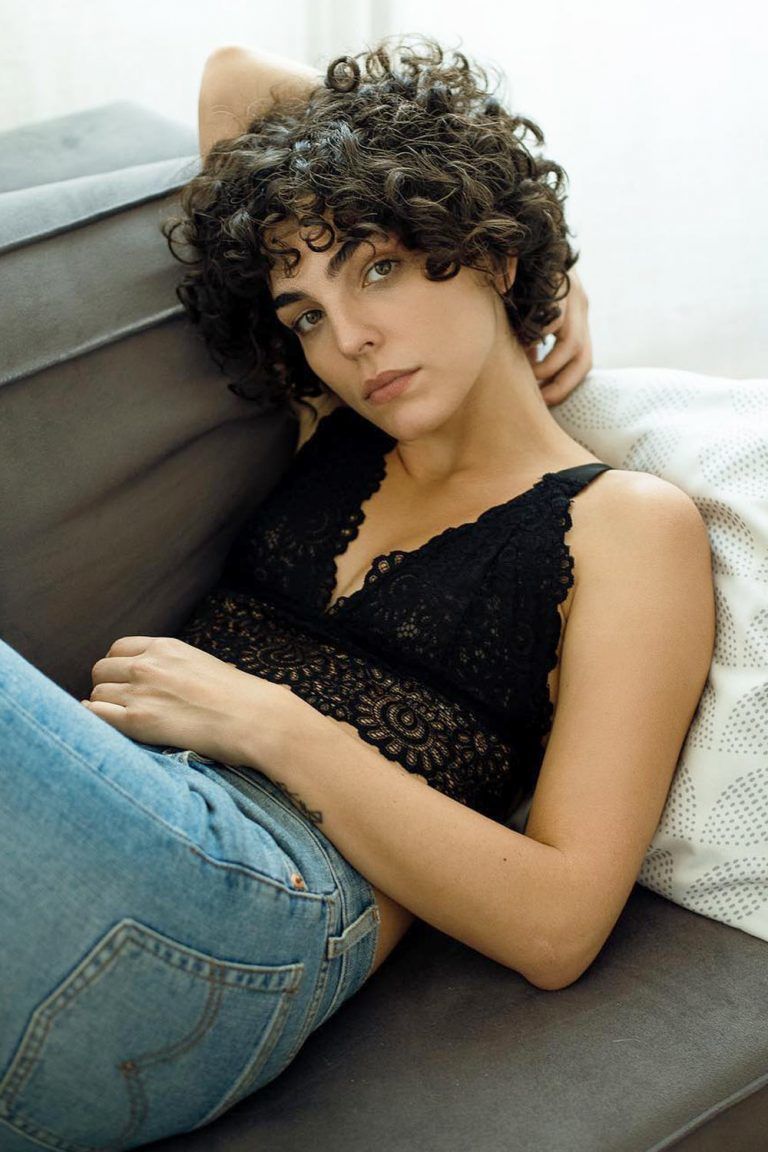 by @instagram_juliakonrad
Wavy and curly hair is bound to be sported in a bob. The perfect settings for such a hair type are medium length bob haircuts with bangs. They allow you to show off the beauty of your taut and bouncy locks while keeping them under control.
Cut your hair in even layers to create an ample and defined look that will perfectly frame your face. This is an instance of low maintenance medium bob haircuts that come out most attractive with minimum or no styling at all. Don't skimp on a special shampoo and conditioner for curly hair though. They'll help to hold your coils in shape and tame frizziness.
Leave your hair air dry after the shower and don't you dare brush it! By combing or brushing your ringlets, you may not only ruin their wiry shape but also damage the hairs themselves, which doesn't do good to your mane. When dry, highlight your stately black ringlets with a touch of soft gel for a glossy finish and enhanced texture.
Sharp Edges With A Touch Of Waves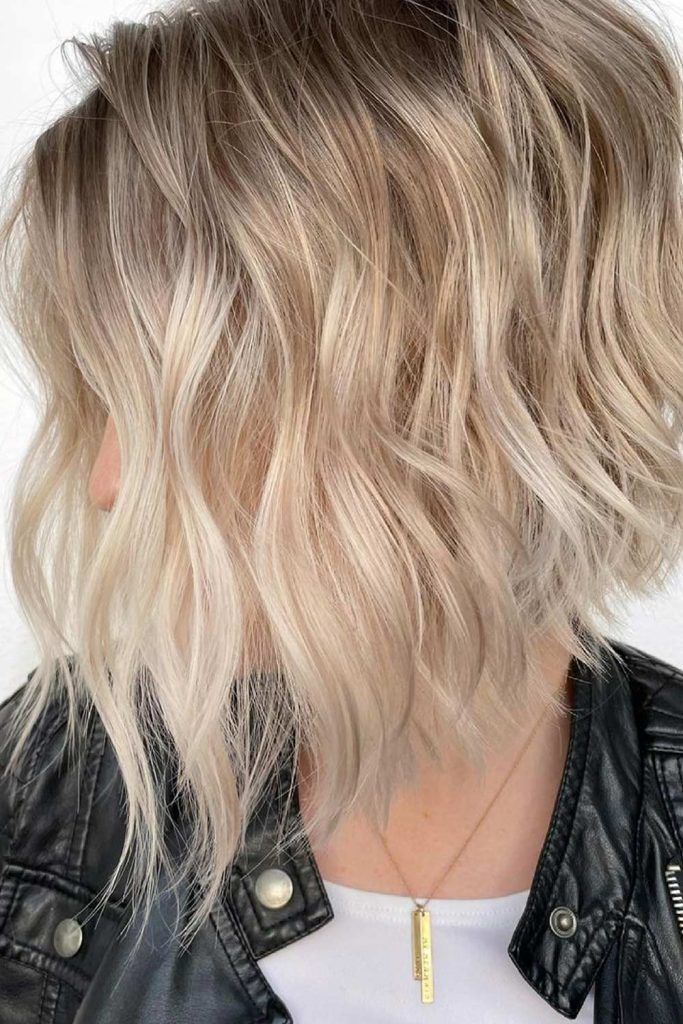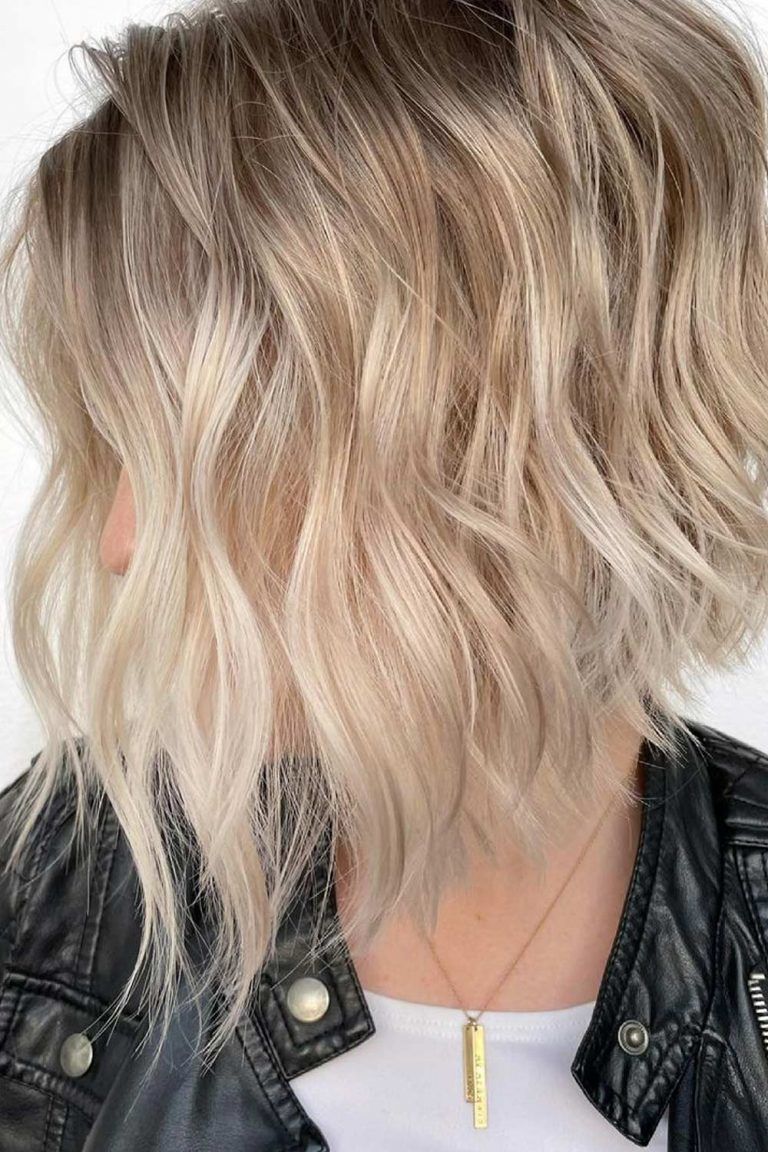 by @instagram_headrushdesigns
If you're looking for perfect medium length bob haircuts for thick hair, then a blunt bob should be the cut of your choice. With its sharp edges, it creates a unique and stylish look that suits most face shapes. To give your medium bob haircut a less stiff appearance, style it in messy soft waves with a side or middle part. Color-wise, go for an ash blonde balayage with platinum highlights and natural roots.
Wavy Stacked Bob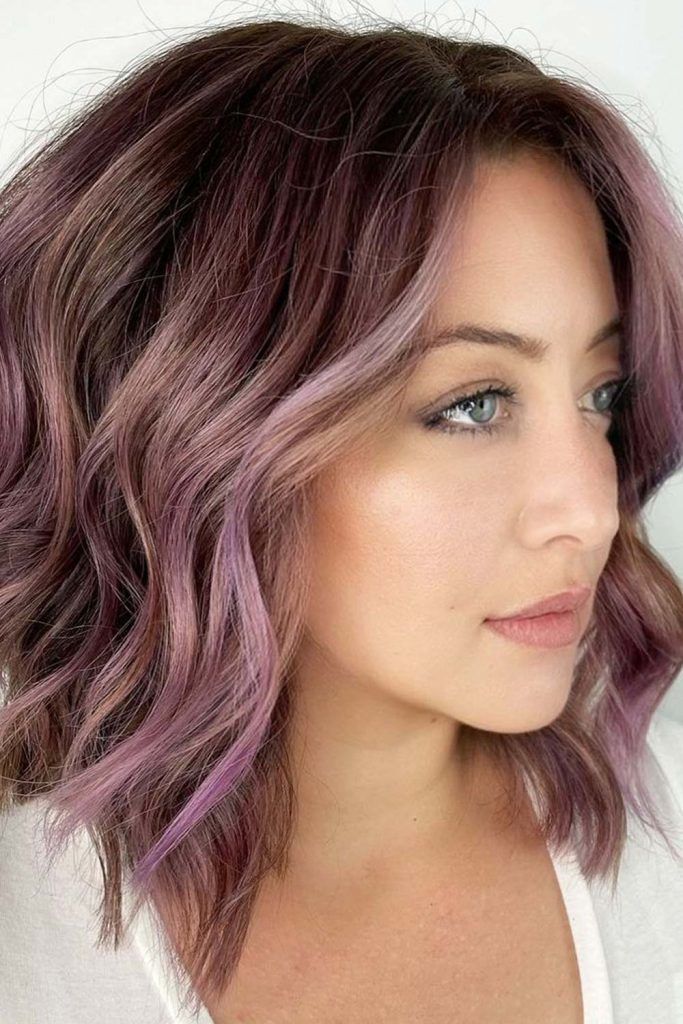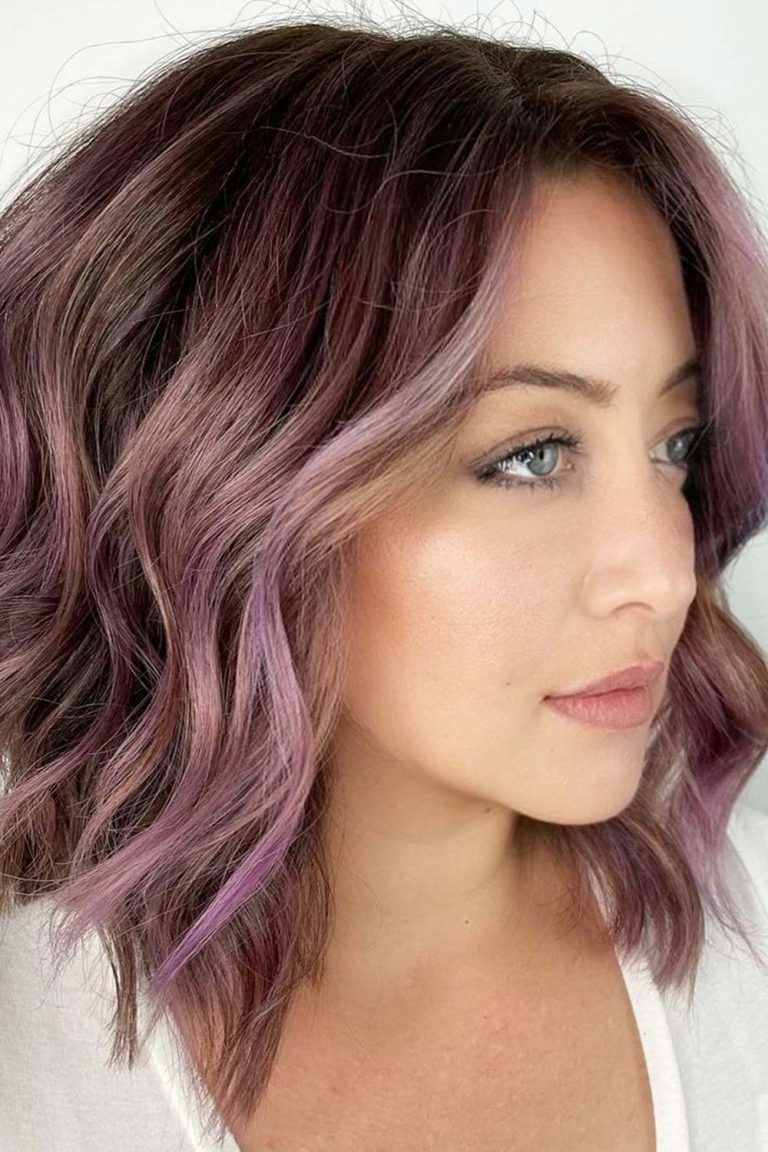 by @instagram_bleachedandblown
A stacked bob is an example of medium bob haircuts with layers that look great on everyone. To achieve the look, the back of the head should be layered in such a way that it stacks, hence the name. You can harness it side-parted or with bangs, styled any way, it will turn out chic and fabulous.
To make them cute medium bob haircuts can be coiffured in waves. Depending on your personal preferences, make them soft and dapper or ripple and asymmetrical. This cut looks extremely cool in 2020 when the lighter side is tucked behind the ear.
Middle Parted Medium Bob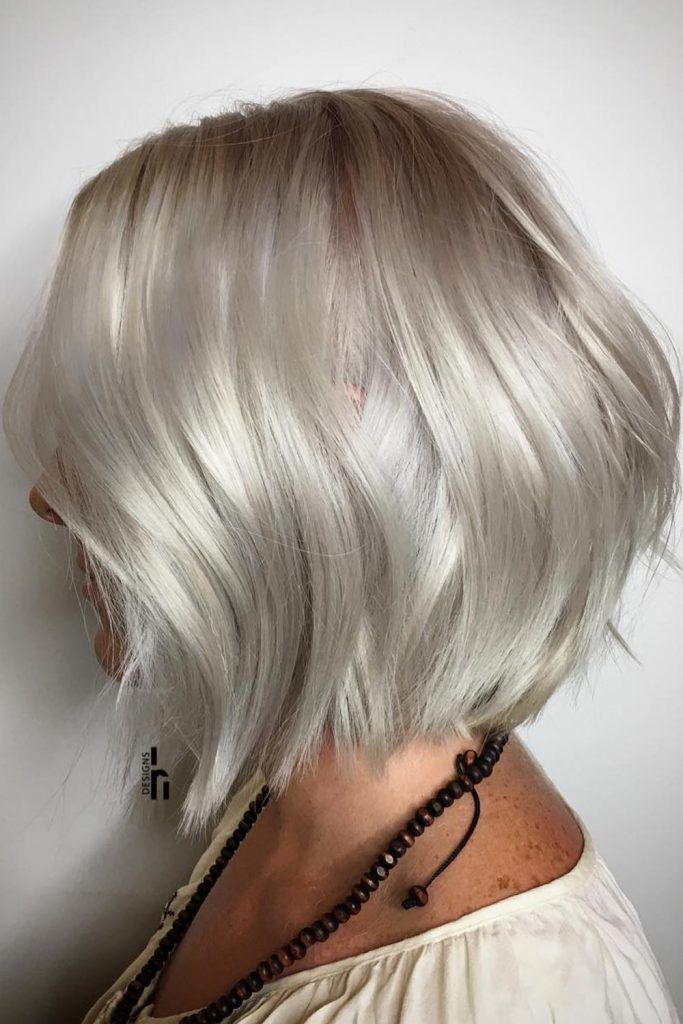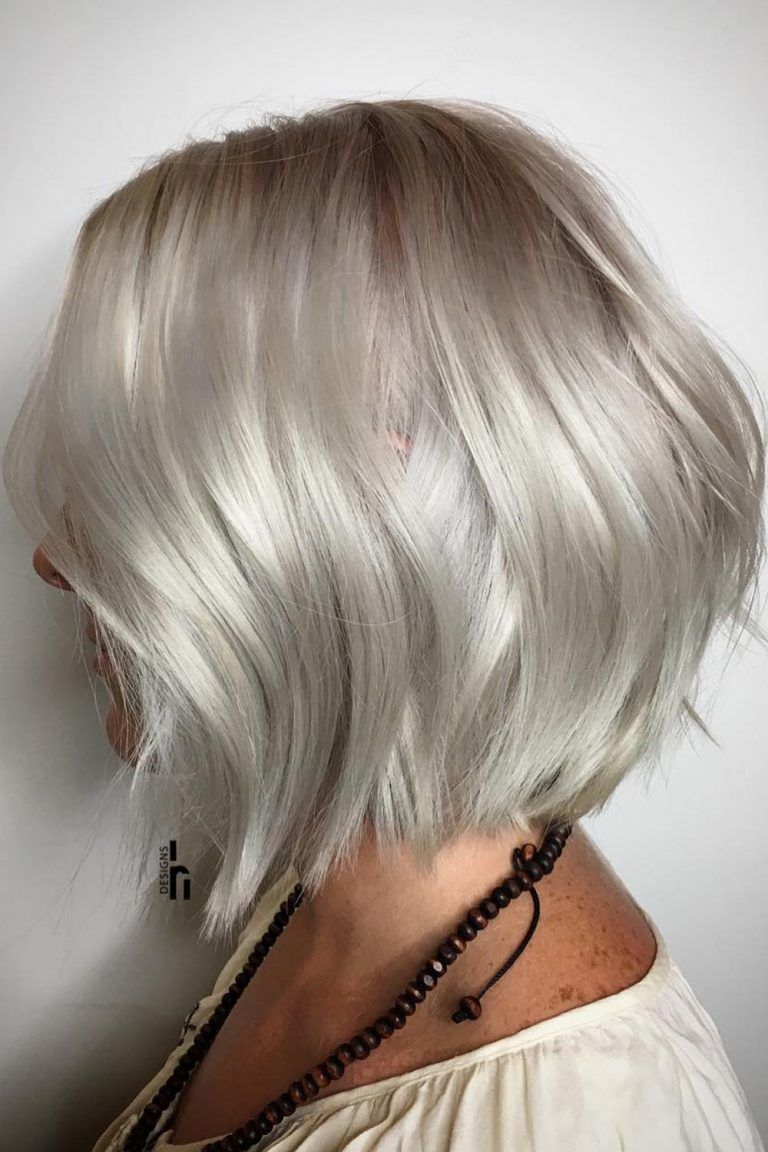 by @instagram_headrushdesigns
If you don't want to go too elaborate with your hair and opt for classic medium length bob haircuts, you can play around with the color then. With a little tousled platinum blonde hair, you can easily achieve a gleaming ribbon effect that can't be left without attention. Featuring a chin length, this hairstyle comes out textured and dimensional thanks to delicate inner layering. This, in turn, makes it extremely versatile.
Asymmetrical Bob Haircut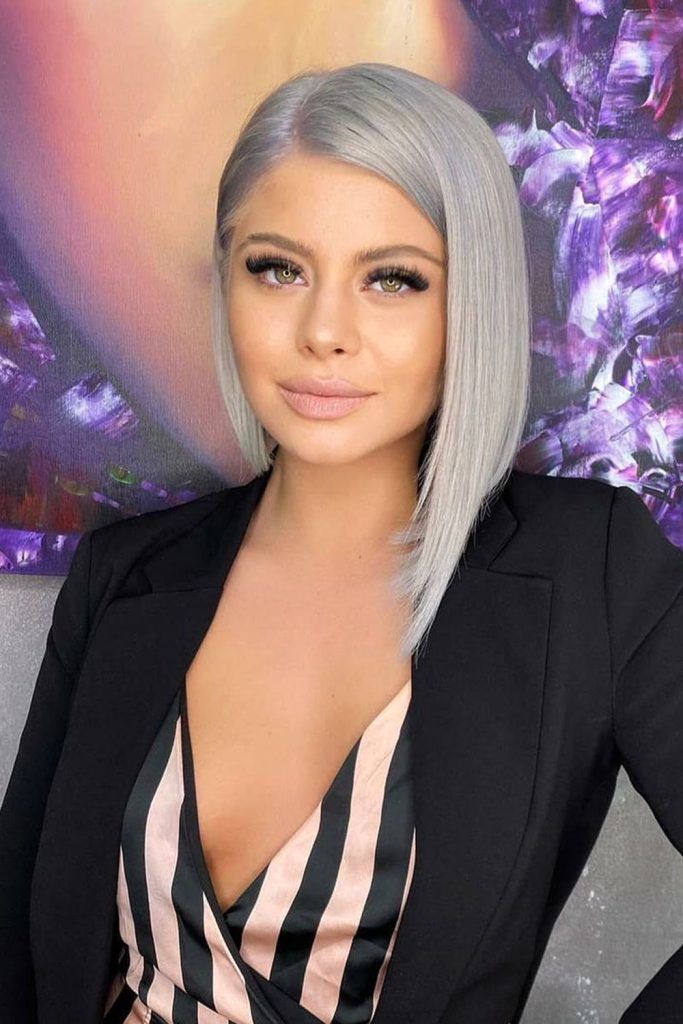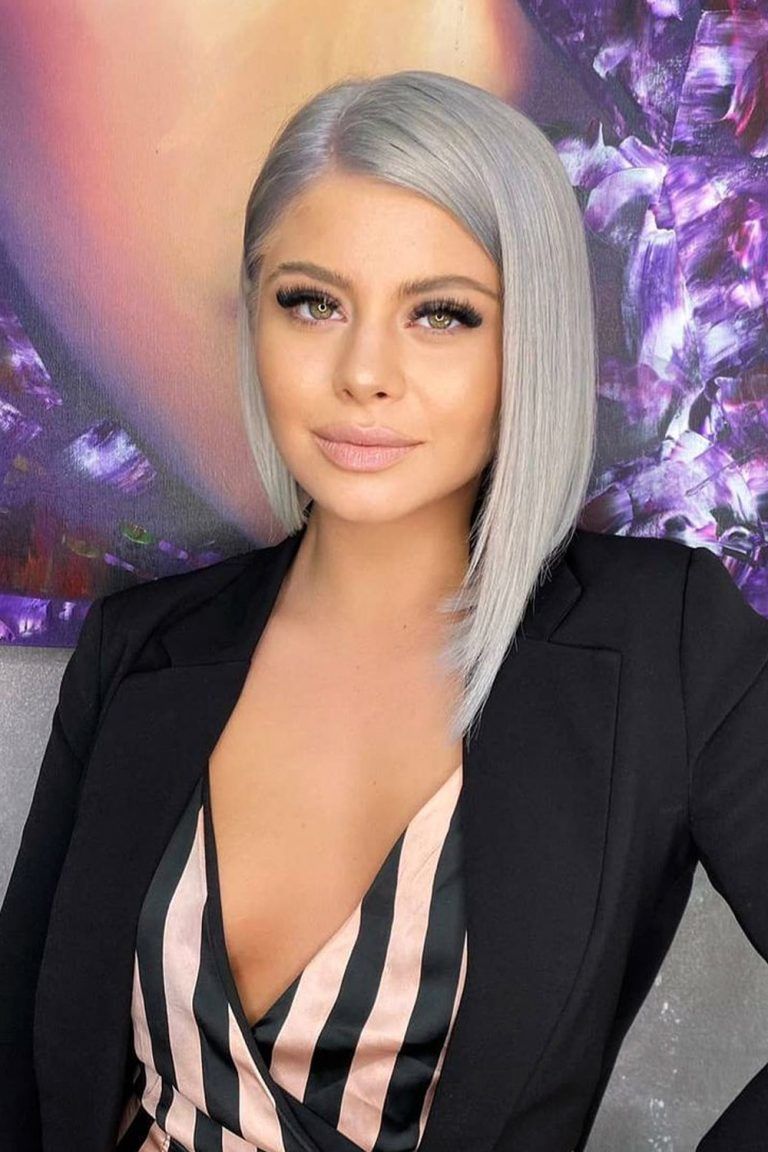 by @instagram_apostoldiana
Interestingly, the easiest way to get medium angled bob haircuts is to cut them symmetric. To create asymmetry, you simply divide your hair into two sections with a deep side part. The hair falls so that it creates one of the angled medium long bob haircuts with longer front and shorter back.
This is an easily manageable haircut, as all you need to do with regard to styling is to wrap a couple of random strands around the curling wand and apply a texturizing spray or hairspray with a light hold. Icy-blue and ash blonde highlights make the look more vivid and defined.
Wavy Bob With Bangs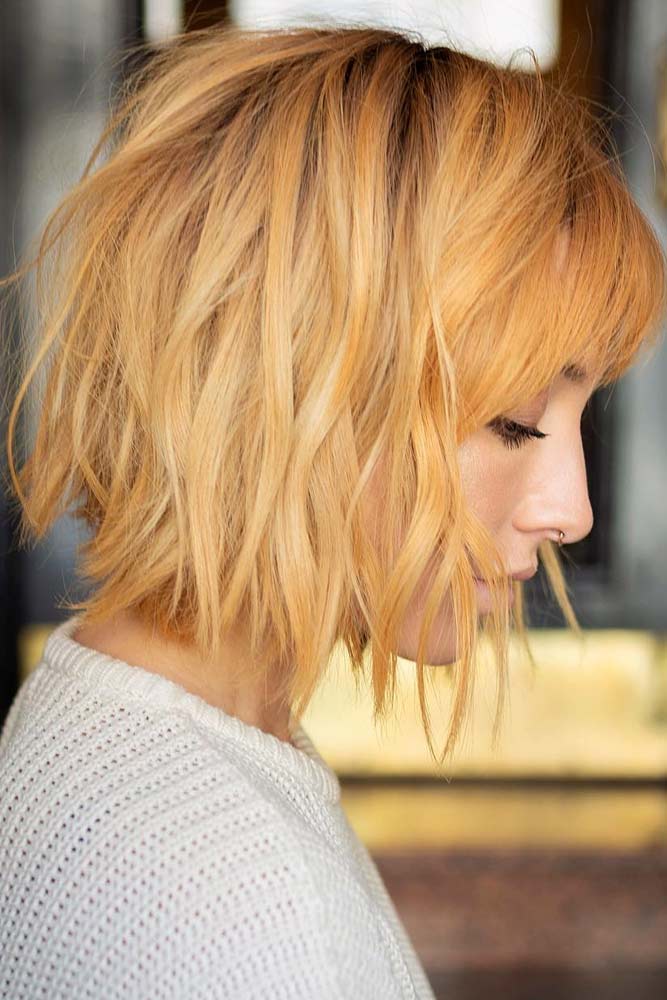 by @instagram_cutyourhair
One of the best medium bob haircuts for fine hair is a wavy bob with bangs. Such medium shaggy bob haircuts are cut in layers, which makes them easier to style. The disheveled look this haircut has creates the impression of the full head of hair. Bangs, in turn, help to hide an expansive forehead or wide face. A caramel color with ginger streaks makes the hair look even more voluminous and dimensional.
Soft Blunt Bob With Natural Waves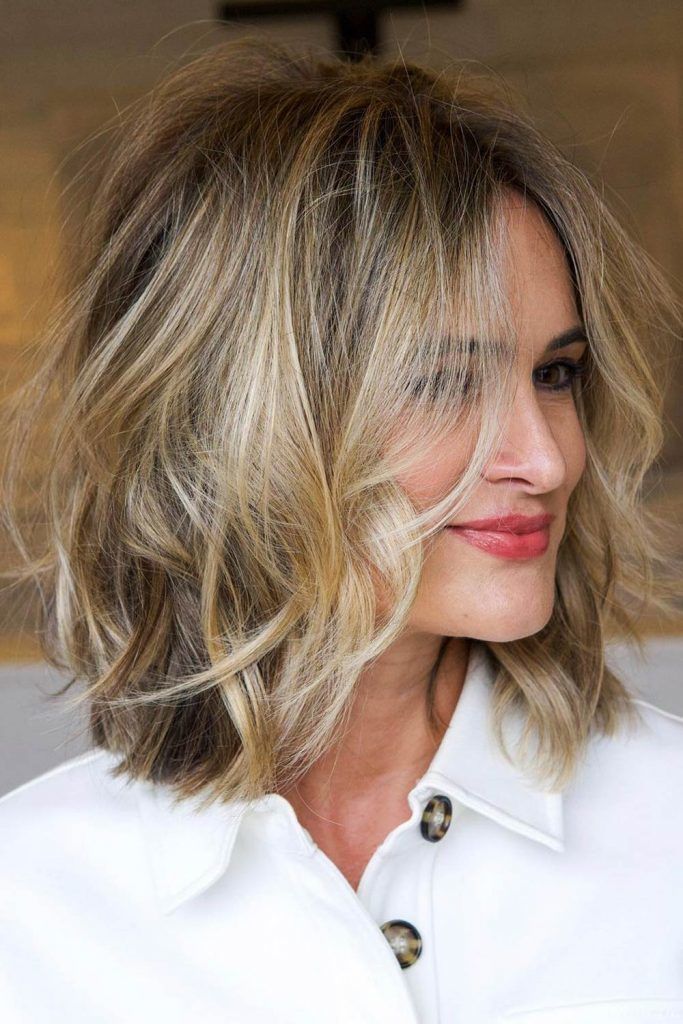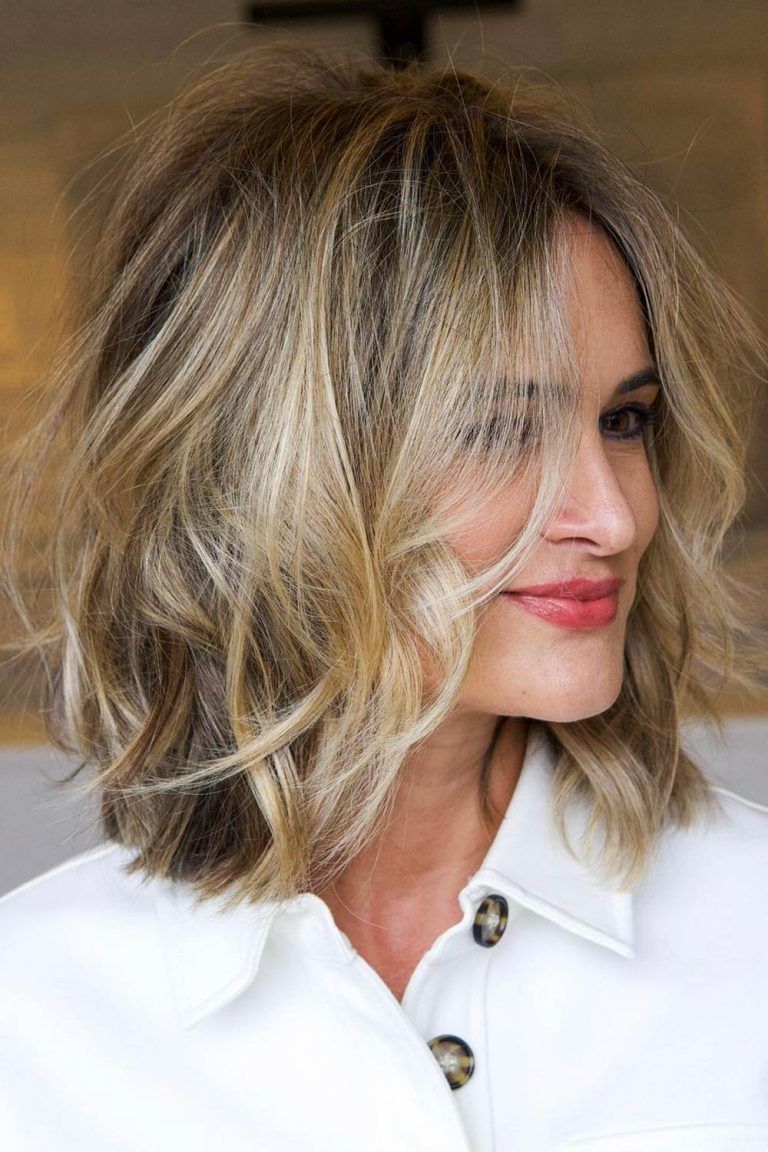 by @instagram_chrisjones_hair
Although a blunt bob is just a one-length short haircut, it's by no means boring! Not only does this haircut allow for various styling and coloring options but it also works equally well for thin and thick textures. On top of that, you can always enhance the natural movement and volume in your hair by getting layers.
Here, for example, you can see how subtle layers kiss the nicely chopped bob and reveal an effortless flowing wavy pattern. A soft shade of pink with contrastive roots accentuate the naturally wavy look, adding more individuality to it. Now, do you still think that you've got nothing to do with your a blunt cut?
Pink Bob With Side Bang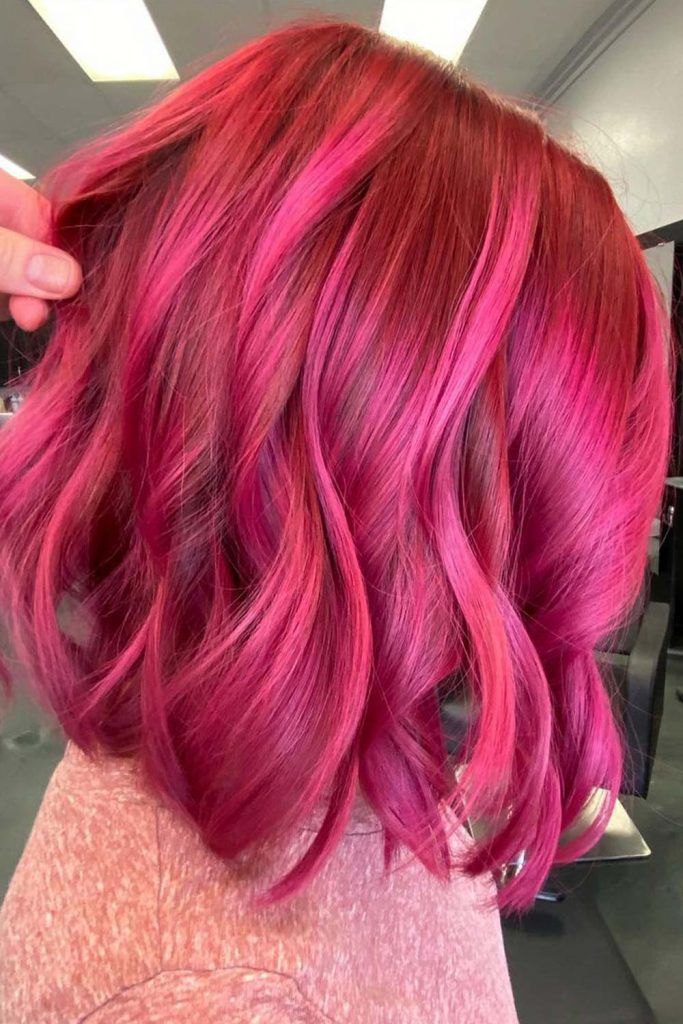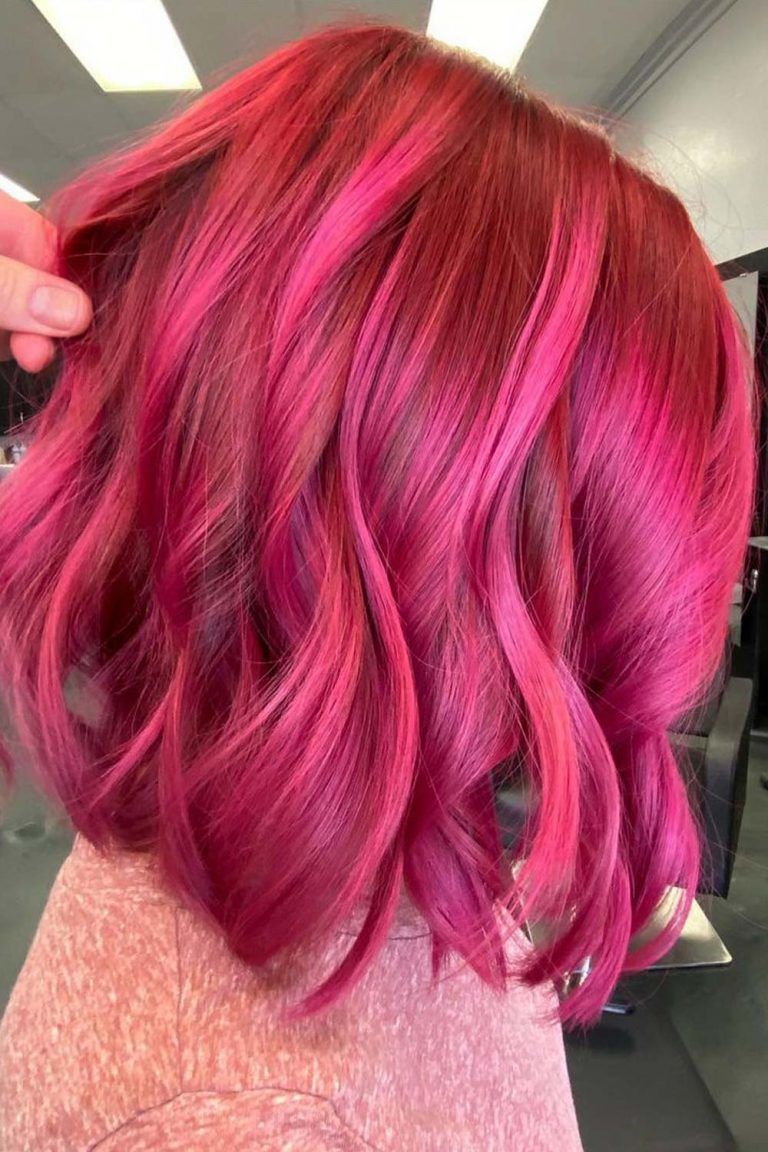 by @instagram_hairbyfranco
Another pink bob with a totally different mood! Let's focus on the beauty of wavy hair here. The first and foremost thing you should keep in mind when styling wavy hair is volume. Well, this is where a side fringe should come into your life. It will work wonders framing your face and giving an edge to your haircut.
Ask your hairstylist to blend the bangs with the rest of your hair so that they seamlessly form a well-shaped edgy body. By the way, some trendy, head-turning color is a fantastic way to make your look unique.
Bright Ombre Mix For Medium Bob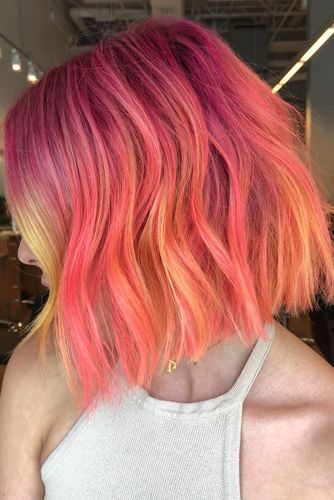 by @instagram_lindseyblakehair
Whenever you think of bold changes, take your bob haircut as a canvas for color experiments. In fact, a classic medium-bob length is just what the doctor ordered for those addicted to playing with vivid shades. On short and mid-length locks, all the colors you mix are in the spotlight, so you will love how your short haircut reflects your endless creativity.
This idea, where different shades of bright pink and yellow blend with one another, is only the beginning of what you can achieve once you set your creativity into motion. So as not to damage your colored hair, style it by applying some texturizing + moisturizing product, leaving your locks to air dry.
Medium Bob With Textured Razored Ends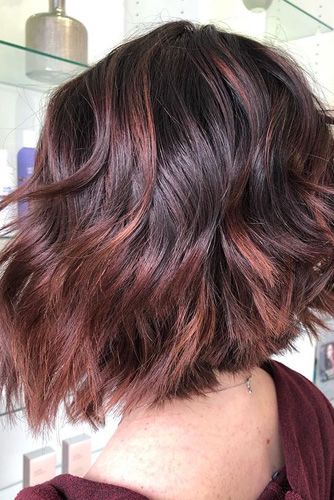 by @instagram__colourgoddess
The ends of your cut can drastically change the way your hair looks. Despite being just a little detail, your ends define the structure of your whole cut, as well as the mood of your look. If you get your ends razored, they will amp up, becoming sharper and more lively than ever. In this way, you will get yourself a sassy flirty look you never knew you could have.
Besides looking hip, this idea is actually pretty beneficial for those with thick locks, as razored ends will give the needed sense of airiness to your hair. To get the most of such a texture, we recommend using salt sprays designed to enhance wavy texture.
Messy Deep Wavy Bob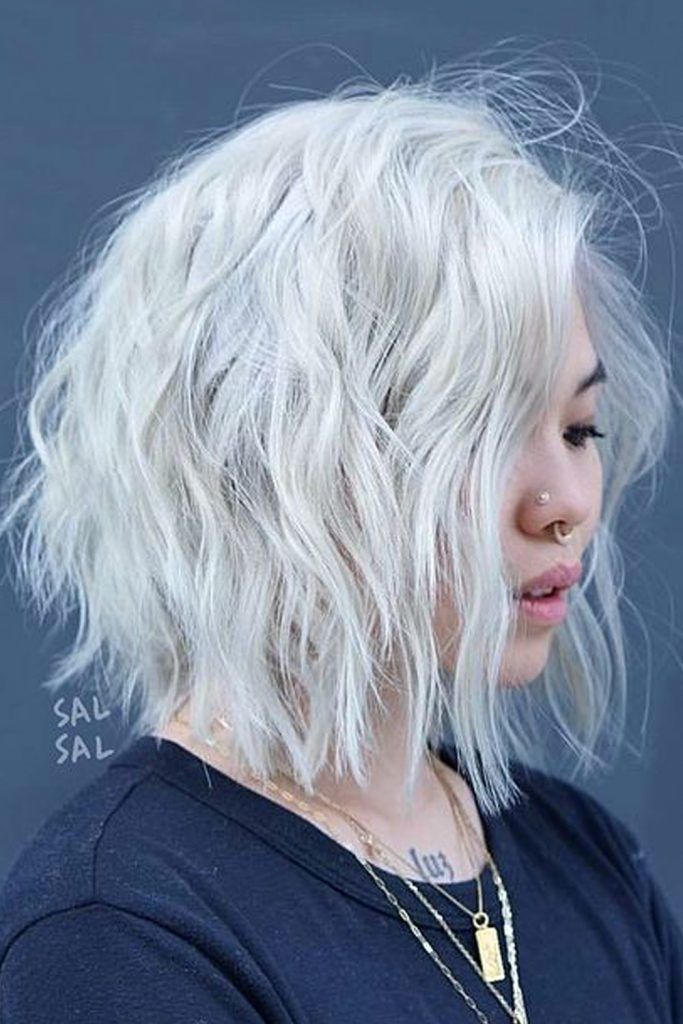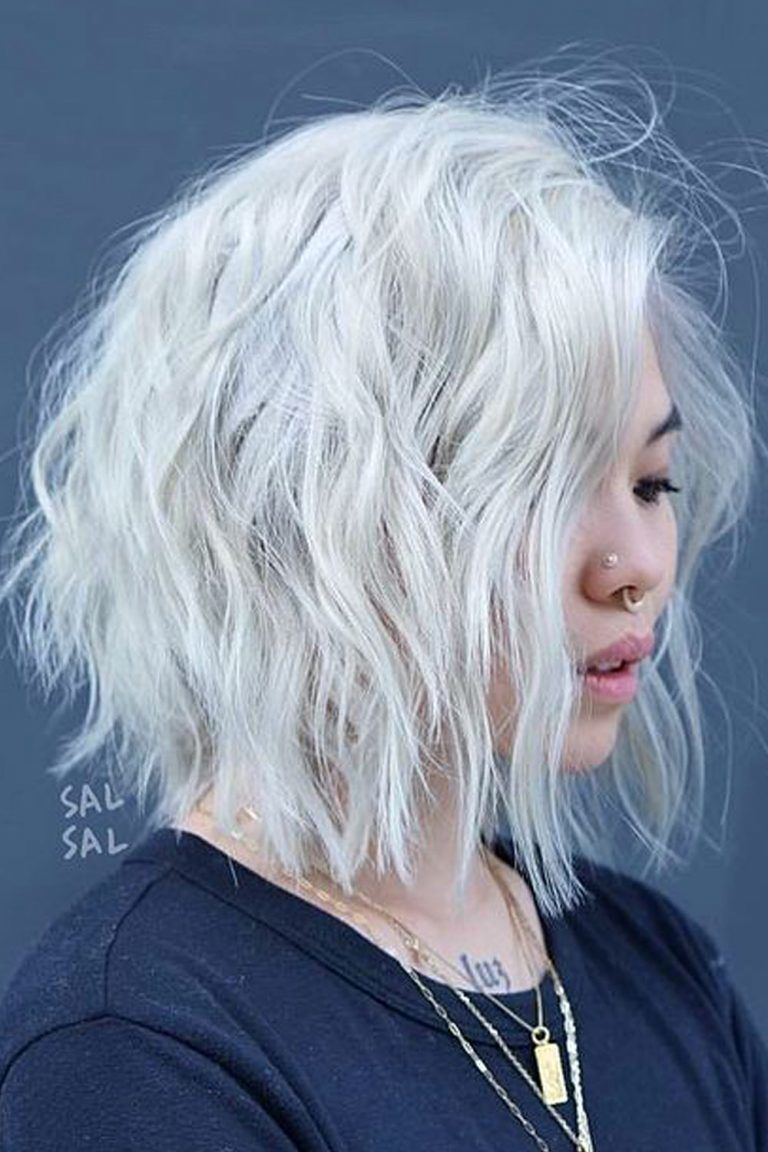 by @instagram_salsalhair
When we look at this amazingly textured and lightweight wavy bob, we realize that this hairstyle is the best way to fight flat looks. Even if you don't have thin hair, you will not be able to take your eyes off the mirror once you recreate this masterpiece. Of course, everything starts with the right haircut. Should we tell you that medium bob haircuts are something with which you won't ever go wrong?
To achieve this effortless and weightless look, you should go for layers first. Layering gets rid of the extra weight on your ends that outweighs your roots. Apply some wavy mousse to your conditioned hair and style it with a diffuser, tousling your locks with your fingers to add more movement. When the look is ready, define waves with salt spray.
Sleek A-line Bob Haircut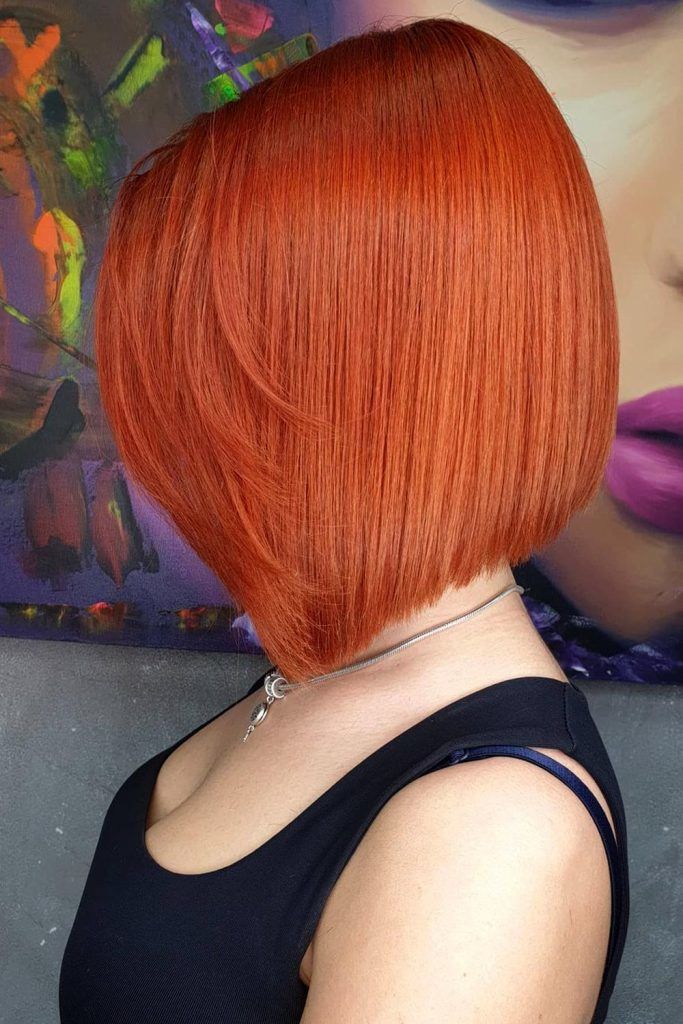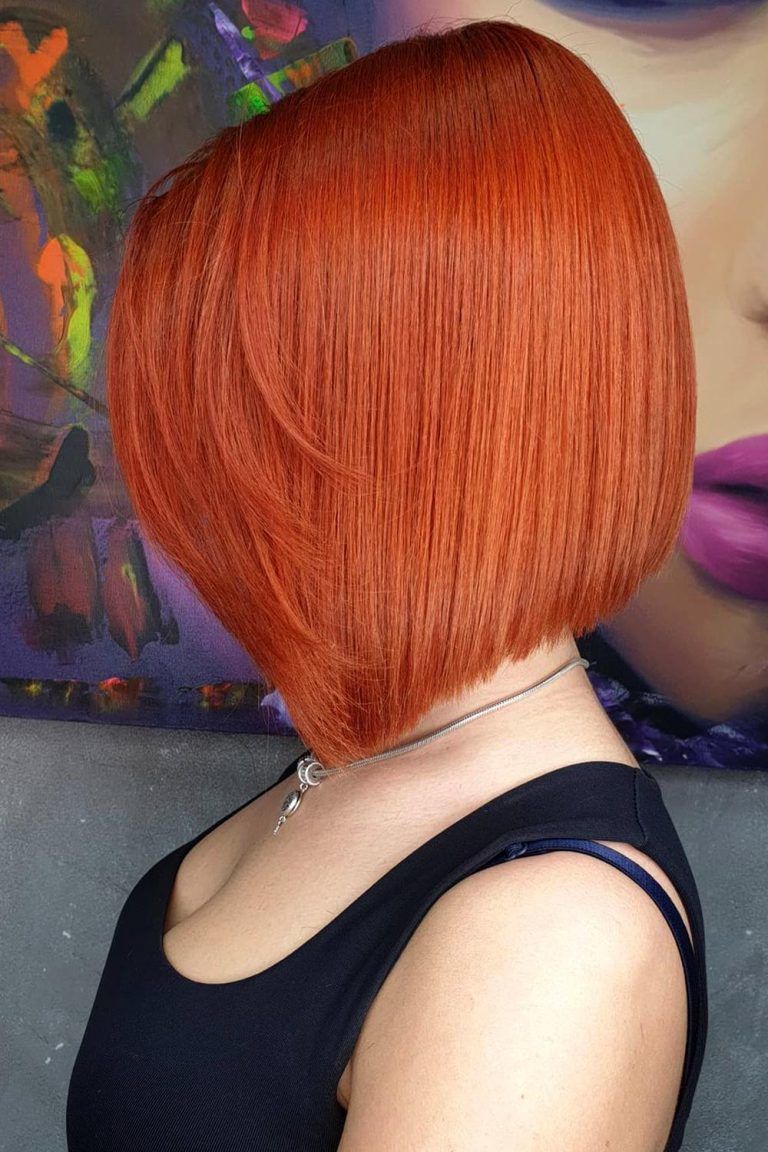 by @instagram_apostoldiana
Sleekness, precision, and reflection of natural shine in hair: it's just too good to be true. While being a classic option, not all women know how to reach perfection when creating sleek hairstyles. Basically, it's all about the state of your hair, as well as the structure of your haircut.
For the best results, prep your hair with softening conditioners and masks. Then, apply a shine-enhancing heat protectant and start styling your hair with a hairdryer and a round brush. When your hair is dry, give it a pass of a flat iron. Wondering how to make this visual impact even bigger? Just work with an A-line bob, as nothing can beat its dramatic gradual body.
Bob With Curtain Bangs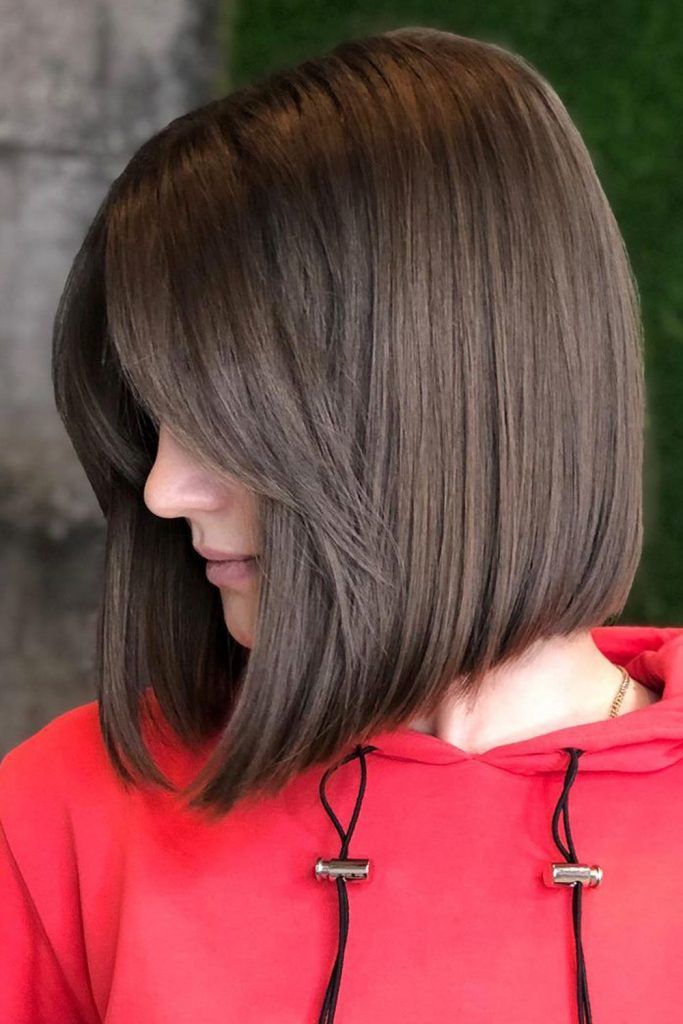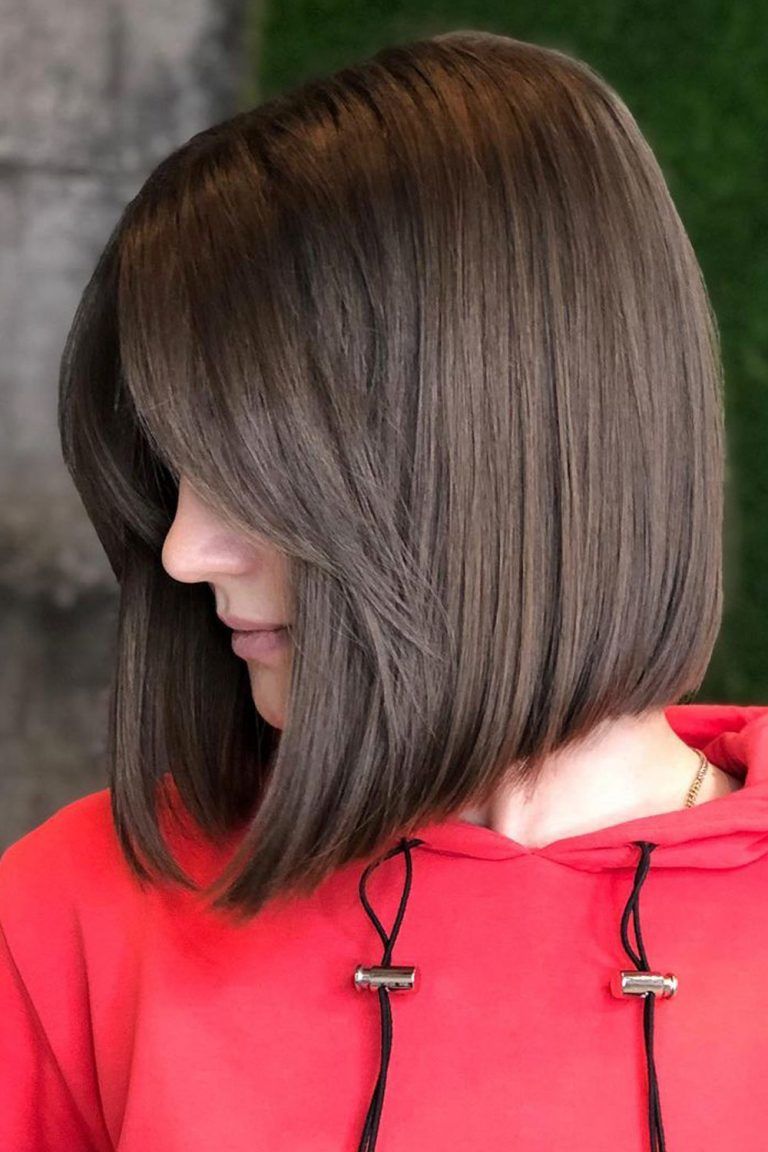 by @instagram_cutyourhair
When you think of bob with curtain bangs, what comes to your mind? If you've imagined a classic Matilda-inspired look, this idea is here to surprise you, showing how different classics can be. Unlike the most popular look of straight bangs, this fringe doesn't fall on the forehead like a thick piece of hair; it rather kisses the brows with its soft shaggy finish. And the same goes for the bob: it features sharp long layers throughout the body, which literally make every single strand distinctive and visible.
It's better to style this haircut with a blow dryer, but without a brush. Instead, run your fingers through your hair while blow-drying it to achieve this carefree look.
Graduated Textured Messy Bob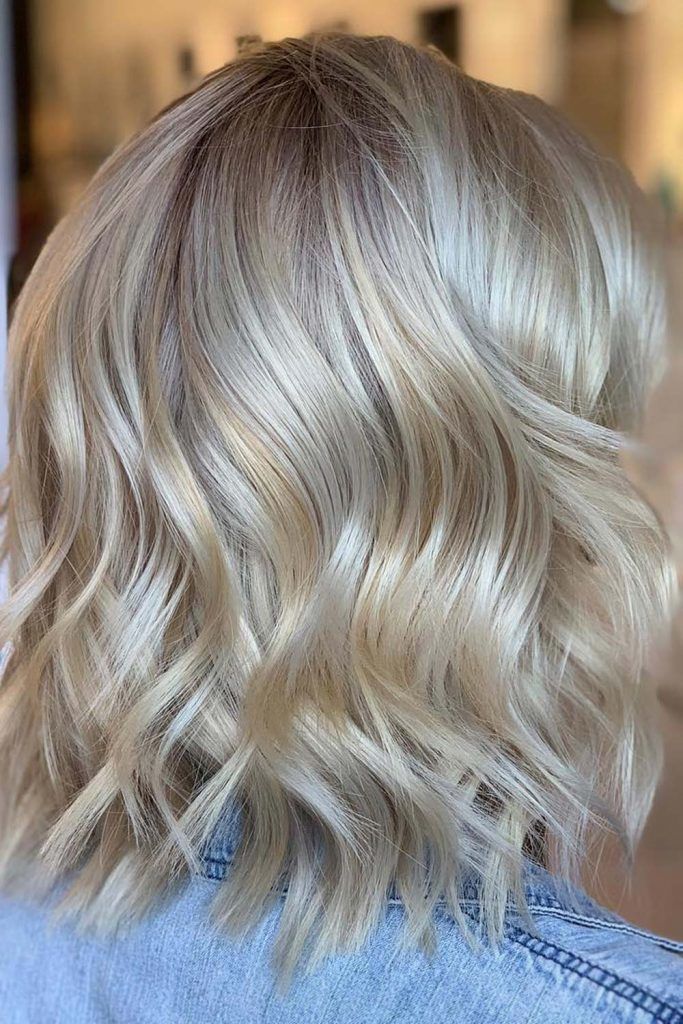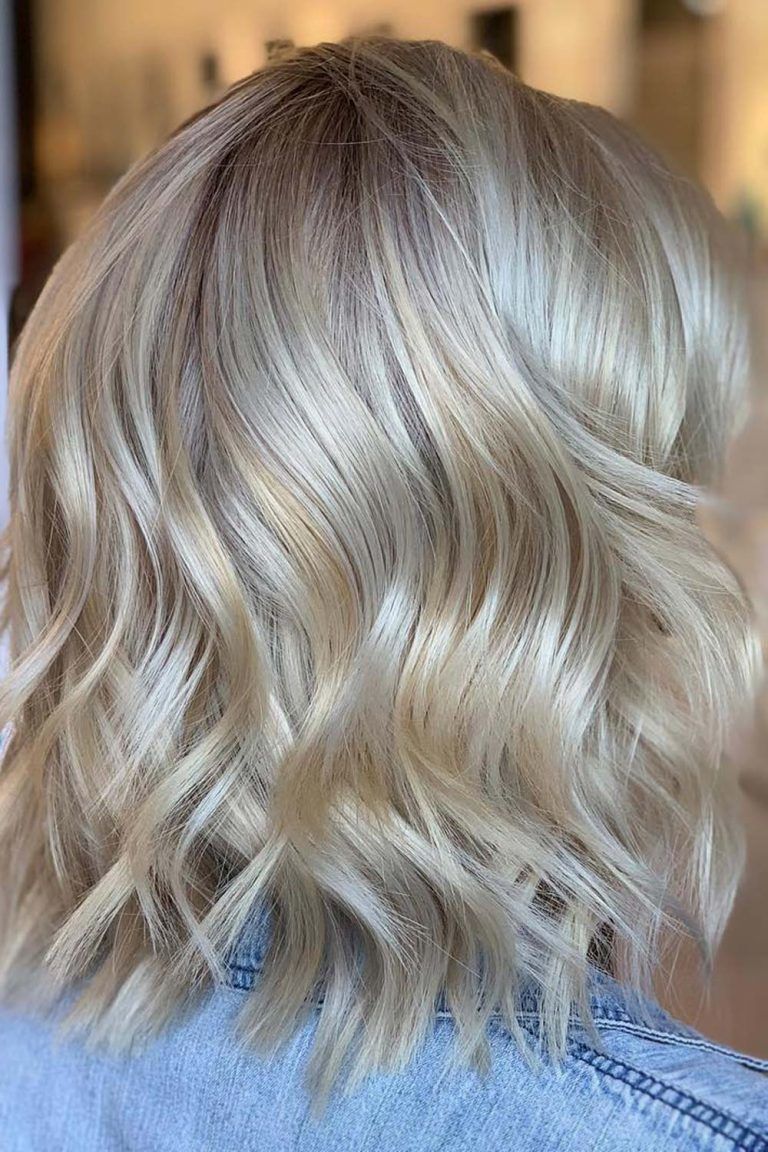 by @instagram_bleachedandblown
There are so many details you can customize that there's no way your bob will ever look basic! You can change anything from texture and structure to the shape of the ends, not to mention the styling approach, based on your preferences and facial features. This graduated and textured bob with a messy finish, for example, is a fantastic idea for women with thick hair and any face shape.
The volume and play of texture in this look are what make it so versatile for all face shapes. As for the graduated body and precise texture, these features can reveal the real potential of heavy locks, making them absolutely manageable.
Bob Haircut With Volumetric Blowouts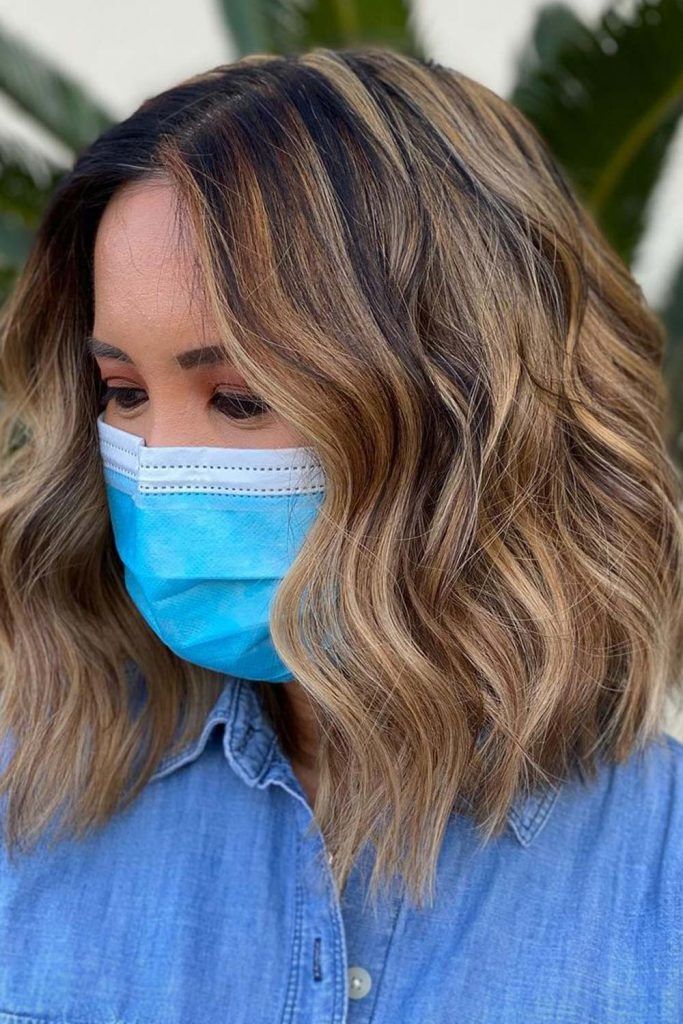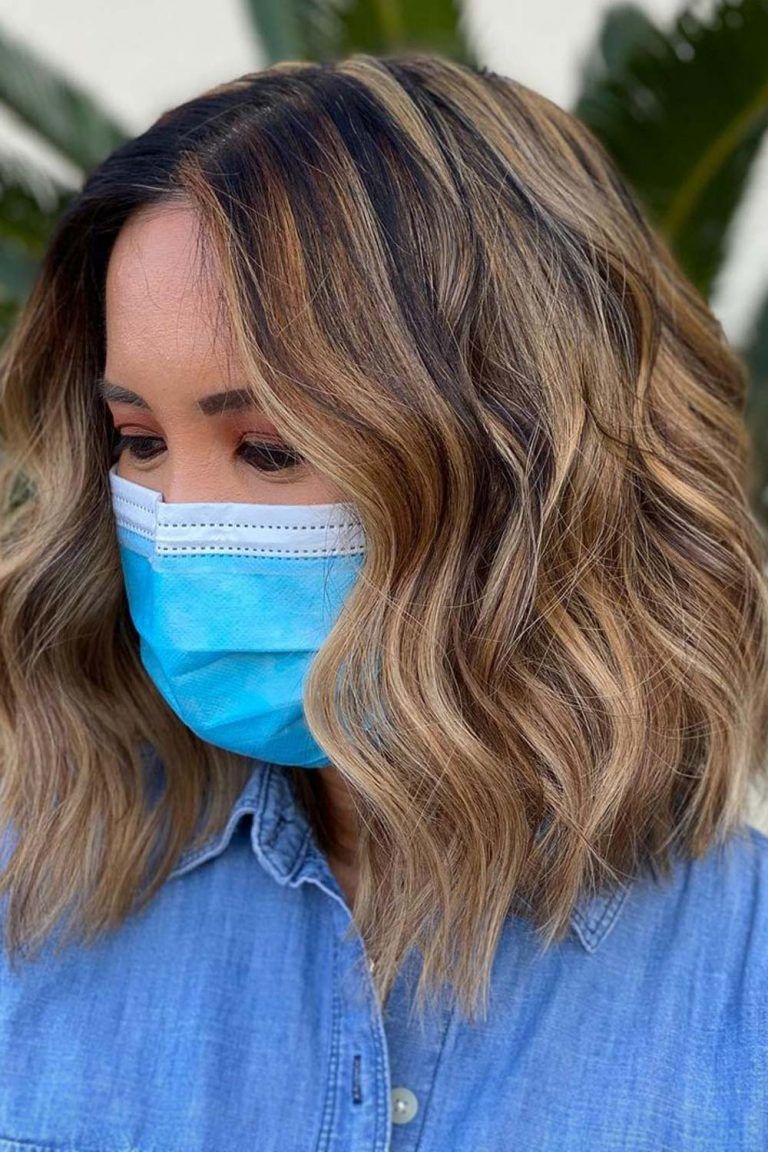 by @instagram_hairhunter
Here comes another masterpiece full of volume, movement, and dynamics. And since bob haircuts have always been the best base to build a perfectly balanced look, this idea is done on bob. Before you think that you can get blowouts only at home: this look is absolutely DIY! All you need is to be equipped with are a volume-boosting hair spray, good heat protectant, and salt spray for the finish.
First off, apply the spray and heat protectant to your wet hair. If you have layers (which is a win for such hairstyles) blowdry them separately. Then, do some tousling and complete the look with a salt spray. Voila! A bob with layers is enough to do everyone's favorite blowouts at home.
Medium Highlighted Bob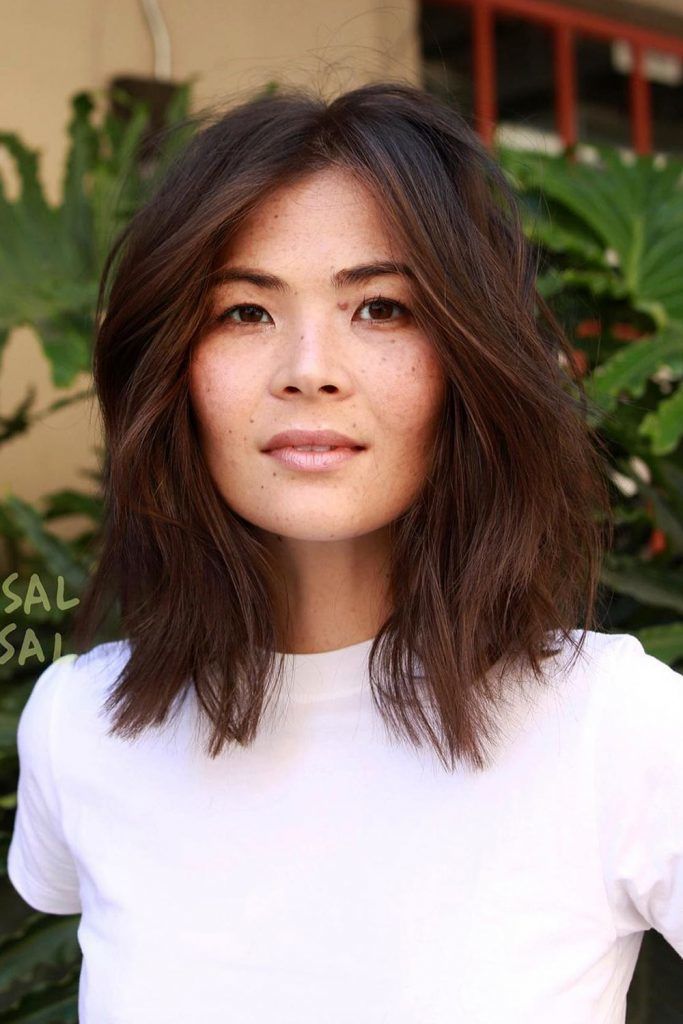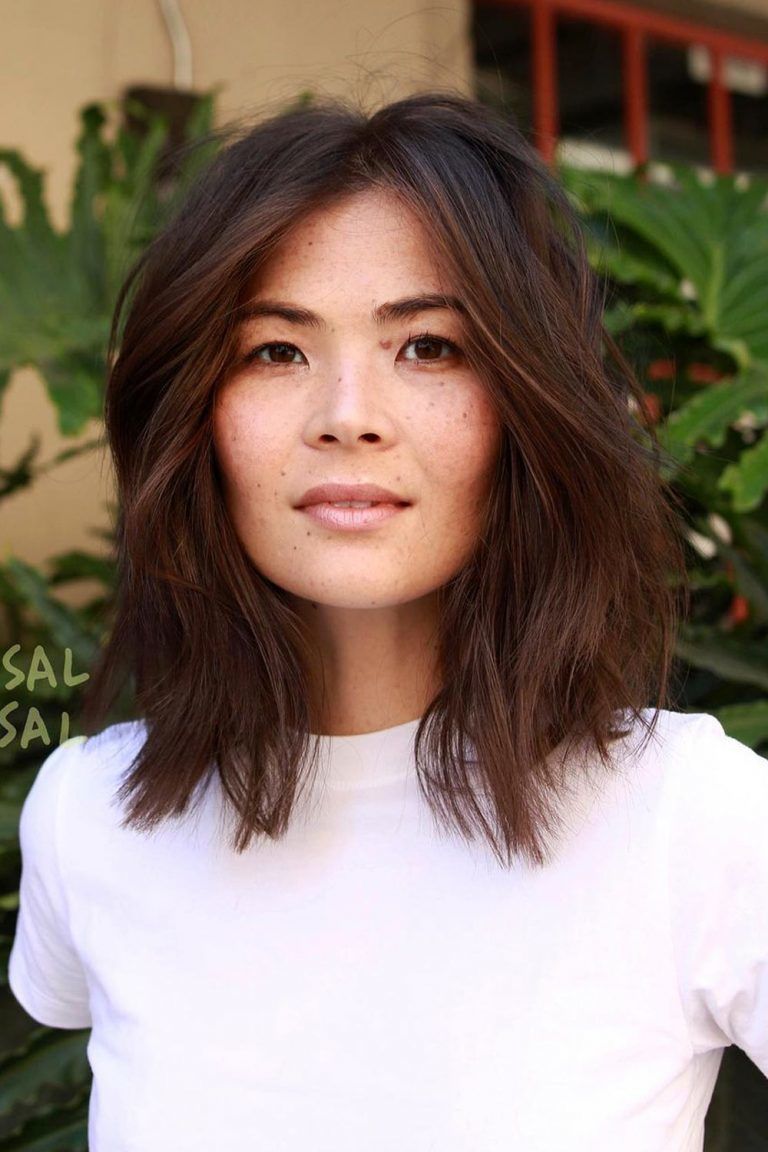 by @instagram_salsalhair
Don't forget about the power of color when you'd like to freshen up your haircut. As a matter of fact, hair color is another detail that can change the way you look. That's why we want you to consider highlights for your next salon appointment. This color technique can not only add more character to your look but also intensify the dynamics and movement of your haircut. In other words, highlights can enhance your bob.
The good news is, getting accents has nothing to do with damage. Even if you choose a shade that requires bleaching, it will hit only a couple of strands.
Textured Blonde Bob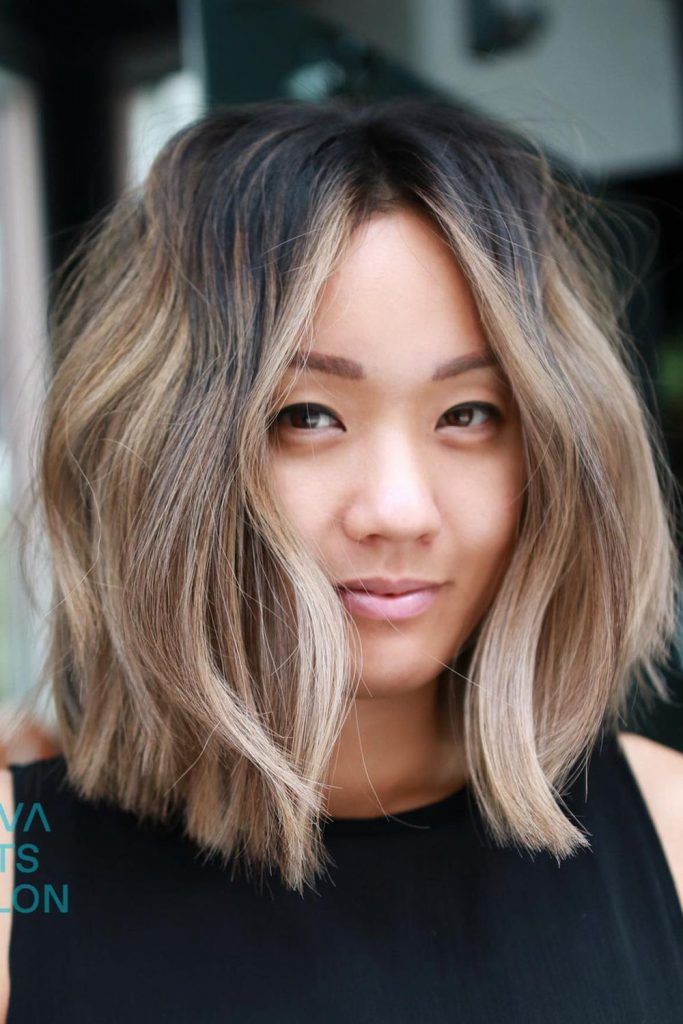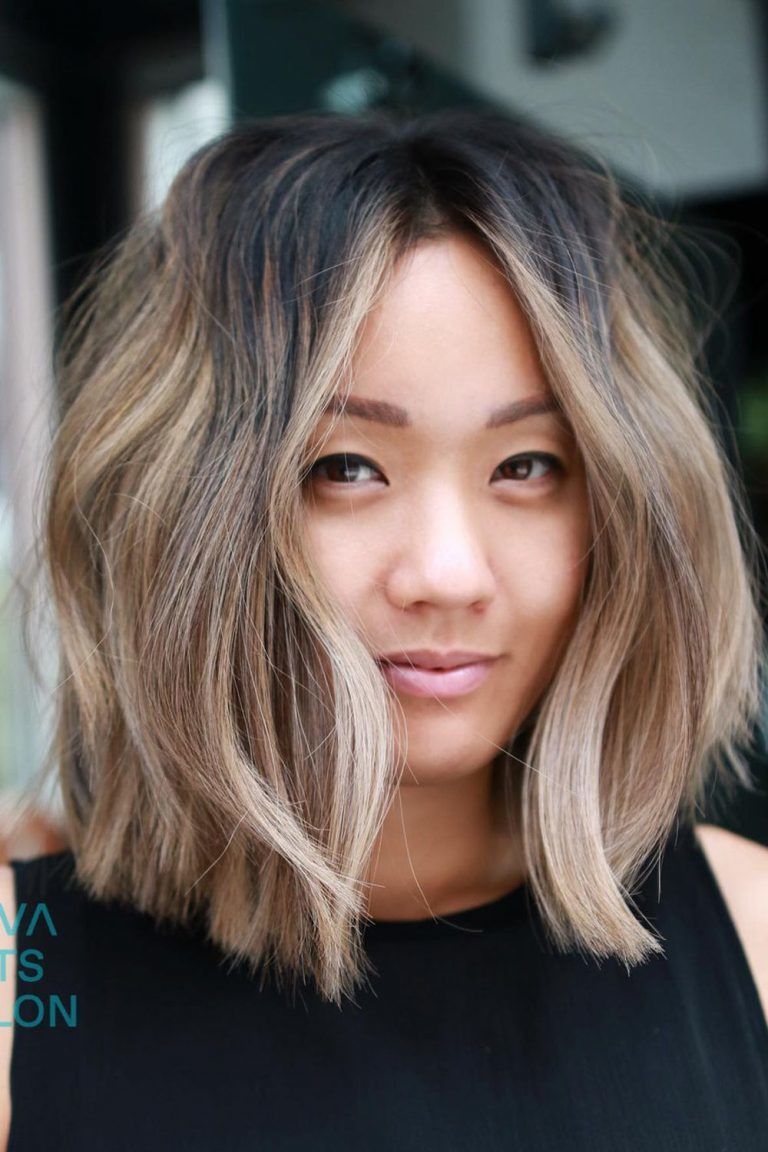 by @instagram_salsalhair
Have you ever seen that dramatic blonde hair? Everything in this look is absolutely harmonic and balanced, so no wonder it has become iconic. Textured beachy waves spice up the look with freedom spirit while the neutral shade of blonde makes everything look effortless.
If you don't have a wavy pattern by default, you will need to use a flat iron and texturizing product to steal this look. Whatever hair type you have, it is recommended to condition and soften your hair with an oil-infused product so that waves will come out right. Wave your hair, working with small and thin sections. When all your hair is turned into waves, apply a texturizing product.
Shaggy Messy Bob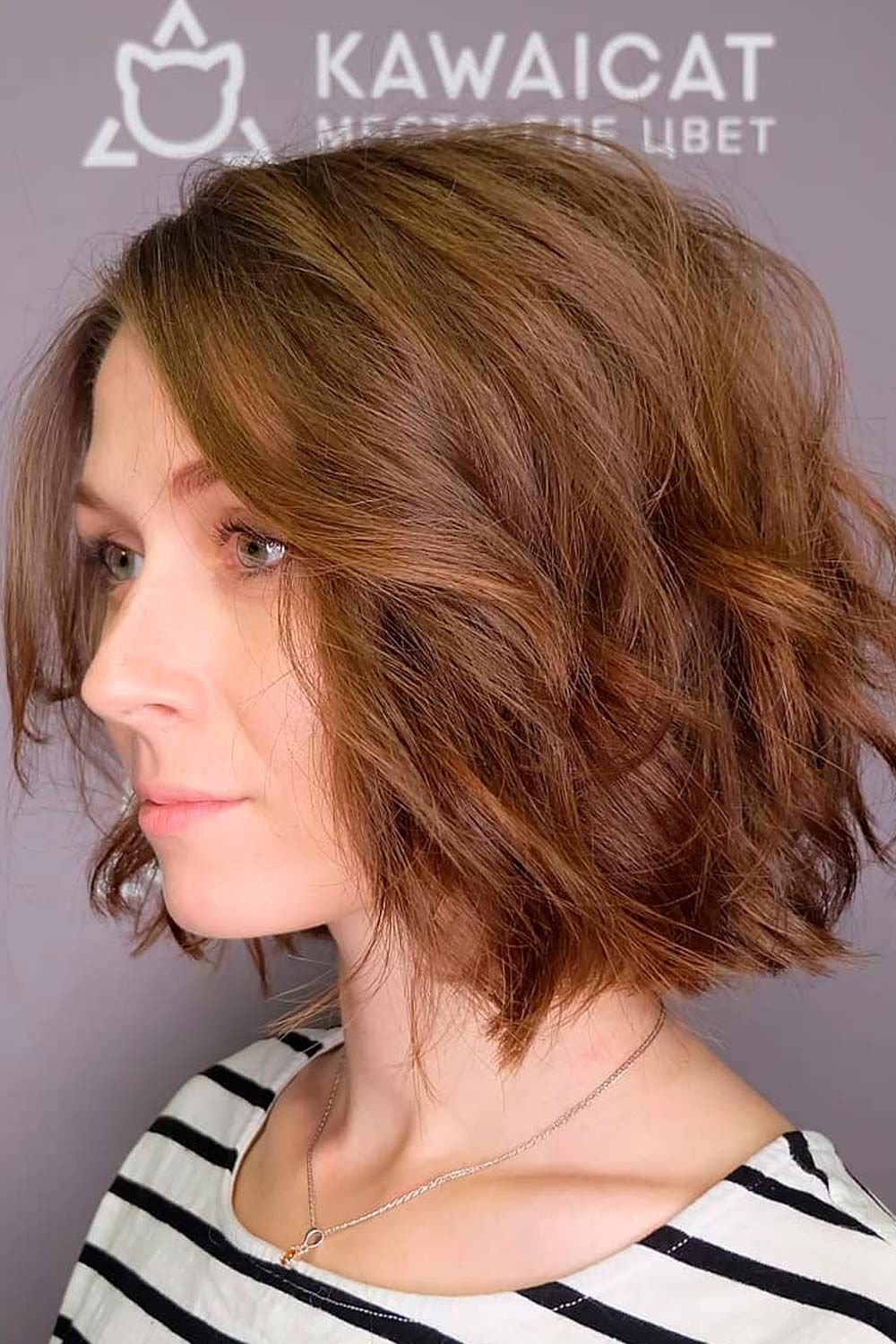 by @instagram_kawaicat_white
Shag and messiness are like cheese and wine; they're both are iconic, but simply unforgettable when combined. Shag is usually associated with freedom and carefree feel in hair that women love to accentuate with the good old messy styling. And the main reason why so many girls are obsessed with this idea (including us) is its versatility.
Whether you have thin and fine or thick and coarse hair, this idea will nicely work for your hair type and texture. Just ask your hairstylist for a layered shag! Also, remember to always specify how drastic or smooth you want your layers to be. If this look is your role model, soft layers are key.
Asymmetrical Straight Bob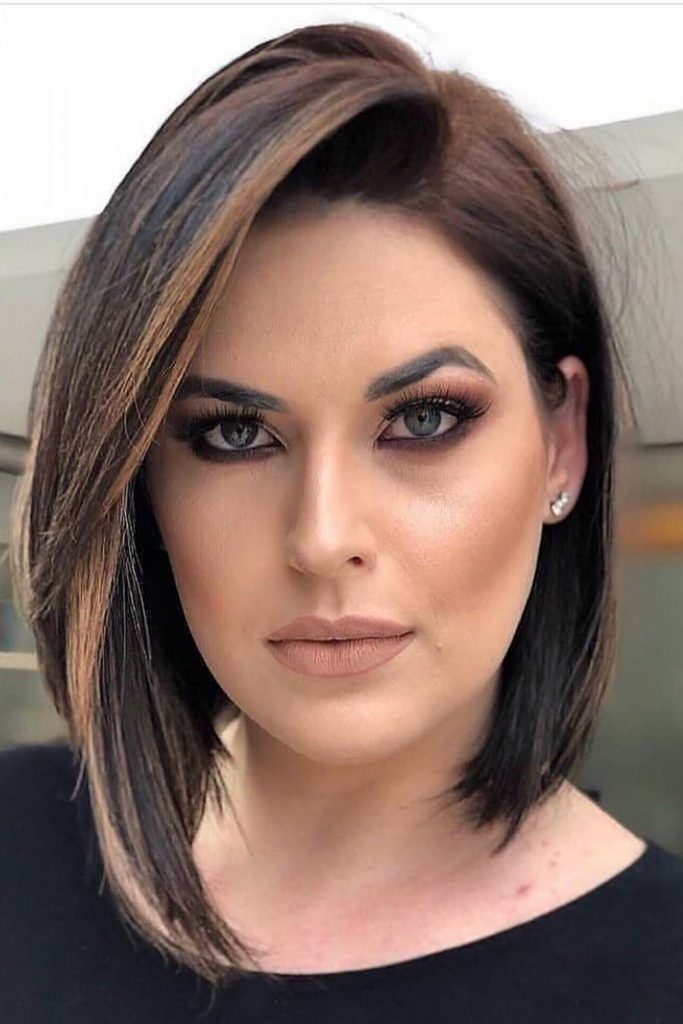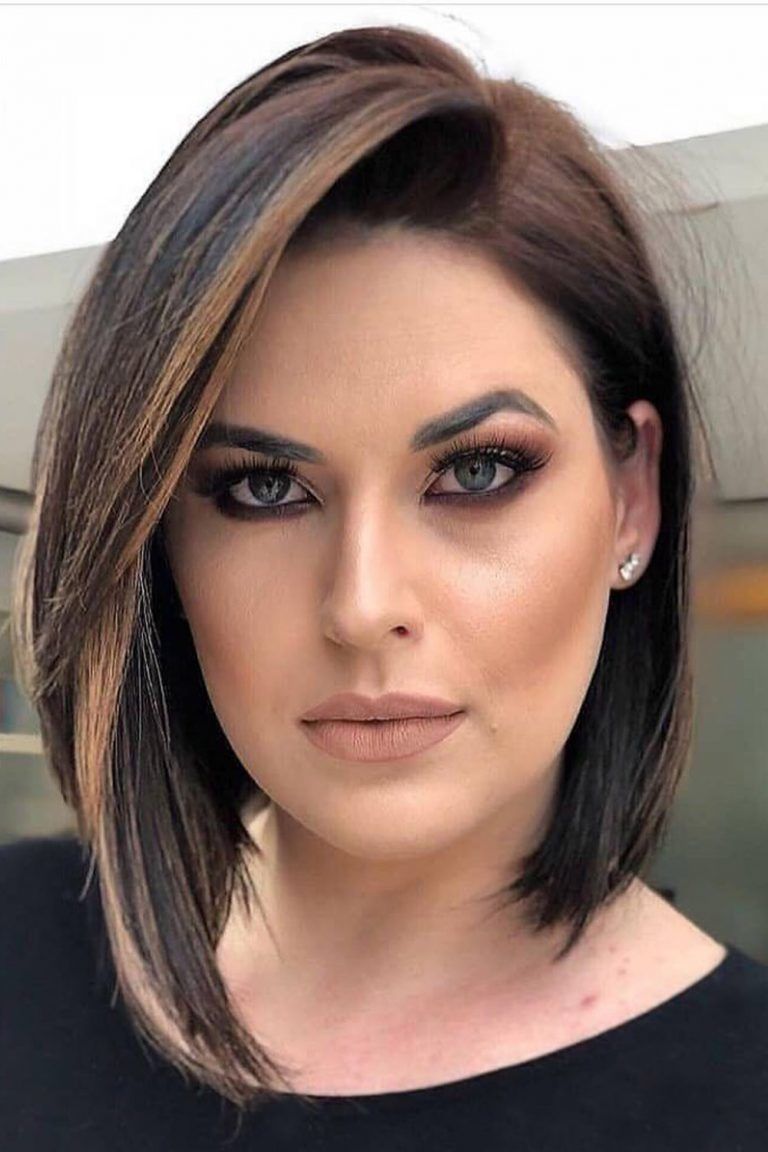 by @instagram_ro.hsiqueira
Seems like the seductive straight bob has just reached a new level. This ideally leveled and precisely cut asymmetrical straight bob is officially the best version of straight hair one could ever see. Asymmetry adds a bit of imbalance to the body, thus adding something new to the familiar cut. It also features thick front layers that help to build more volume for side parting.
Be ready for using a lot of heat to style this look the right way: you will need a flat iron and hairdryer. Though some women may consider such a styling routine as too damaging, there's nothing to worry about if you work with good-quality heat protectants.
Copper Balayage With Soft Texture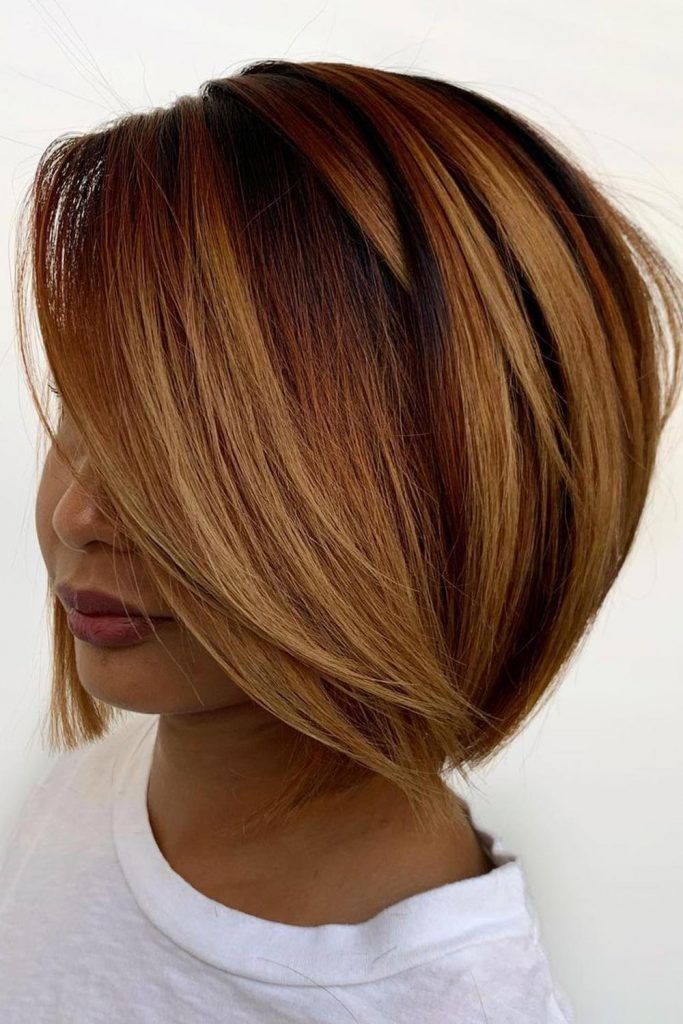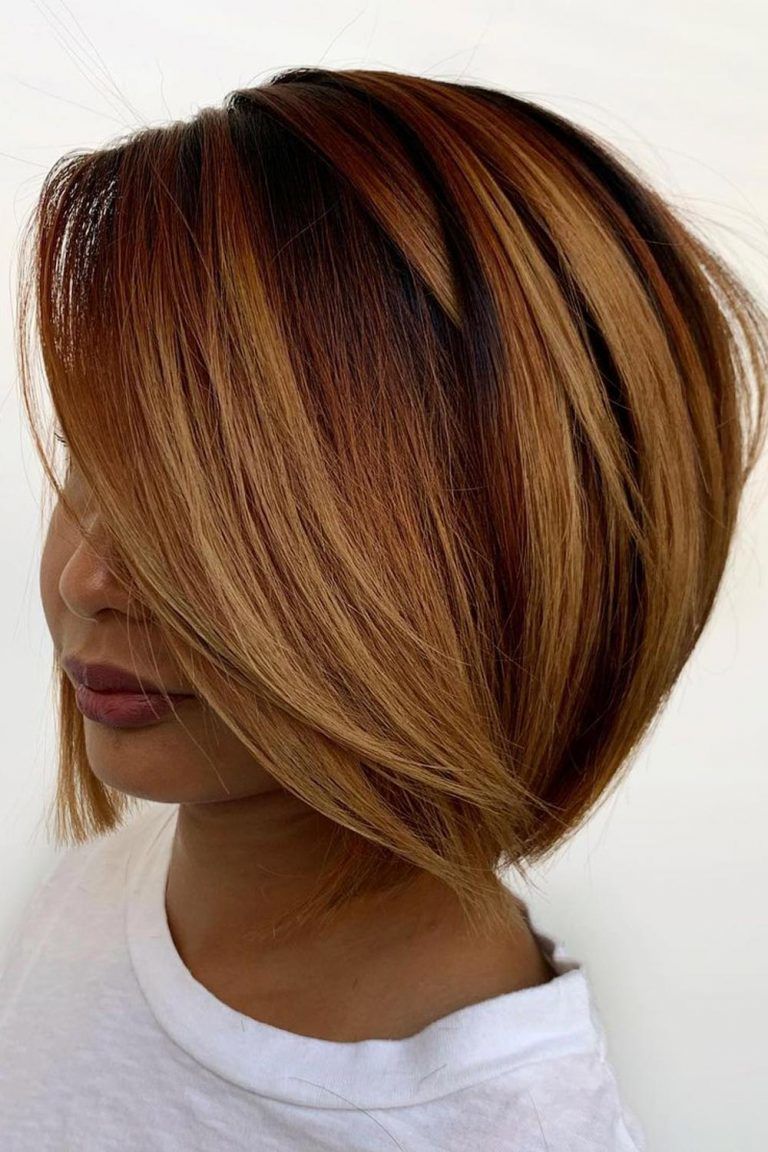 by @instagram_styled_by_carolynn
Balayage usually consists of various similar or contrastive shades that form a harmonic whole and create dimensional looks. No, we're not trying to blow your mind with the theory of this coloring technique. We're just trying to tell that going for balayage is a ravishing way to improve your textured bob and accentuate its best features.
These light, dark, and bright copper hues not just blend with one another, they accentuate every single layer of this textured haircut, making it even more detailed.
Popular Medium Bob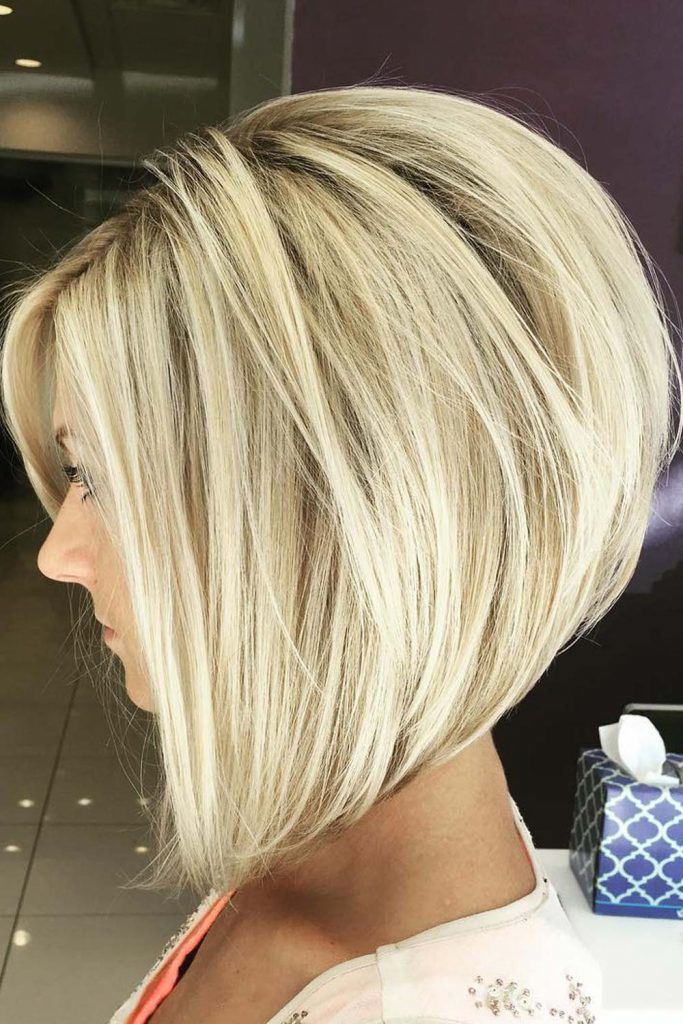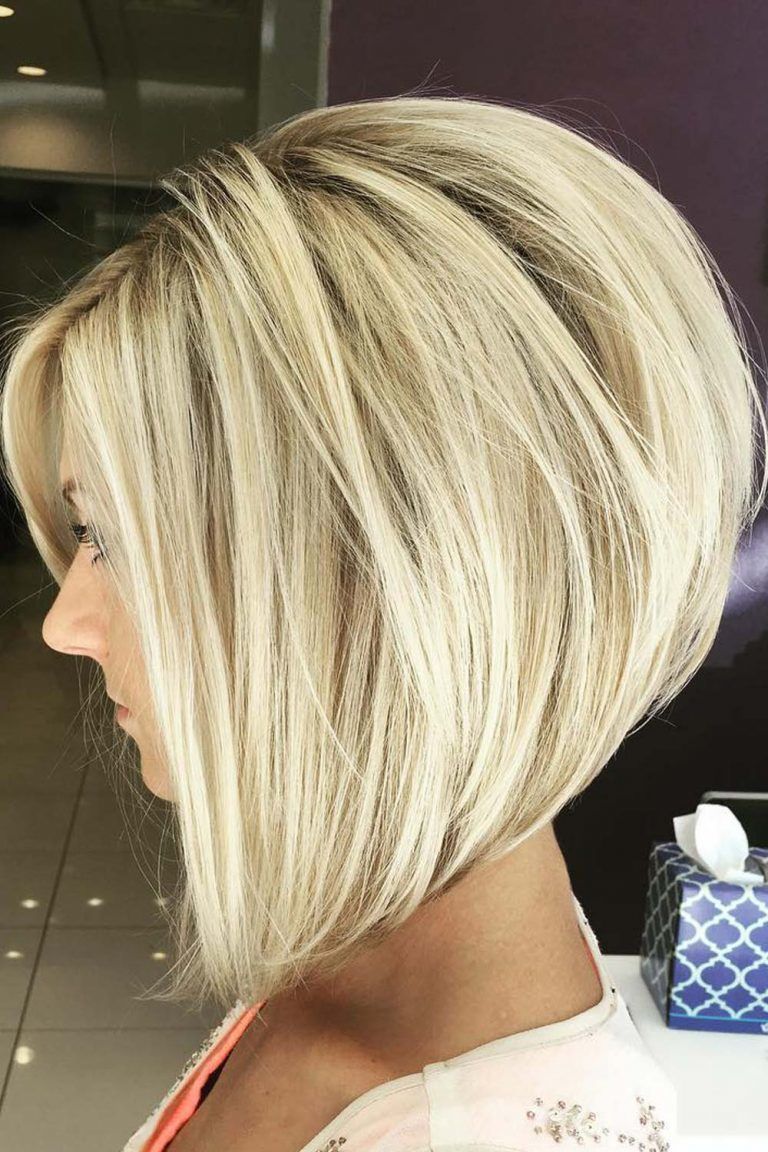 by @instagram__colourgoddess
Unlike short bob haircuts, mobs require less styling. Shorter hair is not that good at holding a styling product. Also, it might take a while when you wish to grow up a shorter bob.
Long Bob Haircuts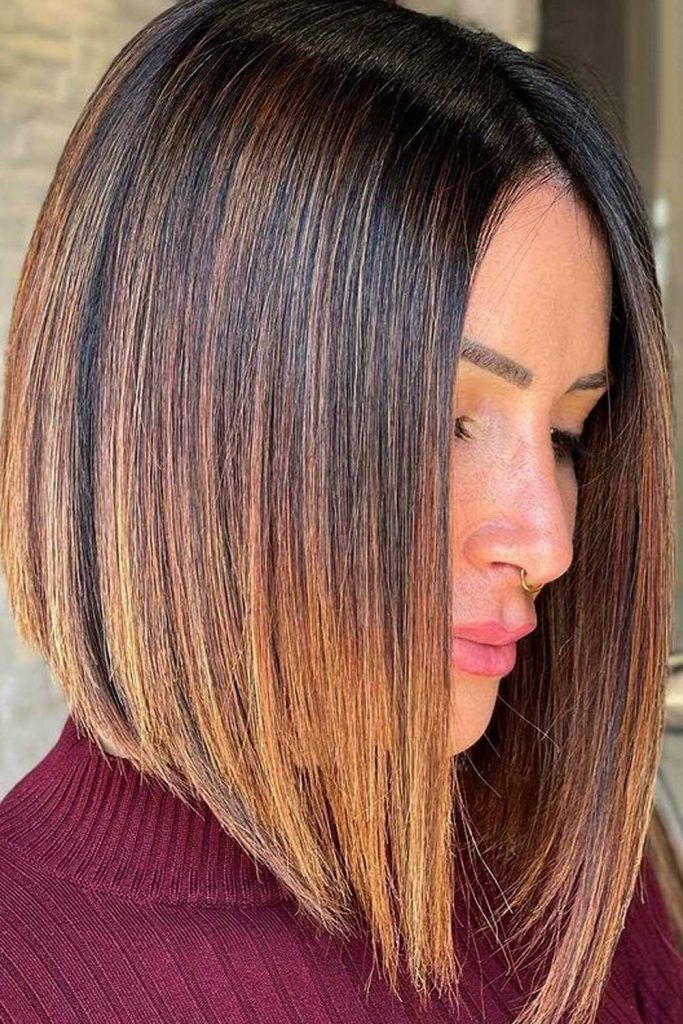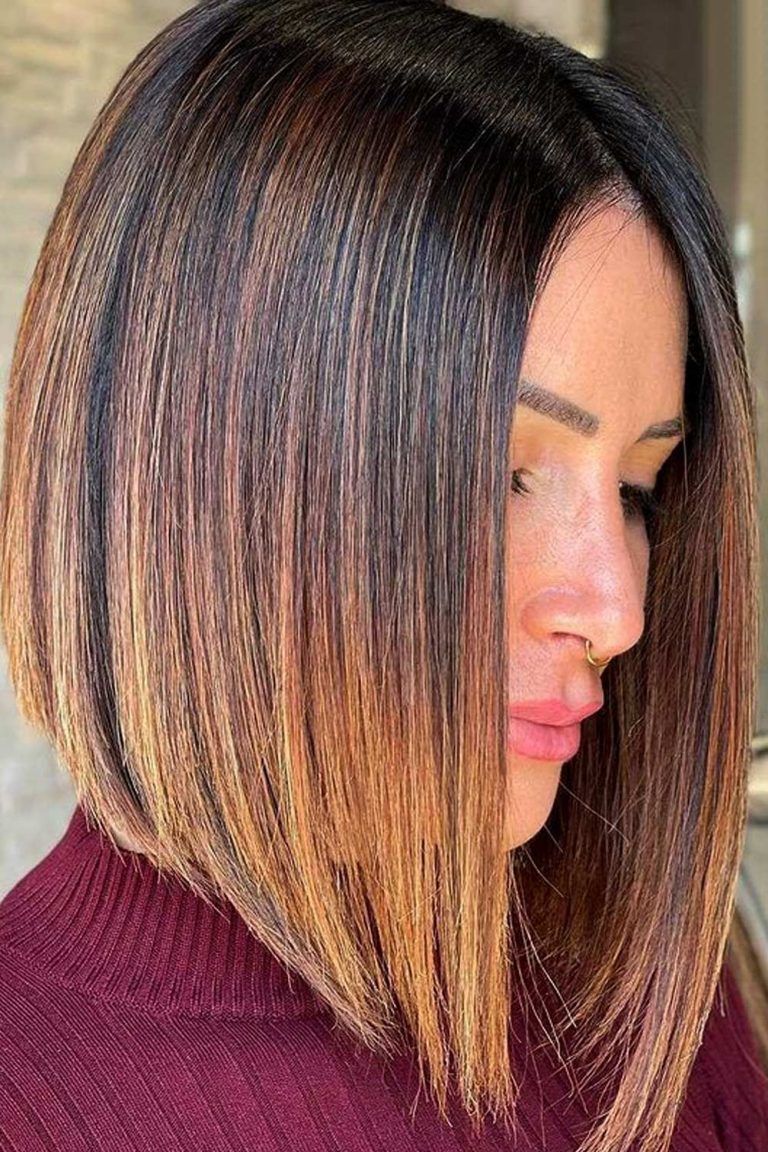 by @instagram_centro_degrade_joelle
And unlike long bob haircuts, mobs are less likely to appear straggly. So, mobs are just great. Also, there are so many styling and coloring options and the types of mob cuts to consider.
Light Curls Bob Haircuts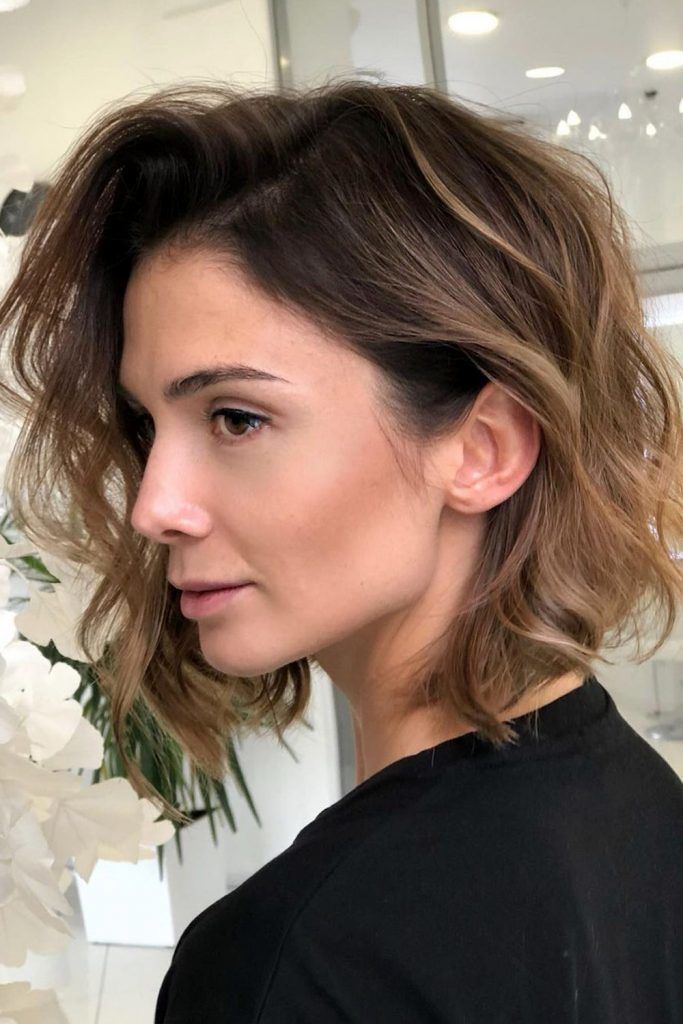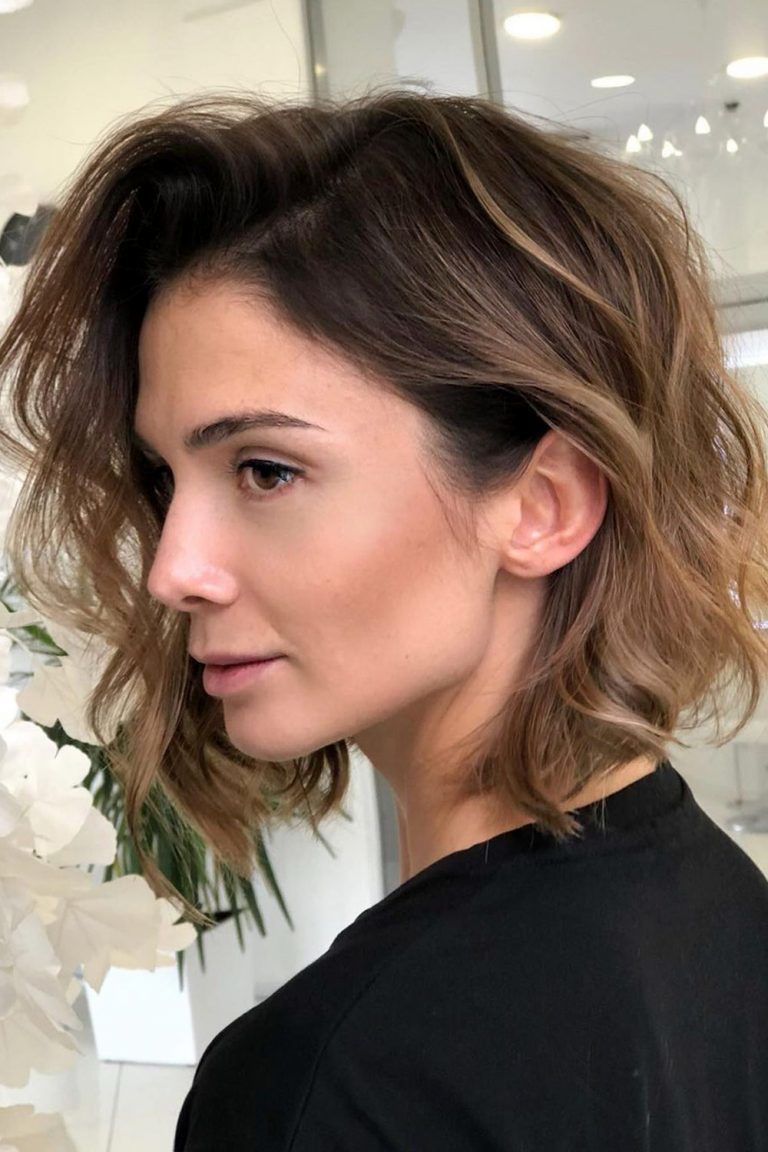 by @instagram_mila_kryshchykhina
For example, a classic mob reaches just below your chin and its interior layering is not very distinct. The styling is not difficult at all and can be easily done at home. You will need a blow dryer, a curling wand or iron, and hairspray.
Color Options Medium Bob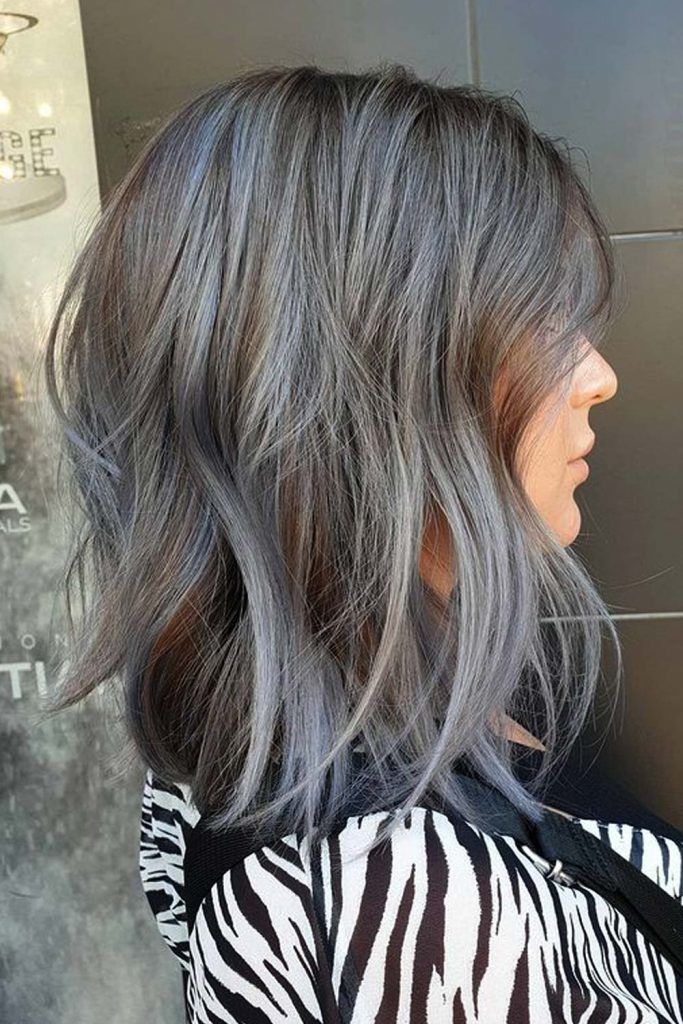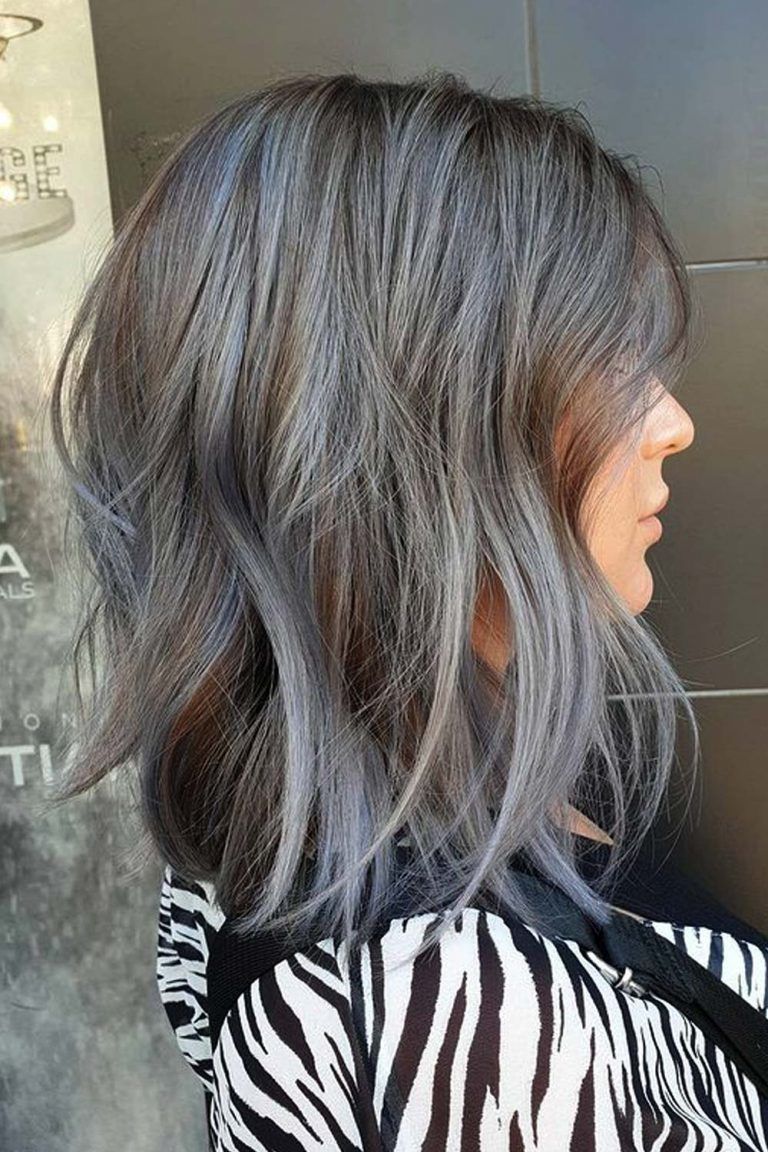 by @instagram_apostoldiana
First, create lift at its base with the help of a blow dryer. Try to smooth the ends. And then a curling wand or iron will assist you in curling pieces, one inch each, in alternating directions.
Cool Curls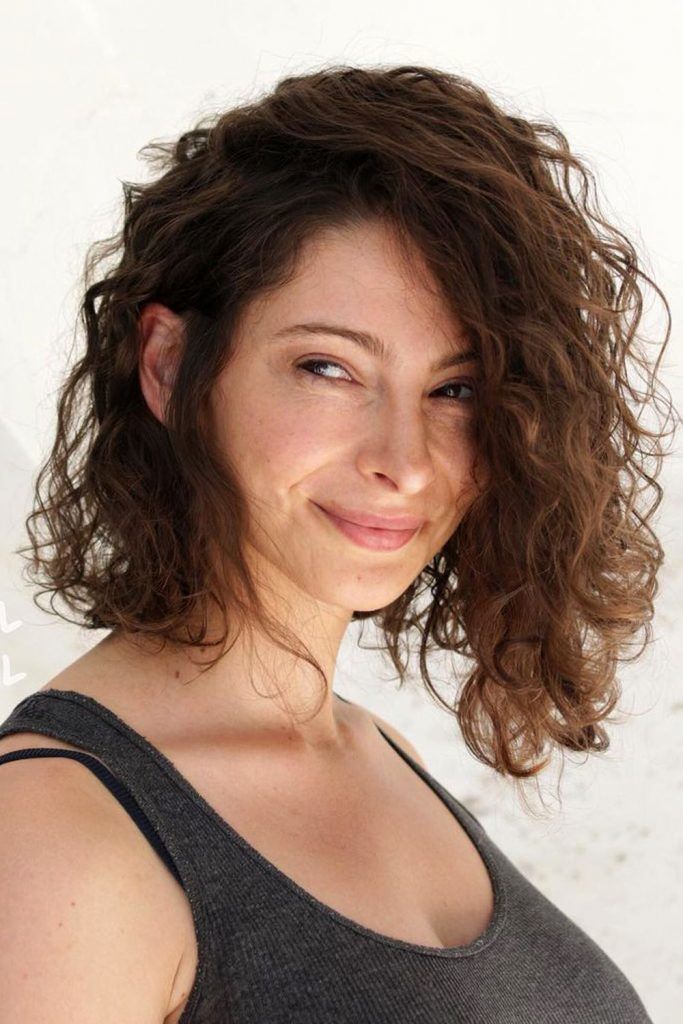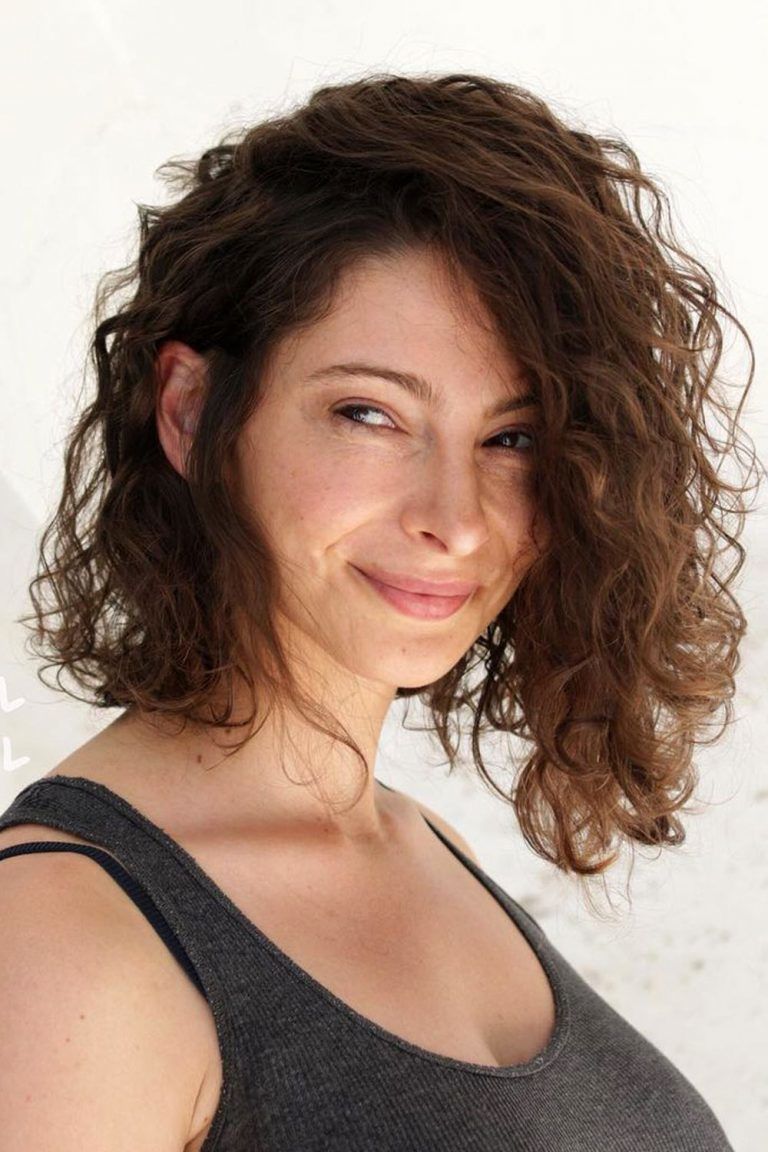 by @instagram_salsalhair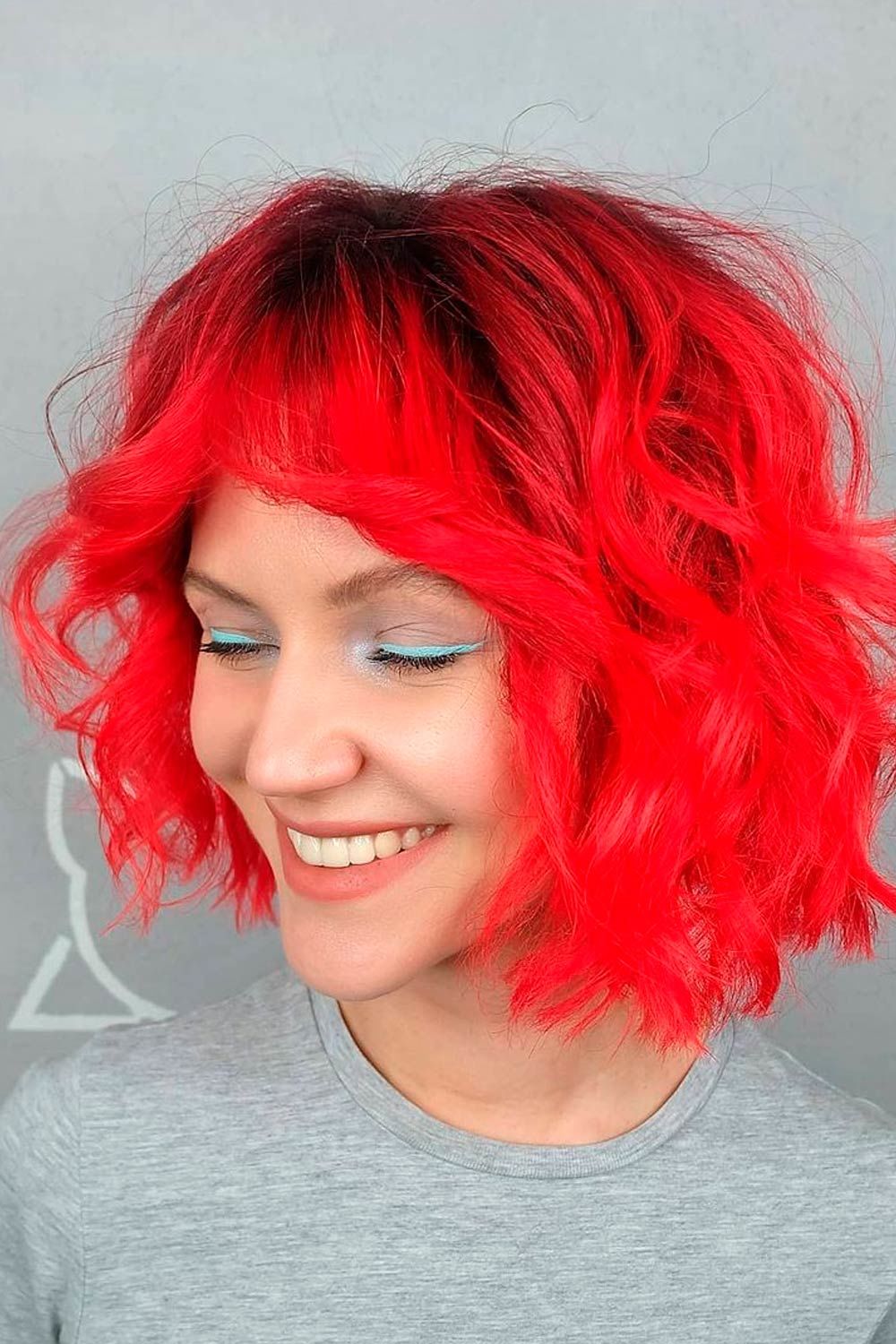 by @instagram_kawaicat_white
Stylists find it flattering when hair is curled sort of away from a face. To achieve a look that is not too polished, leave the very ends straight. When the curls are cool, finish the styling process with hairspray.
Medium Bobs With Bangs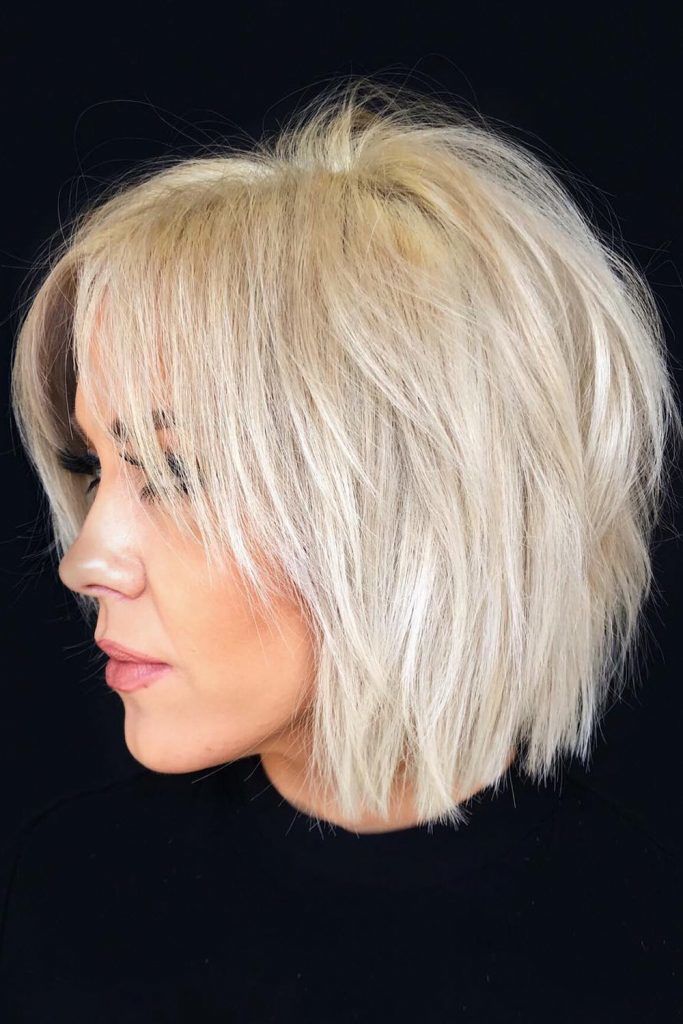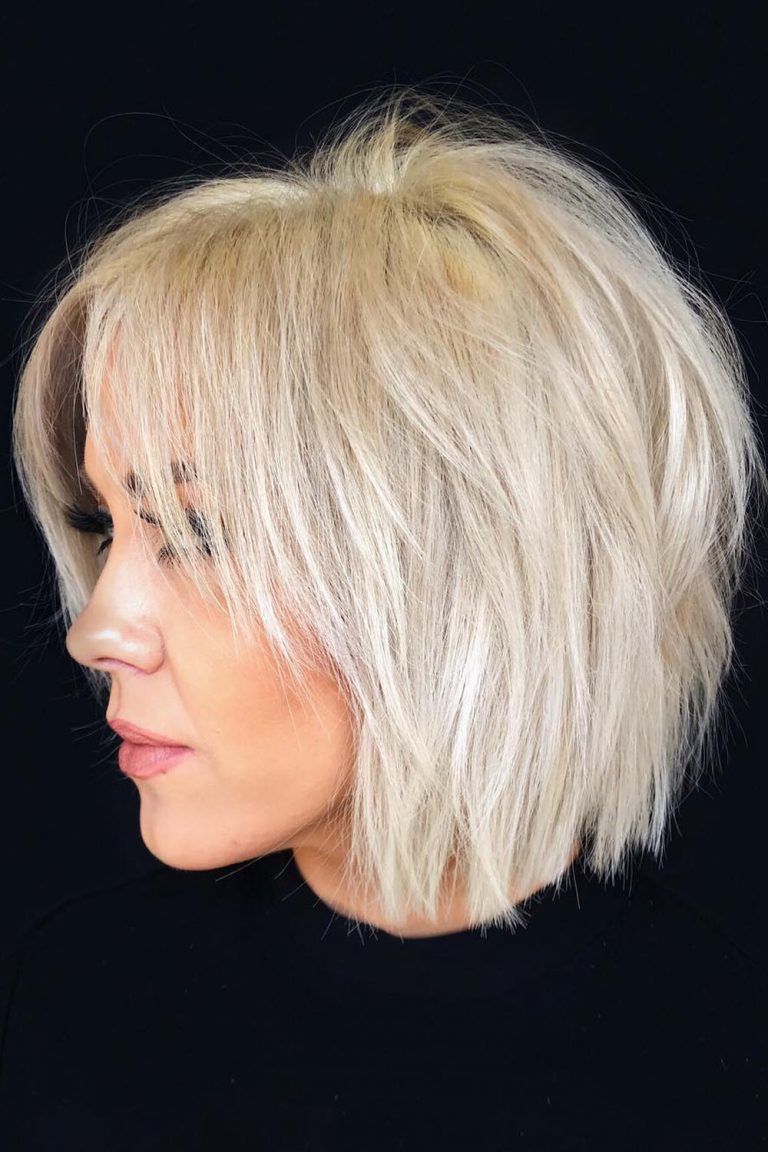 by @instagram_chrisjones_hair
The bang is a very habile weapon in the struggle for female beauty: with its help one can hide a wide forehead or emphasize the face oval. But do not forget that cut bangs require daily styling. It is simple enough to make it: wet your hair and lay it, twisting the ends down with the help of a round brushing and hair dryer. For longer fixation, use some mousse or a hair spray.
Inverted Medium Bob Haircuts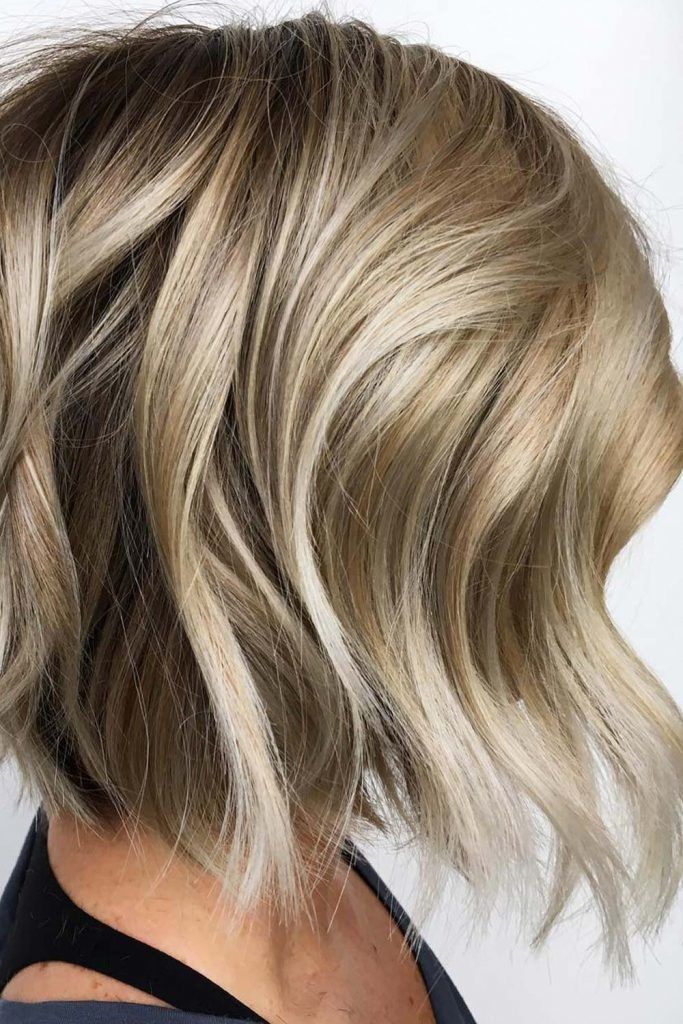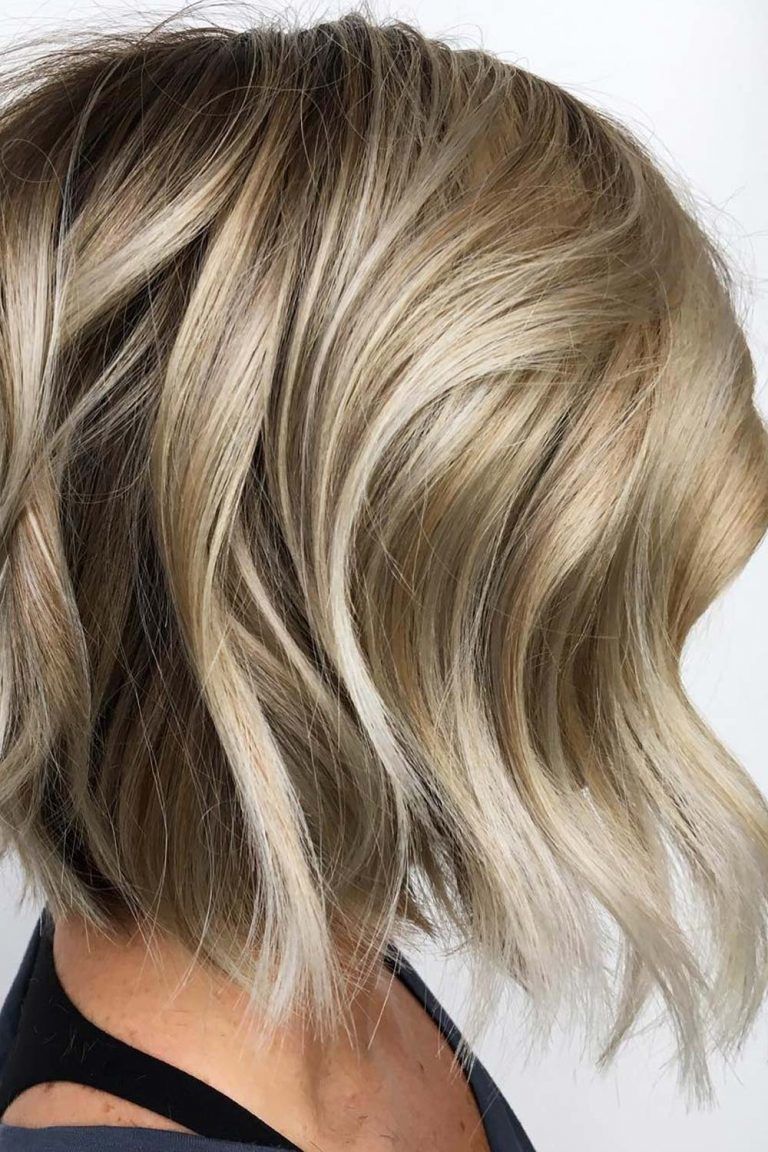 by @instagram_headrushdesigns
The inverted bob is a rather interesting solution for haircuts. Your hair is both long and short at the same time. A shorter length at the back of the head will give the volume to the thin hair and will help to hide the irregularities of the skull, and longer curls on the face will emphasize the cheekbones, will make the features more expressive.
FAQ: Medium Bob Haircuts
Are bob haircuts flattering?
A bob is not only stylish. It is also low-maintenance and adaptable hairstyle that will make you look gorgeously lofty. Another benefit of the classic cut is that it is generally flattering, regardless of the shape of your face.
Do bob haircuts look good on everyone?
As long as a bob is fashioned to match the needs of your mane, hair experts agree that the short bob looks excellent on almost everyone. If you have fine hair, add some layers to the crown. This will make your hair look more volumetric.
Can anyone pull off a bob?
Basically, a bob can be pulled off by anyone, although different facial shapes and textures require different styling techniques. It's crucial to think over all the details before you get started.
Was this article helpful?