Choose Your Perfect Anti Dandruff Shampoo To Get Rid Of Nasty Flakes
Looking perfect is something that almost every woman in the world tries hard to achieve on a daily basis. However, those suffering from dandruff may feel somehow limited when it comes to expressing themselves. That is why it is best if you figure out which anti-dandruff shampoo is the one that can help you get rid of the condition once and for all.
You need to keep it in mind that seasonal dandruff may be caused by scalp dryness while permanent dandruff may be related to such serious skin conditions as psoriasis or seborrheic dermatitis. So you need to consider these facts as well as your hair type when the option for an anti-dandruff shampoo.
Main photo by Nina Buday/Shutterstock
Nizoral A-D Anti-Dandruff Shampoo
Source: Nizoral
Very often, it is considered that the best dandruff shampoo is the prescribed one. It may be true to some extent, however there also great over-the-counter options too. For instance, Nizoral here is the shampoo that gets straight to the root of the problem instead of dealing with symptoms. The formula it comes with shows positive results from the first use. Nizoral contains Ketoconazole 1%, which is the proven and safe active anti-fungal and anti-dandruff ingredient.
Phytheol Dry Hair Anti-Dandruff Moisturizing Shampoo
Source: Phyto
Another best shampoo for dandruff on the list is Phytheol. If you choose this shampoo, you need to keep it in mind that for the best effect, you need to wash your hair three times a week for a month. After the month is passed you can wash your hair as often as once a week. The formula that the shampoo comes with is designed to deal with the flakes as well as with the hair hydration.
While the shampoo exfoliates your scalp, it makes it get rid of loose flakes. Even though you have to use it often during the first month, you do not need to worry about the dryness or dullness of your hair since Phytheol causes none.
Philip B. Anti-Flake Relief Shampoo Coal Tar Free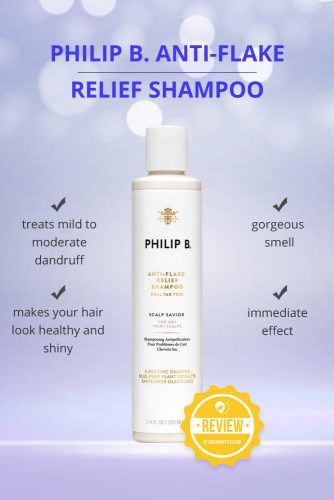 Source: Philipb
If you are looking for an anti dandruff shampoo that deals with mild or moderate dandruff, then Anti-Flake Relief Shampoo is what you need. The shampoo is designed to deal with such issues as seborrheic dermatitis, psoriasis, itchy dry scalp, as well as flaking oily scalp. What is more, the formula that the shampoo comes with influences your mane in a positive way too, it makes it look healthier and thicker.
Philip B's shampoo does not contain coal tar but includes Tea Tree Oil, Aloe Vera, Sage, Juniper, and Chamomile Extracts instead. A great plus is that it smells great.
Sachajuan Scalp Dandruff Shampoo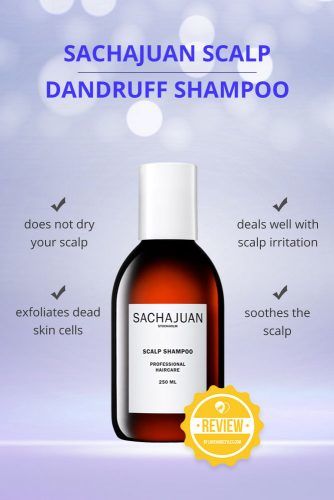 Source: Sachajuan
One of the best anti dandruff shampoo types from Sachajuan contains the mixture of Piroctone Olamine and Climbazole that makes it super effective against dandruff.
What is more, it also includes the mix of rosemary and mint oil, salicylic acid, and ginger extract, which work against scalp irritation. The formula that the shampoo is designed according allows you to maintain the moisture balance while dealing with the problem. The shampoo helps you to not only get rid of the flakes but also soother the scalp so that the itching goes away.
T/Sal Therapeutic Shampoo-Scalp Build-Up Control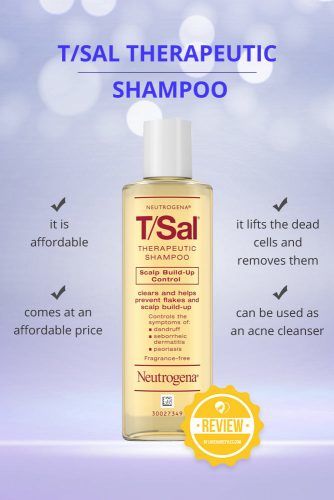 Source: Neutrogena
Truth be told T/Sal is not the best natural dandruff shampoo. However it is undeniably helpful. The thing is that the way that the shampoo works is entirely different from all the equivalents. The fact is that it does not just help you get rid of the flakes. It lifts the dead cells up and then removes them. Besides, when compared to all the alternatives, it is a lot cheaper. What is more, the research proves that you can also use the shampoo as your acne cleanser as well.
Scalp Revival Charcoal + Coconut Oil Micro-Exfoliating Shampoo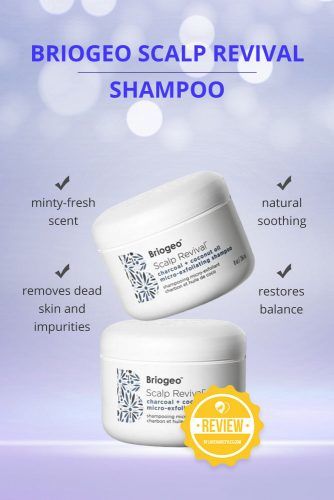 Source: Briogeo
Some people would give anything for a shampoo for dandruff that contains lots of natural elements. You can add Scalp Revival to the list if you belong to the category. The thing is that the shampoo contains peppermint and castor oil, which are responsible for exfoliation and moisturizing. The shampoo is made to deal with dead skin as well as with the irritation. What it more, it smells super delicious, and that is clearly a huge advantage.
Oribe Serene Scalp Anti-Dandruff Shampoo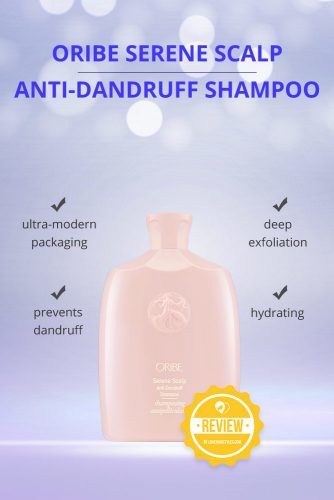 Source: Oribe
Very often people complain that most of the anti-dandruff shampoos come in an unattractive packaging. When you look at ORIBE Serene Scalp Anti-Dandruff Shampoo, you can say that things have changed. Apart from an attractive packaging, the shampoo contains salicylic acid, which is responsible for proper scalp exfoliation. Unlike many other shampoos, this one is also packed with vitamins so that your scalp is well-stimulated.
Redken Dandruff Control Shampoo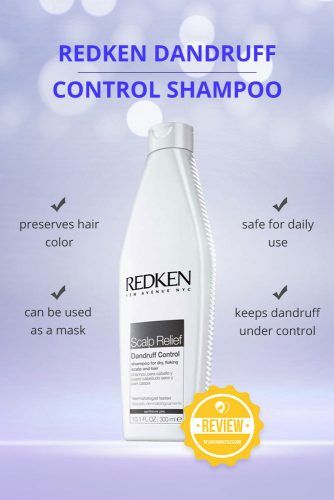 Source: Redken
There are times when you do not opt for an anti-dandruff shampoo since you are afraid that it may damage your freshly dyed hair. With Redken dandruff control shampoo, you do not need to worry about that. The formula that the shampoo comes with protects the color while dealing with annoying dandruff.
You can use the shampoo on a daily basis; what is more, you can also use it as a mask for the greater effect. With a shampoo like that at hand, you will be able to not only get rid of dandruff but also keep it under control.
Shea Moisture African Black Soap Deep Cleansing Shampoo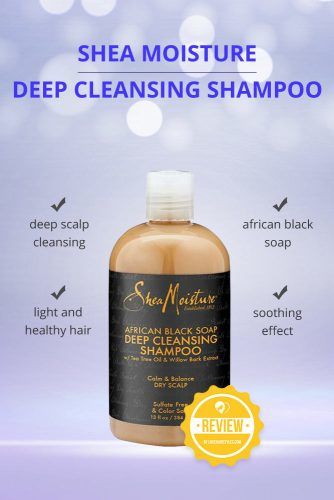 Source: Shea Moisture
If you are looking for the most natural way to deal with dandruff, then Shea has something to offer. The shampoo they present contains only natural ingredients such as aloe, tea tree oil, and African black soap. The gentle formula that the shampoo comes with is designed to help you get rid of any lingering product buildup together with the flakes.
Ducray Kelual DS Shampoo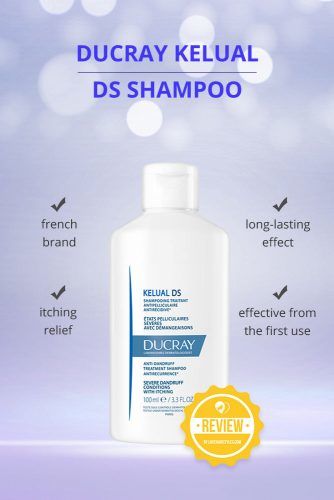 Ducray Kelual DS is the shampoo that starts its work from the first time you use it. It designed to reduce itching and soothe the scalp the minute you apply it. This shampoo is also effective against most serious conditions. If you use it on a regular basis, you will forget about the nasty flakes in no time.
Dove Dryness & Itch Relief Anti-Dandruff Shampoo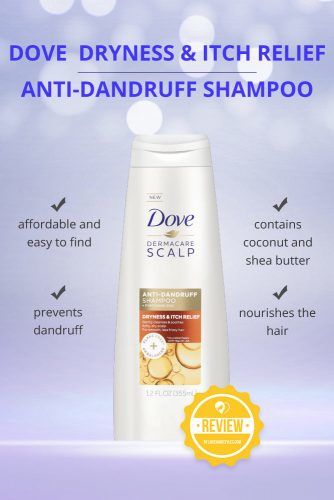 Source: Dove
Dove dandruff shampoo is not only easy to find but also to afford. It is designed to not only deal with the condition but also to prevent it from affecting you in the future. Apart from dealing with dandruff, the shampoo also moisturizes your hair due to the coconut and shea butter ingredients. It smells beautiful, as well.
DevaCurl Buildup Buster Micellar Water Cleansing Serum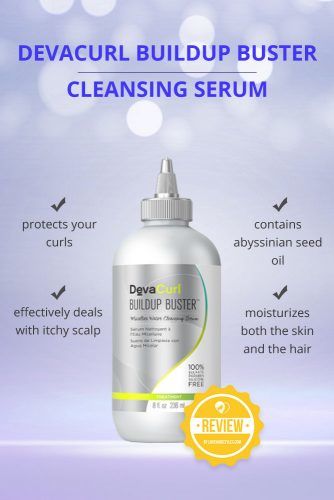 Source: Devacurl
Those of you who were born with curls know how difficult those are to manage. If the shampoo you use on a regular basis is not moisturizing enough, it may lead to the itchy scalp as well as lifeless-looking curls. DevaCurl is the serum that can help you deal with the issue effectively. It does not contain harsh ingredients. Instead, it is packed with Abyssinian seed oil and jojoba that guarantee the moisturizing effect.
Dry Scalp Care With Almond Oil Anti-Dandruff Shampoo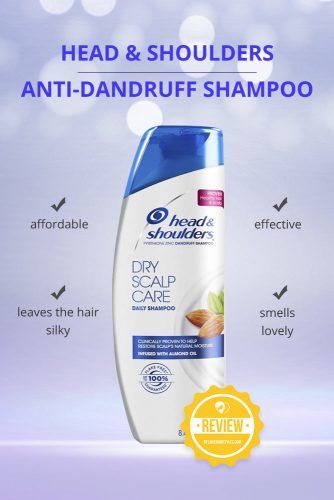 Source: Head & Shoulders
Surely, Head&Shoulders is a known company in the shampoo world. This time, they presented something that you can use to deal with annoying dandruff. The option they offer is more than affordable and very effective due to the pyrithione zinc, which is a dandruff killer. Apart from that, the almond oil formula is what makes your hair look and feel silky and smooth.
ArtNaturals Therapeutic Argan Anti-Dandruff Shampoo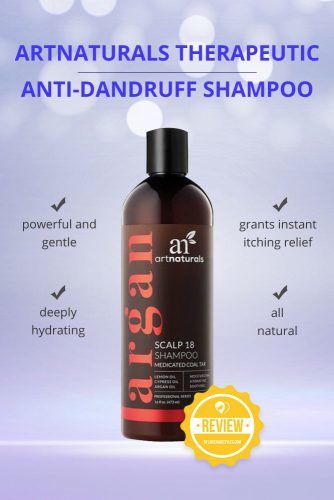 Source: ArtNaturals
Those of you who are devoted to all sorts of natural dandruff shampoo types will surely appreciate this one. The fact is that ArtNaturals combines coal tar formula with herbal oils. Such a combination result is reduced itching as well as flaking. The shampoo is very potent but gentle at the same time. So that if you think that your hair is too frail for any harsh anti-dandruff shampoo, this may be your best choice.
Dandruff Relief Treatment Shampoo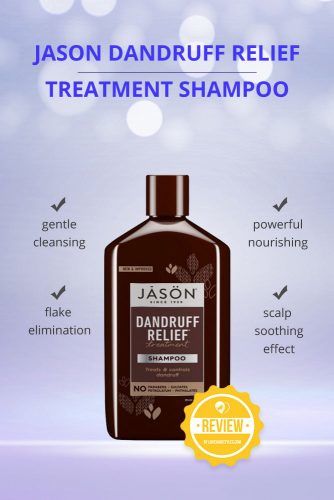 Source: Jason
In case you need a shampoo that will be both nourishing and cleansing then JASON Dandruff Relief Treatment Shampoo may be just what you need. The formula that the shampoo comes with will deal with scalp dermatitis and mild psoriasis. The shampoo contains rosemary, olive, and jojoba oils, which result in effective scalp soothing and moisturizing. It is a trusted and effective anti-dandruff treatment you should give a try to.
Dandruff shampoo is something that most of us need at that time or another. In case you are still wondering what to opt for to get rid of nasty flakes – use this article as your perfect and precise guide.