Blonde pixie is not so different from all the others. And we mean it in the terms of maintenance. Since, no matter how short or easy-to-style your pixie cut is, there is always the amount of effort to put in so that it is perfect. For today, we decided to discuss short hair inspired by amazing Katy Perry.
Short Side-Parted Blonde Pixie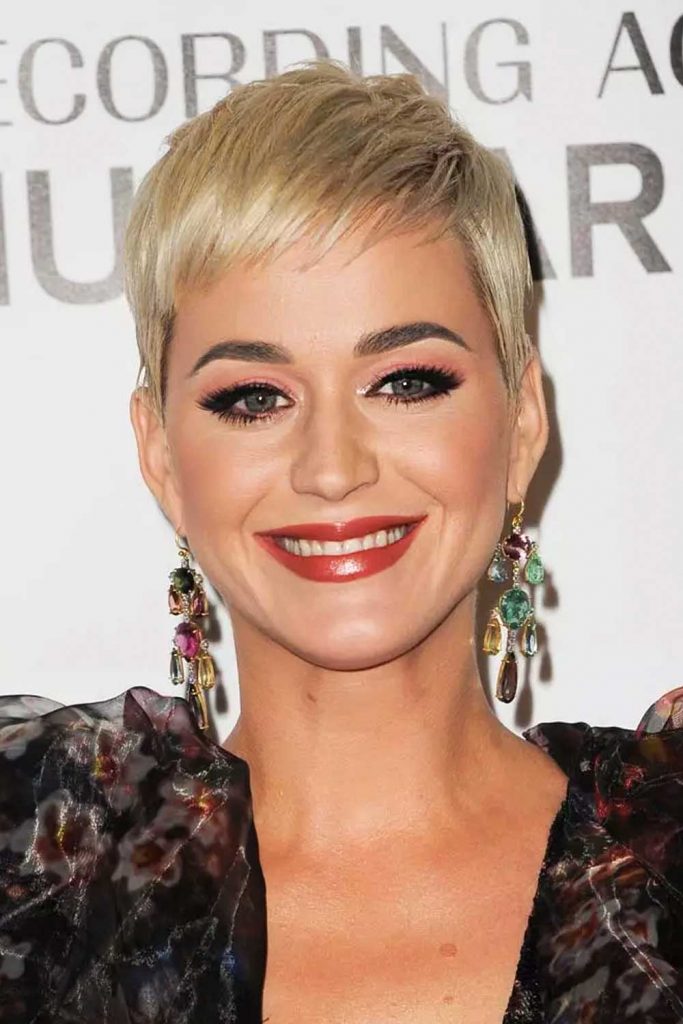 Credit photo: Tinseltown/Shutterstock
Now, it's time to see how the trending haircuts look on the star herself! As told by Katty Perry in one of her interviews about her rapid hair changes, pixies help her to embrace who she is, showing off her natural beauty. Why did Katy Perry cut her hair short? This lady loves styling freedom and practicality rolled into one. The short side-parted look, for example, is nothing but a wash-and-go. And it looks so striking!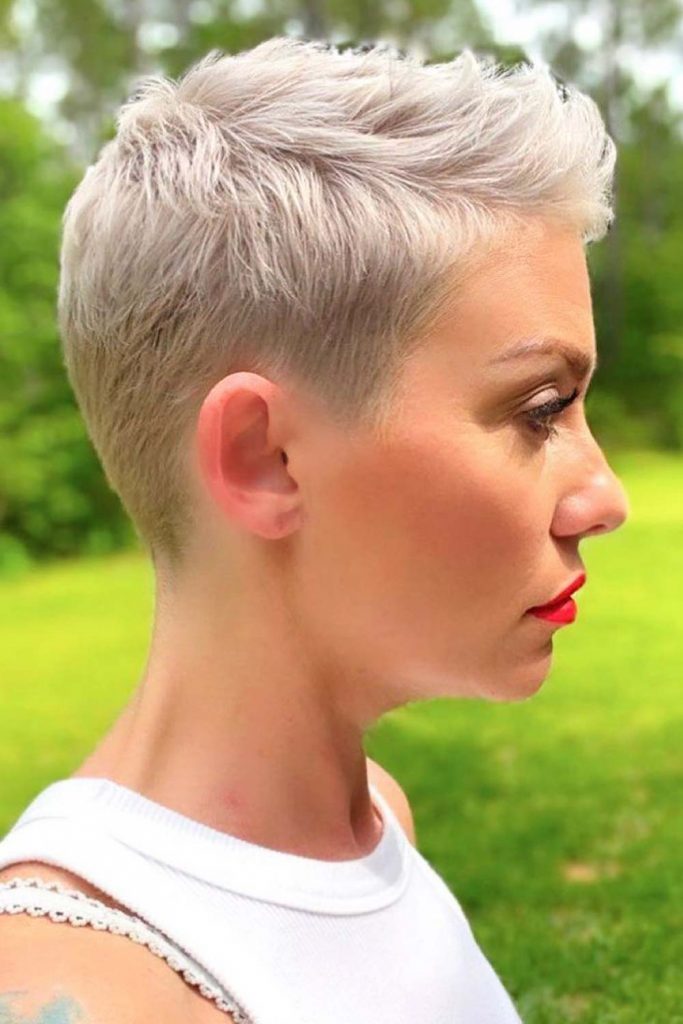 by @instagram_shorthairexclusive
Long Pixie With Undercut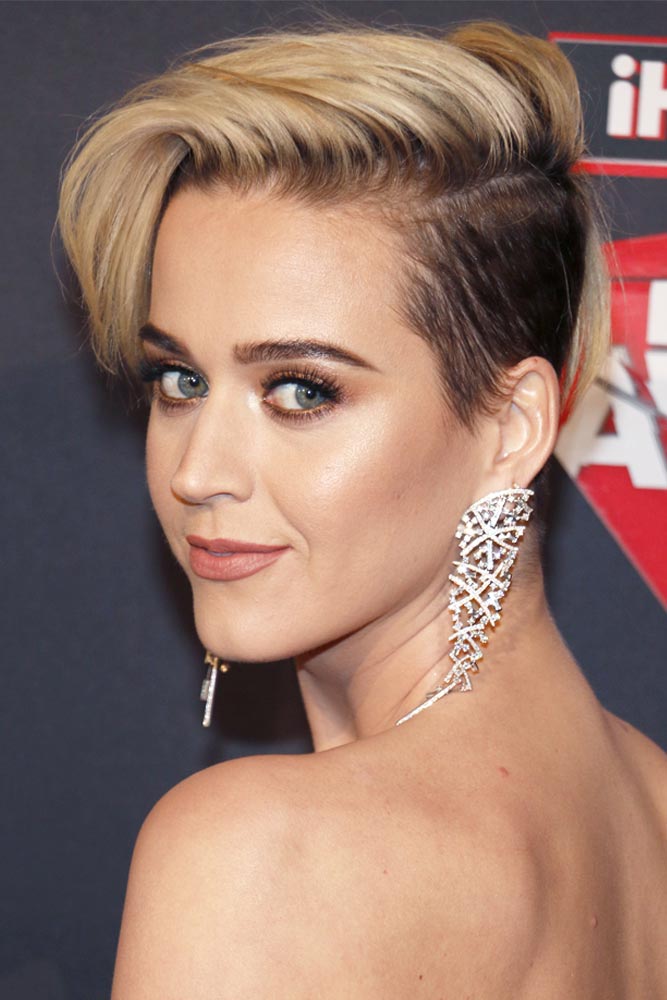 Credit photo: Tinseltown/Shutterstock
The ever-changing Katy Perry short hair has gone through lots of colors and styles. And when the celeb switched to the blonde pixie vector, her need for experiments didn't stand still.
To add some contrast to her look and lift up the top at the same time, she spiced up her long pixie with the good old undercut. In this way, she created a look that crossed the line between femininity and total sassiness. Yep, she knows how to be different.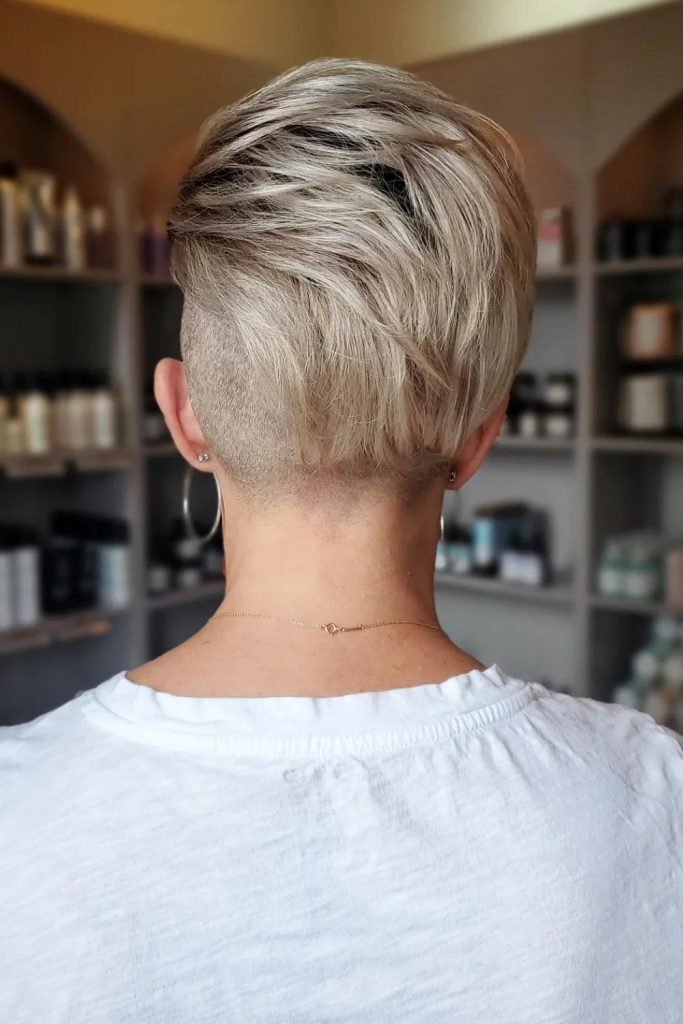 by @instagram_hair_by_marlo
Swept-Back Pixie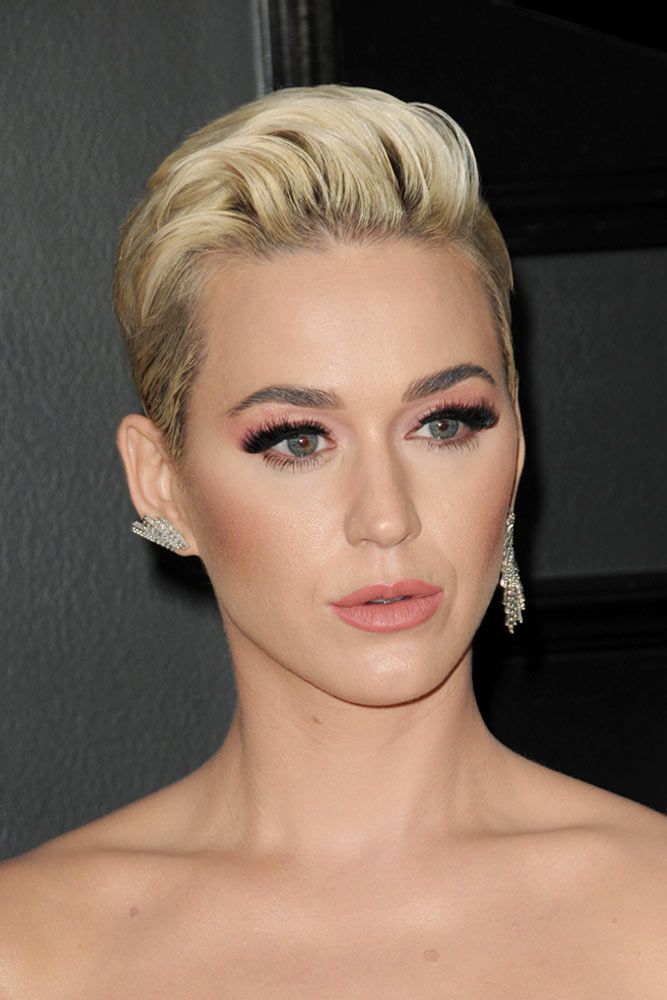 Credit photo: Kathy Hutchins/Shutterstock
No wonder Katy Perry short hair has its own fan base: every single look she shows up with is absolutely hot and flattering. And this swept-back pixie has probably become the most googled idea of all time. Not only does this look adds tons of volume to the top but also gives a polished, balanced finish to the whole look. You know what? Good styling wax is enough to achieve this masterpiece.
.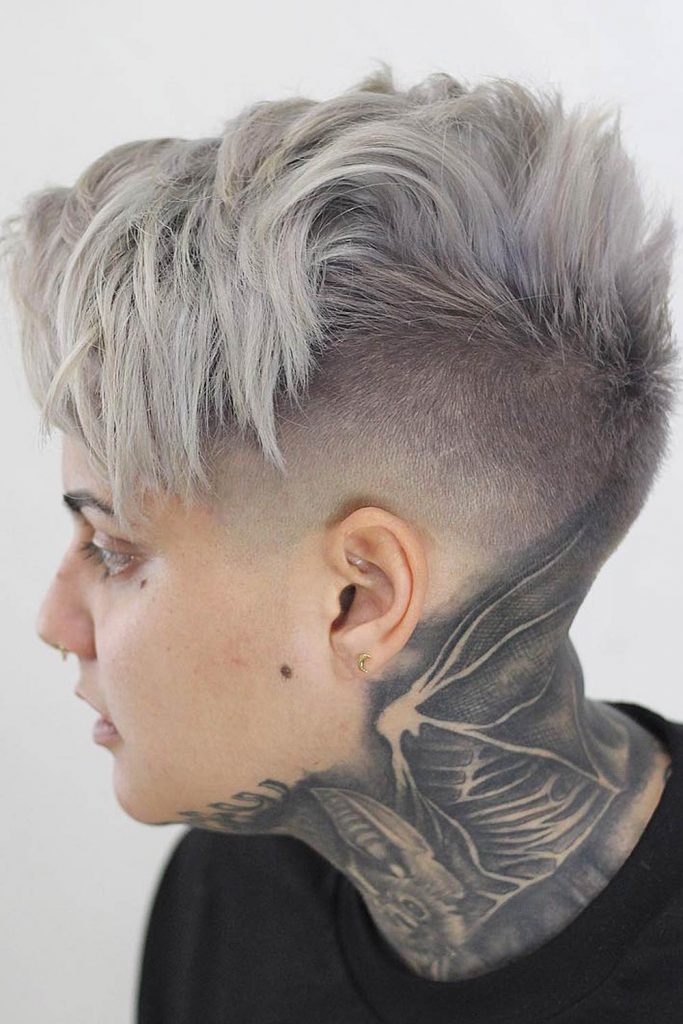 by @instagram_shrunknheads
Short Pixie With Straight Baby Bangs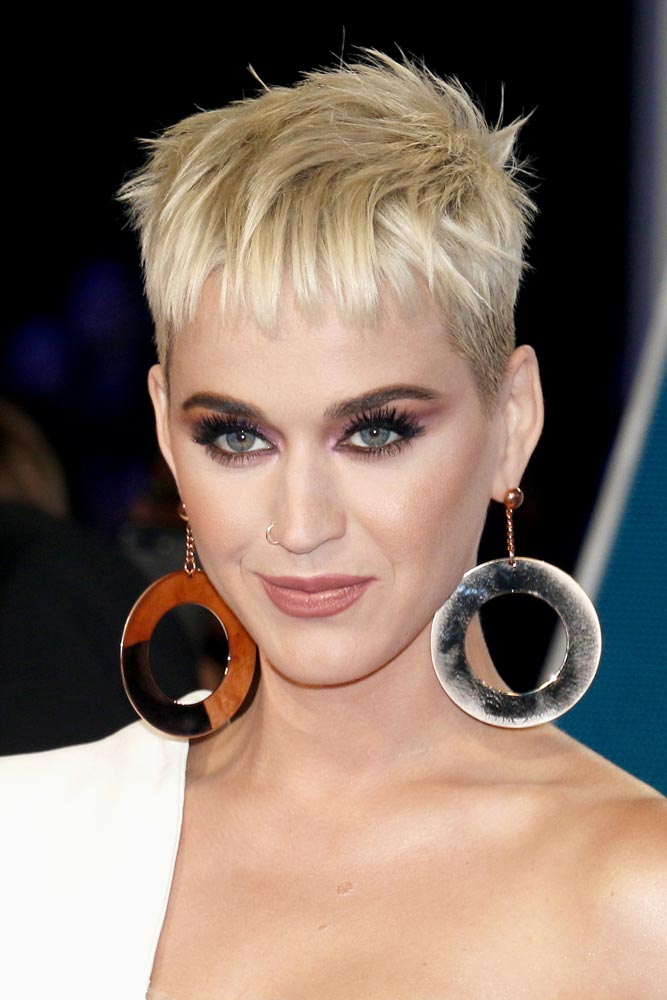 Credit photo: Tinseltown/Shutterstock
How about a youthful Katy Perry blonde hair look with a punky, carefree flair? Here, the singer shows that bangs can suit anyone if you choose the right type of fringe.
The recently emerged baby bangs have literally blown up the whole world with their ravishing power to take years off and give a cute finish without overlapping the brows. Apart from the short bangs, she got choppy layers for her top and a soft tape on the sides. Bottom line? She made messiness work for her femininity.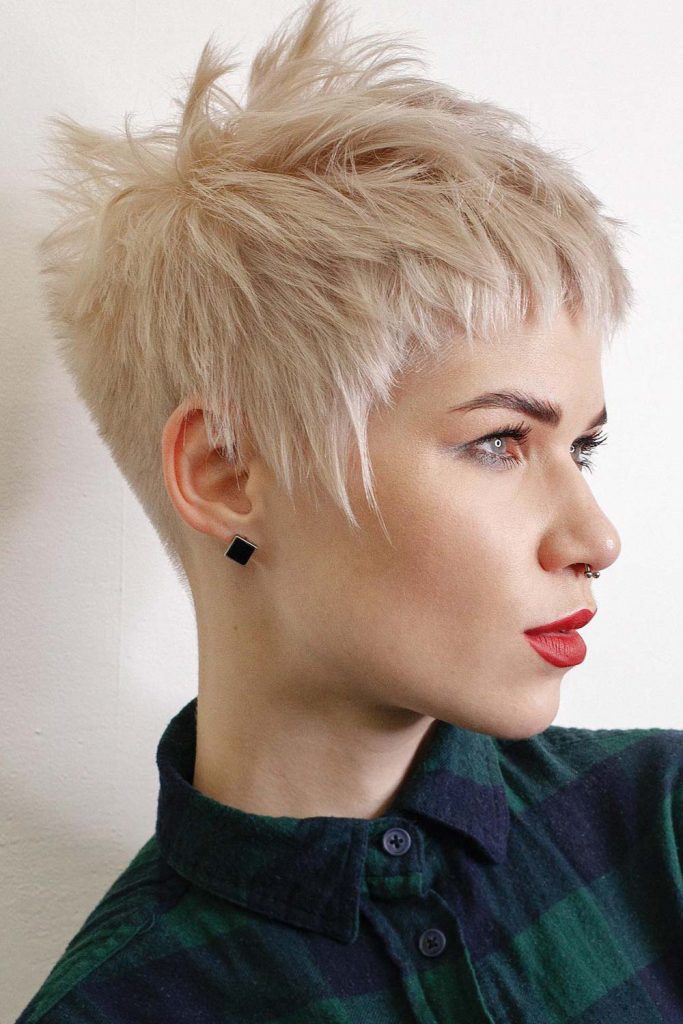 by @instagram_sergeyshapochka
Short Pixie With Undercut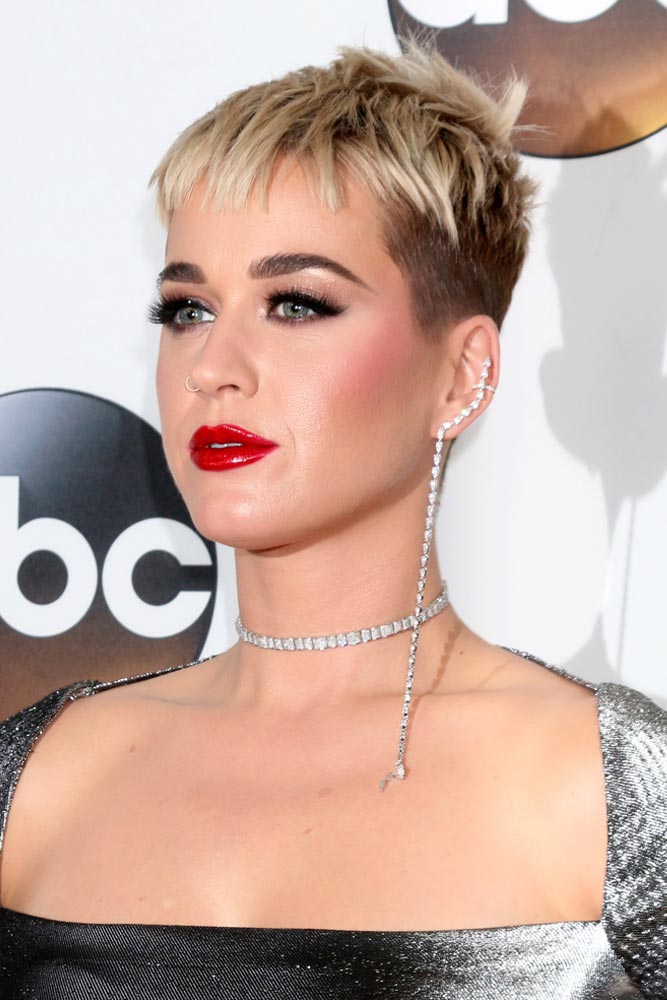 Credit photo: Kathy Hutchins/Shutterstock
Meet a Katty Perry hair cut designed to prove that the modern fashion world is not split into men's and women's ideas; it's universal. Here, she slays cameras with a super short pixie finished with an undercut. Choppy layers that fall on her face like a little fringe add even more character to the bold look.
What makes the look so harmonic and balanced? Her confidence is key. She feels totally comfortable with a simple short haircut, that's why it looks that significant. Needless to say, red lipstick is just the icing on the cake.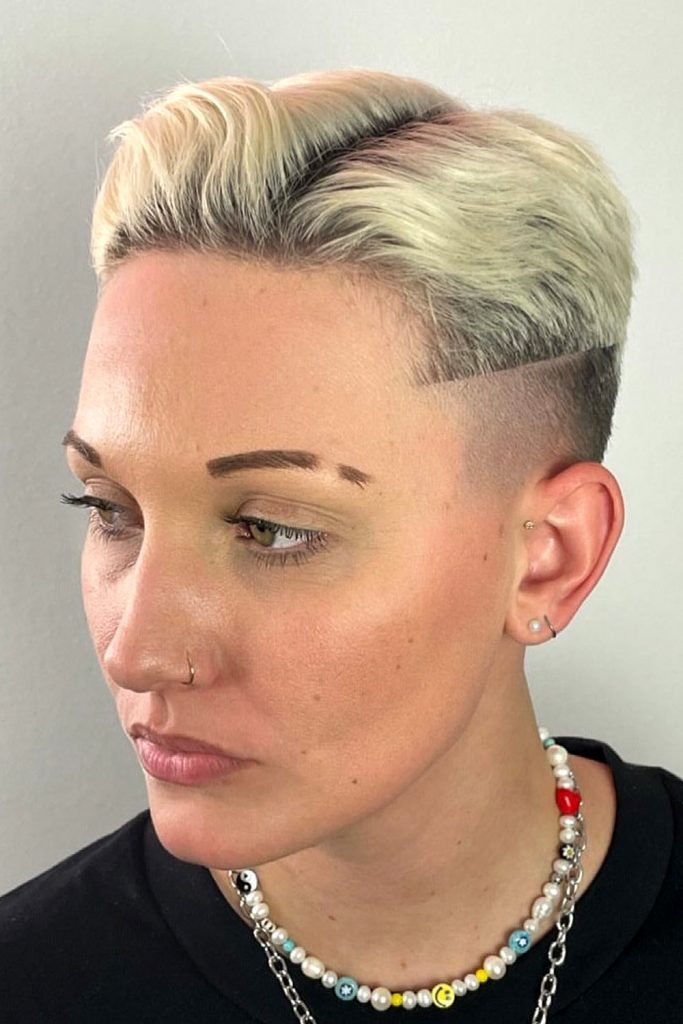 by @instagram_shrunknheads
Stylish Short Pixie Haircuts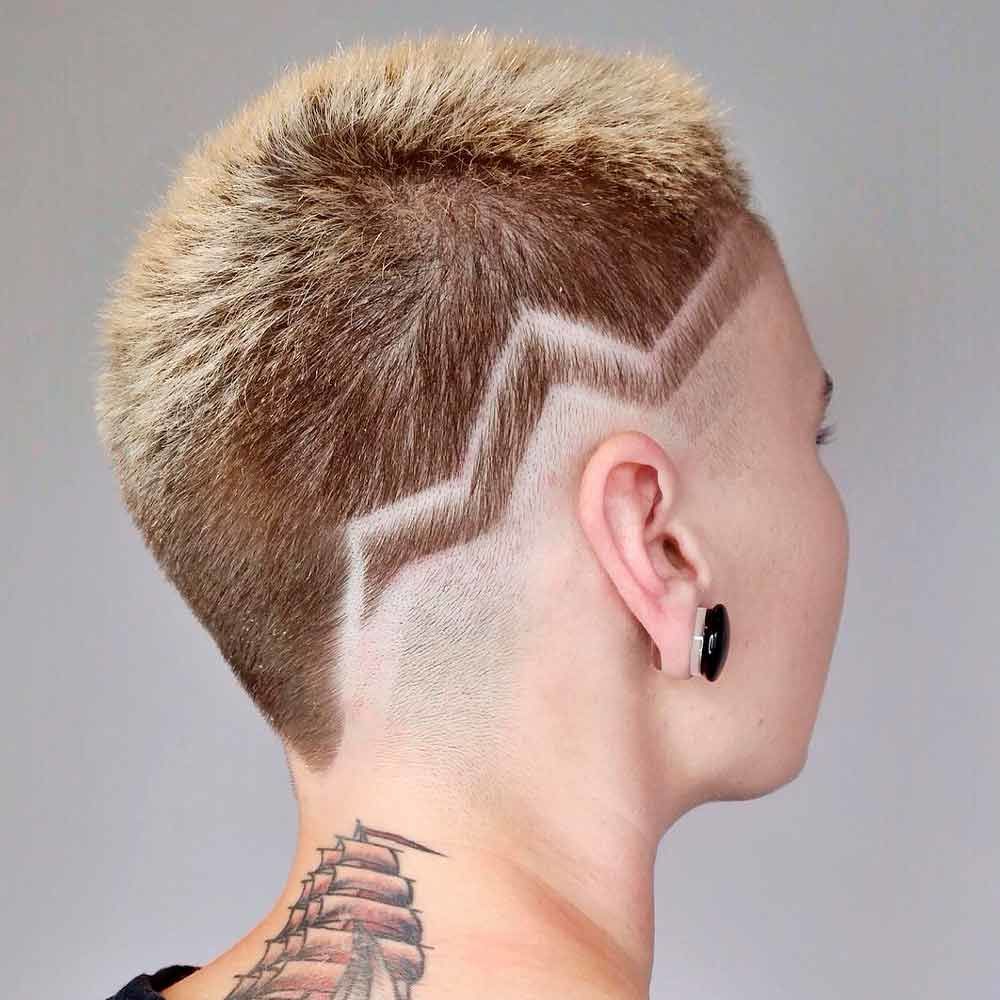 by @instagram_janine_ker_hair
There are numerous pixie cuts to try out but you should remember that what suits Katy Perry may not be that perfect for you. If your face is small, then the super short and icy blonde pixie is what you are looking for.
Layered Blonde Pixie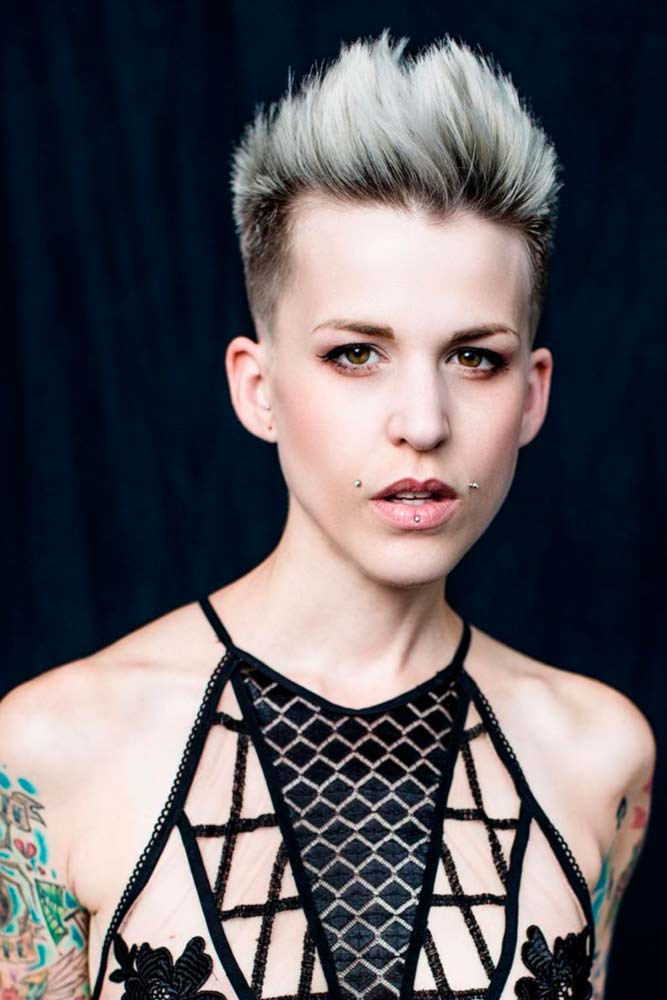 by @instagram_caleb.a.watkins
For your pixie cut to look feminine and soft, choose the cut that is swept to the side. Its framing ability will only help you win. Besides, if you have blue eyes, then you will create an irresistible look!
Blonde Pixie With Long Layers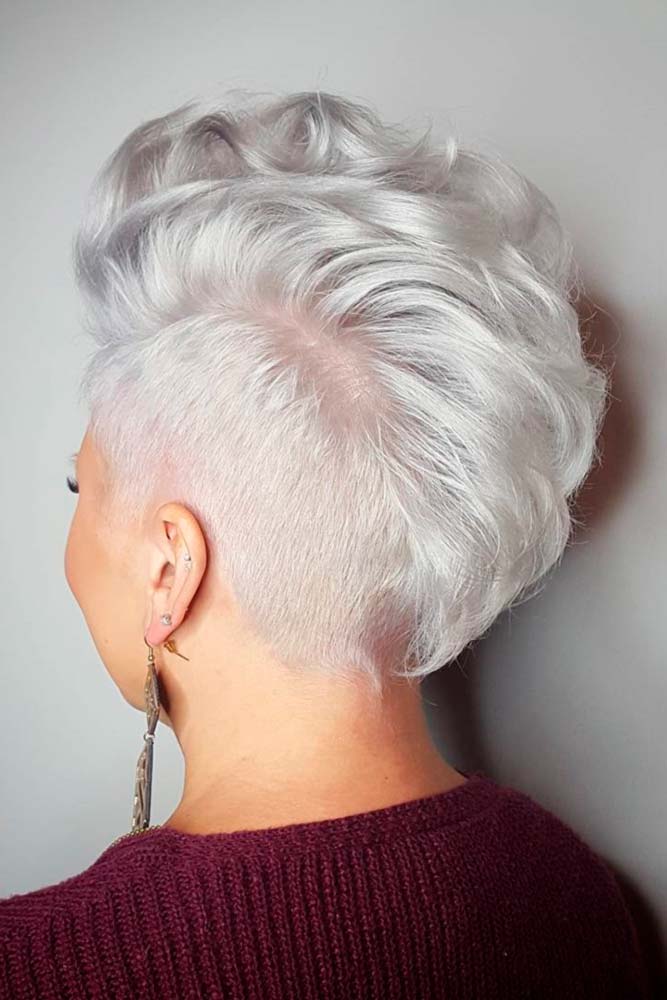 by @instagram_hair_by_marlo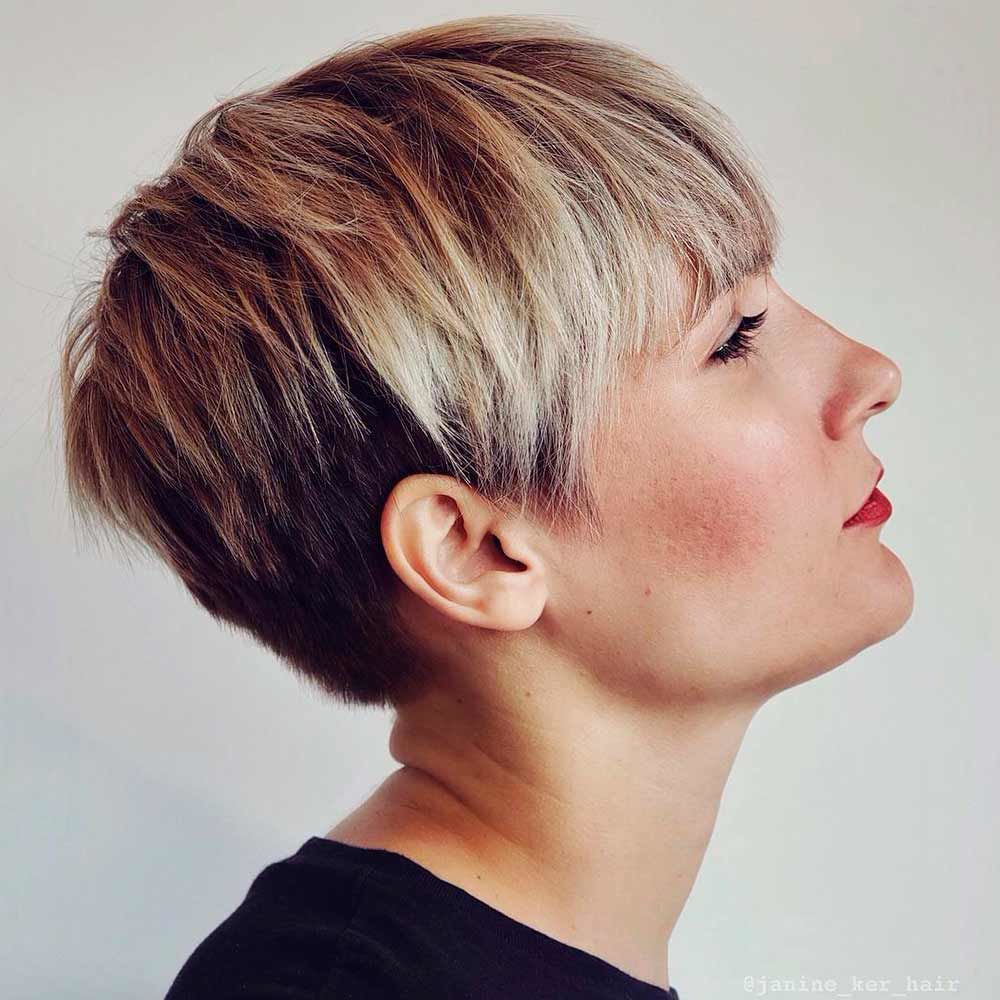 by @instagram_janine_ker_hair
If you are still not ready to let go of your long hair, there is also a way out. An asymmetrical haircut keeps your hair longer in the front and on top and shorter and stacked at the back. Besides, you can experiment with the color, there is plenty of room!
White Blonde Pixie Haircuts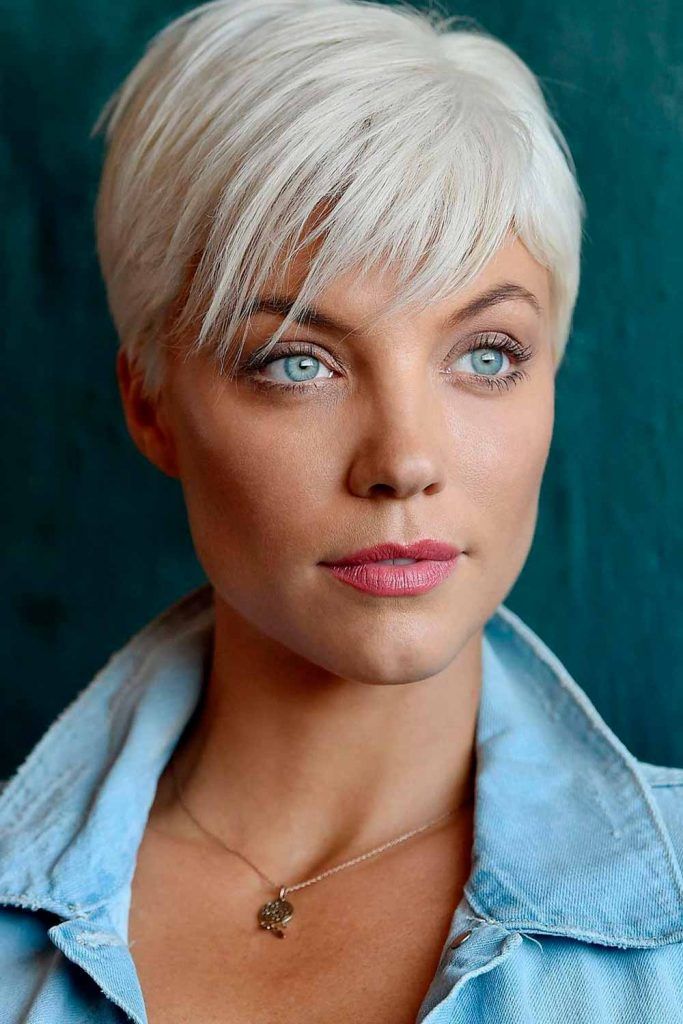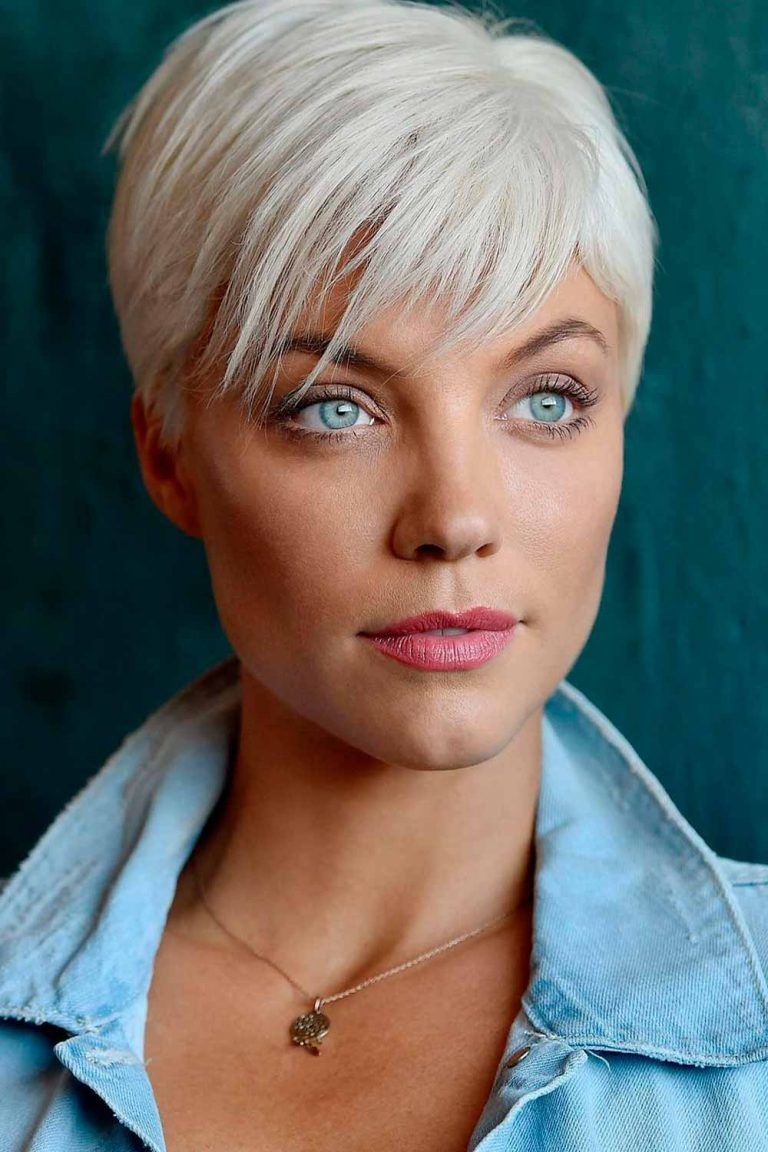 by @instagram_sissemarie
For those ladies who are bold enough, there is an epic blonde pixie with the undercut. But that is not everything we have in store for you! How about a nice, girly pattern added to the undercut?
Cool Pixie Hair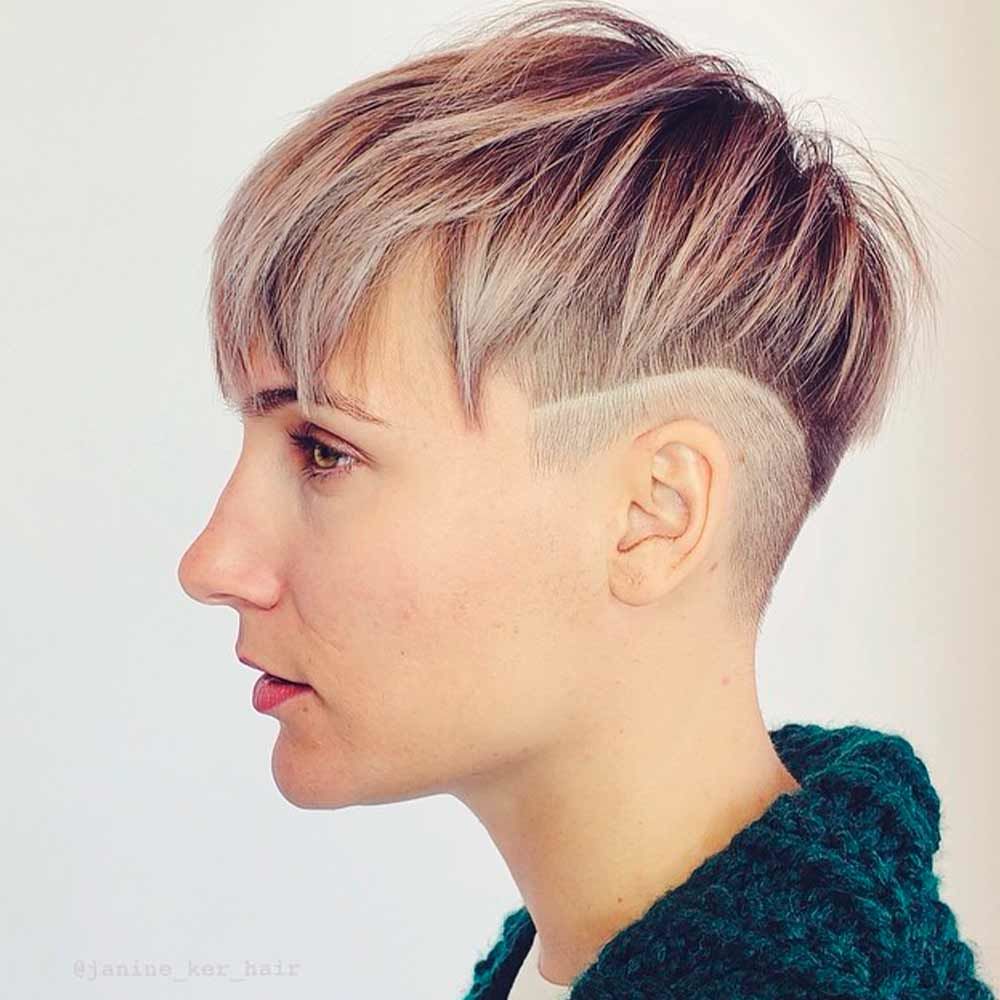 by @instagram_janine_ker_hair
If you still wanna replicate Katy's style, then you should head for the side undercut. What is more, you need to ask your stylist to give you a swept-over-side pixie haircut and, as an option, leave your undercut darker than the rest of your hair.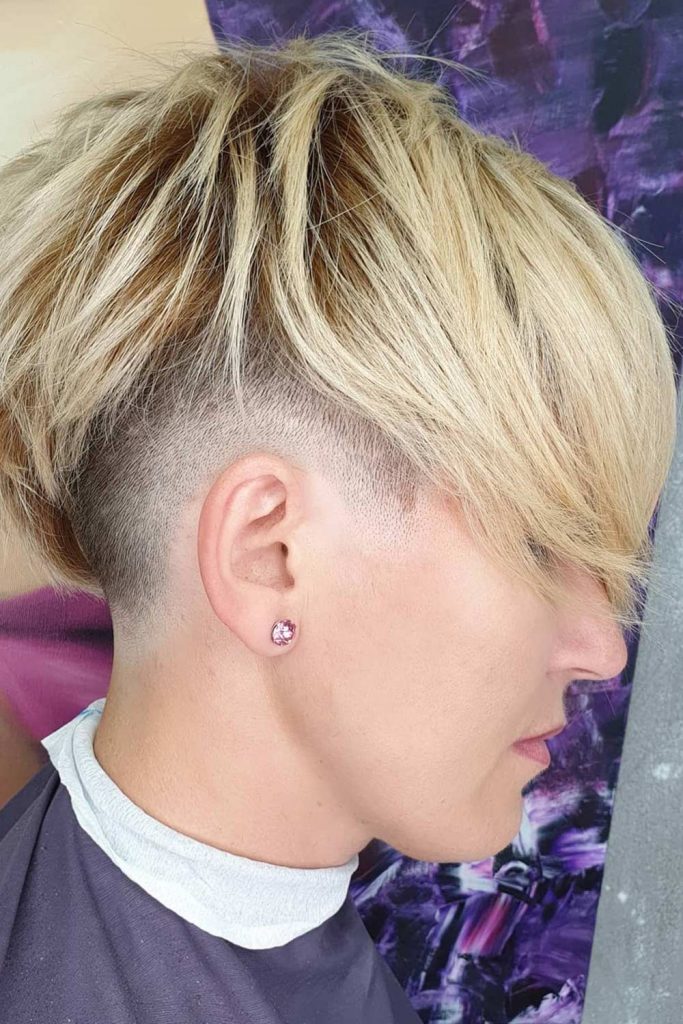 by @instagram_apostoldiana
Blonde Pixie Hair To Try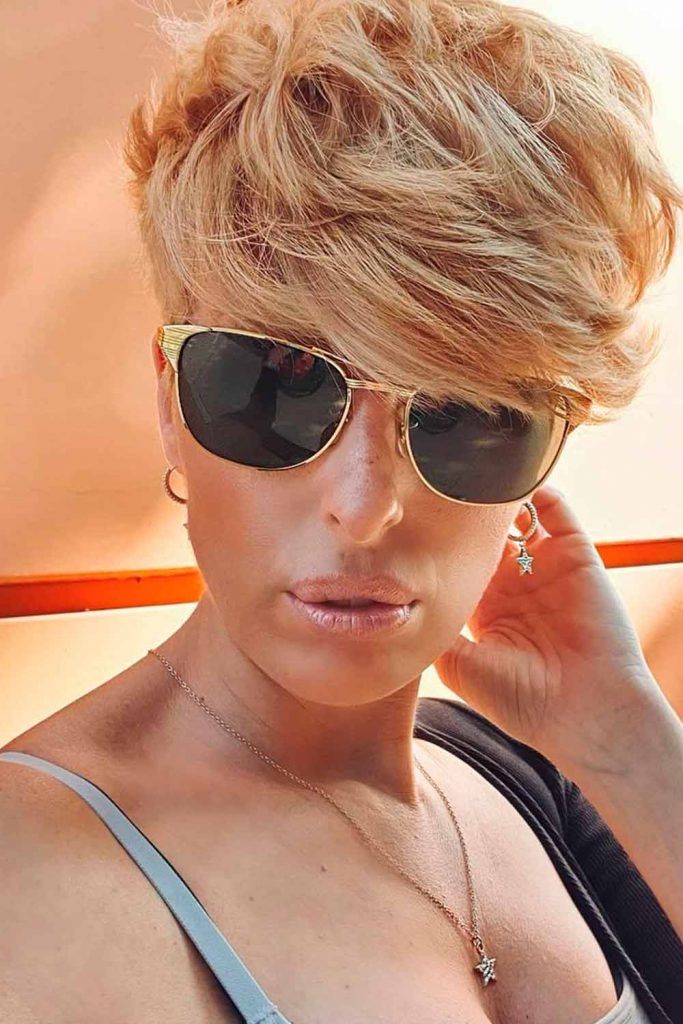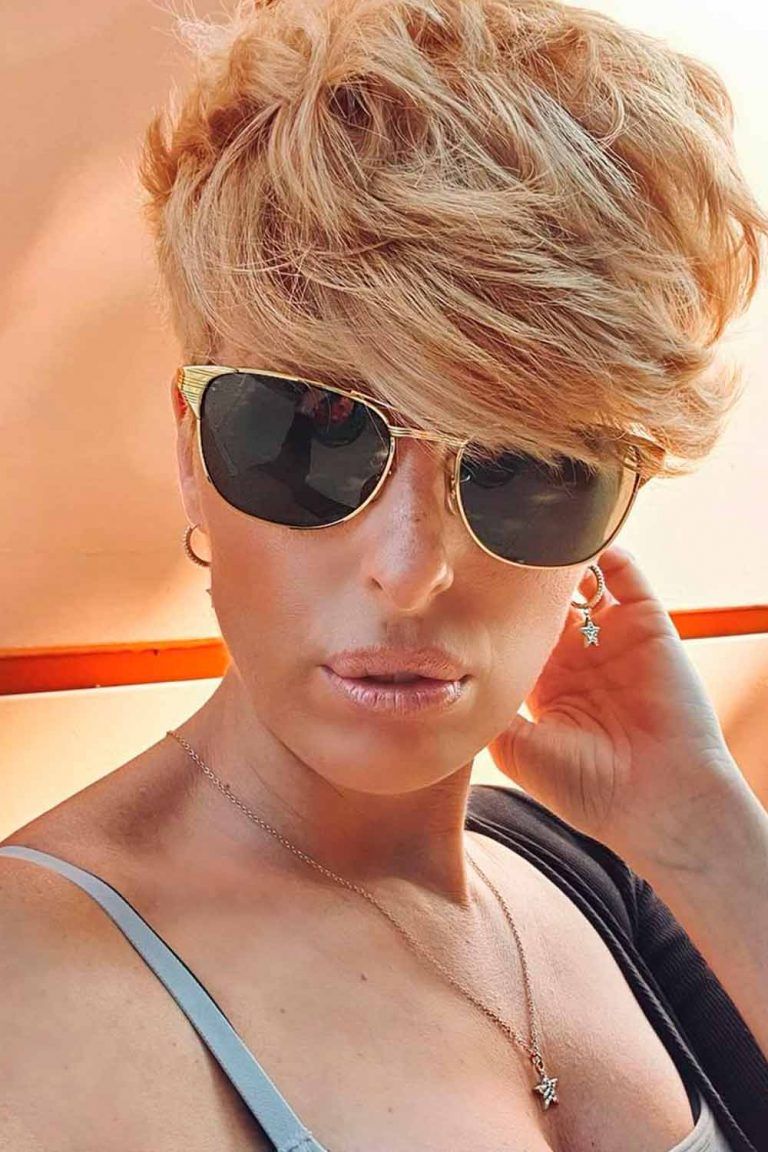 by @instagram_silviagullon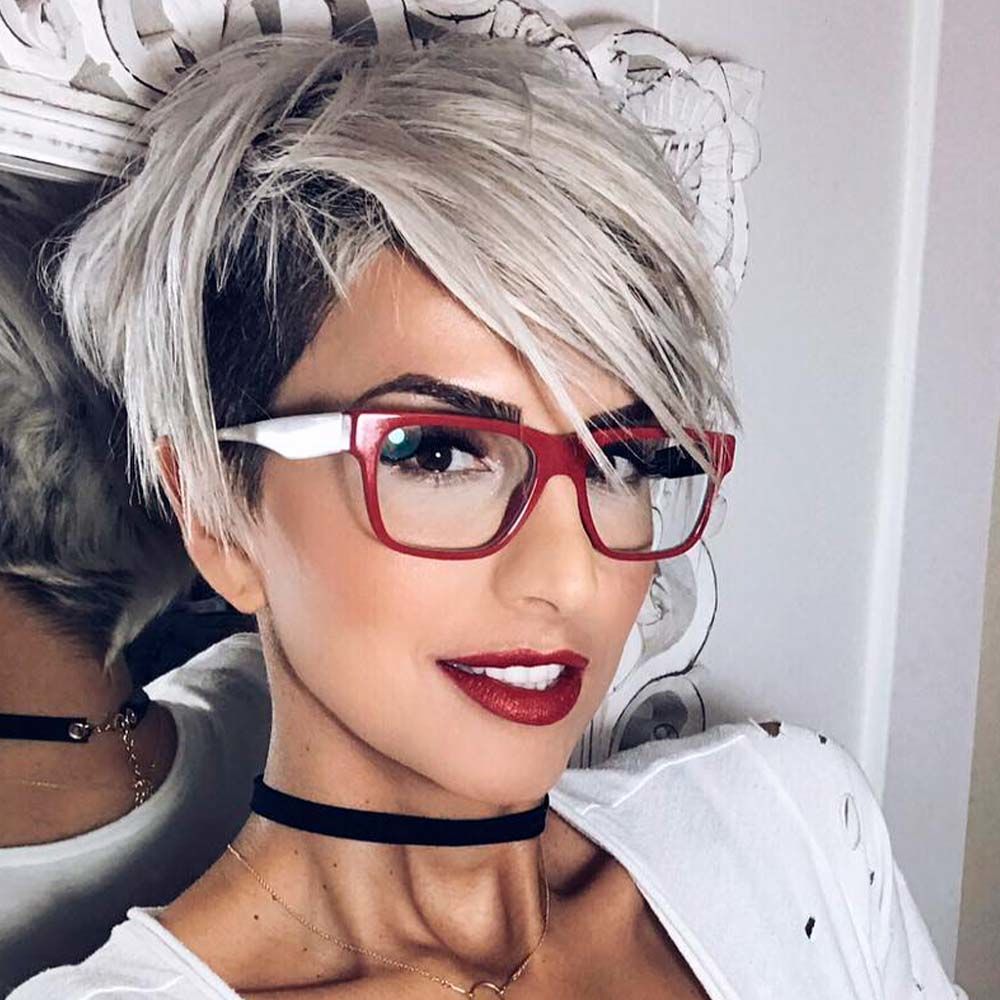 by @instagram_alineh_a
Even though cutting techniques are what makes all pixie cut differ from one another, when a pixie is colored blonde, it looks like a brand new haircut. It's no secret that Katy Perry was the one to popularize outstanding blonde and platinum shades on pixie haircuts: such shades instantly move the cuts to the whole new level.
Cool And Sexy Pixie Hair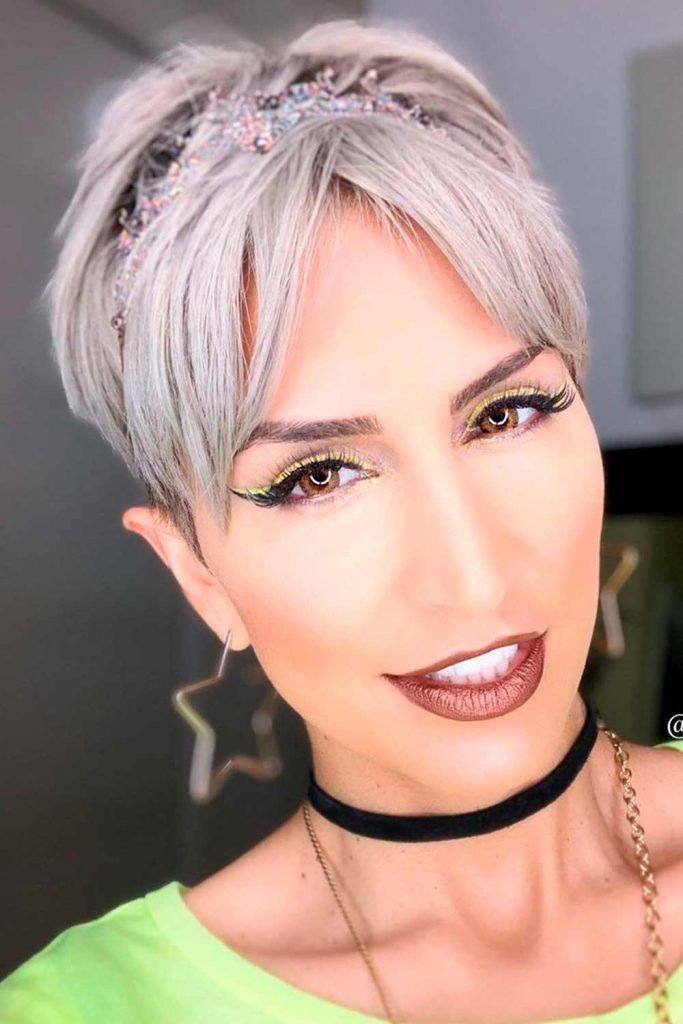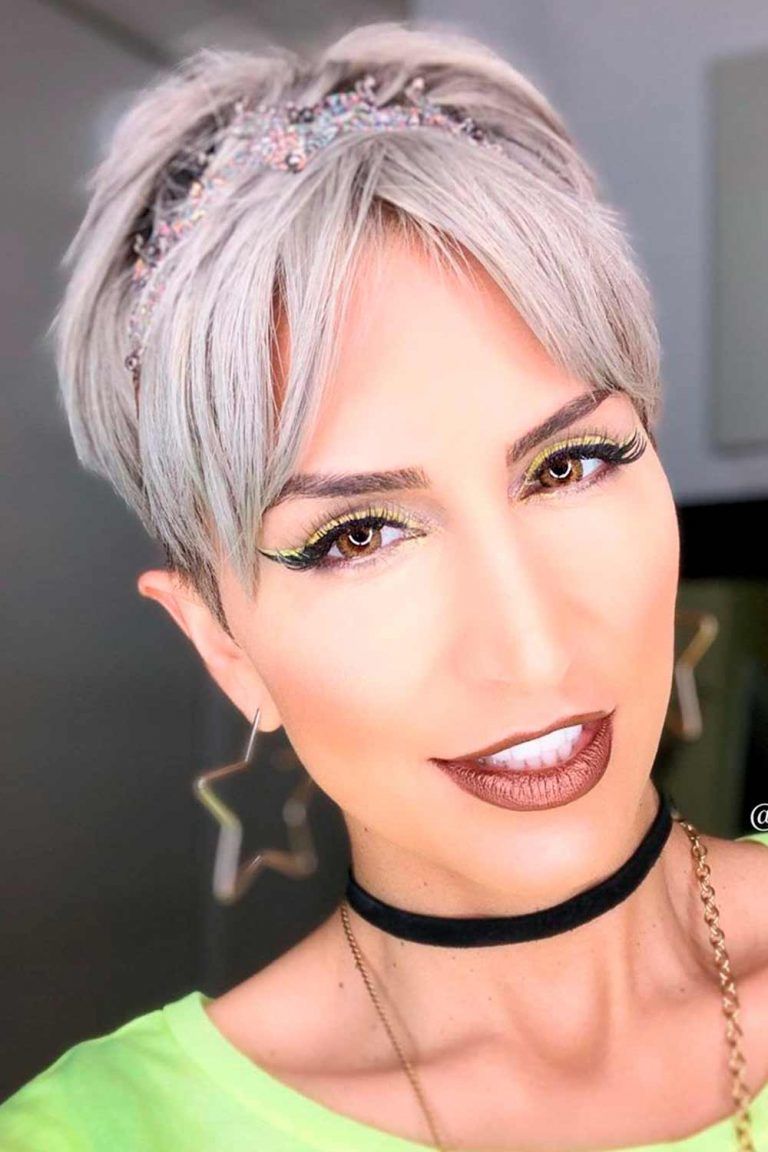 by @instagram_alineh_a
Despite the short length, pixies can adapt to any mood, whether it's carefree, romantic, or even sexy. To make your cut emphasize your sexuality, you can go for the ageless brushed back wet look or simply add a slight wave to the front.
FAQ: Pixie Haircuts
What face shape can pull off a pixie cut?
Round, heart and oval face types are usually ideal for a pixie. Most shapes, though, can manage short hair.
Why you shouldn't get a pixie cut?
If you have highlights which are normally lighter at the mid-lengths and ends, cutting off a significant amount of hair will change its color. The primary thing to avoid with a pixie is getting highlights near the bottom, where your hair is extremely short, because it will look a bit clunky.
What is the easiest hairstyle to maintain?
Among the simplest hairdos to keep up are ponytails, buns and simple braids, as well as respecting your natural hair texture.
Was this article helpful?