By:

Glaminati Media

| Updated:

01/29/2019
Pick The Most Flattering Shade Of Burgundy Hair
Burgundy hair dye is traditionally used for those with natural brown, or black hues. However, it can do well with any hair color, if you choose the right shade and style.
If you are looking for new hair color, why not try burgundy? As with any red hair color, you will have to touch up your roots when needed and protect your hair by using products designed for color-treated hair.
From deep dark reds to subtle shades, burgundy hair color is sexy and sophisticated. But make sure to protect your hair from the sun and chlorine. If you are ready to rock those red tresses, a burgundy shade may be right up your alley!
Make sure you are choosing a shade that matches and enhances your eye color and skin tone. Softer reds, of course, work best on those with pale or fair skin, while bolder and brighter reds work best on those with darker complexions and brunette hair. If in doubt, do not hesitate to ask your hairstylist for advice!
Burgundy Color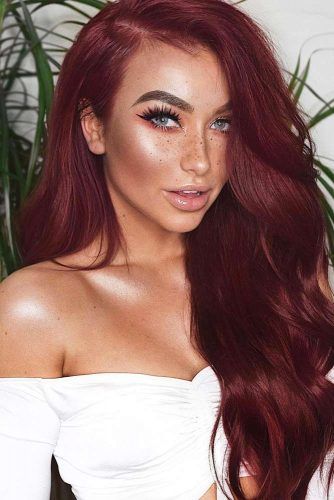 There's no way you won't fall in love with these burgundy hair ideas. Nobody can't resist the beauty of this color. When it comes to changing something in life, every woman, no matter how old she is, starts with her hair. Our hair means the world to us, so once we change our haircut or hair color, everything around us will appear in new lights. If you feel that your life becomes less satisfying, it's a sign that you need an upgrade. How about coloring your hair in a magnificent color? Just imagine that every time you look in the mirror, you will see such a beauty. These pictures leave you no choice but to steal these looks. Any haircut or hairstyle will look absolutely amazing with this color! Voluminous waves, afro braids with tresses, curly hairstyles: the burgundy color knows how to embellish anything you want.
Source: flukeofmakeup via Instagram

Burgundy Hair – Is It For You?
If you think that this color won't suit you for some reason, you have never been so wrong. The truth is, the power of the burgundy color is just infinite. Don't make things complicated, girl! Don't panic if you think that your hair is too thin and your skin tone is not so good. This color will make you remember it once and for all: you just need a personal approach. Burgundy hair is like a little black dress, it will suit any girl. So your skin tone is not an obstacle, as well as your thin hair. You can add some volume to your thin hair, just opt for a burgundy balayage and forget about all the hair troubles. See? There's nothing impossible about this hair color. As for its variety: you can let your imagination run wild, as there are lots of shades of this color. A little tip for those who have set their mood for burgundy hair: don't waste your time comparing burgundy vs maroon. Just mix them all to get a unique look!
Source: guy_tang via Instagram

---
Click NEXT PAGE to read more!
---