There's just something special about burgundy hair. This rich hue flatters many different skin tones and is a softer version of a racy red. Whether you want to add some depth to your brunette hair or play with a fashion color merely for the sake of making a change, burgundy hair color is one of the hottest hues for women today.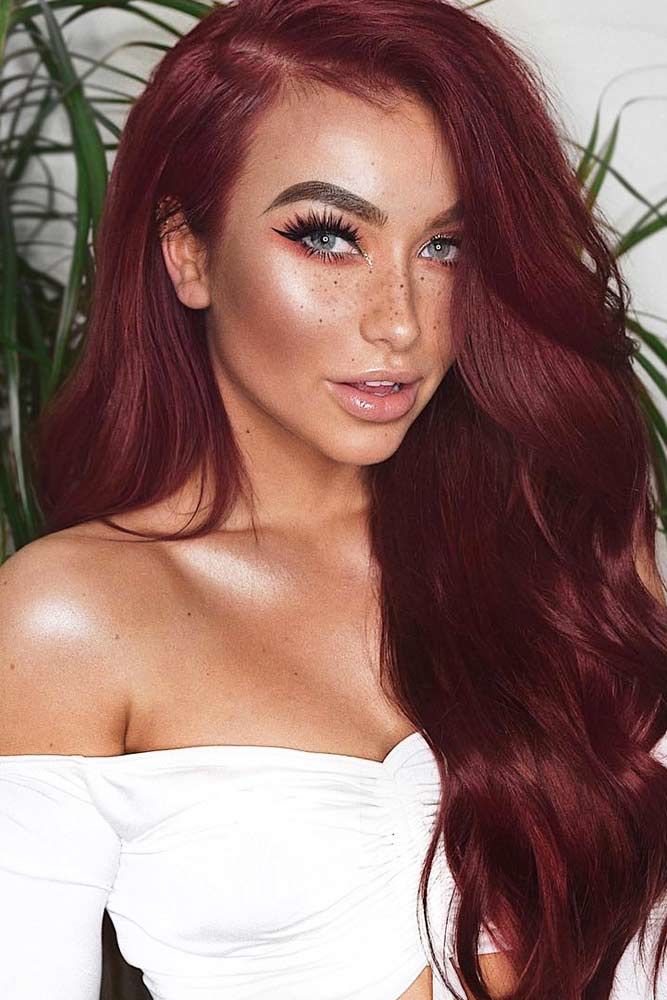 Credit photo: instagram.com/flukeofmakeup
Both sexy and mysterious, this wine-colored look can play up many features (hello green eyes!) and looks extra trendy if you're rocking an alternative style paired with pin curls and tattoos. While this color certainly makes its mark, like all reds it's prone to fading. This is what you need to know before you go this deeper shade of red.


What Skin Tone Is Best For Burgundy Hair?
Credit photo: instagram.com/guy_tang
Many different skin tones are suited for burgundy hair. In fact, there's a deep red out there for pretty much everyone. If you need help finding the right shade you'll want to meet with your colorist beforehand for a thorough consultation. Check out the hair color swatches and have them hold up to your face.
The biggest decision you'll need to make in regards to burgundy hair is your level of commitment. Unless you have naturally brown hair your hair color is going to fade much faster and require more frequent touchups. This is especially true if you're starting with a platinum blonde base. There's nothing worse than a faded-out red hue so be sure you can revisit your colorist for touchups and your burgundy hair will always be in great shape.
All Over Burgundy Hair Color Ideas
Deep Burgundy Hair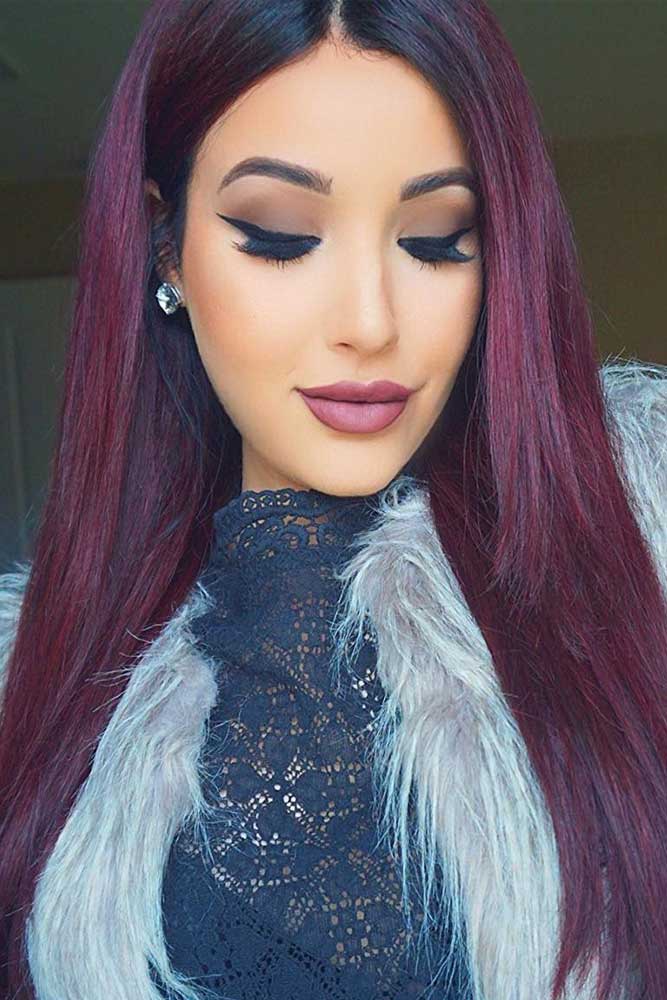 Deep burgundy hair with a violet kick is a playful yet elegant shade that is smoldering and sexy at the same time. Keep your roots black for something a little different and for added drama. This captivating shade of violet burgundy is great for those who want deep burgundy hair that's anuthing but basic.
Dark Burgundy Hair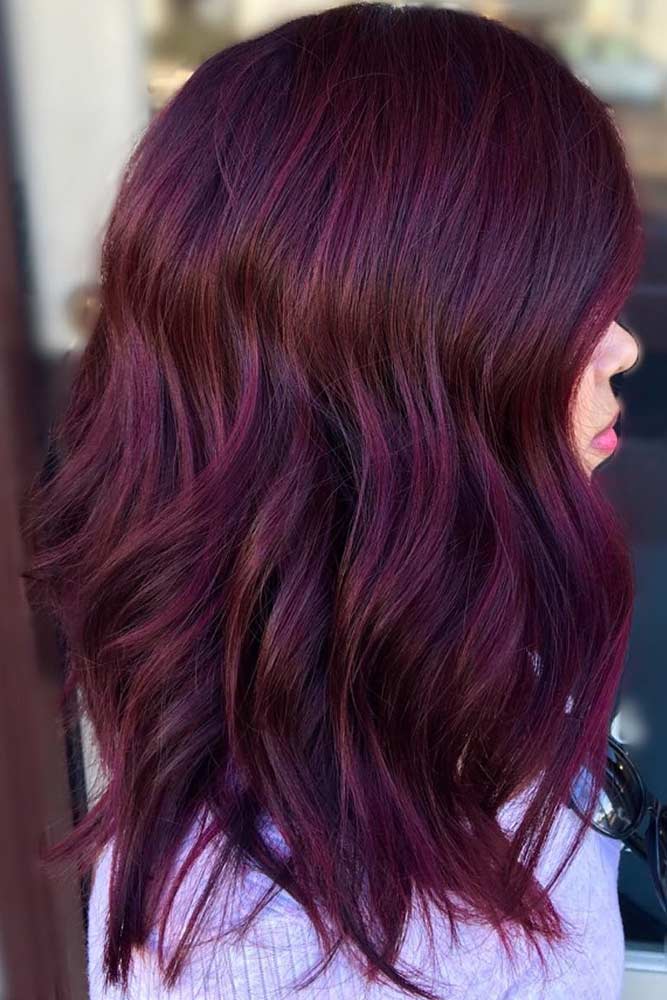 Credit photo: instagram.com/hair.by.elenarosas
Do you want to flaunt your inner goth princess? Why not color your hair dark burgundy instead of black? Black hair can be harsh and wash out your complexion whereas burgundy adds warmth and richness that can be super flattering. Paired with long wavy layers, this burgundy hair color is dark and decadent.
Burgundy Hair On Dark Skin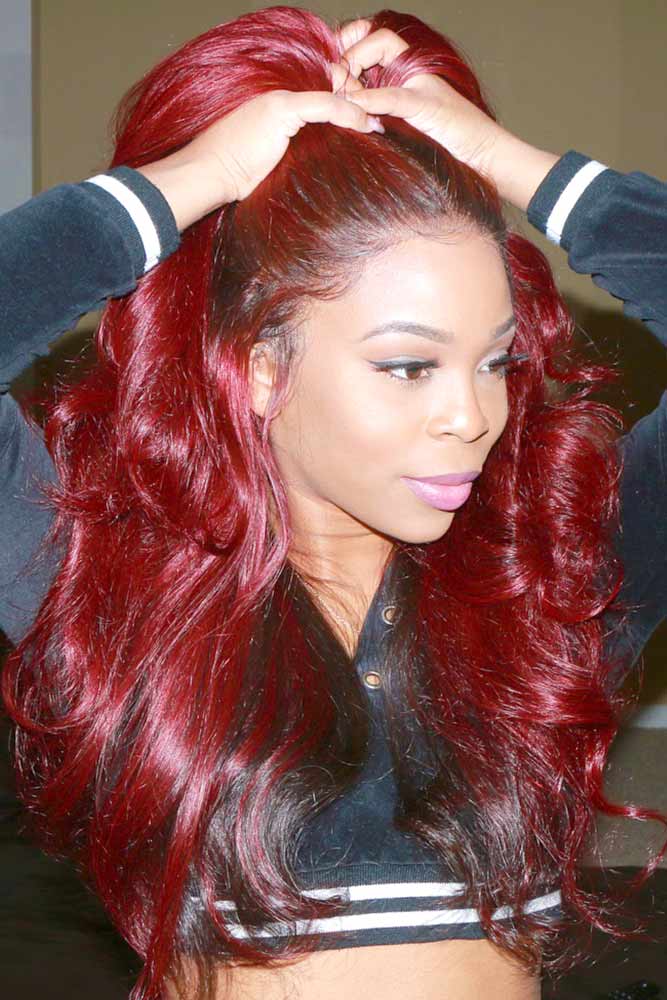 Credit photo: instagram.com/rpgshowwig
If you have dark skin you are in luck. Burgundy looks ravishing on deep skin and can be exceptionally stunning. Opt for a bit more red rather than purple in the formula and you'll have a burgundy hue that's as hot as a firecracker, and sexy to boot.
Deep Violet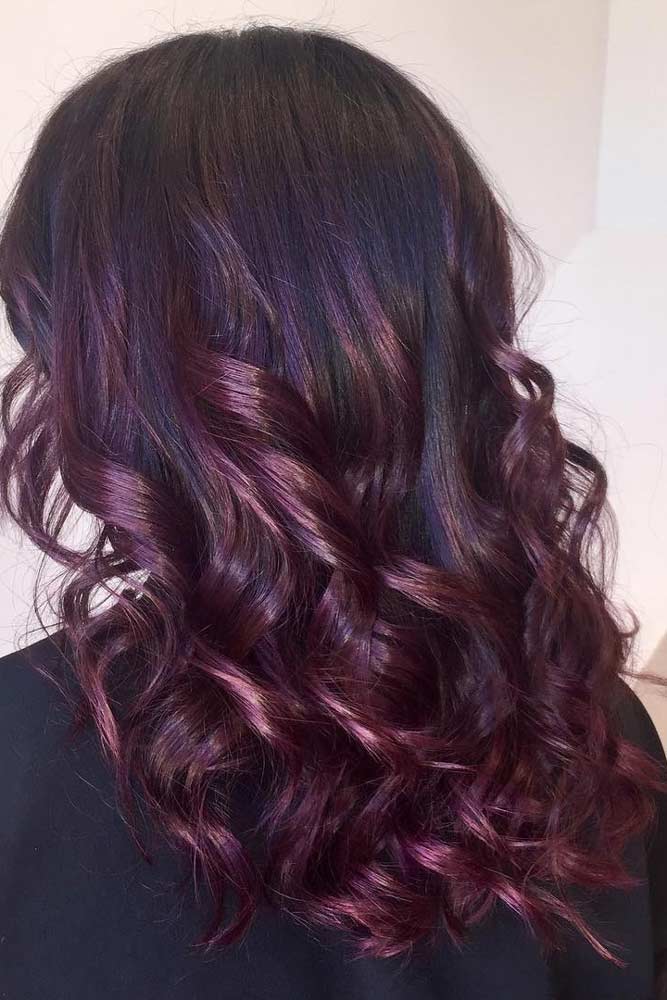 Credit photo: instagram.com/beauty.byrachel
This dreamy and earthy burgundy hair look with jeweled toned violet highlights is simply stunning. Besides, your hair will glisten in the sun like priceless gems!
Crimson Curls With A Hint of Purple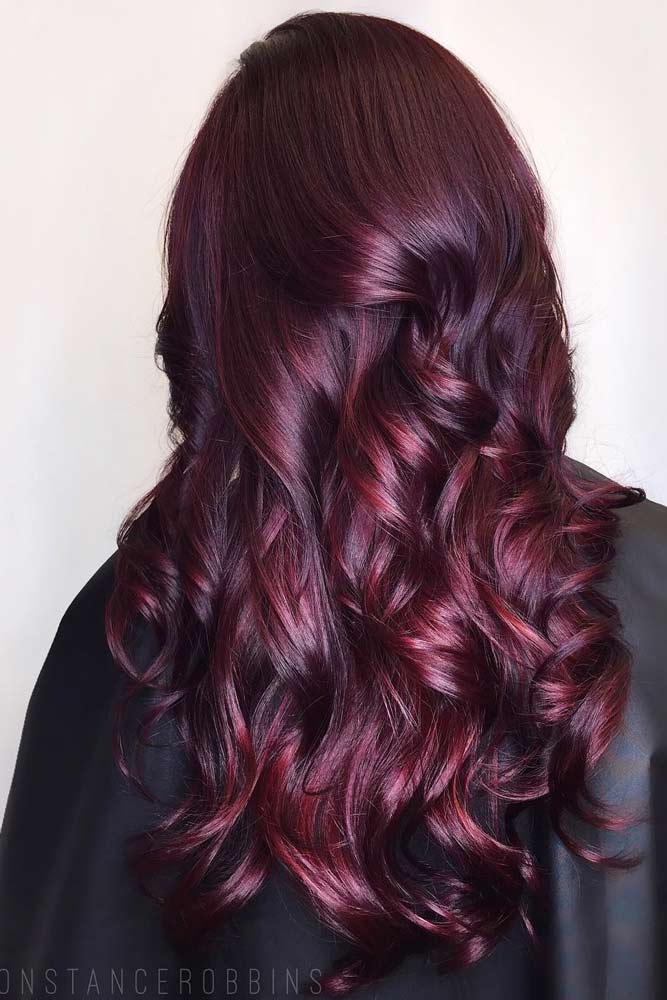 Credit photo: instagram.com/constancerobbins
The best part of red hair is that it adds not only depth but also dimension. This gorgeous, fiery red with cool purple tones is totally hip and sexy for when you want to shine bright!
Far Out Fuchsia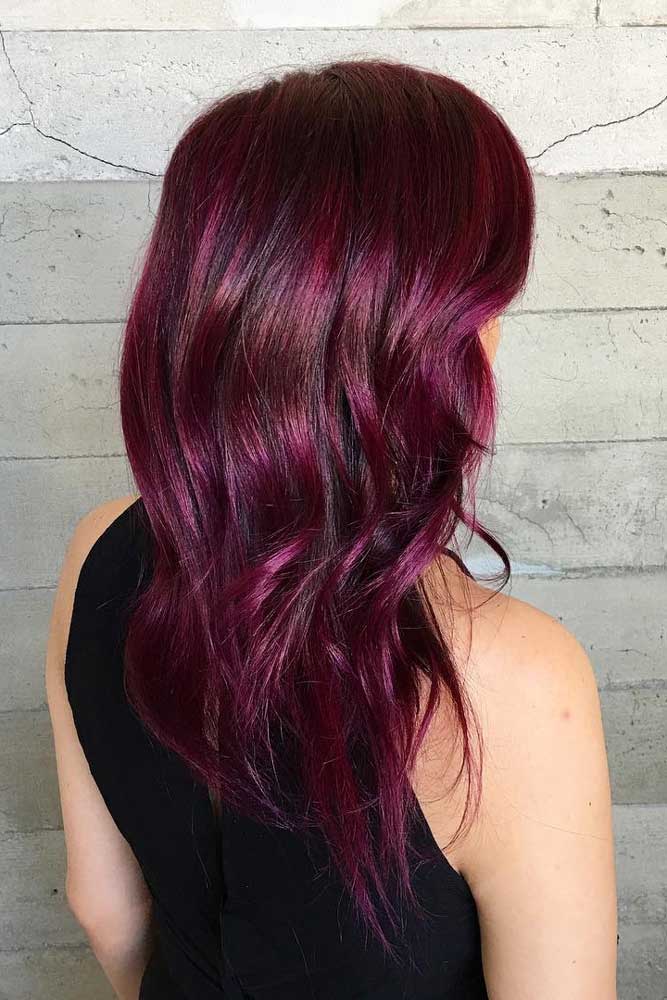 Credit photo: instagram.com/masey.cheveux
This futuristic cut with blunt bangs and bold fuchsia tones is so chic and out of this world that it's hard to take eyes off!
Choco Cherry Waves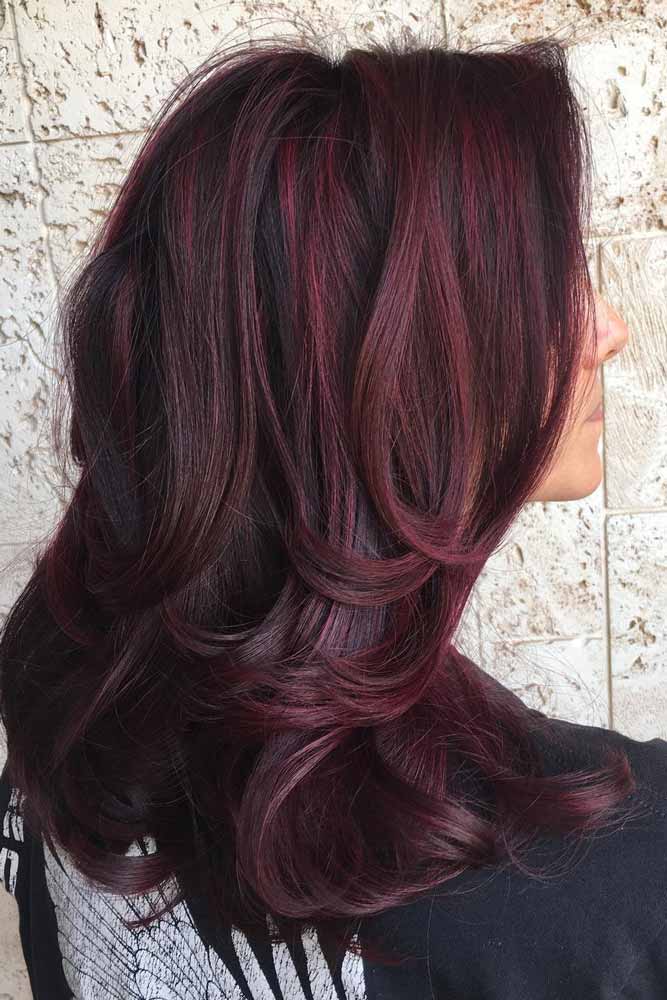 Credit photo: instagram.com/lizzys_colorfulworld
Apart from enhancing the depth of a darker base, this perfect blend of chocolate brown and cherry red also gives a sweet and sassy look.
Velvet Violet Vixen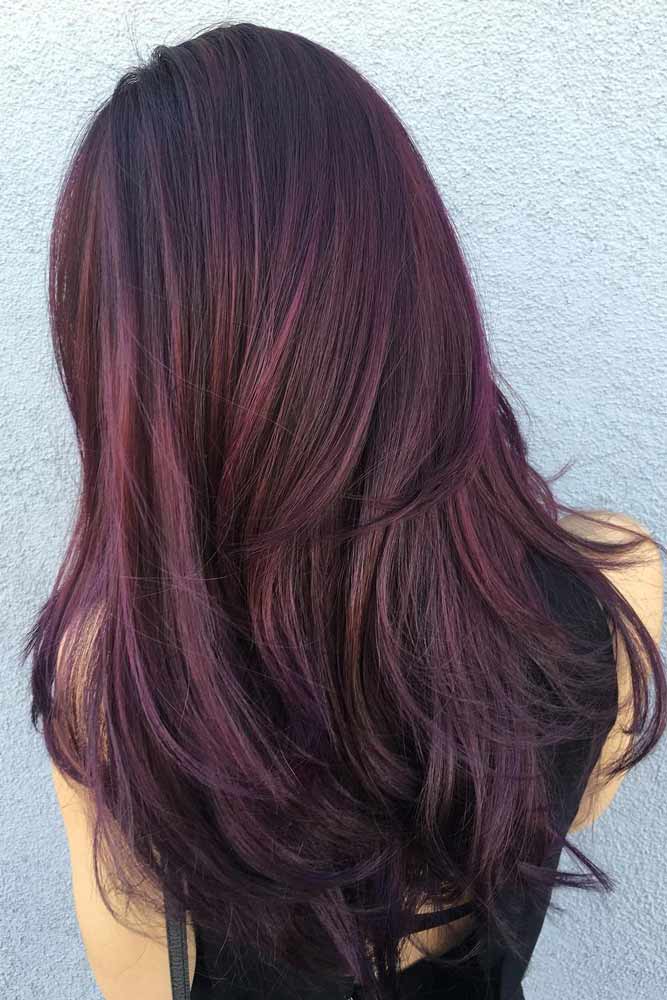 Credit photo: instagram.com/stylesbyalexx
When feeling vampy, nothing helps better than a sleek and sexy shade will give you a flirty, seductive vibe.
Maroon Layers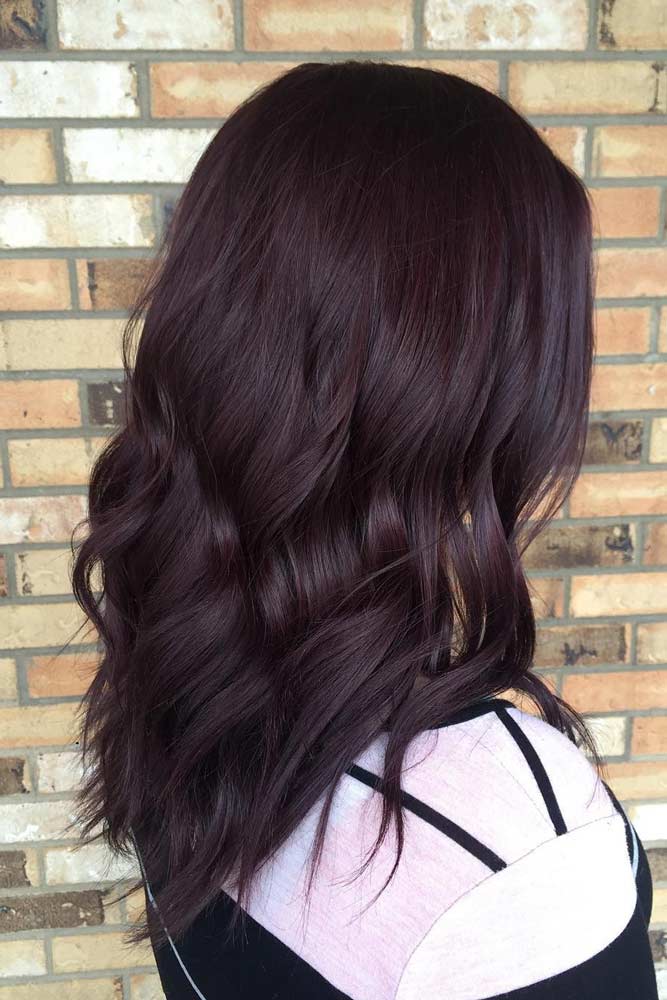 Credit photo: instagram.com/hairbymb
Stylists agree that maroon shade is totally classy and, therefore, will never go out. On layered hair, this shade of burgundy will make you the center of attention regardless of there you are.
Chocolate Wine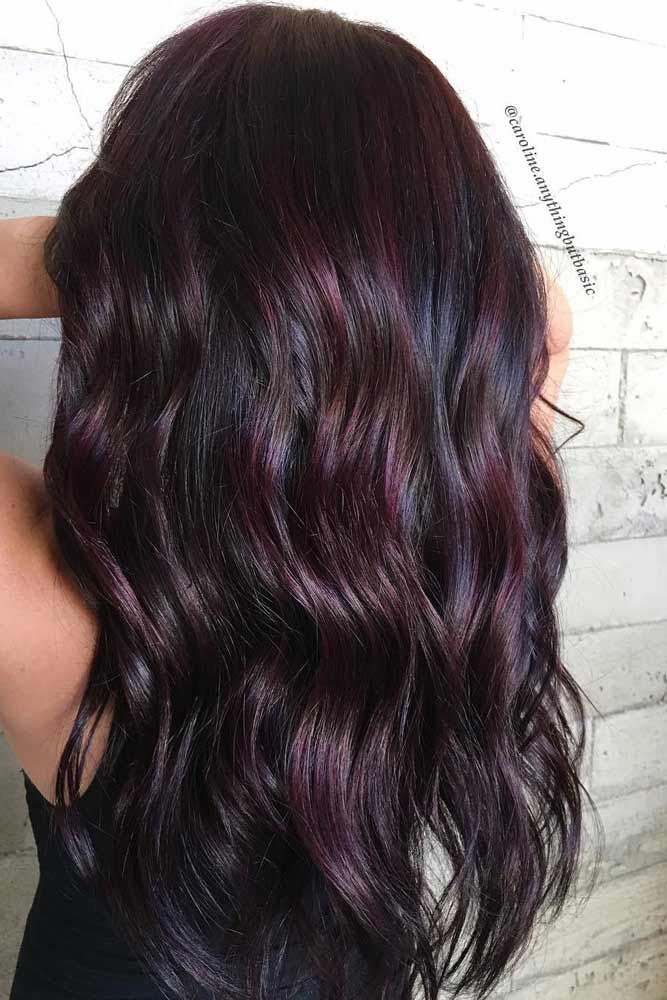 Credit photo: instagram.com/caroline.anythingbutbasic
Though the red color is merely apparent, this slow fade from dark chocolate roots to gorgeous burgundy is still very soft and romantic.
Deep Purple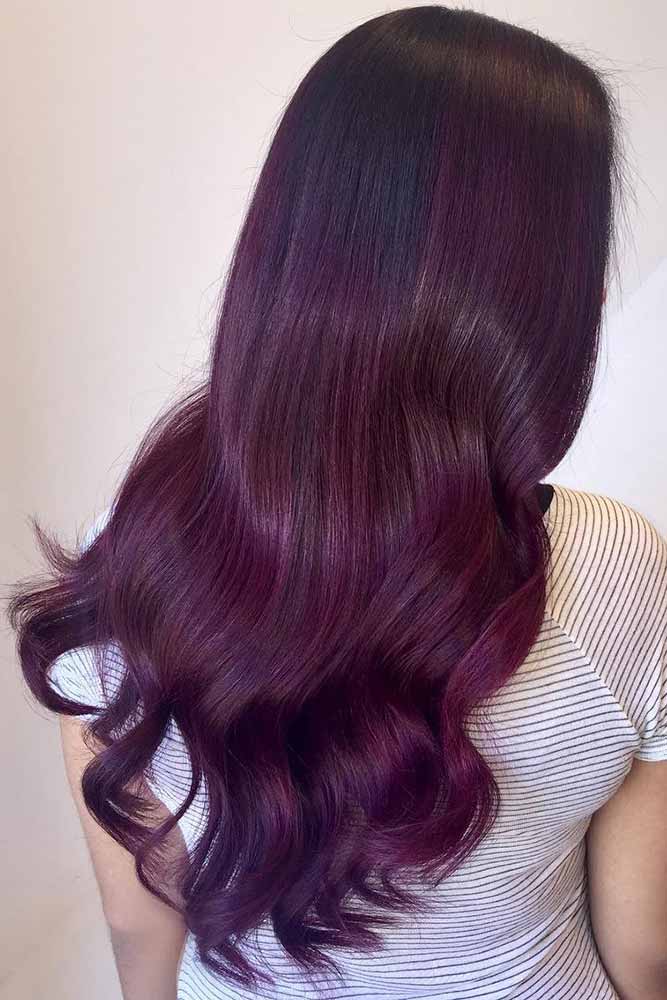 Credit photo: instagram.com/beauty.byrachel
This dark red-violet is surprisingly natural-looking unless you happen to be standing in the sun. The light will enhance these captivating dark purple highlights once the sun shines down on your hair.
Peek-A-Boo Burgundy Short Hair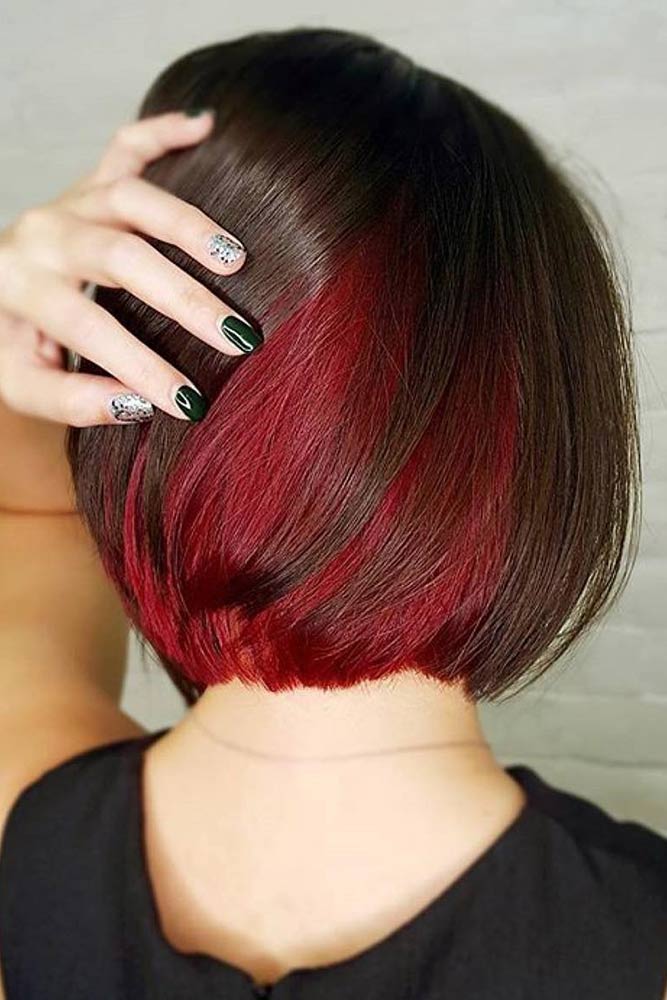 Credit photo: instagram.com/number_76
Women who are more into short haircuts like a bob hair style will love this peekaboo red under a dark burgundy black. All in all, it's lot of fun! This look for burgundy short hair is perfect if you want to show your fun and playful side but have to keep your hair looking professional for work. By the way, the peekaboo tones also add some texture to this adorable bob haircut.
Burgundy Hair Ombre & Balayage
Shades Of Burgundy Ombre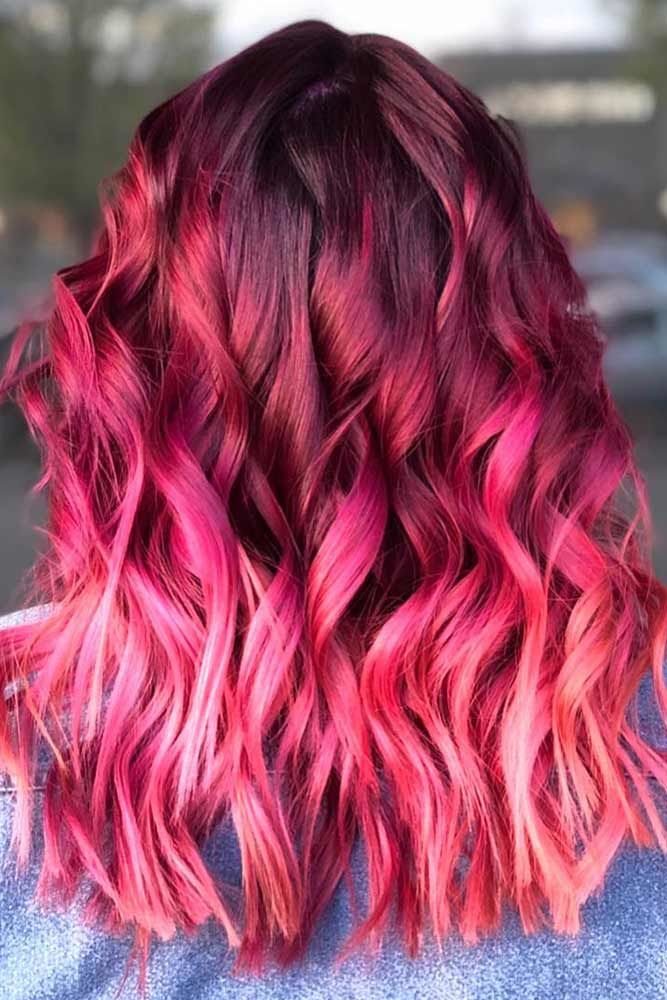 Credit photo: instagram.com/xostylistxo
Every burgundy ombre you may come up with is a seductive color combination that can take your hair to the next level. Now, you can forget about the time when people didn't stare at the unbelievable dimension and burst of deep colors in your hair once you let your imagination fly. It can be an accentuating red-wine touch on your ends, a new color mix of two burgundy shades or a sophisticated ombre with some highlighted strands. Seeing such beauty in the mirror every day is a good way to add more colors to your life palette!
Dark Burgundy Hair Ombre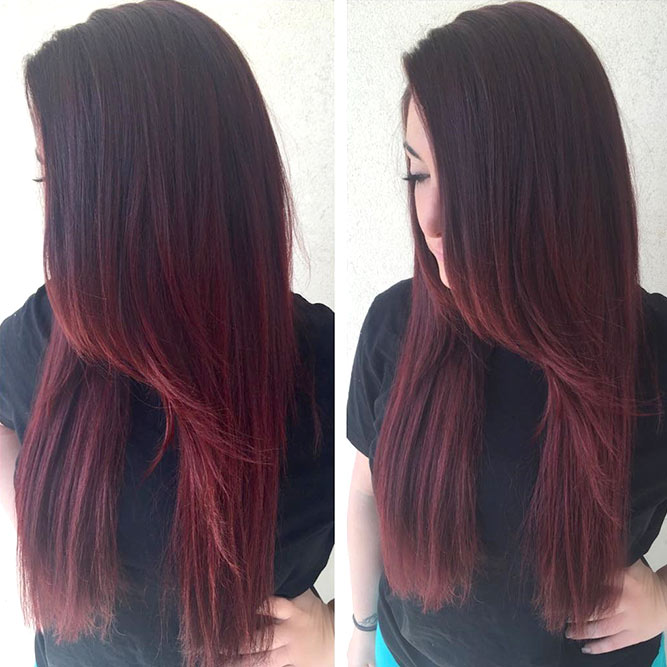 Credit photo: instagram.com/deenanicolemtv
If you have dark hair and want to go for a dark burgundy hair ombre hairstyle, you can start with dark roots and fade slowly into a wine-colored burgundy. This fade looks especially stunning on layered hair like the long layered haircut shown here. As for dramatic layers near your face to give you a soft and playful feminine vibe.
Harley Quinn Burgundy Hair Ombre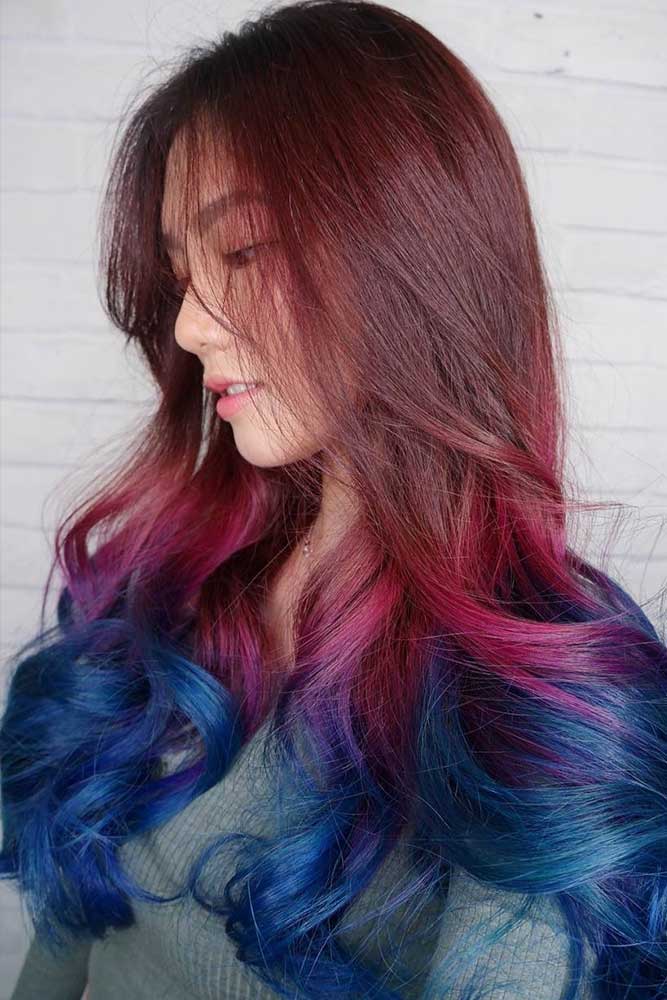 Credit photo: instagram.com/number_76
If you love long hairstyles and don't want to cut off any of your gorgeous curly locks, why not try this fun Harley Quinn ombre fade? So many women are embracing the HQ look, and this burgundy hair ombre is proof positive! We love the dark burgundy fade to bright red and blue tips that look stunning on long curly tresses.
Burgundy Ombre Hair Weave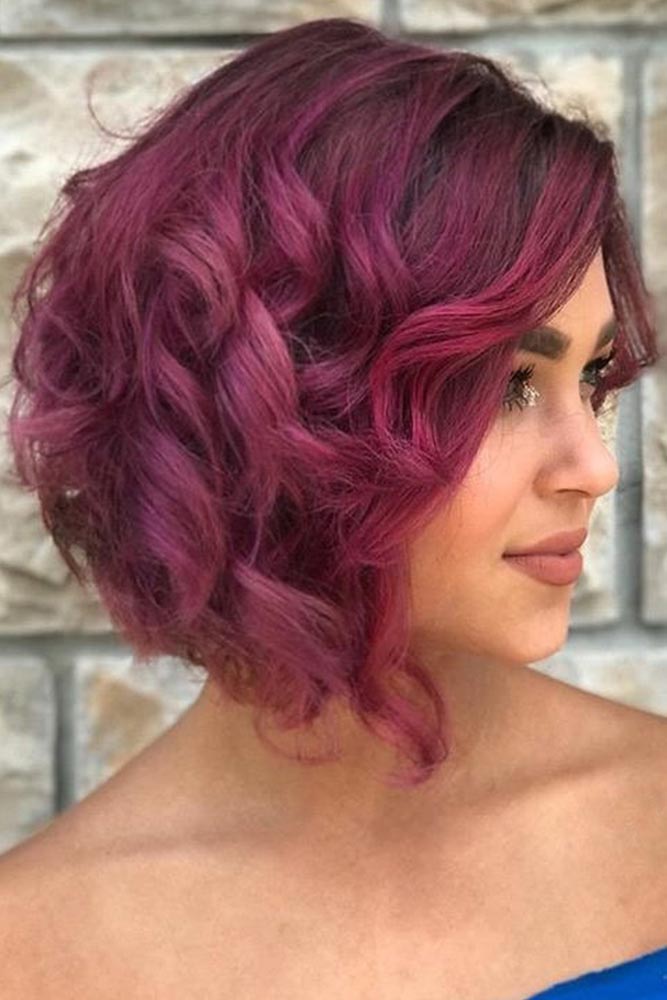 Credit photo: instagram.com/rouge22salon
How about a burgundy ombre hair weave? This short bob haircut for wavy hair is breathtaking with the bouncy curls and fuchsia and burgundy balayage hues. Or, you can try a short graduated bob with longer layers to add bounce to your lovely curly locks for a sexy look. This style has a ton of volume and texture as well.
Maroon Hair Ombre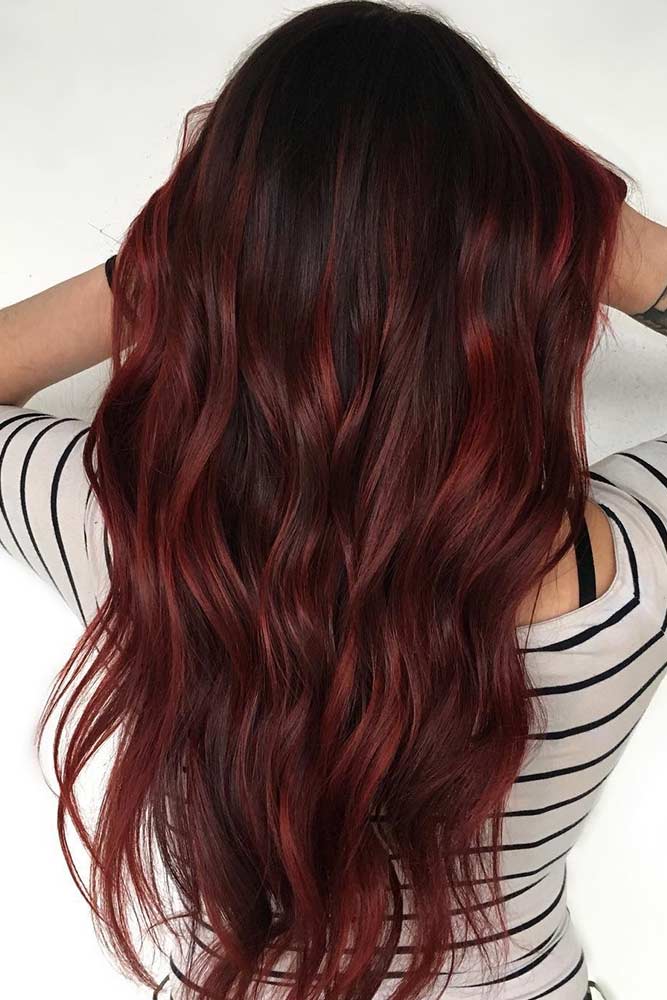 Credit photo: instagram.com/gretawagner_
When dealing with long hair, it can often feel dull and lifeless. Long layered hair can add depth and dimension to your longer tresses, as well as give it a new life. Moreover, if you add in this maroon hair ombre fade, you will feel like a mermaid princess. The soft beachy waves are also very feminine and romantic, which will nicely blend with the dark red hues.
Burgundy And Black Ombre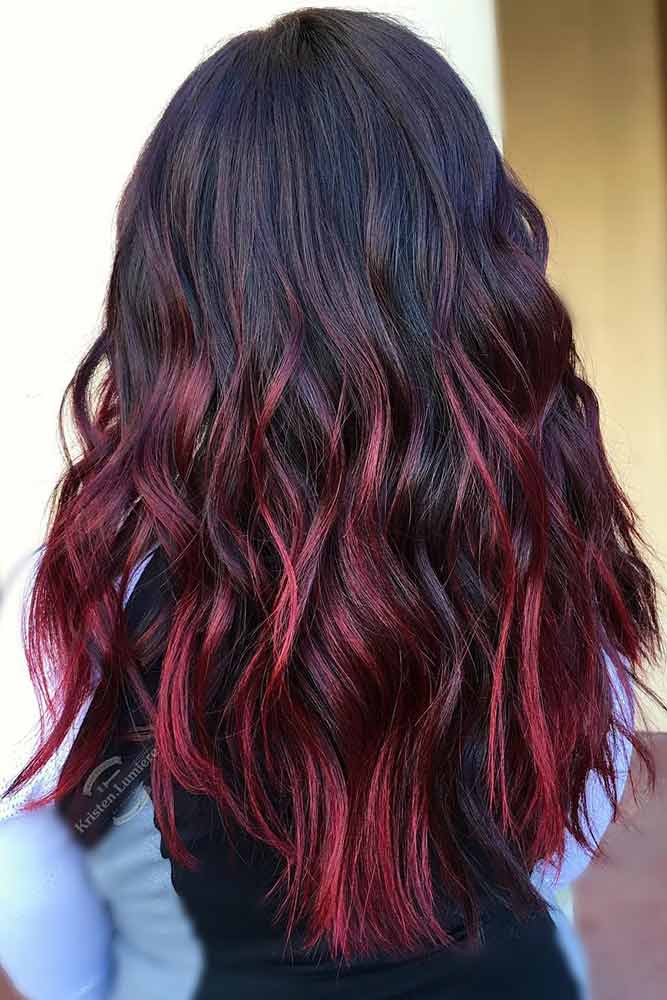 Credit photo: instagram.com/kristen.lumiere
Despite being pretty contrastive, this burgundy ombre creates a truly harmonic look with this dark base.
Melted Wine Ombre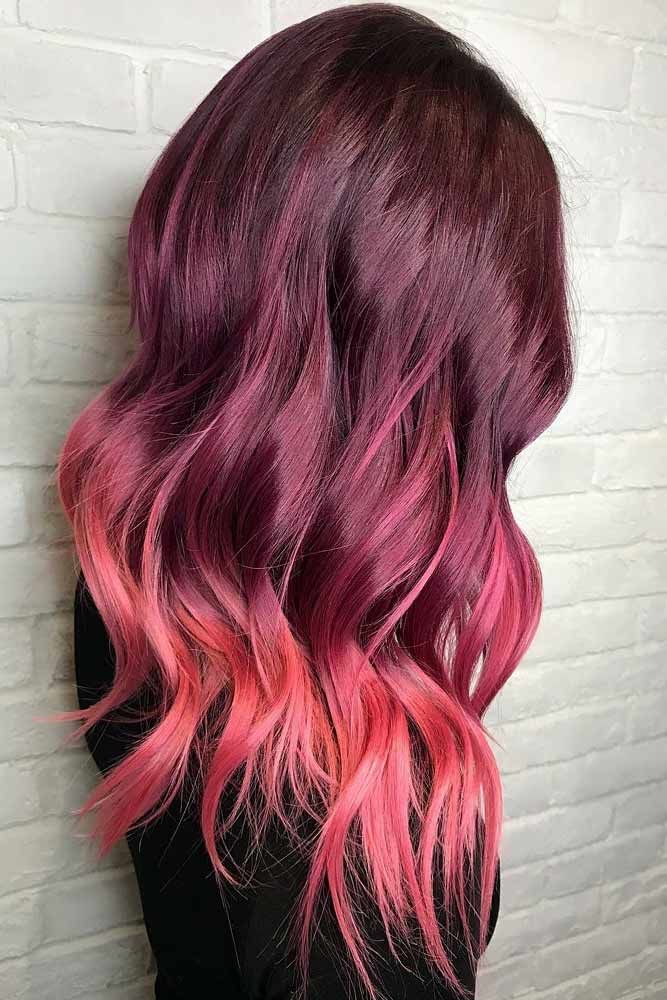 Credit photo: instagram.com/al_chabot
Although the classic version of ombre features apparent graduation, you can give a new take at this technique by gradually stretching the wine shade from roots to tips.
Burgundy Ombre Short Hair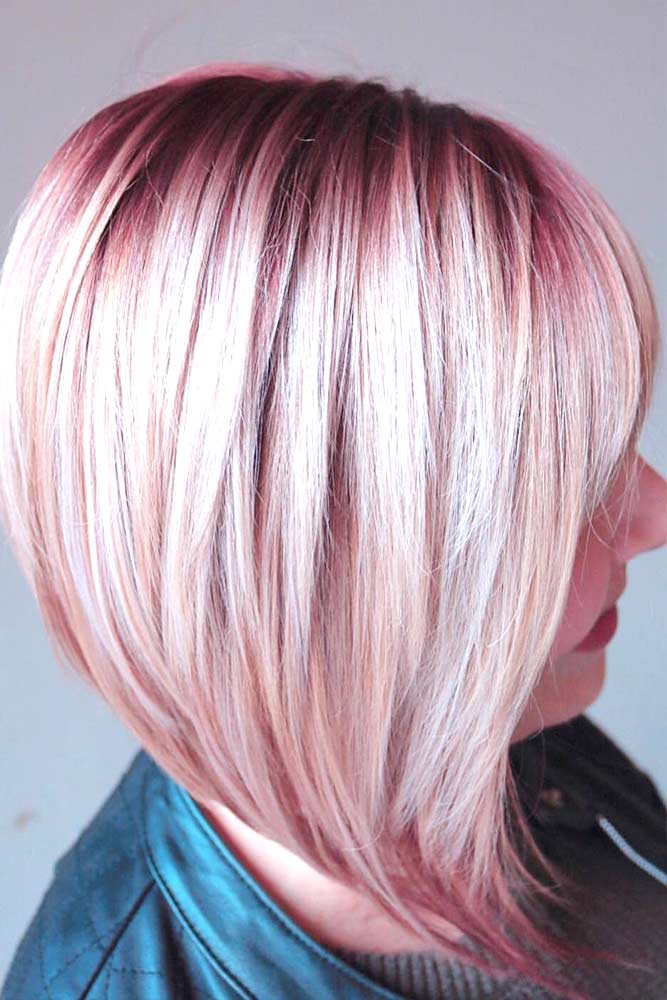 Credit photo: instagram.com/kenraprofessional
Even if you think your hair is too short for experiments, you can still add some pretty pale burgundy streaks. Check out this pretty inverted lob for burgundy ombre short hair, for example. Pale burgundy lowlights on a white blonde base are super feminine and chic at the same time. That's indeed a fab idea if you are looking for a style that's subtle, yet fun and flirty.
Black Red Ombre Hair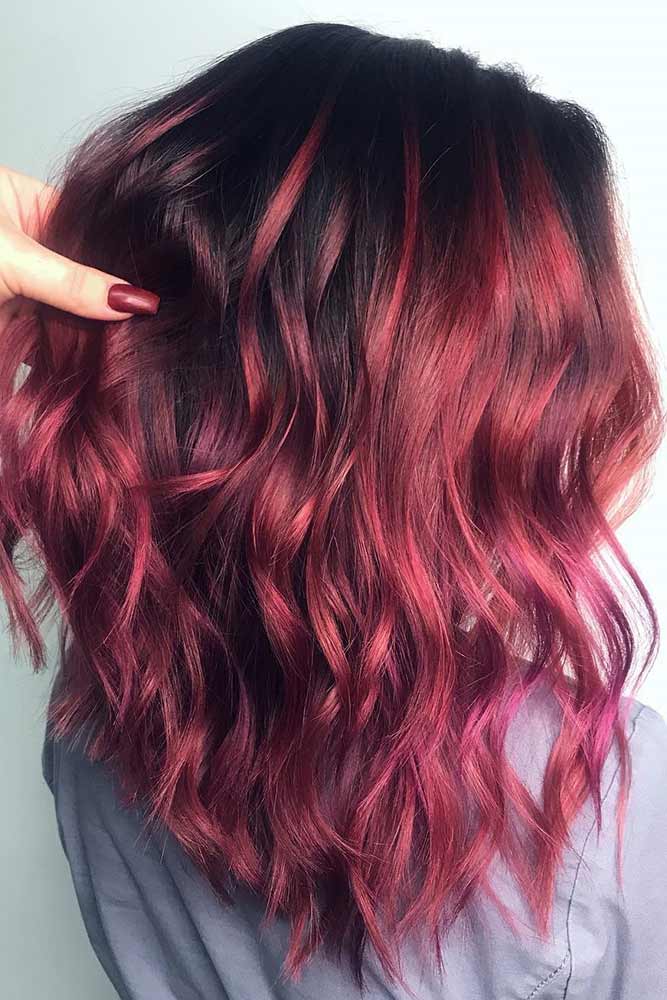 Credit photo: instagram.com/mackpaintedthat
If you have dark hair and aren't afraid to go with a fiery shade of red, why not try this brilliant red ombre hair fade then? Not only does it adds a ton of depth, but it also enhances texture in the locks. The bright cherry red shade will certainly make you stand out from a crowd without being too over the top. You can also ask your stylist for layers to your brilliant red ombre fade pop!
Flaming Burgundy Curls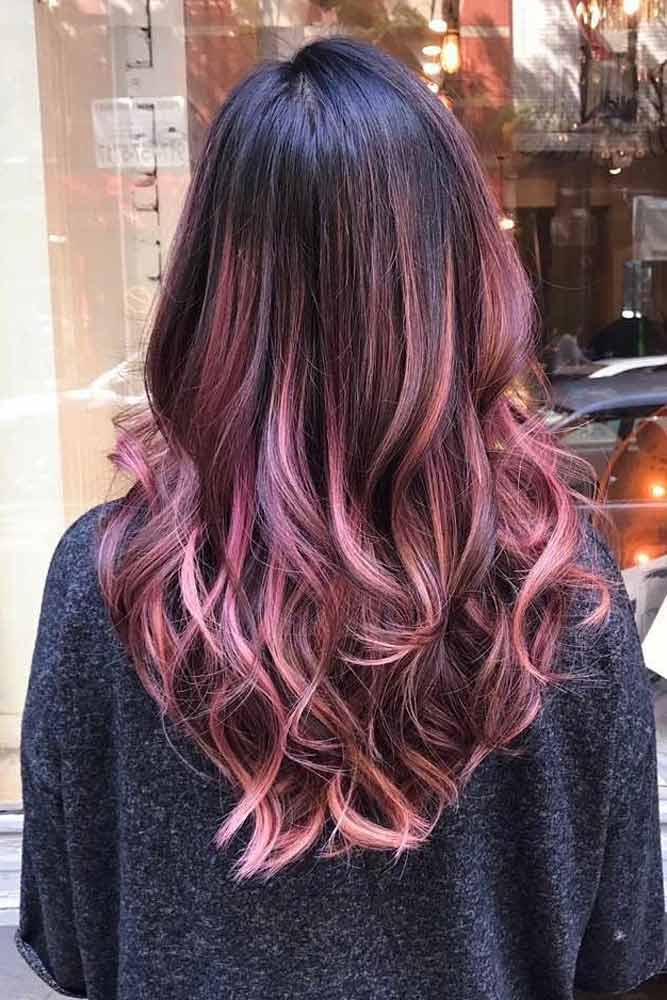 Credit photo: instagram.com/hairloungenyc
Surprisingly, even the lightest shade of burgundy with subtle hints of blonde which can look sensual on loose curly tendrils.
Retro Red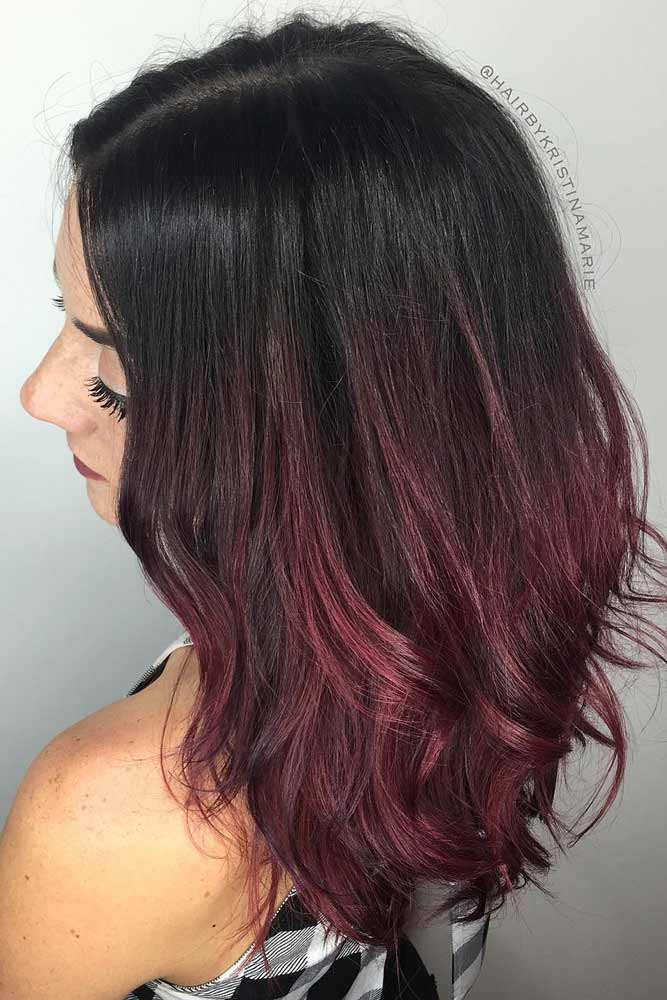 Credit photo: instagram.com/hairbykristinamarie
This throwback red on a modern trendy lob is a perfect combo of old and new, especially for those who love mixing different looks.
Moody Ruby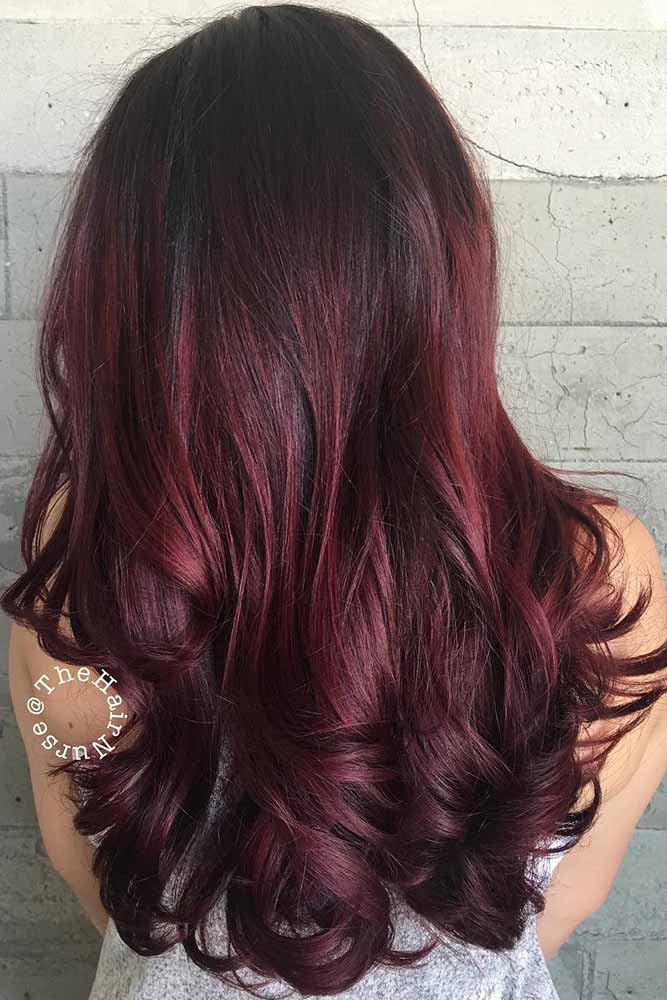 Credit photo: instagram.com/thehairnurse
Since ruby is one of the brightest red hues, only the most daring babes can sport it.
Beet Bob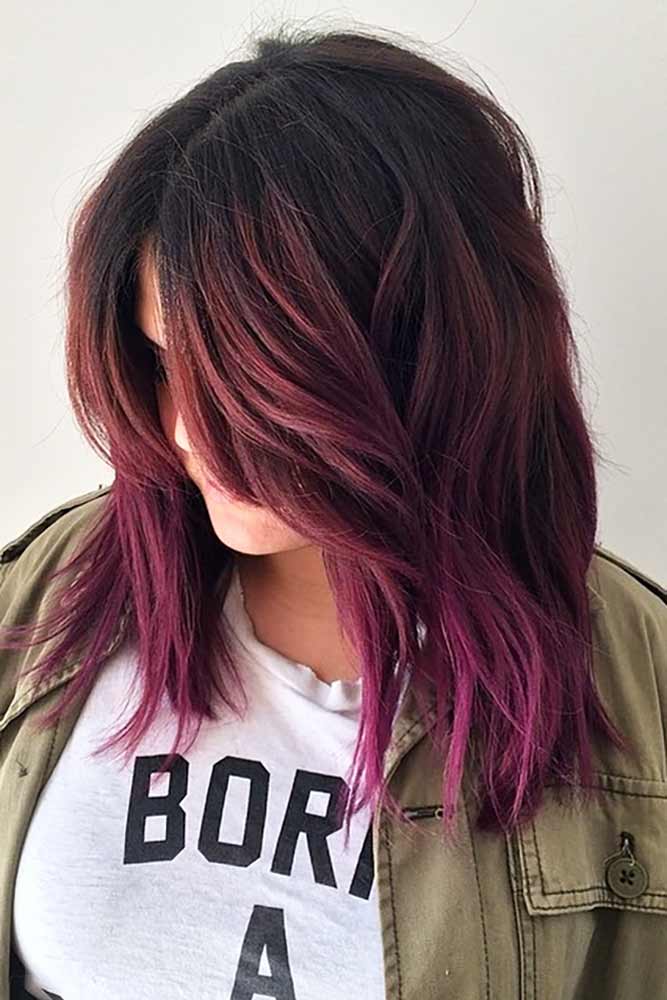 Credit photo: instagram.com/mizzchoi
When your hair is already bright, how to make it pop even more? With a hairstyle, of course. In fact, this wavy bob will do just great.
Burgundy Balayage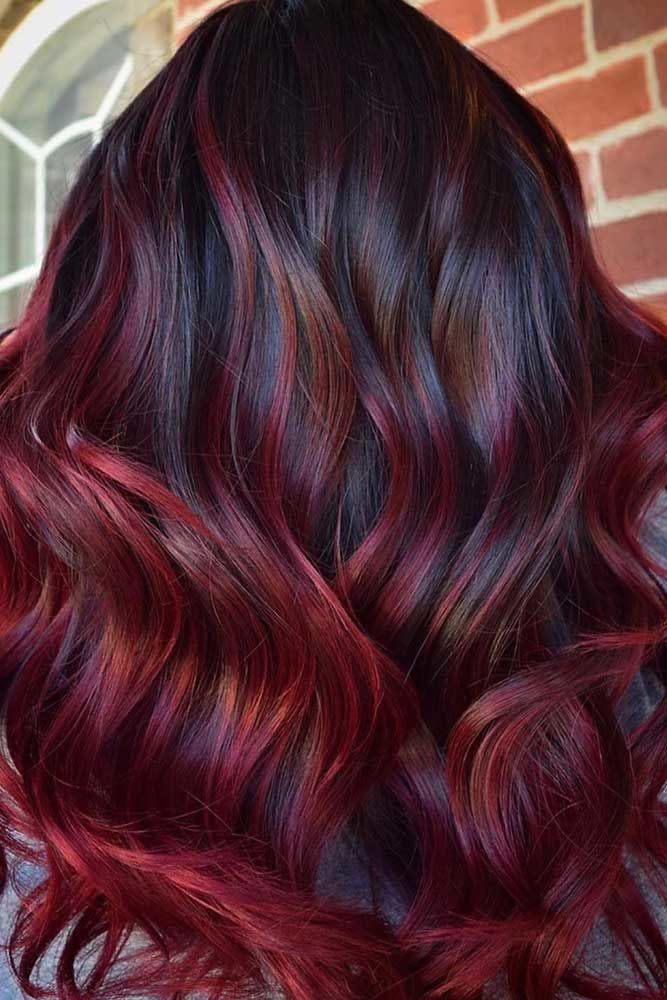 Credit photo: instagram.com/josh.does.hair
When it comes to red balayage on dark bases, the charm of burgundy shades creates a mesmerizing dimension while keeping the look balanced.
Cranberry Curls
Переглянути цей допис в Instagram
This mid-length cut with naturally curly locks is stunning, but if you throw in some cranberry highlights, it takes it to a completely new level!
Purple Tips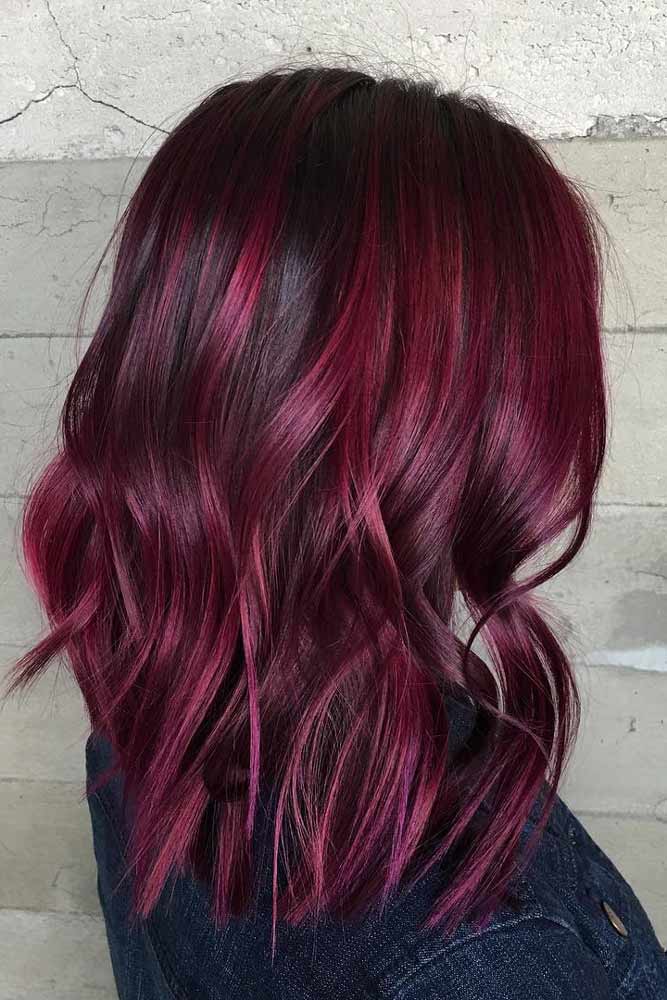 Credit photo: instagram.com/masey.cheveux
Unlike all-over colorings, these reddish-purple accents are bold and daring while cutting down on damage!
Deep Red Velvet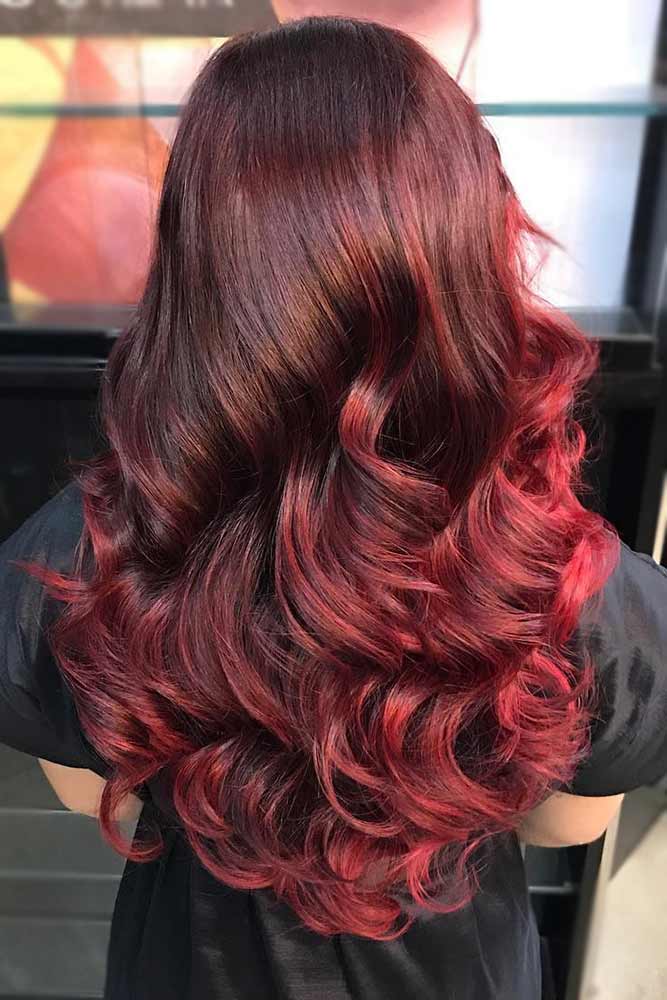 Credit photo: instagram.com/manuellobo
Once you aim to get a look that's totally scrumptious, this deep burgundy balayage will be there for you!
Burgundy Hair Highlights
Burgundy Highlights for Short Hair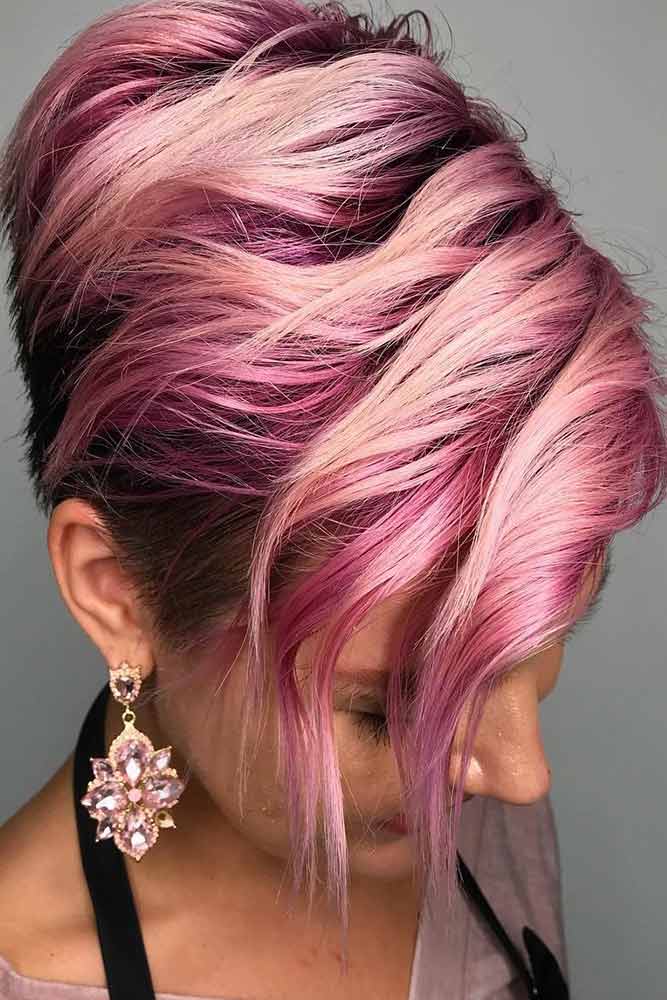 Credit photo: instagram.com/kimmykimster
If you don't want to go all over burgundy, why not opt for red undertones instead? If you want to really take it up a notch, try this pretty fuschia pink and cotton candy pink balayage blend. It looks stunning on a pixie cut like the one shown here. In burgundy highlights, short hair is pretty much in demand right now if you want a look that's fun and fashionable.
Short Burgundy Hair With Blonde Highlights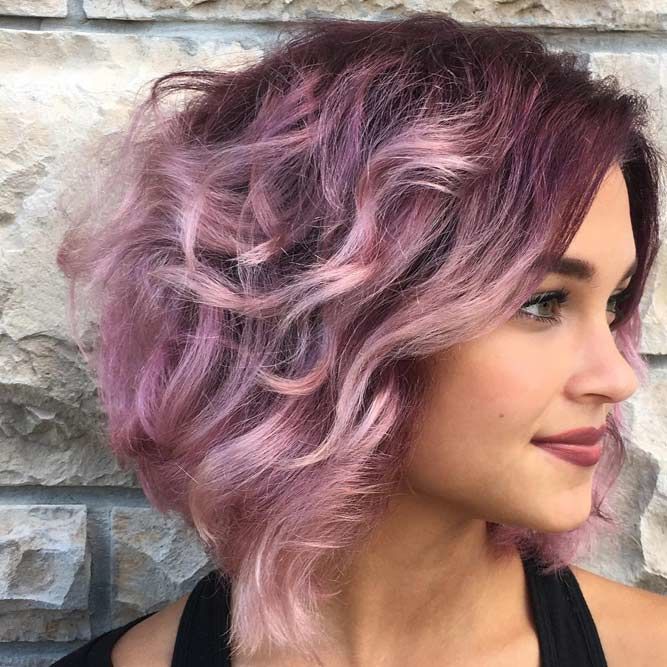 Credit photo: instagram.com/rouge22salon
If all over burgundy is not your thing, how about this burgundy hair with blonde highlights? The pretty plum color at the roots gives the lilac and blonde balayage hues a nice contrast while looking girly and chic. We think it looks even pretty with soft beachy waves on a shorter hairstyle. As for a short bob with slightly longer face-framing layers for a soft and romantic vibe.
Burgundy Highlights On Black Hair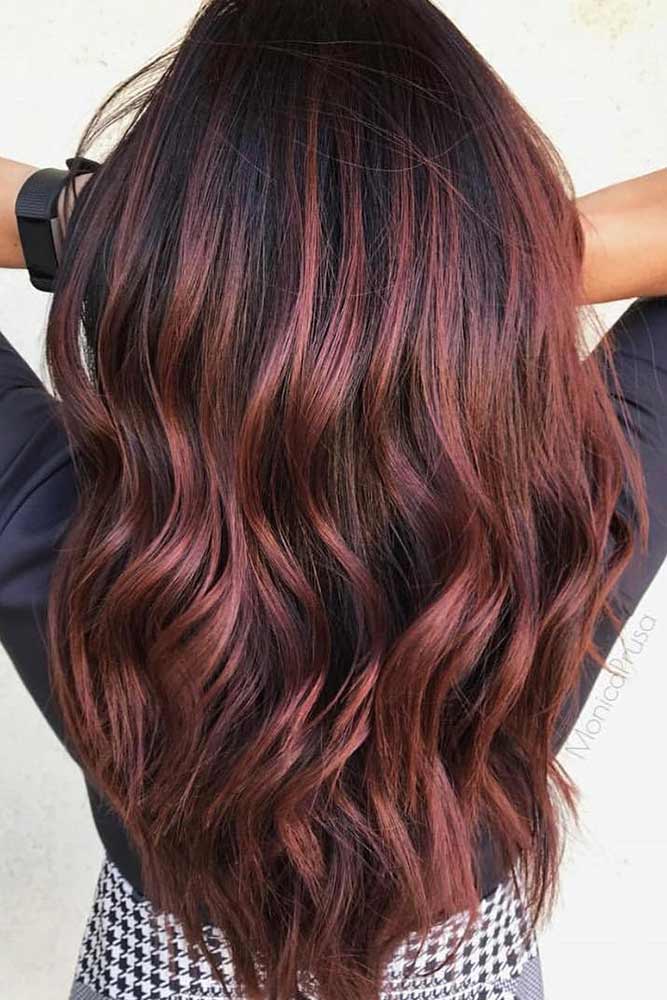 Credit photo: instagram.com/kenraprofessional
Those with darker tresses who don't want a drastic change often opt for highlighted hair instead of all-over coloring. Burgundy highlights on black hair like the cherry red pictured here are just to die for! Not only does it look striking on long wavy locks but it also adds depth and dimension to the whole look.
Burgundy Hair With Highlights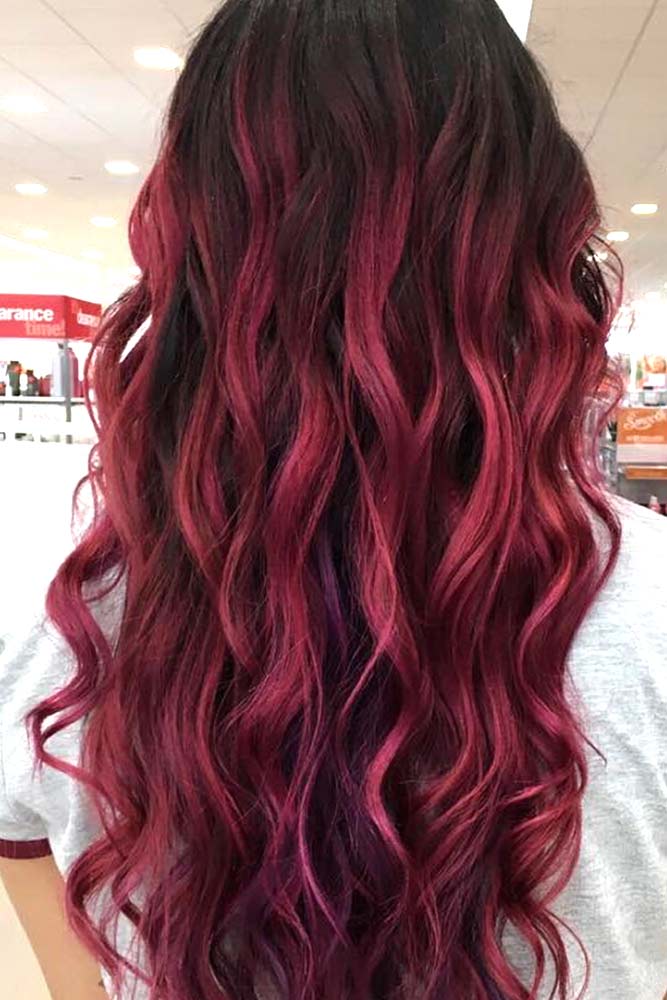 Credit photo: instagram.com/ltmxbeauty
Thinking of burgundy hair with highlights? Then you should try this deep burgundy hair look that starts with a dark base and fades to a deep wine-colored burgundy. All in all, it looks too chic and sexy with these tousled beach waves to hesitate!
Burgundy Hair With Caramel Highlights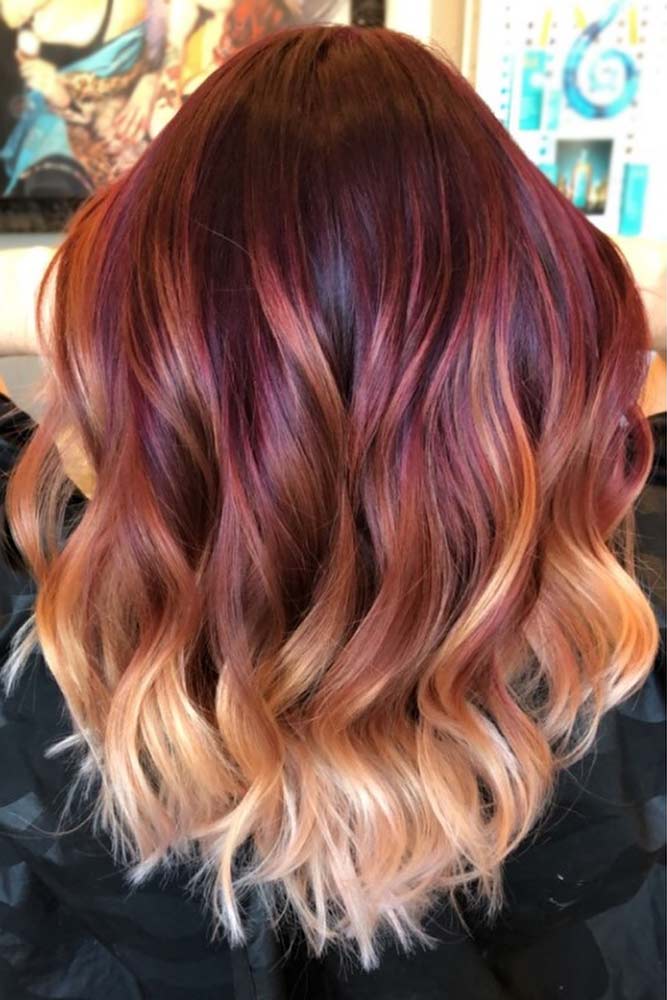 Credit photo: instagram.com/ashleyrosehair21
If you want to go a bit lighter, why not try this stunning burgundy ombre? The burgundy hair with caramel highlights is a very pretty look for Summer or Autumn as it resembles falling leaves or a summer sunset. Start off with dark roots and fade to a deep cherry red that fades to brilliant orange and ends in a pretty caramel blonde. Remember to bring pictures of dark brown hair with burgundy highlights to your stylist so she or he can duplicate the look you want.
Burgundy Highlights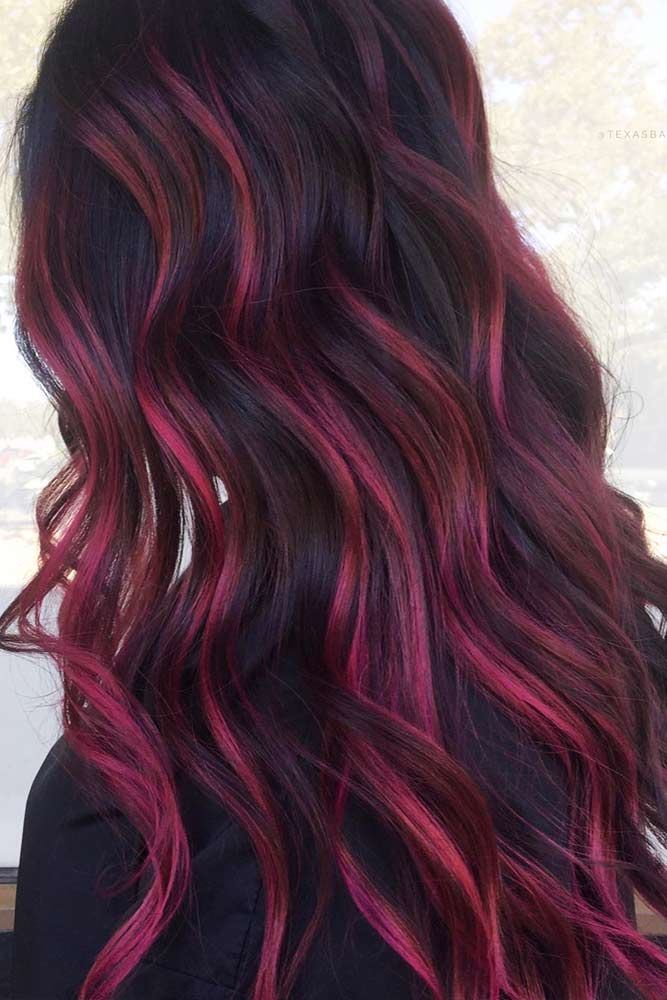 Credit photo: instagram.com/texasbalayage
Here's another way to turn on a flirty mode in your black hair with burgundy highlights. Undoubtedly, dark brunette and red hair colors belong together.
Amethyst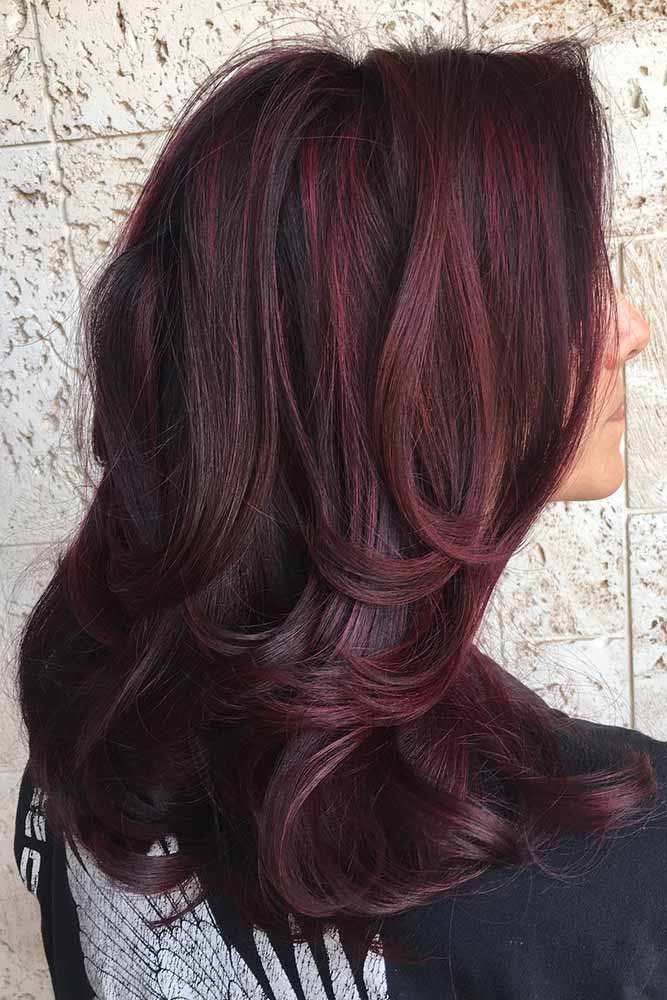 Credit photo: instagram.com/lizzys_colorfulworld
Even though this crimson-purple hue will look radiant on any hairstyle, it simply takes the cake with these blowouts!
Black Red Balayage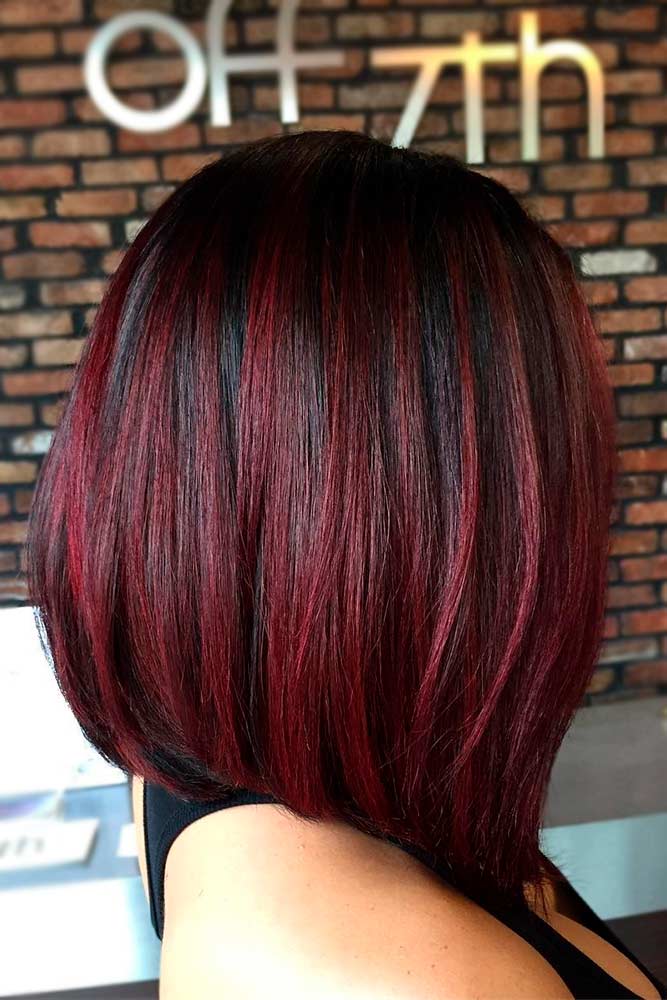 Credit photo: instagram.com/thescissorsammurai
In case going completely burgundy is not for you, just complement burgundy with black instead.
Blonde Hair With Burgundy Lowlights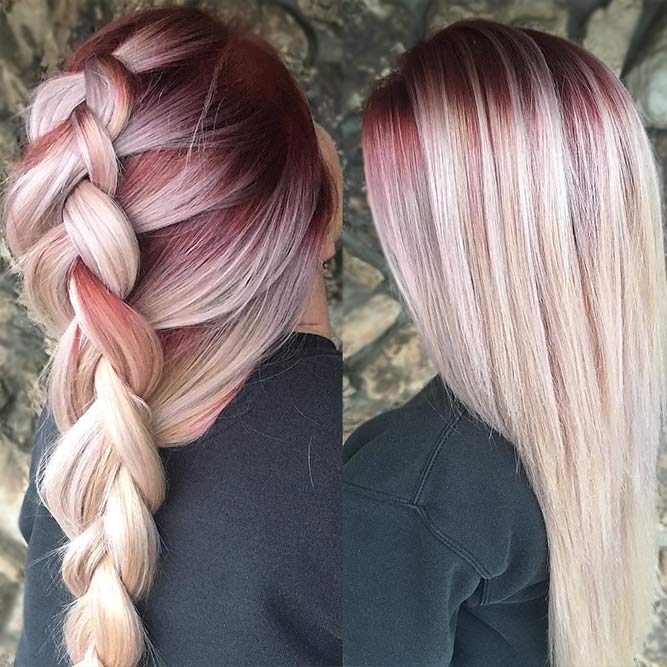 Credit photo: instagram.com/kenraprofessional
Despite common red color ideas, red hair styles don't always have to be dark. Moreover, this look for platinum blonde hair with burgundy lowlights is ideal for someone who wants a subtle hint of color. This pretty braid is apparently one of the most popular hairstyles for long hair. Braided hairstyles are indeed very trendy right now. For that reason, some burgundy lowlights will be a good way to add a burst of color and dimensions to this stylish braid.

Are you ready to go red? These sexy and sultry burgundy shades will make you the belle of any ball!
Celebrities Burgundy Hair Ideas To Steal
Ariana Grande`s Burgundy High Ponytail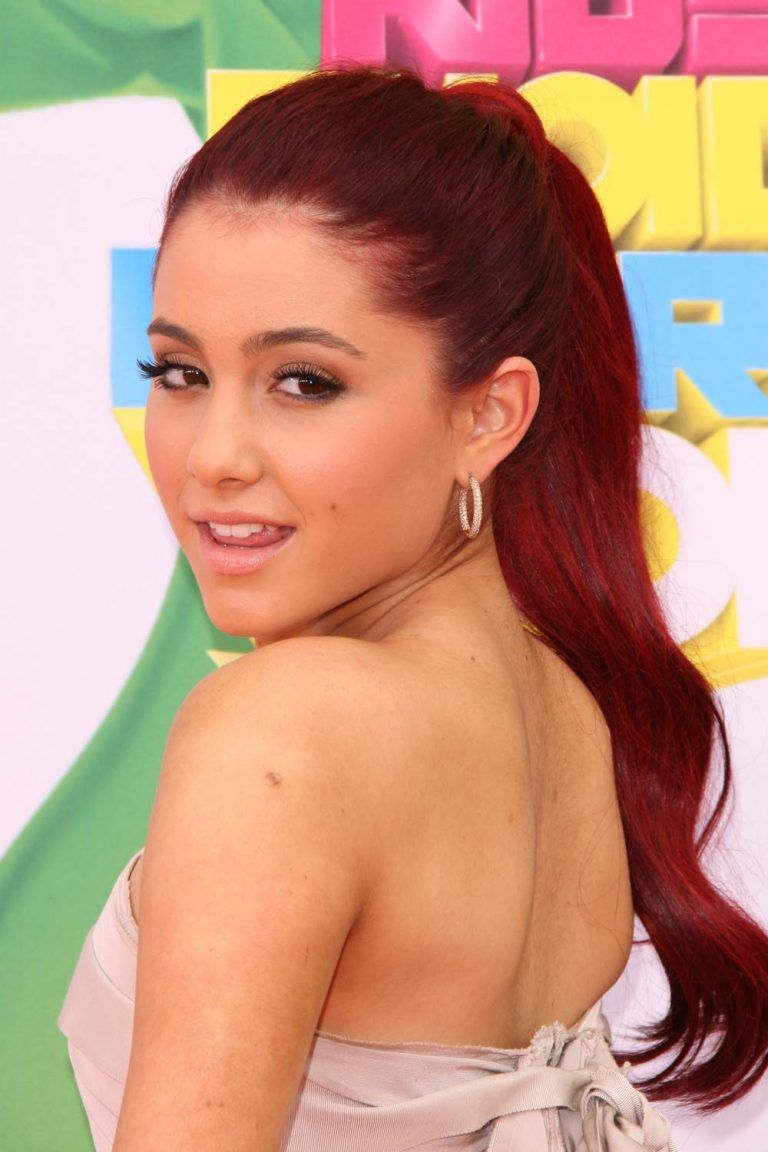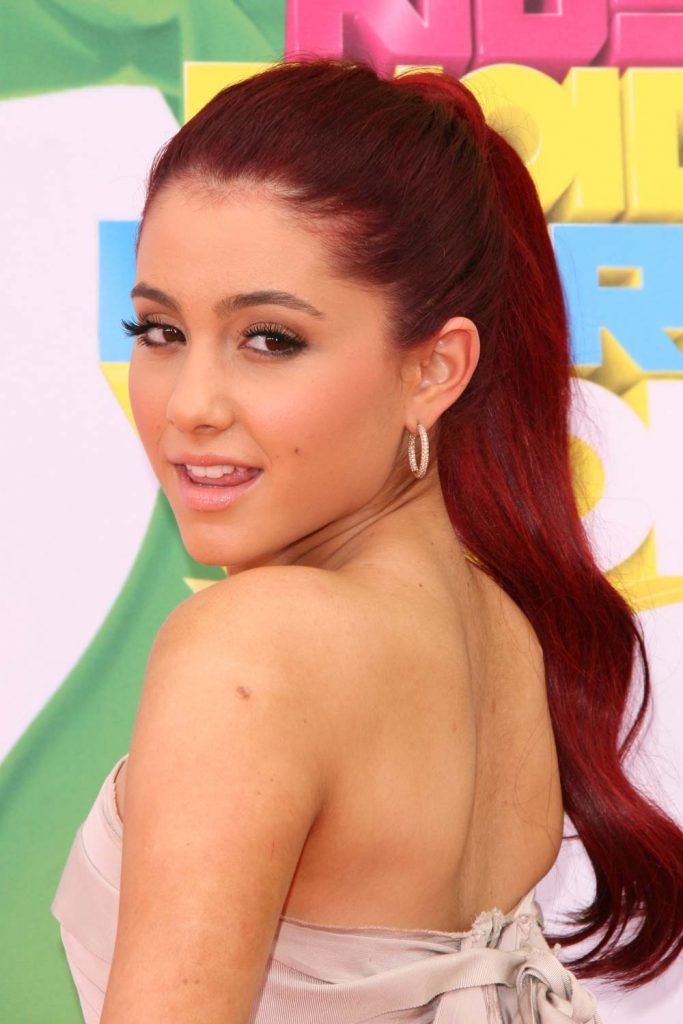 Credit photo: Shutterstock
Amazing Rihanna`s Burgundy Curls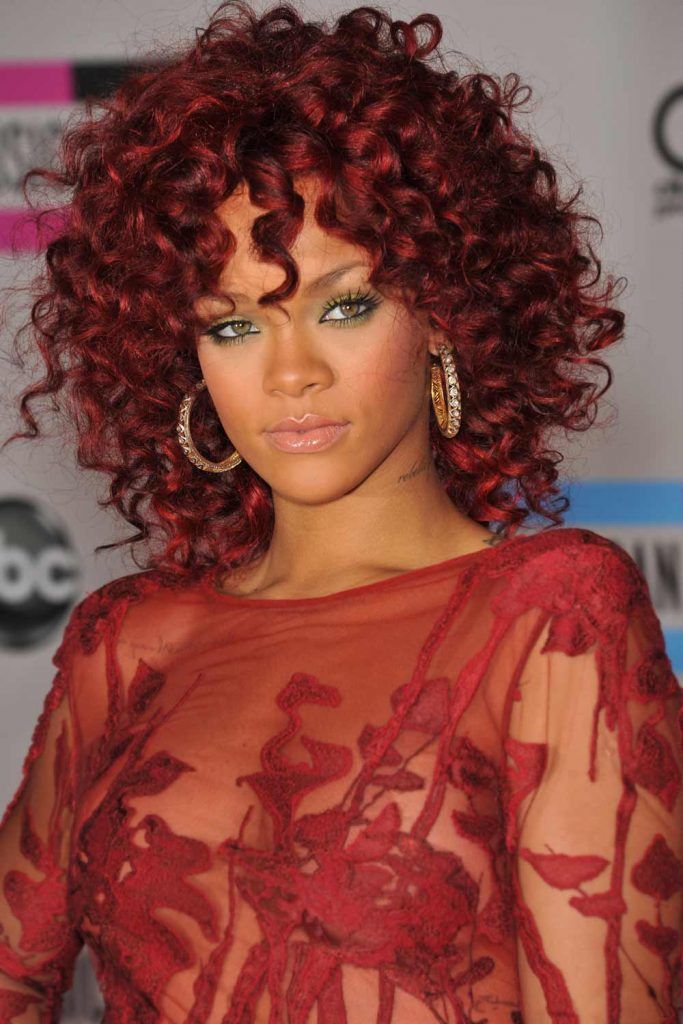 Credit photo: Shutterstock
Burgundy Hair Color By Bella Thorne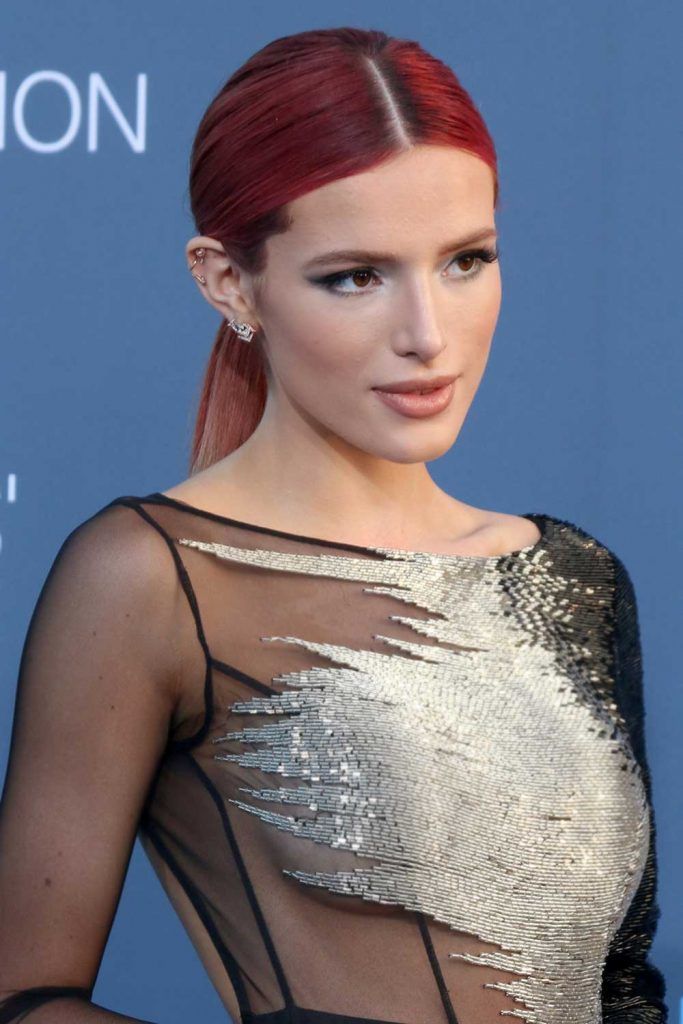 Credit photo: Shutterstock
Sharna Burgess with Burgundy Long Bob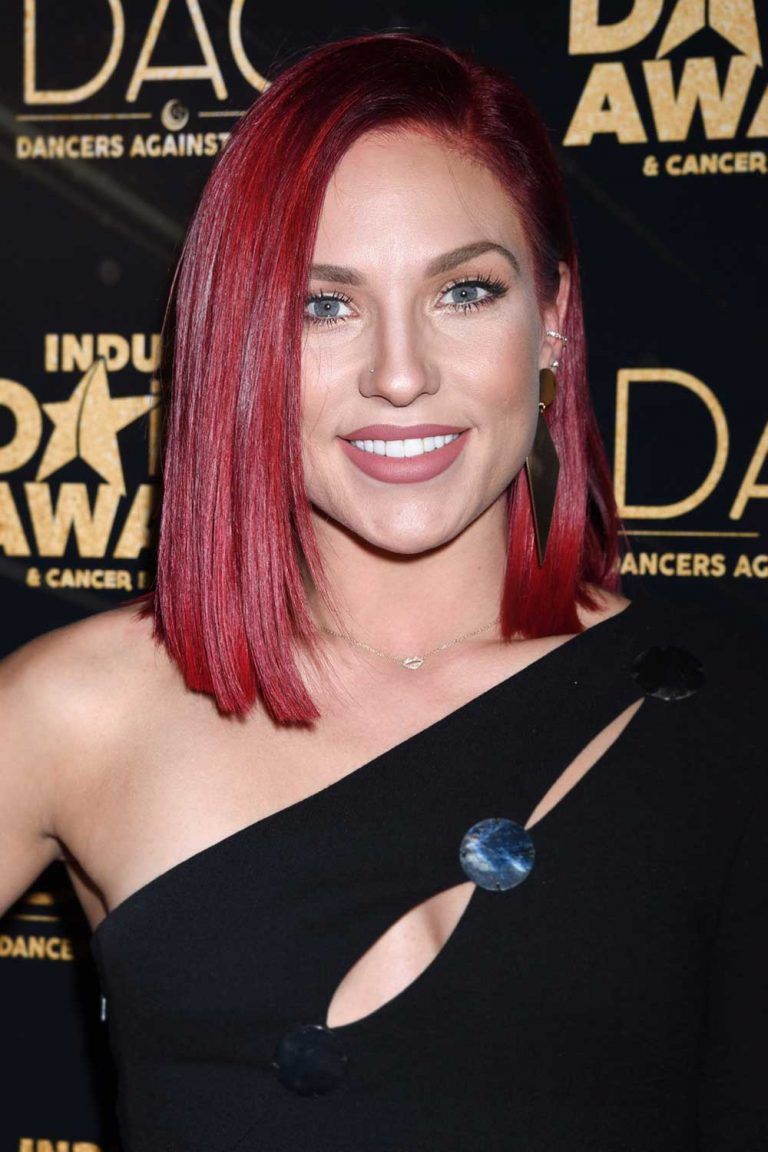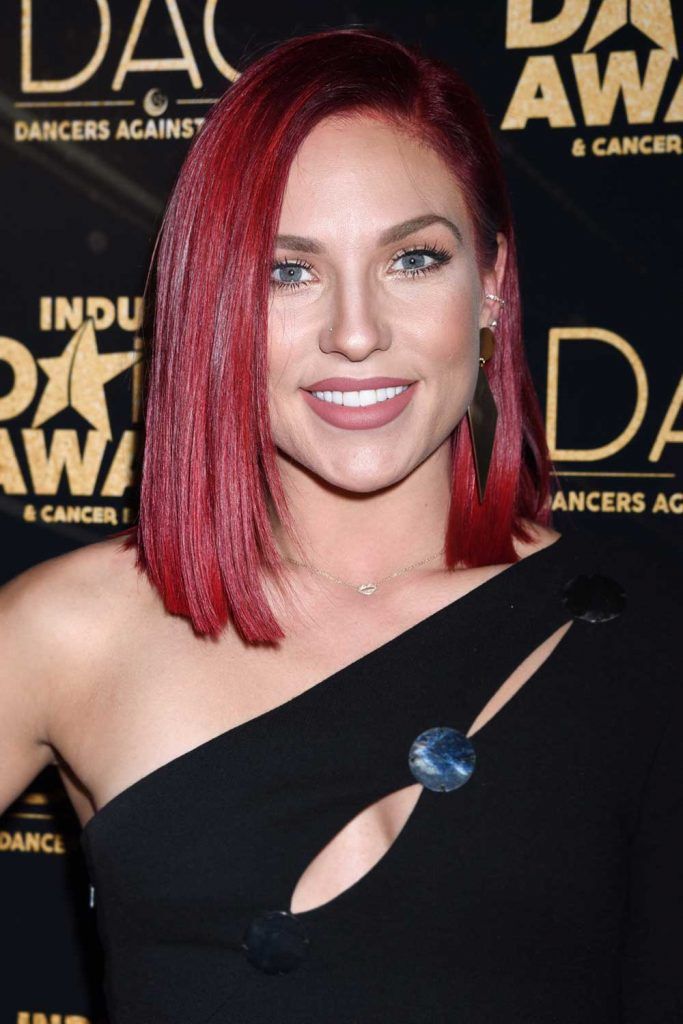 Credit photo: Shutterstock
Keke Palmer's Dark Raspberry Braids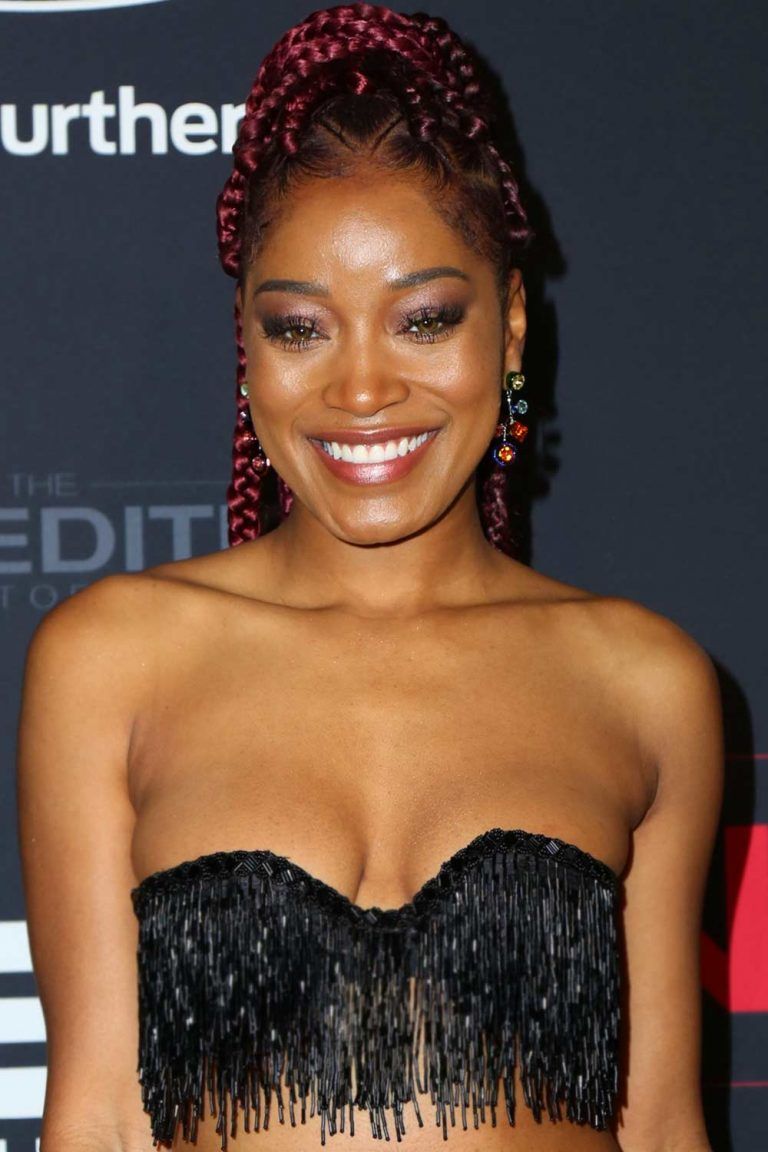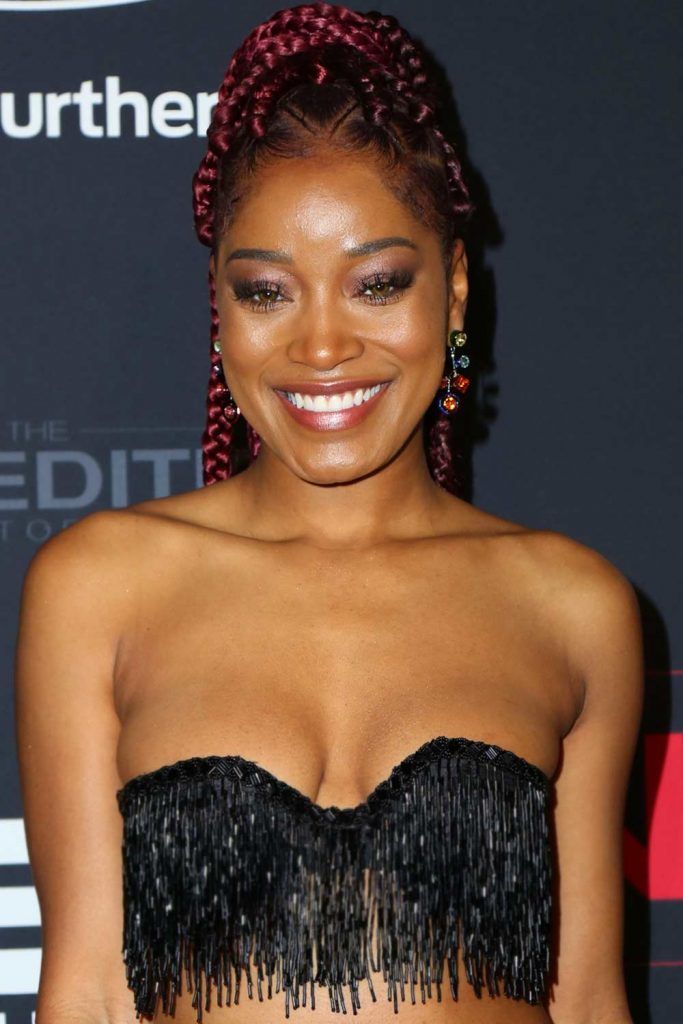 Credit photo: Shutterstock
Natalie La Rose's Burgundy Сurls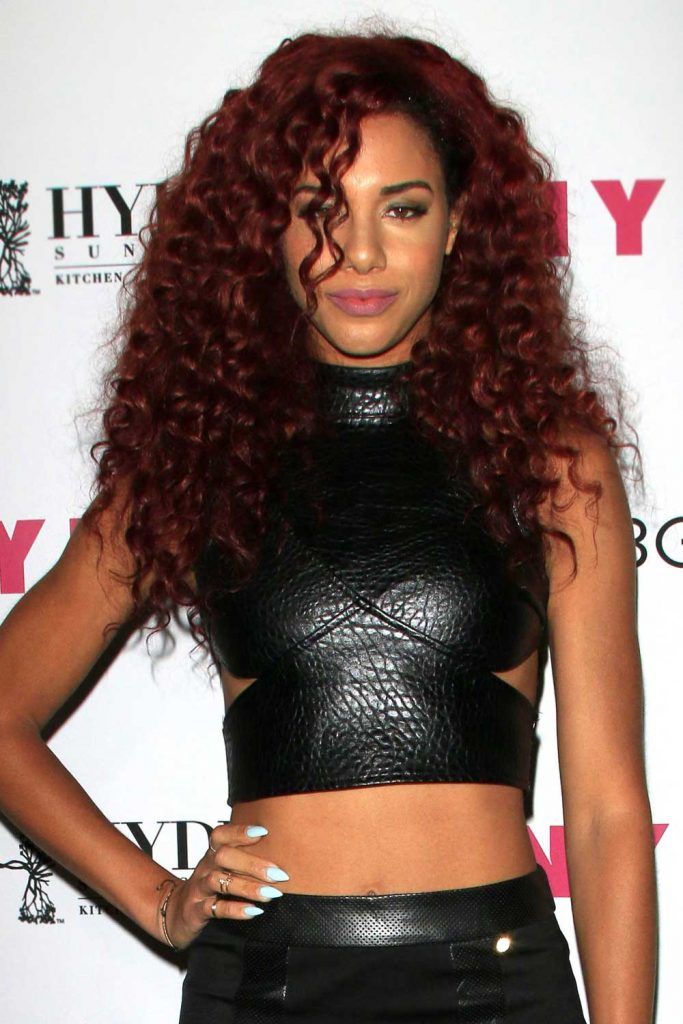 Credit photo: Shutterstock
Dark Burgundy for Megan Mullally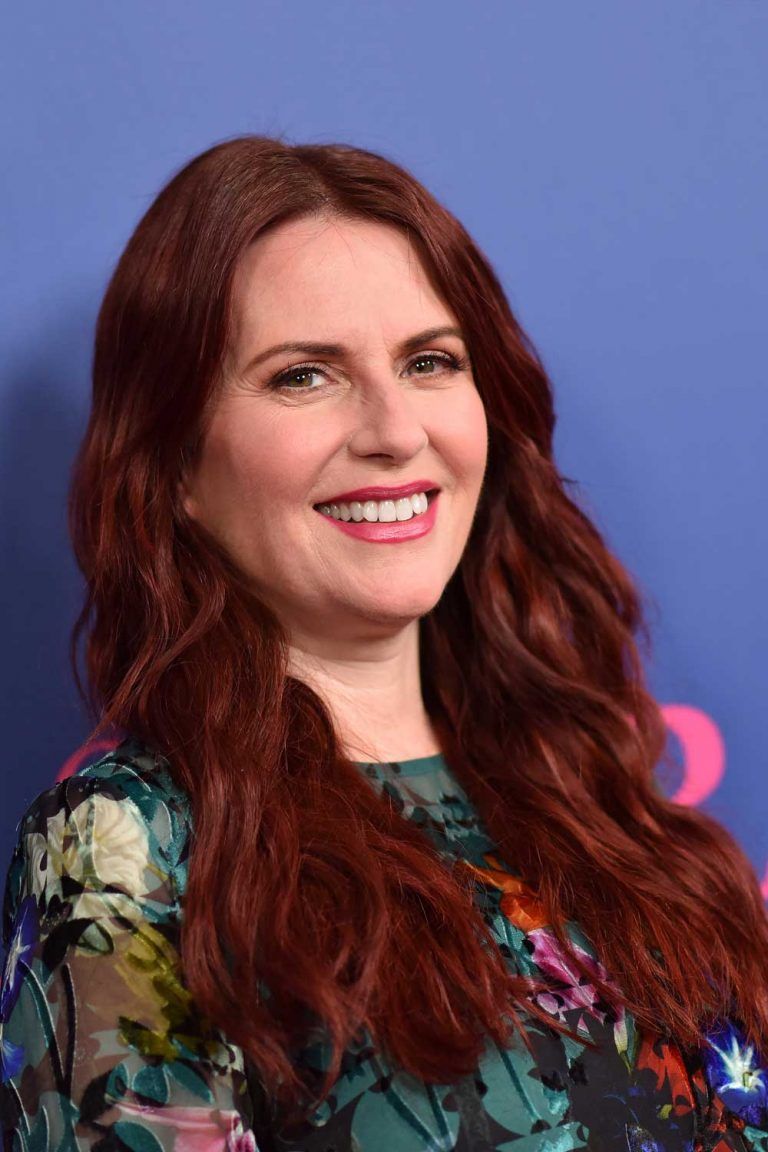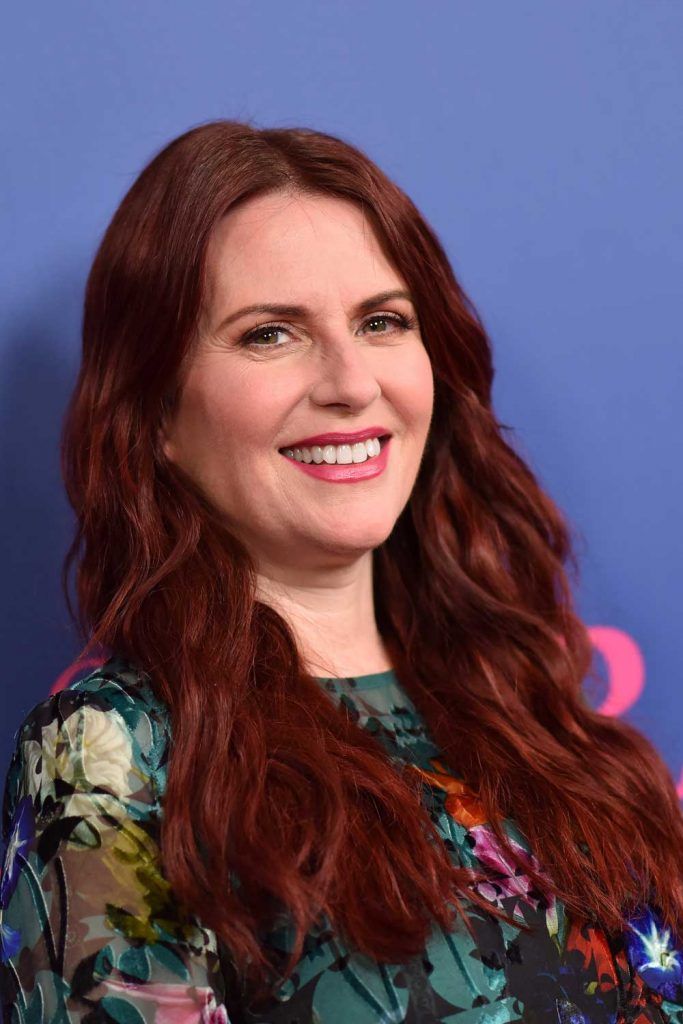 Credit photo: Shutterstock
Vivica A. Fox With Purple Burgundy Hair Color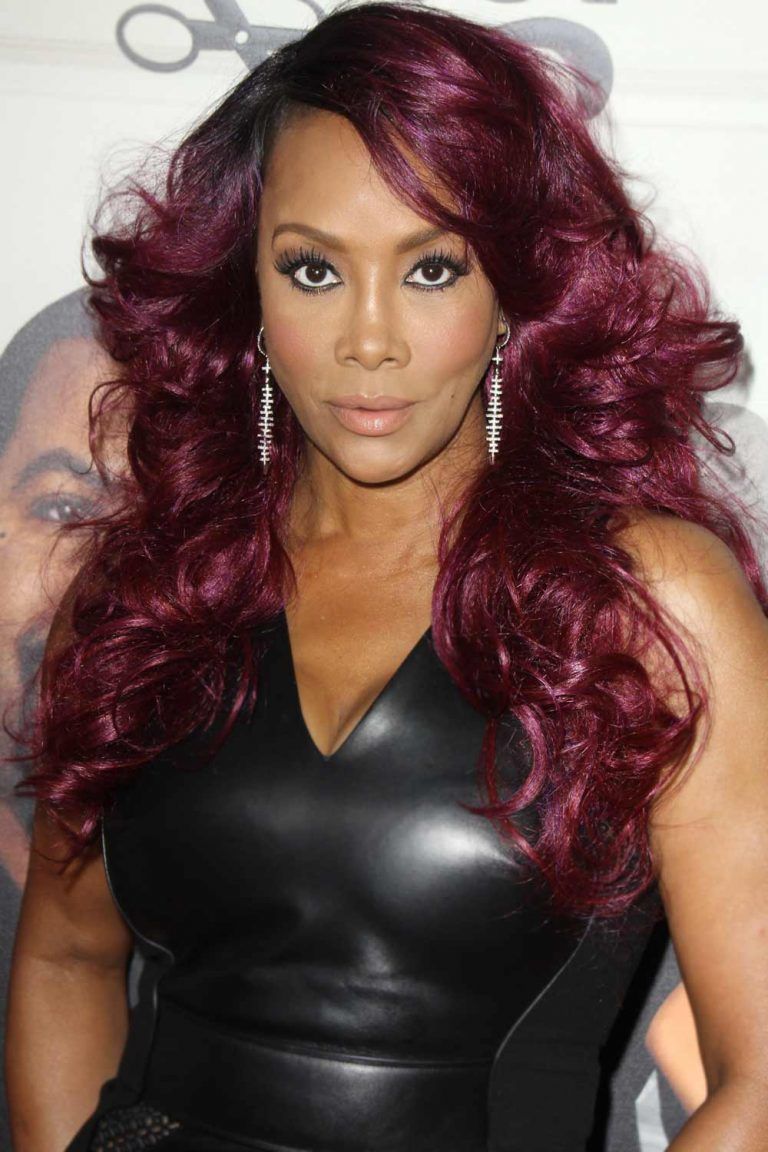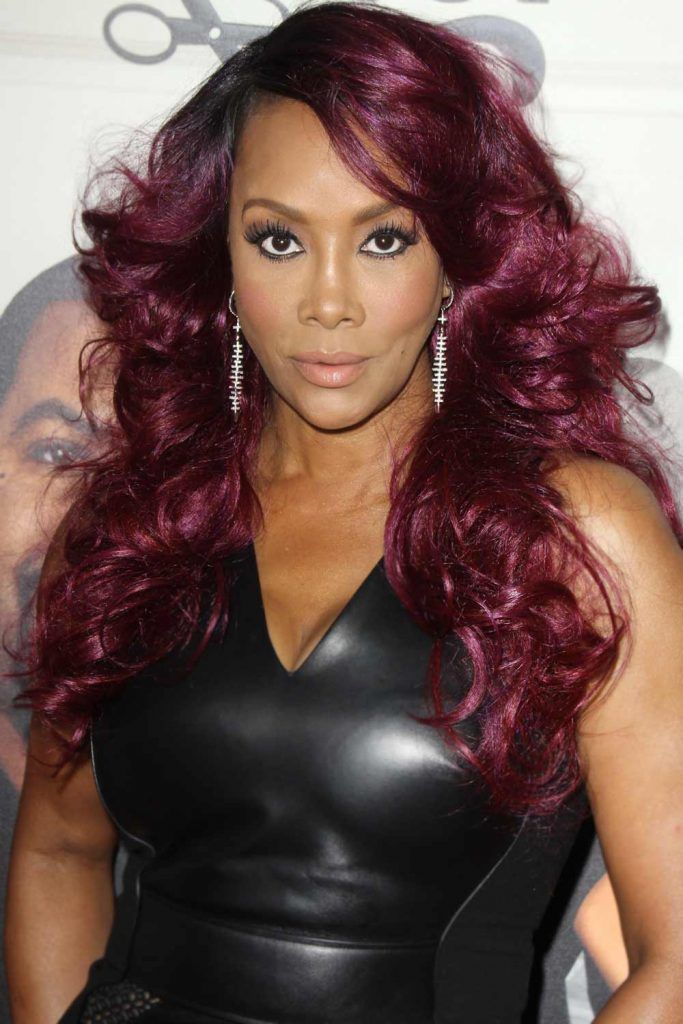 Credit photo: Shutterstock
Deep Burgundy Hair For Drew Barrymore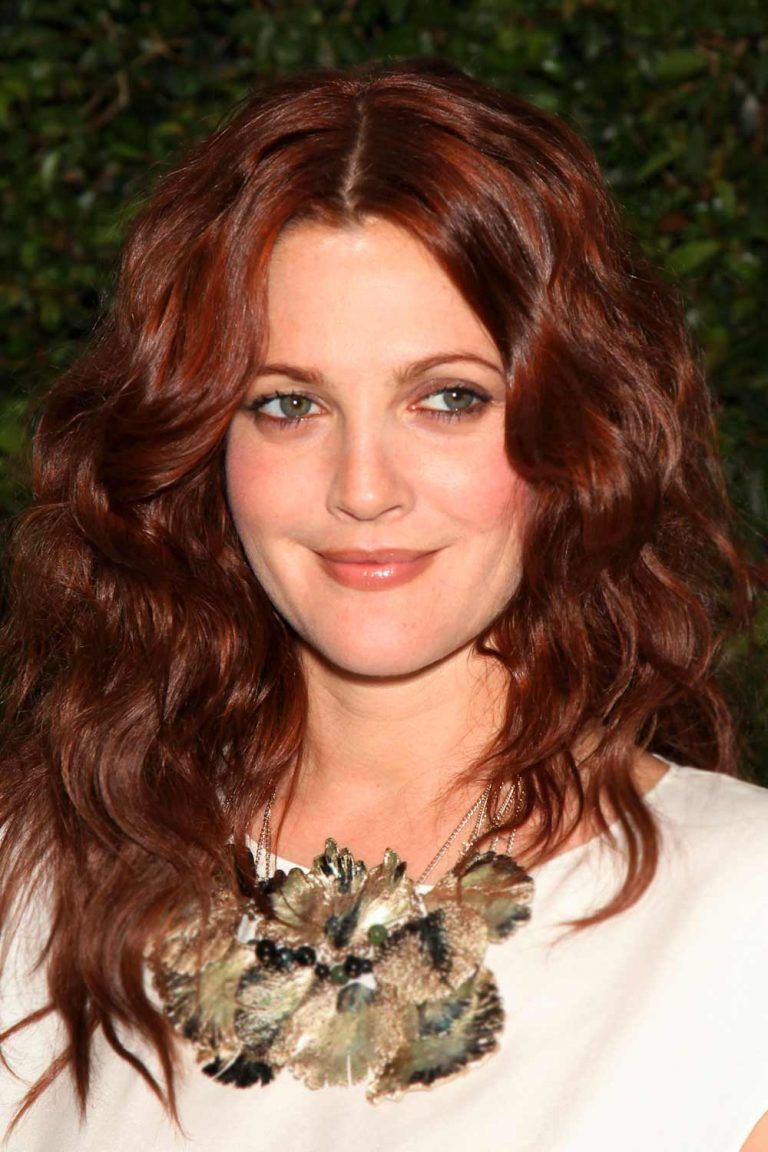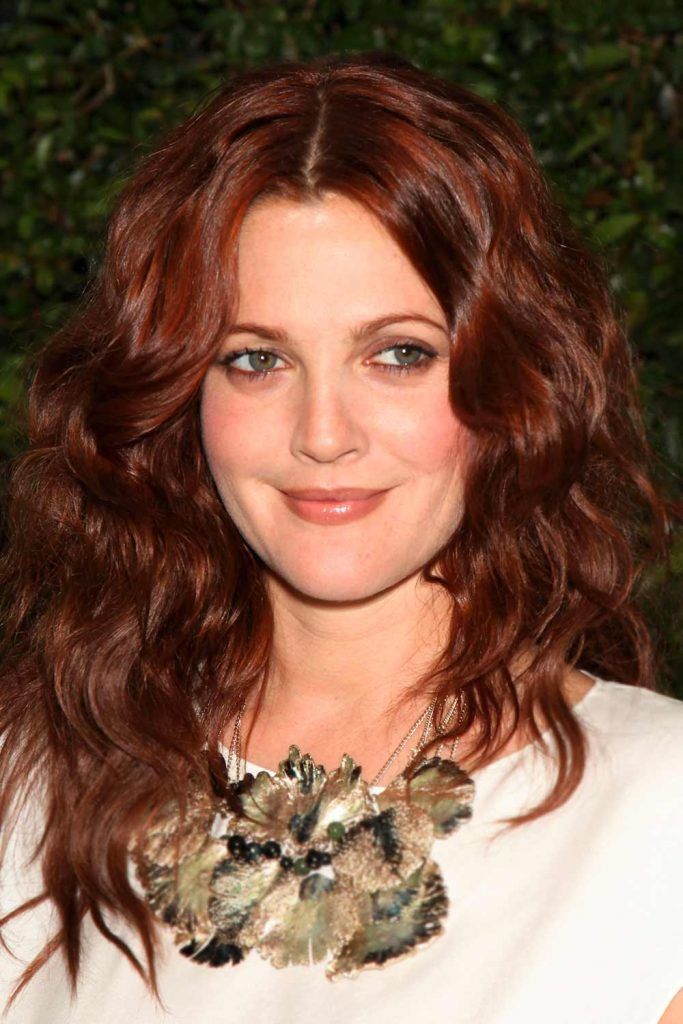 Credit photo: Shutterstock
Carrie Preston`s Bright Burgundy Hair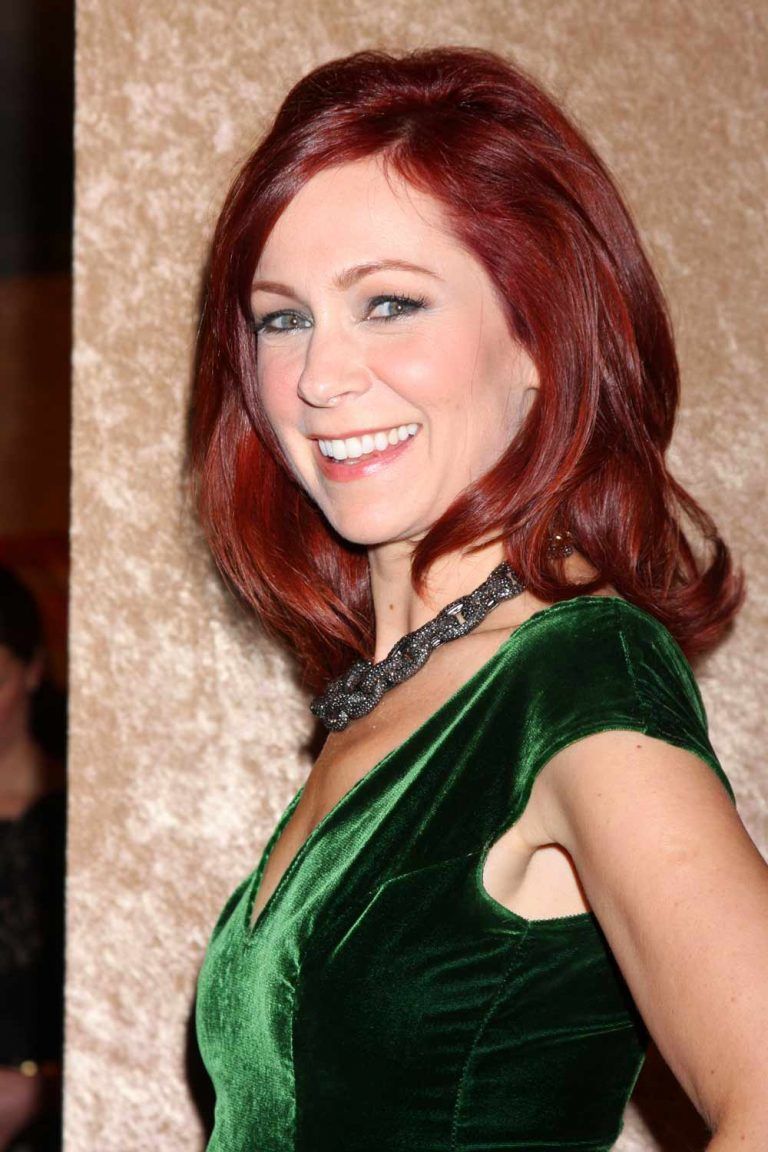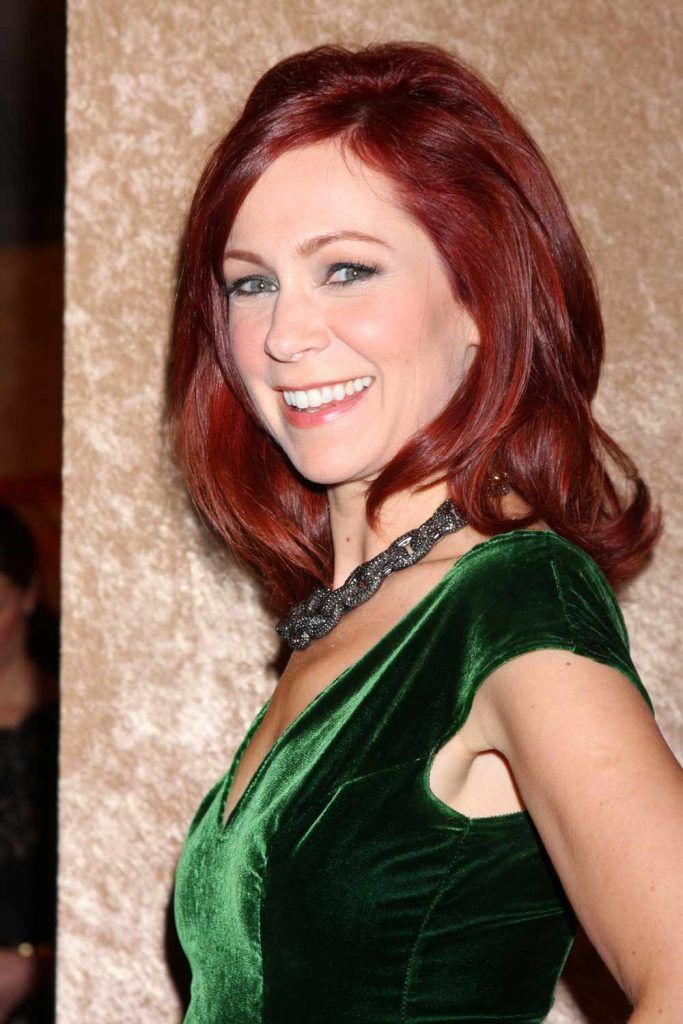 Credit photo: Shutterstock
REFERENCES: