Chic Hairstyles For Fine Hair
Finding hairstyles for fine hair might be challenging. There are several types of products created specifically for adding volume to fine hair. You can also obtain a specific type of cut that will add volume to your normally flat thin hair. If you so choose, you can add layers to your hair. This is by far the most popular option of adding body to flat hair. Fine hair is an issue for both men and women. It tends to be a more serious issue for women since they typically style their hair more often than men do. Men with fine hair can simply find a specific cut that works for them. Some even shave their head to eliminate the problem. When it comes to hairstyles for women, things tend to get slightly more complicated. Women lean more heavily on the styling issue than men do, and their appearance is vitally important to them. It is essential to pursue all your options when dealing with fine hair types to assure that you have a look you will be satisfied with.
Long Messy Bob With Balayage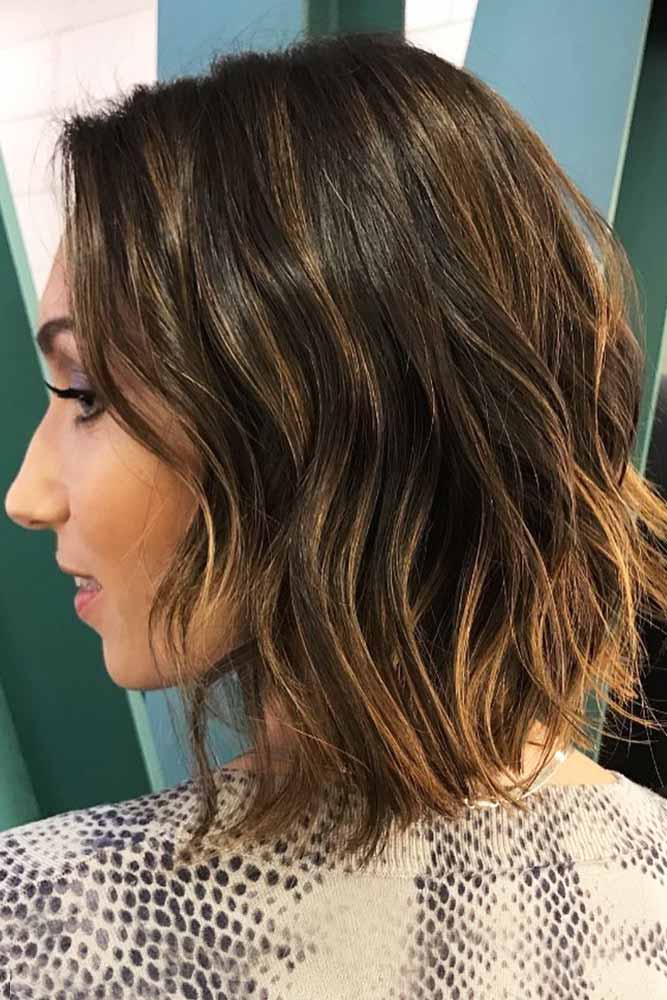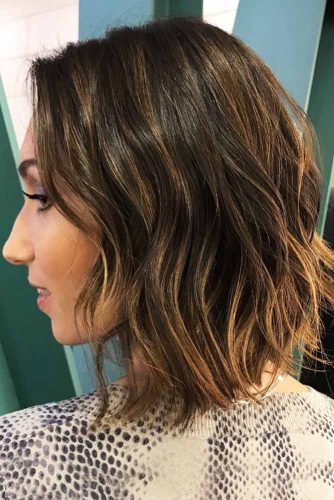 The messy bob has quickly become one of the easy care hairstyles for fine hair. With the messy look being very in, this hairstyle is easy to style without consuming an exceptional amount of time. The hairstyles for fine thin hair have been rather limited in the past, requiring the use of a tremendous amount of heavy hair products to acquire a reasonable amount of volume. Long bob haircuts like the one pictured above can be accentuated with balayage, adding a whole new level of dimension to your hairstyle. Don't be afraid to push your limits to obtain a fresh new look.
Source: rodrigocintra via Instagram
ADVERTISEMENT ‧ CONTINUE READING BELOW
Long Straight Fine Hairstyle
Whether long or short, there is a fair number of hairstyles for fine straight hair. The model in the picture above has added volume to her long straight cut without obtaining layers. There are some variations to haircuts for long hair that can be acquired to curb the fine hair issue. Like the model in the photo exhibits, it is possible to volumize long blonde hairstyles without chopping your hair into layers of various levels.
Source: ryabchik.moscow via Instagram
ADVERTISEMENT ‧ CONTINUE READING BELOW
Sleek Short Bob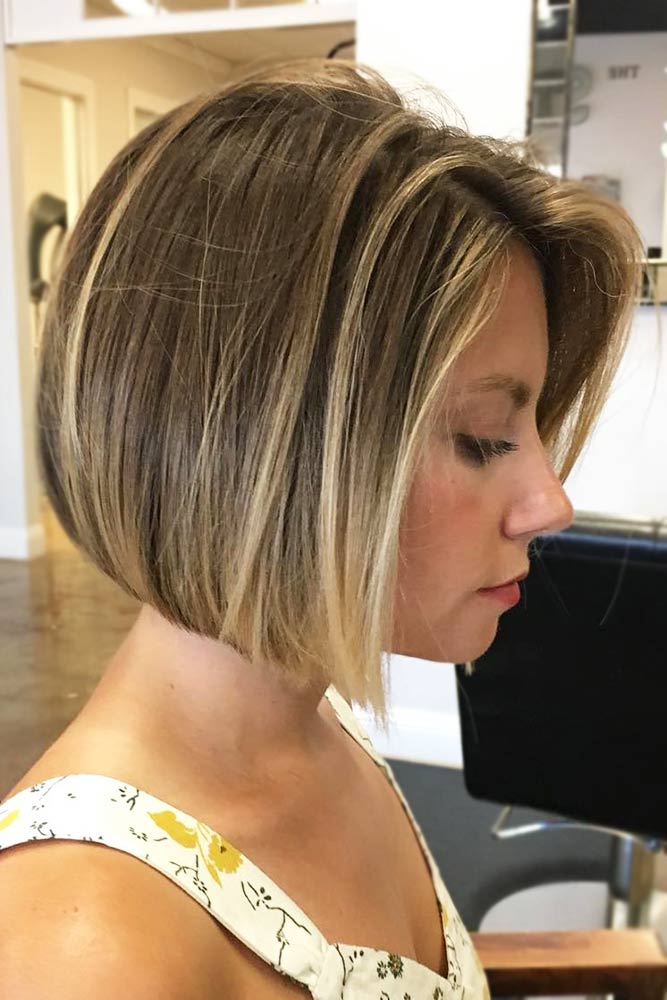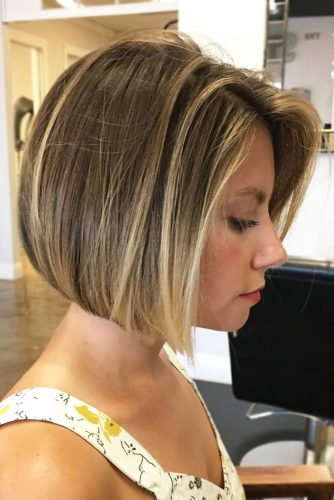 This sleek bob cut is also very popular among short hairstyles for women. There are versions of this cut in long bob hairstyles, as well. This cut does tend to fall under the medium short hairstyles due to the overall length of the hair.
Source: dillahajhair via Instagram
ADVERTISEMENT ‧ CONTINUE READING BELOW
Layered Blonde Bob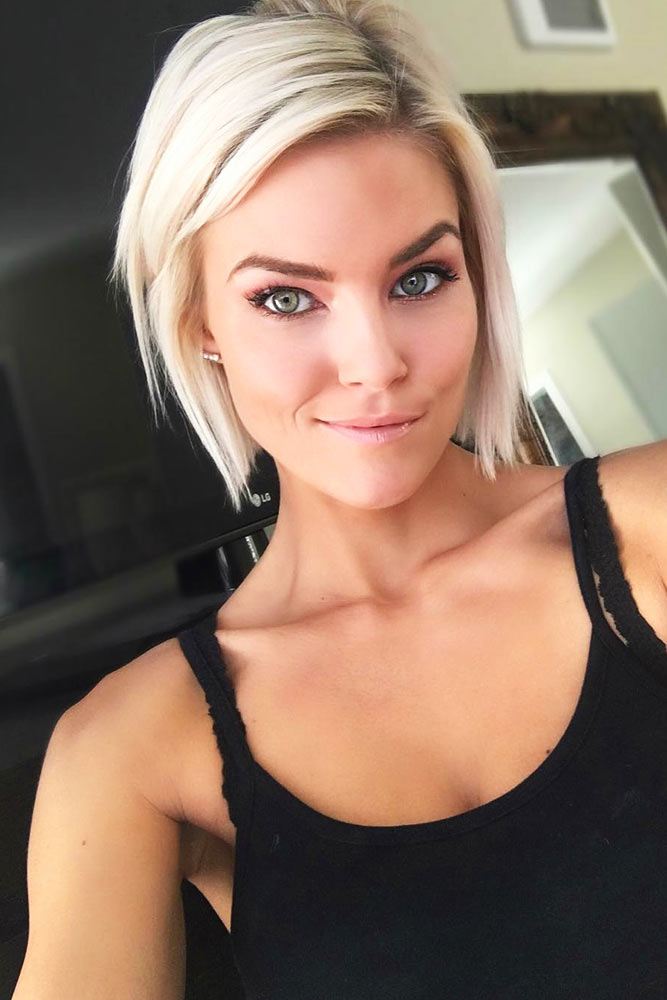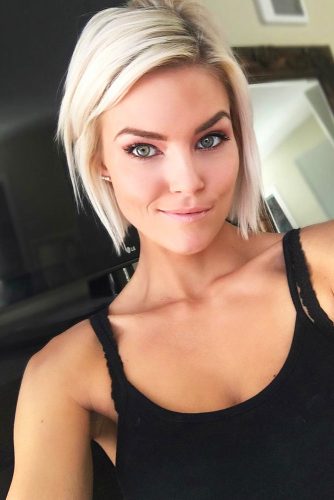 This cut is one of my personal favorites when it comes to the short cuts styles. This sleek and classy cut is simple and elegant at the same time and makes this blonde bob cut very stylish. When you couple this cut with short hairstyles with bangs, the bangs can give an added effect due to the ability to either curl or style the bangs.
Source: krissafowles via Instagram
ADVERTISEMENT ‧ CONTINUE READING BELOW
Long Layers With Bangs
If you have long hair, this presents a whole new set of issues to women with fine hair. To layer or not to layer, that is the question. Some women have hair that grows quickly, but that is almost never the case for women who have fine hair. Therefore, cutting layers into a hairstyle that has taken an extended time to grow out is a huge decision. In the photo above, the model has opted for long layers with bangs. This allows the versatility to cut the layers and still have semi-long hair. The blonde bangs draw attention to her face and eyes and away from any potential fine hair issues should they arise.
Source: ryabchik.moscow via Instagram
Pink Pixie Haircut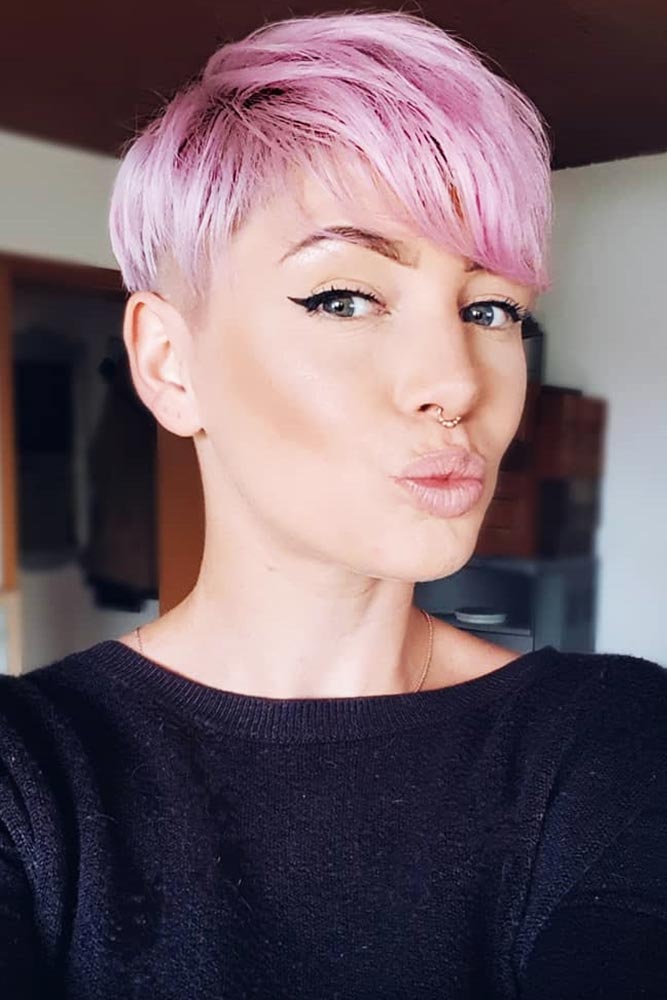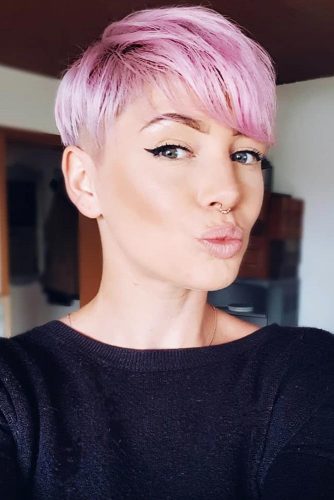 What better way to draw attention to your hair than to apply an unusual hair color or tint to it. If you have thin hair, one of the pixie cut short hairstyles for fine hair may be the best thing that has happened to your hair in ages. The short length allows the cut to be styled and remain in place better and longer and keeps fine hair from flopping halfway through the day. The pixie cut also happens to be one of the best hairstyles for fine hair triangle face shapes.
Source: anna_maria_theresia via Instagram
Face Framing Layers with Balayage
To achieve the face framing effect, layering the bangs helped. Long hair seems to be the go-to hairstyle for fine hair oval face shaped women. The center part can add an illusion of volume to your hair. Be sure to find an accredited stylist as well because not all stylists know the proper way how to cut layers in long hair.
Source: ryabchik.moscow via Instagram
ADVERTISEMENT ‧ CONTINUE READING BELOW
Long Bob Haircut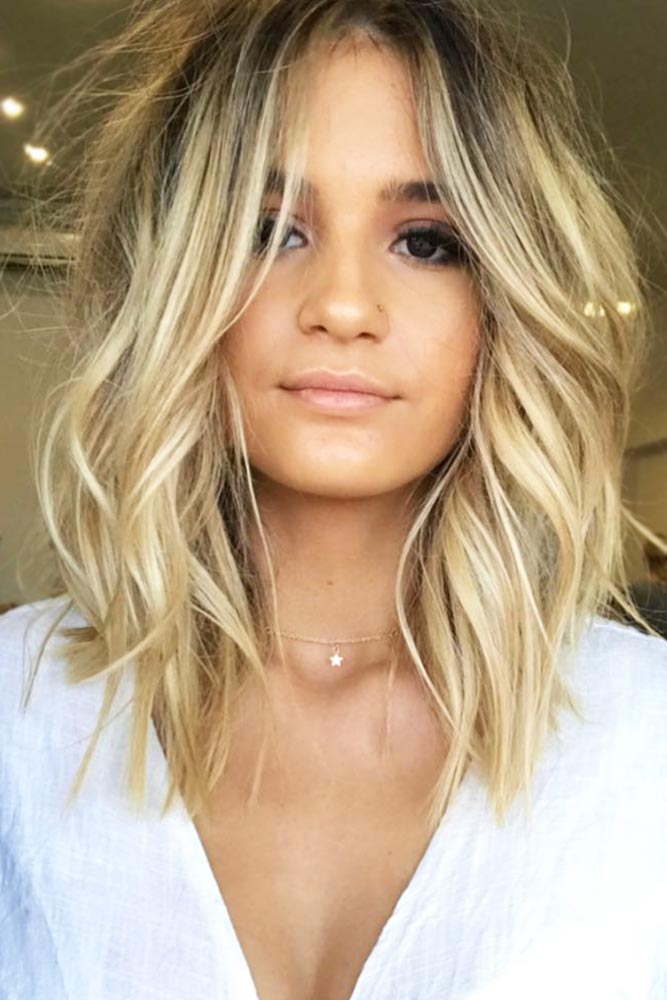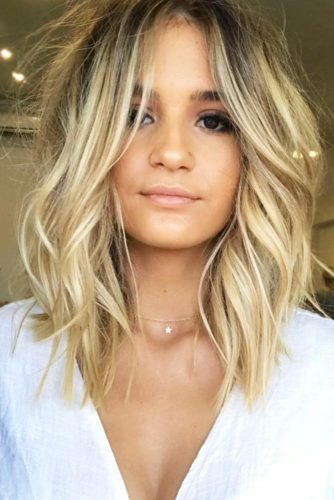 Bob haircuts happen to be favorite among women with thin hair. The reason for this is that the blunt ends of a bob have a way of making the ends look fuller and thicker. Long bob hair is very stylish since the messy look has become so popular. This style in the photo above falls under the medium length hairstyles category.
Source: chelseahaircutters via Instagram
Ash Blonde Long layers
The long layers are notorious for giving movement and fullness to fine hair. Take care not to get too many layers in this style though. Too many layers will cause the cut to look thinner. The cut like the one in the photo above is perfect when deciding on haircuts for fine straight hair. The long layers allow for movement while maintaining a sleek look. Longer hairstyles for fine hair long face women seem to be the better choice in hairstyles.
Source: mr_colorist_2017 via Instagram
Pixie With Undercut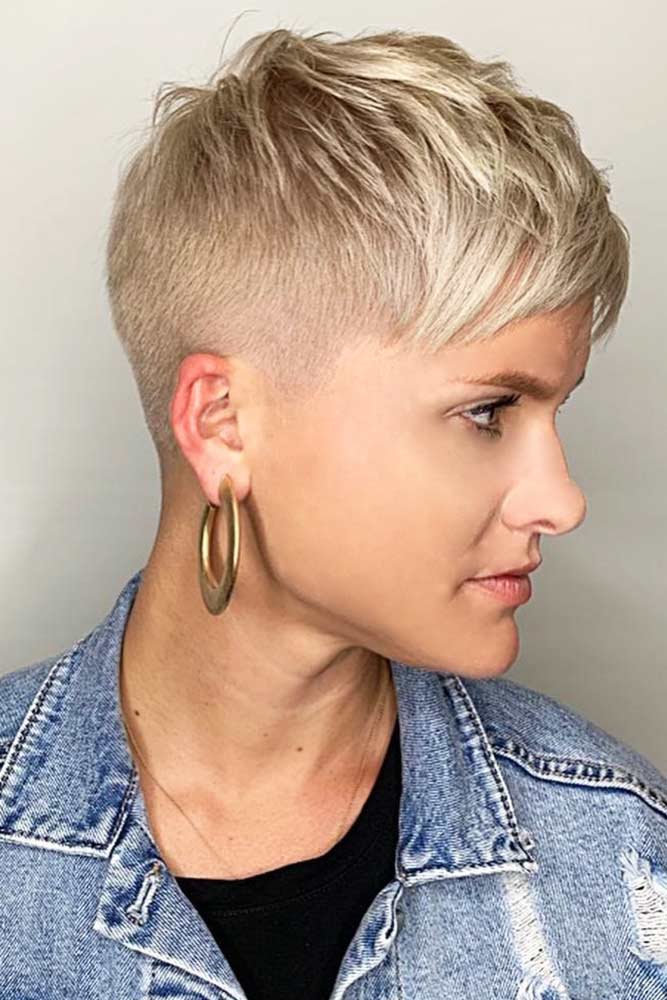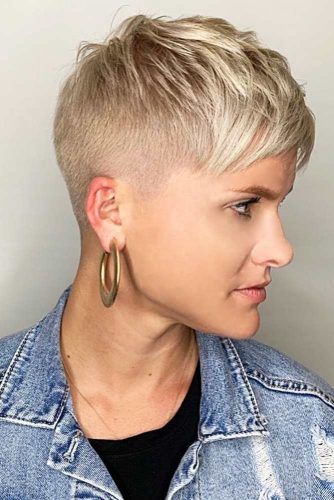 If you want to obtain a cut that can give the illusion of thickness and volume, then we have your answer. The undercut pixie is the perfect cut if this is the effect you are trying to achieve. The cut stacks on top of the shaved area and makes the hair look much thicker. The length you decide to settle upon for the short undercut is totally up to you.
Source: dillahajhair via Instagram
ADVERTISEMENT ‧ CONTINUE READING BELOW
Chin Length Stacked Bob Haircut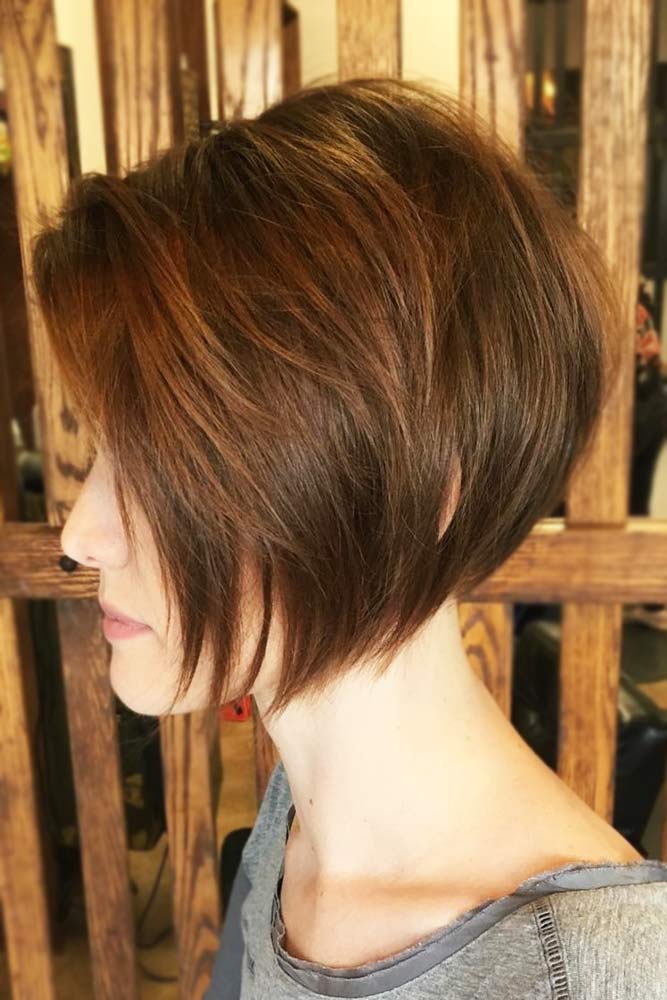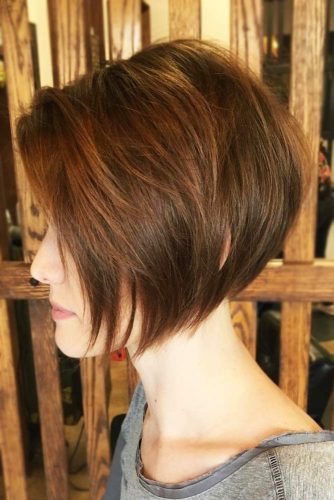 The side swept bob hairstyle is perfect for the chin length hair in this photo. The layers that are present give added volume to fine hair. While this style looks best on straight hairstyles, some women pull it off every week with curly hair, as well. This is also one of the easy hairstyles for short hair since it is basically a comb and go. No long, frustrating sessions in preparation to go somewhere when you have this style. It is just as easily styled with the fingers as with a brush or comb.
Source: dillahajhair via Instagram
Golden Blonde Blunt Bob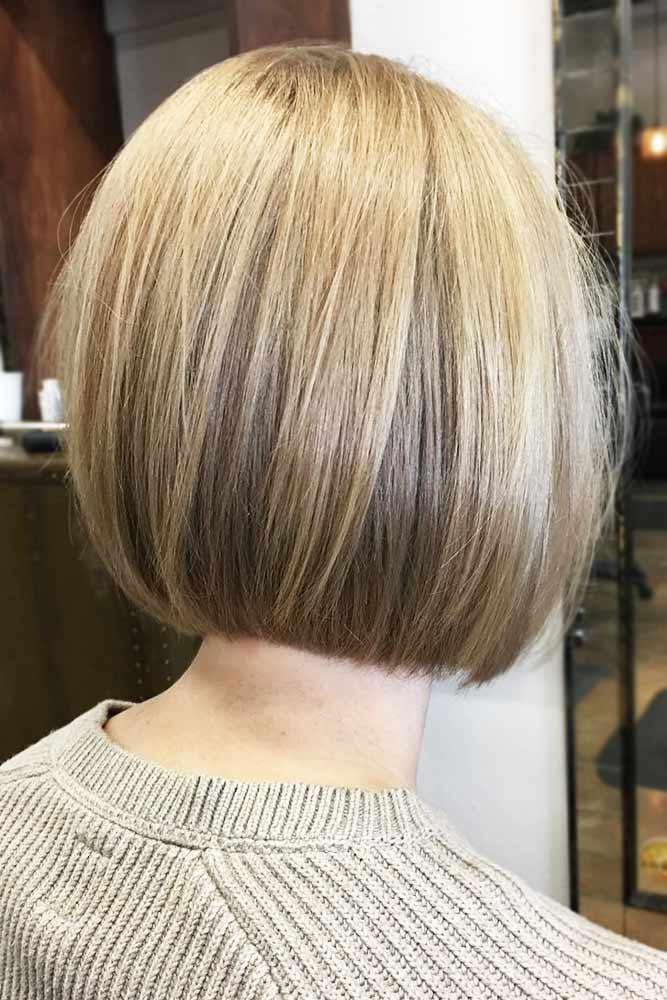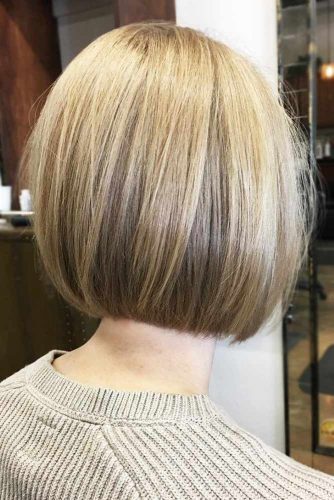 If your hair lacks when it comes to having body, then the blunt bob is the answer you're looking for. It is also a very popular cut for the younger generation. It is one of the most popular short hair girls hairstyles. Short bob hairstyles are very popular for thin hair as well. The style gives the look of volume.
Source: dillahajhair via Instagram
Shoulder Length Curly Bob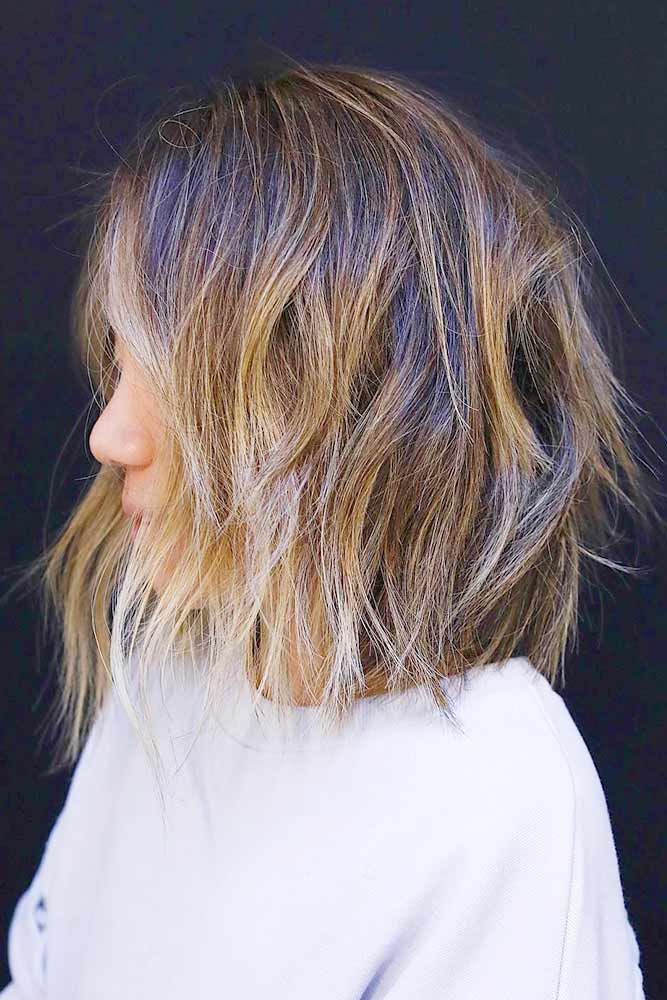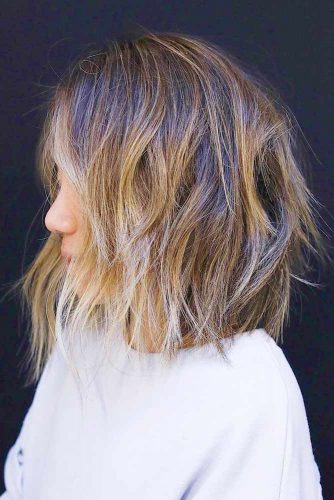 This shoulder length style is perfect for the messy hair phase that is so chic now. Long gone are the days where the hair should look neat and flawless. This curly hair with bangs style like the one in the photo can have even more curl if you so choose. This layered curly hair is a style that many women are converting to due to the ease of styling and manageability.
Source: anhcotran via Instagram
ADVERTISEMENT ‧ CONTINUE READING BELOW
Silky Layers For Straight Hair
Women with straight hair often face fine hair issues, as well. There are many varieties of haircuts for straight hair, from short cuts to long cuts. There are also several cool cuts that bring an interesting flair to your hairstyle. Whether you choose to add a splash of color to your hair or hide or flaunt a sexy undercut, the options are only limited by your own sense of adventure.
Source: mr_colorist_2017 via Instagram
Textured Long Layered Haircut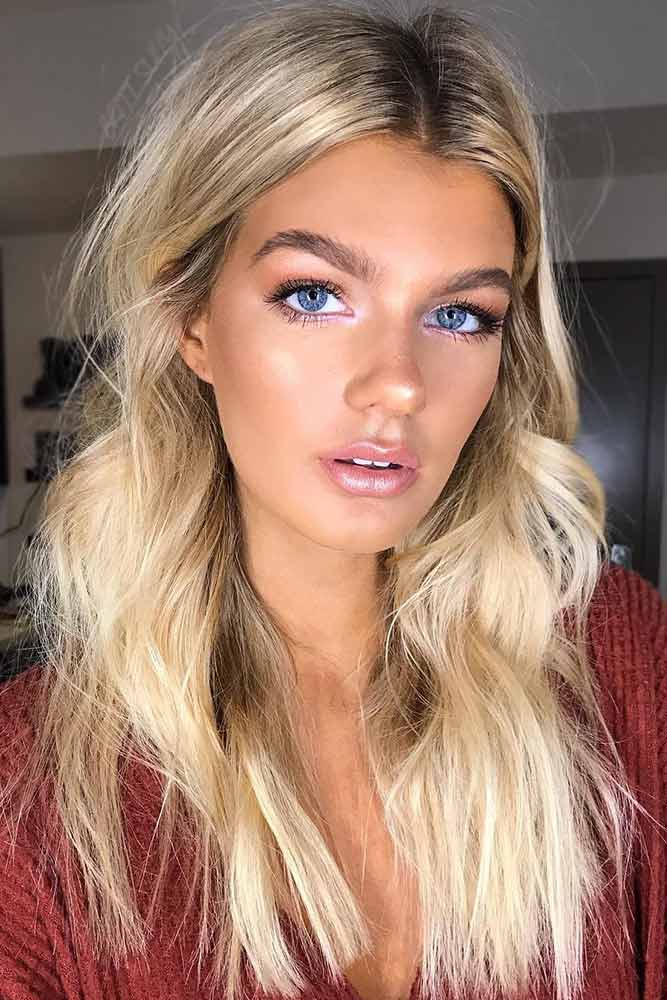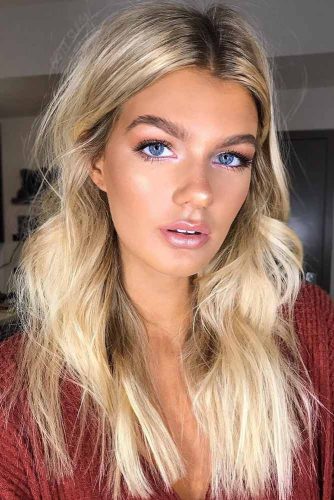 There are several ways to make fine hair look fuller and the one that doesn't require scissors is texturizing spray. This product gives volume and lift to normally drab, limp hair. Another way to achieve volume is to go for one of layered haircuts for fine thin hair. Both options can make fine hair look fuller.
Source: brittsully via Instagram
Three Strand Braids Into Low Messy Knot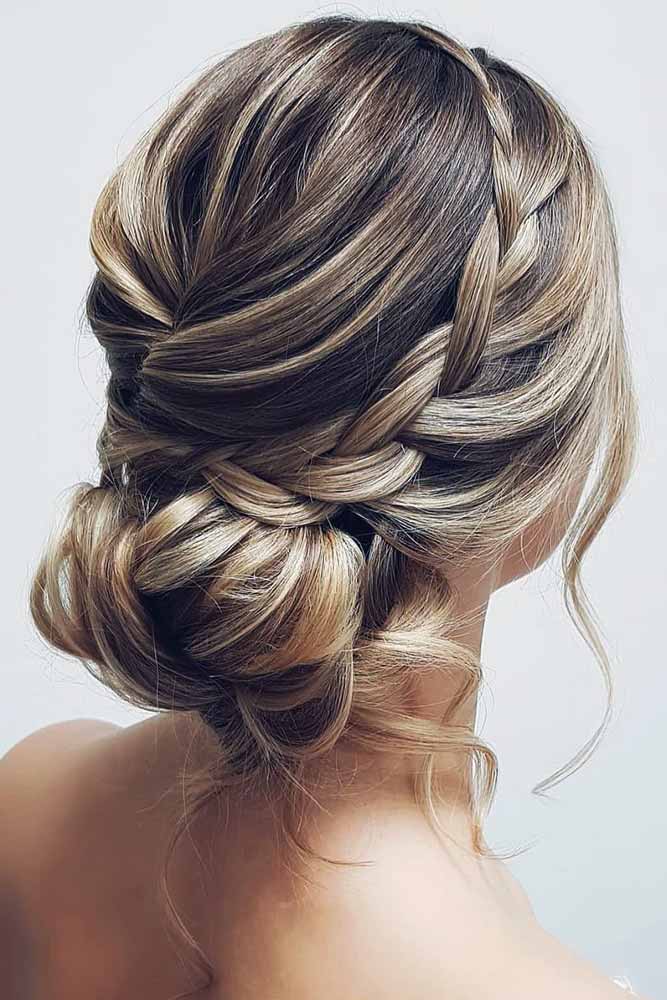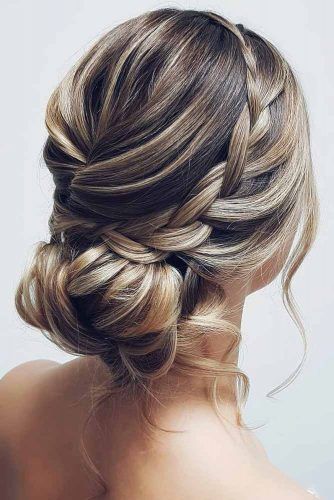 Creating a simple, yet feminine three-strand braid has never been hard. But when you work with thick hair, your task is to make sure that your unruly locks look decent. Before styling your hair in this way, condition your hair with a softening mousse so that its manageable, and this simple style will look absolutely gorgeous.
Source: hairbyhannahtaylor via Instagram
ADVERTISEMENT ‧ CONTINUE READING BELOW
Sleek High Bun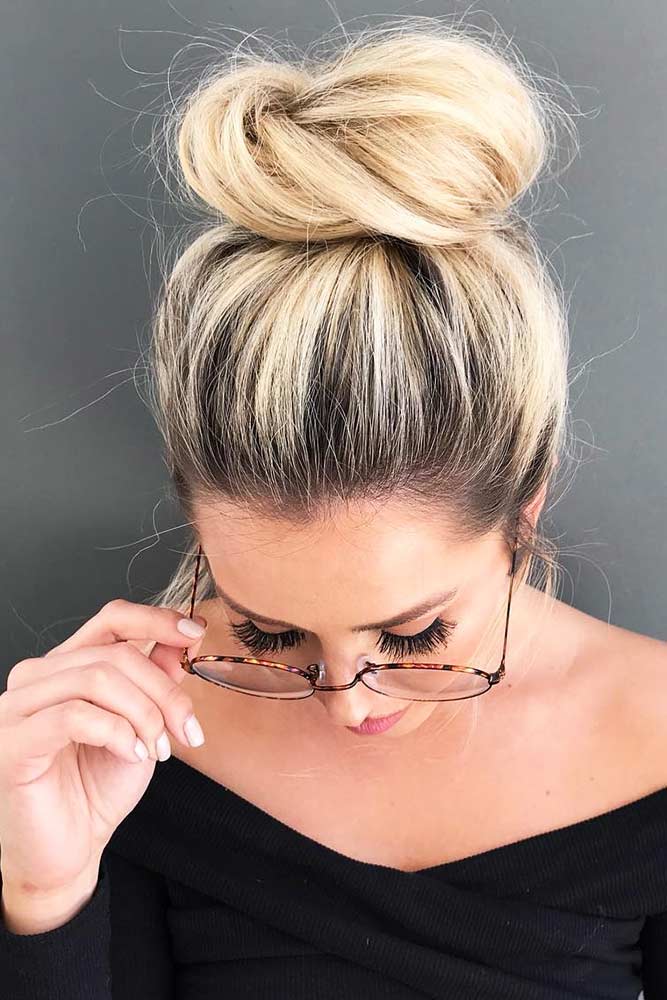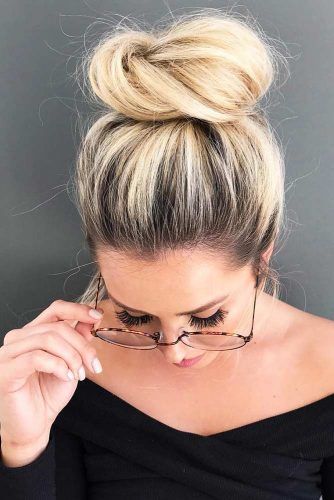 Getting sleek hairstyles for fine hair like this one can be quite tricky: those unruly hairs tend to stick out, disregarding the amount of gel you've applied on them! The secret of perfect sleekness is to start creating it from the very wash: anything from softening hair masks to straightening foams will work well. Then, blow dry your hair with the cool setting to avoid frizz, and style your hair into a high bun with the help of smoothing oils.
Source: alishajaredhairartistry via Instagram
Volume Styling For Fine Hair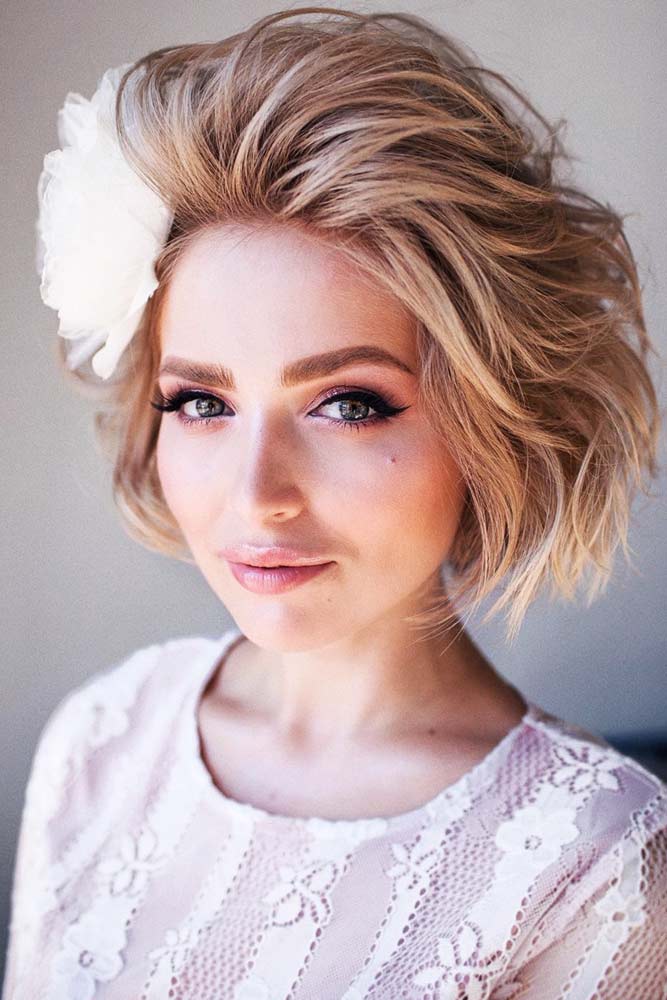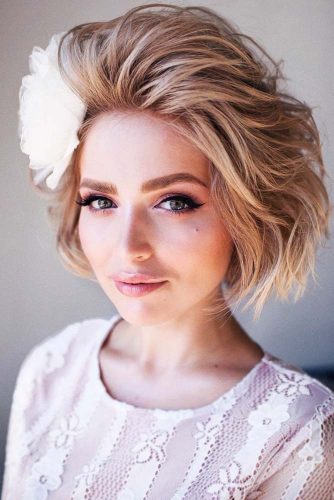 To lift up fine hair, you need to make its texture lightweight for styling. Deep conditioning is probably the best way to make your fine locks behave. Once you see that they're gentle enough, apply volumizing foam on your hair, running your fingers through it, and tousling up the body.
Source: tonyastylist via Instagram
Fauxhawk For Curly Fine Hair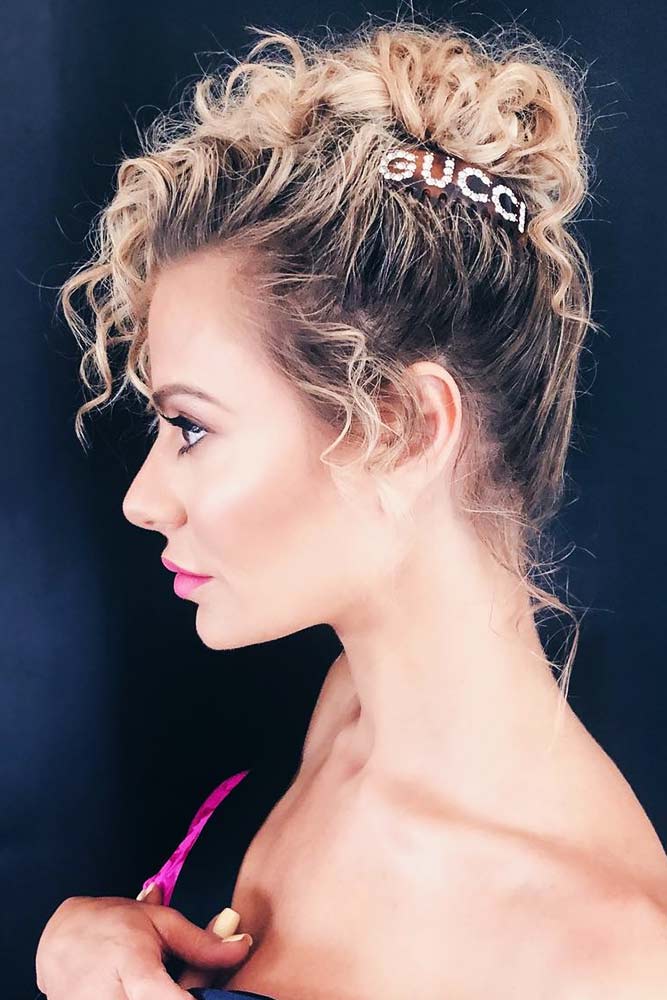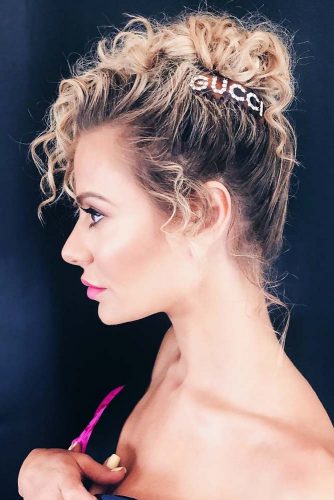 The charm of fine curly hair makes all the ladies around get envy. And only those who rock it know its pitfalls. Fortunately, there's a simple and glorious style that will tame your curls: just create a high twist that stretches along the crown, and secure it with several pins. Voila! The girly mohawk variation for curly locks is ready.
Source: justinemarjan via Instagram
ADVERTISEMENT ‧ CONTINUE READING BELOW
French Twist Updo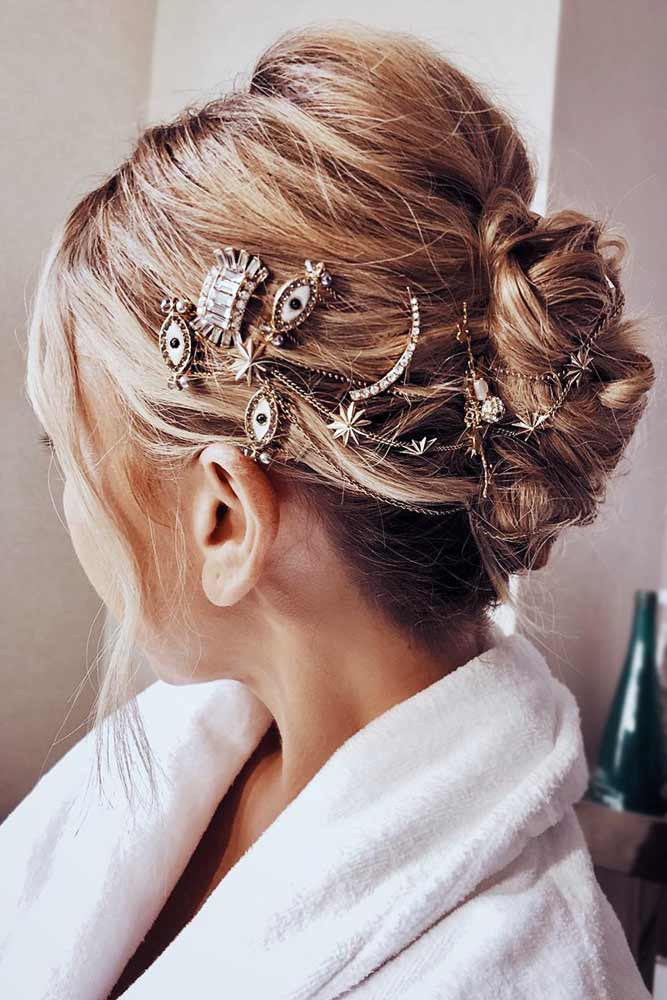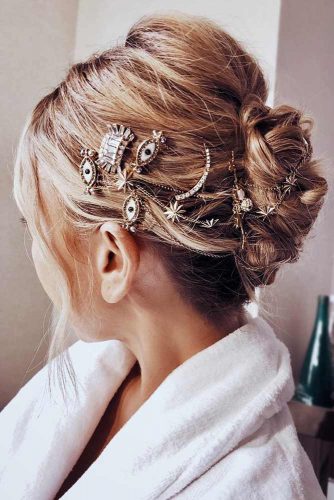 The French twist is a perfect hairstyle that can whip your fine hair into nice shape. Since it can be a little bit messy, your task is to make this tousled effect look effortless and natural: pull the edges of your twist and tousle up the crown. To make your style unique, some chic accessories will be a good finish.
Source: justinemarjan via Instagram
Half-Up Space Buns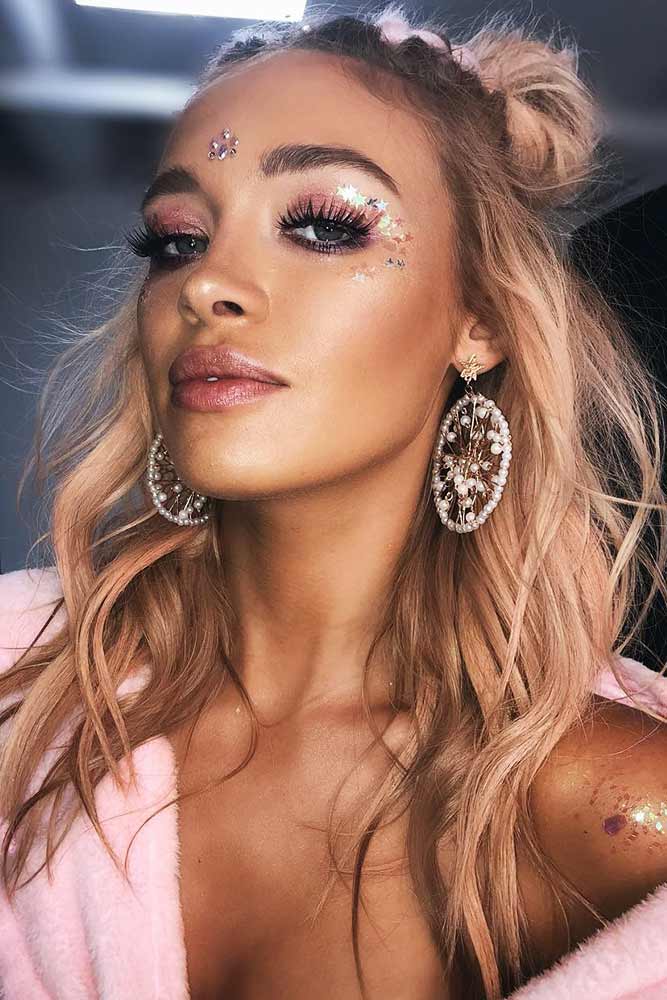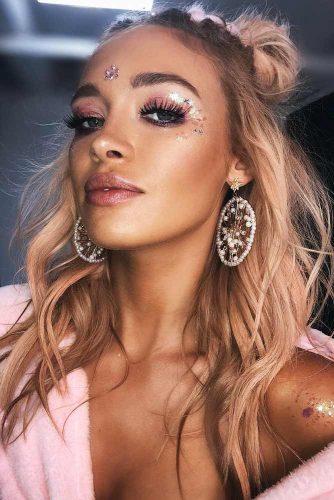 Who says that you can't fascinate when you're short of time? You can twist the top section of your hair into two adorable space buns, and that's it. Thanks to modern trendsetters, nowadays you don't need to be super neat to look awesome!
Source: roxyhorner via Instagram
Soft & Blunt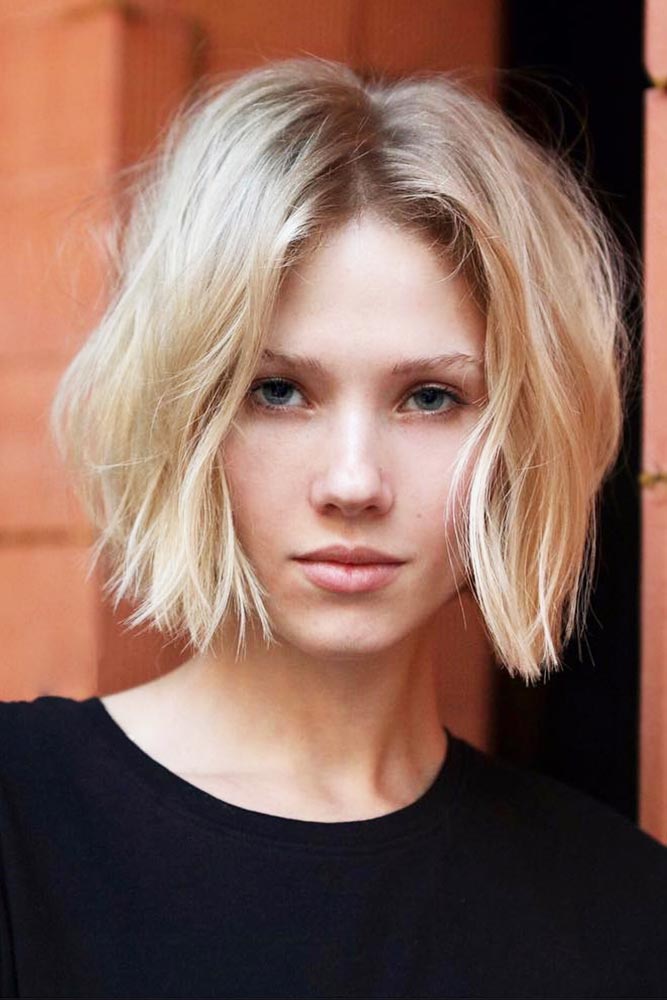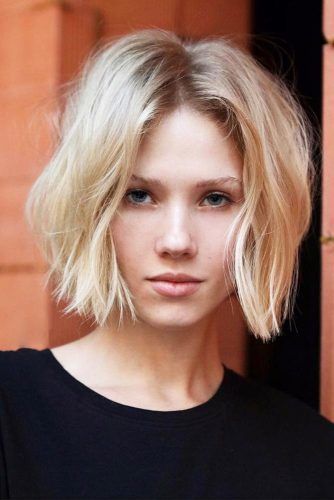 A soft tousled texture achieved with the help of subtle layers over a blunt bob is another key to lifting up your weak locks.
In fact, even though layers lighten up your texture and make your hair a bit less dense, they build tons of volume, which is way more important.
For example, here you can see how once flat hair has turned into an enviably volumetric mane. Some call it magic, and we call it the right hairstyles for fine hair.
Source: salsalhair via Instagram
ADVERTISEMENT ‧ CONTINUE READING BELOW
Medium Bardot Style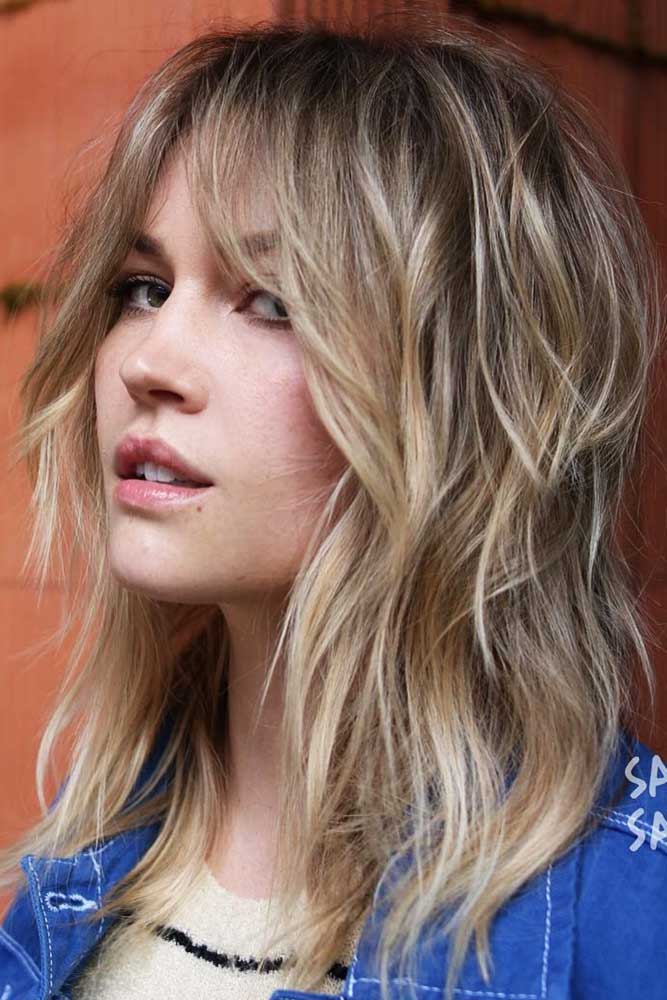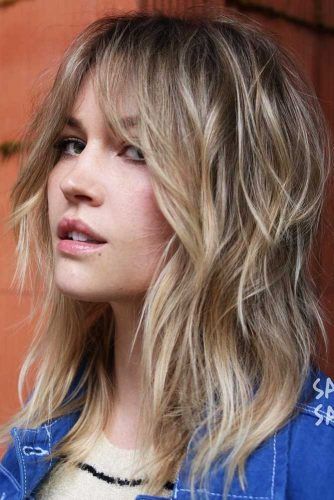 Brigitte Bardot hairstyles were all about long layers and plenty of movement. But who says that you can't flaunt with a hairdo as amazing as hers? No, your hair type is no excuse to give up without trying. Instead, you can try a muted version called medium Bardot style that features different layers flowing throughout the length. With the right styling products and a good blow dryer, you can leave your home with that vintage-inspired style every single day.
Source: salsalhair via Instagram
Sleek Blunt Inverted Bob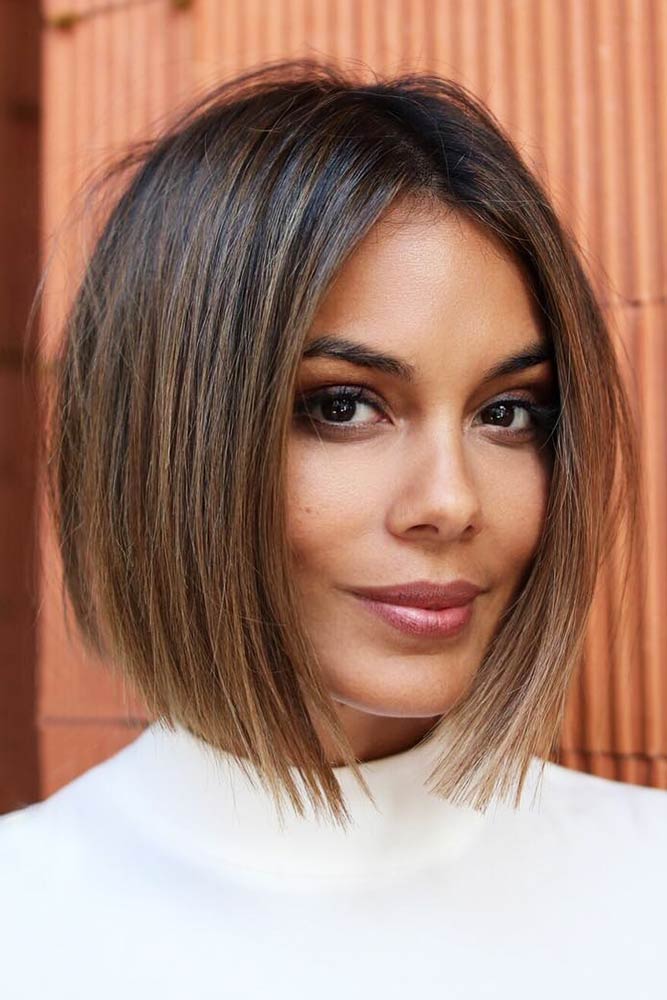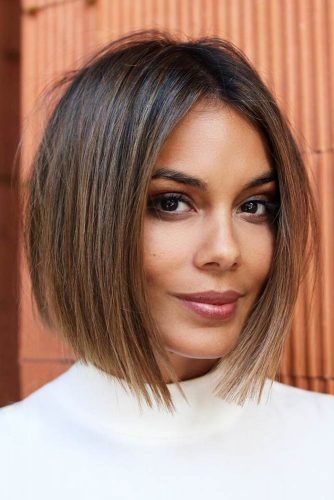 Though blunt bobs usually come as one-length cuts, you can go a different way and add some chic twist to yours.
The cascading body that gets longer to the front is a nice idea to not only frame up your face but also to provide more styling freedom to you. Having a slightly longer front, you can experiment with volumetric styling ideas, adding more fullness to the whole look. Needless to say, such a structure makes the cut voluminous by default.
Source: salsalhair via Instagram
Shaggy Bob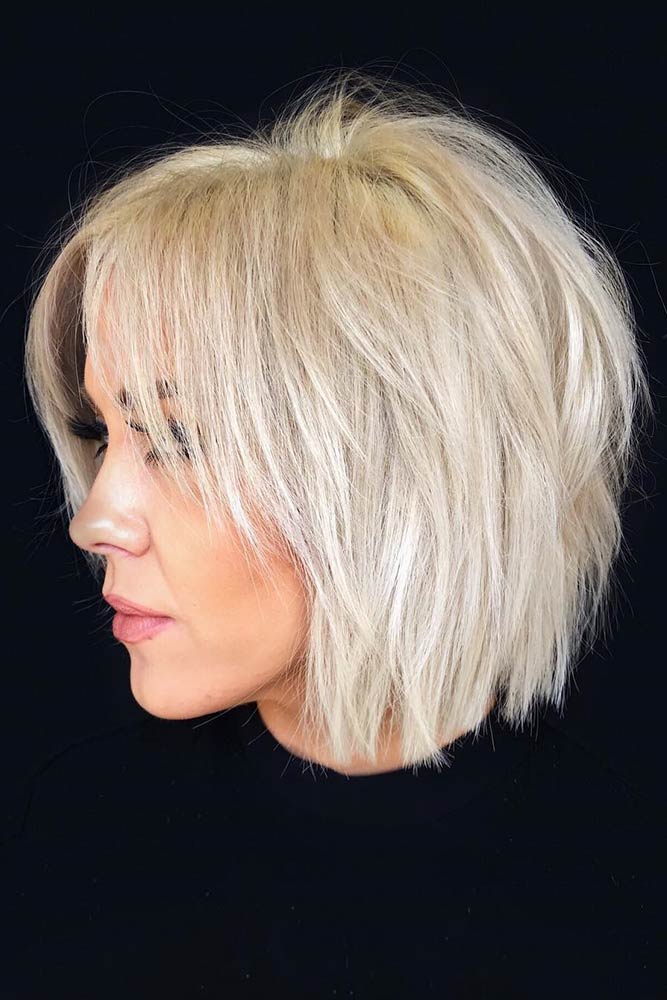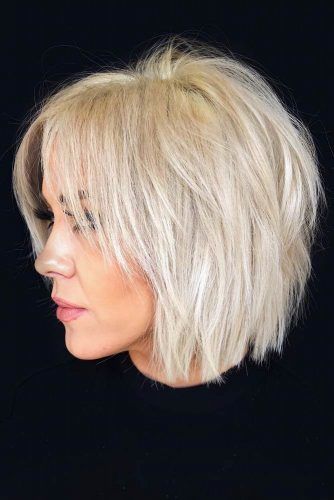 Believe it or not, you can rock a dream hairstyle once you say two simple words: shaggy bob.
Indeed, these words are enough for your hairstylist to understand what look you aim to achieve. Make sure that long layers alter shorter ones in order to create the desired dimension. Bottom line? Layered hairstyles for fine hair are nothing but lifelines.
Source: chrisjones_hair via Instagram
ADVERTISEMENT ‧ CONTINUE READING BELOW
Topsy Tail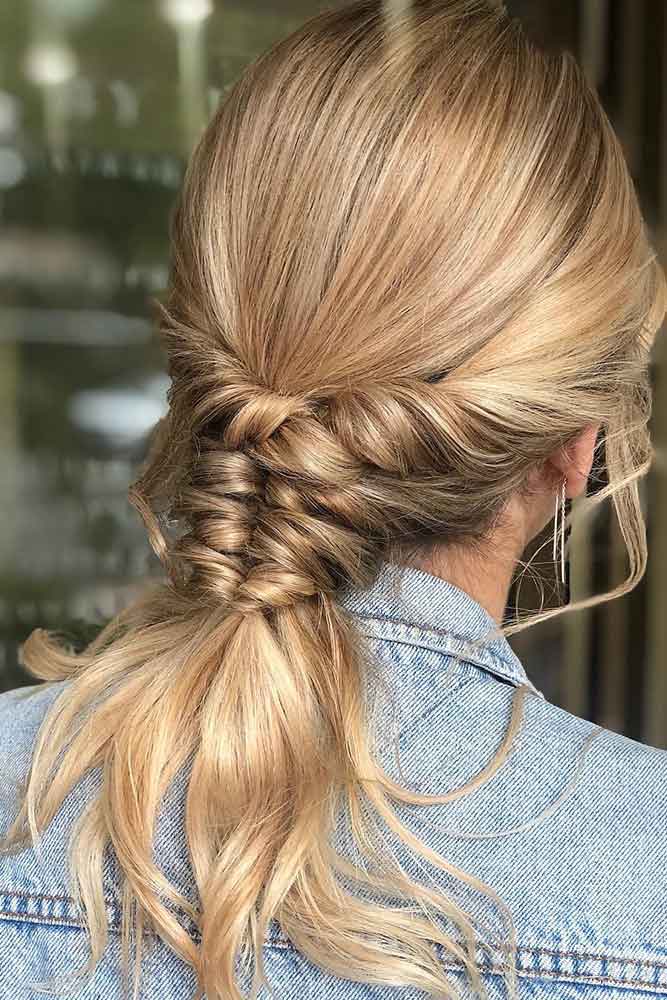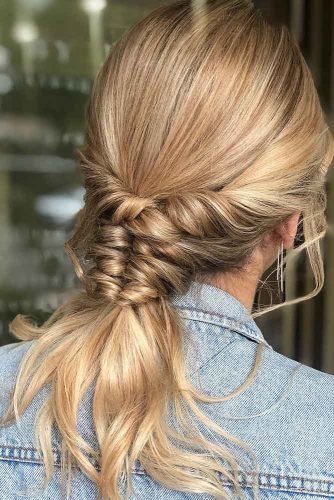 Is there a girl who didn't wear a topsy tail to school? Well, we doubt it, as it's probably the easiest and the cutest hairstyle at the same time. Besides being absolutely effortless, it has one more advantage. When your topsy is ready, pick some strands and let them fall freely. Then, pull the edges of your style to add some fullness. Voila! You've just made a simple style work for your hair type.
Source: christie_selley via Instagram
Side Pull Through Braid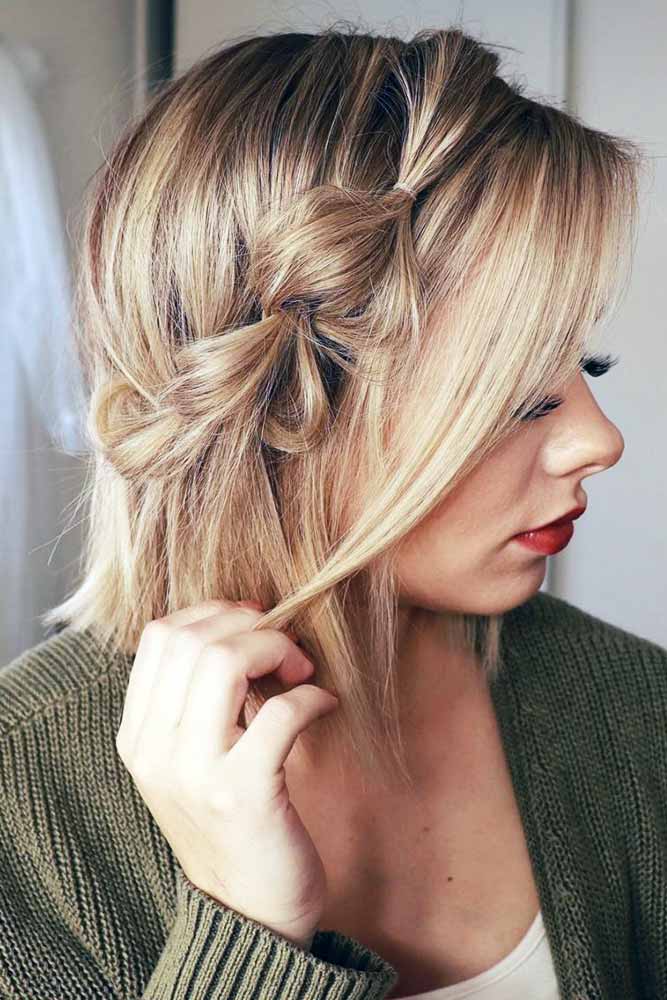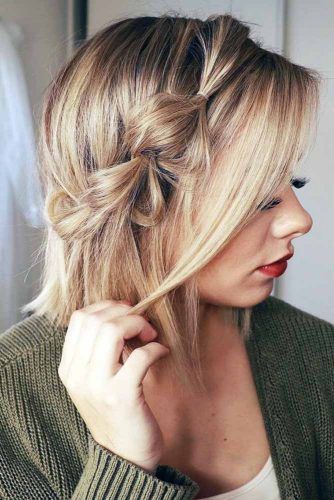 Pull-through braids can be different; it all depends on your imagination. But this one exceeds all expectations. In contrast to the classic idea, its texture is soft and light. Yet, that's enough to give a full, lifted silhouette to a short bob.
Every time you feel dissatisfied with your fine hair, think again. Maybe you just wear unsuitable hairstyles?
Source: alishajaredhairartistry via Instagram
Side Twist Style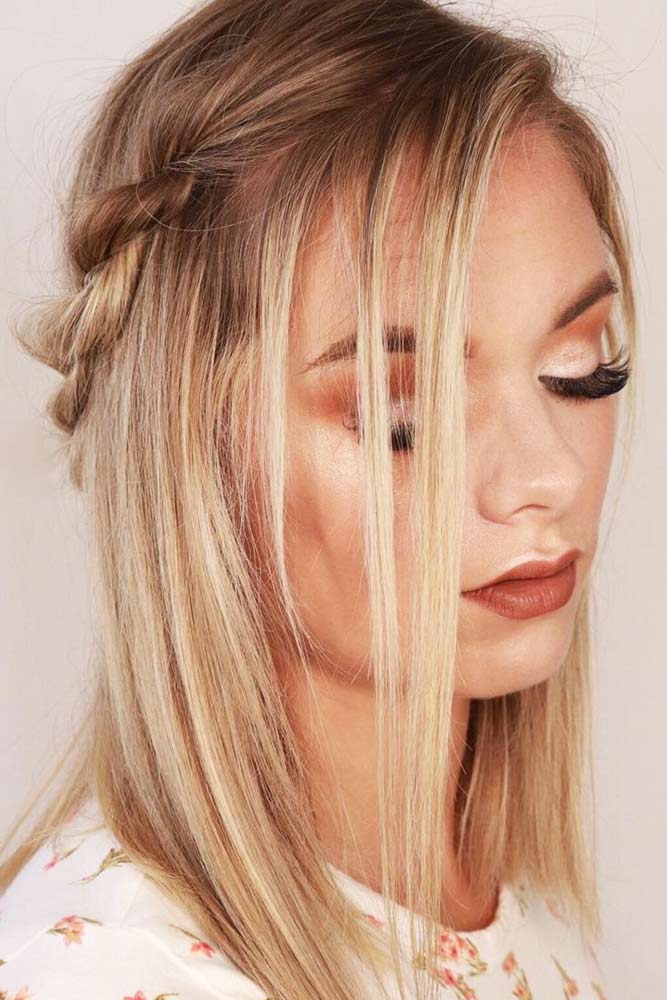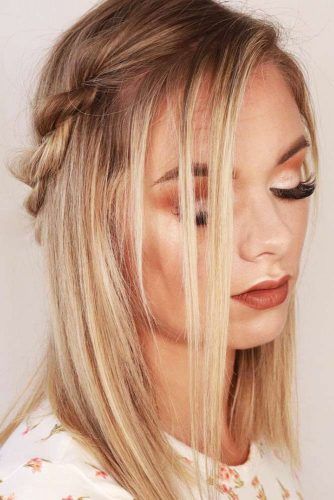 Wearing braided side hairstyles, as you know already, is a cute, practical, and fast way to make your hair appear fuller.
It can be any type of braid you want. The point is to tousle and pull its edges as much as you can. At first sight, you see a regular side twist in this pic. But if you have a closer look, you will notice how much harmony it brings to the look.
Source: alishajaredhairartistry via Instagram
ADVERTISEMENT ‧ CONTINUE READING BELOW
Layered Thin Bang With Low Bun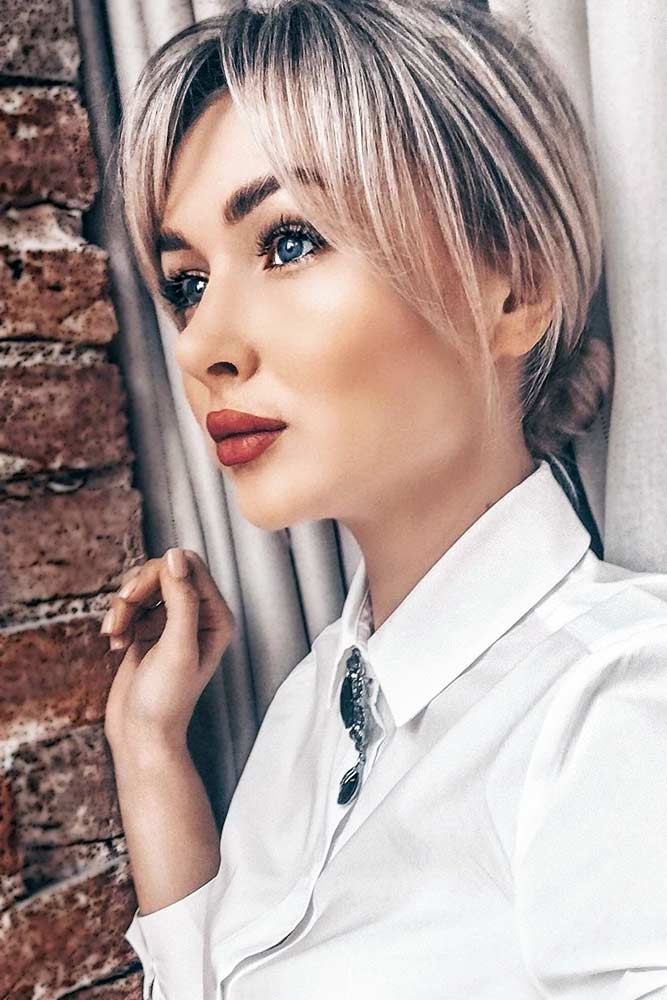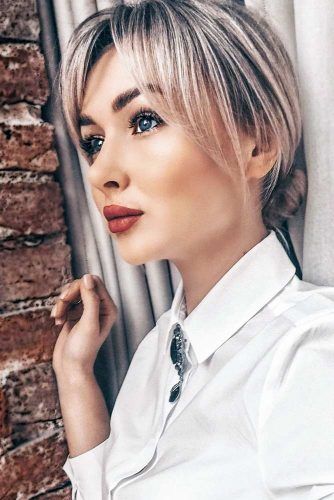 When it comes to bangs, the word 'thin' has a quite different meaning. And it has nothing to do with thin hair troubles! Don't forget that bangs have always been the best tool to work on flaws, whether it's a broad forehead or fine hair.
A thin fringe will work as a slight piece of hair that will stand out due to its light texture. In this way, it will give a fuller body to your style.
Source: nadigerber via Instagram
Messy Updo Halo Braid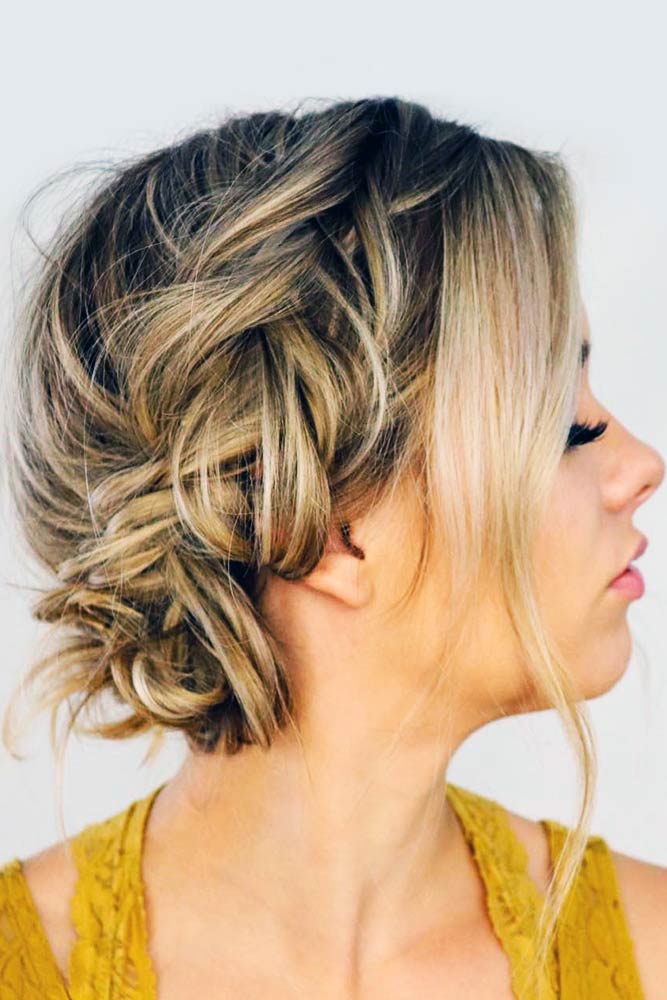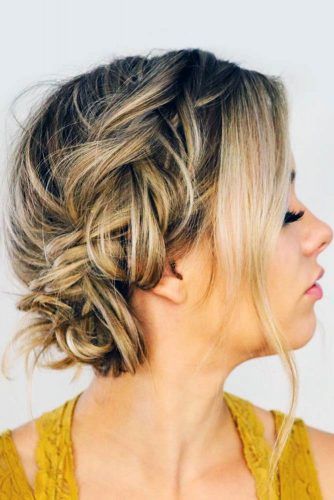 The messier, the better, especially if all you want is to rock a voluminous hairdo.
This halo braid updo seems to know everything about volume! The tousled strands create ravishingly organic movement while gently pulled edges give a nice, harmonic finish.
Source: alishajaredhairartistry via Instagram
If you have fine hair, don't give up on having a beautiful hairstyle to flaunt. There are many options to try and see which ones work best for you. The hairstyles for fine hair are just as achievable as any other hairstyle. You just may need to work a little harder or at least experiment a little more to get the right one.
ADVERTISEMENT ‧ CONTINUE READING BELOW
ADVERTISEMENT ‧ CONTINUE READING BELOW