Crochet braids are here to make a huge stylish comeback from the late nineties! They have always been a trend, but now, thanks to natural hair movement, they're a real widespread thing. And nowadays, these cuties are a little bit more different: naturally-looking texture is on the top of all natural hairstyles' charts. Plus, the creativity of modern ladies has made them even more versatile. As for you, today you're going to discover how diverse these braids can be.
All you need to sport them is your natural hair and endless creativity. Before letting your imagination run wild, let our ideas be your inspiration guide: lots of crochet hairstyles are waiting for you to try!
Crochet Braids: What Are They?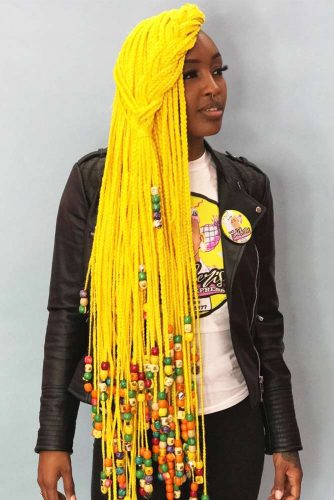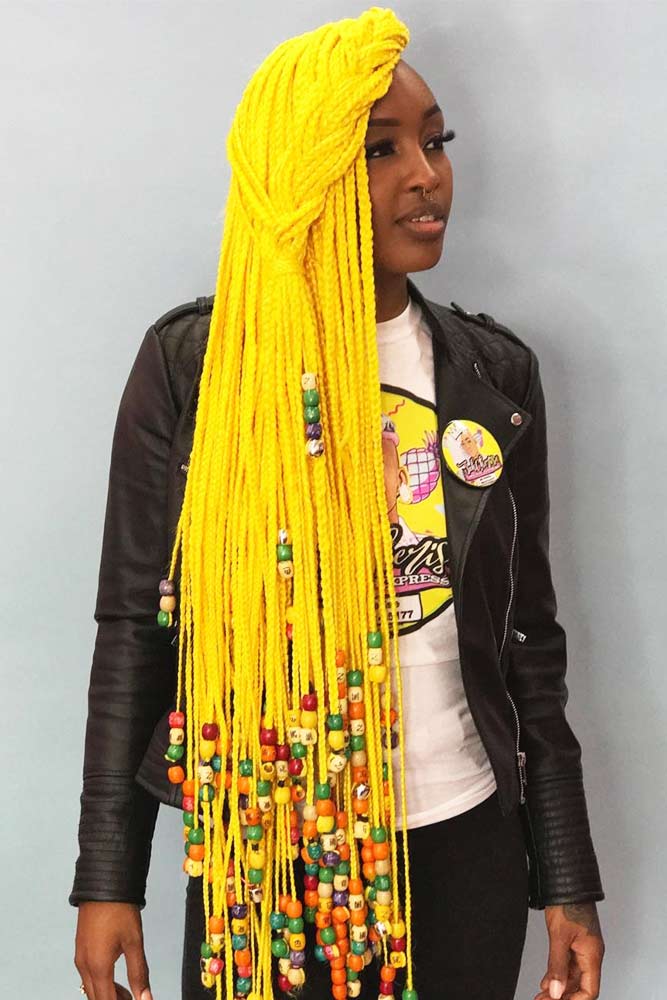 Source: jah.cherise via Instagram
Let's just get things straight about the magnificent and sometimes mysterious crochet braids. They're braided hair extensions that are added to your natural hair by looping them under your cornrowed hair with a crochet hook and secured with a little knot. Crochet braiding is actually a technique that involves the use of loose hair too, the point is to secure it underneath the cornrows; that's why you may see so many different variations of the crochet braids or crochet hair. Remember: such hairstyles are protective, so faux braids won't ever cause damage. Obviously, to get such a long hairstyle, you don't need to have long hair: you need to buy long fake braids.
Now, you're probably trying to figure out what's the best hair for crochet braids. To tell you the truth, the best pick for you is the one that matches your preferences. In other words, the choice should depend on the look you want to achieve. Surely, nothing is better than real hair, as it doesn't only look natural but also have a longer lifespan. Plus, it doesn't cause itchiness, while some synthetic materials may lead to itchy scalp.
Sumptuous Half-Up Bun For Natural Hair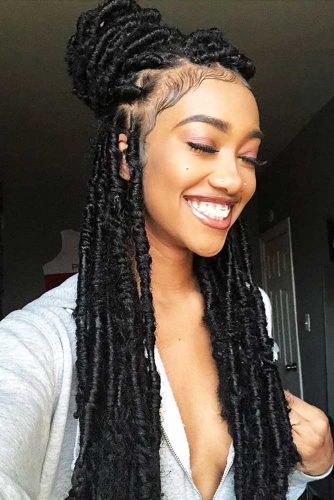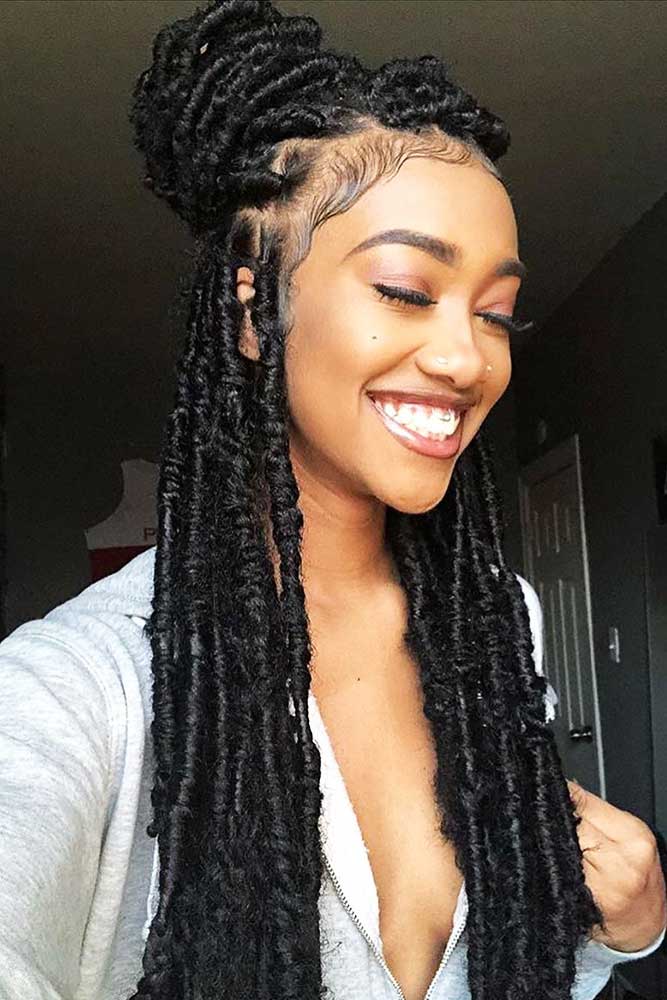 Source: happyhealthycurlsandkinks via Instagram
Now, you should see how many cool things you can do with your hair and the help of faux locs. As we've mentioned before, they're not necessarily braids. Some girls with natural hair prefer to loop loose locs, section them into two and twist these sections to get a fuller effect for their hair. This pic shows how you can do the same and create a stunning, textured half-up bun. Yes, natural hairstyles are impressive.
Marley Twist Braiding Hair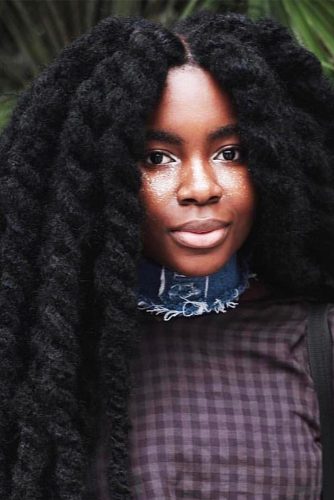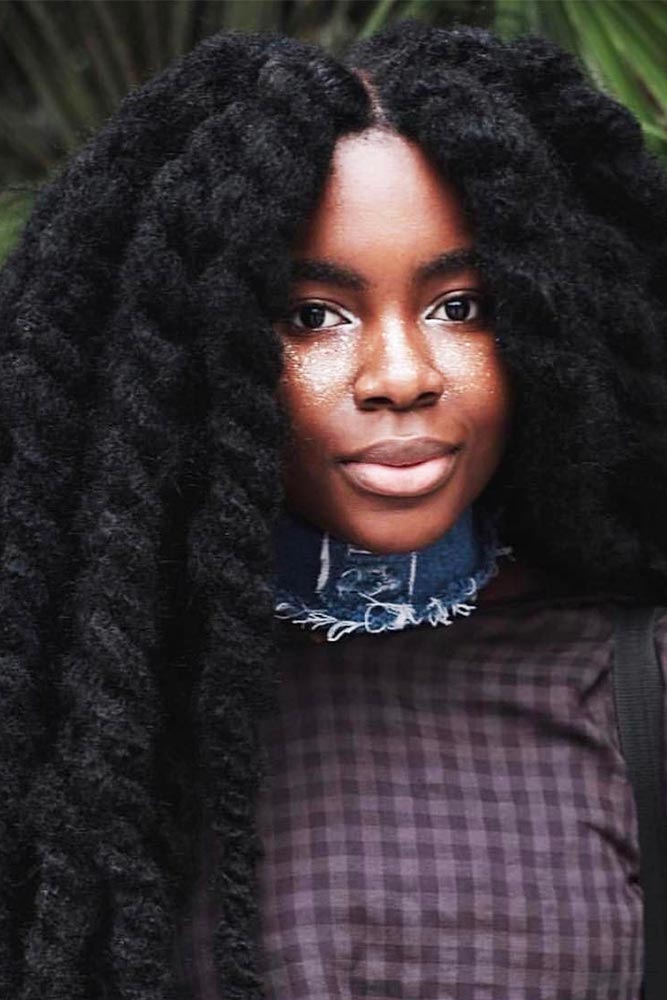 Source: africancreature via Instagram
These Marley twists are breathtaking, don't you agree? There are lots of types of braiding hair, and the main differences between them are textures and sizes. For example, the goddess you see in the pic above is wearing twisted Marley hair. They're installed under the cornrows and look different, but it's still the impressive crochet technique.
Super Long Violet Crochet Braids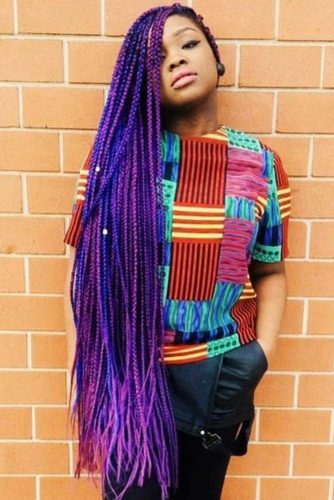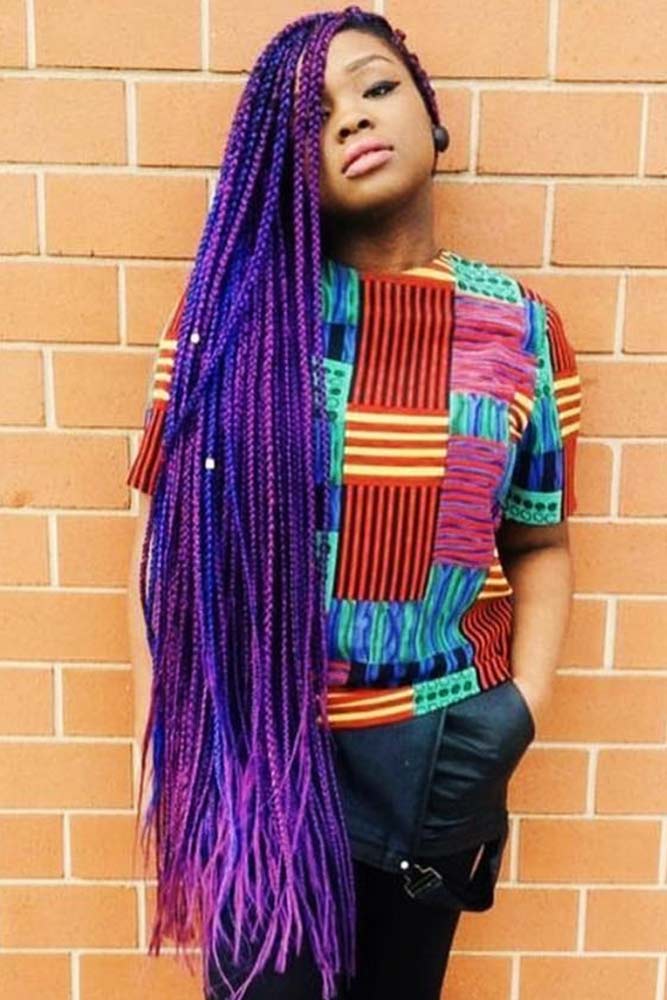 Source: africancreature via Instagram
Are colorful crochet braids damaging to hair? Only when you actually dye your locks instead of sporting faux ones. Want to add some colors to your casual hairstyle? All those naturally-looking crochet box braids are stylish and sexy, but we all need something extraordinary from time to time. How about you to give these super long violet braids a try? The best thing is, once you feel bored or tired of them, you can take them off at any moment.
Crochet Braids Into Elegant Bun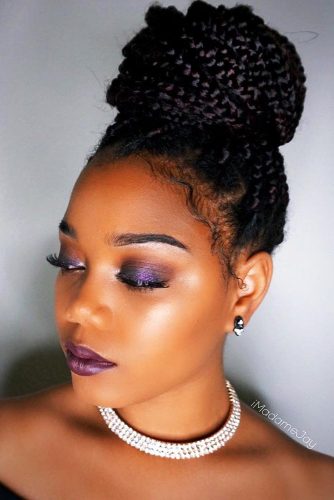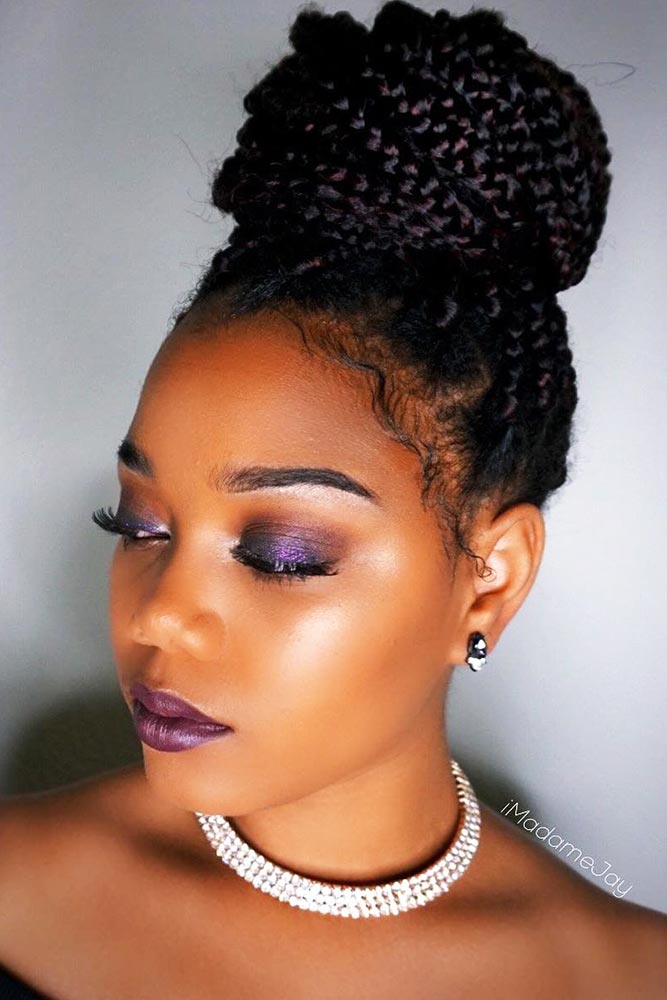 Source: imadamejay via Instagram
Crochet braids are not always about drama; there's a delicate, elegant side of them. When a special occasion is coming, you don't need to unbraid your locs or take them off completely. Why don't put them all together and twist them into a clean high bun? Just look what a gentle and soft style this hairdo can give to you!
Crochet Braids Curly Hairstyle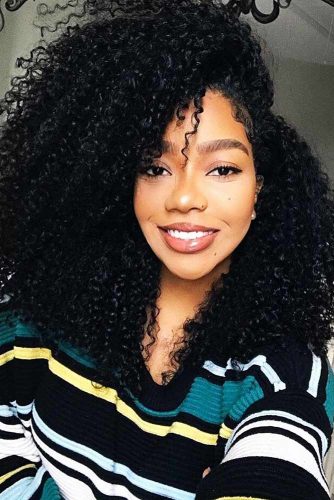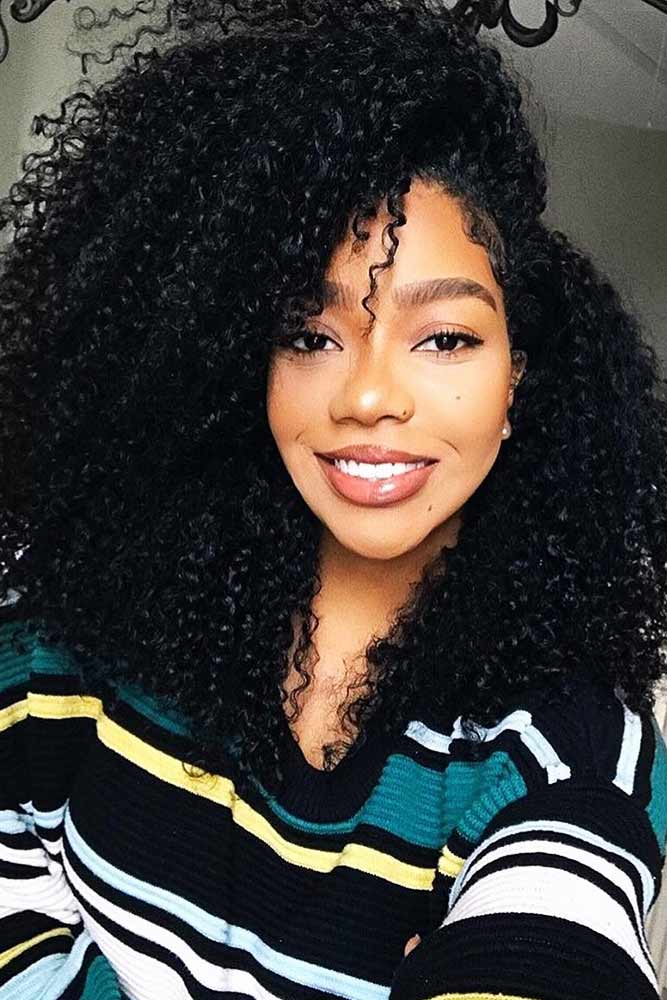 Source: happyhealthycurlsandkinks via Instagram
This is what happens if you unbraid your crochet braids! Or if you get curly crochet hair, that is all up to your taste. Such a big, voluminous, and full chevelure created by crochet hairstyles with curly hair is something that all the women with natural locks try to achieve. To get a genuine effect of your curls, opt for crochet braids with human hair, and your hair won't ever look too "dolly".
Cute Side Marley Twists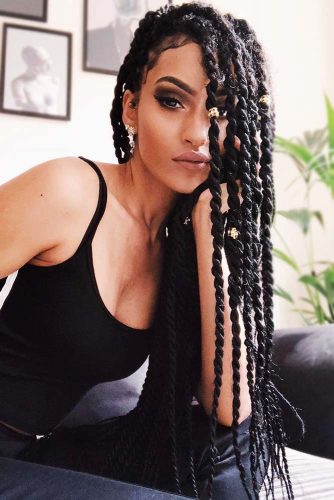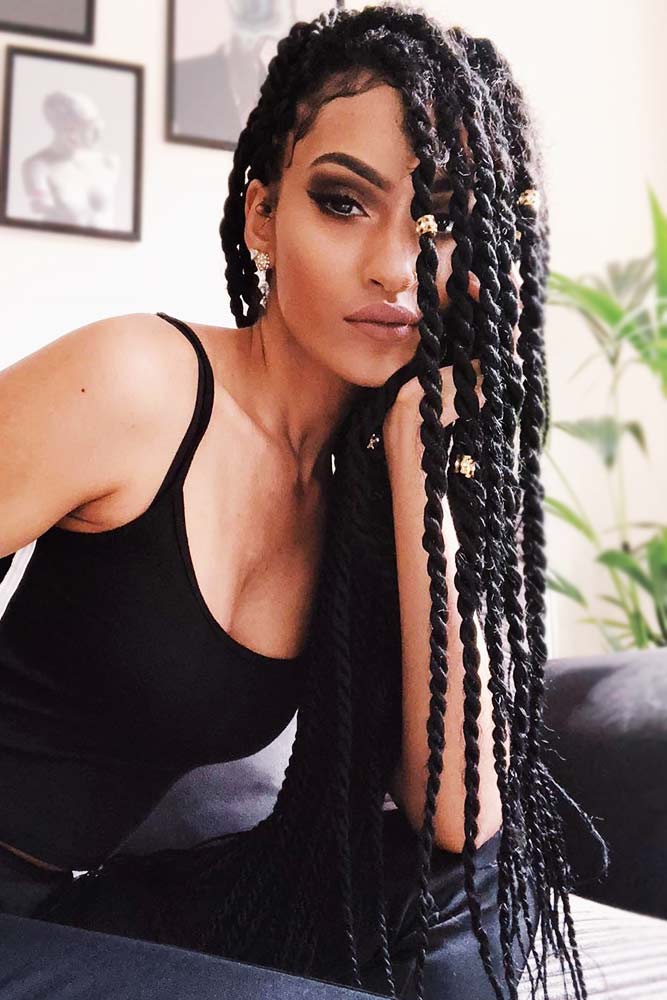 Source: bihertewelde via Instagram
Though these are not braids, they're a nice alternative for ladies who want to wear something new. You can install twists with the same crochet technique and style these awesome locs to the side. The truth is, side styling can change the whole look of things, especially if your twists are embellished with some hair beads.
Crochet Braids + Short Bob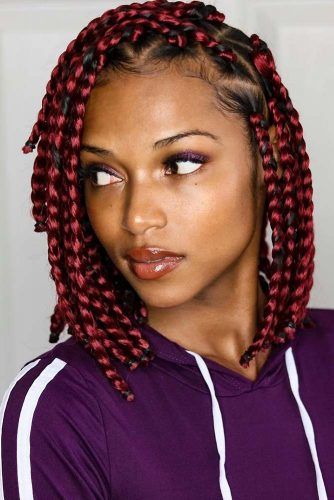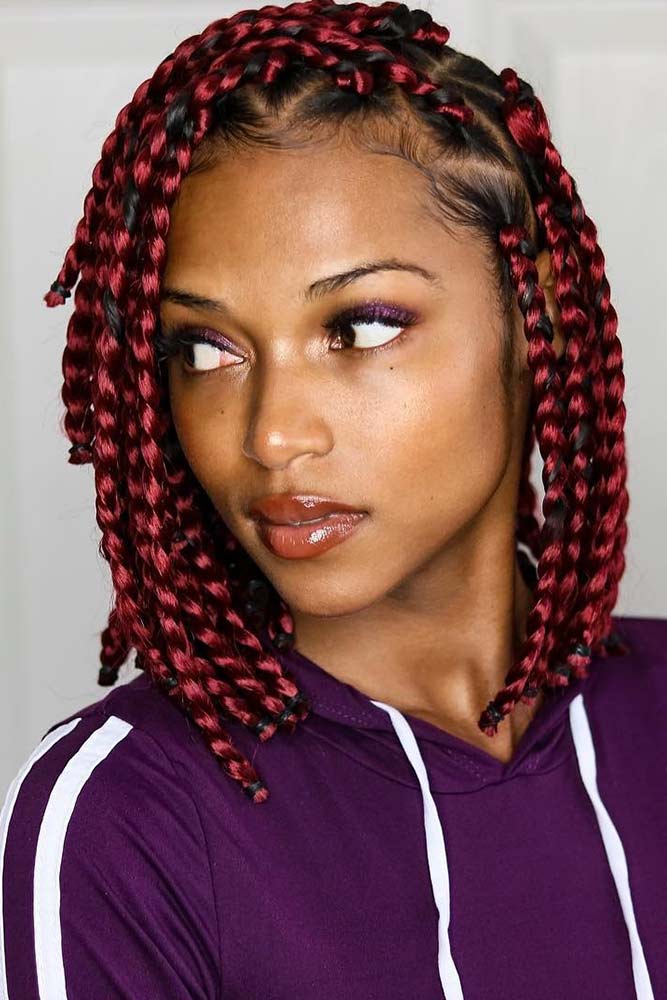 Source: kersti.pitre via Instagram
Despite the popular long twists and braids, short crochet hairstyles are still unique and stunning. Newbies usually go for longer styles, but with the time they change their minds and opt for something that is easier to wear so as not to tighten the scalp. You can be creative: loop in some contrastive braids to freshen up your natural bob.
High Bun With Blonde Crochet Braids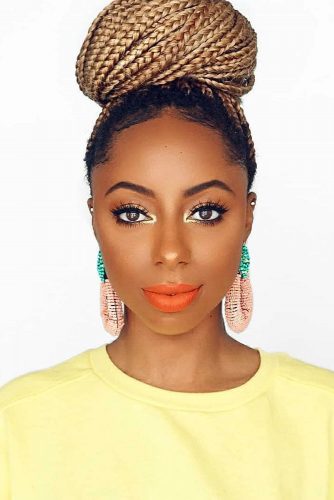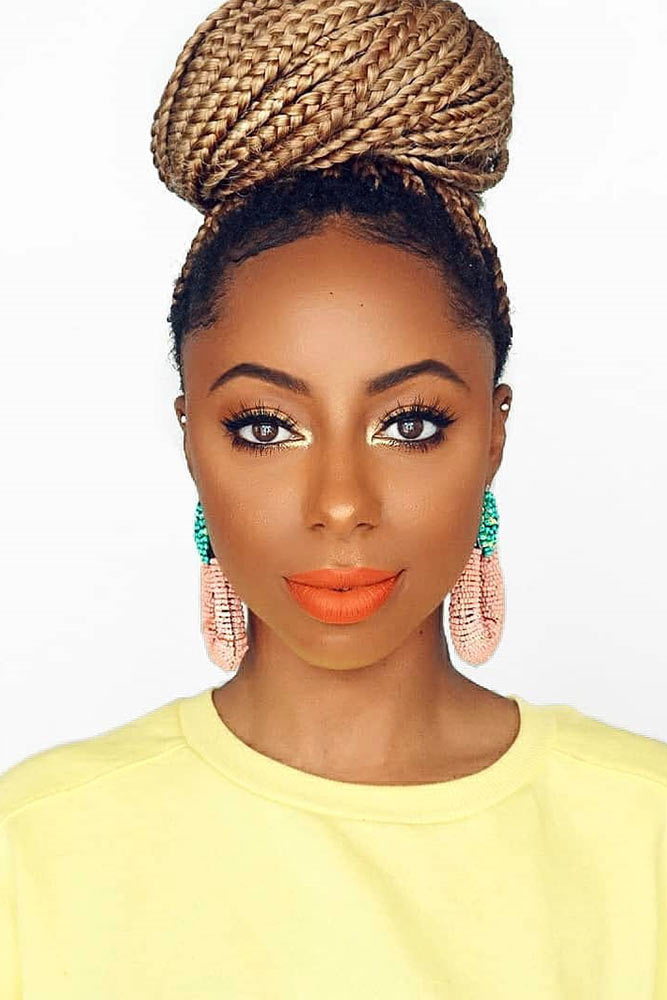 Source: jessicapettway via Instagram
We can't call it ombre updo, but it definitely has a seductive contrast of colors! Adding some enhancing elements are a good way to show your hair in a new light. The only thing you need is to buy long crochet braids colored blonde: who needs dye damage when we can experiment like this?
Adorn Your Braids With Funky Beads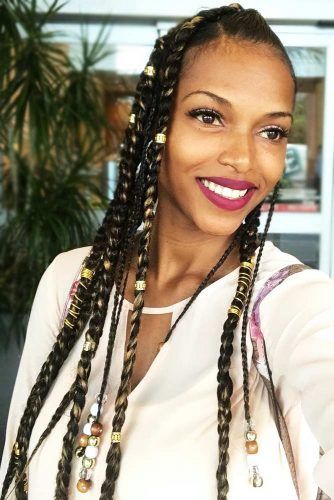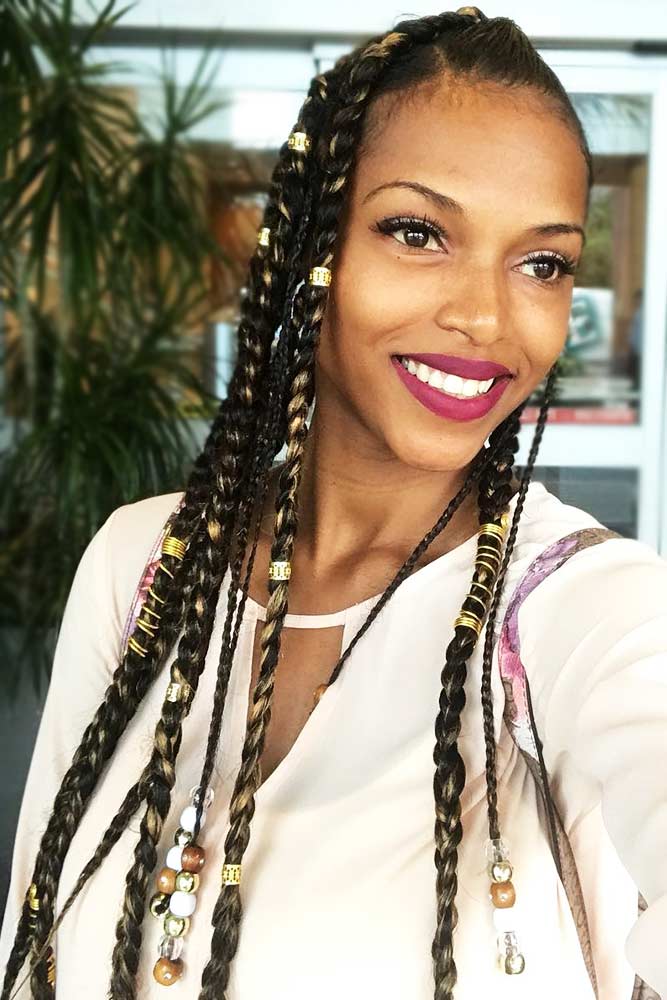 Source: kersti.pitre via Instagram
Braided hairstyles are a lot of fun! And let's don't forget about the roots of natural hairstyles. How about creating a truly authentic hairstyle with the help of lots of colorful tribal-like hair beads? Whether you sport natural-looking crochets or you prefer to flaunt with sexy hair color, many beads that are different in colors, sizes, and patterns will make your look complete.
Blonde Crochet Braids Into High Braided Ponytail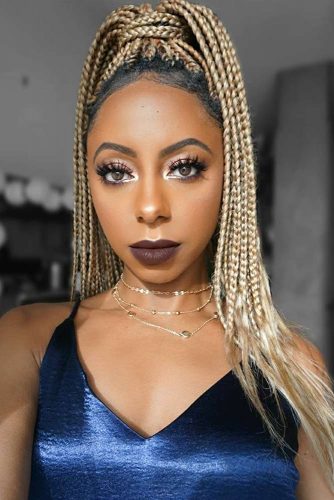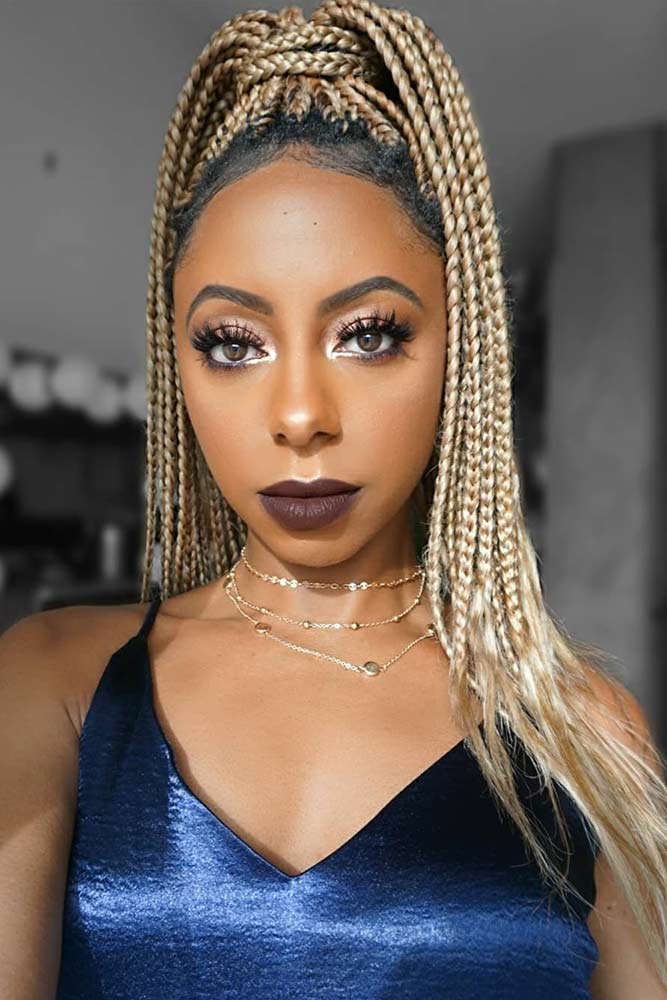 Source: jessicapettway via Instagram
High ponytails are officially the most comfortable hairstyle to wear: all of your hair is gathered into a tight and clean updo. And if you have natural hair, nothing can stop you from getting any hairstyle you want, disregarding your hair length. You've got your cornrows, got your faux blonde braids: you've got everything to get such a wonderful ponytail.
Braided Hairstyle With Headband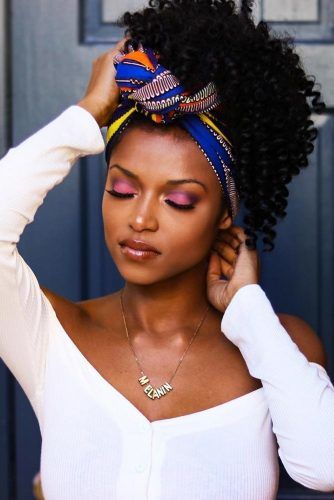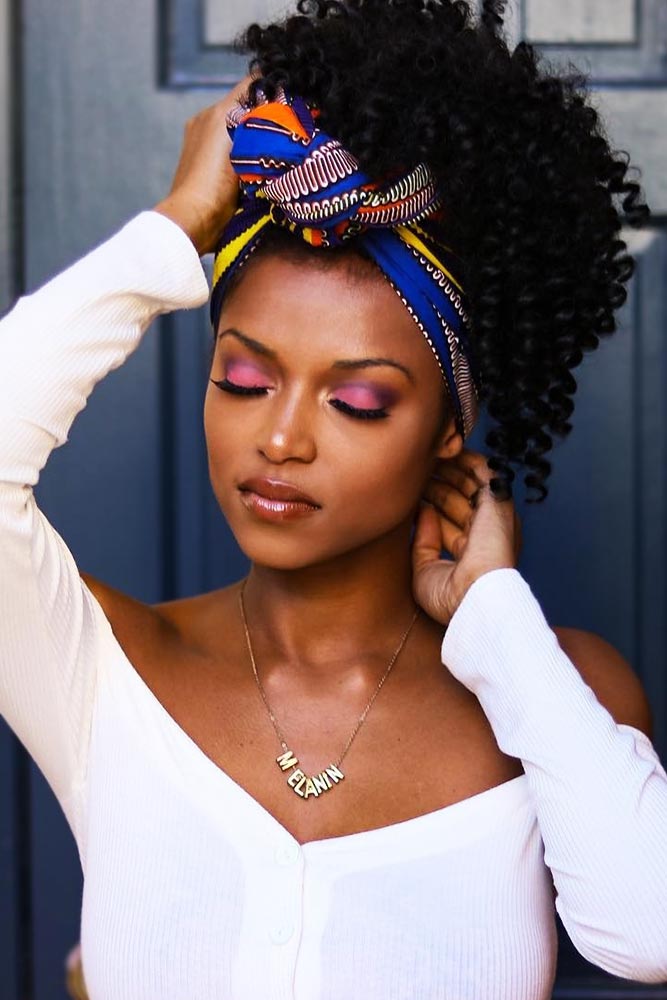 Source: kersti.pitre via Instagram
Stylish ladies who are not afraid to open up their face will love this idea. Of course, with such a voluminous, textured hairstyle and a colorful headband, there's a strong chance that you will be in the spotlight. Are you ready to catch people's eyes? If so, it's time for a volumetric curly updo made out with your crochet braids and finished with a fancy accessory.
Half-Up Crochet Braids On Curly Hair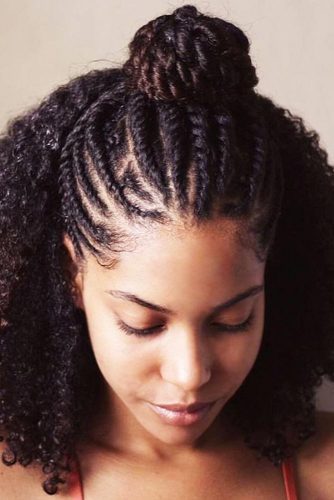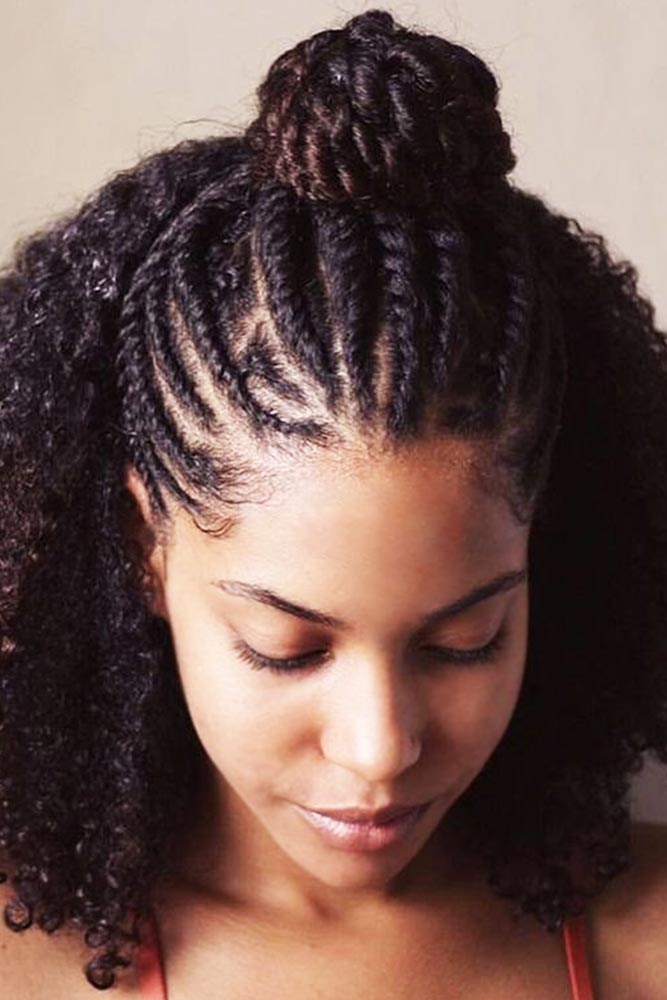 Source: happyhealthycurlsandkinks via Instagram
This idea shows you how you can mix different faux locs to create a special hairstyle. Pay attention to the details of this half-up: faux braids are put under the cornrows of the head, but they don't hang on the shoulders; they twist into a high bun. As for the rest of the hair, some curly extensions are set under the back cornrows. See? Don't be shy to play around with your hair!
Crochet Braids With Hair Ties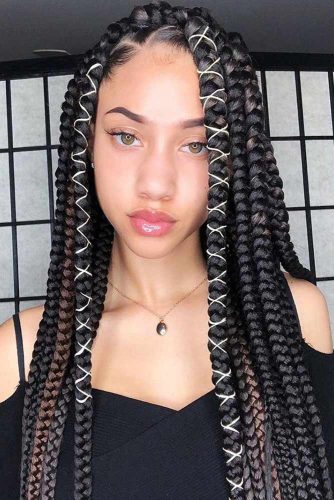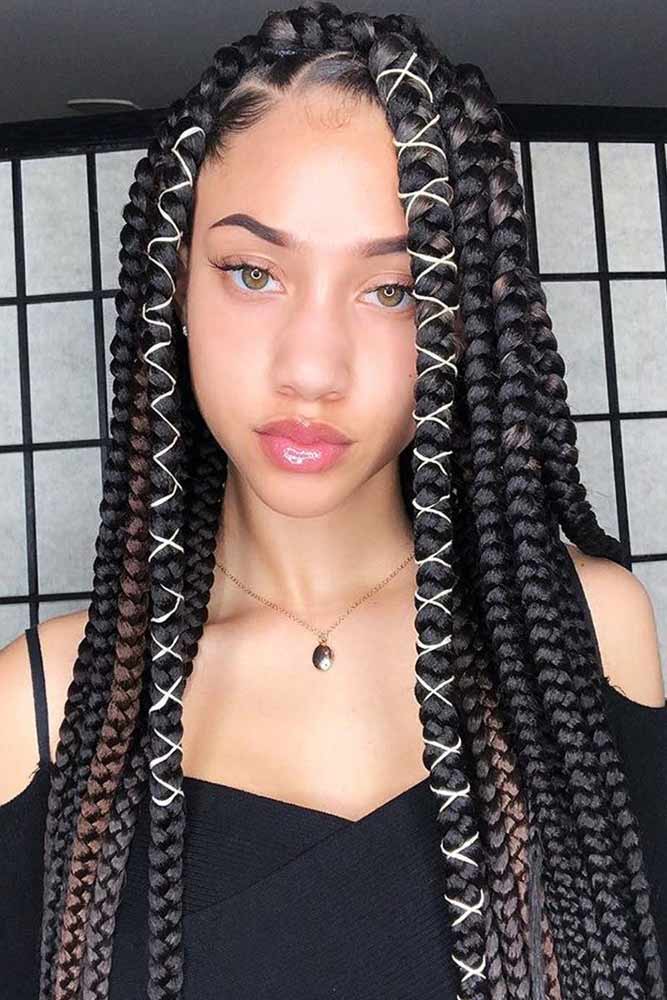 Source: happyhealthycurlsandkinks via Instagram
Sometimes we use hair ties not only to secure our hair! With the proper approach, they can turn into a very simple, yet fabulous embellishment. Whether you cross them all over your braids or adorn only a couple of them, it will take a fresh look at your hairstyle anyway.
Curly Hair Braids For Natural Hair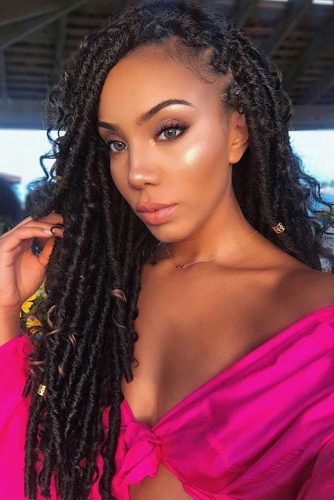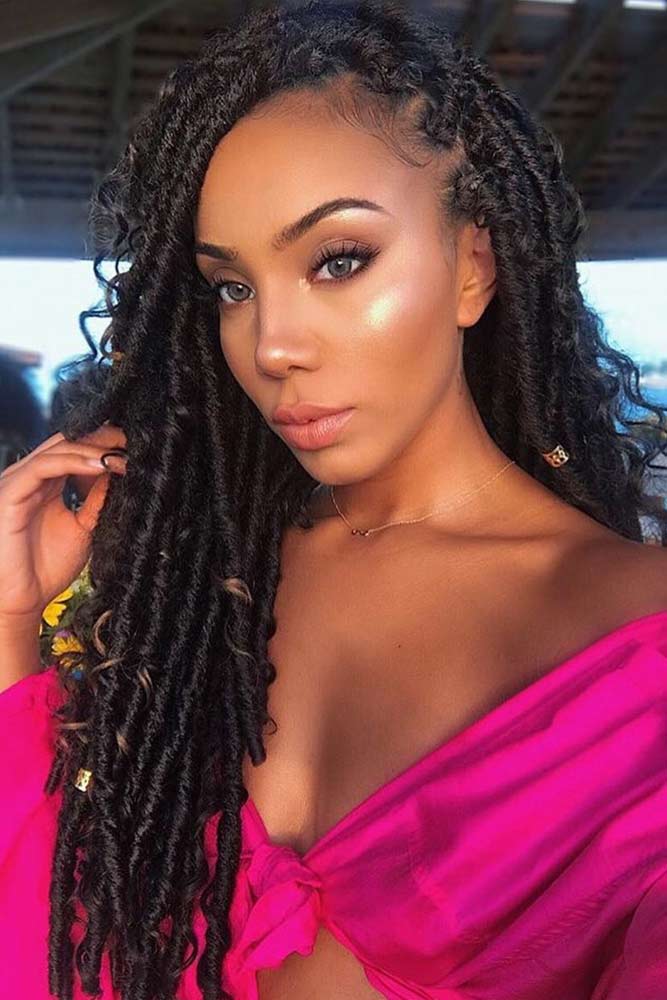 Source: happyhealthycurlsandkinks via Instagram
Here comes the look that only patient girls can achieve! As you can see, the strands are quite thick and heavy. It's because the faux locs are installed over the natural twisted locs, which takes more time than installing crochet braids. If you look a bit closer, you'll see some pretty thin curls: they were installed in a crochet way, looping with a hook. Combining two techniques takes time, we know. But it's worth a try!
Side Braids With Beads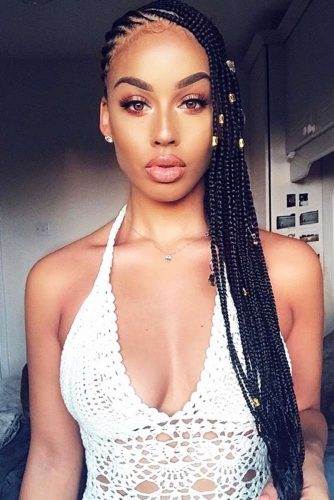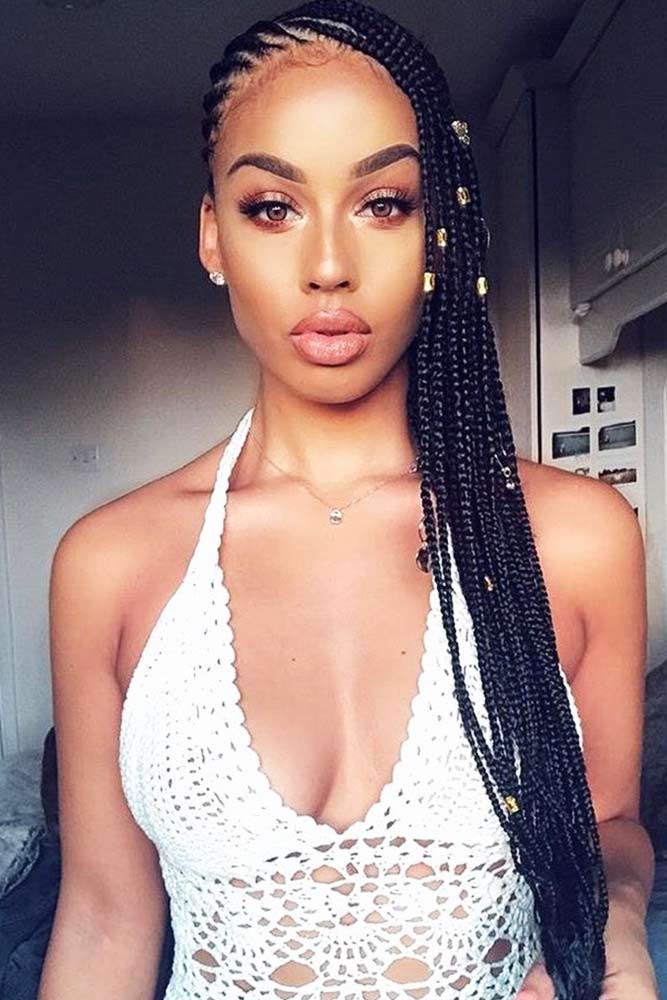 Source: happyhealthycurlsandkinks via Instagram
If you cornrow your top to the side, you can get yourself this enviable look. Make sure that the ends of your cornrows are hidden by the faux braids, so if you want to style them to the side, cornrow your head in the same direction. Beads won't hurt: you can't have too much beauty.
Braided Hairstyle With Kanekalon Hair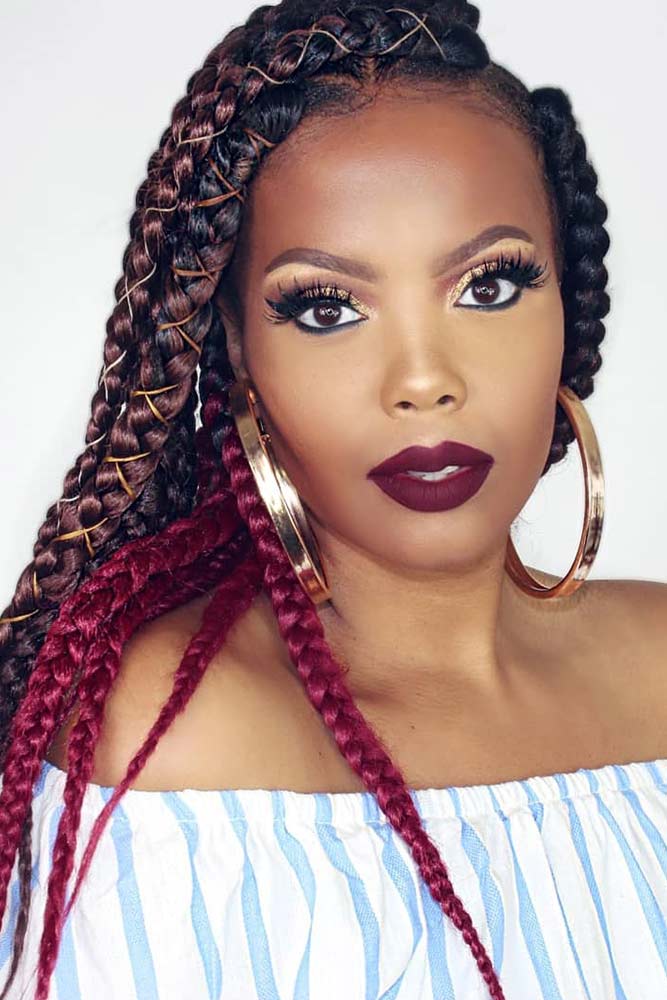 Source: pinkvalenciaga_ via Instagram
Want some of your braids to be silky and eye-catching? Kanekalon hair is your choice, then. If you want to create a semi-natural look with some colorful strands, it's better not to go for an all-over kanekalon look: two or three kanekalon braids will be enough. You can also incorporate faux locs of matching hair color into your crochet braids to add some dimension. Voila! The burst of colors will steal the show.
Crochet Hair With Accessories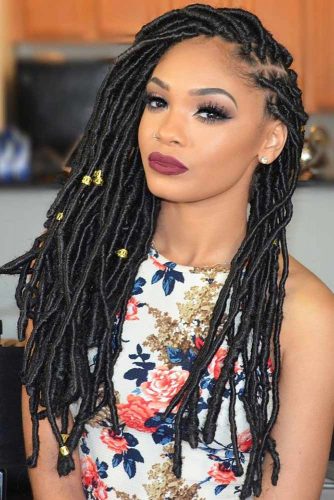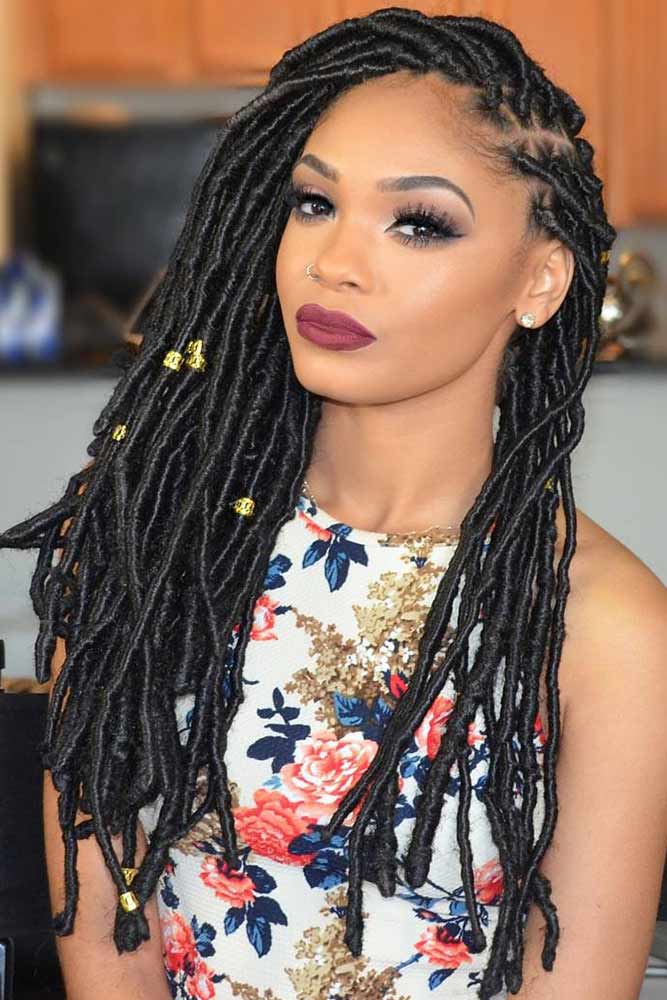 Source: anthonycuts via Instagram
Ladies who don't feel like sporting braids can simply sport crochet hair. It's a bunch of twisted strands that gives a lot of texture and body, which is as beneficial as braids. Just adorn them randomly with some hair accessories, and your twisted look is ready.
Standout Senegalese Twist Crochets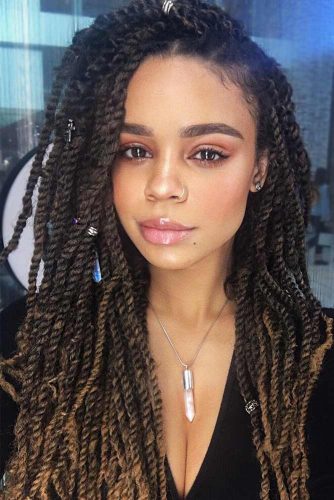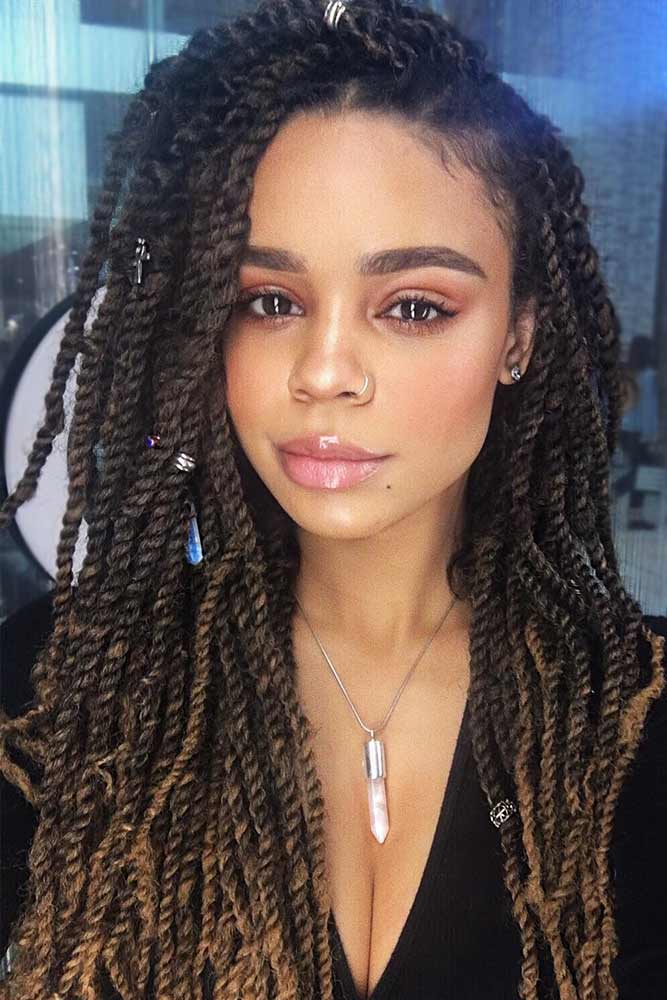 Source: kirathelight via Instagram
Want your braids to be absolutely distinctive? Don't look any further than Senegalese twist crochets. You can spice up the attention-grabbing thick twists with a soft pastel hue that will create a unique and natural look to your hair.
Authentic Updo With A Headband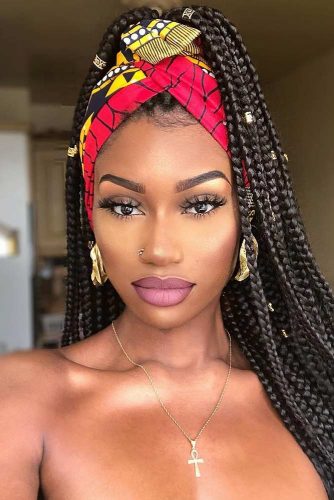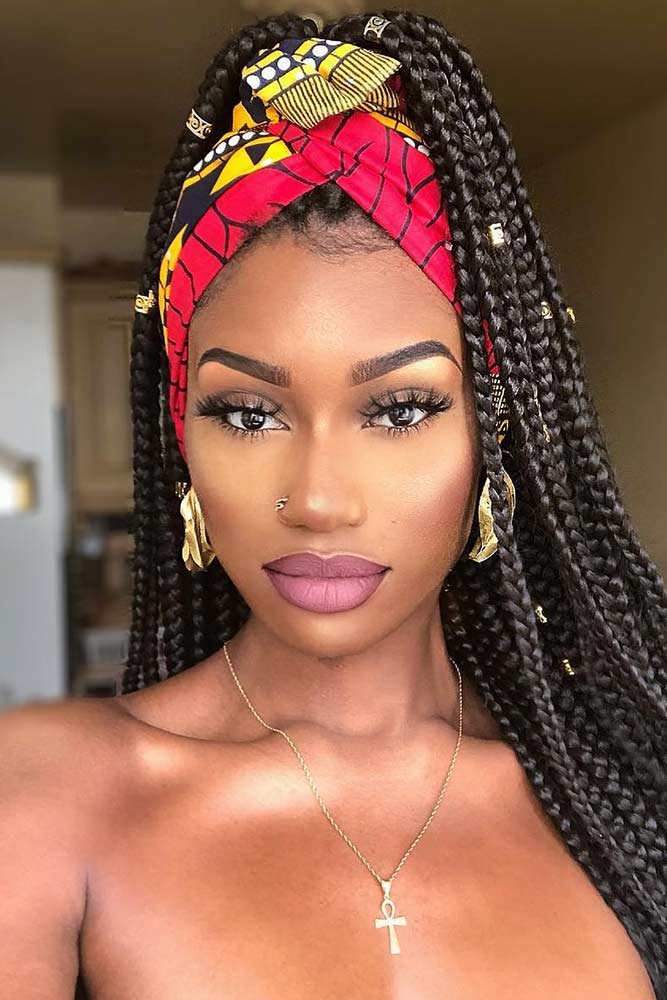 Source: elindasan via Instagram
A high bun, secured with a fancy headband is just a style sophistication in its purest. When such a creative hairdo is accessorized with heavy, tribal-inspired earrings, it seems like nothing can beat such a luxurious and authentic look.
Chic Crochet Braids Into Low Bun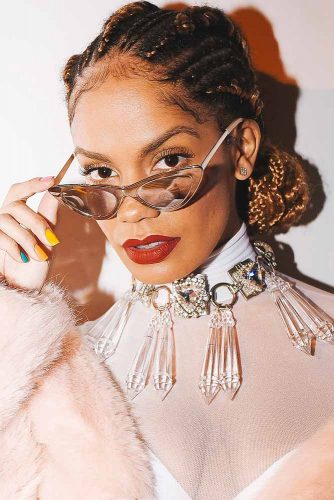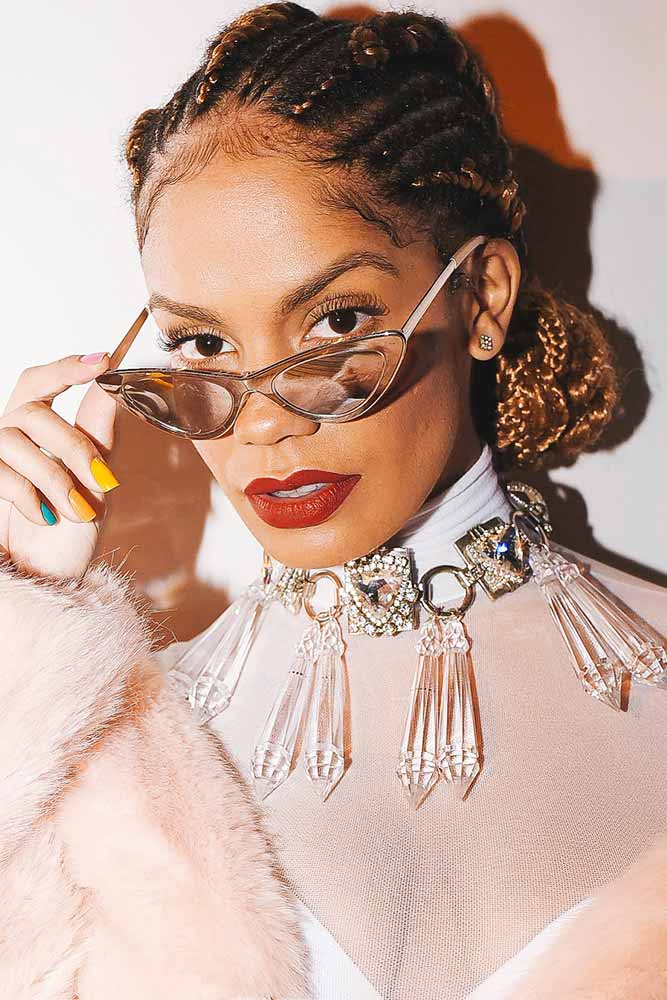 Source: magavilhas via Instagram
How about a feminine and elegant hairdo that features visible cornrows and colored crochet braids? This style is not just comfortable; its variety of texture and colors makes the simple style look like another red-carpet hairdo.
Side Parted Faux Locs Crochet Braids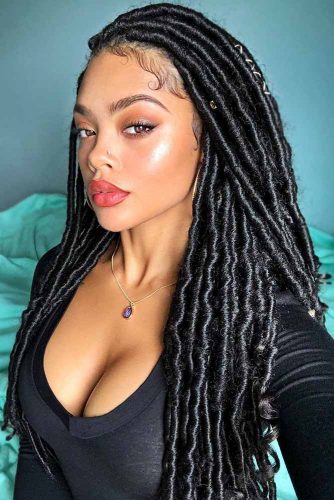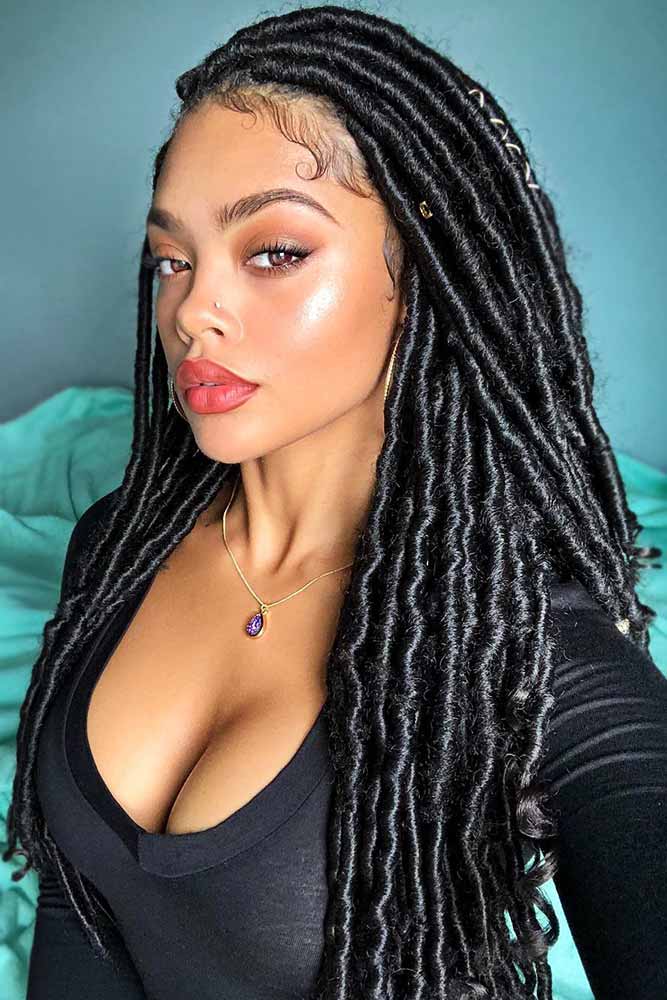 Source: bby_cai via Instagram
If you aim to sport super shiny and silky braids, kanekalon faux locs is all you need for the look. Not all the ladies seek naturalness; some of them like to pop, and there's nothing strange about it! Get yourself jet black hair extensions that are more saturated than your hair color and enjoy the shine.
Sexy Half-Up Braids Style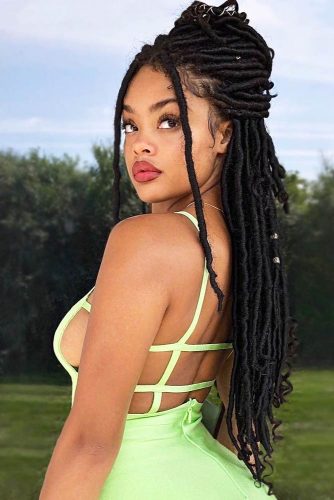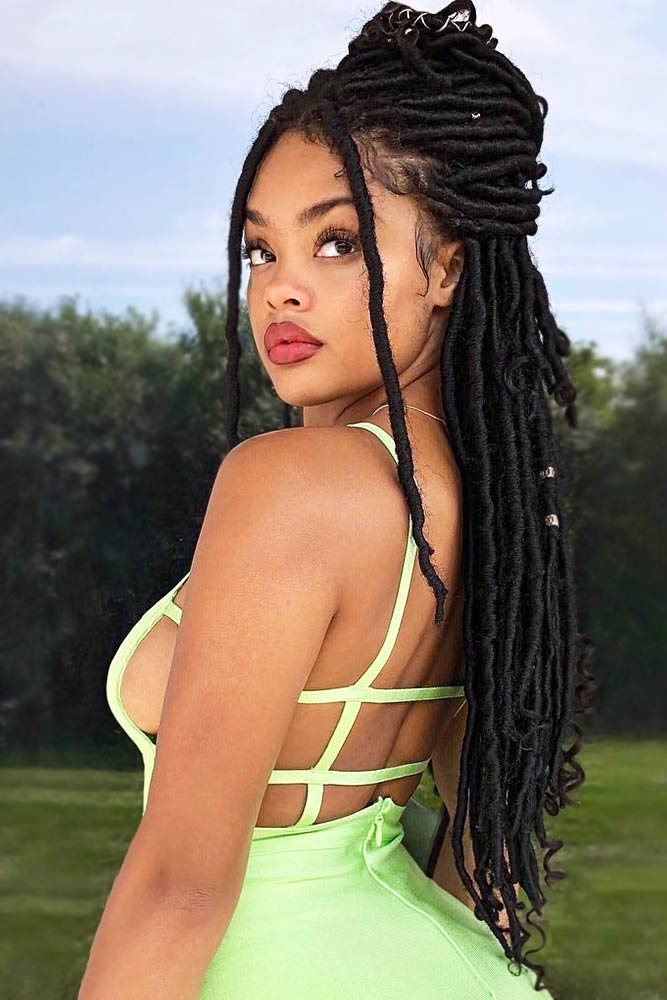 Source: bby_cai via Instagram
When ladies want to create a flirty updo, they leave some front locks to frame their faces. Well, with crochet braids, rolled into a half-up, this trick will look even more dramatic and sexy. Don't you agree?
Crochet Dutch Braids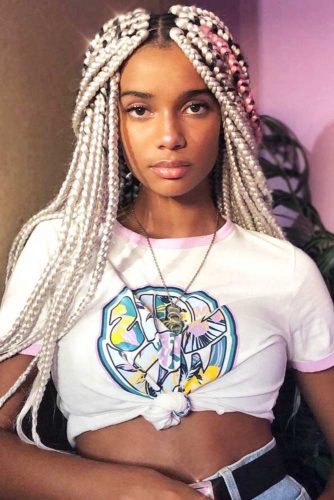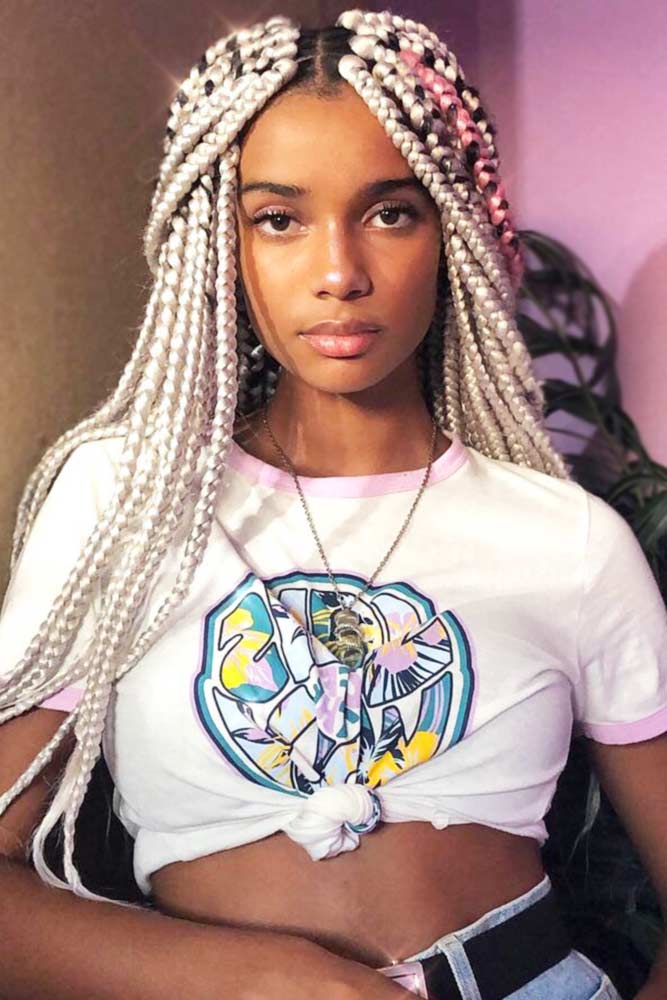 Source: canfrgu via Instagram
This idea is probably the most iconic crochet hairstyle ever. White faux locs installed to the black base and accentuated with a pink strand cannot be described in words. Moreover, it features the Dutch braid technique, which makes the whole style even more standout.
Braided Bob With Beads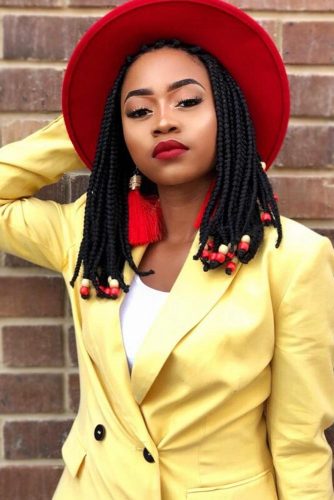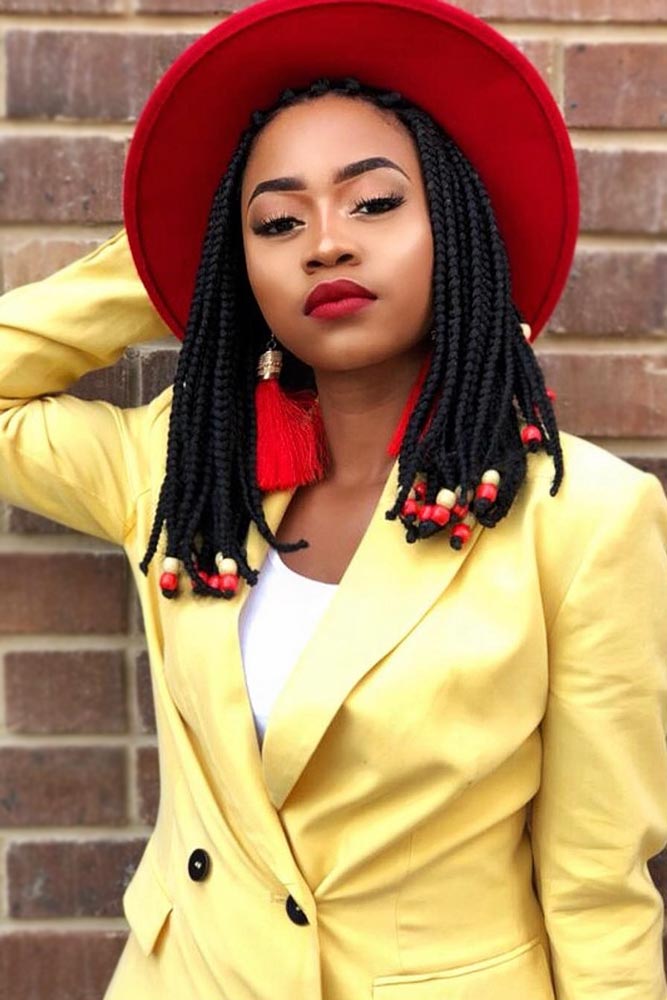 Source: tarnde via Instagram
Want something truly different? The crochet braided bob isn't the idea we are all used to seeing, right? These short, thin, yet pretty thick twists look so lit with colorful heavy beads. So now you see that these cuties can look gorgeous at any length, and the shorter they are, the more unique your look is!
Simple Half-Up Crochet Braids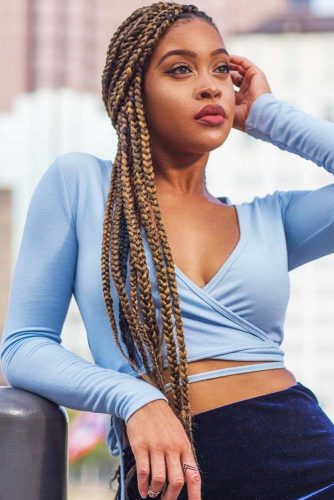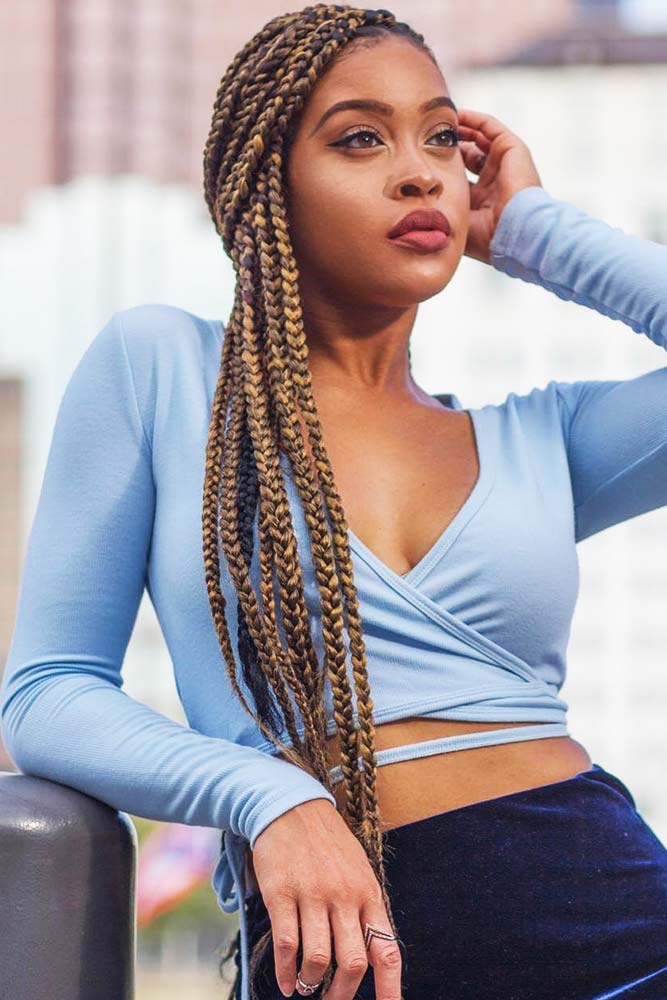 Source: love_brittanyneal via Instagram
The hairstyles you can do with your long braids seem to be just uncountable. But the thing we can tell you for sure is that even a simple, side-swept half up can give you a sexy and attention-grabbing look.
Medium Twists Crochet Braids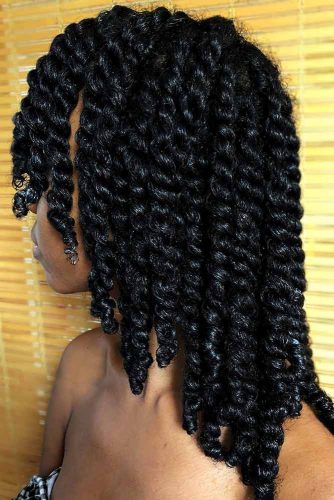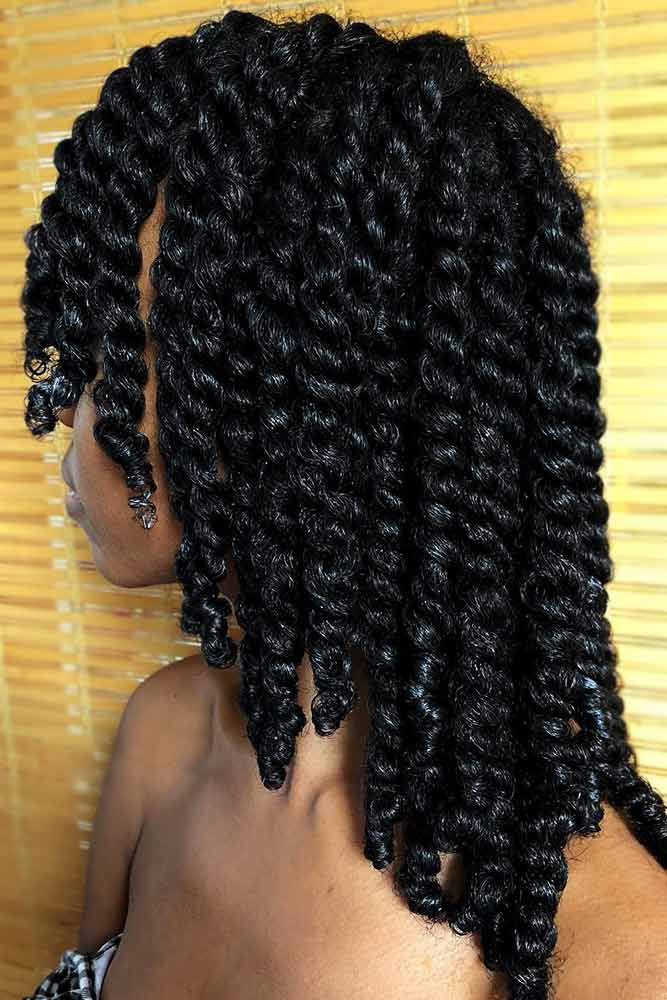 Source: jaegercurls via Instagram
If you are into short versions of crochet ideas, don't be afraid to make your twists as full and thick as possible. It's crucial to follow the right proportions: long braids look best when they're thin, and shorter twists slay at their best when they're full.
Crochet Braids Hairstyle With Ties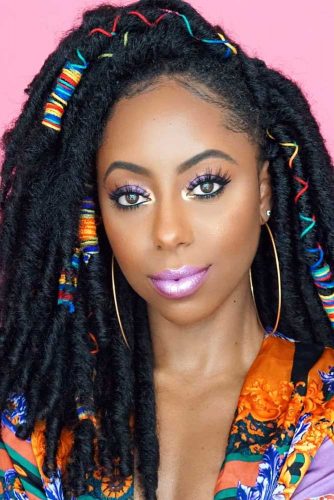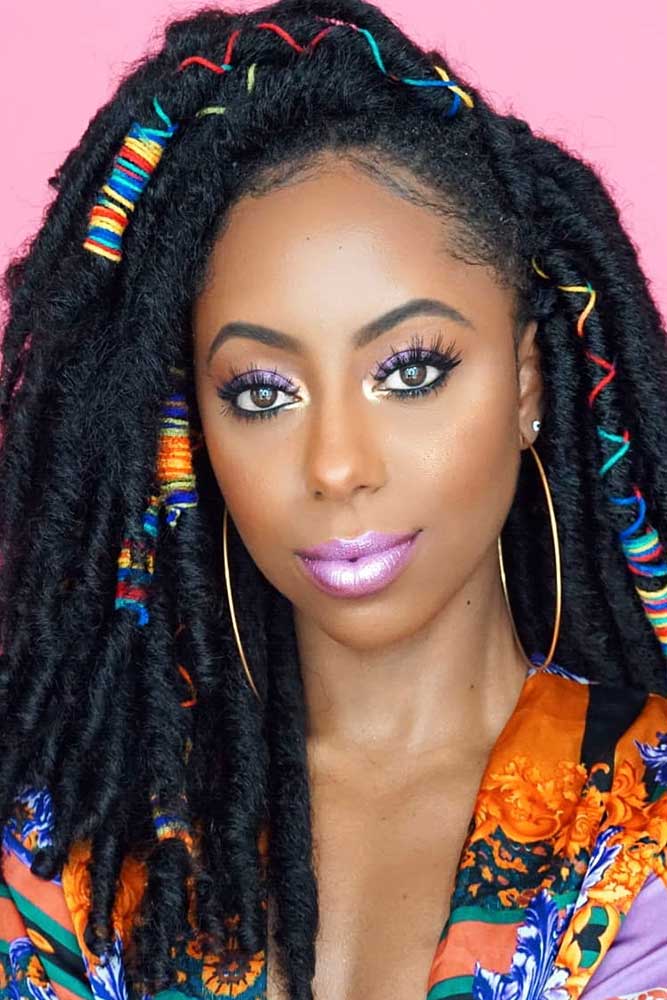 Source: jessicapettway via Instagram
To make your braided do stand out in the crowd, colorful ties will always be there for you. It can be either a couple of little ties or dozens of ties that all sit on most of your strands; it's all up to your mood.
Extra Long Crochet Braids Hairstyle
Ladies who adore wearing long hair, here's a little tip for your extra long crochet locks: let your braided chevelure feature braids of different shape and thickness to make your look super dimensional.
Crochet Braids Hairstyle With Headband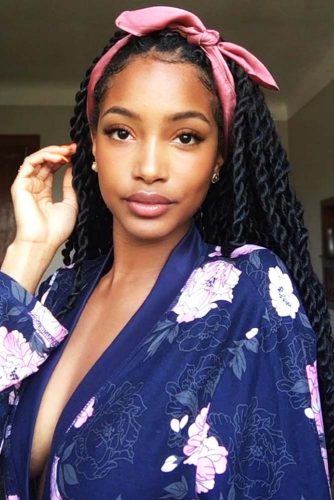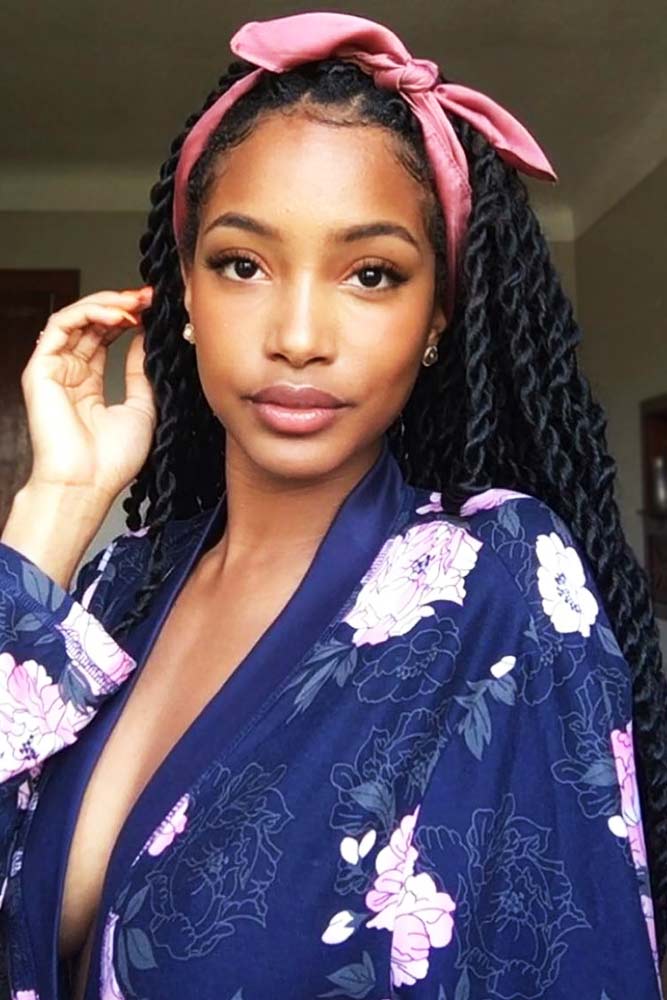 Source: angejosexo via Instagram
A stylish headband will not only complement your fancy outfits but also will give a very girly and comfortable look to your braids. Whatever braids you sport, this little detail will help you to beautify them.
Crochet Braids With Headband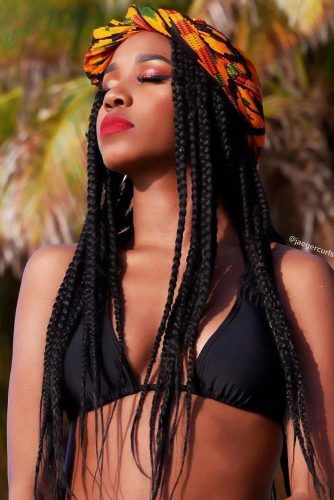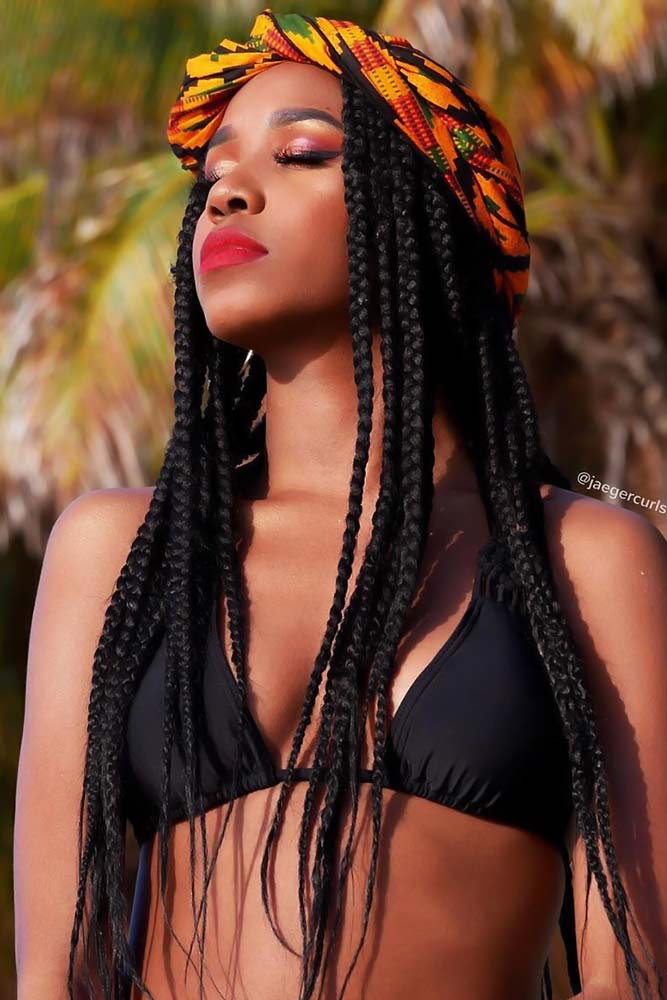 Source: jaegercurls via Instagram
In today's fashion, headbands and scarves are no longer taken as an accessory: they've become an irreplaceable part of many stylish hairstyles. You can wear your crochet braids as they are while styling your headpiece in a variety of ways. Although this idea is one of the simplest variations of headwrap hairstyles, it's also an ageless look you won't go wrong with! Just pick a nice colorful piece to diversify your classic crochets.
Low Twisted Pony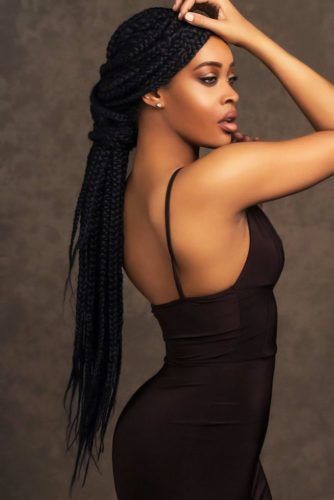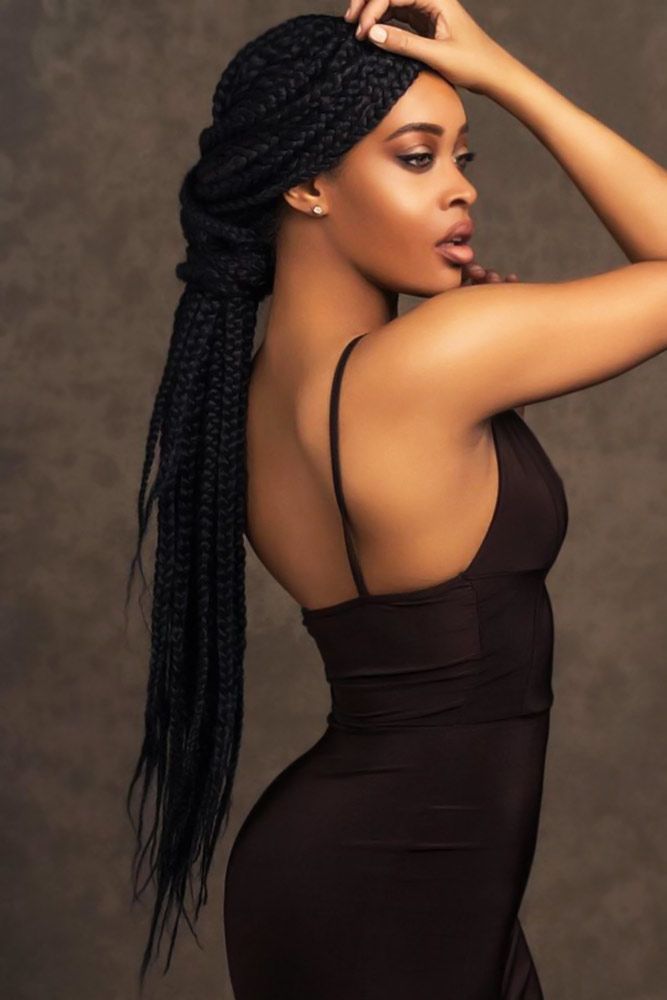 Source: love_brittanyneal via Instagram
As it turns out, a simple twist is all you need to create a sophisticated ponytail that will look red-carpet worthy. You can even start by twisting front braids to create a more voluminous and textured finish on the crown. Then, just do a twist with your braids so that it looks like a thick band securing the ponytail. And that's it! Finish the look with posh and massive earrings to make it complete.
Flowered Updo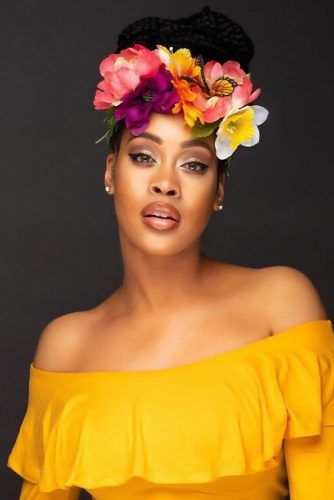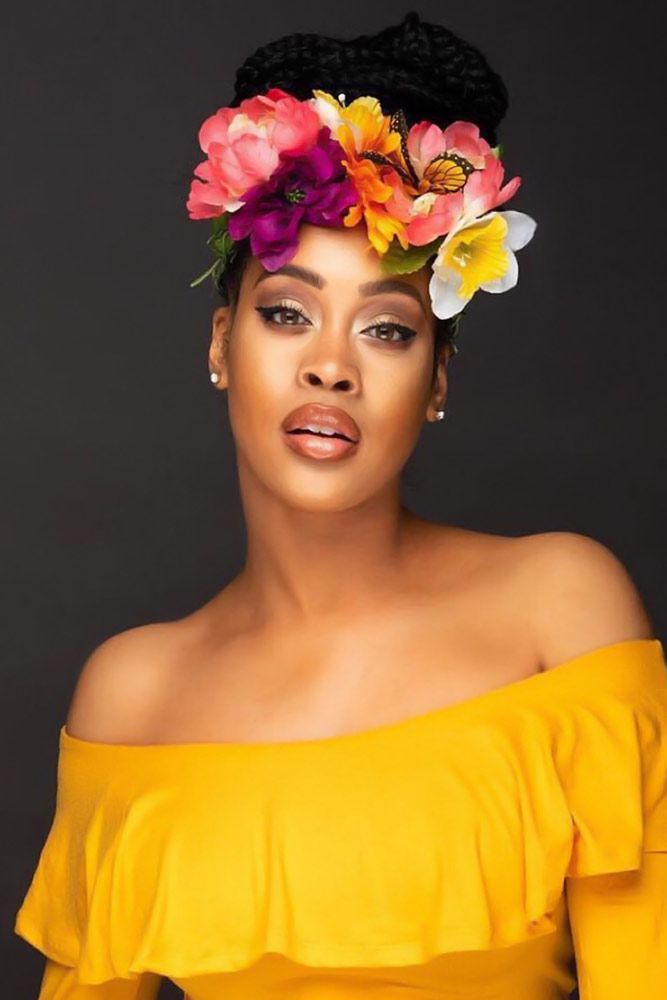 Source: love_brittanyneal via Instagram
Nothing can set the right mood for your hairstyle better than properly chosen accessories. Of course, when it comes to a woman that celebrates her femininity and feels eternal blossom inside her, floral accessories or even real flowers are the best accentuating styling details. Besides, updos look their best when paired with cute and distinctive embellishments. Just keep this idea in mind for when you want to show off the girly energy bursting inside you!
Crochet Braids Into Bantu Knots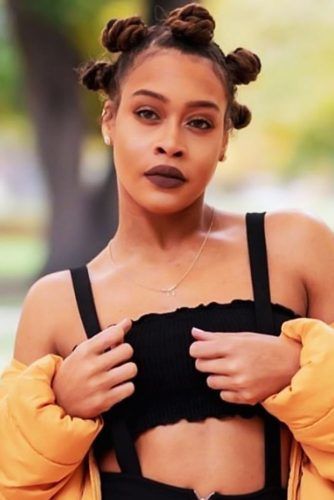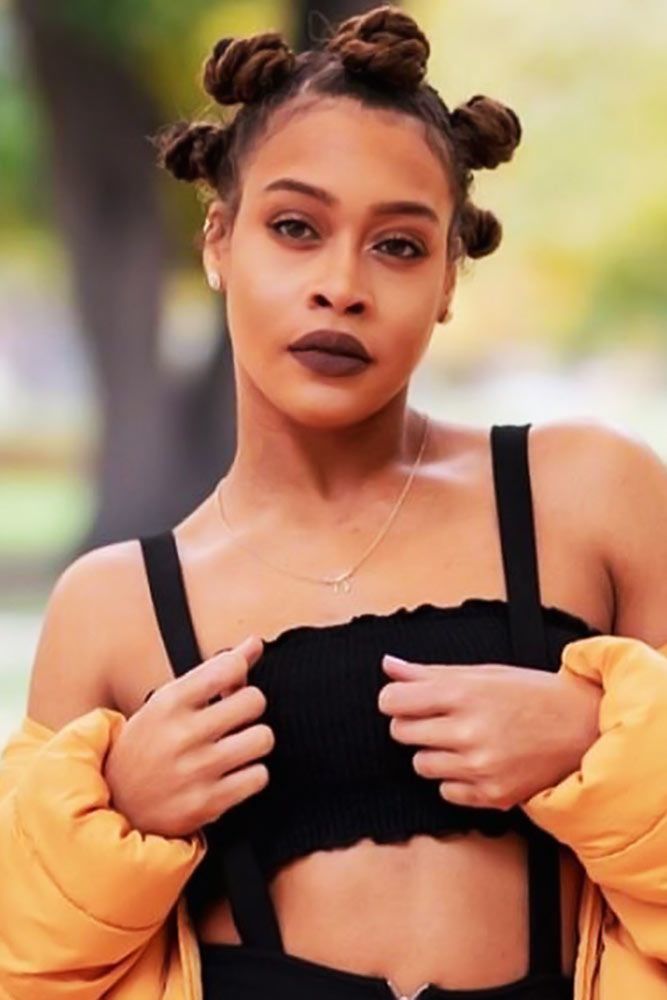 Source: love_brittanyneal via Instagram
There's no need to puzzle over crochet braids and banty knots when you can feed two birds with one scone! These braids are flexible and versatile, which means they can turn into any hairstyle you want. And everyone's favorite Bantu knots are no exception. Plus, you can always experiment with the size and placement of your braided knots, rocking dozens of different styles.
Crochet Braids With Hair Clips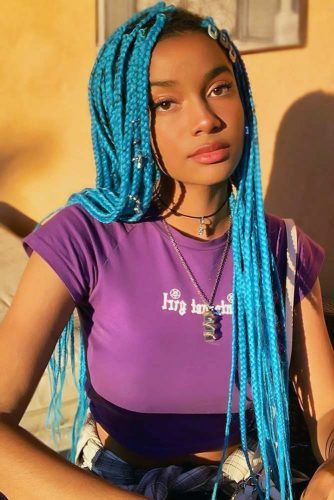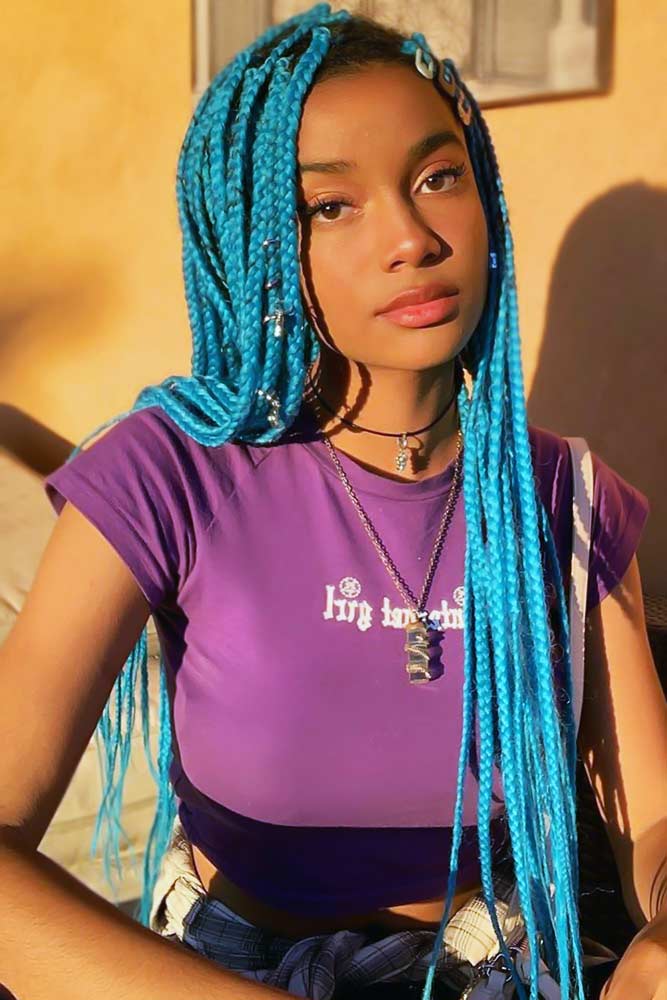 Source: canfrgu via Instagram
Although there's no need for you to clip your crochets, it looks unbearably cute when they're secured with tiny little clips. Depending on your mood and color of your locks, you can make these lovely accessories match your style and look perfectly. Yep, it's time for you to recall where you put those little clips you would wear to school and breathe a new life into them.
Panama Hat With Braids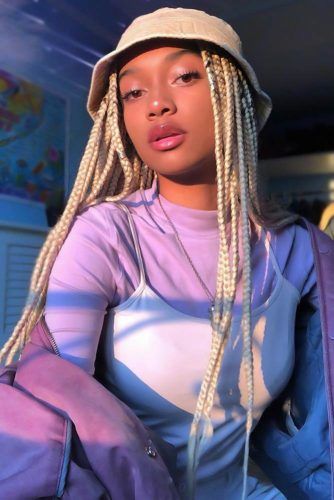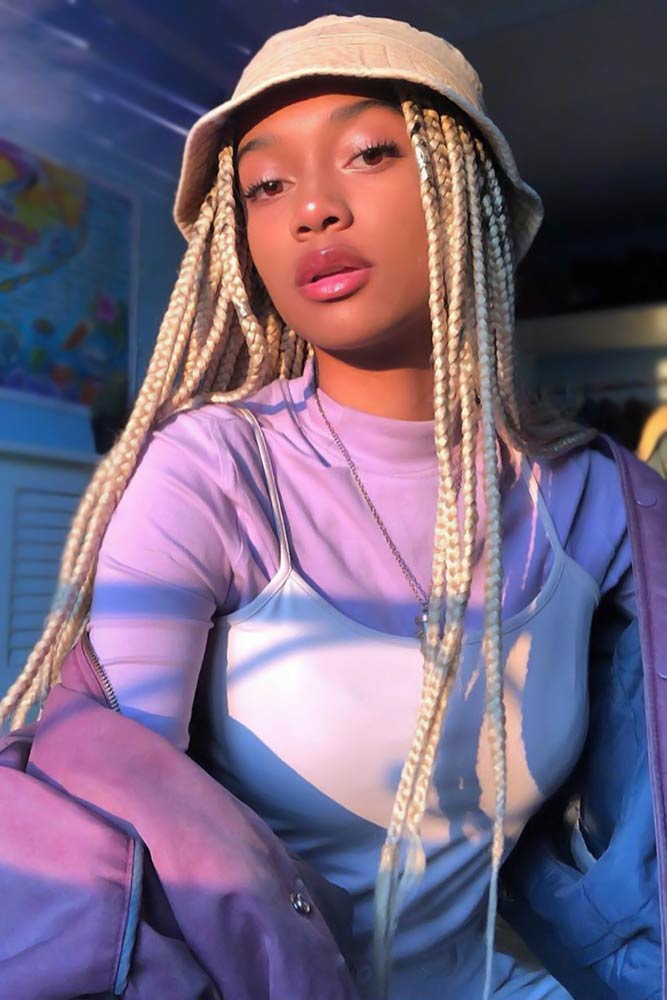 Source: canfrgu via Instagram
Now, it's more about the way you wear your braids, not the way you style it. You see, crochet braids aren't just a protective hairstyle; they're a part of a stylish movement that helps women with natural hair showcase their exceptionally modern sense of fashion and follow the freshest trends. Just check out what a huge difference a Panama hat can bring to your braided look! So, are crochet braids a protective style? Definitely, as they allow your hair to relax from harsh styling routine by wearing various extensions underneath your cornrowed hair. But they're also an attribute of real divas!
Big Twists
When you want to make your look truly big, think big when styling your hair! Apart from choosing big and dense extensions, make sure to create as outlined and sharp pattern for your cornrow sections as possible. These geometric sections look so radiant that it seems like they can hit people's eyes from a mile away. As for the twists, they enhance the perfect sectioning, resulting in a jaw-dropping full 'do.
Extra Long Space Buns Half-Up
While flaunting with a long mane is a tiresome routine that involves endless knots and hair getting in the eyes, long braids are nothing like that. Just imagine that you can make heads turn and eyes envy with long locks and have them all under control! Another benefit of crochets has been found, though. Moreover, you will love the way trendy hairstyles amp up with the magic of long braids.
By the way, do you remember how long can you keep in crochet braids? Crochet braids last from four to eight weeks in general, so you can be the queen of the spotlight for two months! But don't wear them for too long, as it may put too much strain on your hair and lead to breakage or hair loss.
Twists Into Double Ponytails
Double ponytails are meant to take us back to the good old school days and add tons of cuteness and to our looks. No matter how sophisticated and elegant or sassy and daring you are, there's always a little girl inside every woman. And, sooner or later, you will want to let her take over your look! As you can see, double twisted ponytails are keys to adding the needed flirty touch to your daily look.
Medium Half-Up Pony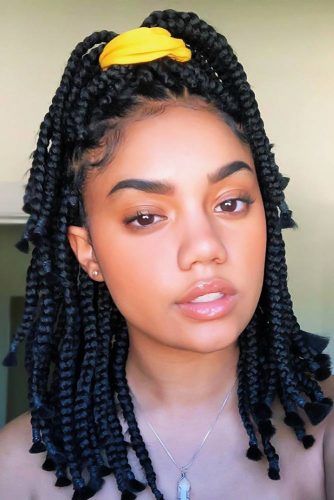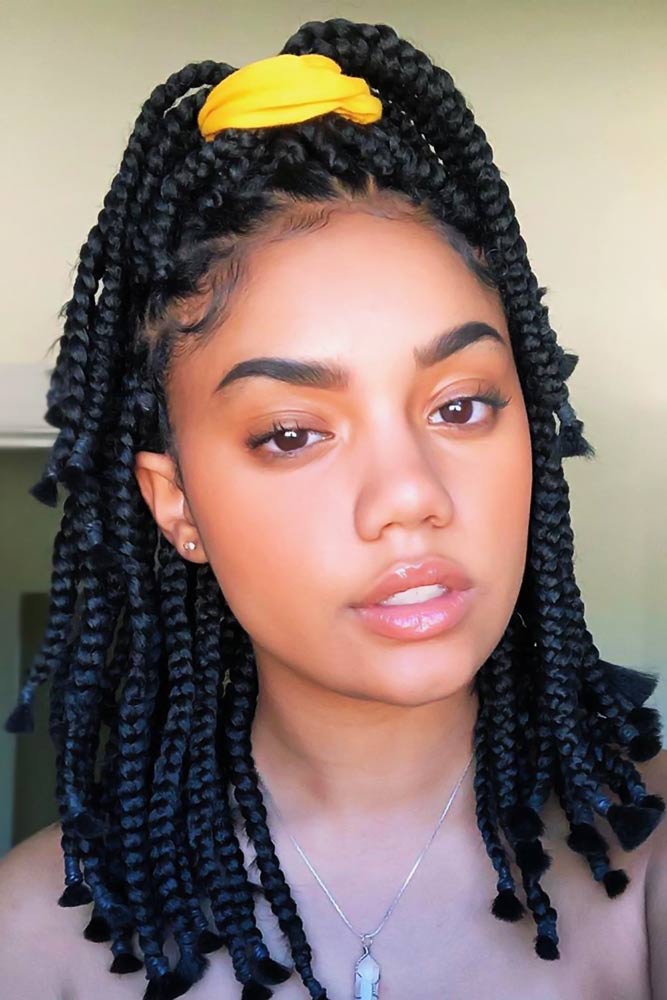 Source: laurynalexi via Instagram
Even though crochet braids are associated with long hairstyles, it doesn't mean they don't look good at other lengths. Apart from that, wearing medium-length crochets cause less tension to your natural hair, leading to faster and healthier hair growth. Do braids help hair grow better? That's a hairstyle, not a remedy. Still, since they're protective hairstyles, the styling detox they provide to your hair can drastically improve your hair growth by keeping you away from daily friction and breakage.
Shoulder Length Space Buns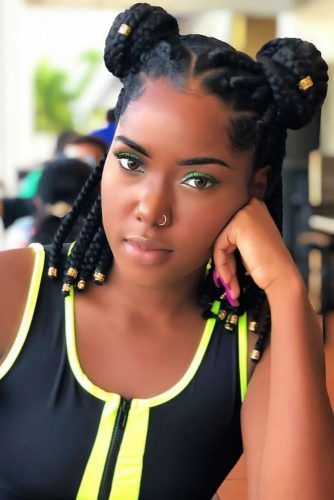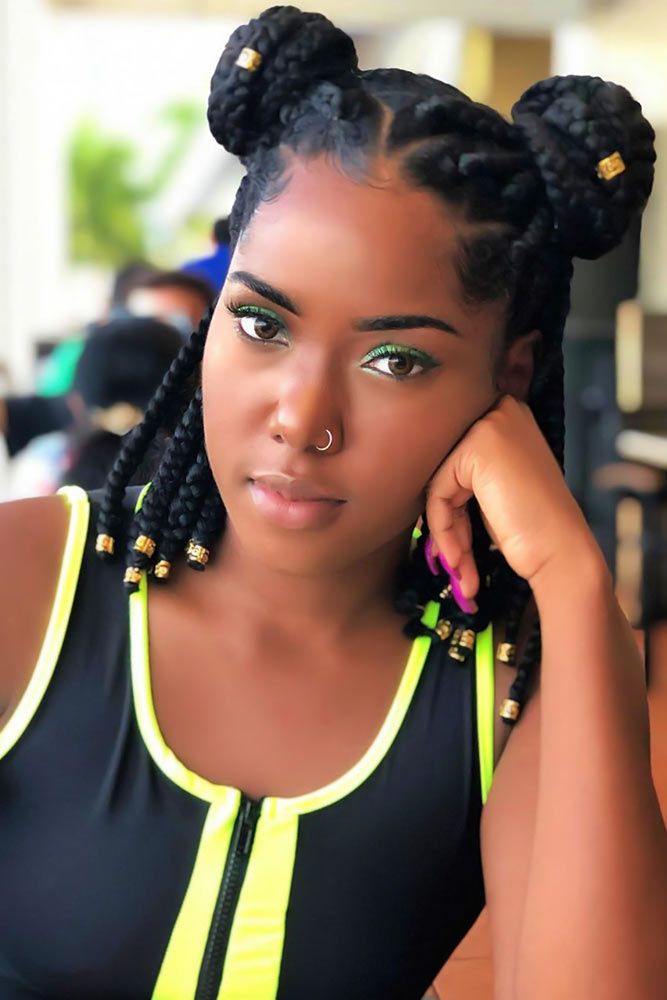 Source: nikethegawdess via Instagram
Short never means limitations, whether you rock a regular or braided bob! You can create lots of different half-ups, as well as accentuate your hairstyles with colorful beads and hair embellishments. This hairstyle is an awesome pick for anything from a walk with a friend to the gym: it's comfy and stylish at the same time.
Side Swept Braids With Colorful Ties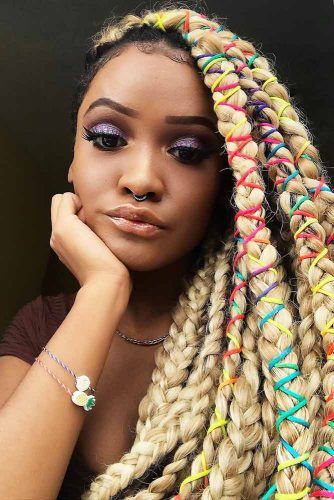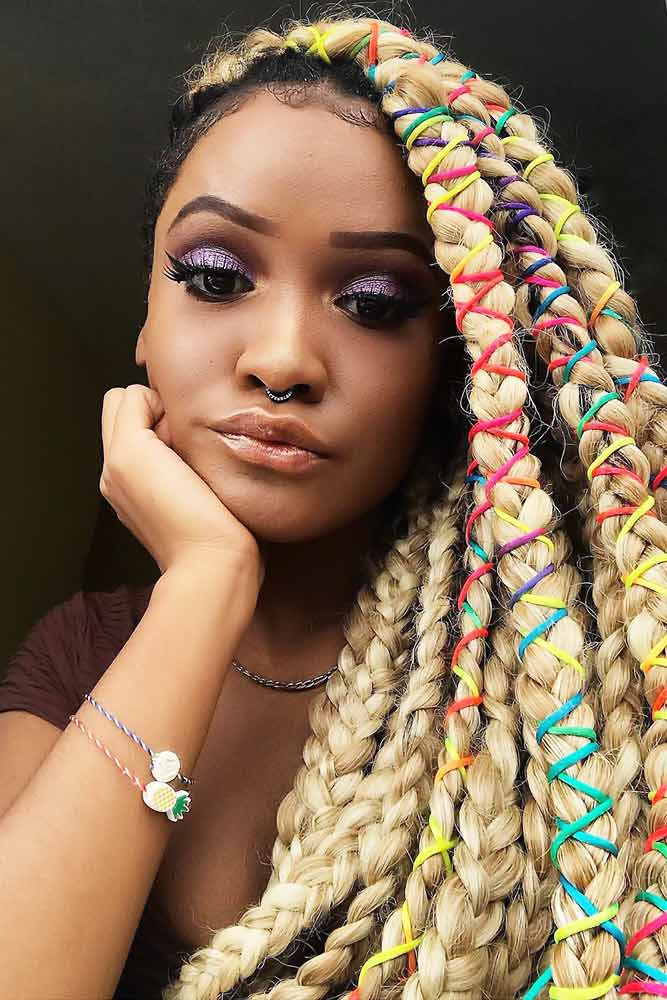 Source: costaafe_ via Instagram
If you love the idea of ombre-ish, colorful, and contrastive crochets, you will definitely come up with the question "can I wash my crochet faux locks?" to keep up with proper maintenance. In fact, for faux locks, especially synthetic ones, it's not advisable to wash them the way you do it with your real hair. It's better to wash and condition only the scalp and roots to preserve the shine and texture of your extensions. Oh, we almost forgot! Blonde crochets are an unbelievable canvas for lots of colorful ties.
Long Braids & Beads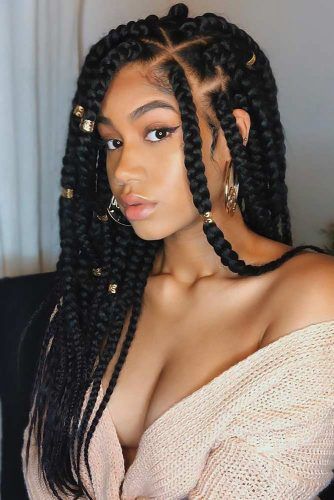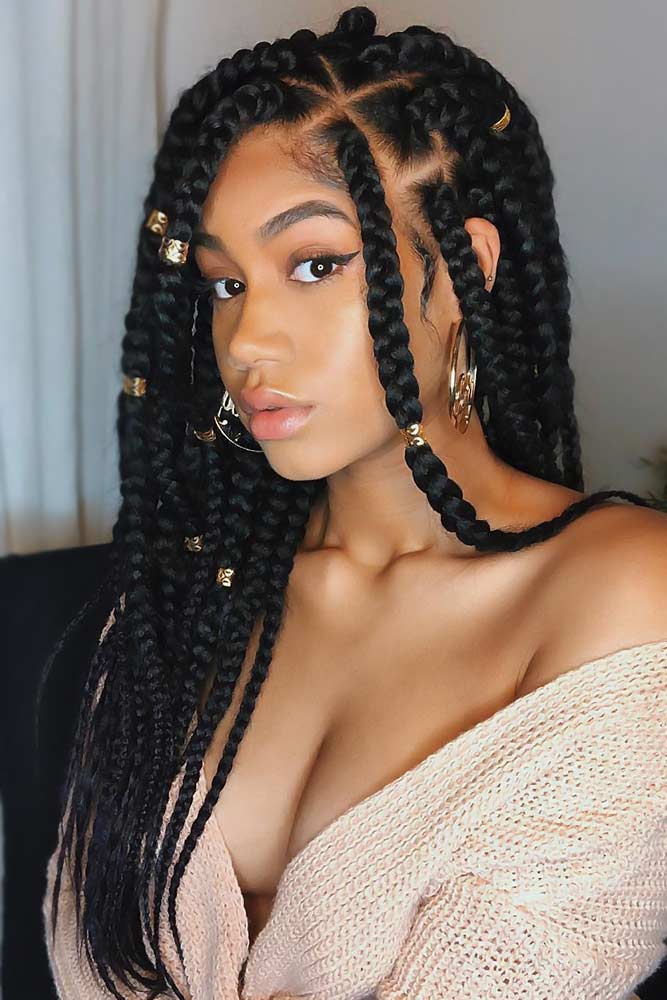 Source: martiniquaisement_ via Instagram
Another timeless look that every natural-haired goddess should recreate in her life. The sections are clean and perfectly outlined, while the braids are nicely shaped and accessorized with taste. What makes the look special is the parting line created slightly off the center. In this way, you will always have that pleasant side-parted look and always have it under control.
Side Swept Medium Braids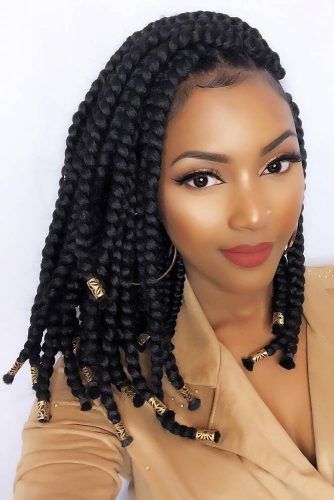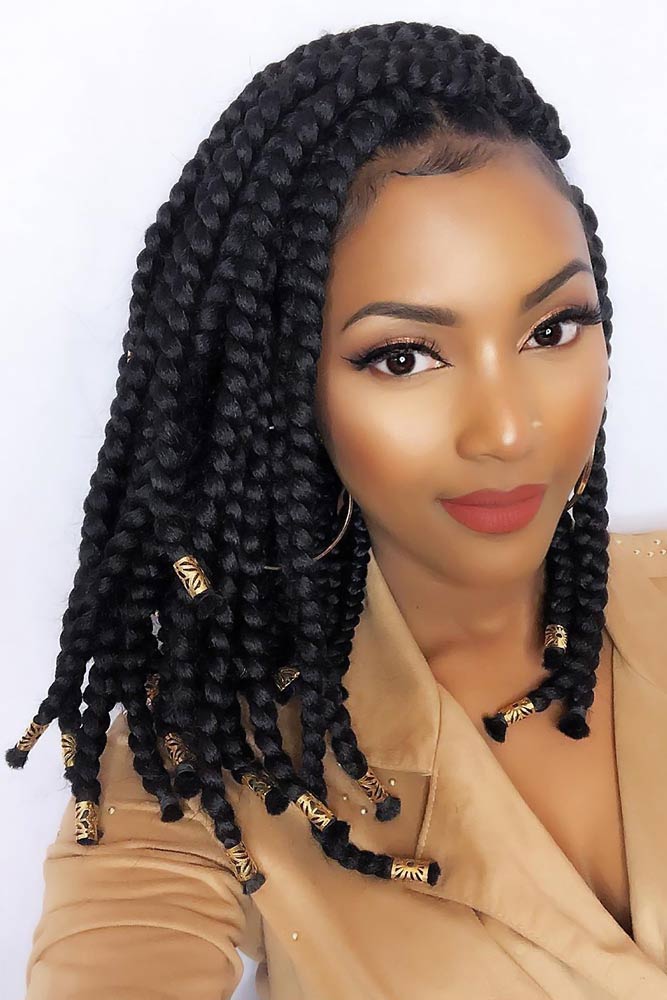 Source: jessbeautydesigner via Instagram
When you can't decide what length to choose first, try to find the middle ground. Medium length crochets allow for various styling ideas while giving a very light and convenient look. Ensure that the sections at the front are clean so that when you flip the locks to the other side you will have a decent look without gaps.
Violet Braids With Hair Ties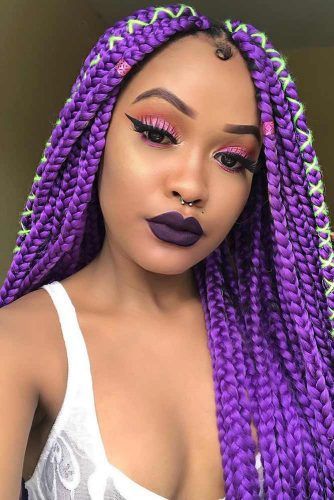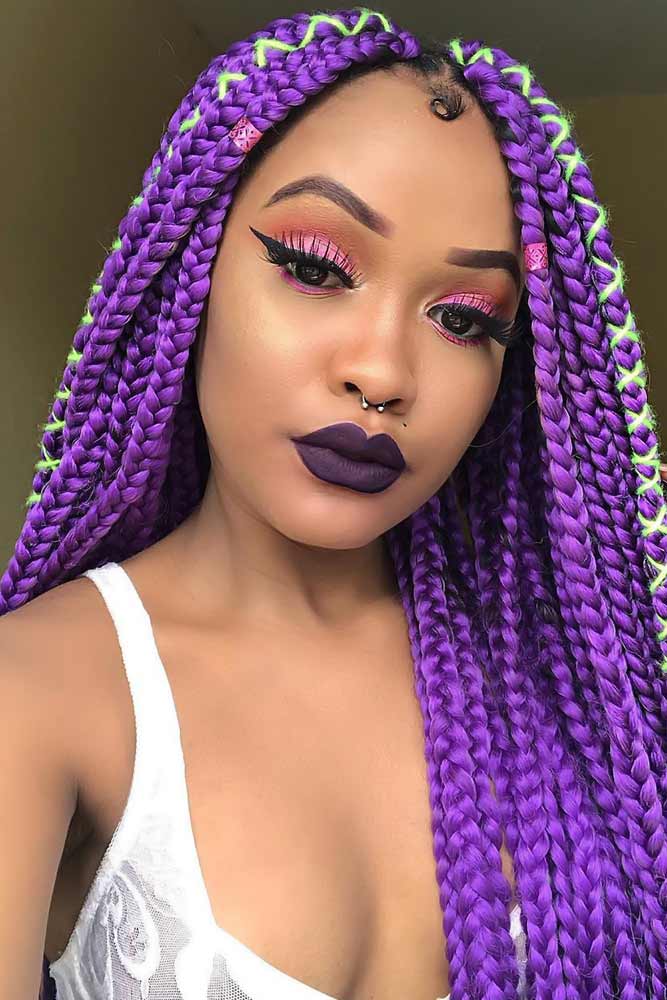 Source: costaafe_ via Instagram
If you think of your hair like an artist, all your hairstyles will look like masterpieces! For example, you can attach colorful extensions over your crochet braids when you're in the mood for standing out. In this way, you will not only create a thicker silhouette but will also satisfy your need for bright changes.
Since you've just discovered the latest crochet ideas for natural hair, we're ready to let you go. Go for experiments! There are so many cool things to try, and all these hairstyles are not an exception. It's time to impress everyone around with a gorgeous braided hairdo.
FAQ: Crochet Braids
How long do crochet braids last?
Crochet braids, a specific form of braiding that adds extensions to the hair, are used to create different crochet hairstyles. You can wear it straight, twisted, braided, or simply curly. If properly cared for, crochet braids can last up to 7 weeks.
Do crochet braids damage your hair?
Crochet braids are known for being a protective hairdo. However, even if they don't harm your hair, it's all about maintaining them and making sure your hair is healthy before braiding it down.
Can I reuse crochet braids?
Yes, you can. Box braids, twists, and locs are all examples, although loose hair can be difficult to manage. Crochet braids may be difficult to reuse if your hair is coarse and tangles.
Which is better sew in or crochet?
Crochet braids are generally less expensive than sew-in braids. They are a great way to save money on hair. Human hair can be used for crochet braids, however, most people cut it out when they remove them. Because the style is short-lived, there's no need to spend a lot of money on installation because it's quite simple to DIY.
Was this article helpful?