Find Out What Tone of Dark Red Hair Suits You Best
The charm of dark red hair cannot be described in words: it just so happens that it's a magnet for people's attention. While warm brunettes and cool blondies look pretty bold and natural at once, ladies with ginger hair know that nothing can compare to the richness and sense of wildness of their hair. And it doesn't matter whether you're a natural redhead or a red hair dye did a great job; you're going to turn heads anyway.
ADVERTISEMENT ‧ CONTINUE READING BELOW
There's no better way to add some boldness and confidence to your life than to show up with a new deep shade this fall. To help you choose the most flattering shade, we've selected the most breathtaking and trendy dark red tones for all complexions.
Your new color, whatever it is, should match your skin tone, and our ideas will show you how to get the most out of your base and get yourself a passionate and seductive look.
Cool Shades Of Dark Red Hair
Luckily for us, red colors have no age or style restrictions for women who want to pull it off. But there are some rules that every lady should be aware of before taking a plunge.
First of all, you can't pick a random tone of the dark red hair color chart as your choice should match your appearance and complexion.
As you know, the attention-grabbing red colors are considered as perfect matches for fair and light skin tones with peachy undertones: that's why the variety of cool shades prevail.
So we invite girls with pale and fair skin tones to join the trip around the cool side of the dark red hair. Prepare to fall in love with the gorgeous contrasts!
Cinnamon Hair Color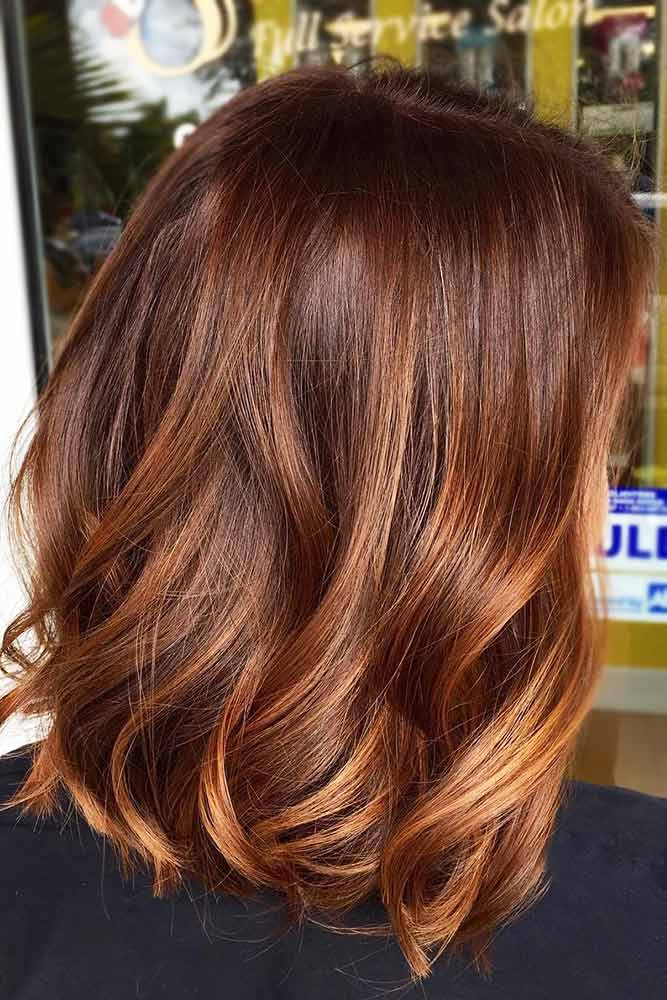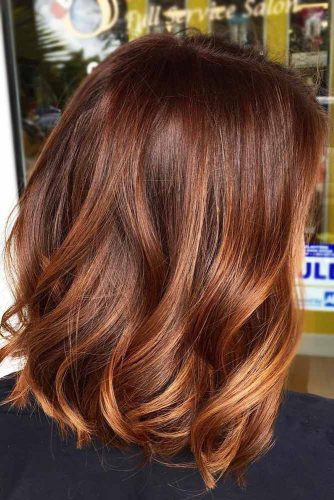 You may know cinnamon hair color as a member of the warm red hair color family. If so, we'd like to tell you how different it can be. Obviously, it's the best way to add reddish charm to girls with brunette or dark wheat bases, as the added tone will blend naturally, producing effortless and shiny copper vibes all over the primary.
But it's not always all about warm cinnamon tones: it can be as intense, vibrant, and saturated as you want. And though there are many shades of dark red brown hair just don't go well with, this is the most flexible shade that can adapt to any brown base and skin tone.
For very light complexions, it can be cool coppery cinnamon that enhances the beauty of your skin, and for medium skin tones, you can go for soft accentuating cinnamon highlights.
Source: cristen_smith via Instagram
Mahogany Hair Color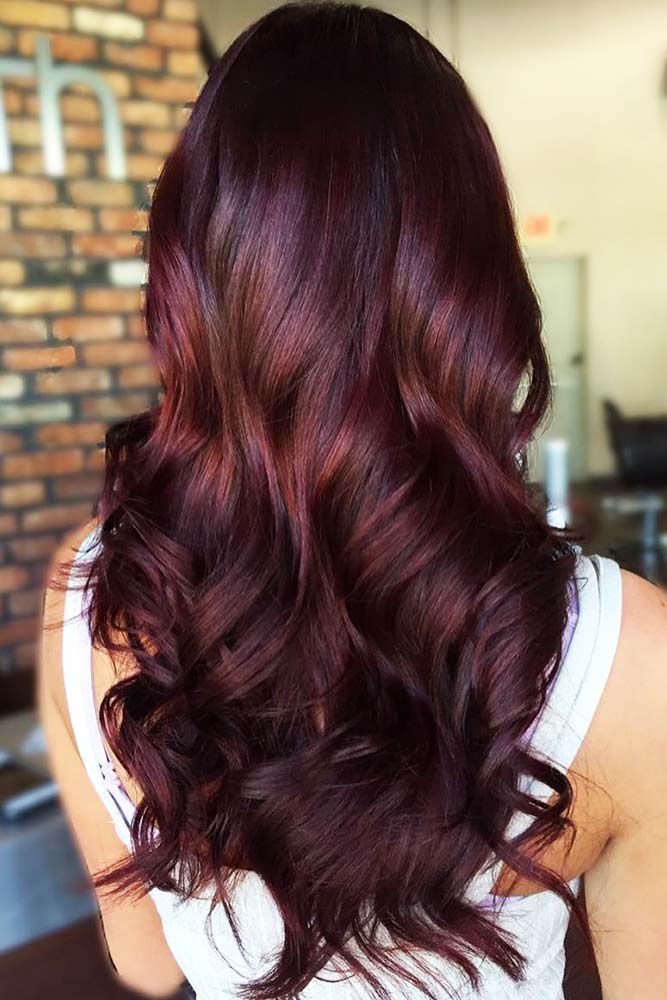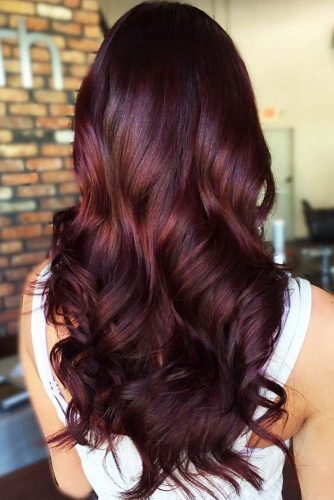 Now it's all about pale and fair skin tones with light and hazel eyes! The mahogany hair color is something that you can't believe in even if you see it with your own eyes. The mix of hues that this shade reflects is so unbelievable that it takes some time to recognize the deep reddish brown base with some cool henna vibes.
The thing we love about this color so much is that it looks like a chameleon: it may appear with a bit violet tint, and once the sun shines down on it, the reddish hues will show up.
Keep in mind that this shade is easier to achieve with red hair dye for dark hair, as it stands close to naturally brown or black colors in the color scheme.
Source: thescissorsammurai via Instagram
Aubergine Hair Color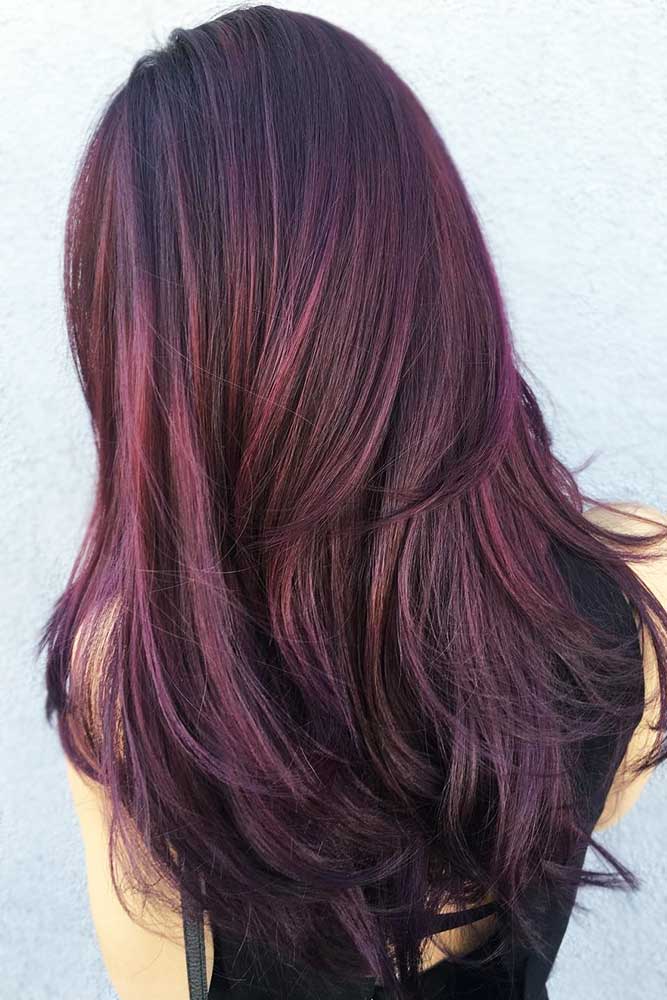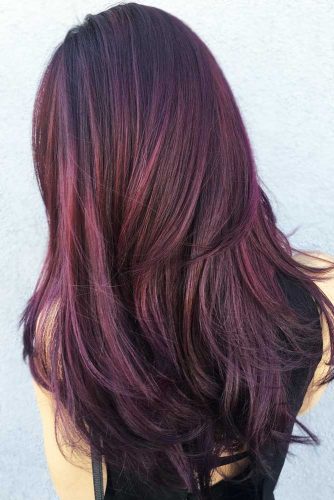 If you're fond of exotic, unusual shades that also bring a dramatic mood, the aubergine hair color is the most flattering choice. And if you like it, you've got a very exquisite taste, but you should take into account that this cutie is super demanding.
As a deep eggplant-like shade with subtle hints of red at the ends, it sets its own rules for the color game. Those who want to bring it to life should have cool skin tones and neutral eye colors; it's meant for pale girls only!
Yet, there's a way out of the aubergine obsession for ladies with warm and tawny complexions. Just ask your colorist to spice up your dark hair with red highlights, adding a soft, washed out tint of eggplant shade.
Source: hairbyalexsloan via Instagram
Black Cherry Hair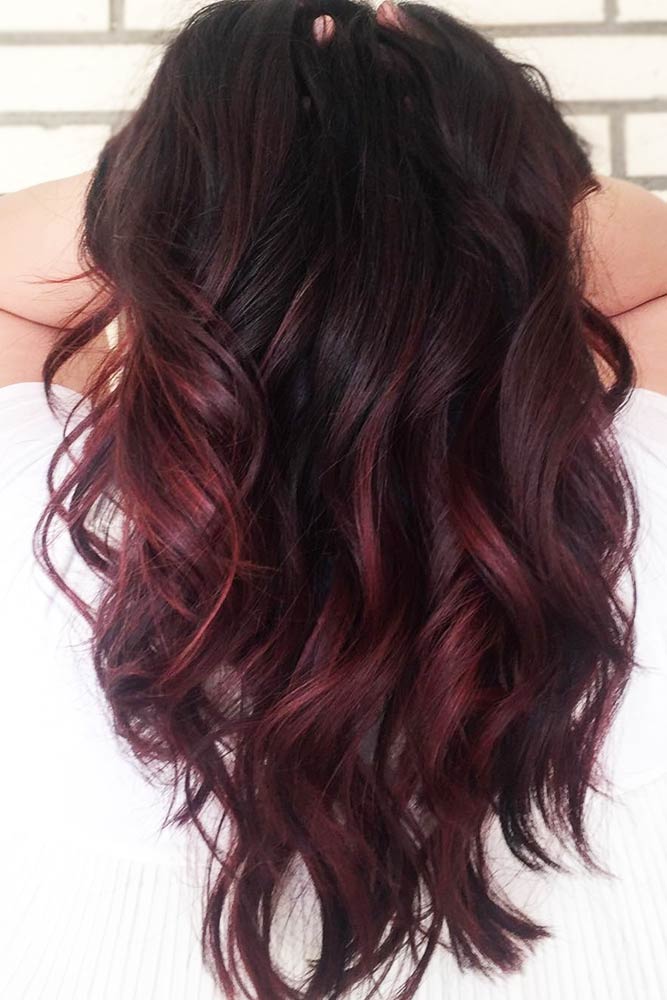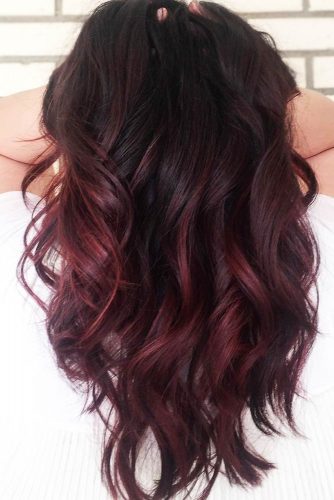 Black cherry hair color is a cool and sexy statement for the upcoming cold seasons. To achieve this color, your colorist will start by changing your primary color to the deep black, which will be the base for the reflection of cherry hues. Then goes very dark red balayage or ombre that turns into a dark cherry red hair color.
The best thing about this shade is that it's more versatile than the rest of cool shades: it can suit both light and dark complexions, enlivening cool and brown eye colors.
Source: aliciaplehnbeauty via Instagram
Burgundy Hair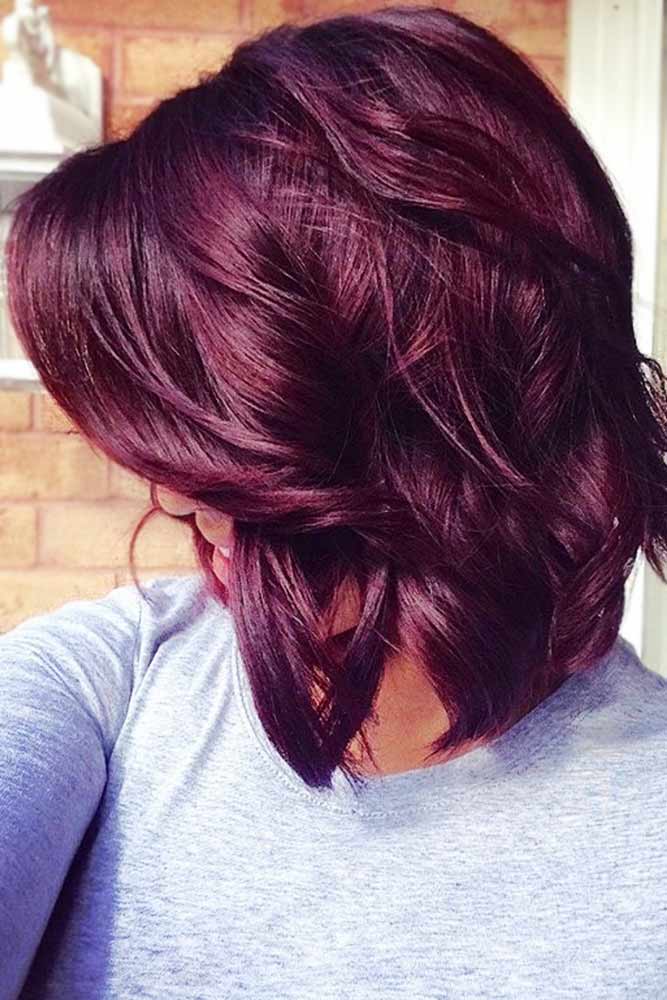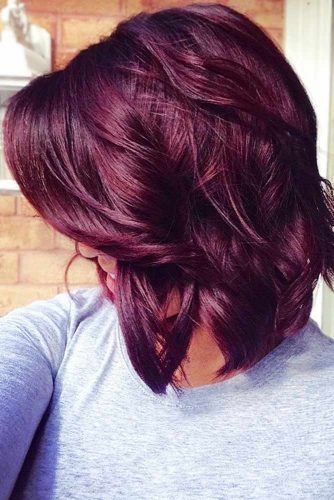 The burgundy hair color seems to surpass the chart of the hottest men alive: once a girl comes across such a beauty, she'll never be able to forget it. Just like the power of heady wine, this color reveals your bright and vibrant soul, emphasizing the best features of your face. The variety of hues that this color may mirror is broad: you can choose anything from cabernet to claret hues.
Based on your initial hair color and color preferences, you can individualize the rich wine-like red shade in the way you like, whether it's a cranberry touch for short dark red hair or some marron vibes for dark red curly hair. So we can officially say that this color can suit any skin tone!
Source: hairbypinkyp via Instagram
Red Velvet Hair Color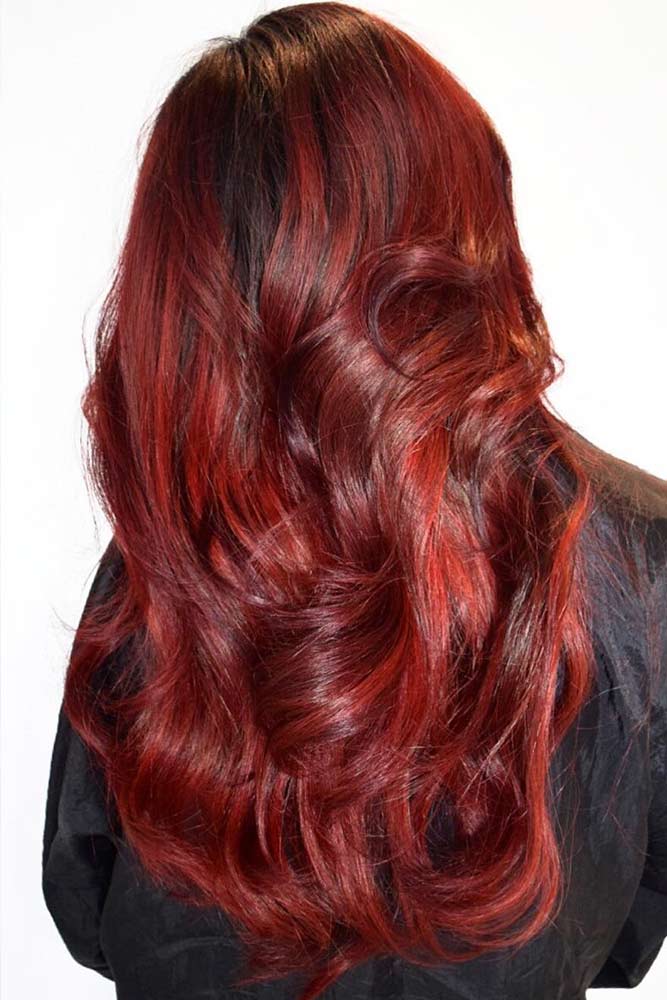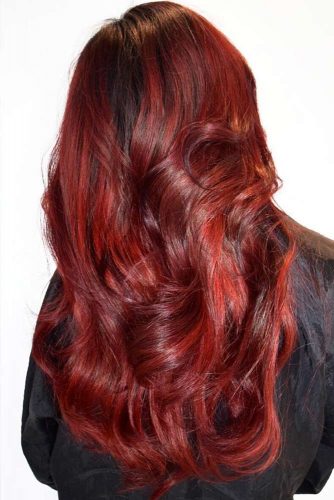 Velvet has become popular not only when it's worn on your body; the modern trendsetters like to wear it as a new, contemporary hair color. It's a fascinating mixture of velvet and red cupcakes that is meant for fair and light complexions.
Brunettes or dark blondies with green or emerald eyes who'd like to make their hair color more significant can give this lush mix a try: such a great long dark red hair look is just worth it.
Source: valloveshair via Instagram
Intense Red Hair Color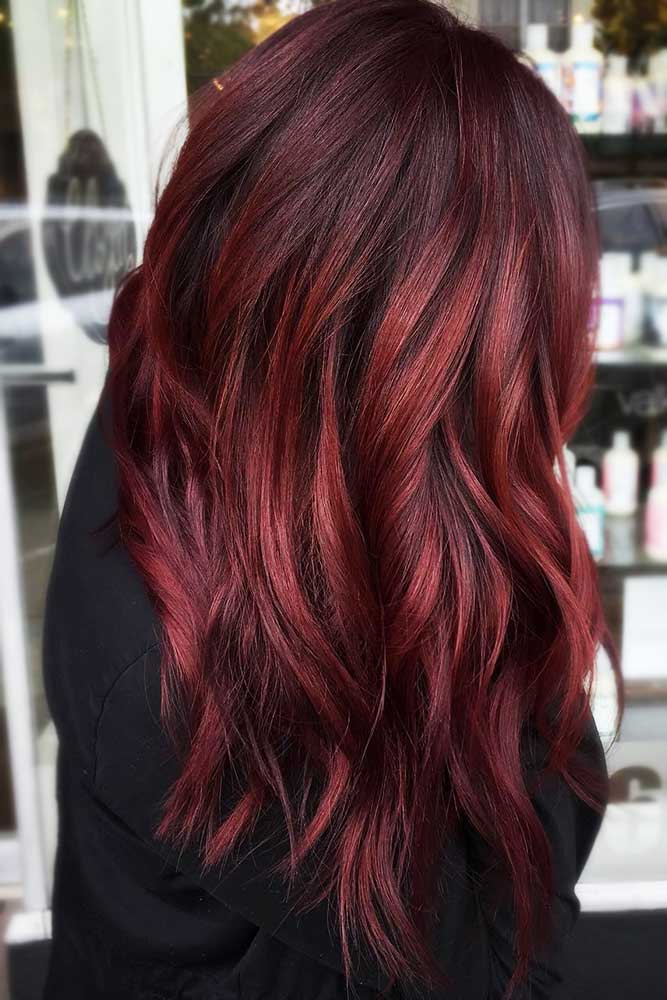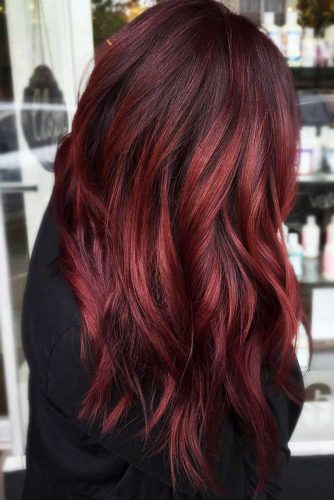 Most of the previous ideas involve dark red hair color as a secondary hue, added over a brunette base. And we understand that for some ladies such approaches are not enough to turn heads. For a truly head-turning look, ask your colorist for a refined blood red coloring over your primary, and people won't be able to take their eyes off you.
Source: larisadoll via Instagram
Cherry Cola Balayage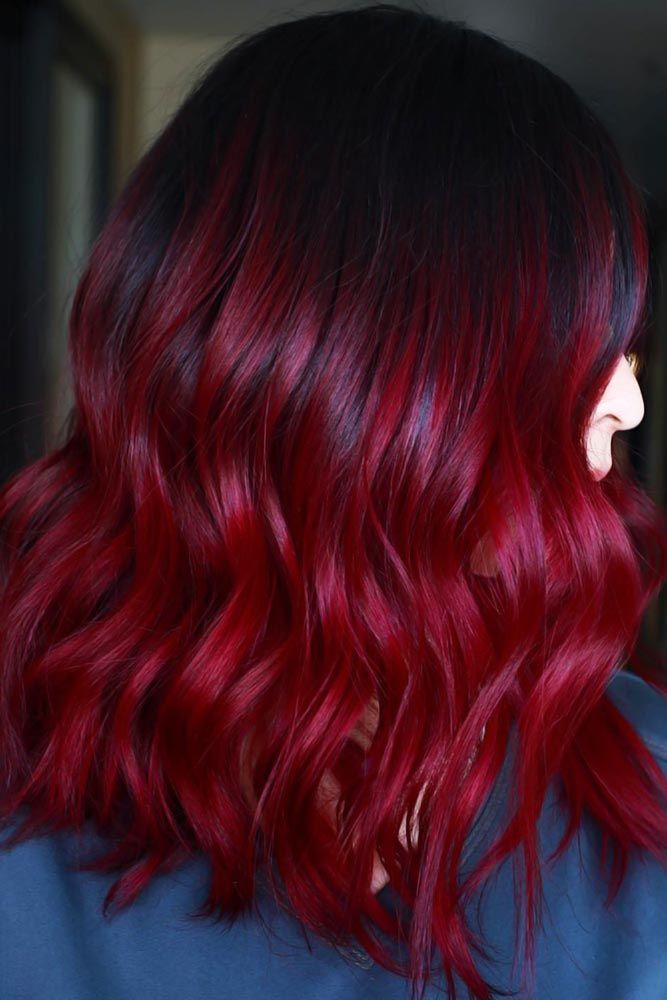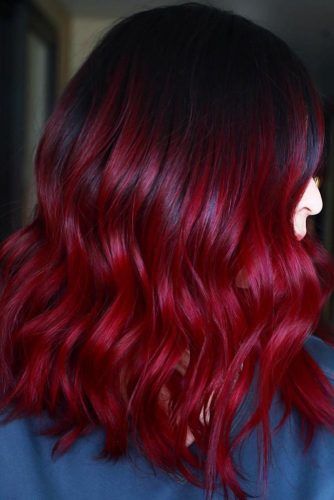 It turns out that everyone's favorite flavor combination is as beautiful as its tasty. Remember the colors of the good old cherry cola fizzy drink? This color combination works wonders, adding more energy and movement to the dark brunette base. Whenever you want to make your dark pallette stand out, don't forget to take a sip of this idea.
Source: makeupbyfrances via Instagram
Russian Red Hair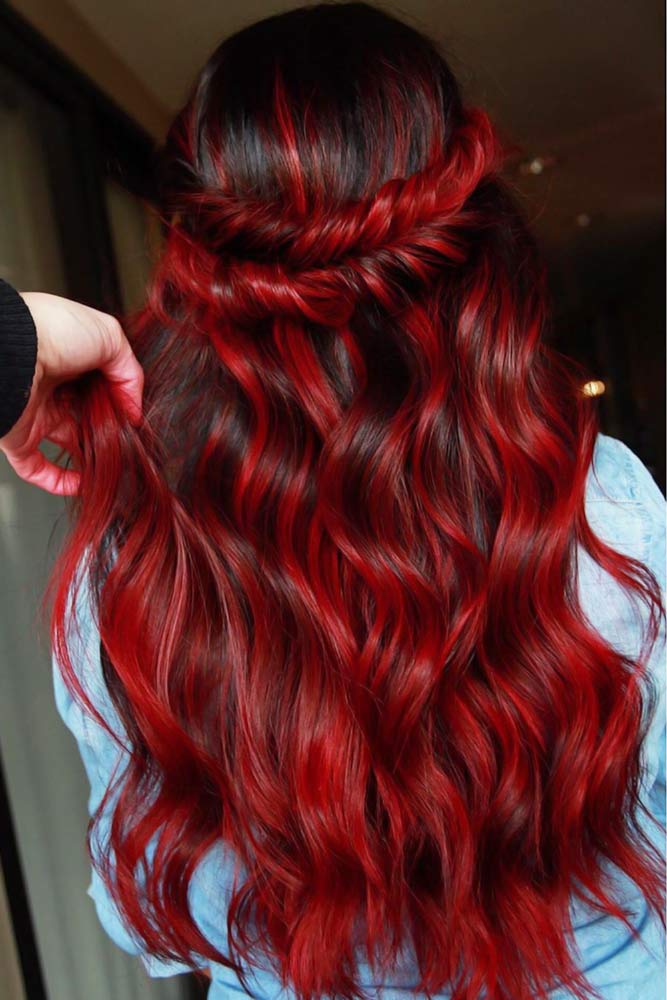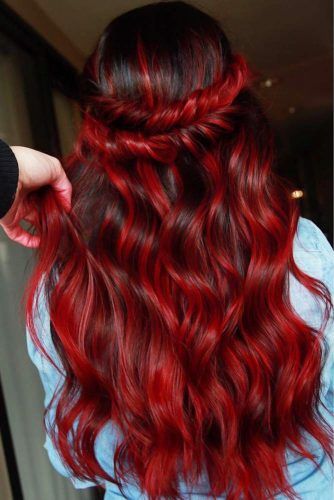 No wonder this hair color is named after the best-selling lipstick by MAC: for those who are really into dark red hair, it's an irreplaceable part of every vivid look. What makes the hair color so magnificent the color technique choice: roughly blended balayage that makes every shade stand out is a fabulous way to make your color play big.
Source: makeupbyfrances via Instagram
ADVERTISEMENT ‧ CONTINUE READING BELOW
Warm Shades Of Dark Red Hair Colors
Now it's time for girls with medium and warm skin tones to discover the dark red hair colors that will perfectly suit them. You are about to meet the colors that you can pull off without pink undertone and cool skin needed! Here come the shades that will naturally melt with your light or medium-to-dark brunette base, giving a reddish take at your casual look.
Auburn Hair
Medium Auburn Hair
Dark Auburn Hair
Deep Auburn
Dark Auburn Balayage
All Over Dark Copper
Brownish Auburn
Burnt Red Balayage
Cinnamon Ombre
Glossy Garnet
Auburn Highlights
Warm Brick Red Highlights
Carmine Red
Sangria Red
Redwood Balayage
Deep Rust Red
Garnet Red
Amber Red
Brick Red Balayage
Dark Scarlett Red
Wine Red
You've just taken a plunge into the pool of inspiring dark red hair colors: do you want to make this sense of reddish enchantment stay with you? Well, now you know how to choose the right color based on your complexion, and that's enough! Tell your colorist that it's never too late to experiment and go for bold changes!
ADVERTISEMENT ‧ CONTINUE READING BELOW