A disconnected undercut has the disconnected sides and top, and that is why it is called this way. The transition of the hair from a longer top and to shorter sides is far from being gradual. On the contrary, there is a vivid spot where short hair ends and long hair begins.
Such an undercut works great for babes who wish for a contemporary, exciting appearance. It manages to combine the qualities of an elegant quiff and a daring pompadour at the same time, resulting in a fun and attention-drawing hairstyle that can complement a somewhat hipster aesthetic.
Now let's discuss this topic in greater detail.
Short Disconnected Undercut
Here are some tips for getting disconnected short haircuts:
First of all, find the hair cut that you will show to the hairstylist. You can pick one here, by the way.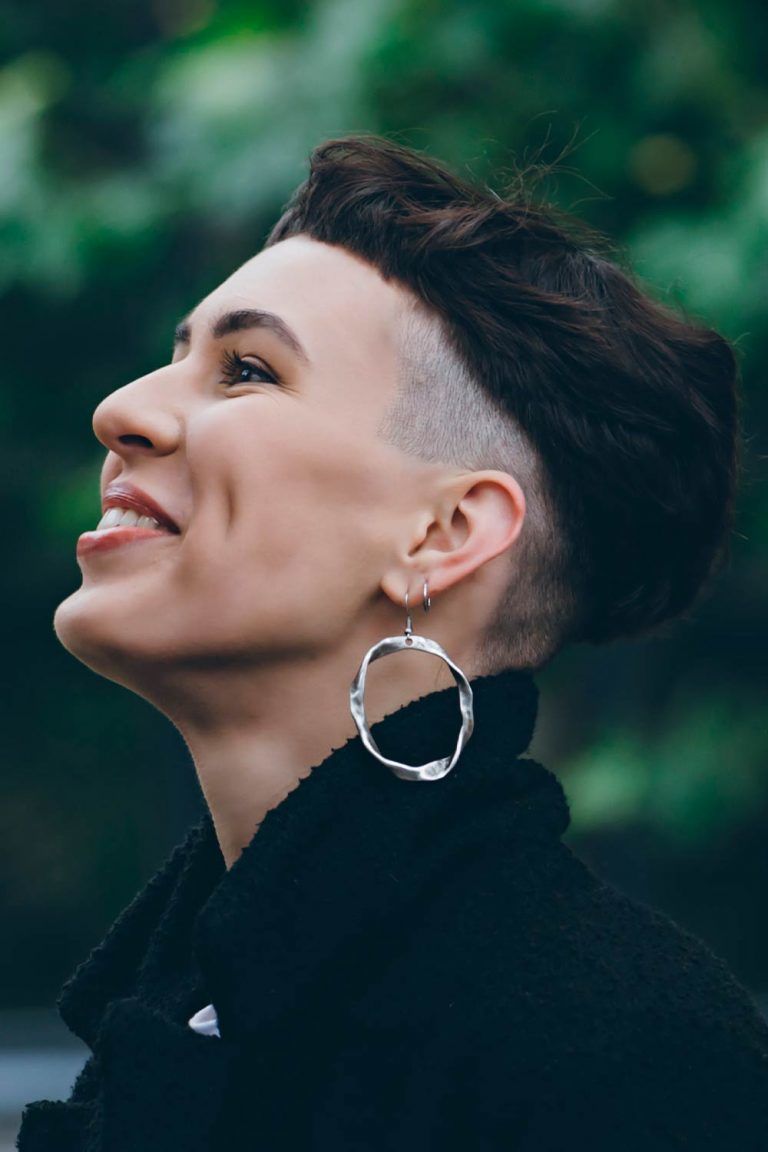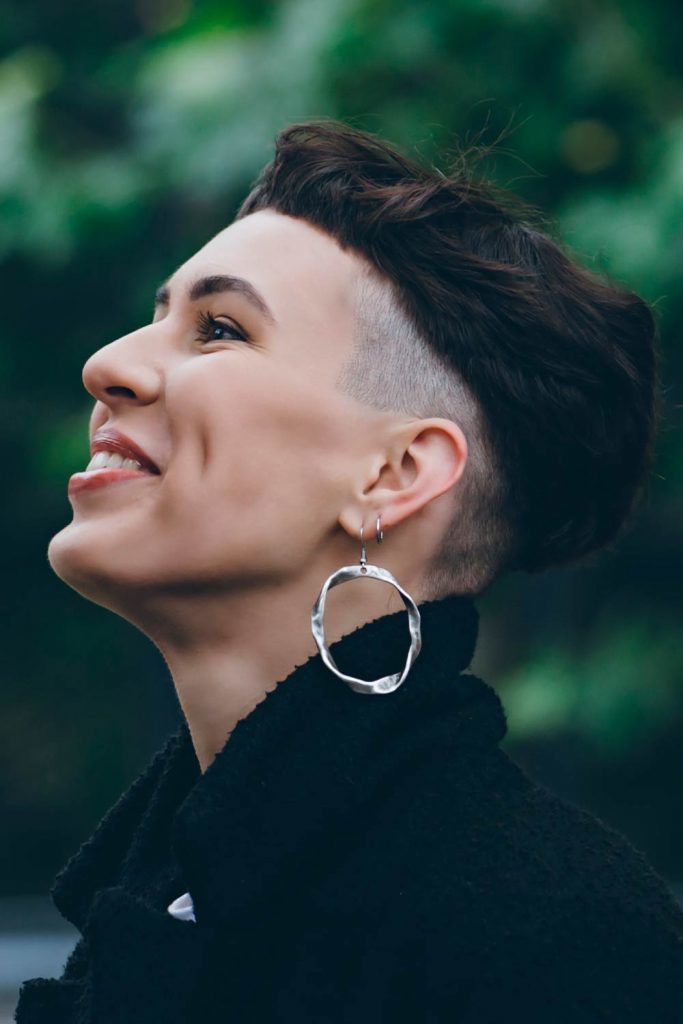 Keep in mind that you will need to have much length on top in order to get this haircut with a sharp contrast. Otherwise, that unique, disconnected effect will be unachievable. When it comes to the length, it is totally up to a woman to decide. However, 2 inches will be just great. Also, no matter how short your top is, you can always experiment with its texture. On shorter lengths, it can be a well-defined textured finish with a distinctively shaped top. Or, you can create spikes using a very thick clue or pomade so that the hair will hold its shape. If your hair is long enough for brushed-up styling, you can create a voluminous look by brushing your well-gelled top. It pretty much depends on the look you want to achieve and on your mood as well.
Do you like these feminine undercut looks in the pics? We simply adore them!
Disconnected Undercut Design On A Side
As for the sides of a disconnected undercut, they must be shaved, and that will require number 2-number 4 razor clipper setting. In case you wish for a close-cut, neat look, then you can ask your hair stylist to touch up the neckline edges and sides – this can be done with a number 0-number 1 clipper.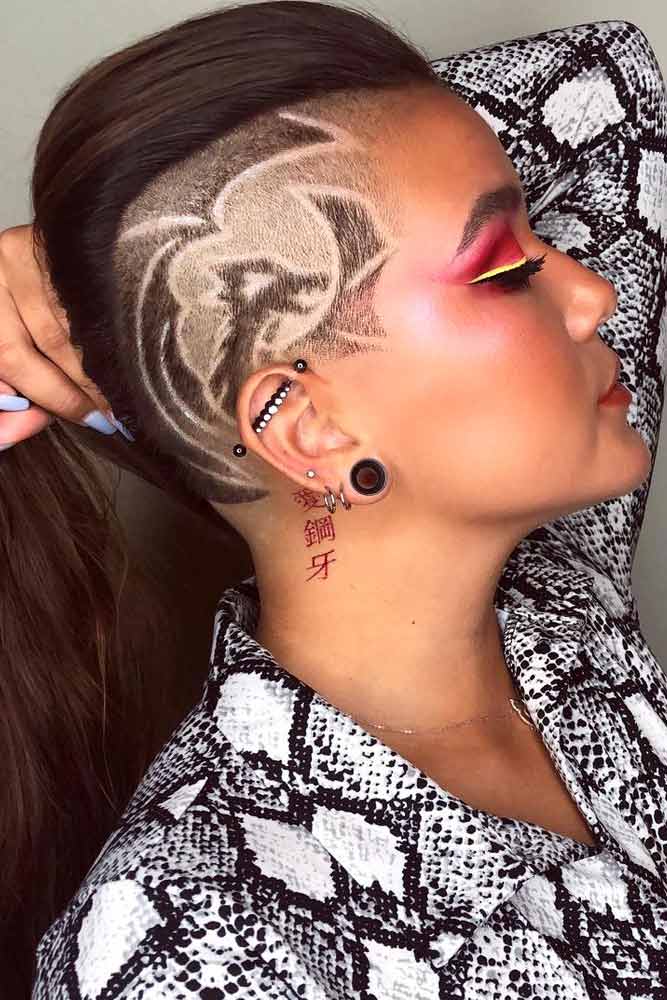 Credit photo: instagram.com/itsalwaysheleween
As for the top area of the head, your hairstylist will not cut it. Instead, he or she might brush it back. This will grant that contrast that is peculiar to the disconnected cut. And keep in mind that longer tresses on top will guarantee the tall hair appearance and more volume boost. Also, longer tresses will only enhance that startling contrast seen between the sides and top, which is exactly what you need.
And as for the neckline, here you can go as wild as you want. We can reassure you that both a tapered and blocked neckline will work great for a disconnected short cut.
In these pictures, you can see that models sport intriguing side undercut designs that can be easily hidden with their longer tresses. But besides the bold undercuts, these looks involve especially vivid colors that are striking even on their own.
In these pictures, you can see that models sport intriguing side undercut designs that can be easily hidden with their longer tresses. But besides the bold undercuts, these looks involve especially vivid colors that are striking even on their own.
Disconnected Undercut Tattoo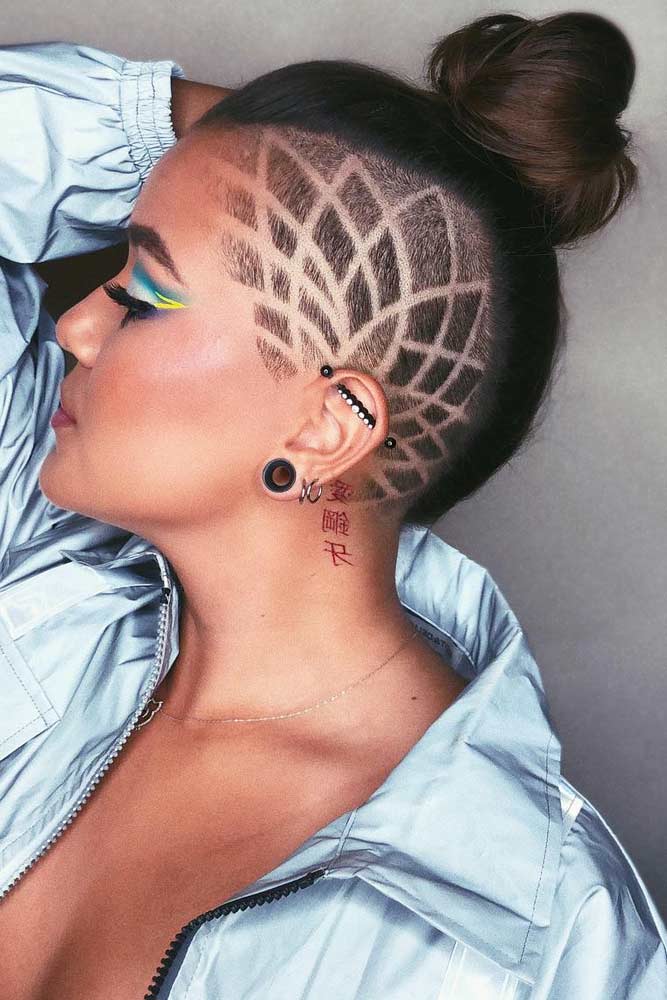 Credit photo: instagram.com/itsalwaysheleween
There are many ways of personalizing this type of undercut. It's not only quite versatile but it also allows you to alter it in order to adjust it to your aesthetic as well as personal style.
Touch-ups done regularly are necessary for such undercuts, of course. In other words, you will have to visit the salon in order to keep this look cool. Otherwise, your tresses will grow out irregularly and, as a result, ruin your hairstyle.
Look how unique these undercuts with a tattoo appear. We would even say that these are real works of art. And the best part is that these looks combine feminine hairstyles with some undercut design male in a single hairstyle! It's like Yin and Yang, don't you agree?
Classic Disconnected Undercut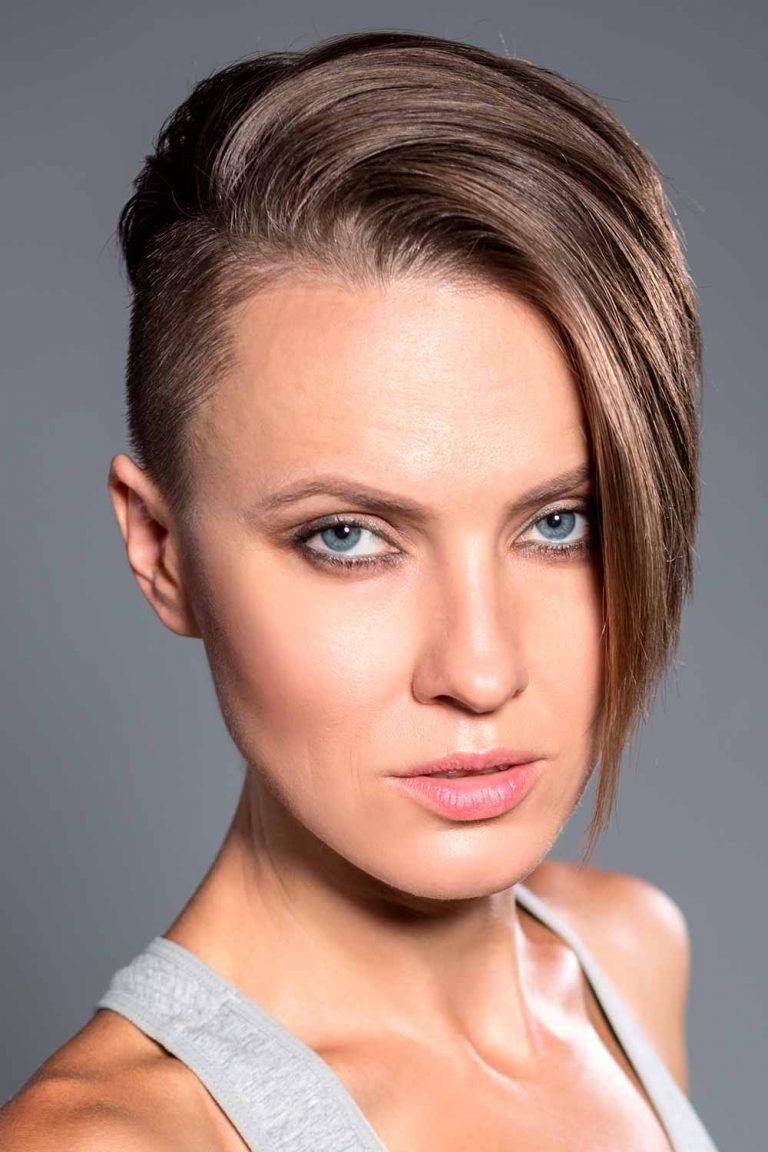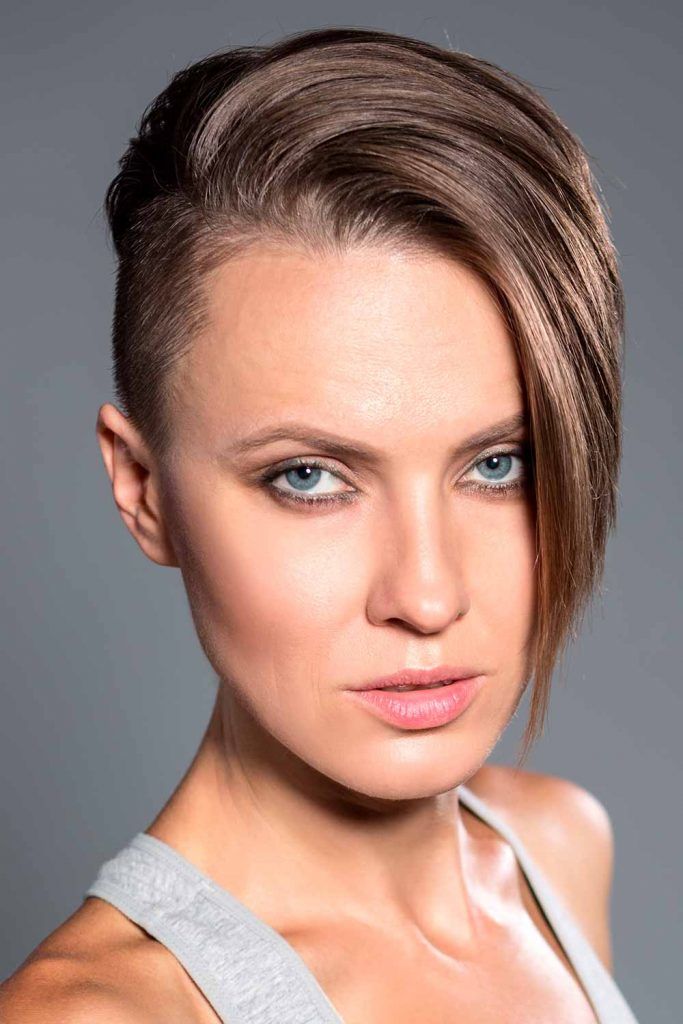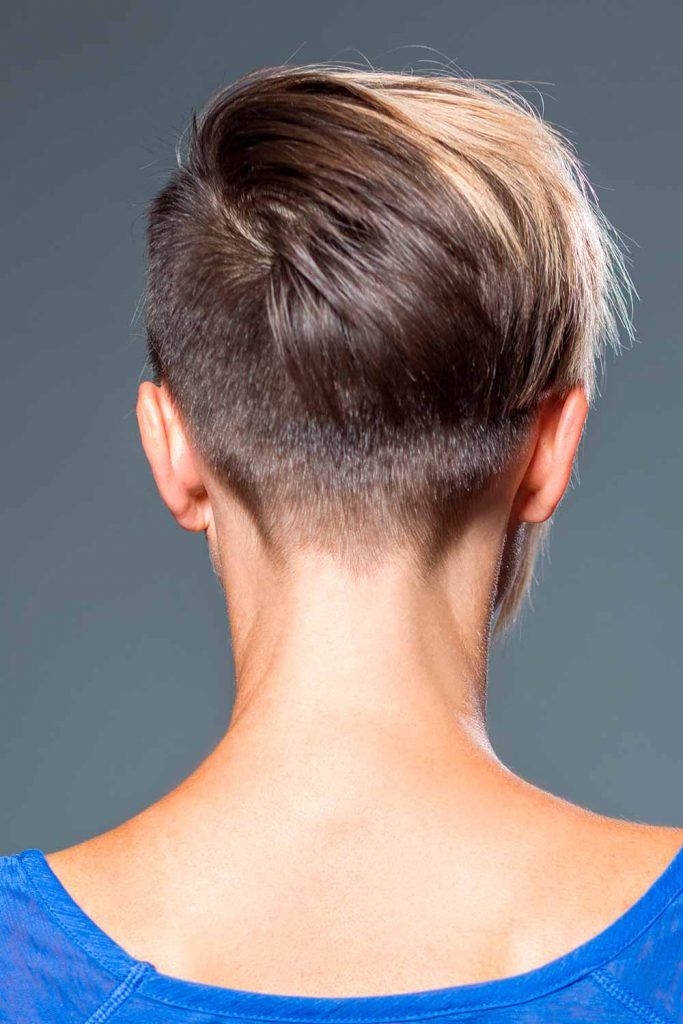 Styling the classic undercut
There are many super cool ways of styling this type of an undercut. However, many hairstylists agree that it looks awesome when your tresses are brushed back or forth. Just push your tresses backward or forward while blow-drying. And for a more voluminous effect, use either a comb or a brush. When the tresses are styled backward or forward, fix the look with your favorite holding product like wax or medium-hold hairspray.
Here you can observe super edgy looks with an undercut. As you can notice, shorter versions appear as hot as longer versions. After all, it is all about your mood and personal preference.
Disconnected Undercut With A Long Bang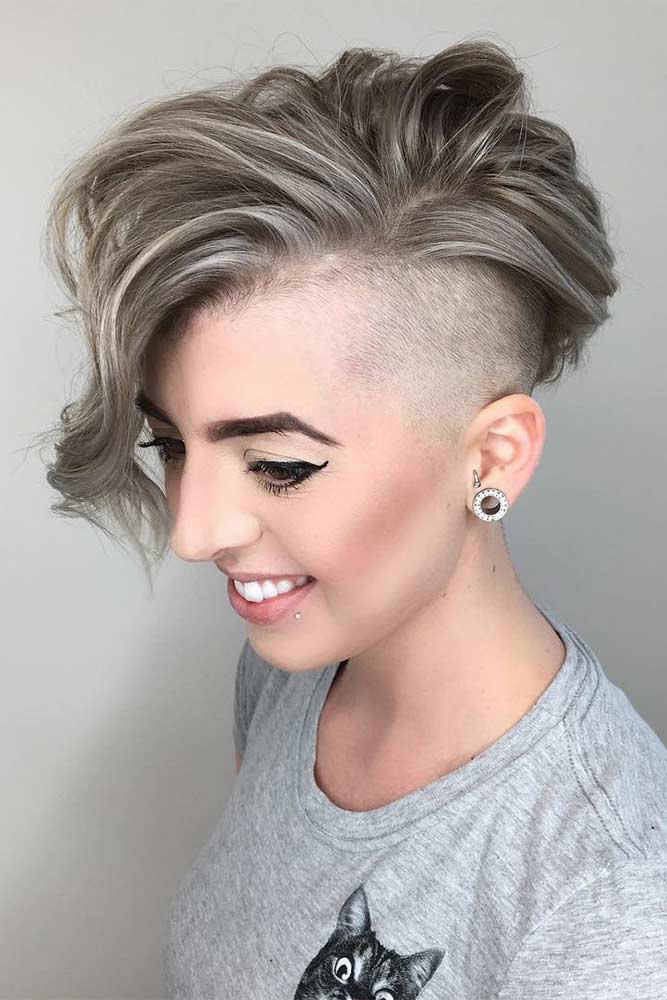 Credit photo: instagram.com/hairbysamhostad
A long undercut women's bang looks super sassy and gives your overall image a somewhat carefree vibe. Your beautiful tresses will be definitely attention-grabbing. And in case you wish to blow everyone's mind, just ask your hairstylist for a vivid pop of color. In fact, bangs are a classy element that can amp up any haircut not only with its edgy pointed body but also with its face-framing effect. Needless to say, by cutting bangs, you get more layers on the top, which turns your undercut into an even bigger canvas for styling. You can pull all your hair, including the fringe, to the back to create your own version of a Mohawk. At the same time, a fringe can spice up your look with a feminine feel: just wave your locks to see the difference.
Pixie Undercut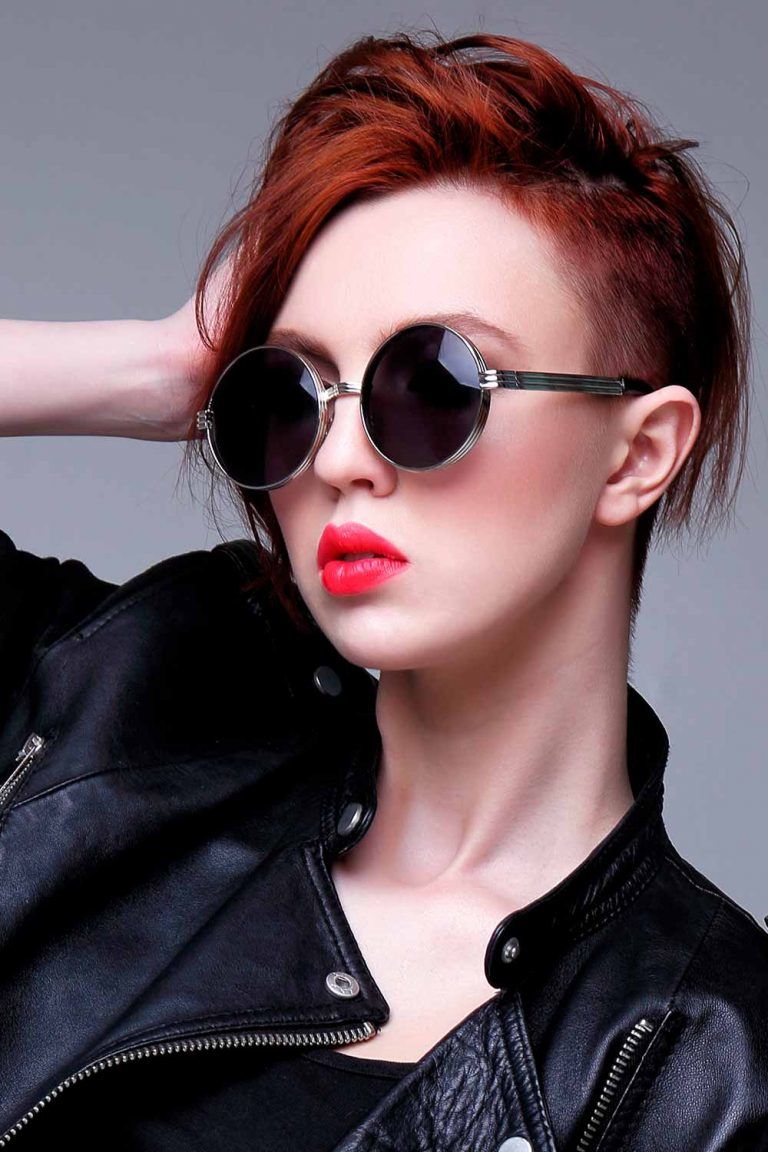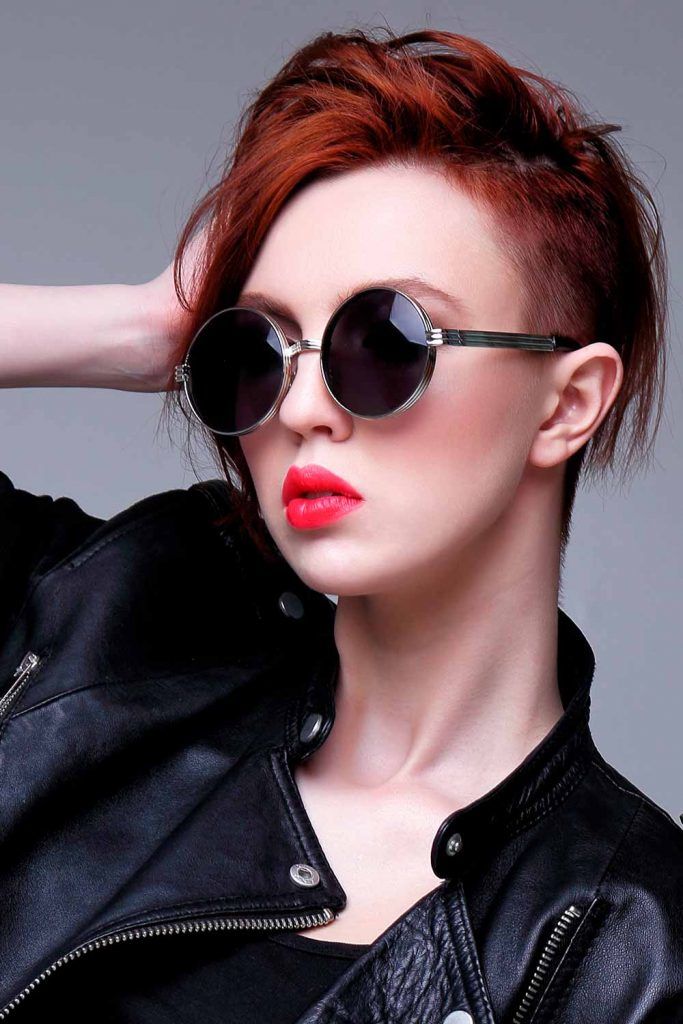 If you've got enough hair to play with, a pixie with an undercut is for you! This hairstyle combines a pixie cut and a fearless shave. And, of course, this style still gives you a lot of versatility if you decide to style it in a different way for a special occasion. Although pixies may seem to be too short for experiments, they actually give you a lot of styling freedom, so you can let your imagination fly. Besides, a pixie can always turn into a Pompadour with the help of a firm wax, become a Mohawk if you use good pomade, and simply rock with a side-part once you flip the top to one side. The looks you see in this pic aren't even the beginning of what you can do with your pixie disconnected undercut and creativity set to its highest.
Disconnected Fade Undercut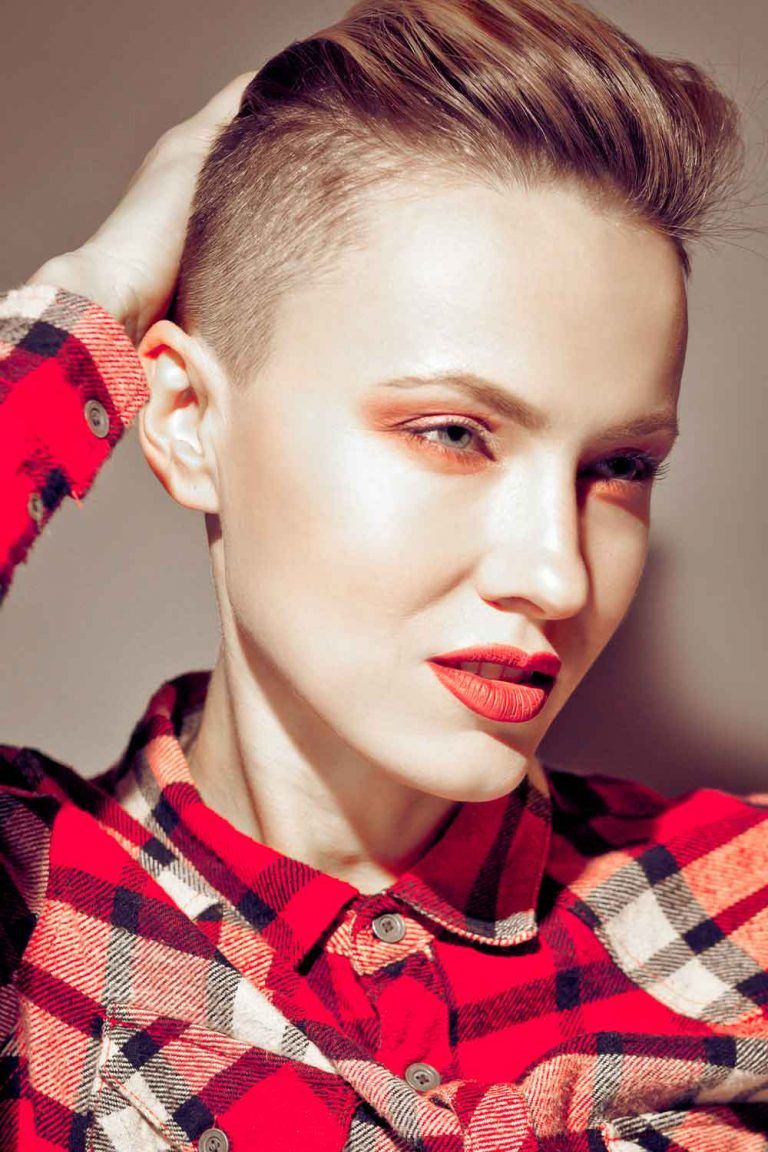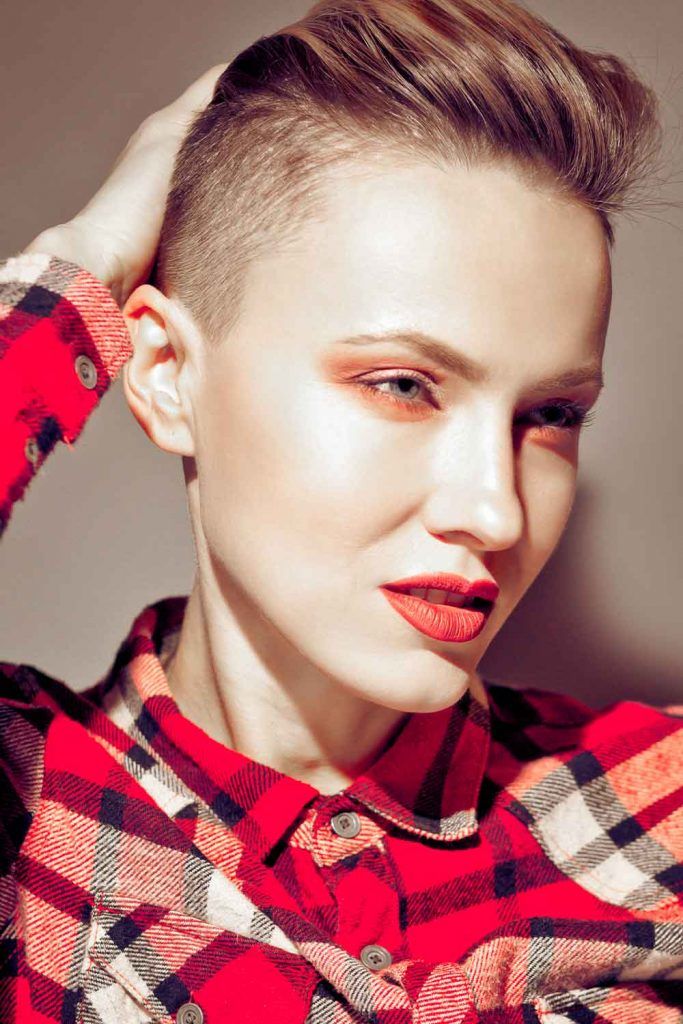 Look at this year's most popular disconnected undercuts. When your hair is short on the sides and long on top with a sharp contrast, nothing can compare to your look. This style is not only for men but also for brave and bold women. Moreover, here you'll see a mix of styles from fade and undercut. If you want a cool and edgy look show these pictures to your stylist!
We hope you get really excited and will rush to your hairdresser and try one of these super amazing, bold disconnected undercut looks. See our other posts for more inspo.
Disconnected Undercut For Blonde Girls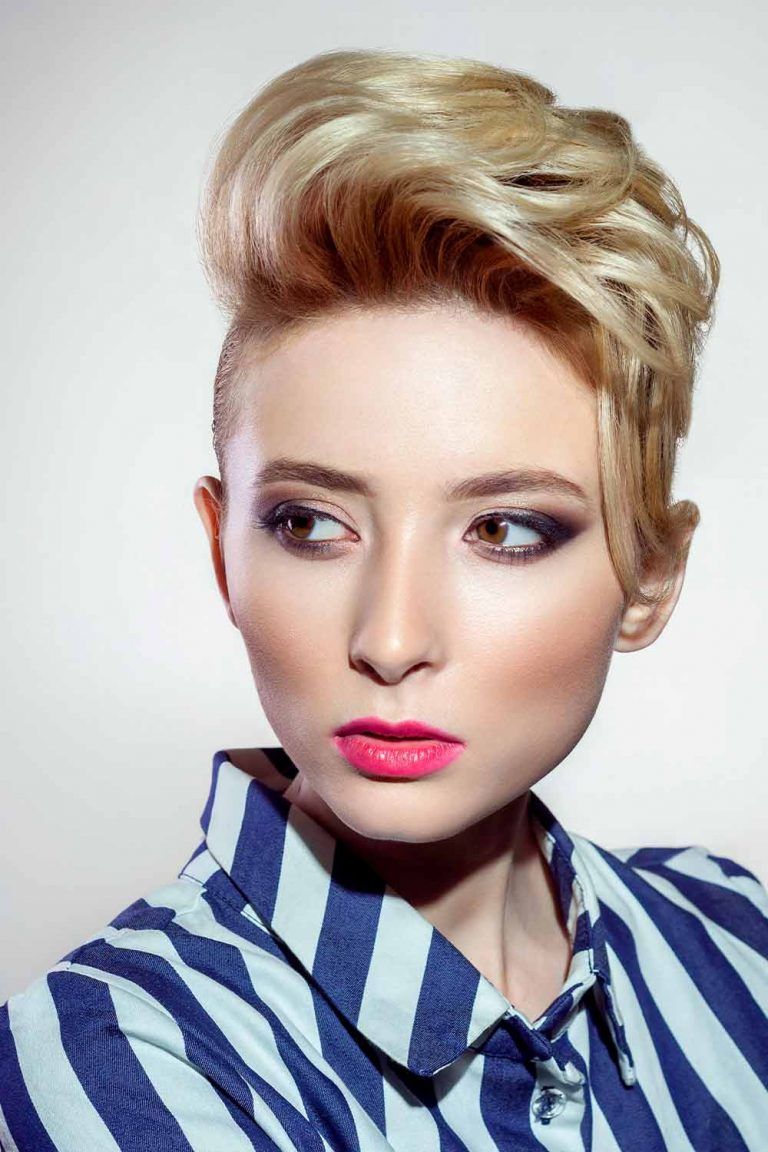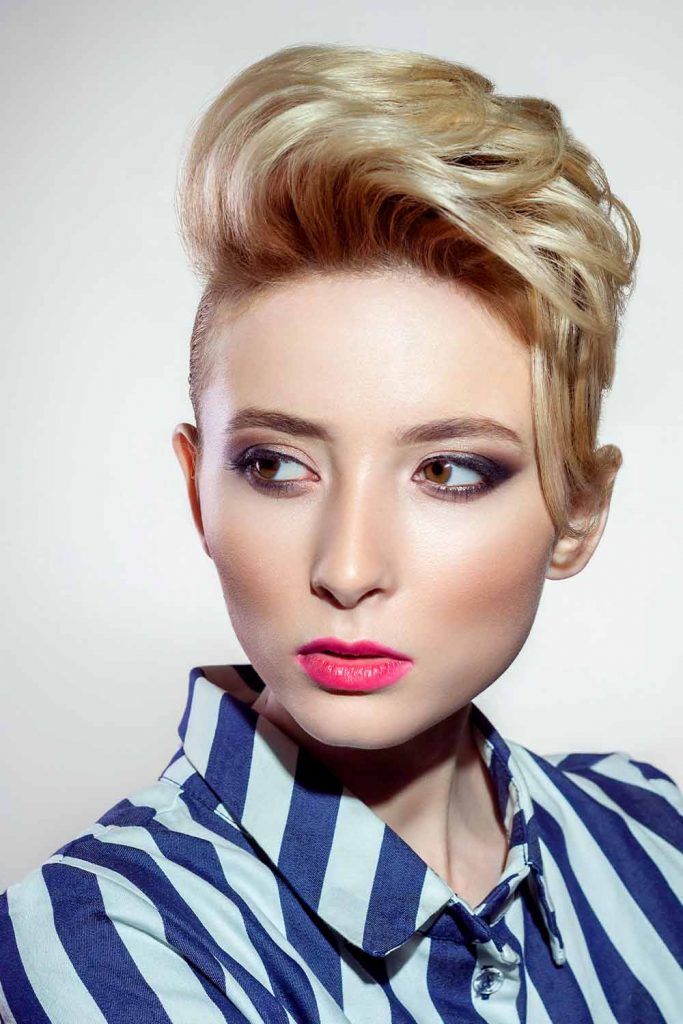 Here's another head-turning idea for blonde girls who are in love with the seductive daring of disconnected undercuts. First of all, if you're a colored blonde, you're the luckiest person in the world, as you can enliven your undercut without spending a cent! Color only the top of the head, leaving the sides as they are before tapering them. The mere length left by taper will match the color of your roots, giving a cool contrastive look. And if you're a natural blonde, you can go for the tightest side-shave ever thus achieving the length contrast.
Disconnected Undercut For Brunette Girls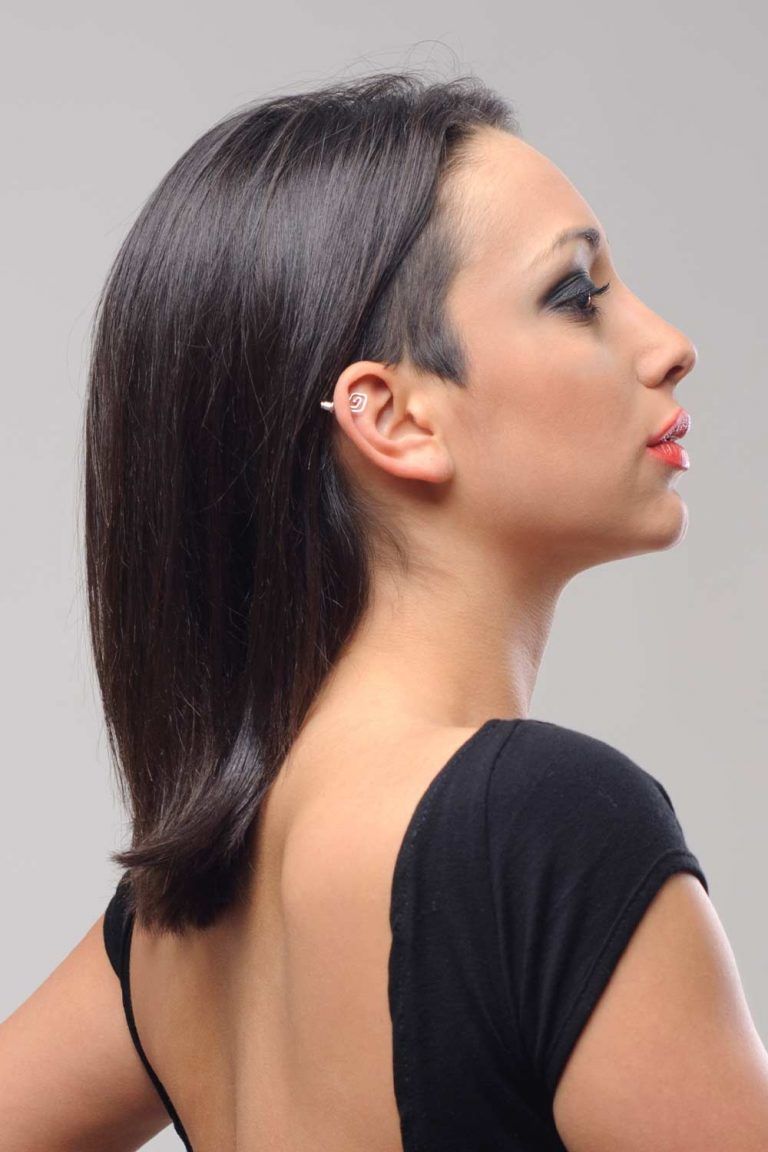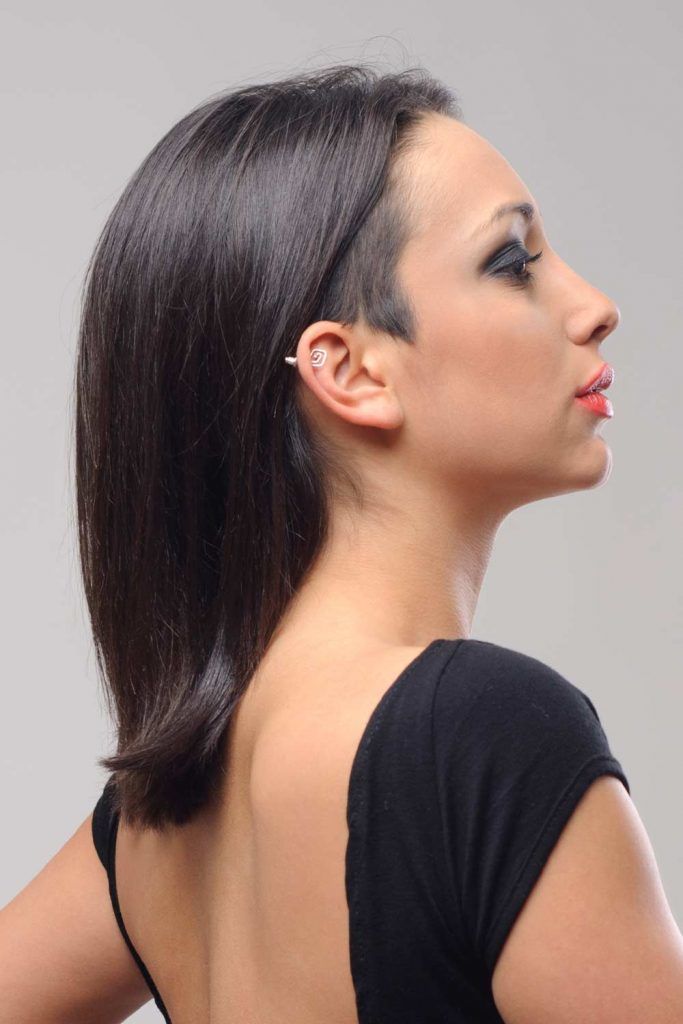 Though you don't really have limitations when wearing an undercut, there are some ravishing combinations that can help you reach perfection. By combinations, we mean the choice of the cut and color. For example, women who color their hair blonde can leave the sides as they are to enhance the sense of deep contrast. As for girls who have naturally dark bases, they can easily spice up their undercuts with hair tattoos, as their hair colors will stand out from their complexions.
What we're trying to say is that the color matters. Try to think whether the color you have will suit the cut or style you choose for the best results. Now, here are some ideas for those proud of their brunette locks. As we mentioned before, you can always put an exclamation point to your cut with a textured finish and some shaved design. Also, you will love the way your brown hair accentuates a soft taper that gradually turns into a flirty wavy top. Since your hair is dark, make sure to ask for outlined edges of your fade or taper so that the look is fresh and clean.
Bob With Disconnected Undercut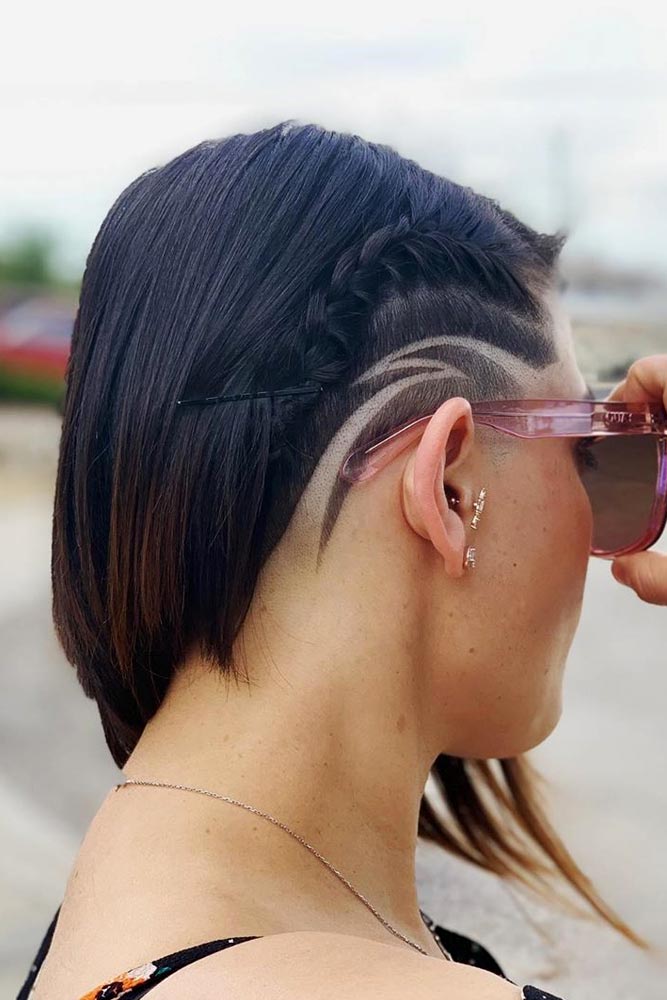 Credit photo: instagram.com/emerielove_
If you can't betray your favorite bob but the rebel inside you seems to take over, you need to find a stylish compromise. Luckily for those in love with sassy looks and experiments, a bob is the most flexible haircut that can be anything you want it to be. Just get an undercut underneath your bob! The best thing is, you can always hide if you leave the undercut pretty long. Those who don't want to get both sides shaved can ask their stylists for only one side-shave or focus on the temples only. Ad for styling, options are endless: you can choose anything from side-swept to brushed back looks.
As a matter of fact, pairing a bob with a disconnected undercut is a fantastic way to express yourself while fitting workplace standards. During the working day, you can wear your bob as it is. And when it comes to an end, you can flip your bob to one side, create a top knot, or brush all your hair to the back to show how different you can be. Don't forget about hair designs that add character and individuality to your look, too!
Different Hairstyles + Disconnected Undercut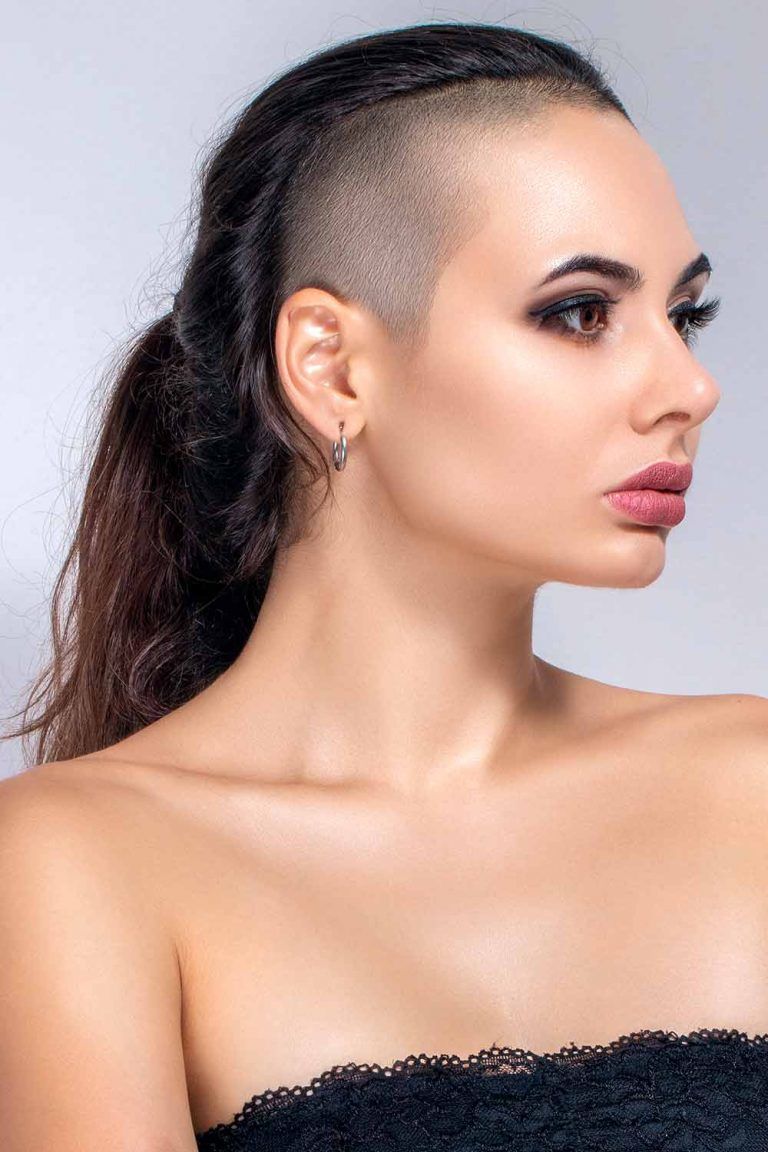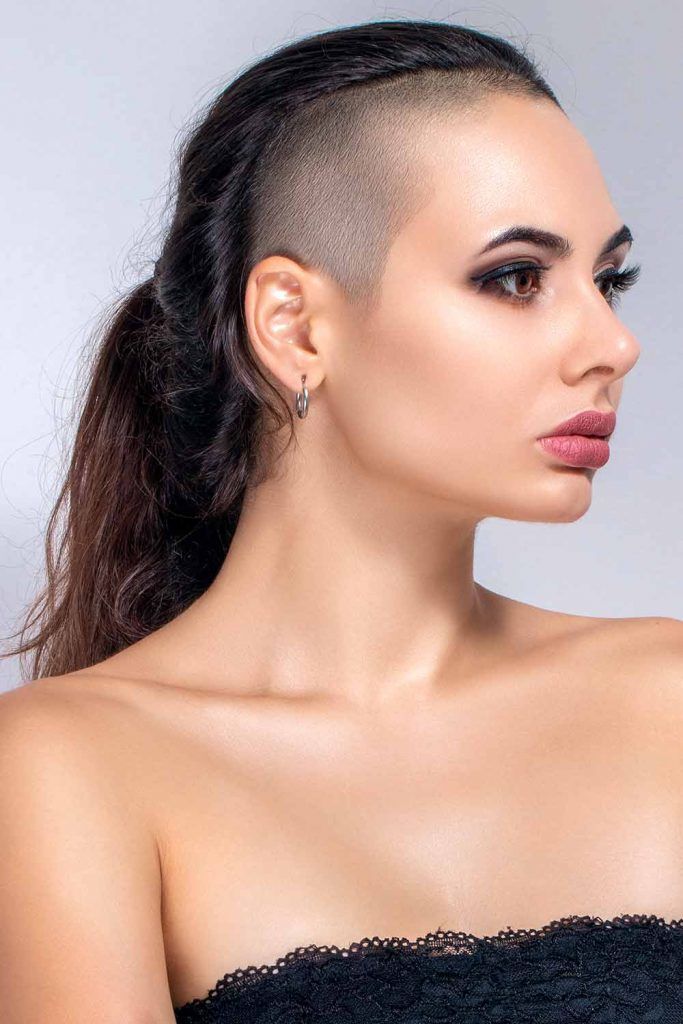 Although a disconnected undercut is a pretty short haircut, it allows for various styling options! Moreover, they're anything but boring. You can create a chic pony with your colored top, variously braid the top, as well as add some hair glitters to brighten up your 'do! In fact, the sky's the limit to the styling ideas for your amazing cut.
Undercut, especially those with disconnected designs, are not for everyone, indeed. But that's the point because you need to have the guts to look different to reach the spotlight. Now that you've seen the hottest variations of the disconnected women's undercut, it's time for your unique experiments! All in all, this haircut gives a lot of styling freedom, not to mention its mesmerizing and striking visual part!
FAQ: Disconnected Undercut
What's the difference between disconnected undercut and undercut?
The way the hair transitions from the longer crown to the shorter sides is the main thing that distinguishes disconnected undercut from the simple undercut. The fade blends gently in a typical undercut, but it's apparent and even exaggerated in a disconnected undercut.
How do you fade an undercut?
Use the clipper to cut the hair. You can either begin on the left side and work your way back to the right, or begin on the right side and work your way back to the left. Set the clipper to the desired mode if you want to fade your undercut. Cut your hair on all sides to the middle of the disconnect line.
Is an undercut blended?
When you have an undercut, the hair on the top of your head (the top section on the sides and back) is trimmed away. A barber will use this section to merge the haircut sides into the top.
REFERENCES: