Hair extensions are becoming more and more popular over the years. And they have come a long way in just a short time. Everyone from celebs to everyday folks are opting for extensions to add volume and style to their natural hair.
How Many Types Of Extensions Are There?
First things first, before making an order on the web or calling a braider, you should make a little research of your own. There's no need to tell you that while some extensions are not visible at all, others look cheap and miserable. And so as not to end up crying at the mess in your head, you should be familiar with the types of hair extensions.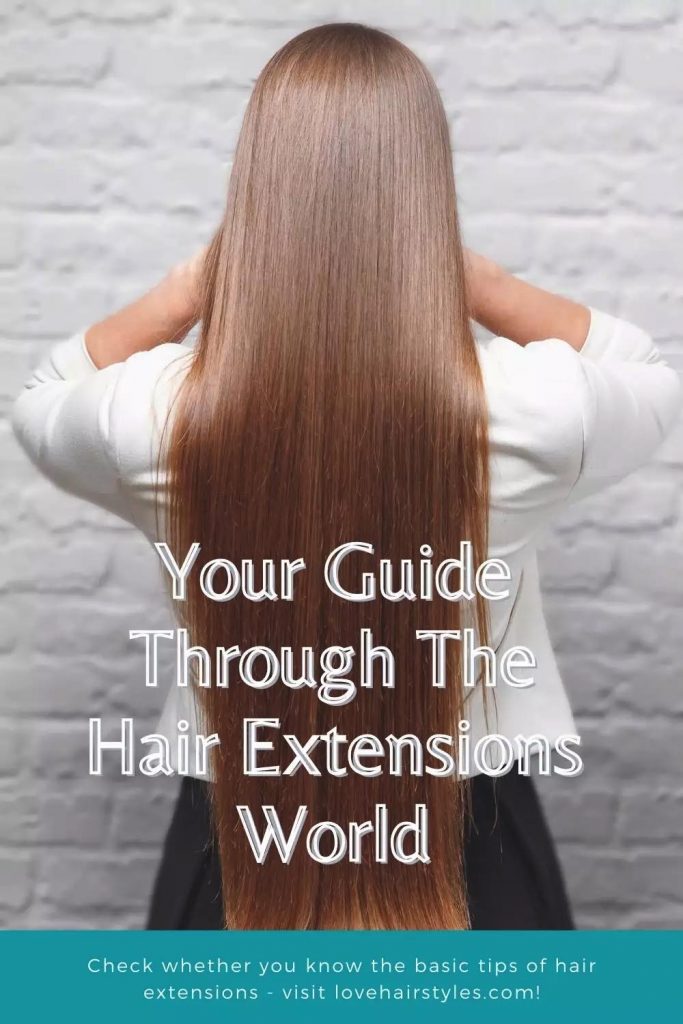 Temporary
You can take such extensions in and out each day or week, whatever your preference is. Temporary methods include weaves for protective hairstyles, wefts, and clip in hair extensions that are attached to your sections of hair.
- Can I sleep in temporary hair extensions?

- While you can wear clip-ins to bed from time to time, they're not designed for that, so you'd better take them off. If going overnight with them is unavoidable, make sure they're secured well to avoid damage.
Semi-Permanent
Unlike temporary locks, semi-permanent options come in smaller sections and last for 6-8 weeks. They usually include tape-in hair extensions which are taped or glued along the hairline by a stylist. Or, it can be a sewn-in option such as weave hair that a stylist attaches to flat braids.
- Do hair extensions damage your hair?

- Since tape-ins involve glue and are applied by bonding to small strands of your hair, you may encounter damage on the roots and the risk of pulling.
Permanent
As the name suggests, permanent hair extensions are meant for women who want to have thicker and denser hair rather than experiment with their looks. Such methods feature micro rings or micro bonds with which the new hair sections are attached to the head.
- Do hair extensions hurt at first?

- They all do. But that's OK: it's a normal reaction of your scalp and hair to the attachments. Just give your scalp a couple of days to adjust.
Clip-Ins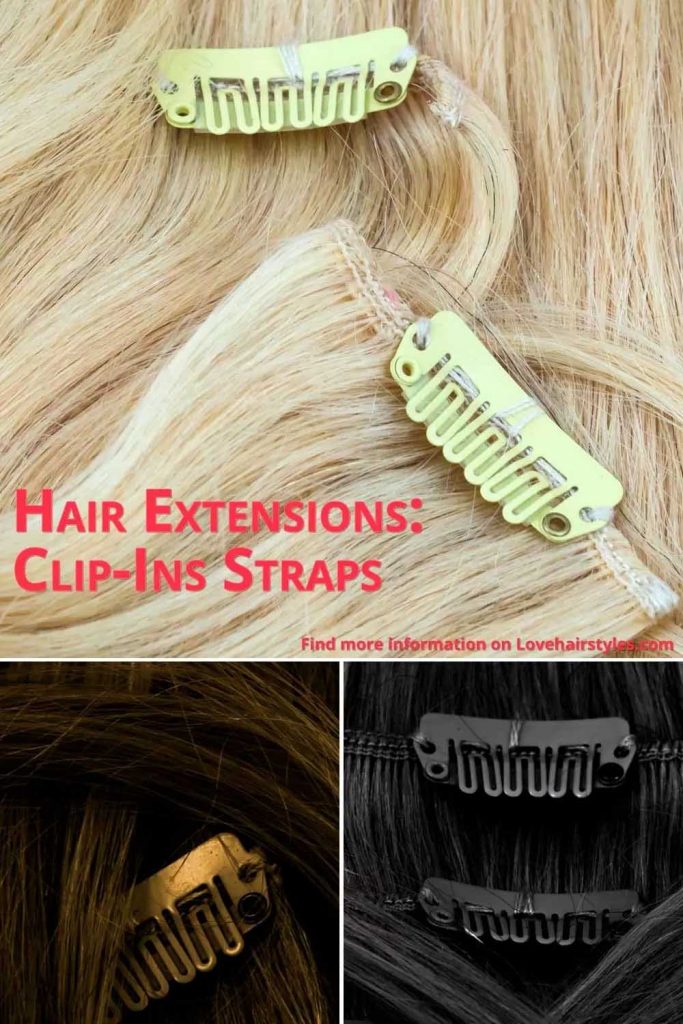 Pre-clipped straps of hair extensions that you attach to your roots and remove whenever you want.
Tape-Ins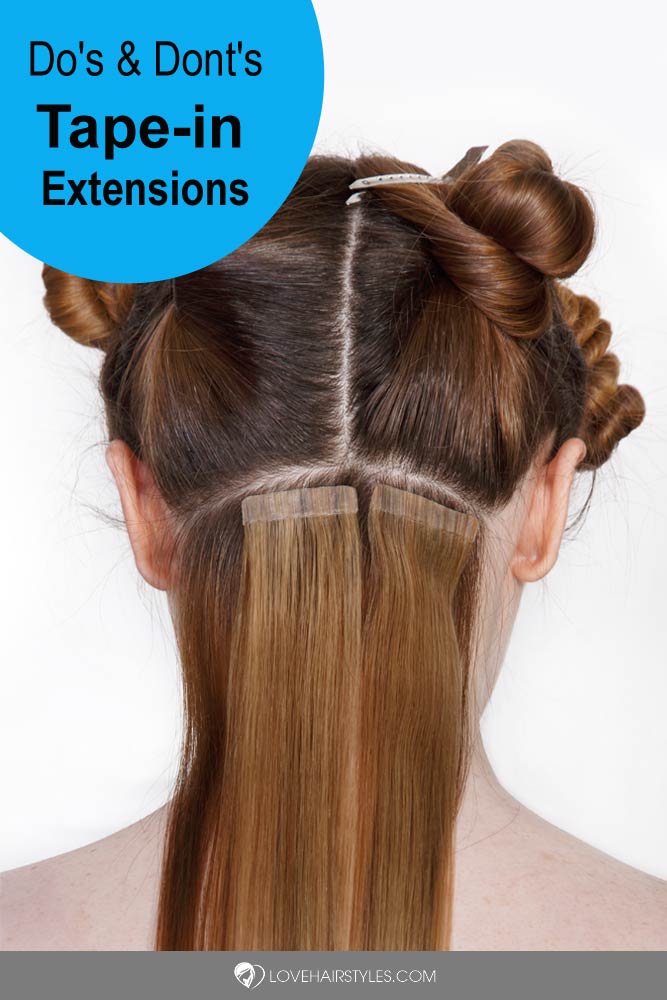 Source: MstudioG/Shutterstock
Pre-taped straps of extensions attached with glue or by tapping along the roots.
Sew-Ins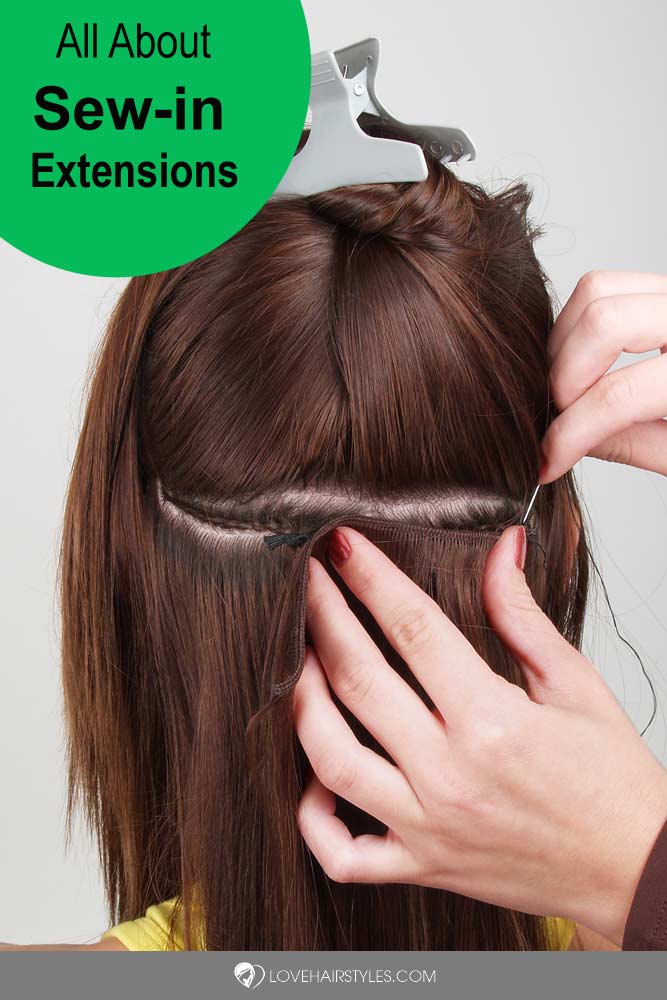 Source: sagir/Shutterstock
Also known as a weave, this type of extensions is very popular with natural-haired women and are attached to braided hair.
Keratin-Extensions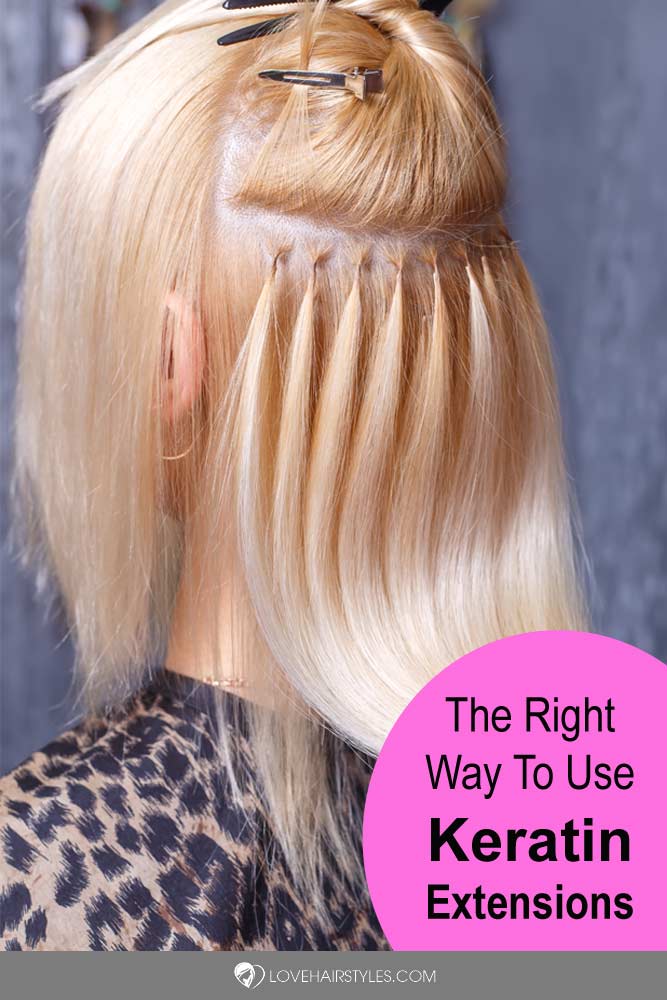 Source: Aliaksandr Barouski/Shutterstock
Little strands of heated extensions that are bonded to the hair with a keratin-based glue.
I-Tips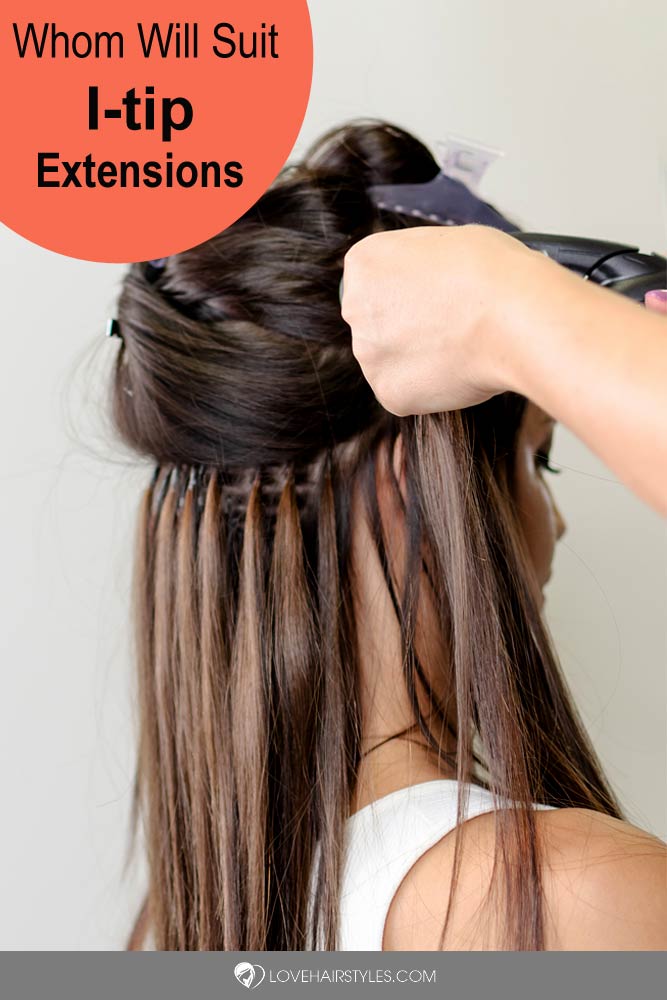 Source: Focus and Blur/Shutterstock
Heatless and glueless extensions that crimp to the strands of your hair with a flattened microbead.
Which Type Of Hair Extensions Should I Get?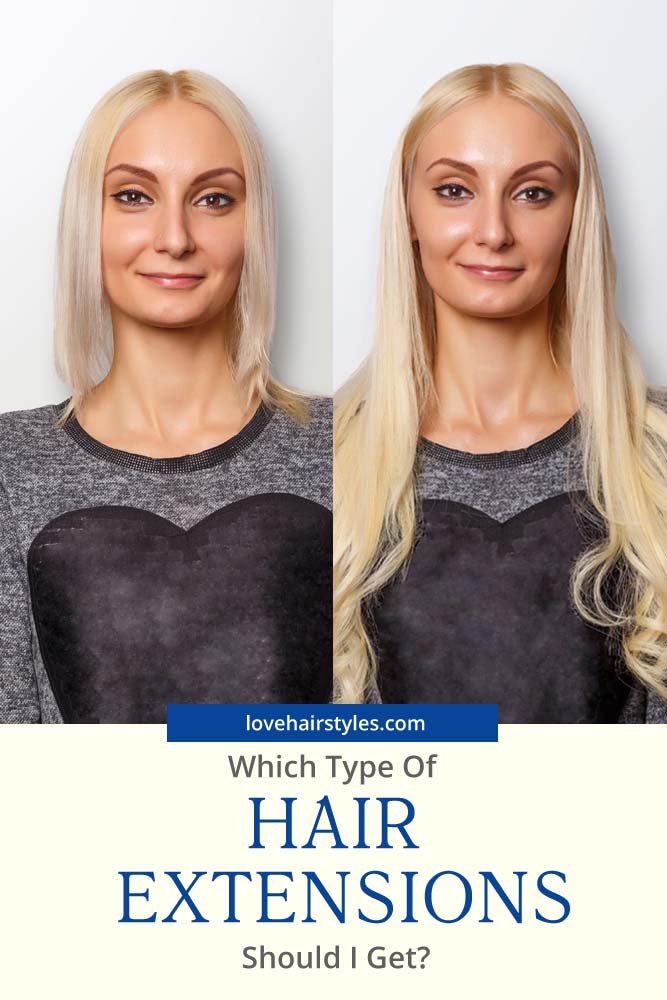 Source: Aliaksandr Barouski/Shutterstock
First of all, you need to understand your needs and decide what you're expecting from your look.
Temporary methods work best for special occasions or daily experiments when you want to enhance your hair pattern. Clip-ins, for example, are attached as easily as they're removed.
Permanent methods are designed to provide women with long-term volume and fullness, especially for those who have very weak, damaged, and thin hair.
Synthetic VS Natural Hair Extensions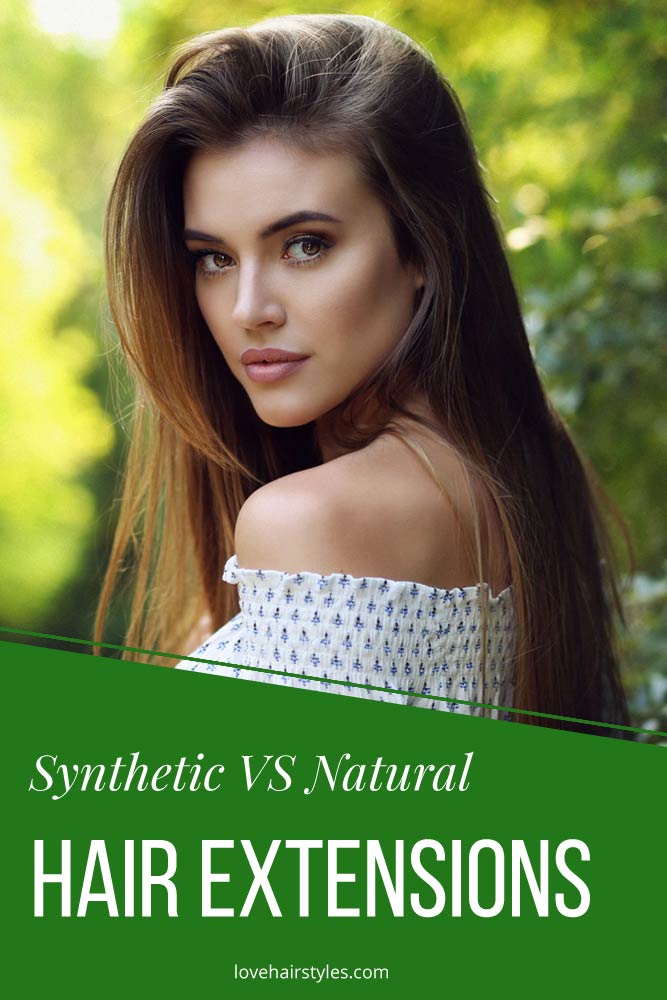 Source: Dmitry Arhar/Shutterstock
When it comes to choosing the material, nothing is better than 100% human hair extensions. Also, it's better to invest in the highest quality hair extensions you can afford, as pricey ones will have a genuine appearance and last you longer.
Synthetic extensions don't look natural in most cases and have a too shiny finish. And last but not least, you can't apply heat on synthetic materials, whereas human hair nicely responds to heat styling tools, especially if it's REMY. This abbreviation stands for virgin hair that hasn't been chemically processed, color-treated, and damaged by any means.
How Much Does It Cost For Hair Extensions?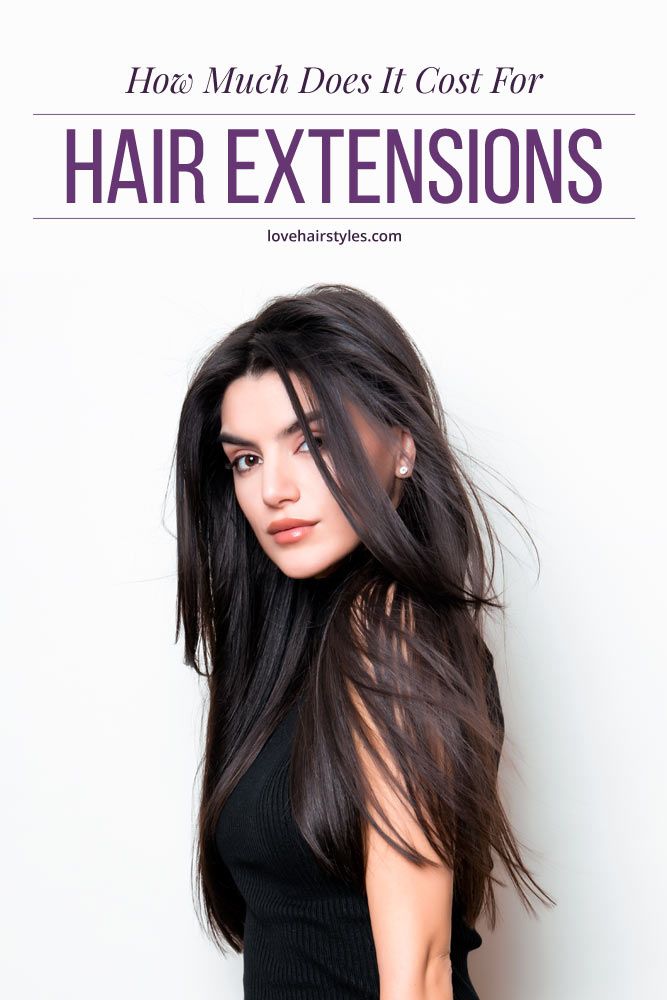 Source: anetta/Shutterstock
There are two factors that determine hair extensions cost: the type of extensions and the area you live in. Permanent methods are more expensive than temporary for their long lifetime. However, it doesn't mean that temporary options will be pretty cheap - it's a tedious process that takes up to 3 hours and a lot of the product itself.
As for the average cost, it may vary between $200 and $600. The prices for clip-ins and tap-ins range from $100 to $300. As for professional methods that involve REMY hair, they may cost up to $1000.
How Long Do Hair Extensions Last For?
Again, it depends on the type of extensions you choose.
Clip-ins can be worn and removed daily.
Tape-ins and weaves last for 6-8 weeks.
Methods involving micro-rings and micro bonding will need a re-fit after 3-4 weeks, as they grow out with your hair.
Are Hair Extensions Damaging For Your Hair?
Since hair attachments are heavier than real hair, they can cause a strain on your scalp. Therefore, if you play around with temporary extensions, avoid refitting them every single day so as not to tighten your scalp and cause hair loss. Using them occasionally will prevent long term damage.
Permanent methods never cause damage if they're attached properly. However, without proper maintenance and regular re-fit, they may pull your natural hair and hence damage it.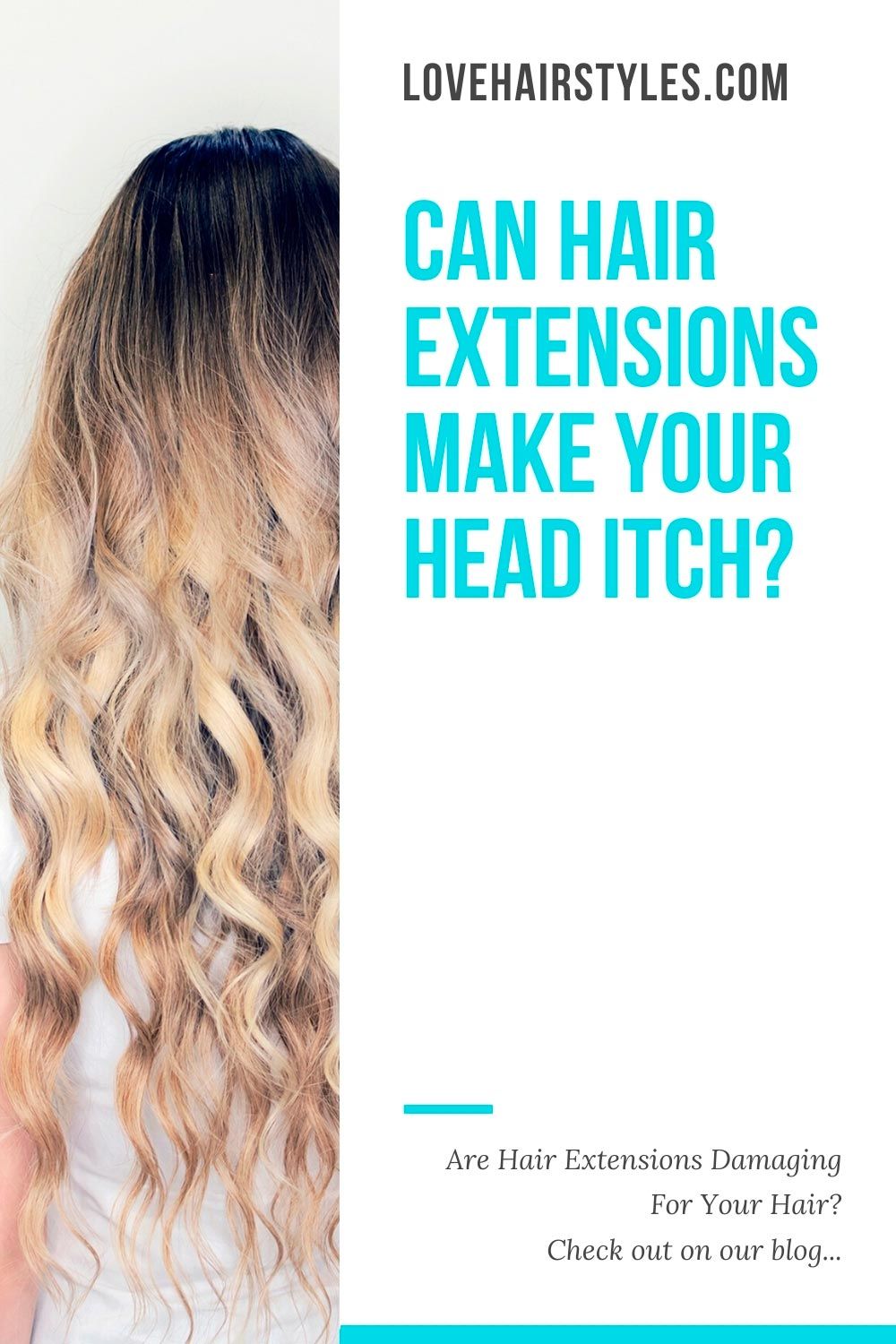 To stay away from damage, don't yield to the temptation of removing permanent extensions yourself. It's always better to do leave things up to a professional.
- Can hair extensions make your head itch?

- After the first installation, your scalp gets tightened and itchy for a couple of days. It's all about adaptation, so you don't need to worry.
Who Should Avoid Getting Hair Extensions?
Women who suffer from hair loss must not go for hair extensions. First of all, you need to find the cause of the problem and fight it, as extensions must be attached to healthy hair. If you think that they would hide hair loss, you're completely wrong. On the contrary, they can exacerbate the decease.
5 Helpful Tips On How To Properly Care For Hair Extensions
If you are looking for some hair tips on how to properly care for and maintain your extensions, you have come to the right place.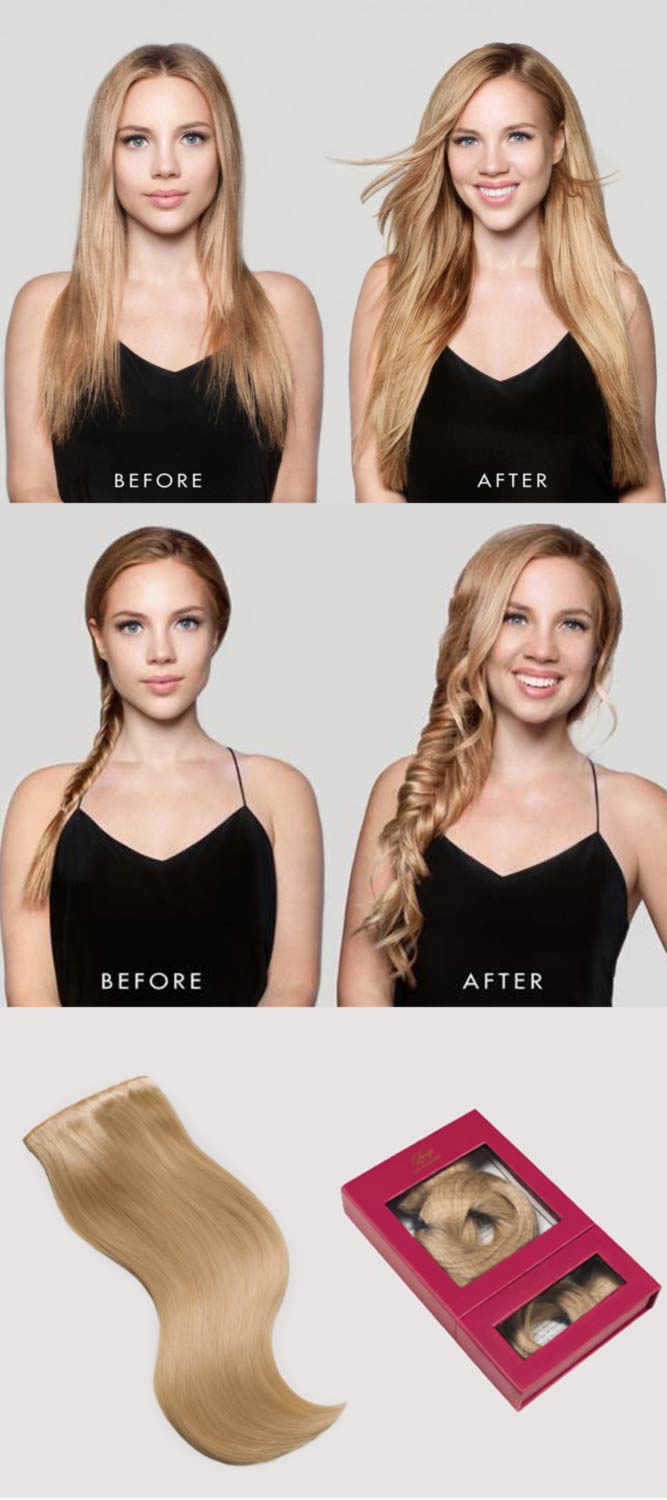 Source: Luxyhair
Whether you have preferred short or long extensions, curly or straight hairstyles, we have some helpful advice on how to protect your extensions.
Quality Hair Extensions Will Require Some Time, Effort And A Lot Of Cash
Hair extensions are not cheap. They must be professionally done and removed every six to eight weeks. They can easily cost as much as a thousand dollars per application. This is the reason to ensure that you are caring for them properly.
Also, hair extensions take some time to work into your natural hair, so be prepared to sit still at your hairstylist's for quite some time. Set aside enough time to have the procedure completed. Depending on the number of extensions you are having put in, it can take anywhere from 45 minutes to a few hours. Add additional time if you are also getting your hair chemically treated or colored.
Use The Right Hairbrush
Using a quality hairbrush is essential if you wish to maintain your extensions. You should purchase a detangling hair brush that is made with nylon bristles. This will allow you to brush your hair without pulling at your extensions and damaging them.
Use High Quality Hair Products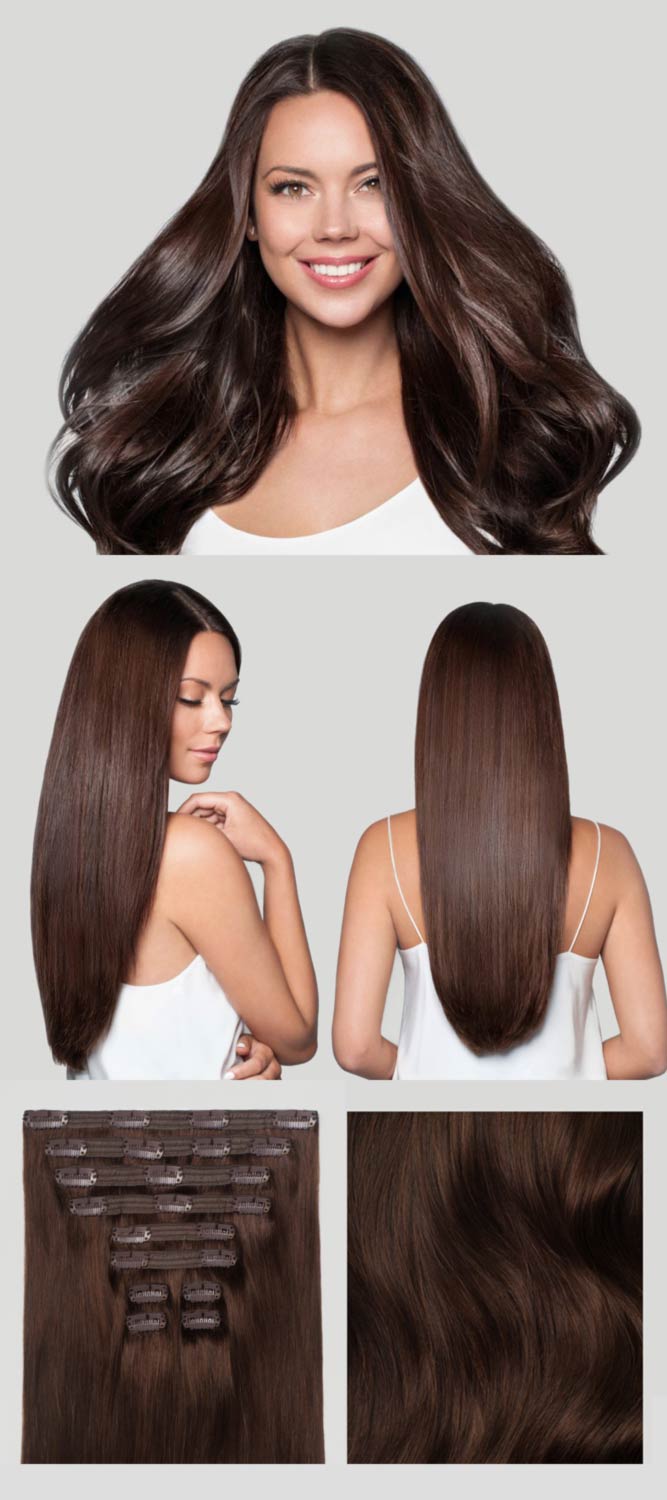 Source: Luxyhair
When it comes to caring for extensions, you should never skimp on hair products from shampoos to conditioners to products such as sprays, gels and mousses. Aveda carries a line of products that are especially designed for extensions, including leave-in conditioners. Conditioning your extensions regularly is a must, and dry shampoo is also recommended for those with extensions. Stay away from products that are greasy and oily and contain alcohol. Also, you should go easy on your hair products, and do not use excessive amounts as this can dry out and damage your extensions.
Don't Wash Your Hair Too Frequently
To properly care for your extensions, you should only wash your hair two times a week at the most, less if you can get away with it. Clean the ends and the scalp of your head thoroughly, but cleanse the midshaft of your hair gently and sparingly. When you condition, apply it to the ends only. Whenever possible, allow your natural hair and your extensions to dry naturally. Again, dry shampoo and leave-in conditioners are great ways to treat your hair between wet shampoos.
Go Easy With The Flat Iron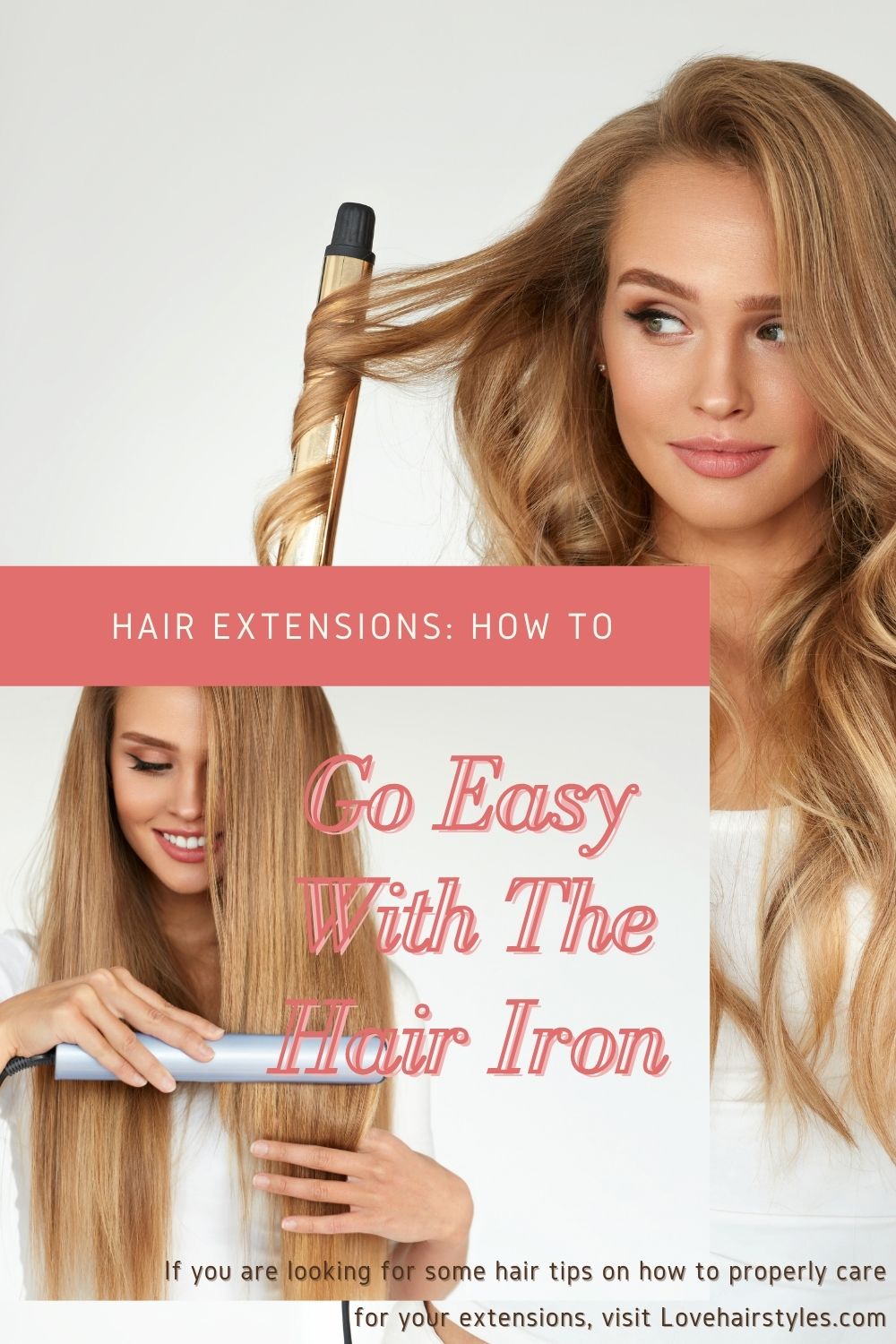 While we do not recommend using excessive heat any time, it is okay to use a curling or flat iron on your extensions occasionally. However, extensions are made of real hair, so just like your natural hair, it is easy to burn, dry out and damage it. You should never set your flat or curling iron over 350 degrees, and don't allow the iron to set on your extensions for a long period of time. Just a few seconds in a curling rod or iron, or a quick sweep of the flat iron will do in order not to damage and break your extensions. It is a good idea to apply a quality thermal product to your hair before styling with a heated styling tool.
When Should You Remove Extensions?
Keep an eye on how fast your hair grows out. In general, hair extensions shouldn't be left in for more than 4 months. Also, once you see 2 inches of regrowth, it's the sign to make an appointment for removal.
Checklist To Find The Perfect Hair Extensions For You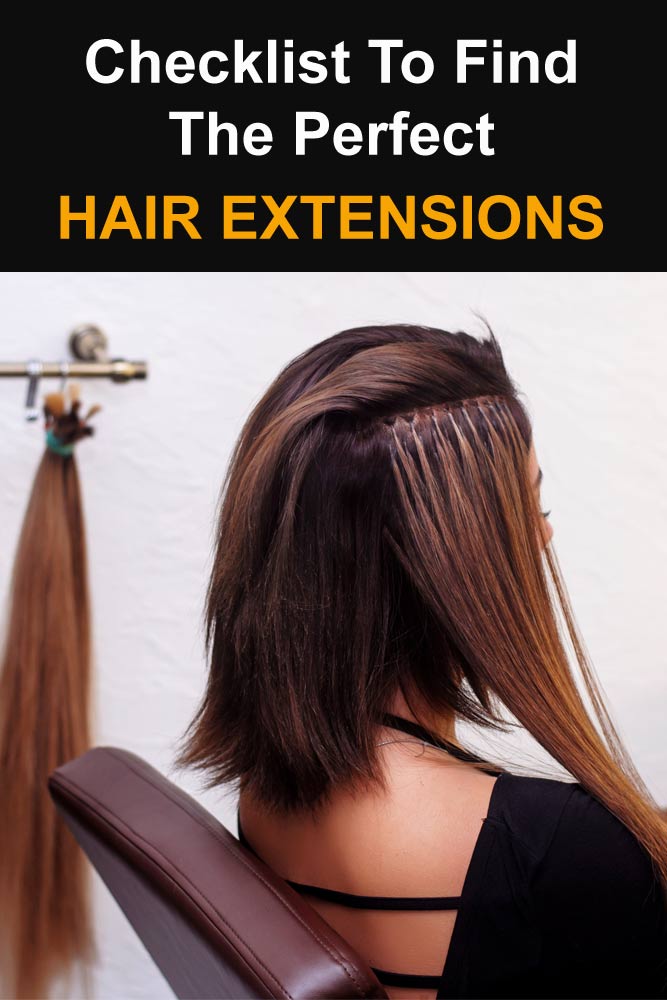 Source: Mary Berkasova/Shutterstock
Find a skilled professional. Besides a good salon, it's very important to find a stylist experienced in working with extensions. Before making an appointment, consult with a professional whether the result you're expecting is achievable. If you want to spice up your short and fine locks, for example, a good professional will recommend you to add not more than 5 inches of hair extensions for short hair.
Give it a try first. Wearing extensions is a huge commitment that should be thoroughly deliberate. Ask your professional for a test piece during the consultation to understand if the chosen type of attachments suits you.
Stick to your color. Don't ever compromise with the color match when choosing extensions. Even the slightest difference will look drastic, so take your time to find extensions that perfectly match your natural hair color.
What's The Best Brand Of Hair Extensions?
There is no universal brand that suits every single girl. Your best hair extensions depend on your budget and the look you're going for.
If you don't want to make extensions a part of your daily routine and looking for something cheap for just one day - synthetic bundles from Amazon will be your best friends.
Those who want high-quality REMY hair to rock for months and months will love Bellami hair extensions.

So there you go... some simple tips to help care for your extensions. If you follow these simple guidelines, your extensions will look natural and healthy and will last a long time!
FAQ: Hair Extensions
How bad are hair extensions for your hair?
Hair extensions are tied to the hair and yank at the hair and scalp, so, there is always the risk of damage to the roots owing to the stress. This stress can induce traction alopecia, (a kind of alopecia produced by continual pressure on the roots, which damages the hair follicles).
Can extensions grow your hair?
Hair extensions, whether hand-tied, taped-in, clipped-in, or micro-linked, can actually stimulate hair growth if applied correctly by a specialist. Hair extensions can also preserve your hair from damage and let you style it in a variety of ways.
Can you wash your hair with extensions?
Only lukewarm water should be used to wash your hair and extensions. Wash your hair with two or three pumps of a sulfate-free shampoo while your extensions are damp. Rinse your hair and apply a sulfate-free conditioner from the centre to the ends. Wait two minutes and rinse again.
Was this article helpful?