When you think of holographic hair, what comes to your mind? Anything that you imagine will be true. Sounds like magic? Well, it looks like magic, too. The truth is, this shade is nothing but a mixture of illuminating, chatoyant rainbow hues that look like those yummy colors from your highlighter palette.
Today's amazing hair color ideas are going to prove to you that this color is something that you have been waiting for your whole life. Check out the ideas of the latest trends and see some useful tips to keep up with such a masterpiece.
What Is Holographic Hair?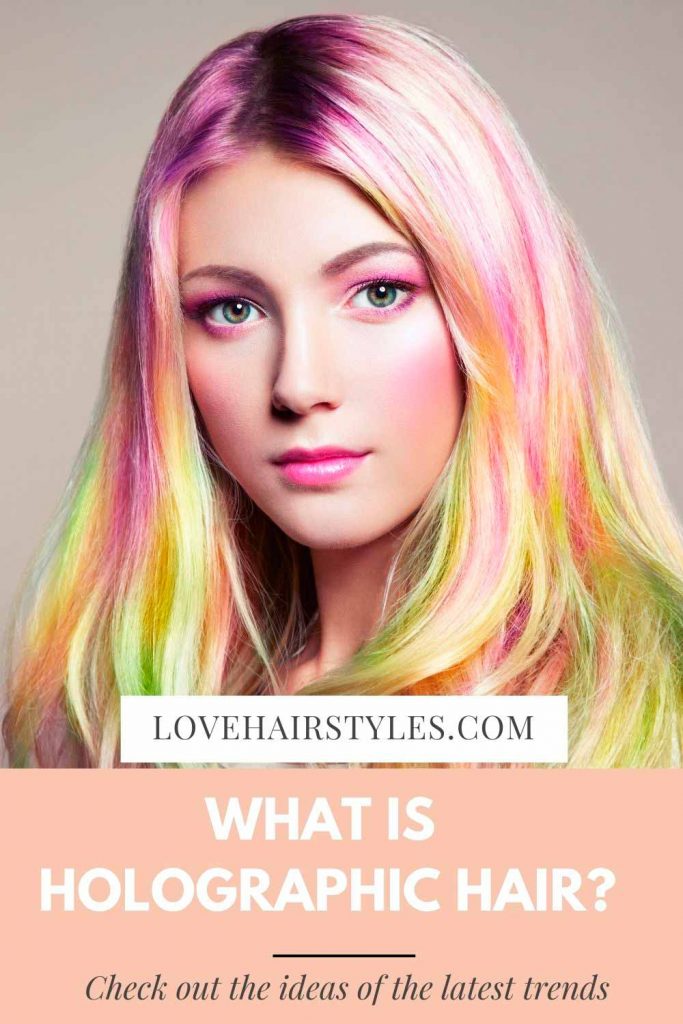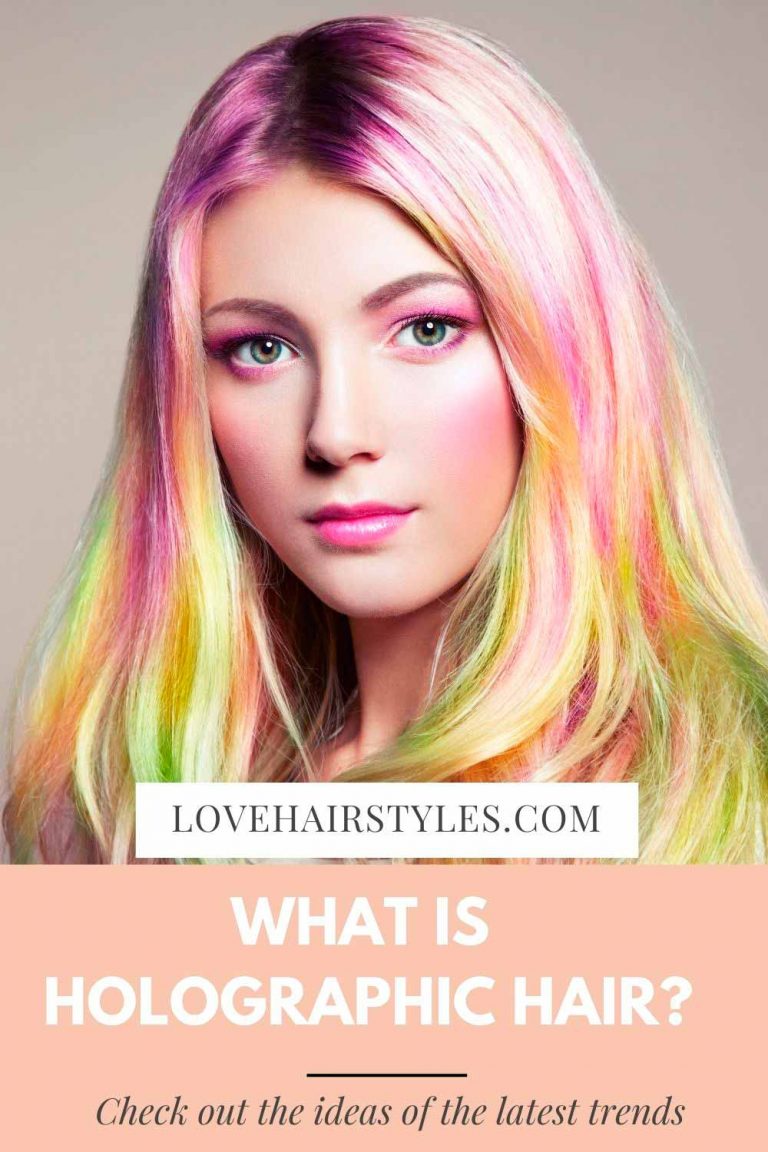 Holographic hair is anything you want it to be. In general, it's a combination of cool-toned, greyish, and platinum hues that give the mixed hair colors holographic appearance. But that's only a generalized definition, as your imagination is the only one who can define how your holographic hair color should look like! Such a color idea is usually achieved with a platinum base. Then, your hairstylist lets some high-gloss highlights run through the base to create a multidimensional color that one can see a mile off.
On your way to discovering different multidimensional colors, you may also come across holo shades. So, what color is holo, how do you think? In fact, it's just a short name for holographic colors most of which you can behold below!
How Do You Do Holographic Hair? - A Little Magic Tutorial
Needless to say, only a good professional knows how to get holographic hair so that it really stands out. Each color should be applied expertly to your base, which, as you know, requires bleaching if it's not light by default. Also, for ladies with very dark initial colors, one color session might be not enough to make the color show up.
And in case you're still not convinced or don't want to wait for a color appointment to come, we've prepared a good, reliable tutorial. Make sure to follow all these steps so as not to end up disappointed about your color.
Q: How do you get holographic hair?
A: First off, you need to bleach your hair if it's dark, as you need to start with a super-light base. Then, just follow this step-by-step tutorial if you don't want to mess it up.
What You Will Need:
A couple of brushes;
A bowl for every color;
A pair of gloves;
A diluter;
At least three packs of holographic hair dye or holographic hair foam.
How To:
Start with light or well-bleached hair.
Add each color in its bowl and add a bunch of diluter to each one. Mix each color thoroughly.
Next, part your hair to the middle and split the back portion into equal sections for comfortable coloring.
Put on your gloves.
Choose a base color and start applying it all over your hair, moving from the very roots.
Then, take another color and go on to apply it on the hair strands, regulating the blend and transition with the base. For a smoother transition, rub the base color with your fingers and even it out with the added color, bringing the base down.
Repeat the same steps with the other colors, paying close attention to their transition.
Once all of your hair is coated with dyes, give it 45 minutes.
Finally, rinse everything off and enjoy the makeover!
Holographic Hair Care Tips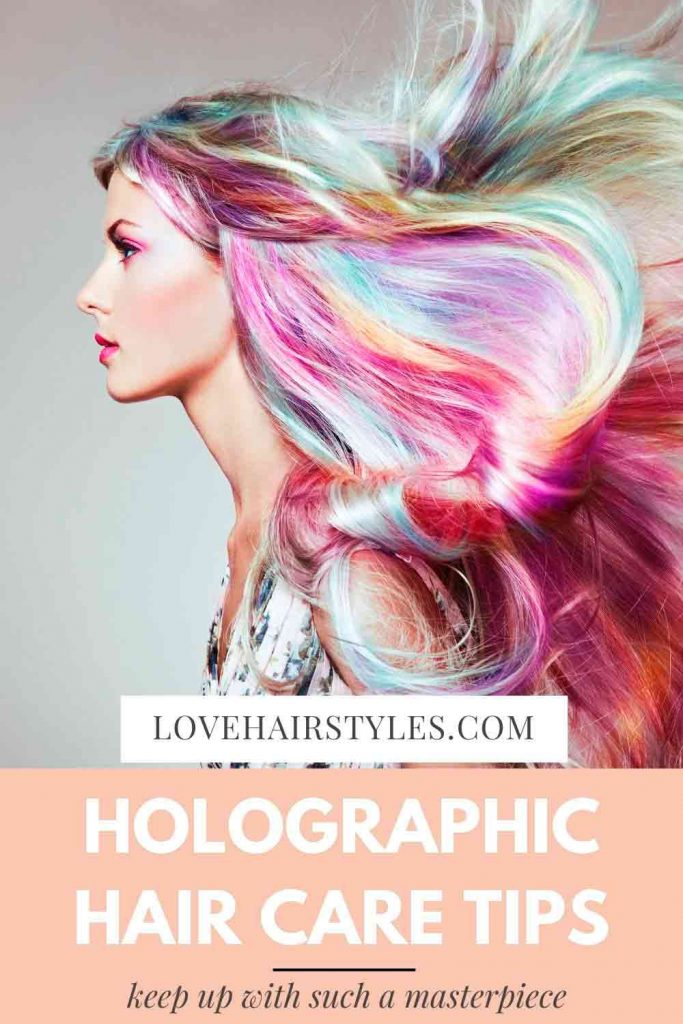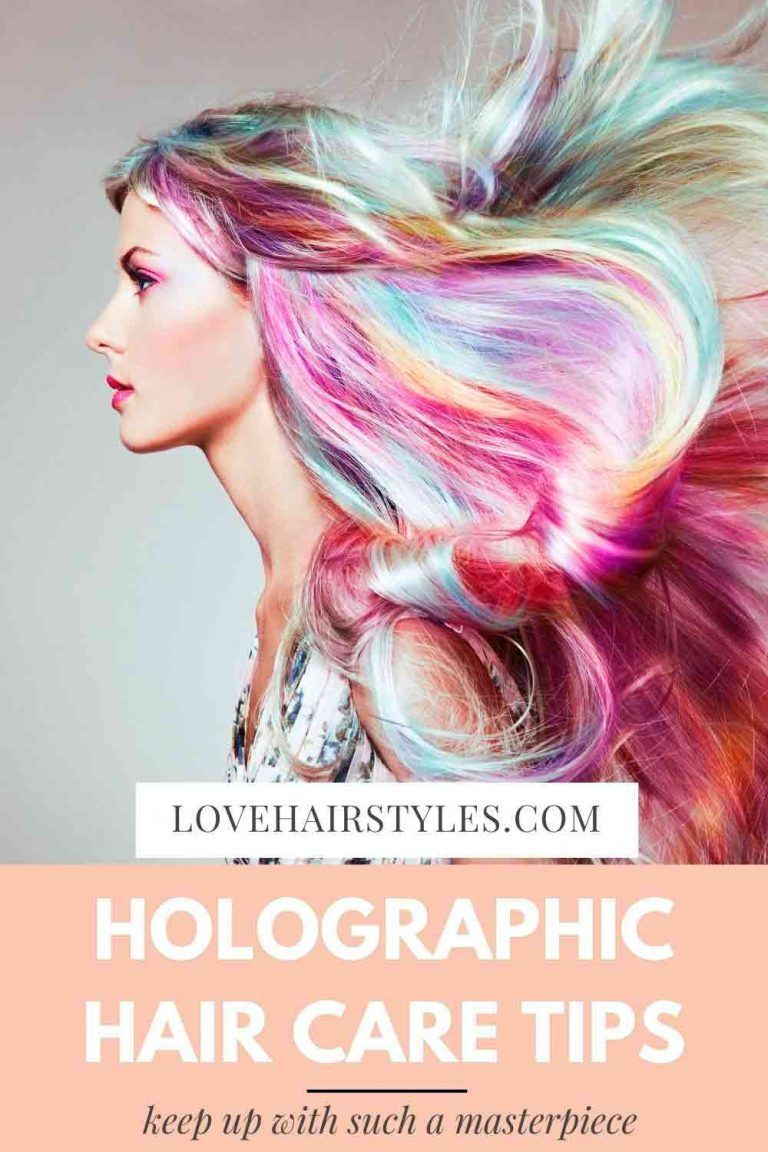 Unfortunately, your rainbow holographic hair won't last too long. But there are some ways to make it stay a bit longer! Consider these tips to take care of your awesome color properly:
Use shampoos and conditioners designed for color-treated hair only.
Stay away from heat and let your hair air dry instead.
Moisturize your hair with shine sprays to give it not only a shiny but also a healthy look.
Don't forget to update your color by visiting a salon or doing a self-upkeep regularly.
Bright Ideas Of Holographic Hair
Northern Lights With Pink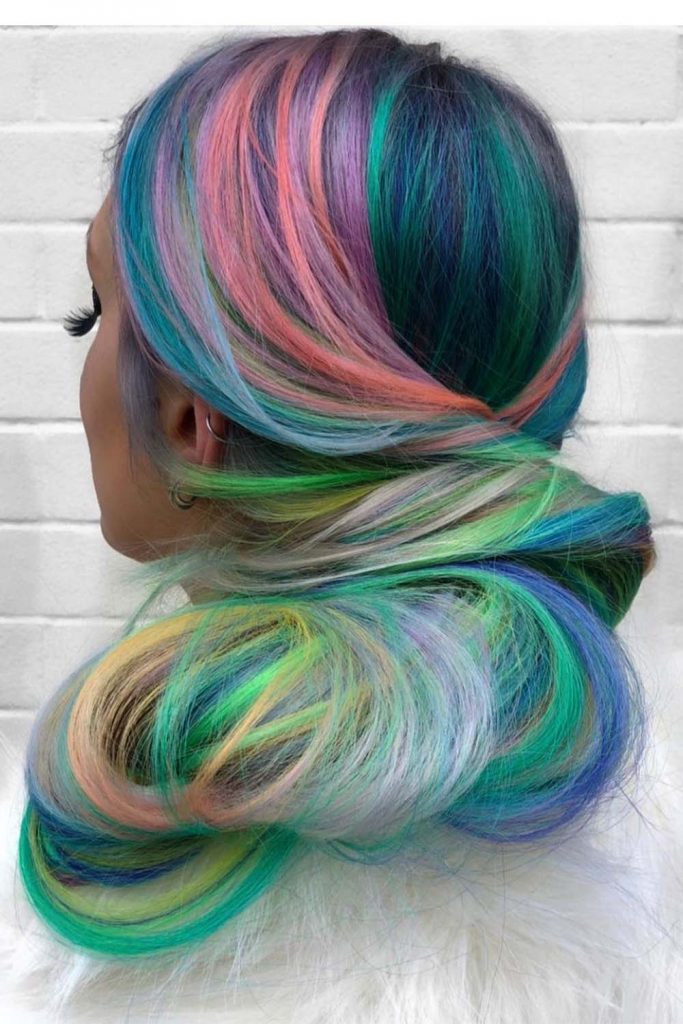 by @xostylistxo
We never know what palette the next show of northern lights will choose. Well, seems like women have a lot in common with this wonder! How about adding a hint of pinky sunset to your polar lights coloring? As a matter of fact, even a streak of this color is enough to change the mood of your look.
Iridescent Lights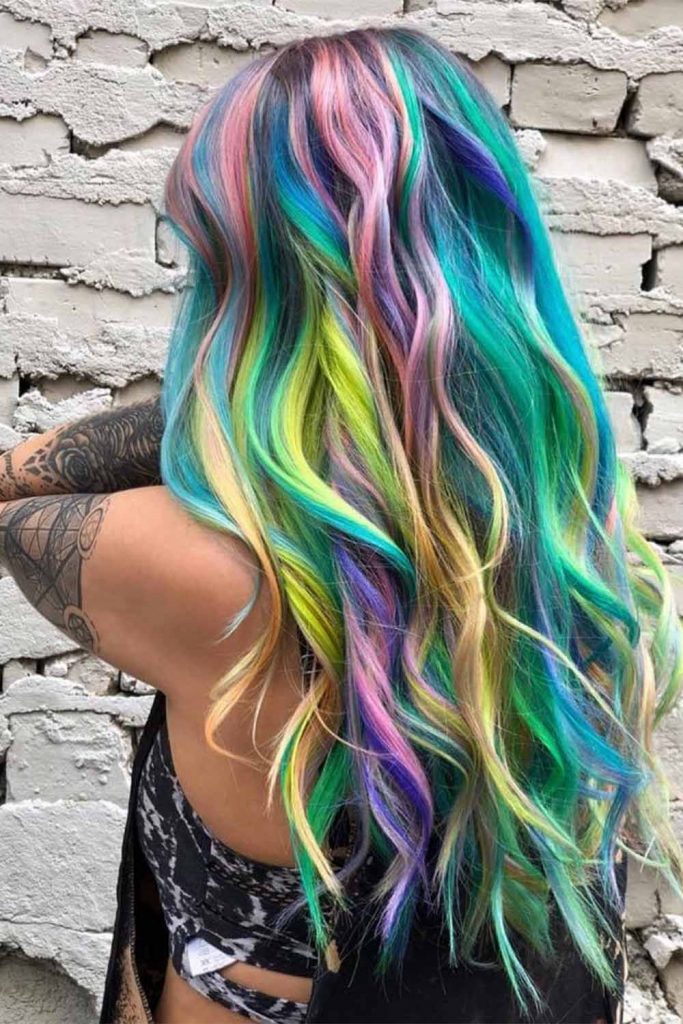 by @xostylistxo
Iridescent shades of holographic hair are never tethered to haircuts. That is to say, they look superb on any hair looks: from long waves to short and sassy shaved designs. As you can see, the play of blue, green, and purple doesn't need a huge mane to show its awesomeness.
Northern Lights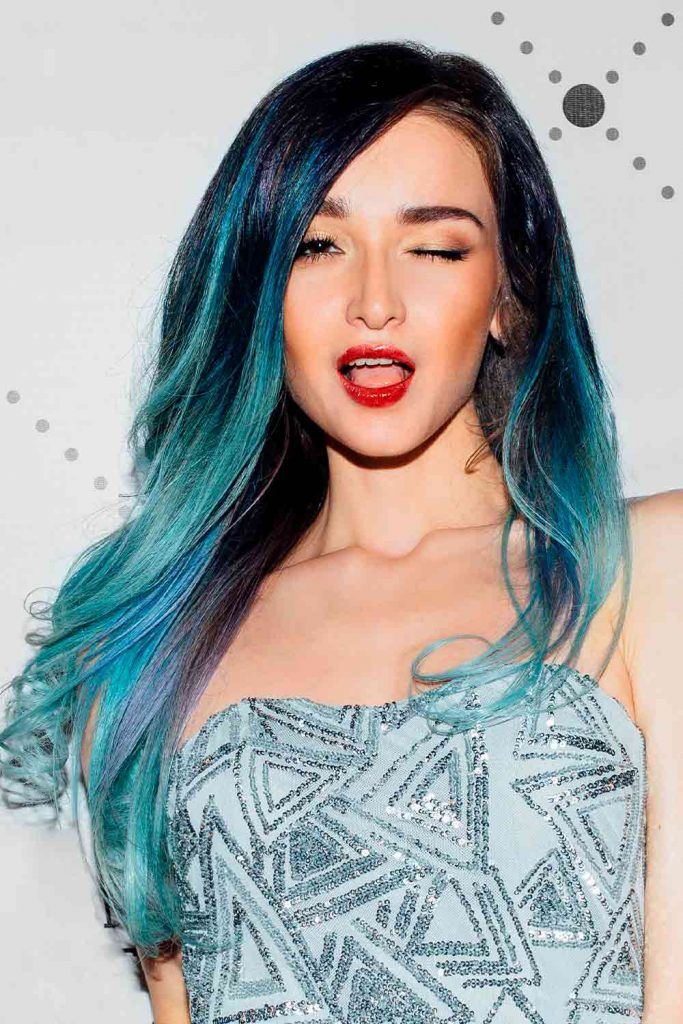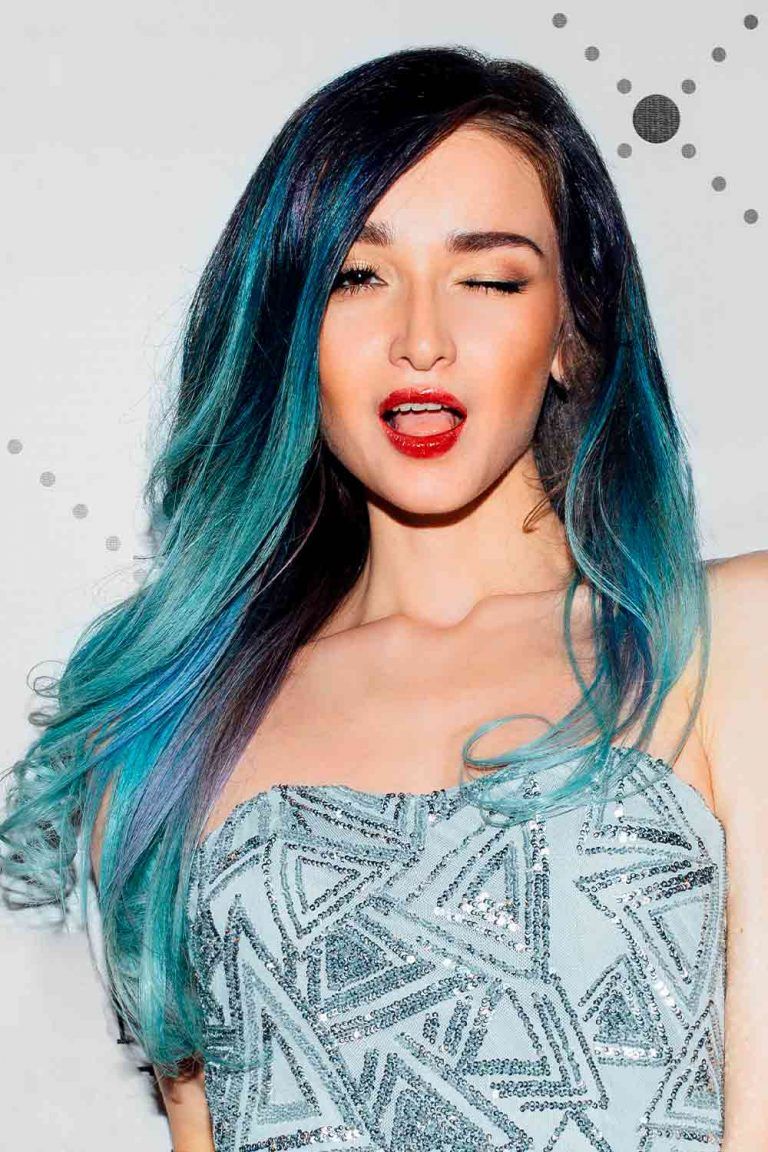 One can't enjoy the beauty of polar lights every day. Unless you spice up your hair with such magnificent colors! Dark and deep blue, faded purple, and light aquamarine hues are the keys! By the way, you can make the colors more subtle by going pastel.
Bright Rainbow Holographic Hair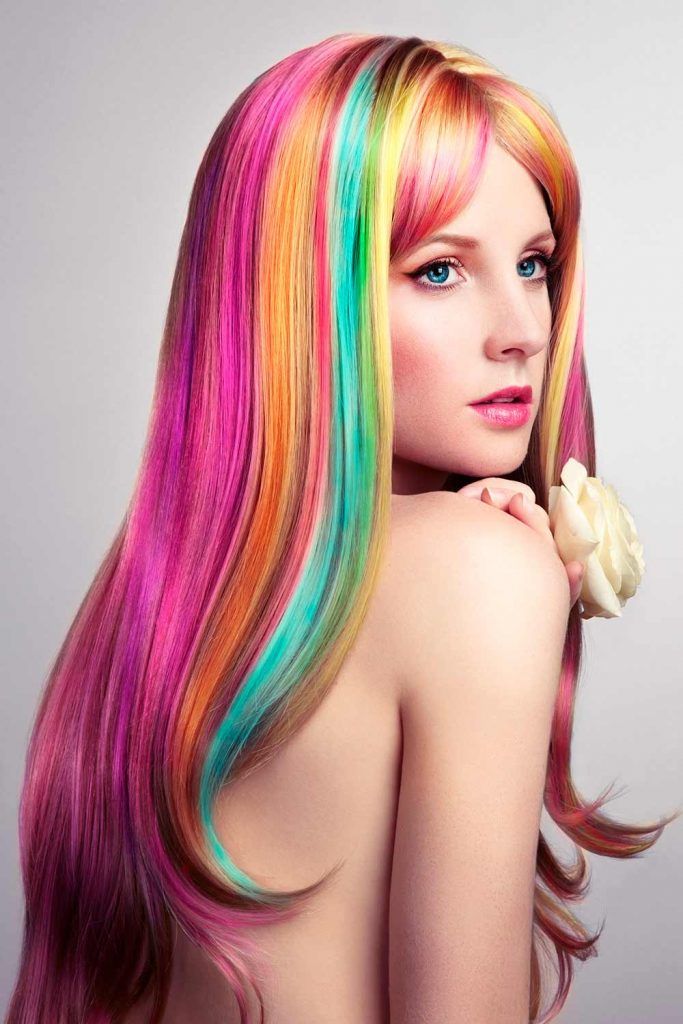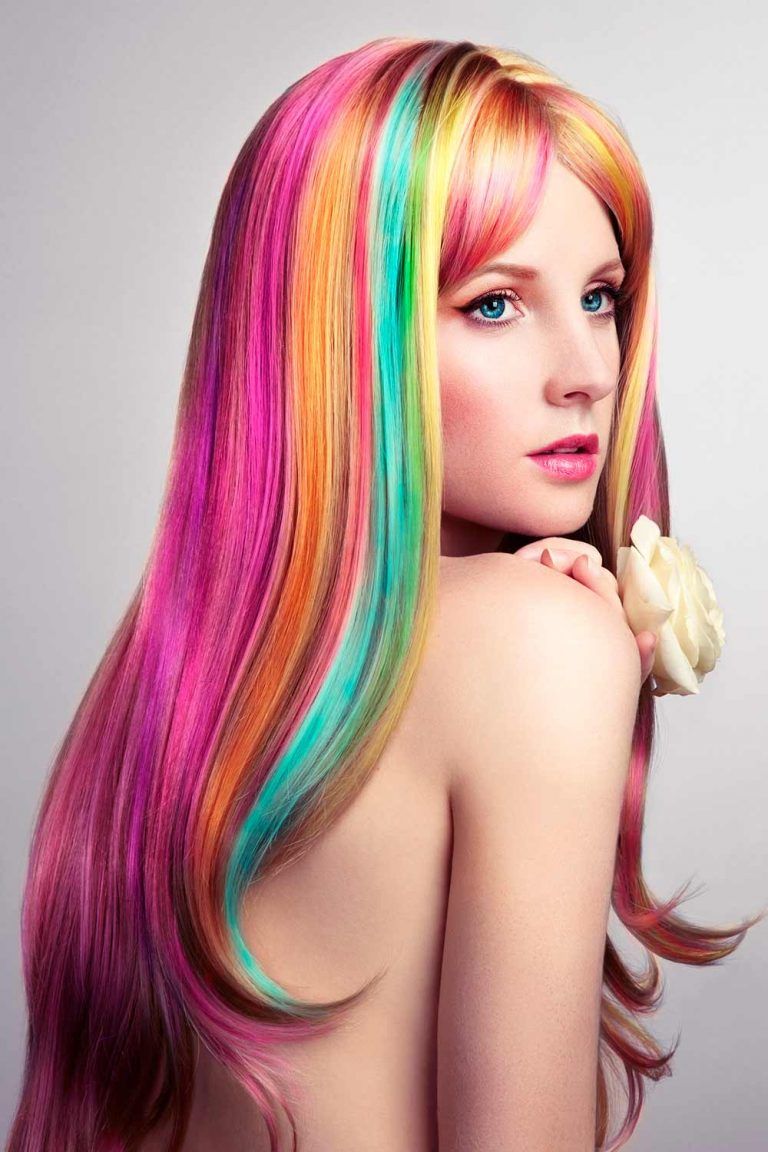 We can't have too much highlighter. Even if you shine brighter than a star, there's always will be a room for some more gloss. So why don't you make colors illuminate just like everyone's favorite shimmer does? This amazing rainbow is to die for, especially when added over a platinum base.
Vivid Holographic Melt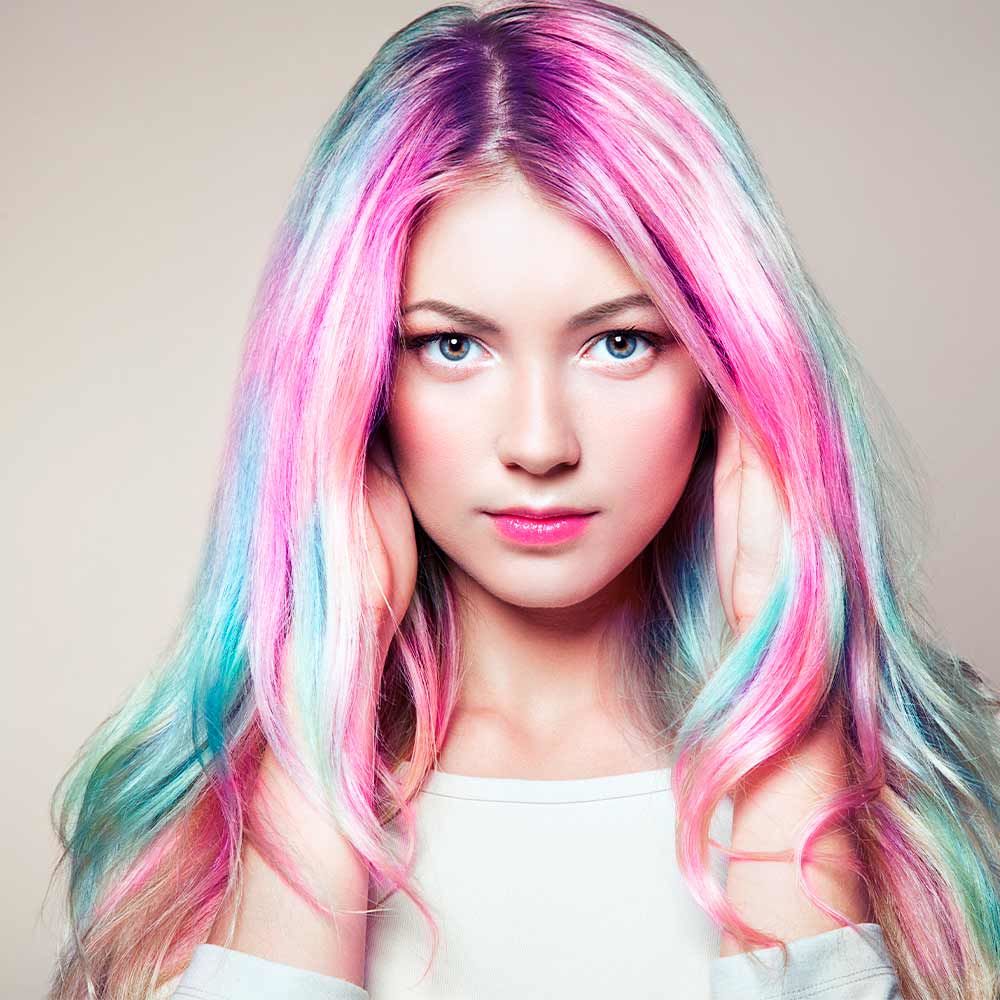 Want your hologram to stand out in the crowd? Add some more saturated colors, then. You can turn your head into a chic, distinctive rainbow: just don't forget to add some red and yellow shades.
Candy Pastel Holographic Hair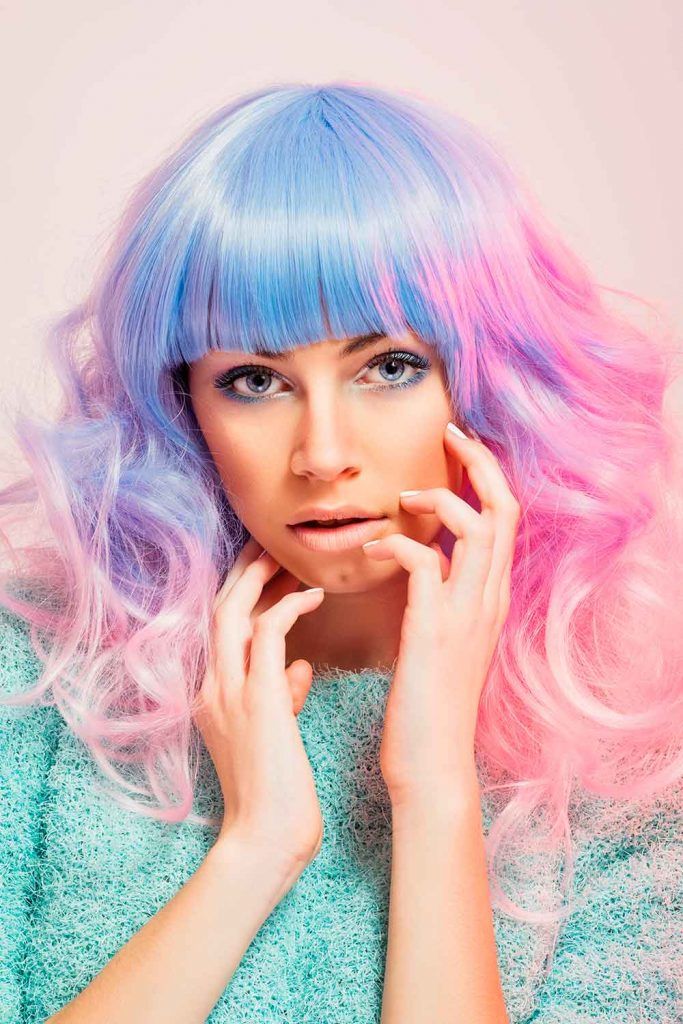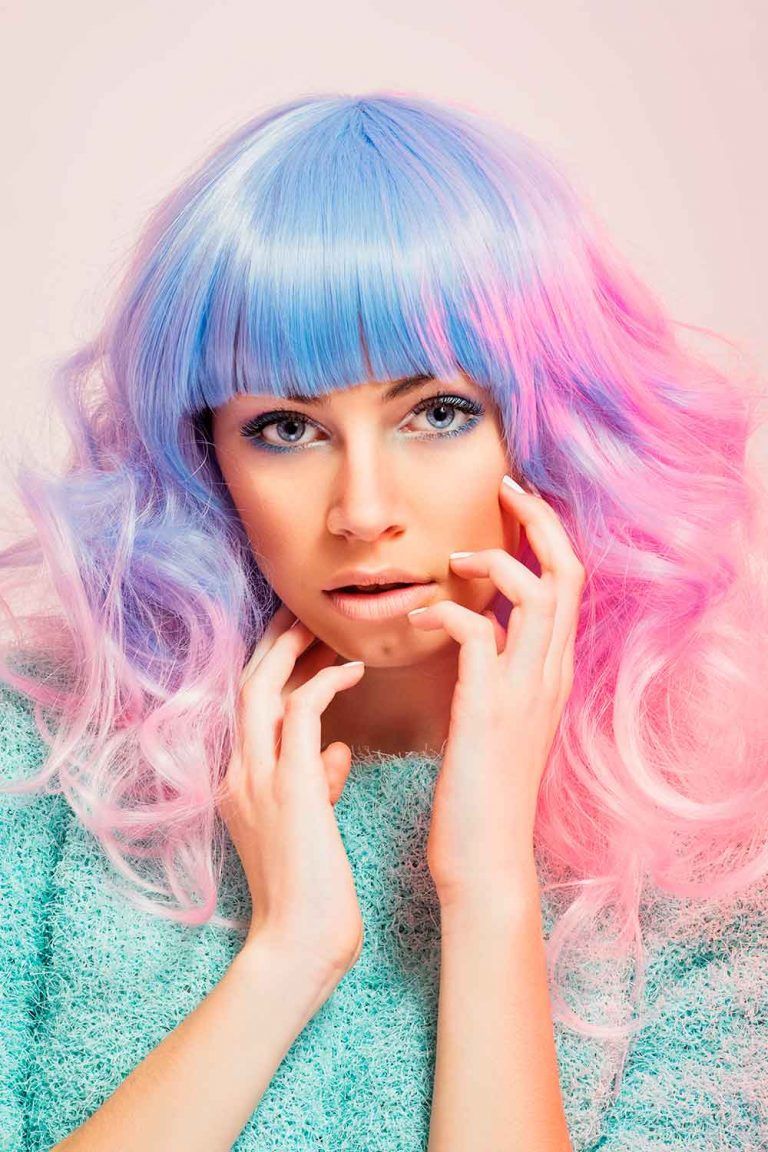 When you want to color up your cool-toned holographic shade, you can spice it up with some multicolor hues. For a better effect, add the funky shades to the lower portion of hair, for example. You will certainly love the way all the colors flow.
Neon Holographic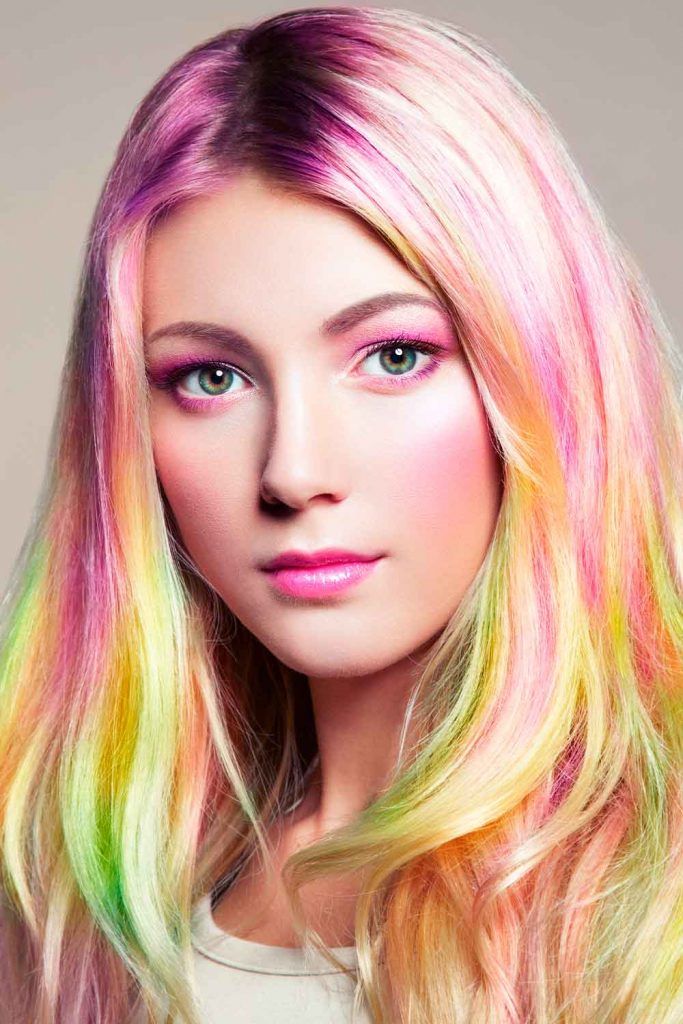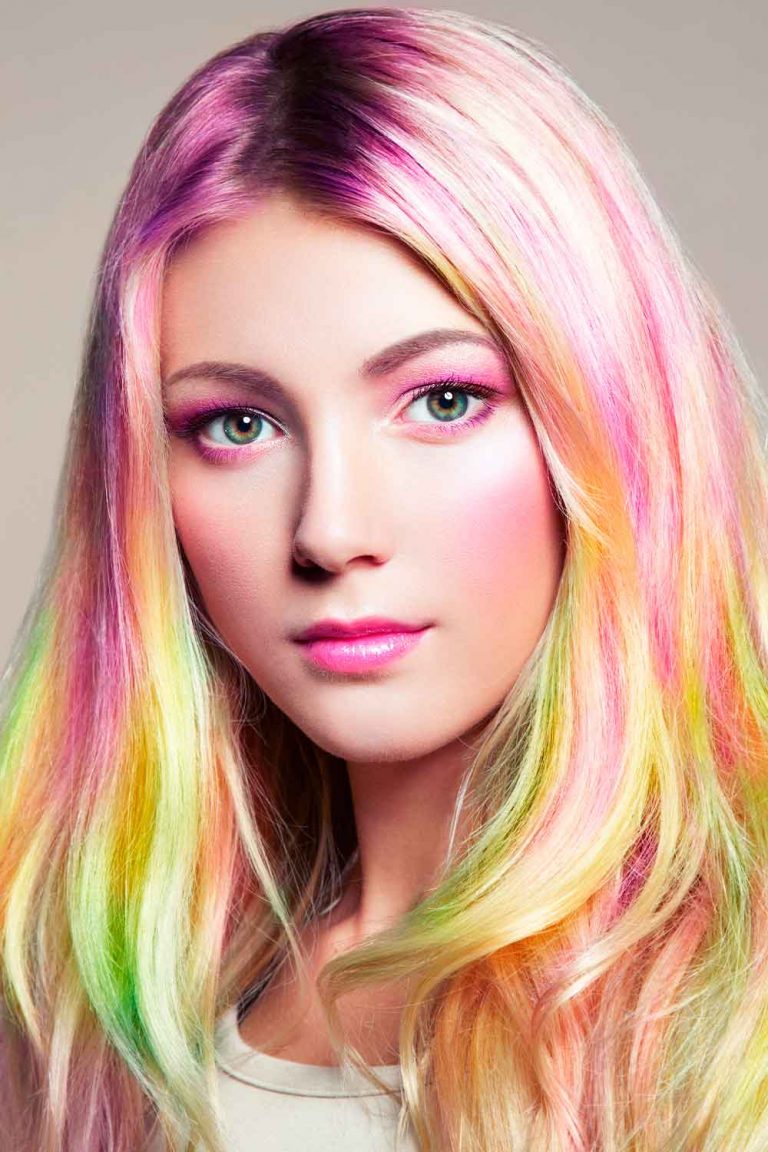 Girls who want to have all eyes on them can't do without an idea like this! First comes pink, and then goes platinum, introducing the charm of neon and acid vibes on the tips. Obviously, this look just needs to be stolen.
Ocean Blue Holographic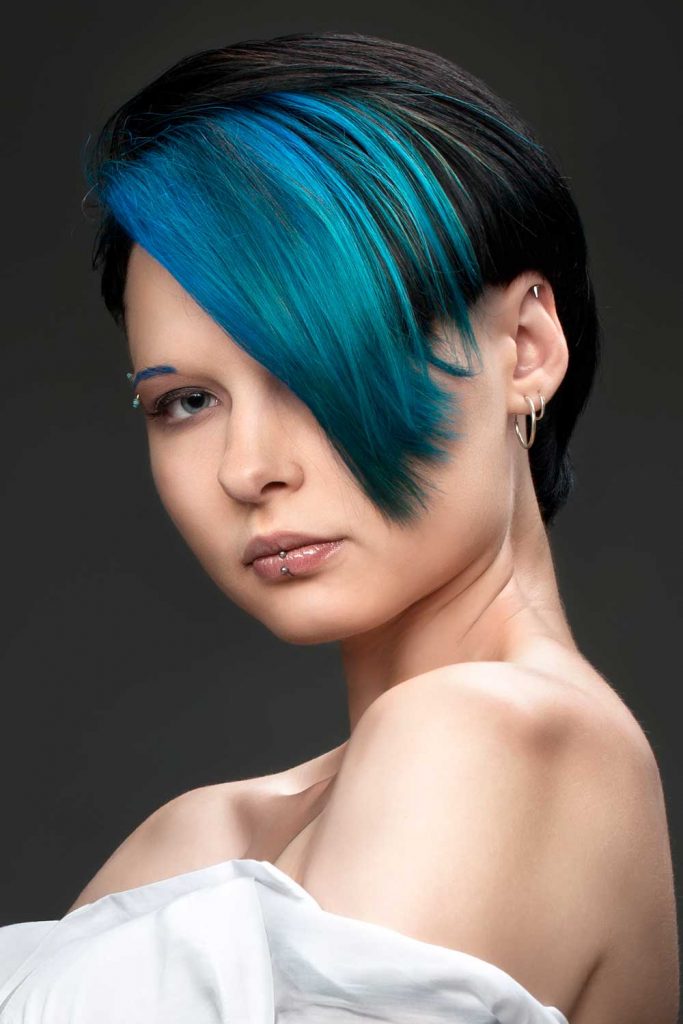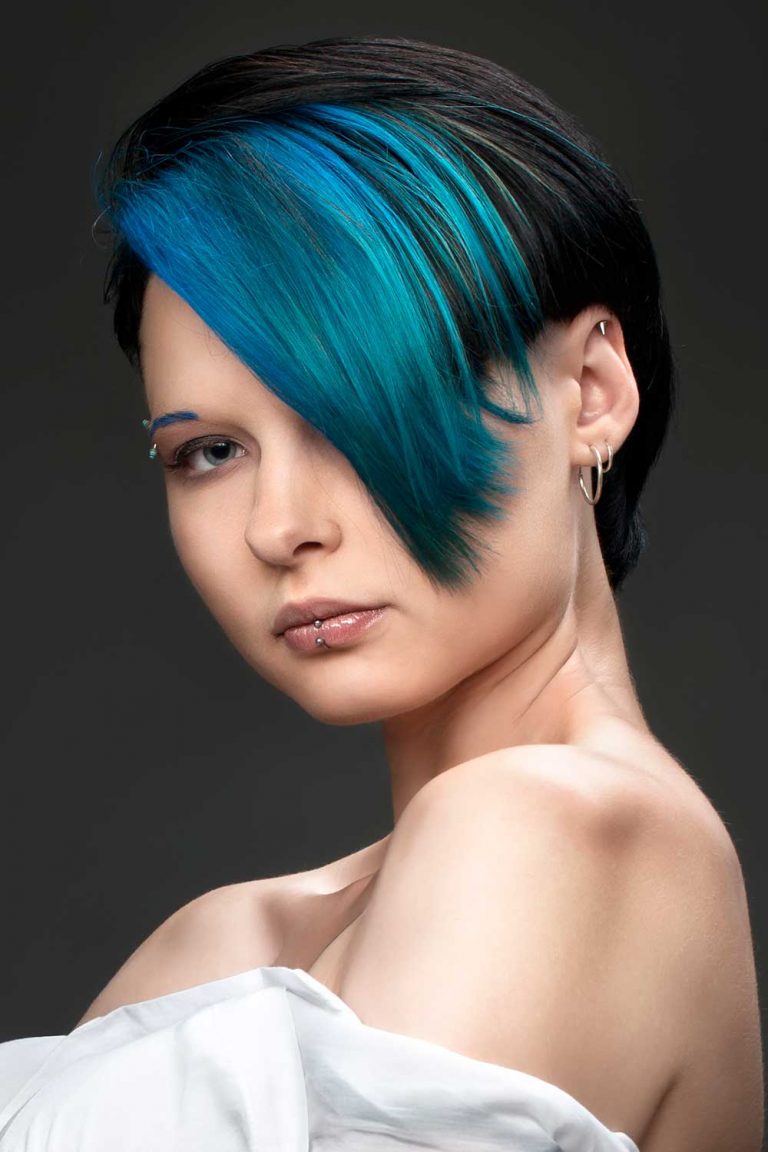 If you know the words that can describe the beauty of this idea, please, let us know. Those who think that blue has nothing to do with brown are going to get shocked once they behold this majestic look.
Fuchsia Holographic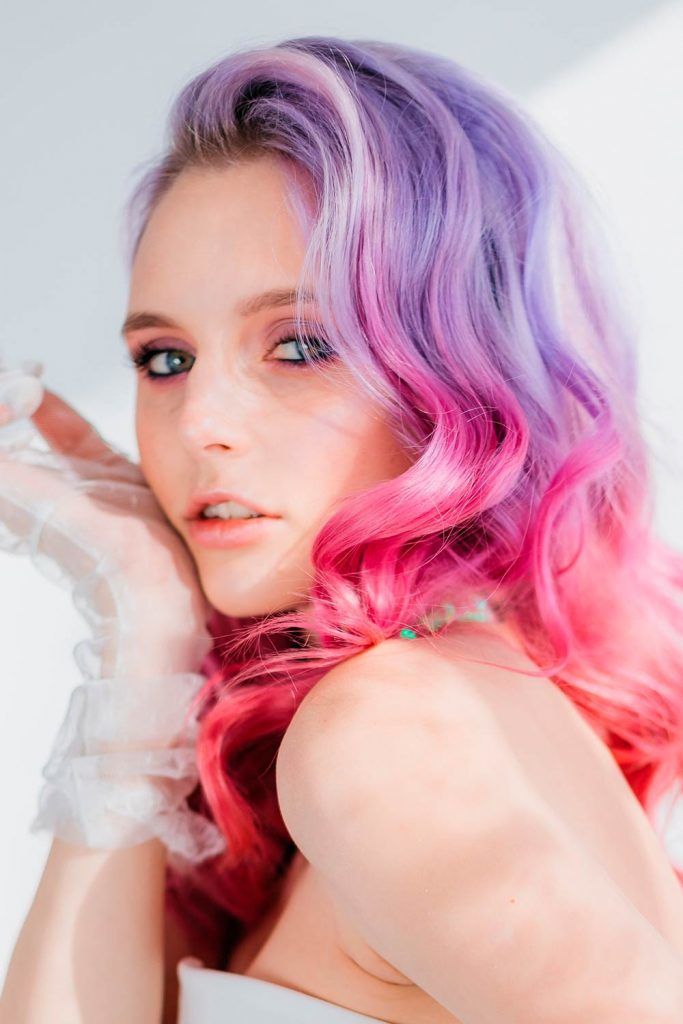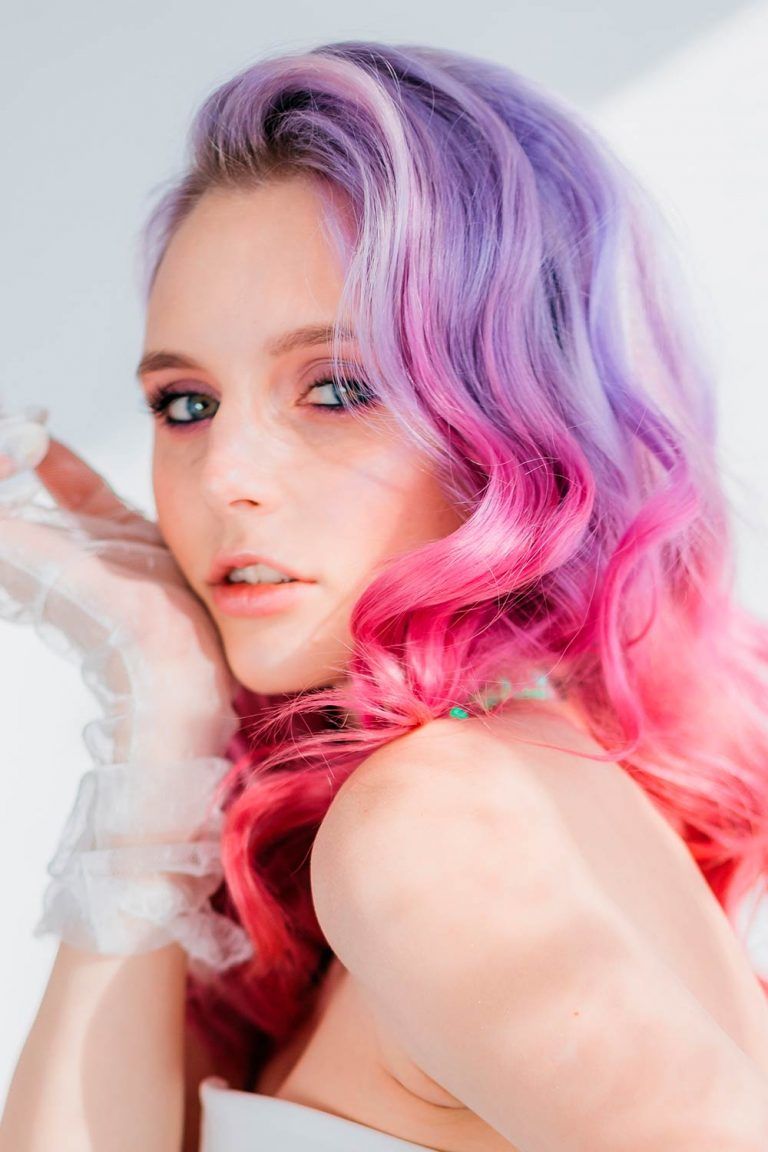 As for Fuschia, it's never shy, moderate or restrained. In fact, they're all about drama, eternal brightness, and juggling the most vivid colors ever. Can you imagine how much of a visual impact it could bring under the cover of a hologram?
White Shine Line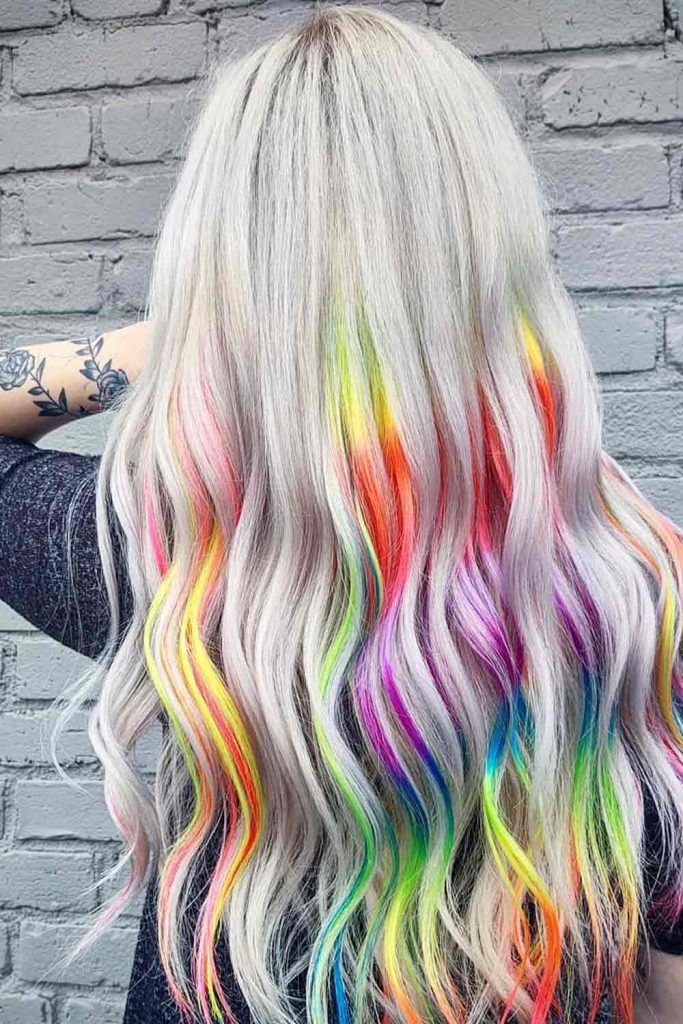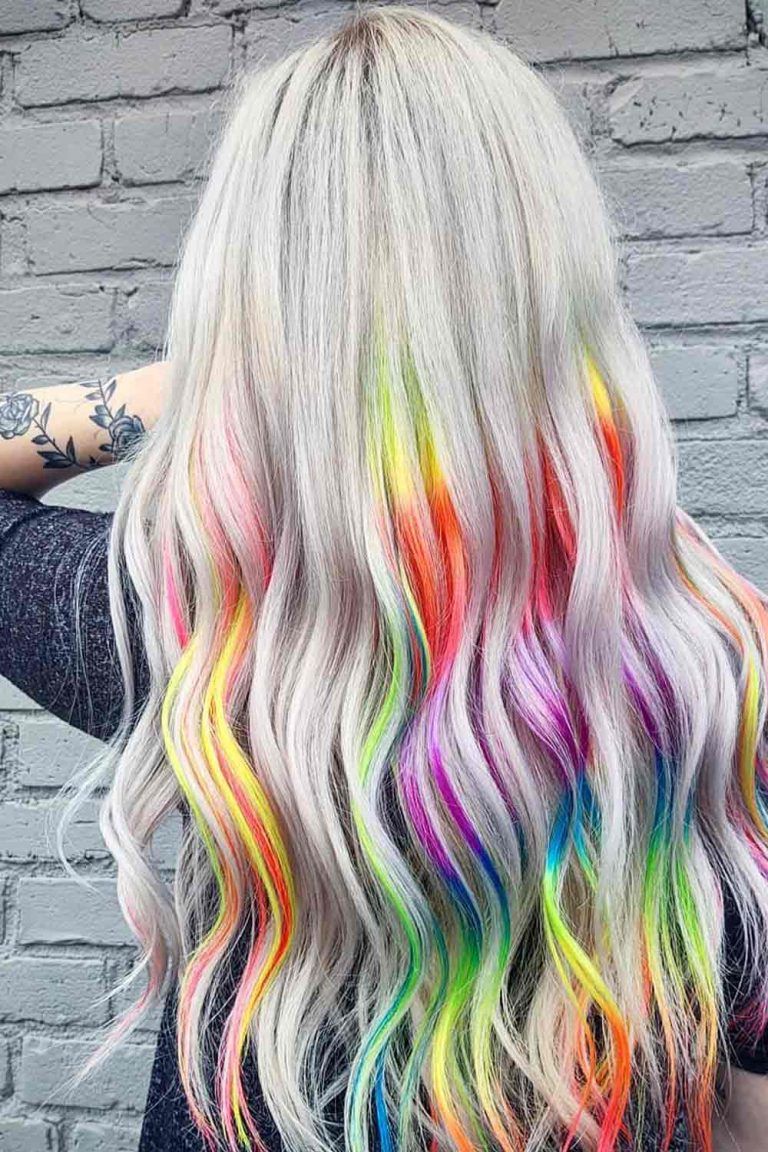 Source: adlydesign via Instagram
Cool-toned holographic hair has a glorious noble flare, regardless of what colors accompany the cold base. Here, you can see how the colors you would never combine in this life create a totally harmonic ensemble. Indeed, a smooth blend and a properly toned light base work wonders.
Metallic Pastel Purple
Combining metallic and pastel shades is like mixing hot and cold. Although these two trends make women go crazy equally, they have totally different intensiveness. And if you are into unpredictable combinations, you can try them both at once. Make some strands muted and pastel, additionally leaving some space for a metallic effect. To finish the duo, go for a purple tint over the base.
Pink & Yellow Accents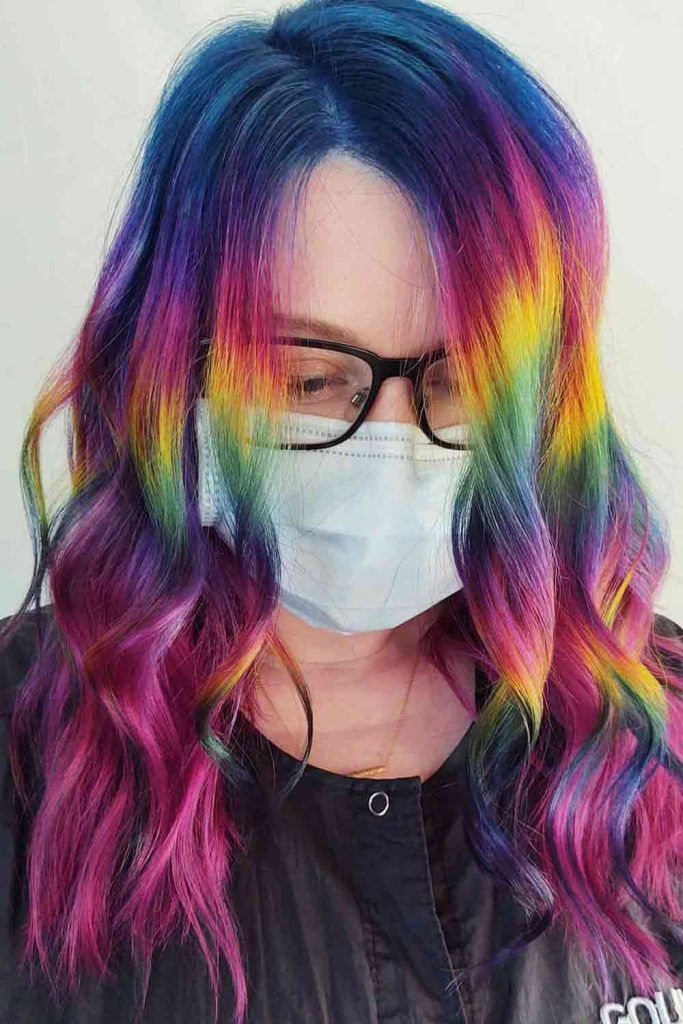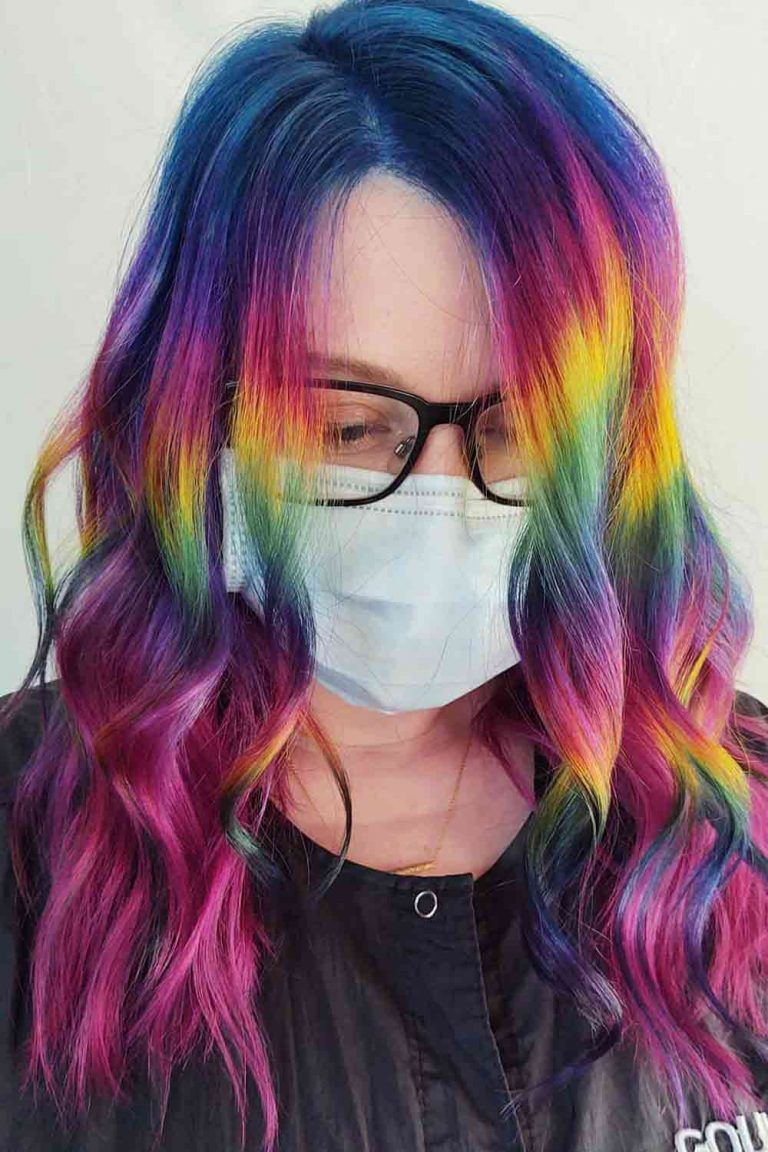 Credit photo: instagram.com/hairbybiancarose
If you want to switch to something warmer but without going too saturated and bright with your hologram, you can give it just a couple of colorful accents. Pick colors will surely stand out and thus changing the temperature of your look. Pink and yellow, for instance, won't let you down.
Pastel Holographic Hair Color Ideas
Icy Pastel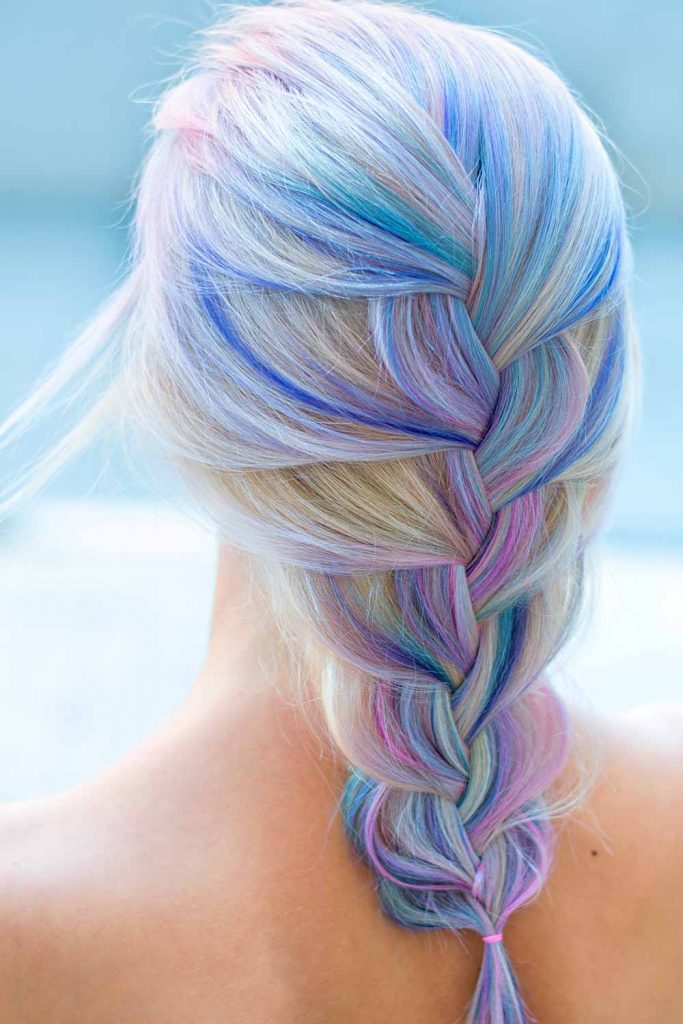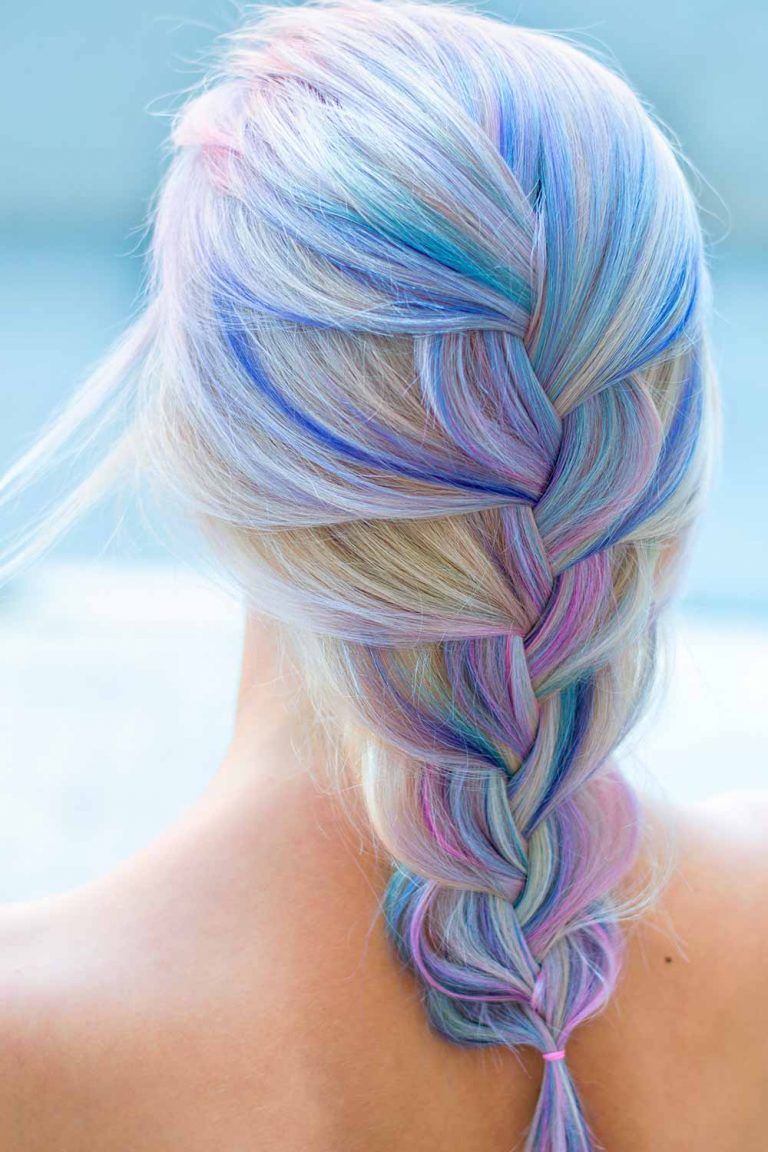 How do you like these icy holographic purple hair ideas? Profound lilac roots that slowly transit to a pastel mix of purple and soft pink streaks is a nice idea for girls with noble skin tones. Besides, when going for pastels, you can create harmony even with mismatching hues!
Holographic Denim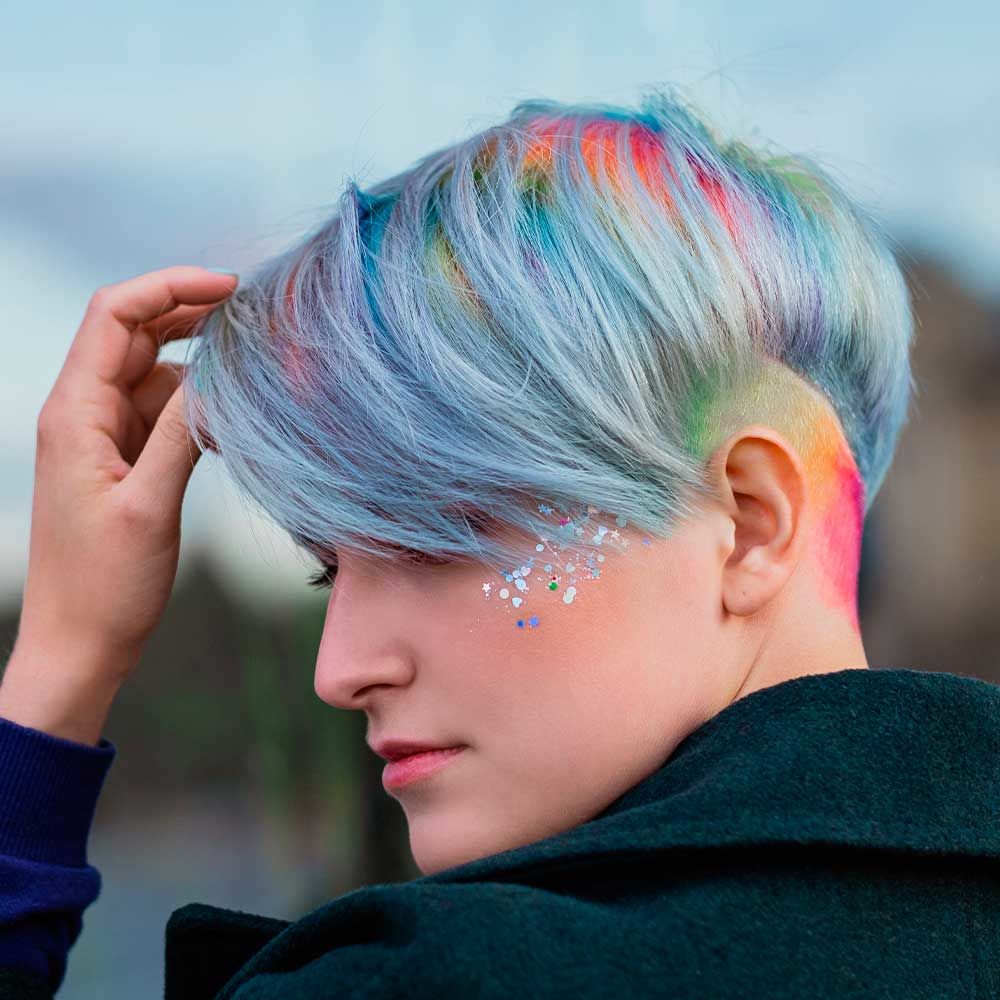 A faded projection of metal denim: isn't that a hair dream that came true? In order to make the idea look at its best, start with a more saturated shade on the roots, continuing with a softer one. Such ideas take a lot of time to get, that's true. Still, the jaw-dropping metallic charm is worth it!
Opalescent Effect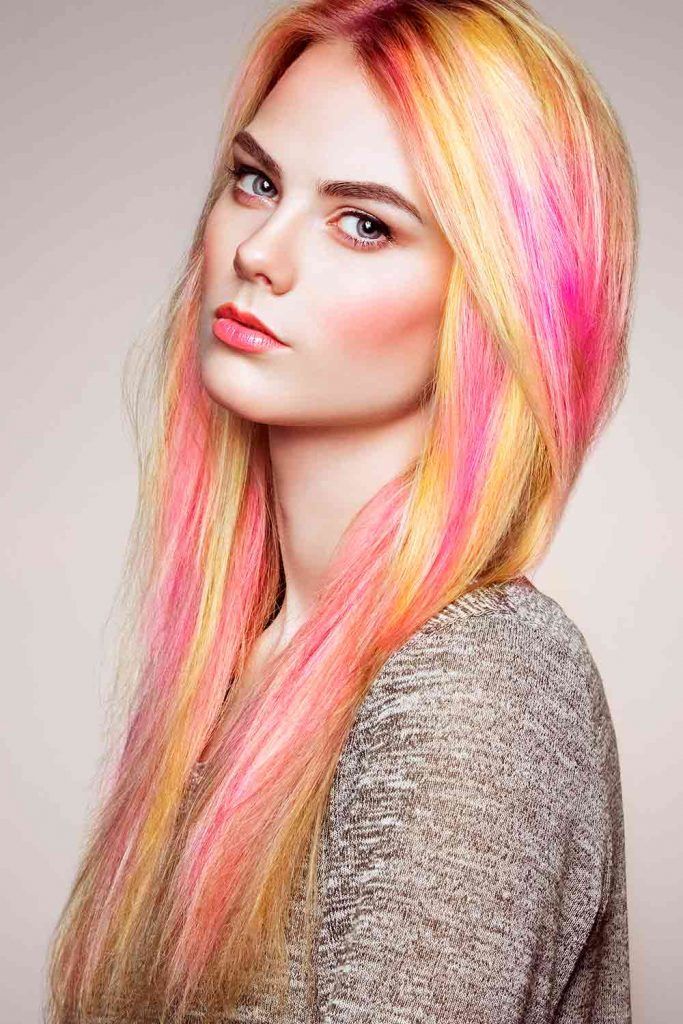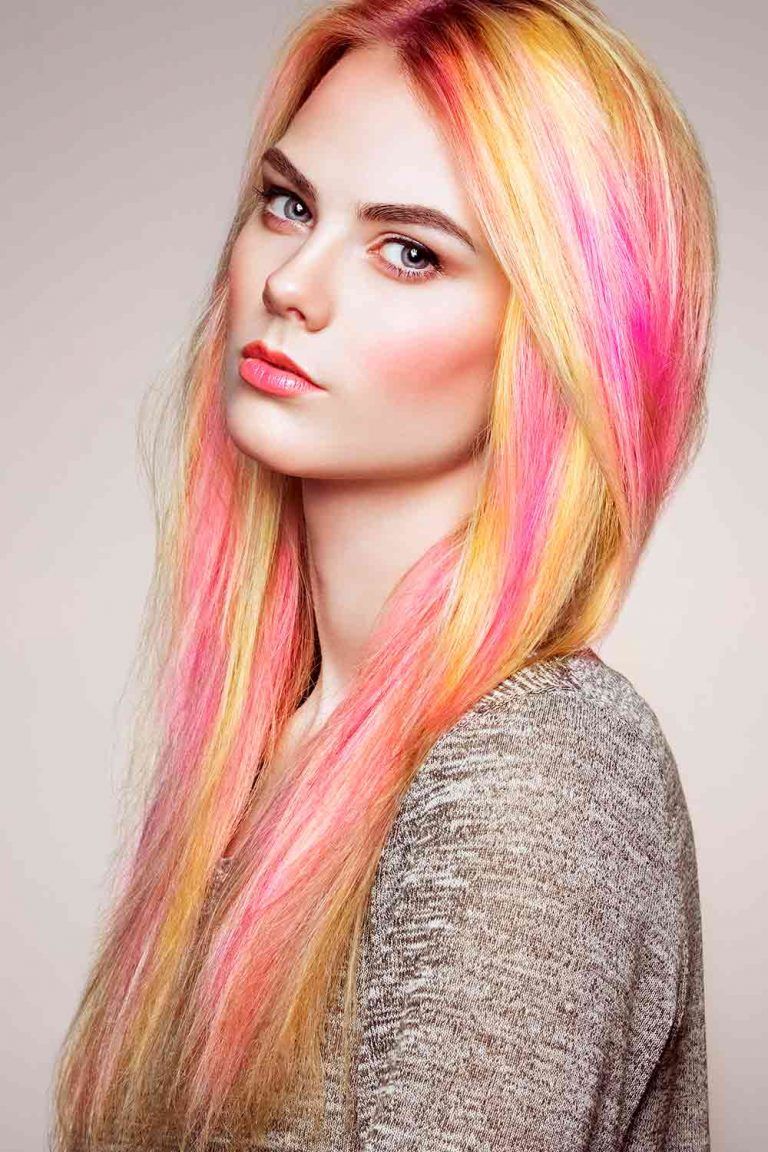 All trendy colors rolled into one, who could ask for more? These pastel lilac, muted baby pink, and greyish hues are applied so gently that they give the hair a stunning opalescent look as a result. This effect is known as a
geode hair color
. As it turns out, your hair can look like a gemstone!
Iridescent Bubble Holographic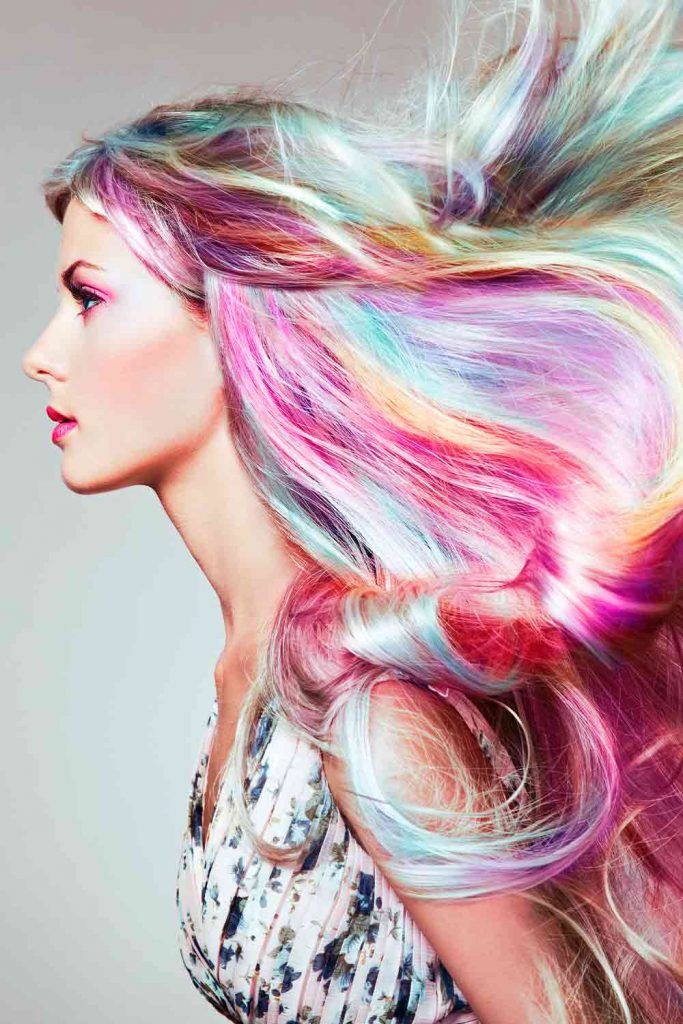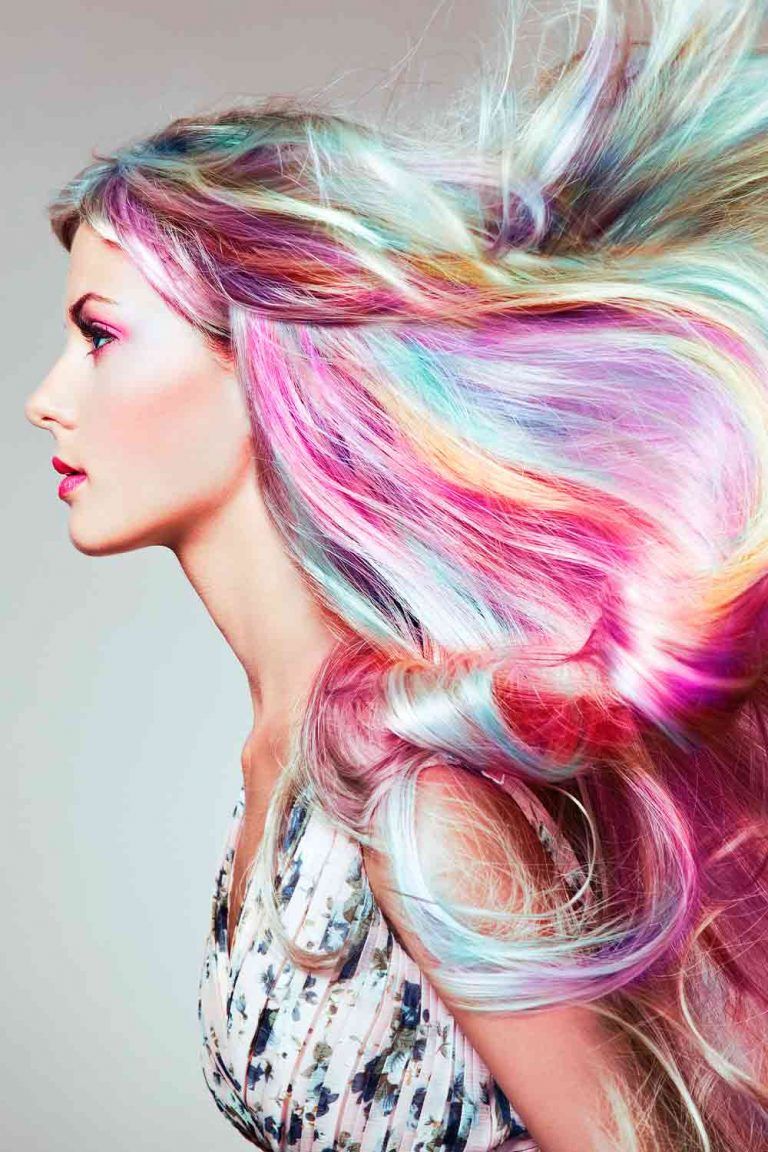 Be careful! Once you have a look at such a spectacular dimension, you will fall in love with it once and for all. Indeed, nothing can compare to this pastel rainbow finished with lowlights on the top - just like a true
unicorn hair
.
Q: What is iridescent hair color?
A: Basically, iridescent shades are the ones that shift from one color to another, whereas holographic colors shift rainbows. As a result, iridescent colors give a rather glowing and glittery effect to the base, thus creating a multidimensional effect.
Opal Opulence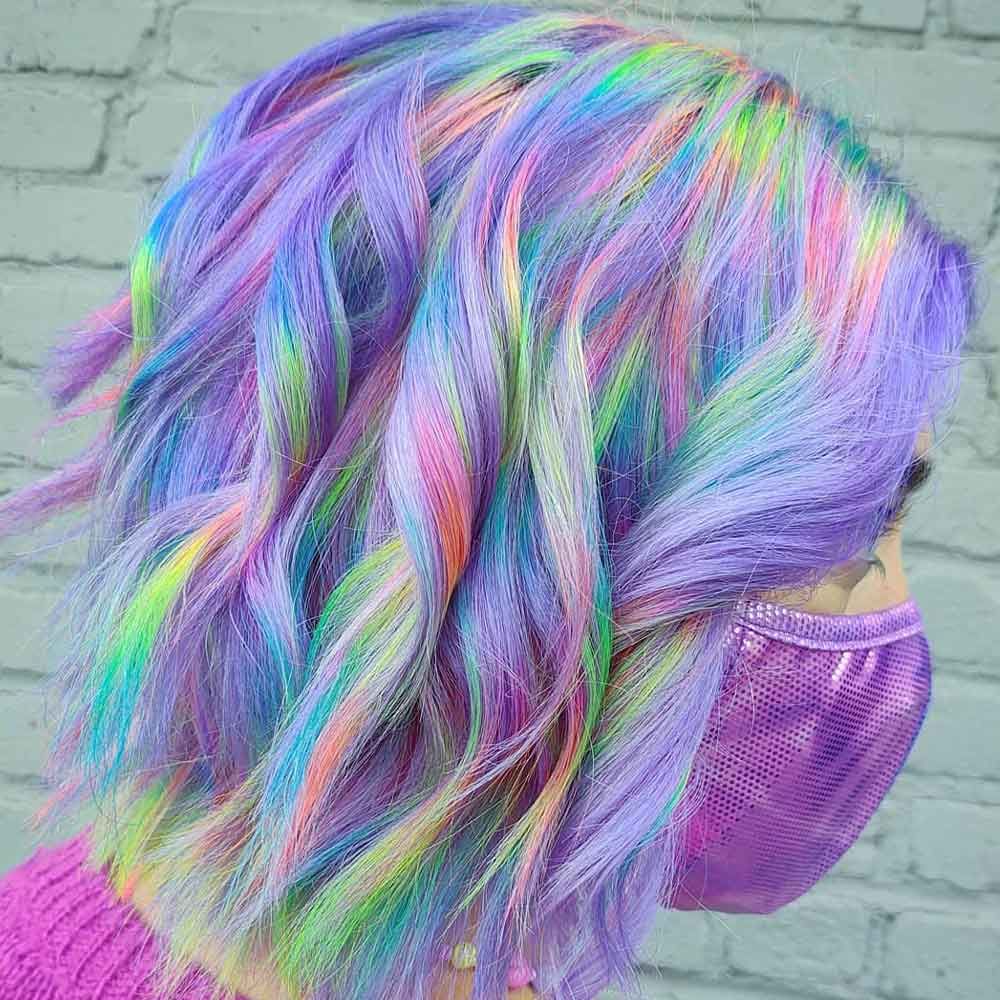 Source: adlydesign via Instagram
It's hard to notice where blue-to-purple shades end and whitish one begins: this is how perfectly done holographic color looks like. Everything in this look is absolutely gentle and harmonic.
Metallic Holographic Hair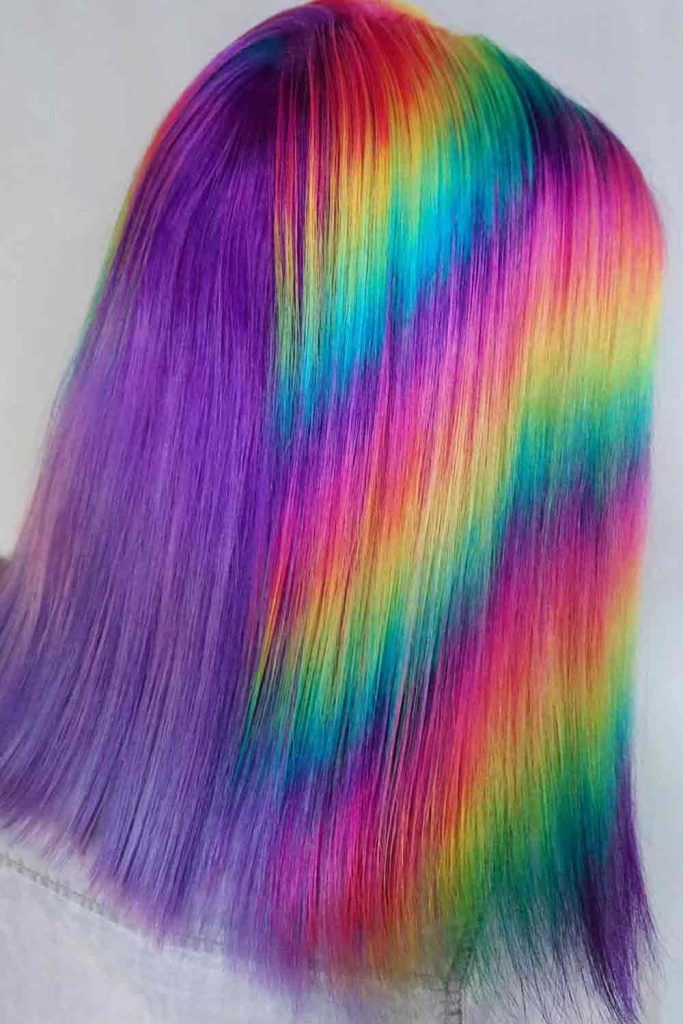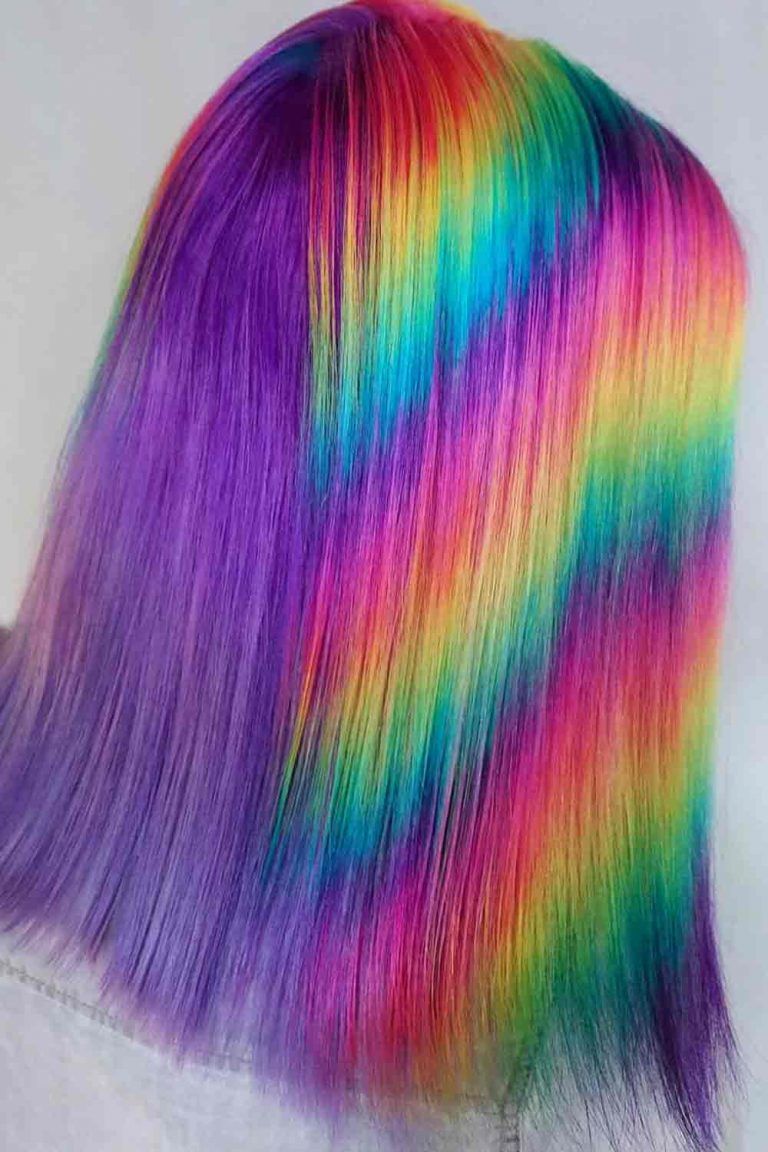 Source: adlydesign via Instagram
If you wonder how a holographic masterpiece looks like, this color decision is here to deal with your curiosity. Metallic versions of purple and blue look simply ravishing, especially when the light shines down on them.
Q: How long does metallic hair color last?
A: The lifespan of metallic hair depends on your individual hair features, as well as the way you maintain it. Usually, you can rock the shade up to 3 months if you follow the care tips your colorist gave you.
Iridescent Glacier Holographic Hair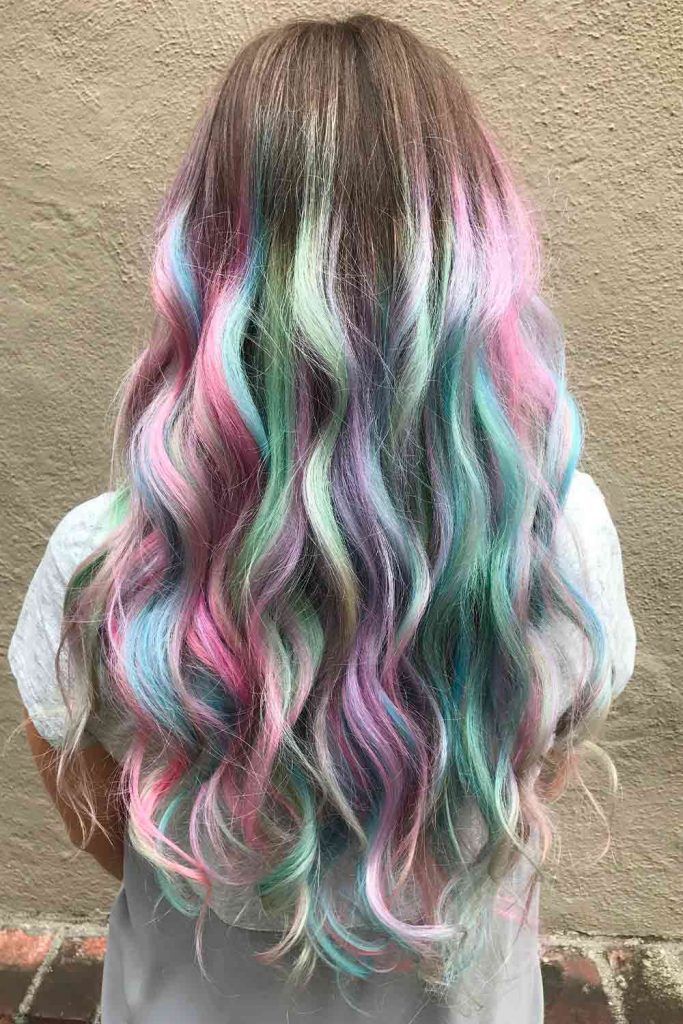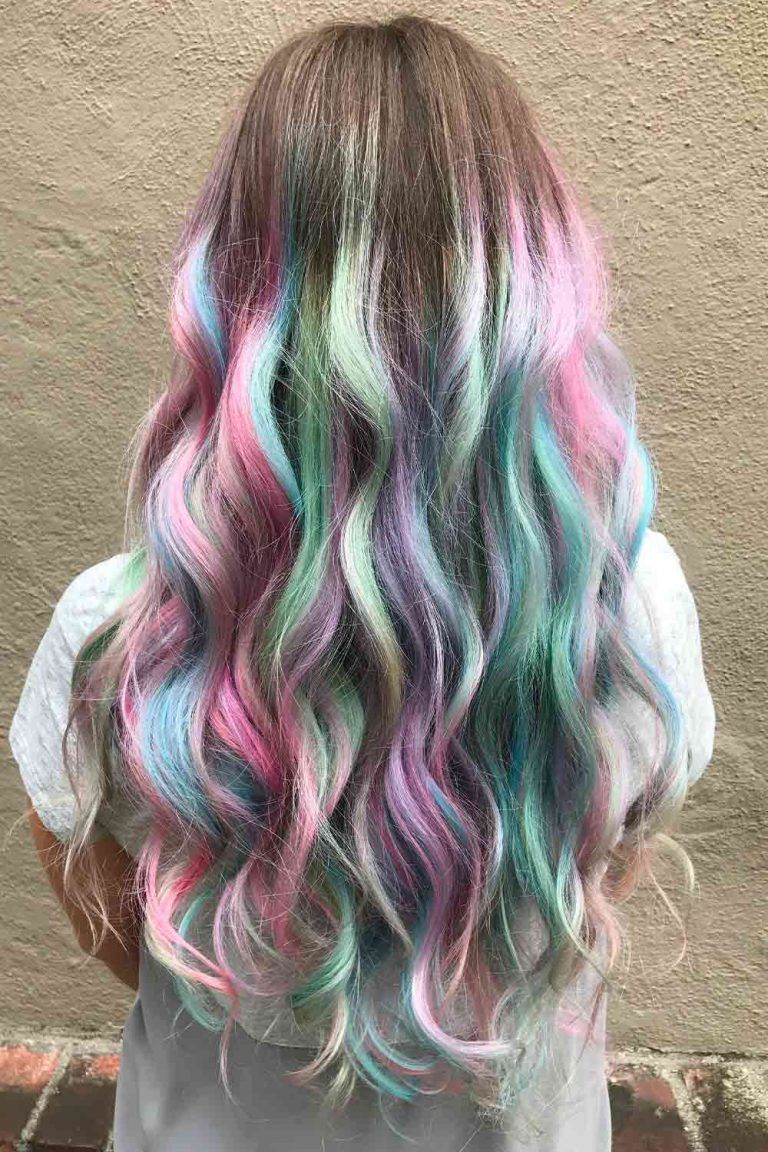 It seems that to achieve this unbelievable idea, you need to make an appointment in an icehouse. Even though the colors are covered with an icy tint, they still fascinate with their richness and depth. Plus, it's another fabulous way to combine a dark base with holo hair!
Opal Hair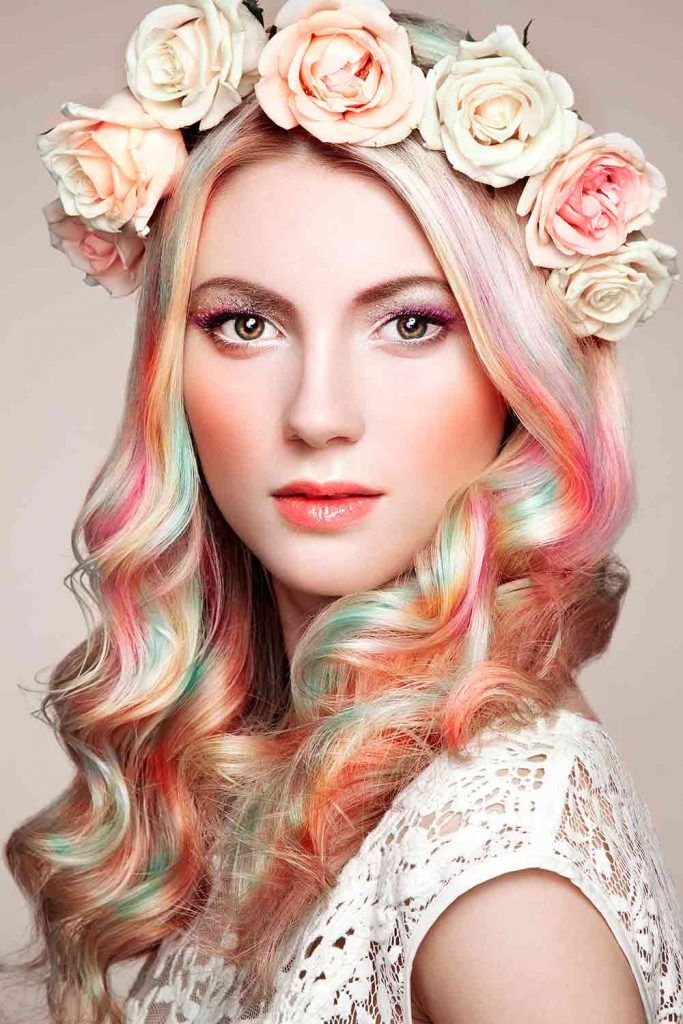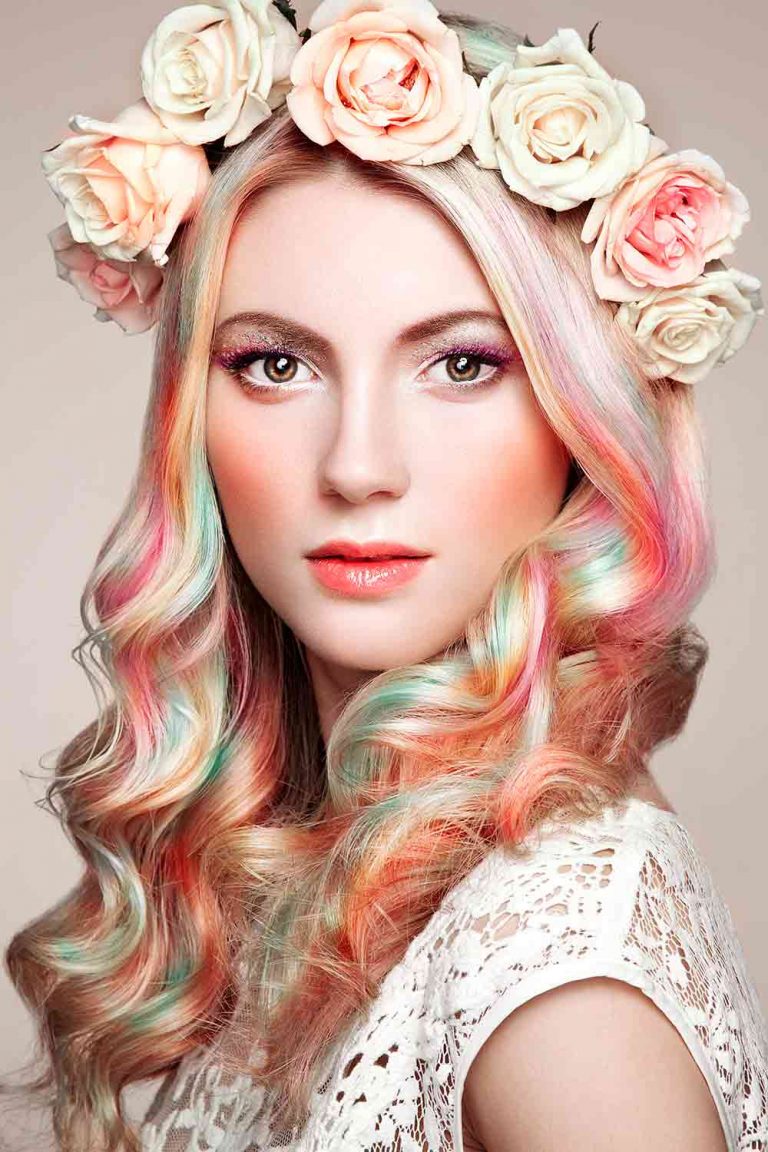 Opal stone is always different and always fascinating at the same time. And the same goes to color jobs attempting to recreate the indescribable set of light-reflecting shades. Although it takes a skilled professional to achieve hair color that mirrors the shine the same way this idea does, it's definitely worth it. Needless to say, such hair colors seem to have the power to take us to other dimensions.
There's really something magical about holographic hair. Once you see it, you won't ever be able to forget it. Now you know how variously you can bring this fantastic idea to life, so what are you waiting for? There's no better way to look unique!
FAQ: Holographic Hair
What is the difference between iridescent and holographic?
A holographic element breaks the light spectrum so that the entire rainbow spectrum is reflected by the same fleck of glitter. Iridescence is reflective and sparkly but it only has one color giving it the glowing look. A yellow iridescent element, for example, will look shining, but it will still be yellow.
What colors do you need for holographic hair?
You can make holographic hair with any base color. But if you want to get the most holographic effect, go for a platinum blonde tint.
Is there holographic dye?
Holographic hair color is a combination of super glossy multidimensional pastel highlights that appear to alter in front of your eyes. Colors are precisely dispersed throughout your hair to get a 3D holographic look!
REFERENCES:
Think your favourite highlighter, but on your head. Holographic hair is the pastel rainbow trend we ve been waiting for. Source
Holographic hair is set to be one of 2020's hottest looks, and it's easy to see why this dimensional, prismatic trend is so sought after. Source
Was this article helpful?