The unbelievable beauty of unicorn hair seems to be the eighth wonder of the world, invented by imaginative women who dreamed of making fairytales real. When we look at all those bright and colorful outfits, nail designs, and accessories, it feels like something wild and magical is happening around: it's called creativity.
Today, we want you to set your creativity into motion and stop hesitating to experiment with the colors you like. And we, in our turn, we'll show you how to turn your hair into a rainbow and put a spell of inspo-pics on you. Let's prove that unicorns exist by stealing their colors!
How To Get Unicorn Hair
Credit photo: instagram.com/hairbyclairperez
As we promised, here's the magical unicorn hair tutorial we'd like to start with. These basics will help you out!
Bleaching When it comes to bright colors, bleaching is crucial for everyone, except for natural blondes.
Plan Your Coloring Decide what colors you will use and where each one will take place, sectioning and clipping your hair for a comfortable coloring.
Choose The Dyes There's no a unicorn hair dye; you'll need to mix many different ones to achieve the look. Make sure that the colors and types of dyes match and decide whether you want it to be permanent or temporary.
The Right Care Routine Consider replacing regular shampoos and conditioners with those designed for bleached and dyed hair. Also, don't forget about heat protectants and cool blow-drying; these things are the best ways on how to make unicorn hair shiny and healthy.
Rainbow Unicorn
Credit photo: instagram.com/hairbyclairperez
Each unicorn hair look color is totally unique, as no one can predict how you will mix the colors. We advise you to go different and start from dark roots and opt for blue colors that perfectly match it. The rest of hair is up to you, yet green-to-yellow ends are the thing!
Art Deco Design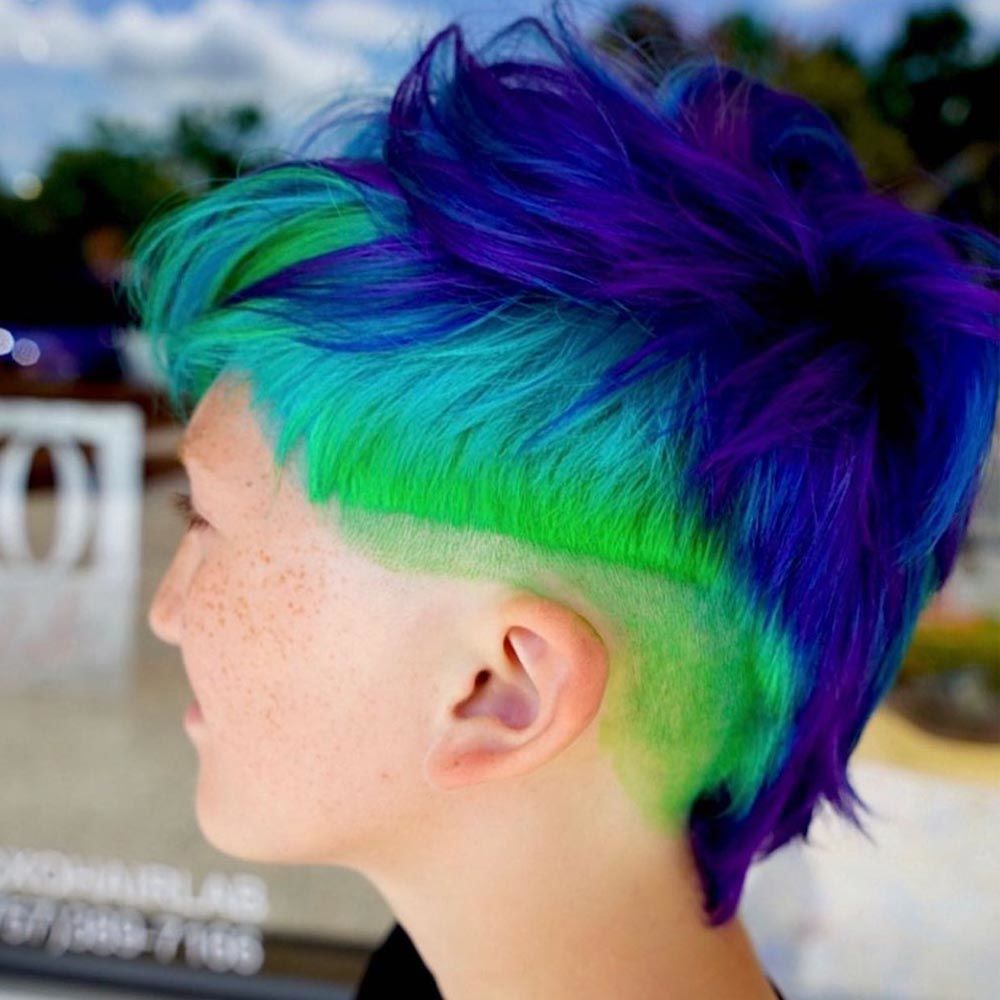 Credit photo: instagram.com/xostylistxo
Who says that you can't play around with colors when your hair is short? If you're working with a layered pixie with an undercut, each layer and section of hair is a room for your color imagination.
Vibrant Pastels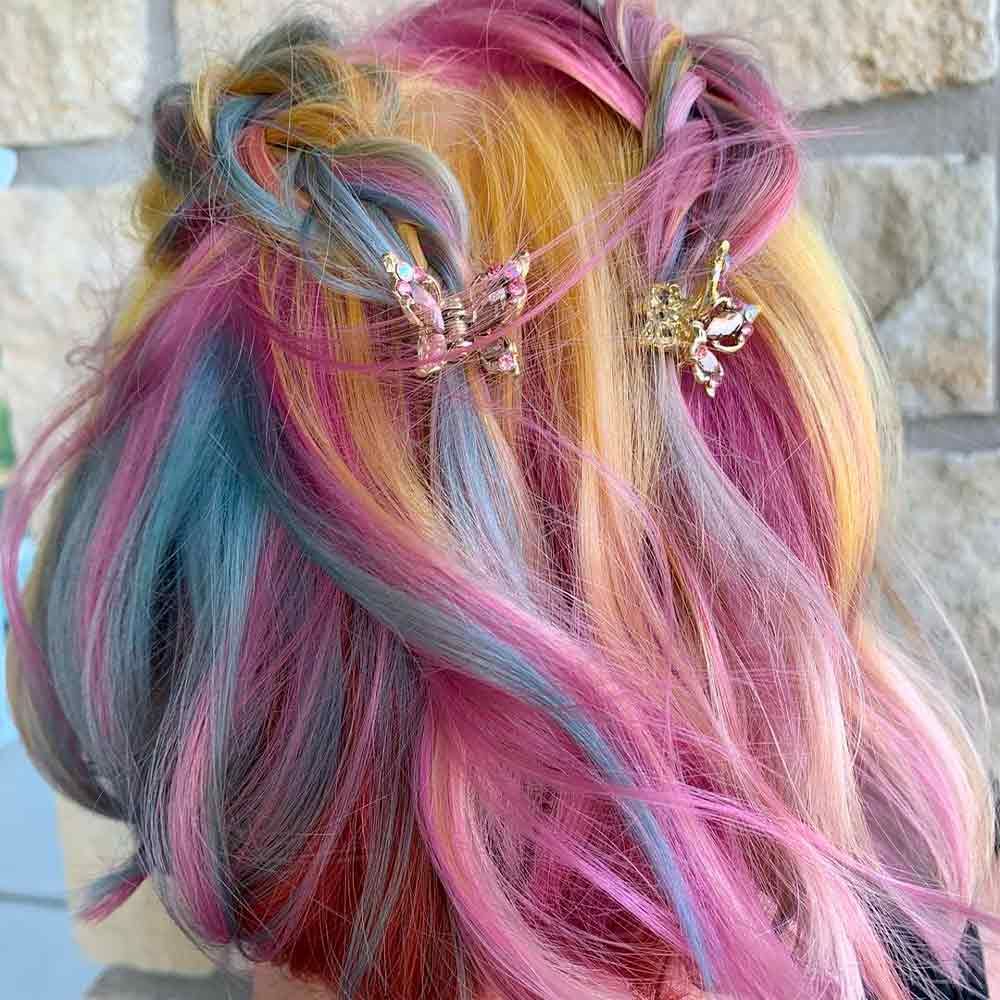 Credit photo: instagram.com/cadencecolorist
Pastel unicorn hair, where all the shades match one another is a tasteful trend that you should give a try. Soft blue, rose, green, and purple shades will reveal their charm in a new light if you go for pastels.
Marbling Unicorn Hair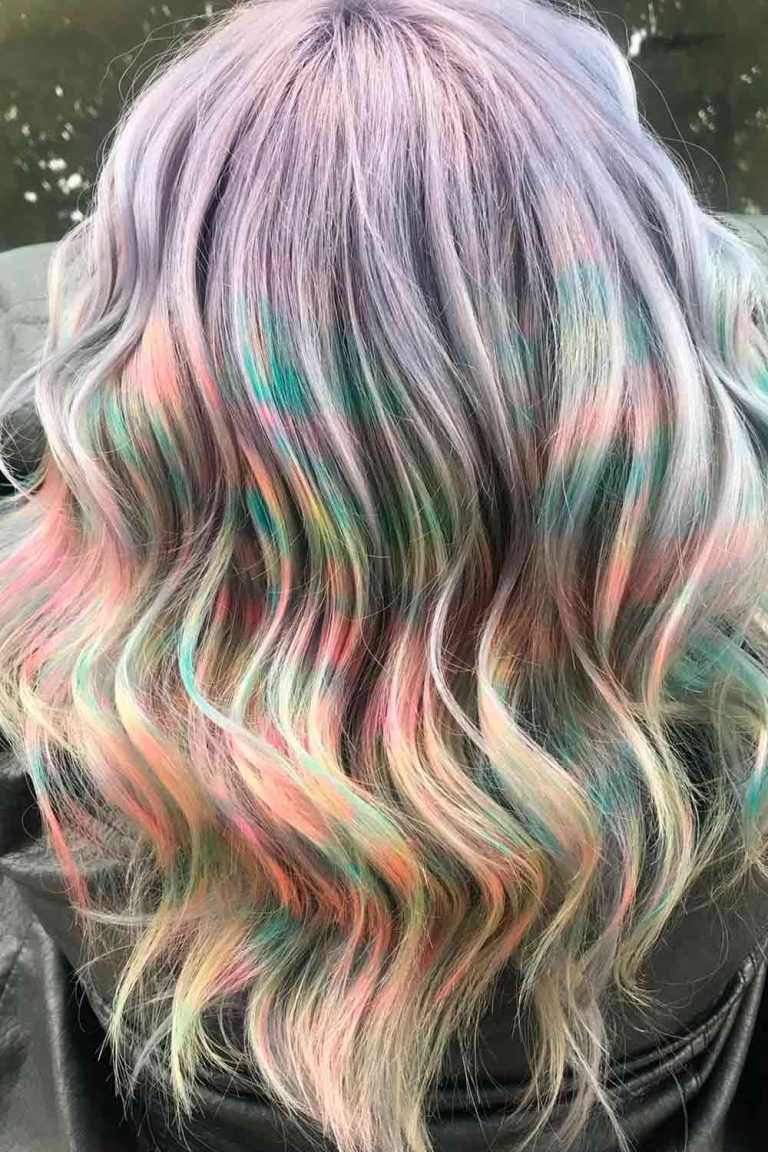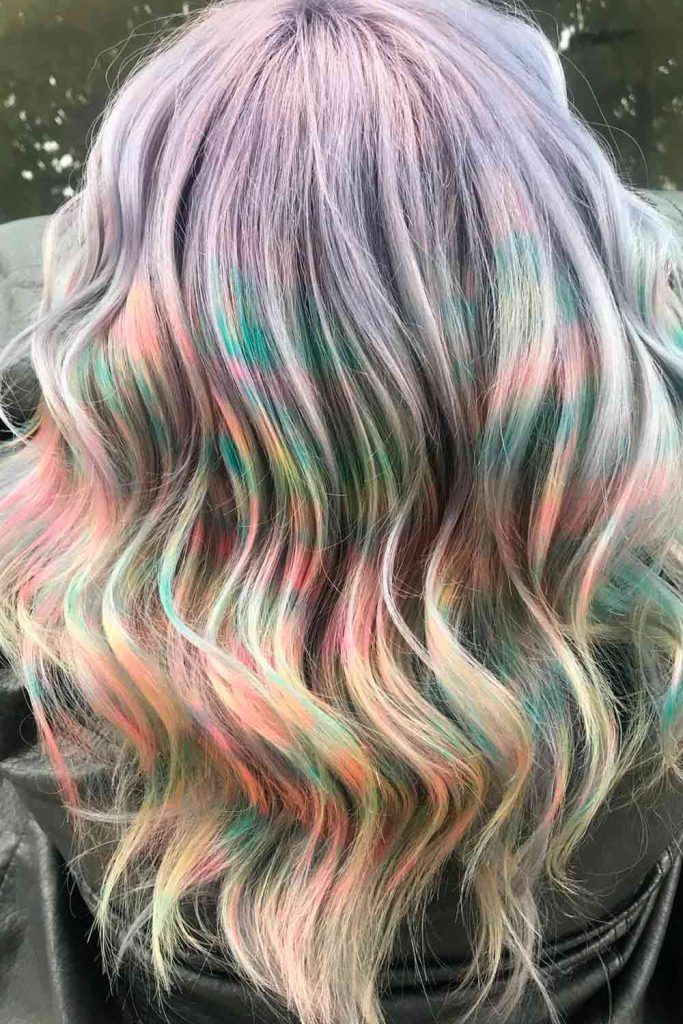 Credit photo: instagram.com/hairbyclairperez
How about making your hair look as posh and dimensional as marble? This girly take on a geode hair color looks sweet and charming. For such an idea, you'll need to go for a purple-to-blue base and finish it with hints of white which will add the illusion of marble shining.
Smokey Neon Shine-Lines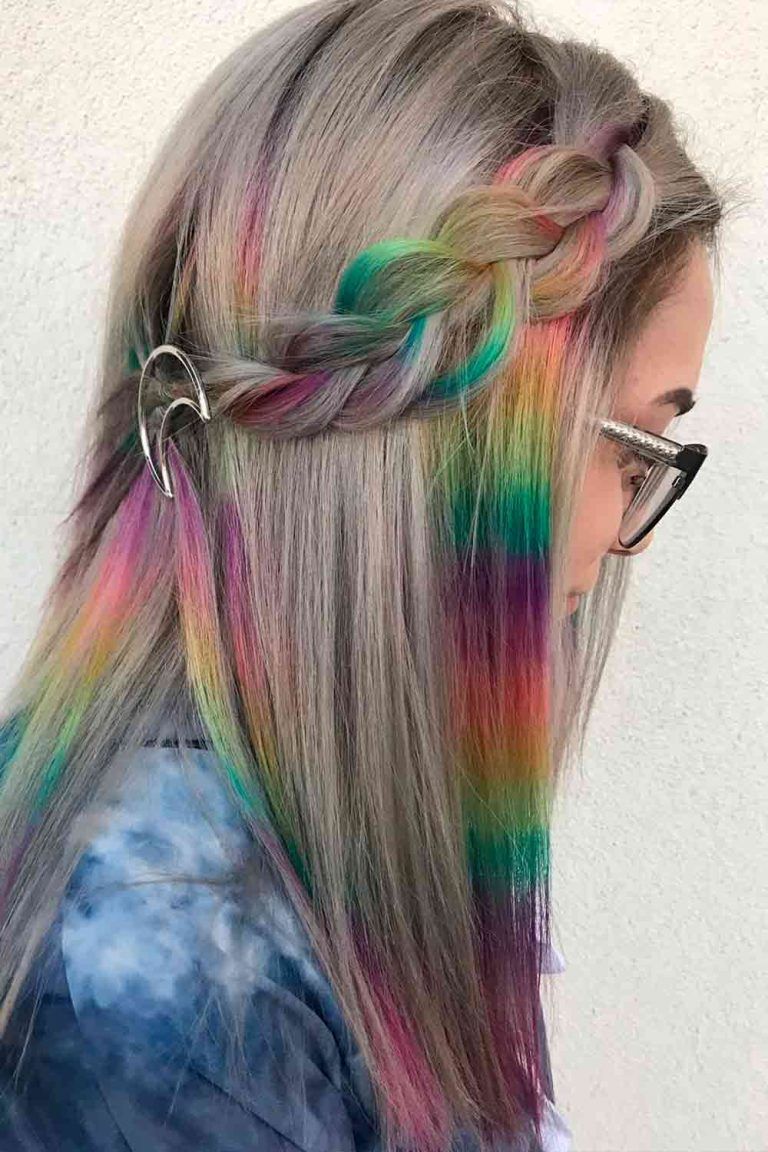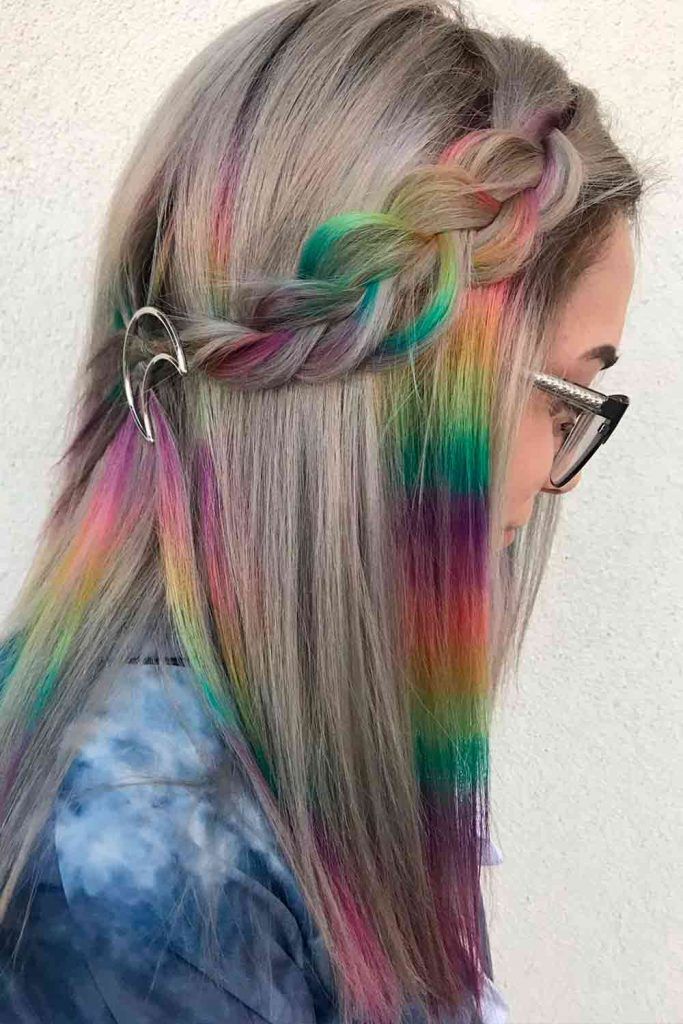 Credit photo: instagram.com/hairbyclairperez
Neon variations of unicorn colors are just the opposite for pastel ones. If you want your colors to be more intense and saturated, it's a must-try. Plus, remember that getting neon unicorn hair on dark hair is a win-win, as the darker strands will enhance all the neons.
Face Framing Unicorn Balayage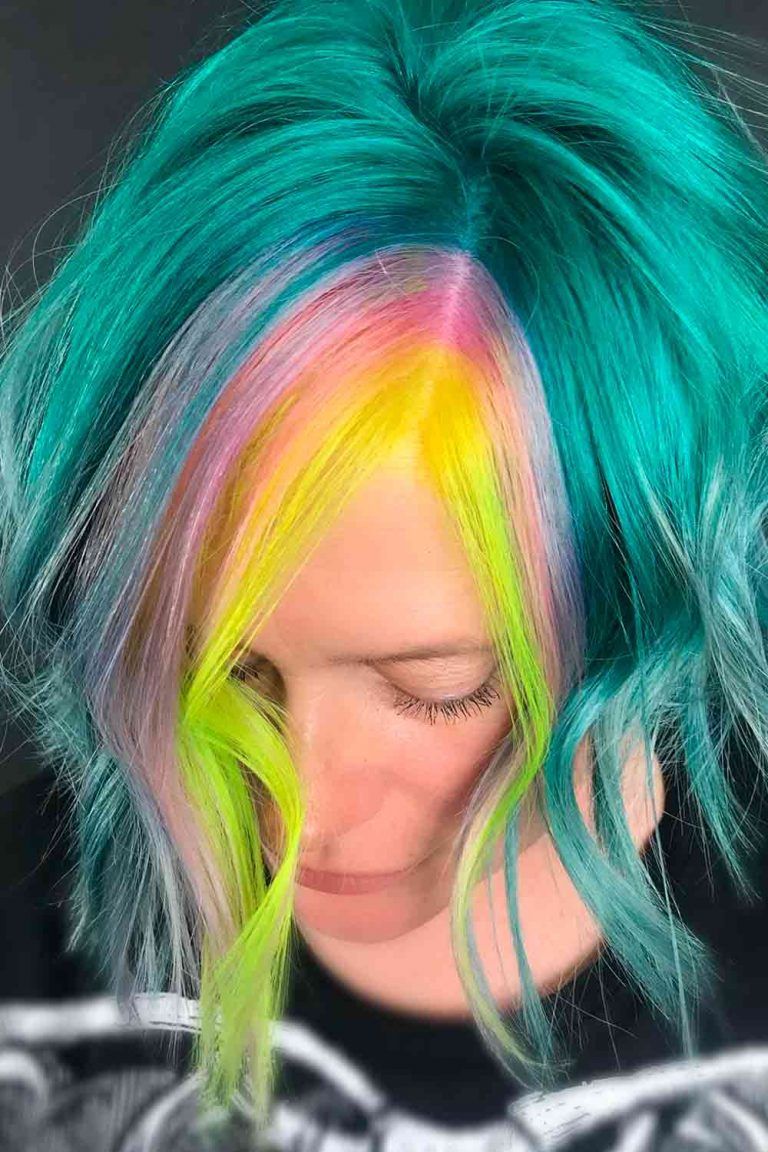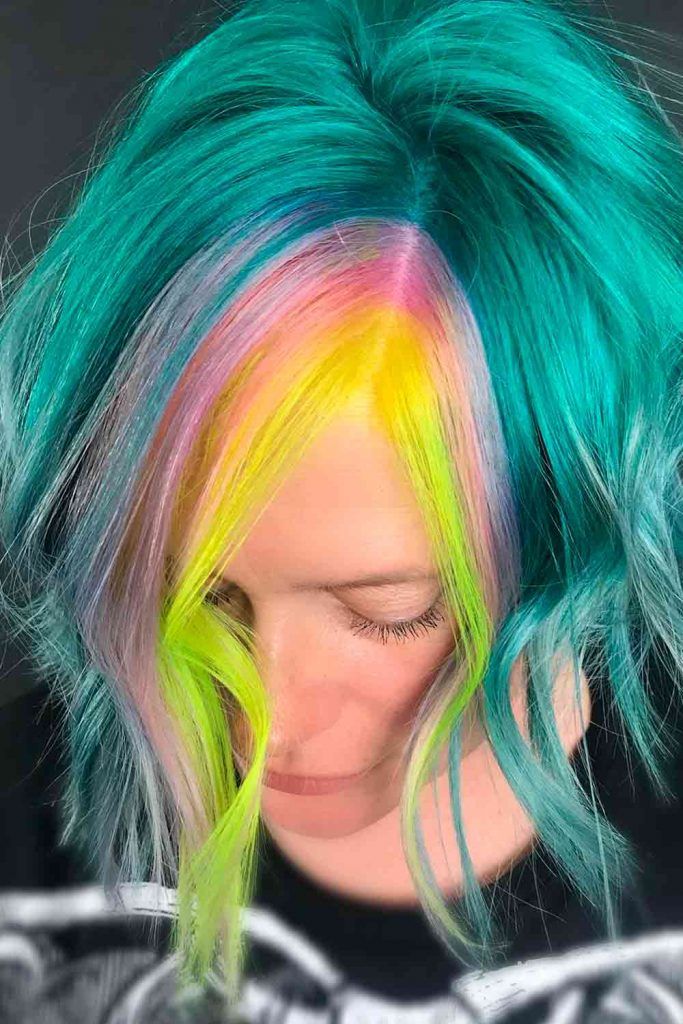 Credit photo: instagram.com/hairbyclairperez
Mixing unicorn with rainbow hair colors can be nicely achieved through balayage. In this way, each color will stand out, yet the whole silhouette will be pleasantly blended.
Green Accent Unicorn Hair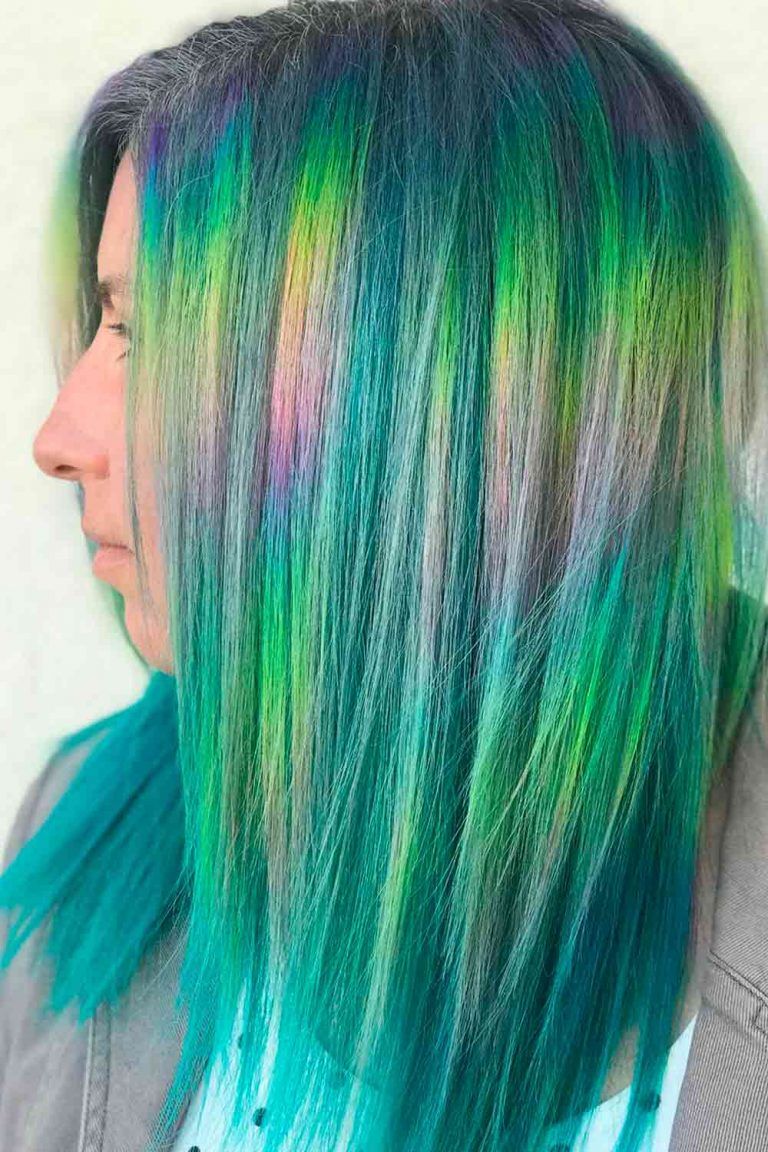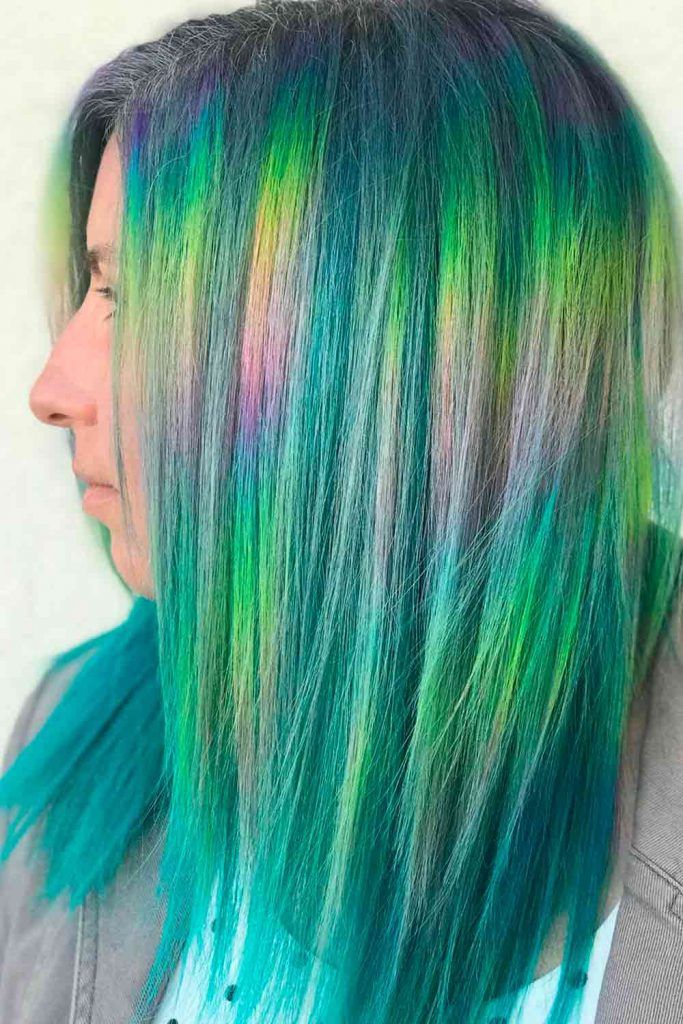 Credit photo: instagram.com/hairbyclairperez
When going for unicorn hair, some girls like to focus on one color, recreating its palette on their hair. For example, your new look can have a green primary that gradually becomes lighter and more colorful, going strand by strand.
Soft Serve Sherbet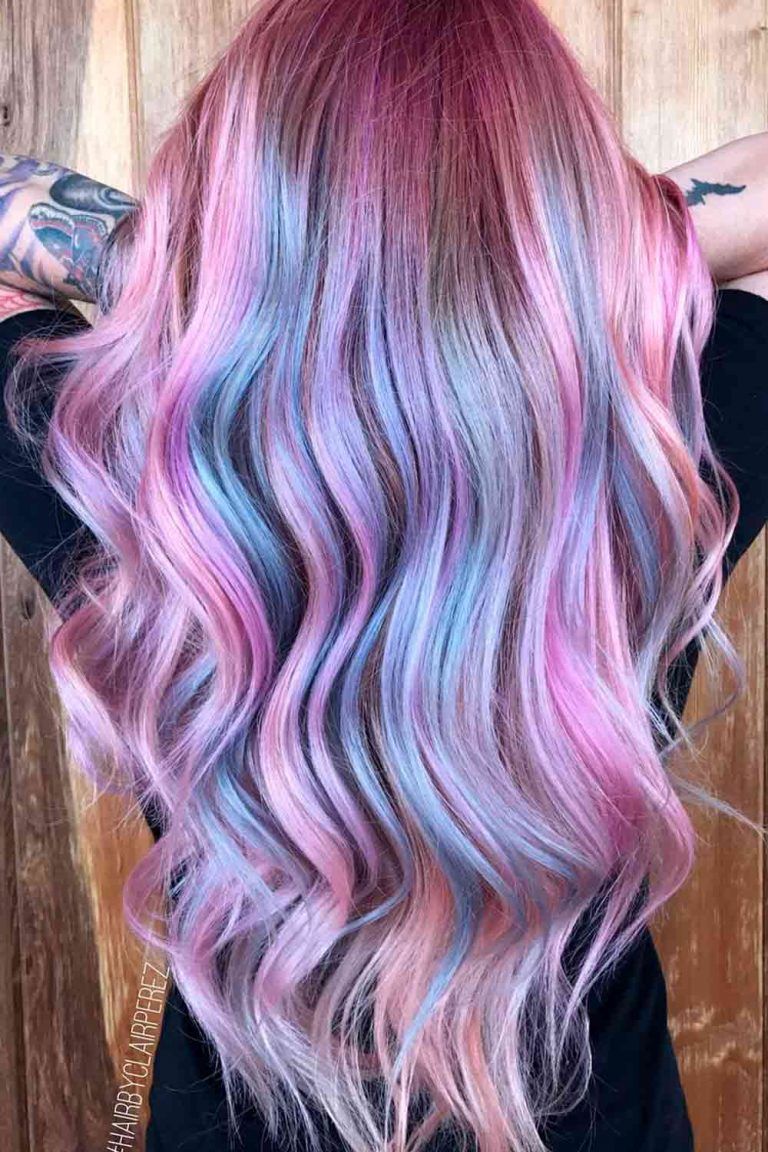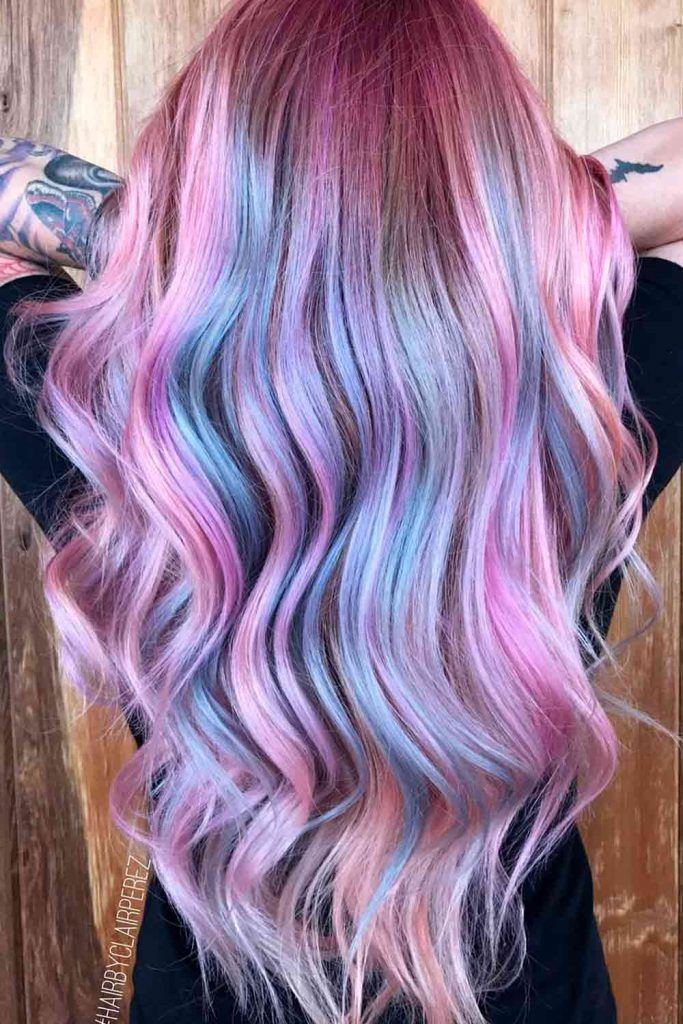 Credit photo: instagram.com/hairbyclairperez
Your colors don't have to be too drastic to look fairy. As it turns out, a subtle accent of soft, washed out unicorn colors added over a silvery blonde base is enough to create a truly unusual and fancy look.
Unicorn Hair With Violet Roots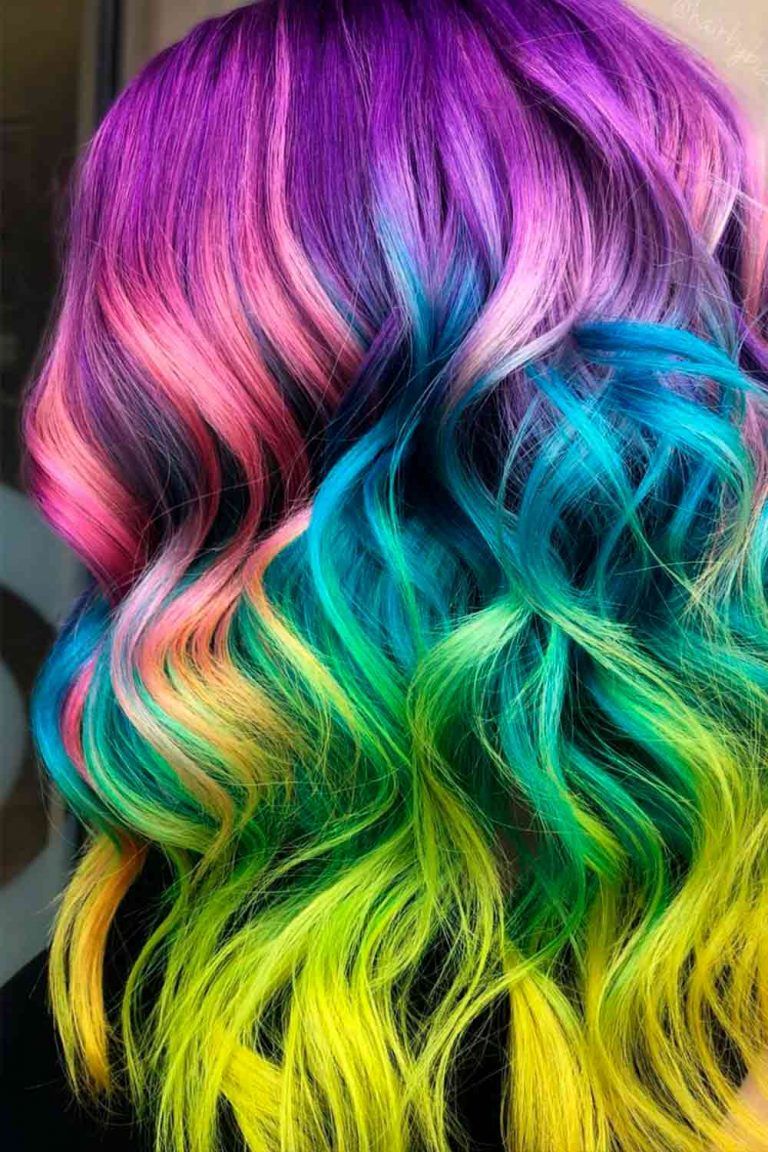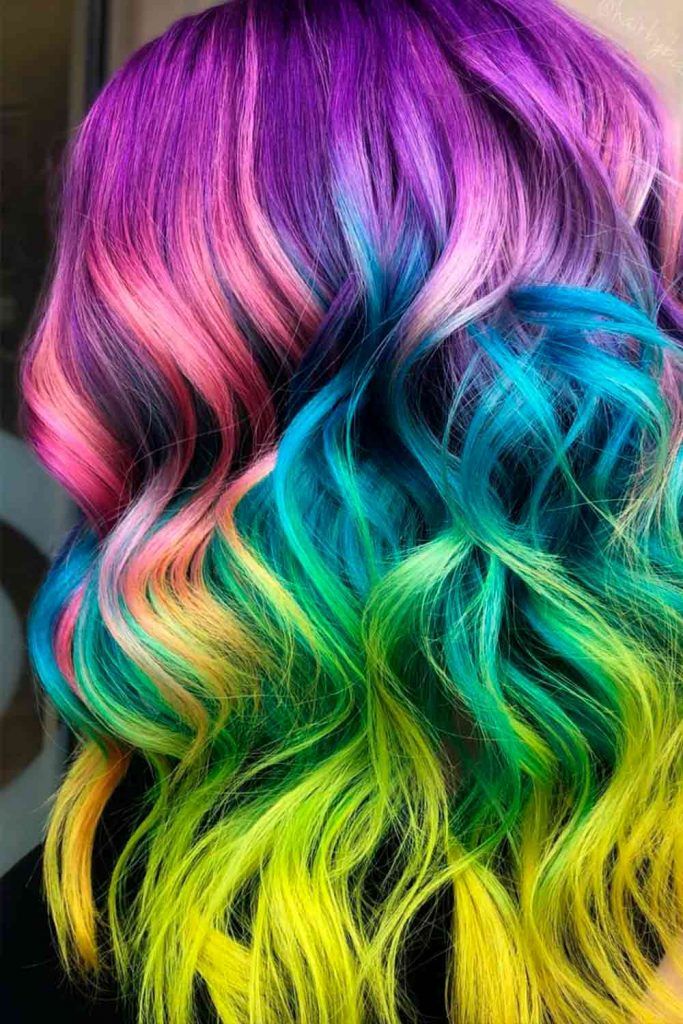 Credit photo: instagram.com/hairbybiancarose
Every unicorn look needs some eye-catching details for a more precise appearance. And coloring your roots purple or blue is a nice way to individualize it!
Classic Rainbow Coloring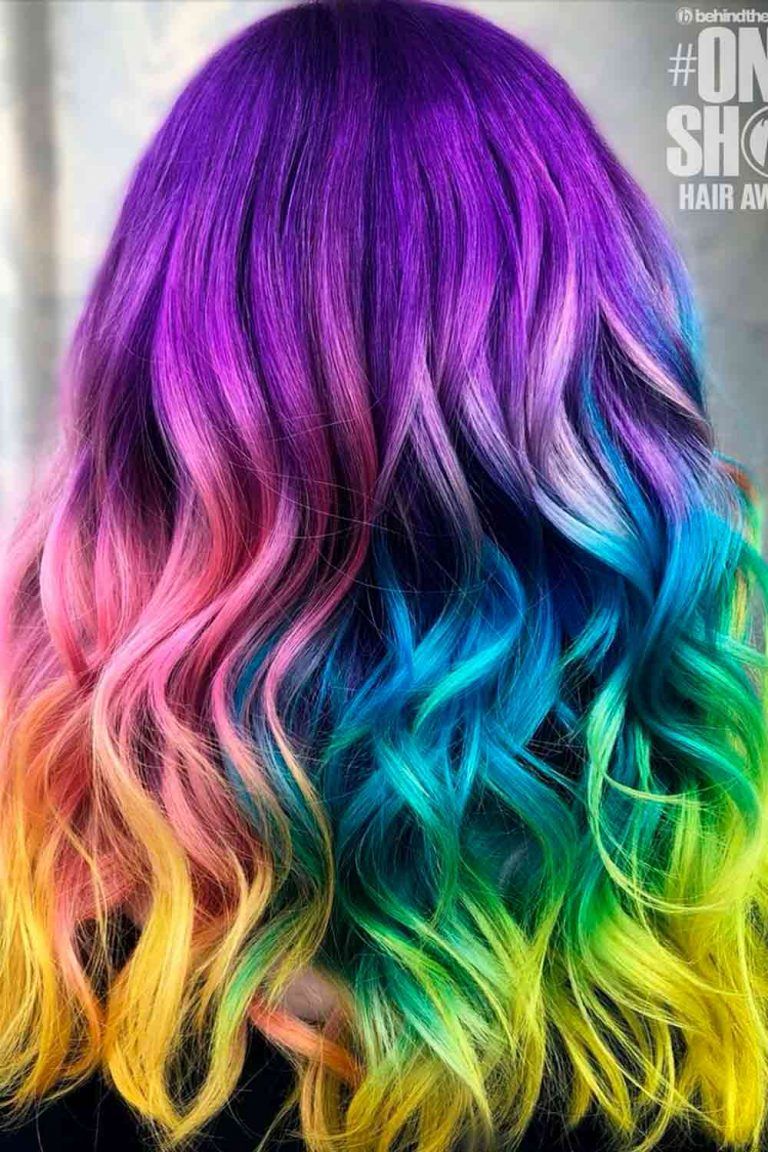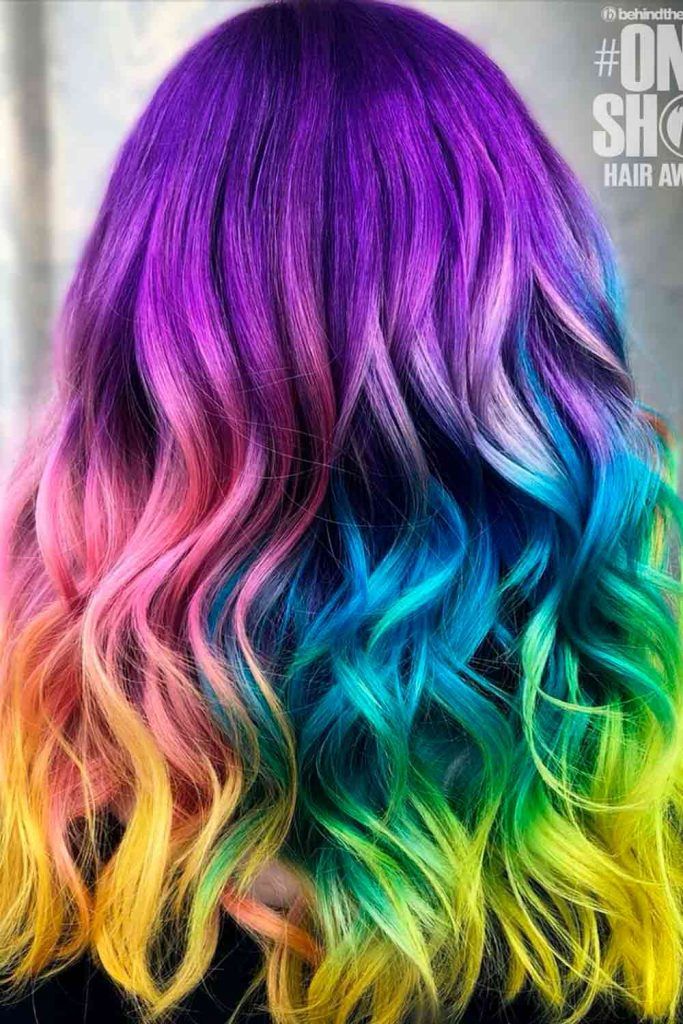 Credit photo: instagram.com/hairbybiancarose
Rainbow unicorn hair is the classic idea that newbies usually start with. It's easy, yet stunning! Just mix all the colors of the rainbow and let your hair look like a blessing after heavy rain.
Dark Toned Unicorn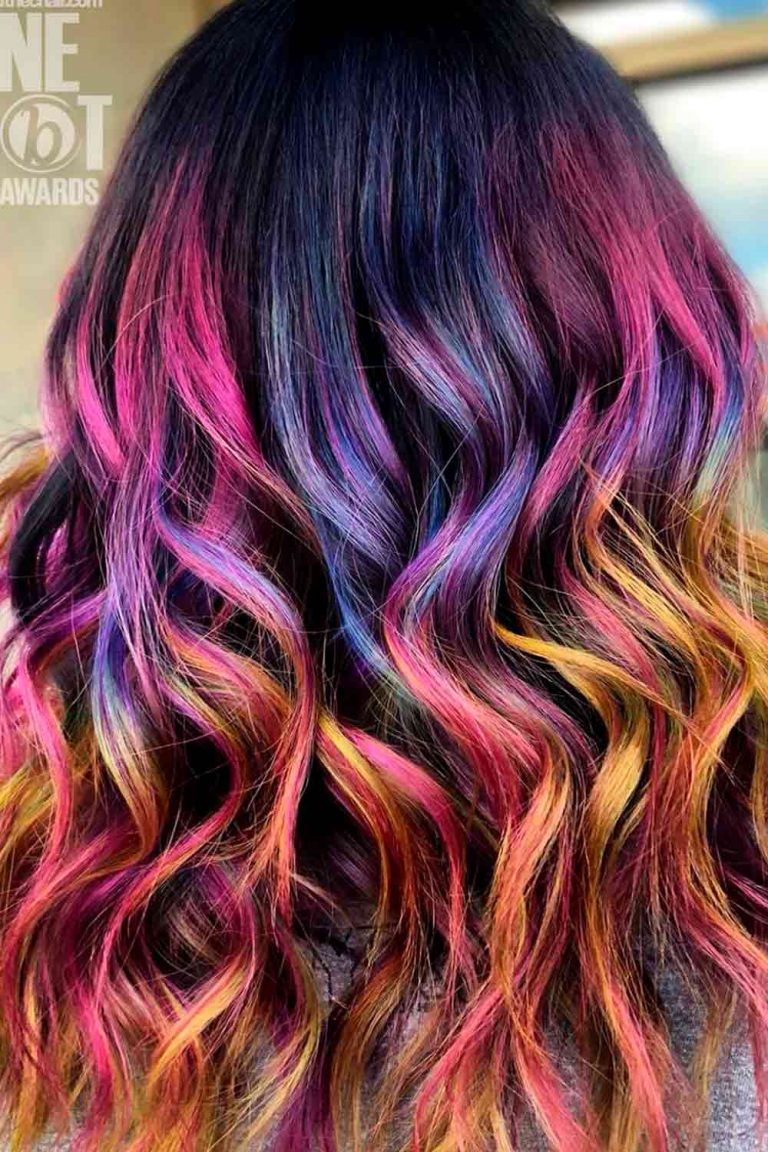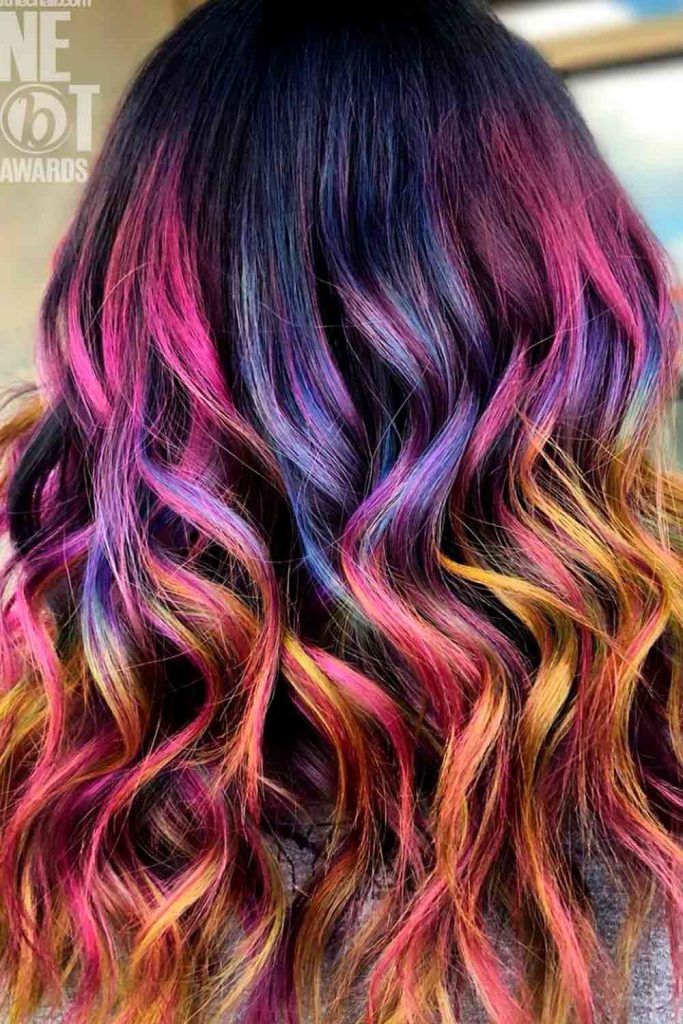 Credit photo: instagram.com/hairbybiancarose
The tone of your look can be as different as you want, so if you prefer to stick to a deep color pattern, the dark unicorn hair idea is meant for you. Dark brown roots meet a dark purple color that becomes a bit pinky and faded: isn't that cool?
Mermaid Hair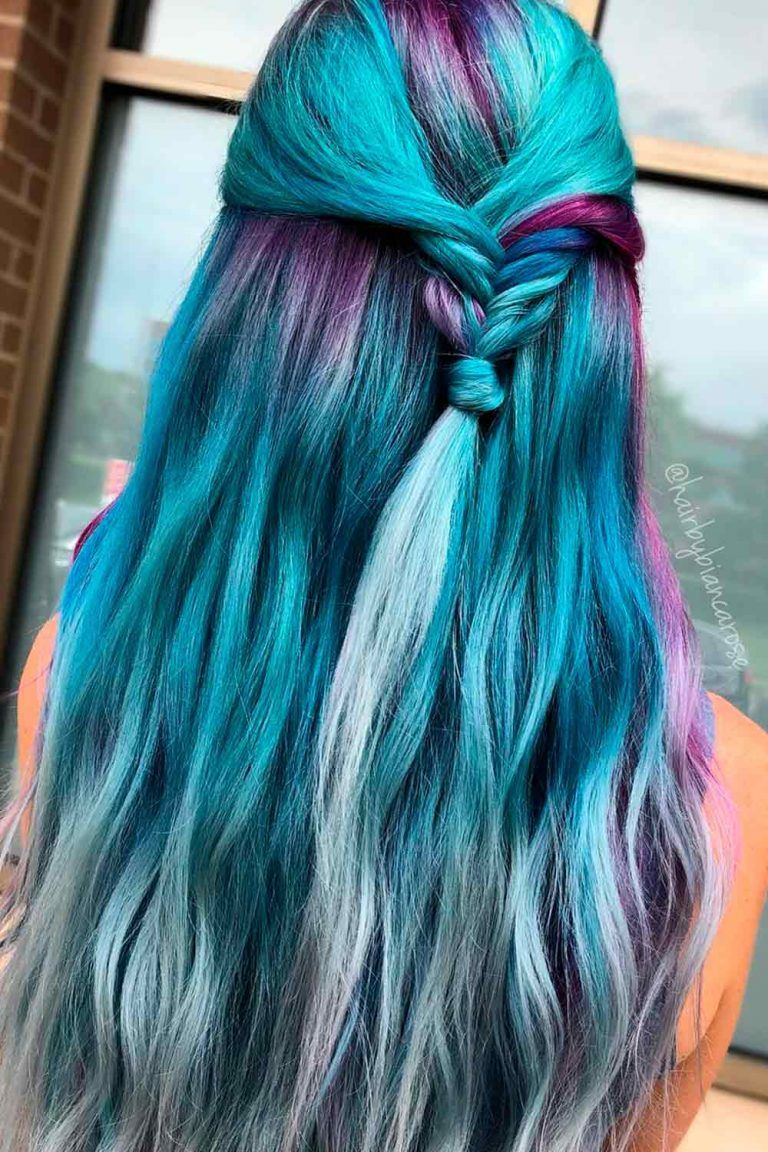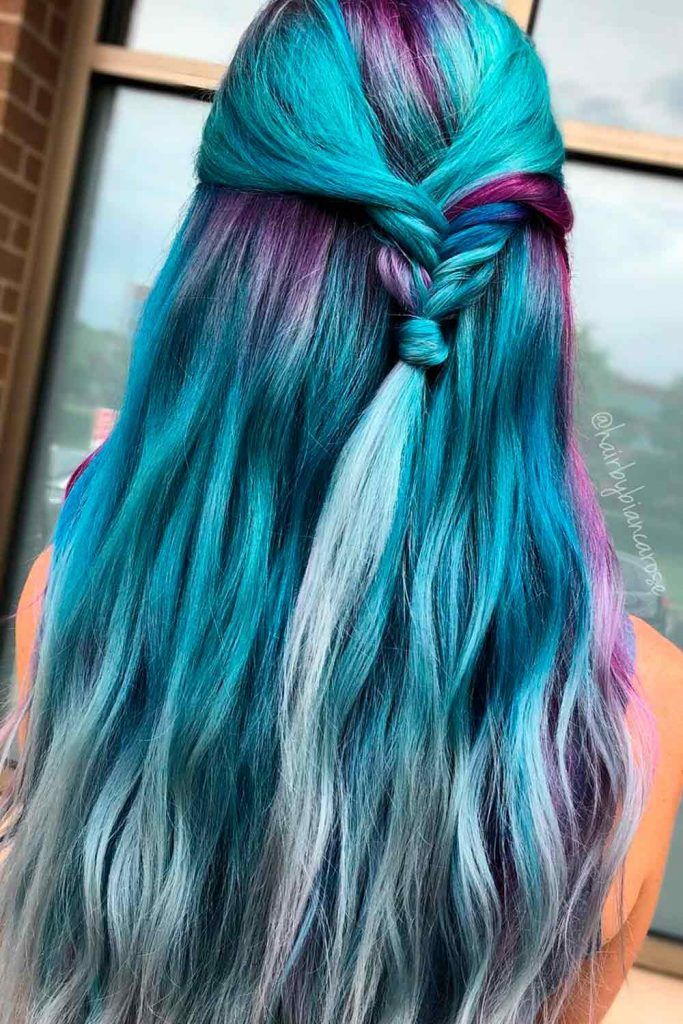 Credit photo: instagram.com/hairbybiancarose
Mermaid hair always comes together with unicorn hair: they all remind us of favorite fairy tales. The main difference is that the first one features aquamarine-like colors, involving a lot of green, blue, and rose colors.
Red, Yellow, Green Combo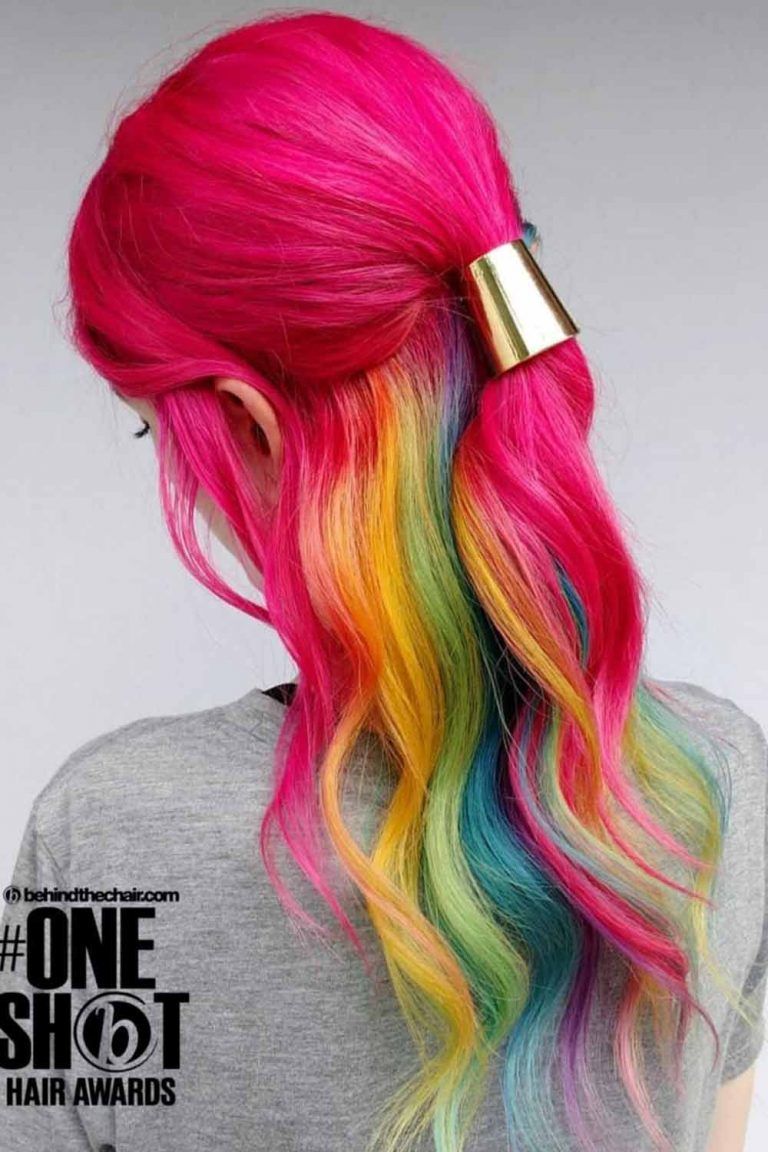 Credit photo: instagram.com/adlydesign
As you can see, there are many ways to color your hair: you can color layer by layer, strand by strand or even go for hidden unicorn hair. In this picture, the colors are added horizontally, which allows red, yellow, and green waves fall more naturally.
Triple Unicorn Ombre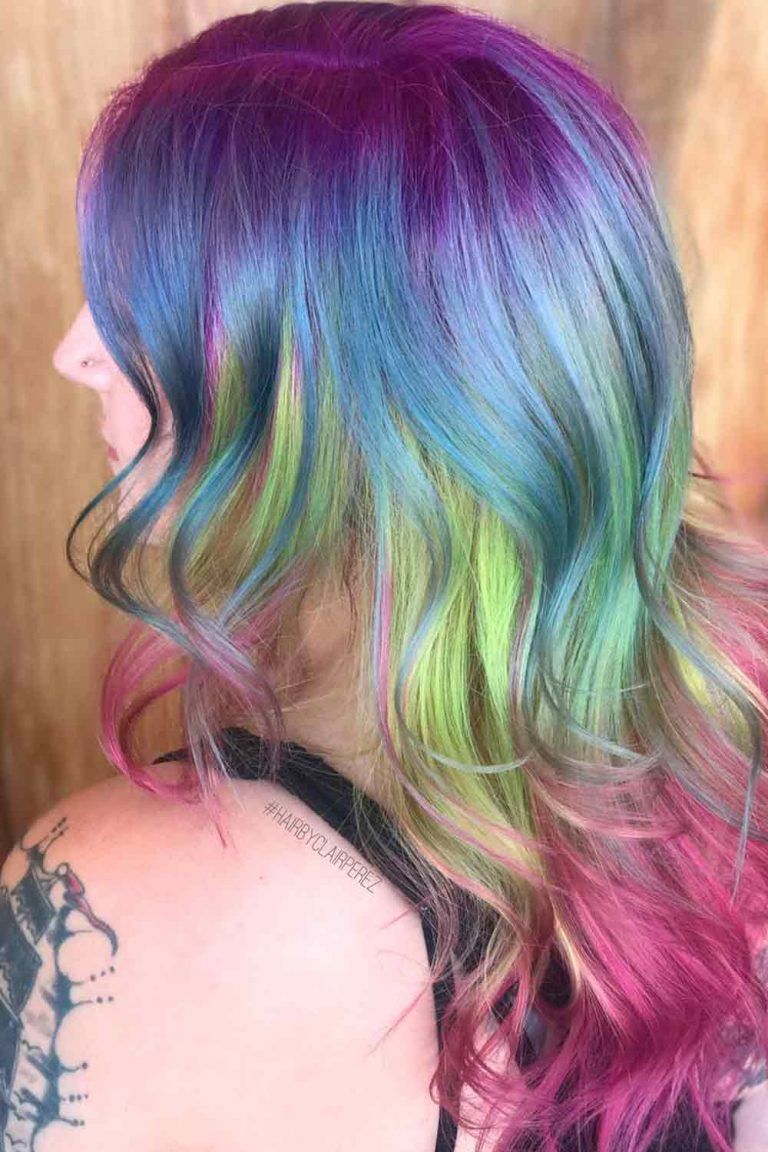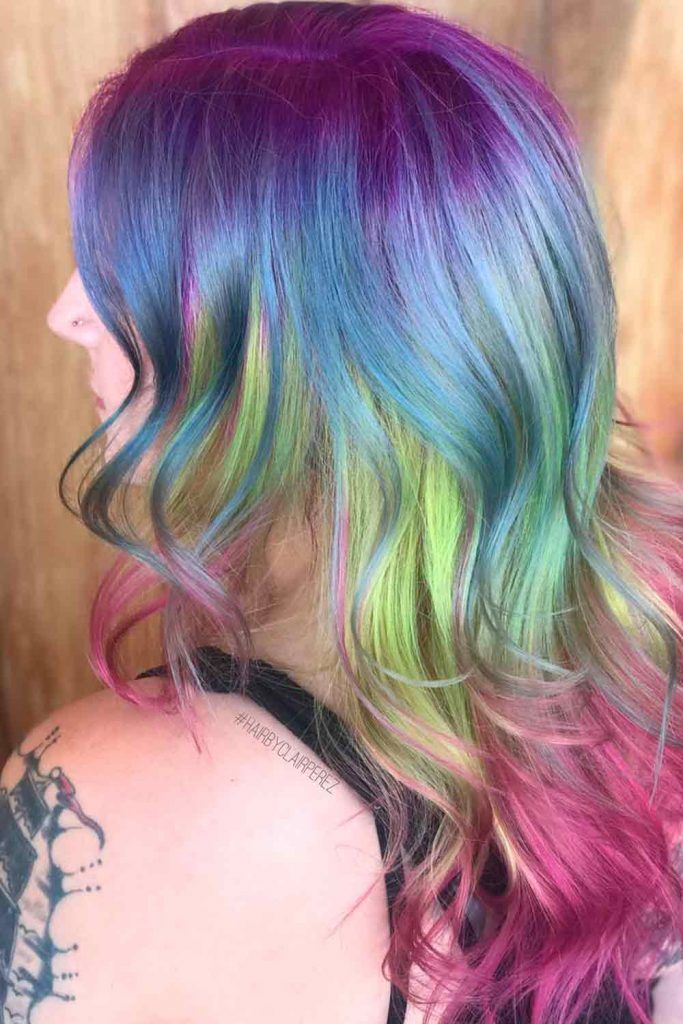 Credit photo: instagram.com/hairbyclairperez
Girls who prefer soft, yet defined color transition will love the way unicorn ombre hair plays with colors. This triple unicorn ombre features both warm and cool shades, blending them roughly, and thus making colors turn heads.
Unicorn Shades Under Lilac Base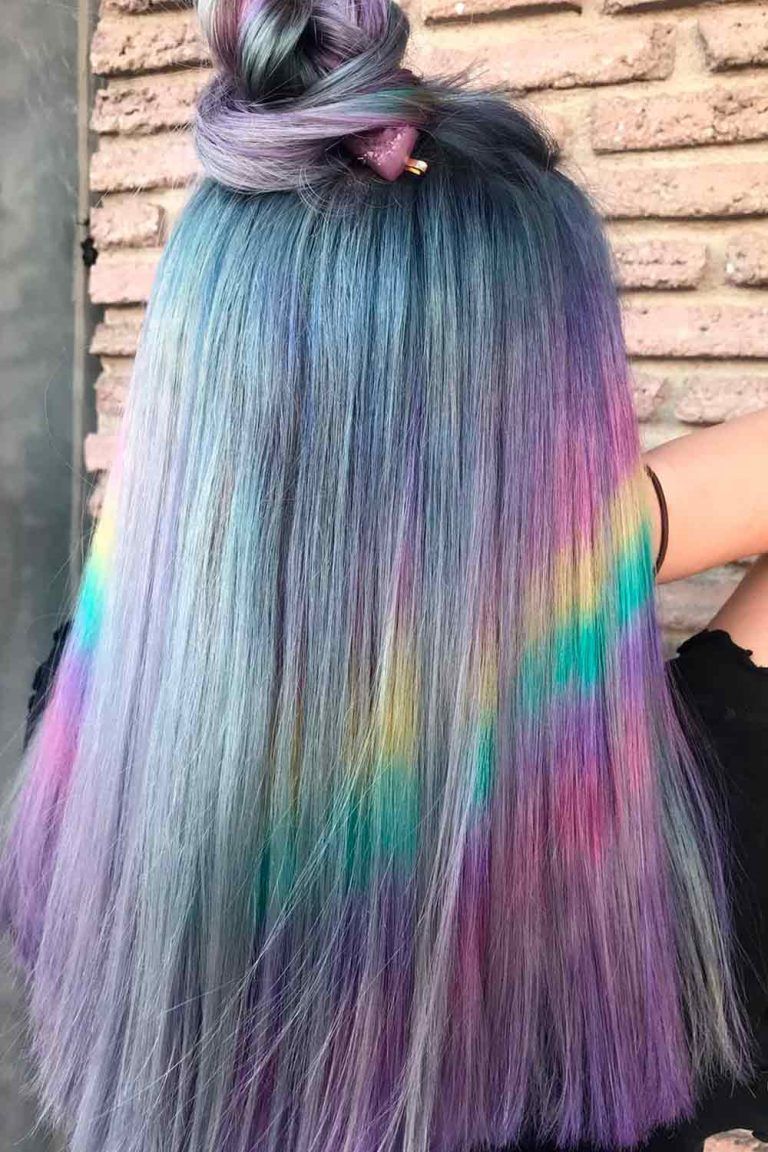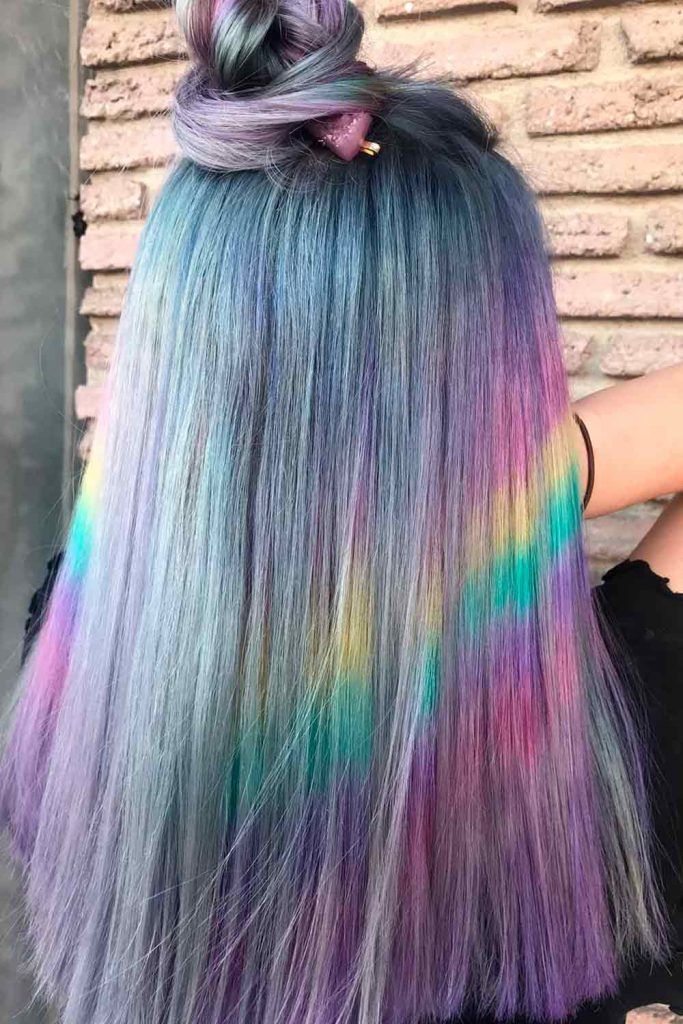 Credit photo: instagram.com/hairbyclairperez
No one can resist the charm of soft lilac color. And when this cutie is brought to life as a hair color that reflects the shine of many unicorn shades, it becomes a combination to die for.
Green Highlights With Pink Base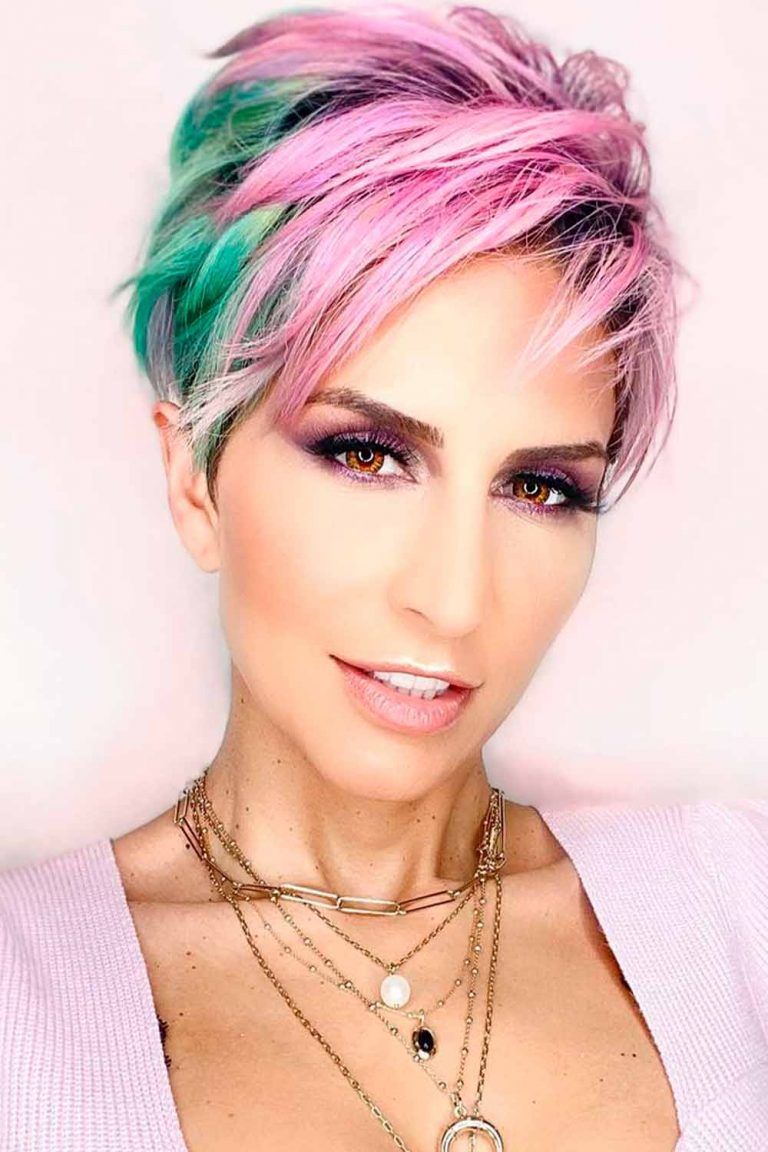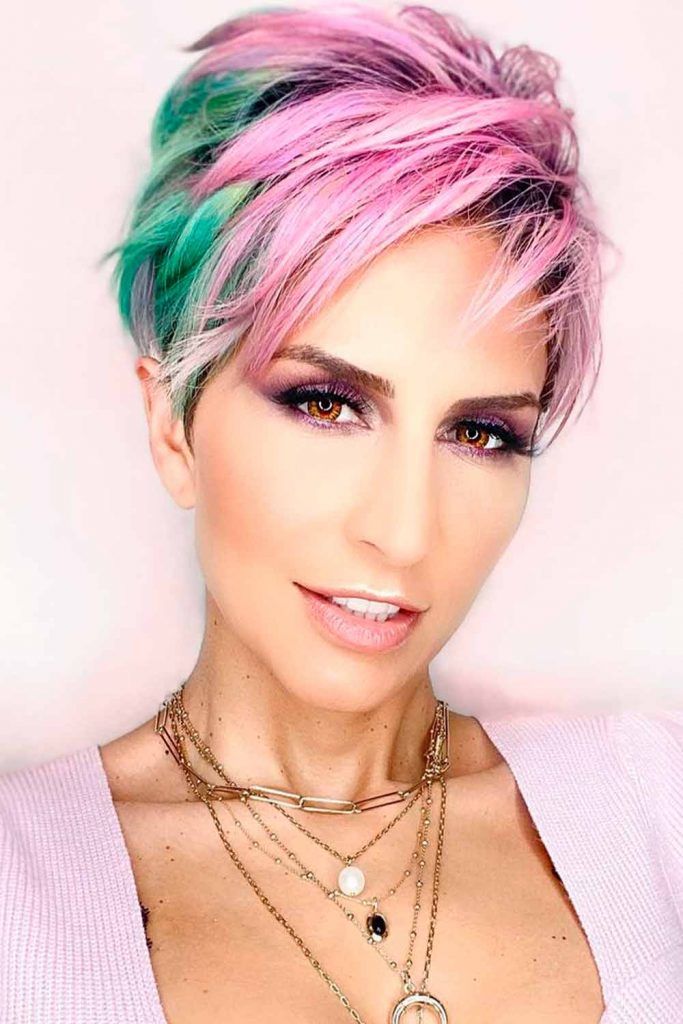 Credit photo: instagram.com/alineh_a
Those who decide to color their hair vertically, strand by strand, can also involve unicorn hair extensions in their color experiments. Rose and pink is a mix that has been popular since the iconic 90s, and you can simply choose one of them as a base, while the other will be added with extensions.
Sunset Coloring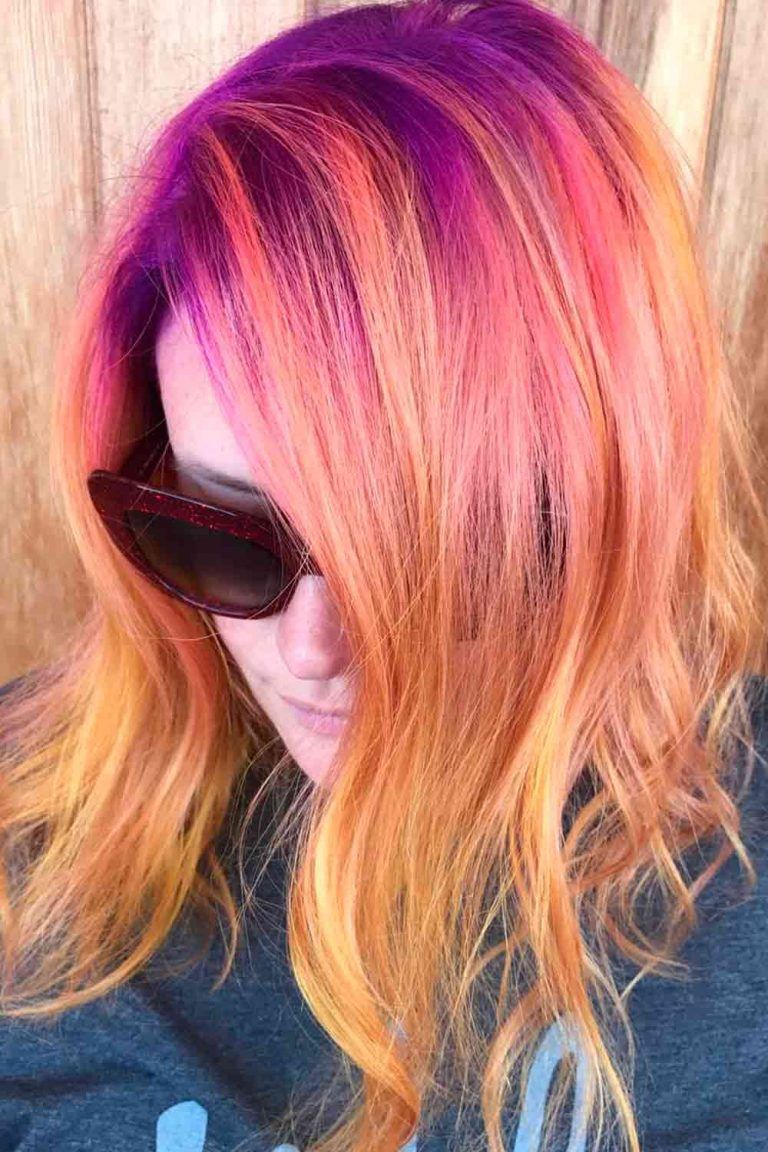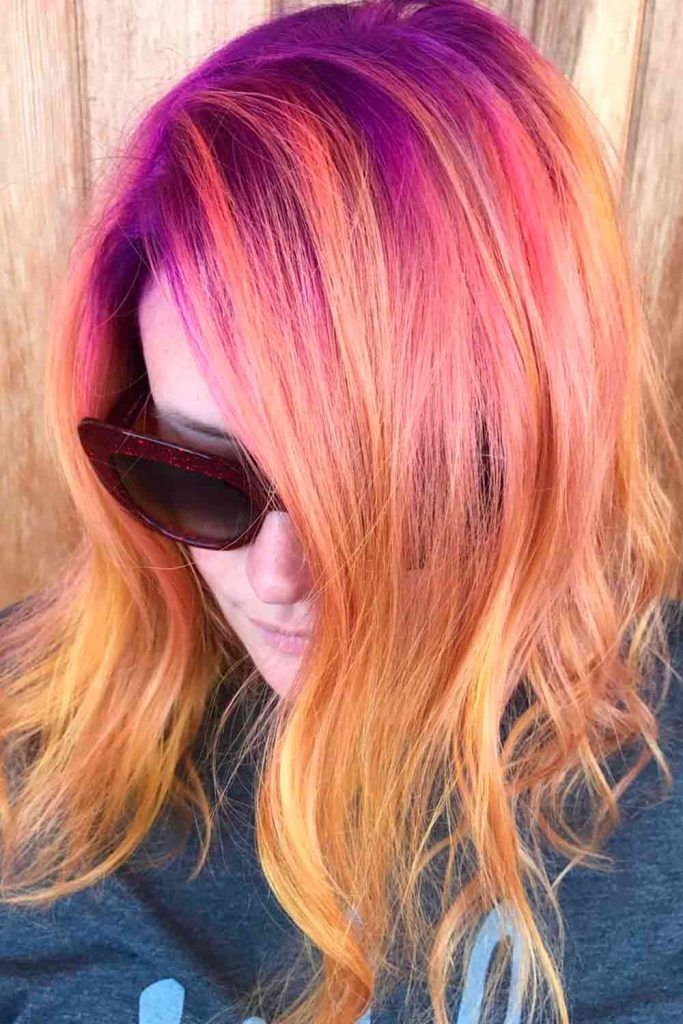 Credit photo: instagram.com/hairbyclairperez
Since most unicorn looks are all about blue, rose, purple, and silvery combos, it's time to diversify the common ideas with something warm. So why don't you impress everyone with rose to orange and yellow sunset coloring?
Peachy With Purple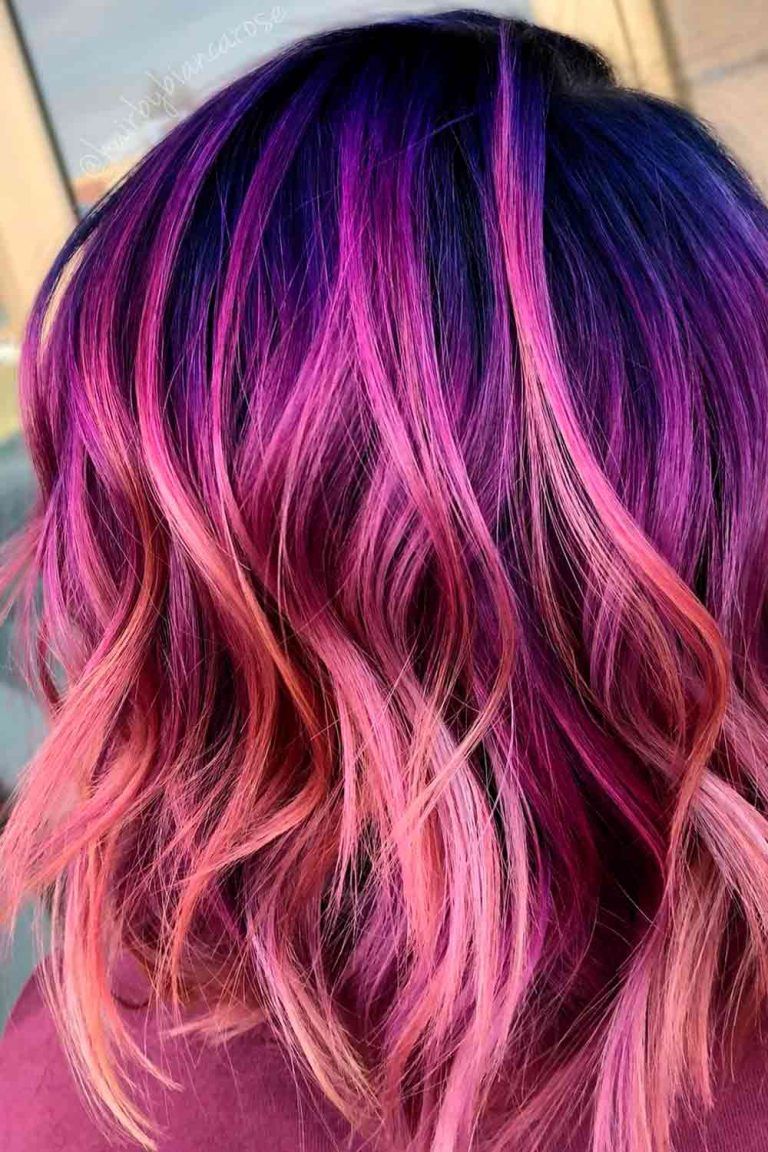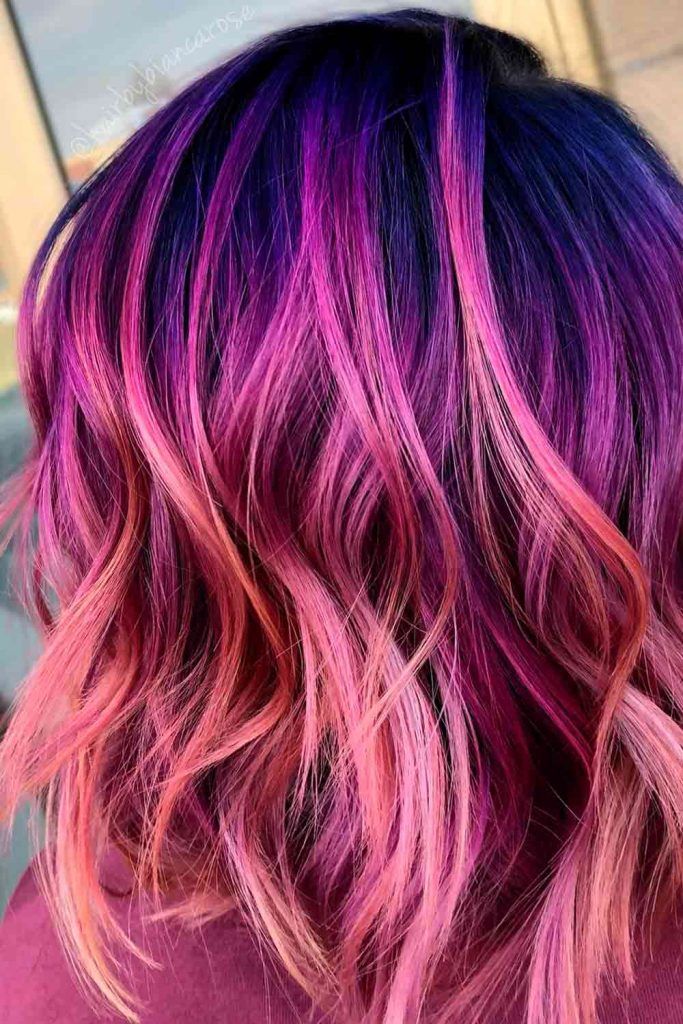 Credit photo: instagram.com/hairbybiancarose
Here comes the trendiest idea ever: the magic vibes of the so much popular light peachy base, embellished with a layer of purple and yellow shades are about to take over the world. Will you yield to this beauty?
Dusty Lilac With Bright Orange Ends
Though this combination changes the common image of unicorn hair colors, its trendy and soft play of colors brings some magic vibes. The dusty lilac base that burns with saturated ends, how do you like it?
Blonde Unicorn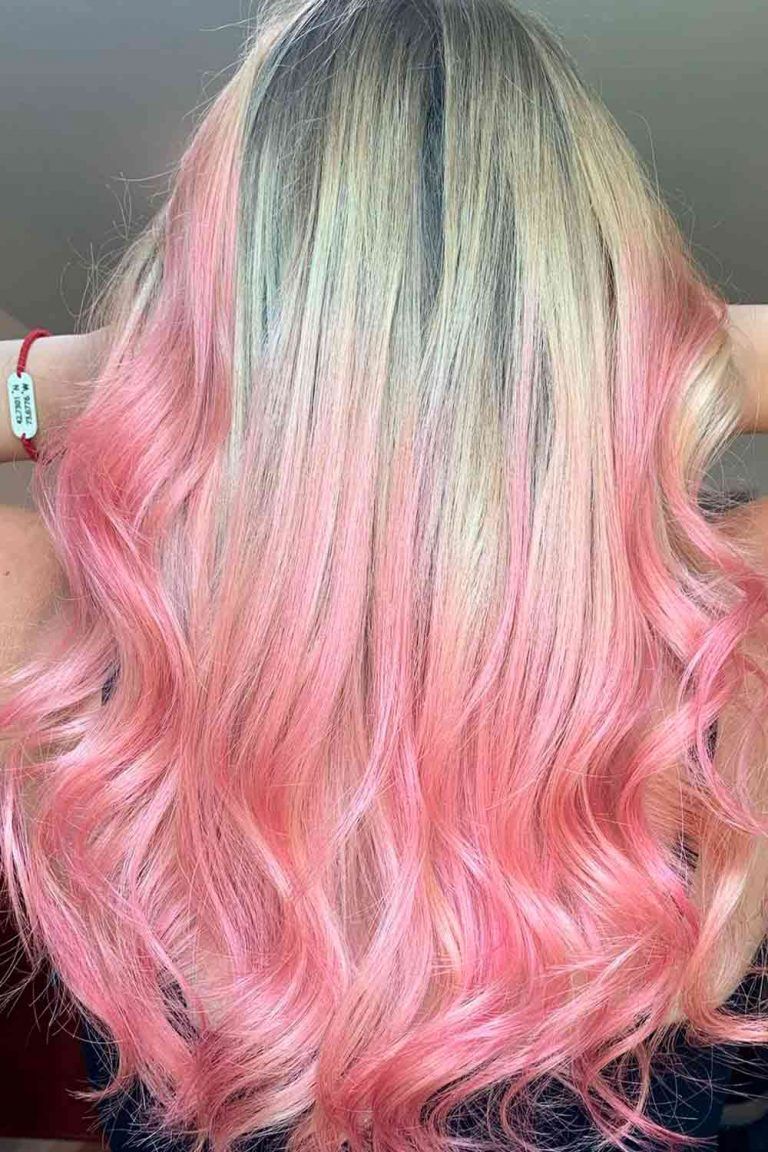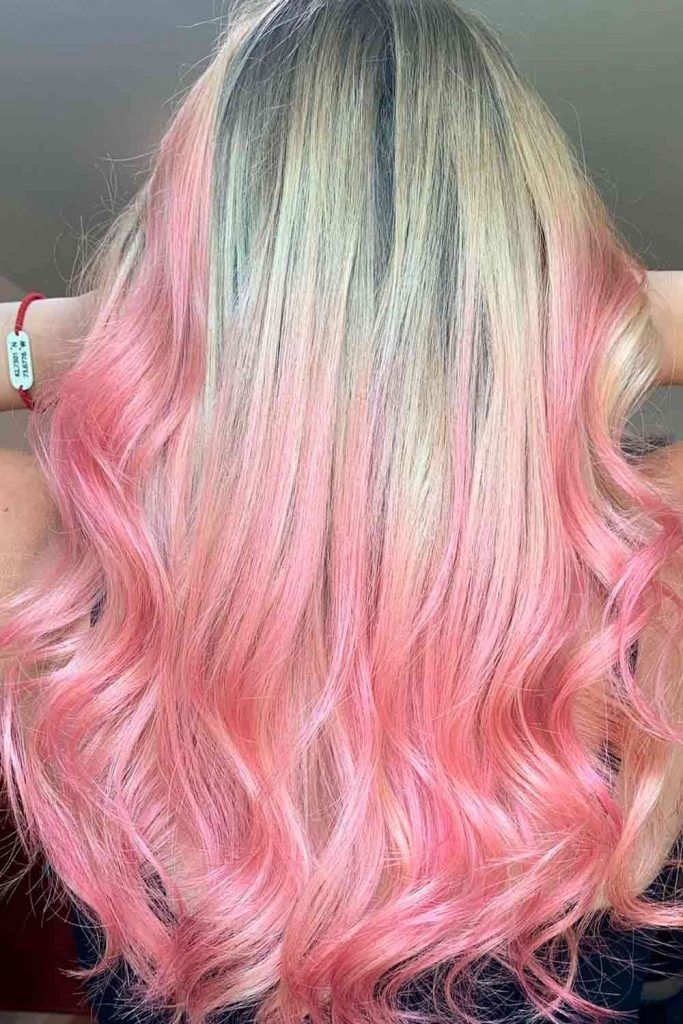 Credit photo: instagram.com/ell_beauty_
Unicorn hints that take place under her blonde base are another proof that not all the ombre ideas are "too much." The colors do stand out, yet they nicely blend with a whitish base.
Grey To Violet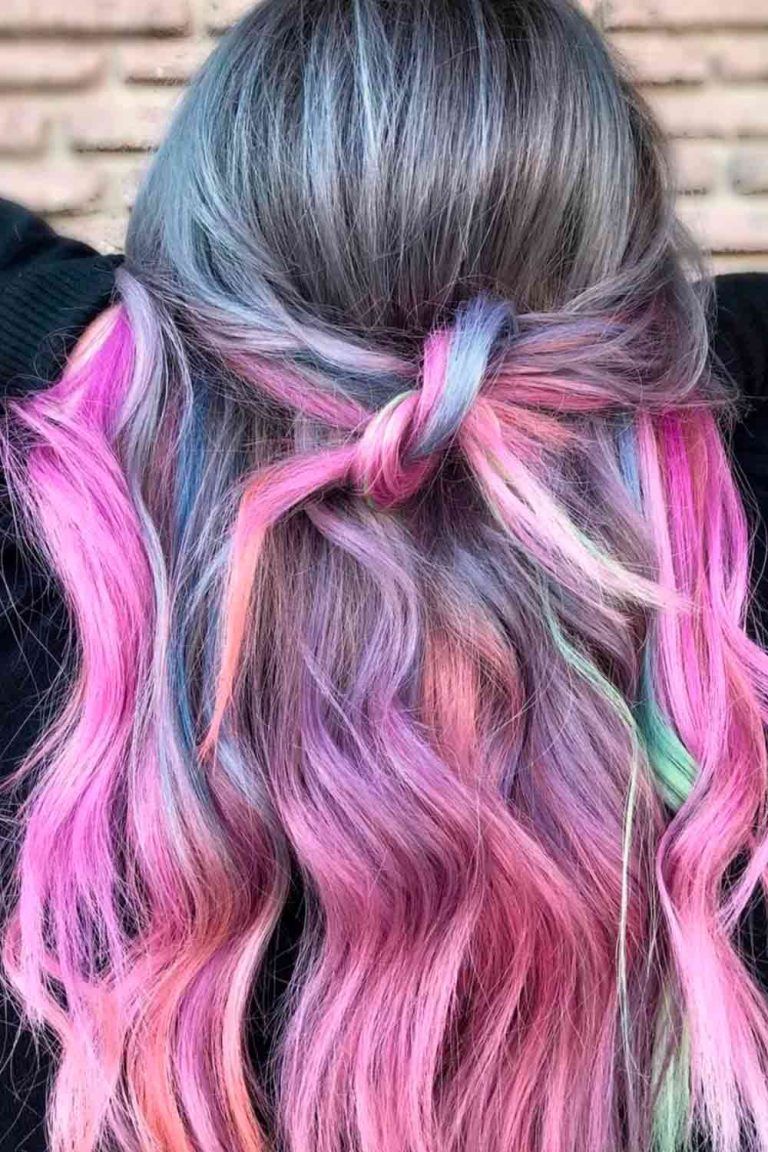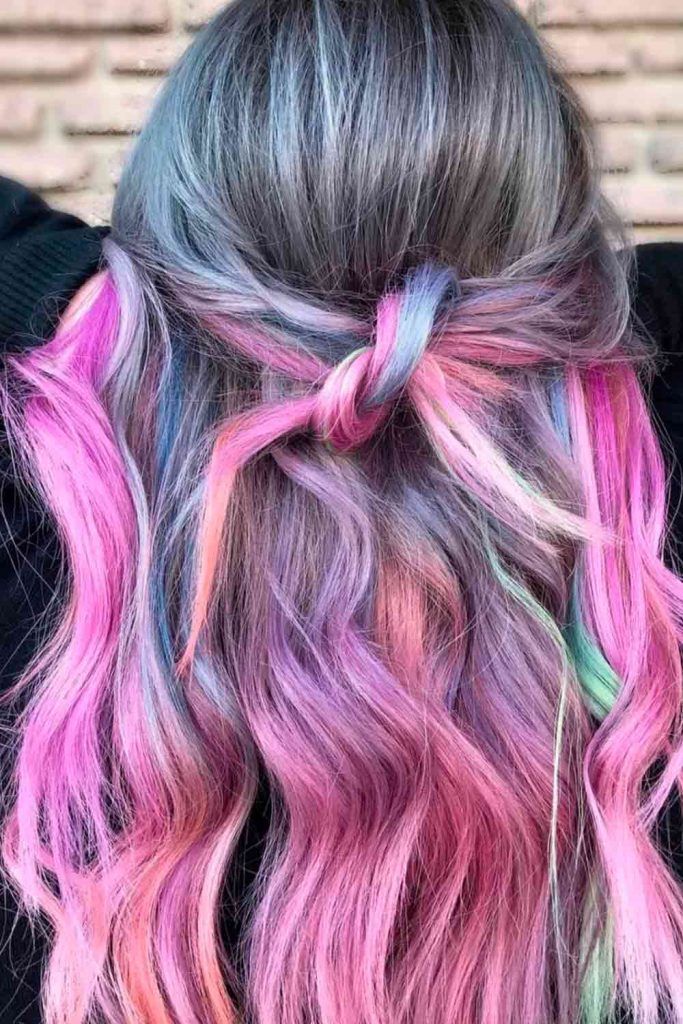 Credit photo: instagram.com/hairbyclairperez
The most unexpected color combinations are always the most unique and desired ones! Two trends give birth to a brand new one that fascinates with its grey-to-violet shift.
Light Strawberry & Lilac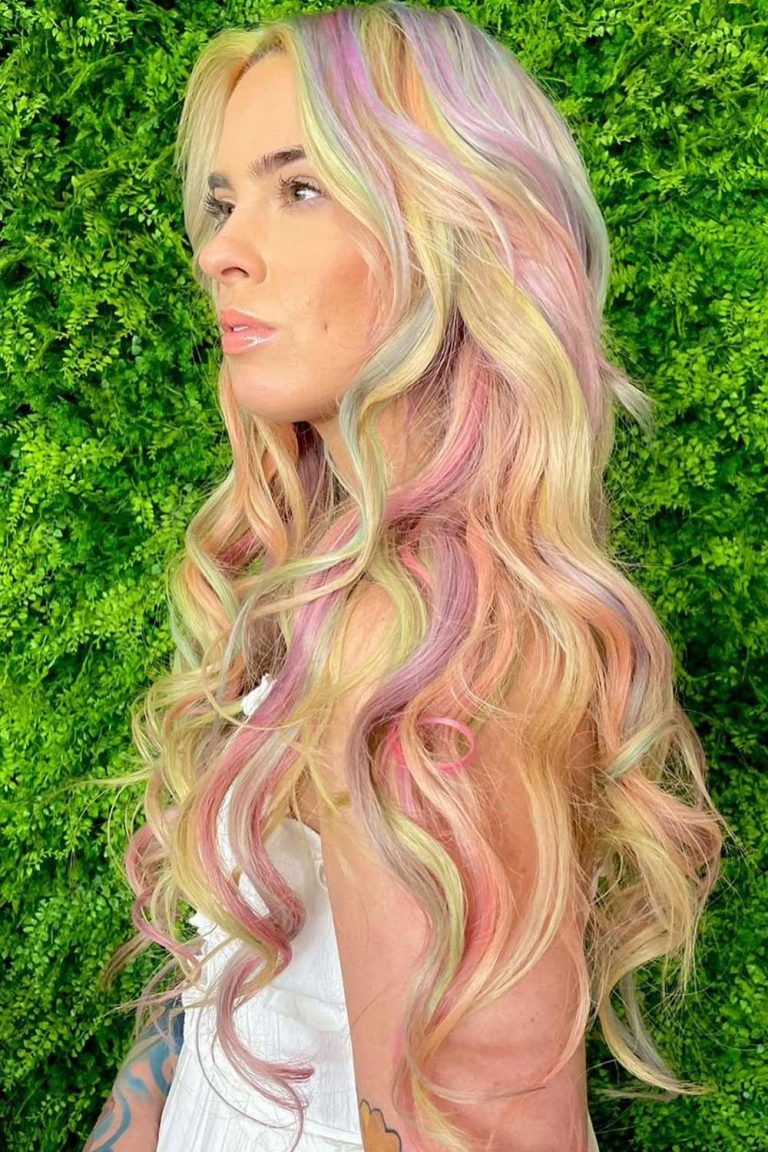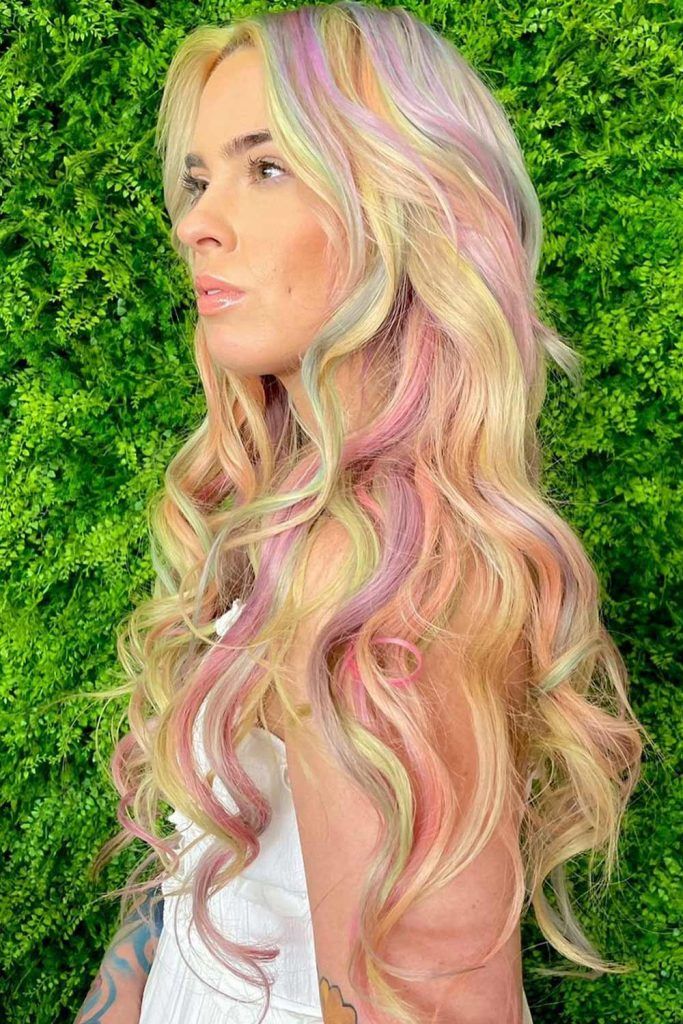 Credit photo: instagram.com/xostylistxo
Strawberry blonde and lilac can form a nice duo if you opt for their pastel versions. For an effortless effect, leave your roots visible before turning your mane into spectacular unicorn hair.
Dark Violet Unicorn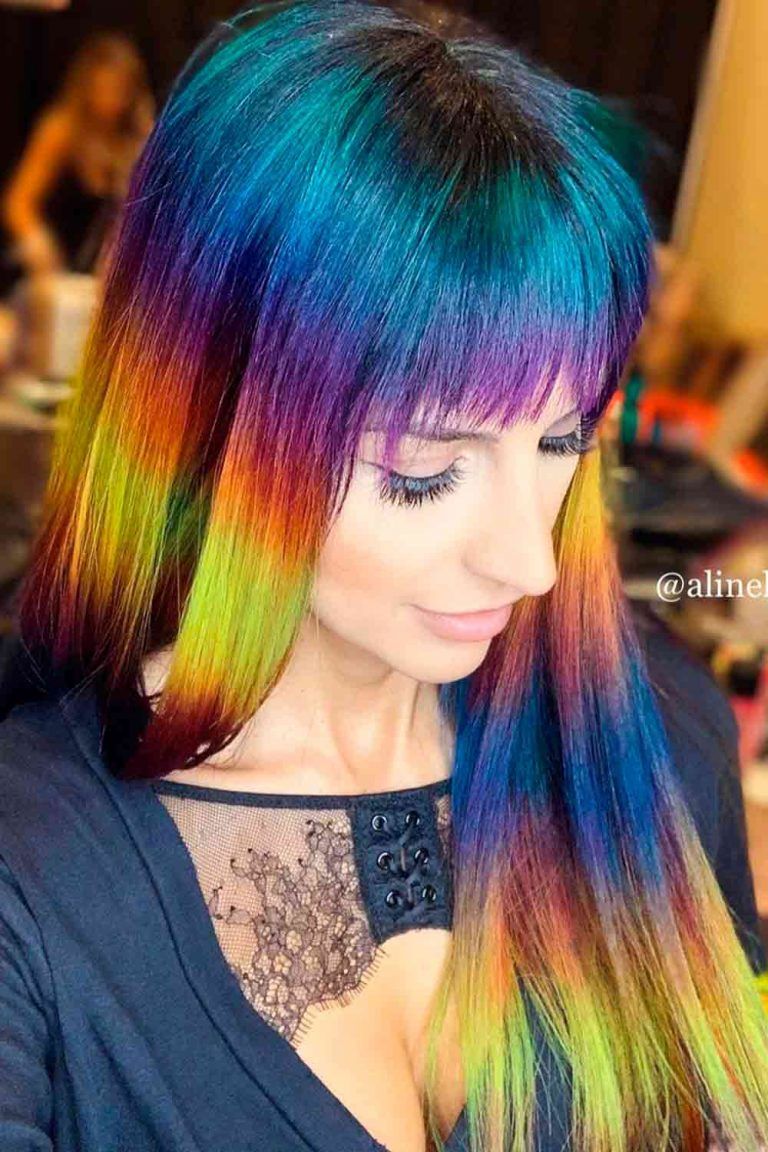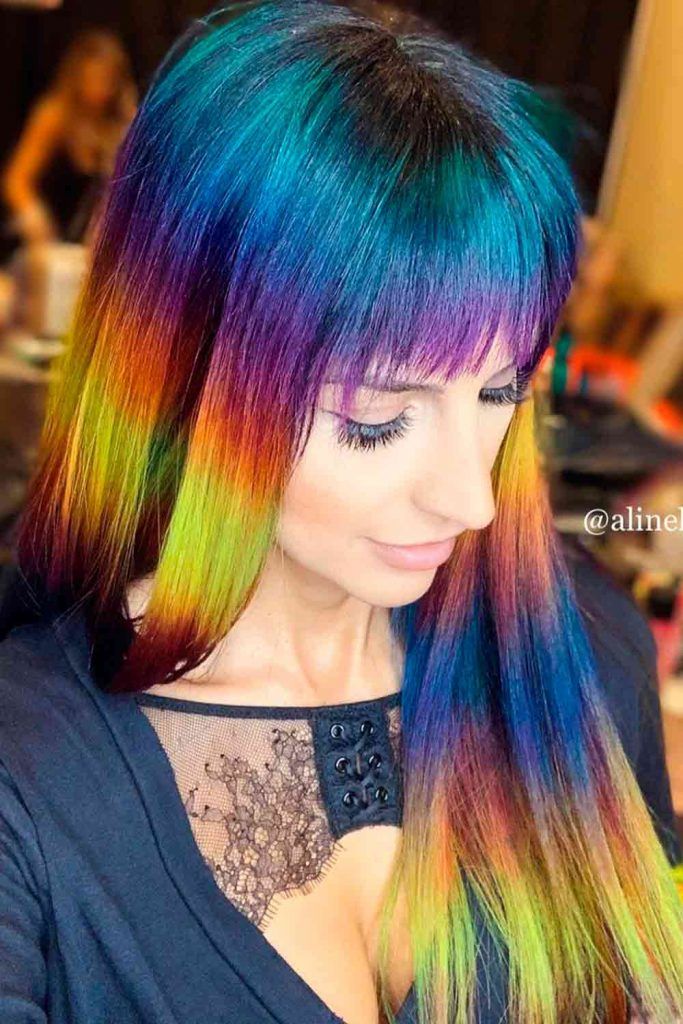 Credit photo: instagram.com/alineh_a
Want to join the dark side of the unicorn community? Meet the deep and saturated palette of violet, rose, and yellowish colors that look like northern lights.
Neon Unicorn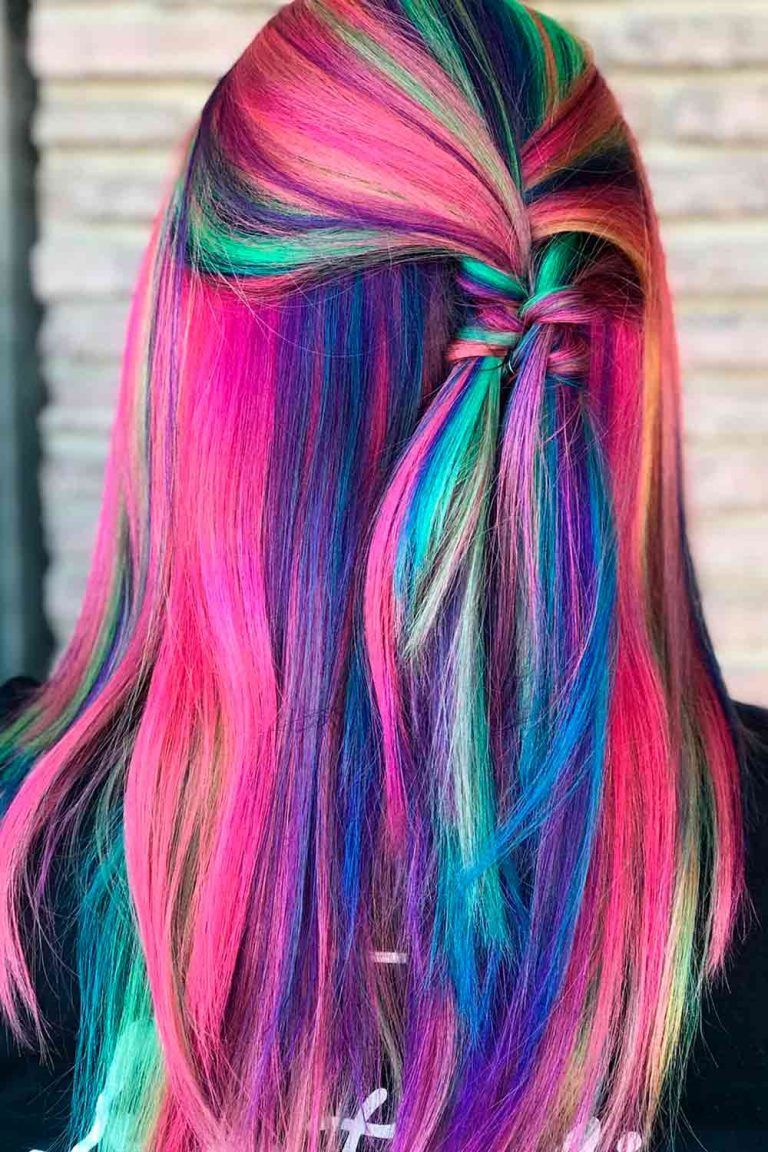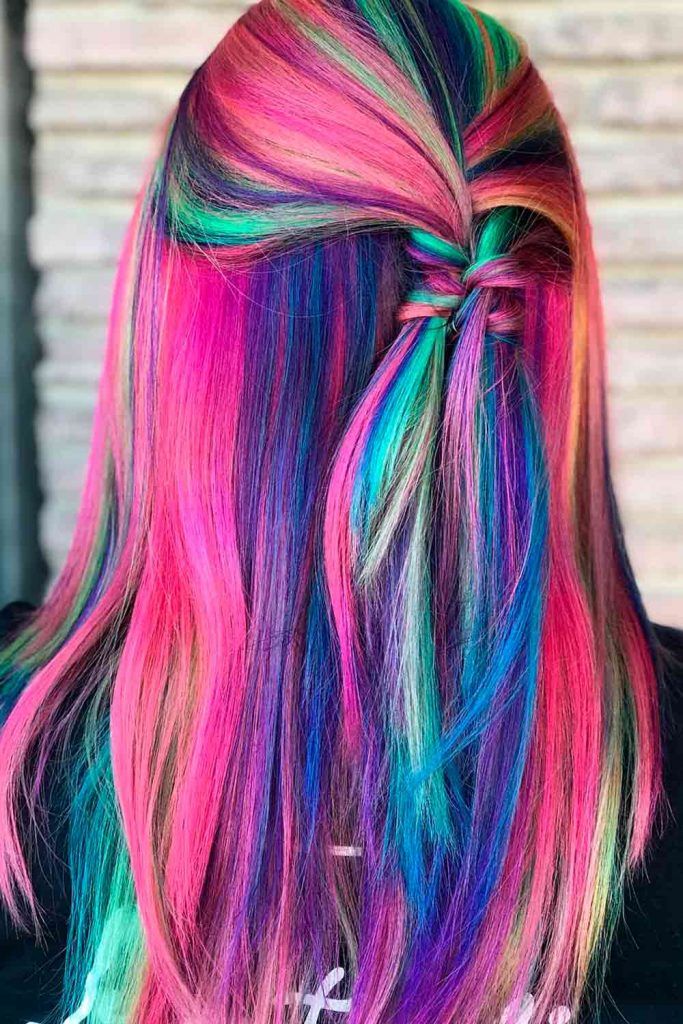 Credit photo: instagram.com/hairbyclairperez
Those who have never seen a unicorn just didn't look for it in the dark! The light neon combination that features yummy peachy, blue, and violet shades will show how magical you are. Just turn off the lights!
Pastel Unicorn For Blondes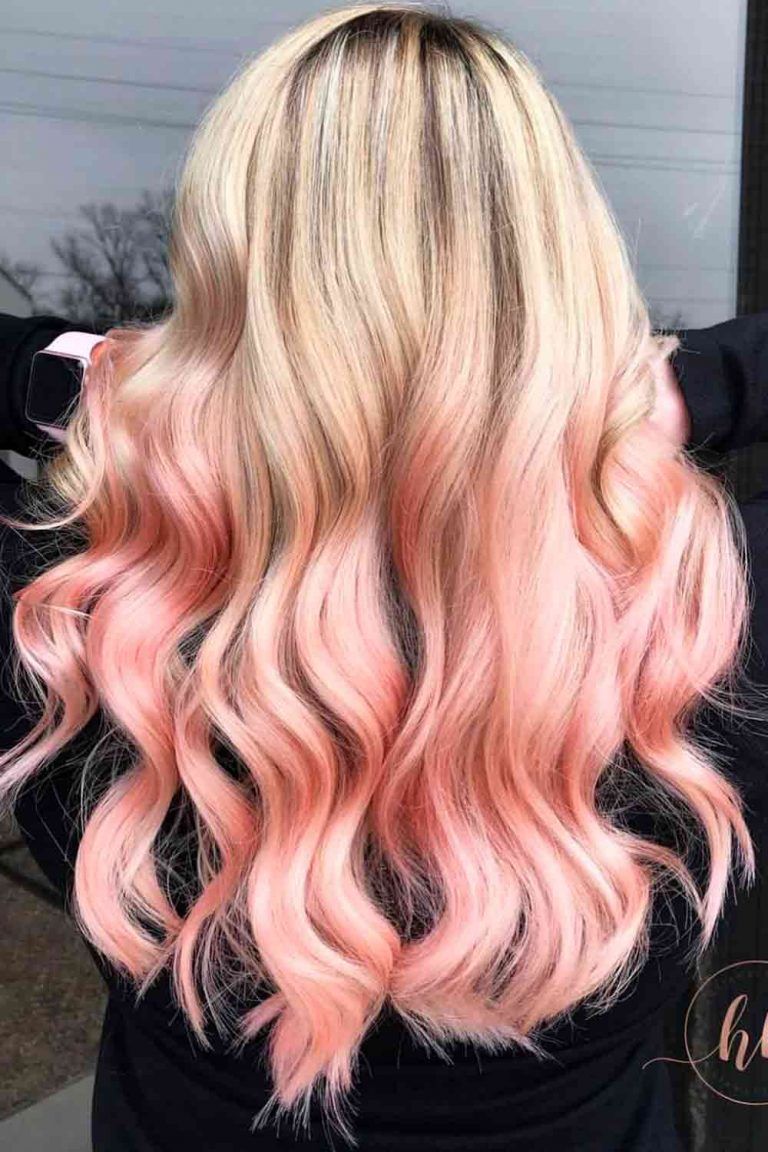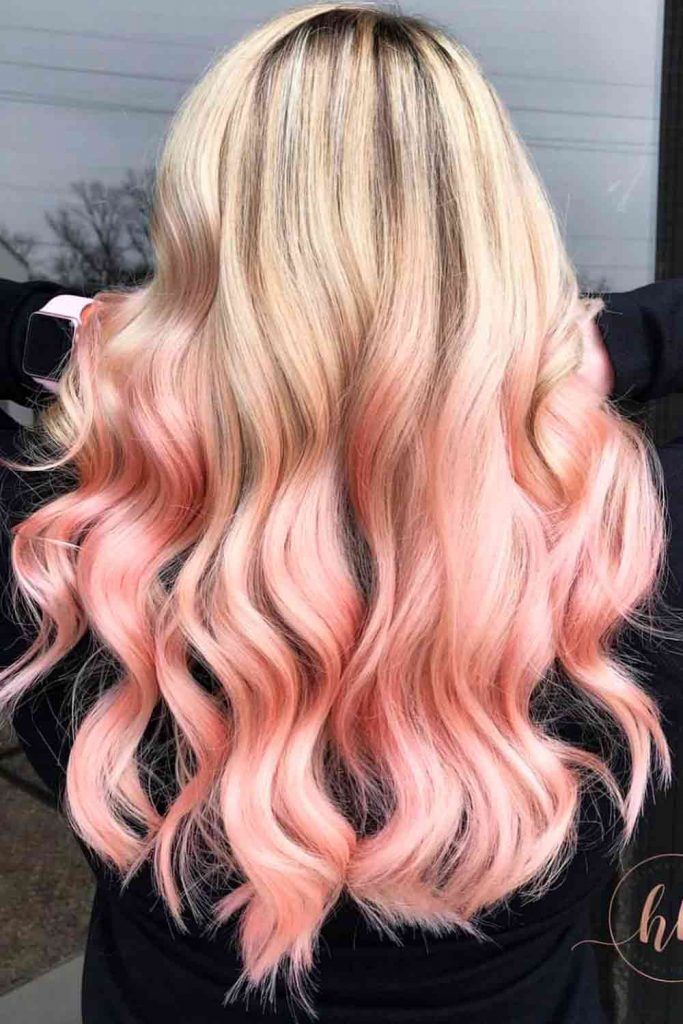 Credit photo: instagram.com/hairwaytokale
If you have blonde locks and are afraid that unicorn hair will look too harsh on you because of the striking contrast it will create, go with faded shades of the same colors you initially planned. Subtle pastel streaks look soft and delicate blending into your platinum tresses seamlessly.
Purple Roots With Pink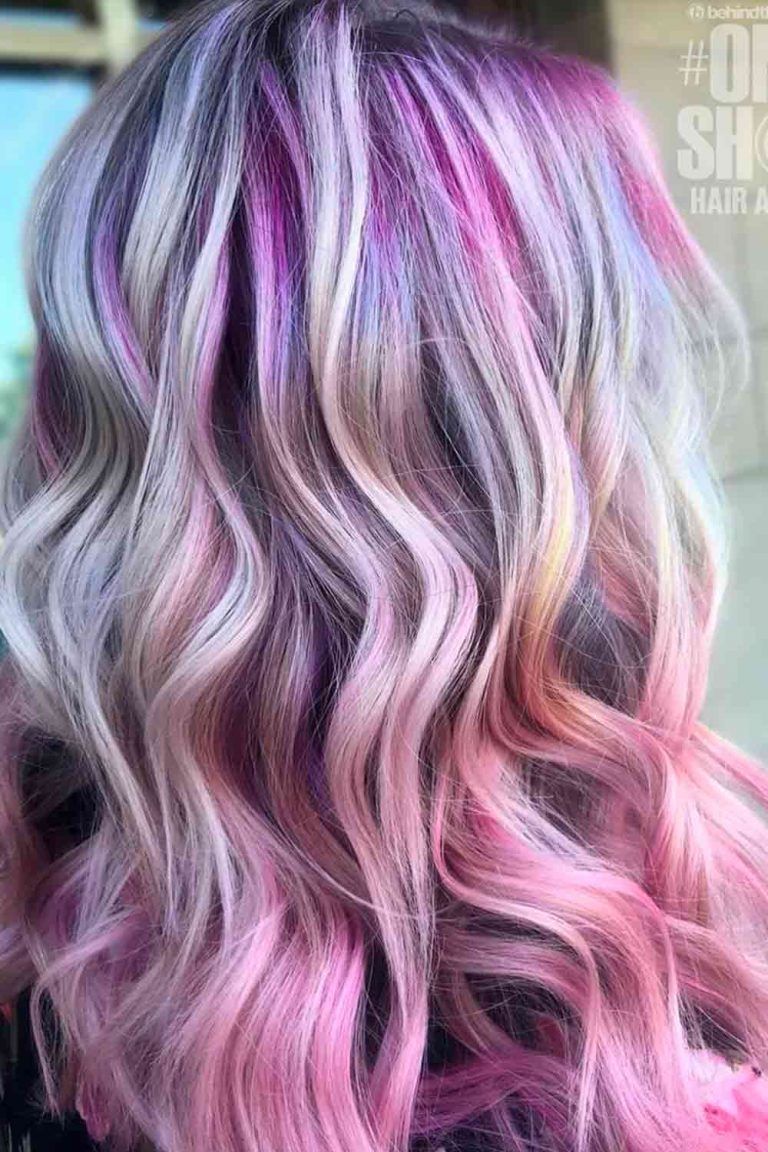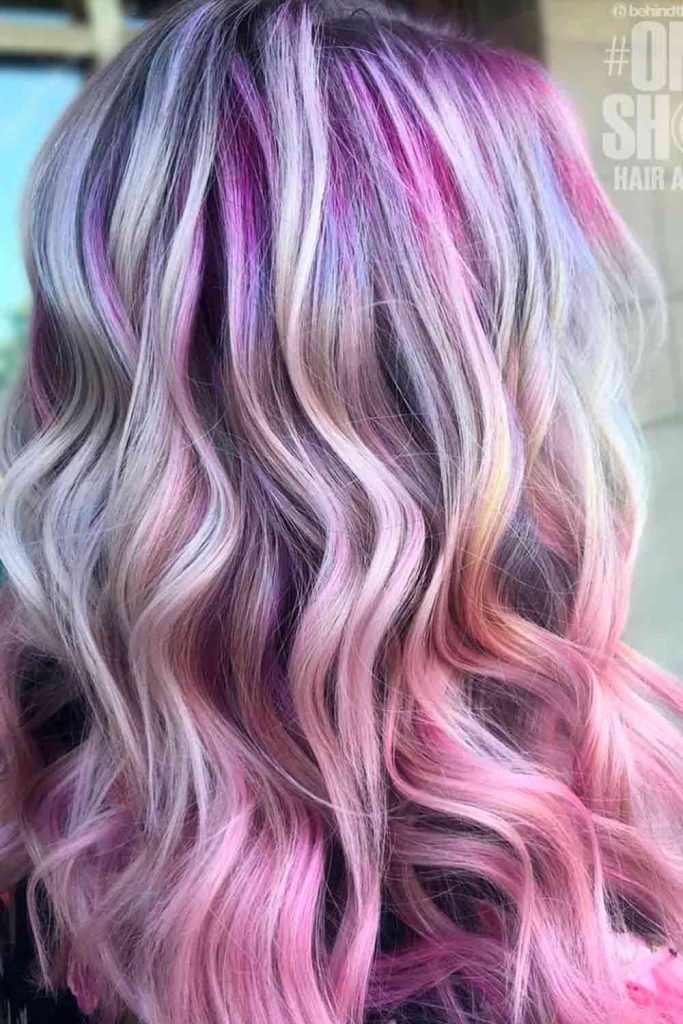 Credit photo: instagram.com/hairbybiancarose
It is no surprise that pink and purple go together like peanut butter and jelly. Yet, simply incorporating these two colors into your hair isn't enough. Try to play around with different levels of layers. For instance, you can dye the roots in purple while going pink for the rest of the hair. In this way, you will achieve a mesmerizing peek-a-boo effect of the unicorn mane.
Ice Berry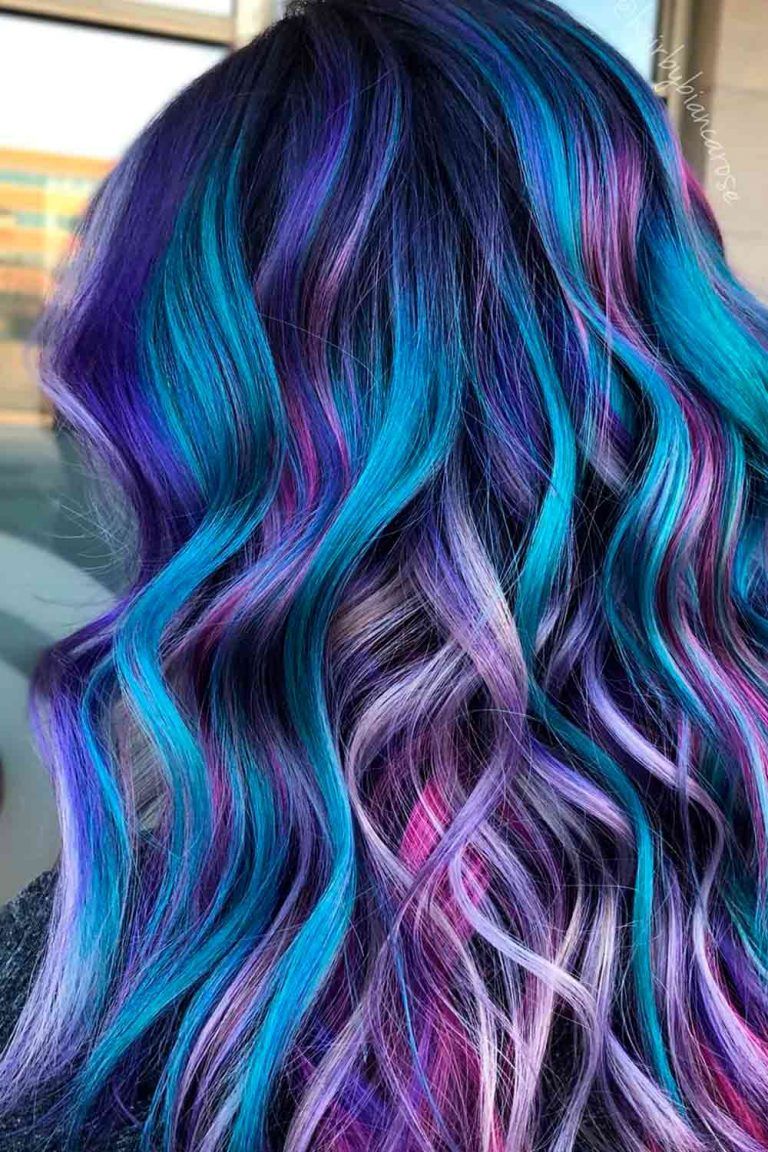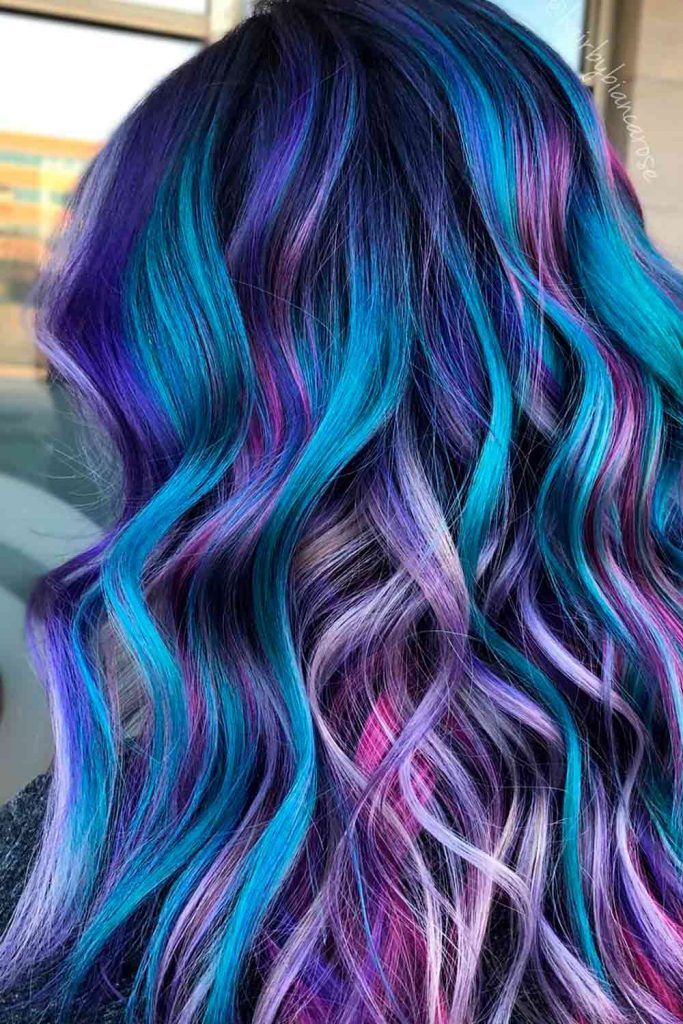 Credit photo: instagram.com/hairbybiancarose
As unicorn hair has mainly cool undertones, you can enhance it by layering over a silver gray base. To achieve a more awe-inspiring effect, let your purple roots melt gradually into pink strands spruced up with blue and violet highlights. This color solution is a wonderful choice for both hot summer days and chilly winter nights. No matter whether it contrasts the weather or complements it, it doesn't remain indifferent for sure.
Fiery Unicorn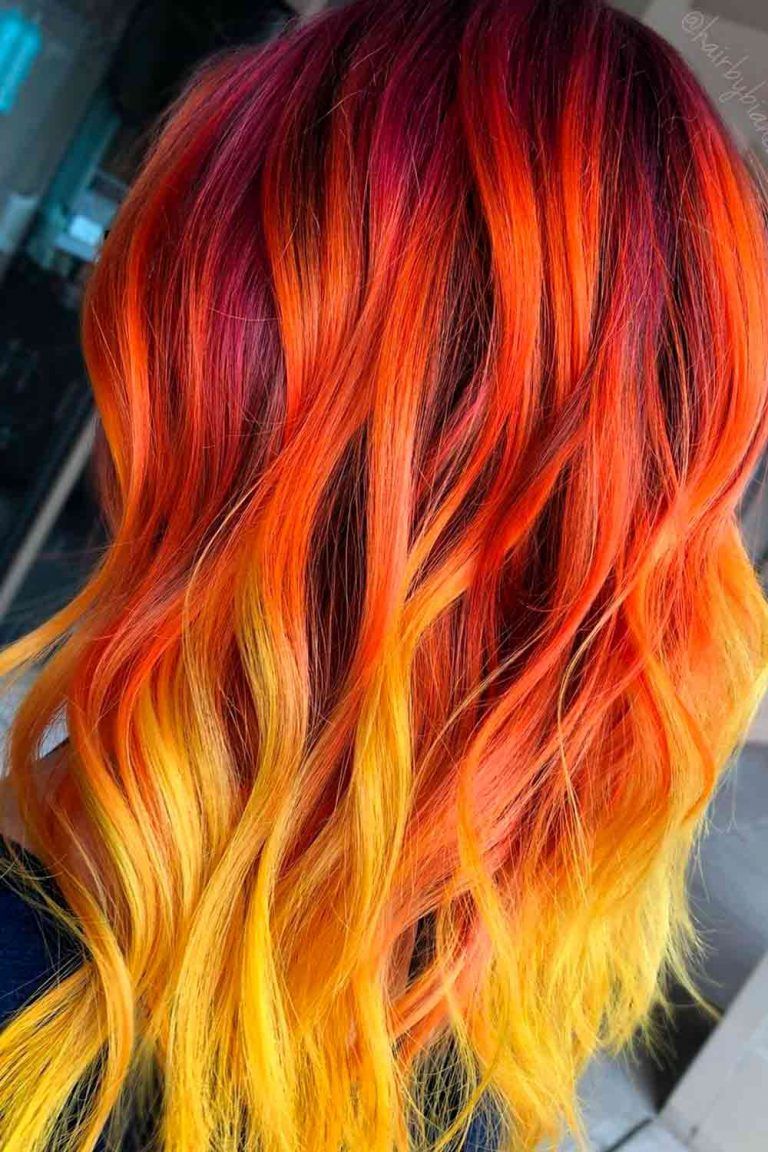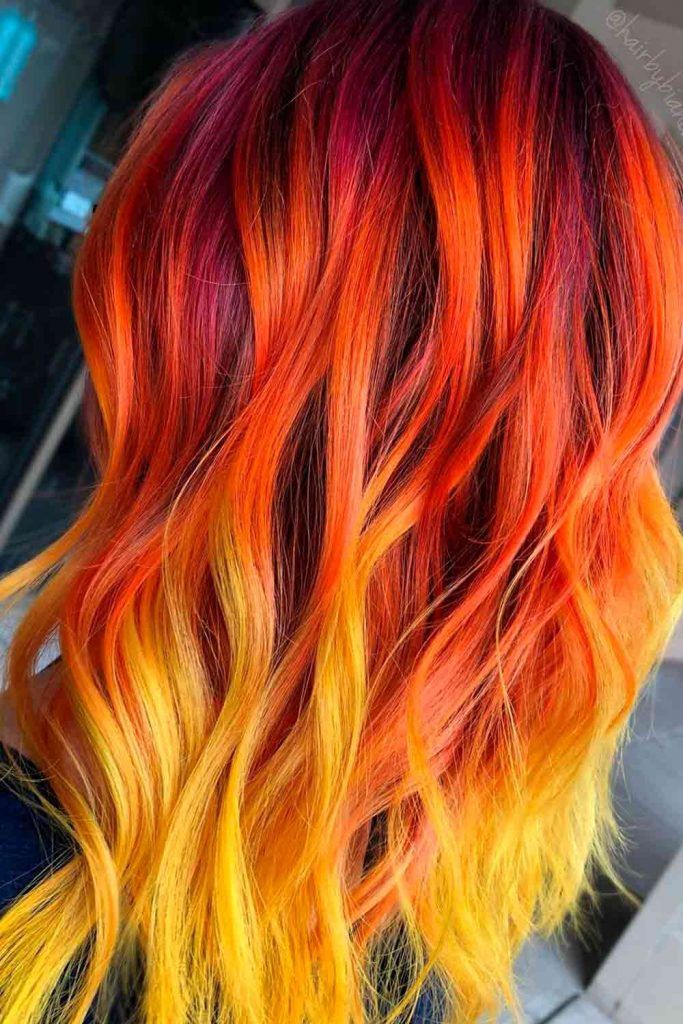 Credit photo: instagram.com/hairbybiancarose
Unicorn hair is not only about pinks and purples. It can also have a very flamboyant coloration. If you want to pull off this bold and daring hair color, make sure that it suits your overall appearance and style. With such bright and deep fiery colors as yellow, orange, red and burgundy, your complexion can seem a bit washed out at times, so it's a good idea to complement the look with dramatic makeup to match.
Pastel Unicorn Blue To Pink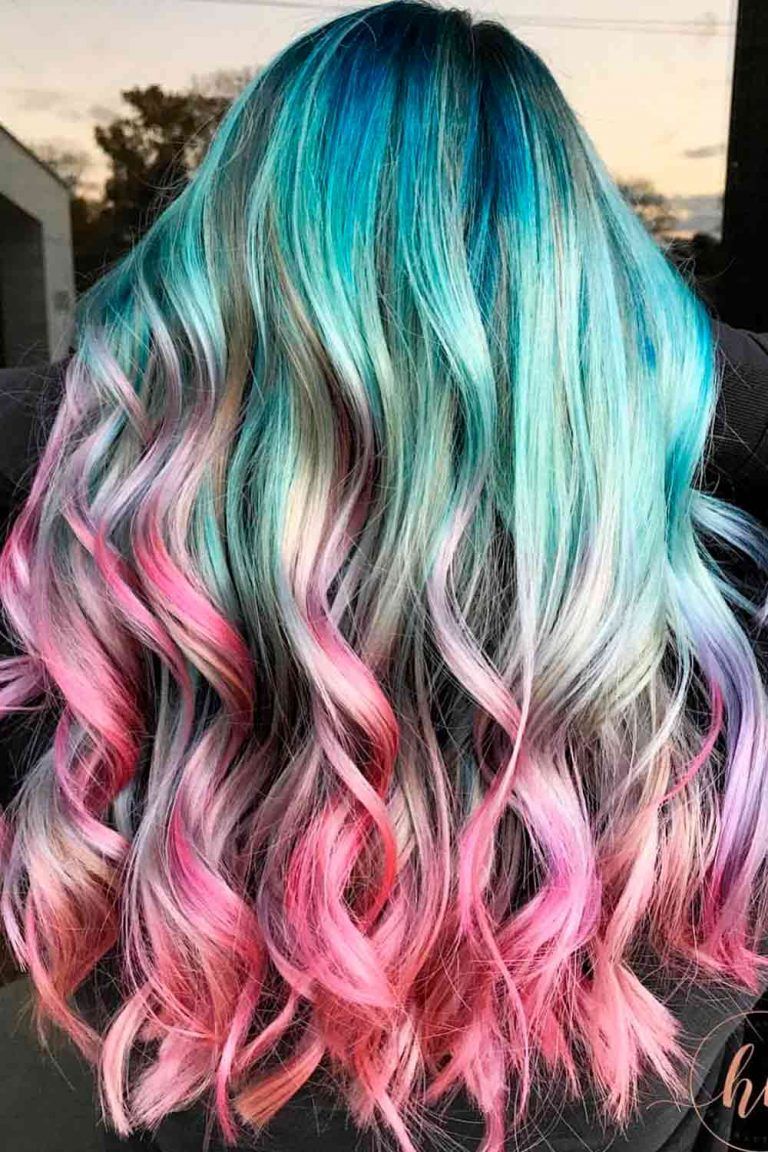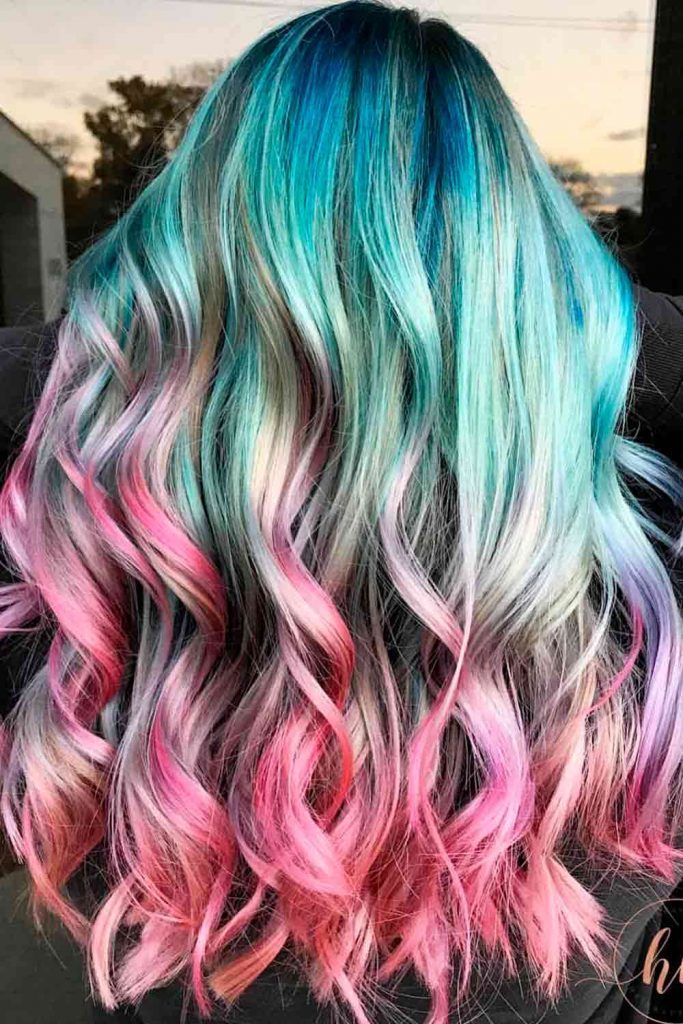 Credit photo: instagram.com/hairwaytokale
Do you want your hair to reflect your romantic and dreamy personality? A subtle unicorn ombre painted on platinum blonde locks is your best way to go then. It should start with pastel blue at the roots and smoothly blend into pale pink ends.
Dark Purple To Light Rainbow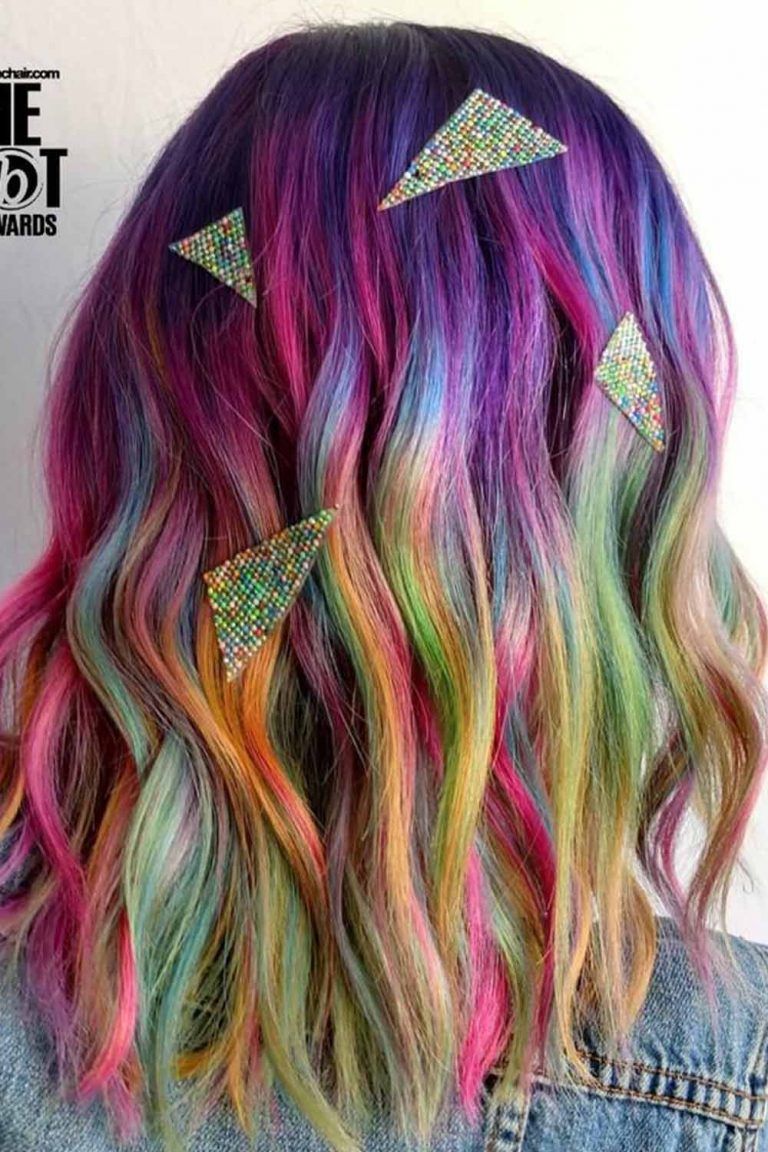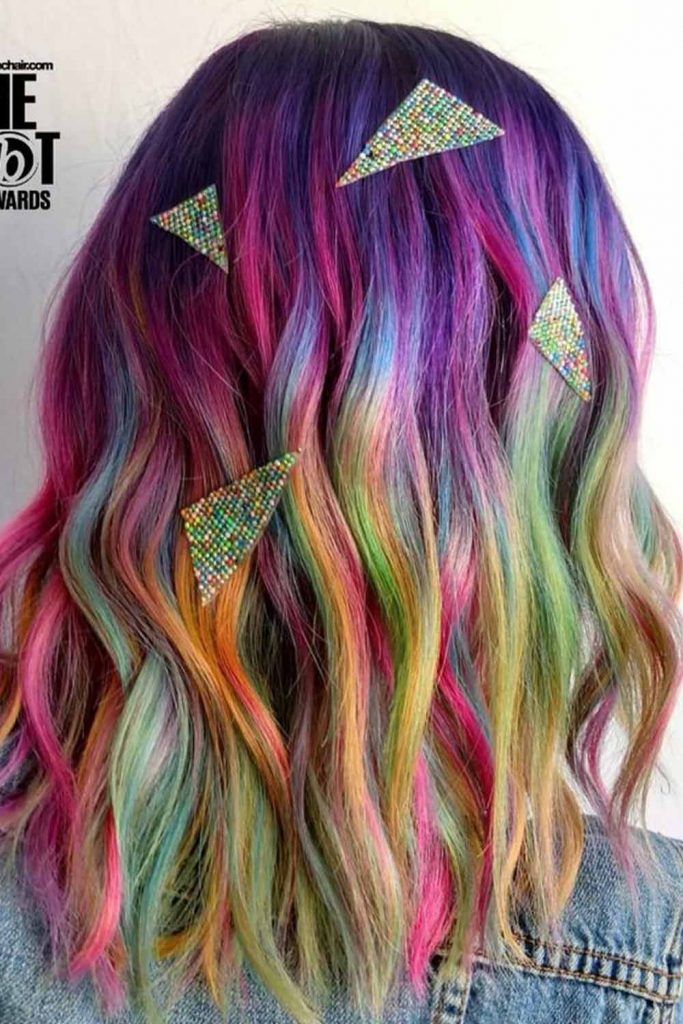 Credit photo: instagram.com/adlydesign
Don't limit your creativity to a couple of colors only. If you like, you can engage the whole rainbow. To make the light colors pop against your hair, begin with dark purple roots and crow black underlying layers. Then add a couple of pink strands in-between to blend the colors evenly and finish off with light lemon, mint and cotton candy tips.
Spooky Unicorn Hair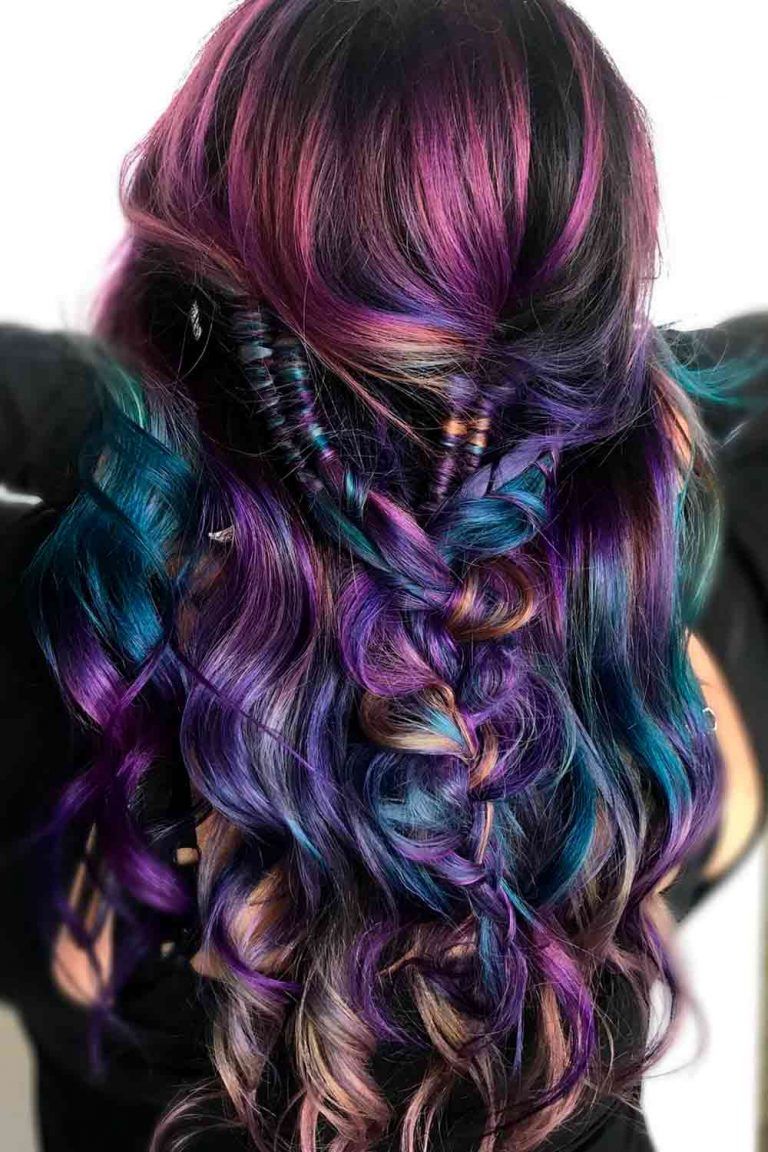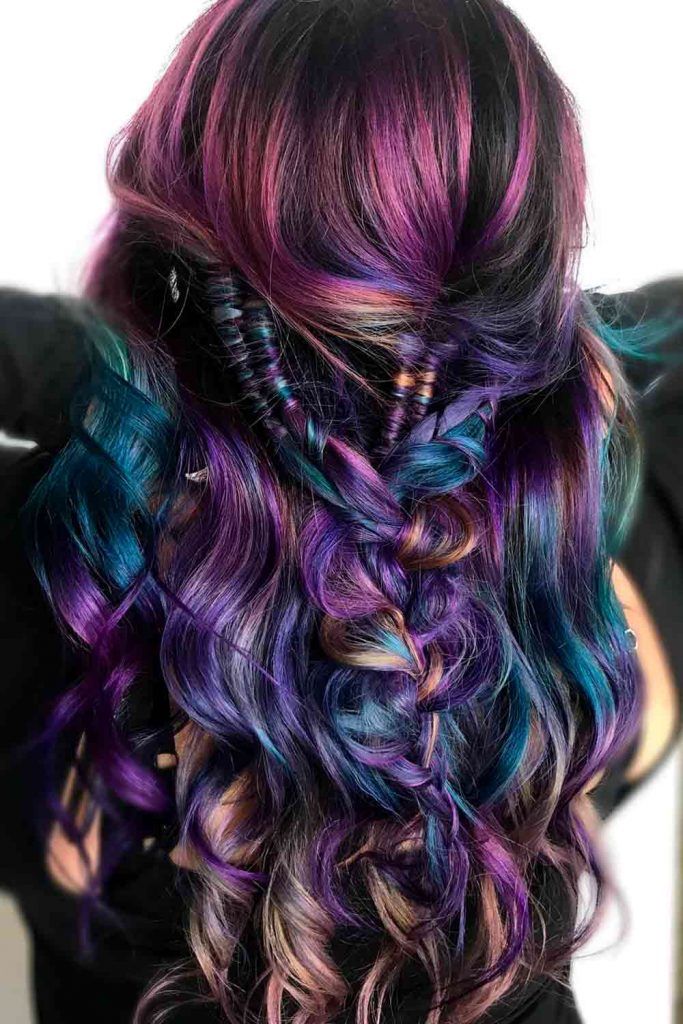 Credit photo: instagram.com/hairbyclairperez
When we call our hair ideas spooky, we don't want to frighten you. On the contrary, we want to inspire you for your next head-spinning Halloween hairstyle. If you search the web for Halloween-themed unicorn hair ideas, you will see girls with various styles paired with a colorful horn of hair wrapped around a carcass to resemble a unicorn's horn. How about you go a totally different way and do a creative braided piece of hair instead of simply wrapping your locks around some plastic base? Of course, a simple braid done with super-thin sections is enough to steal the show at the Halloween party! And don't forget about the colors!
Five Strand Rainbow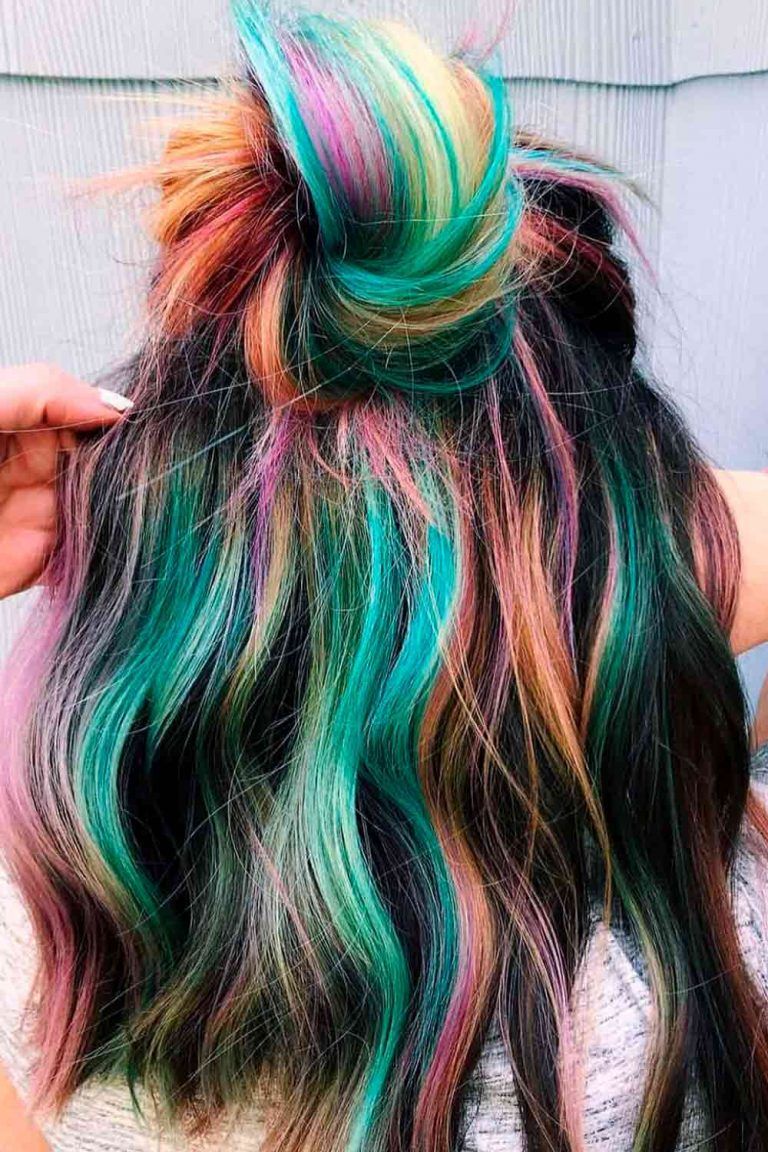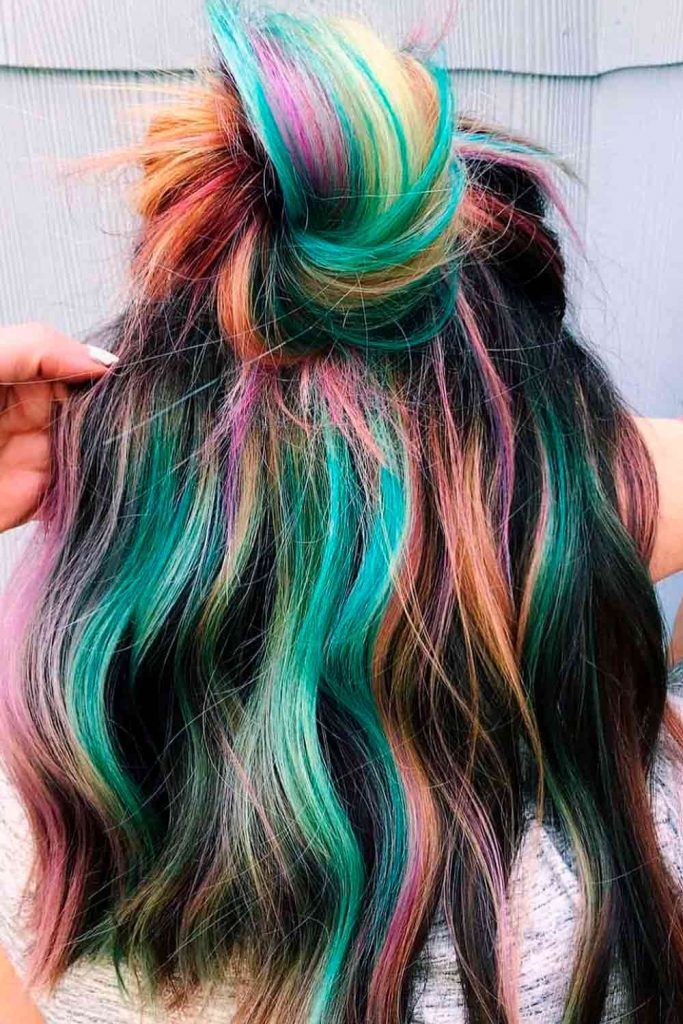 Credit photo: instagram.com/hairwaytokale
A hairstyle you see in this pic is no longer a braid; it's a pure rainbow blossoming on the hair. As it turns out, you can move your braid to the next level by embellishing it with various bright and colorful shades. Here, the five-strand braid looks especially fantastic and enchanting due to the creative approach to the hair colors! Anything from green to navy blue will look hip on you if you will style your hair with passion for experiments.
Purple & Fuchsia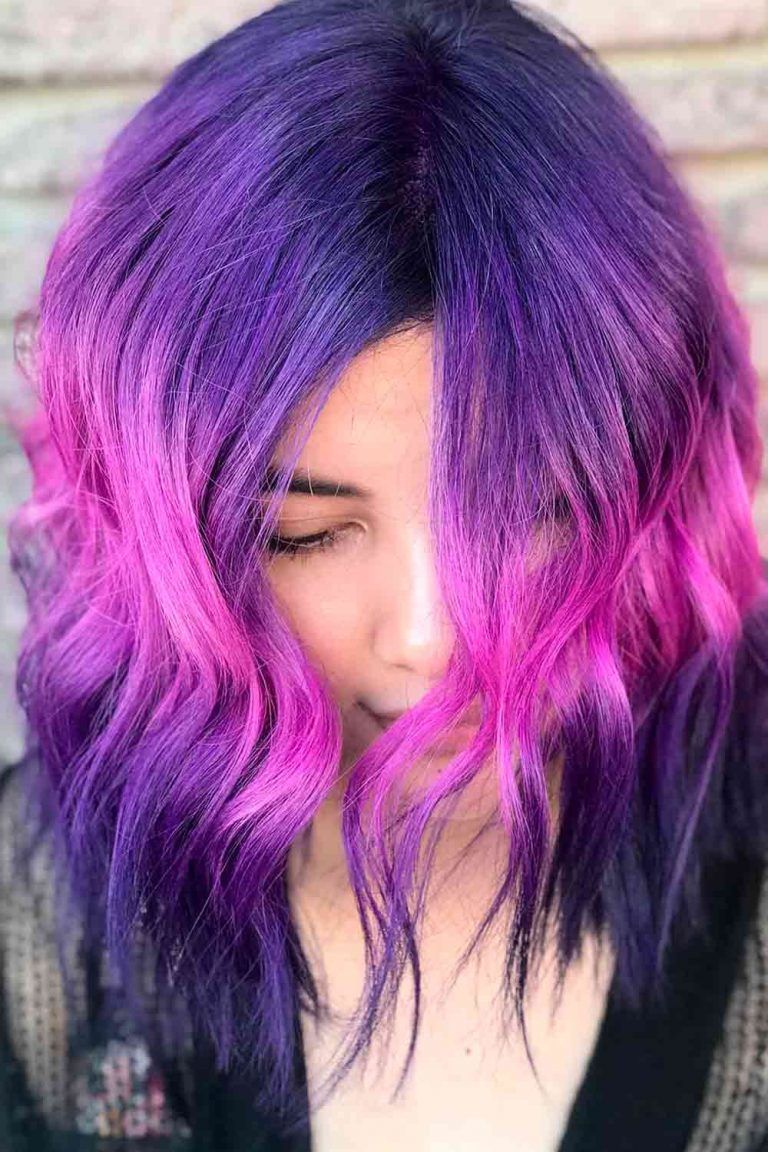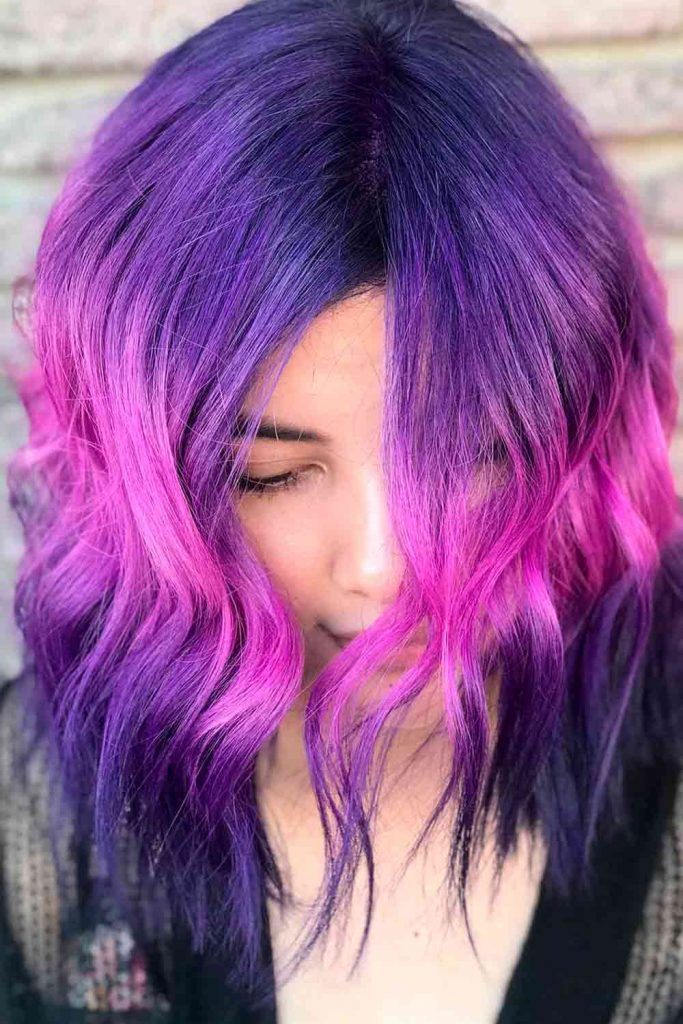 Credit photo: instagram.com/hairbyclairperez
Since unicorns can be different, nothing stops you from creating your own unicorn palette! If you don't find it harmonic when lots of bright colors are mixed, you can try some fail-proof combinations that will make you stand out. And purple and fuchsia are probably the most dramatic yet balanced mixture of vivid shades that keeps the needed harmony.
Strawberry Lemonade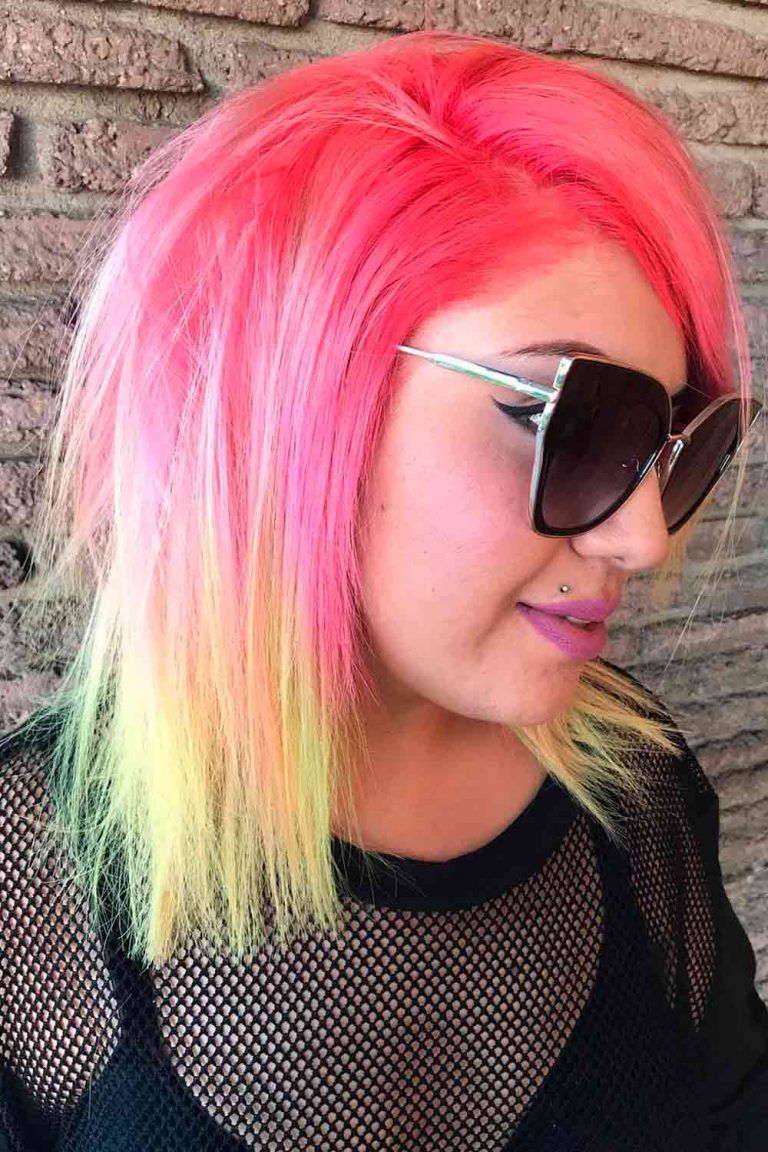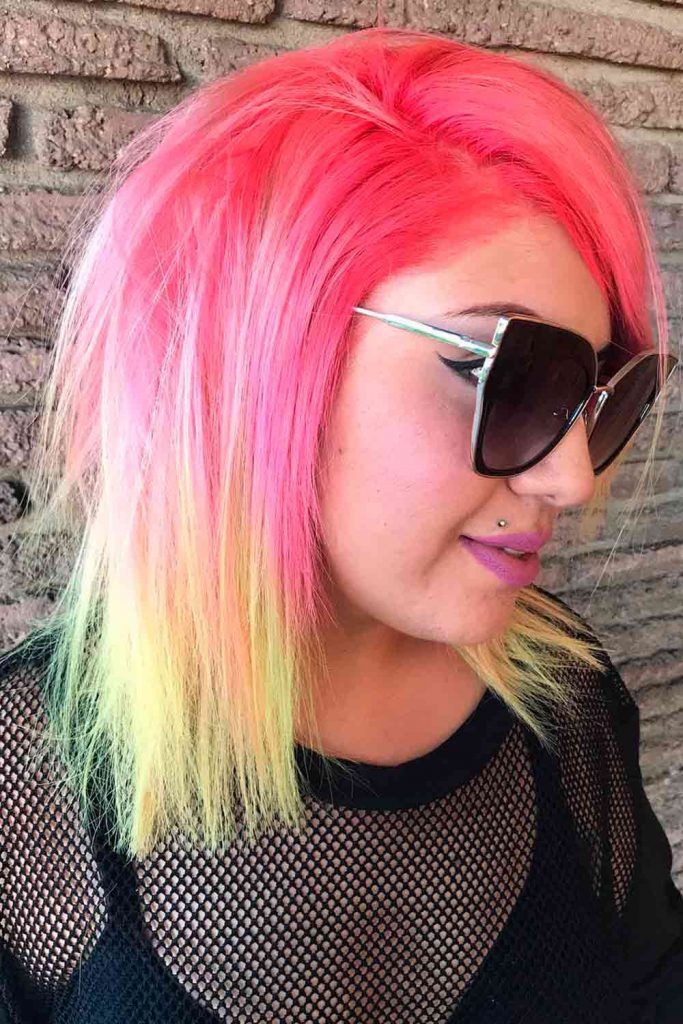 Credit photo: instagram.com/hairbyclairperez
Even if there was a dictionary of trends, there wouldn't be a definition for this mesmerizing color mixture! The colors are so sweet, dramatic, and accentuating in this color play, although they seemed to be unmatching before this idea. What ties yellow and pink up is a smooth peachy blonde between them that creates a special, smooth transition to create a single whole out of them. If you really want to try something no one has ever tried, this idea is your chance.
Frosty Unicorn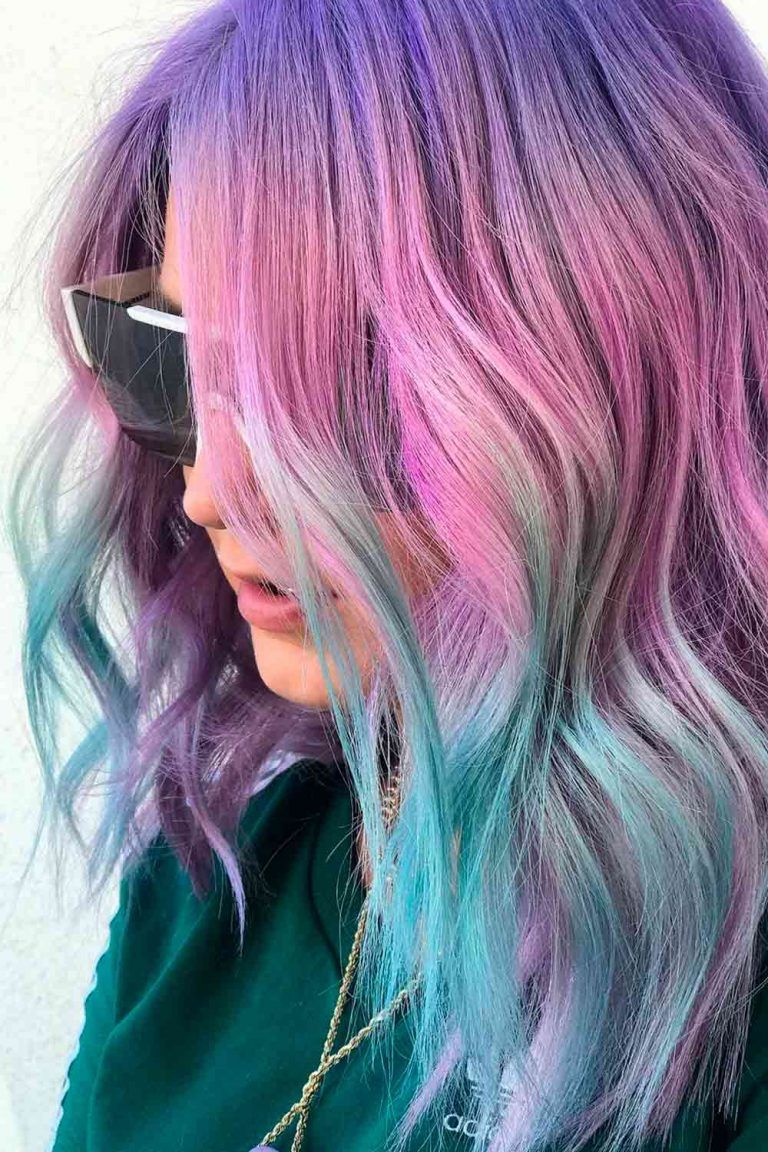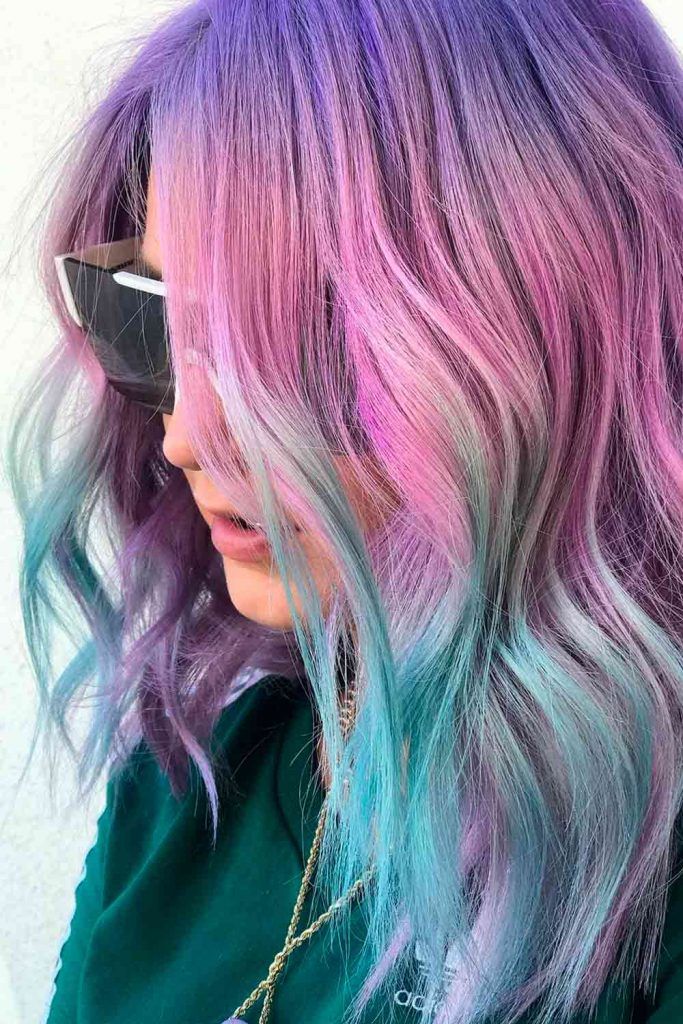 Credit photo: instagram.com/hairbyclairperez
Another stunning way to make colors melt smoothly with one another is to ask your colorist for cool-toned shades. It can be a chilly blue hue, a frosted pink yogurt tint, or these two blended into one! By the way, on a chopped pixie with sharply cut edges, these colors seem to look their best. When choosing a color combo for your next transformation, remember to make sure they match your haircut.
What is unicorn hair, after all? It's your chance to go for experiments! You've just got inspired by the most uncommon unicorn hair ideas, so it's time to open your heart to new colors. Also, now you know how to do unicorn hair, and nothing is stopping you from playing around!
FAQ: Unicorn Hair
How long does unicorn hair last for?
Basically, each unicorn color is available in two different formulas: full coverage and tint. Full coverage lasts around 10 washes. Tints last around 10 washes as well.
Does unicorn hair completely wash out?
Unicorn is a semi-permanent hair color that is meant to fade over time.
Does unicorn hair work on dark hair?
Full-coverage hair colors can be used on darker hair, however the result will be less bright. Another hair color choice is unicorn hair tint. In this case pre-lightened hair is required. The watercolor effect that tints provide will give your pre-lightened platinum or pale blonde hair a lovely wash of color.
How do you dye your hair with a unicorn spit?
Put 10 parts of Unicorn Spit and mix it with water. Take a dry, clean and tiny sample piece of the same substrate as your base and test the mixture by progressively adding five parts water until you get the desired result.