Geode hair color styles remind us of crystals and geodes, and their natural beauty is truly mesmerizing. Perhaps this new trend is the brightest among all the trends that exist today. Started by Cherin Choi, one of the top hair pros in Los Angeles, geode hair has soon become popular around the globe. Be ready to gaze at the miracle! Our photo gallery won't leave any fashionista indifferent. Dive in!
Fluorite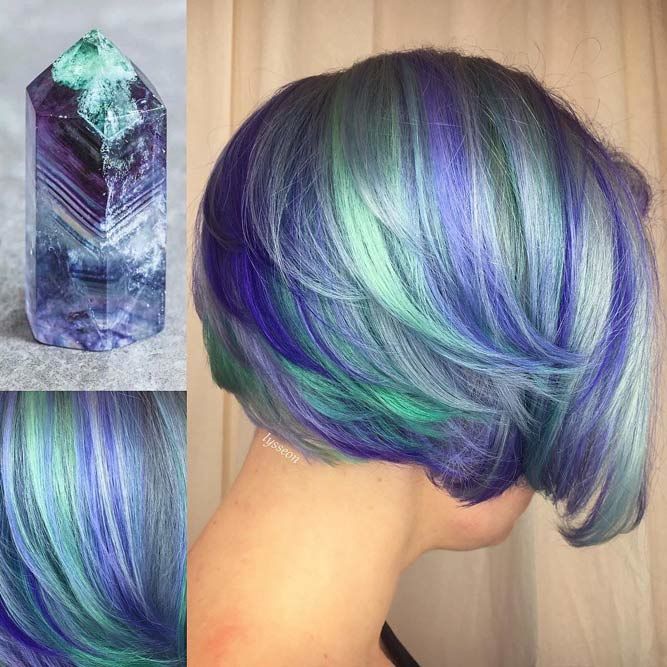 Credit photo: instagram.com/alyssawiener
We will never be able to resist the color choice made by nature when it created fluorite! This amazing gemstone features lightweight shades of blue, including greenish ones like teal colors. Of course, the best way to apply them to your hair is to go for highlights. Sharp layers will also be a nice idea, as they will accentuate the movement and flow of your amazingly matching bluish hues.
Aura Quartz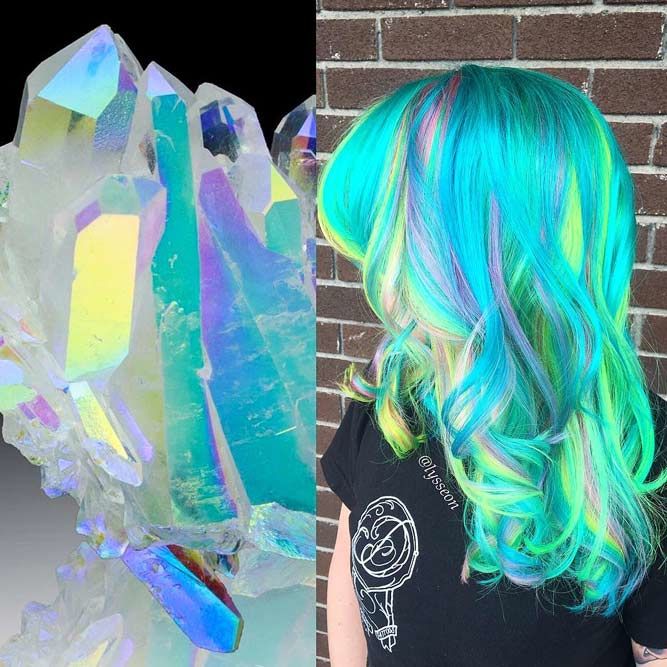 Credit photo: instagram.com/alyssawiener
The trendy and bold neon colors can look like glorious aura quartz if you mix them the right way and with the right shades. Of course, light neon blue is the crucial base. And in order to create that dimensional shine-reflecting effect, you should add a pale yellowish tone. After that, all the colors are up to you! Since quartz can reflect lots of colors naturally, you can add anything from deep blue to light purple.
Pink Angel Aura Quartz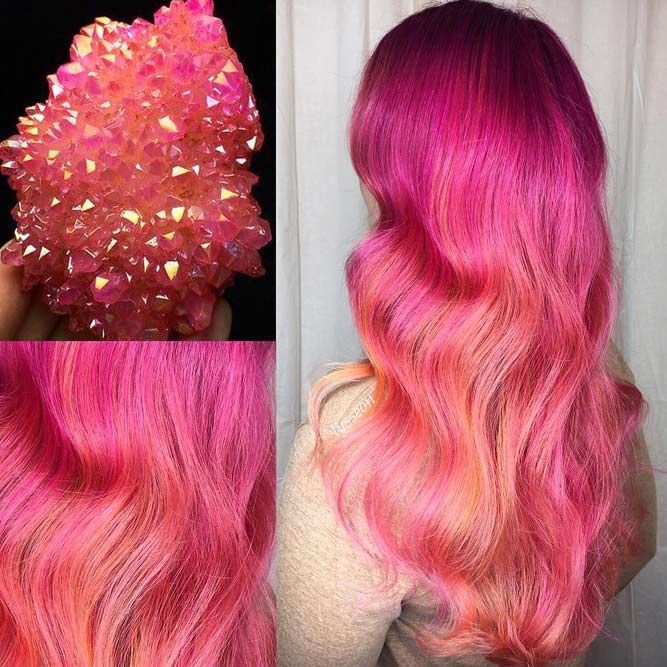 Credit photo: instagram.com/alyssawiener
No wonder that pink aqua quartz is considered a symbol of universal love and harmony in a relationship. When we look at these girly-lovely colors, we can't help but fall in love with their sweet and shine-reflecting hues that go harmonic with one another. Now, can you imagine this adorable effect on your hair? Even though this idea seems to be all about bleaching, you can actually deal with it comfortably. First off, start with darker roots, leaving your natural color. Then, transit to any shades you want! When your roots are left as they are, you will always be able to restore your hair.
Emerald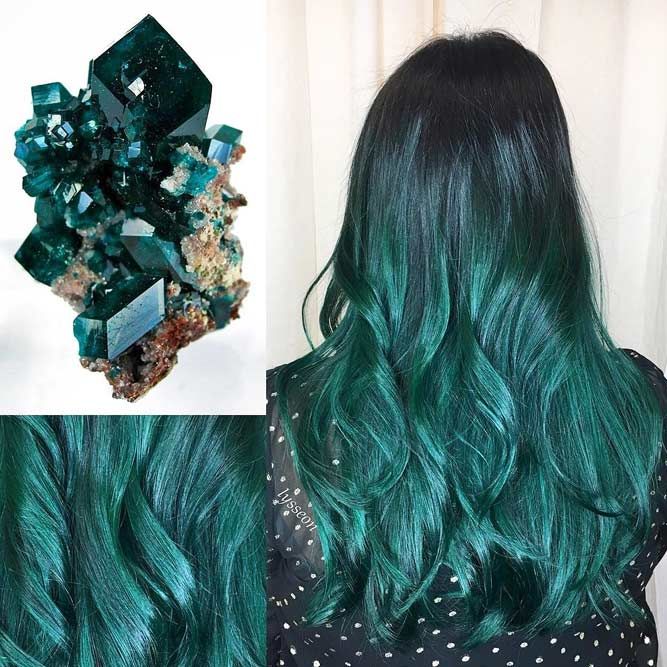 Credit photo: instagram.com/alyssawiener
Now, it's time to talk about one of the most popular geode hair color styles of all time. Not only does it look exceptional on deep brunette bases but it also flatters blondes of any shade. However, it does look its best on brunettes, especially in pastel versions. Emerald green is a profound yet shiny shade that looks wonderful when achieved through ombre with well-smudged roots. On darker manes, this color will indeed look like a gemstone!
Amethyst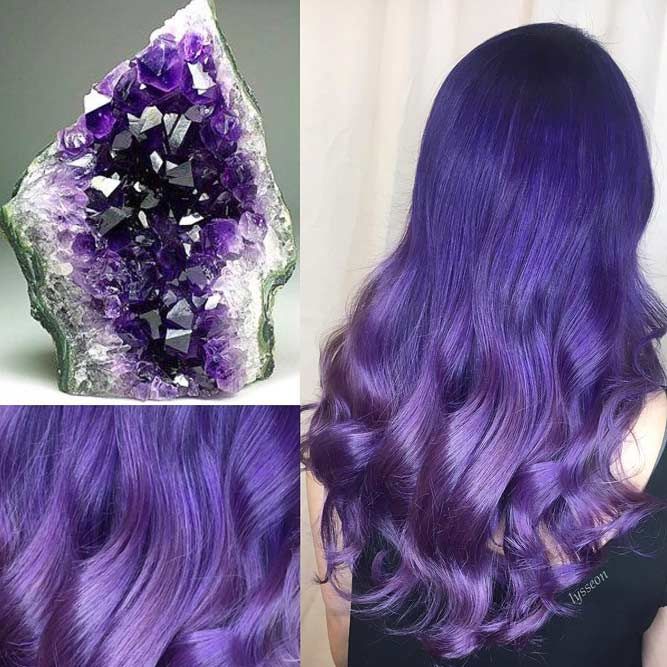 Credit photo: instagram.com/alyssawiener
Those who are into the purple hair trend will not be able to resist the beauty of amethyst color! This amazing stone embraces dark, medium, and light purple colors at the same time. The history behind this gemstone is also impressive: it's known for its power to soothe and stimulate mind and emotions. For that reason, we bet that getting an ombre starting from a dark and ending with the light hue would be the best anti-stress solution. Also, it will nicely suit girls with pale complexions.
Opal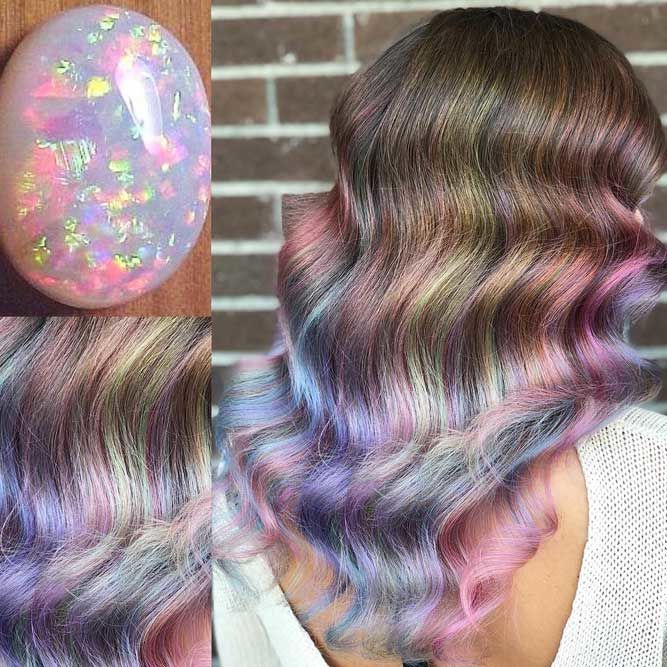 Credit photo: instagram.com/alyssawiener
As one of the most impressive gemstones, opal has been inspiring women not only for new hair colors but also for anything from nails to accessories. Having a rather holographic effect, opal has no single color; it comes as a combination of soft and shiny hues. Whitish colors, soft purples, pastel pinks, and muted light denim shades are keys to turning your hair into an opal-inspired mane. Since this color consists of different hues, we recommend you going for highlights to put every single shade in the spotlight.
Agate
You never know what to expect from agates! Each stone comes out unique and one-of-a-kind, featuring light blue and brown shades resembling blue eyes and tiger eye gemstone at once. While it's another idea that works equally well for blondes and brunettes, it's better to start with a lighter base for such experiments. Otherwise, you will need to use a lot of bleach, which may be pretty harmful. As for color placement, nothing works better than a horizontal balayage blending white, bluish, and pale mustard hues.
Rainbow Fluorite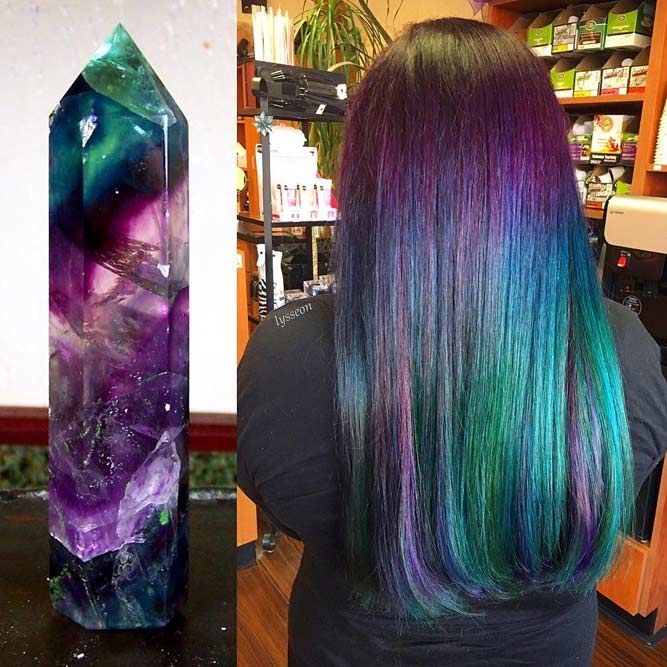 Credit photo: instagram.com/alyssawiener
Fluorite gemstones look like little portals to the outer space due to their mystical blue and purple tones. The best thing is, when playing with such shades, the sky's the limit to the number of various hues for your transformation. You can play around with different purples and blues, including the popular teal hair color, as well as experiment with the color order. Here, everything starts with purple roots, and your version can be as different as you want.
Moonstone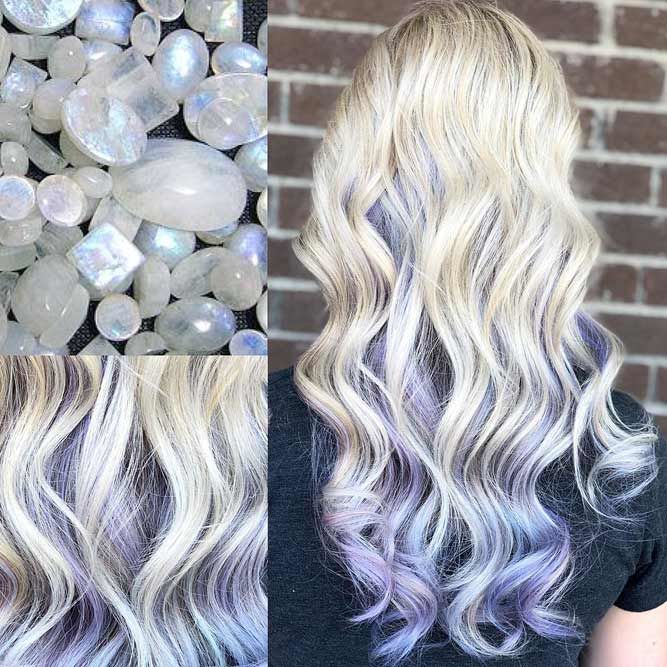 Credit photo: instagram.com/alyssawiener
Just like blonde hair colors, moonstones aren't as simple as they may seem to be. At first sight, it's a whitish gemstone. But once you have a closer look and the light shines down on it, you will see various light blues and glowing beige tones. Isn't that a perfect idea for your brand new blonde coloring? By the way, you can color the bottom layer of hair pastel purple and get a platinum base. You will love the way these colors play together, especially if you run your fingers through your hair.
Tiger Eye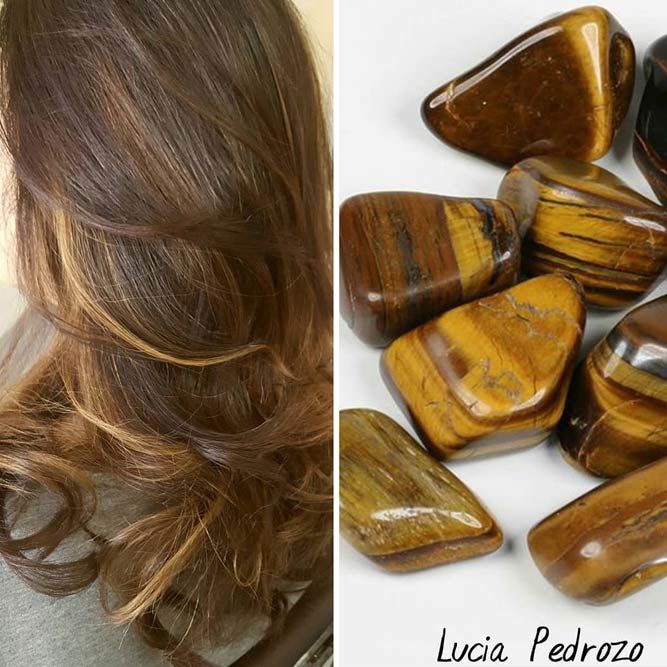 Credit photo: instagram.com/lucia.beauty88
Unlike many other geode hair colors, the hair color version of the tiger eye gives the most natural results! Featuring matching mustard and brown shades, this stone not only resembles a tiger's eye but it also comes as a fantastic color idea for brunettes. If you want to freshen up your natural brunette base, some natural brown-to-yellow highlights will do just great!
Crystal Quartz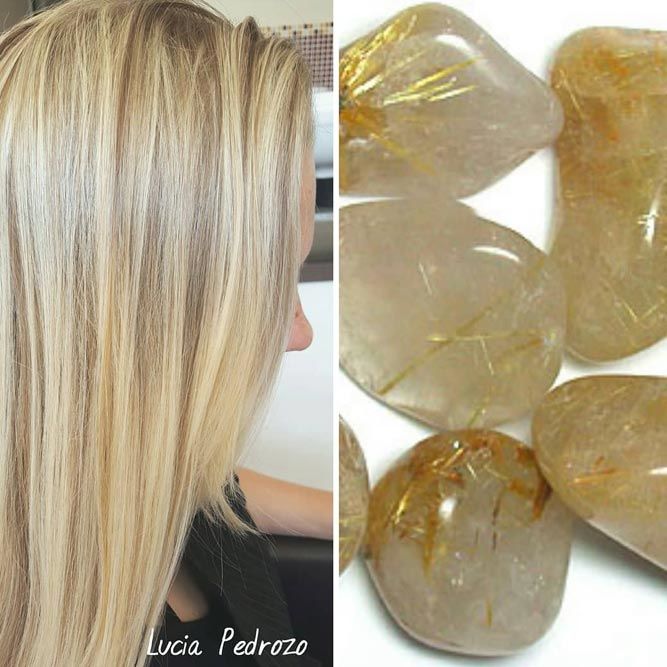 Credit photo: instagram.com/lucia.beauty88
As it turns out, blonde hair has a lot in common with crystal quartz. They're both are one-color with just a bit of a brighter or deeper accent. However, even a pretty little detail is enough to make the whole stone or look appear different and hence more attractive. In other words, you won't go wrong adding some warmer or caramel highlights to your medium-toned blonde base. In fact, balayage will be a good idea, too.
Marble Agate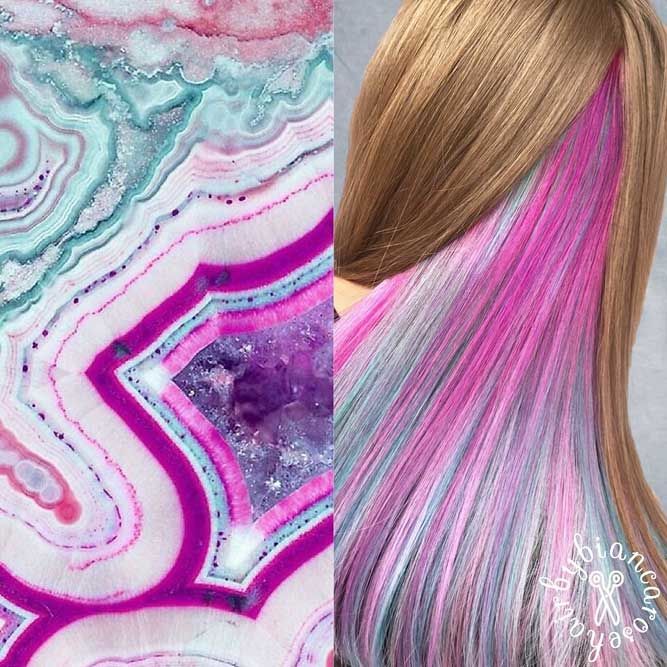 Credit photo: instagram.com/hairbybiancarose
You certainly didn't expect such a mind-blowing combination. But yes, it's real, and it's called marble agate. Nature has good taste, indeed! Well, the same goes for everyone rocking such a spectacular color idea. Have you heard of the hidden rainbow color thing? Besides allowing you to play with different shades at once without damaging your hair, this idea gives a totally striking look!
Geode Hair Color for Your Inspiration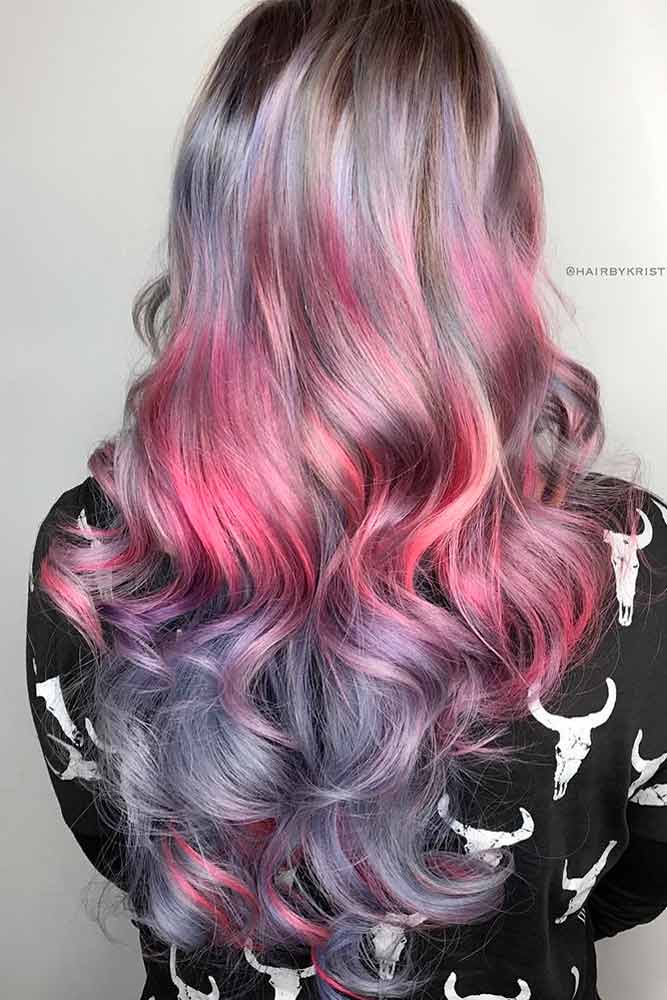 Credit photo: instagram.com/hairbykristinamarie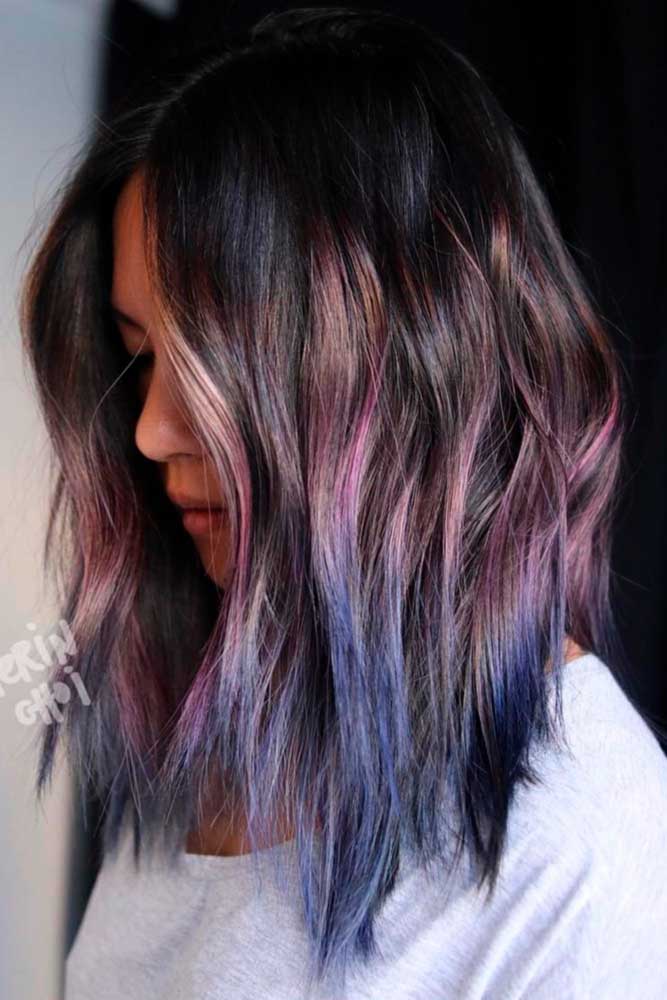 Credit photo: instagram.com/mizzchoi
Geode summer hair colors will work for practically any lady disregarding her natural hair color. Plus, these festive shades will do for your summer vacation with lots of parties and fun.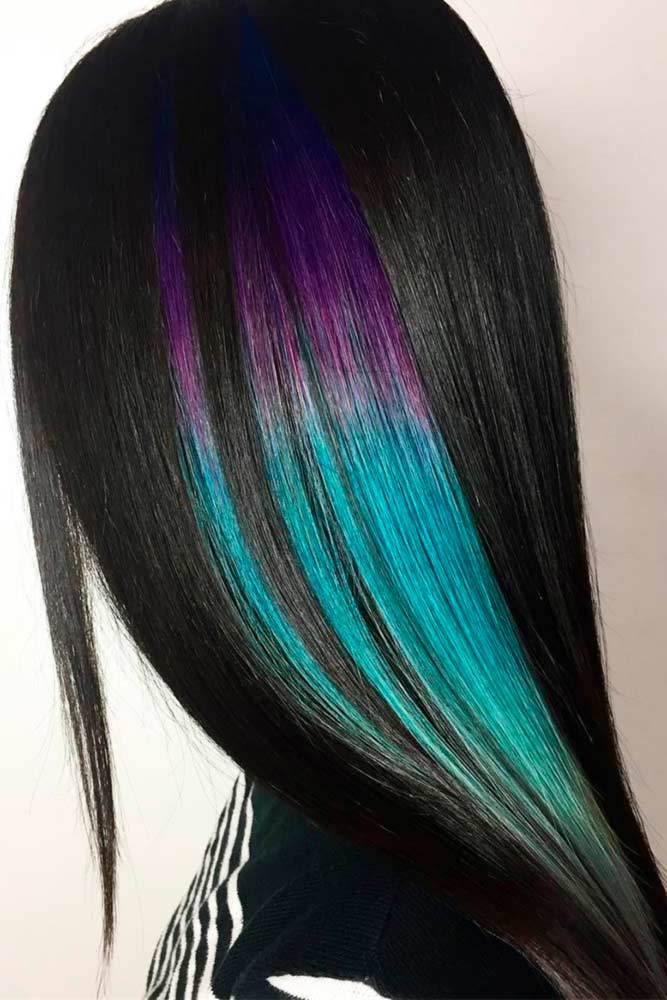 Credit photo: instagram.com/presleypoe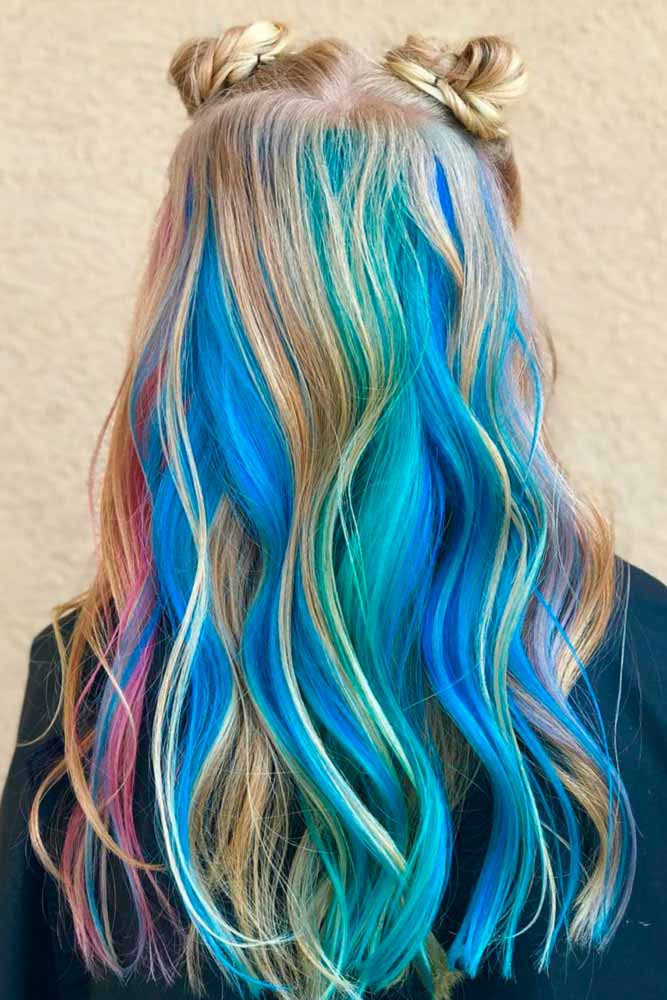 Credit photo: instagram.com/silastylist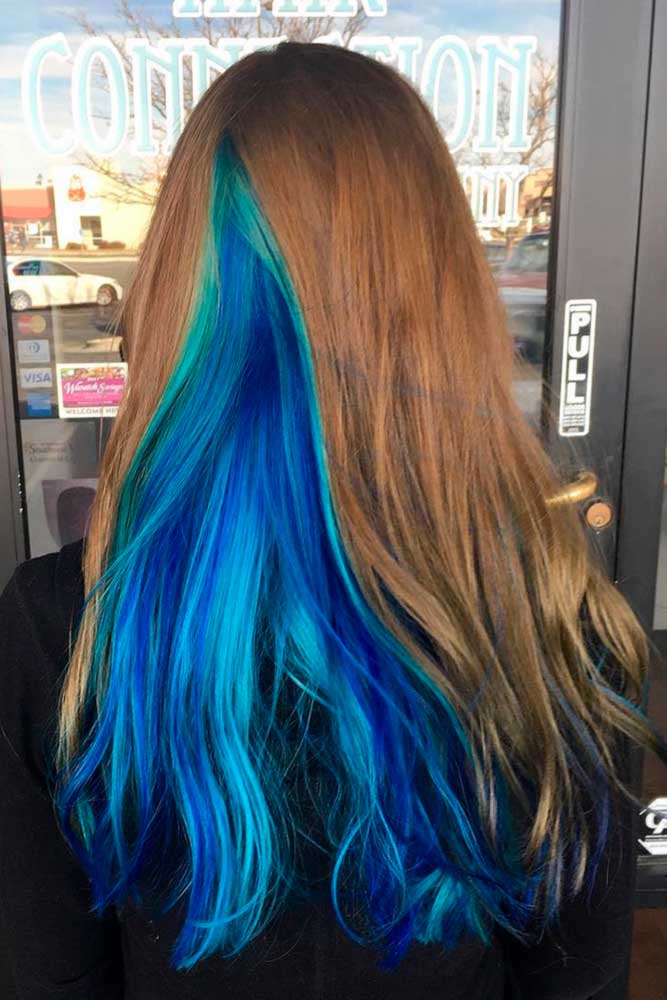 Credit photo: instagram.com/hairbymuriel
And in case you wonder how to ombre hair to get the amazing geode effect, it is better to leave it to professional hairstylists. All in all, the technique is not that easy to achieve at home.
Purple Geode Colors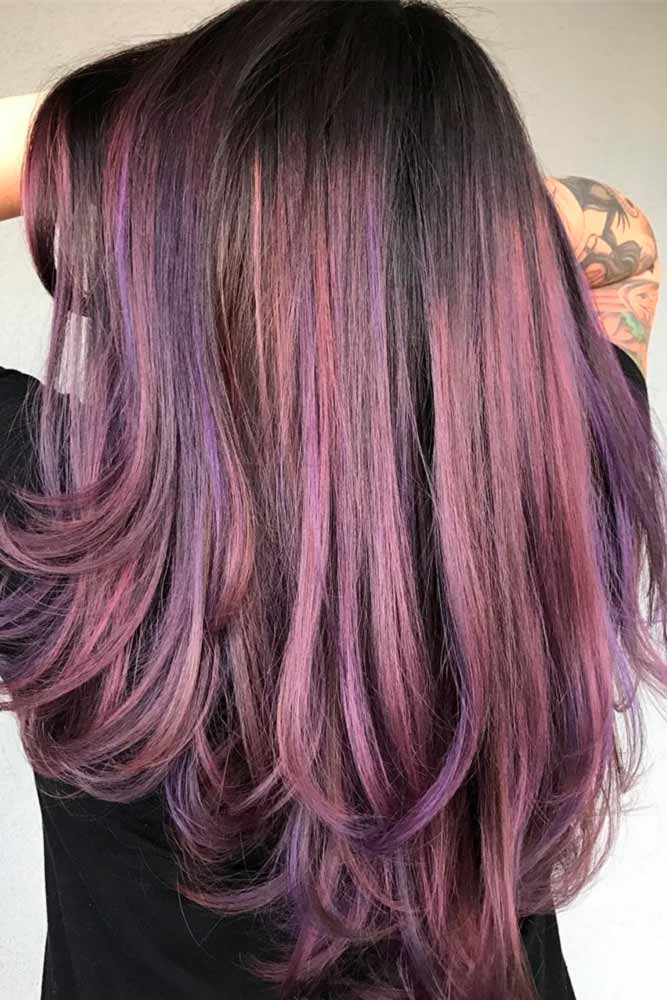 Credit photo: instagram.com/sadiejcre8s
In essence, geode hair consists of rainbow hues fading into each other. A professional hair colorist can successfully bleach and then brush on the color to achieve the desired effect.
Geode Color on Long Hair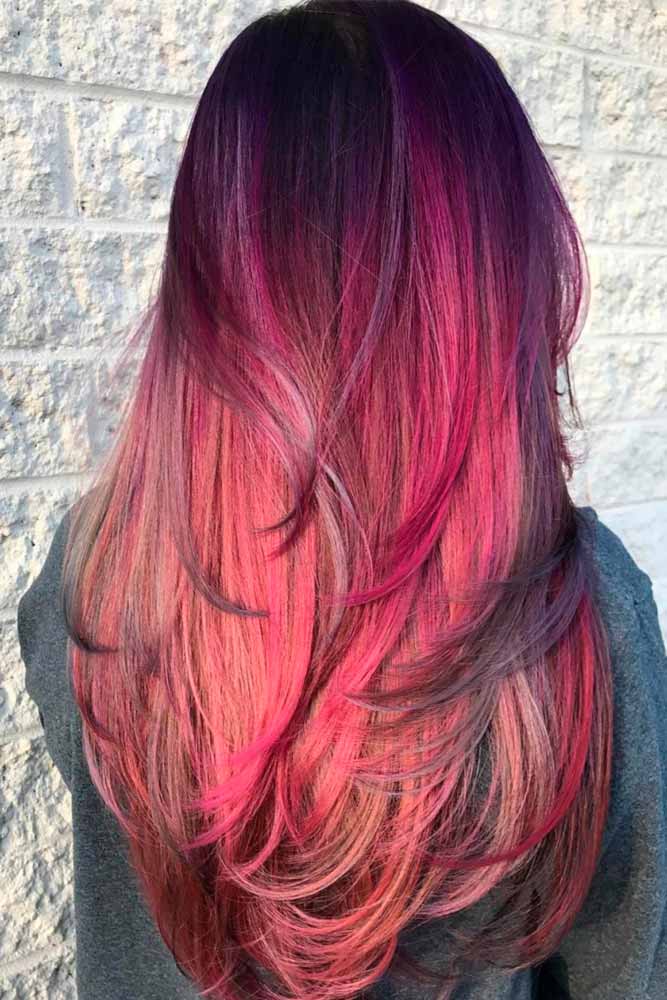 Credit photo: instagram.com/alix_maya
And if you wish to have geode hair on a very dark natural or dyed base, it might take several bleaching sessions to get the ideal look. Therefore, it's essential to consult with your hair colorist beforehand.
Geode Color on Medium Hair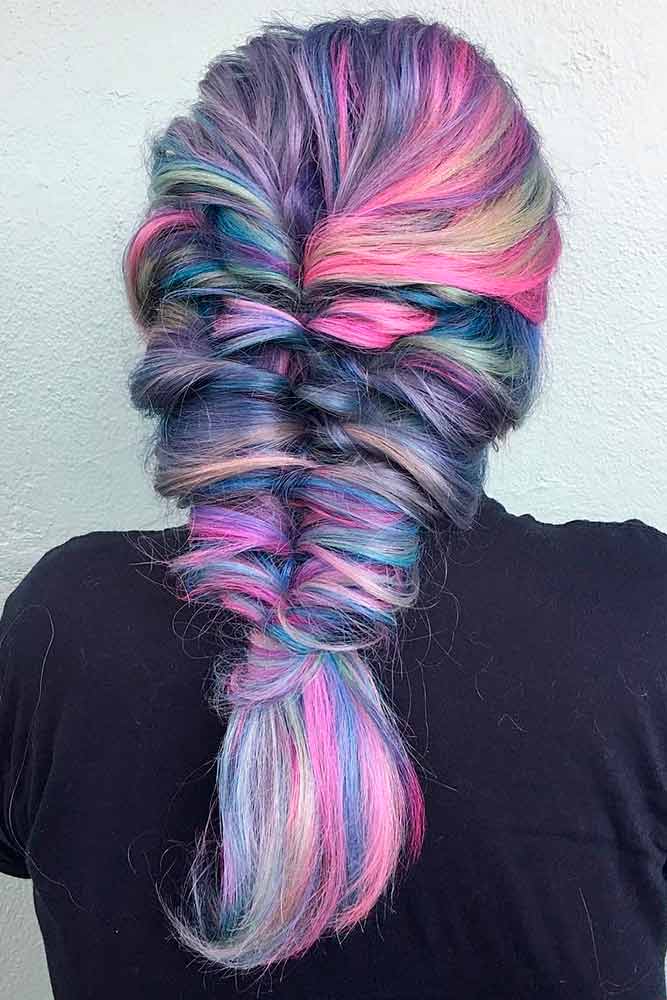 Credit photo: instagram.com/nealmhair
A professional hair colorist can tell you how much time it will take to achieve the miraculous blend of shades. Also, keep in mind that this trend is new, so not all hair colorists are familiar with it. Take some pics with you, for example.
Beautiful Colorful Geode Hair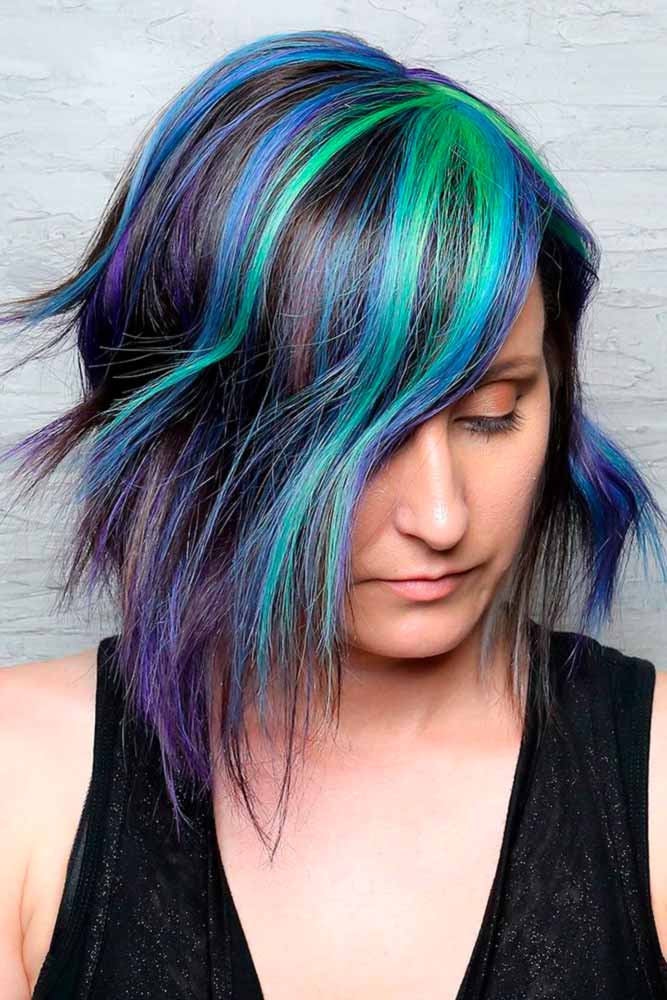 Credit photo: instagram.com/rachelpesh
Geode hair colors can be used on a different length and texture - it will make you stand out from the crowd and you will not go unnoticed. Besides, you can always combine two or several gemstone shades to get a totally different look.

Besides, you can always combine two or several gemstone shades to get a totally different look.
Now that the journey through the most creative, mystic, and lovely shades is over, it's time for experiments! The inspiration nature gave us is priceless, and your hair is a canvas to turning it into another masterpiece. Set your creativity into motion and print some of our ideas. Yes, that's all you need for the hottest color transformation!
FAQ: Hair Color Styles
What is geode hair?
Geode hair isn't just an ordinary hair color. It's a method to add a splash of rainbow to your hair. Rather than dyeing your whole head, hair is colored from the bottom up, gradually fading into your natural color.
What are the 4 categories of haircolor?
Permanent.
Demi-permanent.
Temporary.
Semi-permanent.
What is the difference between hair Color and hair dye?
Hair dye penetrates the hair's surface, whereas hair color remains on the surface and simply paints the hair from the outside. The term "dye" means that the chemicals are more plentiful and powerful. Hair dye also lasts longer than hair color.
REFERENCES: