Indian bridal hairstyles customarily involve wearing a dupatta—a brilliantly colored, intricately adorned veil—over their heads and shoulders and tikkas—jewelry—along the hairline. However, recent brides have subsequently given these traditional aesthetics a modern spin, primarily via the hairstyles, when formerly these hair accessories functioned as emblems of modesty and wisdom. Regardless of the hair length, type and personality, there are distinctive and unique Indian hairstyles to suit everyone's needs. The options are quite limitless, from jasmine-inspired braids to bohemian curls paired with pretty dupattas. Additionally, these endless options make this beauty-related activity thrilling for every Indian bride.
*We may earn money from affiliate links on this page. Please check out our disclosure policy for more details.
Gajra Wedding Indian Hairstyles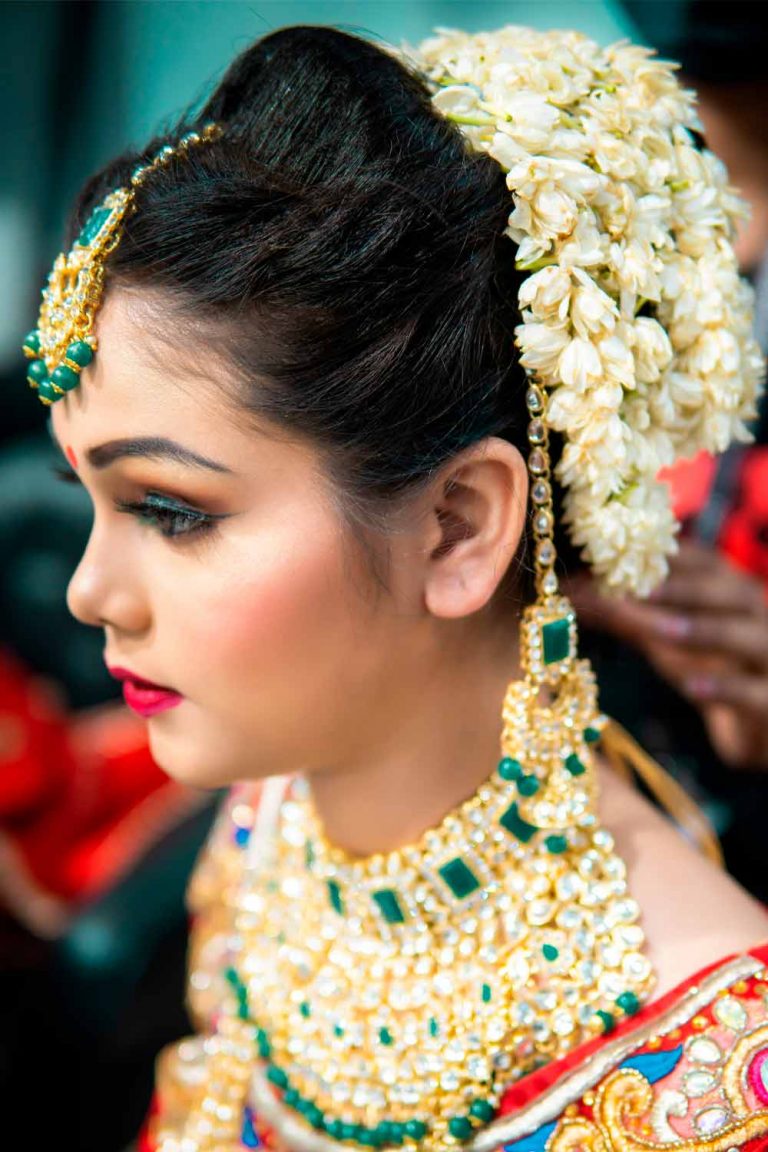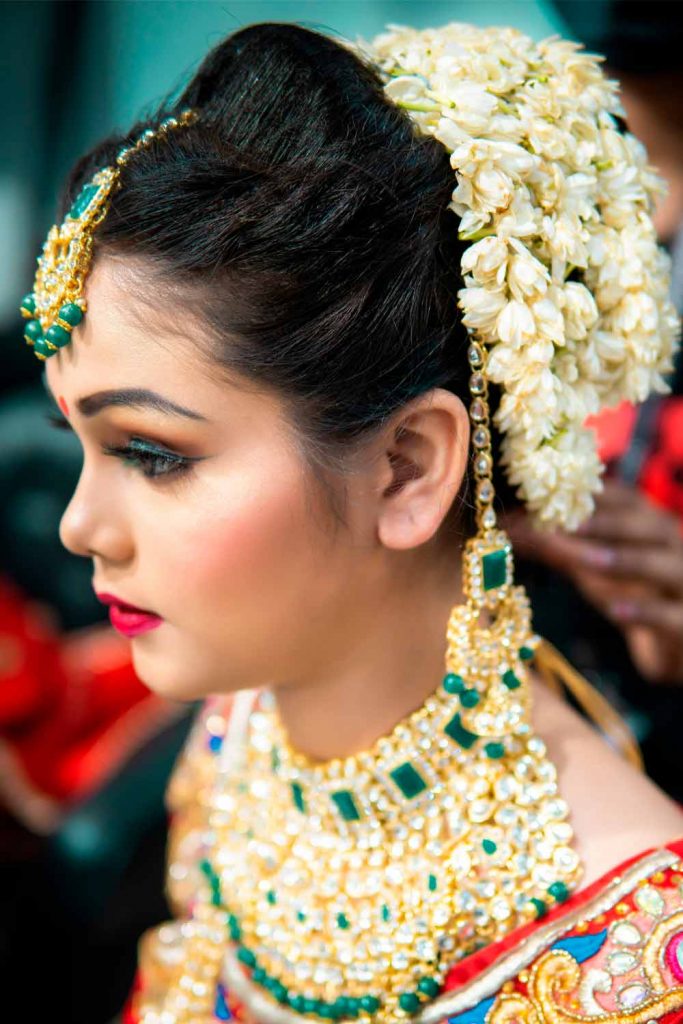 Credit photo: Shutterstock
While flowers are admired by mere sightseeing and taking in the scents, in India, their function and meaning go beyond that. It is often used to accessorize brides and the belief behind this is that women who adorn themselves with flowers are meant to bring happiness to their marriages and homes. So making use of gajra is common in hairstyles for Indian wedding and a few ideas are seen below.
Gajra Bun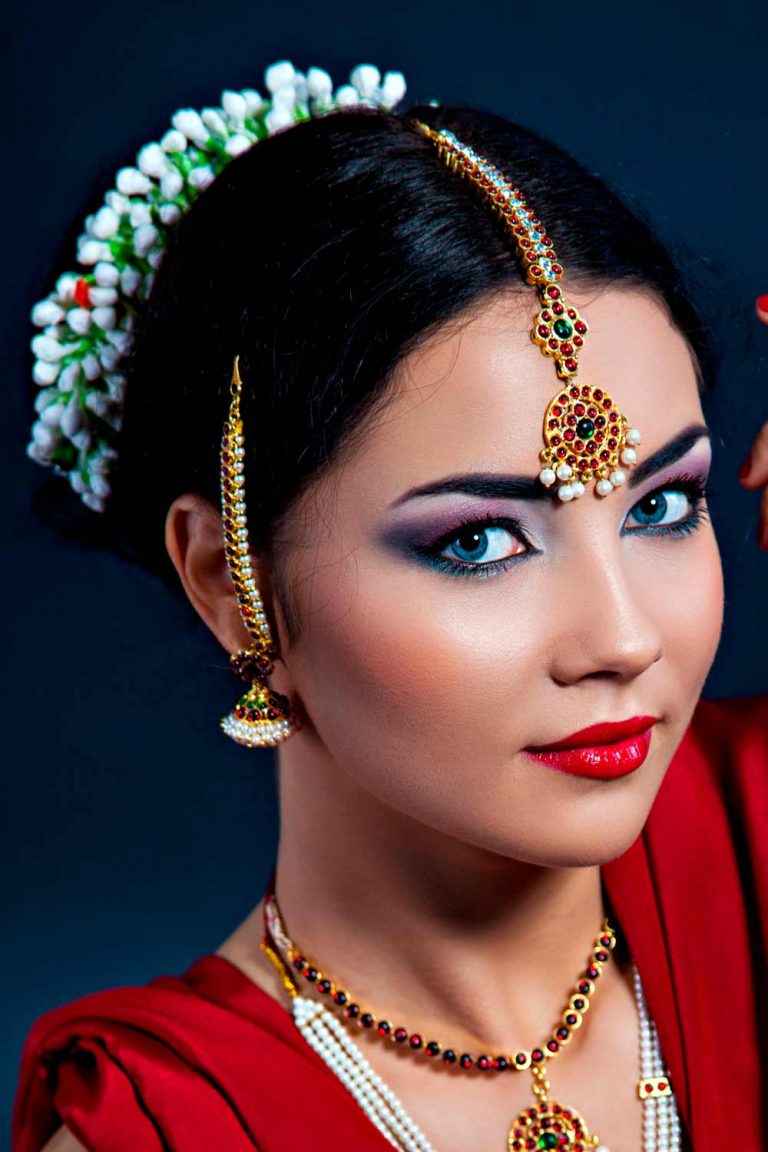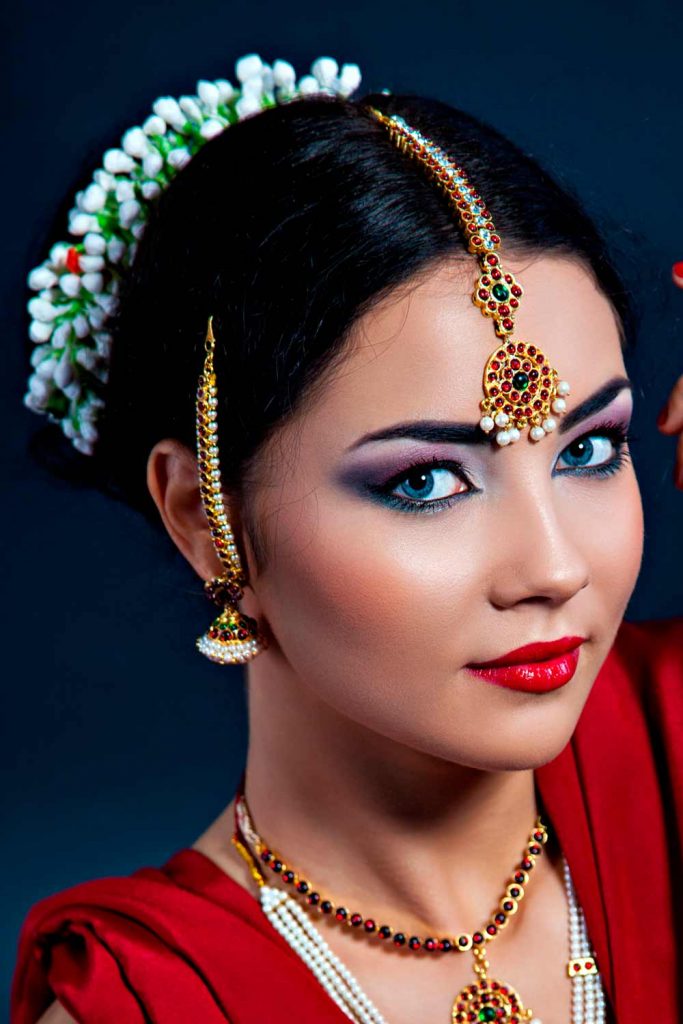 Credit photo: Shutterstock
When you think of Indian wedding hairstyles with gajra, the first option is styling your hair with a large bun at the back. This is usually a go-to style for most brides because of its simple yet exquisite nature. Your bun is adorned with flowers and regardless of your outfit, the hairstyle would go perfectly well with it.
Gajra Wedding Braid
For women who aren't big fans of buns, wearing your hair into a braid is common among traditional Indian hairstyles. Adding the gajra to your braids makes your hairstyle much more attractive to face the big day ahead. Most times, it is often the bride's sister that wears this hairstyle and complimenting this look with a silver maang tikka just makes the whole hairstyle come together.
Open Hair Gajra Hairstyles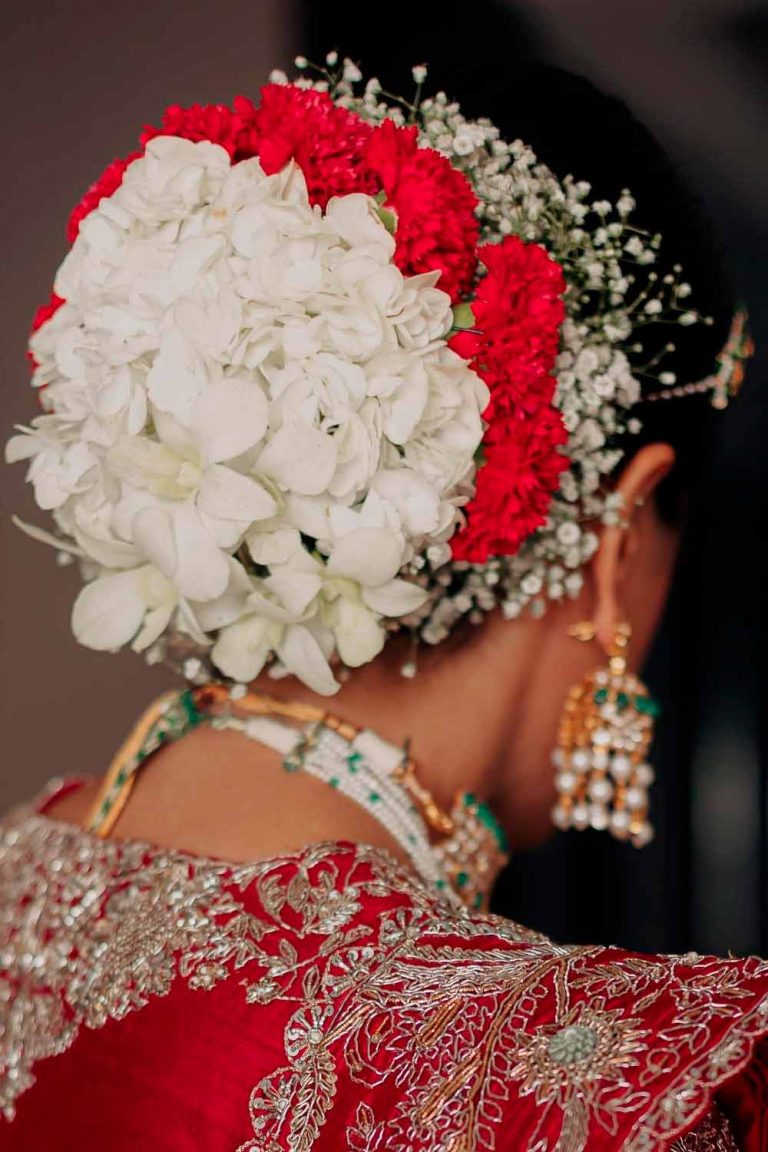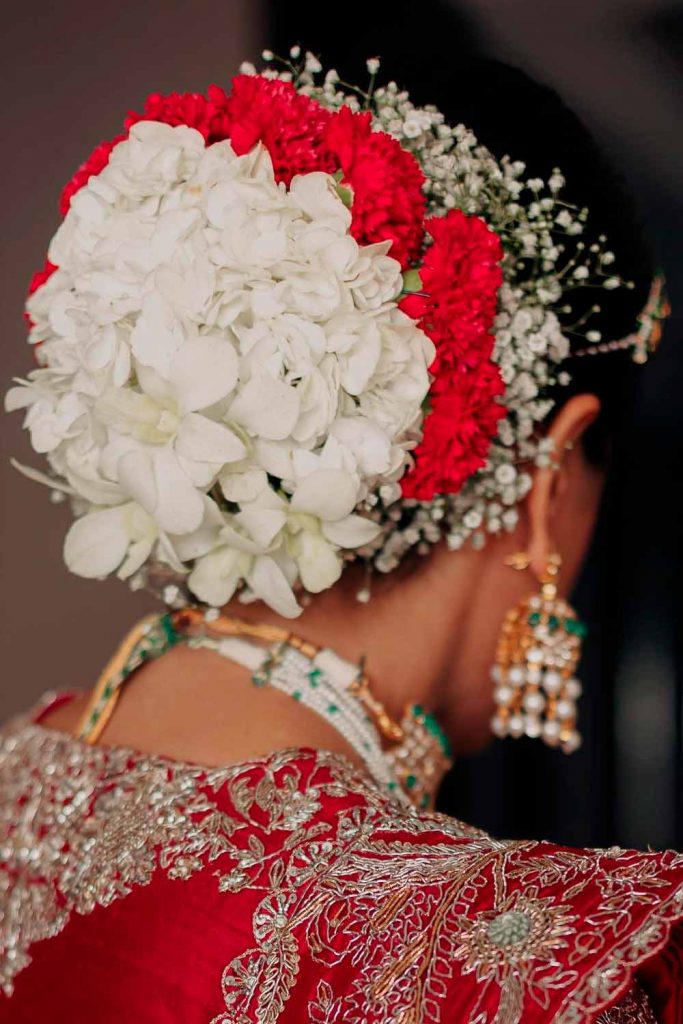 Credit photo: Shutterstock
Another fun way to style your hair with gajra is tyring out the open hair hairstyle. Your hair is styled to one side and adorned with lots of pretty flowers and gajras. You can be creative with this style while letting your personality and taste reflect in your choice. Curl up your hair or better effect.
Matha Patti Indian Hairstyles
When it comes to Indian hairstyles for women, the list is exhaustive because of the various ways the hair can be worn. Matha Patti Hairstyle has been a long-standing style among Indian brides for quite some time now and is an extended version of the maang tikka hairstyle. Matha is derived from the word, forehead while patti means strap or band, hence the name. If you want to go all out for your occasion, adorning yourself with pretty matha patti head jewelry might just be the right way to go.
Wavy Side Twists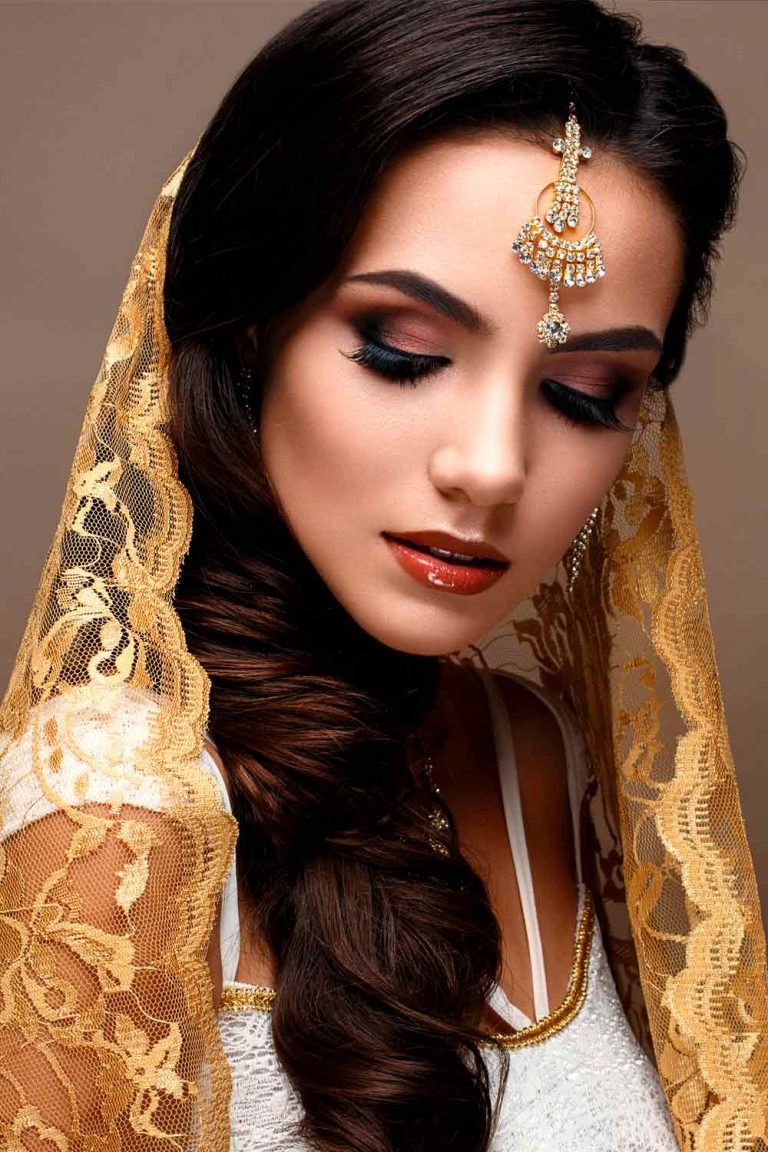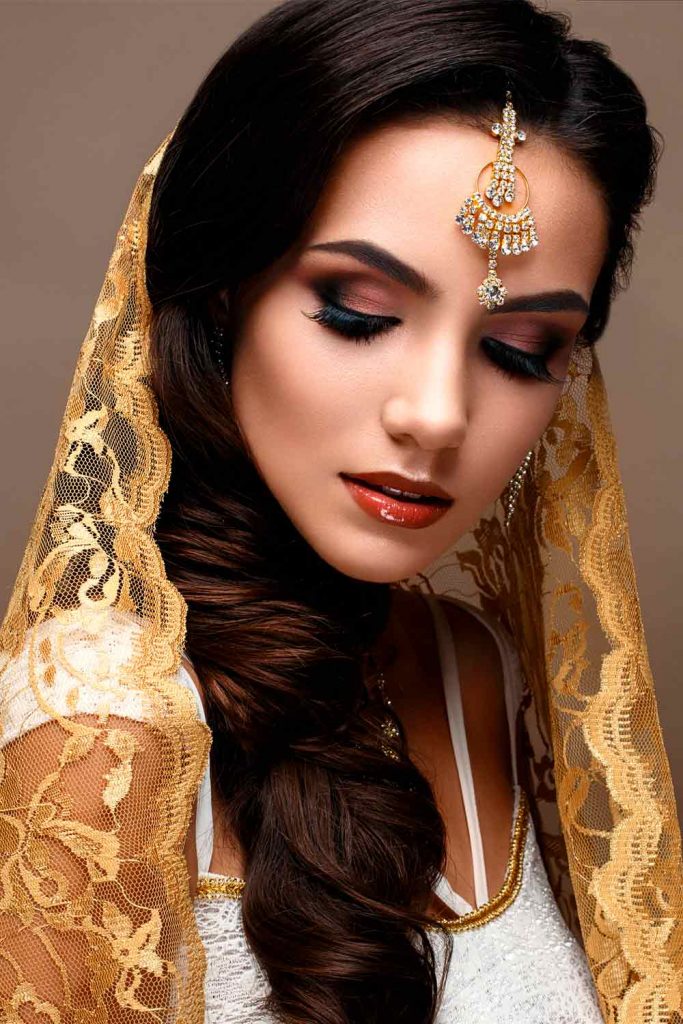 Credit photo: Shutterstock
For ladies with round faces who want a more defined look, styling your hair to the side and braiding it softens your facial features. This fishtail side twist allows your maang tikka to sit gracefully on your forehead, giving you a much more stylish result.
Voluminous Matha Patti Braid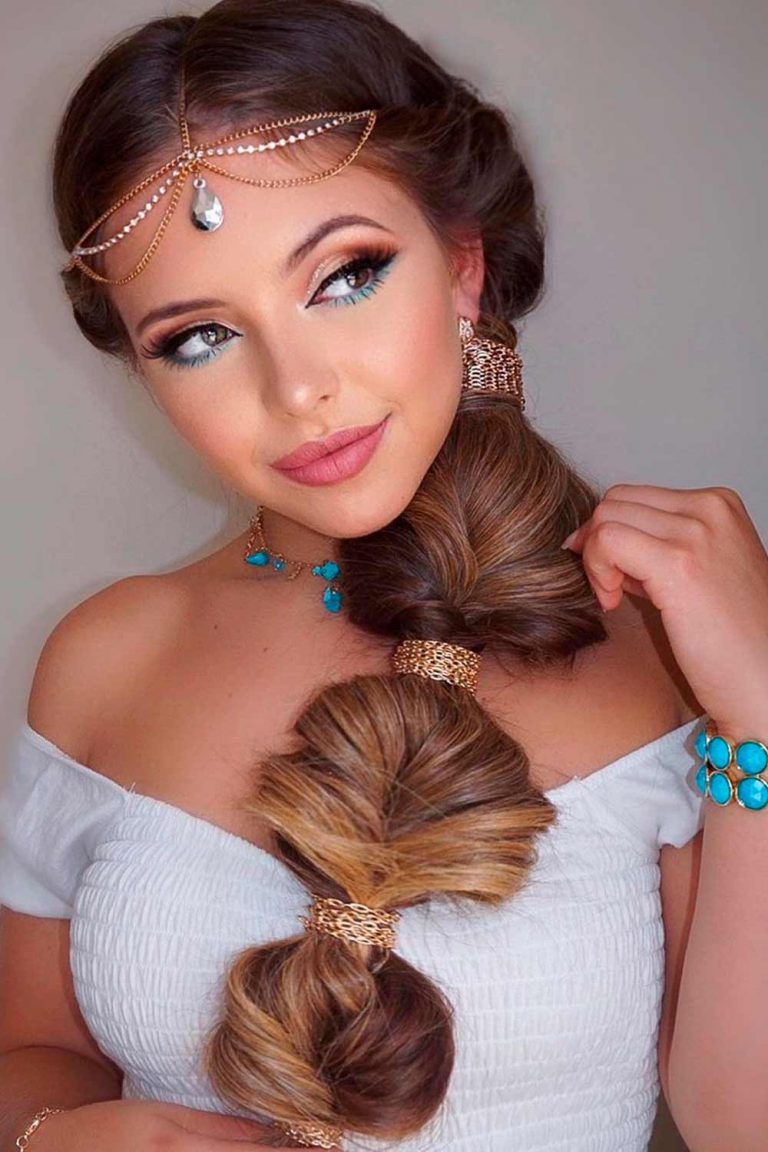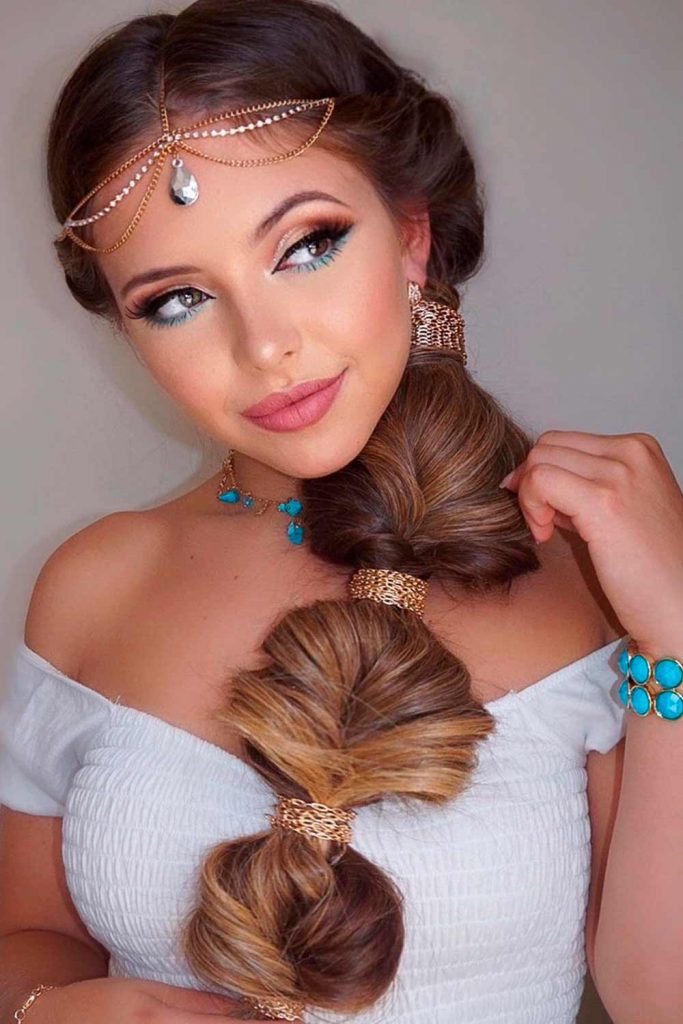 Credit photo: instagram.com/samirasjewelry
Styling your hair into a big braid might seem a lot easier to achieve but there's something elegant about the outcome. If you want to show off your hair length, then a bun wouldn't be the right call for you. Instead, a big loosened braid with flower accents added to it always comes out awesome. You can also flaunt your matha patti, be it multi-stringed or double-layered, depending on your choice.
Matha Patti Bun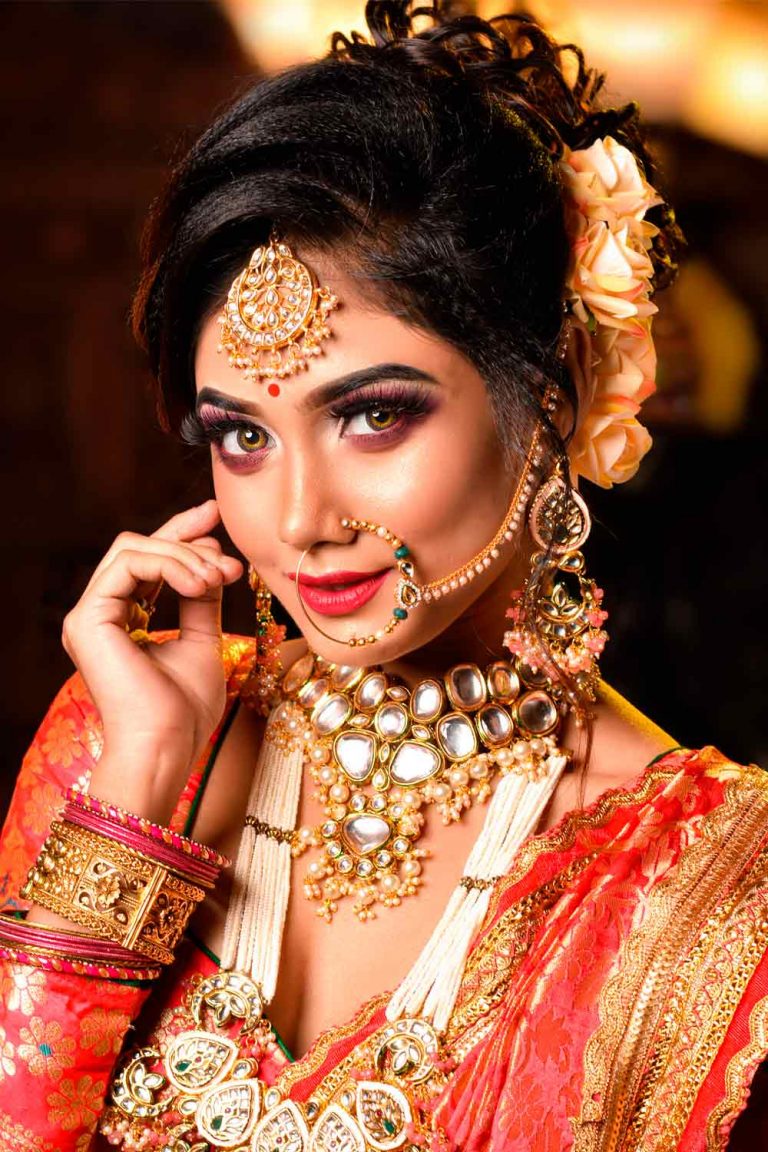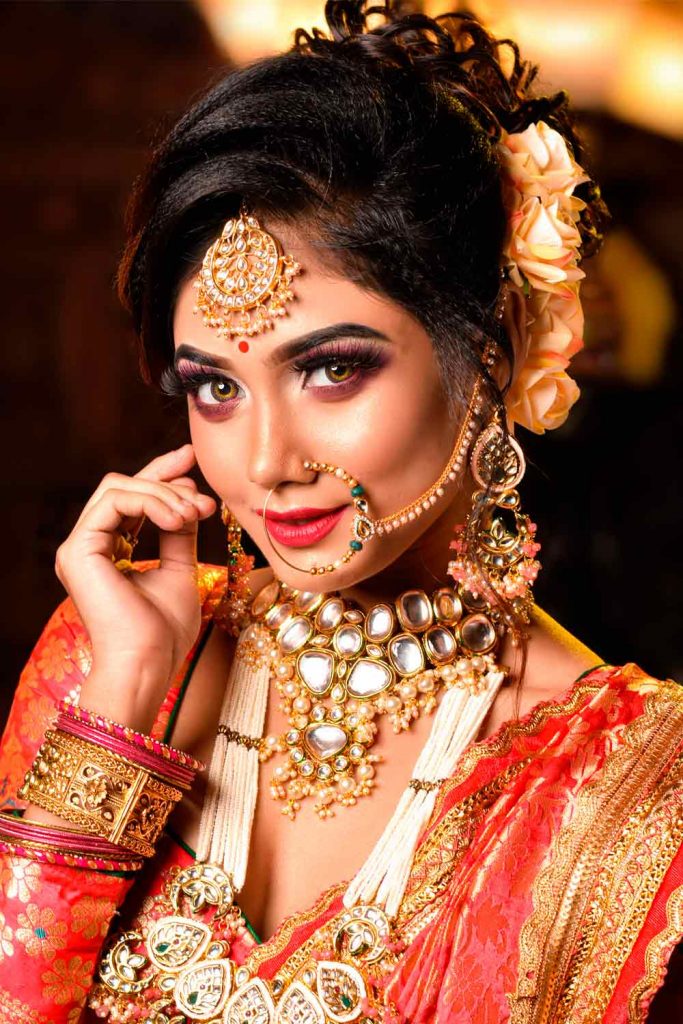 Credit photo: Shutterstock
If you want a more balanced look, ladies with small faces should consider styling their hair into a large bun. This would make your face look more proportional and also draw more attention to the matha patti design you go for. It's also a great choice if you don't have long hair or you don't want your hair touching your back and shoulders. The bun paired with exquisite jewellery might be all you need for that final look.
Exquisite Indian Braids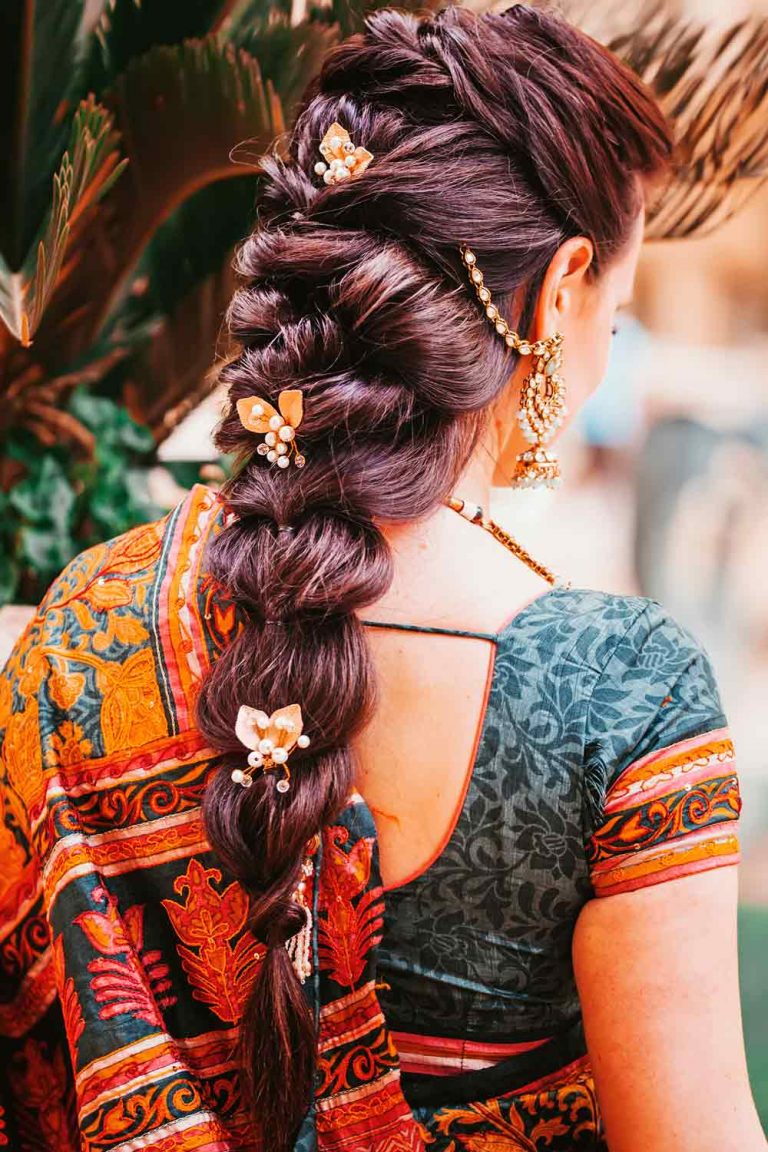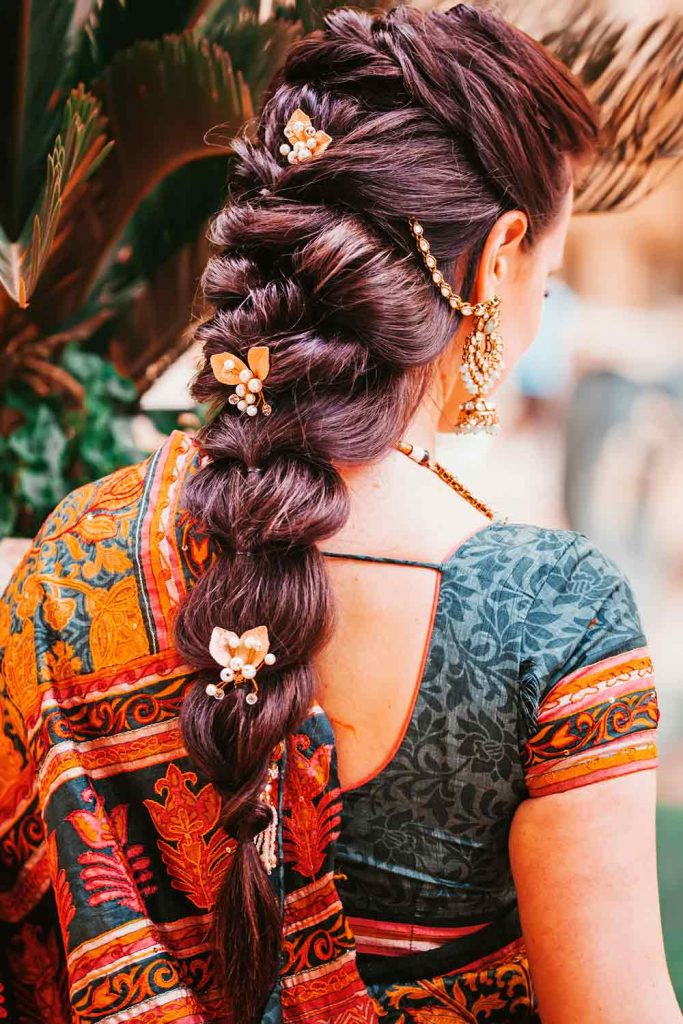 Credit photo: Shutterstock
Right from time, Indian hairstyles have always involved wearing their hair in braids for various events and this style hasn't gone out of trend. Although braids go best with long hair, if your hair is of medium length, you can still easily flaunt this hairstyle. These common boho wedding hair styles will give you all the confidence you need for that special occasion.
Paranda Braid
Parandi is a symbol of love which a bride gets from her husband-to-be and as a token of love, braids it around her hair. It is a very simple style to create, isn't time-consuming and also fits anyone who wishes to create it.
Chotli Braid
The chotli braid is another easy traditional Indian hairstyle for women with long hair. It is common to South Indian weddings and basically takes less than 15 minutes to style. It mostly involves braiding your hair and adding chotli to it.
Indian Fishtail Braid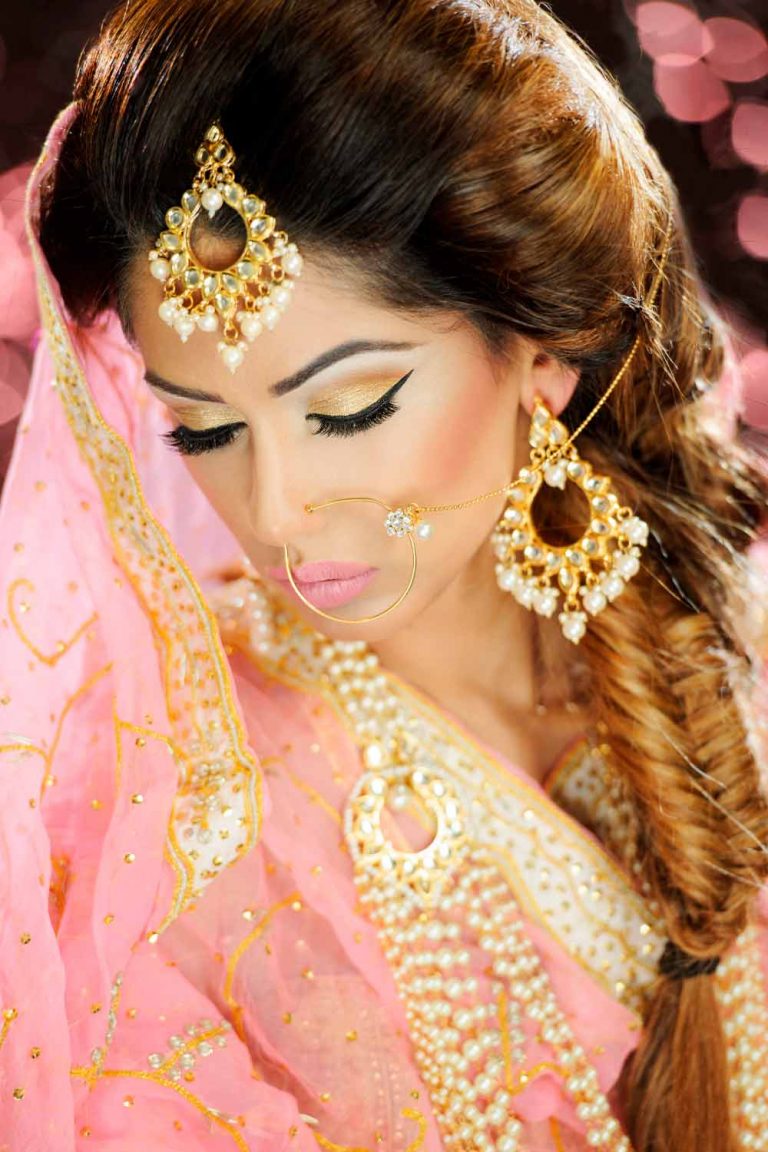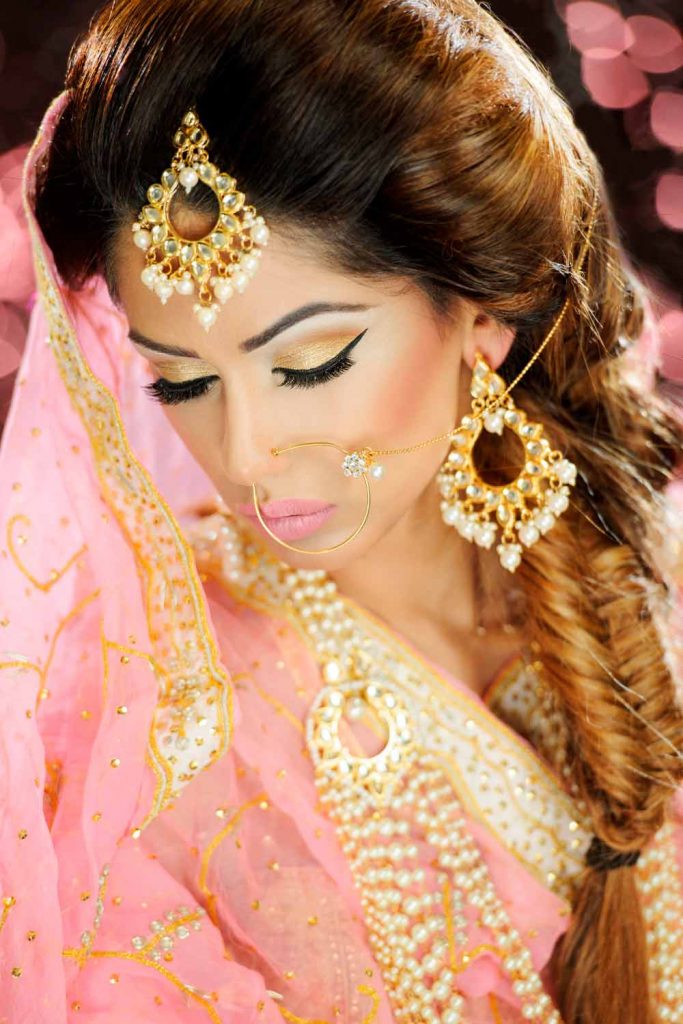 Credit photo: Shutterstock
When talking about popular wedding hairstyles in India, it's hard to miss the fishtail braid. It has always been in trend among college girls, models and even brides. Since your hair is styled in a braid, you can slay it with both traditional outfits and Western wear. Also known as herringbone braid, you can wear this style on the side or allow it to fall on your back.
Rapunzel Braid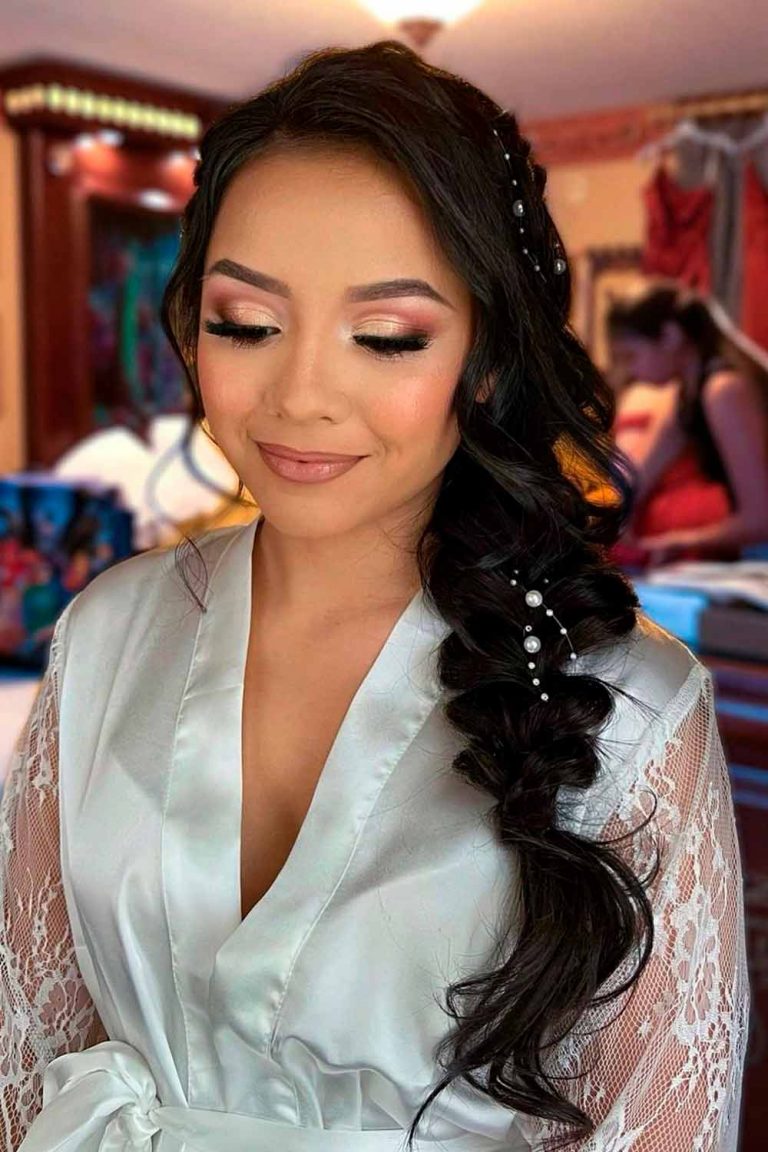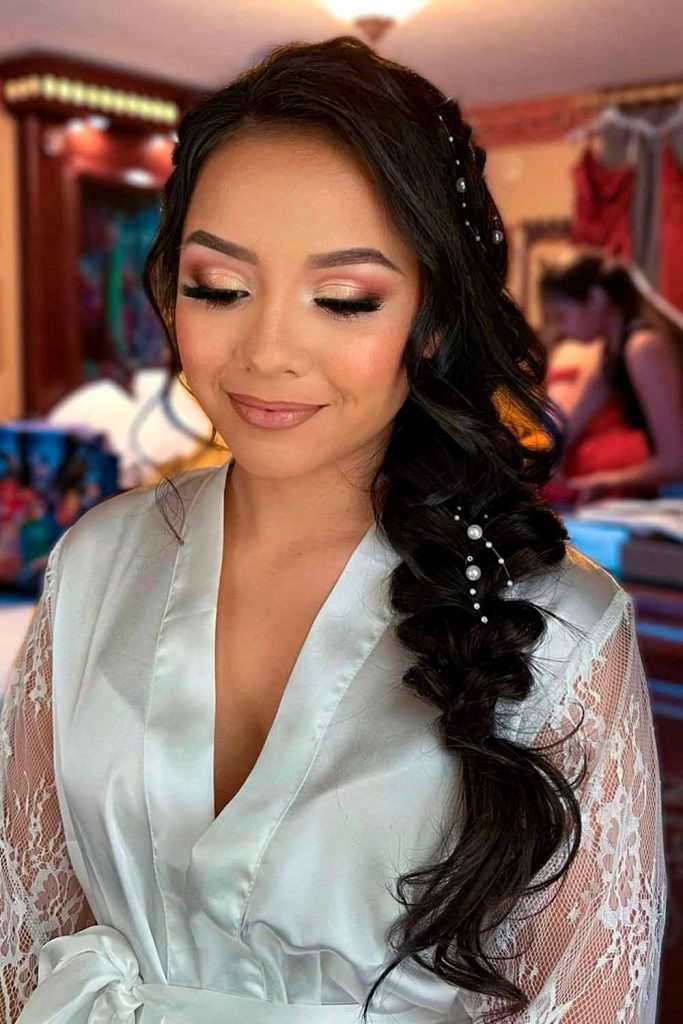 Credit photo: instagram.com/samirasjewelry
A favourite Indian hairstyle among ladies is the Rapunzel braid. Best suited for ladies with long hair, your braids are made loosely and can be adorned with any silver or gold tikka of your liking. You can also leave out loose curls on either side of your face while your braids is weaved to the side.
Contemporary Indian Hairstyles
Recent years have seen a resurgence of traditional Indian hairstyles with a modern twist in the fashion industry. These hairstyles blend ethnic and contemporary styles seamlessly, offering a range of options for everyone. From intricate braids and elegant buns to messy updos and simple ponytails, Indian hairstyles have something for every taste.
Long Indian Hairstyles with Waves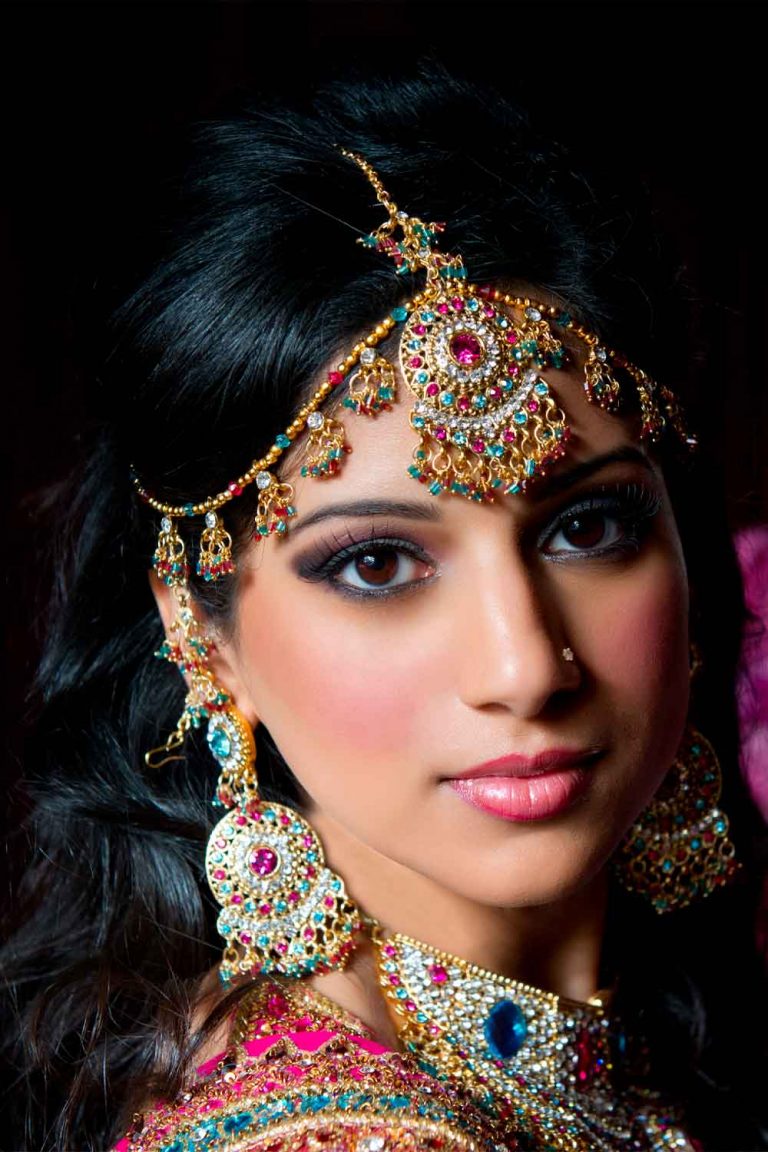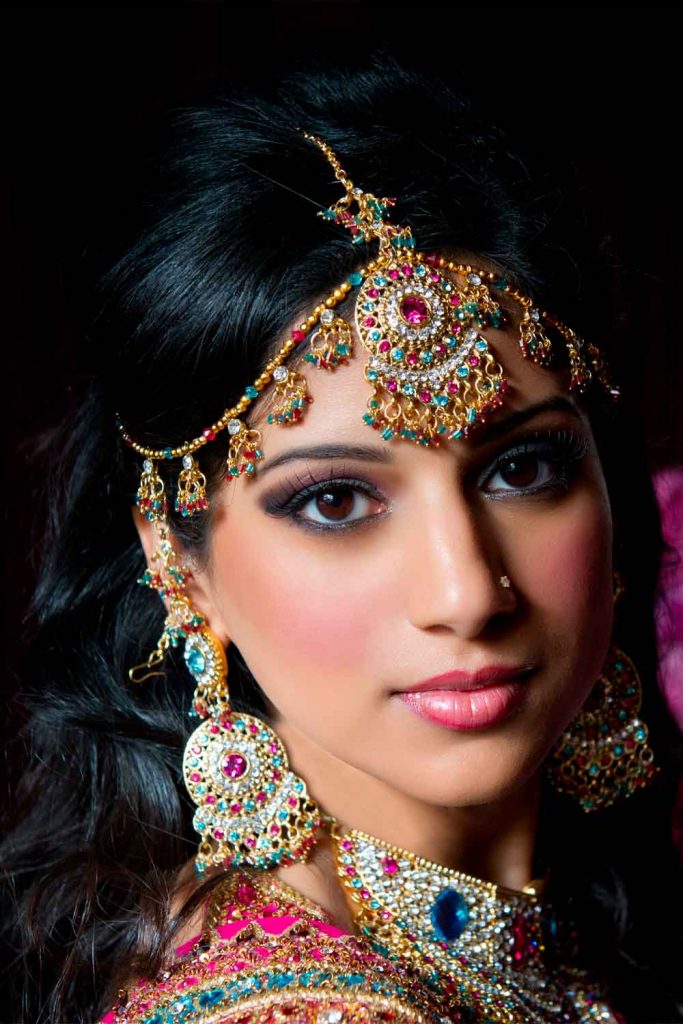 Credit photo: Shutterstock
For a more romantic and gentle look, add volume to your hair by styling it in long waves. Indian hair styles like these give you an innocent and cute look. The waves also add texture to your hair and make your face appear smaller.
Loose Elegant Bun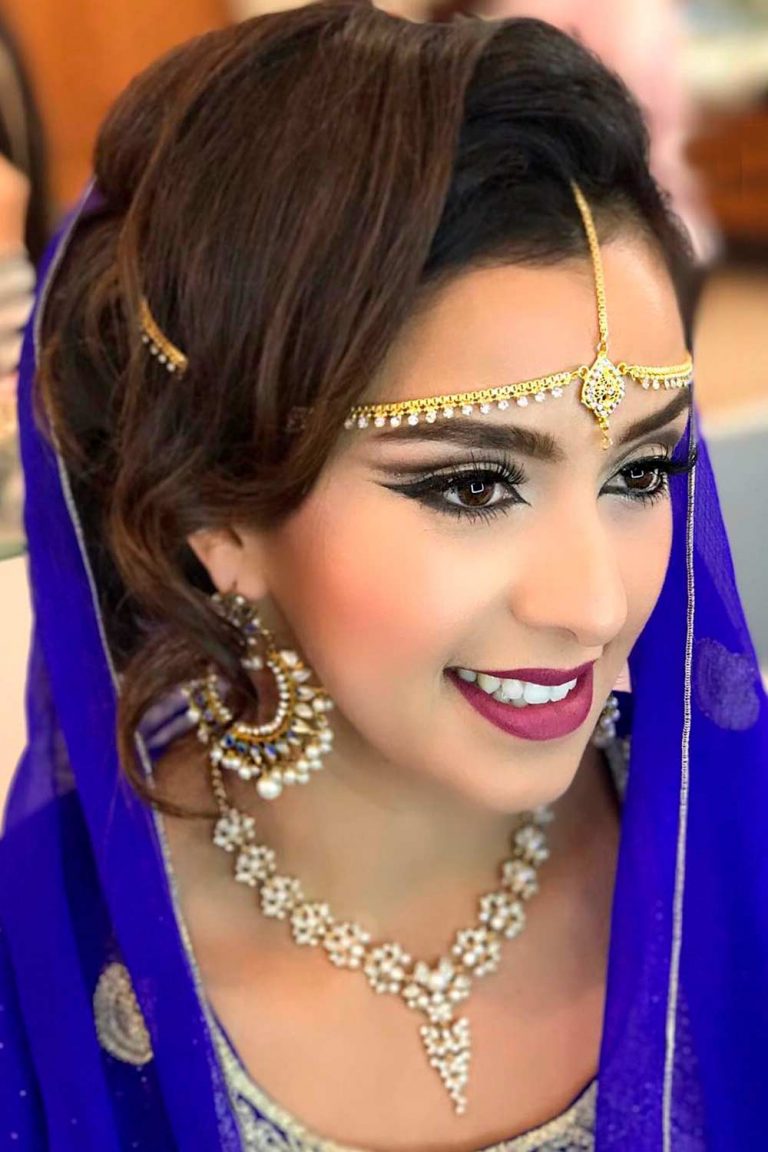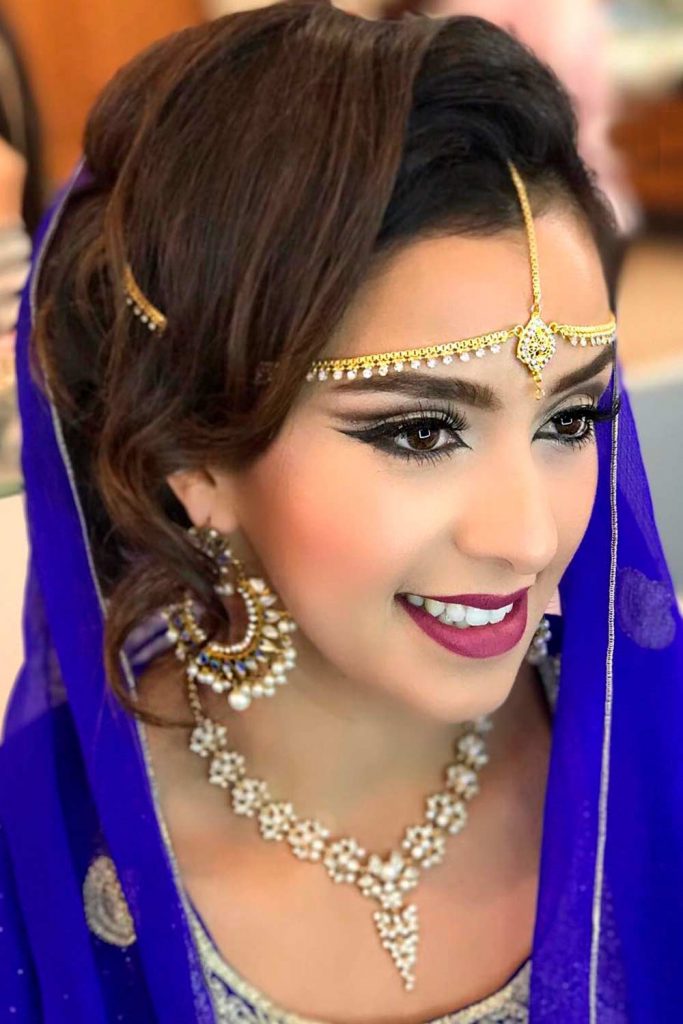 Credit photo: instagram.com/samirasjewelry
This is another versatile style that can easily go well with any occasion, be it a wedding, formal event or family function. The beauty is in the style itself, meaning whether you adorn your hair with jewellery or not, the result is still always flawless.
Romantic Indian Curls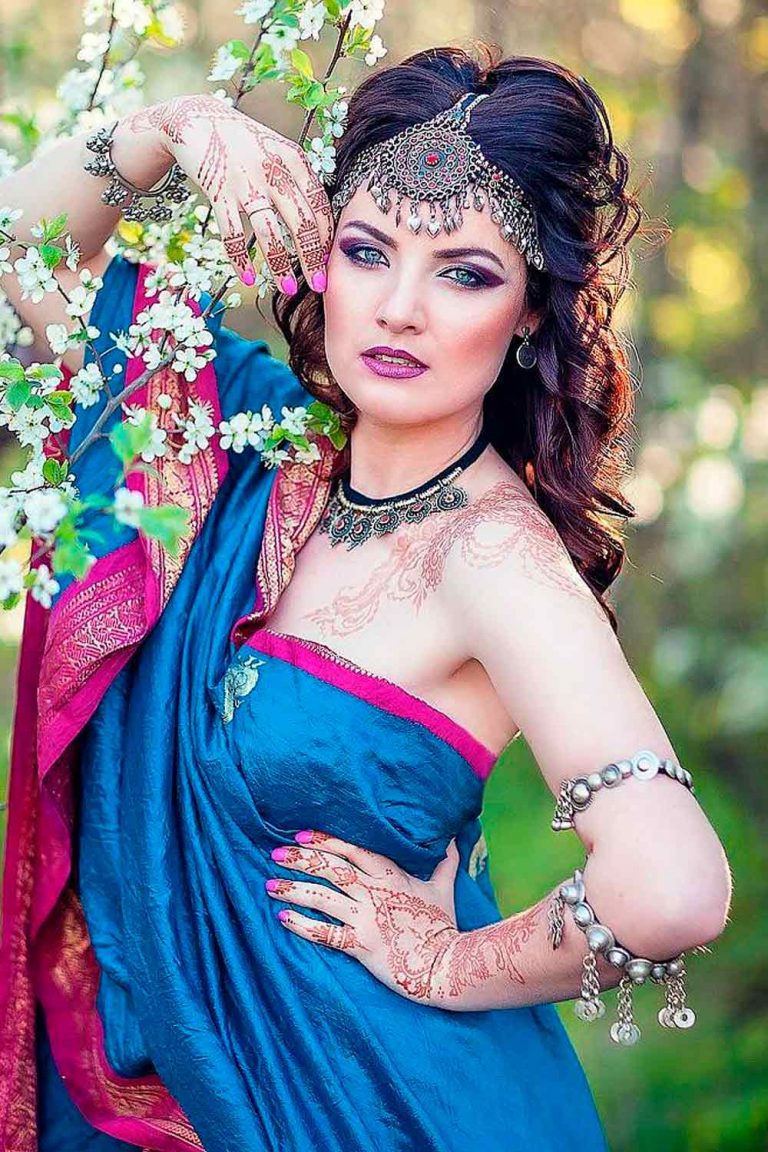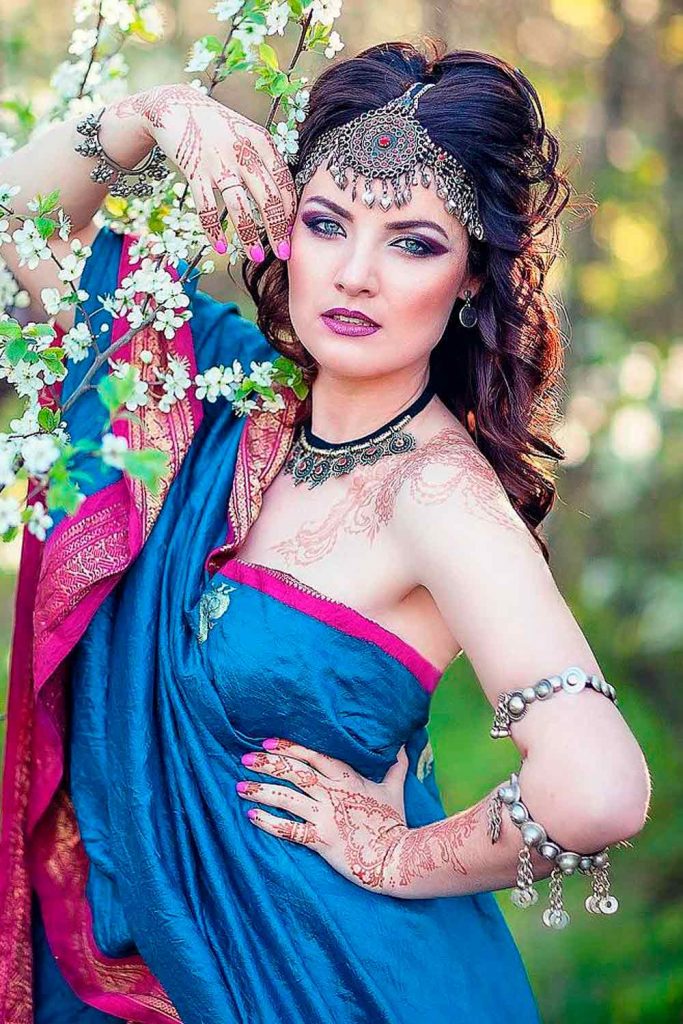 Credit photo: instagram.com/hennamafia
Indian women hair can either be curly or straight. Women with strong curls who want to lay more emphasis on their curls can get this hairstyle. It gives you an edgy and elegant look especially when you introduce light head maang tikka to it.
Indian Wedding Guest Hairstyles
When it comes to Indian weddings, it means moving from one function to another and throughout, it is very important to look your best and feel a complete hundred percent about yourself. Regardless of your relationship with the couple, whether blood-related or a friend, it's common to spend lots of time pondering and planning your outfit and hairstyle ahead. As a wedding guest, there are also lots of Indian party hairstyles to give a try and save yourself the stress of coming up with something new. Take a lot at these wedding guest hairstyles below!
Classic Loose Locks as Indian Hairstyles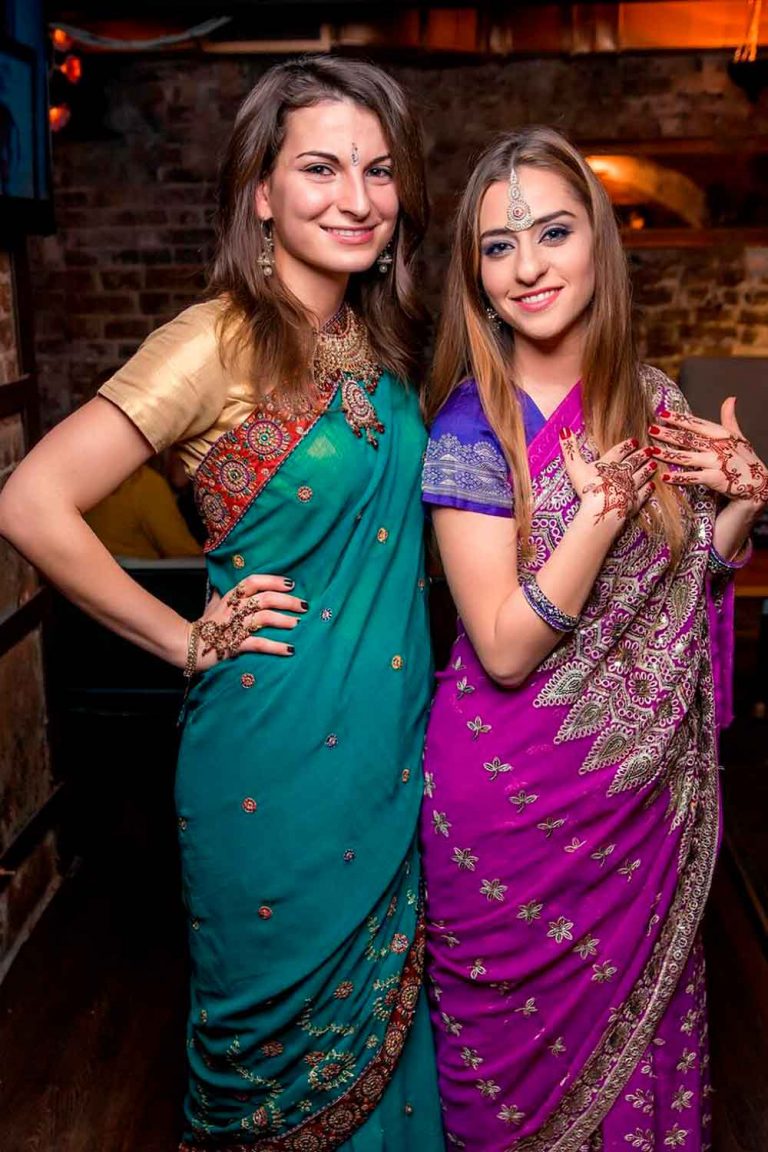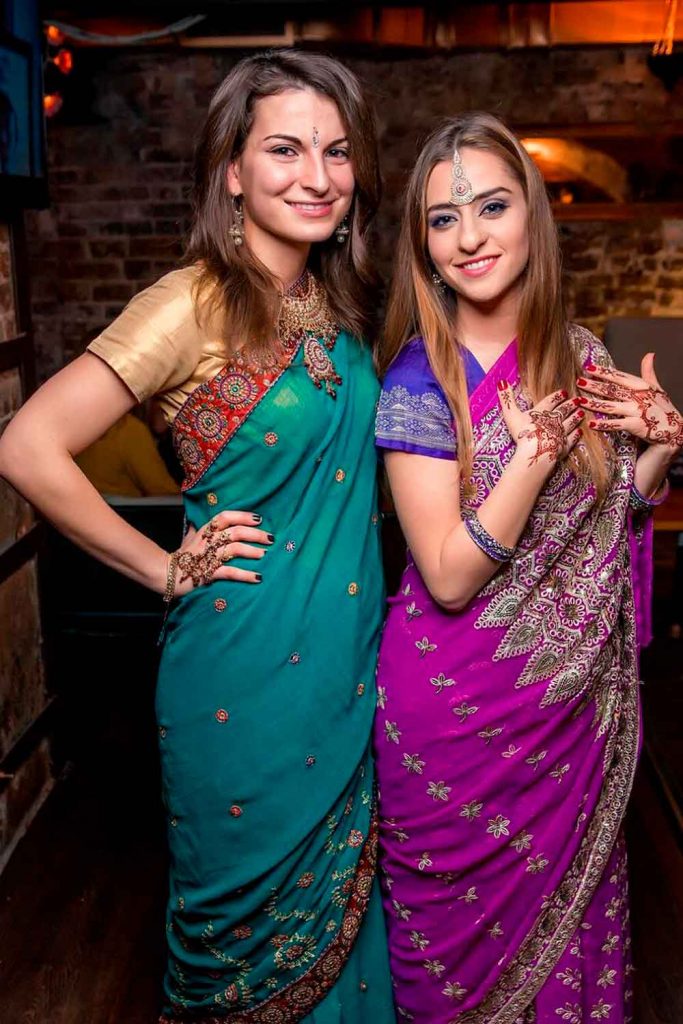 Credit photo: instagram.com/ginkas.mehndi
Indian wedding hairstyles for guests aren't difficult to style like the bride's hairstyles. You don't have the whole day to style your hair? Then get the classic loose locks which is very simple to put together and save you lots of time. It's more of a casual look, so think twice if that's the concept you're going for. It's best paired with light lehengas and also gowns.
Loose Buns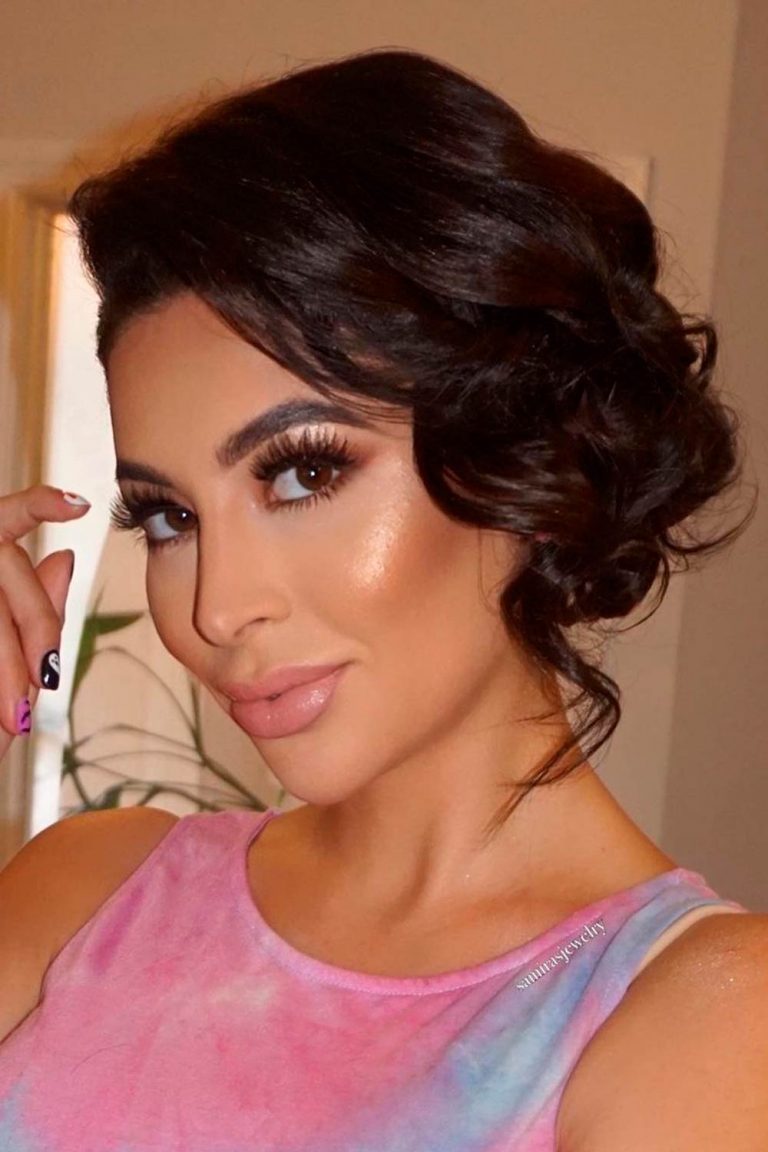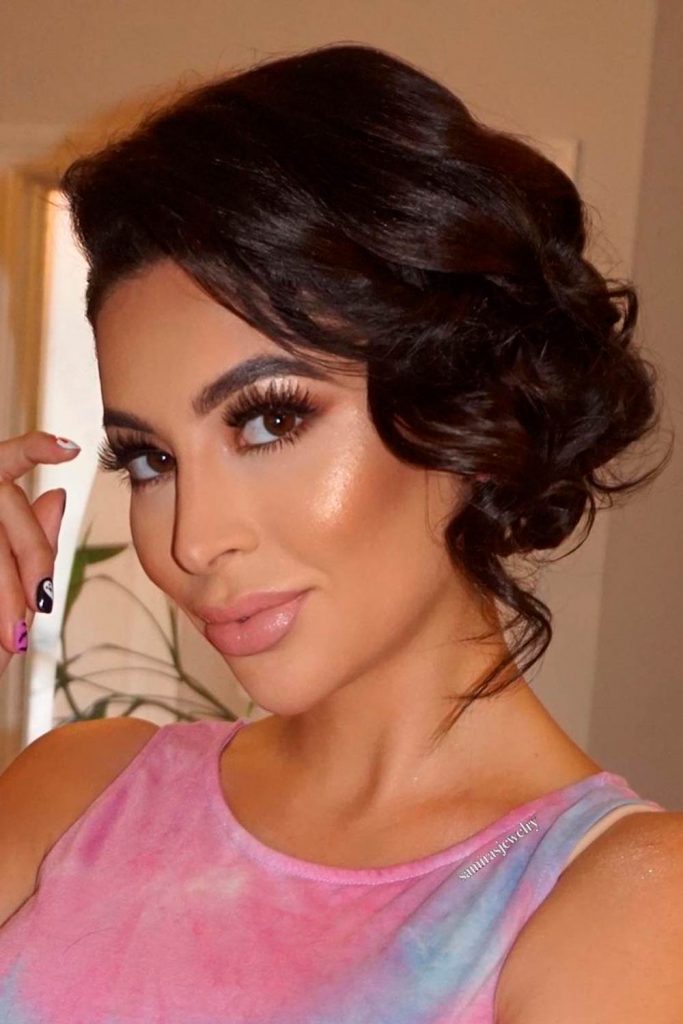 Credit photo: instagram.com/samirasjewelry
There are so many innovative Indian bridal hair styles that can be created by just having your hair packed in a bun. Whether you want your bun packed in a messy way or you prefer it neat, the result is always timeless and pretty classic. You can also release little strands of curled hair on one side or both sides of your face to go with your styled bun. Properly use bobby pins to hold your hair down and keep it in place all through the day. With this hairstyle, your saree or anarkali suit will look so good.
Braids With Curls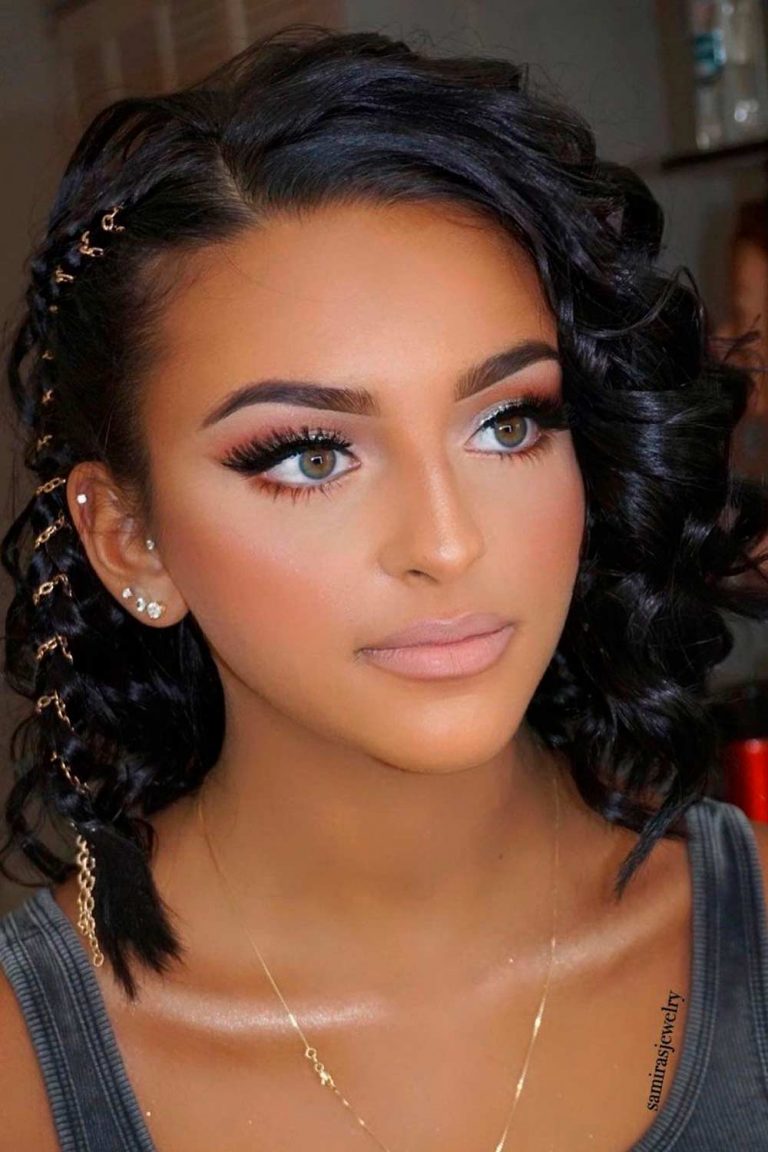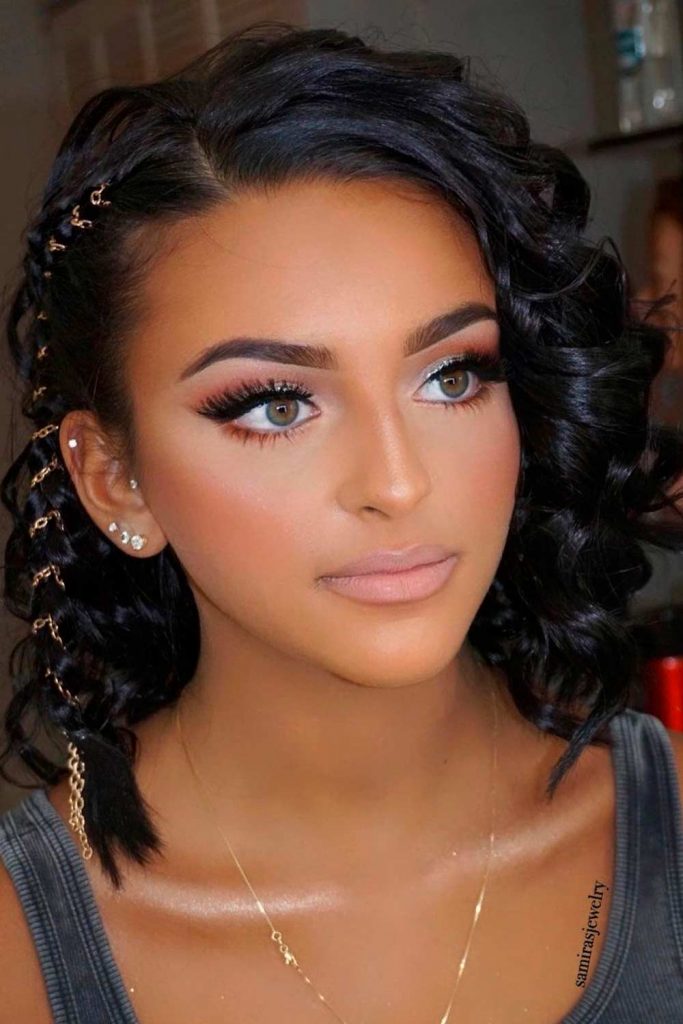 Credit photo: instagram.com/samirasjewelry
Want a more Western look to go with your indo-western outfit? Then braiding a little section of your hair and styling the rest in big loose curls will give you that playful yet attractive look. On your Indiar hair balayage, your braids can be adorned with chains or flowers and also make use of hairspray to keep your curls in place. The beauty of this hairstyle is that it is quite versatile to fit almost any function.
There are numerous options of Indian hairstyles for brides and wedding guests that are quite stylish and attractive. Picking a style mostly depends on your unique taste, style and also the concept you're trying to create. Nevertheless, if you love to go all out with your jewellery, especially matha patti and maang tikka, or you love to wear your hair in a braid, there are lots of options available to pick from above.
FAQ: Indian Wedding Hairstyles
What to wear to an Indian wedding reception as a female guest?
Oftentimes, the dress code is usually a traditional attire such as a floor-length anarkali or embroidered saree, paired with lots of jewellery to add the necessary sparkle to your outfit. This doesn't however stop you from rocking a modern outfit like a palazzo saree or jack suit to the venue.
What colours do you wear to an Indian wedding?
Indian weddings are all about sparks and excitement so it is advisable to wear vibrant colors like green, orange, bright blue or pink to the wedding. However, since the brides most times wear red or gold outfits, you can try avoiding these colors.
Can an Indian have naturally blonde hair?
Yes. It is very possible to find Indians with blonde hair although this is very rare to find. Naturally blonde hair is mostly found in people of European lineage but for Indians, it might be a result of genetic variations. This is because combining different genetics can result in different hair color for people.
REFERENCES: