Short hair updos exist, what a relief! Probably every lady whose hair is not so long remembers the moment of searching for such hairstyles and finding really few. Well, we know how you feel. For that reason, we have done this search for you and shortened the list of these hairstyles for more convenience. Now all you need to do is pick the hairstyle you love the most.
Romantic Twisted Short Hair Updos
Credit photo: blog.modcloth.com
In contrast to popular belief, updo hairstyles, just like bridesmaid updo hairstyles, for short hair are not so difficult. Well, it's better to stock up on hairpins, that's true, but it is hardly a problem. Moreover, the easiest updos can be created in less than 5 minutes.
Wrapped Short Hair Updos
Credit photo: instagram.com/kellgrace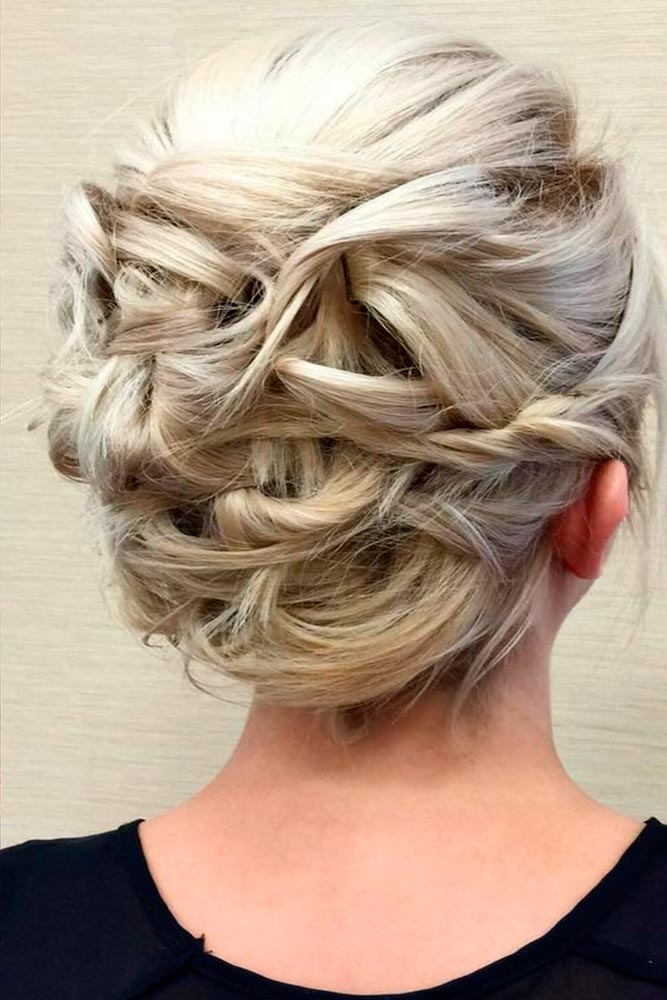 Credit photo: instagram.com/kellgrace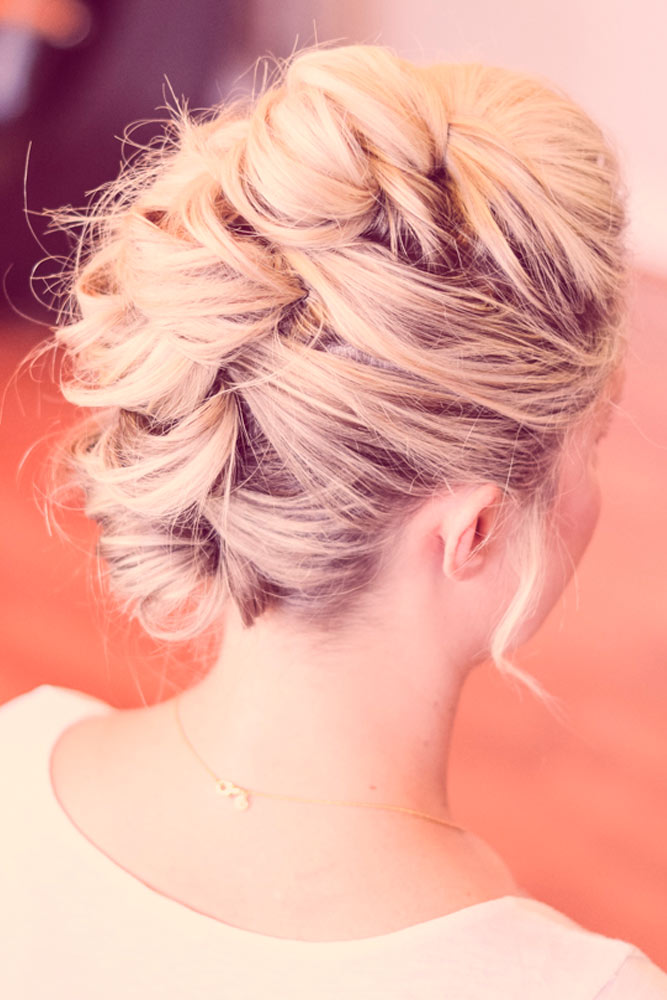 Credit photo: alaceyperspective.com
Also, like updos for long hair, those for short hair come in various styles. They can be romantic, elegant, messy, carefree, intricate-looking, sassy, and combine various elements like braids and buns and ponytails at once.
Color Game On Short Updos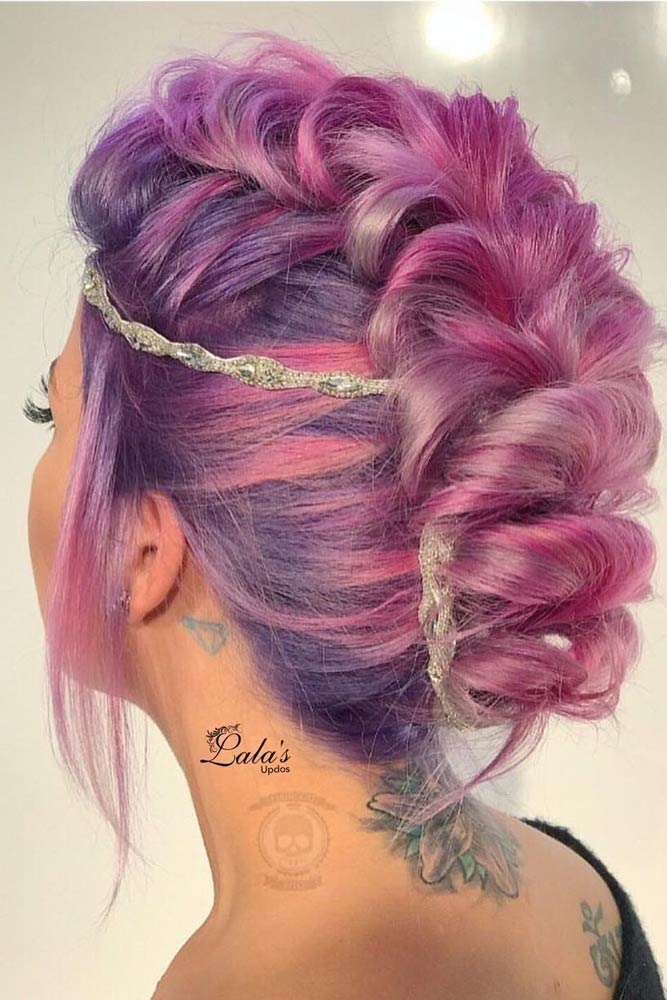 Credit photo: instagram.com/lalasupdos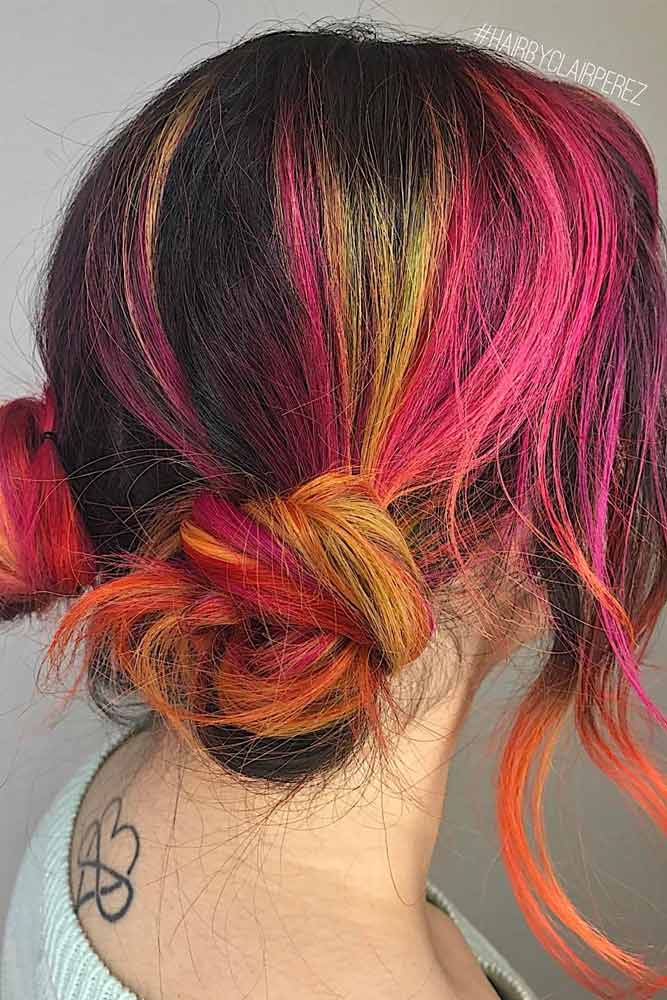 Credit photo: instagram.com/hairbyclairperez
The bravest girls can try any bright hair color ideas when they want all eyes on them. Besides, you don't really need to color your hair permanently. Since there is a big variety of temporary options, you can go bold without any damage. On top of that, you can experiment with various shades one after another.
Updo Hairstyles For Short Fine Hair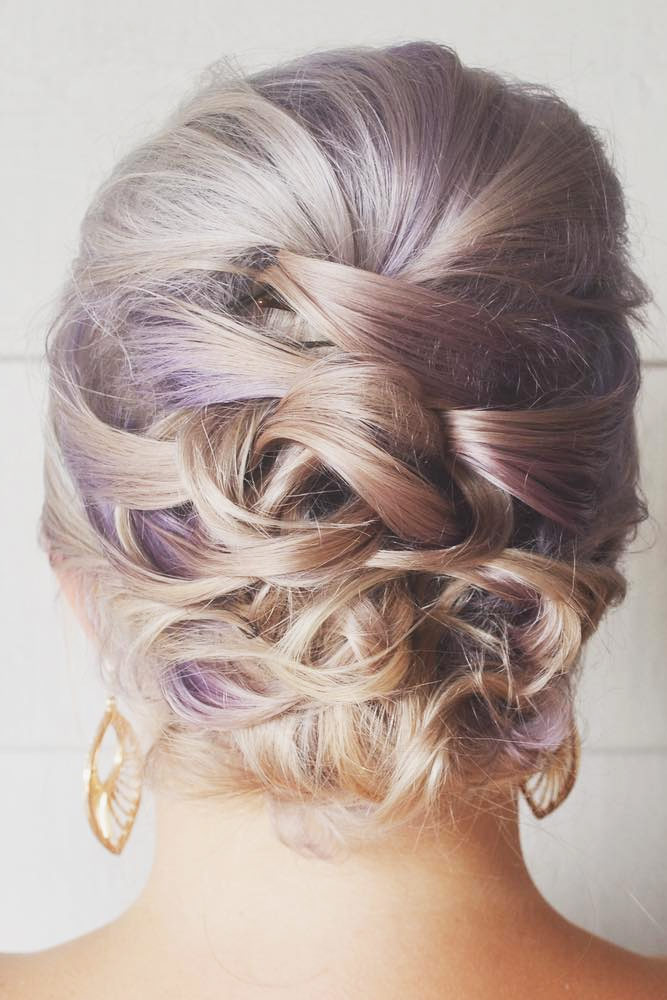 Credit photo: instagram.com/kellgrace
When dealing with short fine hair, you should take into consideration these beautifully quirky hairstyles. Even though your hair tends to lack volume, twists will do the volumetric magic. You can also wave your locks to give them some more visual movement.
Easy 5-Minute Knot Updos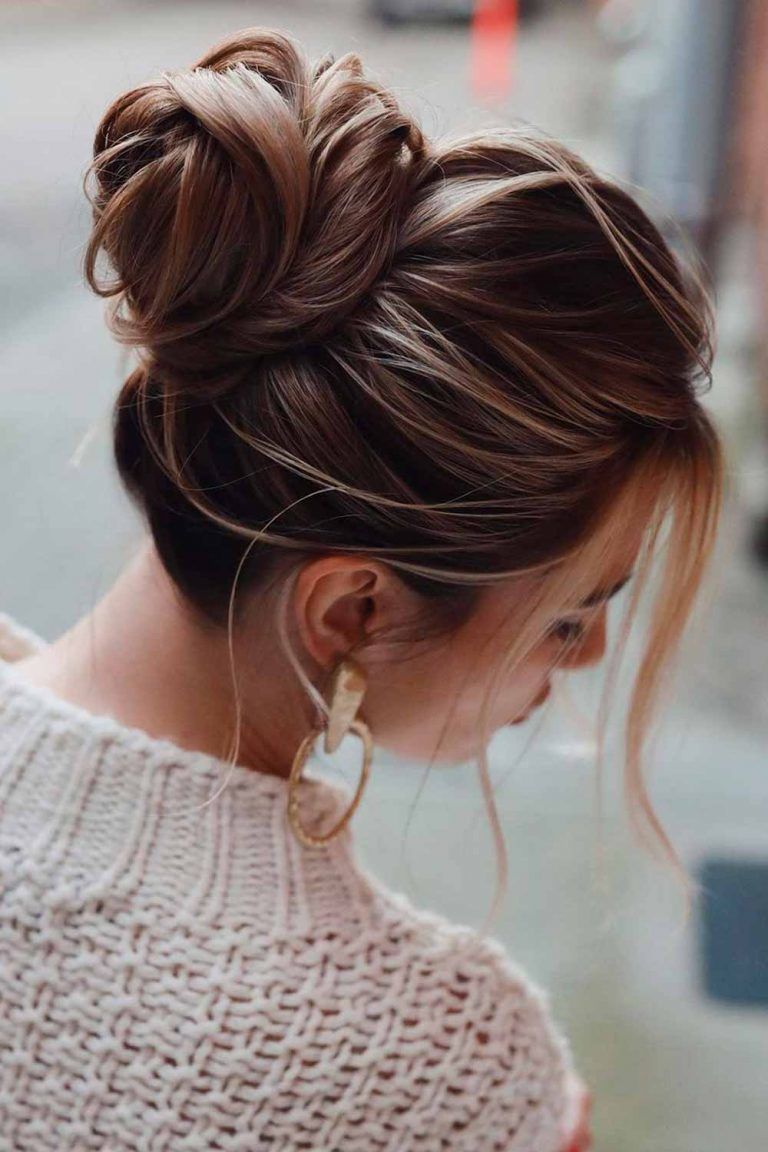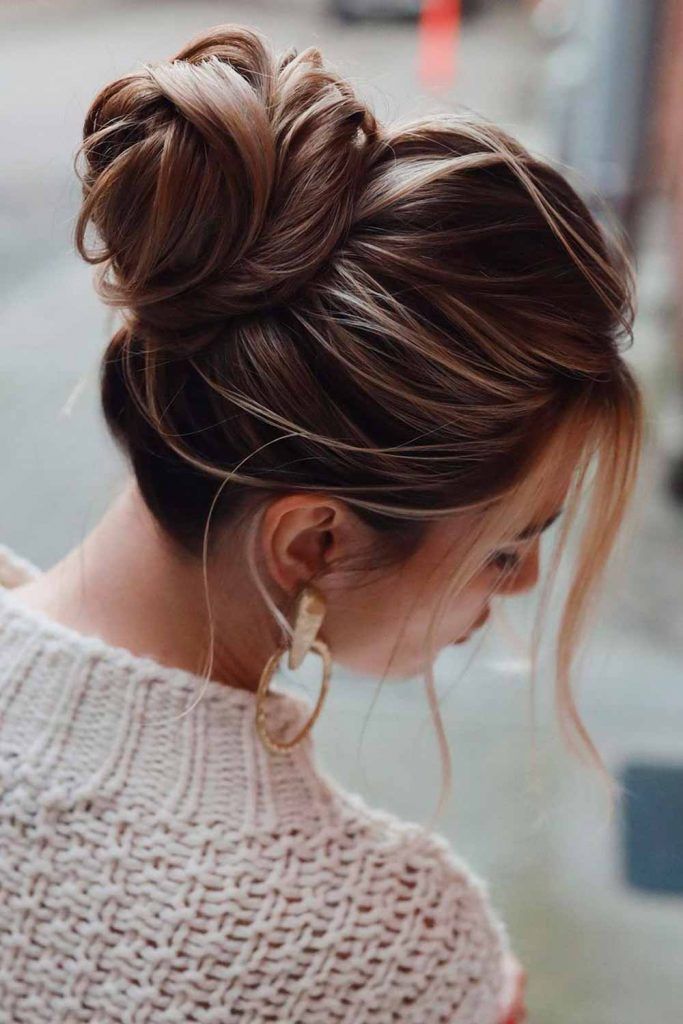 Credit photo: instagram.com/tonyastylist
There are a lot of easy 5-minute hairstyles for short hair that look really stunning and feel comfortable at the same time. In fact, some texturizing product of a pass of curling iron is enough to create a classy half-up for everyday wear.
Gorgeous Short Hair Low Updos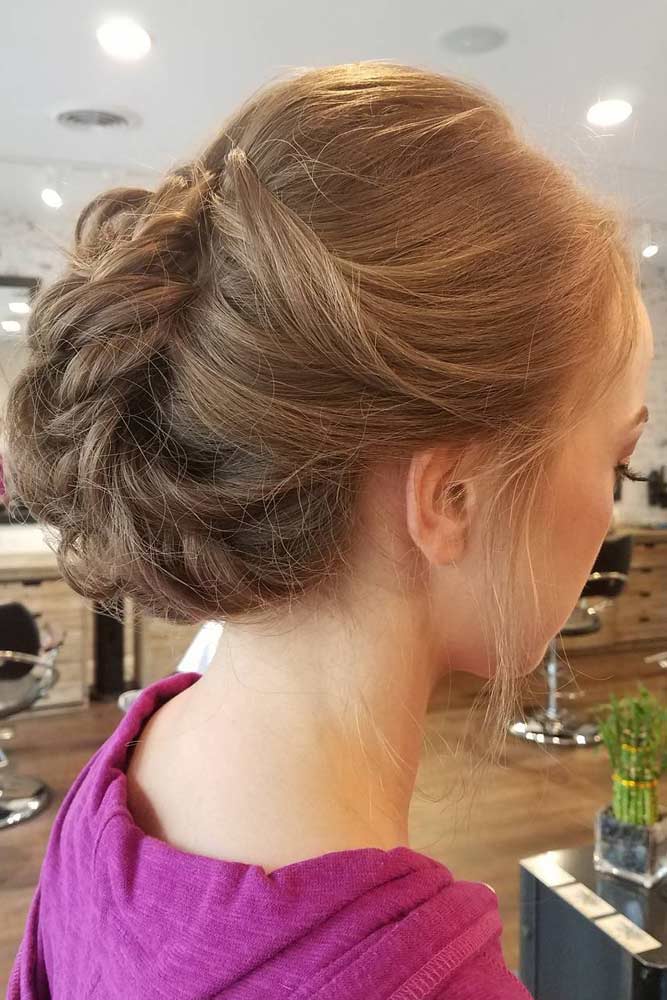 Credit photo: instagram.com/salonrooted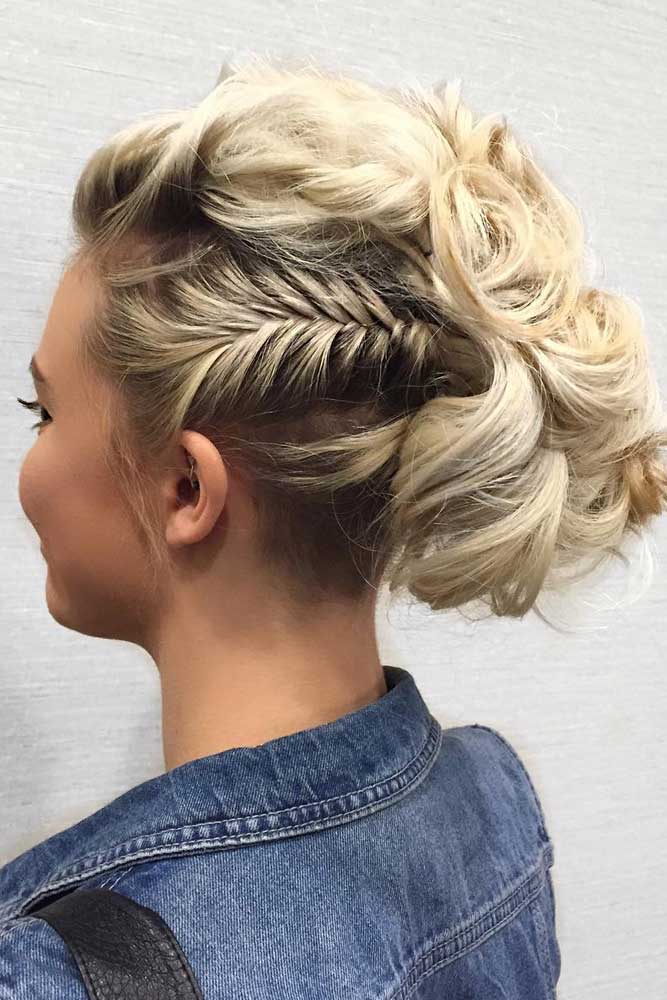 Credit photo: instagram.com/katerinaa_taylor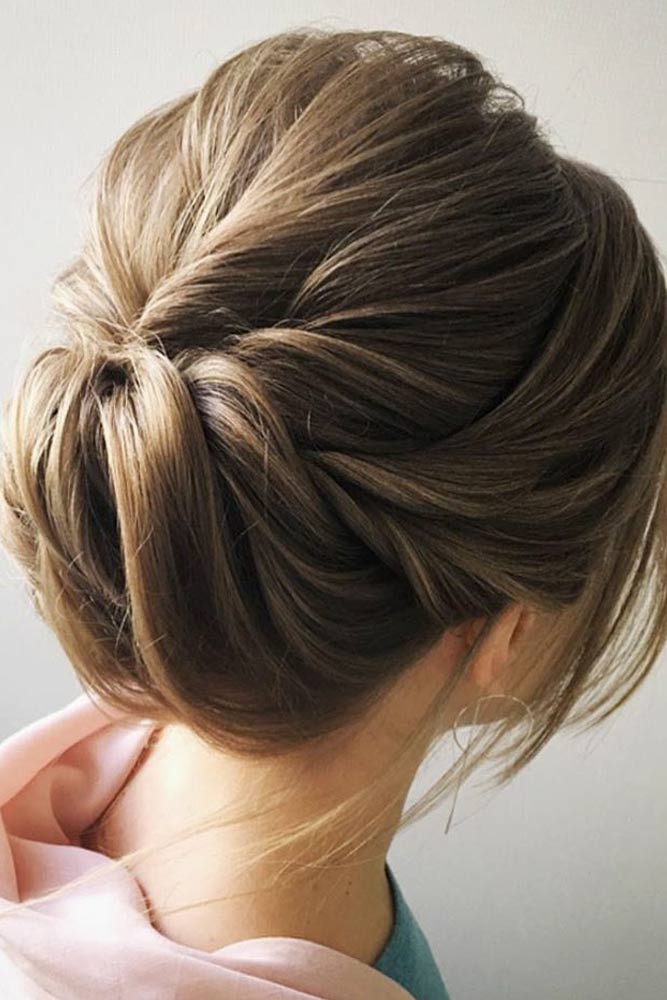 Credit photo: instagram.com/lenabogucharskaya
Look at these braided and twisted hairstyles that certainly rock this season! They can help you to be a girly girl even if you've got a short haircut. By the way, these are nice picks for a summer date or a spring walk in the park: it's romantic and casual enough.
Easy Dutch Braided Short Hair Styles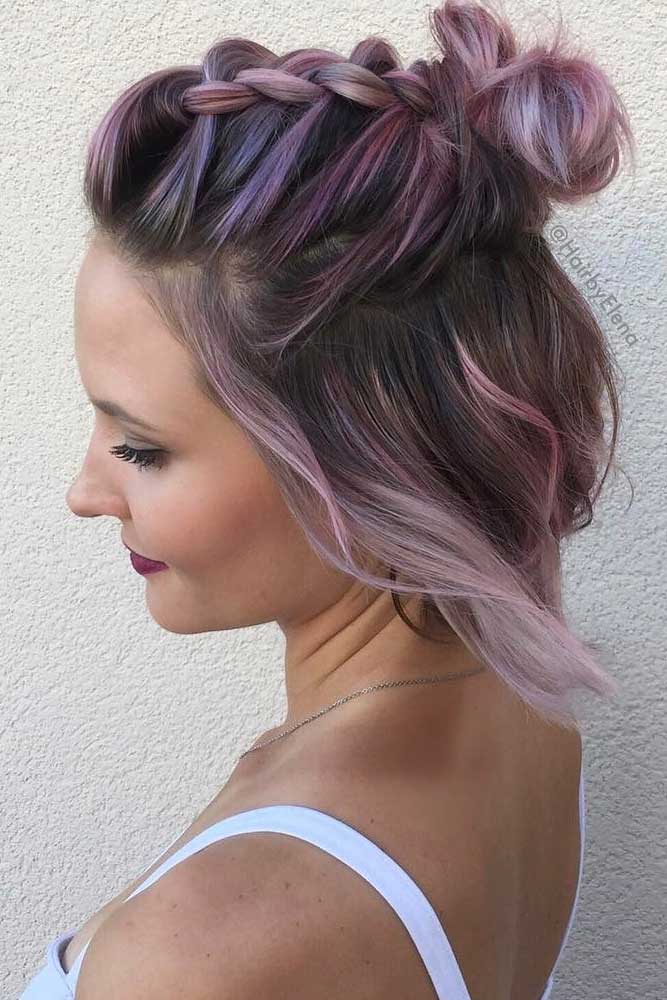 Credit photo: instagram.com/hairbyelena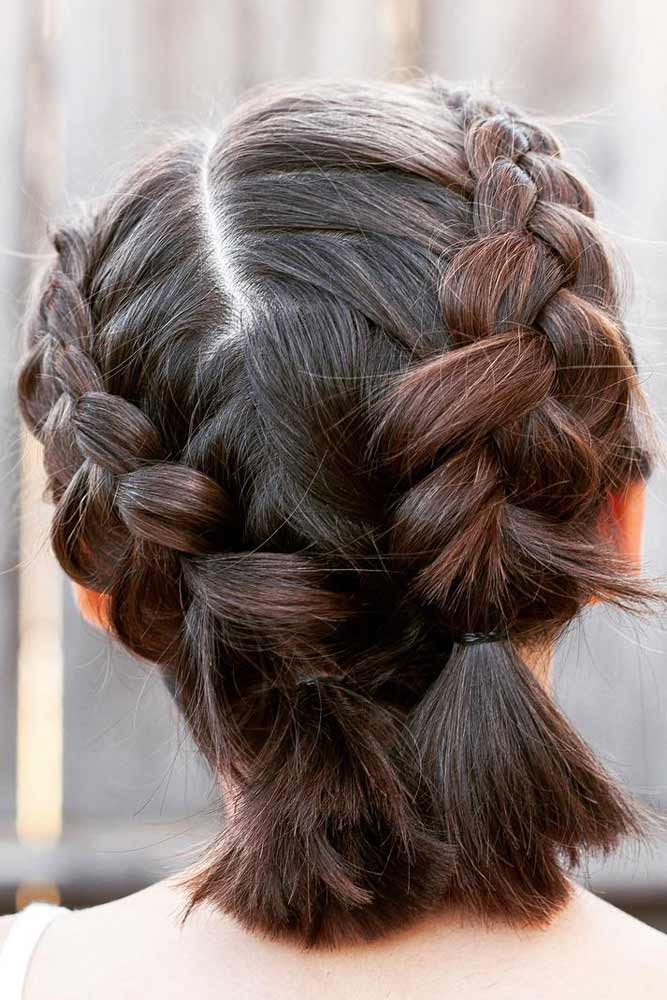 Credit photo: instagram.com/abellasbraids
Braids can change your haircut in a totally unexpected way, indeed. Once you add one or a couple of them, and you'll have a lovely and romantic going-out hairstyle.
Reverse Braided Buns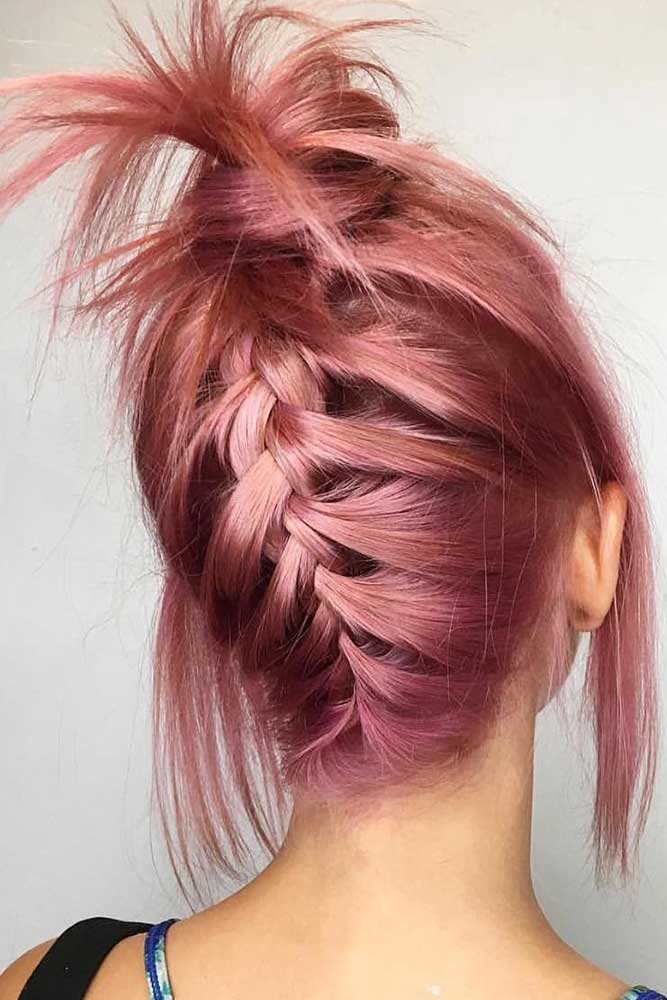 Credit photo: instagram.com/foxandjane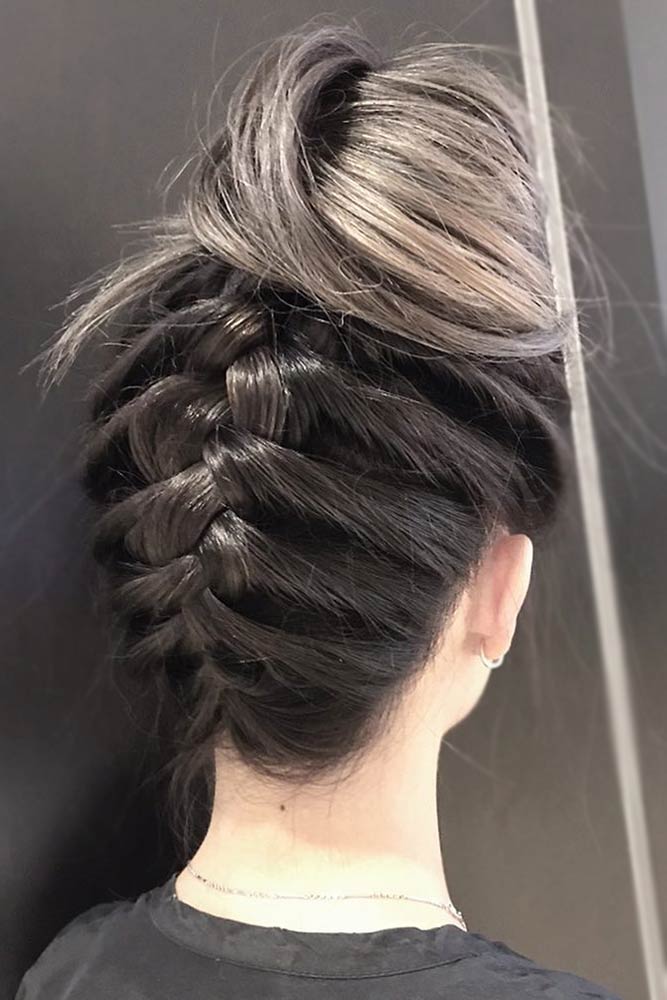 Credit photo: instagram.com/dvcolour
There are so many fun ways to spice up your short hair, and a reversed braided bun is definitely one of them. Just look at this mixture of mess and elegance. Besides, the brighter the color of your hair is, the better a reversed braided 'do looks! Although it may seem to be a tricky style, you will master it after the first try, trust us.
Decorate Your Style With Accessories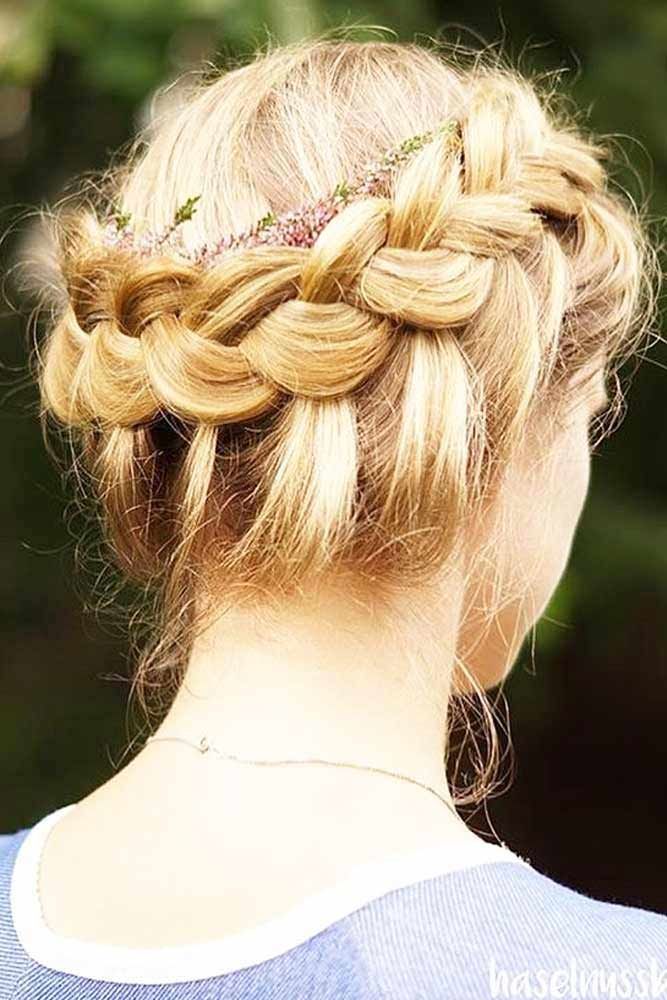 Credit photo: instagram.com/haselnussblond
Although some of you have no idea how flexible short hair is, short hair updos look so cute. Plus, in fact, you can easily achieve the illusion of a long hair updo with the help of few hairpins and some decorative element.
Updos For Short Curly Hair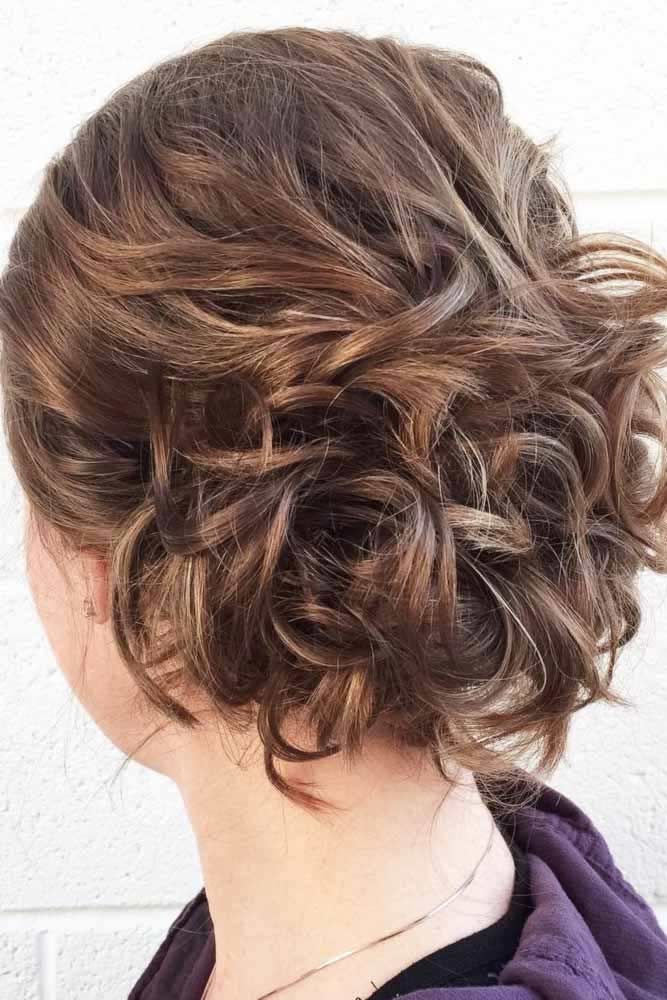 Credit photo: instagram.com/wb_upstyles
Updo hairstyles go perfectly well with curly hair. With the least effort you can pin your twisted hair with your fingers so that it forms rolled sections. Looks classy, textured, and elegant, which will certainly be your go-to for some big occasions. Also, don't forget about accessories!
Retro Hair Styles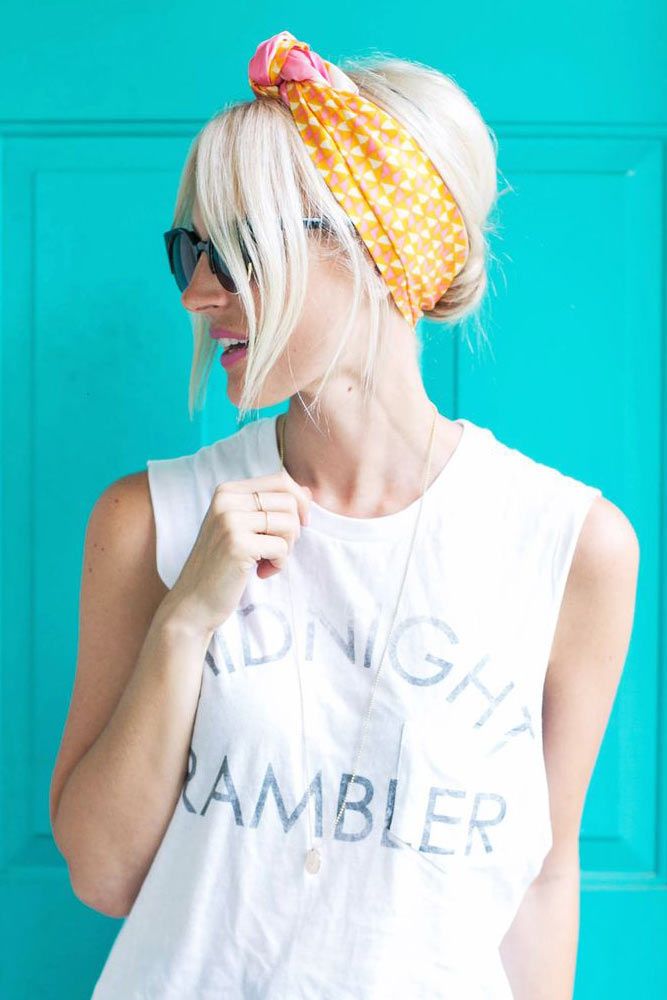 Credit photo: https://abeautifulmess.com
Retro styles are more trending than ever. Therefore, why not pick your hair up and fix it with some silky scarf? Besides the addition of volume, the scarf will hide all the bobby pins you have used.
Braided Hairdos For Ladies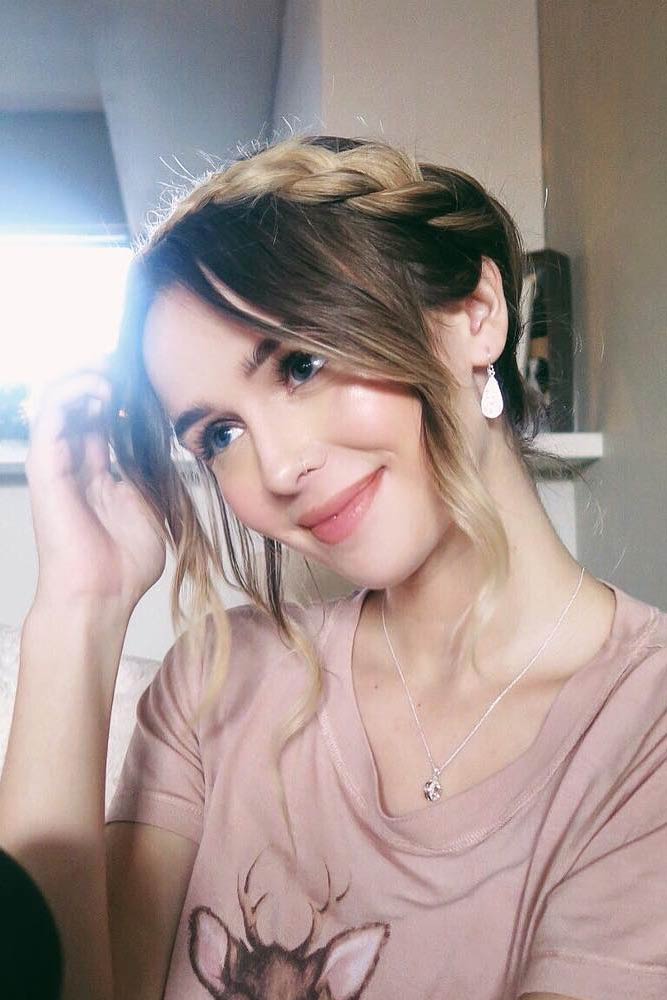 Credit photo: instagram.com/acaciabrinley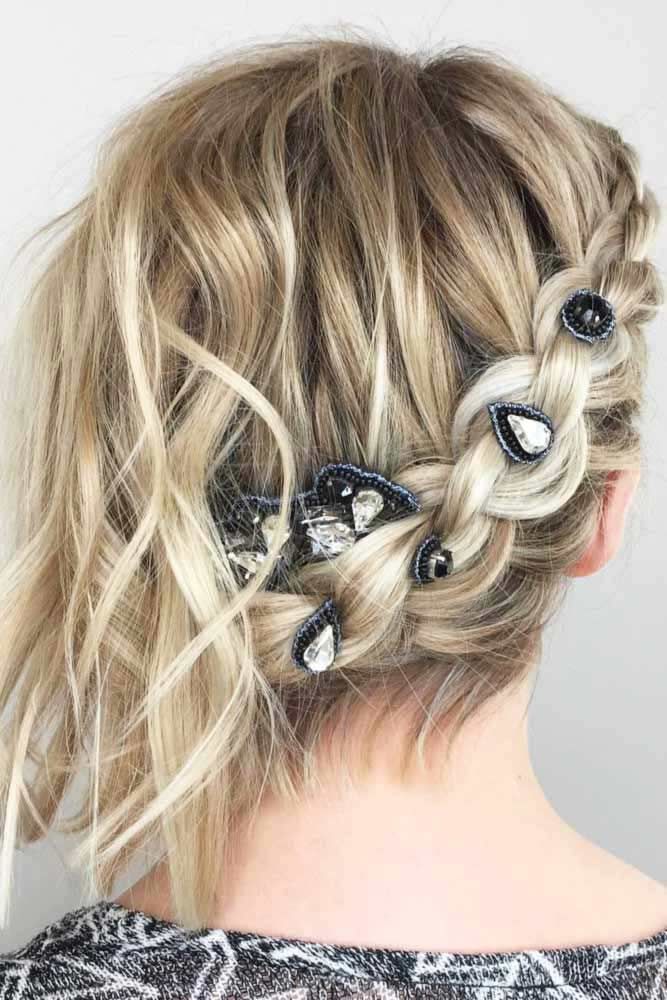 Credit photo: instagram.com/a_kool
There is a false opinion that braided hairdos are not for those ladies who are rocking short hairstyles. Nonsense. They totally are, just start braiding from the front side and end behind the ears to see the proof with your own eyes. Instead of growing out a longer mane, all you need is to change the braiding technique. Or, to be more exact, change the direction of your braid, as well as the braiding pattern. As a matter of fact, it's easier than it sounds.
Cute Knotted Updos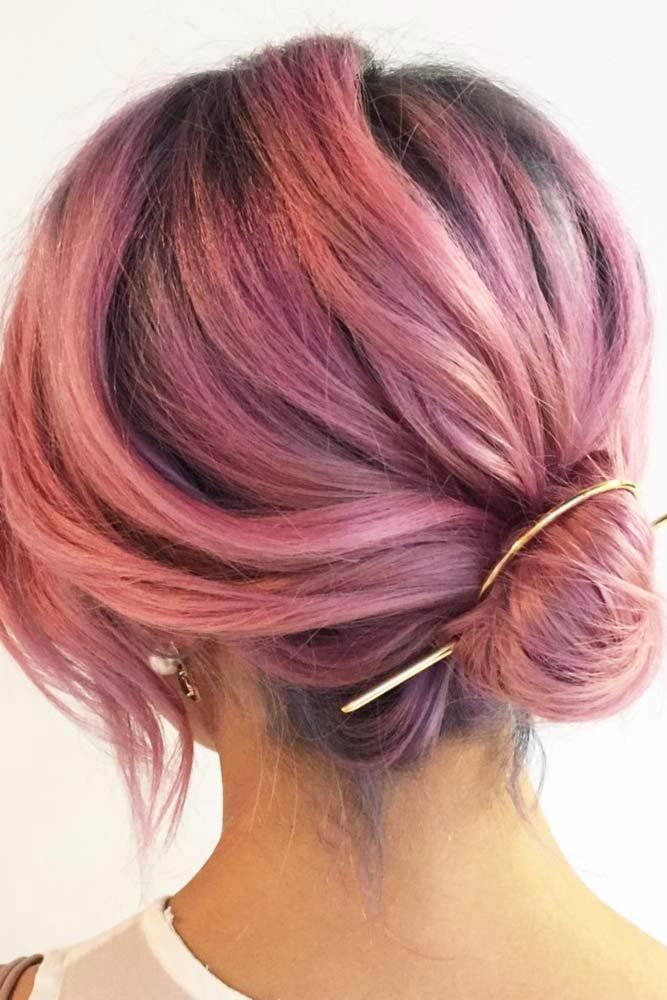 Credit photo: instagram.com/alexisbutterflyloft
Sometimes everything fails, regardless of how hard you try. But do not give in to despair. In times like these, try a half-bun will save you instead! It looks super pretty and will work for any occasion, as well as nicely fit any outfit.
Magic Ways To Style Your Short Hair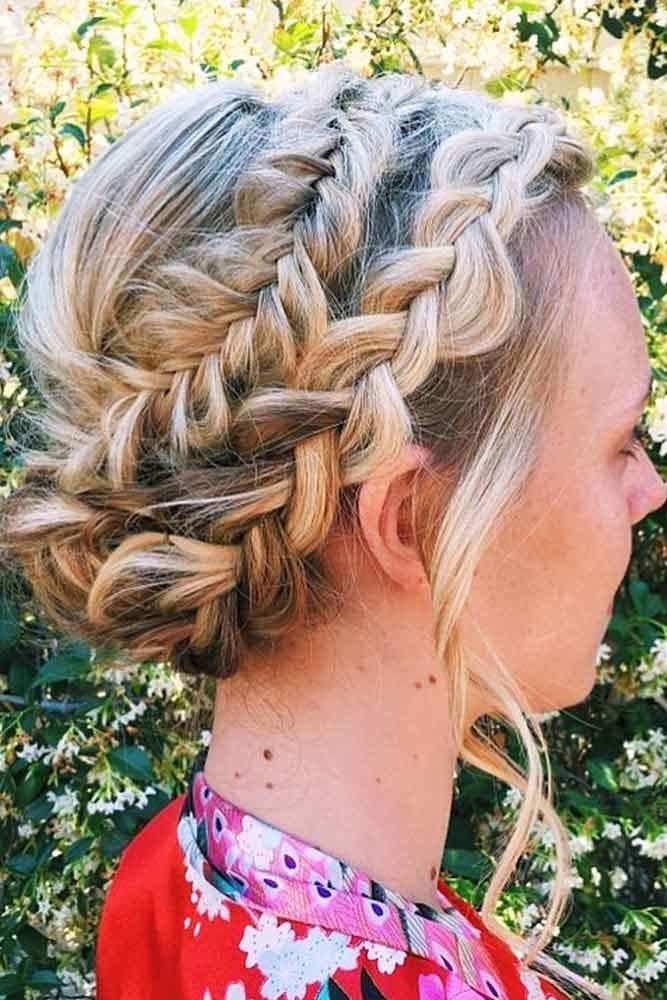 Credit photo: instagram.com/jaykaybraids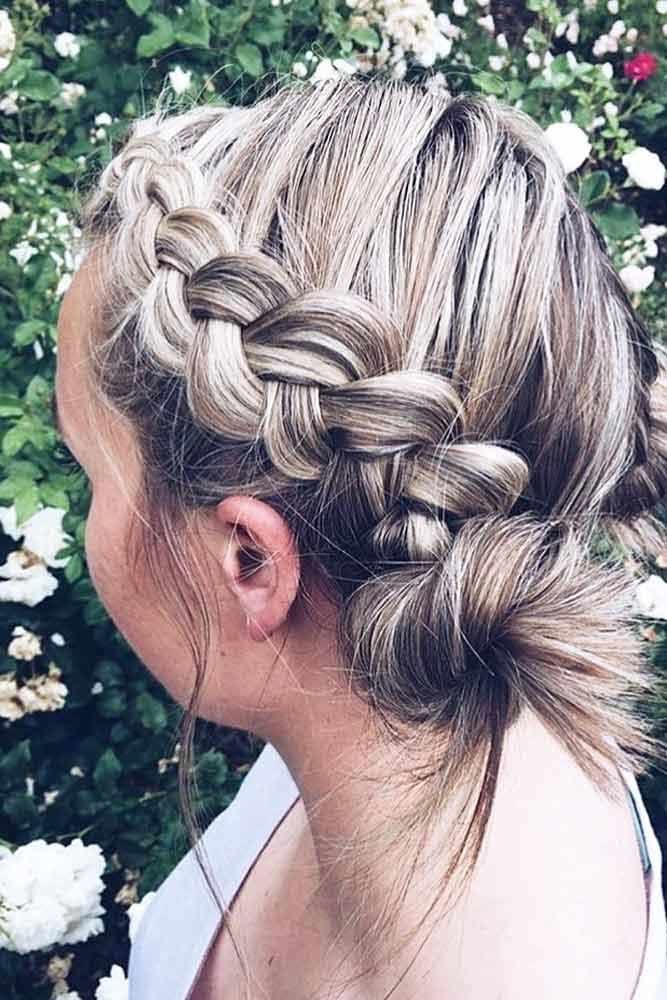 Credit photo: instagram.com/braidzzfordayzz
A crown braid is not easy, but it's the perfect way to style your short hair. It looks like a real accessory, especially when it's styled to the side. Furthermore, it's a nice way to make your hair look a little bit fuller. Just pull the edges of the braid until they look loose and full.
Add Some Flowers To Your Hairdos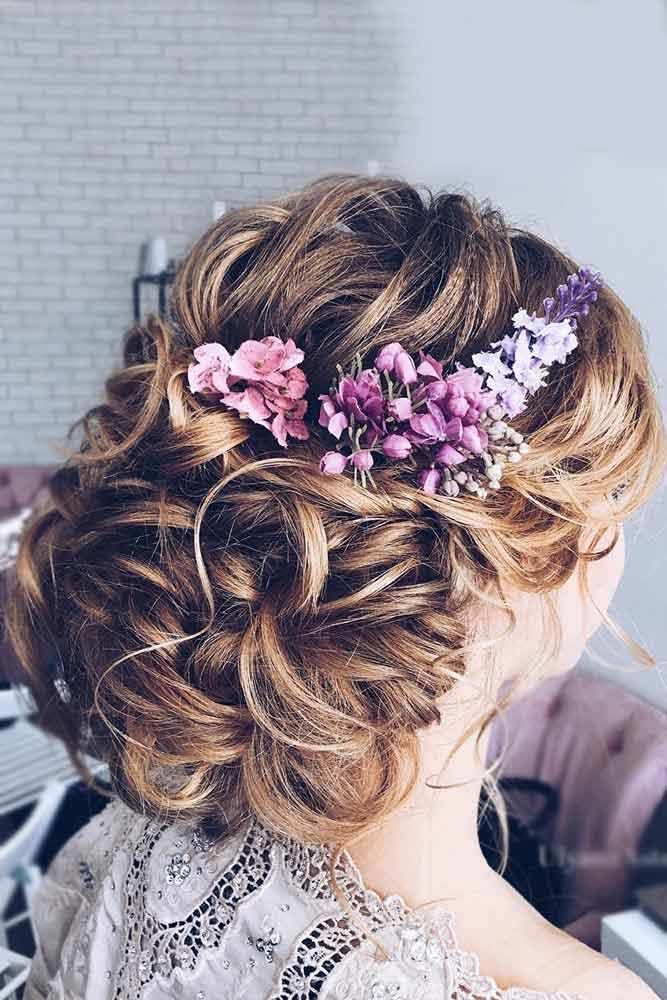 Credit photo: instagram.com/ulyana.aster
Why not add some cute embellishments to your hairstyle, like flowers, for example? Opt for either fresh or artificial flowers, depending on the season and occasion. On one hand, real flowers will give a sense of freshness and pure femininity to your hairstyle. On the other hand, they won't last long. Therefore, if you need to flaunt with the 'do for a couple of hours, real blossoms will be a good choice. And, consequently, it's better to opt for floral accessories for wedding and prom nights.
Ponytails For Short Hair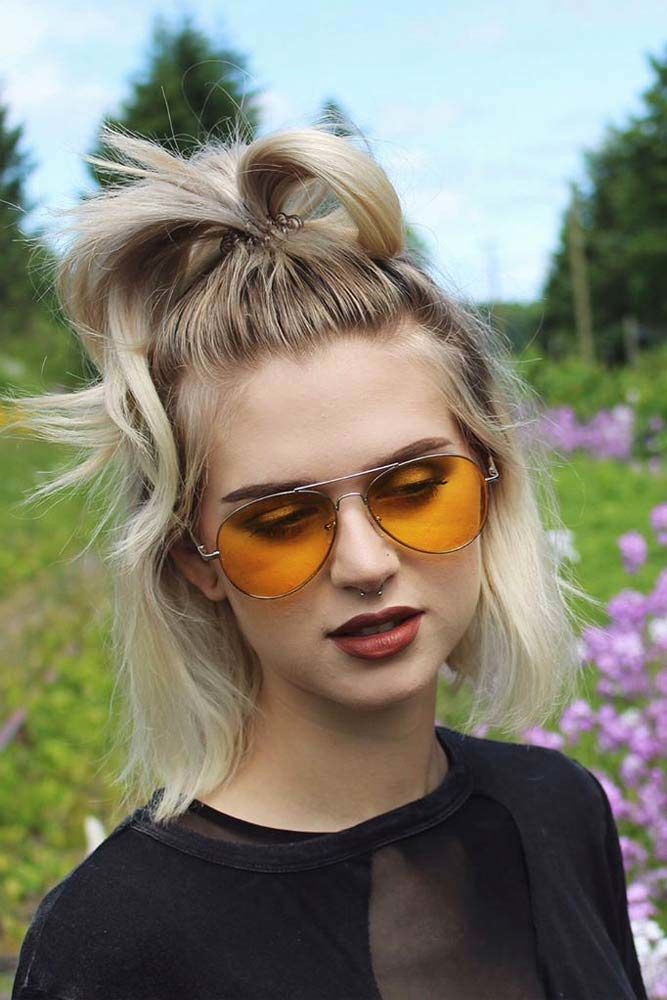 Credit photo: instagram.com/_wildfern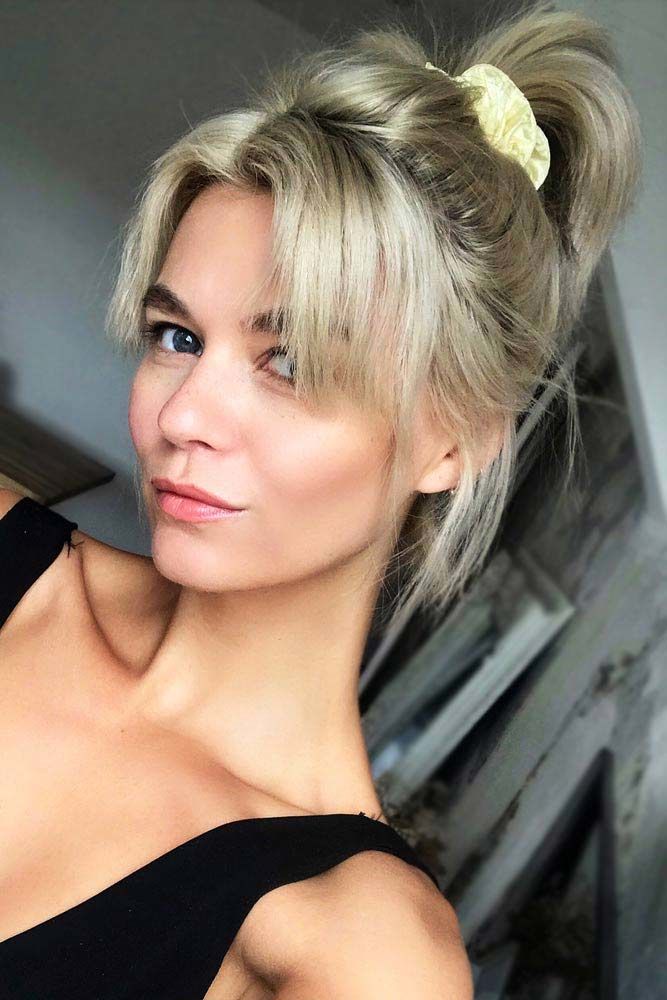 Credit photo: instagram.com/louiblog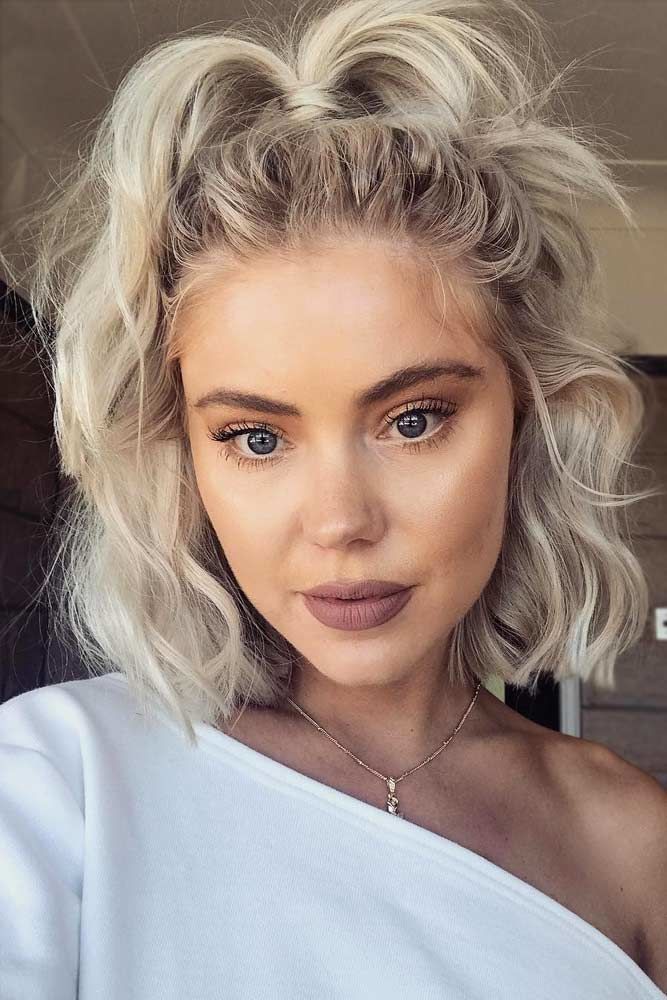 Credit photo: instagram.com/laurajadestone
Who says that getting a ponytail is impossible for girls with short locks? Yes, it won't look like it's classic, familiar version, but isn't that the point? Basically, you can separate off the top layer of your hair and do a pony out of it. Look how cute they are! Waves and bangs will also be a good idea.
High Upstyle For Short Hair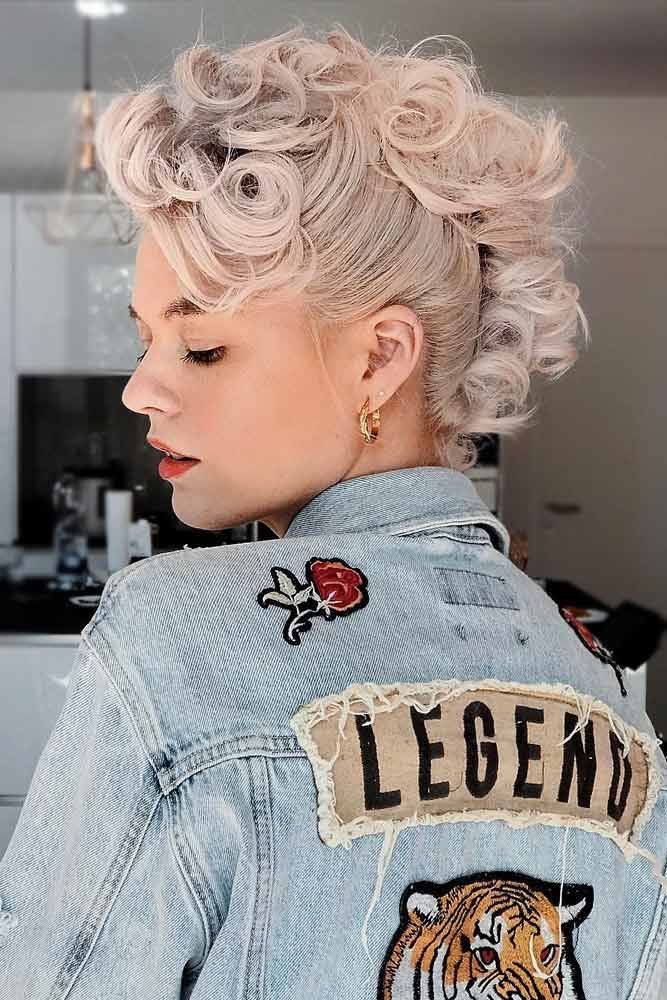 Credit photo: instagram.com/louiblog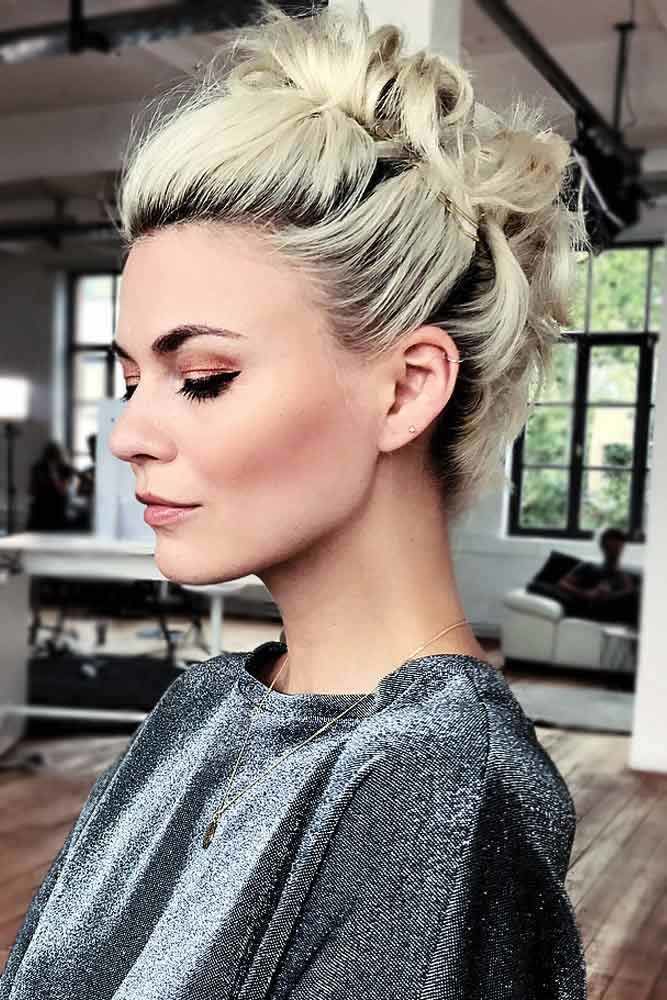 Credit photo: instagram.com/louiblog
Ladies who aim to show up with an elegant, presentable hairdo will love these adorable, twisted and wavy ideas. Though your hair is short, you still can play around with updos: you can pin the sides and wave the crown, get a tousled bun, and go for some twists on top. See? The options are countless! As a matter of fact, there's nothing easier than styling short hair up! At the same time, it looks exceptional, as if it's done on long locks.
Short Updos Tutorials
Double Braided Updo Tutorial

Credit photo: youtube.com/Milabu
Are you looking for some fancy and trendy but formal hairstyles for short hair? Then you have come to the right place! Of all the updos a double braided one is mind-blowingly easy and exceptional gorgeous!
Divide your hair into two sections so that the one is a lot bigger than the other.
Grab a section of hair in the front and divide it into three equal parts.
Begin a French braid.
Follow your hairline and bring the braid towards the back at an angle.
Secure the braid with a hairband at the back of your head.
Repeat the procedure with the other side.
Secure two braids at your back with a hairband.
Take the little sections of hair that are left at the back, twist them and bring them towards the braids.
Use screw pins to secure the updo.
Go back on your braid and pull them a little to add some more texture and volume to them.
That is it!
Edgy Double French Twist Tutorial

Credit photo: youtube.com/Milabu
In case you wish for some cute updos for short hair with a touch of edginess to be at hand, we have something special for you! Experimenting with hair styles for short hair is so fun and easy!
Part your hair first.
Pin away the front section first.
Split the rest of your hair into two equal parts.
Start right above the ears, bring the hair towards the back.
Pin it away for now, too.
Grab the bottom section of your hair and tease it a little.
Bring your hair over to the right side.
Bobby pin it going from the bottom up.
Grab all of the hair and start twisting it into the French twist.
Repeat the same procedure with the top side with the only difference that this time you should bring your hair to the left side first.
Split your front hair section into smaller one and curl all of them using your curling iron.
Edgy double French twist – check!
Topsy Tail Updo Tutorial

Credit photo: youtube.com/Milabu
Those of you who are looking for fancy hairdos for short hair will surely appreciate this one we have prepared here for you!
First of all, grab a top section of your hair to create a little pompadour.
Secure it with bobby pins.
Grab another section beneath the pompadour and bring it back.
Secure it with the elastic into a ponytail.
Split it in half and bring the ponytail right through the top and through to create a topsy tail.
Grab another section and repeat the procedure.
Keep doing this until you reach the very bottom.
Give a little pull to all of the topsy tails so that you add some more texture and dimension to your 'do.
Take the bobby pins out of your pompadour.
Loop the bottom, remaining part of your hair and secure it with the bobby pin.
Voila!
Low Pompadour Updo Tutorial

Credit photo: youtube.com/Milabu
Everybody knows that a girl who seeks a dramatic look will never pass by the pompadour hairstyle. So here comes the most elegant pompadour updo people could ever see. Whether you want to be on point for a date or you just want to flaunt with a super delicate daily hairstyle, this style knows how to make you feel happy with your hair. Follow these easy steps:
Start from the very top of your crown, with a slight off-centered part going towards the left side.
Take this section of the crown, bring it towards the back and secure it with some bobby pins on each side.
Then, take a pompadour comb and make sure that the brush section is placed towards the scalp.
Place it right underneath the bobby pins.
Wrap the hair on the back all over the puff of your comb and pin it around.
Take the hair on the front, twist them a little bit and put them on the top.
You can also embellish your cute updo with any accessories you want!
You are ready!
Low Pompadour Braided Updo Tutorial

Credit photo: youtube.com/Milabu
Those who feel that there is a lack of braids in their lives can breathe a sigh of relief. Braids have never been so feminine, that's for sure. And you are in luck today, as you can bring this braided pompadour to life right now. Yes, it's totally easy, all you need is your beautiful hair and some bobby pins. Let's do that!
Start with a three-strand braid on each side.
When both your braids are done, grab a section of hair right below it and a section on the other side, connecting them in the middle to create a tiny ponytail.
Start taking the hairs from underneath the back and inner loop them around the ponytail you've made.
Secure it with some bobby pins!
Place your lovely braids on top, including them to the updo.
Enjoy your stunning and lively pompadour!
Pin Up Updo Tutorial

Credit photo: youtube.com/Milabu
Brush your hair backwards towards the middle and pin up the hair at the sides with some bobby pins. Also, make sure the top layer of your hair is not fixed back as the sides.
Then, with the help of your curling iron, create bouncy curls on the top layer of your hair.
Take a few bobby pins and start fixing up the curls to make them look defined.
Leave the longer pieces down so that they form a beautiful, textured hairstyle. Voila, you`re done! Romantic and flirty at once: it is a perfect easy hairstyle for your everyday routine!
Bejewled Knotted Updo Tutorial

Credit photo: youtube.com/Milabu
Take a front section of your hair and tease it a little bit before using a pompadour comb right behind the hair section you have just taken. After that, bring your hair towards the back onto the pompadour comb and secure it with some bobby pins behind.
Use the rest of the hair to create 4 ponytails.
Take the ponytails and curl them around your finger, then using a bobby pin fix them upwards or towards the ponytail. You can also loosen the little buns we have created with the help of your fingers to create more volume and make your hairstyle a bit more relaxed looking. If your heart desires something more, you can definitely choose some hair jewelry to go with your hairstyle.
FAQ: Short Hair Updos
Can you have an updo with short hair?
Even if you have short hair, you may create a fashionable and attractive updo! Any hair length and type can be turned into a stylish updo. You just some ideas or advice from a hairstylist! Short hair can be styled in a variety of ways, from Dutch braids to chignons.
How do I add volume to updo?
Hold the hair on top of your head up and away from your scalp. To enhance volume, put the comb into the hair at least 2 inches from the head. Gradually push it down toward the scalp. Pull the comb out of the area of hair and backcomb it until the crown has a little bounce or volume.
REFERENCES:
Now that you've seen with your own eyes that short hair has nothing to do with limitations, it's time to recreate one of today's ideas! Not only are they fun and flirty but they also are super easy to do. Alongside amazing styling ideas, you've also seen game-changing tutorials for short updos. That is to say, nothing stops you from diversifying your styling routine now!