Easy long hair updos are not only classy for a special occasion but a simple fix for a bad hair day, as well. A fancy updo is great for an evening out, but there are quite a few easy updos for longer hair that work for casual situations, as well.
There are plenty of simple updo hairstyles for long hair. If you have unruly curls or frizzy hair, an updo is a great quick fix. Not all updos have to involve elaborate buns and intricate top knots.
Updos Tutorials
How To: Simple Twisted Bun With Forelock For Long Hair


For those who are considering a bang but are not sure if it is going to suit them, there is a great way to try on the style without chopping off any strands. This comes in especially handy if you have long hair, as you may regret it later. So that it will not happen, put your hair into a twisted bun and use its ends as fake bangs. The style is much easier to create than it seems. To do it, first, you need to pull all of your hair up and tie it into a high ponytail. Then, twist the pony and wrap it around its base. When you are halfway through, leave the rest of the hair as it is. Distribute it across your forehead so it would resemble a bang. Secure the bun in place with hair pins.
How To: Easy And Elegant Twisted Bun Hairstyle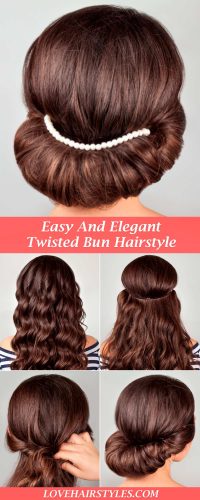 There are many ways to style this look. No matter what approach you are going to choose, you can rest assured that it will come out elegant and sophisticated. Not to reinvent the wheel, here is how you can achieve the style in several easy steps. Pull a headband onto your head so that it is almost at the ear level. Take a strand of hair from the side and start tucking it behind the band. You should wrap the strand around the headband, completely covering it. Continue doing so until there is no hair left. Optionally, embellish the hairstyle with a hair accessory of your choice.
How To: Beautiful And Super Simple Updo For Long Hair


Buns are among the most popular hairstyles for long locks for many reasons. On the one hand, they allow you to keep your mane in order easily and take the strands away from your face. On the other hand, they look appropriate in any ambiance. To get this easy yet gorgeous messy bun, start by tying a low ponytail. Yet, when pulling the hair through the loop for the last time, stop midway. Wrap the remaining free part of the pony around the folded hair and fasten it with bobby pins. Pull out strands a bit for added volume and a slightly messy finish.
Braided Updos Hairstyle
Lovely Braided Bun Hairstyle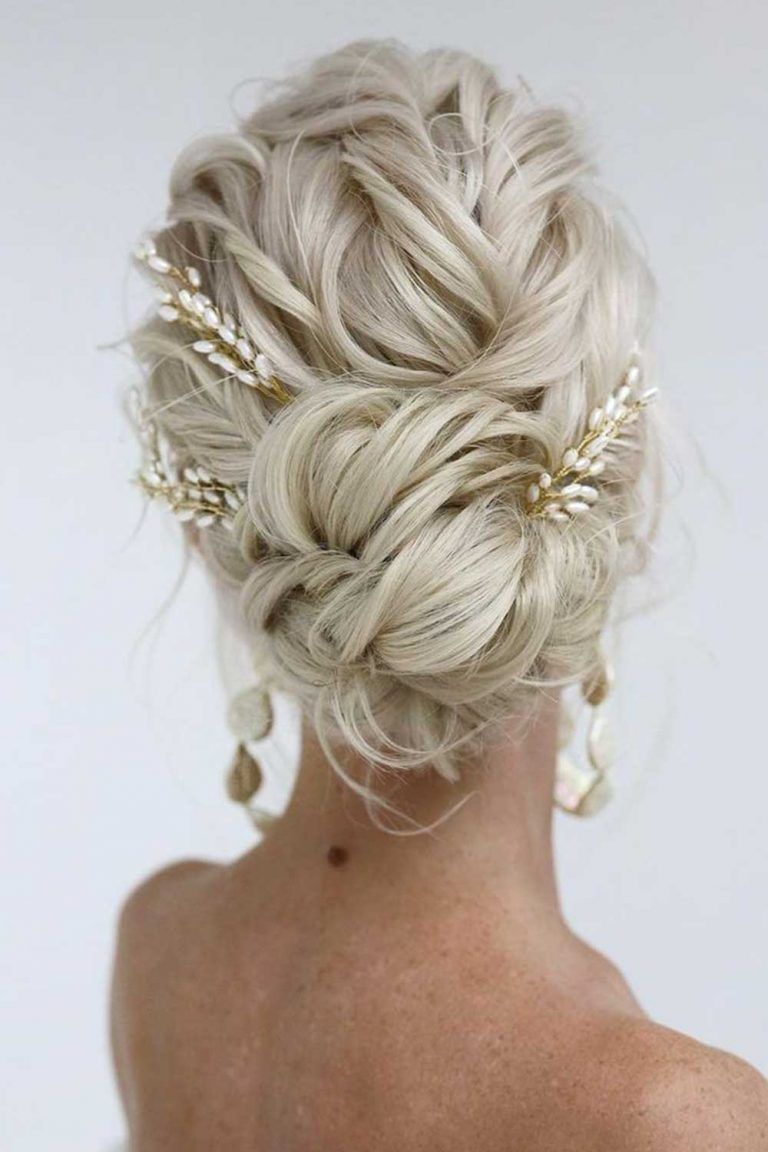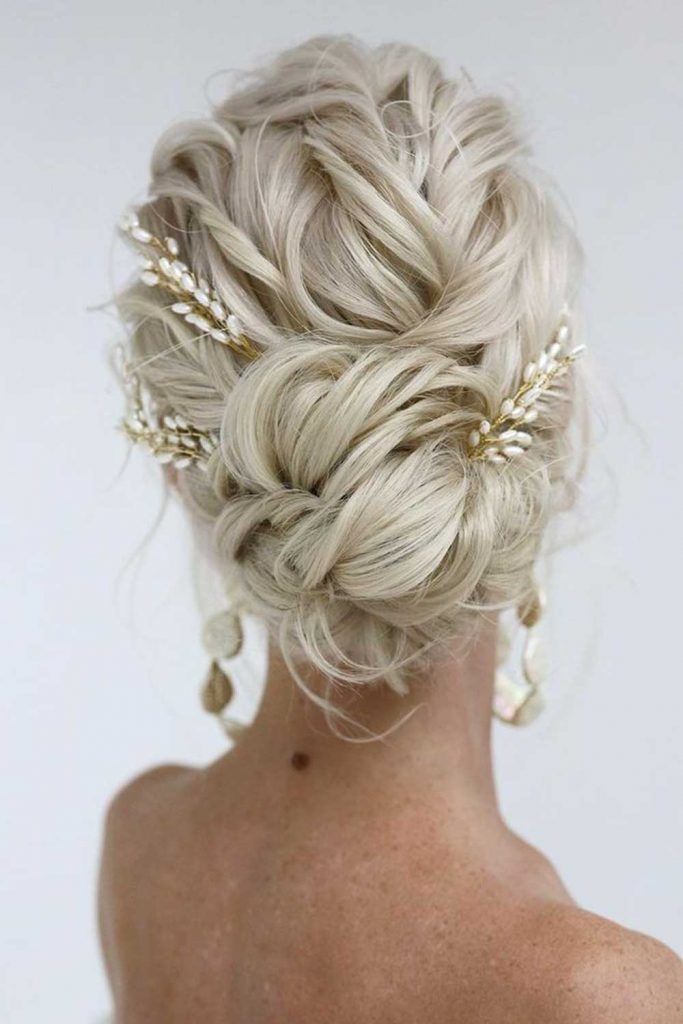 Credit photo: instagram.com/tonyastylist
Who doesn't want to feel comfortable with hair this summer? Only the bravest ladies can spend hot summer days flaunting with their loose long hair. A braided bun is something unbelievable: it makes your casual hairstyle look very eye-catching and keeps all your hair up at once. Comfort and stylishness rolled into one, isn't that perfect?
Fascinating Rose Braid Updo
Credit photo: instagram.com/sweethearts_hair
Flowers are one of the main things that we girls can't have too much of! Many artists compare women's beauty to a never-fading flower. Why don't you go with this thought to create a fascinating rose out of your long hair? This hairstyle is the trendiest wedding updo, so if you want your festive look to be exclusive, transform your stunning chevelure into an unforgettable flower-like updo.
Fishtail Braid Into Bun Hairstyle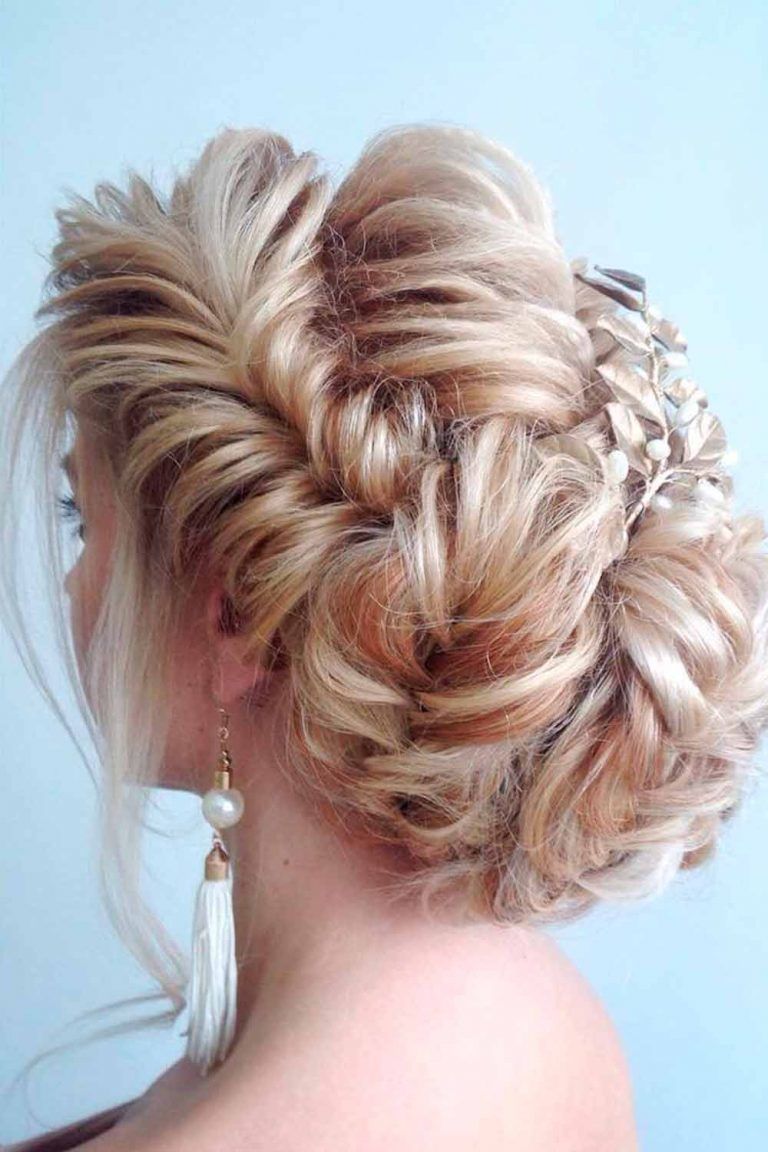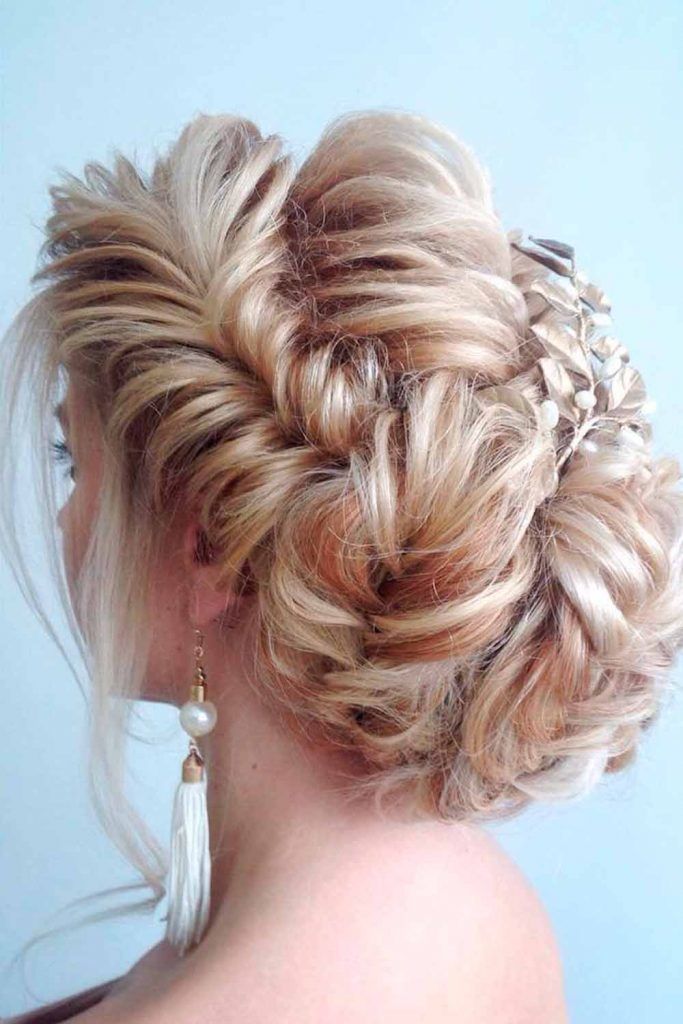 Credit photo: instagram.com/julia_alesionok
What a hair masterpiece we can create with the use of our imagination and several bobby pins! Most girls are familiar with fishtail braids, and we all know that they're as diverse as women's creativity. Updo hairstyles for long hair not only reveal your femininity but also let your imagination run wild: you can do a fishtail braid that goes a bit across the crown, and gradually twits into a low messy bun.
Feminine Halo French Braid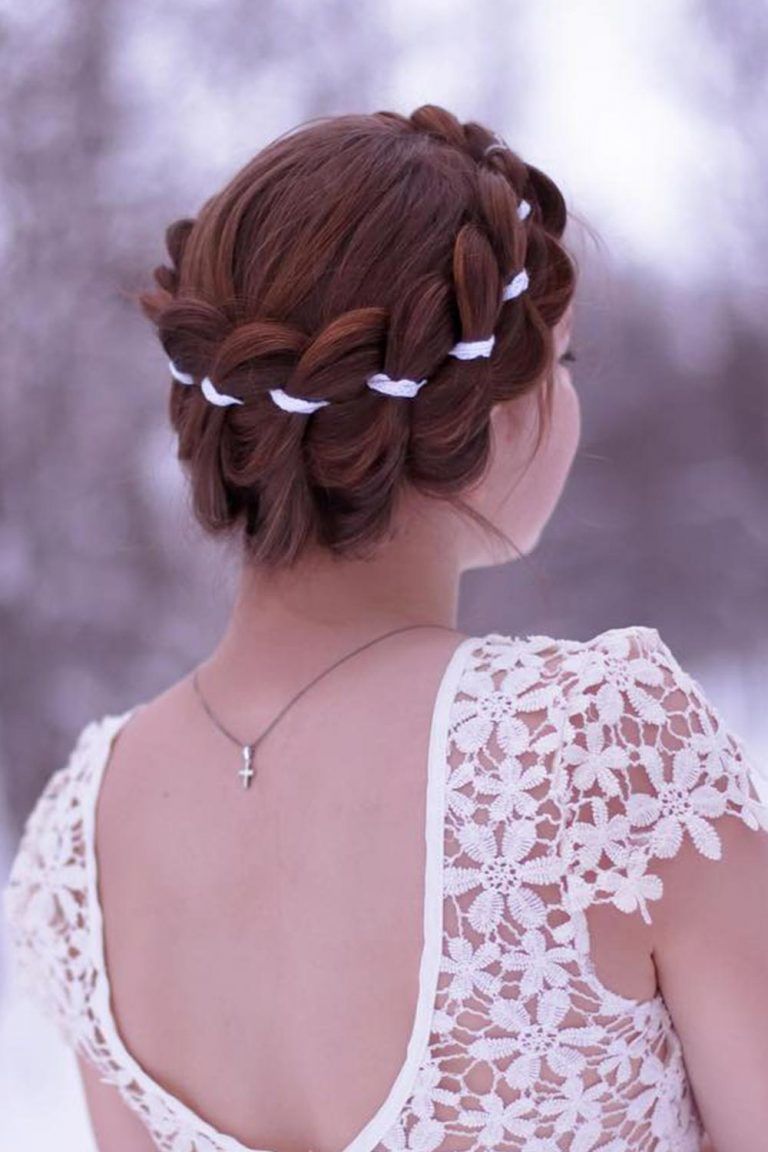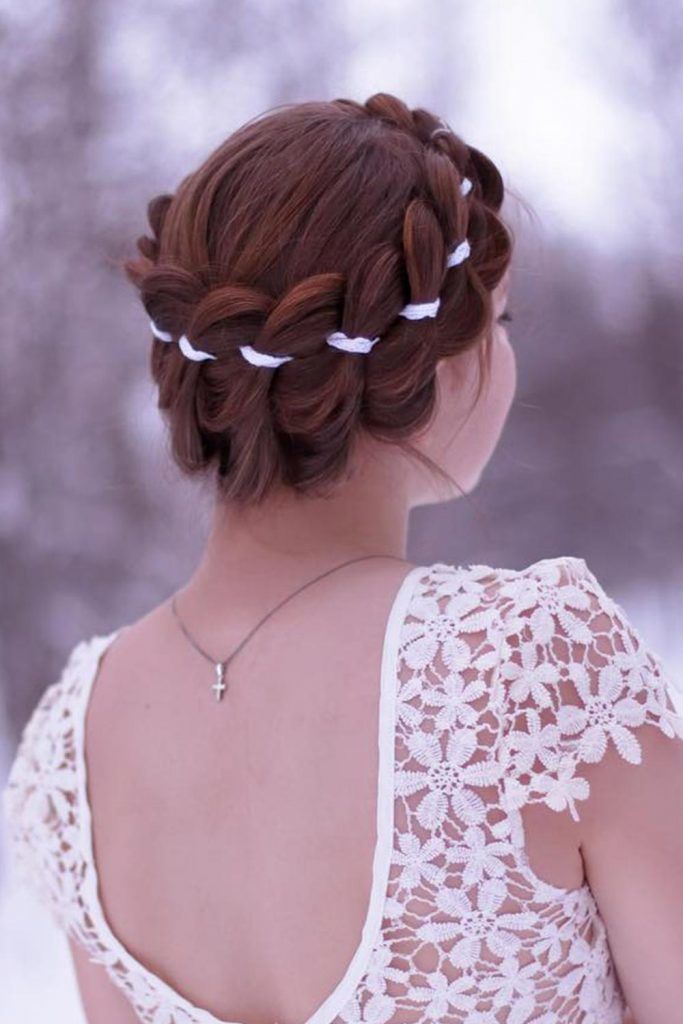 Credit photo: instagram.com/aurorabraids
Instead of teasing your head with headbands or heavy hair accessories, you can adorn your updo with a self-made halo. There's no need to tell you how straightforward this style is: you just create a French braid, where you incorporate the hair that is close to your forehead, giving birth to a breathtaking natural accessory. Also, you can wrap the rest of your hair into a low bun or braid it till the ends and create a full twist. Simple, yet gorgeous, that's all we can say.
Messy Side Dutch Braided Bun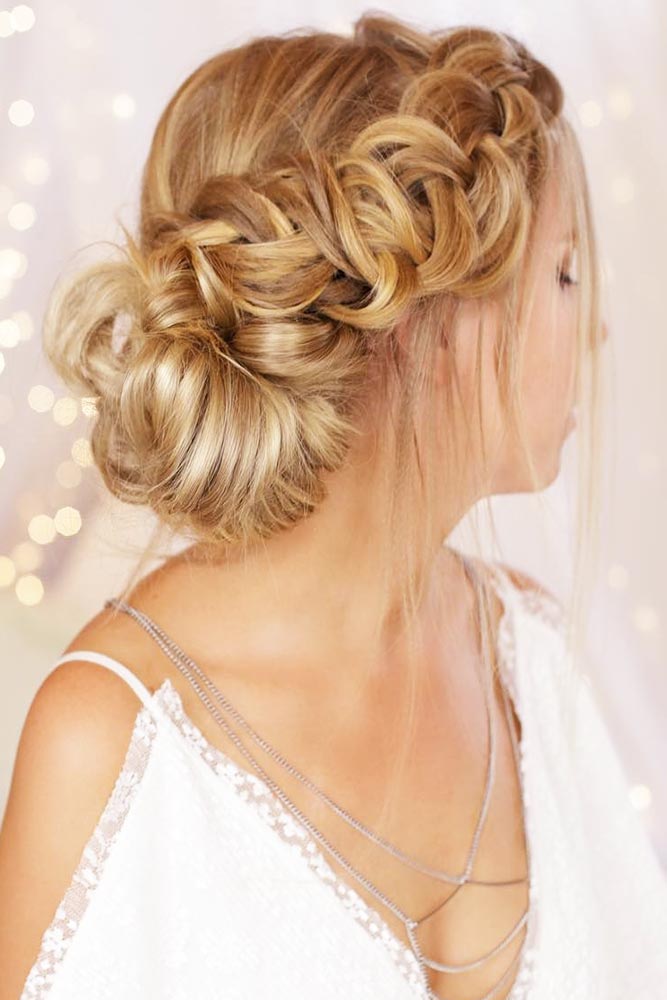 Credit photo: instagram.com/aurorabraids
Meet a special updo for special occasions! A little bit of asymmetry won't hurt because it gives an extraordinary contrastive look to your hair. This pulled, messy side Dutch braid that transforms into a low, voluminous bun is an excellent way to express your individuality by wearing an exceptional hairstyle.
Stunning Braided Faux Hawk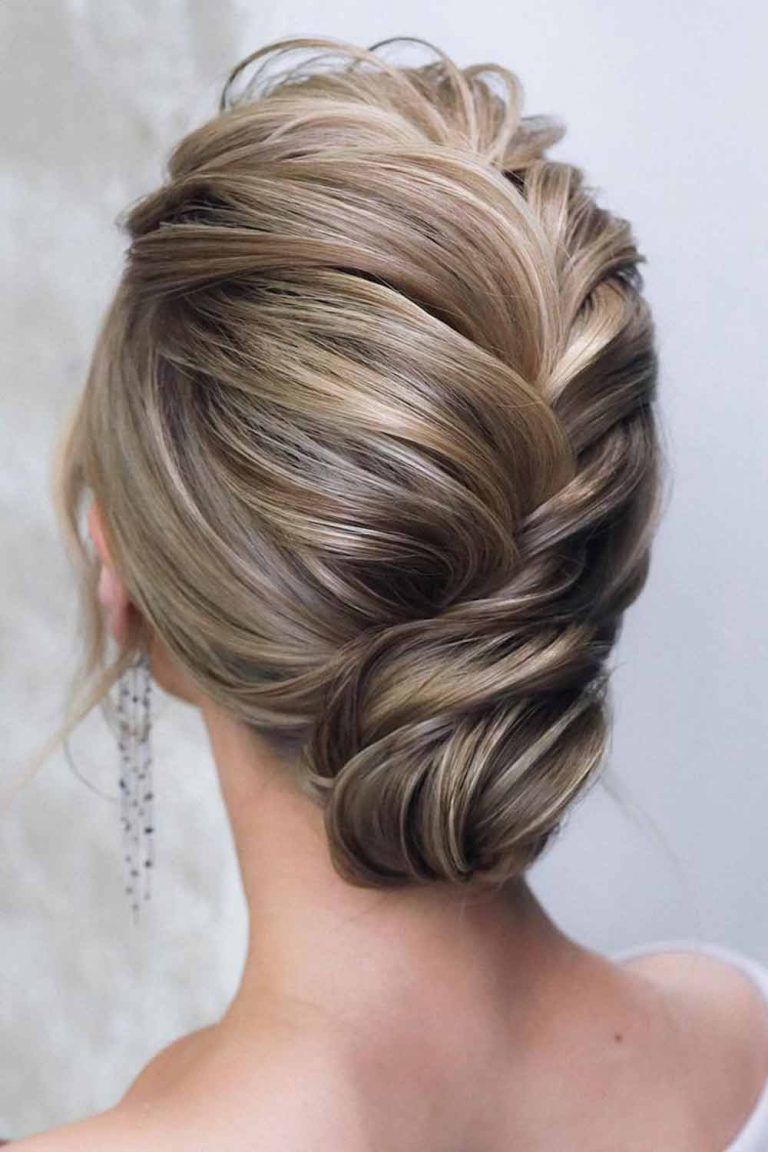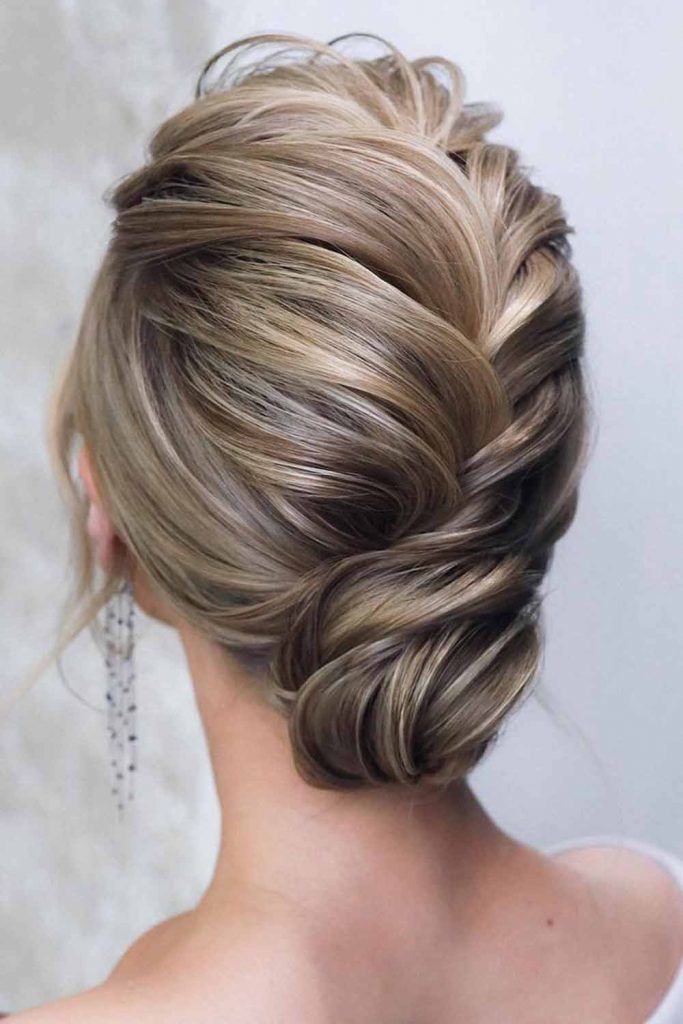 Credit photo: instagram.com/tonyastylist
Modern mohawks don't stop impressing us with their variations. Hairstyles that meant for badass bikers with tattooed and pierced bodies have become more flexible and lovelier. So now, let us introduce the stunning braided faux hawk that seems to be the most effortless and girly updo ever. Once you show up with such a different hairstyle, you will look like you're going to walk down the red carpet.
French Fauxhawk Into A Little Knot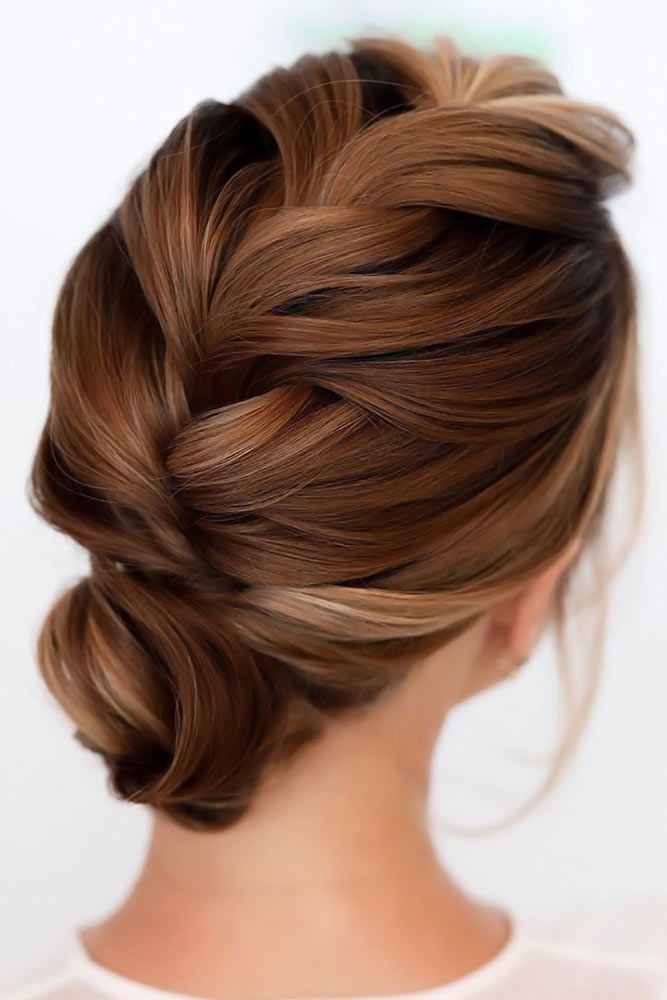 Credit photo: instagram.com/tonyastylist
Another version of the everybody's favorite mohawk is here to surprise you. It looks so subtle and fine that it's hard to believe it takes less than an hour. If you look more attentively, you will see that the only thing you need is to do a Dutch braid on the top and twist it into a little knot. Embellish it with an elegant accessory, wear it for any occasion, and be ready to hear lots of compliments about your hairdo wherever you are!
Charming Double Braided Updo For Thin Hair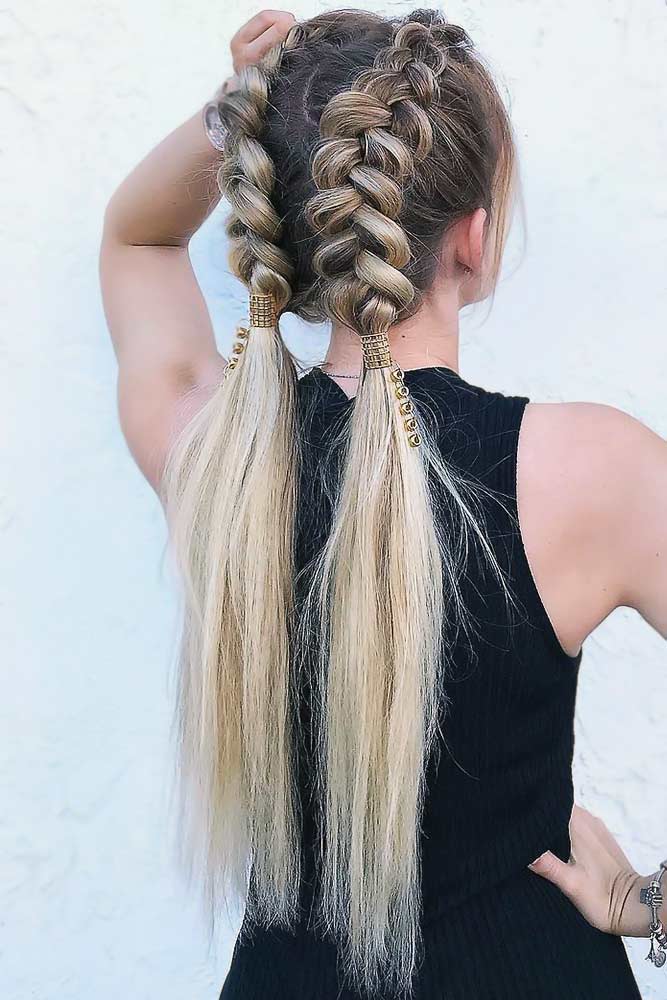 Credit photo: instagram.com/hair_by_zolotaya
Nobody cares about thin hair because we always can get braided updos that can sort things out! There's no way such a variety of texture will leave you with weak and flat locks. Just look how these two pulled braids lift up the body of the hairdo, while the hair on the back balances everything out with messy hair bows. To start doing updo hairstyles for long hair like this, you need to divide your hair into two sections and braid each one. Simple, again; and that's great.
Delicate Dutch Braid Into Bun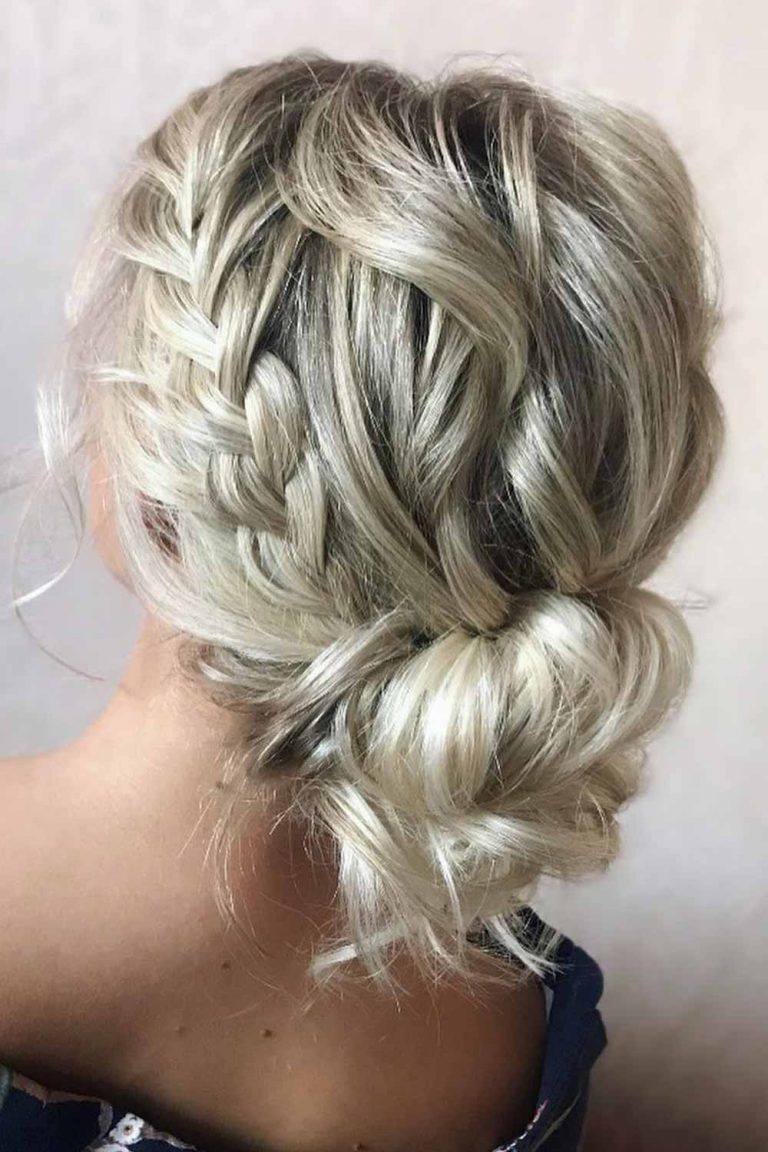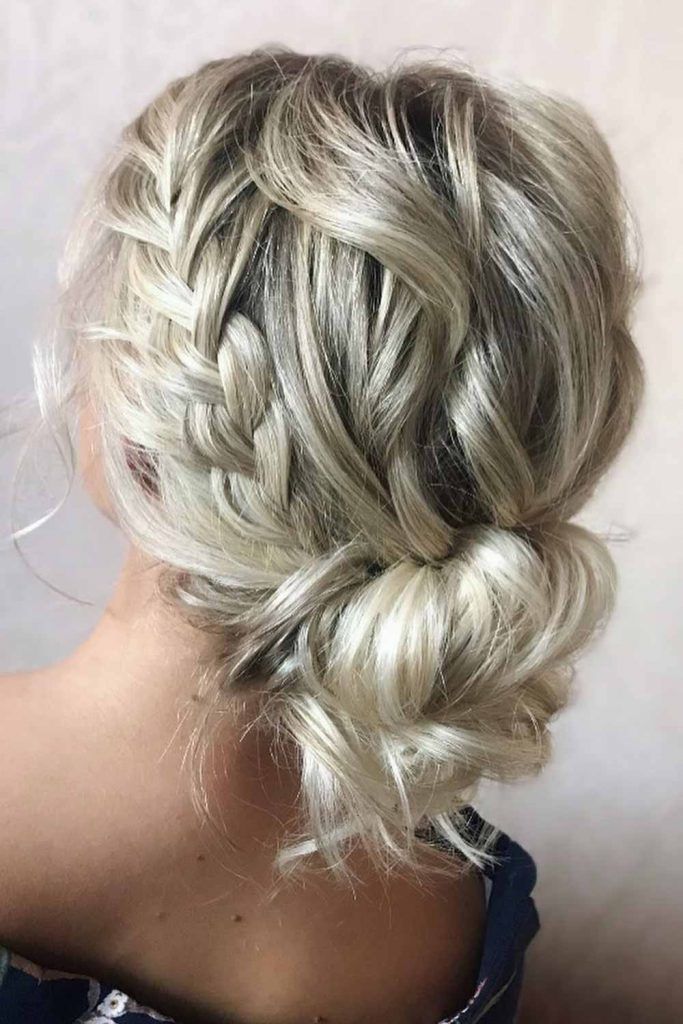 Credit photo: instagram.com/julia_alesionok
Wedding vibes are coming! When we look at this hairdo, we can't call it just 'bun hairstyle.' It's something more than a Dutch braid, and more than a bun. It's a masterwork that enhances the beauty of your long locks, keeps your face as open as possible, and shows how gorgeous you are. This prominent braided element makes this updo a perfect hairstyle for a bride. And honestly, we find it a good reason for becoming one.
Twisted Braid Into Low Bun For Thick Hair
Credit photo: @xenia_stylist
i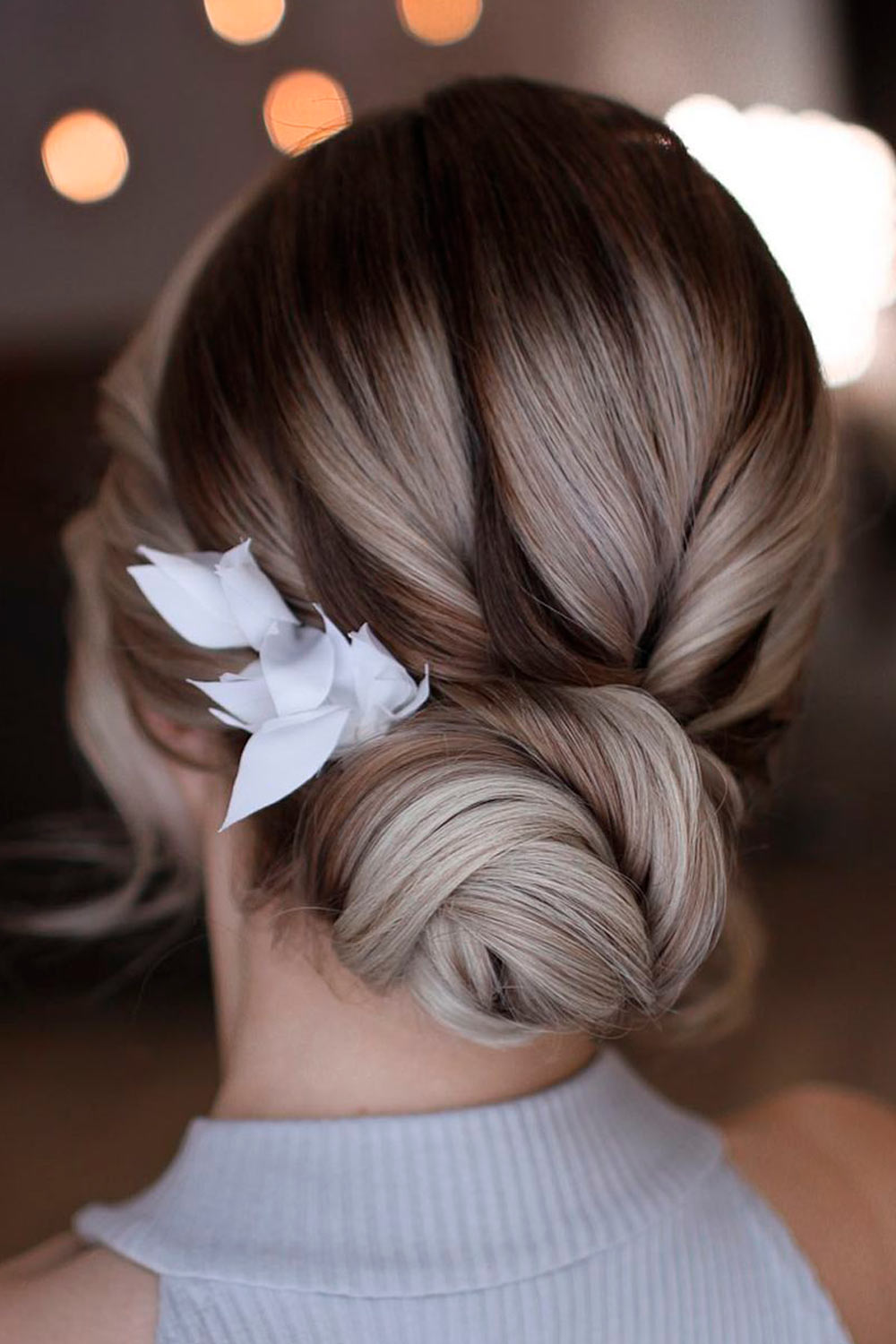 Credit photo: @xenia_stylist
i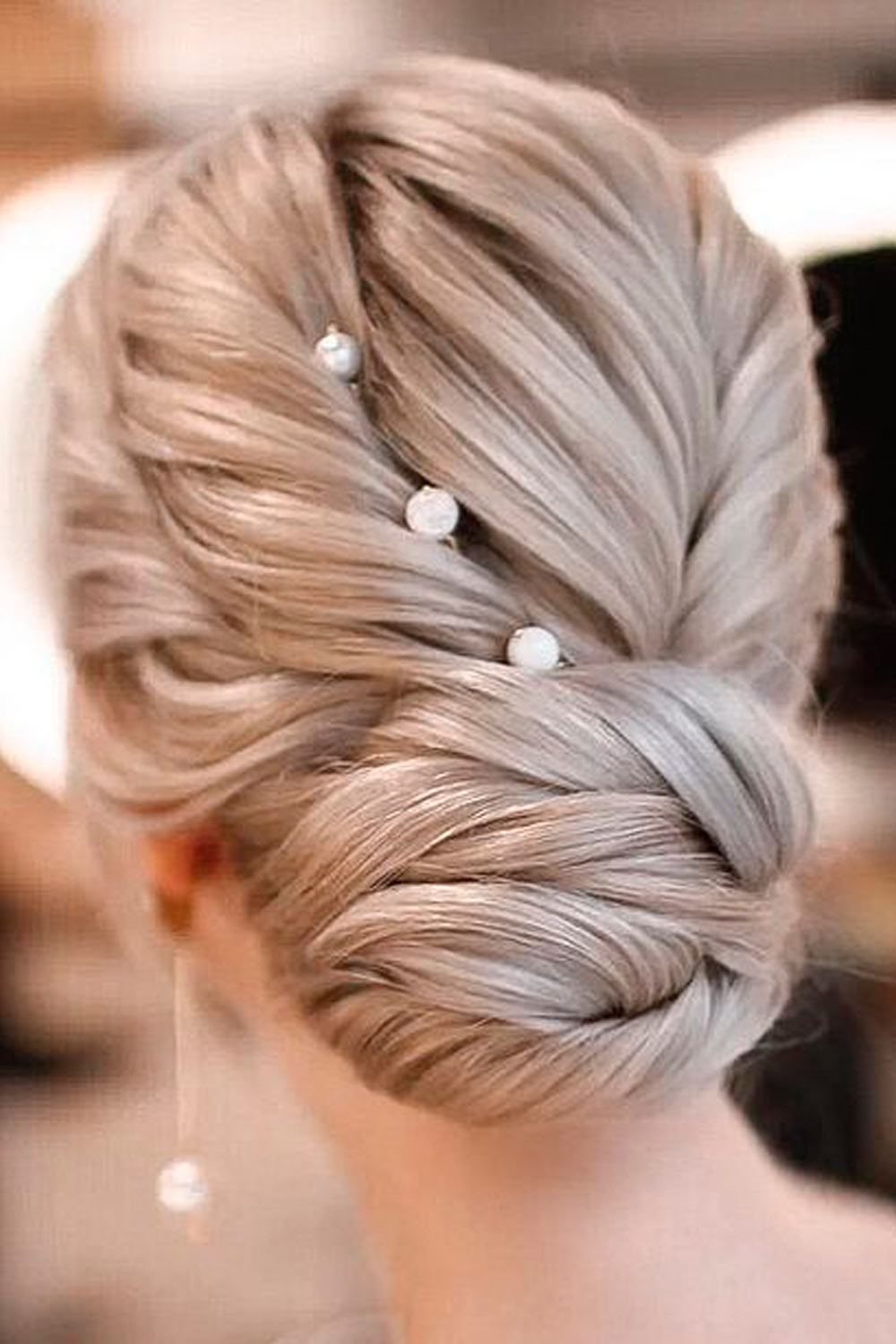 /
Dealing with thick and fine locks can be unbearably tiresome and even exhausting sometimes. Ladies with such hair types spend hours to tame their hair, and usually, they end up with unruly falling locks. Actually, there's no better way to smooth your locks out than to copy this updo for heavy thick hair. As you can see, the top is super neat and well-secured, and the rose bun keeps your hair clean and pretty tight.
Mild-Mannered Milk Maid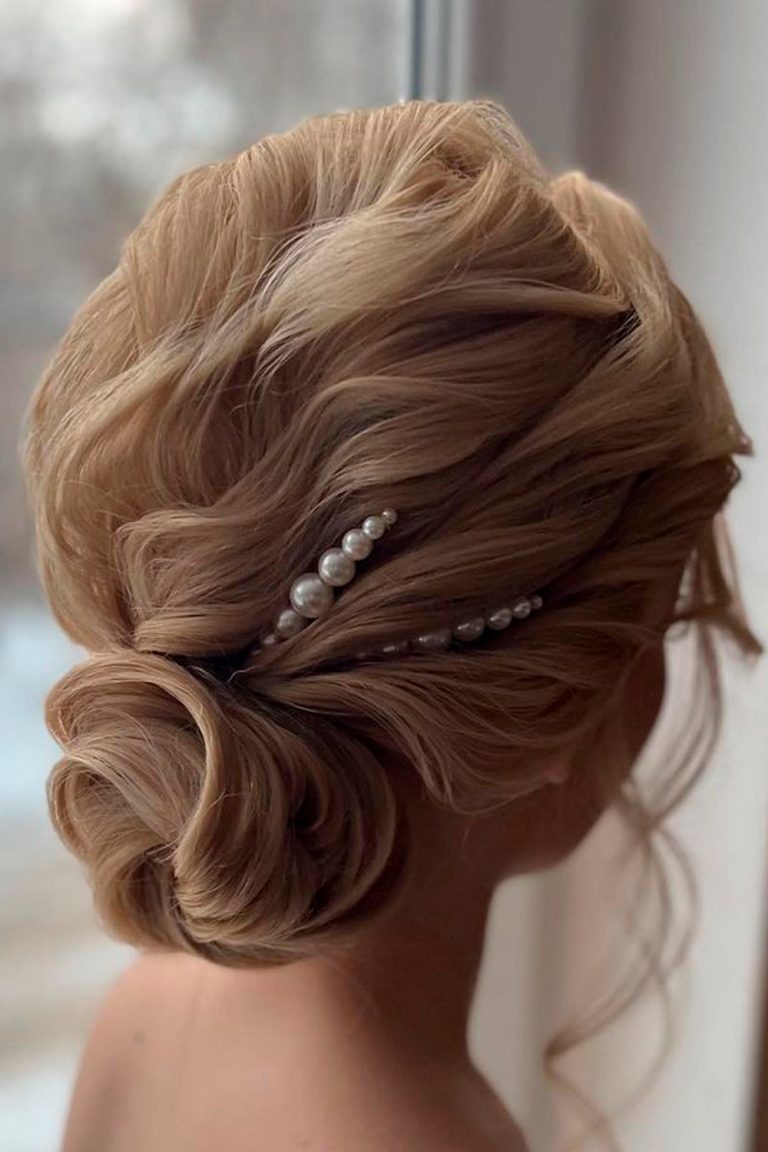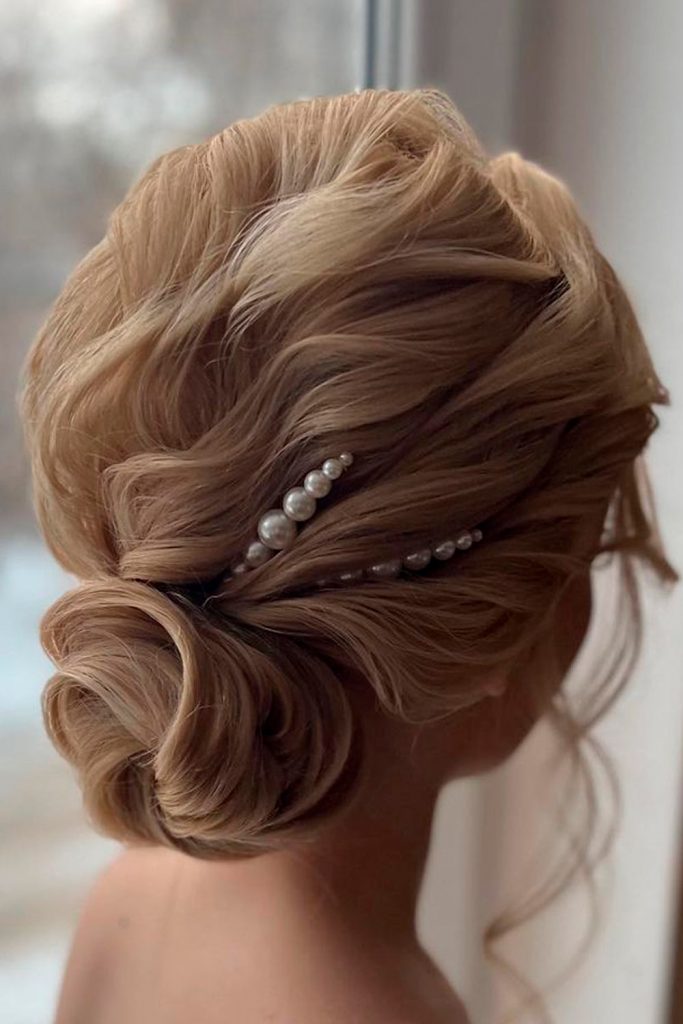 Credit photo: instagram.com/nadigerber
This beautiful updo is youthful and playful. Add pomade to damp hair and blow dry using a paddle brush. Make a side part and then brush your hair until it's smooth. Then make a simple braid and secure it with an elastic. Finish by taking the braid and sweep it across your head, securing its place with bobby pins.
Updo With A Fishtail Braid Element
Credit photo: @lee4you
i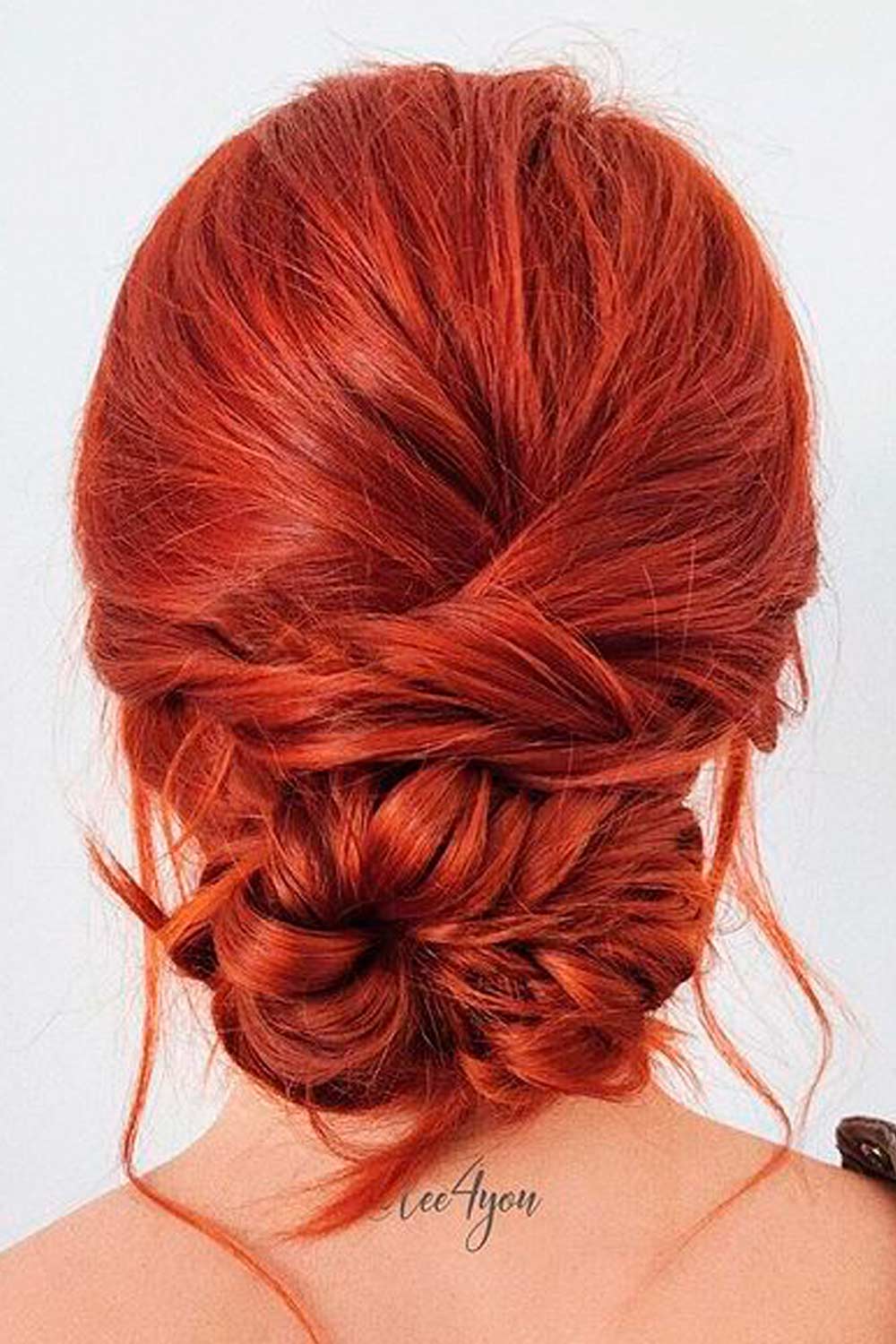 Credit photo: @lenabogucharskaya
i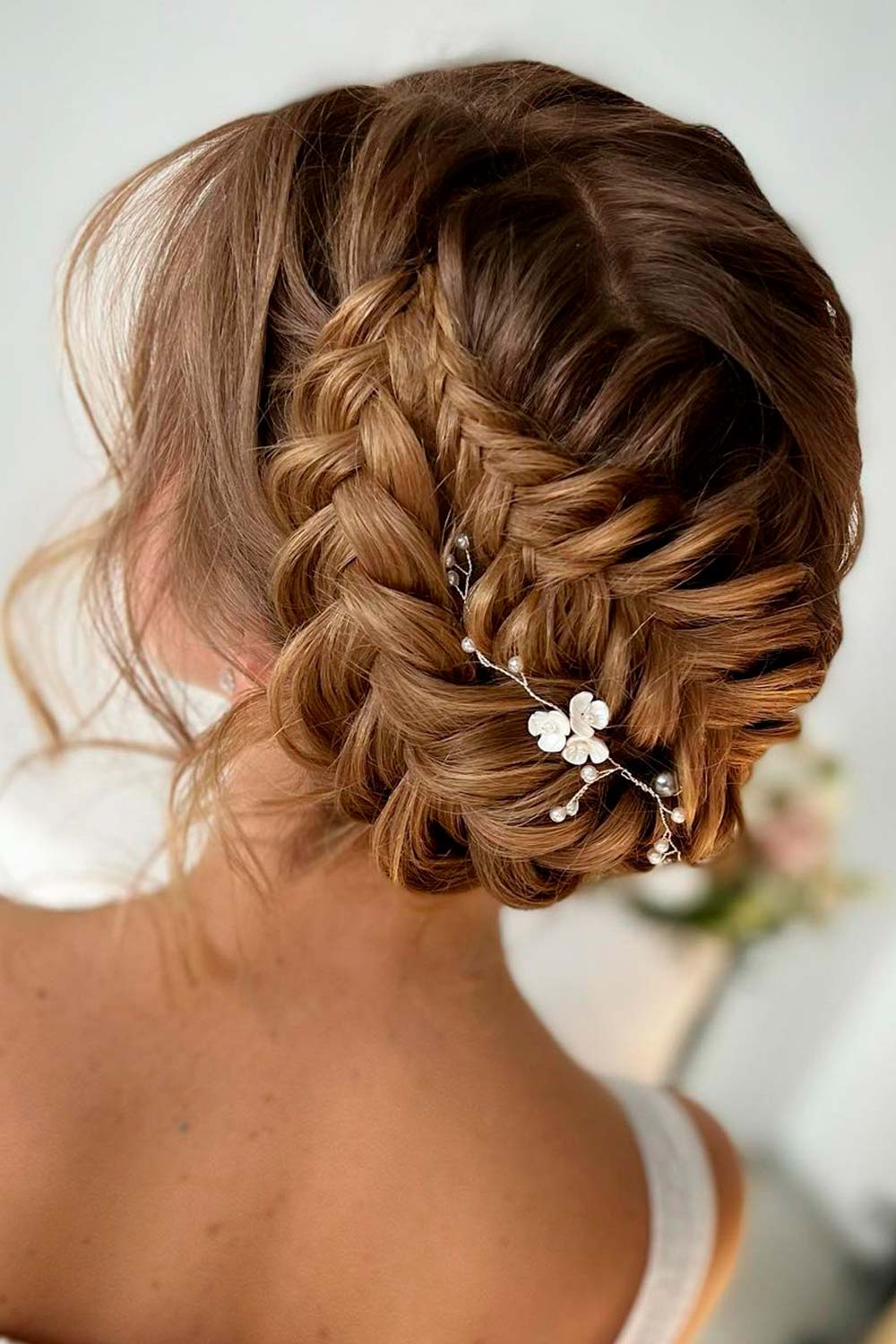 /
Try this fun fishtail braid updo for a sophisticated style. Spritz dry hair with light hold hairspray, smoothing back the side and crown layers. Form a fishtail braid starting at the back crown area and work your way down. Use bobby pins to hold the bid secure, leaving a few soft tendrils to gently frame your face.
Fancy Free French Braid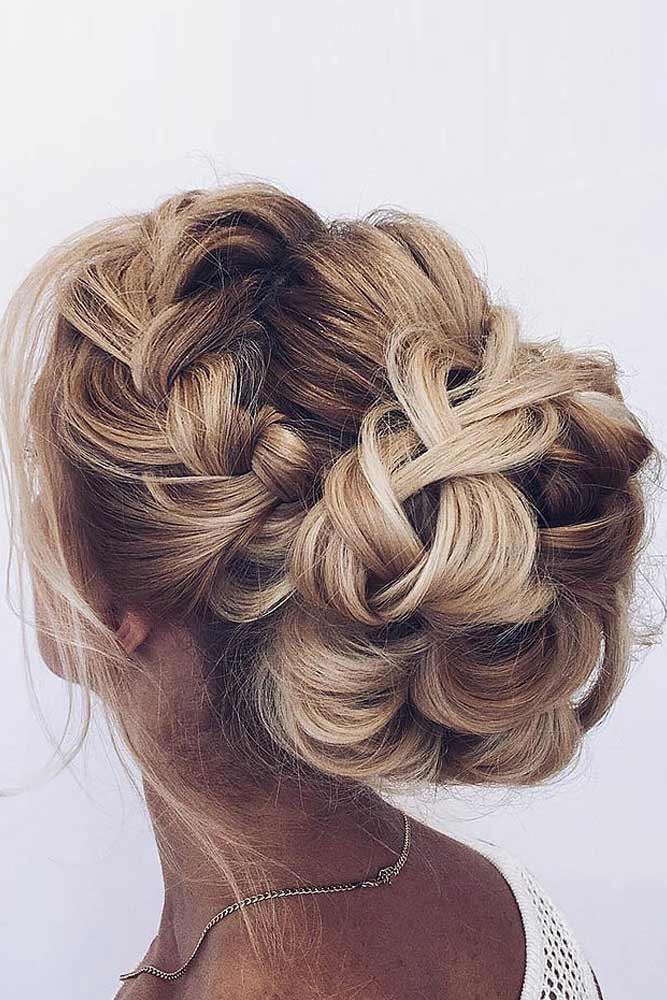 Credit photo: instagram.com/Ulyana.aster
This relaxed French braid can be worn casually or dressed up for a formal event. Spray dry hair with a thermal protectant and backcomb the top of the crown. Braid your hair into a relaxed French braid and twist the braid into a loop, securing with bobby pins, but leaving the ends loose. Pull some of the strands loose to frame your face.
Heavenly Halo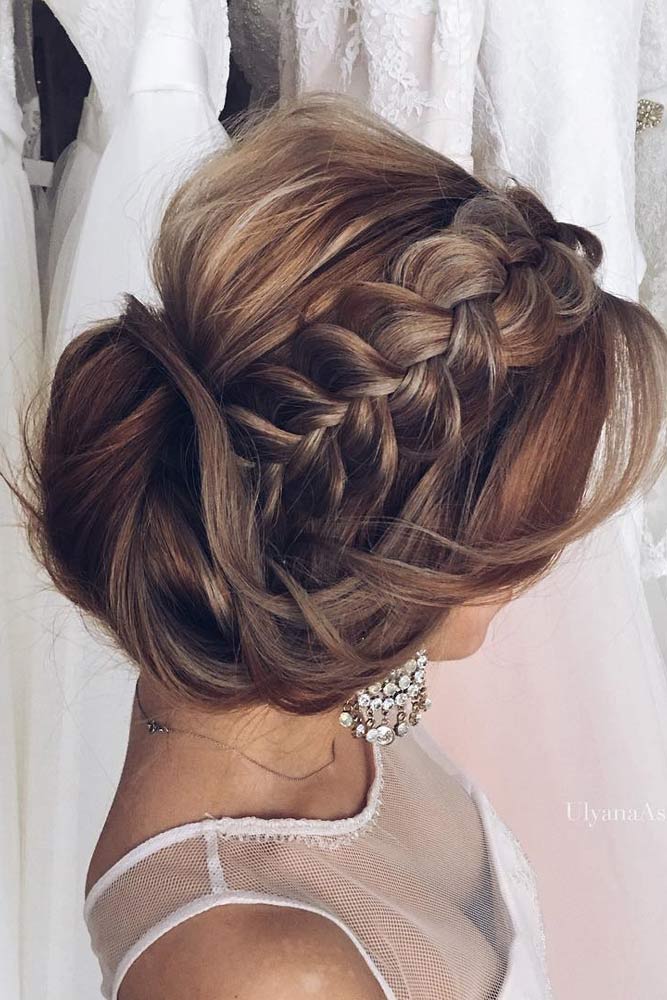 Credit photo: instagram.com/Ulyana.aster
This Dutch style braid is elegantly understated. Spray dry hair with a flexible hold spray and create a soft side part. Braid into a Dutch braid (aka, inverted French Braid), starting at the fringe and continuing all the way around. Then tuck any remaining hair under the left side of the braid and secure with bobby pins.
Bright Colorful Updos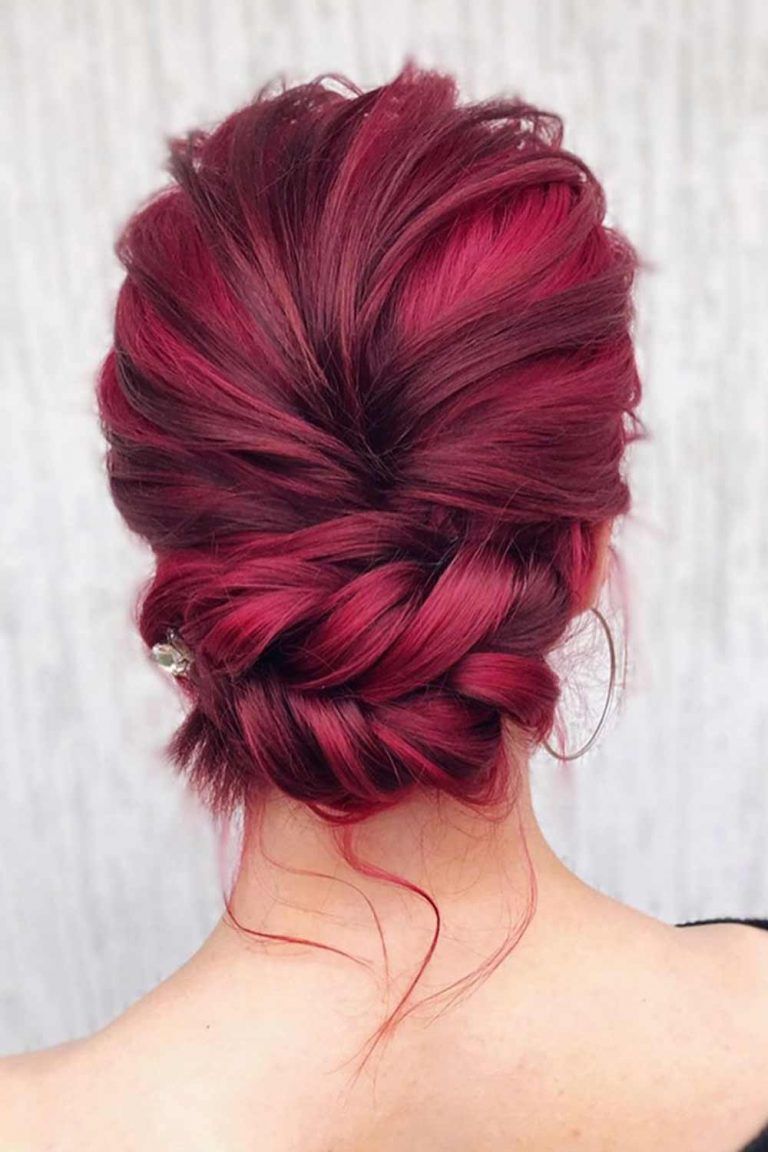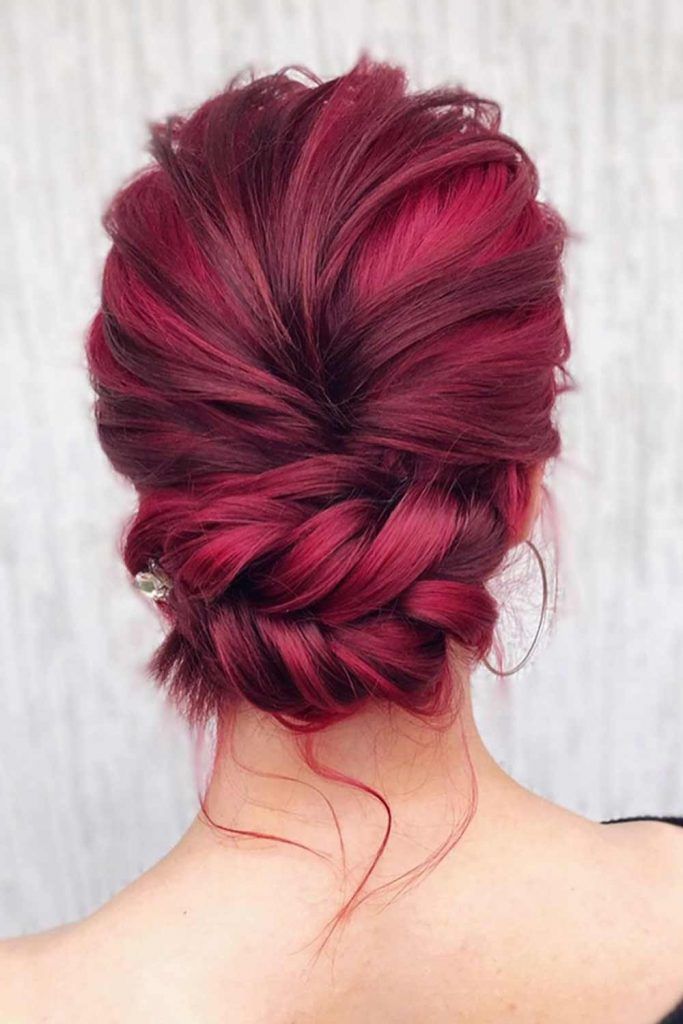 Credit photo: instagram.com/julia_alesionok
If your hair is wildly bright, it does not mean that you cannot pull off an elegant updo.
Crown Braided Updo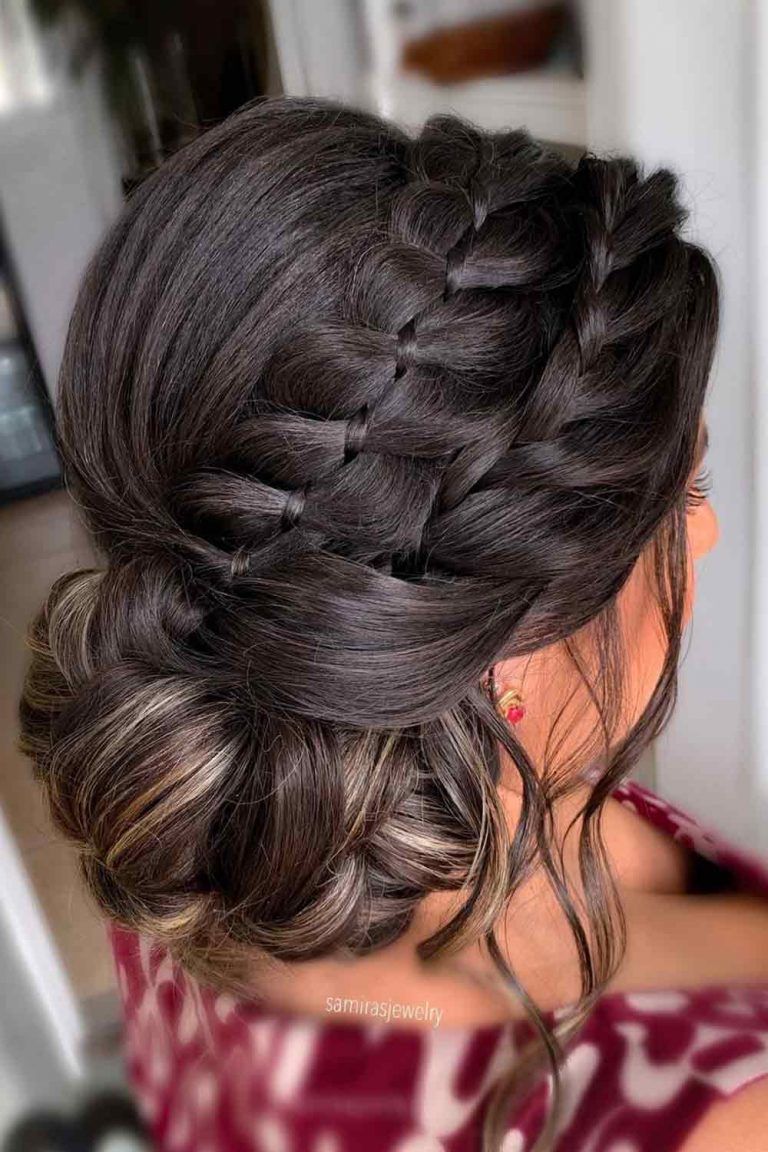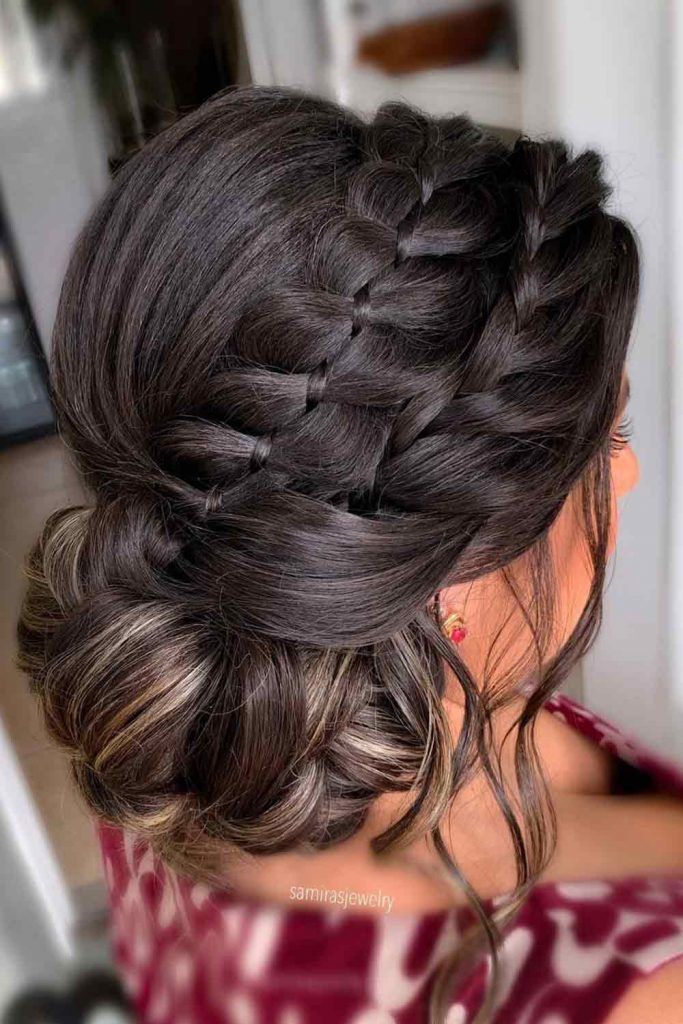 Credit photo: instagram.com/samirasjewelry
During the days when time is at your disposal you can go for something more complex. A crown braid is a perfect suggestion, especially if instead of a plain braid you go for the fishtail one.
Flowered Hairdos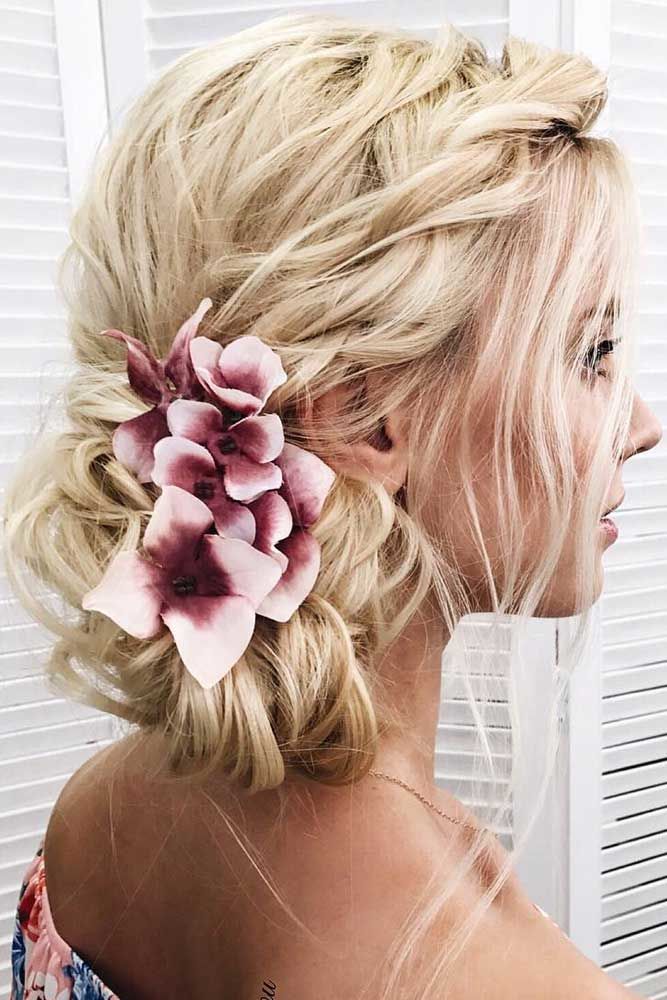 Credit photo: instagram.com/lee4you
It is a well-known fact that flowers can add magic to any type of hairdo. Not to mention the braided updo. The magic vibe this 'do with flowers projects won't leave anyone indifferent!
Braided Updos For Long Hair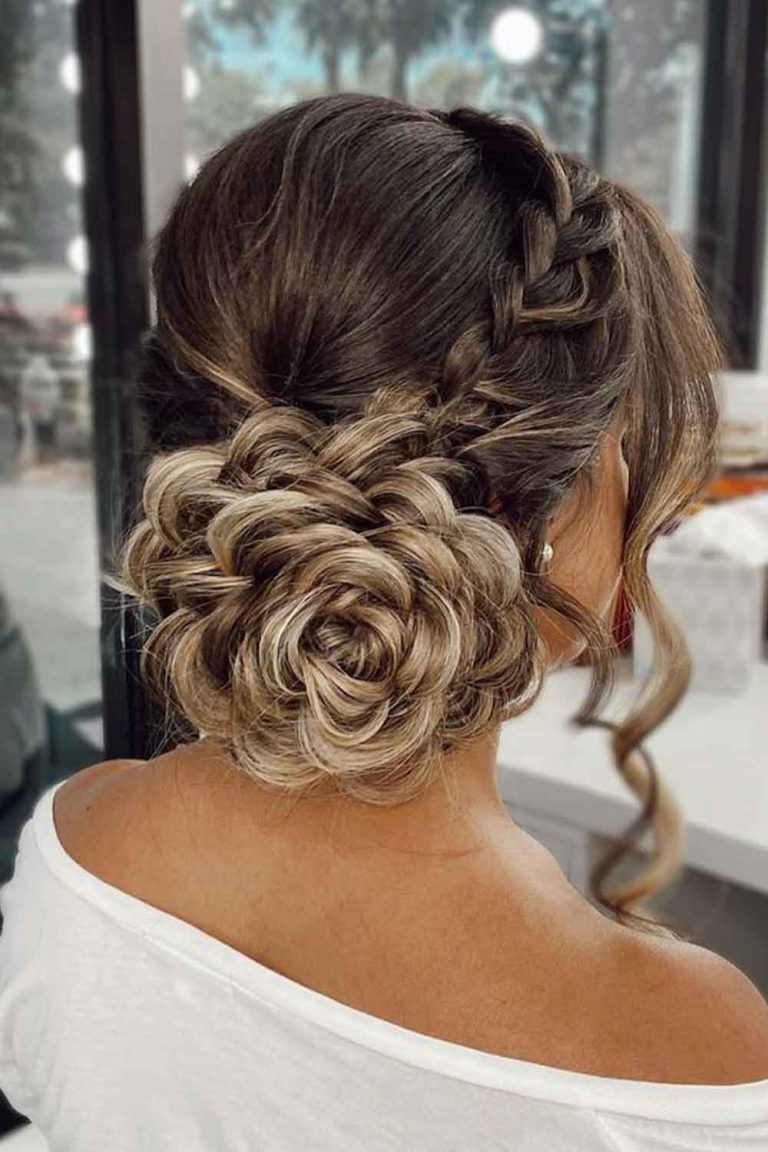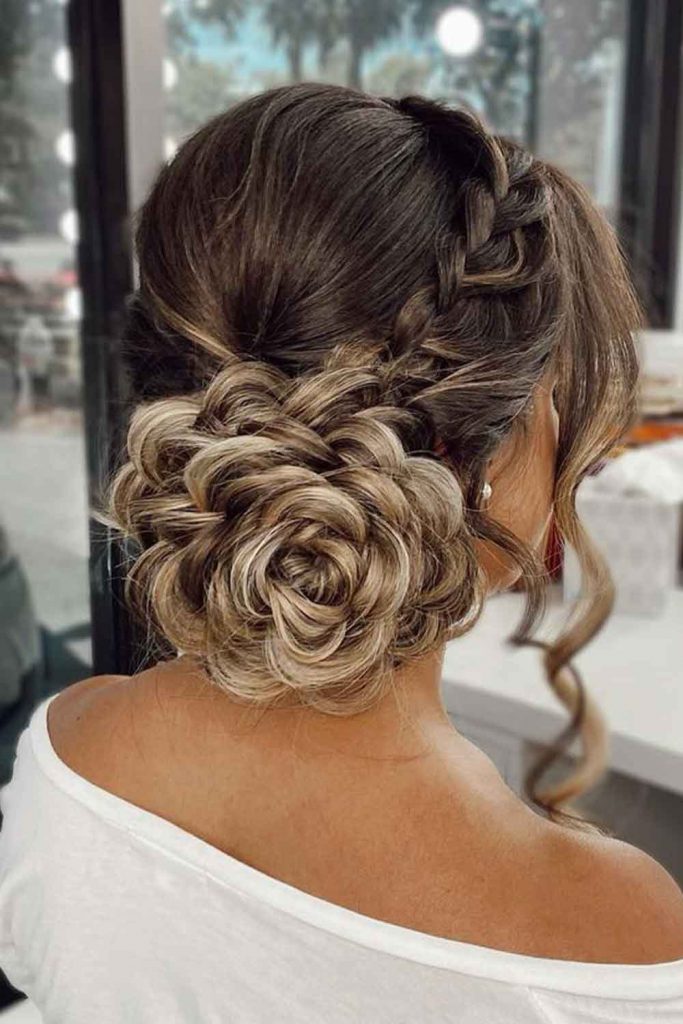 Credit photo: instagram.com/samirasjewelry
Among all the hairdos for long hair, we would like to draw your attention to the braided ones. When there is a combination of a lightweight side braid and a nice twisted low bun, it seems that time should just stand still so that you can enjoy the beauty of this 'do to the fullest!
Fishtail Braided Hair Updos
Credit photo: @sweethearts_hair
i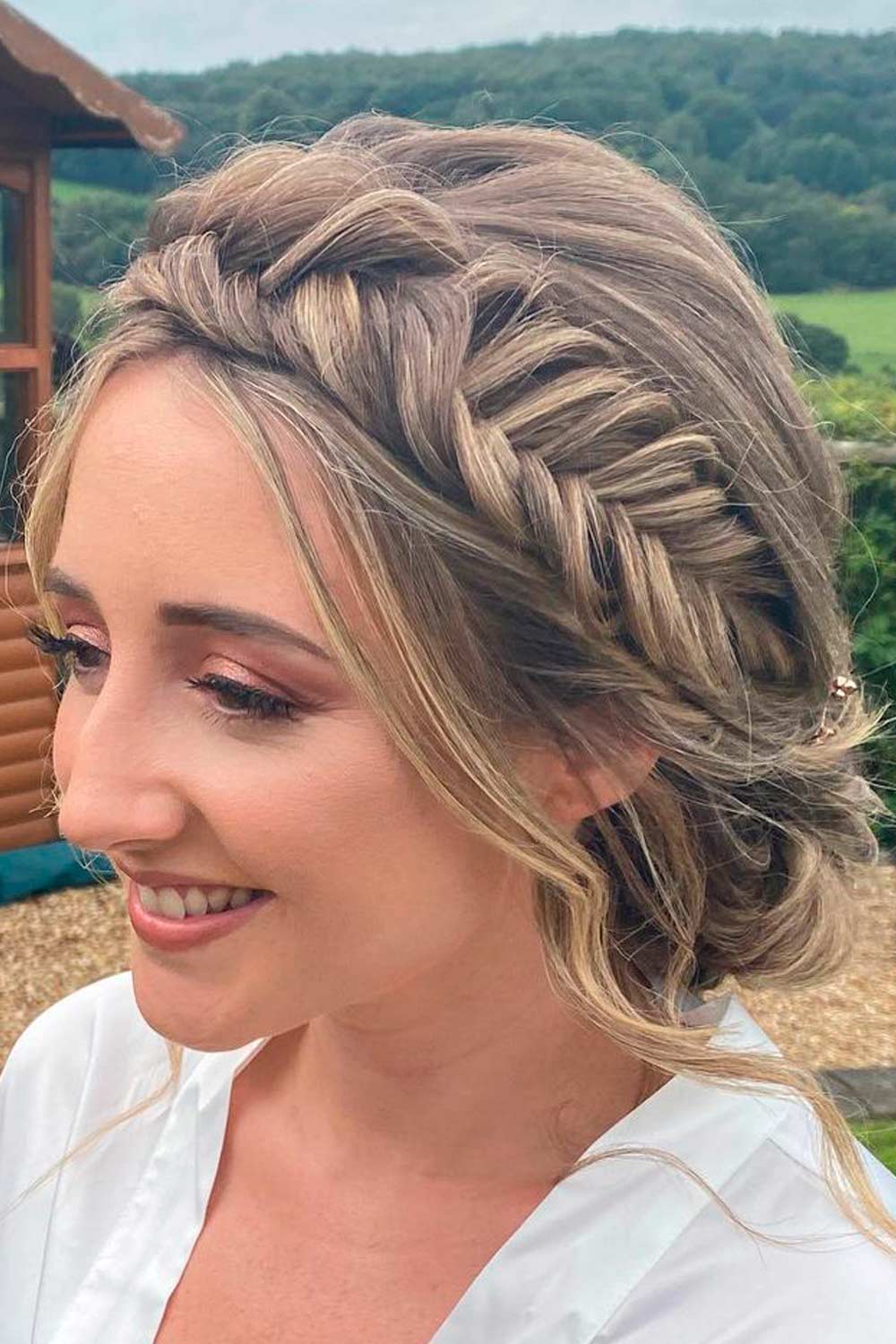 Credit photo: @alexandralee1016
i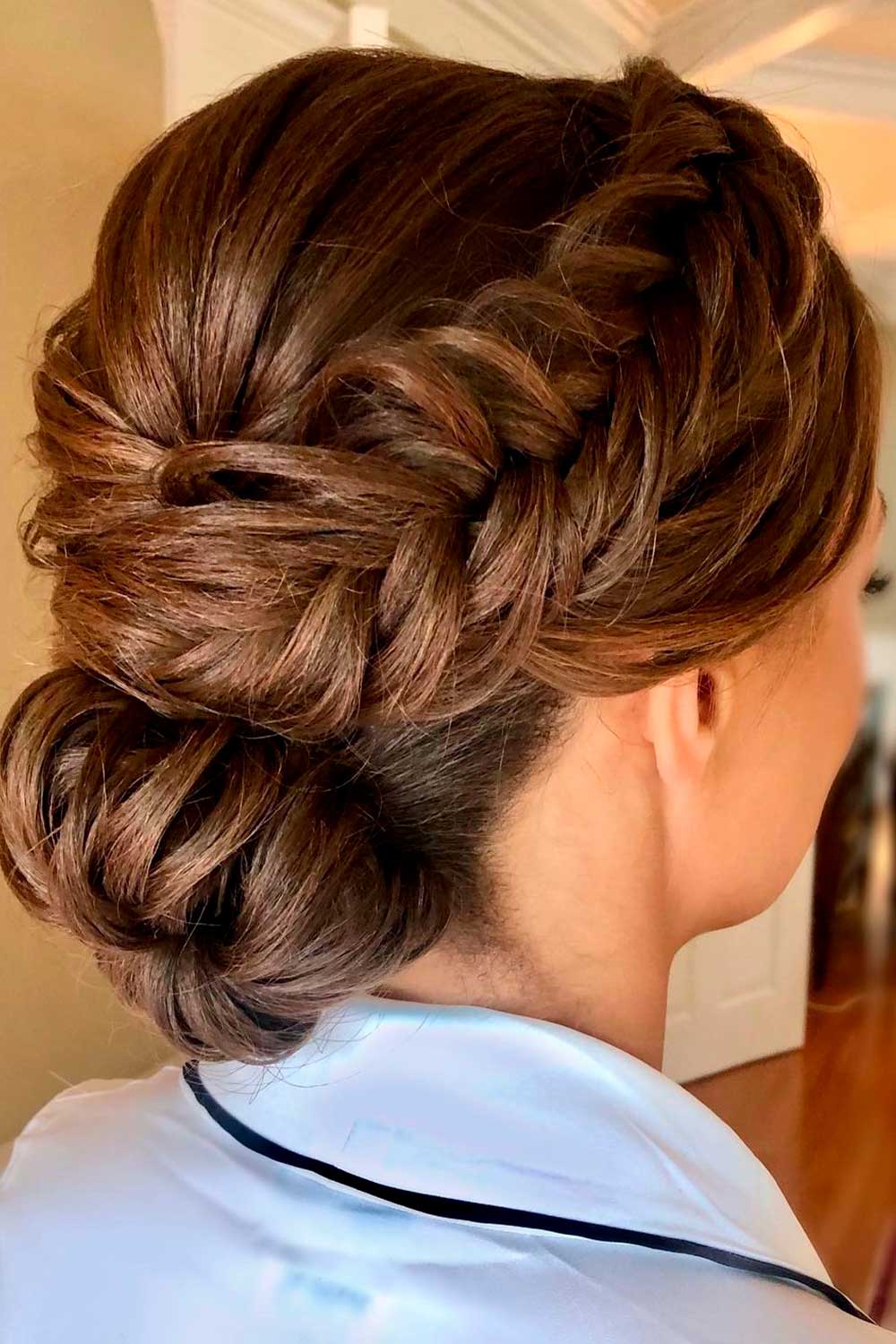 /
The beauty of hair updos lies in their ability to combine different components without losing its charm. Let's say a voluminous braided crown falling into a messy low bun looks simply fantastic.
High Updo Hairstyles
Exquisite High Bun For Long Hair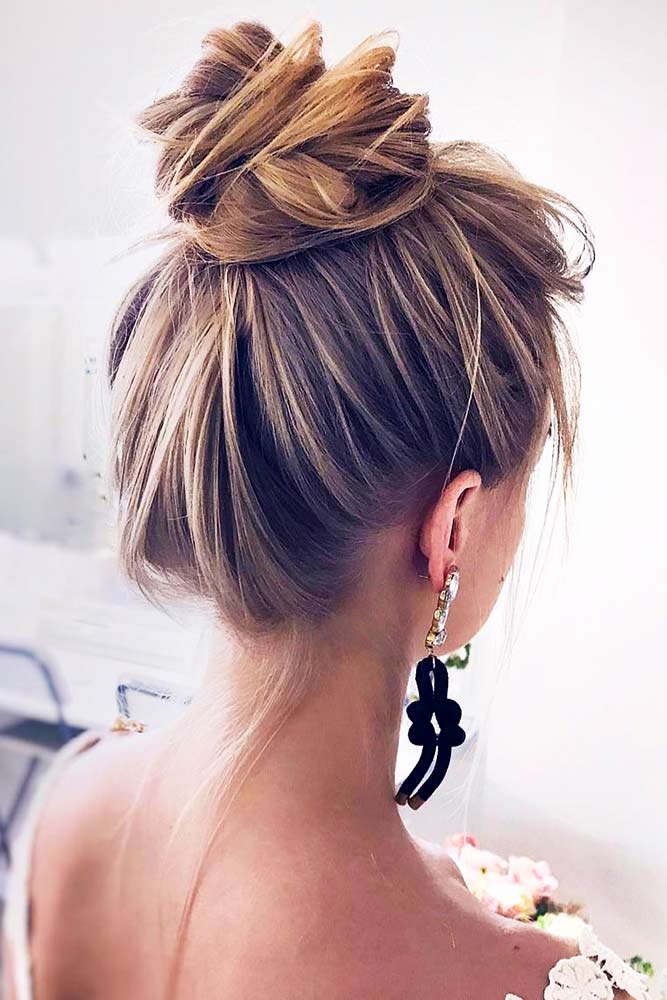 Credit photo: instagram.com/tonyastylist
Bun updo hairstyles for long hair have many faces: they can be very neat, tight and polished, as well ass high, twisted and messy. It seems like there's a bun hairstyle for any kind of woman. And if you're that kind who likes volumetric, well-balanced, and full high updos, this idea is for you. The slight messiness of this silhouette will give you a seeable lift to the hair, while loose twisted bun will open up your beautiful shoulders. It's actually a nice look for your bride or bridesmaid style: it's simple, yet charming and exquisite.
Simple, Yet Chic Messy High Bun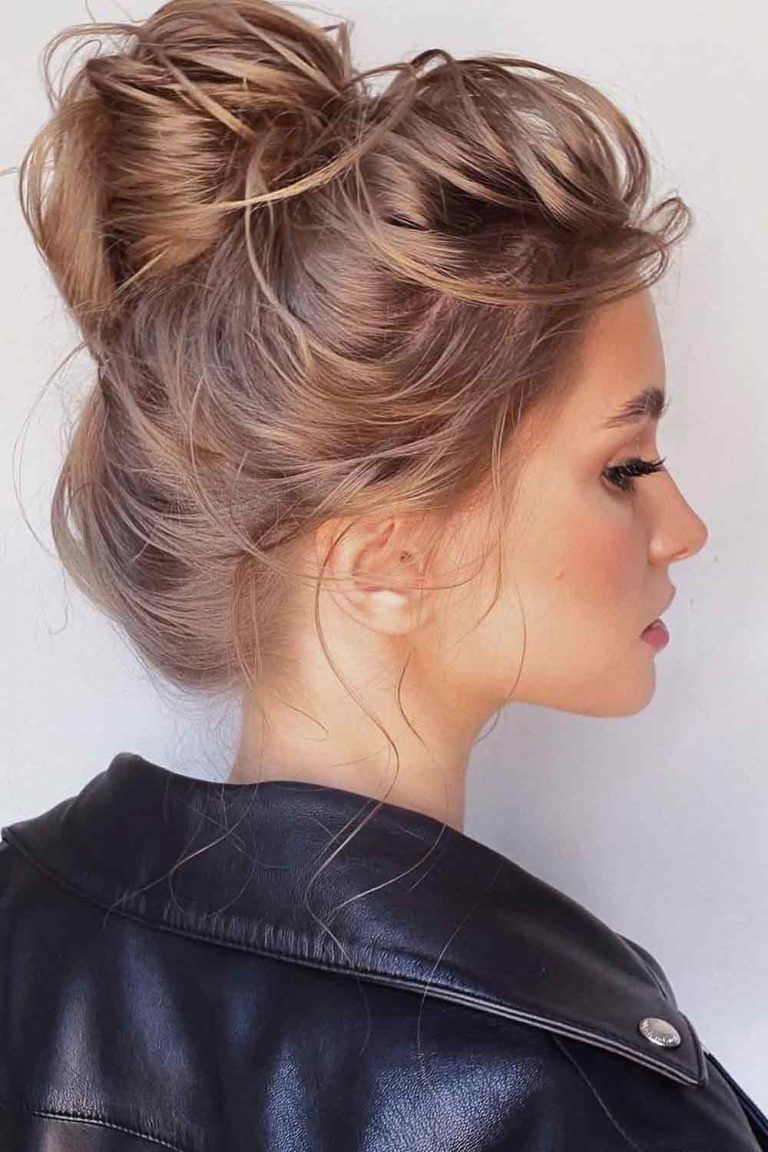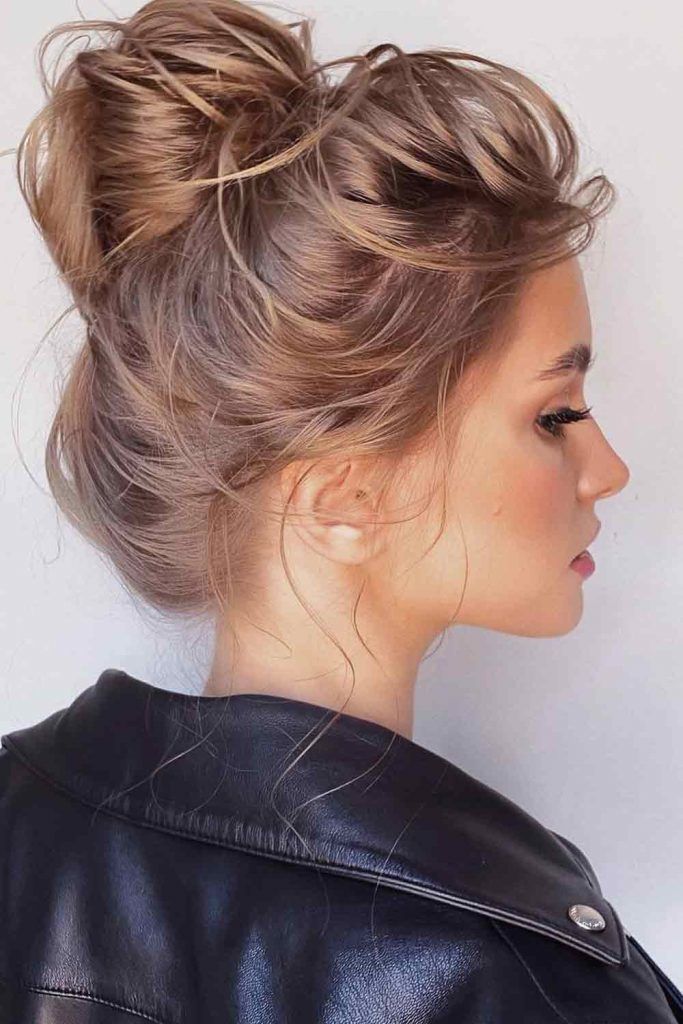 Credit photo: instagram.com/lenabogucharskaya
The famous phrase "I woke up like this" actually fits this simple and messy context. It's pretty obvious that getting such a hairstyle requires nothing but boldness, as it may appear quite outrageous. Still, it looks terrific when it's combined with a stylish head scarf and fancy massive earrings. Yes, you don't have to brush your hair and style it neatly to get sexy updo hairstyles for long hair: this simple bun with messily sticking hairs is the proof.
Simple And Cute Bun Updo
Credit photo: @lenabogucharskaya
i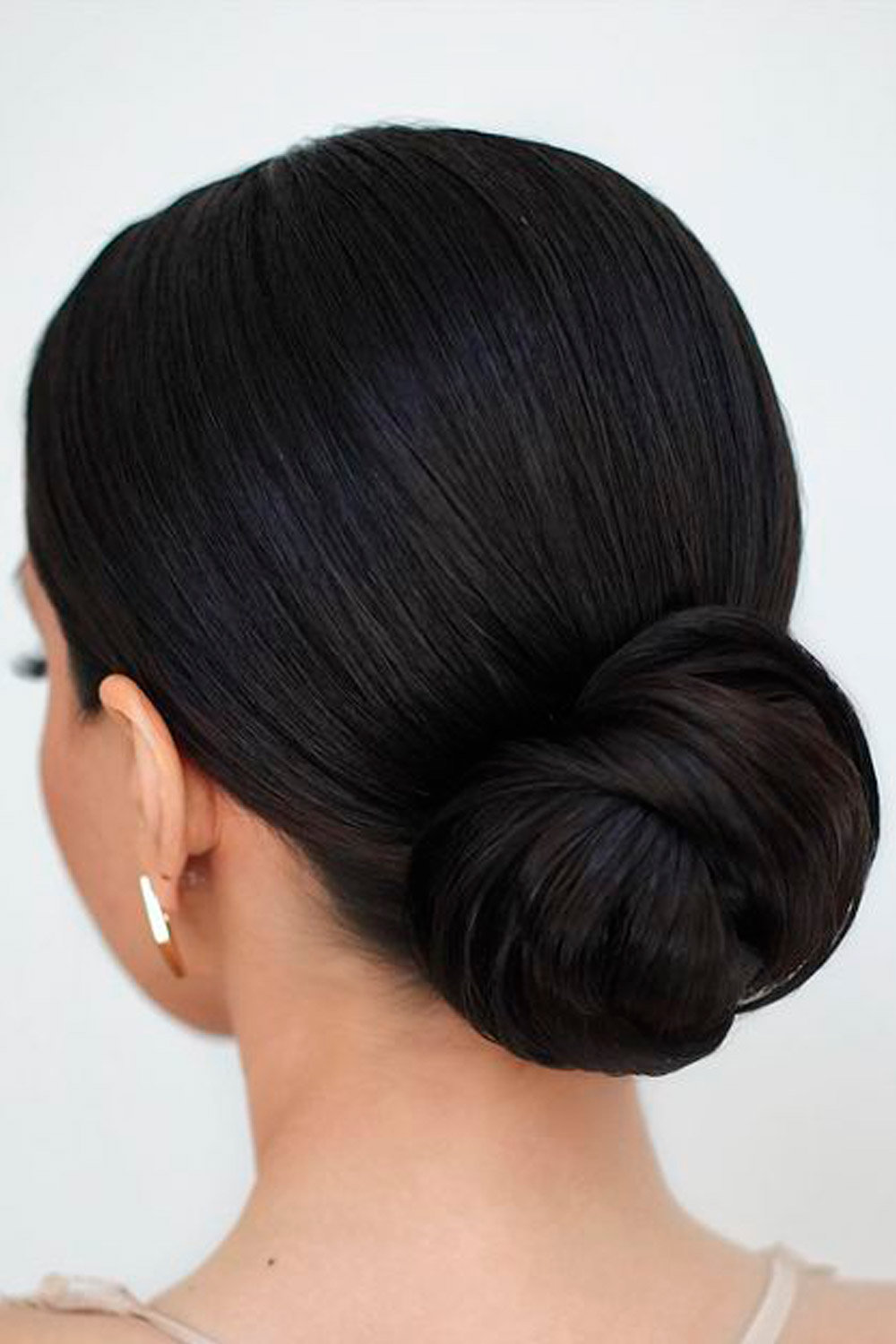 Credit photo: @hair_vera
i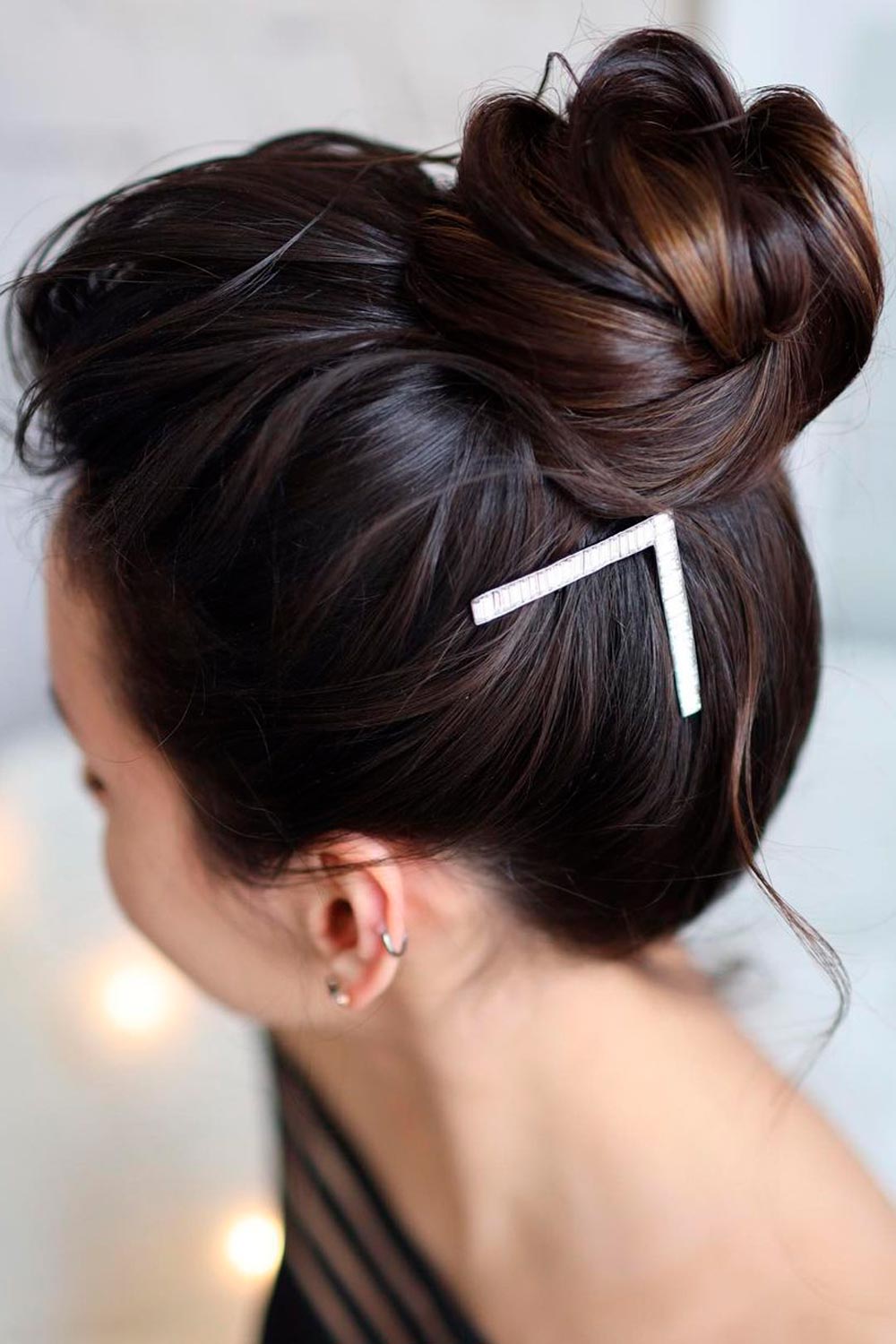 /
When you have no idea how to do a simple updo for long hair, this idea comes in. There's one thing you should know about it: a truly simple hairstyle is when you simply put all your hair up and wrap it around the high base. No extra pins, no extra movements: only a couple of turns on the crown. Look at this pic: isn't that the cutest bun you've ever seen?
Bun With Side Fringe Styling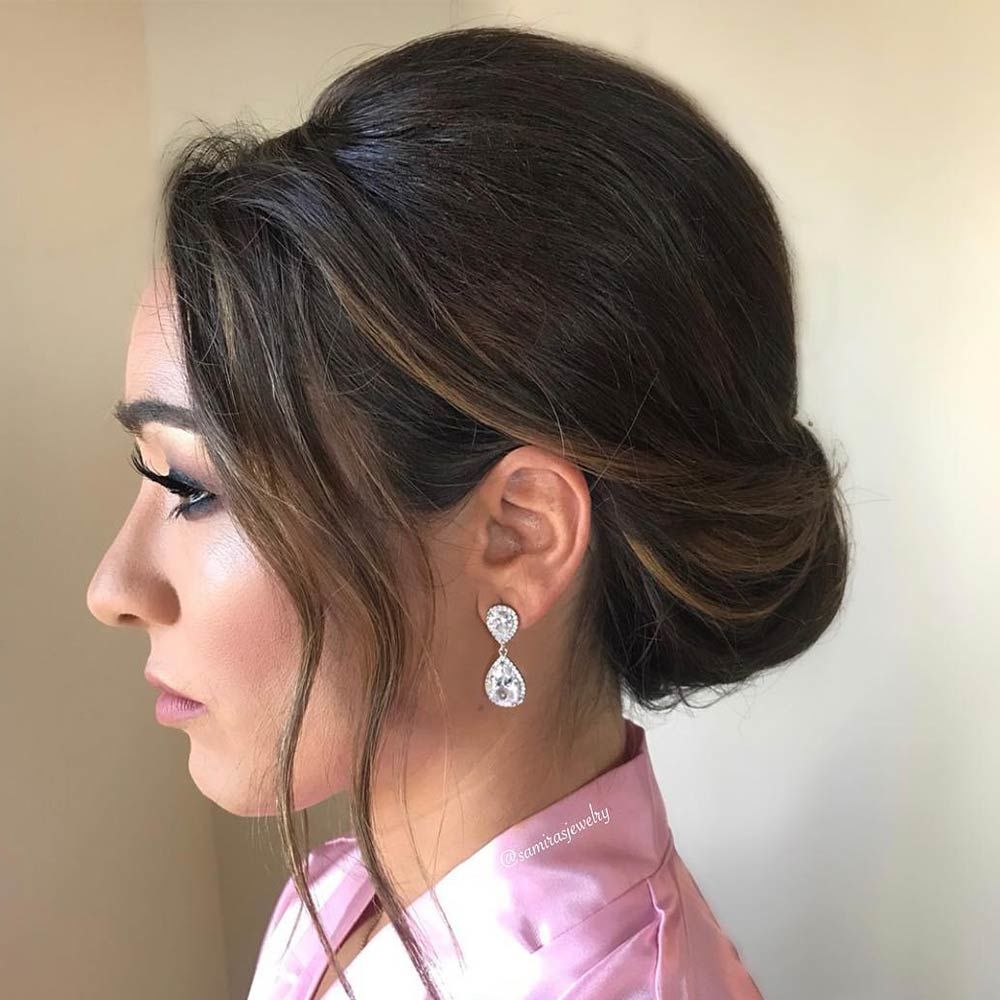 Credit photo: instagram.com/samirasjewelry
Who would've thought that a long side fringe that falls on the face could make a really elegant and chic hairstyle out of simple bun? It's hard to believe that such a noble style takes less than 10 minutes. First, you slick back your hair, leaving a front side fringe loose and keeping the rest of your hair in a little high bun. Then, you look in the mirror and see the pure, minimalistic style perfection.
Voluminous Twisted Updo With Headband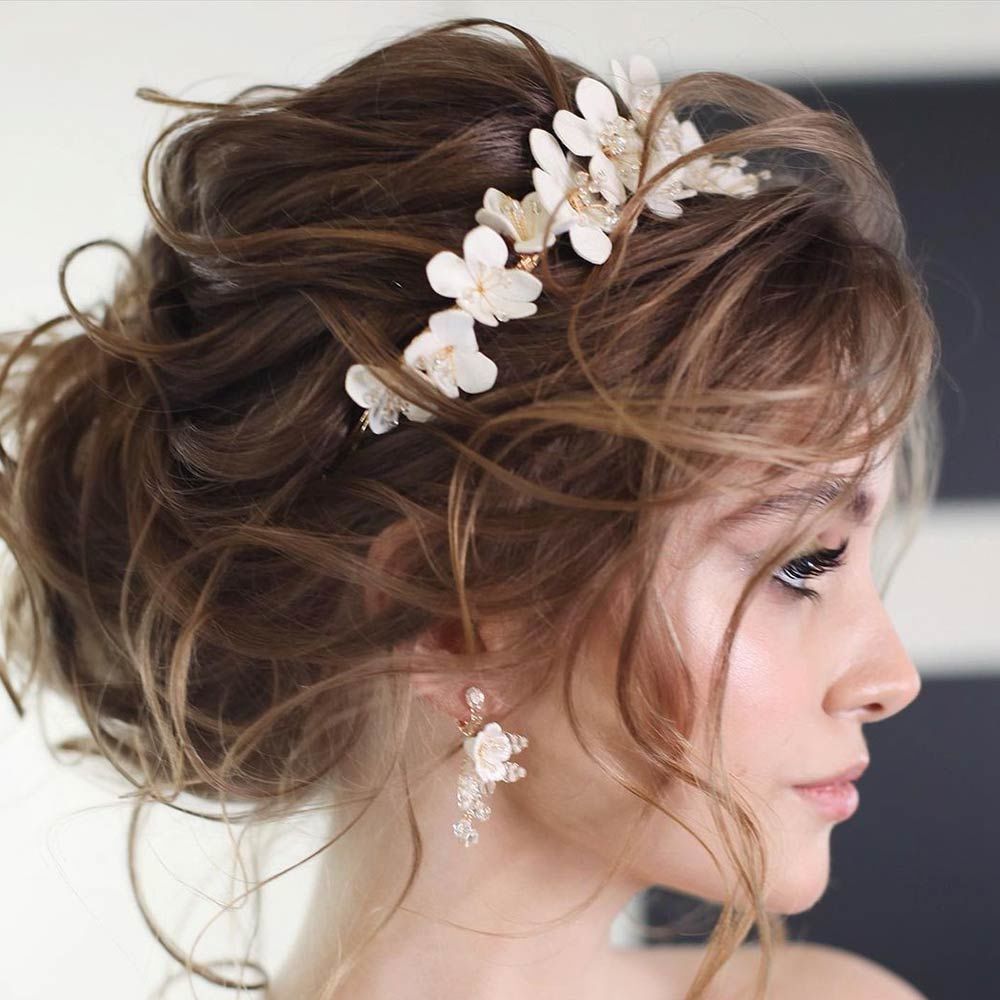 Credit photo: instagram.com/lenabogucharskaya
Volume has always been a desirable feature, and, as we all remember, Audrey Hepburn has taken its importance to a whole new level. So how do you like the idea of super voluminous vintage-inspired updo hairstyles for long hair? Tousled crown with a terrific lift, a neat twist on the back of the head, and a fancy finish with a headband: it's simply perfect.
Crown Bun Updo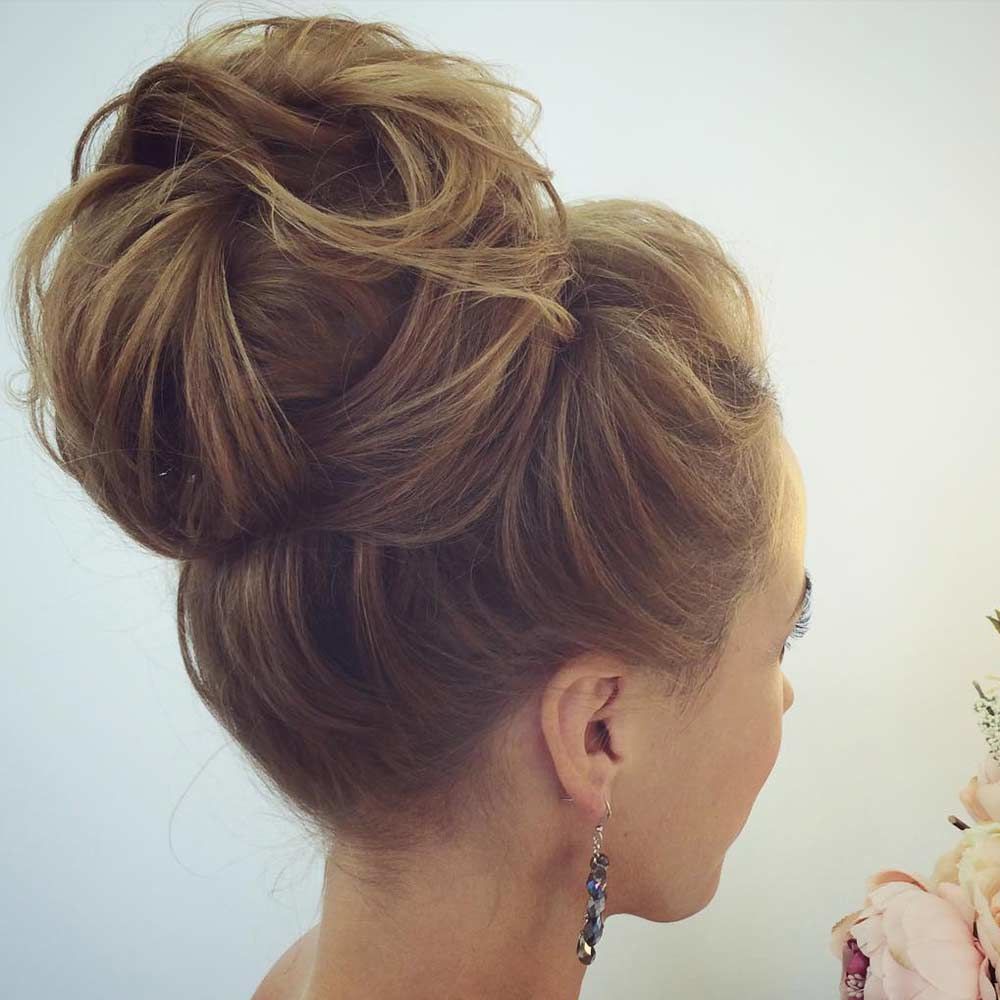 Credit photo: instagram.com/lenabogucharskaya
Meet another style that will show you how many things you can create with your posh chevelure. Firstly, this idea is one of those updo hairstyles for long hair that can achieve the real potential of your hair, showing how creative you can be. Secondly, a high updo of twists and stitches that looks like a crown proves that your hair is but a canvas to your imagination!
Easy Updos With High Buns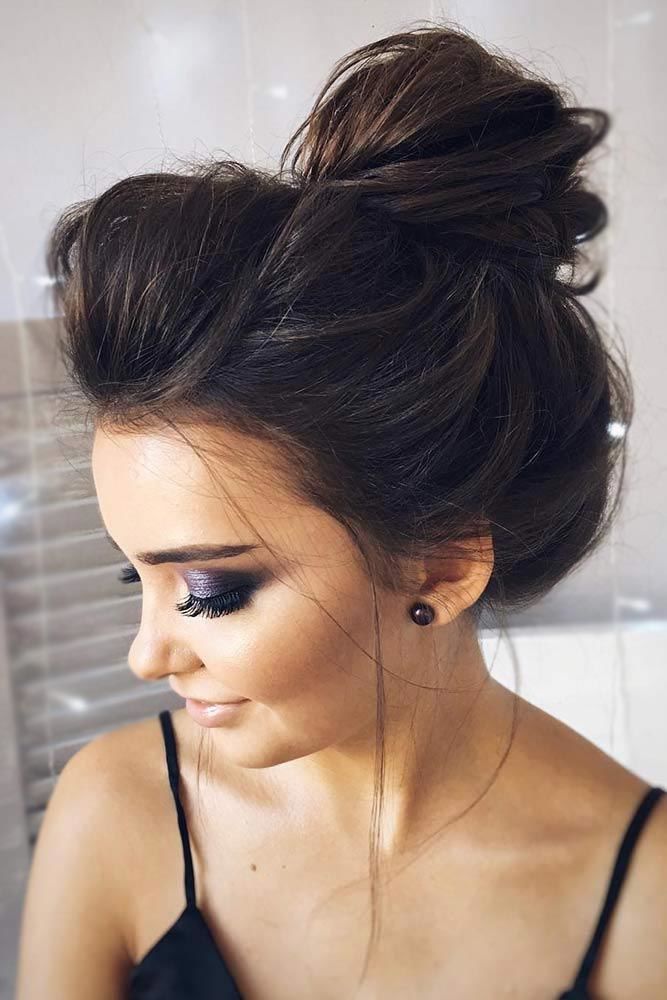 Credit photo: instagram.com/tonyastylist
If easy updos are your cup of tea, then you have come to the right place. Although there is nothing easier than a top knot, it doesn't always look basic. Still, when a regular one is too boring for you, you can add some sleek braids to the back. Or, you can focus on the texture, adding more volume and movement with textured elements, for example.
Updo Hairstyles With A Bun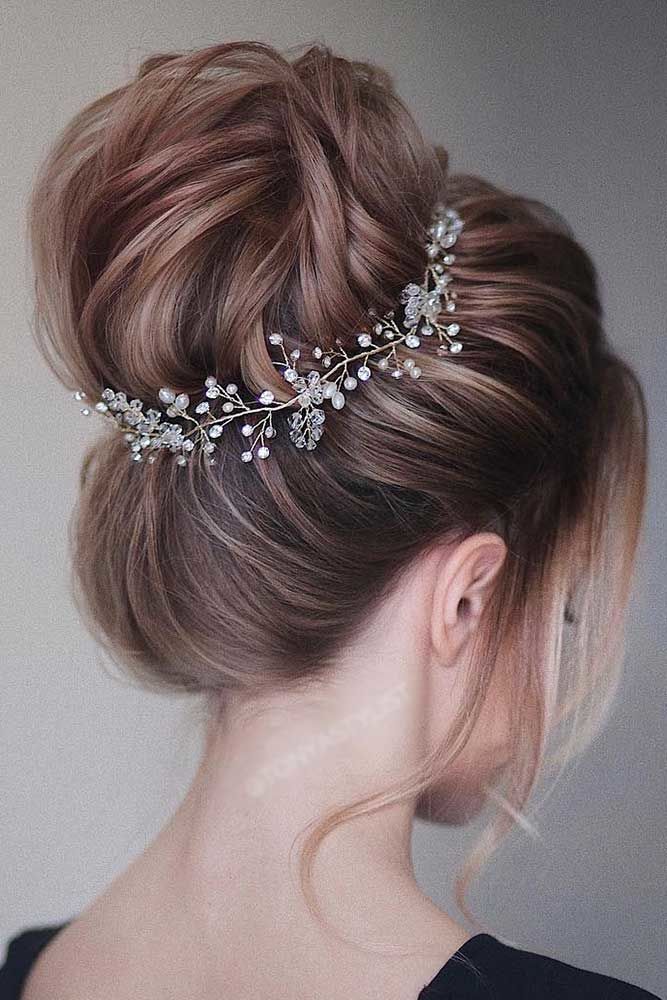 Credit photo: instagram.com/tonyastylist
When searching among updos for medium hair, we couldn't let buns skip your attention. There is something so elegant and universal about buns that it seems they carry the knowledge of past years. Besides being a classic, they can be easily modernized with a touch of accessory.
Long Hairstyles With Bun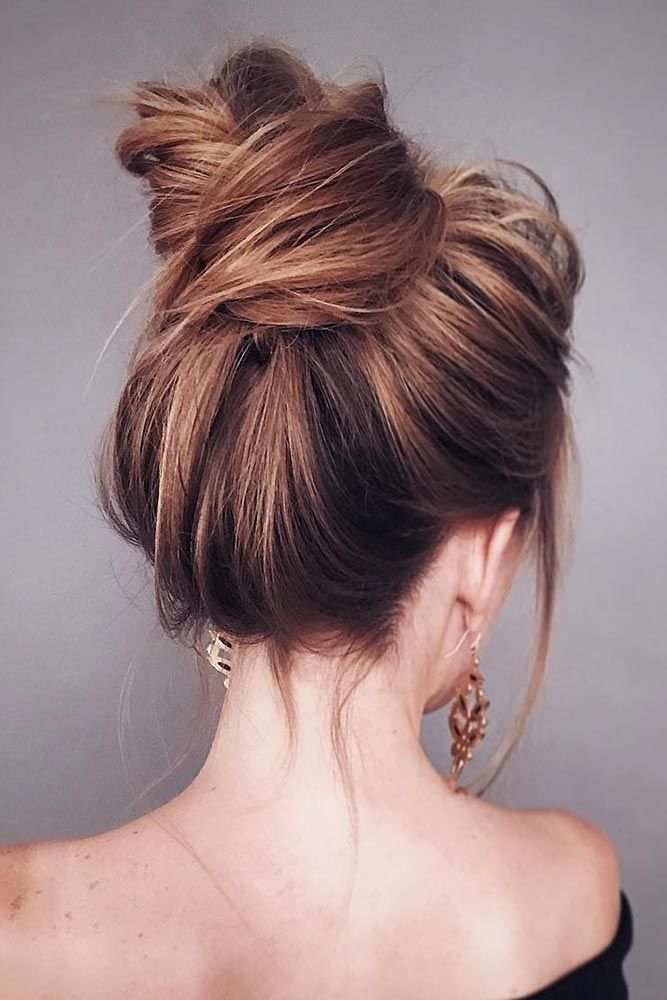 Credit photo: instagram.com/tonyastylist
Both long and short hair can flaunt with flirty and feminine updos. Still, on long hair, those hairstyles turn into an eternal canvas for imagination where you can always add more details to your look. Since you have long locks, you can pull the edges of your bun, adding more volume to the hairdo or incorporate braids and twists, making your hair look more detailed. Here, for example, it's nothing but a simple high bun. But the way this loose and volumetric finish of pulled long hair stands out is just to die for.
Low Updos
Polished French Twist Updo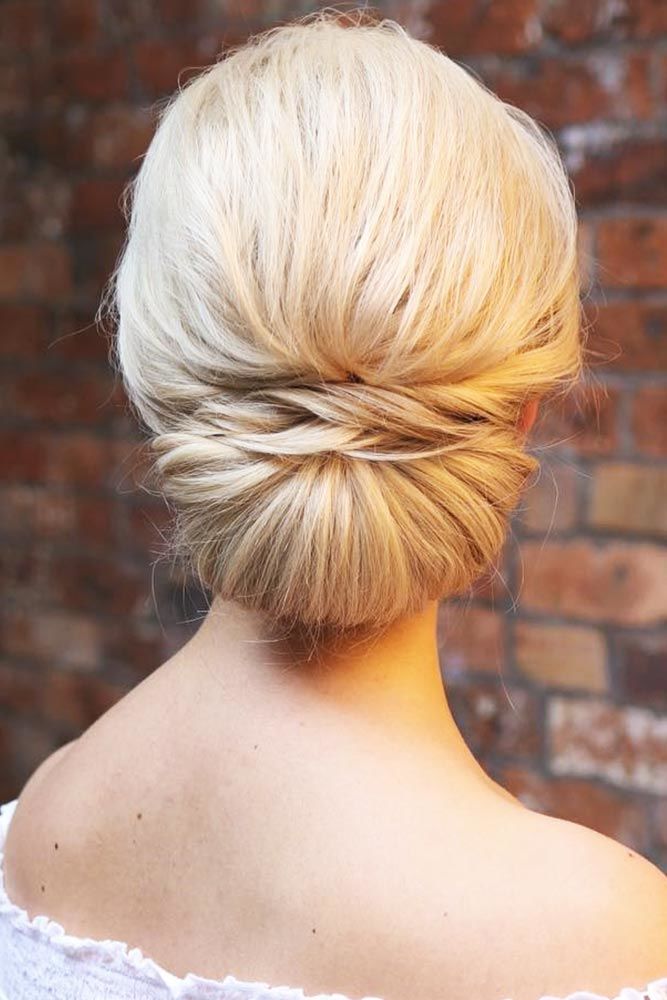 Credit photo: instagram.com/sweethearts_hair
Though the French twist is very minimalistic, it always has all eyes on it. The truth is the fewer details in your look, the more attention it gets. Basically, that's the rule of pure simplicity, and this fantastic, polished look follows it at its best. The crown is voluminous, and the bottom is neat and full; it's impossible not to fall in love with this updo. At the same time, it can whip thin hair into shape, which makes this hairstyle entirely precious.
Voluminous Low Bun Hairstyle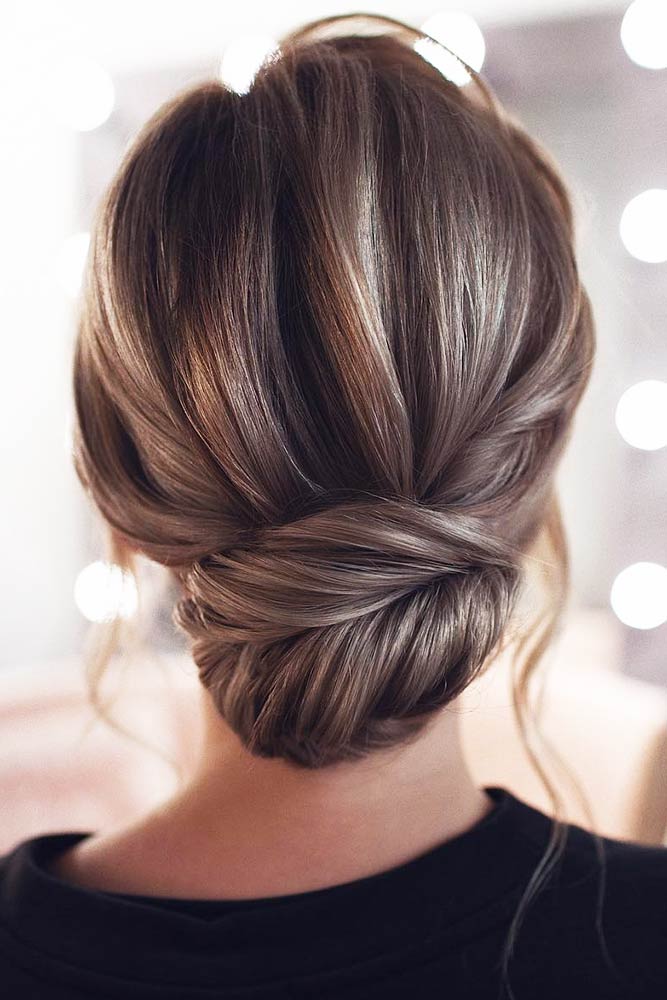 Credit photo: instagram.com/tonyastylist
Volumetric updo hairstyles for long hair are in great demand these days, especially when it comes to formal occasions. For our big days, we always do our best to find a perfect dress, glorious shoes, head-turning makeup, and, of course, a voluminous hairstyle. Believe it or not, this magnificent hairdo takes minutes to get it done. The point is to gently pull the hair on the crown after you've twisted the lower and side sections into a bun because it gives a super lift.
Low Bun With Layered Bang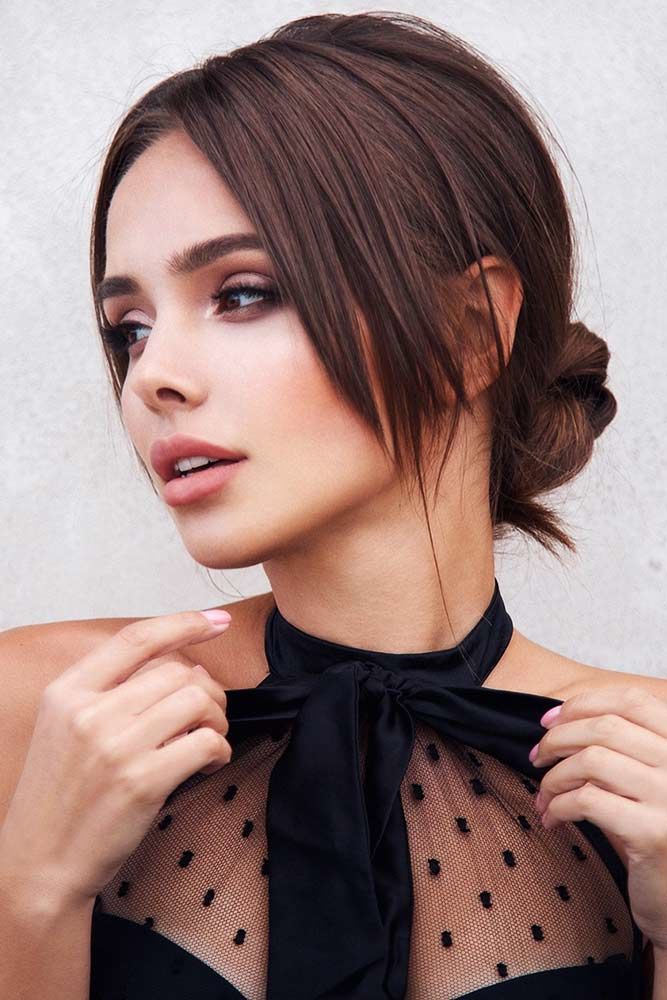 Credit photo: instagram.com/lenabogucharskaya
When you rock any type of bangs, whatever length they are, all these complicated updos with loads of twists, braids, and products applied are just helpless. A low twisted bun can become a refined style with a great sense of simplicity once you spice it up with a fringe. And if it's layered, the texture of your style will be simply on point.
90's Inspired, Double Bun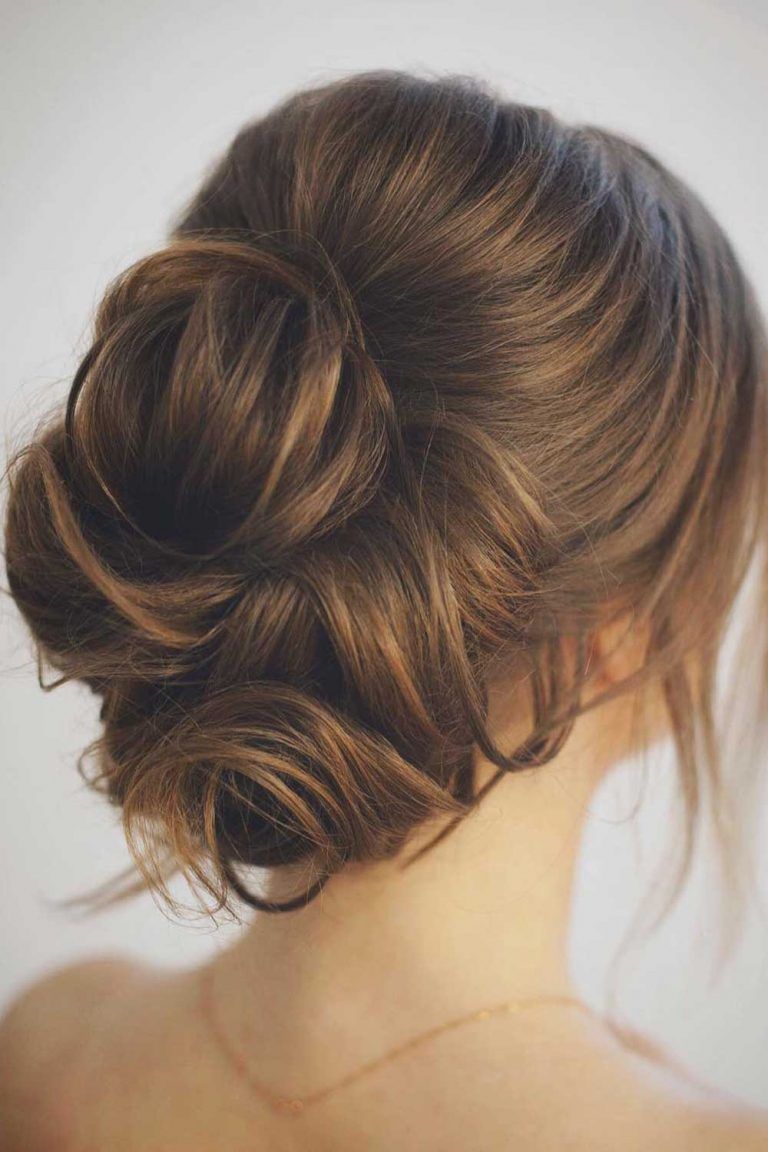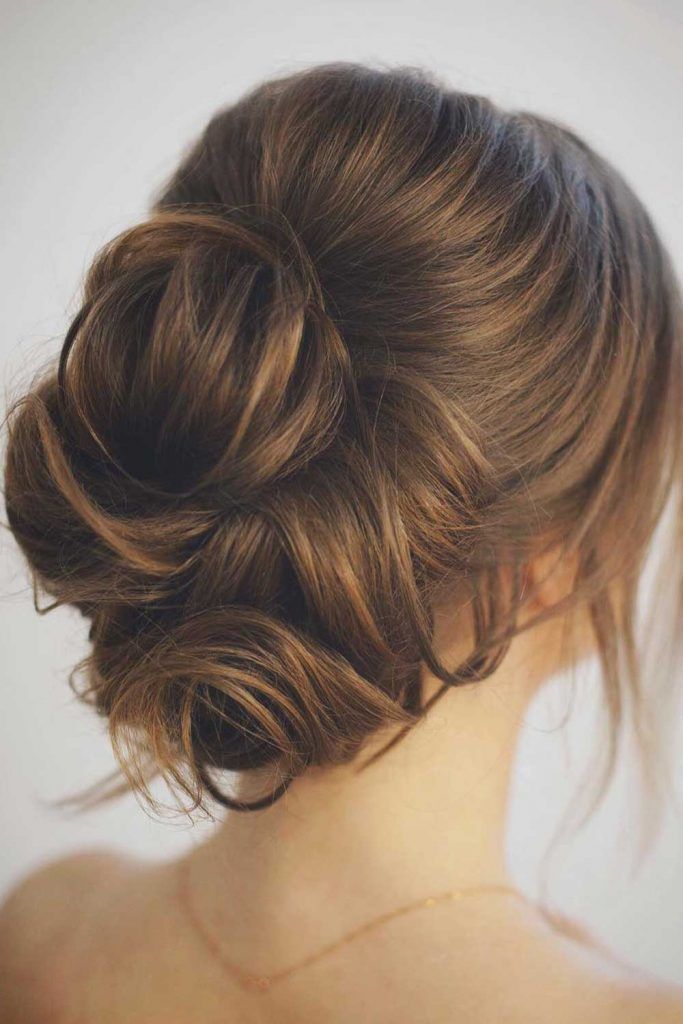 Credit photo: instagram.com/lenabogucharskaya
Even though we call them retro styles, such ideas are ageless. Double bun style with a piece of hair that sticks like a flower: such ideas are so typical of the stylish 90's. Besides, there's much to learn from them! Just look how awesome you can look with a couple of simple twists on the back.
Messy Twisted Updo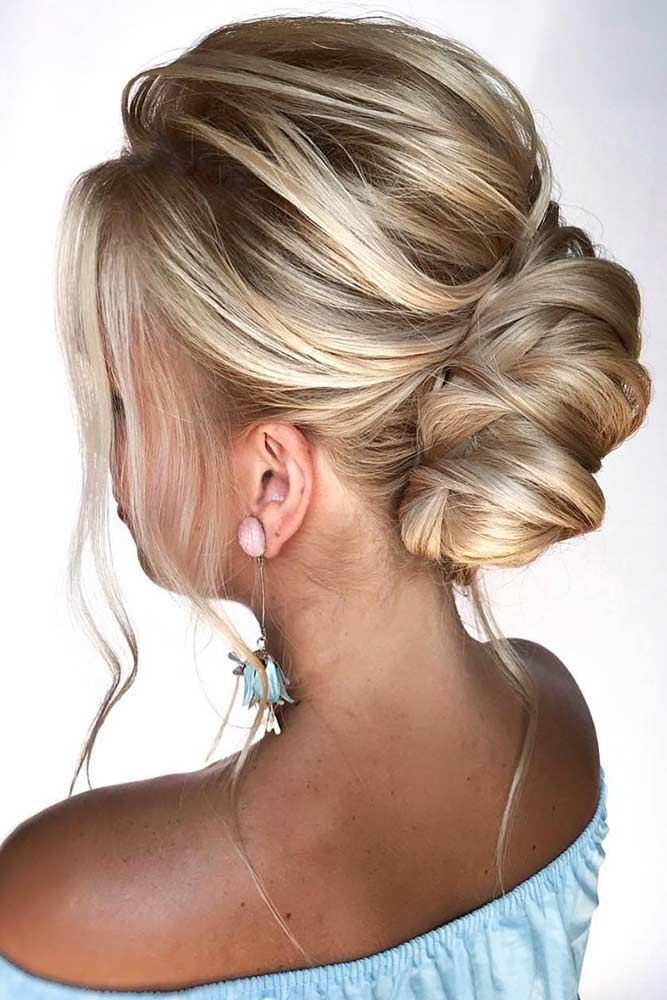 Credit photo: instagram.com/hair_vera
There are some moments that deserve to be perfect: it can be a prom, wedding, anniversary, or even the first date. Of course, nothing can express our mood better than our looks, and a hairstyle plays a significant role, too. This messy twisted updo with super voluminous crown and waves is something that can be the perfect finish for your big day.
Messy French Twist
Credit photo: @hair_vera
i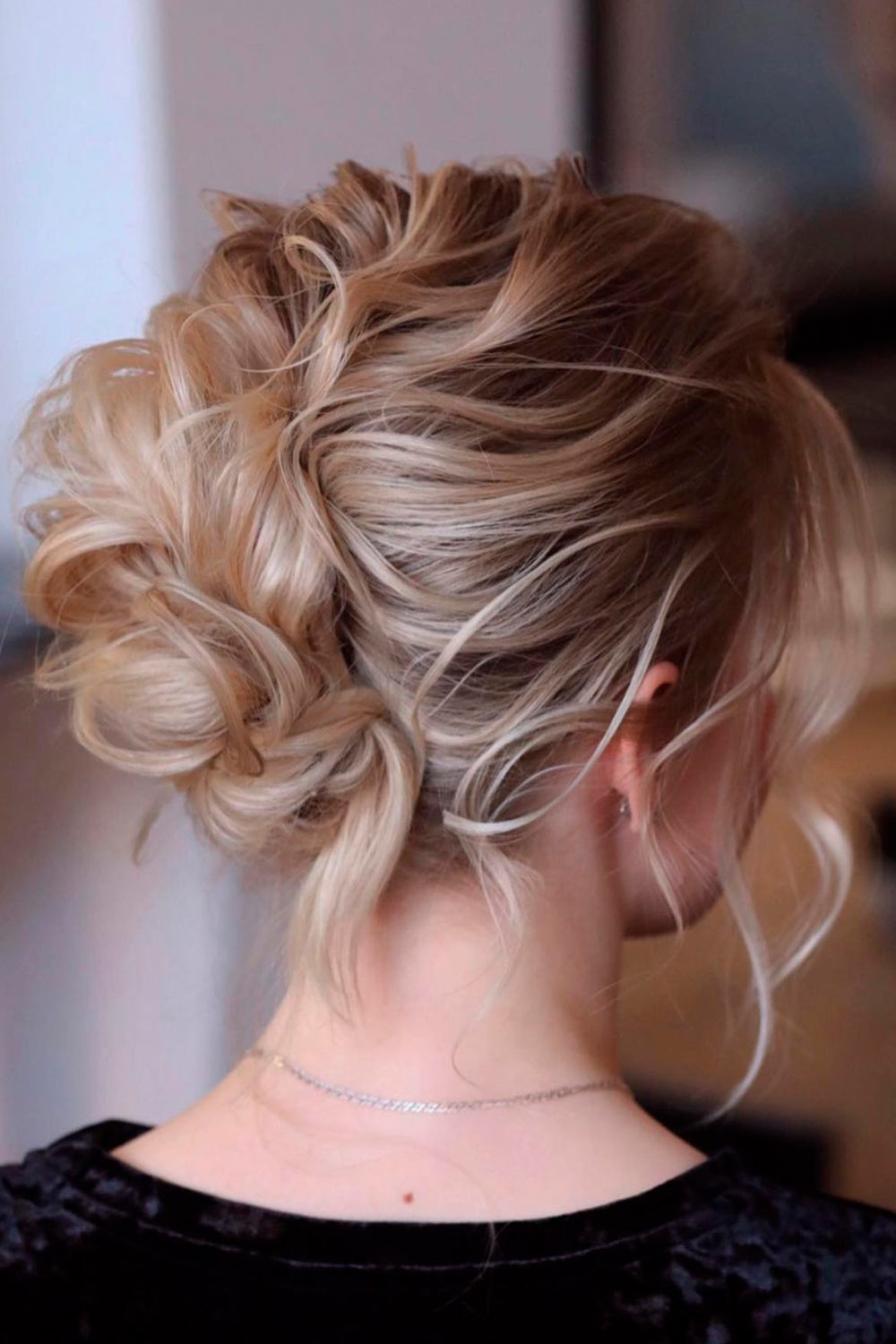 Credit photo: @hair_vera
i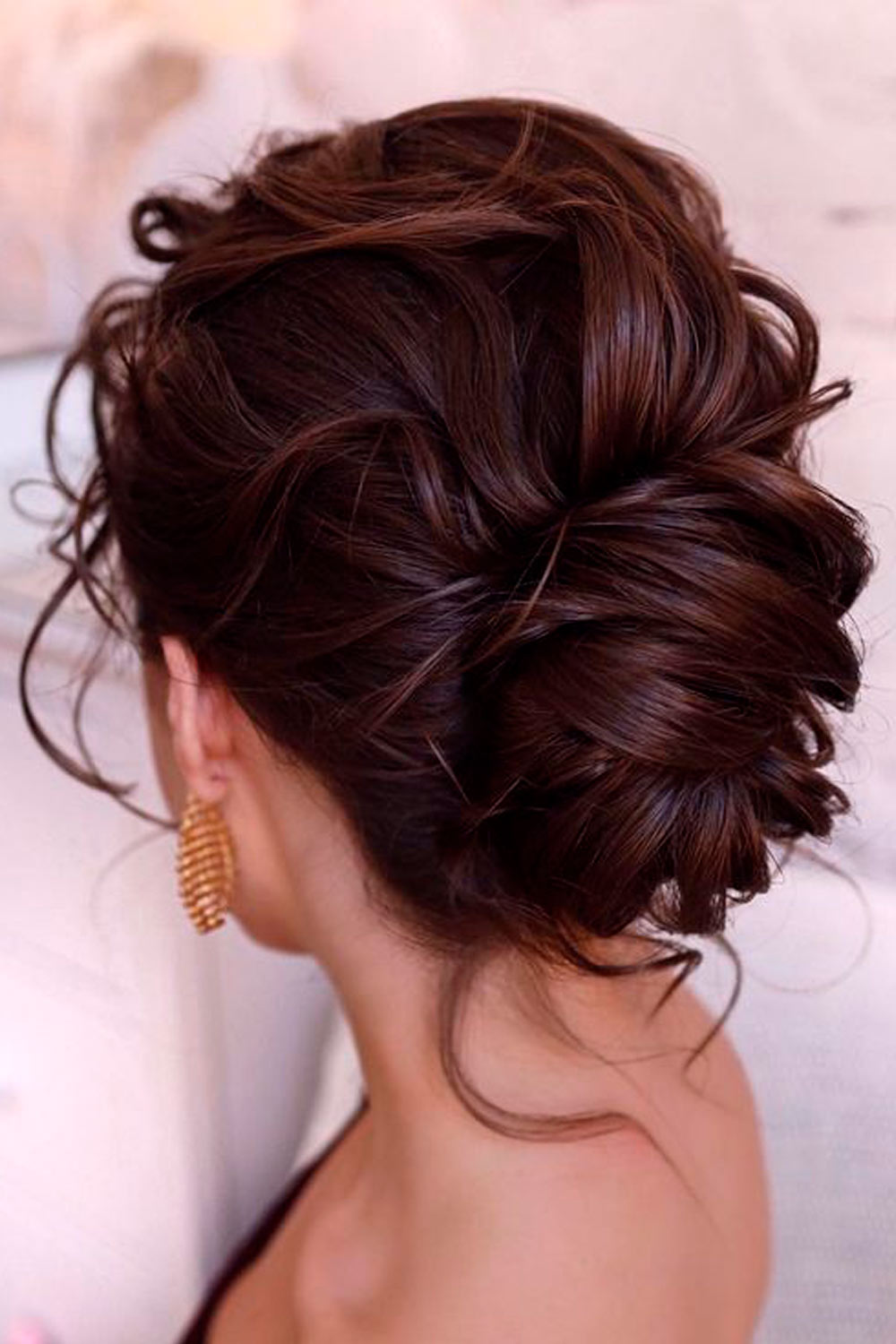 /
If you don't have the time or patience for a blowout hair style, then one of these easy updos for long hair is your best bet.
Side Swept Captivating Curls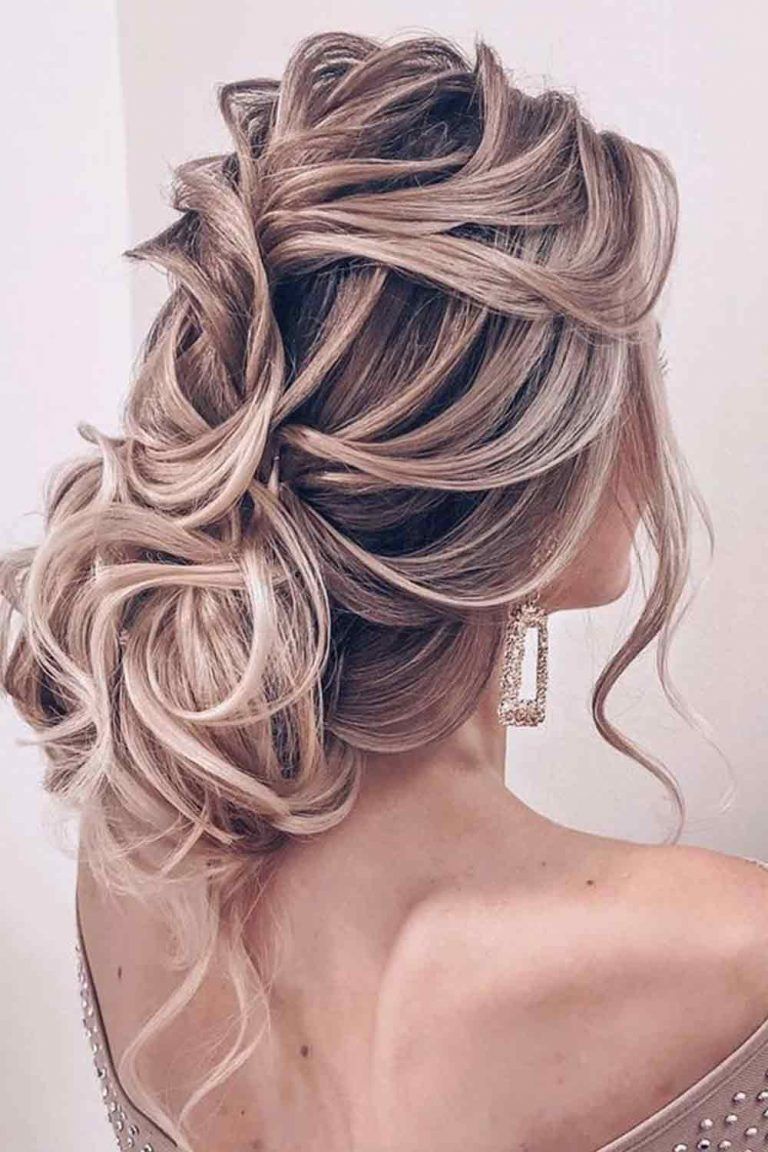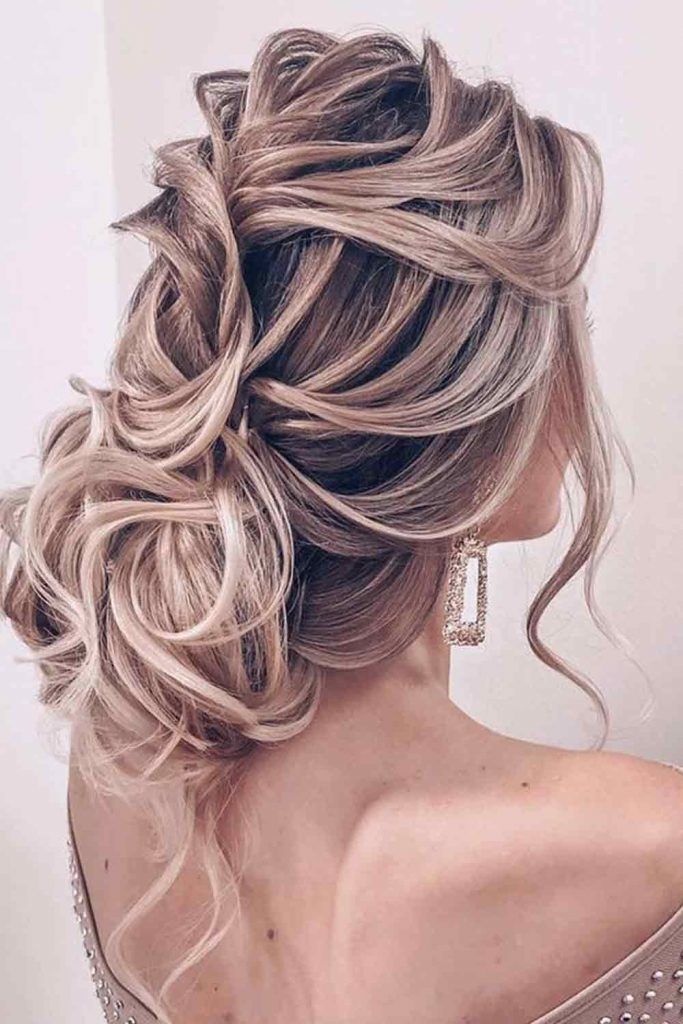 Credit photo: instagram.com/elstile
This is a great look for those who are torn between an updo and wearing their hair down. Curl your dry hair with a ¼ inch curling iron, vertically and away from your face. Then curl your bangs horizontally, but alternate the direction every other curl. After the curls have cooled down, make a deep side part and add a little texturizing cream to your hair, working it all the way through. Gently comb the bangs to the desired side and style as you wish. Then pull the rest of your hair over to the desired side and add bobby pins to hold in place. Fluff for extra volume and spritz with a finishing spray.
Beautiful Ballerina Bun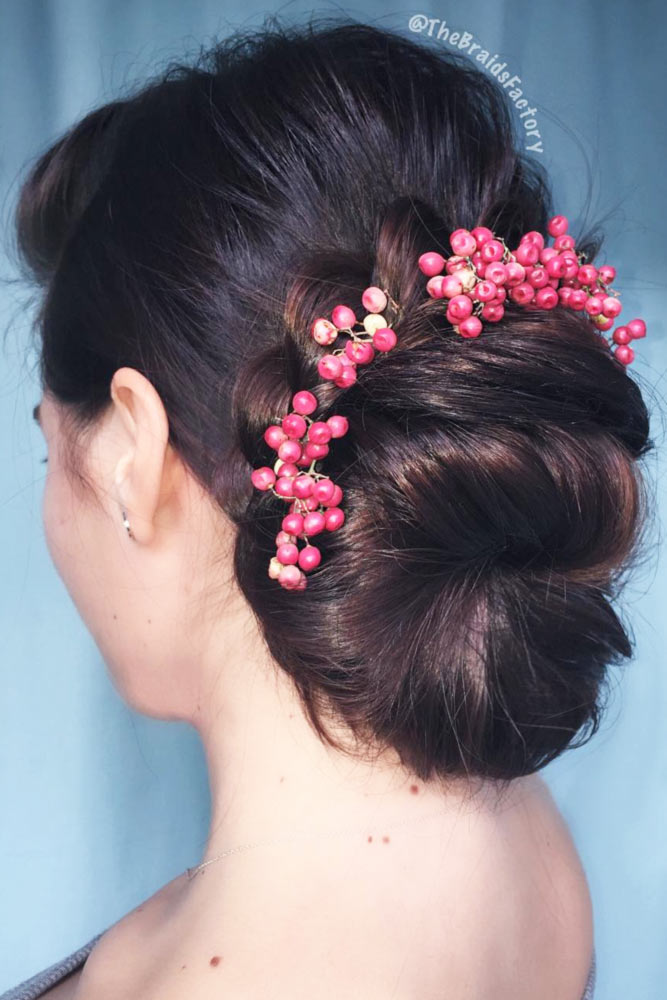 Credit photo: instagram.com/Thebraidsfactory_by_terebova
Being among easy updos for long hair, this style is truly gorgeous. When styling, work some Argan oil into your dry hair, pull your hair into a high ponytail, and curl the ends with a one-inch curling iron. Also, don't forget to finger comb the curls gently and then spritz lightly with hairspray. Next, wrap the curls around your ponytail to form a bun, attaching them to the hair tie with bobby pins. Gently pull on the bun to loosen it and pull out strands in order to frame your face if so desired. Spray with a quality holding spray.
Swirly Side Bun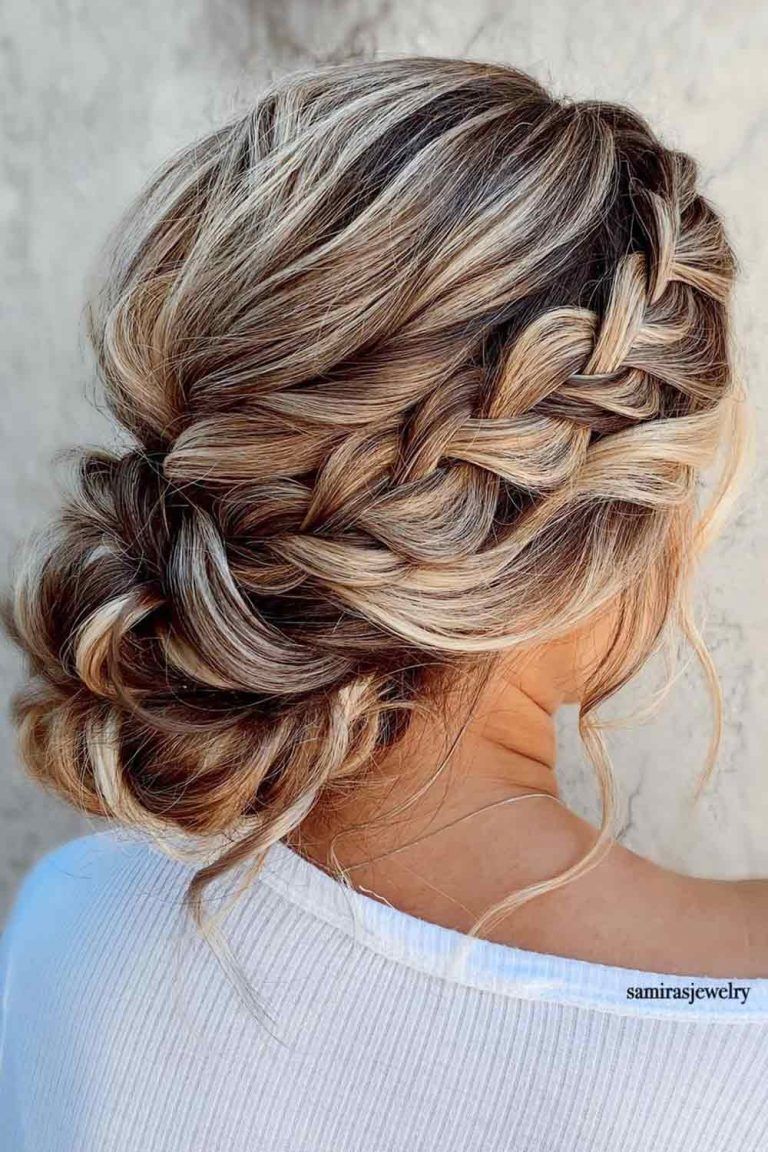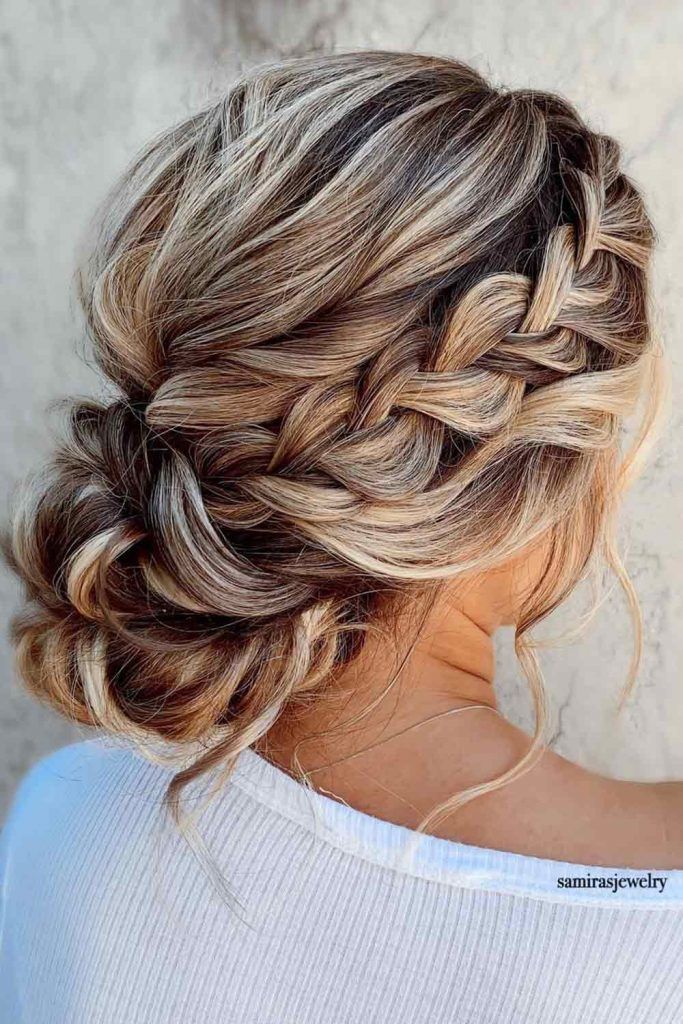 Credit photo: instagram.com/samirasjewelry
This low side bun is elegant and classic at the same time. Before styling, add a leave-in conditioner or thermal protectant to damp hair and blow dry with a paddle brush. Next, create a deep part, sectioning off the bangs. Then sweep your hair to one side and tie into a low ponytail, twisting the hair completely and folding it back against your head. Tug on the ends gently for subtle separation and then pin into place in a floral design. Next, smooth out the fringe and twist a small section around the remaining fringe and hold in place with a hairpin. Tuck the ends of your bangs into the bun and spray with finishing spray.
Sexy Side Sweep
Credit photo: @lenabogucharskaya
i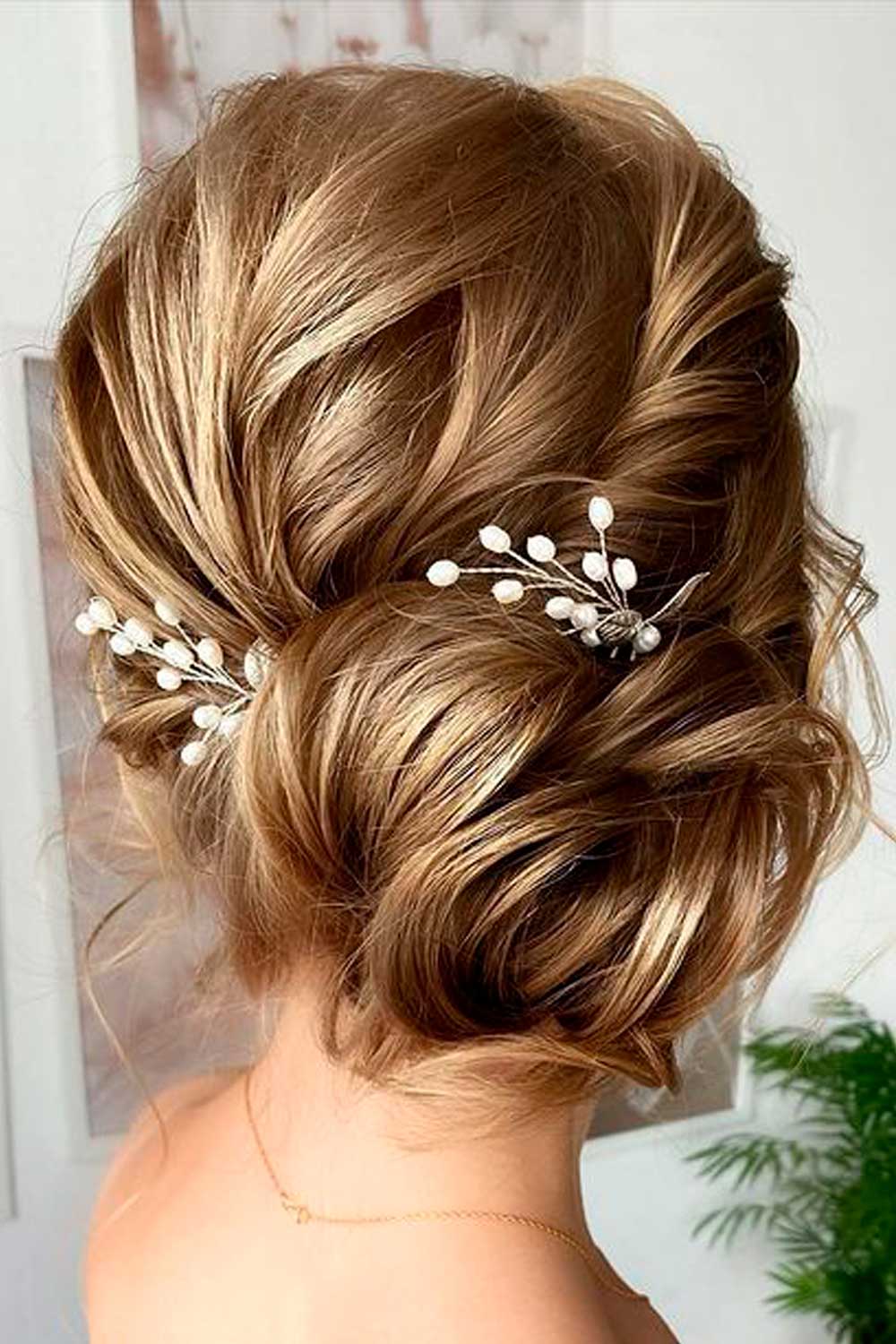 Credit photo: @tonyastylist
i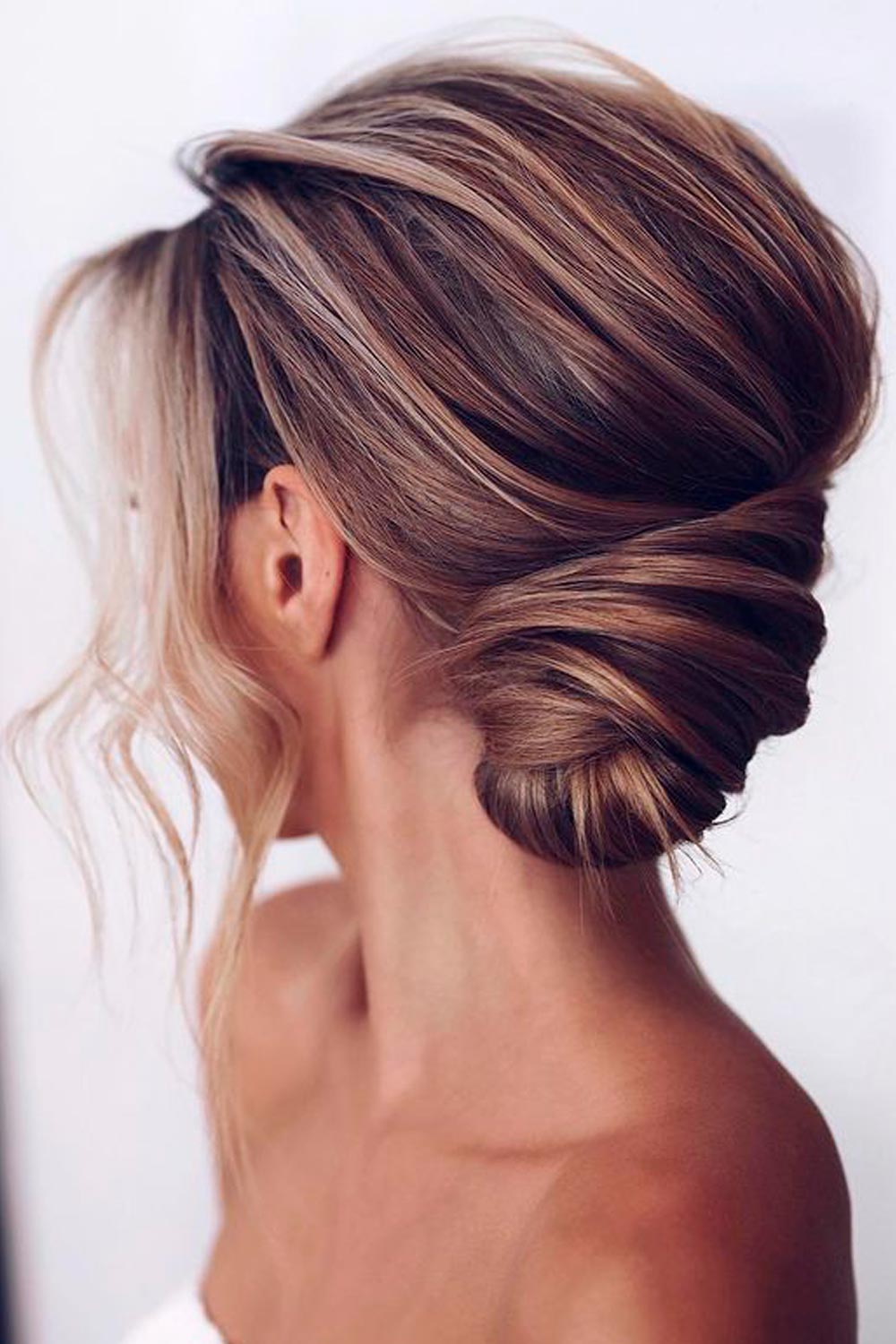 /
This flirty side-swept style is great for a special event, especially if it's a wedding or prom. Start by working a dry shampoo into your hair, then create a side part and sweep your hair over to one side. You can also backcomb the back surface layer for extra volume. Then take your hair and twist it clockwise creating a roll. Smooth the surface as you go with a comb. Next, secure the roll to your hair with hairpins so that the ends cascade gracefully to the side. Lastly, curl the ends and backcomb the back for added volume.
Undone Updo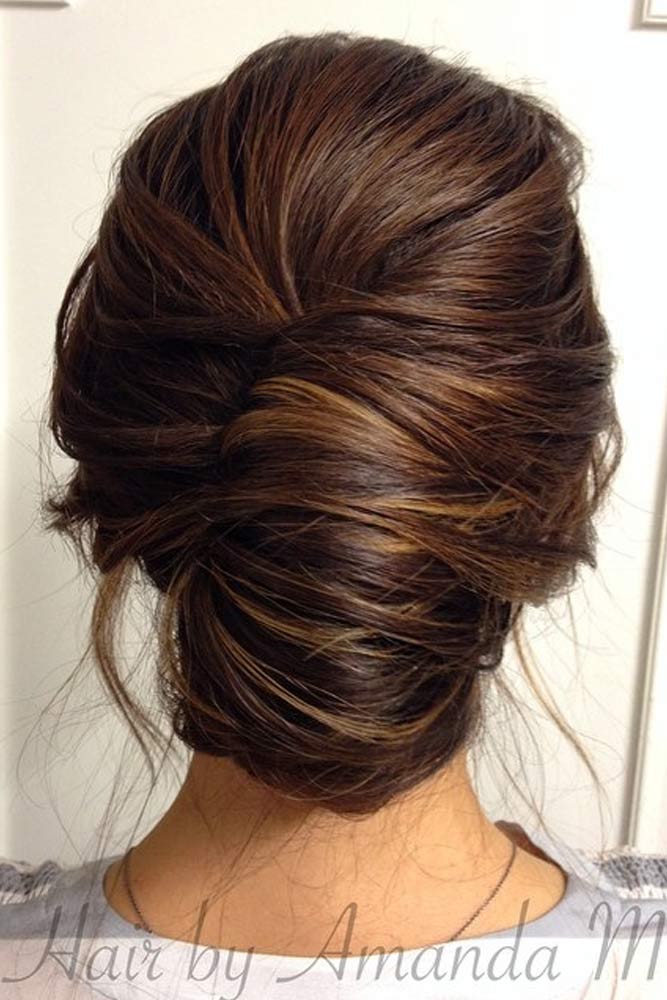 Credit photo: instagram.com/Hairbyamandam
This carefree updo is great when you need a quick, casual look. Also, add a texturizing spray to your dry hair and backcomb the crown gently. After that, pull your hair into a ponytail and then twist it into a French twist and secure with hairpins. Finally, dress it up with your favorite headband.
Different Ways To Create Easy Updos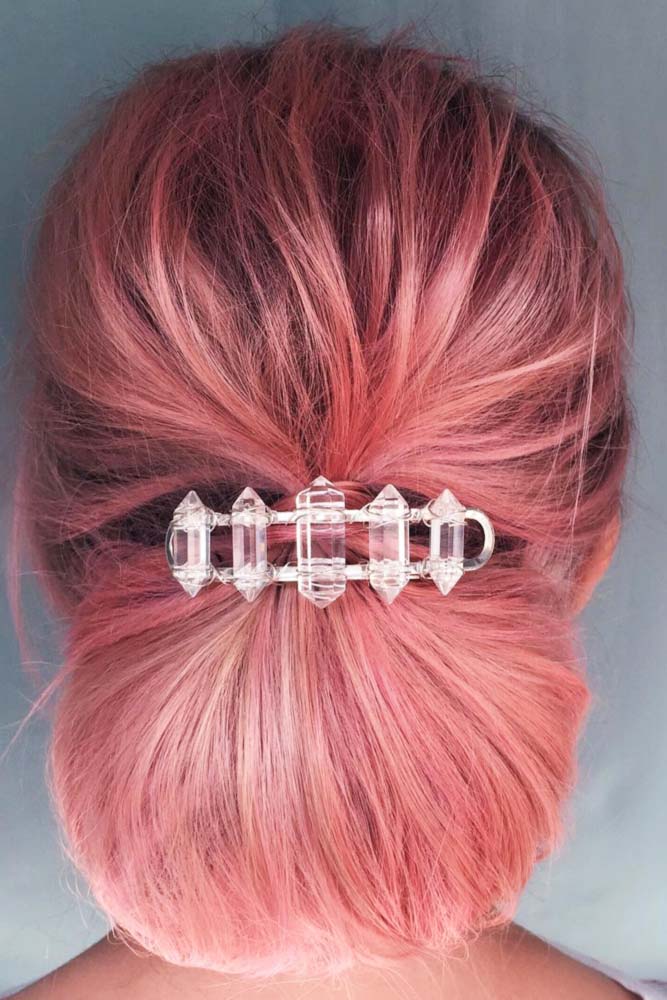 Credit photo: instagram.com/Thebraidsfactory_by_terebova
Updos have a miraculous power of making your hair appear elegant even if its color is boldly bright pink. Although the color is pretty rebellious, nothing can outshine the feminine flair of this chignon.
Classic Updos With Accessories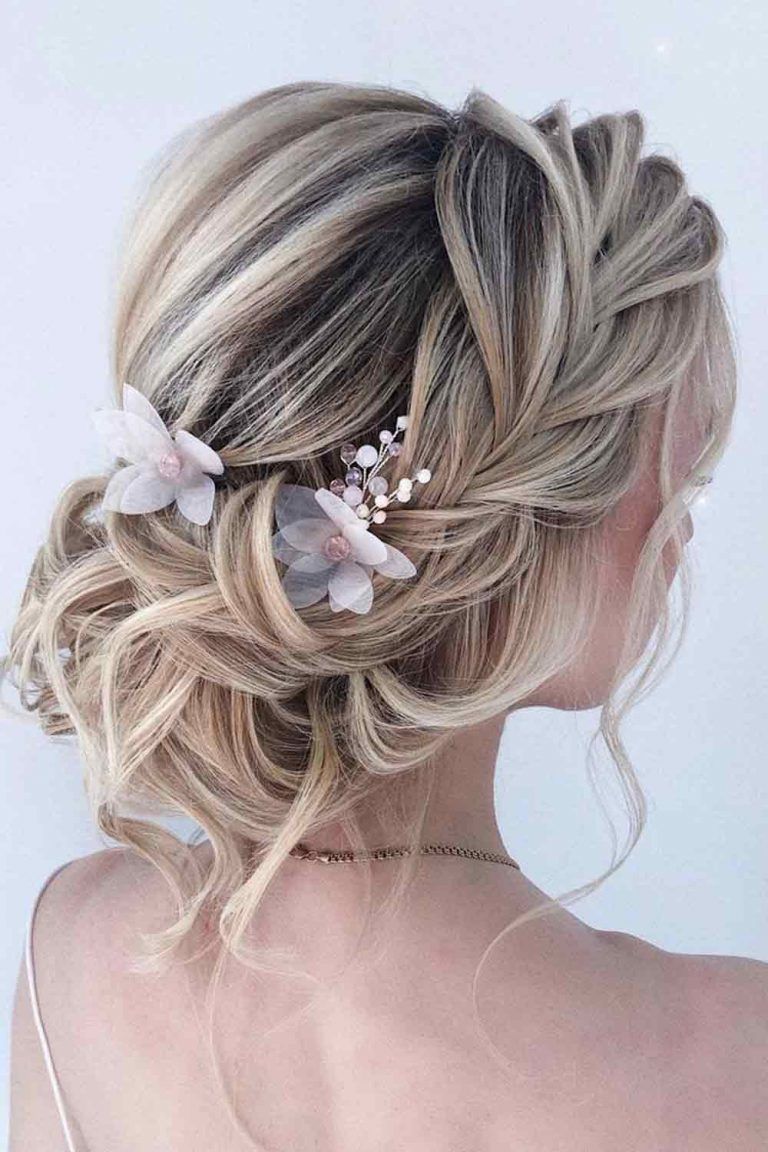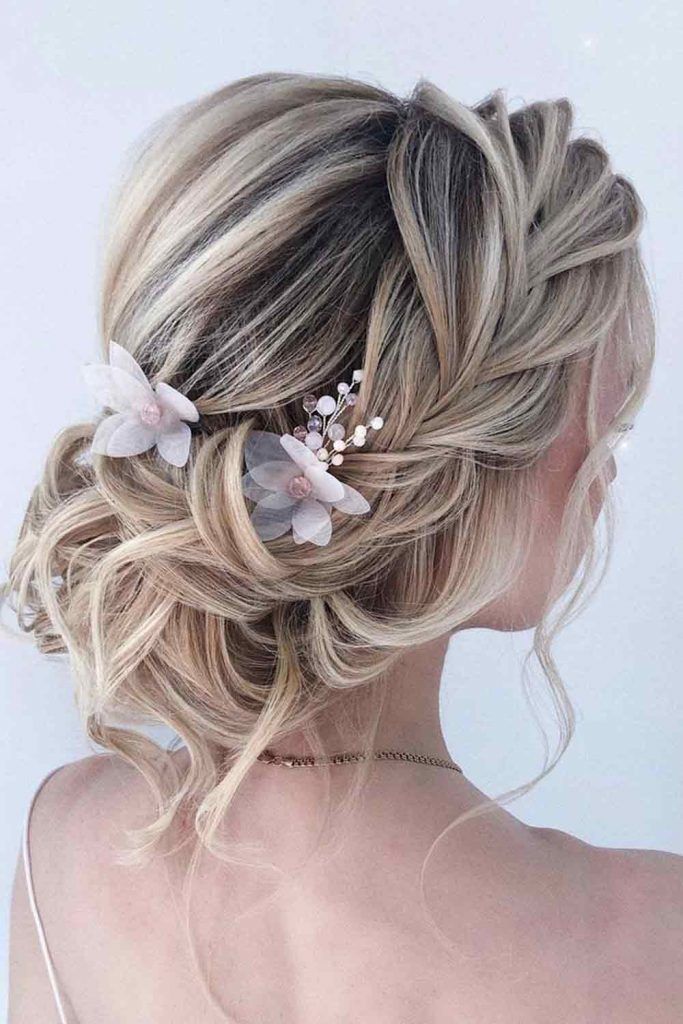 Credit photo: instagram.com/elstile
Accessories can embellish any hairstyle, but they certainly make an updo appear more sophisticated. Besides, they've always been a good way to add more character to your look.
French Twist Updo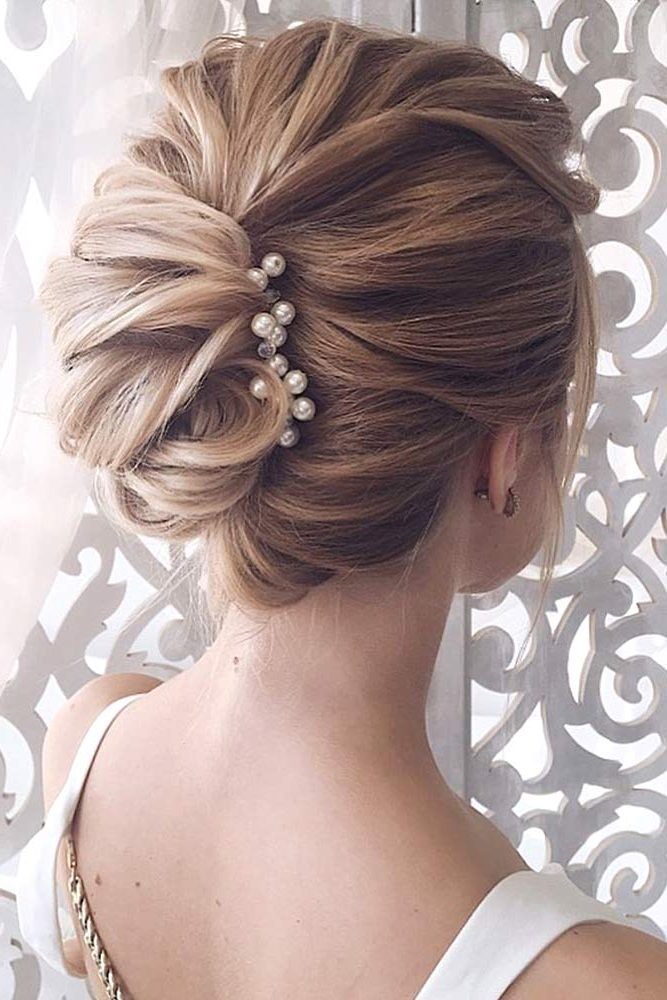 Credit photo: instagram.com/lenabogucharskaya
When it comes to a French twist, it seems that it has been around for ages. That is why we suggest you upgrade it a little. To spice things up, the best thing you should opt for is a little bit of messiness, as well as add a nice decorative element.
Best Easy Updos For Straight Long Hair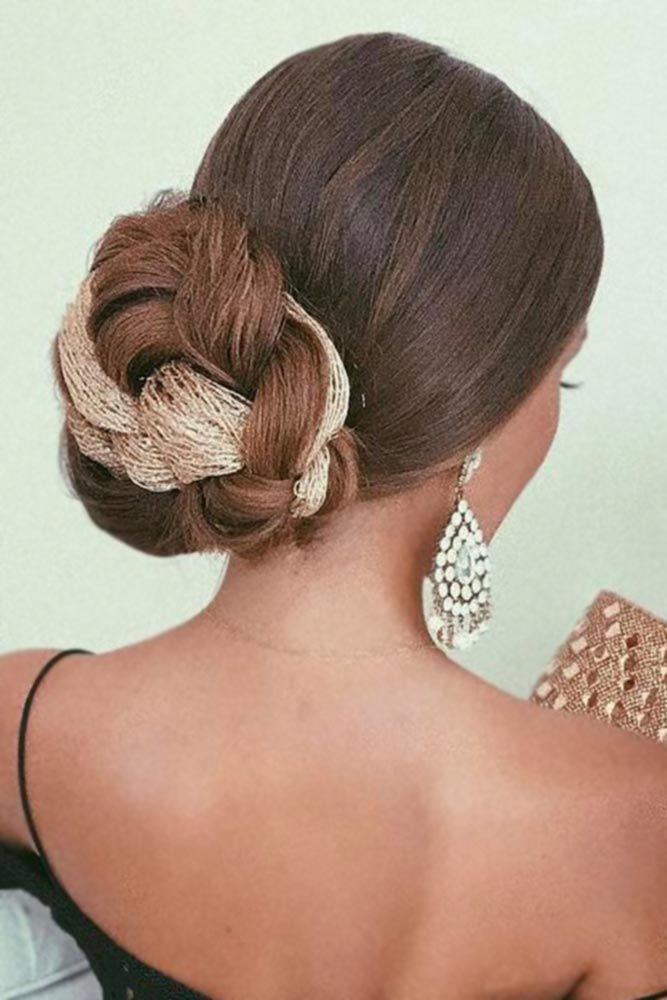 Credit photo: instagram.com/ulyana.aster
A sleek, oh-so-cute bun is one of the easy updos for long hair that also look exceptionally beautiful. Moreover, it is perfectly effortless and fabulous, we all know that.
Chignon Updo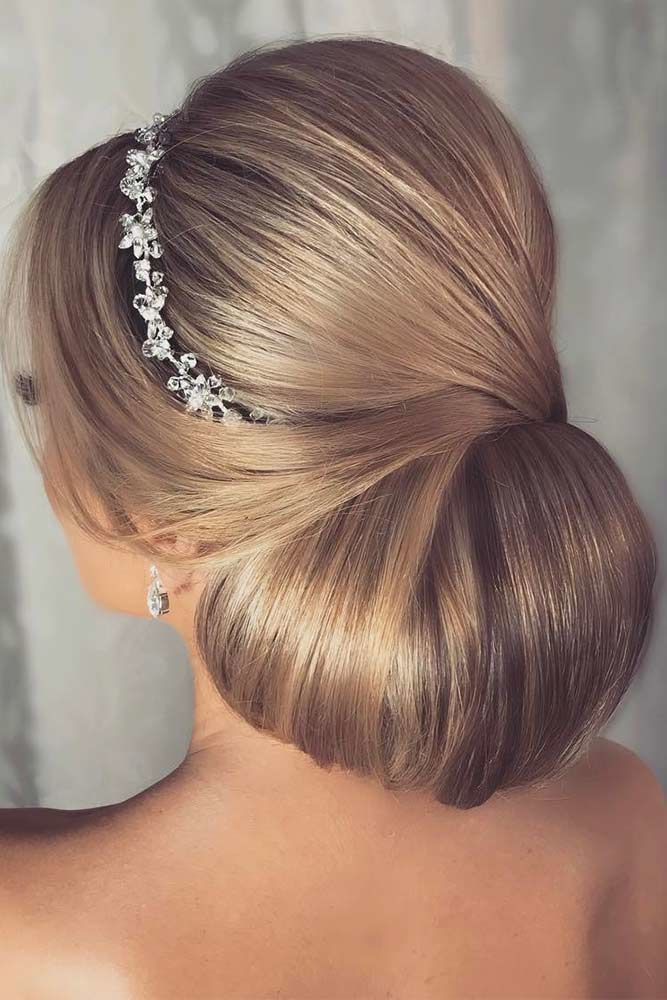 Credit photo: instagram.com/kykhair
If you are looking for something super sleek and elegant, then you should turn your head in a chignon updo direction. It seems that the only thing that is missing is a diadem. Oh, wait, there is one, too!
Chignon Styles
Credit photo: @tonyastylist
i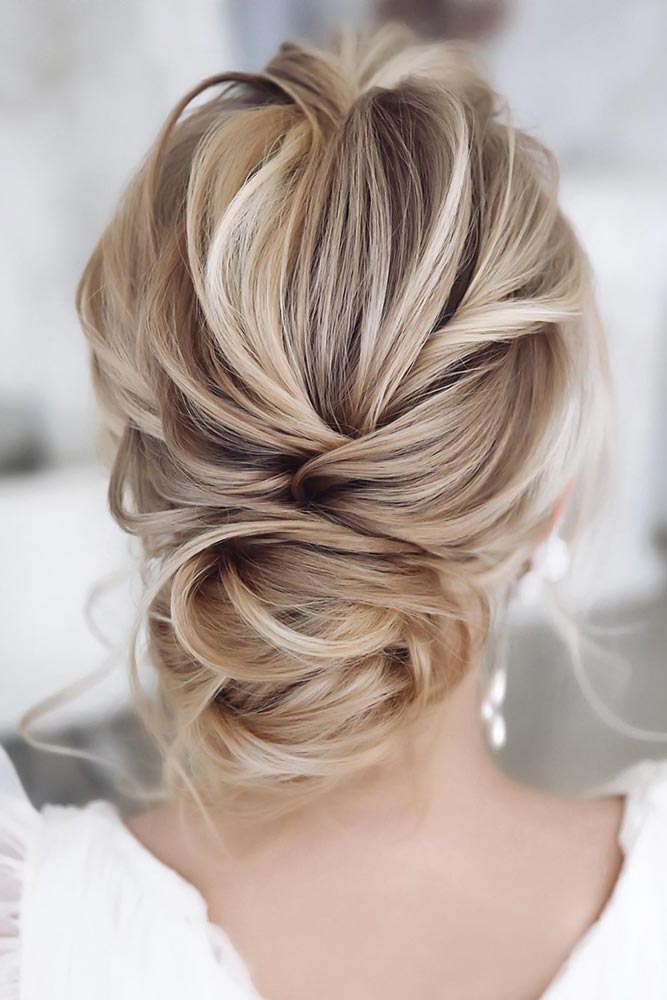 Credit photo: @hair_by_zolotaya
i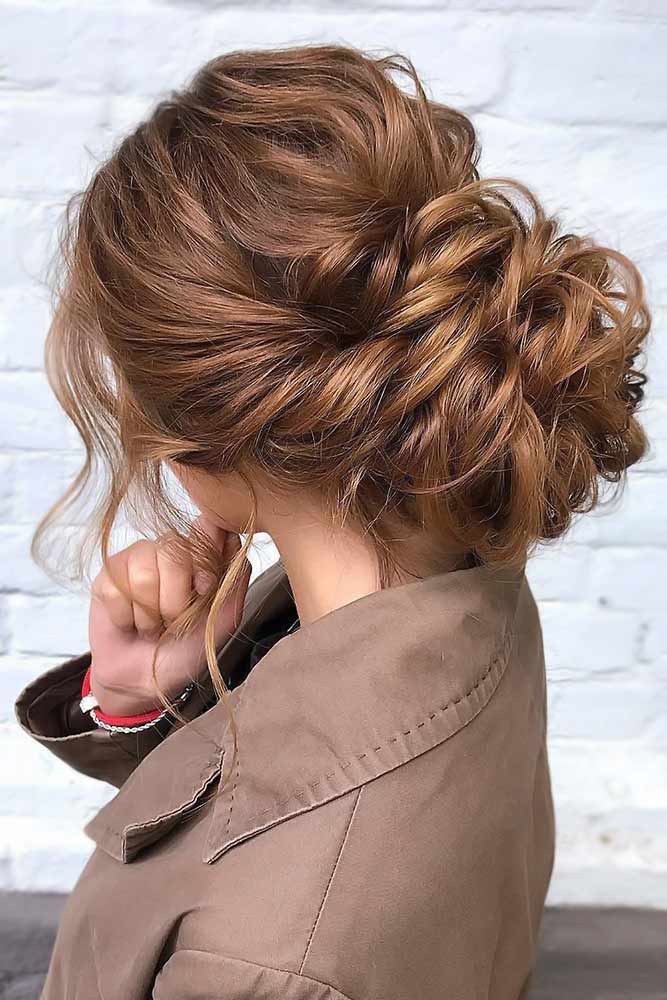 Credit photo: @julia_alesionok
i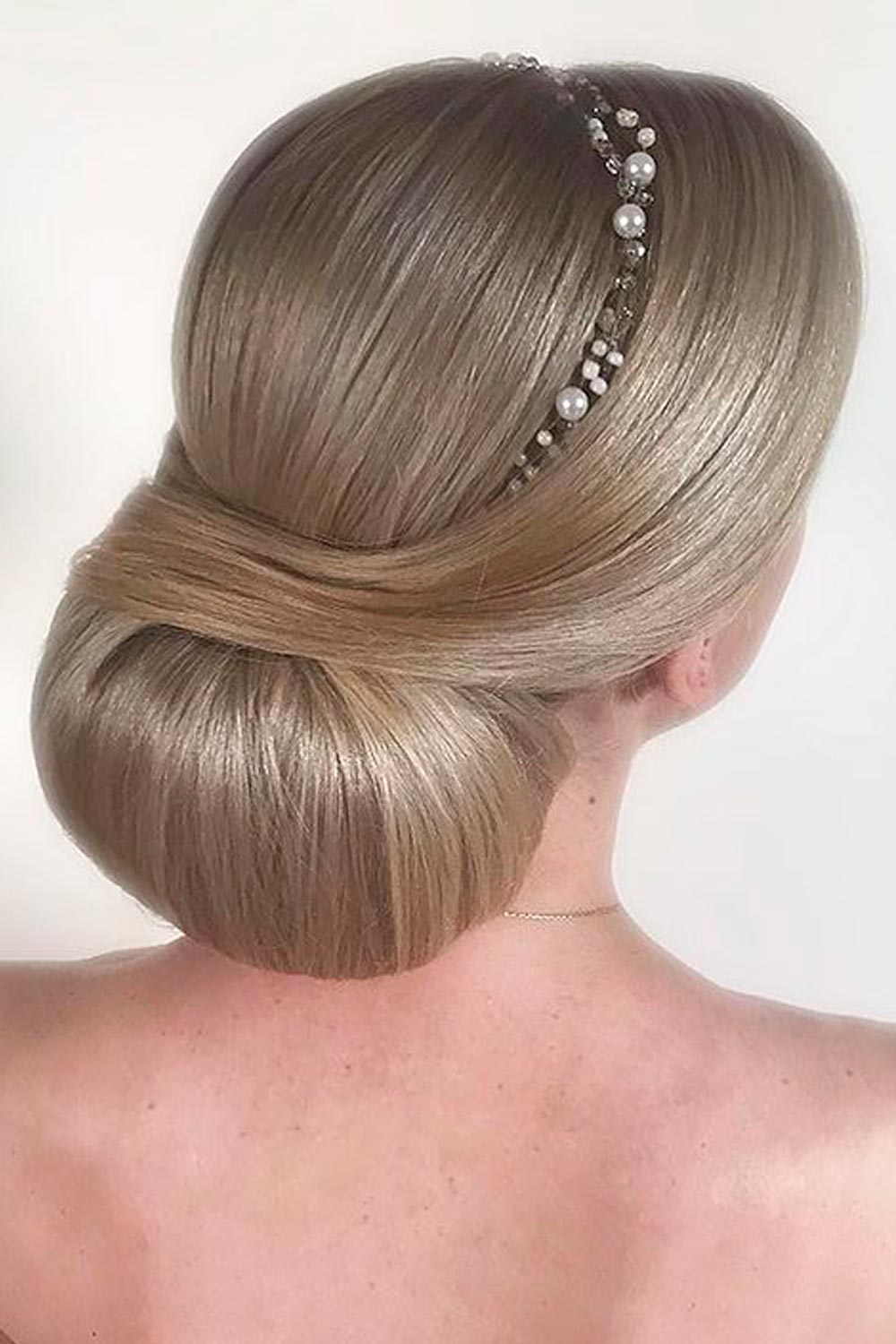 /
Getting your hair done in the morning may be a plain disaster when you do not have a few easy updos in mind. For example, a classy chignon will suit perfectly those days when straightening your hair is not an option.
Updo Hairstyles With Accessories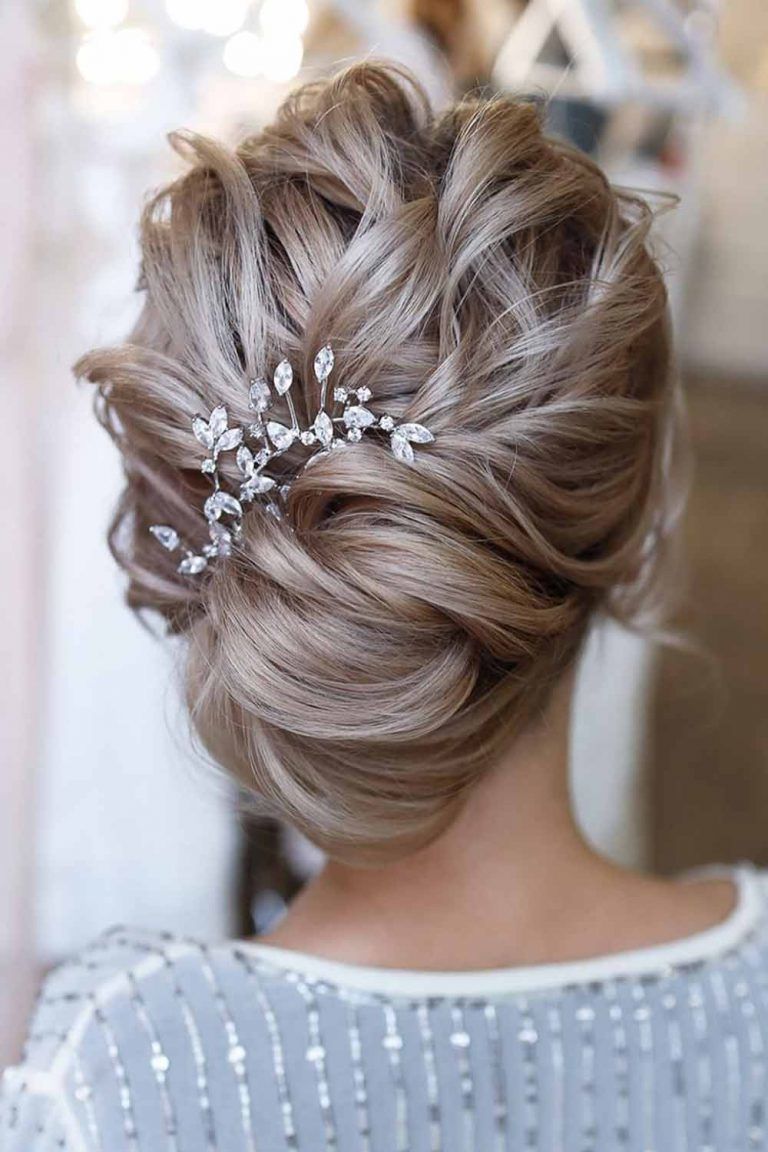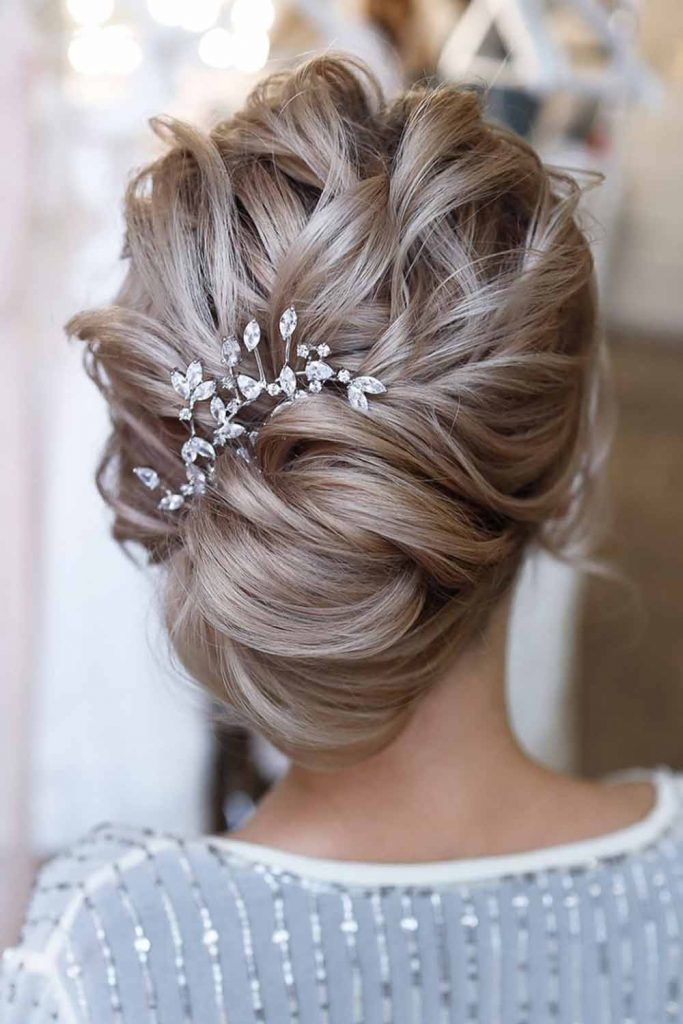 Credit photo: instagram.com/tonyastylist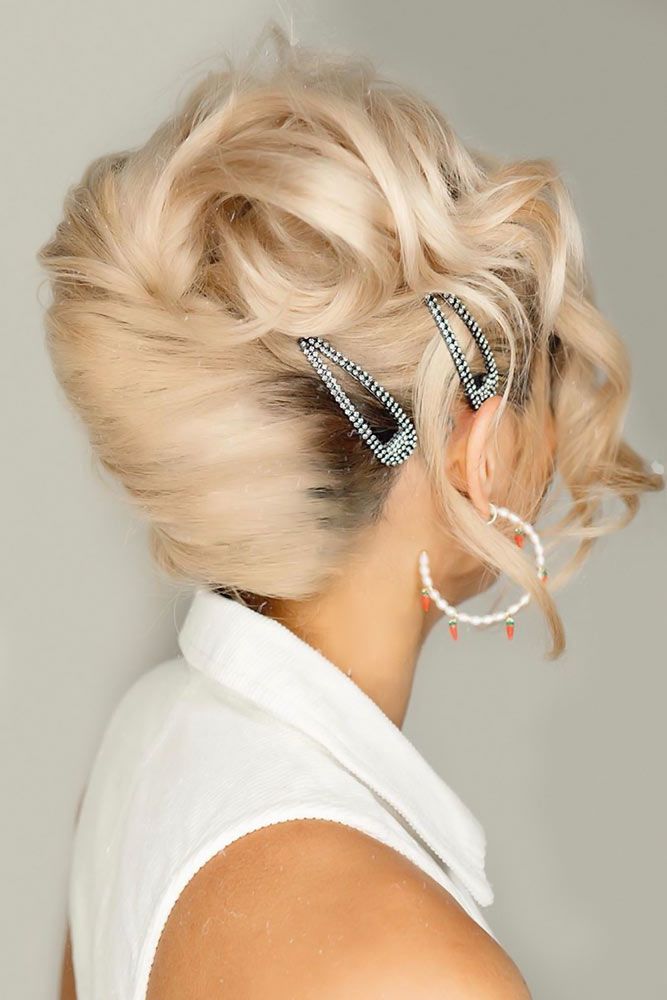 Credit photo: instagram.com/tonyastylist
Long hair updos have a tendency to look gorgeous no matter what. But we know of a perfect way that will take even a regular messy bun to the next level. How do you feel about the metallic hairband? Isn't it extraordinary and gorgeous at the same time?
Mohawk Updos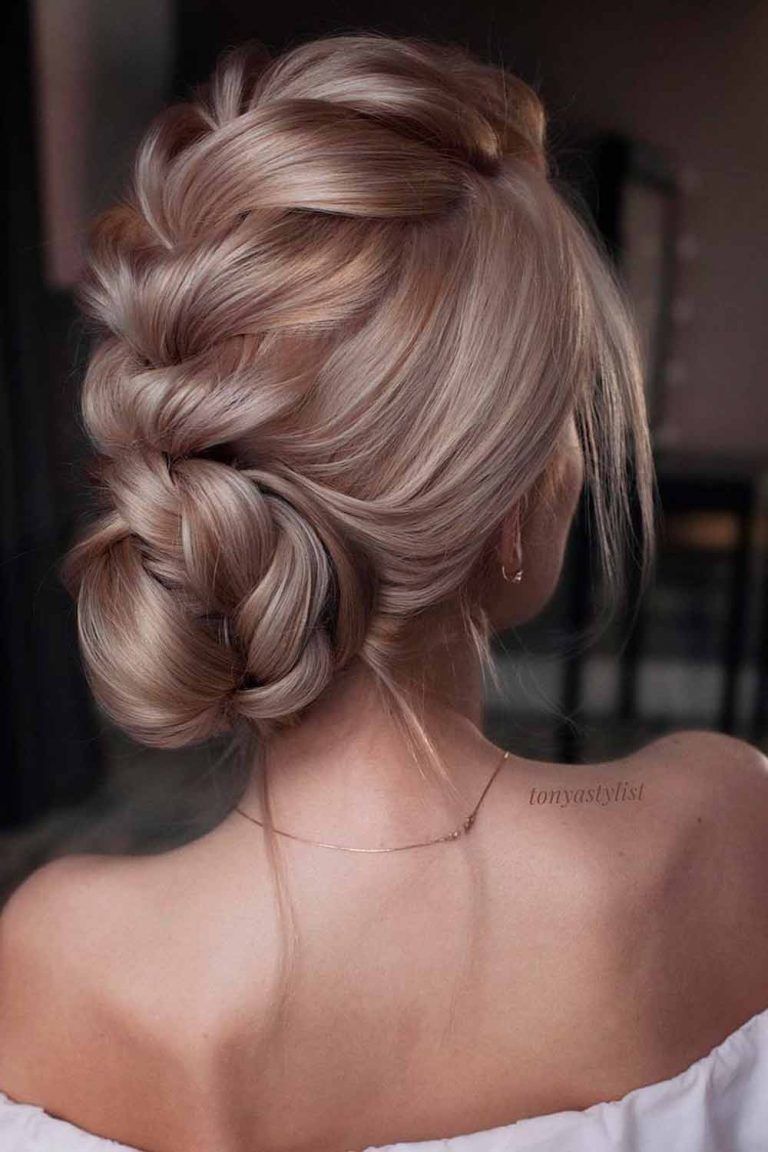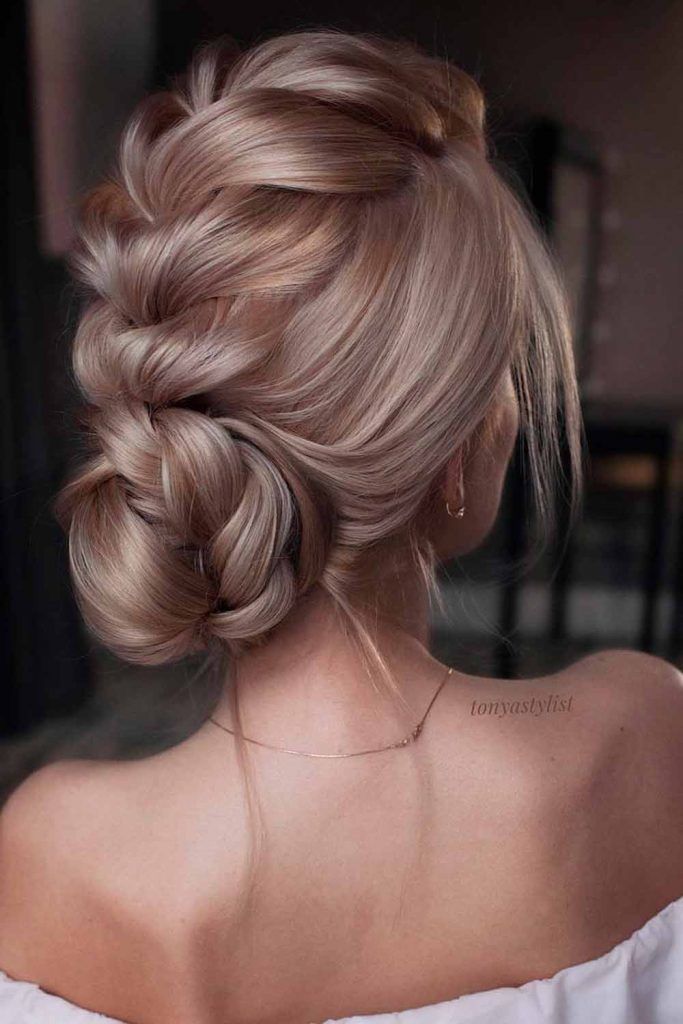 Credit photo: instagram.com/alexandralee1016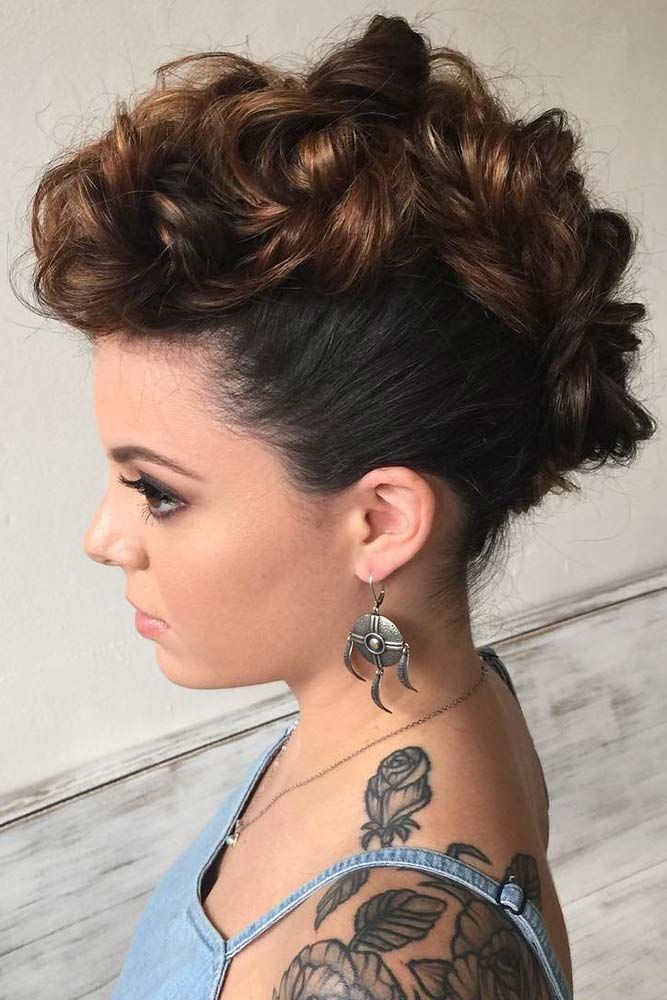 Credit photo: instagram.com/tonyastylist
If you are not seeking for easy updos for long hair, you should totally try the Mohawk updo. We must warn you that this is a 'do not for faint-hearted ones. Apart from that, it is also an extremely gorgeous way to show your creative side.
Twisted Updos With Fishtail Braid
Credit photo: @lenabogucharskaya
i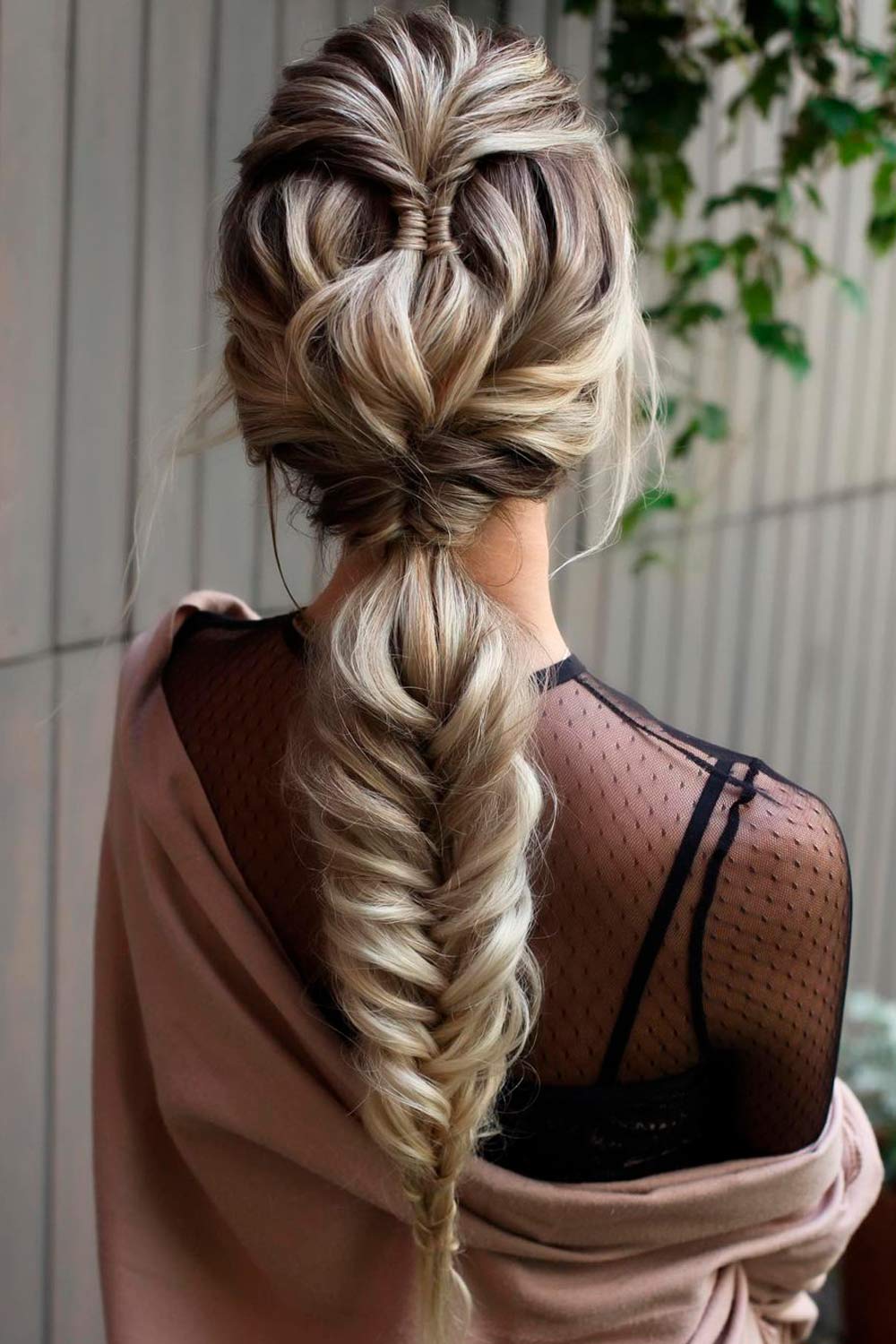 Credit photo: @julia_alesionok
i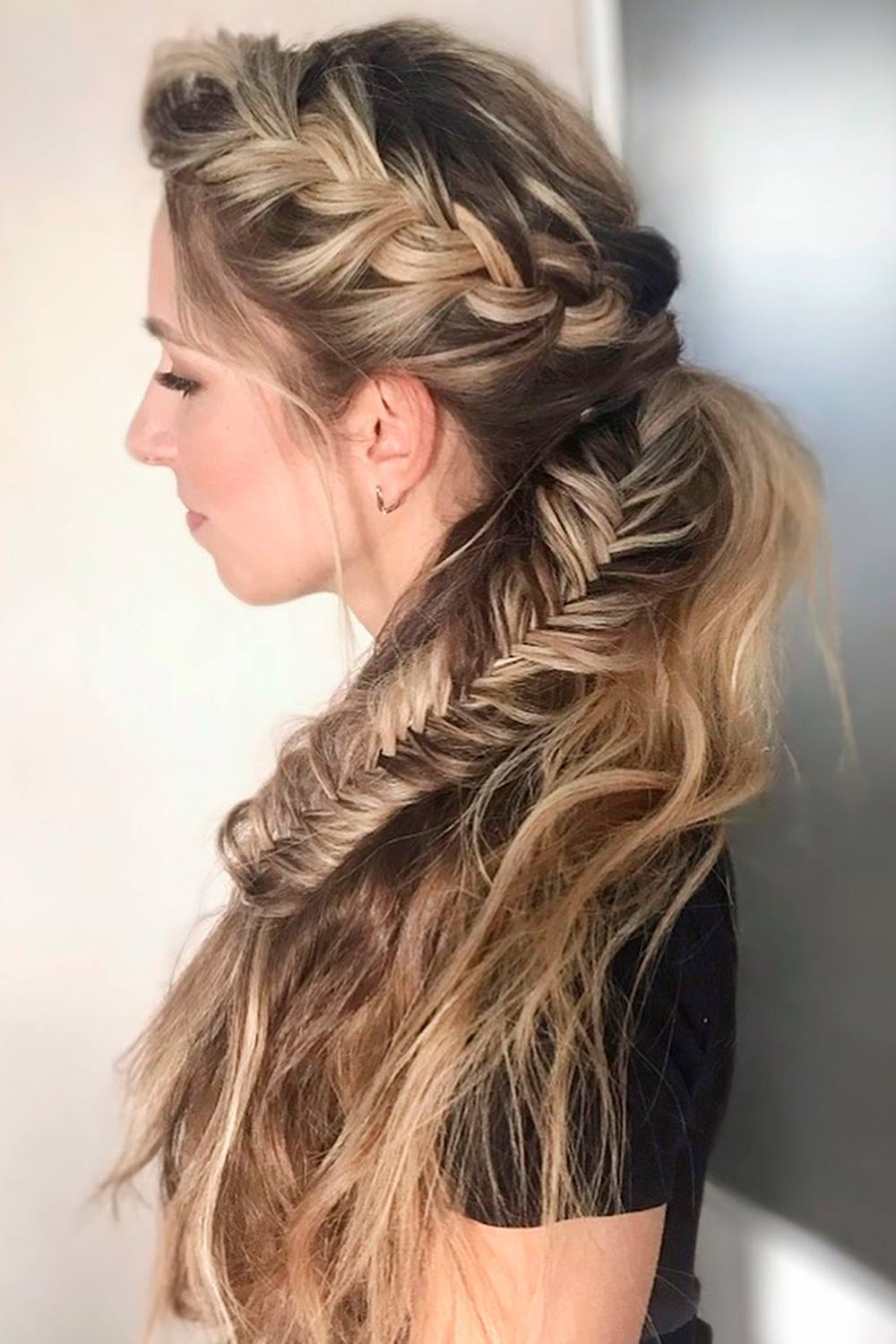 /
You've just witnessed the updo-trends of today, so no wonder you're itching to try each one: they're so easy and beautiful at once. With these pretty ideas and handy tutorials, nothing stops you from sporting classy updo hairstyles for long hair. What are you waiting for? It's updos time!
FAQ: Easy Updos For Long Hair
Is messy hair cute?
Messy hair is an acquired taste for some people. However, one can often witness it among the best red carpet looks at The Red Carpet Film Festival. There is something about it that makes it so lovely and attractive…The secret is, messy hair is stylish and trendy, and at the same time it makes you look fresh and lighthearted.
Does sleeping with your hair down help it grow?
Yes! The hair follicle stem cells start working when you fall asleep. The right haircare procedures taken before bedtime prevent your hair from loss and damage and also enhance the hair growth process.
How can I wear my hair up for work?
Try to wear it high. Sweep your hair high, leave one piece free and twist it into a roll. Fix it with a hair tie. Wrap the free piece if you want to hide the elastic. Pin the hair under the roll with hairpins.
REFERENCES: