Cute Easy Updos For Long Hair To Try This Season
Easy long hair updos are not only classy for a special occasion but a simple fix for a bad hair day, as well. A fancy updo is great for an evening out, but there are quite a few easy updos for longer hair that work for casual situations, as well.
ADVERTISEMENT ‧ CONTINUE READING BELOW
There are plenty of simple updo hairstyles for long hair. If you have unruly curls or frizzy hair, an updo is a great quick fix. Not all updos have to involve elaborate buns and intricate top knots.
High Updo Hairstyles
Exquisite High Bun For Long Hair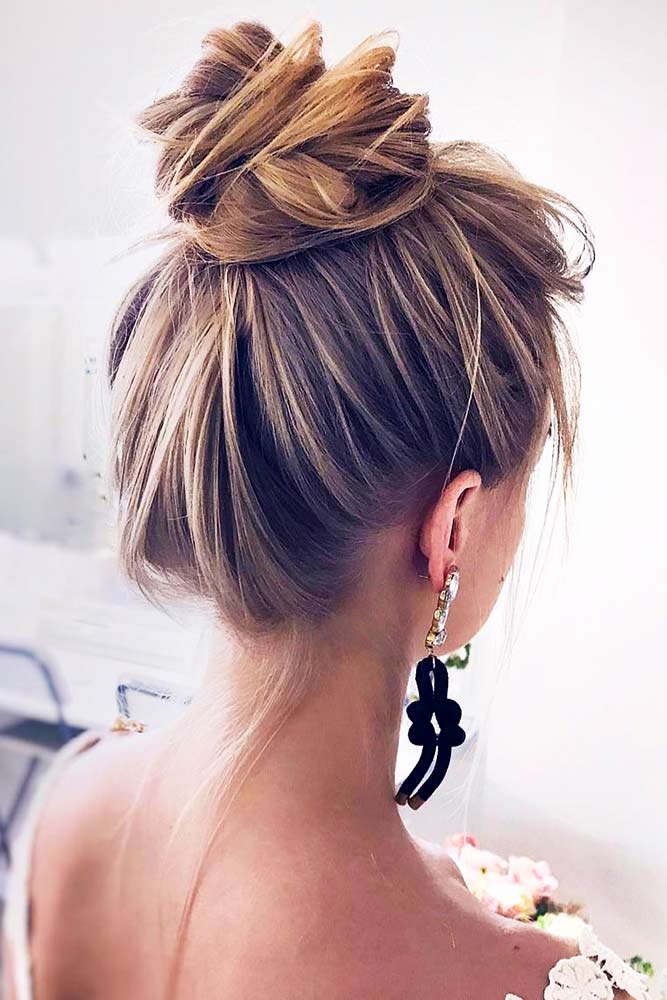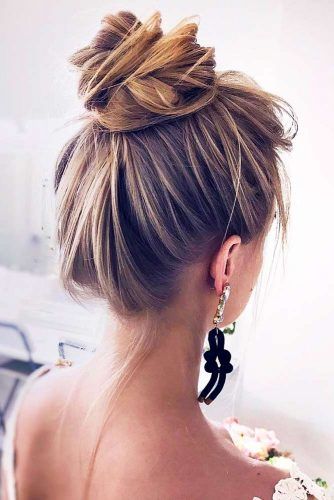 Source: tonyastylist via Instagram
Bun updo hairstyles for long hair have many faces: they can be very neat, tight and polished, as well ass high, twisted and messy. It seems like there's a bun hairstyle for any kind of woman. And if you're that kind who likes volumetric, well-balanced, and full high updos, this idea is for you. The slight messiness of this silhouette will give you a seeable lift to the hair, while loose twisted bun will open up your beautiful shoulders. It's actually a nice look for your bride or bridesmaid style: it's simple, yet charming and exquisite.
Simple, Yet Chic Messy High Bun
Source: brittsully via Instagram
The famous phrase "I woke up like this" actually fits this simple and messy context. It's pretty obvious that getting such a hairstyle requires nothing but boldness, as it may appear quite outrageous. Still, it looks terrific when it's combined with a stylish head scarf and fancy massive earrings. Yes, you don't have to brush your hair and style it neatly to get sexy updo hairstyles for long hair: this simple bun with messily sticking hairs is the proof.
Simple And Cute Bun Updo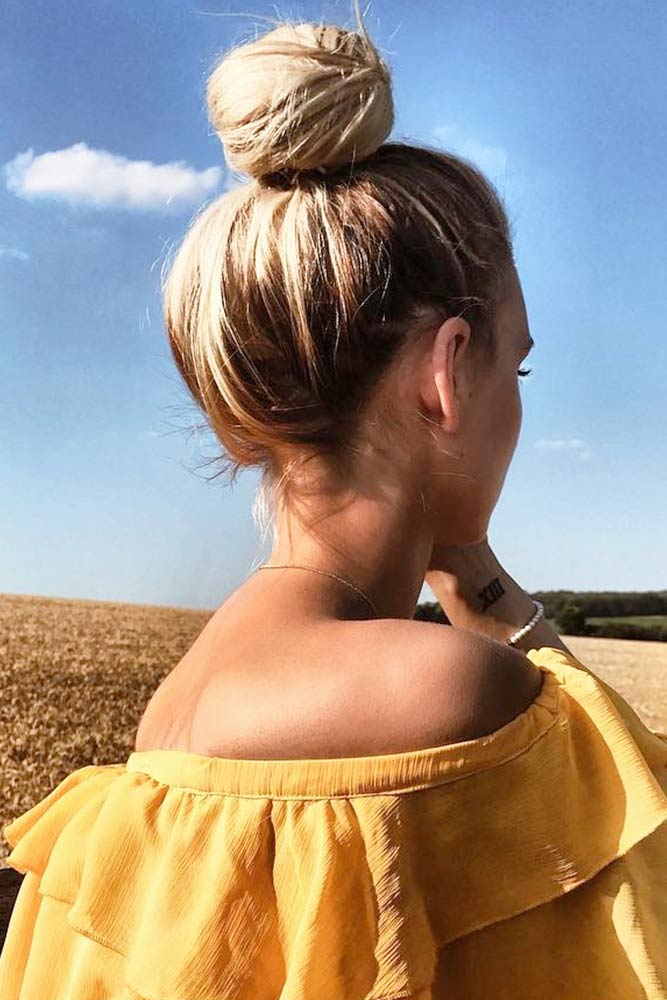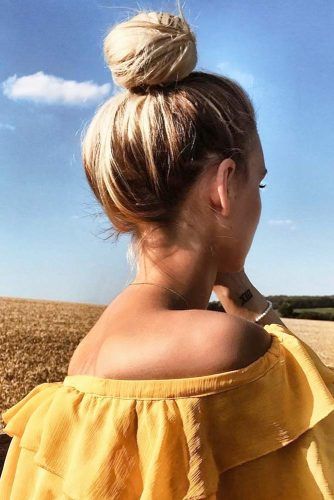 Source: anders.art.ig via Instagram
Have no idea how to do a simple updo for long hair? There's one thing you should know about it: a truly simple hairstyle is when you simply put all your hair up and wrap it around the high base. No extra pins, no extra movements: only a couple of turns on the crown. Look at this pic: isn't that the cutest bun you've ever seen?
Bun With Side Fringe Styling
Source: brittsully via Instagram
Who would've thought that a long side fringe that falls on the face could make a really elegant and chic hairstyle out of simple bun? It's hard to believe that such a noble style takes less than 10 minutes. First, you slick back your hair, leaving a front side fringe loose and keeping the rest of your hair in a little high bun. Then, you look in the mirror and see the pure, minimalistic style perfection.
Voluminous Twisted Updo With Headband
Source: brittsully via Instagram
Volume has always been a desirable feature, and, as we all remember, Audrey Hepburn has taken its importance to a whole new level. So how do you like the idea of super voluminous vintage-inspired updo hairstyles for long hair? Tousled crown with a terrific lift, a neat twist on the back of the head, and a fancy finish with a headband: it's simply perfect.
Crown Bun Updo
Source: justinemarjan via Instagram
Meet the style that will show you how many things you can create with your posh chevelure. First off, this idea is one of those updo hairstyles for long hair that can achieve the real potential of your hair, showing how creative you can be. A high updo of twists and stitches that looks like a crown proves that your hair is but a canvas to your imagination!
Easy Updos With High Buns
Source: tonyastylist via Instagram
If easy updos are your cup of tea, then you have come to the right place. There is nothing easier than a top knot. But if just a regular one is too boring for you, why not introduce some sleek braids to the back?
Updo Hairstyles With A Bun
Source: tonyastylist via Instagram
While searching among updos for medium hair, we couldn't let buns skip your attention. There is something so elegant and universal about buns that it seems they carry the knowledge of past years.
Long Hairstyles With Bun
Source: tonyastylist via Instagram
Both long and short hair can flaunt with flirty and feminine updos. Still, on long hair, those hairstyles turn into an eternal canvas for imagination where you can always add more details to your look. Since you have long locks, you can pull the edges of your bun, adding more volume to the hairdo or incorporate braids and twists, making your hair look more detailed. Here, for example, it's nothing but a simple high bun. But the way this loose and volumetric finish of pulled long hair stands out is just to die for.
ADVERTISEMENT ‧ CONTINUE READING BELOW
Low Updos
Polished French Twist Updo
Voluminous Low Bun Hairstyle
Low Bun With Layered Bang
90's Inspired, Double Bun
Messy Twisted Updo
Messy French Twist
Side Swept Captivating Curls
Beautiful Ballerina Bun
Swirly Side Bun
Sexy Side Sweep
Undone Updo
Different Ways To Create Easy Updos
Classic Updos With Accessories
French Twist Updo
Best Easy Updos For Straight Long Hair
ADVERTISEMENT ‧ CONTINUE READING BELOW
Braided Updo Styles
Lovely Braided Bun Hairstyle
Fascinating Rose Braid Updo
Fishtail Braid Into Bun Hairstyle
Feminine Halo French Braid
Messy Side Dutch Braided Bun
Stunning Braided Faux Hawk
French Fauxhawk Into A Little Knot
Charming Double Braided Updo For Thin Hair
Delicate Dutch Braid Into Bun
Twisted Braid Into Low Bun For Thick Hair
Mild-Mannered Milk Maid
Fancy Fishtail
Fancy Free French Braid
Heavenly Halo
Bright Colorful Updos
Crown Braided Updo
Flowered Hairdos
Braided Updos For Long Hair
Fishtail Braided Hair Updos
ADVERTISEMENT ‧ CONTINUE READING BELOW
Chignon Updo
Source: hairandmakeupbysteph via Instagram, hairandmakeupbysteph via Instagram, kykhair via Instagram
If you are looking for something super sleek and elegant, then you should turn your head in a chignon updo direction. It seems that the only thing that is missing is a diadem. Oh, wait, there is one, too!
Chignon Styles
Source: tonyastylist via Instagram, hairandmakeupbysteph via Instagram, hair_by_zolotaya via Instagram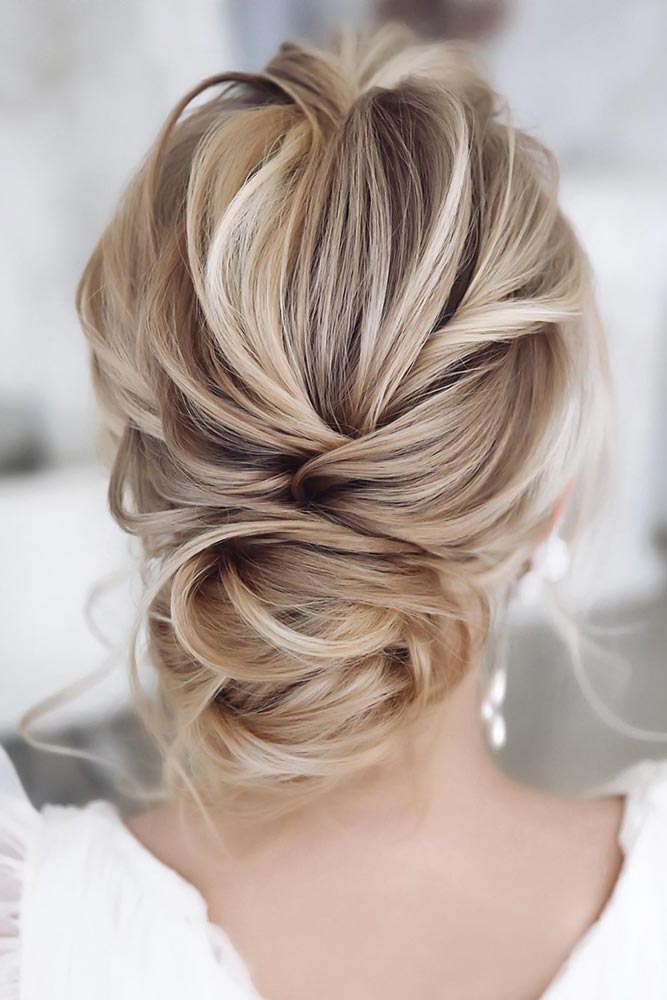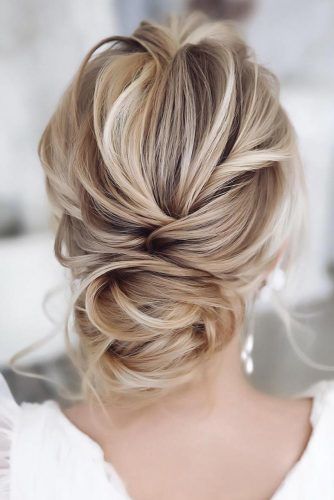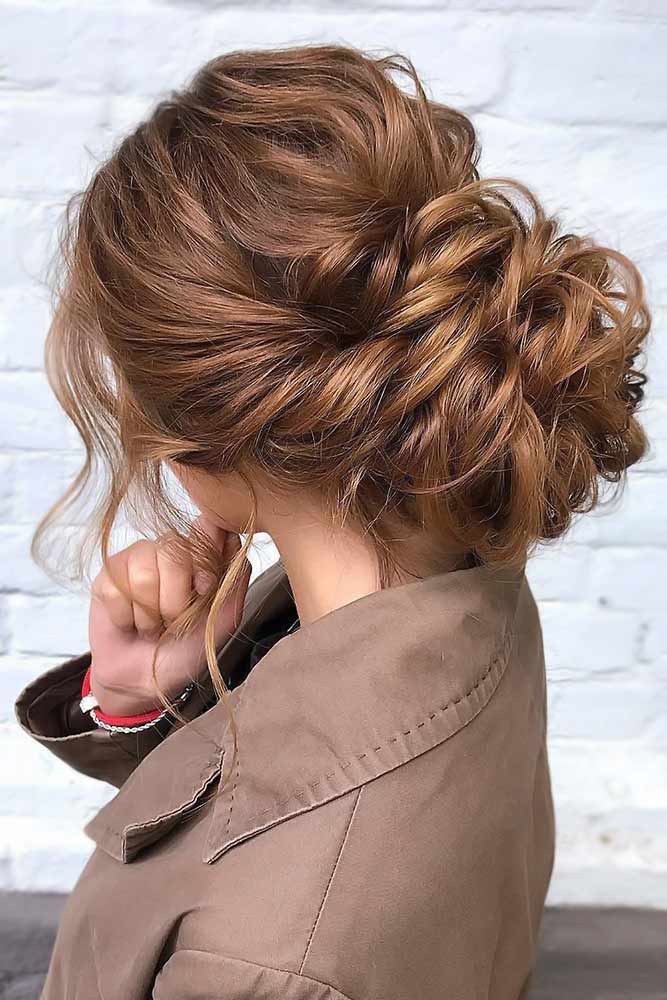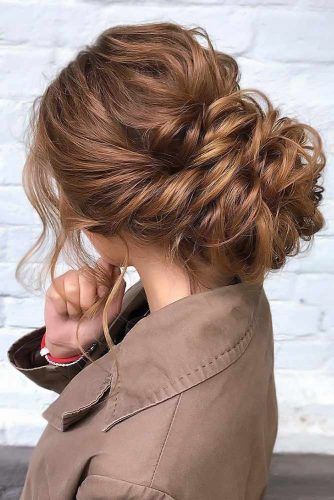 Getting your hair done in the morning may be a plain disaster if you do not have a few easy updos in mind. For example, a classy chignon will suit perfectly those days when straightening your hair is not an option.
ADVERTISEMENT ‧ CONTINUE READING BELOW
Updo Hairstyles With Accessories
Source: hairby_chrissy via Instagram, tonyastylist via Instagram, justinemarjan via Instagram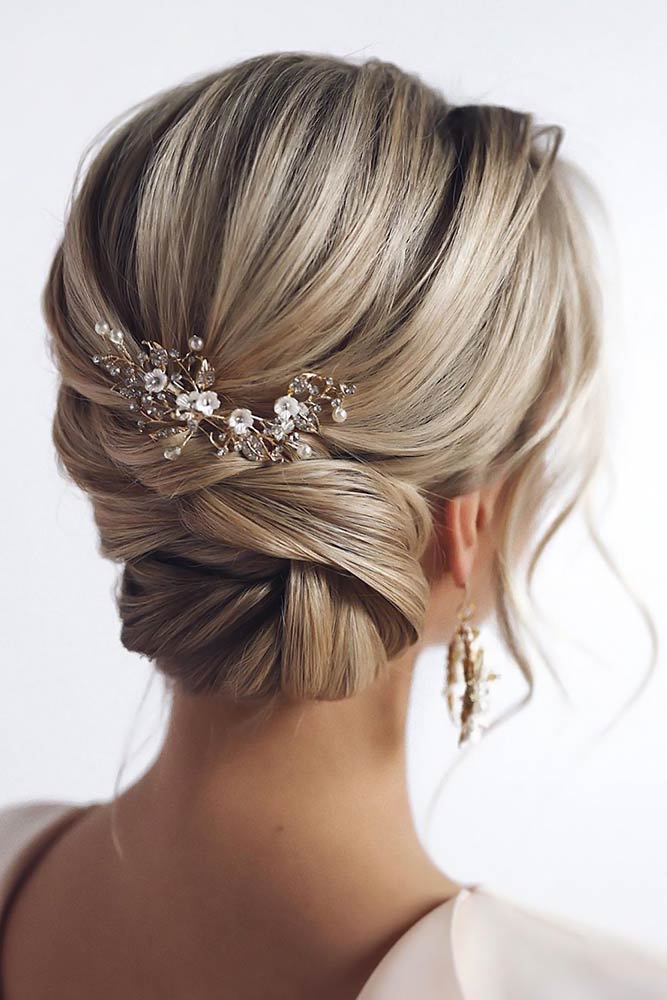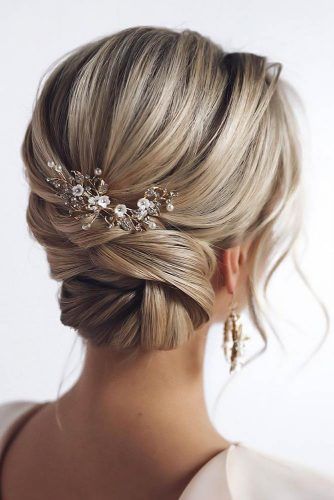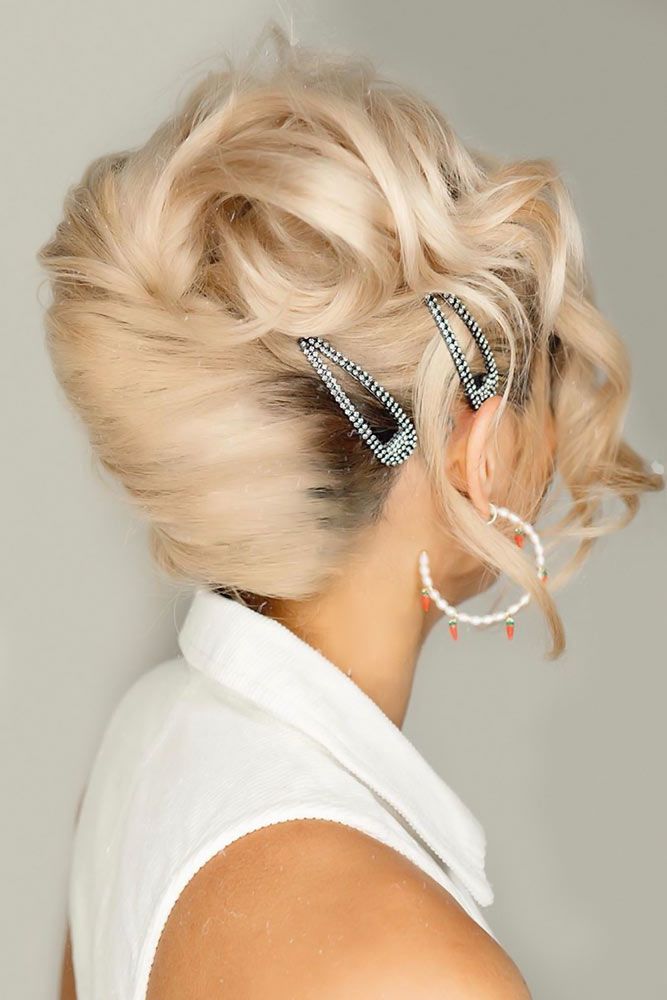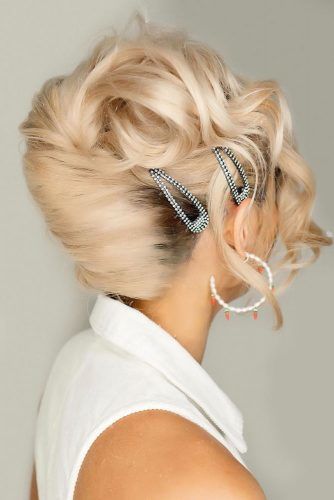 Long hair updos have a tendency to look gorgeous no matter what. But we know of a perfect way that will take even a regular messy bun to the next level. How do you feel about the metallic hairband? Isn't it extraordinary and gorgeous at the same time?
Mohawk Updos
Source: heatherchapmanhair via Instagram, alexandralee1016 via Instagram, heatherchapmanhair via Instagram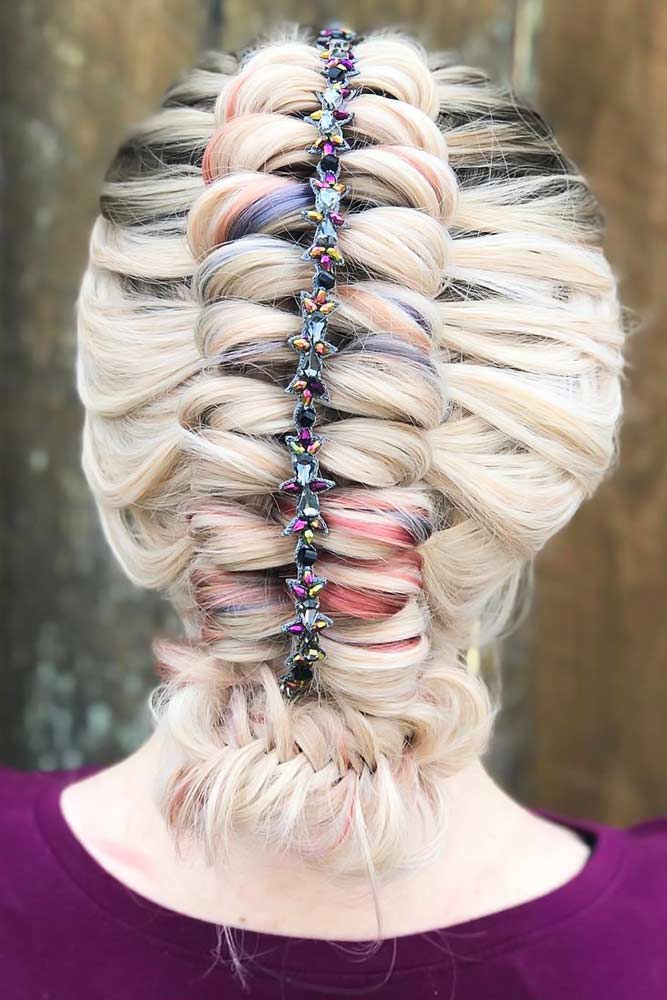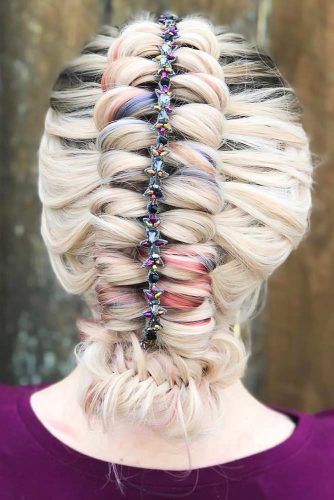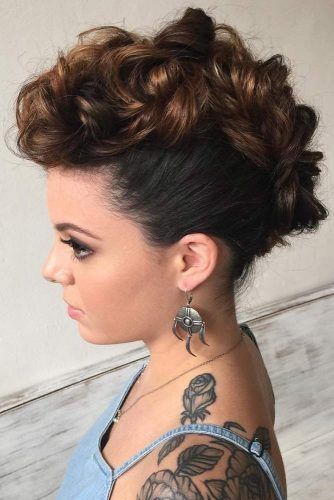 If you are not seeking for easy updos for long hair, you should totally try the Mohawk updo. We must warn you that this is a 'do not for faint-hearted ones. Apart from that, it is an extremely gorgeous way to show your creative side.
Updos Tutorials
How To: Double Braid Wrapped Roll Bun


Source: Missy Sue via YouTube/a>
When we think of updos, the very first thing that comes to our minds is a bun. It's a delicate, feminine, and usually effortless-looking hairstyle that can reveal your elegant and girly sides. There's something that also makes any updo hairstyles for long hair look more feminine: gorgeous braids. So why don't you combine these cuties to get a unique hairdo? Follow these steps to get convinced that most beautiful hairstyles are simple and learn how to do braided bun hairstyle step by step.
Part your hair to the right side.
Then, pick a section of hair at your crown and pin it down the parted side.
Wrap the left side over the top and pin it down.
Create part lines behind your ears and bring the side hair forwards to divide out the back section of hair.
Take a band and tie your hair and the back section together near the bottom.
Roll this section upwards, going towards the head and pin it.
Pick the hair on the right side and divide it into two: the top and bottom sections.
Take the bottom section and wrap it over the top of the bun, pinning it in place.
Do the same with the hair on the left side.
Start doing a French braid with the hair on the right side.
When you reach the halfway, switch your French braid to a lace one, where you add in hair from your hairline.
Once you bring all of your hair in a braid, go on braiding the section right to the bottom.
Make braid fuller by pulling off its edges.
Now, embellish the top of the bun, laying the braid over and pinning it in place.
Do the same with the hair on the left side.
Set your fabulous updo in place with some coats of hairspray and enjoy!
How To: Easy And Elegant Twisted Bun Hairstyle


Source: Alex Gaboury via YouTube
Girls can make up their look only depending on the upcoming event or occasion: you know how it's crucial for us to look authentic, beautiful and attractive at the same time. Do you want to save some time when choosing the right updo hairstyles for long hair? This simple bun is a lifeline for those who have run out of ideas or who are short of time: it suits any looks, from bridal and prom to casual ones. It's time to get to know one of the versatile updos for long hair and how to do it yourself. Follow these steps:
Start from teasing your hair downwards, parting it in any way you like, and picking small horizontal sections.
Section off the side sections of your hair, clipping the front sections out of the way.
Gently gather the top section of your hair to keep the volume and gather the lower section tightly, working with a regular comb.
Create a low ponytail and fix it with a strong elastic.
Push the back of your head against the scalp, placing your hands on it and slightly pull your hair upwards to add more volume.
Take another elastic, flip your hair upwards and secure it, creating a small bun.
Smooth down your hair and hook your finger through the second elastic at the bottom of your bun so that you can tuck ends through it.
Bring your hair down and loop it through the elastic, bringing it down and over the bun, and tucking the ends through the bun.
Make sure that your hair goes up down and then it goes underneath the elastic.
Then, take a side section and tightly pull it across the back of your head, pinning it in place.
The same goes for the second side section.
Get your hairdo some coats of hairspray to make it stay longer.
How To: Beautiful And Super Simple Updo For Long Hair


Source: Alex Gaboury via YouTube
Here comes another extremely easy and lovely updo. This idea is probably one of the easiest updo hairstyles for long hair you could ever imagine. Do you remember how many times you came late because you had nothing to do with your unruly thick hair? With this tutorial, you will always have styling ideas. That's how you can create easy updos for long thick hair step by step:
Start by throwing all your hair behind the shoulders and gently gather up the sides to form a ponytail.
Slightly pull the crown to add some volume to it.
Take your ponytail and put it halfway through, creating a mini bun, and wrap the ends around it.
Create a hole above your ponytail.
Flip your bun upwards and into the hole.
Secure everything with bobby pins, making sure that the hole isn't visible.
Lock it with some hairspray, and that's it!
You've just witnessed the updo-trends of today, so no wonder you're itching to try each one: they're so easy and beautiful. With these pretty ideas and handy tutorials, nothing stops you from sporting classy updo hairstyles for long hair. What are you waiting for? It's updos time!
ADVERTISEMENT ‧ CONTINUE READING BELOW