You can't help but love Asian hairstyles for women. Asians are quite famous for their styles and coloring approaches that women across the world can't stop recreating. The silkiness and smoothness of Asian girls' black locks are worrying, as well as their creativity when it comes to styling has influenced contemporary trends and the latest fashion ideas.
Basic Asian Hairstyles
This compilation of the most iconic Asian styles 2023 is to inspire you for your next cut. It's time to try a hairstyle from another continent.
Side Parted Pixie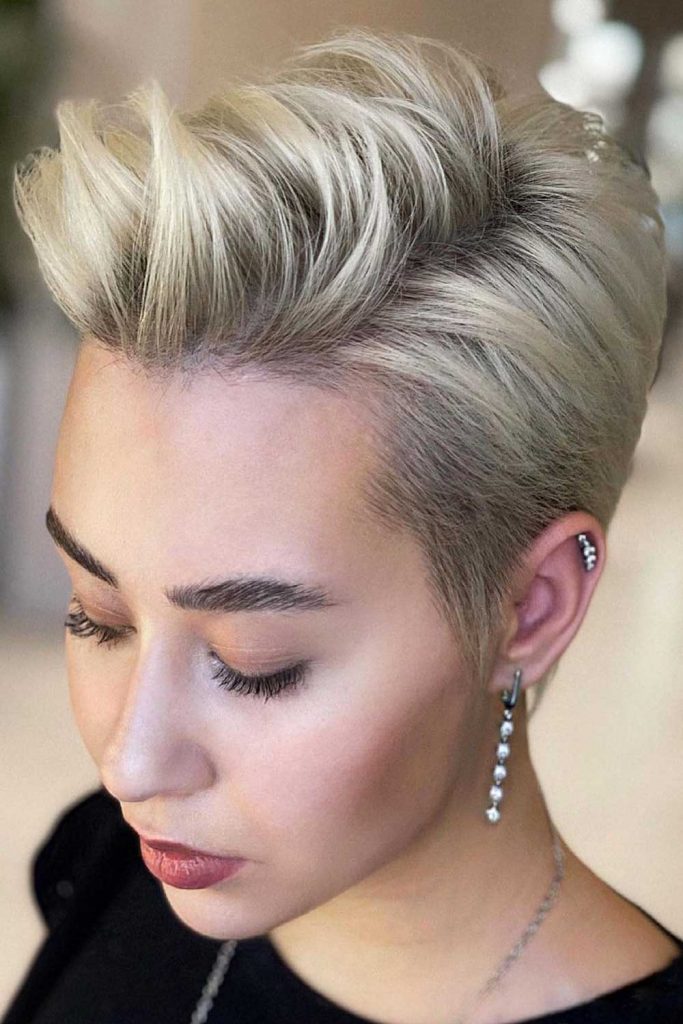 by @instagram_mila_kryshchykhina
If you deal with thick hair, let this comfy and hot short Asian hairstyle help you. The cut will put your unruly locks into shape, and your task is to stylishly be creative with it. It's a very simple style because Asian girls love simplicity, so they know that side-parted pixie is cute despite its simplicity.
Edgy Pixie With Undercut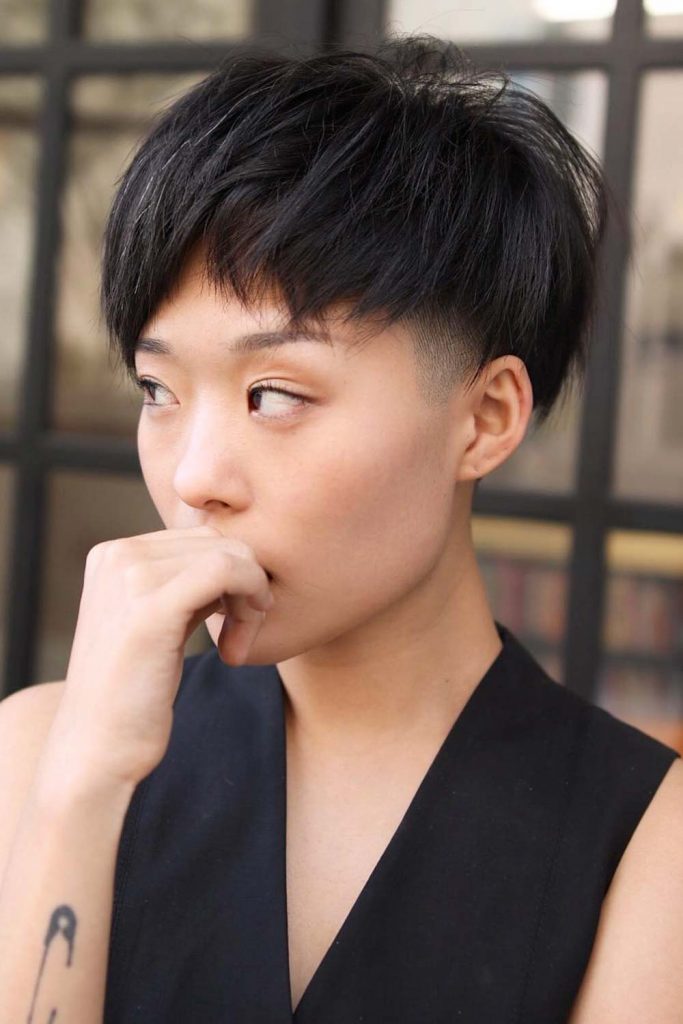 by @instagram_salsalhair
The edgy pixie cut is another outstanding way to rock an Asian short hairstyle. With such a bold and contemporary pixie style, you will join the club of modern fashion enthusiasts who are not afraid to be in the spotlight. You can spice up your hair with the contrast of short sides and long top, and color the edges.
Short Pixie Haircut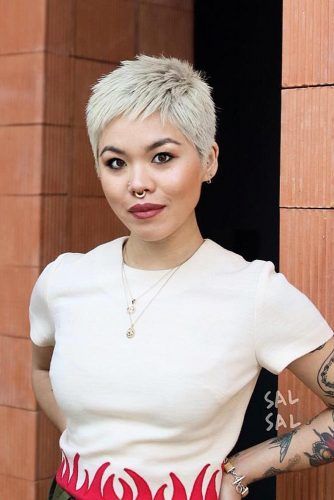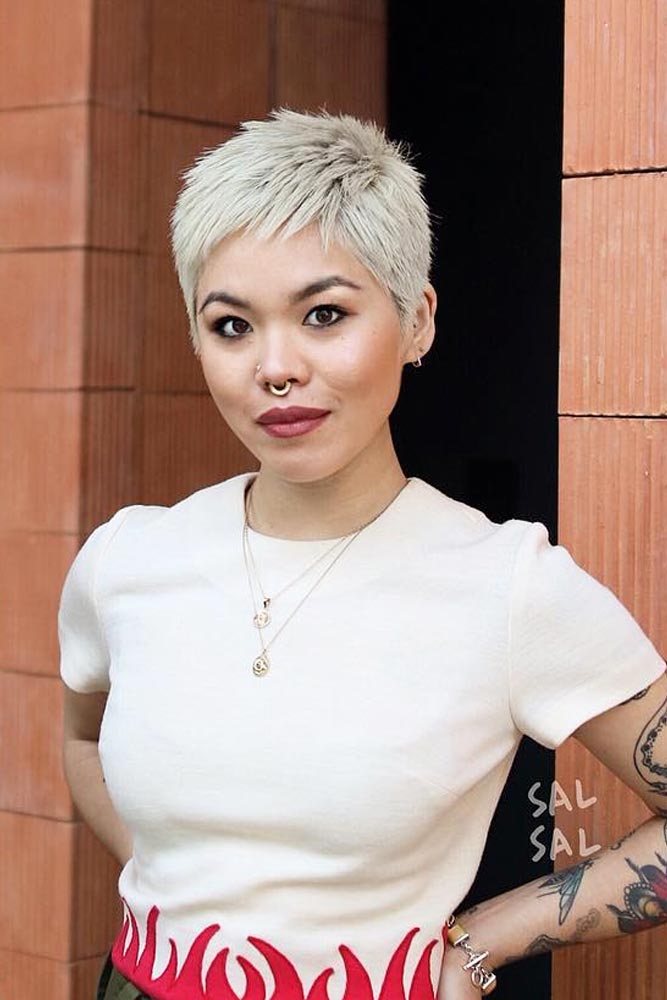 by @instagram_salsalhair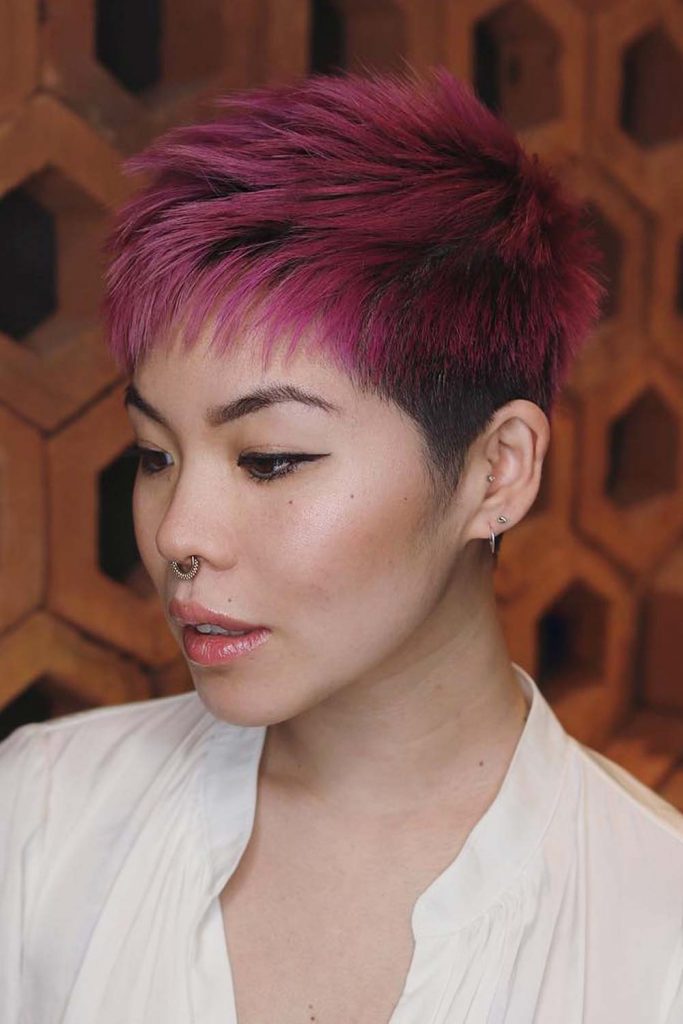 by @instagram_salsalhair
This is for those busy ladies who have no time or desire to style their hairdos in the mornings. It's obviously a really stylish and low-maintenance idea. A short pixie haircut saves you a lot of time and energy for other fun stuff. If you think this cut would look too boyish on you, make it more feminine by toning the hair bright pink.
Chin-Length Bob With Middle Part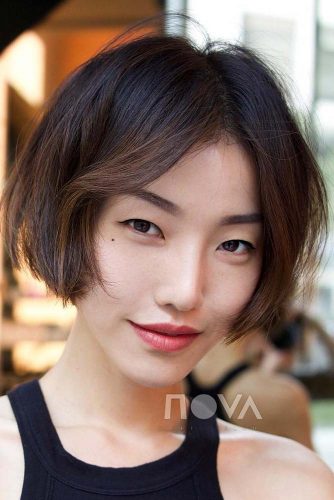 by @instagram_salsalhair
Even though most Asian ladies are born with perfect facial features, they know how to make their facial features more beautiful. Besides their cute and minimalist look, chin-length Asian bob hairstyles with the center part can soften up the angles of square faces, which is a big win.
Asymmetrical Short Bob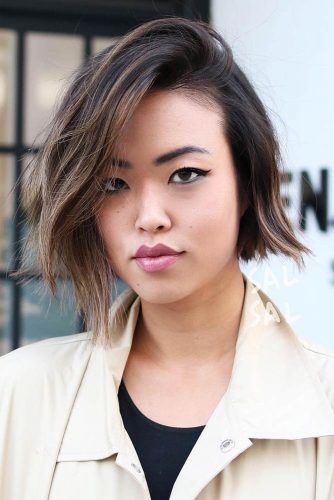 by @instagram_salsalhair
Hairstyles for Asian hair usually involve lightweight texture achieved with gentle feathering. In this way, thick locks behave and look softer. And this cute, asymmetrical bob with balayage shows this softness at its best: the airy ends give a lovely movement, while its outweighed body creates natural lift.
Layered Medium Bob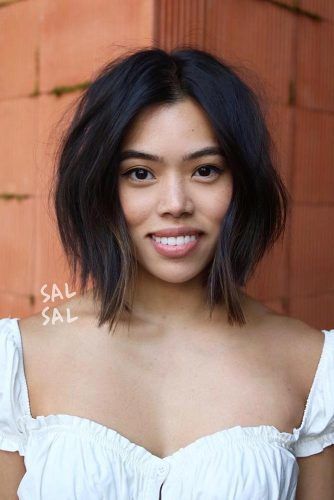 by @instagram_salsalhair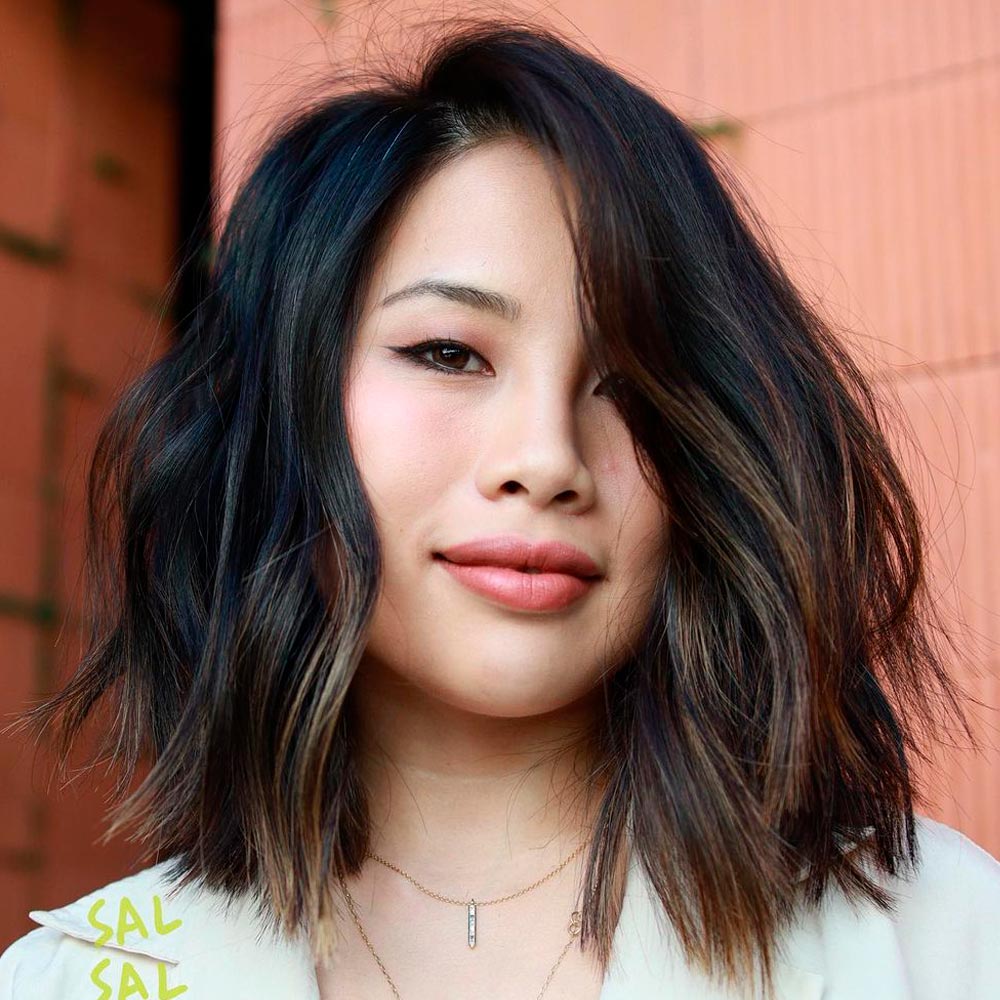 by @instagram_salsalhair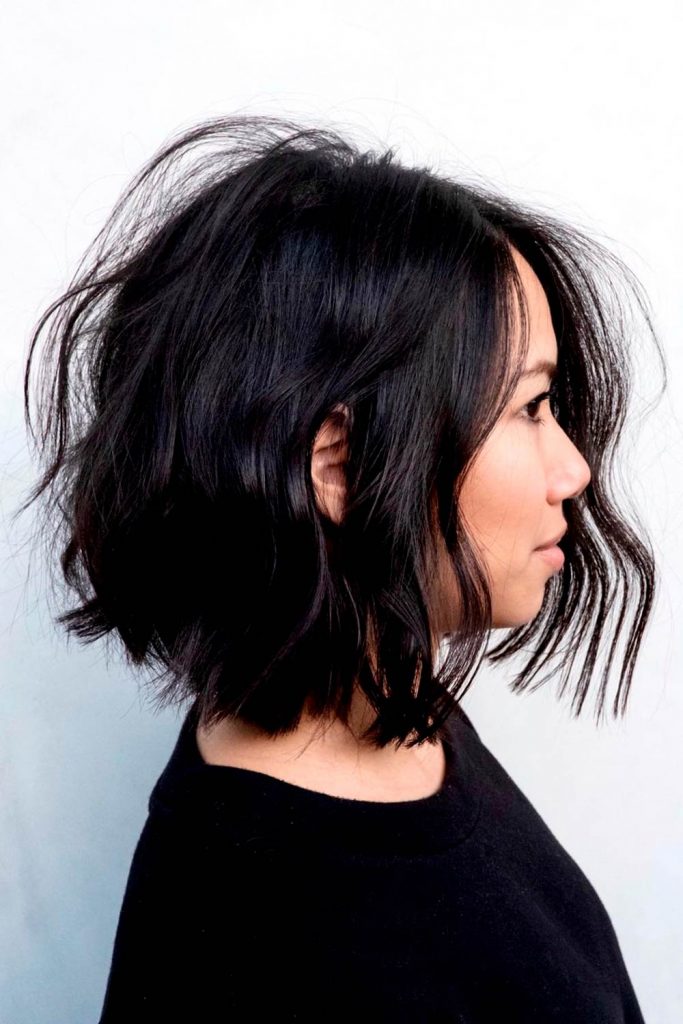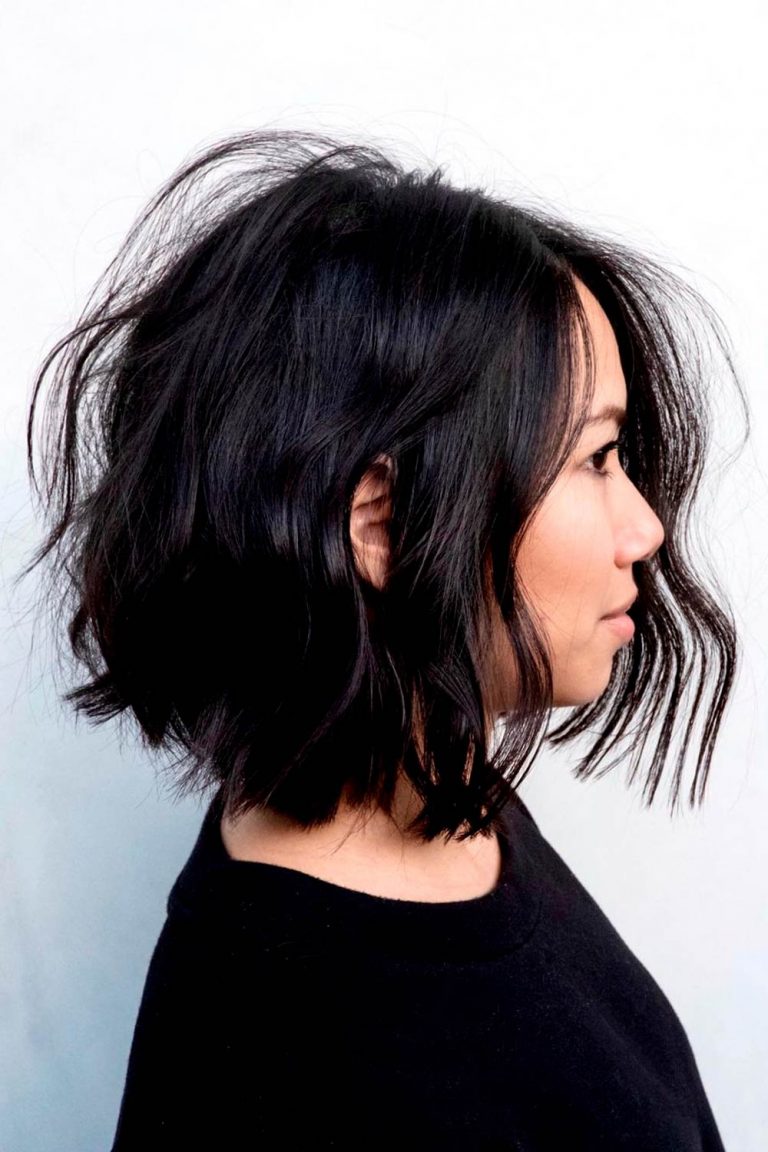 by @instagram_chrisjones_hair
Even though for your perfect Asian face features sky is the limit, you can always enhance your beauty with the right cut. For example, frame your face with the shoulder-length messy bob. For added volume, ask your hairstylist to cut it in layers.
Side Parted Lob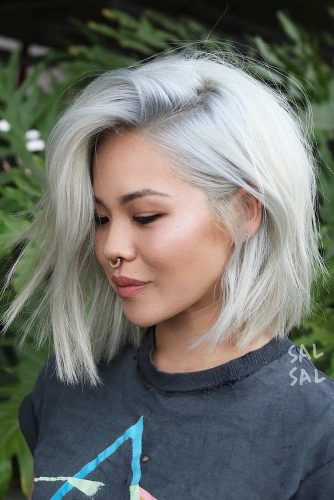 by @instagram_salsalhair
Some may call the side-parted lob a simple daily idea, and Asian ladies will call it a red-carpet hairstyle. These ladies know that nothing can compare to the youthful effect of the one-length Asian medium length hairstyles. If they're styled right, they can enliven your look all day long. Yes, these girls are never mistaken in choice.
Middle Parted Medium Length Hair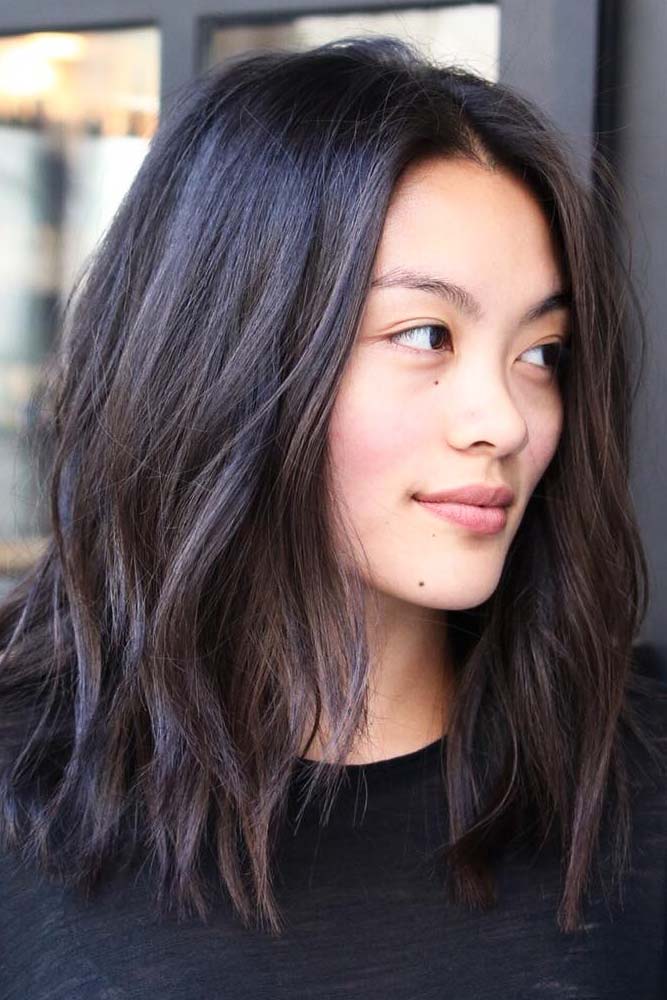 by @instagram_salsalhair
Middle parted layered bob is the first thing that comes to our minds when we think of medium hairstyles for Asian women. The truth is, no one pulls this classic and chic style as perfectly as these cuties. Just look at this balance: the ends are curved in, the mid-shaft is voluminous, and the parting is so pointed.
Asymmetrical Wavy Long Bob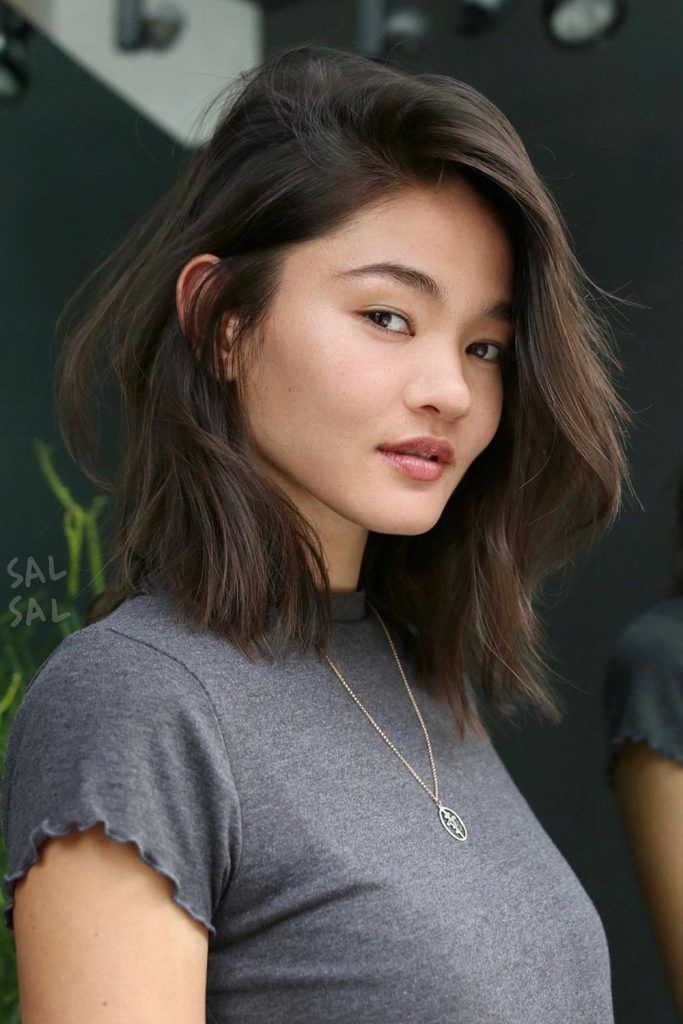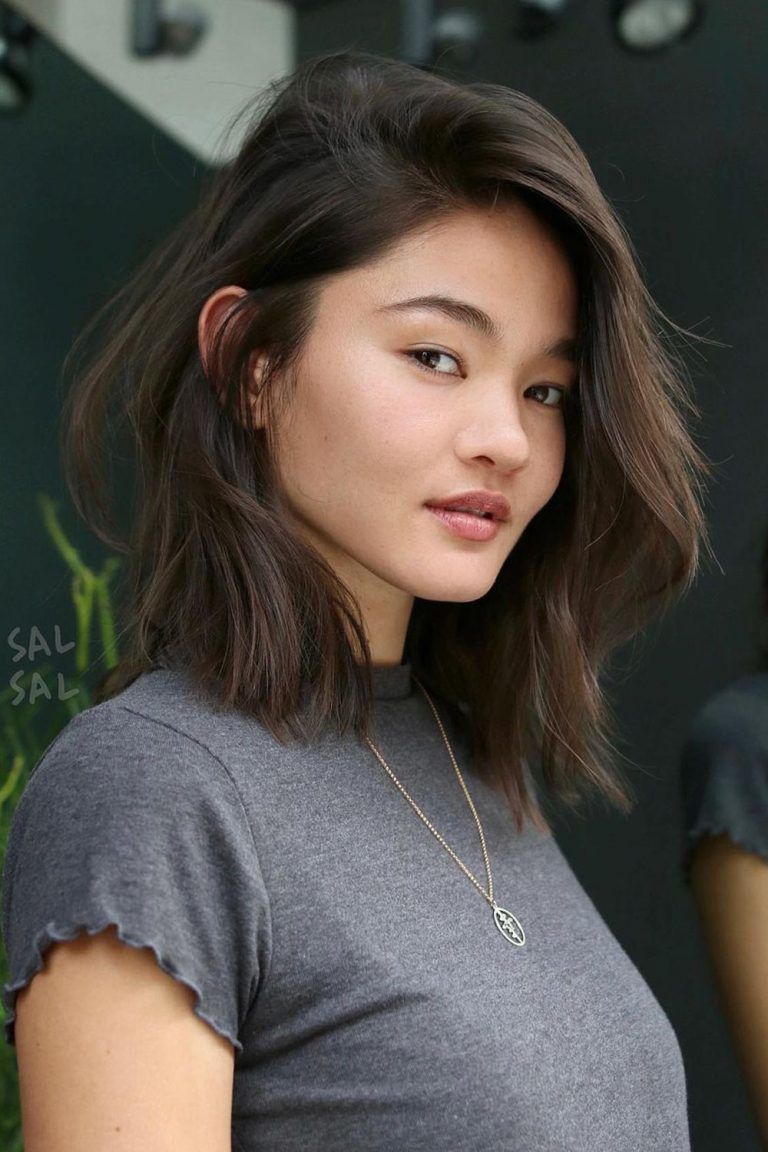 by @instagram_salsalhair
Do you know what styles are considered the best Asian hairstyles in 2022? The ones that feature extraordinary hair colors! Asian trendsetters just took an asymmetrical lob and made a thing out of it. Leave the roots dark, change your color for a wow one, wave your hair, and forget about common looks!
Side Parted Wavy Shoulder Length Hairstyle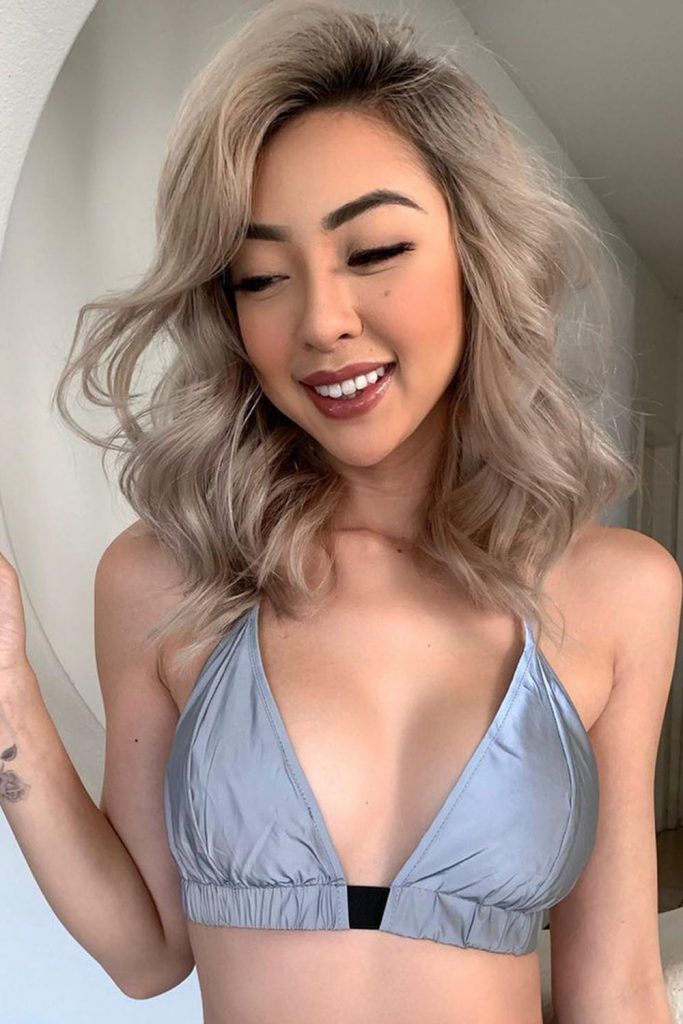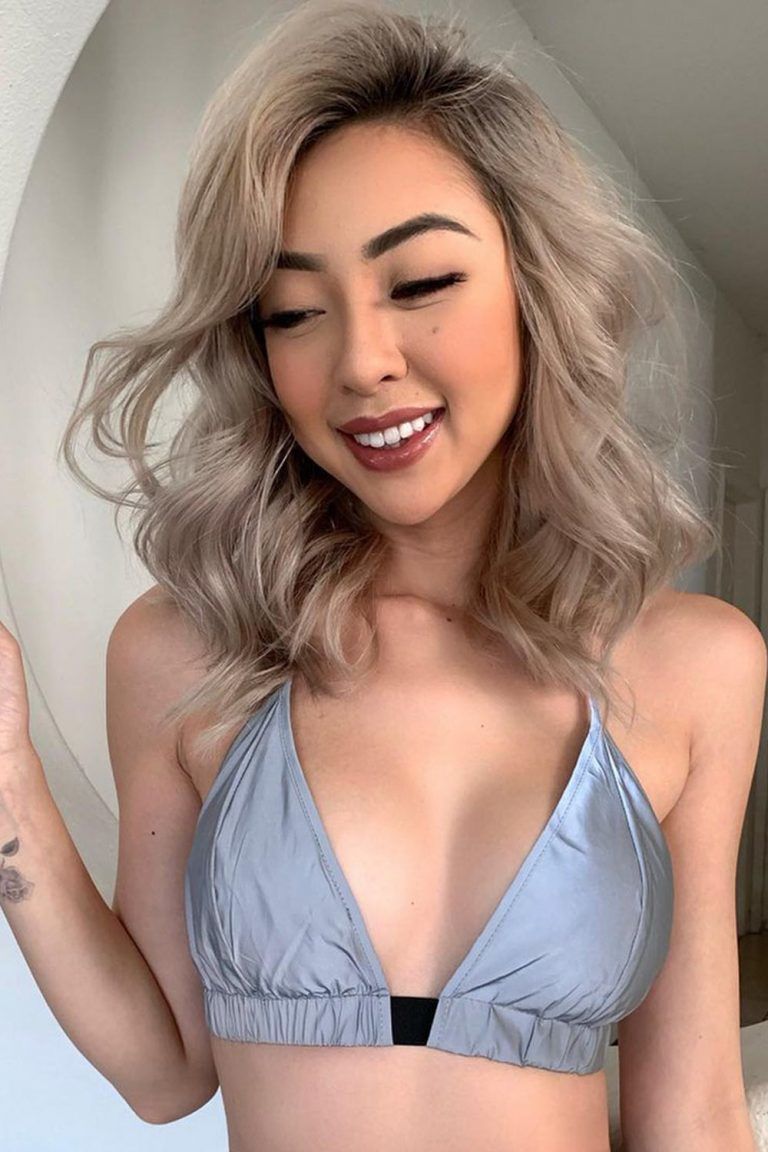 by @instagram_hilisaa
Luckily for creative ladies, there are no Asian hairstyles highlights can't spice up. On the contrary, Asian ladies love individualizing popular hairstyles with color accents. A shoulder-length bob is cute and convenient, but when it's styled to the side, waved, and highlighted, it reaches the new level.
Side Parted Long Shag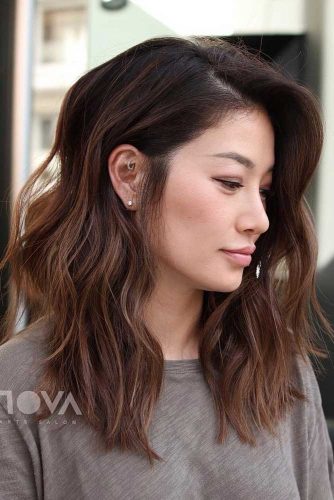 by @instagram_salsalhair
In most cases, long Asian hair looks flawless without additional styling. Yet, you can make the most out of it by adding the part to your most flattering side. In case you're unsure whether to curl or straighten it, try out beach waves, which is basically a combination of both textures.
Straight Long Hair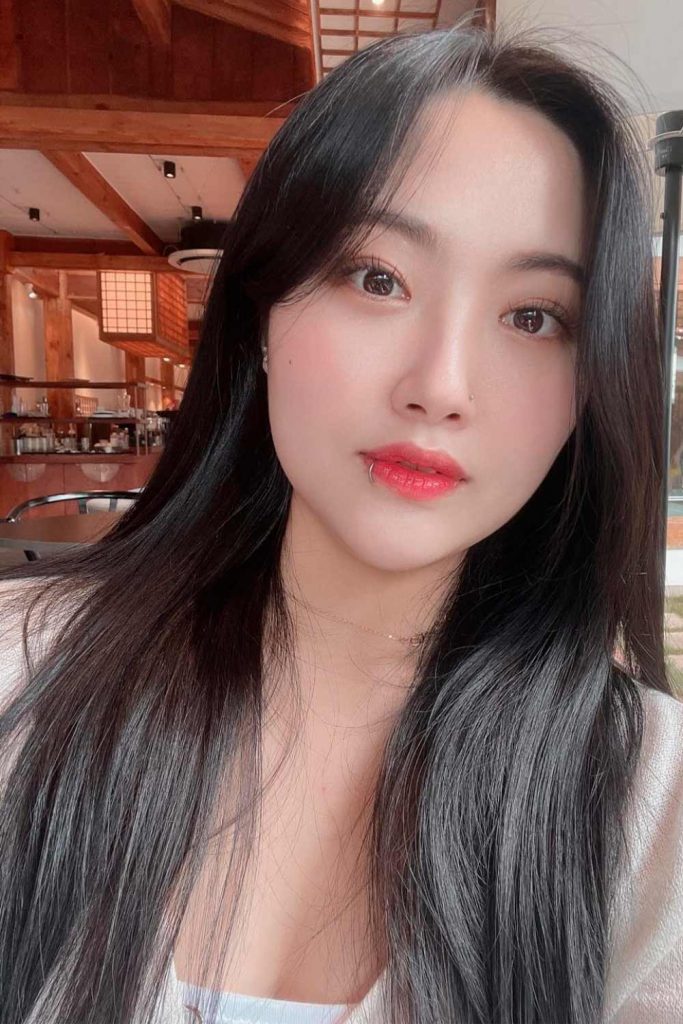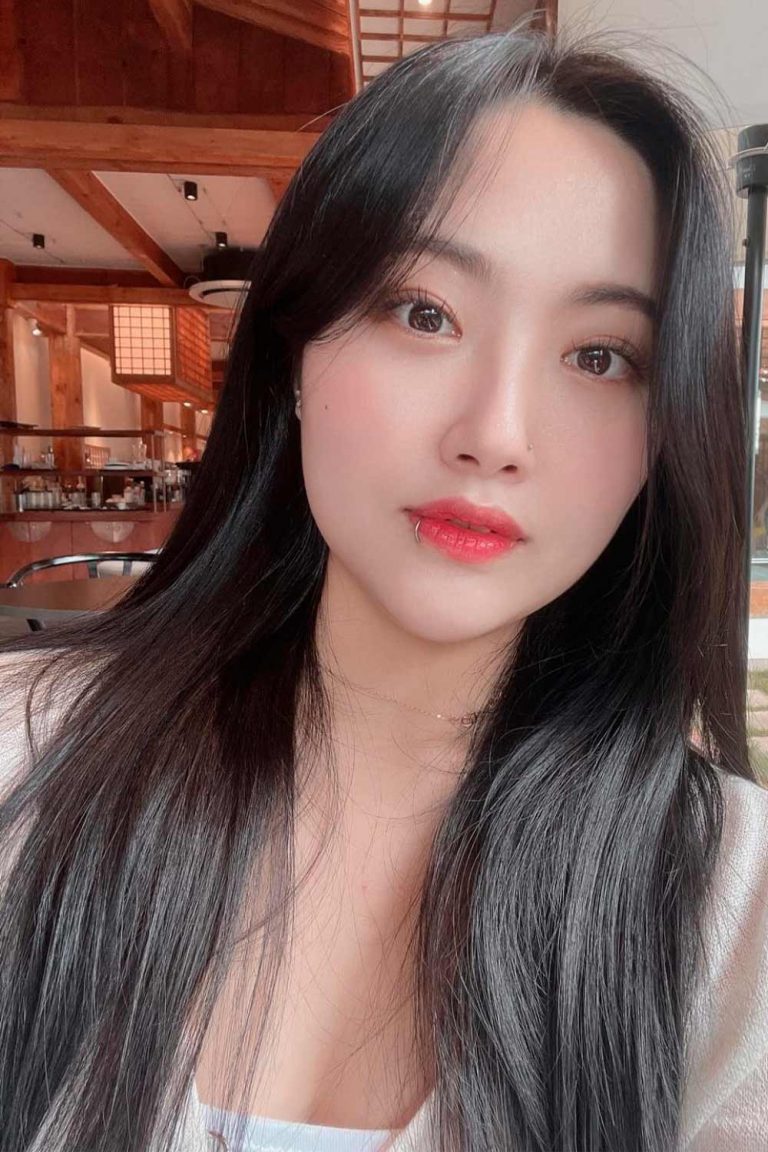 by @instagram_icopiercing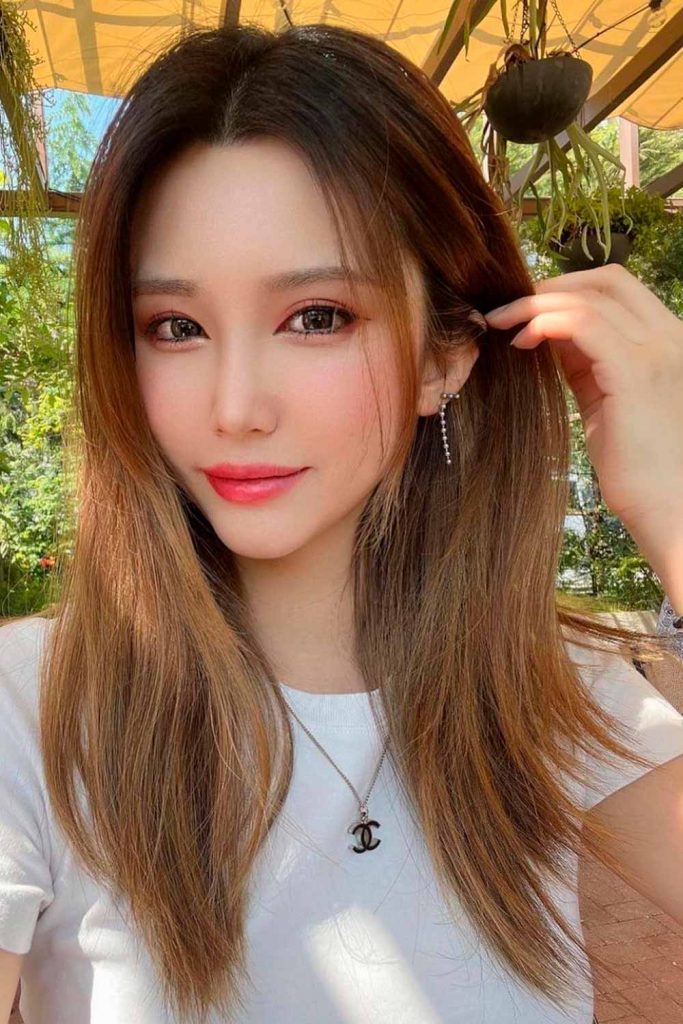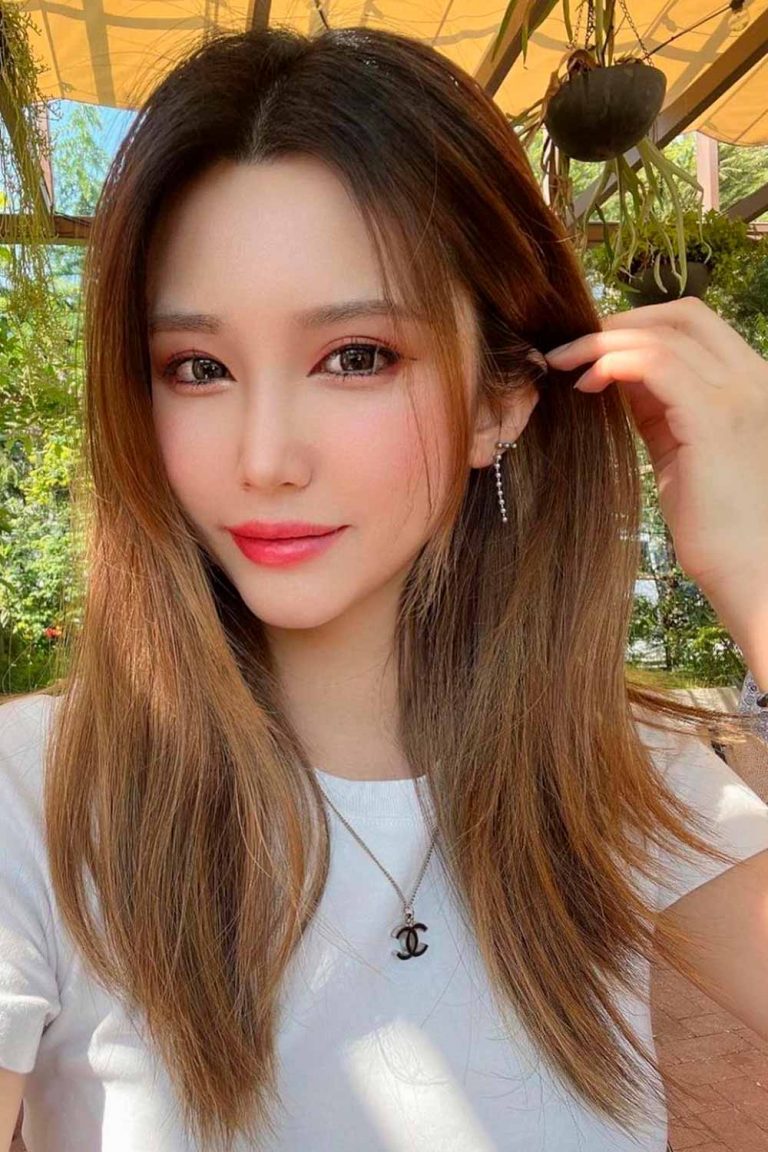 by @instagram_icopiercing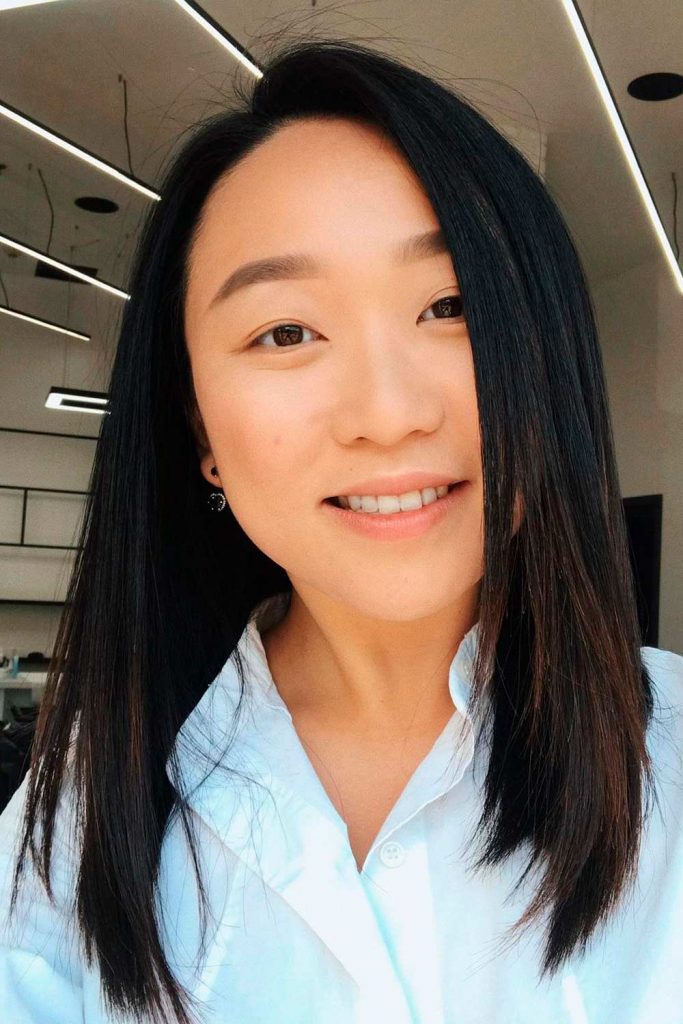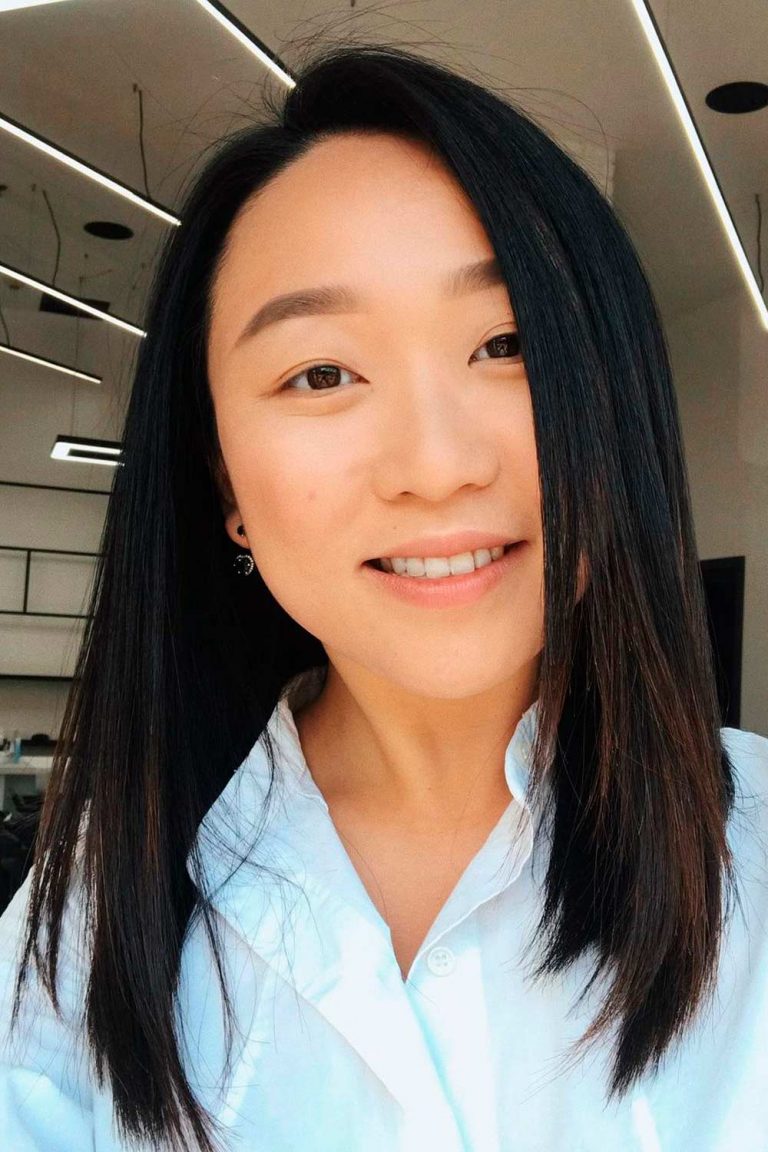 by @instagram_lee4you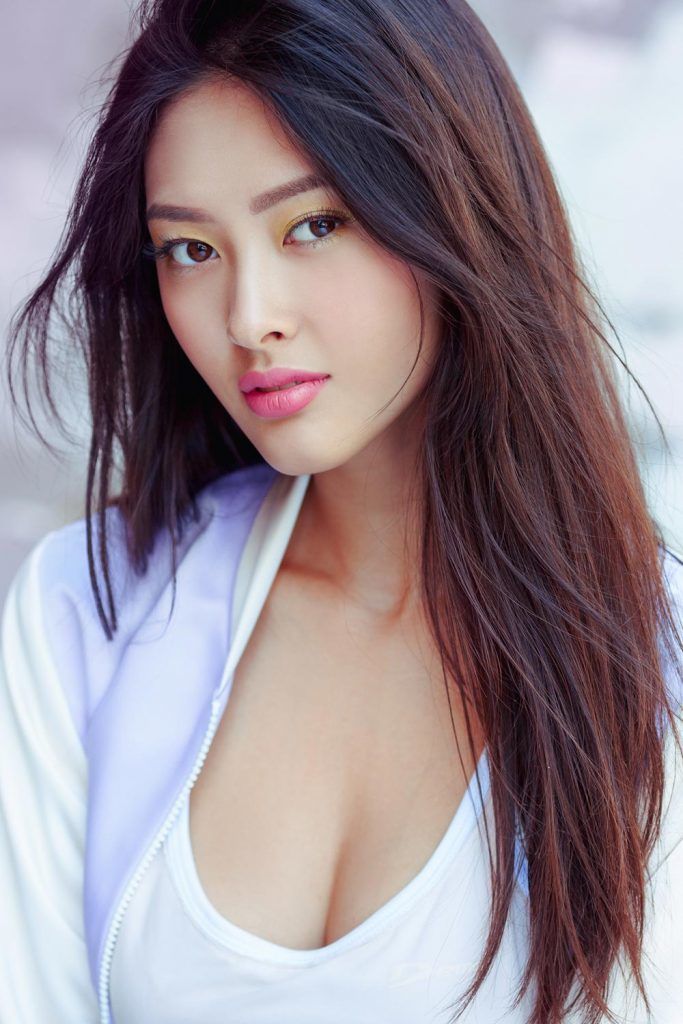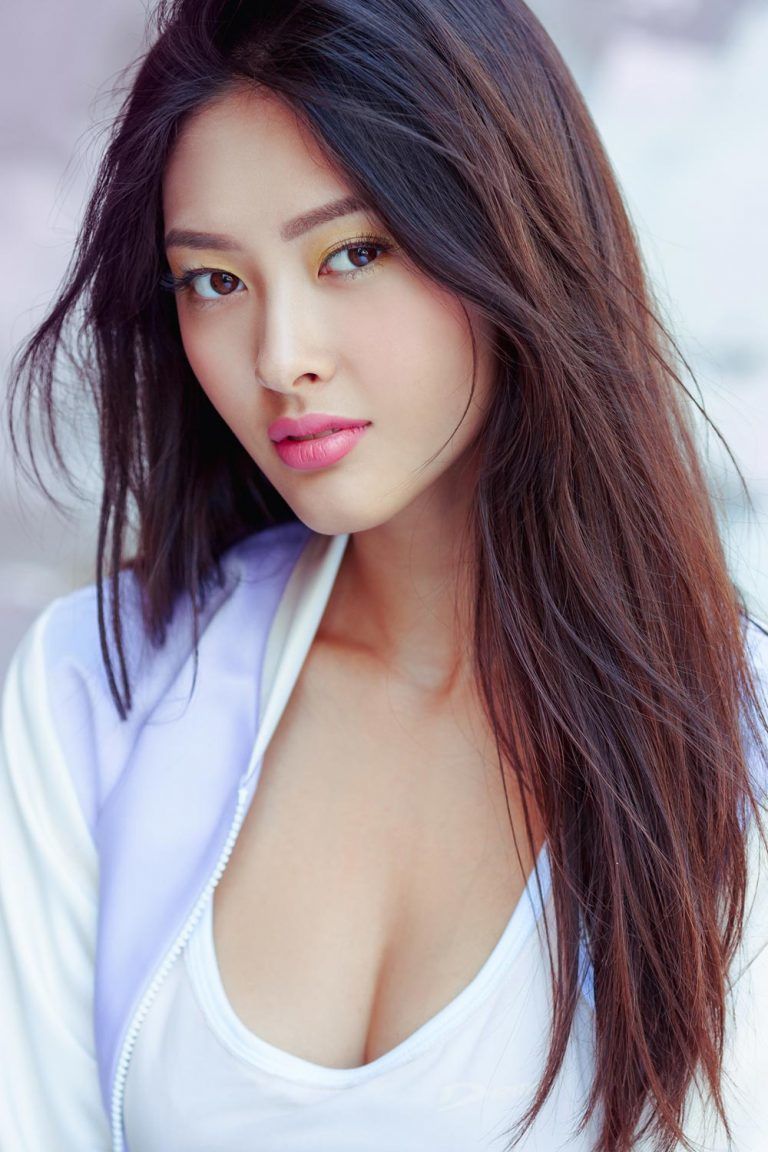 Credit photo: Shutterstock
It's a good way to show off your gorgeous Asian hair by simply wearing it straight. Make sure though that it's in a perfect condition. If not, you can apply some hair oil or leave-in conditioner, which will provide you with extra slickness and shine. Additionally, toning your locks smoky silver will create an illusion of metallic sheen.
Textured Messy Long Hairstyle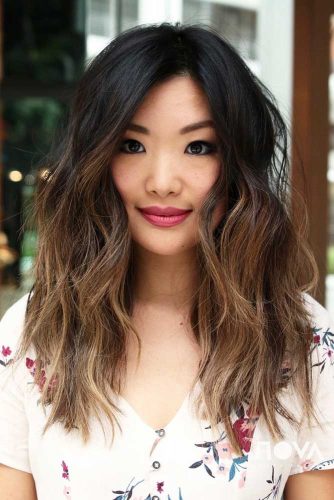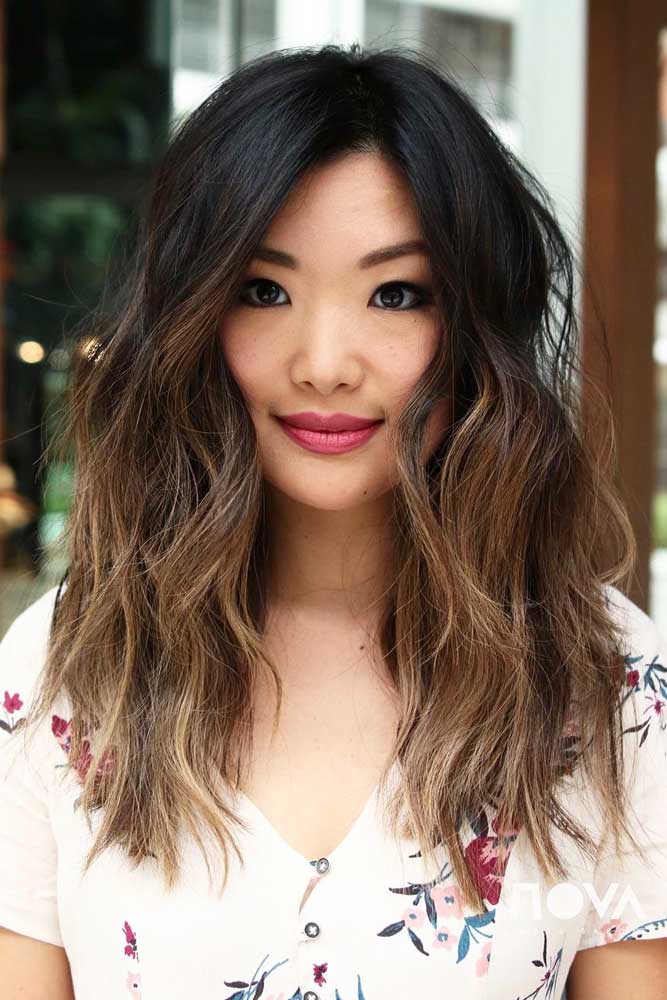 by @instagram_salsalhair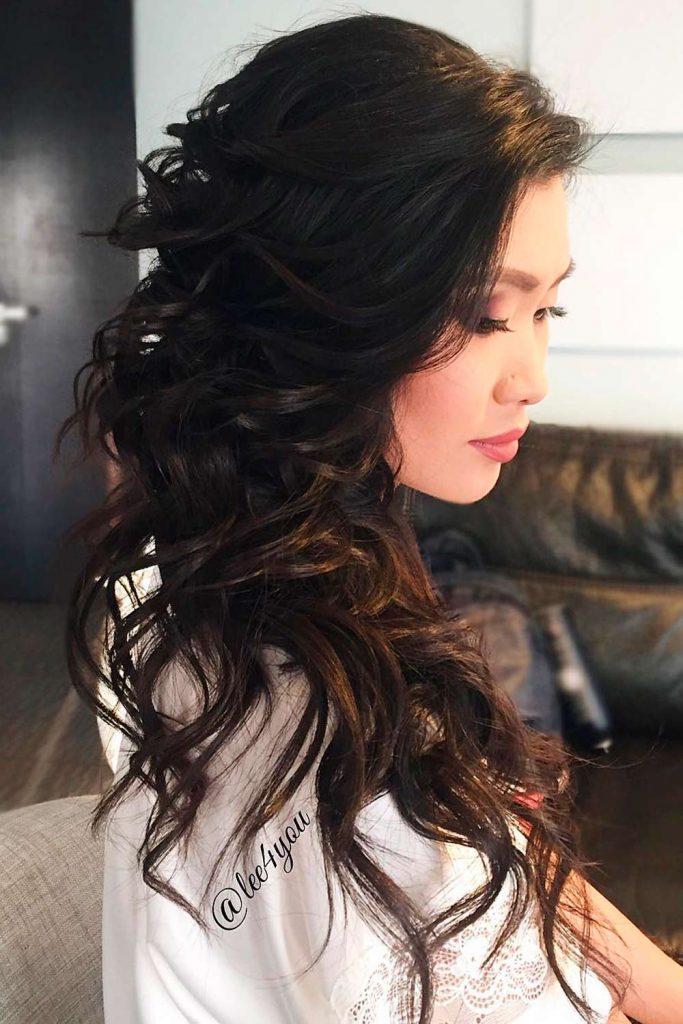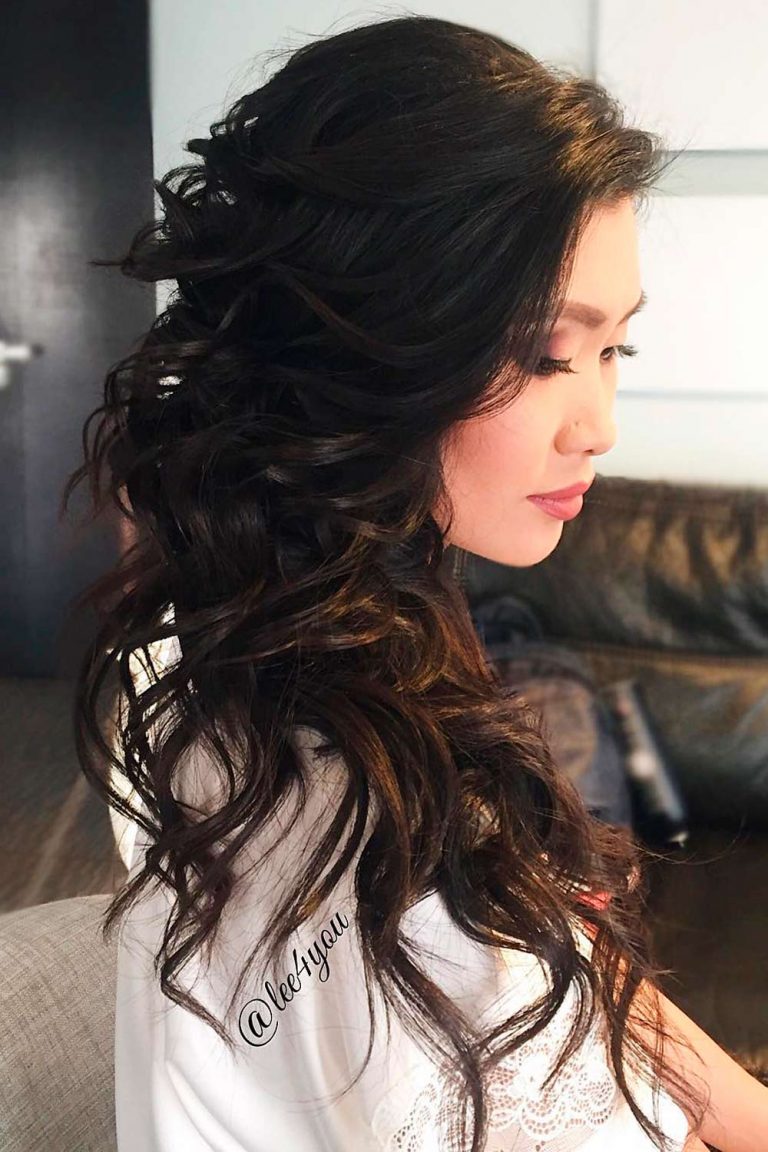 by @instagram_lee4you
Remember that there are lots of advantages beneath all those cute Asian hairstyles. For example, it's not just a stylish messy hairstyle; it's a wonderful way to add life and volume to both heavy and weak locks. Are you ready to hear one more? Such styles can do the framing!
Layered Long Hairstyle With Bangs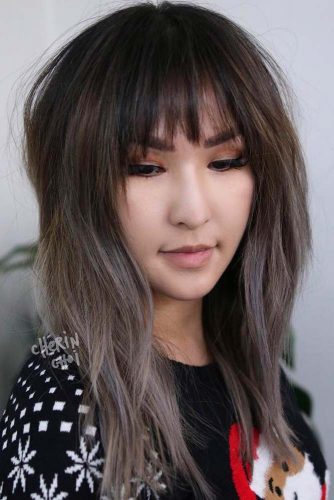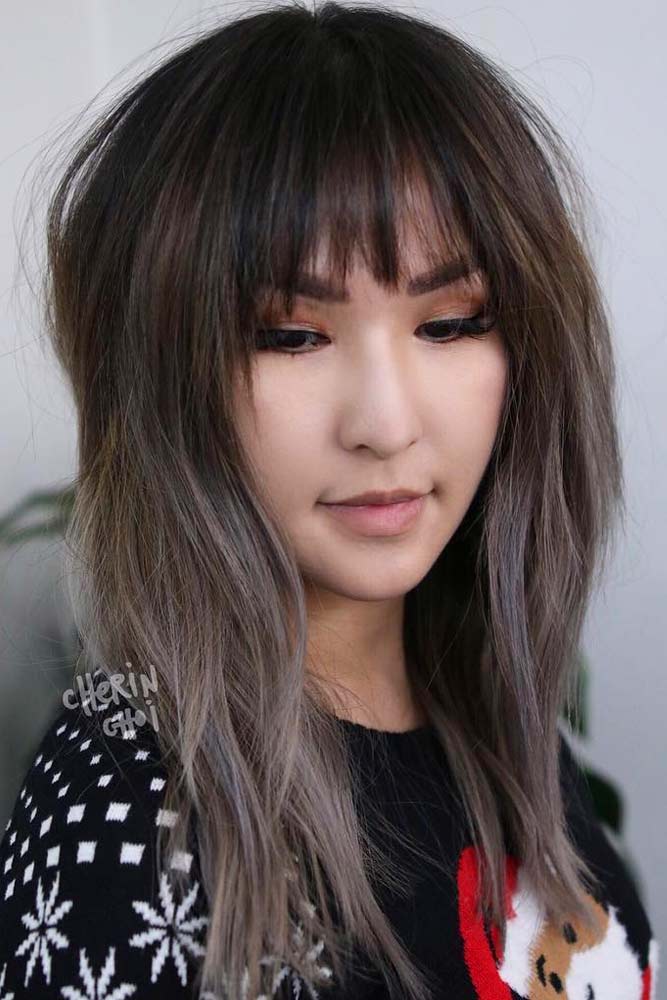 by @instagram_mizzchoi
It seems like Asian girls have mastered nailing bangs. They can add it to any cut possible! And let's don't forget that not all of them flaunt with full and thick chevelures. To add more volume and dimension to their styles, they go for beautifying layers and finish everything with a soft fringe. Why don't you do the same?
Side Parted Long Wavy Hairstyle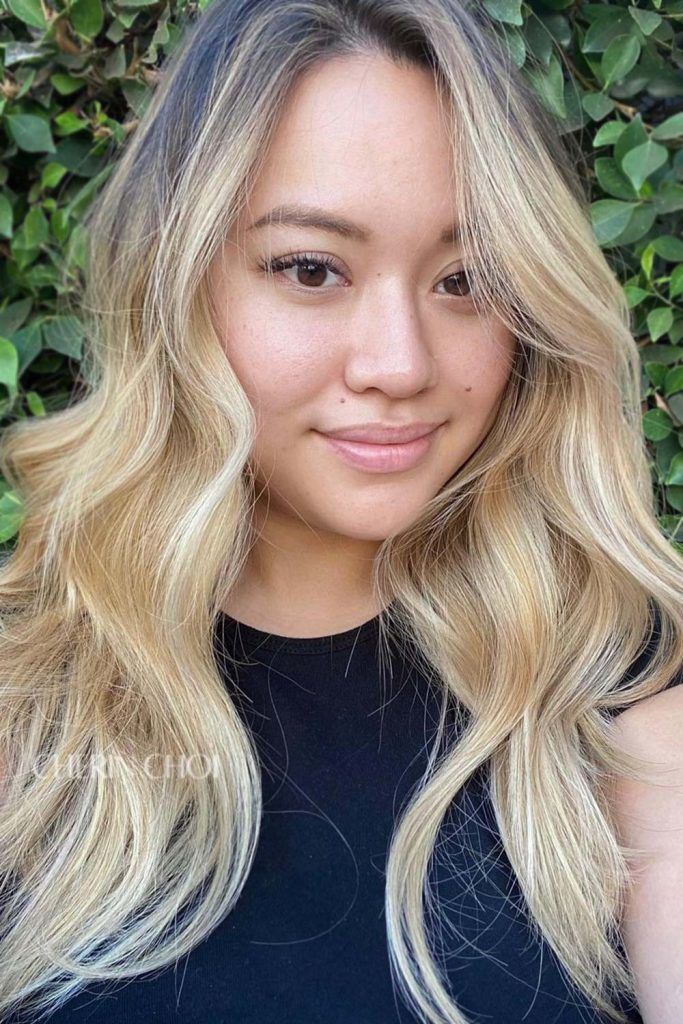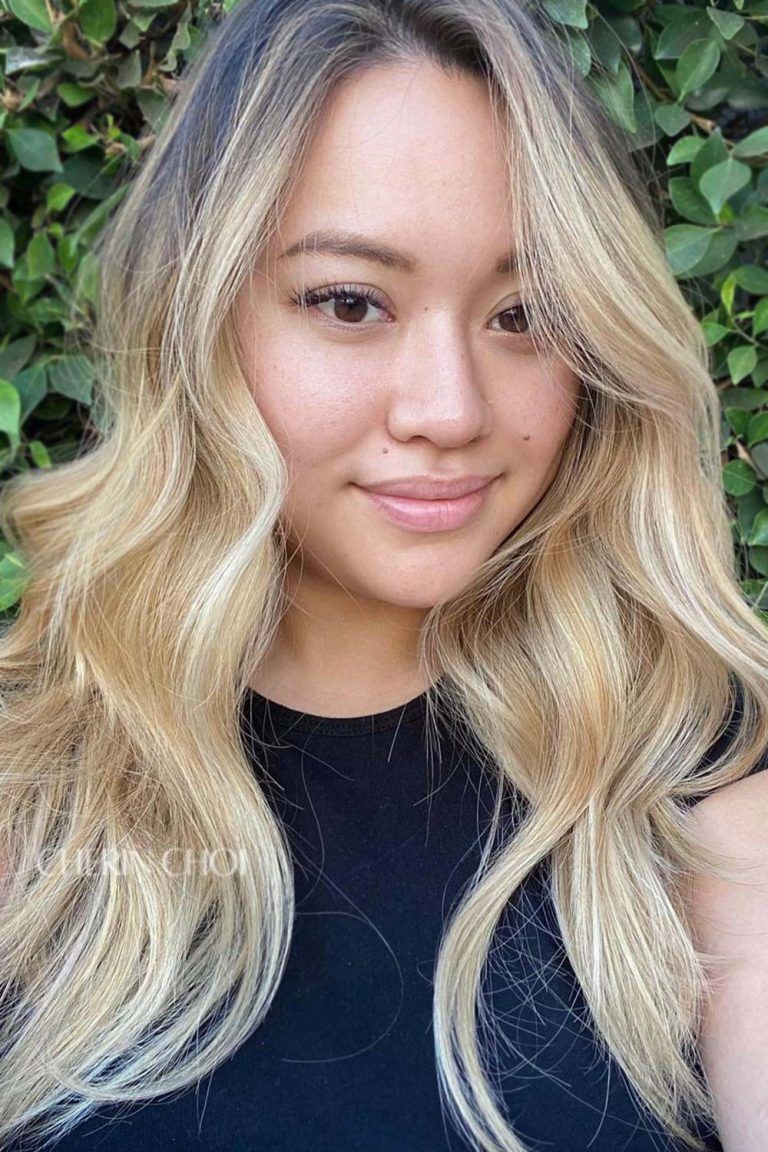 by @instagram_mizzchoi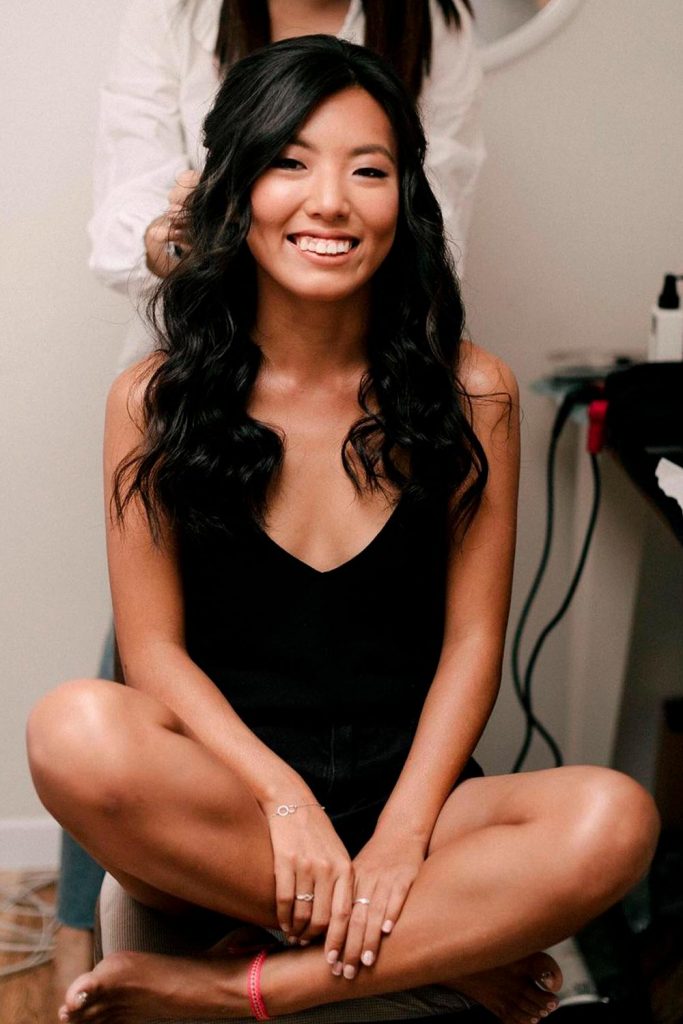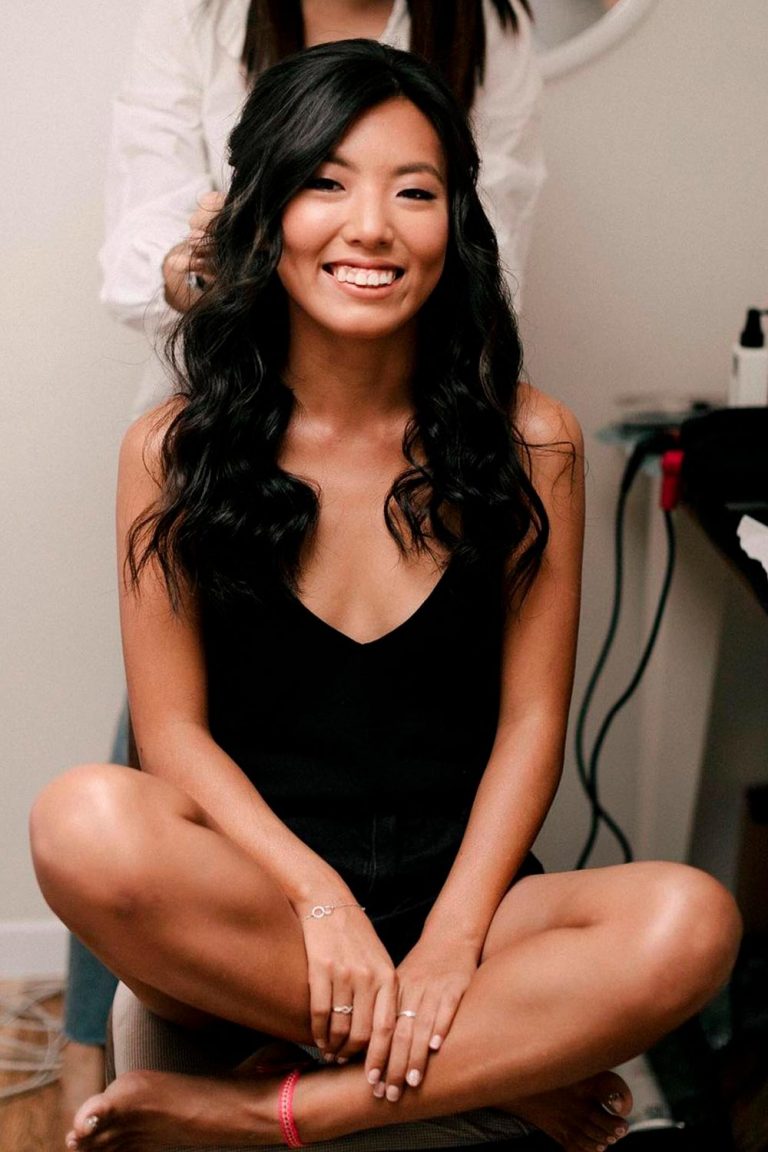 by @instagram_lee4you
You know that Asian girls are very concerned about fashion and beauty industry. They always try to make their looks on point, and Asian long hairstyles aren't an exception. Yes, their long hairstyles are super dramatic: the waves are distinctive, and the overall silhouette is chic and fresh.
Long Shag Hairstyle With Curtain Bangs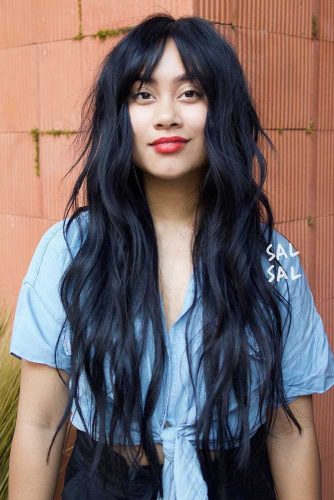 by @instagram_salsalhair
Have you ever see that effortless and attention-grabbing beachy waves? Long Asian hairstyles aren't going to stop impressing you with the power of bangs. Once you get a slight end texturizing and curtain bangs, the natural and lovely look will be yours.
Fresh Options Of Asian Hairstyles For Everyday
Voluminous Space Buns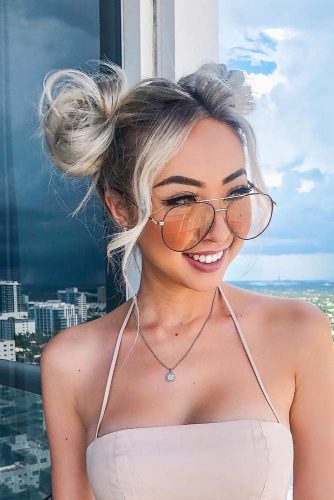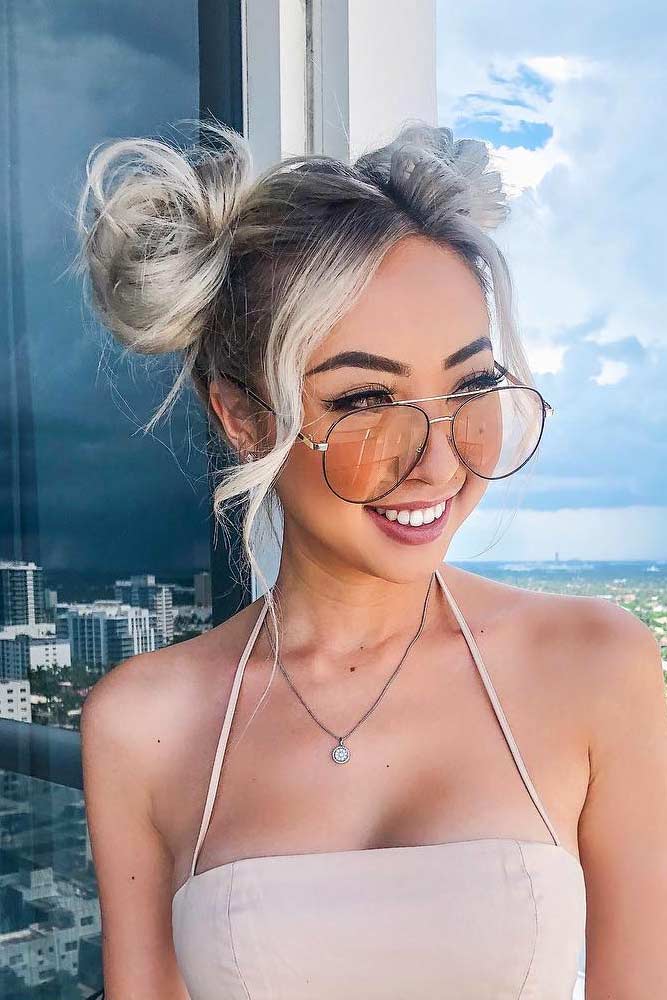 by @instagram_hilisaa
Do you remember the good old space buns? Asian hairstyles for long hair are not all about wearing colorful and pastel waves; they can be creative and different. This is a style that has no length and hair type restrictions: it looks gorgeous on everyone, and Asian girls have proven that.
Braided Updo With Floral Accessories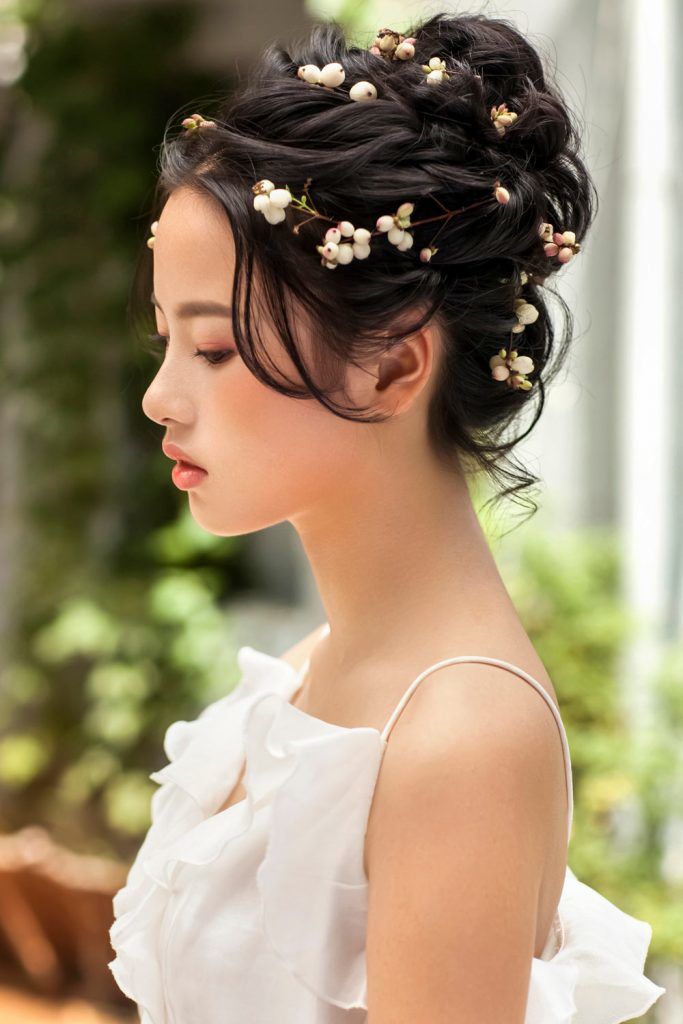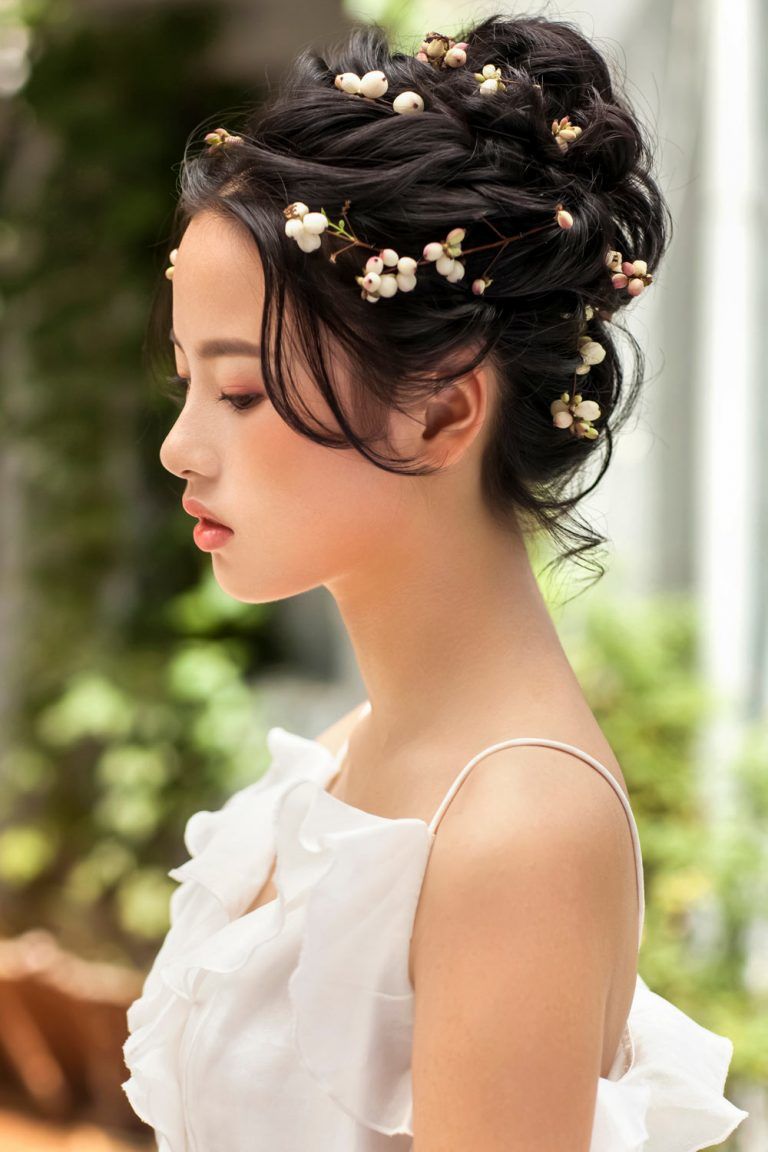 Credit photo: Shutterstock
How about you to face the feminine side of Asian girl hairstyles. While most trendy ideas are bold and unusual, this updo reveals the charm and sensitivity of our fashion influencers. A head full of braided texture, embellished with floral accessories shows that Asian hairstyles can be different.
High Bun Hairstyle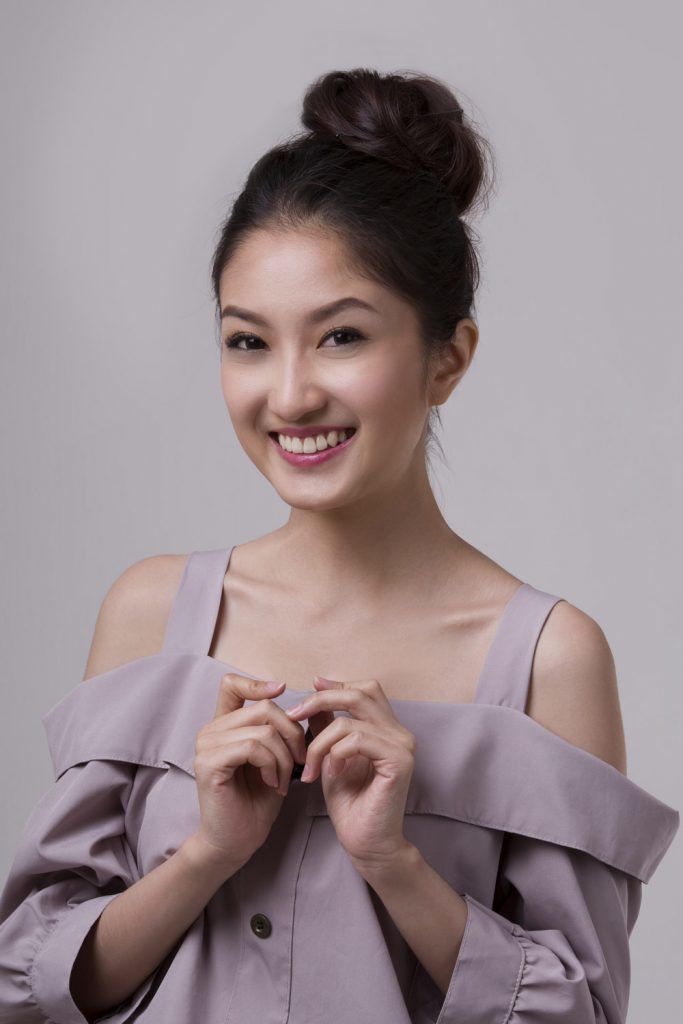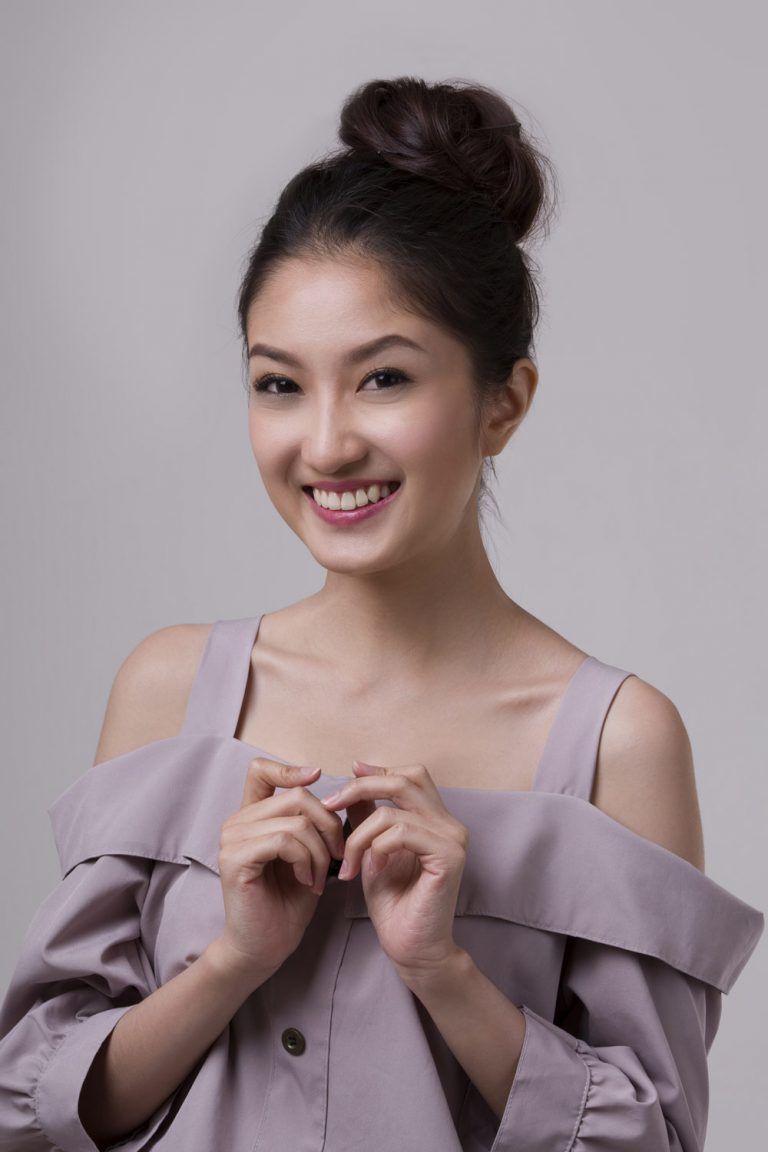 Credit photo: Shutterstock
You aren't new to the high bun hairstyle. But if you wear it, wear it as stylishly as Asian ladies! A soft greyish tint will make even the simplest hairstyle pop. And that's their secret!
Gentle And Girly Double Braids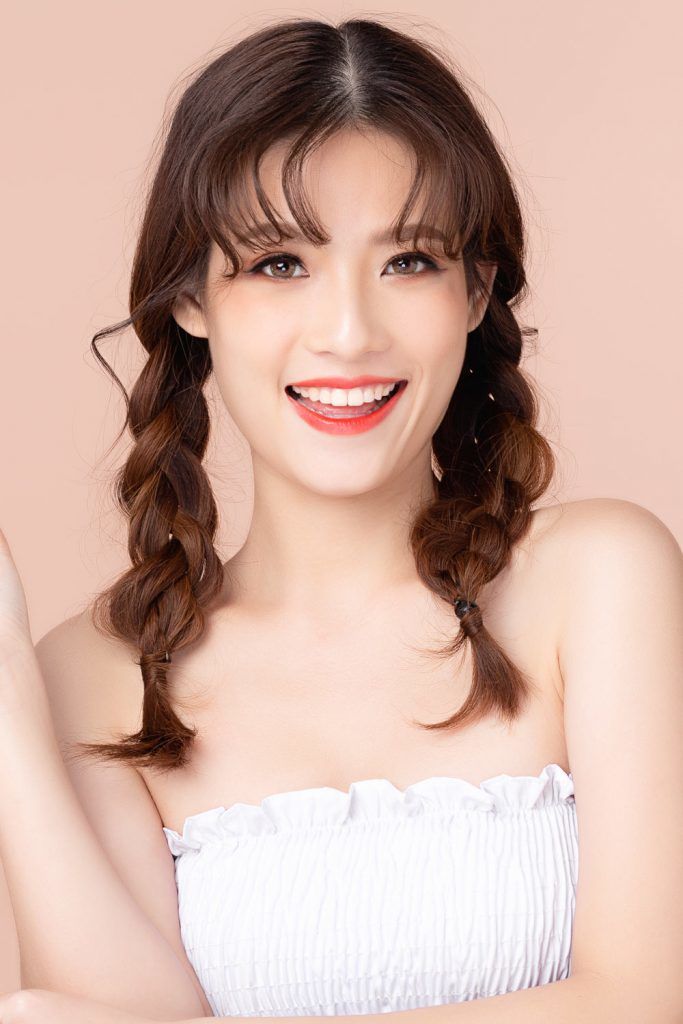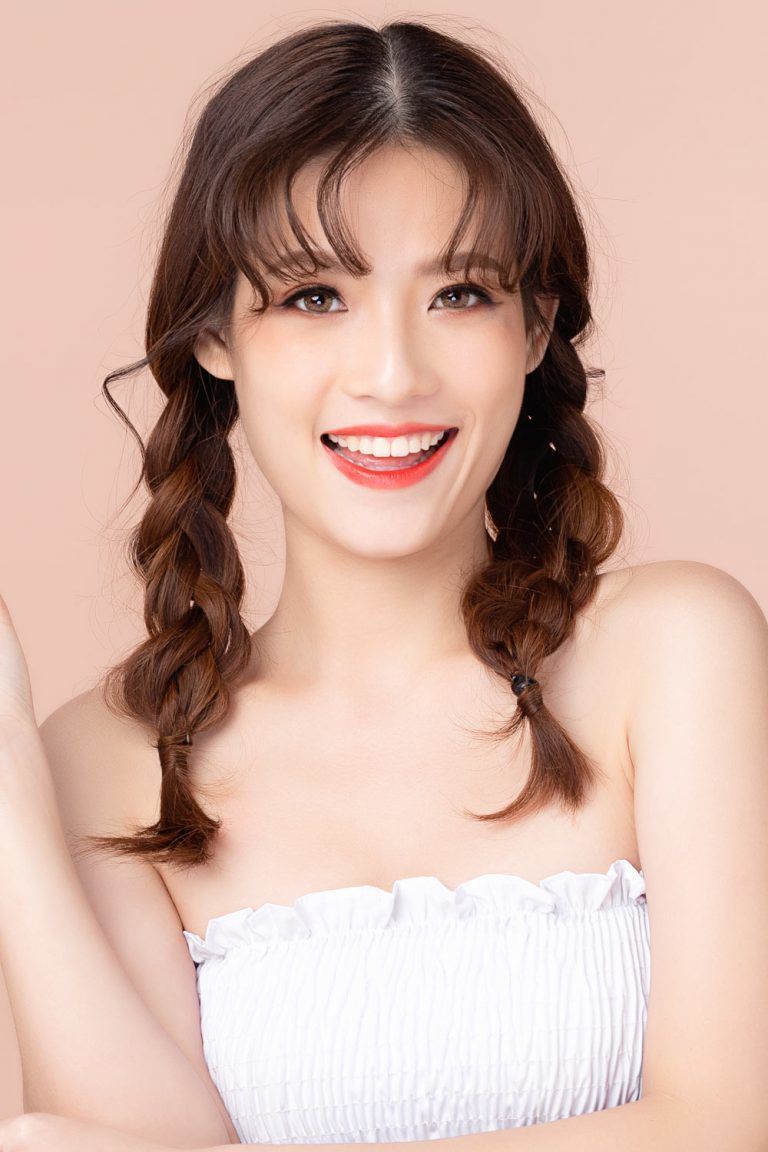 Credit photo: Shutterstock
If you love simplicity and classics as much as we do, the girly double braids are enough to make you feel happy with your hairstyle. Again, Asian women's hairstyles never look plain as their colors always do the talking. Try a slight ombre to make casual styles stand out!
High Pony For Long Hair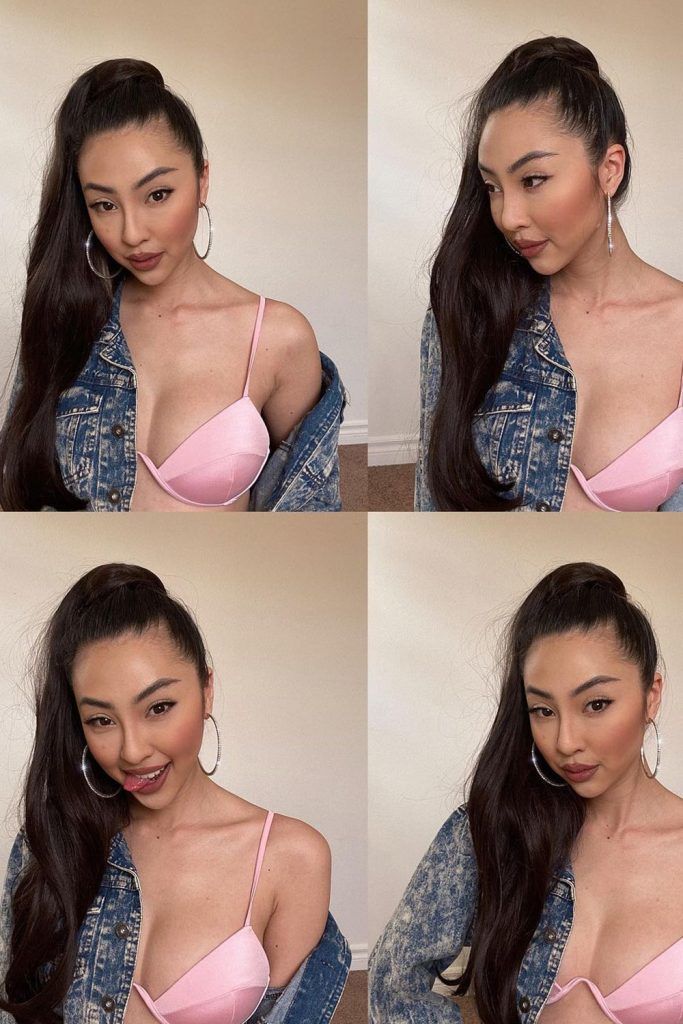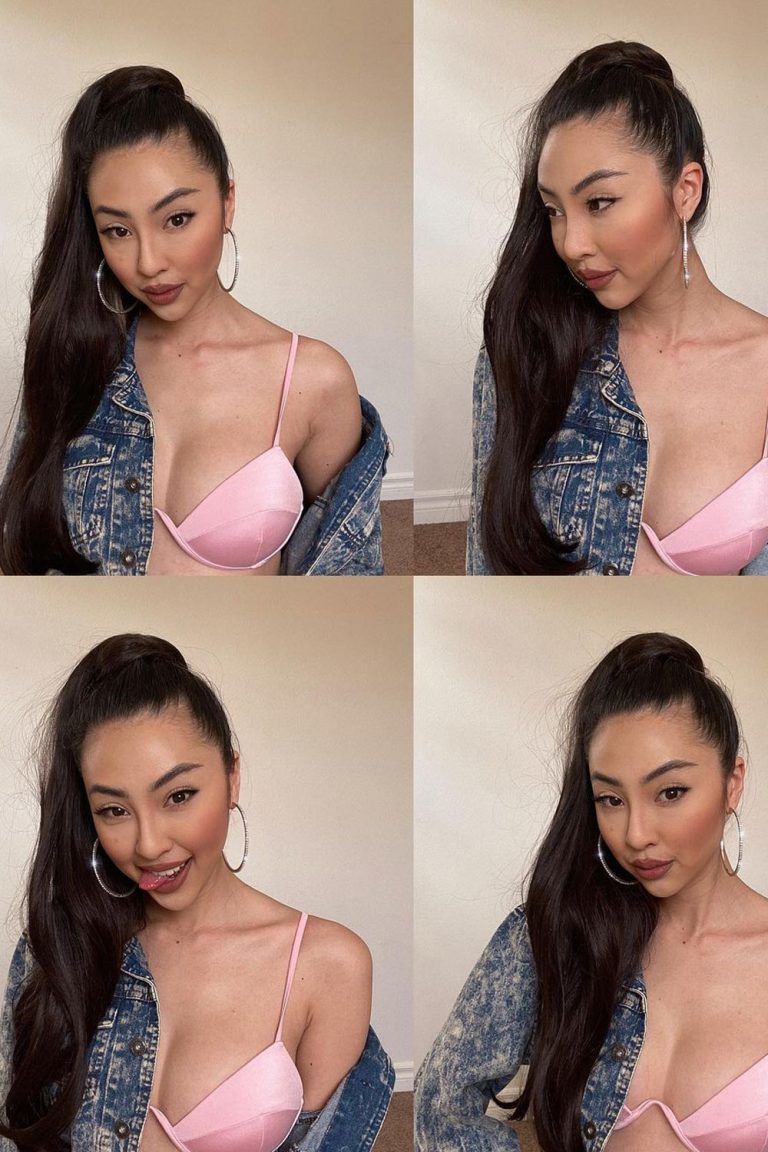 by @instagram_hilisaa
No wonder that even simple Asian ponytail hairstyles look super unique. Obviously, the tight and straight pony with some framing front strands doesn't take a lot of time to get it done. Yet, it creates a confident, sexy look.
Half Up Ponytail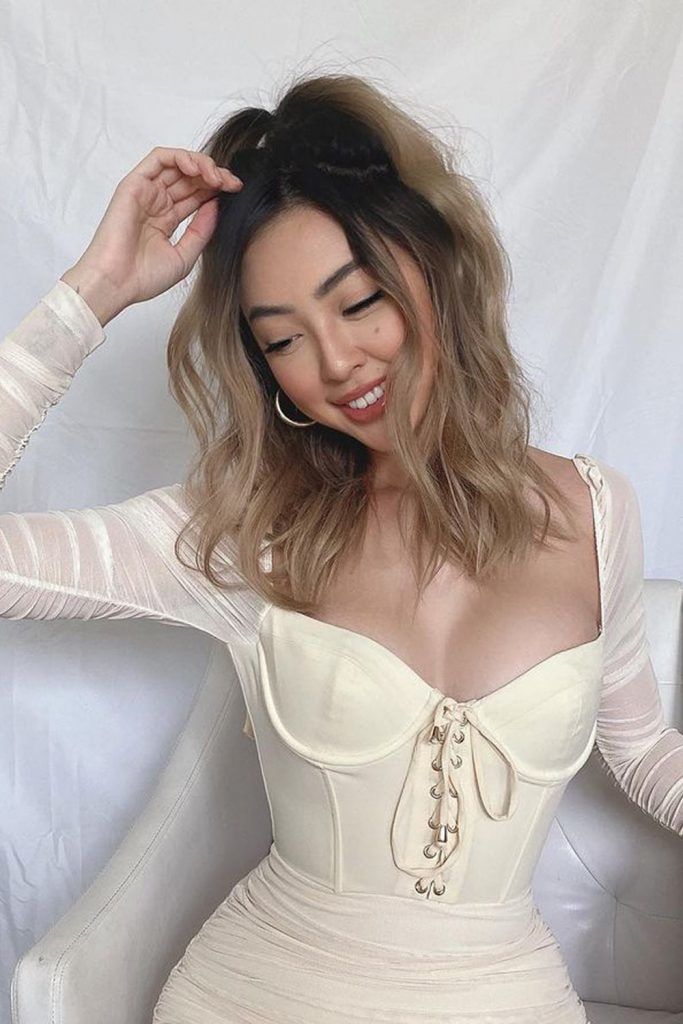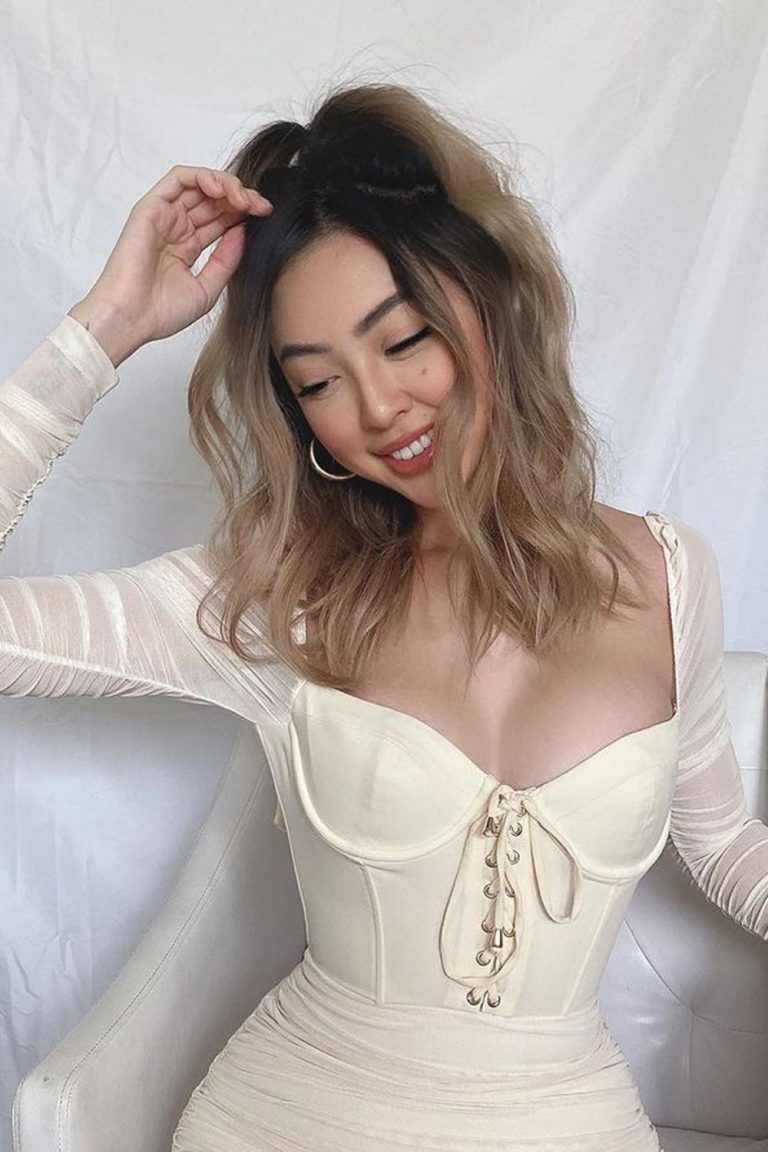 by @instagram_hilisaa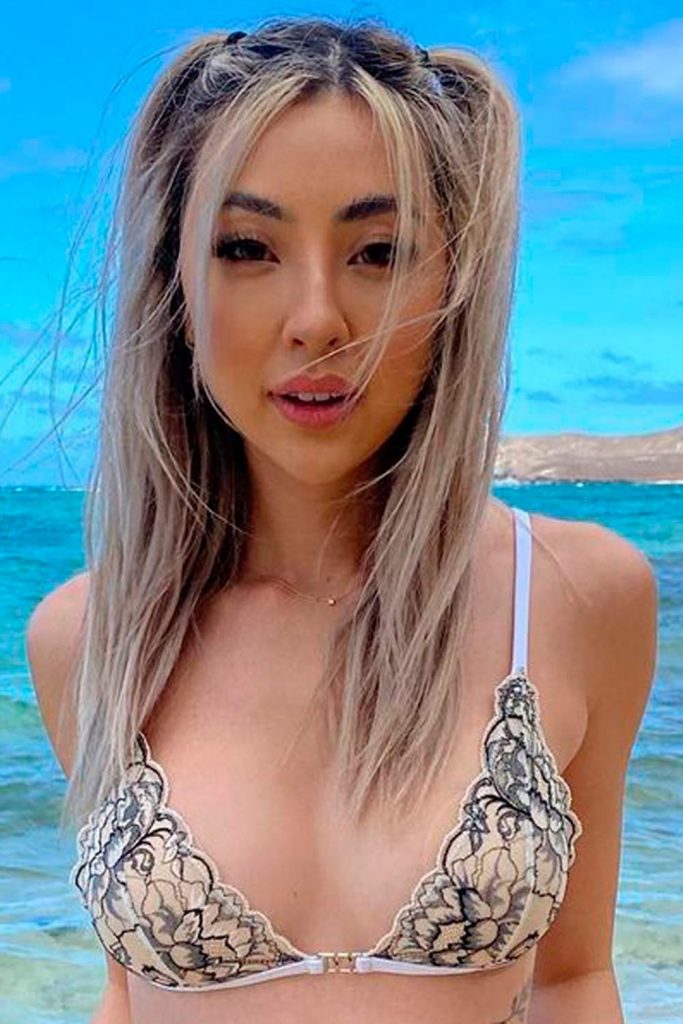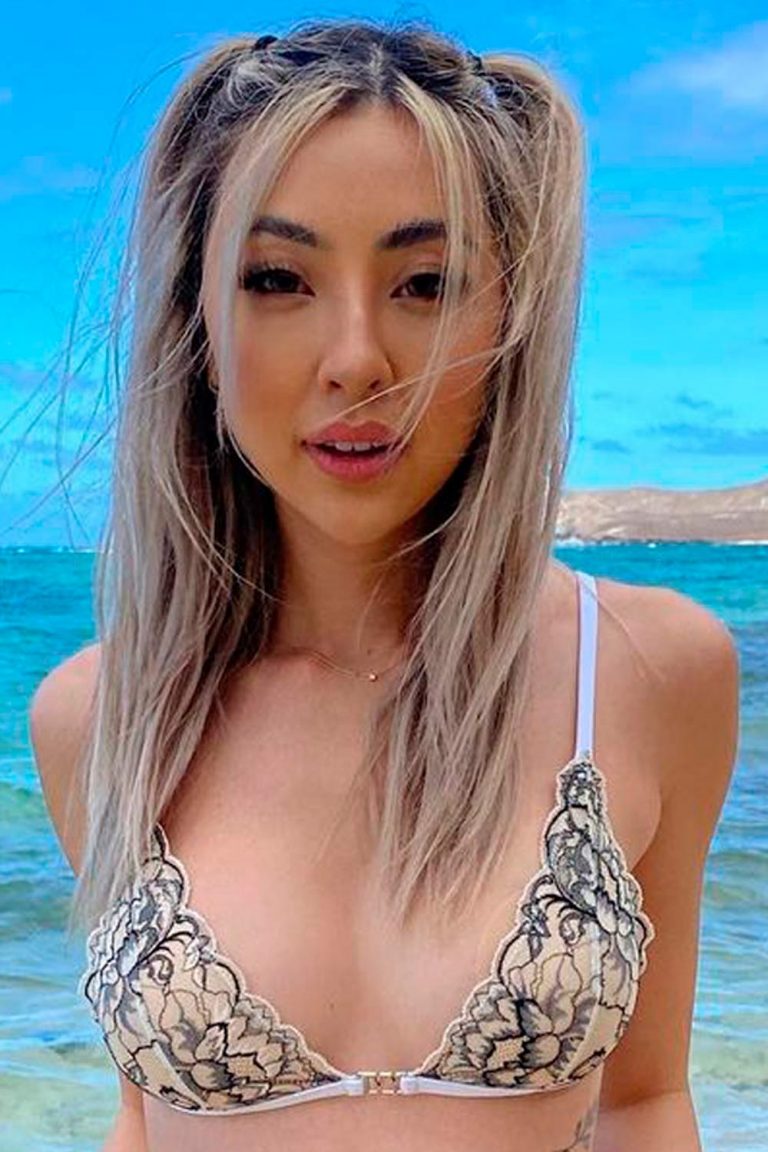 by @instagram_hilisaa
The good thing about the half up ponytail is that it takes the hair off, up and away from the face while still flashing the splendor of your Asian thatch. For a more uniform style, wrap a couple of hair strands around the hair tie to hide it.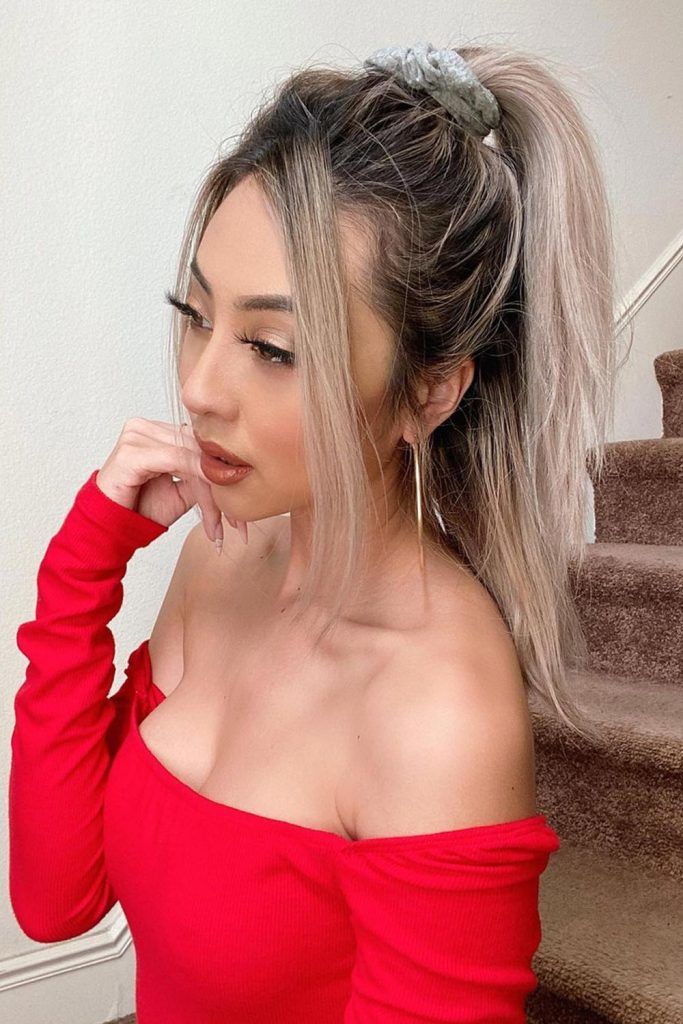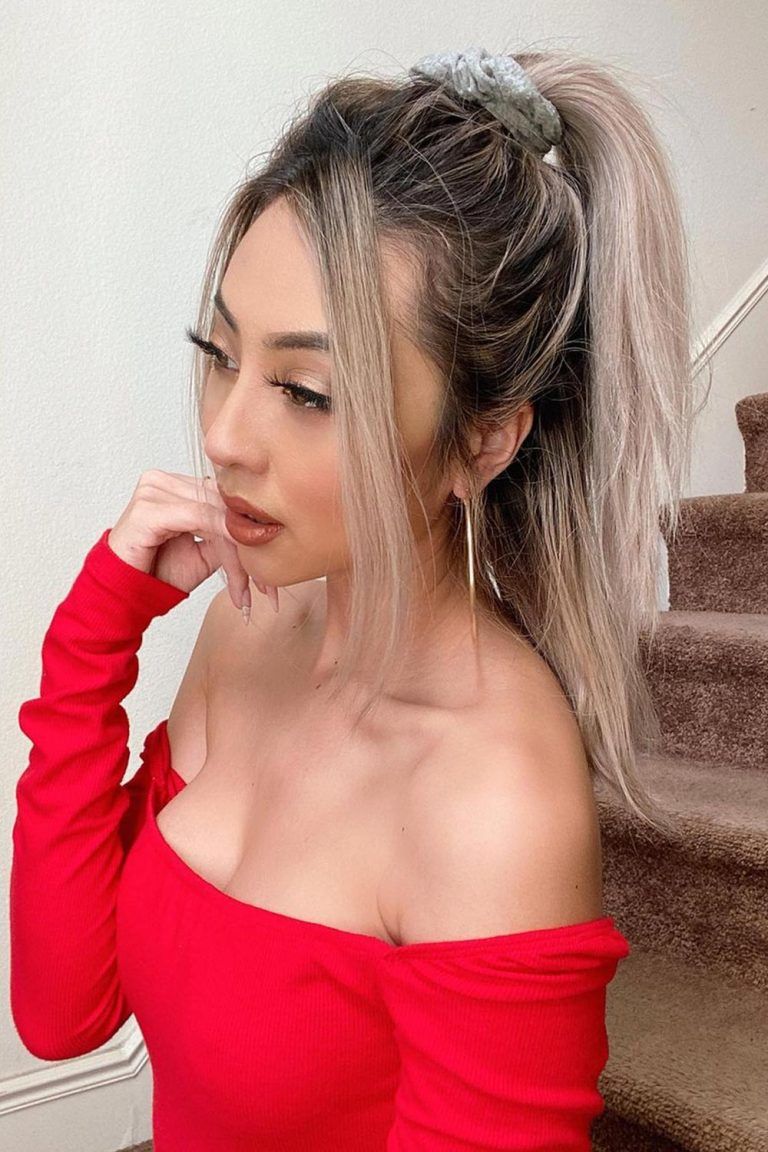 by @instagram_hilisaa
Side Braids For Parties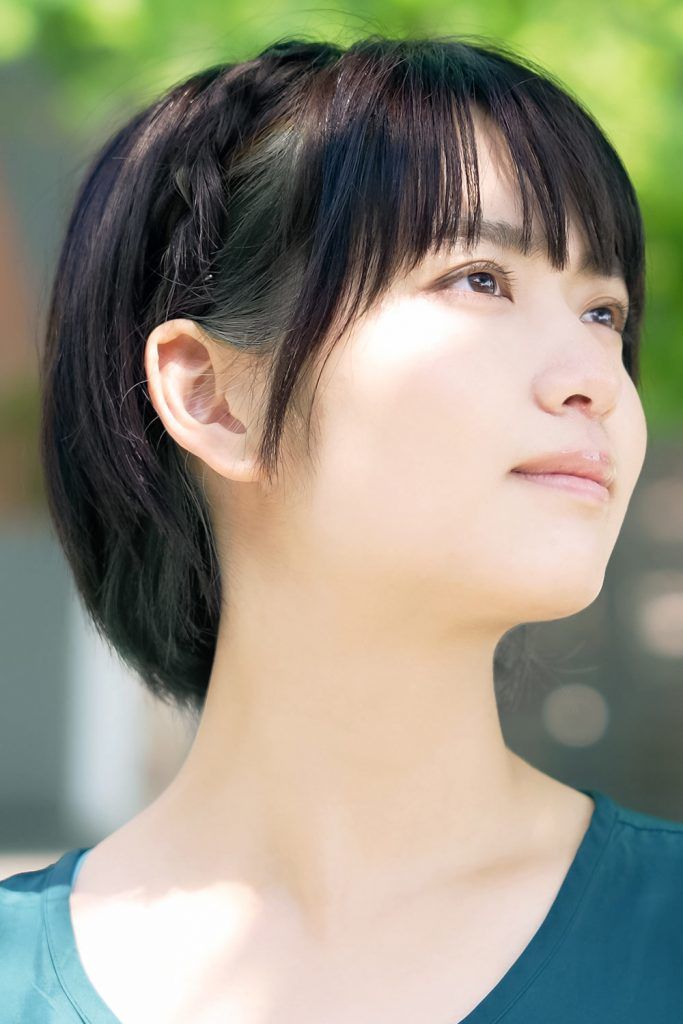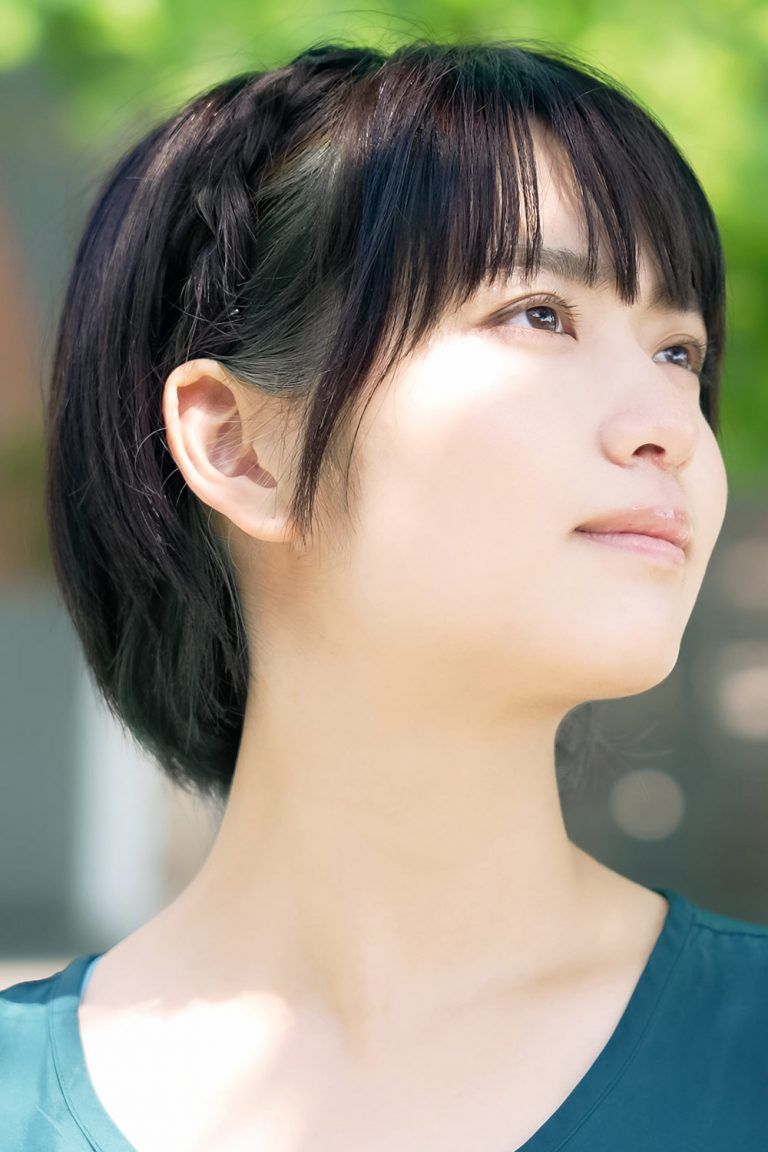 Credit photo: Shutterstock
Now, it's time to yield to the charm of the most popular Asian hairstyles women of all ages will always adore. It's a perfect idea to pop at festivals or parties, and all you need is to be as creative as never before: color your hair pastel shades, give it some braids, finish the look with fancy accessories. Don't be shy to stand out!
Half Up Bun For Long Hair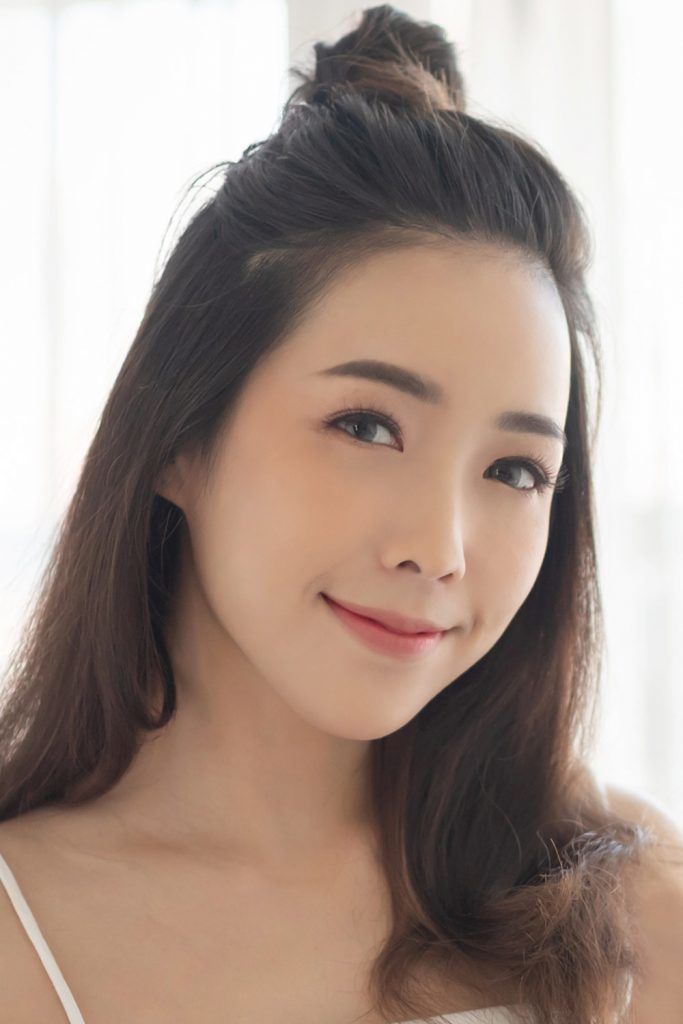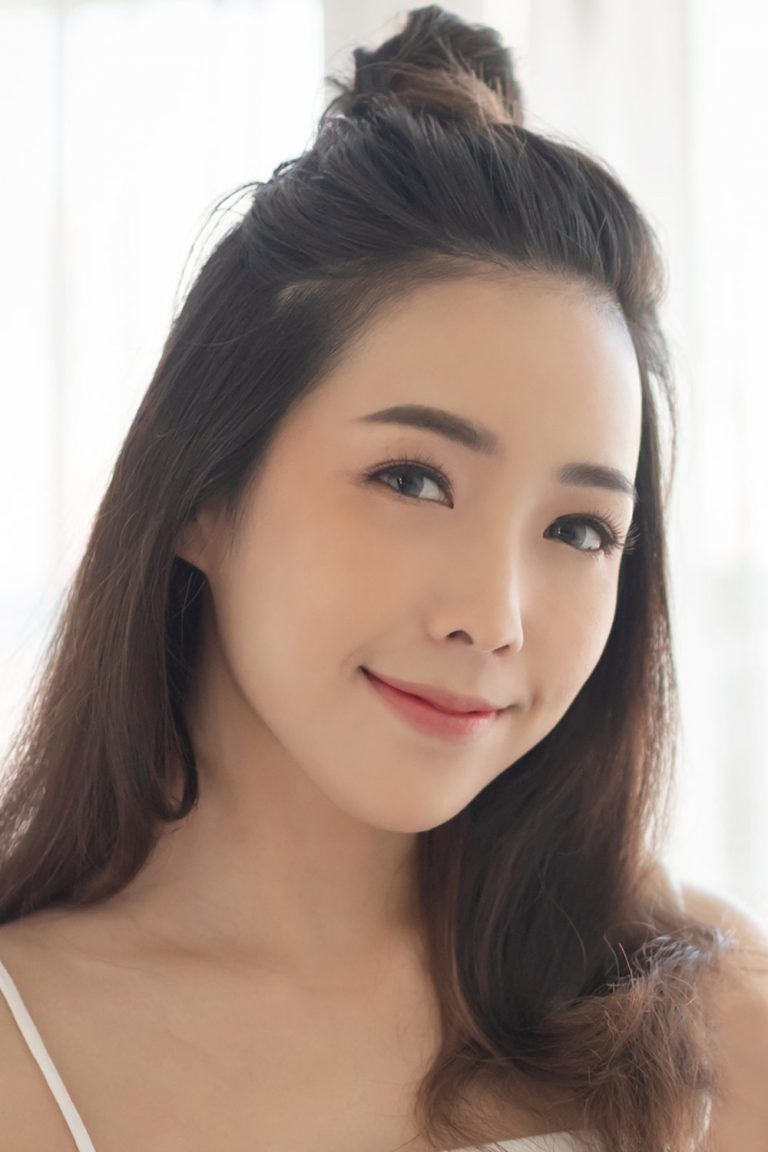 Credit photo: Shutterstock
To create a more casual homelike look, gather the hair on top in a half bun, which is also called a top knot. The rest of the hair can be left loose or curled with a large barrel curling wand for a soft effect. This hairstyle is perfect for petite Asian girls as with all the volume on top, it helps to elongate their features.
High Sleek Knot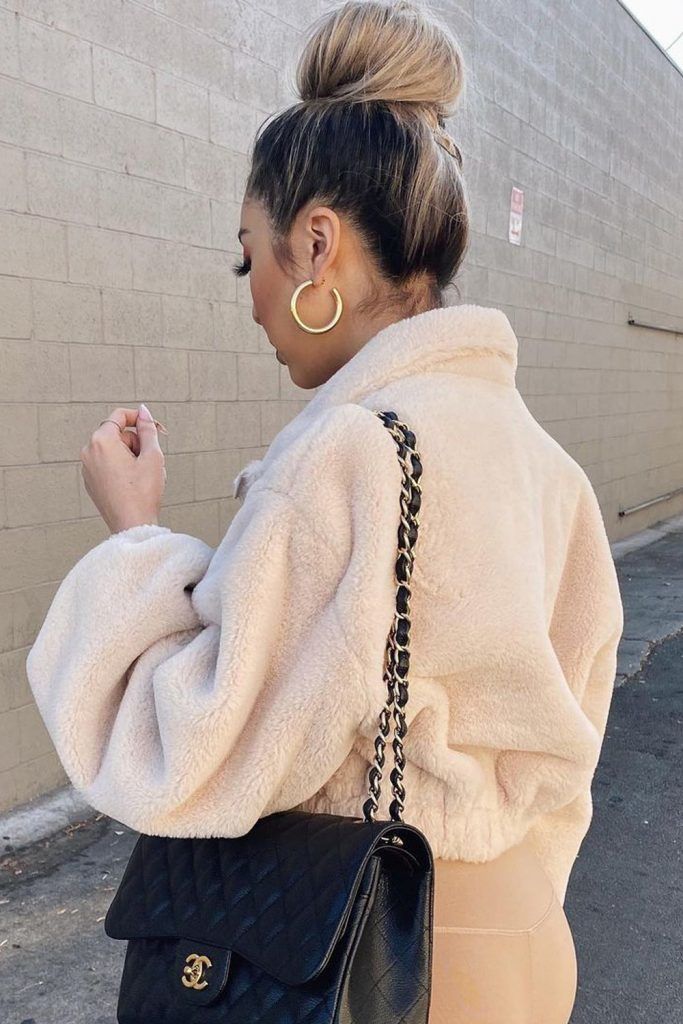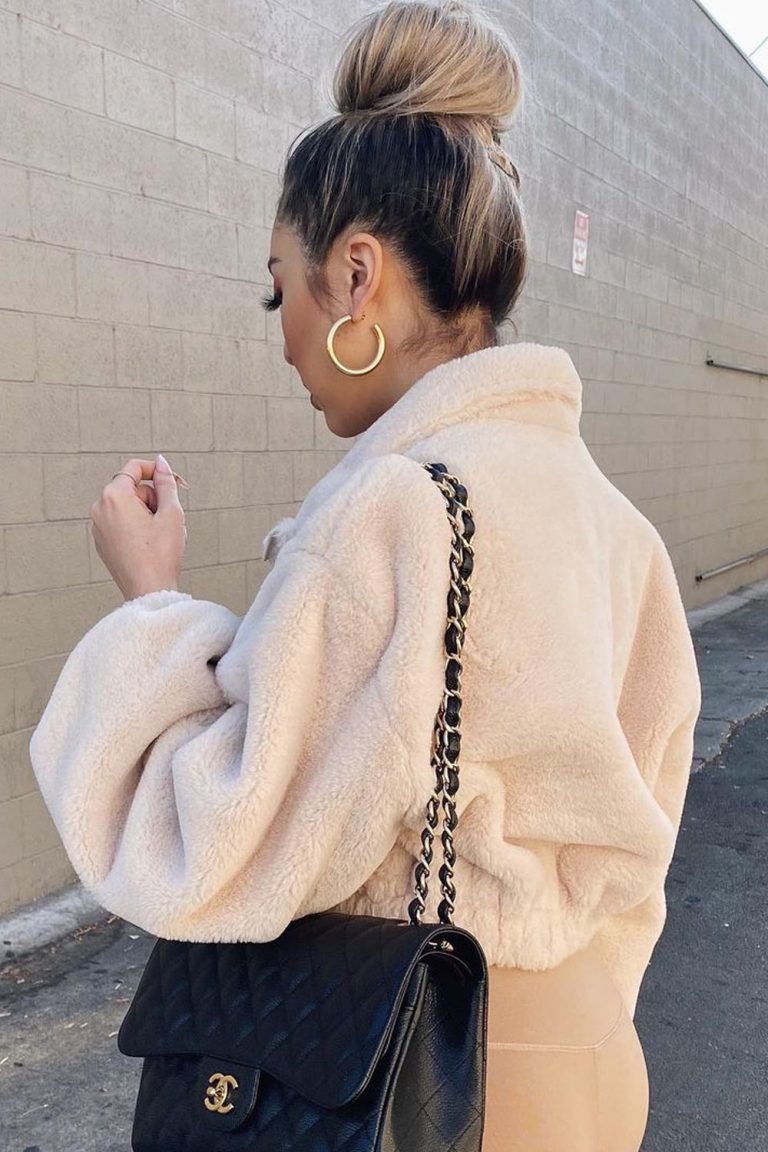 by @instagram_hilisaa
The best thing you can do with your thick hair is to tame into a high and sleek knot. Though the hairstyle itself is very straightforward, its simplicity can nicely finish a sophisticated evening look. By the way, it's one of the most popular Japanese hairstyles, as it intensifies the natural sleekness of Asian hair, giving it a well-tamed, decent shape.
High Double Ponytails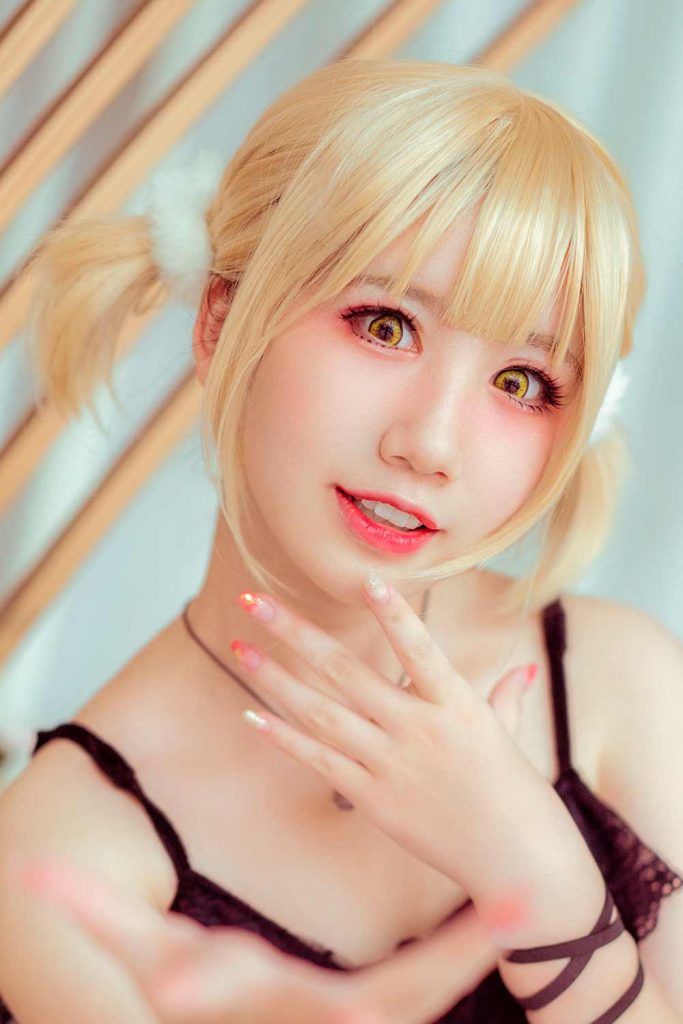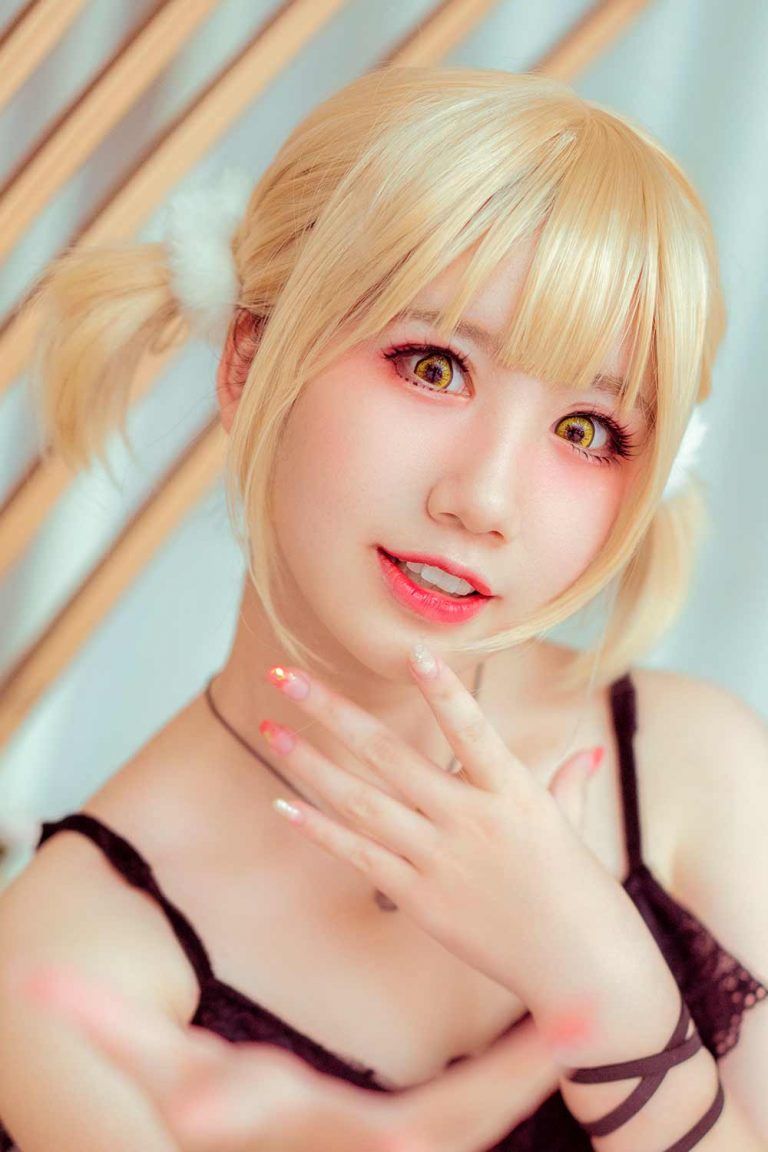 Credit photo: Shutterstock
We just can't leave you without Japanese girl hairstyles that have taken over the whole world with their sassy modern flare. At first sight, it's nothing but simplicity in its purest. But, the genius approach with accessories turns double ponytails into real game-changers. Embellished hair barrettes are having a new wave of popularity, will you hop on?
Long Straight Style With Beret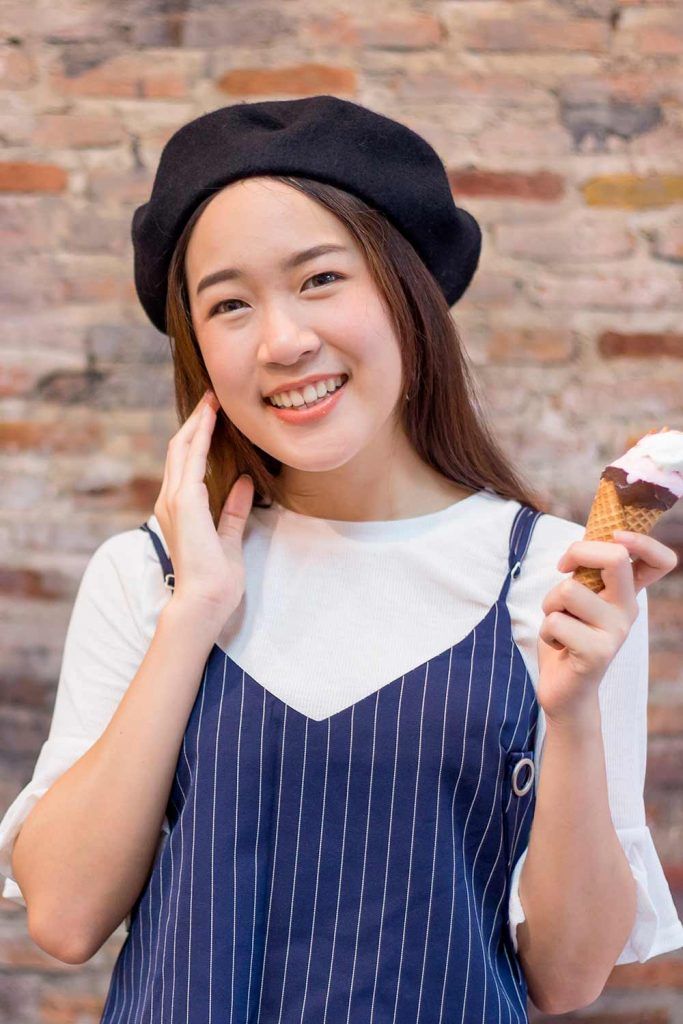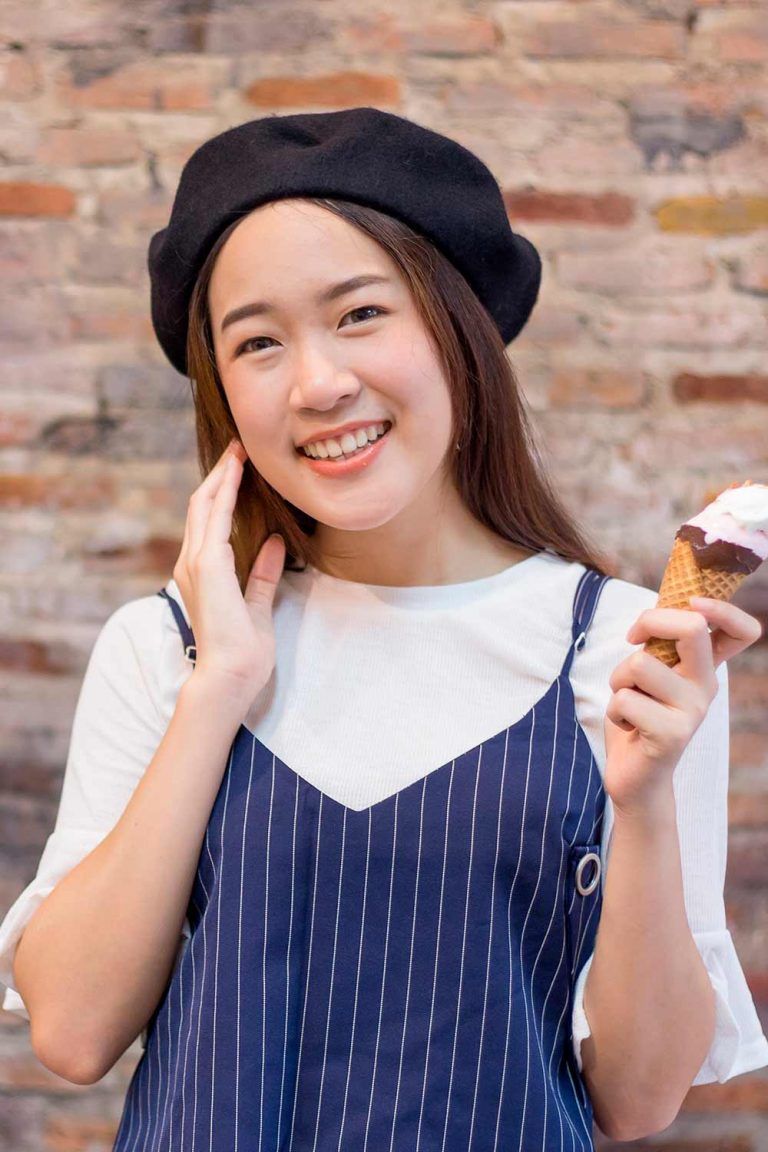 Credit photo: Shutterstock
Flaunting with a perfectly straight sleek chevelure is fun, feminine, and absolutely gorgeous, but we all know that this effect lasts until the first gust of wind. And this is where a fancy beret comes in. Such a classy hair accessory will not only define your look but also keep your hair in place even during windy weather.
Messy High Updo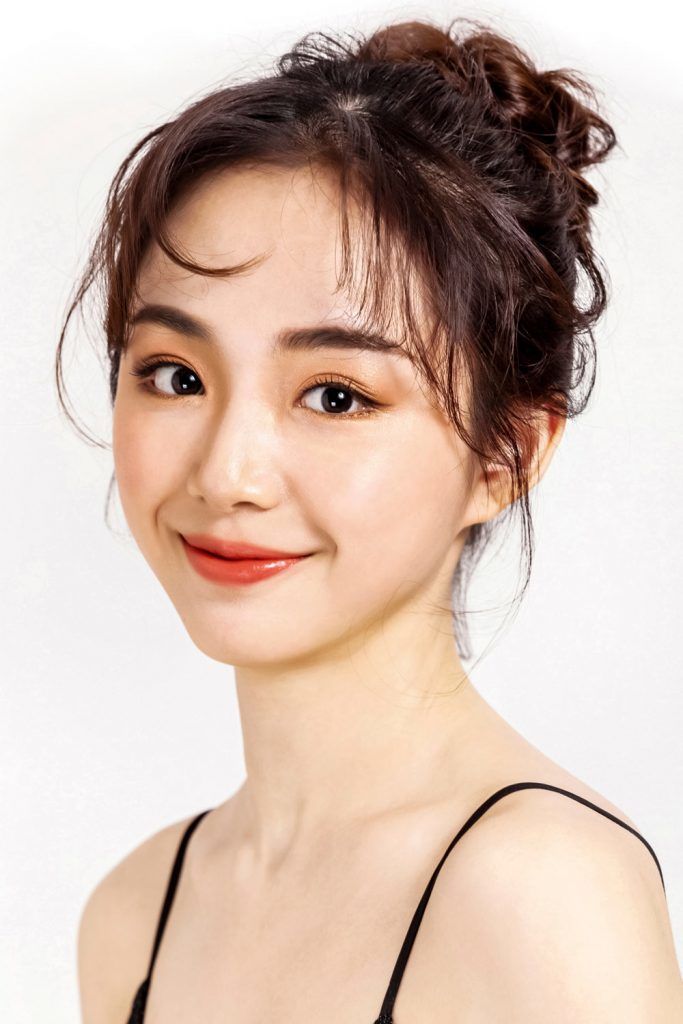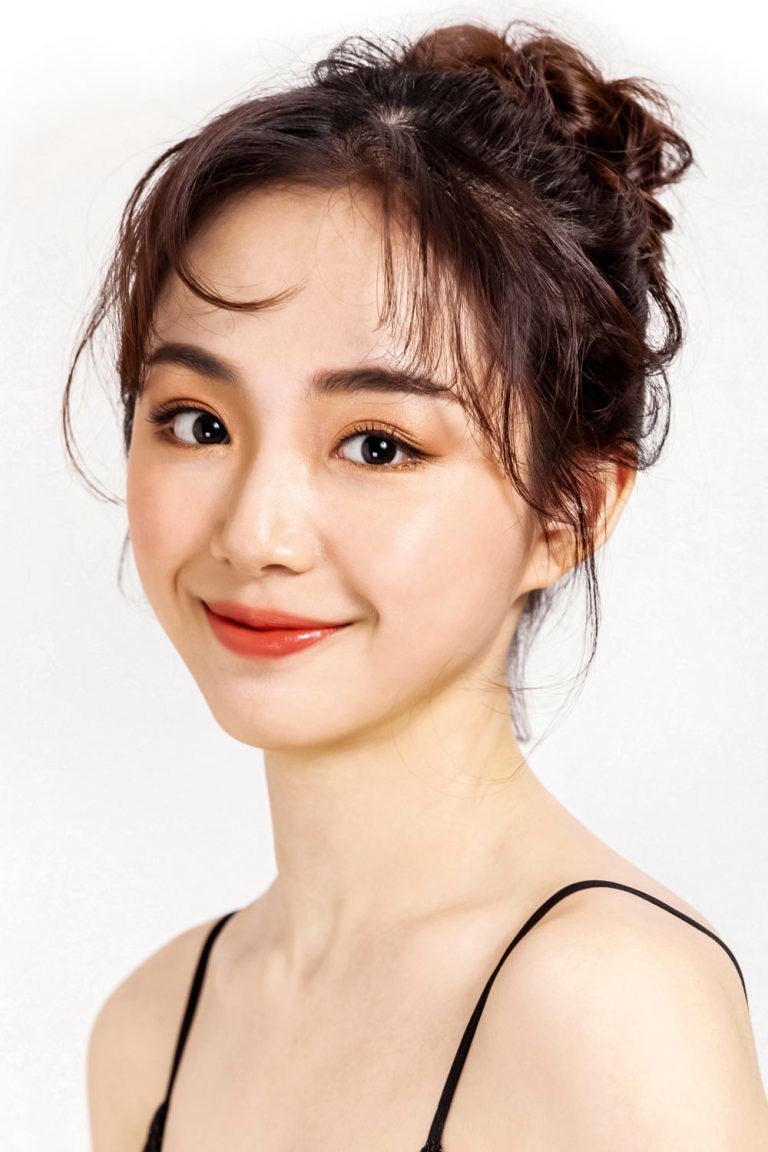 Credit photo: Shutterstock
An updo is one of the most popular Asian women hairstyles and not for nothing. As it usually takes the hair away from your face, it allows you to show off your gorgeous facial features. But there is no need to make it overly sleek and polished. Instead, a messy finish will give your high updo a charming touch.
Double French Braids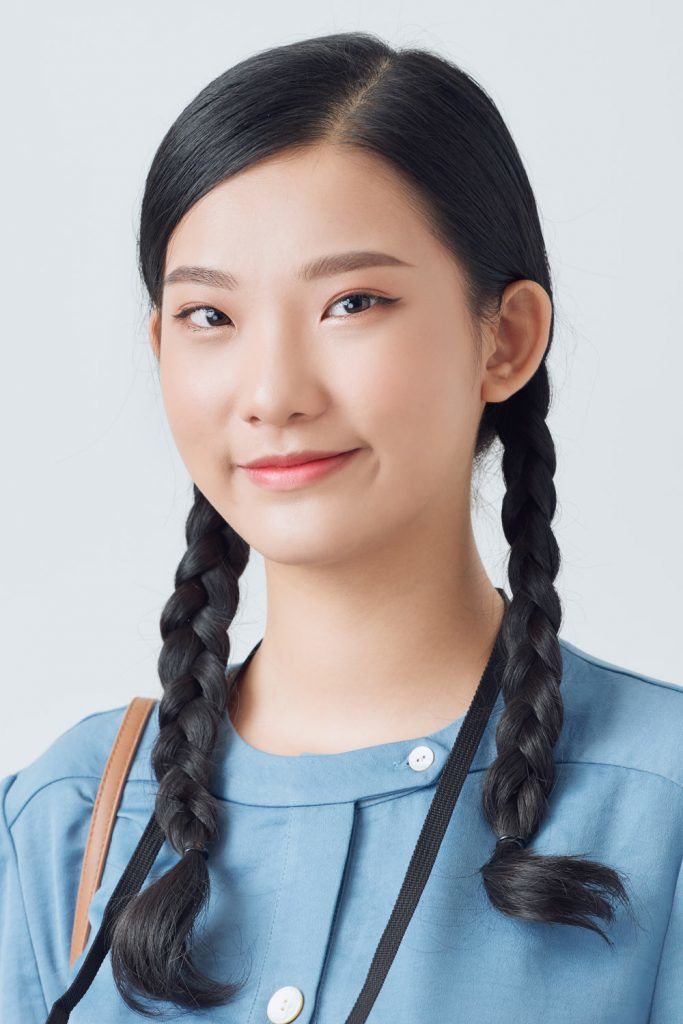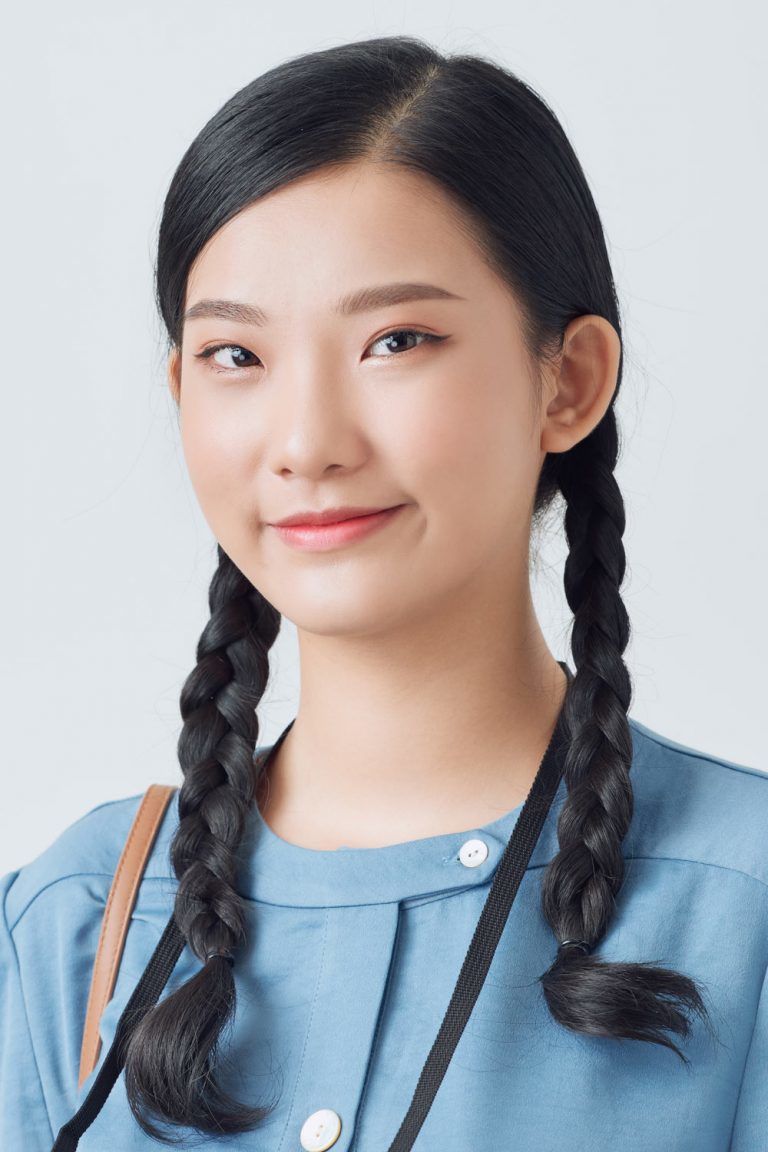 Credit photo: Shutterstock
Among all Asian hairstyles women rarely opt for double braids and we believe it is absolutely unfair. You should sometimes allow yourself to look girlie and playful and double French braids will give this youthful vibe to your appearance like no other. To make them more suitable for your personal style, you may pull out the strands a little to create voluminous relaxed braids.
Side Loose Waves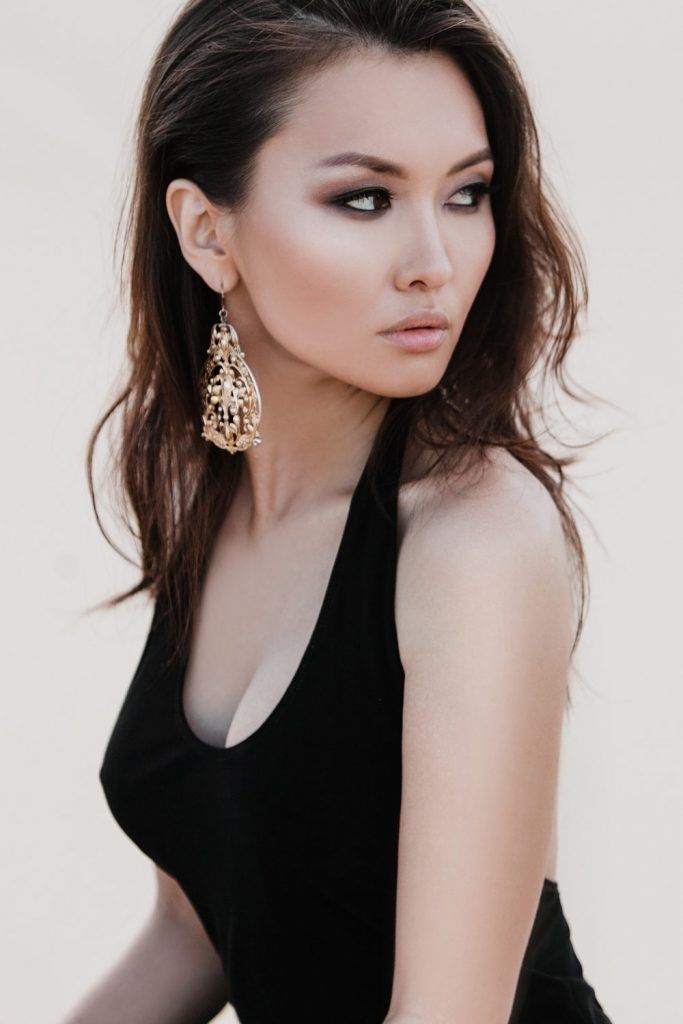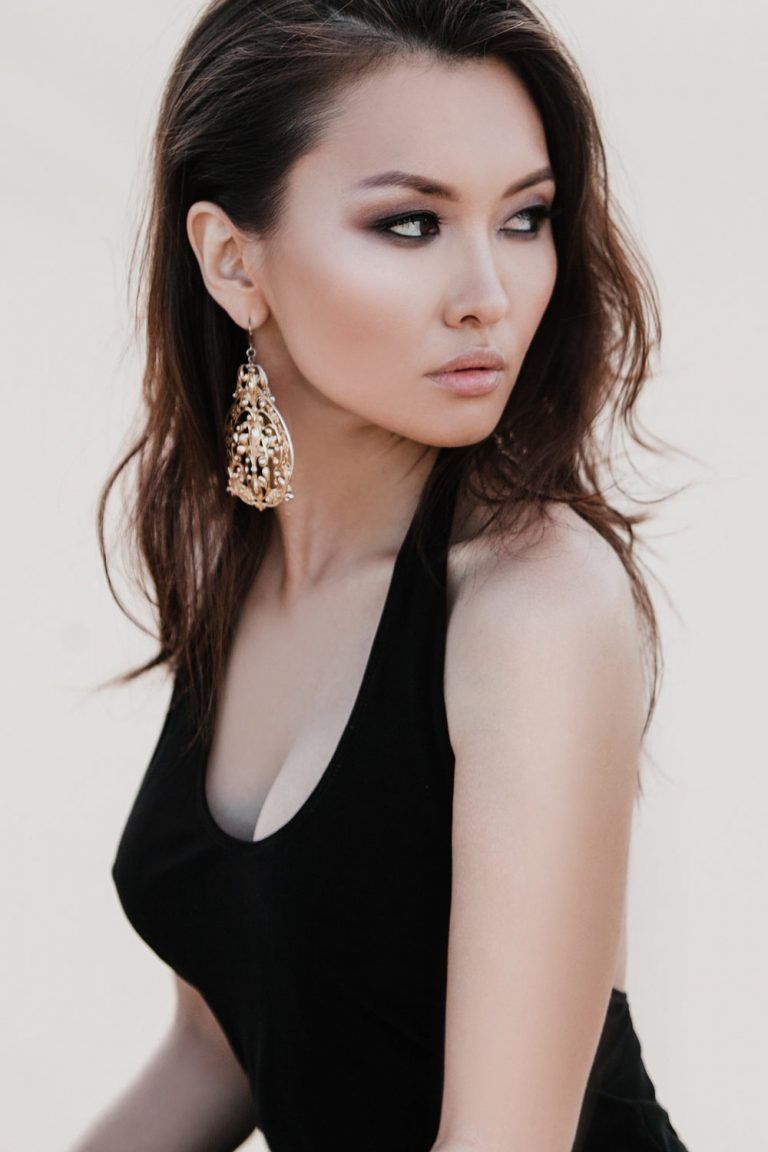 Credit photo: Shutterstock
There are plenty of ways to style Asian female short hairstyles. Since your hair texture is most likely straight, you can give it some volume and dimension by styling it into loose waves. For an intricate twist, push your locks to the side and define your hairstyle with a side parting.
Space Buns Asian Style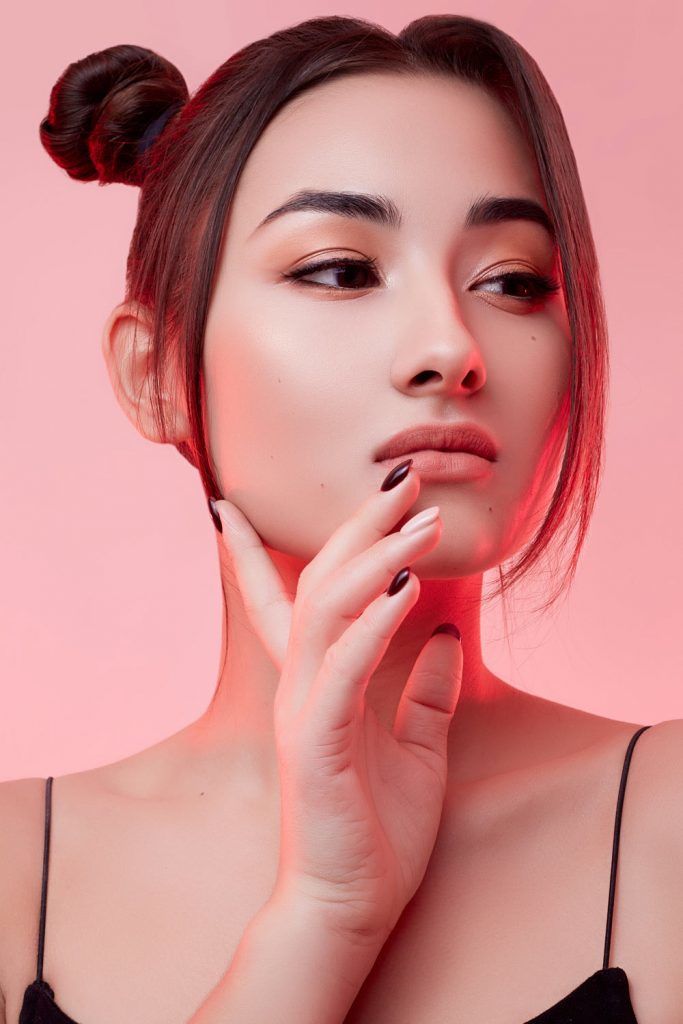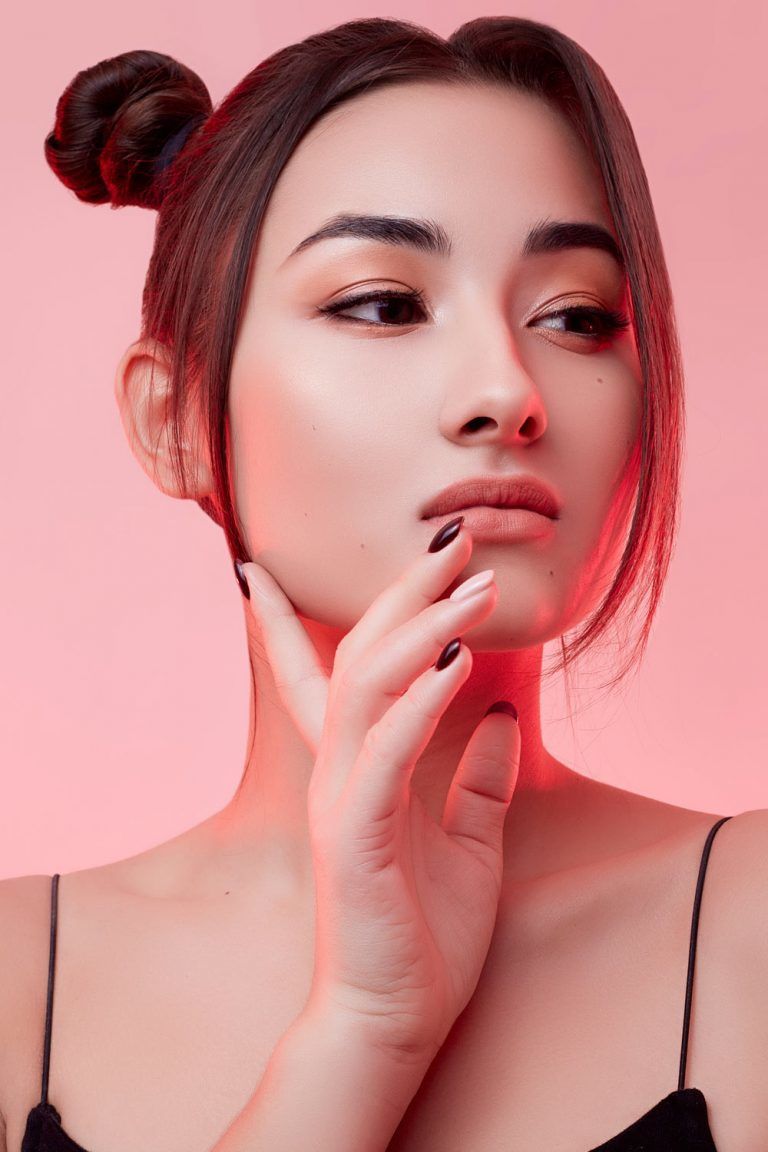 Credit photo: Shutterstock
Nothing seems to outshine the latest Japanese hairstyles in terms of brightness and creativity. If future had hair, it would wear these space buns. The idea of double buns is not new to the fashion world, yet, you can make it super fresh by adding some texture and colors. P.S. bangs will make the look even more striking.
Low Pony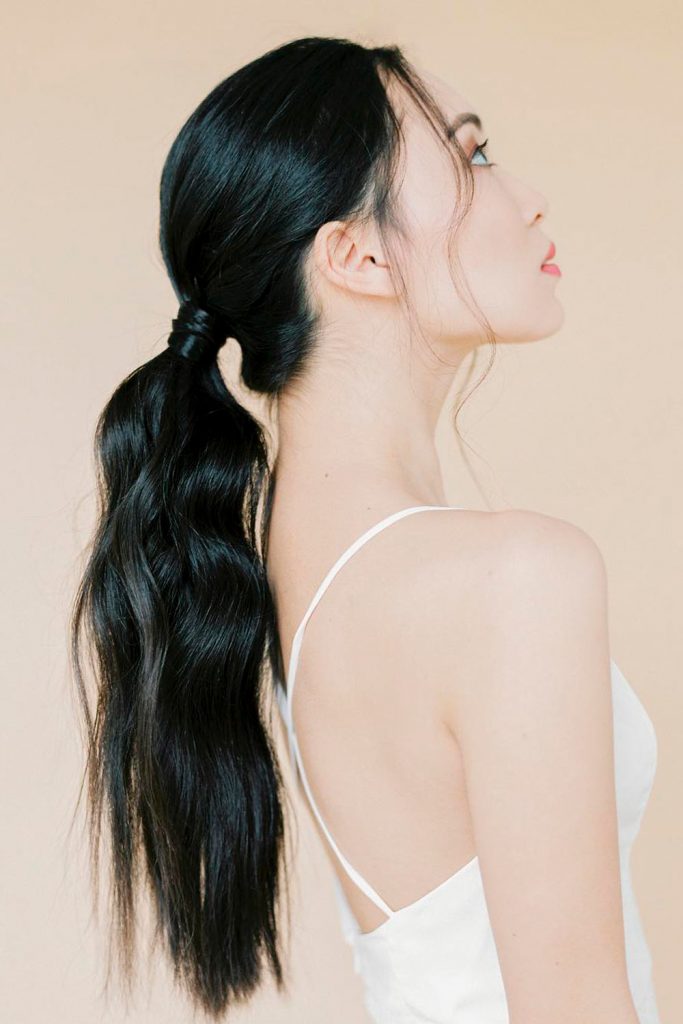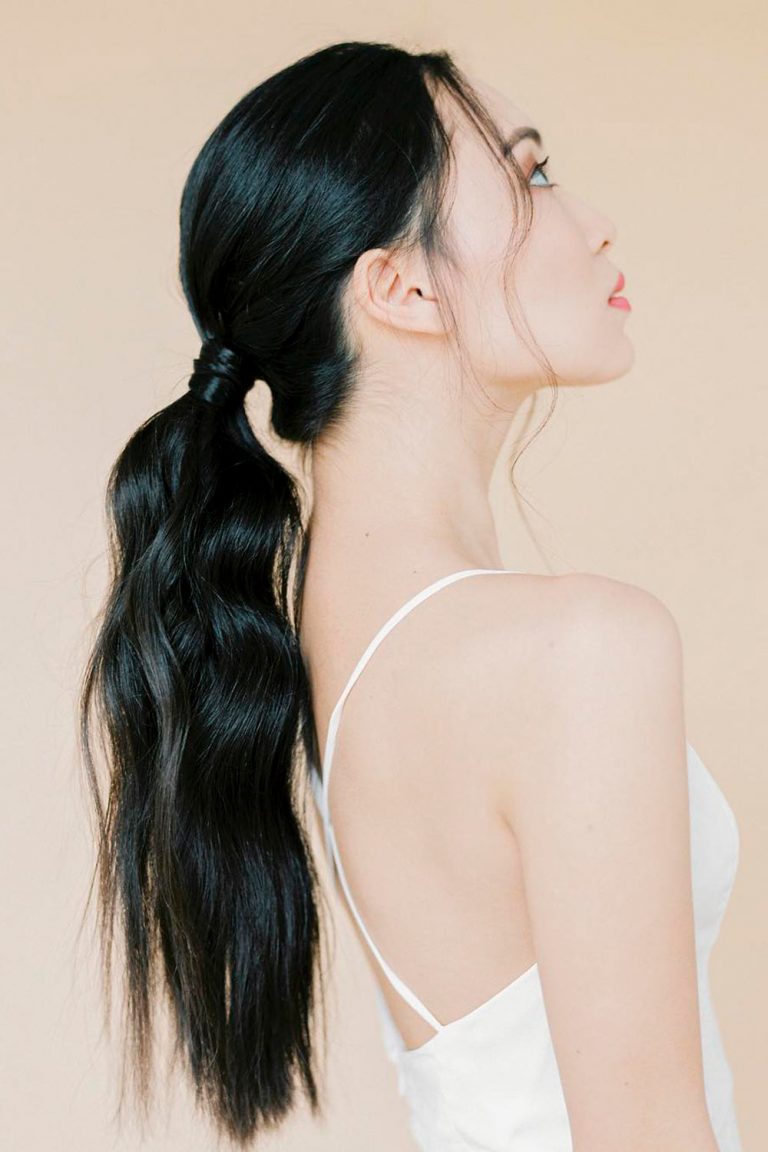 by @instagram_lee4you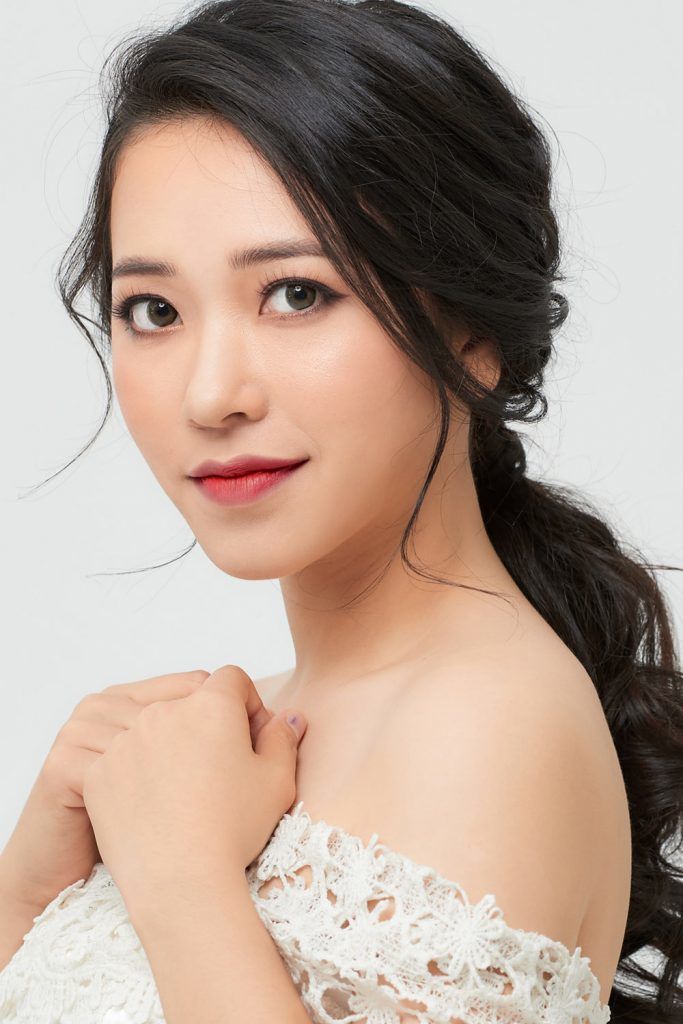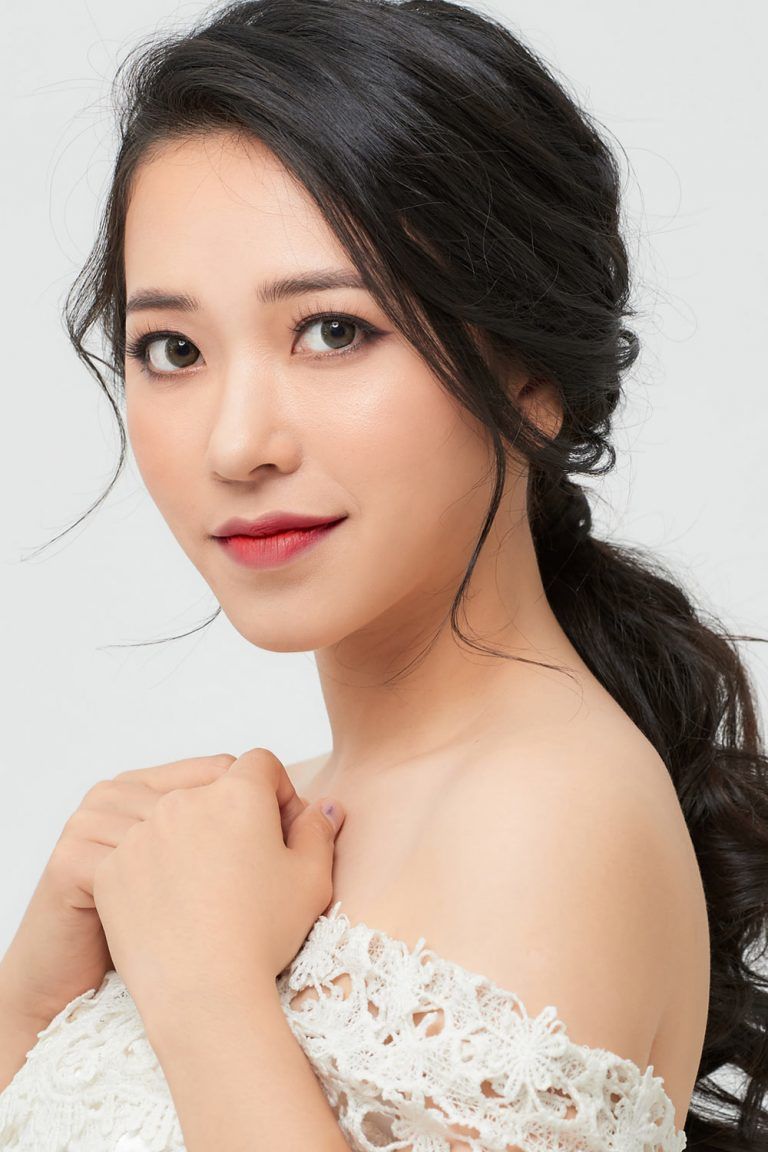 Credit photo: Shutterstock
Now that you have found out why all girls love to copy modern Asian hairstyles, it's your turn to steal one of the today's looks! Reveal your need for fashion, be creative, and your look will be as great as the ones that Asian mods rock!
Low Bun Asian Style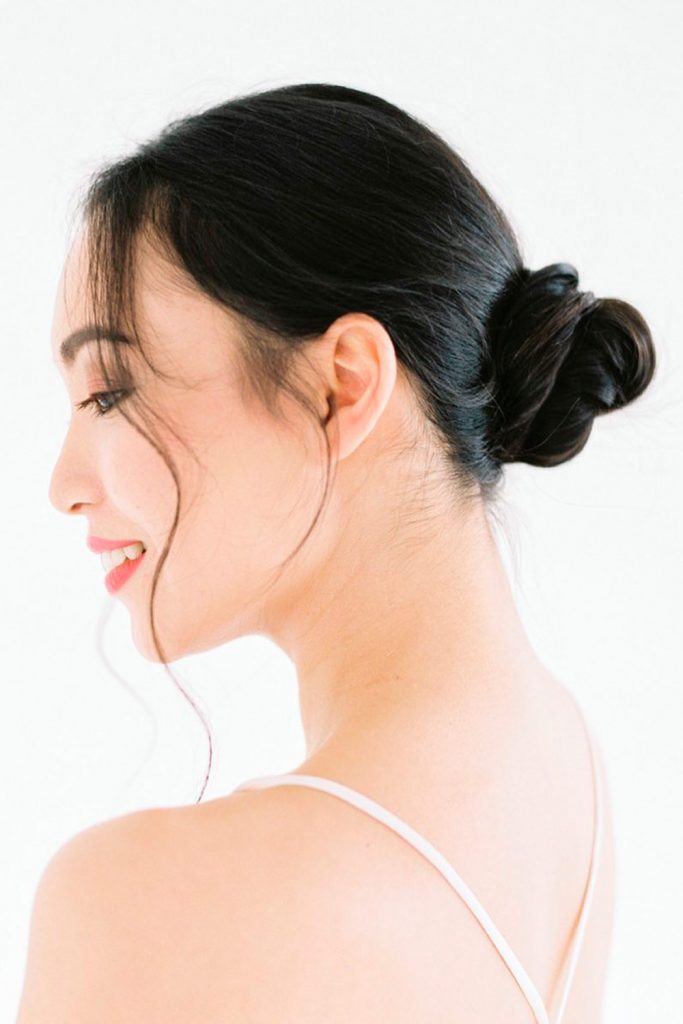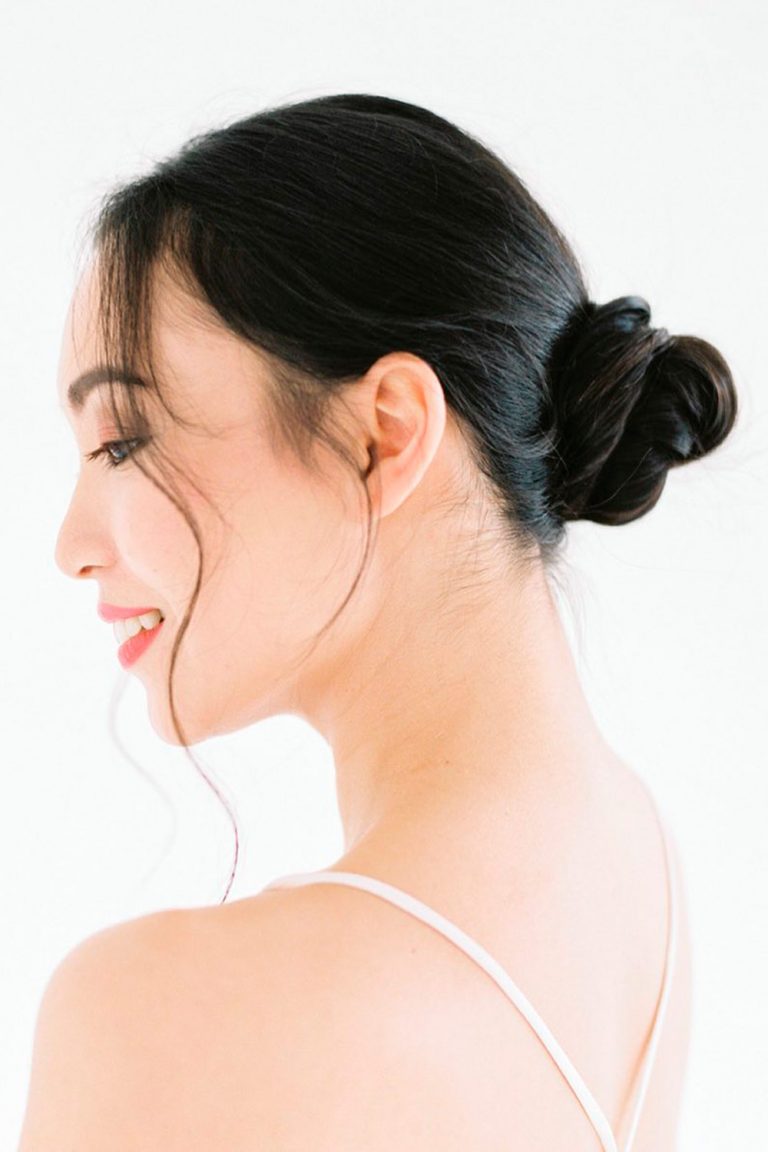 by @instagram_lee4you
When you cannot decide how to style your hair so it suits all occasions and matches all outfits, go for a low bun. It belongs to those female Asian hairstyles that look appropriate in any ambiance. For a more formal and professional look, keep it smooth and neat. And to add a romantic flair to it, simply pull several strands near your face out to frame it and embellish the bun with a beautiful hair accessory.
FAQ: Asian Hairstyles For Women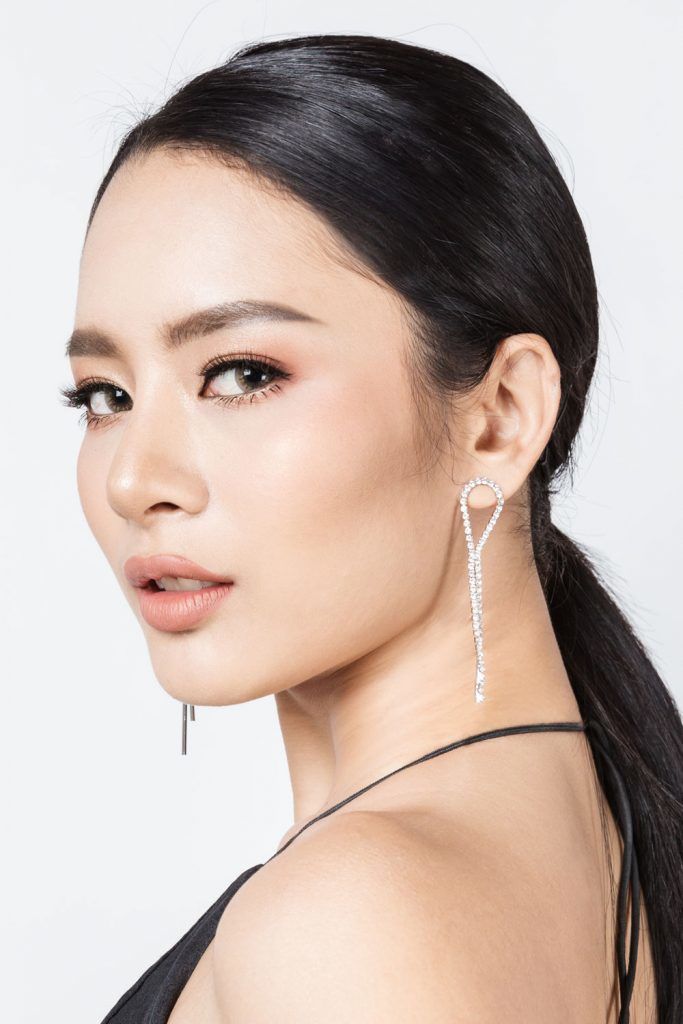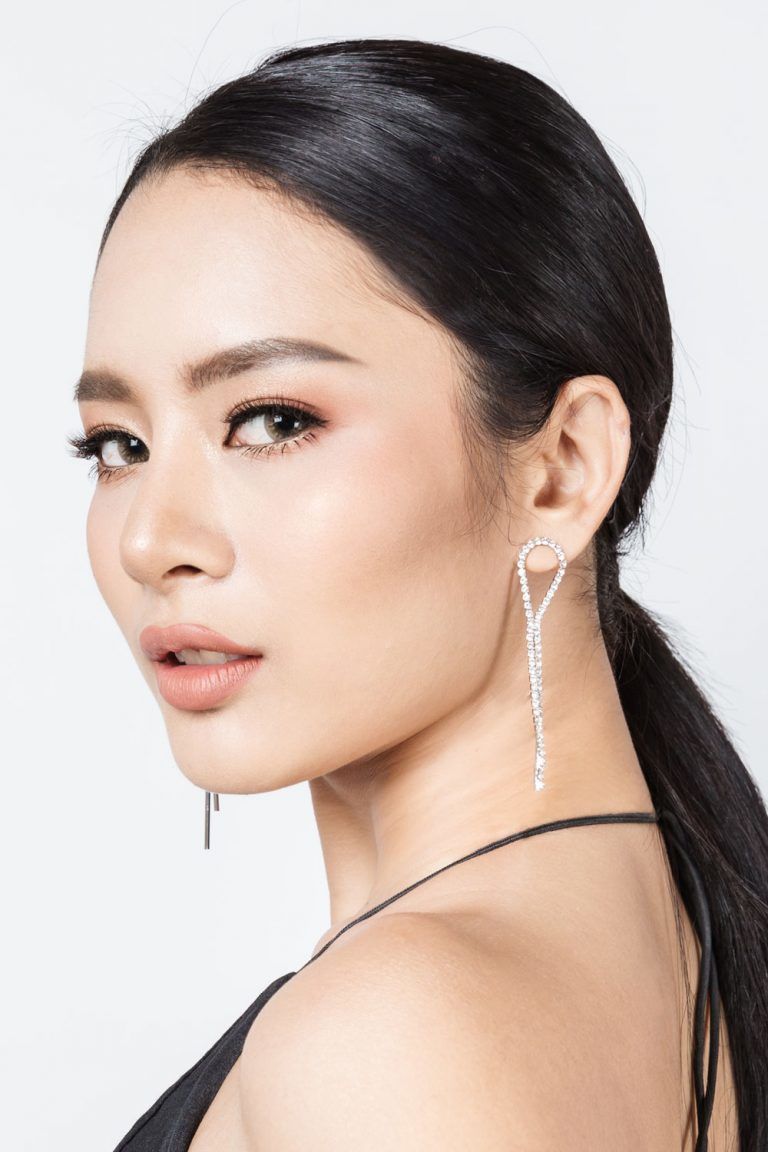 Credit photo: Shutterstock
Will Asian hairstyles fit any hair type?
Asian hairstyles are on the edge of popularity these days, and if you want to try and replicate any of them, you need to be aware of precise styling. If you have soft and straight hair, it may be a lot easier to deal with Asian styles. All the other textures will require a dedicated amount of proper styling.
What face shape is best for Asian hairstyles?
Asian people feature the same face shapes as the rest of the world. Thus, the first thing to do would be to figure out your own shape and then pair it with the corresponding Asian hairstyle that compliments it.
Why Asian hairstyles are so popular today?
As K-pop culture becomes more popular and requested by the Western world, anything related to its origins becomes demanded. Asian hairstyles aren't the exception. Besides, the styles in question are utterly sleek and trendy, plus almost anyone can pull them off with ease.
Was this article helpful?