Today, rainbow hair is available for brunettes, as well, and there is no need to bleach it harshly, let us celebrate the moment! Modern colorists have finally found the way to turn a brunette's hair into a marvelous iridescent palette. Now, such shades as inky greens, purples, blues, and violet can become a part of your deep and dimensional color wheel.
All you need to do is lift your darker hair tone to a lighter brown. Yes, you can forget about the idea of going platinum for making your color experiments real! And this post is an eternal source of brunette-rainbow inspiration that shows how this magic works. See how you can play around with the dark side of the rainbow hues!
Dark Rainbow Hair With Tropical Sunset Colors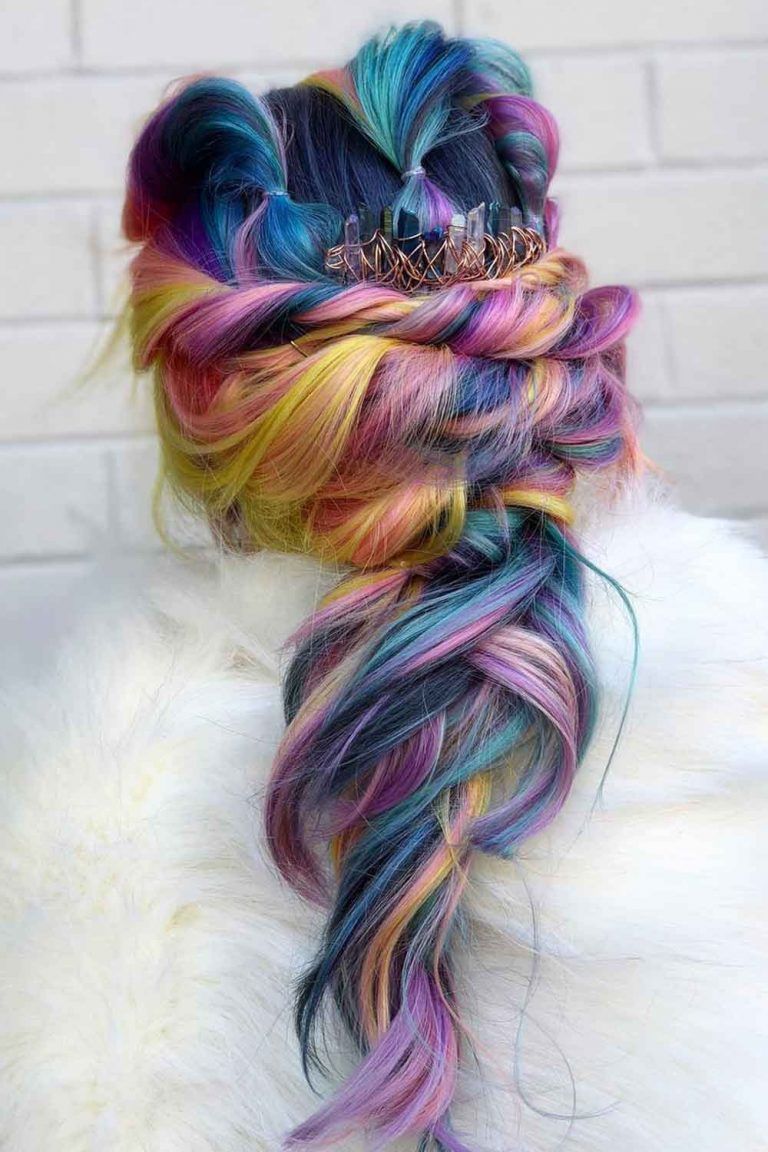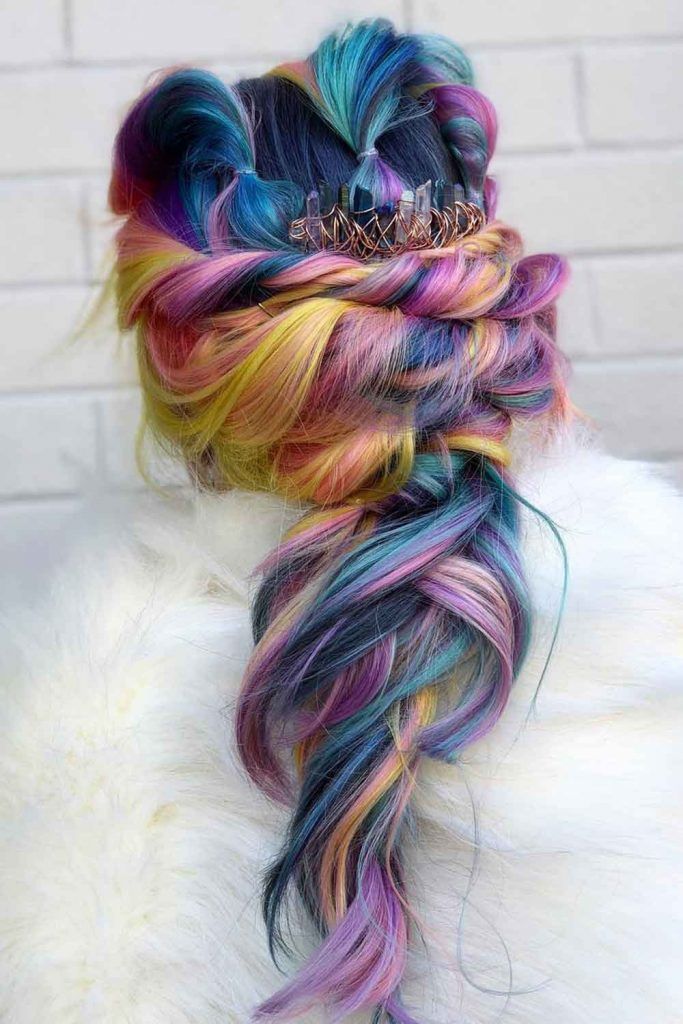 Credit photo: instagram.com/xostylistxo
If you are looking for a truly unique look for dark rainbow hair, this blend of dark shades is reminiscent of a tropical sunset. Keep your roots dark and then blend in a stunning shade of dark bright blue, periwinkle purple, lilac, bright yellow, dark orange, cherry red and fuchsia pink for a stunning blend of color that is one-of-a-kind and will certainly set you apart from any crowd.
This look is not for the faint of heart, but it is perfect for those who love vibrant colors and aren't afraid of having all eyes on them. Curl just the bottom section of your hair into big waves to add more depth to this avant-garde look for dark bright rainbow hair.
Pastel Rainbow Hair Color for a Wavy Short Inverted Bob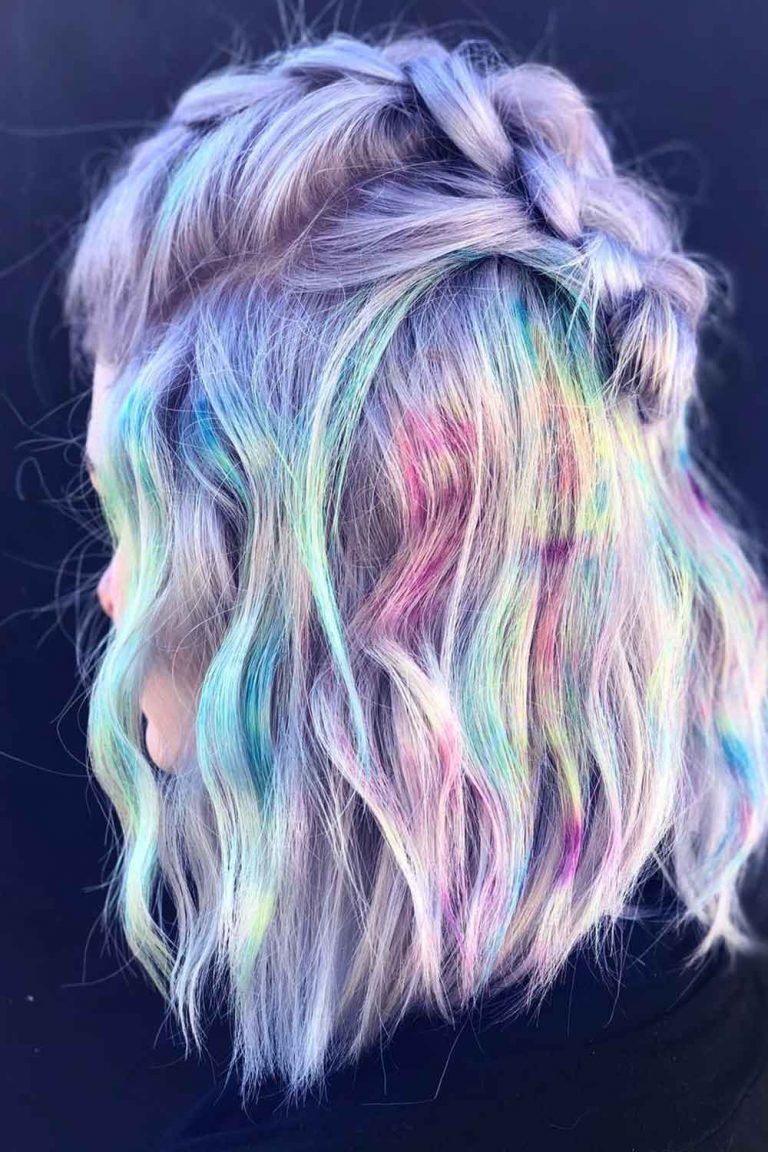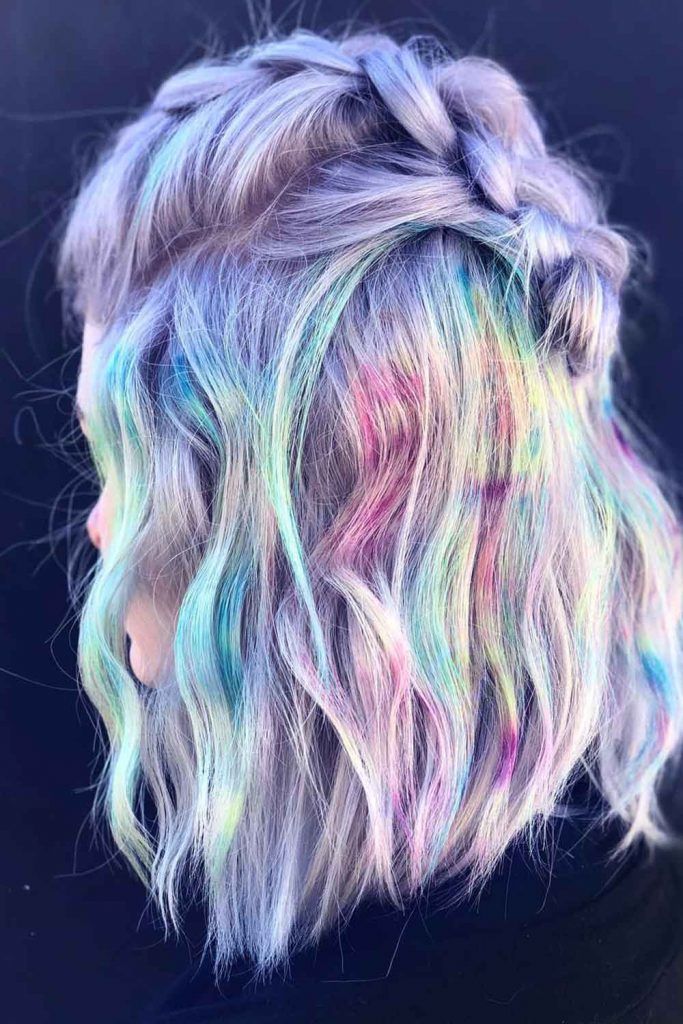 Credit photo: instagram.com/xostylistxo
If you prefer a softer and subtler look for rainbow hair, why not try this pretty pastel rainbow hair? This is also a great way to introduce spring hair colors to your look. Blend in soft shades of pastel pink, green, blue and purple for a look that is very feminine and chic.
If you still want a bit of an edge without being too dramatic, this inverted wavy bob will add even more depth to your short rainbow hair. Style your hair in soft beachy waves to give it some volume and movement. Pastel colors are more demure, if you are not a fan of bright or dark rainbow shades.
Holographic Rainbow Colored Hair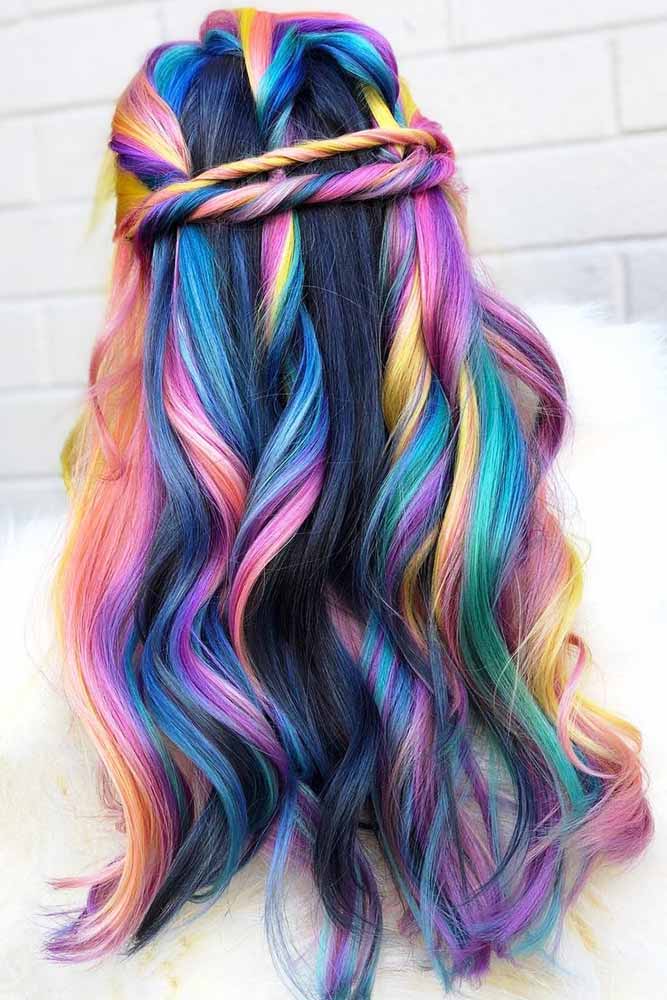 Credit photo: instagram.com/xostylistxo
Holographic hair? Yes, you read that correctly! 2019 is the year of 'anything goes when it comes to a hair color.' And there is no end to the ways you can color your hair nowadays. And with rainbow colored hair, the possibilities are numerous!
Ask for varying shades of blue mixed with pinks, yellows, greens, and purples like the ones shown here. Metallic shades work best if you are going for a holographic look. And it's even prettier if you style your long rainbow colored tresses in twists and braids. Show off the multi-dimensional metallic shades that will set you apart from the rest of your friends.
Highlighted Rainbow Coloring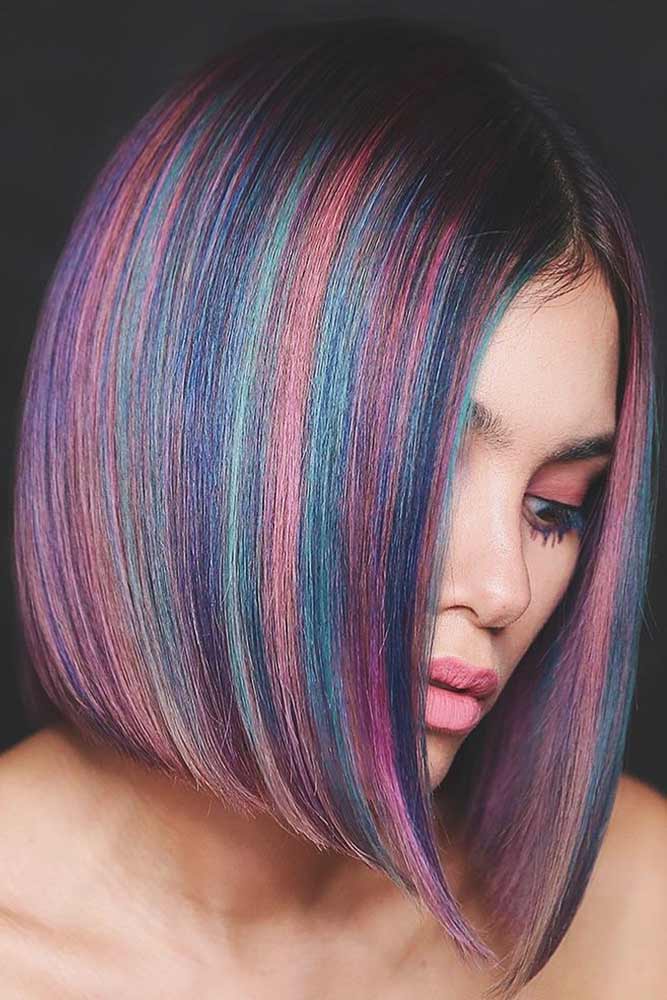 Credit photo: instagram.com/xandervintage
Rainbow highlights are very cool too, if you aren't into ombre. This pretty look for a rainbow hair color is perfect, if you have short hair and want to embrace the rainbow!
Opt for dusty shades of indigo, cerulean, eggplant, lavender, rose and sapphire blue for a rustic rainbow hair color that is trendy and chic. This combo of colors is even more striking on a sleek A-line bob with longer layers in the front that softly frame your face for a romantic vibe. Pair this look with soft pink eyeshadow and matte pink lipstick, and you will feel as though you are truly a fairy princess!
Mermaid Rainbow Hair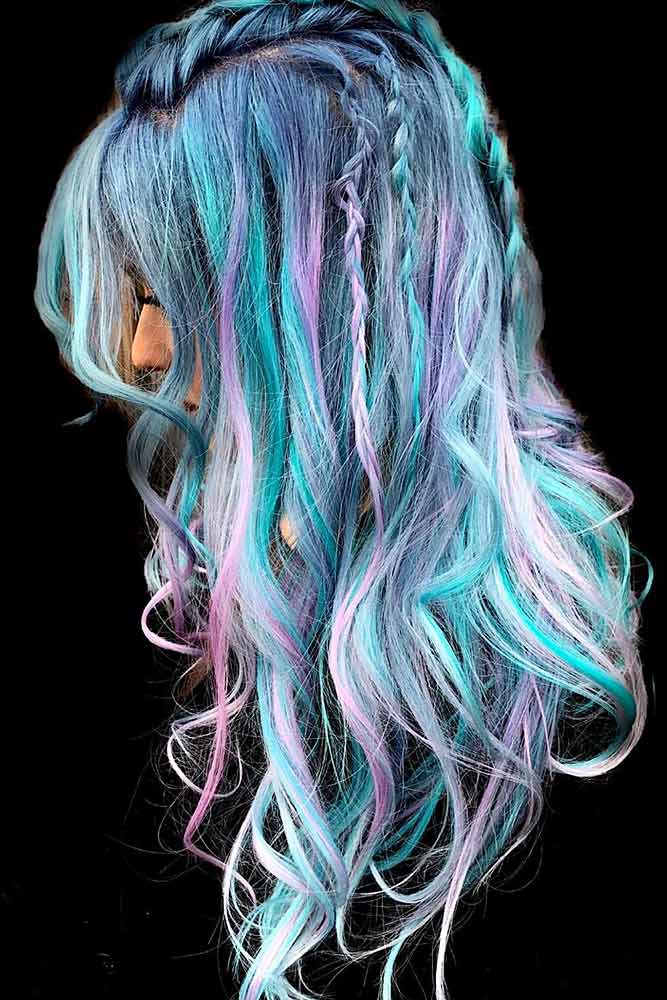 Credit photo: instagram.com/xostylistxo
Every girl has longed to be a mermaid at one time or another. And now you can have mermaid hair! People will stop and wonder if you are really a mermaid or just a pretty girl with rainbow hair.
This look for rainbow pastel hair is really all about the blues and purples. Mix in some soft shades of lavender and lilac with sky blue and turquoise. You'll get a multi-tonal blend of warm and cool tones that will make it look as though you have just walked out of the ocean! Make your mermaid dreams come true with this pretty blend of pastel hues.
Secret Warm Tones Rainbow Hair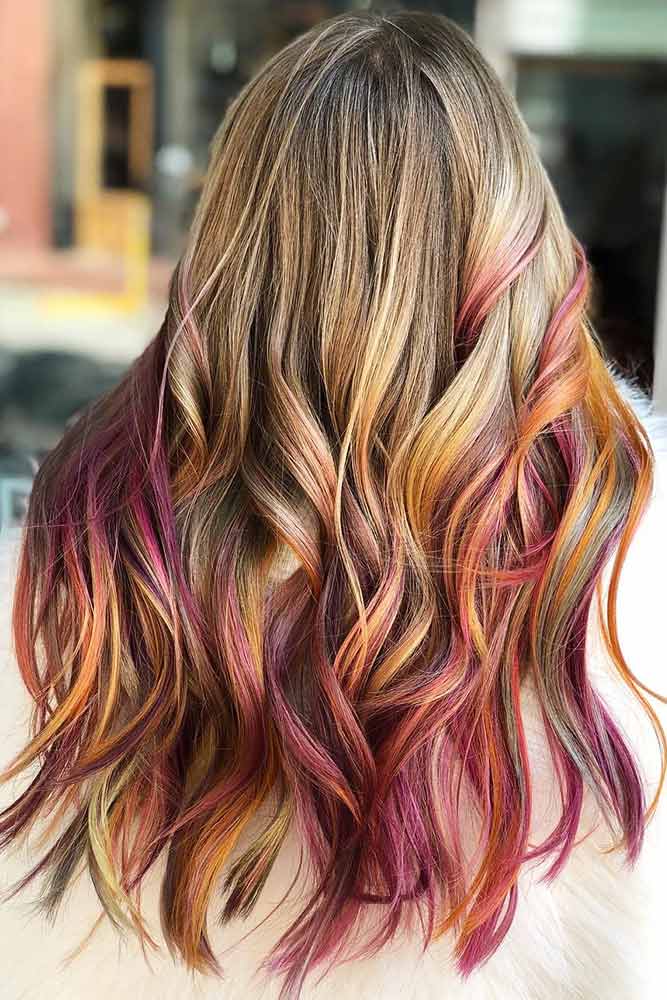 Credit photo: instagram.com/xostylistxo
If you are not permitted to color your hair because of school or your job, you can always opt for secret rainbow hair. Start with your natural color on top and then get your rainbow hair underneath. This way it only shows if you pull your hair up in an updo.
You could also opt for some subtle rainbow highlights. These red, orange and yellow highlights are not as bold as other options for rainbow hair and look like a sunset. This blend of rainbow hues is perfect for fall!
Rainbow Ends For Brunettes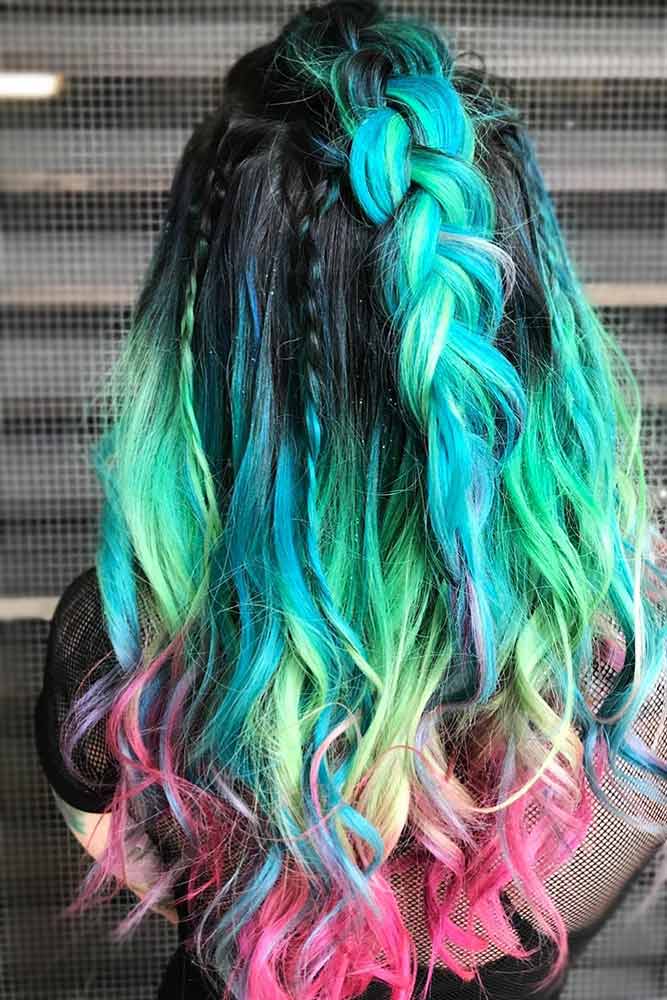 Credit photo: instagram.com/xostylistxo
If you love your brunette locks and don't want to get rid of them but still want to hop aboard the rainbow hair trend, you can opt for rainbow ombre hair. This look with bright shades of cerulean blue, aqua green, pale yellow, lilac, fuchsia and cotton candy pink are just stunning. And it is even prettier with this mix of thick and thin braids to add texture and depth to this totally girly and fun look for rainbow hair!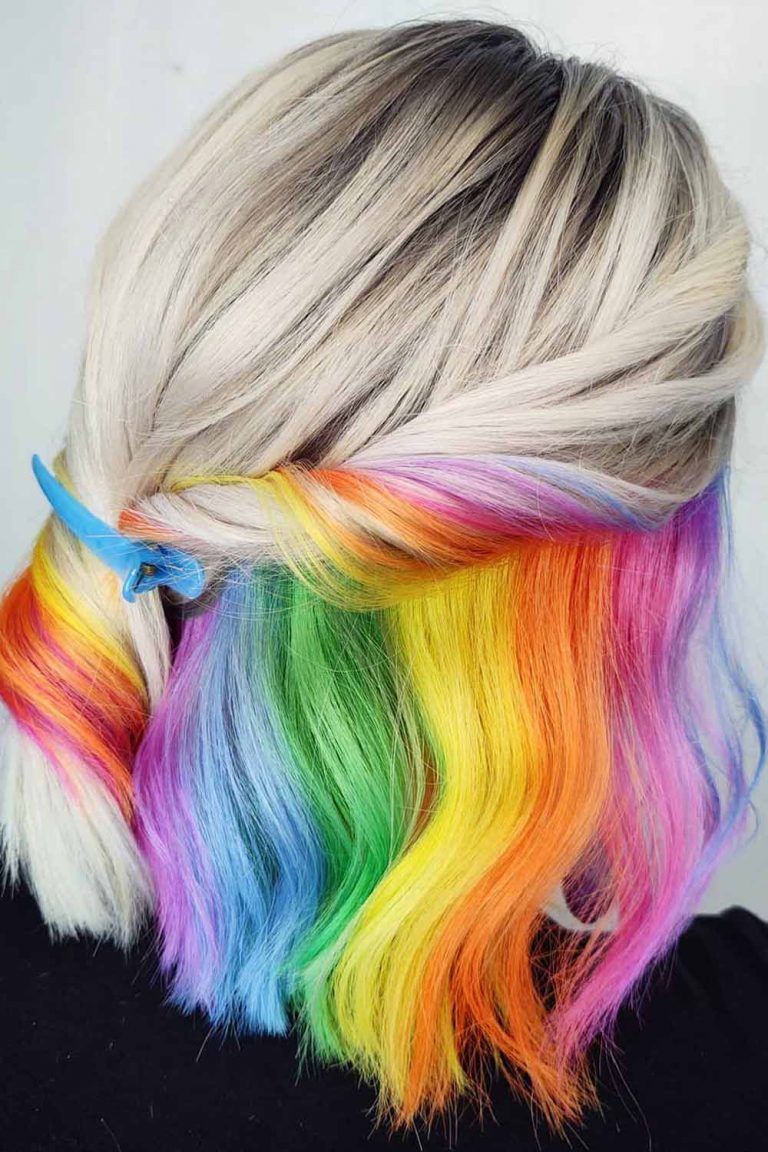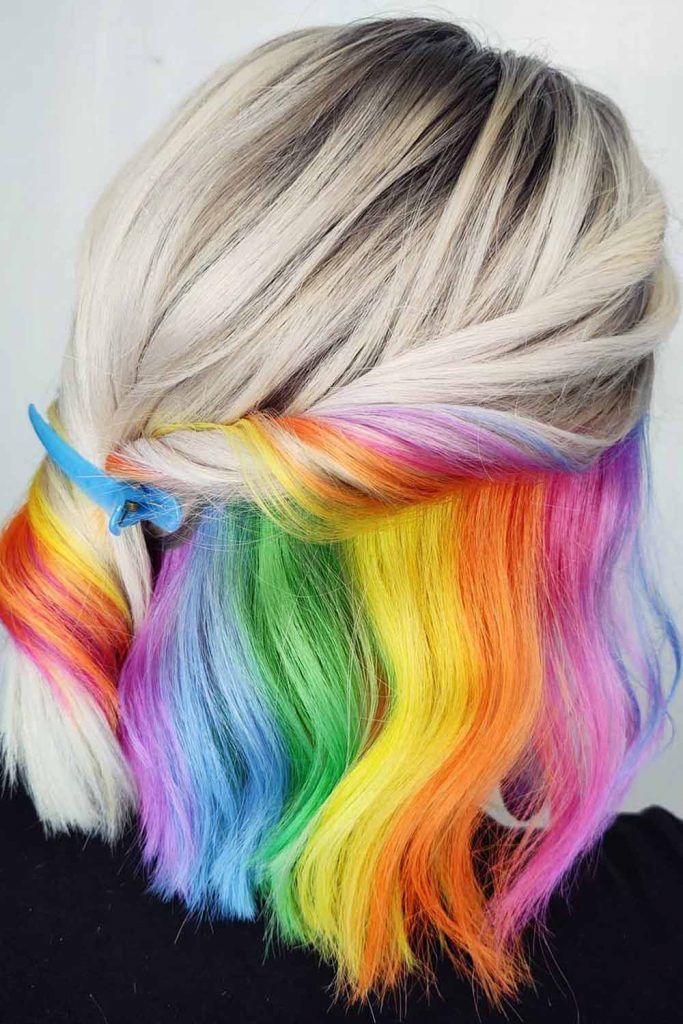 Credit photo: instagram.com/adlydesign
Another look for hidden rainbow hair is this vertical ombre rainbow that only shows when you style your hair in an updo. Add the vibrant red, orange, yellow, green, blue and purple shades of true rainbow dyed hair underneath your natural dark hair. This way if your job or school or even your religion prohibits you from coloring your hair, you can keep it hidden until the appropriate time! And then there are plenty of pretty and fun half updos that you can use to flaunt your rainbow hair!
Rainbow Highlights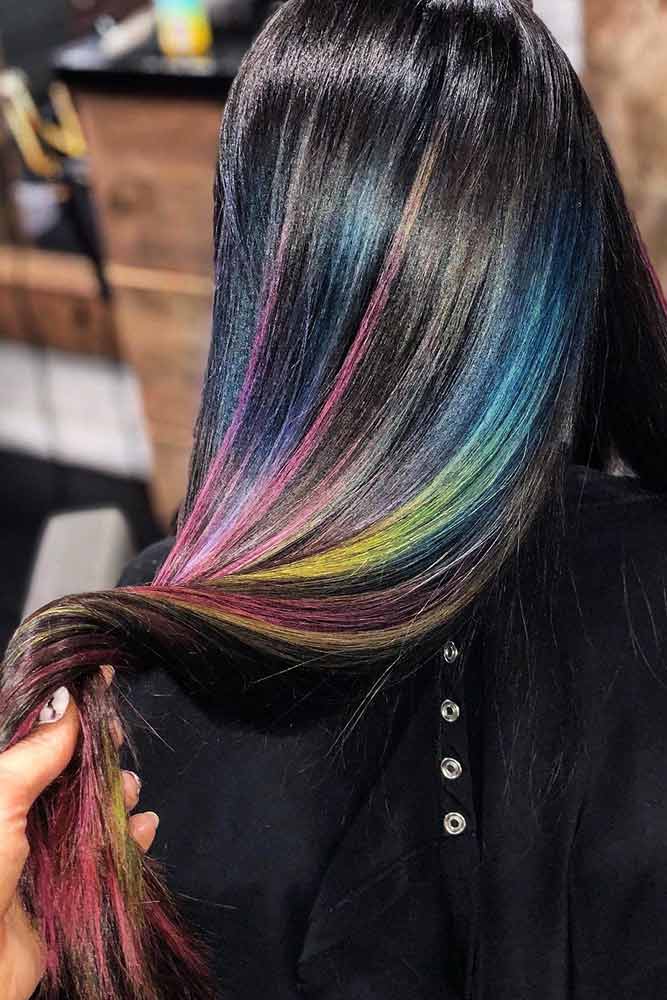 Credit photo: instagram.com/larisadoll
If you don't want to fully jump on the rainbow hair bandwagon, you can always get rainbow hair extensions or even rainbow highlights. Keep your pretty dark tresses but blend in some thin streaks of blue, green, yellow, purple and pink for a subtle tribute to a rainbow hair color. Highlights will add a ton of depth, dimension, and movement to your silky black hair.
Keep in mind that pinks and purples will fade faster than blues or greens. Purple colors tend to fade to silver or gray, which can be very flattering and hip, as well. Have fun alternating pastel, metallic or dusty shades of rainbow hair until you find the combination that works best for your style and taste!
Rainbow Roots Hair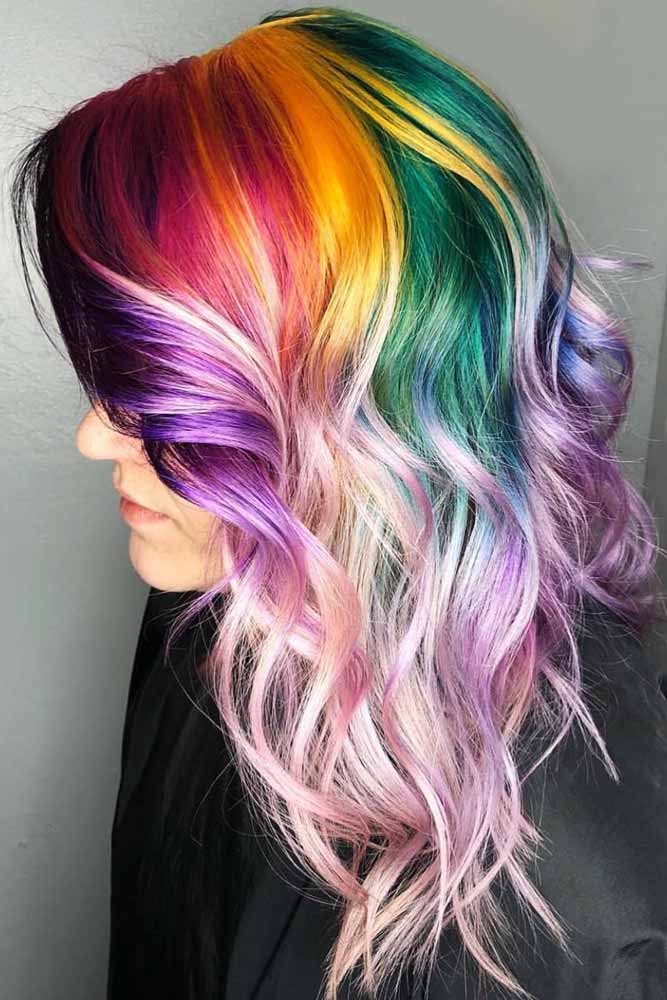 Credit photo: instagram.com/joicointensity
If you really want to show off your love for rainbows, you can try rainbow hair tips or even rainbow roots hair. It doesn't matter if you have rainbow streaks throughout or just color your tips so that they look as though they have been artfully dipped in rainbow paint, the choice is yours!
This look is not for the faint of heart! It starts with metallic shades of pink, orange, teal and dark black roots. Then it slowly fades to shades of metallic and pastel purples, pinks and blues. And finally it ends with soft pastel pink and purple tips. It might take several trips to the salon to achieve the result. But as you can see, this look is so stunning that it is well worth the effort. Totally embrace all things rainbow with this fun and girly look for rainbow hair!
Keep in mind that rainbow hair will require frequent touch-ups. Try not to wash your hair often, limit it to once a week if you can. Always wash and rinse your hair with cold water to prevent the color from fading. Do not use heat if you don't have to, and invest in color safe styling products. Keep your hair hydrated with leave in conditioner, and your color will last a bit longer!
Cold Undertones Rainbow With Light Brown Hair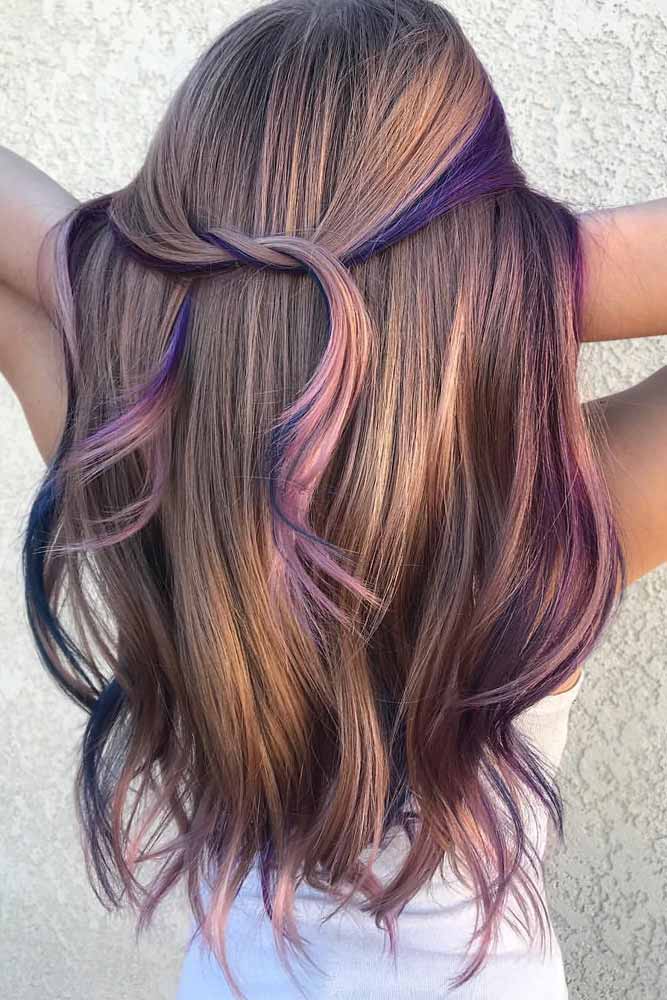 Credit photo: instagram.com/honeyhousehair
Can you imagine a light brown base with a saturated hue coating its ends? Whatever your answer is, this idea is more than just real. It's simply gorgeous. It just so happens that once unmatching colors can form a unique tandem eventually. Here, you can see an irresistible combination of warm and cold shades. First of all, only the top layer got lightened. And this is what makes the whole look appear so dimensional - the dark base does the talking. Second, purple is very dynamic: the color gets lighter to the ends. As a result, they create a color symphony that no one has ever heard.
Dark Rainbow Ribbons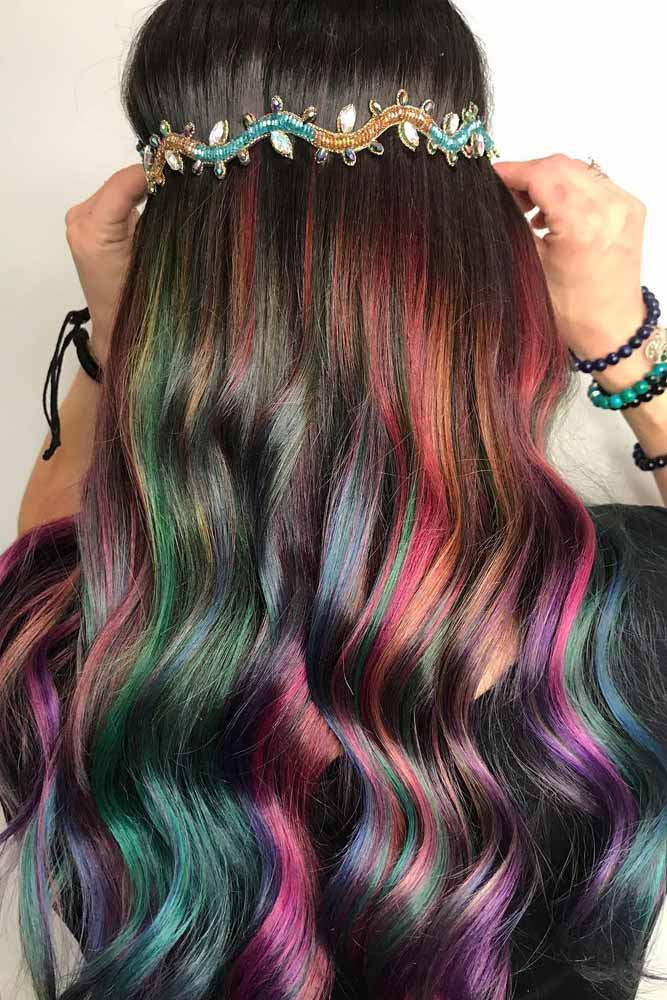 Credit photo: instagram.com/courtgannhair
Do you know that story about a girl who couldn't choose a perfect accessory to finish her hairstyle? Here's a pleasant spoiler: she managed to color her hair and found out that there are no better way to embellish her hair. These soft, pastel, yet so vibrant colors do look like ribbons. But when the sun shines down on them, they look like a magic waterfall. A waterfall of brandy shades, of course!
Neon Rainbow Hair Color Vibes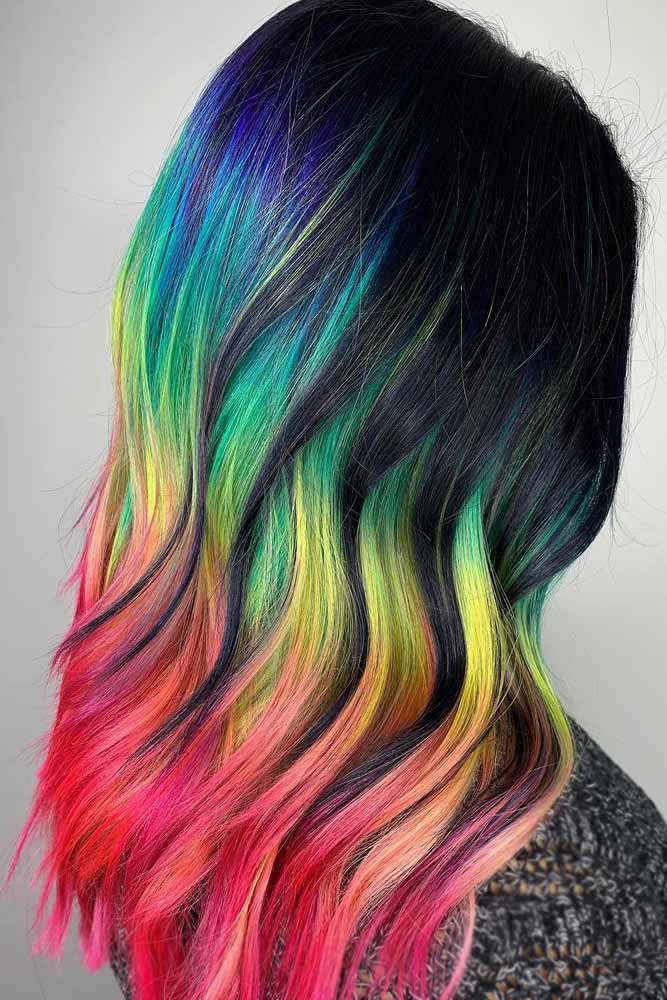 Credit photo: instagram.com/hair_princess_steph
Now, it's better to wear sunglasses, as the shining power of these pop colors is about to fill the space. Obviously, this idea has nothing to do with those subtle, pastel rainbow hair variations. So many girls, so many ideas. This one is meant for those who want to catch people's eyes from a mile away. To make the colors even more significant, let the dark base swirl into the rainbow on the midshaft.
Dusted Rainbow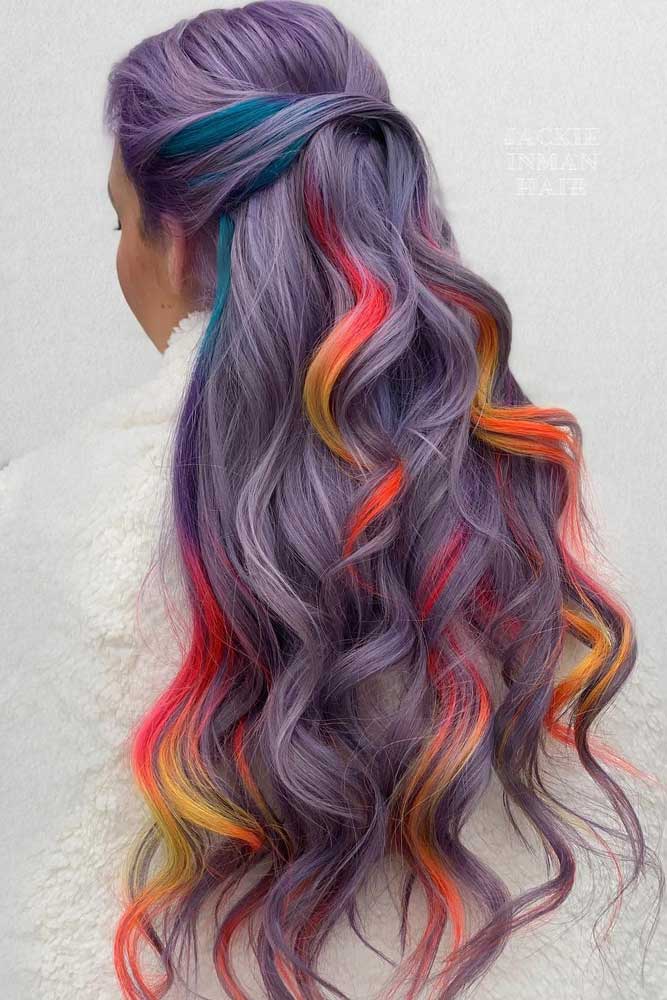 Credit photo: instagram.com/jackieinmanhair
What are the dusty colors? They are shades that you should see before jumping into conclusions. In fact, if you chose to get your colors as muted as possible, you will achieve their dusted variations. The advantages? Muted shades go awesomely together, whatever they are. Plus, such combinations work for fair and medium complexions, which is a win-win for most ladies.
Muted Lavender Rainbow Hair Color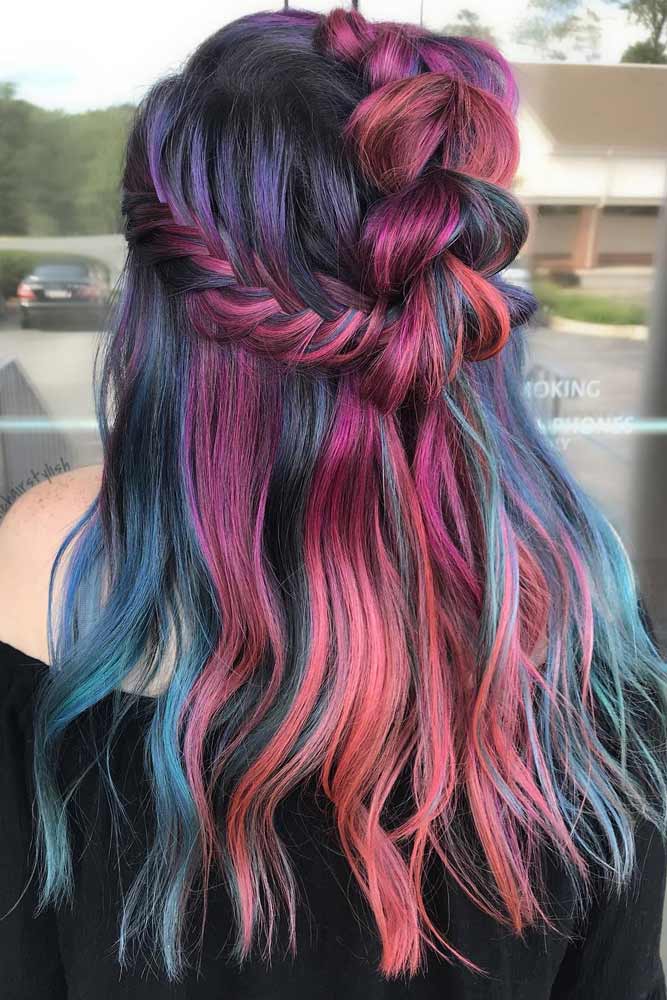 Credit photo: instagram.com/thehairstylish
Is there a more tasteful color mix than the one featuring pastel violet? Such colors as blue, purple, and pink stand near lavender hair colors, which is why they match so perfectly. So how about you to make them a part of your look? You will love the way the mysterious combo blends with your dark hair color, no doubts.
Galaxy Colored Style
Переглянути цей допис в Instagram
Your hair is not only a canvas to your imagination but also a tool to show who you are. Nothing can compare to hair color that sets one's inner-self free and reveals the bright personality. Make the color change big! As big as the galaxy. Pink, purple, and blue are the keys.
Rainbow Face Framing Highlights
Переглянути цей допис в Instagram
Besides showing off your exceptional taste, your rainbow hair can also work for your appearance. As you know, there are no limitations for highlights. And you are the one to decide where to place them. This rainbow combo is so special for one reason: the colors stand out and give a face-framing effect at once.
Splash Of Rainbow Hair Combo On Short Hair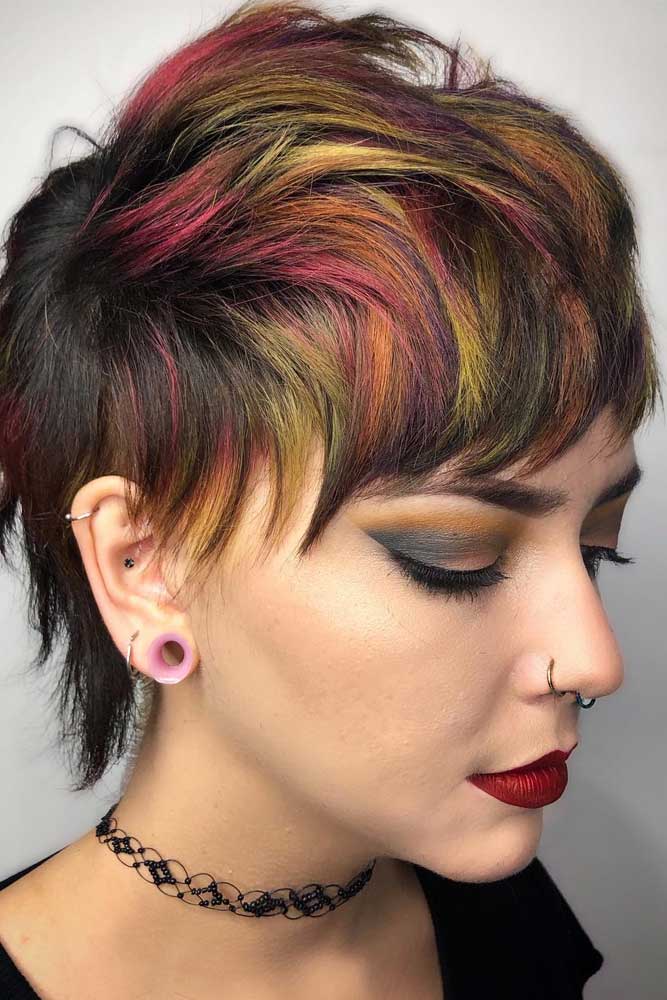 Credit photo: instagram.com/caitlintyczka
Wondering how to emphasize your punky nature? Once you feel that your short sassy pixie is not enough to show how different you are, it's better to let some colors into your life. And while many ladies prefer to go bold and intense, you can go bold and pastel. Just look how gloriously these yellow, pink, and orange shade dance together. The best thing is, the color still looks pretty effortless, thanks to muting.
Sweet Candy Rainbow Hair Color
Переглянути цей допис в Instagram
Pour some sugar on your hair, girl! Our mouths are watering just looking at this sweet pastel hair color. Can you imagine the effect when someone sees it in real life? Candy rainbow can be anything you want it to be. But if you want to stick to authentic candy or bubblegum appearance, don't be cheap with pink hues!
Rainbow Undercut Design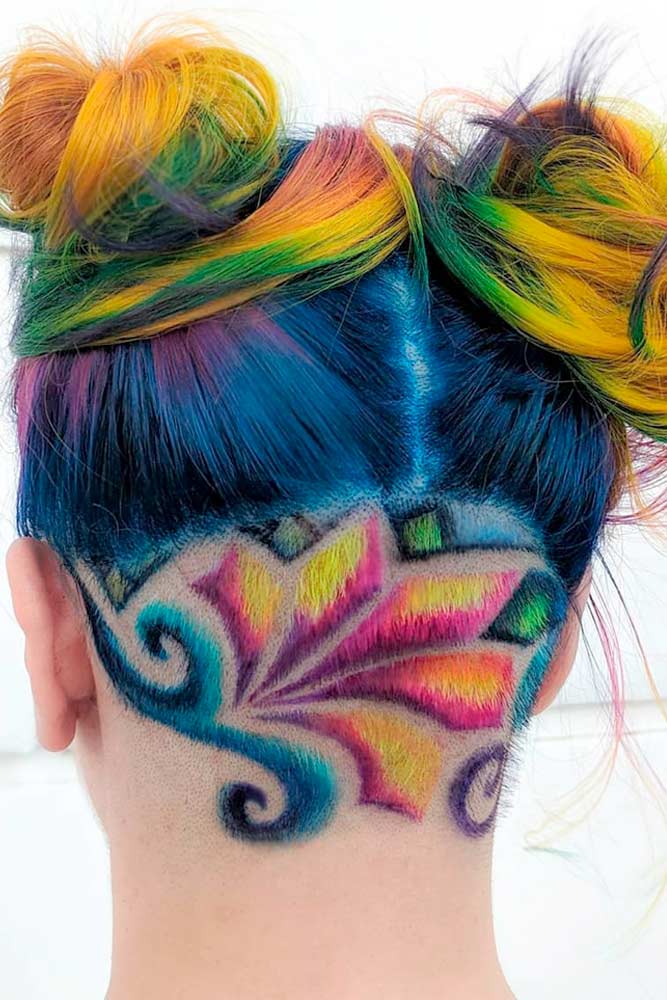 Credit photo: instagram.com/angela_skullptures
It's time to let the rainbow everywhere! Of course, coloring the top layer only is much safer and less time-consuming. But, let's be honest, this statement-making idea is worth sacrifices. Your special undercut design can move to the next level. Just add more colors! A coloring book only gets alive when it's filled with color, right?
Dark Shades Of Rainbow Hair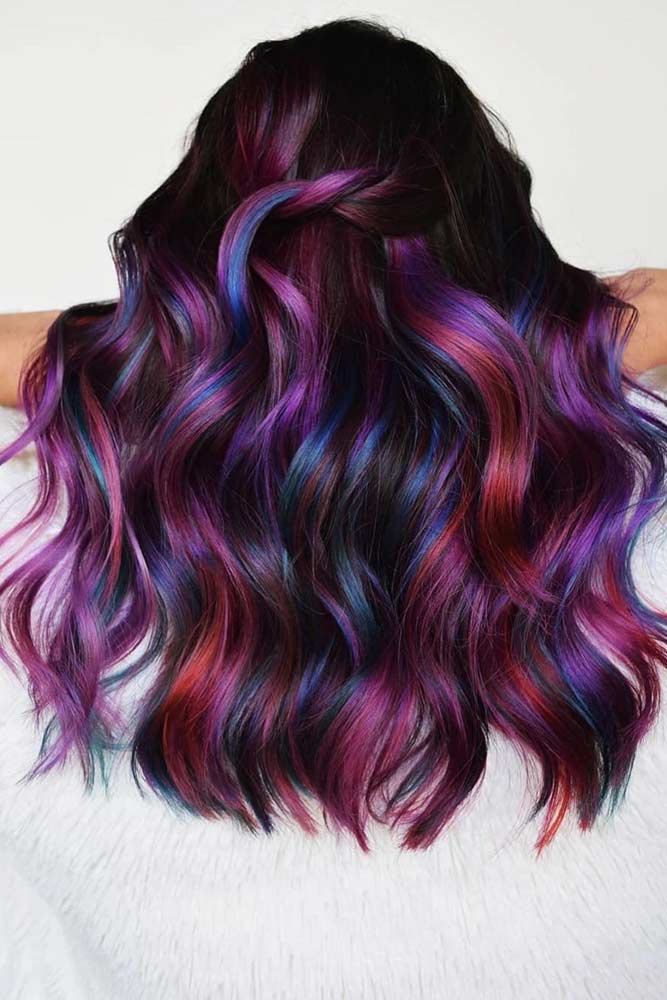 Credit photo: instagram.com/ssscoundrel
The dark side of rainbow hair is waiting for you to join the depth and richness of profound rainbow shades. It just so happens that some girls love to step out of their comfort zones and give a fresh take at popular trends. Well, the dark rainbow on hair is just what the doctor ordered for those who want to stand out in the crowd where all people rock colored hair. Indeed, this idea is a breakthrough in the world of hair colors: not only does it creates a singe whole out of totally different colors but it also shows the endless diversity of the rainbow trend. And you know what? Your dark mane is the best base for such experiments: you can do it without bleach.
Bright Highlighted Rainbow Hair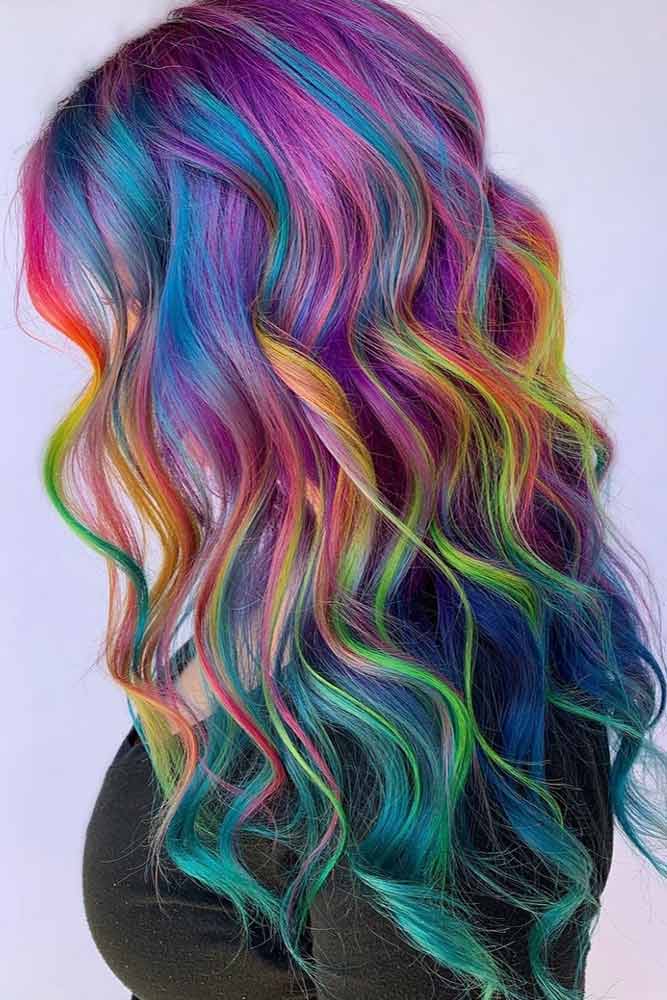 Credit photo: instagram.com/isabellerosehair
Can you imagine how much time this color idea takes to get it done? Let's be honest; even if it took forever, you would go for such a commitment because now you can't imagine your life without this idea. Highlights would be the best choice for mixing various bright shades as they can blend seamlessly and build harmony even with truly contrastive shades. Here, you can see how bright blue, pastel pink, muted yellow, and emerald green tones melt into one another in a balanced way. The icing on the cake? Your color idea can feature even more colors!
Brunette To Rainbow Hair Ombre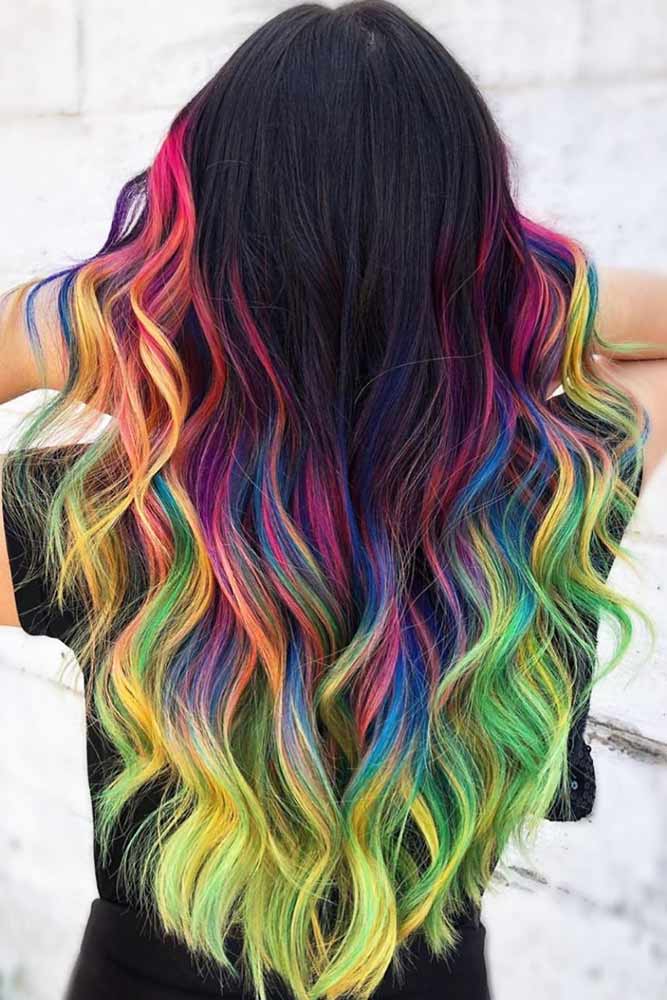 Credit photo: instagram.com/hairbyduhsavannah
It's no secret that women who were born blondes have an advantage over those with dark manes when it comes to coloring their hair bright colors. Basically, the fear of damage is one of the major reasons why brunettes don't color their hair. However, it doesn't mean there are no options for those who want to keep their hair healthy and shiny. Instead of staying away from bold changes, you can color and bleach only the top layer of your hair. In this way, you won't get severe damage while rocking an outstanding look. This idea is one of the thousands of possible ideas: only the front pieces were bleached. But, it's enough to create a fantastic rainbow on your dark hair.
Beach Waves With Rainbow Shining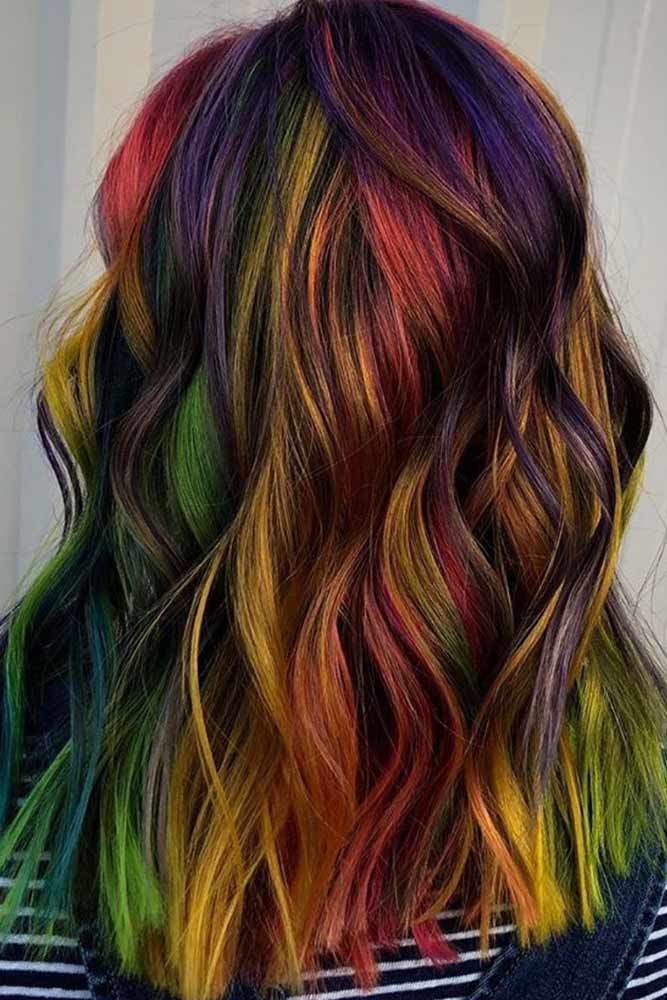 Credit photo: instagram.com/samihairmagic
It's hard to call these dark, muted, and vivid streaks a hair color idea; they look rather like a deep rainbow shining kissing the locks. Gone are those days when black and dark brown hair colors were mixed with red shades only: this idea is here to prove that black is an amazing base for any color you want. The key to recreating this look lies in the temperature and intensiveness of the added shades. Ask your stylist to apply the bright hues as transparent layers so that they look like tints over your black base.
Rainbow Hair Stripes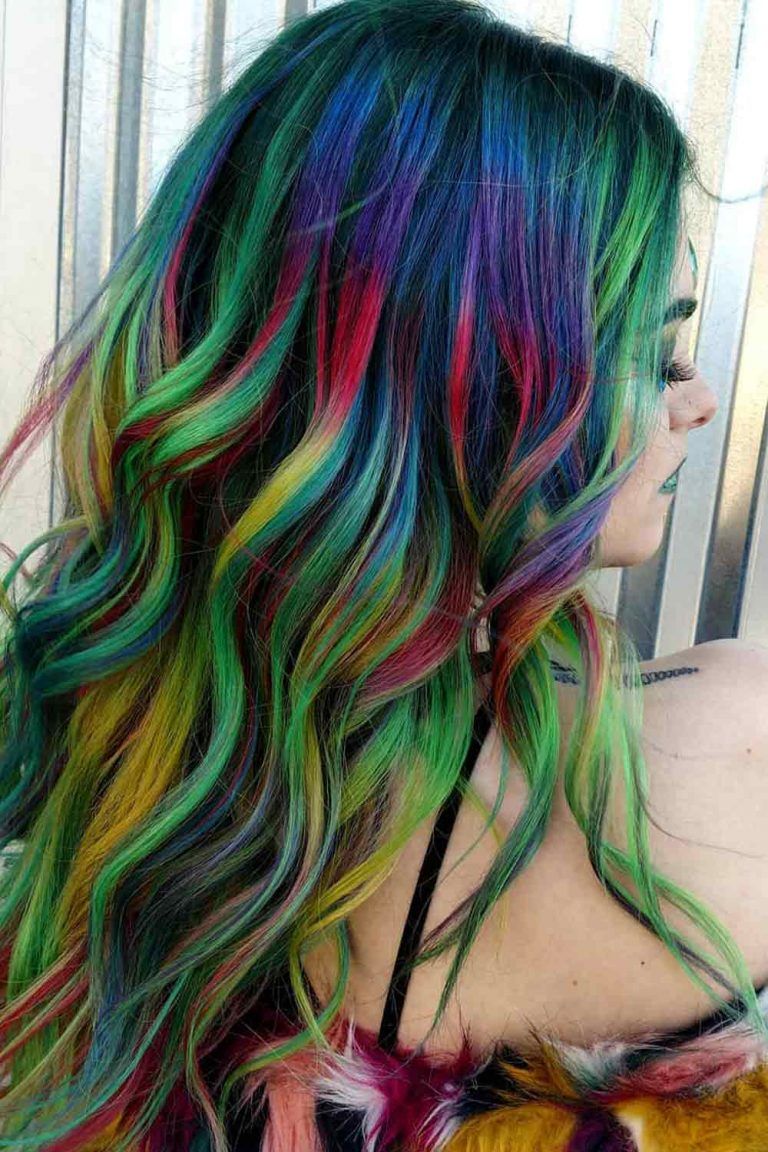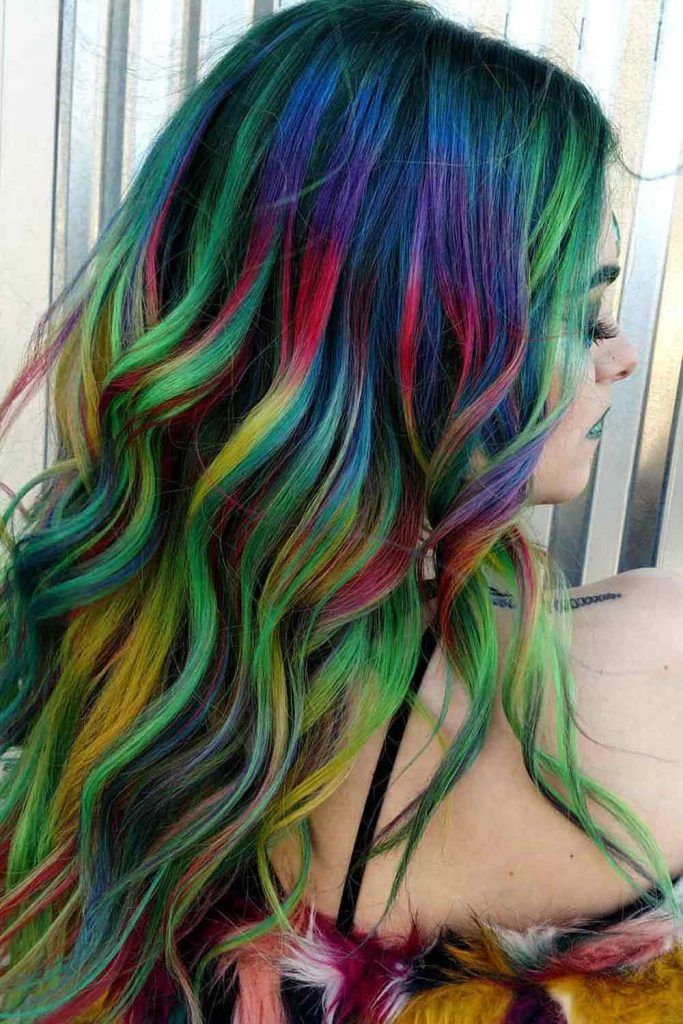 Credit photo: instagram.com/adlydesign
Another ravishing way to let your imagination fly and have minimum damage for your precious locks! The colors are applied horizontally, which creates the effect of northern lights and gives a dimensional finish to the look. For a more balanced blend, consider leaving some gaps within the color transition. As for the colors, it's totally up to you, but keep in mind to start with a cooler tone and finish the look with a warmer one to keep up with the harmony.
Fantastic Rainbow Hair
Credit photo: etsy.com/ru/shop/kekeshop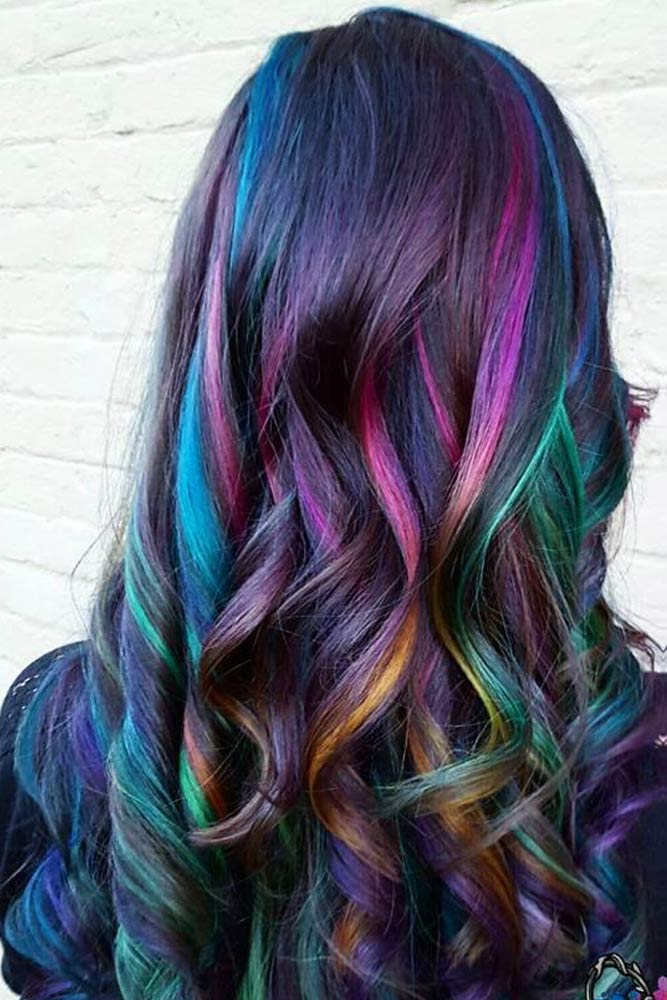 To show off these amazing overlaying hair colors, you would better go to a salon and ask a professional for help. However, if you do have some experience in dying your hair at home using foils, you can try and go for it.
Amazing Rainbow Hair
Credit photo: instagram.com/andyjamespaints, instagram.com/hairbynoora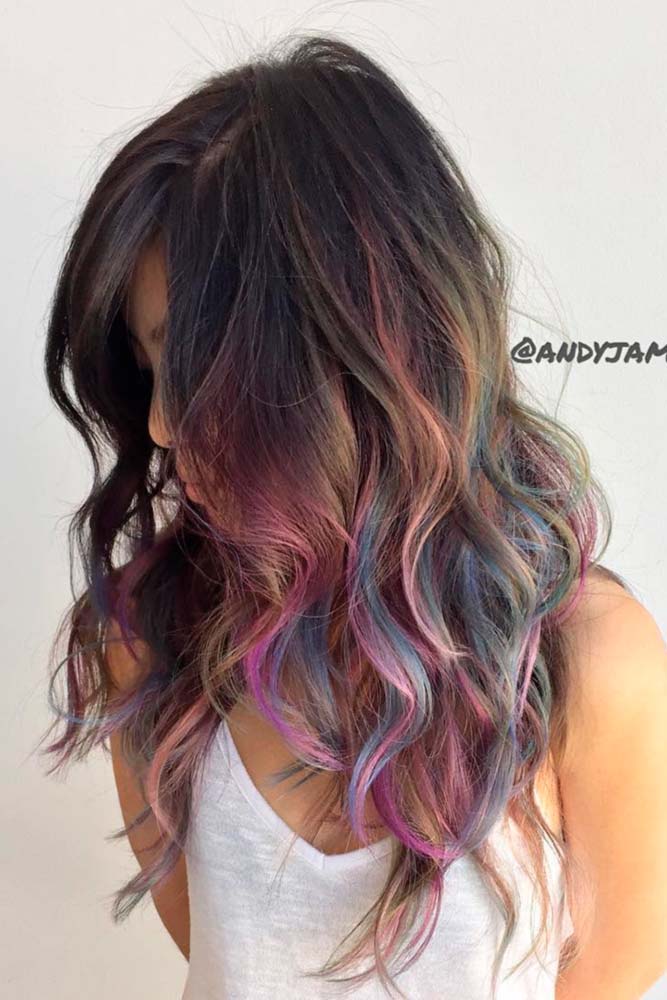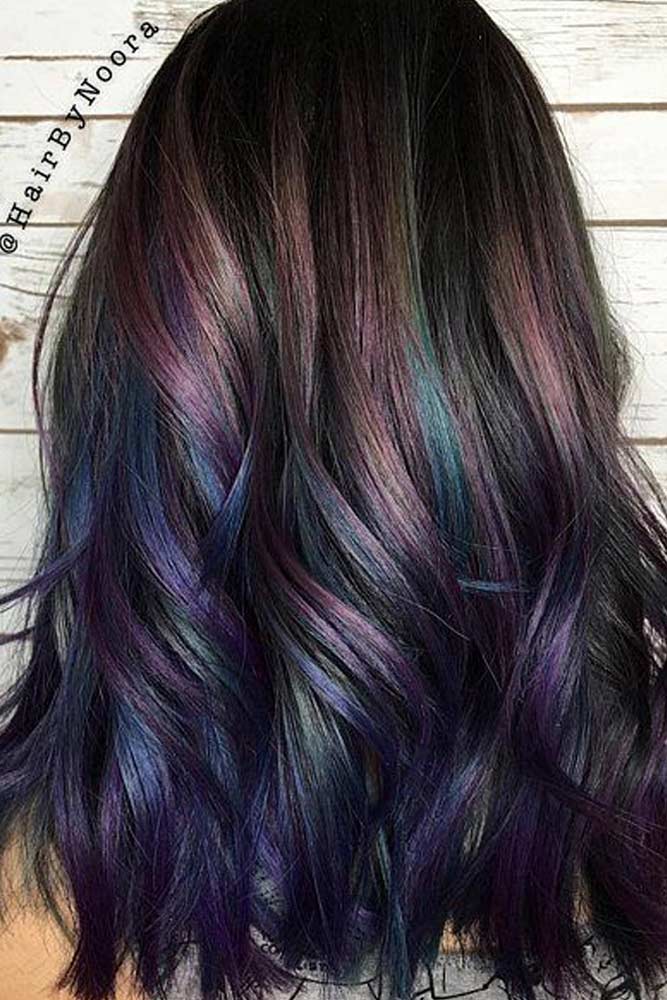 First, achieve the common balayage hair color. When the tresses are pale yellow or light brown, paint different tresses with different colors. This technique is pattern-free, which allows getting a look that is free flow. Use special cosmetic products for the color to last.
Rainbow Hair Color Ideas
Credit photo: instagram.com/hairbynoora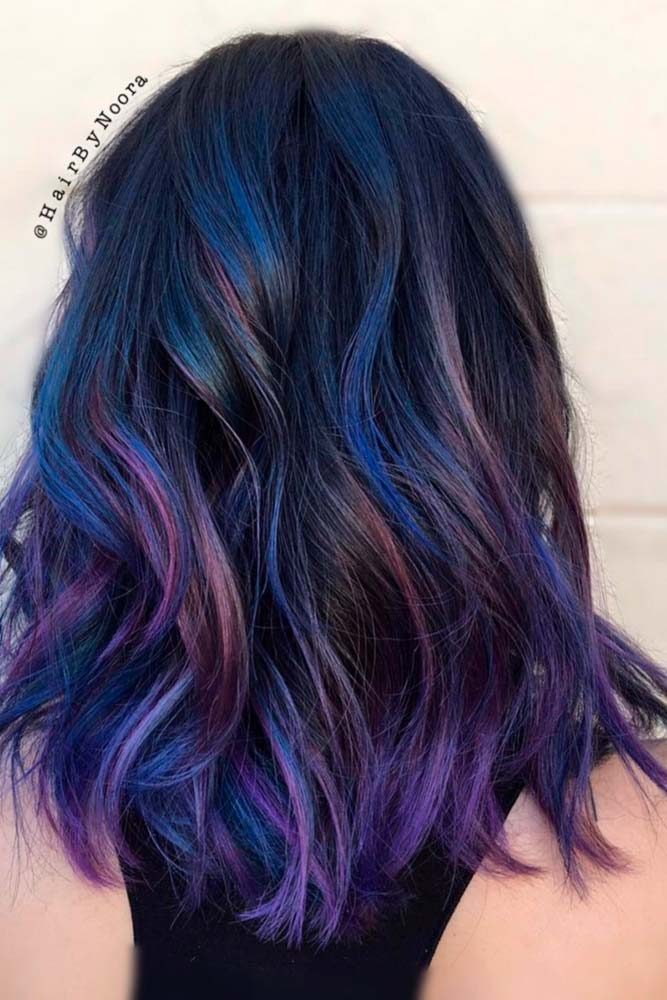 The color will last for a month or two if you stay away from shampoos and other cosmetic products that contain sulfates. So, how this no bleach magic is even possible, you might wonder.
Rainbow Hair For Any Occassion
Credit photo: instagram.com/xostylistxo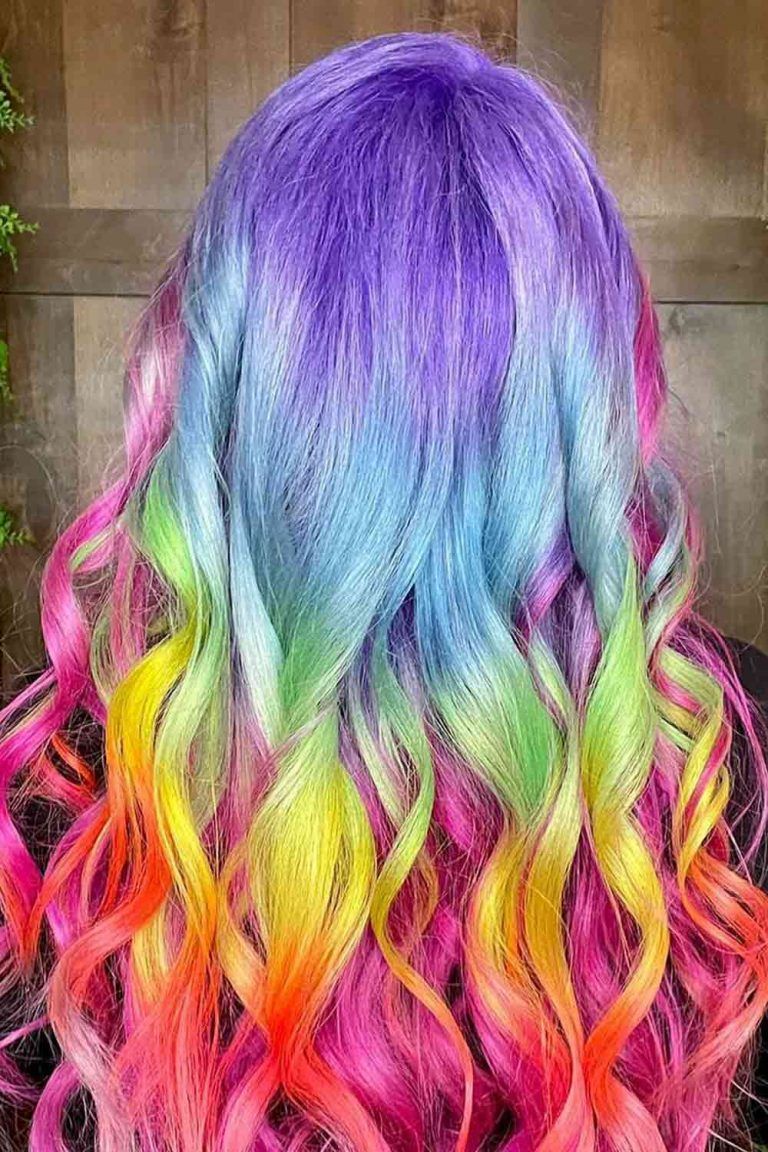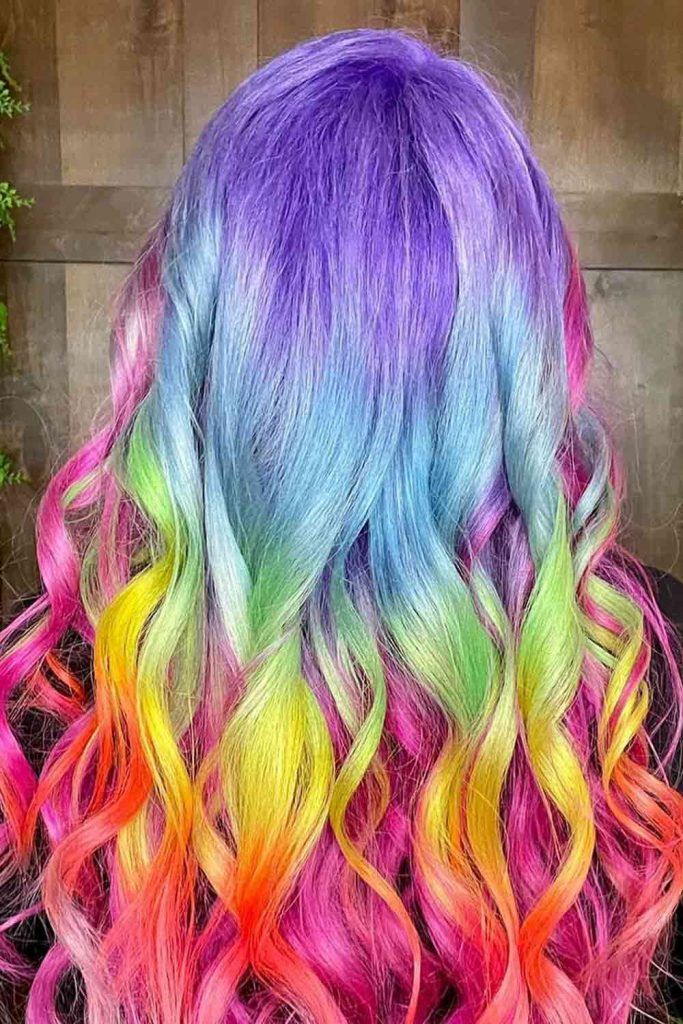 Well, the damage occurs when some color is lifted out of your hair shaft. And when the pigment is deposited inside it, the negative impact on the health of your hair is reduced to a minimum.
Rainbow Hair With Accessories
Credit photo: instagram.com/alfredo_lewis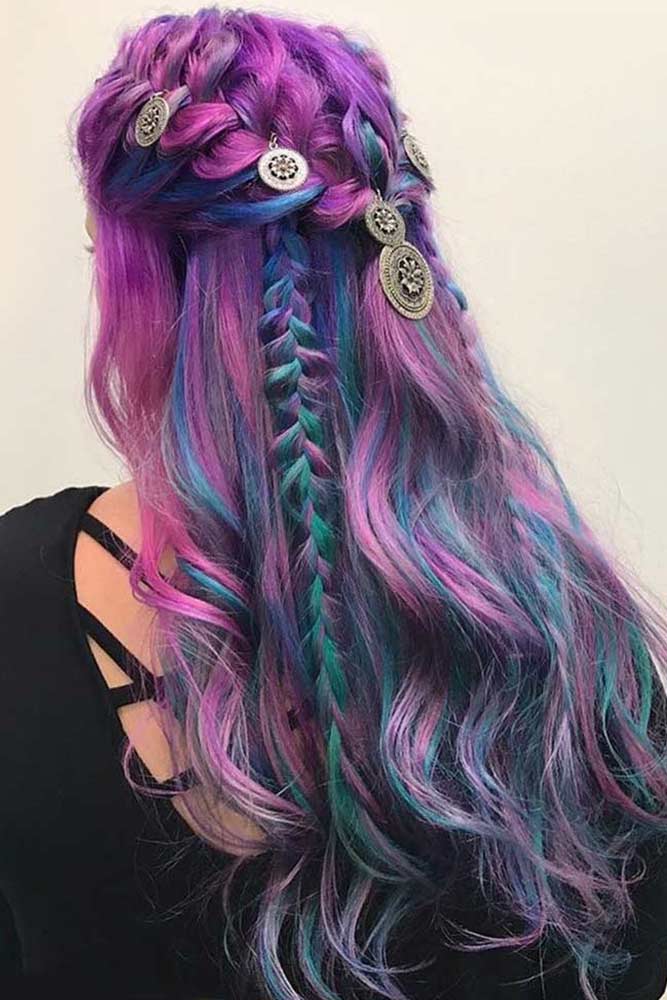 Every lady should know the names of the substances that are capable of extracting the natural pigment from her hair. These include ammonia, bleach, and peroxide. And more safe direct dye that deposits color is a compound in, for example, Manic Panic and Splat.
Colorful Locs For Upgrade Hairstyles
Credit photo: instagram.com/healthyhairandbody, instagram.com/hairbykotay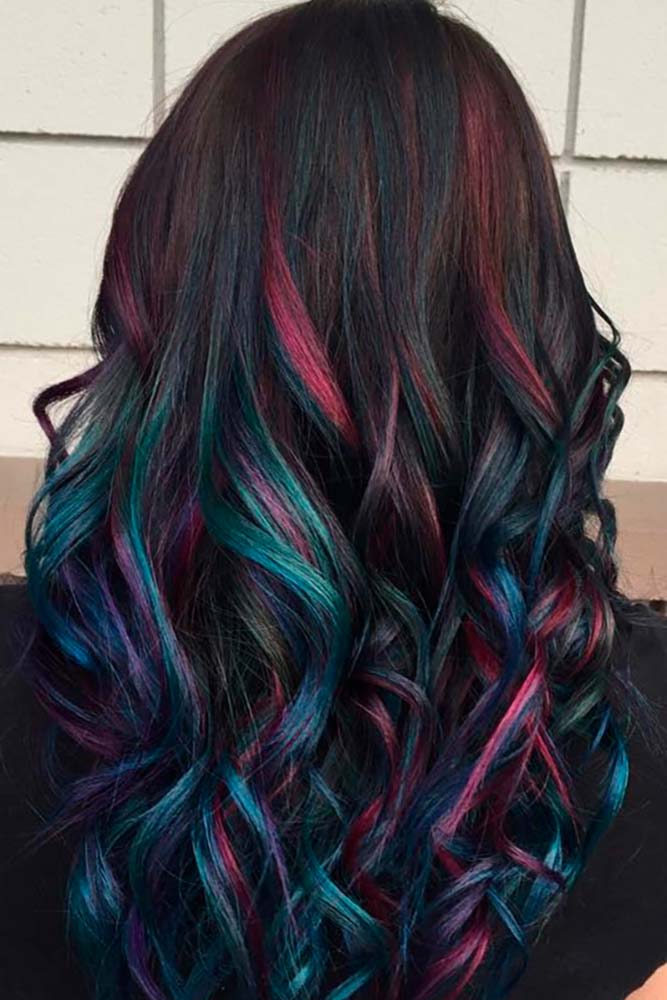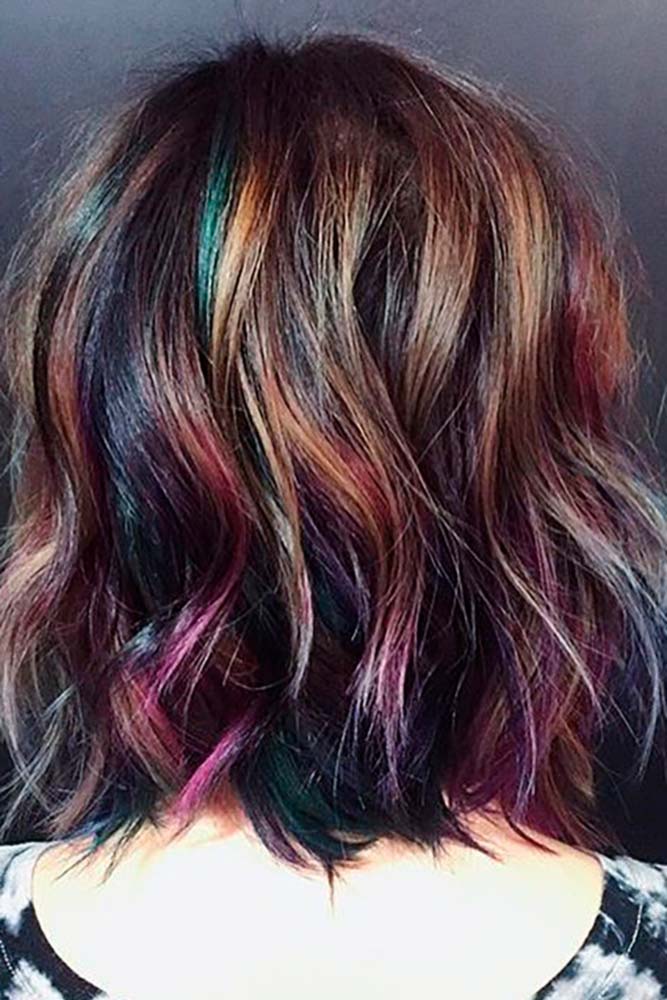 These dyes look the same both when squeezed from the tube and already on your hair. It means that the dye does not contain any harsh ingredients capable of dehydrating and damaging your hair.
Trendy Rainbow Hair Colors
Credit photo: instagram.com/JilMorrisHair, instagram.com/hairbykotay, instagram.com/thejennshin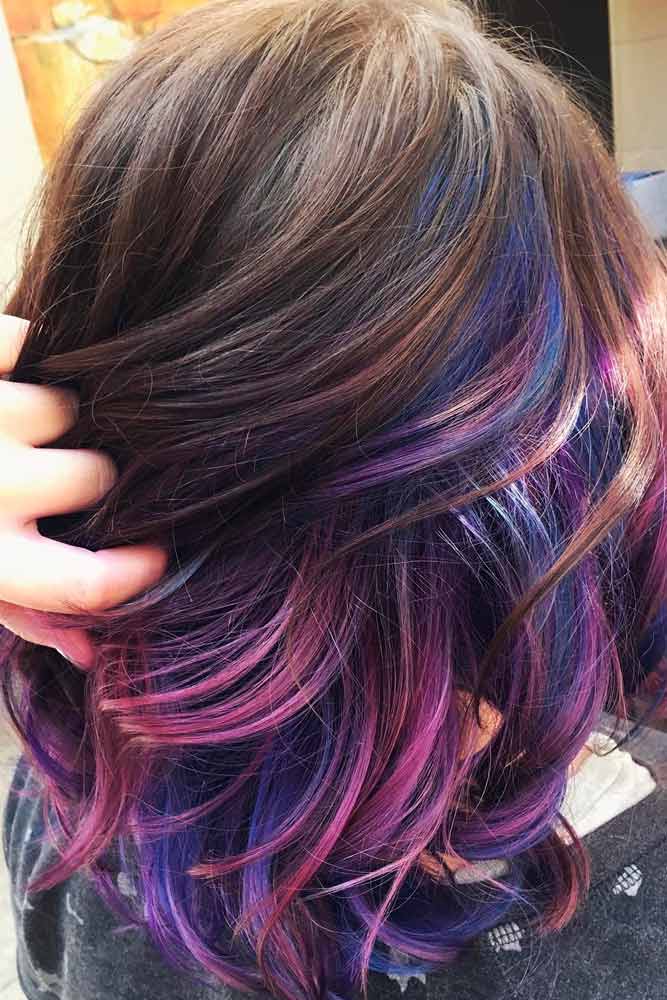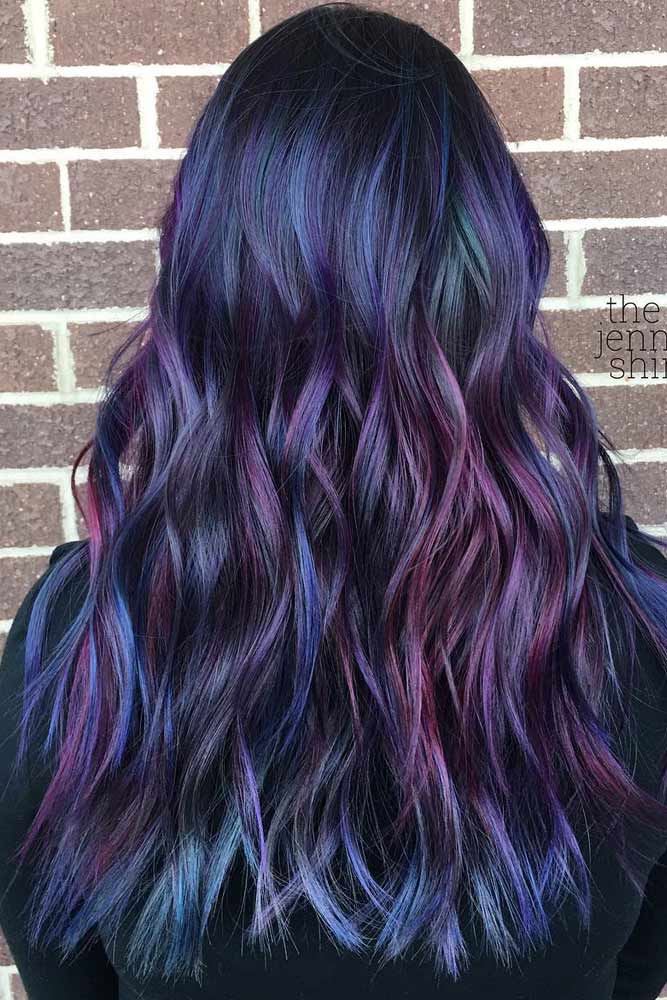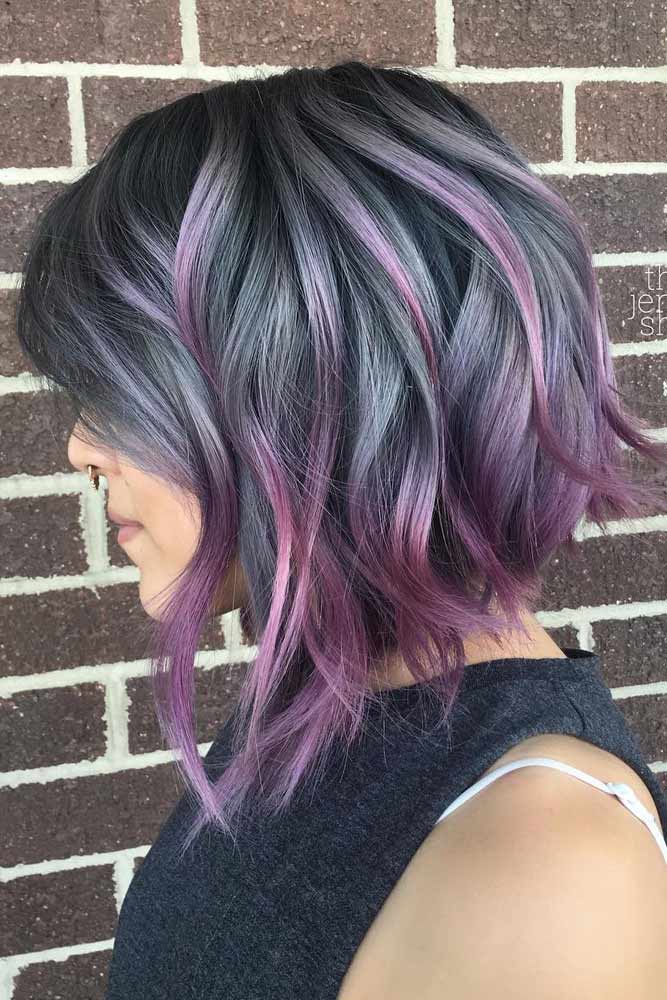 So, these dyes can be used without the assistance of a professional hair stylist. Also, when you shop for dyes that deposit color, always read the label. Ensure that the ingredients involve no aluminum and henna.
Oil Slick Balayage For Brunettes
Credit photo: instagram.com/alexandrascissorhands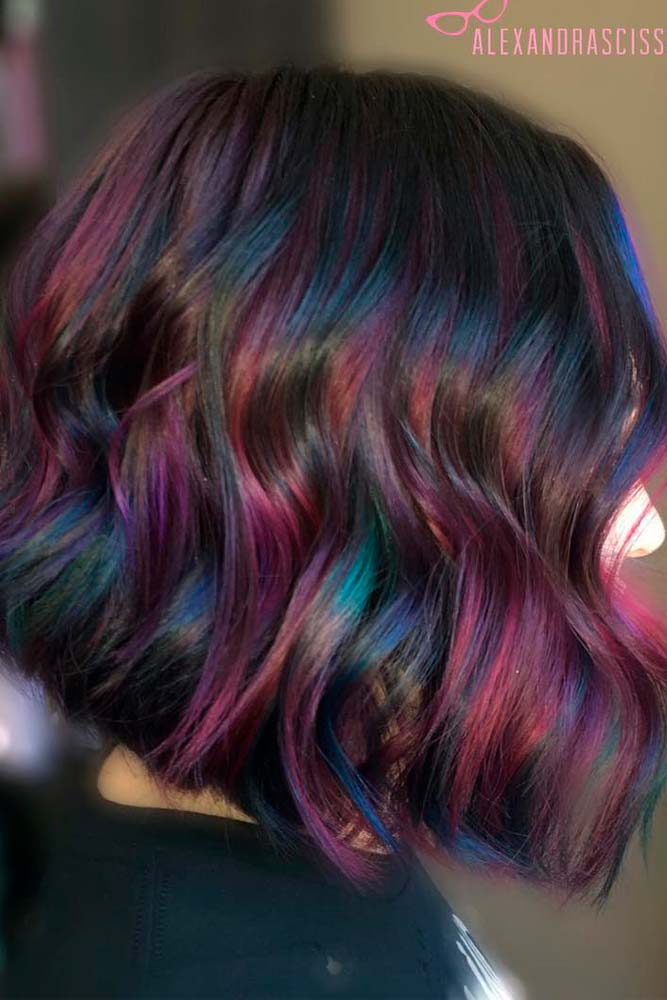 Why to avoid these ingredients? Because of several reasons. Firstly, these chemicals might make it difficult to color hair in the future. Secondly, aluminum and henna may create some chemical reactions that will damage your hair.
Purple Game On Long Hair
Credit photo: instagram.com/hoang.n.pham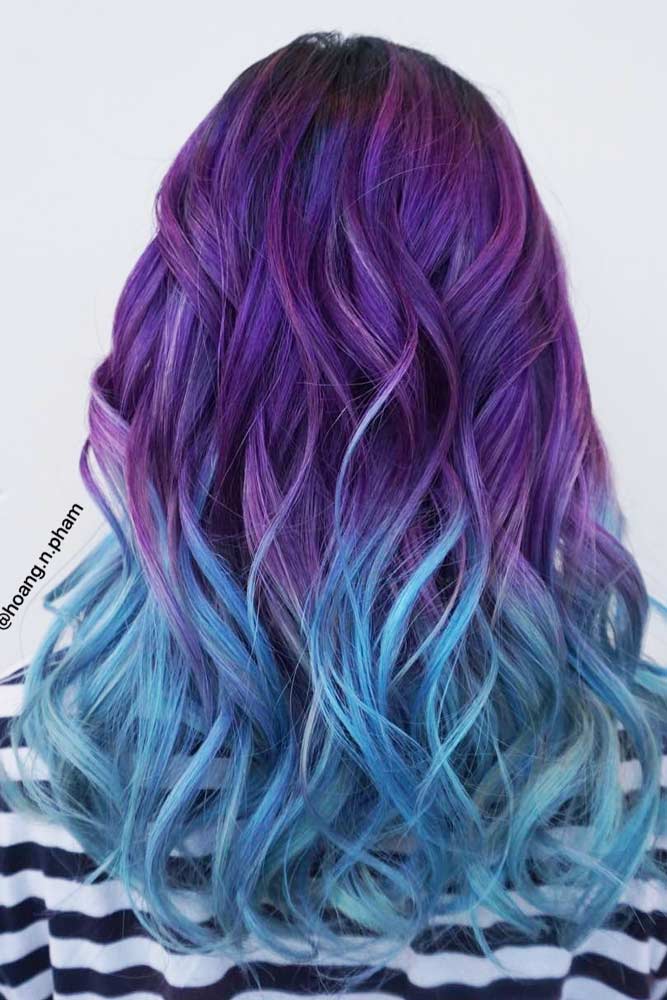 Is there a rainbow without a purple color? Add some purple to your locks for a bright, rainbow effect.
Medium Blue Hair For Brunettes
Credit photo: instagram.com/bleachedandblown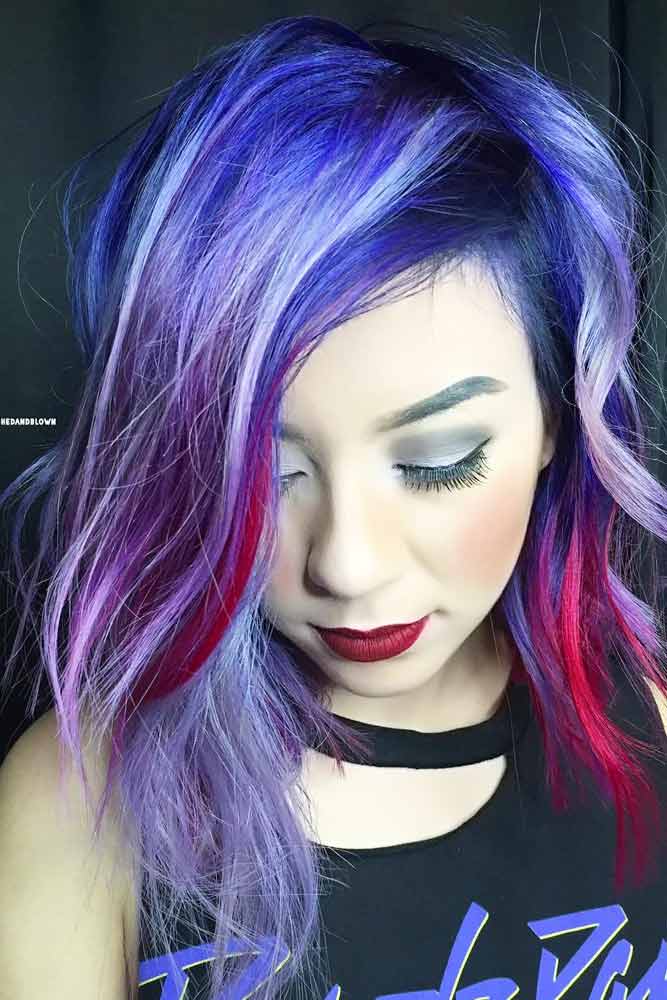 Blue and purple color combinations for hair are perfect for those who want to make some changes in their image without damaging their hair.


FAQ: Rainbow Hair
What is rainbow hair called?
Confetti hair is one of the internet's newest hypnotic hairstyles. It is also called a pastel party head. It entails alternating rainbow-colored dye flecks to produce a captivating visual illusion that will not leave you indifferent.
How long will rainbow hair last?
Even permanent colors don't stay on your hair forever. When mixed with hydrogen peroxide, the pigment molecules change the structure of the hair fiber, which implies you shouldn't touch up your roots for about five to six weeks after you've died your hair. After around 25 washes, the overall color may start to fade.
What Colours are in a rainbow?
Red
Orange
Yellow
Green
Blue
Indigo
Violet
This color sequence creates the well-known pattern that we all have learned since childhood thanks to the use of mnemonic phrases.