Thinking about going for blue ombre hair? Ombre hair is totally in right now and ombre in blue is no exception. Bluish hair can be subtle or dramatic, with some semblance to fairy or mermaid style hair. You simply need to find a hair stylist and choose the shades of blue you wish to use for your daring new hairstyle.
It's a good idea to consult a colorist before picking any of these gorgeous ombre hair looks. A lot of them are way too complicated to try at home, especially if you have longer hair. Also, blue ombre requires that you bleach your hair. And if you have previously colored your hair, you need to go back to your natural color before trying ombre. However, don't let it discourage you because we can promise you that these fabulous blue ombre styles are worth the effort!
If you aren't feeling bold enough to try ombre in blue, you can always opt for a classic blonde ombre or perhaps a slightly bolder red ombre hair style. You can attempt to color your hair ombre at home, but it can get quite messy and be rather unpredictable. So, it pays to either ask a stylist or at least an experienced friend to assist you as you venture into an exciting new hairdo.
Light Blue Ombre Hair Color Ideas
Since the blue hair color chart has a beginning but seems to have no end, its lightest versions come in a vast variety of mysterious ideas. From soft pastel navy blue hues to striking neon-like shades, your soul is going to be captivated with the most impressive light blue ombre looks.
Turquoise And Raven Ombre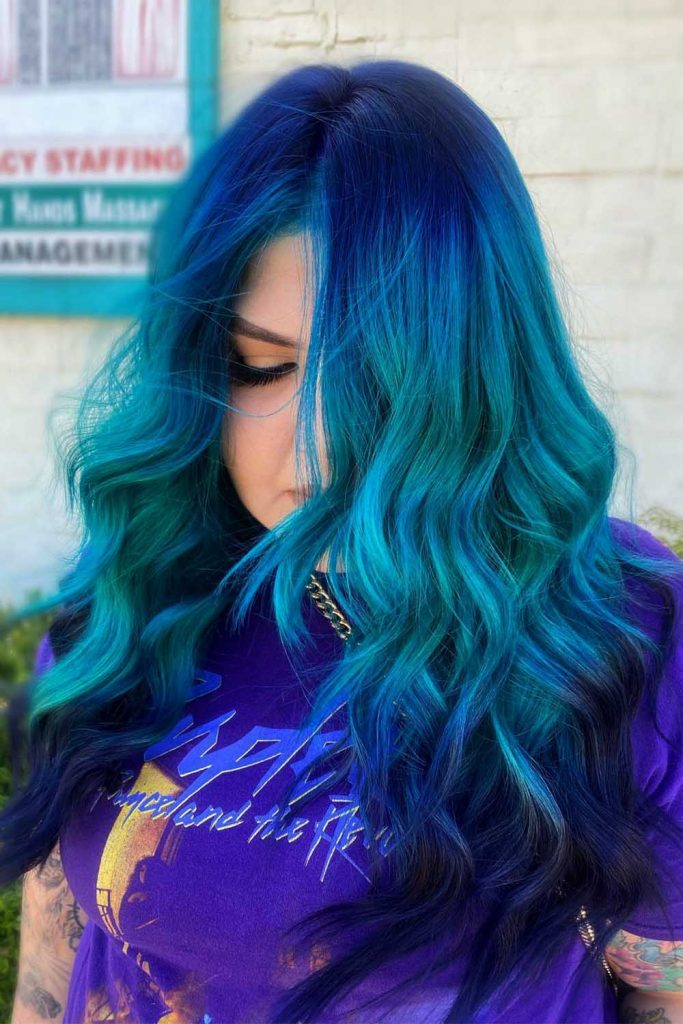 by @hairbyclairperez
This style works best for those with long, straight hair in darker tones. The bold turquoise perfectly complements the dark black roots.
Pastel Blue Tips With Lavender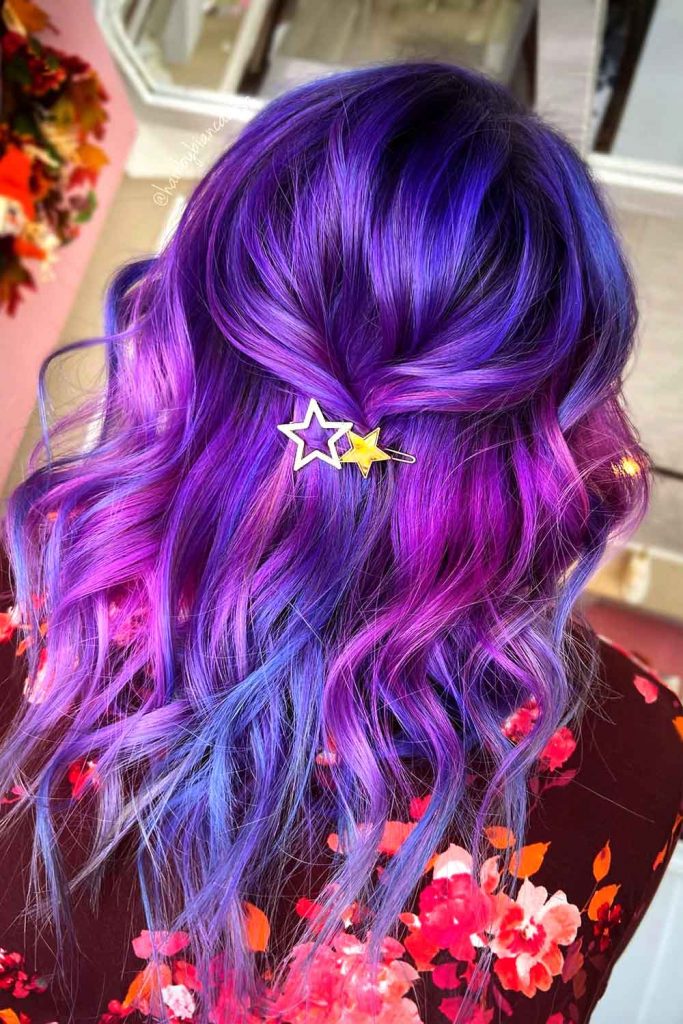 by @hairbybiancarose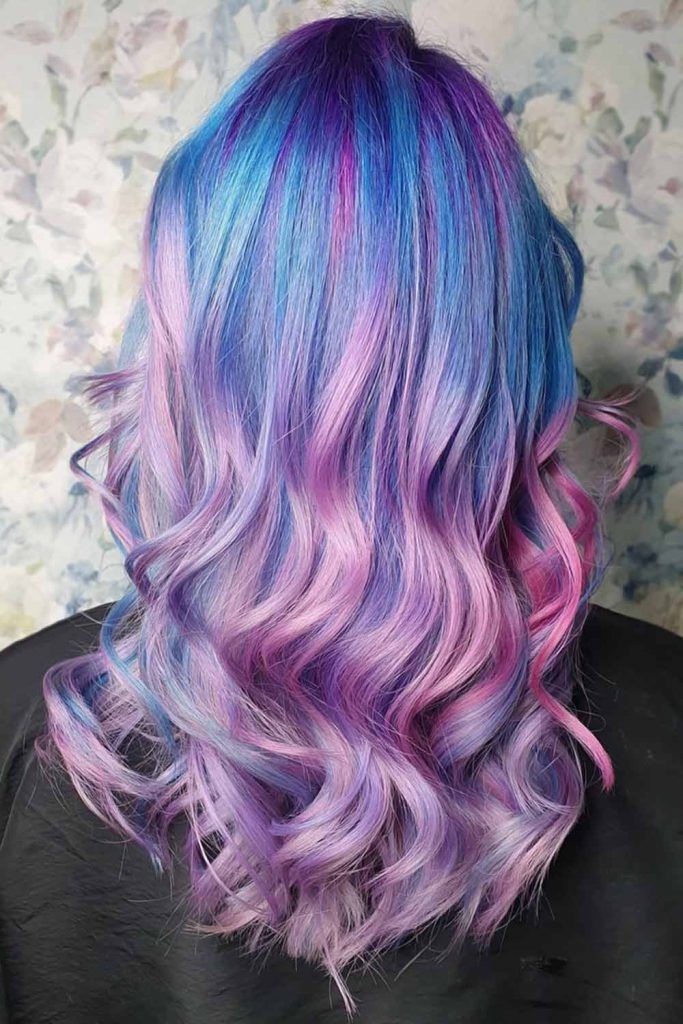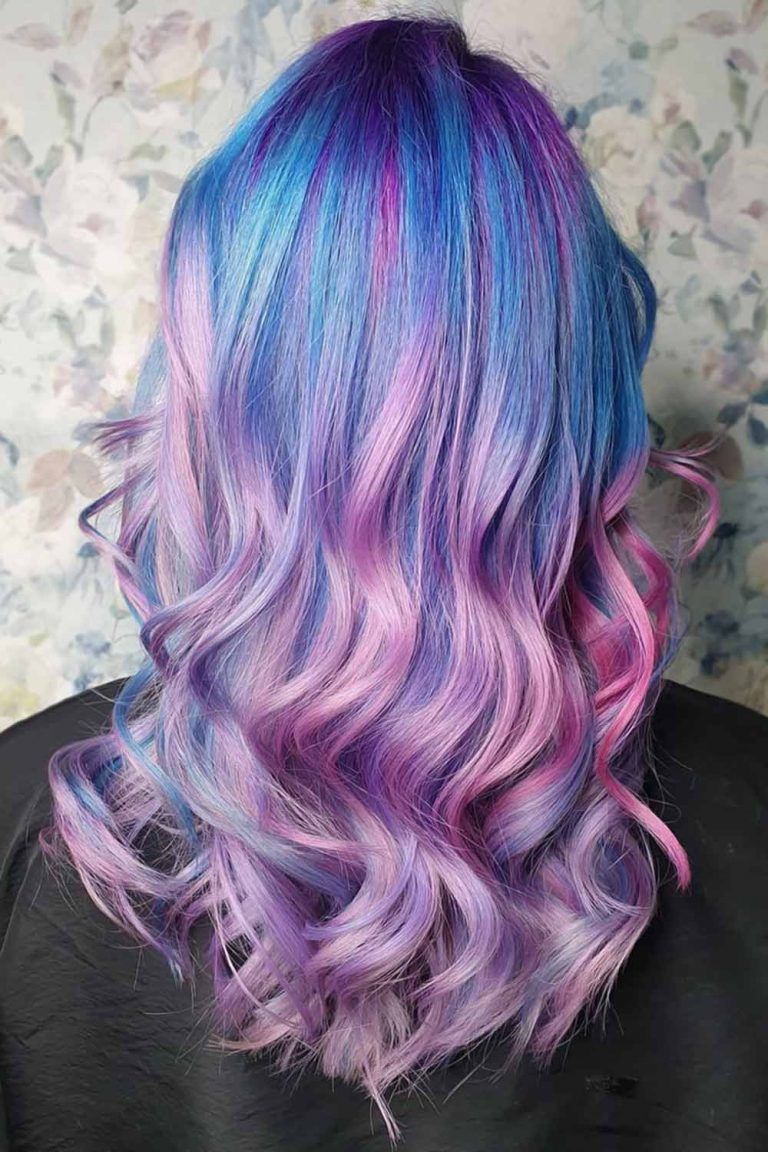 by @bloomhairsalon
With its soft lavender base and bright blue tips, this super-trendy look is ultra-playful.
Blue Tips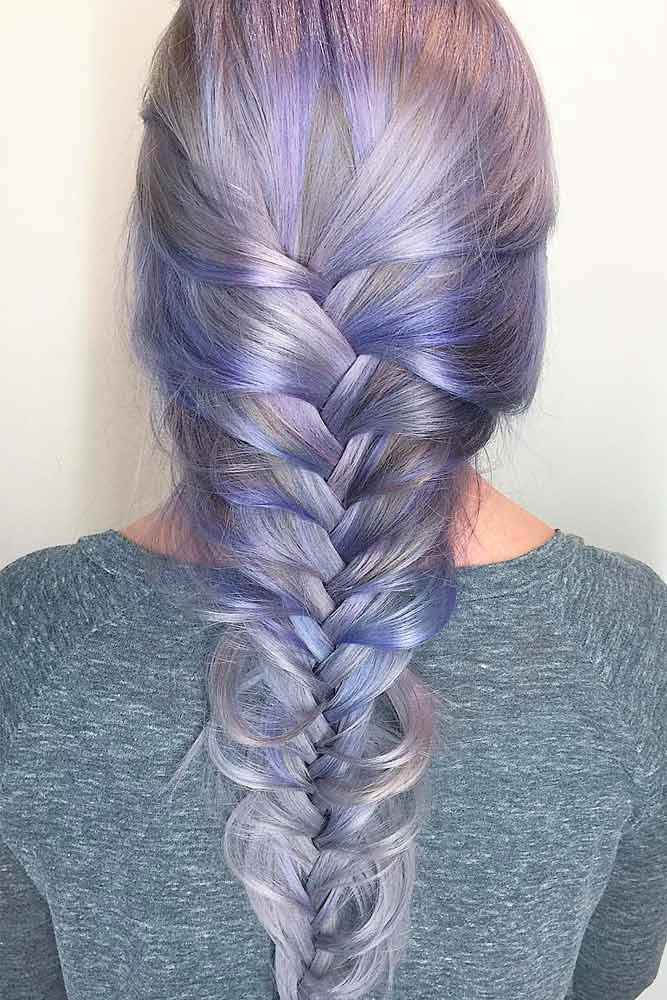 by @candicemarielv
For those with ashy blonde hair, this blonde and blue combo is both fun and quirky. Your ends will look as though you had haphazardly tipped them in a can of bright blue paint. These funky blue tips also work great for a deep black color.
Icy Blue Ombre Hair Waves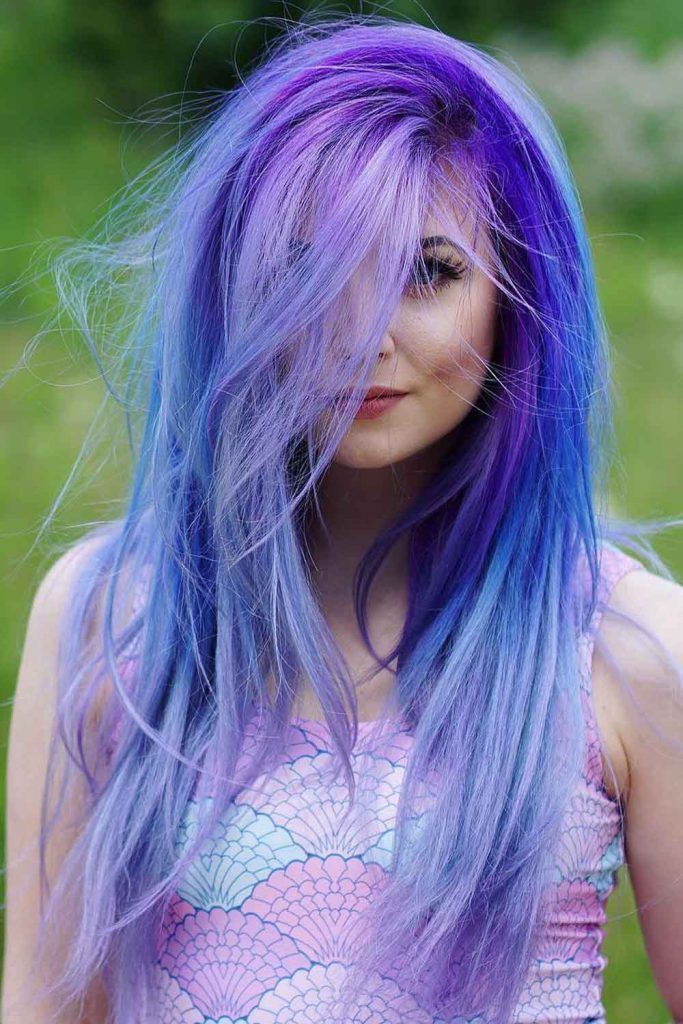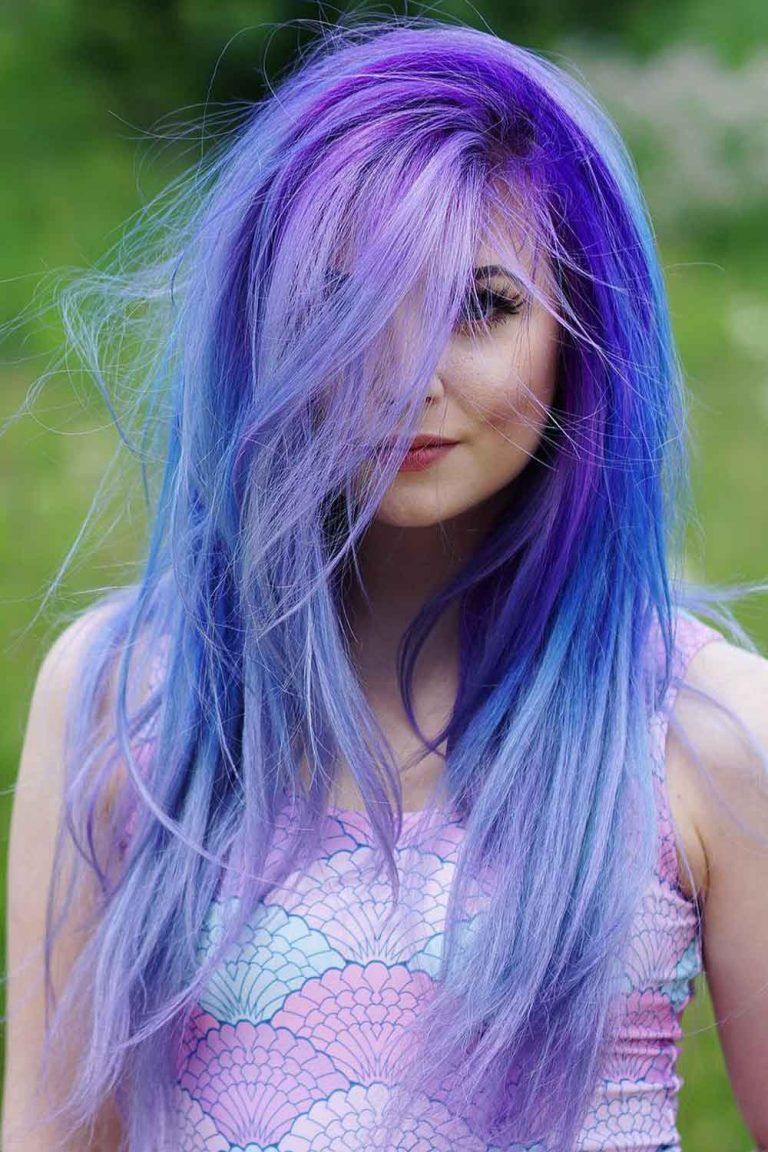 by @hairgod_zito
This ice-blue ombre goes great with naturally dark wavy hair. The light icy blue will really make your locks pop with flair and added depth and dimension.
Moody Blue Ombre Hair Hues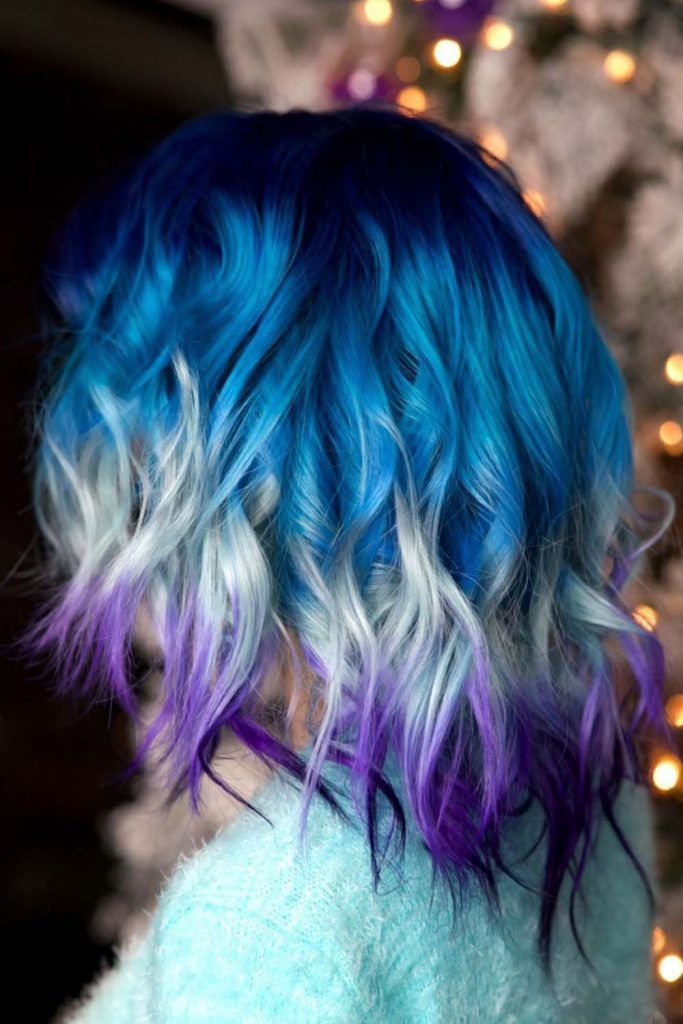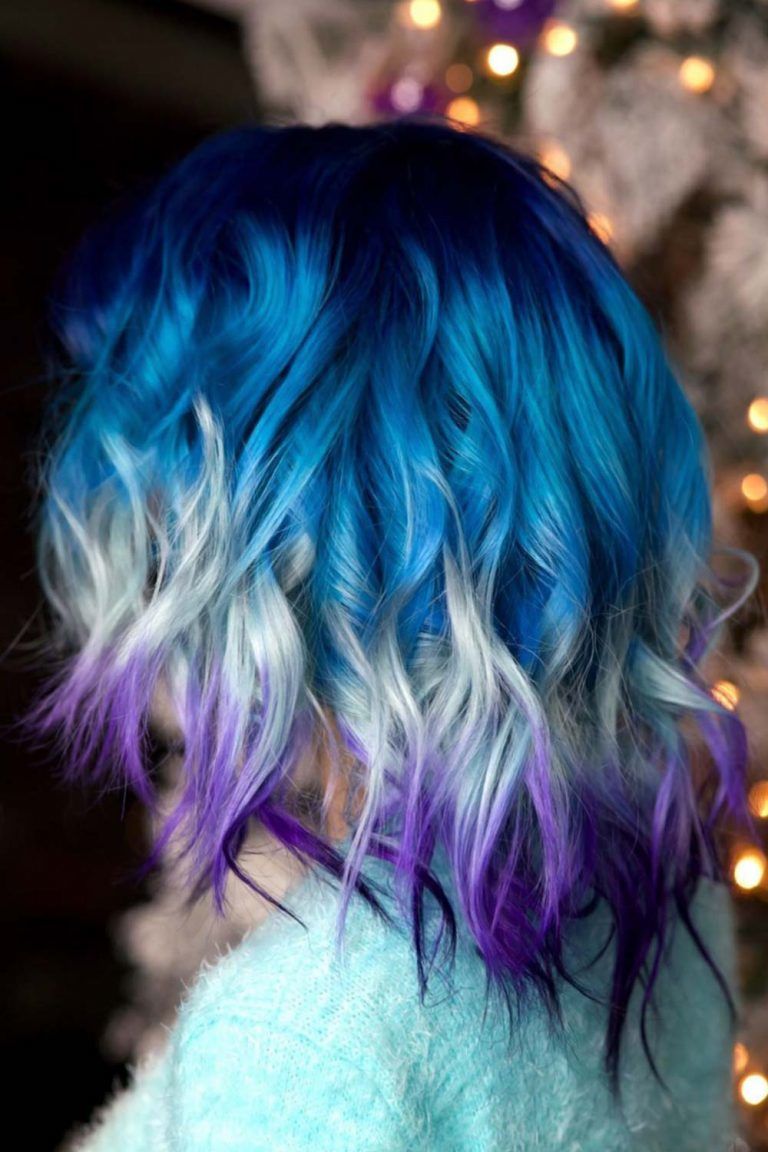 by @xostylistxo
This intricate combo of charcoal black and dark blue roots that fades into bouncy cool icy blue curls will create quite a mesmerizing effect.
Denim Blue Ombre Hair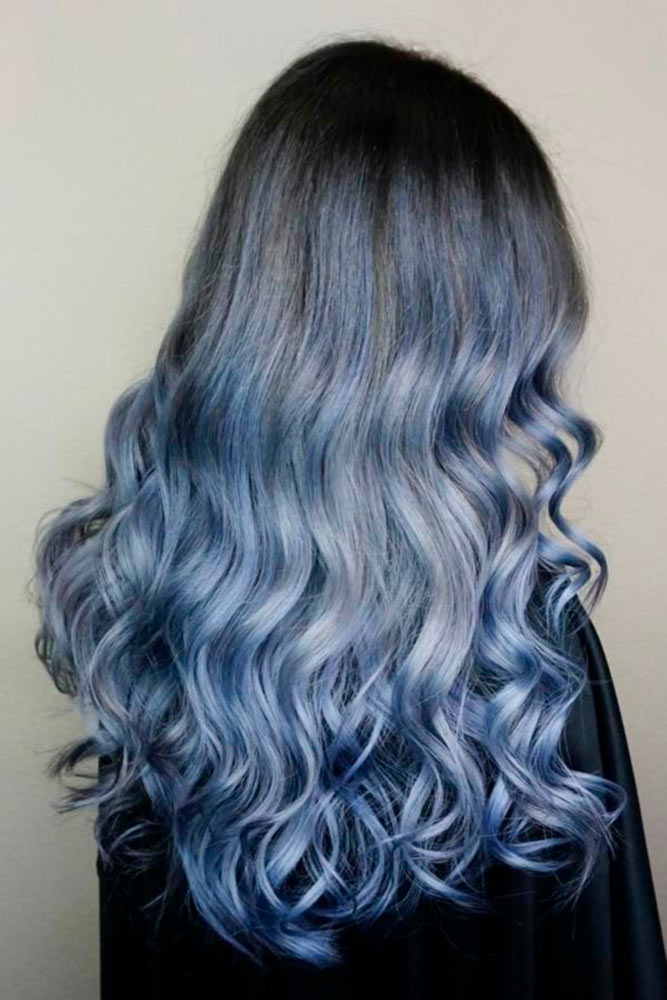 by @taitkieuapril05
Believe it or not, denim hair is very trendy these days. The dark blue resembles various shades of denim. If you are feeling a bit daring, why not opt for this edgy and playful look?
Blue Green Ombre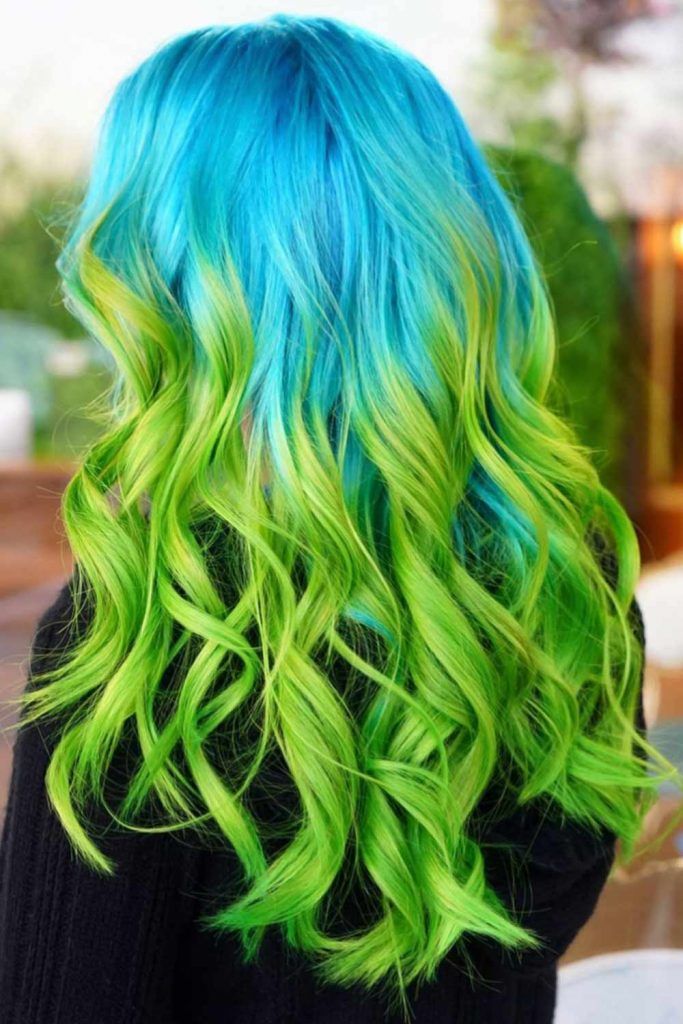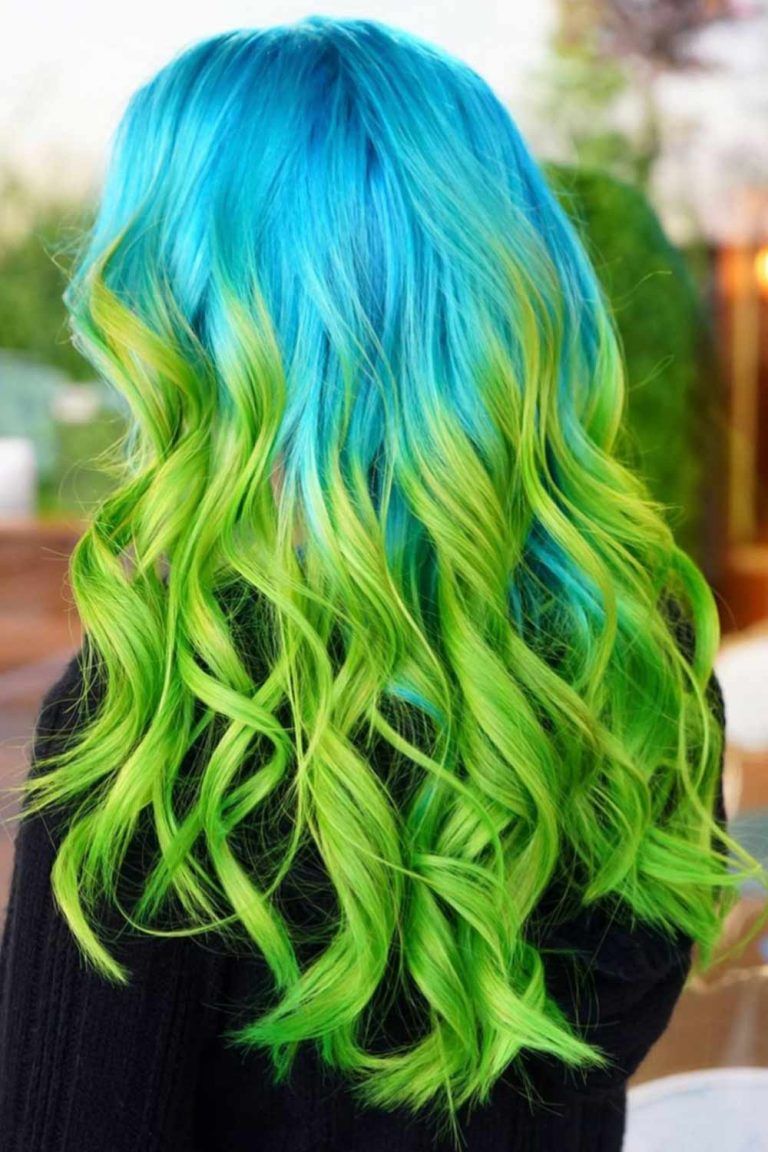 by @xostylistxo
This colorful combo of several shades of green and blue flows into gorgeous turquoise locks. It will make you feel as if you just walked out of the ocean.
Brunette With Pastel Blue Ombre Hair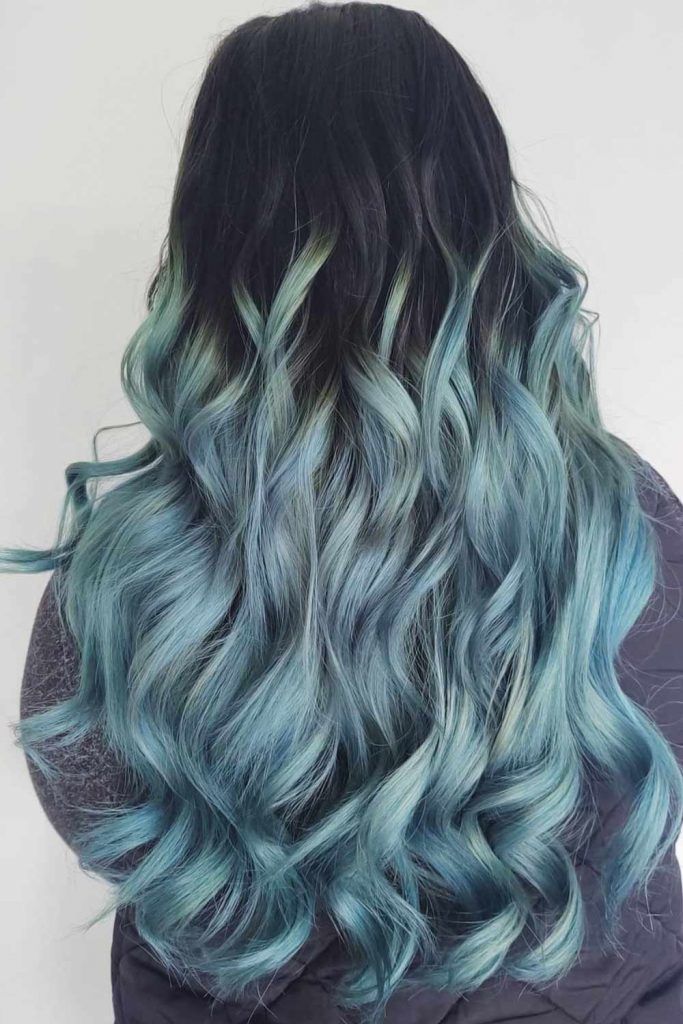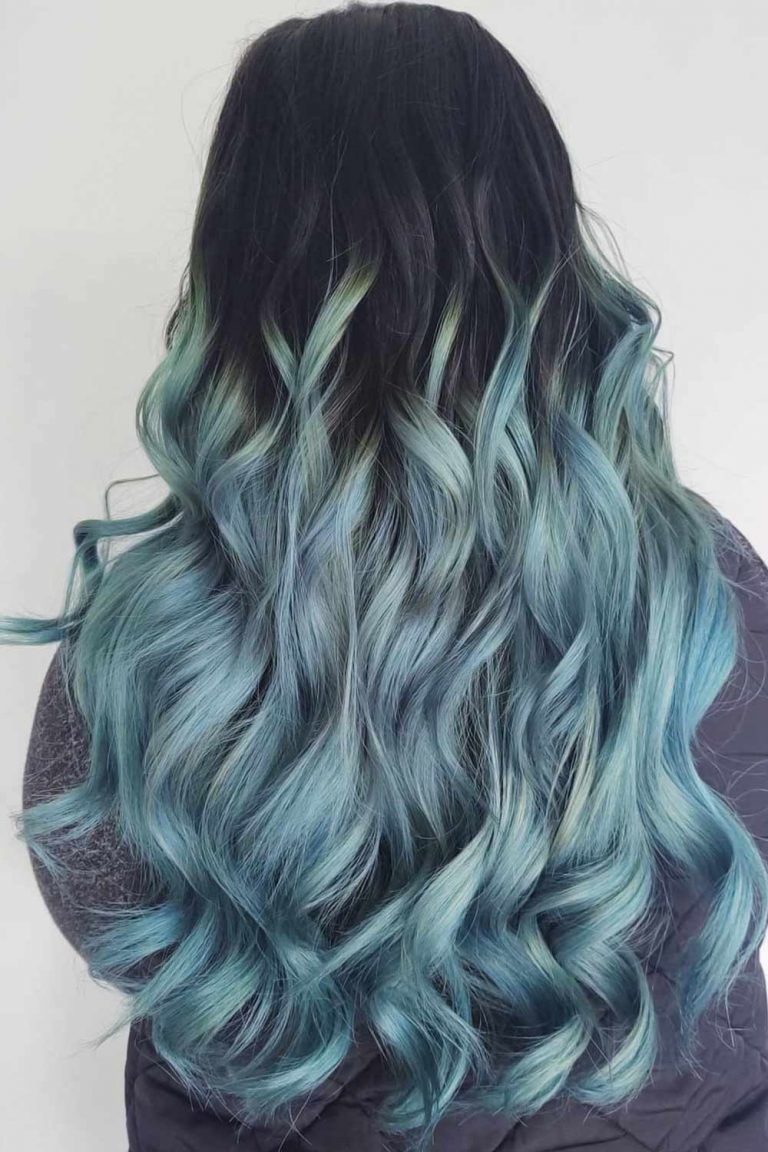 by @adlydesign
Most brunettes tend to avoid bright colors. But thanks to modern hair techniques, you can now blend dark hair colors with a variety of blue hues that will have a brilliant shine. You won't even have to bleach your hair, if you stick to the oil slick method.
Blunt Blue Ombre Hair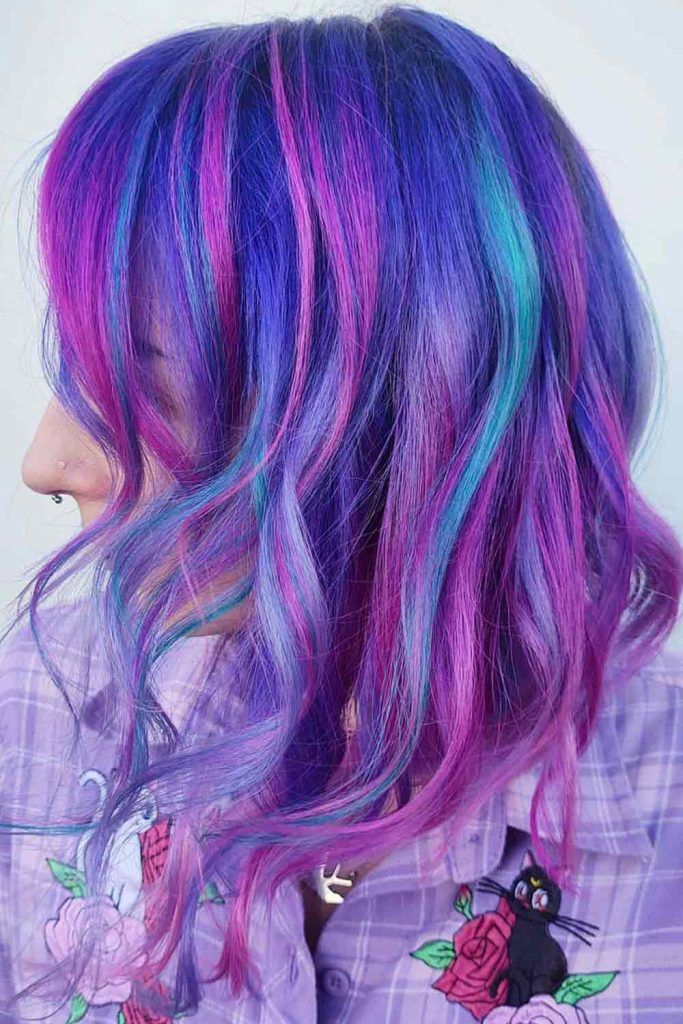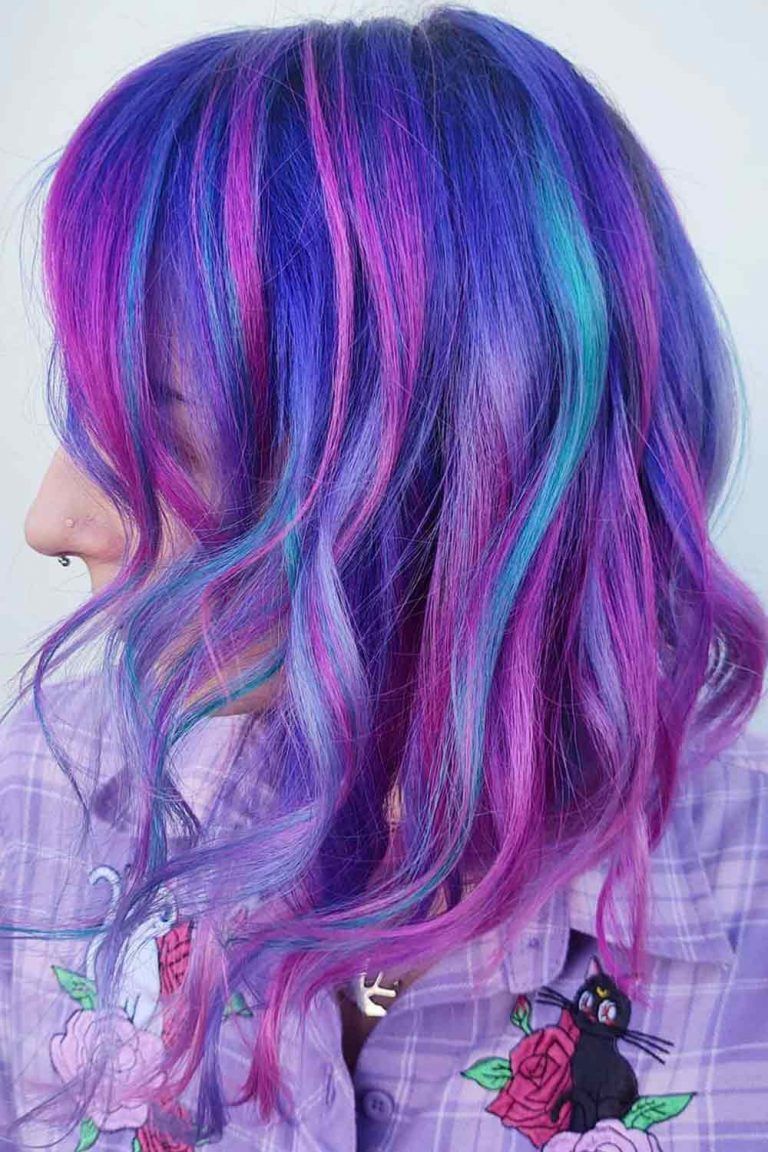 by @adlydesign
This brilliant ombre style that fades into various blue hues in a free-flowing way is breathtaking. You can range from blues to greens to purples with this daring do!
Cold Ice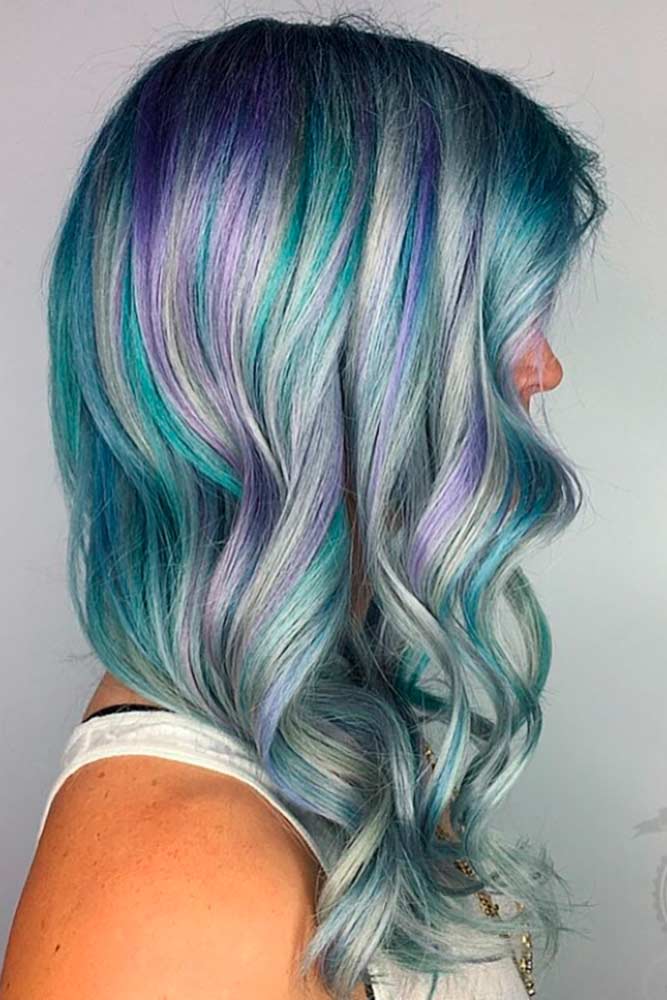 by @hairgod_zito
This is the style for those who are looking for the fairy-like hair. The mixture of ice-cold silver tones and blues and purples will definitely do that trick. Beware of the magic it will bring into your life!
Blue Ombre Hair To Ice Blonde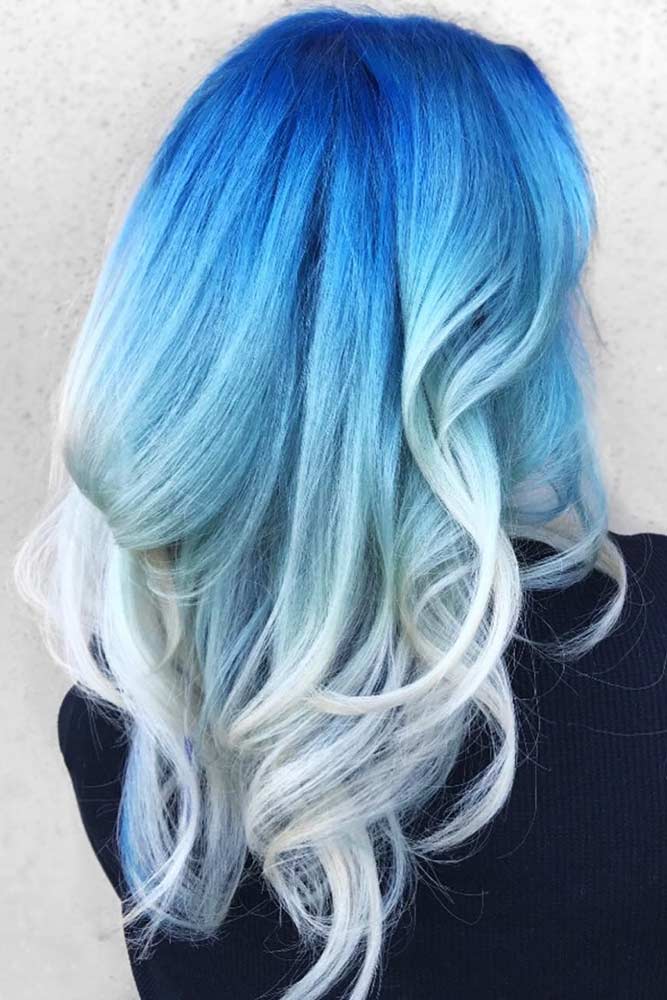 by @xostylistxo
Regardless of the way you do your ombre style, direct or reverse, it always comes out marvelous. To enhance the brightness of the blue roots, make your ends off-white, for instance, platinum. With this cool in all senses ombre, you'll be able to step in ice princess's shoes.
Metallic Purple & Blue Melt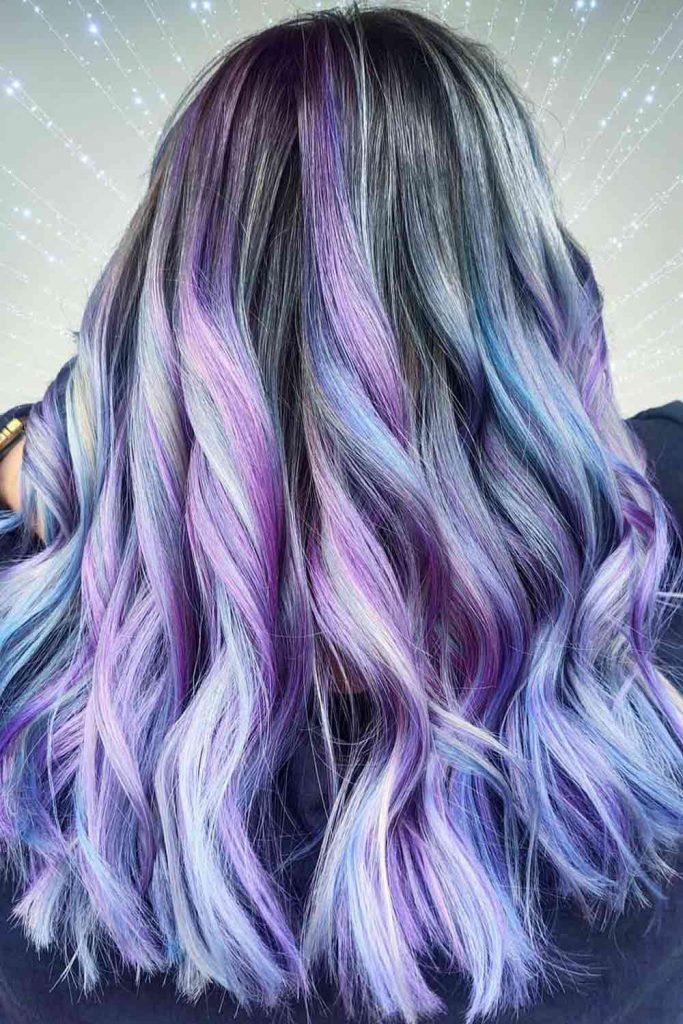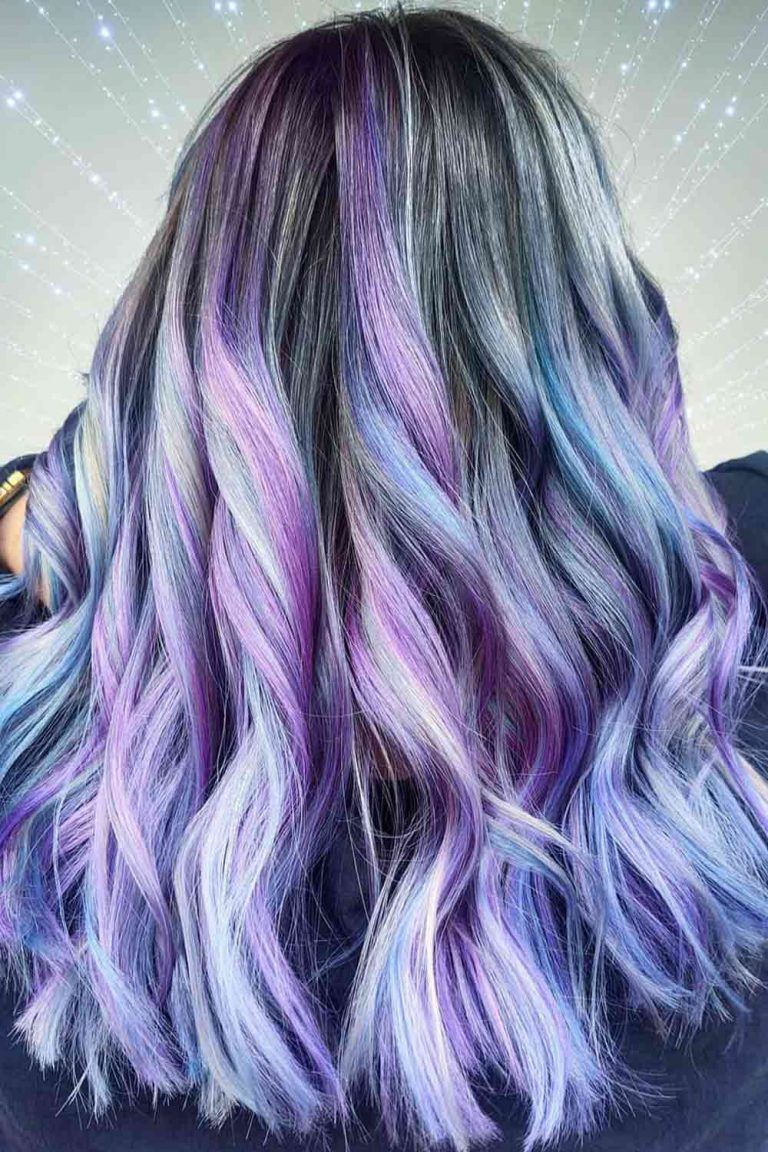 by @adlydesign
Even though the purple shade perfectly melts into the blue one, it's not what makes this ombre so special. The silver touch added to both colors creates the metallic effect, which actually reminds of the pearl shine hit by the light.
Smokey Pastel Blues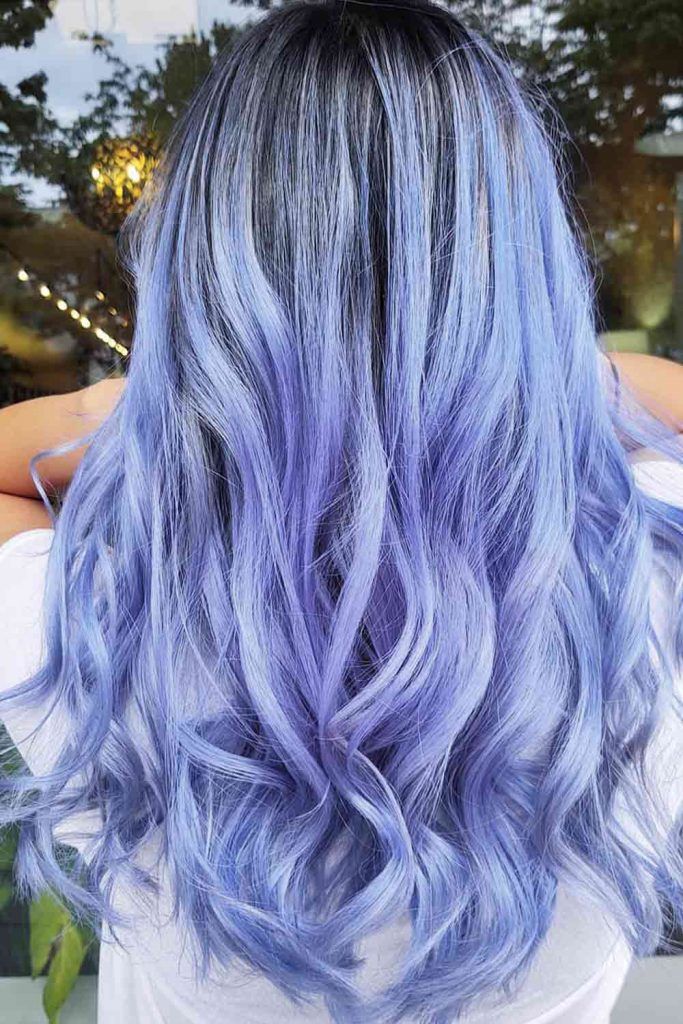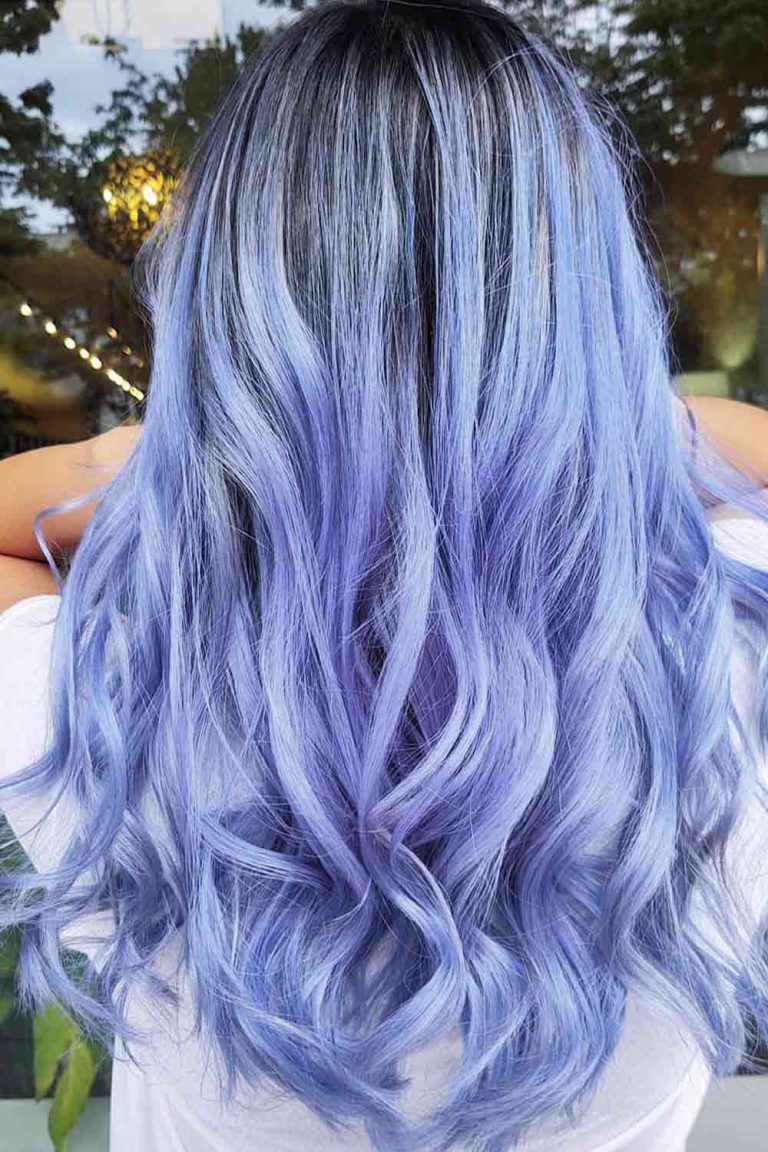 by @adlydesign
You're not ready yet to venture upon a full head of pastel blue hair? Start off with smokey black roots and lighten them up gradually to baby blue. This will give you some time to get used to your mind-blowing new hair color.
Blue To White Ombre With Purple Streaks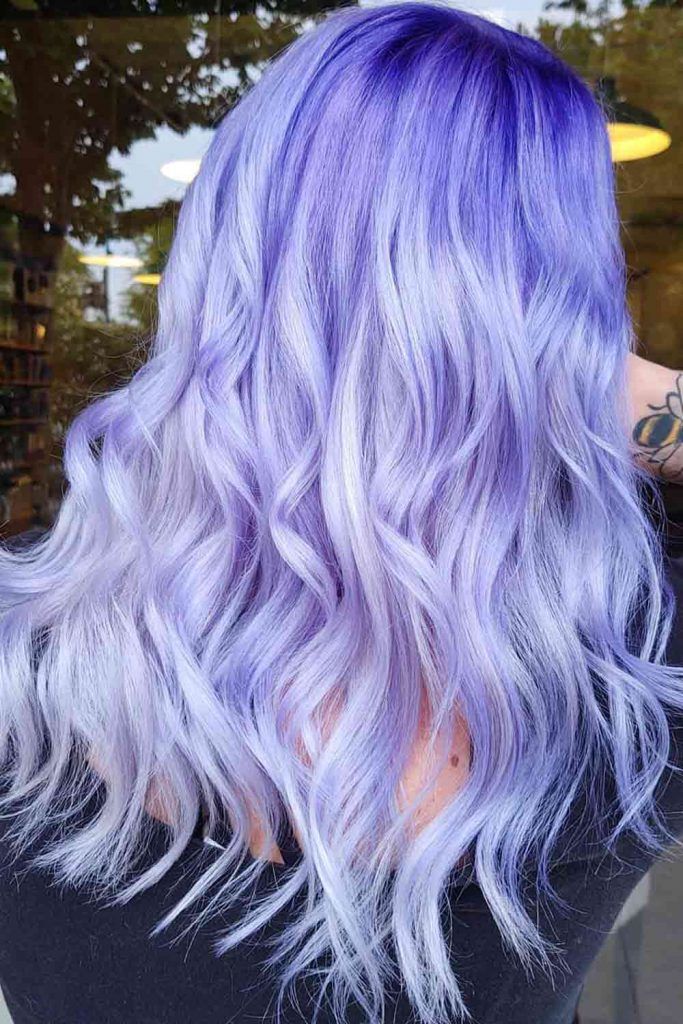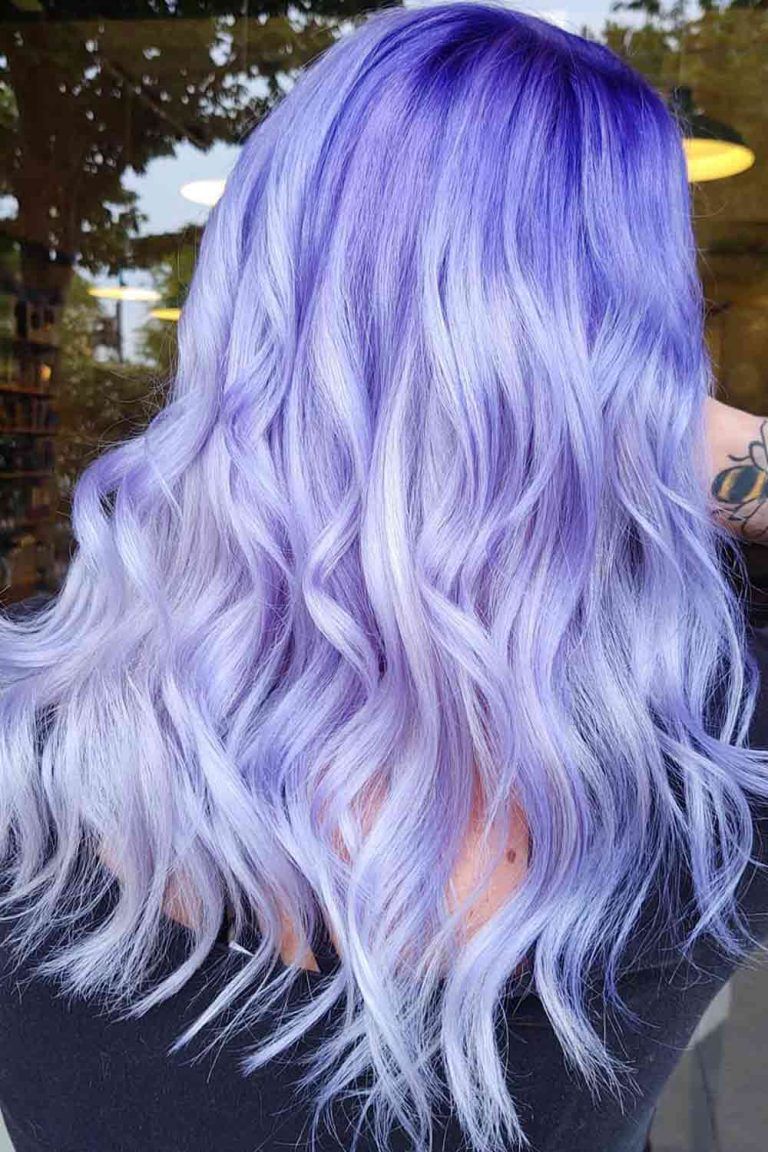 by @adlydesign
This ombre with blue roots and off-white ends isn't as contrasty as the earlier-mentioned one because the hues are muted a little. However, it still makes a stunning impression, especially being upgraded with soft purple streaks.
Desert Sky Down To The Sand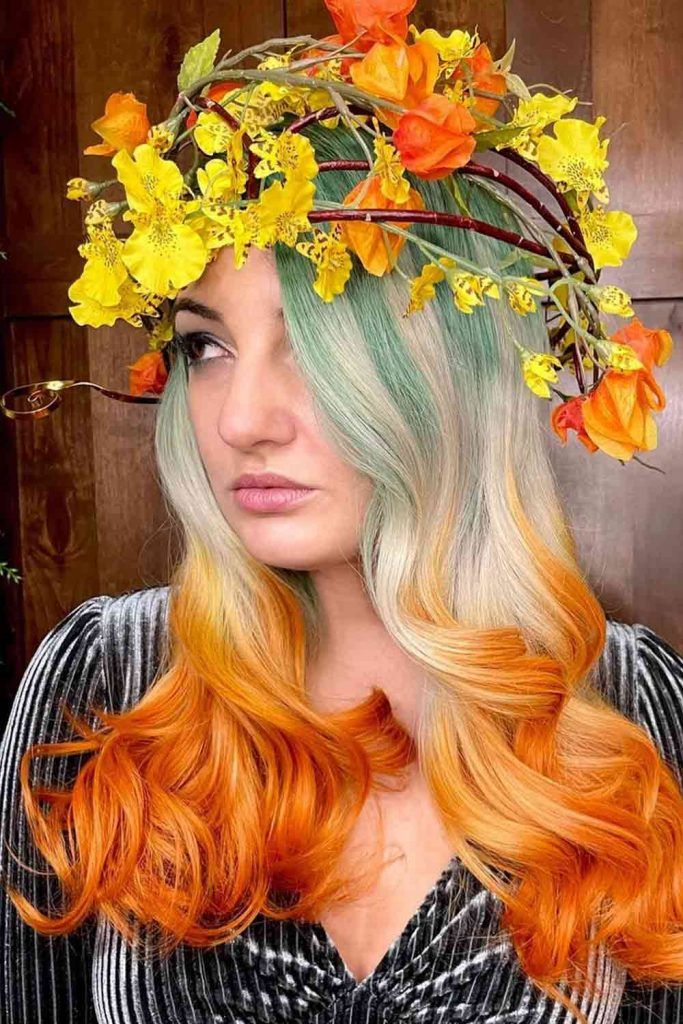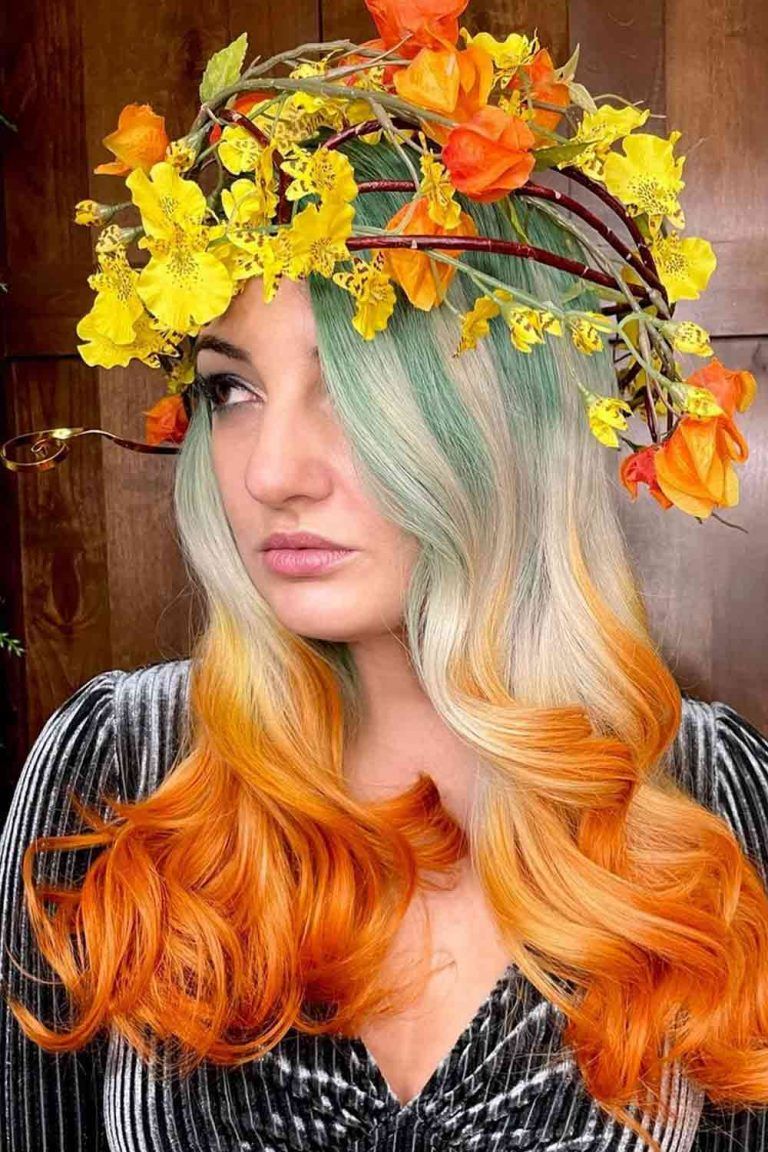 by @xostylistxo
Another color combination inspired by Mother Nature is the three-color ombre look that represents the cloudless bright blue desert sky at the roots and fiery orange-red sand at the ends. And those platinum streaks are just like an oasis in the middle of the Sahara.
Purple & Arctic Blue Ombre Hair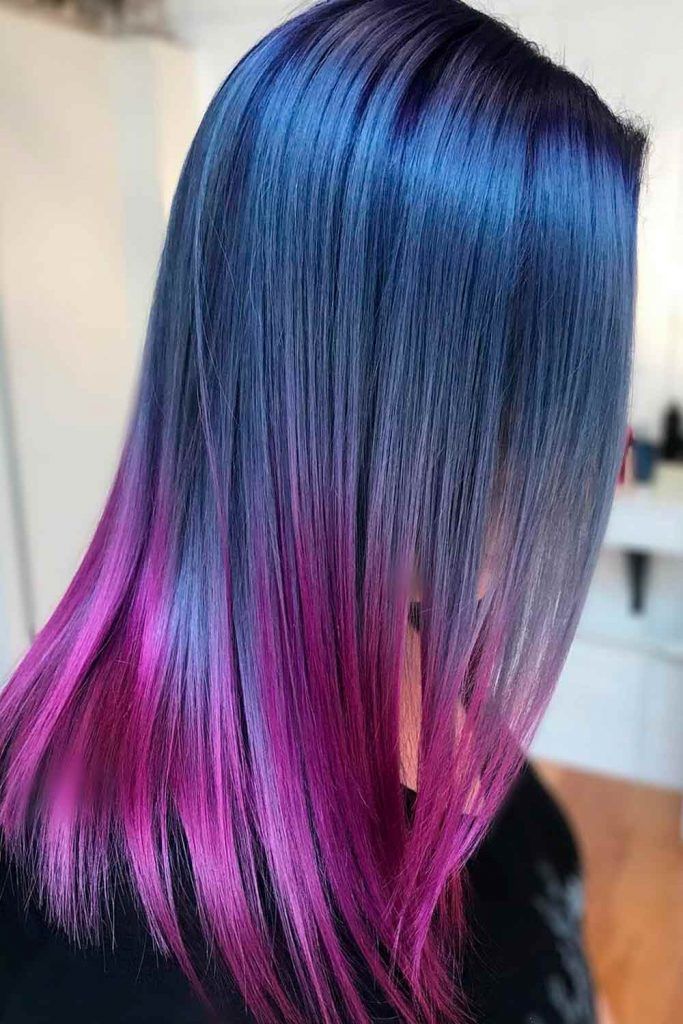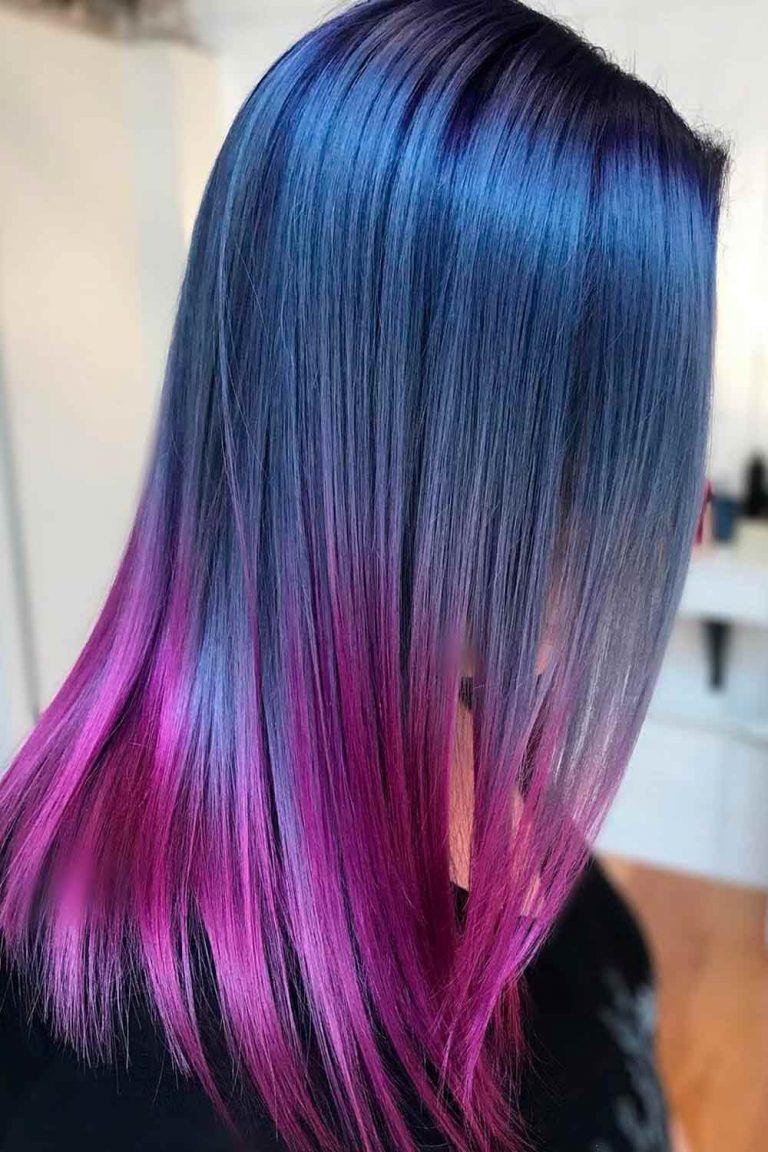 by @hairbykristinamarie
Here comes another combo of purple and blue hair colors. But, this time it looks especially different. In contrast to deep and saturated ombres, this idea mixes the lightest shade of both colors, taking the popular combination to a whole new level.
Dark Blue Ombre Hair Colors
The dark side of blue ombre is meant for ladies who want to flaunt with profound looks that will attract every single eye beholding its depth. We've selected different ways to pull dark blue hair colors so that you can look and feel different!
Cobalt Blue Ombre Hair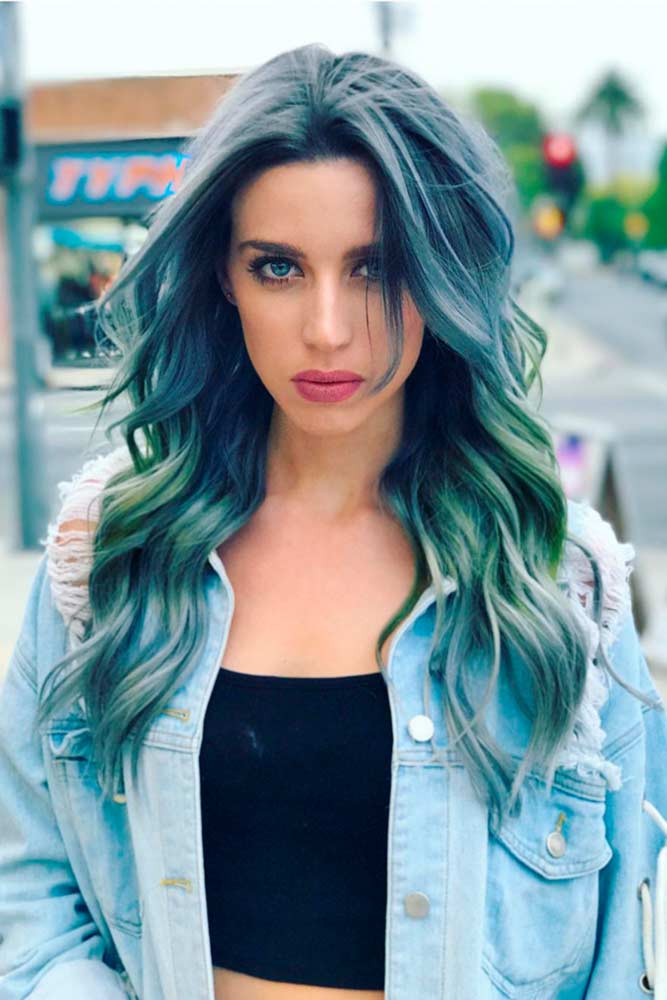 by @hairgod_zito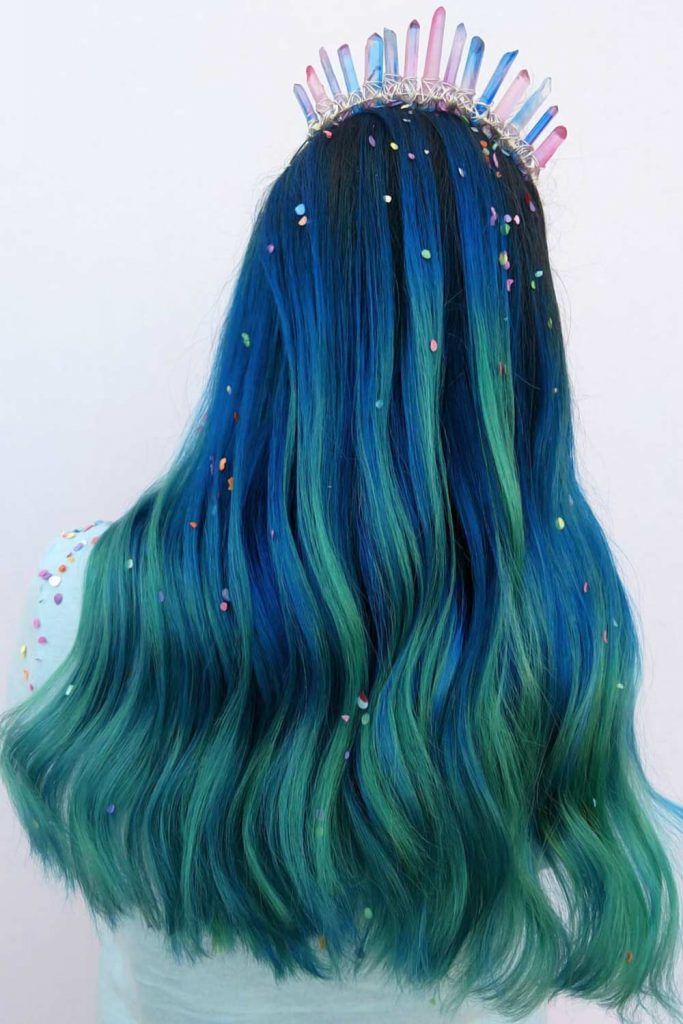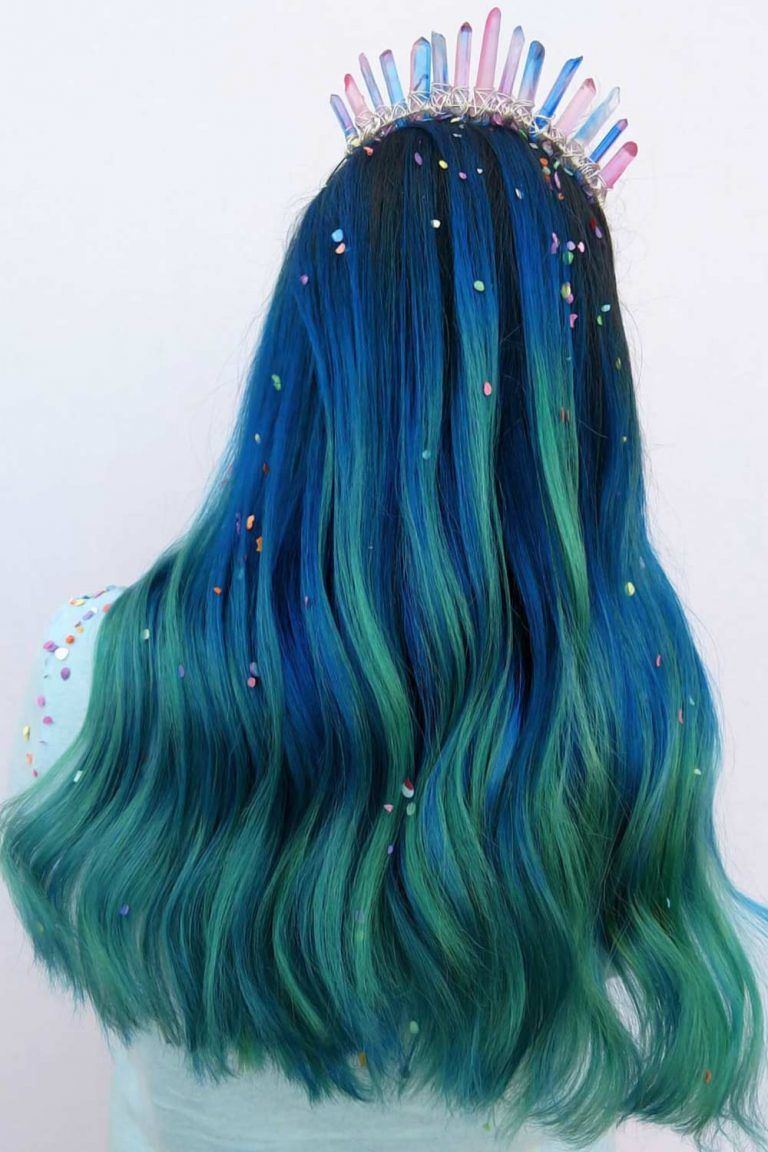 by @adlydesign
Blue ombre blends very well with greenish hues. This stunning cobalt blue and gorgeous green create a multi-tonal balayage.
Turquoise Blue Ombre Hair For Dark Brown Or Chestnut Hair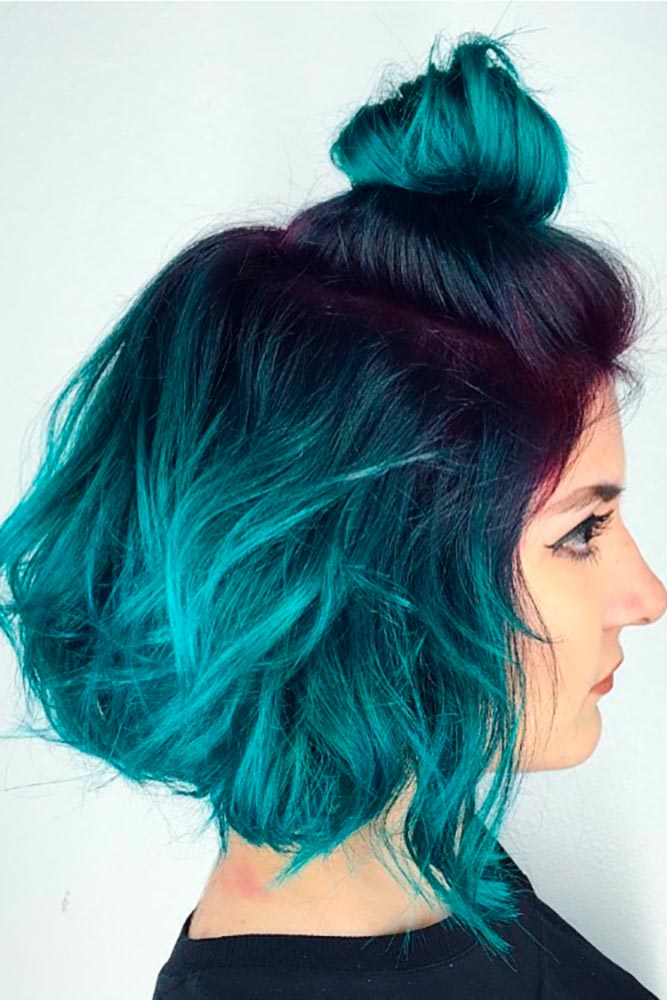 by @hairgod_zito
This funky mermaid look, with its two shades of blue, the deep blue ombre in the middle and the pearly turquoise tips for a beachy vibe, works great for dark brunettes.
Low Maintenance Blue Ombre Hair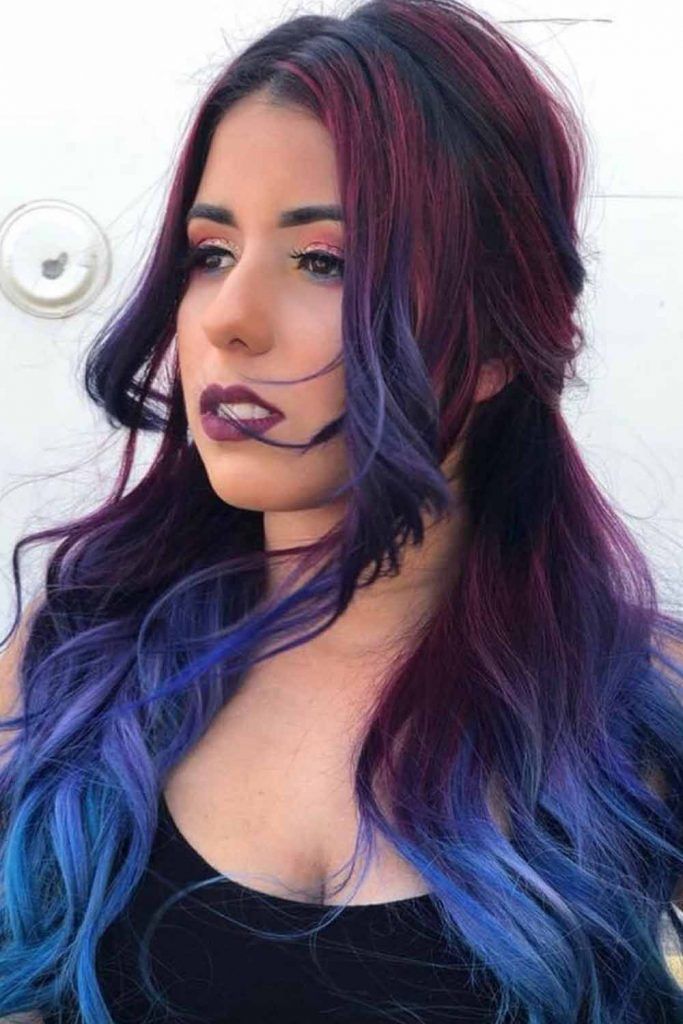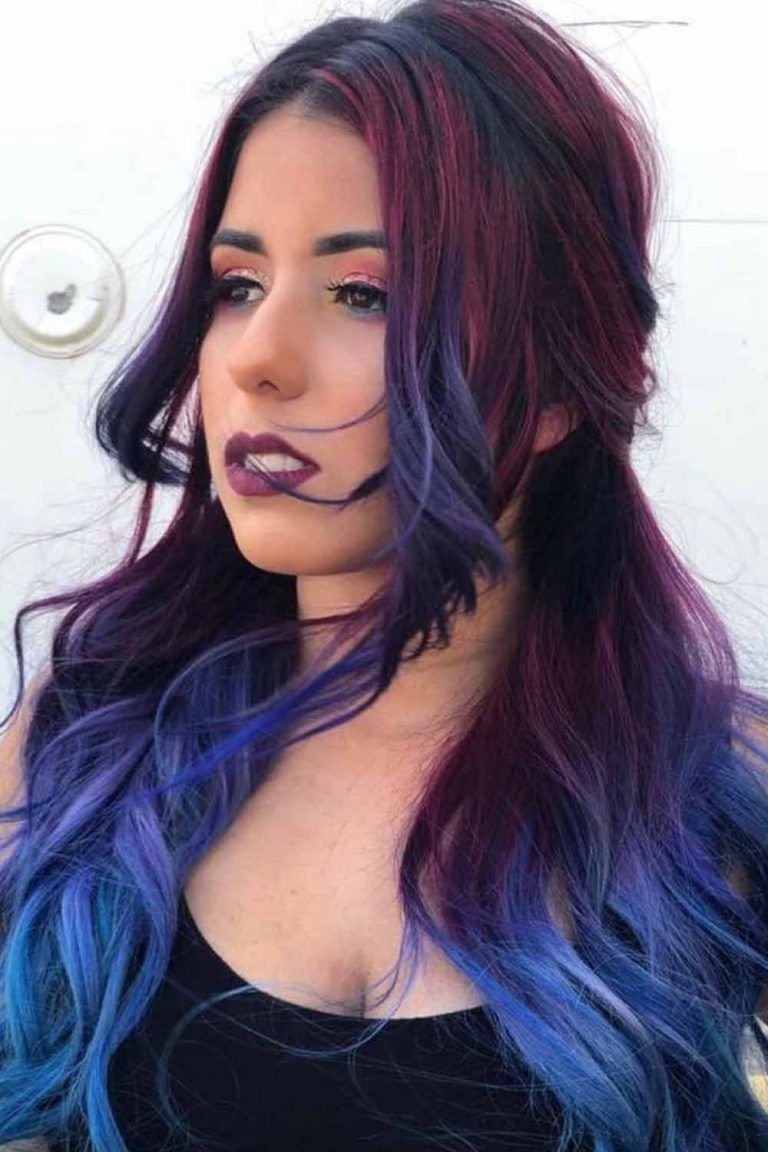 by @xostylistxo
If you want a blue ombre style that does not require a lot of upkeep or fuss, find a shade of blue that blends naturally with your hair color and add it as a subtle balayage to your hair. Balayage lasts longer than bright ombre tones.
Teal Blue Ombre Hair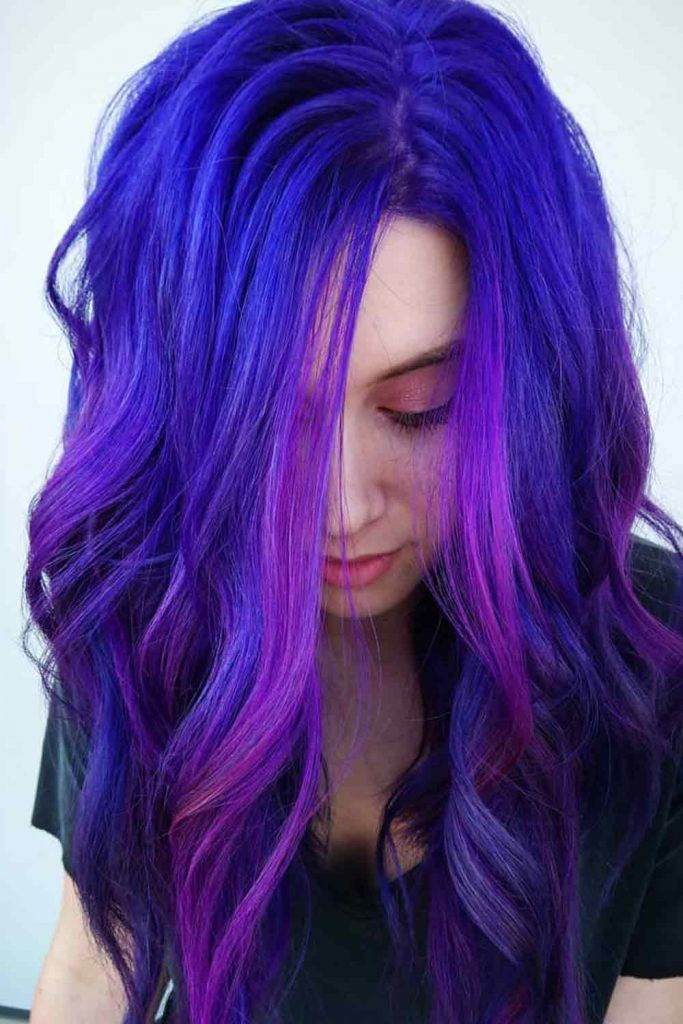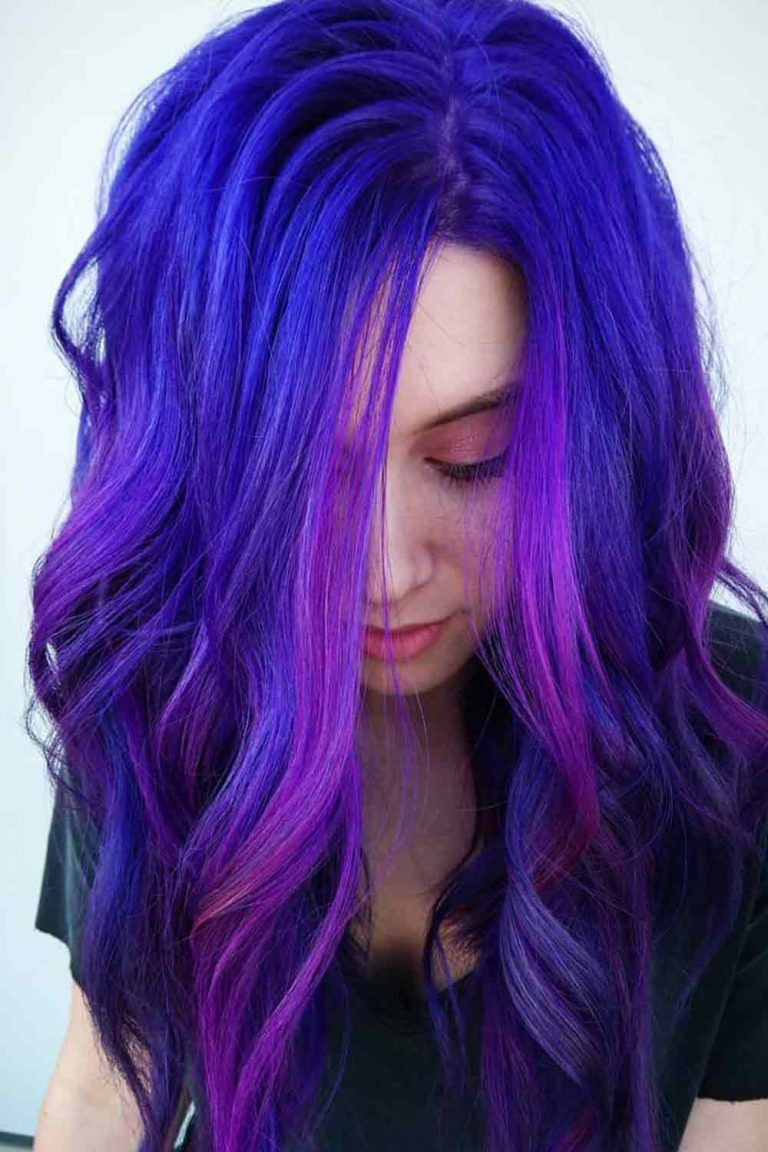 by @adlydesign
If you wish to keep your dark roots, you don't have to maintain a brown or black hue. Instead, you can opt for this breathtaking deep purple that fades into striking teal blue. This color contrast will be sure to turn heads when you saunter by.
Magical Mermaid Waves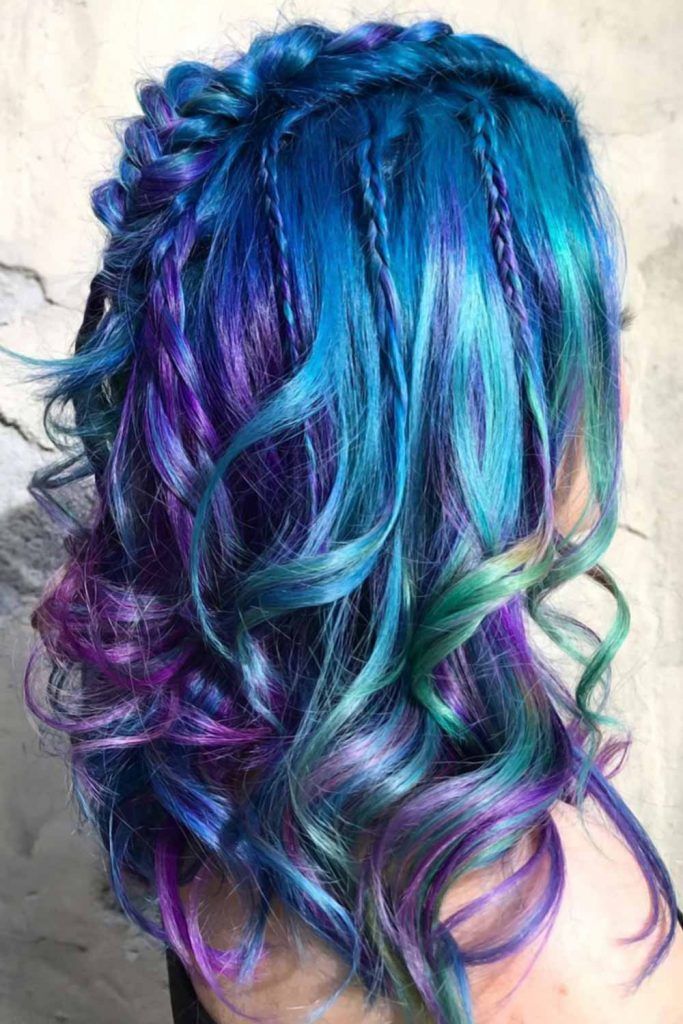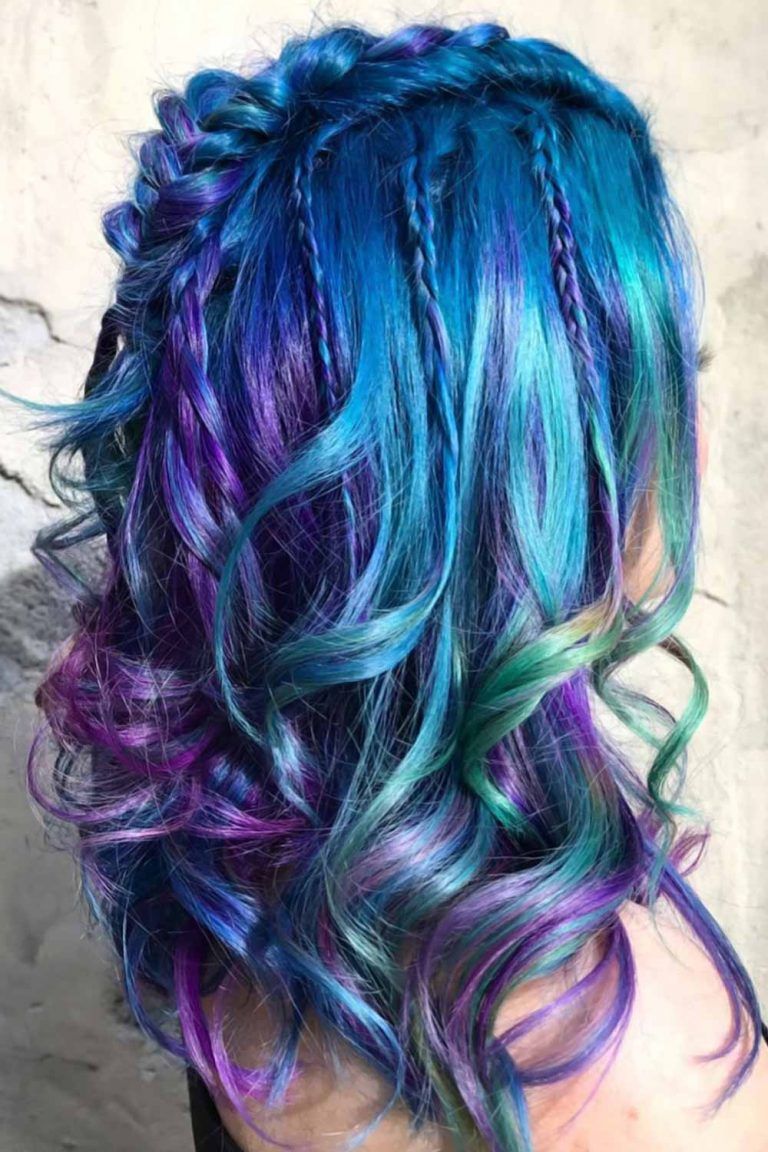 by @xostylistxo
This look is obviously mystical. These gorgeous teals, purple and blue waves of balayage flow naturally like ocean waves. You will feel like a mythical sea creature.
Electric Blue Ombre Hair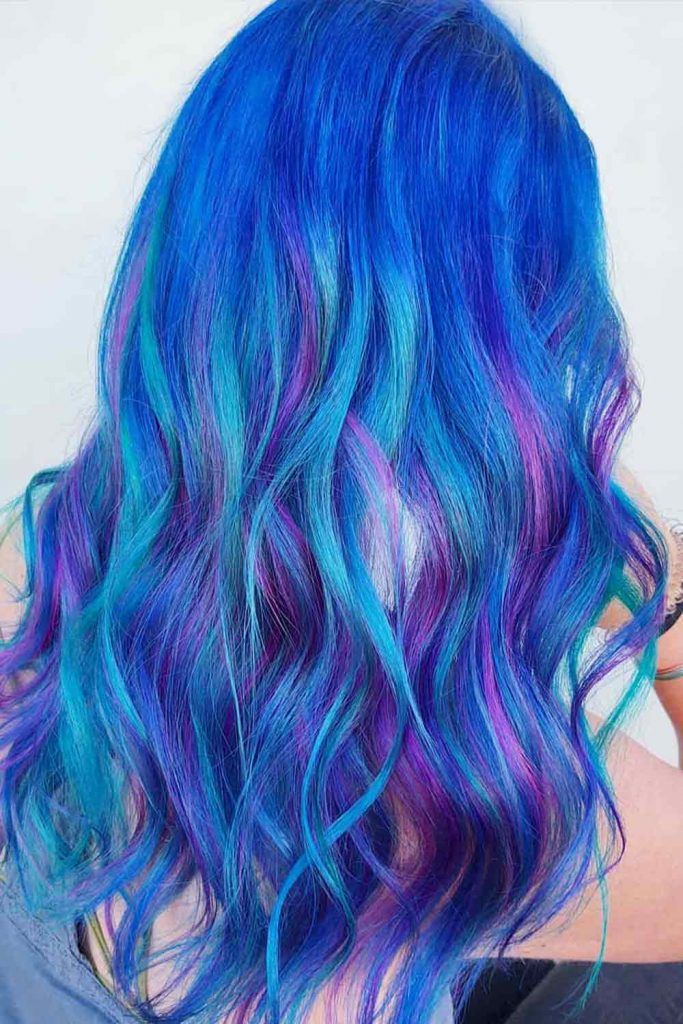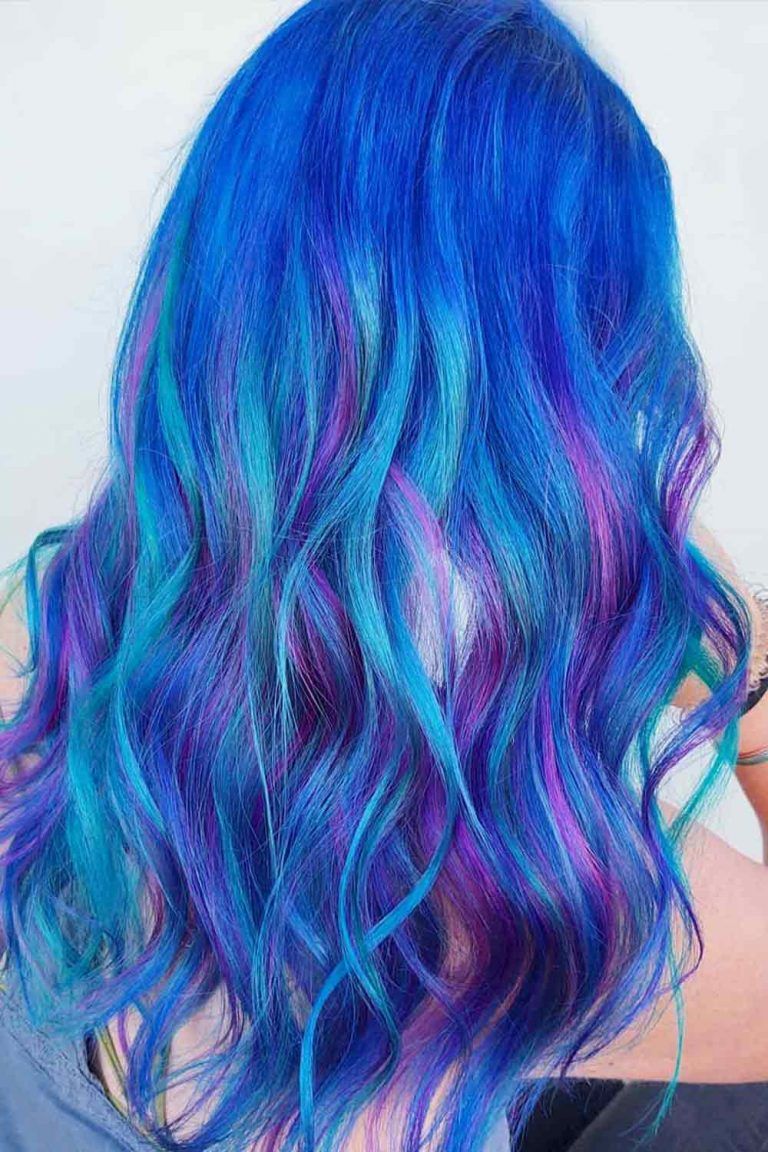 by @adlydesign
Bright blue ombre on a black base is quite stunning. And with long wavy layers, it can help make thinner and damaged hair look fuller and healthier.
Cool Tones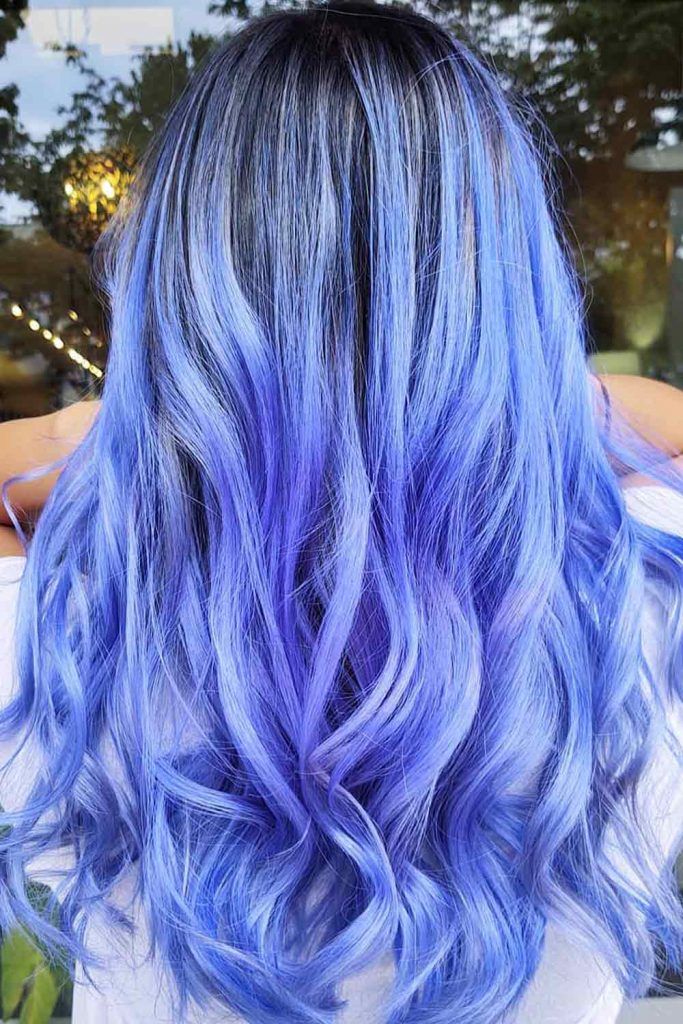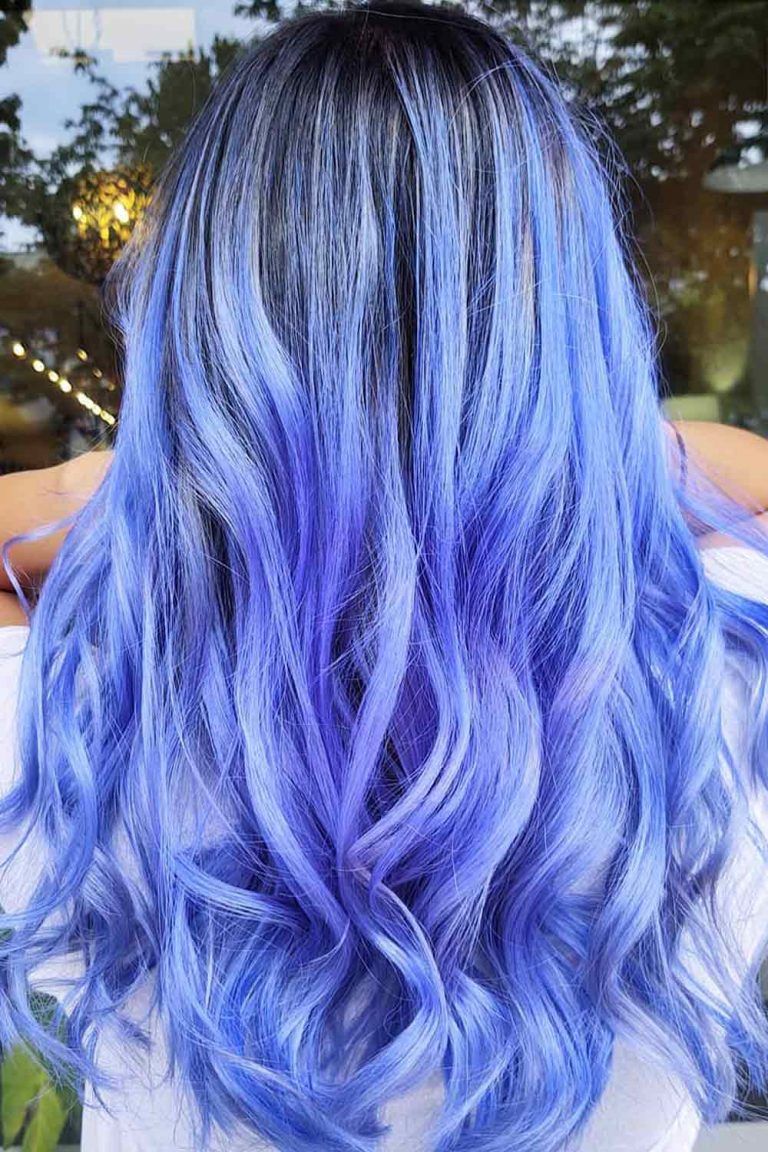 by @adlydesign
This multifaceted look, with a black base and fading into light tips, is quite unique. Silver and navy balayage with light iridescent blue tips is stunning.
Blue To Blonde Ombre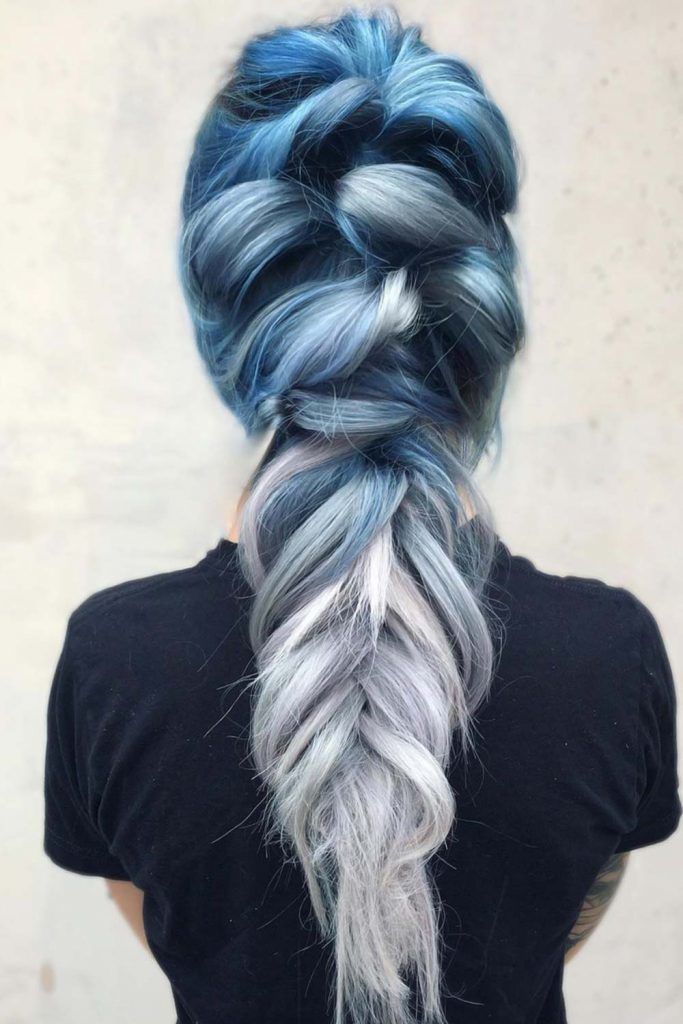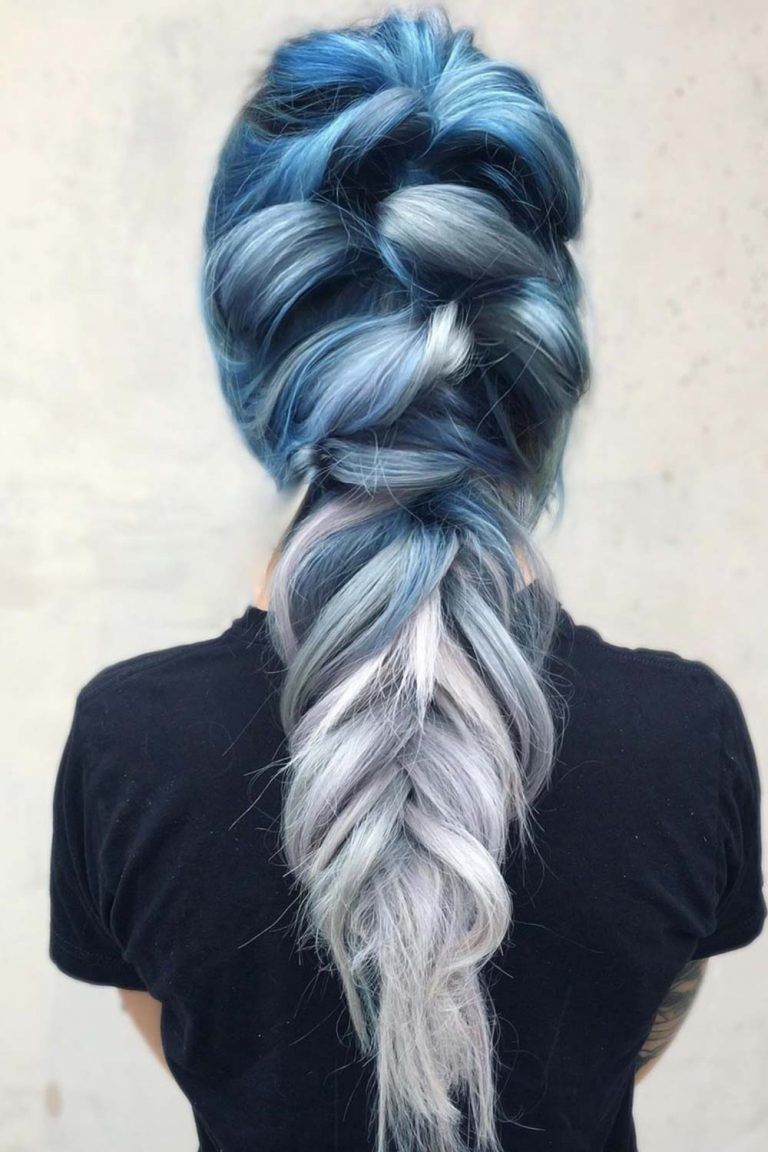 by @nealmhair
That is the awesome hairstyle that will not suit those who are shy. We are sure about that as the mesmerized looks will follow you everywhere. If you are ready and you have long locks – go for it!
Black Blue Curls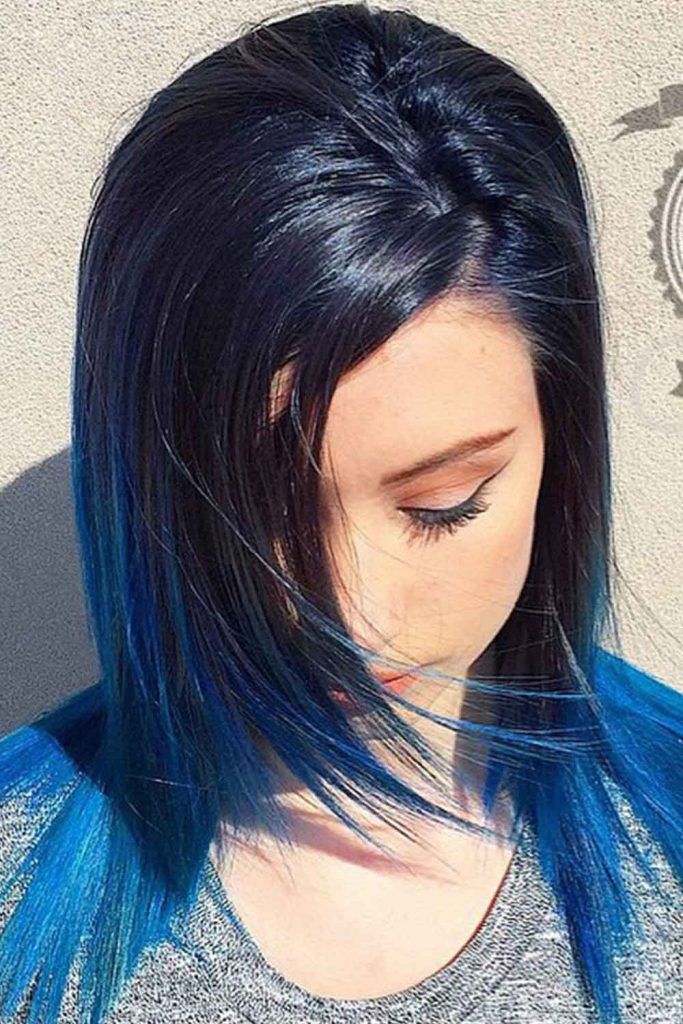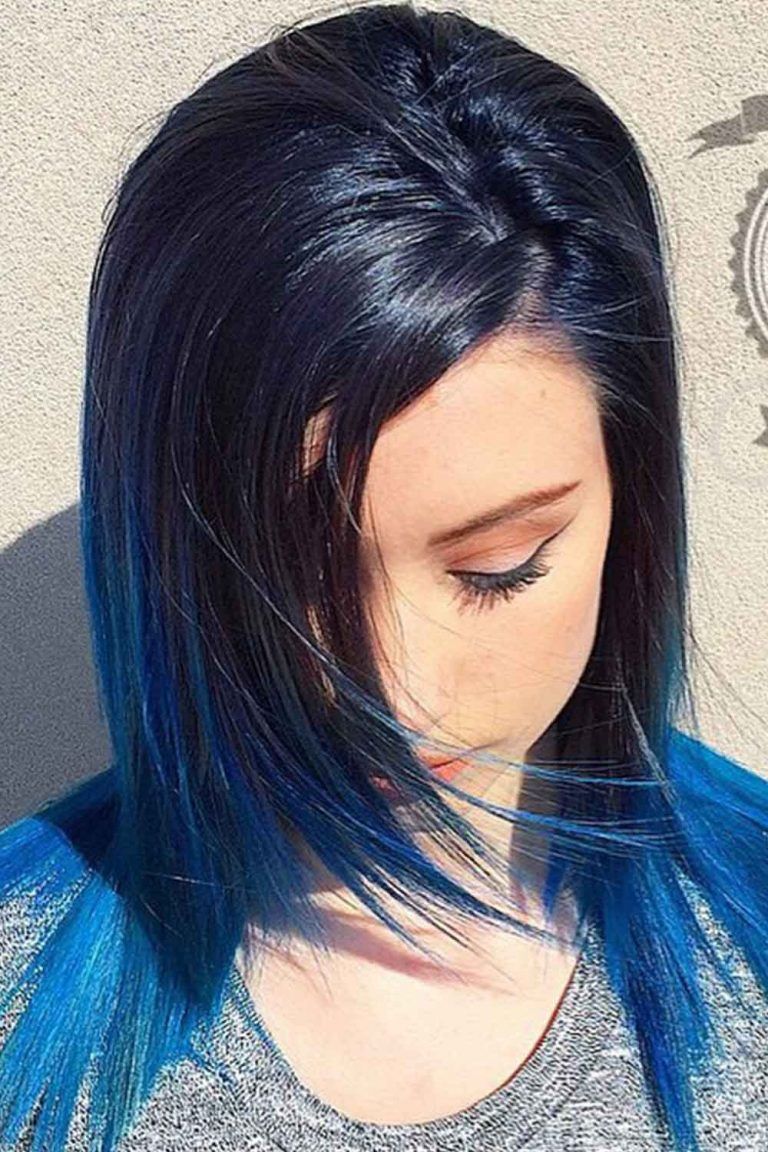 by @hairgod_zito
Those who seek the ways to make a statement will appreciate this stunning and edgy blue style. Dark and bright go perfect together, there is no doubt about that, but adding some messy curls will only intensify the charms.
Dark Night Ombre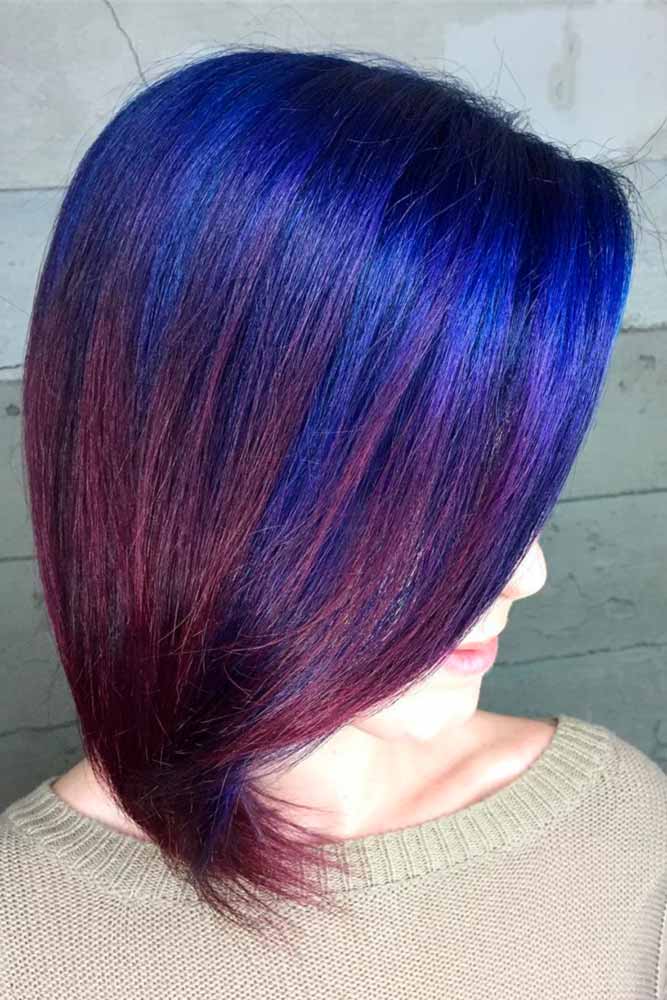 by @alexisbutterflyloft
The power of space will be granted to you with this hair color. Not only it is sweet and unusual, but also if you stare at it long enough you will be able to see the unknown galaxies and universes. Do not believe us? Try it yourself!
Blue To Purple & Green
To blend other colors in blue hair successfully, they should be in the same color spectrum. However, if the colors aren't excessively saturated, it's possible to create a gradual transition between almost any mix of shades. Take, for example, these galaxy-hued soft ringlets. The ombre effect from blue to green through purple is just out of this world.
"Blue Cherry Slush"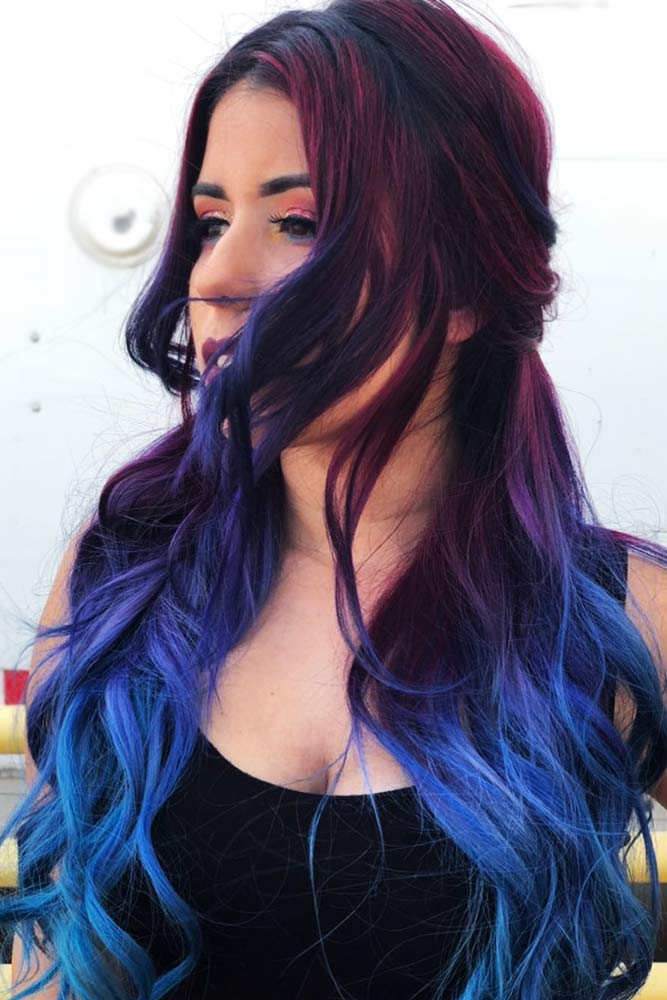 by @xostylistxo
Even if you're not a big fan of the beverage, it a good way to get inspired with its exquisite color combinations, like this blue cherry cocktail that follows the shades of the late evening sky. Loose curls make this berry look even sweeter.
Purple And Blue Ombre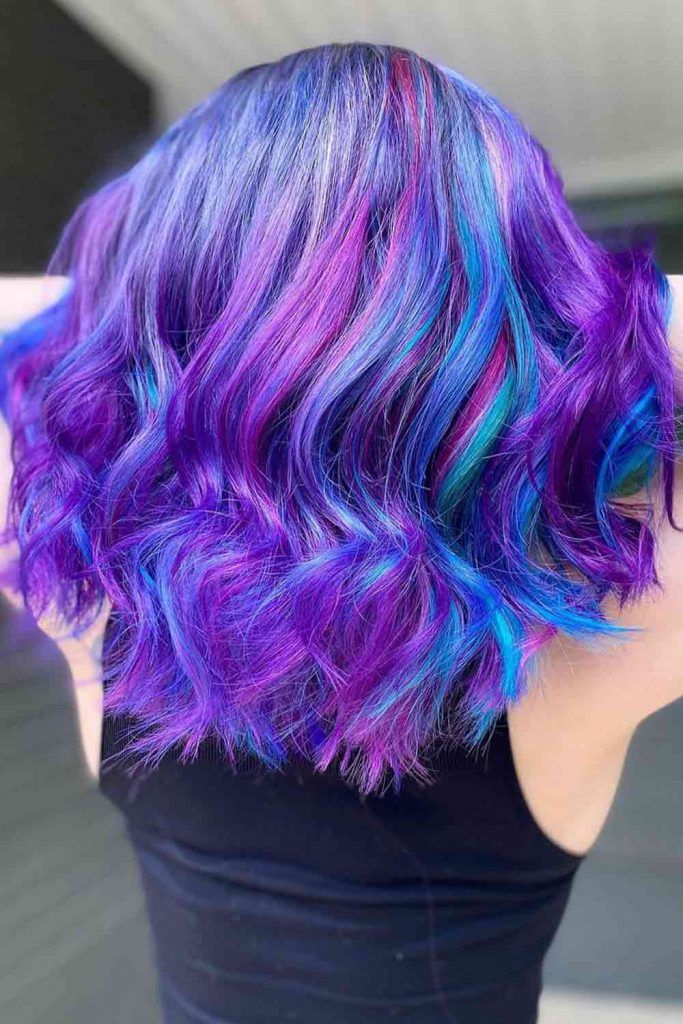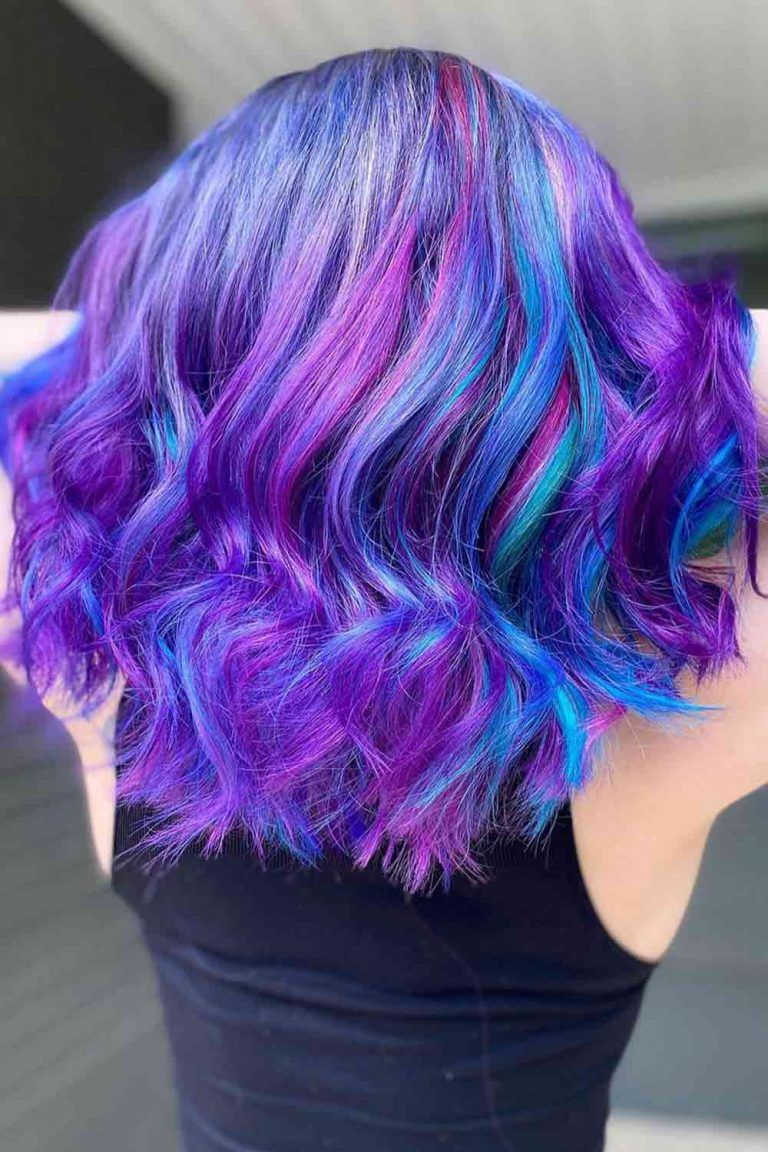 by @alyssawiener
This gorgeous mix of lovely lavender and blue melts effortlessly into a deep purple. This particular style does require a bit of patience as it will take time to fully achieve it, hours or even days, depending on your schedule. However, it's well worth the effort!
Sea Nymph Blue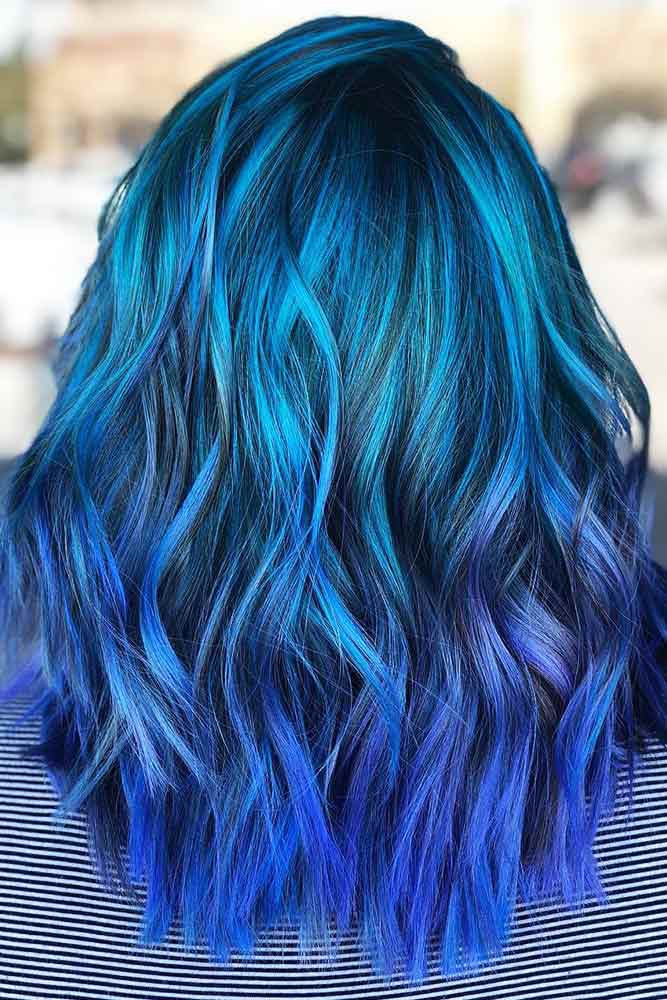 by @xostylistxo
Can you think of better shades for the sea nymph's hair than those recreating the colors of the sea bosom? Start at the roots with teal and blend it into electric blue a couple inches above the ends. Add random purple streaks to enhance the color play. Use a curling wand with a big barrel to recreate the waves with your hair for a more realistic and simply cute look.
Nightfall Aquatic Ombre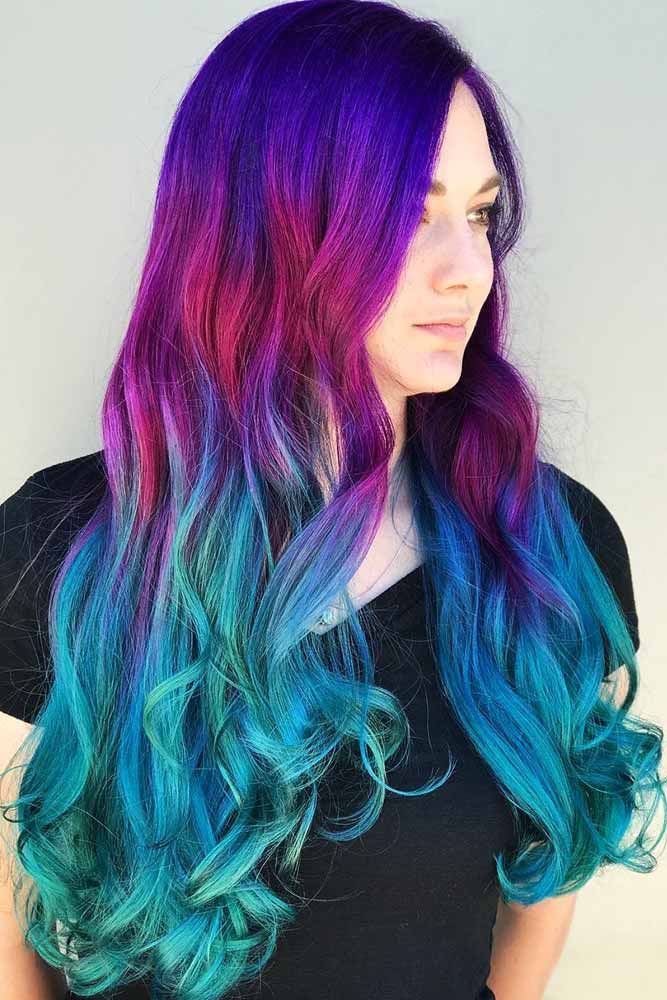 by @hair_princess_steph
Galaxy hair can evoke many other associations. For example, this mix of midnight blue, violet, purple and aquamarine looks like the night sky falls into the ocean waters, which creates a really magical effect.
Blue Mystique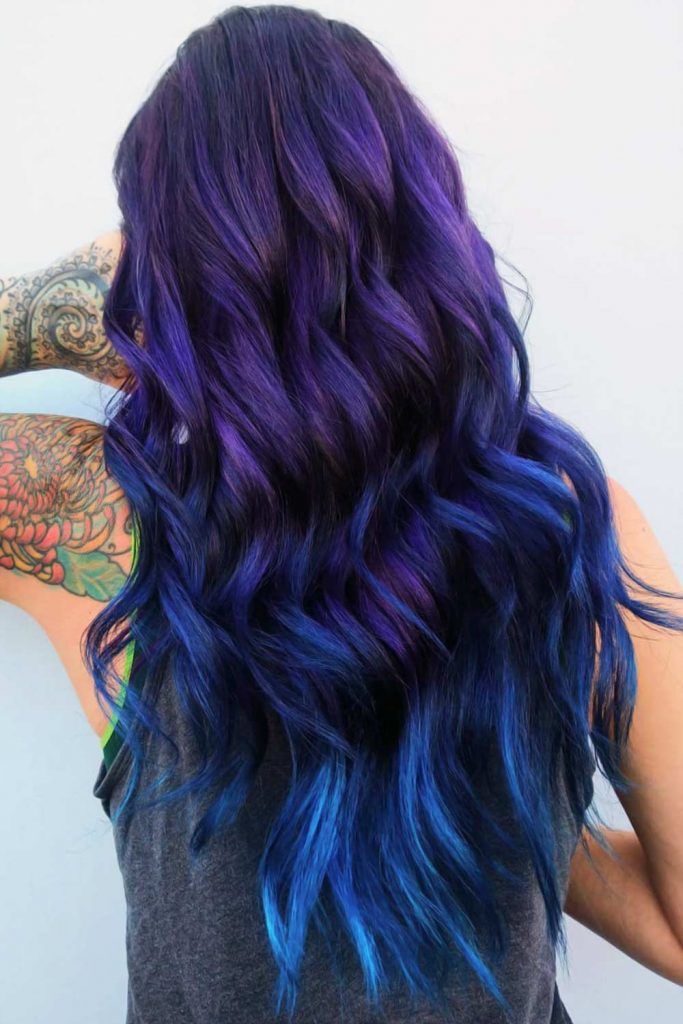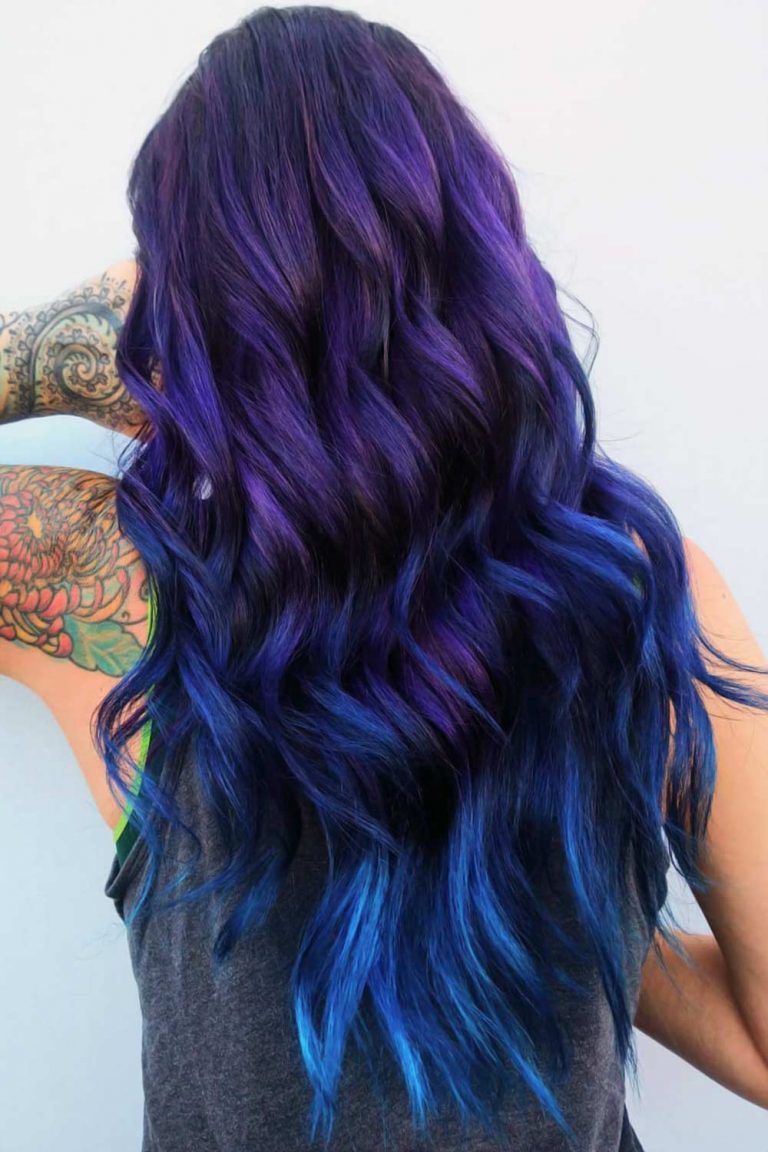 by @adlydesign
Words are not enough to describe the majesty of this blue ombre hair. If you take a closer look at this fantastic color job, you will notice some purplish streaks flowing throughout the length. Well, that's another proof that nothing can beat the combination of blue and purple hair.
Electric Blue To Fuchsia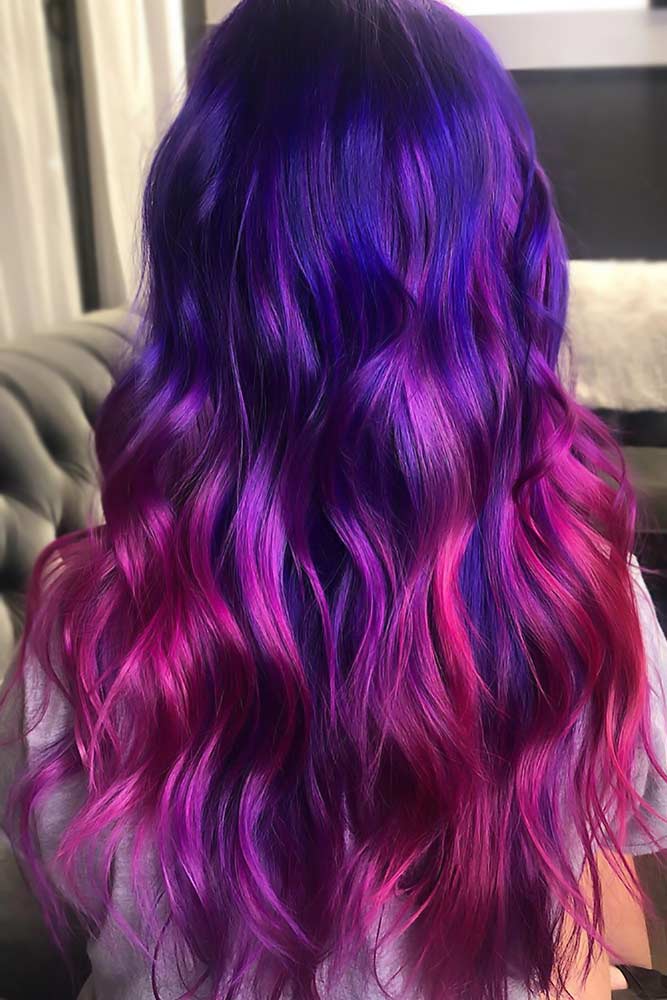 by @jbootybb
Blue hair color is full of surprises! As it turns out, it can be a stunning base for anything from black to pink. Here, you can see how wild you can go if you add some fuschia vibes to your blue ombre. Also, don't forget to complete this mix with purple, as it's the middle ground between pink and blue.

FAQ: Blue Ombre Hair
What does ombre blue mean?
A blue ombre a stunning color blend of bluish tones and natural hair colors that creates an incredibly modern hairdo that may instantly transform your hair dreams into reality. Check out some fashionable blue ombre hairstyles before you visit your haircolorist.
Why is ombre hair so popular?
Ombre hair is perfect for those who want a low-maintenance look. When the 2008 crisis hit, many people were short of money, and the only thing they could afford to cut back on was having their hair dyed regularly.
What is a reverse ombre?
A reverse ombre is a hair coloring procedure in which a lighter tone on top progressively turns into a darker tone as it progresses to the hair ends. It's a fantastic and exciting way to take things up a level for your fresh hair color, with almost all possible combinations of hues and shades!
REFERENCES:
Between turquoise, indigo, and Pantone s Classic Blue, these blue ombré hair looks are a dream. Source
Was this article helpful?