A bob with bangs is the first thing that comes to mind when you start thinking about short hairstyles. And there is no wonder why as it seems that this cut has been popular forever and so it will stay. There is not even a single celebrity who hasn't tried it once or twice. That is why we thought that it may be a wise suggestion for you to try this style, too. What do you think?
Sleek and Straight Medium Angled Bob With Bangs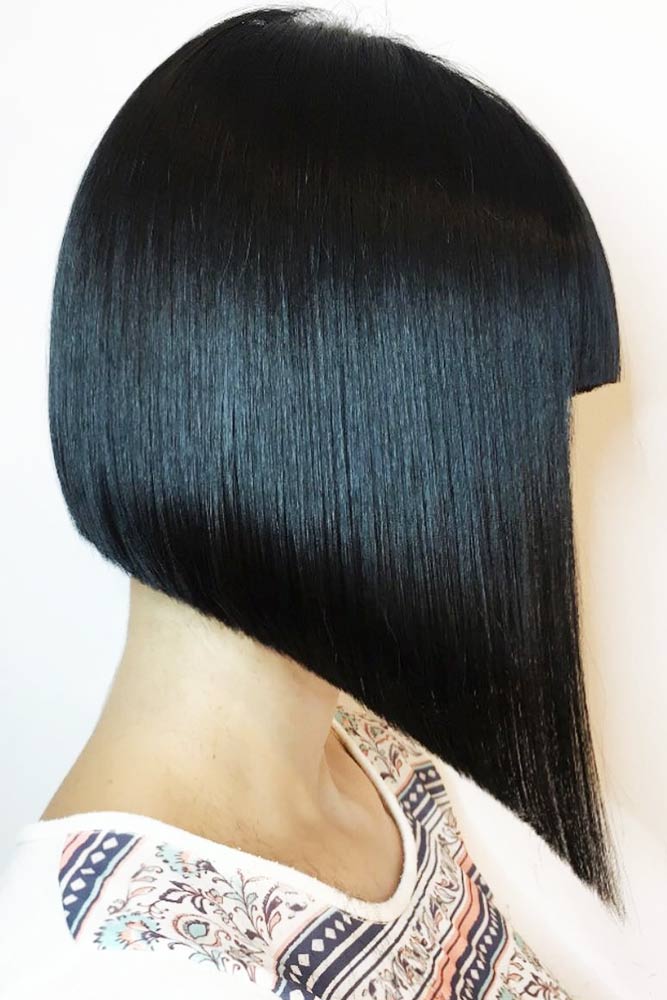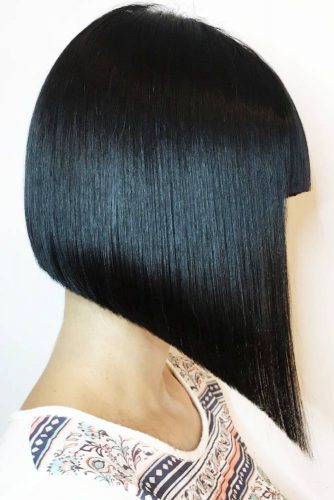 Credit photo: instagram.com/ciprianvaidahair
An angled bob with bangs is a bit of an edgier style, and this angled bob with heavy blunt bangs is very bold indeed. Ask for a dramatic angled bob with sharp razored edges. This style has long, heavy bangs that give off a playful, sexy look. Ask for blunt eye-grazing bangs. This is one of the trendiest styles for a medium bob with bangs.
Blow dry your hair straight and apply straightening serum. Finish it off by running your flat iron through your hair for a sleek and sexy look. This raven black and blue ombre fade is very dignified, and the colors blend together perfectly for a shiny finish.
Curly Bob With Bangs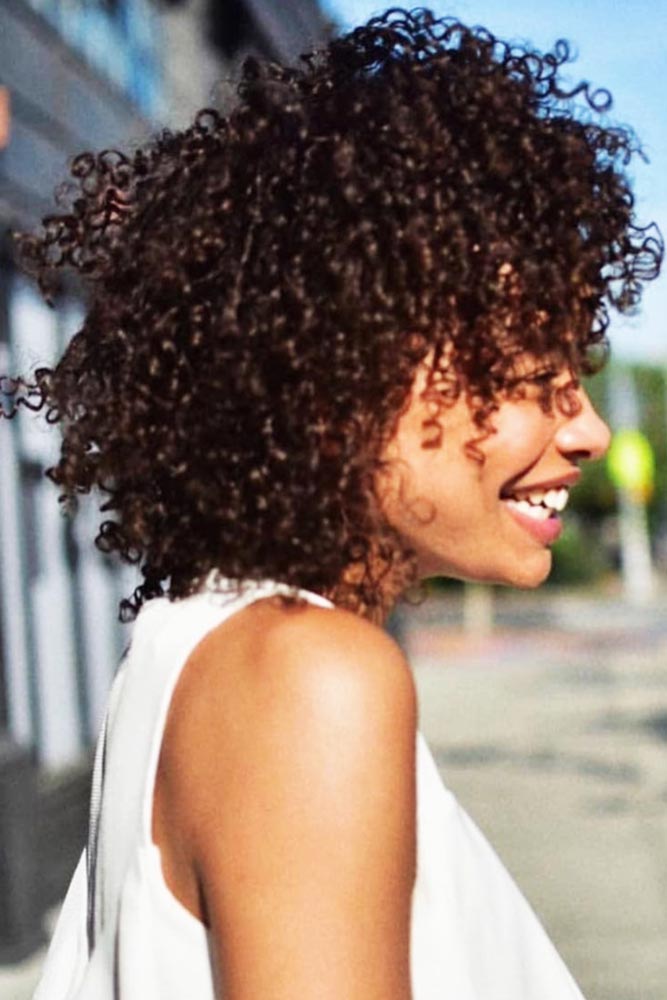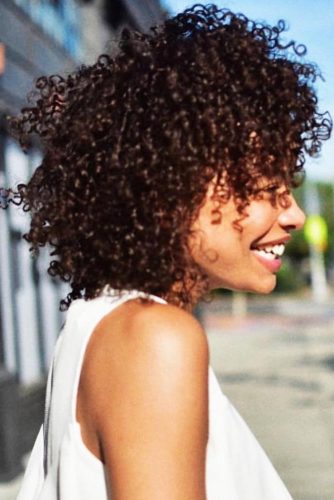 Credit photo: instagram.com/kinlochsalon
If you have natural hair and are looking for a short curly bob with bangs, this graduated bob with fringe might be just what you need. The length is perfect, and the long layers add a ton of volume and bring new life to your gorgeous curls. Ask for a heavy fringe to let some of your curls hang down over your face for a fun and flirty vibe. This short curly bob is very hip and super easy to style, as it is basically wash-and-go.
Auburn Short Stacked Bob With Bangs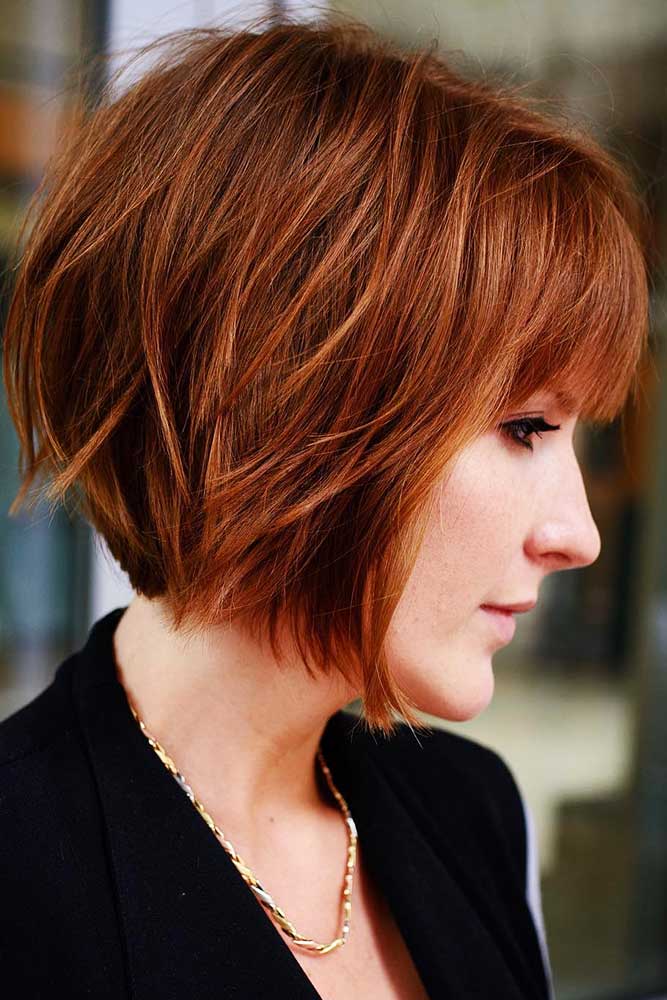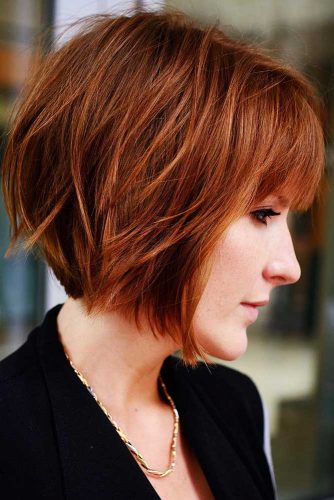 Credit photo: instagram.com/cutyourhair
Stacked bobs have come a long way over the years. This sassy short stacked bob with bangs is very stylish. Ask for a short layered bob with bangs with short stacked layers in the back. This is a chin length bob with face-framing layers and long layers to add a ton of volume. The pretty light and dark auburn tones give this style some added depth. Ask for thick chunky bangs to add a bit of mystery.
To style, apply volumizing mousse to your hair and blow dry with a round brush, flipping back random pieces throughout to add more volume and get a tousled, carefree look.
Messy Wavy Bob With A Soft Wispy Fringe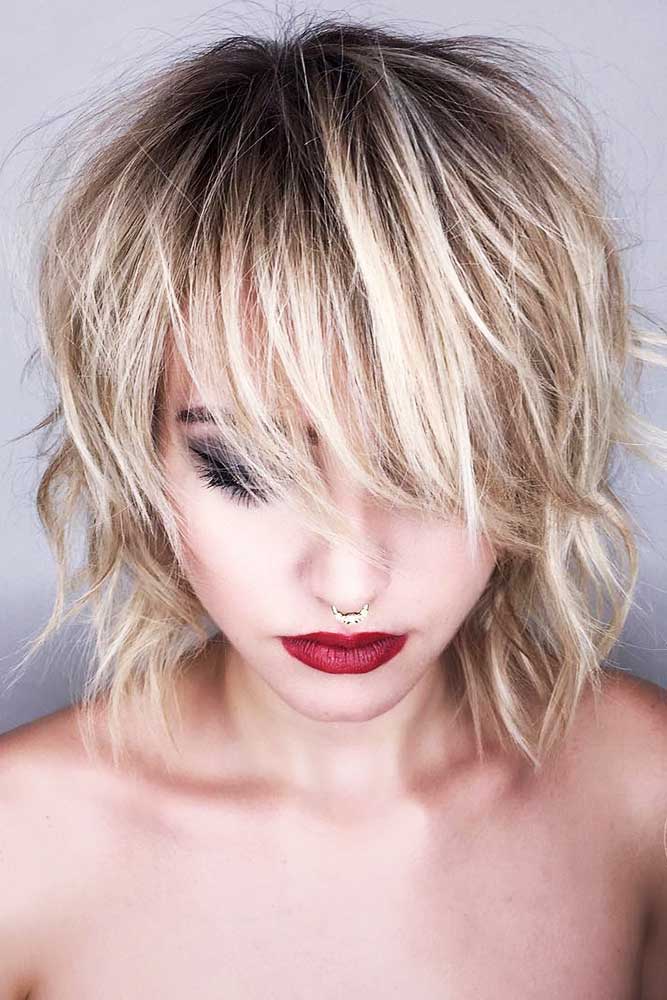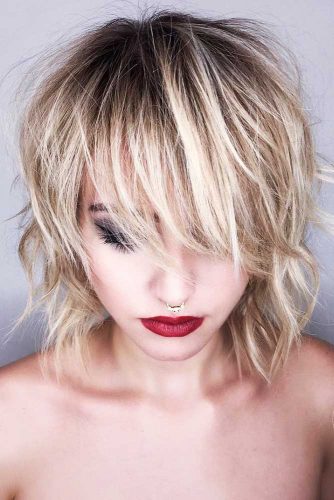 Credit photo: instagram.com/cutyourhair
Messy bobs are very popular right now. This messy layered bob with bangs is super cute. The dark blonde roots and pale blonde highlights give this playful short bob a ton of texture and depth, and the tousled waves make it super sexy and seductive.
Ask for a short bob with choppy layers to add volume. Be sure to ask for long bangs. This way you can either pull them back, if you wish to get them off your face, or style them to the side. However, you can wear them over your eyes like this for a totally playful vibe.
If you want to know how to style a bob with bangs, all you need to do is brush your bangs forward with a vent brush while blow drying your hair and spray with medium hold spray.
A-Line Bob With Bangs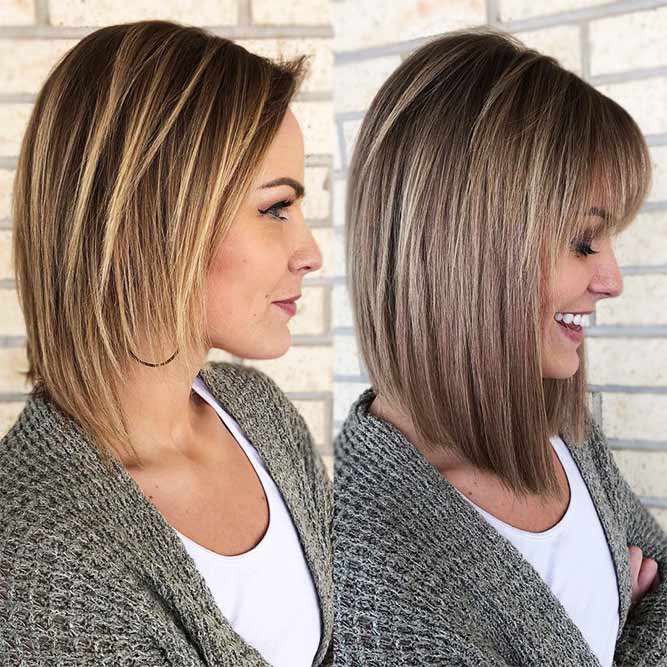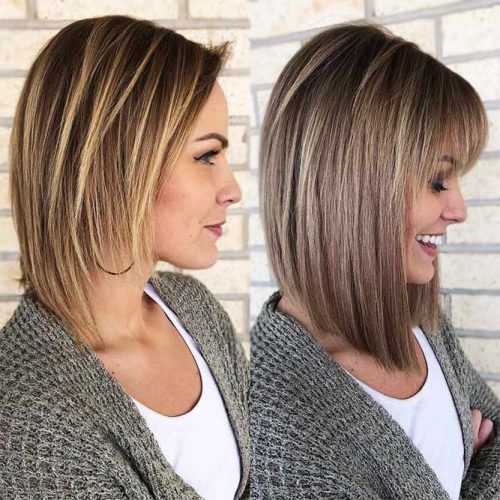 Credit photo: instagram.com/blendsbybayle
Not all bob haircuts need to be super short. This long layered bob with bangs is ideal if you still want some length so that you can pull back your hair into a bun or short ponytail. As well, you can still sport cute half-updo hairstyles such as a topknot or braid.
This classic A-line shoulder length bob with bangs is as pretty as it is versatile. The subtle dark and light blonde balayage hues add a multi-dimensional look to give it just a bit of depth and a ton of texture. The A-line cut is a great layered bob for thin hair as it adds a great deal of volume with its long layers.
To style, blow-dry with a round brush, leaving it slightly askew at the top for a just a hint of messy, casual feel
Auburn Tousled Short Stacked Bob With Bangs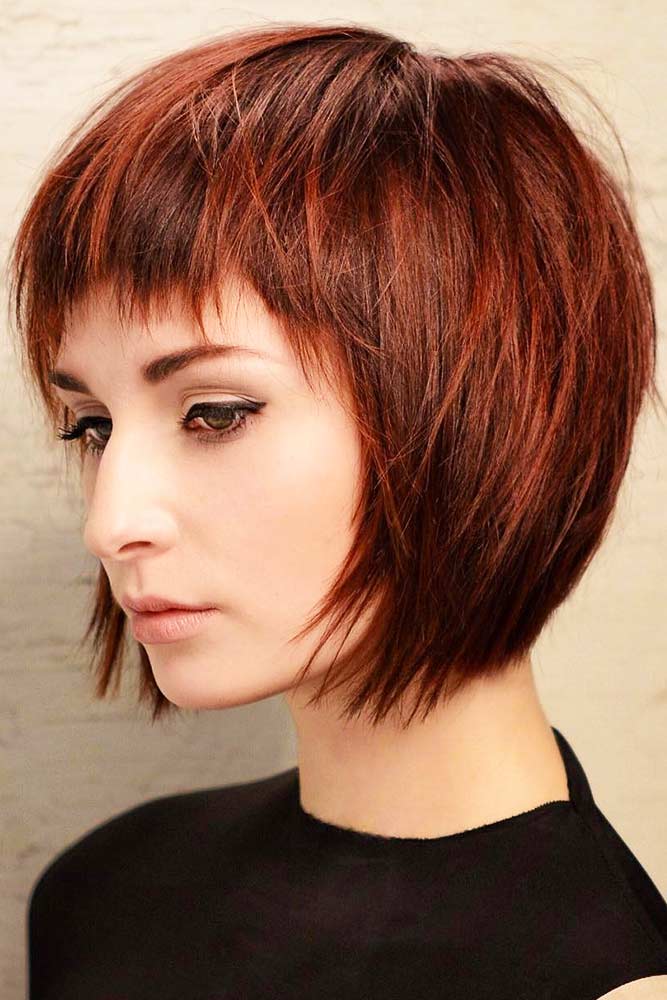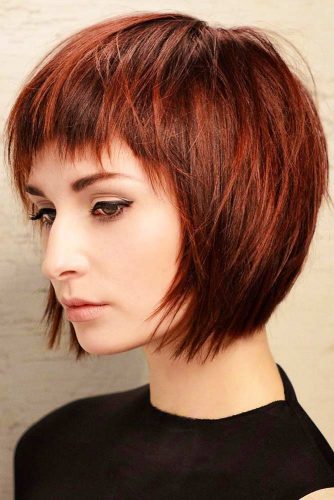 Credit photo: instagram.com/cutyourhair
If you want a short stacked bob with a bit of an edge, this cute short bob with razored edges is right up your alley. In fact, this is one of the perfect short layered bob hairstyles for thick hair. The random choppy layers remove some weight and still leave a lot of fullness. And we think the contrast between the dark red and light auburn tones give it a multi-tonal look that adds just the right amount of texture.
Ask for a short stacked bob with razored bangs and longer, razored layers in the front at about the chin length to frame your face.
Razor Cut Pastel Pink And Blonde Choppy Bob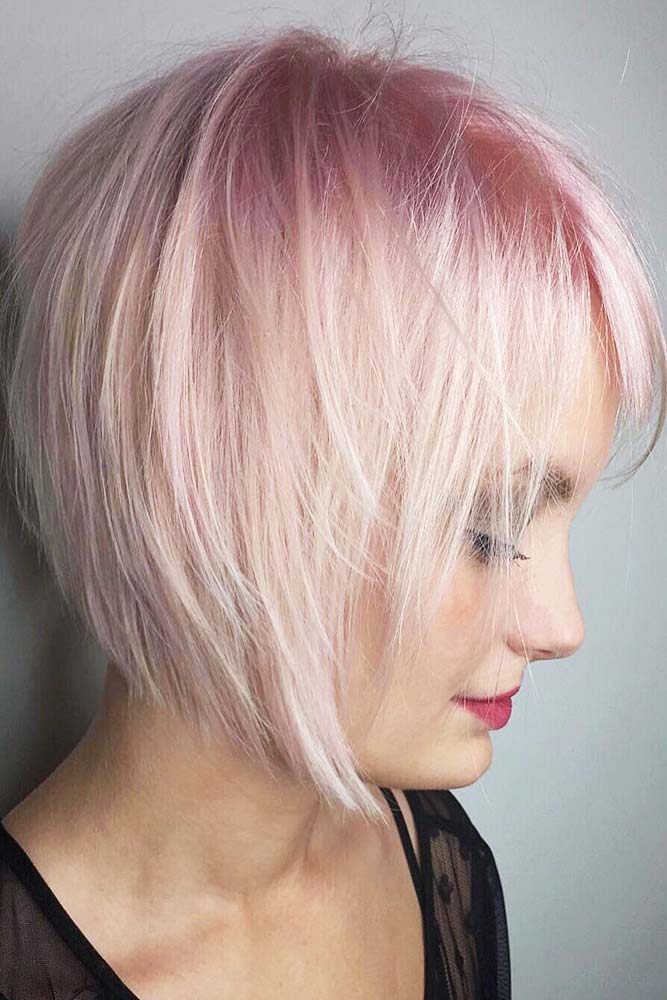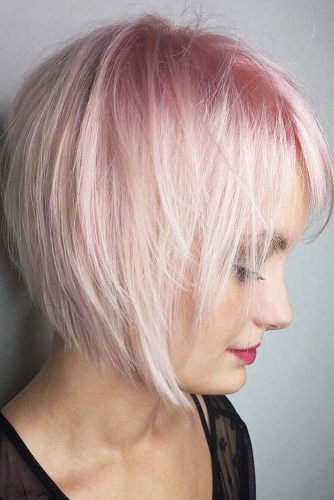 Credit photo: instagram.com/cutyourhair
If you want a look that has a bit more of a grungy feel, this choppy bob with bangs and razored ends is super cute. Ask for long side bangs that will fall playfully onto your face. And what is more girly yet daring than a pale blonde and pastel pink blend? A soft platinum blonde base with pale dusty pink highlights will make you look and feel like you have just stepped out of a fairy tale. Why get a boring blonde bob with bangs when you can add a burst of pink for a totally girly vibe!
Dark Dusty Rose Pink Textured Bob With Choppy Layers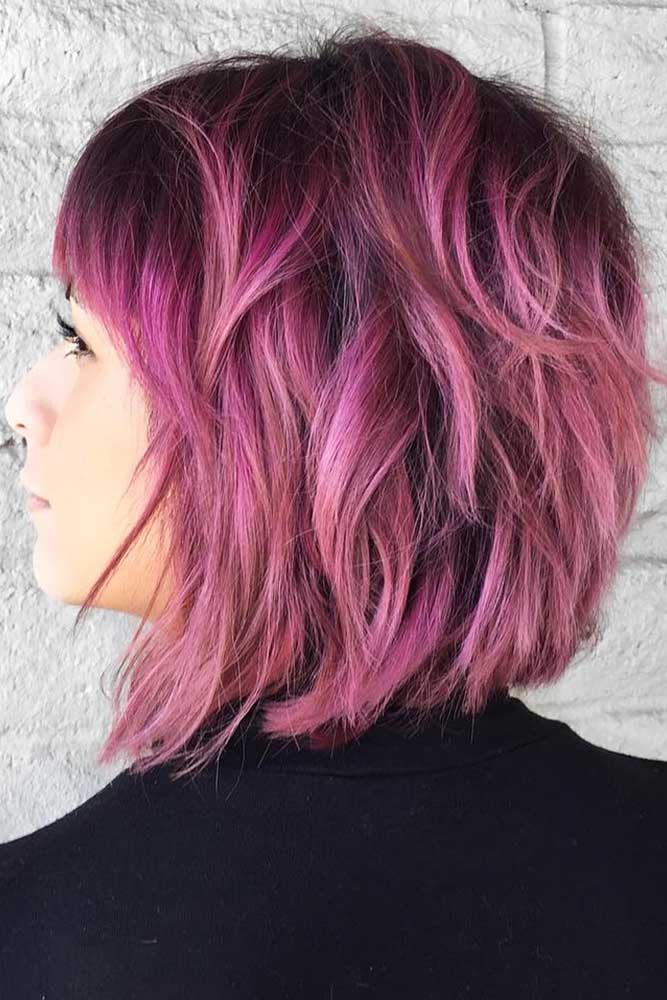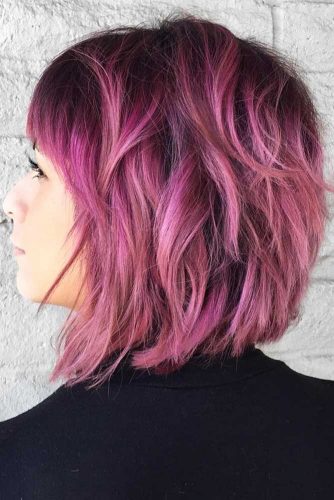 Credit photo: instagram.com/deniseloveshair
If pastels aren't to your taste but you still love pink, this dusty rose pink layered short bob makes quite a statement. Start with dark roots and then blend fuchsia and dark, dusty pink for a look that has an abundance of style, fullness, and texture.
Ask your stylist for a short inverted bob with bangs. Then be sure to get random long and short layers throughout for more volume and movement.
To style, add volumizing mousse when your hair is damp. Blow dry with a round brush, lifting your layers and flipping them out in random directions as you dry. This will give it a bit of a messy edge to match the bright pink color and your sassy attitude.
Wavy Bob With Bangs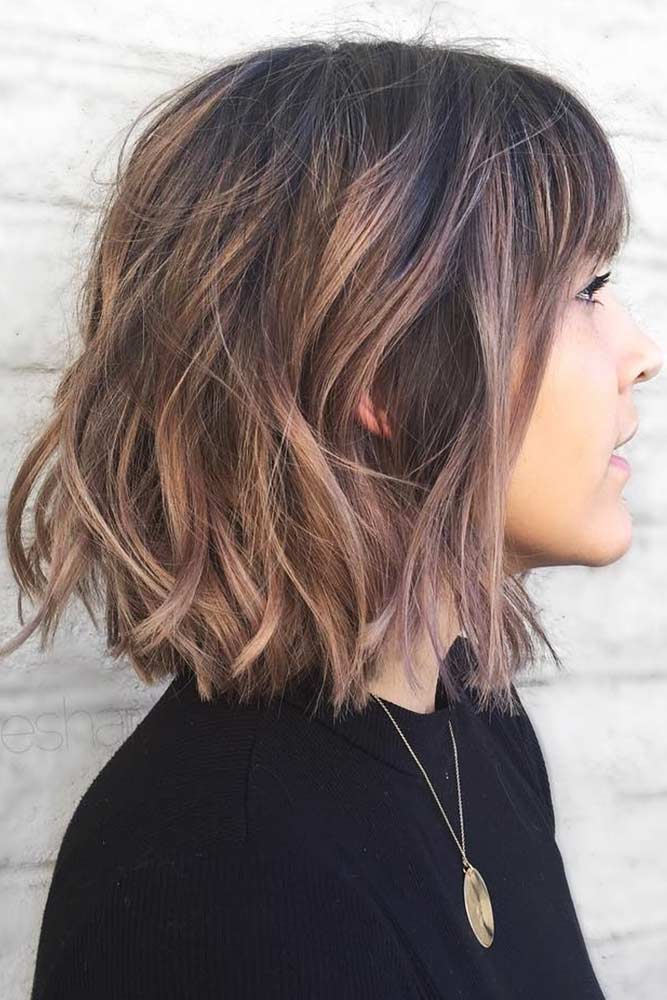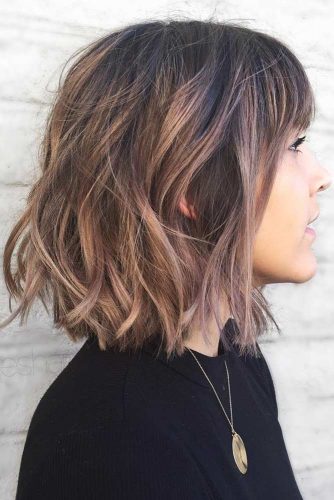 Credit photo: instagram.com/deniseloveshair
If you have naturally curly or wavy tresses, you will love this wavy bob with bangs. In case you want to go really short, you can get a chin length bob with bangs. But if you want a bit more length, you can go just a tad longer like shown here. This longer wavy bob is so pretty with its warm chocolate brown and soft honey brown balayage hues.
To style, spritz some curling spray or sea salt spray to your damp tresses and allow your hair to air dry. Tousle it with your fingers to give it a slightly messy look. Choppy ends will give it a fun vibe and add some texture to this super cute short bob with bangs.
Chin Length Rounded Bob With Super Short Bangs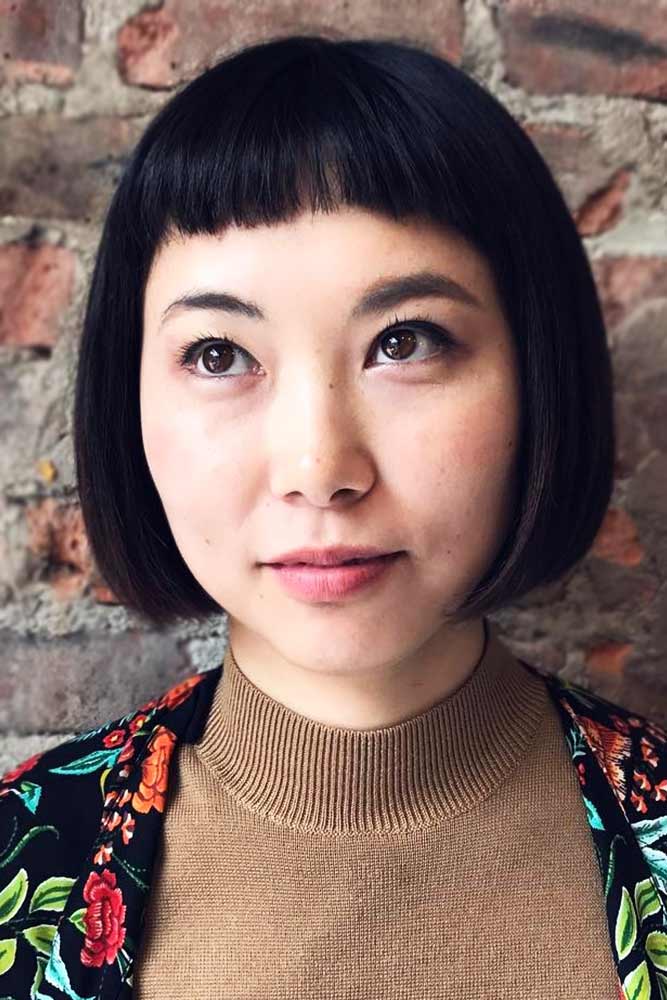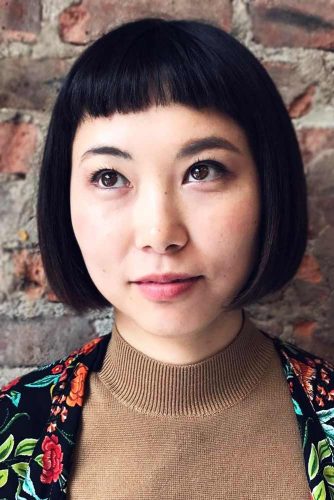 Credit photo: instagram.com/kinlochsalon
If you don't want an angled bob, you can ask for a rounded bob. This chin-length rounded bob with bangs is very chic and stylish. Ask for super short bangs to accentuate your facial features. And this bob with bangs black hair is such a pretty dark shade that goes well with dark eyes and pale skin tones.
This is perfect if you want a more polished and refined look that is still fun and has feminine feel. To style, blow dry straight and then run a flat iron through your hair for a sleek finish.
Medium Messy Waves With Side Bangs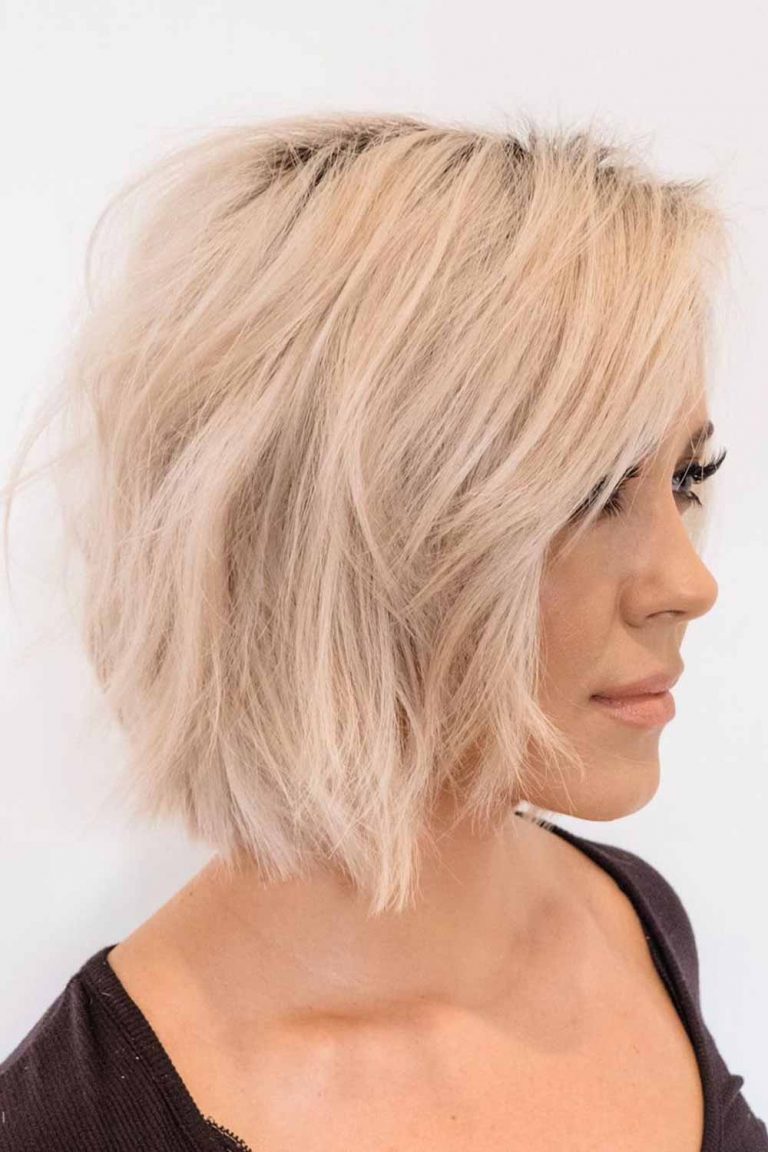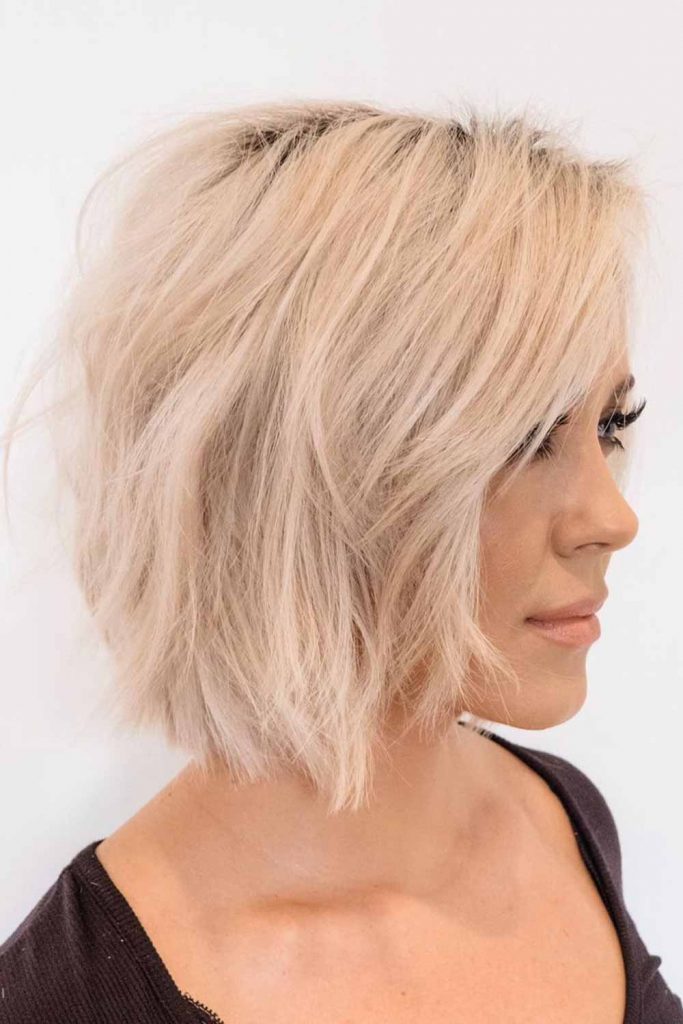 Credit photo: instagram.com/chrisjones_hair
Side bangs are a fantastic way to add a visual angle to your face shape while keeping your forehead and brows open. Though this type of bangs can be pretty flexible in terms of length and texture, we want you to focus on the duo it can create with a mid-length bob. Not only do these bangs seamlessly blend with the rest of the hair but they also serve as a stunning textured complement to its wavy look. To recreate this idea, you need to get a slightly layered haircut. Note that if you go for layers, they should also hit your bangs to form a balanced look.
Wispy Bob With Layers And Bangs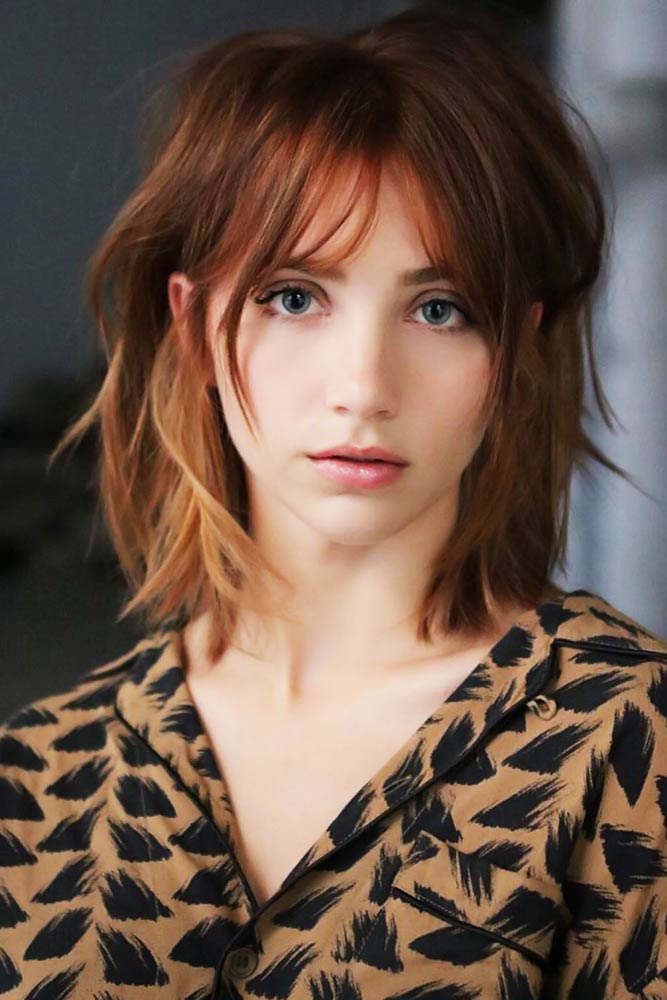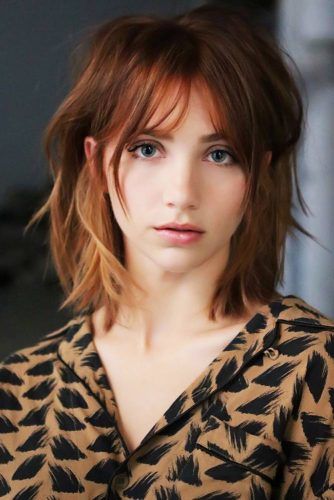 Credit photo: instagram.com/salsalhair
Here comes another example of a haircut that follows the texture of its bangs to reach harmony. Have you ever heard of a wispy bob? Since bob and bangs allow for various customizations, they can blend into an airy layered texture that will give a lightweight finish for the whole look. If you have fine hair that tends to fall flat, it's not just a good idea. It's a must that will make you fall in love with your own hair. By the way, this duo looks its best when it's messy and tousled, so make sure to get some texturizing product.
Chin-Length Choppy Bob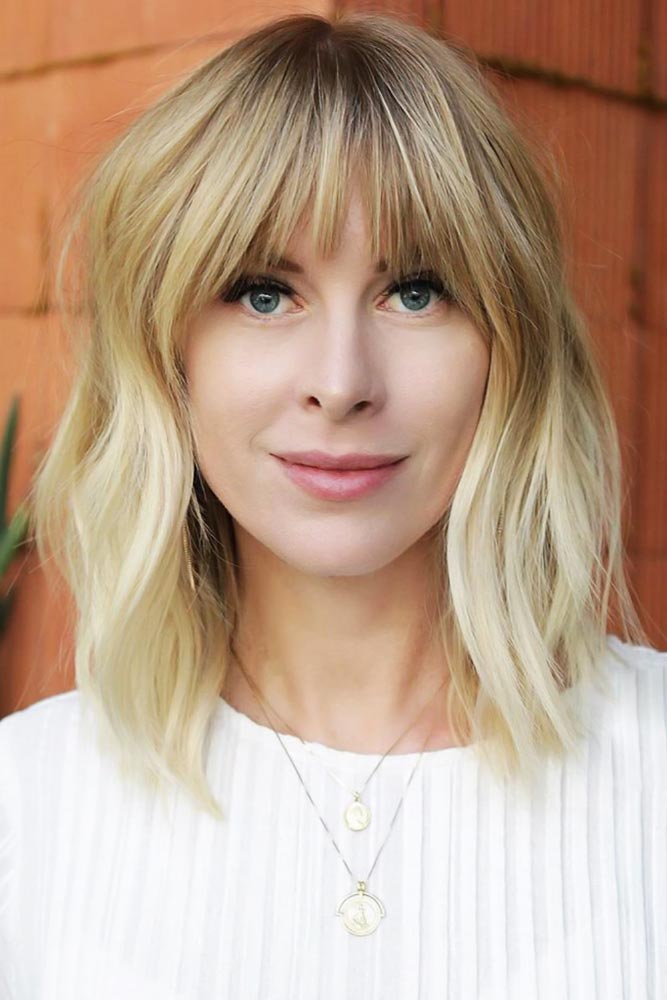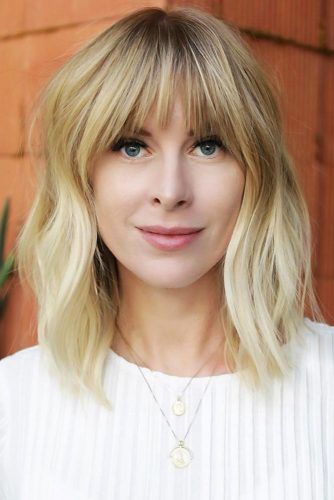 Credit photo: instagram.com/salsalhair
There's nothing like a bob with finely chopped edges and a wispy fringe finishing the look. In fact, bangs are like exclamation points that you add to your hair story to give more character to it. Here, it's hard not to see the flirty vibe of the transparent fringe: it literally changes the mood of the entire look. Whether your hair is thin or thick, such a length is the happy medium for those seeking volume and balance, as it won't outweigh the locks. Give this cut a slight wave to reveal its full potential!
Side-Parted Jagged Bob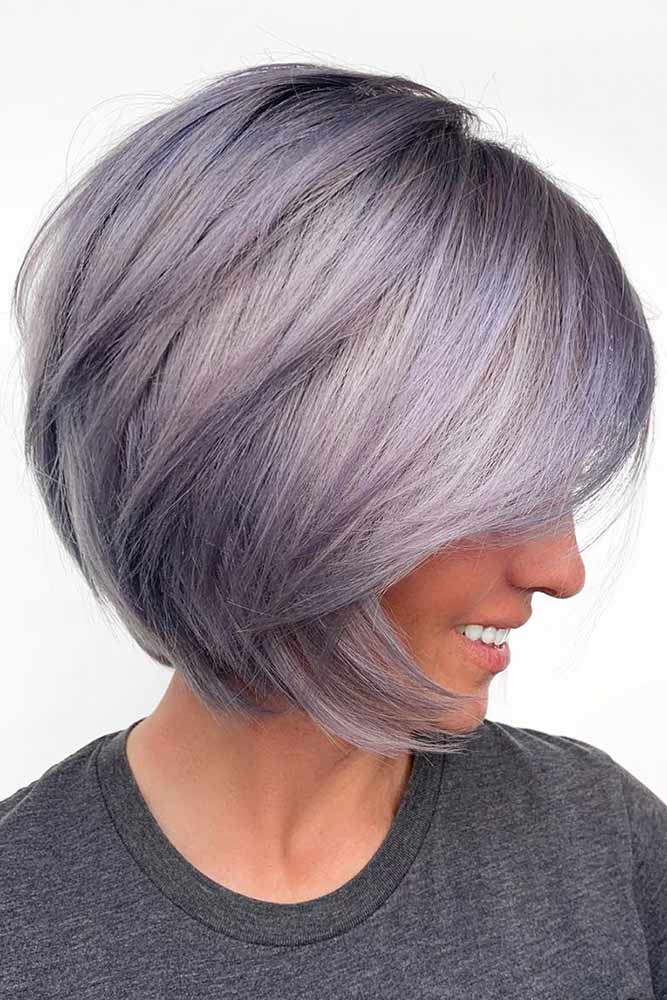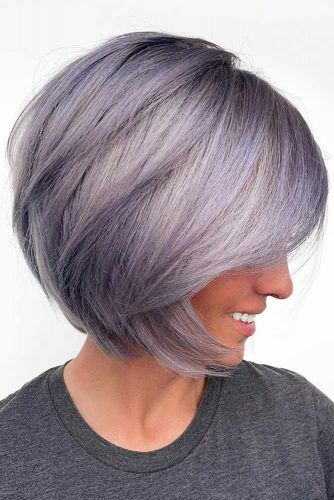 Credit photo: instagram.com/headrushdesigns
The angular fringe in this haircut goes so harmonically with the rest of the hair that we bet these two belong together. Apart from drastically changing the way your hair and face look, bangs can also enhance some prominent features of your haircut. This jagged bob consists of thick sharp layers that fascinate with their edginess. And what makes the look not just complete but special is the way long side bangs blend with the cut, giving it one more angle to steal the show.
Angled Bob With Side Bangs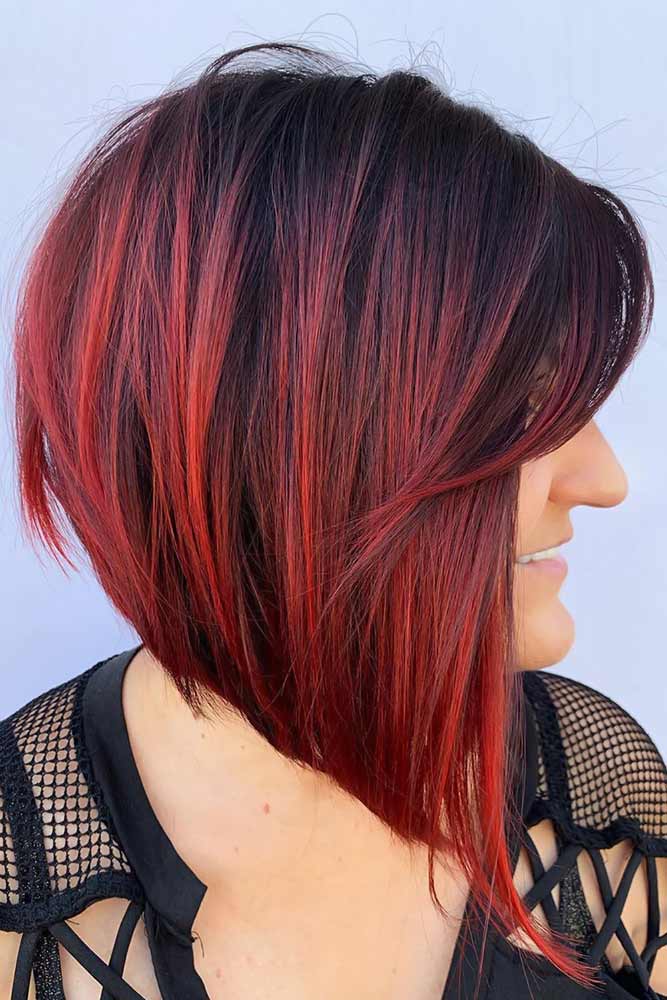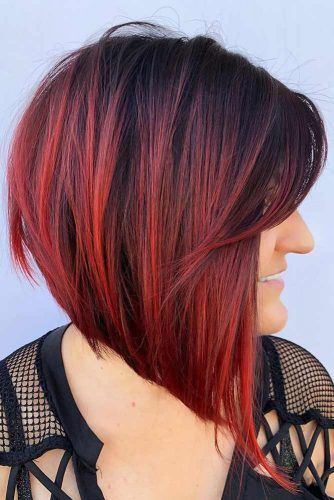 Credit photo: instagram.com/headrushdesigns
Now it's really all about angles. So no wonder the cut features side bangs again: they're the best weapon to intensify the beauty of angles in your cut. Though the fringe doesn't melt with the cut seamlessly, the way it stands out is just to die for. Besides, do you notice the play of angles? These sharp bangs point out in the opposite direction, adding a playful twist to this angular ensemble. To get the most of this look, style your hair with a round brush and hairdryer, giving it pass of a plat iron in the end for a polished finish.
Stylish Sleek Bob with Bangs
Credit photo: instagram.com/carolinereceveur, instagram.com/joeltorresstyle, instagram.com/aliyousha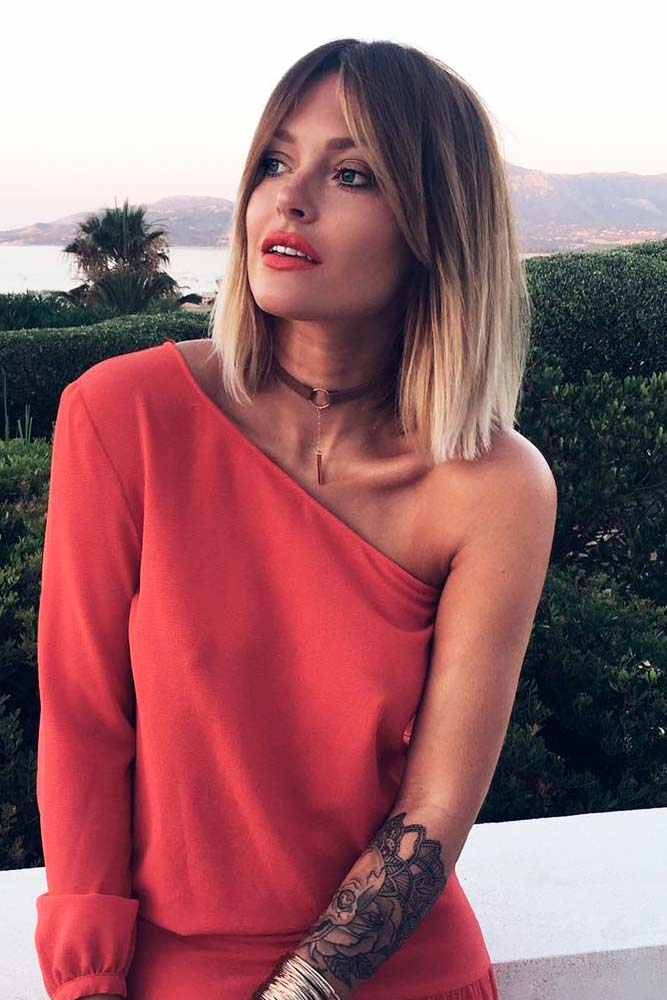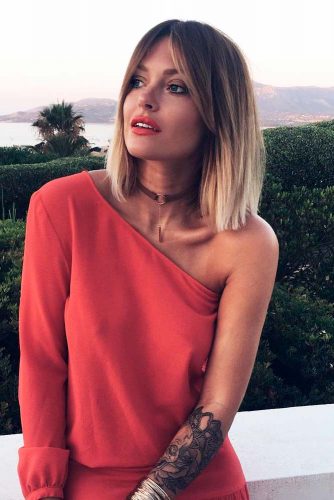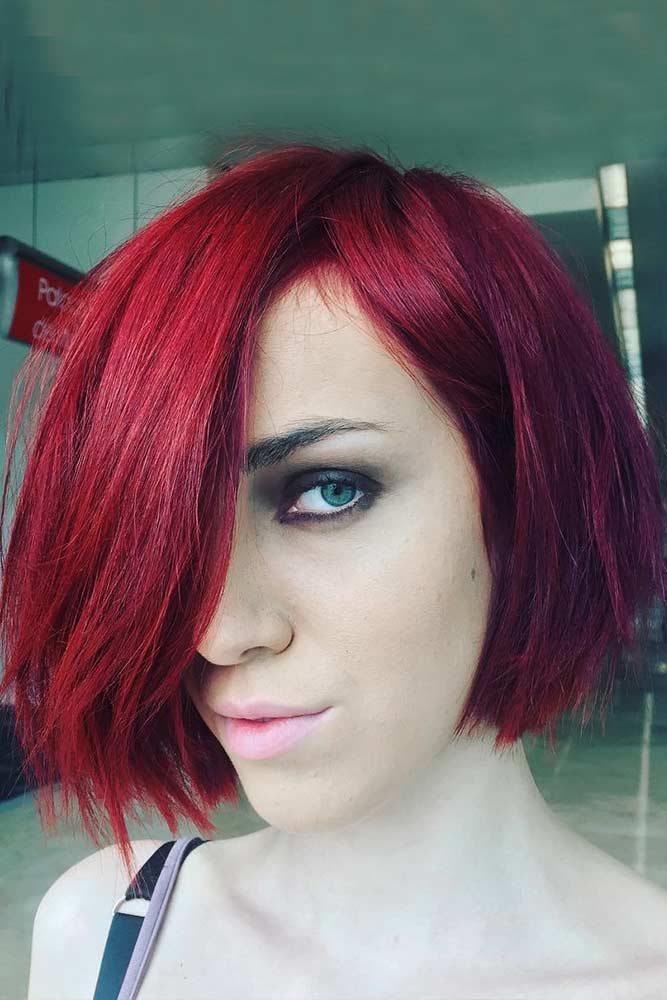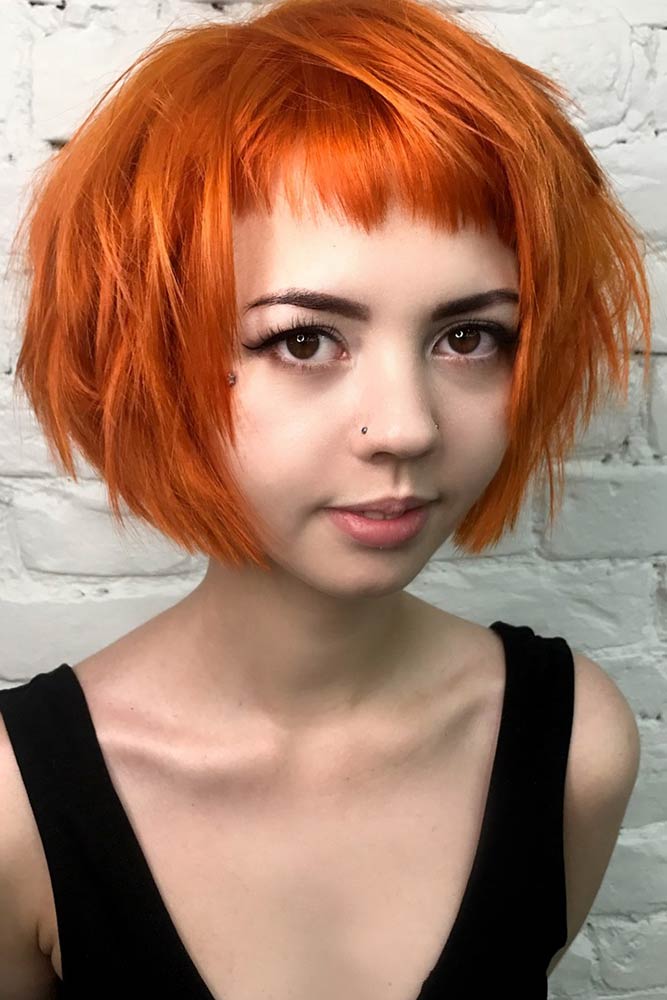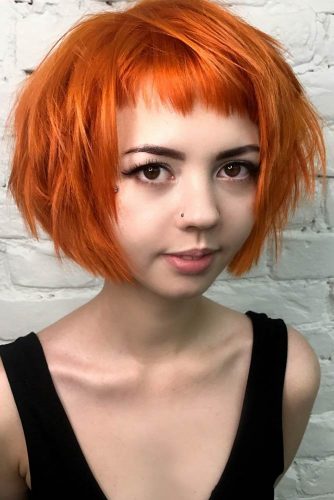 There is something about side swept bangs that almost screams that you woke up that way. They are extremely stylish and messy at the same time. The right shade would be a great benefit.
Brunette Bob Haircuts
Credit photo: instagram.com/janasabrinna, instagram.com/aliyousha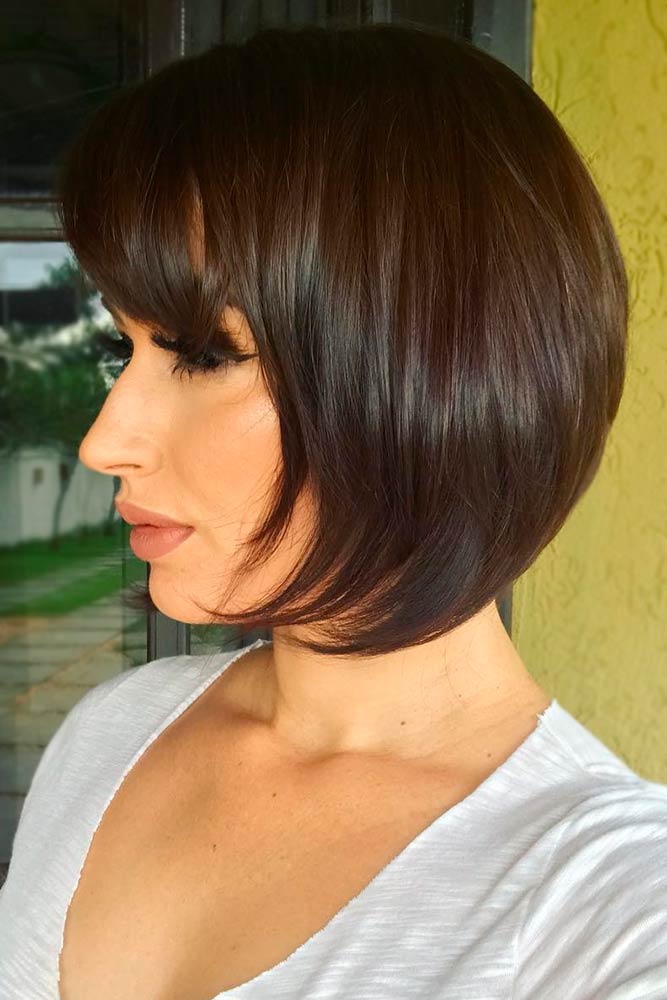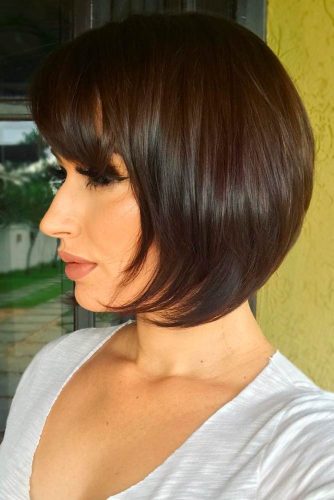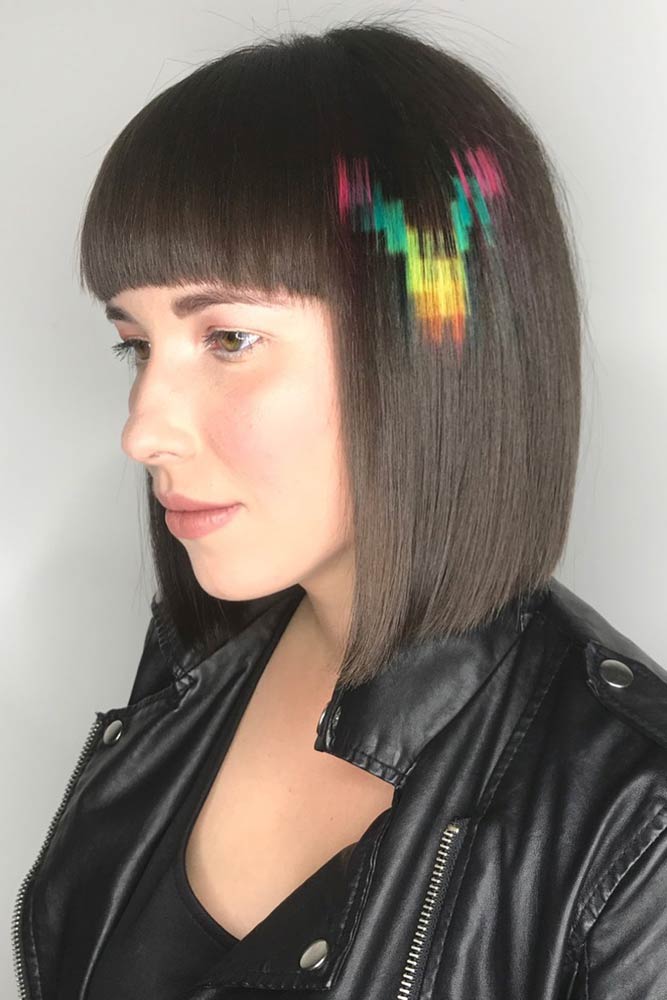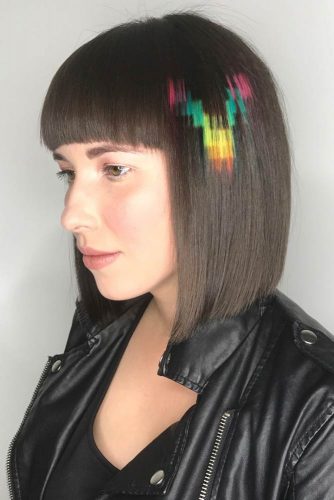 Long bob haircuts are the perfect way to upgrade your medium hair, especially if we have in mind the bob with a fringe. Not to mention the charm it will bring into your look, if you are a brunette by nature.
Side Bang for Your New Style
Credit photo: instagram.com/daphnenarcy, instagram.com/carolinereceveur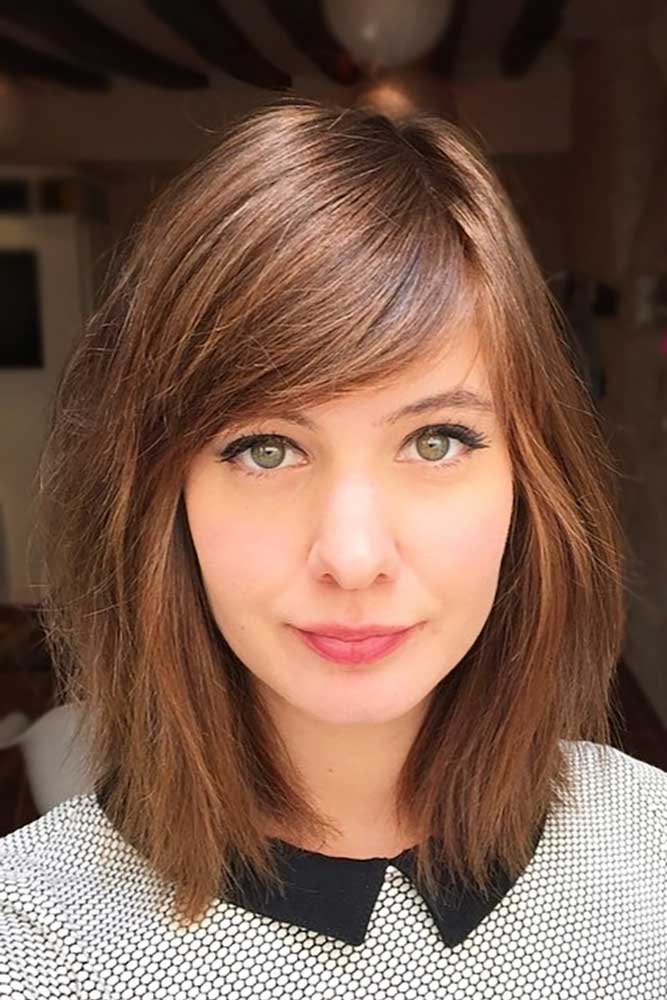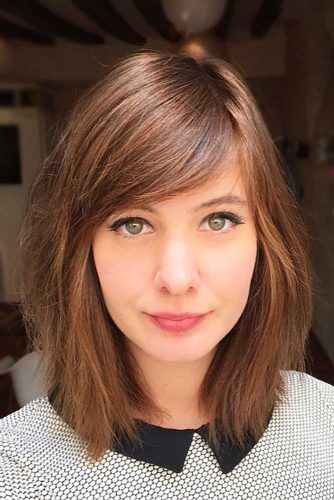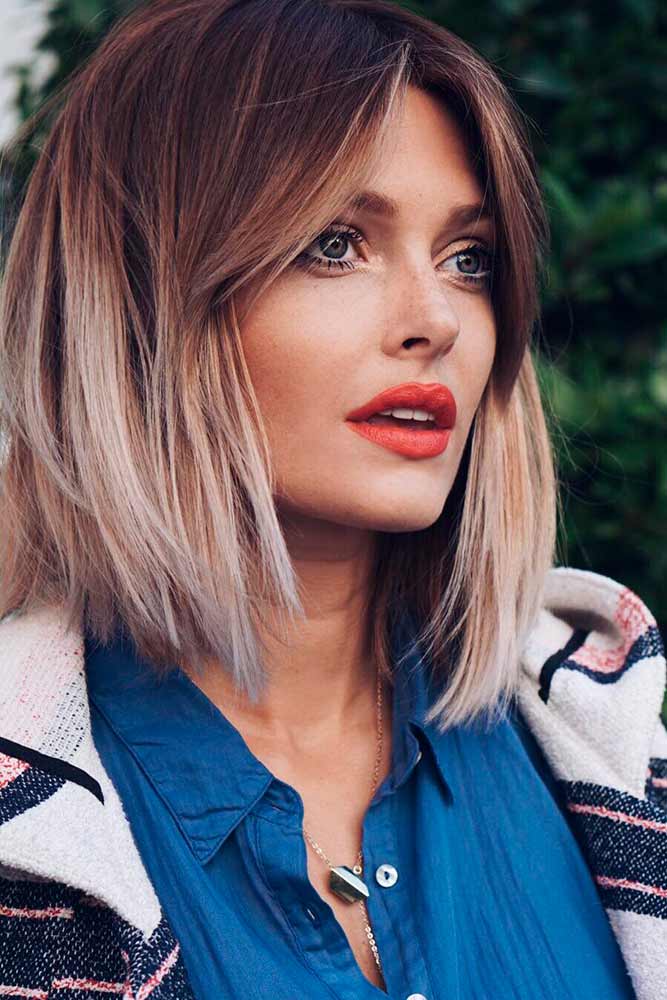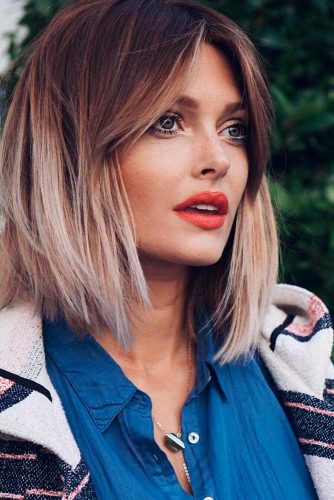 Looking for a new way to style your mane? Then there is nothing better than adding a little swipe to your hair and thus transforming the way you look dramatically. It looks so perfect and so carefree that you are bound to try it out at least once.
Layered Bob with Bangs
Credit photo: instagram.com/carolinereceveur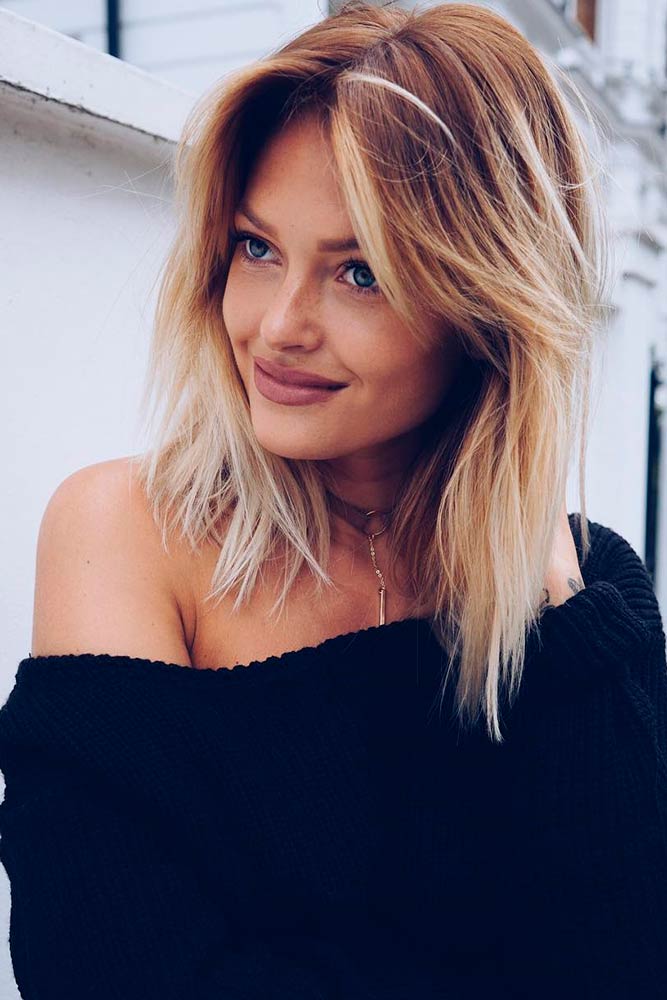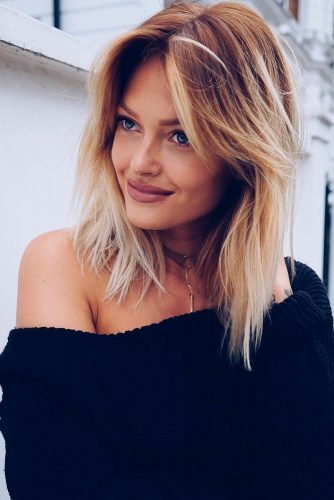 Those of you who can't stop dreaming about some additional volume may enjoy this option very much. What we have in mind is a layered bob with a fringe. The more layers, the more voluminous your hair will look.
Amazing Bob Hair with Bangs
Credit photo: instagram.com/jordanheidenwith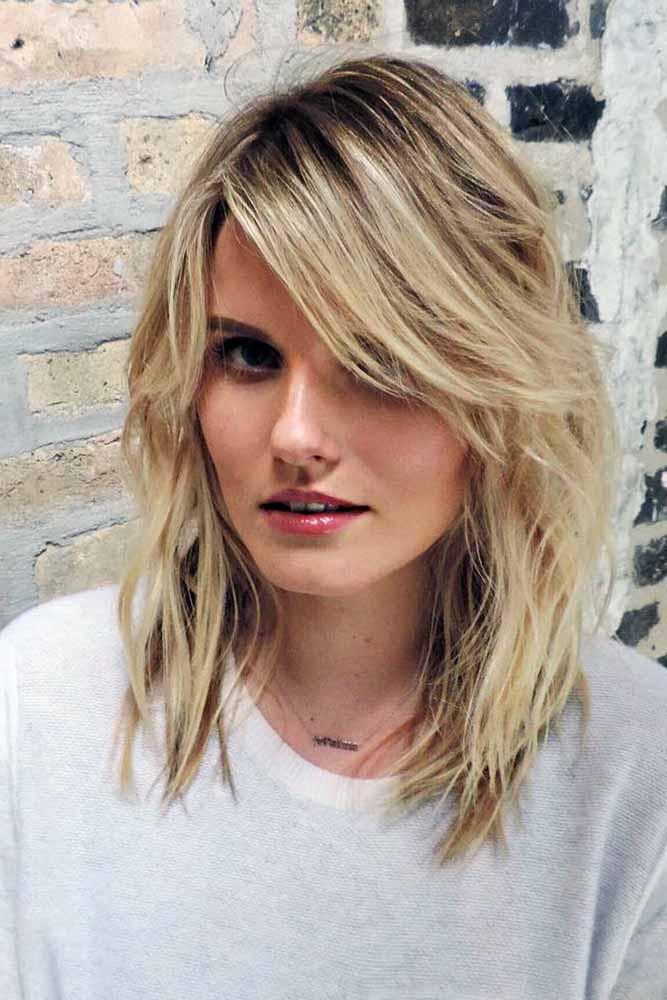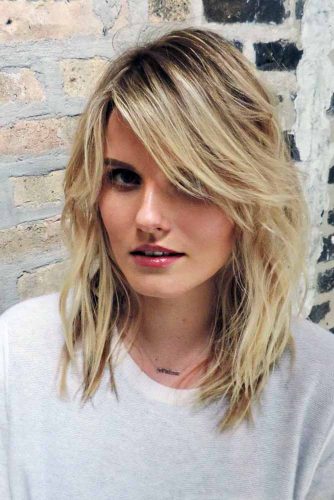 Blunt bangs are not for everyone, we must warn you here. But those of you who dare trying this style out will totally agree that it will make you look completely different. If that is what you seek, then what are you waiting for?
FAQ: Bob With Bangs
Do bobs look good with bangs?
There are numerous kinds of bobs that go really well with bangs, for example, a lob, angled, stacked, A-line, inverted or blunt. Basically, no matter what face shape and hair type you have, there's always a stunning bob that will suit you (short or long, layered or textured). Just add some sassy bangs to the mix, and you've got a killer look!
Do bangs make you look older?
Smooth bangs that gradually integrate into the rest of your hair are the most universally favorable, so ask your hairdresser for them. It's not a secret that hair thins as you get older, and sparse strands add years to your appearance. You can ask your hairdresser for layers that will add a boost of volume to your hair and make it look thicker.
How far back should bangs go?
It may seem strange, but the length of a fringe on the forehead should always be in control. Starting two inches back from your hairline if there is not much space between your brows and hairline is a wise decision if you want to make a smaller forehead look larger.