Temporary hair color is a damage-free hero that can take us to the world of color changes. And when you feel that a super eye-catching makeup is not enough for some special bright events, it will always be there for you.
Whether you want to make your look pop for Halloween party or you just feel that your life needs more colors, the only thing you need is to color your hair temporarily. Let us show you how you can do that!
Alongside the latest inspiring ideas and coloring ways, we've selected the best Amazon products designed for temporary coloring, so that nothing stops you from taking a plunge!
Best Ways to Temporarily Color Your Hair
Once you decide to go for new colors, you can't go without the basics. In this part, you are going to explore the top ways on how to go for temporary shades. P.S. After 2-4 shampoos, your hair will be ready for more experiments!
Temporary Hair Color Spray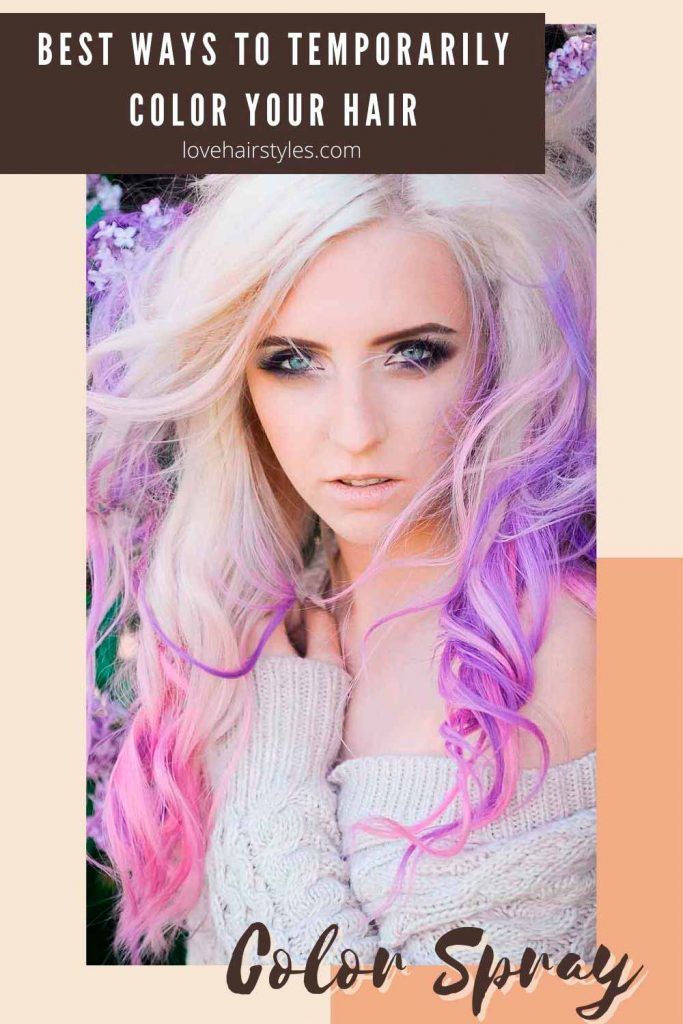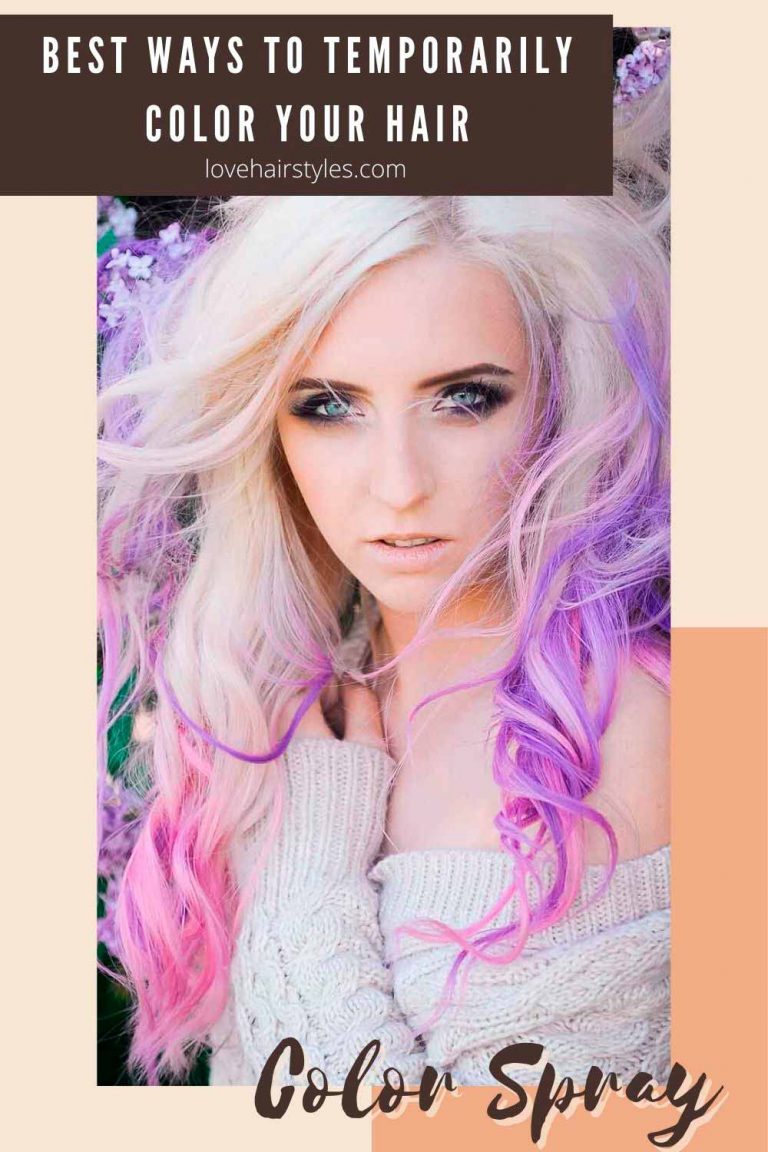 A temporary hair color spray seems to be the easiest way to change your life palette, as you just need to spritz your hair with it. But you should be careful if your hair is light, as you may get a permanent result if you go for very dark shades: you need to get the right product, based on your tone. To apply the color, coat your wet hair with a spray, section by section.
Hair Chalk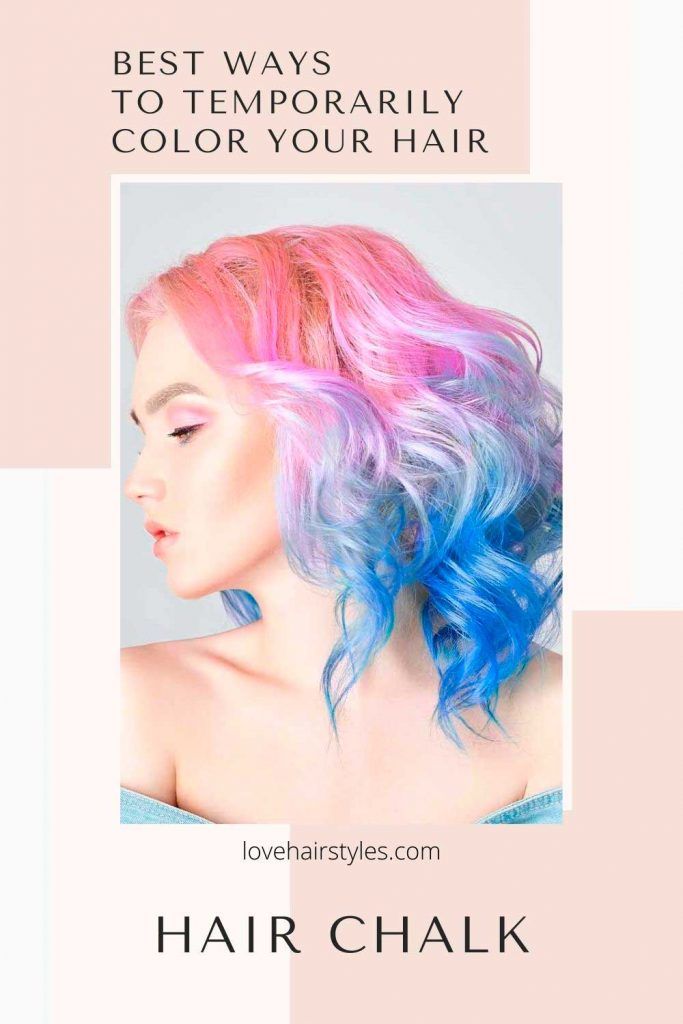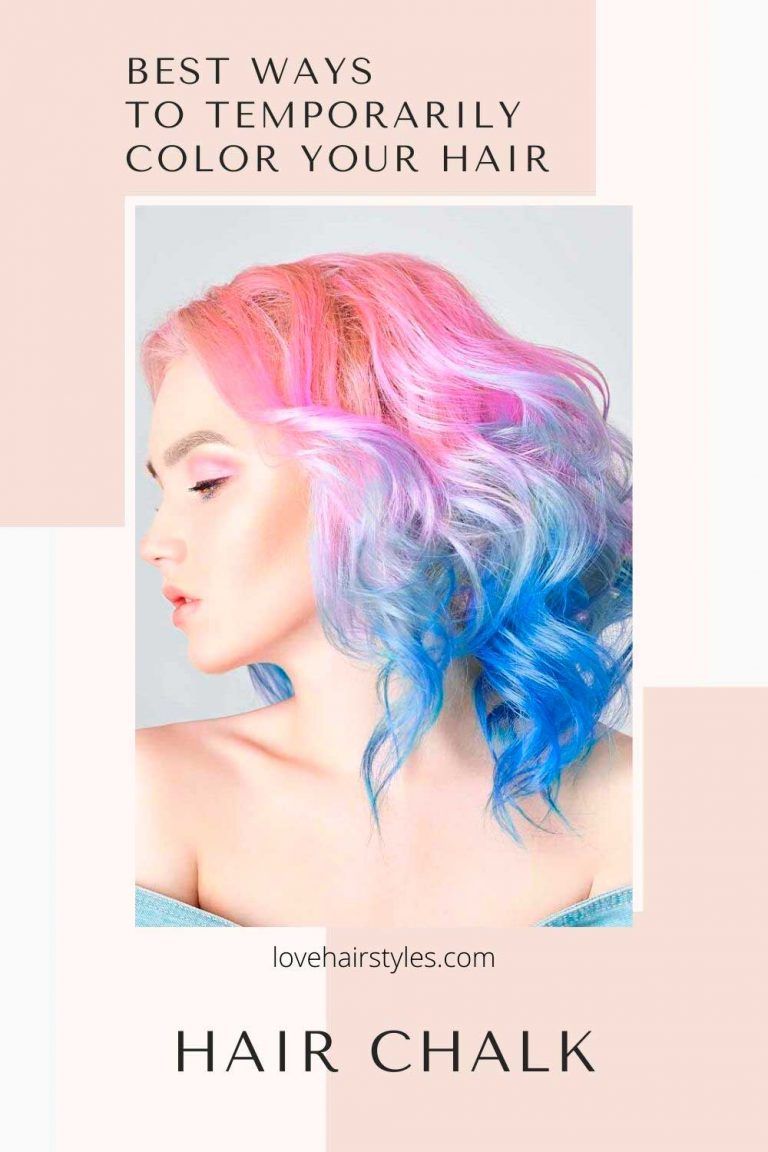 After the everyone's adorable spray, here comes another beauty trend of now: hair chalks give a lot of room for your imagination that you can dip in without a commitment. In this case, you also need to work with wet hair, running the chalk through your hair. Again, light chevelures should be careful so as not to end up crying about rough permanent dark shade instead of pleasant temporary hair color.
Hair Mascara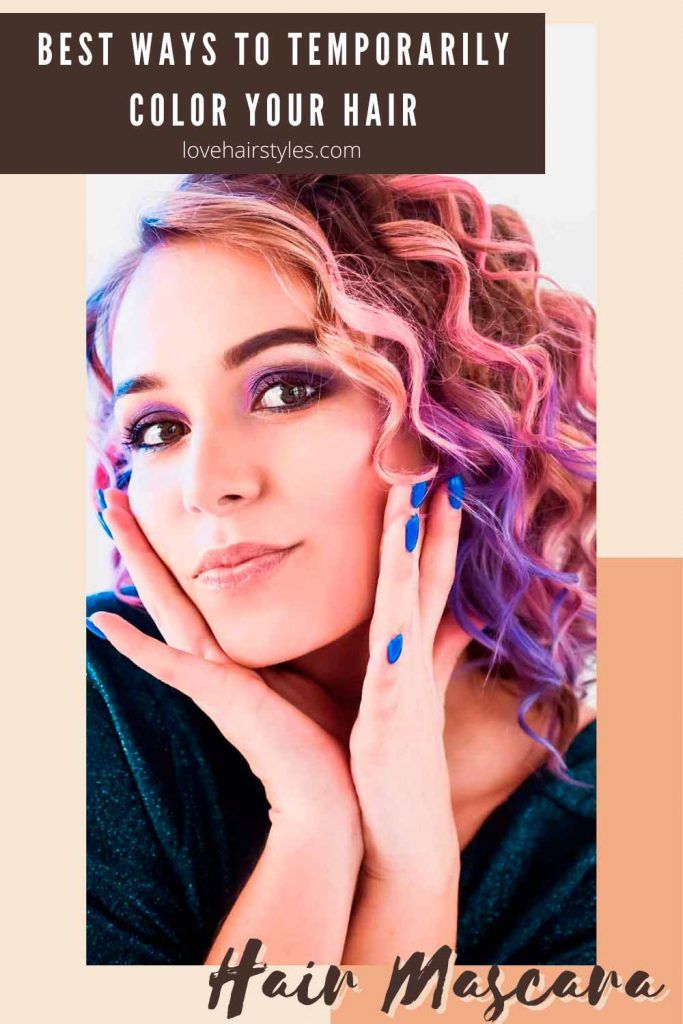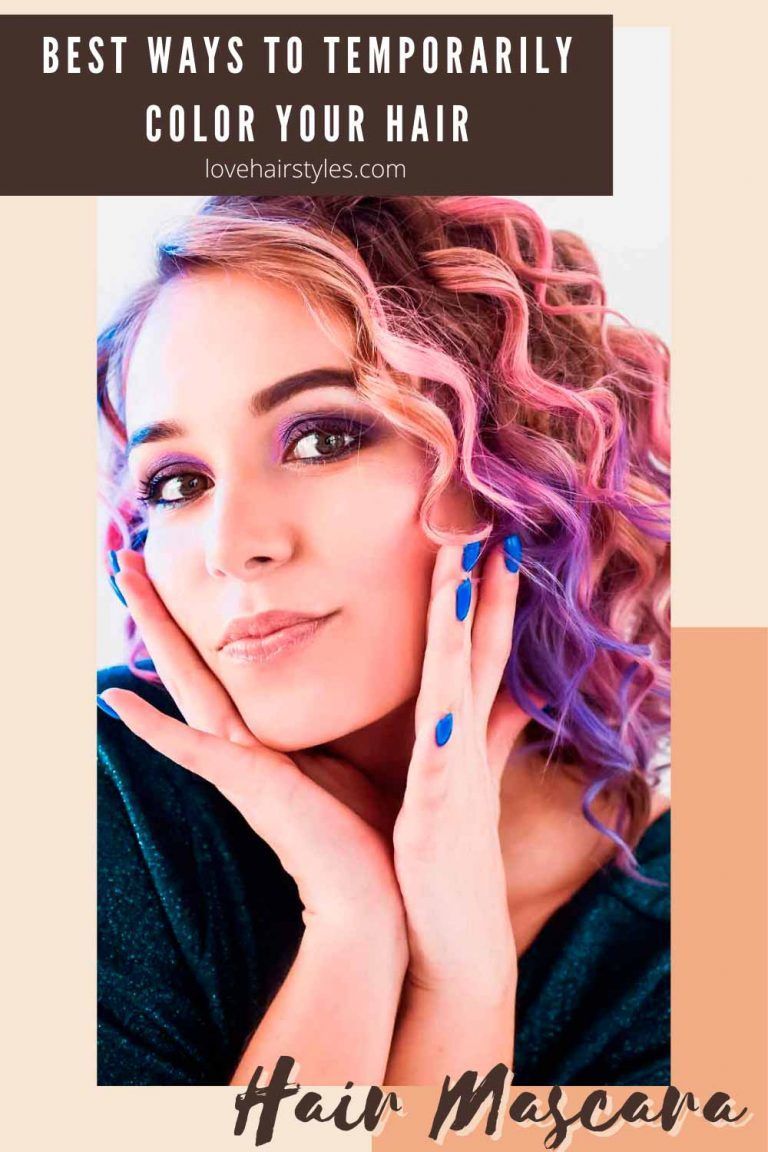 A color mascara could be forgotten with the time, yet some fashion ideas from the 90's are still around, and not for nothing! It's an easy, familiar, and pretty fast way to get a new color. Or colors! Just apply it directly on your hair, layer by layer, and that's it!
Semi-Permanent Hair Dye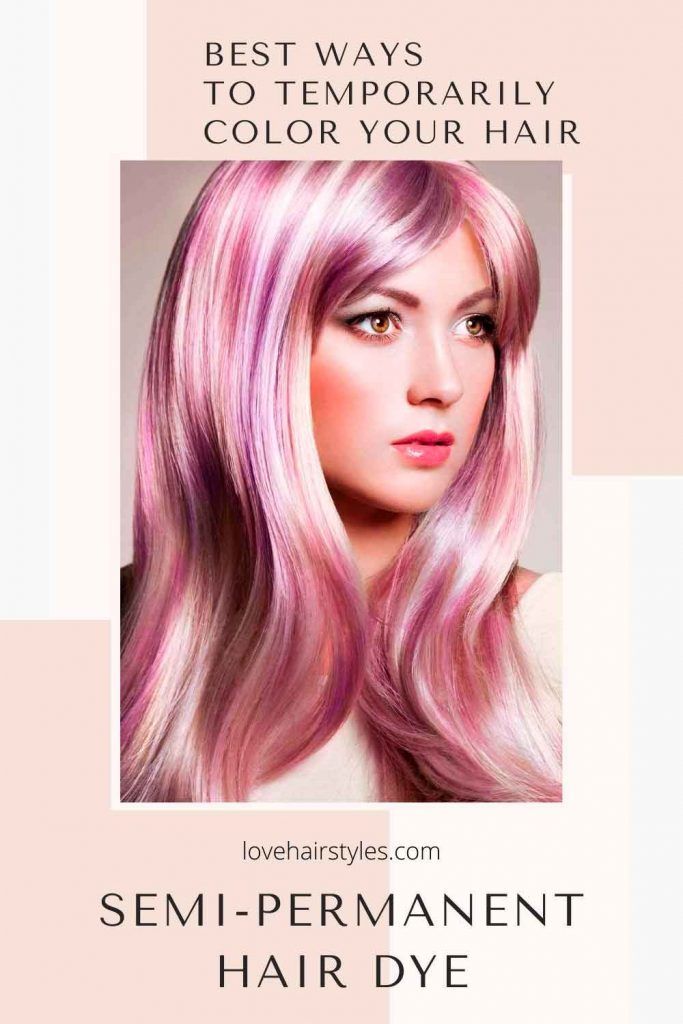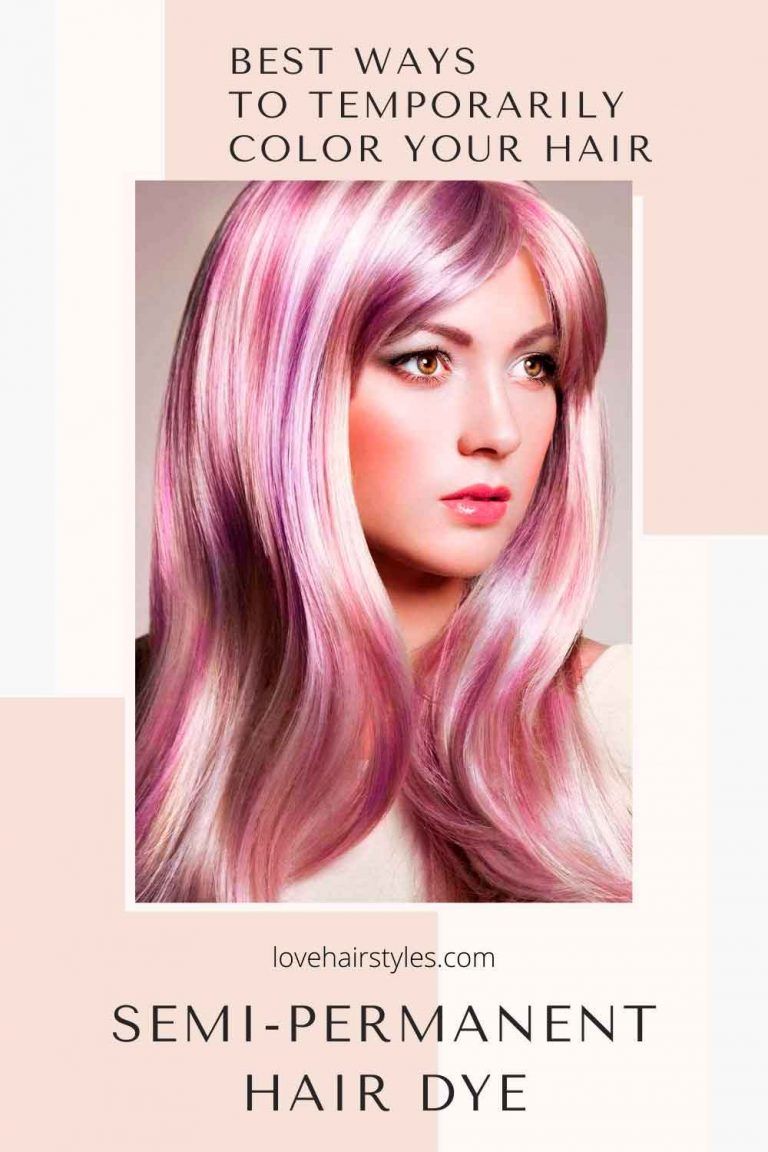 Unlike the previous ways, this idea gives you more time to flaunt with a new color, keeping it for 4-12 shampoos. Such a temporary color hair dye contains no ammonia, which means that it colors only the surface of your hair, working like a stain and without damaging the cuticle. On bleached hair, it stays longer, so you should decide how long you want the color to stay.
Demi-Permanent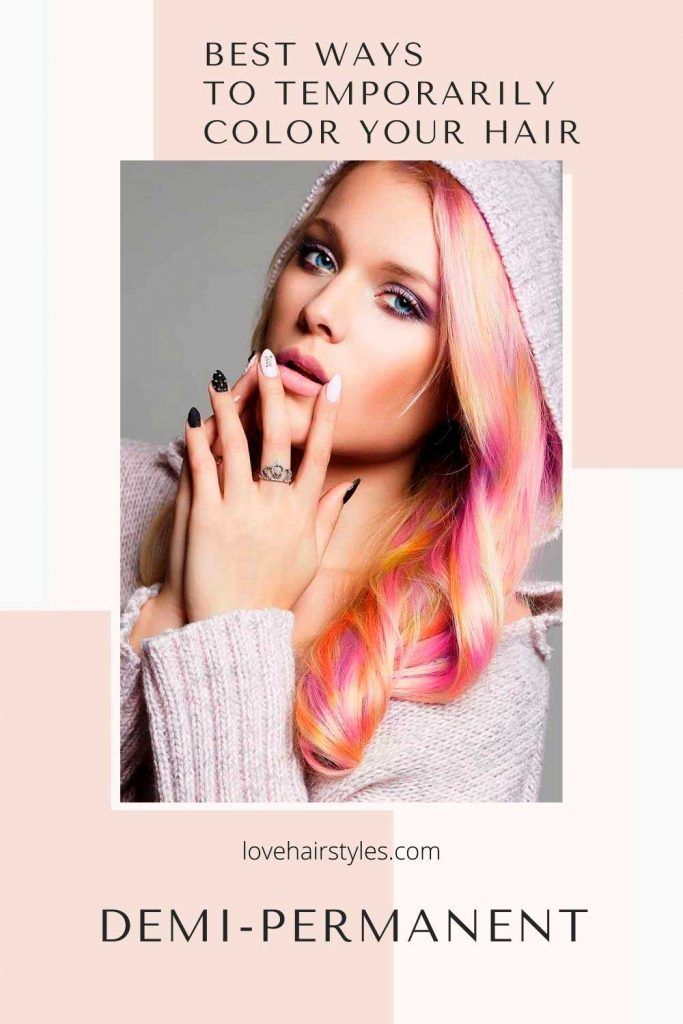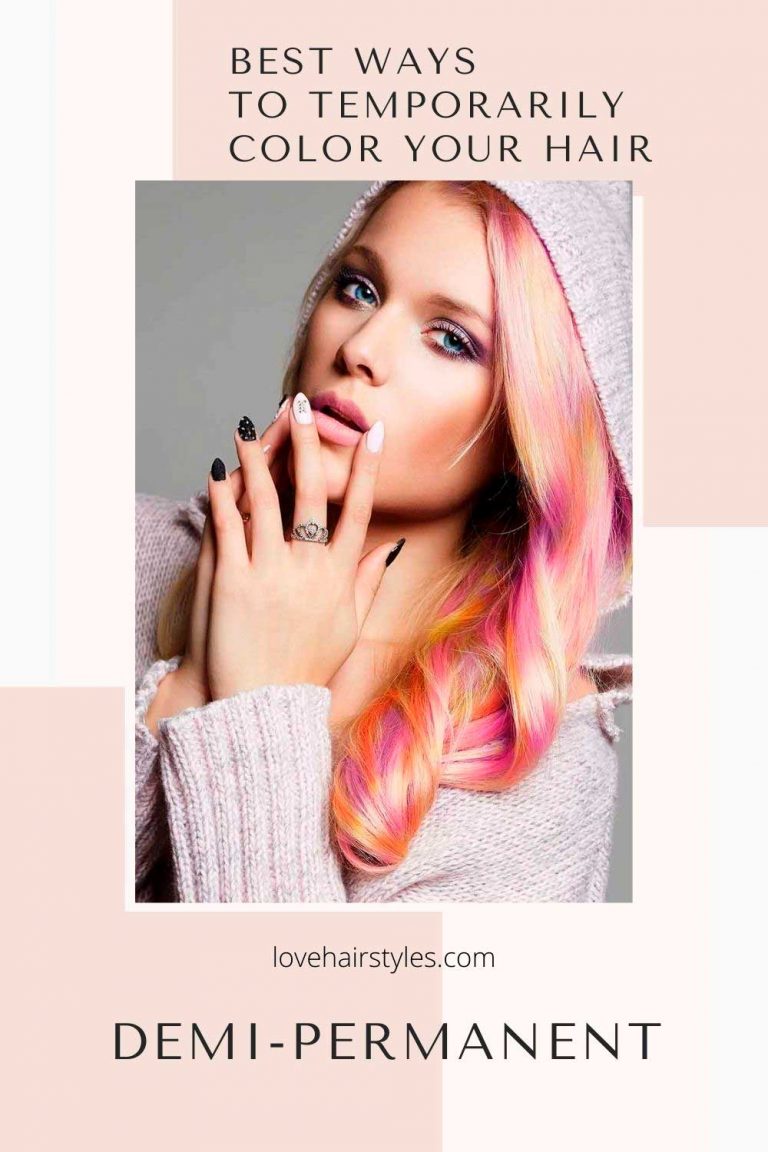 Obviously, demi-permanent hair dyes are stronger than semi-permanent ones. With this idea, you can rock the chosen color for about a month, but keep in mind that this time it contains ammonia, so it gets deeper into the hair cuticle.
Hair Color Wax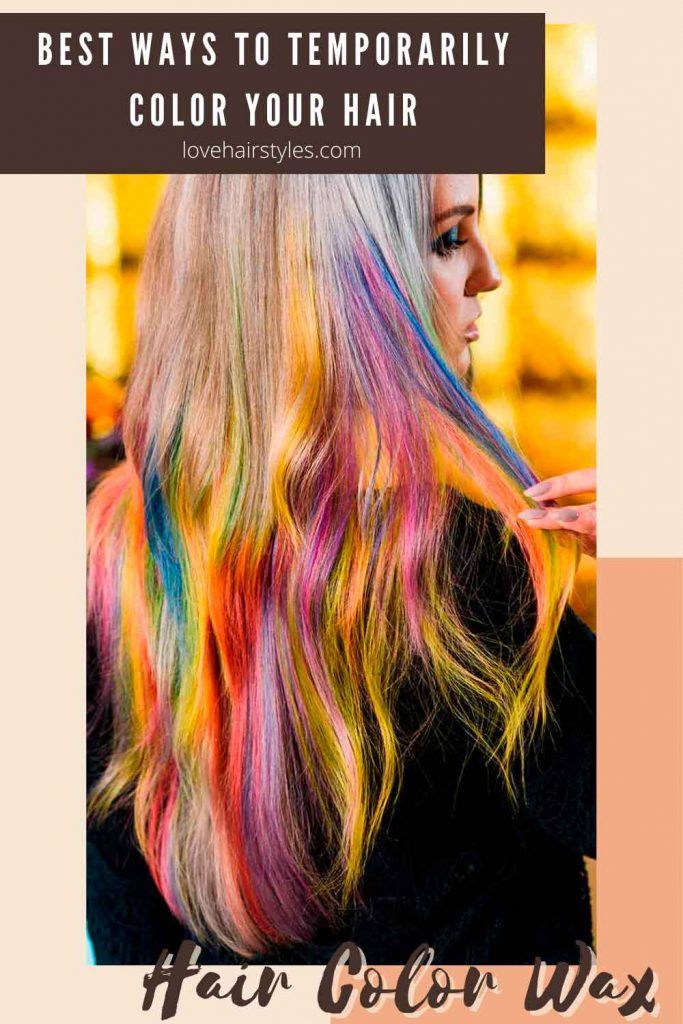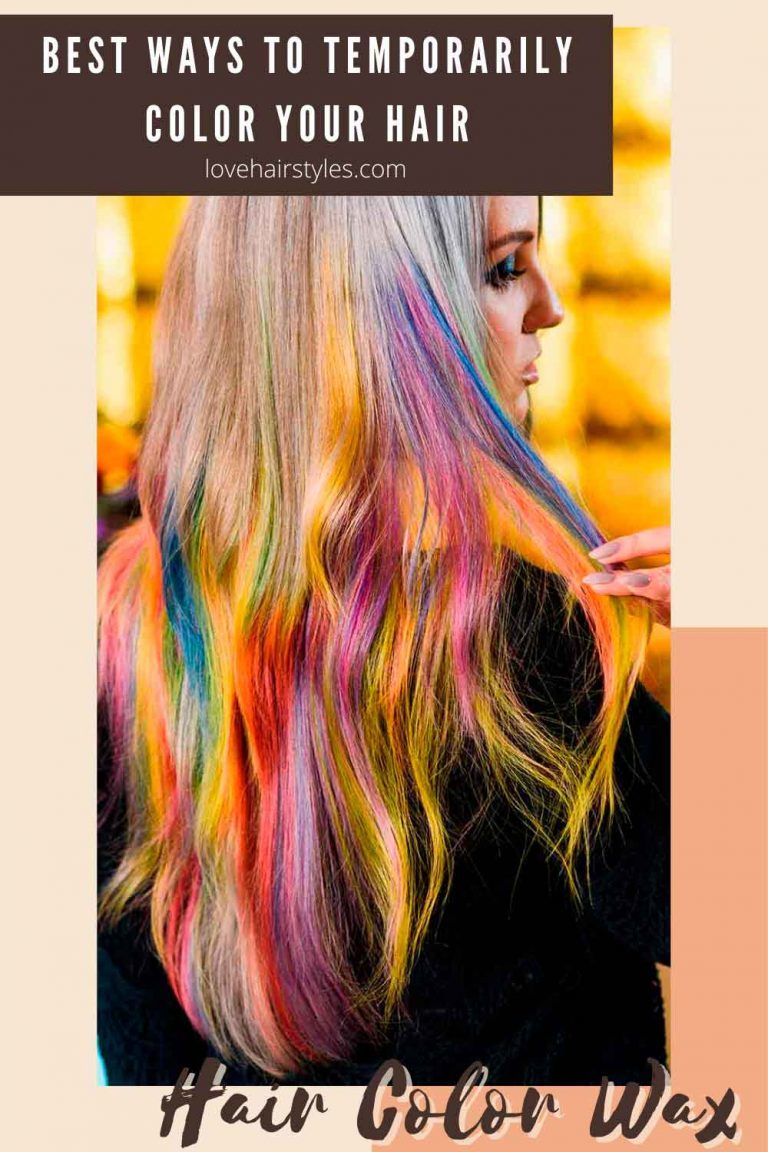 We can't leave you without the viral trends we all have seen a lot lately! Hair color waxes are probably the best way to get a new, saturated color while having your hair shiny and soft. It works awesome for thick and curly hair types, allows to go for both all-over or accentuating color, and causes no damage.
Temporary Hair Color Powder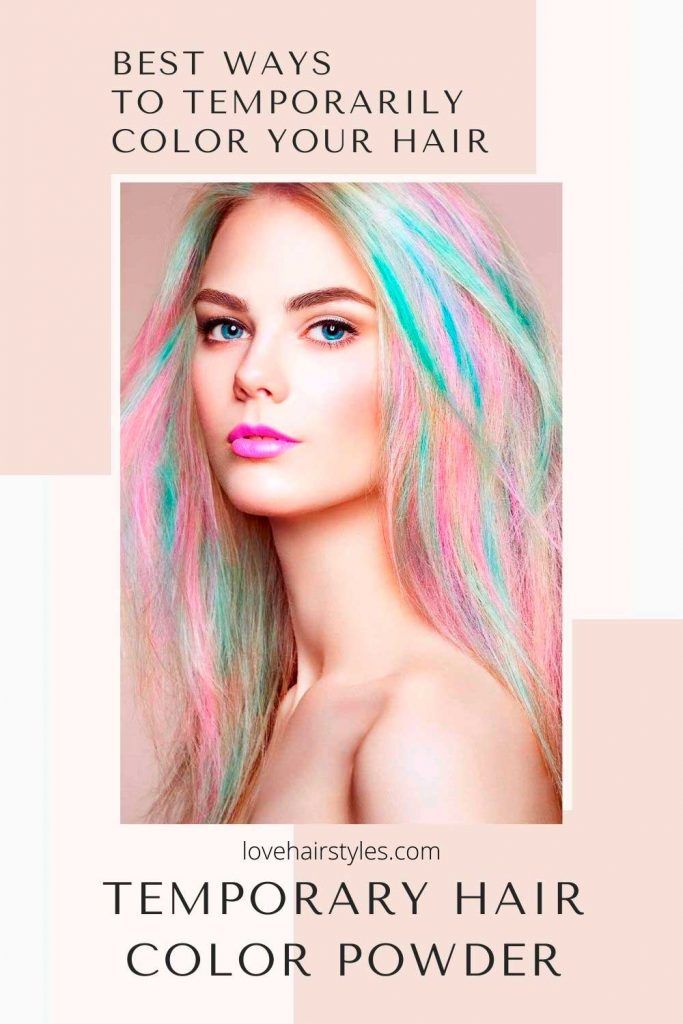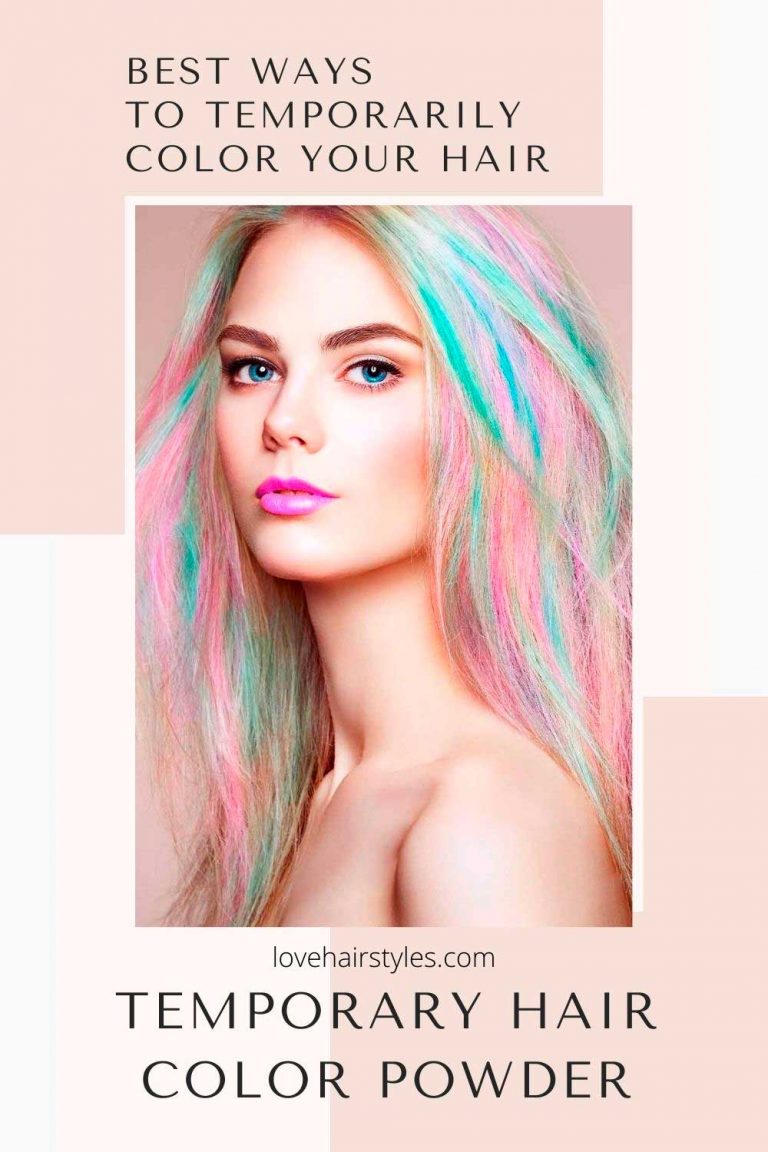 There are also temporary hair color powders that are meant to conceal or color the roots. It's a good idea for those who want to maintain their permanent hair color at home or to hide off grey areas. Such products are usually expensive and take more time to apply, but they bring no harm and give a very effortless look.
Inspiring Temporary Hair Color Ideas
Now it's time to see how all these ways work, and, most importantly, how they look! Get inspired by the vivid temporary hair color diy ideas!
Blue and Purple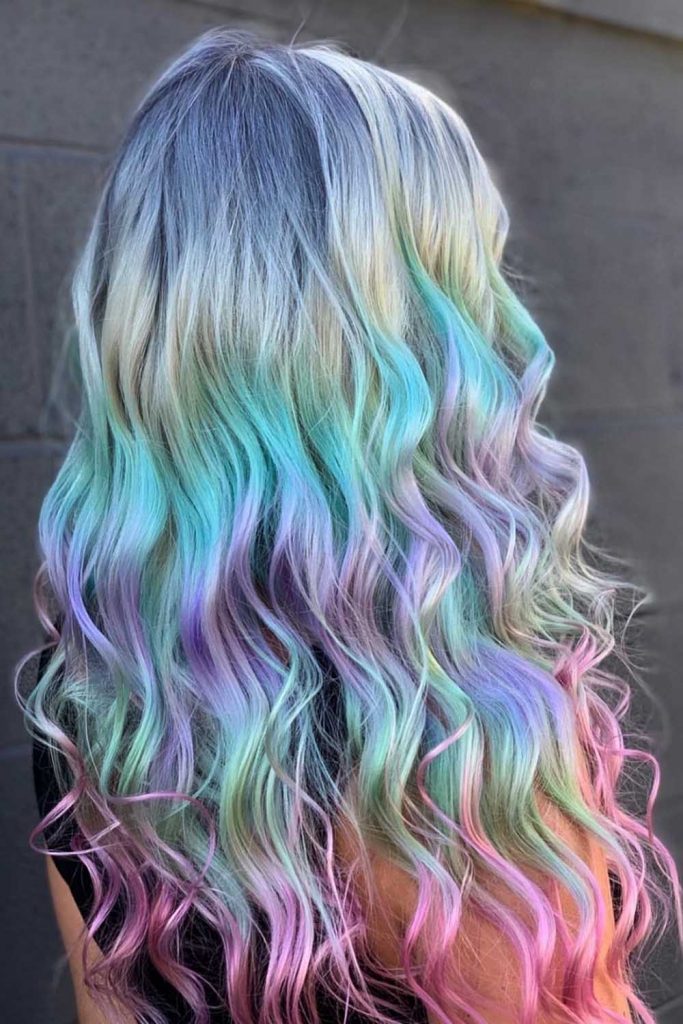 by @xostylistxo
Blue and purple shades can come into your life in many different ways. Moreover, you can always customize the color play yourself, making them more or less intense. This idea, for example, is rather a muted version of the popular combination. And its main advantage is that it can adapt well to both light and brunette bases.
Pink Butter Pony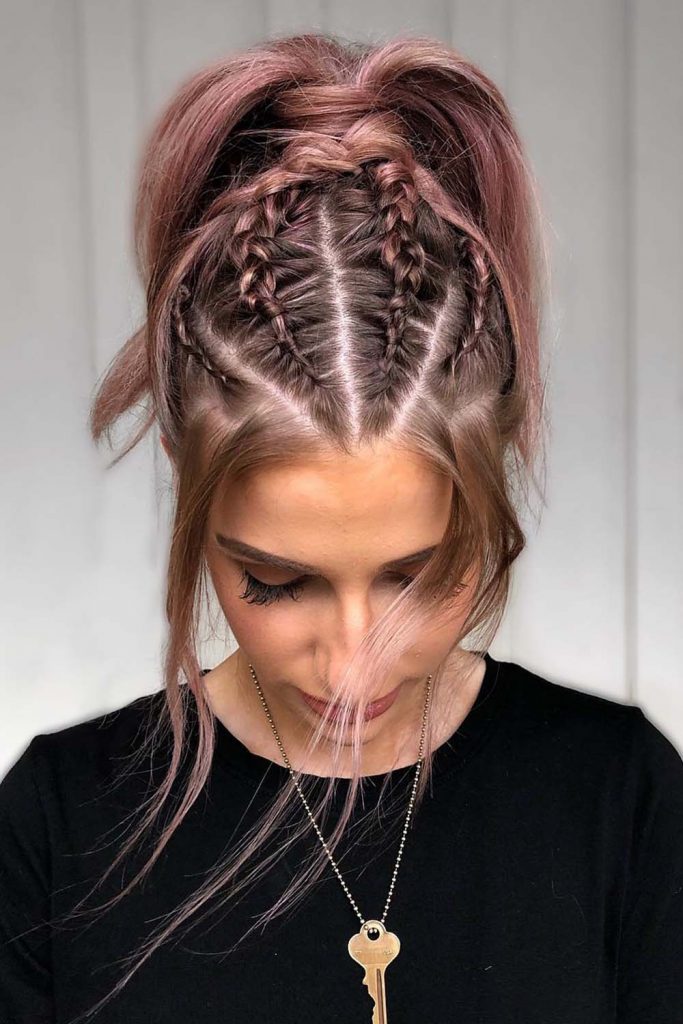 by @tiffanymhair
Soft, faded grapefruit shade accompanied by baby pink strands seem to be the embodiment of pure delicacy. Needless to say, there's no better base for such an experiment than a blonde mane. Otherwise, the colors simply won't come out right. Unless, of course, you will step out of the temporary hair color idea and go for bleaching.
Rose Gold Coloring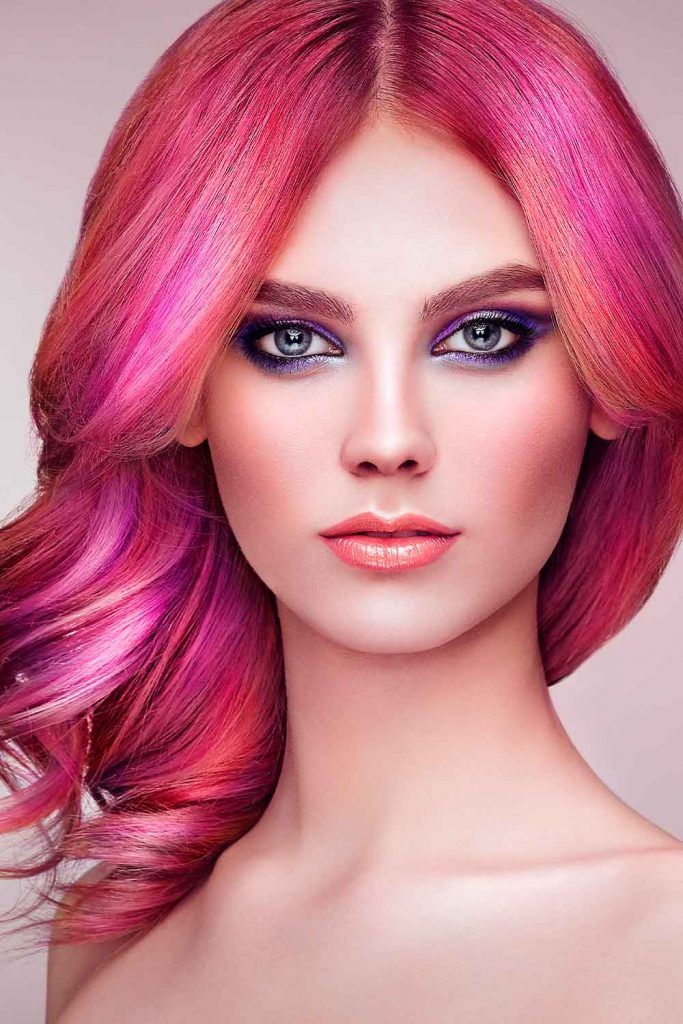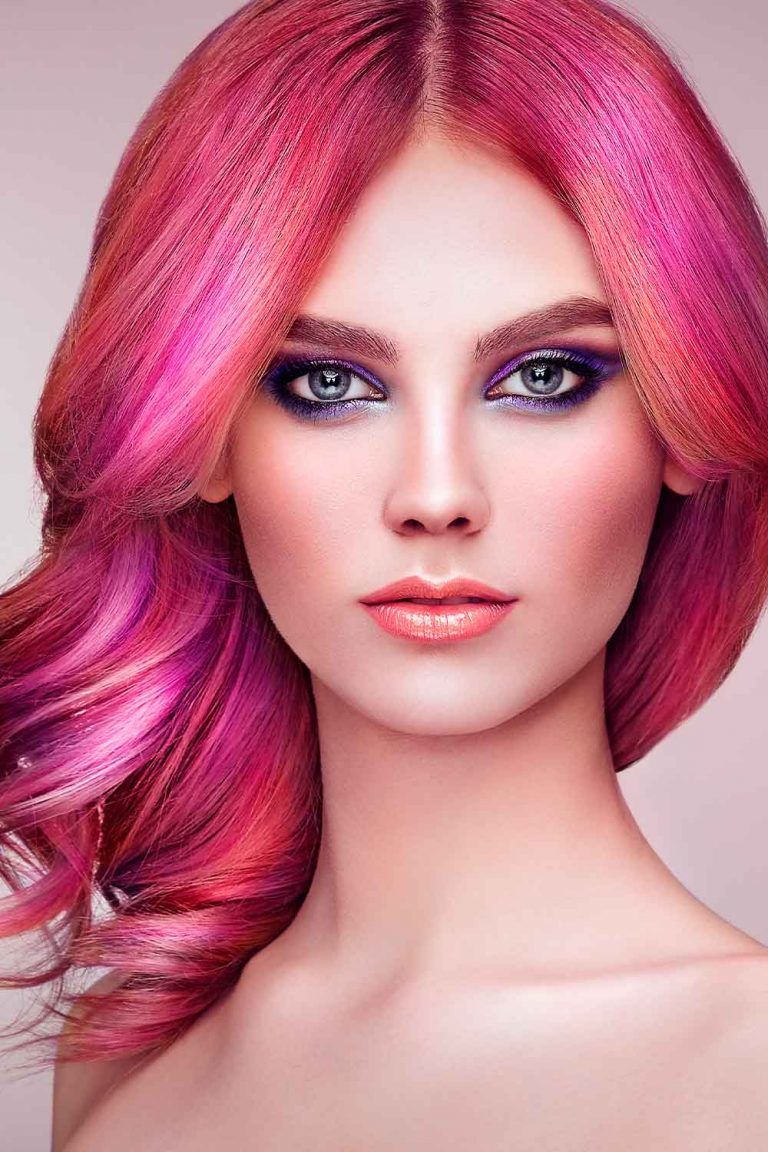 Rose gold is on everyone's lips today, but how can we know if it suits us? Well, we can try a temporary rose gold hair color to find out! Whether it's a temporary hair color gel or you work with a spray, make sure that the product matches your initial hair color to get the desired result.
Pink Ends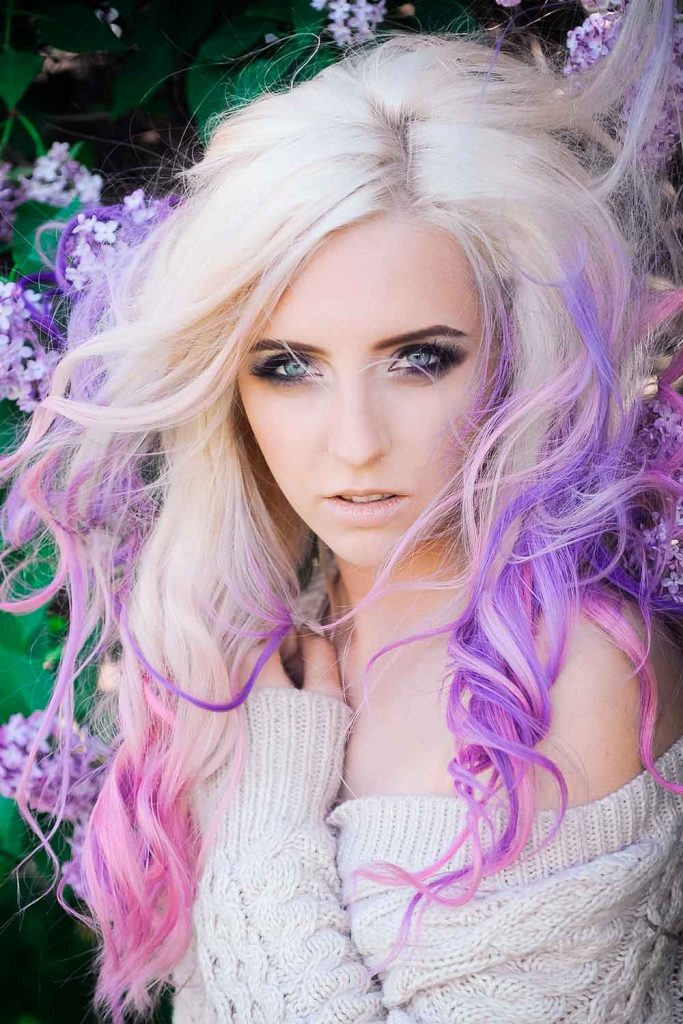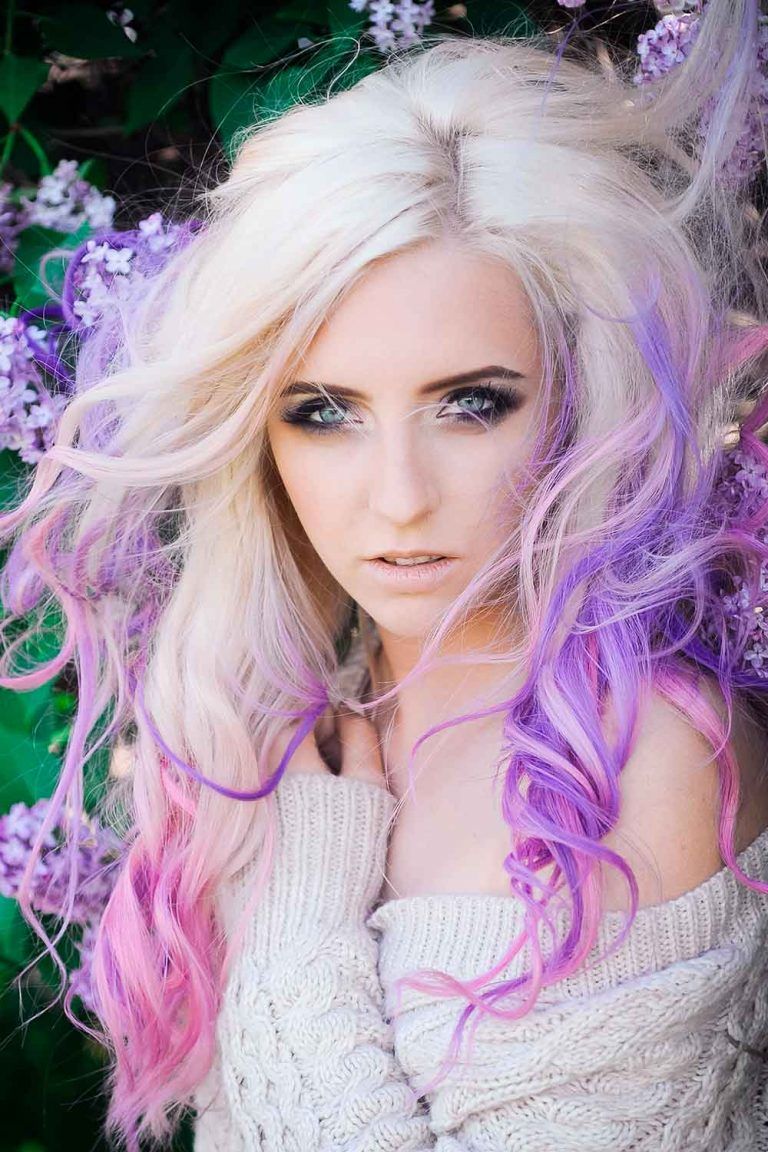 How about you to spice up your ends with pink temporary hair color? Such a subtle and girly color can be a nice match for girls with light blonde hair or you can play with colors at your best and use white temporary hair color for the rest of your hair.
Half Cold Half Warm Coloring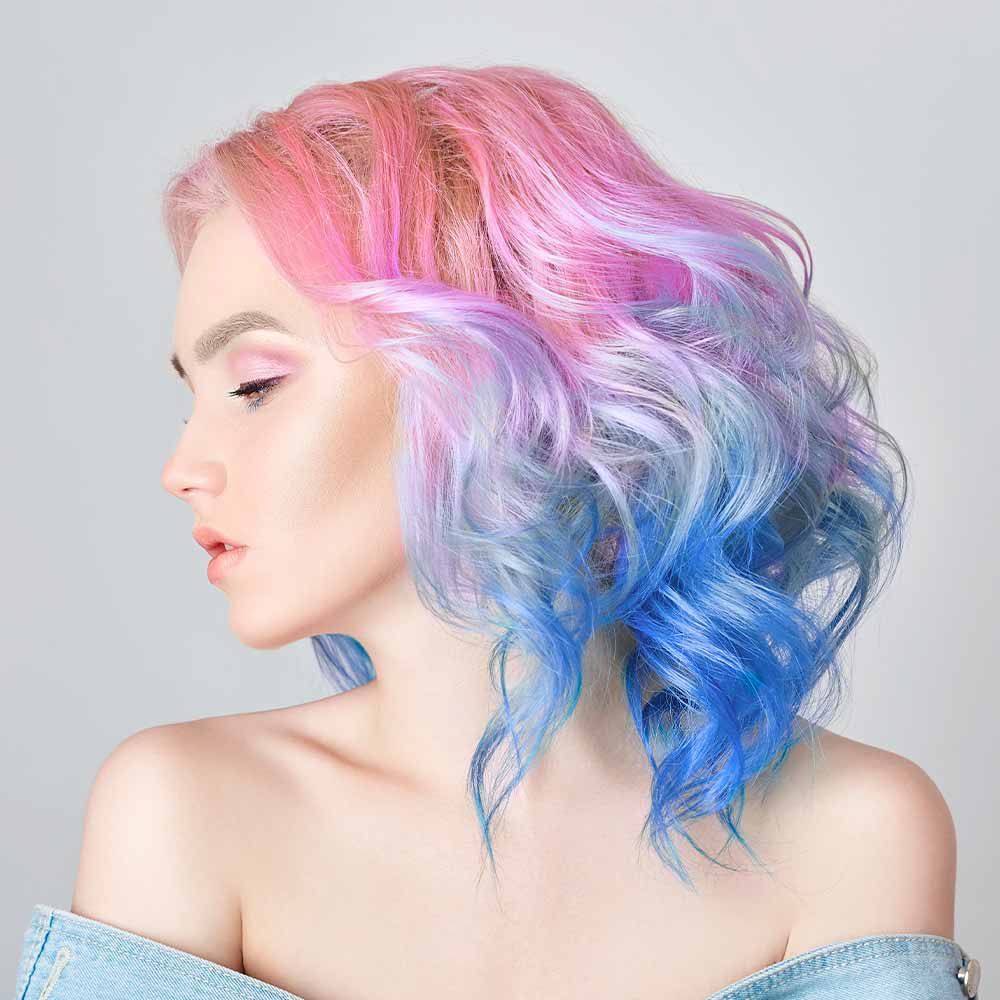 This is how creative you can be if your work with a temporary hair color mousse or chalks! The point is to mix lots of different colors and to make your hair stand out. Such an idea requires a great amount of product, but this cuteness is worth it!
Pastel Violet To Lilac Ombre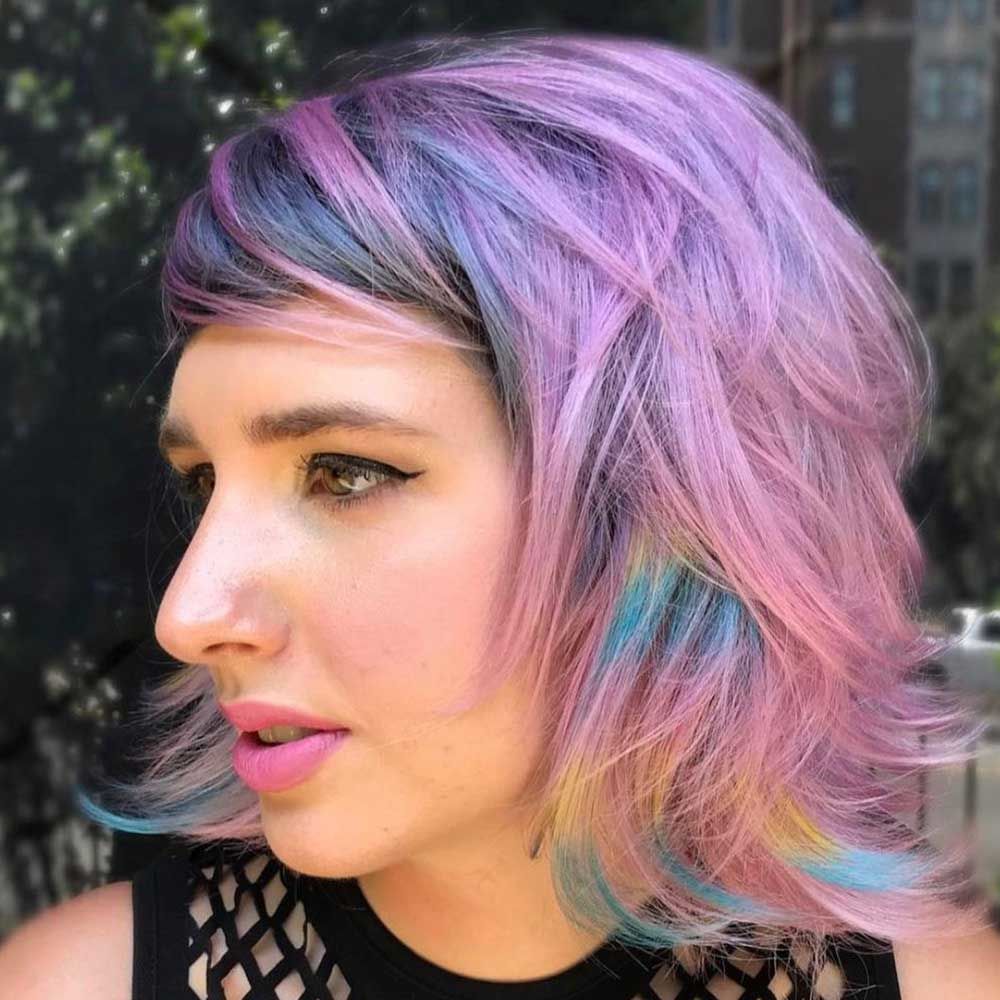 by @xostylistxo
You don't need to sacrifice your hair to get the famous ombre color transition! Sometimes a hair color spray and a couple of hours are all you need to get a purple temporary hair color that looks as ravishing as a pure dye! Just combine two matching violet sprays and don't be too intense to get the pastel effect!
Pink And Green Streaks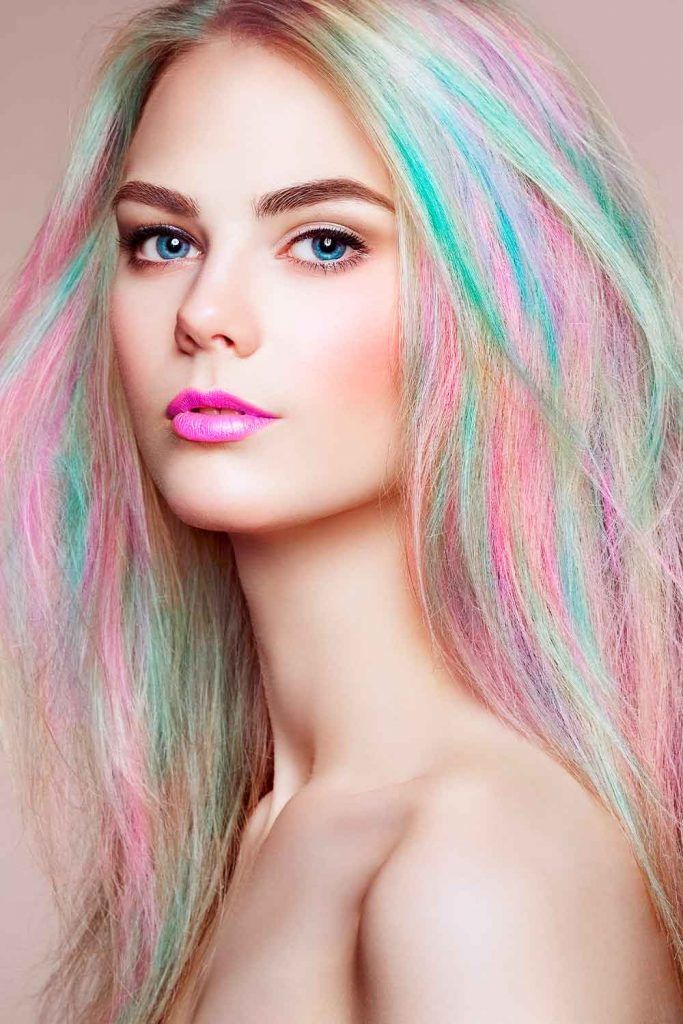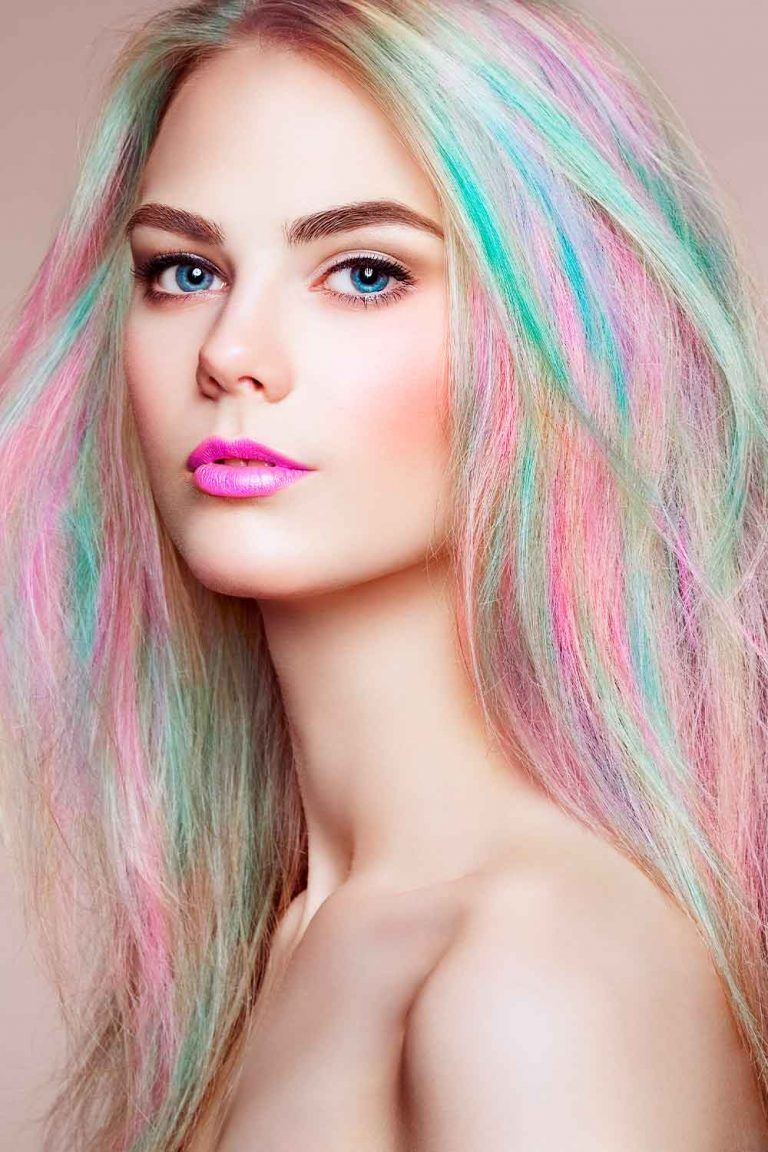 Though there's no temporary hair color blonde base can't match, there's a strong chance to spoil it. So it's better to experiment with relatively light colors if you're a blonde. Some strands can be painted light green, and some soft pastel pink; together, they create a stunning chalk rainbow.
Milkshake Lilac And Eggplant Over Blonde Foils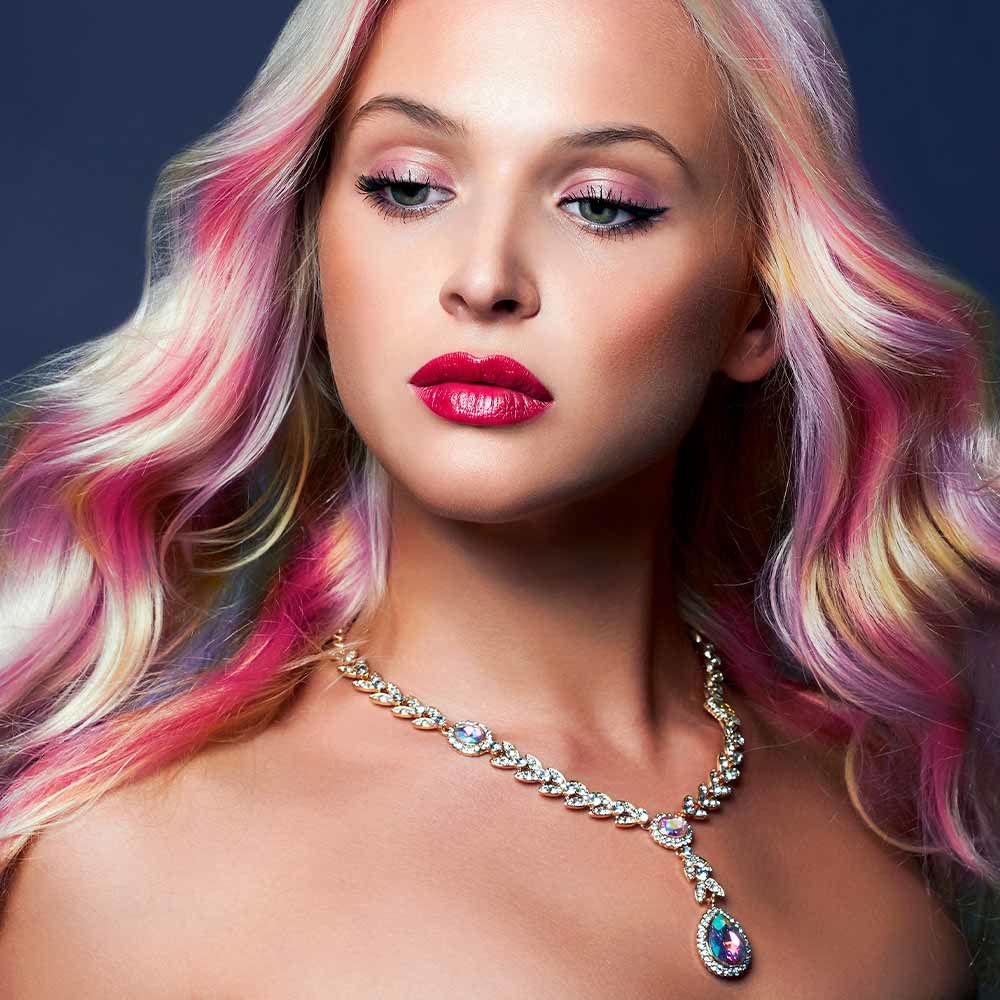 Already have blonde highlights? What if we tell you that they can reflect many new colors if you cover them with saturated temporary hair color? Yes, you can apply a temporary product over bleached strands that will give a fascinating play of shades without any harm!
Blue & Violet Highlights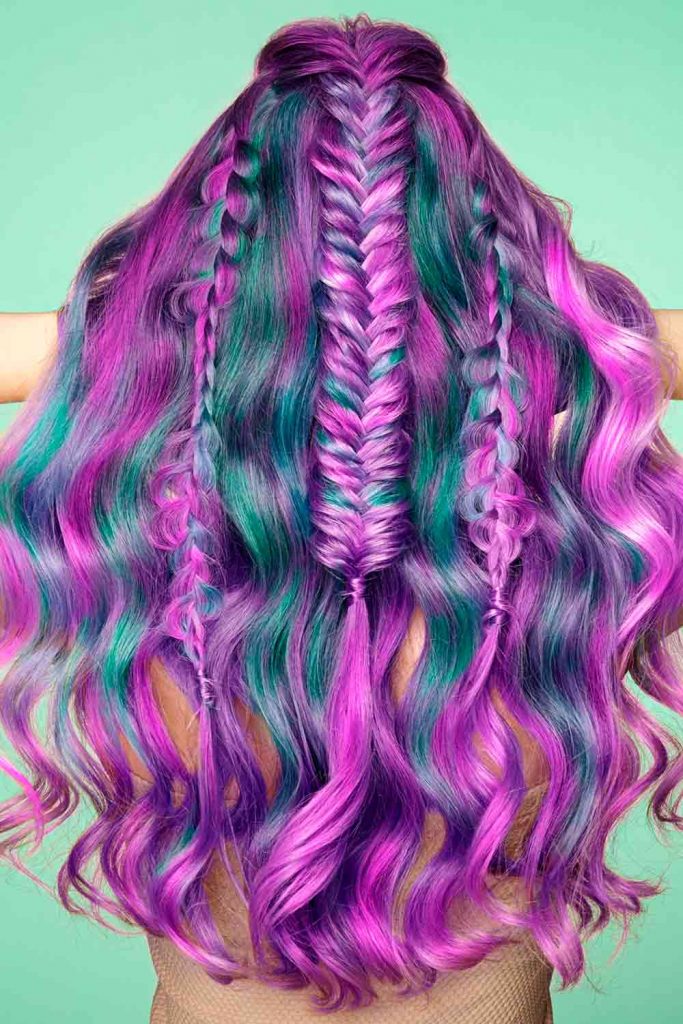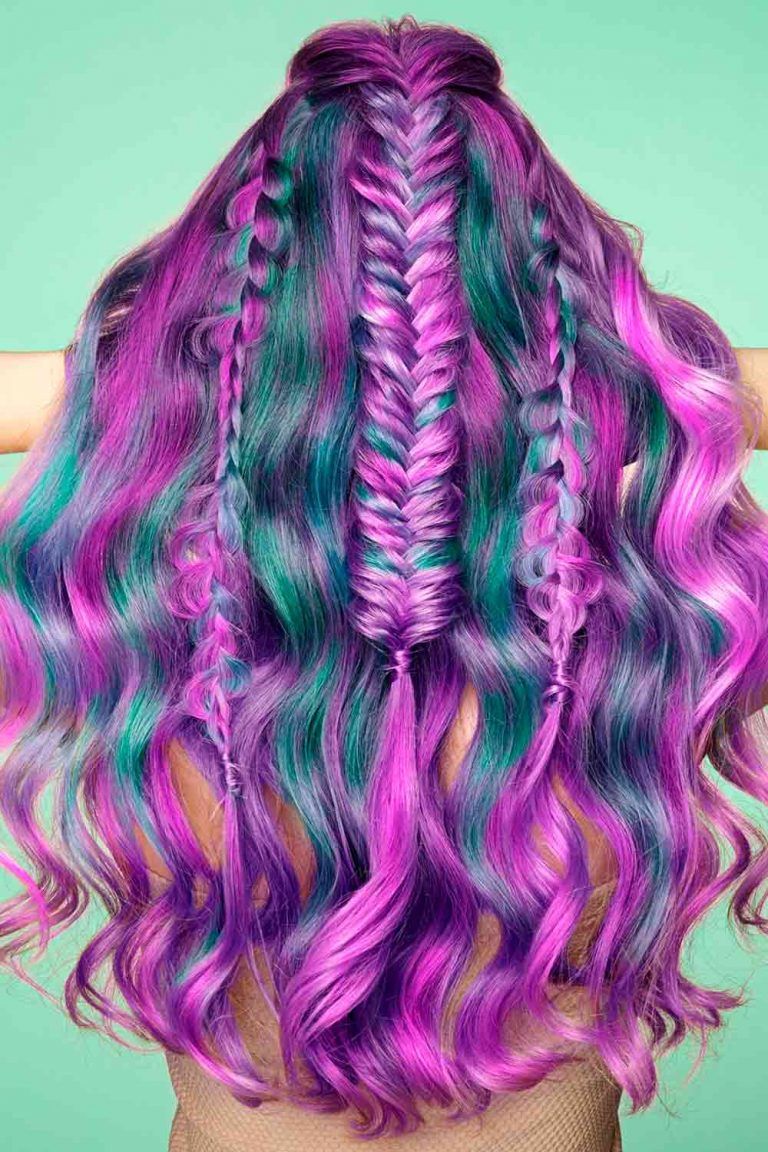 Deep and vibrant colors such as blue and purple work wonderful for naturally dark hair colors, especially when they're added selectively: your pretty black or deep brunette base can be embellished with some purple strands or temporary blue hair color streaks.
Oil Slick Hair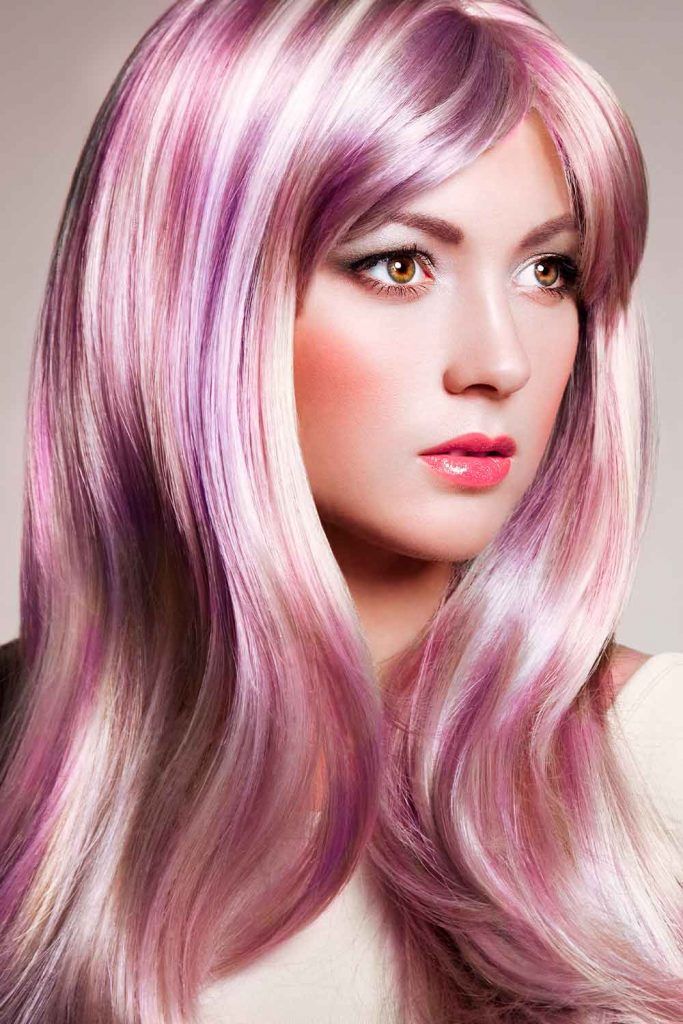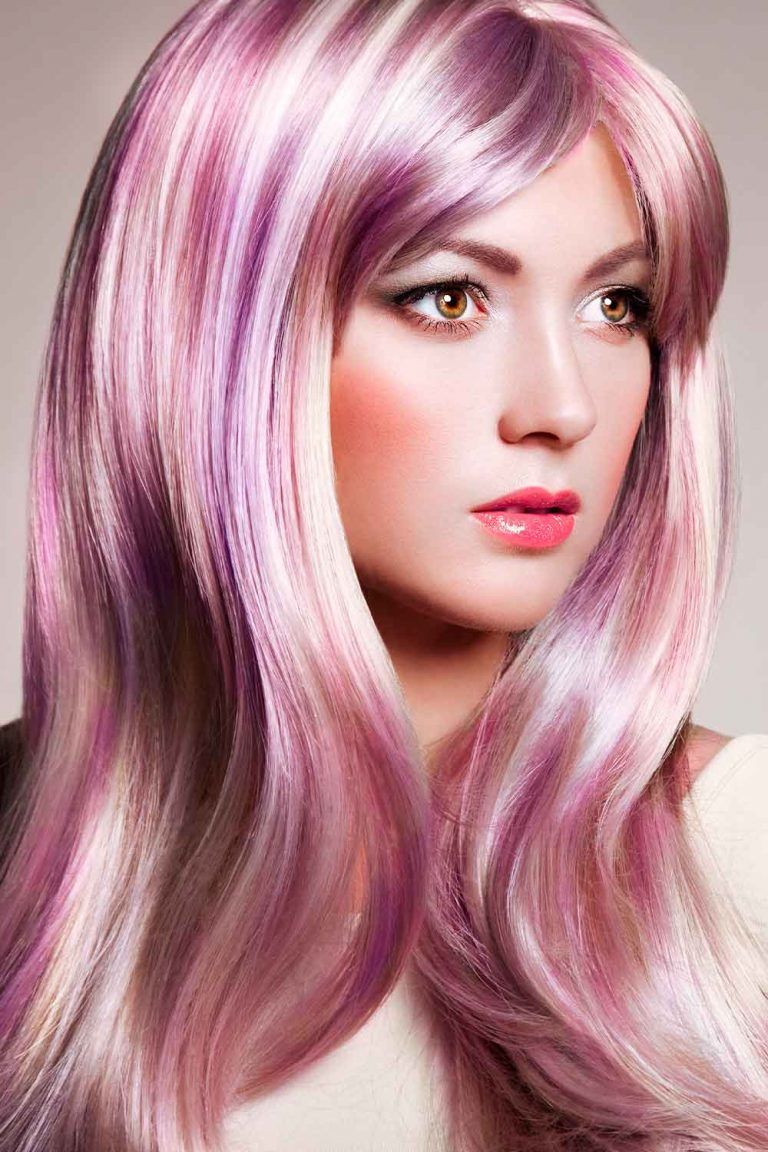 A shiny burst of colors is about to captivate your attention! Unfortunately, getting oil slick hair at home is enormously hard, yet the idea is worth a salon visit. When hair is colored in various colors that melt with one another in the way hair produces a sleek, oil-like shine, nothing can't compare to it.
Rainbow Coloring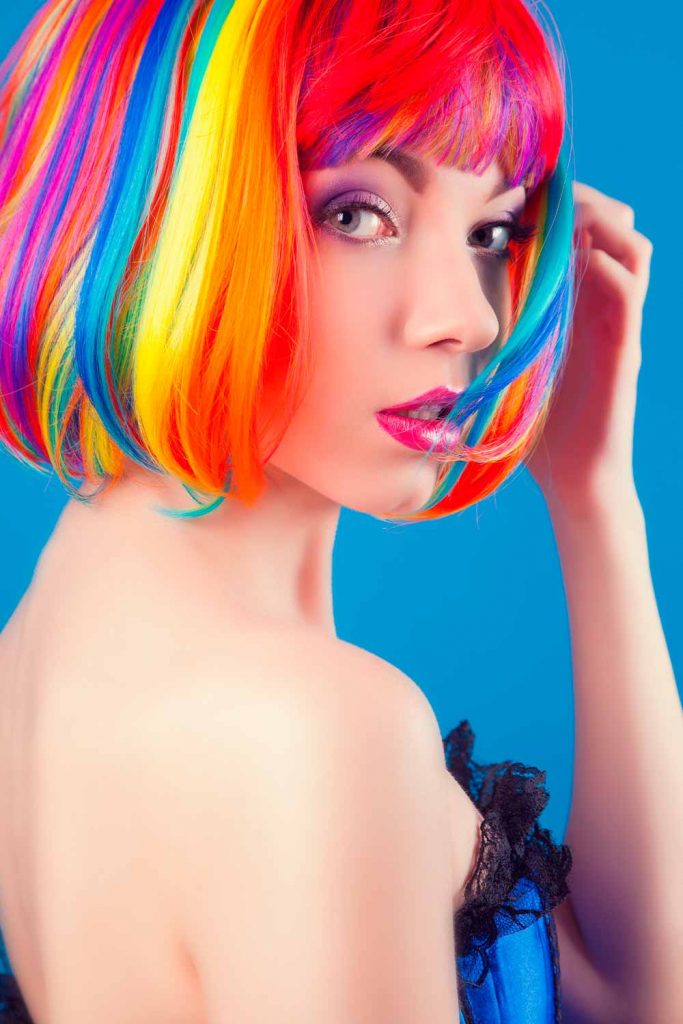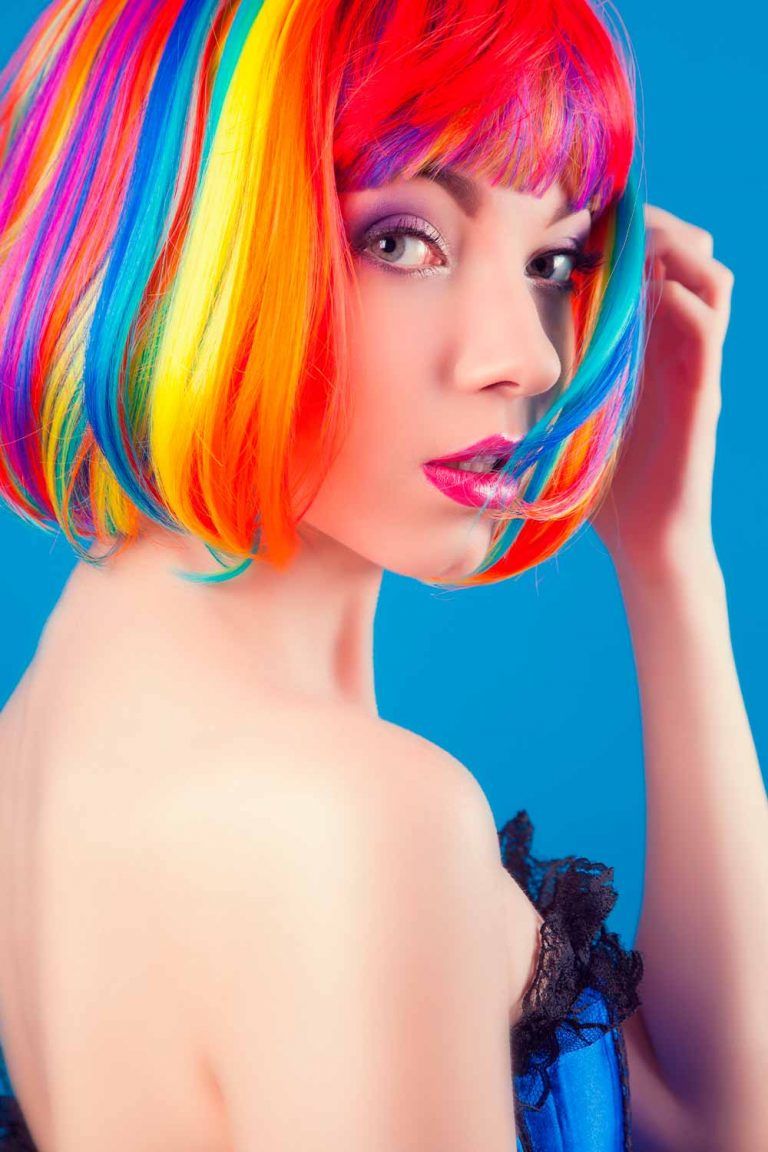 Some ideas are just meant to make a statement; are you ready to embrace it? There's no best temporary hair color for dark hair; everything's on point only when stylish rainbow shades are added to a black base, so make sure to mix some!
Colorful Highlights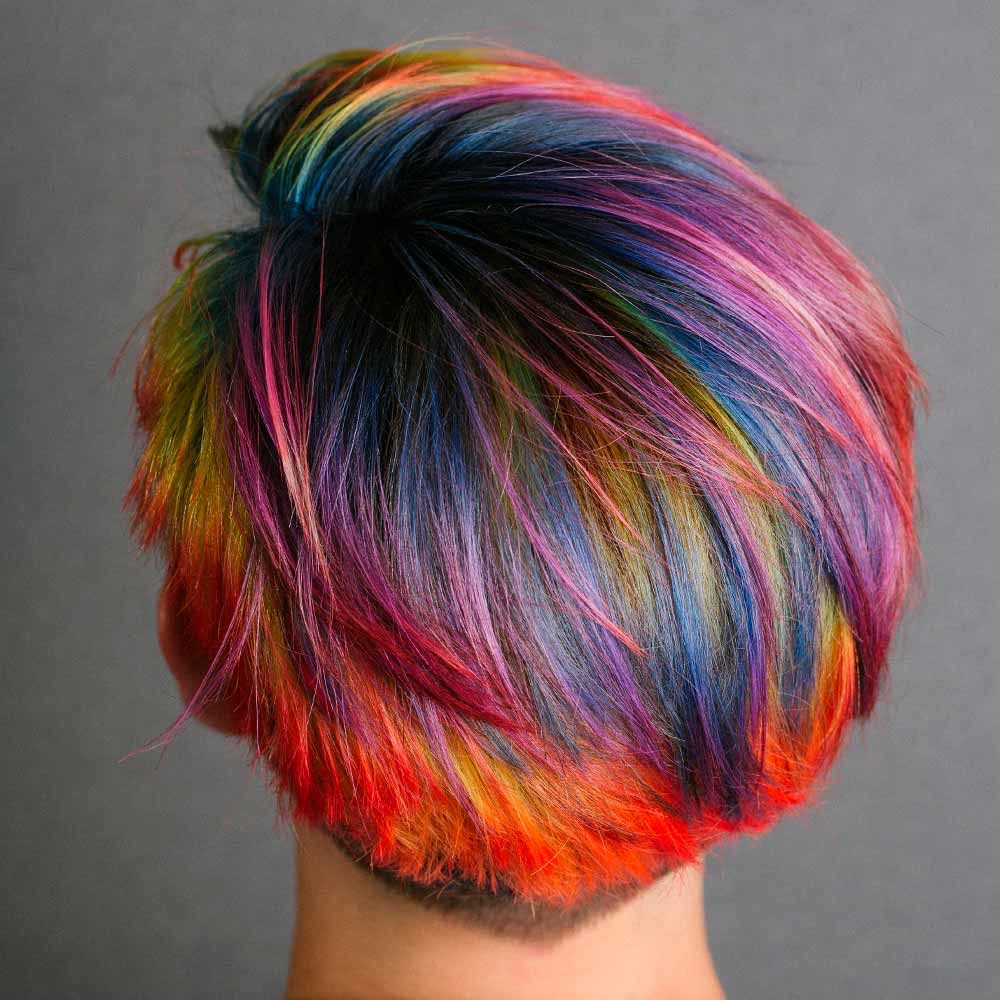 While going for real colorful highlights can be a real commitment, painting your strands in lots of pastel colors with hair chalks only needs some time and patience. Isn't that enough to let new colors into your life?
Pink Ombre Hair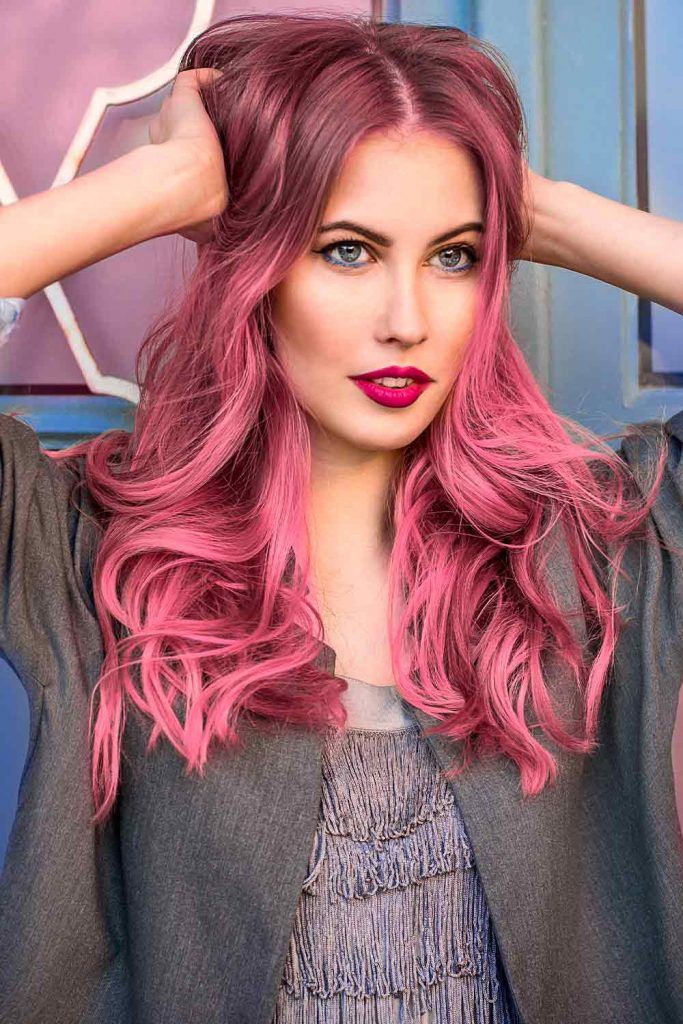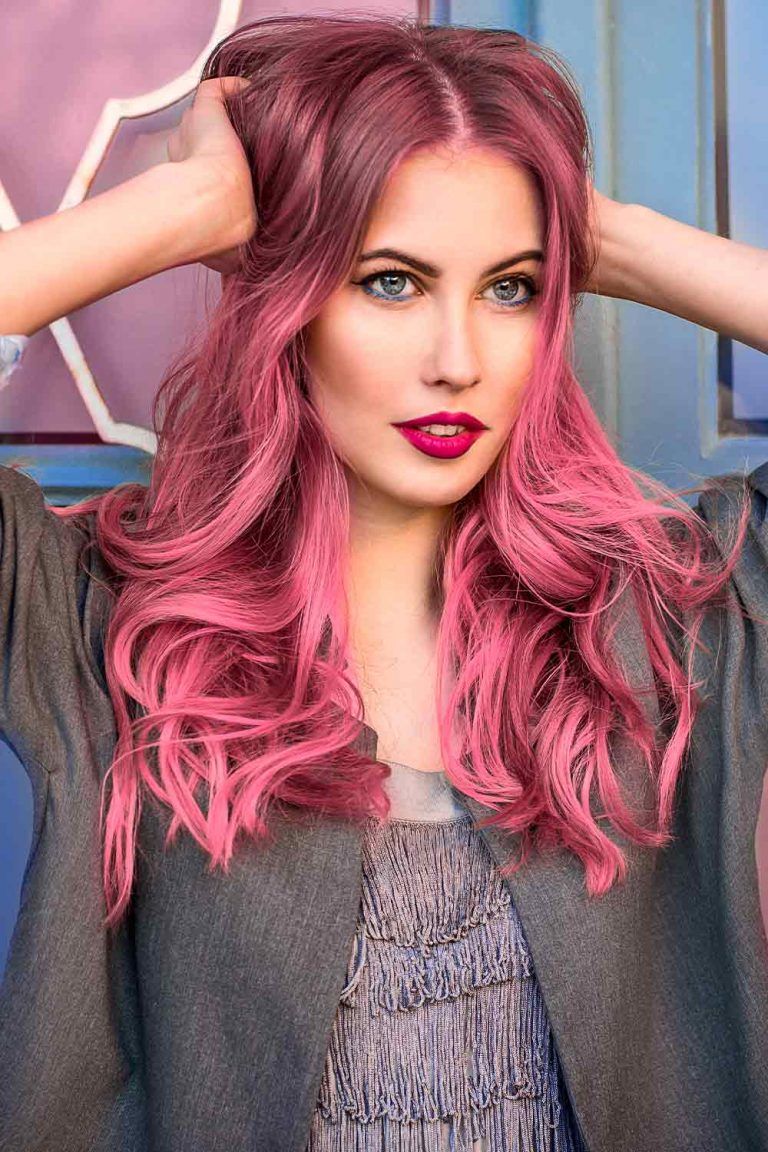 Here's another ombre idea that you can get with temporary hair color products. If you want to add some pink into your routine, find two similar shades that will enhance your dark base and be ready to shine!
Smoky Opal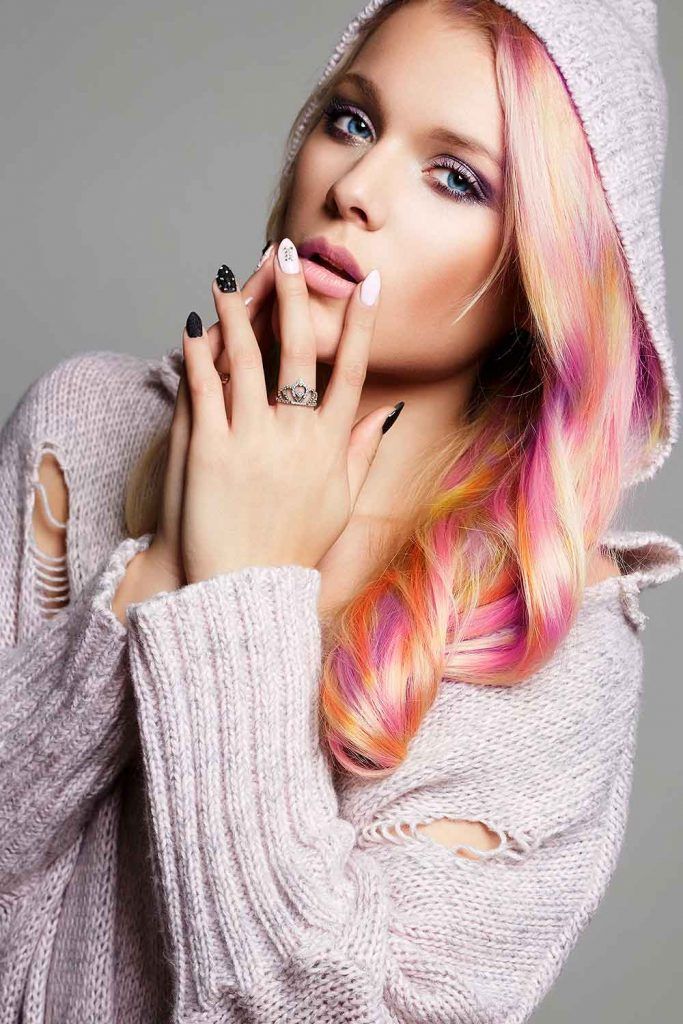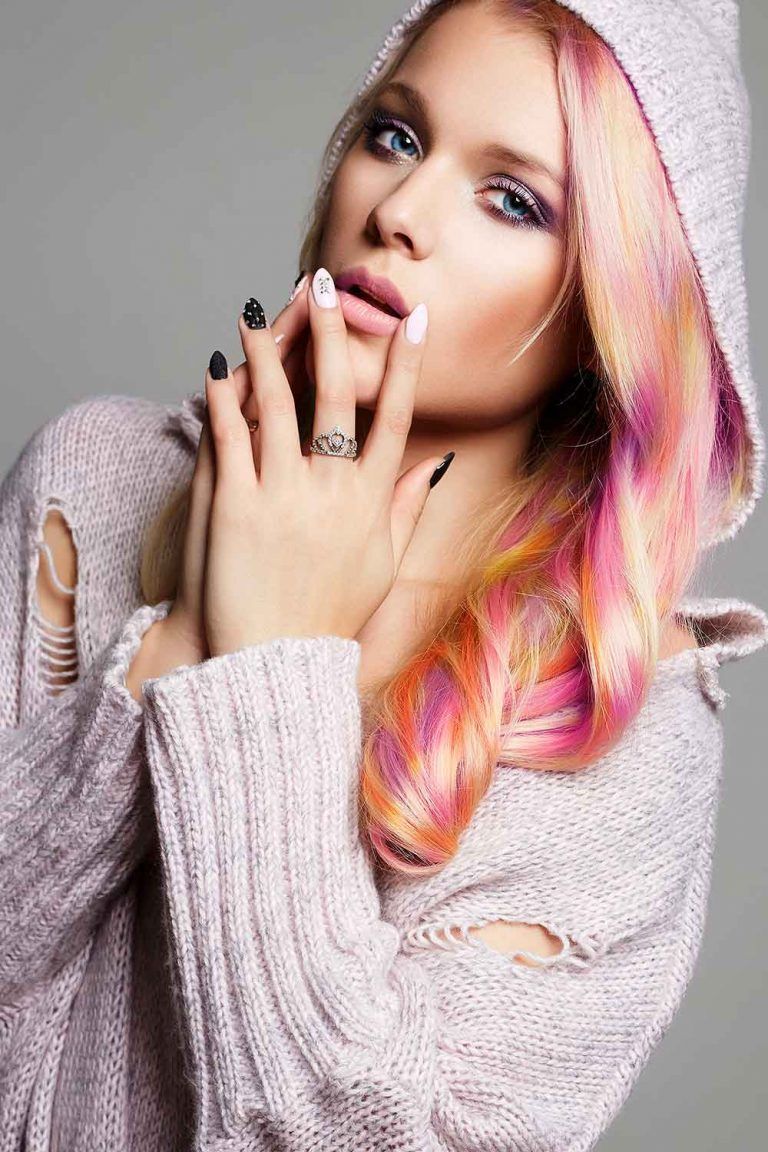 Opal is beautiful in every way. Therefore, if it was a hair color, it would leave people speechless. Although this smoky version of the opal palette is a mix of various bright colors, they look so smooth and harmonic that the look doesn't appear too drastic.
Purplish Rainbow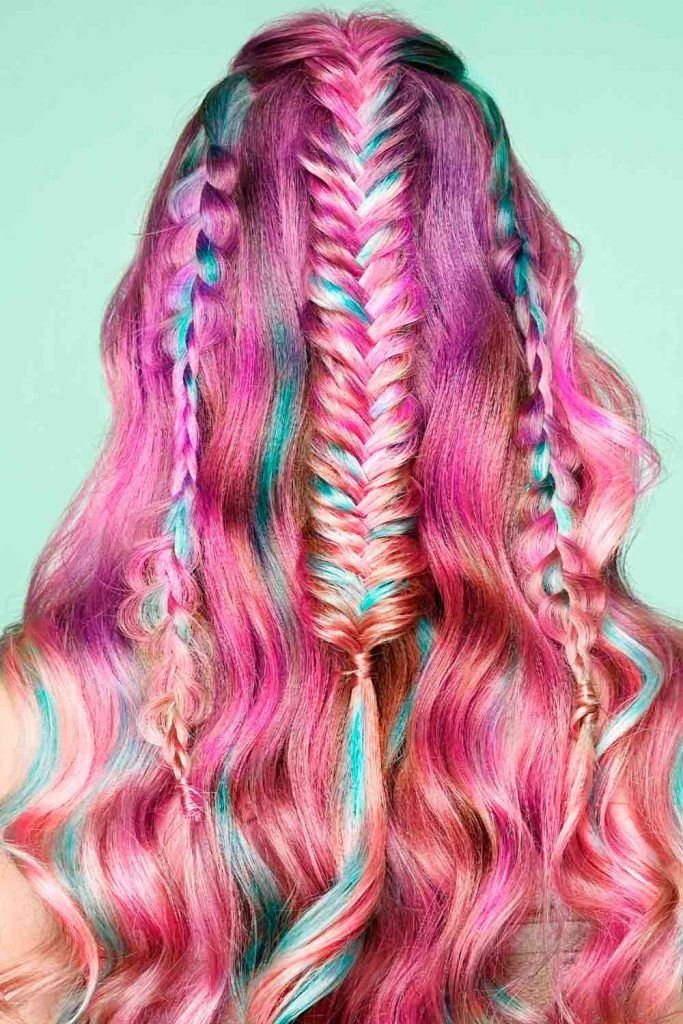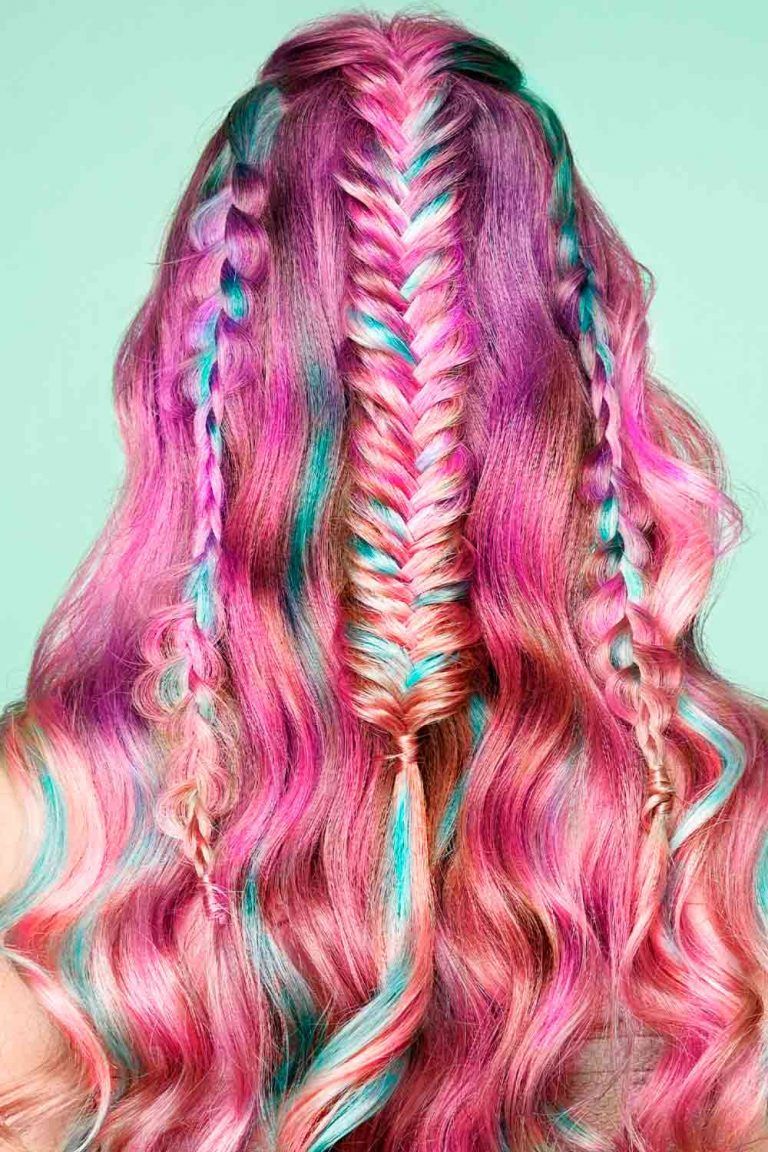 If you diversify the classic idea of rainbow hair by adding a purple shade to the light hues, you will make up your own purplish rainbow. It's no secret how popular this color is, especially with ladies with pale complexions. So no wonder if you will want to give this idea a permanent life once your temporary hair color washes out.
Red, Yellow, Green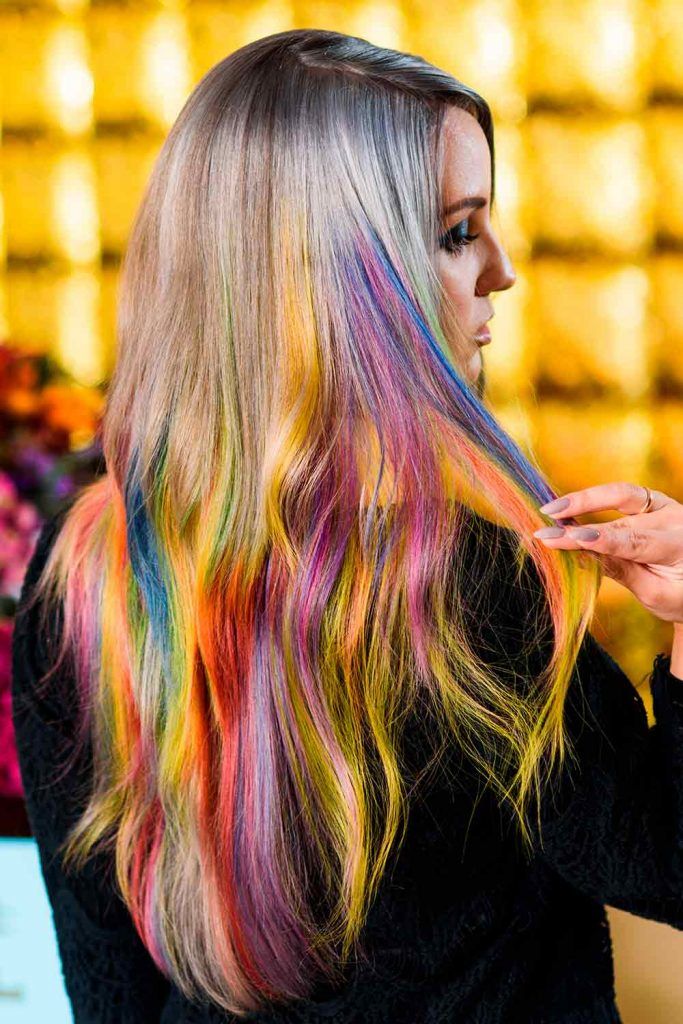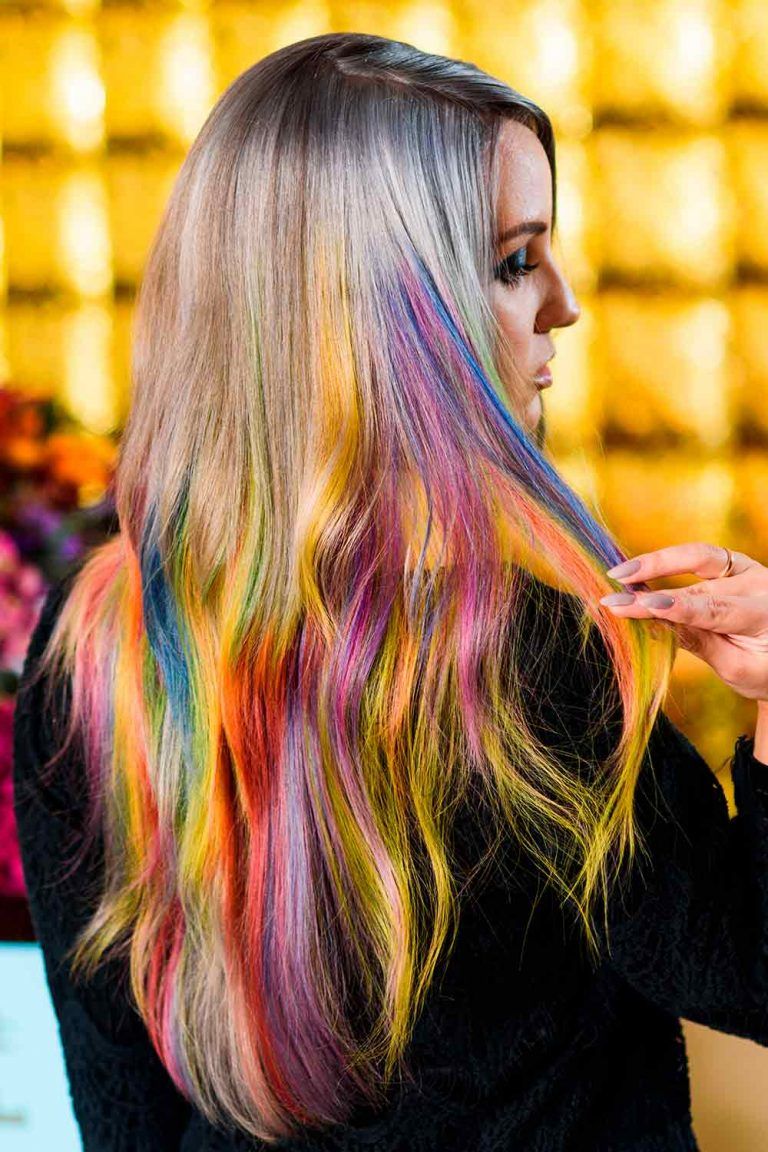 You don't need to change your hair color completely to spice things up! A couple of colorful streaks is enough to give a nice fresh take at your natural base, whether you're red, blonde or brunette. As for colors, they're totally up to you. Still, red, yellow, and green form a stunning trio.
Green Streak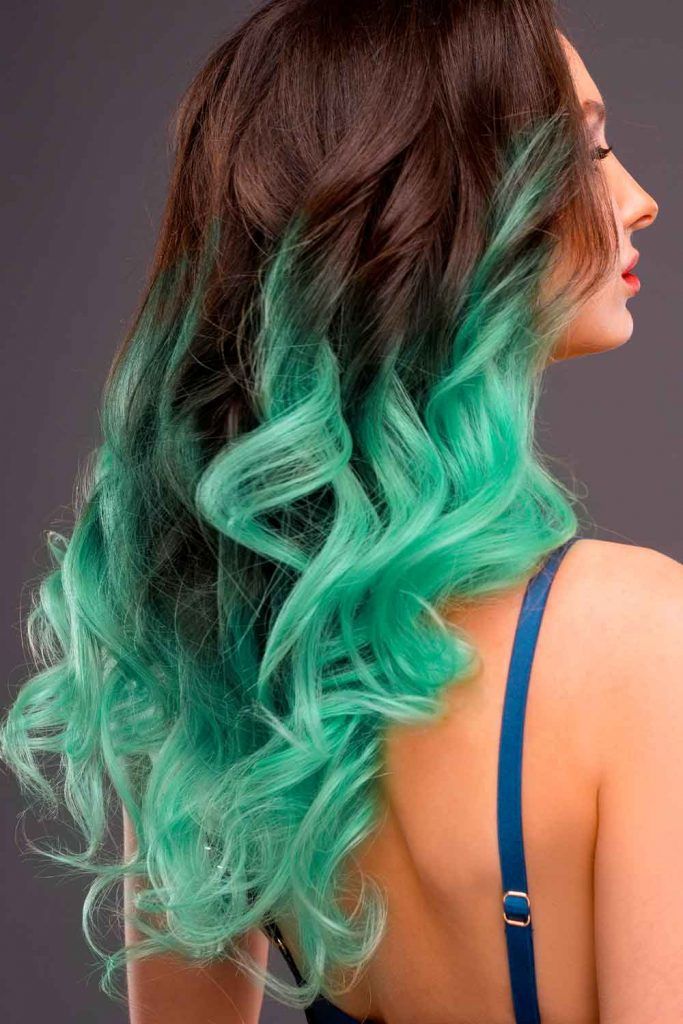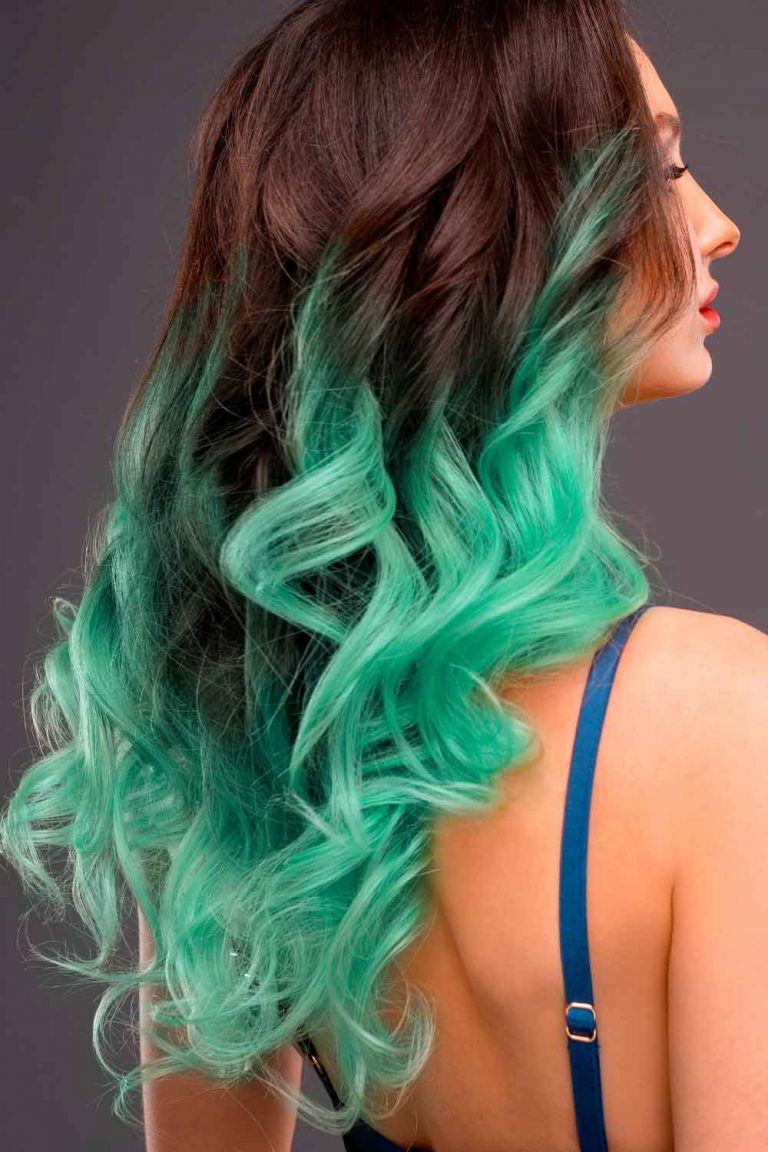 When you already have your hair colored but still want to add more colors, consider adding temporary accents. Even if you're one of those daring ladies sporting a bright spiky pixie, don't forget that your hair can't embrace too many extremes at once. A temporary streak of color under your awesome pixie will not only save you from extra damage but also help you make a statement!
Cool Purple Streaks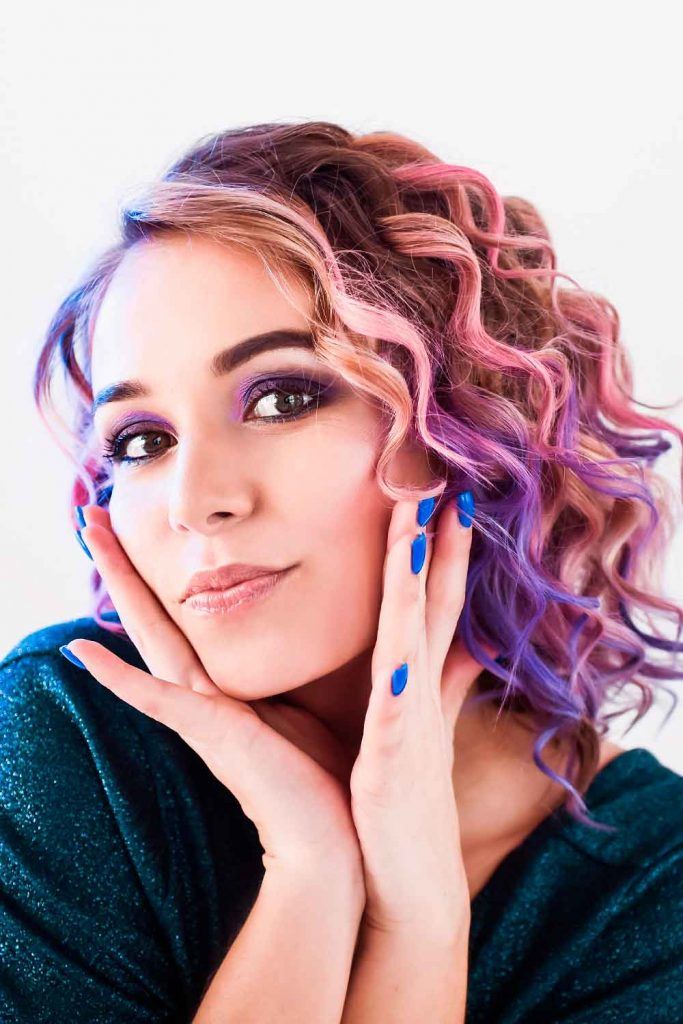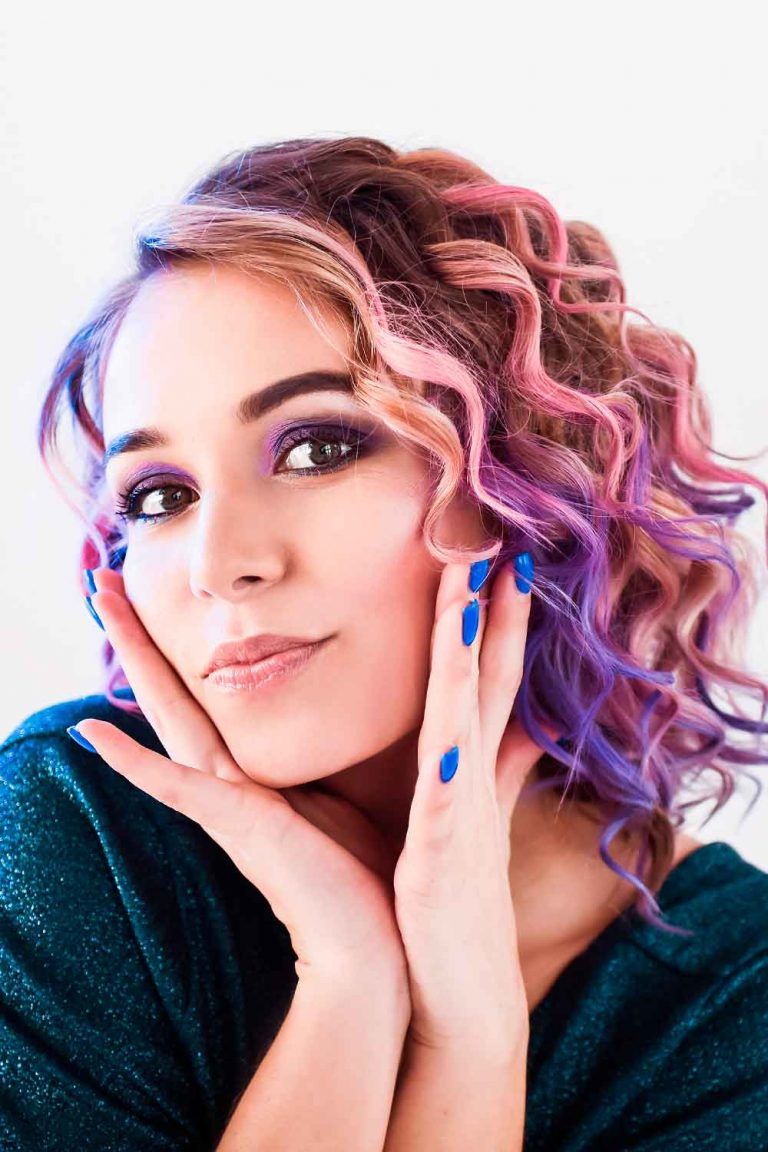 Instead of incorporating those fake-looking kanekalon tresses, you can actually color your hair. In this way, you will not just try something new but will also won't regret going for experiments, as your hair won't get damaged. Besides, purple streaks will look fantastic when you braid your hair.
Lavender Purple Ends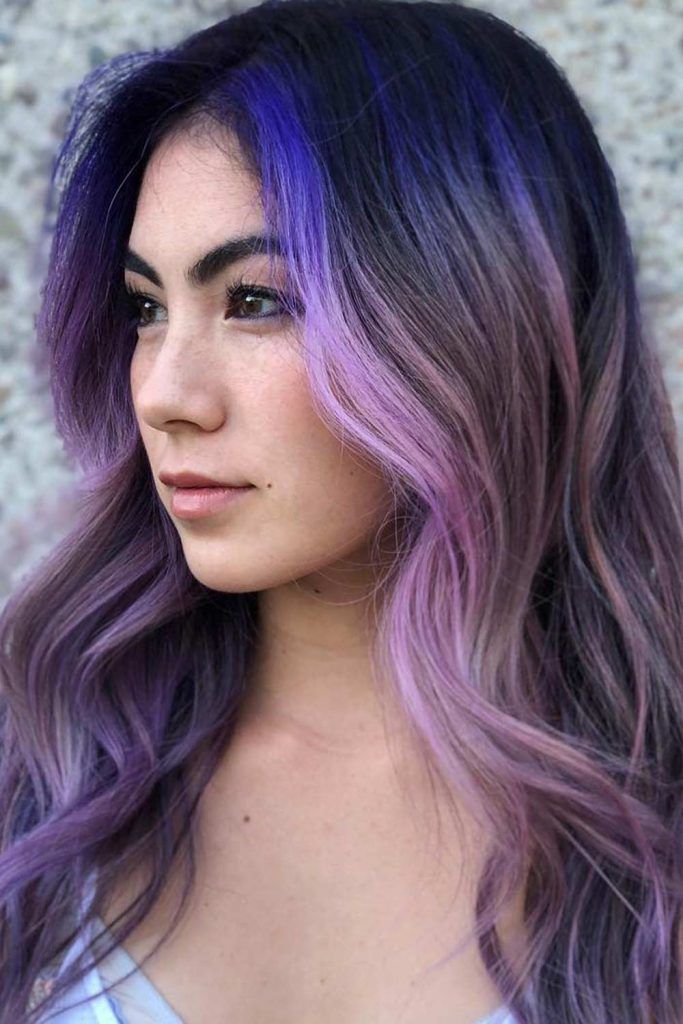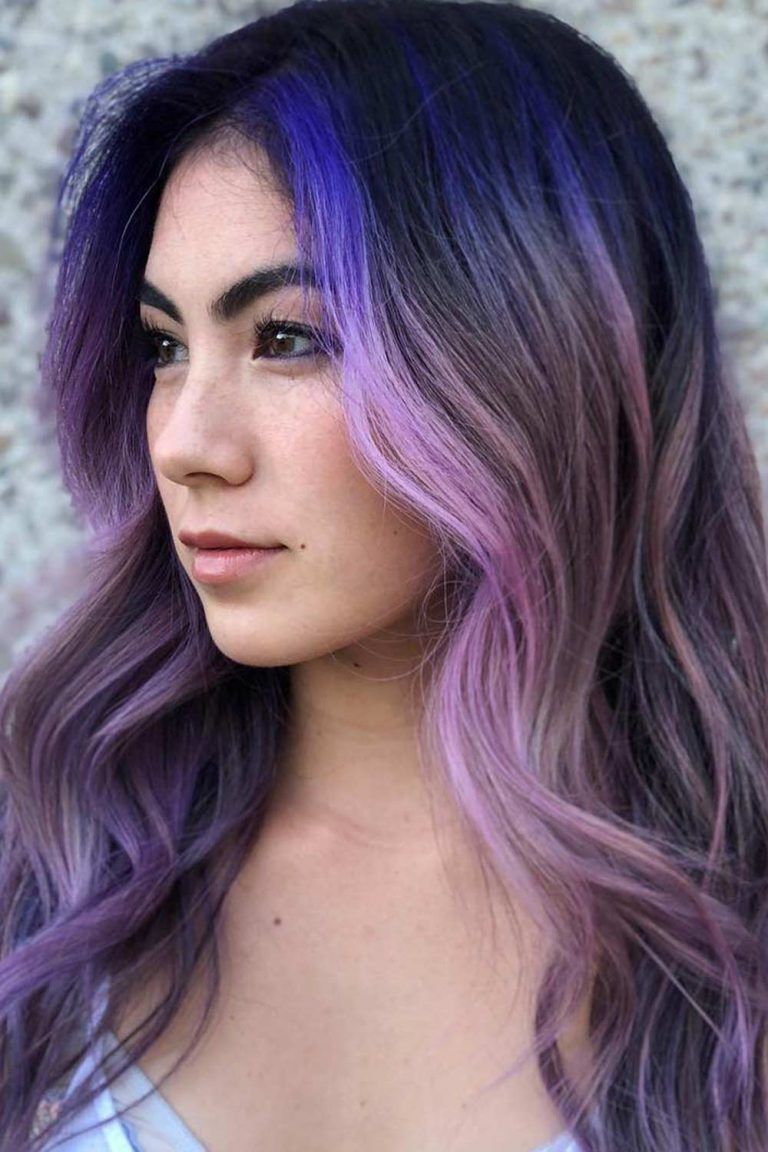 by @isaac4mayor
One more temporary hair color idea added over already colored hair! When it comes to damage, it's better to do your best to avoid it as much as you can. This idea is a bold move not only because of its appearance but also because of the chosen color and, therefore, bleaching. While you can't have too many colors, you can have too much damage. So even if you want to play with the ends, it's better to do it with temporary spray.
Fuchsia Red Strands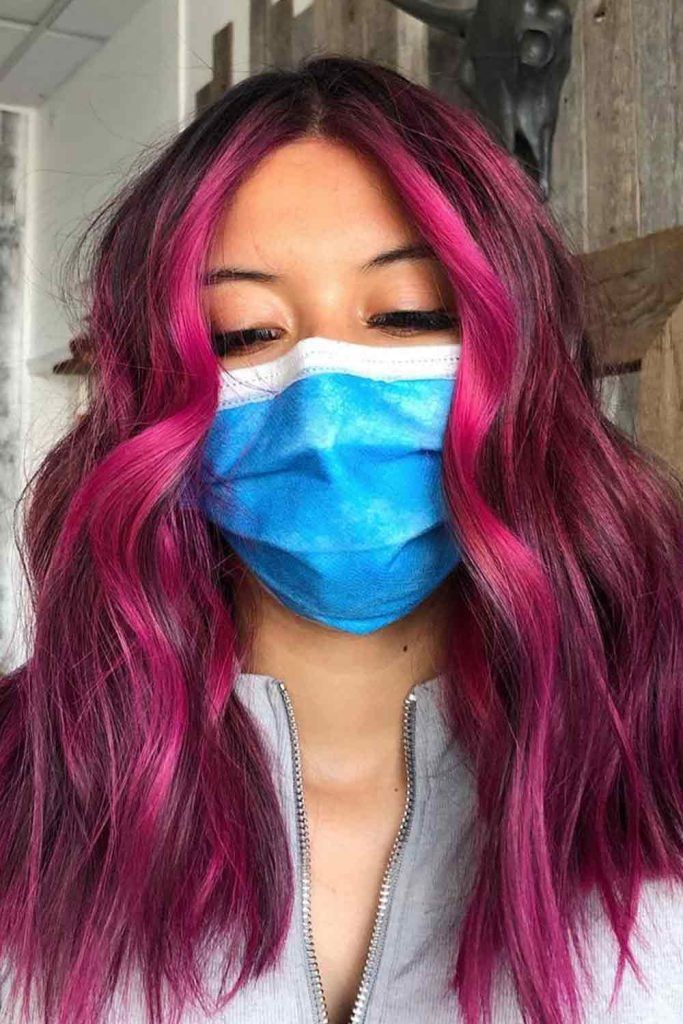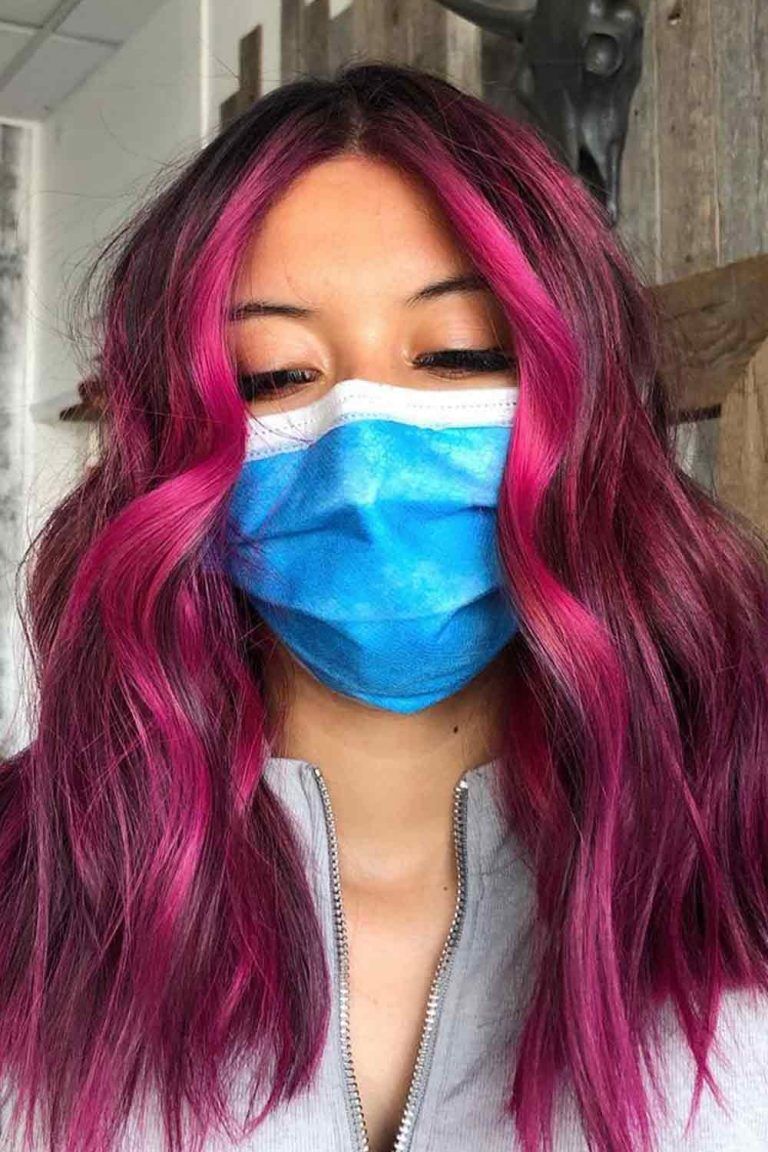 by @_heyhelena
Another stunning way to take your braid to the next level is here. Braids are meant to enhance the beauty of your hair, altering the strands in a way so that the natural color shows off its variety. Imagine how awesome it will look once you add some bright strands to your braided style!
Titanium Rose
Though light silvery and greyish colors are trendy, they lack one important color feature - dynamics. But don't worry; a hint of brighter color running through several sections of hair will sort things out. Look at this pic: how do you like the dynamic movement created by just a touch of rose shade?
The best thing about temporary hair colors is that you can let your imagination run fly, adding more colors to your life without damage! Now you know the most popular ways to temporarily color your hair, as well as where to buy temporary hair color spray and many other cool products, so it's time to diversify your life palette!
FAQ: Temporary Hair Color
Will temporary hair color wash out?
Because it is free of harsh drastic chemicals, temporary dye washes out swiftly and effortlessly, whereas the most prevalent chemicals in hair dye that cause the most harm to hair are ammonia and peroxide.
How do you remove temporary hair dye quickly?
Try rinsing your hair with white vinegar.
To make a hair mask, mix three parts dye-free shampoo with one part vinegar in a mixing bowl.
After applying the mask throughout your hair, cover it with a towel or shower cap.
Take off the towel or shower cap after 15 minutes and rinse your hair with lukewarm water.
What is the hardest color to remove from hair?
Red is actually the most difficult hair color to maintain glossy and the most difficult to remove.
Was this article helpful?