Wedding updos for long hair can be so different and beautiful at the same time. Anything you desire can be done with such a length, so why don`t we think of something stylish, romantic and trendy together? Curly, straight, simple and loose - all these words describe the choices we can suggest. Pick the one that will suit your style. And we promise you, the day look for such a great day will be the best you can imagine.
Elegant Updos For Curly Hair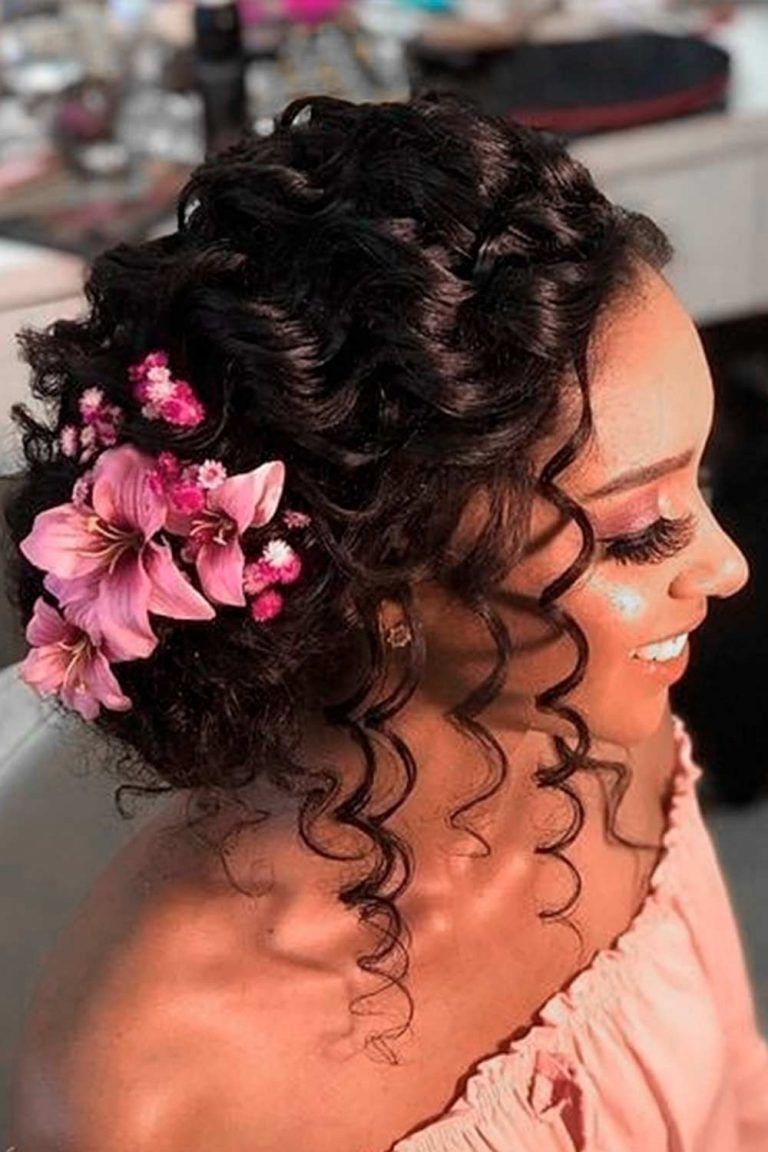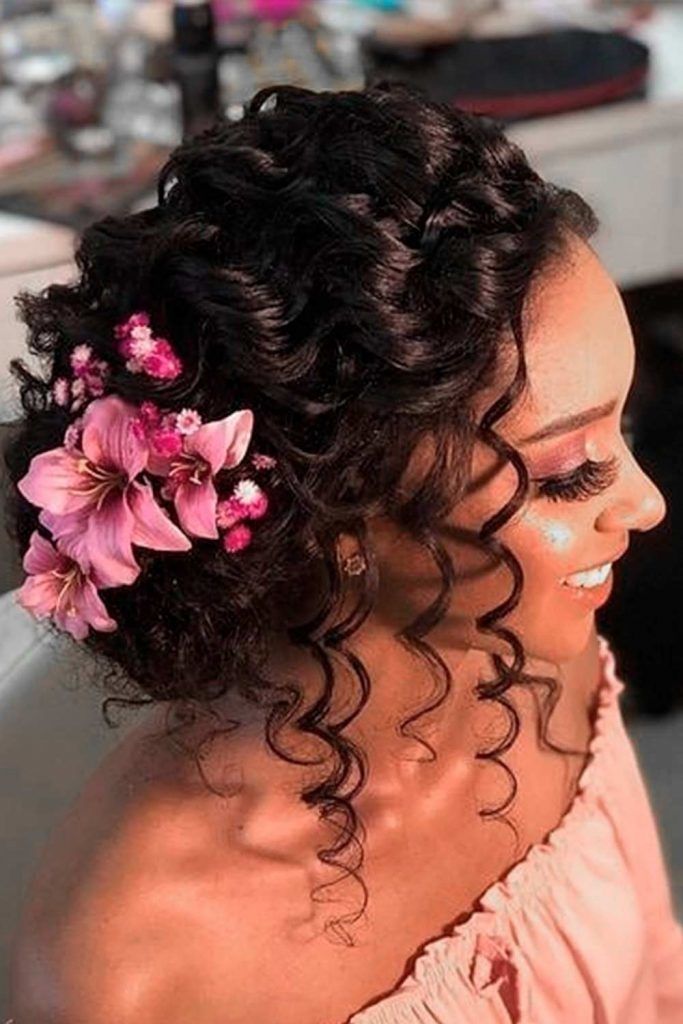 Credit photo: instagram.com/jessicagome_s
An elegant hairstyle is what we are looking for. A curly updo is one of it for sure. Flirty, romantic and simple, it will bring just the right mood to your look for such an occasion. Make sure it completes your style and feel like a queen through the whole day.
A Fishtail French Braid With Bright Flowers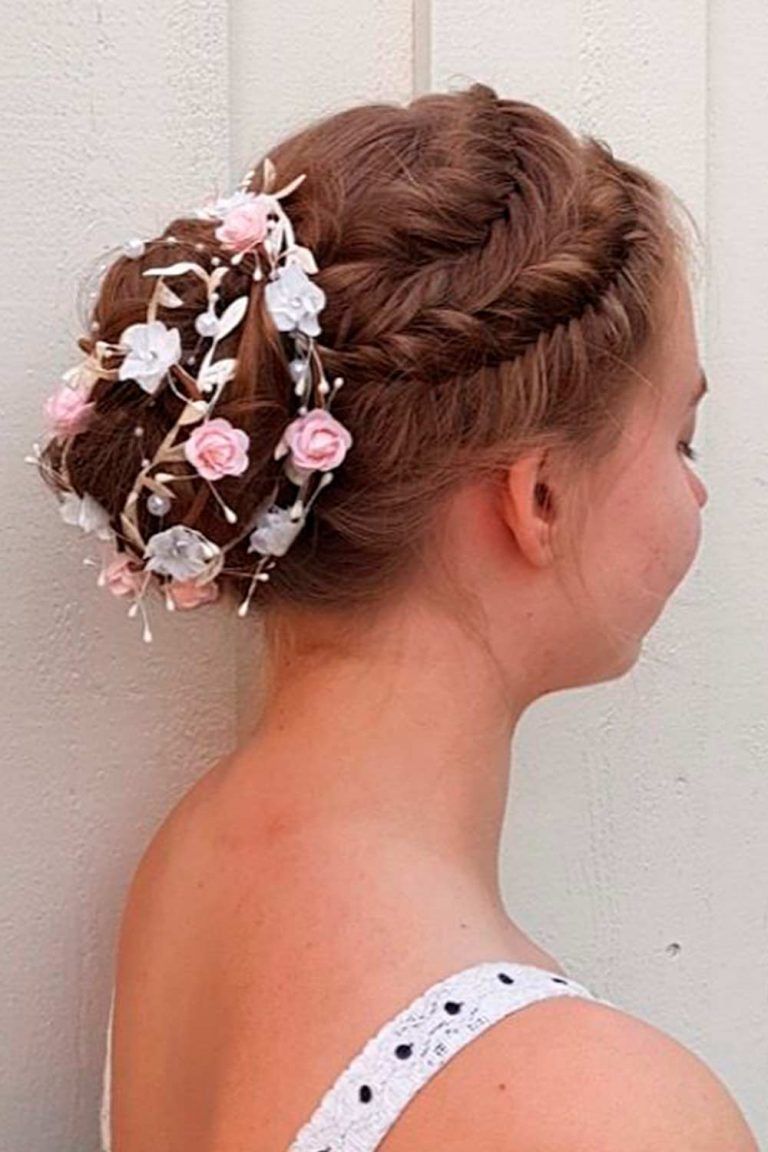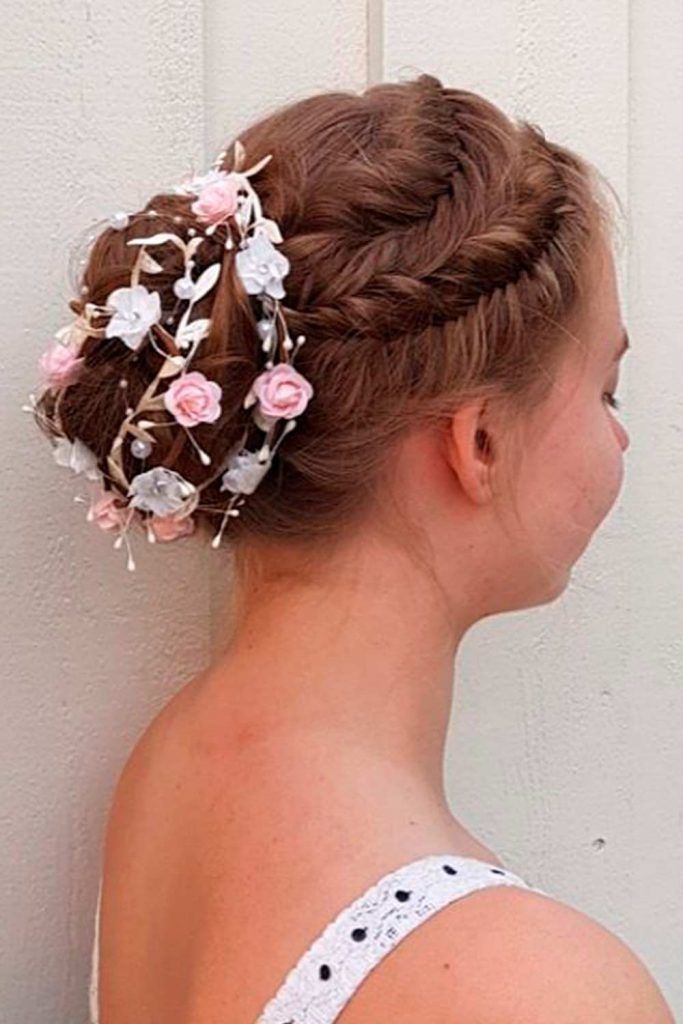 Credit photo: instagram.com/braidsbyfrida
Braided wedding hair is a great way to take your hair away from your face, thus revealing your beautiful facial features. We consider this French braid hairstyle idea to be perfect for those women who would like a beautifully shown neckline. Add some bright flowers to such a hairstyle, and it will be as beautiful as possible. Such small details will help you accessorize the look the best way.
A Combo Of Several Little Buns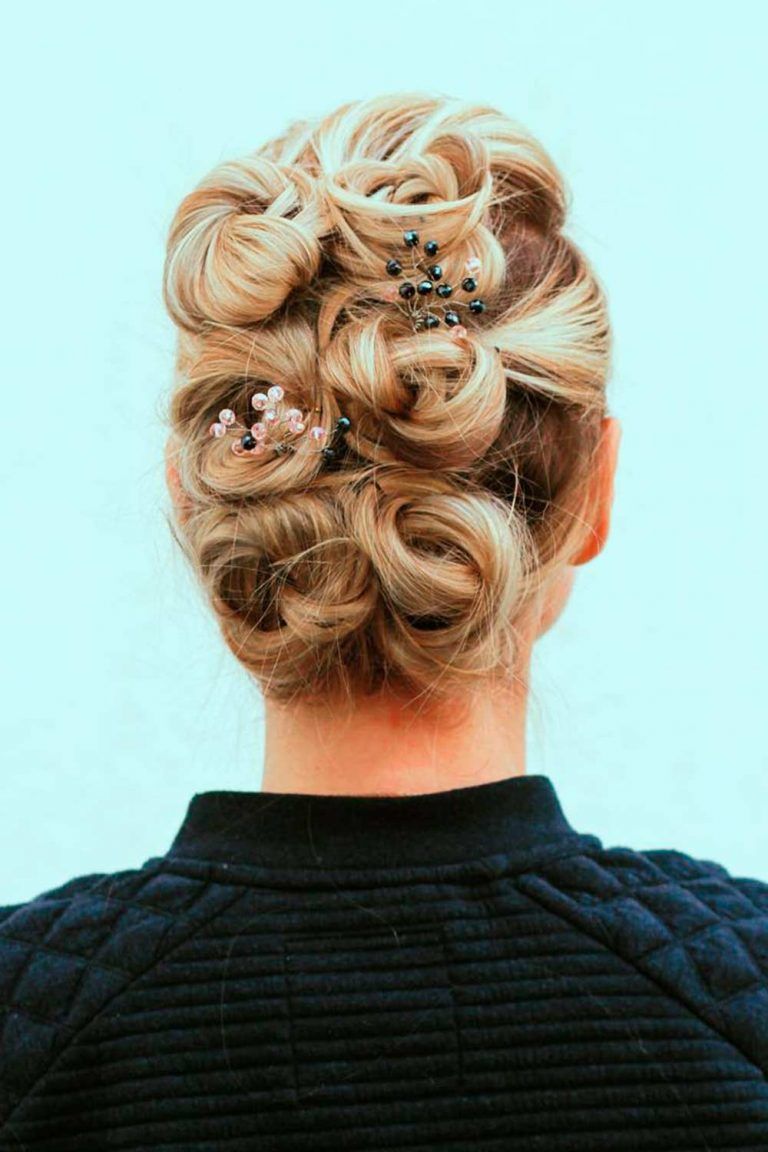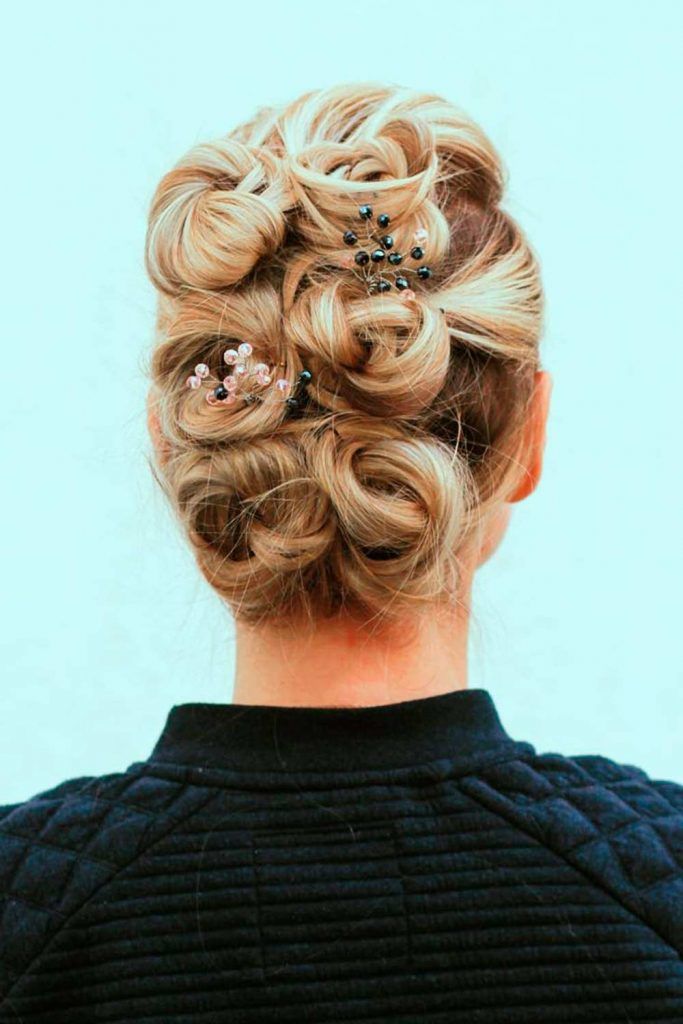 Credit photo: instagram.com/karinaupdo
A classic romantic hairstyle can be done so easily! Such a masterpiece that includes making a few loose buns can be created just with the help of few bobby pins and gorgeous accessories. Its looseness will bring the charm to the whole look, we promise.
A Voluminous Updo For Long Hair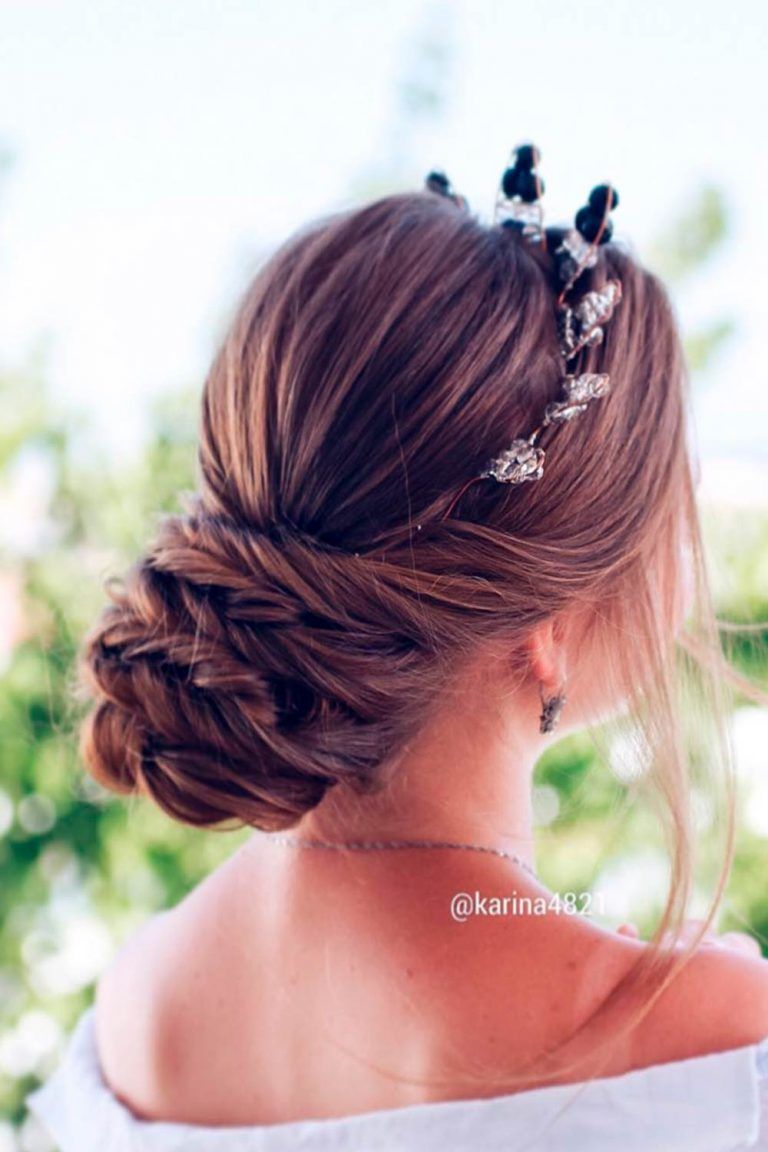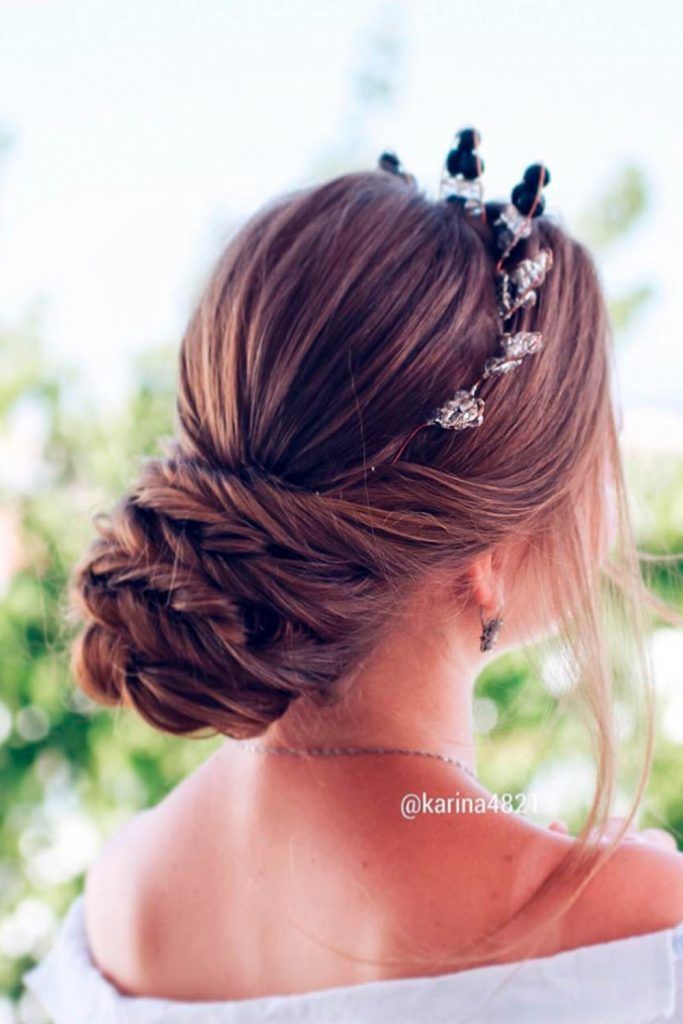 Credit photo: instagram.com/karinaupdo
Wedding updos for long hair can include so many different options. A voluminous one is what you should consider first. Super easy to do with long hair, it will make it look neat and beautiful. Tell your hair artist to add the small details like braids. And we promise you, the effect will be breathtaking.
An Elegant Textured Updo
Among other hair ideas for wedding, this one stands out for sure. Classic, but with an interesting twist, it will be the one that will suit any wedding look you prefer. Textured, neatly done hair will be the key thing that will bring attention to your gorgeous updo.
A Low Braided Wedding Updo For Long Hair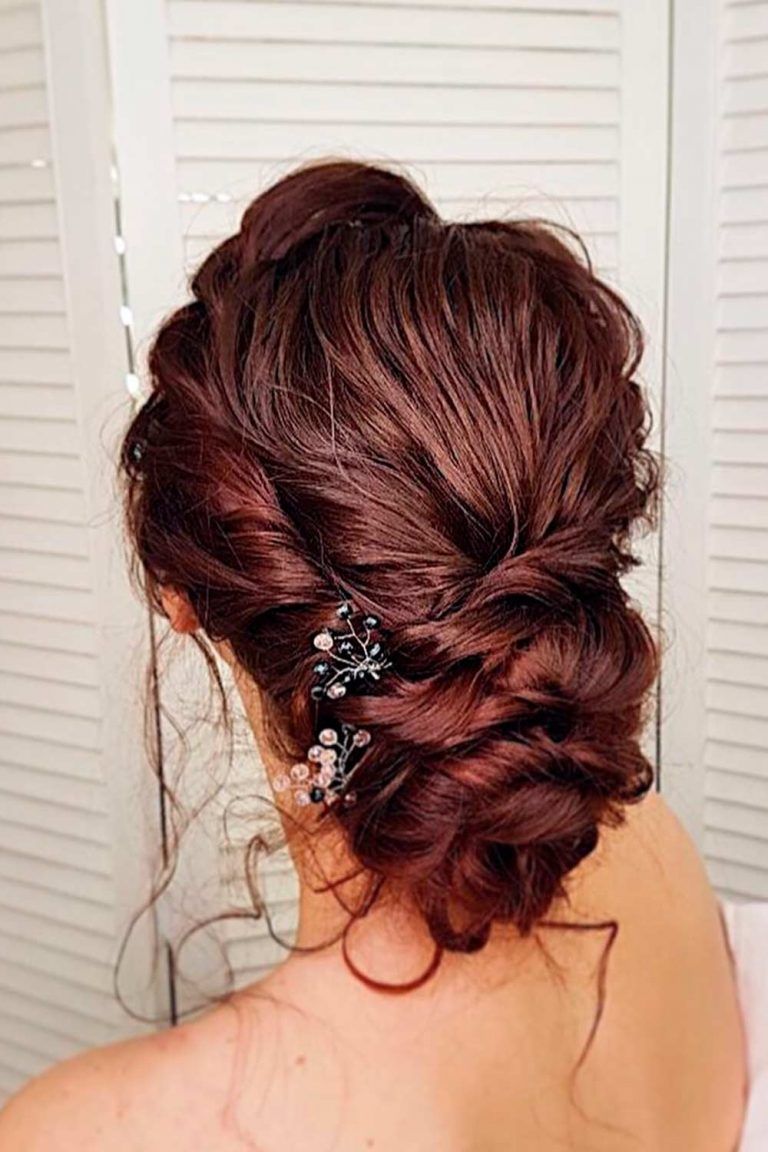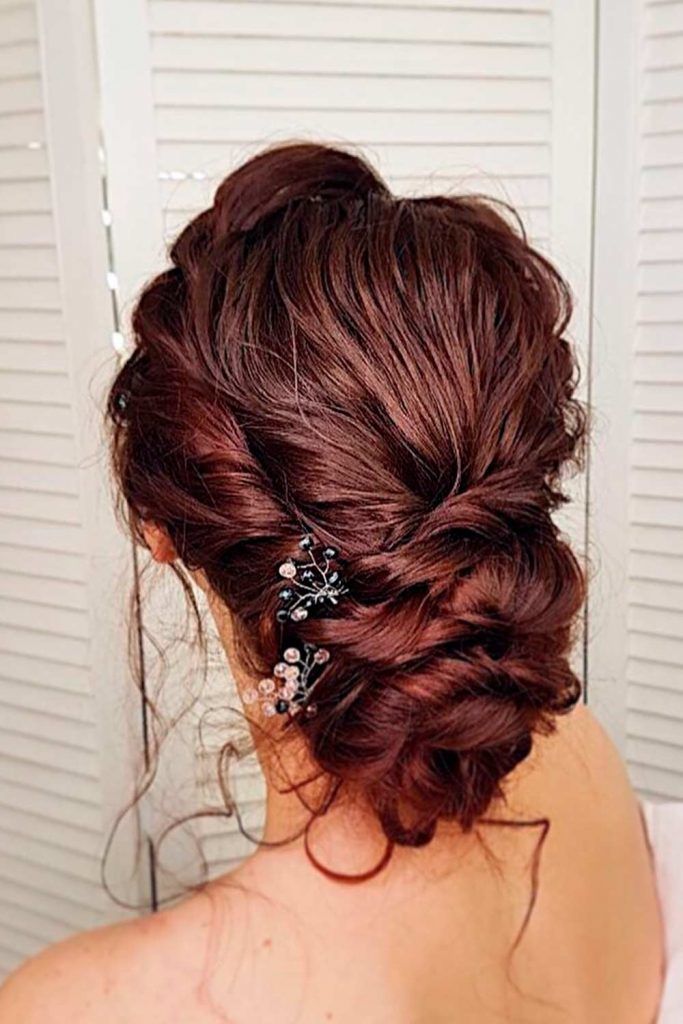 Credit photo: instagram.com/karinaupdo
Those girls who have thick hair know how hard it can be to find a hairstyle that won`t fall apart through the whole day. This low braided hairstyle is the solution. Romantic and secure, it will be perfect for such an important and exciting day.
A Charming High Bun
Credit photo: instagram.com/braidsbyfrida
Most of the people associate wedding hairstyles with a high bun. And there`s nothing strange about it. More and more women choose it, as it is not only beautiful-looking but also secure and suitable for any type of the dress. Keep out a few strands of hair and a loose effect will bring its simplicity and style to the look.
A Messy Twisted Updo With Accessories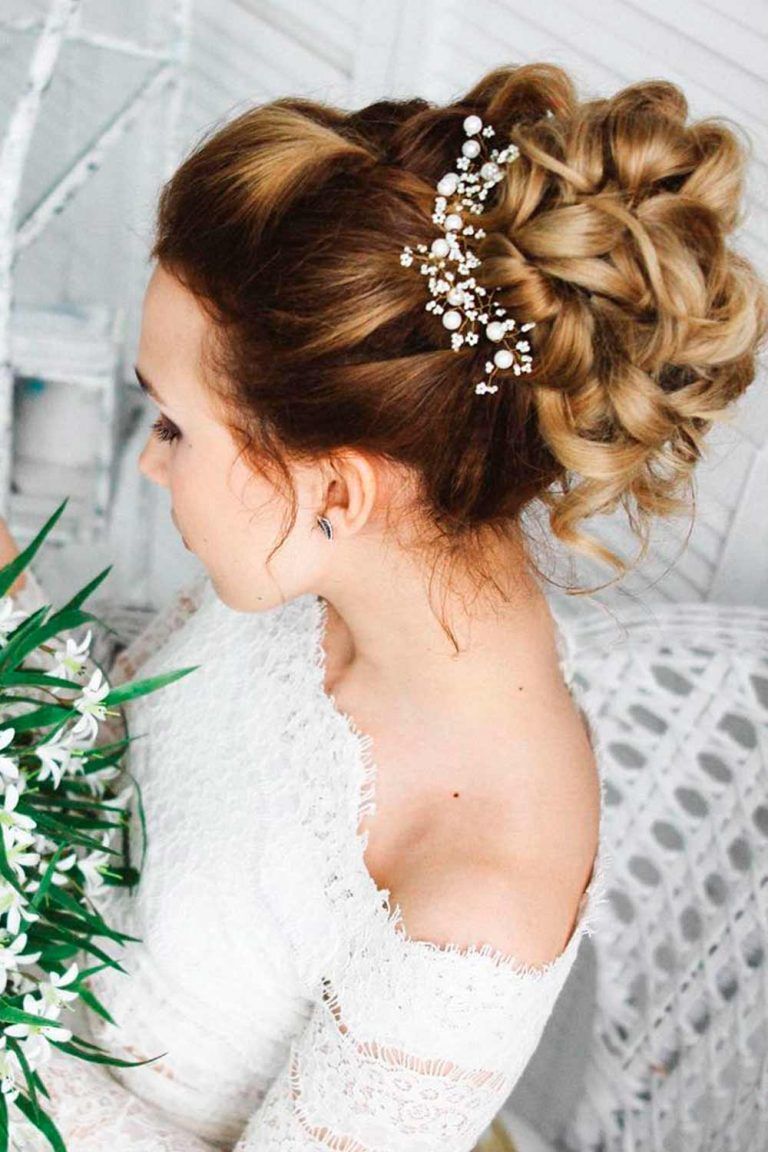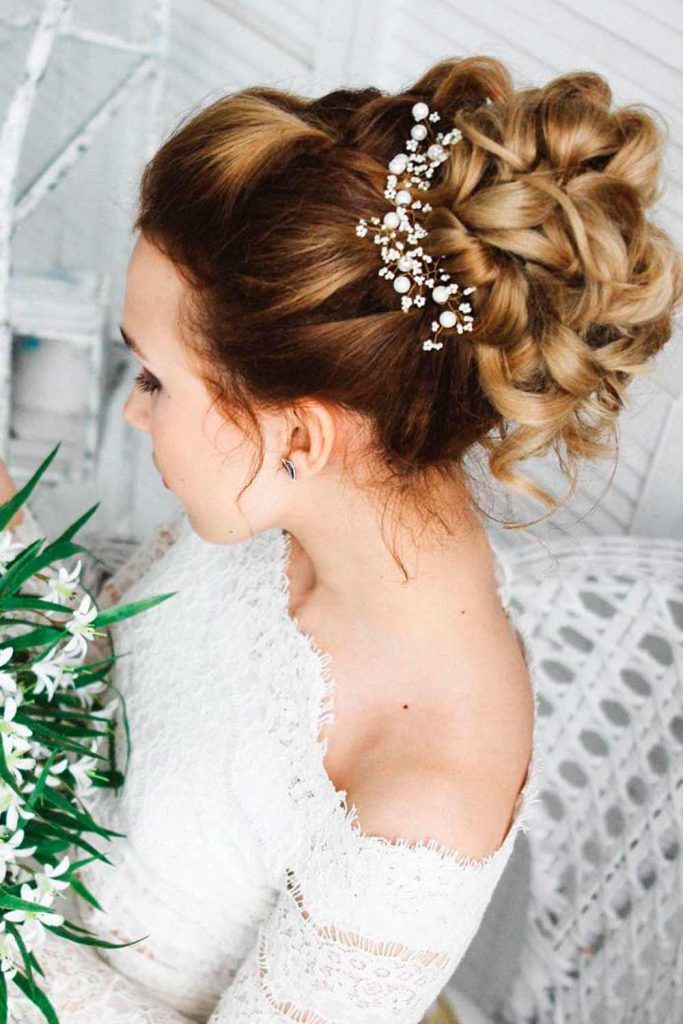 Credit photo: instagram.com/karinaupdo
With a range of wedding updos for long hair, this one got its popularity really quickly. Of course, as its classy idea is completed with the latest messy tendencies, making up a perfect wedding hairstyle. Twisted hair that is loosely fixed with its messiness will bring out a special charm to your style. A few accessories to match the dress, and you`re ready for such an important day!
A Voluminous Updo With Braided Elements
Credit photo: instagram.com/rachaelharris_hairmakeupbeauty
Don`t you agree that hair and makeup are one of the most important parts of the wedding look? That`s why much attention should be brought to them. A beautiful hairstyle should be chosen, so why don`t you think of getting this voluminous updo with trendy braided elements? Loose but secure, it will stay in place through the whole evening, making you feel confident in your gorgeous appearance.
A Stunning Bun Updo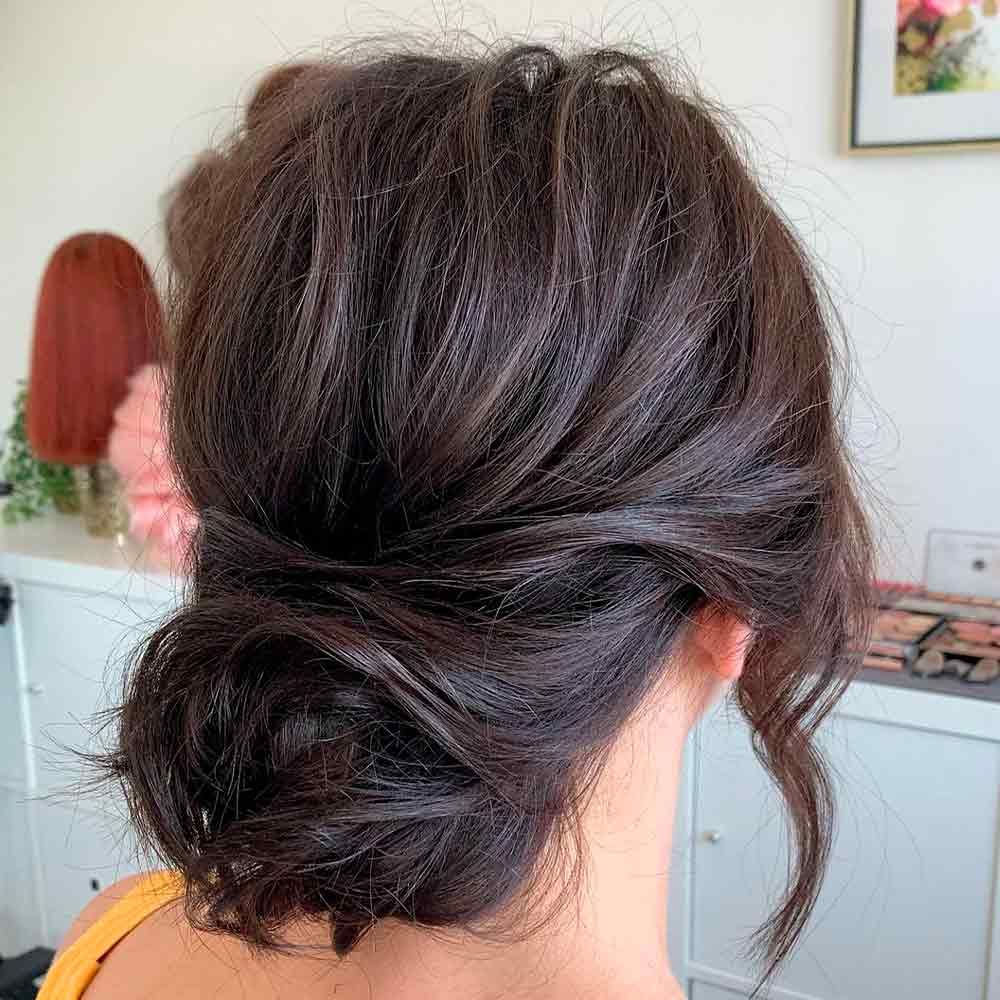 Credit photo: instagram.com/rachaelharris_hairmakeupbeauty
A hairstyle for a wedding day should be chosen according to your own preferences and desires. Are you keen on having a beautiful bun updo? Then do it! Pretty and stylish at the same time, it will complete your look, bringing the accent to your beautiful face.
A Twisted Halo Braid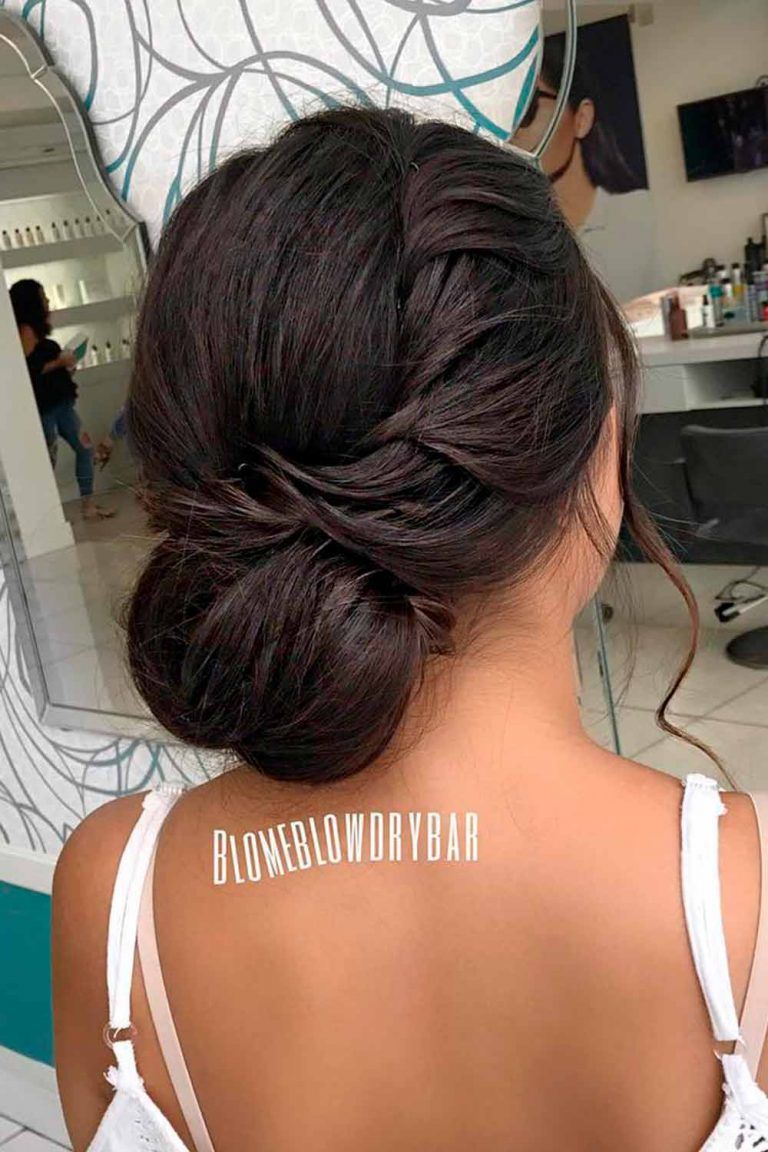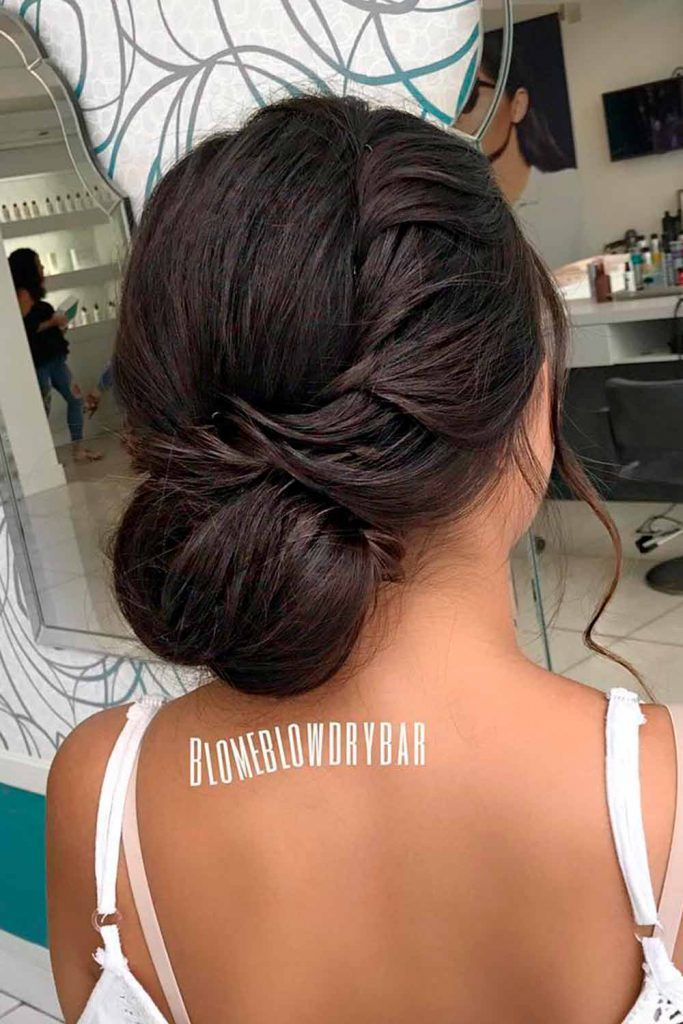 Credit photo: instagram.com/kimblome
"Wow!" is what we would like to say about this halo twisted braid. Standing out among other wedding hairstyles updo, it is fantastic-looking for a wedding occasion, don`t you think? Neat and interesting, it is not something we are all used to, but definitely something that will take the breath away.
A Vintage Floral Wedding Updo For Long Hair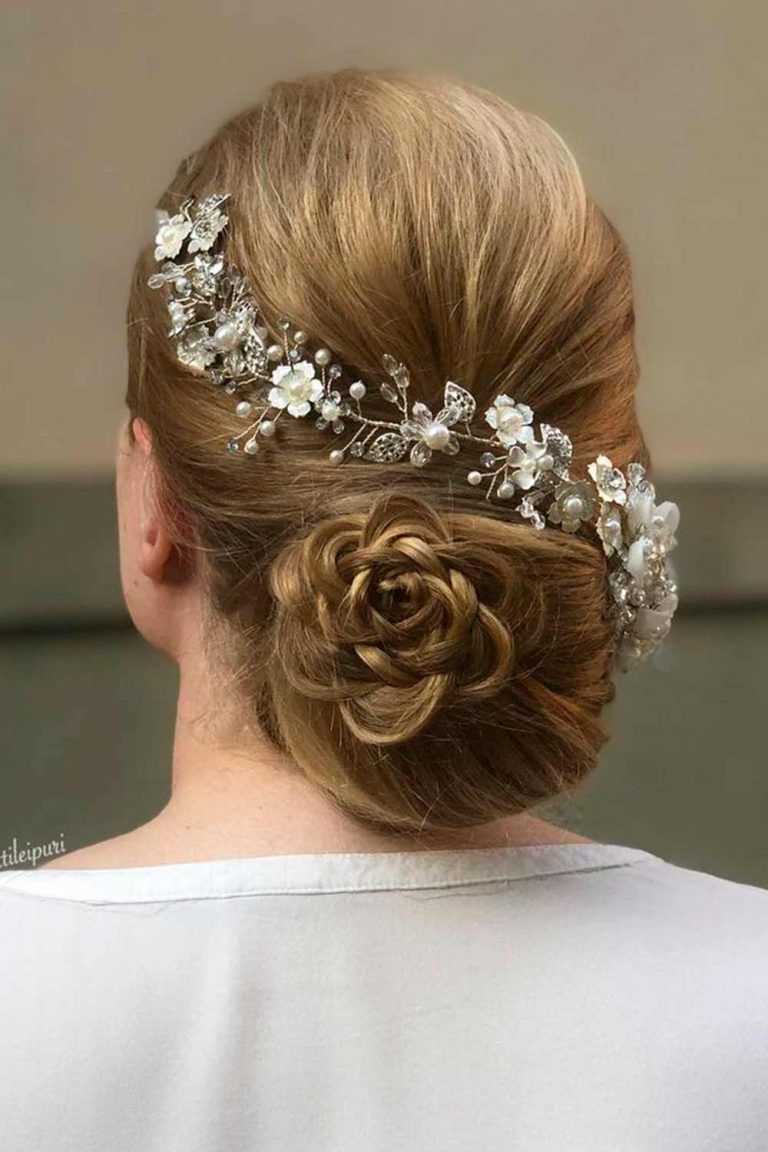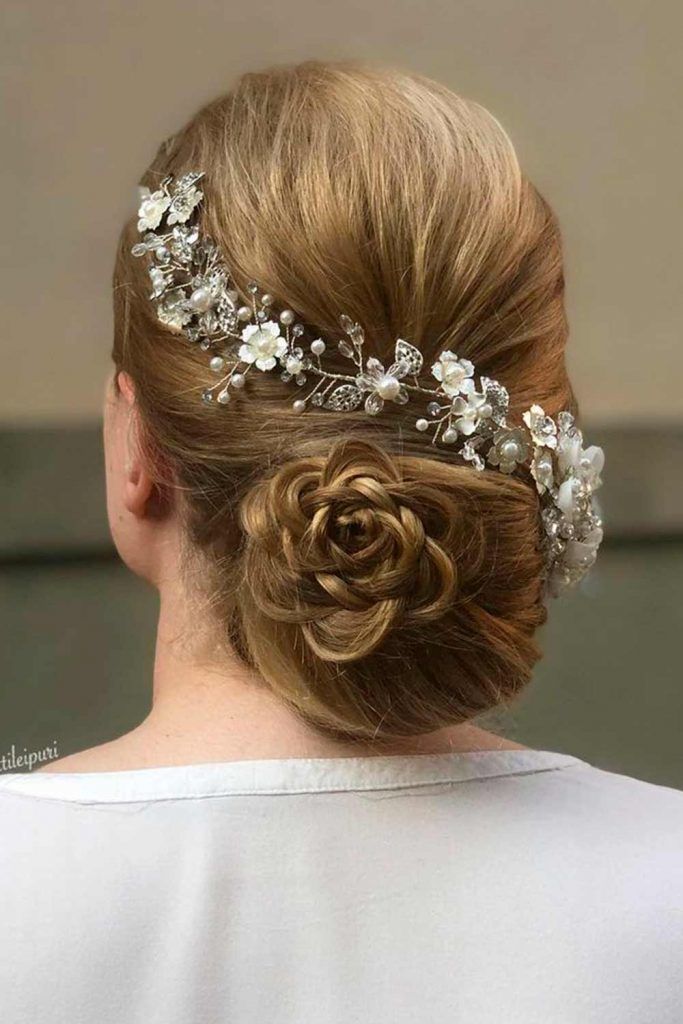 Credit photo: instagram.com/lettileipuri
A vintage wedding theme is supposed to bring its atmosphere through everything, even the hair of the bride. That is why we recommend you trying this floral updo. Neatly taken from the face, the hair is set in the back decorated with gorgeous flowers, bringing out a special mood that is just needed for such a themed occasion.
A Classy Low Bun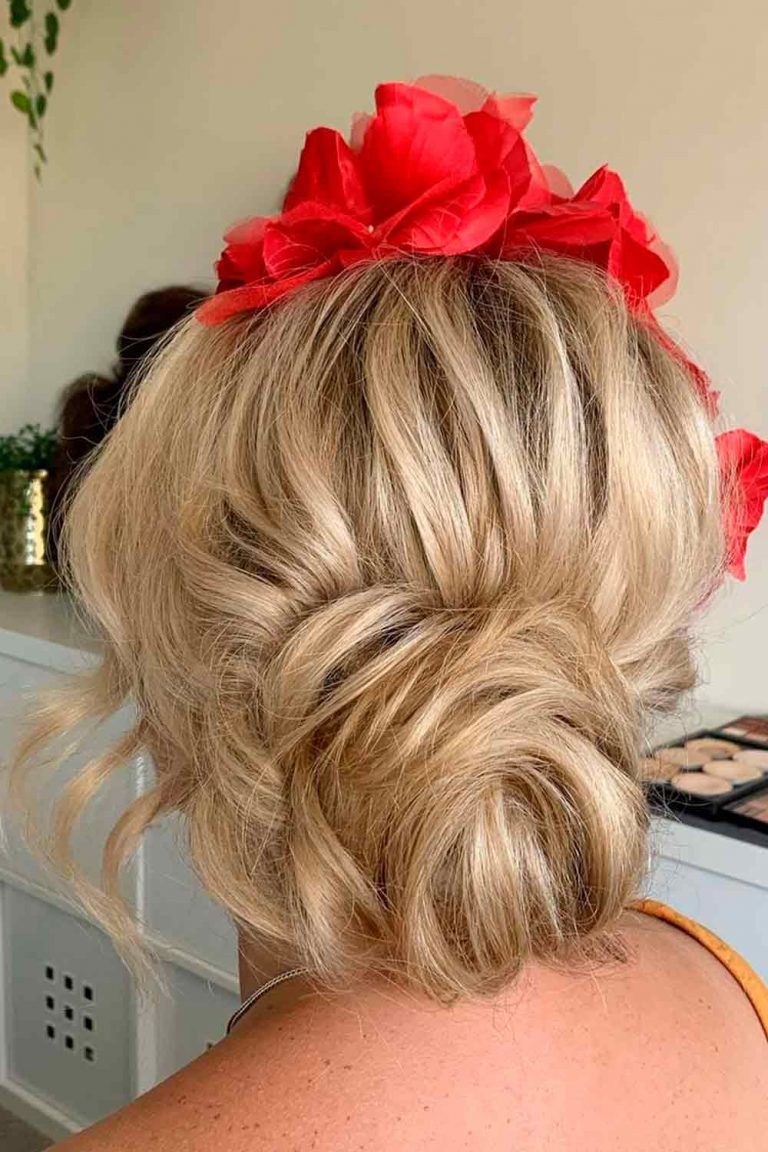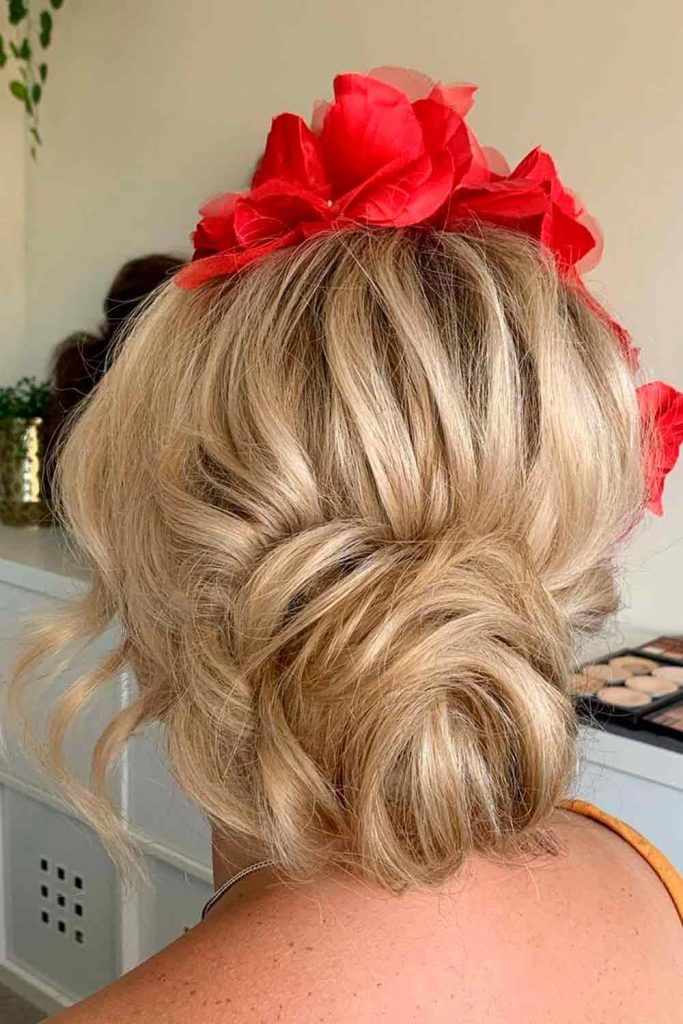 Credit photo: instagram.com/rachaelharris_hairmakeupbeauty
A big day is approaching, and you still have no idea what hairstyle to choose? Then pick this classy low bun. Believe us, a true classic that never goes out of style will be gorgeous-looking for any style you pick for your wedding. The simplicity of such a hairstyle is its winning side, don`t you think?
An Outstanding Side Updo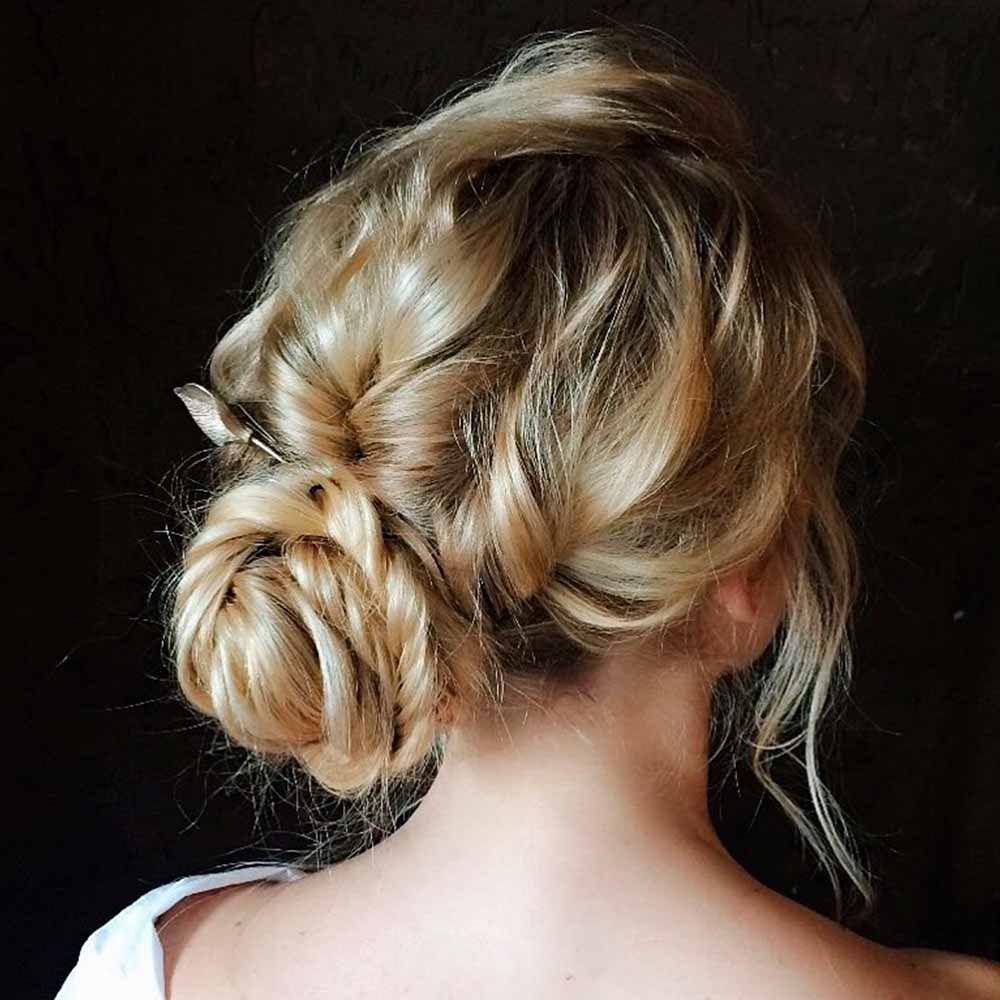 Credit photo: instagram.com/karinaupdo
Do you prefer a classy hairstyle and would like to give it some twist? Would you like to make it interesting and more creative? Then we have an idea for you. Pick a classy low bun that is immortal in the wedding styling, but do it a bit to the side. This will bring some newness and freshness to the hairstyle, while keeping it classy.
Creative Updo For A Stunning Look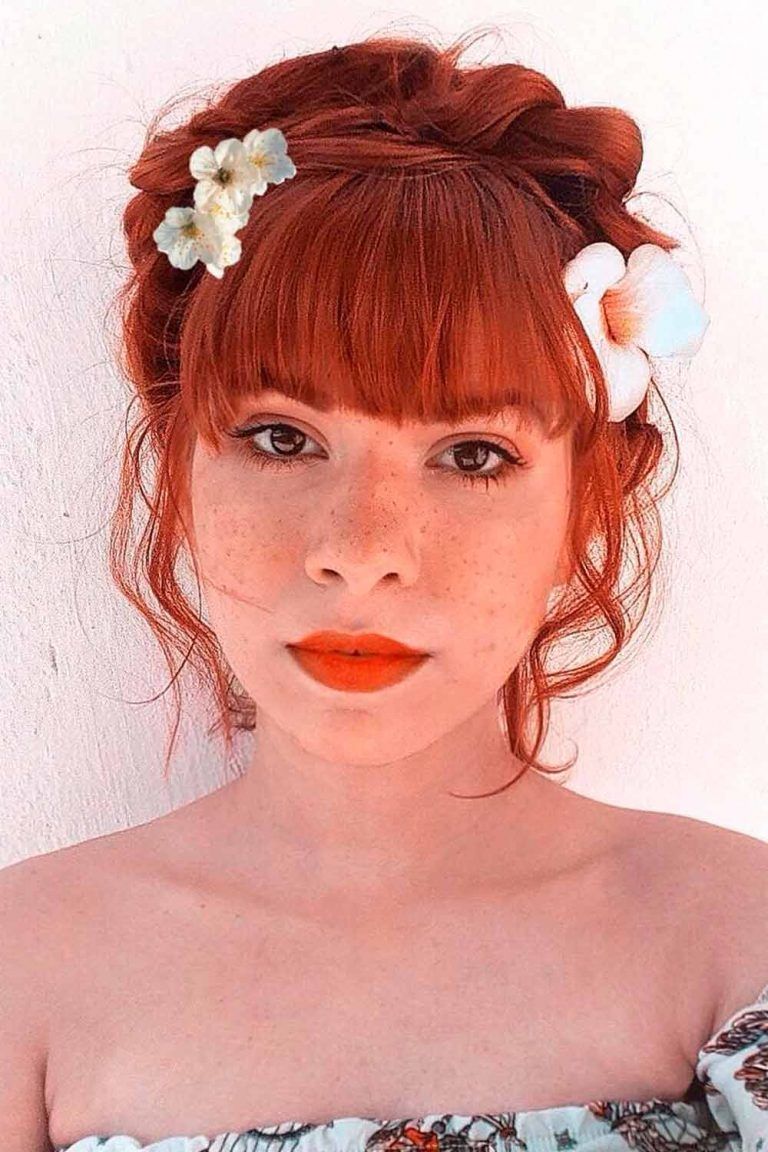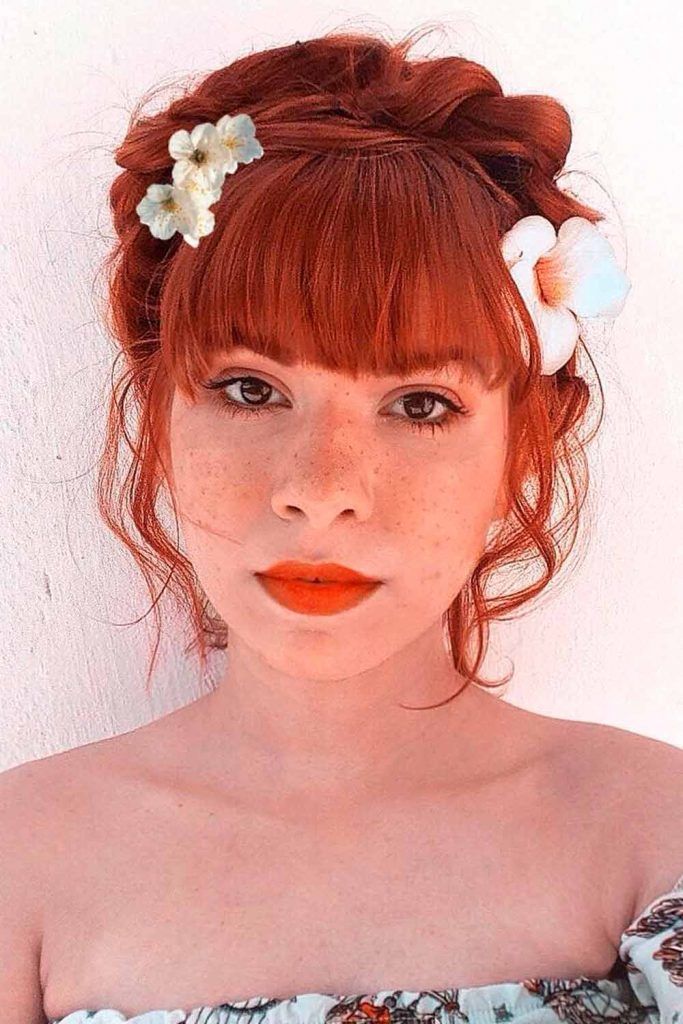 Credit photo: instagram.com/nessielv
If you prefer more fun and creative hairstyles even for such a special occasion, then let`s figure out what we can create together! Why don`t you pick an interesting type of braiding and turn a classic low bun into the one with a gorgeous braid? Different and beautiful at the same time, it is just right for a wedding.
A Gorgeous Wedding Updo For Long Hair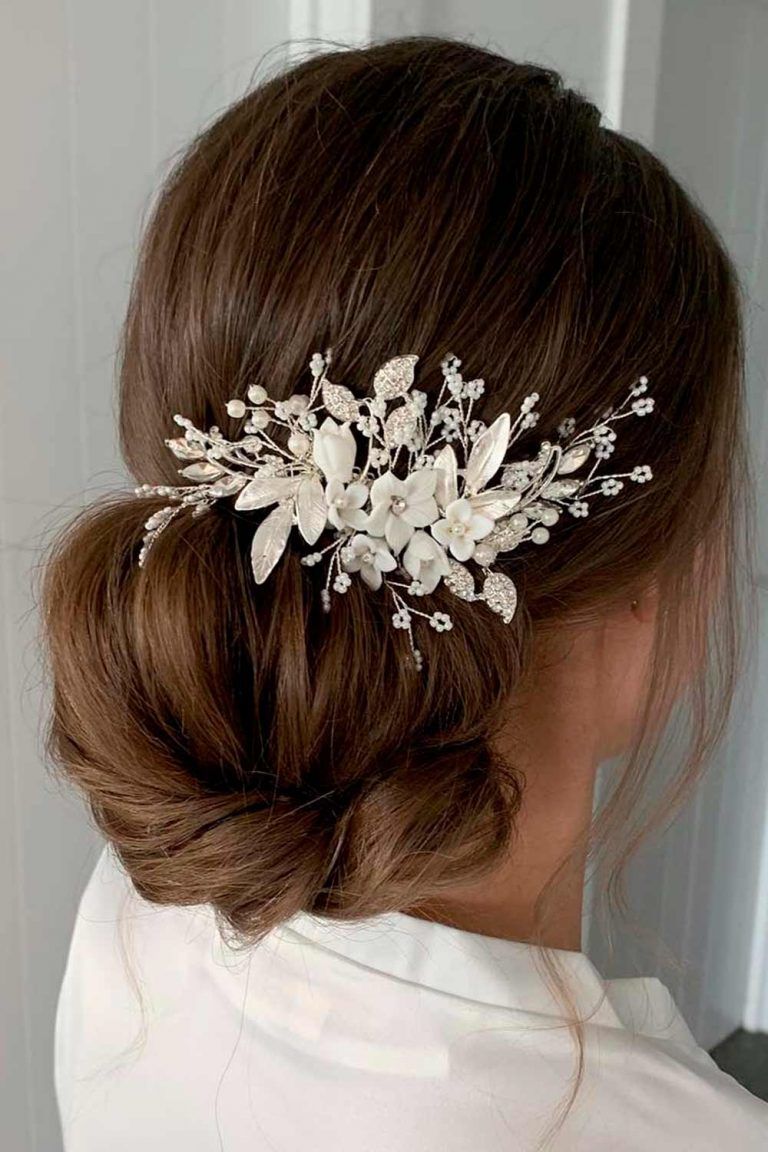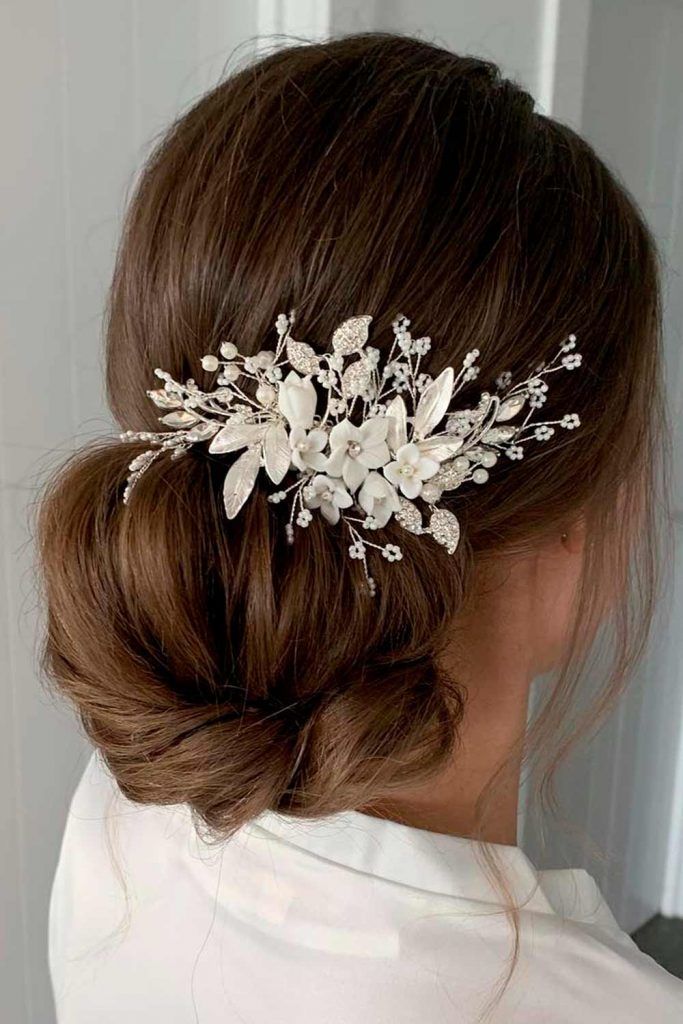 Credit photo: instagram.com/rachaelharris_hairmakeupbeauty
Long hair can be done in such a beautiful way. Look at this one. A loose low bun that goes with a loose braid is the choice you should make if you don`t want anything too much. Stylish and simple at the time, it will be perfect for your big day.
An Accessorized Big Messy Bun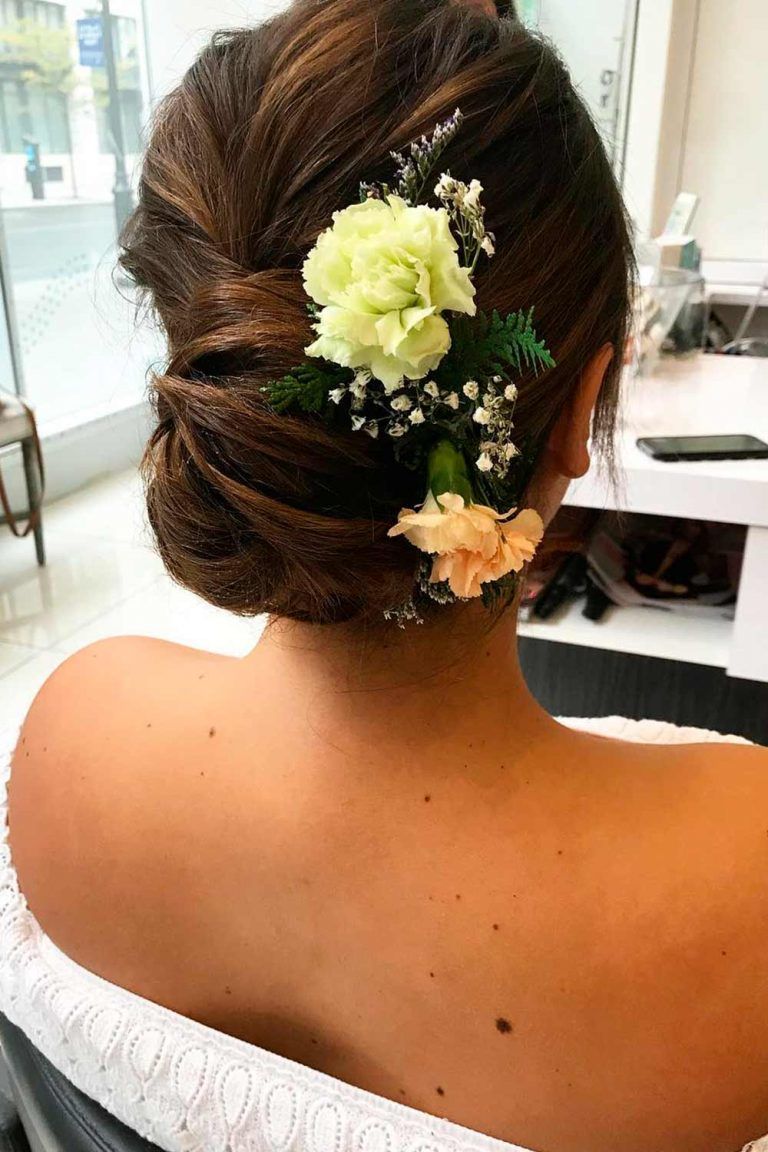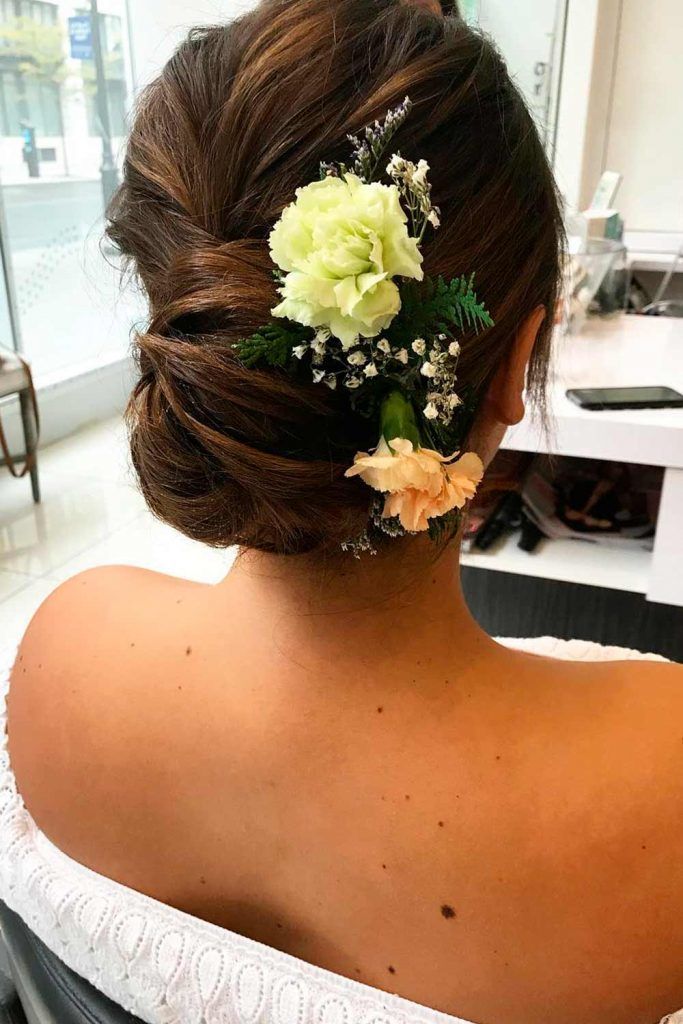 Credit photo: instagram.com/kimblome
A big messy bun is a hairstyle that will bring a romantic and flirty vibe to your wedding look. Loose, with curls falling out, it is secure at the same time. Add some flowers or accessories to complete the look and, trust us, you will feel like a goddess.
A Sleek Classy Updo With A Jewelry Headband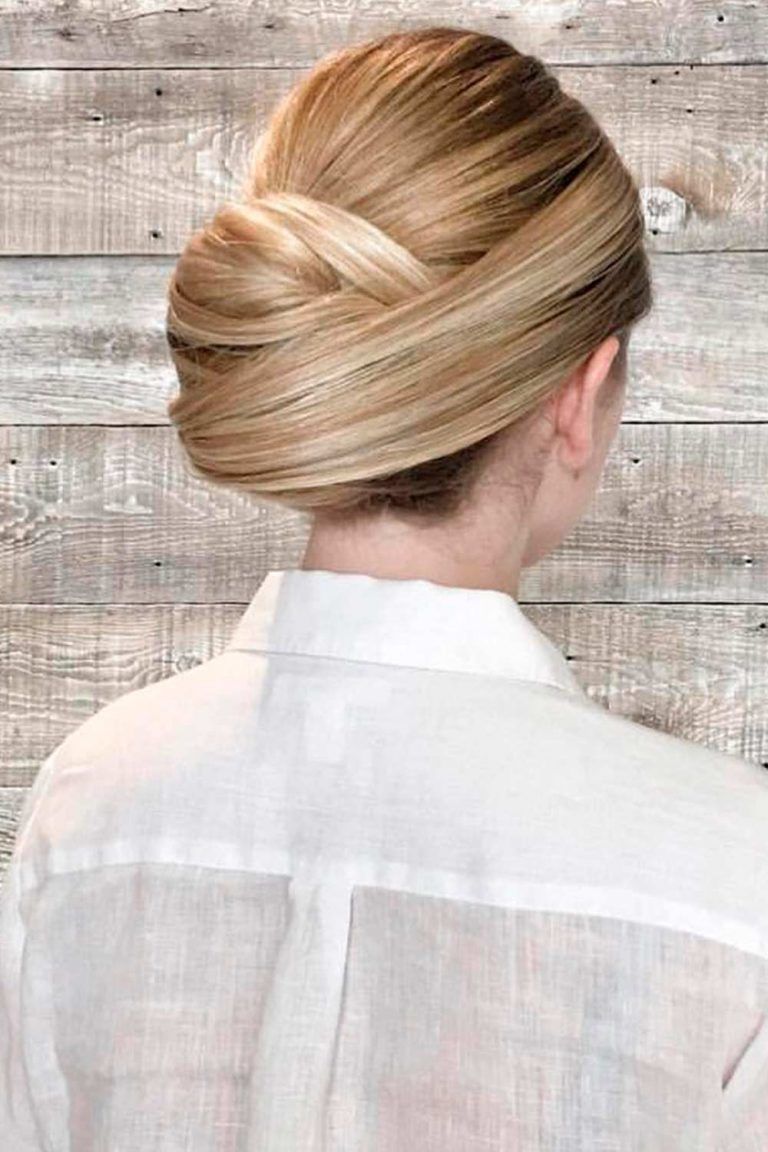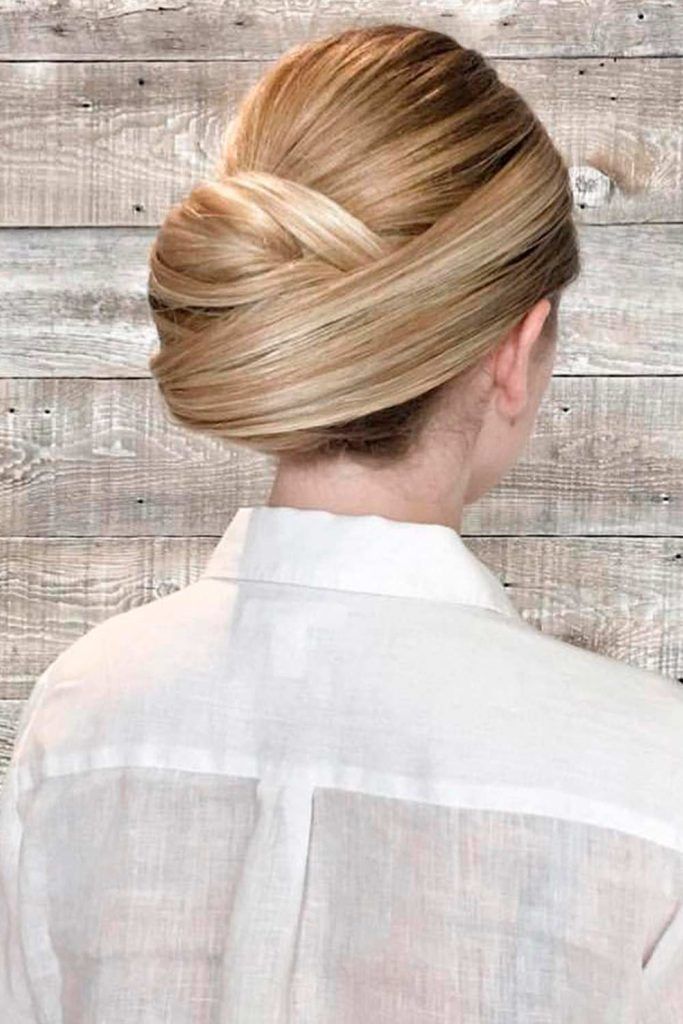 Credit photo: instagram.com/kimblome
Jewelry headbands were popular a long time ago and turned into a classic wedding legend that will never go out of style. If you have decided to have one in your hair on your wedding day, then this sleek classy updo will be perfect to go with it. Simple and elegant, it will complete the desired effect, making a jewelry headband the main detail of the hairstyle.
Сurly Updo Hairstyle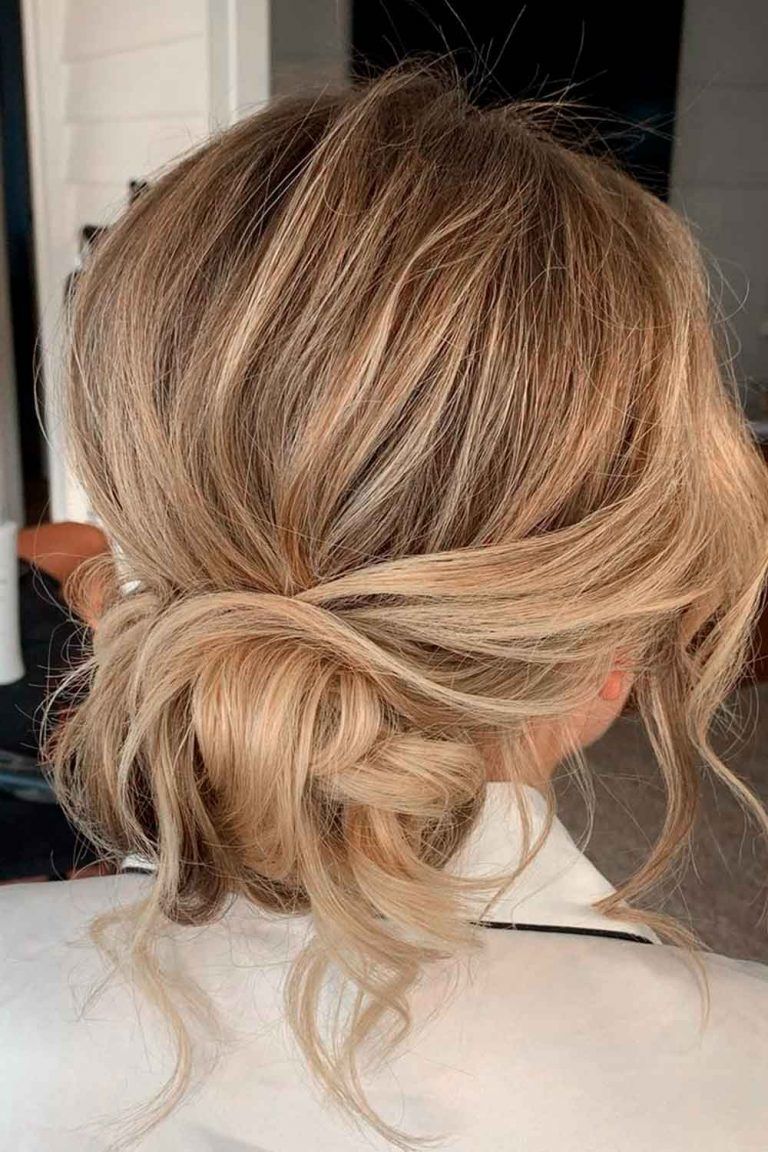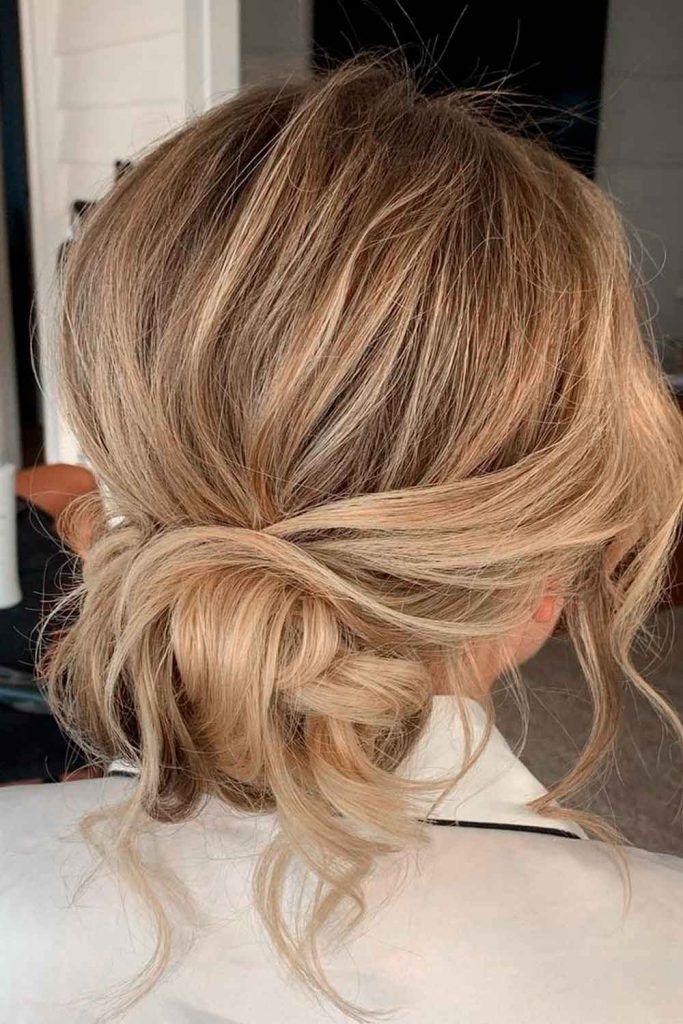 Credit photo: instagram.com/rachaelharris_hairmakeupbeauty
While many brides stick to traditional, minimalist bridal looks, you can show up with a modern wedding updo. This curly hairstyle features a very voluminous crown, fascinating texture, and framing locks. Isn't that enough to be a bride to remember?
High Bun Hairstyle
Once you add a contemporary touch to a classic wedding hairstyle, you will get one of the most desirable wedding updos for long hair. Keep the high bun neat and accurate while making it as voluminous as possible and playing around with its texture.
Voluminous High Bun With Accessories
Want to walk down the aisle with a hint of drama? Look no further than this accessorized high bun. The little embellishments added selectively to the 'do are enough to emphasize its fullness and glamor.
Low Messy Bun With Accessories
Who says that your big-day hairstyle should be perfectly well-groomed and immaculate? The truth is, a bit of messiness will create the needed balance between your sleek, elegant dress and your updo.
Mohawk Updo Hairstyle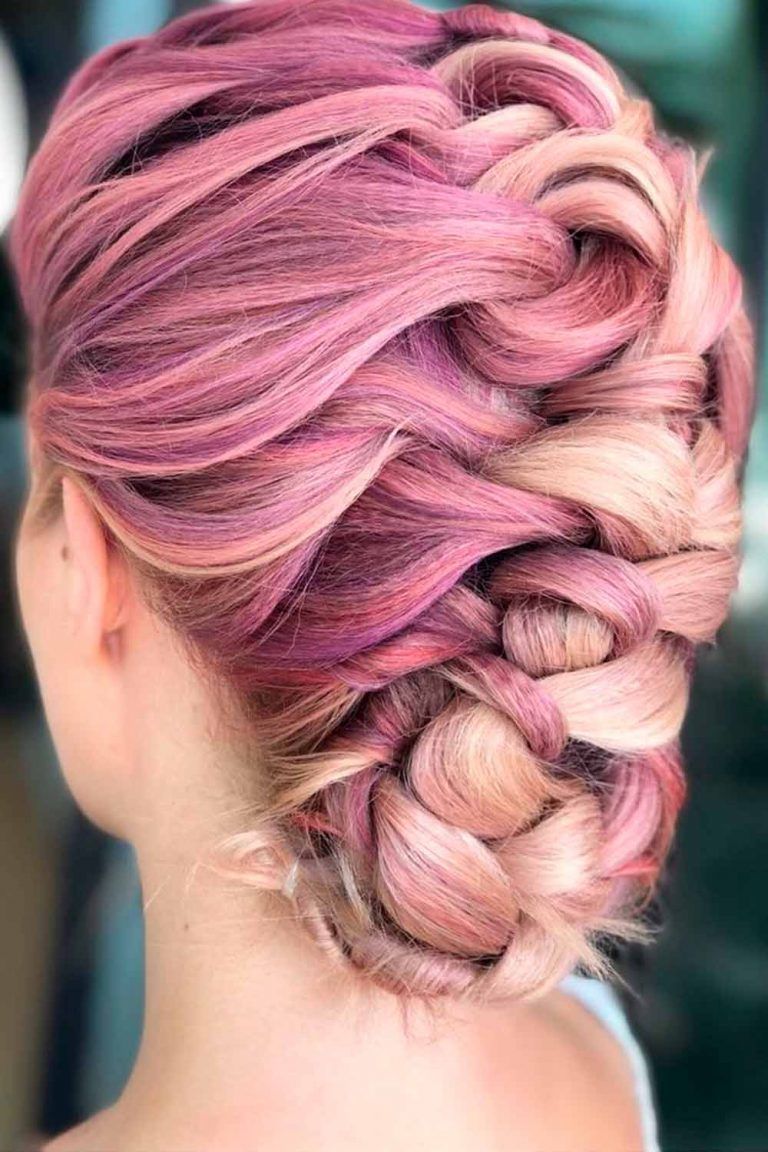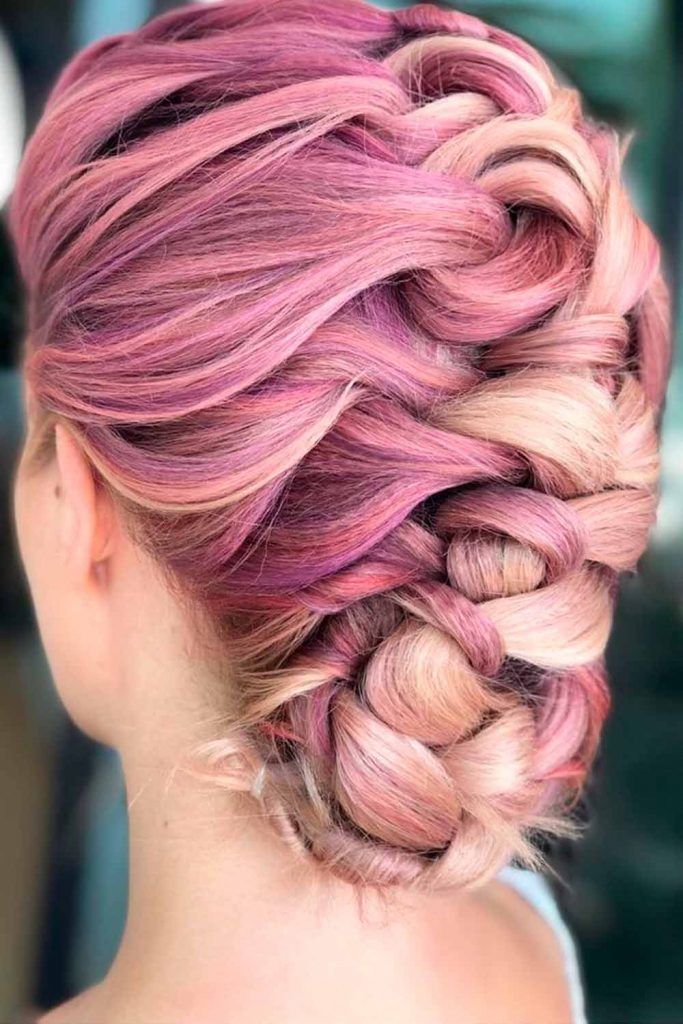 Credit photo: instagram.com/rockyvitelli
The feminine side of the Mohawk hairstyle can also be a part of your long-awaited wedding. This time, it comes as a voluminous braid that stretches along the back of your head, giving a lot of lift all over the 'do.
Voluminous Low Bun With Accessories
Who would've thought that a simple tousled bun could look that breathtaking? Sometimes adding delicate accessories is the best way to flaunt with a glorious wedding hairstyle. Put some flowers into your twist and see your look become feminine!
Rose Updo With Flowers
Flowers set the right mood for your celebration, turning everything they touch into romantic ambient. So why don't you put them everywhere? Literally everywhere! Besides embellishing the wedding arch and table centerpieces with your favorite blossoms, put some flowers into your updo. To take make the floral look absolutely authentic, create a hairdo full of rose-like twists and finish everything with soft pastel color.
Voluminous Waves
It's hard to notice the line where waves transform into an updo; they seem to have taken the long hair to do their own thing. Even though such a spectacular hairstyle requires a generous amount of hair spray, you won't regret copying the look for one simple reason: it will complement any type of wedding dress while keeping all your locks out of the way.
Finger Waves Updo
If you celebrate a traditional wedding with vintage design, finger waves for your bride look are more than just a must: it's a finishing detail that will tie everything up! Voluminous finger waves that gently fold into one another, flowing into an exquisite updo for a delicate bride are a hair dream come true.
Sleek Low Bun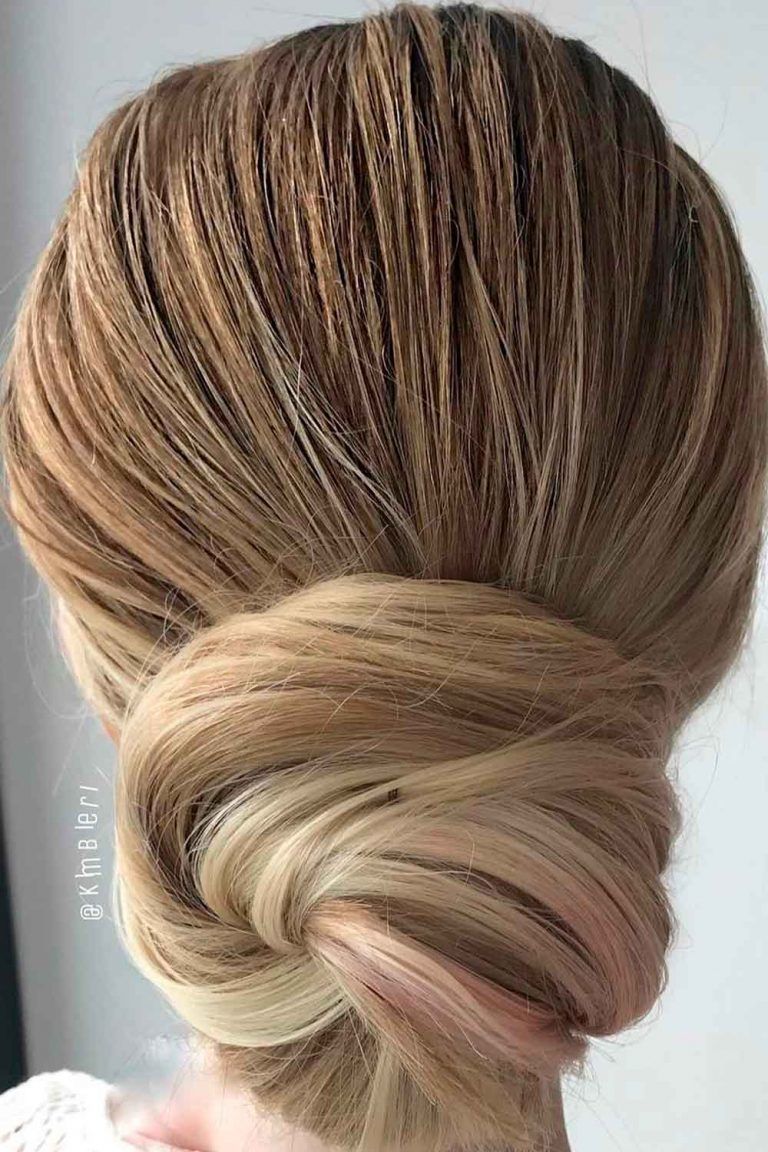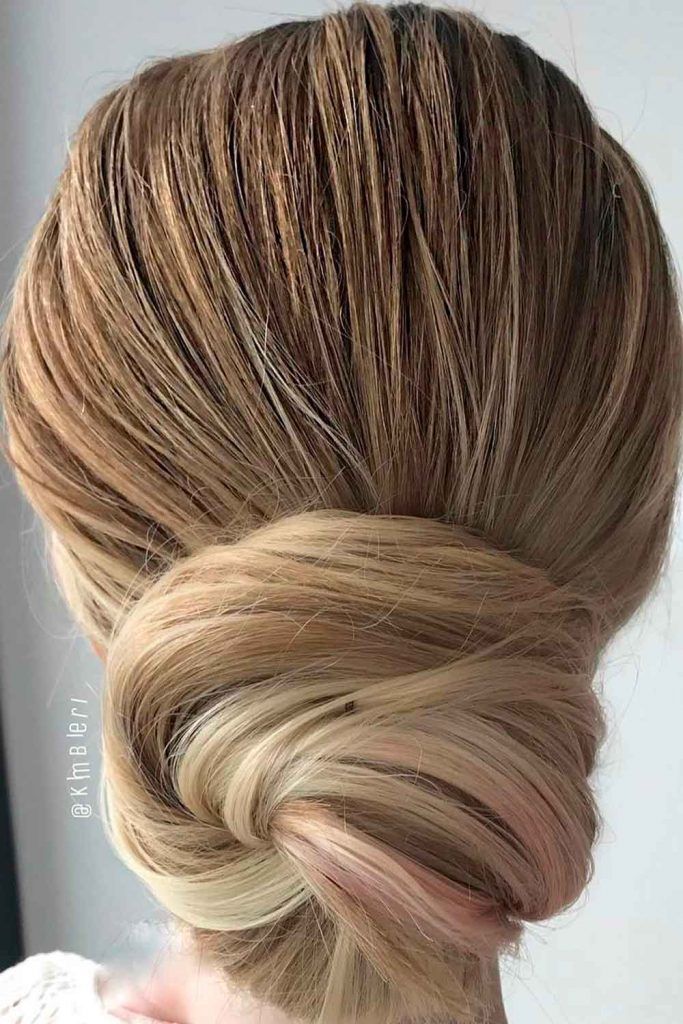 Credit photo: instagram.com/kimblome
Remember the saying "less is more"? Well, this hairstyle is a perfect epitome of what the good old phrase is meant to convey. There aren't any heavy details or complicated twists; the look captivates with its ethereal simplicity. When keeping things simple, make sure to make them significant, and even a low bun will be enough to steal the show.
Blonde Updo Hairstyle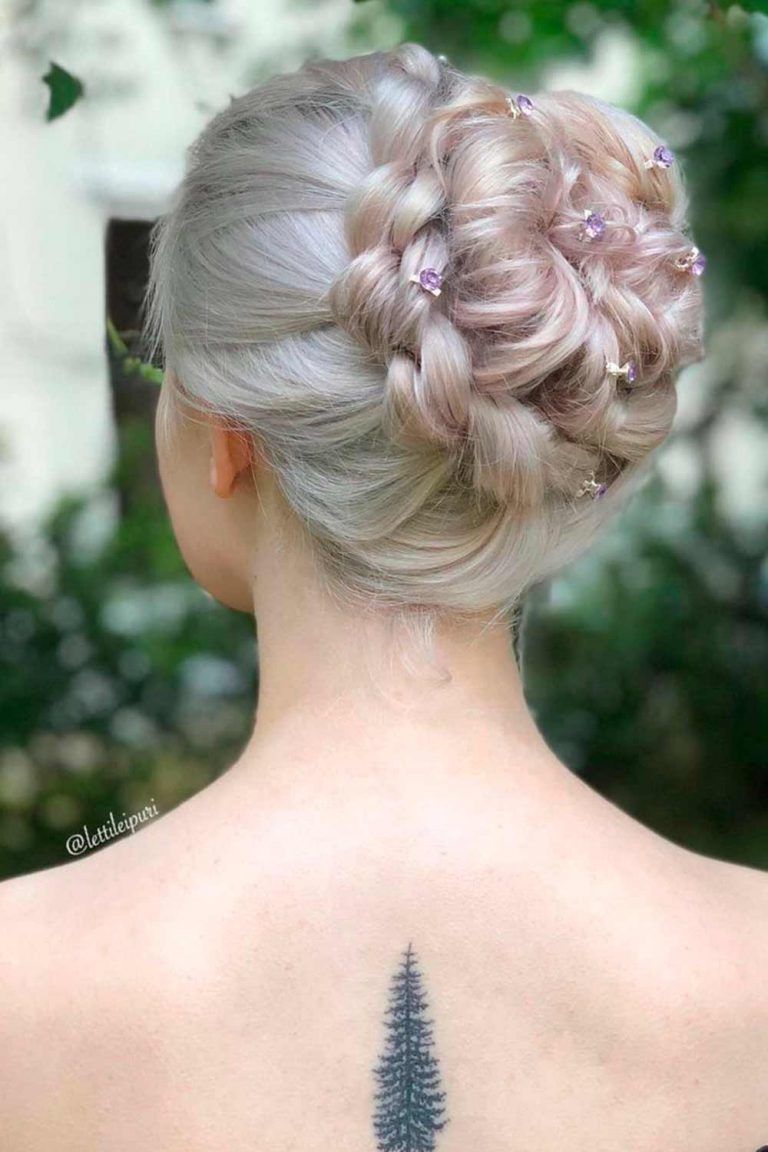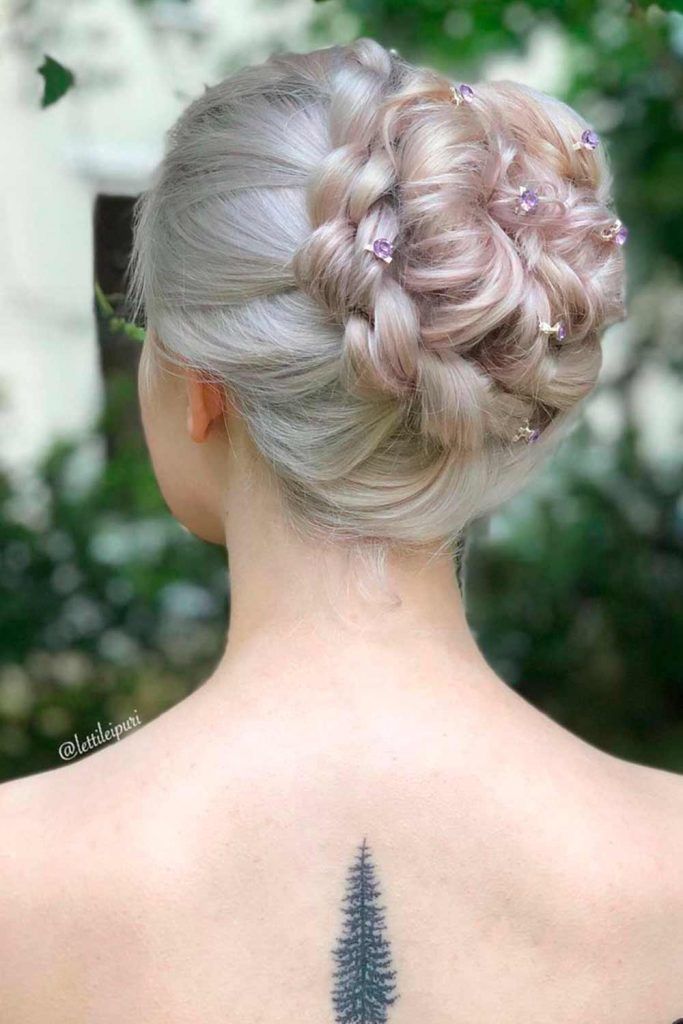 Credit photo: instagram.com/lettileipuri
There's one more thing blonde brides should keep in mind: your hair color plays a crucial role in the wedding ensemble. Whether you're a natural or colored blonde, your updo will look its best if you freshen up the color with highlights that add vibrancy to your look. Here's how perfectly blended blonde shades enhance the charm of a hairdo.
Twisted High Updo
Another classic that will never leave the fashion world - a high gradual twist that gets voluminous as the twisted sections lie on each other. By the way, this idea works universally awesome for both wedding and prom and will be complementary to any gown and outfit.
There is such a great variety of wedding updos for long hair that it can be uneasy to understand what you truly want for such a special occasion. Look through our hairstyles suggestions, and we hope you will make up your mind to something that will make you feel like a queen on such a big day.
FAQ: Wedding Updos For Long Hair
How should I wear my hair on my wedding day?
Huge ball gowns perfectly work with dramatic updos. A standard country wedding dress or seashore dress is a good fit for natural, flowing curls. Your hair can also be pushed up on the sides but left loose in the back. If your hair is particularly curly and can hold it, pin a couple of flowers.
Can hair be too long for an updo?
Make sure your hair is shoulder length or longer. This is really vital if your hair is curly. However, before getting an updo it's better to avoid using a flat iron, because it can be difficult to hold the curl and keep it fixed in place.
When should you wear your hair up or down?
An updo is the way to go if you wear dresses with a high neckline. If the dress has a low-cut front or back, you can wear your hair in an updo or just leave it down.