At first sight, undercut bob is just a combination of two popular trends that women of all ages pull off today. But if you look closely enough, you will realize that it's one of the few cuts that can really show how different women can be. One day we're feminine and subtle, and then we want to break all the rules to meet the other day. Believe it or not, the bob undercut can adapt to all your moods and fit all images you change through the week.
Unlike many common bob haircuts, this idea offers plenty of ways to individualize your hairstyle so that it matches your inner-self. Ladies who are tired of common, familiar hairstyles should see the ideas we've selected for this post. Once you check them out, you will see how stylishly you can customize your bob, thus brightening up your daily styling routine. Let's mix the trends together!
What Is An Undercut Bob?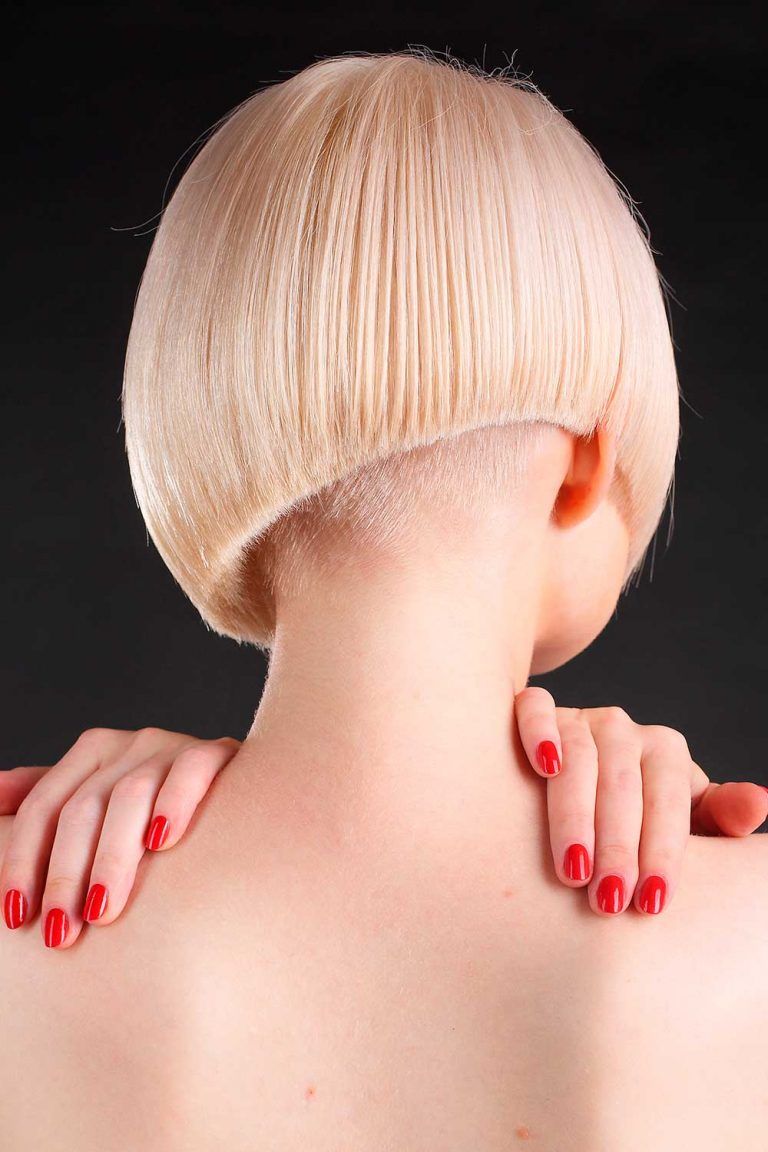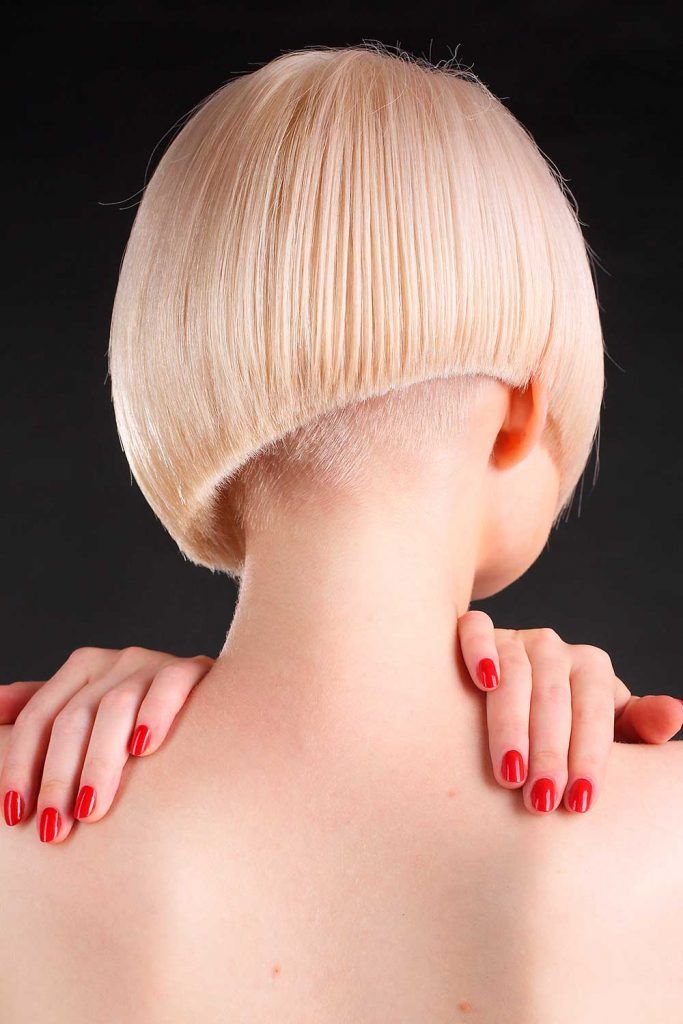 The only right answer to the question "what is an undercut bob?" will probably be "anything you want it to be". The cut first appeared in the 20's as a simple bob haircut with reverse layering and shaved sides worn by show-business stars of those days. And now, with the versatility of the bob haircut and creative approaches of the undercut, you can make up a style that will perfectly match your image and inner-self.
Undercut Bob Ideas Gallery
Now that you know what the iconic undercut bob is on paper, it's time to see with your own eyes how different, head-turning, and simply gorgeous it can be in real life. Below, we've selected the most radiant ways to pull off the trend so you can get inspired for your next game-changing appointment!
Pixie-Bob With Undercut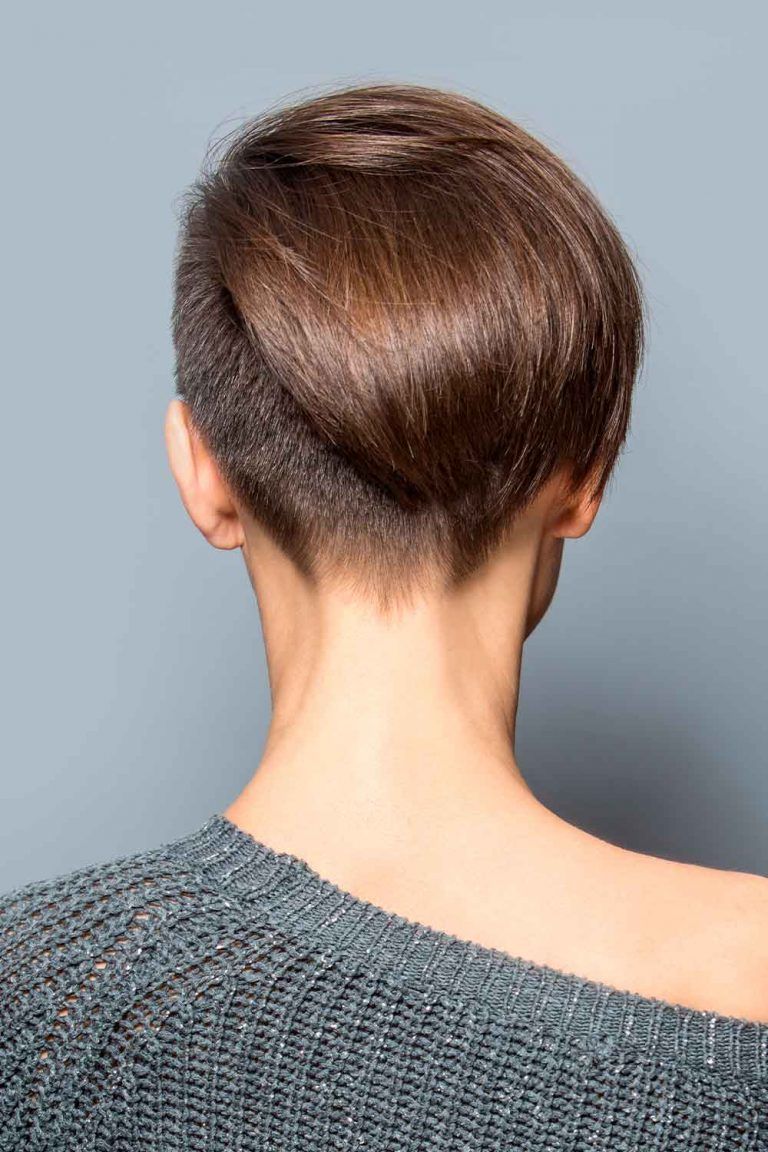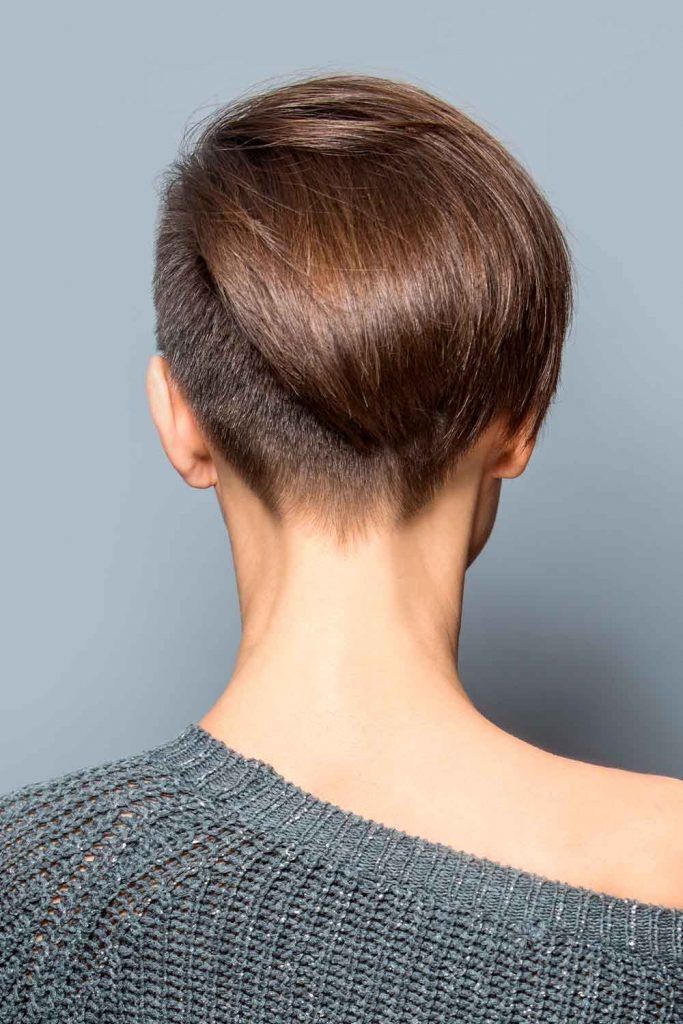 The well-groomed and voluminous silhouette are the calling cards of the famous pixie-bob. How about you to make it different? This pixie bob with undercut shows how the bold move of shaved sides can enhance the volume on top, adding some wild, modern vibes to your look.
Shaggy Bob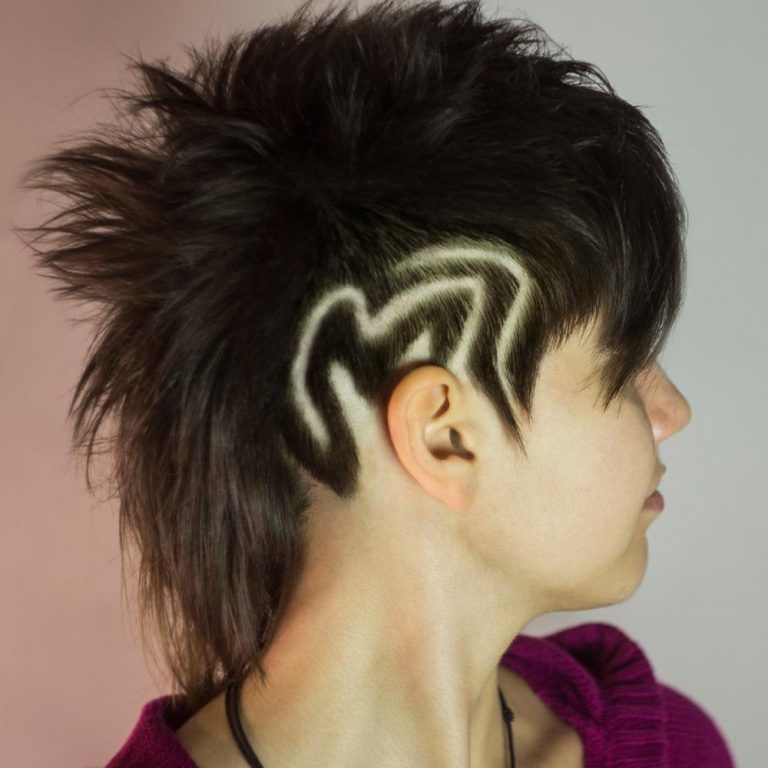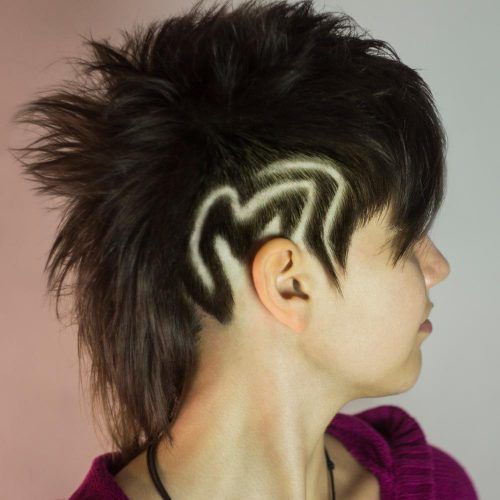 Obviously, all those bright souls who love to express themselves through colors can't do without the right, flattering cut. And even when we experiment with our image, it's very important to keep our femininity. A shaggy bob haircut with undercut like this can nicely finish the creative look and bring a very girly mood at once.
Short Bob + Fade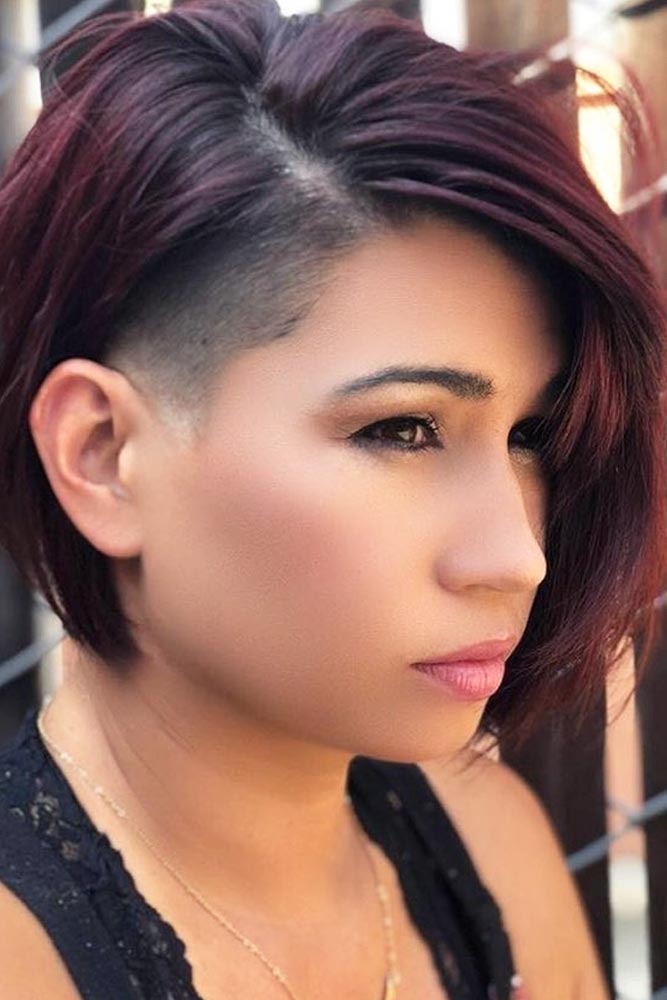 Credit photo: instagram.com/sm_lawless via Instagram
Don't forget about the diversity of undercuts! For example, you can spice up your short bob undercut with slightly faded sides and give it a totally different look. In this way, the length contrast won't be too sharp, yet the style will look pretty balanced.
A-line Bob With Undercut + Baby Bangs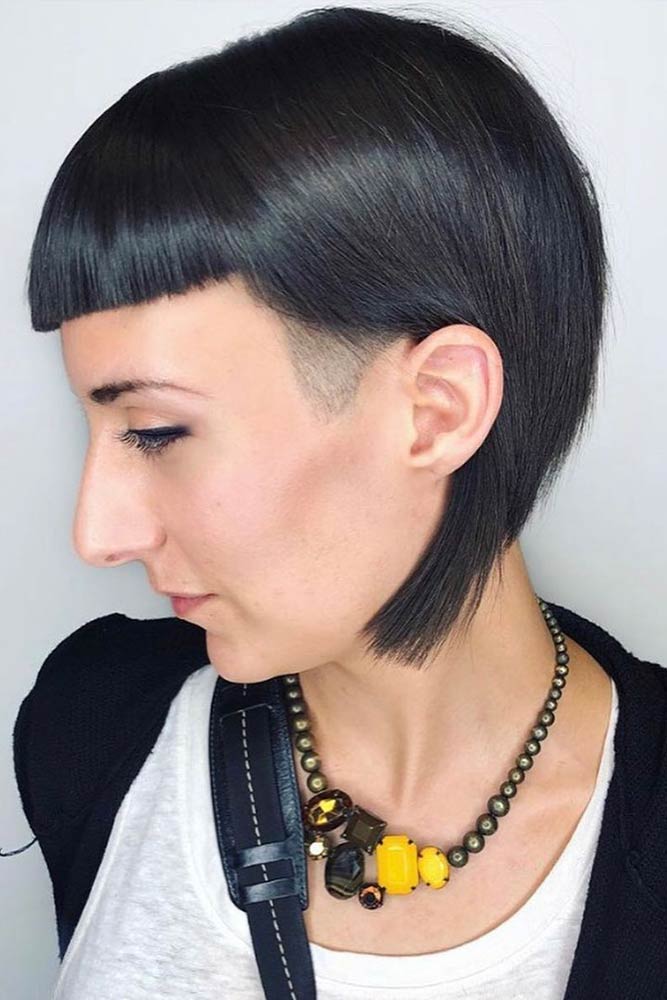 Credit photo: instagram.com/mslameylynn via Instagram
Yes, undercut bob haircut has many faces. So here comes its latest version - undercut bob with bangs! The angular body of A-line bob wouldn't look that striking without the neatly shaved sides and precise baby bangs.
Messy Layered Undercut Bob With Waves
Here comes the undercut bob women of all ages would like to try! This idea features buzzed sides and back of the head hidden under the top layer of hair. Such a haircut is a nice option for summer, as it involves less hair, which gives a lighter overall texture. A tip: it will look wonderful with some tousled wavy charm.
Long Straight Bob With Side Undercut Design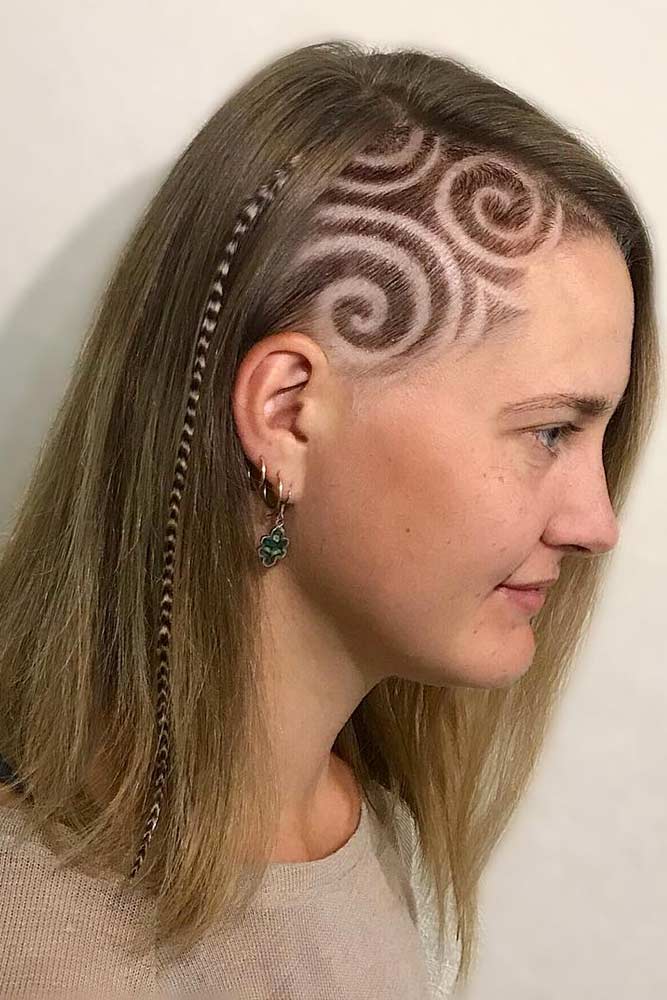 Credit photo: instagram.com/hairmastertanya via Instagram
We can't even imagine a more creative and unique idea than this long bob with undercut. The whole body is perfectly sharp and defined, and the shaved portion changes the way such bob haircuts usually look.
Side Undercut For Layered Wavy Bob
You can either get one side shaved or go for a classic undercut; the point is that you can experiment with the top in any way you want. To enliven your volumetric wavy bob that is full of movement, sweep the top to the side and show up with an outweighed, awesome look of the brand new undercut bob haircuts.
Flower Design For Straight Bob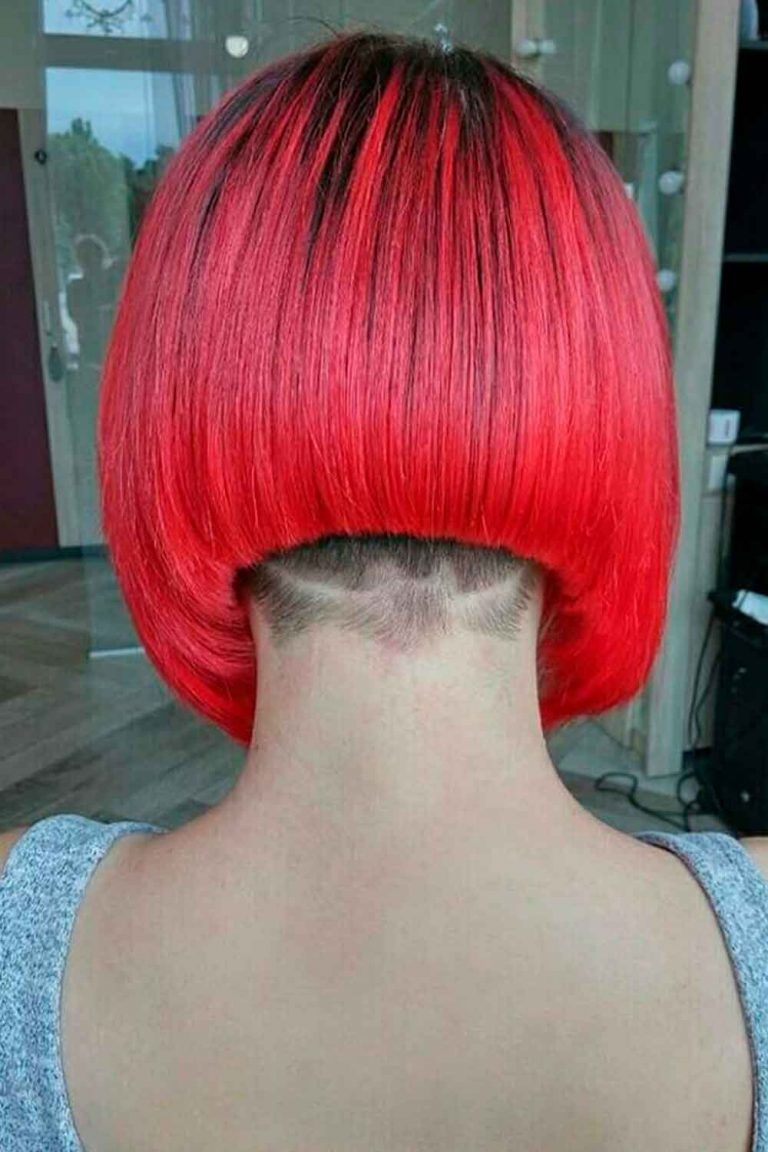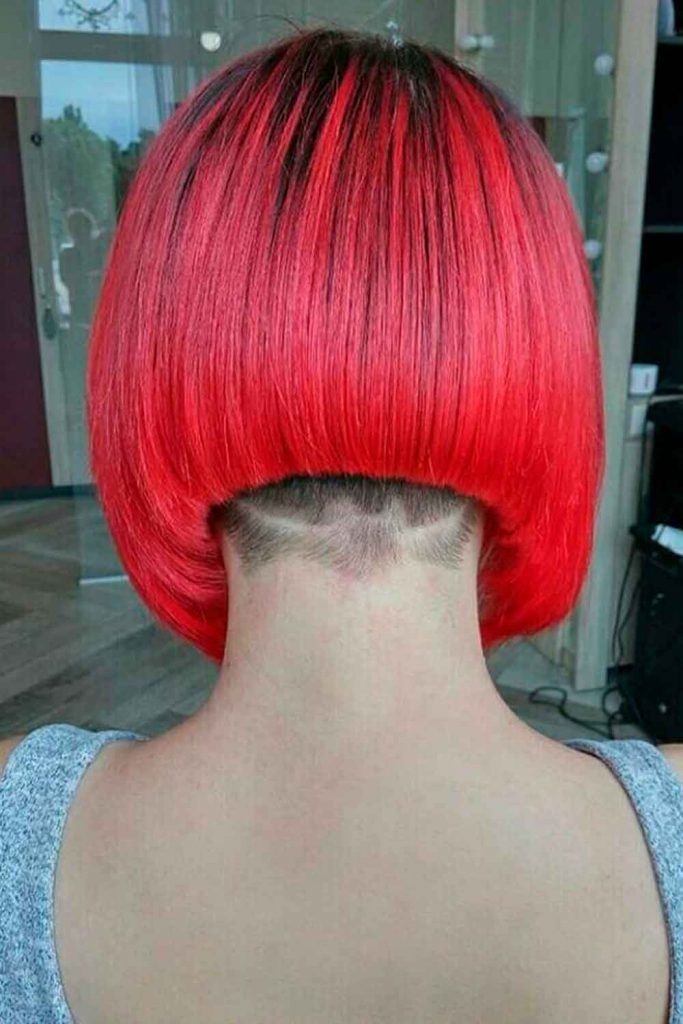 Credit photo: instagram.com/_anastasia_shkilevich_
Whether you are about to finish your short bob with undercut or you feel like your long mane needs a touch of faded neatness, a fascinating floral design will make your look even more outstanding.
Short Bob With Nape Design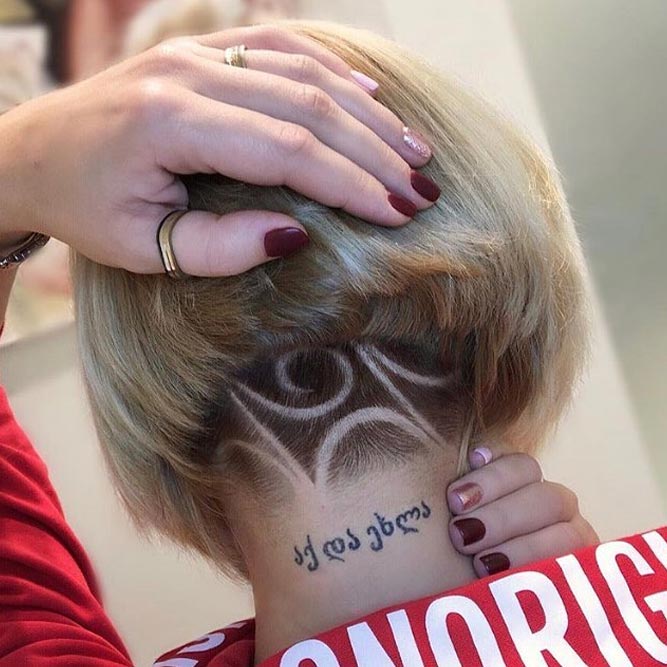 Credit photo: instagram.com/hairmastertanya via Instagram
Here's another way to customize your trendy cut. This shaved undercut bob, accentuated with glamorous nape design that is hiding under the inverted cut is the proof that this haircut knows no limits.
Short Bob With Heart Undercut Design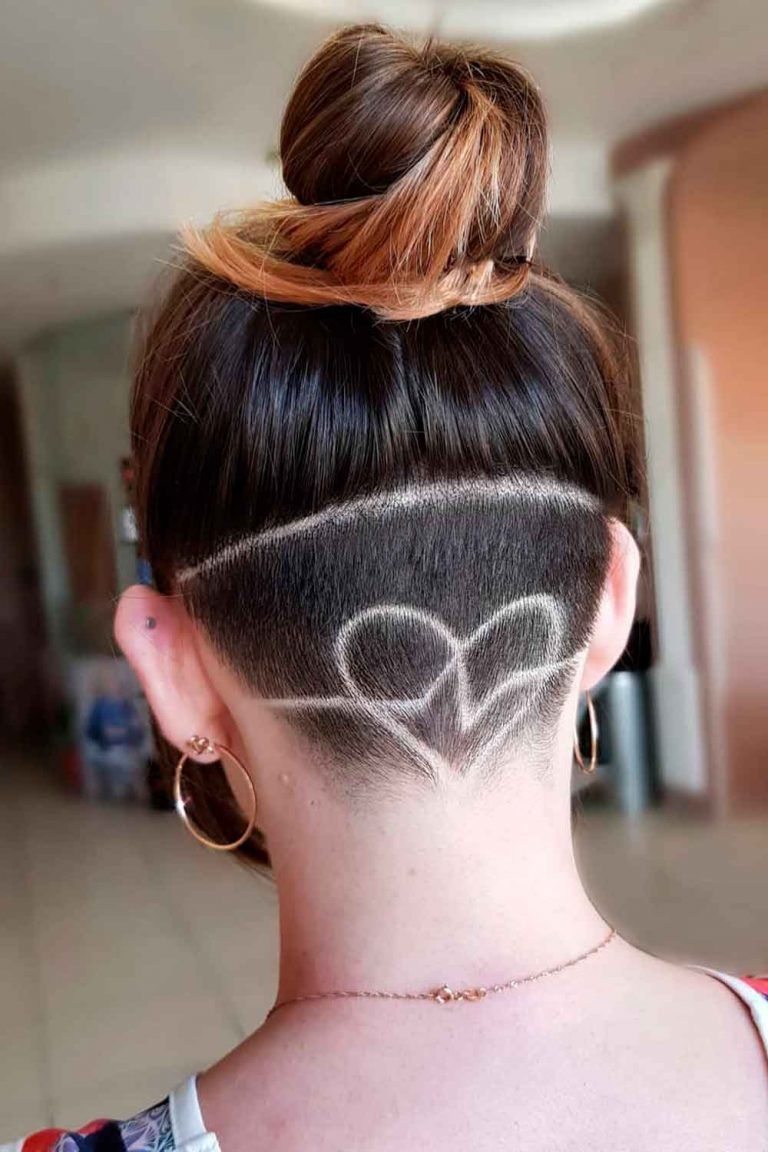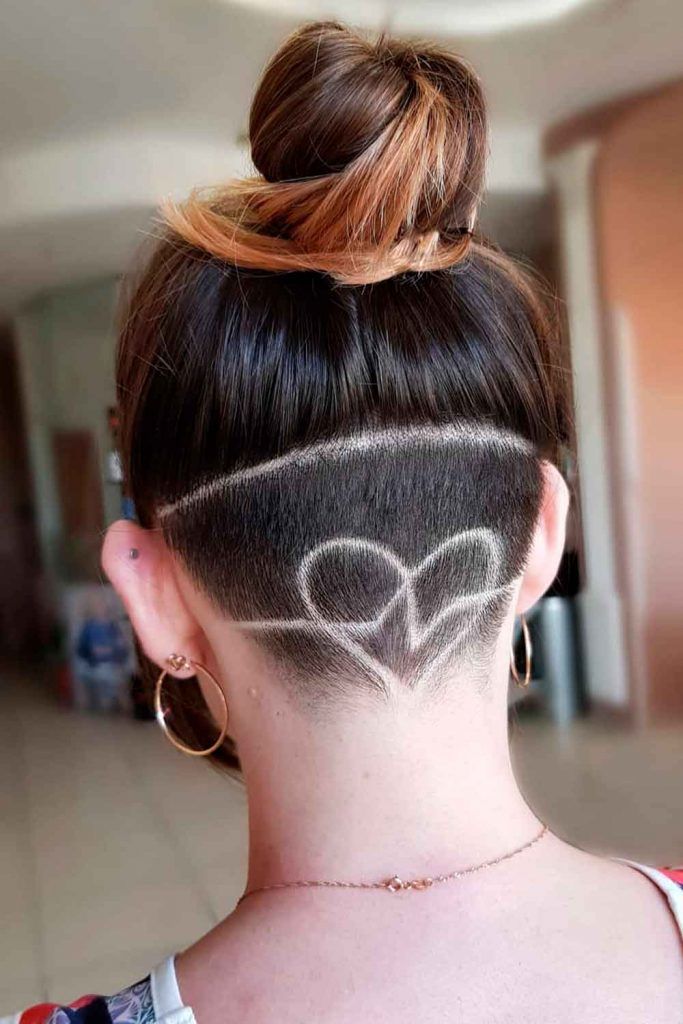 Credit photo: instagram.com/julie__petrova
Who says that short undercut bob can't look girly? Even though such a detailed idea may be a commitment, it can be the embodiment of who you are. Girls who are into soft, gentle colors and heart designs should look no further than this combo.
Side Undercut Design For Medium Wavy Bob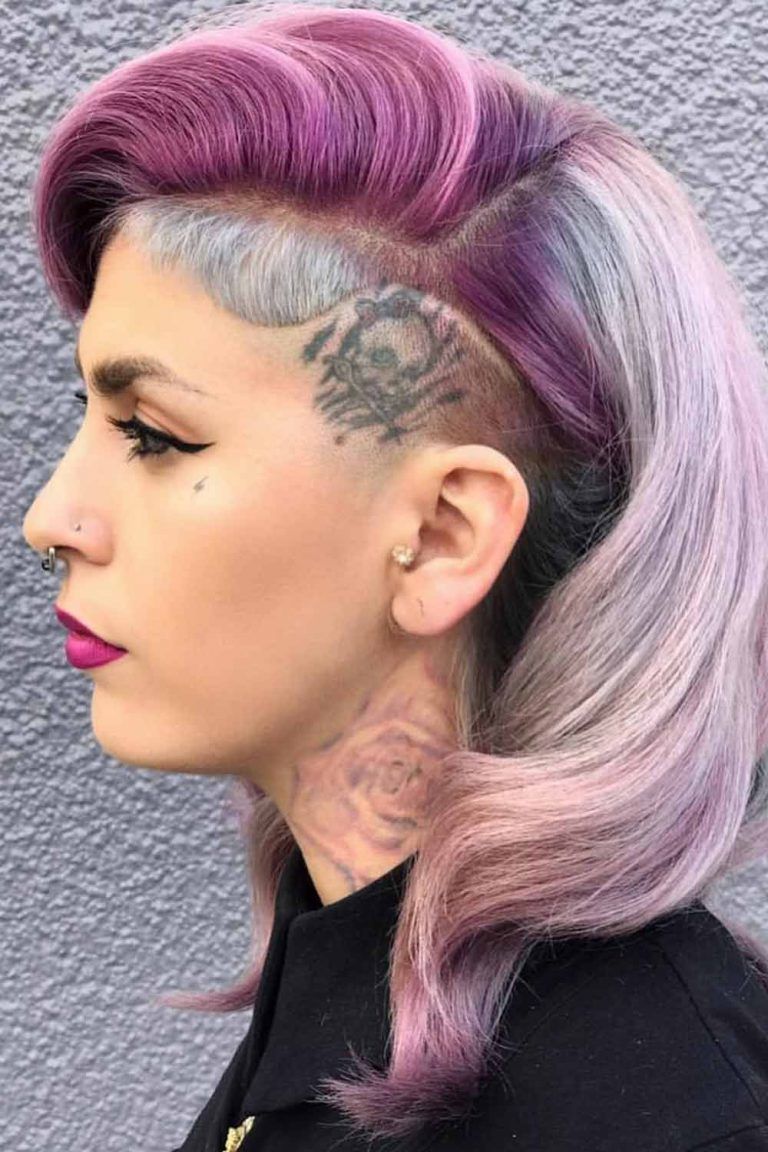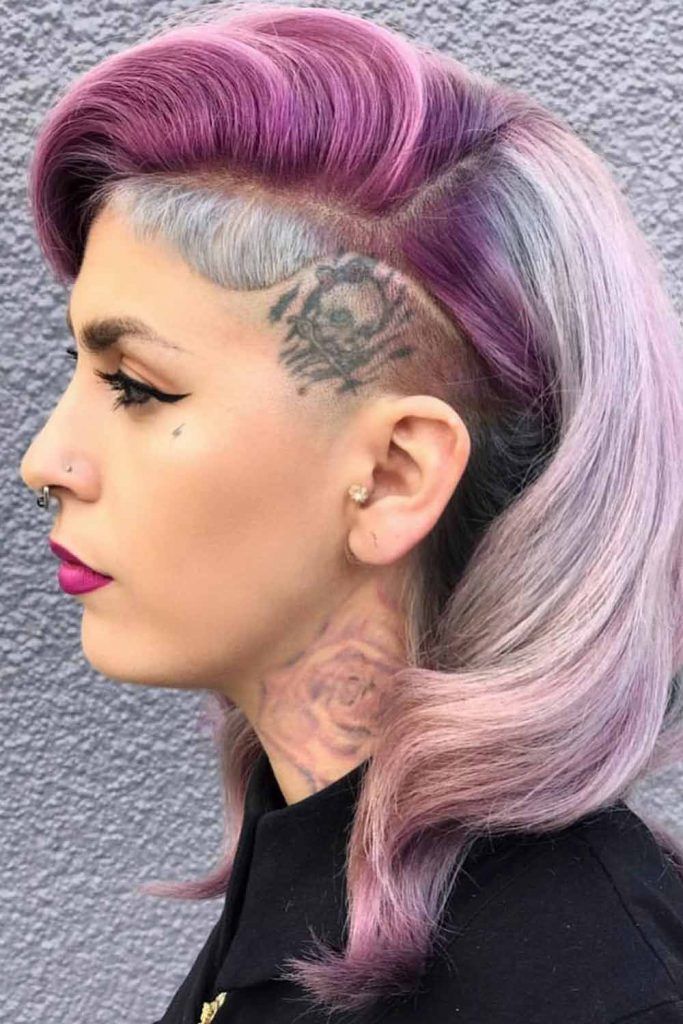 Besides adding new colors to your medium bob, you can make it more distinctive with a side undercut design. Of course, you will need to maintain your asymmetrical bob with undercut regularly, yet the result is worth a try!
Nape Design For Curly Bob
For those who fight with thick, coarse or simply unruly hair, some lightness won't hurt. This undercut bob for thick hair involves a nape design for two reasons. First of all, it looks super stylish. Secondly, it can give your chevelure some rest.
Bird Undercut Design For Long Bob
Your hair is nothing but a canvas to your imagination, and you are the only one who knows what colors and designs to use. If you're bold enough to embrace approach like this undercut long bob, make it big and finish everything with an eye-catching color!
Some Ideas To Style Short Bob With Undercut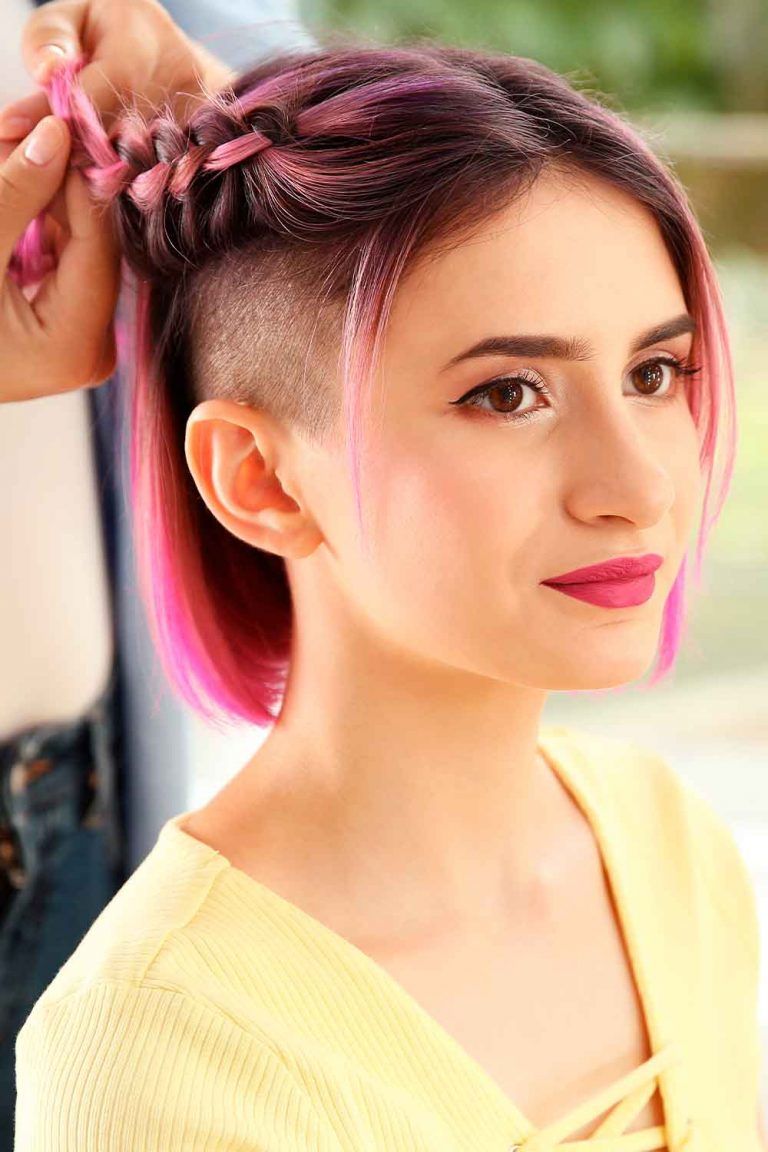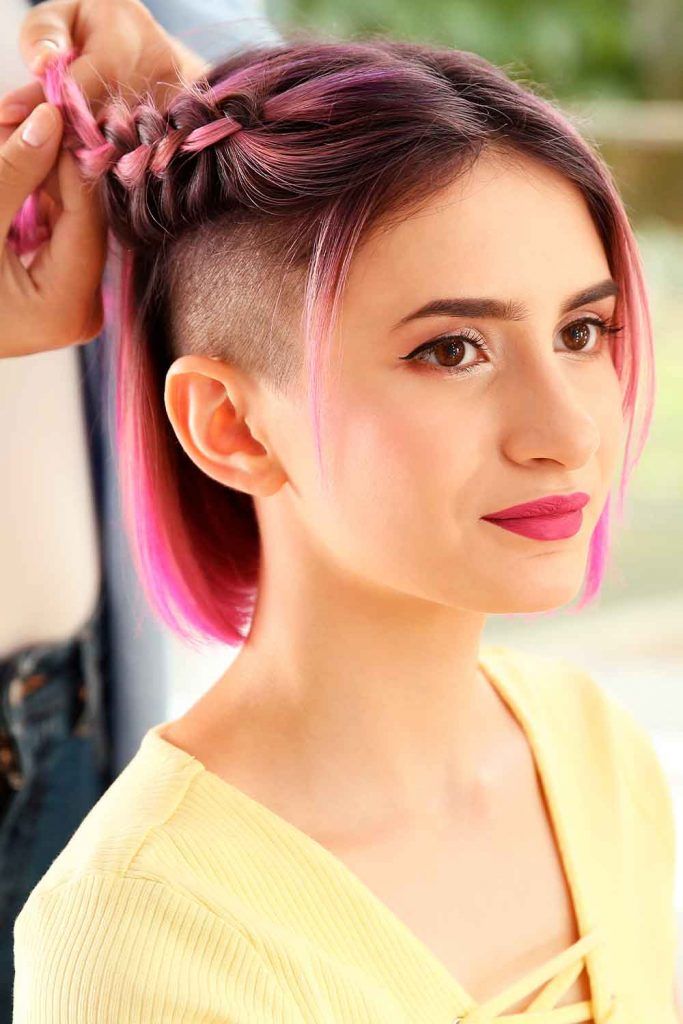 Styling variability means the world to modern ladies. Luckily for undercut bob lovers, this haircut has a lot of things to offer. You can turn your top into a chic, minimalist bun, create a braid that will outline your sides, add some messy waves or play around with bangs. Undercut bob hairstyles can be anything you want them to be, remember?
Short Pony For Undercut Bob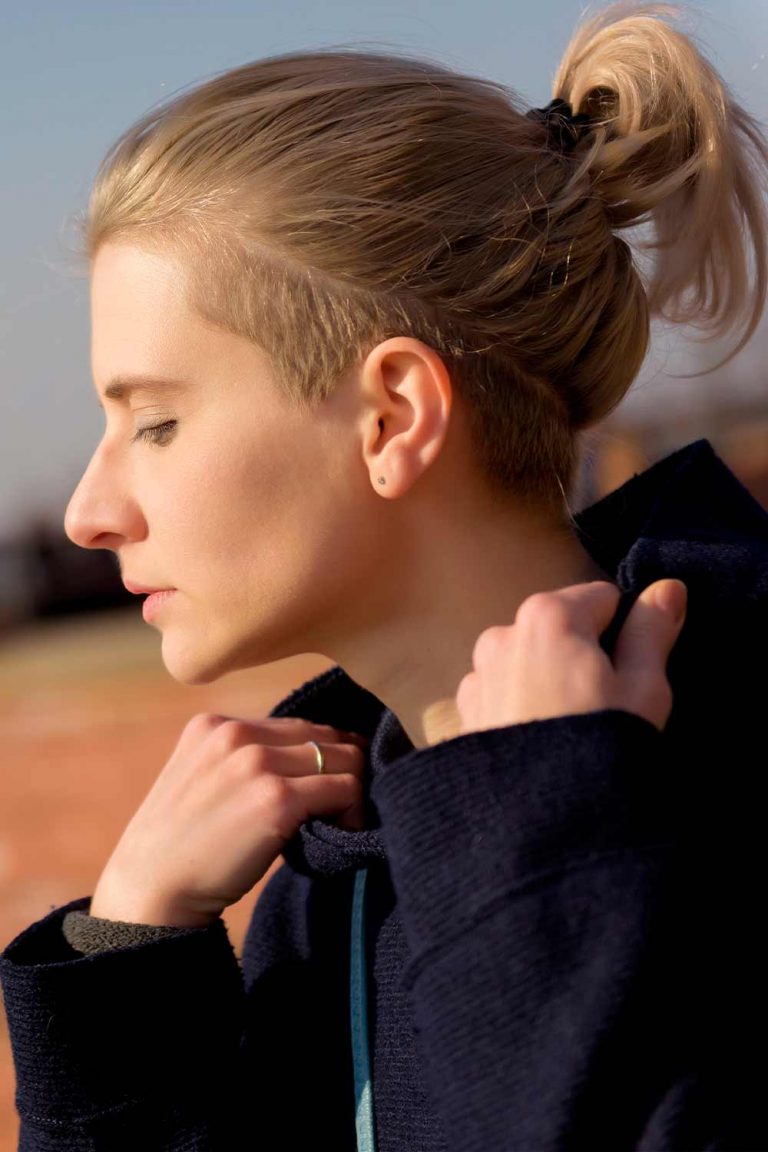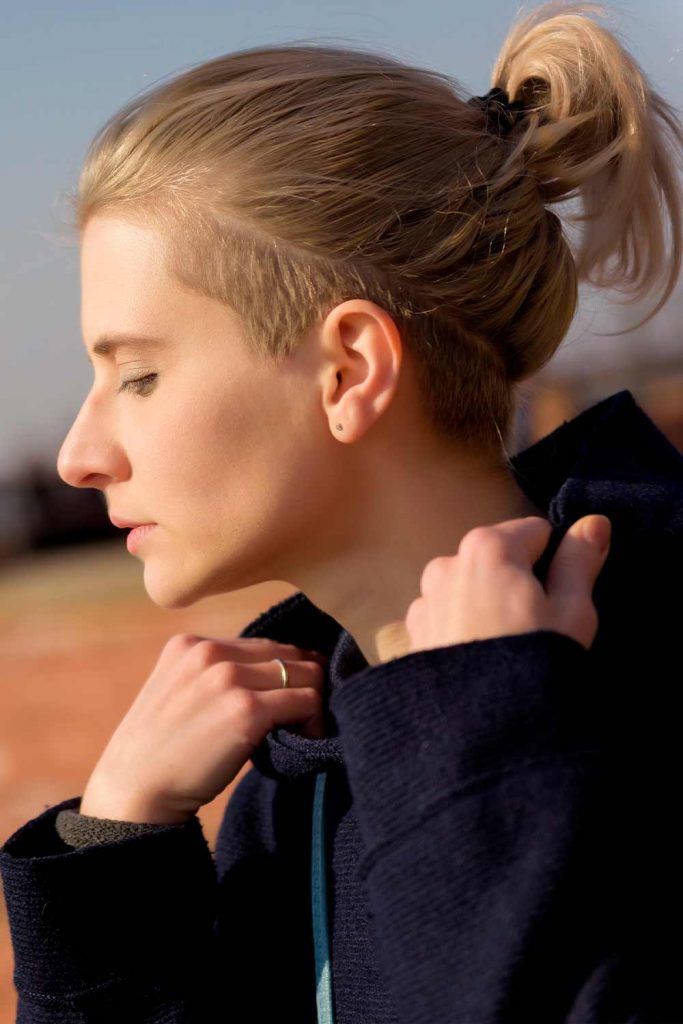 Even a simple ponytail will introduce itself from a new perspective once you shave the lower portion of your short bob. On top of that, the length contrast will visually add more volume to the top, which is a win-win for all girls.
High Bun With Nape Undercut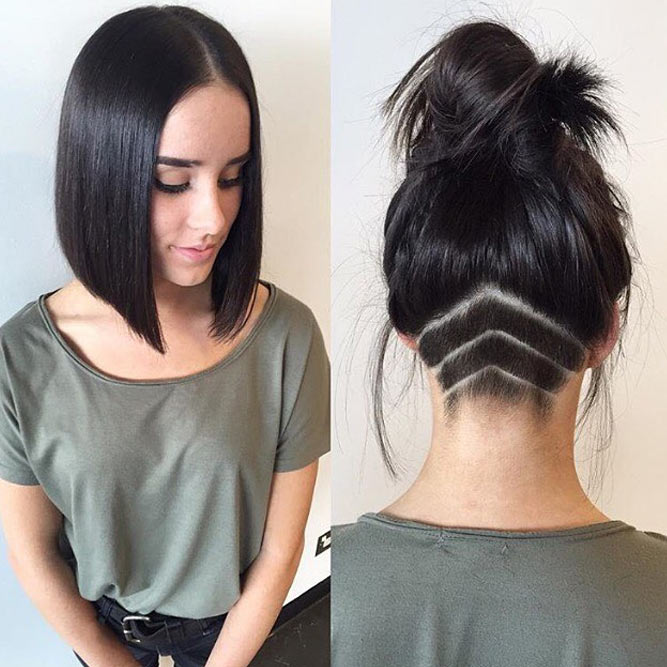 Credit photo: instagram.com/hairbyrubymay via Instagram
The best thing about nape designs is that they can take familiar hairstyles to the next level. Check out the enviable look of this messy high bun with the angular hair tattoo!
Side Hair Tattoo For Short Bob
With such a bold move as a shaved side, it's hard to recognize a bob haircut in this spectacular masterpiece. But this idea is impossible without a bob! And to bring it to life, you will need to shave off one of the sides of your cut, leaving some length for a beautiful design. Then, find a skilled hairstylist who knows how to deal with hair designs, and let your undercut dreams come true!
Moon Undercut Design For Short Bob
This moon phase design is nothing but a combo of minimalism and creativity. Together with the jet black hair color, this undercut looks unbelievably outstanding. If you don't want to lose much length, you can get a hidden design that will show up once you create an updo.
Asymmetrical Short Bob With Undercut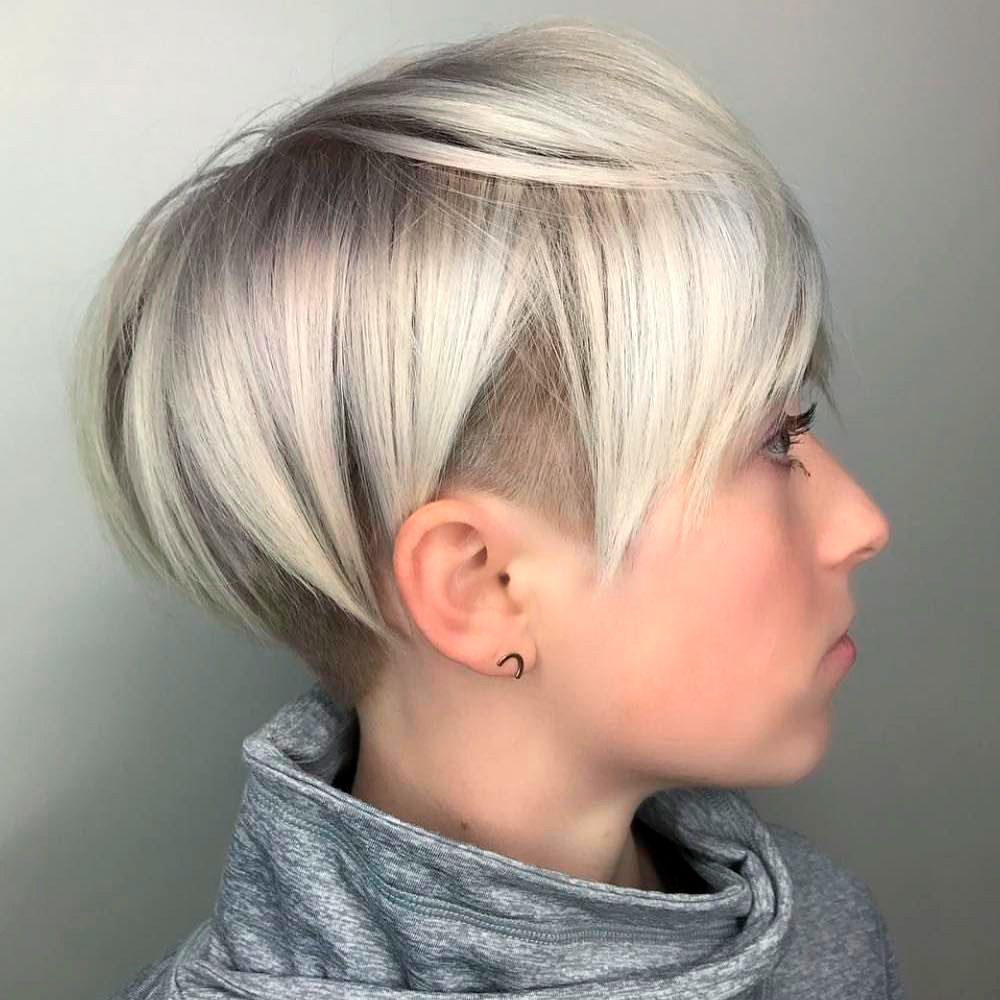 Credit photo: presleypoe/Instagram
The popular asymmetric silhouettes can look even sharper: just shave the sides slightly! Besides the attractive appearance, such a haircut can deal with both thin and thick texture. For thin hair, the texture contrast will create a fuller effect, and for thick hair, the shaved sides will lighten up the heavy chevelure.
A-line Lob With Undercut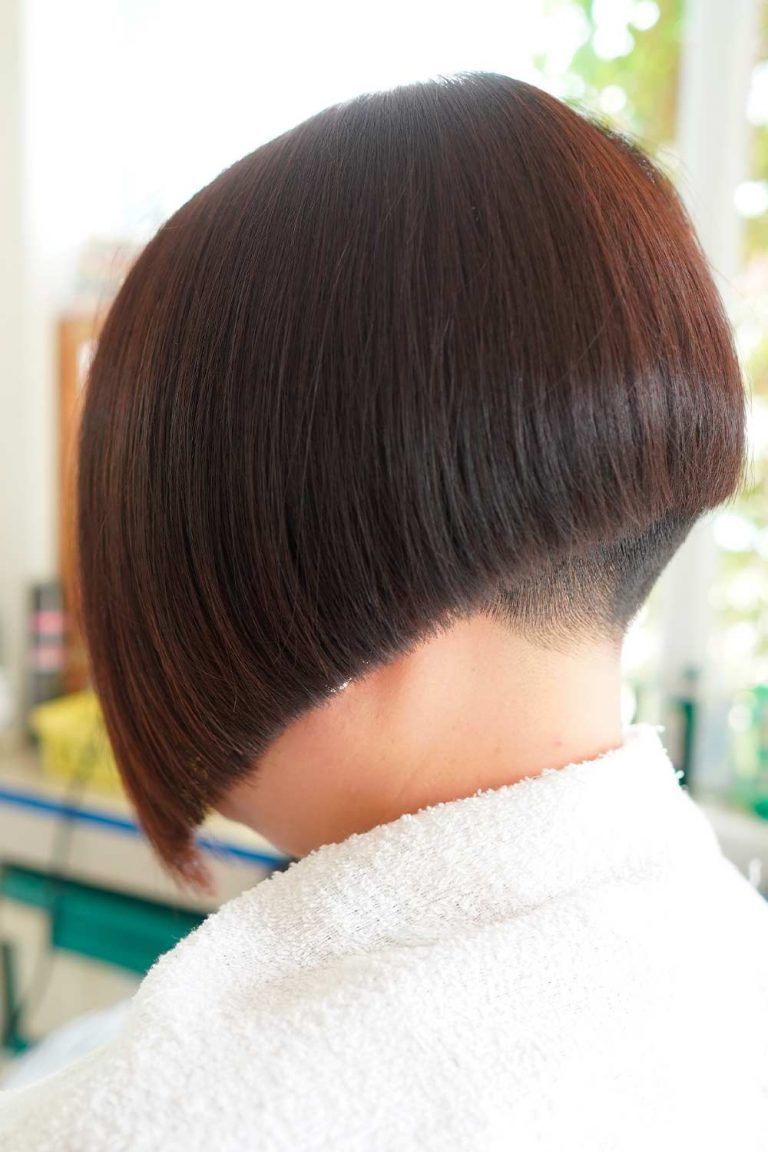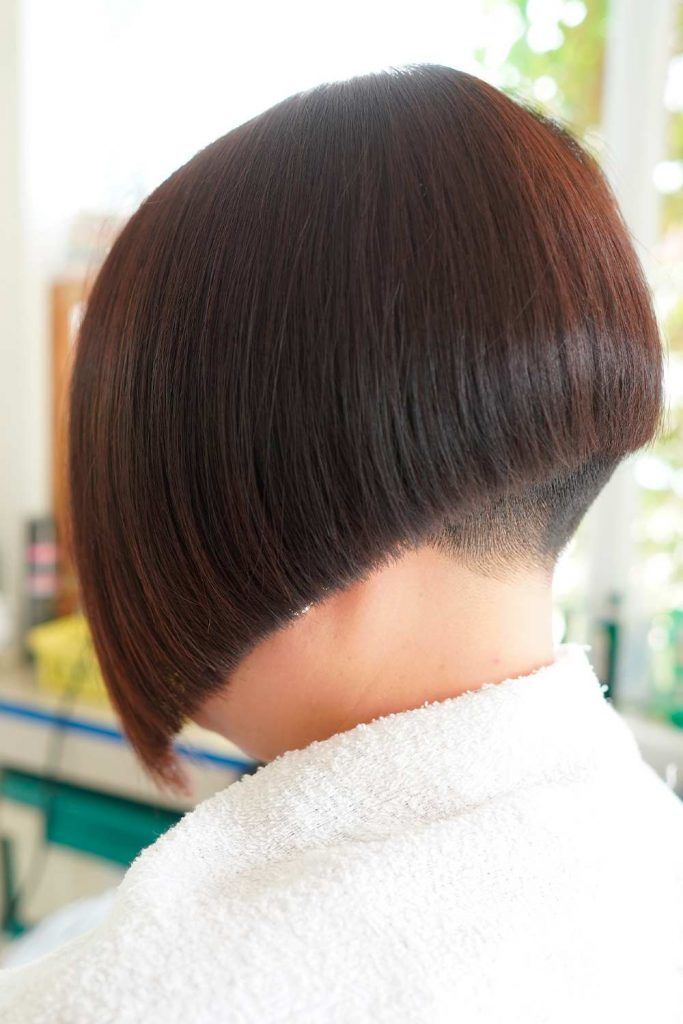 Here's another way to get the most out of your unruly texture and rock a special style at once! The lower portion of hair is shaved to turn into an undercut while the edgy, angled body of the lob gives a sophisticated and modern look.
Swept Back Short Bob With Undercut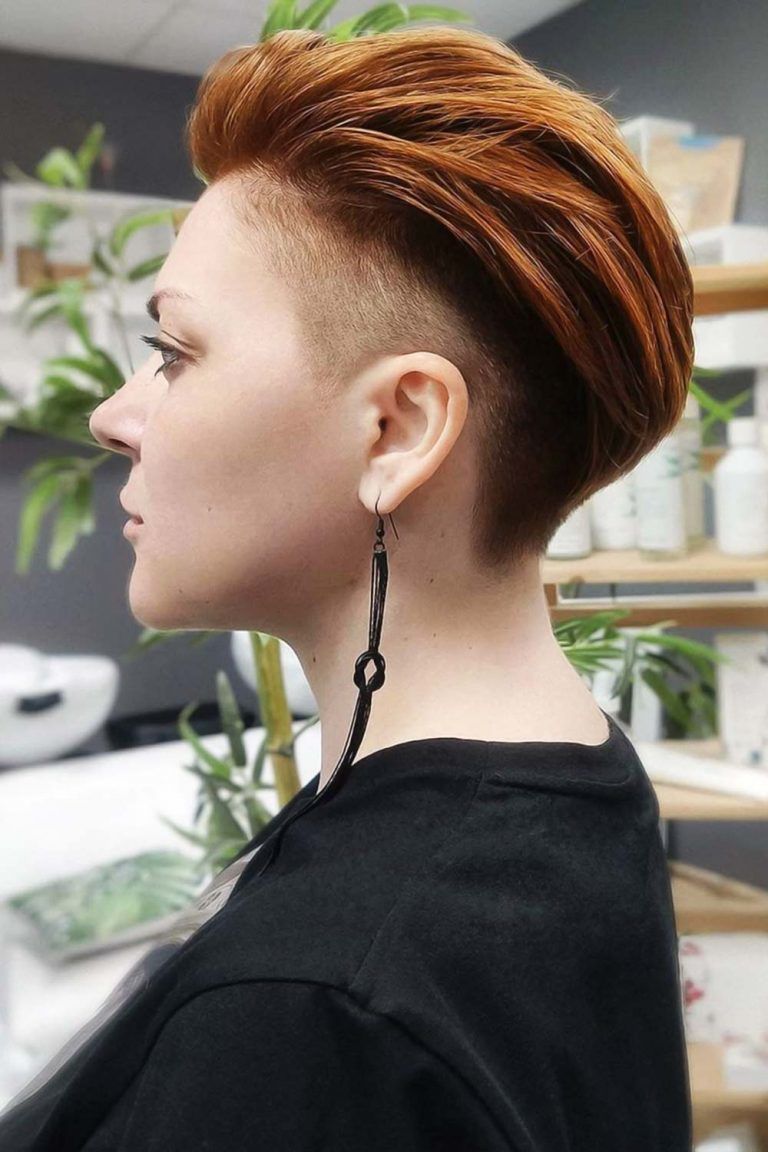 Credit photo: instagram.com/kristina_color39
This fusion blurs the line of where the bob ends and long pixie begins with its graduated undercut sides adding visual height! Despite being bold and outstanding, this haircut looks neat and sophisticated due to the soft approach to side-to-top transition. As for the style, it's just the icing on the cake: the swept-back style adds movement and texture to the look, thus building the needed balance.
Thinned Bangs With Side Undercut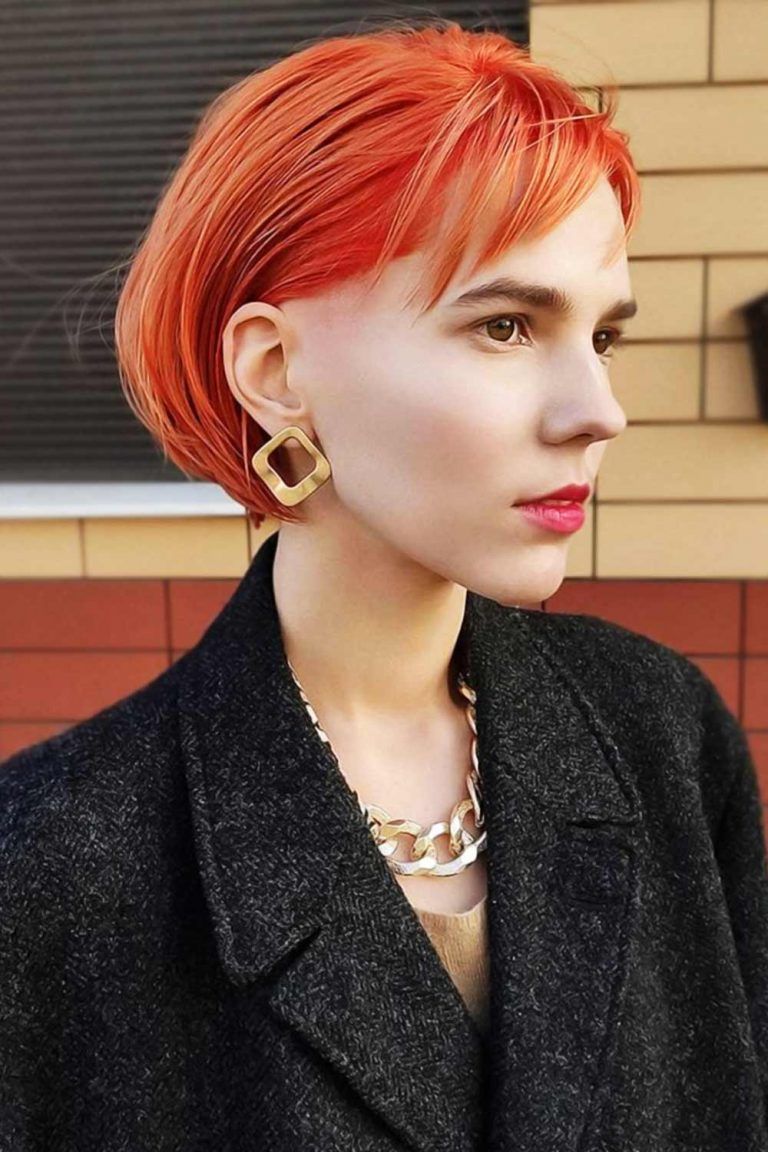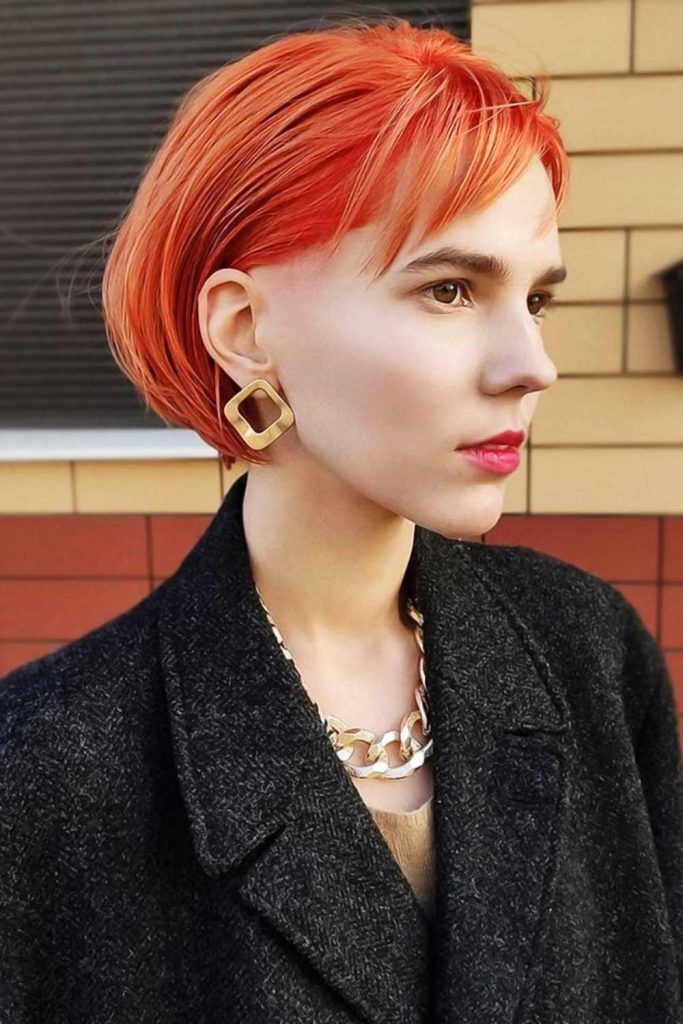 Credit photo: instagram.com/kristina_color39
Your undercut shouldn't be big and screaming to make you stand out in the crowd. In fact, even the slightest shave on one side is enough to breathe character into your bob. Besides, if you're not afraid to play with colors and bangs, there's no way you'll ever take a back seat in modern fashion. You will love how effortless but striking you will look if you tuck your short bob behind the ears. In will reveal the magic of undercut and add a soft wispy bang to fall as a statement-making accent.
Undercut + Long Waves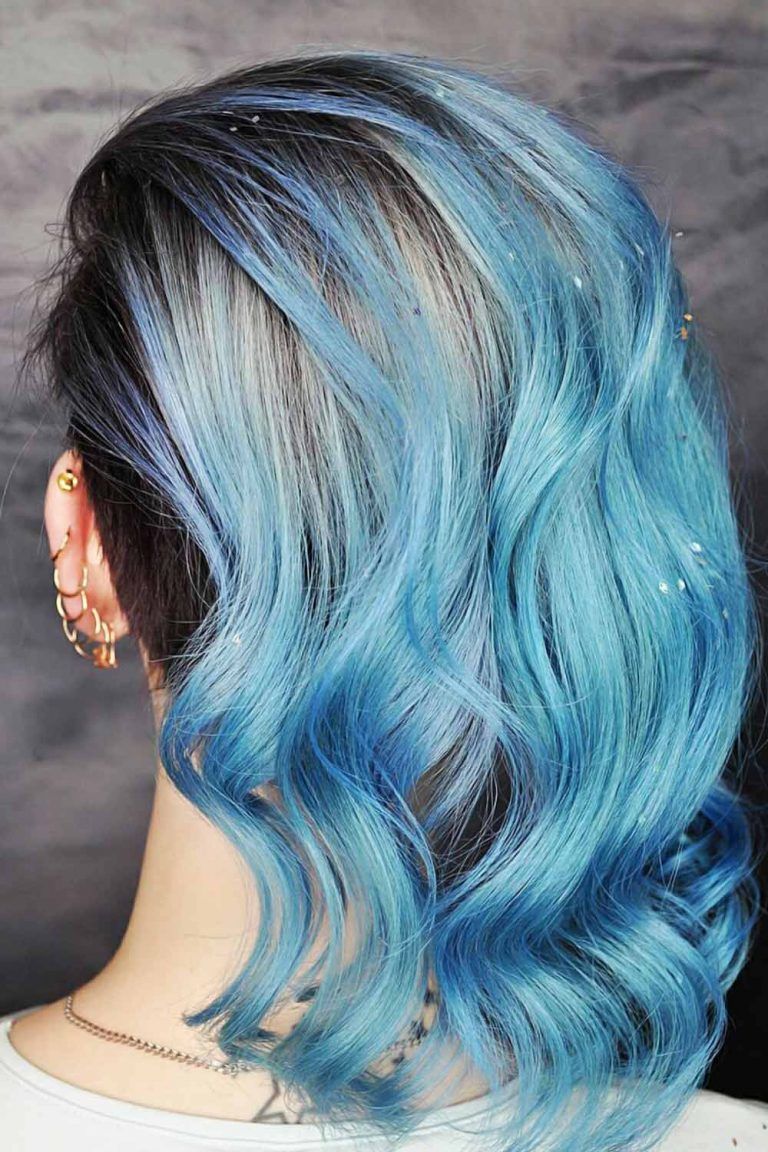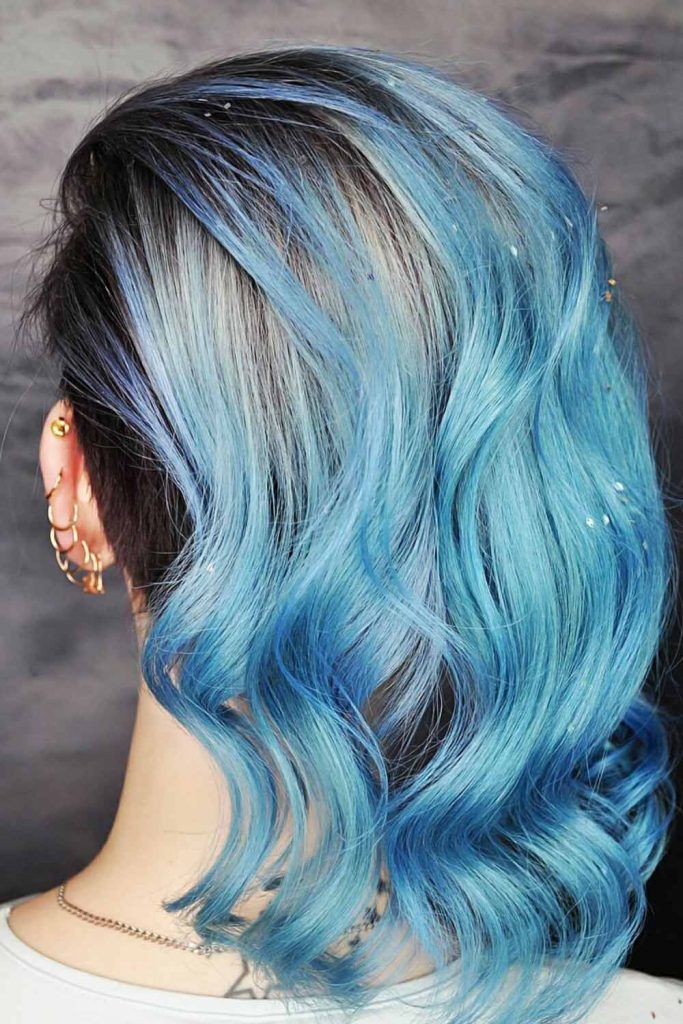 Credit photo: instagram.com/kris_hairraider
There's another great thing that makes the bold undercut bob haircut flexible and versatile for many women. Once your undercut grows out, you can have it trimmed in a salon or do it yourself in minutes to refresh the look and take it up a notch. And when the bob grows out, you can give life to a brand new look. A bob can seamlessly transit into a lob, which will also give you more room for styling and coloring experiments. Try waves, for example, and you will love the vivid contrast on the longer top!
Inverted Short Curly Bob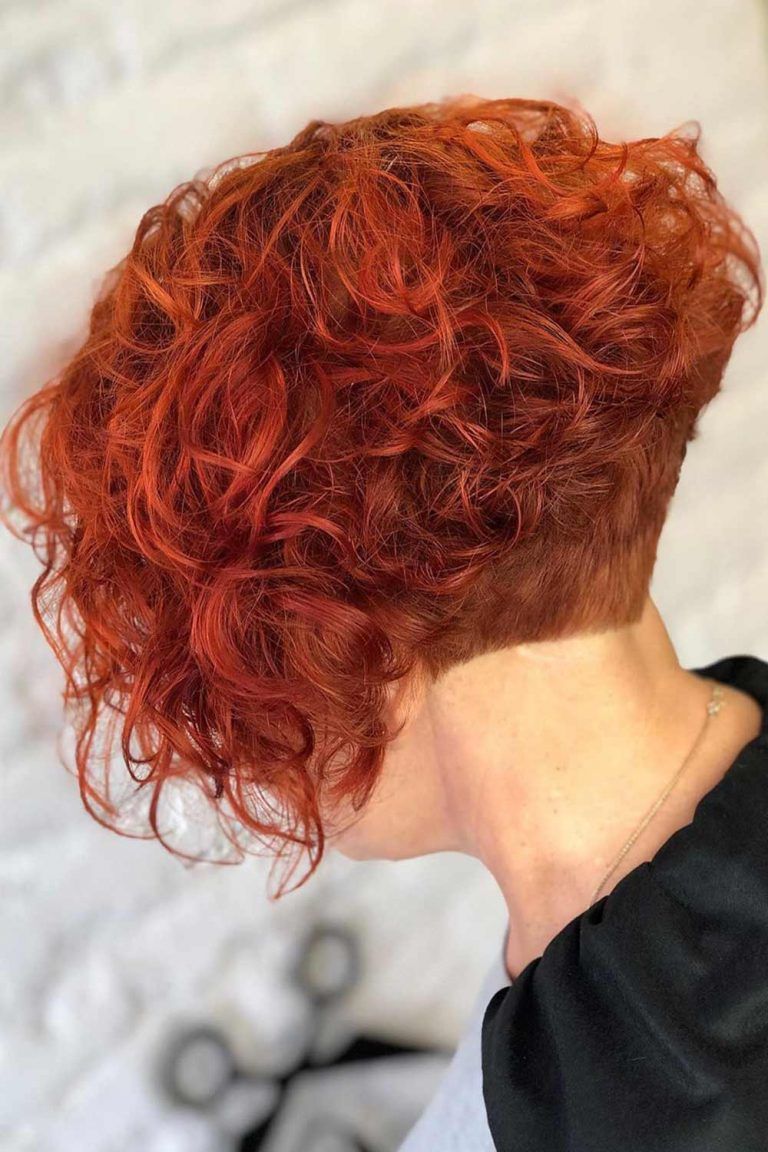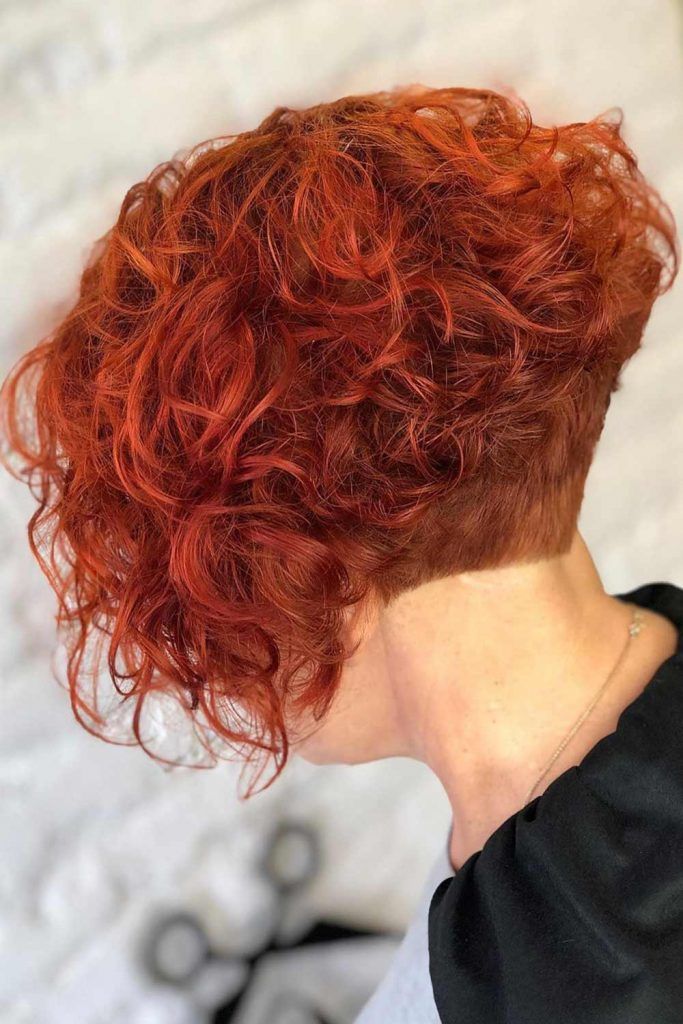 Credit photo: instagram.com/lavrenova_olya
We love inverted bobs not only for the texture that breaks free from comfort zones and shows short hair from a new perspective; we love it for its endless room for customizations. Everything from the angle of the cut to the graduation on the back, as well as the shape of crown and texture on top, can be tailored to your taste. And, needless to say, a hint of undercut has turned out to be one of the greatest ways to individualize this amazing haircut. Plus, if you rock curls, a soft shave on the back will only put them in the spotlight.
Concave Bob With Undercut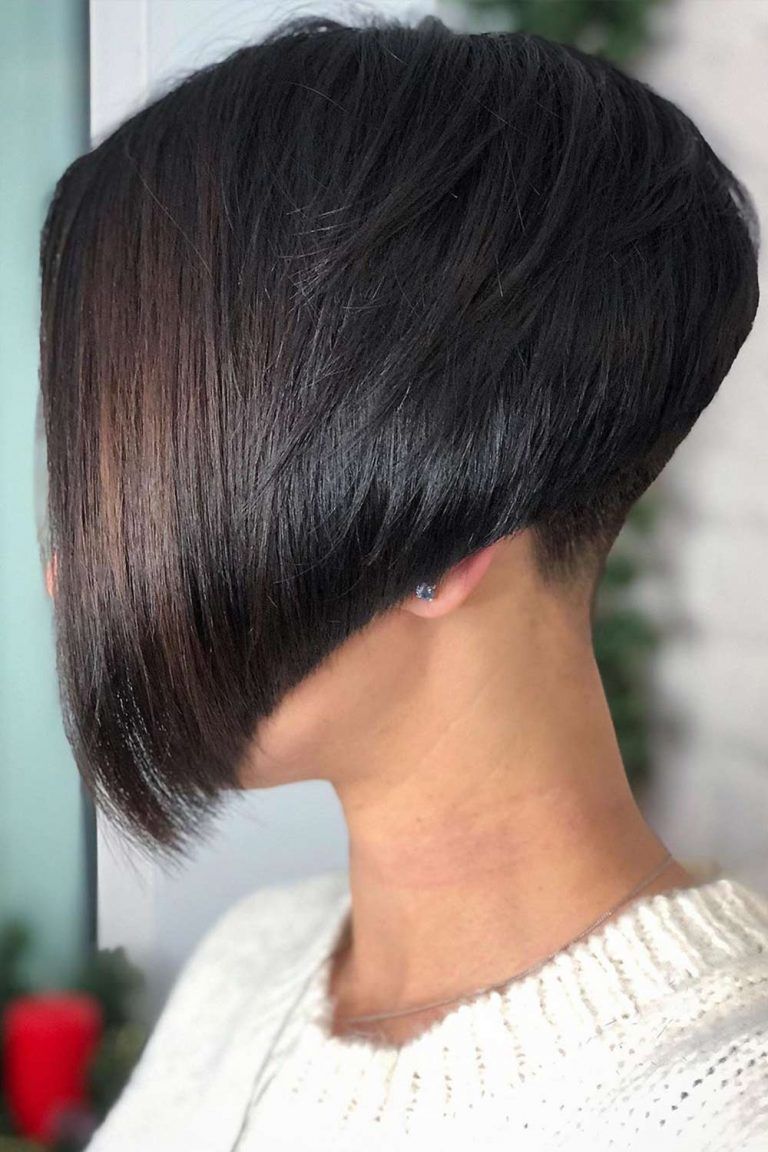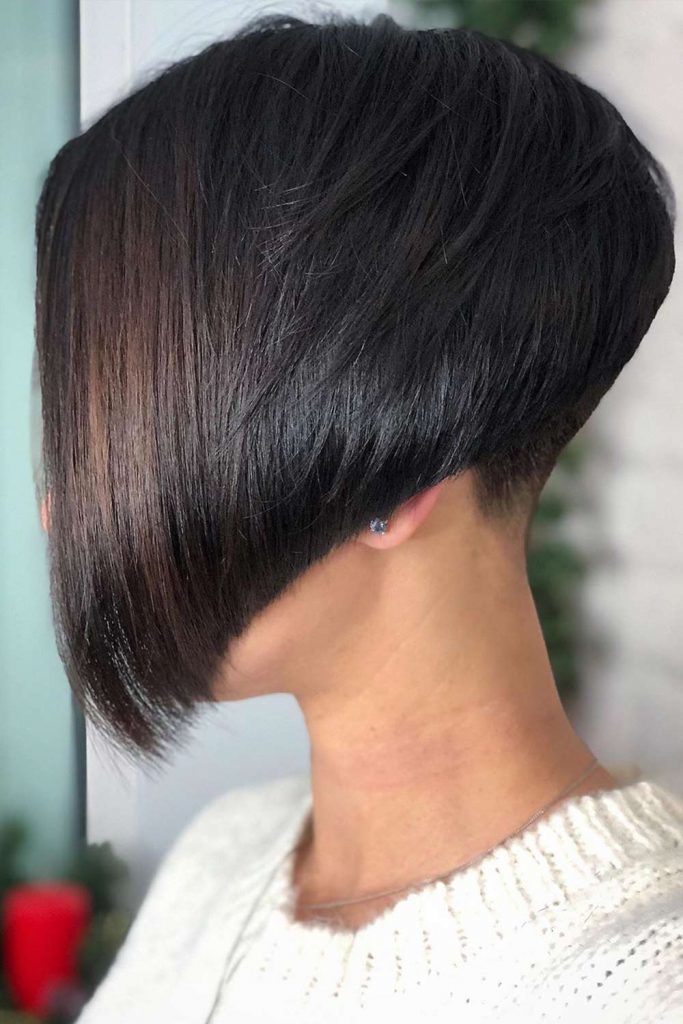 Credit photo: instagram.com/lavrenova_olya
When we look at this dramatic and sharp concave bob, we realize that this trend has been missing one little detail. Of course, an undercut was the final puzzle to make this look perfect. Shaved nape and sides make the graduation to the crown neater and even, which enhances the cascading long front. By the way, layers will be a nice finishing touch to this duo if your hair is thick and needs some lightens on the ends.
Medium Length Bob With Side Undercut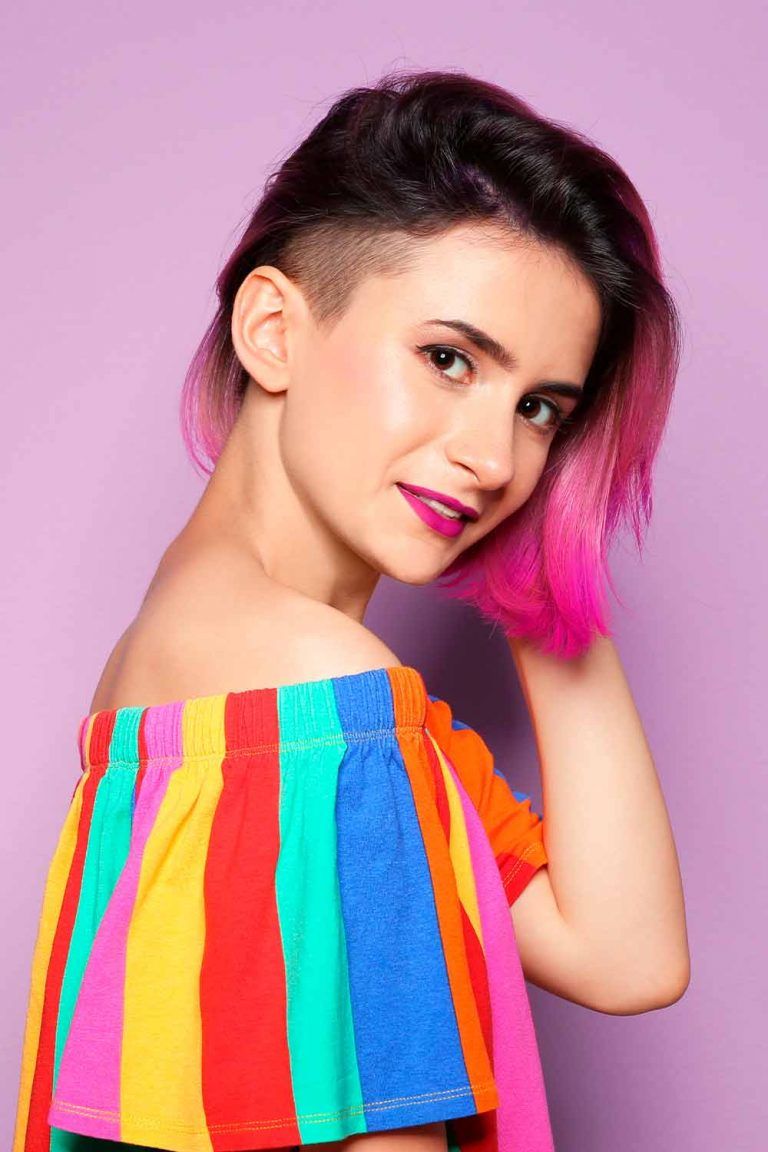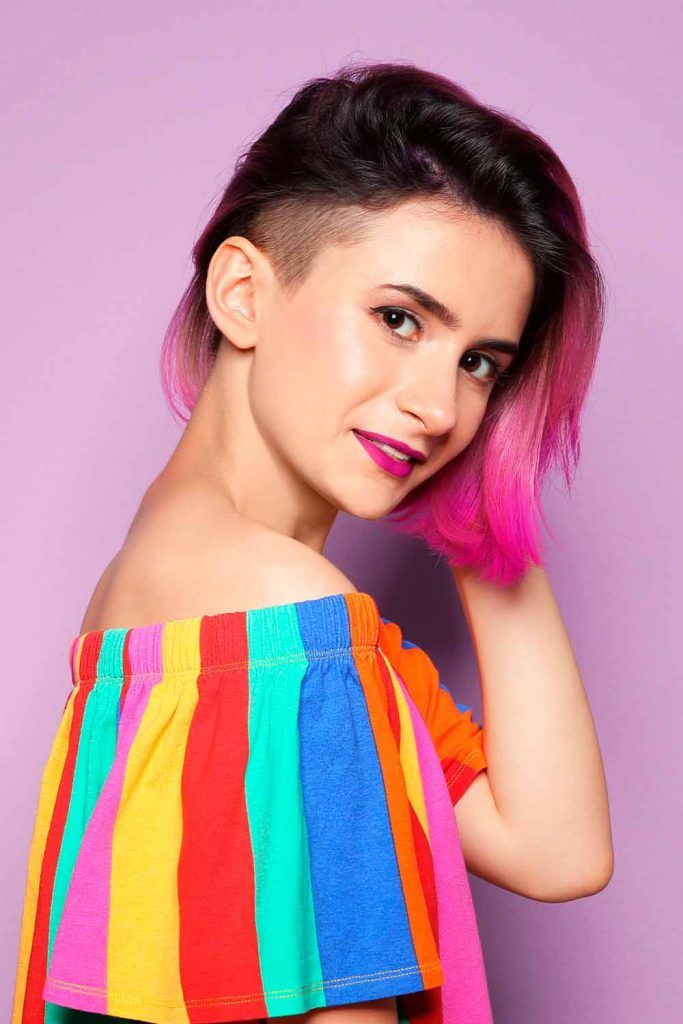 Did you know that curly-haired girls with thick and unruly hair were the first to adopt undercut and unleash its feminine side? The thing is that shaving, buzzing, or tapering the sides cuts off some weight from the mane without making it look finer. On the contrary, it makes it lighter and hence more comfy to wear. At the same time, it's a nice way for those rocking curls to show off their bright-selves by embellishing the sides with some shaving design. Bottom line? The result is both striking and practical.
Short Bob With Line Design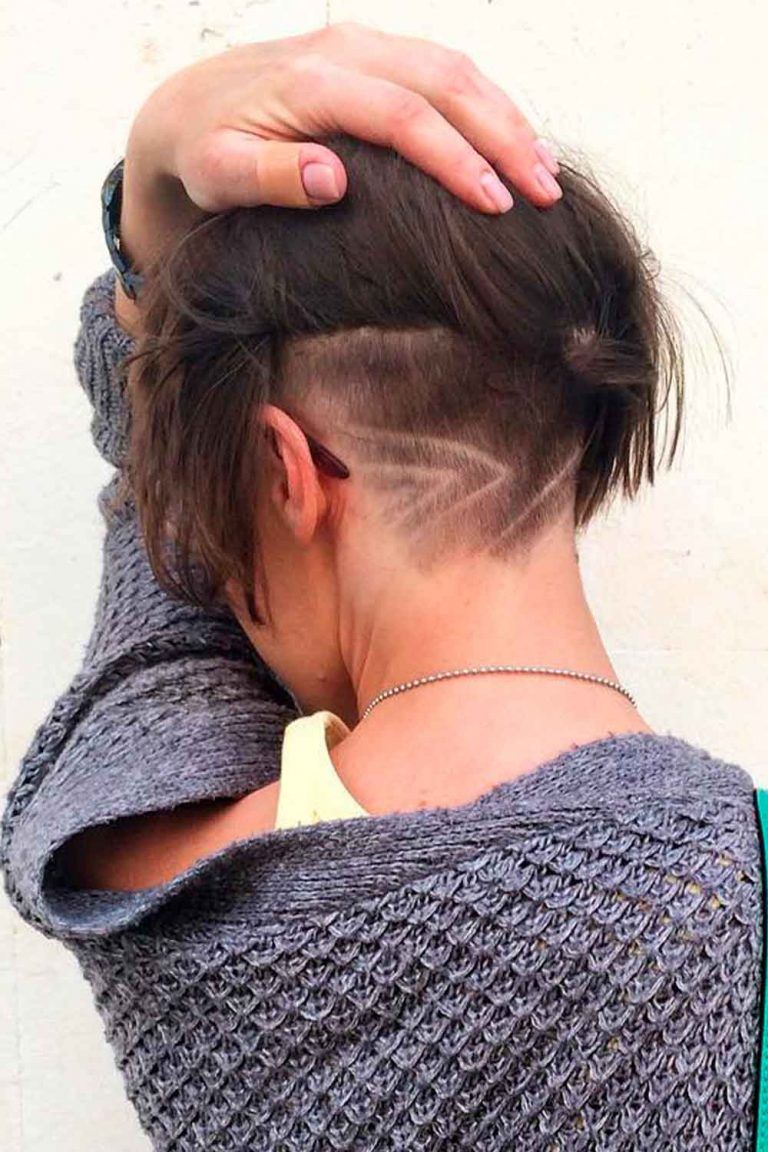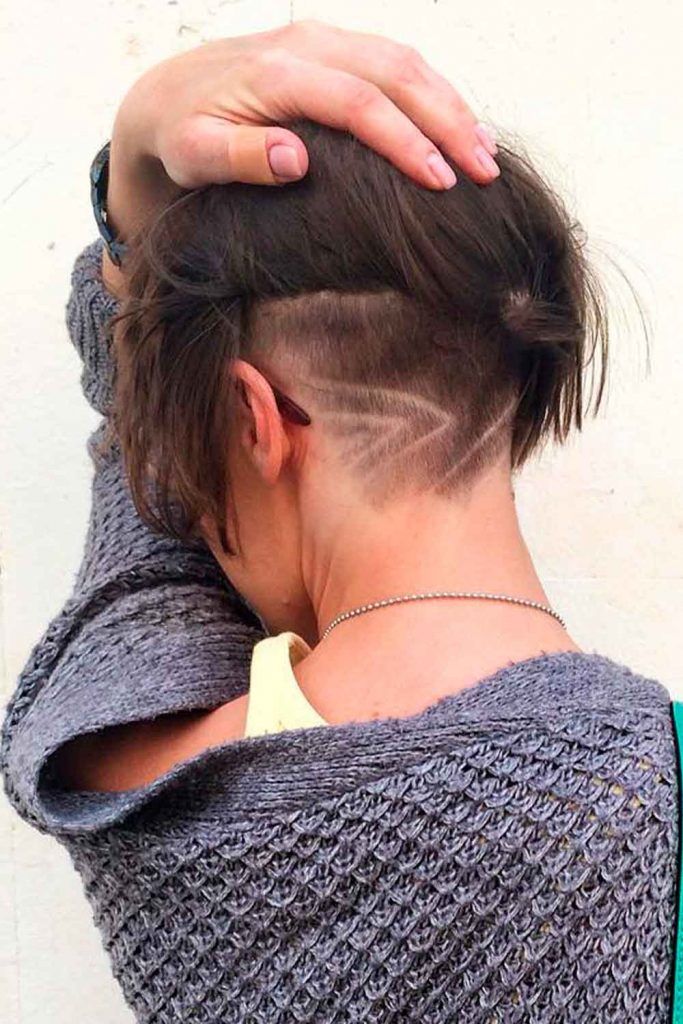 Credit photo: instagram.com/tusya_gree
What makes a tapper different from classic shaved undercut sides is a more gentle transition with more hair left on the sides. And you can combine the edginess of an undercut shave and soft graduation of a moderate taper cut by accentuating it with shaved designs and chic outline. In this way, your bob will reach a whole new level with beautiful sides showcasing your will to experiment.
Short Curls With Undercut Design
Переглянути цей допис в Instagram
One of the biggest perks of having an undercut design at the nape is that it allows for flexible wear. In other words, you can give a short to a crazy shaved idea, and, if you feel like you've had enough from this experiment, you can let your bob grow. Once a few new inches show up, they will make this design hidden, which many girls with long hair love to wear, by the way. Still, this geometric design creates a fantastic aesthetic with bouncy curls, turning the hair into a modern canvas for art.
Undercut + Long Wavy Bob
This idea is here to change your picture of long wavy bob once and for all. Yes, it's not that innocent! Again, an undercut draws a feel of sass and daring, infusing a new character into a common bob idea. And you know what? This look, despite being pretty dramatic, is actually versatile. Moreover, it can even fit office dress codes. In the day, you can spread your waves evenly with a middle part. And when the workday comes to an end, you can sweep those waves to one side, pin them up, and open your cheeky side. Some stripes won't hurt as well!
All the ideas you've seen today are only the beginning of stylish options that undercut bob can offer to you! The only rule for this cut is always to let your imagination run wild. So if there's a need for style changes, you know what to do: just shave the sides of your bob.
FAQ: Undercut Bob
What does an undercut do for a bob?
A bob undercut will always make you look thinner. Lower undercut will add weight to your appearance, while higher undercut will leave you with significantly less hair. It's actually one of the most efficient ways for pixie girls to grow their hair out.
What is the purpose of an undercut?
In fact, undercuts are particularly attractive due to their practicality. Less hair equals less upkeep, and less upkeep usually translates to a simpler lifestyle and getting-ready routine. In addition, it reduces weight, making your hair feel lighter than before.
Will an undercut make my hair look thinner?
An undercut is one of the greatest options for thin hair because it makes the hair on top of your head appear thicker since the sides are so short, so it is ideal for fine or thin hair, as well as for a receding hairline.
REFERENCES:
If you need some undercut bob inspiration, we`ve got you covered. Source