Even though wispy bangs are a light finish to a haircut, their transformational power is to die for. Remember how many times you felt bored with your cut, style or hair texture and had no idea how to have a beautifying makeover? As it turns out, a little fringe is all you need to see your style in the new light.
Fortunately, this fringe has a great diversity of its types which offer a pleasant versatility for every lady. Also, wispy types of bangs are absolutely easy to maintain! So you don't need to go for new hair cuts or colors to freshen things up: and our ideas are going to prove that! See how a soft fringe can change your look for the better.
Thing to Consider Before Getting Wispy Bangs: Key Points from Editors
There is no doubt that wispy bangs stand out for their delicate lightweight strands that softly frame the forehead. A wispy fringe is an excellent option for people who can't deal with thick bangs or have a thin hair texture. This doesn't stop those with thick hair from opting for this light bang although more cutting would be required. If you do decide to get these popular bangs, then there are a few things to consider before getting them.
Before getting wispy bangs, there are a few key factors to consider:
Face Shape: Wispy bangs can flatter various face shapes, but ensuring they complement your features is important. Consult with a hairstylist to determine what works best for you.
Hair Texture: Wispy bangs work well with different hair textures, but they may require more styling for some types. For instance, it's easy to create wispy fringe on thin hair but thick hair would require more trimming to shed off weight. Discuss with your stylist how your hair's natural texture will affect the look.
Maintenance: Wispy bangs often require regular trimming to maintain their shape and avoid them becoming too long. Consider whether you're willing to invest your time and commit to its upkeep.
Styling: Think about how often you're willing to style your bangs. Some wispy bangs look best with a bit of styling, while others are more low-maintenance.
Personal Style: Consider whether wispy bangs align with your personal fashion preferences and lifestyle. Make sure they complement your overall look.
Consultation: Before making a decision, consult with a professional hairstylist. They can provide insights into how wispy bangs will work for you and suggest variations that suit your unique features.
Remember that hairstyle choices are personal, so take your time to decide if wispy bangs are the right fit for your individual preferences and needs.
Caramel Wavy Hair With Bang
Credit photo: instagram.com/salsalhair
i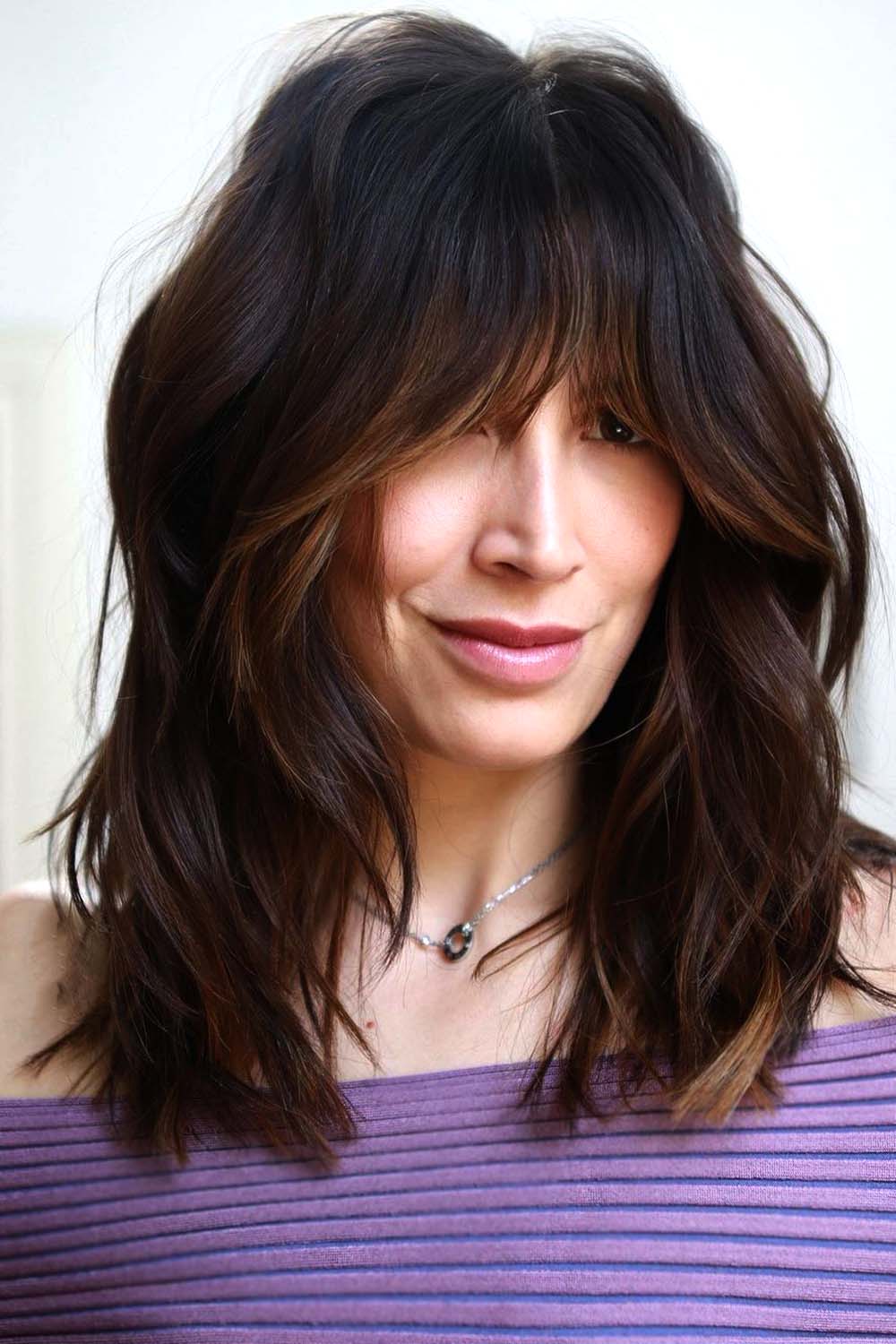 Credit photo: instagram.com/salsalhair
i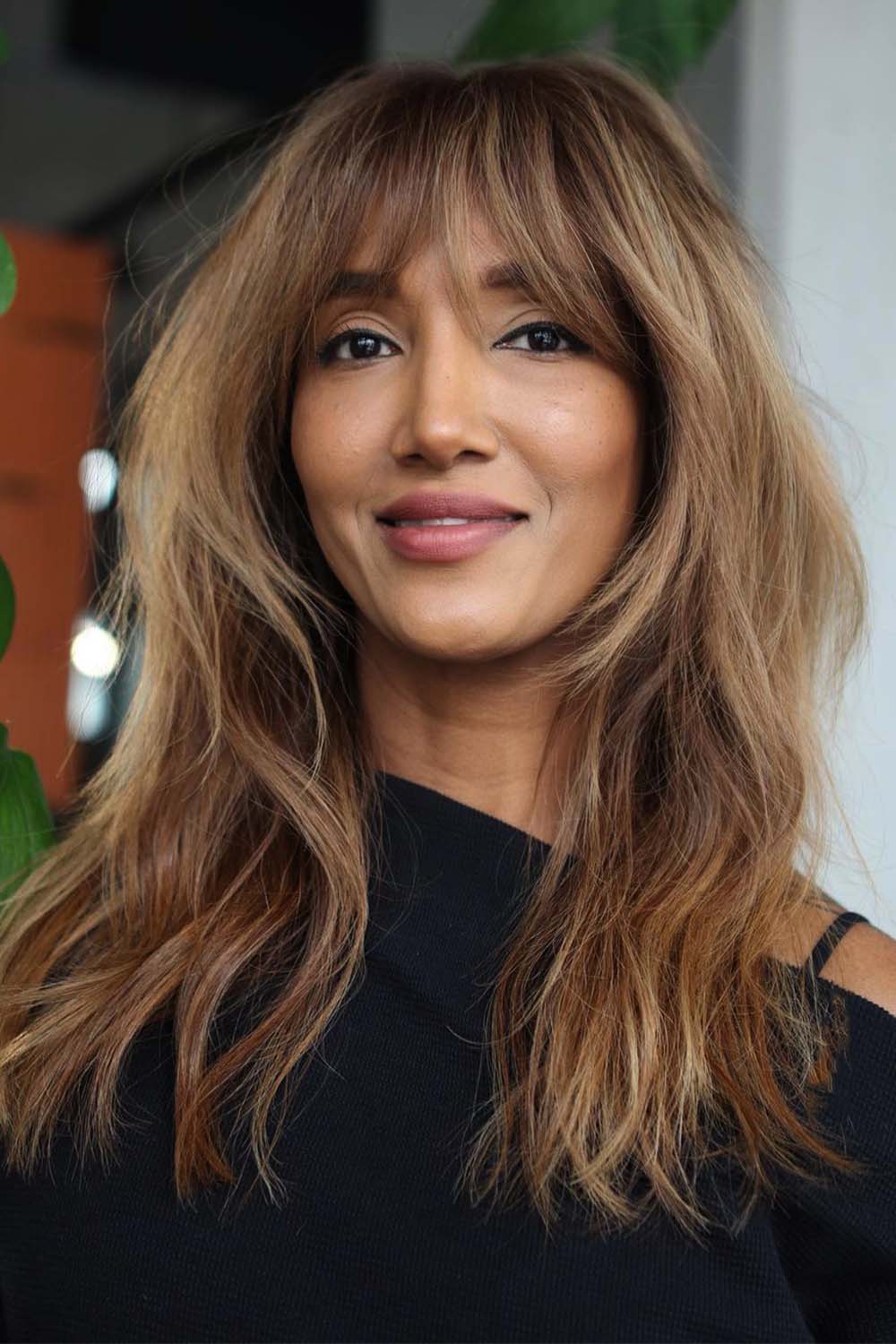 /
Wavy hair might just be what wispy bangs need to produce an eye-catching style! The bangs can seamlessly blend with the rest of the hair thanks to the loose waves of the body. This way, the transition between the bangs and the curls appears natural and cohesive. When it comes to caramel hues, your hair has depth and dimension. It also creates a sun-kissed effect that complements a variety of skin tones. The wavy texture adds movement and volume, giving the hair a relaxed and effortless vibe. Pairing the bangs with these waves makes your face appear smaller. What's more, your eyes and cheekbones are well-highlighted!
Wispy Bangs and Curly Hair Combo
Credit photo: instagram.com/salsalhair
i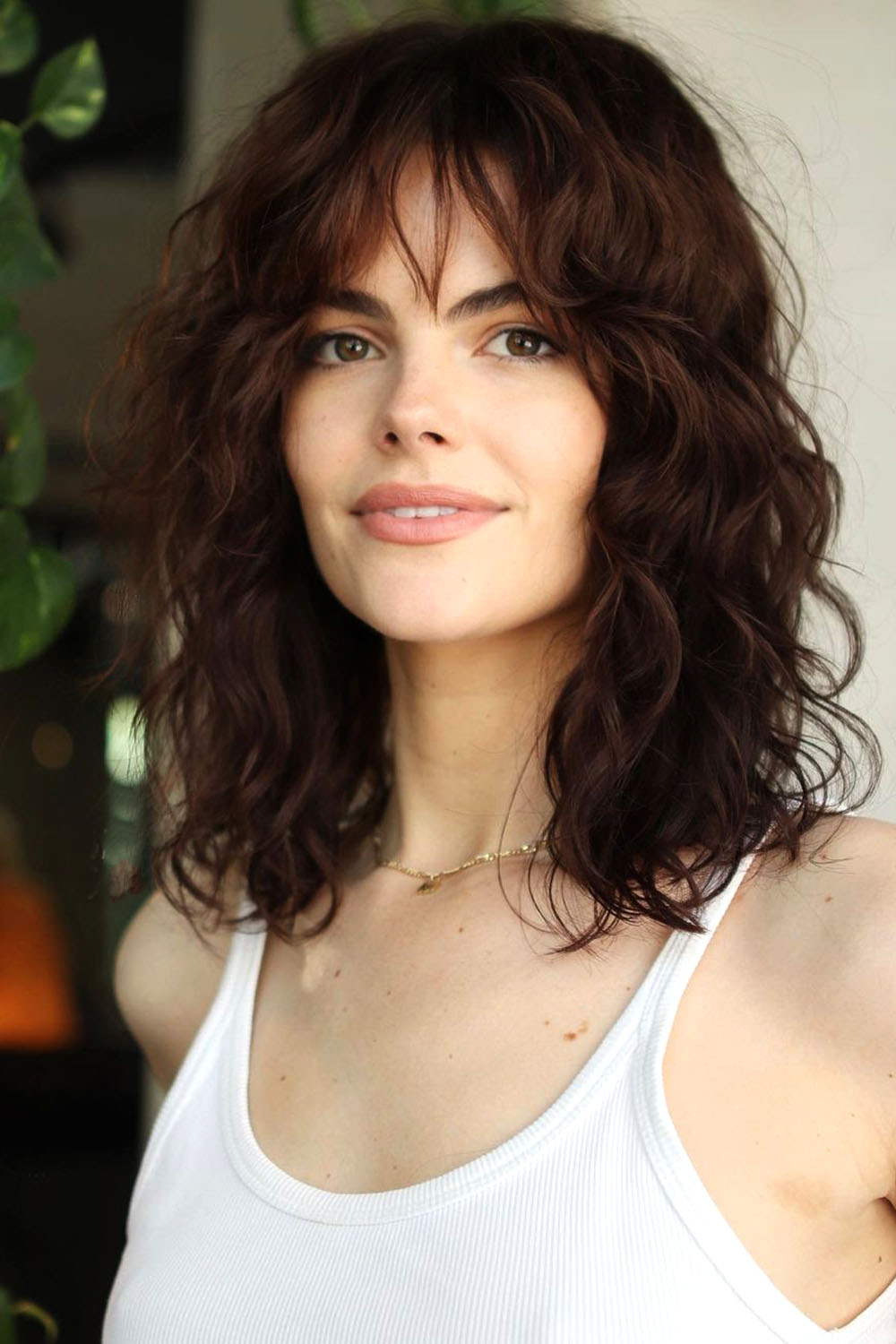 Credit photo: instagram.com/salsalhair
i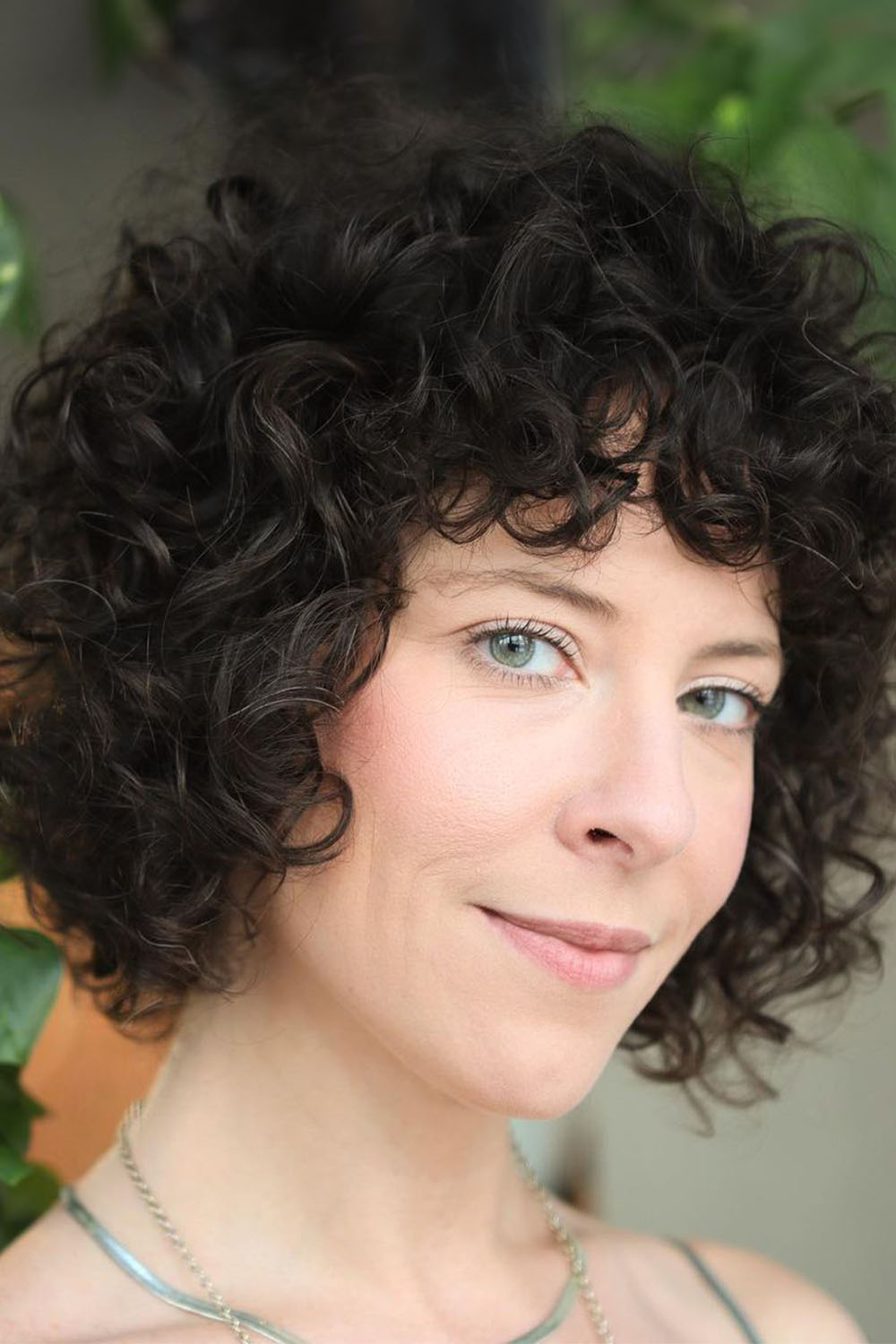 /
Wispy bangs work like magic when it comes to framing your face. When paired with curly hair, the bangs create a natural frame that beautifully complements the cascading curls. Your curls can be deep or loose, regardless, you can incorporate these bangs into your style! You can let your curls run wild for a carefree bohemian look, or use a curling iron to define your curls and create a more polished appearance. To make the most of your bangs and hair texture, use texturizing products that enhance both the waves and the texture of the bangs. Don't forget to also get regular trims to keep your hair in good shape and ready for any event!
Very Short Wispy Bangs
Ultra Short Baby Bangs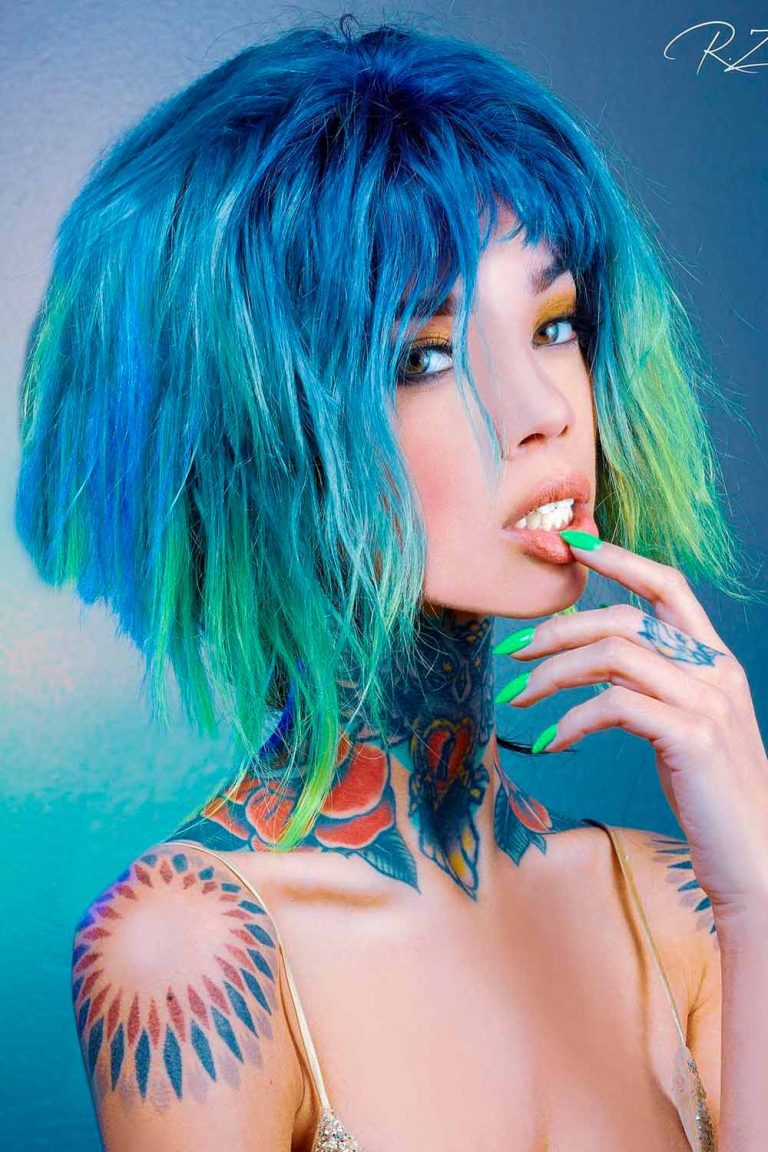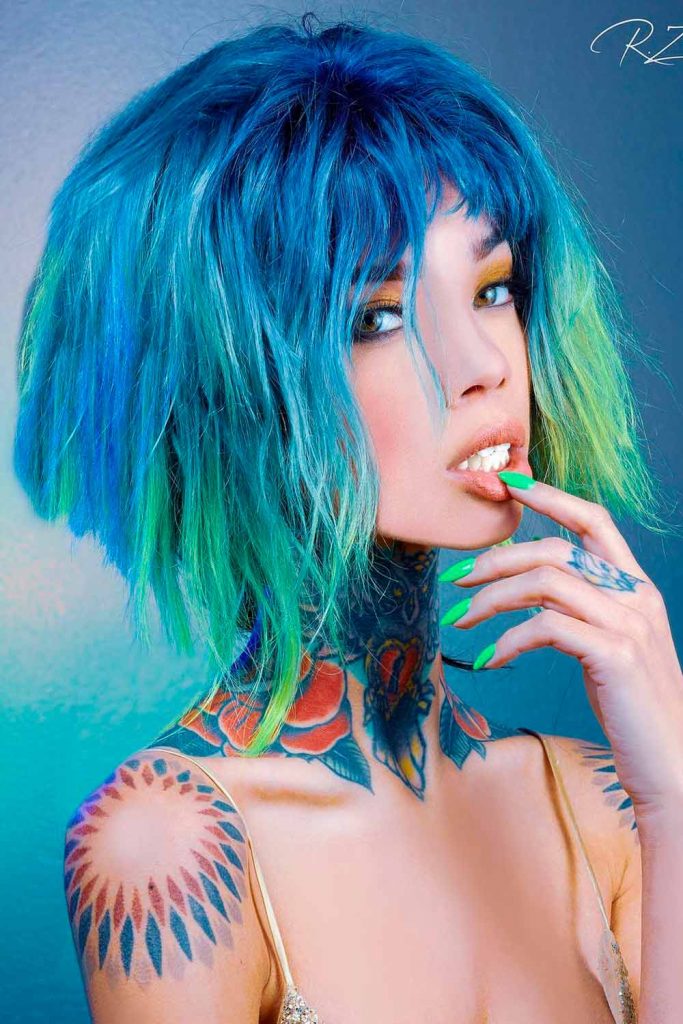 Credit photo: instagram.com/hairgod_zito
Short wispy bangs can be different: it's time to face their bold, tomboy-like side. First, they were salvation for broad foreheads for a long time, then baby bangs have become a huge trend that punky girls like to pull off. Are you one of them?
Sassy Chopped Baby Bangs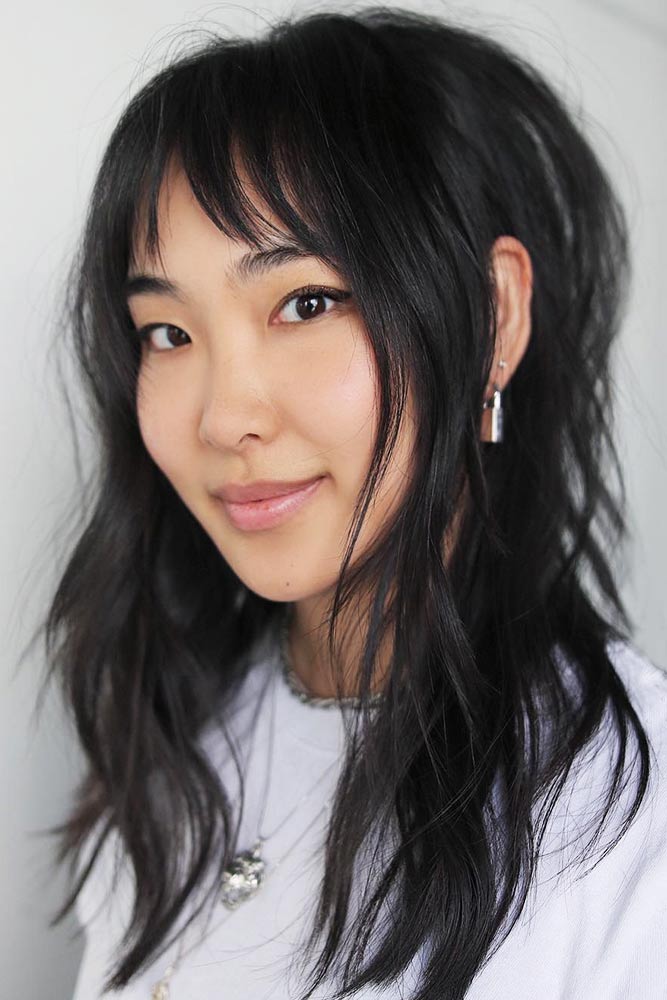 Credit photo: instagram.com/salsalhair
How about you to open your heart for the charm of baby wispy bangs Asian trendsetters sport proudly today? Wise girls know that a little choppy fringe is enough to add a sense of modernity to their styles, and we all should keep up with them!
Medium Cut With Small Wispy Bangs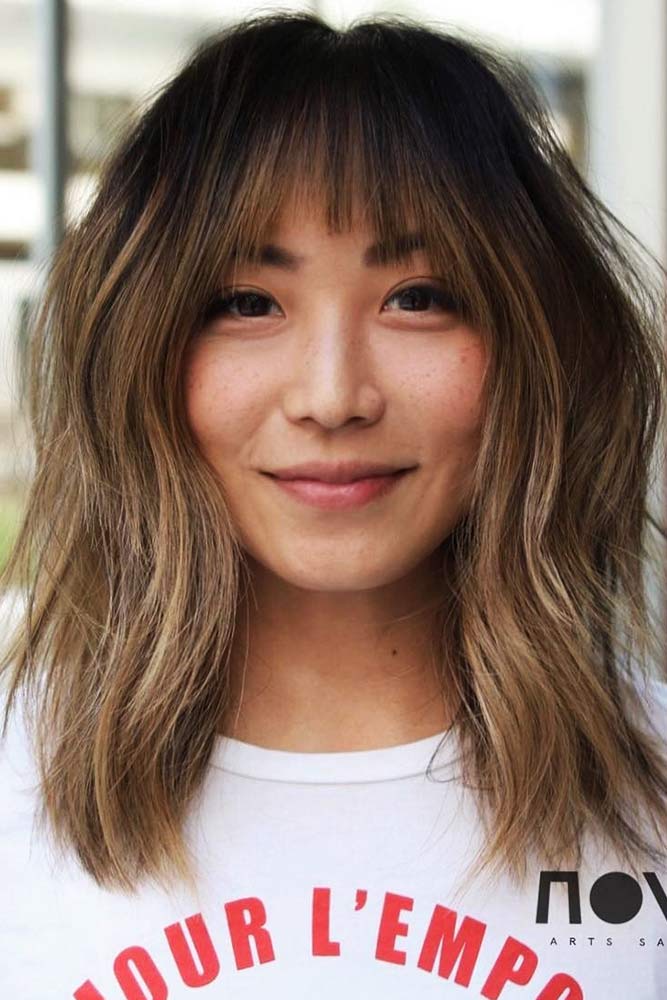 Credit photo: instagram.com/salsalhair
How gorgeous is this idea? Medium cut hairstyles are coming back to the hair trends and we love that. Look how much volume and texture you can bring to your hair with its help. Wow! And these wispy bangs, aren`t they perfect with such a cut?
Classic Mid Length Wispy Bangs
Arched Bangs With Point Cut Ends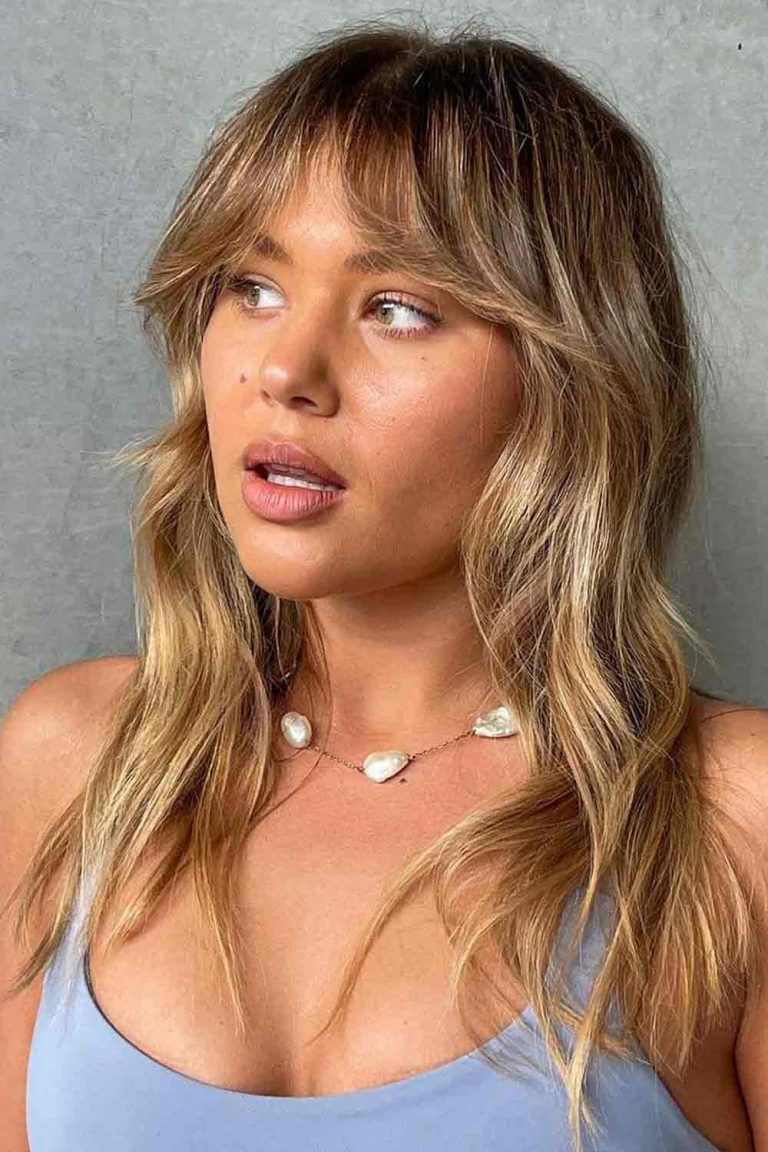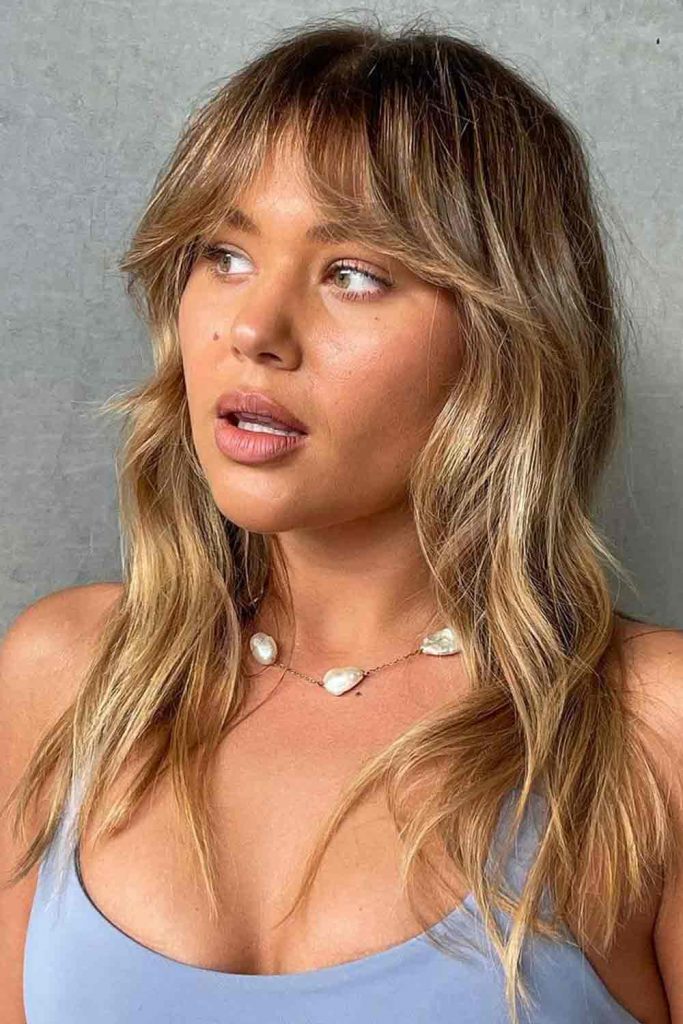 Credit photo: instagram.com/_edwardsandco
The main reasons why ladies go for light wispy bangs is that they can add something new to their styling routine while keeping their awesome brows open. Arched bangs with slightly thinner ends are a nice way to create a new, airy look.
Blunt Wispy Bangs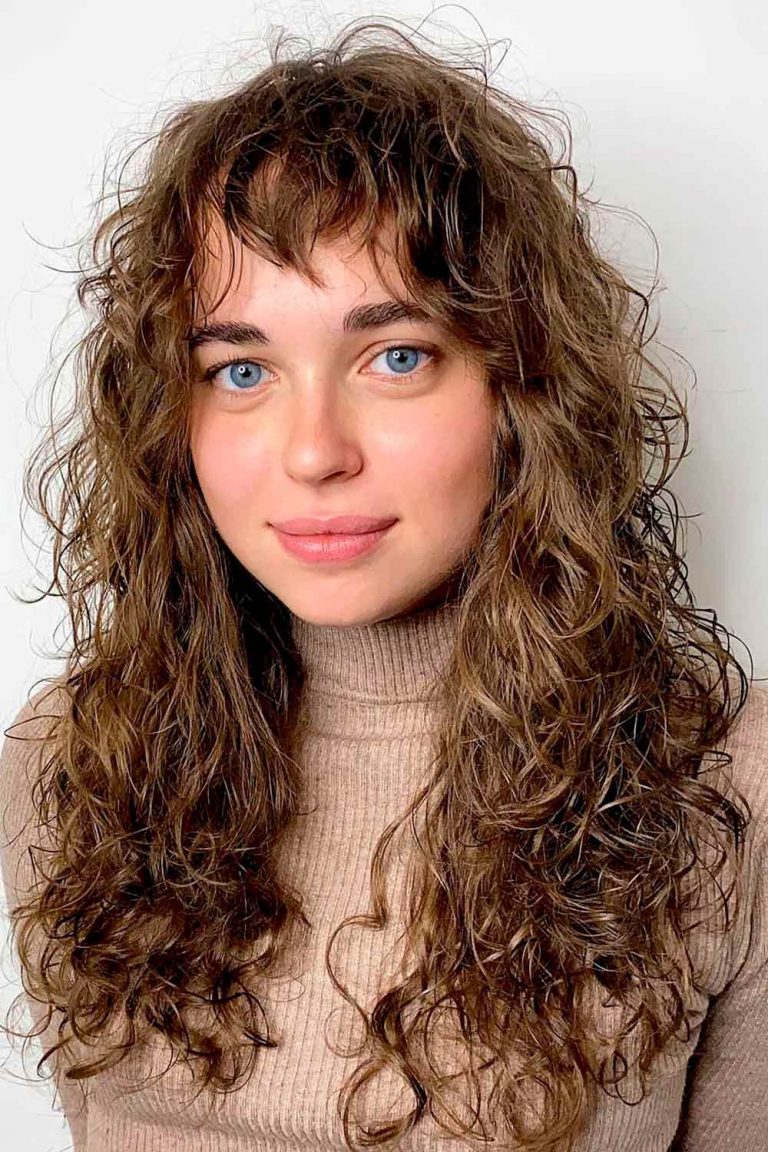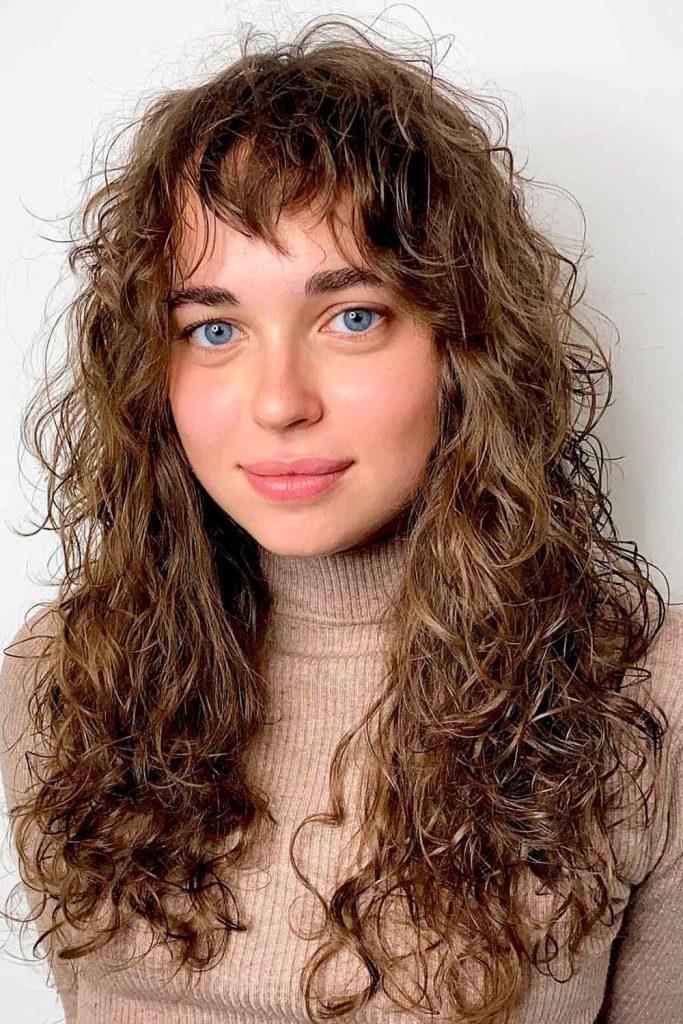 Credit photo: instagram.com/avevalentine
When you don't have a thick and fine chevelure, thin wispy bangs will be there for you. The point is that the lighter your fringe is, the more effortlessly it looks, which is a stunning finish for naturally thin locks, as it keeps the whole balance. What is more, oval face wispy bangs will conceal overly elongated chins and mouths.
Textured And Light Disconnected Bangs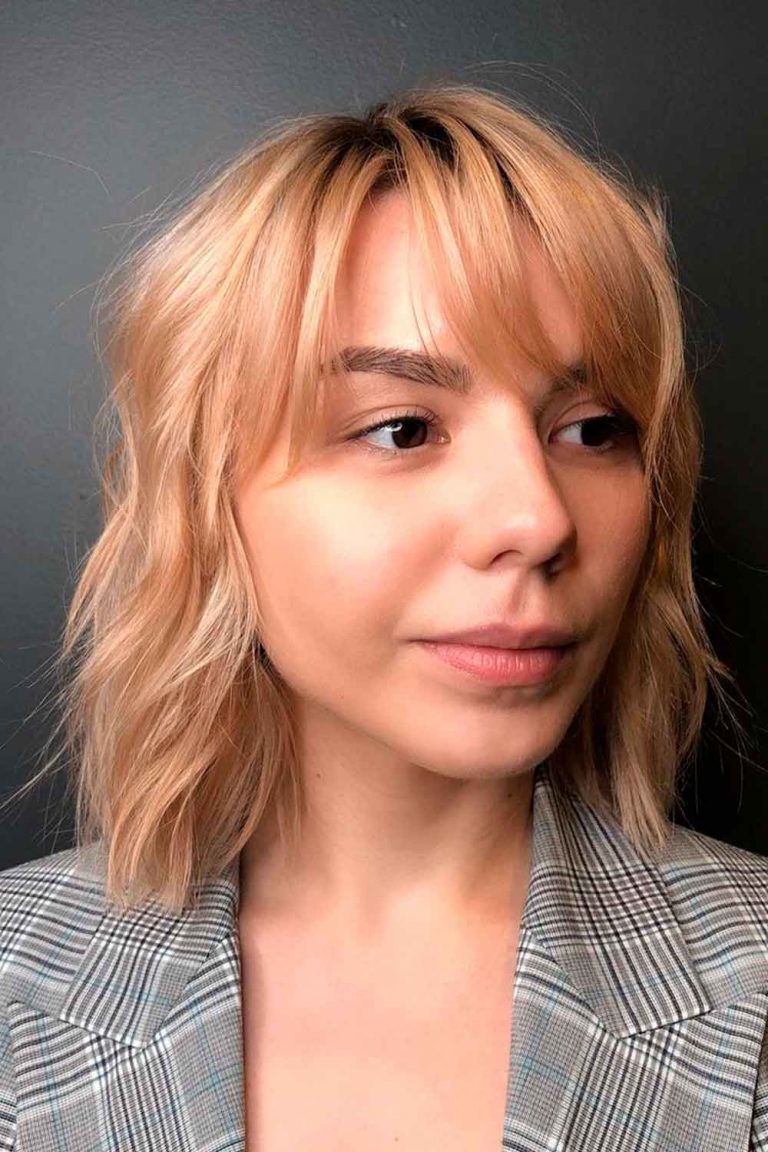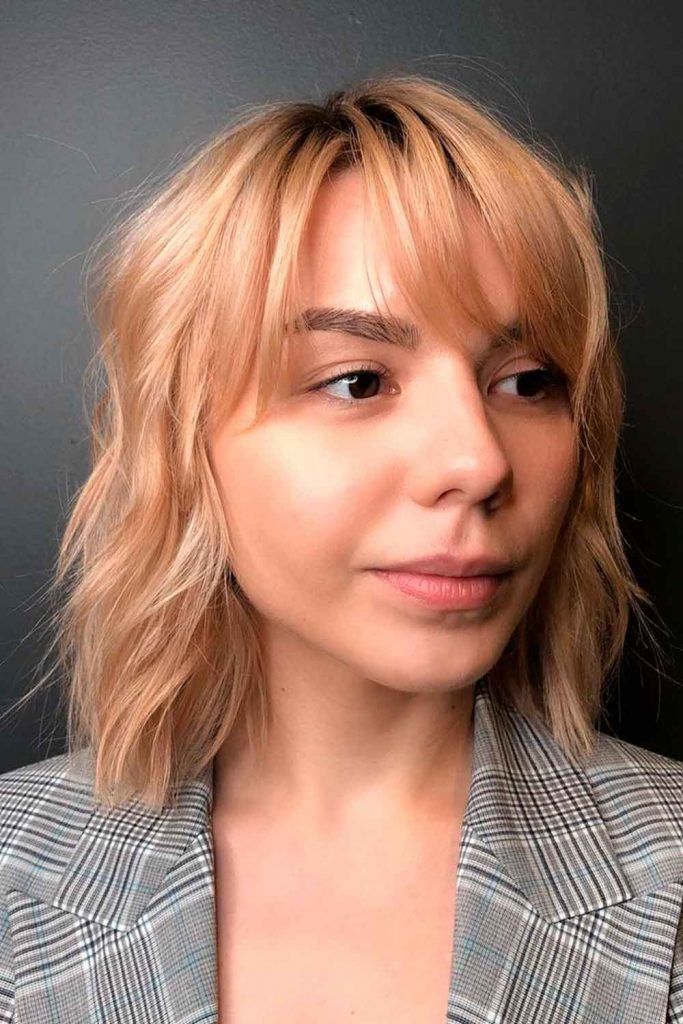 Credit photo: instagram.com/cut_and_color
Texturizing always gives a light effect to your cut, and the same can be applied to your bangs. A disconnected wispy fringe gives more styling flexibility, so you can easily push your wispy front bangs away and style them in any way you want.
Wispy French Bangs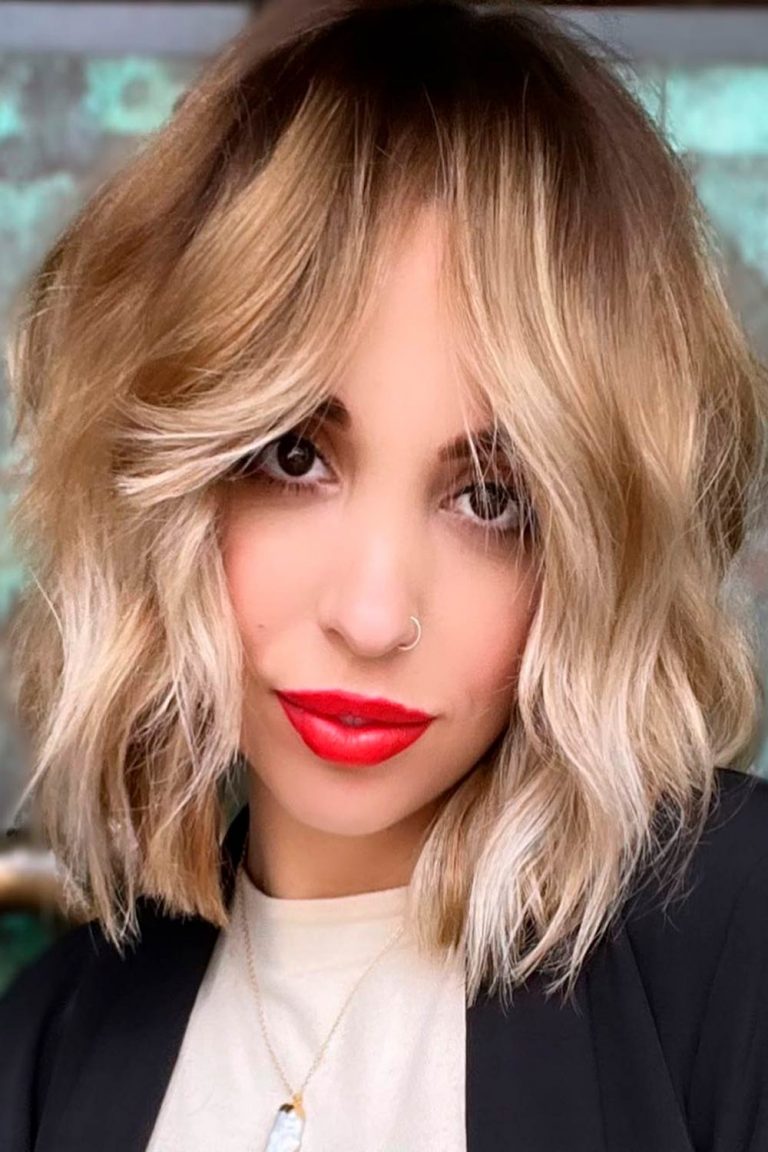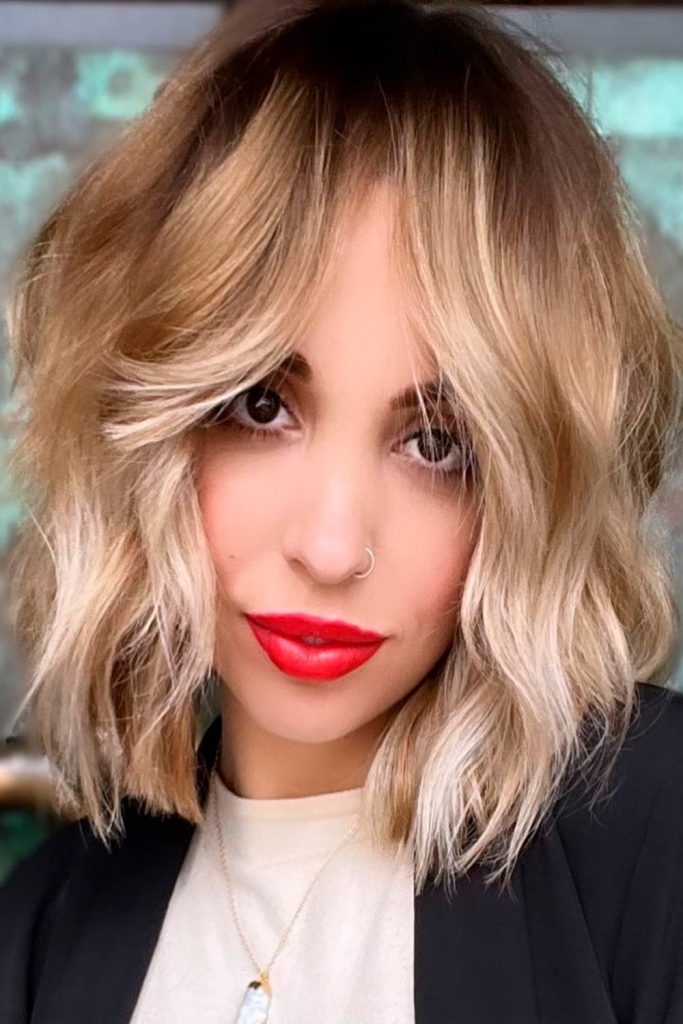 Credit photo: instagram.com/styled_by_carolynn
Wispy french bangs, which are typically longer than the ordinary fringe, or, to be more specific -beyond your eyebrows long, are also thicker and fuller than other wispy types of bangs. They became popular due to their magic air of effortlessness.
Short Pixie With Piecey Bangs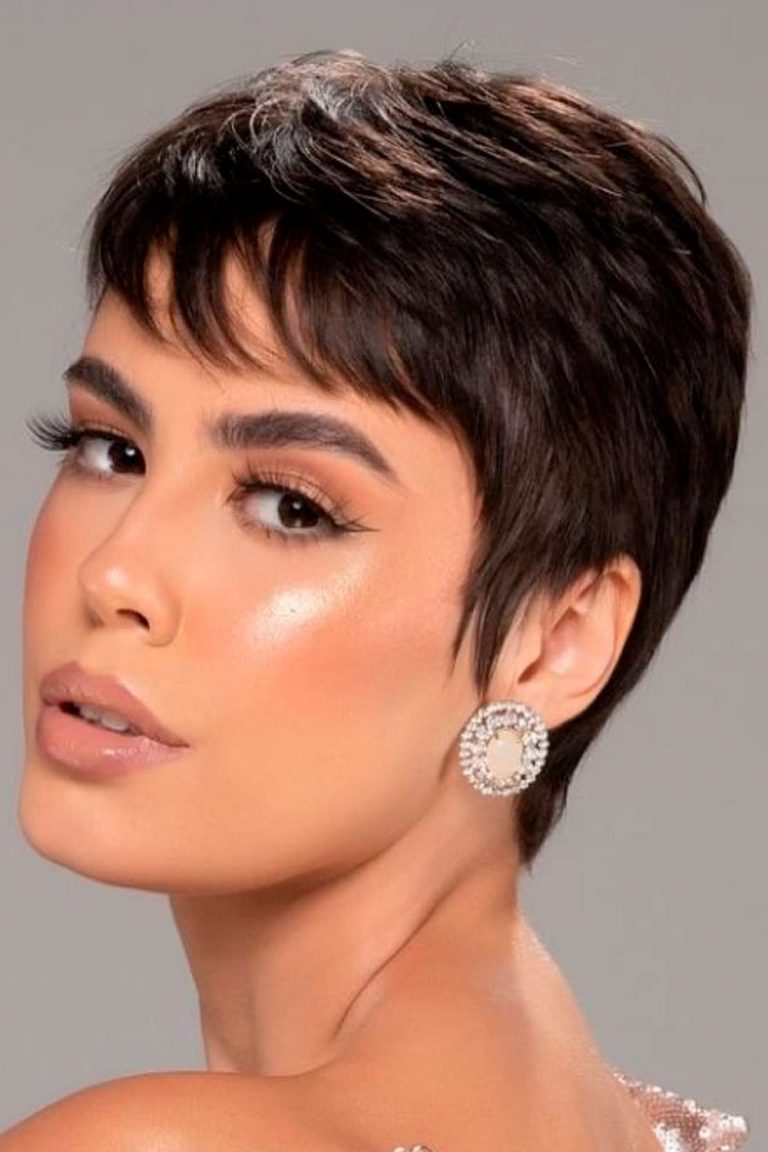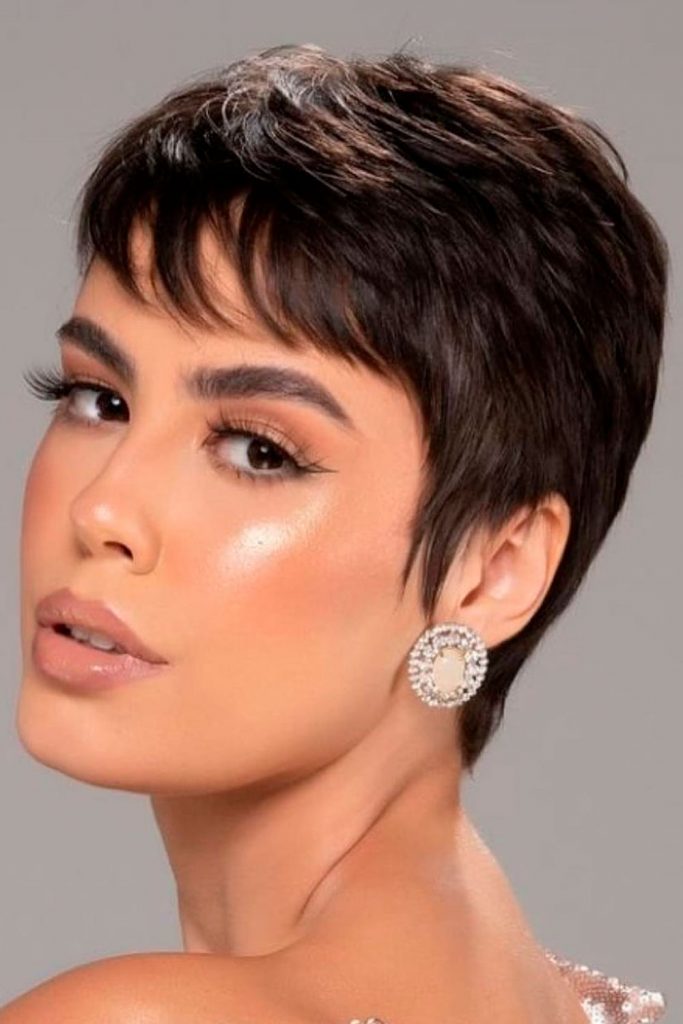 Credit photo: instagram.com/meucabelocurto
Piecey bangs are a choppy, cropped wispy bangs short hair can spice up in the most attractive way. Wearing a pixie is always a bold decision, and these tiny jagged cuties will enhance the mood of your daring cut. You'll have gorgeous thin hair layers lying on your forehead if you opt for these wispy fringe bangs.
Short Bob With Soft Wispy Bangs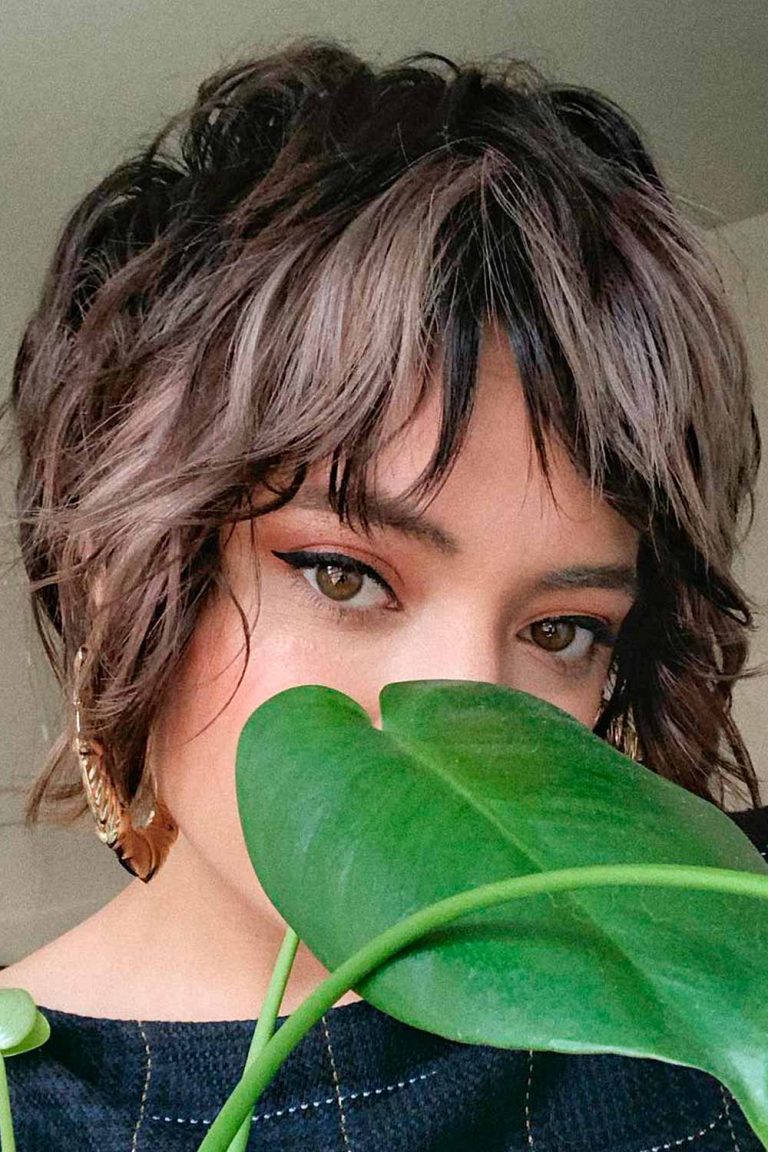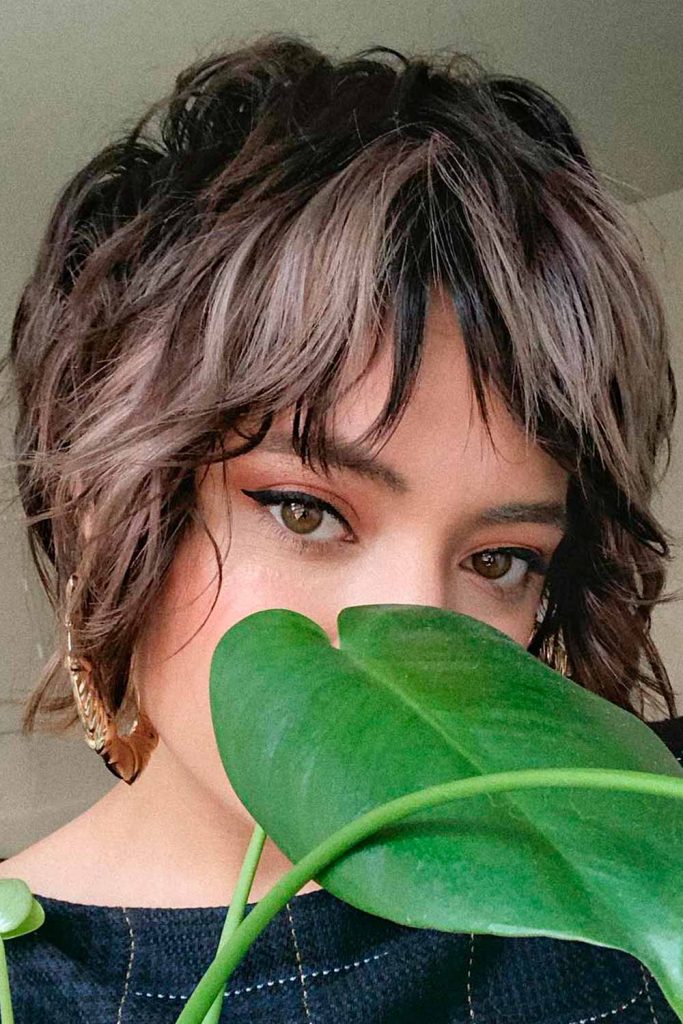 Credit photo: instagram.com/alexandrascissorhands
A short bob with wispy bangs that fall slightly below your brows can not only flatter your face shape but also bring your bob to the next level. This idea is pretty versatile and looks ravishing when layers are added to it. Yes, you can quickly give yourself a new, more youthful look without really putting any effort with these short hair wispy bangs.
Classic Swept Fringe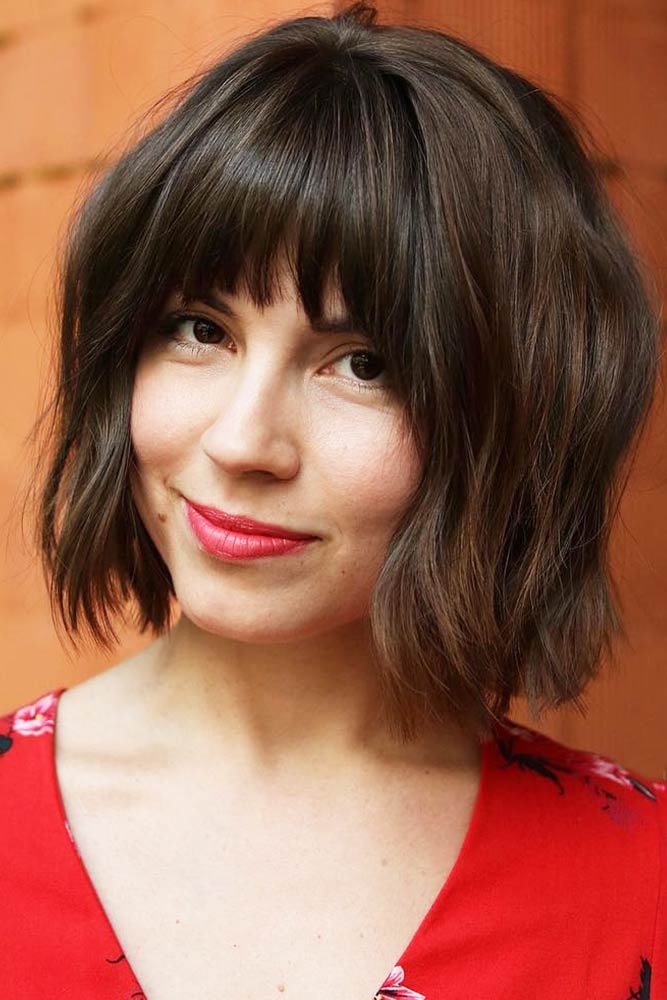 Credit photo: instagram.com/salsalhair
Luckily for girls with chubby cheeks faces, there are no wispy bangs round faces can spoil. A classic swept fringe with longer front tresses is nothing but a face-framing masterpiece that we all deserve to wear: the last trace of face shape insecurities can be washed away by a stylish fringe! Round face wispy bangs look really good on chubby faces and help them look slimmer. They make it possible for ladies to cover off softer jawlines and prominent cheekbones with a range of hairstyles.
Natural Textured Wispy Bangs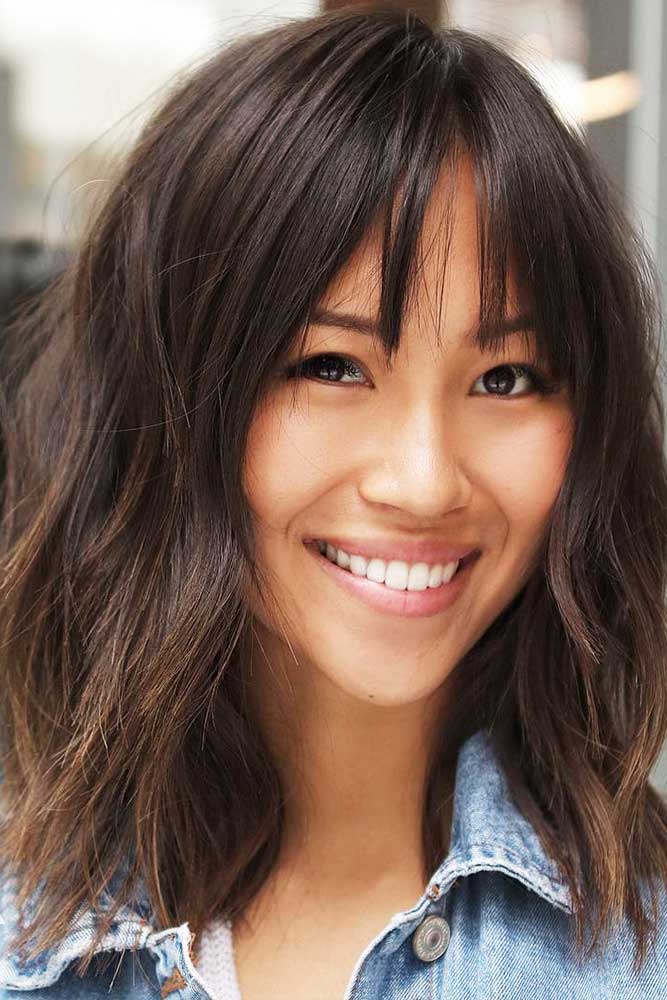 Credit photo: instagram.com/salsalhair
Still think that there are no wispy bangs curly hair can fit in? Whether you have naturally wavy or curly locks, remember that there's nothing impossible for a wispy fringe. A little tip: consider styling your bangs straight to reveal the beauty of your hair type through contrasts.
Minimalist And Light Wispy Bangs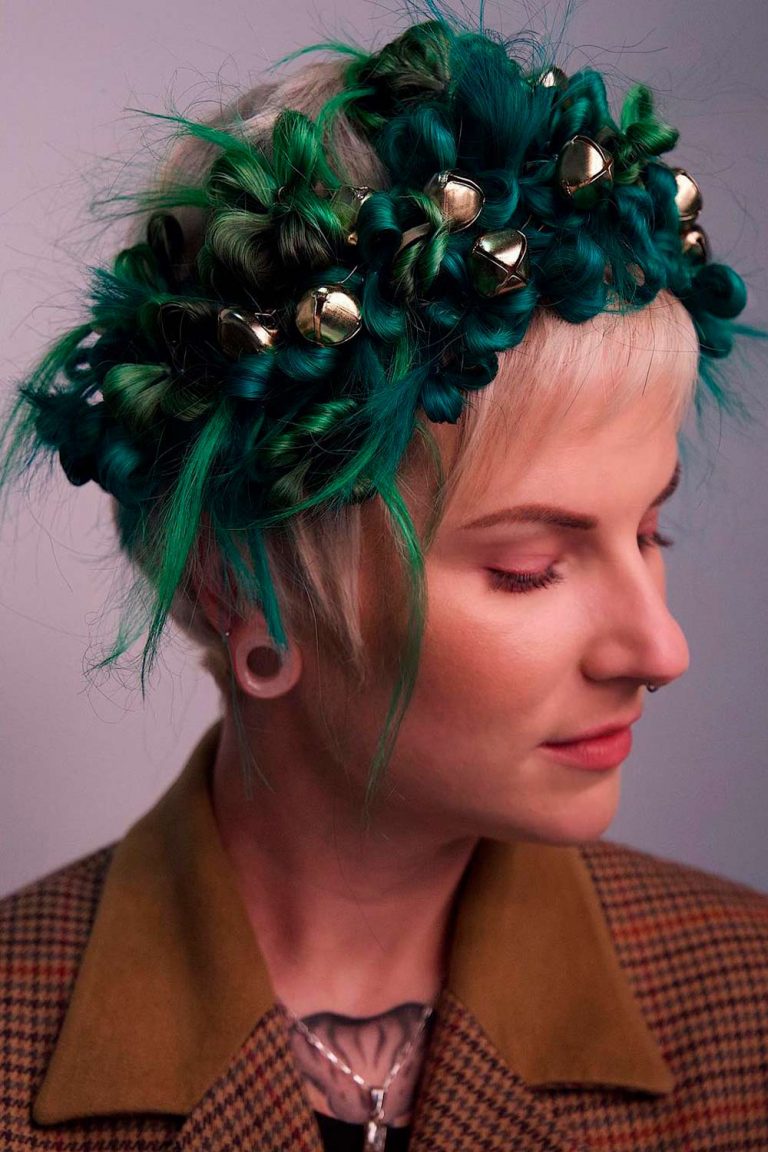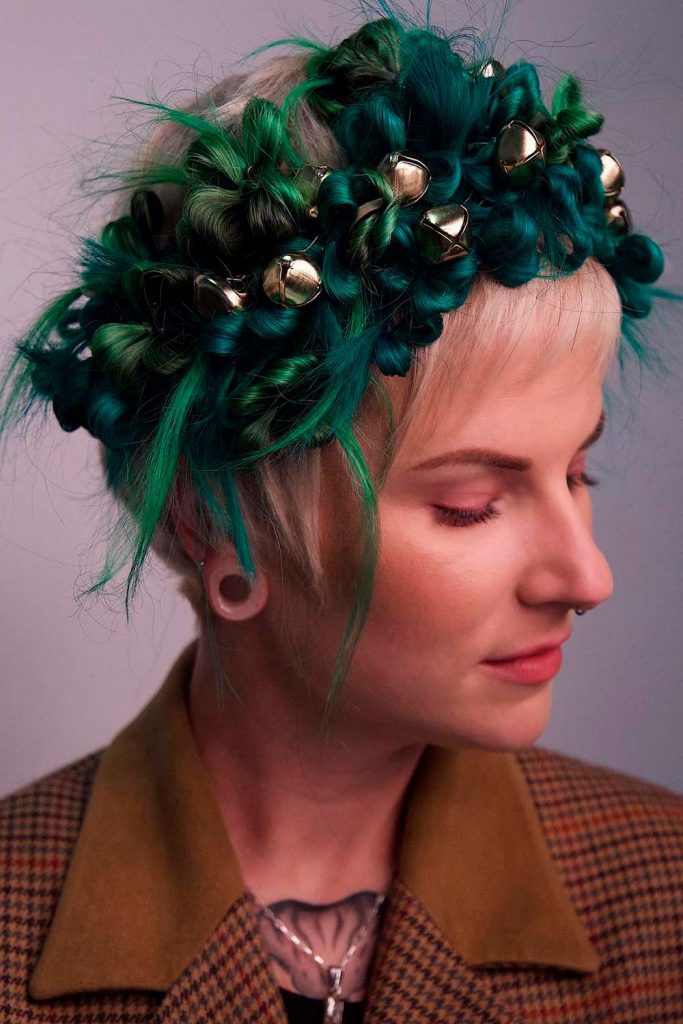 Credit photo: instagram.com/blushandmane
This simple and minimalist look is another reason for you to cut wispy bangs. Just imagine that your thin hair doesn't appear flat, and styling routine seems to be a blessing. Yes, you can reach perfection with the help of a blunt fringe and its over-directed texture.
Full And Thick Wispy Fringe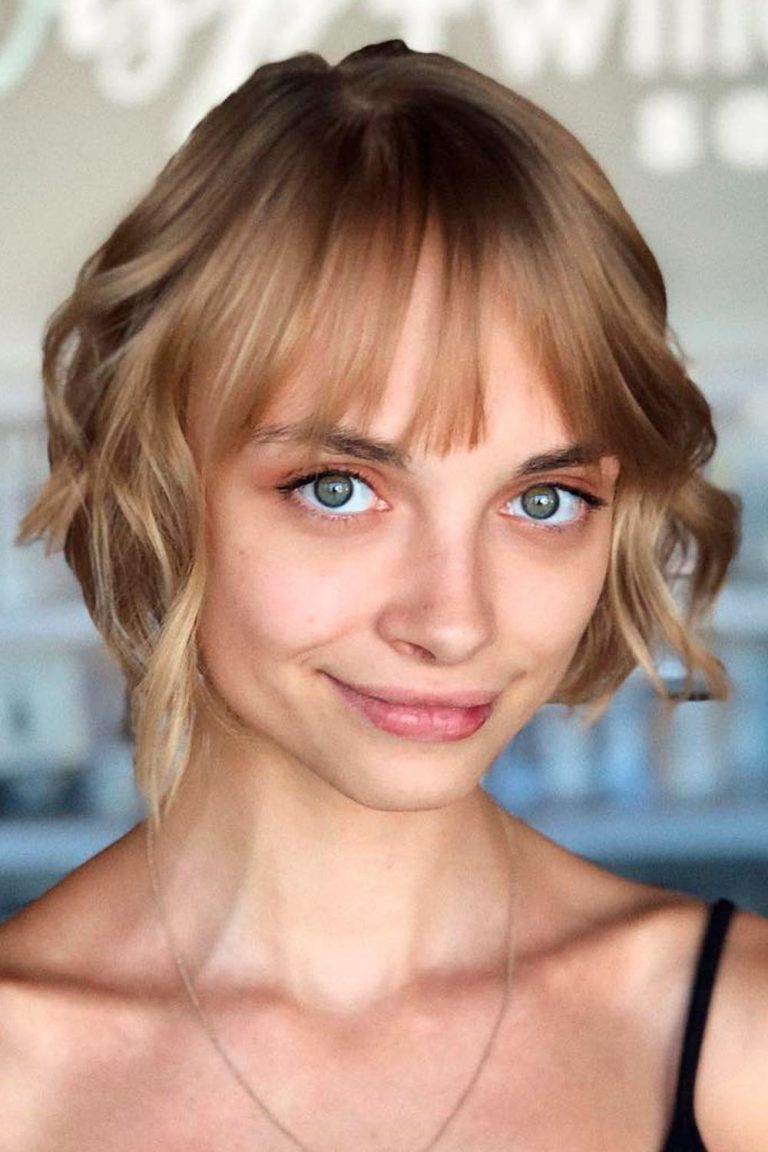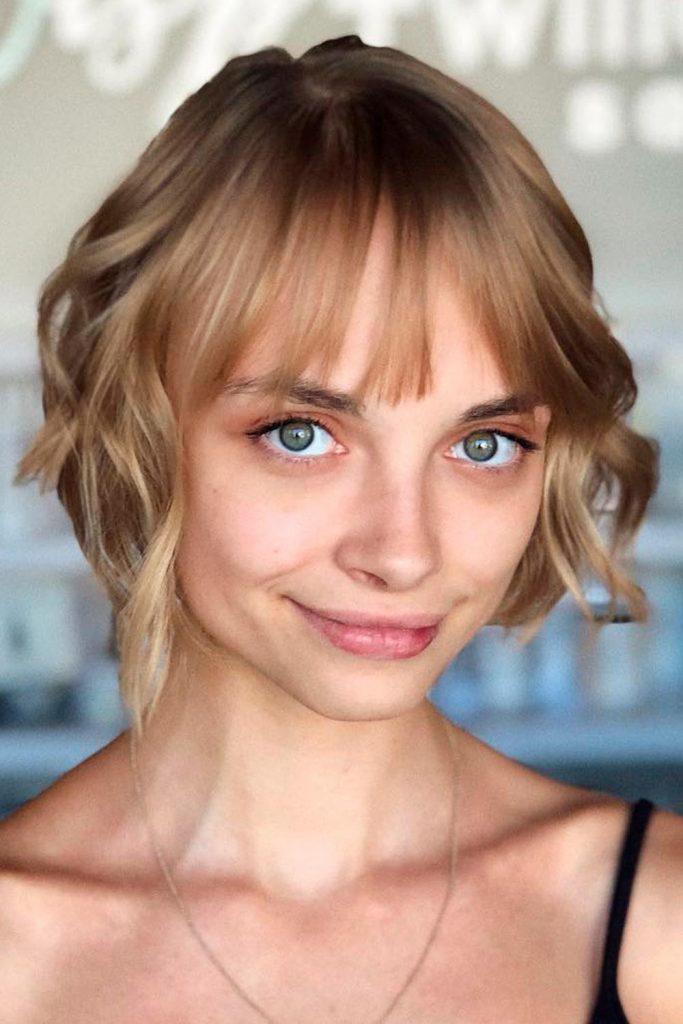 Credit photo: instagram.com/alexandrascissorhands
If you prefer outstanding, voluminous, and lush looks to textured and simple ones, full bangs will be a nice choice. There's no better way to add more fullness and stylishness to your casual hairstyles than wearing such a distinctive fringe, that's for sure.
Texturized Wispy Thin Bangs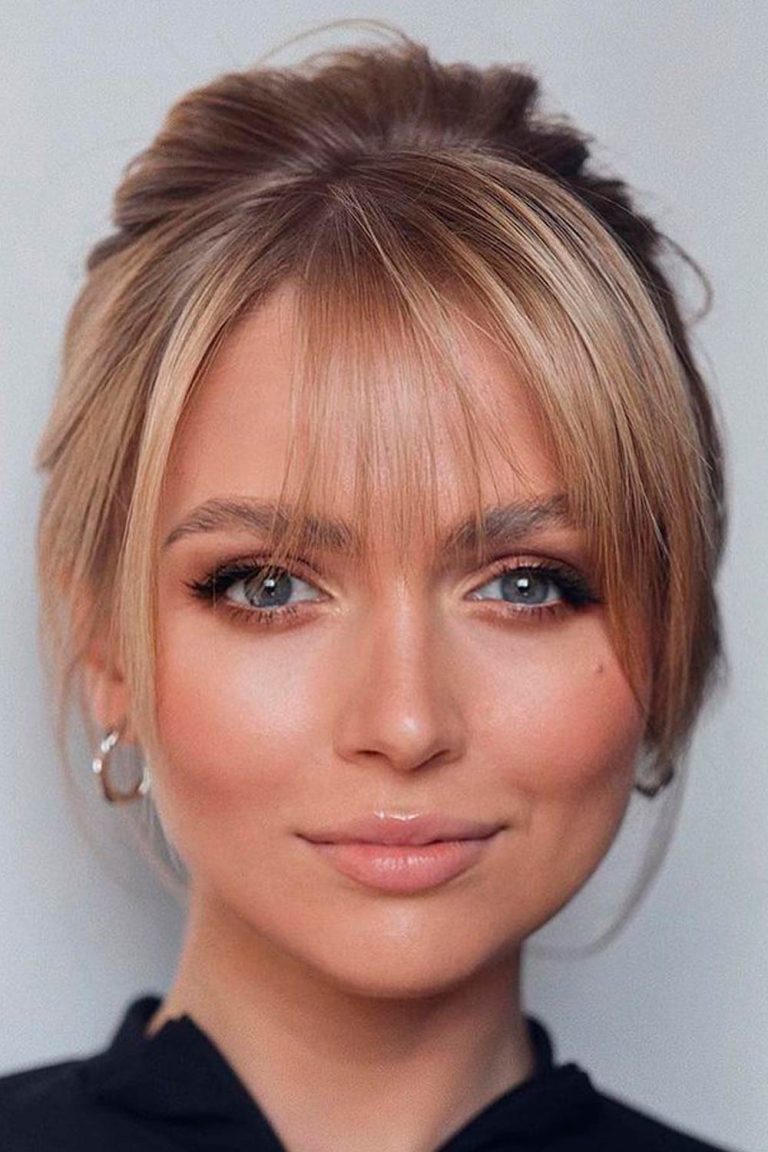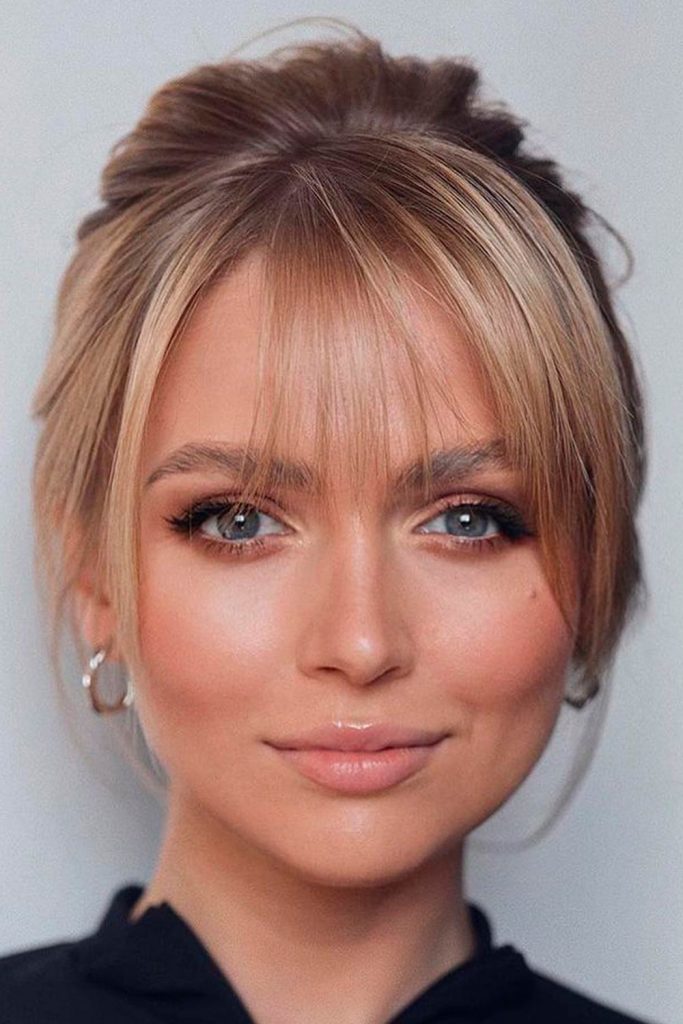 Credit photo: instagram.com/tonyastylist
You know that layering and texturizing changes the way your hair appears, providing it with a lot of movement and volume. So why don't add these features to your fringe? Wispy thin bangs can come as blunt or wispy side bangs; it's totally up to you, just find the style that suits you best.
Wispy Bangs With Natural Texture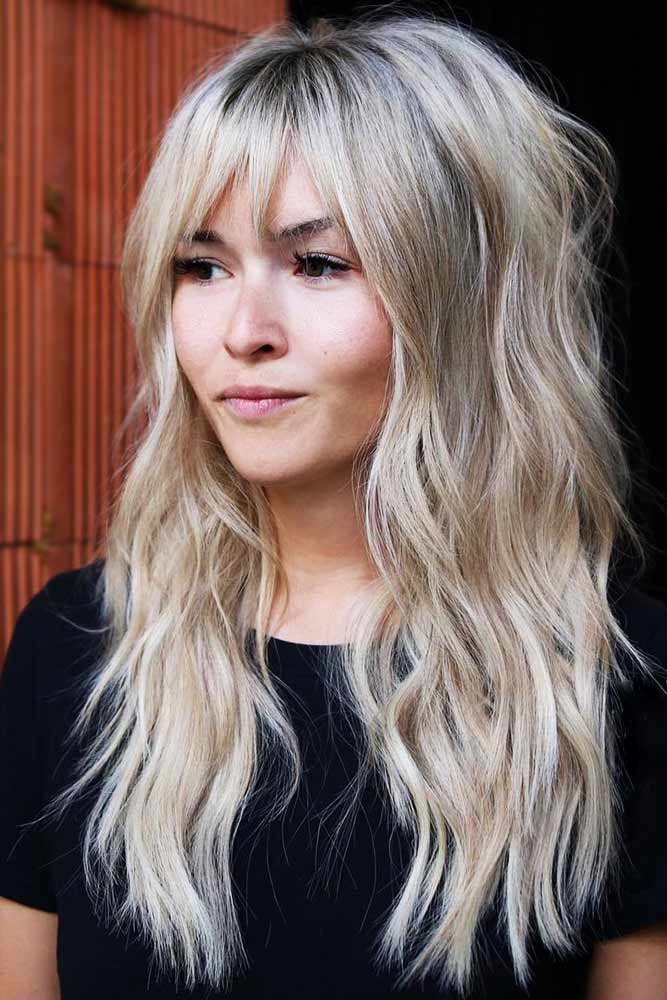 Credit photo: instagram.com/salsalhair
If you don`t like to do much to your hair, but still would love to look trendy and stylish, this is your idea. Rock a natural texture and add wispy bangs to go with it. How cute is that? Brings so much freshness and makes the length of the hair look amazing with such a detail. There's actually a million of options for ladies who have opted for this kind of blonde hair with wispy bangs.
Point Cut Arched Bangs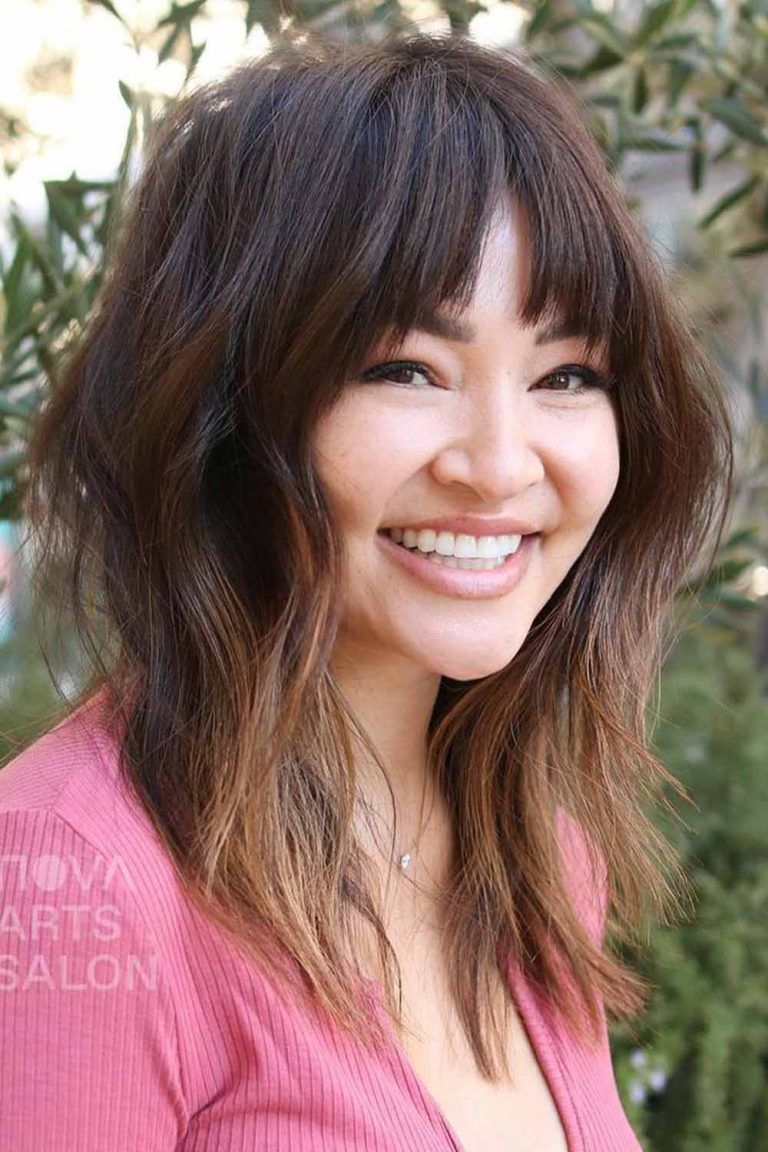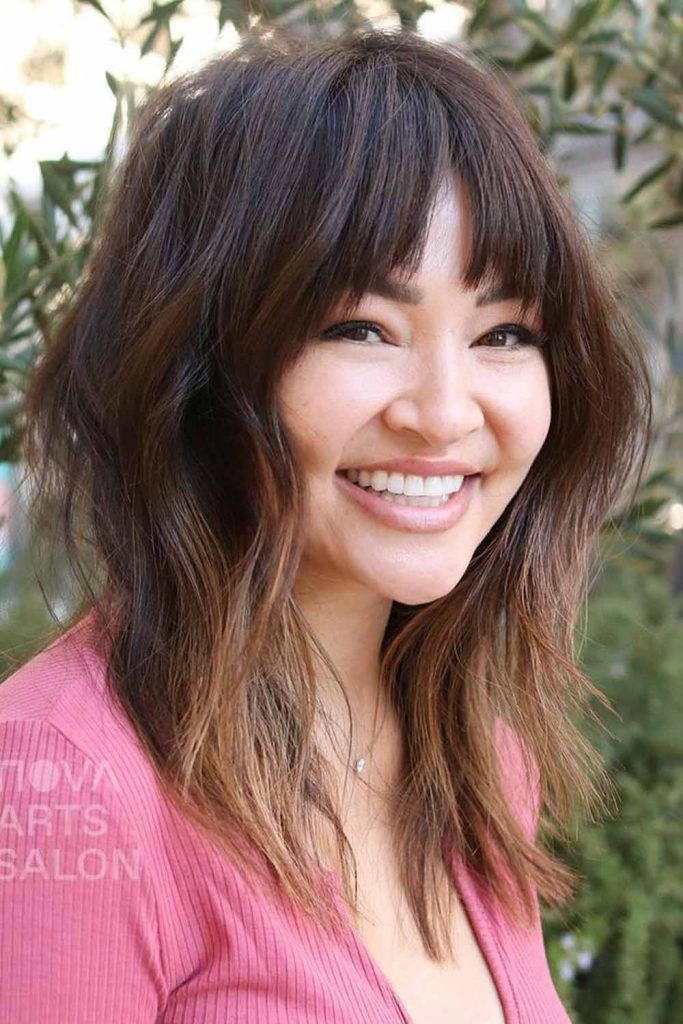 Credit photo: instagram.com/salsalhair
Point cut arched bangs are for those women who don`t like to spend much time on their hair. It is easy to style and looks really good with your hair as it blends in gradually into your length. A great way to add some sparkle to the look.
Voluminous Sweeping Side Bangs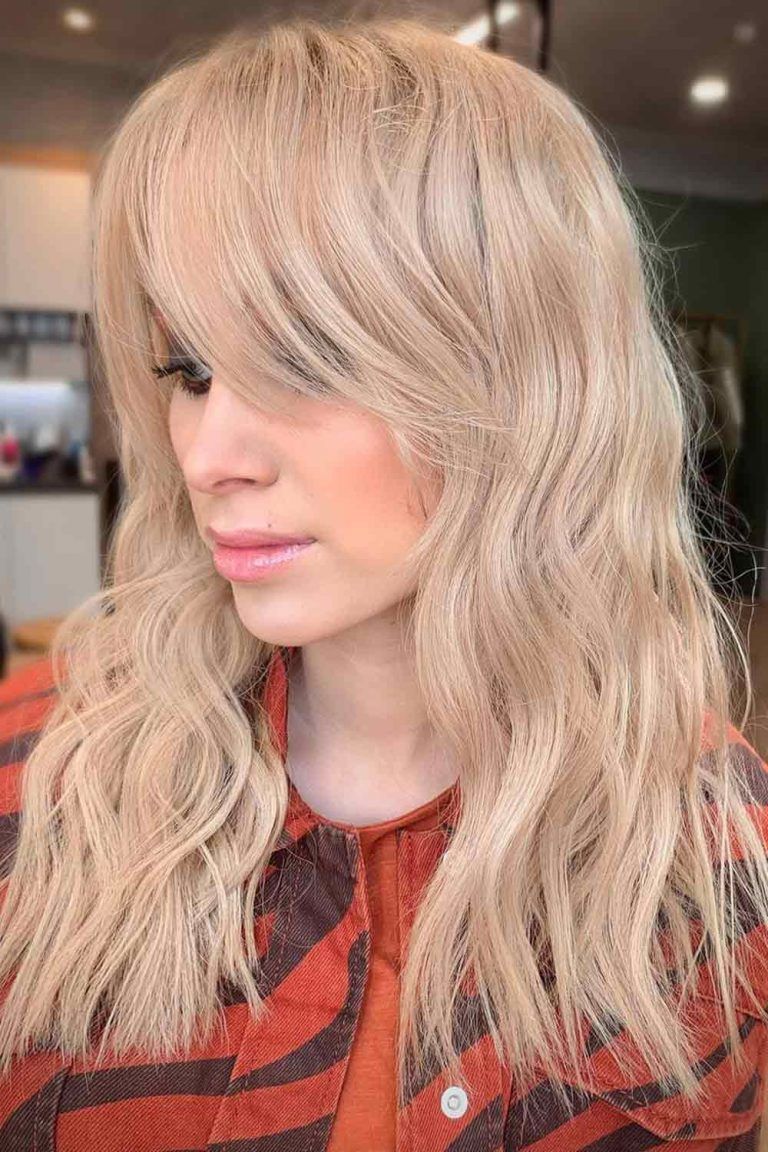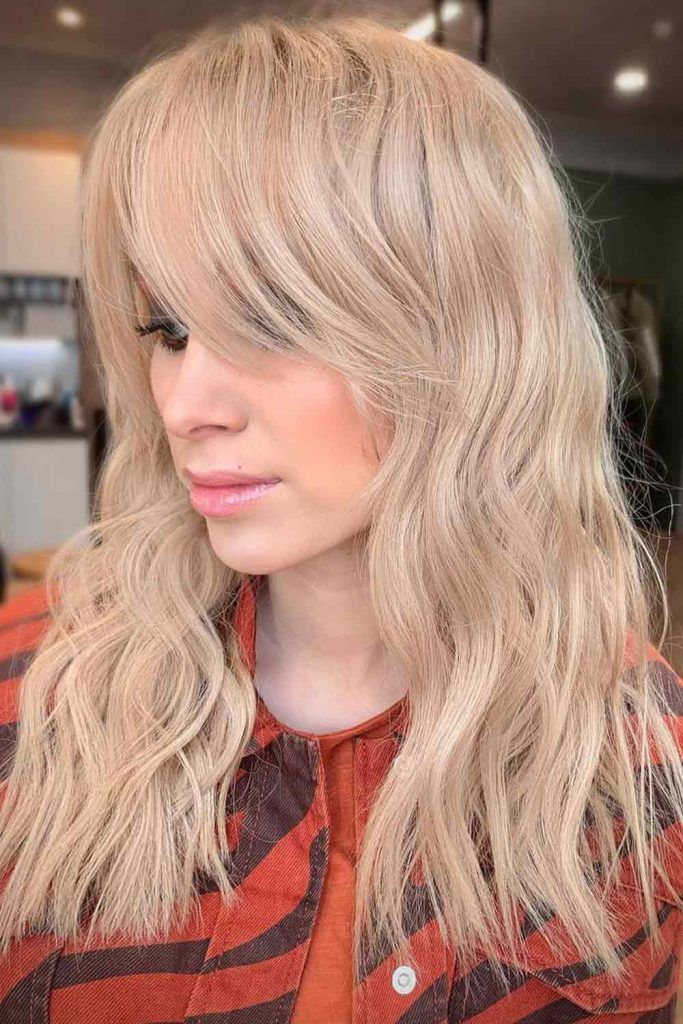 Credit photo: instagram.com/sheffpavelstylist
Voluminous sweeping side bangs are there to bring elegance and chicness to your appearance. Would you like to have that vibe? Then don`t hesitate and add such an interesting detail. We promise you that it will bring out the beauty of your face even more.
Light Eyebrow-Skimming Bangs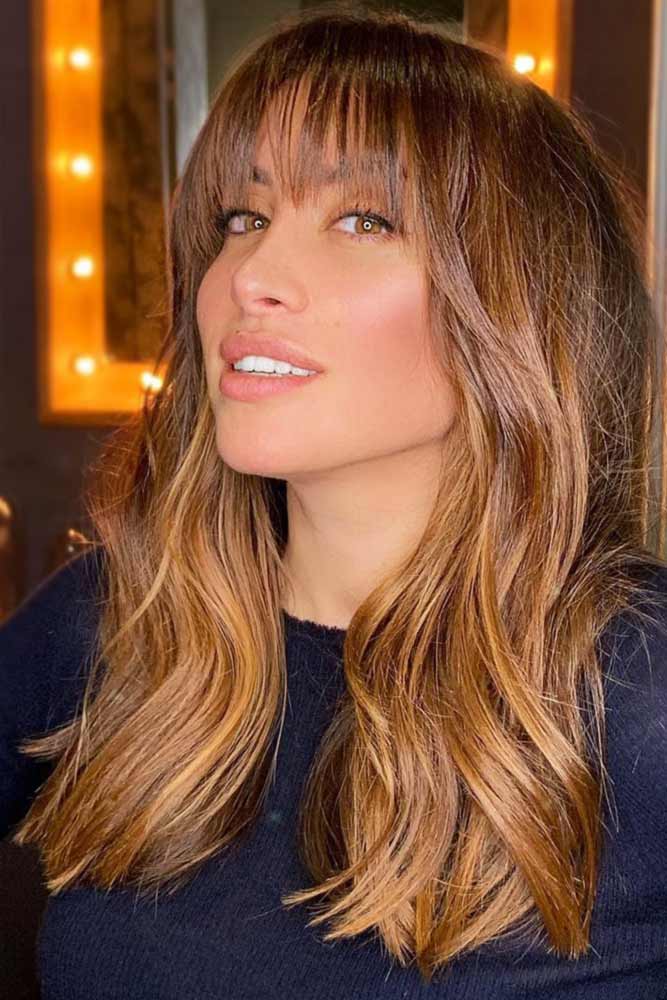 Credit photo: instagram.com/sheffpavelstylist
This type of bangs has blown the industry recently and we get why. Look how much mystery these eyebrow-skimming bangs add to the glance. Would you like to try it? Goes so well with any length so there`s no need to cut the inches.
Wispy Bangs For Thin Hair
Credit photo: instagram.com/sergeyshapochka
i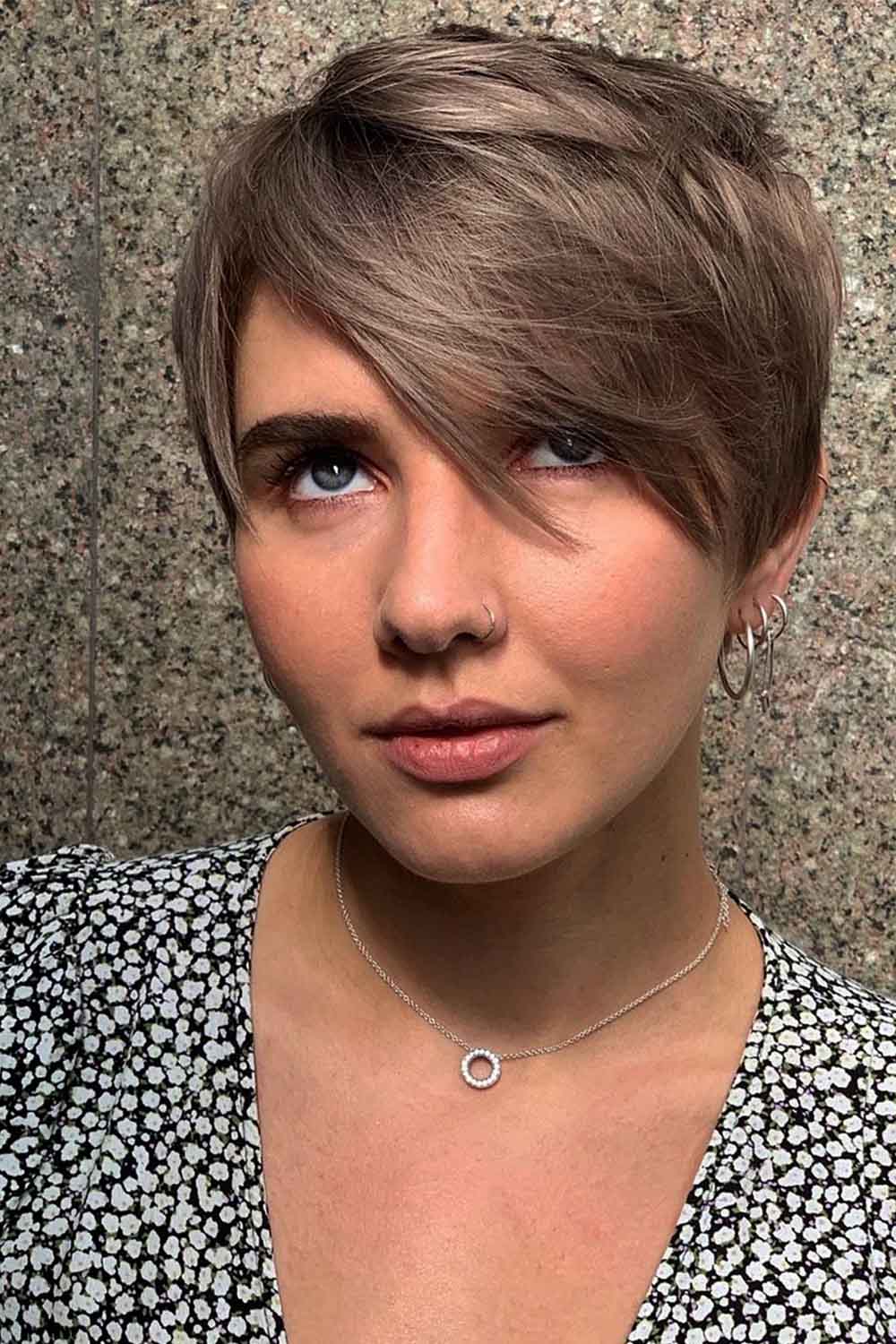 Credit photo: instagram.com/salsalhair
i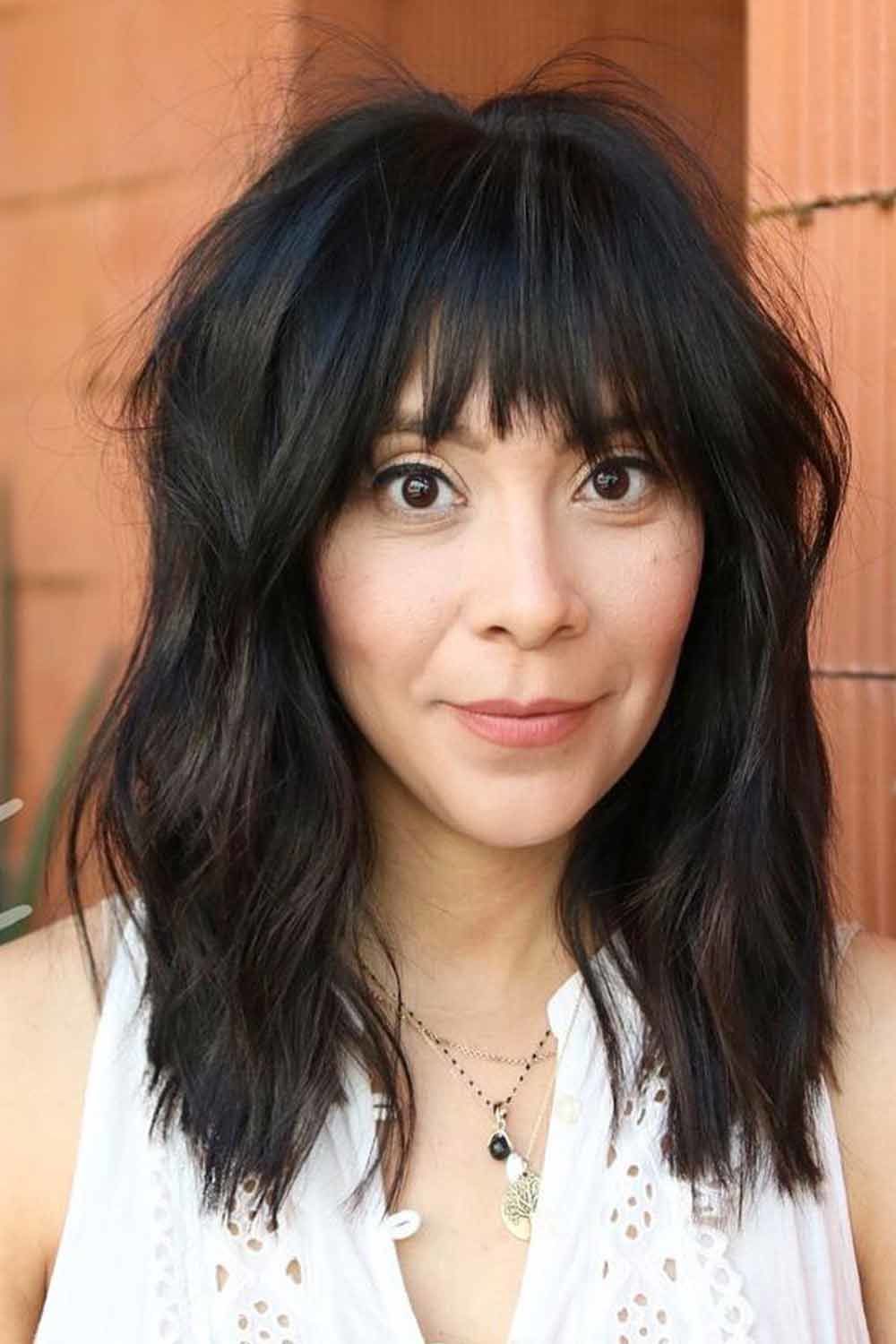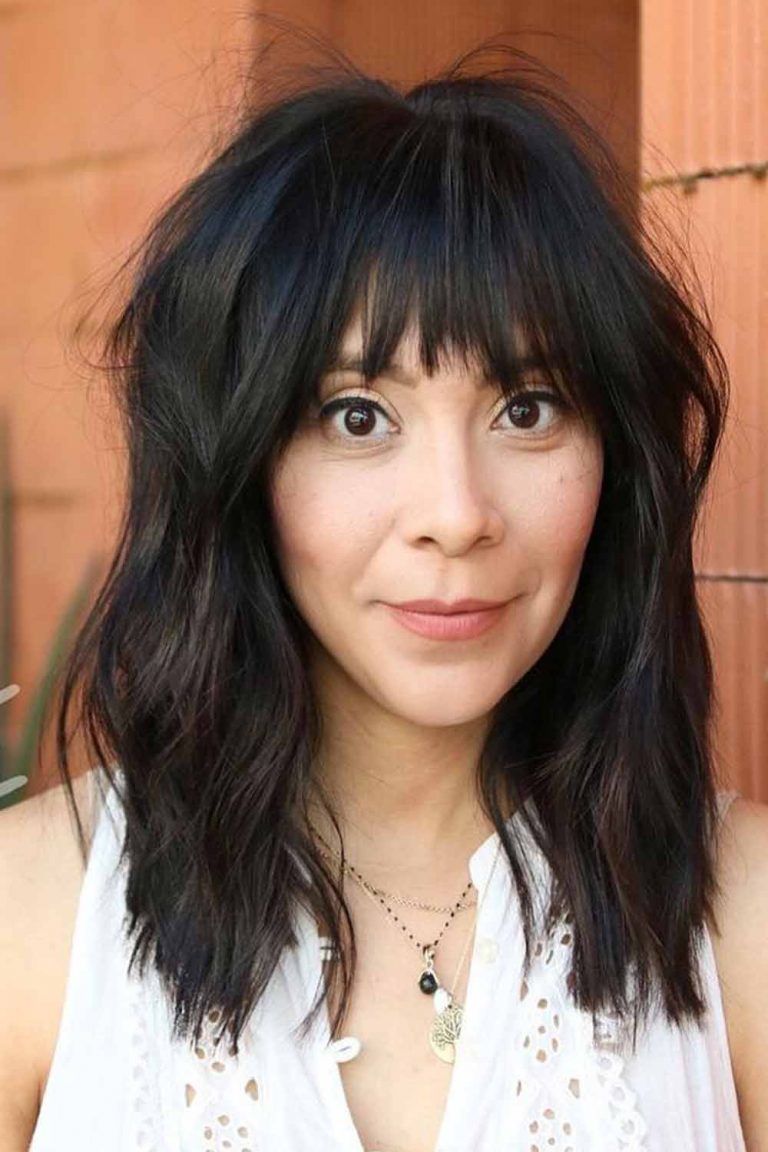 /
Another amazing fact about wispy fringes is their magical power to give a lightweight body to the hair while creating a voluminous finish. Well, it goes without saying that ladies who suffer from thin hair cruelty can finally get salvation. To get the most out of your thin locks, ask your hairstylist to lighten up the ends, as it will create an even, well-balanced silhouette.
Messy Shag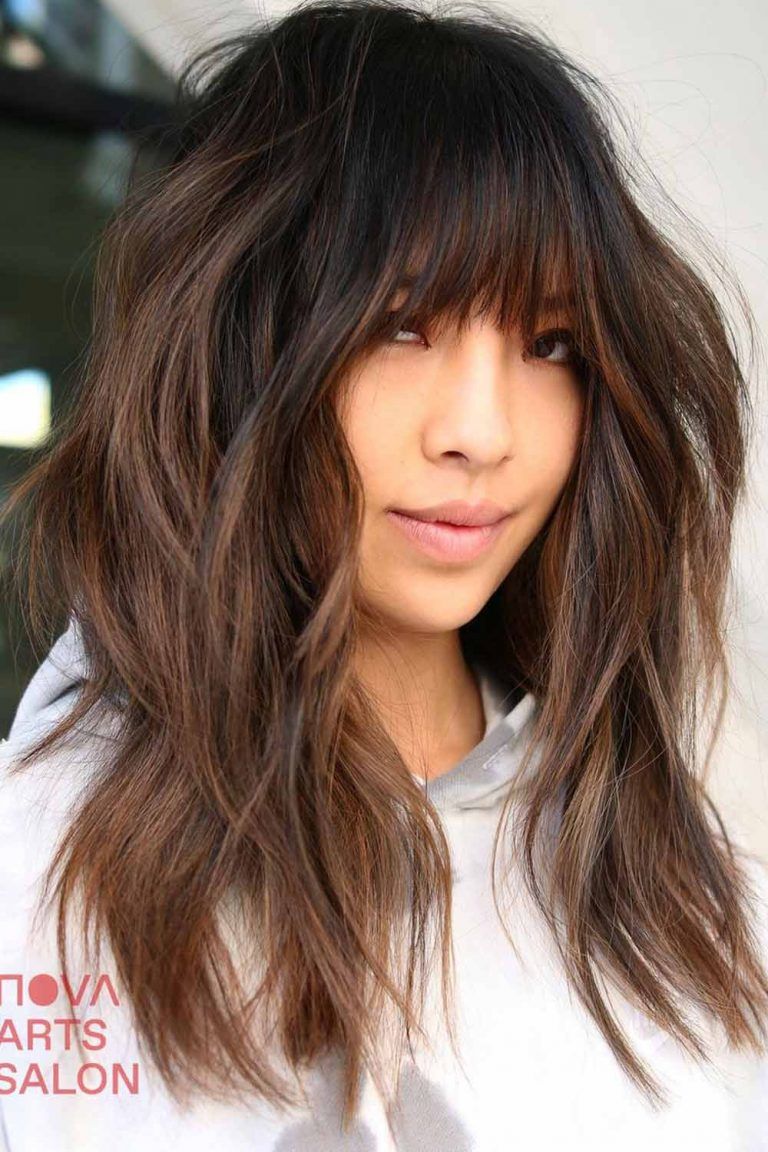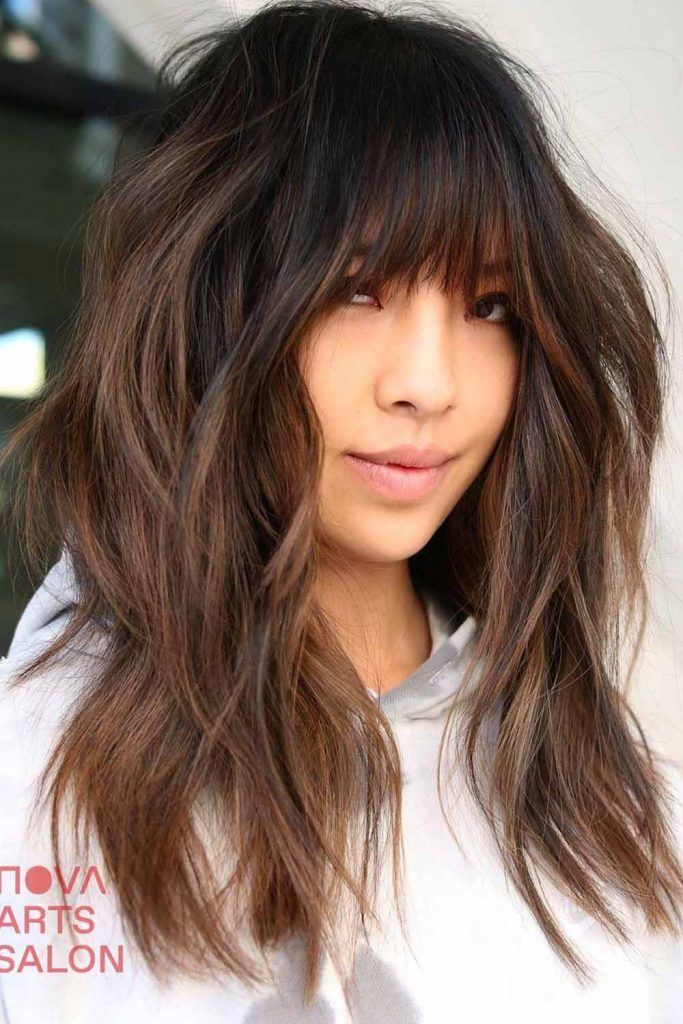 Credit photo: instagram.com/salsalhair
Shag hairstyles are all about freedom, messiness, and simplicity. As a combination of variously cut layers running through the length, they can instantly give a modern touch even to the thinnest hair ever. Moreover, they know no limits: you can always diversify your shag. So when you feel that your shaggy look needs a little fresh take, why don't emphasize its carefree mood with a wispy fringe?
Wispy & Center Parted
Credit photo: instagram.com/caithelle_hair
i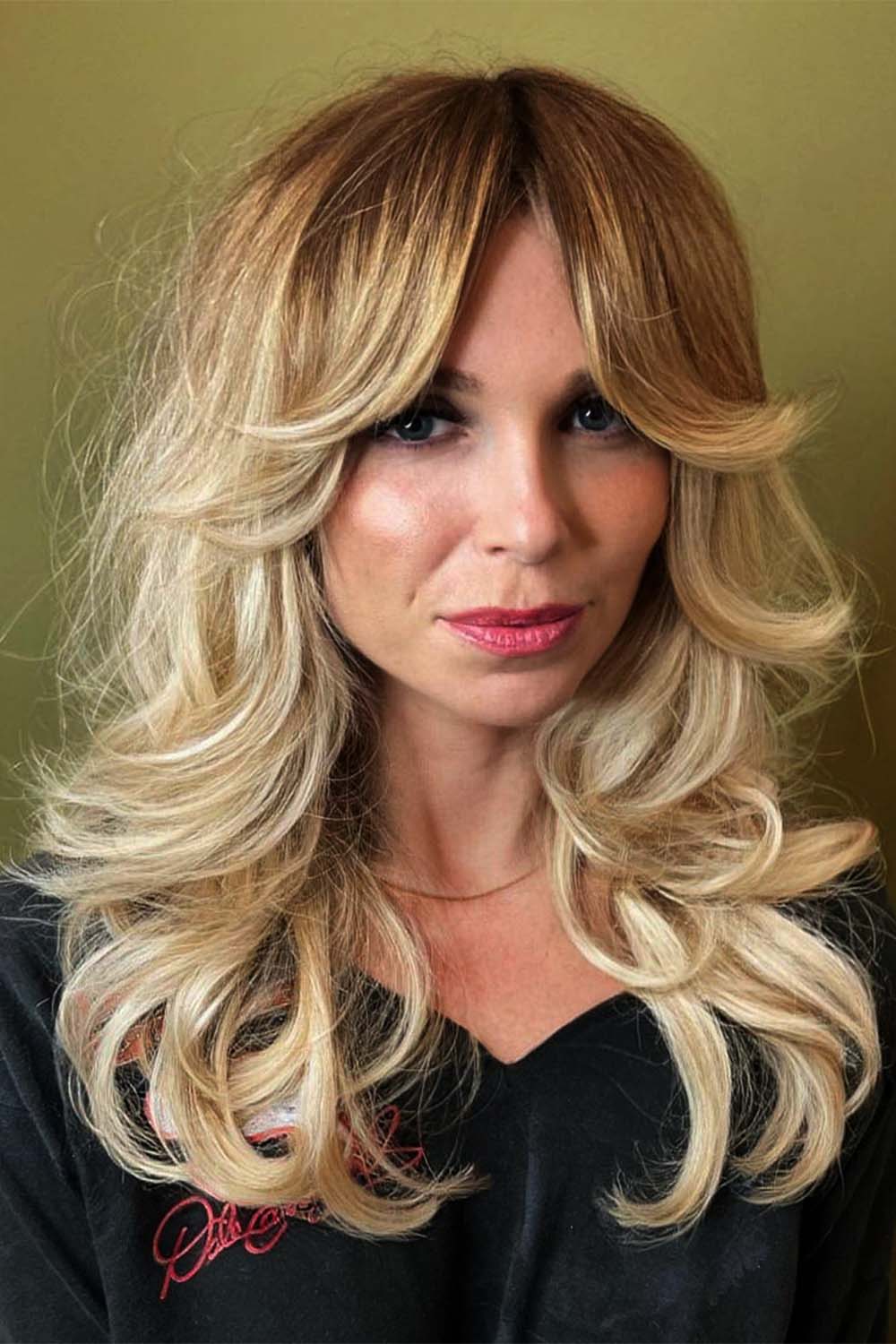 Credit photo: instagram.com/nadigerber
i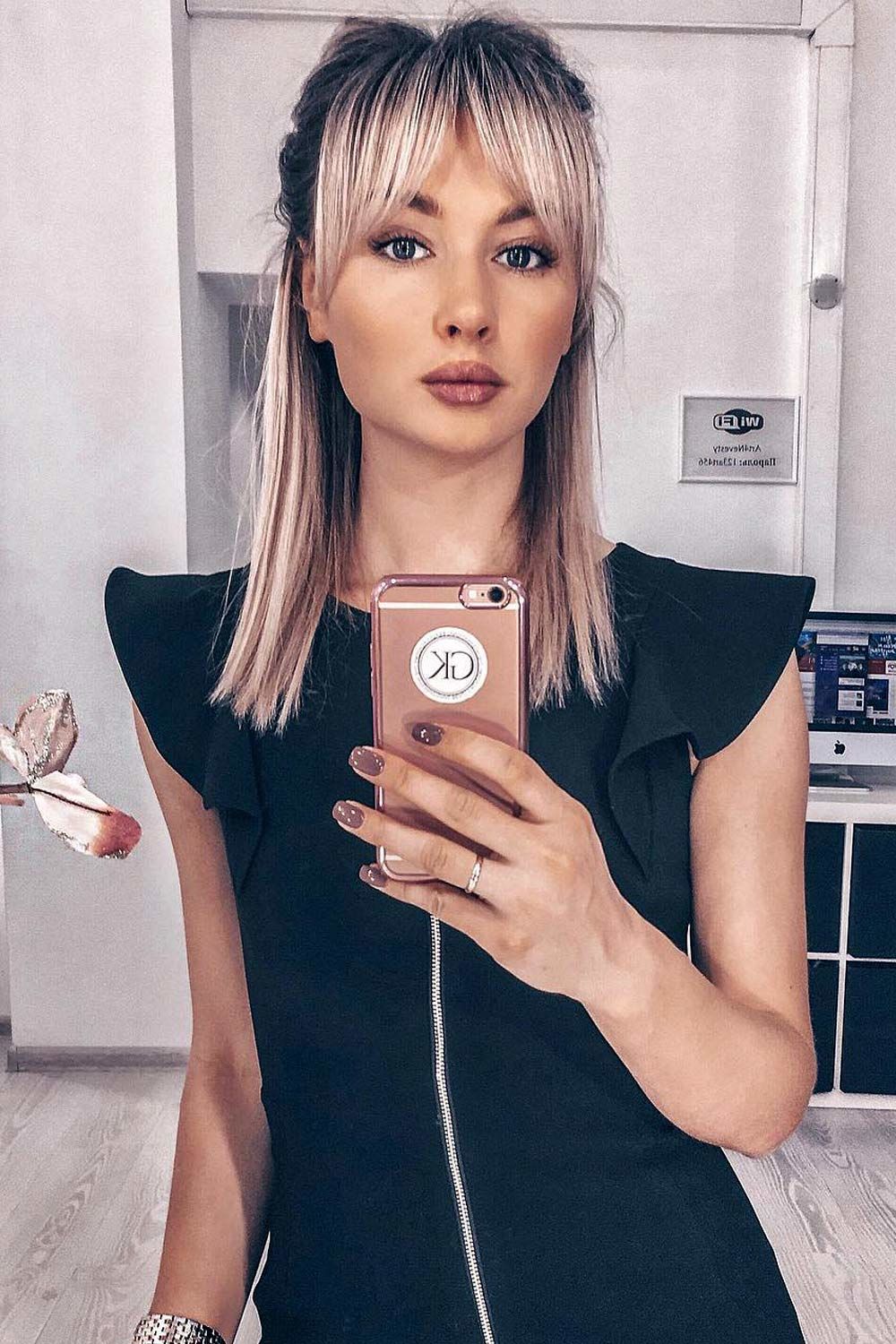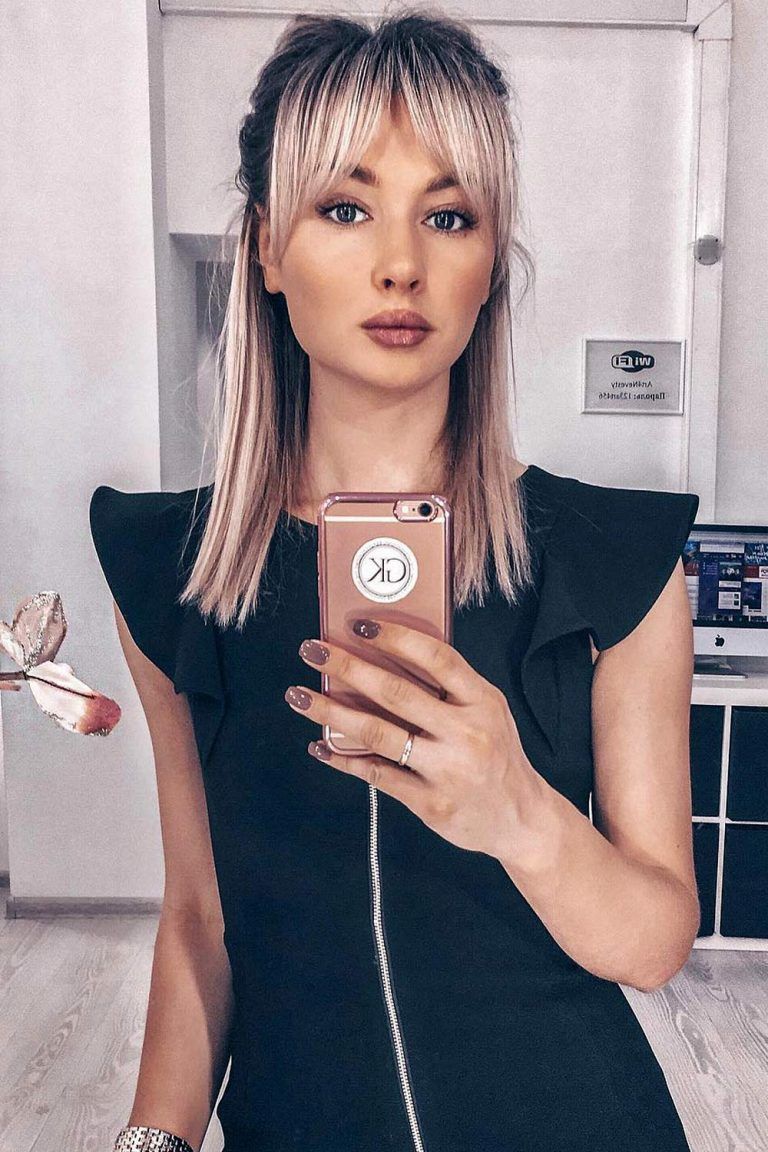 /
How about a happy medium between the popular curtain bangs and wispy fringe? Curtain bangs are probably a classic way to hide the forehead while keeping the brows visible. While such a fringe usually comes pretty thick and defined, wisps offer a more harmonic finish. In this way, you can get bangs that will work like the good old center-parted bangs and look like the trendy wisps. Moreover, with wispy curtain bangs long hair looks joyful and coquettish. They give your face a modest, yet pleasant and seductive look that can erase years!
Elegant Updo With Side Swept Wispy Bangs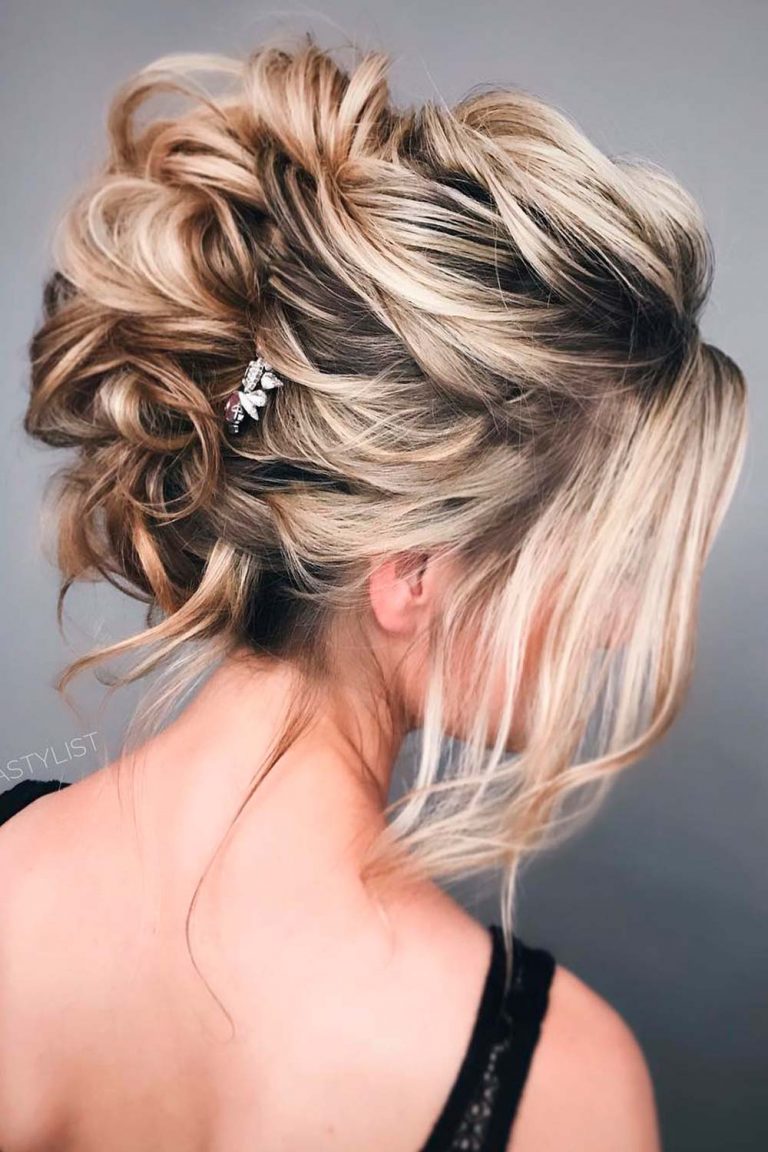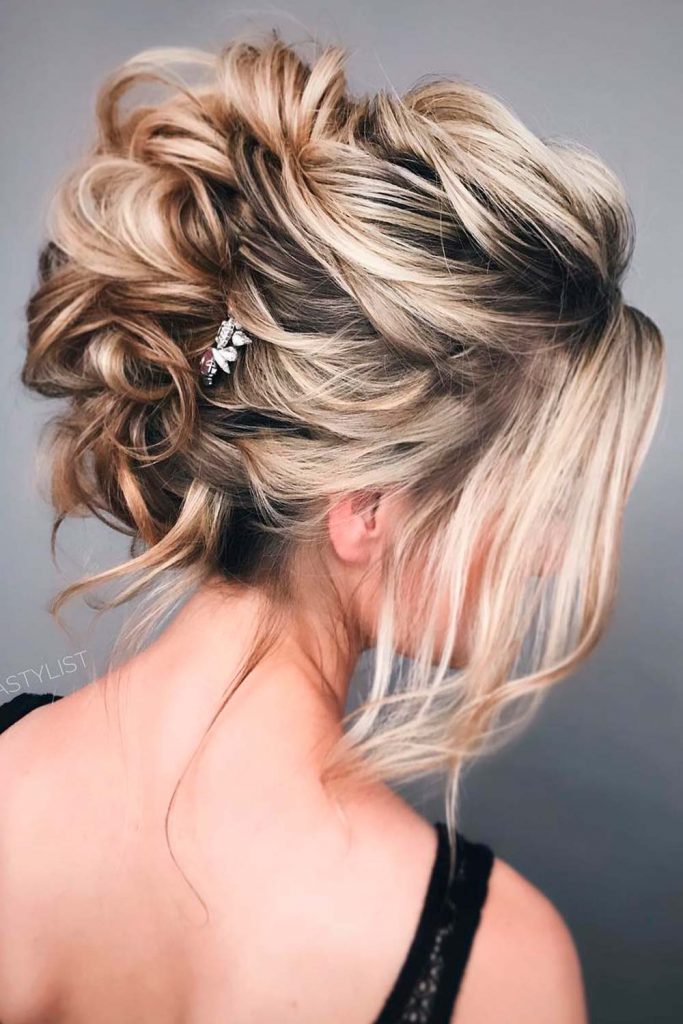 Credit photo: instagram.com/tonyastylist
Now, let's get back to the versatility of wispy cuties. Needless to say, they can nicely fit any hairstyle, whether it's a casual five-minute braid or a presentable evening updo. And this picture is the best example of how bangs can create absolute harmony. The updo is chic and elegant, and the fringe makes it appear more alive and aesthetically pleasing effortless.
Wispy & Texturized Waves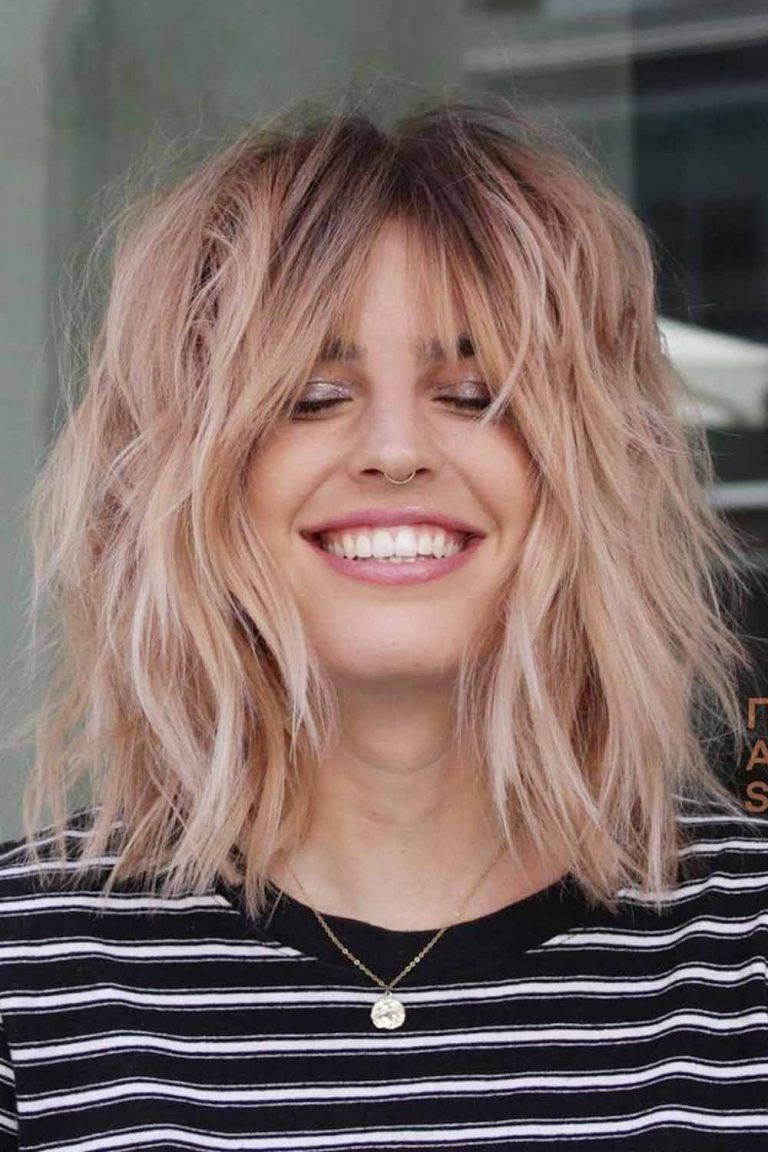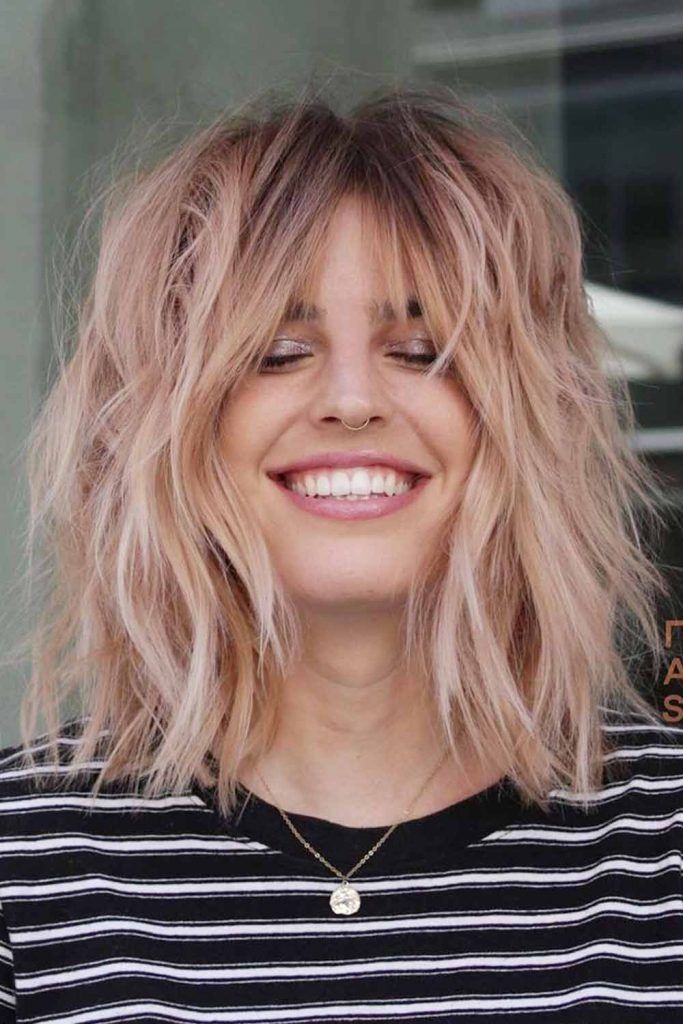 Credit photo: instagram.com/salsalhair
If we had it our way, we would write a love story about wispy bangs and wavy textures. They just belong together! Words are not enough to describe the youthful, lightweight mood that these two can create, so let's just enjoy this amazing two-toned masterpiece with kinda hippie wispy bangs.
Curly Bob With Wispy Bangs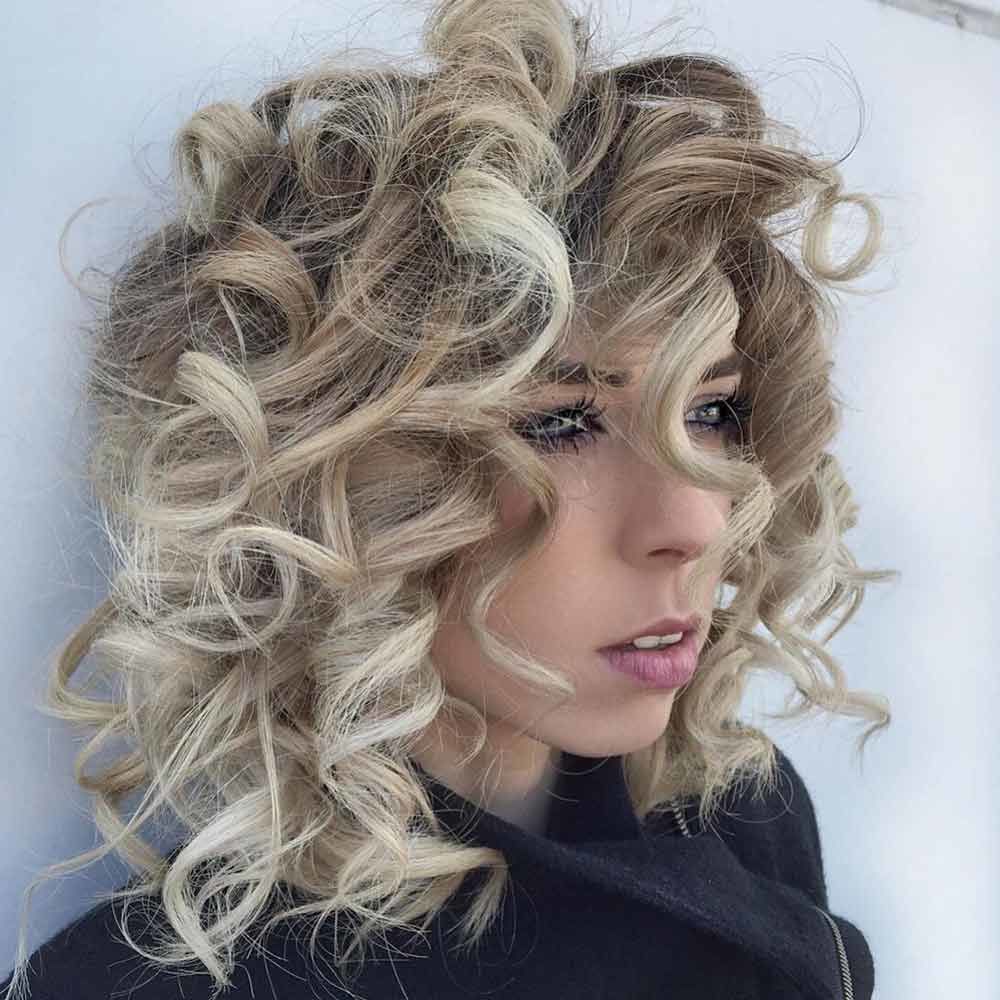 Credit photo: instagram.com/hairbyjaxx
For ladies who'd like to curl their hair, a wispy fringe may work as those flirty carefree locks that stick out of the whole hairdo. Again, its lightweight texture is so manageable that you can incorporate it into any styling experiment possible. Just look at this pic to get what we mean.
Messy Thin Hair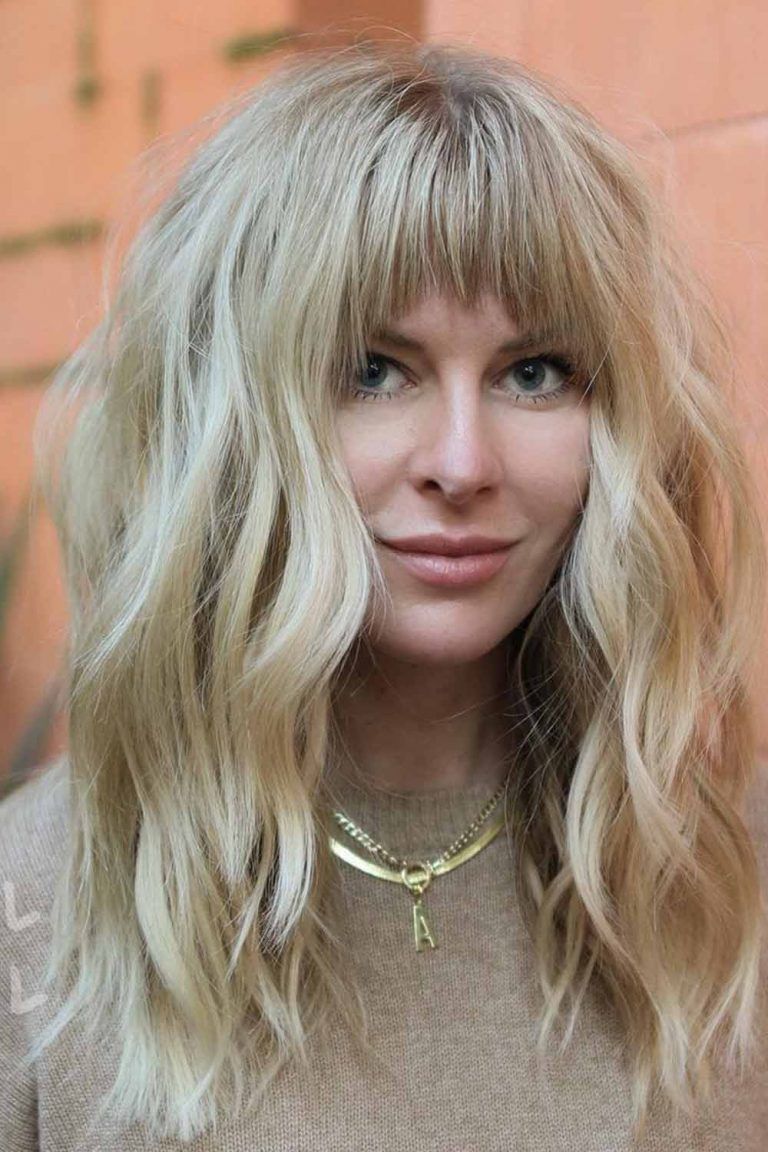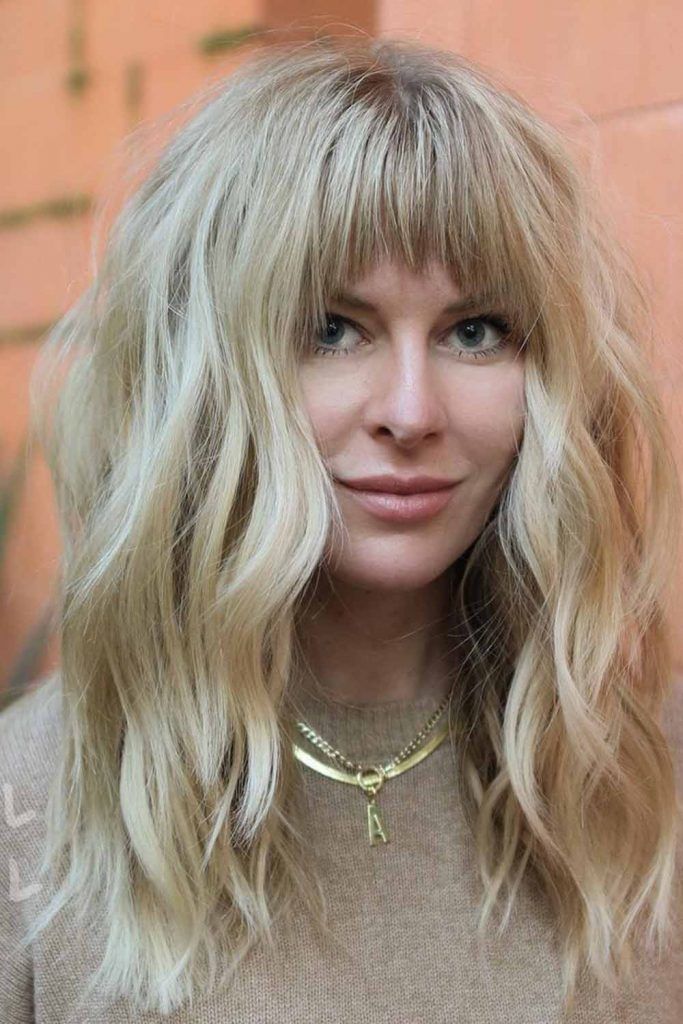 Credit photo: instagram.com/salsalhair
You don't need to be a celebrity hairstylist to know that bangs are like brows: if done right, they can drastically change the way a woman looks. At the same time, some women still don't believe that thin hair is no longer a disaster. And this idea is here to change your picture of thin hair. Even though the hair is very light fine, it's by no means flat and boring. On the contrary, it's super voluminous, lively, and well-balanced! Call it magic, call it true, and we will call it the right combination of gentle wispy bangs and a messy shag for thin locks.
Straight Blunt Bob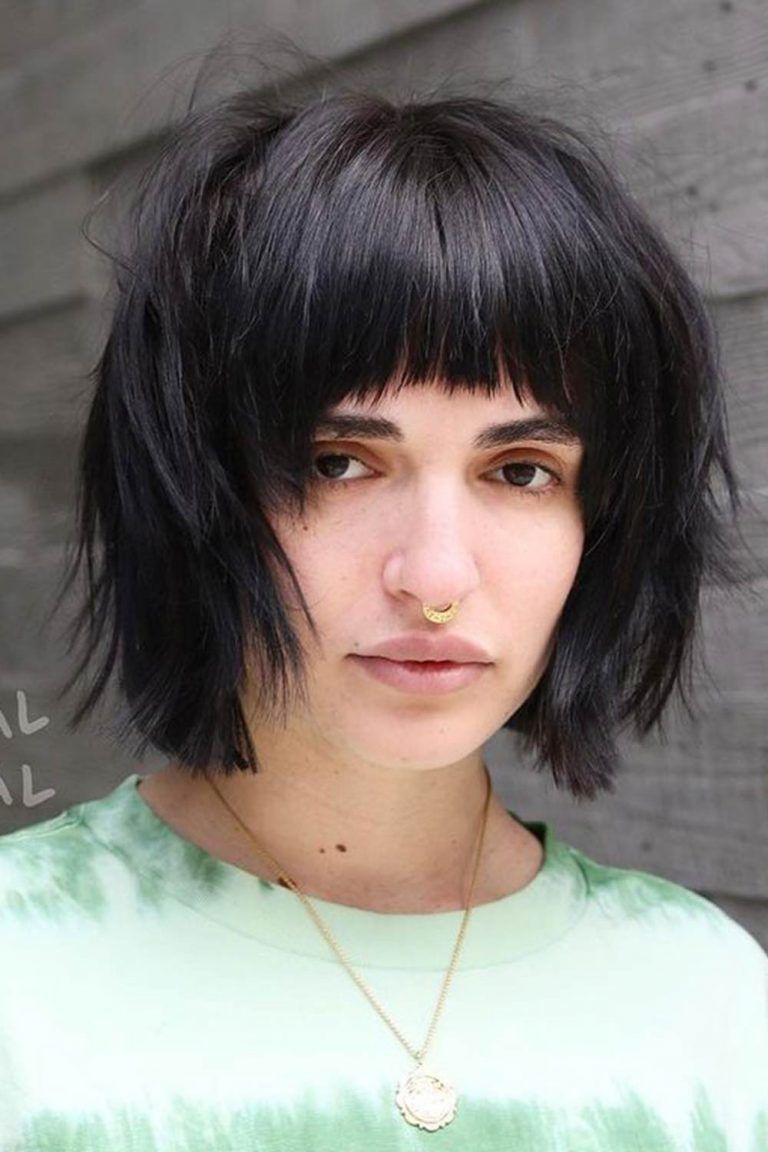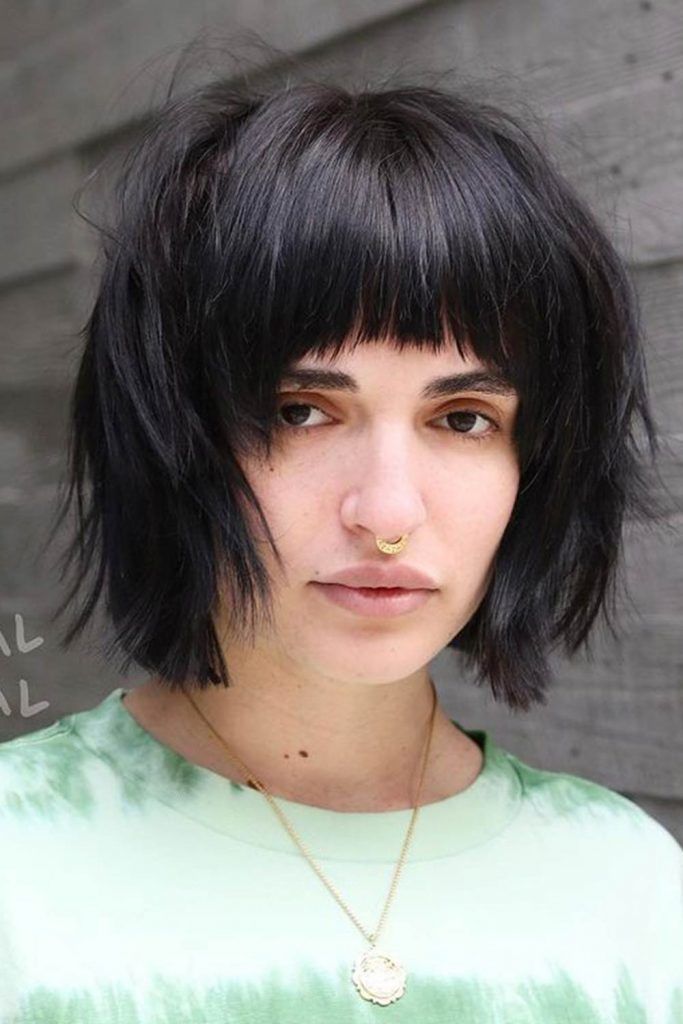 Credit photo: instagram.com/salsalhair
A blunt bob paired with a straight fringe is a classic duo that isn't going to ever leave the fashion world. While it works great on anyone from a schoolgirl to a mature woman, it offers a great canvas for experimenting. Surely, it's all about the thickness: you can diversify the classics by adding a touch of modernity. Cut a long story short, ask your stylist for soft texturizing and you will love the transparent finish on your blunt bangs.
Two-Toned Fringe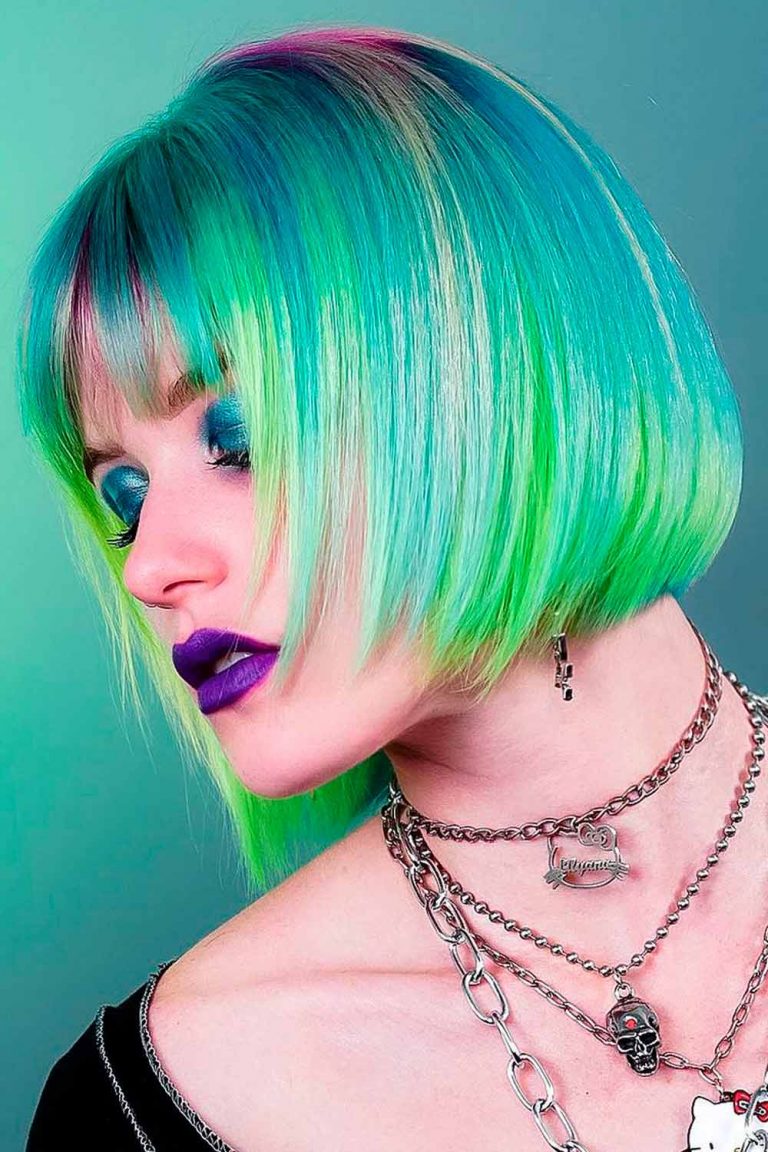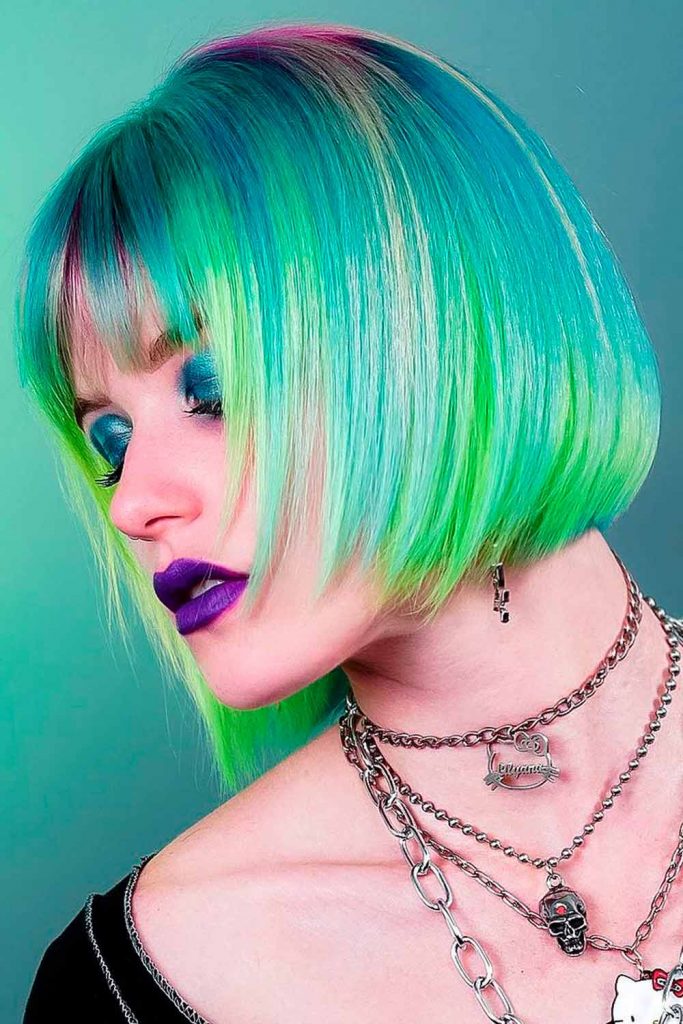 Credit photo: instagram.com/hairgod_zito
Wispy Bangs For Medium Curly Hair
Credit photo: @nubiarezo
i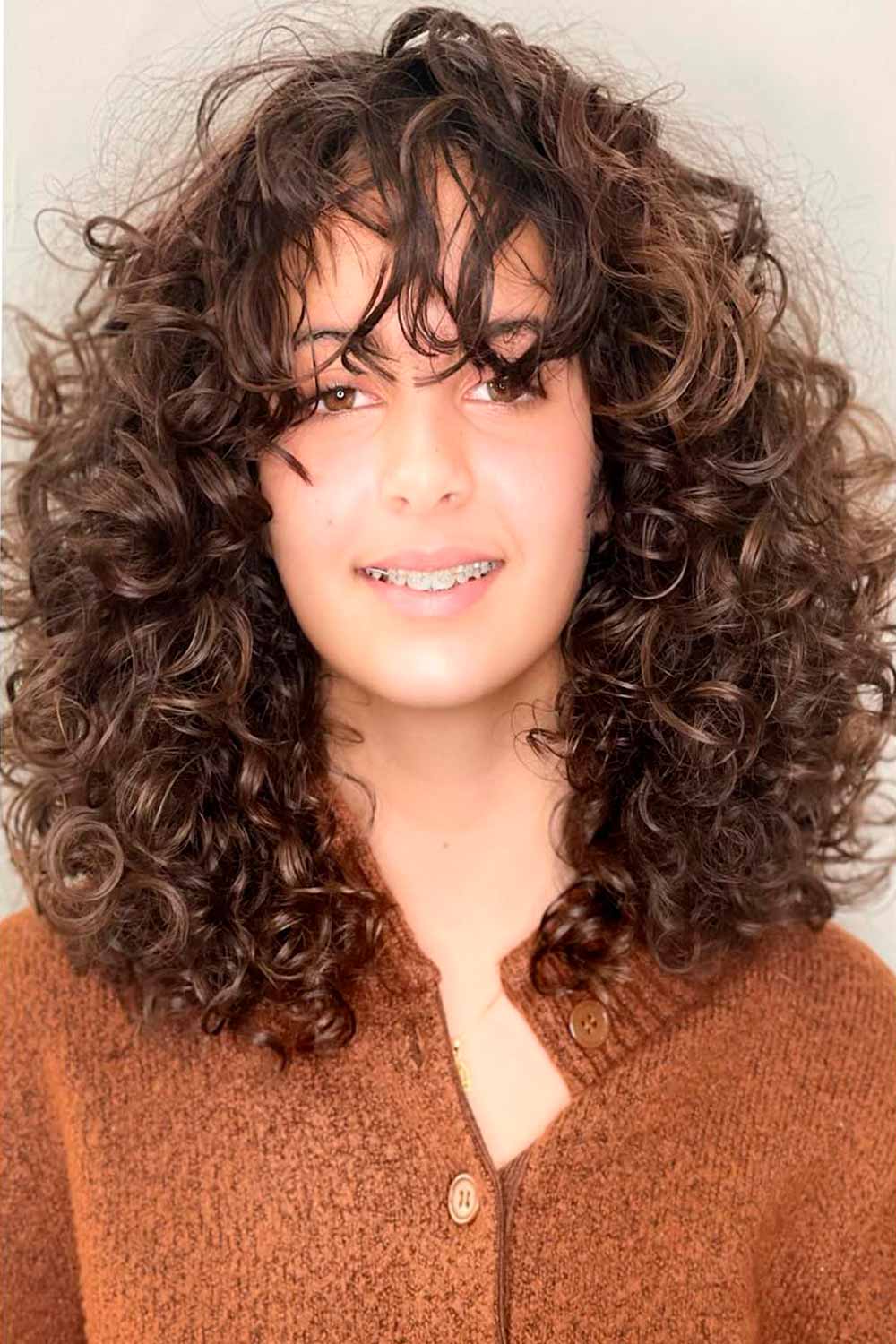 Credit photo: @cut_and_color
i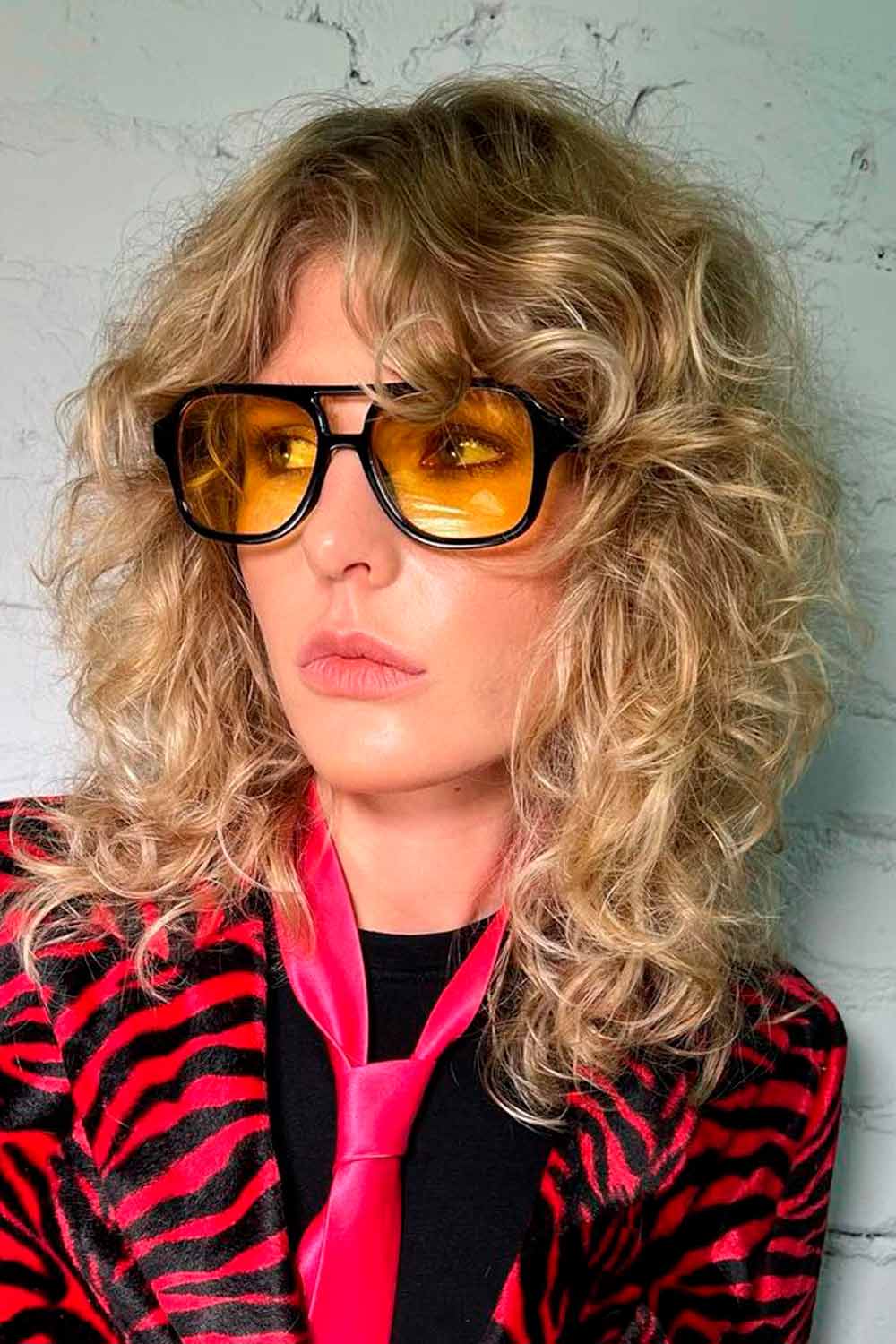 /
Shaggy Haircut With Bangs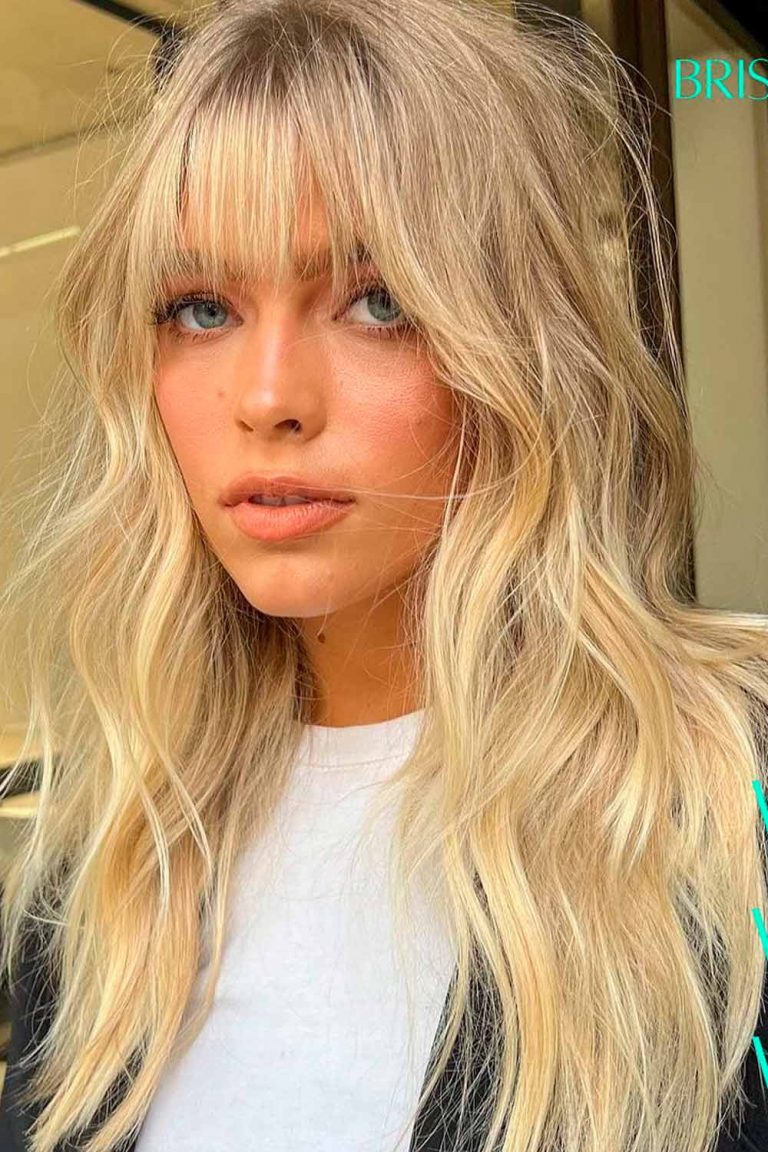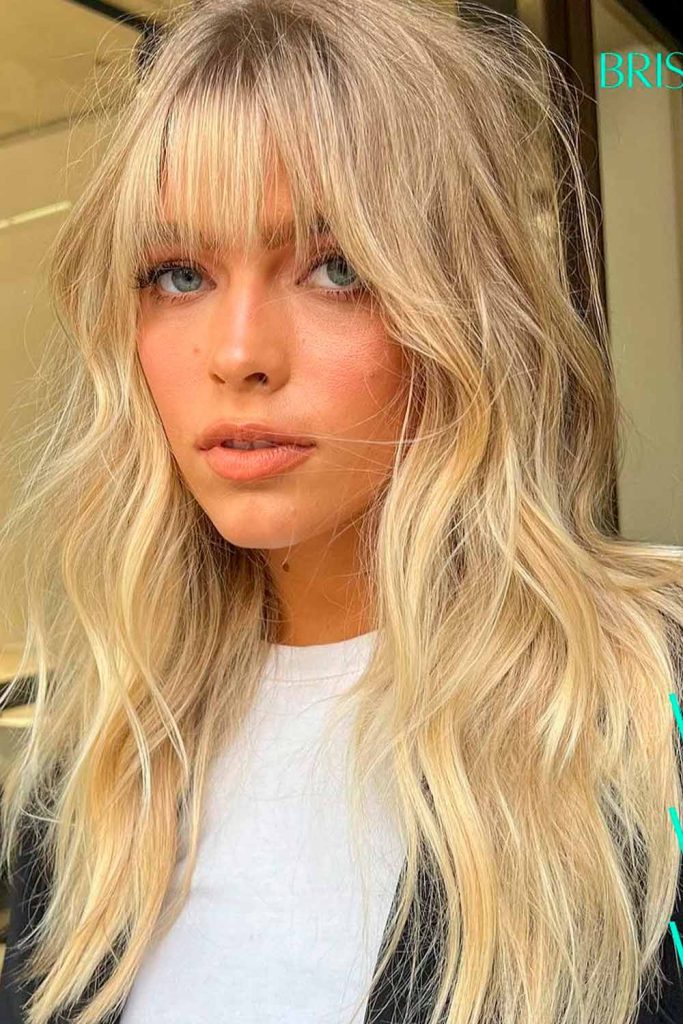 Credit photo: instagram.com/_edwardsandco
Thick, Mid-Length Bangs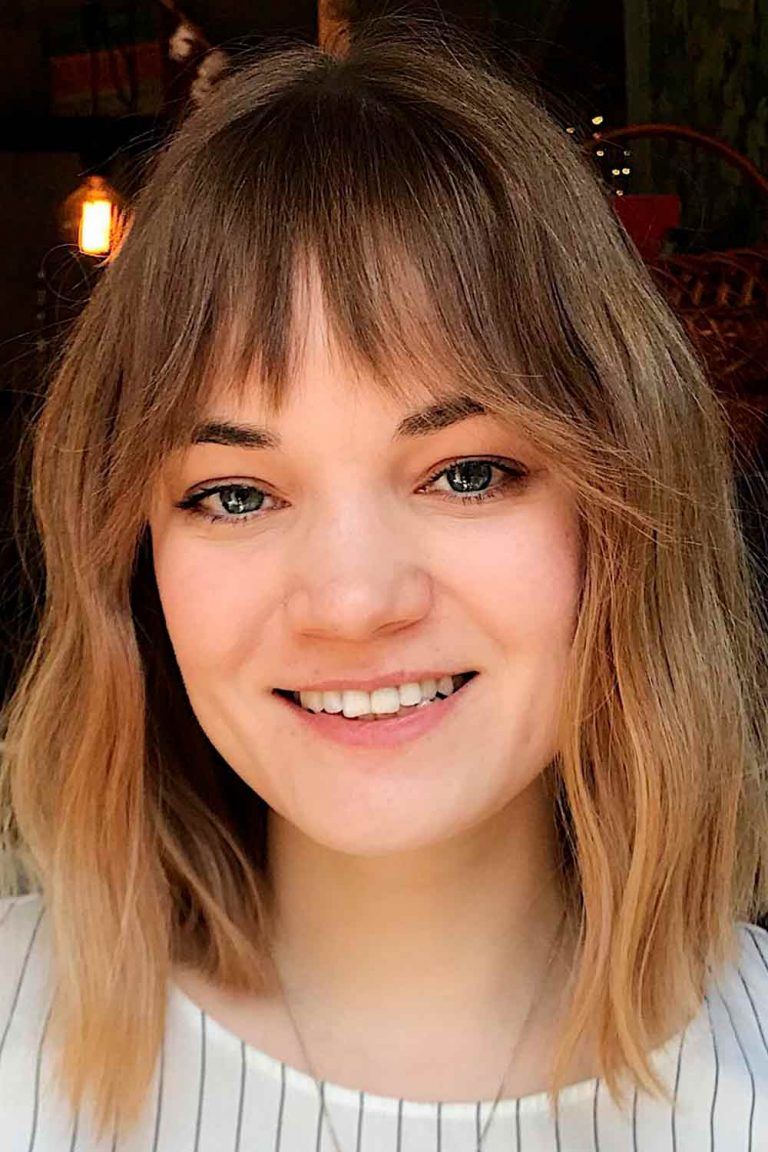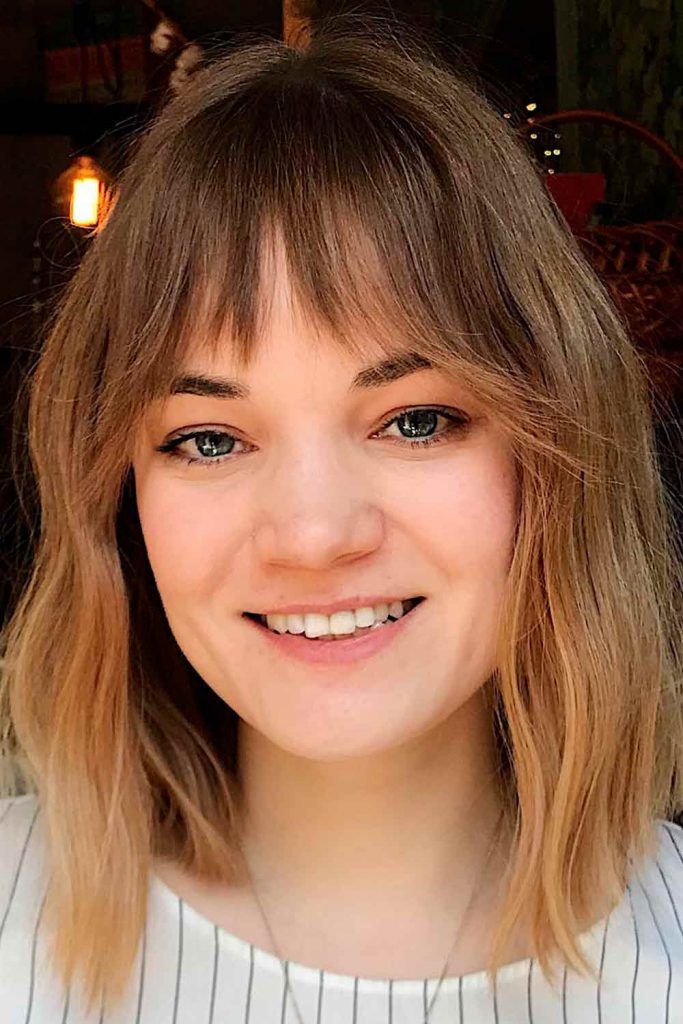 Credit photo: instagram.com/avevalentine
Long Wispy Bangs
Layered Side Fringe Fad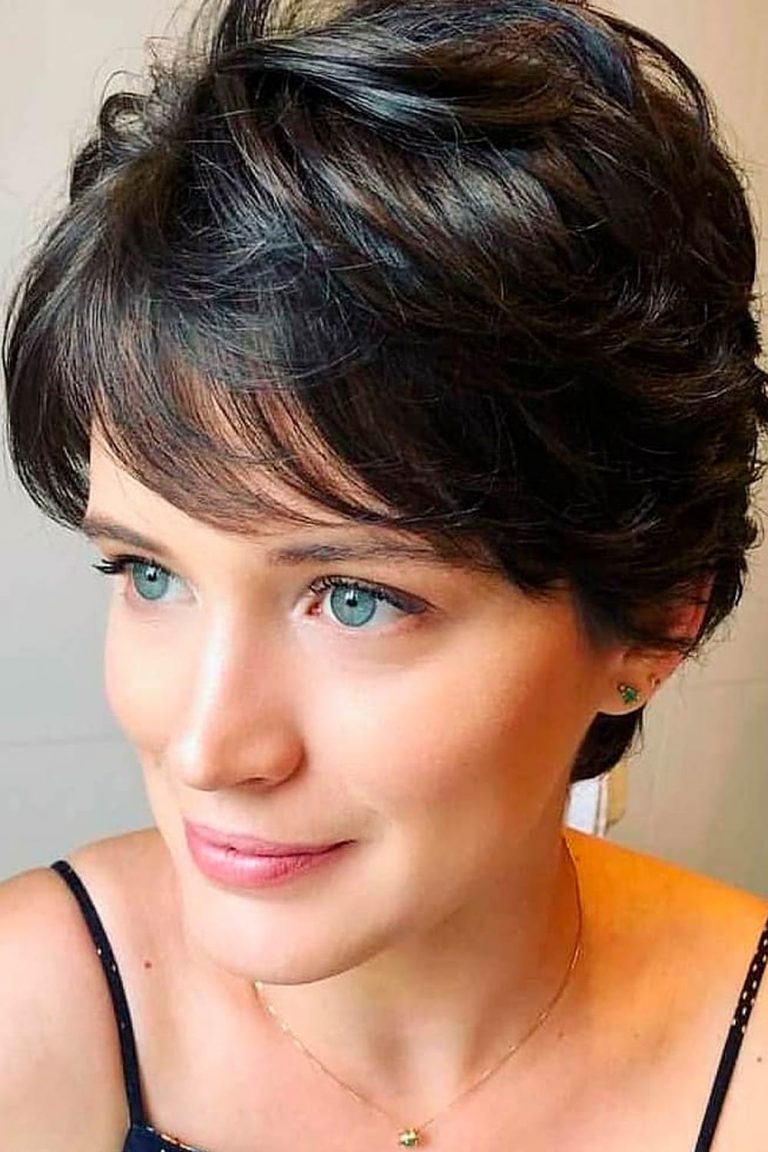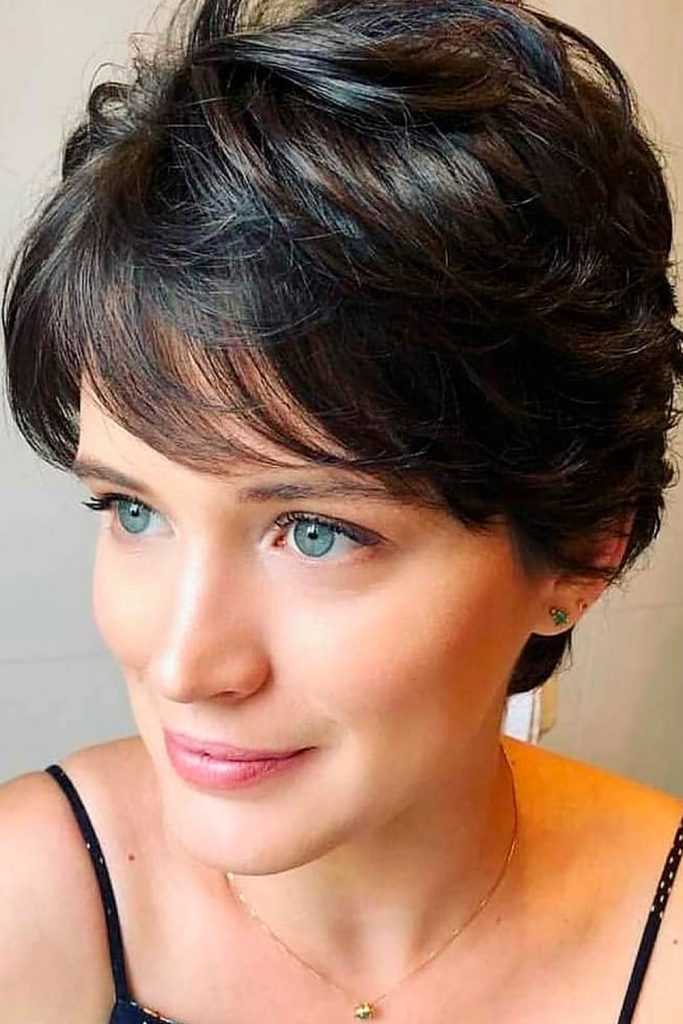 Credit photo: instagram.com/meucabelocurto
Long bangs seem to never go out of style, especially if we're talking about long wispy bangs! Such a soft fringe that seamlessly melts with your layered cut works well for girls with prominent foreheads, smoothing out the oblong silhouette.
Long Soft Wispy Bangs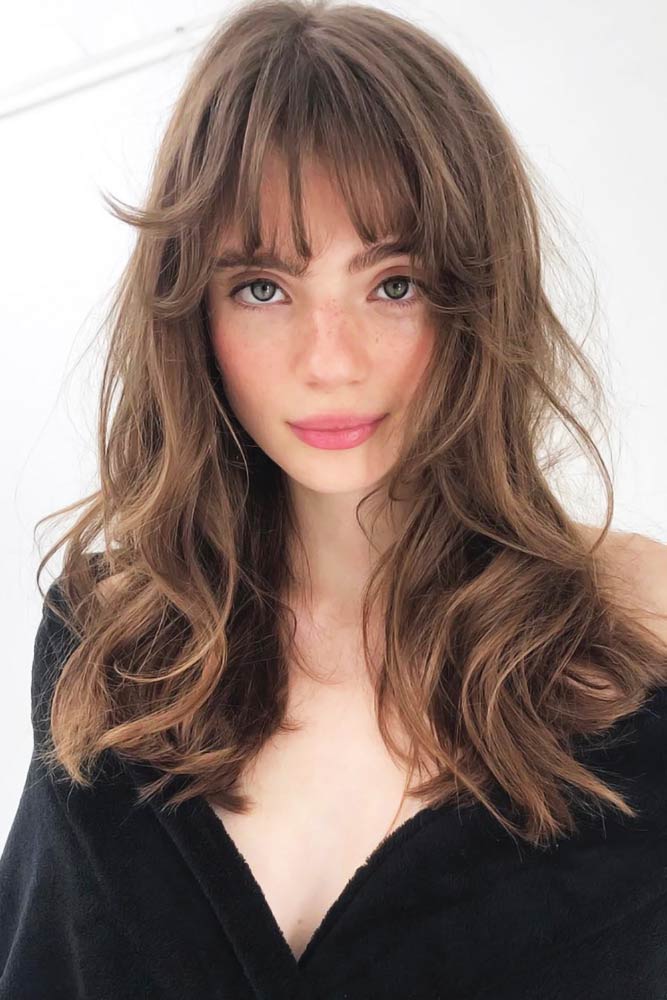 Credit photo: instagram.com/themanestyle
Unlike classic variations of wispy bangs, their long version has nothing to do with commitment. In fact, once you get tired of wearing a fringe, you can simply incorporate it into a ponytail or make it work as an additional layer for wavy styles. Here, the bangs are meant to conceal the broad forehead. Still, a ponytail with wispy bangs may look different due to the additional length, especially compared to the previous ideas.
Versatile Wispy Bangs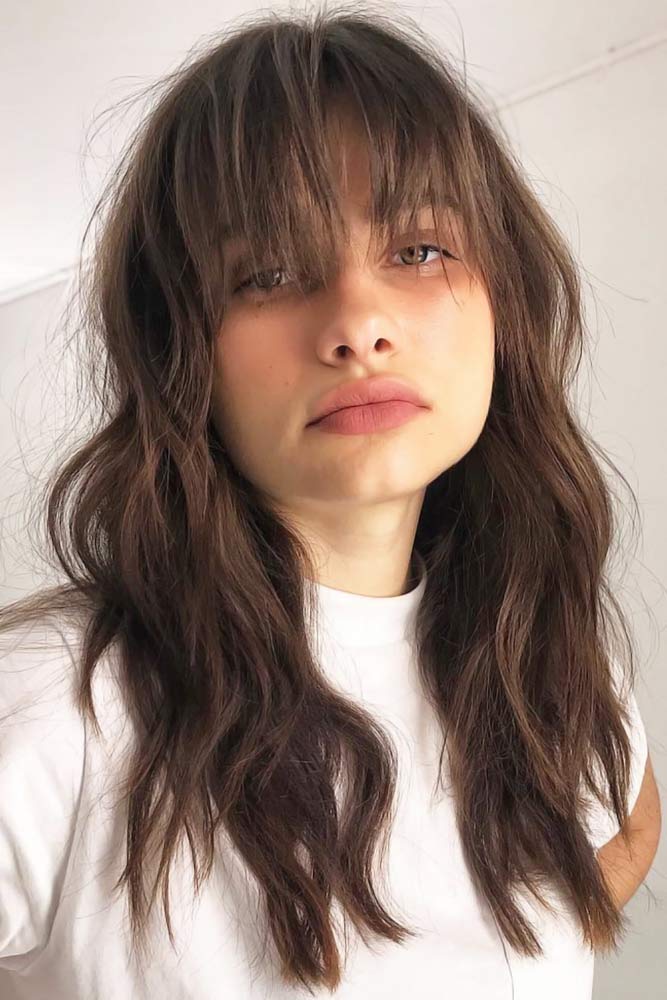 Credit photo: instagram.com/themanestyle
Want to change something in your style but have no clue what your changes should look like? Have seen about thousands of haircuts and still not sure if you're ready for such a move? Instead of letting your indecisive side take you over, go for bangs that always work, no matter what. As a matter of fact, you can have just a soft layer of a wispy fringe that you can style in countless amazing ways. You can wear it straight, sweep it to the side, part it to the center. In other words, they give you a room for your imagination. And this room has no roof.
Edgy & Uneven Arched Bangs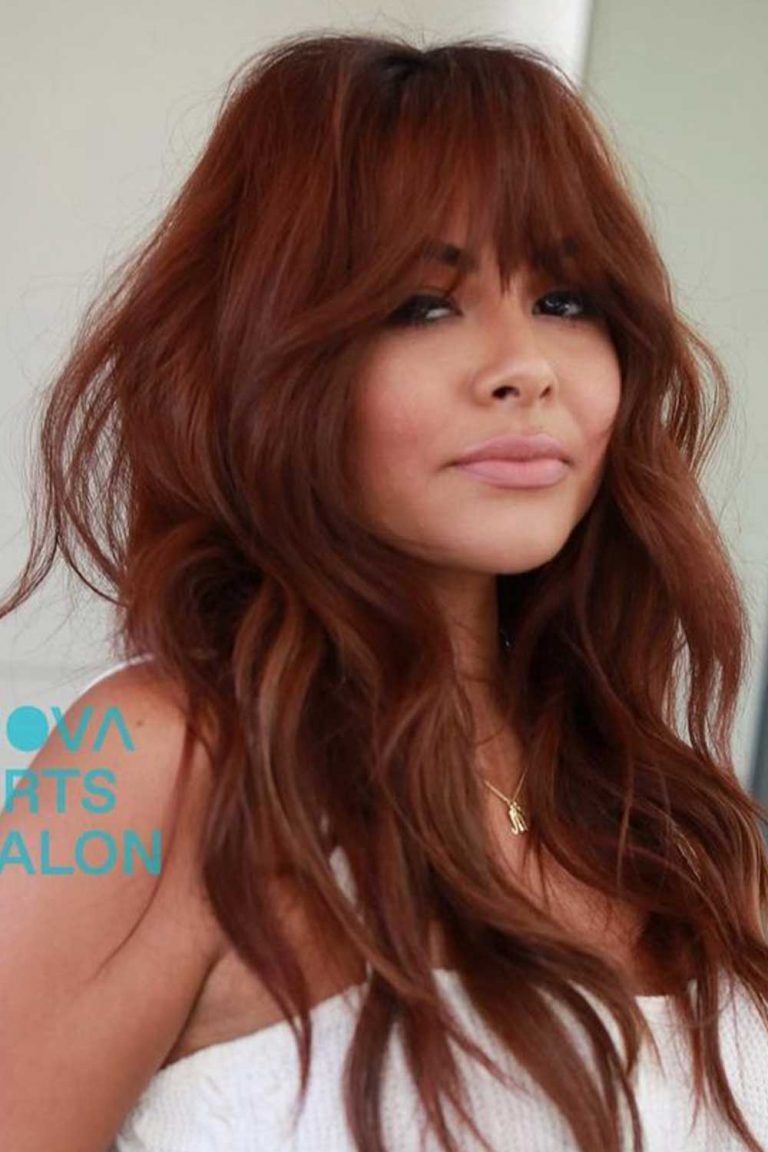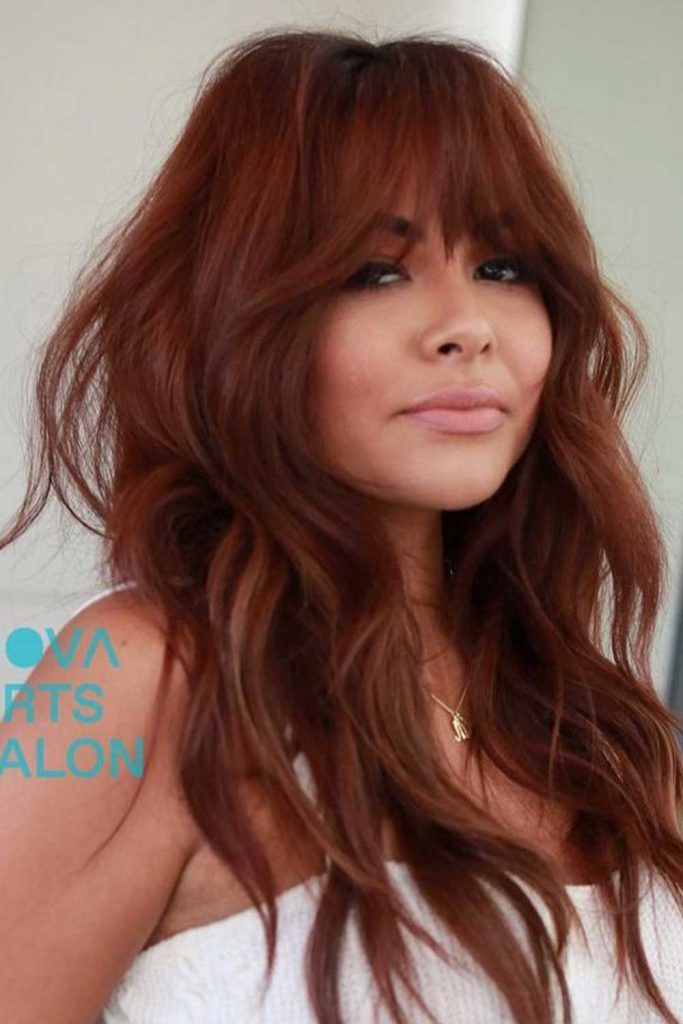 Credit photo: instagram.com/salsalhair
There is a simple and edgy variation of wispy bangs long hair can perfectly complement. You can make your straight bangs looks less common by shaping the ends of your fringe and adding some dimension to it. Voila! It looks exceptional with loose wavy hair.
Versatile Long Wispy Bangs
Credit photo: @_edwardsandco
i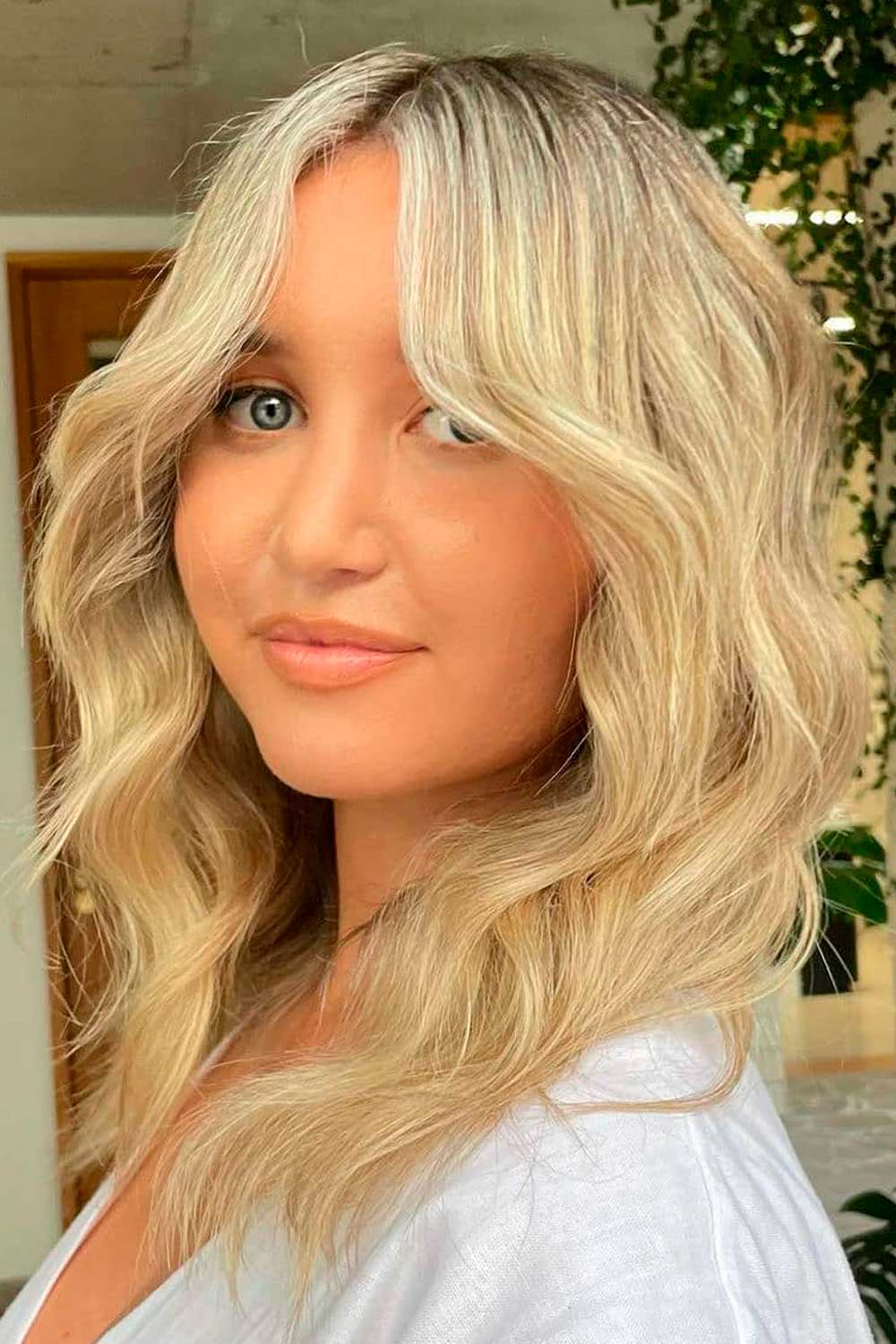 Credit photo: @blushandmane
i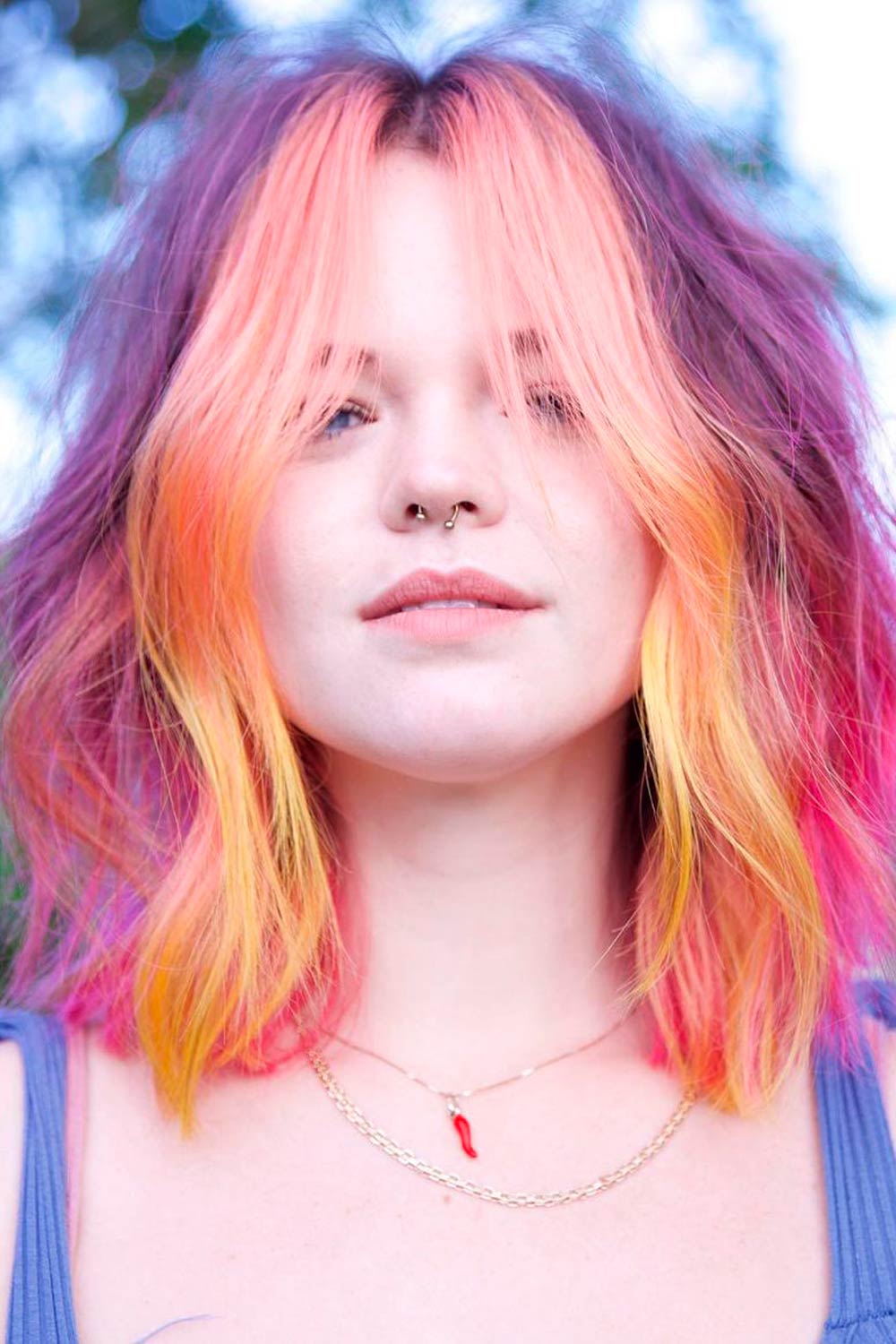 Credit photo: @hairgod_zito
i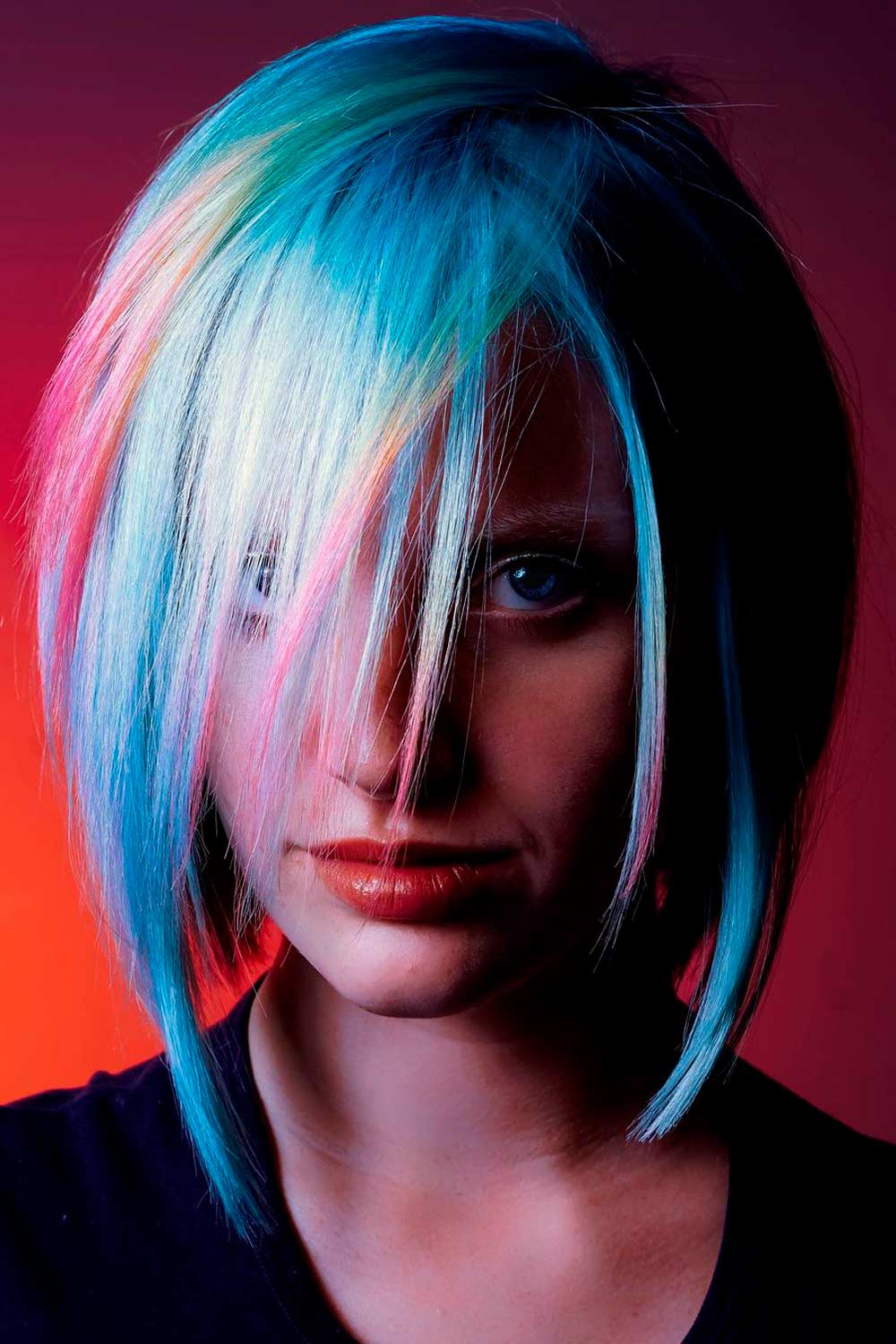 /
If you're wondering how many hairstyles with wispy bangs you can create, the answer is as many as you want. Girls who love playing around with their hair should opt for longer and textured versions of wispy bangs as they give more room for creativity. Moreover, when worn with a haircut that is purposefully unstructured, long hair with wispy bangs may look really amazing. This combination creates movement and gives you an elegant, carefree look.
Classy Shattered Wispy Fringe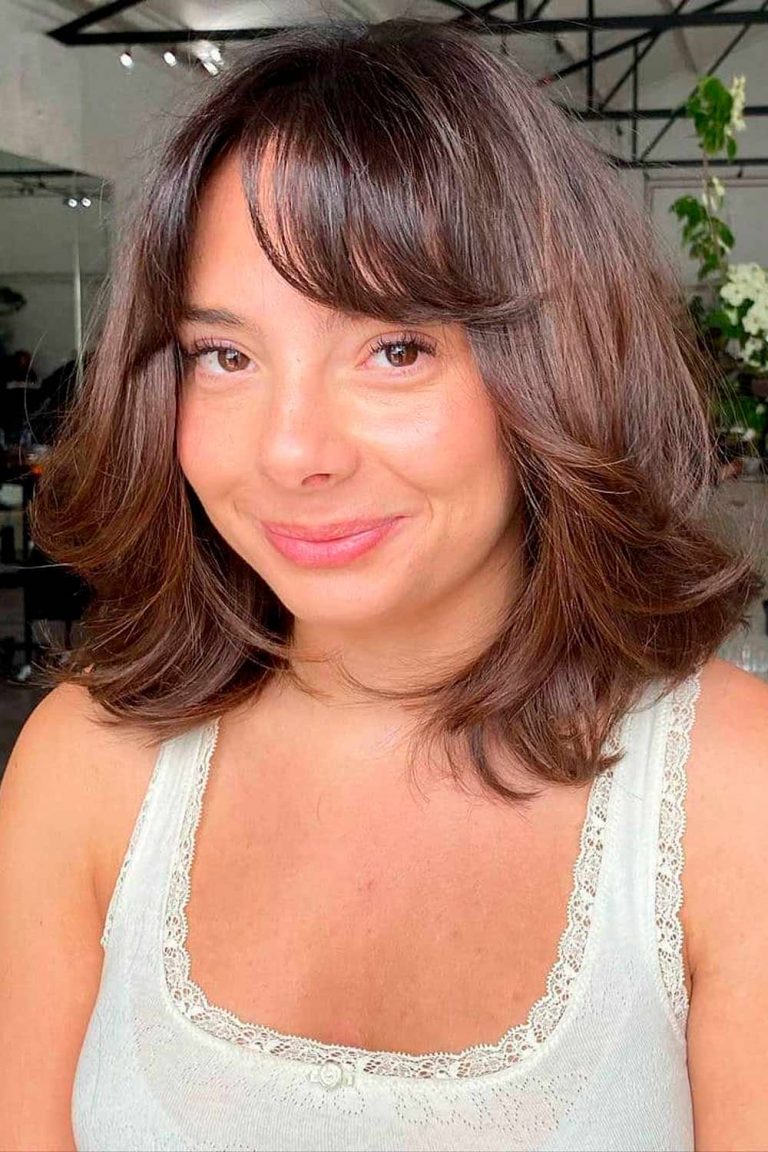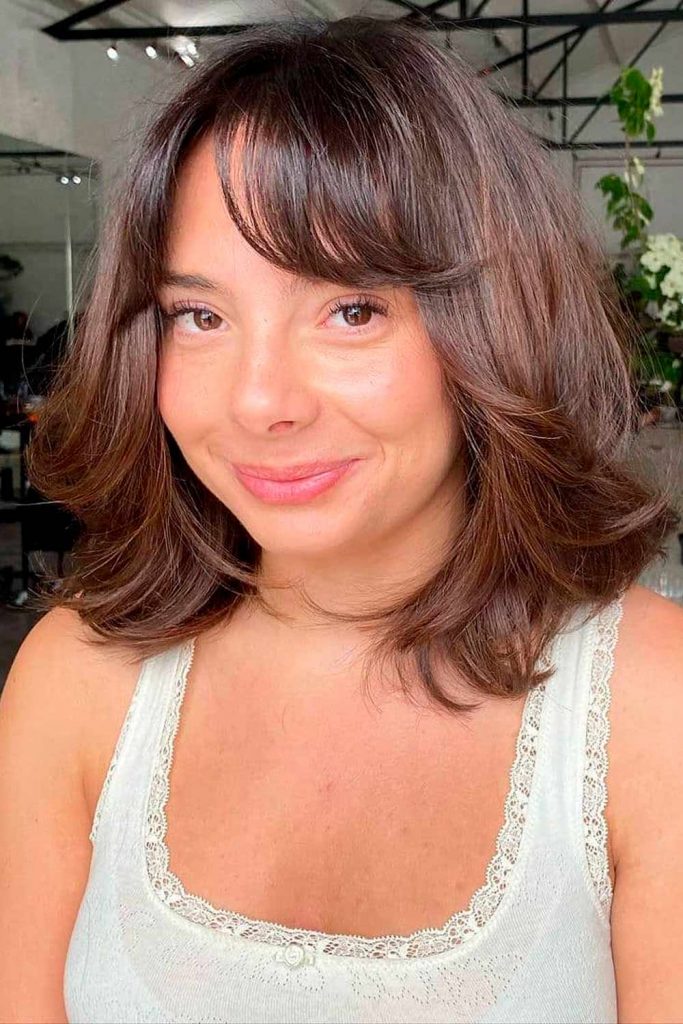 Credit photo: instagram.com/_edwardsandco
A shattered fringe, where wispy side swept bangs involve visible gaps between thick sections is the best friend for women. Yes, it takes minutes to get it styled, that's why we love it so much. Such bangs can be a stunning finish for updos: from buns to braided styles.
Long Thin Fringe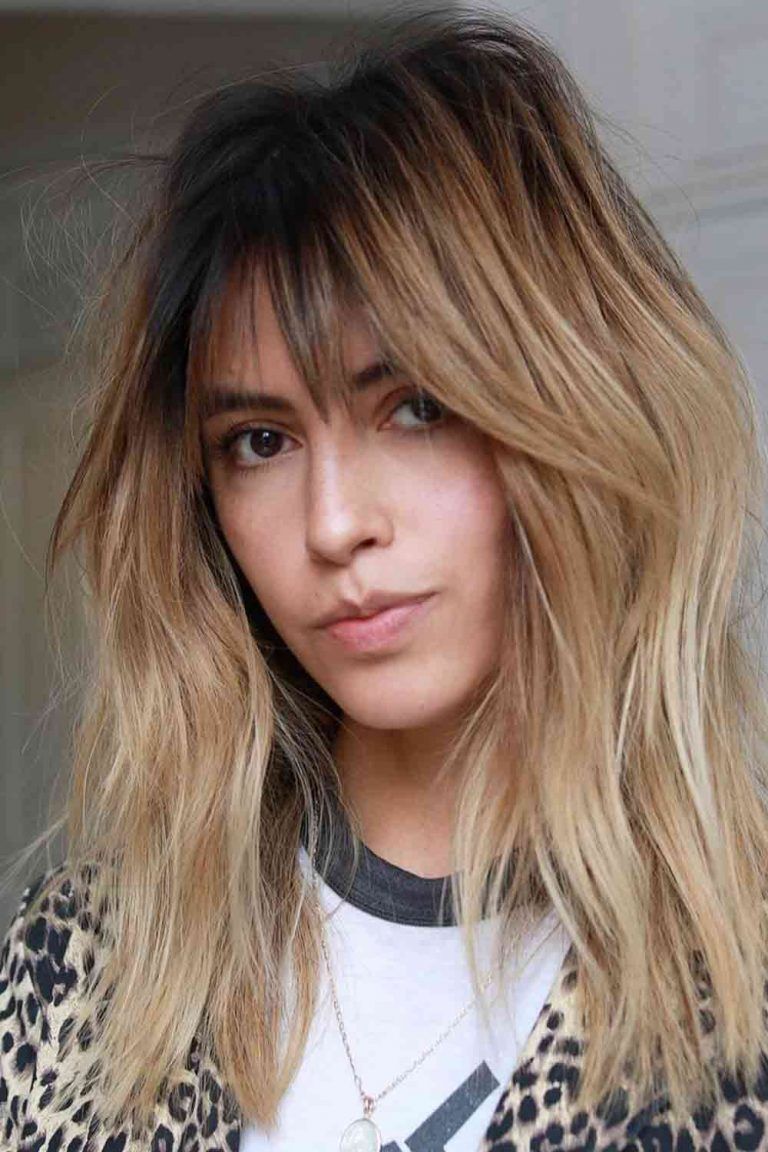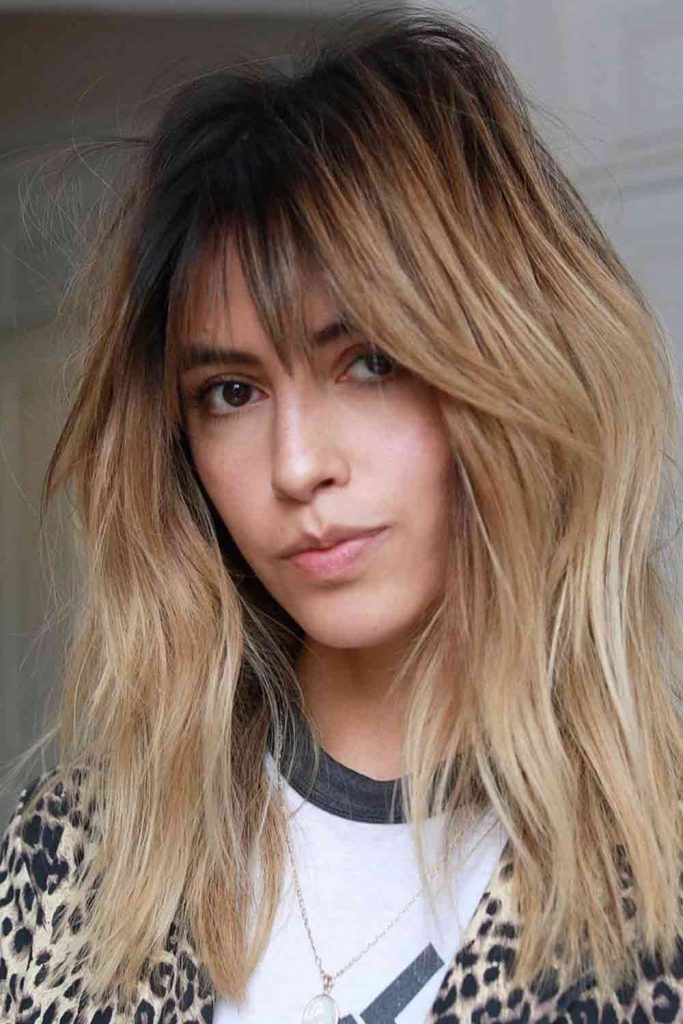 Credit photo: instagram.com/salsalhair
No wonder that you'd like to find out how to cut wispy bangs once you have a look at the long thin fringe. Since your bangs are long, you can keep them thin and weightless, yet, for a sophisticated style, you should make sure that they're clean and sleek enough.
Medium Cutting Edge Style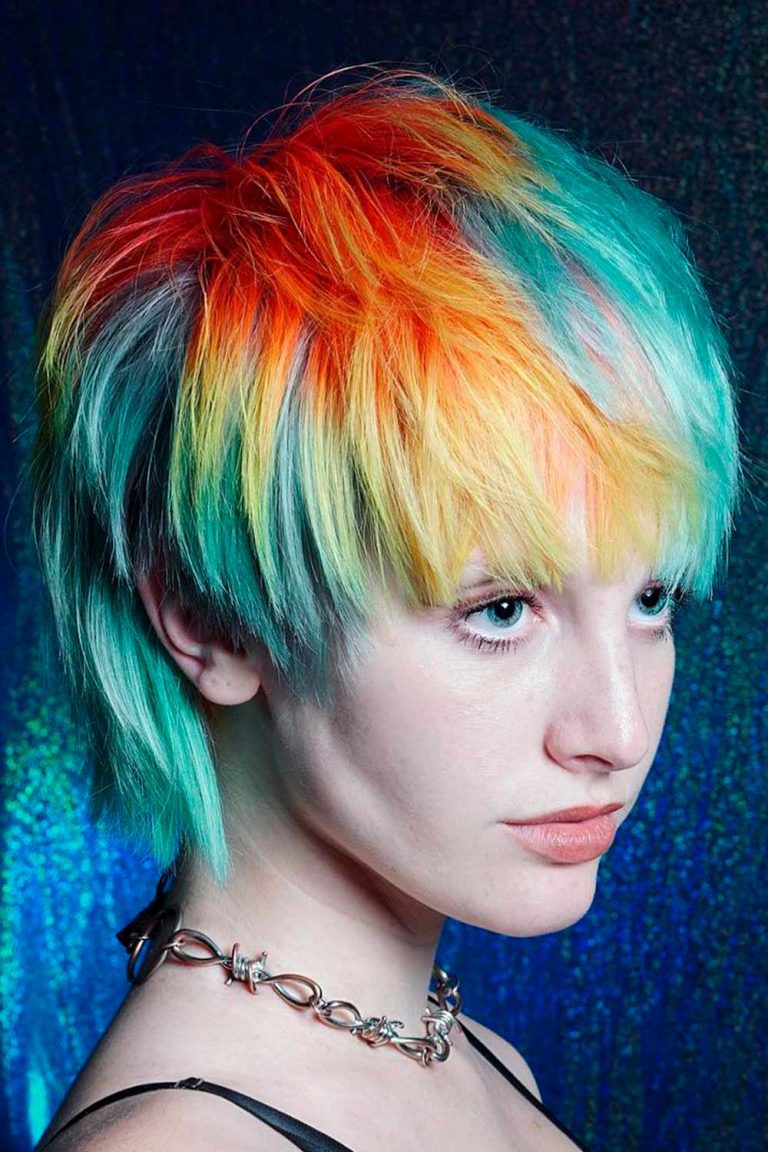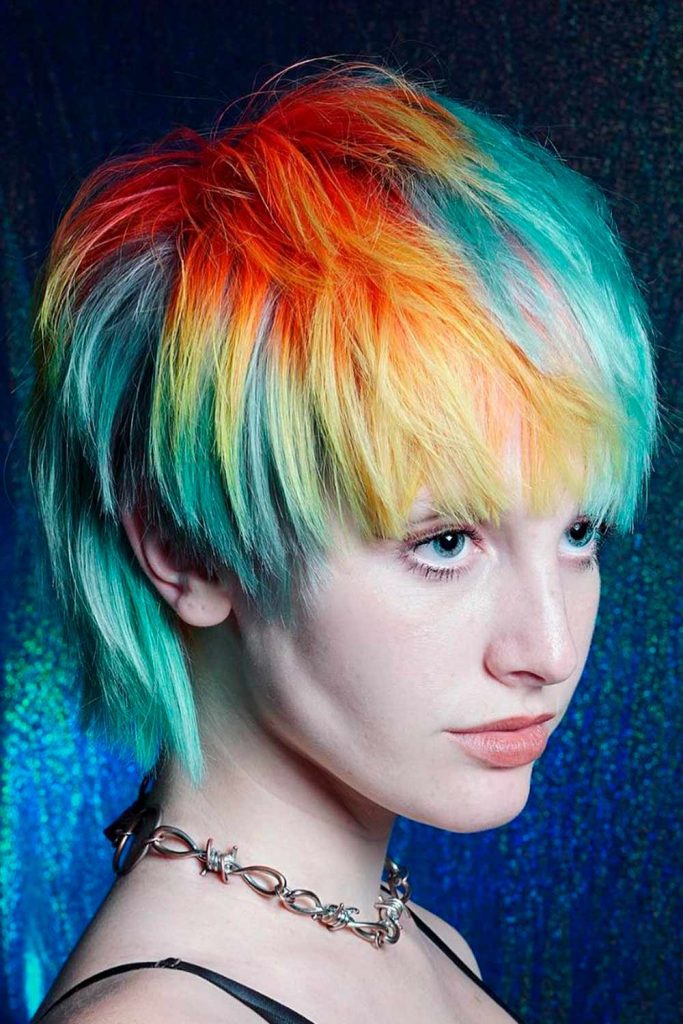 Credit photo: instagram.com/hairgod_zito
The best thing about the cutting edge style is that it's not like all those familiar blunt bangs. It has a special charm that is revealed by the lightweight structure of this fringe. Plus, you can go for any haircuts with wispy bangs like these, as they can deal with any face shape.
Flat And Straight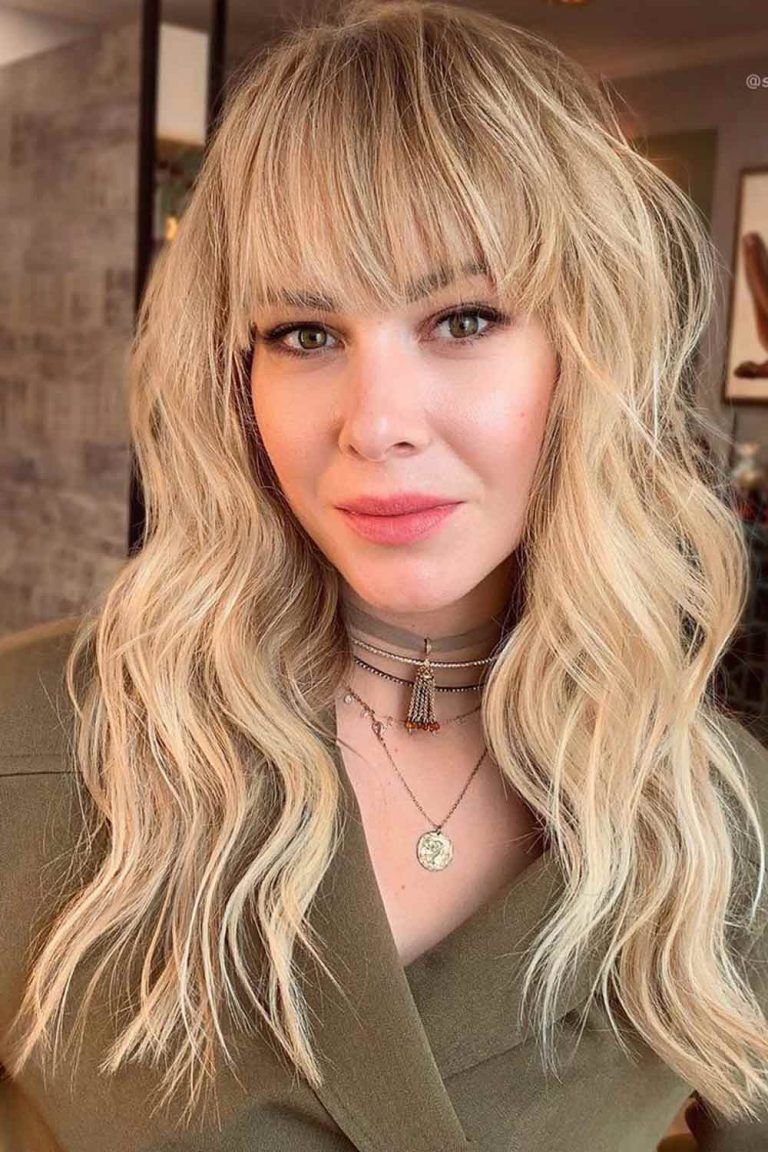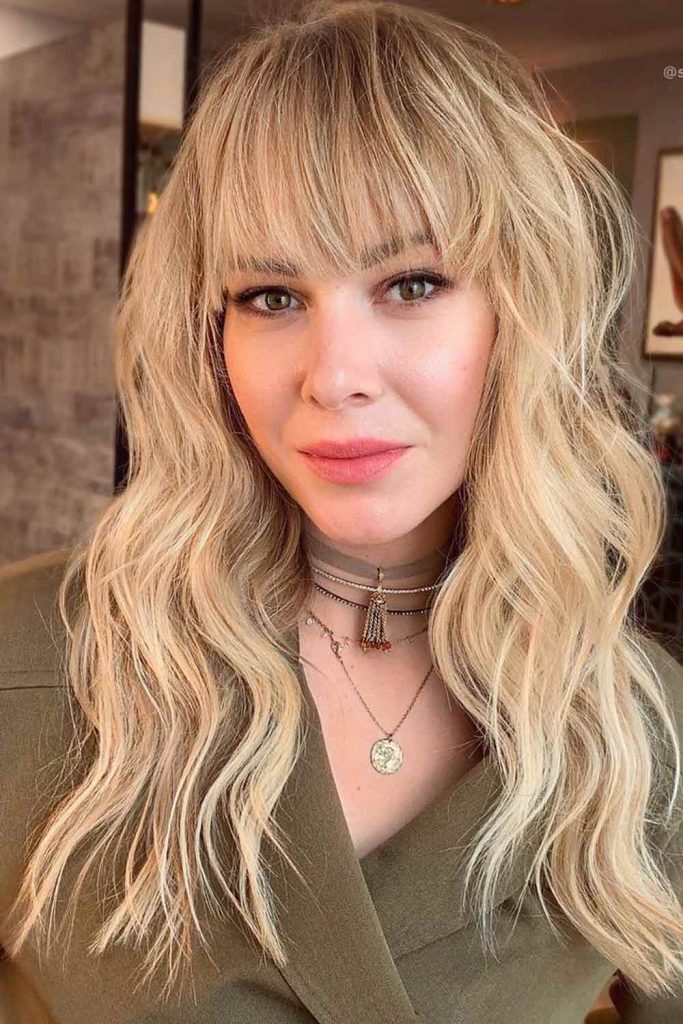 Credit photo: instagram.com/sheffpavelstylist
Flat and straight bangs will be your best friend in defining the beauty of your eyes. Look how much attention it brings to them! How gorgeous and flattering it looks with long hair. If you would like to experiment, it should be the first in your list.
Wispy Bangs With Natural Textured Waves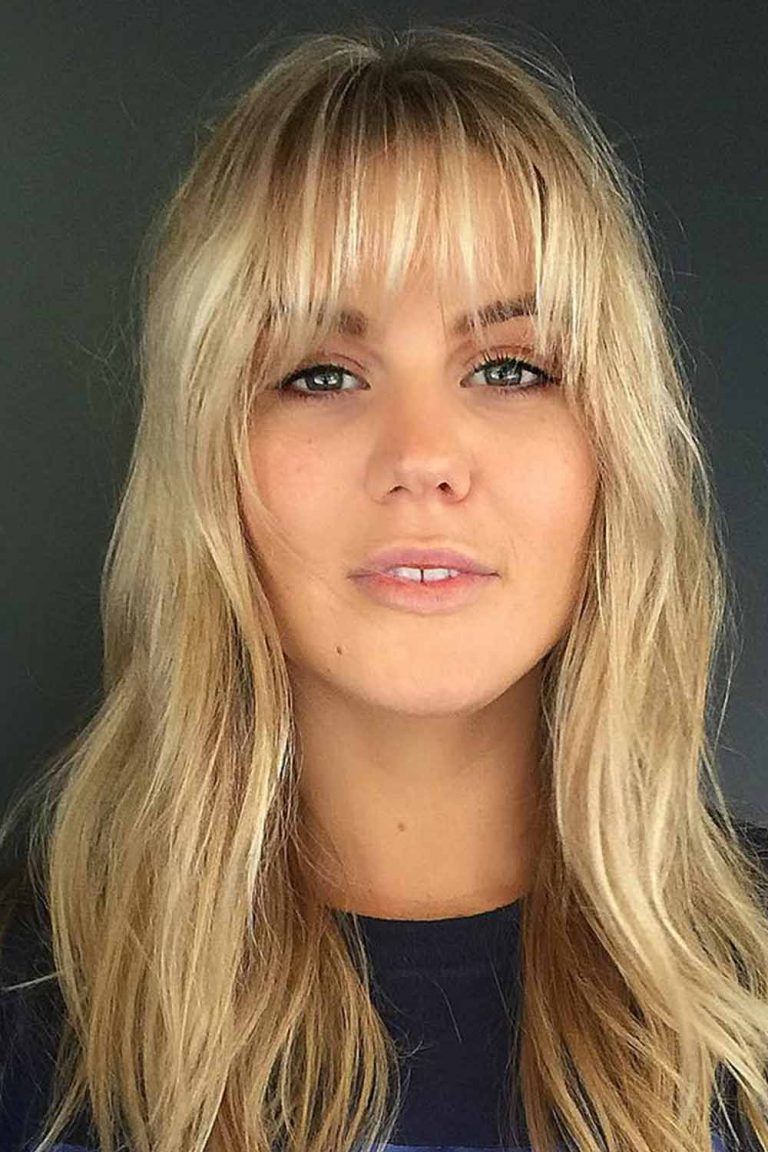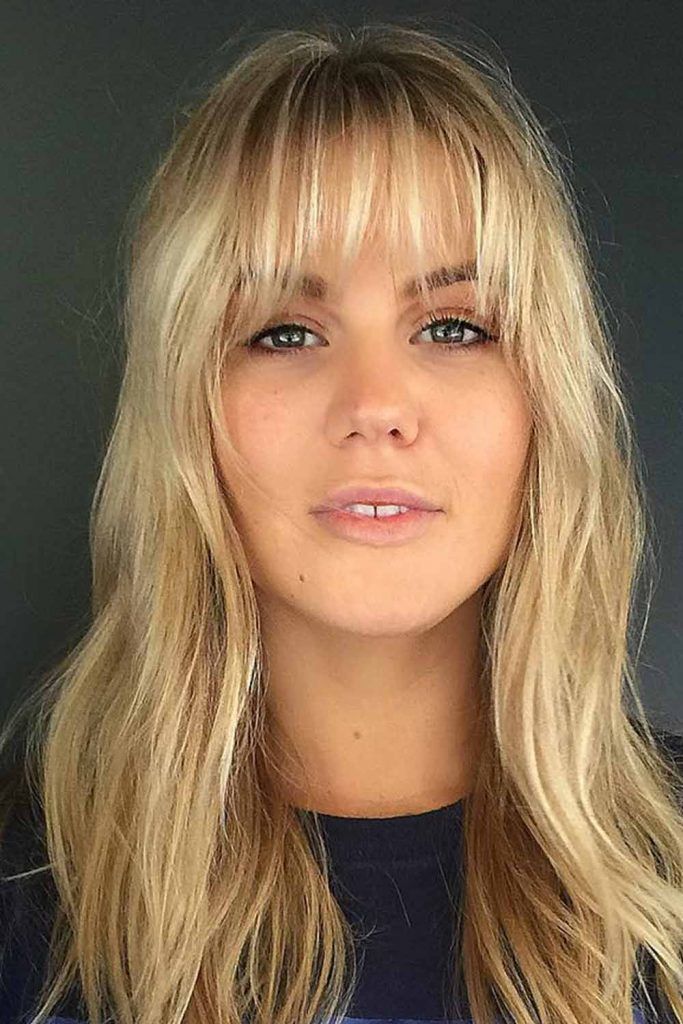 Credit photo: instagram.com/hairbyjaxx
When playing with textures, it's very important to keep up with the balance between your hairstyle and your bangs. And since the texture of wispy bangs is meant to seamlessly blend with the rest of the hair, you won't go wrong if you finish your wavy hairdo with them. Here, for example, you can see how a soft fringe frames up the forehead while forming a single whole with the rest of the hair.
Waves & Wisps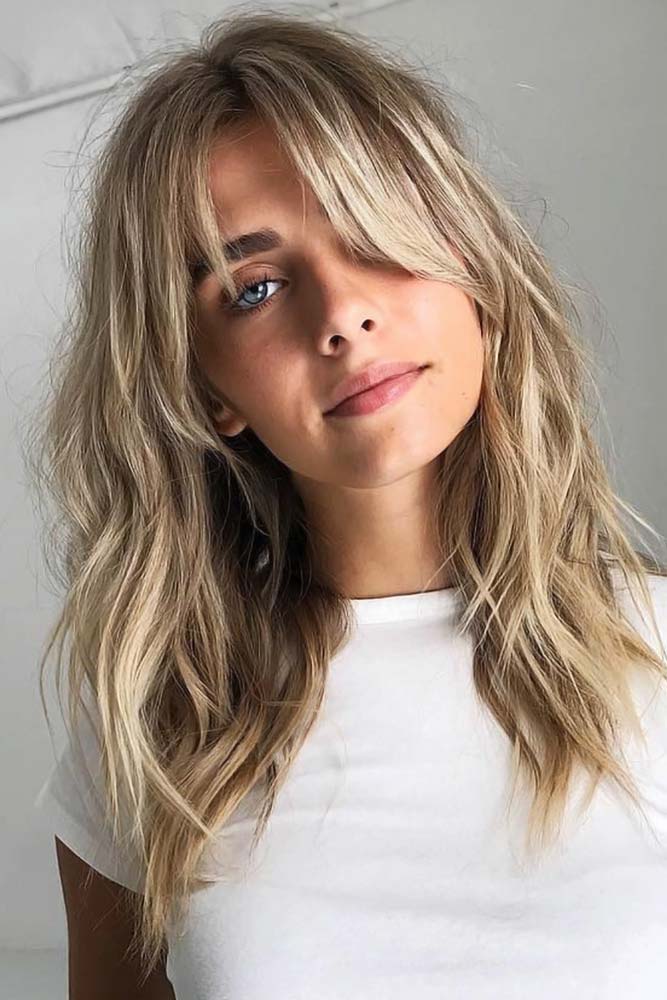 Credit photo: instagram.com/themanestyle
If this idea is not the embodiment of real harmony, what is, then? Natural waves that move as gently as if you've left the beach and a tiny fringe that gives your face a slight frame. Isn't that an irreplaceable duo for the long-awaited summer?
Choppy Style
Credit photo: instagram.com/chrisjones_hair
Choppy haircuts, whatever they are, don't come alone; they always have a fringe accompanying them. It just so happens that when you want to create a torn silhouette for your look, you can't do without bangs. Not only do they give a bit of an edge but also nicely complement the choppy look.
Wispy Parted Bangs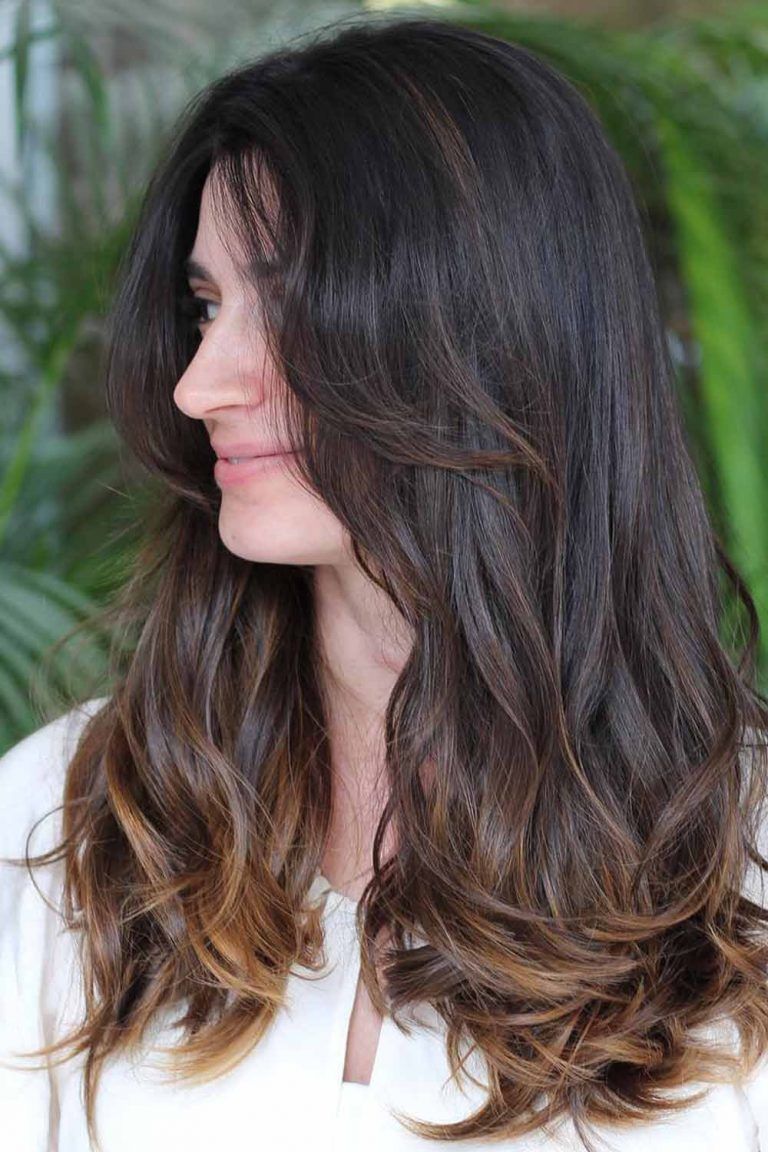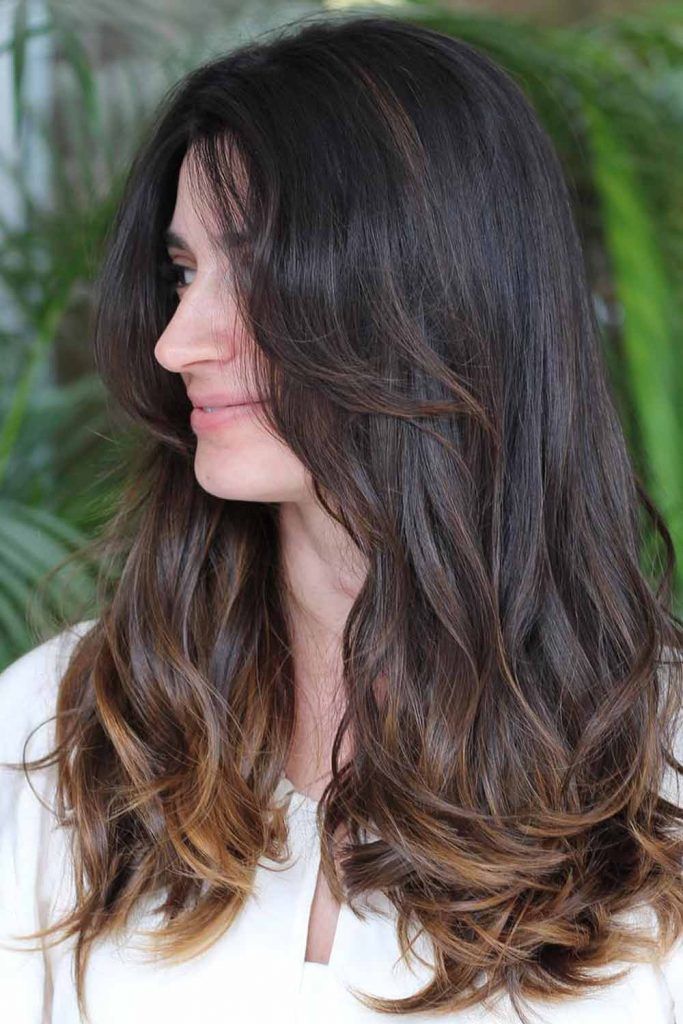 Credit photo: instagram.com/petermenezes
Although initially wispy bangs were supposed to be a lightweight sheer fringe, it can be many-faceted in terms of thickness and density. You can leave it just as thick as the rest of your hair is to make its visual impact stronger and face-framing effect more apparent. To make it real, find a good stylist who can graduate your bangs so that they split to the sides and blend with the rest of the hair seamlessly.
Layers And Bangs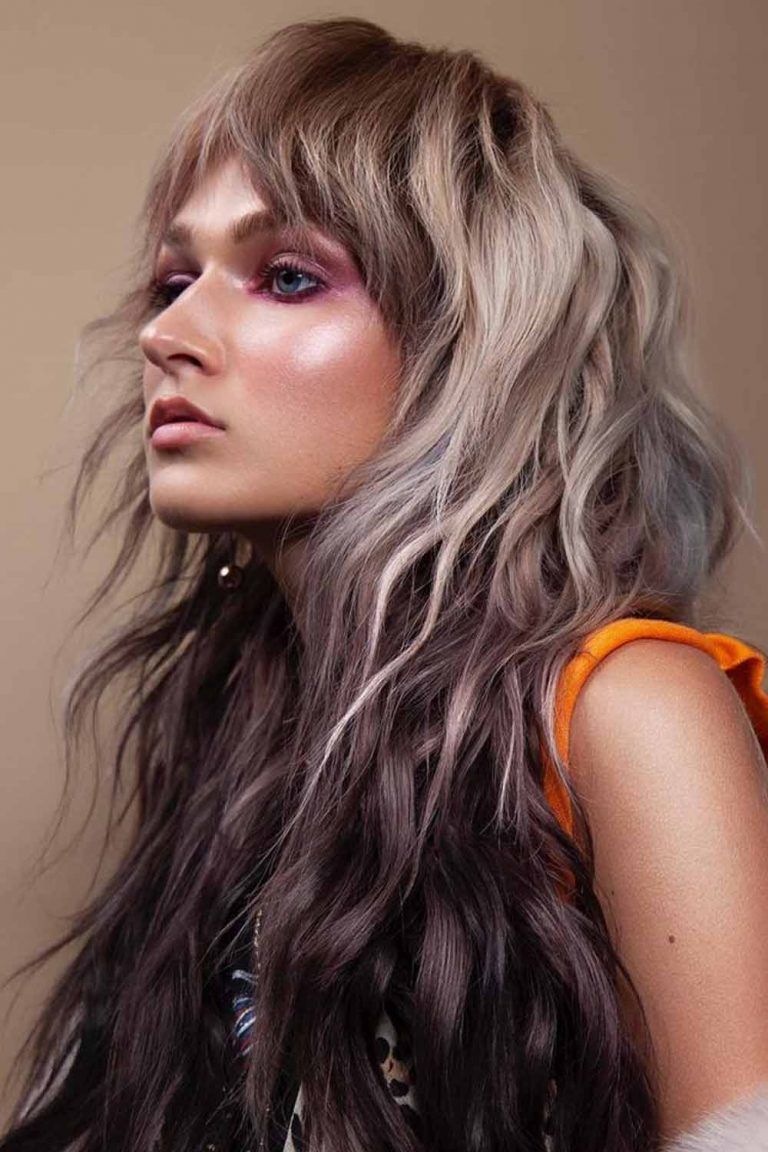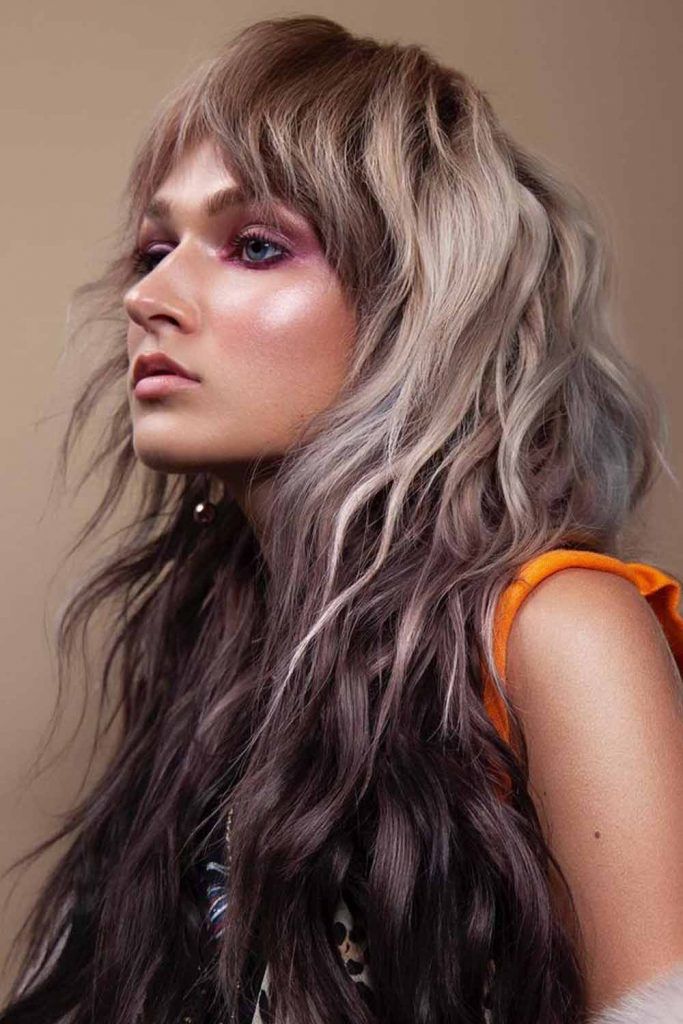 Credit photo: instagram.com/blushandmane
When combining layered haircuts with fringe, there are many things to consider. One of the major rules you should follow is to create a perfect harmony between the thickness of your bangs and the density of your layers. Also, your hairdresser should provide you with a smooth transition from layers to bangs so that they look like a single whole. As for the visual side, nothing can beat the combination of dimensional layers and soft wispy fringe. Whether you rock short, medium, or long hair, you won't go wrong with this idea.
Layered Curtain Bangs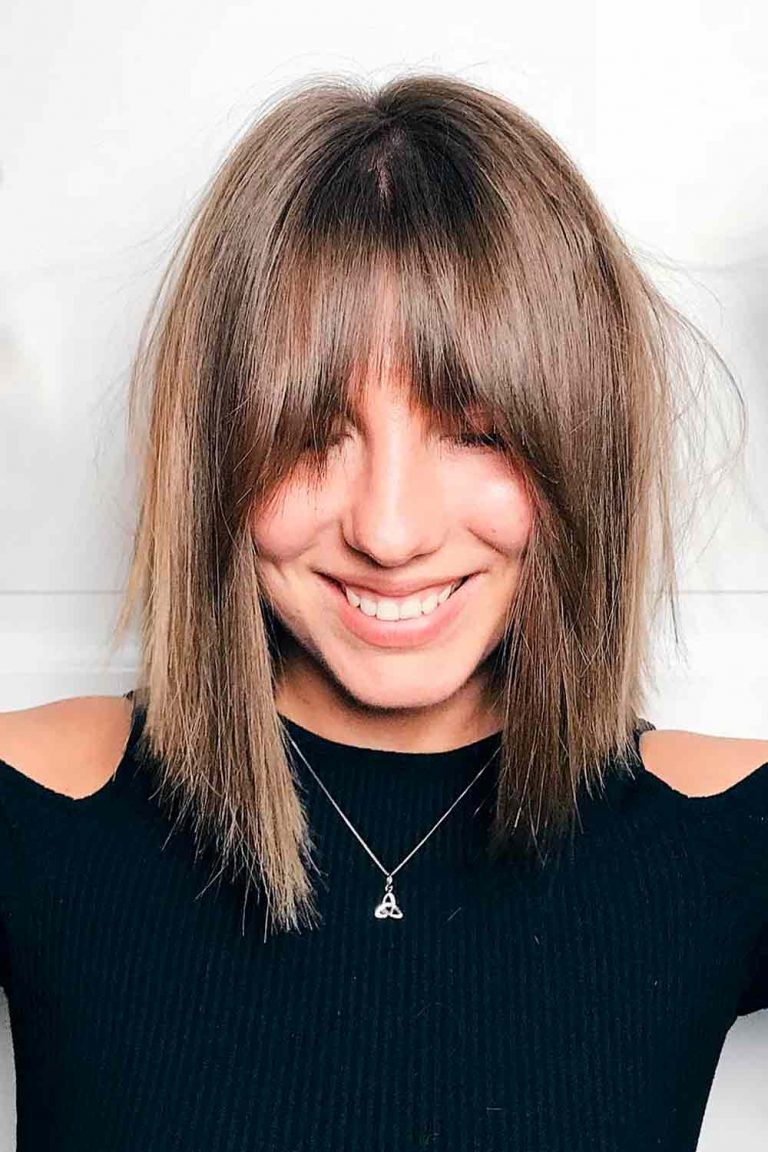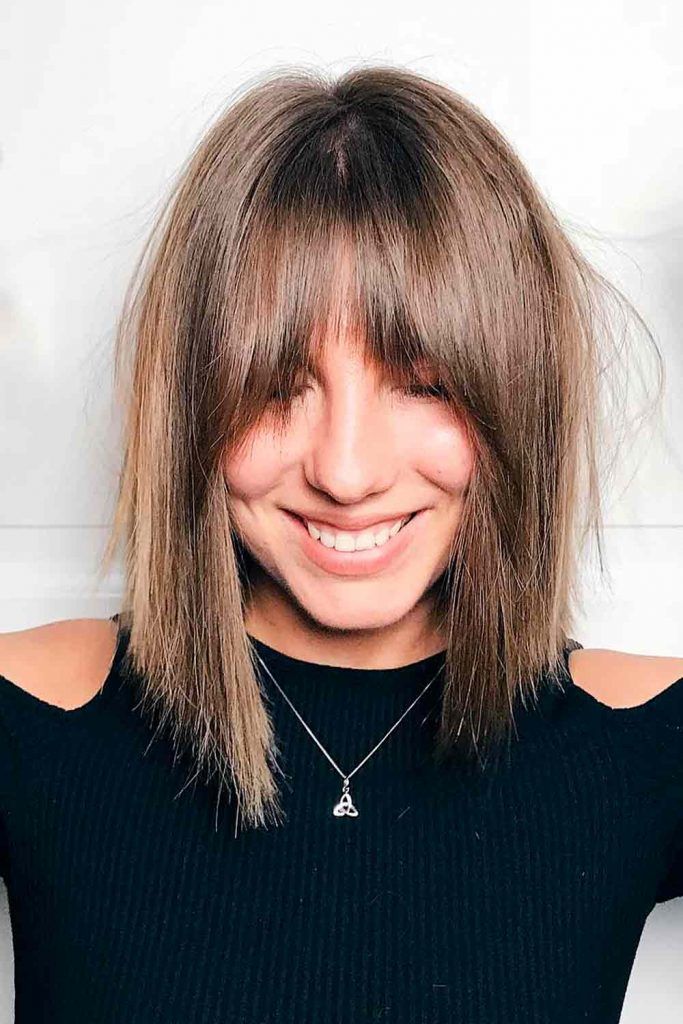 Credit photo: instagram.com/avevalentine
Medium Waves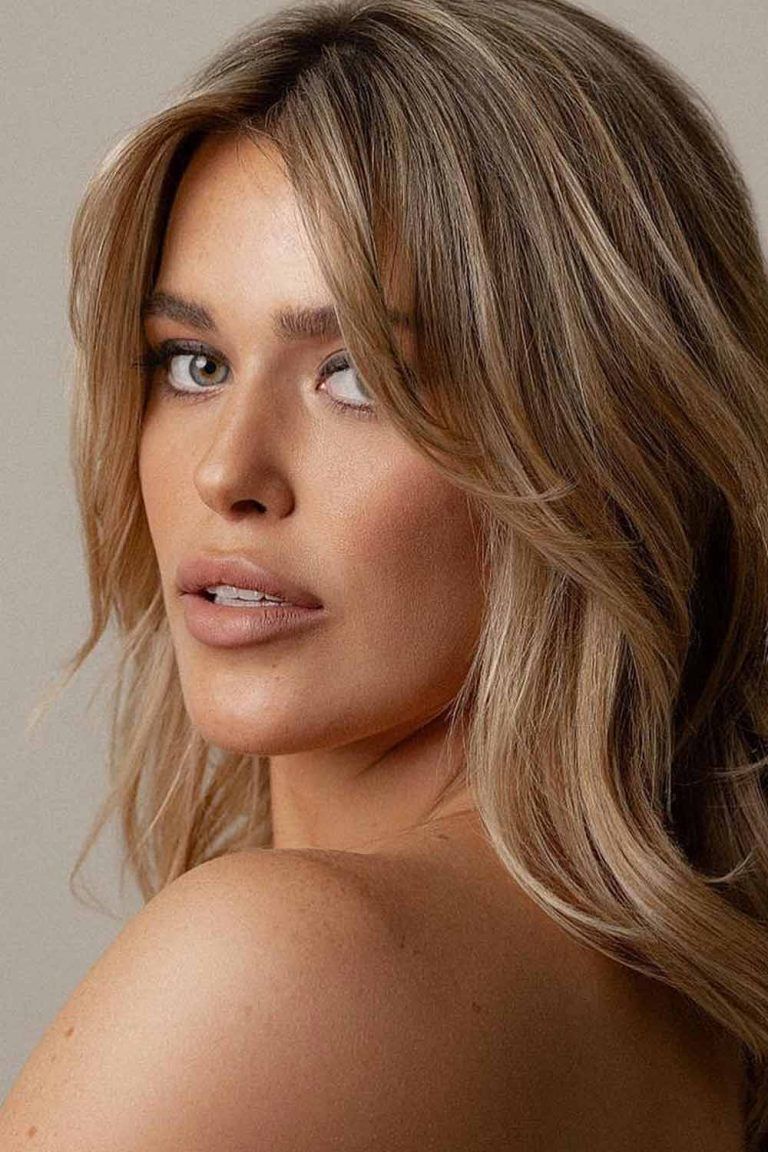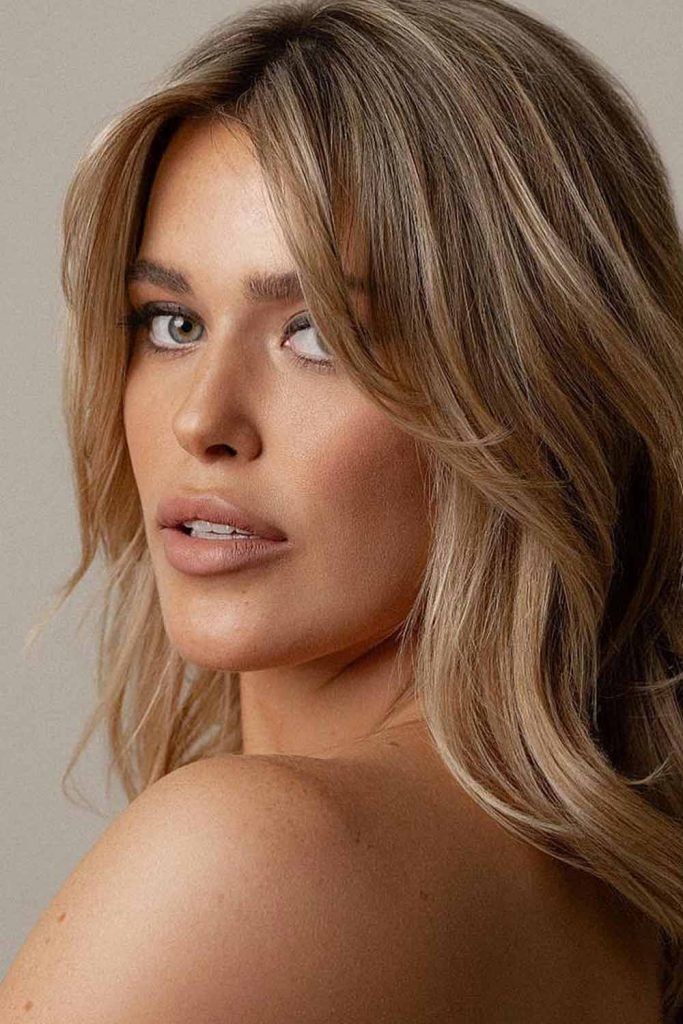 Credit photo: instagram.com/hairbyjaxx
Contrasts run the fashion world, be it different lengths, textures, or colors. The medium length bob here focuses on the play of different textures, where most of the hair is wavy, and the bangs are straight and pointed. We weren't joking when we told you that a wispy fringe could be anything you want! Here, for example, it's sharp and pointed enough to steal the show.
Well, now you're familiar with the powerful variety of wispy bangs. So why are you waiting for? You have also found out how to style wispy bangs in many different ways, so now your task is to call your hairstylist and be ready for style changes!
People Also Ask
What is the difference between curtain bangs and wispy bangs?
Are wispy bangs out of style?
Are wispy bangs high maintenance?