Did someone say beach waves for short hair? Oh, we all know that nothing looks more cute and effortless. But some girls with short haircuts still sigh heavily when they see a lady with posh long waves that play with light when the sun shines down on them. Stop envy! Beachy waves look even hotter on short locks, and today you will know why.
It's time to learn how to add some beachy vibes to your short bob, pixie, A-line or whatever cut you flaunt with! Let's make summer stay a bit longer: stunning styling and color ideas, tricks, and a handy pic-tutorial will show you how to make it real.
Icy Blonde Beach Waves For Pixie Cut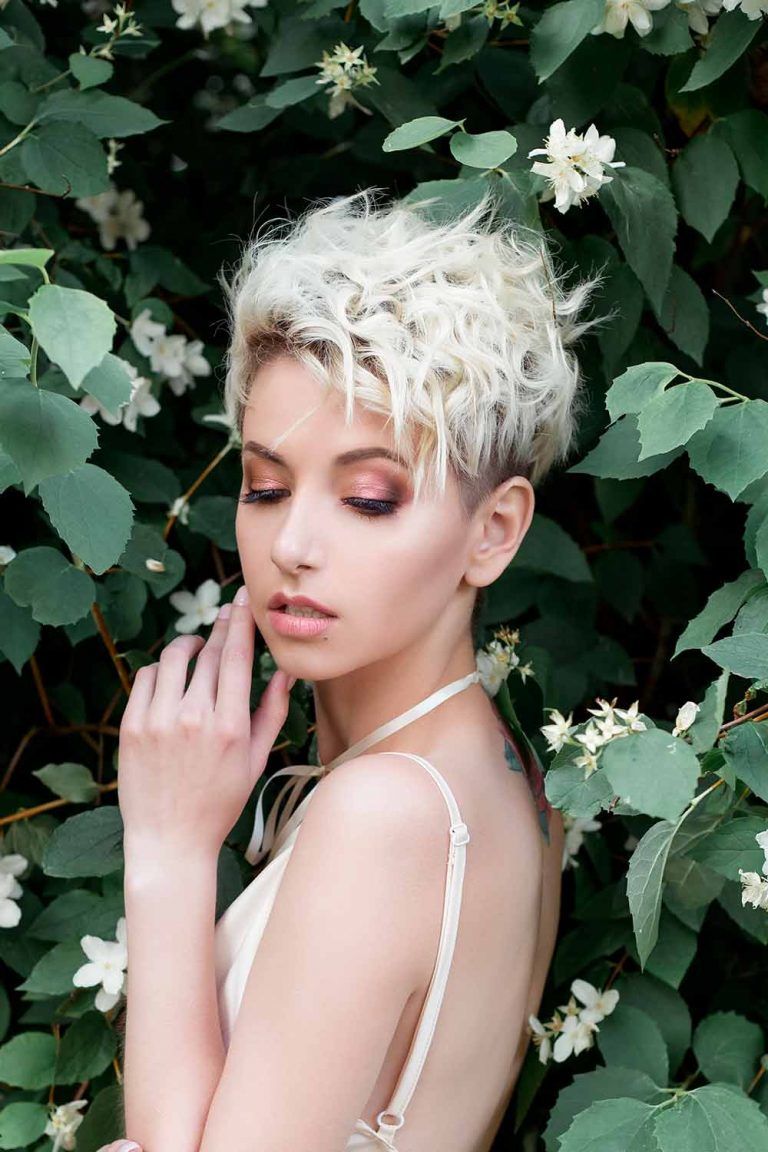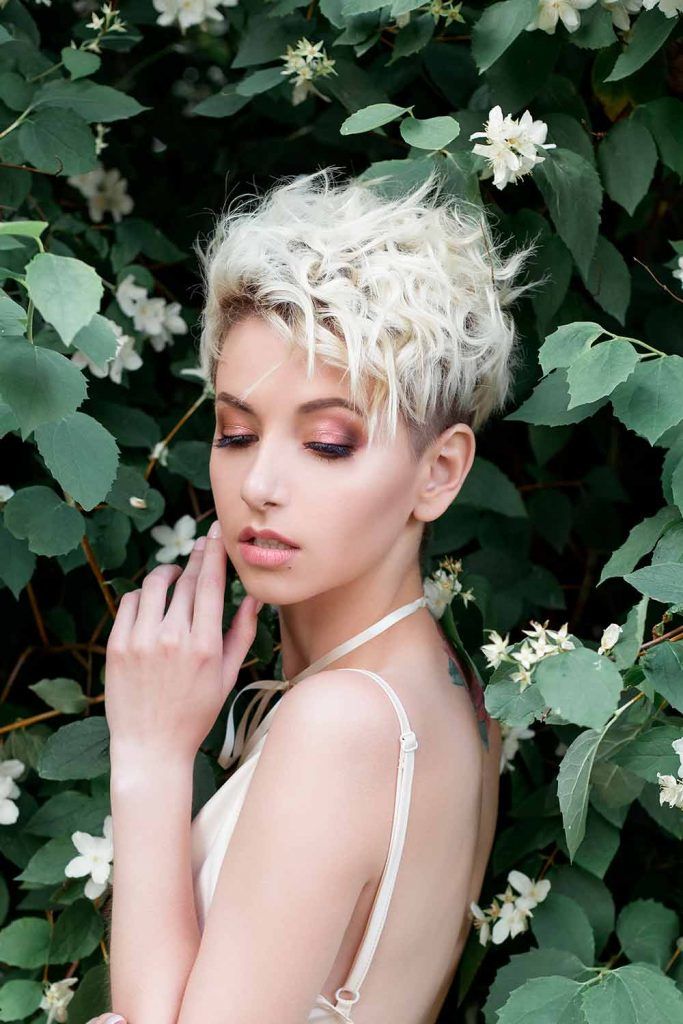 Stop mistakenly believe that if a pixie cut is short, there's nothing to do with it. Remember once and for all: it has even more styling options than you can imagine. And this styling way is one of the easiest and stunning tricks on how to style beach waves for short hair.
What you will need:
Heat protectant. This one is not heat-free, so to make your hair stay healthy, consider using a care product.
Curling iron. For beachy waves, it's better to use a curling iron instead of flat one, to get the needed effortlessly lose effect.
Beachy waves styling product. It can be a lightweight foam or mousse, and if your hair is dry or damaged, use a moisturizing sea salt spray.
How to get beachy waves for pixie cut:
Section your hair, parting it to the side you want.
Take a little section of your hair, and start curling and clamping it towards the face, slightly loosening and tightening the clamp.
Once you curl all of your hair, give it some coats of a styling product and scrunch it to get the desirable tousled effect.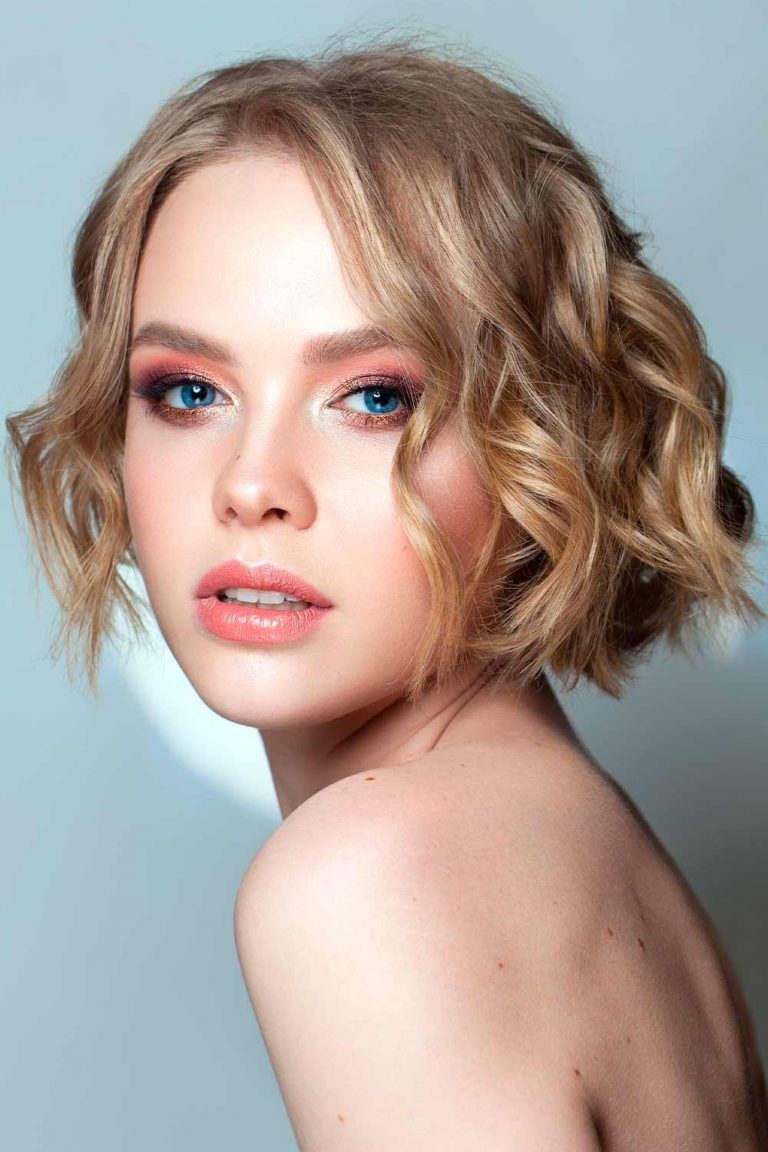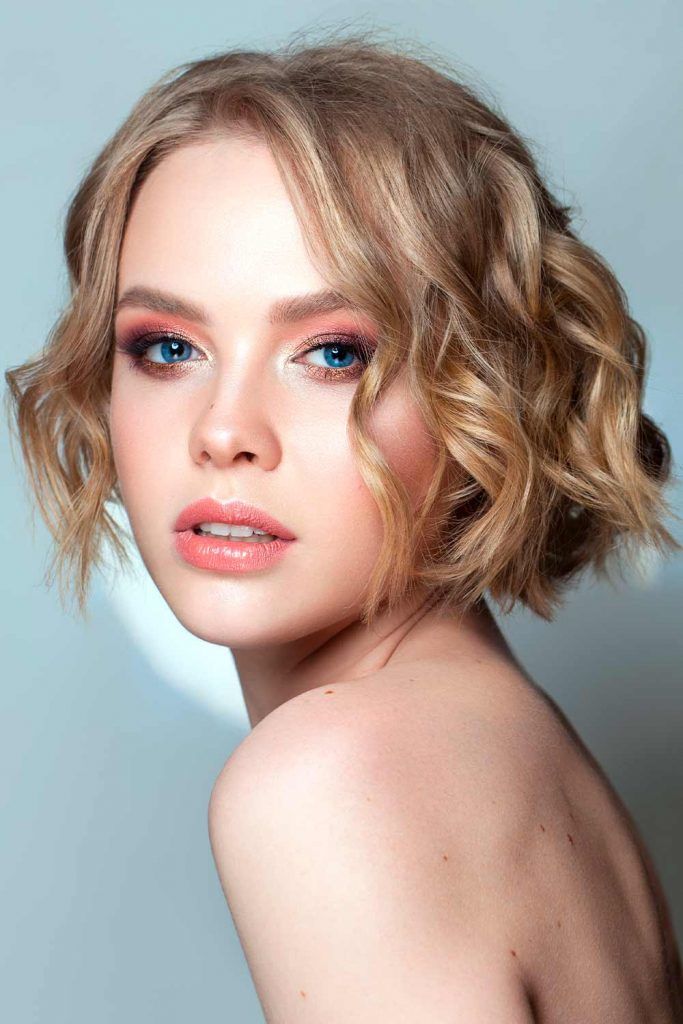 The messier beach waves for short hair, the better! They look so fresh and alive that you won't ever want to let them go. Though this amazing silhouette may seem to be quite a complicated task, it's absolutely easy. And heatless! See how to get beach waves overnight for short hair with a sexy loose and messy styling. Keep in mind that this styling way is not only heat-free, it's also a protective hairstyle that doesn't need any extra products to get it done.
What you will need: hair clips.
What you can use for better effect:
Soft curling cream. It will make your hair look more textured.
Hairspray. Obviously, it will make your curls stay longer.
How to get loose, messy waves for short hair without any heat:
Before going to bed, wash your hair and wait till it's a bit damp.
Then, split your hair into four sections.
Take a section and twist it tightly at the roots all the way to your ends.
Clip the ends of the twist to the crown, securing them with some more clips or pins.
Repeat all these steps with the rest of the sections.
Remove the clips in the morning, run your fingers through the waves, and enjoy this healthy messy look!
Side Parted Pixie Haircut With Perm Beach Waves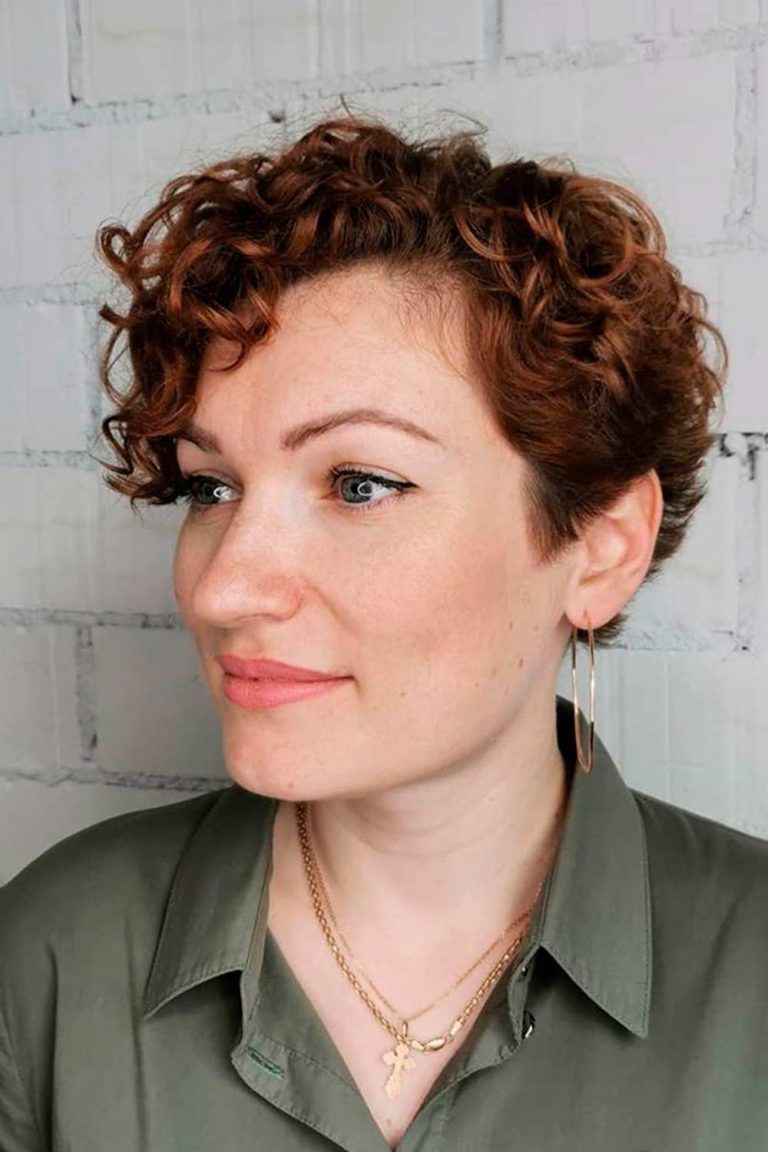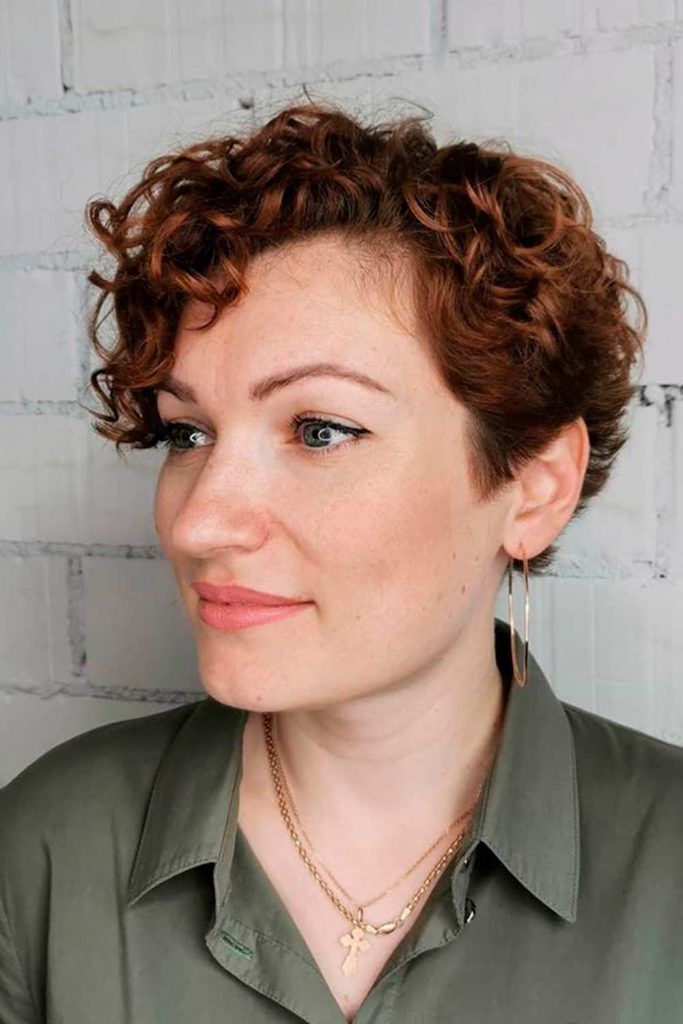 Credit photo: instagram.com/ifyoulovecurls
Don't you forget about the good-old perm! Nowadays, there are many different types of permanent wave, and some of them involve less damage than you may expect. Ladies who want to rock beach waves for more than just a day, this idea is a perfect decision for you.
Beach Waves For Bob Haircut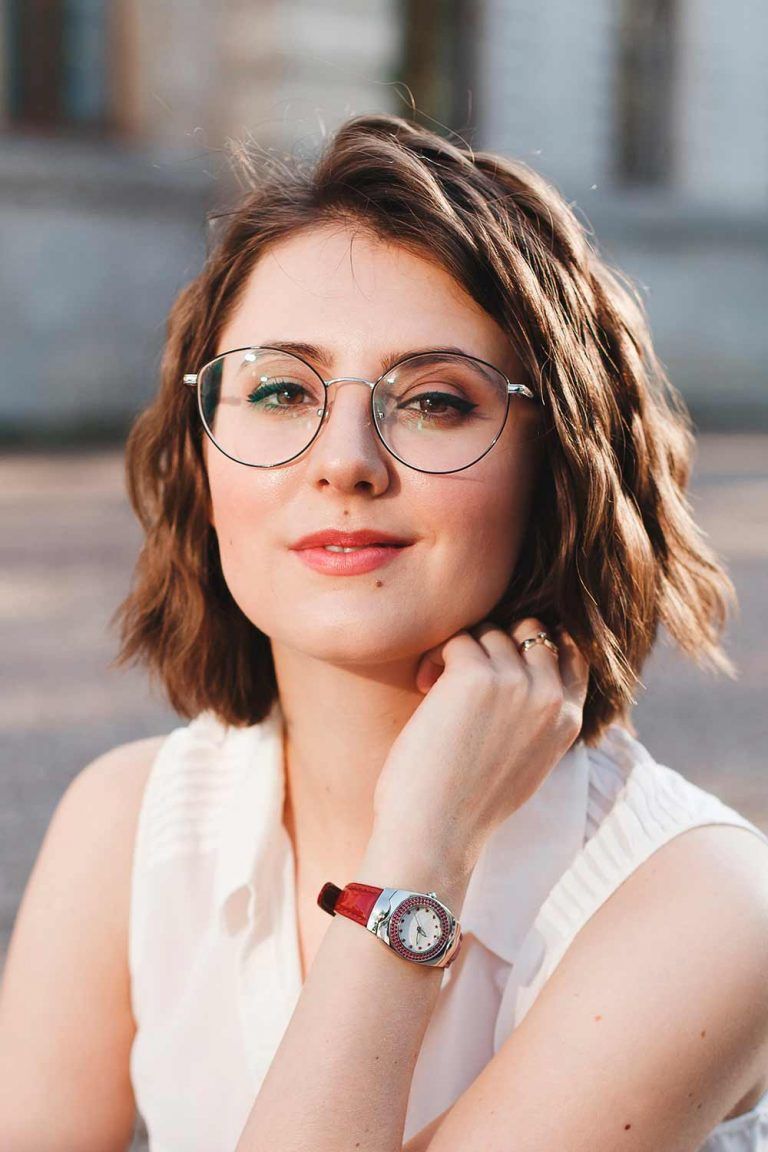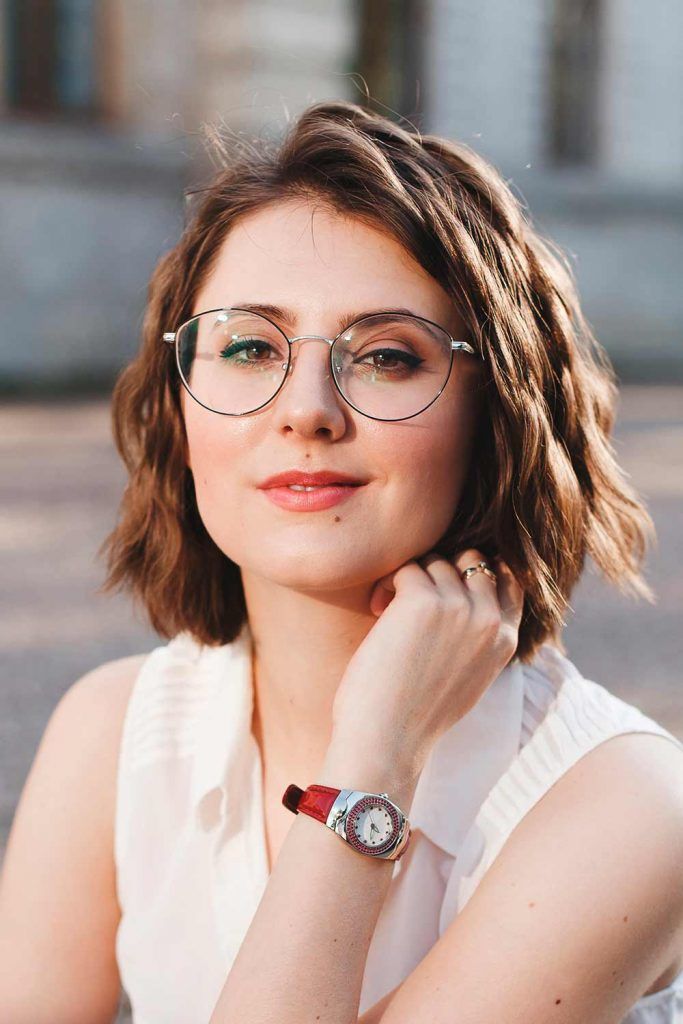 Bob haircuts always get on well with beachy waves. Actually, there's no way you'll find a better duo. So no wonder that you come across wavy bobs like this one when looking for easy beach waves for short hair. Due to its ravishing simplicity, this cut is easy to style, and waves aren't an exception. If you want to get a stunning look like the one in this pic, make sure that you pick little sections when curling: the smaller they are, the more textured your waves will be.
Auburn Wavy Bob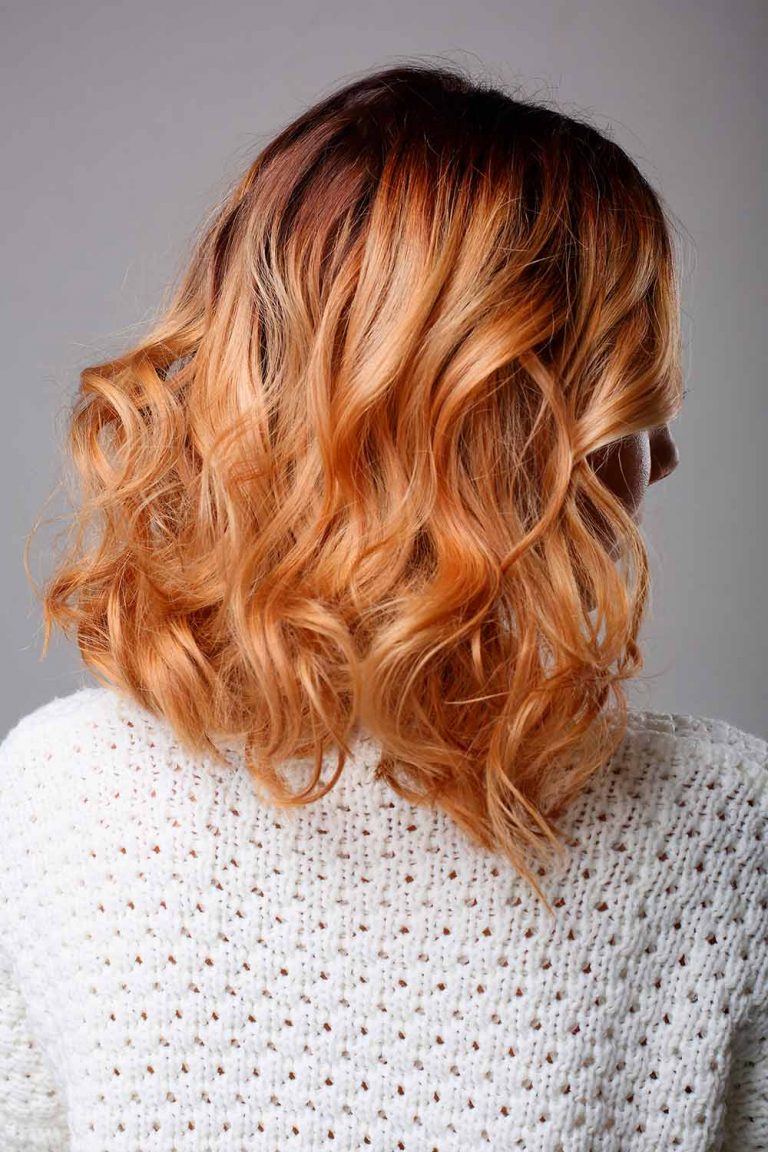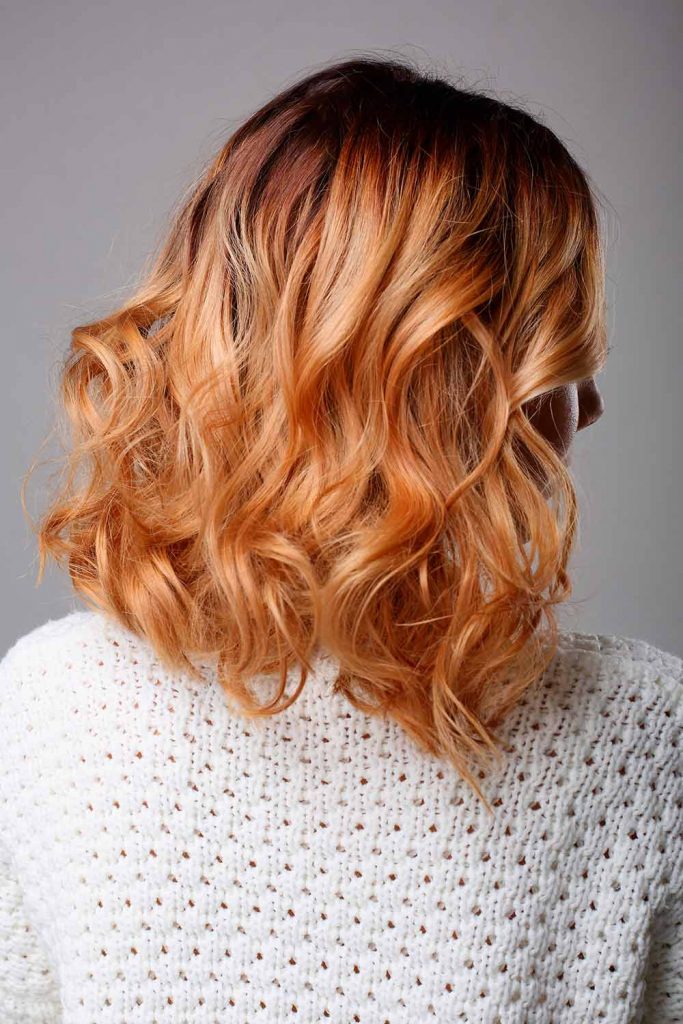 The best thing about beach waves for short hair is that they're so bouncy, so visible, so spry! When your hair is short, the movement of wavy locks is even more explicit, which is another privilege of women with bob cuts. P.S. Auburn hair color is something that will never go out of style.
Brown Wavy Bob With Big Waves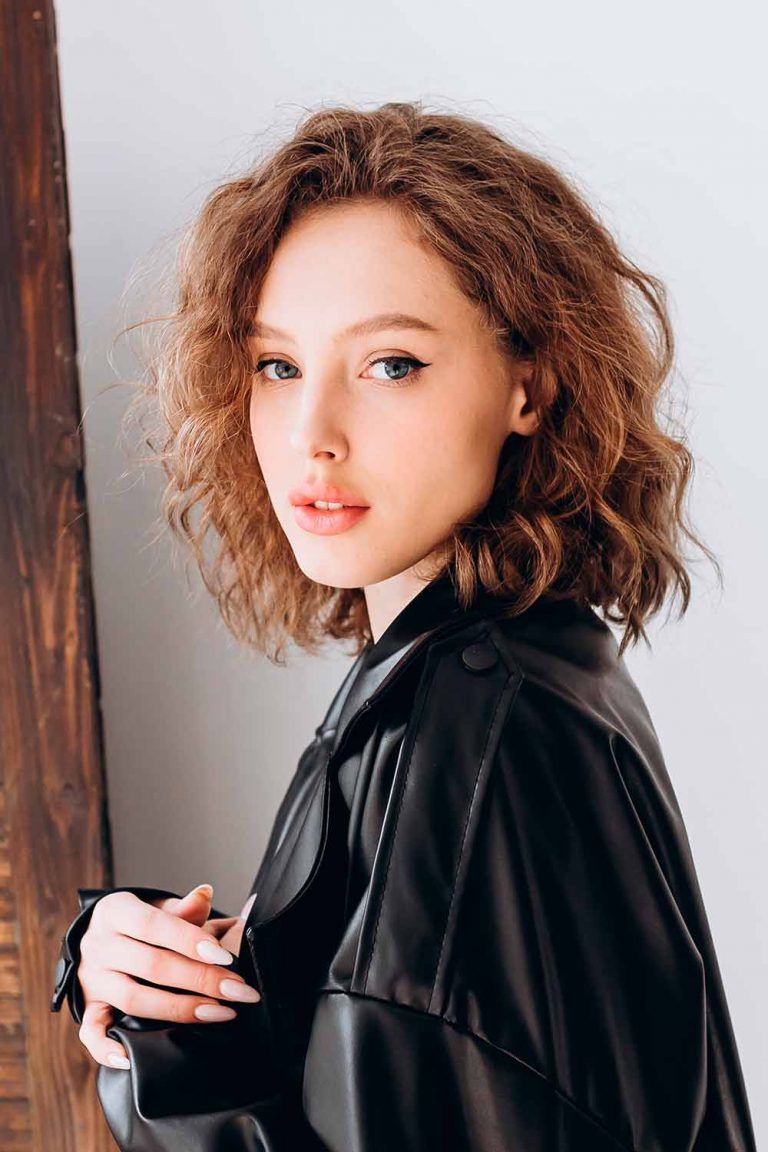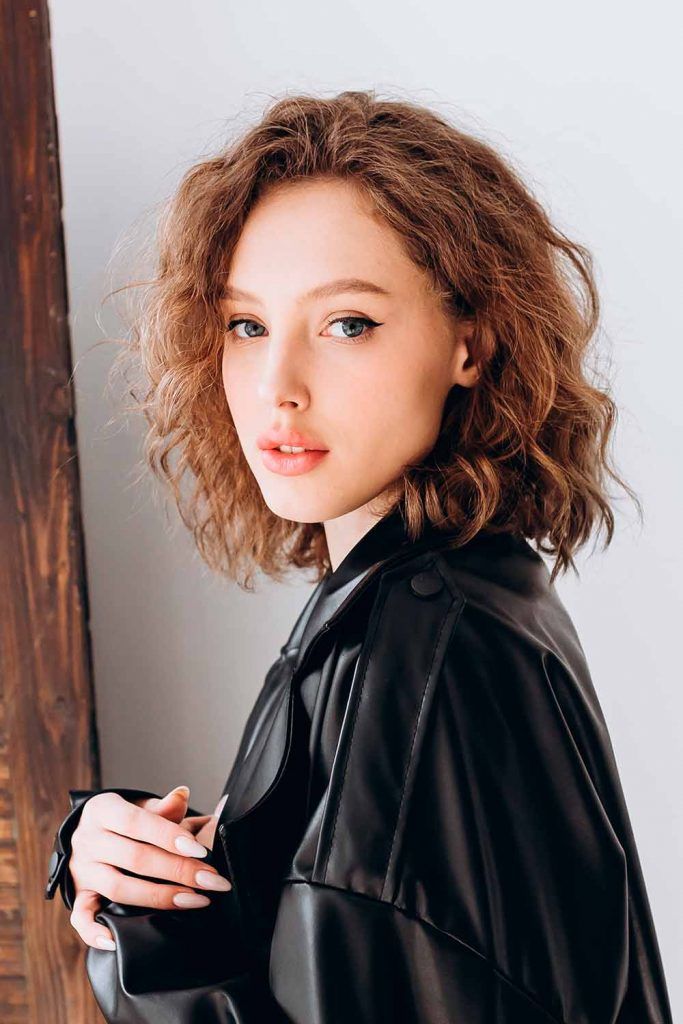 If you want to see how beach waves for short hair with flat iron look like, look at this pic. One thing that all the tricks and tutorials have in common is that beachy waves that you create with the use of heat reach their perfect form only with a curling iron. A flat iron, on the one hand, gives some special charm to your hair: each lock is extremely visible, and it creates a very textured silhouette. But curling irons are more flexible for beach waves, as they give you a possibility to wrap your hair, change its direction and do bends, which are essentials for this style.
Blonde Beach Waves For Short Hair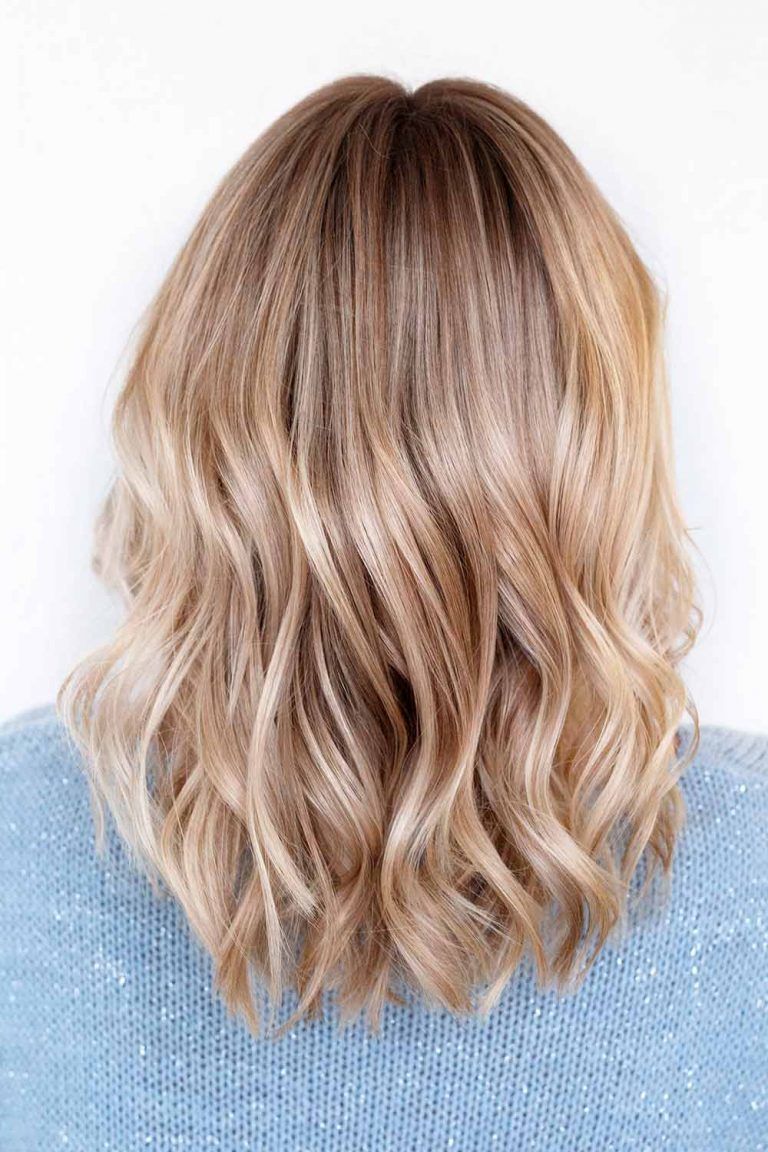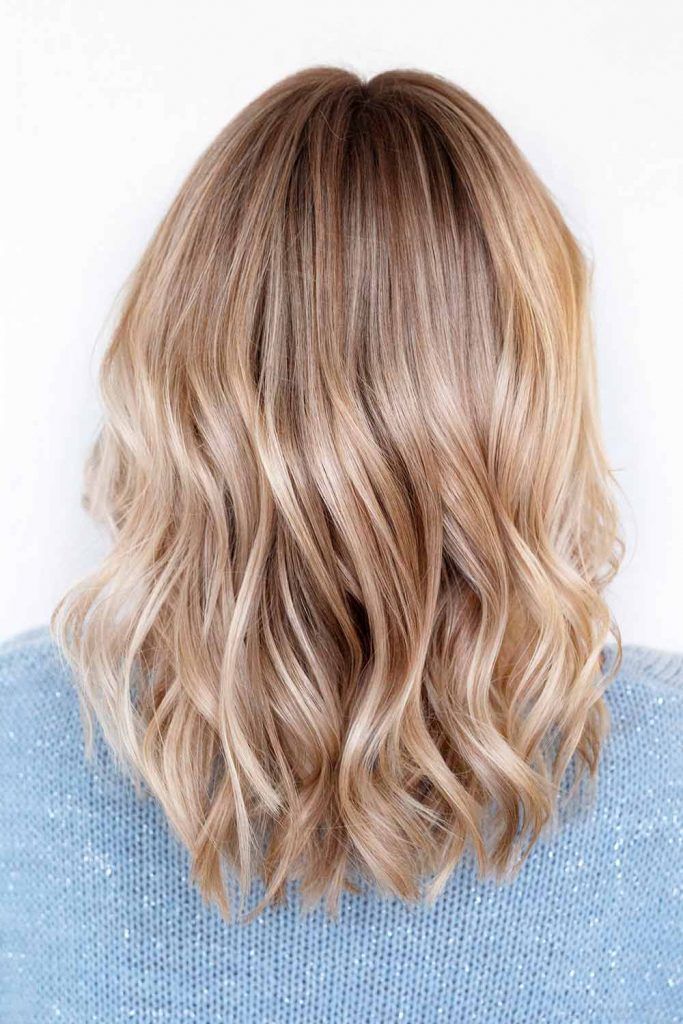 Blonde ladies, here's an idea that will reveal your exceptional sexuality! Every single wave reflects the light of the sun, showing off the beauty of your blonde hair. If you're not a natural blonde, you will love how sweetly they blend with your darker roots. Do you like the idea of no heat beach waves for short hair? Well, if so, this idea is your chance: Dutch braid the sides and give them at least one hour. You will get exactly the same look when you unbraid your locks!
Peachy Pixie With Undercut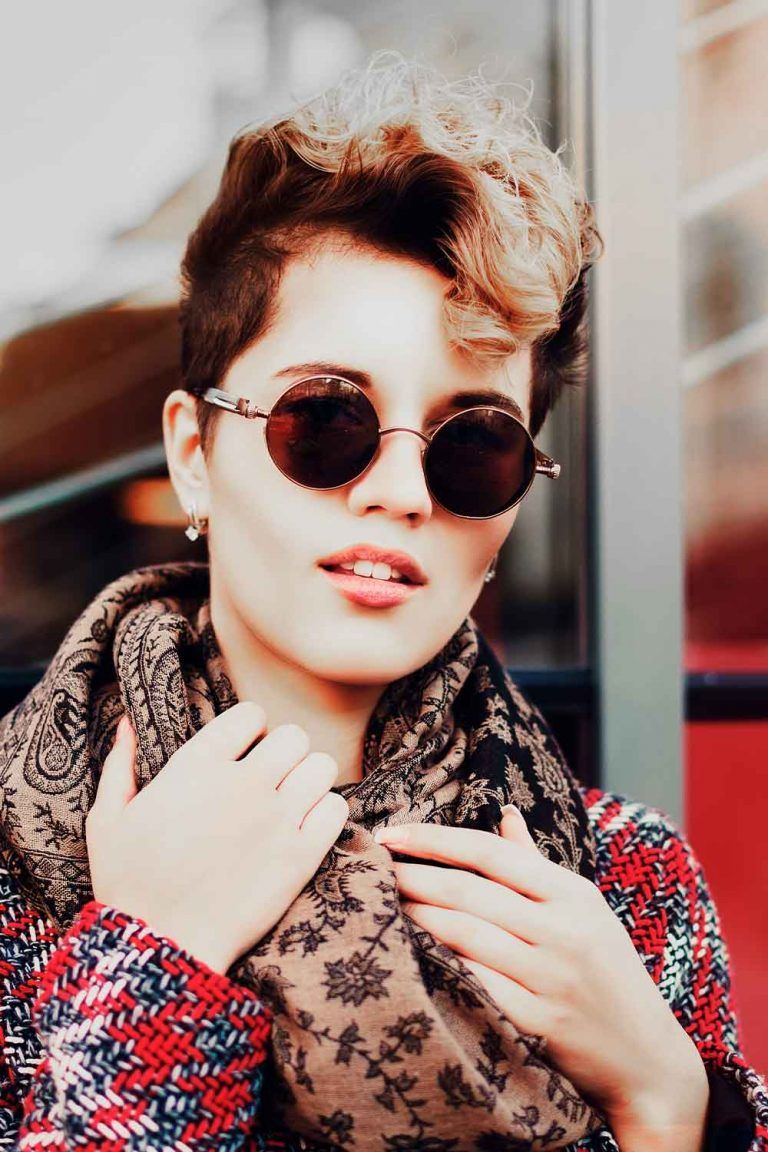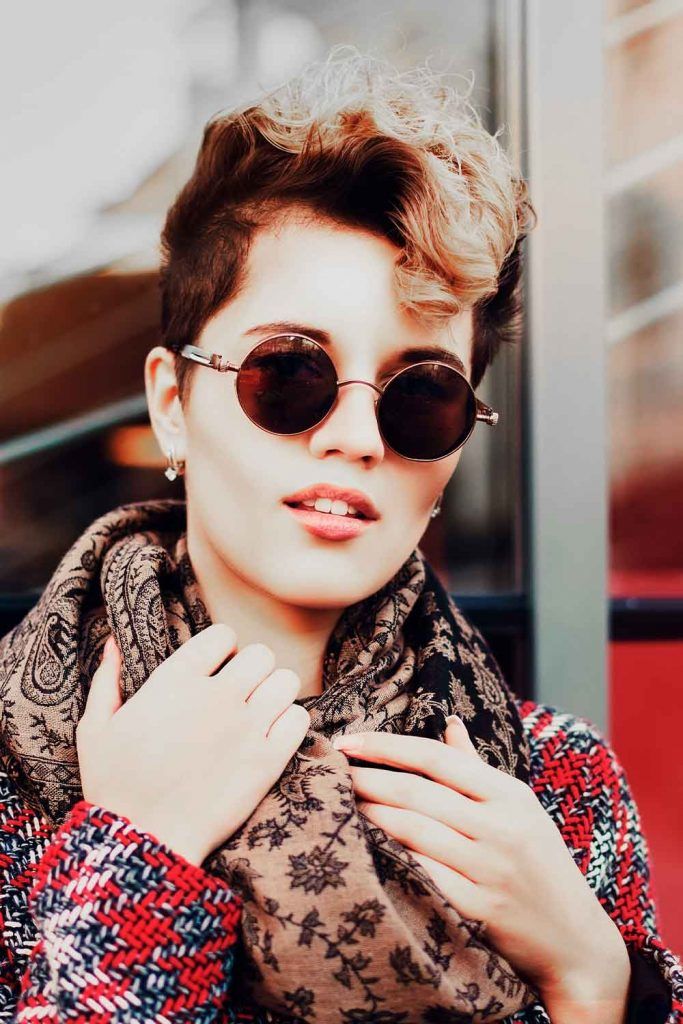 Daring girls know how to diversify the ladies' favorite beachy waves. When we look at this undercut that roughly graduates to the wavy pixie, we realize that short sides enhance the beauty of your sunny waves in the most flattering way. A creative combination of these cut and style, pleasing peachy tint, and your unbelievable smile are all you need to stand out.
Charming Pink Wavy Bob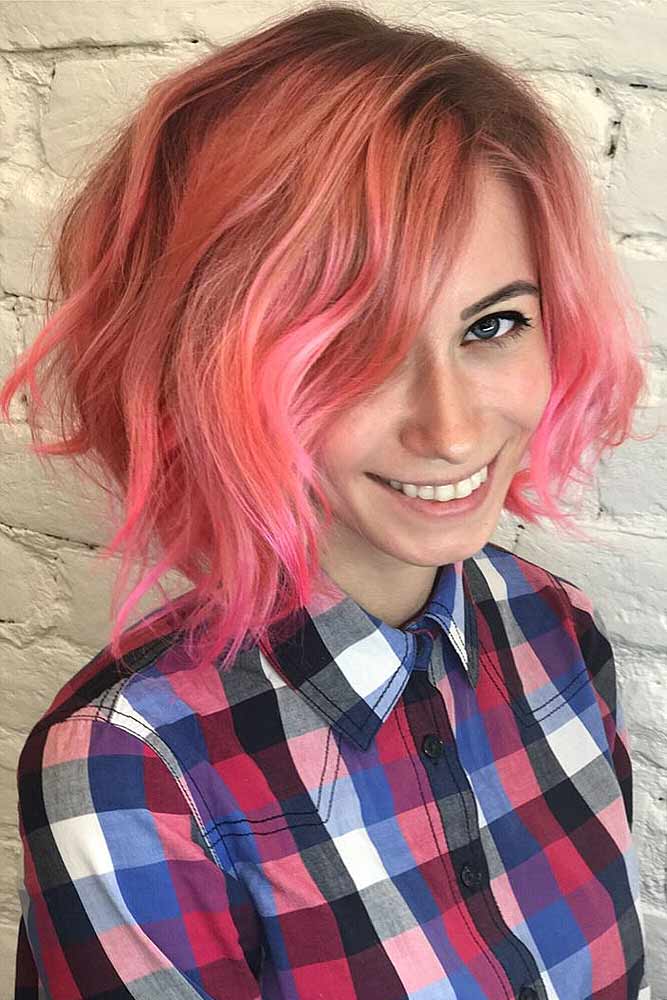 Credit photo: instagram.com/aliyousha
Since we all lose our minds when we see flowers, why don't look like one? The lively silhouette that beach waves give to you will appear in a new light with such a warm and saturated pink hair color. It's the best way to emphasize the cuteness of your waves and reveal your bright personality. Creative girls, don't miss it!
Short to Medium Bob Hairstyle For Thin Hair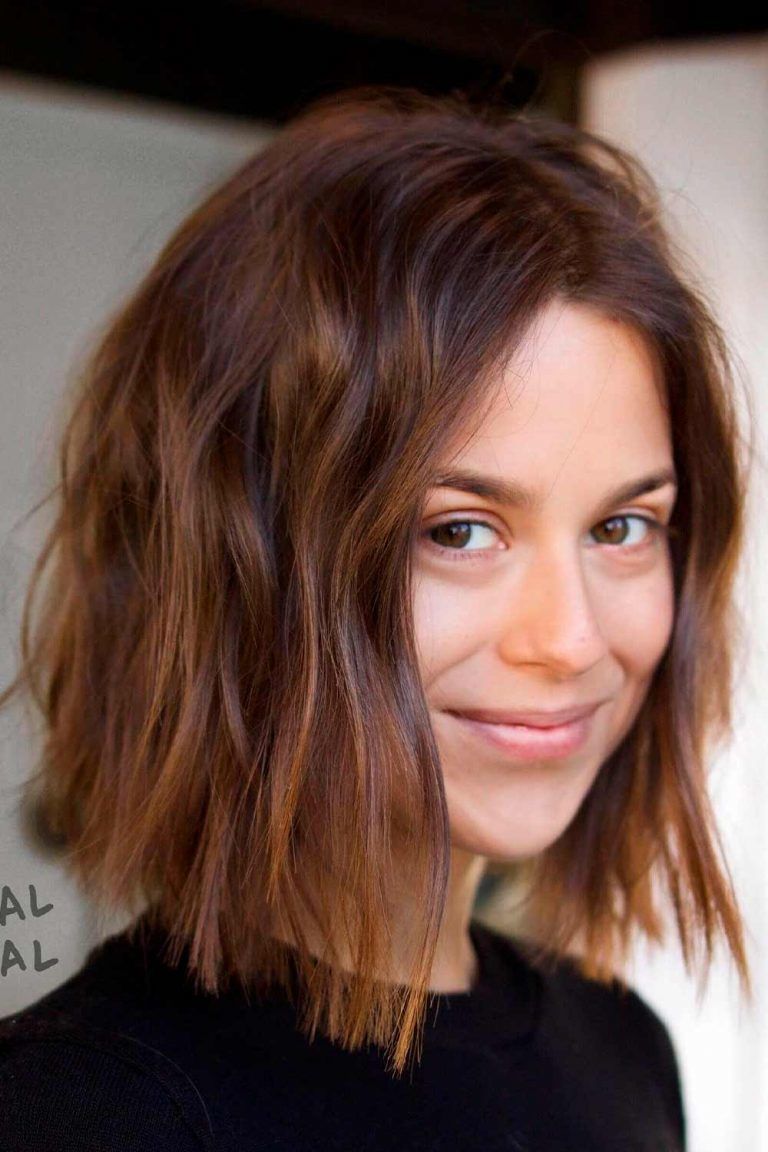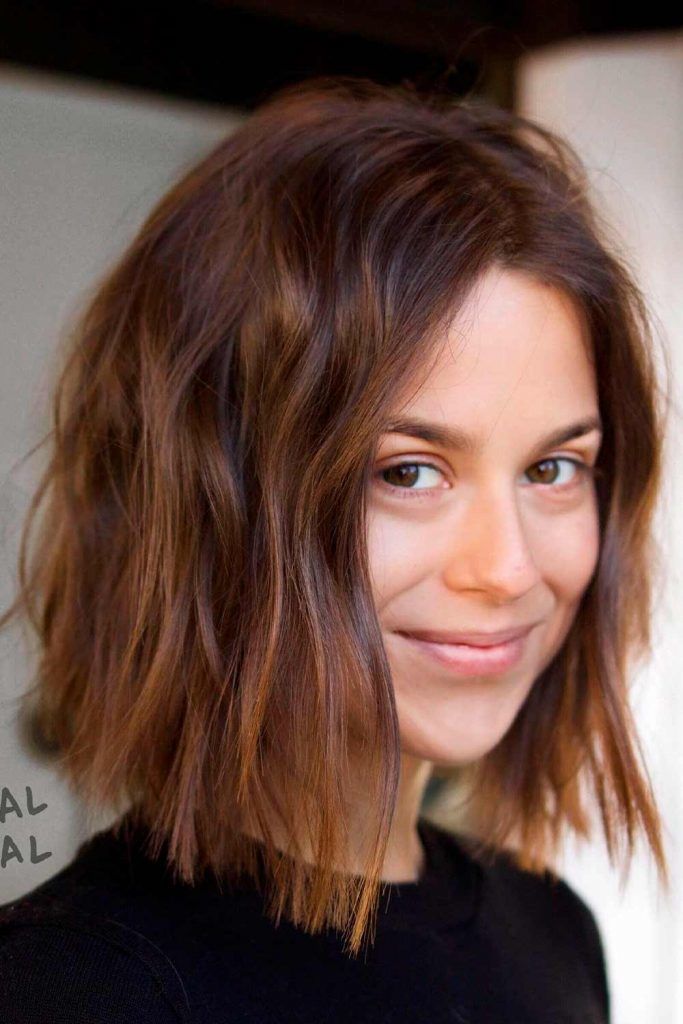 Do you know that beach waves for short hair can change your life for the better? Women who end up crying about their thin and inflexible hair will forget about all their hair troubles once they get themselves beach waves. It doesn't matter whether you go for heatless overnight beach waves or you got them with a curling iron; the point is that these cuties will give a volumetric body and texture to your weak locks, making them look alive.
Side Parted Beach Waves For Short Hair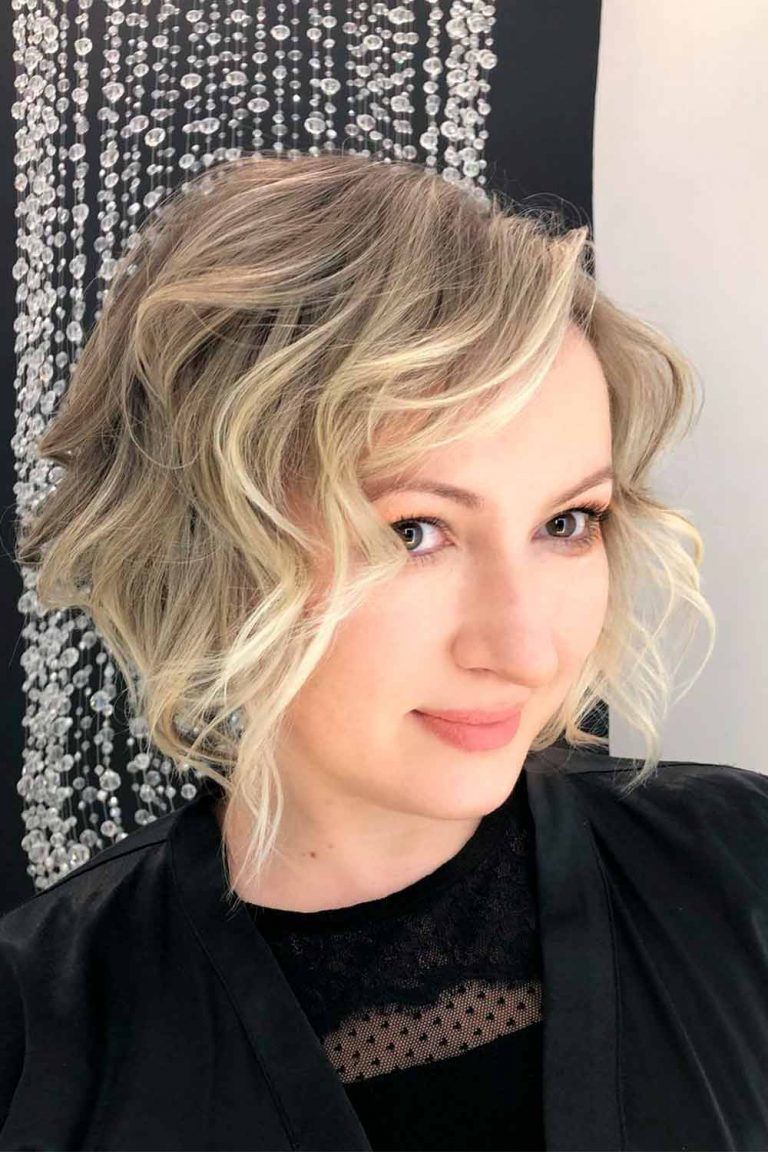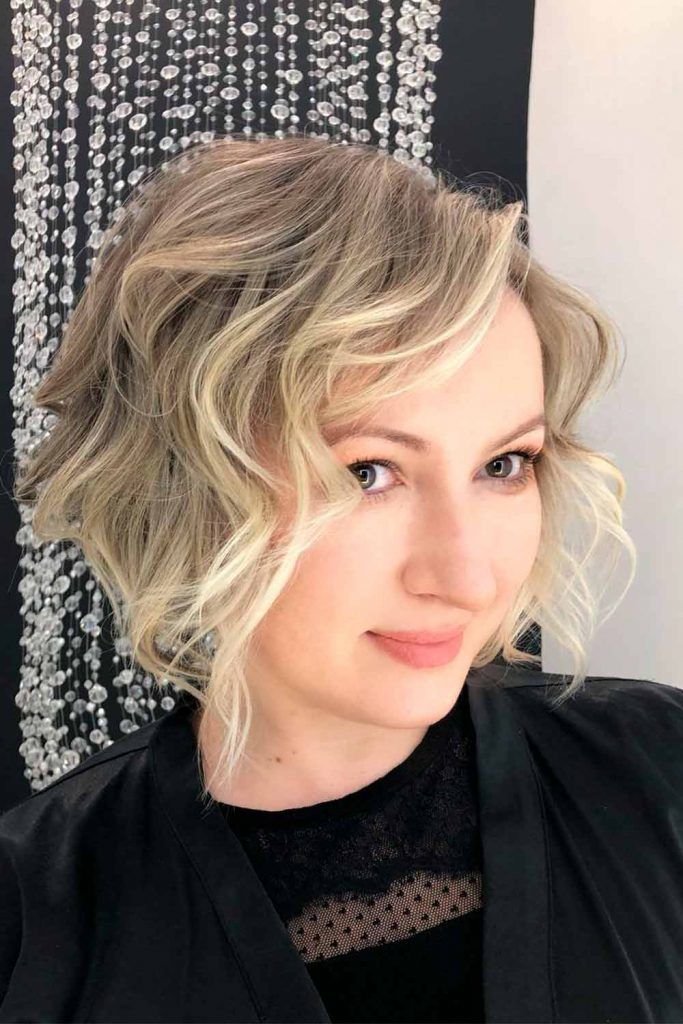 Credit photo: instagram.com/mila_kryshchykhina
Side parted styles always catch people's eyes. We don't know the exact reason for their attractiveness: they're simply gorgeous. One side slightly outweighs the other one, creating a bit asymmetric look. And when this beauty is paired with waves, try not to fall in love with this awesome hairstyle.
A-line Bob With Pink Highlights For Thick Hair
Are you ready to show your thick hair who's boss? A-line bob is probably the best way to get rid of uncontrollable thick hair styling routine: it whips your hair into shape, giving a well-groomed look to it. With this cut, the volume will never leave you, and with pink highlights on beach waves for short hair, you will know what it means to be in the spotlight.
Beachy Waves With Headband
A headband isn't just an accessory. And girls who wave their hair on a regular basis know that. The truth is, sea salt sprays nicely create the so much needed beach waves for short hair, some of them even make hair look as if it has just been dip into the sea. But this fantastic effect doesn't stay too long. So here comes a cute headband! It will put your roots up, thus adding more volume so that you can flaunt with a fabulous beachy hairstyle all day long.
A-line Brown Wavy Bob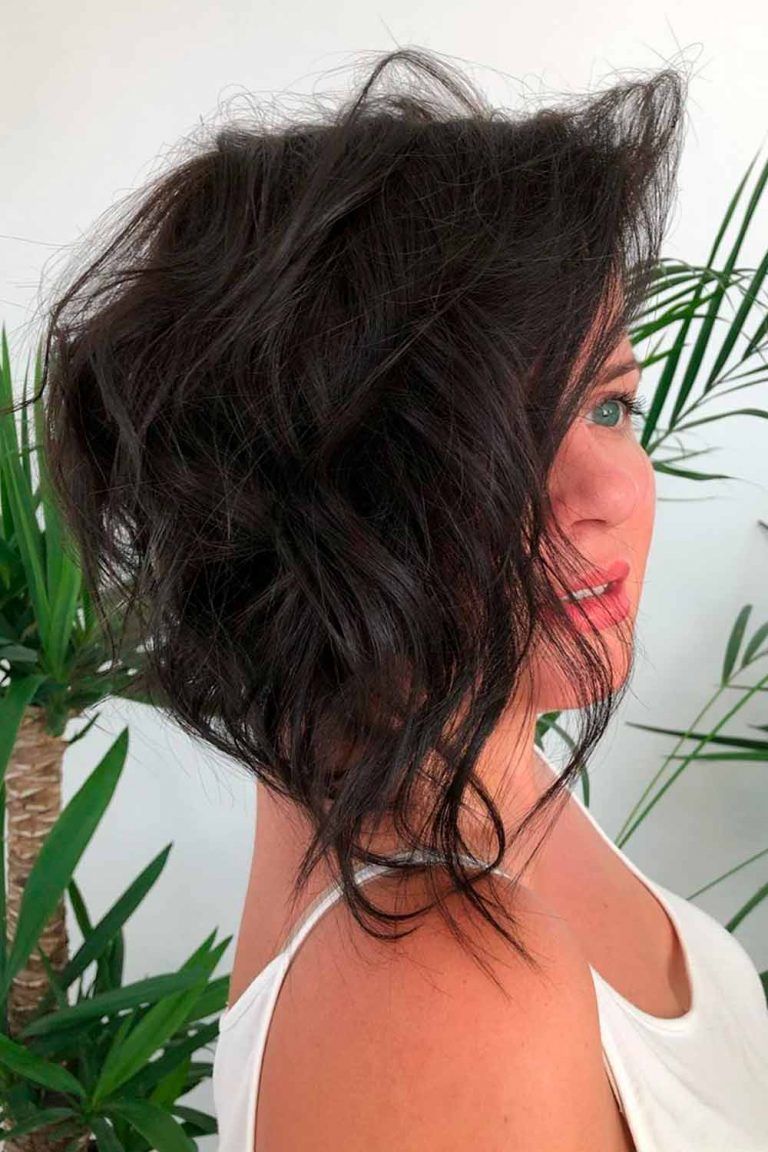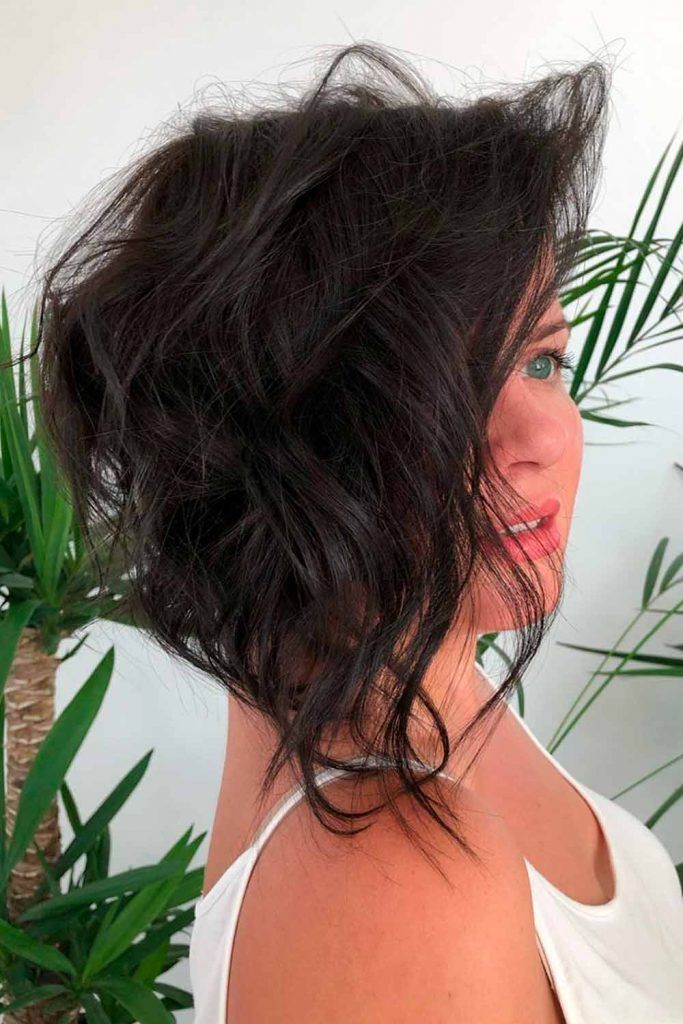 Credit photo: instagram.com/mila_kryshchykhina
Looking for heatless beach waves for short black hair? Believe it or not, these waves were created not only without any heat, but also with no twists, braids, and so on. With a right styling product, air-dried hair can look as beachy as you want. Not all the beach waves for short hair require a special approach.
But take into account that this way will best work for gentle, behaving hair that adapts for simple styling. The only thing you need is to apply a sea salt spray and let your hair air-dry, running your fingers through it from time to time.
Bob Cut With Framing Balayage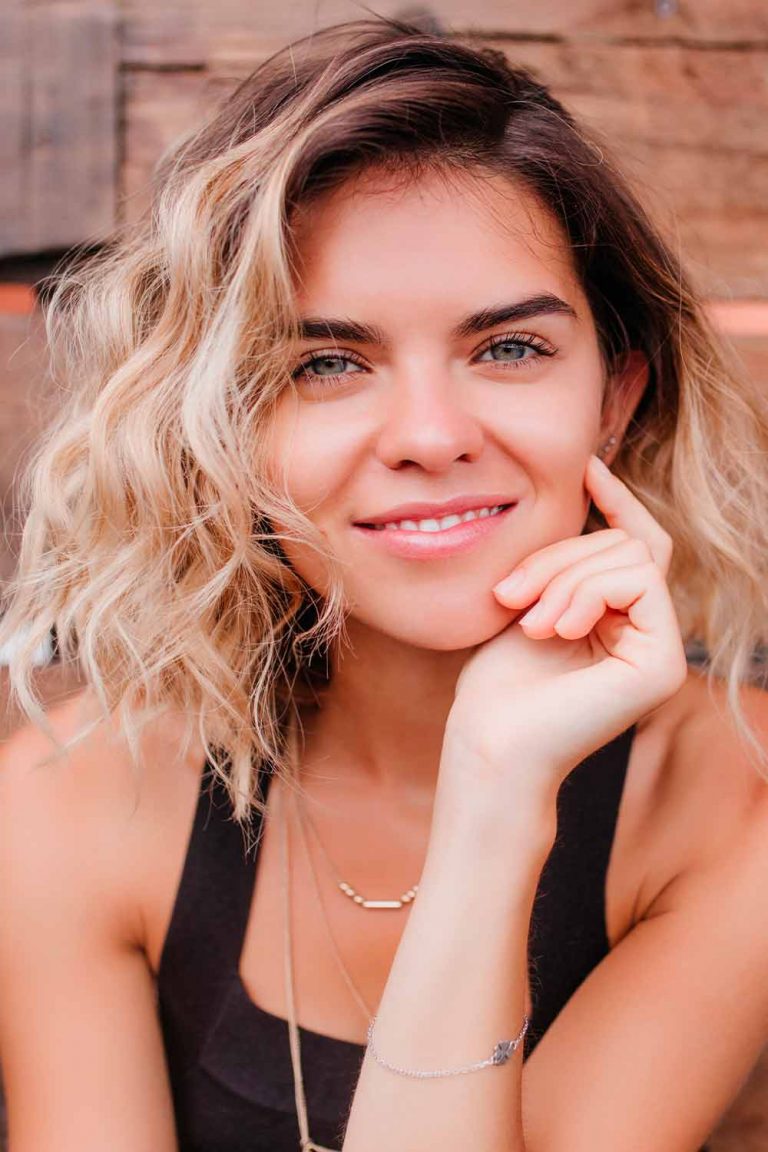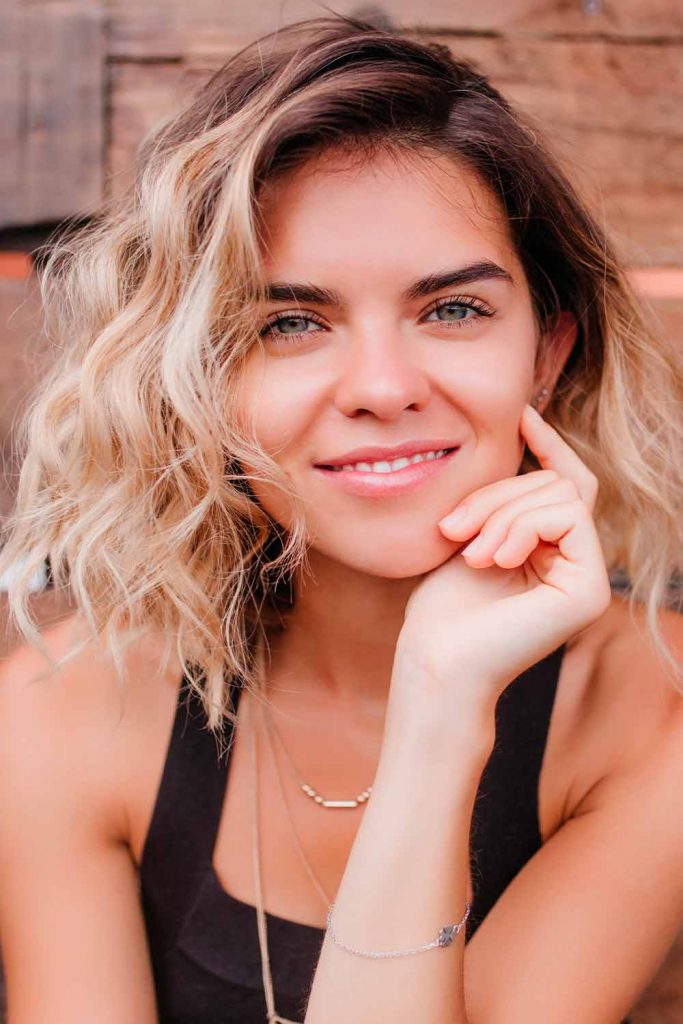 It's no secret that wavy bobs can frame your face, making it appear more attractive. How about you to enhance this flattering effect with the most requested coloring technique? You can ask your colorist to pay attention to your front locks when doing balayage. Voila! These beautiful and highlighted wavy front locks take a fresh look at both your face and your hair.
Cute Bob With Bangs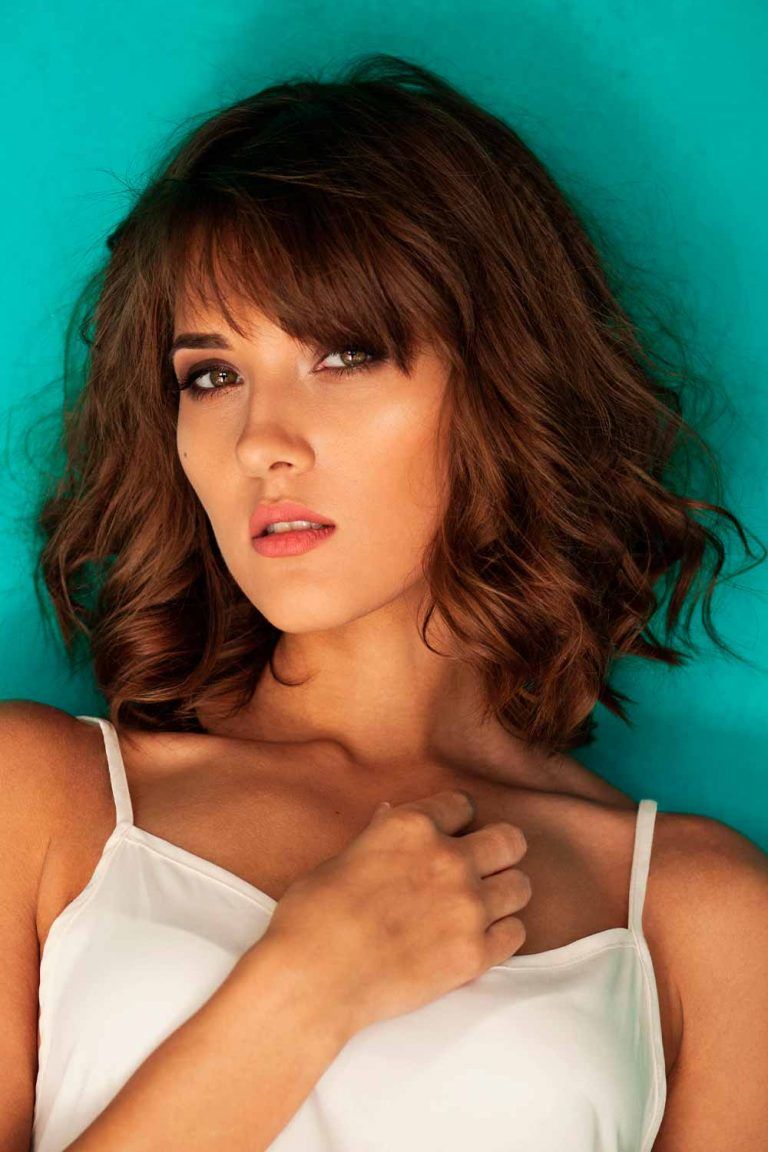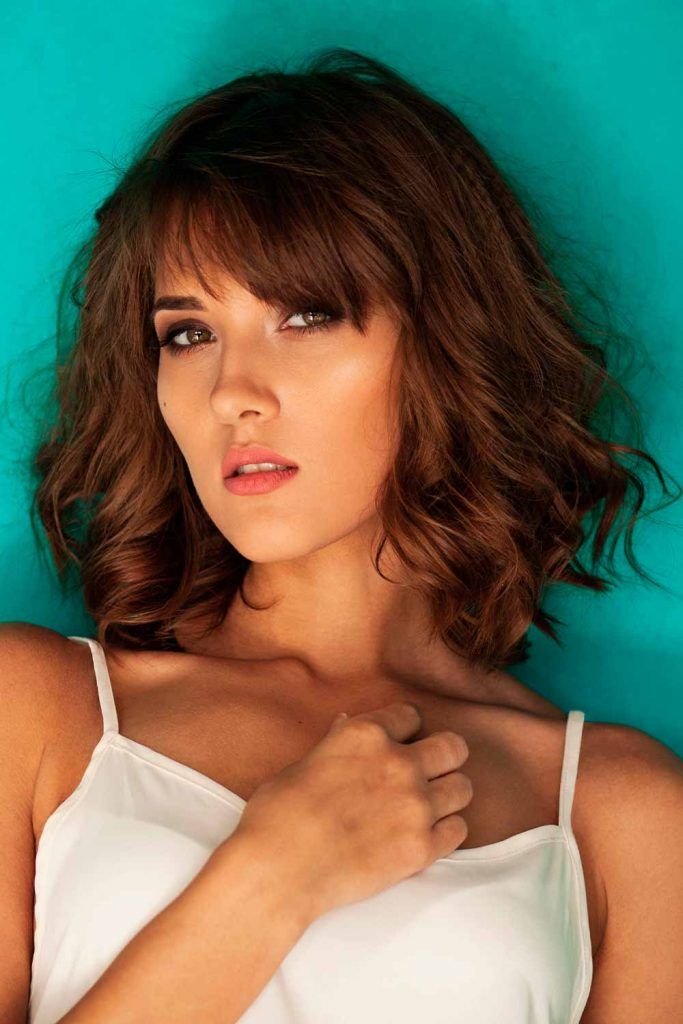 How do you like the contrast between wavy hair and straight fringe? Yes, beachy waves are gorgeous as they are, but some cuteness won't hurt! Those who want to freshen up their daily look and add something new to their waves will love this idea. It doesn't hide your brows, yet gives a bit face-framing effect. Bangs+waves=totally flawless look.
Metallic Lilac Wavy Bob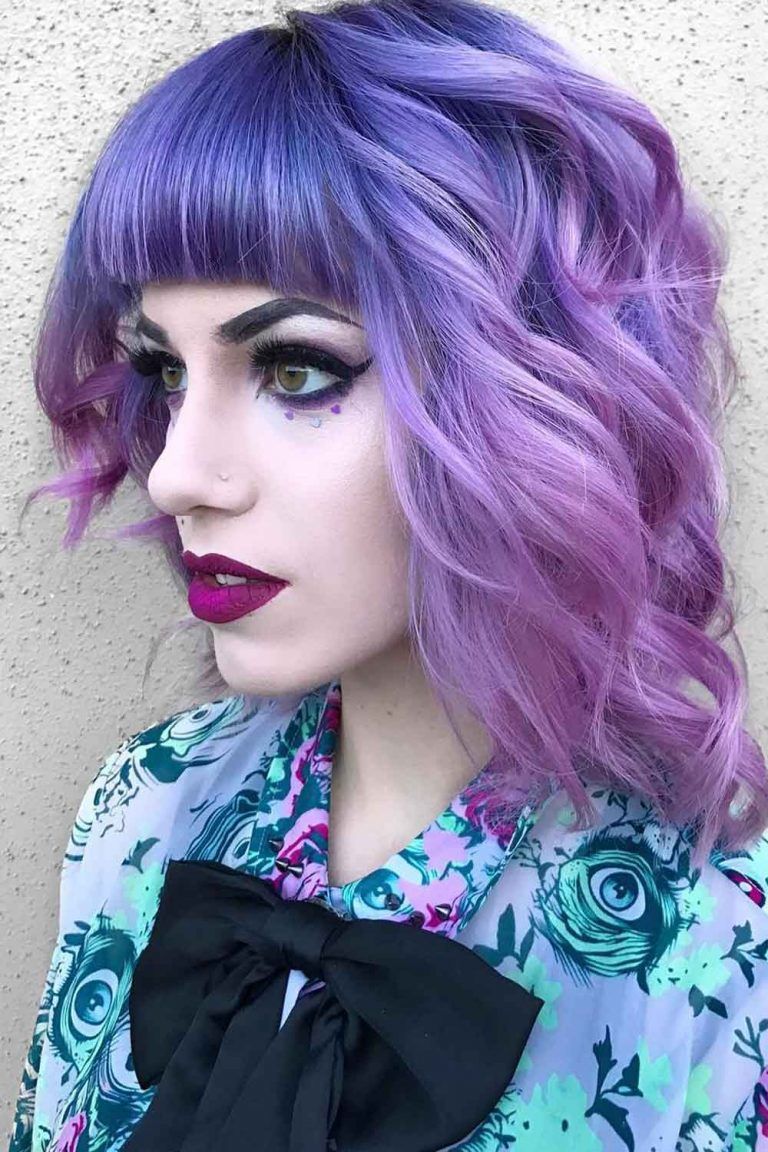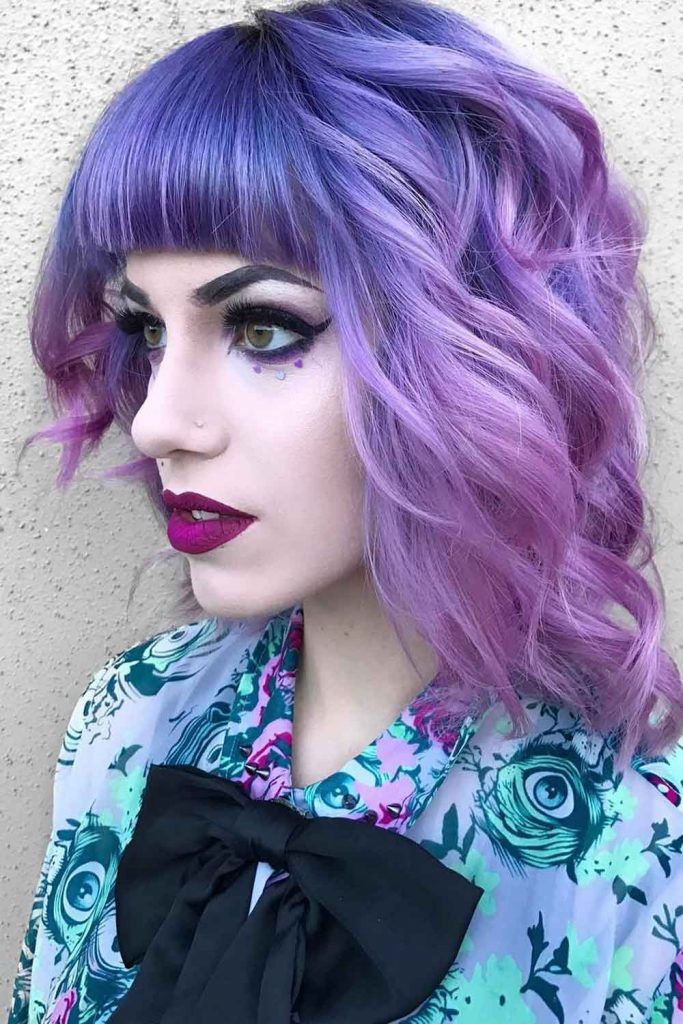 Credit photo: instagram.com/xostylistxo
Metallic lilac hair color is something that can literally blow your mind: it's variety of purple shades that transit to metallic hues is to die for. Just imagine how stylish your look will be if you combine this trendy color with beachy waves. After looking at this pic, you will understand that such a look is worth giving a shot.
Beach Waves For Layered Pixie-Bob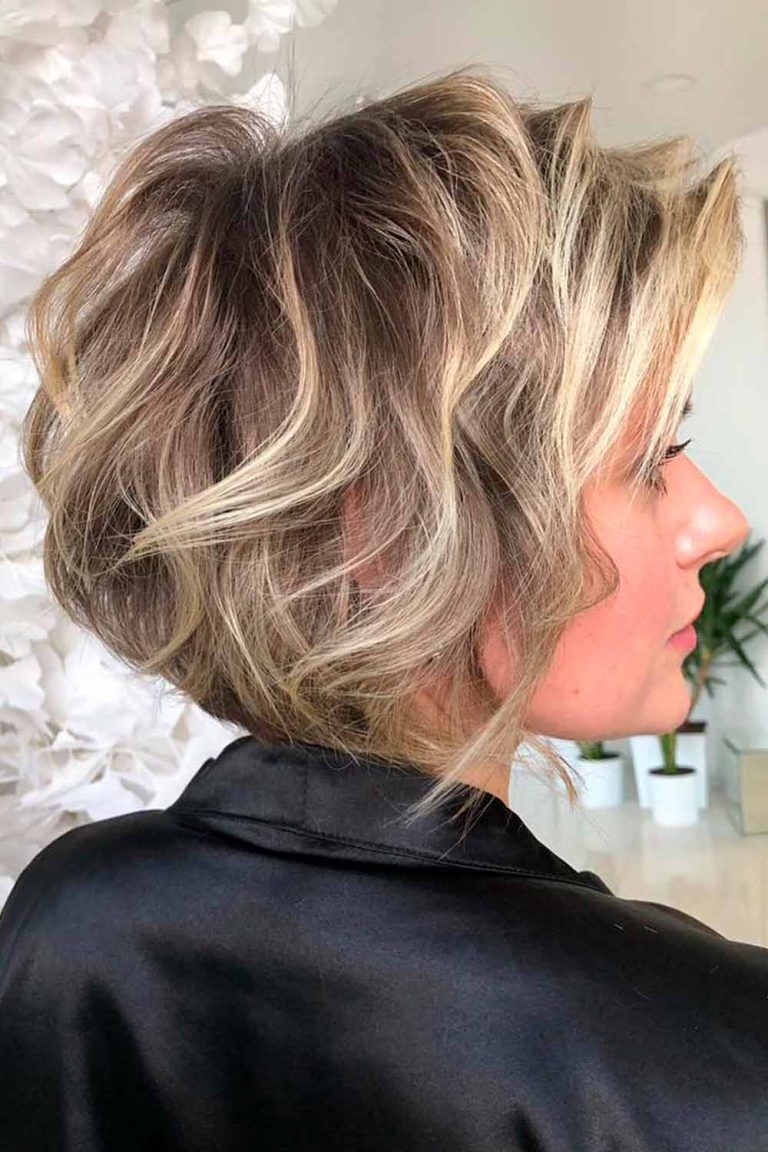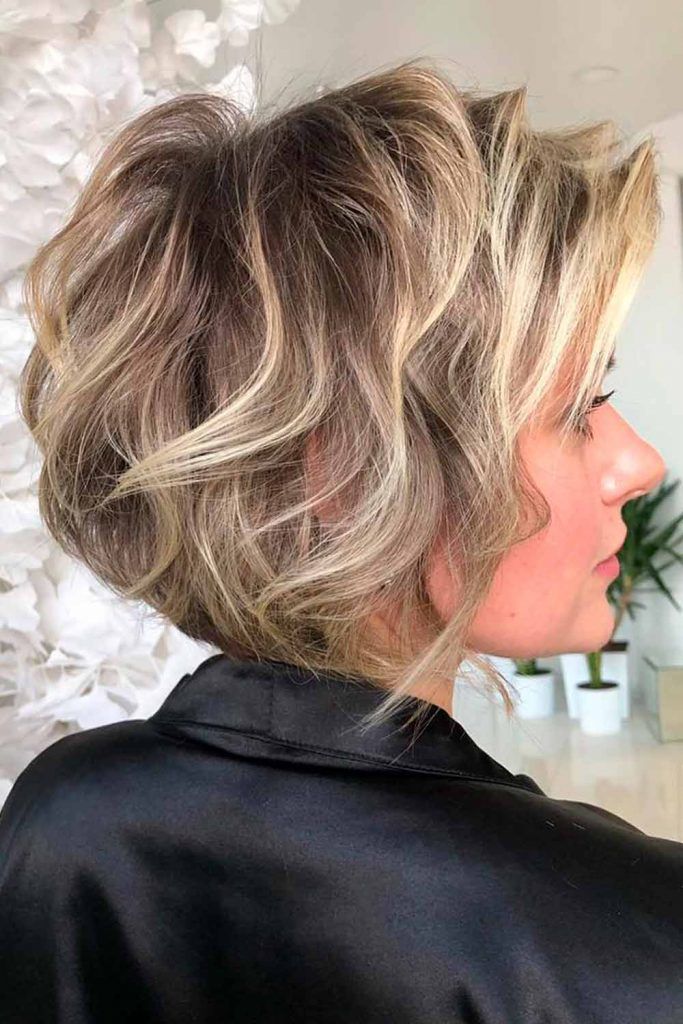 Credit photo: instagram.com/mila_kryshchykhina
Nothing is more pleasurable than getting distinctive and big beachy waves on layered short haircuts: layered hair is very manageable, which gives a lot of room for dimension and movement when styling your hair. Try waving your top, working with bigger portions, and your look will be just on point.
Side Parted Wavy Long Pixie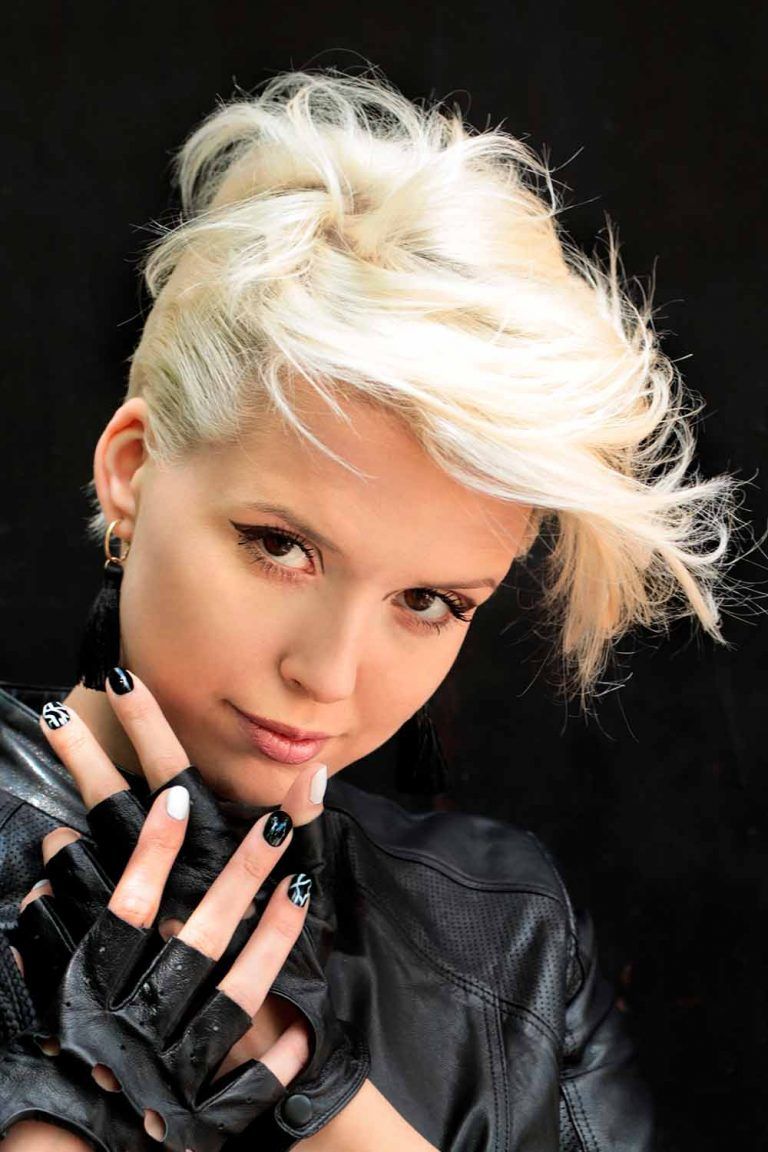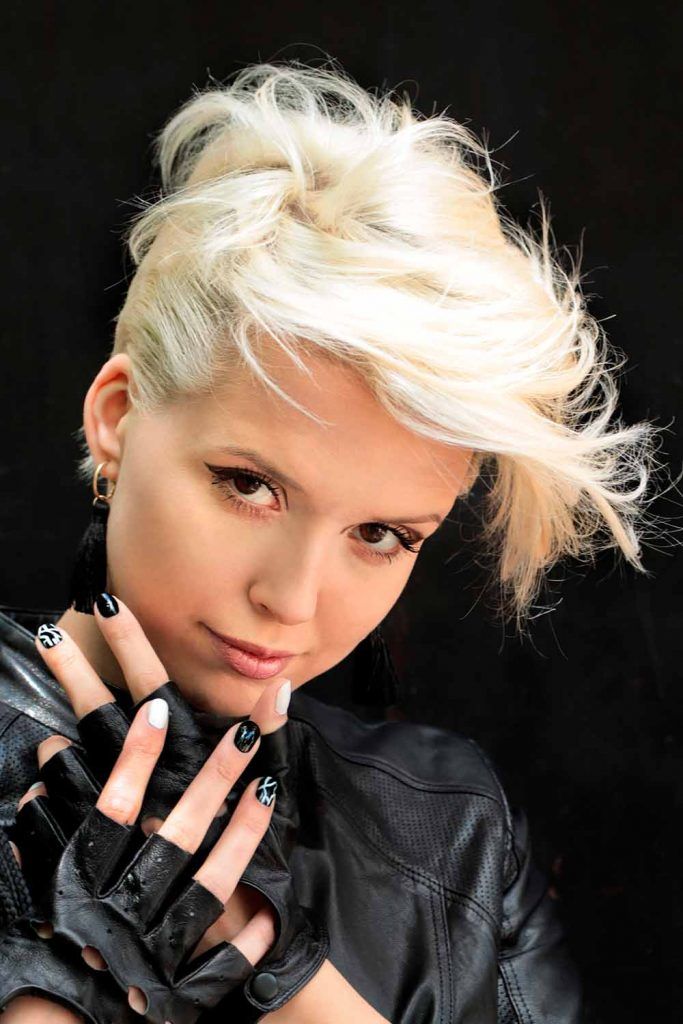 Every lady should face the charm of side-parted hairstyles at least once in her life. All in all, it's a nice way to build the smooth overall silhouette through creating an outweighed body. To enhance the effect, you can leave one of the sides straight; contrasts are the thing of today!
Long Wavy Side Swept Pixie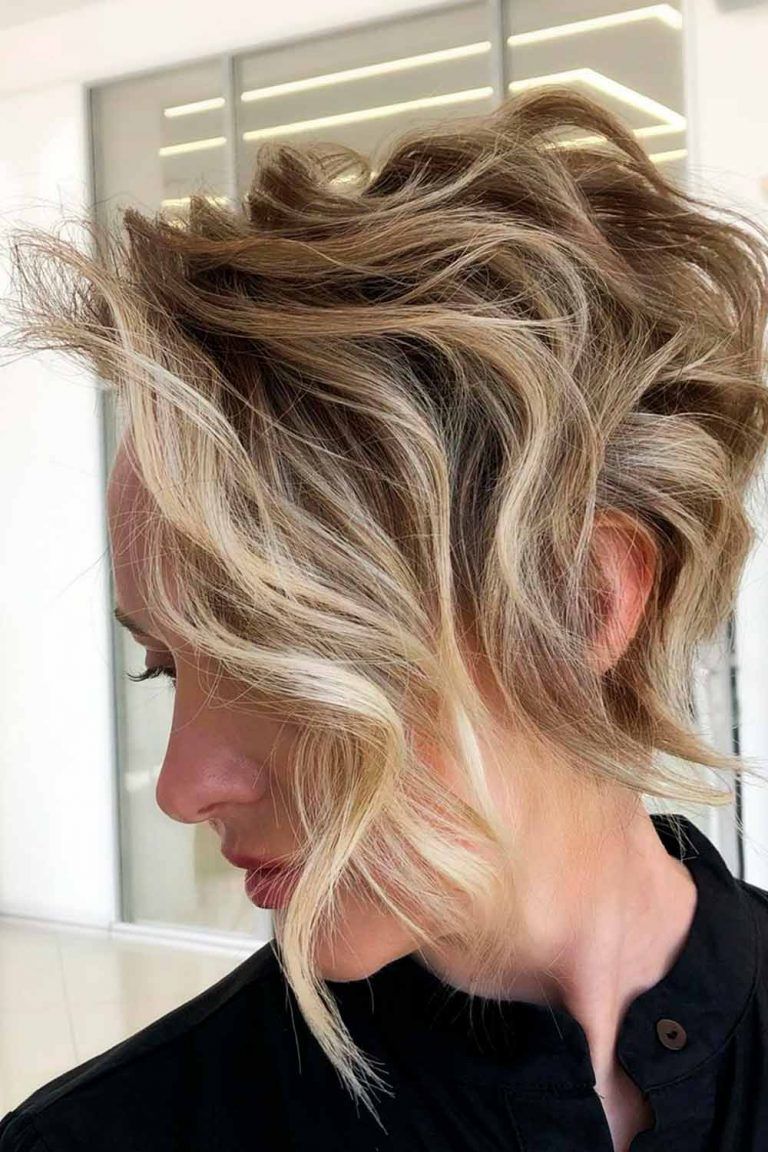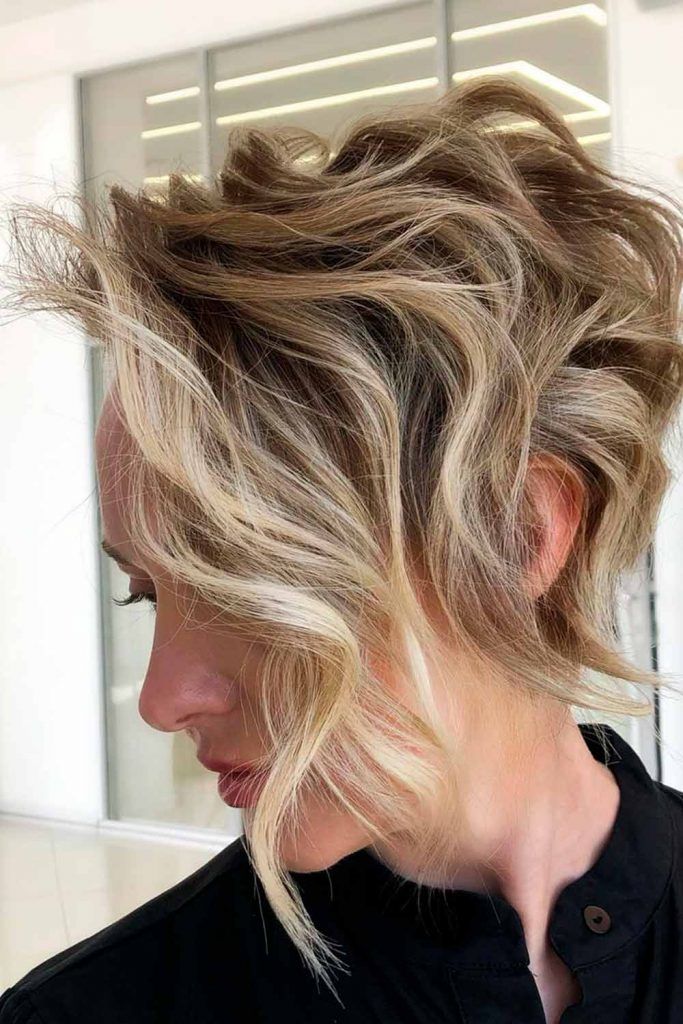 Credit photo: instagram.com/mila_kryshchykhina
There are lots of ways to get beachy waves, as well as to style them. Your waves can have different thickness and texture: you can change the direction of your curling wand and pick random pieces of hair one by one. The style you see above is reached in this way, and the side-swept styling finishes it nicely.
Asymmetrical Wavy Pixie With Undercut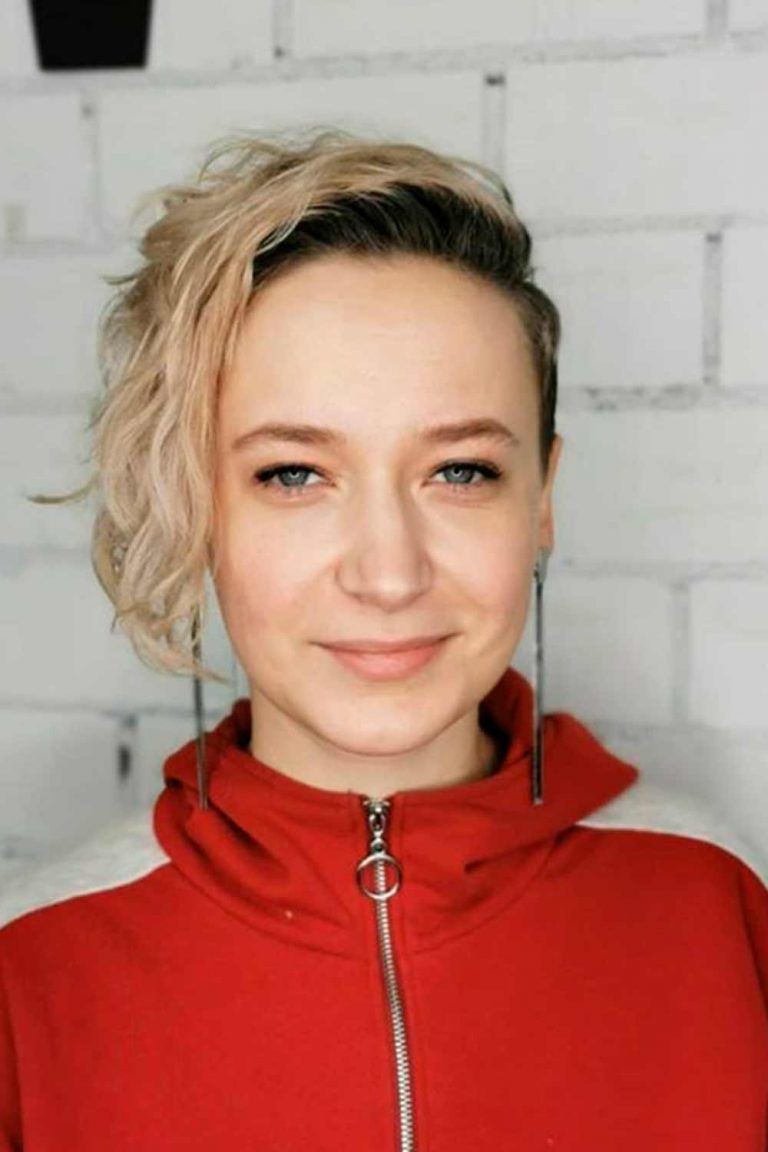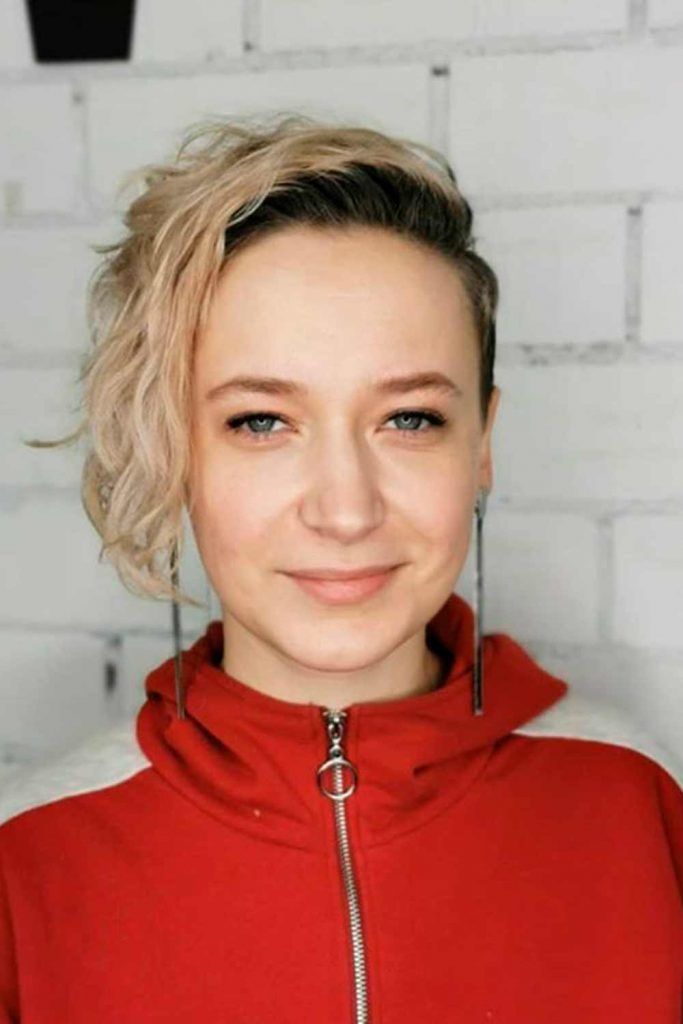 Credit photo: instagram.com/ifyoulovecurls
Want your waves to be super highlighted? Give a try to the feminine variation of the undercut, then. Once you buzz off the sides, you will make the top stand out, giving your bouncy waves a chance to show up in a new light.
Short Messy Pixie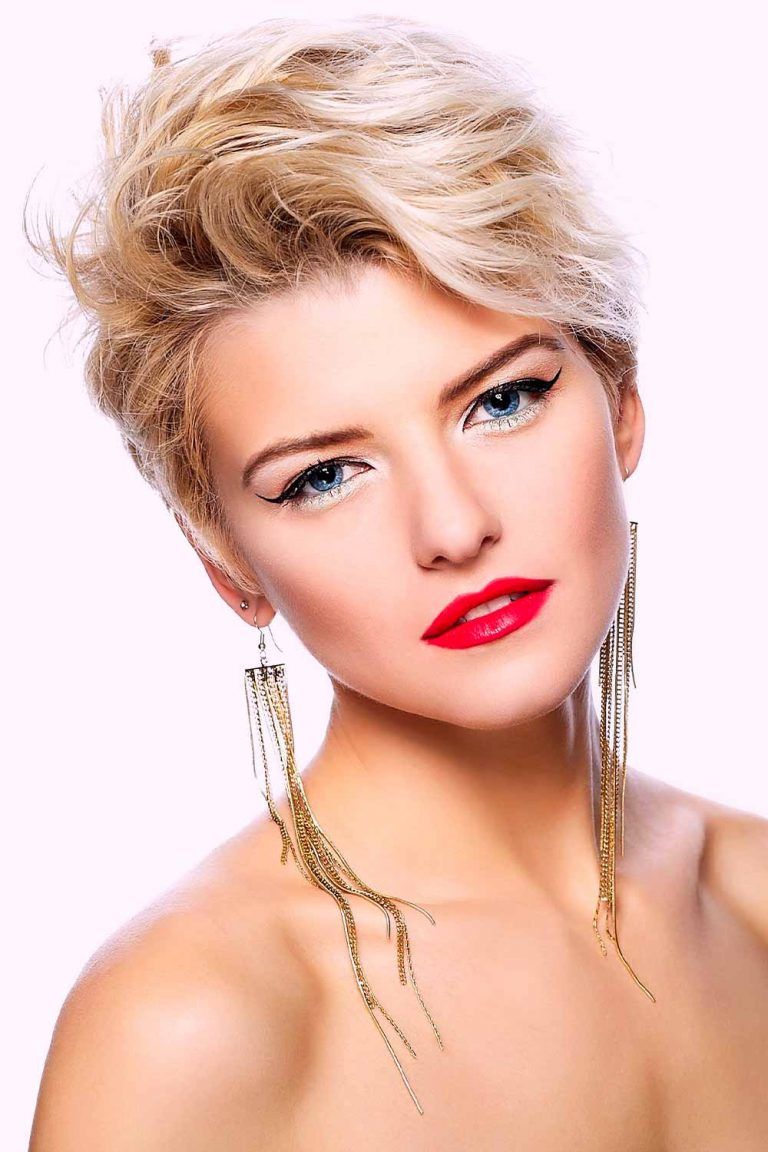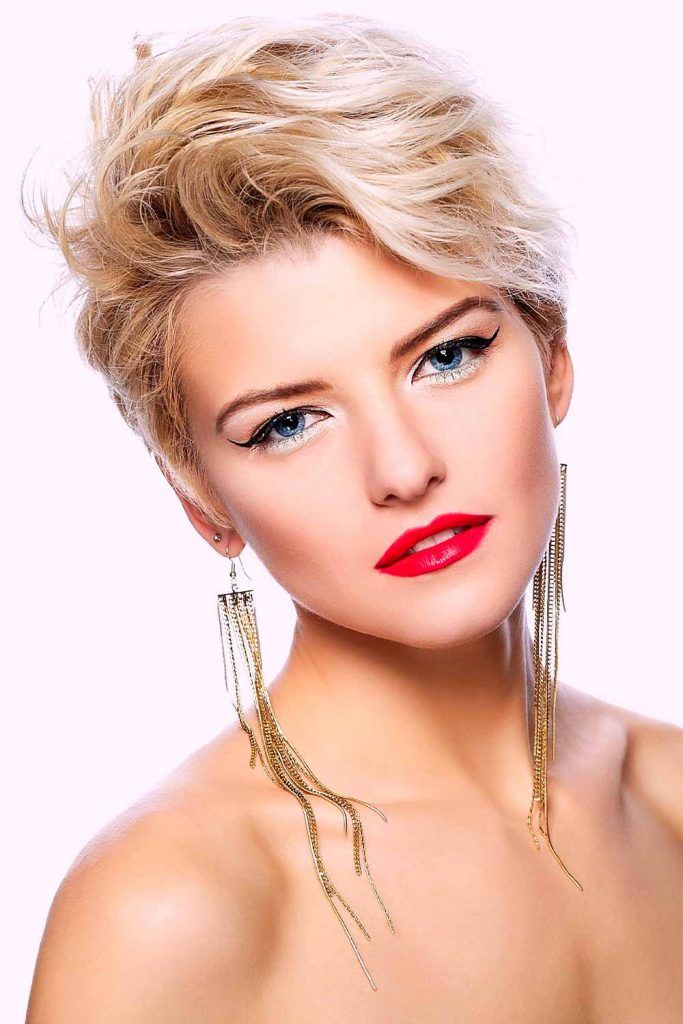 Short waves add a lot of the desired movement and dynamics to the texture of your hair. It's a nice option for ladies with thin hair, as it will create an illusion of pleasant thickness. Messy styling will make the waves melt naturally, so don't forget about salt sprays.
Side Parted Short Wavy Bob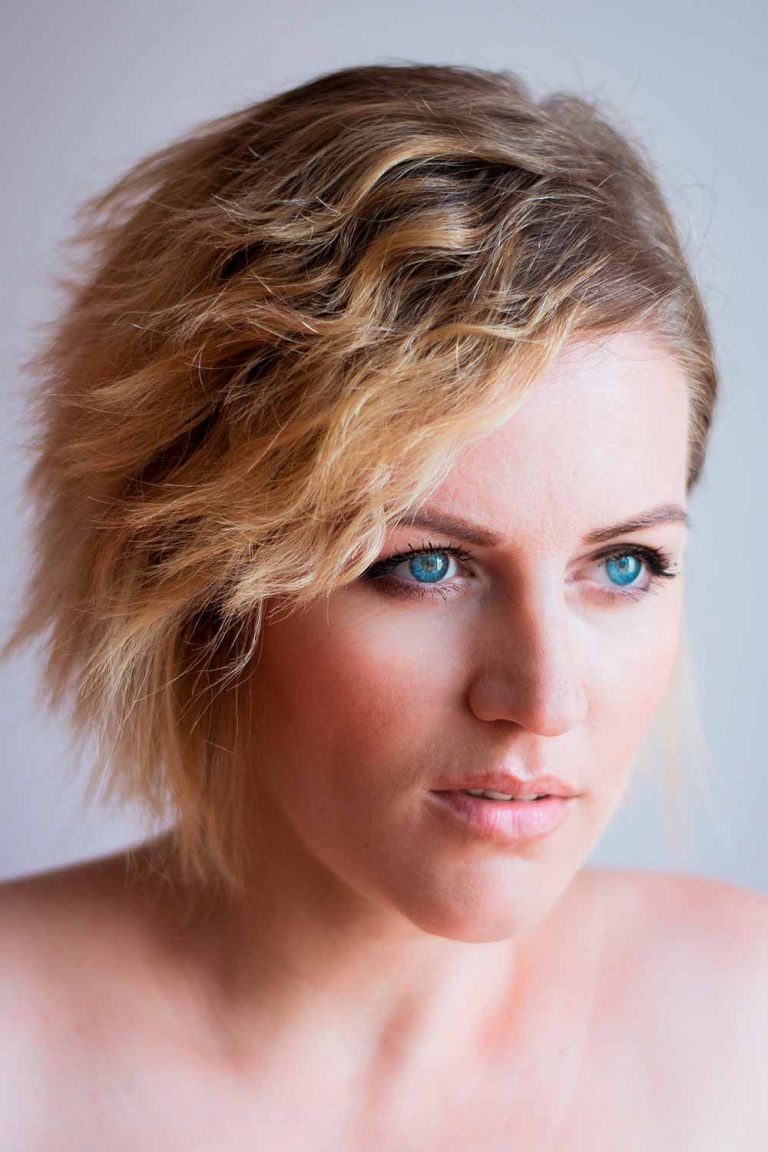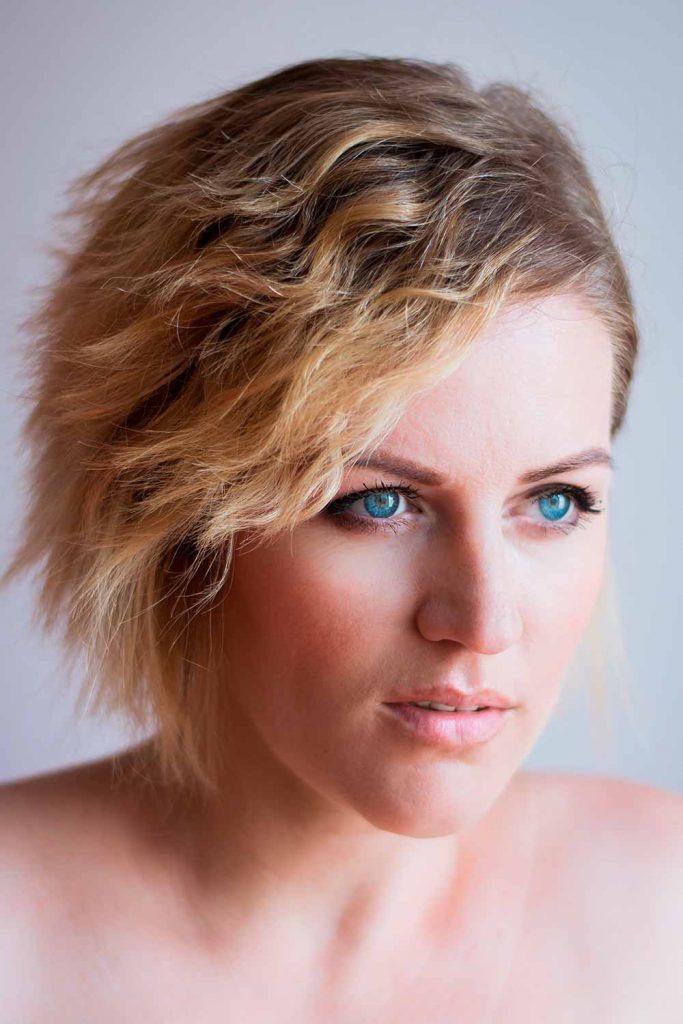 The dramatic lift that goes from the top to the side when we do side parting for bob haircuts is just to die for. To achieve this look, you'll need to go for overnight beach waves and create an asymmetrical parting. Admit it; this appearance is worth those night hours!
Rose Beach Waves For Short Hair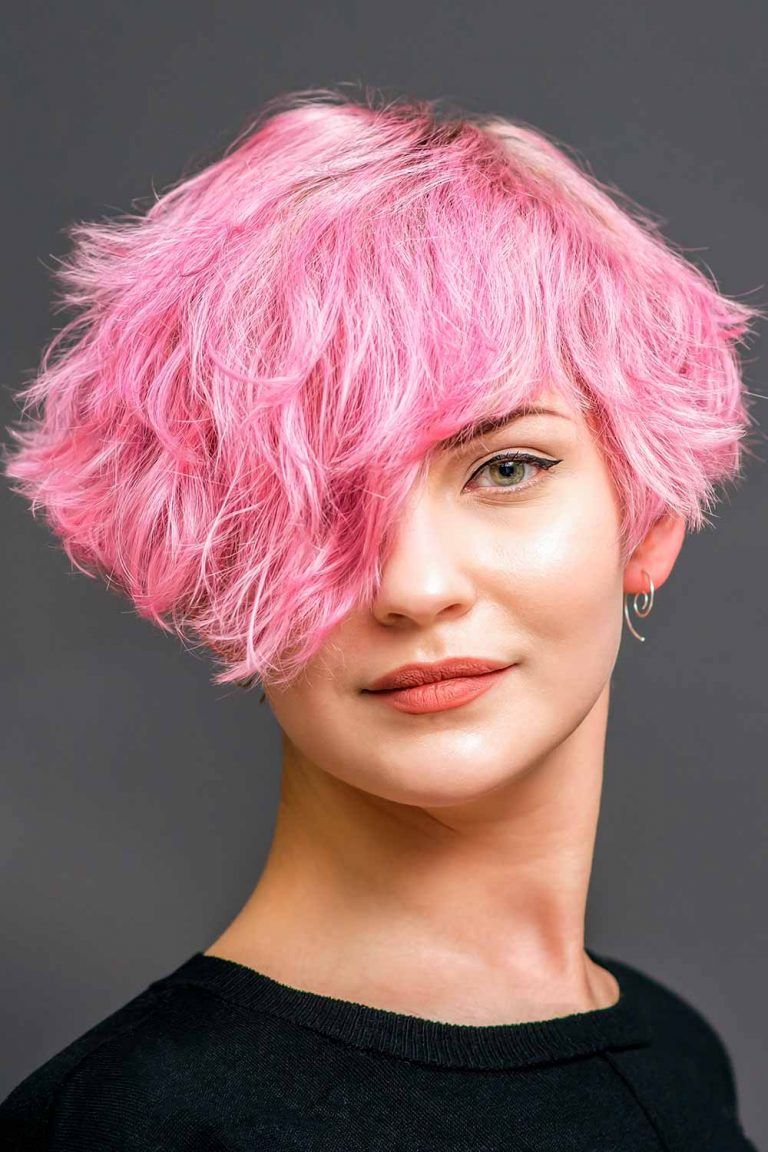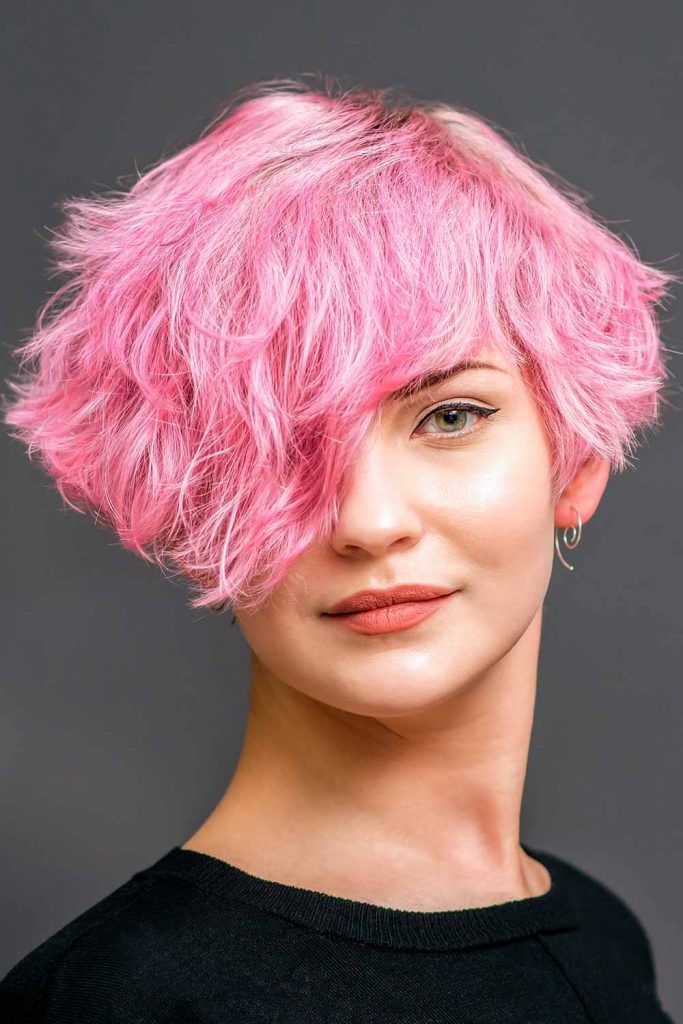 Some color inspiration is here to set your mood for stylish and colorful beach waves! Just look at how awesomely you can show your appreciation of hot summer days: loose beachy waves that look like a sunset is so warm and lovely. Why don't spice up your super chic curls with trendy hair color? This soft rose is a must-try for this season!
Wavy Bob Haircut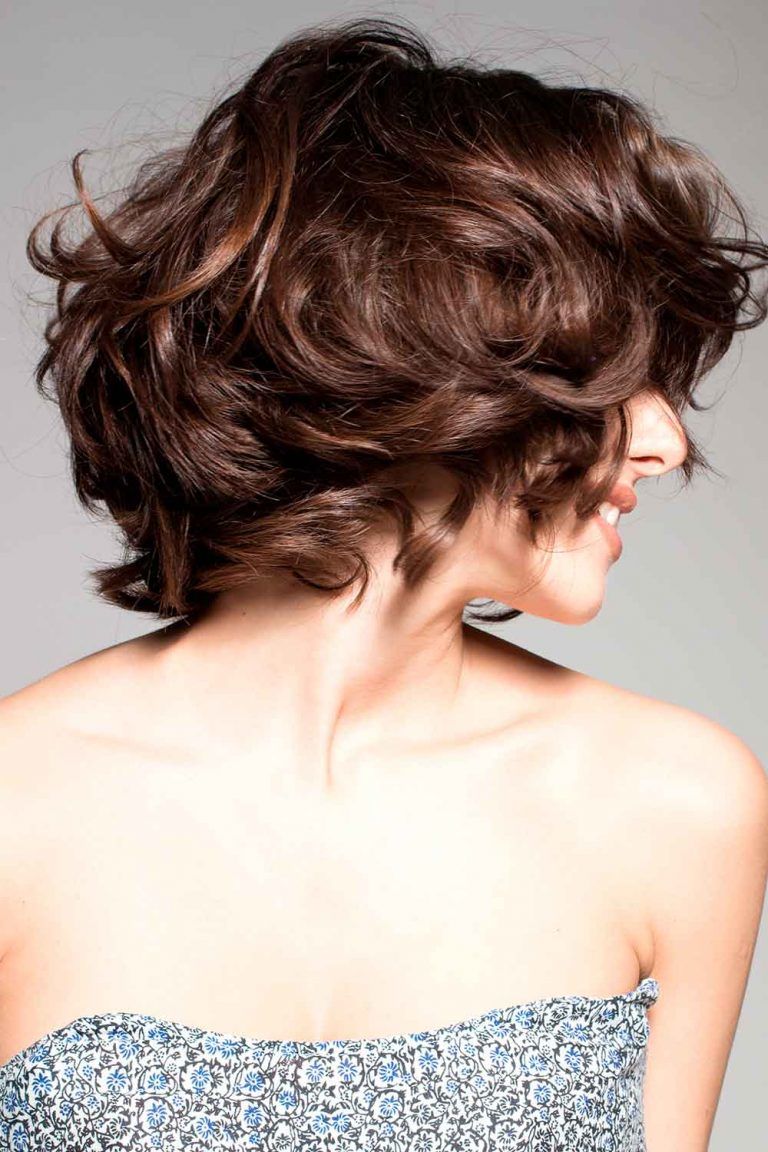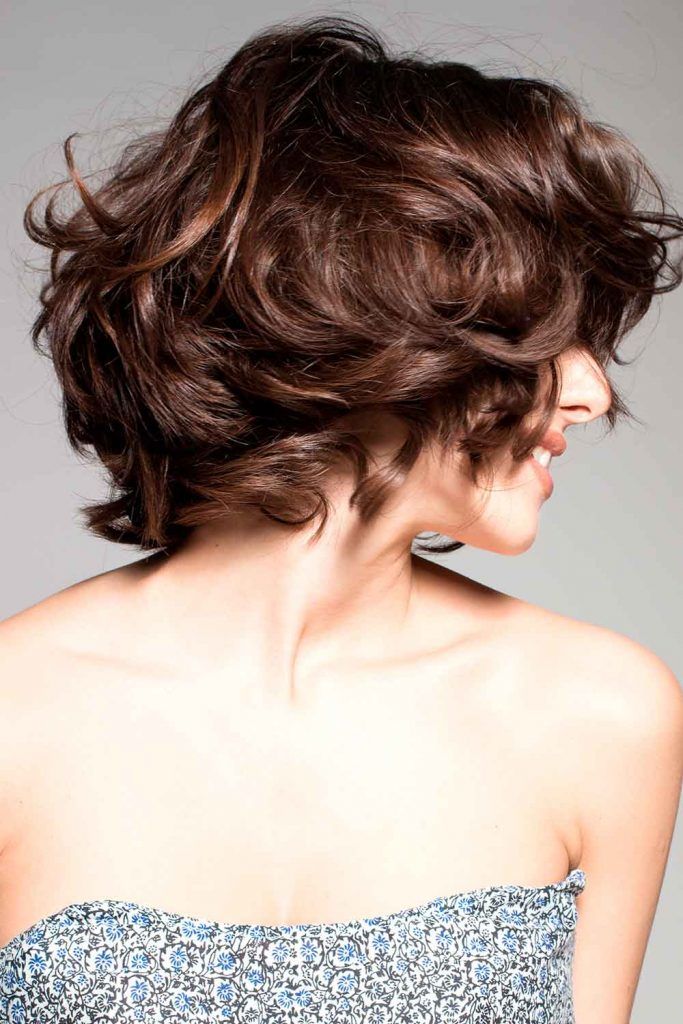 A short bob can turn into a flirty, romantic hairstyle with the help of a little wavy touch. Your waves don't have to be super distinctive and big to enliven your short haircut: the more effortless waves you wear, the more attractive your look is.
Beach Waves For Bob With Straight Bangs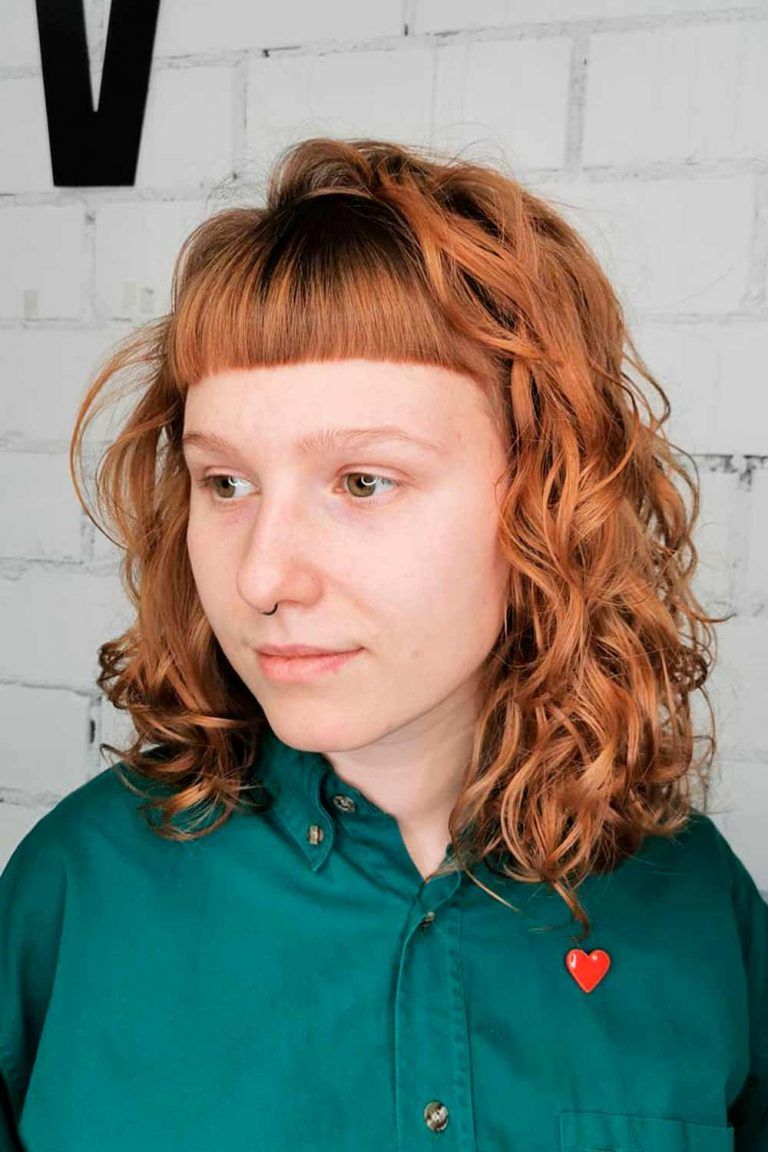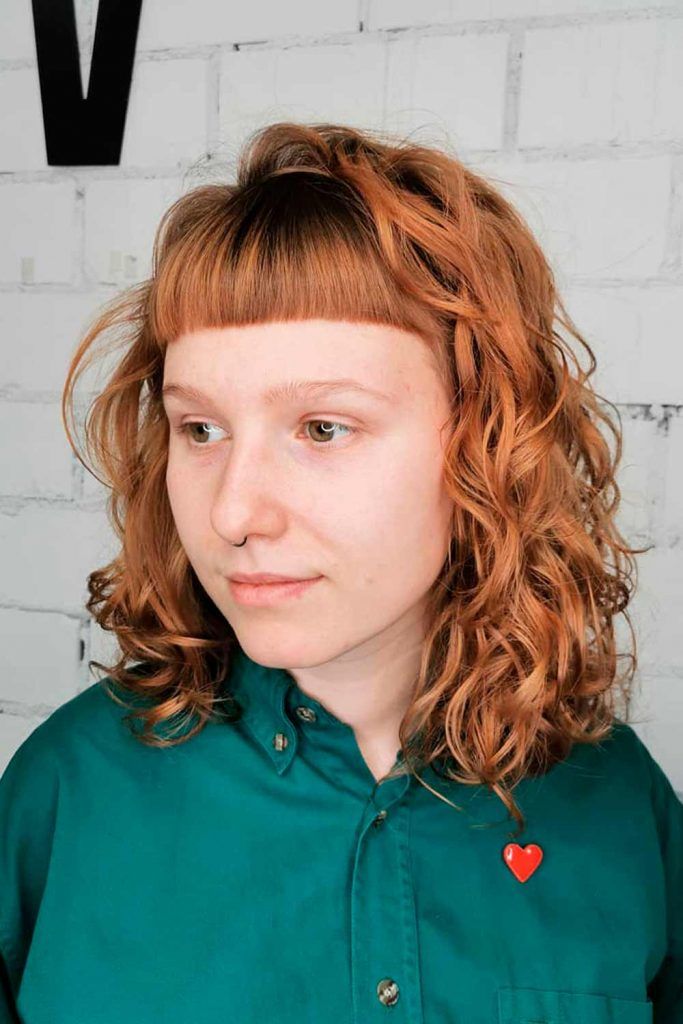 Credit photo: instagram.com/ifyoulovecurls
If you stand for naturalness, your waves should really look as if you've just surfed a break. To create such a look, apply a salt spray on your wet hair and let it air dry, tousling your hair from time to time. And if you sport bangs, repeat the same step with them too!
Wet Beach Waves For Bob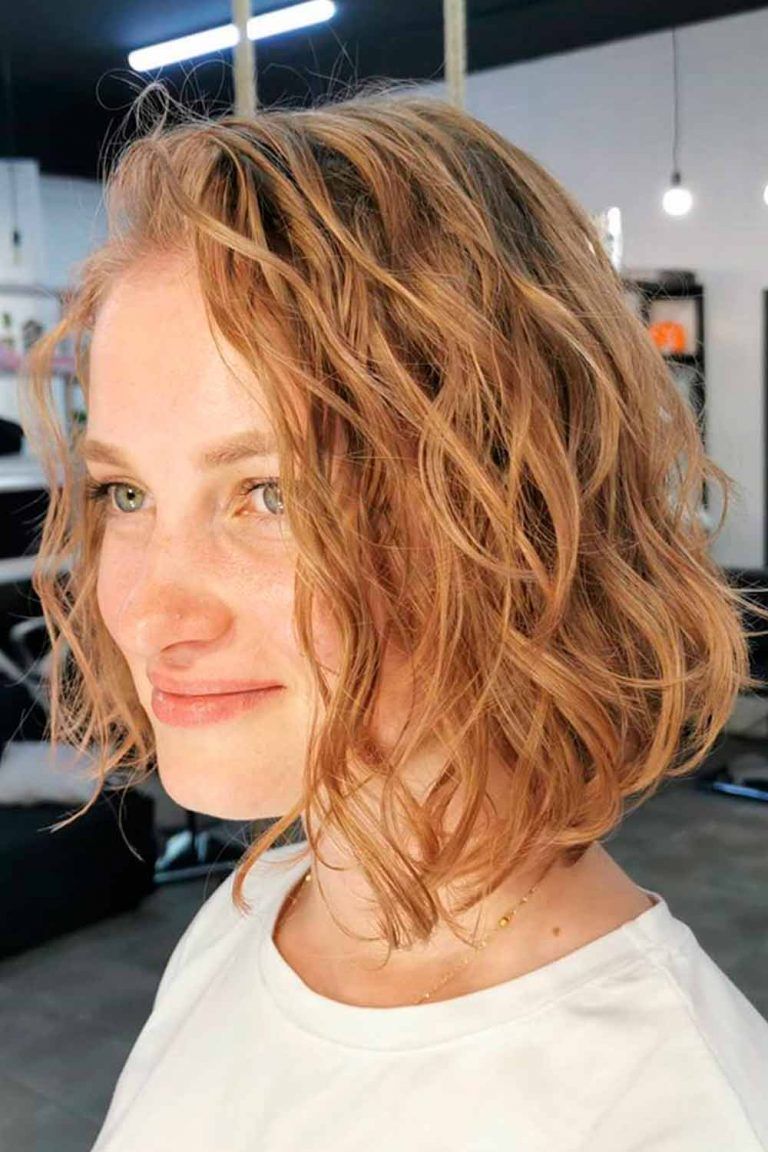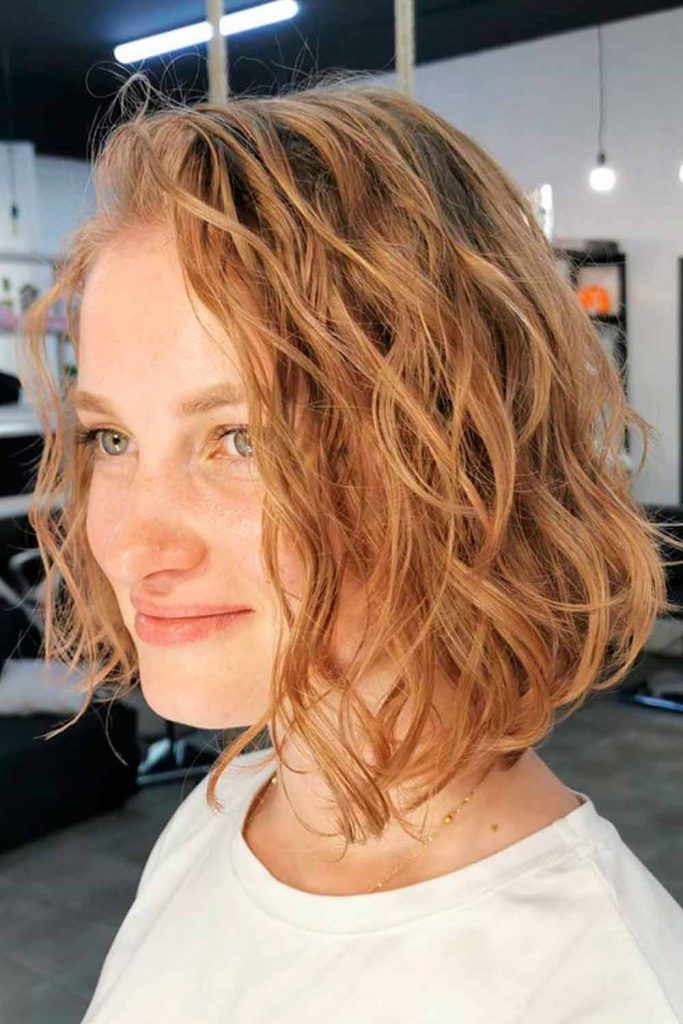 Credit photo: instagram.com/ifyoulovecurls
Wet looks have made a great breakthrough after a couple of Fashion Weeks in the past five years. So no wonder that they're still a trend. But this time, they don't look flat: this bob is full of life, modernity, and volume.
Wet Beach Waves For Long Pixie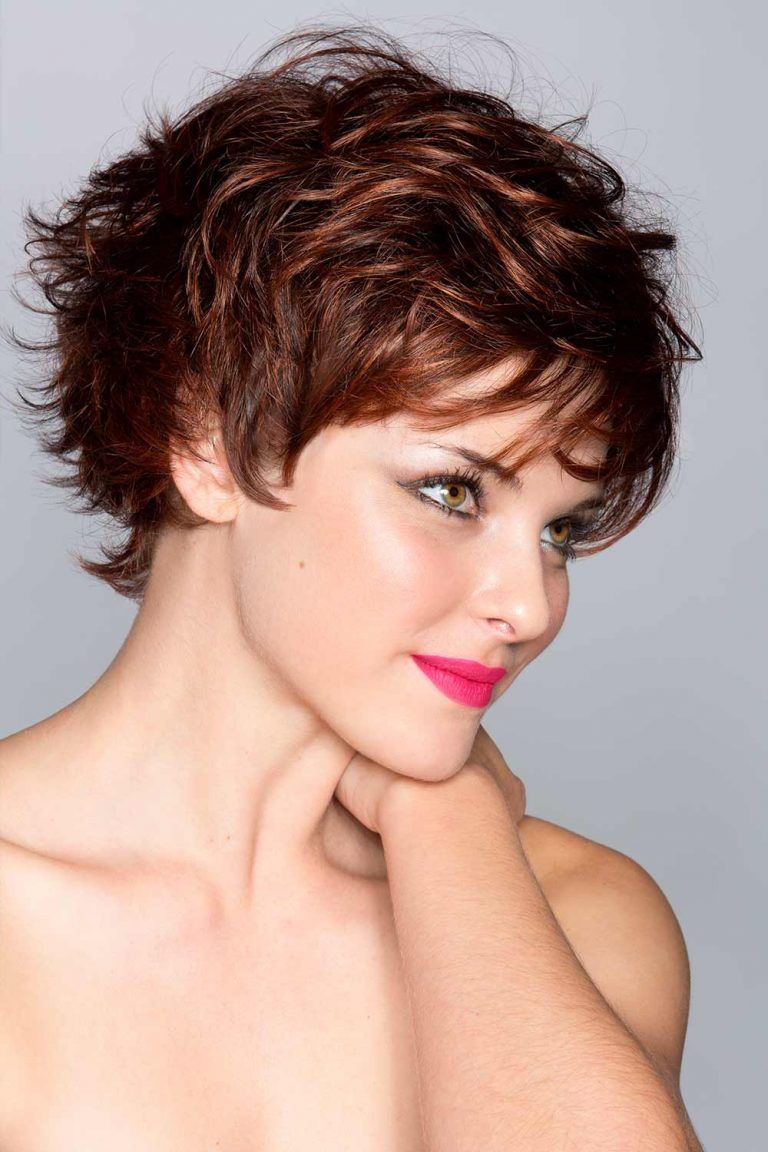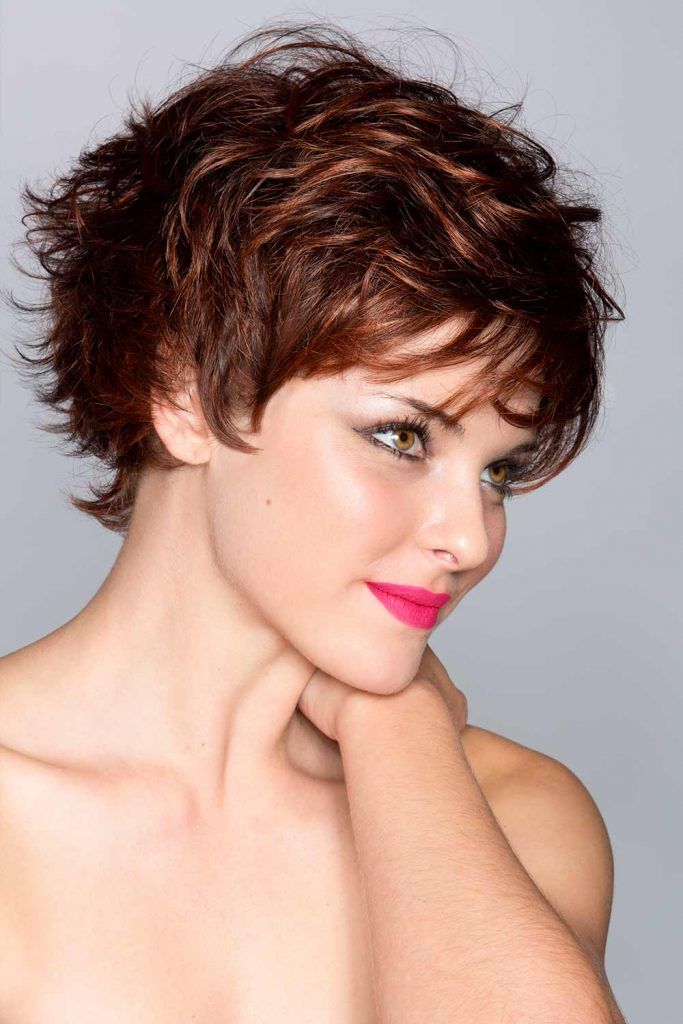 The same goes for long pixies: while many top models walk the runway with totally smooth looks, you can show up in public with a volumetric pixie, where little wavy locks all stand out in its own, charming way.
Beach Waves For Pixie Haircut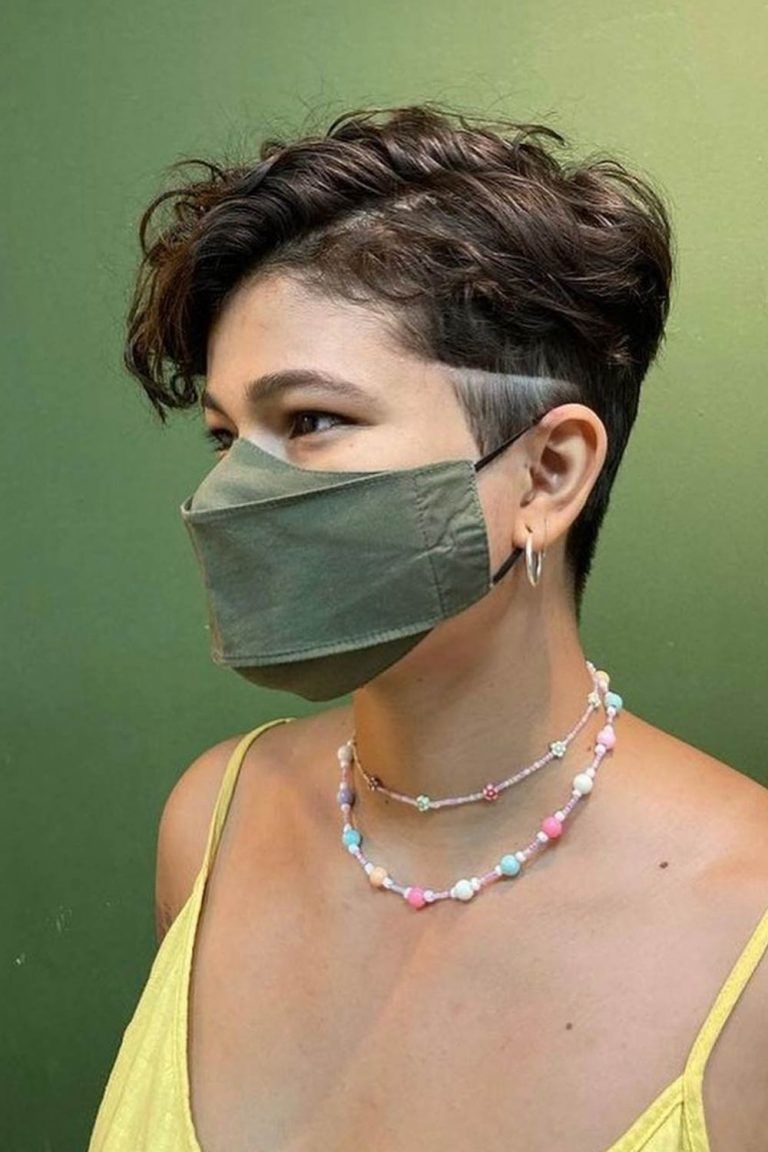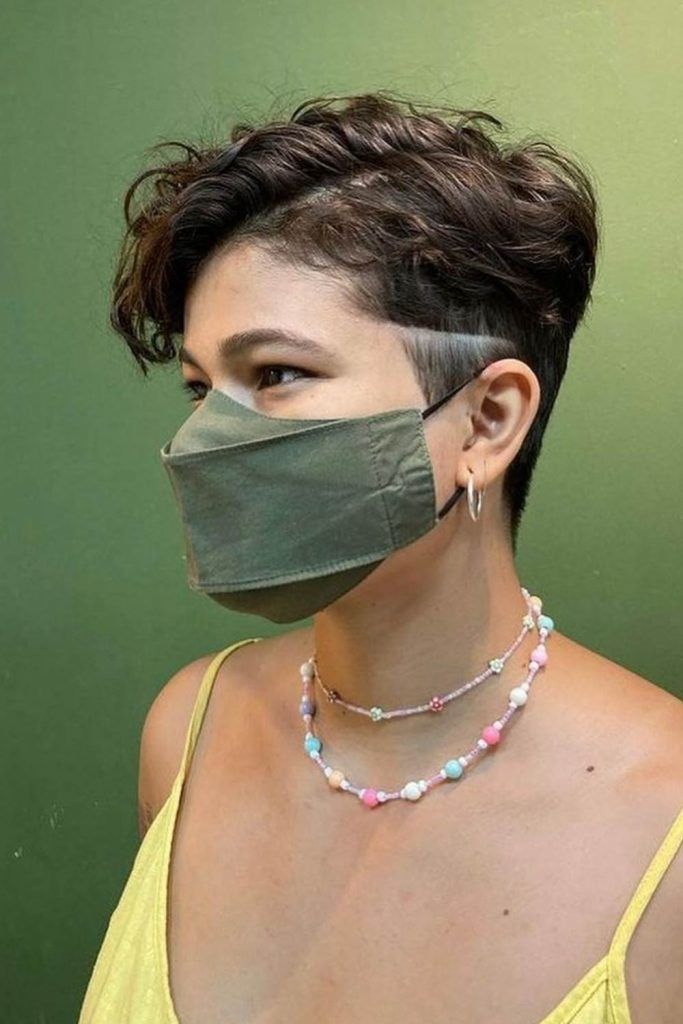 Credit photo: instagram.com/acasasilva
Let's get back to the classic version of beach waves for short hair. This pixie seems to be the best example of effortlessness and messiness that these cuties usually give to our hair. It's airy and pretty voluminous at the same time, isn't that enough?
Messy Beachy Waves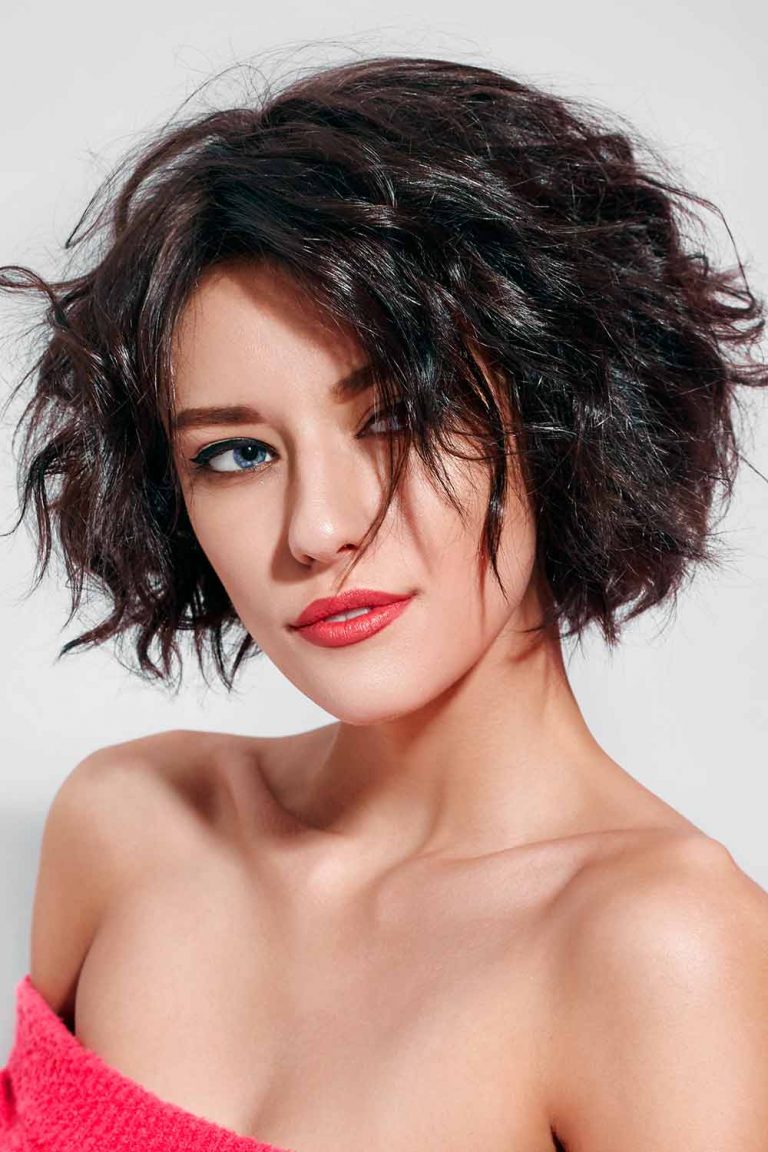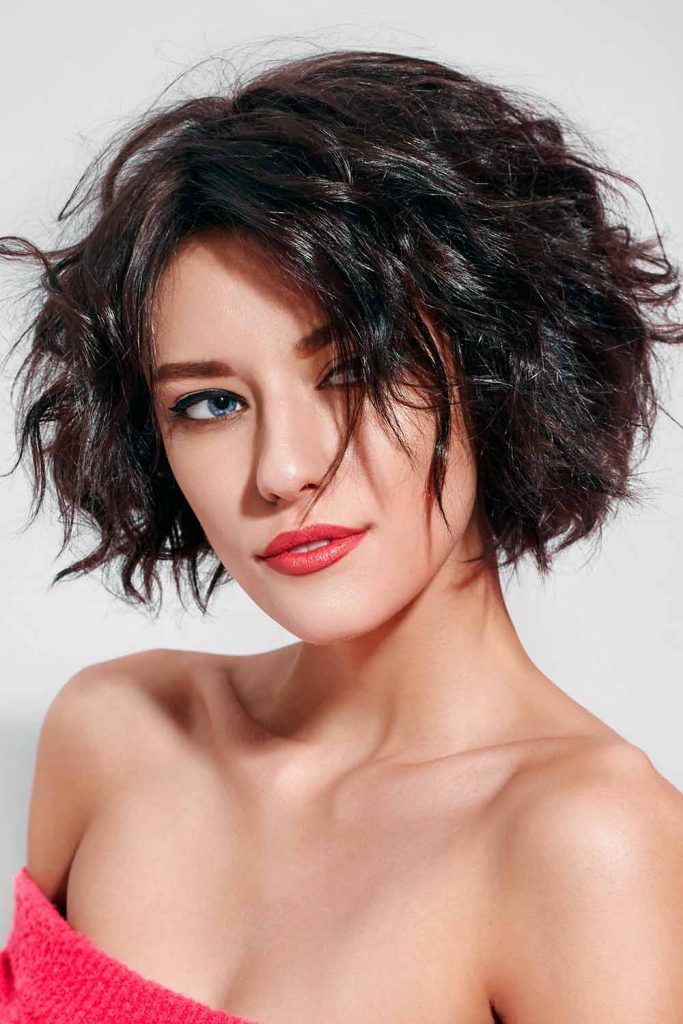 Meet messy beachy waves which translate to "the best thing you can do with your bob" from the modern fashion language. Just like many hairstyles you've seen today, this idea doesn't require a life-long styling, as well as can do without lots of different products applied. What you really need is a good curling iron with medium-sized barrels and a heat protectant. Wave your locks in any direction you want, shake your head, run your fingers through your waves, and coat the look with hair spray. Or, you can skip the last step for a more effortless look.
Coral Textured Bob + Beachy Waves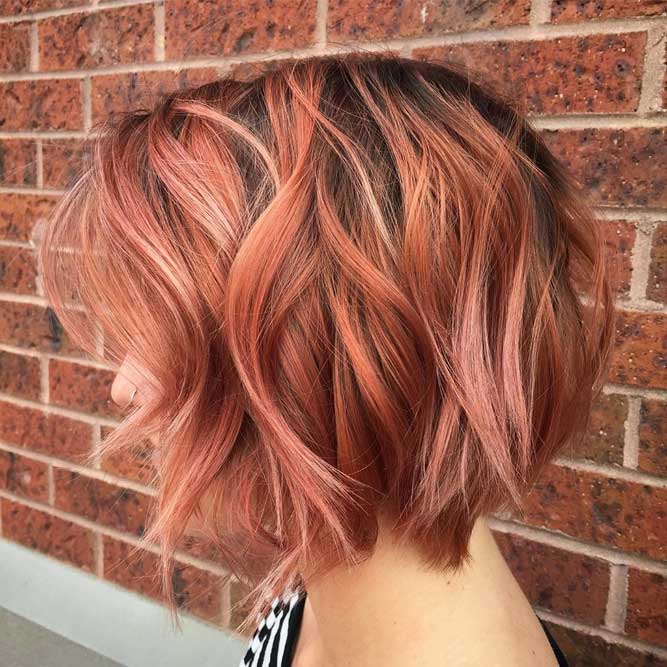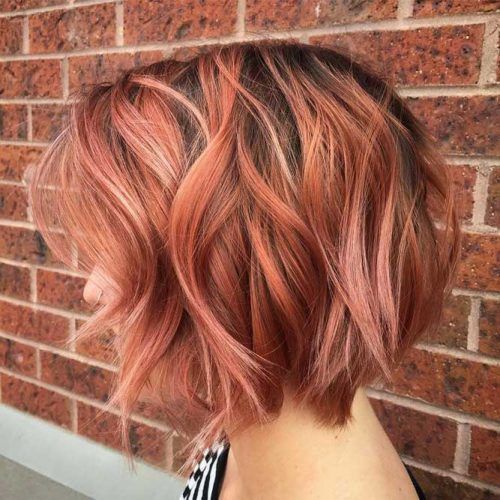 Credit photo: instagram.com/minhwaleehair
Colorful beachy waves, we're on our knees. Wavy hair, no matter what types of waves it has, is always full of life, dynamics, and pleasant texture which capture women's hearts like crazy. Now, imagine this effect grows with the beauty of trendy color. Yes, no one will be able to resist this visual impact. A soft layer of coral embellishing the brown textured bob is a fantastic combination of trends. And when waves accompany this masterpiece, it becomes a look without which you can't imagine your stylish life.
Blonde Wavy Short Bob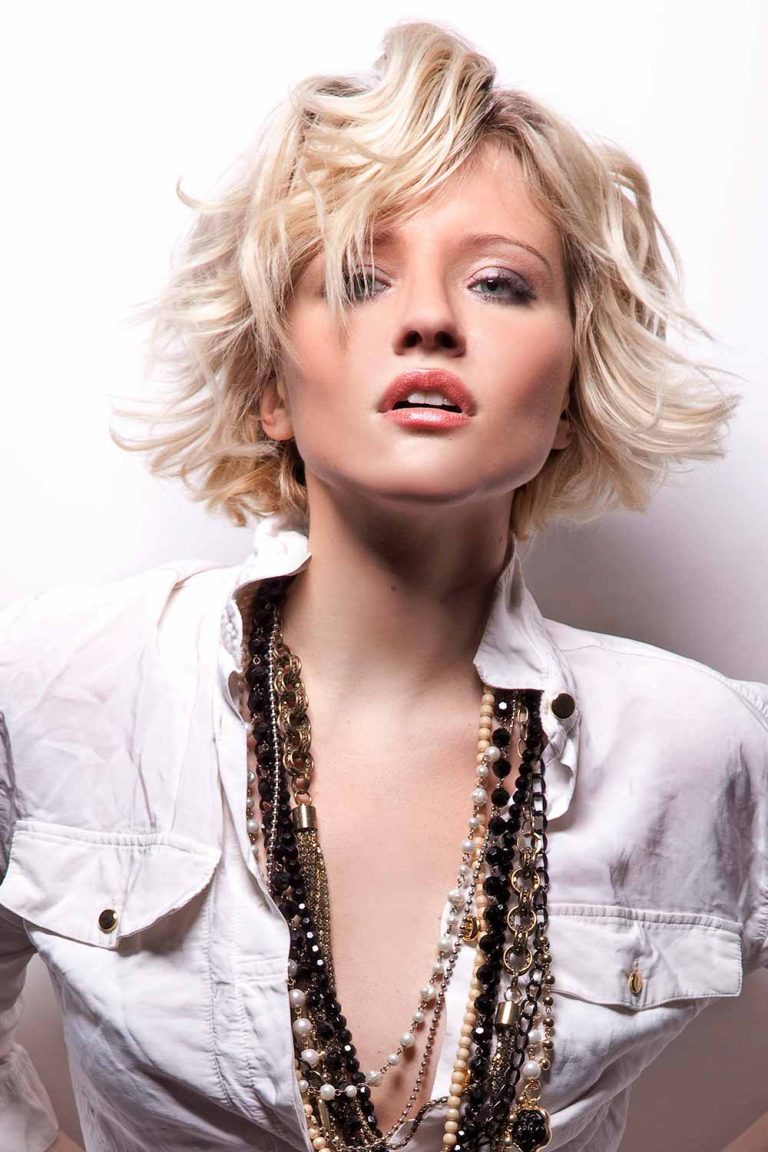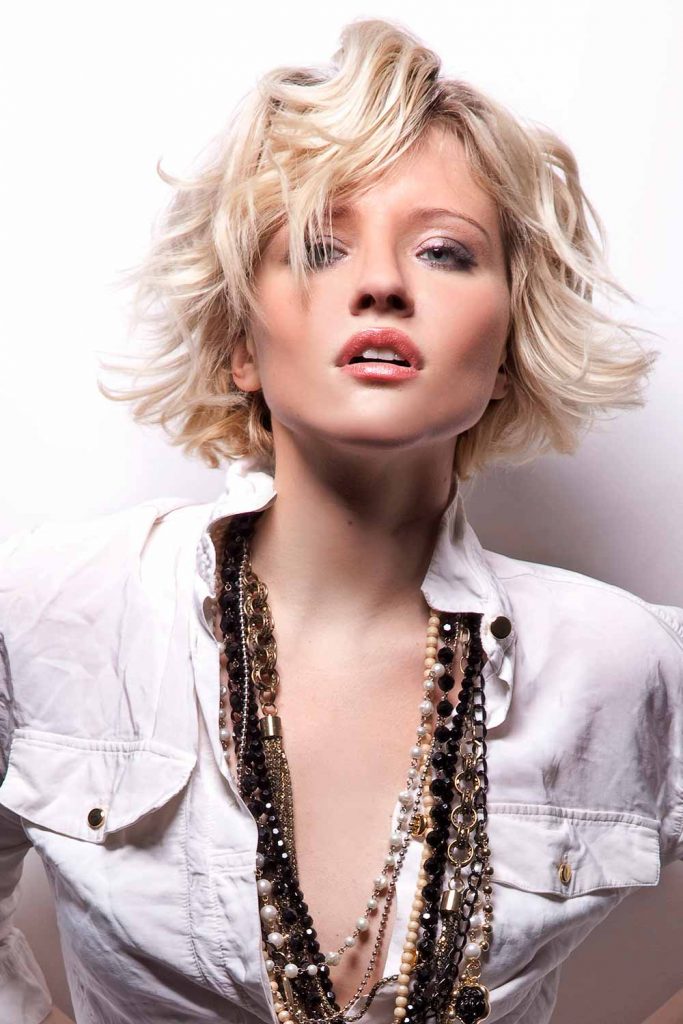 When wearing super short haircuts like the classic bob, you can unfold another side of beach waves. The way you direct your curl iron, the thickness of strands you work with, and the way you wave them are three factors that help you build your waves. As for super short haircuts, you can't create lively waves with your whole mane. That means you need to focus on the crown, making it as voluminous and dramatic as never before. Work with thin sections, wave each one in different directions, do as much tousling as you can: that's the recipe of perfect waves for short bob.
Asymmetrical Wavy Pixie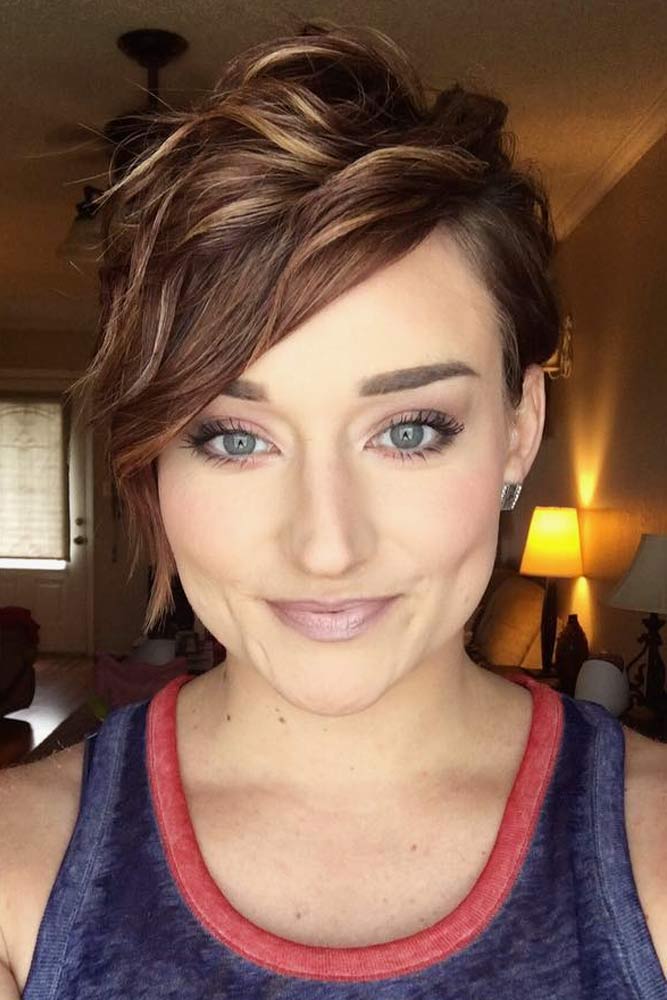 Credit photo: instagram.com/kaycharrison
Just like cheese and wine, the asymmetric silhouette and waves form a duo that women will be passing through generations. The charm of an outweighed body enhances the movement of wavy pattern while waves breathe a new life into the imbalanced structure of asymmetric haircut. These two belong together, so you won't go wrong leaving your look up to them.
Rose Wavy Pixie
Another seductive combination of messy beach waves and contemporary hair color. Even if you rock an unusual shade that makes heads turn by default, there's always a way to make things even better. Of course, nothing can compare to waves when it comes to creating truly big looks. Style your waves in any way you want, playing around with their thickness and direction. To finish the sultry look, do some tousling and make some of your waves pointed: some sharpness won't ever hurt.
How To: Beachy Waves For Short Hair


Credit photo: wonderful_u/youtube.com
As we promised, this post can't do without a tutorial! Even though the most natural-looking beachy waves are done with the help of a curling iron, this pic-tutorial will show you how to get the perfect effect with a straightener! It takes minutes, just follow these steps:
Start with picking random pieces of your hair and curl them away from your face. If your hair is too fine and inflexible, it's better to section off the top layer and start curling from the lower one.
Remember always to twist your locks once, as it will give an effortless look.
If you have bangs, curl them slightly under.
Once you curl all of your hair, spritz it randomly to add more body and texture.
Well, this is how diverse beach waves for short hair can be! Now you know how to get beach waves without heat for short hair and how to create them with different hair tools! We're sure that all these tips and tricks will come in handy. It's never too late for beachy waves!
FAQ: Beach Waves
How do you get natural beach waves?
Curling irons are the most common way to get beachy waves. Choose a wand with a one-inch diameter barrel. Use a heat protectant before you start styling. Just shake off your hair, and you're ready!
What size barrel is best for beach waves?
The size of the barrel that you use to curl your hair should be determined by the appearance you wish to achieve. Choose an iron with a diameter of one to two inches if you want unleashed curls or beach waves. Choose an iron with a thickness of 75 to one inch if you prefer tighter, smaller curls.
How long do curling wands last?
A hair dryer's typical lifespan is roughly 800 hours, depending on the brand and model, whereas styling appliances like straightening irons and curling irons are designed for between 500 -1000 hours of work.